Is fermented coffee the next big thing?
Wednesday, 6 March, 2019
Almost every coffee drinker has heard of 'kopi luwak' coffee – the expensive coffee that's made from the partially digested beans defecated by the Civet cat in Asia. It doesn't sound particularly appetising and the commercial methods are less than ethical, but apparently, the coffee is crazy smooth. There might be a new, cleaner alternative on the horizon though, with scientists and chefs starting to experiment with koji-fermented coffee…
What is Koji exactly? It's rice. Except, it's not just rice. Fermentation is the new thing, and koji is a rice that's been treated with koji mould (aka Aspergillus oryzae). Koji has a rich history in Japanese cuisine, and is essentially a type of fungus used in fermentation. By doing this fermentation process with the koji mould, the rice gets added flavour without any added salt or MSG. Koji has been traditionally used in miso, rice vinegars, soy sauces, saki and more.
This mould's fermenting powers are even celebrated annually in Japan on National Fungus Day! It's traditionally used a method to add more flavour to foods. It will be interesting to see how koji might be used to expand the flavour profile of coffee.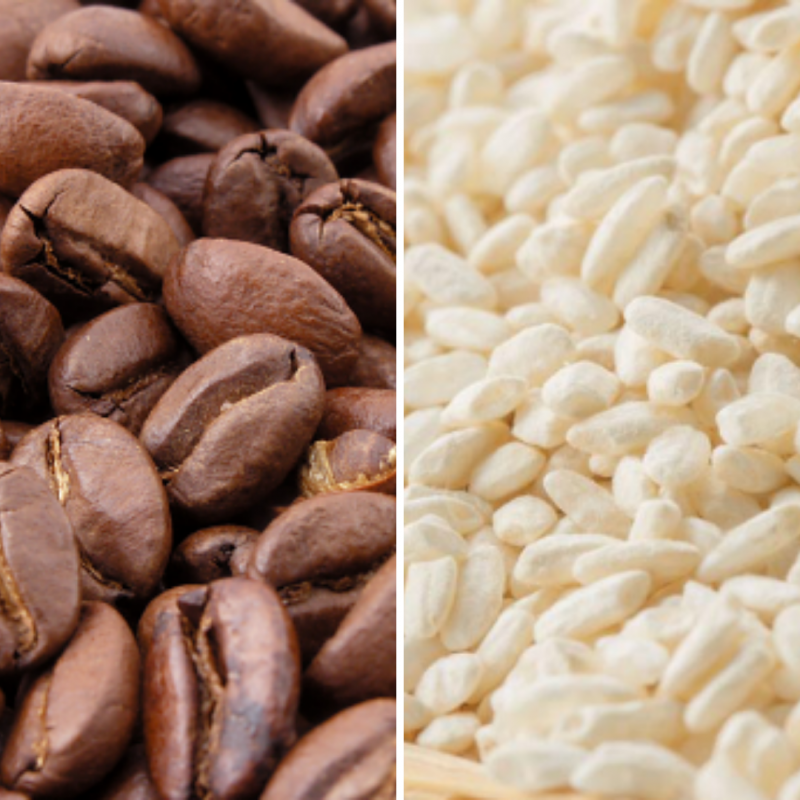 Koji-fermented coffee
In an interview with Forbes, the creator of koji-fermented coffee, Koichi Higuchi (who studied bioscience at the University of Minnesota), revealed that the idea for koji-fermented coffee came out of a conversation with his friend, a coffee aficionado. Much like the Civet cat's kopi luwak digestion process, koji contains enzymes that break down complex proteins, starches and fats, achieving a similar effect to that of kopi luwak, except in a lab rather than the cat's digestive system.
Koji spores are sprinkled over green coffee beans and fermented for a few days. Higuchi roasted the beans into a light and dark roast, and reported to Forbes: "Compared to regular beans, the dark roast gave milder taste, whereas the light roast had cleaner acidity. Also, I did not get the subtle burning sensation that I suffer from by drinking regular coffee."
Some have suggested that the koji fermentation process might even add value to beans that are considered lower quality. Koji-fermented coffee is not yet commercially available, but we wait with baited breath to see how this amazing mould might bring bolder flavours to our daily cup of java.
Got something to say? Then leave a comment!
---
Meet Mrs Bean!
Thursday, 7 March, 2019
Herman Senekal has been manufacturing and distributing earrings to the local retail market since 2015. His passion is to create unique brands, and to nurture and grow them. The first earring brand he launched is Zelmi's Boutique (the name of his eldest daughter who's now 6 years old). In March 2017, he started Safari with Izé (his youngest daughter who's 3 years old), and these earrings were designed for curio shops at tourist attractions. It wasn't until September 2017 that Herman had the idea to create real coffee bean earrings, and Mrs. Bean was born…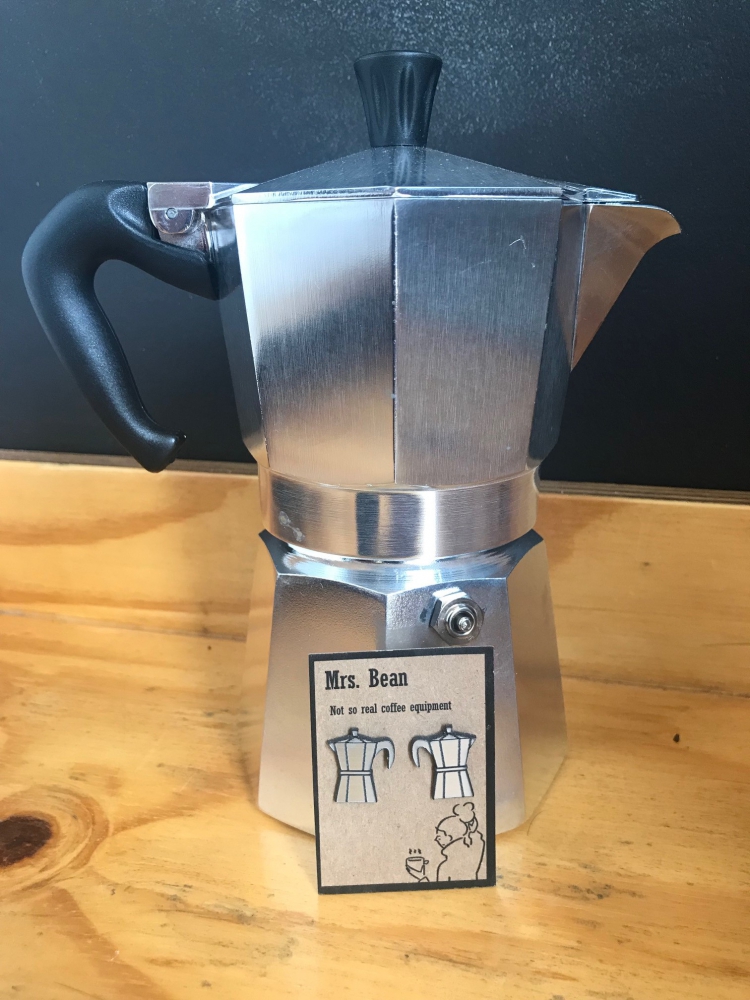 Where did the idea come from?
"I have a real love for coffee and coffee shops, as well as the retail environment, which is where I function at my very best. So, I was sitting at a table in a coffee shop with a few friends and we were joking around. One of my friends said, "Wouldn't it be nice if you could wear real coffee beans as earrings?" And I thought to myself, that would be a great idea! That's where the thought process started for me and after making a few sets of real coffee bean earrings, I saw the opportunity to expand into coffee equipment earrings as well."
Where did your love of coffee come from?
"I was introduced to real coffee by my very dear friend Francois Dreyer of Heavenly Coffees, who at that time was roasting and selling coffee from his house in Centurion. His passion for coffee drew me towards my current love and appreciation for this precious liquid."
What kind of coffee beans do you use in your earrings?
"I use a medium roast Columbian bean for the earrings, but if you are worried that they might keep you up at night…they are also available in decaf!"
Where can people find Mrs. Bean earrings?
"I currently sell the earrings at point of sale at various coffee shops and roasters in South Africa. I also have plans to make the earrings available online in the near future."
The latte art earrings are very interesting – what inspired those?
"I wanted to create an opportunity for baristas to interact with the consumers they serve by offering something unique and to showcase their own latte art. They can offer the consumer something tangible to take home after enjoying their perfectly served cup. A photo is taken of the real art on the cappuccino and the earrings are produced from that image. A royalty is paid to the barista whose art is featured on the earrings. I feel that the skills of baristas need to be celebrated more and in this way, I could give back in the form of a financial contribution as well as giving the barista some well-deserved recognition. Participating baristas receive a certificate that authenticates their art and they can write their name on the earring card as well."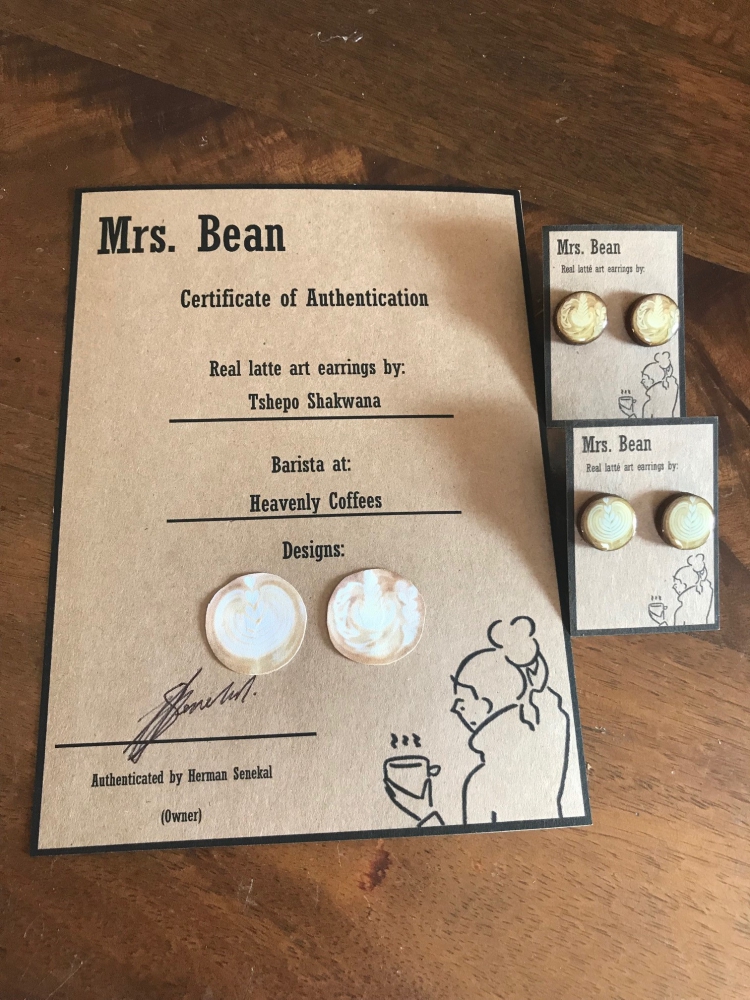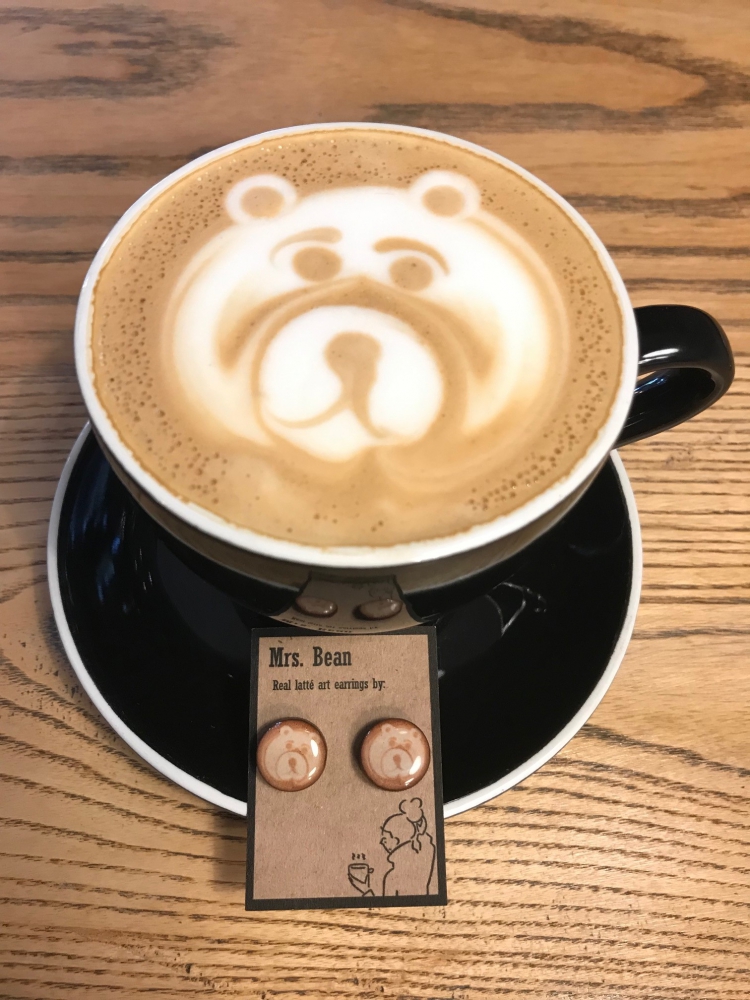 And you've recently launched chocolate coated coffee beans?
"Chocolate coated coffee beans just fits in very well with the brand and it's a product that is unique in taste and experience. I felt that it's a perfect complementary product to the coffee themed earrings. The brand message is centred around the 'real' aspect of coffee and it doesn't get more real than chewing a real coffee bean, coated in real good chocolate, while wearing your real coffee bean earrings…right?"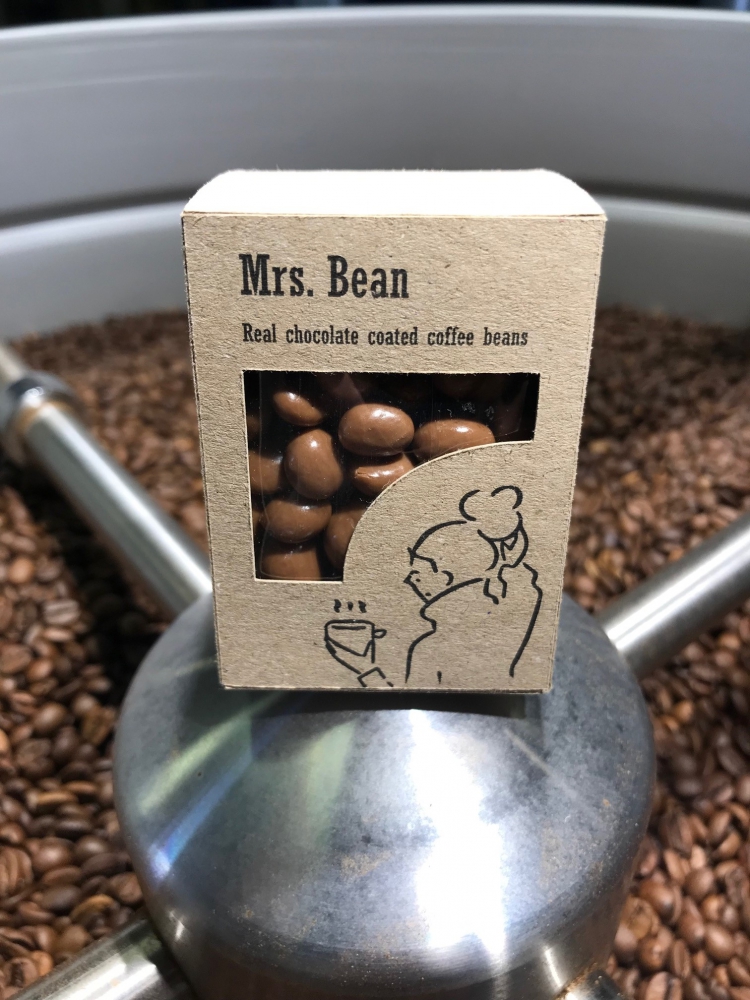 Mrs. Bean is a fun way to show your real love for coffee. The earrings are a great gift for yourself or other coffee lovers you know. You can find Mrs. Bean are on Instagram and Facebook, and hopefully at a coffee shop near you soon.
Got something to say? Then leave a comment!
---
Up and coming SA coffee brands: Motherland Coffee Company
Monday, 4 March, 2019
Motherland Coffee began with a dream, a hope for Africa, and huge passion for coffee. In the summer of 2009, the idea for Motherland Coffee Company was birthed by founders Rob and Kirstin Maud and Seb Schneider. And it didn't take long to realise that African coffee brands were, well, non-existent. That just seemed tragically wrong. Considering that Africa was the very birthplace of coffee, and that it continues to annually produce a significant percentage of one of the world's most traded commodities, as well as some of the world's best coffees to boot.
They dreamed of a brand of coffee, born and raised in Africa, and brewed the world over. A brand that would represent Africa and hold its own in a global market. That would create sustainable farming communities and uplift the economy in their countries of origin. A brand that would be a remarkable and inspiring force for social good. And put Africa back on the coffee map. Motherland. It seemed a fitting name.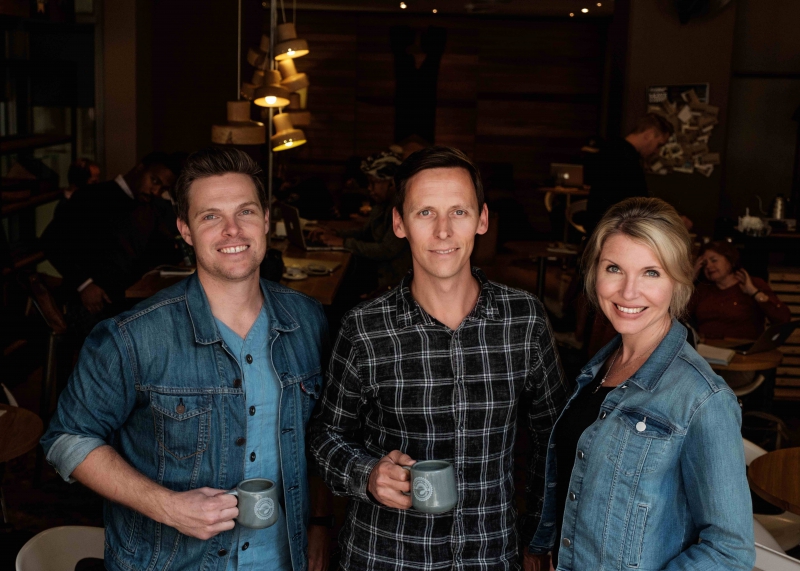 ---
Interview with Seb Schneider
Why Motherland Coffee? How did you come up with the name?
"Coffee isn't from London, Milan, or Melbourne. Coffee is from Africa, and we want people (especially Africans and South Africans) to believe that Africa is the future; a vibrant place where the world is growing and developing, with coffee headlining that story. We want the communities we serve to be part of an African coffee movement, that believes in its coffee heritage and the future of the continent. We're about coffee, but we're also about people, family, community, and most importantly, about Africa. Motherland feels like it captures that in a single word."
As a business, what's important to you?
"We want coffee to be a truly African success story – by creating sustainable farming communities, and uplifting economies in their countries of origin; by developing café professionals – baristas, food crafters, and managers that are exemplary for their dedication to high café standards; and last but not least, inspiring and adding a little joy to the communities and customers that we serve."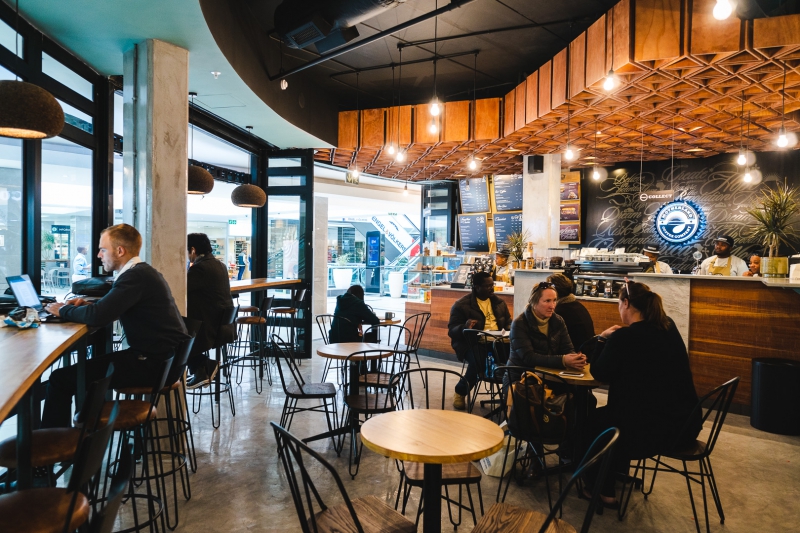 What is your vision for Motherland Coffee?
"We want to be a pioneering coffee brand born and raised in Africa, and brewed the world over. We dream big, and aim high."
What sets you apart from other coffee shops and cafés?
"I think the purpose behind our company is the driving force that defines what we do. There are a lot of similarities between cafés and coffee brand offerings, because we're often serving almost identical drinks (which customers have come to expect). At Motherland, we do what lines up with our vision, and use that for development; I think it keeps us authentic."
What has been the highlight of your business journey?
"Meeting and talking to people in our community that are as passionate about Motherland as we are, people who really believe in what we do. It's exciting, motivating and very much appreciated."
What's the most exciting part of the job?
"Being in coffee and retail is being on the front lines of culture, economics, design and social movements – you're where it's all happening. And you get to create spaces, and influence and inspire people. It's a great place to be, it keeps us motivated."
There are always growing pains for an entrepreneur starting up a new business – what have your experiences been?
"The challenges of starting a new business, and growing it, are always present. It takes grit and perseverance, that's for sure. Opening our first Rosebank café in 2010, and keeping it operating seven days a week, 12 hours a day, almost 365 days a year – that felt like a huge hurdle to overcome. It felt like you could never switch off (technically you can't), and that was difficult.
With plans to expand further, we opened a second Johannesburg location and a Cape Town branch, and learned to train and trust our people. We gave them responsibility and held them accountable. We did this with gusto, but rather loose systems, and paid the price in low gross profits and erratic management at store level. But when we expanded to a further four locations, it was time to beef-up ops… So, we brought our dad in, a seasoned hospitality operations expert – out of retirement and into our joyful, full-of-ideas chaos! Our systems and back-end improved dramatically.
This was empowering for our business and our managers – we were better equipped to report and initiate new plans, and it put our business on the front foot. Do good dads ever stop looking after their kids? I don't think so. Expanding locations and team members, and delivering a consistent experience requires solid operations and well-implemented systems. This is now essentially our biggest department, and it allows us to grow stores, build company culture, grow teams, and build our brand without wondering when it all comes crashing down. You sleep way better with a solid operations team."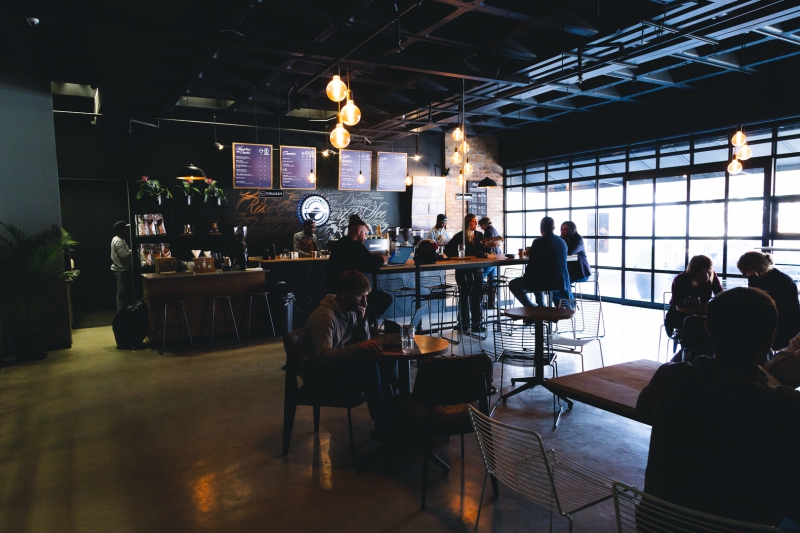 Give us the lowdown on your coffee and menu?
"We serve exclusively African origin beans, and offer three to four different coffees on our bar. We consider ourselves boutique and specialty, but we're also consumer-centric, so you can order your coffee 'traditional', or in in a range of sizes from Short to the MotherCuppaÆ, depending on the drink in question. We're also proud of our food offering, and serve a range of freshly prepared salads, sandwiches and wraps, made to order and intended to match the quick-service nature of coffee. You can grab a quick, excellent coffee and breakfast or lunch in just a few minutes."
Got something to say? Then leave a comment!
---
Circle Cafe
Monday, 4 March, 2019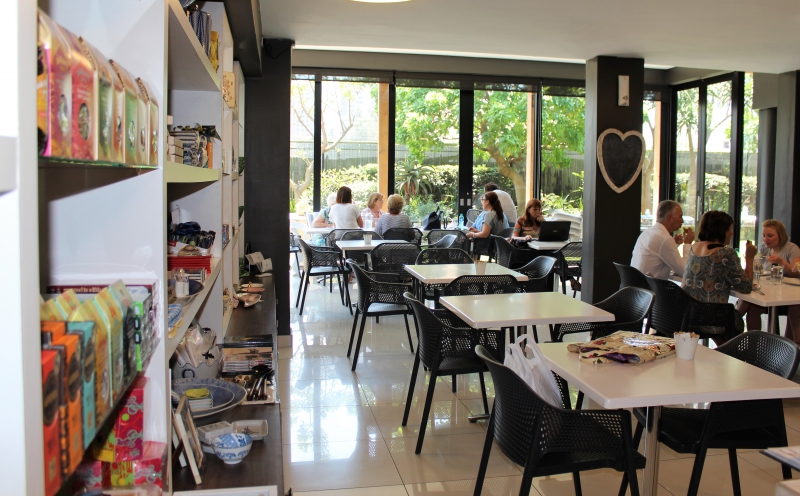 When the Durban Holocaust & Genocide Centre relocated to its permanent exhibition space at 44 KE Masinga Road (North Beach, Durban), Circle Café was born as the museum's café in 2011. Located at the Durban Holocaust & Genocide Centre – just a few steps away from Durban's beautiful beachfront – there is plenty of secure off-road parking and a cheesecake that regulars rave about. We chatted to Claudia Blythe to find out more…
Who takes care of the food?
"Judy Druck is Circle Cafés creative chef and manager. She's been described as the 'mom in the kitchen'."
What makes Circle Café special?
"It's Durban's hidden gem! Circle Café is an oasis in the centre of Durban. It's nestled in the tranquil Garden of Remembrance at the Durban Holocaust & Genocide Centre – a beautiful setting with incredible coffee, delicious food and lovely people. The café provides a tranquil place to relax after visiting the museum, or even just to pop in for a cup of coffee and a quick bite."
Why should people pay you a visit?
"The café boasts scrumptious home baked cakes and treats, and an incredible gift shop with products sourced from all over South Africa. All of the proceeds from Circle Café and the gift shop are channelled towards funding the educational programmes at the Durban Holocaust & Genocide Centre. Your cup of coffee will support a worthy cause!
What are your most popular menu items?
"Our fried fish, bagels and potato latkes are very popular, but our famous cheesecake is legendary!"
Tell us about your coffee?
"We serve Euro Caffé Roasted Coffee Beans. Our coffee is a medium roast with a smooth and nutty taste."
Circle Café really is a peaceful place to take in a coffee and definitely don't miss out on their cheesecake. It's a crowd favourite. Be sure to pay this Durban gem a visit – but take note, lunch times are their busiest!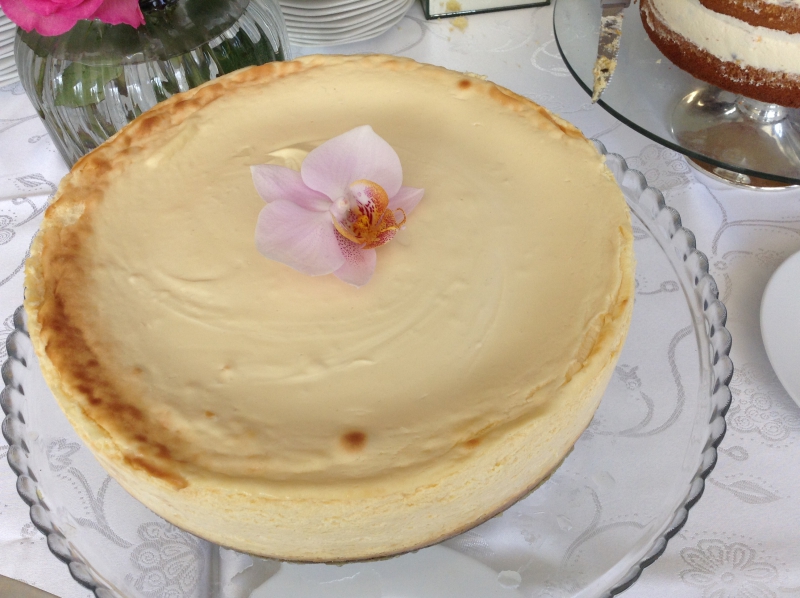 Got something to say? Then leave a comment!
---
Cape Town Coffee Festival - It's coming!!
Friday, 1 March, 2019
The Cape Town Coffee Festival is coming to the Mother City and we're excited! This global initiative, which runs in London, Amsterdam, New York, LA and Milan is going to be a highlight of the South African Coffee Calendar and we can't wait to see what kind of an African flavour Cape Town will add to this very popular global coffee event.
As the Coffee Magazine, We were lucky enough to go to the London Coffee Festival last year to check it out, and it truly is unlike any coffee event on the planet. We experienced a very vibey, trendy, consumer facing, coffee-orientated environment, that literally had something for every coffee lover - from the trade, right through to the connoisser, and all of the various lifestyle subcultures in between. We are also very pleased to announce that we, as Coffee Magazine, are the Official media Partners of the event, so watch this space in the coming weeks and months as we bring you all the news, upcoming attractions as they are added to the event and…of course, some sneaky ticket giveaways for our most loyal readers!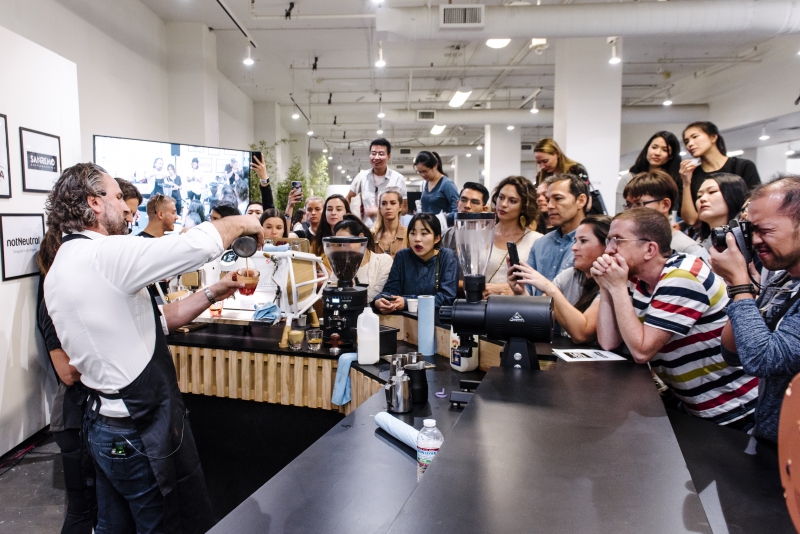 The Coffee Festivals are interactive, entertaining and informative!
So what can one expect at The Cape Town Coffee Festival? Chatting to the event organisers, this version of the Coffee Festival is set to be a celebration of Africa's coffee culture. On top of our most popular features - like Latte Art Live, The Lab, The Street Food Market and The Coffee Cocktail Bar - the Festival will include a few other features tailored to promote local coffees, such as The African Coffee Experience, and to give exposure to local artists with our Live Music Stage. The festival will give musicians a chance to share their music with a vast audience and engage in a deep spirit of community among those who share a passion for great music and coffee culture.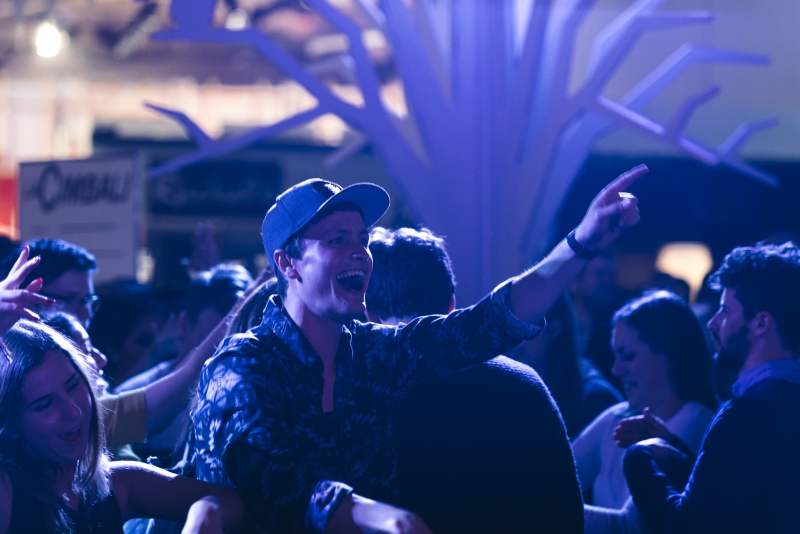 Live Music on the Saturday night in LA at the LA Coffee Festival.
So if you know of a local band or a musician that you would like to see at CTCF, then get them to apply online by submitting a YouTube video performance at the link they will find on the website at www.capetown-coffeefestival.com
The Lab will be split into two areas, of which one "The Small Business Lab" will be dedicated to speeches, lectures and workshops focusing on small businesses and on discussing/supporting their set up and best practices.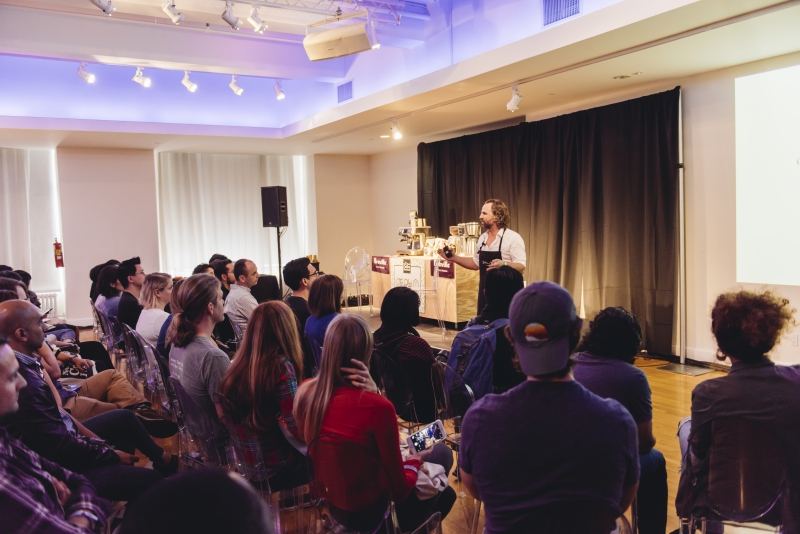 The Lab.
There will also be a Coffee Art Project Gallery showcasing the work of local artists, who will be asked to submit an original piece of artwork that has been inspired by African coffee.
Tickets for The Cape Town Coffee Festival are now on sale at: https://www.capetown-coffeefestiva.com/, and are expected to sell out quickly. For coffee connoisseurs and foodies alike, this event is bound to give African and global attendees a truly exciting break from the daily grind.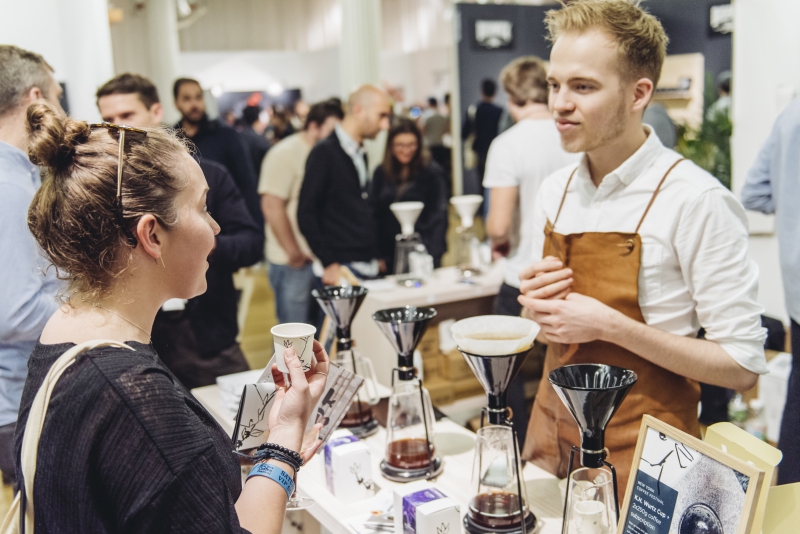 The festival is also offering a "Super VIP" ticket package, which includes a two-day access to the event, a dedicated VIP entrance, complimentary cocktails from The Coffee Cocktail Bar, a VIP goodie bag filled with gifts from some of the event vendors, and a copy of The Meaning of Coffee book.
The two-day festival will boast some of the most popular features such as Latte Art Live, The Lab, The African Coffee Experience, The Coffee Cocktail Bar, a Live Music stage and many more:
- Latte Art Live, an interactive zone dedicated to the highly popular skill of latte art. In past years at the NYC and London Coffee Festivals, local heroes such as Jai Lott and Barista Dee, and international names like Dritan Alsela, Dhan Tamang, Lem Butler, and Luke Shilling, have taken to the stage. Attendees can take part in hands-on workshops and demonstrations where the pros will teach them the techniques and skills behind jaw-dropping masterpieces.
- The Lab program, featuring an exciting line-up of interactive activities and The Small Business Lab, a whole extra Lab zone dedicated to promoting and supporting small local businesses through a series of interactive talks and workshops.
- The African Coffee Experience is a showcase of the diverse African coffee scene. Featuring three of South Africa's key coffee roasters, this area will be dedicated to exploring and tasting the best origins and cups the African coffee scene has to offer. A sensory experience you will hardly forget.
- The Coffee Cocktail Bar is an area where we will be serving indulgent cocktails with high buzz-factor.
- The Innovation Zone is where you can discover the personalities behind some of 2019's coolest and most cutting-edge brands and small businesses, ranging from technology, to apparel, to the freshest micro-roasters.
- The Street Food Market is the go-to spot to refuel with inspired, easy, healthy food from artisan street food stalls offering the best the South African food scene has to offer.
- The Live Music Stage will host live performances and DJ's all throughout the event, showcasing the talent of local artists, bands and solo singers while engaging a deep spirit of community among those who share a passion for great music and coffee culture. Musicians can apply online by submitting a YouTube video performance.
- The Coffee Art Project Gallery is a gallery showcasing the creativity and talents of emerging and established local artists whose photography has been inspired by African coffee. The highlight of the Gallery will be a photography series of the renowned Sowetan coffee culture.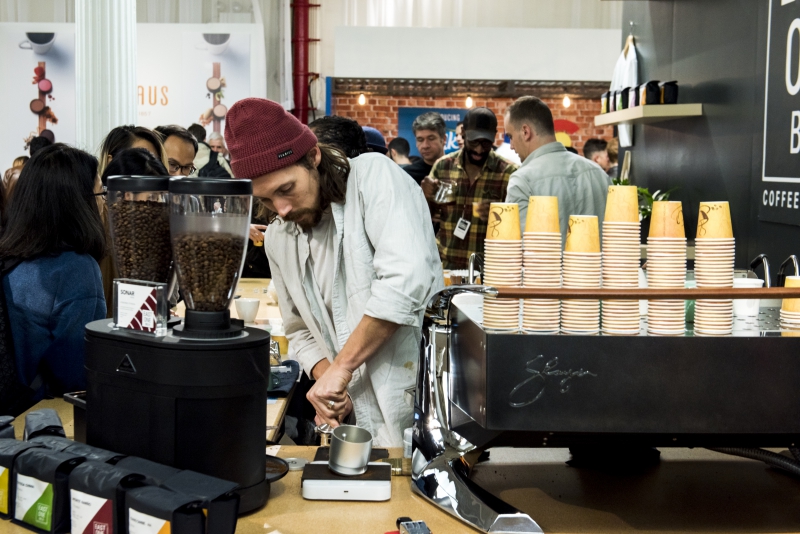 Got something to say? Then leave a comment!
---
One of our Best EVER Coffee Experiences
Thursday, 28 February, 2019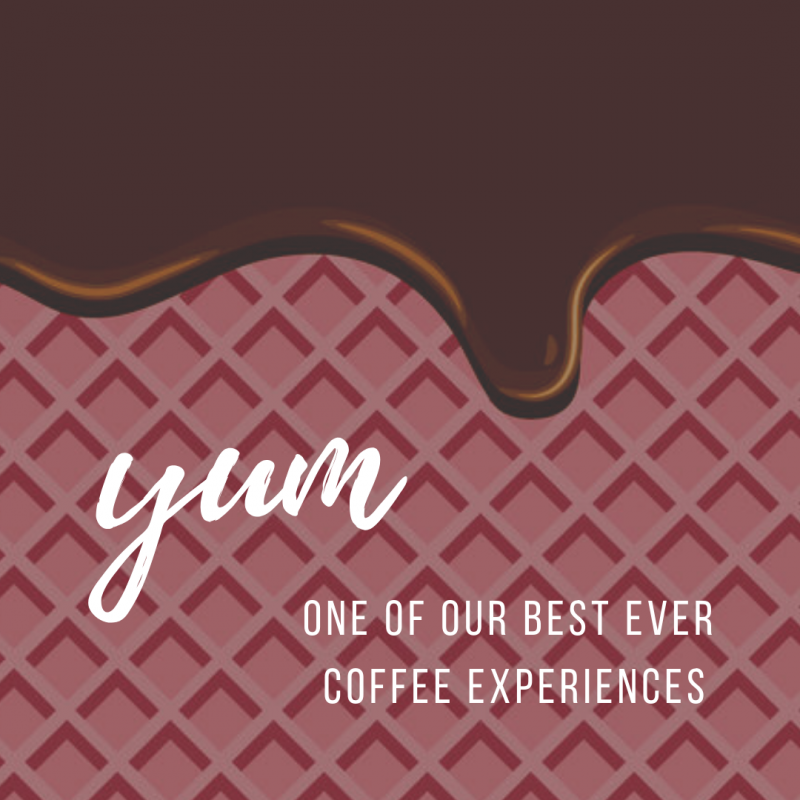 Bruce Manning has been competing for the last nine years and always brings something a bit crazy to the stage. This year though, the only crazy thing he brought to stage was the crazy good coffee. I think you could speak to any of the other competitors who had the opportunity to taste this coffee backstage and they would all agree that this was by quite some way the most delicious coffee at the competition. A Panamanian Gesha from Finca Ponderosa.
When I tell you that this milk beverage tasted like strawberry wafers with a delightful cherry-liqueur dark chocolate finish, I am not in any way exaggerating. The espresso was cherries and papaya and an explosion of sweetness. Even just opening the bag in our office has been making me swoon this week.
This coffee is very rare, very expensive and very difficult to get one's hands on, but if you're ever presented with the opportunity, don't hesitate to take it. It will be one of the best flavour experiences of your life.
What does this tell you about competition if arguably the best tasting coffee didn't win? That the coffee is only one part of the equation. Preparation, execution on stage and performance all greatly effect the scoresheet.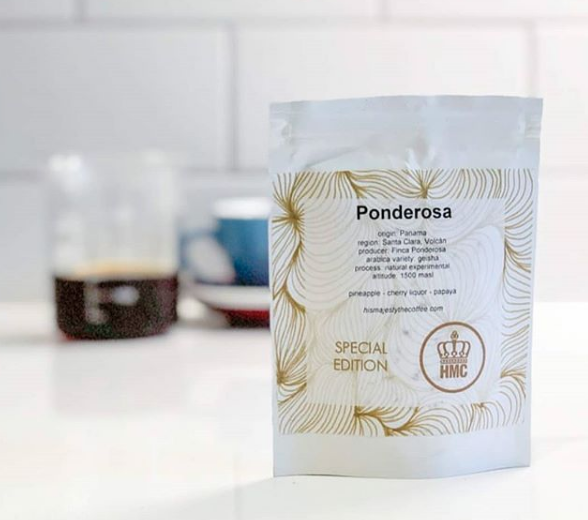 Got something to say? Then leave a comment!
---
Up and coming SA coffee brands: Bootlegger Coffee Company
Monday, 25 February, 2019
These days, you don't have to go far to get your caffeine fix, with new coffee shops and cafés opening all the time growing the local scene with their own brand of coffee culture. And building your own signature brand identity is a big deal. In the next couple of weeks we will feature three up and coming Café Brands who are brewing up something special and blooming into multiple stores countrywide. They've got style and they mean business and we really like what these burgeoning empires are bringing to South African coffee!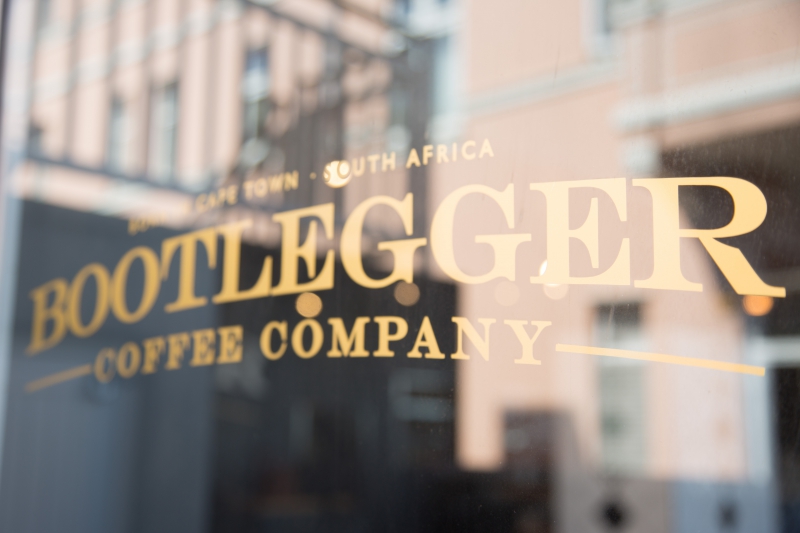 Bootlegger Coffee Company
Bootlegger Coffee Company was the brainchild of best friends, Pieter Bloem and brothers, De Waal and Antonie Basson. The three already owned a few other restaurants, bakeries, and coffee shops and saw the need for a premium quality coffee at a reasonable price for their own stores. They imported a small Giesen roaster from the Netherlands in 2012 and started experimenting and roasting coffee soon after.
Finding an ideal home for their growing coffee business became essential and when the iconic site in Regent Road, Sea Point, became available in late 2013, they jumped at the opportunity to secure the lease. The site was too big for a coffee roastery alone, so they decided to include a restaurant and coffee bar to complete the space and showcase the product. Bootlegger Sea Point began serving the signature Bootlegger Blend in November 2013. It was an immediate success and in just four years, the business has grown to 12 stores.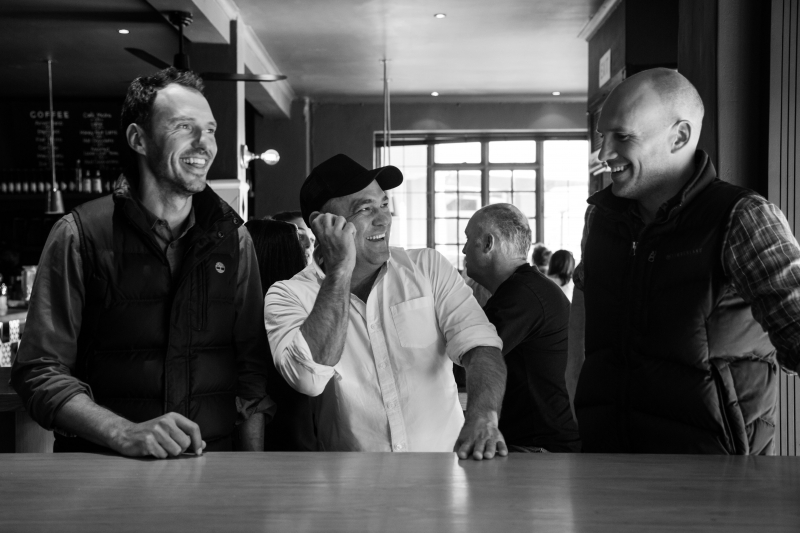 ---
Interview with De Waal Basson
Why Bootlegger Coffee Company? How did you come up with the name?
"Shortly after placing the order with Giesen, Pieter received a call asking what logo or name they should put on the side of the roaster. It dawned on us that perhaps we could roast and sell coffee to other stores besides our own – so we needed a name for this new Coffee Company. Two weeks and hundreds of potential names later, we still didn't have anything we all loved. The logo designer proposed we start with the character of the brand we want. He started asking questions like: is this brand/person male or female, and is the person still alive – yes or no?
The answers drew us to a rule breaker type of character. He was an American legend that died young and therefore will always be timeless. He was a rebel; charming, witty and loved by all. Women wanted him and men wanted to be him. He loved a good time with close friends and enjoyed great food and quality drinks. He never followed fashion, but became a style icon and a trendsetter. The word 'Bootlegger' was the perfect fit."
As a business, what's important to you?
"The first rule of Bootlegger is 'no bullsh*t'. For us that means 'No Compromise'. Perfection is the ultimate standard against which we measure ourselves. We strive for perfection in our relationships with staff, suppliers, and customers. We strive for perfection in our delivery of service and the products we offer our customers. We like to keep it simple and sustainable; we've done our research and we know our product."
What is your vision for Bootlegger Coffee Company?
"Only after opening our first store in Sea Point did we realise what an amazing sense of community a store like Bootlegger creates. We never really thought of opening more than one store, but seeing this power of community in action, we felt compelled to continue expanding. We are now standing on 16 corporate stores and have recently approved our first franchisee. We will therefore continue this expansion by carefully selecting franchisees that buy into our culture and our vision."
What sets you apart from other coffee shops and cafés?
"We believe in focusing on our offering and not worrying too much about what other people are doing. We also spend hours and hours on training our staff and we never forget what got us here in the first place: our coffee."
What has been the highlight of your business journey?
"Being featured in the Coffee Magazine :) In all honesty, there are so many small daily victories that add up and it becomes very hard to distinguish and celebrate the bigger highlights. Some of our biggest highlights have been:
Opening our first (and second) Giesen Roasters from the wooden delivery crates.
Roasting our first batch of coffee on our original Giesen W6 and testing it soon after, even though it was probably way too fresh and acidic!
Getting our first branded delivery van.
The Bootlegger birthday party at our Sea Point store is an annual highlight.
Every opening of every store has been such a highlight. It usually comes with times of extreme stress and extreme relief when the coffee and banana bread starts flowing.
Moving our office from a garage size building behind our Sea Point store to a more grownup space next door.
Moving our roastery to one big space in Woodstock and seeing all the bags of green coffee, roasted coffee, and machinery with one glance. Previously it was all stacked in different store rooms around Sea Point."
What's the most exciting part of the job?
"The coffee! Waking up and having your own product first thing in the morning is definitely a daily highlight. And then you get to have more of it throughout the day! Apart from the coffee, there are so many exciting things we've had to keep ourselves busy with. From finding sites and designing stores, to meeting and recruiting talented young people to join our company – it really is a non-stop joy ride."
There are always growing pains for an entrepreneur starting up a new business – what have your experiences been?
"One of the biggest challenges is saying 'No' to many of the opportunities and distractions out there. In the beginning, we pursued almost every opportunity that came our way and unfortunately this led to a lot of wasted time and money. We have now learnt to become a lot more disciplined and to remain focused on our core business. We've also learnt that getting the right people in the right positions is crucial. We wouldn't be close to where we are today if it weren't for our extraordinary management team and staff."
Give us the lowdown on your coffee and menu?
"The Bootlegger blend is a Medium City Roast consisting of Arabica beans from Guatemala, Tanzania and Cost Rica. The Guatemala is the base of the blend. It adds the body and depth to the coffee with subtle hints of dark chocolate notes and a full mouth feel. Our Guatemala is sourced directly from the Finca El Morito estate and is 100% Rainforest certified.Tanzania AA fills the blend with sweetness and a crisp citrus acidity. Costa Rica Bromelia Fancy has a slightly nutty undertone with a balanced taste profile. It adds fullness and rounds off the acidity in the blend, allowing for a smooth finish and a delicious aftertaste.
Flavour Notes include: Dark chocolate, caramel sweetness, and a fine citrus acidity.
On the food side, we start off by using the best quality, free-range, ethically sourced or sustainable ingredients we can lay our hands on. We have our own 24-hour central bakery that bakes and delivers all our croissants, breads, rusks etc. on a daily basis. Our menu can best be described as a bistro style, every day and all-day eatery. For those strong enough to resist our legendary banana bread, our other breakfast favourites include the truffle-infused mushroom and bacon rösti and the mince omelette.
There are also loads of healthy, vegetarian and vegan options with all kinds of superfood ingredients. Our lunch and dinner menu includes classic café style dishes like burgers, salads, and fish and chips, and some interesting additions like buddha bowls."
Any final thoughts?
"We never thought that our quest for good coffee would lead us down this incredible path of establishing a brand with such a loyal following. It's been an amazing ride and we are eternally grateful to all our staff, customers, landlords and other stakeholders for helping us pursue our dreams."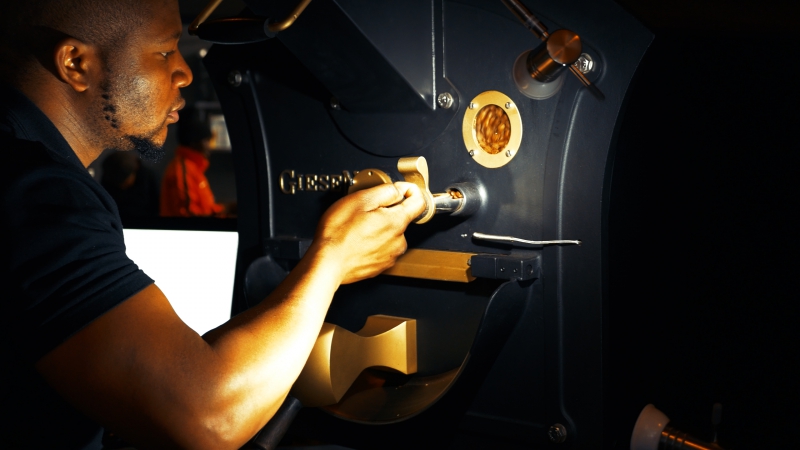 Got something to say? Then leave a comment!
---
Innovation in Espresso Machines: The La Marzocco KB90
Wednesday, 20 February, 2019
They may just look like gorgeous hunks of decor to the consumer, but espresso machines are the soul of any cafe. Here's the latest innovation from La Marzocco, one of the best in the business.
Ps. If you're wondering what the big deal about 'straight-in' portafilters is, just think about your barista clanging and locking in the portafilter to the grouphead by swinging it sideways when you're waiting for your morning cup. This is how it has always been done. La Marzocco's new system means the portafilter slides in from the front and no twisting into place is required. SO interested to try this, it changes something that is part of a baristas very core; their flow and rhythm behind the machine. I know for me, the locking in and pressing the go button was ever so satisfying when I was in the groove of a busy morning. The automatic steam wand sounds simply dreamy though.
---
La Marzocco, world leader in espresso machine innovation since 1927, introduced the KB90. This revolutionary machine named after the former La Marzocco International CEO and now Chairman of the Board, Kent Bakke, is designed for the barista, providing a faster work-flow, easier cleaning and advanced ergonomics. KB90, designed to represent the curves in the shield of the La Marzocco Lion, is the ultimate evolution of the Linea PB. The KB90 has the same interface as the Linea PB which provides familiarity to baristas and will greatly improve work flow and provide upgraded technology around cleaning systems.
The KB90 has two stand out features: the Straight-in-Portafilter and the Steam Flush system. Both new features help the busy barista with speed of execution and ergonomics. In considering the needs of high volume cafes and their baristas, La Marzocco redesigned the portafilter system to reduce wrist strain of the user. The innovative portafilter insert system eliminates the bayonet-ring twist, greatly improving ergonomics and reduces the risk of wrist injury. By simplifying the fine motions of the barista, the KB90 is able to shave seconds off of the time required to make each drink.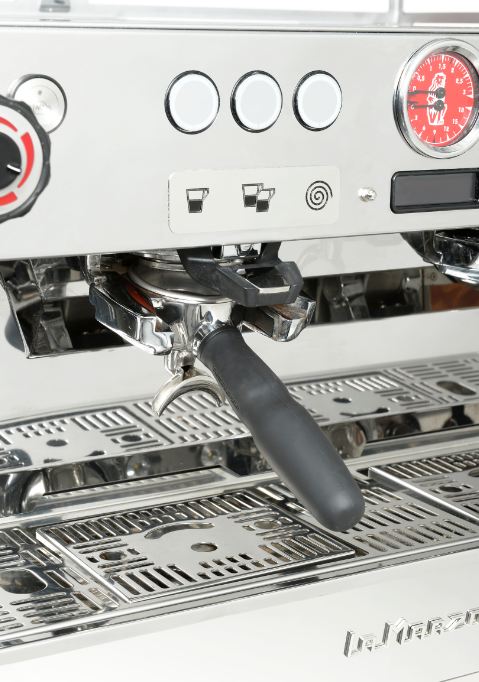 The machine's Steam Flush system automatically purges the group with water and steam, removing the need for the barista to push another button and increasing the cleanliness of the group over the course of service. It removes coffee residue much more effectively for better tasting espresso. KB90 also comes with Drip Prediction technology, 3-Button User Interface, and Auto-Volumetrics. It features intuitive and reliable electronics developed to provide intuitive feedback over machine parameters. The KB90 is equipped with the trusted and tested components of the Linea PB, making it easier for technicians to perform service without requiring new parts inventory.
"It's always been a part of La Marzocco's DNA to focus on the job of the barista. Twenty years ago, we started thinking that espresso machines should be operated with natural movements and motions to increase the enjoyment and speed of use for the barista. With the creation of the Straight-in Portafilter, I feel that we have built a machine that will forever improve the way the barista interacts with our machines," shares Kent Bakke, Board Chairman, La Marzocco International.
The new machine comes in two-group or three-group option. In true La Marzocco fashion, the outer shell of the machine is designed to be aesthetically pleasing as well. Inspired by fast and iconic cars from the 70s, KB90 has a retro shape and comes in red, a celebratory colour of their recent 90th anniversary.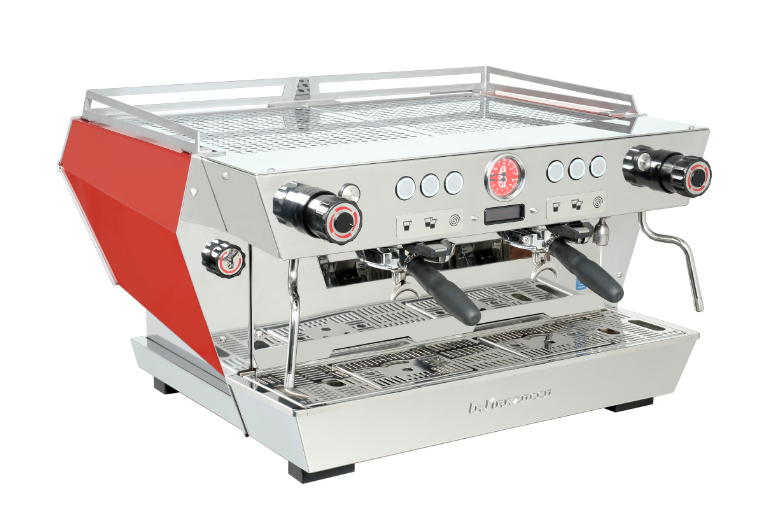 ---
We're pretty big fans of Mr Chris Baca of Cat & Cloud and while we haven't had a chance to test drive this tech, he's had some time to play, so if you're interested check out his video on his first impressions below:
Got something to say? Then leave a comment!