Is Coffee Art?
Tuesday, 18 September, 2018
Words by Nina Rimpl, Coffee Professional and Art History Scholar
---
Art, to me, is something which touches my senses, which provokes an emotion and which stays in my mind for a while. And what is a cup of coffee? Well, it touches my senses, it provokes an emotion and I usually don't forget about the good coffees I drink. When I got asked to write an article about the very special connection between coffee and art, I first thought about my background as an art historian and second of my background as barista. Several paintings came to my mind where coffee has been the subject for artists. I have chosen a few of my favourites to share with you, the ones that had the most impact on me.
The first one who came to my mind is Venezian, which is fitting as the history of coffee has strong Italian connections. An artist called Pietro Longhi painted several paintings about the coffee culture in cafes in Venice. This shows the awareness of coffee in the Rococo Venice era. It gives us proof of the early culture of coffee shops in the 18th century.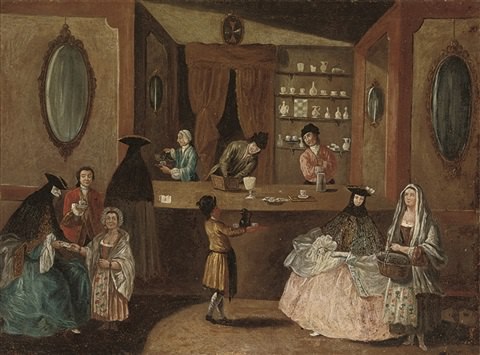 Another artist called Claes Oldenburg, who was born in Sweden 1929, chose a different artistic technique to illustrate how coffee was so much a part of his life. In particular, I love the sketch of "Dropped Cup of Coffee: Preliminary study for "Image of the Buddha Preaching" by Frank O'Hara, 1967". Done with pencil and crayon, and wash on paper. Doesn't it look like the artist was working on a piece while drinking his coffee and he dropped his cup on the paper? This could also have happened to me or to you when we were busy in the morning doing other things while drinking our daily cup of coffee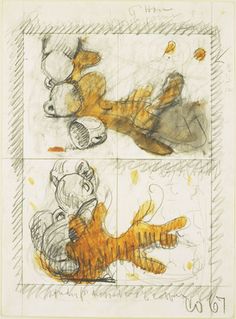 As my mind rambled through a gallery of paintings I have seen in my life, one of my favourite artists and surely one of the greatest artists of the last century popped into my thoughts: Pablo Picasso. In the 1940s, he began a series of paintings with the title "The coffee maker". In this particular one in the series, you can see a kettle and a filter coffee device. Both the coffee and his artworks have lost none of their cultural relevance. These items could be found in your or my kitchen today. But why did he paint that? Without having known him as a person- what a pity!- I allow myself to posture that I think it is simply because he liked the beverage so much and the ritual so much that he wanted to paint it. It came into his focus and attention and was worth to him to take time to paint. This relevance is where art begins in my opinion.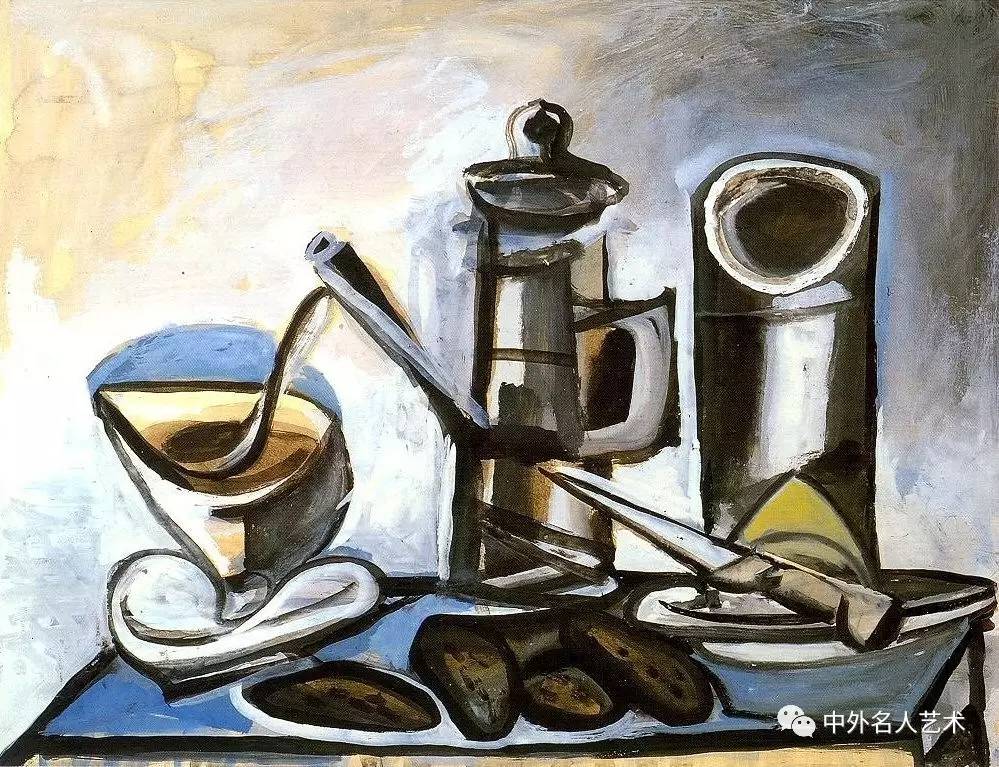 "Nighthawks" by Edward Hopper (1941), is considered as one of the greatest masterpieces in US art history, painted just after the attack on Pearl Harbour, which marked the entry of the USA into World War II. It shows a nocturnal situation in a typical American diner and is filled with pessimism and hopeless gloom in the wake of such an event that caused so many families pain. You can see the two espresso machines in the back of the painting. The coffee is not the focus of the piece, but it does illustrate how people gather in cafes in the best of times and the worst of times.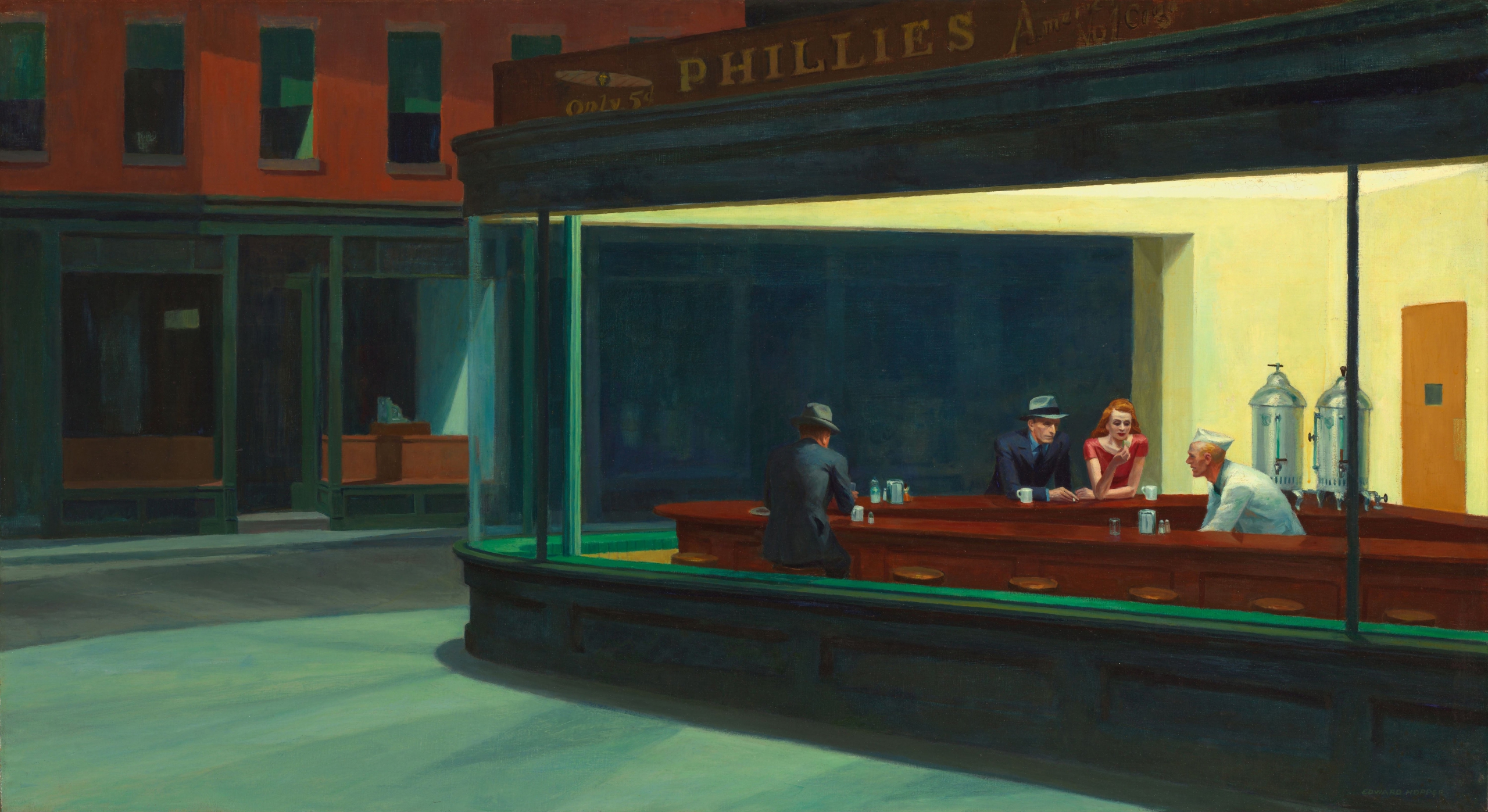 Still in the US, coffee infiltrated popular culture. Everyone might know Andy Warhol's silk screen produced masterpieces of Marilyn Monroe or the Campbell Soup cans, but not so many know the masterpiece also produced in the 1960's, "Martinson Coffee Series", which shows a high number of instant coffee tins. Coffee had become a basic, household product which was accessible to everyone, a mass-produced phenomenon celebrated by one of the most respected Pop Artists of the era. We may not qualify instant coffee as art, but certainly it's cultural relevance inspired a great artist.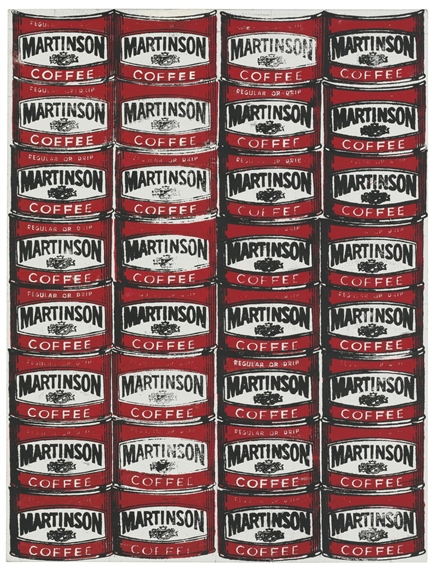 Let's move to an art discipline with huge relevance nowadays: photography. A very early piece is Robert Frank's "Coffee Shop, Railway station, 1955-56". Robert Frank is famous for his photo book, "The Americans" which had a big influence on the story of photo books and is also evidence of his fresh and nuanced outsider's view of American society. The composition and the subject matter positions coffee strongly at the forefront of culture. Some may argument that this photo book is the forerunner of the coffee table book industry, which is still thriving today. We can see this in the coffee industry in fact, with coffee professionals releasing such pieces of art and literature. Hard covered books with a pictorial focus and the subject matter of these coffee table books is in fact, coffee.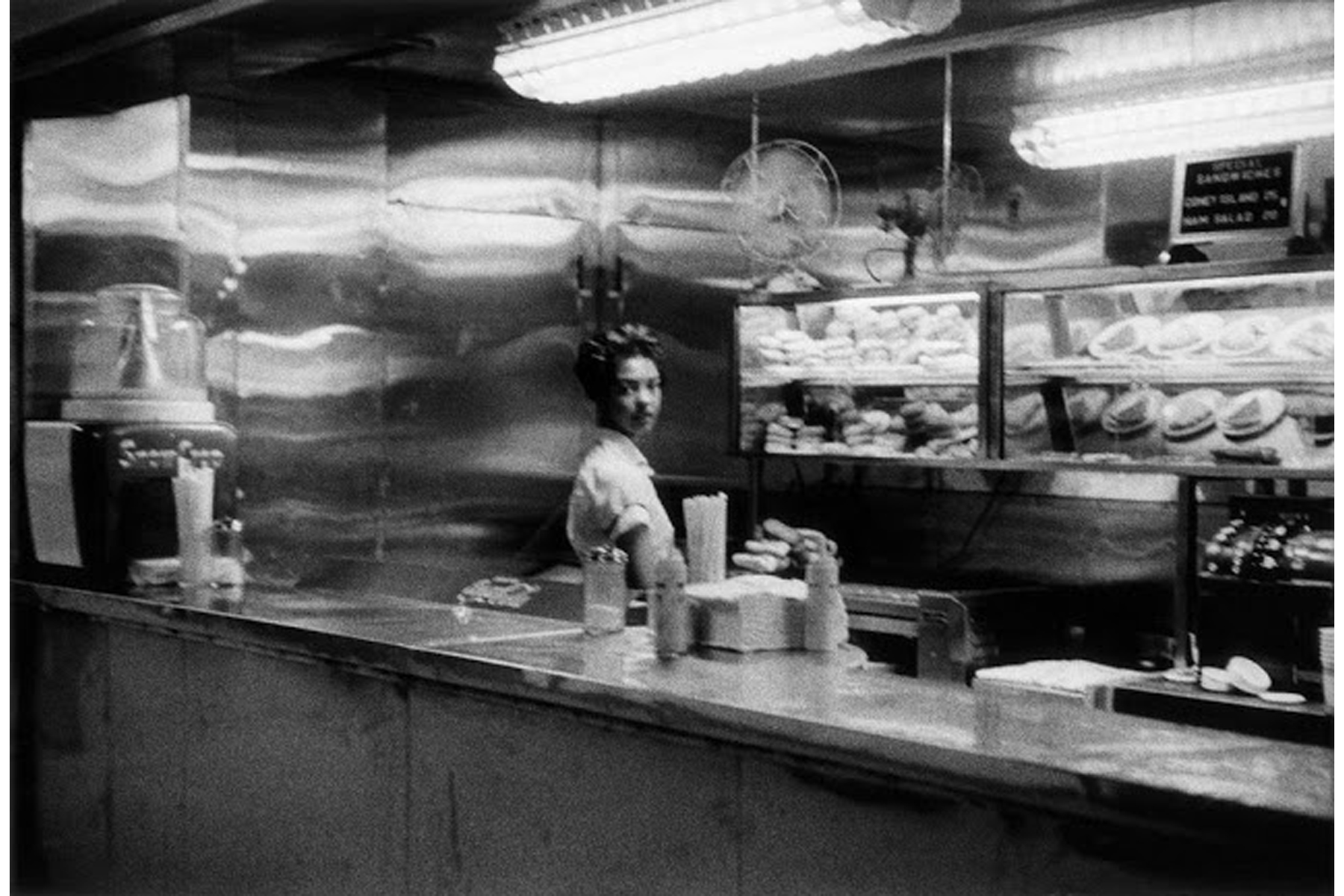 Why did all these artists make coffee a subject of their artwork? We could say it is because they liked it, because it was part of their daily routine, because it shows the culture of place. That is how art begins; when somebody focuses on a subject and does not take it for granted, their attention gives that subject importance. Of course you will find a lot of definitions of artists, paintings or sculptures, but there is one definition of the Oxford dictionary which I really liked: "A skill at doing a specified thing, typically one acquired through practice." Isn't making coffee such a skill?
Let's take the often over-looked barista. A barista tries to learn a skill at doing a specified thing typically one acquired through practice. You can not become a barista without practice, just as you cannot become an artist in one day. I think all of us trying to make the perfect coffee with only one attempt have realized that making coffee is more than that. You can call it a craft. You also never stop learning when you work with coffee; there are always new techniques, new machines and new coffees that arrive that question our skills every time. So there are definite similarities there.
Next, what is the piece of work that is produced by a barista? Isn't it also an "artwork"? Some may say it is only a beverage nothing else, but some might agree with me that it is a bit more than that. In the last years the awareness of coffee has been raised, coffee shops have opened all over the world (I love it!) and we allow ourselves to pay a big amount of money when we go to our local coffee shop - money our grandparents would never have paid for a cup of coffee.
It seems that the kind of coffee we are drinking has become more important to us. It has become more a lifestyle choice of where and how we drink our coffee. I think we can all agree with this. The moment of this enjoyment means a lot to us, that is why we go to a coffee shop in the morning or invest in home coffee brewing tools instead of just boiling water and using an instant coffee to be awake. I have had the privilege of tasting a coffee valued at $500/Kg (crazy I know!). These are specialty coffees which have been treated with a lot of care. I must say that this coffee was delicious, I certainly cannot afford it every day, but I will always have it in my memories. It was a piece of art for my palate. People take the same care with food. Creative restaurants are popping up all the time and we love them, because they touch our senses, they inspire us, they surprise us and sometimes they also entertain us.
In my opinion a cup of coffee is something incredibly beautiful. A good cup of coffee can make us smile, can provide a great deal of comfort. And let's be honest, while latte art does not change the way our drink will taste, it can change our perception of the drink. We love it, our eyes love it. A heart in a cup served by a passionate barista, can still make me smile even if I have poured a million hearts myself and judged a lot of them. Latte art has been used the world over to market all variations of espresso machines and cafes, because people connect it in their brain with good coffee. Aesthetics are important to our experience of coffee. I am a big fan of beautifully designed coffee shops, because to me they are like a piece of art not only regarding interior design- very often extremely creative and made with love and little money. Sounds like young artists, no?
And then there is a contentious, but not less relevant aspect of art nowadays. Social Media. We call the people who have a big group of digital followers, influencers or Social media artists. Social media tries (sometimes insincerely) to capture the beauty of a moment and this has transformed the cup of coffee- which in reality has just a few minutes existence in our on-going lives, but which is given another life by being shared to people all over the world. I don't want to start a discussion about the relevance of social media at this point, but I think we can agree that Social media has a huge influence nowadays. Did you know that coffee and avocado were the most Instagrammed food and beverage in 2016? Artfully curated cups of coffee are taking over the digital world.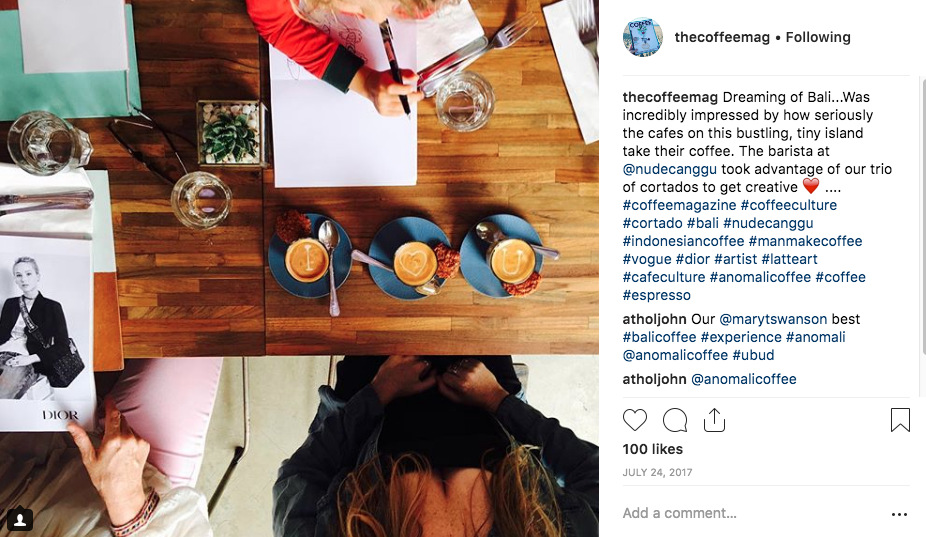 So let's come back to the question: is coffee art?
I would conclude that coffee is more than just a beverage, it may not be a piece of art which remains for 200 years, but it is a small piece of art in our day, it makes us pause, look up, appreciate the beauty in our cup and our surroundings. I think we can agree that usually the more knowledge, passion, quality and skills you put in a cup of coffee, the better it gets. And then it starts becoming a piece of art to me. And much like art, sometimes you may not understand all the parts to it, but you can appreciate all the work that has gone into it. Enjoy your next cup of coffee!
Got something to say? Then leave a comment!
---
For the Foodies: Lust Bistro & Bakery
Tuesday, 18 September, 2018
Mmmmm. There is no better accompaniment to amazing coffee than freshly baked goods, and when we chatted to chef Jean-Pierre Smith we found that they take just as much care with their coffee as they do with their incredible food.
"We have a long-standing relationship with Terbodore Roasters in Franschhoek.
Having this relationship, from their (and our) infancy stages mean that we have access to their very limited/exclusive flagship blend called the MacEspresso. It is a blend of beans from Brazil, Guatemala, Costa Rica, Indonesia, Ethiopia and Colombia.
All our baristas are trained by Terbodore Coffee Roasters and assessed weekly on their skills while we also pay special attention to the grind.
It was very important to me to find a supplier of coffee beans and associated products that share my vision on craft items, where the emphasis is placed on sustainable and traceable sources and taking time to craft a unique product in small batches. I found that in Terbodore and specifically Steve Foster."
---
Situated in the folds of the peaceful Vrede en Lust wine estate in Franschhoek, Lust Bistro & Bakery is known for its sense of warmth and "home away from home" ambiance from the moment you walk in. This year marks a milestone for one of the winelands' most enticing bistro and bakeries, as the 2015 KLINK Awards "Beyond Expectations" winner celebrates their fifth anniversary.
To commemorate this occasion, Lust Bistro & Bakery boasts a new look and feel following full refurbishments of the restaurant, whilst introducing a premium limited edition Vrede en Lust wine which accompanies the new bistro dinner menu launching on 14 September.
Loyal patrons will be delighted to hear that in addition to the new bistro menu, LUST has extended their trading hours by offering a dinner service every Friday and Saturday until 10pm. A micro greens home-grown display accompanies the fresh and uncomplicated dinner menu offering six starters, six mains and four desserts alongside a selection of the finest wines.
The aim of LUST's refurbishments was to improve the acoustics and showcase a more modern, cosy and sophisticated ambiance. Jean-Pierre's famous daily blackboard specials remain a staple amongst the fresh, natural greens and earthy décor and furniture pieces in the bistro.
"We value every customer that has walked through our doors and supported us over the last five years. In honour of our appreciation, we've tried to exceed any expectations with our renovations and reimagined menu while staying true to the familiar atmosphere we all know and love; offering more than just a destination but an unforgettable experience," says patron chef and baker extraordinaire, Jean-Pierre Smith.
Further to the fifth year commemorations, the estate have released a limited edition "LUST Bistro & Bakery and Vrede en Lust" Riesling produced in a typical German Kabinett style. With an off-dry residual sugar, the fruit of this highly terroir expressive cultivar is sourced from the Vrede en Lust Elgin farm, Casey's Ridge. Most Rieslings are consumed when they are young showing the most aromatic characteristics. This crown beauty is best paired with spicy foods and curries, and due to the well-developed yet elegant off-dry style it is also served well with seafood such as prawns, lobster and crayfish.
For more information and to make a reservation contact 021-874-1456, reservations@lustbistro.com or visit www.lustbistro.com.
Got something to say? Then leave a comment!
---
Romeo Chimunya: SA's AeroPress Champion 2018!
Thursday, 13 September, 2018
Romeo Chimunya of Tribe Coffee was recently crowned the 2018 winner of the South African leg of the World AeroPress Championship. We caught up with him afterwards to find out more about his victory…
How did you feel in that moment?
"I was gobsmacked. I still can't believe it; I can't believe that I won. The feeling is awesome, indescribable!"
What's the one thing about competing that you enjoy the most?
"I love competing against the best, and wanting to beat them, even though it's so nerve-racking."
Can you tell us about the recipe you used and your process?
"First off, I used the inverted method. You add 35g of coarse freshly ground coffee to the AeroPress. Wet the Filter. Then, add 100 ml of 84ËšC water. Let it bloom and stir for 30-40 seconds. Then add about 20 ml more. Put on the filter, flip, and press. Then I added 100 ml of water to the final brew."
As the Head Trainer at Tribe Coffee, what does your job involve?
"I train all of our customers; from the Baristas to the Managers. Both in our Training Room and in their respective shops. I also visit all our clients and check that the coffee is tasting as awesome as it should and that the equipment is being maintained. I love working with people."
How did you prepare for the Championship?
"The trick was that I didn't prep too much. I found a recipe that worked for this coffee and stuck to it. I've found that you can over prep and then it becomes a head game. You start doubting everything you have worked on. Competitions are a real mental challenge."
You've been competing at SCASA competitions for years – was this one any different?
"Absolutely. This competition was loads of fun and a lot less stressful. People didn't take themselves too seriously."
Did you enjoy the competition format? What was expected of you?
"Very much. I was expected to make a great tasting coffee, and it seems like I did!"
You'll be competing in the World AeroPress Championship in Sydney in November 2018. What are you most looking forward to?
"It has always been my dream to share the stage with the world's best coffee lovers, be it Barista champs or AeroPress champs. I want to use that opportunity to learn and expand my understanding and knowledge of the brew we all love – coffee. I have read that Australia is beautiful; I am really looking forward to seeing some of the country and exploring its great coffee scene!"
More than 60 national champions will travel to Sydney, Australia for the 2018 World AeroPress Championship in November, each trying to brew the world's best cup of AeroPress coffee. We wish Romeo Chimunya the best of luck!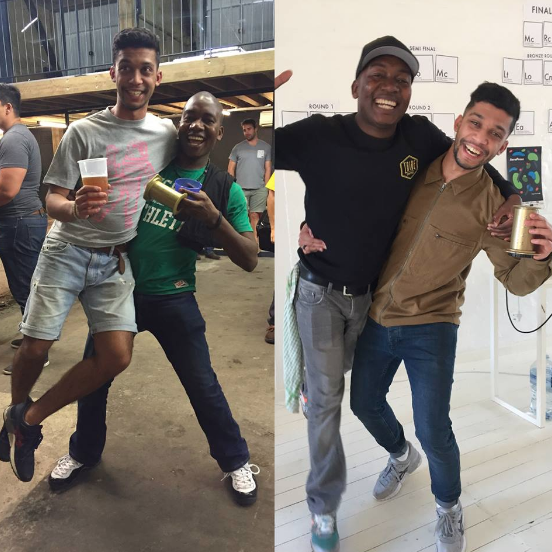 Got something to say? Then leave a comment!
---
Winner of Almond Breeze LAVC South Africa
Thursday, 13 September, 2018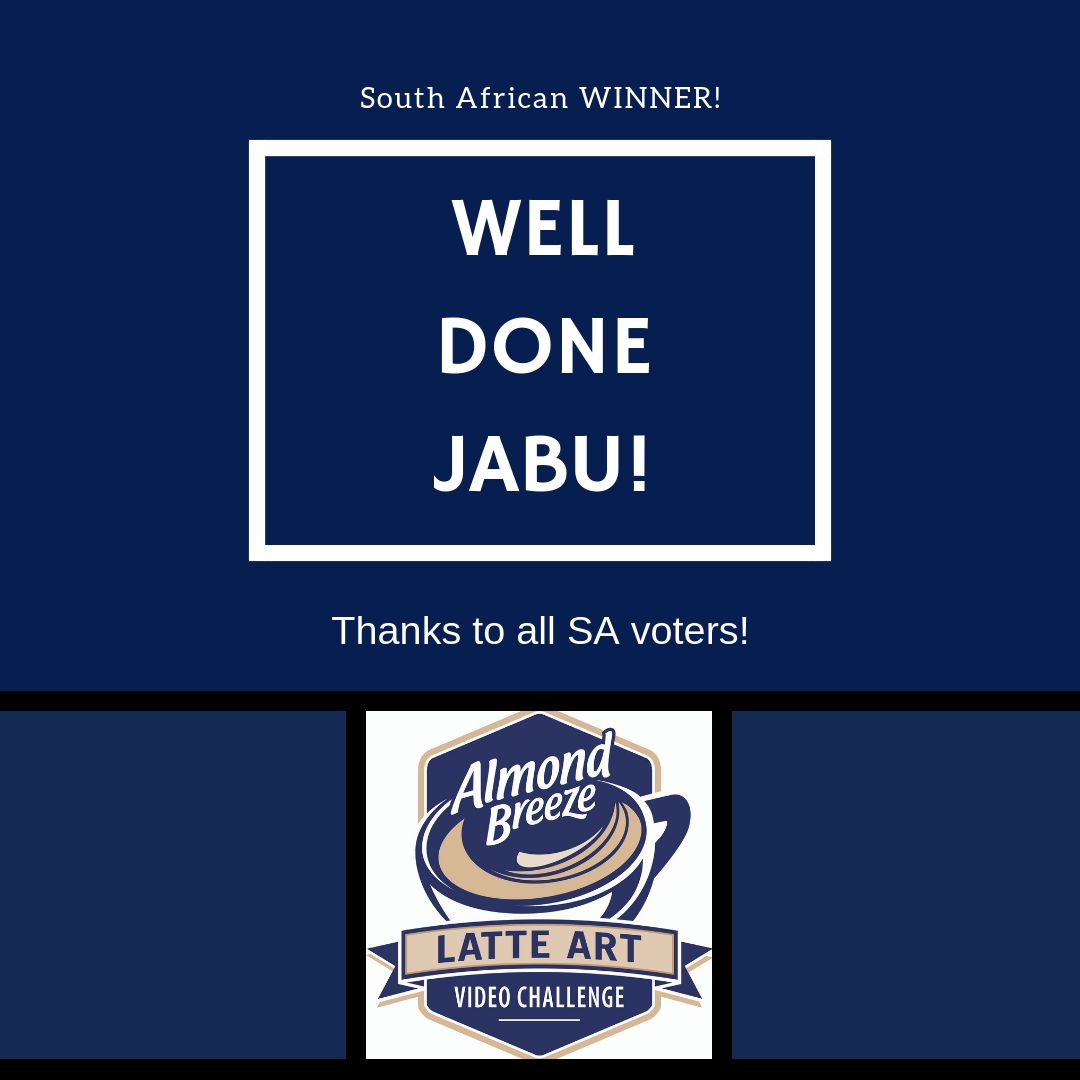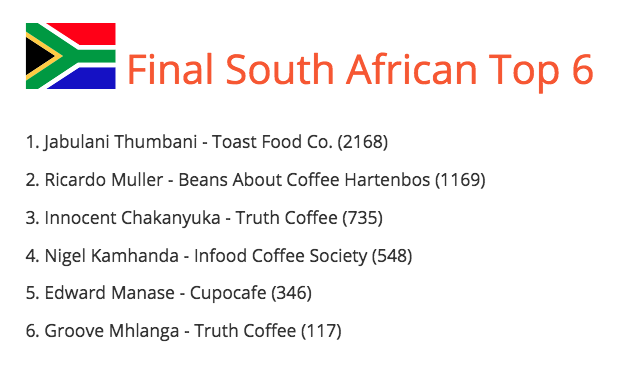 Got something to say? Then leave a comment!
---
Nurture and Nature: Used coffee can be beneficial for your skin and your garden!
Thursday, 13 September, 2018
Photos by Derryn Schmidt Photography
In the age of reuse and recycle, used coffee has incredible benefits beyond being delicious. I mean, it also smells incredible, that must be good for something, right? (yes: candles! Hand deodoriser!) We focus on two areas to utilise your spent coffee grounds that are simple and easy: your body and your garden.
Skincare
To explain the benefits of coffee for your skin, we turned to an expert, the wonderful Leandri van der Wat, a coffee fanatic and an accomplished scientist currently working in the skincare industry.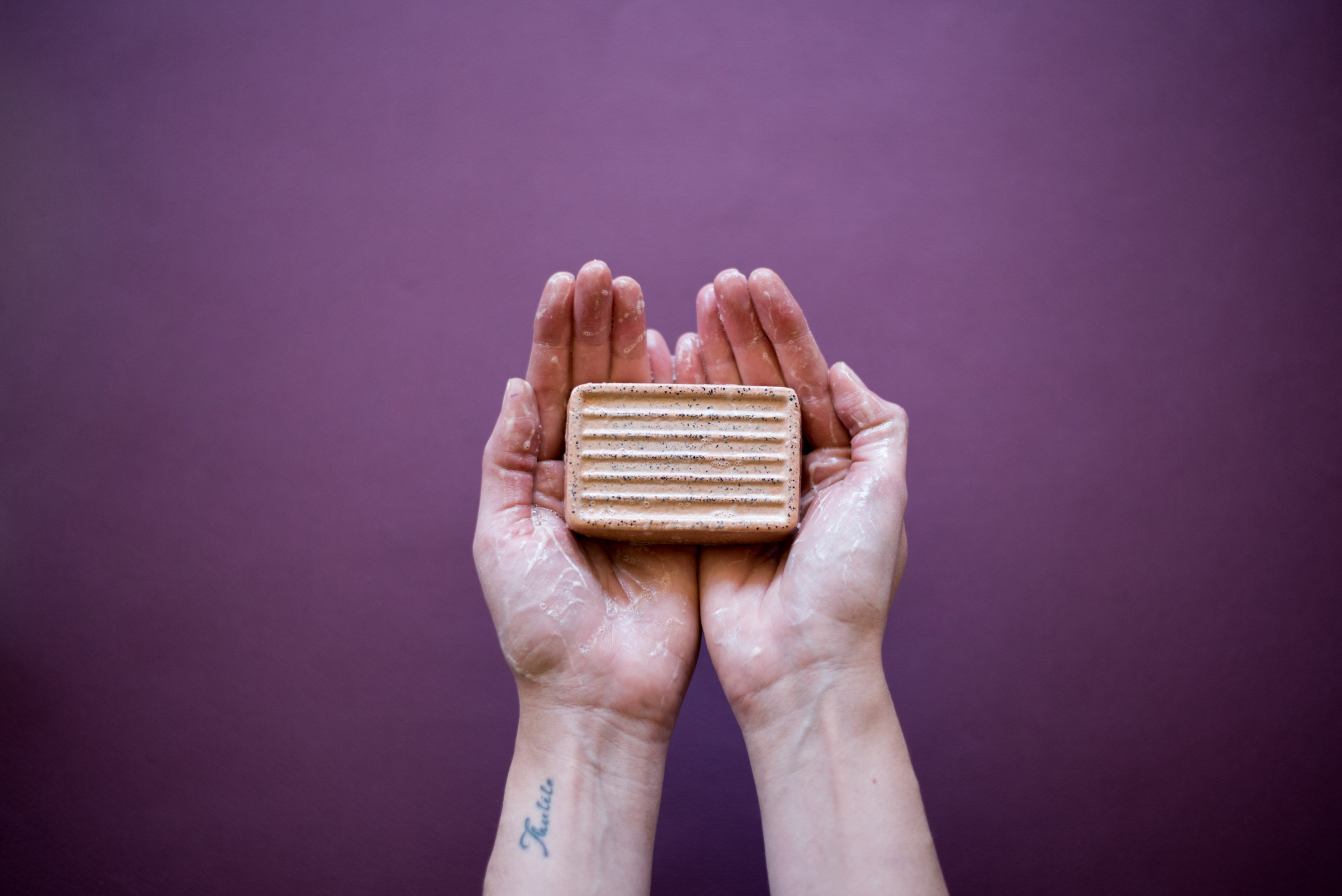 A while back, I read a headline about a cosmetics company that uses all sorts of food ingredients to make 'fresh' skincare. The story was about the Lush Adzuki bean massage bar product, which had beans sprouting in unsuspecting user's drains and soap dishes. Since I currently work as a skincare scientist, it got me thinking about bringing two of my loves together: coffee and the application of chemistry in everyday life. I rummaged through my cupboard for some Ethiopian Sidamo green beans I still had left from a trip to Addis, and decided to make my own massage bar using a blend of fats and a bit of elbow grease.
It seems I'm not alone in this desire to work coffee into everyday products. There's been a recent surge in using coffee for all sorts of items, ranging from perfume (most notably Black Opium by Yves Saint Laurent) to roller-ball eye serums. A core characteristic of any good scientist is a heavy dose of skepticism, so we tend to scrutinize the facts before we buy into the latest marketing trends. After some research into whether coffee benefits the skin and how it does, I'm happy to confirm that there's enough evidence to kill my cynicism. Coffee can be as beneficial on the skin, as it is on the mood.
Of course, there are limits to how much your skin can benefit from our favourite fruit. The compounds within coffee that appear to benefit the skin most are your flavonoids and caffeine. The best effects on the skin are seen with green coffee extract, simply because the beans are higher in beneficial antioxidants before they're roasted. However, of the compounds beneficial to the skin, both of these are found in the roasted bean, which means you can very easily use the grounds caught in your filter paper or in your French Press.
Fortunately caffeine can pass through the skin, and so it makes an excellent solution to skin that appears 'tired' as well as puffy eyes. The reason for this is because caffeine can both energize the skin and reduce the flow of fluids, reducing puffiness that is associated with a build up of fluids around the eye. For this reason, lots of cosmetics companies have made eye serums that contain concentrated caffeine. Your flavonoids can also penetrate the skin, and here they can protect the skin from damaging free radicals.
What should you do with this information? Harass your local barista for the contents of his knock-box and immerse your face in all its goodness? Urm, no. That would be weird for every one. Although coffee can be great for the skin, some things are left to the professionals. If you're keen to try using your grounds for some DIY-beauty hacks, I have a few recommendations.
Firstly, coffee makes a great scrub, and many local companies are making fantastic products to exfoliate the skin. My advice is to turn your coffee into a scrub with some coconut oil, sugar and a bit of lemon juice – but to avoid the facial area at all costs. Scrubbing areas of the body to reduce the appearance of dry skin or cellulite will work wonders, but the grounds can really damage the delicate skin on the face so fight the temptation to apply your DIY-scrub on your mug.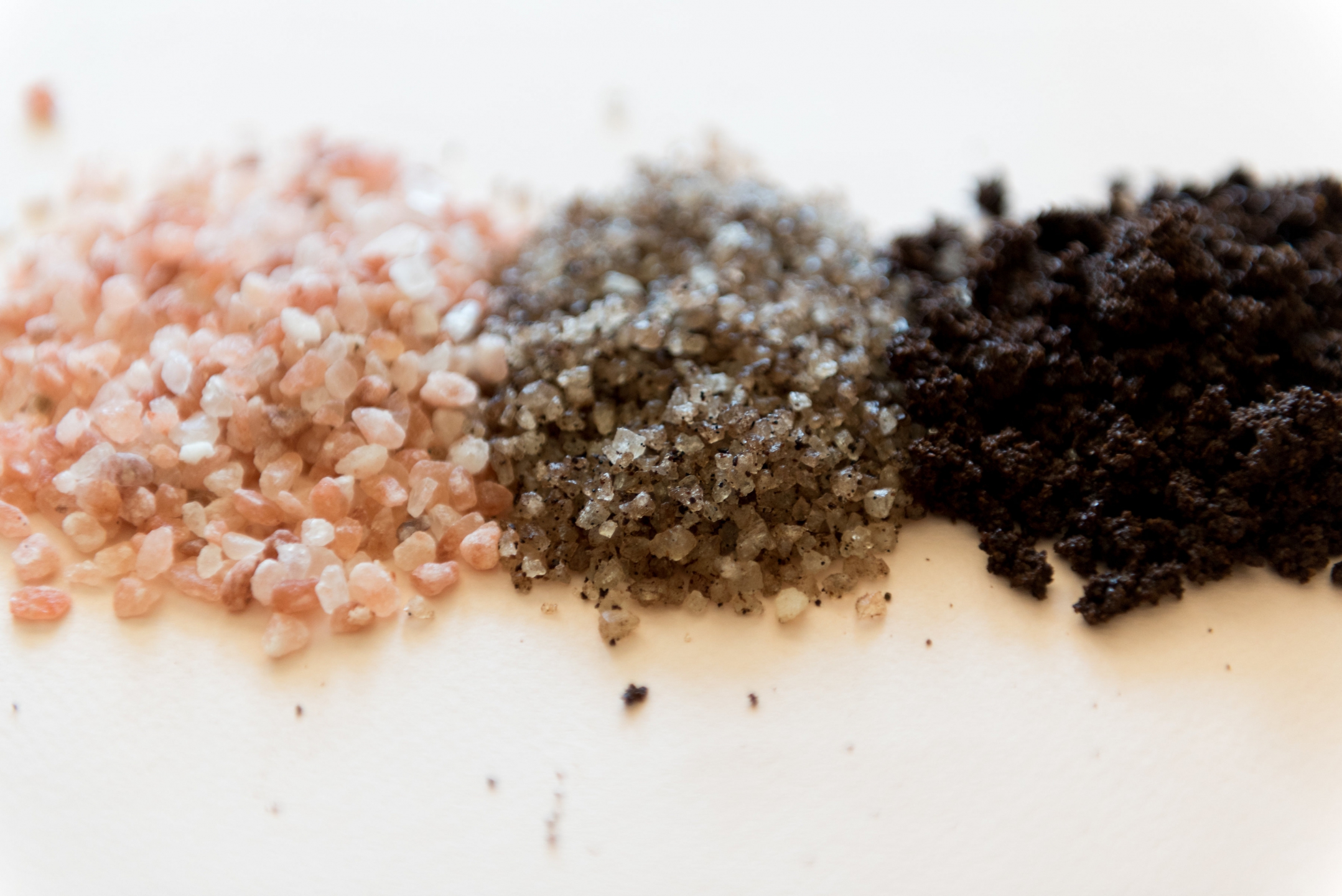 Another genius way to use your grounds would be on your hair. The coffee can stimulate your hair follicles to grow, creating gorgeous locks. However, if you've just had a bleach job done, I'd rather give this one a skip because it might add a bit of brown to your hair shade. Mix up the grounds with your shampoo and work it in for a few minutes before giving your hair a thorough rinse.
If none of this seems appealing to you, just go brew a cup of coffee and seep in the joy that comes as a standard side order with your brew. After all, happy people are the prettiest.
Ed's Note: That aroma we spoke of earlier does in fact come in handy, excuse the pun, for removing odors such as garlic or onion from your hands after cooking. No matter how much soap we use, the smell just won't to go away. If you keep a small pot of used grounds in your kitchen and rub on your hands with some water, hey presto, you smell like coffee instead of garlic. That love of onion and garlic will from now on only be tasted in dishes and not when you're eating dessert or breakfast the next day. And the exfoliation is an added bonus!
Gardening
The first rule of using coffee in your garden is: Moderation. Used coffee is very nutrient rich organic matter and should be treated as potent!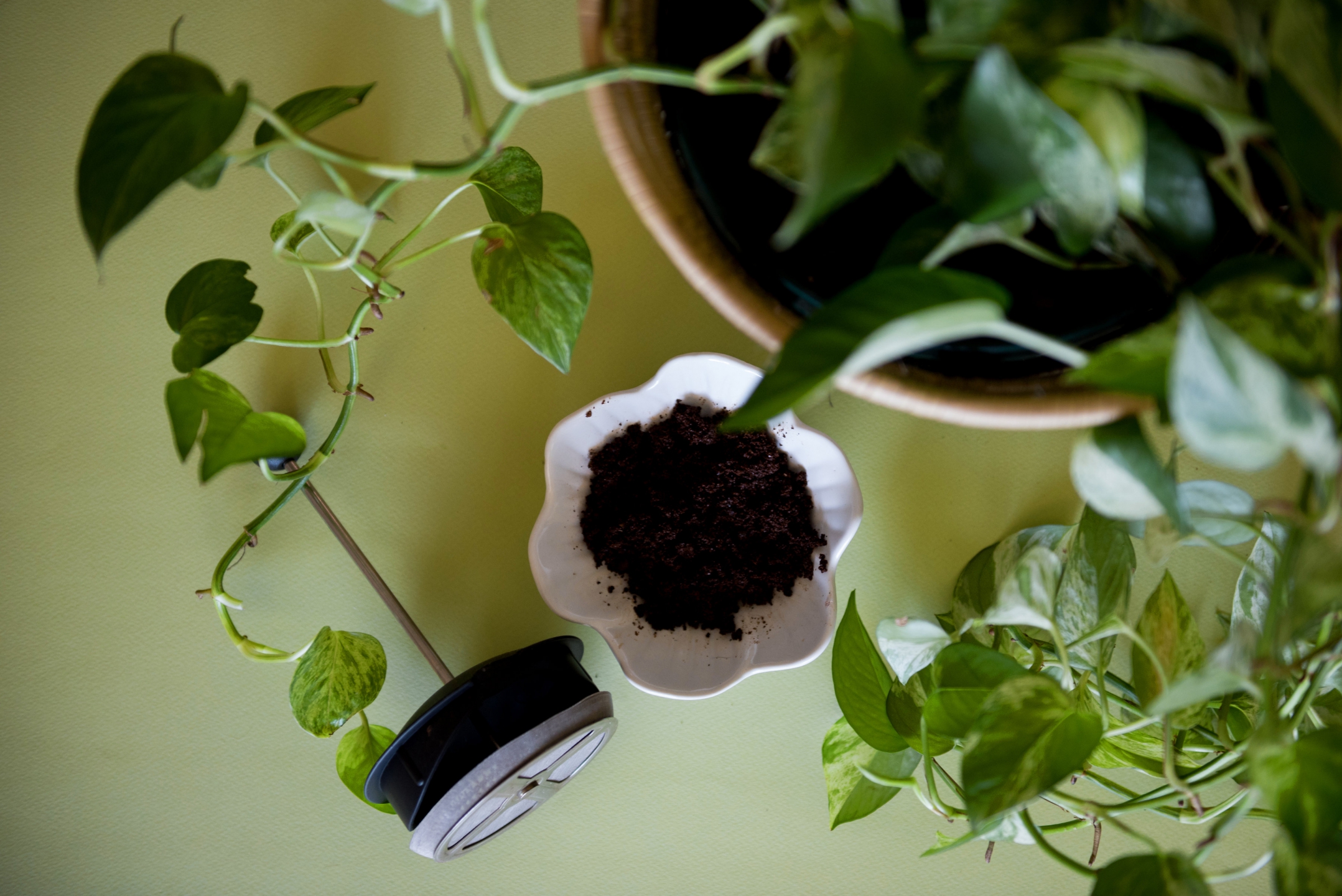 You can add grounds directly to the soil in your garden by scratching it into the top couple centimetres of soil, or just sprinkle the grounds on top and leave it alone. Be careful, because If you add coffee grounds to the soil in a thick layer, they will be compacted into a crust and be nearly impermeable to water. But if the grounds are incorporated into the soil, they greatly improve both the texture as well as the organic content. Being slightly acidic, coffee grounds lower the pH of the soil. They are very slow to break down, releasing nitrogen and other nutrients to the plants over an extended period of time, while keeping the soil loose and aerated. This is particularly beneficial for clayey soils which are usually alkaline and heavy, but all soil types can do with the occasional dose of coffee fertilizer. Coffee grounds release a good amount of nitrogen as they decompose. This is one of the three macro nutrients every plant needs for healthy growth, the other two being potassium and phosphorous. Leafy vegetables like spinach and cabbages do well with extra amounts of nitrogen. We hear that mushrooms react particularly well to coffee. You can even find kits that set you up with your own little espresso-fuelled mushroom farm (www.espresso-mushrooms.com), epic!
If you're having a slug problem, you can create a slug and snail barrier with your coffee grounds. The grounds are both abrasive and slightly acidic, so a barrier of grounds placed near slug-prone plants may just save them from these garden pests as the slugs are unable to cross the barrier unscathed.
Used coffee grounds from most brew methods have plenty of coffee power left. If you soak the grounds in water overnight and filter out the tea-coloured liquid, you will have a completely organic foliar spray that packs in some antimicrobial power along with nutrients for your garden plants. It is found to repel insects and caterpillars. Pop it in your spray bottle/atomiser and give your pants a good soaking. Be sure to filter out the coffee grounds as they can easily clog up your spraying tool! The lingering coffee smell or flavour could be making the leaves less appealing to the critters.
Coffee is generally considered a good ingredient for the compost pile. It is a rich source of nitrogen. However there's been some concern that when composting coffee it will alter the pH of the pile. Coffee is acidic, but the acid is water soluble, so most of the acid is in the liquid we drink and very little remains in the used grounds. By the time the grounds make it to your compost heap, they have a fairly neutral pH that is somewhere in the area of 6.5 - 6.8 and perfect for adding to your compost heap. Again, remember that moderation is key!
NOTE: In the same way that coffee repels pests on your plants, fleas are also reported to dislike a coffee. If you're looking for a natural and cost effective solution in your pet's battle against fleas, there is a solution for dogs and cats. For dogs, grab a handful of coffee grounds with or without shampoo and apply on top of their fur coat. For best results, use this method in conjunction with your dog's usual anti-flea medications to kill off eggs.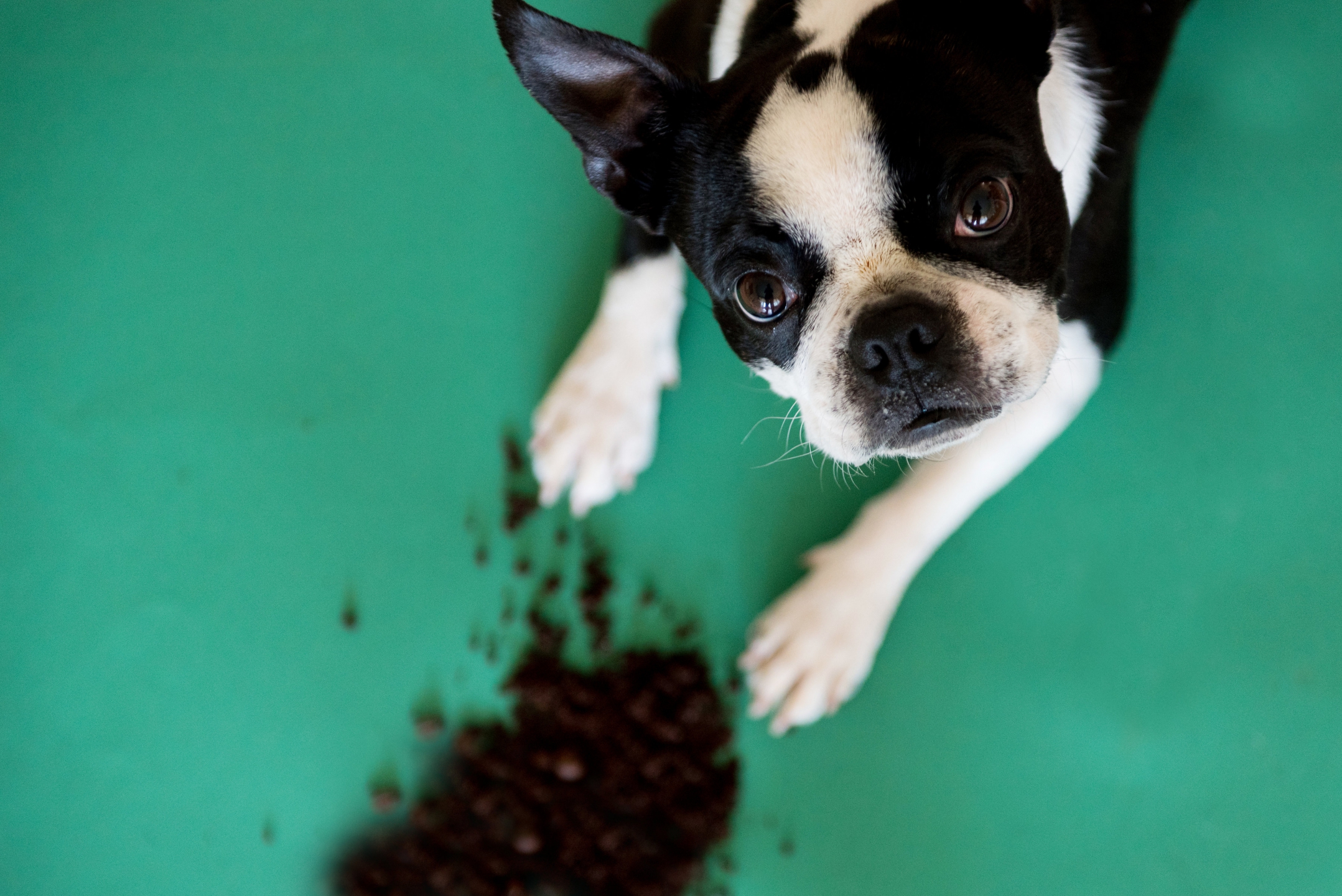 Got something to say? Then leave a comment!
---
Episode Seven: In the workplace with Sindiswa Mtolo
Tuesday, 11 September, 2018
The Selati Barista Scholarship Initiative has given 12 people the opportunity to pursue a meaningful career in coffee. In this episode we catch up with Sindiswa as she starts work with her new skills.
Got something to say? Then leave a comment!
---
Cooking Class with Miele!
Thursday, 13 September, 2018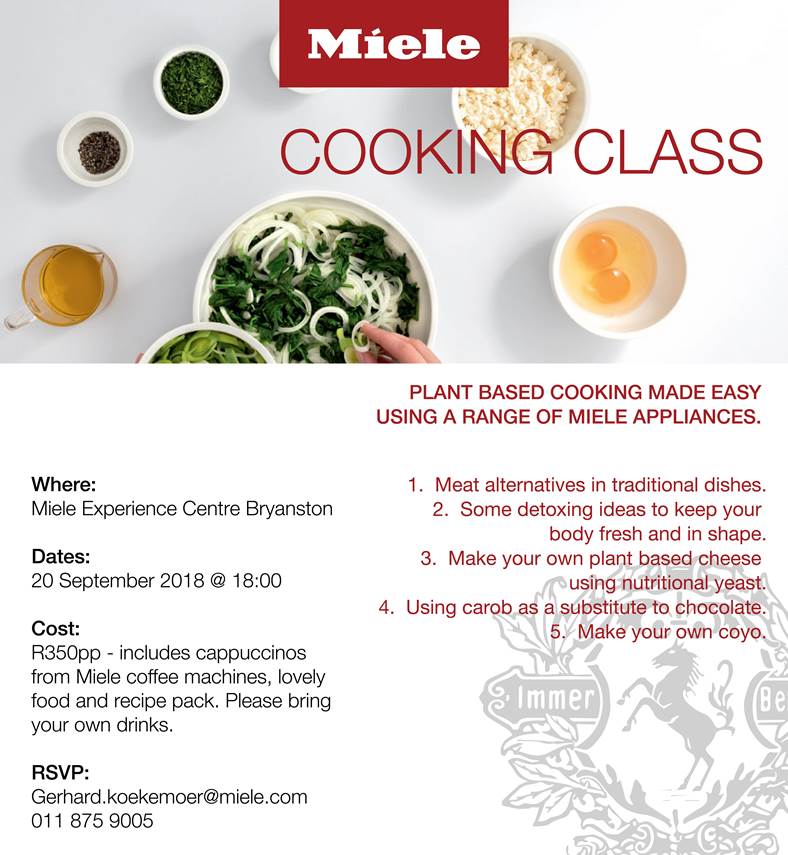 Got something to say? Then leave a comment!
---
New SA AeroPress Champion Crowned
Wednesday, 5 September, 2018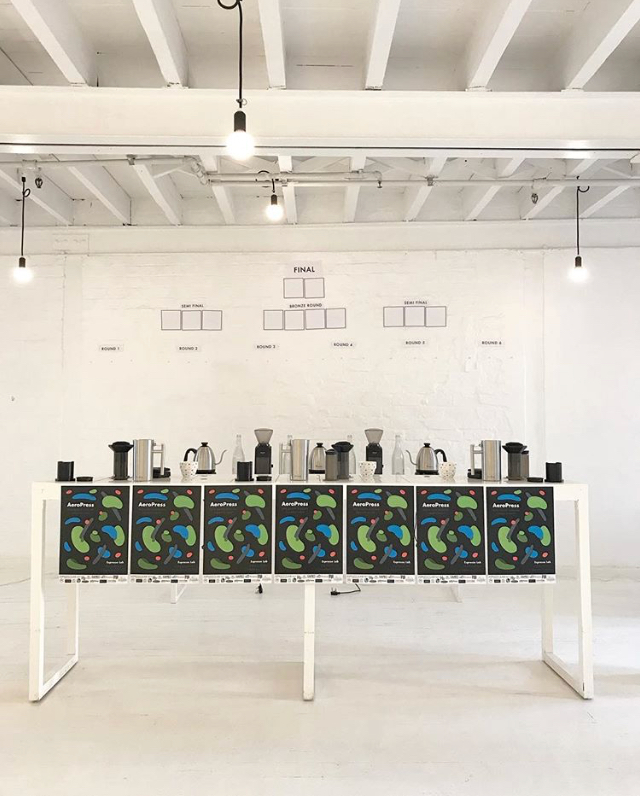 On Sunday the 2nd of September the South African leg of the W.A.C (World Aeropress Championship) took place at the BelloVisto Productions studio at the Old Biscuit Mill that was hosted by Moreflavour and EspressoLab Microroasters.
Competitors each received a bag of the competition roast prior to the event in order to formulate their own recipes which they had to hand in upon registration.
The competition consisted of eighteen brewers who qualified by means of their names being drawn from a hat.
These lucky eighteen were divided into six groups of three that would compete against each other in heats.
Competitors got 8 minutes exactly on stage in which they had to stick to their per-meditated recipes in order to produce the smoothest cup in the country. The judges, Winston Douglas (current SCASA barista champ), Nina du Toit (Test Kitchen, Chef) and Renato Correia (Espresso Lab) tasted blind all day and chose the best cup out of each heat.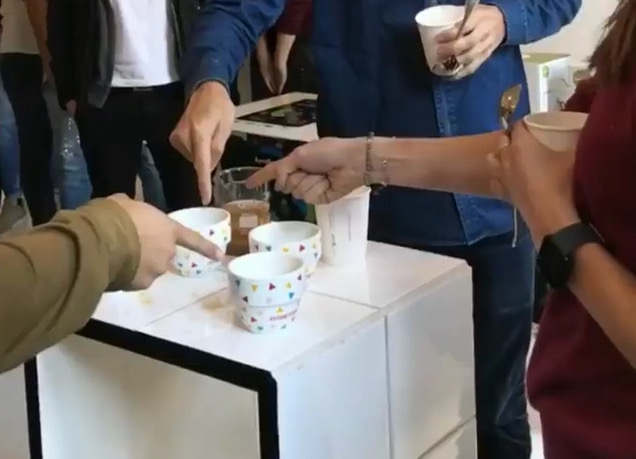 At the end of the day Romeo Chimunya of Tribe came out on top and he will get to represent SA in Sydney at the end of the year at the W.A.C. Machiel Lefebre Carstens and Lize Taljaard both from Royal Roastery in Bloemfontein came in at 2nd and 3rd.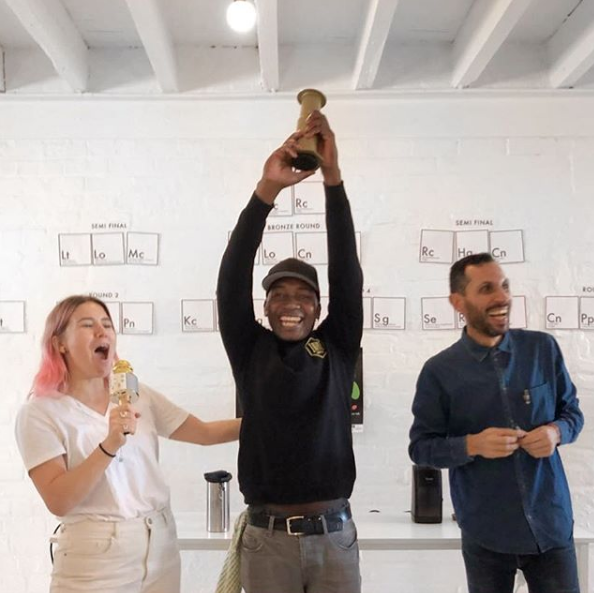 Attendance and spirits were high, Riot beer ensuring a smile on every face. The four hour event ended with an auction with proceeds going towards Romeo's expenses in Sydney.

Got something to say? Then leave a comment!