Cafe Focus: In(side) Bloom
Tuesday, 28 January, 2020
Not just another café, this coffee space is part of the necessary shift in business ownership. They've got a plan. Can it work?
Words by Marijke Makomba
---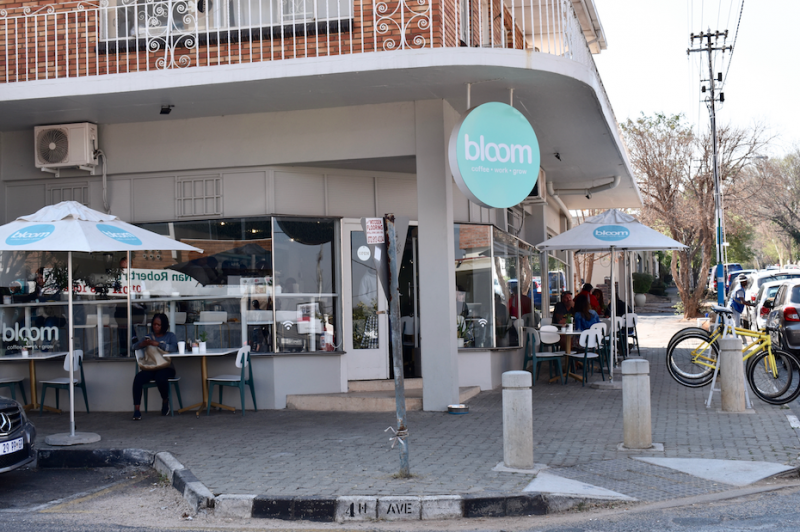 Bloom is the latest caffeinated addition to the Parkhurst 4th Avenue foodie strip in Johannesburg, South Africa. From the outside, this irresistible coffee shop looks trendy and inviting, but it aims to be much more than just an elegant eatery. Here, the main focus is to trial a meaningful transformative initiative where every employee has the opportunity to one day own a part of the business, or even open their own store. We sat down with Bloom's Manager, Prince Ndlovu, to find out more about the people steering this example of systematic generosity.
Prince has been working in the hospitality industry for most of his adult life, and over the course of his career, he has taken on many different roles - from management, to barista, bartender, server, and even worked in the kitchen. He was always looking out for ways to expand his professional experience and knowledge, and also hoped it would simultaneously demonstrate his adaptability and commitment, resulting in better leadership opportunities. However, after working in the same position at the same restaurant for 6 years, he could see that his career was going nowhere, and he began to lose hope, "I felt trapped and so undervalued at work."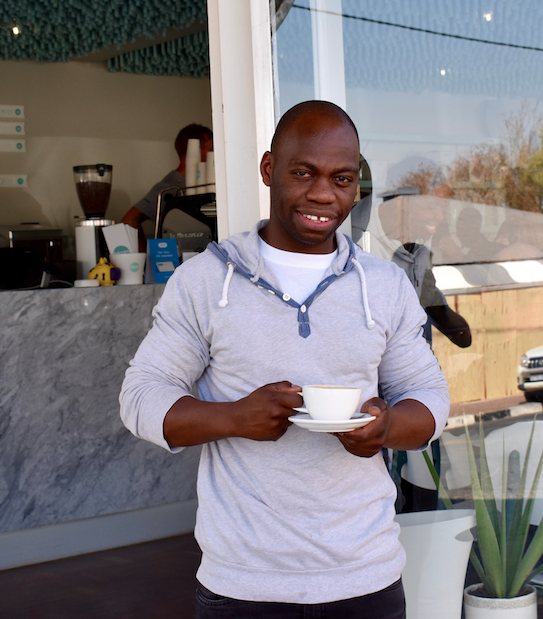 But that all changed when he met the founders of Bloom. "I always dreamed I could own my own business one day, but I never thought it could happen for me - until I met Alan and Kgabo. When they told me about Bloom and all their plans and the future opportunities, I thought they must be joking!"
This is Kgabo Nkosi and Alan Gibson's shared passion project: a response to the excruciating need for sustainable local job creation. They each walked a long road to get to this point.
Kgabo studied Internal Auditing at the University of Pretoria. He was always academically talented, but struggled to imagine becoming a corporate auditor, and was always drawn to the idea of smaller projects, start-ups and outliers. He also became enthralled with the study of philosophy: he instantly connected with the idea of quantifying values - how to apply inherently philosophical concepts in a theoretical, financial context. Kgabo explains how he uses people's motivation to build a business plan, "All our actions are driven by something - whether financial or otherwise - but if you understand what that is, I can build a model around that. We haven't been taught about the different legitimate reasons to start a business, even worse we aren't taught to determine that for ourselves before launching. Different people want different things, and that's okay - but let's build the best system to get you there in the most stable way."
"It used to be very lonely and difficult to juggle work and studying, but now I can see the value and it just motivates me to grow and do more. It was incredible to meet people who actually wanted to spend their time and money investing in me and my skill set."
Alan's entrepreneurial journey started early when he became aware of his dyslexia at school, battling in an academic environment that seemingly had no place for children who learned in unconventional ways. "Some of these kids are so amazing, but they were just not suited to flourishing under that specific curriculum, isolated and forgotten about." When he left high school, Alan started his first business. Through extreme highs and lows, from great business success to everything imploding in one bad deal, Alan continued to grow his skill set. "The learning curve was the most interesting part - nobody helped me, I didn't have any guidance on how the commercial world works. So, hard lessons were learned and I picked up my confidence as I went, moving on to the next thing." With time, he found his feet consulting, and embarked on a journey into entrepreneurial development.
In 2015, Kgabo joined Alan at the niche BEE verification and entrepreneurial development consultancy, Oko Vusa, the first step in a powerful personal and professional chain-reaction for both young men. Alan wanted to do things differently, "How do we tailor becoming an entrepreneur to the specific needs of vastly different individuals? We built a model that consists of very basic thinking, but it applies to a much wider realm of human variance." Their entrepreneurial development program includes comprehensive business education, calibrated to suit each individual. Alan says, "Entrepreneurs don't need to be an expert in every possible area of their business, but they have to understand the basics and have access to specialists at the very least - that is what we provide." Kgabo broaches key financial issues in an intuitive way, "Financial literacy and education are so important to me - one of your longest relationships in life is with money. We all just fear it and stay away from it, rather let's try to learn something about it."
They're are both passionate about the in-depth personal development coaching offered to every participant. "A lot of the people we develop either have something bad happening to them right now, or have had really difficult struggles in the past." Alan says, "We use therapy which focuses on what is happening right now that is hindering their success. Our goal is to get them over this particular set of mental barriers."
"Alan and I try to believe in people, on a personal level and in business - people need the opportunity to be able to express themselves. What we're trying to build in them is business acumen: bring out what they can do, create an environment around that, which allows them to do exactly what they love, while always being in control."
"Inside Bloom, you're welcomed like a dear friend, the energy is upbeat and enthusiastic, the service feels personal, and the space vibrates with determination and charm."
While curating investment strategies for their corporate clients' empowerment targets, they became increasingly frustrated by the limitations of popular funding options. Alan explains, "We have a bucket that's leaking, and we just keep patching the holes. Our aim is to build relationships that are not just transactional - we want value. There are millions being spent to develop people, but are they being spent in the best ways?"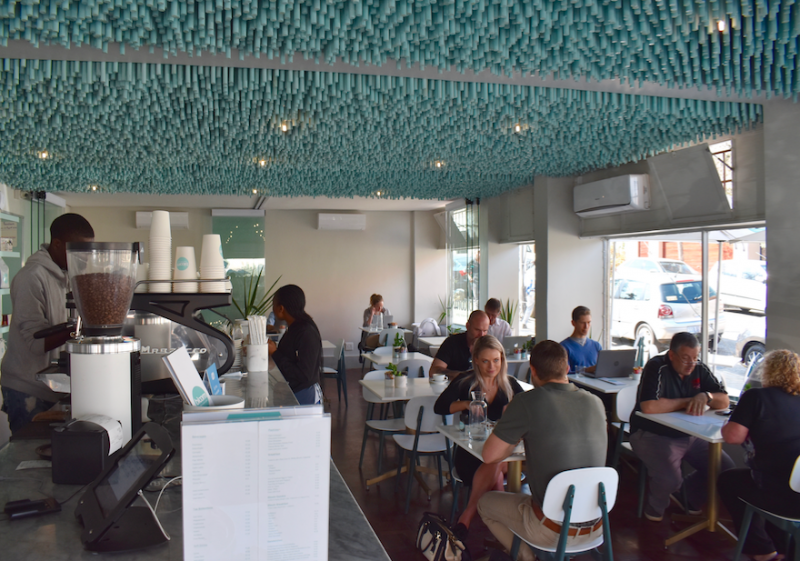 Alan and Kgabo decided to find a new, dynamic solution to spending upliftment funding, that would create greater opportunities for scale - ultimately resulting in black empowerment in the local SME community. They loved the idea of building the blueprint around a coffee shop, and after gruelling months of intensive recon work, Bloom was born.
So, Bloom put their model to the test: with Alan and Kgabo as the recipients of their own entrepreneurial framework. Alan says, "The first week was absolutely horrendous, but that is part of the entrepreneurial journey - everything won't go according to plan! What matters is how we view it, and how we handle it!" For Kgabo, it has been the perfect opportunity to hone, what is best described as his flair for financial engineering, and keep building out their model in layers - fitting into itself at every ideological and practical level. He says, "My role is anything finance and statutory related, and making sure there are systems in place that constantly collect data and track everything in detail."
Inside Bloom, you're welcomed like a dear friend, the energy is upbeat and enthusiastic, the service feels personal, and the space vibrates with determination and charm. Alan and Kgabo, are always at the store, making sure that they're part of the team, and energetically working alongside their staff to build a booming brand. They're also the mentors and educators in the accompanying entrepreneurial development program.
They proudly use beans from Father Coffee, whose blend they admire for its versatility and aromatic richness. As for the execution, it can only be described as a joyful dance, in which the craft of blooming the perfect cup has become a daily celebration for their team of baristas. The shop has lots of natural light pouring through wrap-around bay windows, complete with a handmade "floating" aqua ceiling, and pristine marble countertops. The spot pumps every day of the week, with young families spilling out onto the sidewalk, cyclists hitching up their wheels to down a quick restorative, and industrious professionals tinkering away furiously on their laptops. They serve all-day breakfast, cakes and light classics to accompany their brew.
Prince is currently completing a Bcom in Marketing and Communications through UNISA. He says, "It used to be very lonely and difficult to juggle work and studying, but now I can see the value and it just motivates me to grow and do more. It was incredible to meet people who actually wanted to spend their time and money investing in me and my skill set."
He enthuses about the personal development program, "Being a part of Bloom has been amazing: we each have one-on-one sessions with a life coach every two weeks, who finds out what we are good at, and what we want to achieve - and then they help us to actually make that happen. So it's very personalised, you're still 100% in control of your own destiny, but you have that extra support and resource. Then, we also get taught everything you can imagine about running a business - I thought I pretty much knew it all after all my years in hospitality, but Kgabo and Alan have already taught me so much."
When asked about what it's like working in a team of dynamic future entrepreneurs, he says, "It can be challenging, but it really made me think about what it means to be a leader - it pushed me to push myself in terms of my own skills in management, and made me realise how flexible your strategy needs to be when working with different types of people. There is also lots of healthy competition, which adds motivation to do better as a team and as an individual."
The team stresses the prudence of allowing the model to evolve with the people it aims to serve. "The big hope for the future of Bloom is more stores - whether coffee shops, kiosks or delivery trucks - specifically owned and run by people who worked for and were developed by Bloom." Kgabo says, "We will create an ecosystem where we build out all the structure for making a business, so they will always have that support. If you can make it in Parkhurst, you can make it anywhere." But, Alan is quick to add, "We can simplify the business model depending on the individual. We don't need each business to become this high revenue-generating monster: we need to provide a way for people to pay their children's school fees, put food on the table and live a decent life."
Prince is also excited about the future, "First, I want the Bloom brand to thrive and build momentum, so we can open more stores, include more people and create better opportunities for everyone involved. Then, when we're ready, I know I will own my own shop and help take Bloom to the next level."
The first coffee shop seems to be off to a flying start. Entrepreneurial ideas like this can help to change the landscape of the current South African economy and once again, coffee is leading the way.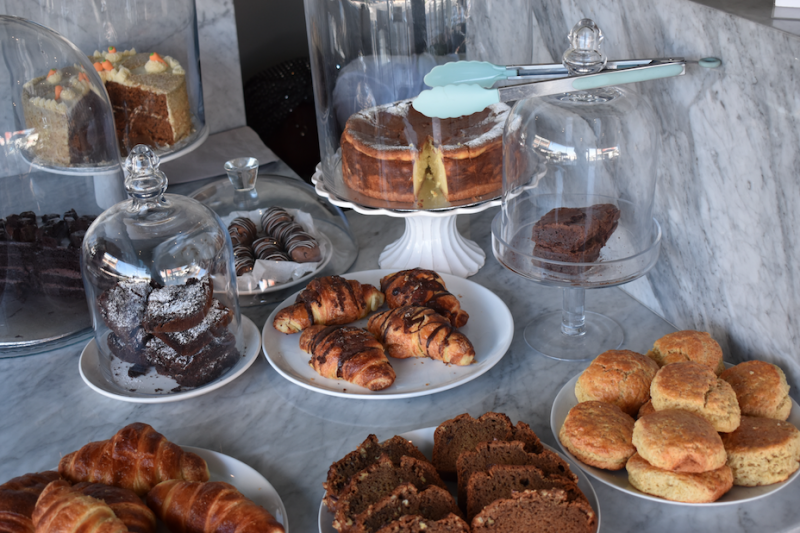 Got something to say? Then leave a comment!
---
Interview with A Shot in the Dark 2019 Winner
Monday, 27 January, 2020
André Vermeulen of Bottomless Blessings, a brand new roaster in 2019, made a splash at Creative Coffee Week in July 2019, when our panel of judges picked his coffee out of a field of 43 roasters to take the A Shot in the Dark crown! We caught up with him to see how the competition changed his coffee life.
Enter A Shot in the Dark 2020 presented by Genio Roasters now. Finals to be held at Creative Coffee Week 9-11 July 2020.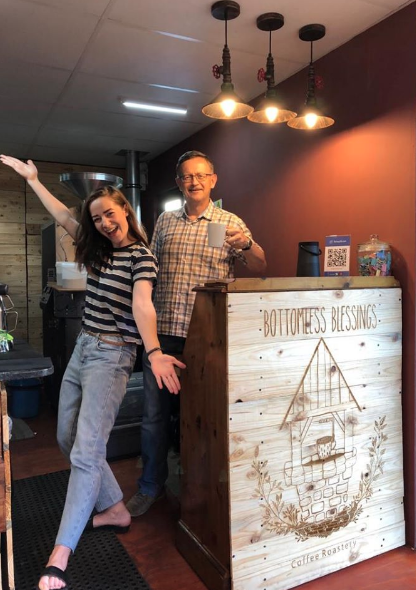 André, and his daughter, who both attended Creative Coffee Week 2019 to participate in A Shot in the Dark.
Why did you choose to participate in A Shot in the Dark?
At the stage of receiving the invitation, to participate, I just started my roasting journey and I was very hesitant to accept. My wife convinced me to participate because she encouraged me to get the exposure. So at the end my reason for participating was to learn more and to get exposure in this area of the coffee business.
What did you learn from the experience?
What an experience it turned out to be!
Every time I received those green beans it was like a birthday present. To receive beans I never roasted before and to learn more about the characteristics of every bean was just an amazing experience. To know that there was little room to experiment with the amount of beans received, just added to the adventure. And then the blend. I literally changed the blend again half an hour before I went to Postnet.
To be honest, the one thing I realized is that a lot of factors can play a role in a competition like this. The type of day you chose to roast (the climate, the time of day and nowadays the possibility of load shedding), your emotions even and then at the end it is literally seconds that can make the difference between a good and an excellent roast.
So if you ask me I learned that luck can also play a major role. At the Creative Coffee week I naturally learned that the Coffee industry is about much more than just roasting. I made good friends from which I learned lots of other coffee stuff and experienced a lot of care amongst all the coffee fanatics. I am really excited about my new family!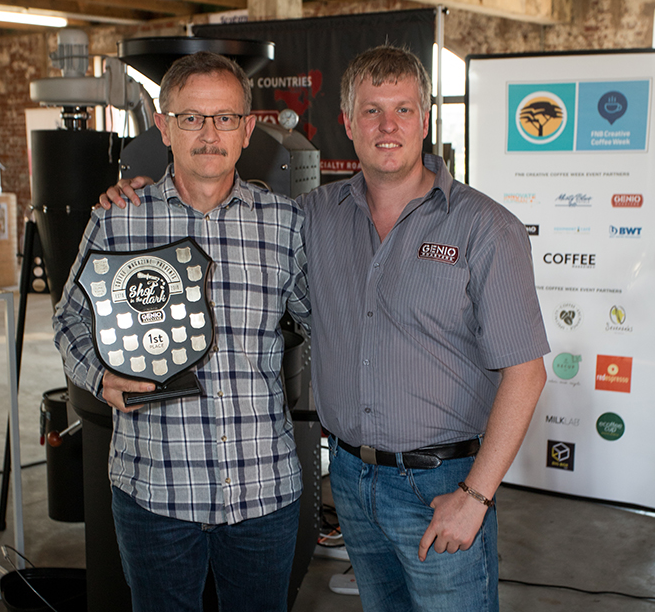 What has changed for Bottomless Blessings in the last year?
Well I know that winning the competition gave me tremendous exposure. Suddenly people in town, and even from neighbouring towns, wanted to taste the coffee at Bottomless Blessings Coffee Roastery and wanted to buy that special competition beans. Business definitely picked up in a big way and I had to hire extra space for the winter to accommodate curious customers. In this all I experienced a lot of favour from the Lord. I believe this was His way to give exposure to the Coffee Shop.
What roaster keeps the beans browning at Bottomless Blessings?
Ermelo is a small town and I have only two employees at this stage. After Esri had been my first Barista for the first year Steve is now, apart from myself, the shop's only trained Barista. Zoë is a shop assistant and hope to be a trained Barista soon. I am in full-time ministry and cannot be at the shop full-time. But I do all the roasting myself on my trusty Genio and it will probably always be my primary responsibility at the shop. Although I like being Barista also from time to time.
What are your plans for 2020?
My plans for 2020 is to roast more specialty beans and to start selling beans online. The website will be operational soon. We will also keep on making good coffee and serve our customers with excellence. We plan to include at least one new drink to the menu annually to interest those who gets bored so easily. It will always be our aim not just to serve people with coffee but also to be available to minister to anyone who just need some encouragement.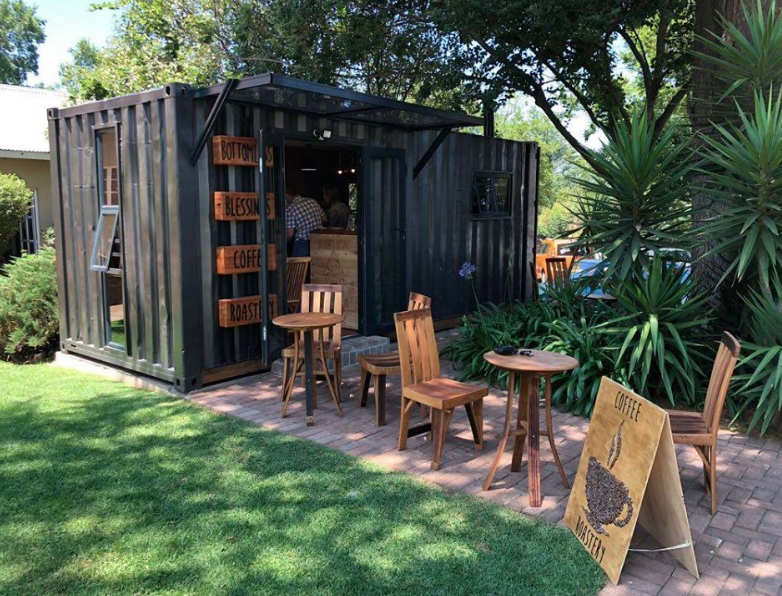 Enter A Shot in the Dark 2020 presented by Genio Roasters now. Finals to be held at Creative Coffee Week 9-11 July 2020.
Got something to say? Then leave a comment!
---
Michalis Dimitrakopoulos is coming to South Africa with Scotsman Ice SA
Thursday, 23 January, 2020
We are thrilled to announce The Scotsman SA Roadshow 2020 featuring Michalis Dimitrakopoulos in March.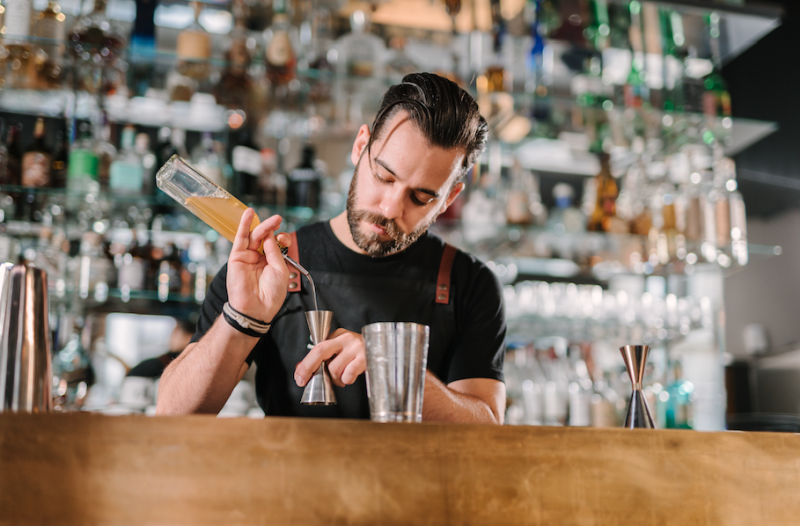 World Coffee in Good Spirits Champion 2016 & World Barista Championship runner-up in 2019, Michalis is a world-renowned coffee heavyweight! And he's coming to SA this March!!
If you don't know who the legendary Michalis is, let us give you a bit of insight. Michalis is a decorated competitive Barista and part of The Underdog in Athens, Greece, a must-visit specialty cafe and bar. He won the World Coffee in Good Spirits Championship in 2016 and in 2019, he was runner up in the World Barista Championship. So, the man has skills.
You can read more about his cafe and approach to competitions here.
Scotsman SA is bringing him to South Africa at the beginning of March for HOSTEX 2020 and then he will be visiting Durban and Cape Town.
And who are Scotsman?
Scotsman Ice Systems pioneered the development and manufacture of affordable, reliable ice-making machines in the 1950s. Half a century of research, innovation and customer service later, Scotsman Ice Systems are the largest manufacturer of ice makers in the world, a truly global company with distributors and authorised service agents in over one hundred countries. There are now over a million Scotsman ice makers at work around the world. They are based in Gauteng, with head office in Boksburg.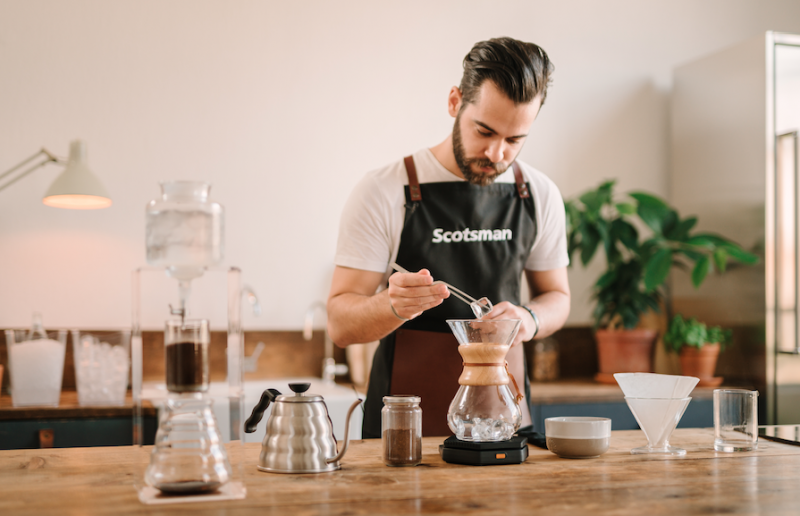 Come and meet Michalis in person in South Africa this March!
Want to meet the legenday Michalis Dimitrakopoulos?
1-3 March 2020 - HOSTEX, Sandton Convention Centre, JHB - Daily from 9.30am-5pm
4th March 2020 - DURBAN, The Lucky Shaker, Umhlanga, 7pm
5th March 2020 - CAPE TOWN, Secret Venue, 7pm
Michalis will be on the Scotsman stand at HOSTEX at certain times daily, we will keep you updated so you can see his skills in action.
Spaces for Durban and Cape Town are limited and these events are by invitation only, but if you fill in the form below, we will get back to you.
The Scotsman SA Roadshow 2020 featuring Michalis Dimitrakopoulos
Got something to say? Then leave a comment!
---
Meet Rory Rosenberg: Creator of Oslo Cold Brew
Wednesday, 22 January, 2020
Rory Rosenberg is originally from Durban (South Africa), but these days you can find him running product development for Oslo Cold Brew in Norway – a company he started in 2017. We chatted to Rory about his story…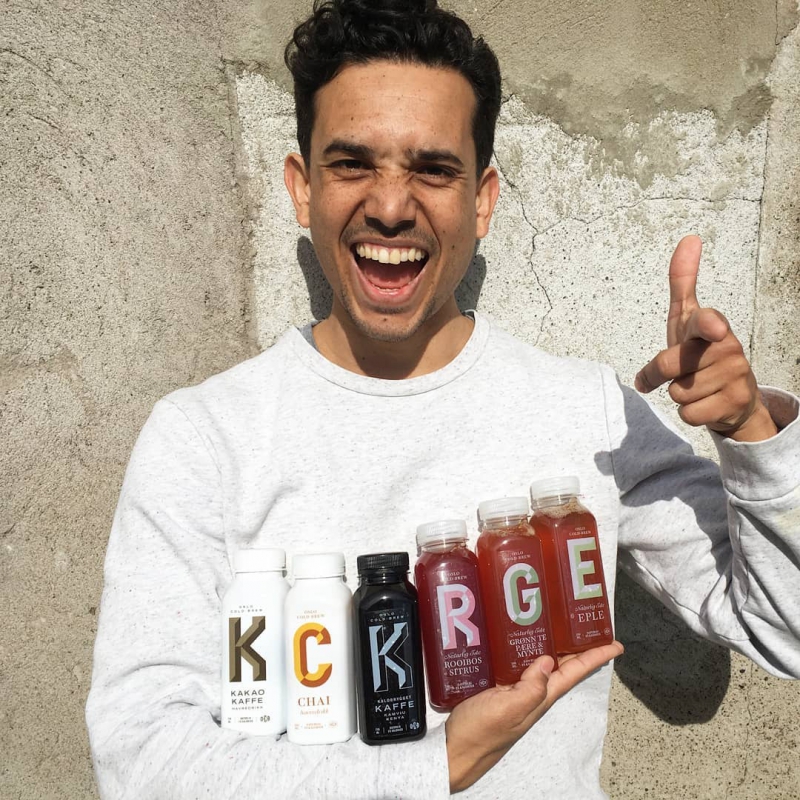 So, who is Rory Rosenberg?
"I'm a father, partner, and a foreigner in Norway, which is a really thought-provoking and humbling process. It seems that I'm an entrepreneur, but really, I'm more a student who is constantly learning and improving to ensure I leave this place a little better than when I arrived."
How did you get into the coffee industry?
"I was an exchange student in Oslo (Norway) in 2009 and needed a part-time job as Oslo is an incredibly expensive city to live in. I got a part-time job as a barista at a nationwide chain of cafés called Kaffebrenneriet. It was here where I was exposed to and fell in love with barista service and specialty coffee. Before this, I never even drank coffee!"
You're originally from Durban?
"Yup, originally from Treasure Beach and the Bluff, then later Pinetown and finally Glenwood.
I met a beautiful, interesting girl outside the library at UKZN, Howard Campus. She was an exchange student from Norway and in Durban for a year. She lived in Durban for another five years and after that, it was my turn to live in her home country. It's now my sixth year here in Oslo. We are still together and have an amazing 16-month-old daughter together."
How does the coffee scene in Norway differ from South Africa?
"The Norwegian coffee scene is fundamentally different from SA due to the buying power Norway has in terms of the green coffee we can buy (very high quality), the quality of water (it's extremely soft), and the market is pretty educated about quality coffee and understand the supply chain quite well, and therefore are much more used to paying ZAR 40-60 for a good cup of black coffee. All these factors make drinking really good coffee in Oslo very easy and normal."
How was Oslo Cold Brew born?
"This is a bit of a long story, roll with me for a bit here… I had worked in a top end chain of coffee shops in Oslo called Stockfleths for three years, and during this period I rose to become the quality controller and barista trainer for the whole company. I had also placed second twice in the Norwegian barista championships and had begun to feel stuck and limited by the resources available to me and the choices I could make within that company, so I decided to leave.
I knew I wanted to stay in coffee and that cold brew coffee was growing globally and no-one in Norway was taking the chance on it, so I committed to the idea that I will try start a cold brew coffee company in Oslo. I also knew that I had to become the Norwegian Barista Champion to gain as much attention and traction to the crazy start-up process that lay ahead of me. In 2017, I became the first non-Norwegian to win the Norwegian Barista Championship and later represented Norway on the world stage in South Korea.
After this win, followed an intensive testing process with cold brew coffees and teas (as I had zero experience with this and starting a business) and getting a founding team together and pitching to investors. We pitched to two investors and they both said yes, so we went with the best offer to make Oslo Cold Brew a reality."
Why cold brew?
"Cold brew had been growing internationally for the past decade, and my experience with Norway told me that Norway was about 3–5 years behind in adopting global consumer trends. I knew that it would take some time for it to become an established category in Norway, and if it did, it could be a success. I decided that I would like to open the market in Norway and set the bar as high as possible in terms of quality and transparency of a cold brew brand that represented everything I had been working with for the past eight years in speciality coffee.
I had little to no experience with cold brew production, so it required a lot of testing and re-learning and approaching the fundamentals of coffee extraction. I believe that we are now able to create some really great, sweet and smooth cold brew products that provide a new and healthier way to experience coffees and teas."
What made you decide to open your own business?
"It had always been something I wanted to do, and Norway is probably the best place in the world (to my knowledge) to fail at starting a business, due to the social welfare system, so the risk was decreased somewhat by this fact. Also, I had a strong desire to create, to be a part of positive change and to learn as much as possible about starting and scaling a business, so starting my own business was the only option that checked all these boxes for me."
How has Oslo Cold Brew grown and changed since launching?
"It has been slow and hard to be honest, and it's quite expensive to establish a brand in Oslo. It was financially tough for the first 18 months – very time consuming, full of learning and skills development – energising and exhausting on new levels, filled with pride and anxiety simultaneously.
We sold the company to a healthy food and drink start-up at the end of 2018 (a company called Freshco), who was primarily producing cold pressed juices. Oslo Cold Brew (OCB) is now a brand under this company. I've since moved in to head of product development and quality control within this company. This was the right choice for OCB and me, as OCB still lives and has a much larger chance of national success than it did before."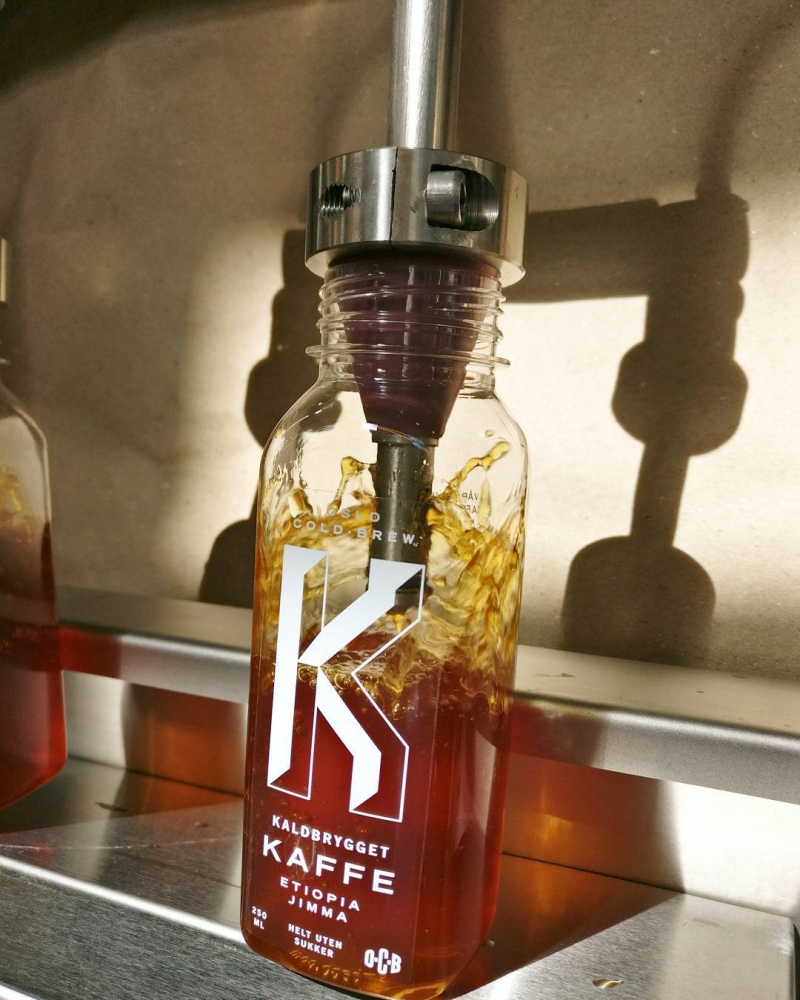 What's been the highlight of your business journey?
"Seeing customers enjoy something we've created and having a positive effect on what they think cold coffee and teas can be. I'm quite proud of how the products look, feel and taste. Selling the company was an experience I am very grateful for and I am very excited for the future of cold brew coffee in Norway. It's been a real rollercoaster ride, one that I'm still on and not ready to get off yet! It's still early days and success is not guaranteed, so the hustle journey must continue."
What does your average day look like?
"It's quite different now from what it used to be when we were independent… Emails, customer visits, and potentially strategy/branding meetings before 10h00. Production from 10h00–15h00 – I used to be the main person in production, and am still regularly in production these days too. Clean up the production space, pack orders and print out delivery slips for delivery the next day from 15h30–18h00. Set cold brews for the next day (we use 16–20-hour extraction times, depending on the product). Cycle home and try visit another customer if possible on the way home. And repeat."
What do you like best about your line of work?
"I really enjoy the process of creation, from idea to something that looks, feels and tastes great that a stranger is willing to pay for. I also enjoy exposing people to a new and different side of coffee. I'm interested in changing consumer patterns for the better."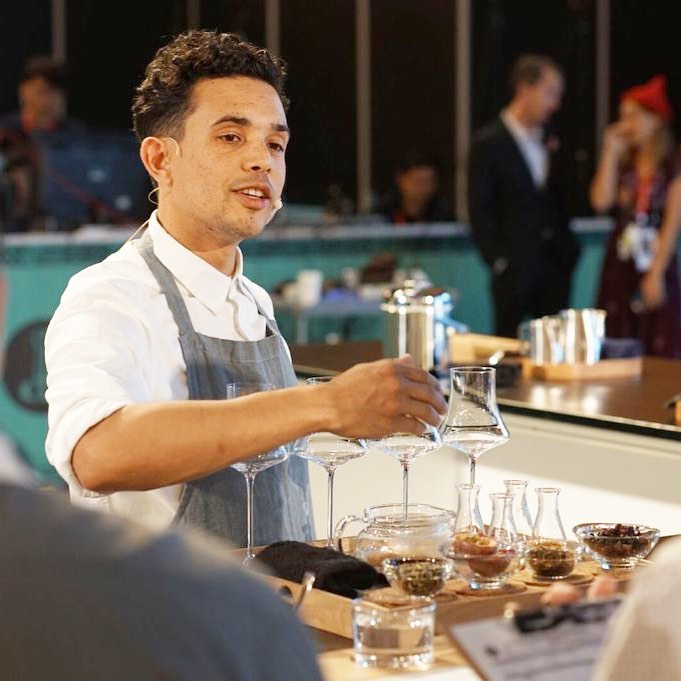 How does the pressure of running a business compare to being on stage for world champs?
"Fucking up at the world champs (like I did) is very intense, crushing, painful, and hurts your ego a lot, but it's short lived and by the next world champs it's almost a distant memory.
Fucking up in your business has much larger and far reaching negative ripple effects. You have staff, customers and investors that depend on you, and you're part of a larger and more connected system. The pressure is more real and its reactions and consequences are also much more real than in the competitive arena. Business pressure outweighs competition pressure by a long way if you ask me."
What advice do you have for entrepreneurs who are starting out on their own paths?
"Educate yourself as much as you can; read up on and Google everything you don't understand. You are your strongest asset and biggest investment, so put the work into yourself before getting people to follow you on your journey. It's going to be very hard and success is in no way guaranteed, but the struggle is. If you understand this and are ok with this, then go for it. Make calculated risks where you can. Test as often as you can, create a feedback loop with your customers, listen and change what you can to better your product/service.
It's better to fail fast based on feedback than to continue down a blind path based only on your (or your team's) opinions and ideas. Educate yourself on ways (especially creative ways) for raising money – you will need more than you think. Connect with other entrepreneurs locally, nationally and internationally to hear and share experiences that everyone (including yourself) could benefit from."
What's your coffee of choice these days?
"I still have a bit of purist approach to drinking coffee these days, so mainly black coffee and single espressos for me. Washed Colombians and varying honey processed Costa Rican coffees hit the spot for me these days. I will always have a sweet spot for Burundian coffee, and will choose them if they're available."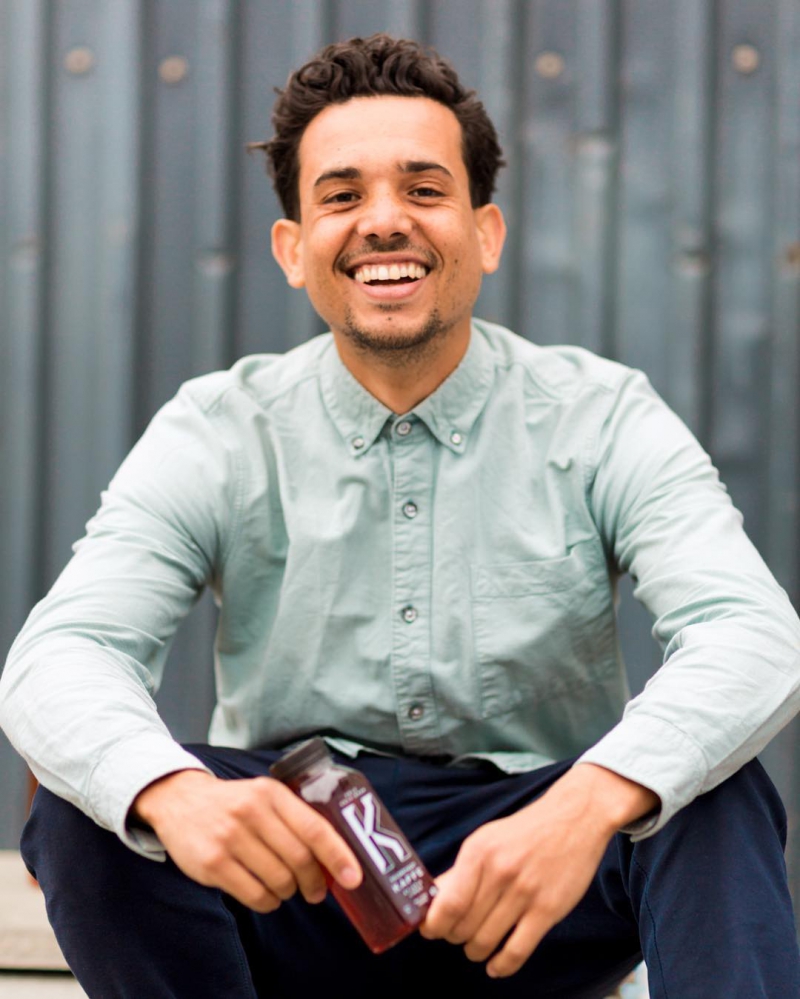 If you liked this article, then you may also like these:
Got something to say? Then leave a comment!
---
Da Vinci Gourmet launches Flavour Genius Academy - a first in SA, and it's ABSOLUTELY FREE!
Friday, 24 January, 2020
Meet the first Da Vinci Flavour Geniuses!
March 2020:
We are please to introduce you to the first ever graduates from the Da Vinci Flavour Genius Academy in Gauteng and KZN!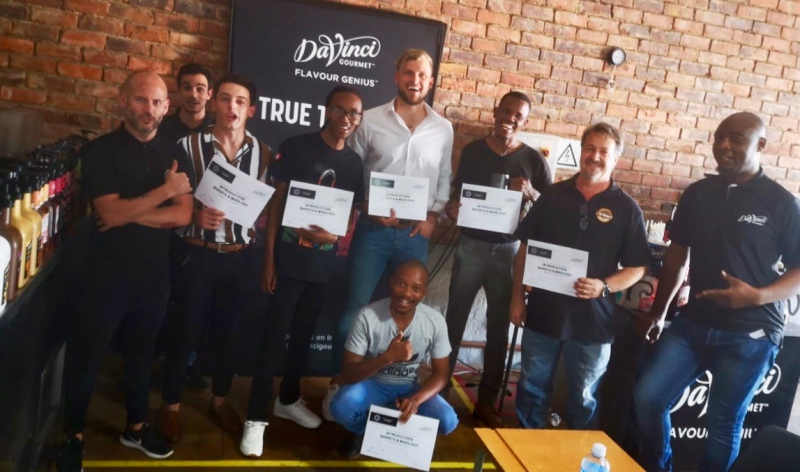 Happy Flavour geniuses graduating from JHB!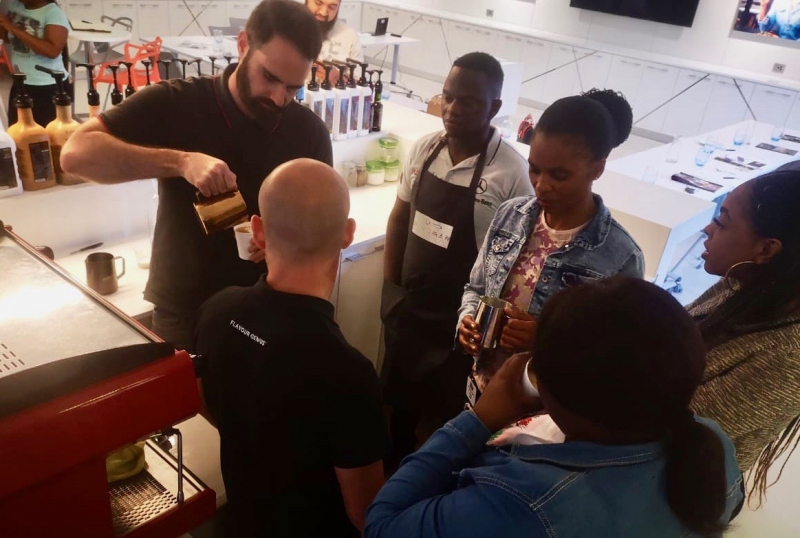 Dieter and Dale show the KZN crew how to infuse delicious flavours into their milk based hot beverages.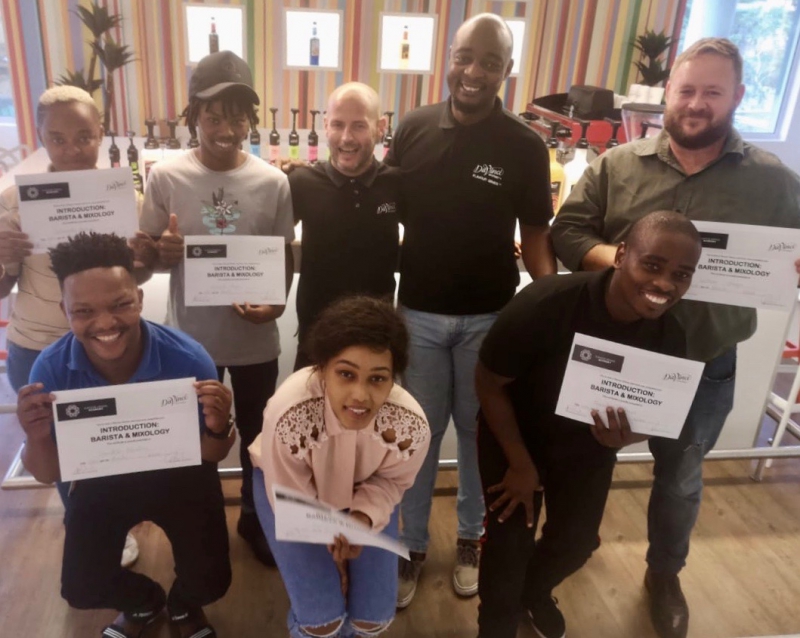 Durban Flavour Geniuses with their certificates!
"Attending the Da Vinci Flavour Genius Academy I learnt so much and gained a lot of knowledge that I was looking for. I learnt more techniques of making coffee and non-coffee based drinks using different Da Vinci products. Seeing how Da Vinci products works in hot and cold drinks, and how passionate the Da Vinci team is with what they do. Sharing skills and knowledge left me inspired to open myself a coffee shop in my community and share the same skills, knowledge and passion to each an everyone who is passionate to be involved in the coffee industry." - Tshepo, Gauteng.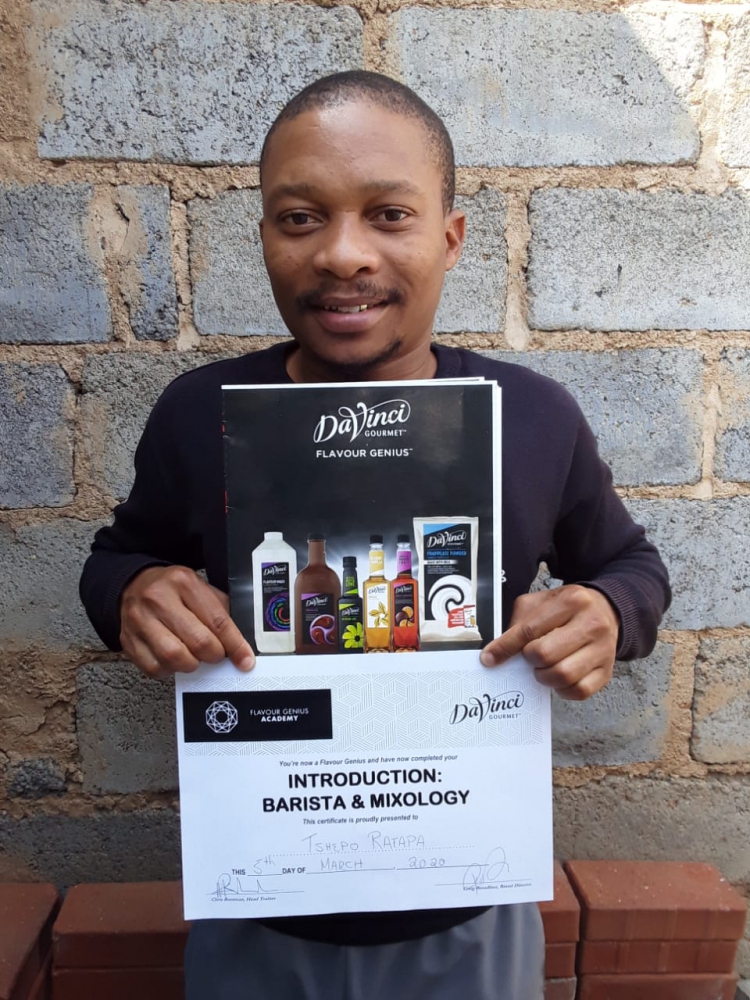 Tshepo from Gauteng was so inspired that he one day wants to open his own coffee shop!
"The da Vinci classes was the best and I was so excited that some of my craft creations where placed on their winter concepts board. I hope for more people to join and be winners like me. Not only me that made it through, but also the team members that also took part too. The team work efforts. 😉 #Davinci #teamdavinciwinners - Siya,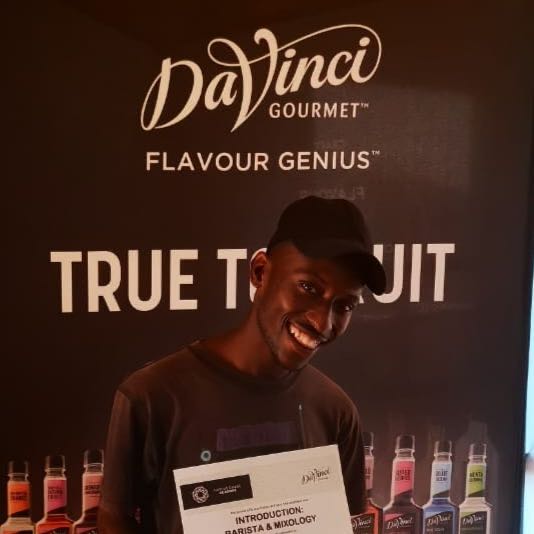 Siya - Proudly graduating as a Flavour Genius
------------------------------------------
Jan 2020:
We have some exciting news for South African Baristas, Bartenders, Cafe Owners and managers! Da Vinci Gourmet is launching the DaVinci Flavour Genius Training Academy, which is a training service offered by DaVinci Gourmet to develop skills to the coffee and bar industry. Best of all, this training initiative is absolutely free!
It is primarily aimed at baristas and bartenders who have not received formal training, but already have a good working knowledge and secondly the Academy aims to upskill baristas who want to take their beverage levels from good to genius level!
This brand new initiative, launching in March, will be a FREE 1-Day course where the highly skilled team from DaVinci will teach the following:
Barista Masterclass – Theory + Practical
Team Activity – Flavour Wheel + Cupping Session
Blending Masterclass – Frappes & Smoothies
Team activity – Regional Flavour Charts + Blending Flavours
Individual Activity - make 3 signature drinks (combination of hot & cold)
Presentation of Concepts and selection of a winner per class
Adding Value: Drinks Cost Calculator for accurate GP's
Presentation of Flavour Genius certificates / kits / badges
If you would like to attend, ABSOLUTELY FREE, please fill in the form below. Places are very limited and you will need to motivate why you should be chosen to become a Flavour Genius.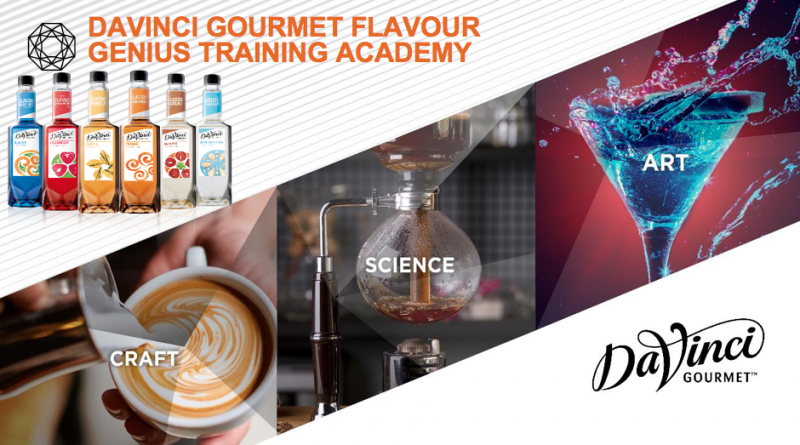 GAUTENG
Thursday, Friday 5,6 March (NOTE: Hostex is 1–3rd March)
Tuesday, Wednesday 23, 24 June (NOTE: CoffeeChoc 19-21stJune)
Tuesday, Wednesday 18, 19 August
Tuesday, Wednesday 20, 21 October

KZN
Tuesday, Wednesday 10,11 March
Wednesday, Thursday 8, 9 July
Wednesday, Thursday 2,3 September

CAPE TOWN
Tuesday, Wednesday 17, 18 March
Tuesday, Wednesday 5, 6 May (NOTE: Cape Town Coffee Festival 1-3 May)
Tuesday, Wednesday 14, 15 July (NOTE: CCW is 9-11th July in Durban)
Tuesday, Wednesday 15, 16 September

OTHER REGIONS
Tuesday, Wednesday 21, 22 April – Port Elizabeth
Monday, Tuesday 5, 6 October – Port Elizabeth (NOTE: PE Barista Champs 2, 3 October)
Tuesday, Wednesday 26, 27 May – Bloemfontein
Monday, Tuesday 3, 4 August – Bloemfontein (NOTE: Bloem Barista Champs 31st July, 1August)
Application Form: I want to be a DaVinci Flavour Genius!
Got something to say? Then leave a comment!
---
Coffee inspires Style: When two worlds collide
Thursday, 23 January, 2020
We asked the wonderful Thuli Machobane (@tooandalee) to curate a coffee inspired list of style. She did not disappoint!
---
THE SAN FRANCISCAN ROASTER COMPANY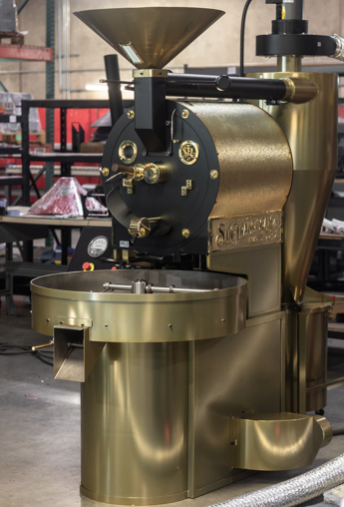 What we have here is one of the most beautiful roasters, hand-built by the Nevada based San Franciscan Roaster Company. The craftsmanship on these machines is one to be admired, the classic style that is elevated by beautiful brass fittings easily make these guys the centre of attention, transforming any space. The machines can also be personalised where a designer can choose the finish of the barrel as well as any color of the rainbow for the rest of the machine. When my eyes first landed on the San Fran roasters, I had the itch to learn how to roast. That's what style does to a person, when you see the perfect item, you just have to have it.
---
YOUR ID x NEW BALANCE 574 BARISTA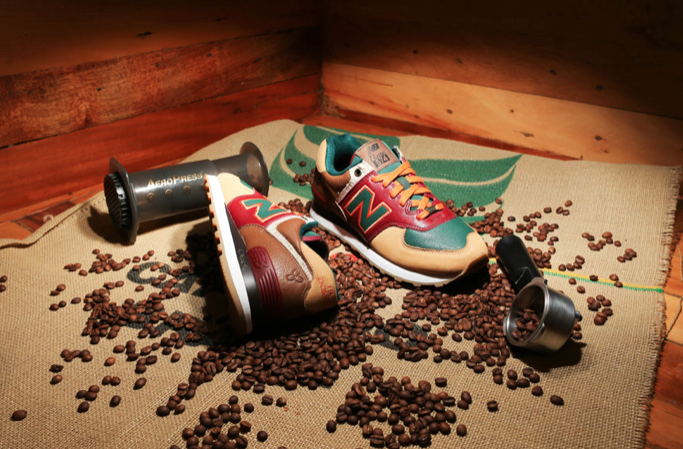 If you go to the search bar on a sneaker retailer's website, searched for mocha, espresso, flatwhite or simply coffee, chances are the search will yield a couple of fresh coffee-inspired kicks. Together with New Balance as seen in this image, brands such as Nike, Air Jordan, Adidas, and Asics have designed sneakers for coffee lovers. Sneaker culture has a lot of love for coffee and vice versa. Deadstock Coffee in Portland is a one great example, a specialty coffee shop that celebrates sneakers and makes sneaker-themed coffees.
---
COFFEE x LUXURY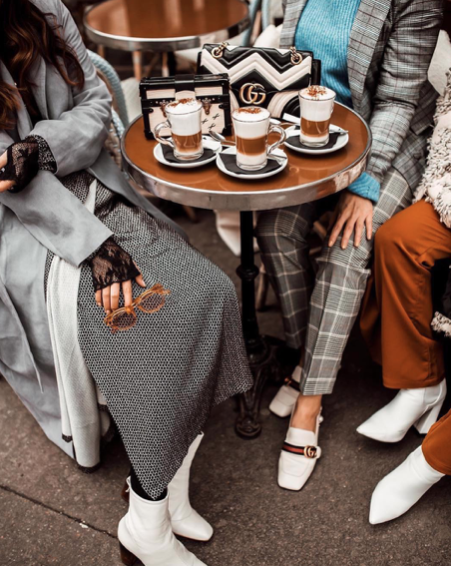 Specialty Coffee is a luxury in many ways, both in quality of the product itself and in well, the cost. As we know, some coffees can cost us thousands of rands, rightfully so. Coffee and high fashion therefore compliment each other very well in this way. They are both art, they are both tasteful, and they both make us feel amazing. This image, among many beautiful others by Helen of Style Structure really captured the essence of how luxury fashion and coffee overlap.
---
UMEKO MOTOYOSHI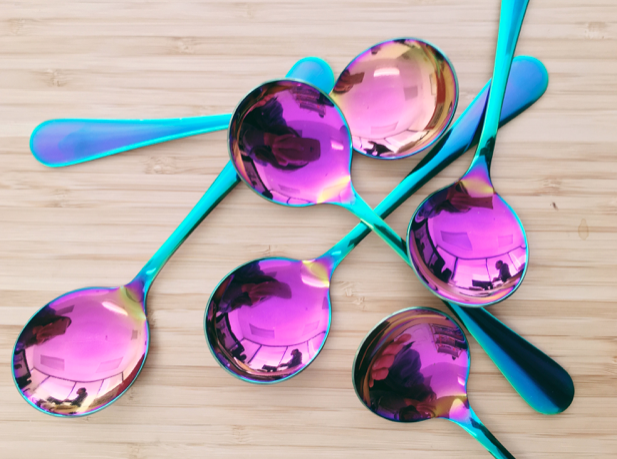 These are not just any cupping spoons. Umeko created these beautiful rainbow spoons as a way to express her experiences with inclusion in the coffee industry and in the same light as a way to empower and celebrate others; specifically women, LGBTQ, BIPoC (Black, Indigenous, and People of Color) and allies in the coffee community. She hopes that when you hold one of these beauties, you remember to not only love yourself but to celebrate difference. In addition to these rainbow spoons, Umeko has continued to create other cupping spoon designs and intentional fashion accessories that spread positivity and inclusivity in the industry.
---
CROSSLEY & WEBB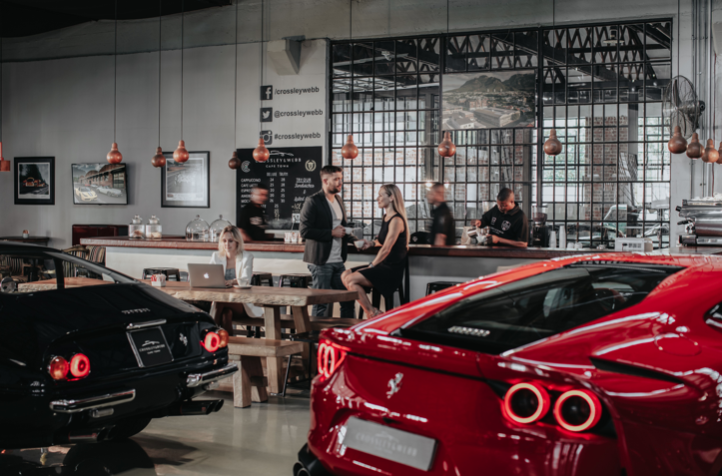 The city of Cape Town has some of the best hybrid coffee shops in South Africa, where coffee is paired with a certain form of art. Crossley and Webb's car dealership x coffee spot is one such. Who wouldn't want to indulge in a cup of Truth Coffee while viewing or potentially purchasing some of the sexiest sports cars, vintage cars, and classics? You don't have to be a car lover to find this space breathtaking.
---
COFFEE CUPS OF THE WORLD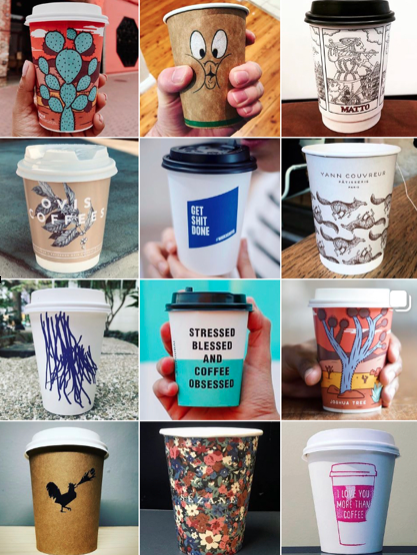 Coffee cups are one of the best ways for cafe's to express themselves and more importantly to advertise to other potential consumer's on the street. Henry Hargreaves's Instagram has so far documented over 1200 coffee cups from around the world and the creativity from the various cups is simply amazing. These cups though, are not only walking billboards for coffee shops, but are also somehow the coffee drinker's style accessory. There's something about holding your favourite coffee cup proudly as you walk down the street, that adds an element of style and essentially becomes fashion itself.
---
JULES DENBY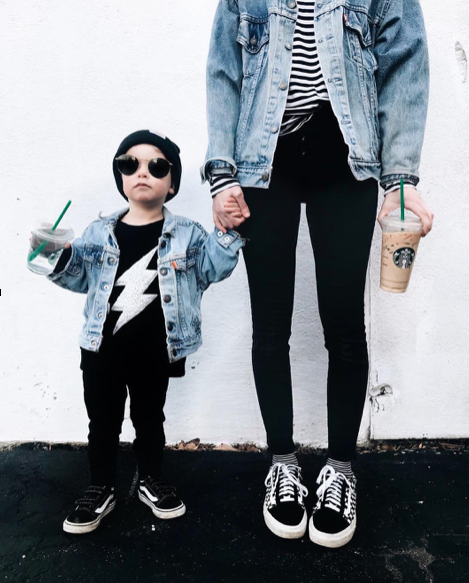 Julie and her adorable boy are probably the most effortlessly cool, dynamic duo. Her images capture the coexistence and melange of coffee and clothes. Just as coffee can be, Julie's fashion is super chilled and laid-back. She inspires the casual dresser and represents a community of many such as myself who lean towards street style, showcasing how diverse coffee can be.
---
THE CHOCOLATE BARISTA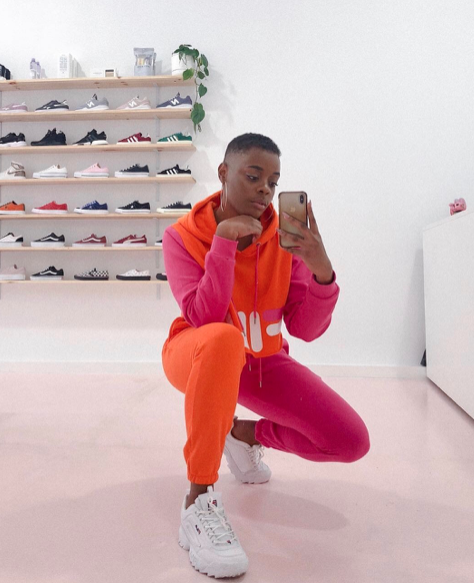 This is Michelle Johnson, The Chocolate Barista. She has created a platform that has made a lot of Black people like myself, feel comfortable to love speciality coffee and feel a sense of belonging in the industry. Her website creates content that focuses on the promotion of racial diversity and inclusivity in the specialty coffee industry. She also hosts events such as "Black Coffee" where various coffee professionals discuss issues in this area. Michelle's dope sense of style has always stood out so I had to ask for her point of view on coffee and style. She said, "For me, coffee and fashion are both ways to creatively express myself. I put the same amount of thought and intention into choosing my outfit for the day as I do picking a coffee and how I'm going to drink it. They're both ways I set myself up to have a good day. Besides, who doesn't want to look as good as their coffee tastes?!"
---
Caitie's FLATLAYS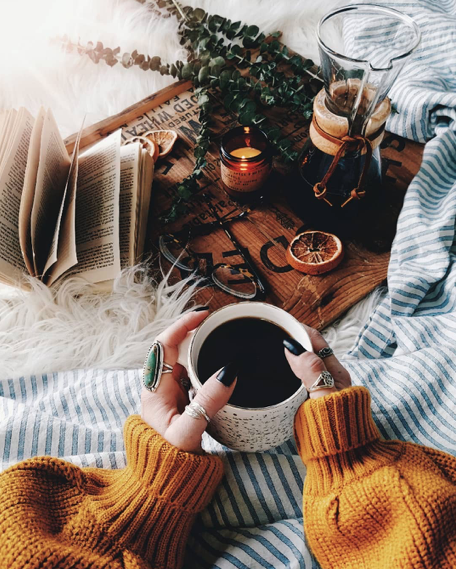 With the exponential growth of Instagram in recent years, flat lays have become a pretty big deal. They are images captured from a birds eye view, where various items are creatively arranged and styled on a flat surface. Coffee is almost always one of these items, adding a level of comfort, relatability and sophistication to an image. Caitie's Instagram feed has a collection of the most beautiful flat lays that incorporate coffee and clothes. A year ago, she started sharing with us flat lays that included her beautiful daughter and son, where micro-fashion then meets coffee.
---
BARISTA FASHION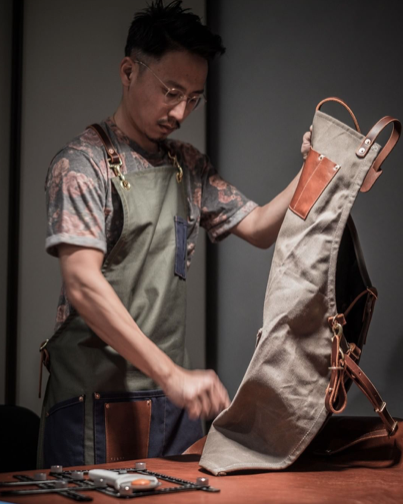 What is it about a well-dressed barista? Coffee is an art and artists tend to be stylish. Their style varies from trendy to very individualistic, either way there's always personality coming through their choice of clothing. Specialty coffee shops themselves extend their sense of style through barista fashion, with beautifully designed custom aprons. The leather aesthetic and accents of these aprons have become synonymous with the coffee industry. They relay to customer a proud barista, a professional, a craftsman and an artist. Someone you can trust to blow your taste buds away!
---
DEPARTMENT OF BREWOLOGY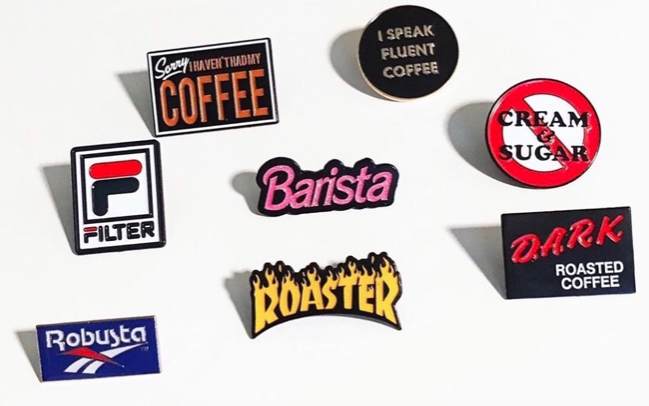 These pins are just some of the coolest creations by the Department of Brewology. DoB harnesses coffee culture and designs witty apparel and accessories that any coffee lover would be proud to wear as a statement. Fashion is a non-verbal language that communicates and relays a certain meaning or feeling to others. Department of Brewology has truly captured this in their designs for coffee lovers and the community at large.
Got something to say? Then leave a comment!
---
A chat with Bloemfontein Roasting pioneer, James Kilbourn of Stereo Cafe
Thursday, 23 January, 2020
We caught up with James Kilbourn, roaster and owner of Stereo Cafe as the business turns 6!
Images from Stereo Cafe instagram, give them a follow!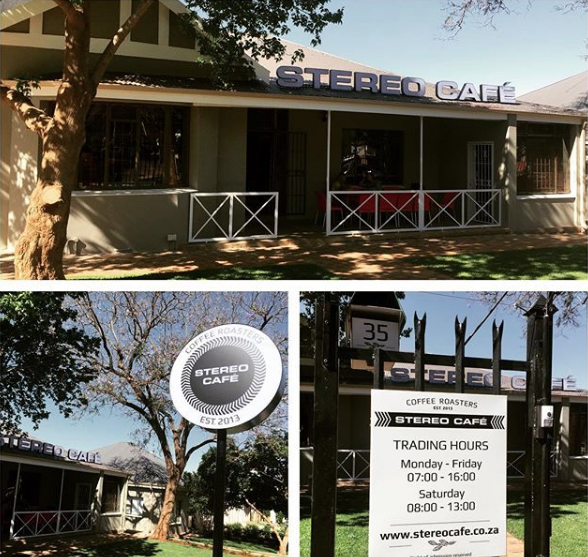 Congratulations on 6 years of amazing coffee in Bloemfontein, Stereo Cafe! How does it feel to have made it this far?
I'm elated to have made it this far! The odds are stacked against most first-time businesses and to have made the six year mark makes me very proud. It hasn't been without very real challenges though. The day I opened the doors on 20 January 2014 I had no idea where it would take me. I'm glad it's brought me here.
How has the coffee landscape in Bloem changed since you started Stereo?
There is far more awareness and a desire for better coffee in Bloemfontein. Customers have become more discerning as they are informed through exposure to coffee and the industry through articles in various media, TV programmes and radio features. The local coffee community has also been educating their customers, family and friends about coffee which in turn spreads knowledge to others. Bloem has also successfully hosted the Central Region Barista, Latte Art and Cup Tasters championships for two years in a row which has given the professional community the opportunity to network and grow. The support we've received in hosting these competitions by SCASA and it's sponsors is greatly appreciated and we hope that there will be even more interest in the 2020 competition. We hope to have good representation at Nationals in March too.
What has been the most difficult lesson you have learned over the last 6 years?
There have been many lessons but the most important has been to keep innovating to ensure you stay relevant in a increasingly competitive market. Complacency is your biggest enemy. There is always something to learn and to improve on.
Can you single out what you feel is one of your best moments? (Difficult we know!!!)
We have been very fortunate to have been recognised as pioneers in the coffee scene in Bloemfontein for which we are very grateful. This has led to wonderful exposure in local and national media especially when we were featured in the KykNet series "Koffieboon" which I think did a great job in highlighting the coffee industry and bringing local coffee businesses around the country to the attention of a broader audience and putting a spotlight on the local coffee industry.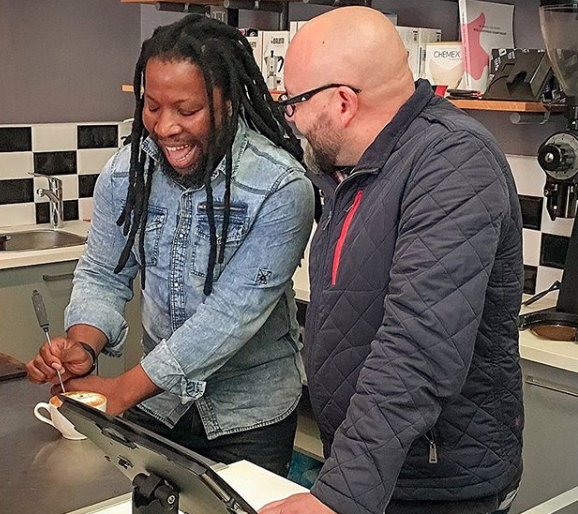 What are the plans for 2020?
There are a few exciting opportunities which I have to decide on for Stereo Café but and personally I would like to further my SCA certification and obtain my SCA coffee diploma.
What is your favourite coffee you have in stock at the moment?
I recently started roasting a direct trade coffee from Malawi - the Misuku Highlands Gesha from Specialty Coffee Exchange - which I am really enjoying and getting great feedback on from clients. I'm loving it as a pour over but it also translates so well with milk in a flat white.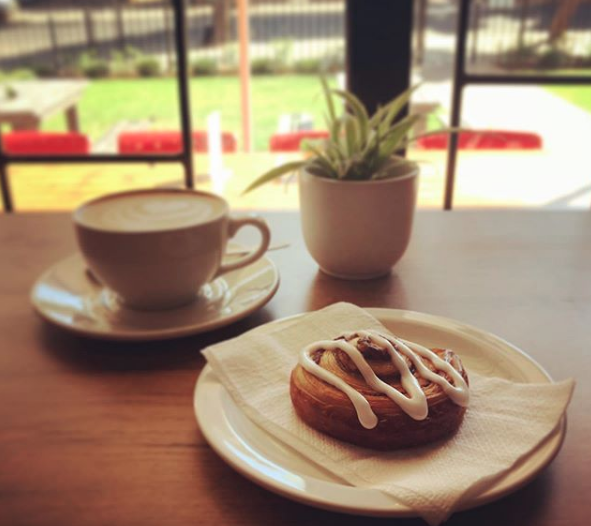 Got something to say? Then leave a comment!
---
Blame Canada! An audience with Cole Torode, two-time Canadian Barista Champion
Friday, 17 January, 2020
Blame Canada!
Meet Cole Torode, he's Canadian and he's awesome.
When we think of Canada we think of freezing weather, uber friendly people and top coffee professionals who always wow us in competition (and for the fans, South Park, as noted in the title!). The top coffee professionals also do happen to be uber friendly and the coffee certainly helps with the chilly climate. The last couple of years, Cole Torode of Rosso Coffee Roasters in Calgary, Alberta has represented Canada at the World Barista Championships and managed to place in the Top 6 both times. That is no mean feat! Cole had the opportunity to visit Johannesburg earlier this year and we were able to connect and pick his brain about all things coffee.
Interview by Melanie Winter
---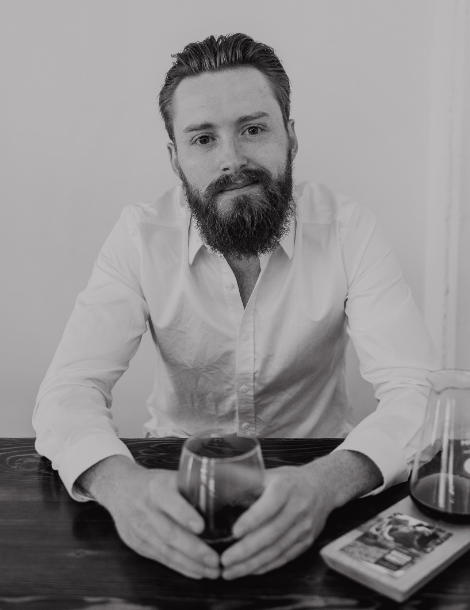 How did you fall in love with coffee? Was it love at first sight or did it grow on you over time?
For me, the love and appreciation for coffee came after working in the industry. I needed a job at the time as my life plans had fallen through and I just so happened to get a job working as a barista. Shortly after, I heard there were barista competitions and being a competitive guy, I decided to try my hand at it. Through the learning and understanding I took on, I became incredibly fascinated and ten years later, I still compete, still learn and still find it incredibly fascinating each and every day.
David Crosby, your brother, is the founder of Rosso Coffee, starting way back in 2007. What inspired him to get into the coffee industry?
Similar to my story, David was in need of a job. He graduated university and came back to Calgary at a time that was tough in the city and thus, finding a finance job was not realistic. He had previously worked at a handful of coffee shops during university and realized that Calgary was maybe lacking in its overall coffee scene. He jumped in with two feet, opened the first location in a charming neighbourhood called Ramsay and was the only employee for the first six months - barista, baker, chef, dish washer, you name it, Dave was that guy.
Rosso Coffee has organically grown from cafe to roaster to green bean sourcer to multiple cafés and supplying multiple wholesale clients, did you ever think this is where the company would be in 2019? And what did it take to scale the business so you could shift focus to the supply chain?
Scaling the business has been challenging and rewarding. We've never had a huge budget for anything and we've thankfully never taken on debt, so we've got to where we are today bootstrapping the business. Honestly, I think every year, we surprise ourselves when we look back on where we're at. We've always had a full commitment sort of attitude when it comes to new endeavours and we're always willing to put in the time to make sure we get across the finish line.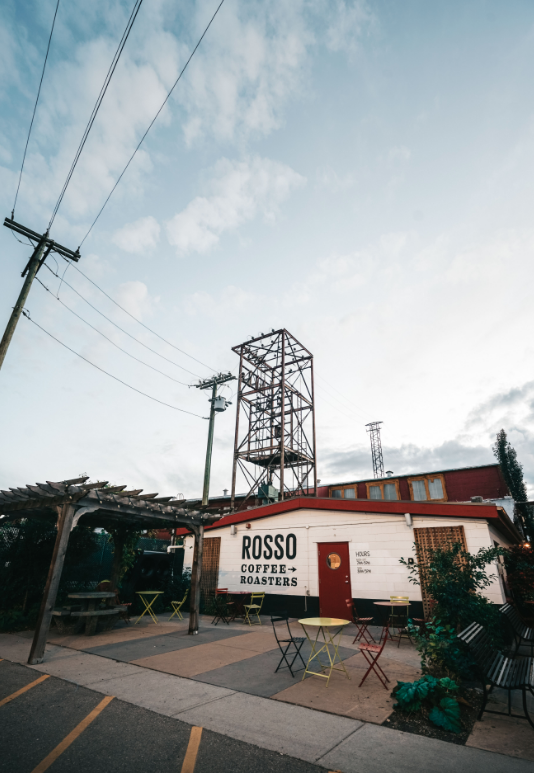 Photo by Brandon Paton
There is a strong entrepreneurial culture here in South Africa, can you tell us a bit about what it is like to partner with your brother? Do you have any advice on choosing business partners and how to manage these relationships?
So, I'm actually partnered with my brother and his girlfriend Jessie. They met in the early days at Rosso - she was a frequent latte drinker who asked Dave out because Dave was too worried to lose a client should she say no… HA. Working with the two of them is great, though it can be challenging as I know they go home and discuss things after the working day and often formulate answers to things before I get an opportunity to. On the positive side, we all fulfil different gaps in the business and now we're able to each champion our own aspect at Rosso. So Jessie is most involved in HR and the cafes, Dave is on finances and logistics, I'm taking on the coffee quality control and sourcing, as well as our online platforms.
How did travelling to origin change your perspective on coffee?
I think, far beyond coffee, it changed my perspective on the world. I'm privileged to live in a country like Canada and I didn't necessarily understand what existed beyond our borders. Visiting coffee producers in hyper-rural areas in countries like Myanmar, Burundi, Guatemala, and others, gives me desire to create change. For me, I want to use the platform of specialty coffee to make positive impacts on the lives of people in these countries and beyond.
Coffee is one of the largest industries in the world, it's present in every country, either production or consumption, and it's continually suffocated by large corporations who are smothering small producers. Buying practices need to change on many fronts, but I believe that starts with coffee buyers like myself, traveling to meet the people behind the coffee. If we put humanity to the product, perhaps we can influence the consumer to purchase coffees that are traceable to a specific producer or cooperative or washing station. Labelling a coffee as the country it's produced in just isn't enough anymore.
Imagine I went in to purchase wine and my options were South Africa White or South Africa Red. Well, that's just not enough for me and shouldn't be enough for others. I want to know it's from Stellenbosch or Paarl and if it's a Pinotage or a Chenin Blanc - that gives me context, traceability and an expectation. Whether I know what those things mean as a client or not, it gives me something to learn about should I be interested. Let's do our best to share as much info as we can about the coffees were serving to strike interest in our clients. Traceability is what will change our industry for the better. It's what will impact the humanity behind the coffees we serve the most. It's the thing that will separate specialty coffee from the commodity giants.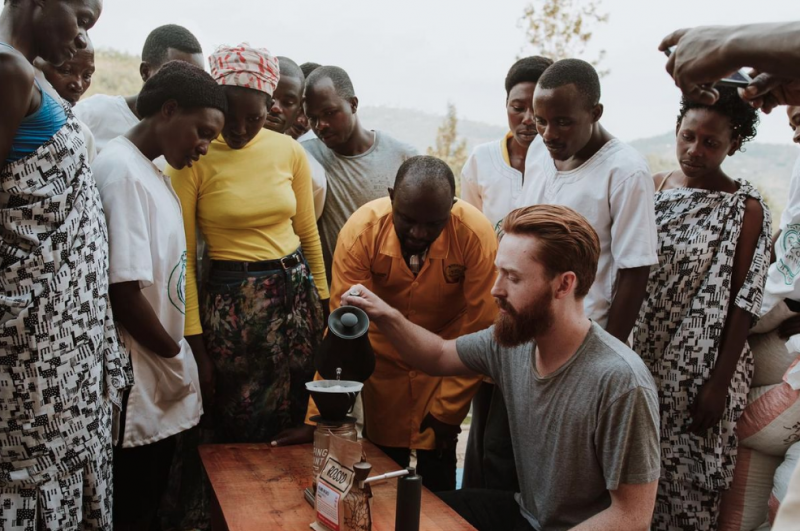 Can you tell us about your most memorable cup of coffee?
The most memorable coffee I've ever had was in the Semi-finals of the World Barista Championship in 2018. I was was playing with ratios for the blend I was serving, using Gesha and Sidra from La Palma y El Tucan. During my dial session in the morning, prior to my competition time, I hit an extraction at such a magical point that I swear the clouds in the sky opened up and the stairway to heaven came to me. It was so vibrant and vivid. It's really a shame it wasn't the same experience the next day in the finals, hehe.
What are the issues you face as an industry in Canada?
One of our challenges here is getting the general population to better understand and appreciate coffee. Our industry is dominated by big chains that sell 500ml and larger coffee drinks for dirt cheap. So our clients want quantity and often give us grief on pricing. In that interaction it's hard to say "well we're paying $4.00USD(R58,50)/lb FOB (FOB stands for Free on Board, which means this is the price of the coffee ready for export) for this coffee, we've been working with the producer for X number of years, plus we pay a living wage to our baristas and rent for this location isn't cheap and the Canadian dollar has dramatically fallen in the past few years and therefore it's actually really great value!" So that's one challenge we have, but I imagine that's Global. How do we as an industry charge prices that actually justify what a coffee should cost?
For visitors who love coffee, which city in Canada do you recommend as the coffee capital and what are your favourite coffee spaces there?
Well I'm based in Calgary and I'd argue that it's the spot to visit. I'm a huge advocate of the city and think it's wildly overlooked. If you're a fan of coffee, we have a great scene here with some globally renowned roasters and some incredibly sophisticated cafes. We're also an hour drive from the Rocky Mountains and some of the best hiking, skiing, outdoorsy sort of stuff that us coffee nerds all seem to enjoy. So I'd advocate to come to Calgary, though each of the major cities in Canada is starting to really push the coffee scene. I'm proud to live here and happy to be a part of the burgeoning specialty coffee industry.
Ed's Note: Calgary is also home to Phil&Sebastian Roasters and Monogram Coffee which have also produced award winning coffees and baristas. So, it seems Calgary is certainly an incredible coffee destination!
This will be your 10th year competing (jury's still out as to whether it will be your last!), what are the ways in which you think competition has moulded your career in coffee and how you do you think it benefits young baristas?
I honestly believe I owe everything in my coffee career to competition. If it weren't for the platform of barista competition, I'm not sure I would have ever been as motivated to learn about coffee, or to get into roasting, to do my Q Grader, to start sourcing, or experimenting. I think competition gives you a platform and template to master and understand the craft of coffee. In the early years, not only did I improve and hone in on my skills, but the baristas I was working with on the day-to-day also learned through osmosis. In these later years, I keep coming back to it because it gives me a platform to extend my creativity within coffee as far as I can. It gives me a voice and hopefully that voice inspires young and aspiring baristas.
Pretty sincere this year will be my last. I think retiring at 10 is a nice clean number. Getting the opportunity to compete in Melbourne would be amazing, as I actually wanted to travel to and live in Australia prior to getting a job in coffee. It's now the only continent I have not visited. So I'd love to go full circle and have my last year of competition take me where I wanted to go prior to knowing competition existed. After that, I'd love to coach and work with other baristas to compete and get more involved in planning competitions with SCA Canada.
As mentioned above, you've been competing for many years, what changed in your performance from one year to the next that took you to WBC in 2018? And what did you learn at your first WBC that got you back to the world stage in 2019?
The first year I competed at WBC I wasn't ready for the emotional rollercoaster that came with the three sequential days of competition. I had three weeks to build a routine from winning my National competition, running out of the coffee I used, and starting from scratch. This year, I went into my National competition with a routine that was built for Worlds. So my perspective and way to prepare changed from one year to the next. I think too, the first year I went in and felt intimidated by nearly everything around me - it was overwhelming. In Boston, I just zoned everything out and stayed in my own head space. I honestly didn't even walk through the exhibition in Boston.
What were your impressions of SA coffee culture (at least from within the confines of the Coffee&Chocolate Show, haha!)
I really enjoyed my time in South Africa getting to know a small portion of the scene. It was quick and I wish I had more time to see the rest of the country and get to know more cafes and more baristas. Overall I was impressed with Johannesburg and enjoyed getting to watch some of the regional competition at the Coffee and Chocolate Show. Just like other countries, it appears as if there's a group of people pushing the scene forward and I think that's so exciting to see. I know some people were commenting to me that South Africa is way behind with the world of specialty coffee, but I really don't think that's the case. It takes some time to change habits, create more appreciation and push people out of their comfort zone. We have a lot of the same struggles here in Canada. We just all need to keep a smile on our face, serve the best coffees we can and not allow any compromises in what we're doing.
Got something to say? Then leave a comment!