Join Sevenoaks Trading for a Virtual Coffee Cupping on 06 Nov with Nicodemus Nabakwe!
Wednesday, 7 October, 2020
Sevenoaks Trading are hosting a virtual coffee cupping session on Friday 06 Nov and you are invited to join!
Nicodemus recently won the Coffee Magazine Award 2020 for "Dedication to Education" and he is such a knowledgeable and interesting person, so you are sure to not only learn a lot, but have a great time!
Virtual Zoom Cupping with Nicodemus
Date: Friday, 6th November 2020
Time: 11h00 to 12h30
RSVP by latest: Wednesday, 21st October 2020
Cost: R270
You can find out all the info here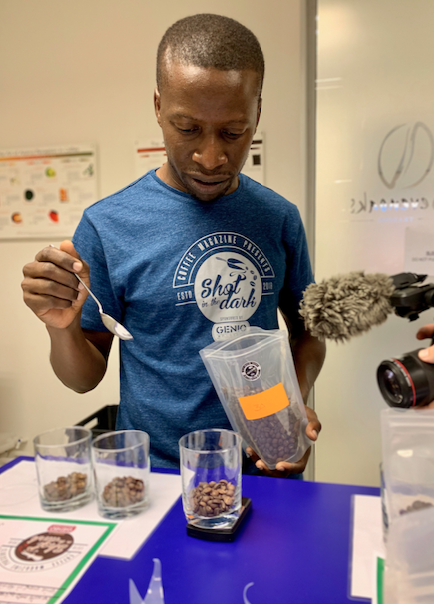 Nicodemus was Head Judge of Coffee magazine's "A Shot in the Dark" presented by Genio Roasters, and is a qualified Q Grader and all-round coffee legend!
You will need the following cupping supplies:
4 x 200ml Cupping bowls / cups or glasses
Cupping spoons – silver or stainless steel that can hold 10cubic cm of coffee
Type of Water – Clean with TDS (Total dissolved solids) of about 125-175ppm
Kettle / Pitcher for hot water
Timer – for timing coffee extraction (can also use your cell phone if you're not using it to Zoom with)
Digital Scale to measure in increments of 0.1g up to 500g
What Sevenoaks will be sending you via courier:
Labelled roasted coffee samples that you will be needing to grind and cup with
Sample of the grind size
A copy of the SCA scoring sheet
Herewith please find a link to Nico's demonstration of how to prepare your cupping table prior to the event.


Got something to say? Then leave a comment!
---
Win a Timemore pourover set!
Friday, 2 October, 2020
When it comes to coffee gadgets, we can't get enough!
One of the companies that is continually bringing new coffee toys to the SA market is Moreflavour - the company who first brought the Alan Adler's Aeropress to SA. The crew behind the company are a passionate bunch when it comes to manual brewing and they have brought us, not only the Aeropress but the Minipresso, the Pipamoka, the Brewista range and various kinds of grinders like the Rhino, Lume, Porlex and the electric Baratza grinders, to name a few!
Moreflavour was also a co-sponsor of this years CMA's 2020
The latest addition to their collection of incredible coffee making devices is the Timemore brand.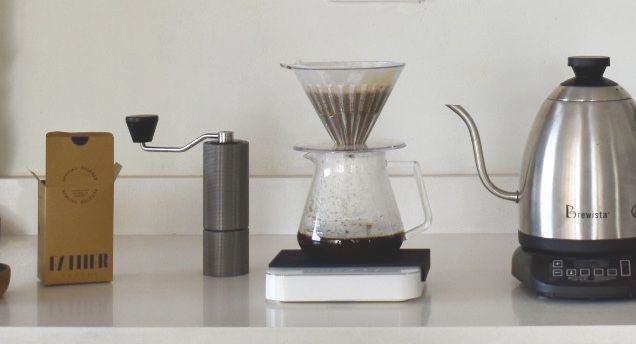 From left to right: The Timemore C-1 hand grinder, the Timemore Crystal Eye Dripper (top) and server (below) and the Brewista digital kettle
We have spent a few months with the Timemore Crystal Eye Dripper and the Timemore server and they really are a delight to use.
Timemore's unique 3-layer surface design is phenomenal. It prevents clogging, over-extraction and run-offs whilst increasing surface area. This optimises water flow and contact with coffee grinds for unmatched precision brewing.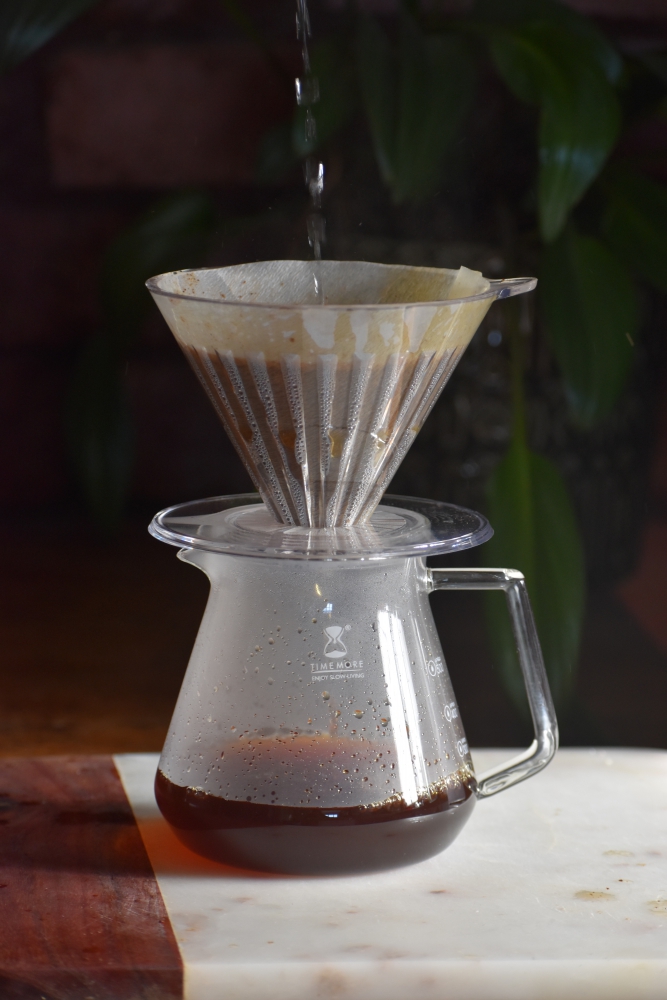 The filter papers fit like a glove, which further improve flow, contact and most importantly consistency. And, I know it sounds trivial, but the fact that the dripper is plastic is a HUGE win, especially because my Editor (ahem!) is particularly clumsy!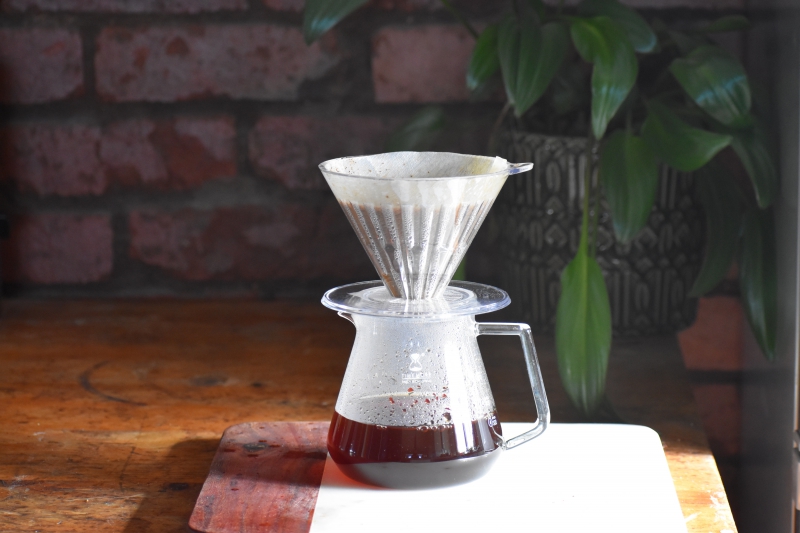 You can stand a chance to win a Timemore Crystal Eye dripper and server by filling in the form below.
Win a Timemore Crystal Eye dripper + server.
Got something to say? Then leave a comment!
---
REVIEW: LaMarzocco Linea Mini + Mobile App
Monday, 28 September, 2020
We are about to put another beautiful Coffee Magazine into print this week and one of the features in this edition is an article on "Smart Coffee" devices. This is a pretty heady topic, considering AI, the Internet of Things (IOT) and the convergence of tech and pretty much everything we know. As part of our research, we were lucky enough to get our hands on a beautiful fire-engine red La Marzocco Linea Mini and matching Eureka grinder!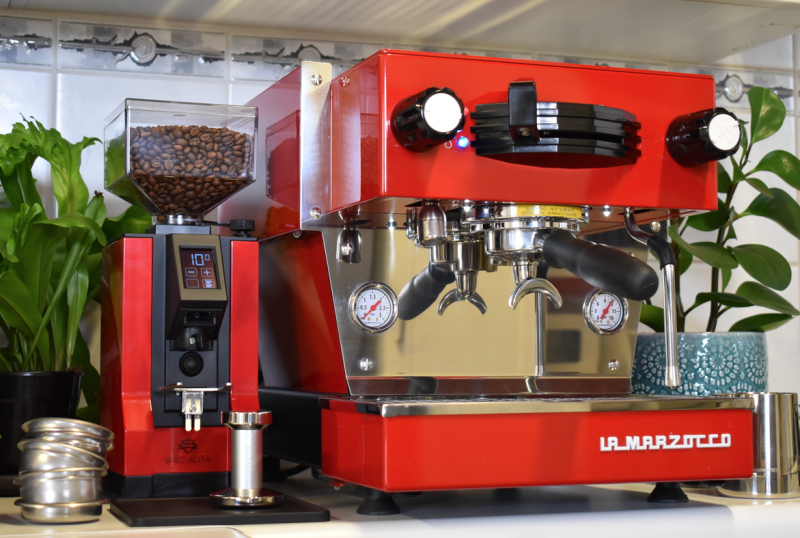 We first met the Linea Mini a few years ago at the Out of The Box party in Milano and it subsequently made huge waves when it shipped to South Africa becoming the iconic single group machine for domestic use for all LM fans.
The thing about this model though, is that it is a "smart" machine. That's right. At last year's Intelligent Living Summit, it was estimated that the number of sensors and devices connected to the Internet of Thing (IoT) is expected to increase from 21-billion in 2018, to about 125-billion worldwide in 2030. This equates to a year-on-year growth of a whopping 8,7-billion devices.
The Linea Mini is part of this revolution.
What is driving this incredible appetite for smart appliances? The fact that smart appliances are maximise energy efficiency, and they are easier and more convenient to use – essentially, saving the user time, and ensuring consistent results time and again.
In this model - the UI or User Interface is largely your smart phone - you can control the boiler temperature in the machine, you can set pre-brewing on /off and you can set the machine to turn on/off at a desired time!
The app is pretty cool - once you've downloaded it and registered, you can connect to your espresso machine and from there it is pretty plain sailing. The app allows you to not only control some of the functionality from your device, but also keeps a record of your brews, has tutorials, news and FAQs ... very useful.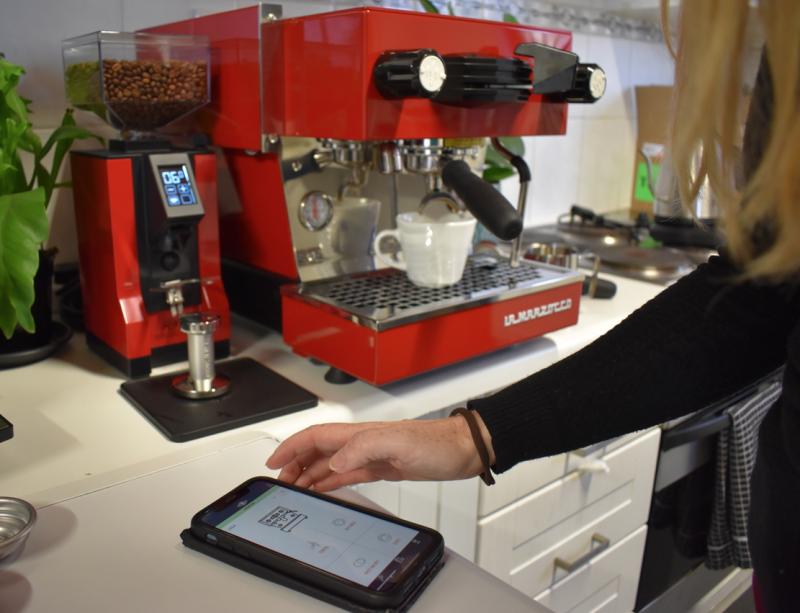 We made some delicious coffees on this set up and we played with the flow rate, using the nifty "brew paddle", we played with temperature and we really loved having it in the Coffee Mag HQ for the week. Our biggest regret is having to send it back!
The Lamarzocco Linea Mini is available in South Africa and you can get them here.
Got something to say? Then leave a comment!
---
Want to improve your latte art? Take the advice of SA Latte Art Champion
Tuesday, 22 September, 2020
Words by Melanie Winter
Interview with Jeff Stopforth
Images by Iain Evans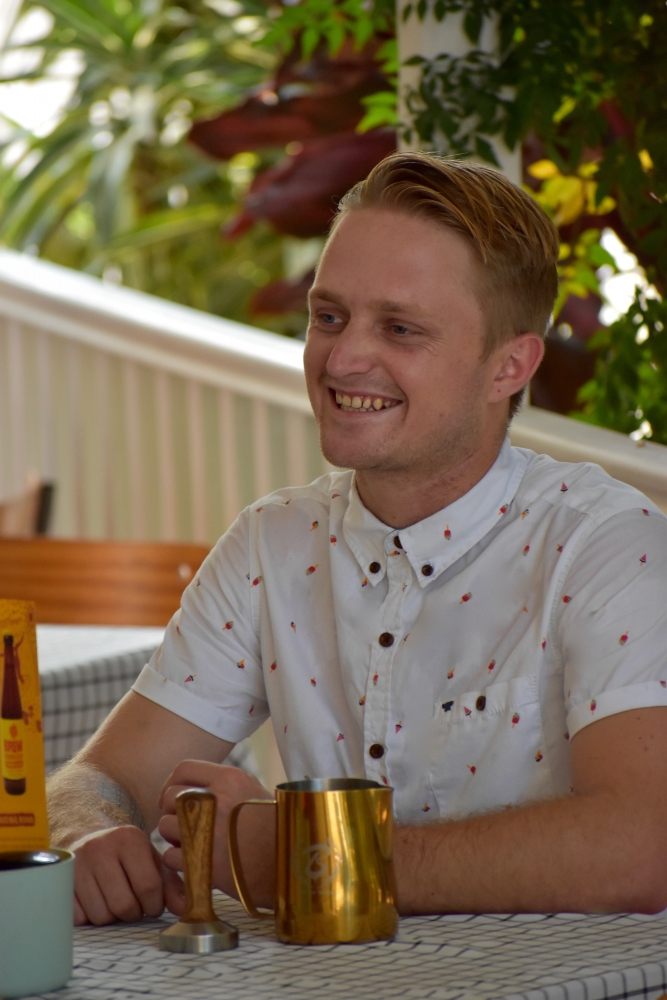 I was sitting in a cafe in Canggu, Bali and my friends and I ordered three cortados. They arrived at our table, all in a sweet little line, one had 'I' etched on top, one had a perfect little free pour heart and one had 'U'. It was very simple latte art, to be sure, but I can tell you, I'll never forget that simple gesture. Latte art brings smiles to coffee lovers all over the world on a daily basis.
"Well, I think the important thing about latte art is that if you get a beautiful design in your coffee, then you know that your barista has skills. If they care that much about learning to make a pattern in your coffee, then they've also had to learn to extract a good espresso and texture the milk perfectly to be able to achieve that result. It also means that the barista is passionate, they really care about it if they're putting that much effort into the art."
Wise words from the 2020 SCASA South African Latte Art Champion, Jeff Stopforth, who poured a Crowned Phoenix, a Seahorse and a Tiger (two of each no less!) in under 12 minutes; a veritable menagerie in latte cups. No, really! See the picture for proof! You don't often see these expert level pours in cafes, because they take some time to perfect. Ask Jeff, he's put some serious hours into getting them right and it paid off, he's got a ticket to the World Champs in Greece next year.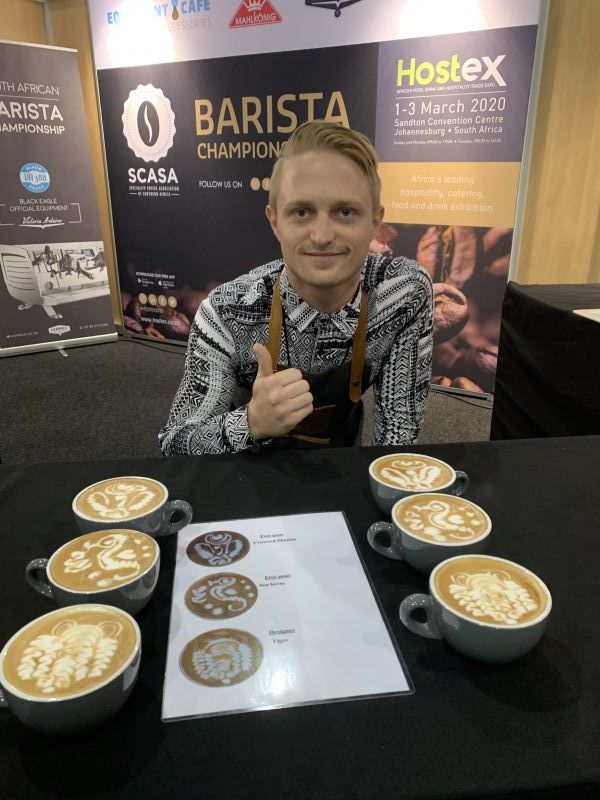 "In fact, I started learning about coffee because I wanted to learn to do latte art! I watched hundreds of youtube videos, but soon realised that if I wanted to do the art I had to learn the basics first. Dylan Cumming from Beaver Creek, took me under his wing and taught me all the skills I needed."
Beaver Creek Coffee Farm just outside Port Edward on the KwaZulu Natal South Coast has a wonderful training and tasting room where all the magic happened and Jeff became an artist.
"So then I was completely hooked, I was making, and drinking, like 10 cappuccinos a day so I could practice. I was inspired by the first guy who spent time on latte art and made it into a real thing. He's a guy called David Schomer."
Some of the earliest recorded latte art was poured in the late 80's, some would definitely have been poured by accident somewhere along the way, but it is attributed and was popularised by David Schomer in Seattle in the early 90's. He believes it was already a staple in Italy. Schomer was perhaps the first 'coffee celebrity'. He wrote and self-published the now iconic Espresso Coffee: Professional Techniques in 1994, quite some time before writing about coffee was fashionable. His advice when coming up with new designs is to try pour something that represents yourself. We're excited to see what that means for Jeff's choices when it comes to his designs for the world competition.
There's a whole section of this subculture that is dedicated to experimenting with colours and etching. And a quick search on the Instagram will uncover a whole new world of rainbow lattes and working with different colours for etching (as seen in the picture here) and different bases, like beetroot lattes which look (and also taste a bit) like strawberry milkshakes.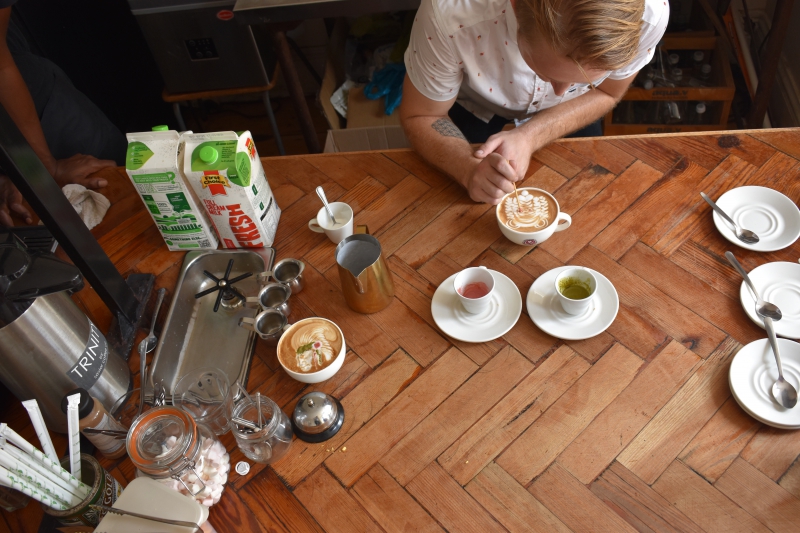 These designs were shot on location at Savior Cafe in Durban, using Beaver Creek beans and delicious milk from First Choice (Woodlands Dairy).
What advice does the Champ have if you're looking to try learn to do some latte art at home? Watch a lot of videos! The technique doesn't just come naturally, you have to learn it. That effortless wiggle that you see from your local barista didn't just happen overnight.
"Just be patient. Just keep on going at it. Once I got that first pour in the cup, I came back the next day and I couldn't do it! But eventually I could do it more consistently with some patience."
Steam milk that looks like wet paint, that's the goal! This may seem like a given, but focus on steaming good milk first. Also it may go without saying, but you should also start with good quality milk, whether dairy or otherwise. Not only will you set yourself up for success, but your drink will taste better, too. If you add too much air? You'll end up with thick and foamy milk. Too little air? You'll end up with no texture. Too hot? Less sweet milk. It's a lot to keep in mind, but finding the balance is worth it. So how do you get to the balance? Aim for creating a whirlpool in your milk jug. Test the power of your steam wand before you start. Not opening the steam release fully means that you're heating the milk without doing any texturing. Figure out the strength of your steam before you attempt creating microfoam. The steam ripping through the milk should make a sound like tearing paper. Well-textured milk is key to achieving latte art greatness!
In the last couple of years, the equipment has also evolved to keep up with the adventurous designs being dreamed up by these talented individuals. A jug is a jug right? Nope. "Ja, the jug is very important, I've got two new jugs coming from Barista Swag and ADA Crew. It's all about how the jug feels in your hand and for me the most important features are the handle and the spout. A jug with a longer and thinner spout allows for more precision and a wider handle allows for more options when it comes to gripping the jug for different angles."
Innovation and technique are important if you want to be noticed as scores of new latte artists pop up all over the world.
"A couple years back Caleb Cha won the competition with The Caffeinated Zebra (a zebra holding a cup of coffee) for his design pour (etching allowed). Now people are pouring that freehand, no etching, which is crazy! It's pretty wild to see how quickly it's changing. Check out Liang Fan (@baristafan) on Instagram, he's my current hero. All his pours are perfect, it's like he moves the milk with his mind!"
Jeff is up to the challenge though, it is clear in talking to him, that he just really loves doing latte art and is incredibly stoked to have earned the opportunity to share the stage with some of the best in the world. The young man from the South Coast plans to remain humble and focused, but when it comes down to it, he'll always return to the simple classic, a crowd-pleaser for coffee drinkers everywhere.
"A rosetta is still my favourite thing to pour, because there's never two that are the same and you can always be trying to do it better. But whatever the result, it always looks beautiful."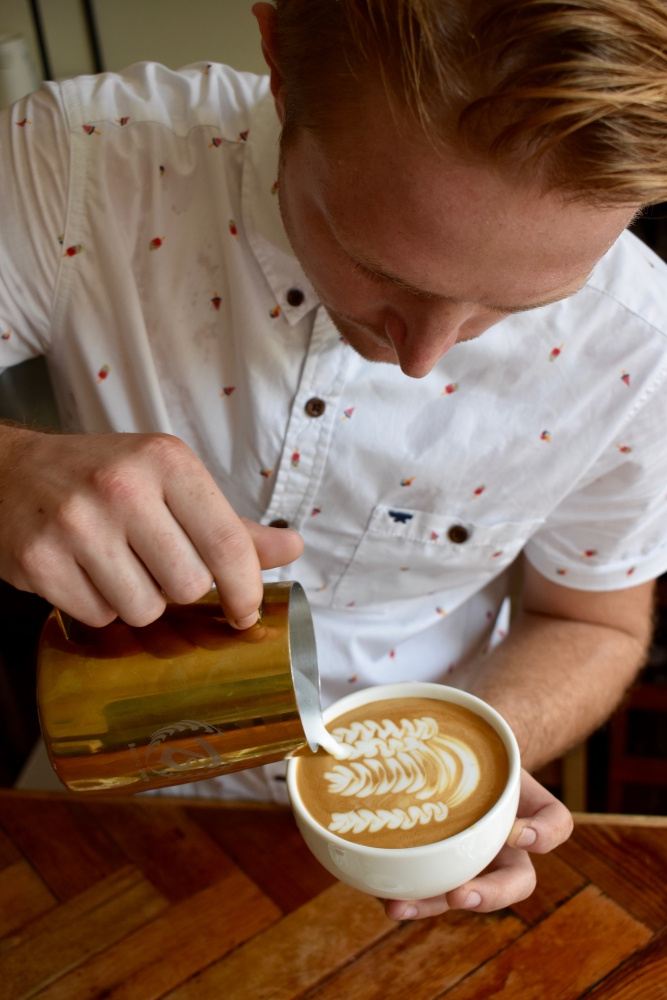 Choose your weapon: Pick the best jug for optimal milk manipulation
The professionals say there are four key things to look for if you want to choose a milk pitcher: Shape and Size, Material and surface treatment, Spout and the Handle.
THE SHAPE AND SIZE
Making thick, smooth micro-foams requires patience and dexterity. Without it, no latte art can be achieved. In the absence of bubbles, there is no opportunity to produce high-quality latte art. The ideal amount of milk should be at the bottom of the spout, about 1/3 of the way. Both shape and size play a role in the foaming capacity of milk jugs. Some pitchers use straight-edged walls, while others rely on bell-shaped bottoms. The bell bottom is said to aid in creating the all important whirlpool effect. When choosing the size of a milk jug, the most important thing is how much milk you need to drink your coffee. When it comes to milk steaming and foaming, you don't want your jug to be too full. An overflowing jug can happen all too easily when you're dealing with high pressure steam!
MATERIAL
The ideal milk pitcher should be made of stainless steel and should have a slightly conical shape. In the process of frothing milk, its purpose is to capture and block most of the heat generated by steam, and promote the absorption of air. You want a jug made of high-quality stainless steel because it keeps the temperature constant while you steam it. That is, when you steam milk to 70°C, the milk jug will heat up with milk. If the walls of the jug are too thin, the foam may start to deteriorate quickly and you will not be able to knock the bigger bubbles out the foam well. You may have seen your local barista tapping his jug on the counter before starting to combine the milk with the espresso, that's what they're trying to do, getting their milk ready for the pour.
THE SPOUT
Although experienced baristas and professionals may make perfect lattes from any milk jug, a specific spout can make it easier to pour some designs. A good spout means the jugs are easier to learn with as a beginner barista and easier to train with for the professionals. Most people start their latte art journey with heart-shapes and tulips. A classic or standard pitcher not specifically for latte art is perfect for these classic shapes. It allows for a thicker stream of milk to be poured which helps the milk to push through the cream giving the definition necessary for these round shapes. On the other hand, the traditional rosetta and exquisite detailed art (such as swan and peacock) need a narrower and sharper spout for the delicate lines. This gives you more control over the detailed design.
THE HANDLE
Which handle you want depends on how you hold the jug while pouring, which you quickly figure out as you go. Some people have found that when pouring, a jug without a handle gives them more flexibility. It also allows you to better hold the top of the jug, giving you more control and precision in your spout. But you also need to remember that you are steaming milk at high temperatures. Which is why most pitchers have handles. The latte art pitcher brands generally have a wider handle, so that you can slide your whole had against the wall of the jug for control.
---
Looking for a new milk pitcher to improve your skills? Here are a couple readily available options:
Stylish: Rhino® Stealth Milk Pitchers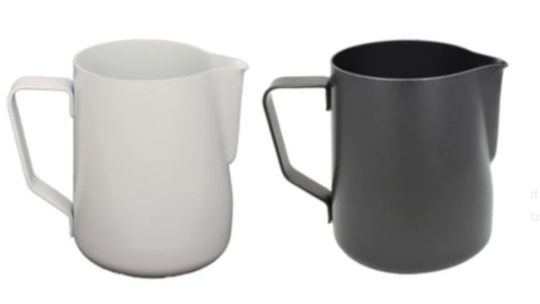 Cost effective: Brew Tool Milk Frothing Jug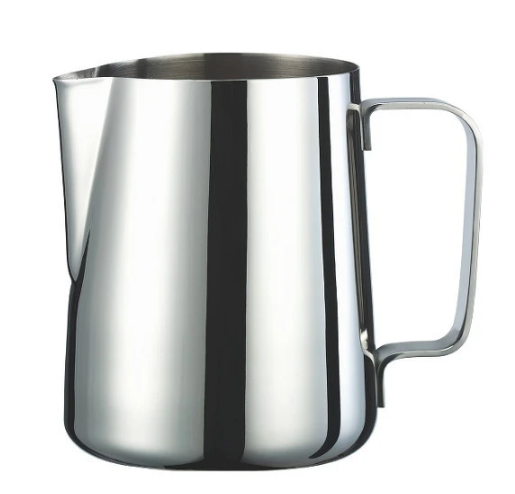 Classy: Motta Europa Milk Frothing Pitcher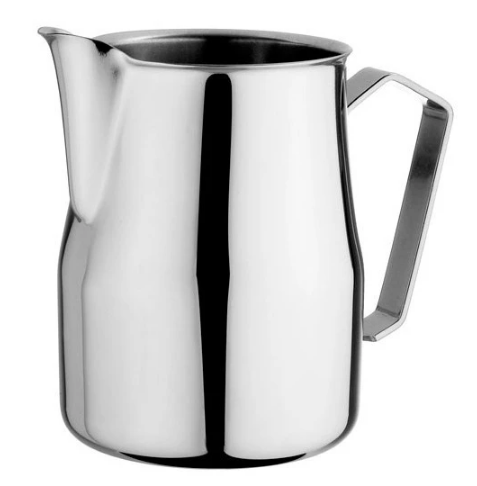 Got something to say? Then leave a comment!
---
Unboxing: Discover the Pipamoka - a nomadic pressure brewing coffee device
Friday, 7 August, 2020
If there's one thing we love about Africa it is the diversity of our natural flora and fauna. We are so lucky to have such amazing access to the bush, the ocean, the mountains and all of the natural splendour of these biomes right here in South Africa, usually within a few hours of wherever you might be!
This week we ventured out to one of our favourite game reserves and, well call it a combination of cabin fever thanks to Lockdown and the fact that we had a new coffee gadget, the Pipamoka to play with, but we felt like little kids let loose in the wild! So we made a video of our first try with this gadget. We followed the instruction manual, as that is always a good place to start before you get into experimentation.
Come join us on a game drive as we discover the unique Pipamoka...
Here's what we love about the Pipamoka on first impressions:
1. You can brew and drink from a single device. That means less stuff to pack and all the things you need are contained in one place.
2. It's simple and sturdy. Perfect for the rugged outdoors and it won't get damaged.
3. You have incredible control of your extraction thanks to the control ring and the Pipamoka gives a very clean cup of coffee that stays hot in your flask for hours!
4. This brewing ritual could become addictive! The twist is completely unique and strangely therapeutic.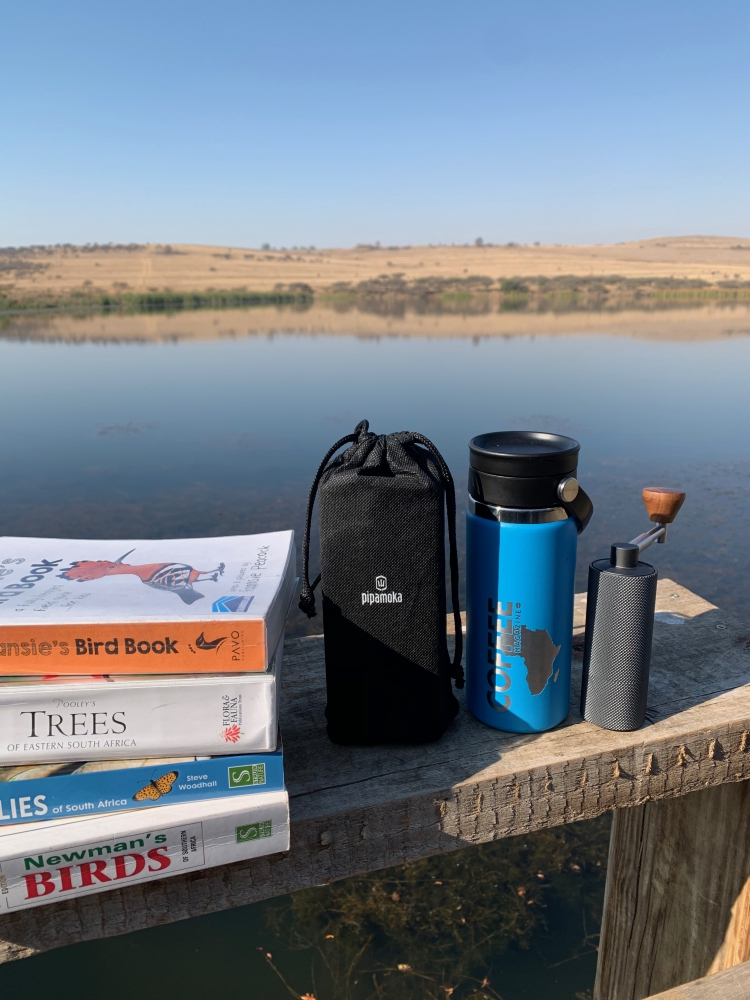 The Pipamoka comes in a handy little carry bag. All you need is fresh coffee, hot water and a good grinder for the perfect bush coffee-break!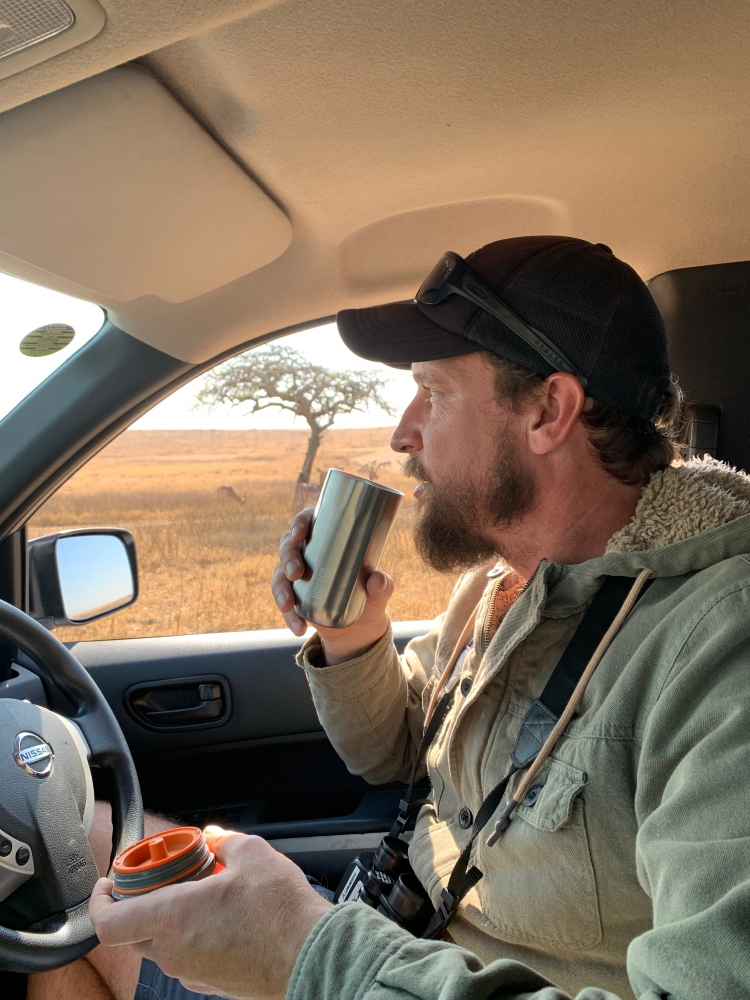 The coffee stays nice and hot in the stainless steel cup and the robust rubber vacuum lid seals in the heat and the flavour!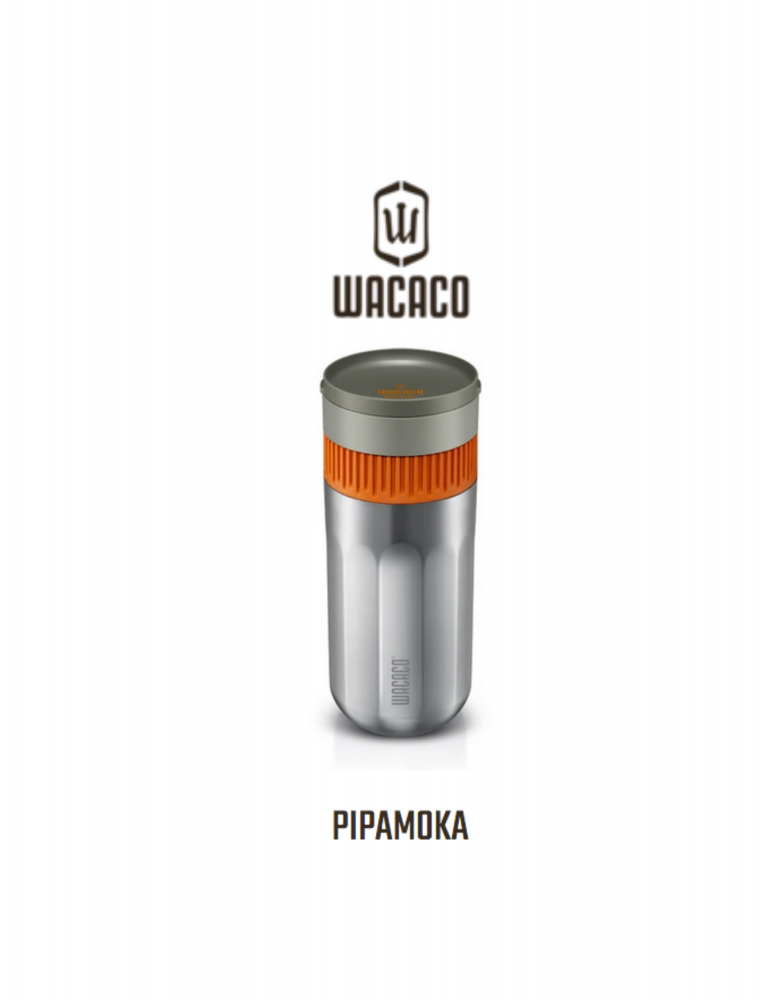 For more info visit
https://moreflavour.co.za/product/wacaco-pipamoka-coffee-maker/
Got something to say? Then leave a comment!
---
Coffee Basics: Train your Tastebuds, with jelly beans!
Tuesday, 4 August, 2020
The Jelly Bean Method
Easy ways to improve your coffee tasting palate
Coffee tasting, like wine tasting, can seem pompous and overwhelming as an onlooker or if you're just starting out on your coffee journey. If you told me 10 years ago that I would taste lemon creams and smell jasmine blooms in a cup of coffee, I would've told you you were straight up crazy. But we're here to tell you that coffee tasting can be fun and you will taste some things you never thought possible!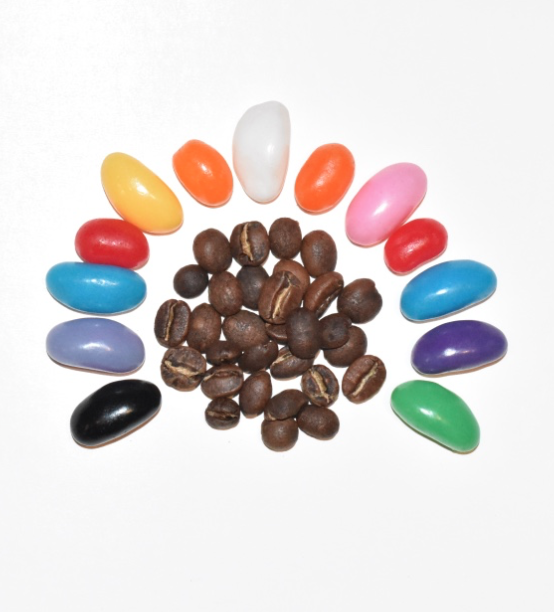 The gist of this article is: Keep it simple, stupid! Stick to the basics. With over 800 unique aromatic compounds contributing to the flavours and aromas found in coffee, it's very easy to get overwhelmed with the countless ways coffee profiles are identified and described. It's best to take a few steps back and start off focusing on the five basic tastes: sweet, sour, salty, bitter, and umami (also known as savoury). Take a sip of your coffee, and ask yourself if the coffee has sweetness, sourness, bitterness, etc… Just look for the presence of those tastes to start, and once you're able to confidently identify them, start asking yourself how sweet, sour, bitter, salty, or savoury the coffee is. Eventually, as you feel more confident with these basic tastes, you'll be able to take it a step further and ask yourself what kind of sweetness (or sourness or bitterness, etc...) you're tasting. For example, you can go from tasting that a coffee has sweetness, to tasting that it has a chocolate sweetness, or that it not only has sourness, but a lemon sourness more specifically.
Professionals use tools like the SCA Flavour Wheel (click here for a run down on how to use it) and Le Nez du Cafe kit to improve the senses for tasting, but those are super intense and often inaccessible. One of the best pieces of advice I was ever given in tasting coffee, was to completely ignore anything you've learnt about flavour descriptors or stop stressing about not tasting exactly what you're 'supposed to' taste. What?! Seems completely counter-intuitive, right? But let us explain. As your palate becomes more refined – through active tasting, and building your own kind of flavour memory library – you'll need external reference points less and less. Ignoring the 'official' flavour descriptors, either printed on your bag of beans or listed on your cafe's menu, gives you an opportunity to discover them for yourself, and the more often you challenge yourself to find those flavours, the better developed your palate will become.
Also you don't have to test your skills on black coffee only. Milk beverages can be the most fun! When we were in Seoul for the World Barista Championship, Winston Thomas' milk beverage tasted like strawberry yogi-sip. We were like, all South Africans will know this flavour, but we had to use strawberry drinking yoghurt and hope the judges had all tried that at some time in their lives! It was so distinct though, all of us in the team couldn't believe it! When Lovejoy Chirambasukwa won the National competition in 2013 his cappuccino tasted like dried apricots and cream and my taste buds were in heaven. Of course at that level (the level of coffee competitions) the coffees being used are the best of the best, but ALL coffees are unique and have there own flavours. It's pretty fun to get into.
African coffees in particular can burst with fruity nuances. The Ethiopians are usually characterised by bright florals and citrus fruits, while the Kenyans bring that deep, red berry and chocolate to the table. There are so many to explore (so ask your barista to tell you what's in the hopper next time you visit - they will be glad to see you're interested!) But how do you start to pick up these flavours?
Well, here's a wacky idea: Grant Harrison of Specialty Coffee Exchange suggests you use jelly beans to train your palate! You can pick up that the white jelly bean is litchi, orange is, well, orange, yellow is lemon. But they all taste like jelly beans right? It's the same for coffee, they all taste like 'coffee' but there are definitely some distinct flavour nuances, and it doesn't matter if you don't get the same flavour descriptors as someone next to you, part of the fun is discussing what each person tastes! We've sometimes tasted some way out flavours - things that remind us of bovril, leather and malt (like at boarding school when the matron spooned each child a big treacle tasting heap of malt in winter time!) Other times it's grassy, lime and green apple (my sour glands at the back of my throat are pumping as I write this!)
No matter if you're just beginning and are eager to learn or if you've been tasting coffees from around the world for a while now, the more you taste, the better you get as you build your taste bud's memories!
So break out the jelly beans and get tasting!
Got something to say? Then leave a comment!
---
Taste Test! Jamison Savage Diamond Geisha by Father Coffee.
Friday, 24 July, 2020
We were very excited to receive a special little sparkly present from the team at Father Coffee in the form of a beautifully packaged box of Jamison Savage's Diamond Geisha! The pictures don't do the box itself justice, but it literally glistens in the sun, a more stunningly packaged coffee you will struggle to find.
The Panama Geisha has become known as one of the world's finest varietals and jamison Savage has become known as one of the world's best producers of this varietal, because of meticulous farming and processing care that the coffees undergo.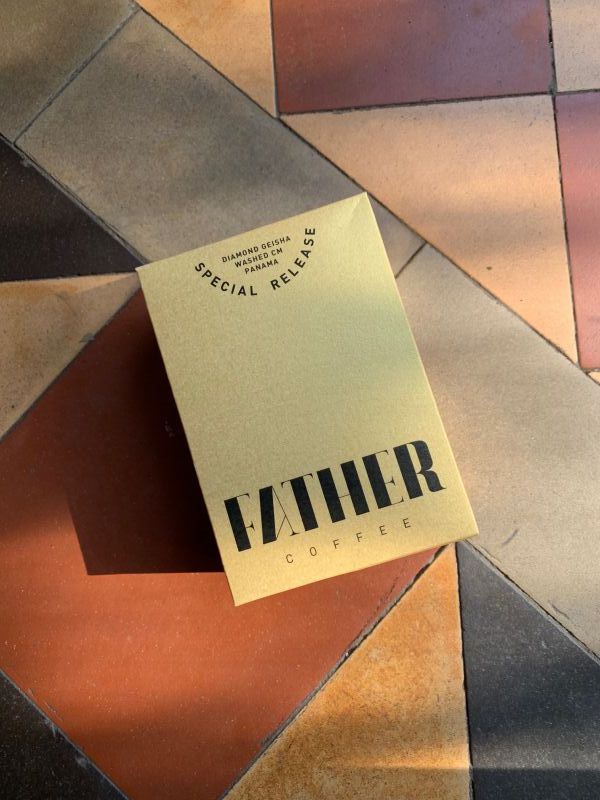 The 100g box is beautifully designed with metallic specks that sparkle and glint in the sunshine!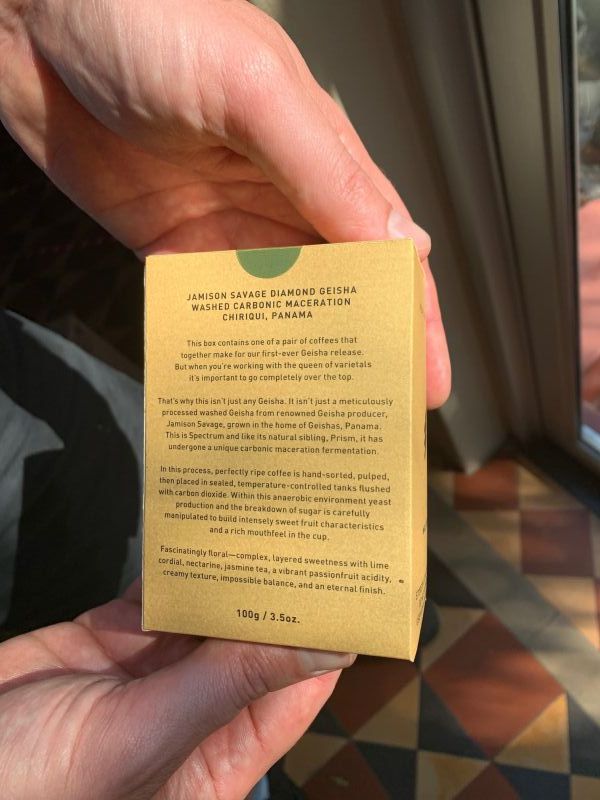 This particular coffee is one of a pair of coffees known as Spectrum and Prism and this is the Spectrum - a carbonic maceration fermentation processed coffee.
The team at Father Coffee give us a bit of insight into what this means: "In this process, perfectly ripe coffee is hand-sorted, pulped, then placed in sealed, temperature-controlled tanks flushed with carbon dioxide. Within this anaerobic environment yeast production and the breakdown of sugar is carefully manipulated to build intensely sweet fruit characteristics and a rich mouthfeel in the cup."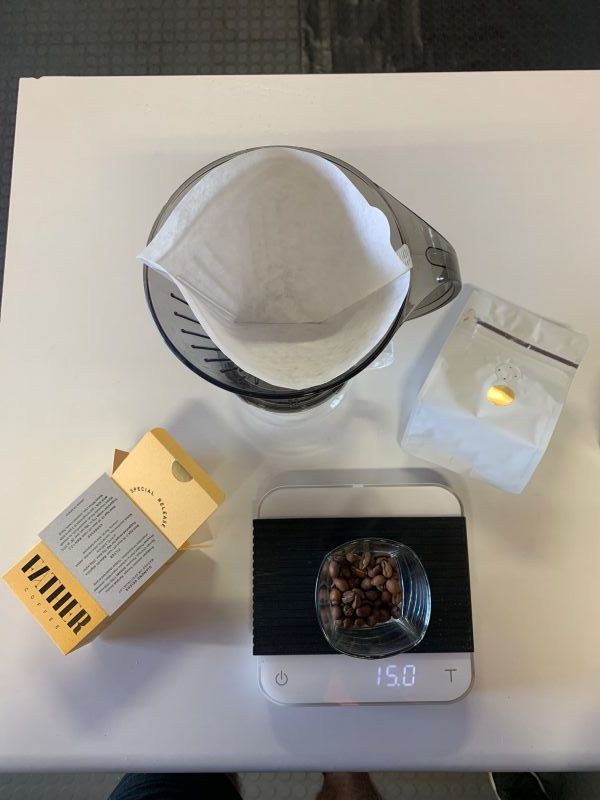 We used the Clever Dripper and followed the recommended brew ratio : 15g coffee to 250g water at 91 degrees C for 3 minutes.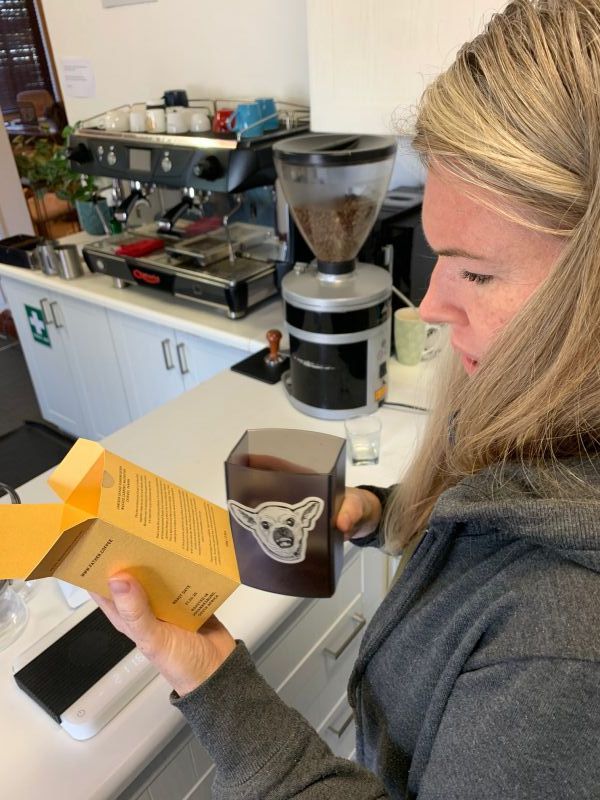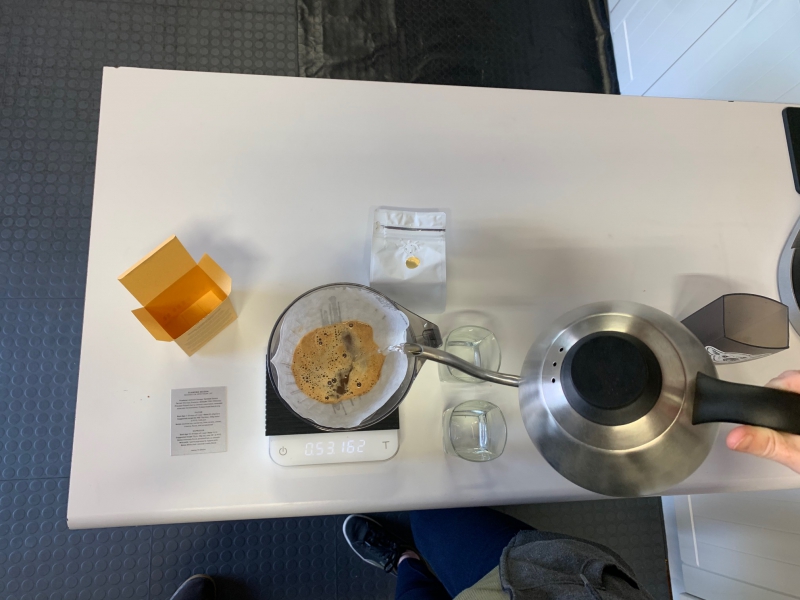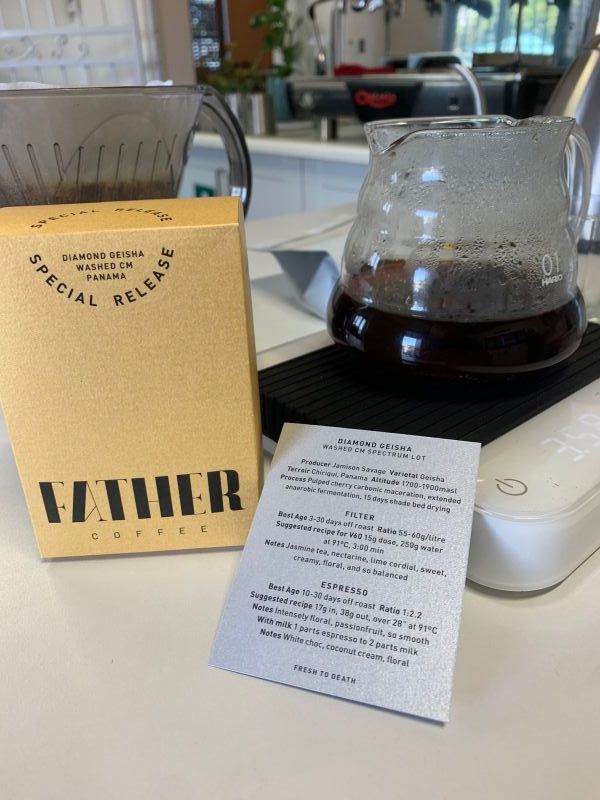 This is a very delicate, wonderfully layered coffee, with notes of lime and nectarine. It has the distinct jasmine tea profile that we know and love of the Panama Geishas with an even more highly polished finish.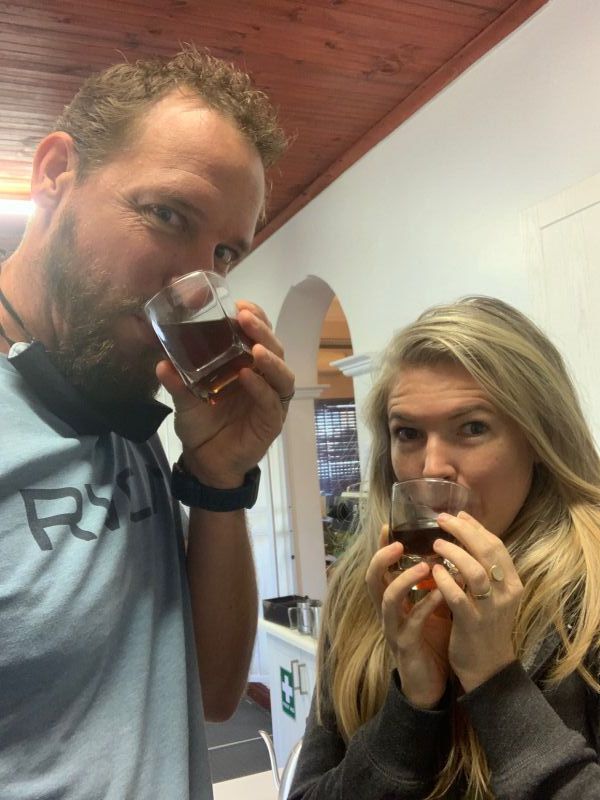 What a delicious coffee and an amazing experience! A huge amount of effort has gone into this coffee from farm to final packaging. This is an exciting offering and every coffee lover should try this!
Got something to say? Then leave a comment!
---
WIN: Name this Drink with DaVinci Gourmet
Friday, 17 July, 2020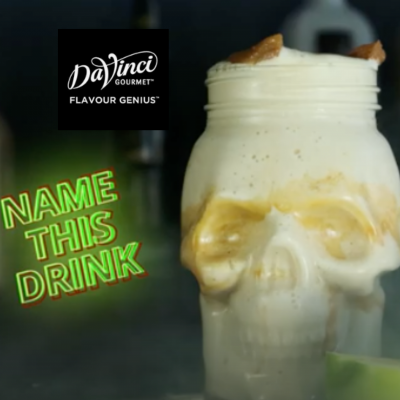 Win an incredible hamper to experiment with your own creations at home. All you need to do is watch the very cool video below and help us come up with the best name!
The Flavour Genius has out done himself with this delicious mouth watering drink. Combining the natural flavours of oven roasted apple and cinnamon with the DaVinci Gourmet salted caramel flavoured syrup binding together with the beautiful Frappease powder, this decadent desert like shake is nothing short of a perfect balance of flavours and textures. Name this drink and like/follow DaVinci Gourmet South Africa on Facebook and you stand a chance to win a DaVinci Gourmet product hamper worth R1500!
Recipe:
DVG Salted Caramel Flavoured Syrup x 50ml
Frappease Powder x 1 scoop
Oven Roasted Apple and Cinnamon pieces
Milk x 200ml
Ice x 1 large cup
---
You can win an amazing hamper to become a Flavour Genius at Home! Leave your drink name in the comments below and head on over to the DVG South Africa Facebook page to enter. You must complete both steps to enter. Have fun!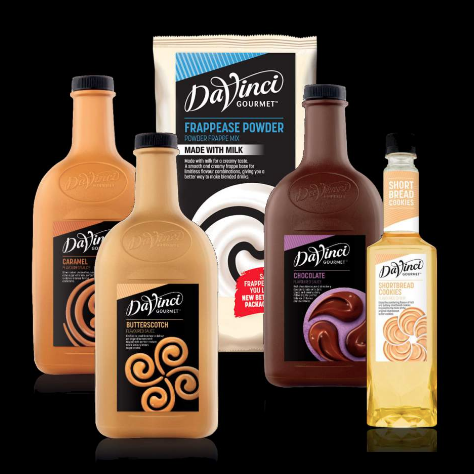 *Please note that the flavours in the prize may vary
Got something to say? Then leave a comment!