Coffee Education: Find a coffee training facility near you!
Monday, 15 March, 2021
Got something to say? Then leave a comment!
---
3 great Oat M*lk recipes to try this weekend!
Thursday, 9 September, 2021
Impress your friends and family with these 3 great Oat M*lk recipes this weekend! They're fun, delicious and easy to make.
1. APPLE PIE OAT CAPPUCCINO
INGREDIENTS
120 ml Alpro Barista Oat
10 ml Apple Pie syrup
1 shot of espresso

INSTRUCTIONS
1. Add the Apple Pie syrup to the espresso.
2. Froth the Alpro Barista Oat and add to the espresso.
Apple Pie Oat Cappuccino
2. BLONDIE OAT LATTE
INGREDIENTS
210 ml Alpro Barista Oat
1 shot of espresso
35 g White Chocolate (Callebaut W2 used): not vegan

INSTRUCTIONS
1. Put the chocolate in a glass and add the espresso
2. Stir until the chocolate has melted
3. Froth the Alpro Barista Oat and add to the espresso
Blondie Oat Latte
3. OAT AND ORANGE HOT CHOCOLATE WITH CINNAMON
INGREDIENTS
220 ml Alpro Barista Oat
35 g Dark Chocolate (Callebaut 811): vegan
2 tsp (2 g) orange zest
1 tsp (1 g) cinnamon powder
(Optional: mini vegan marshmallows)
INSTRUCTIONS
1. Put the orange zest, cinnamon
powder and Alpro Barista Oat in a
pitcher.
2. Froth until approximately 80°C.
3. Put the dark chocolate in a mug.
4. Add the frothed Alpro Barista Oat,
pouring it through a strainer.
5. Mix until the chocolate has
completelymelted.
6. Top off with marshmallows.
TIP: toast the surface of the drink with
a 'crème-brûlée'- torch after you've
added the marshmallows.
Oat and orange hot chocolate with cinnamon.
Got something to say? Then leave a comment!
---
Ever wondered how your favourite Red Cappuccino gets made at your local cafe?
Thursday, 19 August, 2021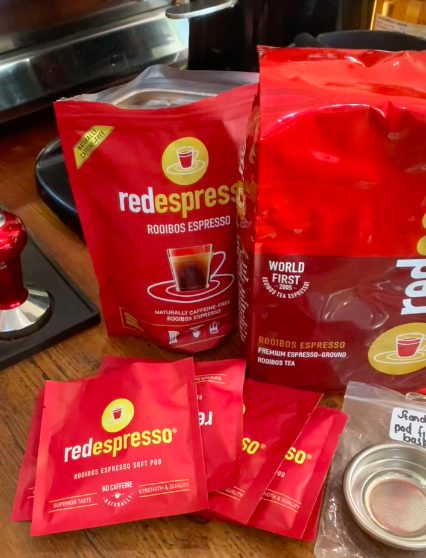 We had so much fun trying out the Red Espresso® products in a cafe setting. In fact, in the cafe where Mel started out as a baby barista!

Easy peasy lemon squeezey, or squeeze a bump of honey in there if that's your jam, it's so simple to achieve these delicious (and healthy) drinks, even if it's your first time, like Mel here.

With a supporting role from @alpro (@danonesouthafrica) bringing the oat goodness.
Got something to say? Then leave a comment!
---
New Release! Nespresso's Reviving Origins Programme now includes DRC (Congo!)
Thursday, 19 August, 2021
One of the key themes that we have always promoted and supported through Coffee Magazine over the past decade has been the welfare of coffee farmers and baristas in our community. So we were thrilled to receive news from our local Nespresso representatives in SA that Nespresso were launching a DRC release as part of the "Reviving Origins" programme, which is helping revitalize some of the most fragile coffee farming communities in Africa and South America.
We were sent 2 of the existing products of the Reviving Origins programme, Uganda and Zimbabwe, and the new DRC release to taste and test in the Coffee Mag test kitchen.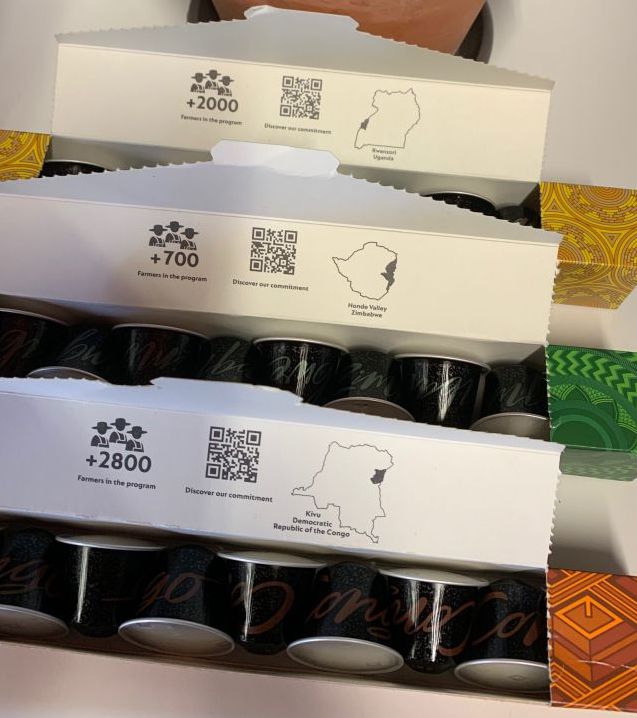 The packaging is really beautiful, using traditional African prints on the outside and giving a map of the Origin, the number of Farmers in the programme and a QR code for you to learn more, on the inside.
The Reviving Origins KAHAWA ya CONGO coffee ("Hope of Congo") from Nespresso is a smooth and fruity seasonal blend, grown on the rain-rich volcanic soils of Lake Kivu in the Democratic Republic of the Congo (DRC) where the once-thriving coffee farming community has been devastated by decades of political and economic instability.
The KAHAWA ya CONGO coffee is the first organic blend in Nespresso's Reviving Origins programme, its long-term approach to restore coffee production in regions impacted by adversities such as conflict, economic hardship, and environmental disasters. Since its launch in 2019, the programme has enabled production of exceptional coffees from challenged areas of Zimbabwe, Uganda, Colombia and now, the DRC, to become available as seasonal coffees for Nespresso coffee lovers. The brand's unique sustainable sourcing model in coffee producing countries, the Nespresso AAA Sustainable Quality™ Program, provides the foundation for its work in Reviving Origins regions and involves more than 110,000 farmers across the world.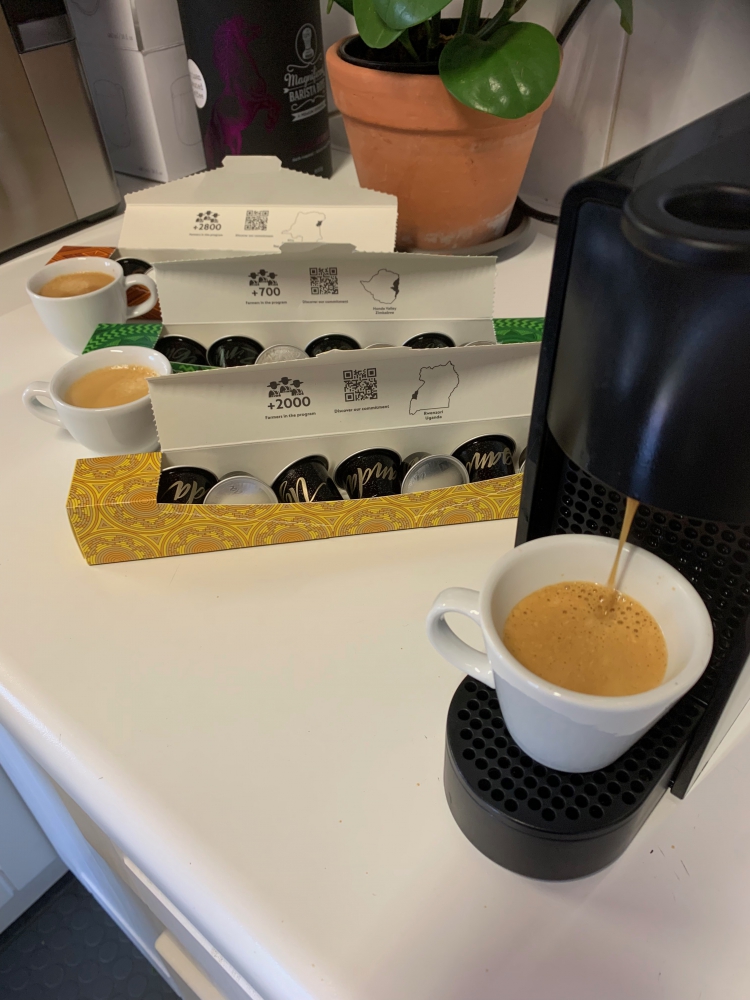 We tasted all three of the flavours and they each have a unique and distinct flavour profile. The Congo in particular was delicious!
Yassir Corpataux, MEA Coffee Ambassador said: "We're delighted to introduce one of the world's finest and most exclusive blends to consumers. Through our Reviving Origins programme, we're helping the farmers of Kivu to restore Congolese coffee to its full glory and rebuild their livelihoods, while bringing vital social support to enhance the welfare of the communities behind our KAHAWA ya CONGO coffee. With this blend, consumers can enjoy a truly unique taste experience, and play an important role in reviving coffee and communities in DRC after decades of conflict and economic instability."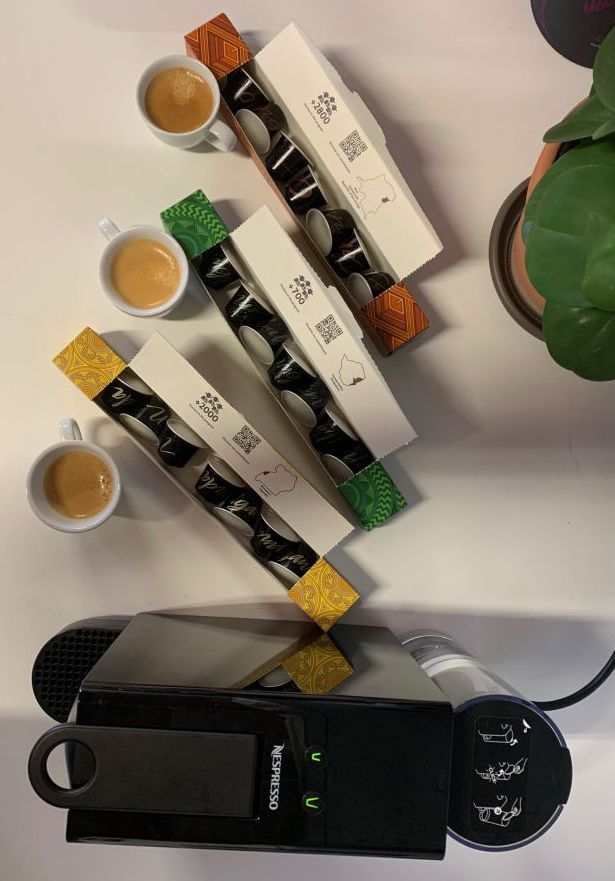 Fast, convenient and easy - Nespresso is a way of life for many coffee lovers - now you can support a worthy cause while getting your daily fix with the Reviving Origins pods.
Nespresso, together with global non-profit TechnoServe, the U.S Agency for International Development (USAID) and coffee trader Virunga Coffee/Olam International, are working with 2,500 farmers in South Kivu to improve coffee quality and yield, and embed sustainable farming practices, while increasing incomes. Nespresso is also in the process of expanding the program across North Kivu to potentially include up to 1,700 organic certified farmers.
Kivu coffee farmer, Turanyi Kabasura, said: "I see my remaining days being better than those in the past, because I am going to work, assured of receiving regular pay and a bonus each time after the coffee sale. In my whole life, no one has ever given me such a bonus. I can use that to develop other strategies, such as raising small livestock, or my wife can run a small business. I am starting to see the results of my work."
The project also goes beyond coffee, with plans in place to tackle healthcare challenges impacting farming communities in DRC. In partnership with the Eastern Congo Initiative (ECI), Nespresso is investing CHF 1 million to support the establishment of 23 water access points across the Kivu region, in addition to one primary and five mobile health clinics, which will deliver 13,000 health consultations per year to local communities, helping in the fight against cholera, a major health issue in the country.
Got something to say? Then leave a comment!
---
Deathmatch! Iain vs Mel in the Instant Coffee Latte Art Championship of the World.
Friday, 13 August, 2021
There is a TV campaign for an instant coffee brand on at the moment. We love it in all it's kitschy glory, especially because it puts some "real" coffee techniques into the mass market limelight.
It also has some great lyrics, in a dramatic voiceover: "Here's to the dreamers, the believers, the ones who sense possibility...here's to the coffee magician's the ones who know that what you get out, start with what you put in!" and ends with a beautiful woman throwing coffee beans up into the air in her kitchen (who's going to clean that up?!)
We were so inspired that we decided to shoot this little video to see if we could make magic and possibly even do some latte art with instant coffee.
Let the games begin....!
Got something to say? Then leave a comment!
---
Review : The Bialetti Preziosa Coffee Press.
Tuesday, 10 August, 2021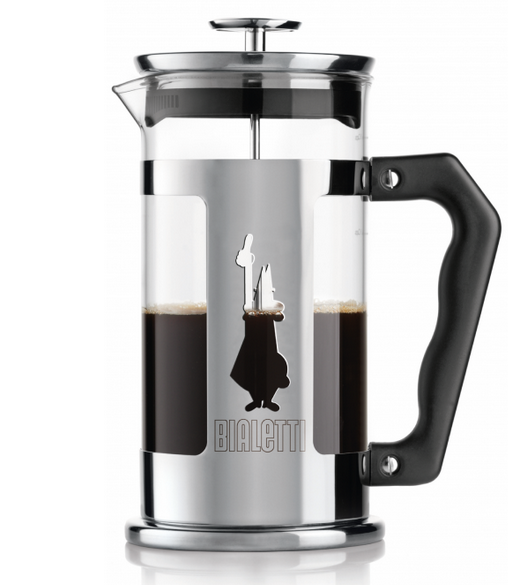 The classic French Press aka the "Plunger"
The french press provides the simplest way of making quality, traditional coffee. Also known as a Coffee Plunger or a Coffee Press, this really is one of the go-to methods for any household, BnB or even some upmarket hotel rooms.
One of the best things about a french press is that it's very forgiving - you don't need any skills or technical items (like a scale!) to make a great cup. You just need a good method!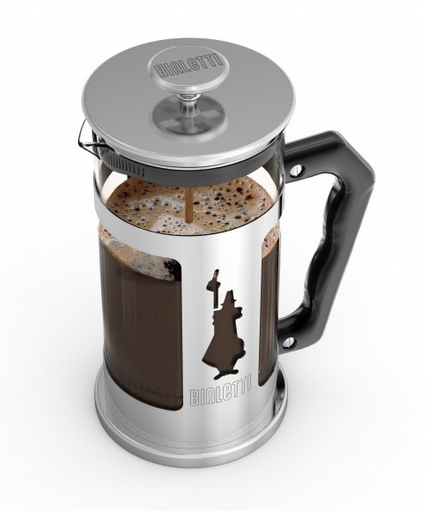 The Bialetti "Preziosa" french press.
This particular version, officially known as the "PREZIOSA FRENCH PRESS" from Bialetti, is made from 18/10 stainless steel and a glass cylinder, and features a l'Omino (the little man) cutout, which is widely recognized as Bialetti's original symbol of quality and authenticity.
The design is classy and the quality is top notch - not surprising, since Bialetti to manual brew coffee equipment is like Mercedes to cars! The Preziosa also comes in two sizes, 350ml and 1 litre, so you can buy two - one for you and one for the rest of the family!
Method
1. Rinse the Plunger with clean hot water - This rinses out any dust or dirt that may have found its way into your plunger between brews and it ensures that the plunger is warm when you add your coffee and water.
2. Grind your coffee to a medium or medium coarse grind - this is a full emersion method which means the coffee is in contact with the water throughout the brewing time. If you go too fine, it will taste over-extracted and it will leave a ton of sediment in the vessel and in the mesh of your plunger.
3. Measure out how much coffee you want - usually your ratio of coffee to water is slightly less than a pourover, because its is full-emersion, so we want about 10g coffee to every 200ml water (as opposed to 150ml water if you were making a V60 or Chemex) - NOTE, this is a personal preference thing, so if you feel it is too weak, add more coffee the next time!
4. Add your hot water from the kettle after letting the kettle settle for about 30s before pouring, then insert your plunger and push all of the coffee that has floated to the top to just under the water, and let it stay there for about 3 minutes - this way all of the coffee grounds are in contact with the water for the entire extraction time.
5. Plunge slowly until your plunger is at the bottom and then pour immediately, either into your cups or into a flask to keeo hot for later or a second cup. If you don;t do this, the coffee will continue to extract to a point of bitterness.
---
Coffee Magazine readers get 15% off all Bialetti products online - use promo code CM15% at checkout.
---
Got something to say? Then leave a comment!
---
There's a new handgrinder range on the block!
Thursday, 5 August, 2021
A mere five years ago it wasn't very easy to get your hands on the top notch hand grinders from around the world in South Africa. My, my, my, how far we've come!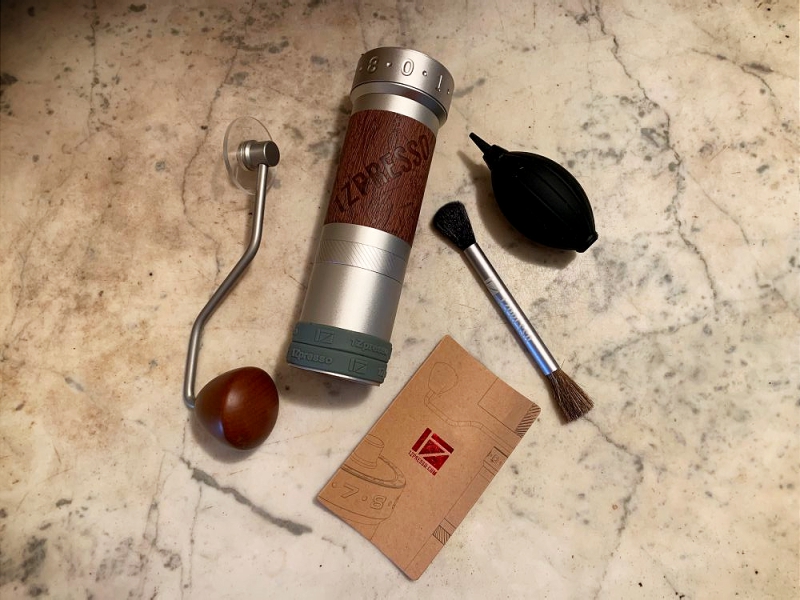 The 1Zpresso K-Pro Manual Coffee Grinder. I never knew I needed a mini brush for a hand grinder, but it is super satisfying to clean out those grounds from the burrs.
And with competition in a category, there are always new features and improvements that strive to set themselves apart from the existing products.
The 1Zpresso Range, made in China, are beautifully crafted and their unique selling point is burr adjustment that is on the outside of the grinder. If you've never used a handgrinder, this may sound like a really weird point to be making a big deal of, but believe us, it's a pretty big deal. Traditionally handgrinders require you to adjust the burrs, ie the coarseness or fineness of your coffee grounds, by opening the bottom chamber and adjusting the burrs directly. Now, this is simple, but it can get a tad messy. The design of the 1Zpresso grinders means that you either adjust in the top chamber (no grounds going everywhere) or in the case of the premium K-Pro, you adjust with a handy ring on the outside of the grinder, see below.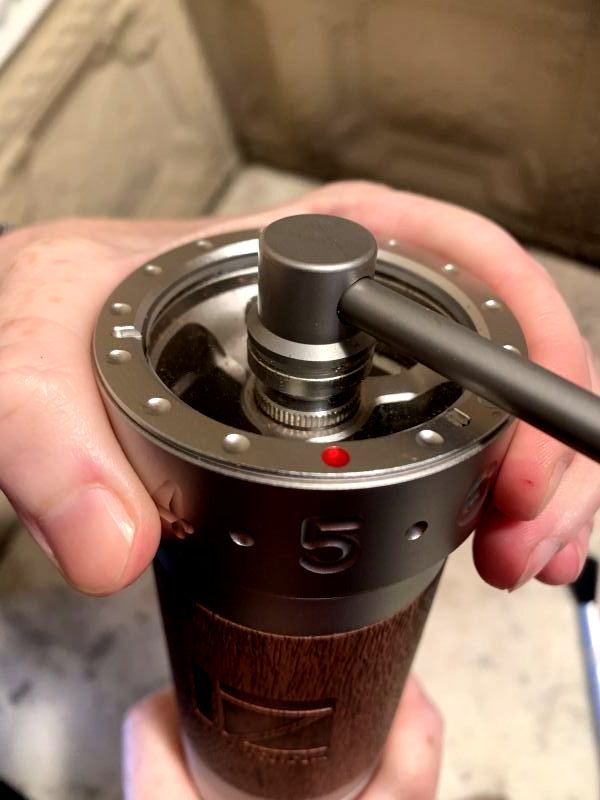 The other claim, which we tested out, is that it is a handgrinder designed specifically for espresso fine grinds in mind, boasting 48mm burrs to ensure a fast and efficient grinding experience. We were super impressed by the ease of grind.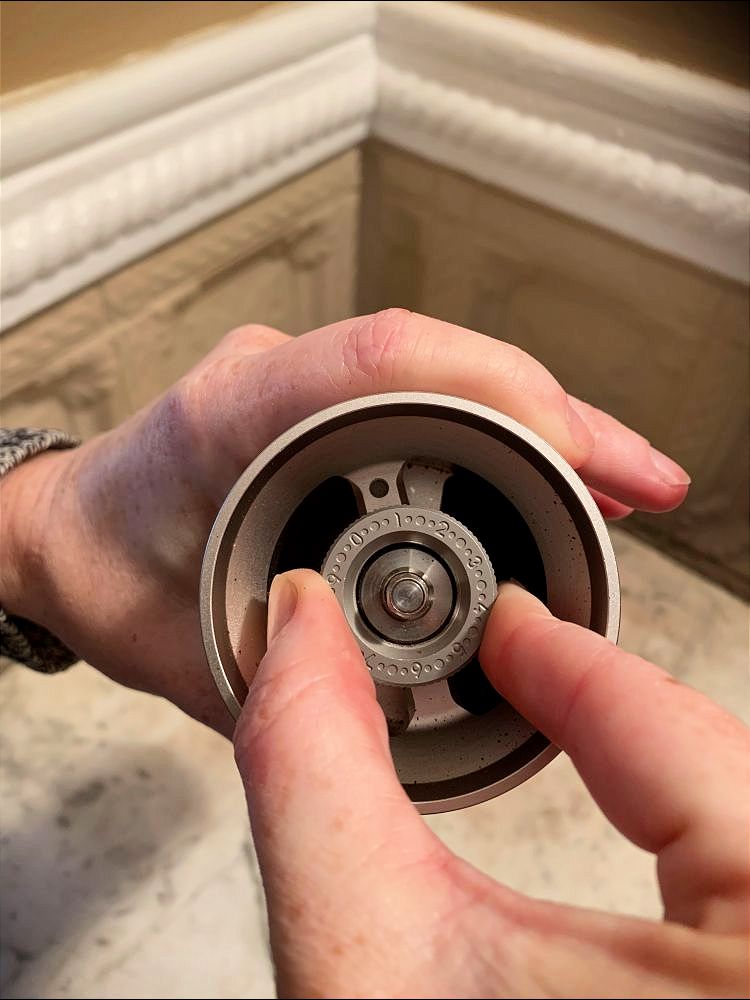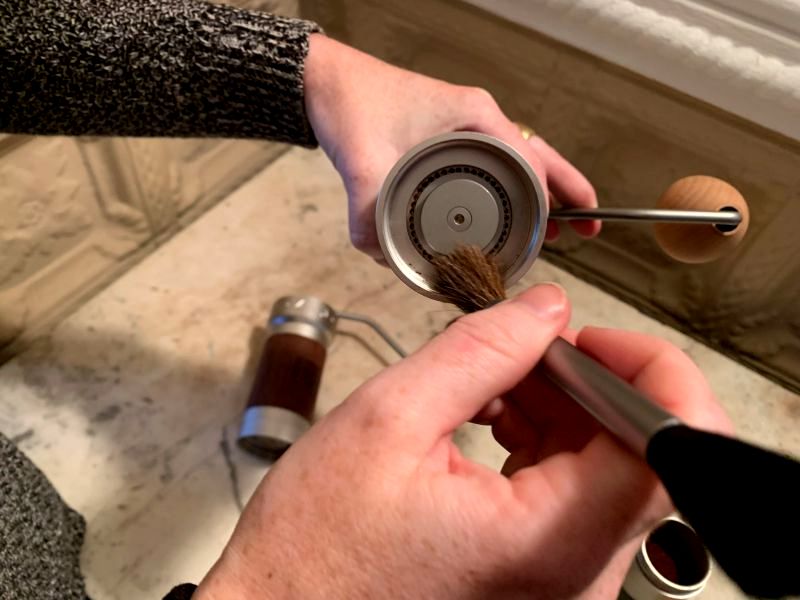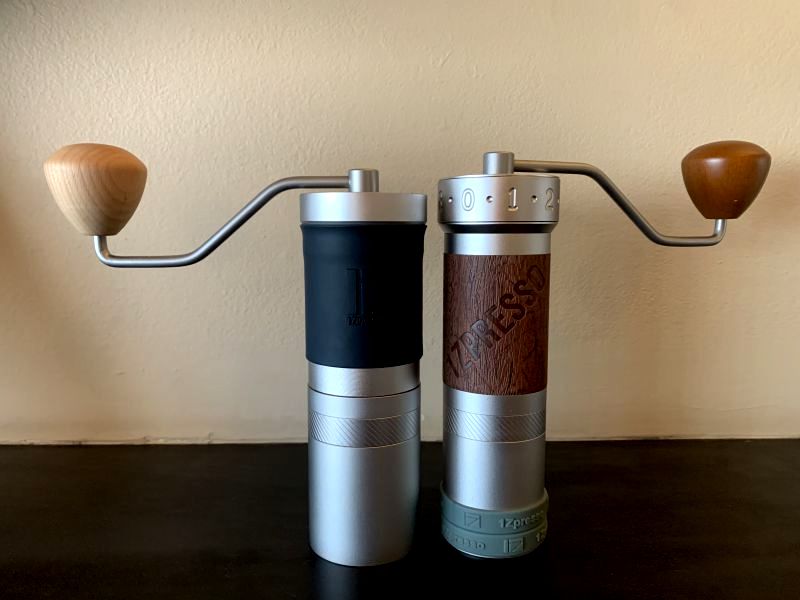 Got something to say? Then leave a comment!
---
AeroPress Recipe Bonanza: SA AeroPress Champs 2021
Friday, 23 July, 2021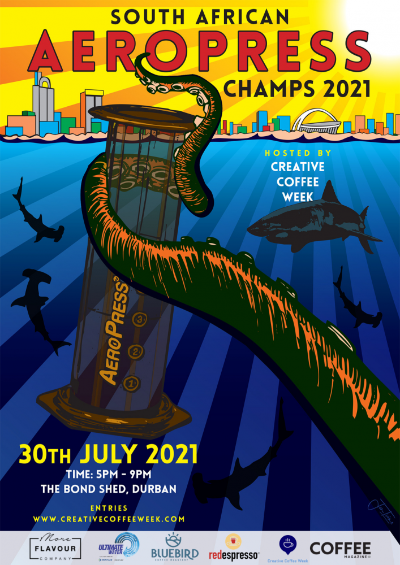 Guys! This year with the SA AeroPress Champs we had video submissions because we couldn't all gather together in person! Which is great news for all you coffee lovers because we now how have over 40 new AeroPress recipes out there for you to try!!! Thanks again to our sponsors who helped make this epic competition happen, MoreFlavour, Ultimate Water, Bluebird Coffee Roastery and Red Espresso.
We've included a small selection below, but you can find them all on Instagram in our 'Tagged' Tab. We'll be posting them on our stories soon too.
You still don't have an AeroPress? Have you even lived ;) You can order one here to try out all these fun recipes!
Got something to say? Then leave a comment!