Recipe: Rooibos Cranberry Cocktail with Red Espresso
Thursday, 14 January, 2021
Guys! It is SO hot. It is iced coffee weather and will be for the next few months. And if you need a caffeine-free alternative for those long, summer evenings, why not try this delightful little number from Red Espresso, the Rooibos Cranberry Cocktail or Mocktail, i you've run out of the hard tack ;)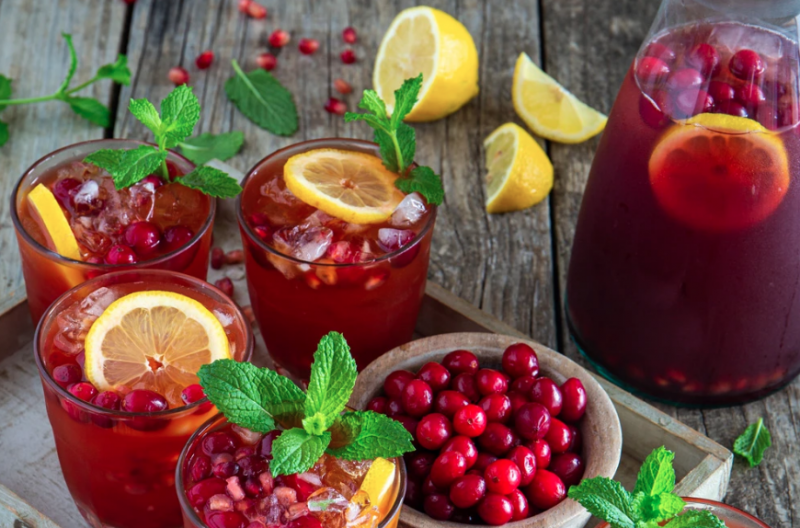 Ingredients
750ml cranberry/berry juice
At least 125ml vodka (optional)
1 lemon, thinly sliced
Handful of fresh mint leaves
Cranberries and pomegranates
Method
Mix all ingredients in a large pitcher or punch bowl and leave to stand for an hour or more.
Pour a glass of delicious punch or mocktail
Garnish with additional mint and cranberries or pomegranates and serve.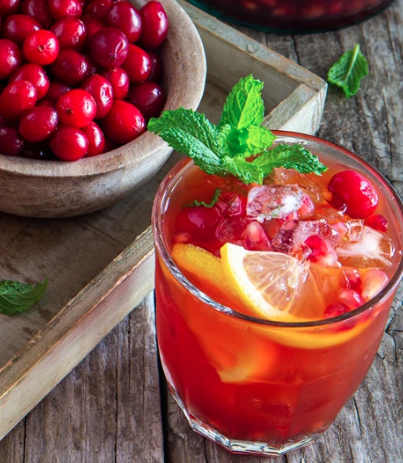 Got something to say? Then leave a comment!
---
JUST RELEASED: Discover Great Coffee Summer Box
Friday, 11 December, 2020
Got something to say? Then leave a comment!
---
Recipe: Spiced Chai Vegan Eggnog
Friday, 4 December, 2020
Over the next couple of weeks we will be sharing a few delicious holiday inspired recipes from our friends at Red Espresso. YUM.
Makes 4 servings
Vegan friendly
Ingredients
Instructions
Place a medium saucepan over medium-low heat. Add the unsweetened almond milk and coconut milk. Bring to just a simmer, then remove from heat.
In a mug, add the hot water to the instant spiced chai latte powder and mix into a paste
Add the chai paste to the heated almond milk and coconut milk and stir well.
Pour the chai milk mixture into a blender. Add 6 pre-soaked dates, vanilla extract, and salt.
Blend until completely smooth, 1-2 minutes. Taste and add the remaining date if you'd like it a little sweeter.
Pour into a container with an airtight lid and refrigerate until ready to serve.
The nog will thicken as it cools.
Stir before serving. Serve plain either warm or chilled (your preference)
Sprinkle a little nutmeg over the top. Keeps refrigerated for 3-4 days.
Optional: with or without a splash of rum, or use as a coffee creamer (delicious)!
Got something to say? Then leave a comment!
---
Win the full range of Society Coffee Cappuccino flavours and a hamper from Society Coffee!
Thursday, 26 November, 2020
All you need to do to win the full range of Society Coffee Cappuccino flavours shown below as well as a hamper from Society Coffee including a microfibre cloth, and lanyard with a cool card game inside, a flash drive and 2 coffee mugs, is fill in your details below.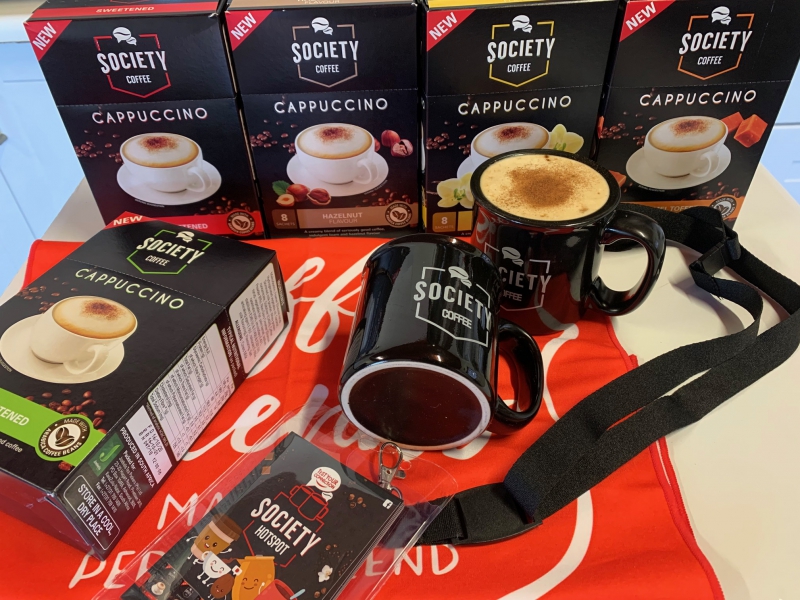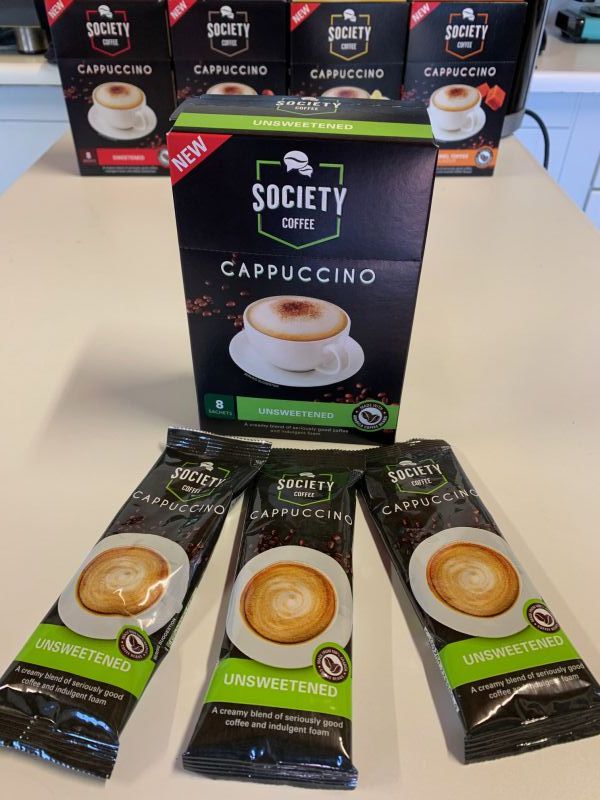 Society Cappuccinos are made from 100% Arabica coffee beans - available in packs of 8s in 5 flavours: Sweetened, Unsweetened, Vanilla, Hazelnut and Caramel Toffee.
The Society Coffee Cappuccino is really easy to make: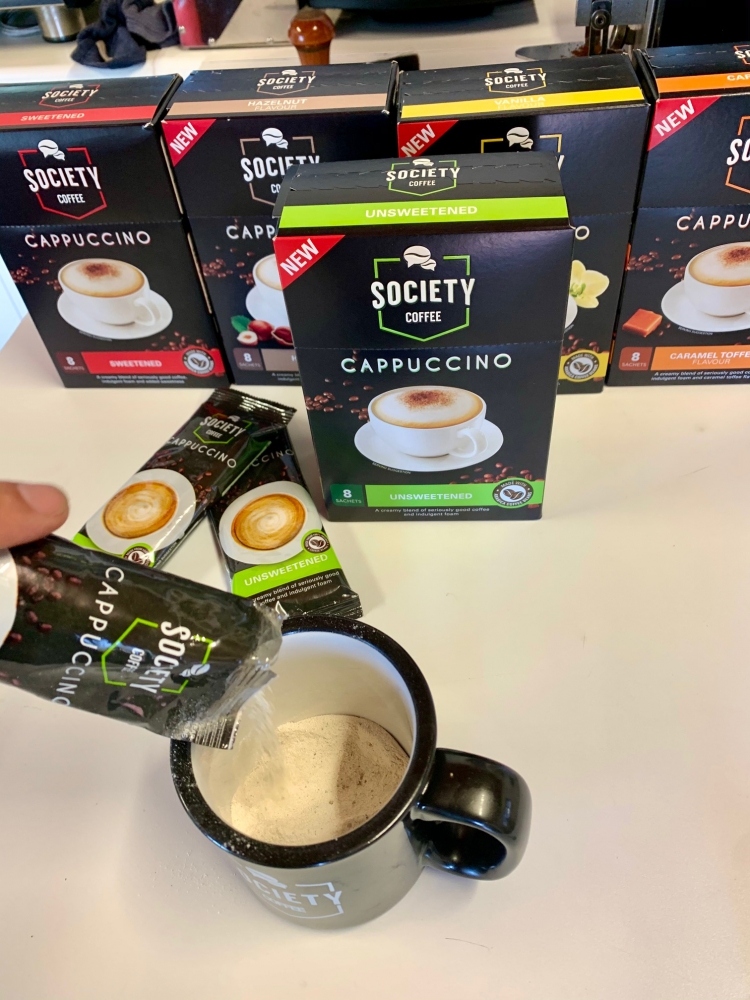 Step 1: Open a sachet and pour into your coffee cup.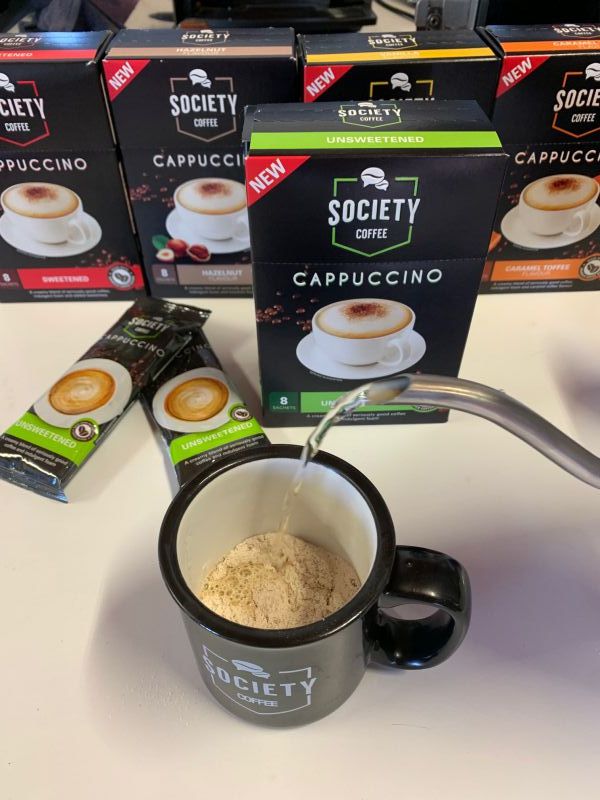 Step 2: Add 200ml of boiling water and give it a good stir!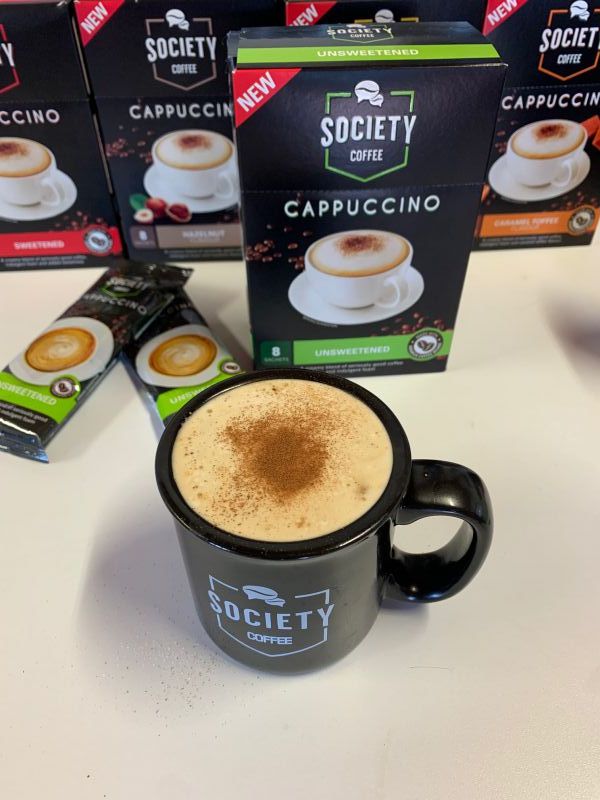 Step 3: (Optional) Garnish with hot chocolate powder or cinnamon. Enjoy!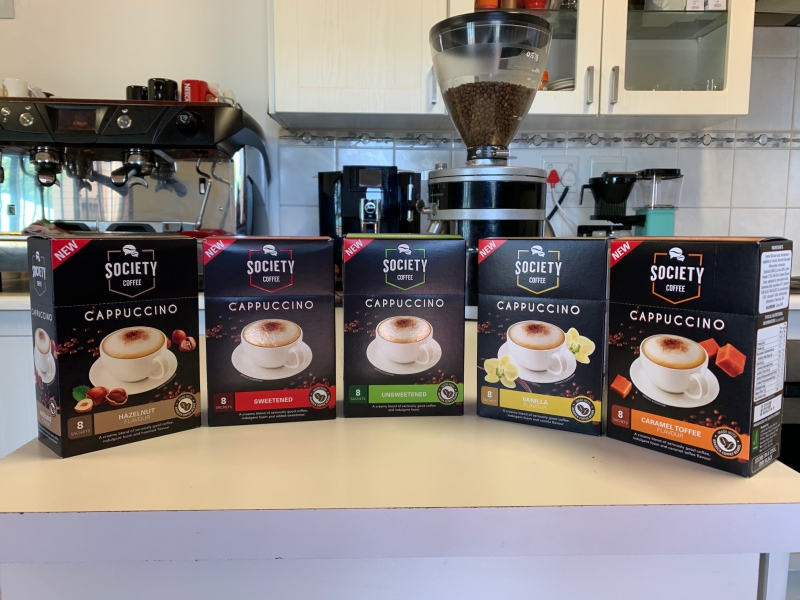 Society Coffee competition
Got something to say? Then leave a comment!
---
Roast: Exploring how experimental processing methods impact roasting
Friday, 27 November, 2020
Exploration and Experimentation
Getting to know a coffee and helping it reach its full potential. Emi Fukahori, the 2018 World Brewer's Cup Champion, explores how experimental processing of coffee impacts the flavour characteristics through her winning performance.
---
Words by Karolina Kumstova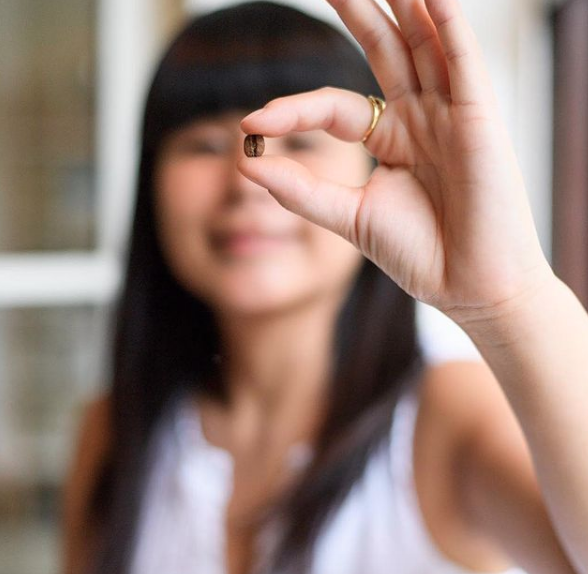 Emi Fukahori is one of Switzerland's most known baristas and cafe owners. Originally from Japan, the co-owner of MAME in Zurich took the speciality coffee scene in Switzerland by storm since her competition beginnings in 2015. Although Emi did not win in Seattle—her first time on the world stage—she kept on competing every year after, alongside her life and business partner Mathieu Theis (a top-ranking barista himself and 2016, 2018 & 2019 Swiss Barista Champion).
In the years that followed Emi's first Swiss win, the ambitious competitor went from Barista to Brewers Cup category. She took the third place at the Swiss Barista championship in 2016. Emi kept on working hard though and her efforts brought her third place in the 2017 Swiss Brewers Cup championship. 2018 was going to be Emi's year.
I asked Emi a few questions to learn in detail about her first time on the World Brewers Cup stage. Emi has done an incredible job as a hard-working and motivated barista and conducted a presentation that wonderfully reflected the current state of the industry.
In order to understand Emi's presentation, we must first learn about the coffee she used. Emi competed with Laurina, an experimental varietal produced at the Daterra farm in Brazil, as part of their Masterpieces lots. Daterra, which is the first farm to receive the highest sustainability certification (Rainforest Alliance), has been experimenting with this particular coffee for the past twelve years, and the result definitely deserves the attention it is getting now.
We wondered what made Emi choose a Brazilian coffee for her presentation. It is not usually the first choice of a competition coffee in the Brewers Cup category, but her achievement may very well change this trend.
Emi told us: "My life and business partner [Mathieu Theis] was invited by the Daterra farm, as a prize for having placed 3rd at WBC in Amsterdam (2018). He cupped many coffees with their fellow WBC finalists, and he brought 15 coffees back to Zurich. This was my first cupping for WBrC coffee selection, and all of these 15 coffees were extremely beautiful. 4 out of the 15, especially one—Laurina—was so sweet, syrupy and interesting, changing acidities as it cooled. I hadn't tasted Laurina before, so I got curious and wanted to know more."
Emi decided that she was going to compete with this coffee, although it was a challenging one to work with. Her willingness to work hard was the key to this coffee, and what motivated her was knowing she'd learn a lot in the process.
The story of the Laurina varietal is a story of a previously almost extinct coffee, a Bourbon hybrid originally from the Reunion Islands, and combined processing methods called anaerobic maceration. The seeds can be recognised as 'pointy', which gives Laurina its name 'Bourbon Pointu'.
Emi explained what happens after the harvesting of the cherries: "At Daterra farm, they put ripe, whole cherries of Laurina in a tank and seal it for 48 hours. The tank has a one-way valve, from which O2 gets pushed out by CO2 that was produced during the fermentation happening in the tank. Inside the tank, an anaerobic environment is created in the process. At the bottom of the tank, cherries get crushed by the weight of the cherries above. The cherries in the middle of the tank get squeezed. In the top layer of the tank, cherries get only fermented. This mixture of cherries creates complex acidities [in the final cup]. After 48 hours, cherries get dried on African beds for 20 days. To finish the drying off, they are dried in a tumbler to ensure uniform drying."
From Daterra, we learn that this processing was actually inspired by the winemakers of Beaujolais, an idea that Daterra gives credits for to Cafe Lomi. It took Daterra six years of experiments with a range of fermentation techniques, and over twelve years of studies of the varietal itself, to finally produce a coffee this way, in 2016.
Emi helped us better understand this coffee by telling us about some of the challenges that the coffee offered her, as well as her practice time in the months coming up to the WBrC in Belo Horizonte.
Laurina was quite a tough nut to crack for several reasons: "Like any coffee, Laurina changed depending on the number of days after being roasted, and based on how it was roasted. Plus, Laurina often behaved unexpectedly. For example, Laurina does not react much to different grind sizes—finer or coarser—the reaction was smaller than other coffees I know. When brewing, the agitation from the outside (using a stirrer) did not change the extraction much. The contact time with water affected the intensity of tastes and the coffee was really reactive to different water temperatures. All these facts did not make my training easy, yet it had been such a learning phase that I was really happy with my choice from the beginning."
Emi, who is originally from Japan, did not have only Mathieu to help her with her presentation and brewing technique, she was also able to practice with the 2016 World Brewers Cup champion, Tetsu Kasuya. Emi and Tetsu met during the World Coffee Championships in Seattle, in 2015, where he attended as the Japanese AeroPress champion. She was really happy to connect with him in her native language, and a year later, when he became the 2016 World Brewers Cup champion, he also became an inspiration to Emi. Many have since used his V60 pour over technique.
Emi added that she herself used it a lot: "Since I have started competing in Brewers Cup I have always referred to his techniques. Especially for compulsory service, as I did not do well in 2017, I wanted to fix it learning from Tetsu. This year [2018], Tetsu flew to Zurich twice, basically to bounce ideas to brew better and extract better."
The champion trained at her home base, as well as on the farm. She paid a visit to Daterra before the championships in order to learn as much about Laurina as she could, but also to run the Daterra team through her presentation. She told us: "As I trained at Daterra, I could brew for Isabel Pascoal Becker (the daughter of the owner of Daterra), Gabriel Agrelli Moreira (our contact person) and Edna Dias (one of the quality controllers). It was one of my most emotional moments. I was really happy to brew their beautiful coffee for them, at their farm."
During the first encounters with Laurina, Emi understood that she will need to combine several methods in her brewing in order to extract the most of her coffee. The method she found the most suitable was the GINA brewer, which she has been familiar with since the opening of the second MAME cafe. There, they brew all of their coffees with Gina.
Emi told us what made the Gina brewers perfect for her coffee: "GINA can be seen as a combination for Hario V60 and Clever Drip. GINA has a valve which allows me to combine the drip and full immersion [methods]. With the valve, the adjustment is really accurate, and the ceramic keeps the brewing temperatures accurately, too. Because of this, and to respect the characters of Laurina, I started to brew [with] GINA thinking how to create a method to highlight Laurina."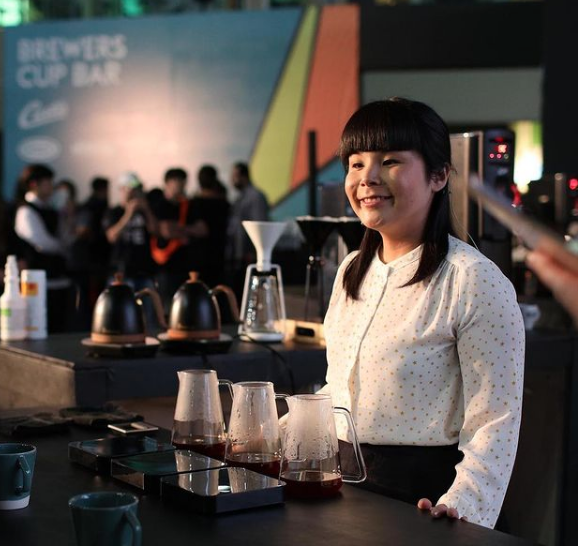 Emi described her coffee to have incredible, delicate flavours, all the while showing no dryness or bitterness in the brews. Watching her WBrC presentation, you will see how excited she was to showcase such a wonderful coffee that is so diverse based on the brew method, the temperature of the brew water, as well as on the temperature of the resulting brew. The coffee constantly changes!
"I believe roasting defines how the coffee can express its characters. Not only the way the coffee is roasted, but also after being roasted, how the coffee ages. My coffee for WBrC 2018 started to shine after 10 days. To choose one roast out of 8 roasts (5 different people roasted for me) for first and final rounds, I made my mind one day before due. It was not about who or how roasted, but I concentrated on how the coffee tasted that timing."
Emi let her coffee speak for itself and left the information about Laurina's country of origin only for the last part of her presentation. "I wanted to present a cafe experience to the judges as if it was me and my customers at my cafe." Revealing that the coffee was, in fact, grown in Brazil, Emi told the judges that their cup is an exciting, smooth, clean, special and juicy cup. It surely was not what the judges expected!
It is almost symbolic that the coffee which won the World Brewers Cup was produced in Brazil, the hosting country of the championship. For many, especially for the hard-working farmers in Brazil, this win speaks for the quality that can be found among Brazilian coffees. It also suggests a step towards a more open-minded stance of the speciality coffee industry when it comes to the origins producing the best coffees in the world.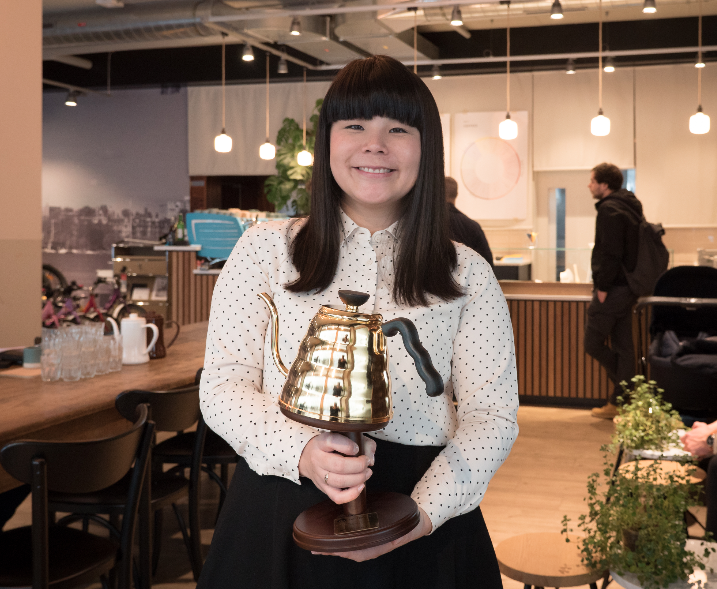 Laurina varietal has since gained a lot of attention and the carbonic maceration lot sold out during Daterra's Coffee Auction 2018. It was sold for the highest ever bid in the history of Brazilian coffee, which was a great achievement for Daterra, who spent years developing experimental varietals and lots. Daterra did not hesitate though and donated the full profit from the auction of FREVO to a charity that helps improve education in Brazil. The Educar Foundation charity has worked with Daterra on multiple projects and the farm is now hopeful for even a bigger positive impact of their record-breaking coffee.
What the current champion plans to achieve in the coming months and what are your dreams in coffee were the last questions for Emi, who is not only a competitor and a cafe owner but also a coffee trainer. "We would like to start roasting at MAME and set an academy for home and professional baristas and competitors. Here, we are really looking forward to sharing what we have learnt since we started competing. We also want to stay involved in future championships to learn continuously," Emi told us.
The 2018 World Brewers Cup champion hopes to "have different opportunities to get to know various coffee scenes in the world, and share what is going with the others."
"My wish is that people choose to drink coffee with consciousness. If more and more people choose what they enjoy, coffee can be understood to be more than just caffeine. Like good wine or cigars, I wish that coffee can be seen as enjoyment. Even if some people will not be coffee geeks, even a simple coffee can be specialty coffee - for me specialty coffee means coffee with care - there will be better coffee at more places. I wish quality coffee gains more recognition as enjoyment, so that people in coffee (from farm to serving people) feel more responsibility and joy to provide their coffee to people drinking it. If the whole chain moves to quality, there will be better coffee everywhere."
Got something to say? Then leave a comment!
---
Expert: Coffee Processing Methods Explained
Thursday, 19 November, 2020
Warren Machanik of Quaffee has dedicated himself to continuing to learn and grow his knowledge about coffee and he is always willing to share that knowledge with other curious minds. In this article he explores the different way coffee cherries are processed after they are picked from the trees. This was originally published as a series of newsletters and on their website which has a vast array of delicious coffees to try! If you want to learn more about Warren and Quaffee, you can see his Coffee Magazine Awards profile here.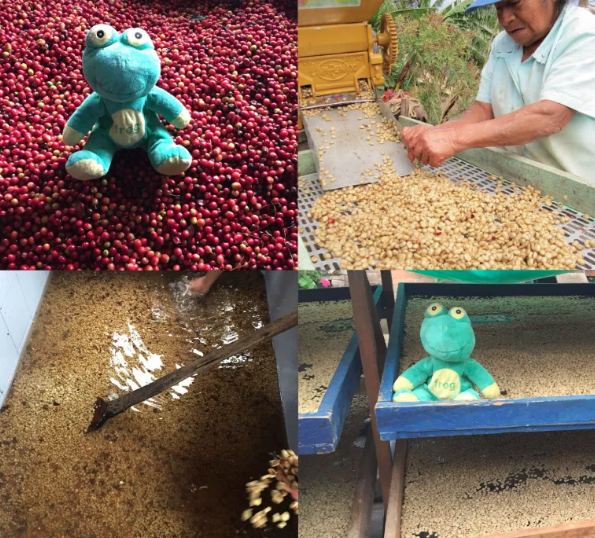 Washed Process
The Wash process is also called wet processing or fully washed.
The wet processing method of extracting the seed (bean) from the coffee cherry, is a modern coffee processing method. Initially, it started in coffee growing areas near springs, where water was abundant. However, the clean tasting coffee it produced meant that its popularity spread. There are many types of wet processes implemented today, but we will cover the common elements.
While harvesting should ideally only select ripe coffee cherries, typically a second quality check is required. There are two approaches here. Either a group of harvested coffee cherries are covered in water, and only those that sink are de-pulped. Or an alternative is that cherries are de-pulped with water as part of the process, the remaining pulp and pips that sink are then separated from and those that float.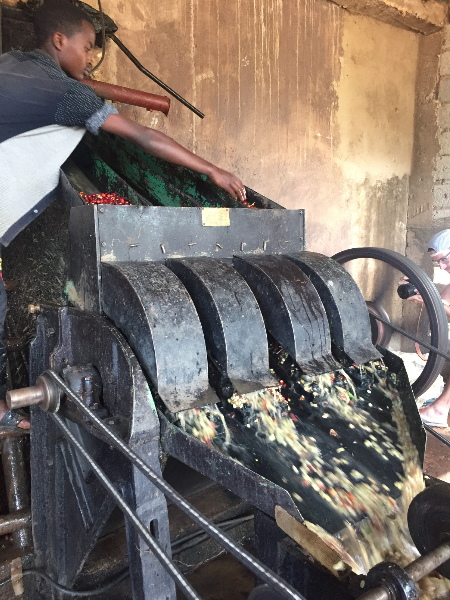 Either way, the floaters are considered to be unripe or damaged (by insects, fungus or disease), and those that sink are of a higher quality. Some countries (like Colombia) floaters will either be dry-processed or used for local or commercial consumption.
Depending on the country, both these qualities may be then covered in water, to ferment sans air (or anaerobically). Once the remaining mucilage around the pip, starts to separate from the pip, the resultant combination is rewashed. This can either occur in long washing channels (typically African coffees are processed like this), or in a separate washing container.
A resulting "washed" coffee, is then dried until a desired internal moisture percentage occurs (this depends on the country too).
Washed coffees are known for their brightness and cleanness in the cup.
---
Natural or Dry Process
The natural process is most likely the oldest processing method, when it comes to coffee. During the process, the complete coffee cherry or fruit is used. Once the cherries are picked, they are sorted using colour (if quality is a driver). For cultivars that are red, only red cherries are used, yellow only yellow and orange only orange.
At this point one of three things happens. Ripe cherries are spread out:
on either a flat surface like a roof, a patio or plastic sheeting or
over raised beds, or trays and left in the sun or
over a shaded raised beds or trays.
After this, the methodology used effects the final taste. If cherries are left to dry as is, they will start fermenting. Coffee cherries at the bottom of a pile ferment more than those at the top. If a farmer, producer or processor is meticulous, they will ensure cherries are moved or tossed regularly to prevent fermentation from becoming a dominant flavour or destroying the final coffee.
The best naturals are tossed at least once every two hours, allowing uniform dryness throughout the cherry, without the natural fermentation affecting the full taste in the cup.
In some regions, once the internal moisture level is between 20-30% the partially dried cherry is then removed from the drying area and mechanically dried at just over 30 °C. When the moisture level is between 10 and 12% it is removed from the dryer.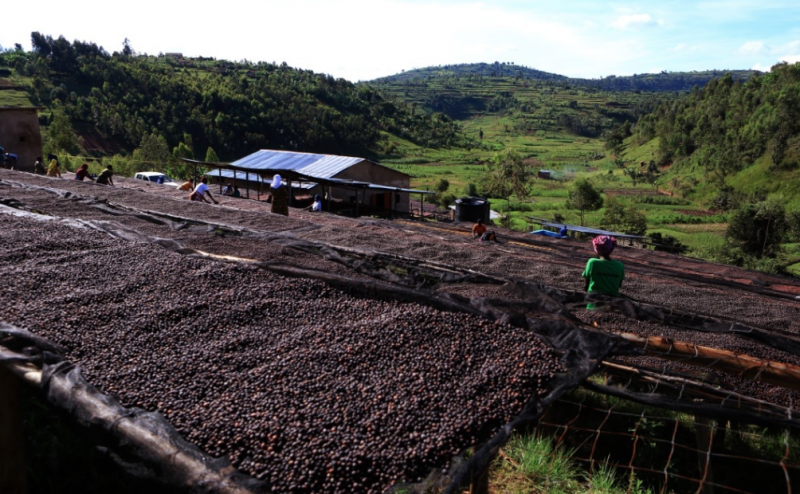 It is however preferable for the coffee to be left to dry naturally and when it reaches an internal moisture level between 10 and 12%, then removed from the dying bed or patio.
A well processed natural will be sweet and juicy, like the Gishubi (or Gitwe) we offer, or the new Yemeni coffee to be offered as part of the secret offering this month. If a natural is not properly processed it becomes dusty or funky in taste.
There is sometimes debate about whether or not natural coffees can produce a quality and clean cup, we believe you should be the judge.
---
Honey or semi-natural process
Honey Process
Natural and wet processing are the most typical coffee processing methods. Natural processing allows natural drying of coffee cherries. If done correctly, it uses the natural fermentation of the complete coffee cherry to expose the pip (or bean). Washed removes the fruit, then typically ferments the remaining coffee pulp away from the pip underwater.
The Honey process can also be called pulp-natural or semi-natural. Honey processed coffee is typically associated with smaller lots, with coffee being dried generally in the sun. Pulp-natural coffees are large commercial lots and often dried initially in the sun, after which drying is often completed in an automated drier.
Honey-processing of coffee started off as a way to dry coffees quicker. By removing the skin from the fruit pulp would dry sooner. Getting coffee to market quicker was the objective. Honey-processed coffees were limited initially to water-scarce areas (at least during harvest). The fact that these coffees then had interesting cup-quality and flavour notes promoted the method to other areas.
Honey processed coffees use depulping machines (or demucilaging machines) that are calibrated to remove the skin from the fruit, as well as some of the fruit pulp (mucilage).
Black, red, yellow and white
It has become common that there are difference names associated to honeys.:
Sometimes this is linked to the amount of mucilage removed. With black, red, yellow and white honeys removing more of the mucilage. Each level producing a different name with black the most pulp and white the least.
Other times it is linked to the drying times for each honey processed coffee, with black being the longest and white the shortest. Perhaps the fact that the more pulp there is the longer the coffee will take to dry explains this.
Also we have heard the terms associated to how long the pulp has already spent drying. Here white is new and black is almost ready.
As you can see there is no clear definition. What is important is that when these descriptions are presented, to be aware it is linked to the final taste.
A quick note on fruit pulp: In our experience at origin, we have found the more fruit pulp on the cherry, the tastier the final coffee in the cup. A healthier fruit tree produces more. Since fruit is essentially food to attract animals to free their children from the fruit, should the fruit fall to the ground, then more fruit equals more compost material for the baby seed. A healthier mother plant produces a healthier fruit and baby. This has a scientific base since more fruit means more sucrose and fatty acids in the fruit, an important consideration when factoring in how micro yeasts act on the fruit pulp.
Back to honey processing. Once the determined amount of fruit pulp is removed, the resulting sticky (like honey) fruit is laid out either on a patio or, preferably, raised beds. For well-processed honeys, fermenting fruit pulp is then tossed regularly.
Once the desired moisture level of the seed is achieved (10-12%) the coffee seed is removed from its drying table (or patio). The rest of the processing then occurs as with naturals.
---
Wet Hulling
Wet-hulling (also called Gilling Basah) was probably first invented by the Dutch after first acquiring the coffee plant via India and colonising Indonesia in the 1700s. The first major European coffee plantations were established in and around Java (hence the link between coffee and java).
Before we go further, we need to explain what hulling (or milling) is. Hulling uses several methods of removing anything that is not the pip of the plants produce. In rice, spelt, wheat and other grains it is used to remove the husk, generally by either thrashing or rubbing. For coffee, the protective layer is customarily called the parchment, and this needs to be removed to assist in roasting the coffee. There is still a layer underneath that is called the silver skin, that I tightly wrapped around the pip, and usually only is removed by roasting. Typically the silver skin is shed, as the coffee bean expands during the roasting process.
The difference between a coffee that is wet-hulled (and the methods we have already covered in the previous newsletter) is linked to the fact that when the coffee is hulled the moisture level of the pip is around 30-40% rather than the previous methods we have covered, where it is about 10-12%.
Wet-hulling is mainly used in Indonesian countries, and it is believed to be linked to the dominant spicy notes found in coffees from this region. Indonesian coffees that now use the methods we have already covered are available. The result is cleaner and sweeter coffee (in fact our current Indonesian Kerinci is one of them). However, we have still found the spicy notes prevail, even if not as a primary flavour.
---
Videos
We have collated several videos on processing which we have published into a single post you can access via our website. The post is called Videos on coffee processing. Here we summarise the processes we have covered, with some region specifics, too.
Got something to say? Then leave a comment!
---
Coffee brand Kalita is launching in SA. Here's why you should be excited!!!
Thursday, 12 November, 2020
There's a new Wave coming. And it's called Kalita!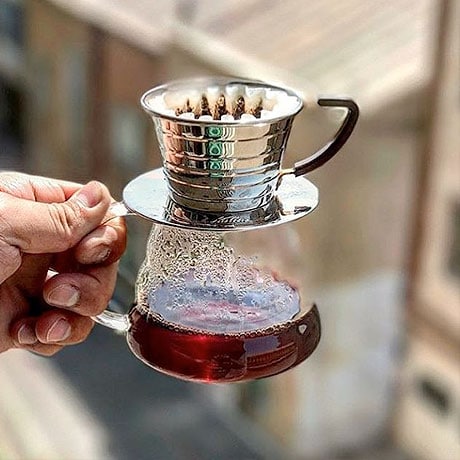 The Japanese have a special relationship with their coffee – a relationship that is indicative of traditional Japanese values of respect, harmony and patience – with coffee brewing and experiences being more ritualistic and gentle than the hardcore espresso culture adopted by the west. It is with these values in mind that the Wave from the family owned Kalita Co. was developed.
The Kalita Wave is a pour over brewer, similar to a Chemex or a V60 in practical usage. The Wave, however, has a markedly different extraction profile to that of a Chemex or V60. Unlike a Chemex or a V60, where the coffee is extracted through one point or aperture – the Kalita utilizes a flat bottom design with three extraction apertures. These features combined with a filter that has minimal contact with the dripper itself eliminates any channeling of the coffee bed and results in an extremely crisp cup that is replicable time after time.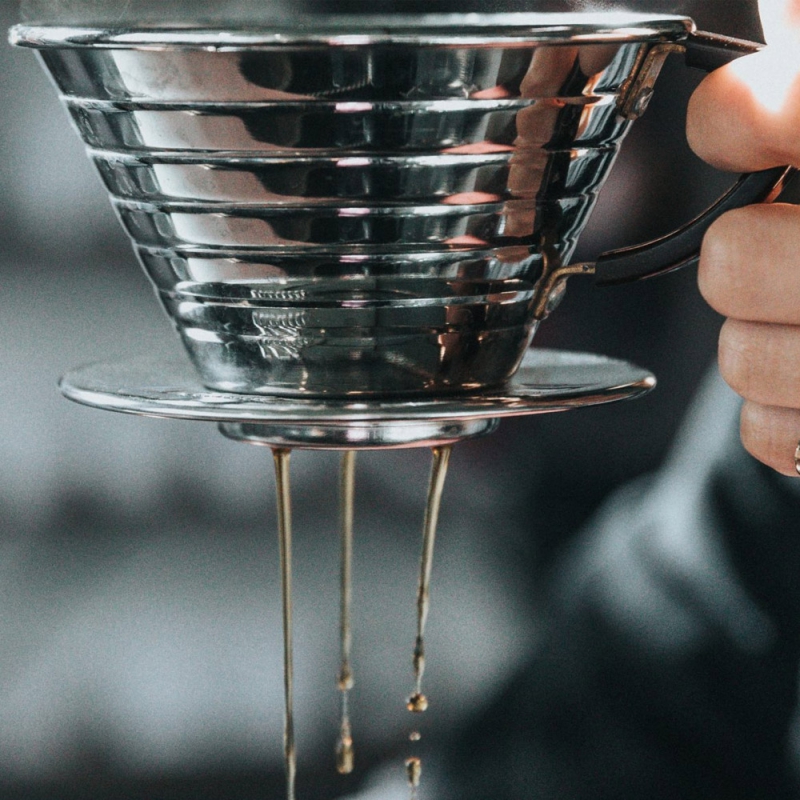 The Wave is considered to be the premier coffee dripper on the market; with its sleek design and incredible flavour extraction brew is turning the heads of coffee lovers everywhere and it's fast becoming the new favourite toy of the aesthetic barista. The minimal, streamlined design of the Wave is characteristic of the Kalita company's values of simplicity and cleanliness.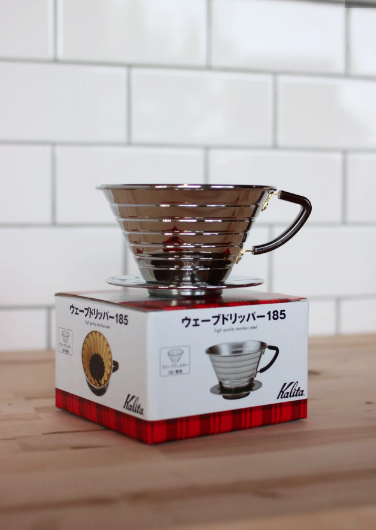 Equipment Cafe will be launching this into the SA market shortly, we'll keep you posted on where to find yours! Have you used a Wave before? Let us know what you think in the comments below.
Got something to say? Then leave a comment!
---
Review: Timemore Nano Hand Grinder
Wednesday, 14 October, 2020
Take a deep breath in and join us as we give you some insights into the Timemore Nano Hand Grinder in the heart of the Sodwana Bay forest. Here's our 'Nano' video review of the Timemore Nano Hand Grinder which MoreFlavour sent us to play around with.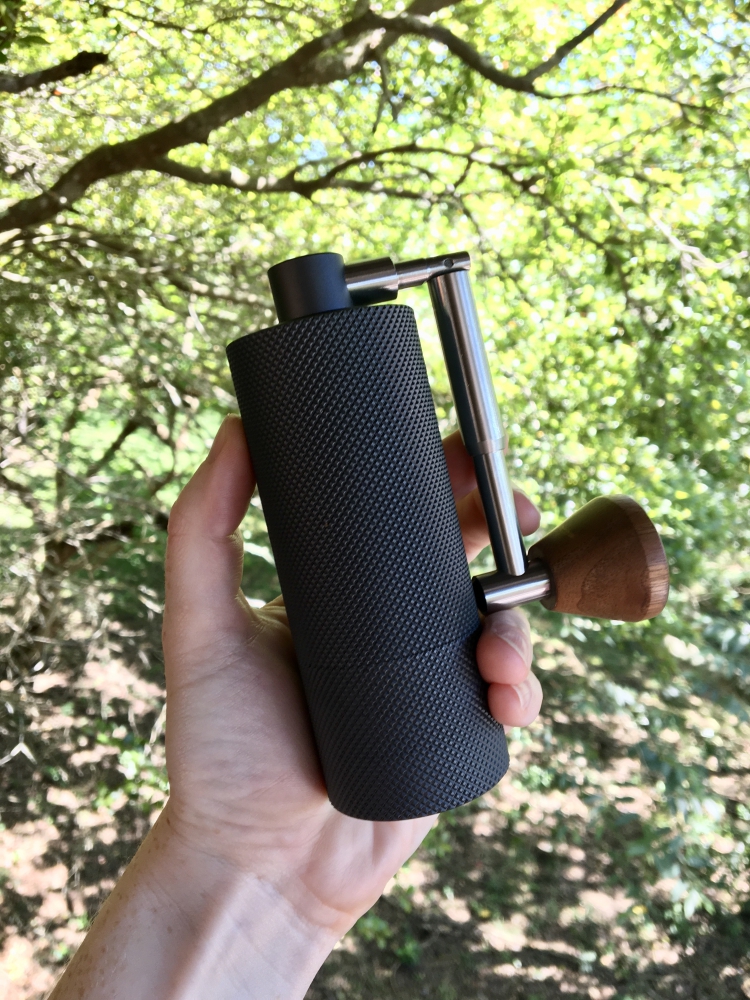 FEATURES
Dual ball-bearing system for smooth uniform grinding
Precision cut alloy aluminum unibody construction with screw on base container
Full range of adjustable coarseness levels from Turkish (extra fine), espresso, AeroPress, pour over and French press (coarse)
Precise and easy grind adjustment
Toughened hard steel burrs aid speed, uniformity and durability
Spring-loaded fold-away handle for super compact, all-in-one travel ability
Includes carry bag, instruction manual, cleaning brush and display case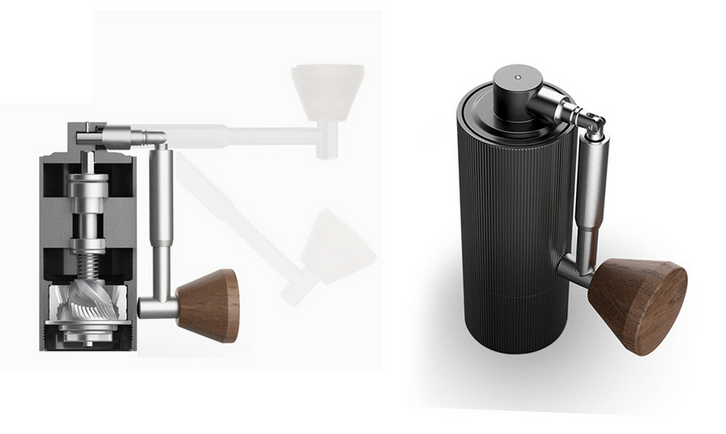 SPECIFICATIONS
Colour: Black
Material: Aluminium body, wooden walnut knob, stainless steel conical burrs,
H:10cm x 5.2cm
Weight: 375g
Coffee capacity 15g (1 cup)
Got something to say? Then leave a comment!