Giveaway: WIN one of two Bialetti Venus Stainless Steel Moka Pots!
Friday, 13 May, 2022
Bialetti is our absolute go-to when it comes to Moka Pots. Not only does it save us during Loadshedding or give us great espresso when camping, but the Venus range in particular, looks absolutely stunning on the gas or induction hob in our homes. One of the great daily coffee rituals!
We got so excited, we made a video about it (which has 13 000 views and counting!) and now, we have more exciting news....
The Bialetti Venus, now comes in two classic new colours - and if you click here, you find out what those colours are, and stand a chance to win one of them in our Bialetti competition. BTW...Coffee Magazine readers also get 15% off all Bialetti products using the Checkout code CM15% when checking out at the Bialetti Online store.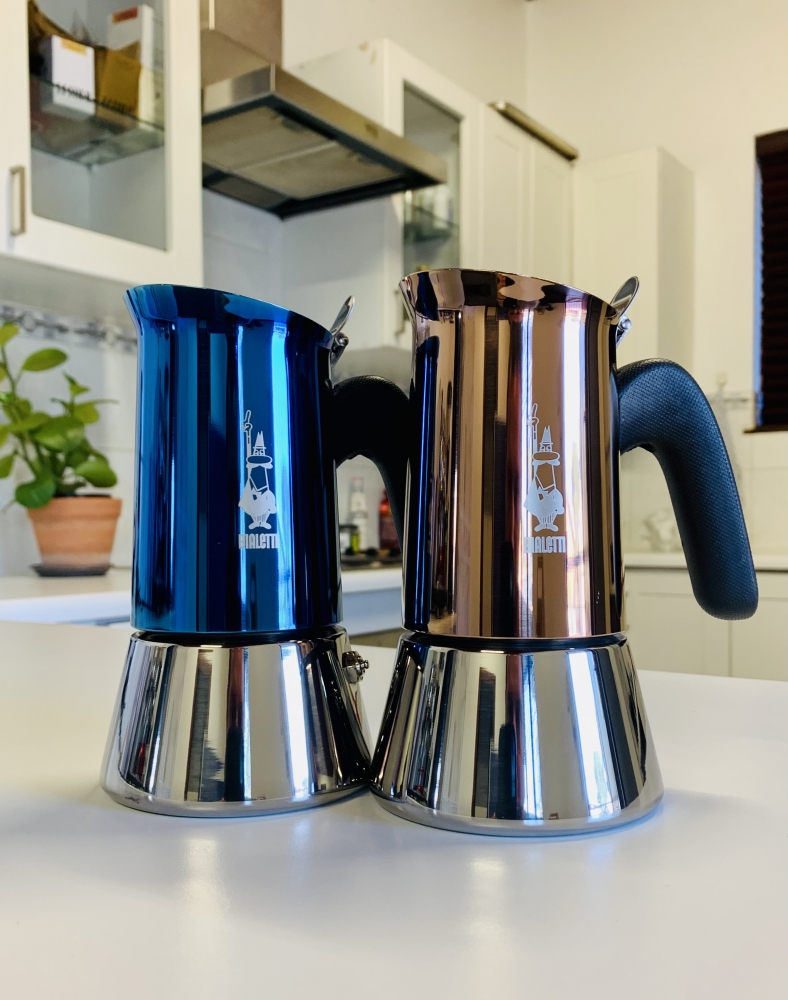 Bialetti Venus Stainless Steel: Name the new colour ways and stand a chance to win one of them!
WIN one of two beautiful Bialetti Venus Stainless Steel Mokapots!
Got something to say? Then leave a comment!
---
The Single Serve Coffee Pouch
Friday, 29 April, 2022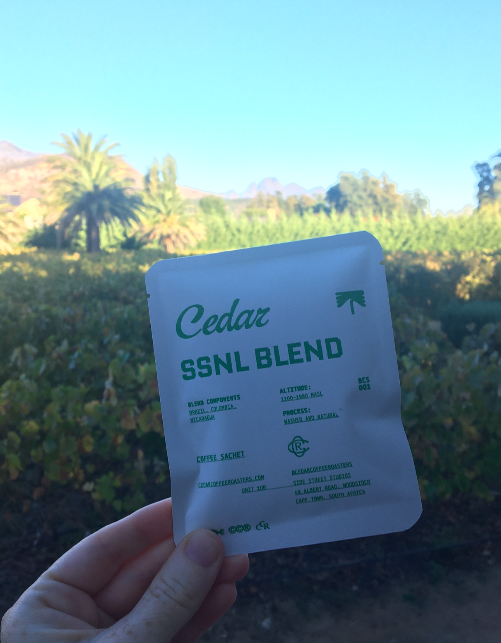 Originating in Japan this single cup pre-filled pour-over coffee design was inspired by Japanese origami and unfolds from an easy to store flat pack to stretch over the edges of a coffee cup. This has been a common way of consuming coffee throughout Asia since the late 80's. There, it can be purchased in most grocery and convenience stores, and consumed in homes, offices, and hotels. Also known as "drip bag coffee".
These are becoming more and more popular and are a fantastic, compact solution for good coffee on the go. We recently gave the Cedar Coffee Roasters blend, packed by Southland Coffee, a whirl and it was delicious. We also used their Colombia trio to introduce some tea farmers to the nuances of coffee growing and processing!
The fold out mechanism is both cute and satisfying, although it is our recommendation to use quite a tall, wide cup for best results so that the filter can do its job and not sit submerged in the hot water. You might like it to immerse a bit for extra strength (which is what the team at Dip n Brew do with their teabag style design rather than pouring over).
Here are some of our favourites: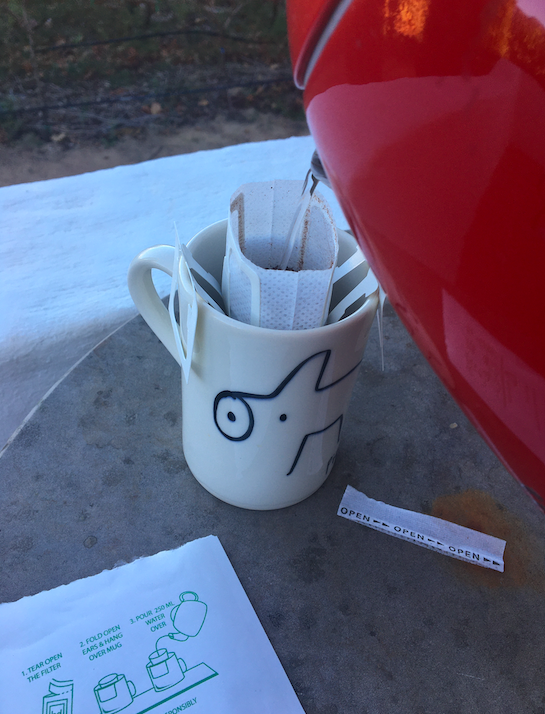 Got something to say? Then leave a comment!
---
Home Espresso Machine Showdown: DeLonghi La Specialista v Breville Barista Touch Pro
Wednesday, 30 March, 2022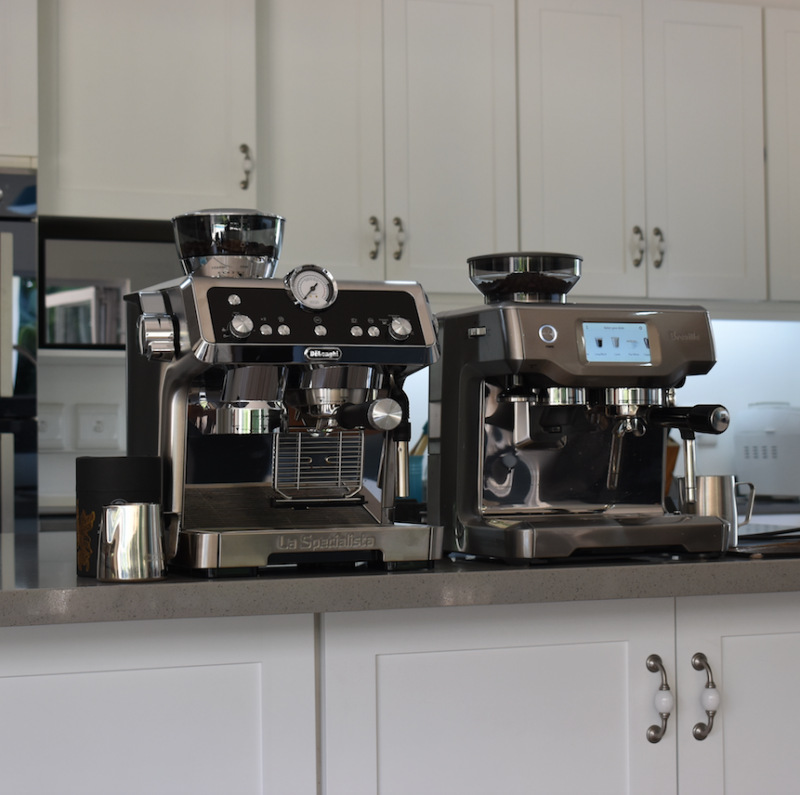 The Coffee Magazine team went head-to-head in an epic battle of the home espresso machines! Coffee Mag Editor, Mel, chose the DeLonghi La Specialista and Publisher, Iain, took the controls of the Breville Barista Touch in a 3 round battle - espresso, americano and cappuccino!
Got something to say? Then leave a comment!
---
VIDEO: Five things we love about the Ratio Six filter brewer
Friday, 11 February, 2022
This is not a How To or a Review, so much as simply highlighting some of the great features we enjoyed while using the Ratio Six, a very stylish filter brewer.
We brewed some of the many delicious samples that were kindly sent to us by the team at Sabores Coffee and each time the result was a gorgeous clean cup. In a side by side tasting of two differently processed Caturra varietals from amazing producers in Colombia, the brew method clearly showed the unique characteristics of each coffee.
Got something to say? Then leave a comment!
---
Coffee Gifts for Coffee Lovers!
Wednesday, 9 February, 2022
Got something to say? Then leave a comment!
---
The Big Battle of the Small Coffees with Ishan Natalie
Tuesday, 1 February, 2022
What is your favourite order at your local cafe?
Words by Ishan Natalie
---
The interpretation of what is a Cortado, Piccolo and Flat White is as controversial and contentious a topic as 'what is speciality coffee'. Everyone has their own opinion and version of what they think it is and we often see inconsistencies across cafes in the way they are made and served. So, what are these beverages really?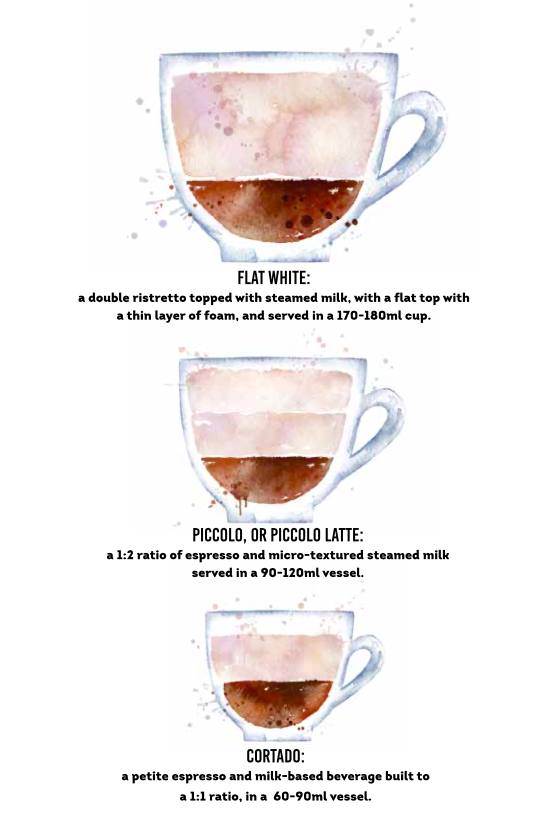 Let's start with the Cortado. Originating in Spain, this refers to the dilution of coffee with milk. The most common term is 'espresso cut with milk'. A Cortado is a petite espresso and milk-based beverage built to a 1:1 ratio of espresso and micro-textured steamed milk; usually made in a 60-90ml vessel. The ratio of milk is merely enough to reduce the acidity of the espresso. You may ask "but is that not the same as an Espresso Macchiato?". Nope! A Macchiato, by definition of the Italian word, means espresso 'stained' with milk and traditionally the foam is scooped on to the espresso as opposed to a Cortado which is poured and has very little, if any, foam for a milkier experience.
Compared to a Cortado, the Piccolo, or Piccolo Latte, is a 1:2 ratio of espresso and micro-textured steamed milk served in a 90-120ml vessel. The slightly, milkier beverage, softens the espresso more, creating a harmony in flavour, strength and mouthfeel between espresso and micro-textured steamed milk. It is a lot gentler on the palate than that of a Cortado, or Espresso Macchiato. These aren't that common in South Africa, but the Gloria Jeans franchise which originated in Australia makes them true to the Aussie style!
But my favourite by far, and for most consumers, is the Flat White. Born in Australia or New Zealand (depends who you ask!), it is a double espresso (for purists, these are pulled as ristrettos), topped with micro-textured steamed milk, with a flat top with a thin layer of foam, and served in a 170-180ml cup. It is the epitome of balance and luxury between espresso and micro-textured steamed milk. A Flat White also allows the barista opportunity to pour more intricate Latte Art as opposed to the Cortado and Piccolo. As with any terminology, it varies across cafes, so at your local Seattle, if you wanted a flat white, you'd ask for a Double Short Latte.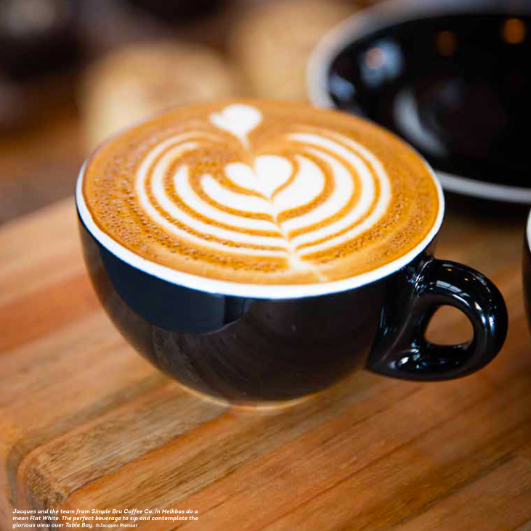 A beautiful flat white from Simple Bru Coffee in Melkbos
What makes these beverages so delicious is perfect execution of espresso and micro texturing and steam in milk. Based on the roast profile and origin of the coffee, recipes may vary but milk is a lot simpler. High fat, full cream milk works best as the fat provides higher sweetness and richness to the beverage. To further enhance this and the mouthfeel, baristas need to soft stretch the milk whilst cold (soft, intermittent hissing sounds) and then texture and steam the milk gently until it reached 55 – 65 degrees Celsius. With the steaming pitcher tilted at around 30 degrees angle, simply soft stretch in the beginning to create microfine bubbles for micro-textured foam, and then, when the milk is at room temperature, slide the pitcher up the steam wand, submerging the steam wand tip about 2-3 cm below the surface of the milk, maintain a constant swirling of the milk, shutting off the heat when you reach the desired temperature above. This ultra-velvety, sweet and dense milk, makes all the difference in these beverages.
For the novice/ home barista, getting micro-textured milk takes time and lots of practice – it's often trial and error, familiarity and routine. But practicing steaming of milk is very expensive, so here are a few tips to reduce your practice costs:
Use UHT milk rather than fresh – these are easily available and can be bought in bulk, usually at a fraction of the price of fresh milk. These may not be the ideal milk for beverage smell and taste quality, however visually and structurally, it will support you to practice in a cheaper way. Also the fact they have been ultra heated means they are much more consistent from carton to carton.
Dishwashing liquid, yes dishwashing liquid – I use this when training new barista as it's really inexpensive. All it requires, is a drop of dishwashing liquid and cold water. Simply add cold water to the desired level in your steaming pitcher, add a drop of dishwashing liquid and go ahead and steam. Once the steam infuses the soap, it creates microfine bubbles that expand just like the protein molecules in milk for foam. The longer you introduce steam into the soap liquid (or milk proteins), the more these microfine bubbles will expand and build up more foam.
An interesting thing happened a few months back in the industry. All over the country a particular and well regarded brand of milk was posing a problem for baristas. It just wouldn't foam! So it still tasted good, but latte art was a no-go! Foam quality comes down to a few factors: cattle feed/ diet, seasons and processing. The best quality milk is usually in the warmer months, especially with free roaming cows. Free roaming cows and many cattle herds, graze in paddocks or vast spaces with healthy and thriving grass from the summer conditions. This is their most natural feed and produces the highest quality milk. In the colder months however, the grass quality deteriorates which changes the way in which the cow digests it, and ultimately changes the milk it produces. And sometimes, the natural diet is supplemented with feed that is manufactured. To dairy farmers, the priority is meeting the standard requirements for use and sale. And for most applications of that milk, no change can be detected, but the micro texturing of milk in cafes exposes the minute details, as the industry experienced when the milk just would not foam. Often, these changes show in the form of bubbles throughout the surface of the espresso-based milk beverages, often less sweet and reduced mouthfeel. Another challenge is over dilution of milk – milk that has too much water, dilutes the proteins and fats, which when steamed, creates large soapy bubbles that to not bind to maintain foam structure, and completely disintegrate, leaving you with plain hot milk and no foam. This could be a processing issue, or an issue in the cold chain where that particular milk may have frozen at some point (below zero degrees Celsius).
Understanding milk and how to troubleshoot is often neglected but as important as understanding coffee and the extraction parameters for quality. Espresso beverages made with milk form part of around 90% of what customers order and consume, milk makes up on average 85% of that beverage. So it's important to take the time to understand milk background and properties, and to find the best quality milk for you.
Got something to say? Then leave a comment!
---
Recipe: Smoothie Power with Red Espresso
Thursday, 27 January, 2022
The new Red Espresso® rooibos smoothie powder packs a huge, healthy punch. Just adding one teaspoon to your daily smoothie gives you an incredible boost of antioxidant magic.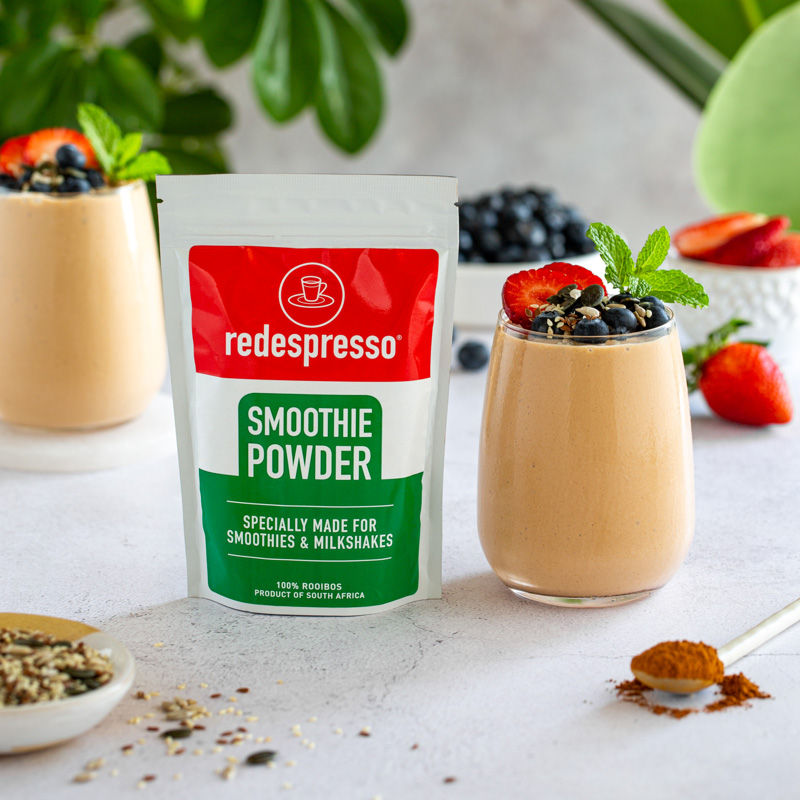 red espresso® peanut butter and rooibos smoothie
Makes 1 large smoothie

Ingredients:
1 cup ice
2 x small frozen bananas (or 1 large ±100g banana)
2 Tbsp peanut butter/nut butter of choice
½ cup coconut yoghurt/yoghurt of choice
½ cup milk of choice
¼ tsp ground cinnamon
½ tsp vanilla extract

Garnish:
Seasonal berries
Mixed seeds
Mint sprigs

Method:
1. Place ice, bananas, peanut butter, yoghurt, milk, cinnamon and vanilla into a blender.
2. Add the red espresso® Rooibos Smoothie Powder and blend until smooth.
3. Pour into a tall glass and garnish with berries, seeds and a sprig of mint.
Got something to say? Then leave a comment!
---
The Quindio Range by Wolf & Miu: Respecting the Ritual
Wednesday, 26 January, 2022
If you have ever had the privilege of visiting or seeing images of the city of Barcelona, you will know that it has a unique beauty centred around a celebration of innovative design. We chatted to Juan Ortiz, one of the Founders behind Wolf & Miu as they turn their attention to coffee equipment.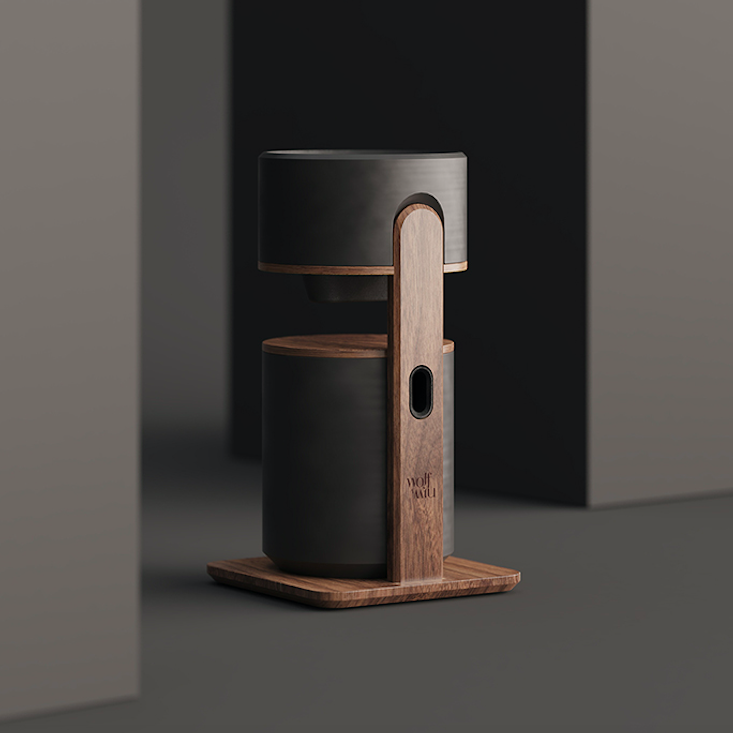 What made you turn your attention to coffee products?
The story began with our deep admiration for the coffee community.
Wolf & Miu is a design brand focused on creating products to enjoy and connect with the simple moments in life. We design products that accompany us in the rituals that bring calmness and joy: cooking our favourite recipes at home, reading a book in the comfort of a good light. It was from these simple yet meaningful rituals that we fell in love with the coffee community: A community of people who appreciate the value of time, dedication, and details. In the coffee community we find a place where our values ​​as a brand resonate.
So we could say that our attention was first drawn by the coffee community, its rituals, its love and passion for detail and quality. Once in love, the obvious result of being designers was to create products that would address this community and all those who value personal time, harmony and beauty in their spaces. Then the Quindio Collection was created.
What kind of research and development goes into creating a new coffee product like these?
We could divide the research & development into two parts: The functionality and technical aspects & the materials and production.
Functionality is the foundation on which all other factors were built. To create Quindio we did an exhaustive research that took months, and collaborated with renowned baristas and coffee roasters from different parts of the world (such as NOMAD coffee from Spain), in order to achieve detailed technical definitions: such as the indicated number and size of ribs, and the characteristics of the outlets in the dripper. Also details such as the impact that the double wall would have on the retention of temperature, and the study of the water flow to achieve a balanced extraction. Research and collaboration with coffee professionals aimed to define the appropriate technical aspects so that both enthusiasts and those who are new to the world of coffee can enjoy a balanced cup of coffee brewed with Quindío.
One of the most important pillars of the brand is the direct collaboration with local and independent craftsmen. Under this approach, the production was based on creating synergy with ceramic and wood craftspeople who were willing to accept the challenge of producing Quindio. Although its lines are sleek and simple, each piece in the set has a high technical complexity, which required even more months of tests to make the theory behind the technical study materialize.
At one point, these two parts were no longer divided and it was a joint and iterative collaboration between coffee experts, craftspeople, and us (Juan and Patricia) as the designers of the brand.
How many iterations did you come up with before the Quindio Collection could be launched?
Wow, it's hard to say because there were so many that we can't keep count! We cannot say for sure how many iterations we did until we achieved the final product, but if it is of any use for the calculation we can say that we have a whole ceiling height rack of more than 3 meters wide full of tests, prototypes, studies of materials, etc. The development of Quindio, from the beginning of the research, through the material development of the parts to the current model, took more than a year. The same is happening now with the launch of our new line of double-walled sensory Mugs: It all started with an idea that changed thanks to the feedback we received from both coffee experts and our artisans.
The result in every product development is always a product that looks very different from what we originally intended, but is certainly much more interesting, beautiful, and functional.
---
QUINDIO POUR-OVER COFFEE MAKER
The Passion for Craftsmanship, Advanced Product Design & Coffee Rituals.
The boutique design company Wolf & Miu, one of the pioneers of the slow-production movement in the vibrant Barcelona design scene, is introducing Quindio, a pour-over coffee maker collection produced in limited batches. Handmade from natural materials by local craftspeople, the Collection is a unique intersection of passion and dedication from different disciplines.
Quindio is a piece for the daily coffee rituals, for being proudly displayed in any interior space. Clean-cut and intentional, the coffee maker has been meticulously designed to invite for a pause and enjoy the space, stillness and simplicity; to inspire presence and harmony through its shapes, lines and the warmth of its materials.
"The Quindio spirit is based on a collaborative philosophy, where advanced product design meets traditional craftsmanship and coffee science. This approach has led us to develop the collection in synergy with some of the best baristas from Europe; as well as local craftspeople from Barcelona who master the art of transforming natural materials into beautiful, complex and functional pieces", says Juan Ortiz, founder of Wolf & Miu.
Each coffee maker is numbered and part of a production batch with limited pieces. The way the elements interact allows to easily extract a rich, consistent, full-bodied cup with every brew: A dripper designed to use with standard #2 or #4 cone filters -which can be found just about anywhere- provides the ideal flow thanks to the set of ridges along its wall and the two outlets at the bottom, while allowing greater thermal stability and heat retention in the brewing process thanks to its double wall design. A 650 ml server with a wooden lid that keeps the coffee warm for longer. And a solid wood stand that insulates the server and works as a double platform when brewing only a single cup.
"The pour-over coffee ritual is a process that requires time and is done out of passion. We believe that there is a profound relationship between this ritual and the vision under which we design our products: Pieces that take time to produce, created by the devotion of all craftspeople involved. We find a natural connection between the coffee ritual and the value placed on things that are made with dedication, passion and love", explains Patricia Kuhn, Co-founder of Wolf & Miu.
For the passionate, for those looking to experiment or hone their pouring skills, and who find value in the details and the simple pleasures of life; the Quindio collection is now available in its Vespre-Walnut and Alba-Oak versions through www.wolfmiu.com.
Got something to say? Then leave a comment!