Coffee Basics: What is a Quaker?
Wednesday, 7 April, 2021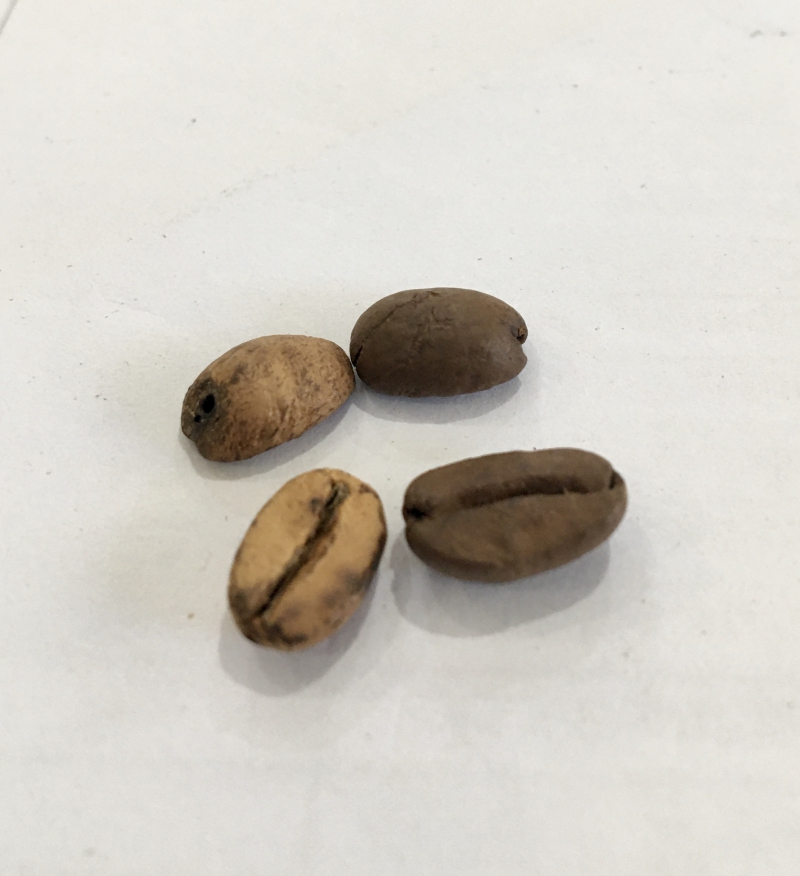 These are mostly found in Natural coffees. So the quakers make it through the natural sun-drying method (See more on Processing Methods here). Sorting happens naturally in water processed coffees (unripe/defect beans float to the surface and good beans sink) however, in natural processed coffees sorting is done by hand and good vs. bad isn't as easily visible. With natural coffees, Quakers are just a part of the experience unless you remove them from the coffee post-roast.
Essentially, because they were picked when they are unripe, they don't have enough sugars to caramelise during the roasting process, which means that the light coloured beans in your bag have a big impact on flavour. So those light coloured beans aren't under-roasted, they just don't have enough of the good stuff that fully ripe beans do to provide any quality flavour.
Because a quaker does not taste good. It tastes ashy and dry and can change the whole flavour of your coffee if you get too many in a brew.
How do we know this you ask? Well, we did a little experiment!
We selected a natural coffee and picked out enough quakers to pull an espresso shot. Let's just say, it was a flavour experience we hope you never have! The mouthfeel alone, chalky and dry, was enough to make sure we'll be picking out the quakers from our bag of delicious sun-dried beans.
Quakers are a natural part of coffee and usually there are so few in your bag that they won't have too much of an impact, but now if you see them, you know what they are! And you can easily remove them before grinding if you wish!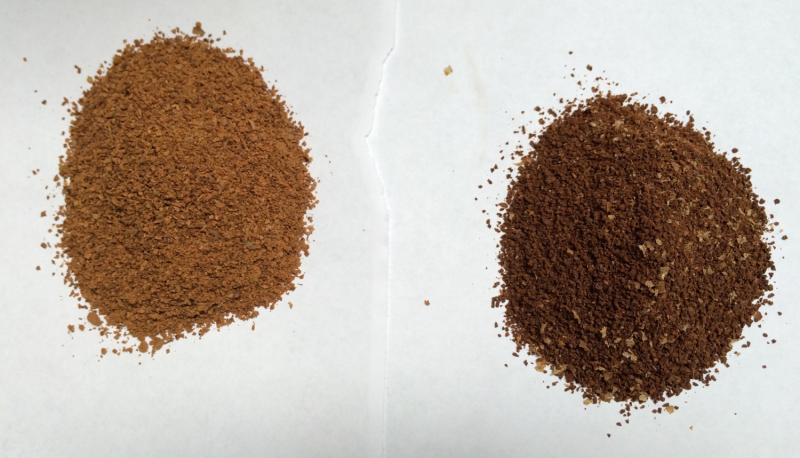 Got something to say? Then leave a comment!
---
REVIEW and BREW: Red Espresso at Home
Tuesday, 30 March, 2021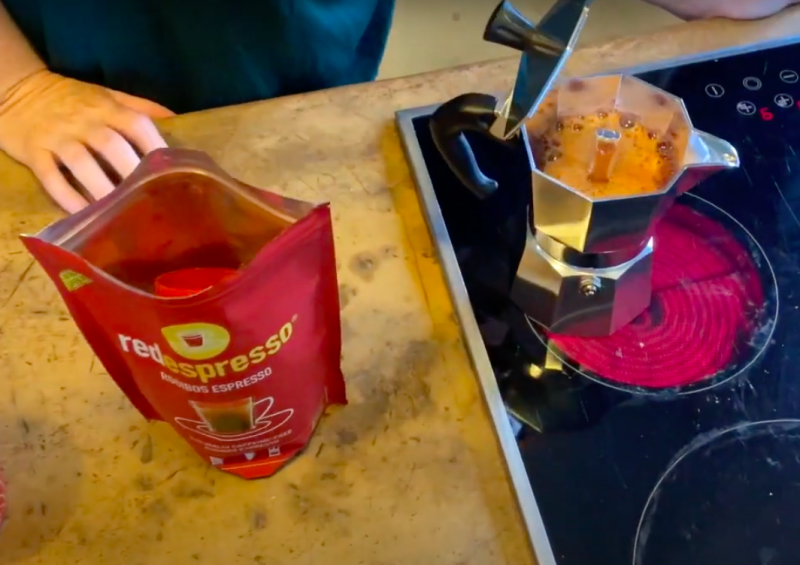 Anyone else feeling like the days are getting longer even though the sun is going down sooner?!
Put on your comfy pants and brew some amazing, comforting drinks that will give you a boost you need to get through, but not keep you up all night!
We recently got really into the original Red Espresso products and we wanted to share the range and show how easy they are to make at home. We're coffee lovers first of course, but this product is designed specifically for people who love coffee, because you can use all your coffee gadgets to make your brew and you get a rich and intense flavour without the caffeine, which makes it perfect for afternoons and evenings and if you've decided to cut back on caffeine in general.
We've worked with the team at Red Espresso for a long time but we've never done a review on the original Red Espresso range. There's really something for everyone and they're all so easy to prepare, but I think in the end, my favourite was the AeroPress!
Win all the Red Espresso products you see in the video so you can try them out at home! Fill in the entry form below to enter.
Win with Red Espresso at Home
Got something to say? Then leave a comment!
---
Flavour Pairings: You can try these at home!
Thursday, 1 April, 2021
Looking for a bit of indulgence and some ways to make your weekend a taste exploration?
When the mercury drops and the shorter days take on a heightened sense of urgency, there's nothing quite as comforting as a well earned tea break. Especially when the tea in question combines the very best of its caffeine-added counterpart to ratchet up the indulgence factor a couple of notches.
This winter, embrace the chill and cosy up with EXCELLENCE and red espresso® - an indulgent pairing perfectly suited to cooler days and icy evenings. Made using caffeine-free Rooibos tea and refined into a full-bodied espresso format, red espresso® is an ideal match for the intensity of EXCELLENCE, elevating its dark and decadent undertones to create an utterly indulgent and deeply satisfying tasting experience.
So whether you're in the mood for a quick time-out or in need of a lengthy decompression after a long day at work, our LINDT Master Chocolatiers' red espresso® and EXCELLENCE pairing picks are sure to give you a good reason to love winter.

This creamy and decadent instant treat is perfectly complemented by the smooth and refined taste of EXCELLENCE Mild 70%. A beautiful symphony of understated flavour profiles, both of which are subtly elevated by one another, this mild match-up is perfect for an instant pick-me-up.
EXCELLENCE Roasted Hazelnut and chai red latte®
A pairing characterised by its strong aromas and textures, this bold and spicy coupling makes the perfect balm for those icy evenings, and is best enjoyed alongside a roaring fire. A powerful blend of rooibos and traditional Indian spices, the chai red latte®s complex flavours are further enhanced by the rich nuttiness of the chocolate, which deepens the tea's intense undertones to dramatic and decadent effect.

Rich, creamy and intensely comforting, the red cappuccino®s natural characteristics are brought to the fore when paired with EXCELLENCE Orange Intense. Subtle hints of orange zest ignite the tea's natural notes, elevating its aromatic properties to create a wonderfully soothing and intensely satisfying crescendo of flavour, perfectly finished off with the delicate crunch of the chocolate's characteristic almond flecks.
Got something to say? Then leave a comment!
---
Recipe: Irish Coffee
Friday, 26 March, 2021
Anyone else remember these relics?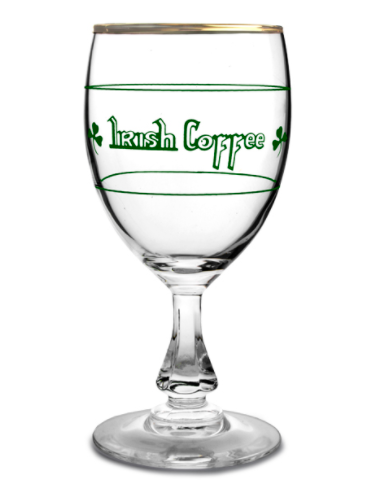 Well we certainly do, we may even have a couple lying around... OK, OK, I admit, I searched high and low for them so I could have my own vintage set.
This recipe is pretty simple, but there are some key things to remember. Have fun!!!

- Generous shot of good quality whiskey. I actually like using a slightly more peaty scotch (what would the Irish say!) like Johnnie Walker Black to stand up against the sugar, but it really is dealer's choice

- 1.5 teaspoons brown sugar.

- Brew a plunger of coffee. Make it a little bit stronger than you normally would (throw an extra scoop of coffee in the plunger for the luck of the Irish.) Alternatively you can extract an espresso per glass and top up with around 100ml hot water.

- Prepare the cream. The important thing to remember is that it needs to be smooth, thick pouring consistency. Not fluffy, we don't want to spoon it on top, that's the magic of this cocktail.

- When the coffee is ready combine the coffee, whiskey and brown sugar. Then to achieve the divided line of coffee and cream, you need to get a real swirl going in the glass, a mini whirlpool. Very carefully pour the cream over the back of a teaspoon so that the cream sits on the top of the coffee, creating two layers of sinful deliciousness. Don't be afraid to try it, the spoon thing works, I promise!
Why is this important? The point is to let the hot liquid be drunk through the cold cream, which floats beautifully atop it. This will leave you with that killer white moustache after each sip.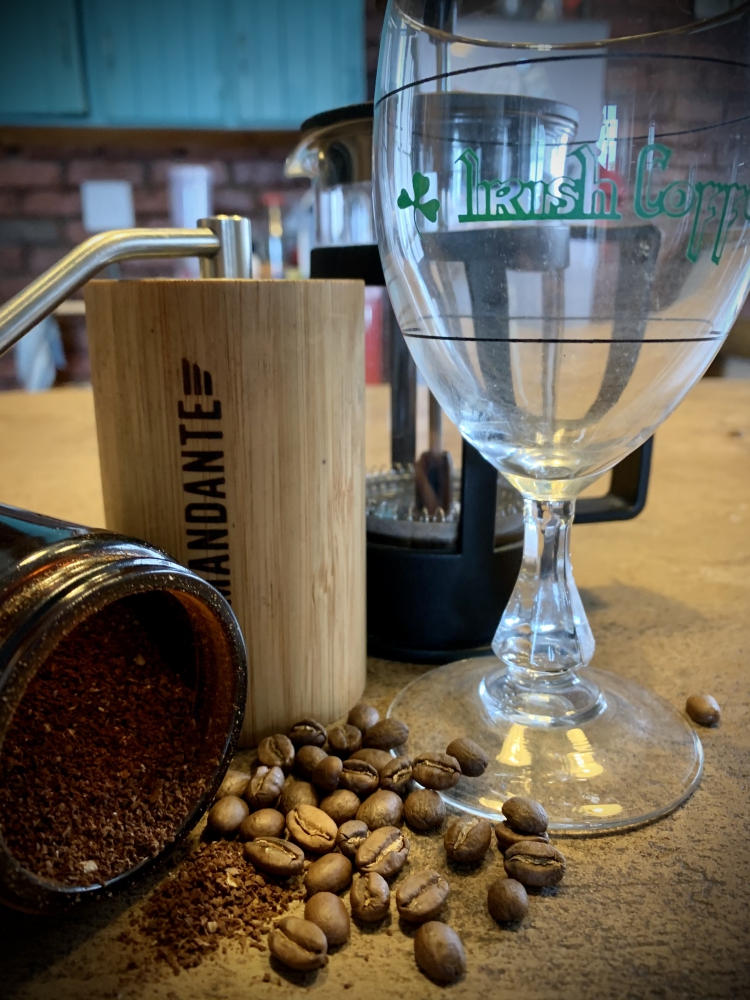 Fresh brewed coffee makes this drink sensational! NO judgement on my well used glasses! I eventually found them at the SPCA :)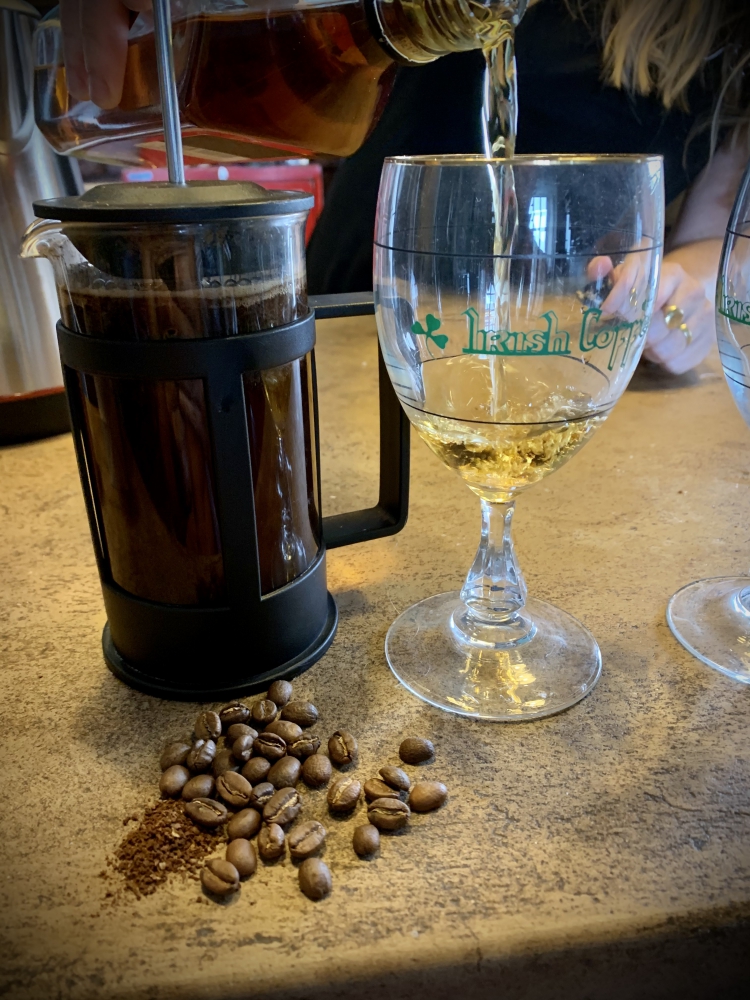 The traditional glasses have these helpful little lines to follow, but an almost double shot is what you want.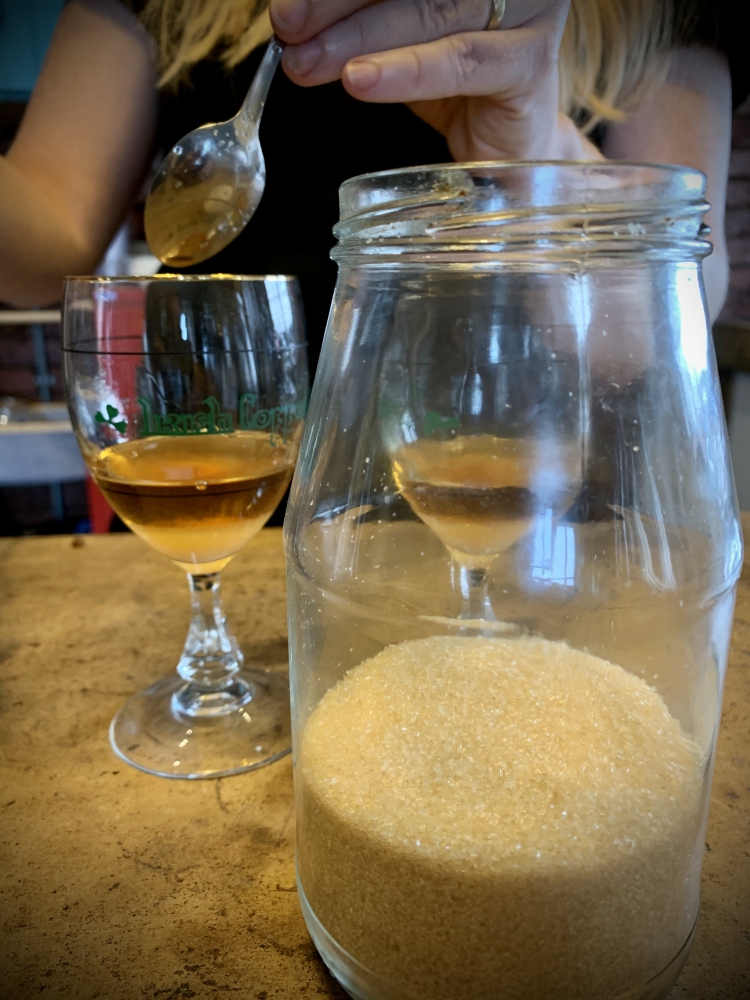 1.5 teaspoons of sugar but you can adjust this to taste or the style of whisky you choose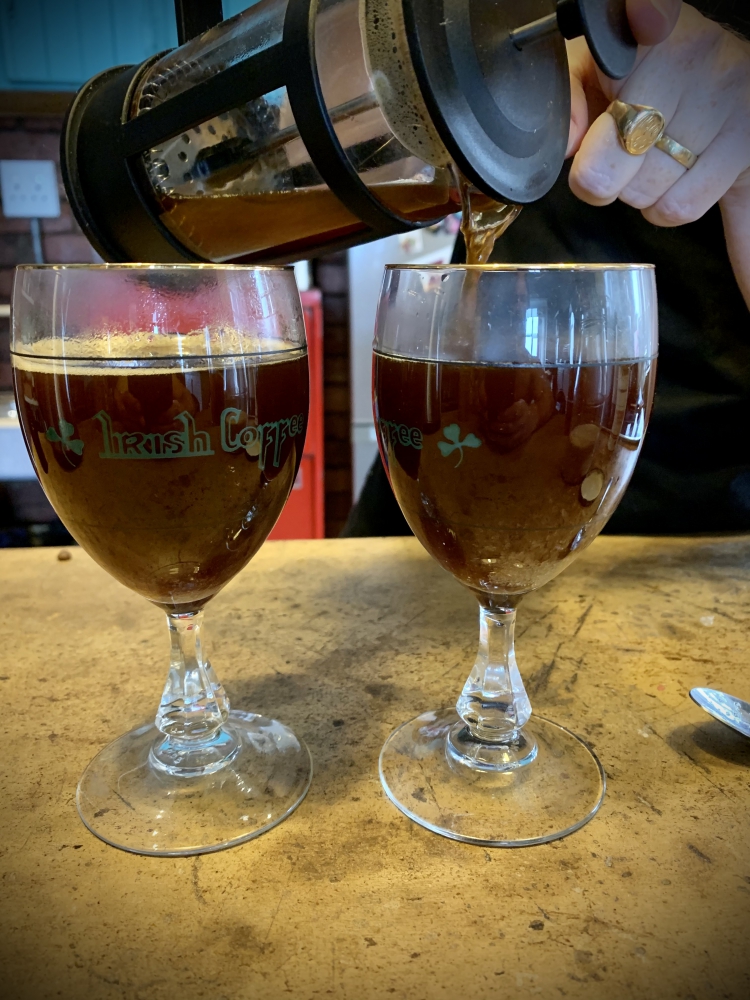 Pour the coffee to the next line, or about 150ml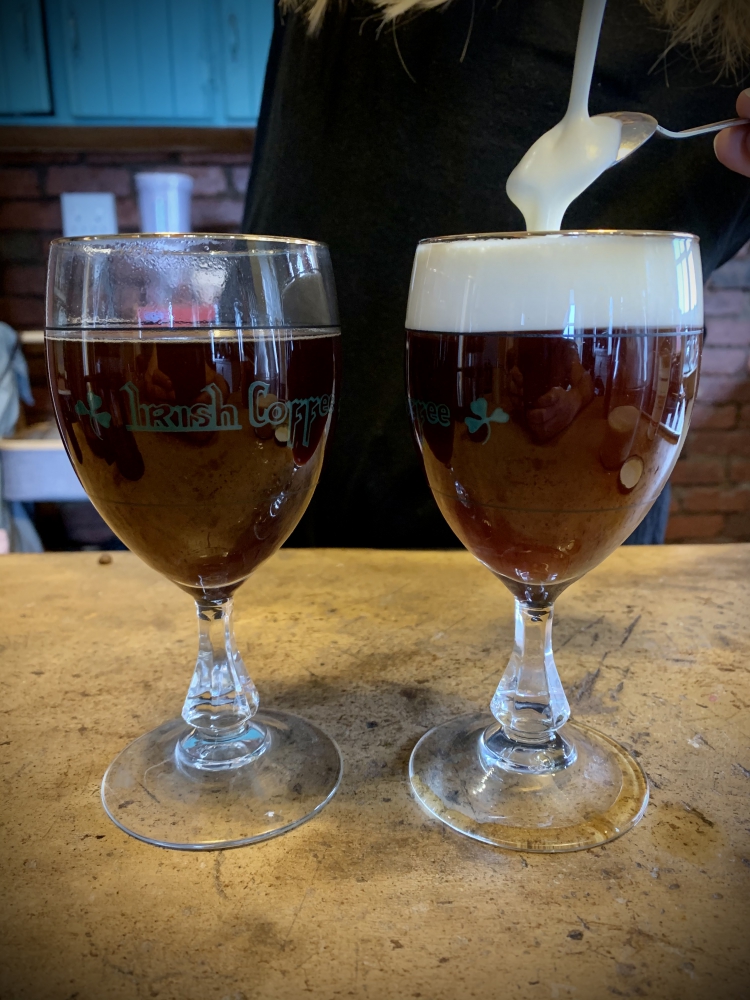 Swirl the coffee mixture and while it's still whirling, gently pour your cream over the back of the spoon to create the separate layer.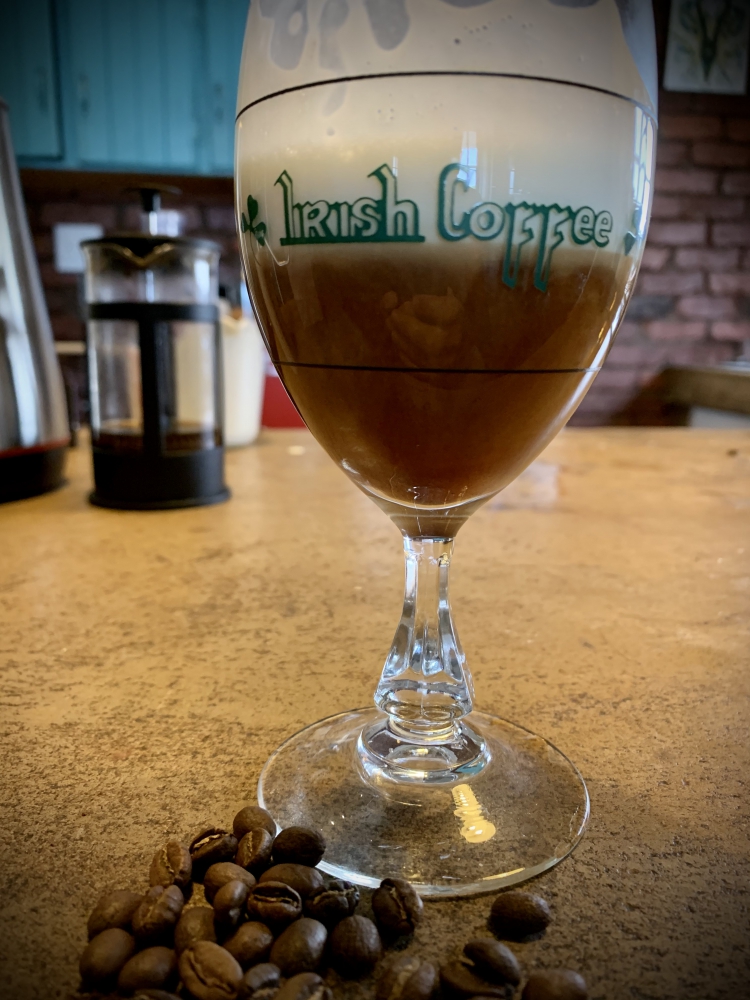 Got something to say? Then leave a comment!
---
WIN: Bialetti Induction Moka. We explore this classic with a new twist.
Friday, 12 March, 2021
What exactly is induction cooking or heating and how is it different to a regular stove?
Induction cooking heats a cooking vessel by electrical induction, instead of by thermal conduction from a flame, or an electrical heating element. ... An induction hob contains a coil of copper wire underneath the ceramic plate, and when a cooking pot is placed on top an alternating electric current is passed through it.
A major difference between a gas and induction stovetop is that induction is significantly more efficient than gas – food being cooked with induction will receive 90% of the heat generated, as opposed to only 40-55% for gas. This keeps your kitchen much cooler and more comfortable while you prepare meals.
The Moka Induction from Bialetti is the first Moka pot that can also be used on induction hobs. A functional combination of materials makes this coffee maker unique and inimitable: the octagonal aluminium collection chamber represents tradition and continuity with the historical Moka Express, while the steel boiler with a truncated conical shape also allows it to be used on induction hobs.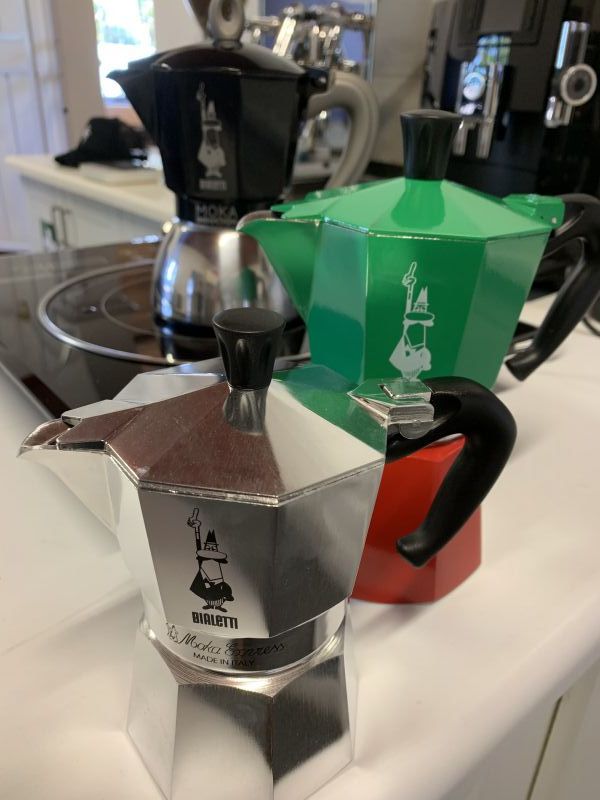 Proudly Italian, the age old moka pot was traditionally used on a gas hob, open flame or traditional stove to boil the water. Now, with the induction technology you can brew your moka pot on your new induction cooker!
Induction cooktops are electric since they don't use gas or another flame to heat. However, what sets them apart from regular electric cooktops is the manner in which they heat. Induction cooktops are quite different from the electric option. The air between the cooktop and the cooking vessel never gets hot.
Besides the massive saving in energy, you also won't generate any additional heat in your kitchen, which can be an advantage.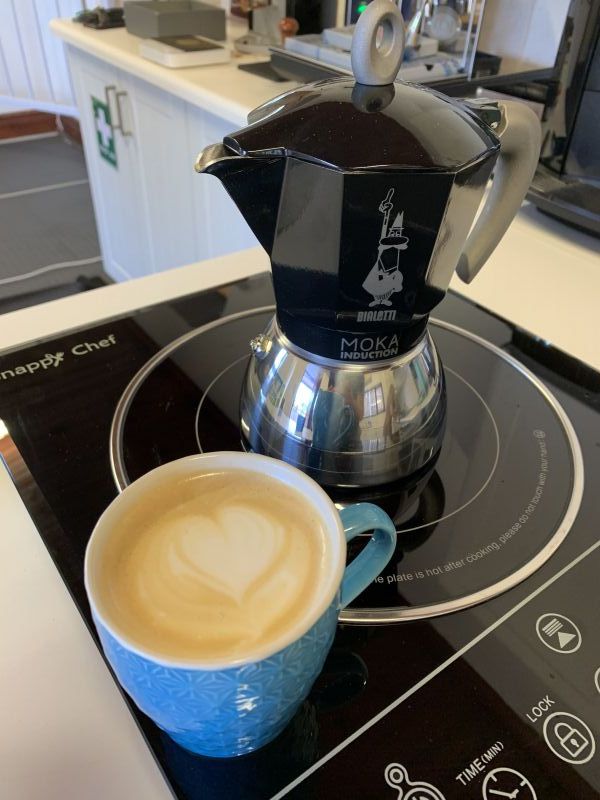 Induction Moka pot cappucinno - Made at Coffee Mag HQ!

The Induction Moka Cappuccino! Our Method:

1. Grind 30 g of coffee fine - espresso machine fine ( trust us!) and place into the Induction Moka's basket.

2. Fill the Moka bottom chamber with cold water up to the valve.

3. Set your induction cooker to medium heat (we chose 5 out of 10 on a Snappy Chef)

4. Screw on the top chamber tightly and set on the induction cooker.

5. Leave the lid open and wait for the coffee to start coming through the spout. Once it is 3/4 full, turn off the heat completely

6. Warm up some milk in the microwave or steam some milk and pour!
Coffee Magazine readers get 10% off all Bialetti products when you shop online!
Use promo Code: CM10% at checkout.
WIN a Bialetti Moka Induction
Win a Bialetti Induction Moka Pot!
Got something to say? Then leave a comment!
---
Introducing the Wacaco Cuppamoka!
Thursday, 25 February, 2021
We are incredibly excited to announce the arrival of a brand-new coffee brewing device to SA's shores, courtesy of the team at MoreFlavour! Coffee Magazine presents to you, for the first time in SA…the one, the only, Wacaco's Cuppamoka!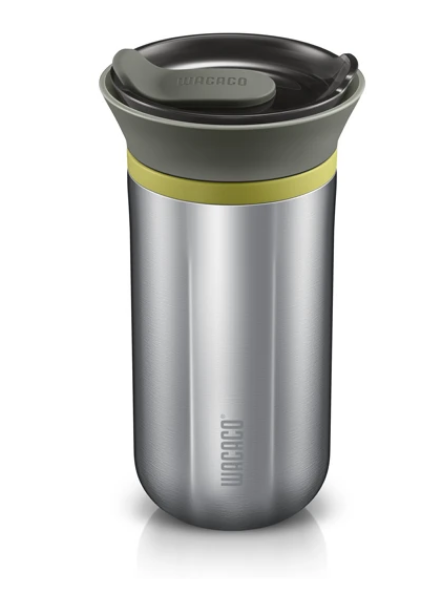 Oh it may look like just a nifty travel mug on first glance, but it is so much more...The Cuppamoka is a compact and lightweight travel pour-over coffee maker and on-the-go cup system, from the International Wacaco stable, the same company that has brought us countless coffee brewing devices like the Minipresso, Pipamoka and the Nanopresso. We were lucky enough to be sent one (after being forced to swear secrecy) just before leaving for a nice long road trip through the Western and Eastern Cape, so we had the perfect opportunity to test out this little number.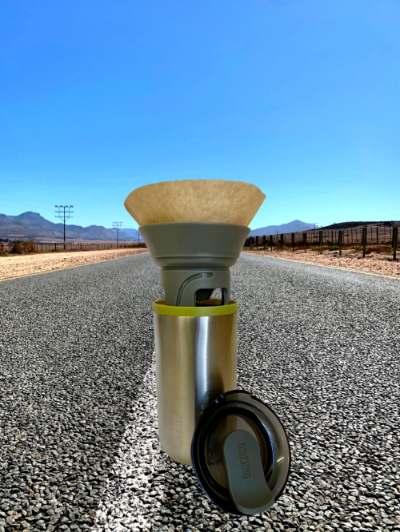 A pour over set designed for travellers, it weighs 316g and holds 300ml of coffee.. It's small, so it doesn't take up much space, perfect for your travel bag or backpack.
This pourover is robust! The outer cup, which houses all the bits and pieces, is made of food grade, isothermal stainless steel. It ain't gonna break! Even in the hands of a clumsy human, like our editor, Mel. Big plus! We have seen many a ceramic and glass pour-over go to their grave in the Coffee Magazine office.
Then there's the filter papers (10 included when you buy it, so it'd recommended to buy filters when you buy your Cuppamoka), scoop and collecting pad. Now the collecting pad is a nifty little addition! We had to read the manual to discover its purpose, but is actually really useful! Once your coffee has finished dripping through the filter, you can place the screw top cone neatly on to the collecting pad, no mess, no fuss!
Finally, and maybe most exciting, is the lid. Look, we know that sounds a bit ridiculous. How can we be excited about a lid, right?! But guys, it is super tough to find a completely non-leaking lid and we think Wacaco have nailed it. Better yet it also fits the other Wacaco devices, like the Pipamoka. Seriously, this lid is leakproof! We dare you to prove us wrong!
That's it! Simple and easy. We think it is a fantastic deal at R850. If pourover coffee is your preferred brewing method, then you've got to add one of these babies to your collection! (Yes, we know you have more than one!)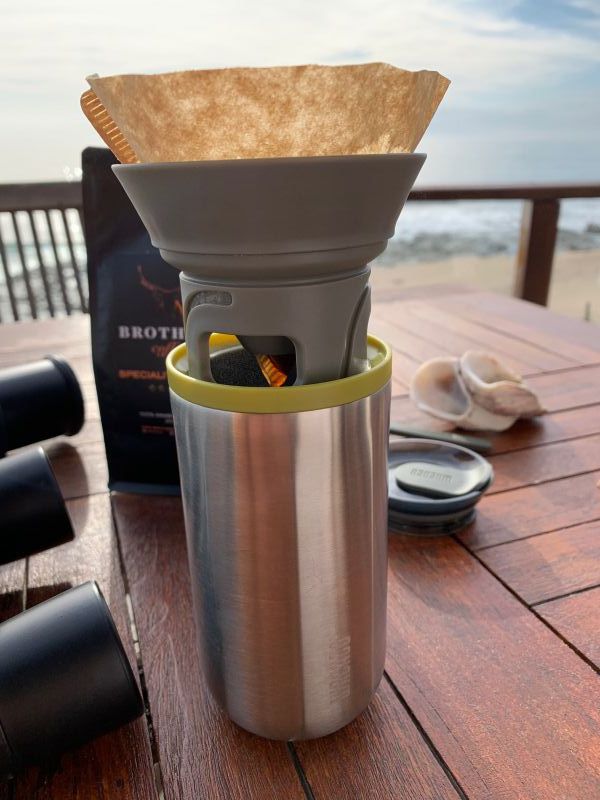 An on-the-go pourover set - perfect for coffee brewing with a view!
So how does it work? The Cuppamoka works like any drip coffee system. All you need is coffee and hot water. The best part is that the coffee is brewed straight into your stainless steel mug and once you pop the lid on it stay hot for hours.
Coffee Magazine's On-the-Road Cuppamoka Method:
Take off lid and unpack the pieces from the cup and twist open the cone into pourover position.
Grind out 16g of coffee or take two scoopfuls of coffee from your ground coffee - a medium coarse grind works best.
Boil a kettle and then let it sit for a minute after boiling. Or take out your trusty hot water flask.
While you "let your kettle settle", place an open filter paper in the Cuppamoka cone.
You can use a little of your hot water to wet the filter paper, but be sure to throw out that water from the cup before you start your brew! This is an optional step.
Put your fresh coffee grounds in the filter paper.
Pour a little hot water over the coffee until all of the coffee grounds are saturated, but not floating. Count to 30 while the coffee "blooms".
Slowly pour water over your grounds, making sure you agitate the grounds a little with the water stream.
Unscrew the filter system from the stainless steel cup and place on collecting pad
Put your leakproof lid straight onto the mug. Voilà! Coffee to go!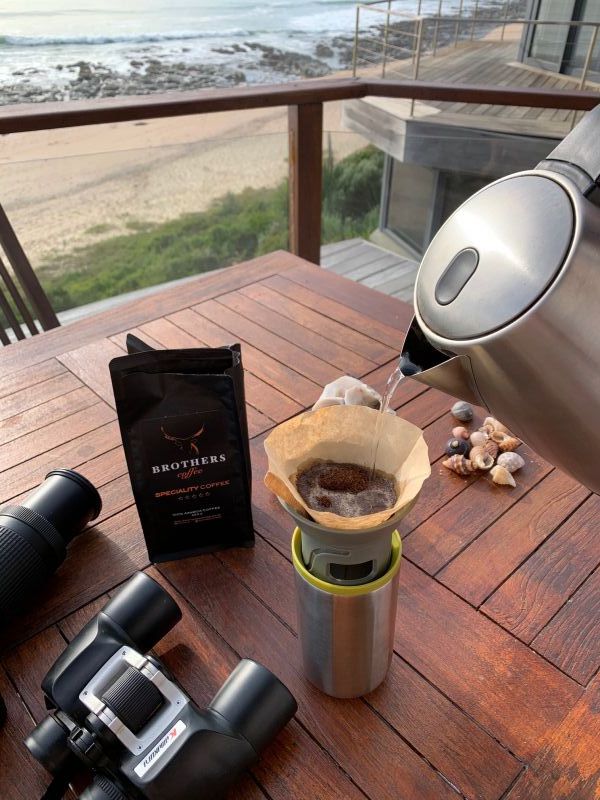 The bloom. Making sure all the coffee grounds are saturated before the main pour. We used a delicious coffee from Brothers, a specialty lot from female producers in Colombia, Womens Power Organic - Serrania Perija FW. So sweet and clean in this clever contraption!
See it in action below:
Got something to say? Then leave a comment!
---
Fun Basics: Coffee Jargon Explained
Thursday, 25 February, 2021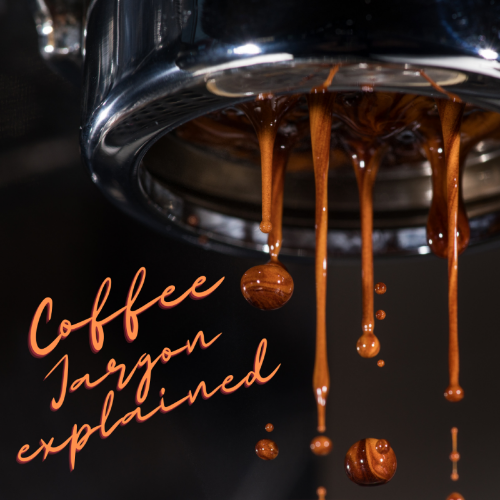 Something fun for the initiates into this crazy world of coffee. To be taken with a hefty pinch of salt...
---
Portafilter
What you think it is :)
A handy weapon to clonk anyone over the head with, who might happen to want something from you before you've made your first coffee of the day.
What it actually is!
It's a portable filter! The instrument that take the coffee grinds from the grinder to the espresso machine and through which the coffee is filtered! A single spout portafilter has one spout and a shallow basket for one shot of espresso and a double spout portafilter has two spouts and a deeper basket, enough for two shots of espresso aka a "double espresso".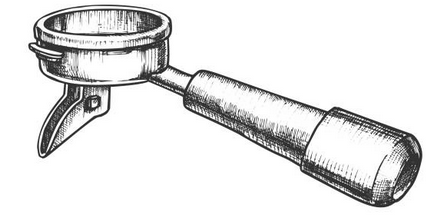 The classic, single-spout portafilter.
---
Naked filter
What you think it is :)
A more risqué version of the above, possibly used for the same reason, especially when you're making coffee in the nude, and someone might happen to want something from you before you've made your first coffee of the day.
What it actually is!
It's a portafilter without the spout on! Commonly used to show-off how a beautifully pulled espresso fills all the areas of basket before dripping through honey-like into the cup. Bellissimo!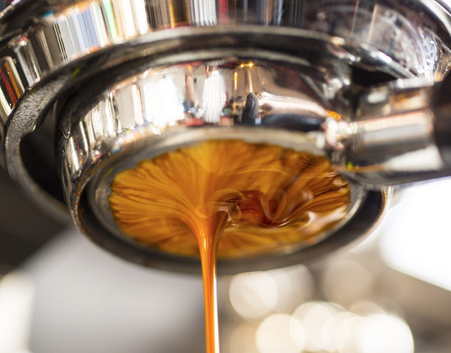 Naked portafilter. Yum!
---
Blind filter
What you think it is :)
When you've used the above weapon to clonk someone over the head (like your spouse for example), you're still nude, haven't had coffee yet and only then realise that your in-laws stayed over and that your mother-in-law has been sitting in the kitchen watching you this whole time. Blind bru! (Leave no witnesses!)
What it actually is!
This basket without any holes in it used for putting detergent in and backflushing the espresso machine. You fit it into the portafilter in place of the filter basket to achieve a healthy and happy espresso machine!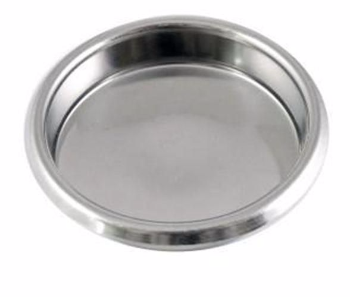 Blind filter. Don't forget to put your regular filter basket back in!
---
Blonding
What you think it is :)
When you've used the blind filter to backflush and forgot to change it back and then the next morning wonder why your shot is taken so long to pull. A real blonding moment.
What it actually is!
Blonding describes the color change of an espresso shot being pulled as it changes from dark brown to more of a tiger-striping and then a very light, uniform-colored pale blond at the end of the pull, signaling the right time to end the extraction.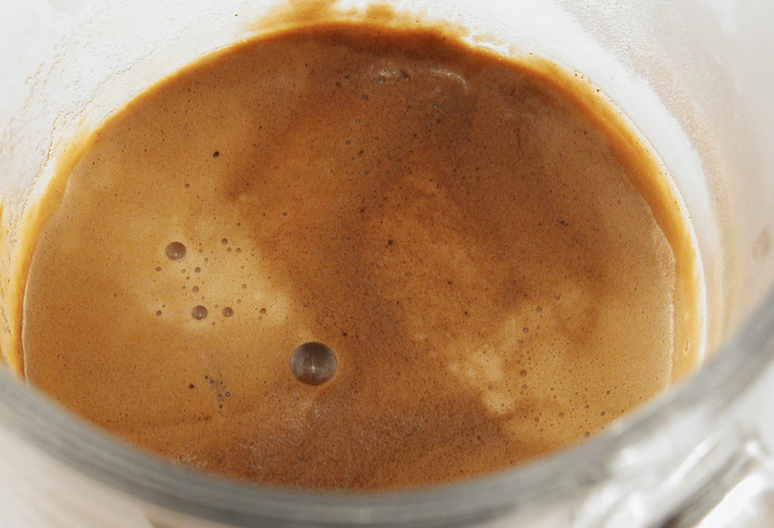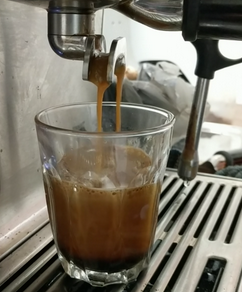 Blonding shows when to stop the shot (or perhaps that next time you stop a few seconds earlier! That shot is done!)
---
Grounds
What you think it is :)
After clonking someone over the head (you might have killed your spouse) and then removing all witnesses (mother-in-law) you may be thinking about grounds. Grounds for divorce, grounds for litigation, grounds for arrest.
What it actually is!
Grounds are the finely ground coffee particles that go into the portafilter from the grinder. What was once coffee beans, is now coffee grounds. They are still called grounds after they have been disposed of into the knock box.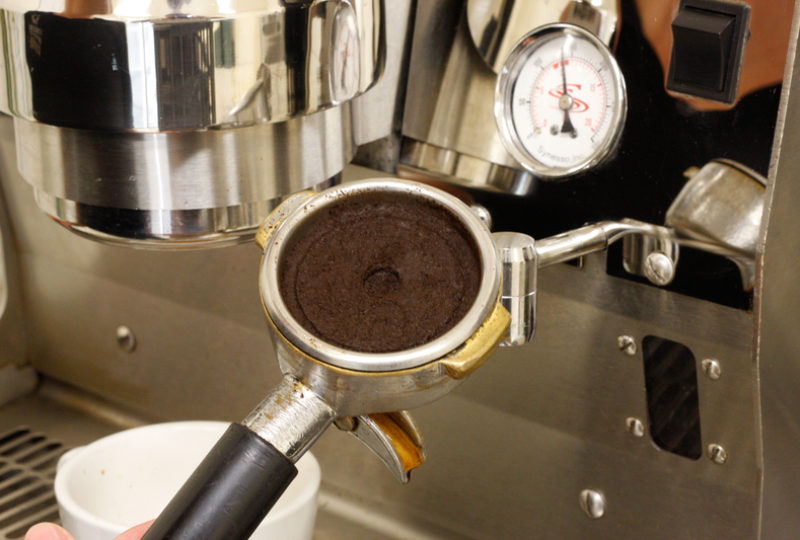 Coffee rounds going in, puck coming out!
---
Knock-Box
What you think it is :)
After being arrested by the police for assault with a coffee weapon and on charges of getting rid of Granny, the Cops will most likely throw you into the Knock-Box. Bad things happen in jail….like the inmates only get instant coffee.
What it actually is!
It's the place you knock the used grounds into. These grounds are now known as a "Puck" because it looks like an ice-hockey puck. If you've pulled the shot right, the puck stays in one piece even after being indelicately knocked into a box.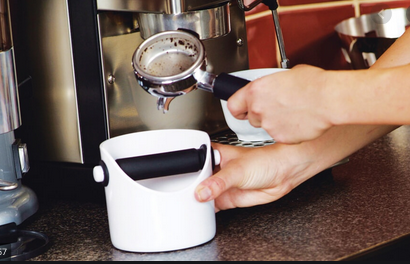 Knock-box.
---
Expresso
What you think it is :)
Some people mistakenly call espresso "expresso", which is actually not a term at all, but when you're standing in front of the judge pleading your innocence for assault and kidnapping, you might need a lawyer to expresso your side of the story and get you out of the knock box and back home.
What it actually is!
A bad word for a good thing. If you hear someone say "expresso" you are allowed to gently correct them by saying the well known coffee phrase "There's no x in espresso!" Then clonk them over the head with a portafilter.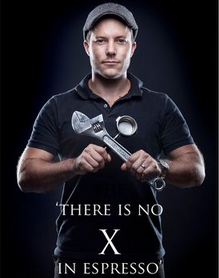 Former SA Champ Craig Charity...says it how it is!
---
Tiger striping
What you think it is :)
After celebrating your release from jail, you might go on a bender with you mates to celebrate your freedom, like the guys in the Hangover did. If you find an albino tiger in your house the next day, you might want to paint some stripes on him to make him look like a normal, well adjusted tiger. This is not recommended and highly dangerous, unless you've had 3 double espressos.
What it actually is!
An extremely well pulled shot of espresso has distinct lines in the creama which indicates the rich texture and colours of a magnificently pulled shot.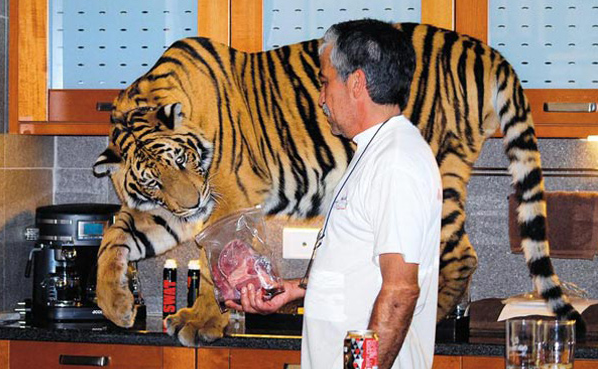 There's a tiger in the kitchen!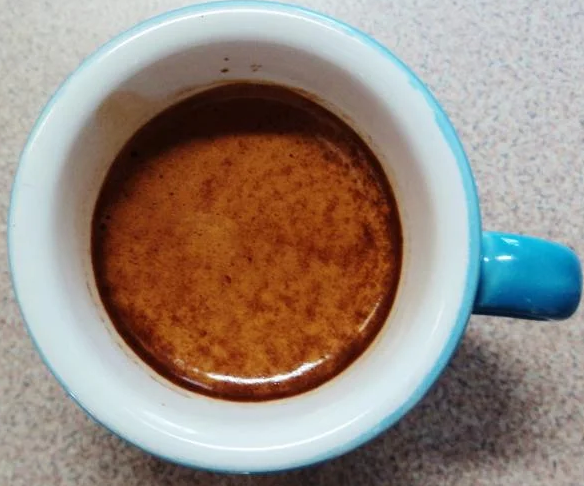 "Tiger striping" shows the beautiful texture and viscosity of a well pulled shot of espresso.
*No Tigers, Grannys, Mothers-in-law or Spouses were harmed in the making of this article.
Got something to say? Then leave a comment!
---
Recipe: Red Milk Tart Liqueur
Friday, 5 February, 2021
Ok guys, be honest, you all went and stocked up the liquor cabinet this week right? Or all your online shopping arrived at once #winning! Cheers to the weekend!
Looking to serve something deliciously different after dinner? Try the exotic, rooibos-inspired liqueurs like this Red Milk Tart number from red espresso®...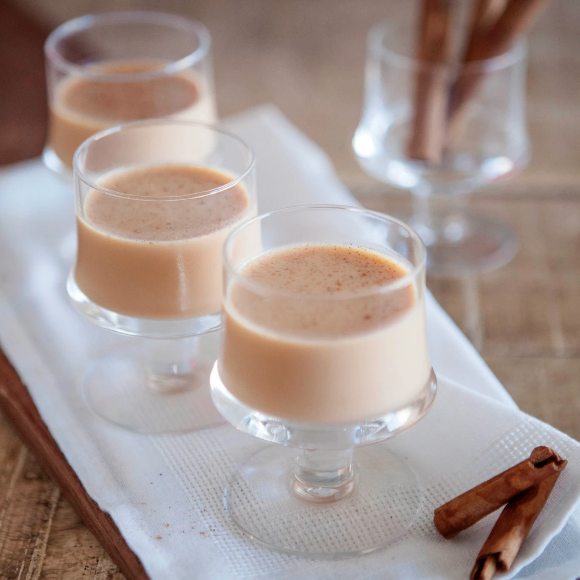 Ingredients
Instructions
Prepare red espresso Rooibos – as you would coffee– using your coffee appliance: Espresso Machine, AeroPress, French Press, Nespresso Compatible capsules, moka pot
Combine all ingredients in a cocktail shaker and shake well
Freeze for 3-4 hours before serving
Tip: If you're on the clock, shake vigorously over plenty of ice then strain into shot glasses
Recipe development and styling by Peta Suzanne Oshry
Photography by Kate Cozens
---
On a serious note, red espresso® do some incredible work with CANSA. With World Cancer Awareness Day having just passed this week, it's great to know that this delicious beverage is not only so healthy for you, but they're doing their part to give back and support this great cause.
Since 2015 they have been donating funds every month to the Cancer Association of South Africa (CANSA) for research and community projects that help those affected by the disease.
red espresso® was selected by CANSA, an NGO committed to fighting cancer, as a "smart choice" for consumers due to its multiple health benefits that have been linked to cancer prevention. As a corporate social partner of CANSA, we donate a portion of our income to the organization every year. These funds help CANSA with their research and upliftment initiatives.
Got something to say? Then leave a comment!