Gino Caffe - A most entertaining coffee!
Wednesday, 26 May, 2021
Gino Fabbri is one of South Africa's most loved entertainers. Hailing from Gqebs (PE!) he is a musician, comedian, actor and all-round entertainer. He is also an avid coffee lover, so much so that he's launched his own range of coffee! We caught up with the legend himself to get all the news behind his coffee - Gino Caffe.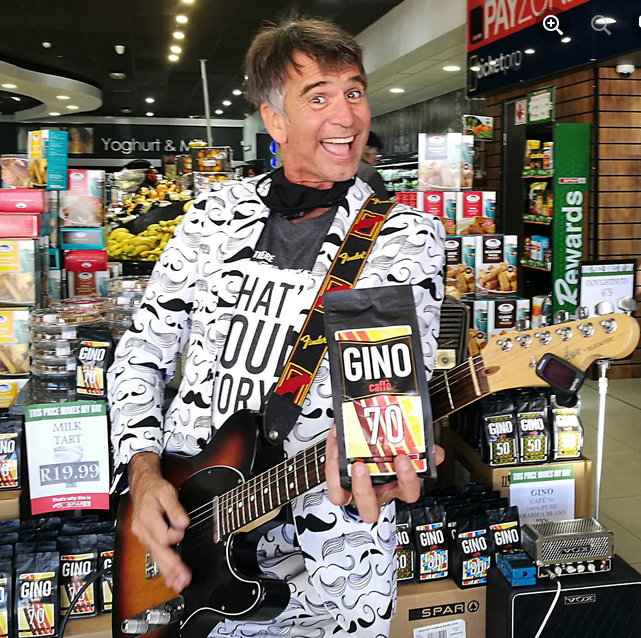 Gino - Rockin out at the local Spar with his new brand Gino Caffe - ©Mike Holmes
Gino, The Coffee Magazine first met you back in 2014 when you were roped into MC'ing the PE Regional barista comp and it's been downhill ever since then!
Gino: Yes you have a great memory! I was co-opted as the only comedian/MC in the vicinity by Angeline and Don McLagan (super champ cup taster and barista and roaster!). It was the SCASA compo I think and I was literally blown away by the quality and passion of these young guys and girls doing so much in so little time .. with so much calm, deliberate skill!! I was mesmerised! And of course meeting you guys at the Coffee Mag too, you were most patient with me and my silly questions!
I would never have thought I'd get into it in such a big way. I am still in touch with quite a few of the judges and even some of the entrants that day who are all still very successfully navigating the coffee business! Apart from Angie ( who eventually trained me too ) I have made fast friends from that chance meeting .. Karen Esterhuizen from East London was a judge, Shaun Aupiais was there setting the grinders, Alessandro was doing the beautiful Simonelli machines … all these people and others have helped me so generously along my journey!
Tell us firstly, about what you NORMALLY do for a living, for those who don't know…….
Gino: Well, I'm a muso and a comedian and entertainer!! I have done comedy for about 20 years now and before that played in a pile of bands as a drummer. The last time I came to Durban I was with Ian Von Memerty at the Sneddon and we got held hostage by rioting students!! Quite an ordeal! I have done many shows in all the main centres and many not so main centres too .. From Splashy fen to Oppiekoppie to Sun City, the Baxter, Namibia and beyond!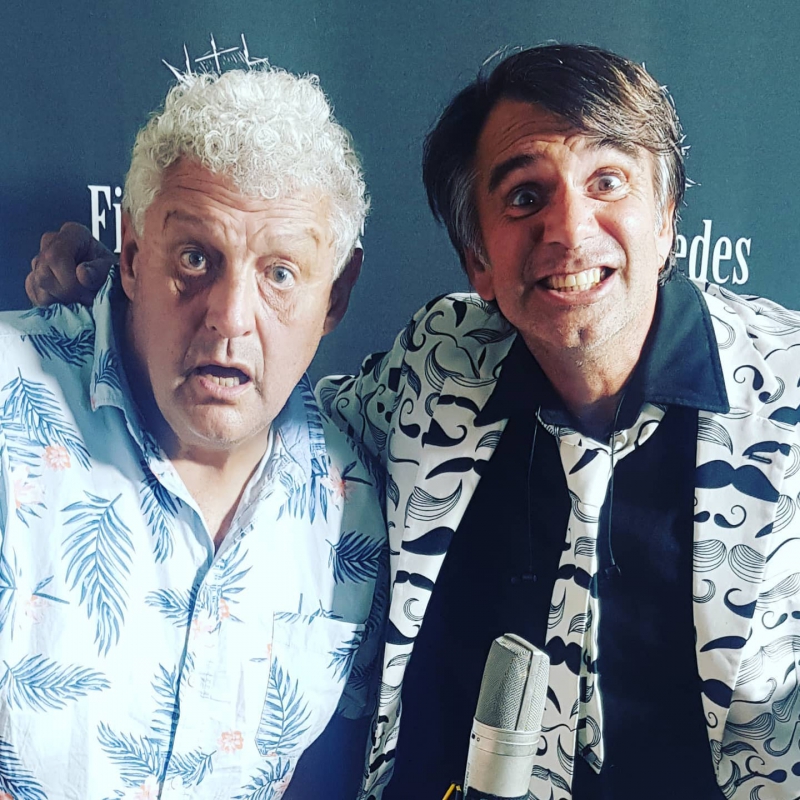 "My Cuuuuzzziiin"... Bary Hilton, and Gino. Recognize the suit? ©Gino
……and now a little about your journey into coffee?
Gino: Since that fateful few days in 2014 Ive been fascinated by the coffee business. I never looked at coffee in the same way after that. I completed a barista course at Ciro with Angie and Pika and then started messing with latte art. In order to get that right I had to look at my machine and how I was brewing. Once I researched that a bit I started looking at the roasting - such fun! My brother was making us coffee tin roasters with long handles to put in the fire!! Different types, with "agitators" in the tin to keep the beans moving ! What a hoot! Then the kind sisters from Sumatran here organised me a small roaster (these ladies are bloomin marvelous!)… it was pretty much a barrel with a blowtorch and it allowed me to control my small roasts and get a feel for the single origins. It was small, but it taught me how the process works. I got myself a nice little Wega Mini Nova and an industrial grinder and started experimenting!
Then a few years later, entertainer that you are, you popped up again and entered the Coffee Magazine's Latte Art Video Challenge! How was that experience? Can you still do any decent latte art?
Gino: Hey yes ! That was fun! I think I won my section!! I've still got the kit! :) It was latte art with almond milk! Quite tricky but it was fun to do the video and have a lark!! My latte art is best when nobody watches!!
Now you've launched Gino Caffe. Tell us EVERYTHING!
Gino: So I was happily roasting beans and in a state of coffee drinker subsistence.. roasting for myself and family. Lockdown hit and my online show was born - Gino's Spot ( Saturdays and Tuesdays every week at 18h30!)
Doing these shows during this ridiculous time has really made me re-access whats important to me, plus my wife Philippa is a crazy entrepreneur so I started posturing on what I really loved, what my interests are .. I love history, design, music , ...and coffee.
I decided that one of my shows had to be a coffee show and I had to include all the coffee peeps in PE (Gqebs) - and it was a great show, I loved it .. but it helped me to reconnect with Shaun Aupiais whom I'd met in 2014 and with whom I'd stayed in touch. He's so passionate about his coffee that I don't think he actually EVER talks about anything else! :)
He told me he was starting to roast and he'd got a really nice roaster.
It took me about a month or 3 but I realised that I had a lot of contacts in retail with my shows and they'd be keen to help me start something, so I dived in .. head first!!!
Obviously it's music inspired! Tell us how.
Gino: This is going to be the culmination of ALL the things I love, carefully and lovingly placed together in one bag!

1 - Great blends of top quality beans - using the beans that I've tried and tested ..
2 - Art Deco, Bauhaus, brutalist, moderne, art nouveau and all the schools of design - I LOVE the art of design - how things look and how it makes you feel!
3 - Music - particularly guitar sounds. The old amps and how they were used in the various forms of rock and roll! The 50s, when they had beautiful valve amps that they turned to optimum volume and got a warm yet full bodied sound. Think the shadows, early Elvis and chuck berry. The 70s where they realised that they could overdrive those same amps - and get a smooth and warm distortion out of it .. think ZZ top and Boston! Then the 80s and back to electronica, the 80s moved solidly in transistor amps and the guitar sound for me is clear, with chorus, reverb and delay.. atmospheric - think the the intro to Purple Rain! These 3 sounds are captured in my coffees. It sounds a little over the top but I wanted to sit down, have my 70s blend, check out the 70s packaging that reminds me of my moms 70s lounge suite and listen to some Boston. Somehow it all fits together, taste, ears, and eyes!
I've also used images of my (Italian) grandfathers old radios ( I inherited a couple of dozen beautiful old radios), as they seem to encapsulate all the visual elements I love.

Who are the team behind the coffee - Roasters, packaging designers, distributors…who's responsible for this mayhem!!!!
Gino: Ha! this is the kicker!! My oldest coffee mate, Shaun Aupiais along with his roasting partner Ryan MacGeoghegan (Brew the Bean) - these two genius roasters have come to the party with absolutely top class blends. They work on that stuff with such gusto and energy that I really get inspired every time we roast. Now that the blends have settled and the tasting is done, I've taken on the marketing and packaging and these two legends are handling the production side. I trust them implicitly and they have taken on the task - working to their strengths. Ryan with the tech side and Shaun on the tasting. I would be hard pressed to find two guys more skilled at this to back my brand.
During lockdown you really pivoted to the Online Platforms for your art. Tell us how that happened and who was your favourite guest during 2020? Tell us a funny story :)
Gino: I did indeed, and our online show has grown from strength to strength! I have learned that online and live are two different art-forms, live stuff will always be my best! But the online show has allowed a worldwide audience and that's been marvellous!! I have, to date, thoroughly enjoyed every single show and ALL the guests have been fun! Funny stories abound, and they usually involve tech issues!! We have had to learn the hard way that EVERYTHING needs a backup plan for online shows. Chef Ralf was on as a guest when I got loadshedded and he had to handle the show on his own for about 3 minutes!! Have you ever heard of a show, where the guest gets left to fend for himself!! Lordy! So we now have backup batteries and internet. I've had guests get on their plonk too - one too many whiskies - but it all adds to the excitement!!! :)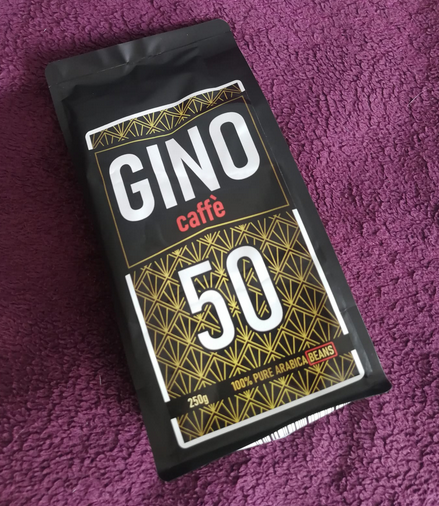 Gino Caffe can be contacted at www.ginocaffe.co.za and @ginocaffeSA on FB and the products are available in most Eastern Cape Spars in Gqeberha, East London and St Francis.
Got something to say? Then leave a comment!
---
Coastal Coffee: Authentic Durban style
Monday, 24 May, 2021
Unit 11, 123 Old North Coast Rd, Glen Anil, Durban, 4051
---
We've been meaning to get around to visit this crew for AGES and this week we made a promise (between a Chelsea fan and a Man City fan!!!), so it had to be honoured.
What an absolute delight.
Just look at this team...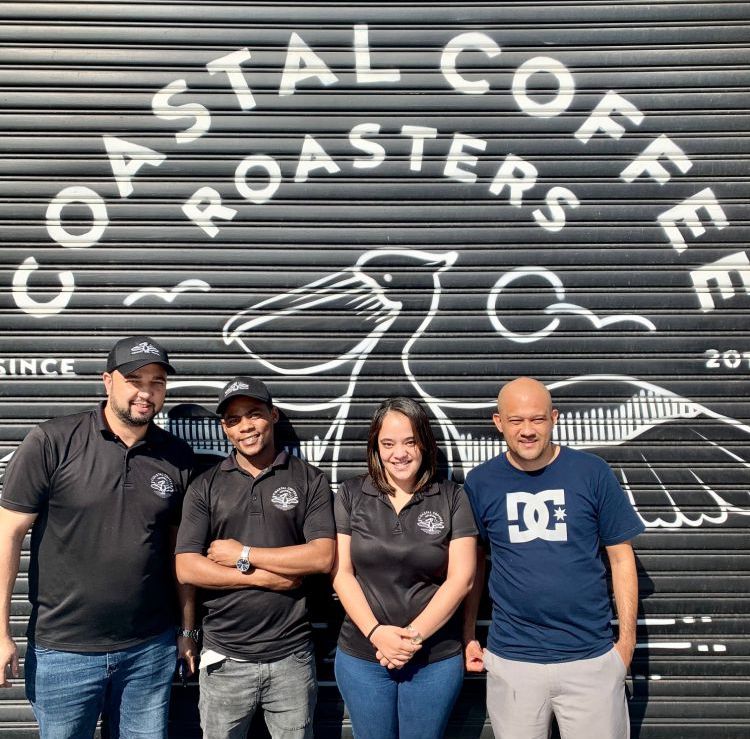 From left to right: Leon, Jeff, Cherval and head honcho, Craig
A proudly Durban team, they do things with such a great sense of humour, you can't help but leave this roastery with a huge smile on your face. Since we met Craig Sampson on the SCASA competition circuit way back when, he has always had big dreams and we're so proud to see how far he has come.
He was in coffee for 10 years before he started his own business., learning from some of the best so when he launched Coastal Coffee Roasters he was off to a flying start.
"We pride ourselves on giving every person who walks through our doors, the best possible customer service," says Craig. "We have built our business on relationships."
After beginning with roasting partners, they acquired a fluid bed roaster and now Leon makes sure every roast is consistently excellent. When asked why he chose a fluid bed roaster compared to a drum roaster, popular with majority of roasters, that's what Craig says it comes down to.
"Consistency is key for us and we felt we could achieve that better on a fluid bed roaster."
There are less fluctuations in all the variables to consider when you're roasting. Well, it certainly keeps the production line moving! The team are moving volume and they encourage people to walk in for a tour and to take some yummy coffee home with them. We tried the coffee on bar, which is a new blend, and it was delicious!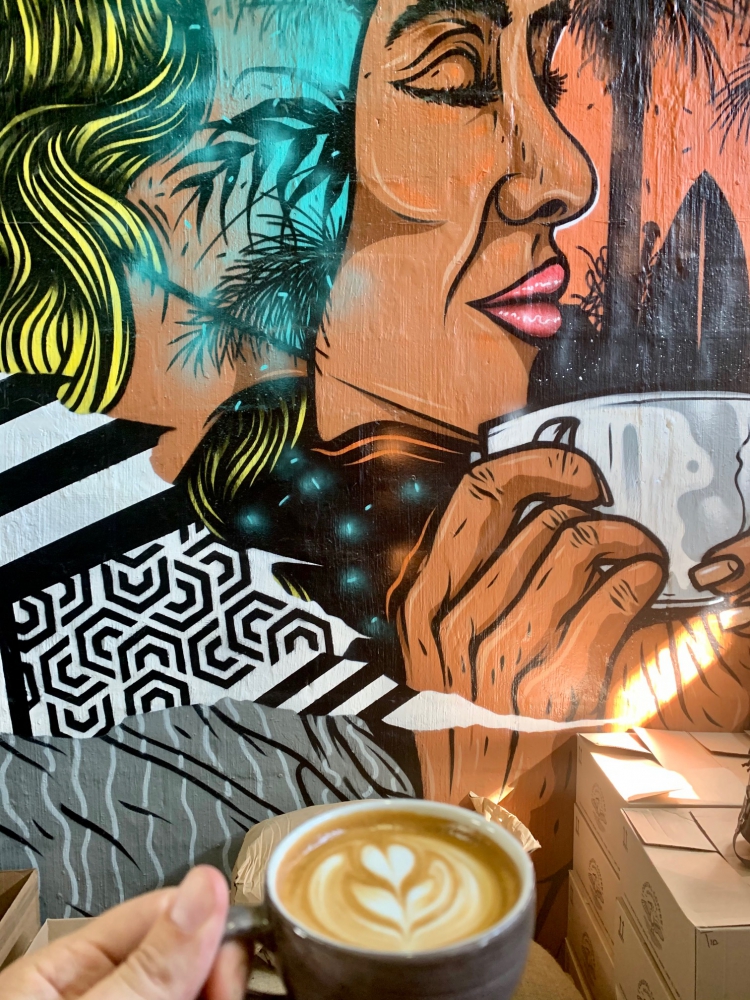 Mural by That Damn Vandal. An homage to Durbs by the sea.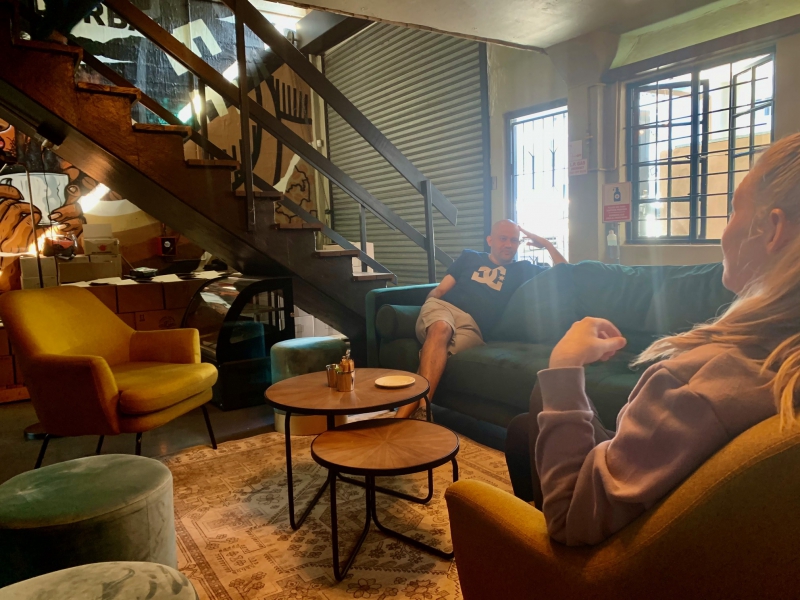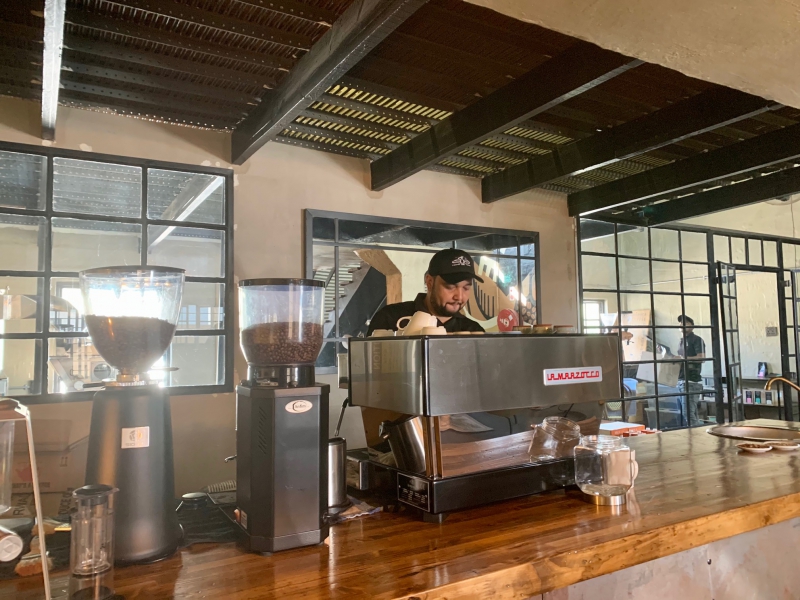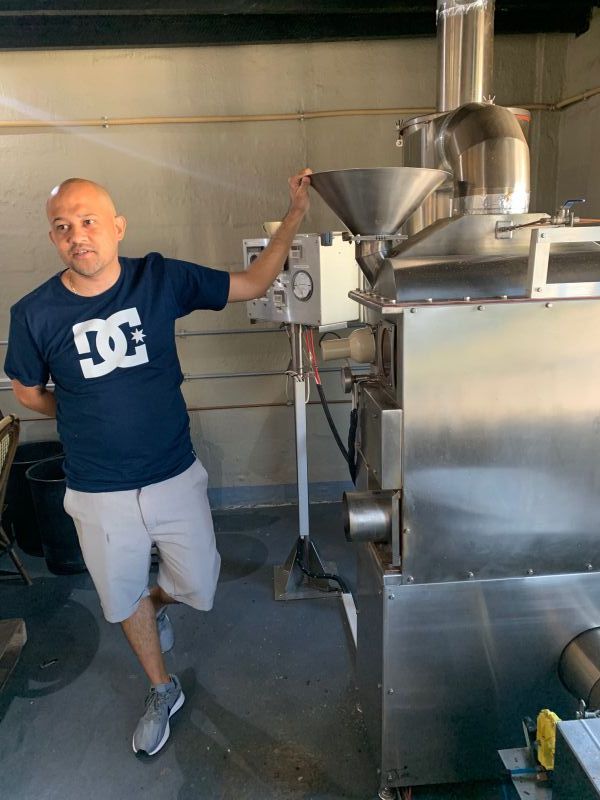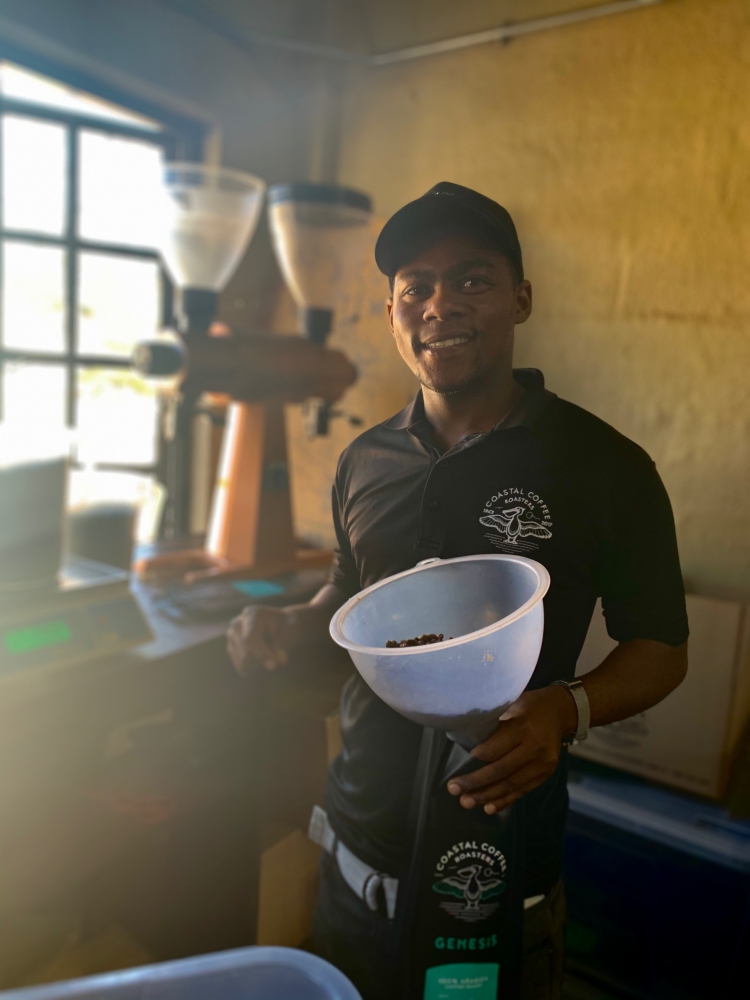 Got something to say? Then leave a comment!
---
WIN Coffee for a Year with @Home and The Magnificent Barista Boys!
Thursday, 20 May, 2021
Heads up for this incredible competition from @Home and The Magnificent Barista Boys!
Get your entries in at the link below to win coffee from this wonderful crew.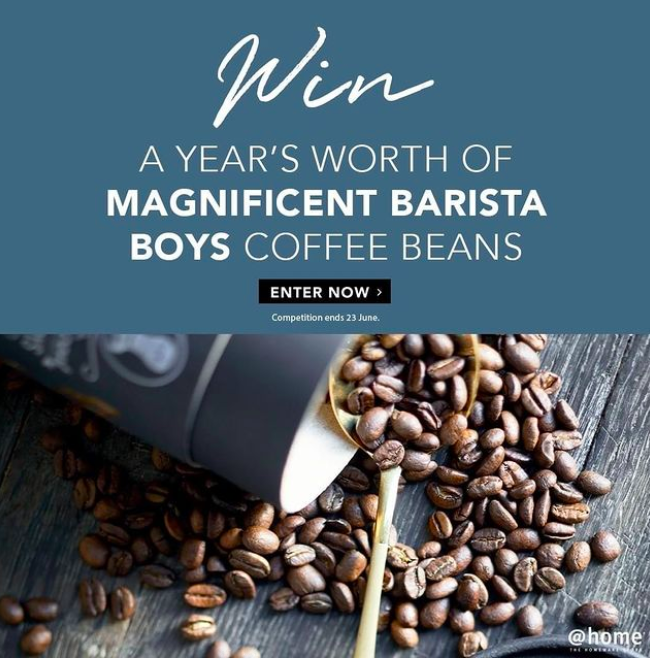 So do you want to win this incredible prize? Enter here.
Got something to say? Then leave a comment!
---
Interview: Dez & Romero of Dezro Coffee
Thursday, 20 May, 2021
We love hearing from coffee people around the country about how they're building cafe culture. Romero recently won an Oatly Latte Art competition and we wanted to hear how Dezro coffee came to be!
How did Dezro Coffee begin?
Just a few months before my wife, Dezi, and I got married we were both left unemployed. We had been job hunting for months into our marriage and still had nothing. We didn't have WiFi at the time, so we would go to coffee shops to use their WiFi while sending out our CV's.
I had previously been managing a small Cafe' and always had a big passion for training & equipping people, so naturally I would get chatting with the barista and offer help dialling in their grinder and helping with their milk steaming techniques (only when they wanted it of course, haha) and would get so happy to see them get it right.
One day my wife looked at me and told me that I'm always helping baristas anyway, why not try make a living out of it. That same day I started designing business cards and drove all over looking for small cafe's needing on-site barista training!
Once that had picked up a bit, we were able to get hold of an affordable — second hand — coffee machine and grinder to begin our coffee journey. It wasn't until a couple months later that we were finally able to get our first location at a school that allowed us to grow more.
Why the Jellyfish?
Just like the name 'Dezro', we wanted something unique and that represented us as a couple. We both love being outdoors and exploring, but there are so many awesome logos with trees and mountains already. Since I surf a lot we figured maybe a jellyfish could look cool and we ended up absolutely loving what our graphic designer did with the idea. Still very minimalistic yet fun. A funny side note; I'm actually more scared of getting stung by jellyfish when surfing than by the thought of sharks.

What has been the highlight of your coffee journey so far?
A recent highlight was getting to compete in Espresso Lab's Zero Waste Latte Art Throwdown & winning an amazing Moccamaster. It has been over a year since we've been able to have an event like this, and it was so awesome to see how tenacious and passionate everyone still was, despite the current circumstances.
How has this last year felt as a coffee entrepreneur and what advice/words of encouragement can you offer to other entrepreneurs dealing with the same struggles?

It's honestly been really tough! Dezro Coffee was our only source of income and having to be closed so often with the Lockdown Restrictions didn't help.
If I can only encourage you with one thing, I would want you to know that you are not alone! The more I chat to friends and people in the industry, the more I see similarities in the struggles we are all facing. Just realising that Dez and I were not alone really helped. It's so easy to feel isolated and feel that we need to face these challenges alone, but I encourage you to reach out to those around you and to build a good community of like minded people.
How important is it to create relationships with customers?
I truly believe that without good customer relationships, no matter how impressive the product/service, you have no sustainable business. Our absolute favourite part of being in this industry is the people we've gotten to meet and the relationships that have been built with customers.
It's important to remember that for many people, cafe's provide more than just the delicious liquid found in the cup, but they provide an experience (good or bad). Baristas can have such a positive impact on someone's day, from just a friendly smile and amazing service to encouraging conversations. That's always been our focus and desire.

As a mobile business, how important is the first impression?
First impressions have always counted a great deal. We may interact with many customers throughout the day, but for many it is their first encounter with you and your brand. Remembering that can be key; small things like keeping everything tidy behind bar, making sure quality standards are consistent and treating each customer as the first and only customer you'll see goes a long way in making great first impressions.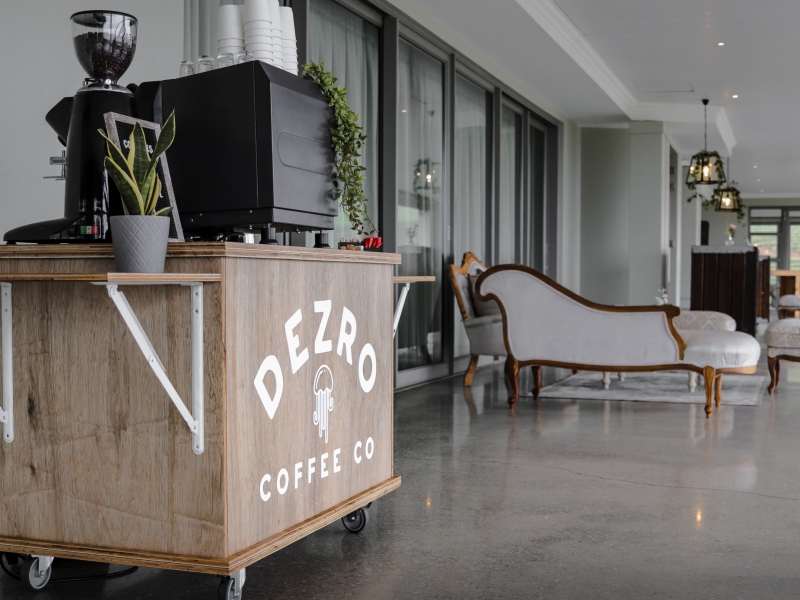 Tell us about competing in the Oatly Latte Art Competition?
It was such a unique spin on normal latte art competitions. All the drinks prepared for the competition were either cooled and used in a specialty cocktail or served to the people supporting and watching. It was also judged live by everyone on Instagram (even those at home). No cows were needed either as we used a milk alternative from Oatly.
As fun as it was, I've never struggled to pour latte art as much as I did during the Throwdown. My hands were shaking so much from the nerves, yet my body felt calm and I felt well prepared. During the finals I was so keen to pour a nice clean and detailed swan, but my hands just would't cooperate, haha!
The crowd and other barista's there were so much fun. I really am so grateful to be apart of this community.
Definitely keen to join the next few competitions too.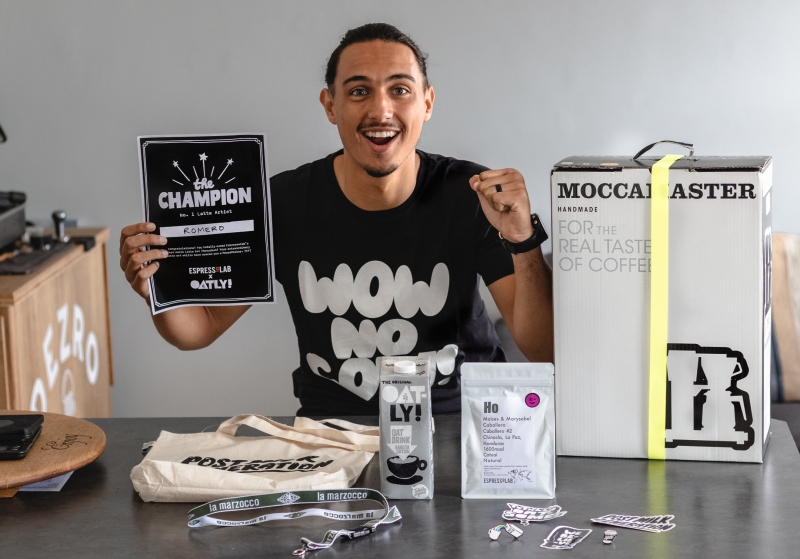 What are your plans for the future?
My wife and I have a beautiful baby girl due in the next few weeks. So to be honest, we're not entirely sure about the future. For now I'm focusing more on mobile events and on-site training. We hope someday to open a little hole-in-the-wall Specialty Cafe'; that's always been a dream of ours! In the mean time we just continue to trust the Lord to direct our steps. We don't want to move in our own strength.
Got something to say? Then leave a comment!
---
Cafe of the Week: Vice Coffee
Friday, 14 May, 2021
Mexico has always been a country shrouded in mystery and adventure and I for one have always wanted to visit this what I imagine is a magical (& a little dangerous, in a good way) place.
If you're looking for a little magic in the leafy Jozi suburb of Craighall Park, you're in luck, Vice is the neighbourhood favourite.
They've gone to great lengths to make sure everything is authentic, down to the especially sourced single origin Mexican coffee and the custom-look Nuova Simonelli.
Vice takes the aesthetics to all new heights in this beautiful cafe. The hand-crafted ceramic cups are simply gorgeous and the attention to detail is superb.
Greg of the beloved Cnr Cafe right next door, is the brains behind the operation so you can be sure that the standards are high and the vibe is welcoming.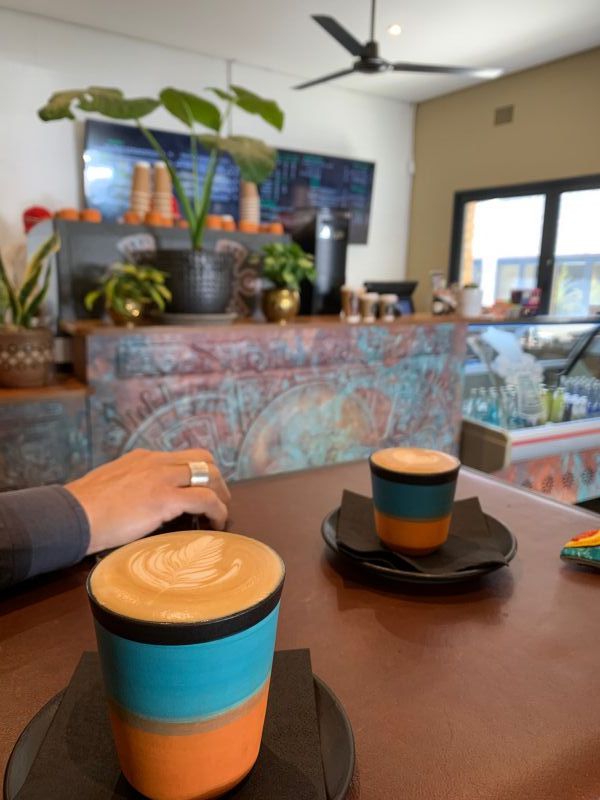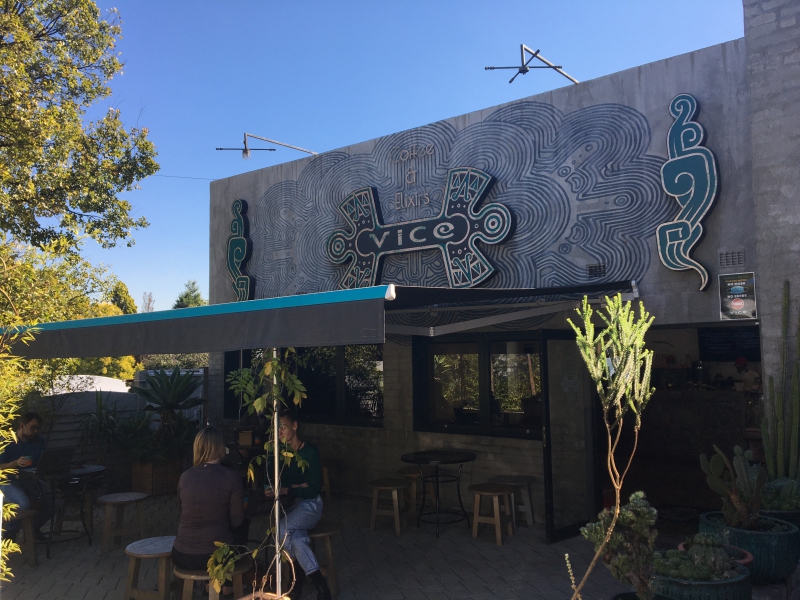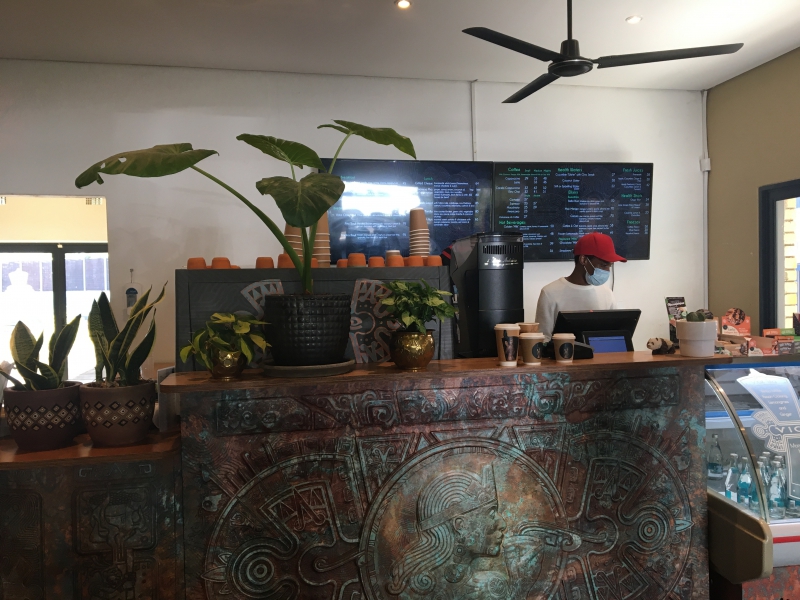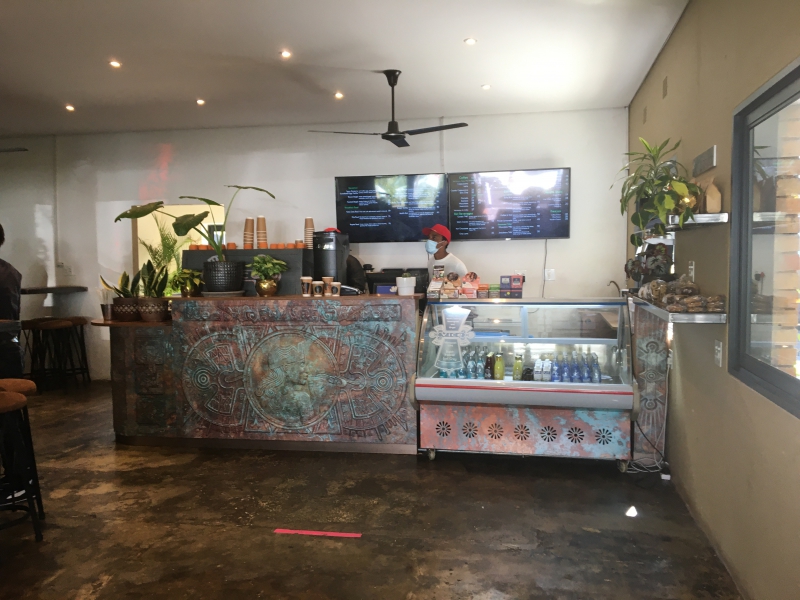 Got something to say? Then leave a comment!
---
Roaster Focus: Commitment to Quality Control
Wednesday, 12 May, 2021
When the commitment to quality control is greater than the sum of its parts
Neil Maree discusses the challenges of growing a business and retaining the quality you have built your business on. While manufacturing roasters is the discussion point here, the challenges of quality control resonate with all entrepreneurs on a path to widening their customer base.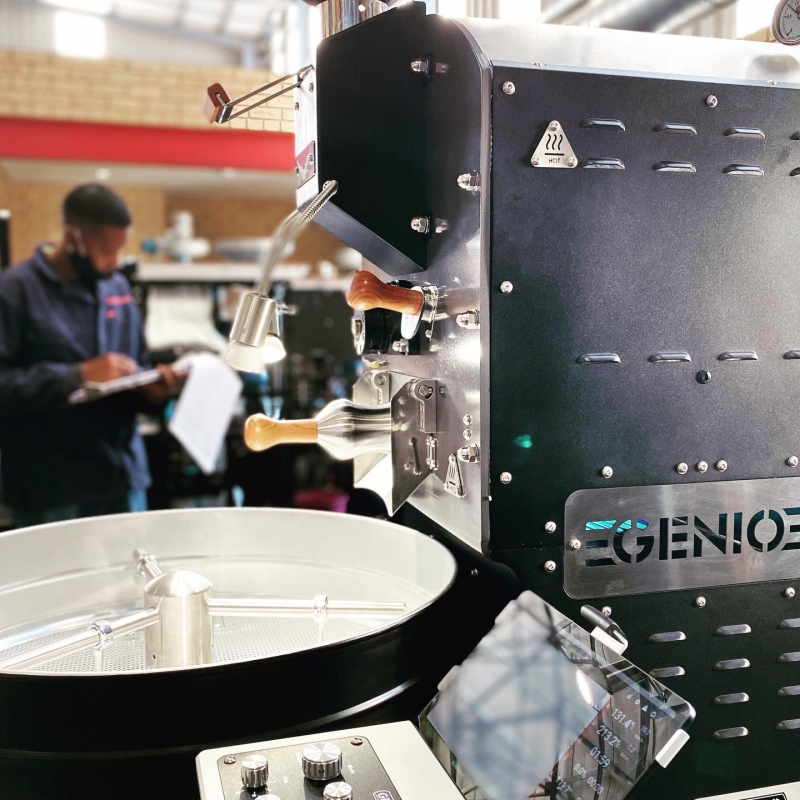 I think as a business owner you can relate to the ups and downs that are associated with the quality of your services and products as well as those of your suppliers. With the rapid growth Genio has experienced over the last few years, we have been forced to increase our focus on quality control. Due to a much higher output to local as well as international markets, we now not only have to meet our standards, but we also have to meet different sets of compliance standards for industries across the world. At Genio, we not only tick the boxes for compliance, but we also tick them to better our service and look after our customers.
Why is quality control important?
Quality control involves maintaining a level of consistency in quality across the entire value chain. Everyone in your business should contribute to the quality control process in everything they do. One weak link can cause a major delay or even failure in the entire system. Just think about your own business and how a faulty delivery or miss communication between departments can upset the entire business environment. My advice is to first find the cause of a problem and then put measures in place that will prevent it from happening again. Internationally recognised systems like ISO 9001:2015 can help companies to achieve and maintain such goals.
I would like to share some insights and valuable lessons that the Genio Team has learned over the past few months. Hopefully, it will help you to navigate your quality control processes and procedures.
Learning from the best
We have set ourselves the highest quality manufacturing standards. We draw inspiration from the motor vehicle industry and others to help guide our efforts in manufacturing and communicate this quality through our products to our customers. Genio is fortunate enough to have a Procurement Manager, Industrial Designer as well as a Quality Inspector with experience in this specific industry. We are striving to achieve the same quality as a premium car product, and that is why we are bringing in this specific experience from outside to augment us and sharpen our skills.
As in the motor vehicle industry, our quality control checklist is our inspection criteria for every component and process that goes into building a Genio coffee roaster. We currently have 243 checkpoints that need to be adhered to. In the final inspection, the quality control checklist is there to ensure that the standard of the product meets the customer's expectations. But long before we get to the final inspection, each and every one of our parts have stringent quality standards that they must pass. These standards set the tone for the final product, and get updated continually as living documents that grow with ourselves and with our customer expectations.
Recently, the Genio Team also implemented our system which complies with BPMN 2.0 (Business Process Model and Notation), to define our business process workflows as a means of identifying potential improvements. We brought in a team of consultants to assist us with the initial system and to verify the steps that have been implemented against that of the BPMN model.
But quality does not stop at Genio ticking the boxes on a checklist. Quality must be upheld throughout the whole value chain. Our suppliers need to adhere to our quality standards, and these standards are followed across every department in Genio; from the welding bay right through to our Customer Experience Team. We refer to it as the Genio life cycle – the entire value chain from end to end.
Meet Kingsley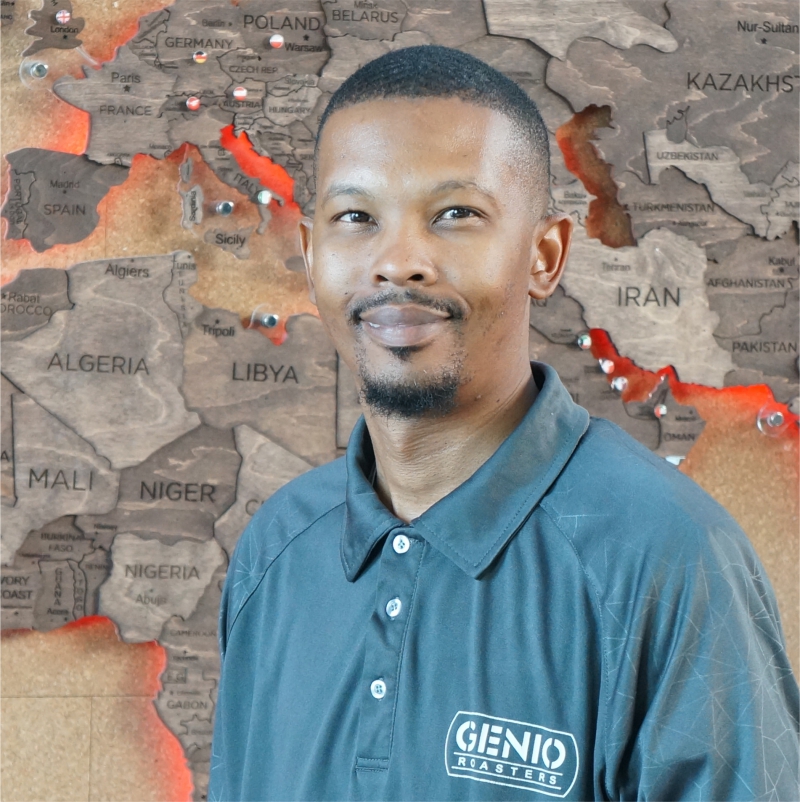 Kingsley is our Quality Inspector at Genio. His experience in the motor vehicle parts manufacturing industry makes him the perfect fit for Genio Roasters. Kingsley ensures that every Genio works perfectly by monitoring the quality standards of our manufactured products:
"What I bring to Genio is the ability to assess the quality of incoming materials as well as the quality of the outgoing product by ensuring that production standards are met. As part of the Quality Team, we continuously stress improvement with a no-compromise approach. It is 'the person behind the machine', that makes all the difference."
Quality is a collective effort
Whether it is the sourcing of material and parts from reputable suppliers, state-of-the-art tools and even our internal production processes, we are continuously working towards improvement. Similarly, we want to pull this mindset through to our customers' experience, as we want them to share the same high standards with us. So, we preach it forward by educating our customers on quality control for their businesses. We include free training to all Genio clients in coffee cupping, sensory development, site preparation, basic and advanced coffee roasting and more.
A transparent relationship with your suppliers is imperative. We conduct regular meetings on order updates, feedback on quality issues and management of expectations from both parties. When our suppliers share the same values and quality standards as us, we know it is a relationship that will grow from strength to strength. Even through tough times in the heat of the ongoing Covid battle, we ensured that we paid our suppliers timely and even split orders to those who were more in need to ensure that they can grow with us.
Innovation, innovation, innovation
Creating a culture of innovation within a business can be challenging. However, looking at a problem or situation with a fresh set of eyes can spark new ideas and solutions. Genio recently invited a chemical engineering student to spend a whole day at the Genio factory. His task was to, from a customer perspective, work on each coffee roaster before it was shipped to the customer. We aimed to counter any form of bias when testing the performance of a new machine ourselves. The goal was to give Genio a report on the workmanship, operation, and user experience from his objective view as if he is the customer. And the result: priceless feedback that will translate to an enhanced overall customer experience. And for the record, he is now a permanent addition to our Quality Team and tests each and every roaster for an entire day before we sign off on the production.
The buck stops with me
Each Genio employee is accountable for their work, and this adds to our overall quality output. One person is assigned to a machine. The person performs all the tasks in the manufacturing process of that particular machine. It means the person has a good grip on everything that happens on the quality control of the machine because the individual is accountable for every part and every process. The difference: personal commitment and pride - the individual starts something and takes it up to the finished product. Again, it is the life cycle, where people are involved in everything about a particular phase in the life of a Genio.
Technical support: our lifetime commitment
In terms of our accountability, we stand up to say that, yes, we do make mistakes and, yes, we have had quality issues. However, we own our problems and we admit that they exist. We do not run away from glitches and will go as far as to recall a machine for in-house repairs if that is what it takes. We have done so in the past and we will do so again if it means giving our customers the assurance that we stand by our products, and by our customers, for life. We appreciate the fact that people's livelihoods rely on our machines. To stand by this claim, the leaders of Genio unanimously agreed to offer up to 3 years of warranty on our machines without even thinking twice. Our commitment to quality on every level of our business runs in our DNA and we challenge you to evaluate your own business and see where you can work smarter and be more productive when it comes to your products and services.
#GenioForLife
Neil
Got something to say? Then leave a comment!
---
Neighbourhood Favourite: Loof Coffee, Greenside
Friday, 14 May, 2021
Autumn is turning to winter quicker than the orange to red of the leaves along Gleneagles road.
Greenside, in Joburg has a wonderful morning feel about it as the sun bakes down, warming you from the inside. It's chilly in the shade, glorious in the sun and the locals go about setting up shop, clearing up after the nocturnal activities of the night before.
Loof is situated in the happening intersection between Greenside and Linden where many pubs and trendy restaurants adorn the busy street that connect the two suburbs.
Loof is a little oasis of calm and gentleness amid the bustle.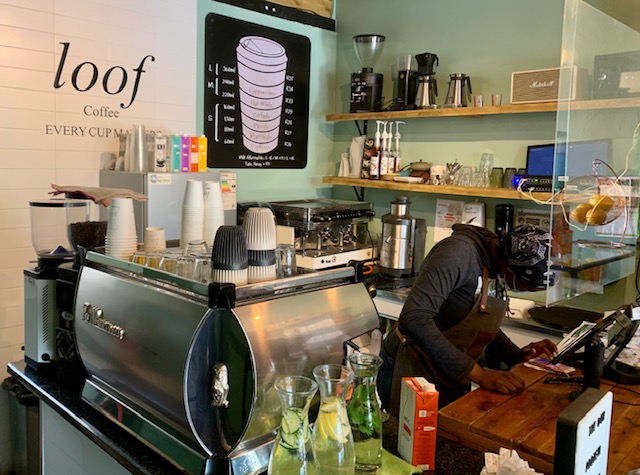 The Loof Coffee bar: a hard-working space!
It's a smallish space and it's very productive, with the coffee bar out front and the little kitchen tucked neatly in behind. There was a very cool illustration that literally showed the amount of milk and the beverage name associated with it. We ordered a Picolo and a cortado, just to test the theory!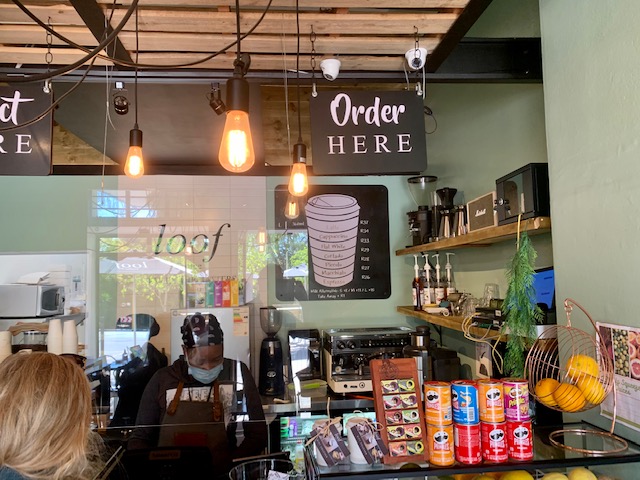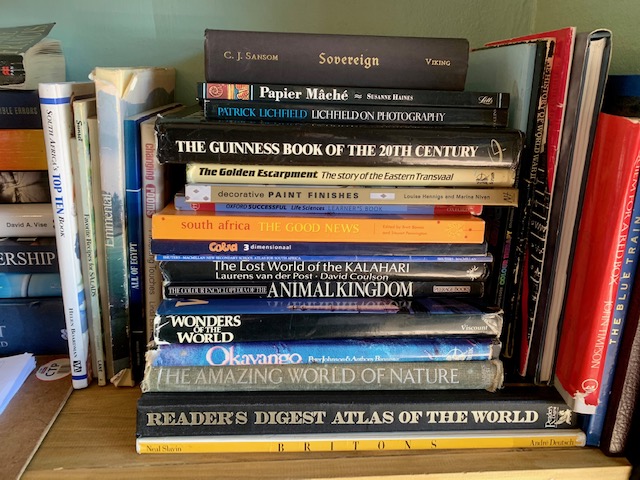 Books to read, swap and return.
Loof really has a great community feel to it. There is a communal book swap shelf - you take a book and leave a book, and there is a Loof-run with Strava maps printed on the wall and a Loof leaderboard for the local runners' best times.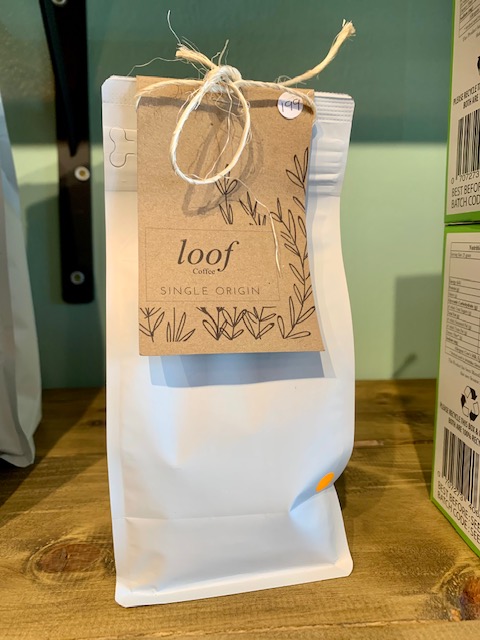 Delicious single origin coffee from Loof, available in 250g and 1kg bags.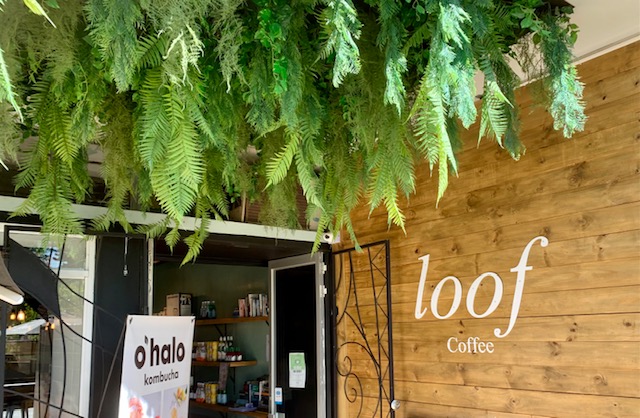 The oasis known as Loof.
We ordered inside and sat outside, basking in the sun and enjoyed the people watching as Greenside came to life. Most would visit the area for the night-life, but we highly recommend you visit during the morning too!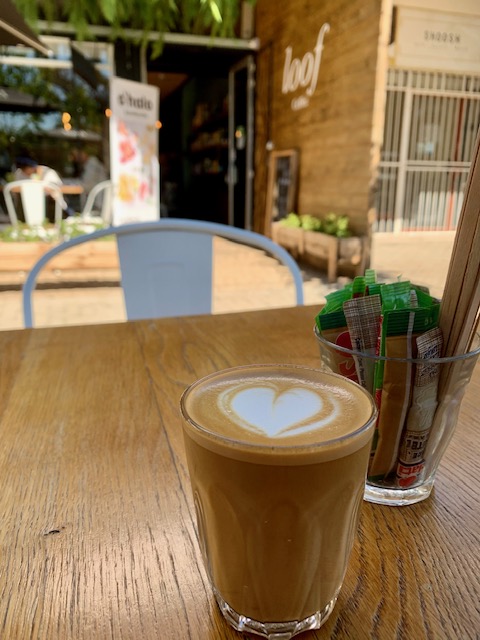 The Loof piccolo.
Got something to say? Then leave a comment!
---
Win with The Quick Fun Coffee Quiz!
Friday, 7 May, 2021
This competition is now closed. 20 / 05 / 2021.
The winner of the Quick Fun Friday Quiz is.... Robin Gould! Well done Robin, we will be contacting you shortly to arrange delivery of your prize!
---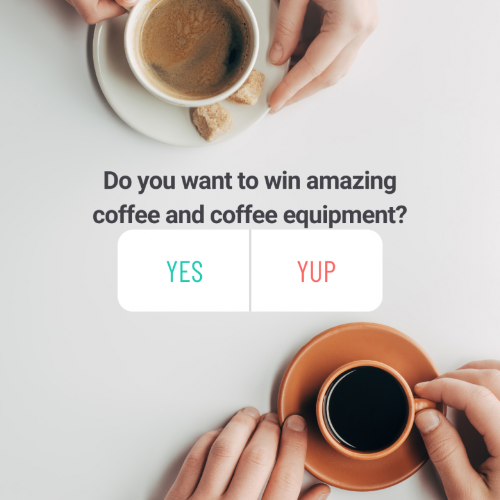 Win with "The Quick Fun Friday Coffee Quiz" - how well do you know coffee?
This is a quick fun coffee quiz to challenge and test your coffee knowledge. All of the answers are from stories we've published in the last month, so the answers are somewhere on our website - or you could cheat and Google them, but try not to!
We have a little coffee prize for the winner consisting of an E-Coffee Cup, a Timemore Crystal Eye Dripper set and a bag of coffee, together valued at over R1500!
We will pick the winner randomly from all of the correct answered quiz forms next week and announce the winner in next Friday's newsletter.
Here goes:
Quick Fun Coffee Quiz
Got something to say? Then leave a comment!