Coffee Monster! A fun new coffee app that allows you to skip the queue.
Friday, 13 December, 2019

It's always exciting to see innovation in the coffee space, and while for most of us that means new coffee equipment, products and flavours, for others it is innovation around the experience of getting your coffee. Enter Coffee Monster.

This is an exciting new app that allows you (The Caffiend) to connect with the person making your coffee (The Beastly Barista) quickly and easily to order and pay for your coffee before you arrive. The App also has a loyalty programme ( a free coffee for every 10 orders) and a cool discovery element where you can find new Monster Spots when you travel or you may not know about. It is all packaged in a very fun monster-themed interface, with bright colours, fun characters and easy navigation around the app.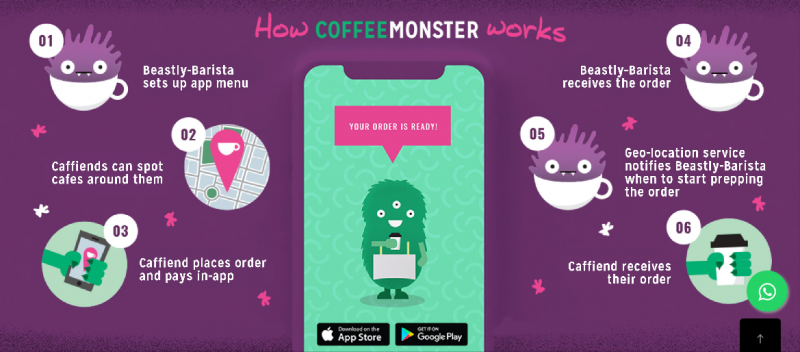 The Coffee Monster app is very new and is proudly South African, developed by Ashleigh Nestadt and Gail Cross. The two met by sheer luck with Gail having developed the technology and Ash having developed a brand identity and presence.

"I studied in Cape Town and struggled to grab a coffee on my way to campus owing to limited parking around my favourite coffee shops. When coming to Joburg, I picked up on a new trend whereby some speciality coffee shops were allowing customers to WhatsApp them an order ahead of time and bring coffee to their car. This solution sparked an idea to advance this service and make it accessible country-wide" says Ash.

Gail adds: "Wanting coffee on the road between meetings and with a love for finding innovative technical solutions, I saw an opportunity to develop an app that offers a convenient on-the-go service."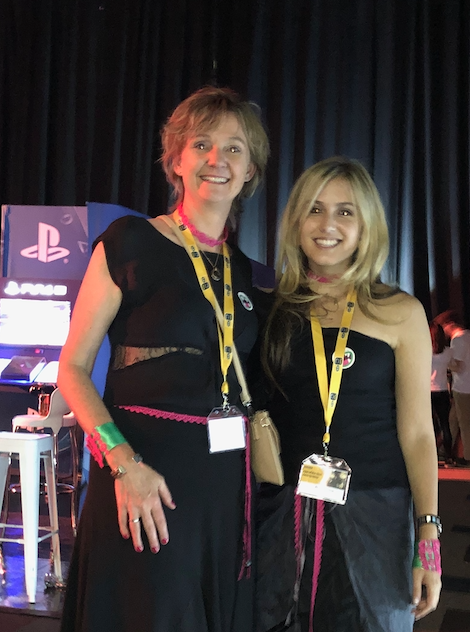 Co-founders Gail and Ashleigh.

Ashleigh having immersed herself into the worlds of psychology, research, animal activism, and app development for the past few years, graduated from the University of Cape Town with a Masters in Psychological Research but is now working full time on Coffee Monster. "Our distinct focus on the coffee community and creating a Coffee Monster brand identity make us unique."

Gail, who had worked in the banking industry for 15 years in IT development and corporate transactional banking, left the corporate world to focus more on her family (a mom of two boys) and to apply her technical and business background to bring the App idea to fruition.
"Our app is culturally relevant. We provide a convenient service to customers through leading industry trends both global 'skip the queue'; and local 'drop off at my car' and 'deliver to my office (within walking distance). We offer loyalty across our community. With every coffee purchase, customers earn a loyalty bean. Once 10 beans are earned, a customers 11th cup is FREE and can be redeemed at ANY Monster Spot."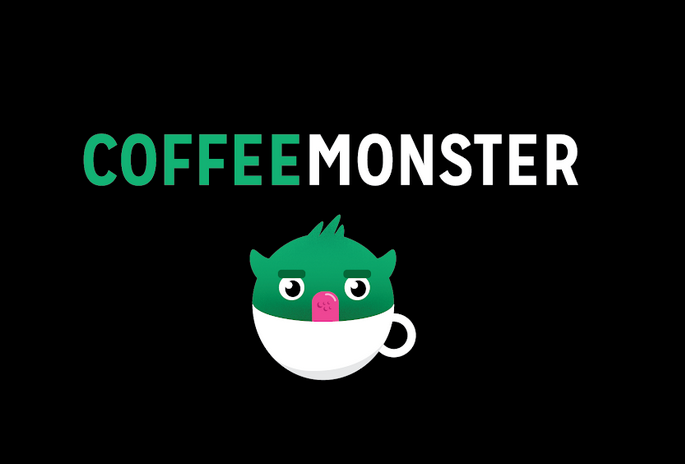 So they might love coffee, and make a cool app but do they know coffee? "Batch Brew!" says Ash. "I love black coffee and generally get an Americano. I did a short course with Stevo at The Grind. This was my first glimpse into the depth of knowledge that exists within this industry."

"My interactions with passionate roasters, store owners and baristas is an inspiring journey" says Gail. "The community works to support and encourage the best coffee experiences for customers and it's been incredible to be welcomed and exposed to their expertise and extensive knowledge. Being a cappuccino fan, my most recent favorite coffee was from Cupocafe in Pretoria. Their blend is roasted for cappuccino drinking."

So whether you're an on-the-go coffee fan, a drive by hustler, a sit-in customer or want your coffee delivered to your work, then Coffee Monster is for you!
Download the app here. https://www.coffeemonster.co.za/#download

Are you a Coffee Shop Owner? If you'd like your store listed on the Coffee Monster App, email Ash and Gail on admin@coffeemonster.co.za



Got something to say? Then leave a comment!
---
Entries Open: A Shot in the Dark 2020
Wednesday, 11 December, 2019
Got something to say? Then leave a comment!
---
Limited Edition Jonsson and Coffee Magazine Tees: Rise Up Africa!
Wednesday, 4 December, 2019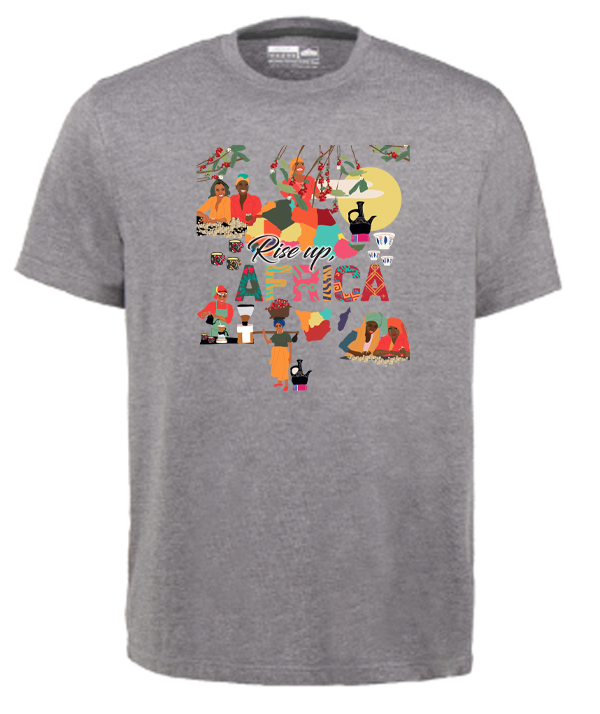 We love our Summer Edition Cover illustrated by the wonderful Phathu Designs so much that we put it on a T-shirt. Not just any T-shirt, the awesome Jonsson Melange Tees, built for quality and longevity!
This is an extremely Limited Edition Offer. There are only 50 available to purchase for R250 each. Place your order now so you don't miss out on your size in this awesome design!
Fill in the form below and we'll get back to you ASAP to confirm your order.
I want a Rise Up Africa Tee!
Got something to say? Then leave a comment!
---
Choose to Reuse!
Tuesday, 3 December, 2019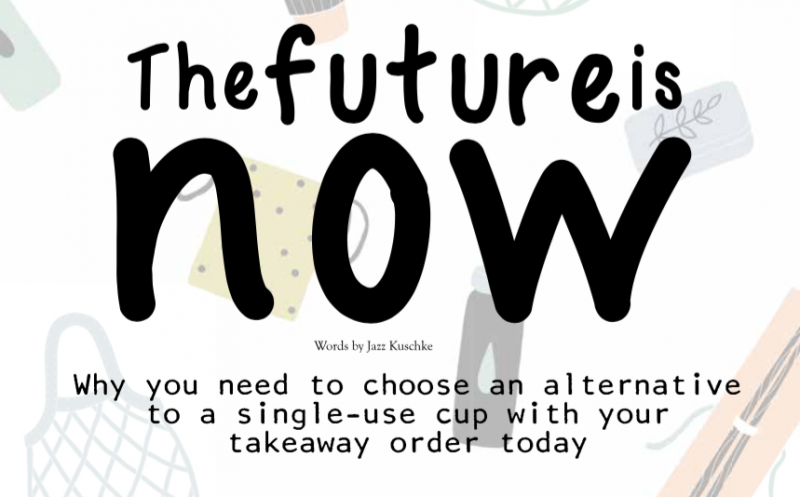 It's so easy to get sucked into the gloom. As a fly-fisherman and a surfer, the ocean and the estuarine rivers which feed it are an integral part of my existence. A lifeblood, really. As a father of two young boys, every time I'm out there – either wading waist deep plying a drop-off for gamefish with the fly-rod or bobbing in the line-up awaiting my turn for a wave – I hold onto some deep hope that my boys might enjoy it all in a similar state to what I have.
Yet it's easy to get sucked into the gloom. The stats are ever-present, poised to sow doom: Less than than 9% of all of the plastic we use every day gets recycled. That is according to a 2017 report published in the scientific journal, Science Advances. Instead, most of it ends up floating in the ocean or in landfills. It is estimated that 1 million sea birds, 100 000 marine mammals and countless fish are killed as a direct result of plastics, every year. It's easy to fret about what life will look like for our children.
Then something like the April 2019 KwaZulu-Natal floods happen. And it serves as a stark wake-up call: That future is now.
Those devastating floods saw all the major rivers come down. When the waters finally started subsiding the imagery on social media and news outlets changed from hectic watery scenes to horrifying post-apocalypticesque pictures of the mountains of plastic waste that had been washed up on Durban's beaches.
PlaSTUCK
The word 'plastic' is derived from the ancient Greek term which translates to, 'to shape' or 'mould' and when it was first discovered some in 1907 humanity got very quickly caught up in the possibilities of being able to 'mould' well, just about anything. There's no getting away from it, plastic was and remains helluva useful. It created so many possibilities that were unthinkable before, so humans rolled with it, working it into everything.
From the cars we drive, the shoes and clothes we wear, the devices we use every day – it is everywhere and in everything. And the trick is, it's not going anywhere. Ever. We're now stuck with it.
According to Ingrid Sinclair Marketing Manager from the Two Oceans Aquarium – whose doctoral thesis was based on plastic pollution – one of the biggest problems when trying to explain plastic, is understanding time scale. "People don't realise how far apart a million and a billion are. A million seconds is about 12 days. A billion seconds is about 32 years. A trillion seconds? 32 000 years," Sinclair says.
"Now consider: Studies suggest that there are 5.25 trillion pieces of plastic floating in the ocean — enough to circulate the Earth's equator 425 times (14 million kilometres). Altogether, the combined weight of plastic in the ocean amounts to about 269 million kilograms." And that, according to Sinclair, isn't counting the plastic already piling up in landfills around the world, or the plastic in the lid of the cappuccino you had to go this morning. Or the plastic stirrers or that still used in coffee cups.
"It also doesn't include the plastic that is yet to be produced or the plastic that leaks into the ocean on a daily basis – by some accounts, a refuse truck's worth every 60 minutes. The numbers are terrifying – by 2050, there will be more plastic than fish in the sea (by weight). 2050 sounds far away, but actually it's only about a billion seconds away."
As if we needed more reminding all research by the likes of Sinclair and others shows that the biggest culprit by far is 'single-use' plastic. "Today, approximately 42% of all global polymer production is used for single-use packaging, and as a result the share of plastics in municipal solid waste (by mass) increased from less than 1% in 1960 to more than 10% by 2005 in middle- and high-income countries. In South Africa, more than 53% of plastic is used for food packaging."
When it comes to the coffee industry, research shows that some 100 billion cups end up in landfill each year. This is of course a growing problem with estimates well above 300 billion by 2020.
But, you know what? There is hope.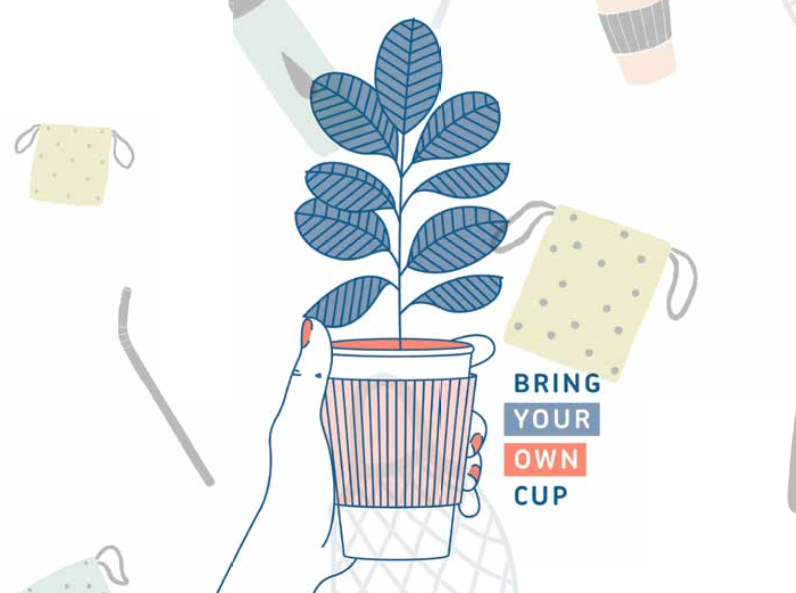 Hope and dreams
The industry – consumers and businesses alike – are championing the cause, helping to change the mindsets of people. In particular, various entrepreneurs and companies in the coffee market are working increasingly harder to provide alternatives to single-use cups and other plastics in the industry. Their underlying philosophy is the same: Initiating small changes in our daily routine which can help smooth the way for positive change.
David McLagan, founder of Ecoffee Cup – the re-usable bamboo coffee cup – perhaps summarised it best when he said that changing attitudes towards consumption and waste will be the catalyst for change. "By raising awareness of the issues, we will be able to influence consumer consciousness to the point that we see a marked change in attitudes and increasing numbers of people switching to reusabales."
At the risk of descending into morbid melodrama, there is hope and we are all a part of it. By supporting these revolutionary endeavours and concepts and, ultimately changing our mindsets toward a plastic-free way of life, we will be to go at least some way toward cleaning up the future of today. And tomorrow.
Here are some options available in SA, you can find a lot of these at your favourite local cafes: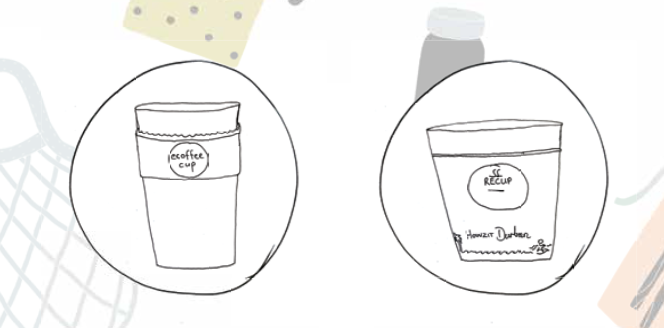 Ecoffee Cup
Ecoffee Cup is a new take on the reusable takeaway cup. It is created with the world's fastest growing, most sustainable crop – bamboo fibre (and corn starch) and is BPA and phthalate free.
"The mindset is definitely starting to change in the market," says Reynold Leegerstee of Ecoffee Cup in South Africa. "If we think back to the days we started it was quite a hard sell to get something like this into retail. It required some real hard work to explain the benefits to people," he says. What definitely supports the uptake of Ecoffee Cup is the variety of designs. "Creating something beautiful and desirable eases consumers into using products benefitting our environment".
According to Leegerstee, now the retailers (and their customers) are asking for it. "Not only in retail but also on the corporate side of things, which is a big part of our sales," he says.
The cups are dishwasher-safe and so reusable over and over. Ecoffee Cup have worked with cafes, schools, universities, roasteries, hospitals and corporates to create a product of which people can genuinely be proud of – and actively want to re-use over and over again. The idea is simple, buy a cup and take that with you to the coffee shop when you order your coffee to go.
"We are still a bit behind here in South Africa, but catching up fast," Leegerstee says, explaining that the Ecoffee Cup has been available for nearly a decade in Europe. "The awareness is much better than a few years ago and this is being followed by concrete action. It's great to see."
RECUP
RECUP, as the name suggests, is a cup deposit system. It was born from the idea (of getting away from single-use cups) by two German students in 2016. Today more than 20 cities in Germany are on the programme, with over 2000 coffee shops and cafes in cities such as Munich, Berlin, Hamburg and Cologne offering the product.
"I think a lot of people don't realise their 'paper' coffee cups are lined with plastic," says RECUP's Charles Denison. "In fact, there is enough plastic in one 250ml cup and lid to make eight straws! Straws seemed to be the easy target for the anti-plastic campaign. What we have realised is that plastic is not the problem, but single-use is," he says.
The RECUP system is now in South Africa too and all affiliated outlets where it is available can be found on RECUP-app. And it's catching on fast. "We already have two stores who are only doing reusable cups and zero single-use cups," says Denison. "In fact Steampunk in the Midlands was the first in SA to do so, and possibly one of the first in the world. In Germany around 20% of their 2500 RECUP partners don't allow single-use. I think once we get critical mass, and customer awareness increases, we can (and should), as an industry make a stand as one."
The deposit system – which allows you to pay a deposit for the coffee-to-go cup of your choice – avoids disposable waste and saves resources. Once you've enjoyed your coffee you simply return the cup to the café for a refund, or you can hand your dirty cup in to be washed by any partner outlet and get your coffee in a clean RECUP.
In addition you buy your own lid, which fits on all of the size cups and reuse it every time.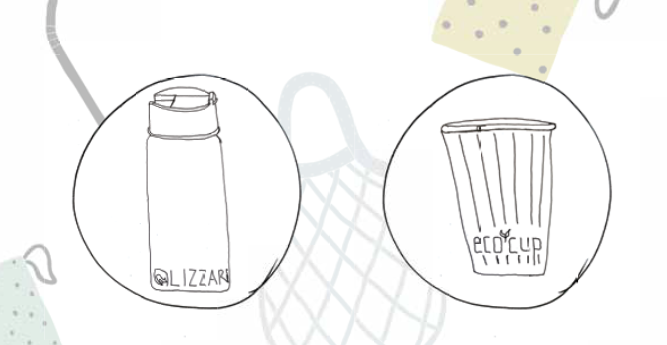 Lizzard Vacuum Flasks

Lizzard's double-walled vacuum sealed stainless steel flasks have been designed to be portable and durable. They're made out fo 18/8 stainless steel (the highest grade used for food preparation) and feature a leak-proof lid. The flask allows you to keep your coffee warm for up to eight hours. "Obviously as a surf brand we are super concerned about the ocean and well aware of how much plastics pollution is going into it," says Chris Hall-Jones from Lizzard. "We all see how much single-use is getting done in an area in which we could be involved in and make a difference (as a surf brand) without getting into he whole kitchen utensil business," he says.
Enviromall

Where and when reusable cups and other vessels are not possible, (easily) biodegradable packaging is the obvious next choice. Enviromall supplies sustainable packaging products to the South African hospitality industry made from plants rather than oils. For example, EcoCups are made using board from managed plantations, coated with a thin layer of plant-based plastic (PLA). To radically paraphrase the science, these take-away coffee cups are 100% compostable and biodegradable, and will break down in any home or commercial composting facility.
Got something to say? Then leave a comment!
---
Summer Edition: Rise Up, Africa
Tuesday, 3 December, 2019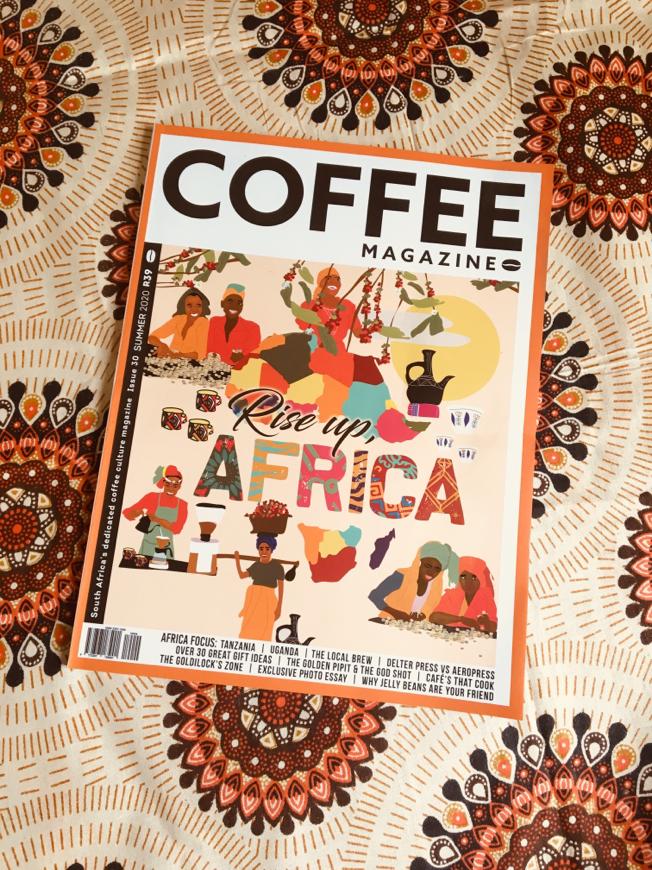 "And I'm so glad we made it, so glad we made it
You got to, gimme some lovin', gimme, gimme some lovin'
Gimme some lovin', gimme, gimme some lovin'
Gimme some lovin' everyday, yeah!"

When I (Mel, the Editor) first heard this classic track by the Spencer Davis Group, I misheard the lyrics as "gimme Summer lovin'" and I've never quite been able to shake the Summer from this feel good song 🌞The Summer 2020 Edition is our 30th Issue, our biggest yet at 100pages and as the song says, I'm so glad we made it!

We're so grateful that we get to celebrate this milestone by shining a light on the amazing coffee culture throughout Africa. Cover illustration by the super talented @phathudesigns and besides our Africa focus there are Foodie cafes, new brewing devices, our annual Ultimate Coffee Gift Guide, easy tips to train your coffee tasting palate, the affects of climate change on coffee growing and a birding adventure! See more details about the contents of this incredible issue below.
How can you get your hands on a copy, you ask?
Well, we have been growing our list of Distributors over the last 8 years and are proud to be supported by amazing cafes across the country who stock our title. We have also recently expanded to be in some select mainstream locations. Check out our Distribution List here to see your closest location.
Cover: Africa Rising
Anastasia Prikhodko investigates why you should make your next cup of coffee using beans from one of the many origin countries in Africa. Every bean holds a story and international interest in this incredible export is steadily on the rise.
Travel: The Local Brew
Drinking coffee in Ethiopia, Tanzania and Egypt is an educational and delicious experience. Let Matt Carter take you on an adventure!
Discover: Progress through practice
Interview with an expat coffee and tea farmer in Tanzania growing on the foothills of Mount Kilimanjaro and investing in the community
Origin: The Education of a Millennial in East Africa
Perspective is everything, as Benjamin Jenkin discovers while exploring coffee in Uganda. An eye-opening read on the state of things at origin.
Roast: The Jelly Bean Method
Easy and fun ways to improve your coffee tasting palate
Review: New Kid on the Brewing Block
We investigate The Legend (The AeroPress) vs The Rookie (The Delter Press) and make some surprising discoveries.
Culture: What does the Spirit of Africa mean to you?
Pang Isaac explores this through the lens of coffee culture. Feast your eyes.
Brew: The story of the Golden Pipit and the God Shot
Obscure obsessions collide in this tale of birding and brewing coffee in the bush.
The Ultimate Coffee Gift Guide
Ideas for the human in your life who absolutely can't get enough coffee or coffee related gadgets.
Environment: Coffee and the Three Bears
A cautionary, but optimistic, tale of the affect of climate change on coffee production by Dr Alessandro Craparo
Discover Great Coffee: Cafe's That Cook
Three of our favourite foodie cafes impart some of their favourite recipes. Exciting!
Got something to say? Then leave a comment!
---
Bright, young minds finding ways to make coffee more sustainable
Tuesday, 3 December, 2019
University students around the world are finding lots of different ways to make coffee more sustainable and eco-friendly, from finding coffee bean alternatives to repurposing coffee waste…
From root to cup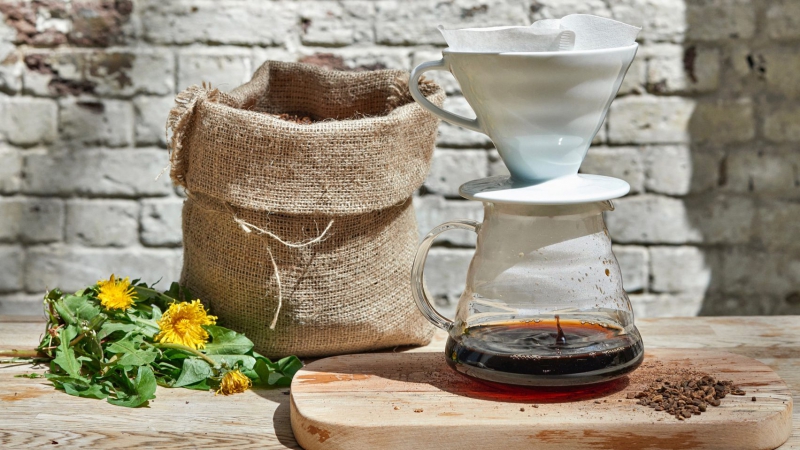 A graduate of Central Saint Martins college in London, Daisy Newdick, has found a way to make coffee using dandelions – what most people might consider an unsightly weed. Her design project, called Make Weeds Great Again, aims to highlight the overlooked qualities of the common dandelion plant, which actually contains certain aromatic compounds that provide a similar bitterness and chocolatey smell to coffee. The chemical inulin is present in the skin around the surface of the root, and that gives it the characteristic coffee taste and aroma when roasted. During her research, Newdick found that chicory (which is botanically related to dandelions) and burdock root can also be used as a substitute to coffee.
Newdick developed her own roaster to prepare the dandelion roots before grinding and brewing them into coffee. The designer hopes that her hand-operated root-to-cup system will encourage more people to try coffee alternatives that don't require beans to be shipped from overseas…
"In the West, and especially in cities, we take for granted the immense distances and complex supply-chains foodstuffs travel before they reach us," Newdick told Dezeen. "With increasing demand driving environmentally degrading practices, together with the impacts of the climate emergency, the future of this highly esteemed commodity is uncertain."
From cup to concrete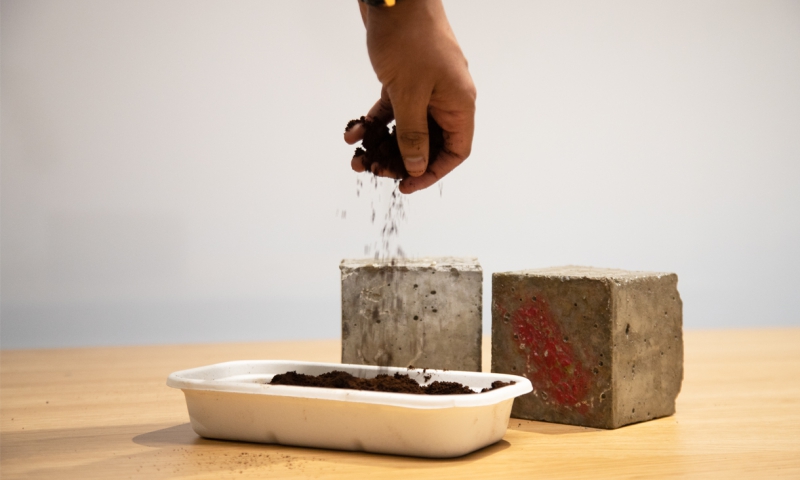 If you're not so hot on the idea of alternative coffee, an RMIT University engineering lecturer and his students in Australia are investigating the potential of coffee waste combining with concrete to create construction material. Instead of the dregs from 1.3 million cups of coffee going to landfill, the grounds can be repurposed into concrete to be used in homes, driveways, and office buildings. The group found they could replace up to 10% of sand in a concrete mix with coffee grounds, and they've produced 'coffee bricks' to prove it.
The reasoning behind the idea is to cut down on the need for sand, which is in high demand (the average concrete mix contains up to 80% sand) and has a huge environmental impact when extracted. The City of Melbourne alone creates around 156,000kg of coffee waste every month, so repurposing that waste into useful building materials is an incredible solution for the construction industry.
Fungi Factory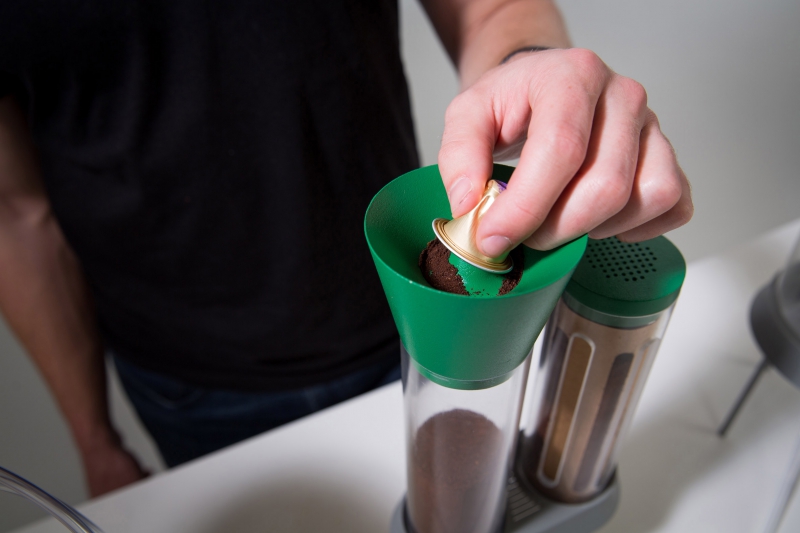 Northumbia University graduate, Jamie Pybus, has also found a higher calling for coffee waste – a kit for growing mushrooms. The designer developed a system that allows people to cultivate edible mushrooms from leftover coffee grounds. Called Fungi Factory, the kit includes a storage container for your coffee grounds, a vessel for mixing the grounds with mycelium spores, and a domed fruiting environment in which the mushrooms grow. Now, rather than throwing coffee grounds into the bin, UK households can repurpose them as a bed for growing oyster mushrooms in just four weeks.
"The concept helps to highlight possibilities of waste recycling within the home by bringing the often unseen, circular economy into the hands and control of people," Pybus told Dezeen. "Shrinking space-intensive processes into a home-sized product is vital to the success of local manufacturing and food production. I really wanted to create a system that was visually interesting and could get both adults and children interested in the product's function and potential benefits. Fungi Factory is environmentally rewarding through its recycling, whilst providing an equally significant benefit to people's healthy eating habits."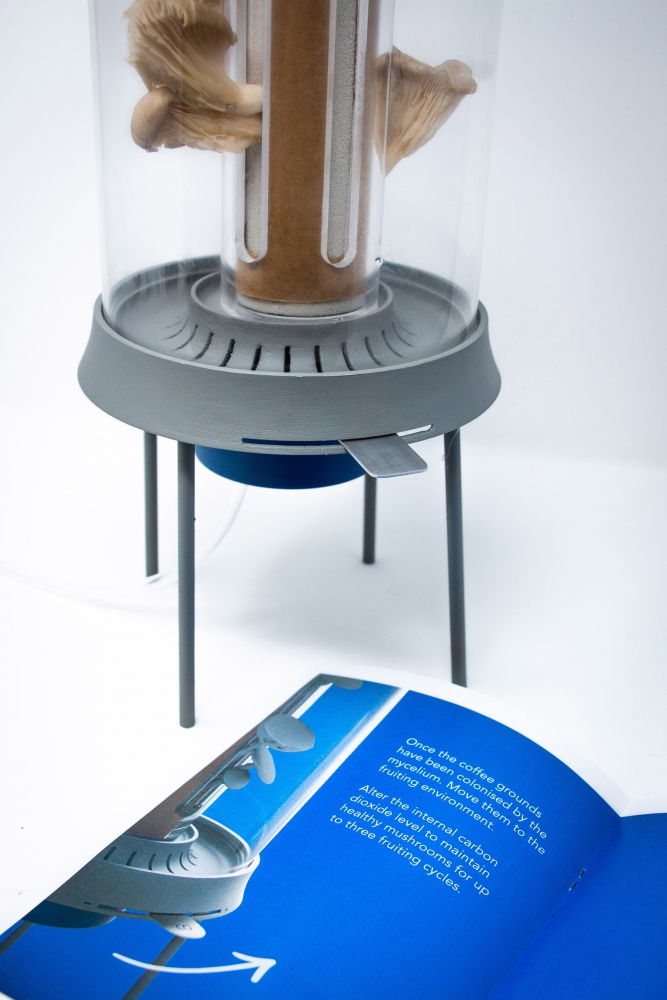 With innovative students finding environmentally friendly alternatives and investigating ways to repurpose and upcycle coffee grounds, a more sustainable future seems more possible than ever.
Got something to say? Then leave a comment!
---
The Rise of Rwanda's Coffee Culture
Thursday, 28 November, 2019
Rwanda grows some of the world's best coffee, but the farmers themselves don't necessarily know it – many of the country's coffee farmers (along with the rest of the population) have never even tasted a cup of coffee. Rwanda's government wants to change that, and is encouraging locals to drink more coffee…
Rwanda's coffee industry nearly collapsed after the genocide in 1994, and it took many years for the industry to recover to the point that coffee is now one of Rwanda's largest and most profitable agricultural exports. Funding from the Rwandan government, trade partners and private investors allowed Rwanda to focus on high grade specialty coffee, and Rwandan Bourbon Arabica beans are in high demand today.
Coffee is a luxury
Rwanda's own coffee culture is almost non-existent though – most Rwandans drink soft drinks and tea because it's a lot more affordable than coffee. The price of coffee is a major obstacle – a cup can cost around $2–3 and more than 60% of the population earn less than $2 per day. Rwanda exports 99% of its coffee, but the government is hoping to increase the domestic market by taking advantage of the emerging middle class's disposable income.
Thanks to Rwanda's growing middle class, local consumption has increased in recent years. Rwanda's capital, Kigali, has seen a number of specialty coffee shops opening to cater to people in the city, including foreign expats and international visitors. The government is encouraging this trend by launching a "Let's talk coffee" campaign to teach locals how to traditionally prepare and brew a cup of coffee, and sponsored radio ads to tout its health benefits and tell people that coffee isn't just for foreigners.
Building a coffee culture
"People don't consider coffee as being for them, mainly because of the taste and the price. But even small things like producing coffee in smaller packages so more people can afford it can strengthen the coffee culture in Rwanda," says Dr. Celestine Gatarayiha from the National Agricultural Export Development Board (NAEB), a government agency dedicated to increasing agricultural exports.
There's obviously a lot of education that has to happen around coffee in order to start to build a culture of consumption rather than just production. People need time to explore and discover the variety of coffee beverages and get used to the taste and flavour. The government is trying to boost local consumption and make coffee seem more accessible by organising barista training for restaurants and hotels, encouraging them to serve high quality locally roasted coffee, and organising coffee seminars and tastings for curious consumers.
The popularity of coffee
The history of coffee in Rwanda could have a lot to do with why there isn't much of a coffee culture. It was introduced by German and Belgian colonisers, who forced Rwandans to cultivate the crops under terrible conditions. Farmers were never taught to drink coffee, and the country exported all of its green coffee cherries to be roasted elsewhere before being reimported. Coffee is expensive as a result because Rwanda doesn't have enough roasters, and roasted beans are worth much more than the green cherries.
The rise of coffee shops in Kigali is proving that there is a future for local consumption, with cafés serving as places to meet and socialise, attracting business professionals, freelancers and groups of friends. There's a long way to go before coffee is the beverage of choice for most Rwandans, but its popularity is definitely on the rise. Local professionals are realising that it's important to support the economy by buying (and drinking) local, and as taste preferences change, the coffee culture shift is sure to come, especially with each new generation showing a greater appreciation for this beloved brew.
Got something to say? Then leave a comment!
---
NEW COFFEES: DGC Club Summer Edition
Thursday, 28 November, 2019
Got something to say? Then leave a comment!