New Kid on the Block: Crane Flower Coffee
Thursday, 4 March, 2021
It's great to see that out of the trainwreck that was 2020, new opportunities were created and a host of new coffee spaces have popped up. We chatted to Dale Sandy about his venture of building a cafe in a garage in the suburbs and creating a memorable coffee experience in his neighbourhood!
---
Robyndale Centre, 8 Msenga Rd, Kloof, Durban, 3610
Tell us about how Crane Flower started and what inspired the name?
Starting Crane Flower Coffee was quite a spontaneous and exciting venture in 2020. With all the year threw at us, my original plans went out the window. After months of lockdown and feeling idle at home, my father and I decided to recycle a dusty storage garage into a coffee bar. I have always been into coffee and am always looking to try new coffee spots wherever I go, so I thought why not channel that passion into starting my own coffee shop. In hindsight, the project was sparked by a combination of my love for coffee and coffee shops, and the frustration of being idle at home for so long during lockdown.
Crane Flower is another name for the Strelitzia plant that most South Africans know and love. I love that this plant is native to South Africa, is striking with bright colours and a unique shape, and has very positive symbolism including freedom, joy, and paradise. Given that I wanted to incorporate these traits into a coffee experience, Crane Flower Coffee seemed like a fitting name.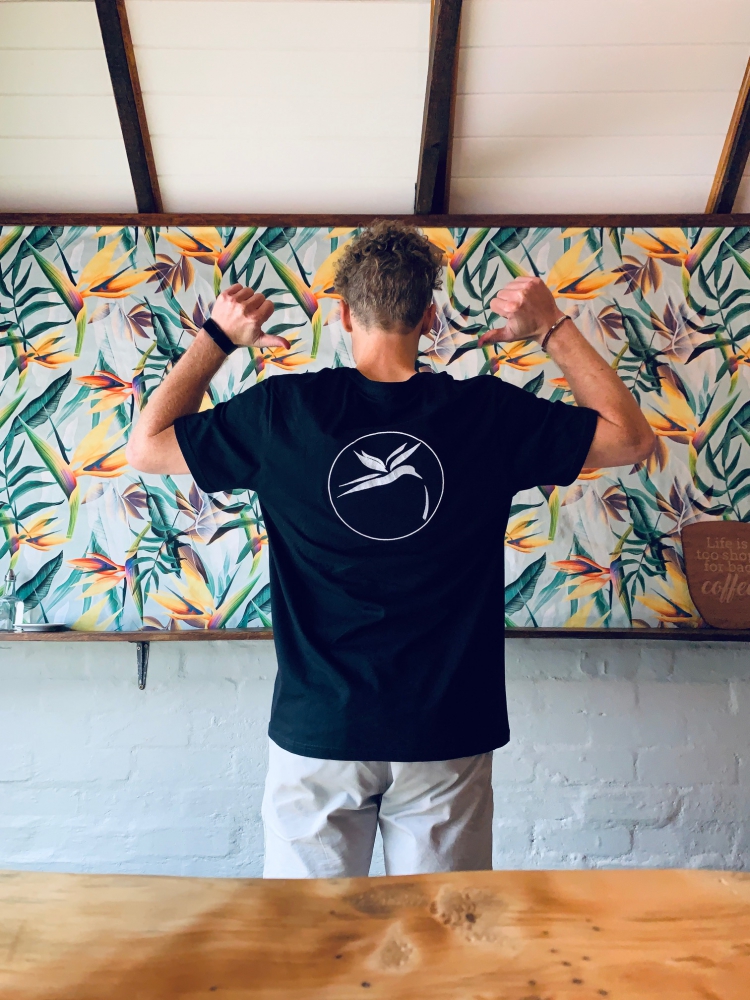 You built out the shop with your own two hands! Tell us about that experience!
Yes! Myself, my father, and one of his employees transformed this dusty old garage into the Crane Flower Coffee space you can visit now.
Using recycled materials we already had, we created the space and built structures like the sink unit, the display shelves, and the main counter. We found the idea of recycling and upcycling what we had really appealed to us, so we gave it a shot.
It was such a rewarding process to see the unused garage space unfold into what I had envisioned, all through the work of our hands. Personally, I loved putting in the effort and making the executive decisions that made the shop my own. When I walk into the shop now, there is definitely a sense of satisfaction and appreciation for what we created.
Now I appreciate it so much more whenever customers compliment anything about the space. I am very grateful for the help and support I received while building Crane Flower Coffee.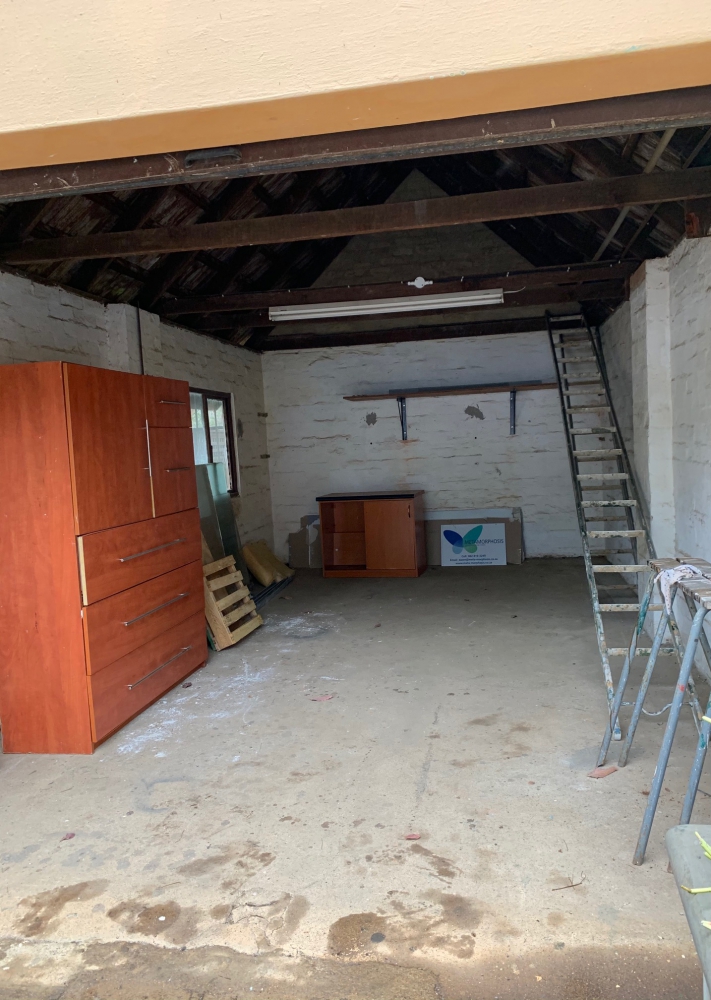 The Before Shot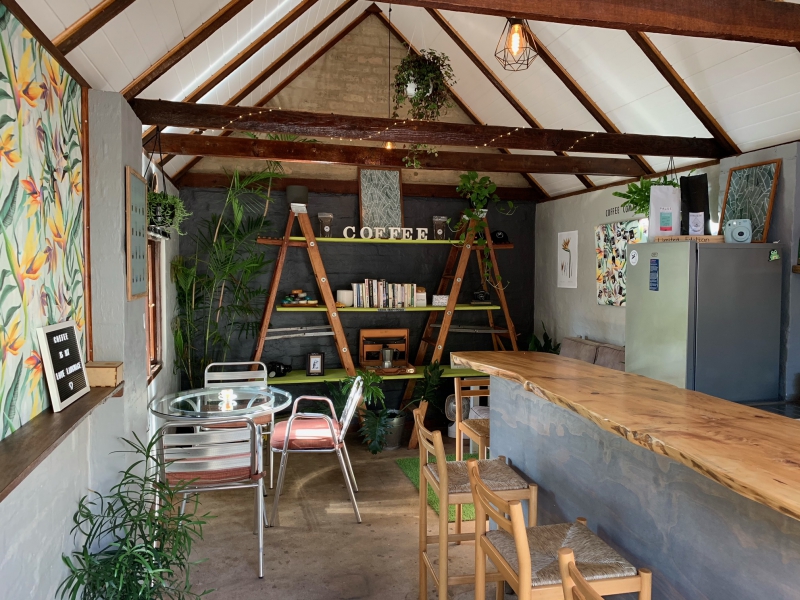 The After Shot!
Where/how did you learn to make a delicious cup of coffee?
I am probably more unorthodox than most in this category. I was always on the other side of the counter, as a coffee customer, until 2019. After returning to South Africa from university in the New York at the end of 2019, I was fortunate enough to have a newly-refurbished Wega machine at my family's home. Not long after returning home, the pandemic began and lockdown presented me with plenty of time to learn and practice my coffee knowledge and barista skills while at home. My brutally honest family of 6 were my coffee critics while I made coffees throughout lockdown. After many hours of trial and error coffee making, as well as much online research about the more technical and intricate details about coffee, my ability to produce quality coffees developed.
Some people are quite hesitant when they hear I haven't done formal barista training courses, but so far their hesitation disappears once they've tried one of my coffees.
I am continually learning and improving, but I am definitely confident in my ability to make a variety of delicious coffees.
What coffee are your using and what equipment do you work on?
Crane Flower Coffee uses a medium roast Brazilian/Ethiopian blend from Three Lads and a Toucan as the house blend. However, I always have a couple bags of limited edition beans from some of the best South African roasteries I've visited. The idea is to expose people in our area to some top quality coffee that they most likely would not come across in our area. We currently have Pause Coffee's Guatemala La Lucia single origin beans & Bottomless Blessings' Burundian house blend available.
I am currently using a Brasilia double group head machine, recently fully-serviced by the Lineage Coffee team, as well as Mazzer & Quamar grinders.
In your bio, you state that you're a 'New York style coffee shop', what about the shop is inspired by NYC?
I was personally a university student in New York who explored over 100 unique and vibrant coffee shops. Crane Flower Coffee was my brainchild, so many aspects of it (the space and the menu items) come from different coffee shops I was fortunate enough to visit in NYC. It is a mash up of bits and pieces of the New York coffee experience as well as my own creative ideas.
More generally, space in New York is so limited that many coffee shops focus on maximizing small spaces while still creating a warm and welcoming atmosphere. Similarly, we have converted a 3x5 metre single garage and 1 outdoor parking space into a quaint coffee shop that can currently seat at least 18 people (with more to come).
Lastly, many New York coffee shops are cosy spots down small alleys that are not plainly visible on main roads. If you happen to find these places, you leave saying "what a hidden gem!". Although Crane Flower Coffee is easily accessible in central Kloof, KZN, it is a small, cosy coffee shop on a side road. I'd like to think those who have visited (and those still to visit) would also classify it as a hidden gem.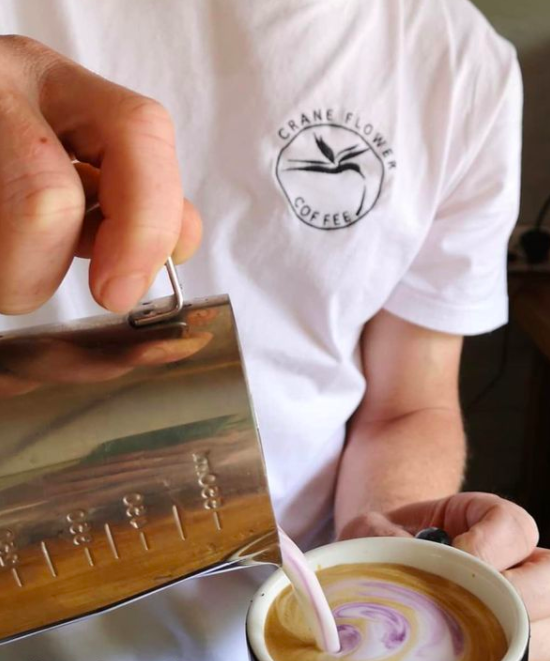 A lavender cappuccino! Very New York ;)
Got something to say? Then leave a comment!
---
Mesmerising works of coffee art by Anita Yan Wong
Friday, 5 March, 2021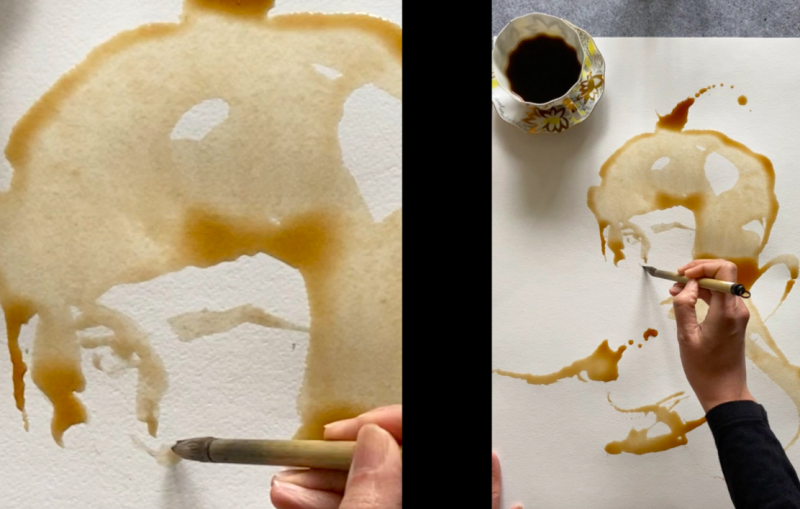 We love watching How-it's-Made content especially when it's as mesmerising as these artworks by Anita Yan Wong, who uses coffee as her base for a new line of portraits.
It really is amazing to watch how these squiggles and brush strokes come together to make the romantic portraits featured below.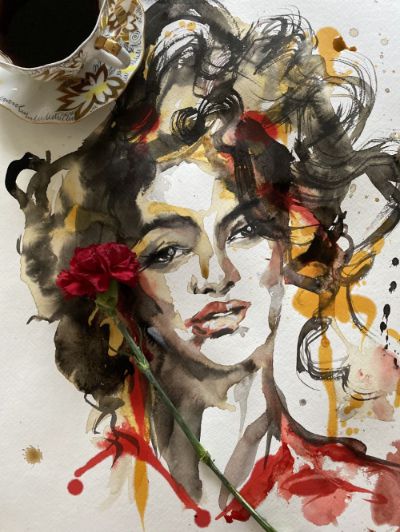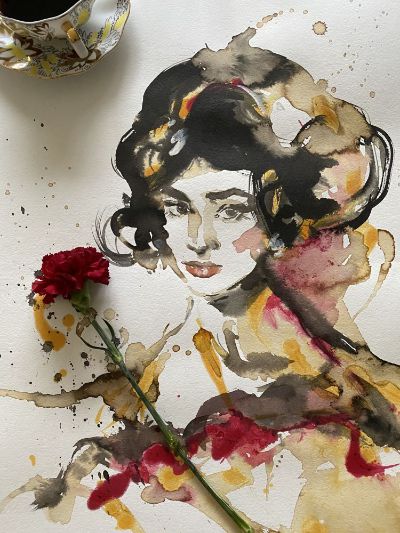 About the Artist: Anita Yan Wong, M.F.A., is an Asian American painter best known for her expressive brush strokes and unique style of "Contemporary Traditional" paintings that defies tradition and modernity. The artist, living and taught at UC Berkeley S.F. extension California in recent years, is a 4th generation Lingnan painter (which originated in southern China in the late 19th century, known for the fusion of mastering modern Chinese, Japanese and Western painting approaches.). Wong worked as an art Professor for over 14 years at MICA, SVA and Temple University before returning to a sole focus on her art in 2015.
Got something to say? Then leave a comment!
---
The Pottery: Paint your coffee cup!
Thursday, 25 February, 2021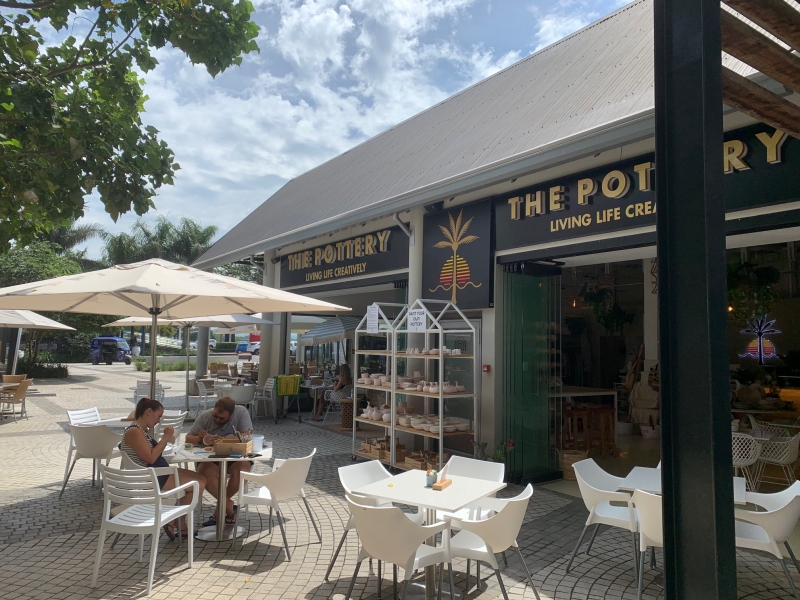 You know what I love? I love surprises. I love it when my expectations are completely blown out the water. If you have met me, you will probably have heard that I am not a fan of the whole shopping mall concept. It kind of fills me with dread, social anxiety and fear that I will spend unnecessary moola. Is that just me? I realise I am a weird one. So while I was very intrigued to make a few coffee stops at the Ballito Lifestyle Centre, I was not on the whole thrilled to be crossing the threshold into a mall scenario.
But then I stepped into The Pottery and there was Nomvelo. She was busy with a very enthusiastic and chatty customer when we approached the coffee bar, set at the back of this bright and airy pottery haven, but she caught our eye and assured us she would be with us soon and honestly my whole body just relaxed. I am a sucker for a friendly face and good customer service and Nomvelo was a breath of fresh air.
I could take in my surroundings while we waited and was blown away by the choice on offer in the store. The idea is that you can either buy the ready made, hand crafted pieces on offer, or you can grab yourself an unfired mug, cup, or any shape really and paint a masterpiece (however abstract!) that is all your own. Sweet! They fire up the in-store kiln every couple of days whenever there are enough pieces to fill the shelves (as you can imagine it takes a lot of power to create that kind of heat) and then you return to pick up your brilliant usable artworks. So fun!!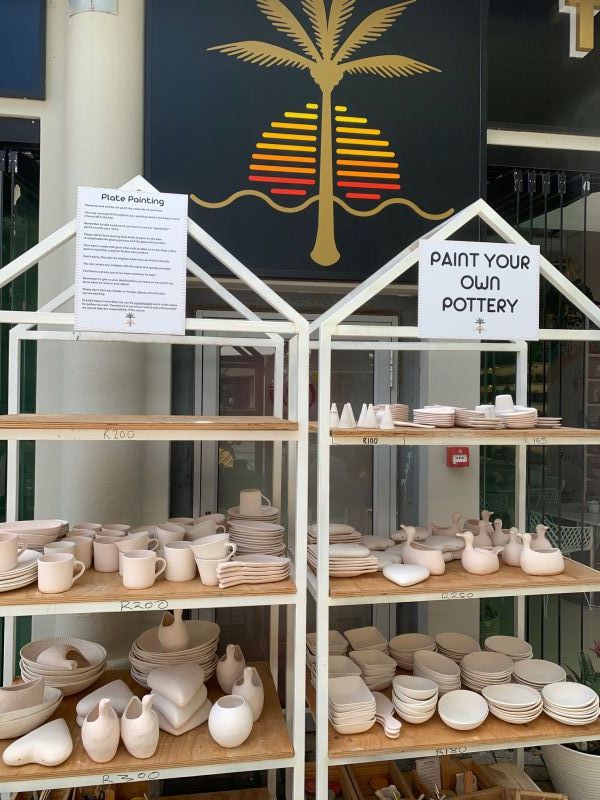 By that point, Nomvelo had thoroughly helped the chatty customer and was all ours. She is in fact the store manager and the barista, Pardon (who would also prove to be delightful) was out on an errand. She informed us of this only after she had served up a lovely looking cappuccino complete with heart latte art and everything! She has been working on her coffee skills and they're using beans supplied by the legends down at Infood Coffee Roastery, which is in fact where we heard about The Pottery and met the owners of the concept, Dillon and Joss.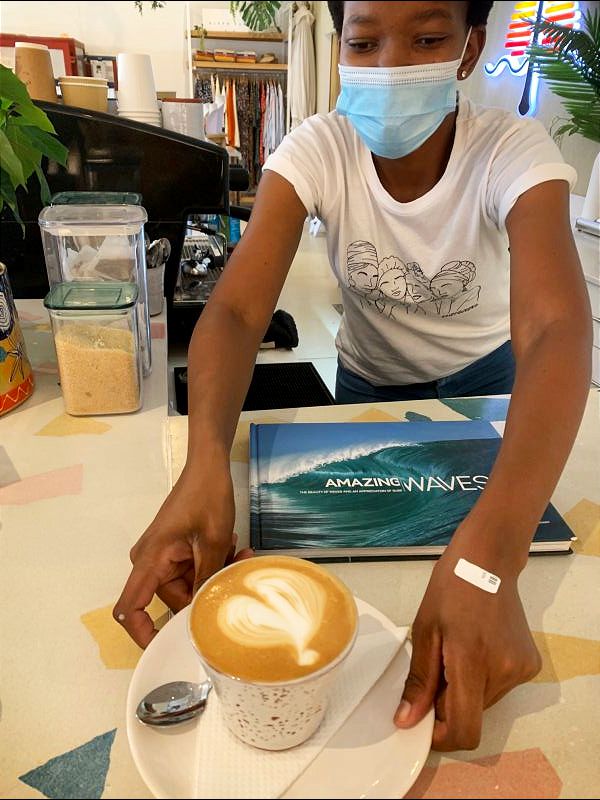 They've got another location in George, Western Cape. Fantastic! Also, thank you to Nomvelo and Pardon for making my day! I can just picture myself sitting outside in the sunshine painting a set of cups soon...
Got something to say? Then leave a comment!
---
Cafe of the Week: Selections Coffee
Thursday, 25 February, 2021
Umdloti, on the KZN North Coast, is one of those rare little villages that has both kept up with the times and remains in its own little village bubble. How they have managed to achieve this is unfathomable and how much longer it will stay that way is a question for another day, but for now, we can just enjoy the small town, good vibes that make it a wonderful place to visit. A new(ish) addition to the beachfront town retail line-up is Selections Coffee, started by a local for the regulars and you can feel that as soon as you walk in the door.
We've always said that a cafe is as strong as its regulars and here we have a pretty great example of that. It began only a few months before COVID hit, but that didn't slow them down, in fact it probably made the regulars even happier to have a place to go that speaks their language. What language is that you may ask? SURF. Well, really anything to do with the ocean.
Named after the infamous Selections Reef which exists along this special piece of coastline, we chatted to David, owner and ocean regular himself. "Look, I'm not a coffee connoisseur, but we know what we like and we serve a good cup. For us, it's mainly about the community."
He gestures up to the surf reel playing on the TV, shot by locals of the locals, even I recognise some of the faces barreling down the waves.
That doesn't mean that they don't pull a mean shot. They have a signature blend roasted by The Coffee Merchant and a team that serves up the good stuff all morning long.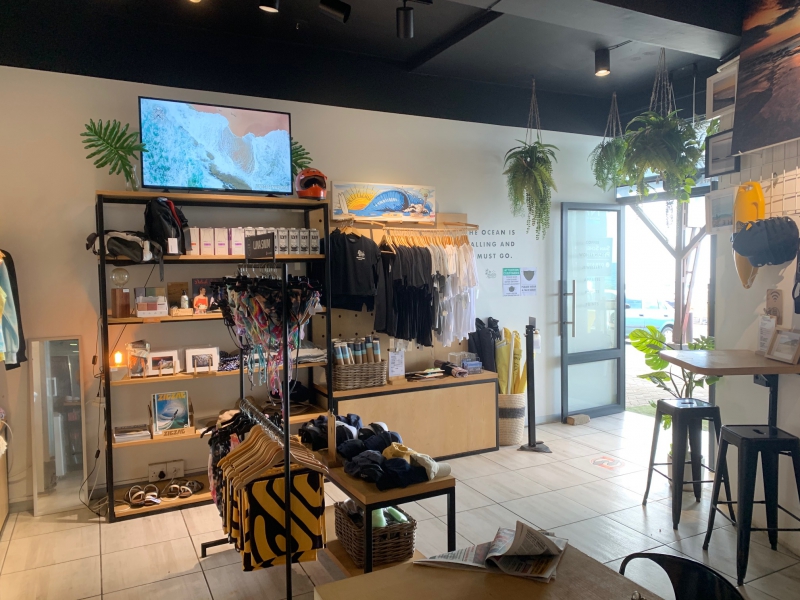 The cafe space doubles up as a surf store, art gallery and general hangout spot for the beach-loving locals.
Selections is as much a community space as it is a cafe. Dave has created a little surf store within the cafe, with bikinis and oceanwear created by locals and a wall where local surf artists can hang their work and sell a few pieces to the tourists and visitors to Umdloti.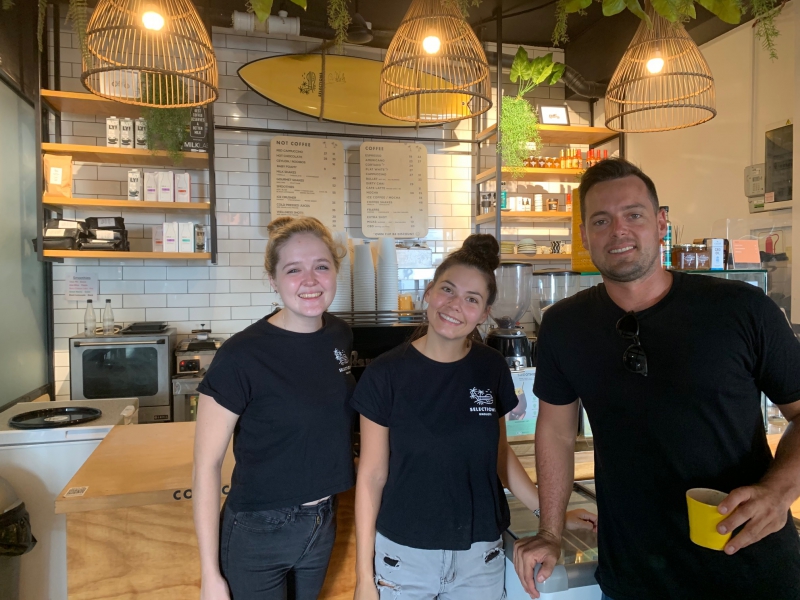 Dave and his team have set up a great community meeting point with good coffee, great eats, art, oceanwear and good vibes.
Dave also developed a cool app for the store - not just for coffee - but literally everything in the store is for sale on the app! It's a great idea, especially in a town where your customers are often more likely to be carrying a towel and cell phone than a wallet or a briefcase!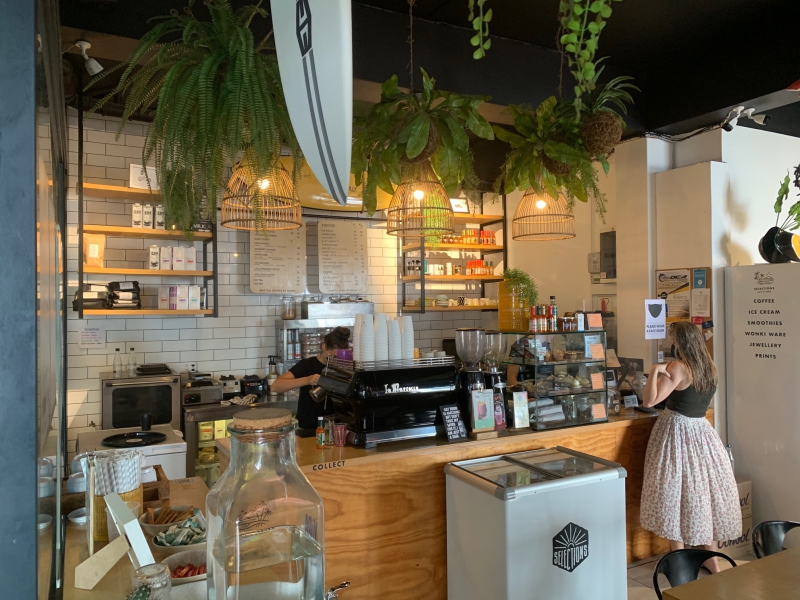 A fresh space in a fresh place. Umdloti is where it's at folk!
Dave has lots of plans for the space - from surf screenings of locals surfing the breaks around the village, to CRP and life-saving training to raising funds for a local outdoor gym. Selections epitomises the cafe spirit of community. Pull in bru.
Got something to say? Then leave a comment!
---
Sweet Dreams are made of these: Our favourite places for ice cream (& affogatos!)
Thursday, 25 February, 2021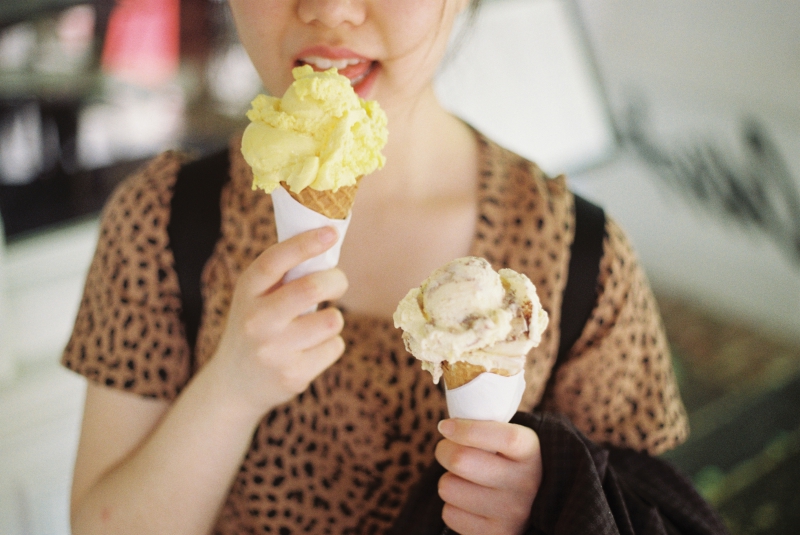 Wandering along the Barcelona promenade late at night on our way home, our nightly ritual was to stop in at Vioko Gelato to try a new flavour. I kid you not, the one night I had an ice cream that tasted exactly like my mom's trifle made only at Christmas time or special occasions, all the layers in one incredible mouthful.
As in coffee, all ice cream is not created equal. In fact all ice cream is technically not even ice cream per say. But what are the major differences between the most common offerings out there.
While both gelato and ice cream contain cream, milk and sugar, authentic gelato uses more milk and less cream than ice cream and generally doesn't use any egg, which is a common ingredient in ice cream. Gelato contains about 5-7% less fat, due to the higher ratio of milk to cream. Surprisingly, air makes a big difference! More air is introduced in ice cream because of how it is mixed. One of the main components of gelato production is that it is churned very slowly, making it much more dense than regular ice cream. Another factor that makes it taste creamier is the fact that it is served at warmer temperatures. Instead of it being super icy, the creamy texture melts into a pool of happiness as soon as it hits your tongue.
Look, we have a soft spot for any and all of these cold and creamy delights, so we've highlighted a couple ice cream innovators, gelato geniuses and one nostalgic soft serve to have alongside or even inside your next coffee treat. There's something for everyone! I scream, you scream, we all scream for…
---
Ice Cream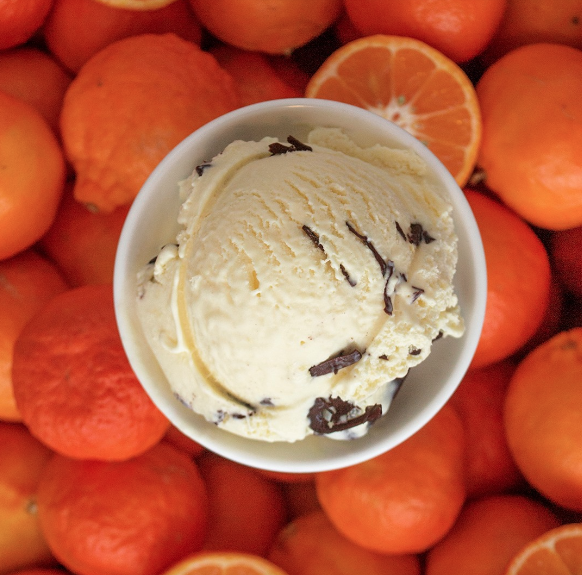 Ahead of the curve in terms of this sumptuous dessert coming back into vogue in recent years, this Cape Town outfit has grown organically and makes the most of locally sourced ingredients for their flavours. We love the way they focus on creations that are proud of South Africa's heritage, from koeksister to milk tart to the naartjie and chocolate chip concoction pictured. Local is always leaker with this crew. Founder and Co-owner, Kate Schrire, studied overseas in the US where she became involved in the Slow Food movement. Excited by the idea of Slow Food principles being applied to business, she began exploring different ideas for a handcrafted, natural product. Thus The Creamery was born back in 2011. They have partnered with Rosetta Roastery for their coffee offering since the beginning and use the beans in their recipes regularly as well.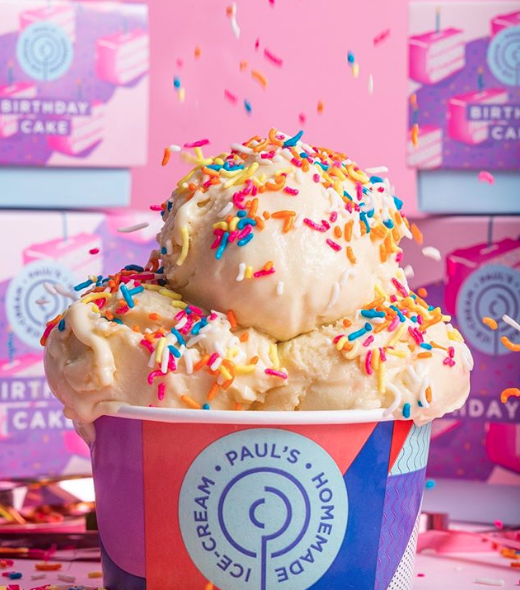 The first time I stumbled upon the Birthday Cake flavour from Paul's in Johannesburg, I thought I had died and gone to heaven. And thankfully soon the brand made its way to Durban's shores. I mean, good for my tastebuds, but bad for my waistline. Moving right along! Paul is an actual guy, Paul Ballen, to be precise. We got the scoop on his
"He grew up in Johannesburg, and started his ice cream journey after receiving an ice cream maker on his 21st birthday. He started making a litre a day, with early experiments of Nutella-swirled milk chocolate and Oreo cookie chunks. Hand-whisking the custard base, he would make a huge mess in his parents' kitchen, getting egg whites and sugar everywhere. Paul's ice cream became available in small cafés and shops in Johannesburg. He then partnered with friend Josh Amoils to help run the growing business. Today, Paul's Homemade Ice Cream is stocked in over a hundred stores, and scoops are available at 12 retail stores nationwide."
We love how much fun they're having with all things ice cream. And doesn't their Dom Pedro flavour look scrumptious?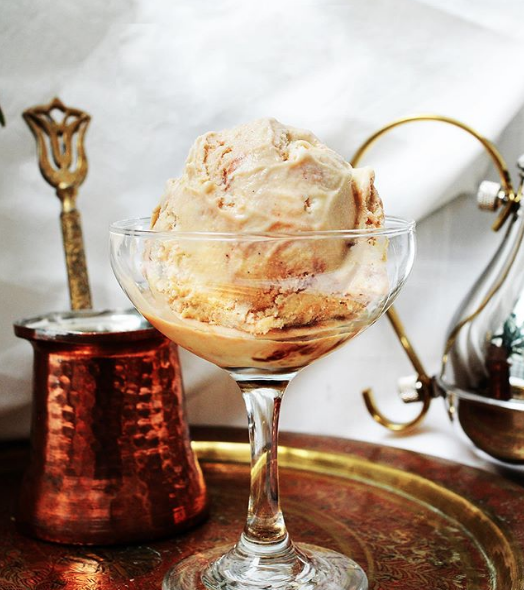 ---
Gelato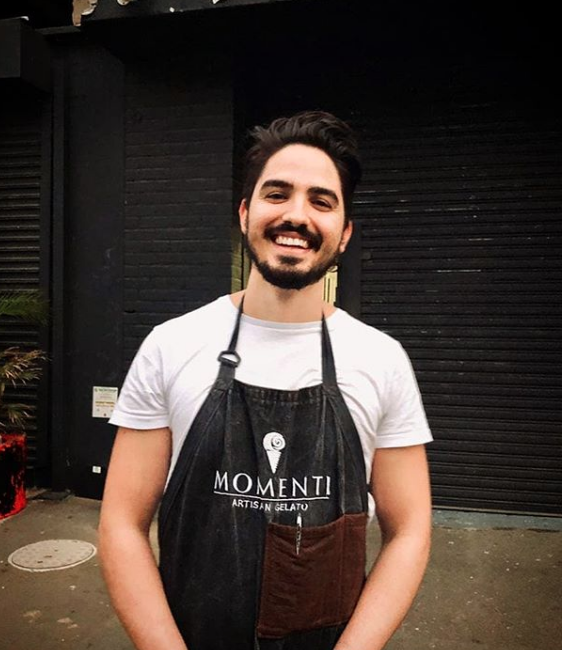 We chatted to owner Edward Papaphotis about his Gelato venture.
How did Momenti begin?
It began with an idea I (Edward) had whilst savouring a cup of gelato from a local gelateria down the road from where I stayed in Sao Paulo. I was teaching English at the time and I knew my interests lay elsewhere, so I pondered on the idea of learning how to make this exquisite frozen dessert. I did some research and found that if I were to take this seriously and embrace the artisanal trade of a Gelatiere (someone who makes gelato), then I would travel to Italy and learn from the source and so I did. I studied at a Gelato University in the city of Bologna, Italy. After my studies I was equipped with a basic understanding of the science and a rough idea of where I wanted to take it. Sometime later after much planning I found a location back home in Durban to open Momenti Gelato, that was in 2017. I have been creating authentic gelato ever since.
Who are the humans behind this growing brand?
I started Momenti with just one human, myself. I knew close to nothing about how to run a business, but I slowly learnt from mopping floors to procuring the best ingredients, customer service and so on. As time went on the business grew, I found more humans with the like-minded enthusiasm for delicious gelato, now we have several staff members from all backgrounds.
Do you use any coffee in any gelato recipes (other than the drinks menu haha)?
We are spoilt for choice in Durban when it comes to great coffee! I use a variety of coffee beans; I like to experiment with different blends to create our cappuccino and tiramisu flavours. This is done by hot infusing the ground 100% Arabica blend into our fresh milk, straining the infusion, and then slow churning the mixture till a soft, smooth texture is achieved.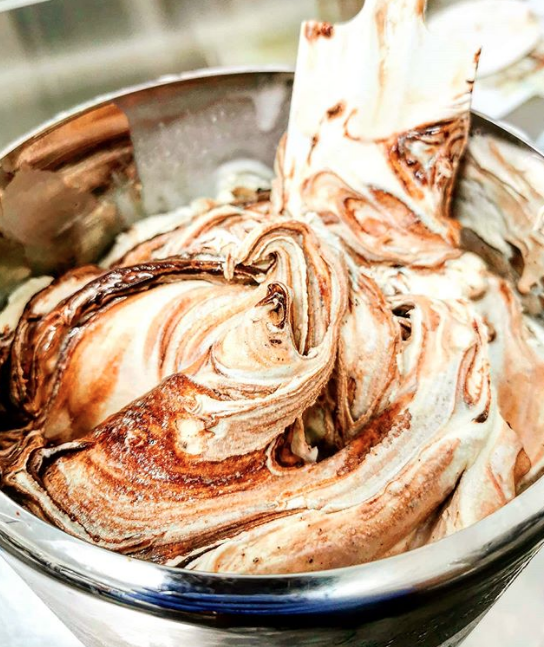 What is your current favourite offering?
I love our Madagascan Vanilla, this is pretty much the foundation of all our Gelati, it is the Margherita to any good pizza. In Italy this would be known as Fior di Latte and would usually exclude the vanilla. You might be thinking well that's anti climatic but the reason this flavour is so important is that one can taste the quality of the fresh milk and cream as well as the pure vanilla from Madagascar, pair this with any other flavour at your own risk. Let us not forget to add a shot of espresso and you have a gelastronomic Affogato on your hands.
If you had to narrow it down to what your 'signature' flavour is, what would it be and why?
Regarding a signature flavour, I have to say there are probably three, Sicilian, Don Juan and Charlie Brown. These flavours have been around since the beginning and are the biproduct of my own mad genius. Sicilian is inspired by Cannoli's, there's chunky bits of pistachio brittle, dark chocolate chip and candied orange rind. Don Juan is just a savoury kind of weird, it's a mixture of caramel chip, roasted almonds, Kalamata olive oil and Maldon Sea Salt. Lastly Charlie Brown is the oldest of the 3 and not the last clever name I will ever come up with, it's a combination of roasted, caramelised peanuts and dark chocolate ganache.
New Address: 1 Ncondo Place, Umhlanga Arch, Legacy Yard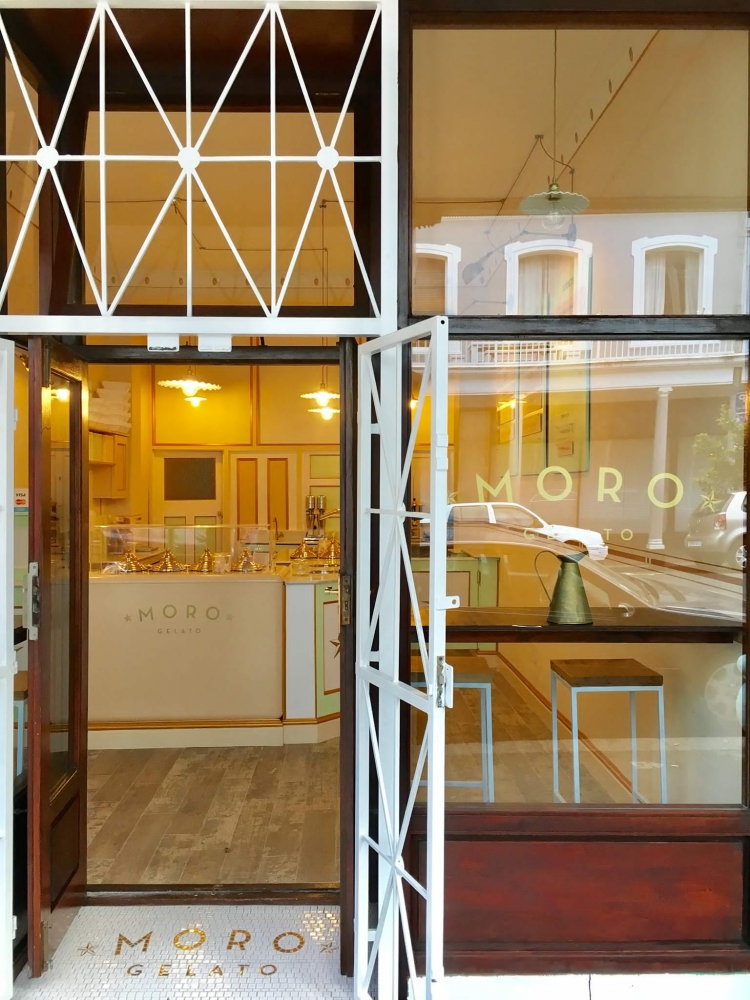 How did Moro begin?
Stefano Moro and Heine Van Wyk met in Italy , precisely Milano, where Stefano was born and Heine lived for 14 years. Stefano's grandmother was making gelato for him since 1982, and Heine thought that South Africa deserved to taste that quality of real gelato.
Who are the humans behind this growing brand?
Heine and Flo make sure the whole business runs smoothly (from training staff to sourcing the best ingredients), while Stefano creates the recipes according to his tradition.
Why did you choose your coffee partner and do you use any coffee in any recipes (other than the drinks menu haha)?
We like Baseline coffee because we know the passion they put in sourcing and roasting coffee. Their coffee doesn't taste overly burnt and bitter, it's a smooth flavour that goes well in our gelato. We use coffee in these flavours : Caffè (just coffee), Tiramisù (layers of mascarpone custard , cocoa, and biscuits drenched in coffee ) , Moka Choco (mascarpone coffee cream with chocolate coffee pralines &hazelnut spread). And all our flavours can become an Affogato, hot coffee poured on a scoop of creamy gelato.
Is there an all-time crowd favourite that people just can't get enough of?
Marchese (caramelised almonds with macadamia nut butter, and vanilla from Tahiti) is one of the most popular flavours, very unique with its nougaty flavour, and the affogato with it - mwah, it's the best!
What is your current favourite offering?
Hard to tell, our flavours keep on rotating. We make small batches of gelato in order to sell it quickly and avoid stocking it . The secret of our high quality is freshness, we don't make today gelato that will be sold in months. It's a misconception that because it's cold it can be preserved for long. Artisanal gelato doesn't have preservatives or hydrogenated fats, which are the secret of industrial ice cream.
---
Soft Serve
Majestic Cafe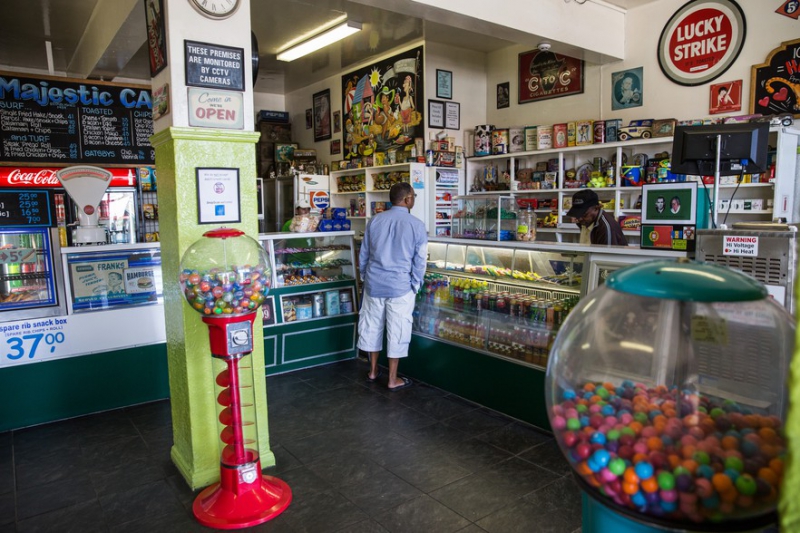 The sweet nostalgia of a soft serve swirl is a staple in all the memories of children who grew up in sunny South Africa. We heard on good authority that for an all-round step-back-in-time experience including the soft serve, Majestic Cafe in Muizenburg, is a must. And while they may not call it an affogato, the soft serve topped with a short shot of espresso is definitely on the menu and a record number of them fly out the door. You will likely stand in a (socially distanced) queue to experience this old style ice cream from this iconic spot, but there is no way you'll regret it! Majestic Café Originally opened in 1937. "Muizenberg has always been for everybody," said Nelson da Silva who runs the famous cafe. He has been working in the store for over 25 years and his father was the store's fourth owner.
44 Beach Rd, Muizenberg, Cape Town, 7950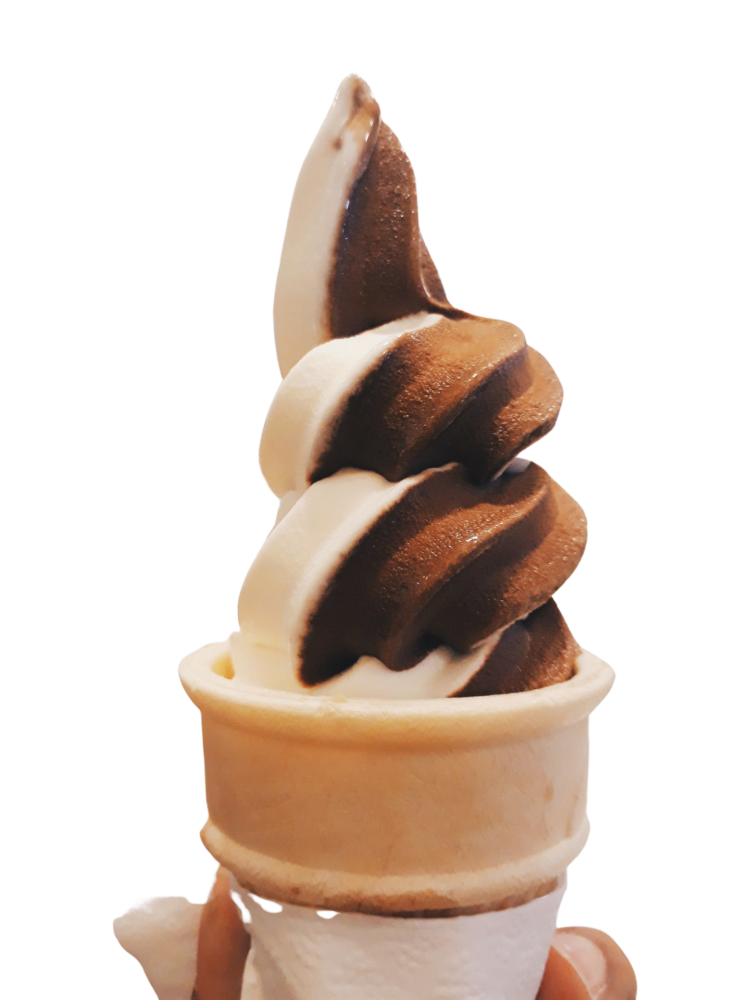 Got something to say? Then leave a comment!
---
Questionnaire: State of the Coffee Nation
Friday, 19 February, 2021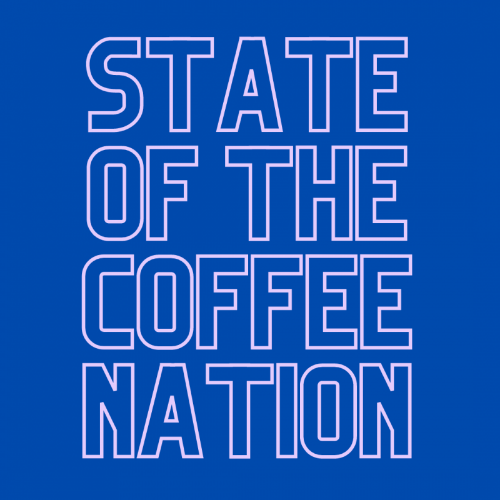 It seems no part of our lives will remain untouched from this C-19 thing. We're working on an article about the impacts of the epidemic on the coffee space a year after it hit us. We look forward to hearing your experiences!
And if you make your voice heard, you stand a chance to win goodies to the value of R1000!
Thank you for your participation!
Got something to say? Then leave a comment!
---
Cafe of the Week: Shazmin's Patisserie
Thursday, 18 February, 2021
Talk about commitment to a theme! The team from Shazmin's Patisserie have taken the colour pink and gone deliciously wild! We caught up with Shazmin herself to find out more behind this brand that is turning heads.
All photos from their website and Instagram, go give them a follow! But fair warning, you will be left craving their goods!
---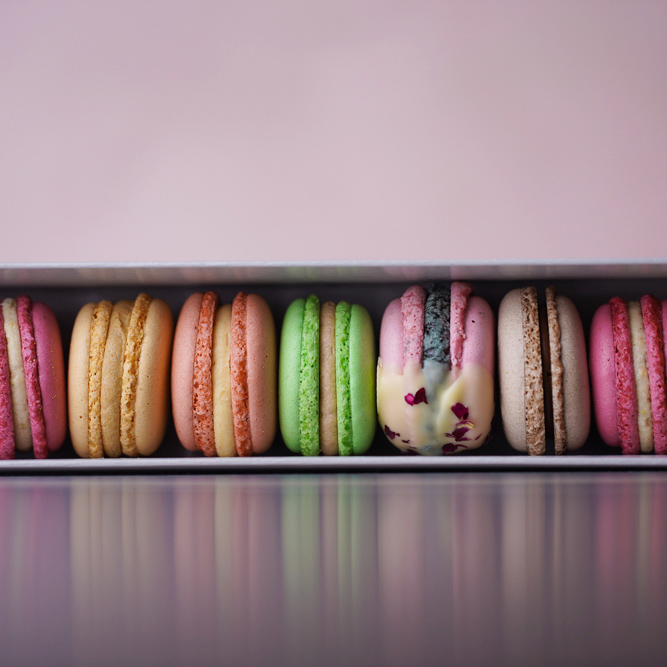 Who are the people behind Shazmin's Patisserie?
My journey began in 2010 as a home industry baking small batch cupcakes & macarons in my home oven. Fast forward 10 years, I'm now the Head Pastry Chef (with a team of 5 bakers) working out of a commercial kitchen based in Centurion. We are a husband & wife team who make dreams turn to reality. We both focus on different aspects of the business making sure the day-today activities run smoothly. Shazmins Patisserie is a 90% female empowered business as I feel very strongly about women empowerment.
Can you tell us how your idea came to life?
Shazmins is always looking for trendy ways of marketing our products to the consumer. In November 2019, we launched South Africa's FIRST Cupcake ATM and the WORLD'S FIRST Macaron Ice-Cream ATM in Sandon City. Yes, an automated machine that spits out cupcakes & ice creams!!!! The result? Online sales rocketed and we needed a walk-in base patisserie for customers. something small, cute , pink & screaming luxury...November 2020 , Shazmins decided it was time to open up our first LUXE COFFEE BAR & PATISSERIE in Sandton City Mall.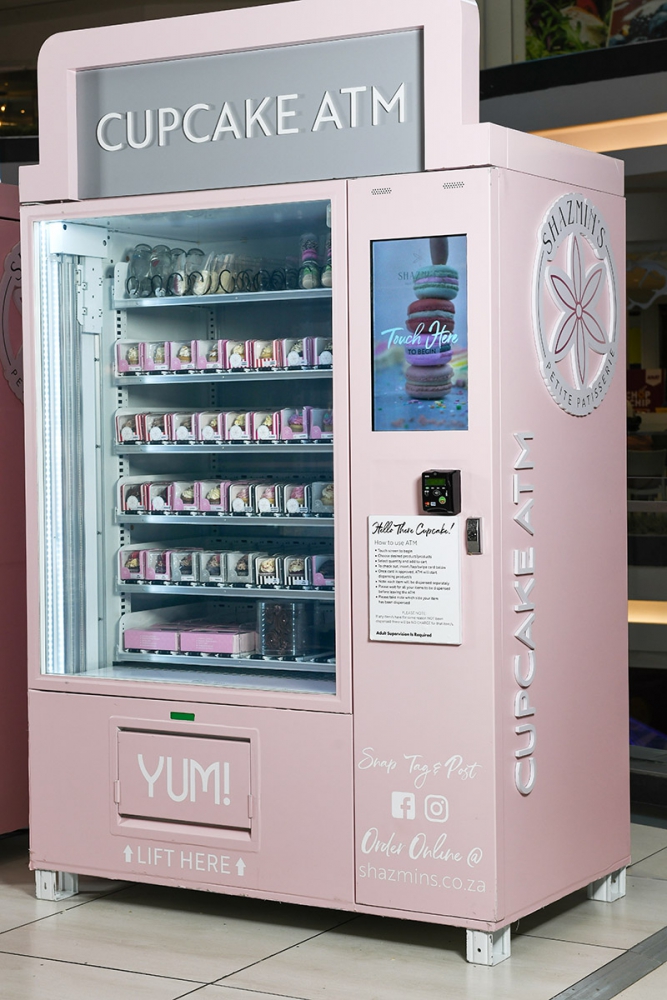 How important is coffee to your business and what coffee and coffee equipment do you use?
Coffee is an integral part of our business. We have sourced our own house blend coffee and used this as a base to curate our PINK instagrammable coffee range which has been such a big hit since we started. We use our cute pink SIMONELLI coffee machine and have been told by many that we serve the best coffee in jozi!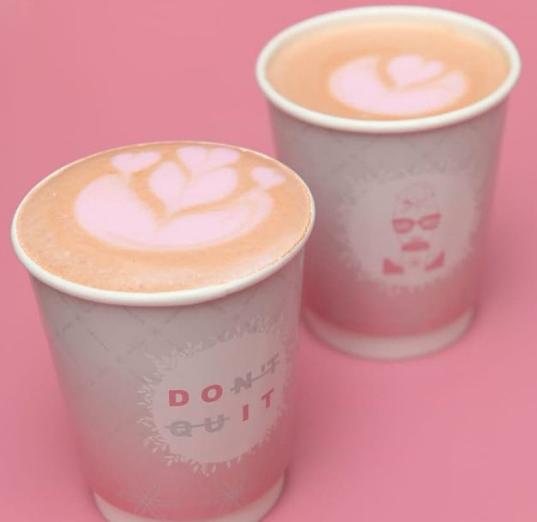 Tell us about that delicious looking pink coffee that has become an Instagram hit!
We knew we had to add this gorgeous, trendy colour to our coffees too! not only does it look so good but tastes absolutely amazing too!
Cappuccino + Shazmins = PINKaccino!
(an espresso based drink using our house blend coffee topped with Shazmins signature PINK foam... finished off with some amazing latte art from our talented baristas of course!)
We love your Boss Lady attitude towards life! What drives you and what advice can you offer to other female entrepreneurs out there?
I think it's very important to love what you do! As stressful as my job is I never feel it to be a burden- I always change my mindset to that of positivity- it really takes you a long way.
STOP being dependent on others- do it yourself - for yourself! I am always told that I am such a risk taker(haha). Yes, so some things are risky and you never know how things may turn out for you but hey, rather TRY & FAIL THAN FAIL TO TRY. The lessons you learn as you go along building your own path in life can NEVER be taught in any other way. These are life's greatest blessings. Don't overthink things too much. Women have so much potential and sometimes you just need a little push and encouragement from another woman to help you take that step and assure you that there is light at the end of the tunnel!
Got something to say? Then leave a comment!
---
New Kid on the Block: Pang Specialty
Thursday, 18 February, 2021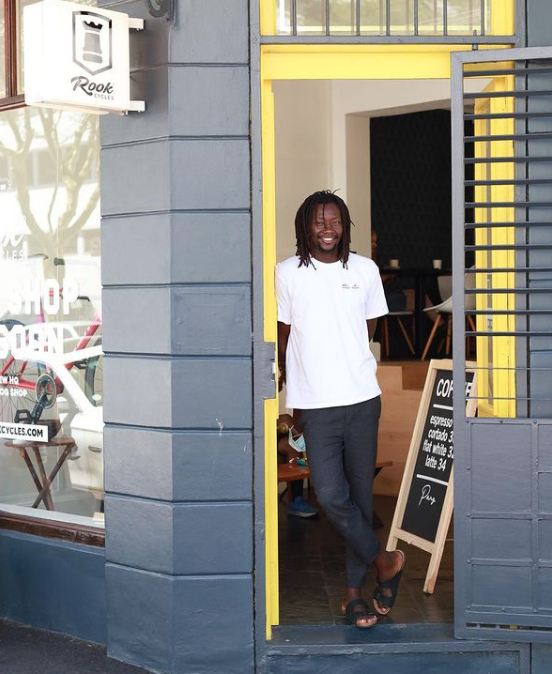 We love Pang! He is a very talented coffee professional and photographer and we have loved getting to know him a bit over the years. He has now started his own coffee bar! And we can't wait to visit!!! You should go hang out with him at this stylish new spot on Bree Street, Cape Town.
All images from their Instagram page.
---
How did you fall in love with coffee?
Two Danish guys insisted that I became a barista between studies. They were here for a six-month internship and they needed someone to manage their cafe. I attended a barista course at the time for two months and learnt the tricks of the trade. During this journey, I found myself falling head over heels with coffee, cup by cup. Before I knew, I had developed a passion for the art. The rest, as they say, is history.
Congrats on opening your new specialty coffee bar! Tell us about how it all came together please? The partnership of fixie bikes and specialty coffee seems like a good fit!
Well, cycling and coffee, what more does one need? I have always been cycling, it's been my way of getting around and I've always thought the two-wheeled life is the best one. Rook Cycles got in touch with me - as a local manufacturer of fixed gear and single speed bikes - to check out their store. I developed a good relationship with the guys and their new space is stunning and the puzzle pieced seemed to fit together too naturally to consider anything else.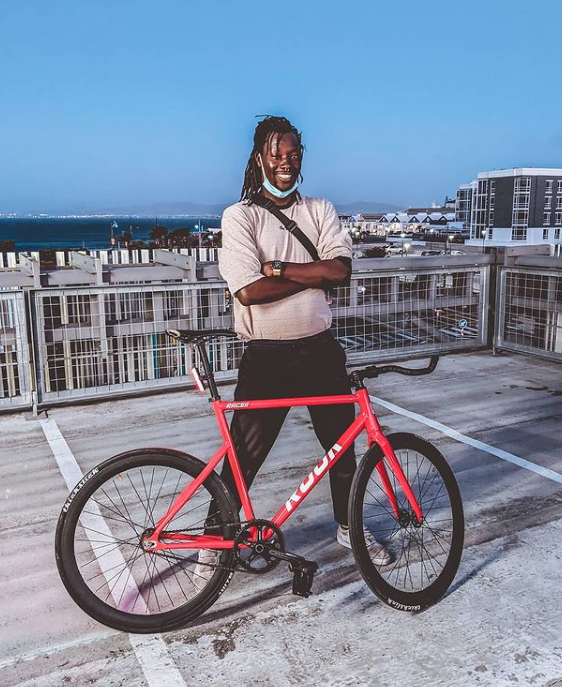 What coffee are you serving at Pang's Specialty?
Keeping it local and lekker, we serve coffee from Rosetta Roastery. Agua de Nieve is the go-to from Peru and it's perfect for everything from an Americano to a full-bodied flat white.
What is your favourite beverage on the menu and how would you recommend people try their coffee on their first visit to Pang's?
The best thing to recommend is a cheeky Cortado, but I often go for a flat white myself to wake the day up just right.
You take amazing portraits of people! And it seems you already have a strong community and following around you after having been open only a little over a month, how important is community to you?
Community means the most to me and to this space. The people around me not only create a vibe, but they're the reason this place exists. A lot of spaces seem to create cliques and exclusivity, but this is where anyone can come and feel at home. I've worked hard on offering a space for creatives to craft, for cyclists to caffeinate, for homies to hang.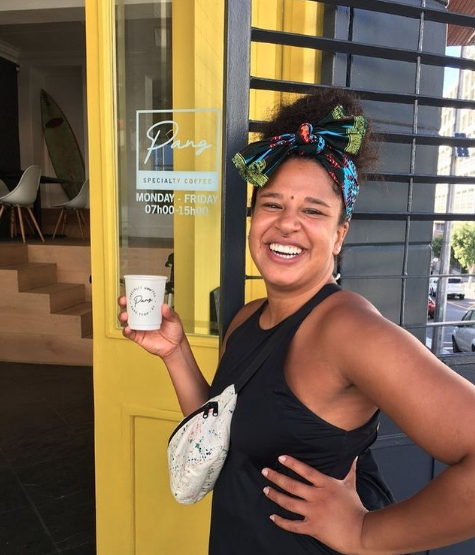 Where can our readers find you?
To come grab one of Cape Town's finest coffees, come find me at 173 on Bree Street. You'll see the bikes in the window and know you're in the right place!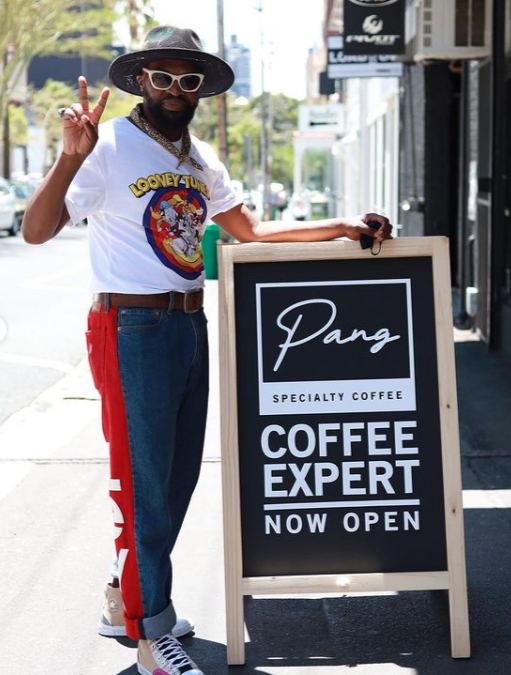 Got something to say? Then leave a comment!