Green Bean Training Courses with Sevenoaks Trading
Friday, 21 January, 2022
Did you know that there are different varietals and grades of green coffee? Ok, hold up, hold up, hold up. Let's take a step back.
If you're a consumer and you buy a bag of beans, generally you are told it is 100% Arabica. Or a blend of Arabica and Robusta.
But within the Arabica family, there are many different varietals, you may have heard of a few, Bourbon, Typica, Caturra, Heirloom.
And then there's a grading system. It can vary from origin to origin, but generally coffees are grading by their processing method and the amount of defects found in an average 60kg bag.
There is so much interesting information that it can full a whole 2 day course! And that's just a beginners course!!
So if you're thinking of getting into the coffee roasting business or you're already in it, but could definitely benefit from learning more about the raw product that makes the final cup, then the Sevenoaks training courses are for you! See below information from their website and visit the site to book your spot in either Joburg or Cape Town.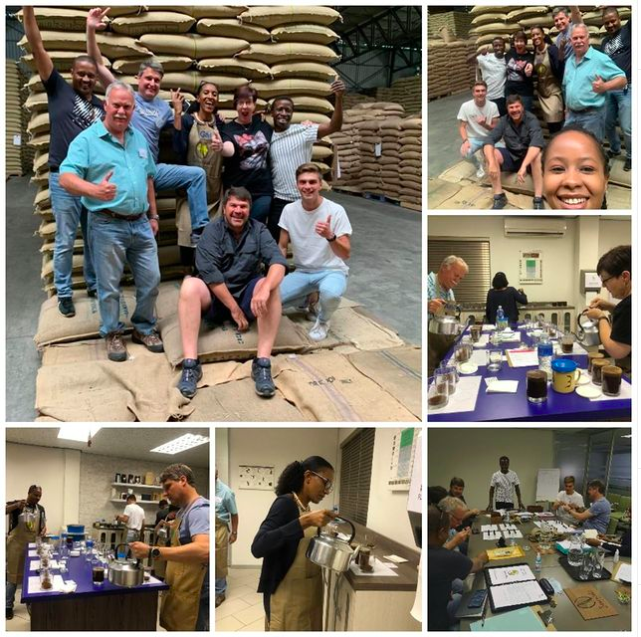 Image courtesy of Sevenoaks Trading
---
Our BASIC GREEN BEAN TRAINING COURSE takes place over 2 days from 9am to 4pm.
We offer the training in Cape Town and Johannesburg at a cost of R3,350.00 inclusive of VAT.
Presented by our coffee experts and Arabica Q Graders, Nicodemus Nabakwe in Johannesburg and Mike Mac Donald in Cape Town.
Day 1 – Learn about green coffee origins, coffee processing methods and how they impact the final cup, grading and roasting.
Day 2 – Engage in cupping different origins, blending and finally brewing in different forms/methods.
The training covers everything from history, growing, processing, shipping, roasting and brewing of coffee.
The first day is mostly theory, whereas the second day is hands-on practical with roasting, blending, cupping and brewing.
Our next courses:
Cape Town: 16th and 17th of February 2022
Johannesburg: 22nd and 23rd of February 2022
We are still limiting our classroom sizes to six (6) students to ensure Covid safe practices are adhered to, therefore please book and pay promptly as seats cannot be reserved.
Got something to say? Then leave a comment!
---
IMA and Caffe Borbone : partners who combine quality, sustainability and efficiency
Wednesday, 12 January, 2022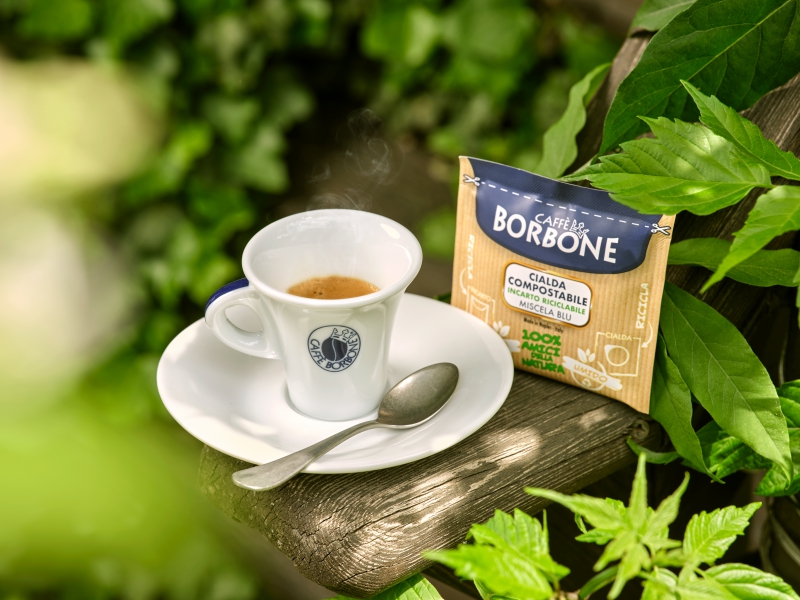 A now historic collaboration between two companies: Caffè Borbone, a pioneering Neapolitan espresso brand, and IMA, leader in the design and production of packaging machinery, started in 2009, when Massimo Renda, executive president of Caffè Borbone, with remarkable foresight, and showing a clear long-term business vision, chose IMA as the supplier of a dedicated integrated machine for the production of coffee pods complete with outer envelope and packed in cartons.
The two companies share the same corporate strategy and values, as they've always championed product diversification, and focused on environmental friendliness and social and economic sustainability. Both are also extremely innovation-oriented, drawing on their solid experience in the field of research and development.
Not surprisingly, since 2021 IMA has followed and supported the Borbone project based on the conversion of CA3 machines, to ensure the best sealing of the pod wrapping material, perfecting the sealing technology with the aim of putting on the market a product that is completely recyclable after its separate collection as paper.
On this subject, Massimo Renda says: "The 100% Amici della Natura compostable pod is the tangible expression of our commitment to searching for increasingly "green" and environmentally friendly solutions.- which we feel is our duty towards present and future generations. We started going down that road a long time ago. Not surprisingly, we were the first to put compostable pods on the market, and today we are industry pioneers thanks to our fully disposable wrapping suitable for waste paper collection. Thanks to our approach, which has always been innovative and forward-looking , we will continue to work to improve the consumer experience, focusing on ever higher quality standards and even more sustainable solutions. Synergy is key for me - continues Renda. I have always looked for reliable partners who shared my own values. Quality and sustainability are among the founding principles of Caffè Borbone, supplemented by an advantageous use of technology, capable of enhancing and above all preserving the sensory characteristics of our product. For this reason, IMA immediately stood out as the ideal partner".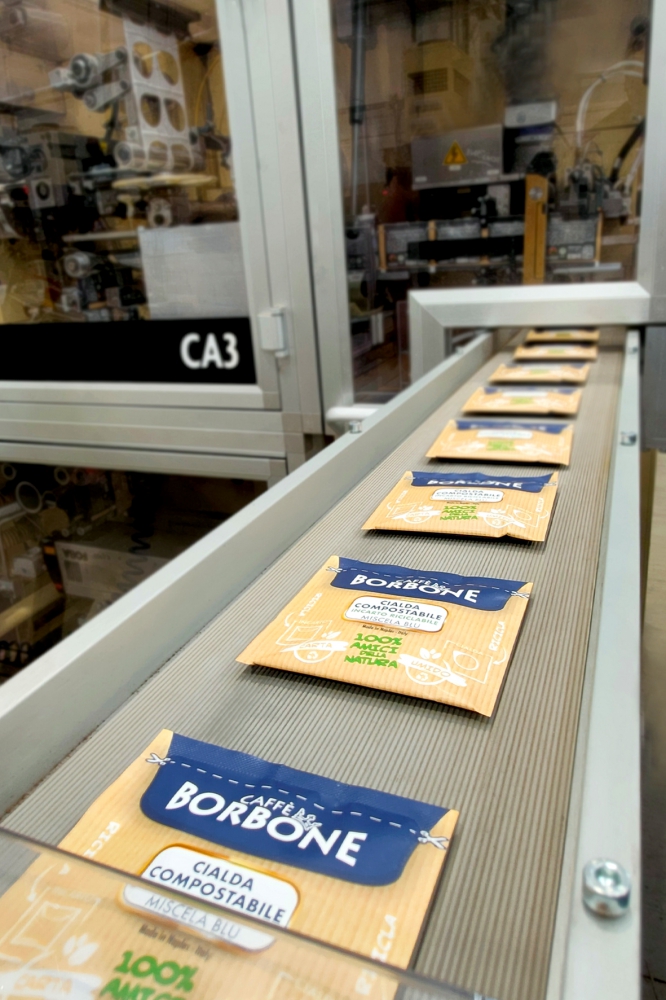 The partnership between our companies was indeed successful from the word go - based as it is on close collaboration, guided by a shared spirit of growth, which paid off by resulting in a long-term project based on sustainable principles and efficiency, and above all, aimed at preserving the quality of our products. Packaging is, in fact, one of the key factors determining product quality, because it also allows for longer shelf-life, and innovation is always a key asset, particularly in the food sector. In the coffee industry, a good packaging system allows the product to be preserved from contact with oxygen, which causes the oxidation of the molecules that give coffee its taste and aroma. CA3 by IMA is a compact, fast and integrated machine capable of packaging both soft and compact pods, in a modified and conditioned atmosphere, which can be maintained thanks to the constantly controlled feeding of nitrogen in a protected environment, inside of which humidity and temperature are unchanged to ensure the highest product quality.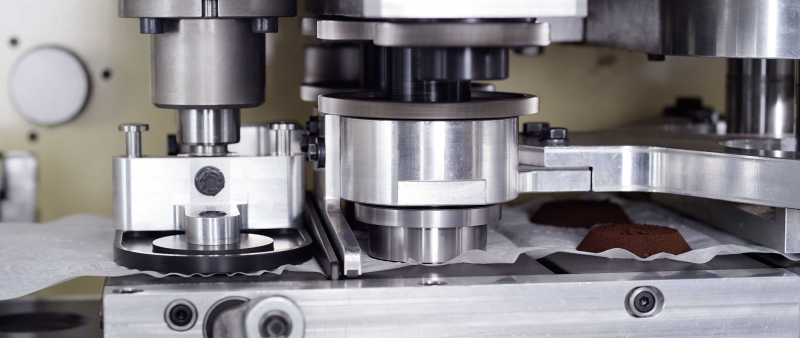 Caffè Borbone, a standard setter in the compatible capsule market, has relied from the very beginning on IMA Coffee, a company that offers an extremely wide range of solutions, in terms of both production capacity and type of capsule and material to be used, thus contributing to the complete renewal of the range of machines for compatible products. The goal was to increase production volumes, confirming Caffè Borbone's expectations from capsule technology, i.e. better preservation of the taste of its Neapolitan espresso. This can be achieved by sealing the aroma of freshly ground coffee in the packs. An important goal, which has since become one of the core values of the Neapolitan brand.
Packaging for Borbone is a hallmark of top product quality: a constant challenge that fuels the research into - and development of - increasingly advanced technologies, with extra focus on efficiency and production capacity.
About Caffè Borbone
Caffè Borbone is a Naples-based company, active in the business of roasting, production and marketing of compostable coffee pods, compatible capsules and coffee beans, founded by Massimo Renda in 1997. Born as a small-sized family business, thanks to Renda's foresight it has quickly grown to secure a leading market position. In 2018 Renda decided to ask for support from Italmobiliare, the largest Italian investment holding company, to build a long-term vision for his business. This helped Caffè Borbone acquire a structured governance, able to support its demanding and ambitious development plans. An outstanding story of entrepreneurial success. After closing 2019 with sales for 173 million euro, in the first half of 2020 Caffè Borbone achieved a turnover of 104.1 million euro, up by 21.1% compared to the same period of the previous year. These figures are the result of a disciplined approach, of a development effort and of solid production and organizational efficiency, which have made the company the most efficient player on the Italian market, thanks to high profitability.
About IMA and the COFFEE HUB
IMA, a company founded in 1961 and leader in the production of automatic and process machinery, now includes a special Coffee Hub the result of its expansion and diversification strategy, which led to the acquisition of pre-existing production companies, both in the process field (Petroncini Impianti) and in the Packaging sector (Spreafico Automation - Tecmar sa). As part of the corporate strategy, the company has also acquired a wide range of solutions capable of responding to every market need.
IMA's Coffee Hub is a unique industry player worldwide - able to offer consulting services and all the technology necessary for the construction of complete roasting plants, from green coffee receiving to roasting, and from grinding to packaging of pods, capsules, packs, cases, pallets, etc.
Got something to say? Then leave a comment!
---
New World Barista Championship Sponsors Announced for 2022-2025
Friday, 14 January, 2022
The pinnacle of competitive coffee, the World Barista Championships may seem very far from your local cafe experience, but what happens at these competitions has a large impact on trends that trickle down through the various sectors of the coffee industry.
Big news for this competition is that the three Official Supplier Sponsors have just been announced for the next cycle and they're all new! The espresso machine is one we have yet to see on the southern tip of Africa. The grinder, the Mythos by Victoria Arduino, is a well-known and loved favourite, but it will make the competition interesting as many baristas have opted for using the single dose grinder option from the previous sponsor, so a new challenge. And the water sponsor responsible for production and management of water across the event is now BWT.
---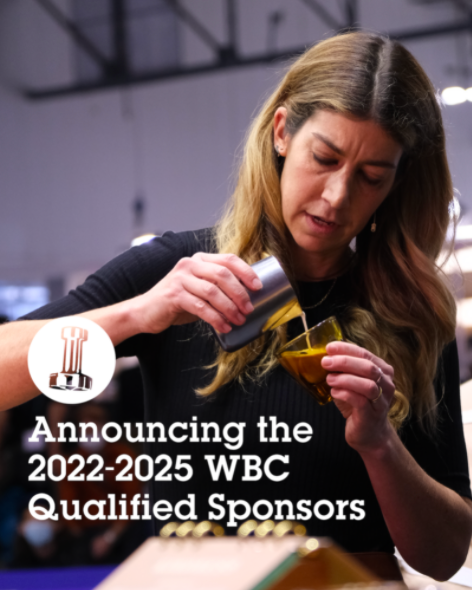 January, 2022 – Announcing the 2022-2025 World Barista Championship Qualified Sponsors
The Specialty Coffee Association (SCA) is proud to announce qualified sponsors for the 2022-2025 World Barista Championship (WBC); the Tempesta by Storm Barista Attitude is the Qualified Espresso Machine, the Mythos MY75 by Victoria Arduino is the Qualified Espresso Grinder, and BWT water+more is the Qualified Water Filtration sponsor.
The World Coffee Championships (WCC) are made possible thanks to the support and dedication of a wide array of organizations and individuals. Integral to that support are qualified sponsors, the manufacturers who provide the equipment and products that competitors use on stage. These sponsors sign multi-year agreements to support the strategic growth of the competitions, and dedicate time and resources to ensure that every world championship competitor is using the same high-quality equipment.
"These companies share a strong commitment to advance specialty coffee by creating outstanding products," said Yannis Apostolopoulos, SCA Chief Executive Officer. "We are honored to work together with them for these next four years to pursue our common goal of promoting coffee excellence worldwide. Their continued support extends far beyond the WCCs and includes other major SCA programs, including free resources and events for the global coffee community."
"We are thrilled for the achievement of WBC sponsorship, the starting point of a journey composed of learning, exchange, and growth, hand in hand with the specialty coffee community", said Federico Gallia, from Ryoma Holdings, Storm's parent company. "It's a great opportunity to improve ourselves, our products, and ultimately, the industry at large by holding the same values. This is what will fuel our spirit, our attention, and our dedication to supporting the WBC."
"As CEO of Simonelli Group, I am proud to confirm our sponsorship for the most prestigious competition in the world, the WBC", said Fabio Ceccarani, Simonelli Group CEO. "Being a WBC partner ensures Victoria Arduino the possibility to remain close to the front end of the coffee supply chain, understanding insights and driving Simonelli Group's technological innovation toward supporting the SCA and the coffee community as best as we can. We'd like to congratulate all the sponsors who, together with Simonelli Group and Victoria Arduino, will have an active role in the next cycle of WBC competitions."
"Being the official sponsor of the WBC makes us extremely proud, as it is the next step in our long-term support for the international coffee community, perfectly guided by the SCA", said Dr. Frank Neuhausen, Managing Director of BWT water+more Deutschland GmbH. "For more than 16 years we have established a very special relationship to the world of coffee, gaining deep insights into how the perfect water contributes to the perfect coffee quality in the cup. This close cooperation has enabled us to further develop our practical solutions for water optimization for daily business, worldwide. Serving the perfect water for the WBC marks a new milestone in our support for coffee enthusiasts.
Manufacturers submit their equipment and products for performance testing in order to be
eligible for qualified sponsorship. The testing and qualification process used evolved from the work of WBC volunteers who, around 2004, began setting the standards for espresso machines that could withstand the fast-paced environment of the competition stage. In 2011, the test became the standard for all WCCs. Since the creation of these standards, and as the specialty coffee industry has evolved, manufacturers have continued to push the envelope on equipment functionality and quality.
Testing for the 2022-2025 WCC Qualified Sponsorships took place in Milan, Italy, in October 2021. More Qualified Sponsors across the World Coffee Championships will be announced in the coming months.
Got something to say? Then leave a comment!