In Pictures: Cafe Life in Covid-19
Thursday, 18 February, 2021
When we look back on this past year (& likely the year(s) to come), what will we remember about cafe life? We asked Pang Isaac to document the cafe space in June 2020
All images Pang Photography
---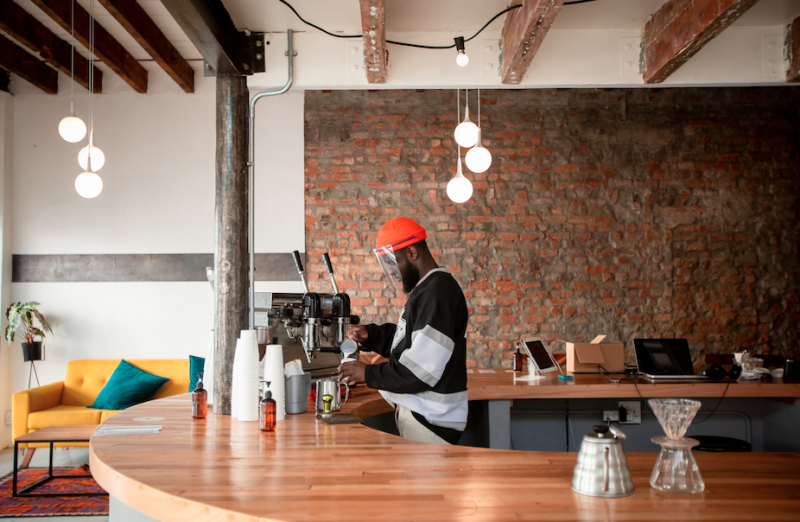 "Masks, sanitizer, take-away cups only…while COVID-19 has changed the way that coffee is served, it has not changed the way that coffee serves the people. The demand has been as high as it ever was and as a result many roasteries were deemed essential services in the food supply category. The difference has been in the way Café's and baristas have managed to get coffee to the people and have been forced to adapt to a new reality of serving their customers"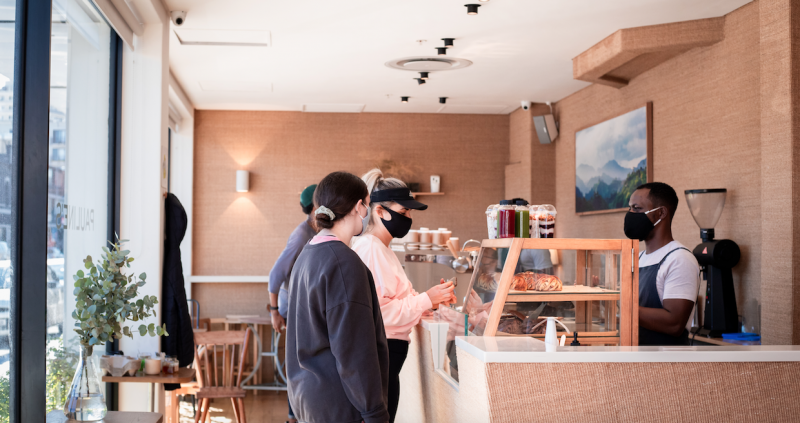 ---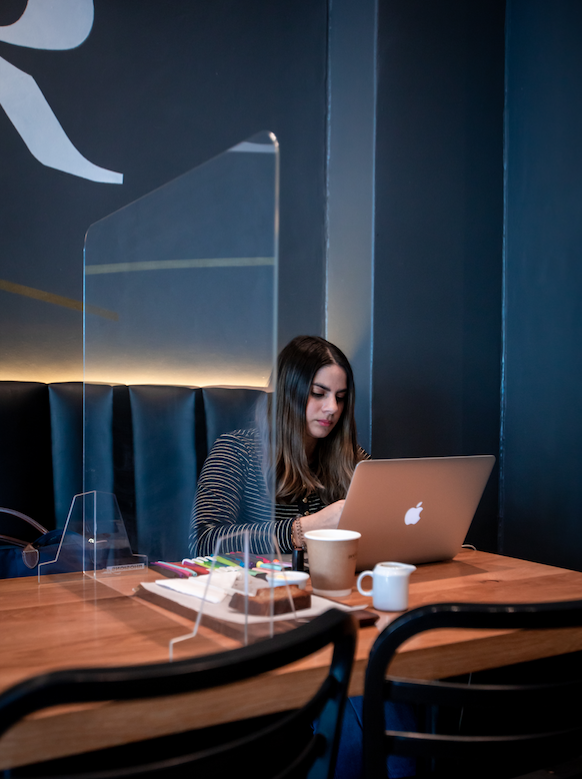 "The hard lockdown or Level 5 lockdown saw Café's being forced to shut on April 16th 2020. Since then, some businesses have closed permanently, others tentatively re-opened for Take-Away coffee only and others, finally, opened their doors under strict social distancing guidelines with a limited numbers of patrons allowed. This customer finds a quiet corner inside Bootlegger, Cape Town, behind a Perspex screen, to work at. Great innovation from the Bootlegger team."
---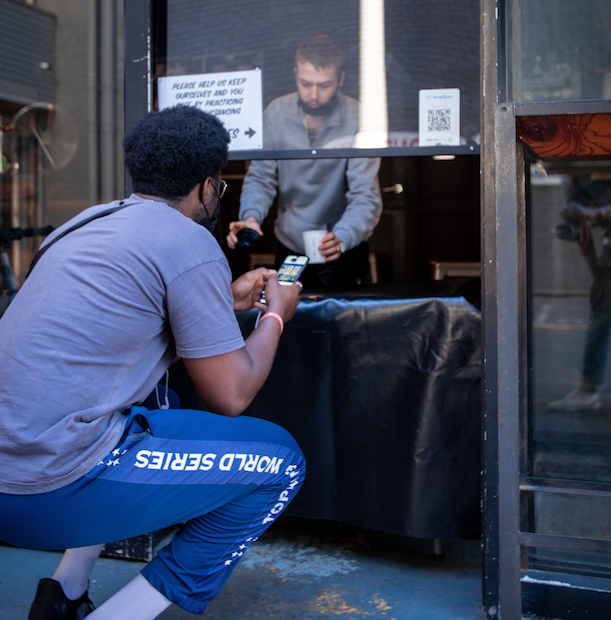 Café's are designed as comfortable, social spaces yet COVID-19 has forced a change in almost all areas of the Café experience. From touchless payment mechanisms, to receiving coffee through a discreet opening in the wall, to the bleak and somewhat lonely experience of drinking coffee alone, the question remains: How will Café's re-imagine the experience to create a new reality? Are we biding our time during this pandemic or will there be a lasting effect on this culture?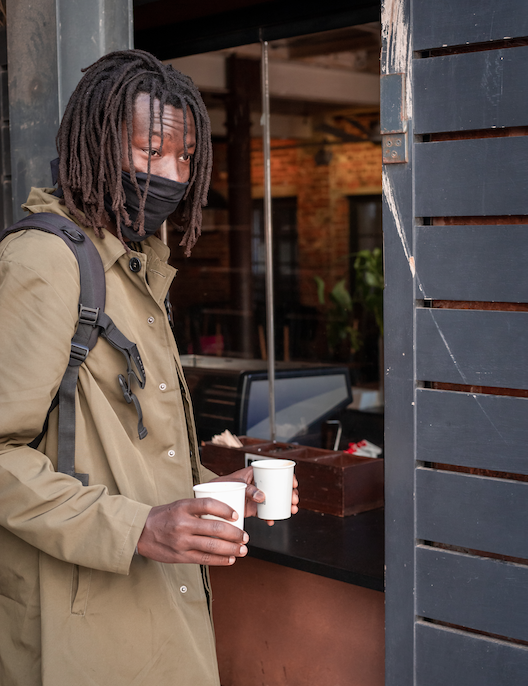 ---
"I'd like a tall, skinny, extra-dry, decaf, hazelnut latte please". Pre-COVID-19, wearing masks in public was unheard of in South Africa. It was something seen mainly in overseas airport. Now, it is law. It is necessary but it is also uncomfortable and makes it difficult to communicate. Add to that the fact that we speak many different languages in this country and you're bound to have some frustrating experiences! Please bear this in mind the next time you order, especially if your order is a complicated one.
---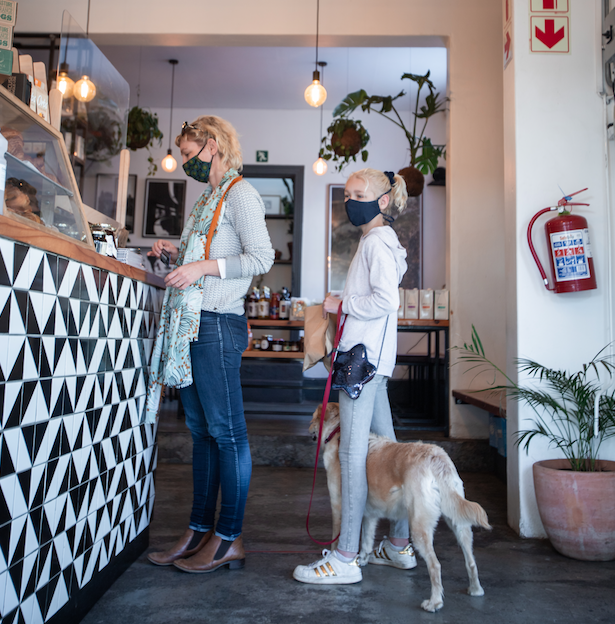 Coffee breaks – even just walking to the coffee shop during the 6am – 9am prescribed exercise times mandated by the law during Level 4, quickly became a ritual for many. The briefest taste of freedom, a liberty we'd all taken for granted, was seen through new eyes and appreciated by all members of the family. Even the four-legged ones.
---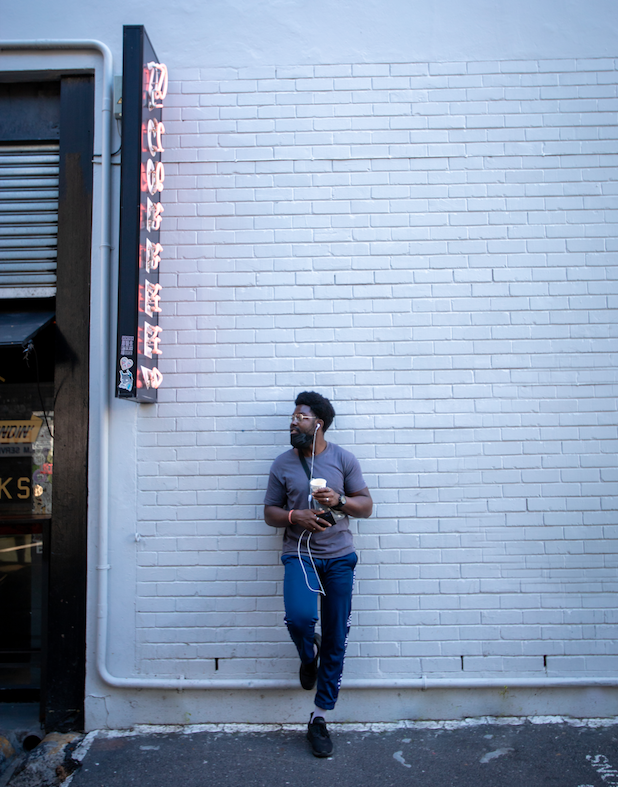 Got something to say? Then leave a comment!
---
George Coffee Blitz! Visits to a couple Garden Route gems
Thursday, 18 February, 2021
The coffee scene in South Africa has really taken off over the past few years, and one of the huge advantages of publishing a magazine like ours is that we get to hear about all the newest little cafe's, coffee shops and roasters popping up in all sorts of unlikely places. There are little country towns, there are industrial parks and some gritty inner city spots where you can find the most fabulous coffee and passionate people.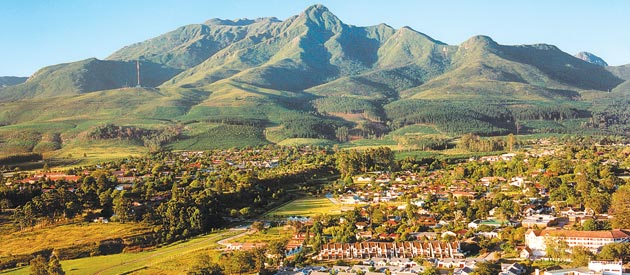 George. A gem in itself. ©www.western-cape-info.com
Then, there are the stalwarts - the ones who have been in the game for a lot longer, and are at the very heart of the coffee communities in these places. One of the towns that has had a thriving coffee culture for over 15 years is George, situated on the Garden Route between Mossel Bay and Knysna.
When we started Coffee Magazine 10 years ago (wow, can you believe it??) there were far fewer spots roasting their own coffee in towns like George, but there was always "someone" and that led a curious foray into the sub-culture we now know and love. Tanya Prins of Root Coffee is one of the originals, and so it was like a homecoming for us when we managed to drop by recently and visit the epicentre of coffee culture in George … or so we thought.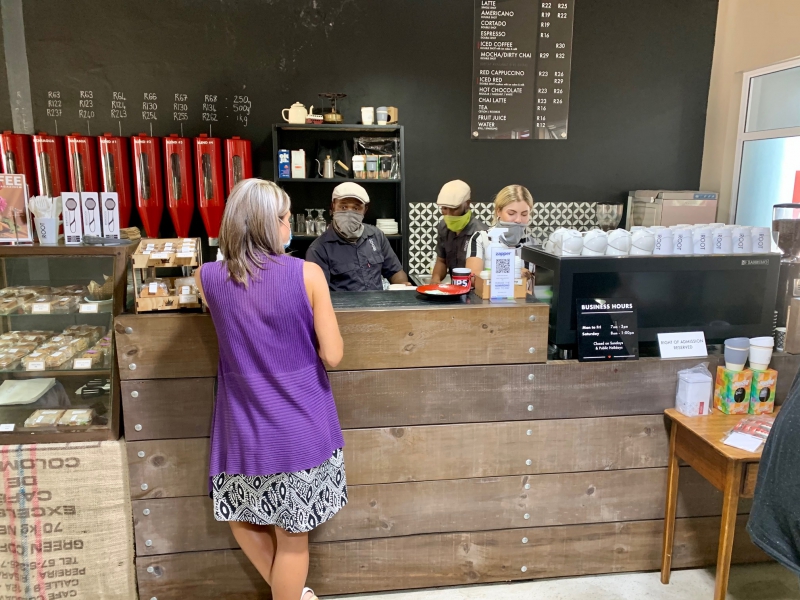 The Root Coffee bar off Wellington street, George, WC. ©CoffeeMag
"My Husband and I just love coffee and we couldn't find a good coffee in George, so we decided to start our own roastery and cafe." Says Tanya, as we stand in the middle of her Wellington street store. We got the grand tour and saw the original Coffee-Tech 3kg roaster that used to do all the roasting until recently when they upgraded to a Genio 15.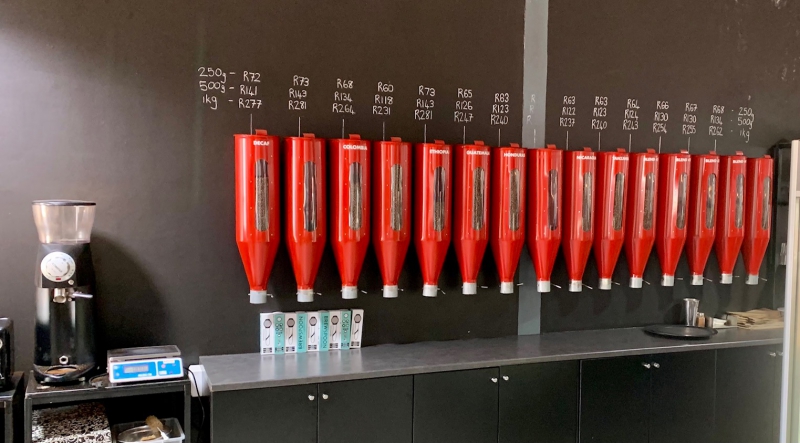 Look at all that coffee!! ©CoffeeMag
"We have always had a desire to grow the culture here" says Tanya and she credits a lot of that to Owner of Caloroso Coffee, Kelvin Applegren. "Kelvin was the one originally leading the Specialty side of coffee here in George and he has created a really great culture around that" she explains. Since then there have been a number of new players enter, and it is, very evidently, growing from strength to strength!
The culture has come so far that Sevenoaks' Nicodemus Nabakwe and the legendary Jeremy Wakefield even spent 2 days in George running an interactive session for the coffee community, to share knowledge and skills around green coffee, roasting and cupping. "That was a really fun event" says Tanya "It was great to see just how far our coffee community has come and to meet such inspirational coffee people like Nicodemus and Jeremy"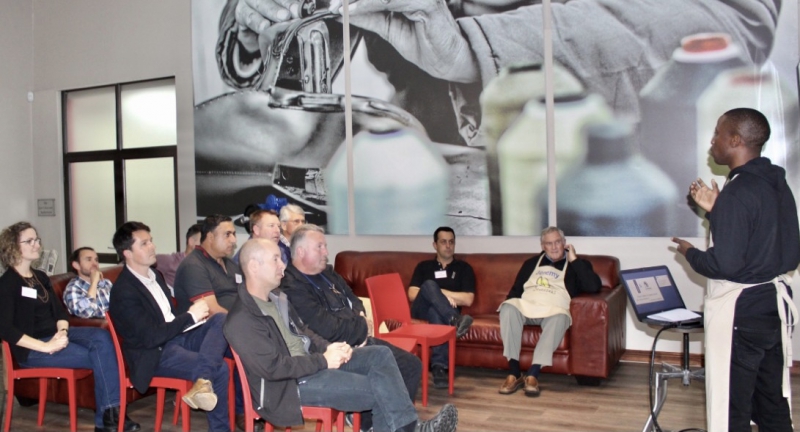 Nicodemus from Sevenoaks Trading presents to the George coffee community while Jeremy looks on from the comfort of the couch! ©Nicodemus Nabakwe
One coffee down and we knew we had to go and visit Kelvin to see where it all began. On arrival, we immediately noticed the perfectly appropriate Espresso Machine - the original Faema E61 - a classic! We enjoyed an excellent espresso, but weren't able to chat to Kelvin for too long, as typically, he was in the middle of coffee training! "It's a bit fresh" he tells us "probably needs to de-gas for a few days" concerned that our espressos might not be exactly the way he wants it to taste, and you can see the man knows his coffee and wants his customers to experience it just so. He needn't have worried - it was delicious!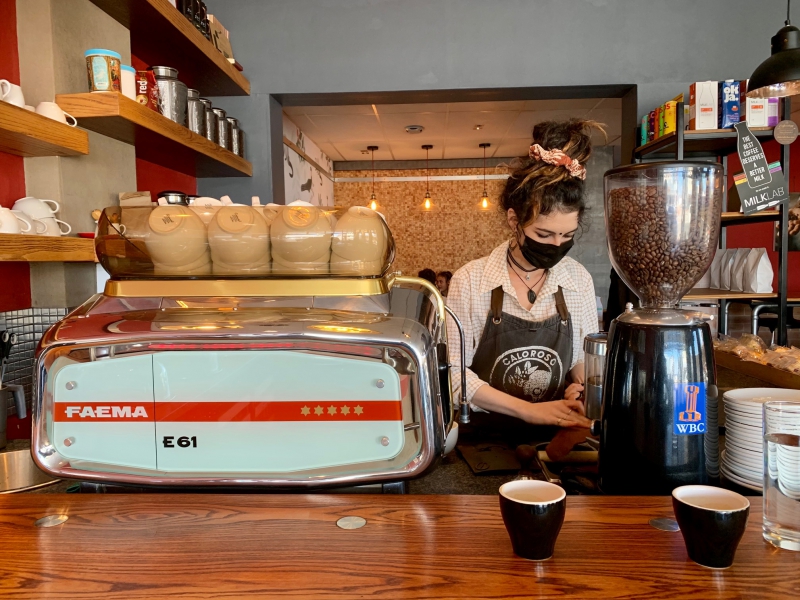 Caloroso Coffee - the original sporting an original! ©CoffeeMag
We only had time for one more stop on our very brief visit to George and so we decided to check out the Pause coffee bar at The Deacon Bistro. Wessel Kruger has really pushed the envelope in terms of investing in the very best for the Pause brand and this is evident in all aspects Pause - the LM KB90, the Victoria Arduino Mythos One and the Mahlkonig EK43 on bar, the shop fitting and the coffee offerings. JP served us two delicious espressos, same origin, different microlots - and the location was simply gorgeous.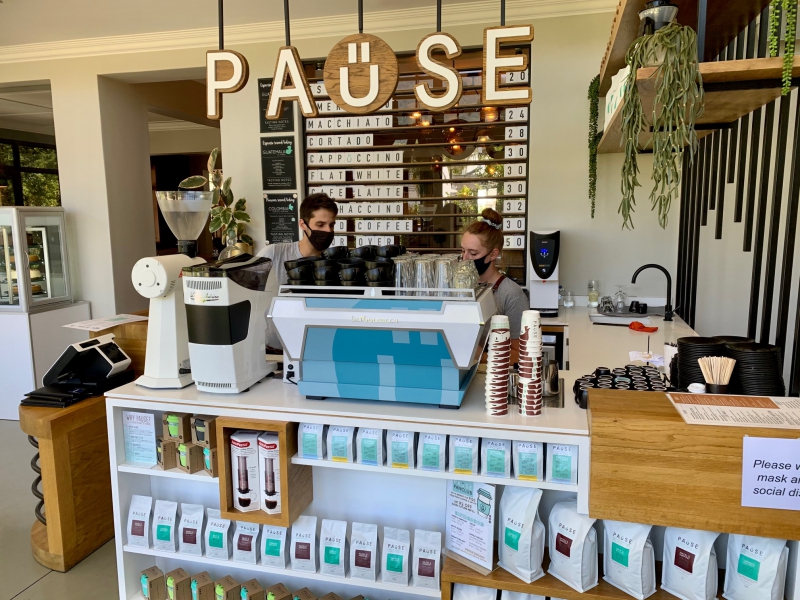 Pause at The Deacon Bistro ©CoffeeMag
If you're in George - you have a wide variety of options - from homely community coffee, to vintage feel-good espresso to state-of-the-art specialty coffee, plus a host of new up and coming spots that we can't wait to try! If you want to recommend a spot in George, drop us a comment below and we'll check it out!
Got something to say? Then leave a comment!
---
Nanaga. The story of the warthog pie, pineapple juice and a pretty decent coffee.
Thursday, 11 February, 2021
"Where you heading after this?" My friend Deon asked me as we paddled back to the take off point at the legendary Supertubes of Jeffrey's Bay, my legs still burning from the many turns and bracing against the force of one of the best waves in the world.
"Hogsback" I replied. "Bit of a long haul".
"You better stop at Nanaga on the way then" he says, a glint in his eye.
"Na-what?" I say.
"Nanaga. They are famous for their Pumba-pies!"
A few more waves, a couple meetings and about 100km later, I take the turn off to the Nanaga Farm Stall. My expectations are not very high, but I if Deon said it was good, then I will stake my life on it, even if I've never tasted warthog before...in any kind of dish!
I am so thoroughly taken by the whole experience. The ladies working at the Farm Stall restaurant are so lovely, and they too have me seated and ready to devour my warthog pie, with the mandatory pineapple juice and a pretty great coffee. Vera was the barista, and she was absolutely wonderful. I had a double ristretto, topped with beautifully microtextured milk, and even a flourish of latte art!
The warthog pie was sensational, served with an onion chutney that you only find in farm stall and in country homesteads.
If you are ever traveling anywhere in the Eastern Cape, you need to tick nonage off your bucket list.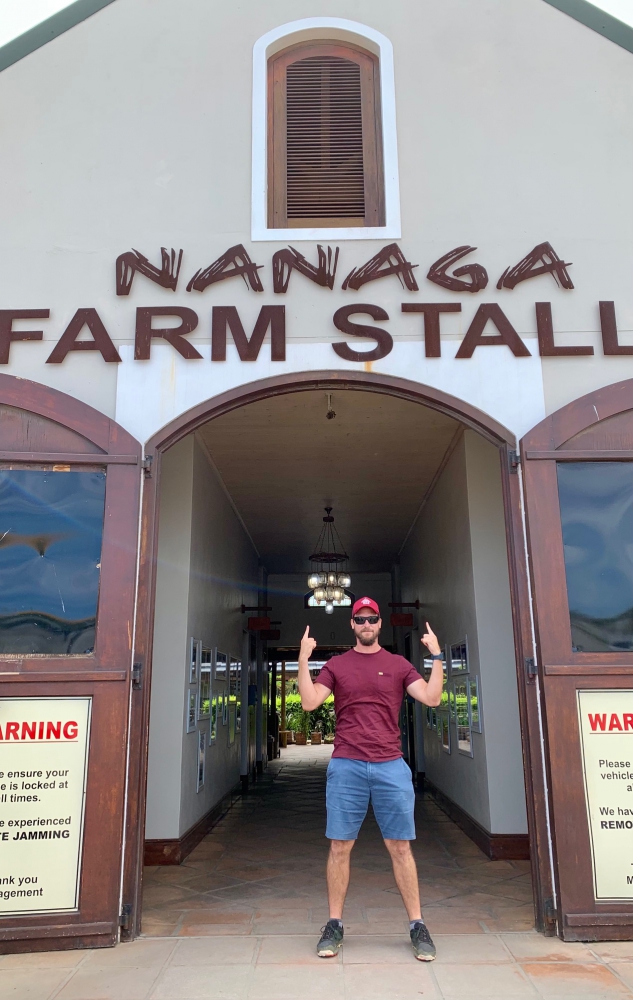 The legendary home of the warthog pie.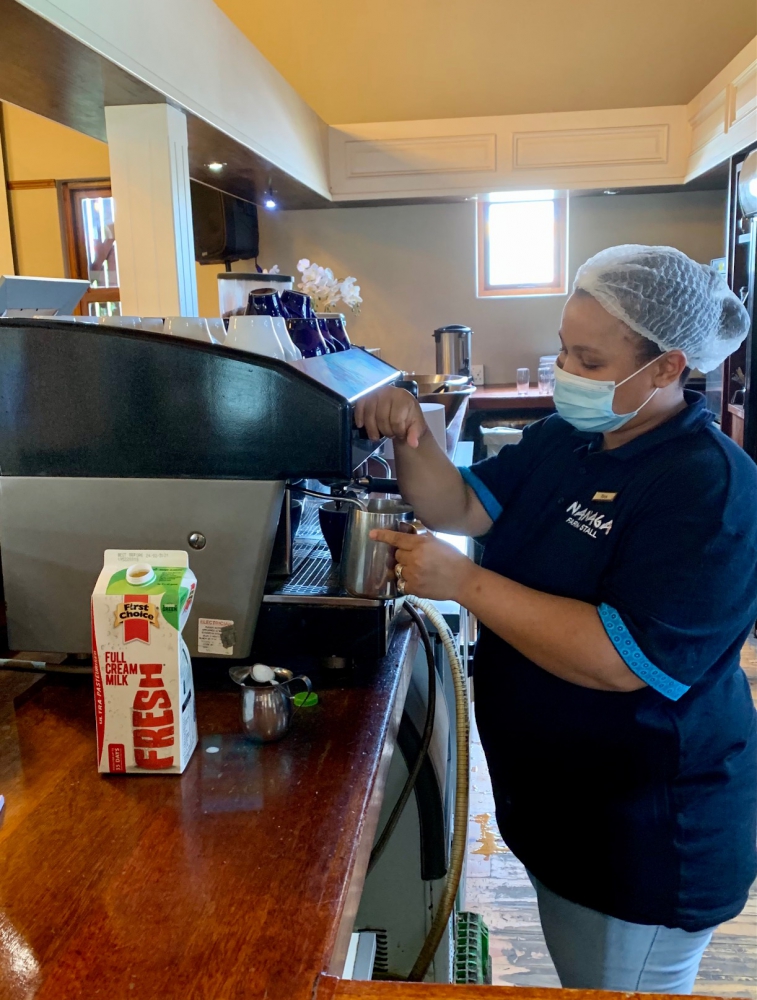 Vera, the barista, who made me a delicious cappuccino, using Uber coffee and First Choice full cream fresh milk!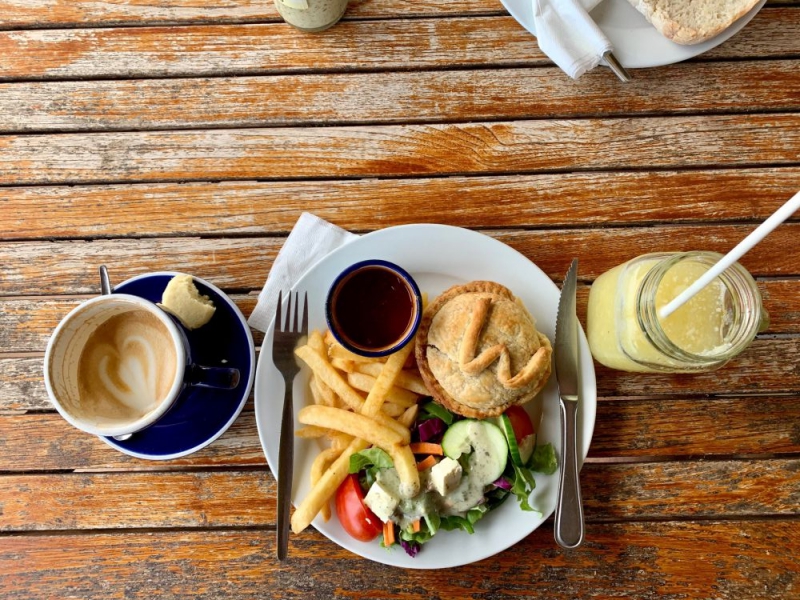 Such beautiful presentation!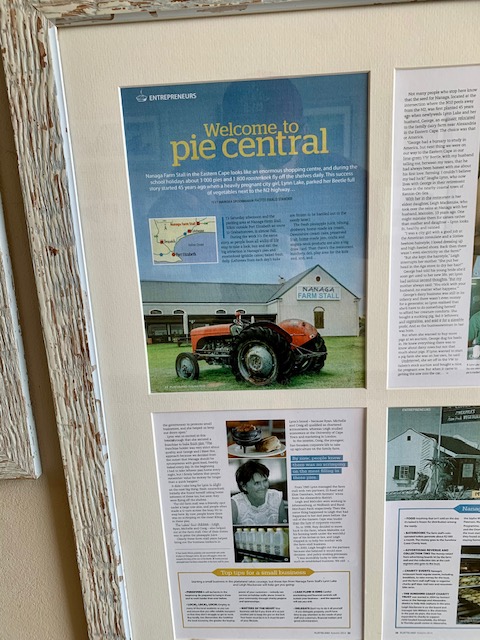 Nanaga is an Eastern Cape institution, and we highly recommend you visit!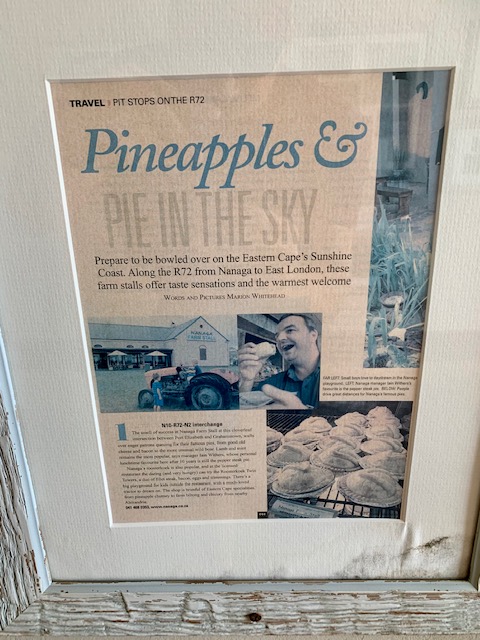 Pineapples and pie!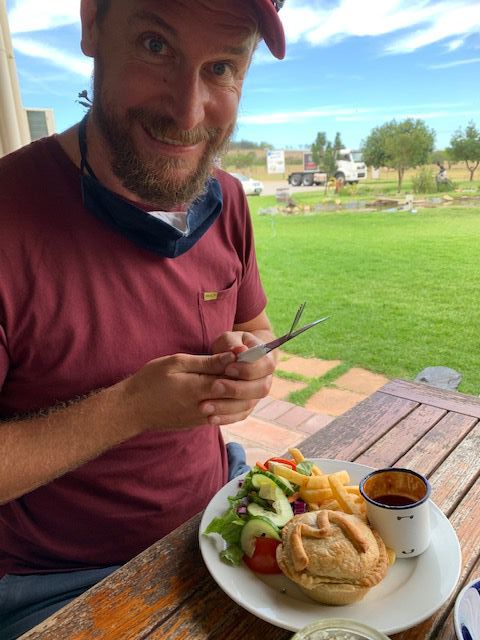 I was not disappointed!
Got something to say? Then leave a comment!
---
Roaster Focus: The Skill (not Art) of Roasting Coffee
Thursday, 11 February, 2021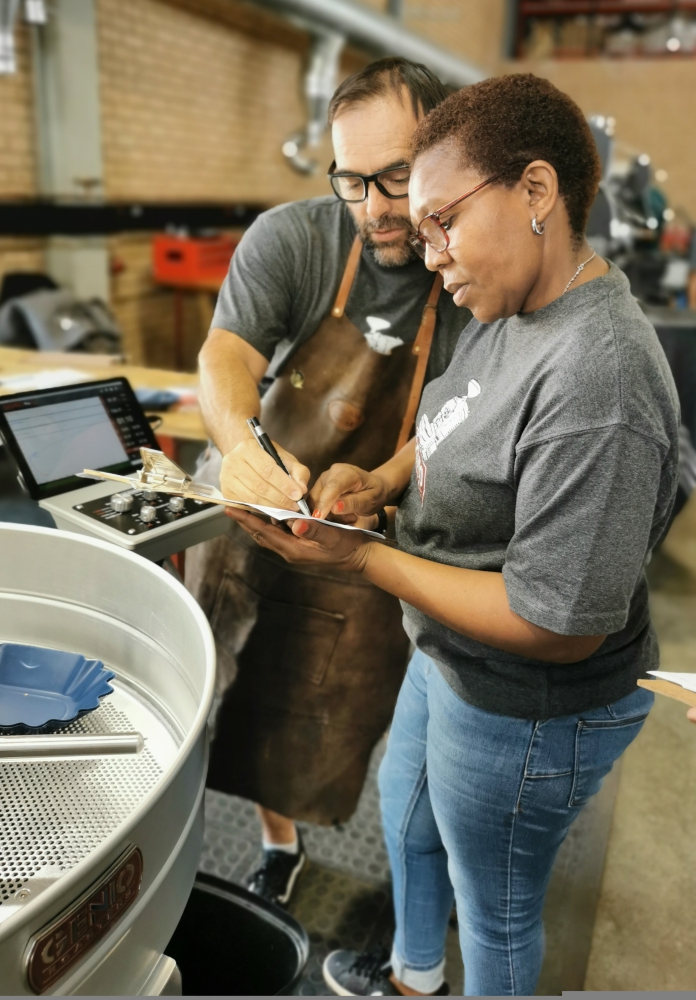 The skill (not art) of roasting coffee
We always talk about the art of coffee. We view coffee as an art form, as something that is driven by passion and our mutual love for coffee. But passion should be backed-up by skill. Neither your passion for coffee nor your coffee roasting machine can stand alone. It has to be substantiated somehow. That is where skill comes in.
At Genio, we like to go one step further: we take the coffee roaster - the equipment - out of the picture. Roasting should not primarily be about the equipment that you have. Roasting should be about connecting your skill with the process to accentuate the very best aromas and flavours in your coffees. Great machinery makes that connection easier to achieve and maintain, but which machine you have should not determine your success. Instead, the focus should be on the coffee and the person that is roasting it. Leave the machinery to us while you focus on the coffee and improving your roasting skills.
Should you today, be an aspiring coffee roaster or an old hand at it, it is never too early nor too late to gain more knowledge and to further hone your roasting skills. After all, life is a continuous process of learning. I have this favourite saying that I keep in my drawer; sometimes you win, sometimes you learn. Recently, my team and I committed to improving the training of our clients. We found that, without sufficient training, our clients often fall short when it comes to understanding why things are happening during a roast. We see this with even our most passionate customers: there is a gap between achieving an incredible result and replicating that same result with confidence. I believe that training is the link between those incredible results and replicating them through understanding.
In the past, training in the skill (and art) of roasting has been extremely limited. Other than apprenticeships, which in themselves are innately subjective, there was no way of considering oneself "trained" in roasting. But this has all changed. Now, we have a variety of sources and platforms to fuel our passion for coffee roasting with valuable information and the fundamentals of best practice from associations such as the SCA Roasting courses with local ASTs (Authorized SCA Trainers) popping up everywhere. I tend to favour certified courses to lay a solid foundation and set-up one's knowledge base. It ensures some form of discipline, order and standard in the learning material. A good foundation is easy to build upon. Breaking away from the formal route, we have YouTube that hosts an endless stream of content right to our living rooms, and even websites like Udemy that offers affordable roaster training courses.
In addition to training courses, you should also expose yourself to the different approaches from industry leaders such as Scott Rao, Morten München, David Hoos and James Hoffman. They will give you a multi-disciplinary view on important topics such as coffee profiling, Rate-of-Rise and extraction curve analyses. Most of them have blogs, videos and books available to fuel your passion and ensure a deeper understanding of the topic at hand (#shamelessplug: check out Genio Roasters' website for our library of roasting books). While blogs and books may not necessarily replace training, I do believe that reading brings with it a measure of consistency through the authority and experience of the author.
While I love and appreciate the passionate individuals who bring people together through coffee, I think that your passion for coffee can only be passed on through skill. Skill is infinitely transferrable. Passion so often becomes locked-in because few others share it. Skill brings consistency to an innately subjective craft. Through training and experience, you can get the skills needed to hone your craft into something truly inspiring: Passion backed up with skills.
Have the passion. Seek the skill.
Written by Neil Maree and Elsie Potgieter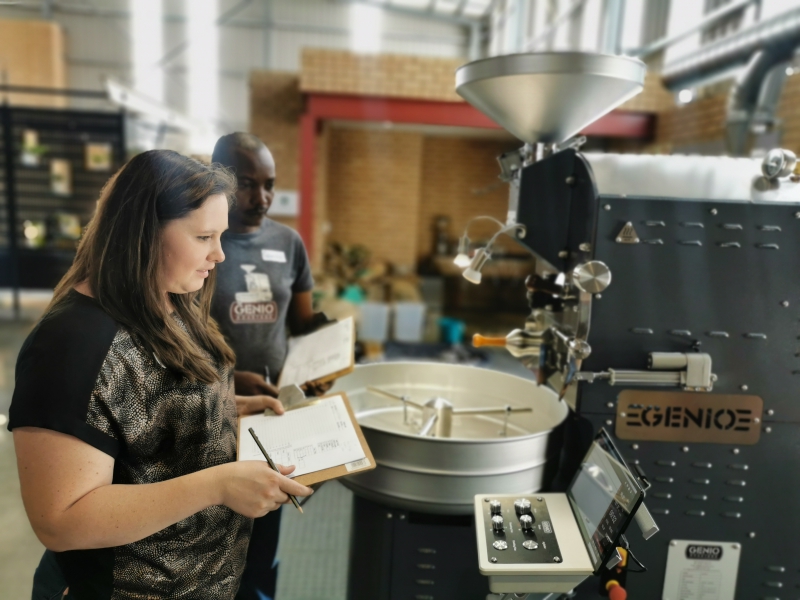 Got something to say? Then leave a comment!
---
New Kid on the Block: Hans&Lloyd Coffee
Thursday, 11 February, 2021
Checking out the surf at Muzies, I stumbled upon Hans & Lloyd Coffee Co, drawn to the cafe by the mini roaster at the entranceway.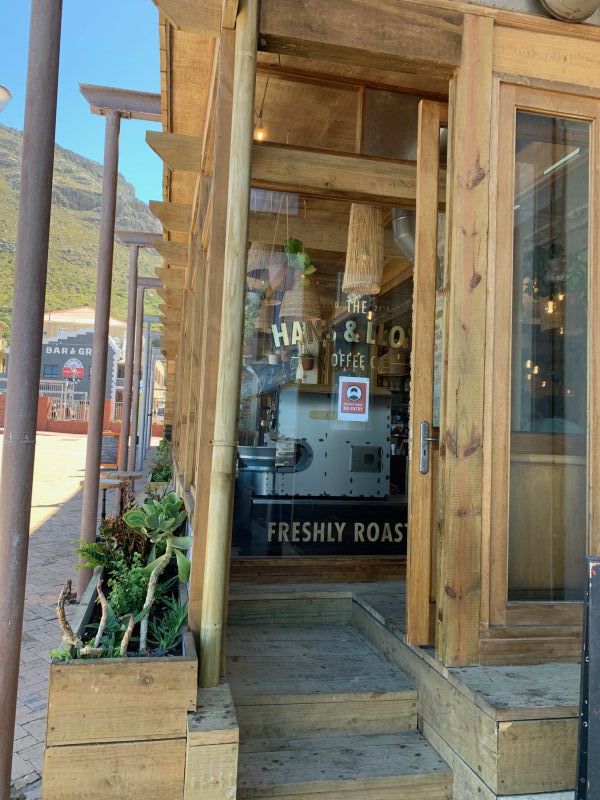 Hans & Lloyd manages to deftly blend surf and coffee culture, so well in fact that until the caffeine hits your blood stream you would be forgiven for thinking you're in one of the trendiest spots on a metropolitan high street. It's only when you look closer, you see the tasteful black and white photography is all of surfing, ocean and beaches, even adorning the majestic Sanremo F18.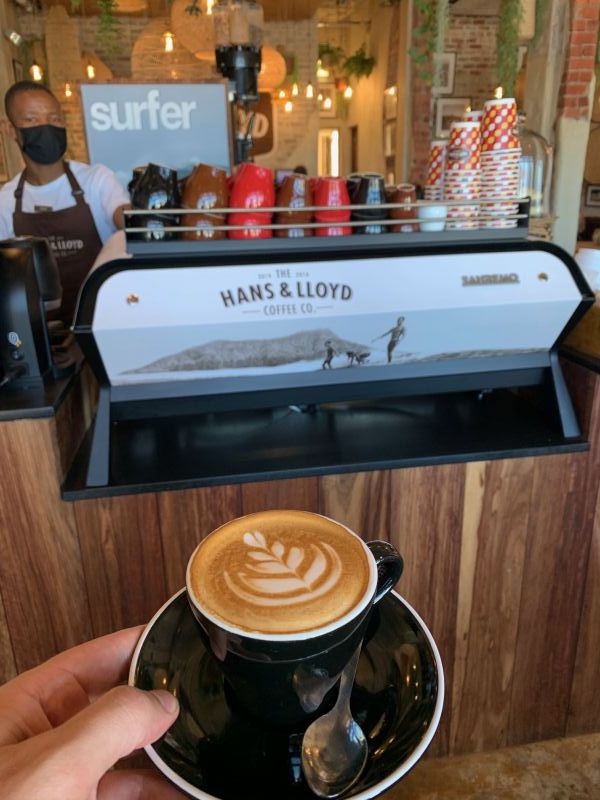 They're serving up their House Blend, called Outer Kom. Obviously the ocean runs deep in the veins of this team! It was rich and paired well with the milk in my flat white. Hans & Lloyd is the cafe arm of Importers Coffee and we're so stoked they made the decision to go this route. A fantastic addition to the Surfers Corner strip!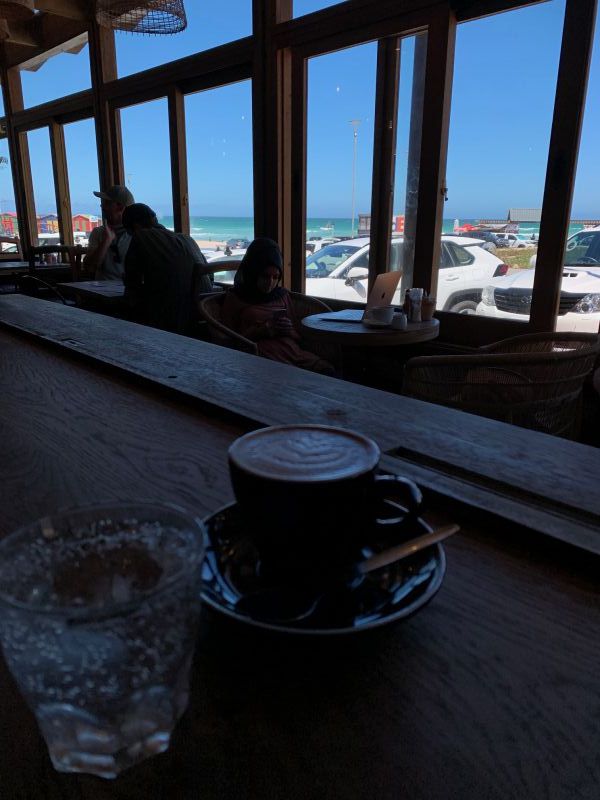 Look, it's not a terrible view.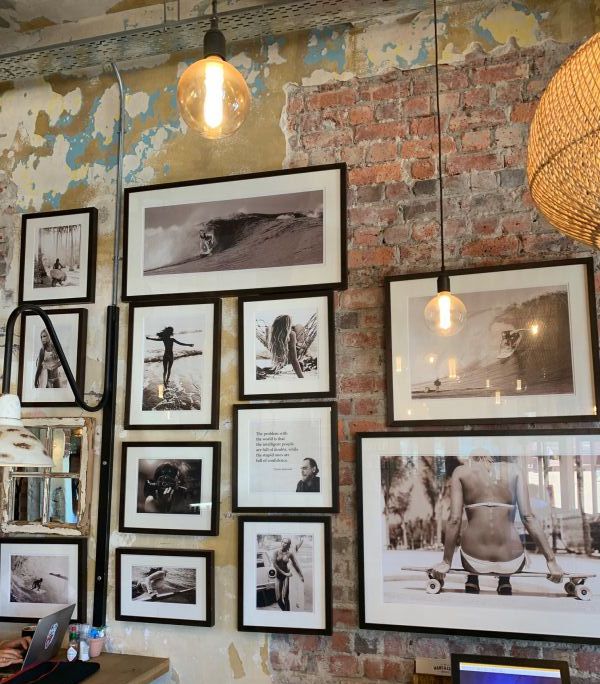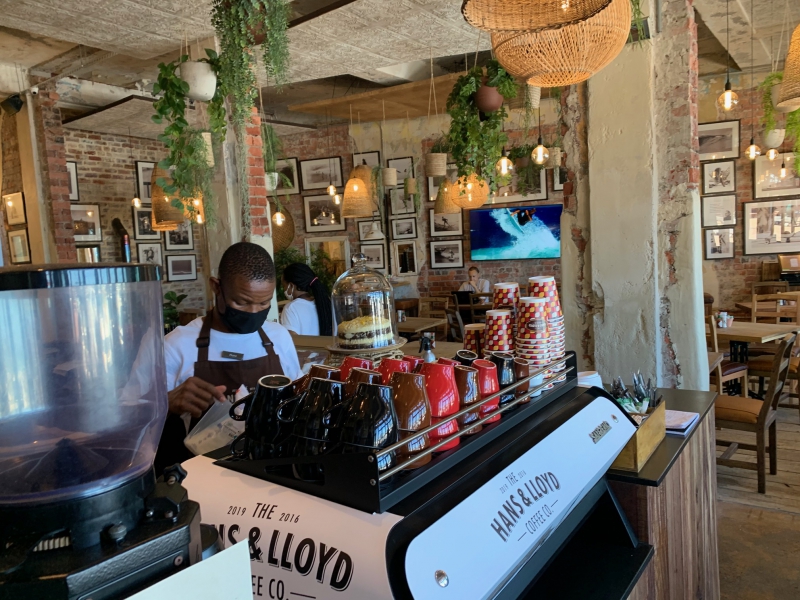 Got something to say? Then leave a comment!
---
Off the Beaten Track: Brothers Coffee, Groot Brak
Thursday, 11 February, 2021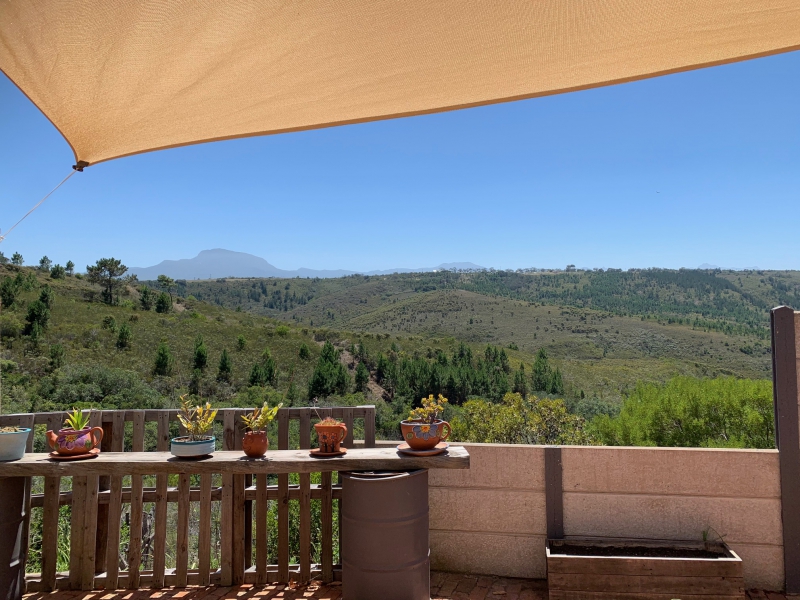 The view from up here! Welcome to Brothers Coffee!
So there's not a huge chance that you would stumble upon the coffee roastery known as Brothers. It's a fairly off-the-main-road sort of spot, but you will be glad you made the effort if you do take the road less travelled and visit Brothers, located just outside groot Brak, a short drive away from George on the Garden Route.
While they like to use the roastery for tastings and training, you may have tasted their wares at many popular locations along the Garden Route. I was thrilled to meet Carmen, who does 90% of the roasting, and submitted the coffee that scored them 2nd place in 2019's A Shot in the Dark.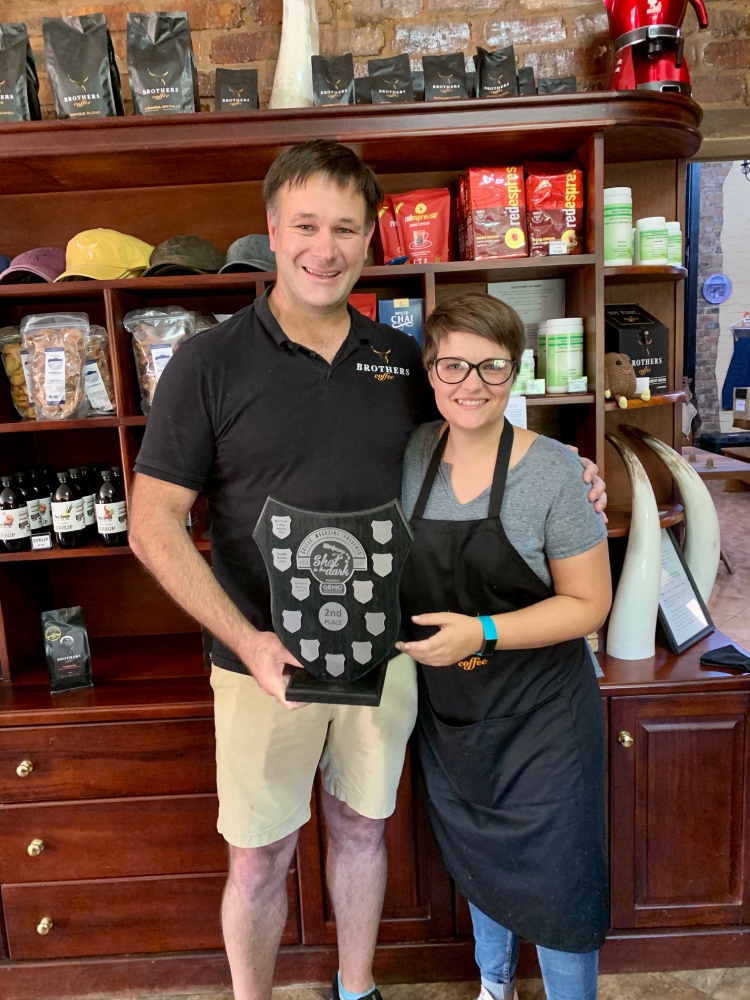 Ben and Carmen - Owner and Roaster (though we did find Ben trial roasting some exciting new coffees when we arrived!)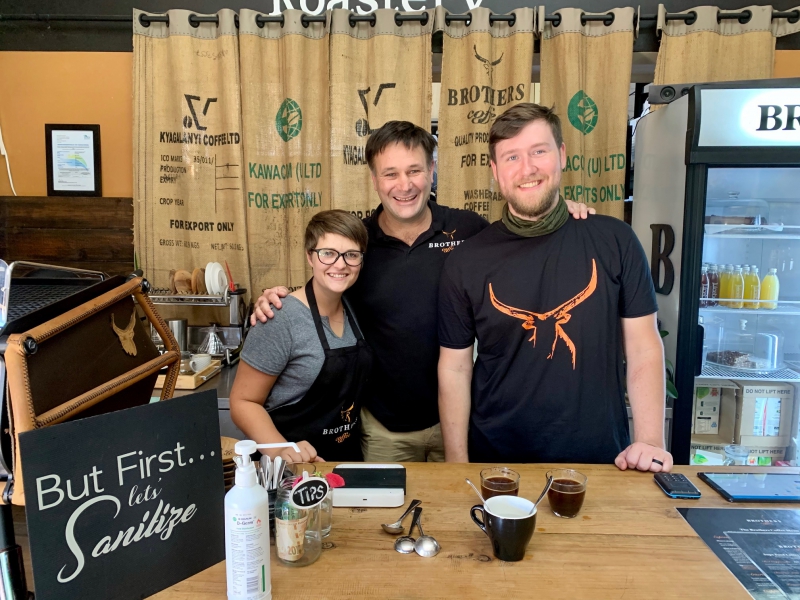 Carmen, Ben and Michael on bar.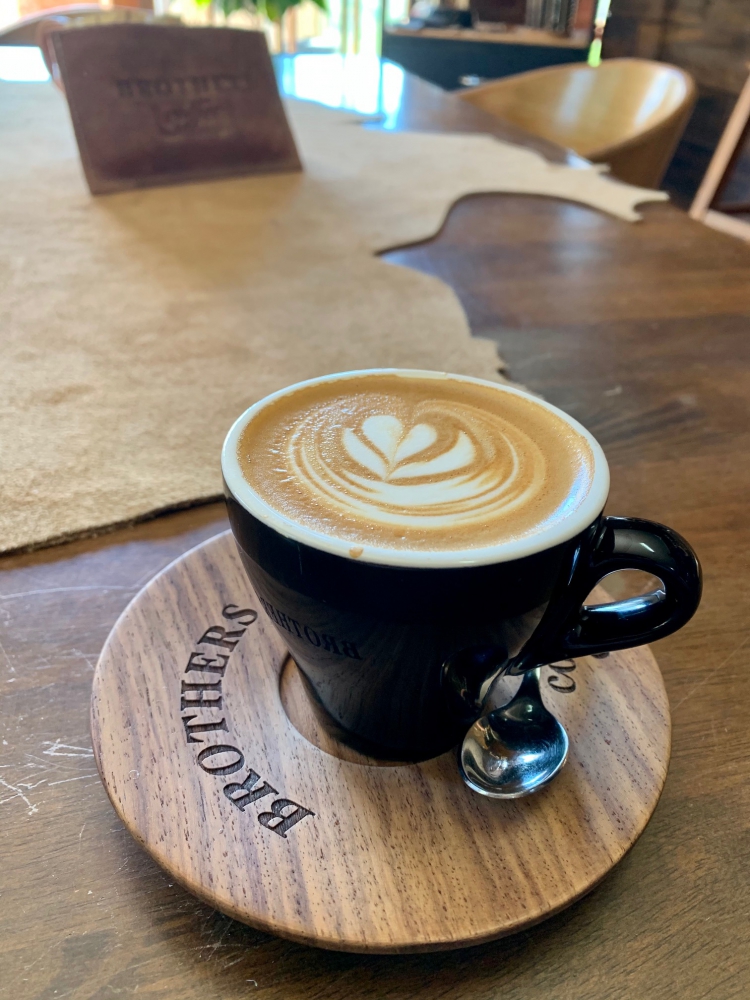 A delicious cortado of the Brothers house blend, Bugolobi.
Brothers is primarily a roastery, though Ben did tell us that people seem to follow the coffee and turn up at his place, especially during lockdown when holiday makers to the Garden Route couldn;t go to the beach, they started to explore the local area more.
Brothers is beautifully set up in the tranquil valley over looking Groot Brak, and is the perfect place to spend a few tranquil hours with coffee in hand, enjoying a good book or magazine and stocking up on all the coffee goodies and gadgets you could ever want! We are thoroughly pleased we did.
Got something to say? Then leave a comment!
---
Cafe of the Week: Ikigai, Swellendam
Thursday, 11 February, 2021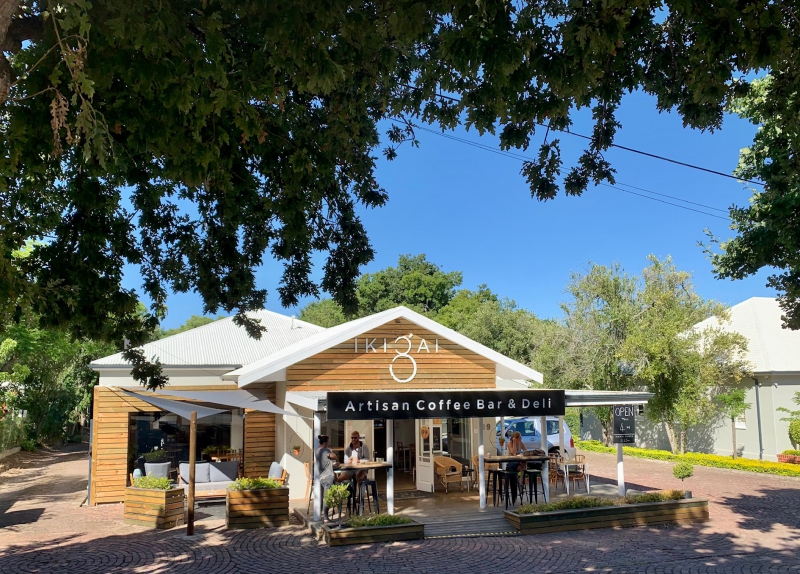 The dappled shade of the ancient oak trees lend Ikigai a sense of austerity and calm, like it's been there forever.
Ikigai (pronounced [ikiɡai]) is a Japanese concept that means "a reason for being". The word refers to having a direction or purpose in life, that which makes one's life worthwhile, and towards which an individual takes spontaneous and willing actions giving them satisfaction and a sense of meaning to life. (Thanks Wiki!)
---
What a beautiful location in the sweet town of Swellendam! Ikigai Coffee is sure to win you over.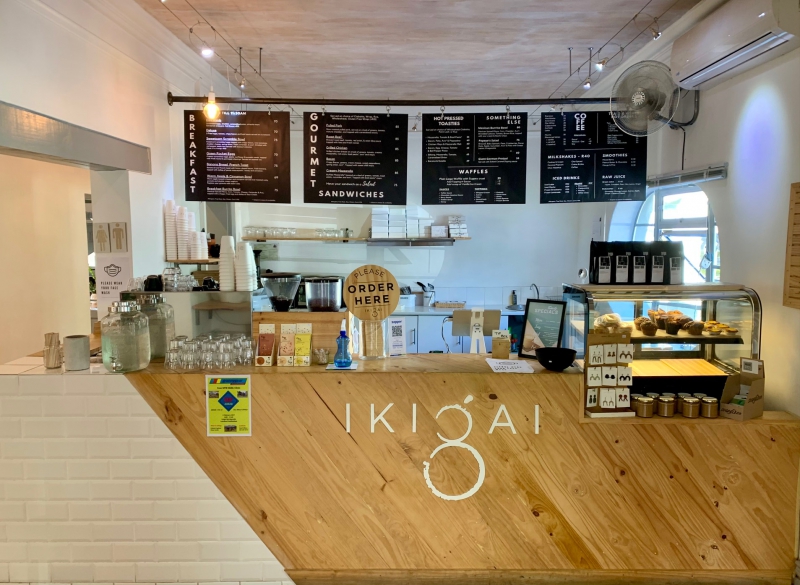 Japanese inspiration. Ikigai is a nod to clean lines and simplicity.
We certainly would never have assumed that Swellendam was such a gem of a small town in South Africa, but were proven very wrong and with a coffee spot as gorgeous as Ikigai, serving up delicious coffee from Origin Coffee Roasting, what more could you ask for!
Elandi Coetzee, one of the founders and owners of the growing business, was luckily enough on site and she was a delight to talk to.
'The name was my sister's idea. She wanted something different and loves the idea of the Japanese way of life and culture. It may be a bit difficult to pronounce at first but we like it!"
"Of course it has been a tough year, and Swellendam is a town that needs tourism to survive, but we have been very lucky and we have a lot of local support. Our Riverdale branch, the original, has had an upgrade too during this time, so we're optimistic about the future!"
They have a lovely retail section which has a collection of things that it is hard to say no to.
It's places like these that just ooze positivity and welcoming vibes that continually make us so happy to be part of the coffee industry and to spread the word about all shapes and sizes of coffee outlets.
So if you ever find yourself with an opportunity to wind your way through Swellendam, do it and pop in to say hi to the team at Ikigai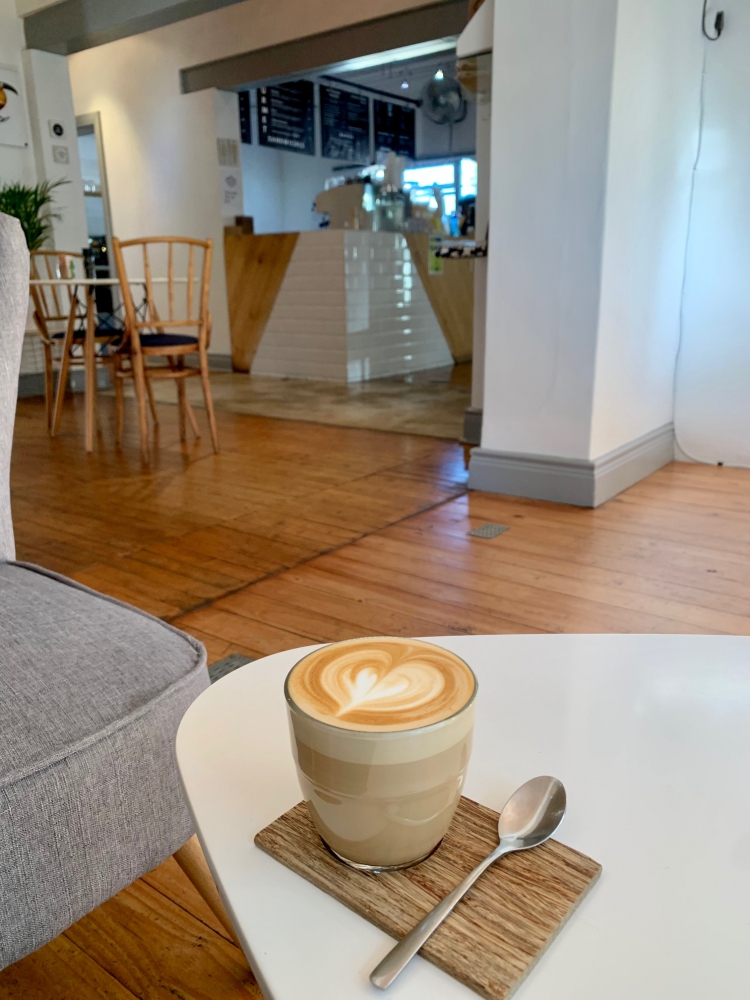 A delicious and luxurious Flat White at Ikigai.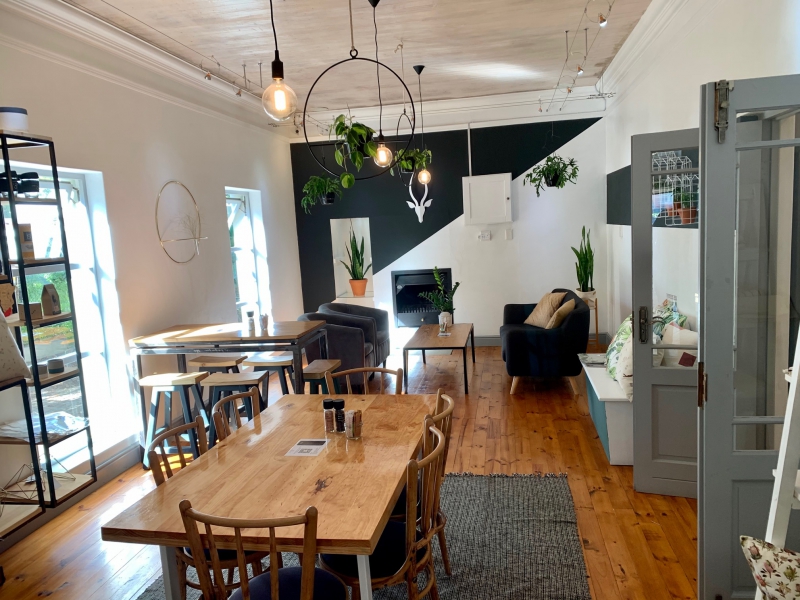 A beautiful space, we highly recommend you visit!
Got something to say? Then leave a comment!
---
New Green Bean Importer on the South African scene: Sucafina Specialty
Tuesday, 26 January, 2021
We were recently approached by the team at Sucafina Specialty at a time when they are involved in an aggressive expansion plan, that despite the impacts of 2020, is taking shape in 2021 in a big way.
We know that the aesthetics only get you so far, but we are pretty smitten with their Originals Range, which is a really interesting range of a blend of beans from a single origin.
We caught up with them to find out a bit more about the drive behind this quickly expanding team!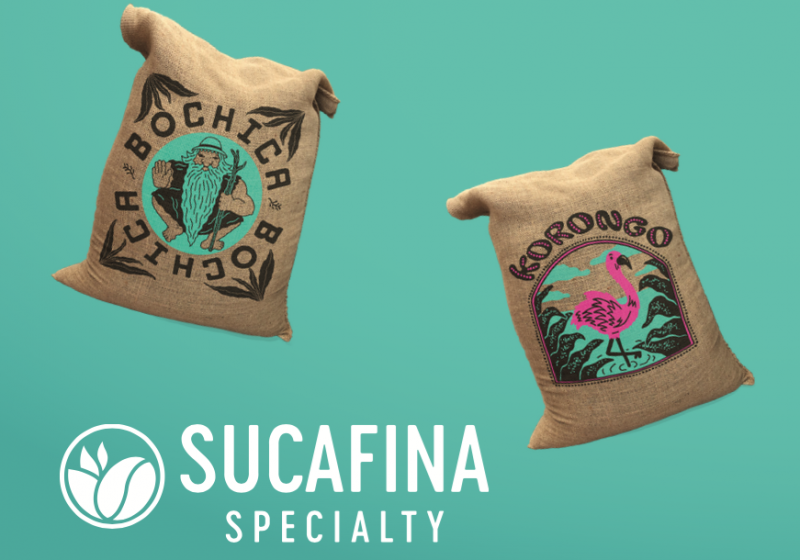 What is the ethos of Sucafina Specialty?
Sucafina Specialty is ultimately about shared value and making supply chain relations more equitable and profitable for all. We are a vertically integrated company, meaning that we have operations in many of the countries where we source coffee. This helps us to identify areas where we can make our operations more efficient, ultimately helping us pass more value directly onto the coffee producer and the roaster.
Another big part of how we operate is the concept of 'whole farm profitability'. Essentially, while we certainly focus on bringing high quality, specialty coffees to markets (and making sure producers are well-remunerated for their efforts), we know that most coffee farms, big and small, will produce a wide range of qualities. In order to be truly sustainable, they need to be able to sell all of their coffee, not just the small, top-end portion of their production. Equally, for a roaster the 'ideal' coffee can change depending on purpose and audience! This is why, whenever possible, we work to find homes for as much of a farmer's coffee as possible while also offering a wide range of coffees to our customers. This is why our motto is: macrolot to microlot.
We have pretty big goals for change, and building a more equitable and transparent supply chain doesn't happen overnight. But we try and keep that long-term vision while also celebrating the small victories in the short term. I would say we are realistic about the amount of work that still needs to be done, but we have lofty goals and ideals that guide us!
Tell us about your Sucafina Originals and the story behind these coffees? (We are obsessed with the branding, so gorgeous!)
Our Originals came about through our commitment to whole-farm sourcing and our commitment to quality. Pretty much out of our ethos! We saw a lot of demand for quality and consistency in single-origin blends that would be affordable to a wide range of customers while still ensuring decent prices for producers . We realised we could harness the breadth and depth of our vertically integrated supply chains, rely on our truly excellent QC teams at origin to ensure a consistent cup profile and score from lot to lot, and offer that perfect win-win for producers and roasters, alike. We love the branding too! One of the guiding principles was to draw focus to a key part of each country's culture or wildlife, and then to have a bit of fun with the designs.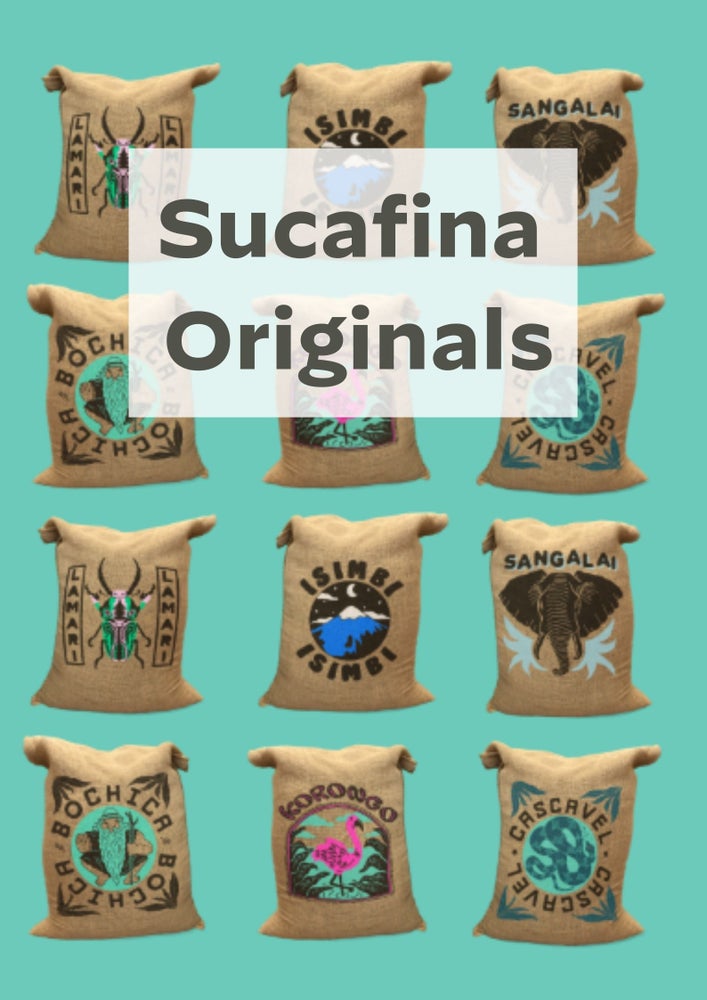 What can roasters expect from the Sucafina Team and what makes you an ideal green bean supplier?
The first thing they can expect is great service married with a wide range of expertise. We have a really amazing global team, and we work together to make sure our customers and suppliers are benefitting from the relationship. Sucafina as a company really does hold a set of shared values and purpose and a deep belief in what we are doing together as a company. As individuals we all share the same commitment to sustainability through caring for people, the environment and the well-being of the farmers we work with. This comes through in all our interactions, both with our suppliers and our customers.
Customers can rely on us for a wide range of coffee offerings, whether they are looking for a nano-lot of something truly unique and stand-out, or for that great all-rounder that works equally well as a filter and espresso base. We are unusual, in my experience, in that we really can tick all the coffee boxes, and if we don't have something available that very second, we can find a way to get it for you.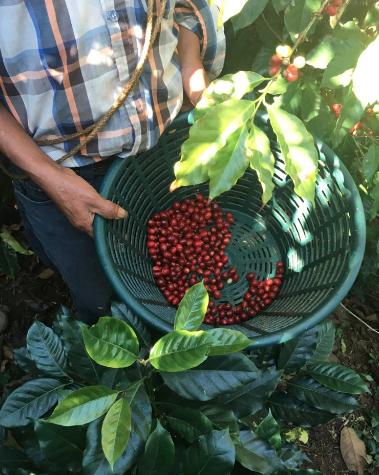 You're a company based in Europe (but expanding), and we're on the Southern tip of Africa, what attracts you to this market?
We are expanding for sure, and we've got offices all over the world. Currently, sales to South Africa are managed out of our Antwerp office. We have a designated trader for the Middleast and North Africa and keep a spot position in Dubai. We had seen a bit of interest in our Dubai offer lists from roasters in South Africa, and in the course of our conversations realised that South Africa has a hugely vibrant and diverse roasting community. There's so much good energy, and we think there are a lot of roasters we haven't even met yet that share our values.
Are there any coffees in your offering that are really blowing your mind right now? What makes them so special?
Well, first of all, ALL our coffees blow our minds :) But in particular, our Indonesia offerings keep impressing us more every year. The quality was already great, and it keeps getting better as Daniel, our Manager for Indonesia, and his team work towards deepening our partnerships there. We've got two lots on the way to Dubai from the Koerintji Barokah Bersama cooperative. We've partnered with these guys for a couple of years now, and you can see the result of all their hard work in the cup. The Sumatra Kerinci Gunung Tujuh Natural and Washed will arrive in Dubai later this month. Not only are both of these coffees of exceptional quality, each bag purchase also generates a donation of 1 avocado tree to Barokah member farmers. These tree seedlings will provide much needed shade and organic material for fertilizer, AND they'll help generate an additional source of income for farmers.
If you'd like to read a bit more of the business happenings behind the company that are allowing them more accessibility to the South African Region, you can read the Press Releases below. Amazing to see such growth in amidst the crazy happenings of C-19!
---
SUCAFINA ACQUIRES MAJORITY INTEREST IN COMPLETE COFFEE LIMITED (CCL)
GENEVA, SWITZERLAND – On 4 January 2021, Sucafina – a leading sustainable Farm to Roaster coffee company – announced an agreement to take a majority interest in Complete Coffee Limited (CCL) alongside the Breminer family, which will retain participation in the company.
The new partnership will provide added value for CCL's customers, expanding coffee offerings in soluble, specialty and mainstream green coffees. CCL will have immediate access to Sucafina's extensive global network of coffee supply chains and expertise.
Complete Coffee Limited has grown substantially over the years since its founding in 1929 as Alan J. Ridge & Co Ltd, its merger with Ernest A. Breminer Ltd. in 1943, and acquisition of Priory Tea and Coffee in 1986. Under the leadership of the Breminer family and its current chairman, Mr. Ian Breminer, CCL has a long and storied reputation in the global coffee industry, trading soluble and green coffees to a variety of domestic and international clients.
"Although the company trades internationally, our biggest market is the United Kingdom. This partnership with Sucafina will enable us to bring economies of scale, many new origins, as well as risk management and finance strength to enhance our offers to our UK clientele," says Mr. Ian Breminer, CCL's Executive Chairman who will continue to lead CCL as it enters this new phase alongside Sucafina.
Cory Bush, Managing Director of CCL, says "We anticipate adding people and resources over the course of 2021 to help accommodate our plans for the United Kingdom. Sucafina is also looking at additional acquisitions in other geographies as part of our strategic growth plans."
Sucafina SA, headquartered in Geneva, Switzerland, is poised to contribute greatly to and share in these plans. "Both Sucafina and CCL have grown from strong family-owned beginnings that are based on shared values," says Sucafina CEO Nicolas A. Tamari. "We welcome CCL to the Sucafina family and look forward to working together to serve the entirety of the British coffee market."
---
SUCAFINA OPENS NEW OFFICES IN INDONESIA
PT Sucafina Indonesia Coffee will bring the best of Indonesian coffees to the world.
BANDUNG, INDONESIA – Sucafina – a leading sustainable Farm to Roaster, Swiss-based coffee company – has established an Indonesia-based company, PT Sucafina Indonesia Coffee, to support their work with Indonesian coffee farmers. Sucafina Indonesia works directly with farmers, producers, dry mills and exporters. They develop, promote and deliver coffees from Sumatra, Java, Bali, Flores and Sulawesi to the international market and import globally sourced green coffee for domestic roasters.
Sucafina brings decades of quality and trade expertise from East Africa and South America to producers and processors in Indonesia. Established in late 2020, Sucafina Indonesia is based in Bandung, West Java with auxiliary staff located in Lampung and Medan.
Sucafina Indonesia will focus on building partnerships and providing financing, quality control, marketing and logistics to producers and local shippers to optimize efficiencies through the existing local infrastructure. Their two cupping labs and experienced local team enable Sucafina Indonesia to provide quality assurance and logistical support throughout the supply chain.
Several of their exclusive partnerships have already positively impacted coffee production in Indonesia. Sucafina Indonesia has invested in assisting partners to improve quality and market access, thus improving returns on coffee production. Additionally, in July 2020, Sucafina Indonesia's partnership with Koerintji Barokah Bersama cooperative and local governments made it possible to export locally grown coffee from the Port of Jambi for the first time ever. With this shorter trade route, the Cooperative stands to capture greater returns on their coffee and garner the support of the provincial government in developing their production capacity.
Indonesia is fast becoming a significant domestic coffee market for a wide range of local and imported coffees. In addition to their producing & exporting partnerships, Sucafina will also offer inventory featuring coffees sourced from Indonesia and beyond.
Daniel Shewmaker, Sucafina's Manager for Indonesia & Timor-Leste, will continue to oversee operations in the country. "Indonesia's coffee sector is dynamic and rapidly evolving, with layers of complexity and diversity," he stated. "The establishment of PT Sucafina Indonesia will allow us to offer a wider range of services and opportunities for both producers and roasters."
Got something to say? Then leave a comment!