An Interview with Chasing The Sun's, Greg Lomas
Wednesday, 9 February, 2022
Greg Lomas was recently recognised as the Top Film Director of 2021 by the Loeries! A prestigious honour! We featured an interview with him in Issue 36 of The Coffee Magazine. We still get goosebumps thinking about the moments captured in the Chasing the Sun documentary.
---
Keeping the main thing, the main thing
The story of the Rugby World Cup 2019 as told to Coffee Magazine by Greg Lomas, one of the Directors of the life-changing documentary "Chasing the Sun"
All images: Greg Lomas
Sport, like music, has an incredible way of bringing people together and I'm sure wherever you are in the world, you have felt emotionally invested in a team. As a South African sports fan, I think we can all remember where we were when we watched the 2019 Rugby World Cup Final. For me, it was a non-traditional end to my heavily pregnant friends baby shower, where we swopped our flower crowns for our green and gold and rushed to make it in time for the anthems. The adrenaline felt like 10 double shot espressos coursing through my veins. That Castle never tasted so good!
Now imagine for a second, that you're sitting across from Siya Kolisi or Rassie Erasmus, dark room, cameras rolling and you can ask them anything you want. That was the opportunity that Greg Lomas was faced with when he sat down to conduct the one-on-one interviews for SAFTA award-winning documentary, Chasing the Sun. His is the voice asking the questions in the background!
"I was in charge of directing the main body of interviews and my partner Colwyn Thomas lead a team across the length of the country following backstories and capturing South Africa as a character", says Greg.
He and his team of filmmakers ended up travelling a parallel course with the Springboks and in their own way, faced a similar battle that mirrored the epic task that the Boks faced. "We had a huge team, and it took a massive team effort, much like the Springboks, and we stripped away a lot of roles with the team. For example we had complete transparency and would watch cuts collectively and anyone in the production team could present an idea or a direction. This is only possible if you strip away ego, which is what the Springboks did. As World Cup-Winning Springbok Coach Rassie Erasmus famously says in the documentary, "Let the main thing stay the main thing."
Rassie Erasmus was an executive producer of Chasing The Sun, and that buy-in, and the unprecedented behind the scenes footage, from the change room during games, to pre-match team talks to the training grounds and the business of rugby - Chasing the Sun gave South Africans a personal peak into the massive machine that is the Springboks.
"Supersport had sent a film crew along with the Springboks a year out from World Cup in 2019, with the intention of making something from the journey." Says Greg. "Luckily, South Africa won the 2019 Rugby World Cup and Supersport had recorded one of the greatest sporting stories in the world."
Lomas' company, Scholars Film, had worked closely with T+W, the production house that worked with Supersport on Chasing the Sun, on numerous sports projects prior to the RWC and they took the opportunity with both hands. "T+W have really pushed the envelope of sports marketing and Gareth Whitaker, the creative director and founder, is a real visionary."
But it wasn't all plain sailing for the production team. The Covid19 pandemic caused havoc with the access to the players and travel restrictions meant a very difficult creative process for the filmmakers. "We could only conduct the interviews in June of 2020 once we were in Level 3 and players, coaches, and management were all in lockdown, so a real logistical challenge to interview everyone, and to be creative within the protocols" says Greg. "The team were passionate and determined to air the final episode on the anniversary of the final, so covid19 didn't help the intense turnaround."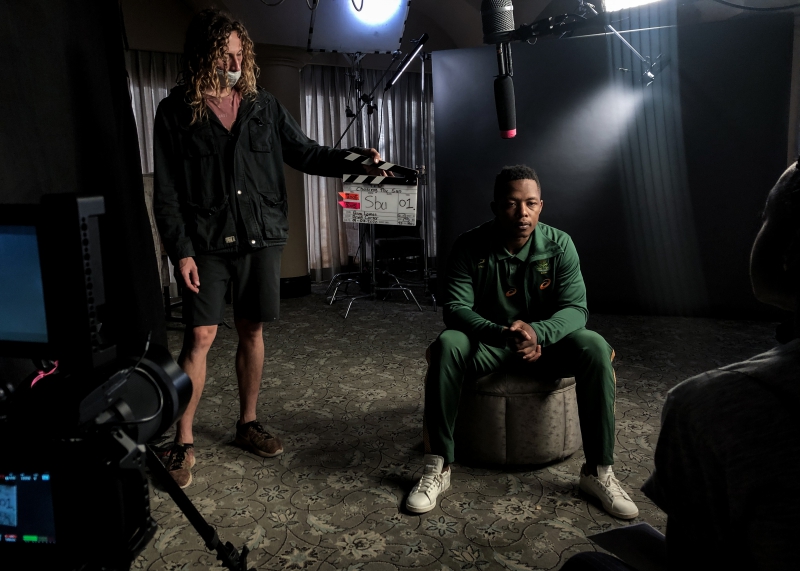 Chasing the Sun is an intensely personal look at the humans that make up the Springboks and reveals a side of the big, burly rugby players that one wouldn't ever get to see off the rugby field.
"It wasn't a traditional approach to a sports narrative, especially rugby." Says Greg. "I was nervous how it would be received. I thought it was maybe too edgy. But the response from the public was unbelievable and that has been the most rewarding part of the journey."
Everyone knows the result, South Africa 32 - England 12. So how did the filmmakers keep the interest with the result already known, a year after the famous victory?
"We had an intention to lift the human experience of the viewer. Our approach was two-fold. The first was to connect with the people involved on a human level, so the viewer could connect emotionally to events that they already knew about. The second was to share insight to events. We believed this would elevate the experience of the viewer, which seemed to work!"
"So for everyone we interviewed I think they found the interviews refreshing because we weren't just talking rugby; we were talking about matters of the heart, about impact, and I think the players and coaches found that refreshing and opened up emotionally.
One of the themes that Rassie keeps re-iterating to his players during the toughest parts of the World Cup is the service of the Springboks to the Nation. Greg reflects on the interviews and points to one of the many sub-plots that highlights the coaches impact this had on the players.
"I would say the story of Makazole Mapimpi acknowledging Uyinene Mrwetyana in the warm up game against Japan is one of my favourite scenes. It's deeply emotional, but I also think it's the moment that the team found their purpose. And that purpose is the reason we won the World Cup."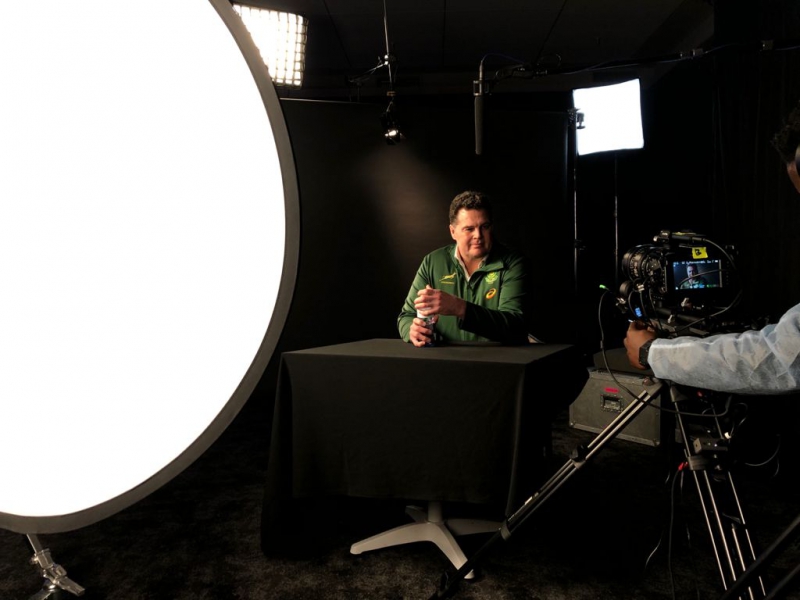 "Rassie Erasmus is an emotional and deeply caring man. So many interviews surprised me and moved me. For example I loved interviewing Sbu Nkosi and Bongi Mbonambi. The team had the biggest hearts and were so committed"
For Greg, being a massive rugby fan, Chasing the Sun was a surreal experience.
"I'm a massive rugby fan and the story of the Springboks winning the Rugby World Cup touched me very deeply, so sitting with my heroes, and talking about the story for hours on end was one of the greatest experience of my life. I definitely had to pinch myself."
"Every morning when I drove to the T+W office to work on the edit I would think to myself, "Everyday I get to work on the documentary about the Springboks winning the Rugby World Cup. Crazy! I still receive messages from strangers about how the series changed their lives. It makes me proud that we did the story justice, and just how important these stories are for our country and our own narrative."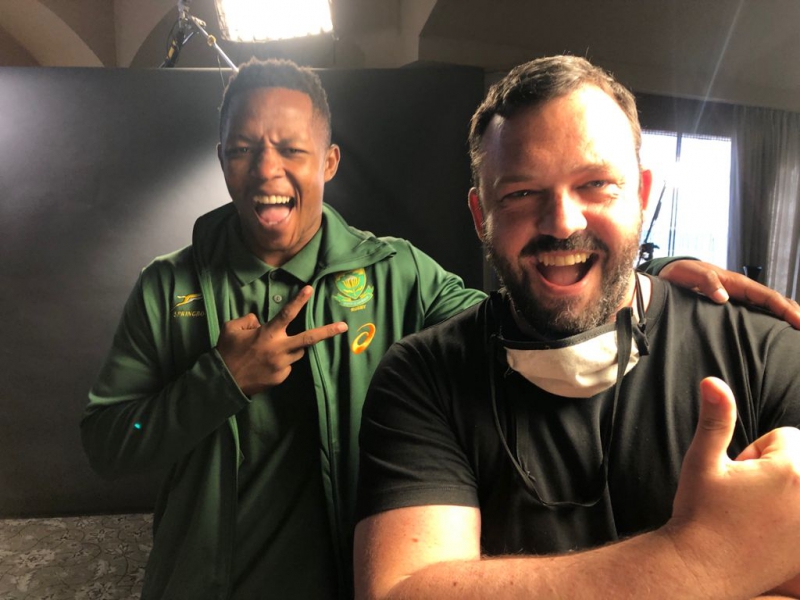 ---
You can watch it all over again on Showmax.
Got something to say? Then leave a comment!
---
Cafe Focus: Nulyfe Coffee
Wednesday, 2 February, 2022
We first met Charles many moons ago when he was working at InFood Coffee Society in Jeffreys Bay and he came first in the SCASA Eastern Cape Barista Championships. He was even on the Cover of our 4th Edition of The Coffee Magazine some 9 years ago! We were thrilled to see he has started his own business in Cape Town and we caught up with him to hear his news.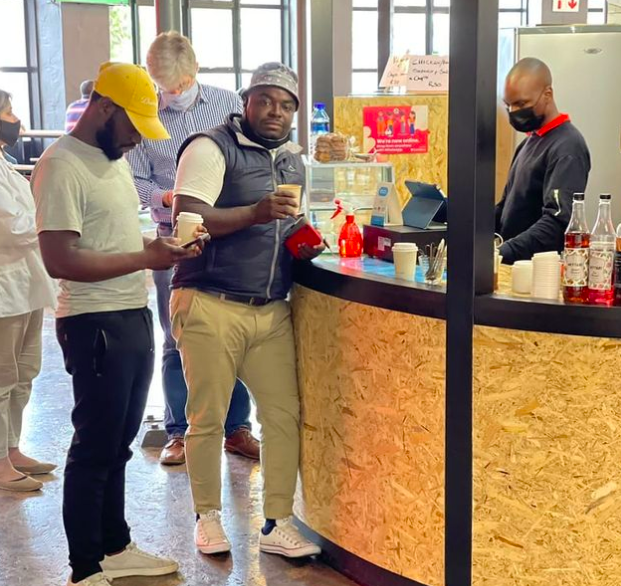 Tell us about how Nulyfe Coffee started. What was your inspiration?
So Nulyfe Coffee started as a thought, its (Newlife) then i twisted the spelling to make it unique and draw young people attention. As the new generation in coffee i have the passion to spread knowledge to the youth, help them get employment easily. If your CV has atleast one course it's easier to get the opportunity to work because you bring value to that place, they wont spend time and resources on training. That is why at Nulyfe Coffee we also provide Barista Course.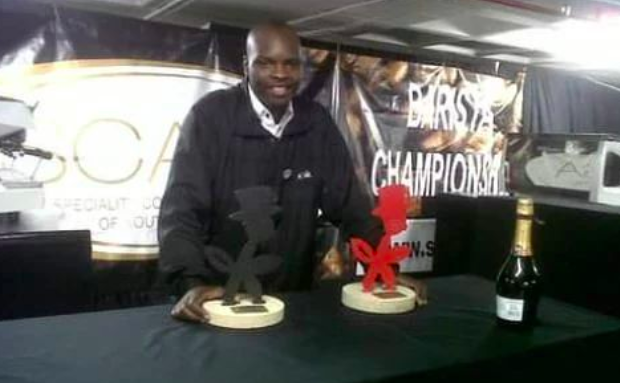 What did you learn from competing at the SCASA Barista Championships?
Well after competing at the SCASA BARISTA CHAMPIONSHIPS i was excited for becoming the Regional winner and securing Top 6 position at National level, however i realised that it was the highlight of the future. Also working at (Infood in Jeffreys' Bay) helped me understanding what is good coffee and how to achieve a good cup of coffee. We do have lots of Baristas, but the standard produced from Barista Championships will set you apart from others, the quality of professionalism is just world standard.
Which coffee roaster supplies your cafe? Can you tell us about why you love this coffee?
When it comes to coffee beans am very cautious and selective, because the taste of coffee is a major key aspect to keep customers coming back. It has to be incomparable to at least 10km away from you. That's why am using the Pilot Blend from Eighteen Coffee. This amazing blend consist of 4 single origins, Guatemala, Brazil, Kenya and Ethopia.. it brings out a well rounded blend. That gives me confidence and we keep seeing customers coming back with compliments..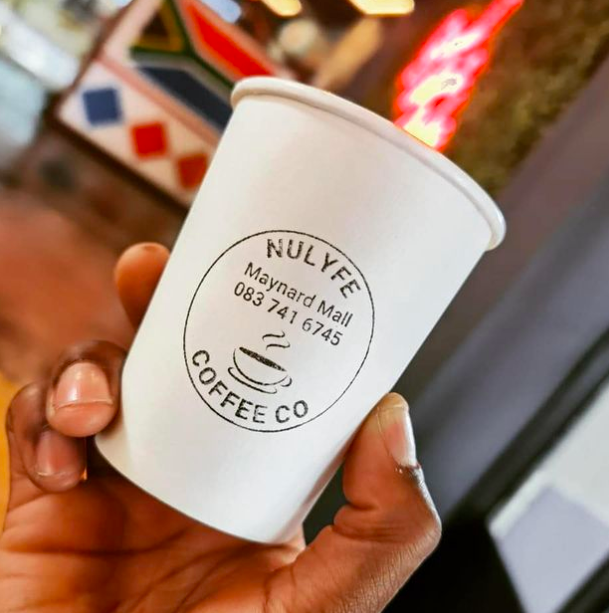 What are your dreams for Nulyfe Coffee?
Well about the future, as the name says Newlife..by the way my Son's name is (Newlife) turning 2yrs in May.
The vision is to grow new branches, create more employment and to have a well equipped place for Barista Training. Improving my knowledge as well, maybe visit some coffee origin countries like Ethiopia, Uganda, Brazil and more.
What advice do you have for young baristas just starting out in the industry?
The advice to new baristas, the key to success is focus. You have to know what you want and give yourself enough time to learn. Its good to earn a salary but most importantly use the opportunity to learn a skill, in this industry there is a lot learn before it start to pay off , equip yourself with good knowledge, in due time the rewards will be amazing.
Where can coffee lovers find you?
Nulyfe Coffee is in Cape Town, Wynberg at Maynard Mall
Also on facebook , instagram and youtube.
Got something to say? Then leave a comment!
---
A visit to Mpenjati Coffee Farm on the KZN South Coast
Friday, 28 January, 2022
We had the opportunity to visit Mpenjati Coffee farm for the first time this week. Des Wichmann has a very ambitious plan for this 55 hectare piece of South Coast land and we are excited to taste the future coffees from this farm.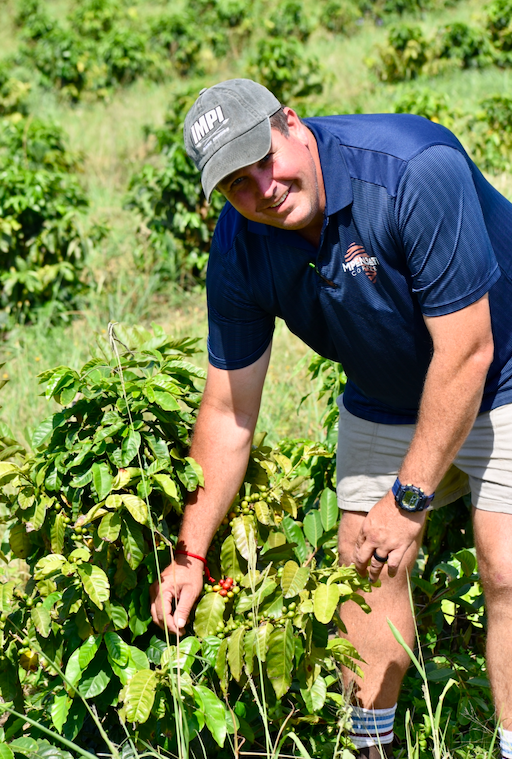 Des with his coffee trees, wearing a "colour band" to match to the correct colour of the cherries when they are red enough to be picked.
Coffee farming on the KZN South Coast was particularly strong in the 70s but subsequently died away as farmers tended to stick with the traditional staple KZN crops of sugar cane, bananas and more recently macadamias. The Natal Rugby team was even nicknamed "The Banana Boys" throughout the 80s and 90s, such was the association with the abundance of bananas grown in KZN.
Beaver Creek, owned and run by the Cumming family, was the outlier that stuck it out with coffee farming and has become relatively well known as the stalwart coffee farming family in the region. (You can read a great article about this written by Dylan Cumming here) That was until we met Des Wichmann from Mpenjati Coffee at Creative Coffee Week 3 years ago. Des grew up on the KZN South Coast and was known by the isiZulu moniker of "Magwava" as he used to run around as a farm boy eating the locally grown guavas.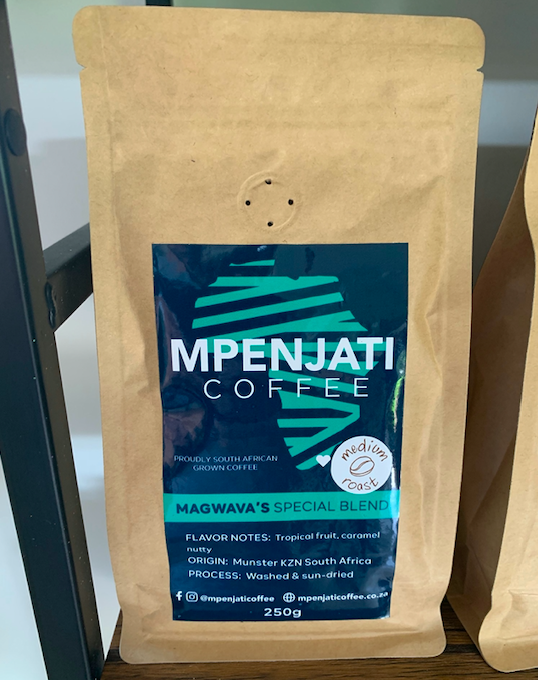 "Magwava's special blend" - available in the Cafe at Mpenjati.
"When you grow and process your own coffee, you have a say in the pricing and marketing of your own product. It's not like that with cane or macs where you're selling at a fixed price and your produce is mixed in with several other farmers' and distributed to market through a third party" he tells us.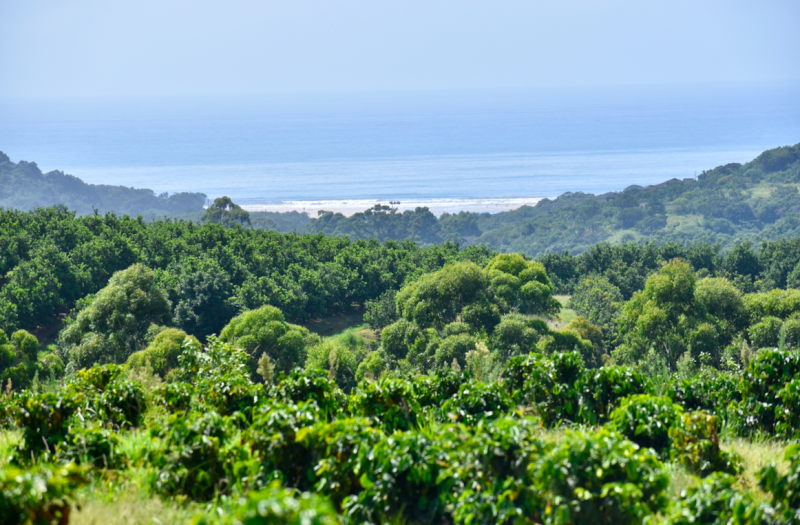 With coffee trees in the foreground, and the Mpenjati River flowing into the warm Indian Ocean, you might just fall a little bit in love with this place!
As we turn into the farm, you can see that Des and his wife Leigh have put a lot of effort into the marketing and branding of Mpenjati Coffee. We drive up to the HQ of Mpenjati coffee which comprises a series of smallish buildings that are the hulling room, a sorting room and a roasting room and finally a beautifully outfitted coffee shop.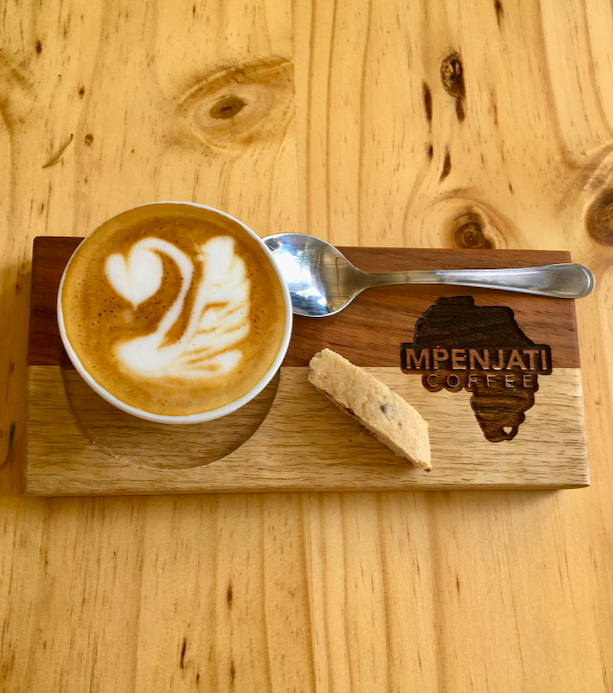 Attention to the small details and the excellent branding make for a very worthwhile coffee experience at the farm and the cafe.
But it hasn't been an easy or straight forward road as Des explains "Our first crop in 2019 we had 2 tonnes of cherry and 300kg green beans from those cherries, then in 2020 there was a bumper crop. In 2021 however, we were struck by a shocking year. The Ants ringbark the trees in the dry years and the Leaf Miner moved in too. Then the rains come and it's fungus to deal with… This year we are hoping for 4-6 tones of green coffee after working to combat all these things."
We took a tour of the farm and Des showed us the various fields that he's planted with a range of different of coffee varietals - some from Colombia and Brazil, other from Kenya and even a whole field of a different species called caffea racemosa. These trees look completely different and yield a very different (and very sweet and very tiny!) cherry.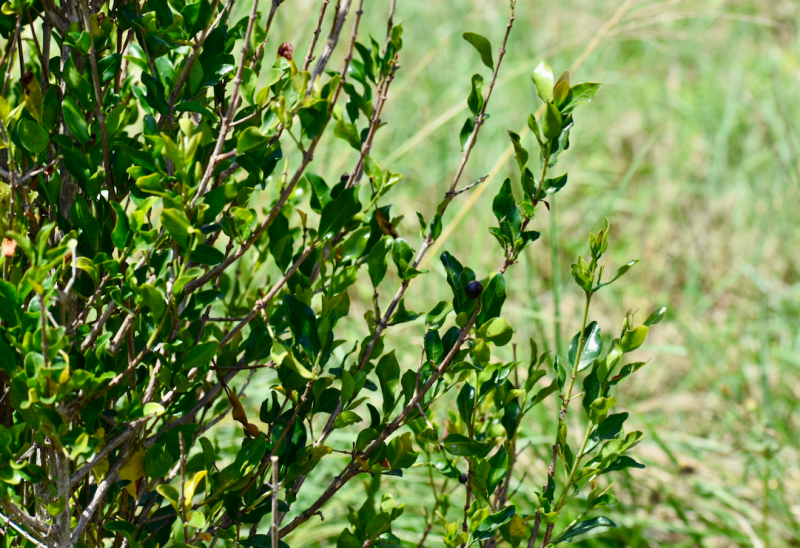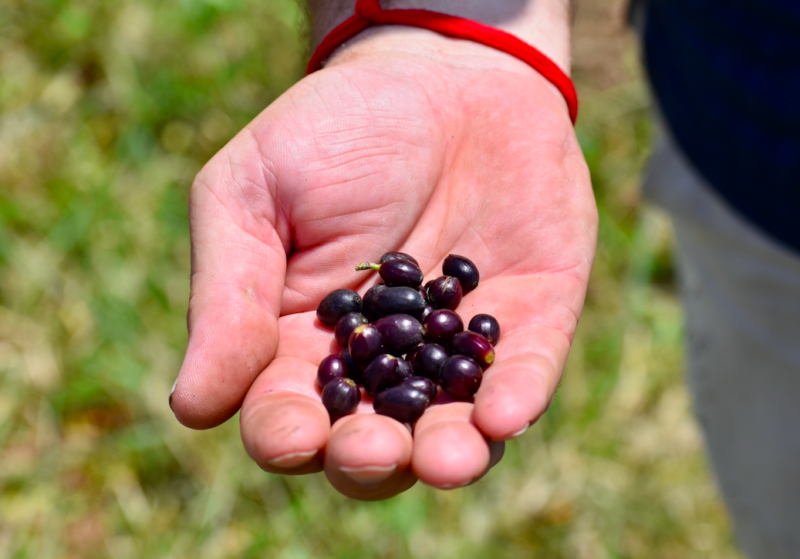 The racemosa tree (above) and the cherries (below).
We noticed the cherries already forming beautifully on the trees and Des is hoping to have a decent harvest in the coming months. He's even developed a colour strap that his seasonal workers can wear so they only harvest the ripest cherries.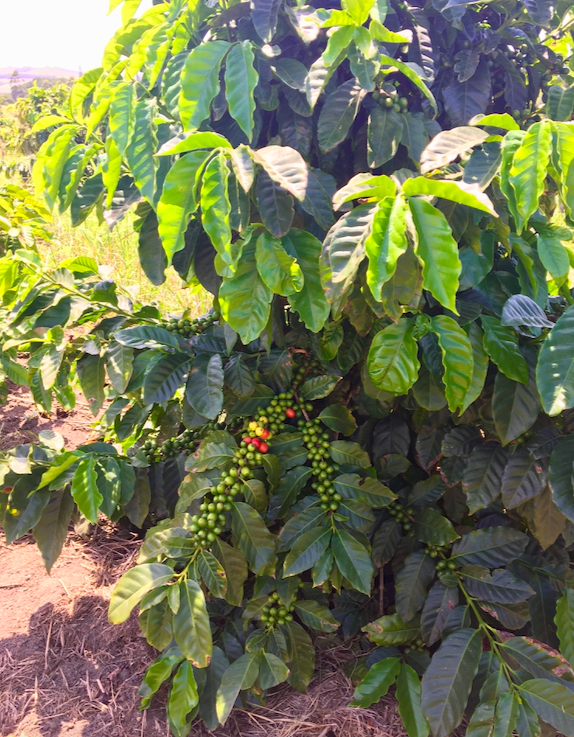 It's almost harvest time!
Check out Mpenjati Coffee here and let them take you through the process of getting the coffee cherry to your Cup at their new cafe when you next visit the KZN South Coast.
Got something to say? Then leave a comment!
---
Inspiration: An interview with Capt. Maeshibe Marema of Maeshibe Coffee
Wednesday, 26 January, 2022
We are a bit in awe of this powerful woman in coffee that has started a coffee business while being a full time Captain in the SANDF. We caught up with her to hear a little of her story.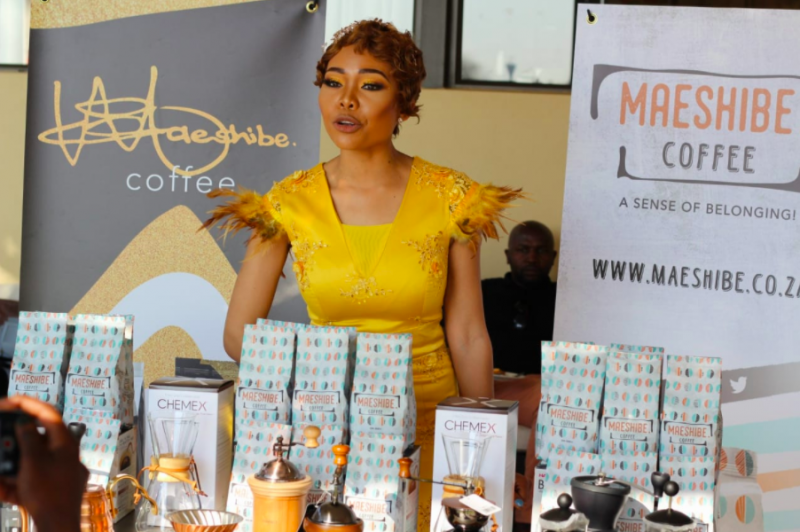 Behind Maeshibe Coffee is a very strong, female lead! Please tell us about yourself and how you got into the coffee world? You were (or are you still?) a Captain in the SANDF? (We are in awe!!)
My name is Maeshibe Marema and I am the founder and CEO of Maeshibe Coffee. I am a 33 year old female from Zebediela in Limpopo. I am currently staying and operating in Pretoria East. I was first introduced to coffee when I was about 6 by my grandmother who'd order us to make her a cup of coffee any day, any time during the day. She'd serve this special hot beverage to her friends and anyone who visited our home in the villages. I saw how a cup of good coffee brought people together. That's where and when my love for coffee started. As I grew older, I knew I wanted to create employment and help alleviate poverty in my community and around the country and there was no other way to do this other than using my first love which is coffee.
I realised it was also a male dominated space and that drove me even further to wanting to start my own coffee brand. To understand the process of farming and roasting coffee. I wanted to create a culture of coffee amongst communities and see how every sip transforms into a good conversation like the one I saw my gran having with her friends. I wanted to see more young people, especially female, tapping into the world of coffee, learning barista skills and therefore creating employment at the same time.
I am currently a Captain in the SANDF. I have an employer employee relationship where my business does not affect my 8-4 duties. Through discipline which I learnt from this organisation, I am able to employ people and manage them accordingly.
What are your dreams for the future of this business?
My dreams are owning a coffee farm and opening a coffee academy where everyone can learn and enjoy a freshly made cup of coffee.
How do you see the coffee industry having a positive impact on the lives of young South Africans?
Coffee is one of the most highest traded commodities in the world. If South Africa can invest in coffee farmers, invest in barista and roasting skills development, we will benefit a lot of families by creating employment amongst the youth of this country.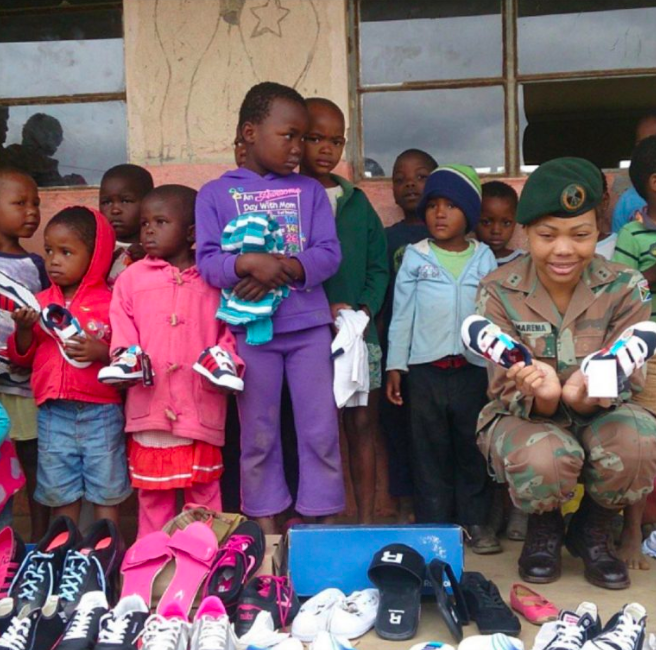 What would your advice be for people starting out on the entrepreneurial path?
I always say to new start-ups, research should be your daily "cup of coffee". Sleep, eat and breath research. Check new trends and align yourself with what is current. For you to succeed you must learn from existing companies and check their strengths and weaknesses.
What is your favourite way to drink coffee?
Without sugar. I love appreciating the texture and aroma of a good cup of coffee.
What makes the coffees you offer special?
Maeshibe Coffee is made of two single origins. Ugandan and Mandhelin Sumatra. I wanted a good coffee with a bit of fruity flavours in it. The aroma is inviting.
Where can our readers find you and your coffee?
You can purchase from our online store www.maeshibe.co.za
You can also contact us on 076 315 9225
Our Instagram handle is @Maeshibe_Coffee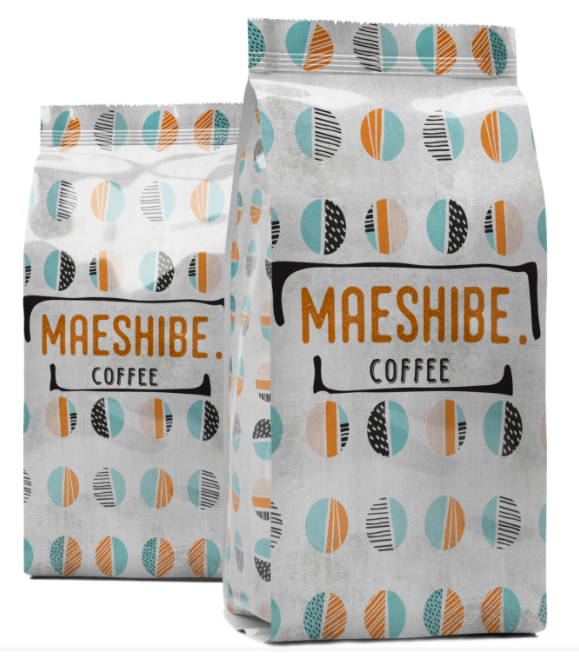 Got something to say? Then leave a comment!
---
Happy 2022! Let's do this!
Friday, 21 January, 2022
2022 is going to be EPIC We're a bit tired of managing our expectations based on pandemic related challenges, so we're bringing the optimism and making ALL the plans! It's better to try and fail. We tell you all about it! So, let's do this thing! We can't wait to drink more coffee with you this year!
Got something to say? Then leave a comment!
---
Participate in our Coffee Poll
Friday, 21 January, 2022
Well done to Sandile Shongwe who wins the prize!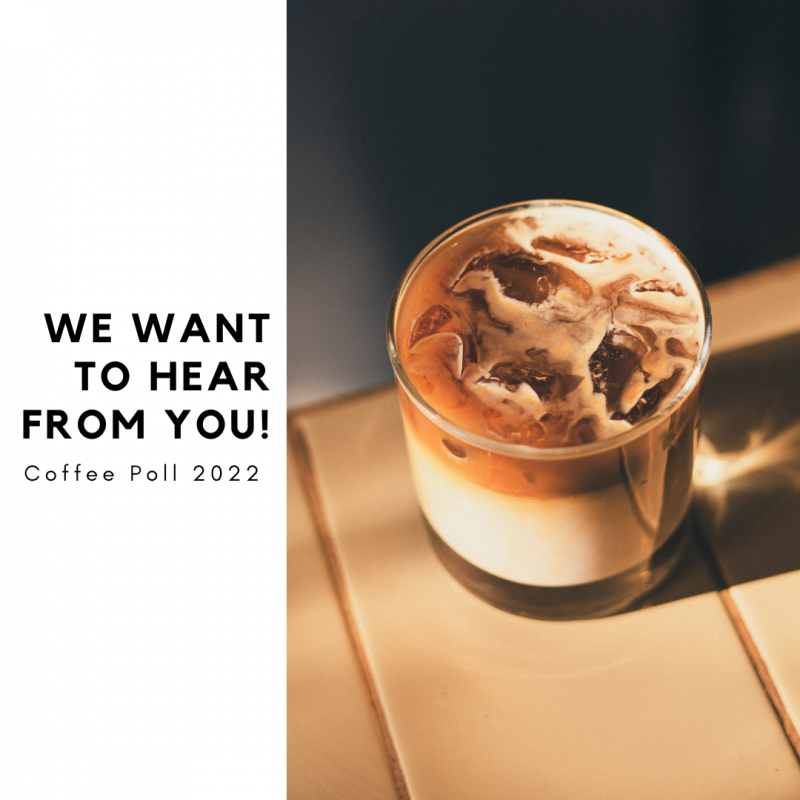 Hi folks!
Mel and I were wondering what you guys wanted to get out of this brand spanking New Year known as 2022!
So what better way than to simply ask you, our wonderful coffee-crazy readers, so that we can get to know what you really like, don't like, would / would NOT drink and how you like your coffee :) There are also some fun poll questions, because, well we all like to dream - so a special prize for the best answer to number 10, and we'll randomly draw a winner from the rest of the responses and announce it next week in the newsletter.
Ok, here goes... Happy 2022 everybody!
Iain & Mel.
The Great 2022 Coffee Poll!
Got something to say? Then leave a comment!
---
New Kid on the Block: Gatvol Coffee
Friday, 21 January, 2022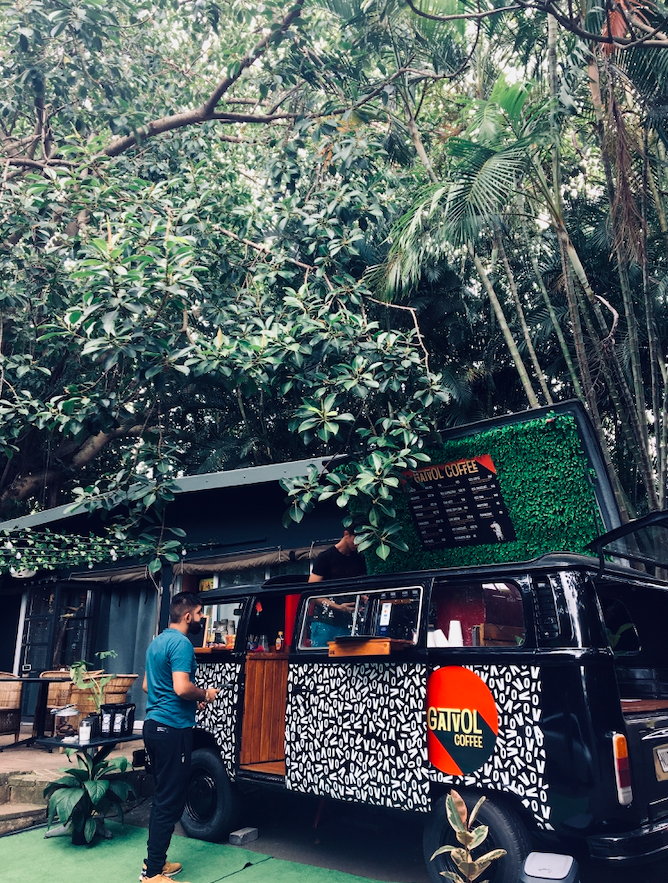 "Are you Gatvol?!"
This is the question asked on arrival at Gatvol Coffee, a funky, converted old VW that is home to a tiny cafe. And the playful, fun, hospitality-forward experience only gets better from there.
Tucked at the foot of a lovely, tropical jungle on the property of boutique hotel, Beside Still Waters, you feel a bit like you've stepped into another universe. Mary-anne at the lovely bar area, where I set up to work, welcomed me like an old friend and made a big effort to make sure I was comfortable and looked after. I am a sucker for excellent service and though it's unscientific, I really think it makes the coffee (&later a sneaky beer!) taste better! There are boardgames and couches and lots of exciting things to see for kids of all ages.
Owner of Gatvol, Caleb Vandersteen, comes from a hospitality background, having worked at the hotel for 4 years before setting up this coffee concept and he says it has hit the ground running! With support from Coastal Coffee they have come up with a fantastic blend and really the location is a sublime hideaway of green magic. Caleb has a lot of energy (coffee helps!) and has lots of plans for events in this great space so keep an eye on their Instagram for fun activities in the future.
Well done for creating a lovely haven of coffee away from a busy world!
Helpful note! Park on the verge outside as inside parkings are understandably reserved for the hotel guests.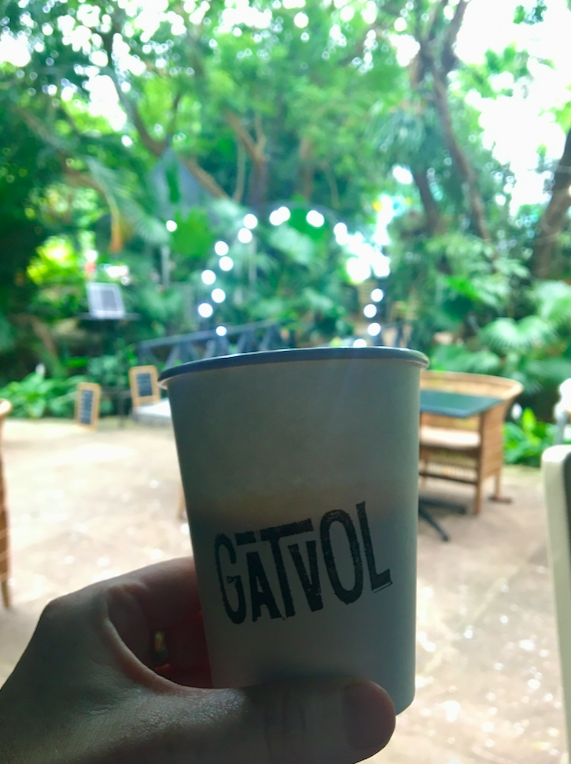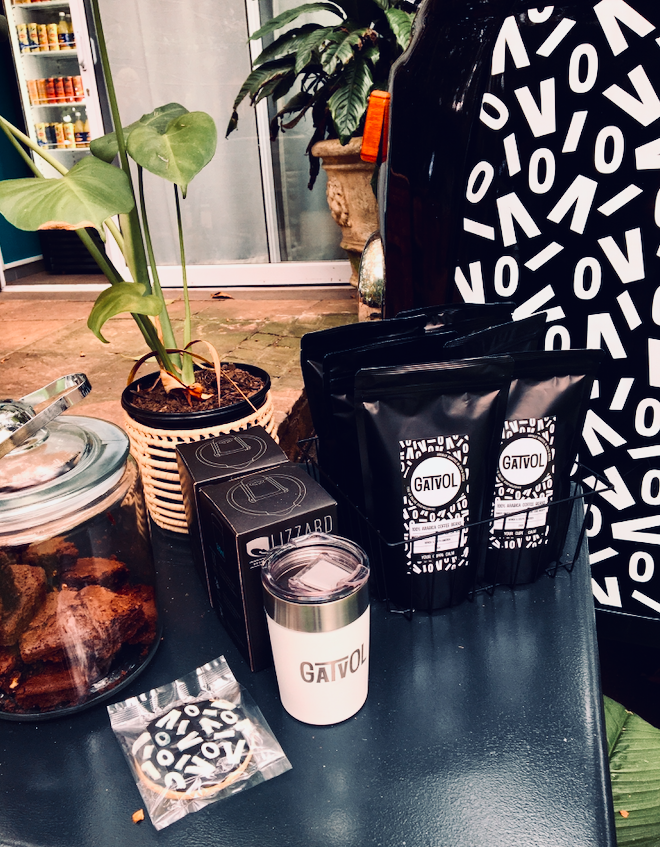 Got something to say? Then leave a comment!
---
Melt in your Mouth: An exploration of Chocolate
Friday, 21 January, 2022
I don't know if any of you are also MasterChef fans, but there was recently an episode on chocolate and it got me thinking about this great article we published in Issue 35. I learned so much!
Who among you can honestly say that you don't love chocolate? That there has never been a moment when you were astounded by the melting of smooth and creamy chocolate on your tongue? We were recently given an education on some of the finer points of chocolate-making and starting a new brand by one the trailblazers of the coffee world, David Donde. Delve deeper with us into a world we very much take for granted, picking our favourites excitedly from the sweet aisle and never wondering how they got there. Fear not! We're not looking to lessen your enjoyment of this divine substance, rather we hope to inspire you to support small, local chocolatiers as we have always done in coffee. Always be curious!
Words by David Donde
---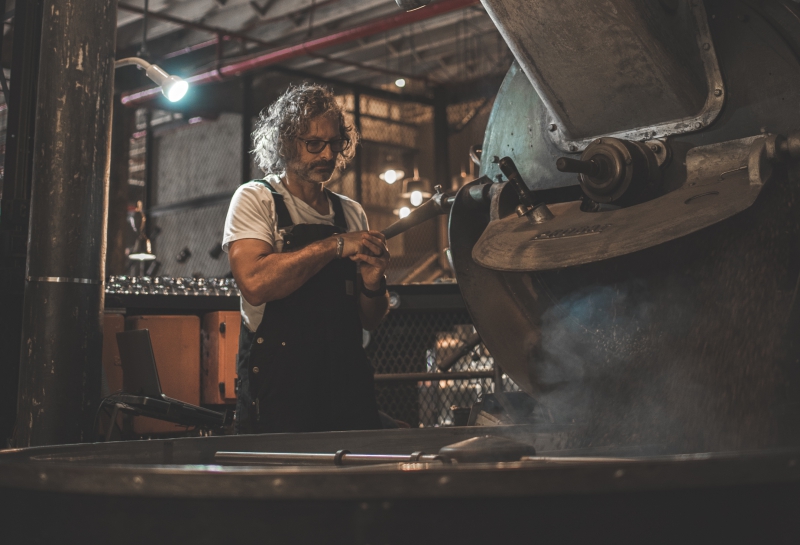 Antoine de Saint-Exupéry, the writer of The Little Prince once said "Perfection is achieved, not when there is nothing more to add, but when there is nothing left to take away."
This is the essence of minimalism. We live in an age where our overindulgent consumerism is literally destroying us. Whether we will die from our bad habits or from habitat destruction is a dystopian race to the bottom. Is there another way? I believe there is. Joy isn't about more. Joy is about flavour and comfort. About being, about the now. If indulging in joy now has a future price, your joy is diminished. A path that embraces both ethics and flavour, that is what I am after.
I have been called a sugar nazi to my face on more than one occasion. Coffee without sugar was a point to be made. In a time before we understood the Sugar Pandemic affecting our health and the health of our children. Talking of pandemics, our beloved cafe, Truth Coffee here in Cape Town, South Africa, has been severely affected by shutdowns and loss of tourism. Our people have suffered. Making payroll every month has been a challenge. For months on end distributing ALL of our gross profits to the team equally, to keep their families fed was a choice we made willingly. While neighbourhood cafes have been kept buoyant through these times, a central city attraction like ours has had few ups and many huge downs.
So what does an entrepreneur do? Looks at the challenges and seeks opportunity. Yes, we could have pivoted and become a grocery store, but that isn't our purpose. It wouldn't have fed our philosophy, and without philosophy, there is no purpose, and a business without purpose may as well not exist, in my opinion. So we navel-gaze, and we look at what drives us, at what we excel in. Roasting, learning, making flavour(s) and who are we? What is the team? Who is the team? And we realise, we have an unexplored opportunity: chocolate.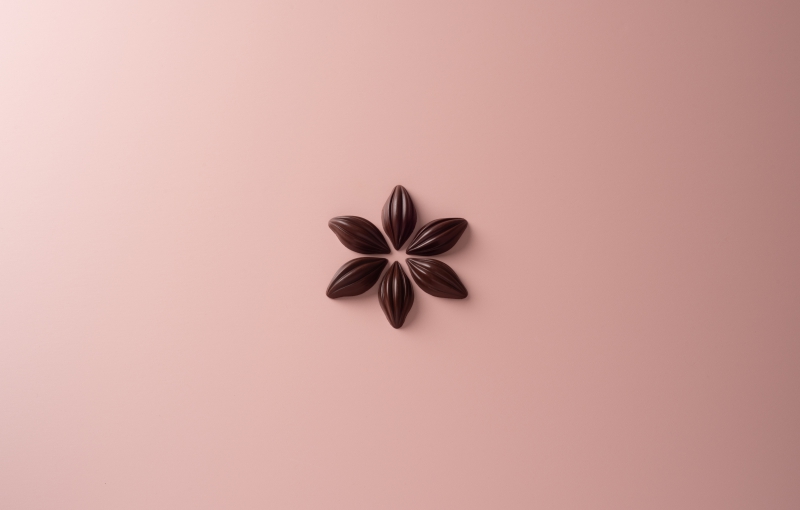 A confession from a self-confessed foodie: I have always hated dark chocolate. There it is, out in public now. Use it against me at will. I want that joy of an illicit easter egg that also echoes the joy of foodie indulgence. What Tony's Chocolonely* has done for ethics, and To'ak Chocolate** has done for concept, I want both of those in one world. So the question we asked was, could we do for chocolate, what we have done for coffee: flavour not bitterness. Is chocolate naturally dry and bitter, or is that the fault of sloppy processing?
We chatted to the experts and, in a few words, we are told not to bother. "Just do what everyone else does, buy a good enough wholesale chocolate and melt it and call it yours. Making Bean-to-Bar chocolate well is too hard." Challenge accepted.
The old adage I was once told by an Australian Barista, still holds true, she said, "You can't polish a turd." Basically, start with good green coffee, or in our case, cacao (the chocolate equivalent of green coffee beans). Finding great coffee is simple (this century anyway), you find a great matchmaker that you can trust and you order samples based on flavour notes, varietal, farm and origin. We tried to apply the same process with cacao. It did not go well.
"What flavour notes do the various cacao beans you offer have?" you politely ask. "Excuse me?" is the reply.
Ok, deep breath, we can do this. "Varietals?" you ask. "Huh?" is the heady response.
Ok, let's try another tack. "Any great origins available?" "Yes," they exuberantly offer, "want some Madagascar? Madagascar is the best you know."
Well, from our experience, it isn't. We tried a lot of cacao. A lot. There are some amazing origins, but the best we have tested so far is from São Tomé and Príncipe. And we bought a load of it. It is a tiny island country off the West Coast of Africa almost directly on the equator.
On a personal note, the story of São Tomé shocked me to my core. In 1470, the Portuguese decided to grow sugar cane on this island off of the west coast of Africa. So what did they do? They took 2000 Jewish kids under the age of 8 as slaves. I did not know this modern legacy of slavery of my people, but we are making this chocolate in memory of them.
There are dozens of cacao varietals. And the heritage stuff is where it is at. Sadly the modern hybrids are a disaster! They may yield many times more per hectare and are way less work to maintain, but in my opinion, they taste like they belong in the dump. Unlike coffee, if a heritage tree is pollinated by a hybrid, then funky, big, high yield pods ensue, which is not a good thing. Cross-pollination is a real problem. But we do love the Forasteros for the record. A faster growing and more vigorous varietal than other common types, the Forastero cacao tree is widely used by the chocolate industry, producing 80% of the world's cacao bean supply. While many claim that Forastero is inferior in quality and taste to its siblings, others argue that the flavour of the Forastero is actually quite delectable and that it is only less valued because of its abundance. And of course, finding heritage Forastero is key. The lack of bad chocolate varietals on the island is my number one reason for using cacao from São Tomé. But ultimately it comes down to terroir, which impacts on flavour. In testing and tasting, it was the hands-down clear winner by the proverbial country mile!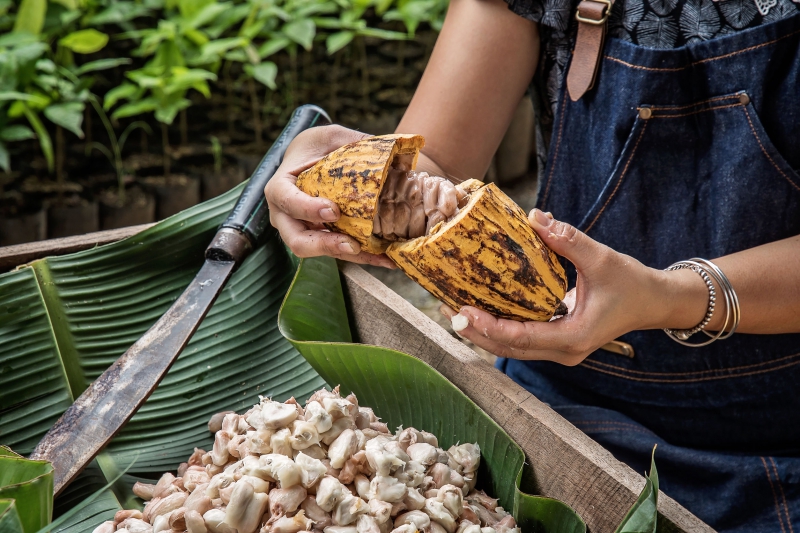 Farming is hard. Always. Cacao farming is no different. There are many different styles of farmers, from large estates to small-holder co-operatives. As with coffee, the models are mixed, with farmers, co-ops and collectives finding ways to process the cacao beans once the pods are picked from the trees. Processing is vital and makes a huge difference in what styles of fermentation are adopted, as with coffee. We of course will always favour smallholders and wild grown, over mass-produced, except for the worthy exceptions! We have not found the exception in cacao yet, but in coffee, a great example is Daterra, a large coffee estate, or agribusiness if you will, yet it behaves like a family business, and produces quality that belies its huge size.
Chocolate is stuck in the equivalent of second-wave coffee (maybe not even that). We see the opportunity to follow our Coffee journey and make an impact on the world. We can get through to "Third Wave" chocolate quickly with our experience through coffee. Not by additives and junk, but by treating it as food should be treated. Buying amazing agricultural products and understanding flavour development. Making use of the Maillard process to allow the joy in the beans to shine through without resorting to horrible additives to mask hideous flavours that shouldn't have found their way into the product in the first place. I am happy to report that we have our first two-ingredient chocolate, which contains only Cacao and Milk, and it is creamy, sweet and delicious.
There are many parallels between coffee and chocolate, from agriculture to varietals to heritage. Processing to the point of roasting is very similar indeed. However, from then on chocolate is different.
A word of warning, what seems a simple journey of making chocolate did take a highly skilled team about a year to pull off. Learning to roast cacao was the same and we use our coffee roaster, but the stages and rates of change in the process are utterly different. As with any artisan roasting, the bean needs to speak. Forcing a roasting process on a different terroir, varietal or farm doesn't work. It is, however the age-old story, maximise Maillard (caramelisation of flavour) while minimising pyrolysis (burning, the leading cause of bitterness). I need to stress how hard it is to do this right, both in coffee and chocolate. Then once you get the roasting right, the true learning curve on chocolate making begins. Learning to shell without losing good material, conching and melanging, and learning the various crystalline structures that can happen in chocolate (nearly ten and most of them ruin the chocolate!). Cacao gets its "shell" stripped after roasting, and then conched or melanged, which means ground to a paste, then to a liquid, usually with sugar (we leave the sugar out in our special process). What is conching you ask? A conching machine provides heat and motion via a series of paddles or rotors which keep the chocolate molten and always moving over a heated base for the desired time. The time varies depending on the result the chocolate maker is looking for. Conching not only breaks down the particulate matter of cacao into bits so tiny your palate cannot detect them it also enrobes every little morsel in a perfect coating of cocoa butter. It then gets tempered, which means we alter the crystalline structure through heating and cooling. This process stabilises the chocolate so you can manipulate it and mould into shapes and cools as the chocolate we know and love. It also gives the chocolate a smooth and glossy finish.
The process is a long one from bean to bar and the more we know, the better choices we can make. And so, in taking an opportunity in the midst of chaos, we are down to two ingredients, Cacao and Milk, and we get our first taste of the beginnings of perfection, enough to bring a little hope to a prince?
*Tony's Chocolonely is a fair trade chocolate company based out of the Netherlands, founded by an investigative reporter who was shocked to discover that slavery still exists to this day in the cacao industry in West Africa (where 70% of all cacao is grown). According to their website, the name came about because "he tried to discuss this with several chocolate companies. When they declined, Teun decided to make his own slave free chocolate bars. He felt very lonely in his battle against slavery in the chocolate industry, so he called his company 'Tony's Chocolonely'."
**To'ak Chocolate was born from a rainforest conservation project that co-founder Jerry Toth started in Ecuador in 2007. Through his nonprofit foundation Third Millennium Alliance (TMA), he helped create the Jama-Coaque Ecological Reserve, which currently protects over 560 hectares (1,400 acres) of tropical forest along the coastal mountain range. It was here that he began cultivating cacao trees and making chocolate by hand in a thatched bamboo house secluded in the middle of the forest. To'ak's mission is to transform the way that the world experiences dark chocolate, elevating its making and tasting onto the level of vintage wine and aged whisky.
---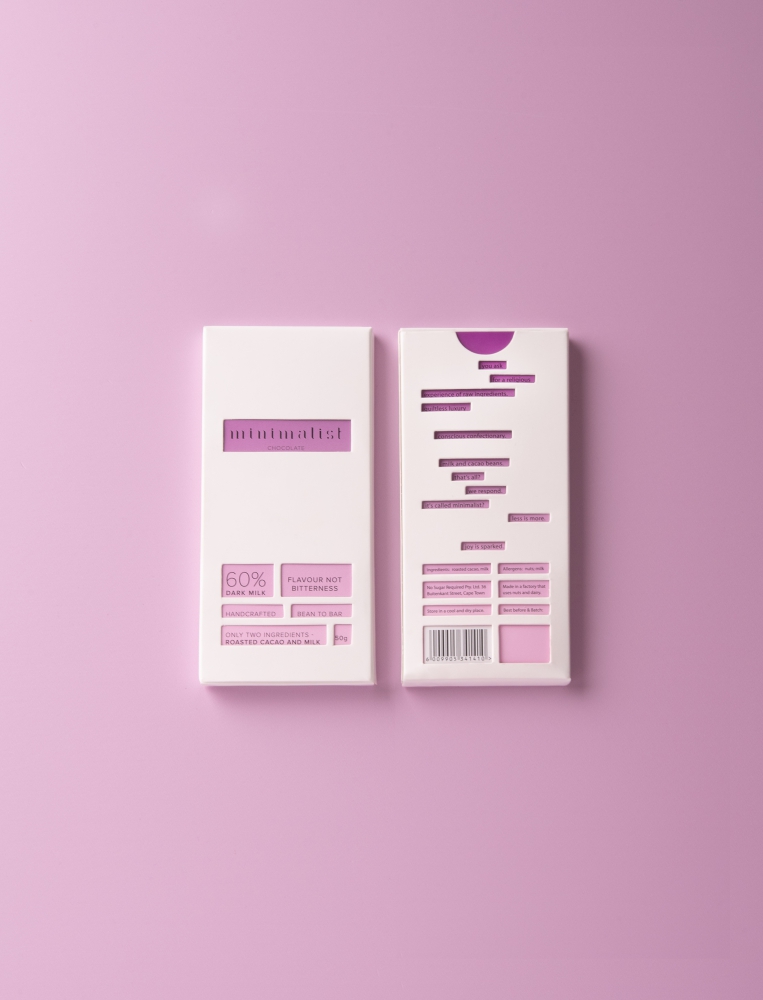 We have built it! That was a long intro to our new venture, Minimalist Chocolate
As I write this our first batch is completely sold out! I wanted to create childhood chocolate joy. While I can't clearly explain that, I know it when I get it. And we nailed it. We are still learning. The funky fruit notes in some chocolate is something worth exploring for sure, but our main objective for now, is to get to chocolatey chocolate, if that makes sense?
Minimalist's distinctive packaging features cut-outs that demonstrate that sometimes cutting out the unnecessary can yield beautiful results in the slab. Minimalist's classic chocolate bars are crafted from just cacao and milk, making for an after-taste and creamy texture that are seriously more-ish. We also have a second chocolate in final development which should have launched by the time you read this. This one is for you, the vegans and lactose intolerant, made with 60% Cacao and OatM*lk in collaboration with our sister project, oaternative.com. Our extended product selection also offers something for the sweet tooth. Bon Bons come in five irresistible flavours: hazelnut, salted caramel, Truth coffee, dulce de leche and Christmas cake, for some sugared decadence at its finest. Chocolate gift boxes are available in batches of 5 bon-bons.
We are presently raising capital to take the micro-brand global, protecting the welfare of our team well into the future. Myself and Minimalist co-founder Ken Walton have identified experts and those who share their passion to bring the project to life, and the team, from roasters and chocolatiers to chefs and cocktail bartenders, they've all become a part of the delicious result.
We are doing this project out of love for what we do, love for our people, and of course, love for chocolate. The intention is to sell this chocolate globally, and we hope that all of our friends in coffee are prepared to stock this chocolate in their cafes?
Chocolate without crap in it. That tastes good? That has a long lingering and pleasant aftertaste? You decide.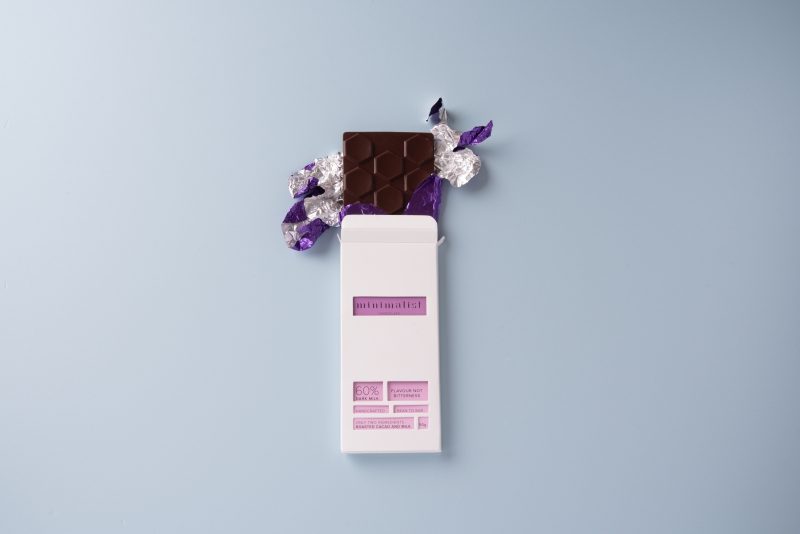 Got something to say? Then leave a comment!