Fresh Talent on Coffee Competition Stage
Thursday, 28 February, 2019
It is incredibly difficult to get on to the SCASA competition stage at any time, but your first time at Nationals? That's got to be the most nerve-wracking. We wanted to highlight a few first-timers that absolutely KILLED it on their first attempt.
Sibahle Ngqiva and Gerald Pietersen - Agape Coffee
These two shining lights from Uitenhage were just such a joy to have at Nationals. They are very inexperienced with the format, but they enlisted help from some legend coffee professionals like Shaun Aupiais and with Sibahle's spoken word performance experience and Gerald's sincerity and willingness to learn, they definitely stood out this year. Not to mention, they were a delight backstage, always willing to engage and put themselves in growth situations. Well done Team Agape.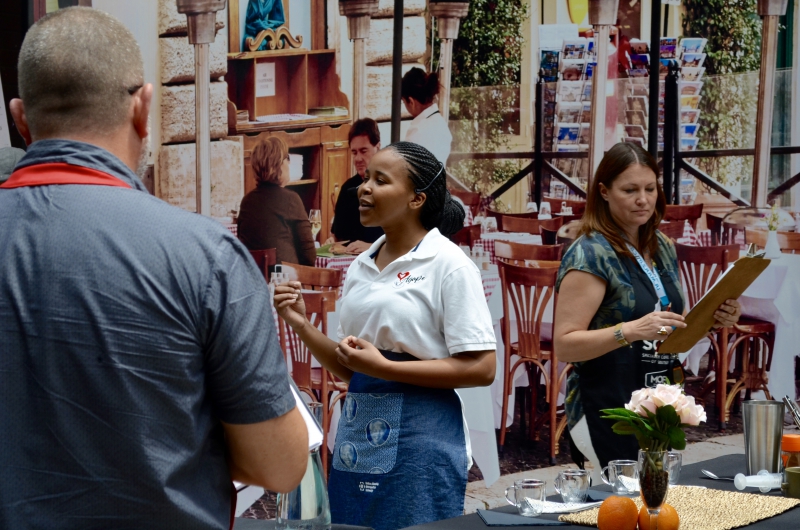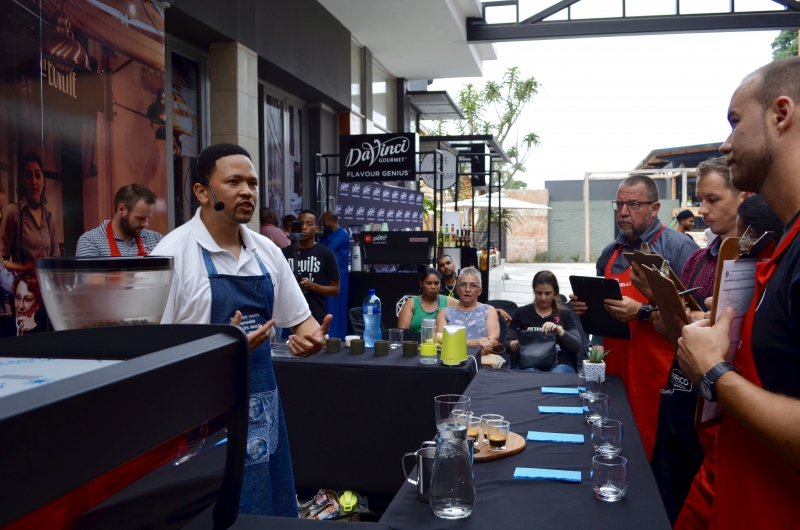 Stevo Kuhn - Urban Brew
Stevo's performance was so slick, I almost couldn't believe that it was literally his first time completing a full 15 minute set for an official panel of judges (The Central Region ran a shortened 10 min format without a Signature Beverage course). He used a beautiful and unusual varietal of coffee (NORMA IRIS FIALLOS MARAGOGYPE NATURAL, HONDURAS) and he just absolutely nailed it. The final results are yet to be released, but we're certain he wasn't far off the Top 6 pace. Completely blown away by his composure as a first time competitor! One to watch for sure!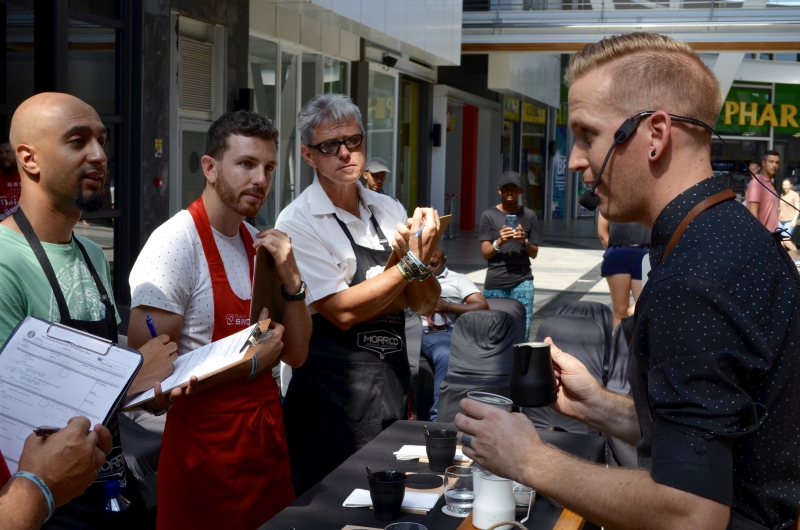 Hilary Gwaze
The team from InFood in Jbay are no strangers to the competition format but it was a joy to watch Hilary find his place among the best. He had the unenviable task of being one of the first barstas up, but that didn't seem to phase him one bit. His crew were behind him all the way and we know he will be back to improve on his position in future.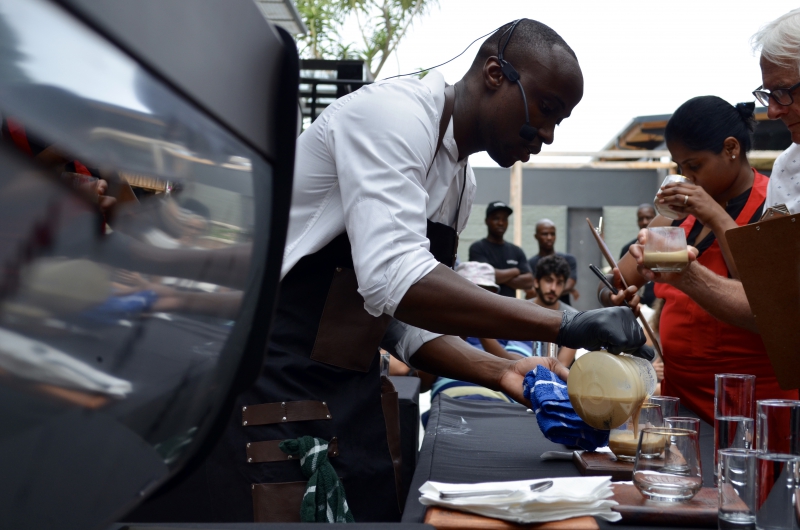 Raymond Roestorff - Wiesenhof Coffee
The Wiesenhof Coffee crew were without a doubt the most enthusiastic supporters at the comp and we are so proud of them for throwing their weight behind both their competitors. You can see that they are a tight-knit group and you could definitely see that Raymond had a stellar coach in the very experienced Khulekani Mpala (who ended up placing 5th himself!). This team is hungry for success at competition and Raymond has caught the bug HARD. He will for sure be back to impress.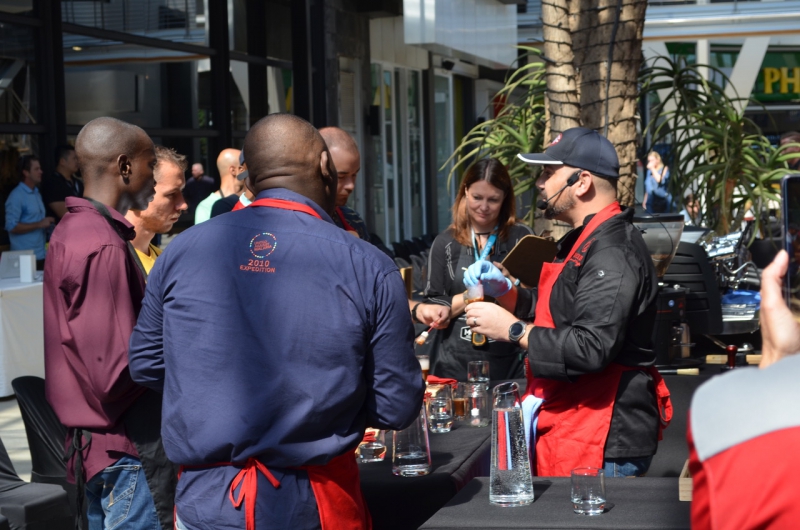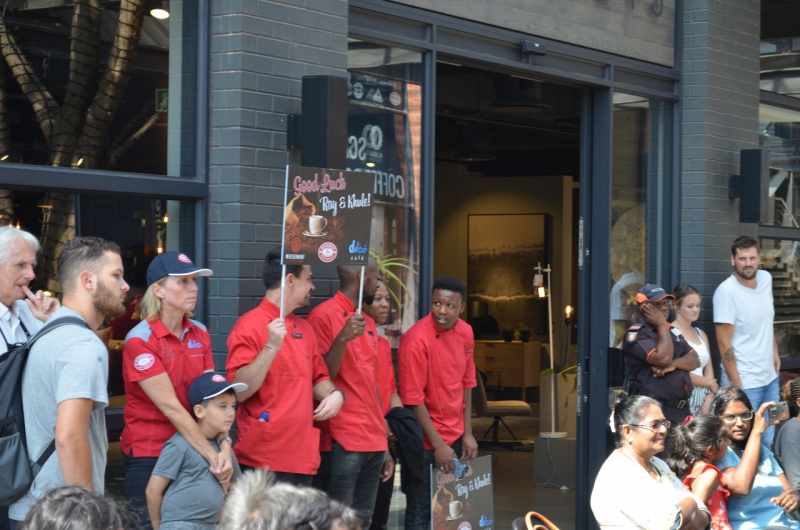 Got something to say? Then leave a comment!
---
Announcing Speakers for Creative Coffee Week 2019
Wednesday, 20 February, 2019
We are thrilled to announce that we have confirmed some incredible participants for this year's Creative Coffee Week line-up.
Save the Date: 27-29 June 2019
More details to follow soon, but in the meantime keep that weekend open for some incredible coffee fun!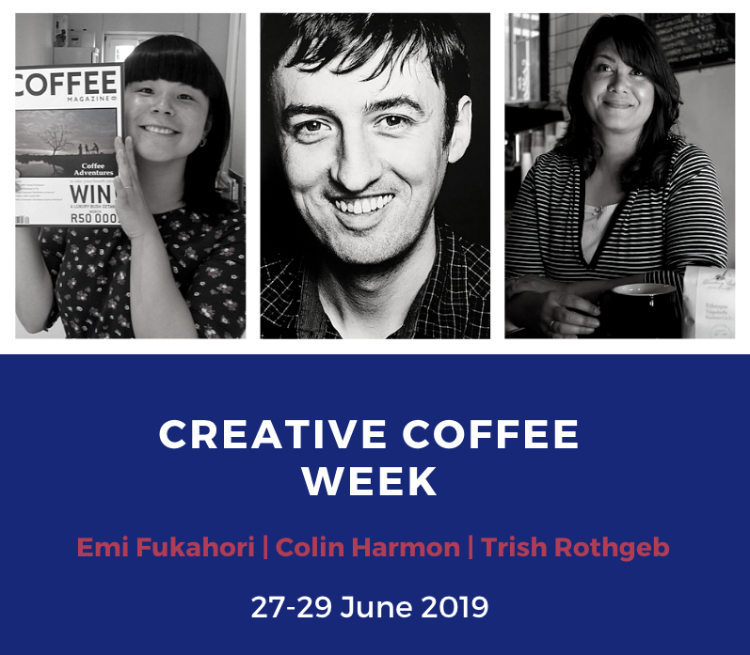 Colin Harmon is very well know as the author of "What I Know About Running Coffee Shops" a book that is wildly popular here in South Africa.
Colin Harmon built 3fe from a one-man coffee cart in a nightclub lobby to the internationally renowned business it is today. The lessons, stories and guidelines in his richly illustrated book offer a unique and honest insight into the day-to-day realities of what many people see as their dream job.
Colin is a four-time Irish Barista Champion and owner of Dublin's 3fe Coffee, one of the world's most innovative and progressive specialty coffee shops. His work in coffee has extended to roasting, training and consultancy work, as well as developing coffee equipment for the specialty market and beyond. We can't wait to have him share his knowledge and experience at Creative Coffee Week!
Emi Fukahori is the 2018 World Brewer's Cup Champion!
Emi Fukahori is one of Switzerland's most known baristas and cafe owners. Originally from Japan, the co-owner of MAME in Zurich took the speciality coffee scene in Switzerland by storm since her competition beginnings in 2015. Although Emi did not win in Seattle—her first time on the world stage—she kept on competing every year after, alongside her life and business partner Mathieu Theis (a top-ranking barista himself and 2016 & 2018 Swiss Barista Champion).
In the years that followed Emi's first Swiss win, the ambitious competitor went from Barista to Brewers Cup category. She took the third place at the Swiss Barista championship in 2016. Emi kept on working hard though and her efforts brought her third place in the 2017 Swiss Brewers Cup championship. 2018 was going to be Emi's year.
Trish Rothgreb is co-founder, co-CEO, director of coffee, and roastmaster of Wrecking Ball Coffee Roasters
Her experience in the industry spans over 30 years as a coffee roaster, green coffee buyer, and teacher of all things coffee. An avid traveler in coffee growing regions worldwide, she teaches "cupping" to coffee producers and coffee professionals around the world. She is also credited with coining the term "third wave coffee" and identifying the relevant concepts.
Trish is a licensed Q-Grader and credentialed Q Trainer by the Coffee Quality Institute. She has served on the SCAA's Roasters Guild Executive Council, was a charter member of the World Barista Championship Board of Directors and a founding member of the Barista Guild of America.
From 2013 to 2016, Trish worked on staff at the Coffee Quality Institute (CQI) as the "Director of Programs: Q and Educational Services," in addition to her work with Wrecking Ball Coffee Roasters.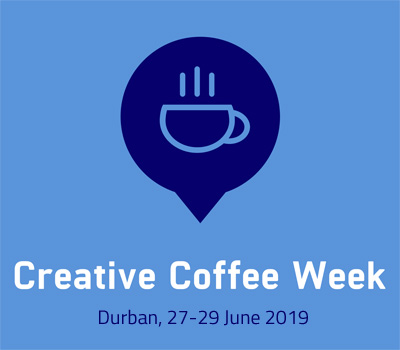 Got something to say? Then leave a comment!
---
The first Block Chain certified coffee, and the company is based in SA!
Wednesday, 20 February, 2019
If you, like me, have not quite grasped how much Blockchain technology is now part of our lives and are still a little in the dark as to what it actually is then here is some educational reading. And for those of you who are much more savvy than I, below is an example of blockchain technology being used to ensure transparency in the coffee supply chain.
We think this is a noble endeavour, but still remain a little unclear as to how to access the data about each stage or how the Provenance certification system works. We know a lot of coffee roasters doing their utmost to ensure that you the customers are getting coffee sourced through means that are sustainable and that ultimately benefit the farmer. Could this be a tool to make that process more transparent? Or could money used for the certification process find its way rather to the farmers? We are interested to see how Blockchain technology becomes more part of the coffee industry.
---
PRESS RELEASE:
Carico Café Connoisseur in Uganda announced the launch of the world's first fully block chain certified coffee.
The coffee, Carico Café Connoisseur's Bugisu Blue, has recently been launched in South Africa with an overwhelming support from coffee lovers. Announcing the launch, Carico's CEO Mwambu Wanendeya comments, "The launch is the culmination of an incredible amount of work which we have done with our farmers and other partners in Uganda. Every step of this coffee's journey, from its growth to sale in shops and other outlets, is fully documented and traceable." The product journey of our coffee can be traced on the UK certification site Provenance.
Carico Café Connoisseur's coffees originate (instead of are) are from Uganda and include the Bugisu Blue, Bugisu Peaberry and Espresso Roast brands. The coffees are available for sale in South Africa and the United States and online through the Carico website. Carico Café Connoisseur's coffees will soon be launched in Switzerland and plans are underway for additional launches in other European markets.
The Bugisu Blue and Bugisu Peaberry are 100% Arabica coffees shade grown at an altitude of over 1300 metres and 1600 metres above sea level in rich volcanic loam soils on the slopes of Mount Elgon in eastern Uganda. The warm days and cold nights in the Mount Elgon area combine with the terrain and high altitude to produce a high-quality coffee which is enhanced by the steady rainfall.
CARICO's Espresso Roast is a rich and full blend of Bugisu Arabica with Ugandan Robusta added for crema and body.
CARICO's coffees are hand-picked, washed and wet processed to create a clean flavour and consistency before being freshly roasted in South Africa to preserve their delicate bouquets. No fertilisers are used in the production of the coffee. In the cup, Uganda's washed coffees bring sanity body and ripe stone fruit tones, along with a delicate touch of red berry and a buttery finish. The best natural coffees feature a lush dark berry jam flavour and mouthful-feel complimented by nougat-like mid tones.
The launch of Carico's premium African coffees comes at a time when the coffee industry globally is changing as more consumers are demanding coffees which are fully traceable. Uganda, Africa's largest coffee exporter, is also the seventh largest coffee exporter in the world. An estimated 1.7 million people in the east African country are coffee farmers and they produce the nation's largest source of foreign exchange.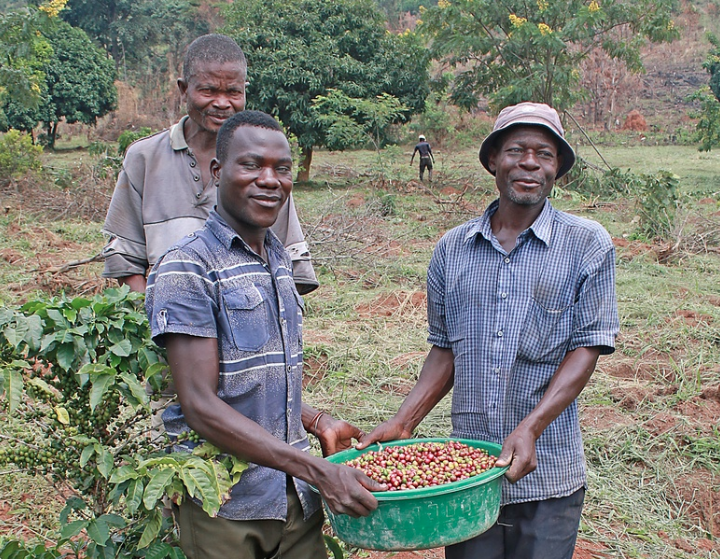 Got something to say? Then leave a comment!
---
COMPETITION: Win a Coffee and Wine Book + DGC Box
Thursday, 14 February, 2019
As you may know, we at the Coffee Magazine are fans of flavour, and it's no different when it comes to wine! So we were delighted to hear of the existence of a book that compares the worlds of coffee and wine written by Morten Scholer (who will be contributing to the next edition of the magazine!). Filled with a plethora of research in both fields, you will spend hours poring through this book. We've got a copy to give away along with a Discover Great Coffee Box! All you have to do is fill in the entry form below.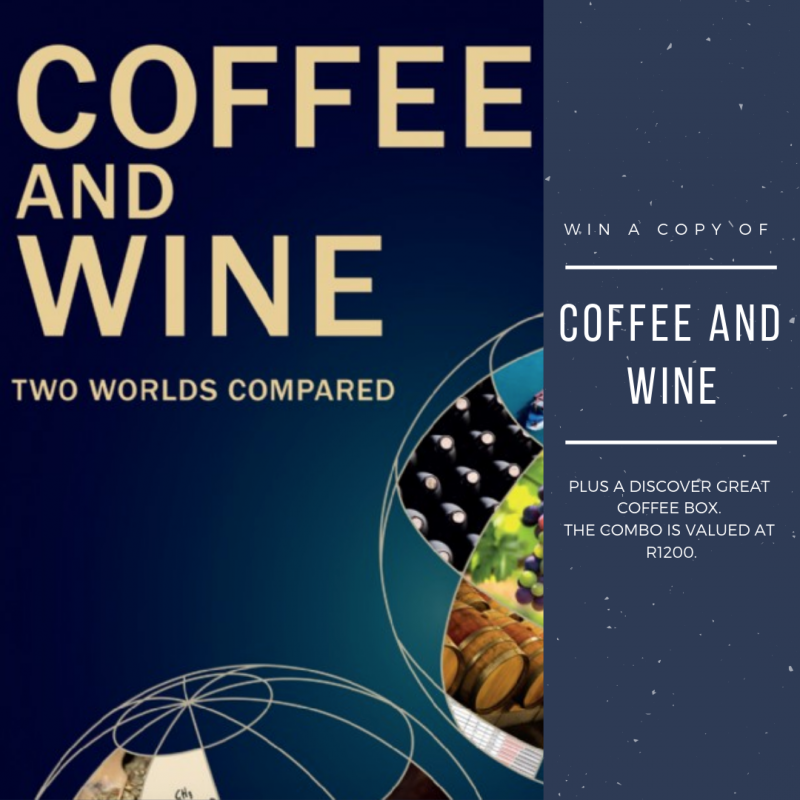 From the Publisher:
COFFEE AND WINE
TWO WORLDS COMPARED
by Morten Scholer
The first of its kind, Coffee and Wine is a comprehensive study and comparison of the growing, producing, marketing and consumption of the two beverages – from tree to cup and from vine to glass.
The book is full of surprises for most readers, whether they are beginners or professionals within the coffee or wine industries. Answering questions such as, why has the consumption of coffee dropped despite the growing number of coffee shops? And, why can more wine be produced from a tonne of red grapes than a tonne of white grapes? Morten explains the technical topics about the drinks using simple language, making the facts and figures accessible for all, from experts and professionals to consumers just enjoying coffee and wine.
Coffee & Wine Book
Got something to say? Then leave a comment!
---
Nigerian artist, Ekene Ngige, inspires peace through coffee on canvas
Tuesday, 12 February, 2019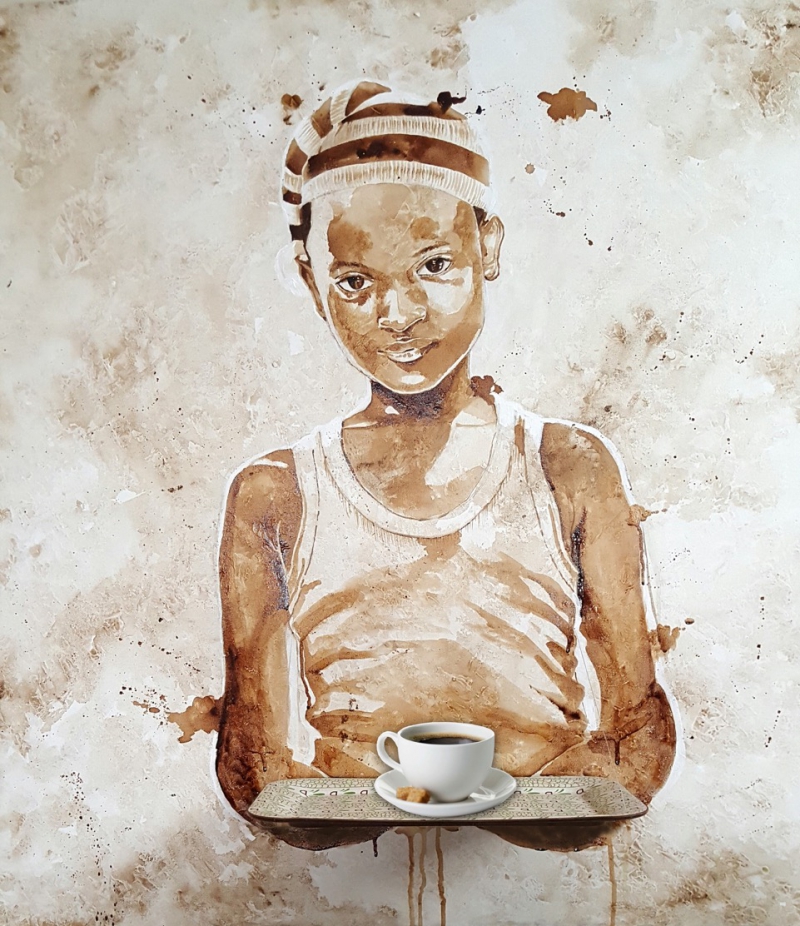 'A Cup of Truce' - series
Ekene Ngige has always been interested in art, and in his Lagos-based studio in Nigeria, he is creating works of art using a very unique medium: coffee stains. The result of a happy accident, Ngige's coffee paintings sell for around €200, and tackle societal issues like inequality and terrorism. We chatted to Ekene Ngige to find out more about his coffee-inspired work…
---
How did you get into art as a career?
"I had the talent to draw as a little boy; I always wanted to be a professional artist and cartoon animator. I admired Leonardo da Vinci and Michelangelo's works. I also had an elder brother I looked up to in drawing comic books. I couldn't separate myself from my talent so I chased my dream."
What gave you the idea to start painting with coffee?
"It started in a strategic meeting where I spilled my coffee. It created a fine brown map on my paper that I fell in love with. It looked like watercolour but a bit different. The gold brownish colour and the gloss texture were something I needed to see on a full painting, so I tried it on watercolour paper the moment I got back to my studio and I just loved the outcome. It's not so different from working with watercolours – same approach. I went further to experiment on canvas and it was amazing and has been my first love amongst my favourite mediums."
What's your coffee of choice when it comes to drinking it?
Cappuccino and espresso.
How do you choose your subject matter?
"I choose my subject matter with what's currently happening around me. Events that are positively and negatively affecting society. Recently there's been too much hate and violence in the world. My country, Nigeria, has suffered violence from terrorism and ethnic war. So, I needed to pass more messages about love and peace and there's no better way for me to do that than with my artworks. I try as much as possible to make this message beautiful enough for hearts to connect with and see the beauty in having a peaceful and joyful environment. Poverty has never been my subject matter but mostly victims of war, racial inequality, terrorist attacks, child abuse and gender inequality."
Tell us about your favourite pieces? What inspired them?
"My favourite piece is 'The Coffee Break'. It's a 4x6 ft. coffee on canvas. It depicts some of the major controversial world leaders. Queen Elizabeth II of England hosts them to a coffee date. The coffee break signifies a moment of peace between all these leaders and basically the world – a moment when our leaders have put their differences aside to peacefully discuss a better future for the world. The painting is calling for everyone to exercise a coffee break from hate and make peace with themselves and their neighbors. We should learn to accept everyone no matter the color, tribe or religion. We are from one source.
'The Cup of Truce' series are also my favourites. They depict victims of terrorism, ethnic war and religious war holding a tray with a coffee cup installed on it. The Cup symbolises peace. These victims are serving a cup of coffee to the perpetrators asking them to take a coffee break from their crimes."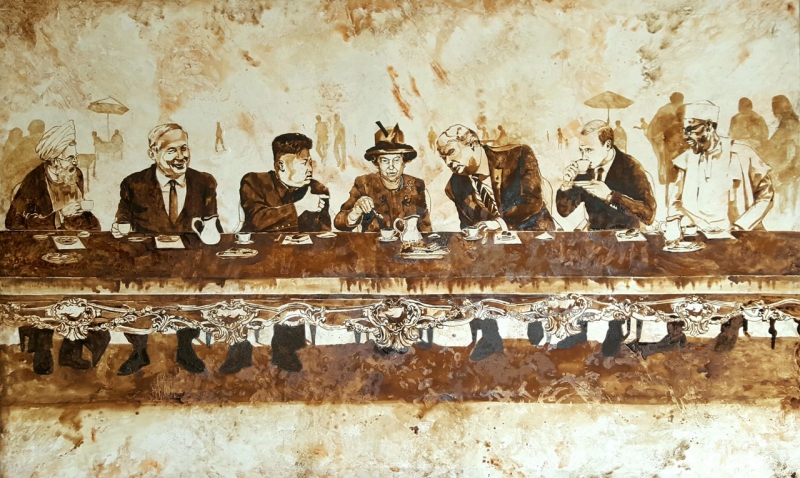 'The Coffee Break'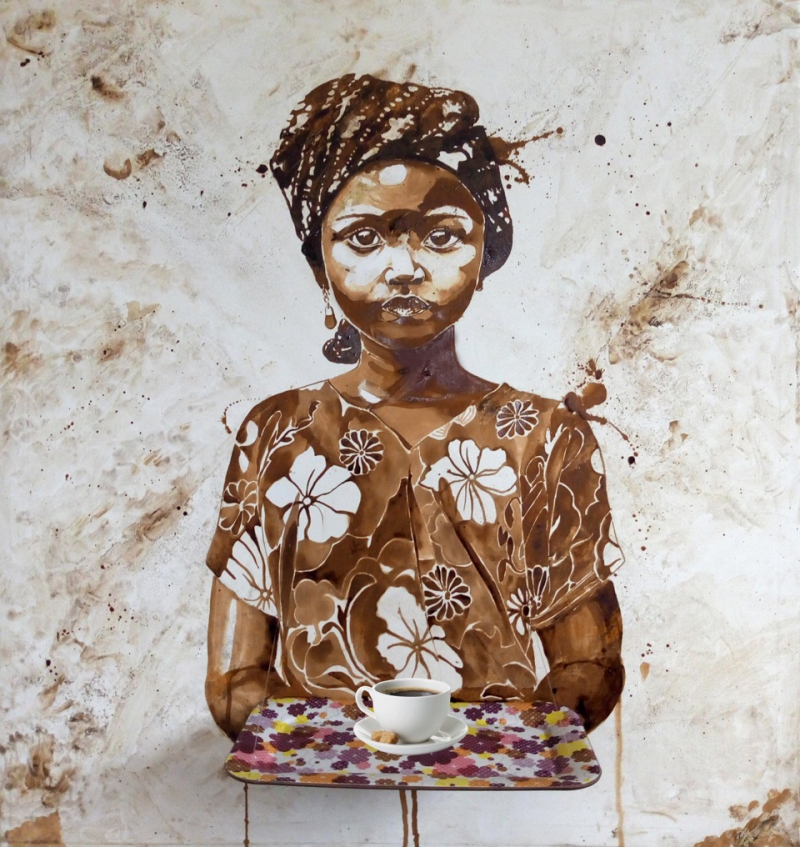 'A Cup of Truce' - series
Your work often speaks to peace?
"The coffee cup and coffee beans are symbols of peace in my coffee break series. Coffee originated from Africa and is still as black and as strong as Africa due to its high rate of caffeine. Africa is peaceful and would like to make peace as the region that lacks it within, and share this peace around the world."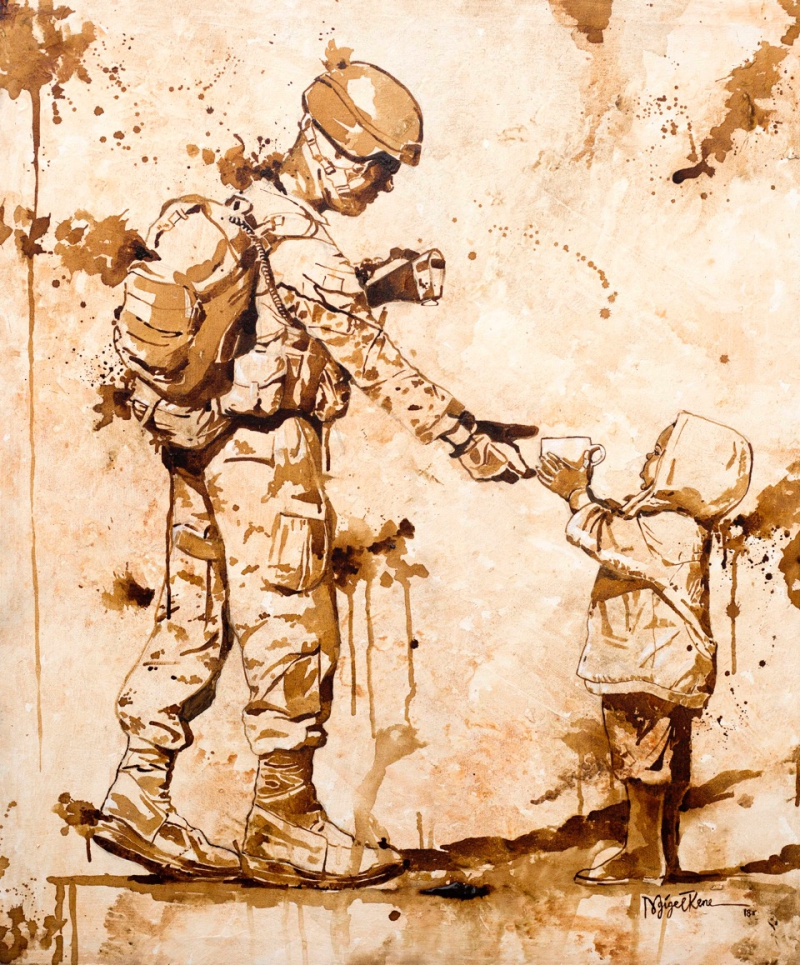 'Peace Offering'
What's been the highlight of your 'coffee meets art' journey?
"The love and appreciation of my art last year from the media and fans around the world, especially the BBC News reports – it's been overwhelming. Clients visit me from Europe to buy an art piece, which is wonderful, and I love all my clients and fans."
What keeps you motivated?
"Due to my physical challenge (overcoming a bout of polio as a young child), people really worried about my future when I was little. They wondered how I would cope. Even my parents wanted me to be a medical doctor so I could take proper care of myself. But I was born to be an artist and I fought hard to live to be who I am today. God brought me this far and will take me further. With faith in him and consistency in what I do, I will get to where I want to be. So, for all those who think the government, society or whatever physical condition is a hindrance to their success in life, my advice for you is to continue enjoying what you do best and believe in God. Your sunny days will definitely come – only you can stop you."
Follow Ekene Ngige on Instagram to check out more of his beautiful coffee paintings and other incredible artwork.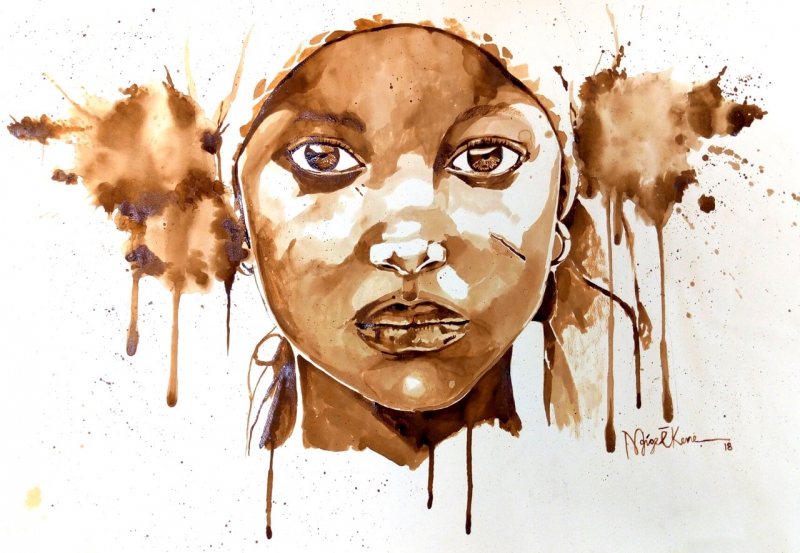 Got something to say? Then leave a comment!
---
Coffee Basics: The Evolution of Coffee Culture
Monday, 11 February, 2019
Coffee is a constant in our culture, but the way we enjoy it often adapts to suit our changing lifestyles. From the first known coffee houses in The Netherlands, the coffee house has been at the centre of many different cultures. Take a journey through the Evolution of Coffee Culture.

Source: RaveReviews.org
Got something to say? Then leave a comment!
---
Female Empowerment and your Daily Cup
Monday, 11 February, 2019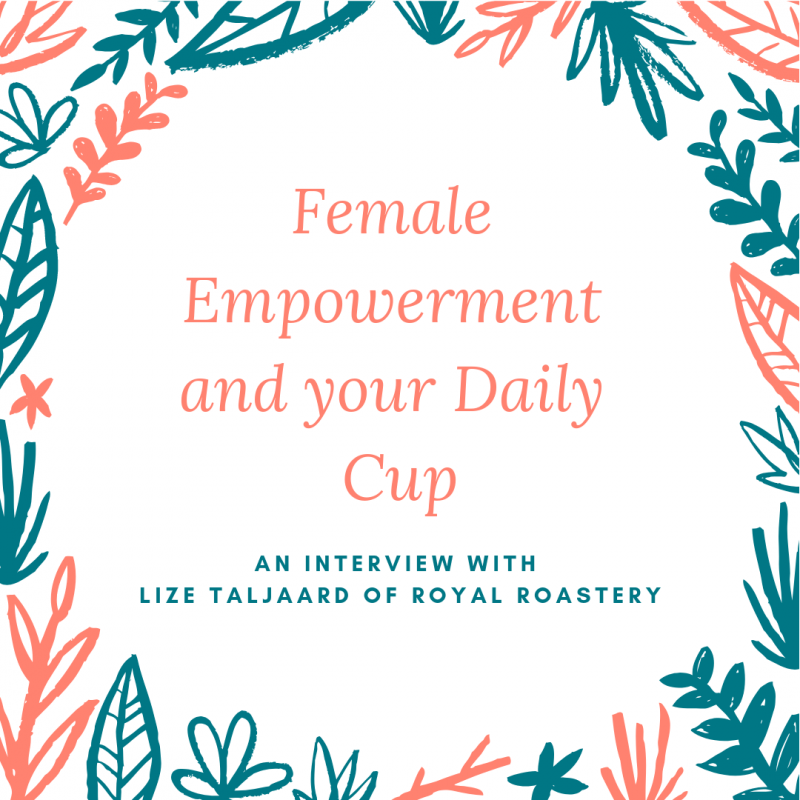 Over the last few years, there has been more focus and support for females to consider a career in the coffee industry. The Neighborhood Barista spoke to Lizé Taljaard from Royal Roastery in Bloemfontein about Female Empowerment in the coffee industry.
---
Why did we choose to speak to Lizé you might ask? Well, if she isn't running the show behind the scenes at Royal Roastery as an administrative manager, she's behind the espresso bar pouring drinks and brewing coffee at competitions. She recently placed Third in the 1st Central South African Regional Barista Championships and also kicked coffee ass at the South African Aeropress Championships in Cape Town, placing Third among her competitors. So listen up, she might have some interesting things to say.
A couple of years ago, when coffee was only starting to make a voice for itself in Bloemfontein, Lizé found solace in a small coffee shop tucked between big name brands in a local shopping mall. For her it was never just coffee; "connecting with people over coffee and building relationships with them. Customers became friends. I knew there wouldn't be any other industry I would feel so passionate about. The coffee shop became my second home and my work became my lifestyle", Lizé says. We asked Lizé a couple of questions regarding Females and Female Empowerment in the coffee industry and this is what she had to say.
Why do you think there should there be more investment for baristas in South Africa, especially female baristas?
We should stop looking at being a barista as a "part-time" or "temp" job but rather a career in which you can grow. This industry isn't dominated by men anymore, there are so many talented female baristas out there. If we invest time and effort in female baristas, they might change their mind-set from thinking that they aren't "competitive enough". As the coffee industry is constantly changing and evolving, and if more baristas and of course female baristas are properly trained, the consumer will definitely profit from their skills and education. Good coffee doesn't necessarily mean that it only comes from specialty coffee cafés/shops.
Do you think there is currently more female involvement in the coffee industry? Why would do you think so?
Of course, it's 2018! We saw this year the amazing courage and competitiveness women in this industry have, there were more female baristas competing in World Coffee events, Agnieszka Rojewska from Poland became the first female barista to win the World Barista title, and that is absolutely amazing. Lest we shouldn't forget about all the hard-working women behind the scenes that work with harvesting, sorting and field work on the thousands of coffee farms around the world!
Coffee is about community, what's the most important role that females and female baristas can add to the coffee community?
This is a bit of a tricky question, but what I do feel and I have seen before is that females help inspire the coffee community, with better, creative and new ideas. They help push their own boundaries, but also their colleagues'. What the main idea here is, is that everyone wants to be recognized and appreciated for what their great at, females help add confidence to the community and the industry. Helping people see their true potential and give them the credit which they deserve.
What's the most difficult thing for you as a female in this industry, and also with the demographic of people you serve?
Coffee is still very young in Bloemfontein, and as it is still growing and finding its feet, I wouldn't necessarily say there is much of a gender gap between the baristas here. Working in this industry has taught me so many different skills and responsibilities. It might not always be an easy going career, but it's about the passion and craftsmanship you serve to your customers each day. So many of our customers love their coffee extremely hot and with loads of sugar, I cringe at the sight of it, but we should respect what the consumer wants. So the most difficult thing for me is probably educating people about my passion and letting them see why I love working for a coffee company.
Final question, do you think that the world of coffee will see even more growth that will involve more female input?
Definitely!! Coffee is such a massive commodity with still a lot of potential to grow even bigger and better! Look at where South Africa was 10 years ago considering coffee, we didn't think that this consumable will become so enriched, focused and scientific. Imagine where we will be in 10 years from now! More female baristas on the world stage, more female coffee producers and female farmers around the world! The 5th Wave will definitely change the way we regard the female input in this industry, and will help with the expansion thereof!
Coffee is a drink which is consumed by the world, a community connected by such a beautiful, yet simple thing. The coffee industry in the modern age has seen many changes and challenges, but we have learned from our past and made the wrongs right. Each day is a new day for us to face an incomprehensible challenge, or so we may think. For the females in this industry, you should never stop pushing and educating yourself, lets change the world, one equal cup of coffee at a time.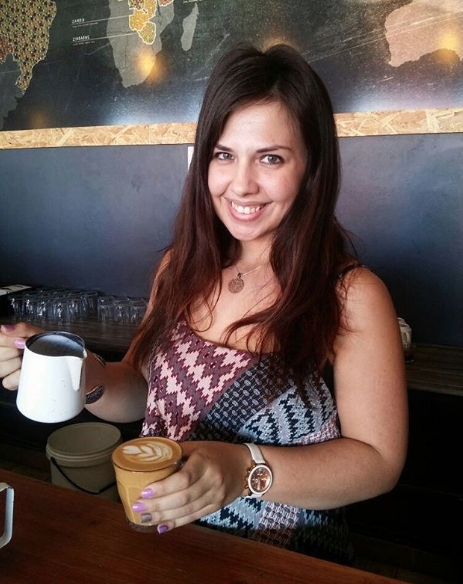 Photo from the awesome Royal Roastery instagram account, give them a follow!
Got something to say? Then leave a comment!
---
A Shot in the Dark - Coffee Partners for 2019 announced!
Friday, 8 February, 2019
One of the exciting things about A Shot in the Dark as a roasting competition is the mystery and intrigue around the competition coffee. When we ran the inaugural competition last year, the invited Roasteries knew very little about the competition coffee except that it was an 80+ and it came from Nicaragua. It was only when they actually received it, along with an information sheet from the coffee producers Specialty Coffee Exchange and Gold Mountain Coffee Producers in Nicaragua, that they really knew what they were working with.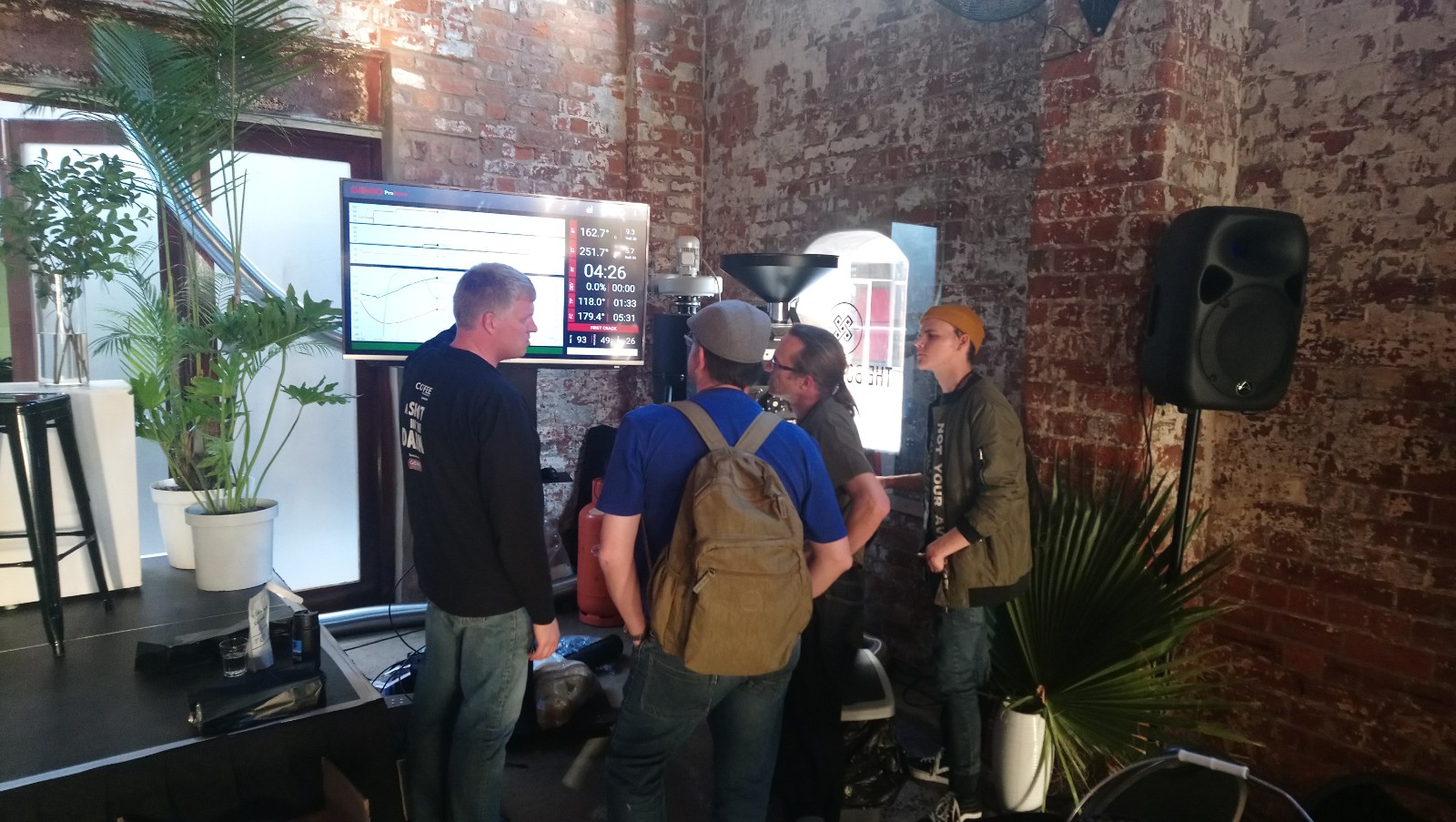 Neil Maree from Genio, chats with some of the Roasters at last year's A Shot in the Dark competition held at Creative Coffee Week in Durban.
This year, as we scale the competition up, we are inviting ALL roasteries in SA to enter and because of the immense level of interest we decided to ask one of SA's most successful green coffee businesses to partner with Specialty Coffee Exchange, Genio and ourselves to make the event bigger and better....enter Carol Corlett and the team from Sevenoaks Trading!
We caught up with Carol from Sevenoaks and Grant from Specialty Coffee Exchange to find out more about their involvement in A Shot in the Dark 2019:
"Sevenoaks started the business with imports from Zimbabwe, that was our first origin" says Carol. "It was also the place I fell in love with coffee. Jeremy Wakeford, my best friend, mentor and coffee guru made me a plunger coffee in Mutare at the Mill and it was love at first sight. That cup of coffee I shall never forget for as long as I live! Our business grew from a few pallets of coffee in a garage in June 1999, to where we are today, almost 20 years later. We are pretty excited about A Shot in the Dark and just in general about this new year as well!!"
The Coffee Mag: This is such exciting news that Sevenoaks is going to be the Official Sponsor of the A Shot in the Dark's coffee for the Preliminary Rounds! Can you tell us why Sevenoaks decided to get involved in this event in 2019?

Carol: Myself, representing Sevenoaks and Nicodemus in his own capacity were honoured to be invited to the Creative Coffee Week last year and one always wonders what a first time event will be like? Well, I have to admit that the excitement, the vibe, the coffee community getting together like that, blew my mind! Its times like that where I realize how absolute privileged we all are to be part of this industry. The part Sevenoaks plays is on the green bean side, so the best way for us to support this initiative is to supply the beans for the roasting competition, hence our involvement. As a "young" coffee country South Africa there is still so much scope and we'd like to contribute in any way to grow the industry.

TCM: It's a big year for Sevenoaks, 20 years young! Tell us a little about this milestone.

Carol: 20 years have flown by, it feels like yesterday that Konrad Brits (Sevenoaks was his brainchild – sadly not part of the group anymore) and myself sat waiting for our first coffees. Today we have a staff complement of more than 20 people and an office and warehouse in both Johannesburg and Cape Town. Here's to the next 20 years!

TCM: You have been in this Industry a long time and you've been a role model for so many people. What is it about Coffee and Sevenoaks as a business that you love so much?

Carol: To me the biggest treasure is the staff and the people (customers and suppliers) with whom I have built relationships with over the years. Without all of them, this business would not have come this far and grown this much. It's an incredible exciting time, with growth still possible each day. I mentioned Jeremy Wakeford, who has over 53 years' experience in coffee and he always says he still learns something new each and every day. So can you imagine what is still out there for us to learn! Will never get tired or bored and just know that without coffee my life would not have been as full and adventurous as it has been. Coffee and adventure flows through my veins, so nowhere else I'd rather be than right here.
Grant Harrison from Speciality Coffee Exchange adds: "The First Edition of A Shot in the Dark in 2018 was a great experience for all, in my opinion. There was healthy competion between the Roasters and all really applied themselves to the tricky honey coffees we supplied. The entire Creative Coffee Week was a great platform for open discussions about our industry and where we want to drive it."
TCM: Without revealing too much, can you tell us a bit about what you have in mind for this years finals coffee? when was it harvested, it's cupping score at origin and why you think it'll be an exciting coffee for the competitors to get their hands on?
Grant: All I'm saying is it's a 90+ "Wild Forest" coffee, currently being harvested at origin.

TCM: Last year Ben Weiner, from Gold Mountain Coffee in Nicaragua joined us at Creative Coffee Week and spoke extensively about the role of the producer in the coffee used for A Shot in the Dark. Why do you think was so important to the Roasters?

Grant: It is not often Roasters in SA get to meet a Specialty Coffee producer and farmer, especially on their home turf, and learn about the efforts and challenges in producing a higher scoring specialty coffee at farm level. Coffee is after all about relationships from farm to cup.
If you want to enter A Shot in the Dark, watch the video from last year, read up on our Sponsors and more, then click on this link to visit the dedicated webpage.
Got something to say? Then leave a comment!