Cafe Focus: Summit Coffee Culture
Tuesday, 10 November, 2020
Celebrating one year (and what a year it has been!) of making coffee for the community of Somerset West, we chatted to Nate Bell about Summit Coffee Culture.
---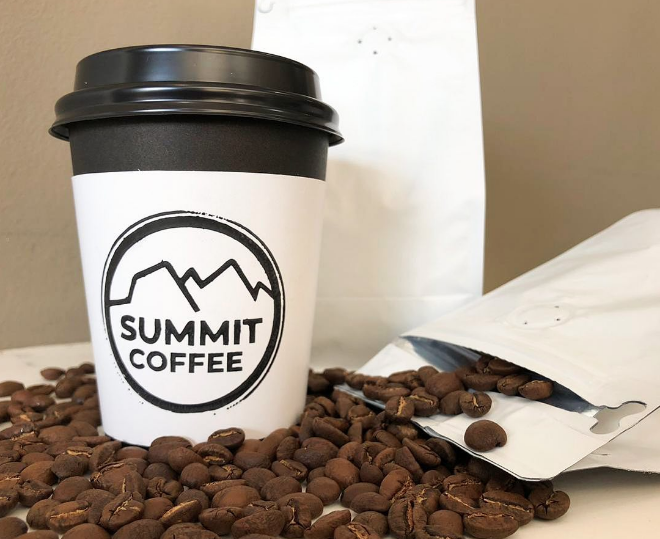 Why did you want to start a coffee shop?
Honestly, I am not sure I had much of a say in the matter. Moving to Cape Town in February 2019, my family and I had just left nearly 10 years of working in the coffee industry in the US. We did not sell everything, leave jobs and family and move across the world to open a coffee shop in Cape Town. We were having great success doing that stateside, besides, if you're in the industry you know there are many more lucrative career paths to pursue. We left home, compelled by a much greater desire, namely to share and show the love of Christ. We connected here with Mountain View Baptist Church, seeking opportunities to serve the community and they shared the vision to open a coffee shop for their community and asked, providentially, if we could help.
Tell us about your team?
Summit is a very small, but incredibly gifted team. Our head barista, Black Chigozie, first cut his teeth working alongside Albert and Marius Shroeder of Roast Wolff (FB/IG: RoastWolff). Our kitchen/bakery menu is the work of the BFIT FOOD crew led by Jan Pretorius (FB: BFITCapeTown).
What have you learned in your first year of trading?
I have been privileged to participate in opening coffeeshops in the US, Bangladesh and now, here in Cape Town - and each is so different! This shop and this year has been a particularly unique one. (1) We exist inside the facilities of a church. Yes, you read that correctly. Our café is the remodeled lobby inside a church building. (2) We are inside a gated community. Heritage Park consists of about a dozen complexes, a retirement village, a school, and a church building, of which we are inside. The Park and each of its complexes have their own rules regarding marketing and how and where one can advertise. (3) We had our soft opening in November 2019, awaiting for approvals and instructions from all these complexes that we might then schedule a grand opening. This grand opening finally came only in March 2020. We were able to get into the WhatsApp groups and get +1500 printed invitations around to the community. About two weeks after this well-advertised and wonderful event, we went into a nation-wide lockdown. When we were permitted to re-open in July, we had very low expectations due to COVID protocol, economic strain, and the great likelihood our community had forgotten about us in here. Wow! We were wrong. We are in a much better place, having so much more new business after lockdown than before.
In all this, we have learned to remain faithful and obedient. The intent of this space was never to make a great profit. We are still an NPO. The vision was to provide a gathering place for our community, a place for having conversations and building relationships. We have stayed true and it seems God is honoring and blessing this commitment.
How important is community when building a cafe business?
Simply put, essential. We have always insisted that the quality of the product alone is not enough to keep business, but the delivery of the product might be. Delivery includes the cafe environment, work atmosphere, and customer service. Our businesses thrive on repeat customers, the "regulars" and "usuals." These relationships take time to build trust today, but are the foundation of our business tomorrow. Because we care less how many cups we make a day, and much more about the conversations we have had and connections made, we have built trust and so, community.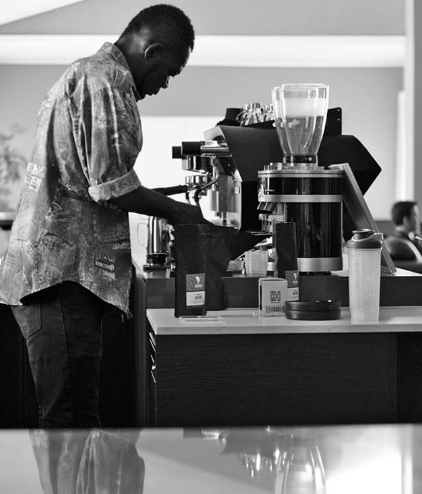 Who are your coffee roasting partners?
We have been walking our journey from the beginning with Albert and Marius Shroeder of Roast Wolff - and what a year they have had! A Shot in the Dark finalists AND Best New Roastery! We are really fortunate, better yet, spoiled to work with them.
What do you love most about cafe life?
I was first drawn to the coffee house for the community, before the coffee. As I mentioned before, I exist to share the good news that despite our sin, Christ has purchased our redemption on the cross, that we might live for him. Christ's calling on us is to repent, believe in him, and so obey him by loving God and love others. So I am others-focused. I desire to spent my time and days pouring myself out for others like my Saviour modeled. And let's be honest, the barista is the sober man's bartender. The coffee house is a place of rest, laughter, catching up with friends, work - it's so many things to so many people. But ultimately, it's a connector. Now I must connect people with the ultimate source of Truth, and Joy, Peace and Life. The coffee shop is an incredible place for a mission and purpose like this one.
If someone is visiting your space for the first time, what do you recommend they try?
I prefer espresso. But I am told our flat whites are something special. And we are rolling out something sweet and a little spicy that starting to gain interest for the adventure, the Snow Capp. We have lovely chai lattes and red cappuccinos for alternatives to coffee, but I believe there is a coffee for everyone. So, ah, just come talk to us and we will customize and experience just for you!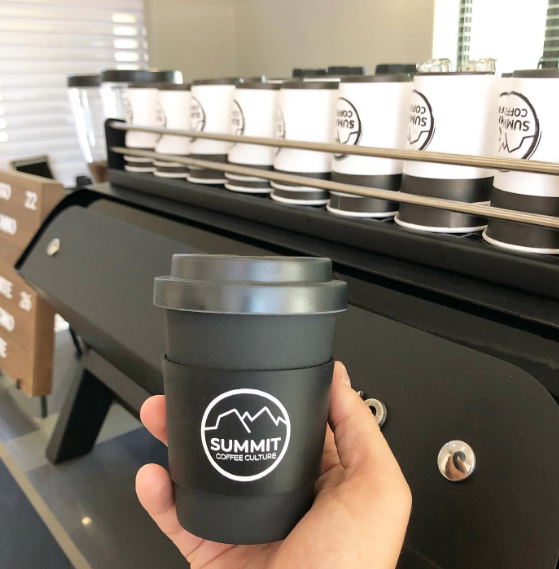 Got something to say? Then leave a comment!
---
Mpenjati Coffee Farm: Locally grown SA coffee beans
Wednesday, 4 November, 2020
We chatted to the folks at Mpenjati Coffee to learn more about what's happening at this KZN, South Coast coffee farm. Love to see coffee growing expanding in South Africa!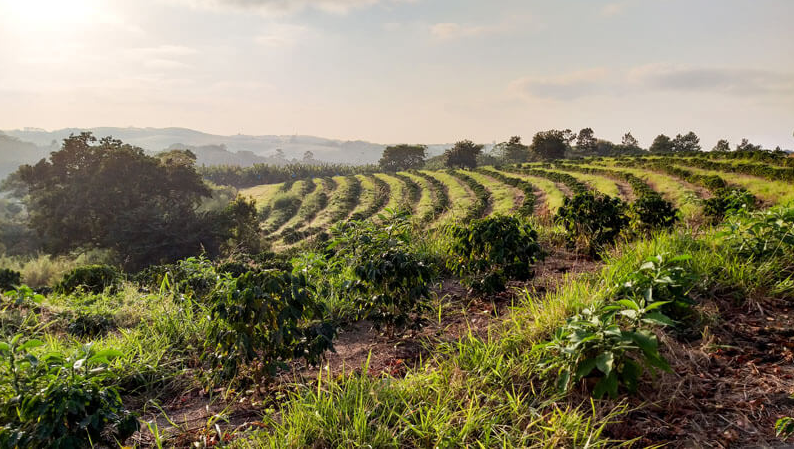 Who are the people behind Mpenjati and how did you get into the coffee growing game?
Mpenjati Coffee is the brain child of Desmond and Leigh Wichmann of Munster, KwaZulu Natal. Des comes from generations of farmers and grew up working the land, earning him the Zulu nickname "Magwava" because you would often spot him out in the fields with a Guava in his hand.
Des went into Timber Farming at the start of his career but his love of premium coffee always had him coming back to the feeling that the dark, rich soil along the Mpenjati River would make an ideal home for a coffee farm. Starting with just a few trees he got planting with the hope that his gut instinct was right… and here we are, 43 hectares later with thousands of thriving trees and a delicious range of premium single origin and blended coffee to show for it!
What coffee varietals do you grow and can you tell us about the flavour profiles of your beans?
We grow mainly F6 and Cataui, the two of which make up most of our single origin and blended coffee. In the F6 we taste more fruity coffee with notes of citrus and raspberry. It is a more subtle bean compared to Cataui which has a bolder flavour and we taste chocolatey, nutty notes. If forced to choose a favourite most of our team lean towards Cataui mainly because we enjoy a stronger, bolder coffee.
We have other varieties of trees including the SL28, Racemosa (which has very low levels of caffeine), Costa Rica, Colombia and Batian (Kenya).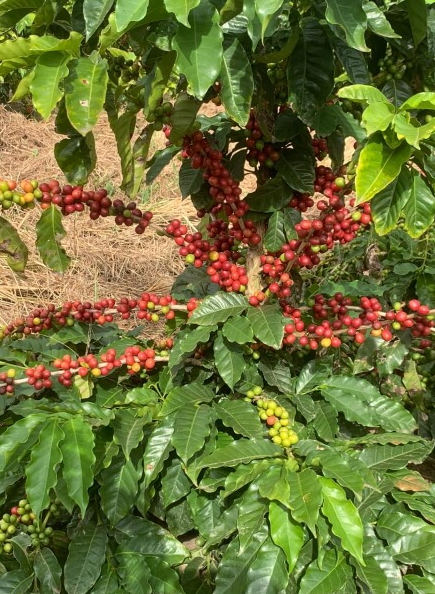 Does the farm yield enough to wholesale the green beans or are they available exclusively through your platforms?
We pick by hand, sun dry and roast most of our coffee however we do offer the option of wholesale green beans and have a couple of clients who buy in green bean. We also offer our clients the opportunity to create their own blends. Our in-house barista offers cupping, Coffee tasting and barista training as part of our service to our clients.
Do you grow other crops on your farm?
No we don't, all 43 hectares of our Mpenjati farm is dedicated only to coffee. With 30 more hectres to develop in the future
We love supporting local! How has this business grown over the years?
As a new business we are slowly working our way into the market but we have had wonderful support from our local community. Our coffee can be found in many local stores, deli's and coffee shops along the KZN South Coast and Durban. We are a proudly South Coast brand and we have been thrilled with the support that our fellow South Coast locals have shown our coffee! Whilst still young and still learning, we have nothing but high hopes for Mpenjati Coffee!
You can find our coffee at www.mpenjaticoffee.co.za
Got something to say? Then leave a comment!
---
Do you want to win a Timemore Nano Hand Grinder?
Thursday, 5 November, 2020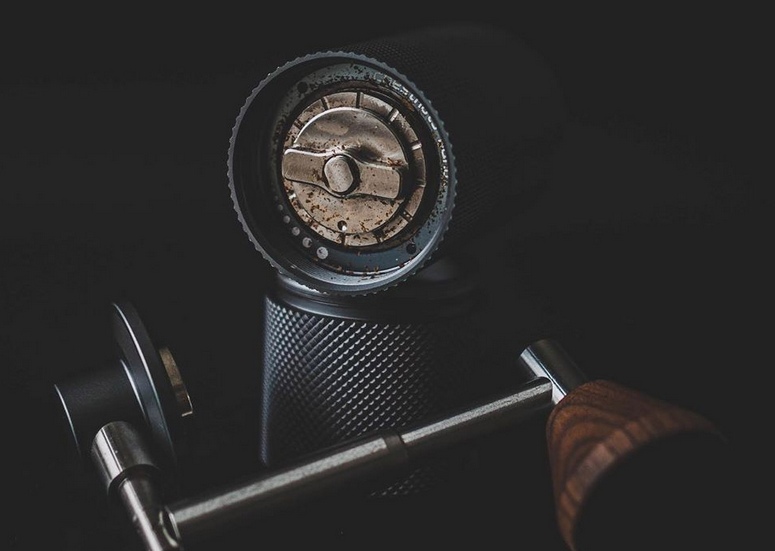 We're giving away the demo unit of the Timemore Nano Handgrinder we've used only a couple times on our latest adventures in partnership with MoreFlavour, who distribute the Timemore range along with many other awesome coffee products.
The grinder is worth R3299 and you'll never want another hand grinder again!
All you need to do is fill in the form below!
The answers you seek can be found on our helpful review page.
Please note, only one entry per person will be counted. Thanks!
Win a Timemore Nano Handgrinder
Got something to say? Then leave a comment!
---
Inspiration: Rise Coffee Co
Wednesday, 4 November, 2020
We catch up with Ollie of Rise Coffee Co who has overcome a tragic rugby accident to emerge with a newfound outlook on life and a coffee company!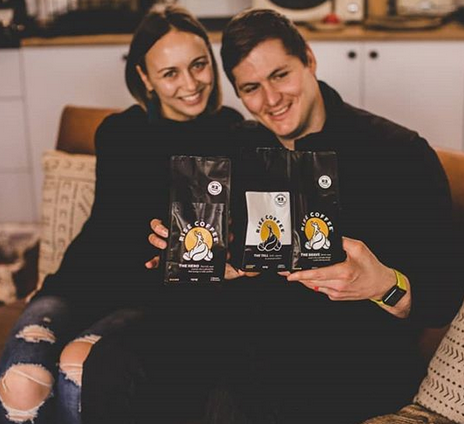 How did Rise Coffee come to be?
On 24 January 2015 my life changed in an instant. "You will never walk again" was supposed to be my life sentence when I broke my neck in a rugby match…but deep in my heart I chose to believe otherwise. This journey has taught me what it really means to have courage. One day I will walk again! When you get knocked down, take courage. Be Brave, be a Hero.
RISE COFFEE CO represents my refusal to give up on life; to rise above unwelcome circumstances; to share life with others; to spread hope; to serve people; to comfort and to have compassion; and to simply appreciate every day with its blessings. This is coffee with a purpose!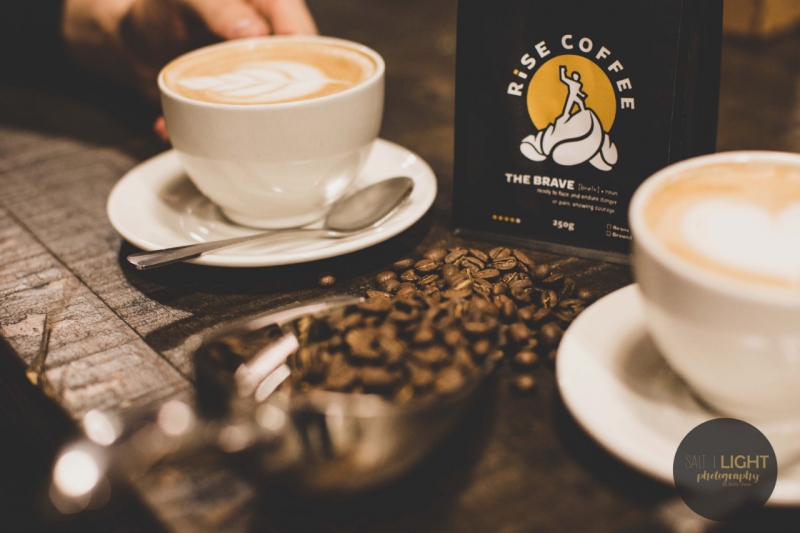 What makes your Rise Coffee unique?
To give you a sum up of why we are called a coffee with a purpose is because of our three elements which is very close to my heart.
First element is that we provide beans and ground coffee to our clients on their order in any amount .
Second element is that me and my wife's story of never giving up is also combined in the coffee.
The Hero blend (medium roast) is called the Hero because after my accident where I played provincial rugby and broke my neck, my wife's been there from the start and threw the whole journey of fighting to walk one day. So in other words she has become my Hero and that is how I see her every day when I wake up.
The Brave blend (medium to dark roast) is called The Brave because of that is how she sees me every day when I walk in the gyms with my crutches to fight to walk one day for her and our kids.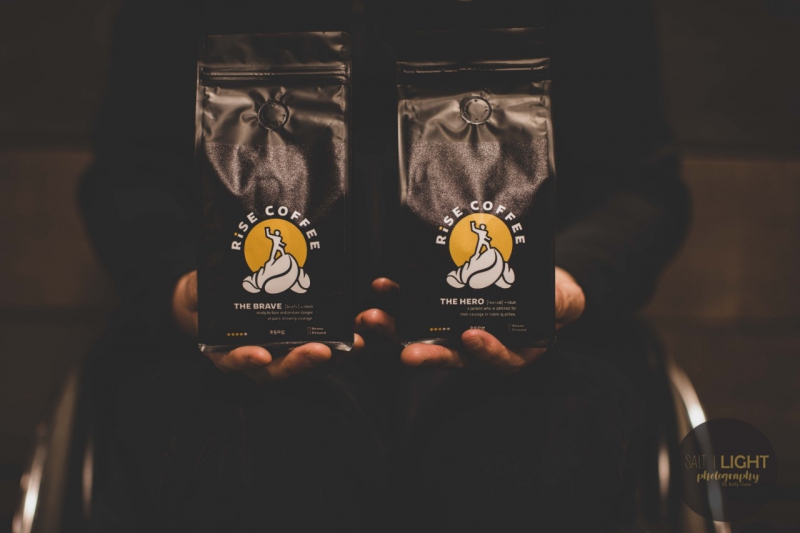 Tell us about your relationship with your coffee roasters.
My relationship with Root Coffee started when I approached them to possibly roast coffee for the company I worked for previously. Not long after that meeting the company decides to go a different way. The end of that road was just the beginning of something that would change my life forever.
Root coffee approached me with the opportunity to start my own coffee brand. A Coffee brand that would be more than just coffee. To start a coffee that would tell my story of never giving up, a coffee that gives hope, and a coffee that gives back.
I fell in love with the 3 very exclusive coffee blends Root provided me with.
The Hero (medium roast) – slightly fruity, good body, stoned fruit notes
The Brave (medium to dark roast) – rich full body, hints of dark chocolate, sweet after taste
The Tall (dark roast) – smooth full bodied, low acidity, caramel and cocoa notes
Tanya and Andre is a dynamic team that works in excellence and roast coffee with so much love and passion. Our main adjective is to remind everyone that they can RISE out of their circumstances, and also just enjoy a "lekker" cup of coffee when the RISE out of bed before they start their day.
The Tall (dark roast) is called the dark roast because to be able to stand Tall without my crutches and wheelchair one day is my biggest dream. Hopefully it will also encourage other people to stand Tall no matter what they are facing in life.
And our last and final element is that for every coffee we sell we donate R2 to the Chris Burger Petro Jackson fund. Which is a SA rugby fund. They provided me with my wheelchair and helps every rugby player out there to have a fighting chance.
Got something to say? Then leave a comment!
---
The Spring Edition 2020 on shelves now
Thursday, 29 October, 2020
Dear wonderful people who still read Print Media.
Our 33rd Edition released in the Spring of this year of 2020 is on shelves now.
She is beautiful and we are fairly proud of how she turned out. We had a crazy idea of visually representing the idea of creating more transparency in coffee and how we may see pretty cups of coffee on a regular basis, but often aren't aware of the humans who bring this amazing crop to life!
There's also a little treat in there courtesy of the lovely folks at Red Espresso, a sachet of their Instant Spiced Chai Latte powder, so delicious!!!
As well as all the other amazing stories!
Thank you to our incredible Advertising Partners who believe in what we do and understand that growing the culture around coffee is so important to growing the industry. Genio, Morrico, Importalia, Equipment Cafe, Woodlands dairy, Alpro, Marunic, BWT, Cape Cup, Bio Africa, Minor Figures
We hope you enjoy this Issue! You can get hands on a copey from on of amazing Distributing Cafes or you can order it now to be delivered straight to your door!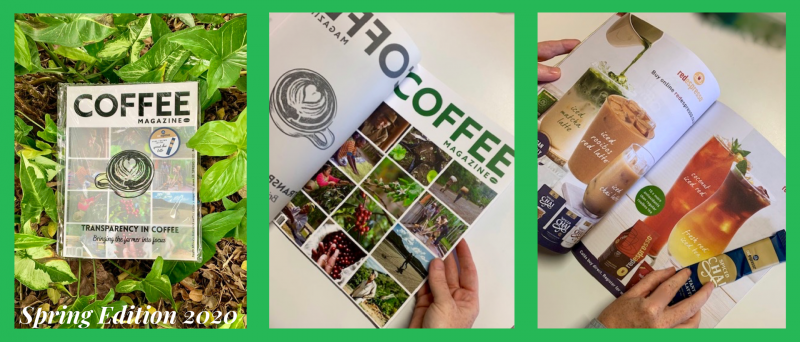 Cover Story: Transparency in Coffee
How much should we know about how much coffee actually costs? Organisations and Roasters around the world are joining forces to create more transparency in this system with the goal of making it a more sustainable profession for farmers. And happy farmers mean a steady supply of the good stuff finds its way to our daily cup.
Profile: Father Coffee - A Spectrum of Flavour
With "Fresh to Death" as their mantra, you know you're going to get the goods from the ambitious crew at Father Coffee.
Brew: Ultimate Upgrades
Taking your home (or office coffee to the next level). We look at 3 different home set-ups that will take your coffee to the next level, and we show you an office setup that'll have your clients dropping in for no other reason!
Roast: Coffee is a fruit
Mbula Musua takes us through the life cycle of this magical cherry and all it goes through to get to you.
Origin: Peru - The next Generation. In an uncertain time for Coffee Farmers all around the world, Peru's younger generation are taking hold and changing the way the country's coffee farmers approach their work.
Coffee Magazine Awards 2020: All the winners!
What a rollercoaster of emotions it has been. Check out who took honours at this year's Awards and find the best coffee near you.
Smart Coffee: How technology will change the way we brew. What does brewing coffee in the future look like? We look at smart devices and how they help us brew.
DGC: Sweet Dreams are made of These
We have a soft spot for any and all of these cold and creamy delights, so we've highlighted a couple ice cream innovators, gelato geniuses and one nostalgic soft serve to have alongside or even inside your next coffee treat. There's something for everyone! I scream, you scream, we all scream for…
Got something to say? Then leave a comment!
---
Always More Glitter! An interview with Glittercat Barista Bootcamps Founder, T.Ben Grimm
Wednesday, 28 October, 2020
Always more Glitter!
'Diversity' is a buzz word often thrown around with good intentions, but not enough action. T.Ben Grimm, a veteran coffee competition participant, wanted to create a platform to support, encourage and uplift those marginalised by society and start to create a new normal in this space. But they didn't just talk about it, they started Glitter Cat Barista Bootcamp. T.Ben and his growing team work with kindness and fierce determination and we can't wait to see this movement expand.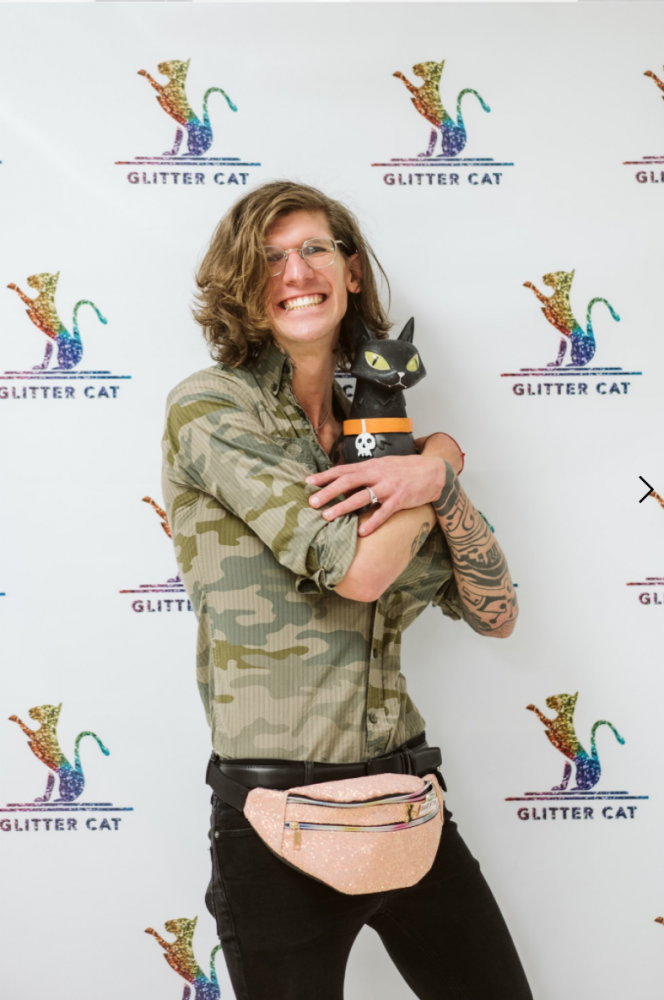 Hey T.Ben! ©Hey Tay Photography
---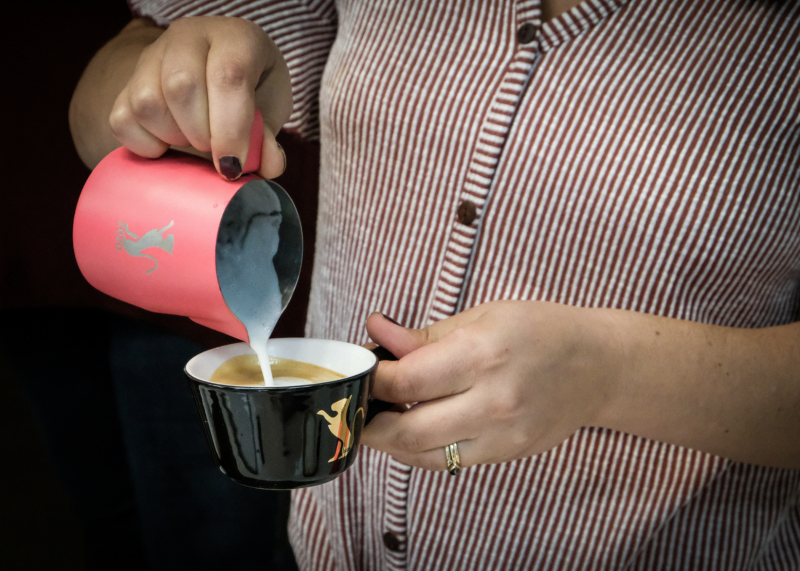 Barista: At the Barista Bootcamp Laila Ghambari teaches milk sharing using a customized Slow Pour Pitcher into a special Created Co mug. Both Slow Pour & Created Co have been sponsors of Glitter Cat since their inception. ©Liz Chai
Can you please share your motivation to start Glitter Cat Barista Bootcamps?
I started imagining Glitter Cat on the tails of taking second place at the United States Barista Championships 2018. While the finals that year had a fairly diverse group in many ways, most of the competitors tend to be cis hetero white men and this has been a point of criticism for years in the competition circuit. I was sitting on a bus with my husband on the way to Portland for Black Coffee, an event space for black coffee folx to come together and have their voices amplified and tell their stories, and I looked at him and said "Baby, I want to compete again but I will only do it if I find a way to help change what the average face of a barista competitor looks like." That's really the start of it and once I asked for help from industry professionals, it took off from there.
How are the participants of the Camps selected?
Participants apply online and are chosen by four selection committees specific to which competition they'd like to compete in. All selection committees are led by Ashley Rodriguez (Boss Barista) and each have three other leaders in the industry who choose based on willingness to compete and how much of their personality comes out in their application. They have the option to write a traditional essay but we really get to know their full potential through the optional video and audio submissions. We encourage them to use those to tell us anything they can about themselves. We've seen everything from poetry to someone shotgunning a beer. You don't need much if any coffee experience to be a Glitter Cat.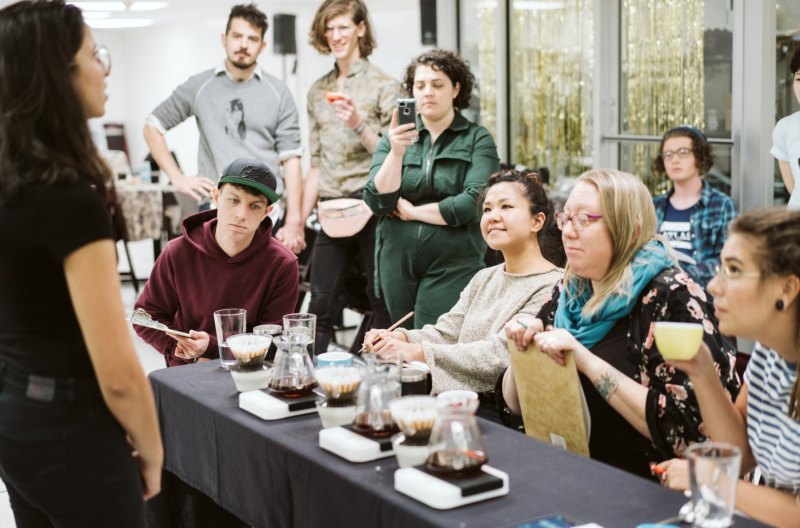 Brewers: Part of each of the Bootcamps was giving a full presentation on the final day of the bootcamp. Pictured here is Demi Chacon finishing her brewers cup presentation to a panel of US champions and coaches! ©Hey Tay Photography
What was the crystallising moment that you realised, wow, we actually made this thing happen!?!!
There are so many moments. Year One, we had a decal wall with all 25+ of our sponsors with sparkling lights shining on them. As we locked the glass cafe door at 1am before the start of the Bootcamp at 8am, the shivers and joy that zoomed through me were wild!
When I think about the past 18 months (yes only 18 months!), I look back and I could not tell you US Coffee Competition or Qualifier placements or even remember if someone DQd or not. I just remember the faces of the Glitter Cats reuniting at competitions. First year competitors see four or twenty familiar faces and they instantly know they can walk up to someone and feel seen, safe, and encouraged.
Oh, and also 2019 US-CIGS (Coffee In Good Spirits) was 95% white men. This year, that looks incredibly different. 11 out 24 national CIGS qualifiers not only are Glitter Cats but have made that stage look and feel different.
What advice can you offer to humans that feel marginalised out there right now?
You are worth it and you deserve to be listened to and compensated and you owe nothing to your employer outside of what is written in your job description. If they ask you to do work outside the scope of your position reply with what the compensation will be.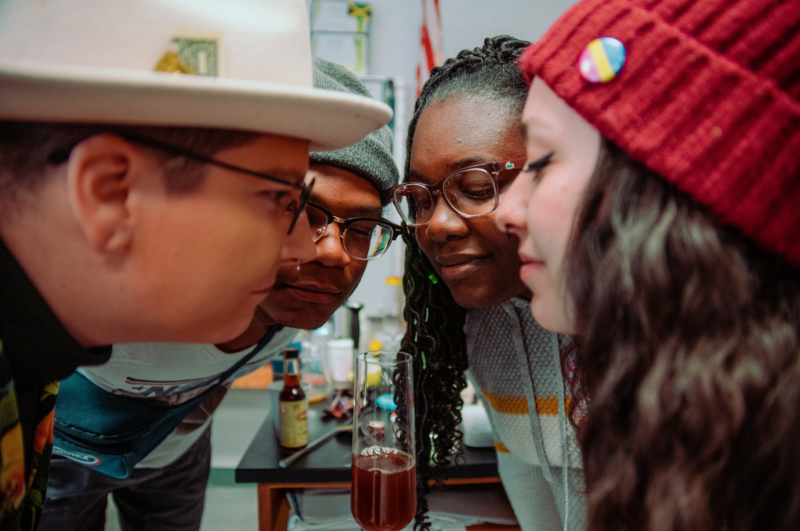 CIGS - A good cocktail is good smelling cocktail! Led by Rose Woodard (2018 US Brewers Cup Champion, right), Glitter Cat CIGS trainees Mika Turberville, Jalen Kelly and Cyrenthia Ngueya (right-left) were just a few of the folx who trained at the inaugural CIGS Bootcamp held in conjunction with Kohi Coffee in Provincetown, MA.
You're shaking things up in the coffee competition space, beyond the competitions what would you like to see in the global coffee culture and what role do you think coffee and the coffee community can play in changing broader cultural perceptions?
Honestly, it's tough to see this through the lens of a global coffee culture because we've seen and been told that focusing on lack of representation is a very United States American way of looking at the problems we face. Personally, we would love to expand outside of the US but that involves working with coffee professionals in different countries to see where they are in terms of representation and needs in their competition scenes. Ultimately, this isn't just about competition even if it is the focus. One thing we tend to see from those who do well in competition is access to better job opportunities. We want to see major important figures in this industry who represent the full spectrum of coffee professionals and consumers.
Tell us about your future plans for Glitter Cat? Will we be seeing you back on stage at some point? Or have you found your calling in running Glitter Cat?
I'm currently assessing what I want to do with competition. Continuing and expanding Glitter Cat is definite. As far as I'm concerned, I might not be done competing. We'll see. We'll make adjustments and expansions to Glitter Cat based on what we've observed in the past two seasons to get more people involved and support them even more than we already do throughout the competition season. So many of our competitors are independent and competition is incredibly expensive, prohibitively so for a working barista. We want to figure out ways to cover many of those costs for them.
If you had to pick out just one Glitter Cat that exemplifies what you're trying to accomplish, would you be able to share their story with us?
With 49 people having gone through this program and so many more instructors and volunteers involved, there is no one person who exemplifies what we're trying to accomplish because they all inform and expand upon what a Glitter Cat is. When one of this year's members was asked on the competition stage what a Glitter Cat is, they paused, sighed, smiled, and said, "It is so many things and more than I ever could have imagined." With potentially 40 new Cats coming in next season, being a Glitter Cat will take on so many new and special meanings, so not being able to define who exactly exemplifies it is so comforting to me. I may have started it, but everyone defines it together.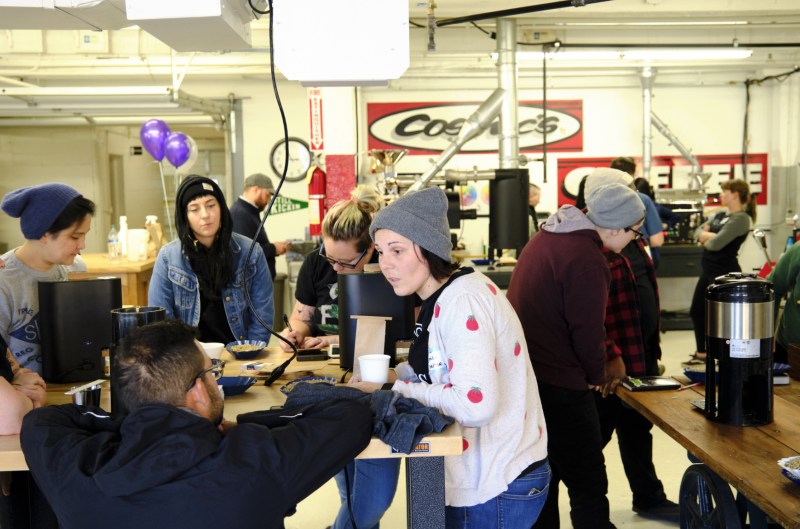 Roasters - Hosted at Mill City Roasters in Minnesota, the Roasters bootcamp seemed non-stop! After each roast coffees were cupped and profiles adjusted, and repeat! Emily Smith, Alex McClean-Egan, Baylee Engberg, and Sum Ngai are practicing on Ikawa sample roasters to prepare for production roasting.
Got something to say? Then leave a comment!
---
Why we put Black Lives Matter on our Issue 32 Cover
Friday, 23 October, 2020
The "Black Lives Matter" issue.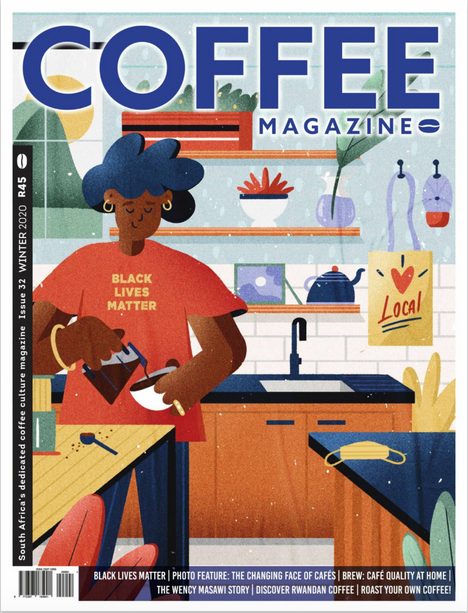 The cover that caused a storm in a coffee cup.
"C'mon, you can't be serious!" she says, casting me a sideways glance and half-pushing the magazine's back into my hands. It's one of my long time friends who owns a barber shop in our neighbourhood. She always buys 3 copies of the latest Coffee Magazine for her waiting area in her store.
"Just read the editorial and the cover story before you judge" I say.
She opens her mouth to protest. Then shuts it again. She takes the magazines and turns away.
The next morning my phone buzzes. It's a text:

This cover illustration on the current issue of Coffee Magazine has caused a lot of reaction. A lot of it good. A lot of it not-so-good. People are very sensitive to the words "Black lives matter". We had several of our customers around South Africa send back their magazines, refusing to stock them, and we had some customers telling us that they in turn, had lost customers because they had chosen to stock it. We had some stores sell out of it so quickly, that they asked for double the replenishment stock.
We even had a few people unsubscribe from the weekly email newsletter (not even magazine readers) because the image of the front cover was on the emailer, and then emailed us back to tell us they had unsubscribed and proceeded to spew forth vitriol about BLM and their very forceful opinion on the subject. Shew!
So why should an illustration of a young black woman making coffee in her kitchen, with a BLM tee shirt on and a face mask next to her cause so much controversy? We don't know the answer, but what we would love to know, is what you, those of you who actually read the Editorial and the Cover story by Sibongile Rakgatjane, what you think about these topics (not BLM, which is the jump-off point only here) but the articles themselves.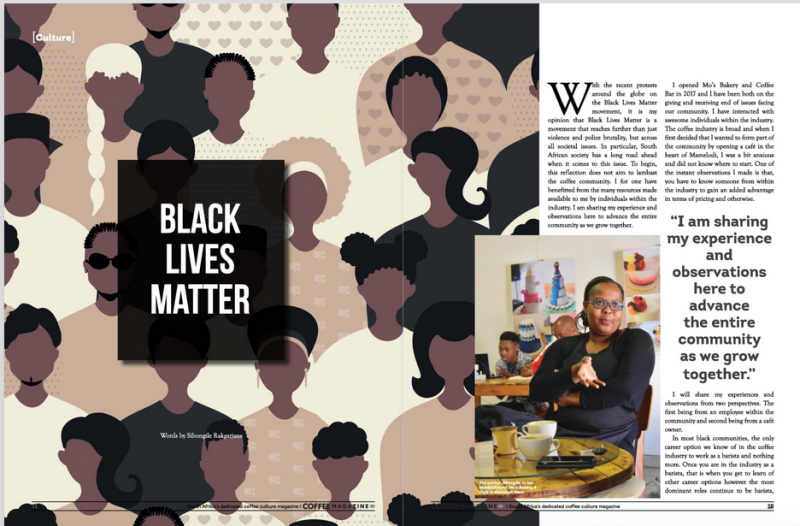 Sibongile's article.
Below is Mel's text.
If you would like to get a copy of this issue, please do it this week, because the new issue of Coffee Magazine will be replacing it from Monday 23 Oct.
Iain & Mel.
---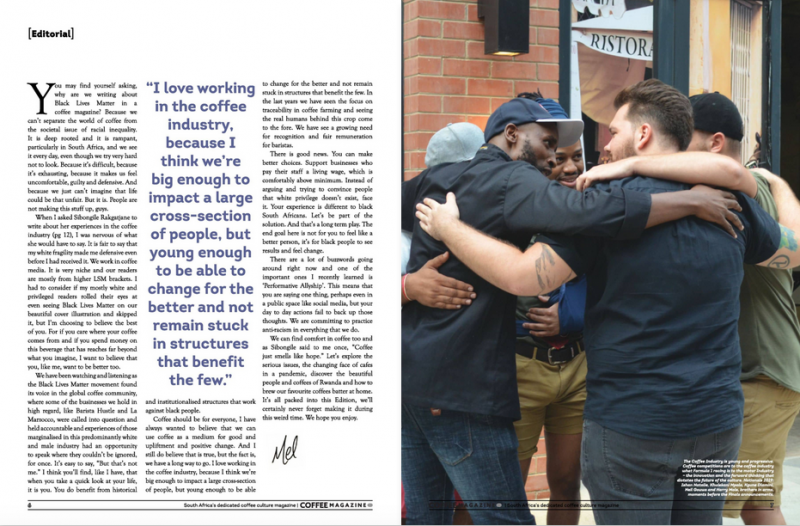 The Editorial.
"You may find yourself asking, why are we writing about Black Lives Matter in a coffee magazine? Because we can't separate the world of coffee from the societal issue of racial inequality. It is deep rooted and it is rampant, particularly in South Africa, and we see it every day, even though we try very hard not to look. Because it's difficult, because it's exhausting, because it makes us feel uncomfortable, guilty and defensive. And because we just can't imagine that life could be that unfair. But it is. People are not making this stuff up, guys.
When I asked Sibongile Rakgatjane to write about her experiences in the coffee industry, I was nervous of what she would have to say. It is fair to say that my white fragility made me defensive even before I had received it. We work in coffee media. It is very niche and our readers are mostly from higher LSM brackets. I had to consider if my mostly white and privileged readers rolled their eyes at even seeing Black Lives Matter on our beautiful cover illustration and skipped it, but I'm choosing to believe the best of you. For if you care where your coffee comes from and if you spend money on this beverage that has reaches far beyond what you imagine, I want to believe that you, like me, want to be better too.
We have been watching and listening as the Black Lives Matter movement found its voice in the global coffee community, where some of the businesses we hold in high regard, like Barista Hustle and La Marzocco, were called into question and held accountable and experiences of those marginalised in this predominantly white and male industry had an opportunity to speak where they couldn't be ignored, for once. It's easy to say, "But that's not me." I think you'll find, like I have, that when you take a quick look at your life, it is you. You do benefit from historical and institutionalised structures that work against black people.
Coffee should be for everyone, I have always wanted to believe that we can use coffee as a medium for good and upliftment and positive change. And I still do believe that is true, but the fact is, we have a long way to go. I love working in the coffee industry, because I think we're big enough to impact a large cross-section of people, but young enough to be able to change for the better and not remain stuck in structures that benefit the few. In the last years we have seen the focus on traceability in coffee farming and seeing the real humans behind this crop come to the fore. We have see a growing need for recognition and fair remuneration for baristas.
There is good news. You can make better choices. Support businesses who pay their staff a living wage, which is comfortably above minimum. Instead of arguing and trying to convince people that white privilege doesn't exist, face it. Your experience is different to black South Africans. Let's be part of the solution. And that's a long term play. The end goal here is not for you to feel like a better person, it's for black people to see results and feel change.
There are a lot of buzzwords going around right now and one of the important ones I recently learned is 'Performative Allyship'. This means that you are saying one thing, perhaps even in a public space like social media, but your day to day actions fail to back up those thoughts. We are committing to practice anti-racism in everything that we do.
We can find comfort in coffee too and as Sibongile said to me once, "Coffee just smells like hope." Let's explore the serious issues, the changing face of cafes in a pandemic, discover the beautiful people and coffees of Rwanda and how to brew our favourite coffees batter at home. It's all packed into this Edition, we'll certainly never forget making it during this weird time. We hope you enjoy."
Mel.
Got something to say? Then leave a comment!
---
New Kid on the Block: The Bond Shed Coffee
Wednesday, 21 October, 2020
We have a soft spot for the team at The Bond Shed, because they helped to make Creative Coffee Week such a success in its first year. So when we heard that they were doing a build out for a cafe on their premises we were very excited to visit!
Point Road in Durban is one of those iconic old school pre-apartheid names, laced with myth, legend and connotations of illicit behaviour. The Vic Bar, randy sailors, drugs, prostitution, 330 and legendary tales of sordid lifestyles "down by the docks" - these are the images we were warned about by our parents!
Today, it is known as Mahatma Ghandi Road, and it has become one of the areas of Durban that we, as locals, really love and spend a lot of time at. Those folks who attended Creative Coffee Week over the past 2 years will know that the area has undergone a major re-vamp, with many of the old buildings being restored and a number of interesting businesses moving into the area. UShaka Marine World is the obvious one, attracting millions of visitors a year and the recent extension of the promenade which now link it all the way from Blue Lagoon all the way to the harbour's north pier that are significant. Yet it is the hidden gems like The Chairman, Mahà Cafe and The Bond Shed that give it it's artisanal, authentic feel.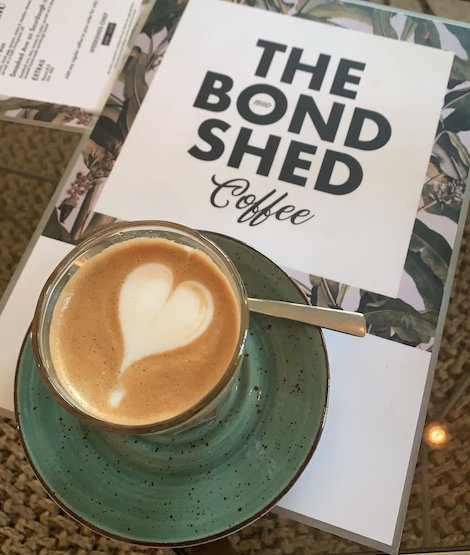 It was a humid, busy Sunday morning. Durbanites were out in force in the area with Skiboats in tow, all manner of wave -riding equipment in hand, families with umbrellas, tourists and locals thronging the new promenade on foot, bikes and boards. Parking was scarce in the vicinity of Durban Underwater Club and Mahà Cafe was brimming with customers. My two surfing companions are particularly fond of the Mahà chocolate brownies, and being 6 and 8 years old, are pretty determined to get their reward after a long 2 hour surf! There was no way I could face the crowds there and then remembered that The Bond Shed Cafe was recently opened! Begging forgiveness and a promise of brownie-substitutes, my reluctant surf buddies and I trekked the 2 blocks north and found a little slice of peaceful paradise amid the chaos that is a Sunday morning at the Durban Docks.
There were just two free tables when we arrived, with both the inside and outside seating being well patronised and we quickly scouted the confectionary on offer to find the much-promised sugary substitute.
And there they were. Brownies. Chocolate brownies sent from heaven! We settled into our corner of the cafe and I ordered a cortado while surveying the layout.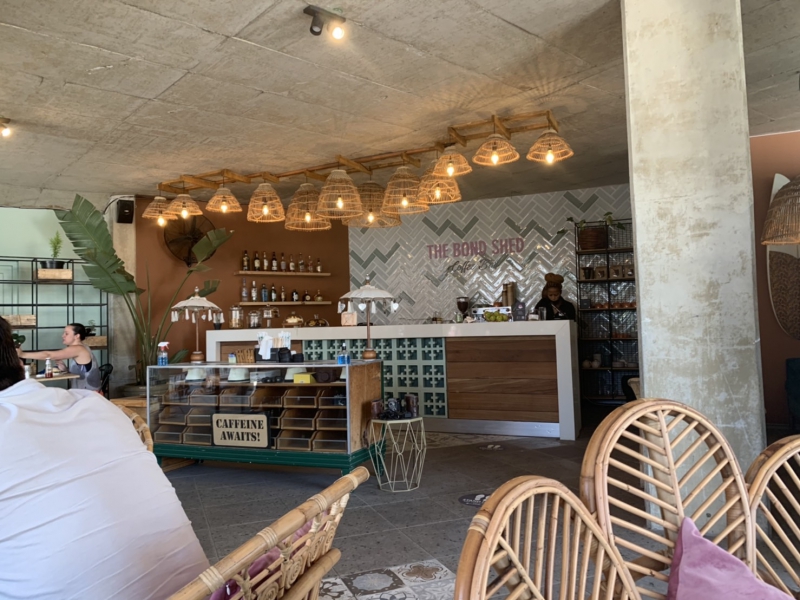 Very tasteful, on-point jungle decor. Check.
Vintage furniture and furnishings. Check.
Friendly, attentive service. Check.
Delicious Ethiopian cortado. Check.
R10 Brownies. Check. Wait, what? R10? I double check the receipt. Yup. R10 Brownies. "We should be able to have 3 each then" , says the 8 year old "Because that's what we would have spent at Mahà on brownies" Sound logic kid. But no.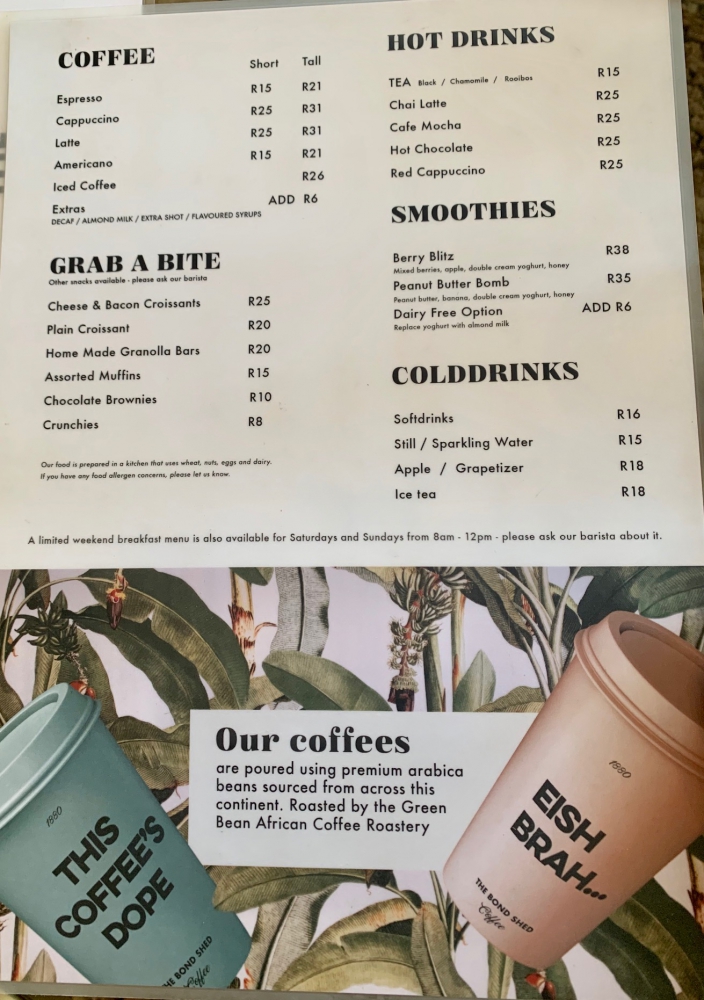 The Bond Shed is a must-visit cafe if you find yourself in the Point area. You may not find the illicit behaviour you were looking for, but you will find an oasis of delicious coffee and the best priced Chocolate Brownies in South Africa.
Got something to say? Then leave a comment!