The first winners of the Coffee Magazine Awards presented by Selati Sugar were announced on Saturday 28th July at a Civic Reception at uShaka Marine World Aquarium. Surrounded by beautiful creatures of the deep, we celebrated the South African Coffee Industry and all the wonderful people in it.
It was also a wonderful way to congratulate the Selati Barista Scholarship students on completing their studies.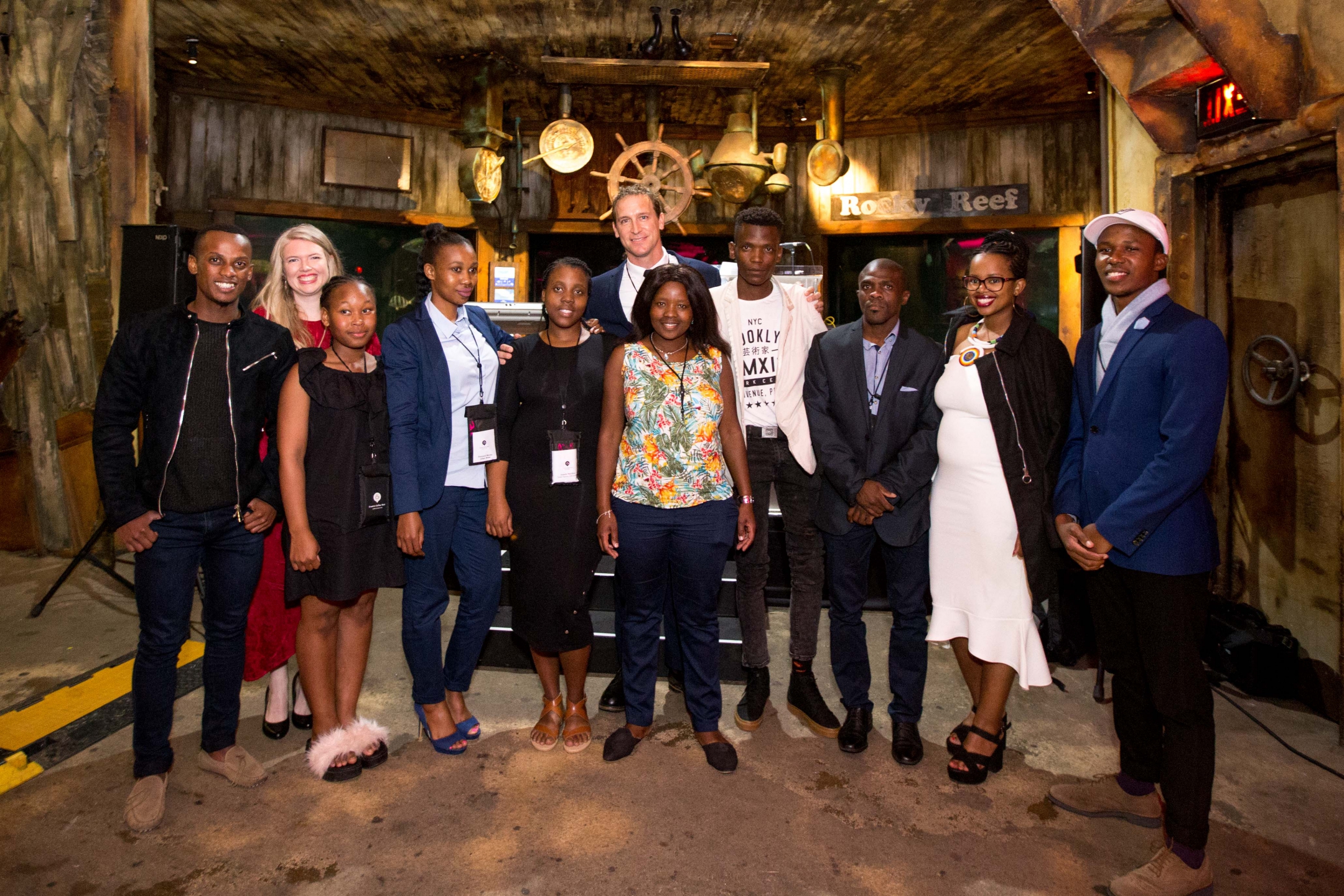 Huge thanks to Mr Eric Apelgren from the Intergovernmental Relations Department of the City for hosting the Civic Reception at uShaka and welcoming our international guests so beautifully.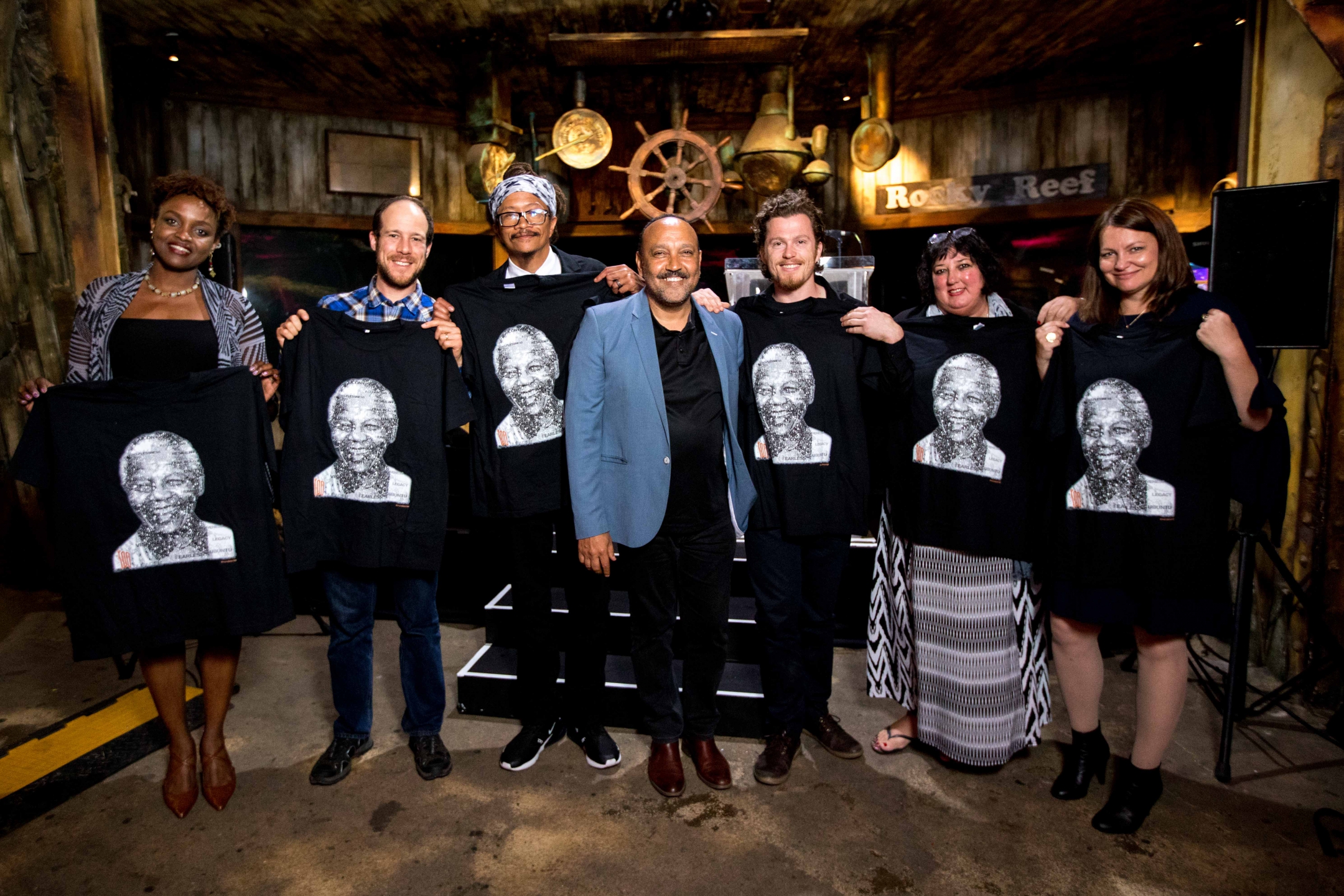 This platform was a long time coming and deciding on this first set of nominees and winners was extremely challenging. We know we are limited by our own experience, but we knew we had to start somewhere.
The first winners and nominees of the Coffee Magazine Awards are all extremely deserving and we look forward to the future of this platform as it evolves and changes and expands to include more people; perhaps a panel of judges! A Reader's Choice Award! A backdrop that isn't a shipwreck! You live and you learn!
We wish everyone could win, but that's not really how Awards work. As with any Awards there are always many opinions and we welcome them, but we started this thing to uplift the coffee industry and we're off to a good start.
A huge thank you to all the incredible sponsors of Creative Coffee Week, Selati Sugar (RCL Foods), FNB, City of Durban, Innovate Durban, Sanremo SA, Koldserve, Genio Roasters, MONIN (See full list here) as well as support from all the people in the industry who made it to Durban to attend.
Thank you to prize sponsors Watercare Africa (IX Water Filters) and Jonsson Workwear (R2000 Jonsson Depot vouchers) who sponsored particular categories!
So without further ado, please give it up for your CMA Winners 2018:
Dedication to Education Award
This award is handed out to the person or company who has dedicated their time to coffee education.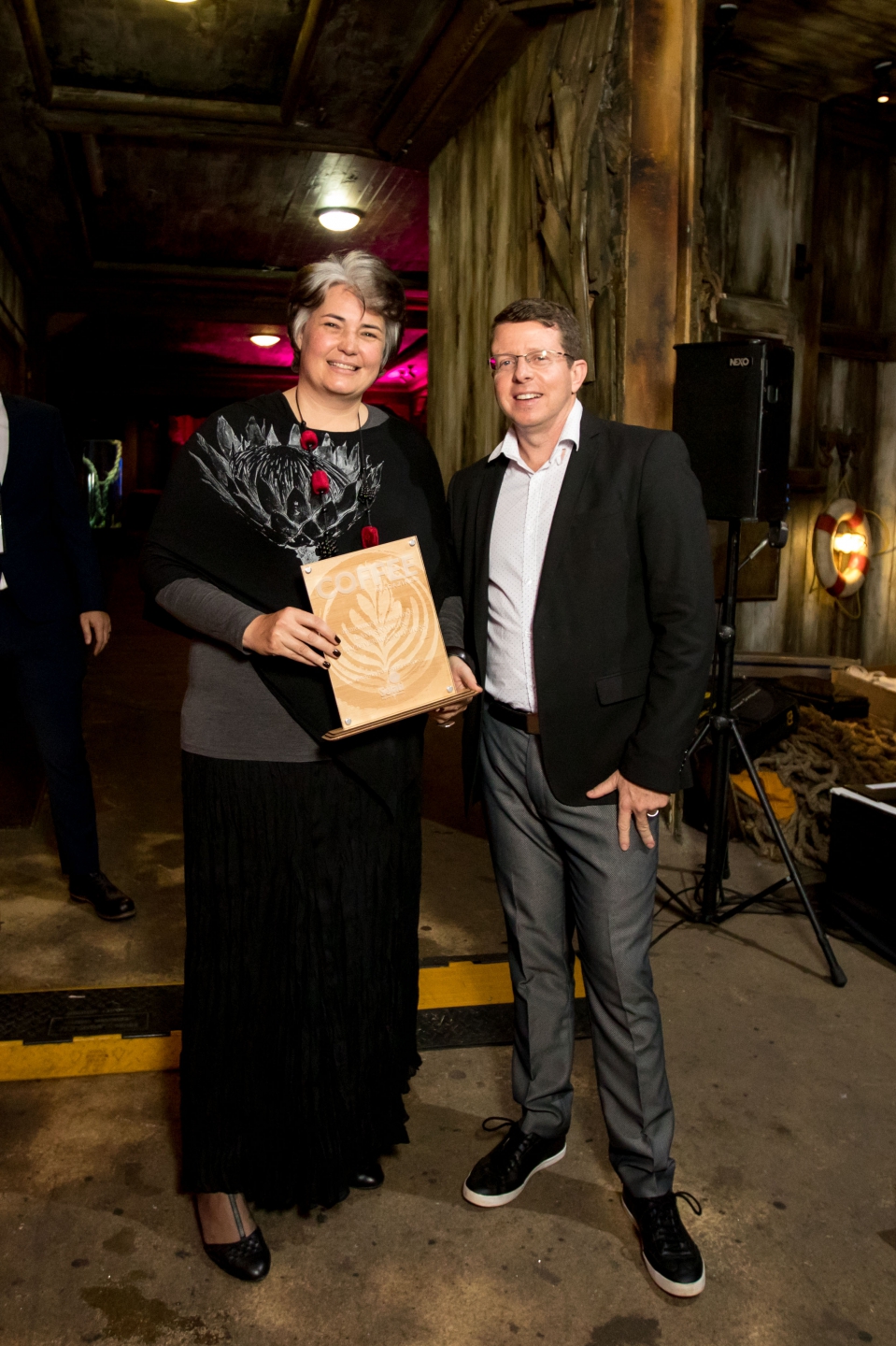 Lani Snyman pictured with Mike Honeywell (FNB)
WINNER: Lani Snyman – Ciro Beverage Solutions. UNISA Barista skills course, SCA and AST training in SA.

Carol Corlett - Sevenoaks Trading - Green Bean training and Q Graders 2018 courses.
Johnson Sehoro and Lizaan Alberts – Ciro: Deaf Barista training programme 2017/18.
Shaun Aupiais – Red Band Barista Academy and ongoing training in E Cape.
Jaco De Witt – Roast Republic: Barista Business Incubator Project
David Basset – Woza Coffee - Empowering unemployed people through coffee.
Best Cafe Design
The spaces created for coffee add equally to the experience of enjoying that coffee. These are the nominees for the best designed Cafe spaces in South Africa: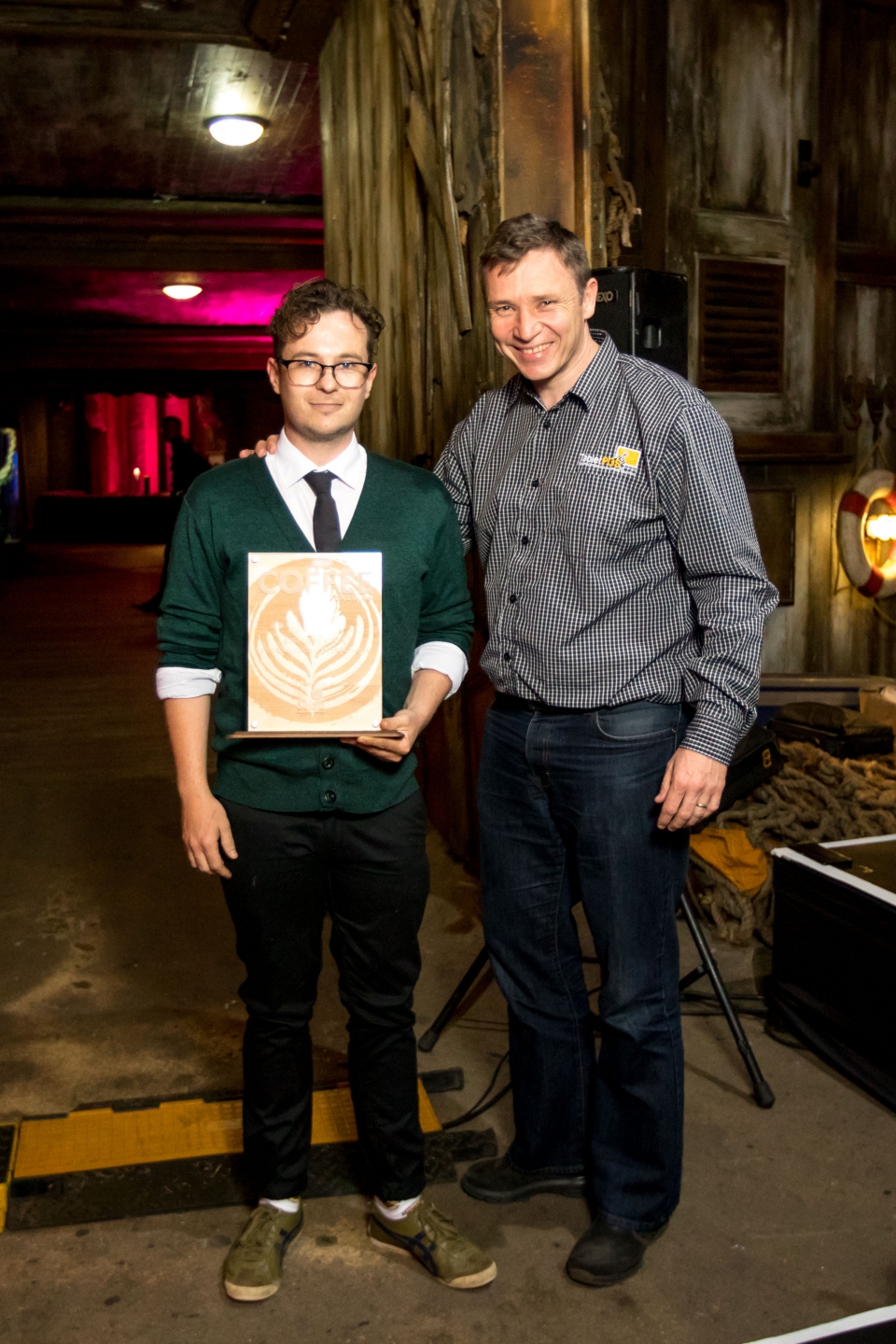 WINNER: Big Dog Café by Terbodore - Franschoek

Naked Coffee – Sandton City
Deluxe Coffeeworks Roastery - Buitenkant Street
Industrial Coffee Works - Centurion
Truth Coffee - Buitenkant st
Father Coffee - Rosebank
Excellence in Coffee Award.
This Coffee Professional strives for and achieves excellence in their chosen area of the Coffee Production Chain. They are innovative, are recognized as a leadership figure in their field and are constantly inspiring others around them.
WINNER: Jonathan Robinson – Bean There
Donovan McLagan - Urban Espress
Ishan Natalie – Starbucks
David Donde – Truth Coffee
Cuth Bland – Bean There
Charlie Denison – Cultivar Coffee
Neil Maree – Genio Roasters
Best New Cafe
Café's are meeting places, they are spaces of community, business meetings, collaborations and first dates. We see new Café's opening every month and the standard is increasing year on year – from better equipment, higher quality beverages, better service, to choice of design and outfitting, to creative seating, flow and ambience. Great toilets and bathrooms, and a fitting menu. Most off all though the criteria for this was based on the Café that opened in the last 24 months that has created something special where before it there was nothing. The nominees are: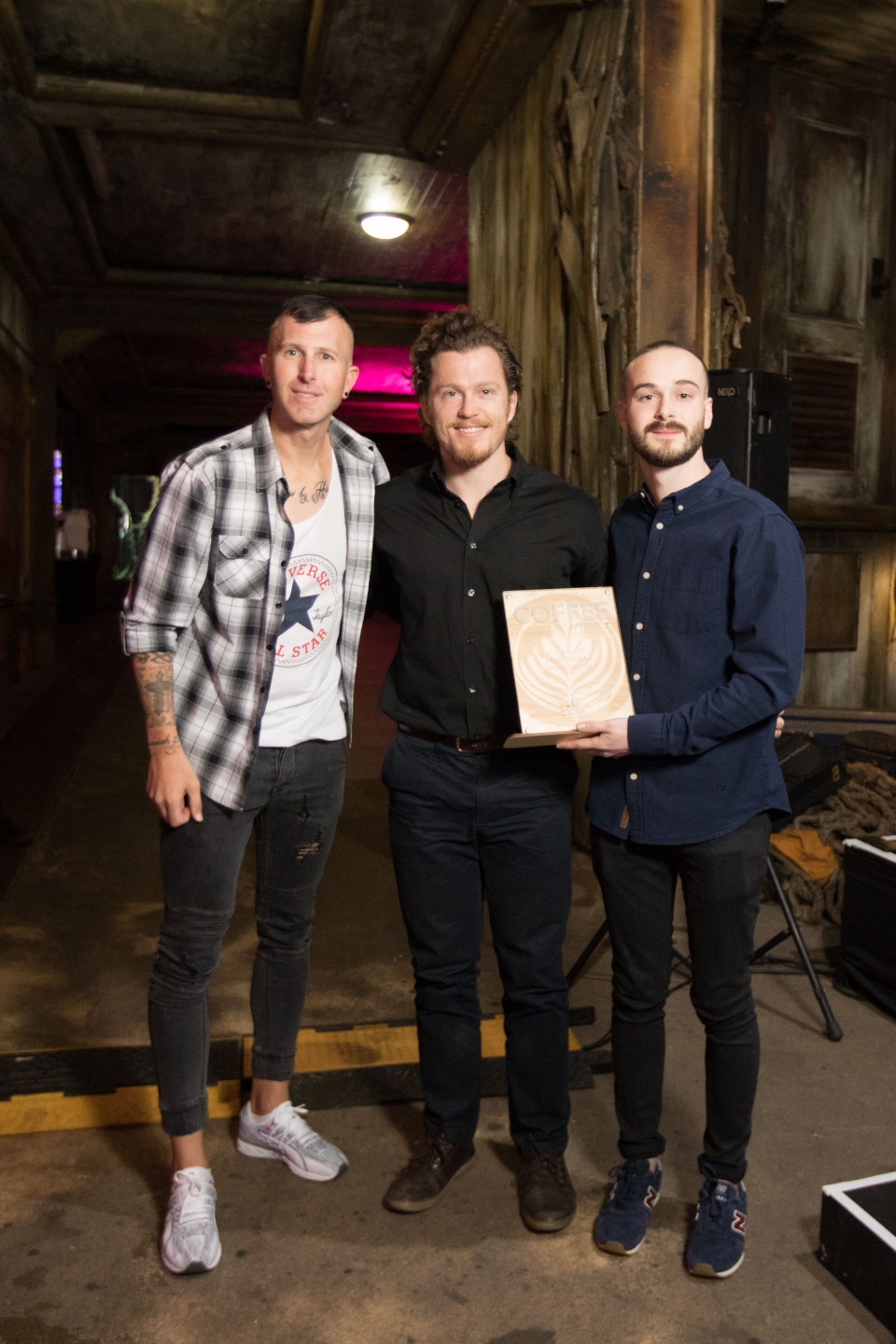 WINNER: Dear Maria – Bedfordview
Ground Coffee House – Hilton
Skyline Coffee - Durban
Flynn Coffee - Johannesburg
Pauline's – Sea Point

Best New Roastery
This category seeks to recognize Roasteries that have opened in the last 3 years and are gaining reputations as up and coming in the South African scene
WINNER: Thirdspace - Fourways
Pause Coffee - Wilderness, E Cape
Alchemy Coffee – Welgemoed, WCape
Faba Roastery – Bloemfontein, Free State
Humble Roasting Co – Durban, KZN
Citizen Coffee Roastery – Wynberg, CT
Tulip Coffee – Hermanus, W Cape

Best Alternative Brewing Experience
Aeropress, Chemex, Siphon or V60 pour-over to name a few! These are the nominees for the best alternative brewing experience in South Africa for 2018:

Winner: EspressoLab Microroastery– Cape Town
Travel Designer – Cape Town
Origin Coffee Roasting – Cape Town
Father Coffee - Rosebank
Vintage - Centurion
Barista Trainer of the Year
These nominees are the very best Barista Trainers in the land. They teach and inspire, they train and they serve. They impart wisdom learned from thousands of hours behind the espresso machine and their subject matter is technique, science, aesthetic and service.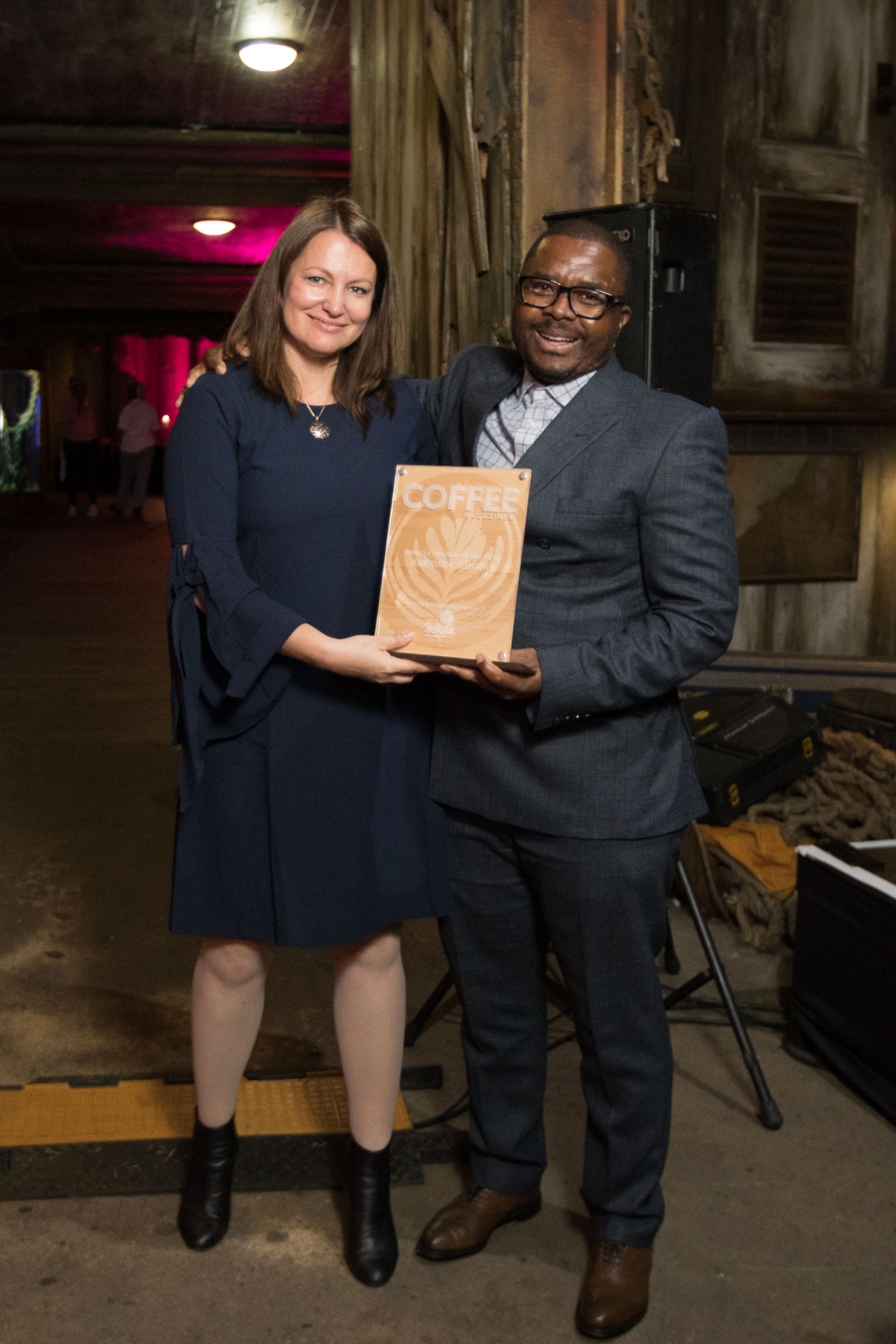 WINNER: Johnson Sehoro - for Ciro Beverage Solutions

Bilbo Steyn - Starbucks
Ishan Natalie - Starbucks
Khulekani Mpala - Wiesenhof Coffee
Shaun Aupiais - Famous Brands
Wency Masawi - Nino's

Coffee Personality of the Year
These coffee professionals approach whatever they do with optimism, effervescence and inspiration. They fly the flag of the coffee community high and get involved in all areas, remaining wonderful throughout.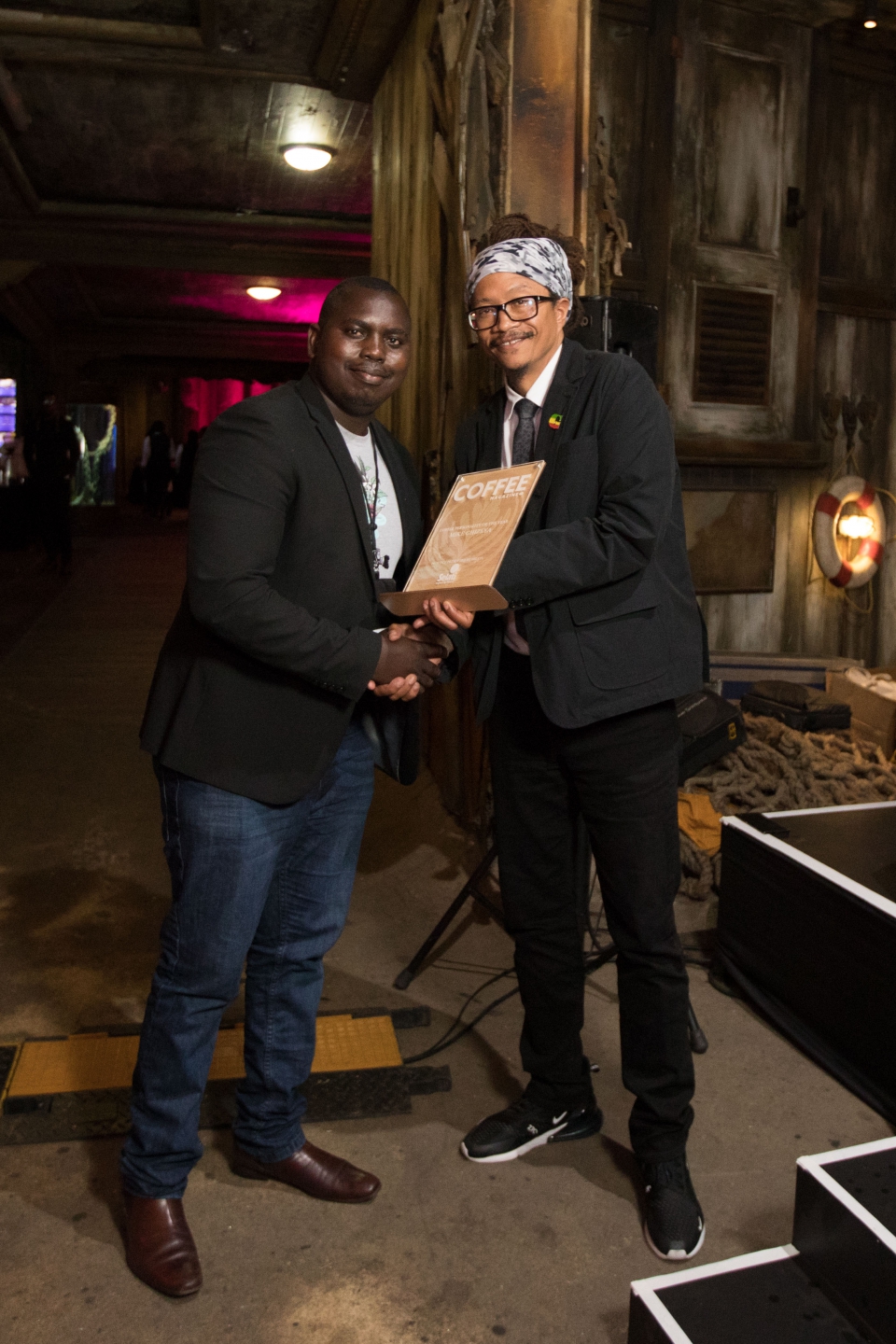 WINNER: Mike Chizeya - Micoffee
Angeline McLagan - Urban Espress
Chad Whitby - Colombo Coffee
Nicodemus Nabakwe - Sevenoaks Trading
Sihle Magubane - Sihle's Brew
Harry Mole - TriBeCa
Coffee Team of the Year
The Coffee Team of the Year award recognizes that it is people that make a coffee company great – From the Owners who create a happy, respectful and creative ethos, to the staff who live the brand daily. The successful team is one in which all the people in the space from the lowest to the highest uphold the same values and consistently serve with excellence and are rewarded well for doing so.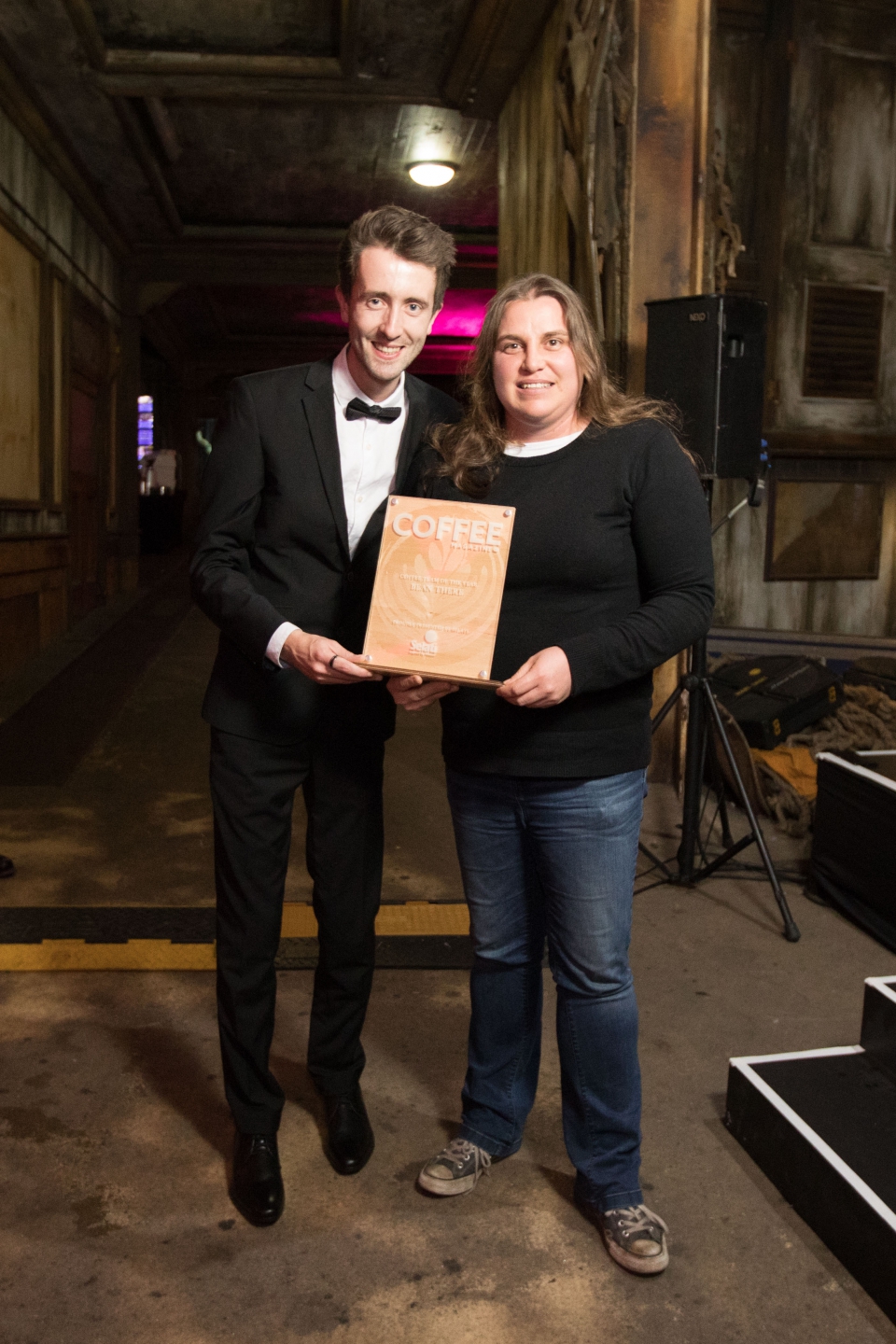 WINNER: Bean There Coffee Company
Lineage
Rosetta Roastery
Starbucks SA
Truth Coffee
Tribe Coffee
Colombo Coffee & Tea
Cafe of the Year
This award goes to the establishment that has consistently created an amazing cafe experience for its patrons, serves great coffee and food, with excellent service, has great ambience, design and most importantly, a loyal community of patrons.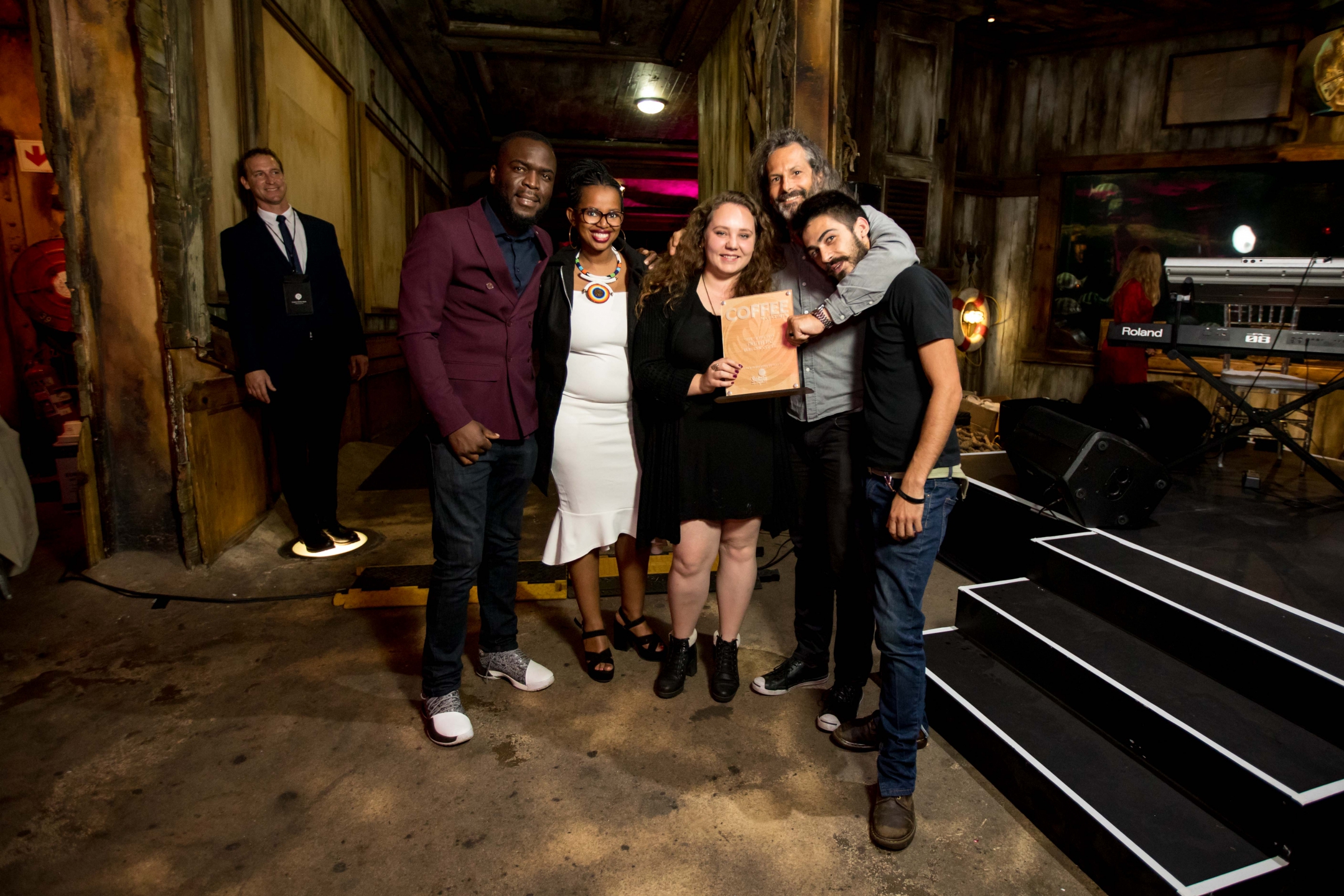 WINNER: Truth – Cape Town

Starlings - Newlands
Krust Café – George
Pablo Eggs-go-bar – Melville
Coffeeberry – PMB
Urban Espress – PE
Jason's - Greenpoint

Roastery of the Year
The nominees in this category are the Roasteries in South Africa that have forged the path for speciality coffee in SA. They continue to push the boundaries of coffee roasting by sourcing the best coffees, investing in the latest technology, by collaborating, sharing and engaging with the global roasting community, by educating, informing and inspiring their customers – wholesale and retail and finally, by putting the highest quality coffee into the market that can make South Africa stand amongst the best coffee roasters in the world.

WINNER: Rosetta Roastery
Rock & Roller
EspressoLab Microroasters
Bean There
Father Coffee
Origin Coffee Roasting
Barista of the Year
Barista of the year is not limited to competitive coffee competitions but is the barista all-rounder. He/she is the barista who epitomizes what it means to understand, to respect and to serve amazing coffee experiences. They are masters of extraction, technique and technical understanding, but most of all they cherish that it's not just about the coffee served, but in the serving.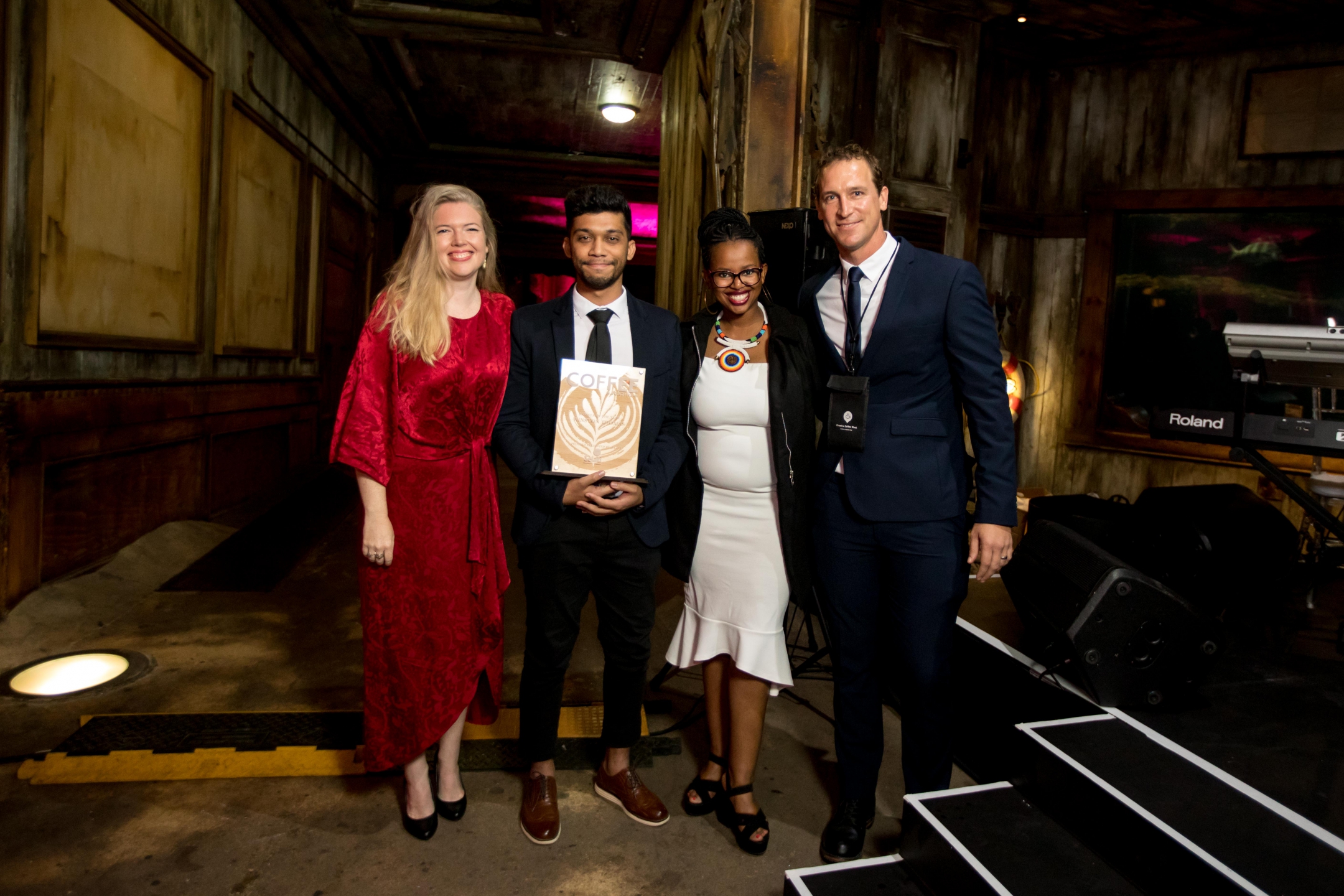 WINNER: Winston Thomas - Independent

Nigel Kamhanda – Infood Coffee Society Jbay
Simnikiwe Mhkize - Rosetta
Ken Machenge - Tribe Coffee
Innocent Chakanyuka – Truth Coffee
Lydia Oyier - EspressoLab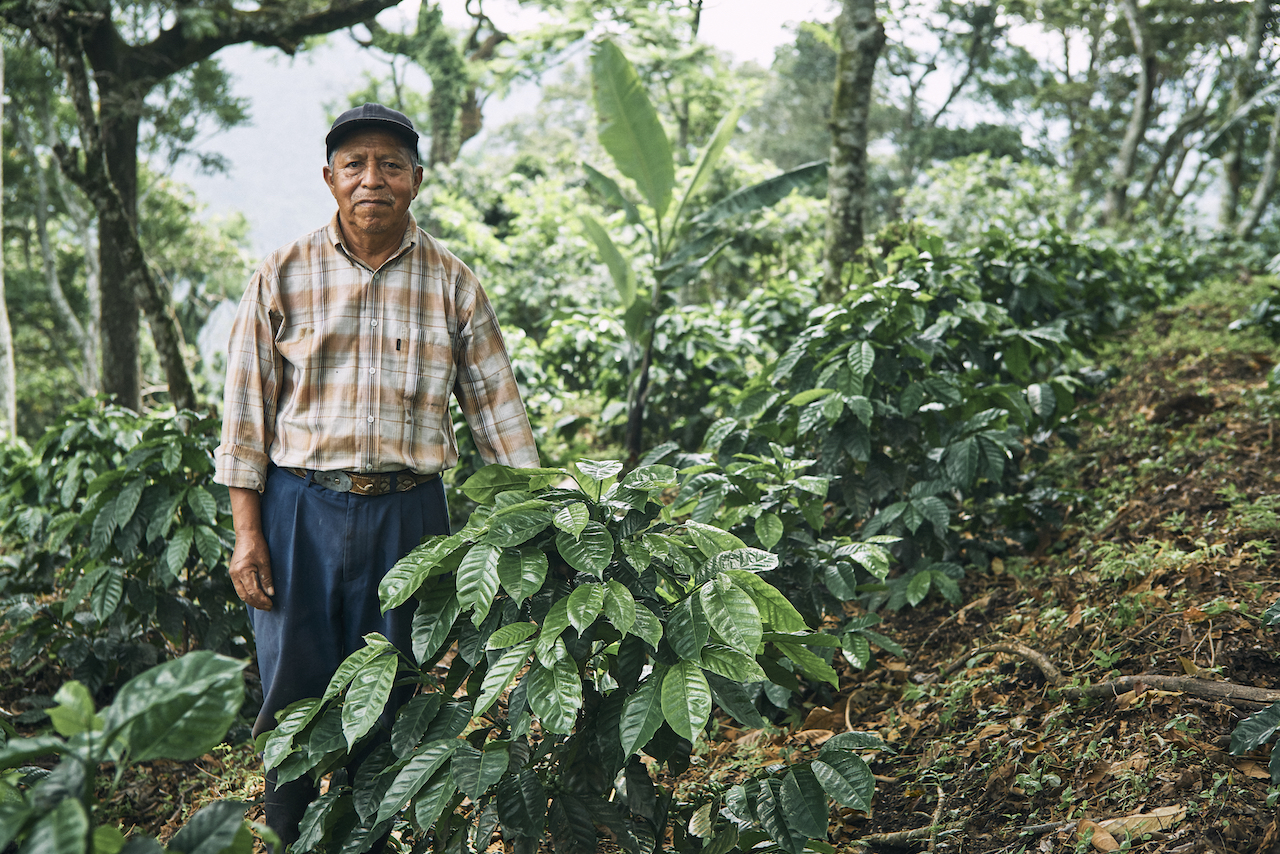 Science Community: Disease-Resistance in Coffee an Ongoing Battle
Portland, Ore. (September 19, 2018)—The plant disease known as coffee leaf rust has
wreaked havoc on coffee production, particularly in Latin America, since an epidemic of
the disease hit in 2012. Since then, the global coffee industry has united to help farmers
fight coffee leaf rust through the development of improved coffee varieties such as F1
hybrids, most of which are resistant to rust and other plant diseases. Today, at the biannual
ASIC Portland scientific conference, nonprofit coffee-research organization
World Coffee Research delivered a message to the global coffee industry: While fighting
coffee leaf rust through genetic resistance via F1 hybrids is an effective tactic, it won't
be enough to protect farmers from significant crop losses due to pests and diseases.
In today's ASIC presentation, World Coffee Research Scientific Director Dr. Christophe
Montagnon explained that some coffee varieties' rust resistance has been scientifically
proven to break down, with the latest example being the Lempira variety from Honduras'
IHCAFE. Dr. Montagnon told attendees that researchers believe it is only a matter of
time before rust resistance in most of the existing resistant varieties is going to
break down, perhaps in as soon as five to 10 years in many countries.
While this development does not foretell the end of coffee production—coffee farmers
have been living with coffee leaf rust for many years—it brings to light key elements
guiding coffee's future. For one, farmers need to focus on plant health—no matter the
variety of their coffee—as a major component of defense against rust. Secondly, those
traveling between origin countries must develop a heightened sensitivity and awareness
for appropriate phytosanitary practices to prevent spreading fungi and other diseases
from farm to farm or region to region. Thirdly, the coffee industry needs to prioritize
ongoing research and development. New sources of rust resistance can be found
and must be discovered to foster sustainable coffee production. Coffee's scientific
community, led by World Coffee Research in collaboration with coffee-producing
countries, and with the support of the broader coffee industry, must seek to produce
new solutions, new technology, and new ways of combating plant disease.
The fight against rust
For three years following the coffee leaf rust outbreak in 2012, the disease caused
destruction in Central and South America: Many farms lost 50 to 80 percent of their
production, and the epidemic forced 1.7 million people out of work and drove human
migration. Once the rust outbreak hit, farmers who could afford to plant rust-resistant
varieties did so, renovating areas of their farms with the new varieties. Combating
diseases like rust is one action modern farmers must take to protect against the
intensifying effects of climate change, which are evidenced in rising temperatures,
unpredictable weather patterns, and higher rates of plant disease.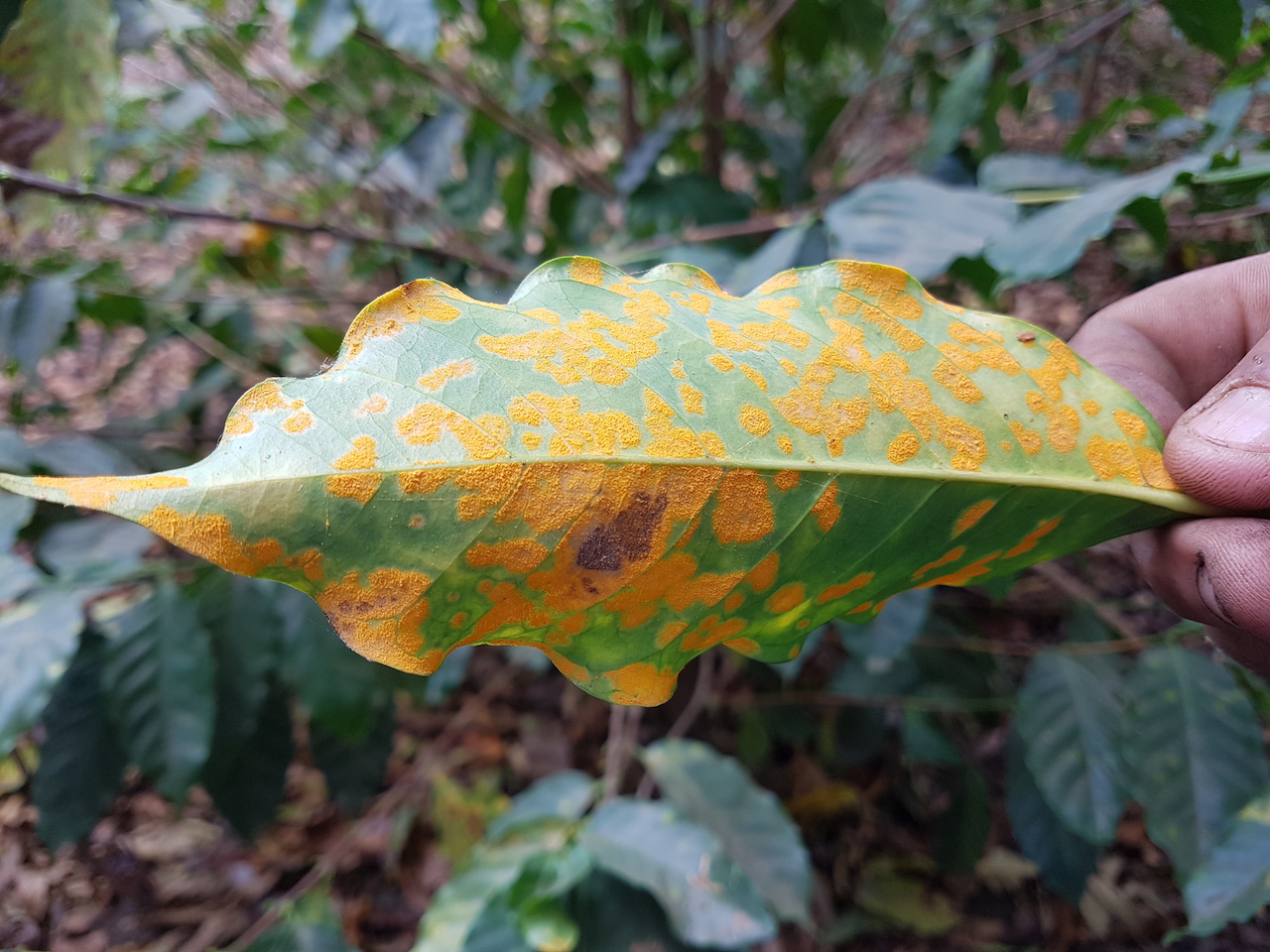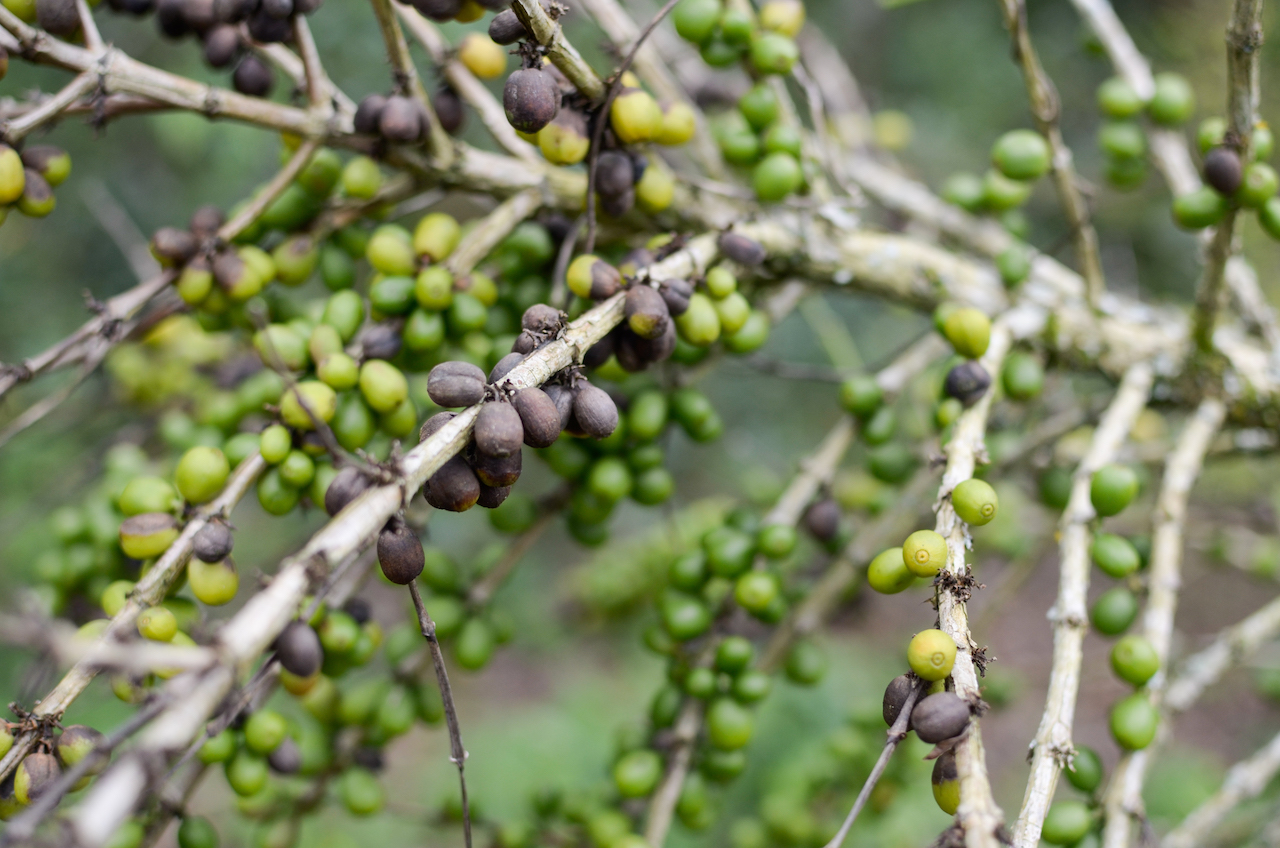 Unfortunately for some farmers who planted new varieties, no disease resistance is
forever, as pathogens adapt and continue to attack coffee trees. In 2017, Honduras'
national coffee institute IHCAFE announced that Lempira, one of the varieties it had
bred, was no longer resistant to coffee leaf rust. Additionally, since 2013 the Center for
Research on Coffee Rust (CIFC) in Portugal has observed varieties losing their rust
resistance in different countries such as Brazil and India.
For the last 30 years, rust resistance has relied on the resistant genes coming from
Timor Hybrid, a natural cross between Arabica and Robusta coffee. According to the
scientific community, the Timor Hybrid's resistance is breaking down. "Rust resistance
coming from different sources of introgression—the transferring of genes from one
species to another after hybridization and backcrossing—is being broken step by step,"
said Dr. Montagnon of World Coffee Research. He explained that the introgressed
varieties known as Catimors and Sarchimors that resisted rust for 30 years are no
longer resisting. "The research community shall proceed to develop new varieties with
new sources of resistance but also build up comprehensive rust-control strategies that
go beyond genetics alone," Dr. Montagnon said.
World Coffee Research's approach
A crucial part of rust-control strategies going forward, according to World Coffee
Research and others in the scientific community, is the promotion of plant health in
coffee production, which has been overlooked in the past. Just as humans are more
likely to be healthy if they exercise well and eat good food, coffee is better equipped to
defend against rust when it is in good health. Factors contributing to plant health include
good maintenance, soil conservation, adequate plant nutrition, and adequate shading. A
recent study from World Coffee Research and CIRAD recently showed that good
fertilization can be as effective as spraying fungicide in protecting a genetically
susceptible coffee to rust. Furthermore, it is acknowledged that one of the main reasons
for the 2012 rust crisis in Central America was farmers' reduced maintenance of their
trees, itself due to low prices of coffee.
A plant's health, or inherent vigor, is also dependent on the plant's genetics and
maintenance. F1 hybrids are inherently vigorous due to "hybrid vigor" and are hence
benefiting from their plant health to defend against rust, even if they don't bear the rust resistance genes.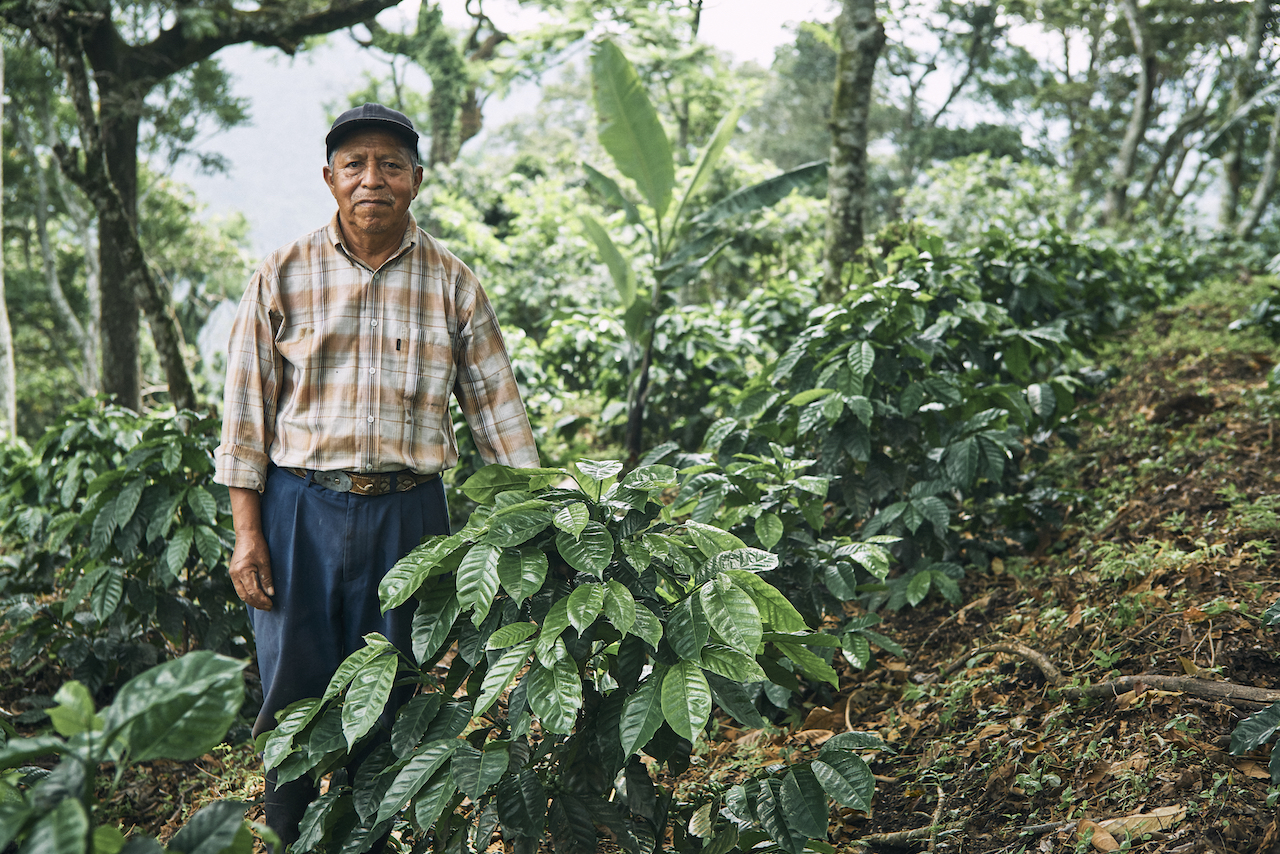 Beyond promoting plant health, World Coffee Research is committed to the necessary
R&D work to develop new solutions. These initiatives include:
- Continuing to search for new sources of resistance that could be used in breeding.
This includes researching other species such as Robusta to see if there are "resistance
traits" that could be brought to Arabica through smart breeding.
- Creating F1 hybrid varieties that are more tolerant to stress and have been shown to
fare better against rust. New F1 hybrid varieties are currently in development and
should be ready to be released to farmers by 2025.
- Learning more about coffee leaf rust, including working with renowned expert Mary
Catherine Aime at Purdue University to explore the rust genome and genetic diversity,
decipher its mutation ability, and potentially find solutions to mitigate it.
- Studying coffee profitability through World Coffee Research's Global Coffee Monitoring
Program to research ways to reduce cost of production for farmers while maintaining
plant health and vigor so that coffee is more profitable for them.
- Exploring new solutions such as biocontrol, making use of micro-organisms that either
attack rust infections or protect the coffee plant against infection. World Coffee
Research has promising results to be validated.
- Warning against the practice of moving plant material (such as seeds) around
countries or continents, which spreads coffee leaf rust and other diseases.
Phytosanitary regulations are made to ensure safe movements of plant materials; if the
spread of diseases can be slowed by even a few years, it will give scientists the ability
to meet the challenge with improved varieties, agronomic practices, and treatments.
Collaboration needed
While World Coffee Research is the global coffee industry's leading research and
development organization, the organization on its own cannot solve the complex
problem of plant disease. World Coffee Research works hand in hand with over 25
coffee-producing countries and advanced research institutes; these partnerships ensure
that research reaches farmers' fields rather than remaining in the lab.
"The situation is urgent. Coffee producers deserve the same tools and information that
modern, profitable farmers have in the rest of the world. With further collaboration from
companies throughout the coffee industry, World Coffee Research will develop and
deliver coffee R&D solutions—from rust resistance to breeding and beyond—to farmers
around the world," says Tim Schilling, WCR's founder and CEO. "There is a role for
each and every coffee company. This work is too big for any one company to achieve,
but together we will help farmers maintain and improve their livelihoods."
For more information about World Coffee Research and its programs, please visit
Twitter: @WCoffeeResearch
World Coffee Research is a 501 (c)(5) nonprofit collaborative research and
development program of the global coffee industry to grow, protect, and enhance
supplies of quality coffee while improving the livelihoods of the families who produce
it. The program is funded and driven by the global coffee industry, guided by producers,
and executed by coffee scientists around the world. worldcoffeeresearch.org