Da Vinci Gourmet launches Flavour Genius Academy - a first in SA, and it's ABSOLUTELY FREE!
Friday, 24 January, 2020
Meet the first Da Vinci Flavour Geniuses!
March 2020:
We are please to introduce you to the first ever graduates from the Da Vinci Flavour Genius Academy in Gauteng and KZN!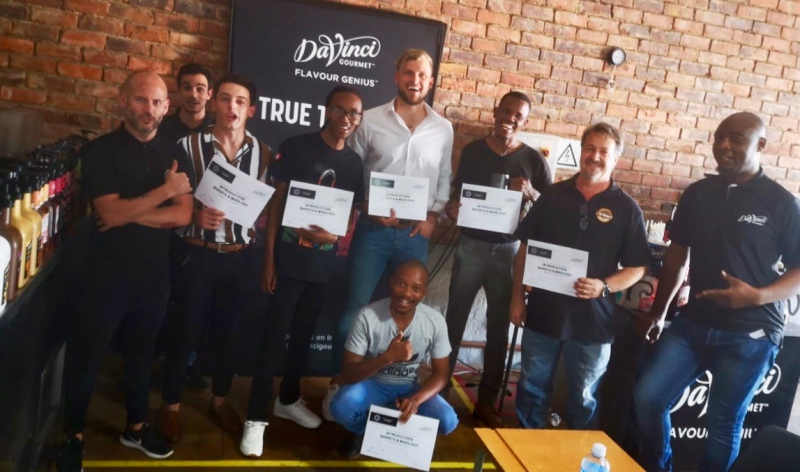 Happy Flavour geniuses graduating from JHB!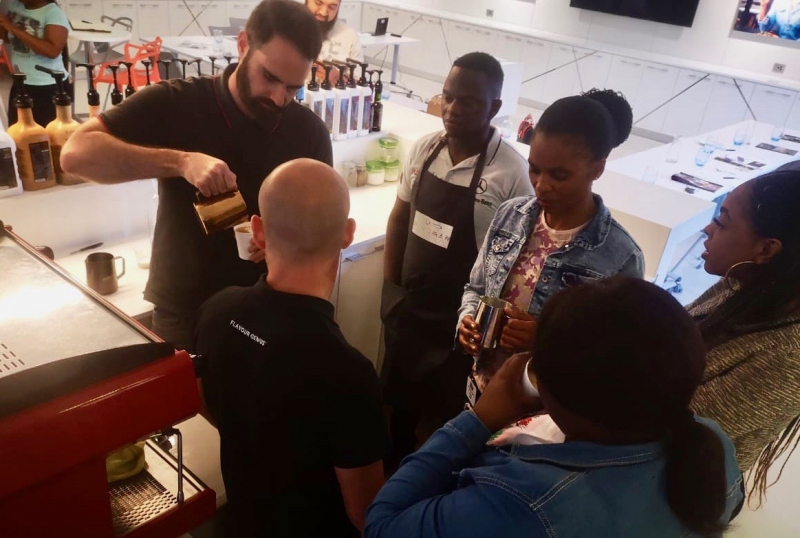 Dieter and Dale show the KZN crew how to infuse delicious flavours into their milk based hot beverages.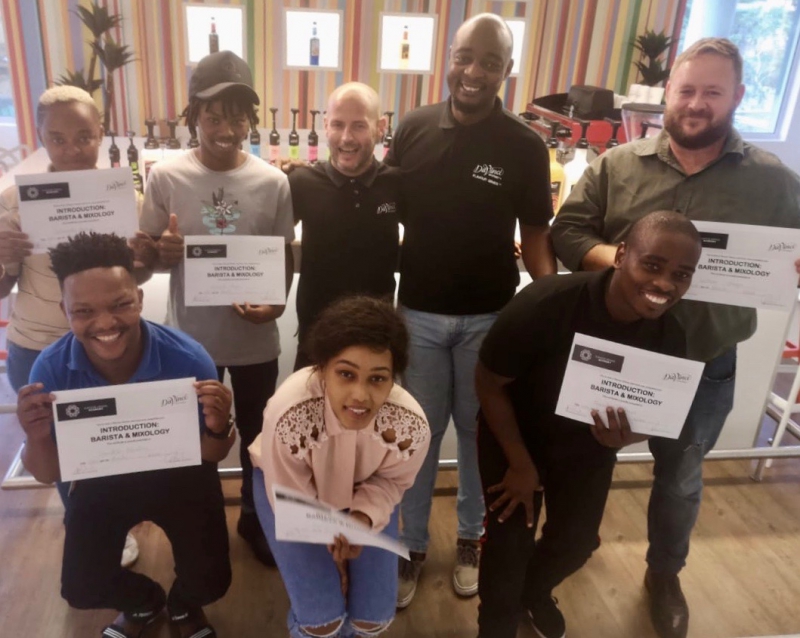 Durban Flavour Geniuses with their certificates!
"Attending the Da Vinci Flavour Genius Academy I learnt so much and gained a lot of knowledge that I was looking for. I learnt more techniques of making coffee and non-coffee based drinks using different Da Vinci products. Seeing how Da Vinci products works in hot and cold drinks, and how passionate the Da Vinci team is with what they do. Sharing skills and knowledge left me inspired to open myself a coffee shop in my community and share the same skills, knowledge and passion to each an everyone who is passionate to be involved in the coffee industry." - Tshepo, Gauteng.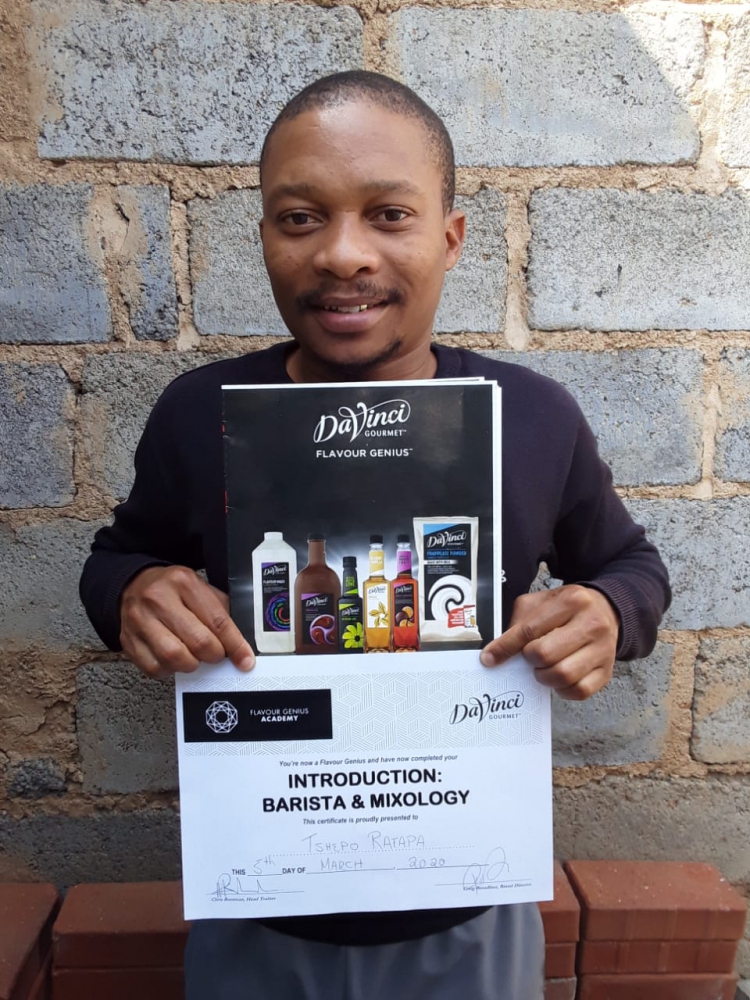 Tshepo from Gauteng was so inspired that he one day wants to open his own coffee shop!
"The da Vinci classes was the best and I was so excited that some of my craft creations where placed on their winter concepts board. I hope for more people to join and be winners like me. Not only me that made it through, but also the team members that also took part too. The team work efforts. 😉 #Davinci #teamdavinciwinners - Siya,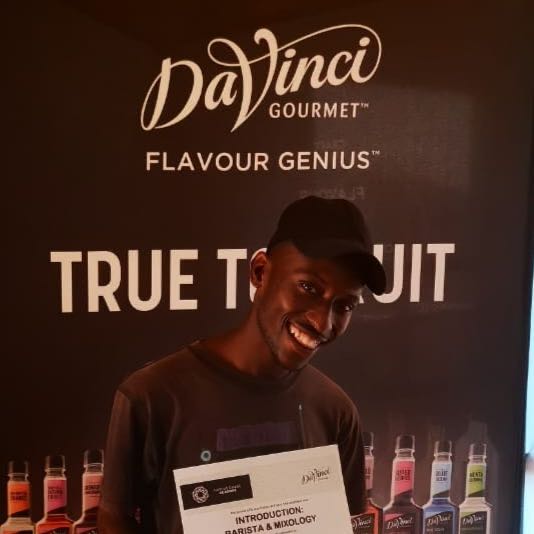 Siya - Proudly graduating as a Flavour Genius
------------------------------------------
Jan 2020:
We have some exciting news for South African Baristas, Bartenders, Cafe Owners and managers! Da Vinci Gourmet is launching the DaVinci Flavour Genius Training Academy, which is a training service offered by DaVinci Gourmet to develop skills to the coffee and bar industry. Best of all, this training initiative is absolutely free!
It is primarily aimed at baristas and bartenders who have not received formal training, but already have a good working knowledge and secondly the Academy aims to upskill baristas who want to take their beverage levels from good to genius level!
This brand new initiative, launching in March, will be a FREE 1-Day course where the highly skilled team from DaVinci will teach the following:
Barista Masterclass – Theory + Practical
Team Activity – Flavour Wheel + Cupping Session
Blending Masterclass – Frappes & Smoothies
Team activity – Regional Flavour Charts + Blending Flavours
Individual Activity - make 3 signature drinks (combination of hot & cold)
Presentation of Concepts and selection of a winner per class
Adding Value: Drinks Cost Calculator for accurate GP's
Presentation of Flavour Genius certificates / kits / badges
If you would like to attend, ABSOLUTELY FREE, please fill in the form below. Places are very limited and you will need to motivate why you should be chosen to become a Flavour Genius.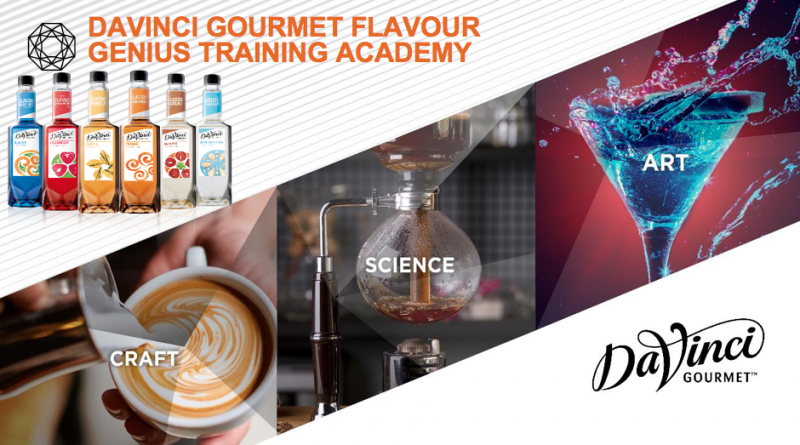 GAUTENG
Thursday, Friday 5,6 March (NOTE: Hostex is 1–3rd March)
Tuesday, Wednesday 23, 24 June (NOTE: CoffeeChoc 19-21stJune)
Tuesday, Wednesday 18, 19 August
Tuesday, Wednesday 20, 21 October

KZN
Tuesday, Wednesday 10,11 March
Wednesday, Thursday 8, 9 July
Wednesday, Thursday 2,3 September

CAPE TOWN
Tuesday, Wednesday 17, 18 March
Tuesday, Wednesday 5, 6 May (NOTE: Cape Town Coffee Festival 1-3 May)
Tuesday, Wednesday 14, 15 July (NOTE: CCW is 9-11th July in Durban)
Tuesday, Wednesday 15, 16 September

OTHER REGIONS
Tuesday, Wednesday 21, 22 April – Port Elizabeth
Monday, Tuesday 5, 6 October – Port Elizabeth (NOTE: PE Barista Champs 2, 3 October)
Tuesday, Wednesday 26, 27 May – Bloemfontein
Monday, Tuesday 3, 4 August – Bloemfontein (NOTE: Bloem Barista Champs 31st July, 1August)
Application Form: I want to be a DaVinci Flavour Genius!
Got something to say? Then leave a comment!
---
Coffee inspires Style: When two worlds collide
Thursday, 23 January, 2020
We asked the wonderful Thuli Machobane (@tooandalee) to curate a coffee inspired list of style. She did not disappoint!
---
THE SAN FRANCISCAN ROASTER COMPANY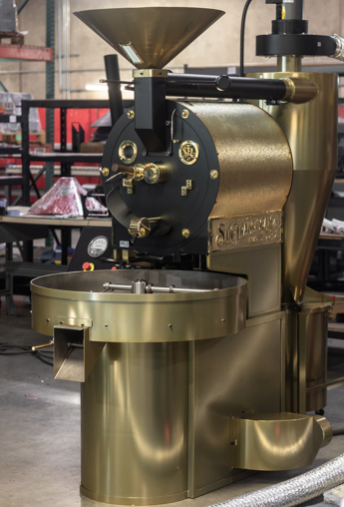 What we have here is one of the most beautiful roasters, hand-built by the Nevada based San Franciscan Roaster Company. The craftsmanship on these machines is one to be admired, the classic style that is elevated by beautiful brass fittings easily make these guys the centre of attention, transforming any space. The machines can also be personalised where a designer can choose the finish of the barrel as well as any color of the rainbow for the rest of the machine. When my eyes first landed on the San Fran roasters, I had the itch to learn how to roast. That's what style does to a person, when you see the perfect item, you just have to have it.
---
YOUR ID x NEW BALANCE 574 BARISTA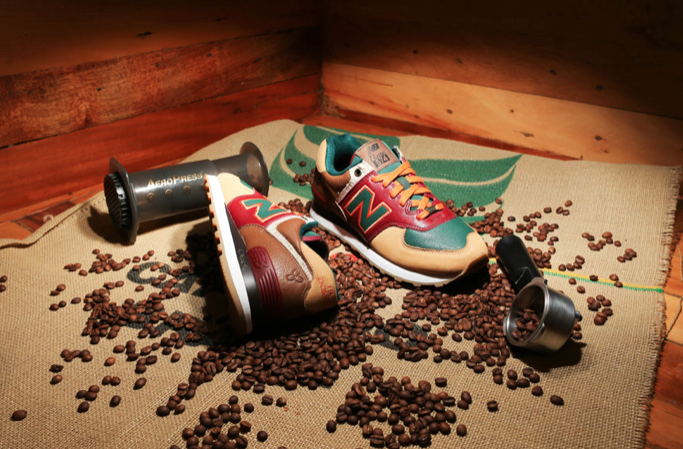 If you go to the search bar on a sneaker retailer's website, searched for mocha, espresso, flatwhite or simply coffee, chances are the search will yield a couple of fresh coffee-inspired kicks. Together with New Balance as seen in this image, brands such as Nike, Air Jordan, Adidas, and Asics have designed sneakers for coffee lovers. Sneaker culture has a lot of love for coffee and vice versa. Deadstock Coffee in Portland is a one great example, a specialty coffee shop that celebrates sneakers and makes sneaker-themed coffees.
---
COFFEE x LUXURY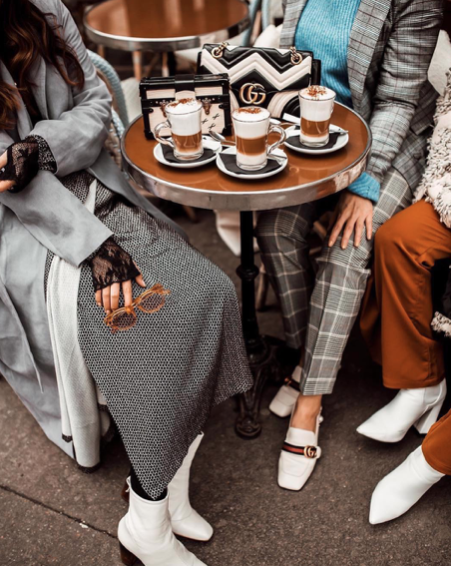 Specialty Coffee is a luxury in many ways, both in quality of the product itself and in well, the cost. As we know, some coffees can cost us thousands of rands, rightfully so. Coffee and high fashion therefore compliment each other very well in this way. They are both art, they are both tasteful, and they both make us feel amazing. This image, among many beautiful others by Helen of Style Structure really captured the essence of how luxury fashion and coffee overlap.
---
UMEKO MOTOYOSHI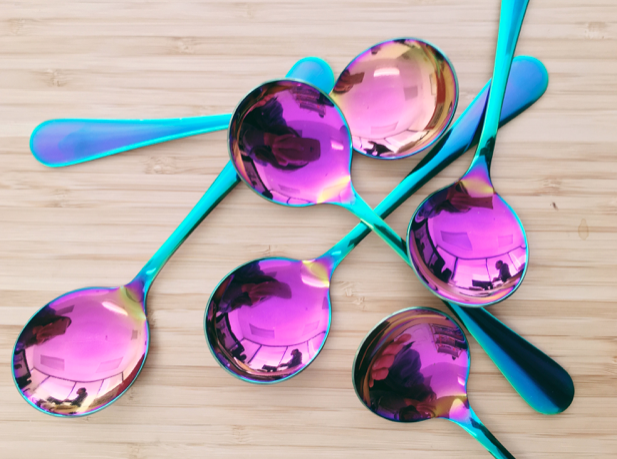 These are not just any cupping spoons. Umeko created these beautiful rainbow spoons as a way to express her experiences with inclusion in the coffee industry and in the same light as a way to empower and celebrate others; specifically women, LGBTQ, BIPoC (Black, Indigenous, and People of Color) and allies in the coffee community. She hopes that when you hold one of these beauties, you remember to not only love yourself but to celebrate difference. In addition to these rainbow spoons, Umeko has continued to create other cupping spoon designs and intentional fashion accessories that spread positivity and inclusivity in the industry.
---
CROSSLEY & WEBB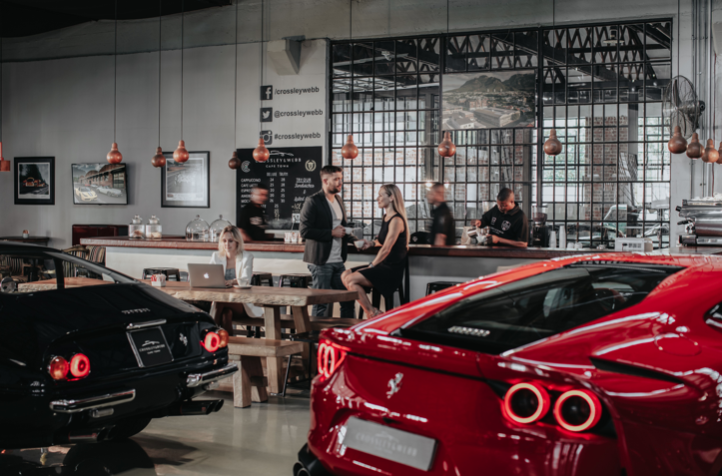 The city of Cape Town has some of the best hybrid coffee shops in South Africa, where coffee is paired with a certain form of art. Crossley and Webb's car dealership x coffee spot is one such. Who wouldn't want to indulge in a cup of Truth Coffee while viewing or potentially purchasing some of the sexiest sports cars, vintage cars, and classics? You don't have to be a car lover to find this space breathtaking.
---
COFFEE CUPS OF THE WORLD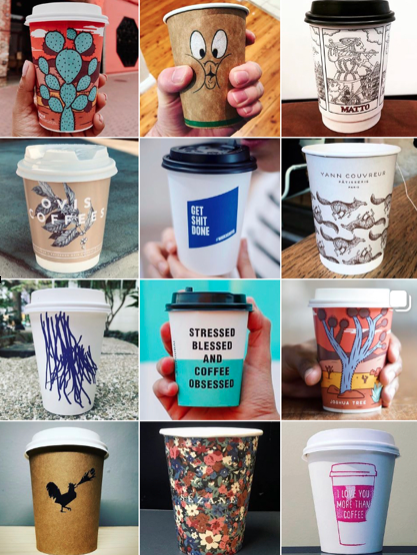 Coffee cups are one of the best ways for cafe's to express themselves and more importantly to advertise to other potential consumer's on the street. Henry Hargreaves's Instagram has so far documented over 1200 coffee cups from around the world and the creativity from the various cups is simply amazing. These cups though, are not only walking billboards for coffee shops, but are also somehow the coffee drinker's style accessory. There's something about holding your favourite coffee cup proudly as you walk down the street, that adds an element of style and essentially becomes fashion itself.
---
JULES DENBY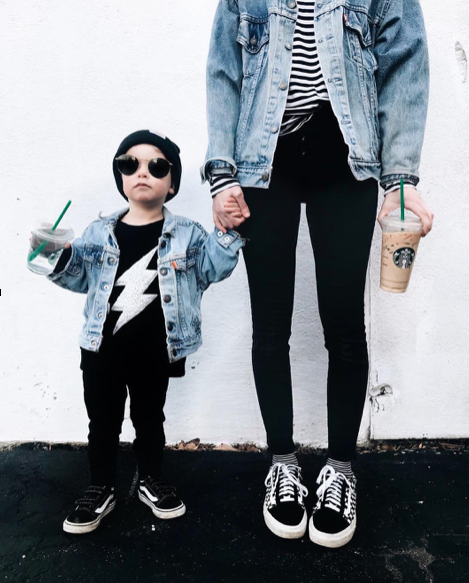 Julie and her adorable boy are probably the most effortlessly cool, dynamic duo. Her images capture the coexistence and melange of coffee and clothes. Just as coffee can be, Julie's fashion is super chilled and laid-back. She inspires the casual dresser and represents a community of many such as myself who lean towards street style, showcasing how diverse coffee can be.
---
THE CHOCOLATE BARISTA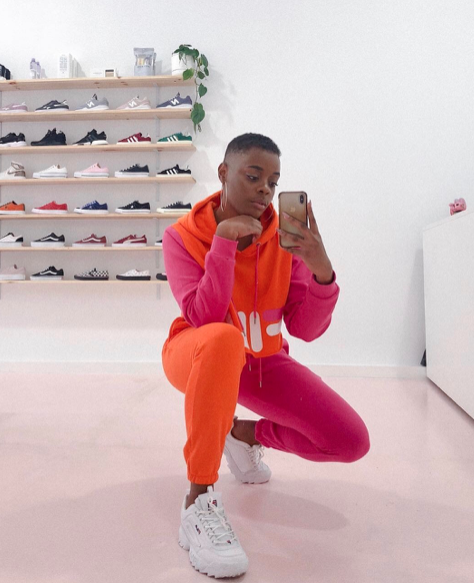 This is Michelle Johnson, The Chocolate Barista. She has created a platform that has made a lot of Black people like myself, feel comfortable to love speciality coffee and feel a sense of belonging in the industry. Her website creates content that focuses on the promotion of racial diversity and inclusivity in the specialty coffee industry. She also hosts events such as "Black Coffee" where various coffee professionals discuss issues in this area. Michelle's dope sense of style has always stood out so I had to ask for her point of view on coffee and style. She said, "For me, coffee and fashion are both ways to creatively express myself. I put the same amount of thought and intention into choosing my outfit for the day as I do picking a coffee and how I'm going to drink it. They're both ways I set myself up to have a good day. Besides, who doesn't want to look as good as their coffee tastes?!"
---
Caitie's FLATLAYS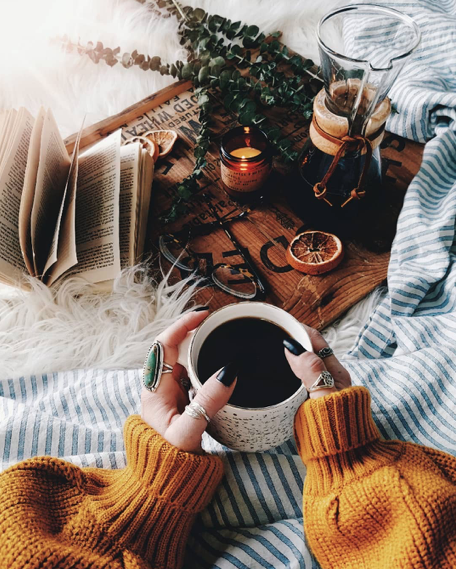 With the exponential growth of Instagram in recent years, flat lays have become a pretty big deal. They are images captured from a birds eye view, where various items are creatively arranged and styled on a flat surface. Coffee is almost always one of these items, adding a level of comfort, relatability and sophistication to an image. Caitie's Instagram feed has a collection of the most beautiful flat lays that incorporate coffee and clothes. A year ago, she started sharing with us flat lays that included her beautiful daughter and son, where micro-fashion then meets coffee.
---
BARISTA FASHION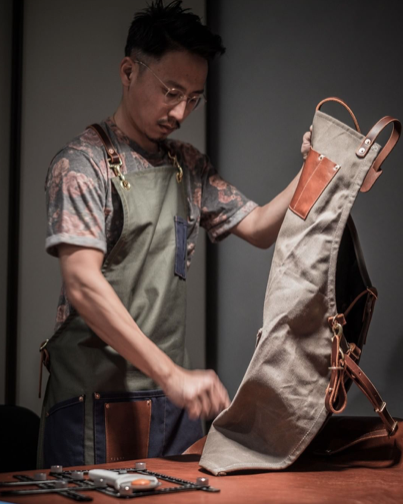 What is it about a well-dressed barista? Coffee is an art and artists tend to be stylish. Their style varies from trendy to very individualistic, either way there's always personality coming through their choice of clothing. Specialty coffee shops themselves extend their sense of style through barista fashion, with beautifully designed custom aprons. The leather aesthetic and accents of these aprons have become synonymous with the coffee industry. They relay to customer a proud barista, a professional, a craftsman and an artist. Someone you can trust to blow your taste buds away!
---
DEPARTMENT OF BREWOLOGY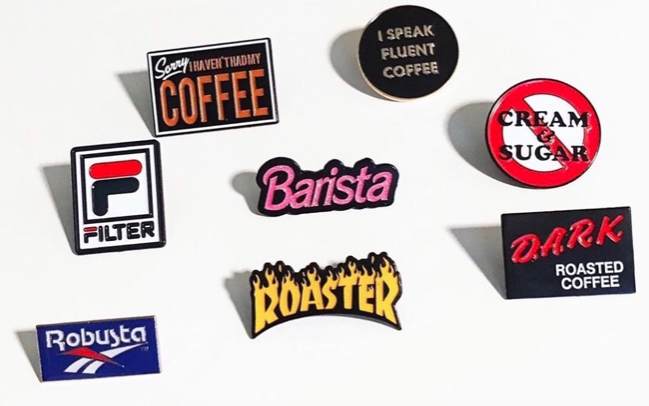 These pins are just some of the coolest creations by the Department of Brewology. DoB harnesses coffee culture and designs witty apparel and accessories that any coffee lover would be proud to wear as a statement. Fashion is a non-verbal language that communicates and relays a certain meaning or feeling to others. Department of Brewology has truly captured this in their designs for coffee lovers and the community at large.
Got something to say? Then leave a comment!
---
A chat with Bloemfontein Roasting pioneer, James Kilbourn of Stereo Cafe
Thursday, 23 January, 2020
We caught up with James Kilbourn, roaster and owner of Stereo Cafe as the business turns 6!
Images from Stereo Cafe instagram, give them a follow!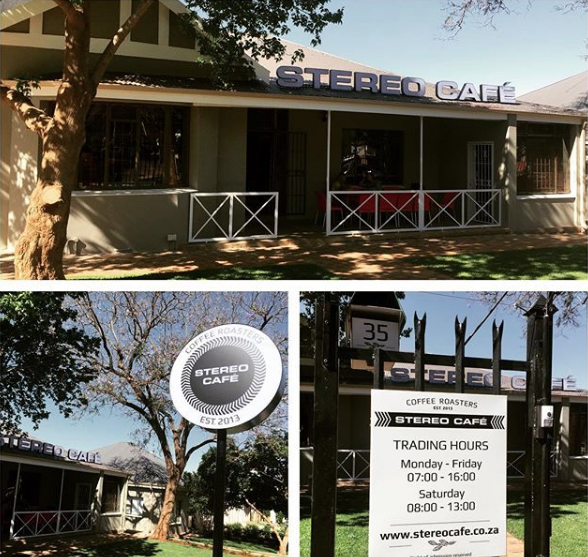 Congratulations on 6 years of amazing coffee in Bloemfontein, Stereo Cafe! How does it feel to have made it this far?
I'm elated to have made it this far! The odds are stacked against most first-time businesses and to have made the six year mark makes me very proud. It hasn't been without very real challenges though. The day I opened the doors on 20 January 2014 I had no idea where it would take me. I'm glad it's brought me here.
How has the coffee landscape in Bloem changed since you started Stereo?
There is far more awareness and a desire for better coffee in Bloemfontein. Customers have become more discerning as they are informed through exposure to coffee and the industry through articles in various media, TV programmes and radio features. The local coffee community has also been educating their customers, family and friends about coffee which in turn spreads knowledge to others. Bloem has also successfully hosted the Central Region Barista, Latte Art and Cup Tasters championships for two years in a row which has given the professional community the opportunity to network and grow. The support we've received in hosting these competitions by SCASA and it's sponsors is greatly appreciated and we hope that there will be even more interest in the 2020 competition. We hope to have good representation at Nationals in March too.
What has been the most difficult lesson you have learned over the last 6 years?
There have been many lessons but the most important has been to keep innovating to ensure you stay relevant in a increasingly competitive market. Complacency is your biggest enemy. There is always something to learn and to improve on.
Can you single out what you feel is one of your best moments? (Difficult we know!!!)
We have been very fortunate to have been recognised as pioneers in the coffee scene in Bloemfontein for which we are very grateful. This has led to wonderful exposure in local and national media especially when we were featured in the KykNet series "Koffieboon" which I think did a great job in highlighting the coffee industry and bringing local coffee businesses around the country to the attention of a broader audience and putting a spotlight on the local coffee industry.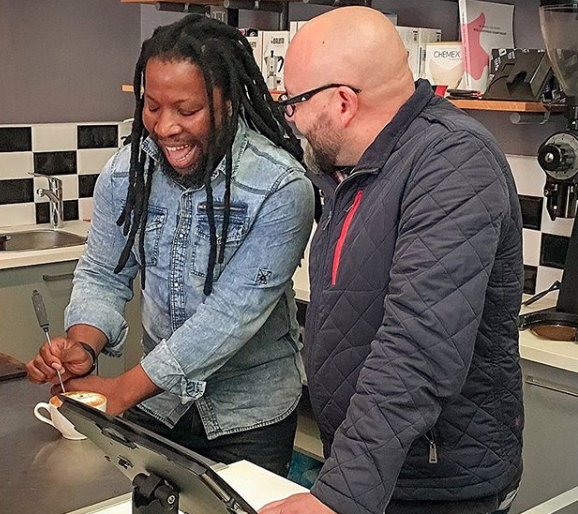 What are the plans for 2020?
There are a few exciting opportunities which I have to decide on for Stereo Café but and personally I would like to further my SCA certification and obtain my SCA coffee diploma.
What is your favourite coffee you have in stock at the moment?
I recently started roasting a direct trade coffee from Malawi - the Misuku Highlands Gesha from Specialty Coffee Exchange - which I am really enjoying and getting great feedback on from clients. I'm loving it as a pour over but it also translates so well with milk in a flat white.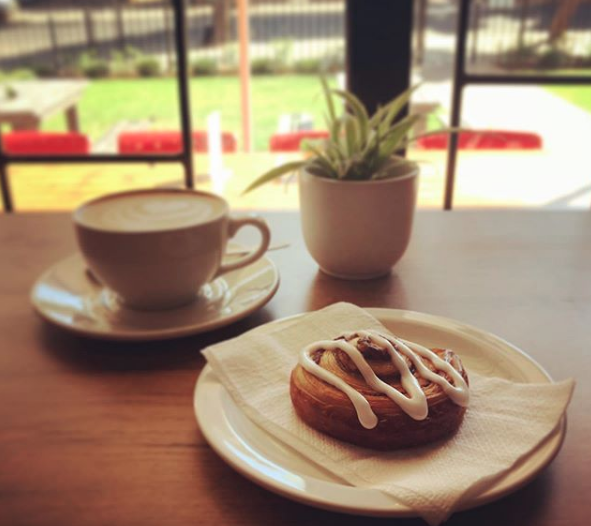 Got something to say? Then leave a comment!
---
Blame Canada! An audience with Cole Torode, two-time Canadian Barista Champion
Friday, 17 January, 2020
Blame Canada!
Meet Cole Torode, he's Canadian and he's awesome.
When we think of Canada we think of freezing weather, uber friendly people and top coffee professionals who always wow us in competition (and for the fans, South Park, as noted in the title!). The top coffee professionals also do happen to be uber friendly and the coffee certainly helps with the chilly climate. The last couple of years, Cole Torode of Rosso Coffee Roasters in Calgary, Alberta has represented Canada at the World Barista Championships and managed to place in the Top 6 both times. That is no mean feat! Cole had the opportunity to visit Johannesburg earlier this year and we were able to connect and pick his brain about all things coffee.
Interview by Melanie Winter
---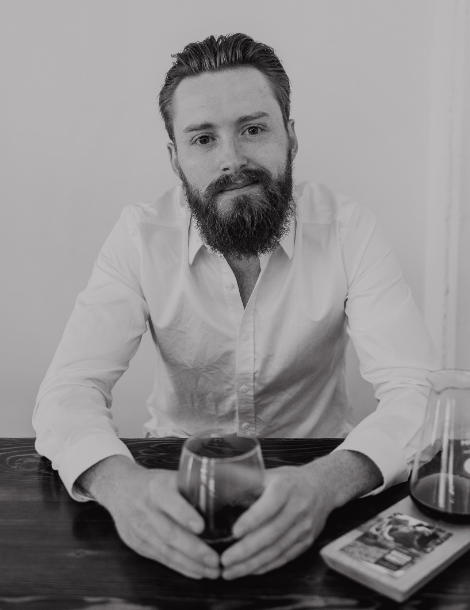 How did you fall in love with coffee? Was it love at first sight or did it grow on you over time?
For me, the love and appreciation for coffee came after working in the industry. I needed a job at the time as my life plans had fallen through and I just so happened to get a job working as a barista. Shortly after, I heard there were barista competitions and being a competitive guy, I decided to try my hand at it. Through the learning and understanding I took on, I became incredibly fascinated and ten years later, I still compete, still learn and still find it incredibly fascinating each and every day.
David Crosby, your brother, is the founder of Rosso Coffee, starting way back in 2007. What inspired him to get into the coffee industry?
Similar to my story, David was in need of a job. He graduated university and came back to Calgary at a time that was tough in the city and thus, finding a finance job was not realistic. He had previously worked at a handful of coffee shops during university and realized that Calgary was maybe lacking in its overall coffee scene. He jumped in with two feet, opened the first location in a charming neighbourhood called Ramsay and was the only employee for the first six months - barista, baker, chef, dish washer, you name it, Dave was that guy.
Rosso Coffee has organically grown from cafe to roaster to green bean sourcer to multiple cafés and supplying multiple wholesale clients, did you ever think this is where the company would be in 2019? And what did it take to scale the business so you could shift focus to the supply chain?
Scaling the business has been challenging and rewarding. We've never had a huge budget for anything and we've thankfully never taken on debt, so we've got to where we are today bootstrapping the business. Honestly, I think every year, we surprise ourselves when we look back on where we're at. We've always had a full commitment sort of attitude when it comes to new endeavours and we're always willing to put in the time to make sure we get across the finish line.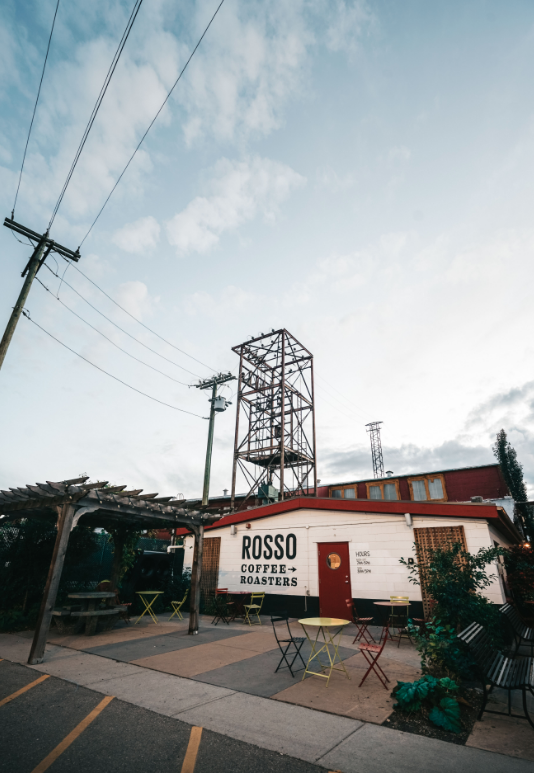 Photo by Brandon Paton
There is a strong entrepreneurial culture here in South Africa, can you tell us a bit about what it is like to partner with your brother? Do you have any advice on choosing business partners and how to manage these relationships?
So, I'm actually partnered with my brother and his girlfriend Jessie. They met in the early days at Rosso - she was a frequent latte drinker who asked Dave out because Dave was too worried to lose a client should she say no… HA. Working with the two of them is great, though it can be challenging as I know they go home and discuss things after the working day and often formulate answers to things before I get an opportunity to. On the positive side, we all fulfil different gaps in the business and now we're able to each champion our own aspect at Rosso. So Jessie is most involved in HR and the cafes, Dave is on finances and logistics, I'm taking on the coffee quality control and sourcing, as well as our online platforms.
How did travelling to origin change your perspective on coffee?
I think, far beyond coffee, it changed my perspective on the world. I'm privileged to live in a country like Canada and I didn't necessarily understand what existed beyond our borders. Visiting coffee producers in hyper-rural areas in countries like Myanmar, Burundi, Guatemala, and others, gives me desire to create change. For me, I want to use the platform of specialty coffee to make positive impacts on the lives of people in these countries and beyond.
Coffee is one of the largest industries in the world, it's present in every country, either production or consumption, and it's continually suffocated by large corporations who are smothering small producers. Buying practices need to change on many fronts, but I believe that starts with coffee buyers like myself, traveling to meet the people behind the coffee. If we put humanity to the product, perhaps we can influence the consumer to purchase coffees that are traceable to a specific producer or cooperative or washing station. Labelling a coffee as the country it's produced in just isn't enough anymore.
Imagine I went in to purchase wine and my options were South Africa White or South Africa Red. Well, that's just not enough for me and shouldn't be enough for others. I want to know it's from Stellenbosch or Paarl and if it's a Pinotage or a Chenin Blanc - that gives me context, traceability and an expectation. Whether I know what those things mean as a client or not, it gives me something to learn about should I be interested. Let's do our best to share as much info as we can about the coffees were serving to strike interest in our clients. Traceability is what will change our industry for the better. It's what will impact the humanity behind the coffees we serve the most. It's the thing that will separate specialty coffee from the commodity giants.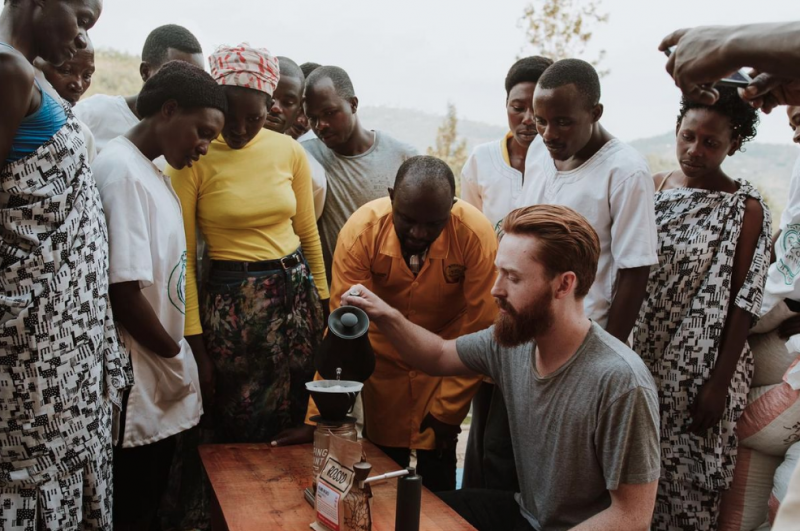 Can you tell us about your most memorable cup of coffee?
The most memorable coffee I've ever had was in the Semi-finals of the World Barista Championship in 2018. I was was playing with ratios for the blend I was serving, using Gesha and Sidra from La Palma y El Tucan. During my dial session in the morning, prior to my competition time, I hit an extraction at such a magical point that I swear the clouds in the sky opened up and the stairway to heaven came to me. It was so vibrant and vivid. It's really a shame it wasn't the same experience the next day in the finals, hehe.
What are the issues you face as an industry in Canada?
One of our challenges here is getting the general population to better understand and appreciate coffee. Our industry is dominated by big chains that sell 500ml and larger coffee drinks for dirt cheap. So our clients want quantity and often give us grief on pricing. In that interaction it's hard to say "well we're paying $4.00USD(R58,50)/lb FOB (FOB stands for Free on Board, which means this is the price of the coffee ready for export) for this coffee, we've been working with the producer for X number of years, plus we pay a living wage to our baristas and rent for this location isn't cheap and the Canadian dollar has dramatically fallen in the past few years and therefore it's actually really great value!" So that's one challenge we have, but I imagine that's Global. How do we as an industry charge prices that actually justify what a coffee should cost?
For visitors who love coffee, which city in Canada do you recommend as the coffee capital and what are your favourite coffee spaces there?
Well I'm based in Calgary and I'd argue that it's the spot to visit. I'm a huge advocate of the city and think it's wildly overlooked. If you're a fan of coffee, we have a great scene here with some globally renowned roasters and some incredibly sophisticated cafes. We're also an hour drive from the Rocky Mountains and some of the best hiking, skiing, outdoorsy sort of stuff that us coffee nerds all seem to enjoy. So I'd advocate to come to Calgary, though each of the major cities in Canada is starting to really push the coffee scene. I'm proud to live here and happy to be a part of the burgeoning specialty coffee industry.
Ed's Note: Calgary is also home to Phil&Sebastian Roasters and Monogram Coffee which have also produced award winning coffees and baristas. So, it seems Calgary is certainly an incredible coffee destination!
This will be your 10th year competing (jury's still out as to whether it will be your last!), what are the ways in which you think competition has moulded your career in coffee and how you do you think it benefits young baristas?
I honestly believe I owe everything in my coffee career to competition. If it weren't for the platform of barista competition, I'm not sure I would have ever been as motivated to learn about coffee, or to get into roasting, to do my Q Grader, to start sourcing, or experimenting. I think competition gives you a platform and template to master and understand the craft of coffee. In the early years, not only did I improve and hone in on my skills, but the baristas I was working with on the day-to-day also learned through osmosis. In these later years, I keep coming back to it because it gives me a platform to extend my creativity within coffee as far as I can. It gives me a voice and hopefully that voice inspires young and aspiring baristas.
Pretty sincere this year will be my last. I think retiring at 10 is a nice clean number. Getting the opportunity to compete in Melbourne would be amazing, as I actually wanted to travel to and live in Australia prior to getting a job in coffee. It's now the only continent I have not visited. So I'd love to go full circle and have my last year of competition take me where I wanted to go prior to knowing competition existed. After that, I'd love to coach and work with other baristas to compete and get more involved in planning competitions with SCA Canada.
As mentioned above, you've been competing for many years, what changed in your performance from one year to the next that took you to WBC in 2018? And what did you learn at your first WBC that got you back to the world stage in 2019?
The first year I competed at WBC I wasn't ready for the emotional rollercoaster that came with the three sequential days of competition. I had three weeks to build a routine from winning my National competition, running out of the coffee I used, and starting from scratch. This year, I went into my National competition with a routine that was built for Worlds. So my perspective and way to prepare changed from one year to the next. I think too, the first year I went in and felt intimidated by nearly everything around me - it was overwhelming. In Boston, I just zoned everything out and stayed in my own head space. I honestly didn't even walk through the exhibition in Boston.
What were your impressions of SA coffee culture (at least from within the confines of the Coffee&Chocolate Show, haha!)
I really enjoyed my time in South Africa getting to know a small portion of the scene. It was quick and I wish I had more time to see the rest of the country and get to know more cafes and more baristas. Overall I was impressed with Johannesburg and enjoyed getting to watch some of the regional competition at the Coffee and Chocolate Show. Just like other countries, it appears as if there's a group of people pushing the scene forward and I think that's so exciting to see. I know some people were commenting to me that South Africa is way behind with the world of specialty coffee, but I really don't think that's the case. It takes some time to change habits, create more appreciation and push people out of their comfort zone. We have a lot of the same struggles here in Canada. We just all need to keep a smile on our face, serve the best coffees we can and not allow any compromises in what we're doing.
Got something to say? Then leave a comment!
---
Calling all roasters: Enter A Shot in the Dark 2020
Friday, 17 January, 2020
Coffee Magazine is very excited to bring you the 3rd edition of South Africa's only Coffee Roasting competition A Shot in The Dark 2020 presented by Genio Roasters! With the growth of coffee in South Africa, and around the world, this competition is a fun and novel way to showcase the skills of our amazing Coffee Roasters from all parts of SA, and this year, possibly a couple from overseas too!
This competition is open to anyone who wants to enter, and last year we grew the competition from 12 competing coffee roasteries to 43! Watch our amazing video and read all about the competition format here: https://www.coffeemagazine.co.za/pages/49/a-shot-in-the-dark
Details on judging and logistics will be added as we go. The entries are already flowing in and we urge you to enter as soon as possible! (Entries close 1 March 2020)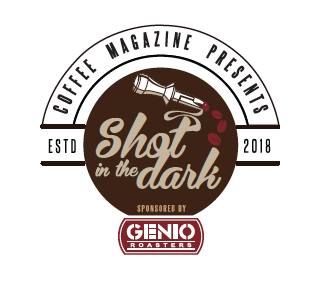 A Shot in the Dark is proudly supported by:
Genio Roasters – Title Sponsor and Partner to ASITD.
Sevenoaks Trading - Supplier of the competition's First Round green coffee, competition coffee bags and use of cupping laboratory.
Specialty Coffee Exchange - Supplier of the competition's Finals Round green coffee and bringing the Coffee Producer to Creative Coffee Week.
Equipment Café - Supplier of the competition's Finals Judging equipment at Creative Coffee Week.
Your entry fee buys you:
R3000 for 10kg of green competition coffee or
R5000 for 20kg of green competition coffee or
R10 000 for 40kgs of green competition coffee.
2 x 1kg Competition Coffee bags, Roasters Notes sheet and welcome pack.
A ticket to Creative Coffee Week 2020 valued at R2500 (9-11th July 2020 in Durban). There will be a day of workshops and practical experience especially for A Shot in the Dark entrants. Only the people who enter will get to attend this section.
Limited Edition A Shot in the Dark 2020 Tee shirt
"A Shot in the Dark" limited edition stickers for re-selling your competition coffee in your Roastery/Café.
Prizes include the ASITD Trophies to display in your roasteries PLUS:
1st place - An Origin Trip with Coffee Magazine, 1000 x Gold ASITD winner stickers.
2nd Place - Free entry into 2021 ASITD & a SCA Roasters Course, 1000 x Silver ASITD runner-up stickers.
3rd place – 60kgs of green competition coffee , 1000 x Bronze ASITD 3rd place stickers.
Got something to say? Then leave a comment!
---
Build Up to Nationals 2020: Competition advice from behind the scenes
Wednesday, 15 January, 2020
The Inside Scoop on Competing in Coffee
Some of Chris Rootman's favourite moments of his career have been at the SCASA competitions: "small things like two competitors giving each other big hugs after their sets, helping a competitor backstage, seeing how nervous they are and then absolutely smashing their set on stage." National Sales Manager of VDP Distributors and a SCASA board member, Chris gave us the inside scoop on coffee competitions in South Africa…
What do you like best about coffee competitions?
"The friendships and camaraderie. There is the most amazing spirit shared between everyone at these competitions. Whether you are competing, judging or organising. On a more serious note, there is always something to learn. The competitors have spent a lot of time and invested money preparing for the big day, and with that comes a whole new knowledge base that everyone who takes the time to listen, can learn from.
Those who are involved will understand what I mean. If you have never done so, come spend some time at your regional competition. Be a judge, volunteer to work behind the scenes, or even better, come and compete. It really is life changing!"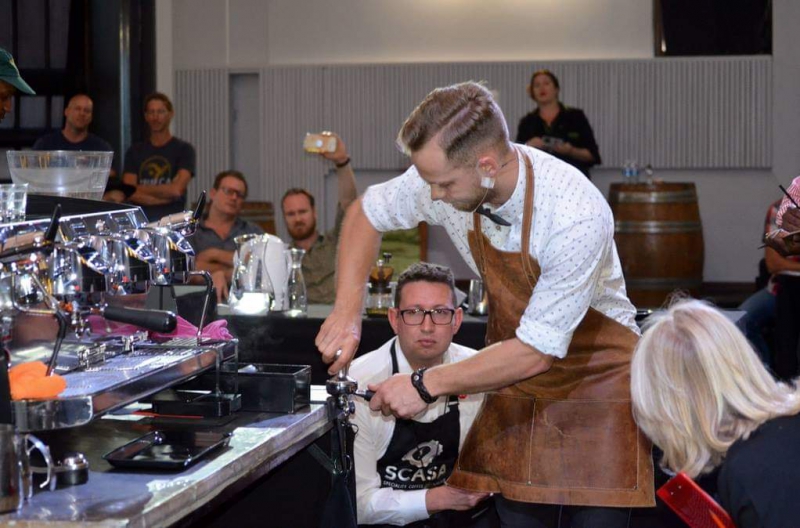 As a judge, is it difficult to stay objective when you're judging industry friends?
"Back in the days when I used to compete, I did sometimes think like that. But when I started getting more involved behind the scenes, I soon realised that the scoresheets leave no room for personal interpretation. The judges' training as well as the daily calibration is led by industry legends like Alessandro Morrico, Bernard Muneri, George Bertolis, Tim Krynauw and Shaun Aupiais, who leave little room for personalised interpretation."
What do you think it takes to succeed at the international level of competition?
"Like Gary Player says, the more I practice, the luckier I get… I think that attitude in life will get you far no matter what you do. International competitions are of course a very different beast. Having read a lot of interviews with the top six in the World Barista Championship finals for the past 10 years I think there are some constants which a national champion should consider when the planning starts. As a list person, here is mine:
1. Start at regional level. Plan, train and perform as if you are on the world stage.
2. If you make it to nationals, use the same attitude, give your preparation absolutely everything you have, and compete as if it's the most important thing you've ever done.
3. Network. There is a wealth of information and expertise within the local coffee community.
4. Team effort. You will need a group of people around you who can help you from the planning phase to competition phase. They should know what you think before you even think it and have the ability to handle the stressful situations in a way that will keep you calm and focused.
5. Live practice. Once the set for worlds start taking shape, repetition is important to build muscle memory. I personally feel that the national champion should be running sets for judges and other competitors daily to get used to the pressure and to find ways to work around problems that could happen during sets. The more sets you run, the better you get to understand the areas of a set where you get to be creative, but also to build areas within the set which are standard. These standard areas can serve as time checks, but also keep you grounded when pressure mounts.
6. Be different. Judges want to leave your set feeling excited and inspired. Give them reason to by being creative."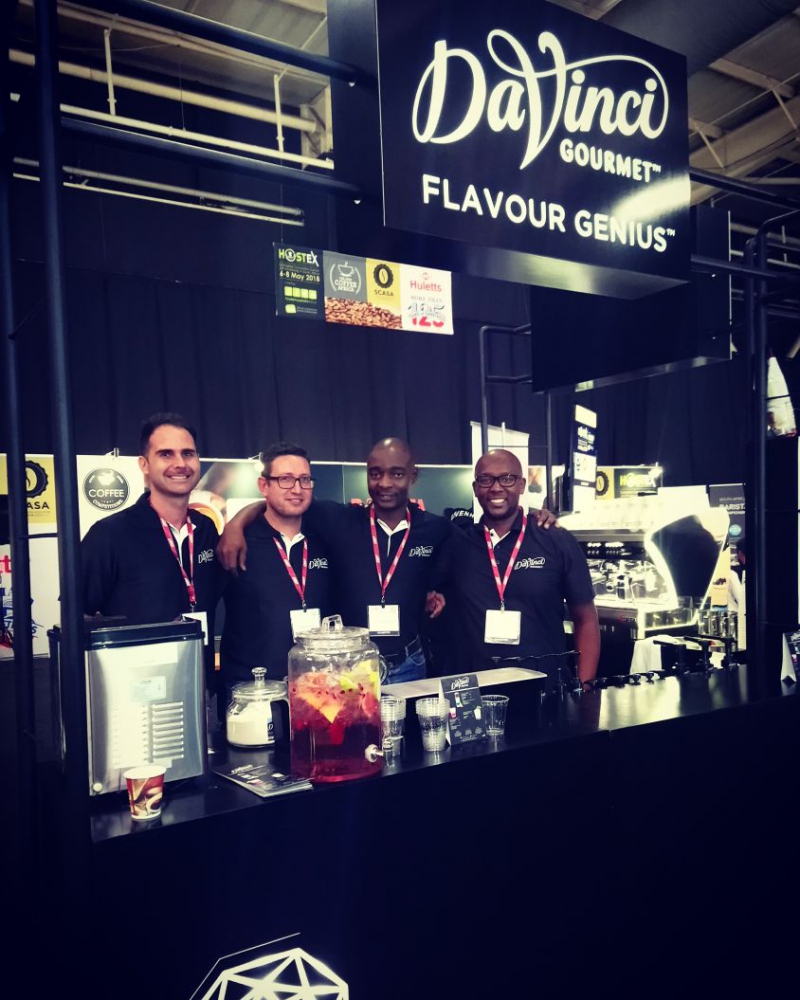 What do you think lies ahead for South Africa's coffee industry in 2020?
"2019 has been a hard year. We faced some interesting challenges in terms of our economy which has affected the entire supply chain of our industry. As South Africans, we find ways to make things better, and to change a negative into a positive, and I think 2020 will be a big year in the coffee industry. In the competition space this year I saw some talents take themselves to the next level, and have seen some incredible presentations in every single region.
I know several baristas who are already practicing for Nationals at HOSTEX (1 – 3 March at Sandton Convention Centre) and I think the competition is going to be fierce! I think this year we will see a South African break into the top 12 at the World Barista Champs, and both Latte Art and Cup Tasters will get the best rankings we've had in their competitions to date. On a more personal note, we are launching The DaVinci Gourmet Flavour Genius Academy in 2020. Everything is top secret for now and we will launch this at HOSTEX during the SCASA National Coffee Championships."
As a judge and competition 'insider', what's the best advice you can give to new competitors?
"Practice, practice, practice. Know the rules. Study the scoresheets. Remember that you are competing because you love coffee. Let this be your driver."
Got something to say? Then leave a comment!
---
The Ultimate Coffee Gift Guide 2020
Wednesday, 18 December, 2019
Got something to say? Then leave a comment!
---
Coffee Magazine nominated for a Sprudgie, international coffee accolade
Wednesday, 18 December, 2019
Last week we received some pretty cool news. We've been nominated for an award! When we started The Coffee Magazine Awards two years ago, its purpose was to shine a light on the hard work happening out there in the coffee industry, because being acknowledged motivates and inspires everyone to be even better. Thank you for all your support over the last 8 years, we're very proud to be included in this list among other coffee titles from around the world that we respect so much. It may be a cliché, but damn, it's a real honour just to be nominated.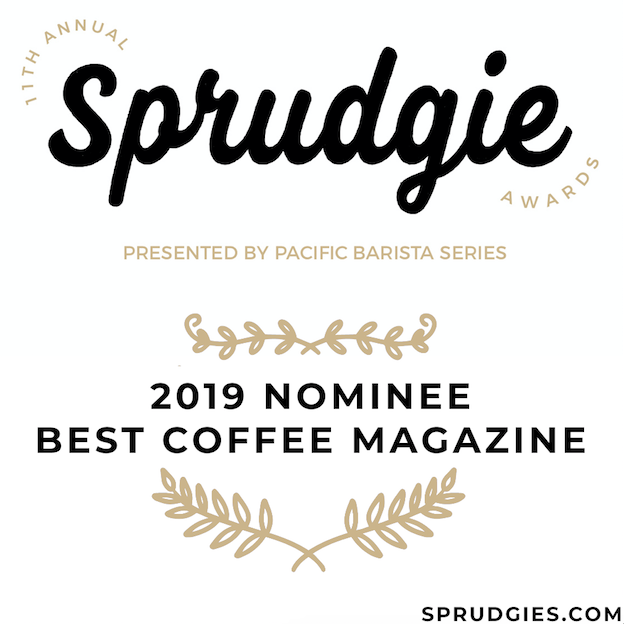 "Congratulations on this from all of us at Sprudge Media Network. Voting will open on Friday, December 13th at 10am Pacific Standard Time and close on Friday, January 3rd at midnight PST. Best of luck, and we're thrilled to have you as part of our 2019 Sprudgie Awards nominees."
So, Coffee Magazine loyal supporters, we need your help!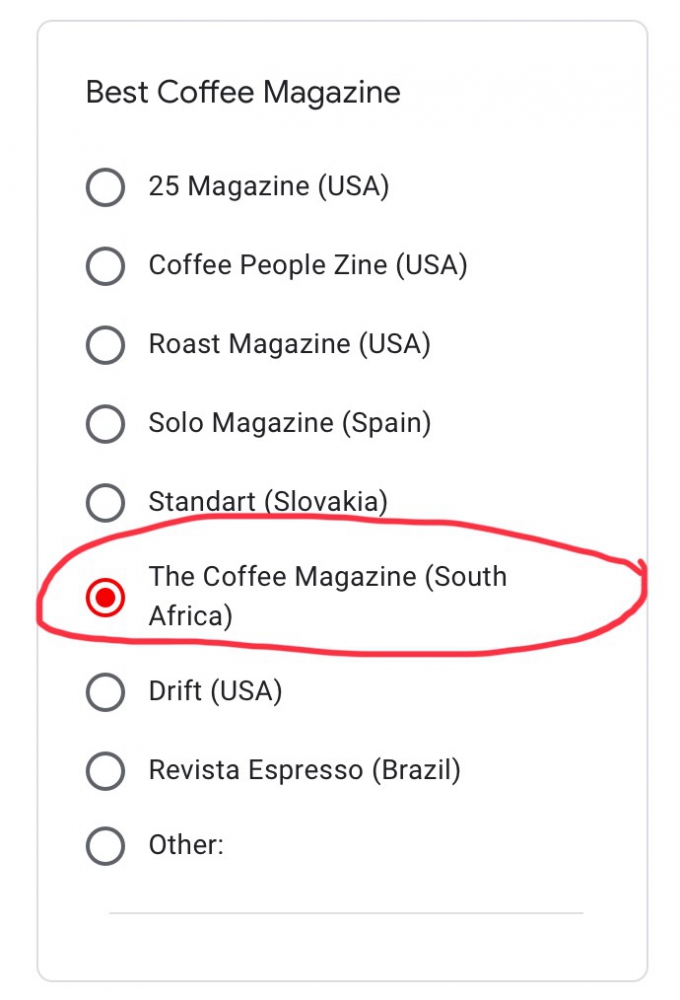 You don't have to vote in any other categories, though I'm sure the nominees would all appreciate the vote of confidence!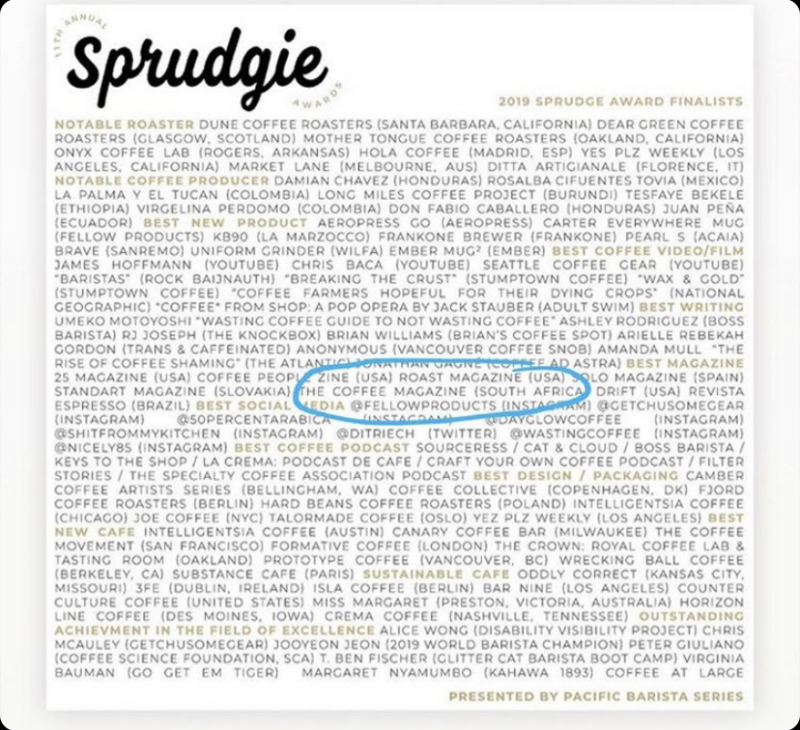 Got something to say? Then leave a comment!