A naturally decaffeinated bean? Discover the Racemosa species.
Tuesday, 21 May, 2019
Many years ago, in Issue 4, (we are currently working on Issue 28!!!) we ran a story on the mysterious Coffea Racemosa, a coffee tree that produces naturally decaffeinated coffee! We are thrilled to see that this species, indigenous to Southern Africa, is being championed by Cultivar Coffee. We're excited to see what happens next with this coffee!
---
WILD SOUTH AFRICAN COFFEE
Words by Sue Derwent
The first time I ever saw, or even heard of, indigenous Racemosa coffee was in a dodgy little farm stall in Hluhluwe village, KZN. The only other things on sale were a pile of over-ripe bananas, seven guavas in an otherwise empty cardboard box and a few dusty bottles of what looked like guava jam and elderly banana chutney. In contrast, the little packets of Racemosa sat proudly on their shelf, all neat and clean. I bought some because the label said "…the Elephant Coast's indigenous coffee" and until then I had no idea there was even such a thing as "indigenous" South African coffee.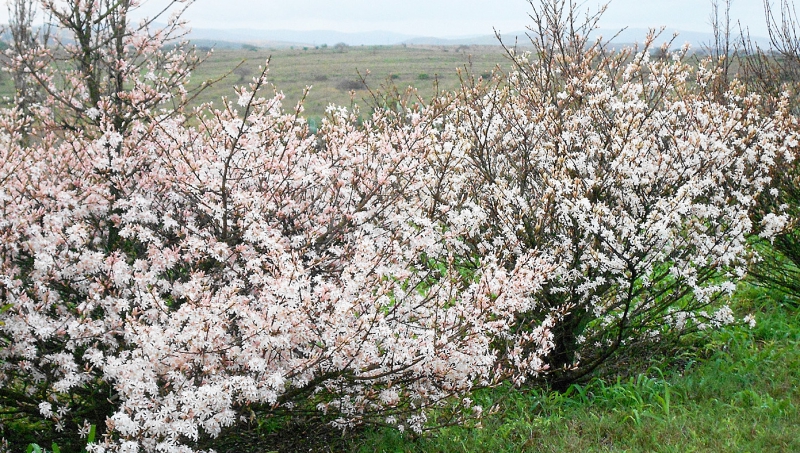 At that stage I wasn't a big "coffee person" so I kept that label for more than a year, and one day during a clear-out found it, and on a whim, phoned the number and spoke to Marlene. A week later I was sitting in Marlene's lounge overlooking her coffee plantation of about 2000 trees and the lovely, if somewhat dry Zululand landscape.
Marlene's love affair with coffee began with an Arabica tree gift from a very dear friend. She planted it in their garden, but Zululand was not really the right climate for such a tree and it subsequently died. But not before it inspired Marlene to start reading everything she could about coffee, during which time, she discovered that Southern Africa has its own indigenous coffee plant. And guess what? The only place it grows naturally, in the wild, was literally on her back doorstep.
In South Africa, the Coffea Racemosa tree is only found growing wild in the coastal forests north of Lake St Lucia and then up the eastern coastal belt of Africa into Mozambique. Unlike the better known Arabica and Robusta, Racemosa plants have not, as yet, undergone any genetic tampering in South Africa in order to make the beans larger or make the trees bear more prolifically.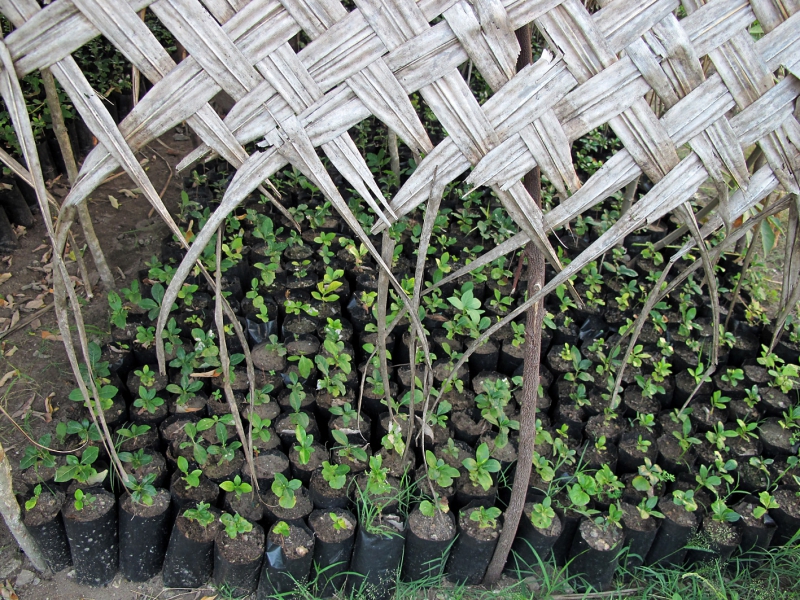 A Racemosa tree is about the third of the size of a Robusta coffee tree and it bears substantially less. This means it takes approximately six Racemosa trees to produce the same weight in beans as one Arabica or Robusta. Another difference is that Racemosa bears blossoms and ripe fruit simultaneously. This necessitates harvesting by hand, which makes the work of harvesting difficult, time consuming and expensive.
But the really big thing about Indigenous Racemosa coffee, is that it's naturally so low in caffeine you could happily call it naturally caffeine-free. There. I've said it. Let the grounds fall where they may. I'm only saying this because whenever I mention "decaf" and "coffee" in the same sentence, there are a lot of pursed lips, arms folding and patronizing head shakes. However, before that debate gets silly and people start getting all uppity about coffee not being coffee without caffeine, it may be of interest that a study carried out by Eduardo Mondlane University in Maputo, Mozambique, showed that, not only does Racemosa coffee have such a minuscule amount of caffeine that it's hardly worth mentioning (0,38%), they also discovered that the potential consumers of caffeine free coffee world-wide is about 10 million people.
This means Racemosa could be a really big hit with, not just the more health conscious, but also the caffeine intolerant, the migraine sufferers, those trying to give up smoking and those suffering from adult ADHD - many of whom otherwise, just love the taste of coffee. There are also concerns around the some of the "decaffing" processes currently in use. So my question is, if you could provide all 10 million people with a naturally decaffeinated coffee, why wouldn't you? Hopefully that made some of the coffee snobs unfurl their lips and start paying attention.
The big problem though is, that as far as can be ascertained, there are currently only two places where this clever coffee is produced on any kind of vaguely "commercial" basis – and I should rather say artisan basis - in the whole of southern Africa. One place is on Ibo Island in Mozambique in the far northern Quirimbas National Park bordering Tanzania, (and is the reason why the study was undertaken by Eduardo Modlane University in the first place), and the other is in KwaZulu-Natal.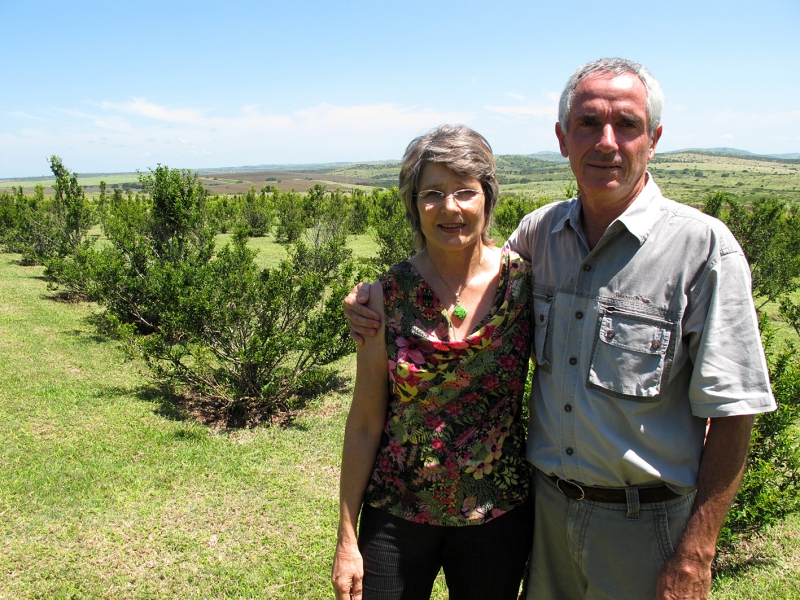 Back in KZN, Marlene, perched on the edge of her chair, laughs with delight as she describes how, more than eight years ago, she tried to track down information about the Racemosa plant. She wrote to and phoned everyone from the agricultural research stations in Nelspruit, to the Botanic Gardens and conservation authorities in Pietermaritzburg. No one could help her. At some point she discovered that apparently the Portuguese colonists in Mozambique had grown Racemosa coffee. Not only that, I heard, while I was visiting Ibo, that way back in 1914 Ibo Island coffee was so wonderful, that it won a gold award in Portugal, beating coffees the Portuguese had imported from all over the world.
Once she heard about the Mozambique coffee connection, Marlene, supported by her bemused and long suffering husband Frans, took off on various adventures into the rural villages of southern Mozambique looking for assistance and information about how to grow and harvest indigenous coffee.
After numerous unsuccessful 4x4 trips to Nyhambane where there had apparently once been coffee "plantations" and also to other random, small villages, it became obvious that the Mozambicans could not help Marlene, and Frans finally drew the line. She almost gave up, "…But", and she claps her hands with joy, "I just couldn't let go! It became my passion."
Finally her uncle, who by all accounts is as tenacious as she is, stepped in and eventually tracked down "someone" who had a tree, apparently "200 metres from the village on the right-hand-side of the track, next to the homestead on the road to who-can-remember-where" in Mozambique. Apparently this person knew something about the old coffee plantations. Thrilled, Marlene set off again, one last time. Unfortunately, even though they found the tree and the owner of it, Marlene soon realised there was no real coffee growing culture left and that she would have to learn about indigenous coffee on her own.
After many months, she eventually tracked down and bought 35 Racemosa seedlings at a nursery in Mtunzini, where they were being sold as garden plants. Racemosa is related to the Gardenia family and has a similar, beautiful white flower. The rest is history. She currently has a small coffee plantation of approximately 2000 trees, all of which she has propagated herself and she and Frans roast the small beans in an old, custom-converted tumble drier set up in a corner of their farm office, where they also grind, package and sell the delicious coffee in small quantities.
On the Mozambican end, on Ibo Island, a small group of farmers, supported by WWF, the Mozambican Department of Agriculture and the international Slow Food movement are in the process of reviving what was once a small, but thriving local Racemosa coffee industry. Ibo coffee mostly grows wild on this coral island but, according to Mr Luis Augusto from WWF, Ibo farmers have plans to eventually be harvesting some 50 000 trees.
Got something to say? Then leave a comment!
---
A History of South African Coffee Farming
Wednesday, 15 May, 2019
Though it may be a little known fact, coffee does indeed grow South of the coffee belt as we know it. Dylan Cumming, a 4th generation coffee farmer, has long been interested in the rich history that coffee has in South Africa and in this special report enlightens us on what has past and the possibility of what is to come for this crop on the rise.
Words by: Dylan Cumming
Photographs by Derryn Schmidt
---
Botanical History
Years ago I was sitting on a plane to New York next to a enthusiastic historian. He was telling me entertaining stories about the history of the world. Though I don't remember any of the stories now, I do remember asking him why for every story he would quote a number of dates. He then proceeded to teach me the importance of years as "nodes", and how the year would connect all the stories that he told. At that point, my school boy view of history changed into a colourful network of intersecting stories. Though there are countless individual farmers stories, this article tries to cover the broad history of the South African coffee grower.
Growing up on a coffee farm in the 80's I always had a fascination with stories on coffee. Through my life I have always searched for information on coffee and through the years gathered old newspaper articles, books and spoken with people who have been involved in the industry. I am always searching for new and old books on coffee to read and add to my collection. I can't help myself from stopping by a second hand book shop to look for books on coffee. It was on one of these occasions that having exhausted my search of the food and drink section, I found myself looking through horticultural books searching through the indexes for 'coffee'. I stumbled upon a book called Natal - The Garden Colony by McCracken & McCracken.
It describes the efforts of the The Royal Botanic Gardens, "Kew Gardens" in the 1800's to experiment with crops which it hoped might prosper in the colony and stimulate Natal's sluggish economy.
Coffee was originally introduced to Natal in 1854 from Bourbon (Reunion) with more plants being sent later from Ceylon (Sri Lanka), by the 1870's there was widespread interest among the coastal farmers in the crop despite the heavy losses in coffee plantations through frost in 1869. It is said that there was almost 2000 hectares under coffee by 1870.
In 1874 the disease that had decimated the Indian and Ceylon coffee plantations attacked Natal. To counter this, in 1874 and again in 1875 new varieties of coffee were imported from Kew Gardens. By 1879 it was reported many of the estates had been destroyed with pests, disease, unsuitable soil, climate and no doubt careless cultivation and need of sufficient labour being the contributing factors.
The demise of the industry was said to be due to lack of knowledge, lack of insecticides and fungicides and the rapid rise of the tea and sugar industries. There were rumoured yields of 2 tons a hectare which made a difficult choice for plantation owners but finally most were forced to change to sugar cane or tea.
It would be another 100 years before coffee was reintroduced to this region.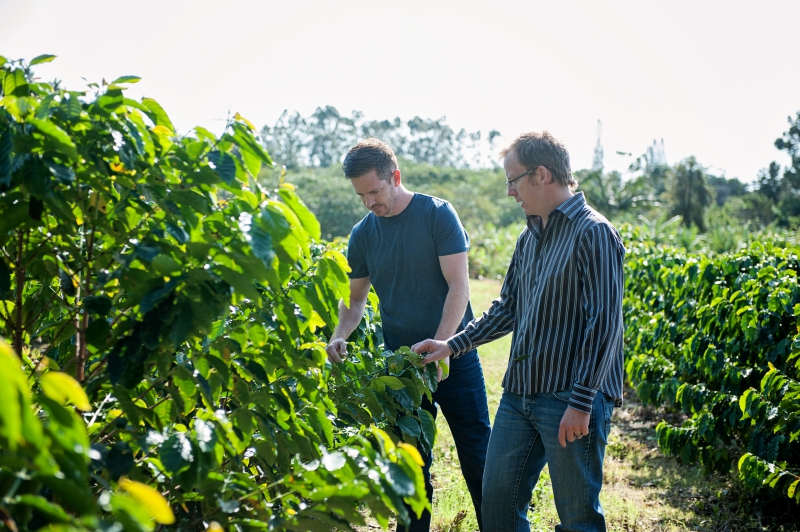 The Highveld
According to Schalk Schoeman of the Agricultural Research Centre During the 1930's experimental plantings were done at the old Government research facilities in Rustenburg. Very few commercial plantations existed but during the 1950's some plantations were known to exist north of the Magaliesberg near Silkaatsnek.
During this time the Skead family also planted the first coffee in the Magoebaskloof region and in 1963 coffee was planted on commercial basis on the Grenshoek tea estate near Tzaneen.
The Sugar Years
In the 1960's sugar cane quotas were cut by 25% and a search for alternative crops had to be made. A Mr Robinson, who was Director of the Lyamunga Coffee Research station in Tanganyika (Tanzania), was invited down to make an investigation, and his favorable report was published in the Sugar Journal of September, 1961. Following on this report, the Coffee Growers' Association was formed, and later imported for the members two of the best varieties of seed from Kenya, together with smaller quantities of other varieties for experiments. The bulk of the plantations were planted to Arabica SL28 and SL34.
At its peak South Africa was producing between 1500 and 2000 tons from figures published in 1975 from approximately 1000 hectares. In terms of South Africa's rank in world production this made SA 22nd African producer and 48th world producer. (Les Cafes Produits Dans Le Monde - Phillippe Jobin)
Little expansion of the industry occurred during the next few years, but high international prices during the 1970's, linked with political imperatives of the time, forced Government to seriously consider coffee production. By 1988, 1525 ha of arabica coffee were already planted and a further 380 ha was approved. In principle the former cabinet also approved possible further expansions of up to 5 400 ha. During 1987 South Africa produced 1800t green coffee and was projected to produce more than 6600 t by the year 2000.
Unfortunately the high cost of labour, pests and disease, especially the white coffee stemborer in Mpumulanga, as well as low international prices ensured that very few of these farms ever realized a profit. One by one the estates have closed down and by 2001 not more than 100ha were still under production.
The South African Coffee Growers association made great effort in promoting and supporting the industry with publishing a book "Coffee Growing in South Africa", monthly progress reports and field days. The association was instrumental with branches in the Transvaal and Natal. The association did great work into the 1980's.
With great knowledge and support it was not due to coffee quality or production but rather world prices and competition from cheap imports that many of the local farms closed down.
Politics, the International Coffee Organisation and robusta
Due to our political position in the 1960's, 70's and 80's South Africa was not a member of the International Coffee Organisation.
The International Coffee Agreement (ICA) is an international commodity agreement between coffee-producing countries and coffee-consuming countries.
The agreement was first drafted and signed in 1962, with its aim of keeping coffee prices high and stable in the market by maintaining exporting countries' quotas to influence the price. The ICO is the controlling body of this agreement, and represents all major producing and consuming countries.
As South Africa was not a signed member, South Africa became a dumping ground for poor quality coffee and our imports at the time reflect this. 2 750 000 bags(60kg each) imported with 15% Arabica and 85% Robusta. The legacy of this can still be seen today with South Africa have a higher than average instant coffee over pure coffee consumption.
A New Wave​
There is a specialty coffee myth or misunderstanding in the growing conditions of producing high quality coffee. As a coffee farmer the most frequently asked question from industry professionals is "What altitude do you grow your coffee?" The assumption is that you need high altitudes to grow coffee successfully and the higher the altitude, the higher the quality. Latitude is, in fact, as important as altitude, as both are the major factors that will influence temperature. Temperature is the key factor in producing high quality coffee and South Africa has ideal temperature belts for growing of high quality coffee.
Historically coffee has been grown from Port St Johns in the south to Empangeni in the north of KwaZulu Natal at altitudes between 200 and 800 m. In Mpumulanga to the north east with the southern limit at the latitude of Stanger above the 30th parallel between 600 and 1460 masl.
About five years ago, there was interest to resuscitate one of the old coffee farms in the Limpopo province (Zoeknog). A number of trees were acquired but the project ran into some difficulties shortly thereafter. The trees were subsequently planted on a commercial farm in the Sabie River Valley which sparked renewed interest in the crop. Currently there are about 10 active members of the Lowveld Coffee Study Group.
In the KwaZulu Natal there were a number of farmers from the 1980's that saw the opportunity to roast there own farm produced coffee. They were able to ride the fall of the coffee price and began importing coffee to supplement there production with there growing demand. There has been renewed interest in coffee farming due to some uncertainty of the macadamia nut future price and two entrepreneurial farmers have begun planting coffee.
With ideal climatic conditions and experienced farmers South Africa has a great foundation to produce world class coffee. Exciting times are ahead for South African coffee producers.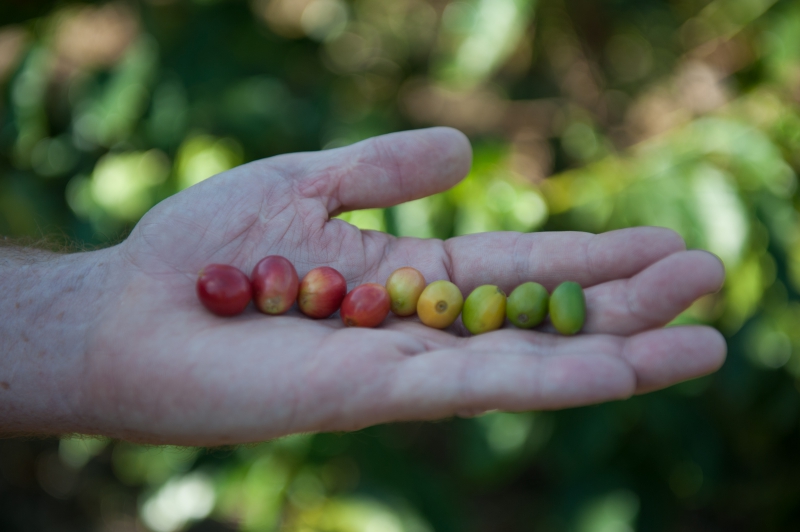 The Stats:
According to the ICO (2014 Statistics) South Africa's total consumption is 524 916 (60kg bags) with a per capita consumption of 0.6kg. Green coffee importing is 368 084 (60kg bags), 28 477 (60kg) roasted and 238 190kg of soluble coffee.
A few places you can try South African Grown Coffee:
Got something to say? Then leave a comment!
---
South African Cup Tasters Champion 2019: Introducing Thabang Maluleka!
Tuesday, 14 May, 2019
Thabang Maluleka on winning the 2019 Cup Tasters Championship
Thabang Maluleka will be representing South Africa at the 2019 World Cup Tasters Championship in Berlin at the beginning of June 2019. We got a chance to chat with him about his recent win and preparations for the upcoming World Cup Tasters Championship.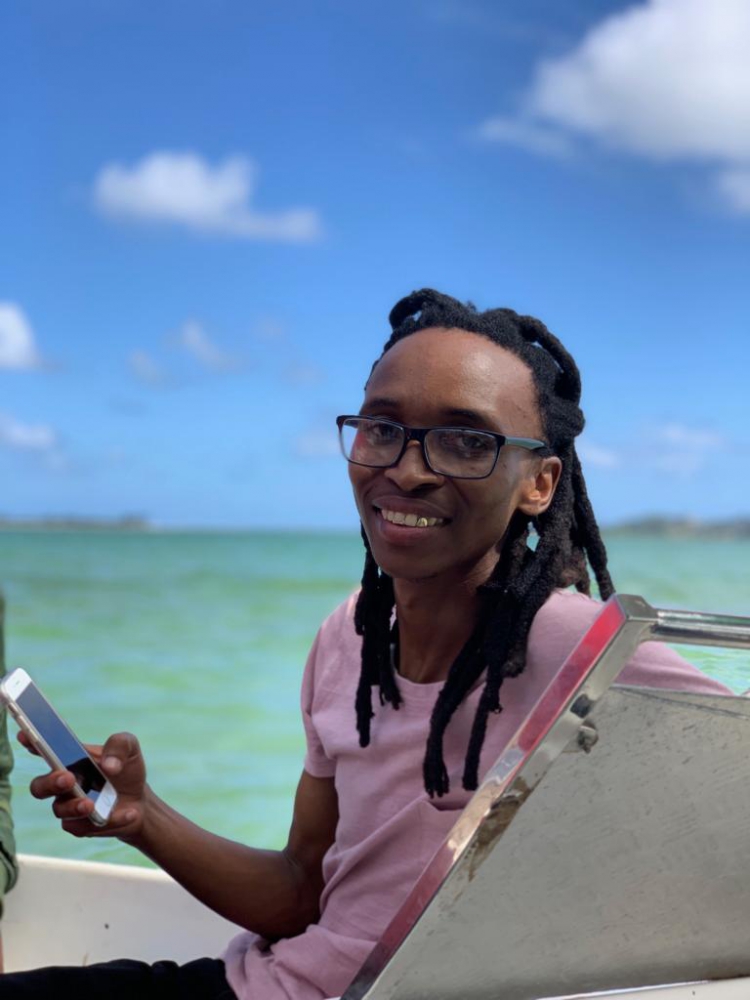 Congratulations on winning the 2019 Cup Tasters Championship! How did it feel to win?
"Thank you, honestly even today I still can't describe the feeling, but the closest I can get to describing it is like a dream, I felt like the inner me was excited to a point where my body could not really contain the excitement!"
How does the cup tasting competition format work?
"You have 24 cups that you must taste within 8 minutes. The cups are grouped in threes and the objective is to find the odd one out in each three within those 8 minutes. Basically, you are finding a defect in that set of threes."
You completed your rounds with six correct identifications out of a total of 8 in just over a minute. What was going through your mind?
"Nothing, when I'm on my set, I think only about the three cups that I'm tasting. At that point, I think I wouldn't even hear you screaming my name during the session. You know that feeling you get when driving through a long tunnel? I feel like that – for a moment I'm alone in the world."
What's the secret to your success?
"The secret is really where I see myself in the coffee industry. The coffee factory was my first formal job; I didn't know anything about coffee, let alone pure coffee, but when I walked in the lab I saw that there was an opportunity to be something great in the industry. I started calling myself a coffee and roast master before I could even taste coffee without making a funny face. So, the secret really is me aspiring to be a coffee master, and competitions help me gauge how far I am from my goal. No other secrets besides my aspirations."
You'll be competing at the 2019 Berlin World Coffee Championships – how do you train for a competition like this?
"Coffee tasting is something that takes years of practice, and some learn this skill faster than others. To answer this question, I must say I've been training the same way I have with other competitions. I love tasting coffee and I do it every chance I get, hence I always say every time I order coffee it's another tasting session for me. The frequency of tasting is really what changes, not necessarily the method. Yes, here and there I experiment with roast profiles and such, but really if something is your lifestyle you just continue living as you have been."
Do you change what kinds of food you eat in the days leading up to an event to prepare?
"Generally, I don't like food; I eat because I have to eat. I stay away from extremely hot and spicy food. On the day of the event I'll probably eat two slices of brown bread or anything similar when I wake up, and the next meal I can only eat after tasting even if it's hours after my breakfast."
How did you develop your skills as a professional coffee cupper?
"Tasting is part of my day job; it's the passion that helped me develop the skill. I started attending other tasting sessions outside of work, I started researching more about coffee, started to interact with people who really live for coffee, and that's how the skill started developing."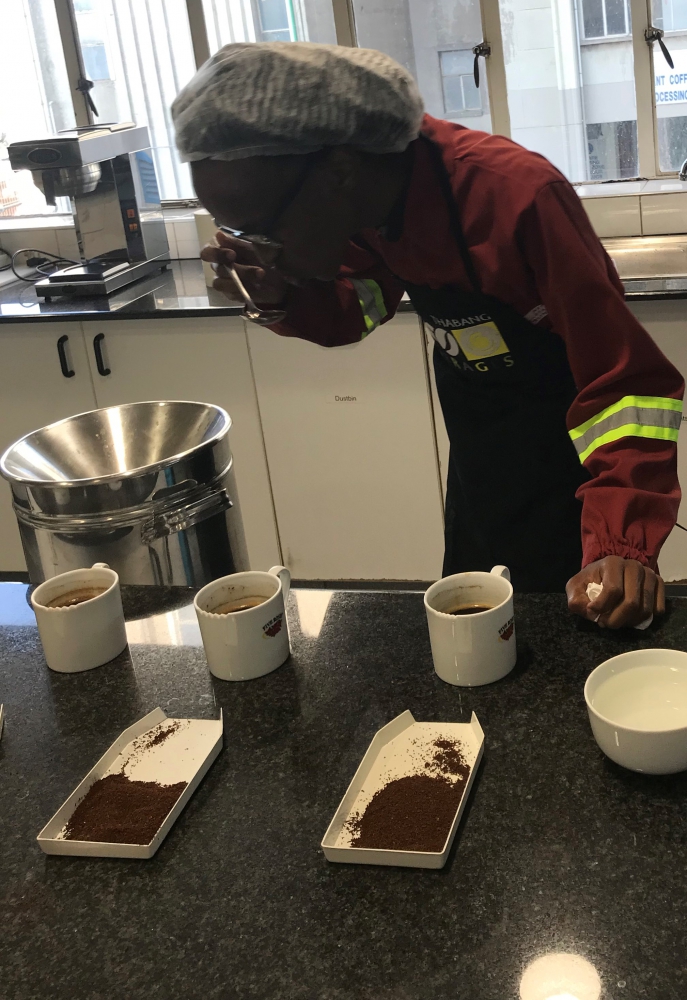 How do you distinguish between the huge range of coffee profiles and flavours?
"Some coffees are very close; I haven't tasted even 10% of coffees which are out there, but I always tell myself, get that one thing… It could be acidity, sweetness, body or even sometimes a flavour that I've never came across before. Tasting coffee takes years of conditioning your palate, hence sometimes you can even distinguish between coffees you've never tasted before."
What do you specifically look for during a cup tasting?
"The slightest difference that makes a change in how I experience the coffee; sometimes they all taste similar but one cup might have low body compared to other cups."
What does your day-to-day work with Ciro involve?
"I'm a Quality Assurance Technician – this basically means I'm in charge of checking the quality of coffee from raw beans to the final packed product. This also includes packaging of the coffee. Part of my job is also to monitor and verify quality systems that are put in the factory to assure that we are producing up to standard. Coffee tasting is one of the many tests that I do in the lab to assure product quality."
How did you get started in the coffee industry?
"After tertiary education, I was looking for in-service training. Fortunately, I landed a job in a coffee factory. The people who trained me were very passionate about coffee, very knowledgeable and were willing to share the skill. There was an old man in the factory who was then the factory manager; his name is Donato Bove – Donato was a coffee master, everyone called him if they suspected something to do with coffee taste, and it was amazing! ONE person who knew all that about coffee! I wanted to have the skill that he possessed."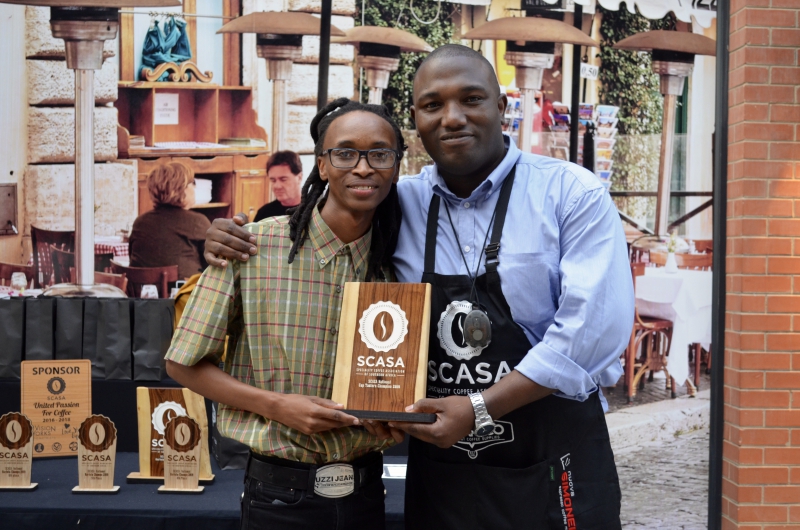 Good luck for the World Cup Tasters Championship in Berlin, Thabang – we wish you all the best!
Got something to say? Then leave a comment!
---
Win 5 of the Shot in the Dark Top 10 entries!
Friday, 10 May, 2019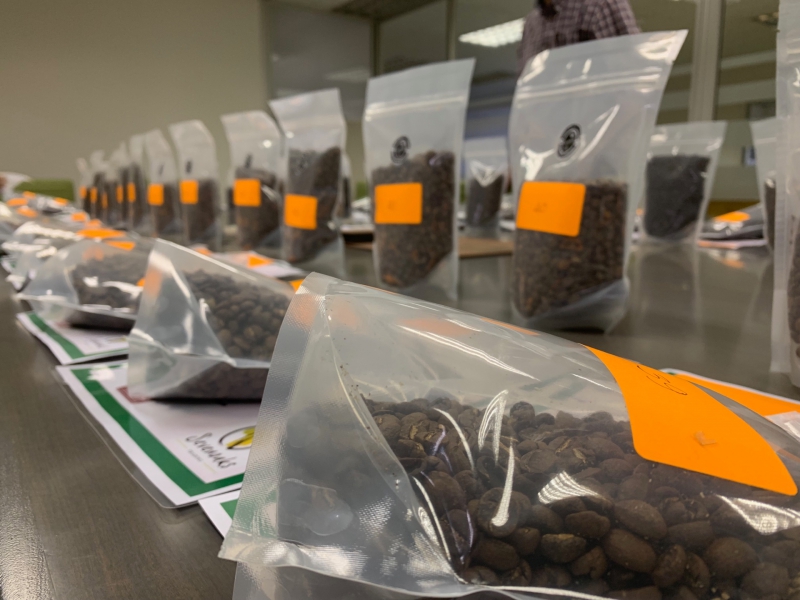 Would you like to do your own coffee tasting with some amazing Tanzanian coffee? We are sending two lucky people 5 of the Top 10 coffees from A Shot in the Dark.
Just fill in the form below, all the info you need can be found here.
Win A Shot in the Dark Coffees
Got something to say? Then leave a comment!
---
A Shot in the Dark: The Top 10 Announced
Friday, 10 May, 2019
It is no secret that as South Africans, we love to compete.
In Sports, we passionately cheer on Bafana Bafana, wave our Springbok flags and Paint proteas on our faces. In Business, we have produced World leaders like Elon Musk and Mark Shuttleworth. We have a fierce spirit of innovation, originality and drive.
When it comes to roasting coffee, it is clear that nothing is different.
43 South African coffee roasters entered Coffee Magazine's "A Shot in the Dark" sponsored by Genio Roasters. In the end only 10 would qualify for the Finals round. Now, this number 43 seems like a smallish number, right? But standing in the Sevenoaks Boardroom, and seeing 43 bags of coffee, snaking all the way down the long table and all the way back down the other side, with handwritten Roaster's Notes alongside each bag, the hairs on my arms stood on end. Because every single one of those 43 bags of coffee represented a person or a team of people, who spent countless hours planning, testing, experimenting and tweaking. Honing their craft to bring out the very best possible flavour and potential of this Tanzanian bean.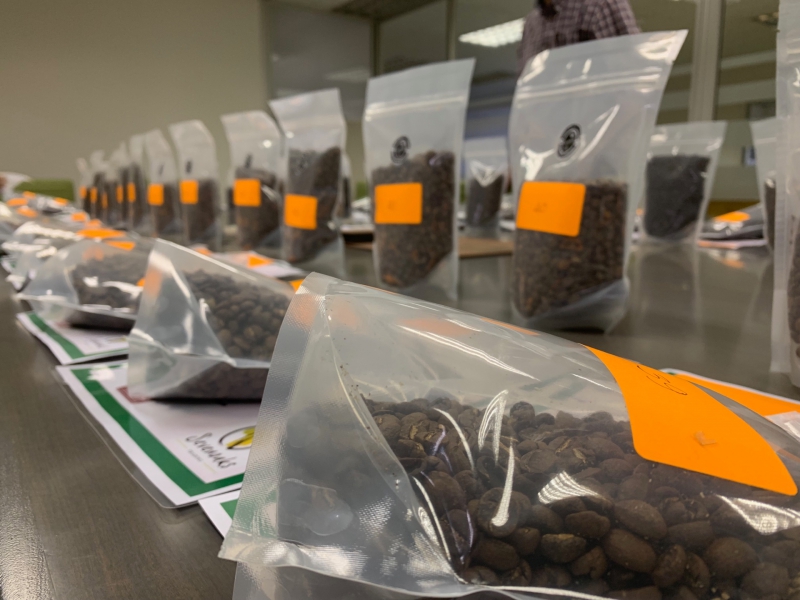 We are so proud of every competitor for being part of this initiative. It's no mean feat to put yourself out there and we were blown away by the standard of roasting. The judges prepared detailed feedback for each roaster, so the learning experience is invaluable for all who participated.
If you asked a person off the street - "what does coffee taste like", you may get a few quizzical looks. Like coffee surely! Yet, what this competition revealed, and to our knowledge, is the first time in history, that so many roasters have all roasted the exact same coffee and had it cupped simultaneously on the same day by qualified Q-graders, is that the skill of roasting coffee has a massive outcome on the final flavour in the cup. And more than this, the clarity, the body, the sweetness, the aftertaste…literally all of the components that make a great coffee great!
In the end, out of scores of 100, there was only 8,4 points difference between everyone in the competition.
As Al Pacino famously said in his iconic halftime speech in Any Given Sunday:
"In either life or football the margin for error is so small. I mean one half step too late or to early you don't quite make it. One half second too slow or too fast and you don't quite catch it. The inches we need are everywhere around us. They are in ever break of the game every minute, every second."
South Africa has a handful of qualified Q-Graders and we were lucky enough to have 4 of them to run the judging of A Shot in the Dark; Cuth Bland, Nicodemus Nabakwe, Mike Mac Donald and Abby Berman. They cupped 43 coffees blind. And they scored them down to 100th of a point. At no point in the day did they know who's coffee they were tasting. The cupping lab at Sevenoaks is Internationally certified as an SCA approved cupping lab. The water used was the same water specified on the entry forms. In short, every single measure was taken to ensure that the coffees were judged objectively, consistently and without bias as far as we could control.
What did the judges have to say? Surely the same coffee roasted by 43 roasters would yield the exact same scores? Surprisingly, there was only one tie.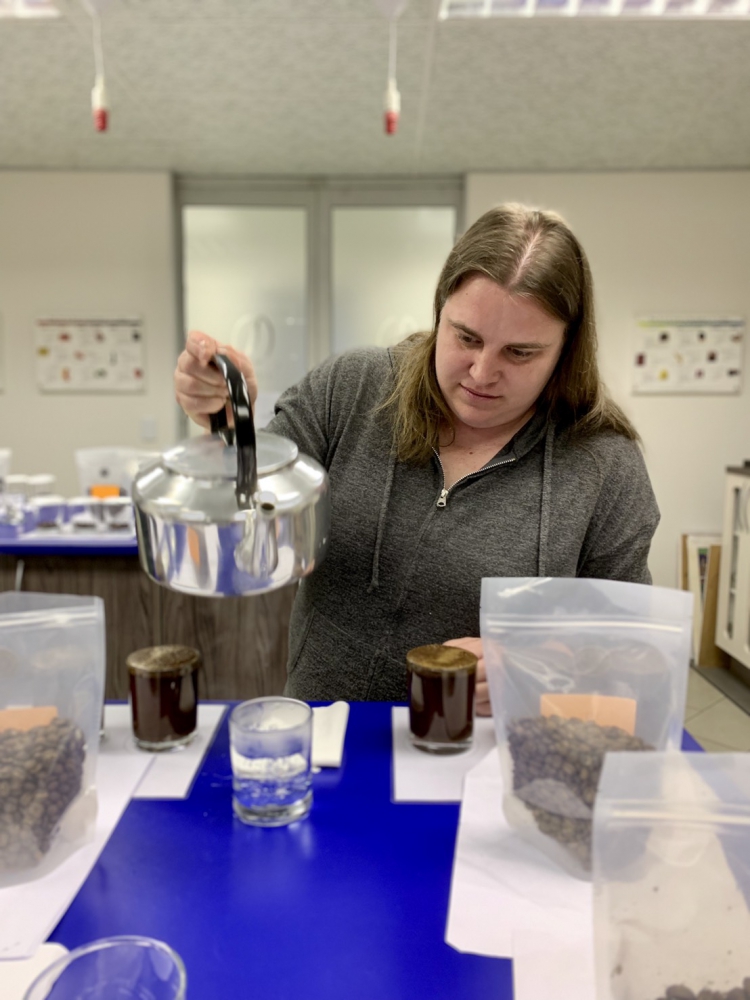 Cuth Bland says, "Citrus notes, caramels and florals have been prominent. It's really interesting. For me, the coffee does display quite a lot of complexity. It's an exciting coffee and it's been so interesting to see what different people have done with it. "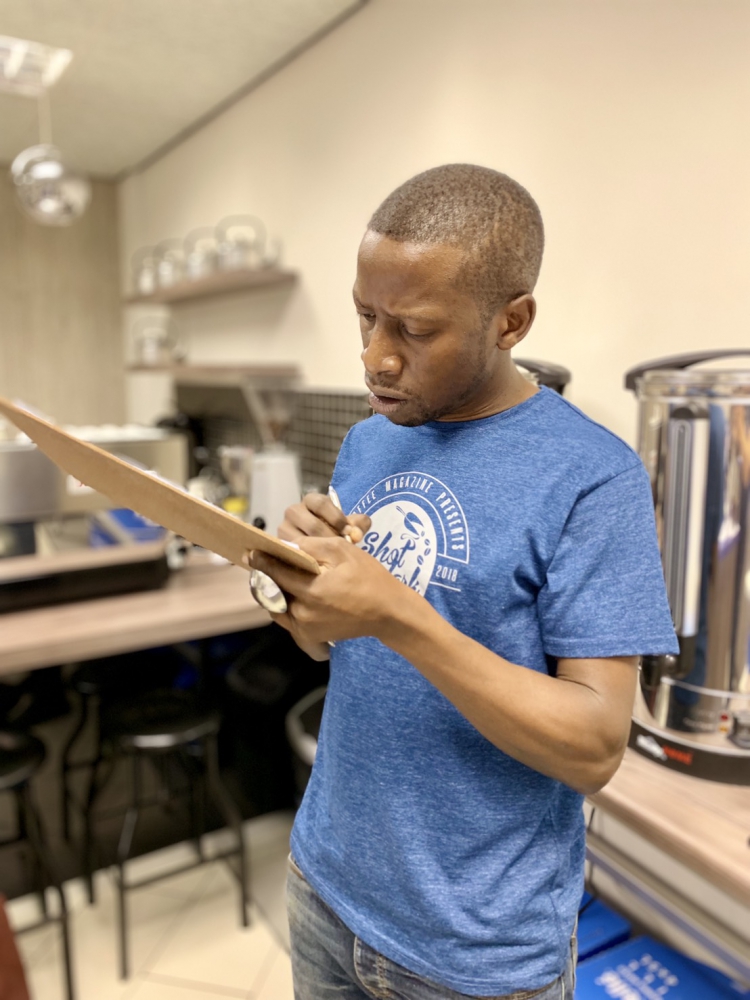 The competition format for the first part of the Shot in the Dark roasting competition
How the coffee was scored-
We used the standard SCA cupping sheet and focused on the following areas-
Fragrance/Aroma
Flavour
Aftertaste
Acidity
Body
Balance
Overall
We left out the following from the cupping sheet and added 30 points( the sum of all these categories if fully correct) to the total.
Uniformity
Clean Cup
Sweetness
We then added a bonus category that was created with the intention of giving the roaster up to 2 points if his flavour descriptors were on point.
1 - not correct (0pts)
2 - somewhat accurate (1pts)
3 - accurate (2pts)
This was assessed and scored after discussing the score sheet. The roasters notes were only looked at after the score sheet discussion.
In general, the judges made it incredibly difficult for someone to score high- as the roast was judged and not the coffee.
How we cupped the coffees-
We laid out tables of 8-9 coffees at a time, with 3 cupping bowls of each coffee. Beans were also inspected during the cupping to take note of colour variation. All coffees were noted down as numbers and were completely randomized. None of the judges knew who's coffee was who's at any point. All cupping was done according to SCA specifications.
---
So without further delay, well done to the 10 roasters who have made it through to the Finals Round. We look forward to robust discussion at the Shot in the Dark session at Creative Coffee Week 2019. Hopefully a good group of the 43 roasters will be gathered to discuss and grow together.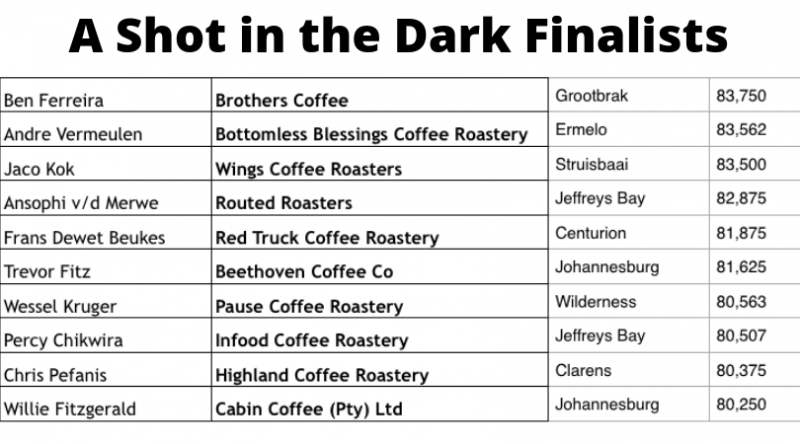 If you liked this article, then you may also like these:
Got something to say? Then leave a comment!
---
Let the Music Move You: Part Four with Lemuel Butler
Tuesday, 7 May, 2019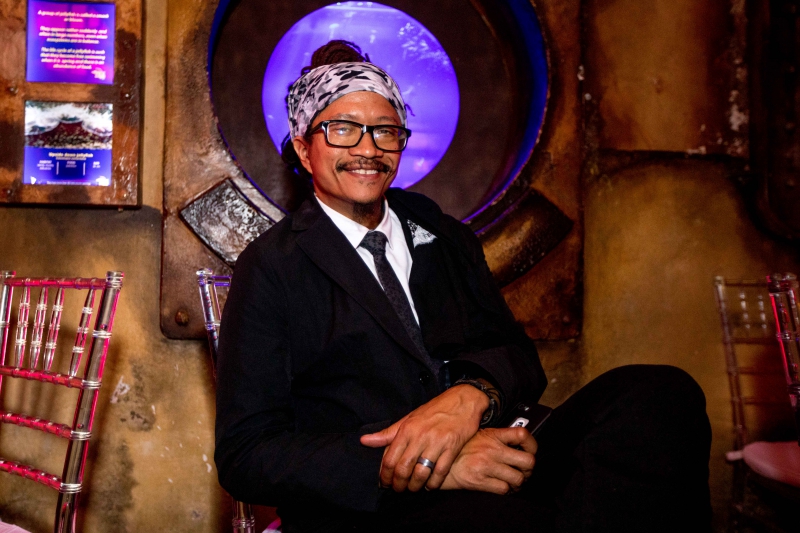 Words by Lemuel Butler of Black & White Coffee Roasters
---
I was actually thinking of my childhood while in the hospital for a week. I was wondering when I lost that sense of freedom and started chaining myself to stress. For years I have been battling kidney disease and with the stress that I put on myself to compete in barista competitions, the stress of maintaining happy customers, the stress of family and then the stress of leaving a coffee company I have been with for 10 years to start my own roasting company; my health slowly declined and I started losing my battle with kidney disease and landed in the emergency room with a softball-size cyst that ruptured on my kidney, collapsing my lung and causing heart failure.
Where did all this stress begin? Was it necessary? Did I truly learn how to deal with stress or did I just compartmentalise for years until it compiled into disaster?
I had a magnificent childhood. My family did not have much money, as a matter of fact we lived well below the poverty line in the US, which according to my parents was better off than other places in the world. Later in life, through traveling the world for coffee, I completely understood first hand what my mother was talking about. Most importantly I grew up with both parents in a neighbourhood where that was a rarity. My mother always pushed me to do my best and she always wanted more for me.
When I was 10 years old our school was visited by two music teachers of two possible schools I would attend the next year. They were recruiting young musicians. They brought flutes, trumpets, drums and clarinets for us to see, to hold and to play. I knew it would be a financial stretch for my parents so I decided to be strategic in my selection. I really wanted to play an instrument. I was drawn to music at an early age with my father's love of all music and this was an opportunity for me to learn how to play myself! I knew the drums would never fly with my parents because it would be way too noisy. The trumpet would also be a touch loud in our three bedroom apartment, so it came down to the flute or clarinet and I chose the clarinet. It was a long shot, but I thought I could present a good argument for my parents to spend a considerable amount of money on a clarinet because it would make me a better person. My father told me absolutely not, but my mother saw value in my musical education. She managed to figure out financing options if she was to get a second job. She did, and I received my first ever musical instrument; a clarinet.
We purchased the clarinet from a local music store and along with the clarinet came six free lessons. It was at Burt's Music School that I discovered what stress was all about. I had never felt the pressure of stress. I had to learn to play the clarinet well in six lessons or my father would pull the plug. Where other students in my class were able to add private lessons to these free classes to improve, I had to take the basics given to me for free and work harder on my own to get better at the instrument. I only had a summer to do it and my father did not make it easy. We only had one car and he needed it for work, so my mother would leave my older sister in charge of my younger siblings and she and I would take the bus to practice. It was always a stressful bus ride, because I could hear my classmates getting better with their private tutoring while I struggled to keep up. Learning embouchure and remembering notes and scales; I did my best and through all my squeaks and squawks on the clarinet, I didn't notice any improvements until the summer was over.
I started in my new school and music class was surprisingly easier than I imagined. The majority of the music students had just received their instruments and did no private classes over the summer; many of them hadn't even touched their instruments all summer. All my hard work and the encouragement from my mother propelled me to the head of the clarinet section of my class.
I'm pretty sure my music teacher, Ms. Nelson, was a racist; she never offered any encouragement and she never offered any praise at how well I played. One thing she could not deny however was that I was the best clarinet in her symphony. Every time we had to try out for First Chair, I outplayed my classmates. It was a stressful year. My First Chair seat could be challenged by any clarinetist at any time, but no one beat me out of my seat and I believed that angered Ms. Nelson. She always encouraged the white students to continue to challenge me and I never complained; I never showed how stressed I was; I never displayed how happy I was winning the challenge; I just did my best and later celebrated with my mother. My mother would tell me it would only be a year with this music teacher and my next school I would have a new beginning with a new teacher who cared equally about all the music students. My mother is rarely wrong, but even she could have never predicted what happened next.
Our public school system went through a major overhaul where the liberal politicians wanted more of the arts and sciences implemented in the system so they came up with a Magnet School Program to emphasise just that. I was bussed to one of these Magnet schools. Unfortunately, Ms. Nelson was bussed there as well. I would have her as my music teacher for another two years. I struggled musically. Ms. Nelson did not make it easy. There was another clarinetist who was really talented and she and I would constantly challenge each other. Sometimes she would be First Chair and sometimes I would. We were the only black clarinetists in the whole school and that really angered Ms. Nelson. I could sense it. One day she decided to put me on bass clarinet. I was angry but did not complain.
The school provided the bass clarinet so that actually came at an opportune time for my family because we were having financial problems and my father had pawned my clarinet so he could fix his car. Just like that, my first instrument that I had loved so dearly was gone. It was a depressing year. Ms. Nelson did not offer much assistance with the bass clarinet and I struggled. One of the students in the symphony who was a year older, took me under his wing and taught me everything he knew about the bass clarinet. We would show up to class early so he could tutor me before class started. I improved; my attitude improved; and I started having fun again. Thanks Chris! Wherever you are. Having a positive attitude towards a new instrument helped me later in High School.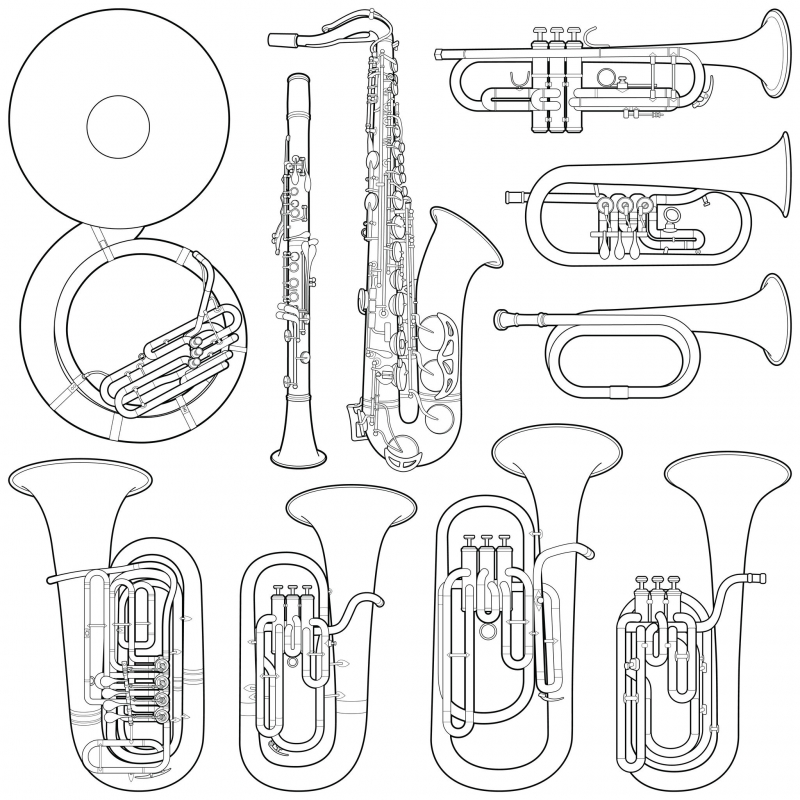 Once in High School I had more options and a better music teacher who cared equally about all his students. I excelled at clarinet and when Mr. Blalock asked if anyone would switch over to Baritone horn and Euphonium, I immediately volunteered. I was tasked with learning Bass Clef, a new instrument and learning how to march in a marching band all in one summer! By the time I reached High School, stress was coming at me from all different aspects of my life: school, family, music, life; so I learned how to compartmentalise it and power through.
Later in life I used this same technique in coffee competitions and business. Lying in my hospital bed, I reminisced on where all this stress began. An eleven year old with a clarinet. Was it worth it?
Hell yes.
---
You can read the other three parts by this legend at the links below.
If you liked this article, then you may also like these:
Got something to say? Then leave a comment!
---
New Kid on the Block: Tiki Tonga Coffee - Umhlanga
Friday, 3 May, 2019
We'd heard about Tiki Tonga from a few different credible sources and google quickly revealed that this was a project started in the UK by ex-Durbanite turned England & Saracens rugby player Brad Barritt and now brought to South Africa by passionate restauranteur, Dean Grove. There is a long history of ex-rugby players opening coffee shops, with varying results, so expectations were initially tempered, but on arrival in Umhlanga's infamous restaurant strip, Chartwell Drive, we were pleasantly surprised to find, not only a fantastic espresso machine on the counter, but a legendary barista leading the team, Sam – a Durban institution himself. A good start.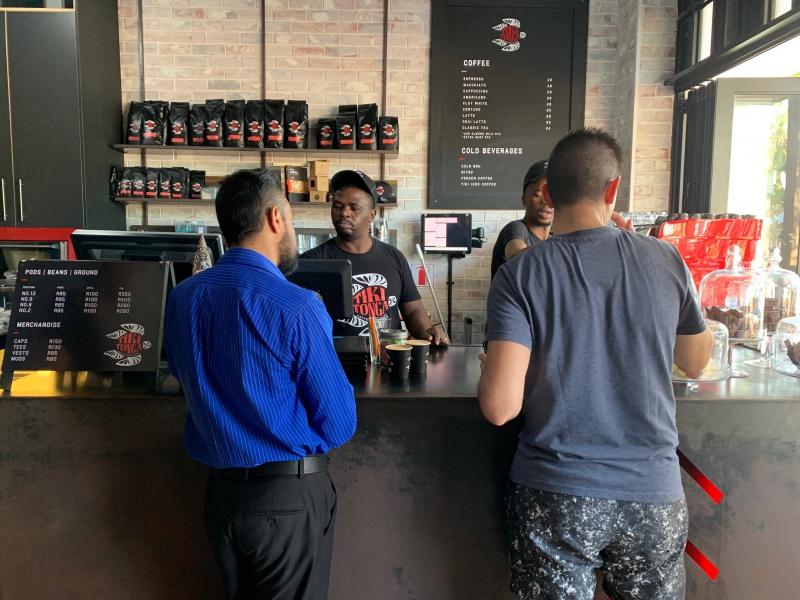 Sam, already garnering a loyal fan base in Umhlanga.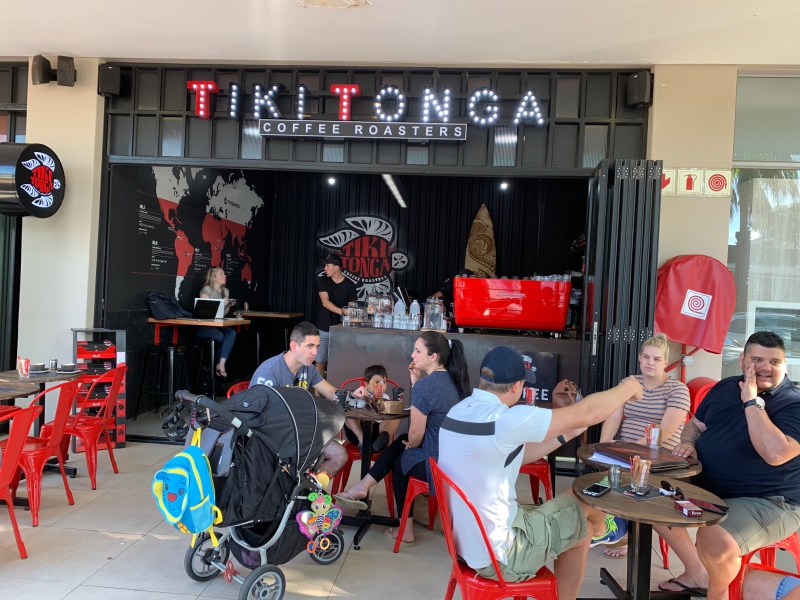 A busy Friday morning in the warm winter sun on Umhlanga's famous strip.
The branding is simple and effective – the turtle symbolising one of Barritt's favourite rugby tour destinations, Tonga ( for it's beauty, not it's rugby most likely) and Dean was on hand and quick to meet us and tell us about about the brand and the coffee. "It's a sports brand, so we're pushing coffee as a pre-training ritual" hence 3 of the 4 blends on offer are robusta blends – surprisingly delicious robusta blends at that.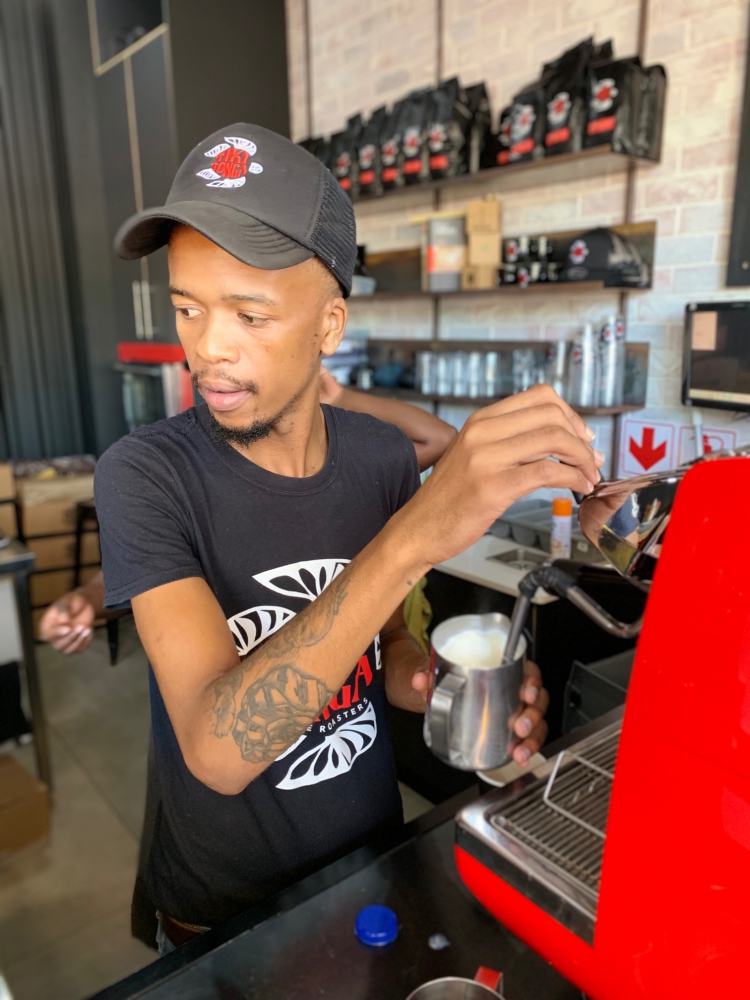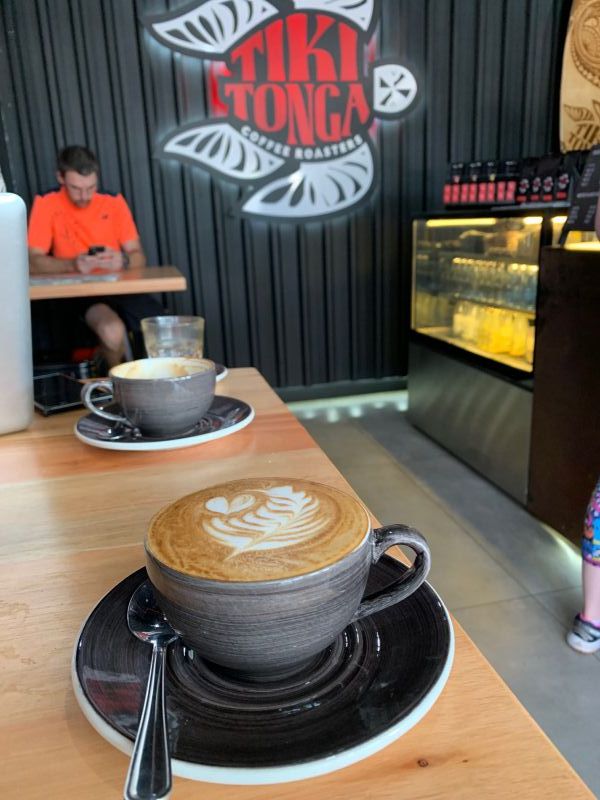 A beautifully presented Flat White, of blend No. 8 which is partly robusta and tasted great!
The house blend, the No12 is 100% Arabica and we enjoyed it as a cortado and a flat white.
Definitely a good addition to the Umhlanga Strip, which previously has been lacking a great coffee spot until now.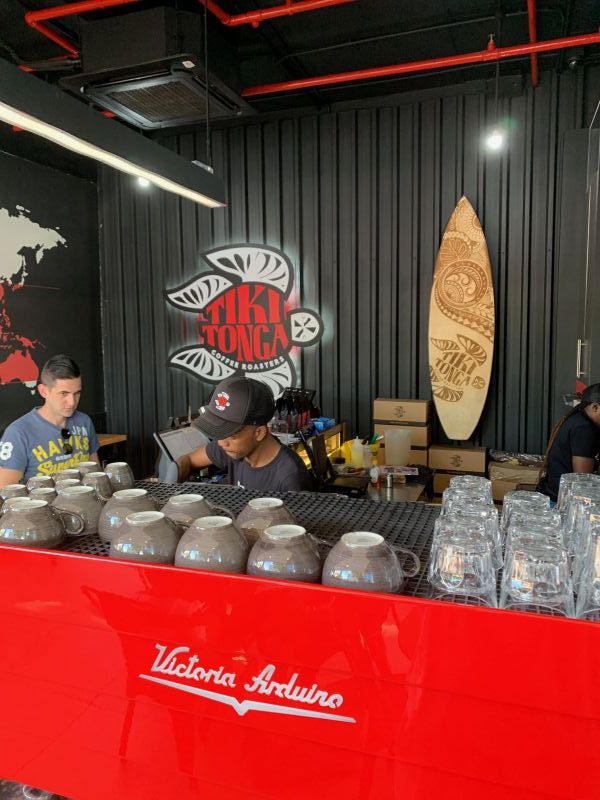 Being Durbanites, we love the turtle, the surfboard decor and the striking spray job on the VA White Eagle
Got something to say? Then leave a comment!
---
Creative Coffee Week 2019: Tickets on sale now
Friday, 3 May, 2019
Got something to say? Then leave a comment!