Special Edition DGC Box: Coffee Magazine Award Nominees
Thursday, 19 September, 2019
Got something to say? Then leave a comment!
---
Guinness World Record for largest artwork made with coffee grounds
Tuesday, 17 September, 2019
Percy Maimela breaks Guinness World Record for largest artwork made from coffee grounds
Local artist, Percy Maimela, recently achieved the Guinness World Record for the largest artwork in the world created from coffee grounds! The 33-year-old self-taught artist created a portrait of popular South African DJ, Black Coffee, using nothing but coffee. He teamed up with BrainFarm and Sound Idea Sessions to take on the challenge on Thursday 12th September 2019 at Sandton City.
The coffee portrait was 5x5 meters in size on a canvas sheet. Using roasted coffee and green raw coffee grounds, he had to cover the canvas with absolutely no negative space in order to qualify for the Guinness World Record title. He also completed it in less than four hours in public – which is no small feat! As Maimela said on his Instagram profile, "No tricks just pure skill and passion."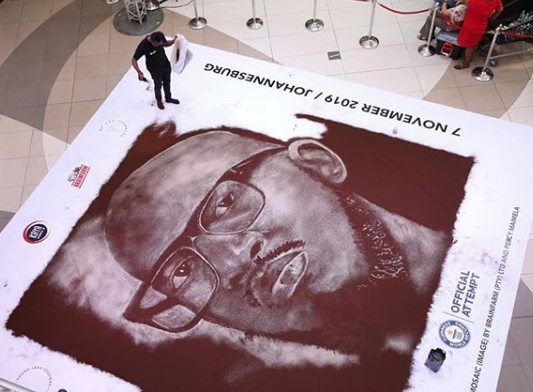 A huge achievement
Mostly known for using salt as a medium to create his portraiture art, Maimela dedicated his achievement to every South African who's scared of chasing their dream. He definitely embodies the Guinness World Records requirement that record-setters have determination, extraordinary skills and commitment. As humble as they come, Percy Maimela spoke with The Daily Maverick before his Guinness World Record attempt:
"The big dream is not about me. We were born, or we learn certain skills that we can use to grow ourselves, to become fully us. It's not about me, it's about those who come after me. We leave a legacy of people who know themselves and who can grow themselves; who don't wait for someone to hire them. It's a cycle. That's the big dream, to complete the cycle."
Congratulations to Percy Maimela on his massive achievement and amazing artwork. It's incredible to see what talented South Africans can do when their passion and purpose aligns. We also loved Bootlegger Coffee Company's response to Maimela's achievement: "Percy, this is amazing. âš¡Do you have any coffee left to drink at home? We'd love to send you some. Drop us a DM."
Sound Idea Sessions
Maimela's world record attempt was partnership with BrainFarm, a South African event agency and speaker bureau, as a lead-up to the inaugural Sound Idea Sessions event, a five-hour masterclass hosted by US growth hacking marketer and best-selling author, Ryan Holiday, with a 1-hour on-stage conversation with DJ Black Coffee, discussing building businesses with limited resources.
Got something to say? Then leave a comment!
---
Ricoffy, Koffiehuis and Frisco are SA favourites, but are they coffee?
Sunday, 15 September, 2019
But is it coffee?
When it comes to Ricoffy, Frisco and Koffiehuis, apparently not. The Department of Agriculture, Land Reform and Rural Development recently released the first draft of new legislation with very specific regulations relating to coffee, chicory and related products, and it's thrown instant coffee fans into a tailspin. According to a report by Business Insider, South African brands like Ricoffy, Frisco and Koffiehuis will no longer be considered coffee when the legislation goes through…
The draft regulations cover a number of categories – everything from roasted coffee beans to:
Coffee (ground coffee or coffee powder)
Instant coffee (soluble coffee extracts)
Decaffeinated coffee and Decaffeinated instant coffee
Coffee essence (liquid coffee extract/ concentrate)
Mixed coffee (coffee mixture)
Chicory
Coffee and chicory mixture
Coffee and chicory essence (liquid coffee and chicory extract)
Instant coffee and chicory extract
And lastly, Premix coffee in powder form.
It's not even instant coffee
Obviously, to be considered 'coffee', ground coffee or coffee powder must consist of roasted coffee beans that have been ground and cannot contain any artificial colouring or flavouring, and definitely no chicory, or additional food additives. Instant coffee has to consist of the dried soluble solids obtained from water extraction of freshly roasted coffee beans and contain at least 2.25% caffeine.
Neither ground coffee nor instant coffee may contain any flavouring or colouring. As a result, Koffiehuis and Frisco apparently don't qualify to be called 100% coffee because they contain glucose. So, what does this mean? Some brands that are currently sold as instant coffee don't qualify as coffee or instant coffee… But more than that, they don't even qualify as coffee mixtures or coffee and chicory mixtures.
According to the draft regulations, mixed coffee or coffee mixture must be at least 75% coffee, but Ricoffy and Frisco both contain only 25% coffee. This means they also don't qualify to be considered a coffee and chicory mixture, because the new regulation requires it to contain at least 50% coffee.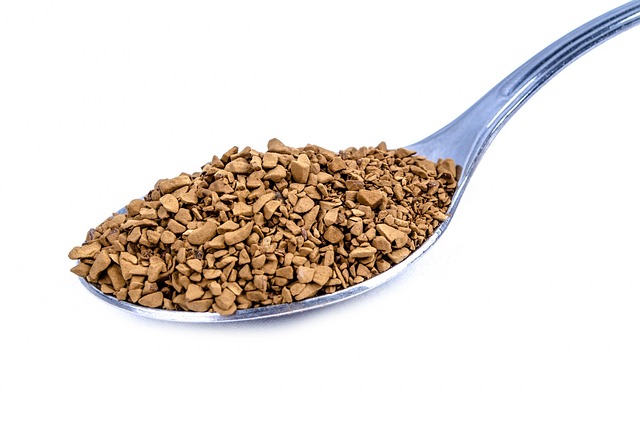 What happens now?
The draft legislation is open for comment until the 30th of September. If nothing changes, it looks like some brands will either have to change their product or their packaging. As for 'instant coffee' drinkers, you might just have to stop calling a few of your favourites 'coffee'.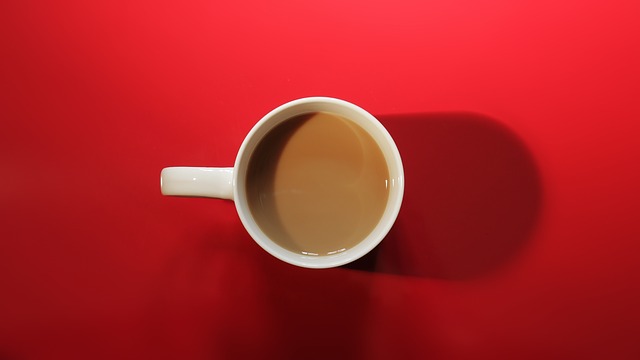 Got something to say? Then leave a comment!
---
Celebrate Spring time and win!
Friday, 13 September, 2019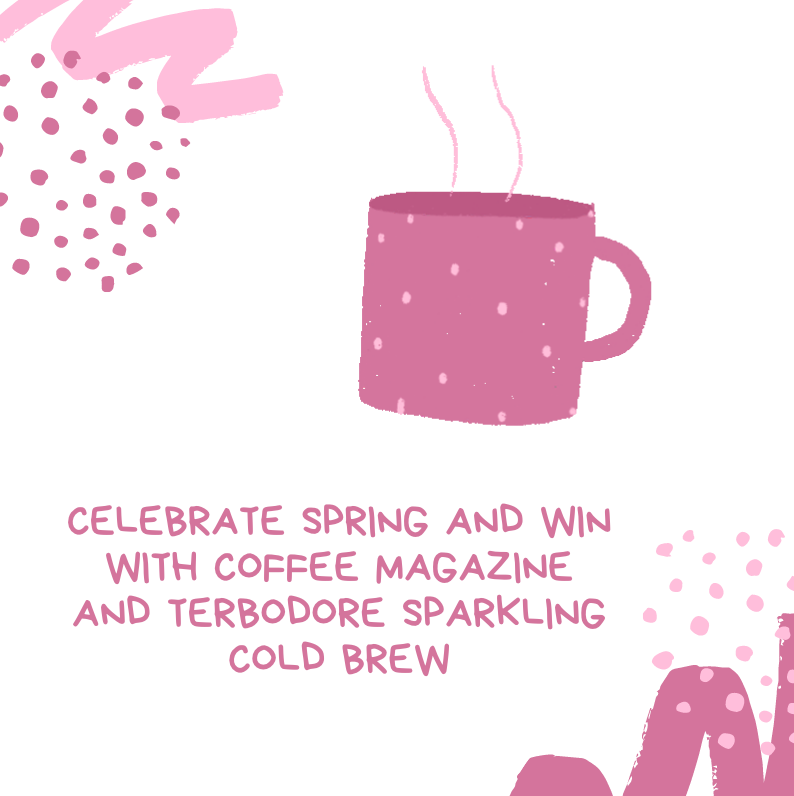 Want to win a limited edition Terbodore pride tee-shirt as well as a four-pack of each of these delicious cold brews? All you need to do is answer the question below! Clue: You can find the answer here.

Win a Terbodore hamper!
If you liked this article, then you may also like these:
Got something to say? Then leave a comment!
---
New Kid on the Block: Big Dog Cafe, Kloof Street
Tuesday, 3 September, 2019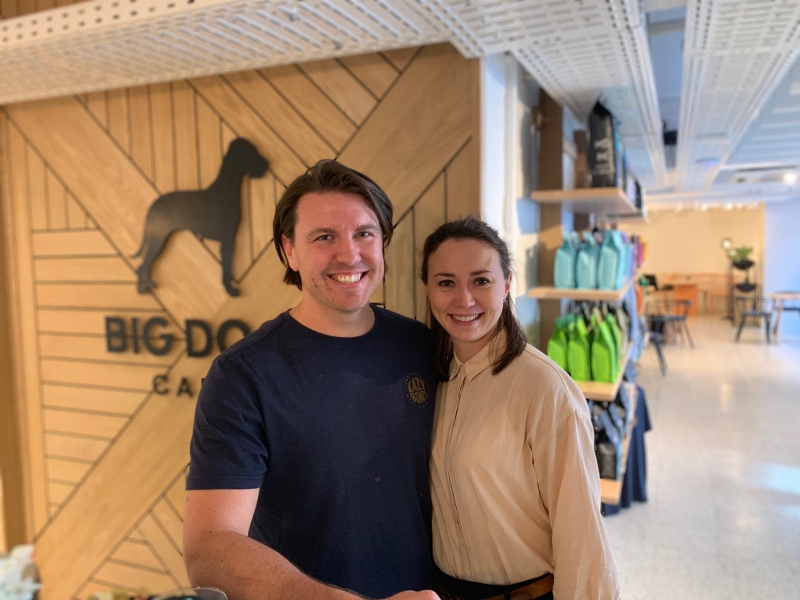 Co-working spaces are all the rage right now. London, Sydney, New York...and increasingly Joburg and Cape Town. Earlier this month we were in Joburg at got a special tour of the Wework building in Rosebank, and then last week, while in Cape Town for the Western Cape Regionals, we popped into Workshop 17 in Kloof street. It was literally the second day of the building being open - and our friends from Terbodore, are responsible for feeding and supplying coffee to the busy co-sharing workers!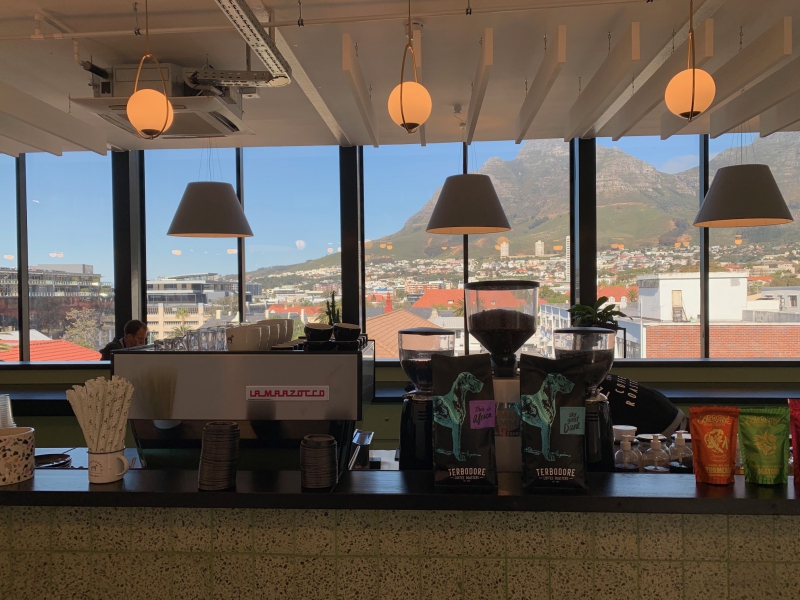 Now that's a view!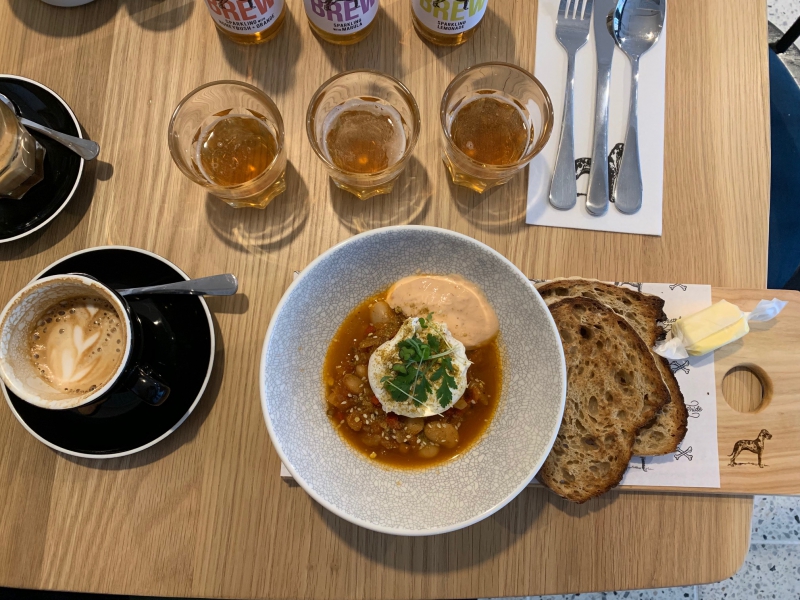 The bowls on the menu have been curated by Head Chef Roland Hiscutt - this one was delicious!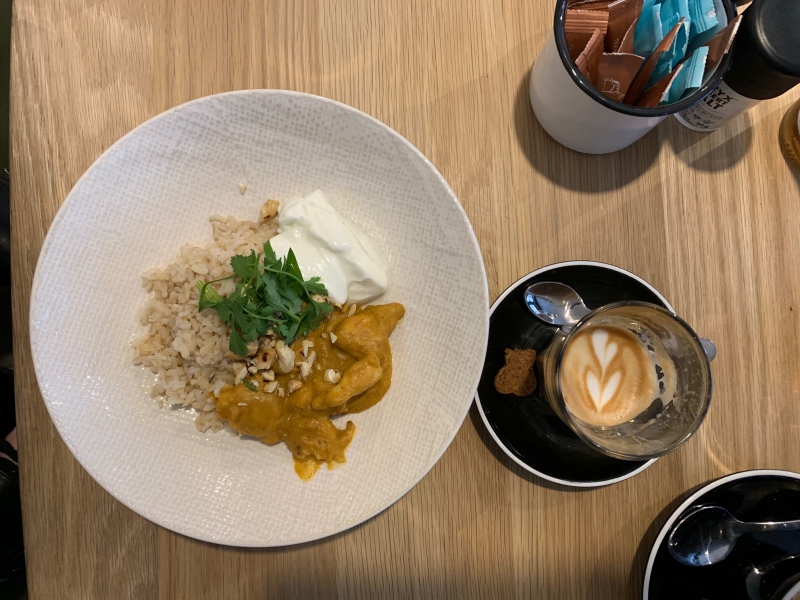 The chicken and cashew nut curry on whole rice was tantalising!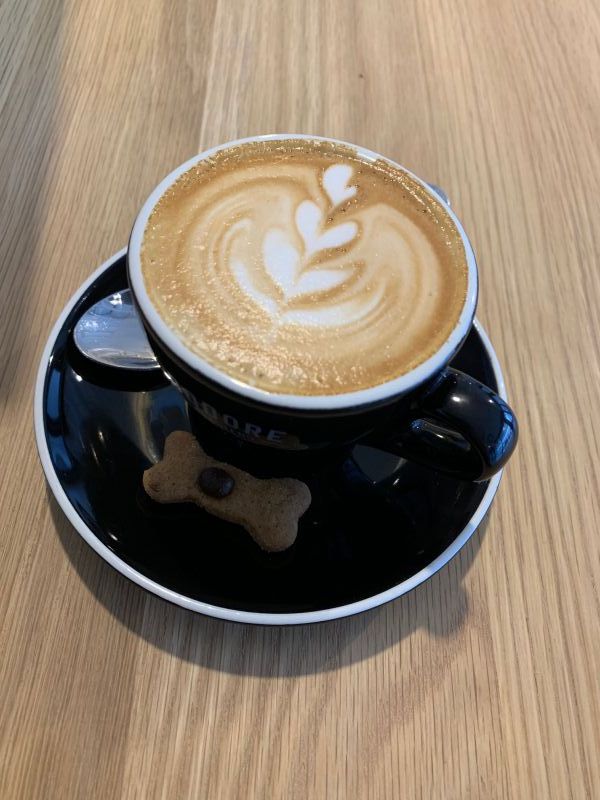 We tried the Big Dog blend as a flat white and a Nicaraguan single origin as a cortado - yum!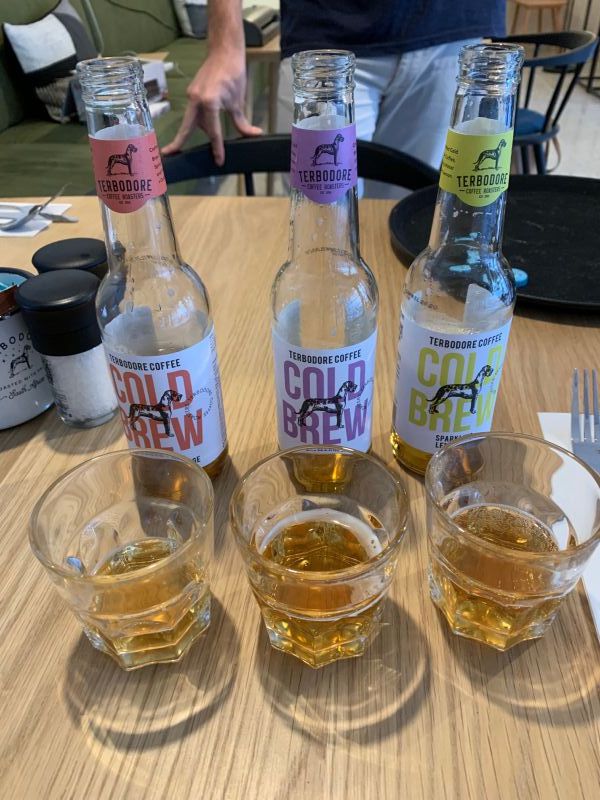 Terbodore have been fine tuning their cold brew offering for a while now and we tasted these three very delicious and refreshing options: Honeybush & orange (left), Marula (centre) and Lemonade (right)! Find out more here.
With the hustle and bustle a step away in Kloof street, the Workshop 17 space is an oasis of calm, yet it is sophisticated, kitted out with all the modern tech of a high speed workplace and has super luxurious and stylish finishes.
The main cafe and restaurant is on the lower ground floor and the brew bar is on the 4th floor - with the most incredible view!
We highly recommend a visit for a coffee, a cold brew, some lunch or for your next high powered business meeting!
Got something to say? Then leave a comment!
---
Cape Town's only dedicated creperie? Oui oui! Hello Swan Cafe!
Friday, 13 September, 2019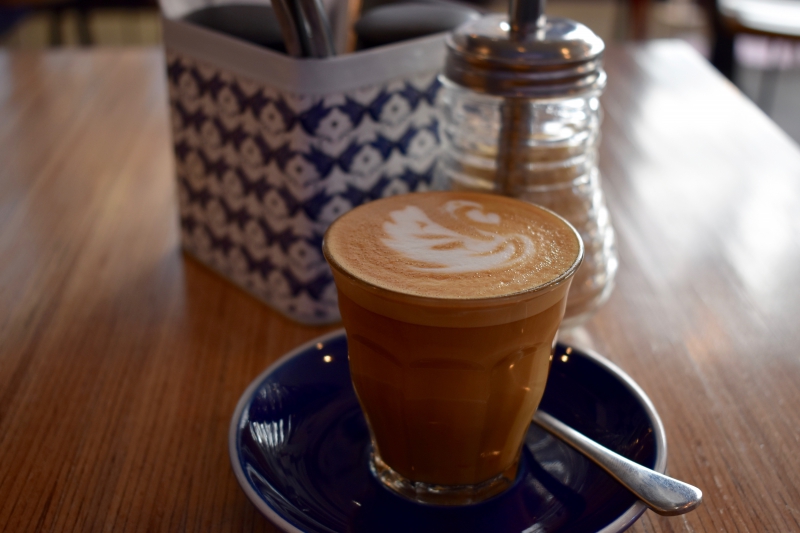 As I sit, sipping on my cortado and eating my croque madame crepe, I glance around Swan Cafe and am delighted to notice that the French theme and decor seem to have attracted a set of customers that are intent to keep the je ne sais quoi of the cafe going. All tastefully dressed, a woman with a elegant bob and severe bangs a la Amelie, attention to detail on everyone. But maybe that's just Cape Town, people gravitate to the places that suit them and there's enough choice to do so, magic!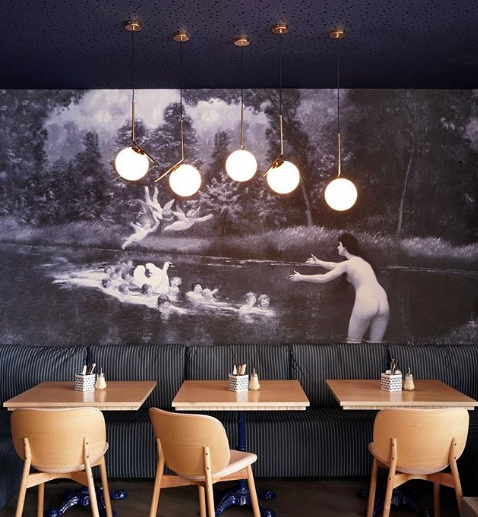 Back to the proudly French, Swan Cafe. Basically the entire menu is made up of some variation of crepe or another. I had to google some of the options for example Galette (thanks Wikipedia!) meaning flat cake is a term used in French cuisine to designate various types of flat round or freeform crusty cakes, or, in the case of a Breton galette, a pancake made with buckwheat flour usually with a savoury filling. So I learnt some things, which I always like when visiting somewhere new.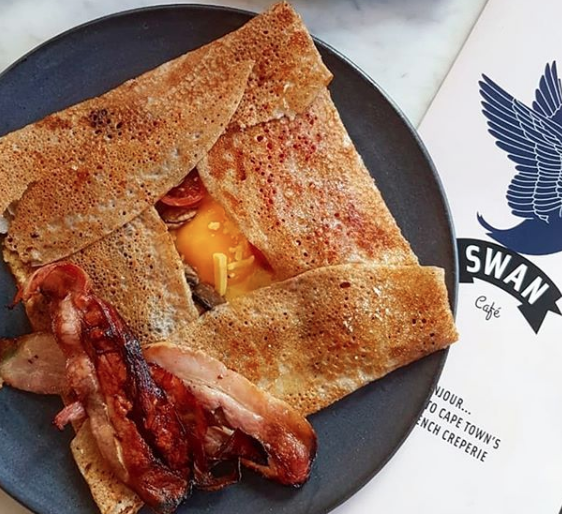 They are using Damn Fine Coffee, which after some investigation, I found to be located at Bob's Bagels in Kalk Bay! Well done Bob, the coffee was great! I was impressed by the service. The uniforms are very French, I love the full tilt kitschness of it. They have committed and I am here for it. Next time, I shall dress more appropriately.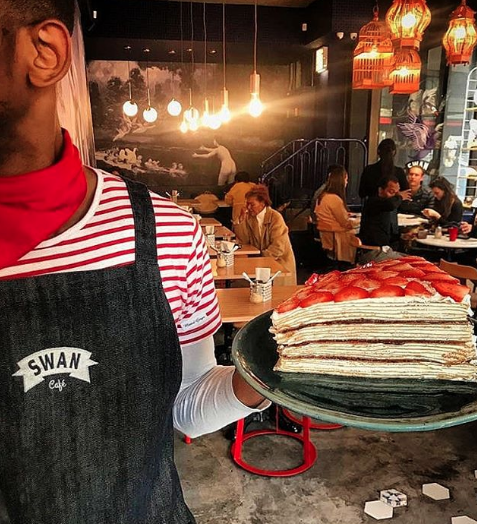 Got something to say? Then leave a comment!
---
SCASA Western Cape Finalists Announced!
Friday, 6 September, 2019
Well done to the Western Cape Regional Coffee Competition Champions!
Cup Tasters
1st Tess Schmidt - Sevenoaks Trading
2nd Leigh Wentzel - Rosetta Roastery
Latte Art
1st Christopher Abrahams - Ciro Full Service Beverage Co.
2nd Bakhe Mapasa - Ciro Full Service Beverage Co.
Barista Competition
1st Winston Thomas - Winston Douglas Coffee
2nd Neil Gouws - Origin Coffee Roasters
3rd Justin Groep - Rosetta Roastery
4th Simplicity Mkhize - Rosetta Roastery
5th Ndumiso Qolintaba - Vineyard Hotel
6th Innocent Chakanyuka - Truth Coffee Roasting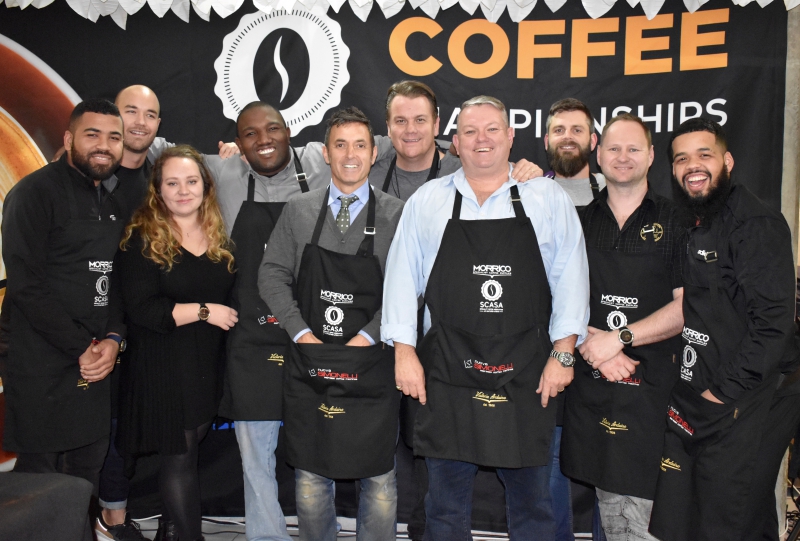 ---
5 September 2019
After two days of intense competition, the Western Cape Finalists were announced at GOOD Woodstock. All of the finalists have booked their place to Nationals 2020 in Johannesburg at HOSTEX.
Well done to all the competitors, judges, sponsors and volunteers.
CUP TASTERS FINALISTS
Leigh Wentzel - Rosetta Roastery
Tess Schmidt - Sevenoaks Trading Pty Ltd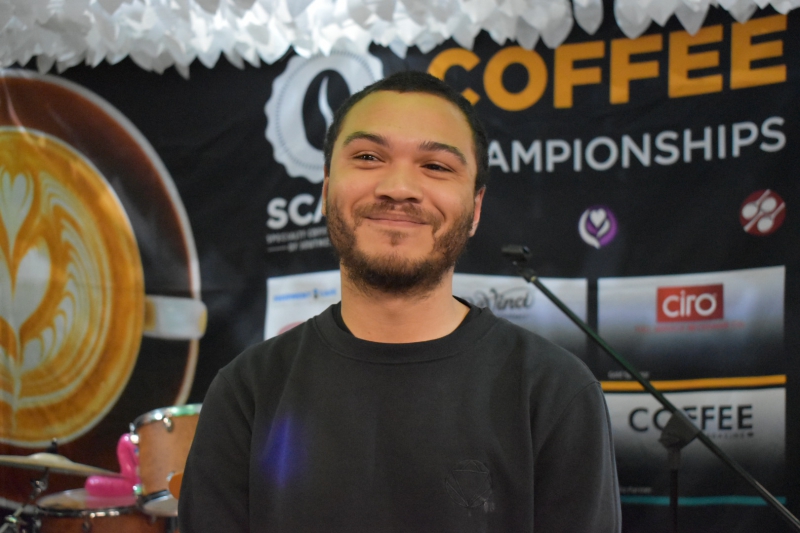 LATTE ART FINALISTS
Christopher Abrahams - Ciro Full Service Beverage Co.
Bakhe Mapasa - Ciro Full Service Beverage Co.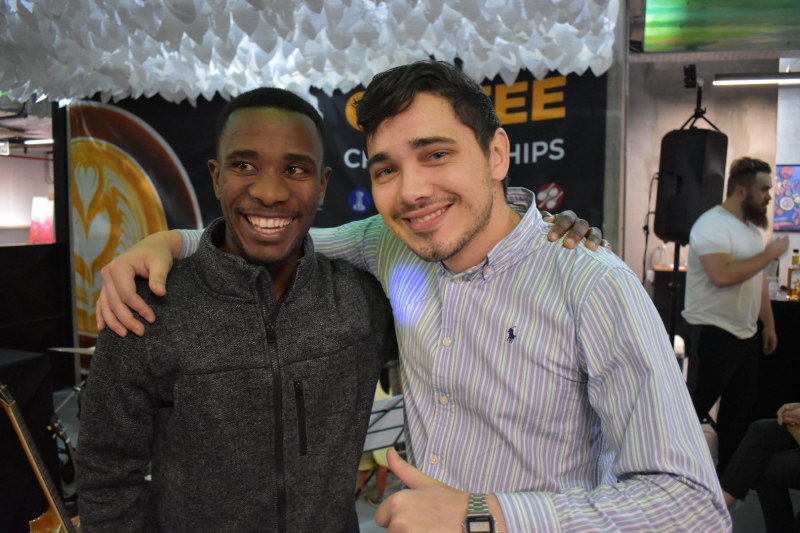 BARISTA CHAMPS FINALISTS
Winston Thomas - Winston Douglas Coffee
Ndumiso Qolintaba - Vineyard Hotel (not pictured below)
Justin Groep - Rosetta Roastery
Innocent Chakanyuka - Truth Coffee Roasting
Simplicity Mkhize - Rosetta Roastery
Neil Gouws - Origin Coffee Roasters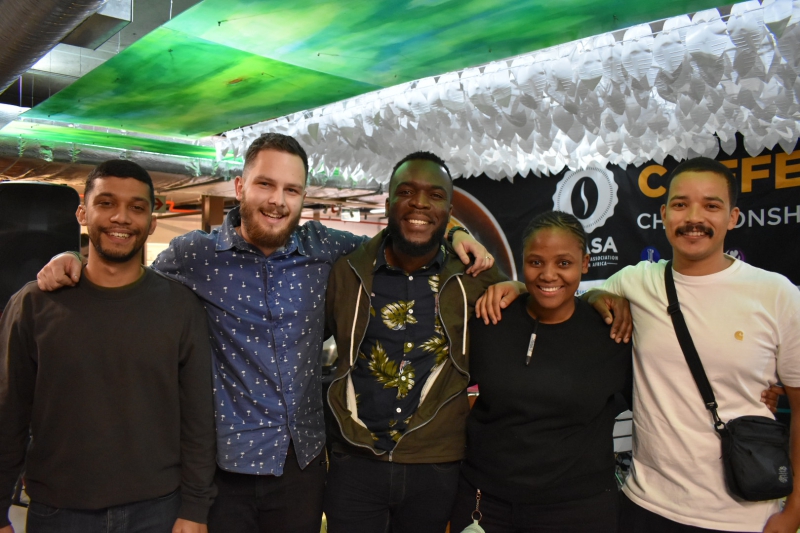 Rosetta Roastery has got into competition over the last few years and like everything they do, they aim for perfection. Three competitors at Nationals is a pretty amazing achievement, well done!
Origin Coffee Roasters has a strong culture of competition and this year was no different, four worthy competitors (three first timers!) and Neil Gouws is once again through to Nationals. Here they are pictured with Joel Singer.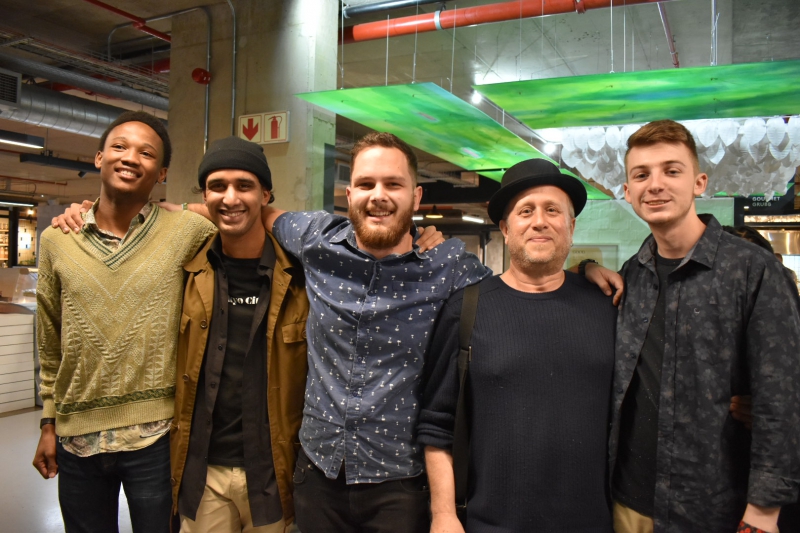 Got something to say? Then leave a comment!
---
The Coffee Sensorium: Influencing Flavour Perception
Thursday, 5 September, 2019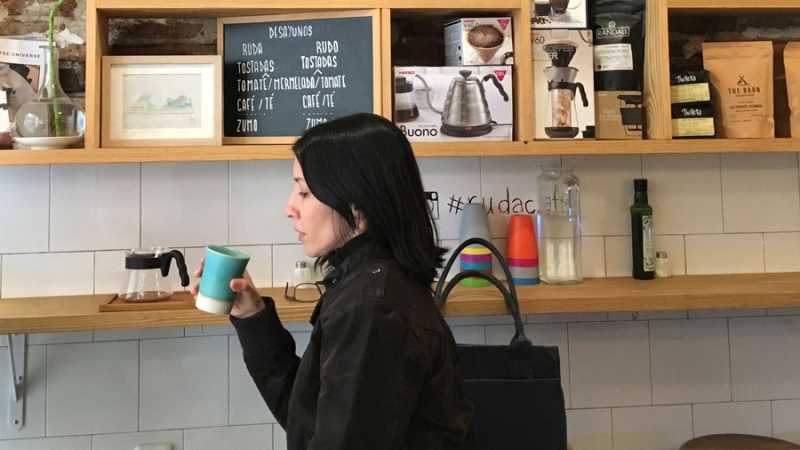 Fabiana Carvalho is a Brazilian neuroscientist and post-doctorate researcher investigating the impact of the senses on flavour perception of specialty coffee. Her project, The Coffee Sensorium, is a fascinating look at how coffee flavour is affected by not only the senses, but also the shape, colour and weight of the cup you drink from. We chatted to Fabiana Carvalho to get an intro into her work…
What is The Coffee Sensorium project?
"The Coffee Sensorium project is an attempt to bring knowledge on multisensory perception of flavour to the world of specialty coffee. A lot of multisensory research has been done on flavour perception of other drinks, such as wine and beer. And it's already known that certain attributes of the vessel, such as shape, colour, and weight, have a significant effect on flavour perception of chemically complex beverages.
The Coffee Sensorium project aims at investigating how these well-known effects would apply to specialty coffee, and to consider the introduction of glassware that, ideally, conveys perceptual benefit to specialty coffees with different sensory profiles. In sum, we expect to be able to match a certain cup to the correct flavour profile of coffee being served in it – just as we already have different types of glasses that match the different types of wine or beer."
Can you explain multi-sensory perception?
"Our perception of objects in our environment – including foods and drinks – is built up by combining all sensory information that simultaneously reaches our brains. In this way, flavour perception is a multisensory experience since it's a result of the integration of a complex variety of senses and processes, which includes touch, taste, smell, vision, and audition."
How do the senses impact on flavour?
"Flavour is a combination made by the brain of the gustatory sense of taste, the oral tactile sensation, and the retronasal sense of smell. The oral senses are affected by vision, audition, and orthonasal smell which will set our expectations towards the food/drink. In this way, our expectations concerning the taste/flavour and quality of the coffee are also determined, both consciously and unconsciously, by a host of sensory cues. These cues include everything from the colour or shape of the cup through to the environment in which we happen to be drinking."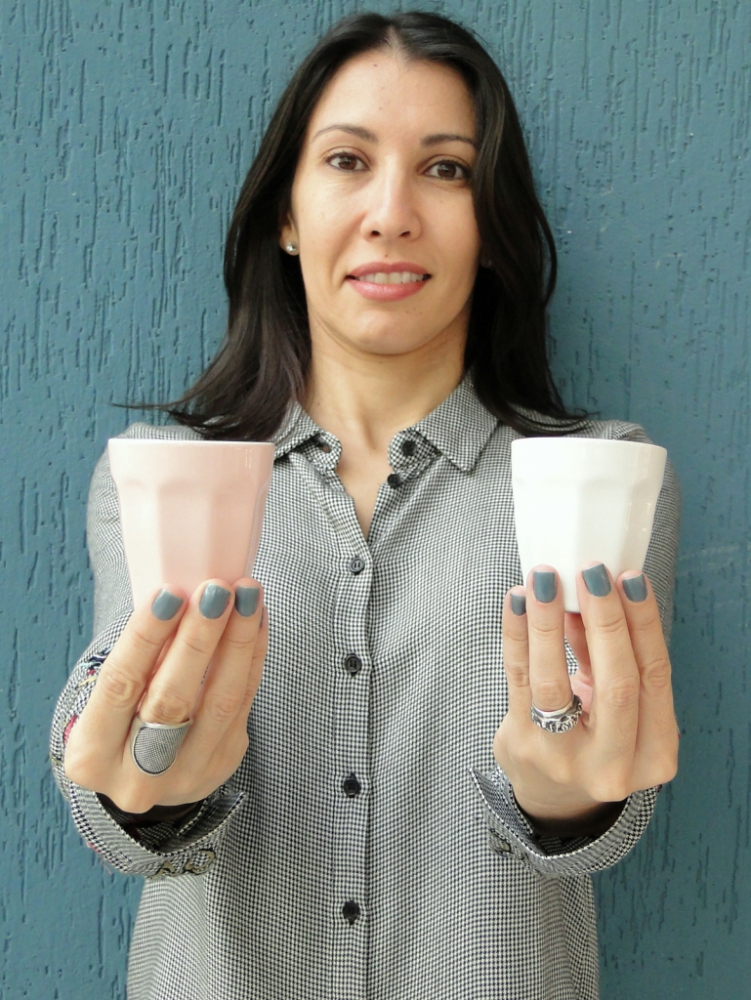 What made you decide to focus your research on coffee?
"Despite the global popularity and consumption figures for coffee, there's been remarkably little research on the drinking vessel. It's surprising to find how little published research there has been given the range of coffee drinks, the widespread emergence of speciality coffee culture around the world, and the fact that coffee, or at least specialty coffee, is chemically complex containing something like 1,200 volatiles (in contrast to 600-800 in wine). Such a complex beverage as specialty coffee deserves a more elaborated service, which certainly includes the serving vessel, i.e. the coffee cup."
How is your research progressing?
"We've gathered evidence on the impact of the colour, shape, texture, and weight of the cup on the perception of coffee. The colour of the cup, for instance, can prime notions of sweetness (e.g. a pink cup) or acidity (e.g. a yellow or green cup) that may carry over to influence the tasting experience. Meanwhile, the shape, weight, and surface feel of the cup can exert a profound influence over the perceived aroma, basic tastes, and mouthfeel. In addition to researching the effect of the cup on the coffee flavour experience, we're also investigating other product-extrinsic factors such as packaging and ambience music."
What have been your top coffee experiences from all of your travels?
"Koffee Mameya in Tokyo (Japan) and Acervo Café in Brasilia (Brazil) are my favourite coffee shops. It's obvious to me that both have a very clear proposal on the type of service they want to provide to their clients. Knowing your goal makes it easier to communicate the concept and to deliver/create the perfect experience. It cannot go wrong. The client is simply taken and amazed by the fluency of the experience. They set the clients' mind towards a concept and they deliver it."
How do you prepare your own coffee when you're at home?
"I only drink coffee in the morning, and brewing my coffee is the first thing I do as I wake up. I like to use paper filter methods, and I usually brew my coffee using Chemex or Melitta. I never add milk to my coffee."
Did you ever expect your research project to take you all over the world?
"Honestly I didn't. But thinking about how innovative the aims of the project are, as well as how our findings are accessible and applicable in the industry, makes it easier to understand why the research has caught so much interest worldwide. It has been truly amazing to be able to speak about our aims and findings to all types of audience, and to learn about particularities of coffee consumption in different cultures."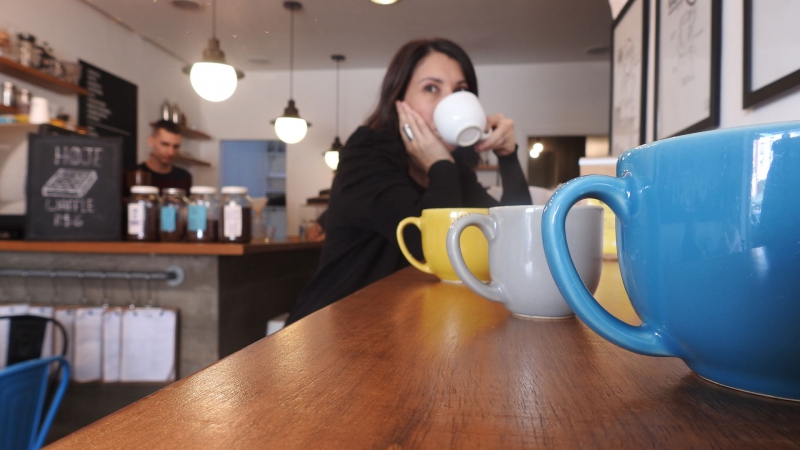 You can follow The Coffee Sensorium on Instagram to keep up with the latest news from the research project.
Got something to say? Then leave a comment!