Red Truck Restoration Project
Thursday, 25 March, 2021
Recently, my godson got me hooked on a car restoration show on Netflix and honestly, I would never have picked it, but gosh, those cars are beautiful and I got completely sucked in to the rag tag group of mechanics making their vintage car dreams come true! And not a week later Dewet Beukes, of Red Truck Coffee Roastery, approached us with a mission to restore their iconic 1946 Chevy Pickup. Ah the fates! We chatted to Dewet about the project and about how you can get involved! We are hoping they will be able to drive it to our next Creative Coffee Week!

"Red Truck Coffee Roastery's name actually came from the iconic 1946 Chevy Pickup truck that has been part of Red Truck Coffee Roastery since the beginning.

We decided that after 5 years that it is time to make a plan to get this truck in working condition and start to become a regular sight in the streets of Gauteng.

We have started a donation program where anybody can Donate to this project, and to the companies or people who donate more than R1000, we will add their logo or signature into the truck as a remembrance of everyone who has participated in this project. The project has started an instagram page and an Facebook page where progress reports will be posted regularly to see how the project is going.

This is a community project to save a beautiful vintage truck and the response has blown our minds.

Account Name: Red Truck Coffee

FNB

Acc Number: 62809435119

Branch code: 250655

Reference: Truck Donation

In the first 24 hours, the project already received R3000! Join the project and get you name/company logo on the truck."

What the truck looks like now:

What the finished product will look like:
Got something to say? Then leave a comment!
---
Investing in African Coffee
Friday, 26 March, 2021
Words By Anastasia Prikhodko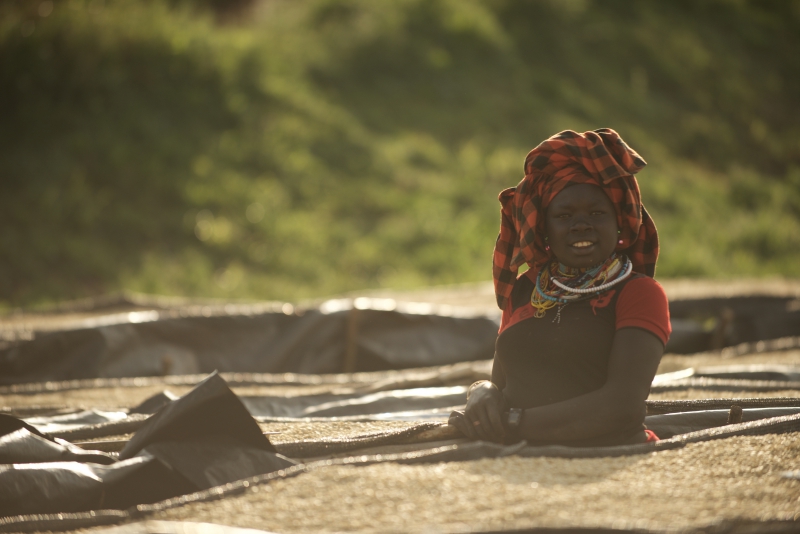 Anastasia Prikhodko investigates why you should make your next cup of coffee using beans from one of the many origin countries in Africa. Rich, complex and rewarding like the land they were grown on, every cup holds a story and international interest in this incredible crop is steadily on the rise.
Consumption of African coffees is changing. The rise in consumer income has helped to increase coffee drinking habits while the demand for speciality and origin-specific coffees is surging. These industry changes present an opportunity for the African coffee market to further expand and export its coffee production.
"Everyone at ONA Coffee has always loved African coffee," says Sasa Sestic, Barista and Founder of Australian-based coffee institution. "Most of us had our first 'Wow' coffee experience with an African coffee." For Sestic it was a natural processed heirloom coffee from Beloya, Ethiopia. The narrative of coffee coming from Africa is known across the world. Still, it is only in recent years that it started to gain the recognition it deserves. "There's a certain reverence of coffee from Africa," he says.
But ONA isn't just about coffee. "We want to ensure that we are engaging with the right people and the right communities," says Sestic. "We are adding value to their lives and business by engaging and seeing what their needs are. It's always a collaboration and a conversation."
ONA, which started in Australia's capital city, works closely with regions including Guji, Kochere and Haru Suke in Ethiopia. Through its green bean partner Project Origin, the company is also doing experiments and improving infrastructure in Kenya.
"We've helped to build the first well and purchase and construct drying beds through the proceeds generated from the sale of my book," says Sestic. "We have also funded the building of a bridge in Ethiopia."
In the past few years, demand to understand and learn African coffee has risen, confirms Sestic. "There are a lot of great practices that African producers and experts have, such as screen grading. I have noticed there are more direct relationships happening, and they are having a positive effect on both ends of the coffee supply chain."
To continue serving high-quality African coffees in the future, investments and relationships in Africa need to ensure that everyone is benefiting. Or that nothing is being done at the expense of anyone else.
"Our philosophy is that everyone has to win, or come out happier and better off than when you started," he says. "There's no point entering a relationship and trying to build infrastructure, then walking away within one to two years. It needs to be a long-term and meaningful relationship - otherwise, you risk taking advantage of people."
The former barista champion has also picked up on a few trends as investment and collaboration with African countries grows. "The processing experiments we have done with partners in Ethiopia are influencing the way we approach processing and fermentation with other coffees across the globe," he says.
"When we worked with Agnieszka Rojewska in 2018, the coffee we sourced and roasted for her was an experimental lot from Guji, Ethiopia," he says. "It was the first time an African coffee has been used to win the World Barista Championships. Straight afterwards the demand from our customers for more of this coffee and others like it was insane."
All of the coffee that ONA Coffee uses is sourced through Project Origin. Originally founded as a division of ONA Coffee, it has since become an independent business that works in 12 coffee-producing countries around the world, three of which are in Africa.
"Ethiopia is the second biggest country we work with. It is most certainly the favourite of many customers of ONA Coffee," he says.
But Africa's coffee industry growth isn't only about exporting. Locals are also interested in coffee. And the more that locals buy African coffee, the more the region is safe from changes in the global market.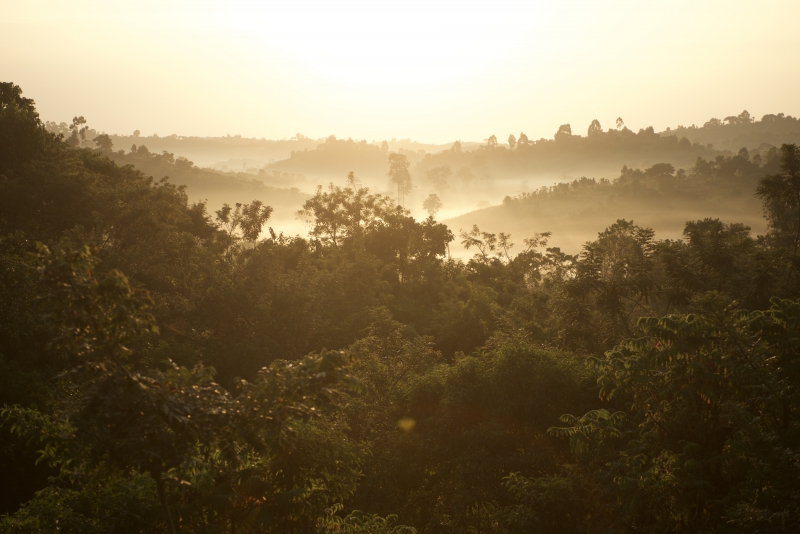 "Africa is where my heart is," says Jonathan Robinson. Robinson is the founder of South Africa's first roaster of certified fair trade coffee. "I love this continent. I wanted to make sure that African coffee got the exposure it deserves in South Africa."
East Africa's coffee industry expects to go through 7.5% market growth from 2019 to 2024. Being the birthplace of Arabica coffee and the largest coffee producer in Africa, Ethiopia has a significant hold on the sector. The country supplied 6,943 60-kg bags of Arabica coffee production in 2016-2017.
Passion influenced Robinson to start Bean There Coffee Company in 2005 in his garage. "We were the first to bring in coffee from the DRC," he says. "We were [also] the first to bring in coffee from Rwanda." His vision proved successful as the company grew to three sites: two roasteries in Johannesburg and a cafe in Cape Town. "When I started, most of the coffee in South Africa was either South American or Italian blends," he says.
Robinson took it upon himself to introduce South Africans to the joy of African coffee. "We live on a continent which is the birthplace of coffee," he says. "We have the finest coffee on the planet. But we were bringing in coffee from South America, as well as imported coffees from Italy."
In 2005, African coffee was hard to come by. The widespread of it is often attributed to changing coffee trends. And according to Robinson, it's also because consumers realised that "African coffee is the finest on the planet." This rise in consumption of African coffee influenced a surge in the price of African coffee, he says.
Keeping close relationships with farmers is a primary focus for Bean There. The company works to build long-term partnerships with farmers through "thick and thin." Robinson adds that the prices to the farmer have not come down when the coffee price comes down.
"Funding, work with agronomists, and trying to get farmers to increase their yields is how we're helping grow communities," he says.
Investing in African coffee also poses several challenges. One of those is the government. Robinson explains that changes have had to be made in Tanzania because of government intervention. Dealing with cooperatives is another obstacle because of varying levels of financial literacy.
He says there have been incidents where cooperative leaders overpaid for the coffee cherry to the co-ops. "They put their own cooperatives under financial pressure," says Robinson. Adding, "In any business, you can encounter dishonesty and some fraud."
Another challenge is price. African coffee is expensive. So when things are tough customers start buying cheaper. "You can buy a Brazil coffee for a third of the price of a good Ethiopian," he says.
Despite investment in African coffee on a healthy trajectory, Robinson says there is still a long way to go. "As roasters worldwide, we need to be asking the hard questions. We need to ask importers, 'What are farmers earning?' He also believes roasters need to ask: 'What do the farmers get paid out of the FOB price?'
"Sometimes the answer would frighten you," he says.
Sander Reuderink is the Commercial Director at Trabocca, a Dutch green coffee importer. The company is an Ethiopia specialist. Its founder Menno Simons in 2000 invited the first organic certifiers to the region. "Most coffee in Ethiopia is grown organic by default. But until we certified the coffee the producers never received the premiums for its organic status," says Reuderink.
"The climate [in Ethiopia] is perfect for producing the highest quality coffee – if the infrastructure is there," he says.
To build this infrastructure, Trabocca invested in seven eco-pulpers. These were installed at coffee farms with the most potential. The machines are also 10% of the water-footprint of conventional disk pulpers.
"We invested in quality control, fermentation trials and waste-water treatments. Anything that makes coffee better and improves our environmental footprint," explains Reuderink.
Coffee generates around 60% of foreign income in the region in Ethiopia. Approximately 15 million Ethiopians rely on coffee production for their livelihood. Trabocca, recognising the social impact of coffee, is at the forefront of pushing for an increase in pay. This year, the company says it finally saw sustainability experts agreeing on the need for a living income for farmers. "If we pay farmers the right price and help them with productivity improvements, then we can end poverty from the coffee sector," says Reuderink.
For the upcoming Ethiopian harvest, Trabocca is launching a trial, where the farmer's income will not be a result of price and cost of production, but the starting point. "We're collecting payment details all the way up to the small scale farmer," he says. "This is to prove that our producers have generated a living income from their coffee sales."
In support of better pay, the company has a new initiative, which has "broken open the Kenyan coffee market" and "almost doubled farmer's incomes." The enterprise is between the people of Ndaroini Coffee Ltd in Kenya and Trabocca. The two communities have come together to set up a new supply chain and reward the smallholders.
According to the Trabocca website, instead of paying 55 Kenyan shillings per kilo cherries (which is the industry standard), it paid Ksh 100 per kg cherries. And an extra Ksh 21 to the factory for quality improvements.
Coffee is and will continue to be one of the major global exports. It is the primary source of income for Burundi, Rwanda and Ethiopia. And for years, coffee has been a significant earner of foreign exchange and pivotal to the growth of the economy for African countries.
Thus, investing in African coffee, strengthening the quality, yields, and increasing appreciation of African coffee worldwide will only continue to add value to the region.
"The future looks bright for African coffees," says Sasa Sestic. "We just need to make sure we're taking care of everyone along the way and creating a sustainable future."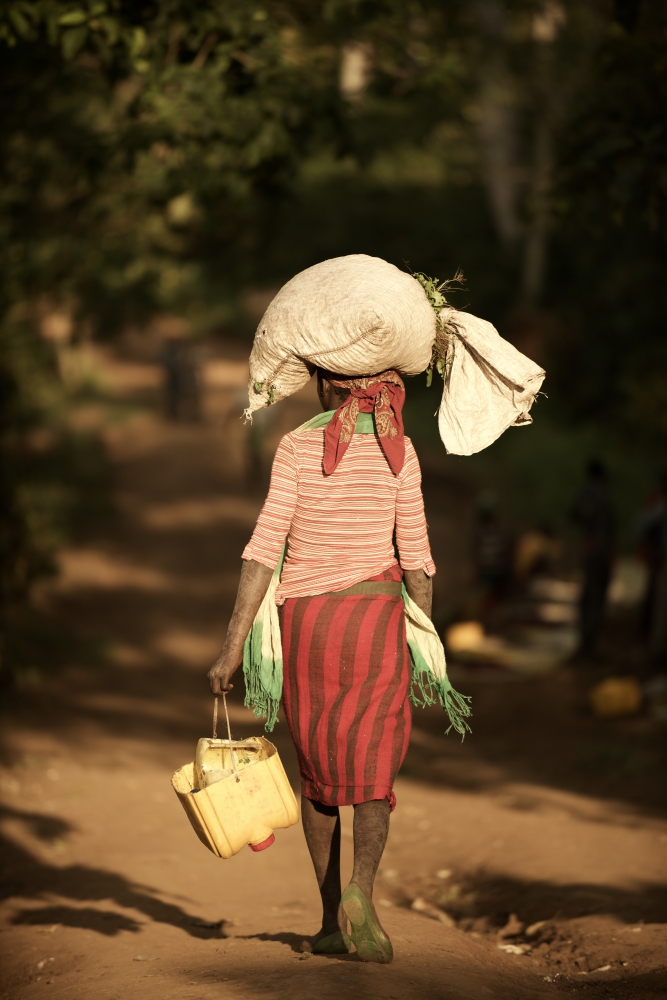 Got something to say? Then leave a comment!
---
One Love: Finding common ground through coffee culture
Thursday, 18 March, 2021
Words by John McCarthy
Find an ocean adventure with this wonderful waterman here.
---
This lockdown did strange things to people. As an addicted surfer I lasted about two weeks before paddling out alone on a full moon just to get my fix. I returned to shore shortly before sunrise and felt reborn. Normally I have my coffee before I go surfing, but in that case my post surf coffee was, in a word… biblical.
I'm a shameless coffee snob and have been for years. My preferred way to make coffee is with a moka pot. The beans usually come from Ethiopia and are ground finely to release the flavour as the steam pushes through. I only ever drink my coffee black, no sugar, no milk, sometimes half a teaspoon of coconut oil. I drink three coffees every day of my life. One shortly after waking. The second after breakfast and the third after lunch.
Thank god coffee sales weren't locked down along with cigarettes and booze or I'd have been in real trouble. As it was I was having a tedious time feeding my surfing addiction while dodging law enforcement. The 'stolen' sessions at out of the way back beaches were exhausting. Clearly some high ranking official on the upper south coast had decided that surfing was a serious NO NO. One morning we had four vehicles on the beach with Metro Police, SAPS, Ezemvelo and the Toti lifeguards as surfers scattered into the bushes around Greenpoint. I'm approaching 50, and there I was running away from the cops like I was sixteen! We all have our vices, I guess.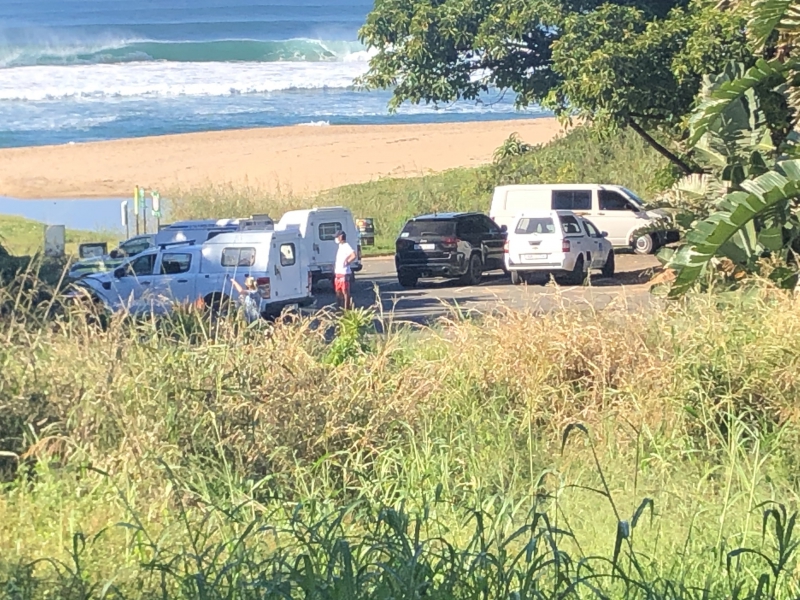 Heavy police presence at a quiet South Coast spot.
After some soul searching and making my peace with the fact that I wouldn't be able to surf my favoured home pointbreak for a while, I decided to venture a little further south into the tribal trust areas around Mtwalume and Mfasazane. This was like falling through a trapdoor into the parallel universe. The lockdown hadn't affected these self-sufficient towns with no contact to the spreading virus and best of all, no one was even trying to enforce it. You could wander around, stroll into a spaza shop buy two Styvie Red Loose, wander a little further down the road to the shebeen and buy an ice cold quart of Carling Black Label and then watch a full game of soccer on the field in front of the surf spot, which had eager fishermen all over the rocks.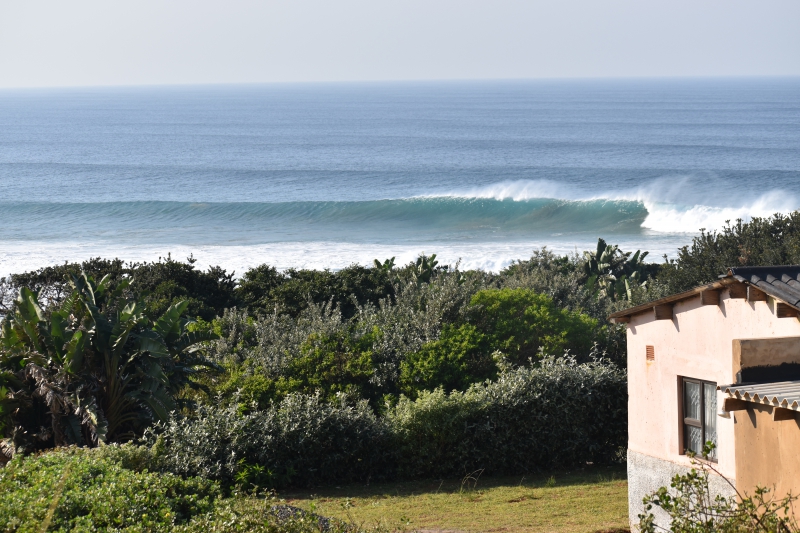 "Sibhekolwandle" - We watch the sea.
As lockdown ground on, I quickly fell into a routine and my trips to the parallel universe became a very important part of my day. As fate would have it, the surf cooked and I drank deeply from the big blue cup. I started to engage with the local fishermen and some of the soccer players. With nowhere to go in a hurry with my work on hold like millions of others, I lingered and had conversations about the fishing or which soccer team would win tomorrow's game. I found myself enjoying more and more my time with both the people and the place. I parked my car at one of the local's houses. Gogo Ncube is the wife of my late friend Roy. I know the family historically as I've been parking there for years, but with this unexpected time on my hands I really got to know them well. I had conversations with Gogo, and her daughter, Yvonne and Yvonne's two boys Wandile and Thuba. Wandile is the same age as my daughter, Jessica and Thuba is the same age as my son, Guy. We spoke about school and careers. Wandile is a great baker, but he wants to study engineering and Thuba is an amazing composer who is known in music circles as 'Slaggy T'. My kids love his music.
One day the surf was really good. I'm talking one of the best days we'll have all year. I surfed from first light until after midday.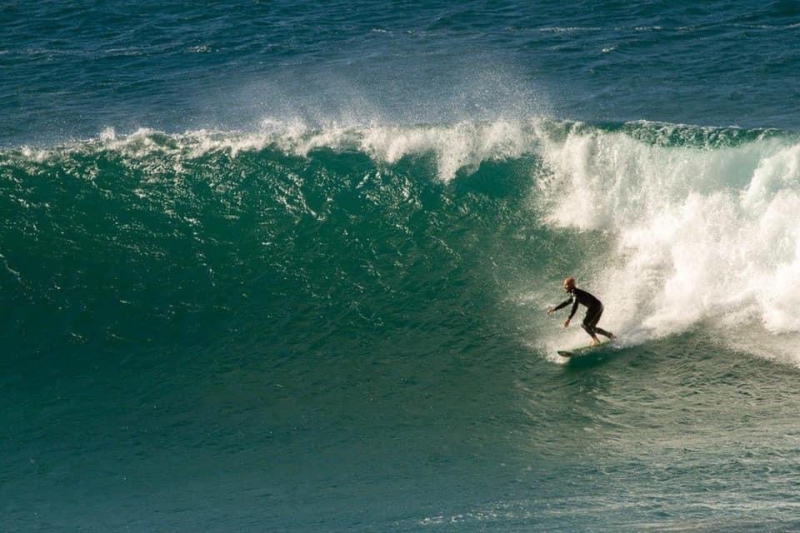 One of those better days! The author slots into a good one.
I left the water exhausted. I was chaffed but stoked. I was also starving. I had got into the habit of enjoying a post surf sandwich and coffee on the viewing deck, while soaking in the glorious KZN winter sun. On this day in my rush to get to the waves, I'd forgotten my carefully prepared flask and lunch box at home. Co-incidentally Yvonne wandered past and saw me without my customary refreshments.
"Would you like a coffee, John?" She asked.
"Gosh Yvonne, thank you, that would be lekker!" I replied.
A short while later Yvonne reappeared with a tray which she gently laid on the tailgate of my bakkie. On it was a beautifully prepared wrap along with a jar of Jacobs Kronung instant coffee. As previously mentioned, I'm a bit of a coffee snob. I haven't tasted instant coffee in fifteen years at least. I don't even consider instant coffee to be coffee, rather just a bitter tasting brown drink. I opted for the wrap first. It was delicious. Chicken, salad, cheese and mayo. My body cried out for the nourishment after so much exertion. I tried not to inhale it all at once while pondering my coffee options.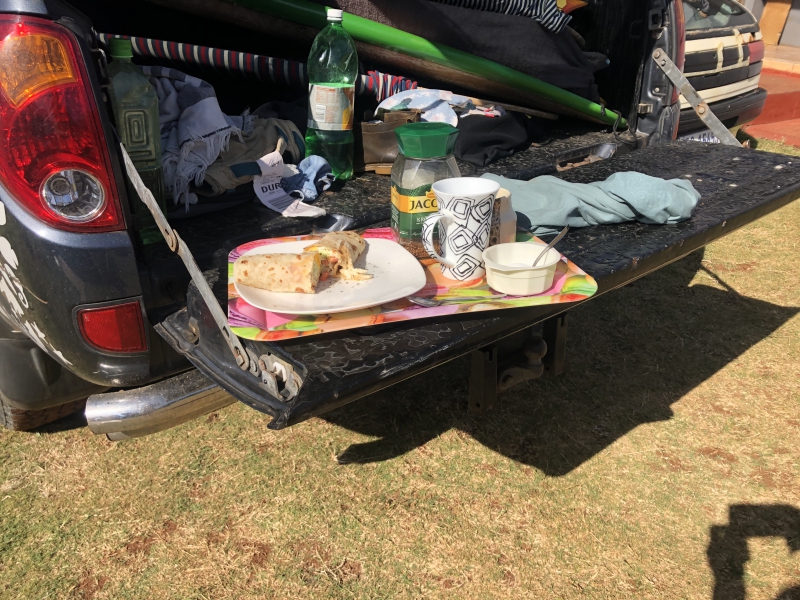 Post surf munchies - a dilemma.
To not drink the coffee I'd been offered would be disrespectful. Yvonne and her family had been so hospitable to me over this period especially, I just couldn't do that to them. I carefully placed two teaspoons of coffee into the cup and filled it with hot water. I stirred it, then sniffed it. Before I even tasted it, I put it back down and added two teaspoons of sugar and a wallop of milk for good measure. Then I strolled over to the viewing deck.
Far out in the ocean the first Humpback whales of the season were jumping creating blazing smears of white on the blue ocean. Perfect waves ran down the point unridden as the warm winter sun shone on my bare back. I felt a deep sense of contentment from my time in the surf. My belly was full with the thoughtfully prepared meal and I was humbled at the generosity of Yvonne's family. Through my mind ran the lyrics of Bob Marley and the Wailers song, 'One Love.'
One love, one heart
Let's get together and feel all right
As it was in the beginning
So shall it be in the end
Let's get together and feel all right…
As I took my first sip of the coffee and the creamy sweetness flowed around my mouth I savoured the taste. As long as I live, I'll now associate the taste of instant coffee, two sugars and milk as the taste of freedom.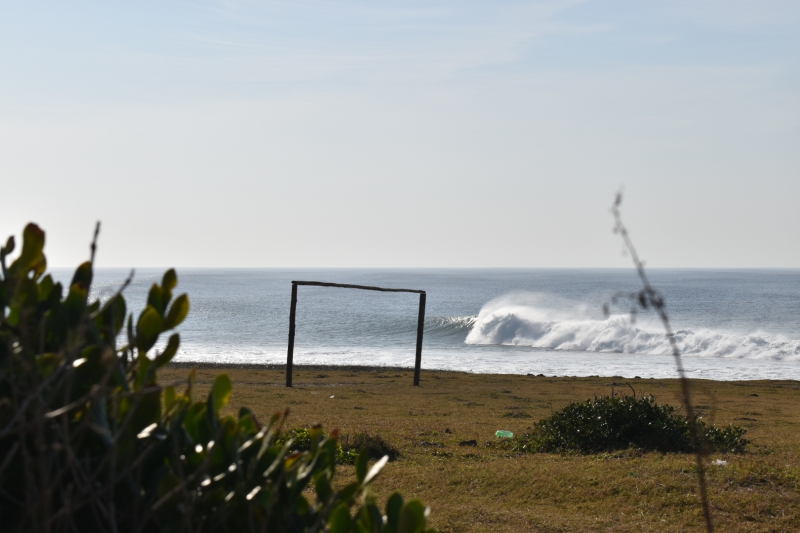 Got something to say? Then leave a comment!
---
Pop.Law: Law for Everyone (including baristas and entrepreneurs)
Thursday, 18 March, 2021
We are always so excited to find people within our network that are doing incredible things. Sinal Govender, for example, was a year below me (Mel Winter) at Maris Stella, we were in the same school plays and we loved a bit of fun, and when I saw her new venture through social media, I knew that it had the capacity to help many people in the coffee industry. Introducing pop.law!
---

What was the inspiration behind the start of pop.law?
I ran on the corporate big law hamster wheel for 8.5 years and knew for most of that time that I didn't want to be running that race forever. Towards the end of my corporate life, I was able to work with many start-ups and creatives on a pro bono basis and this is what really started to excite me. Apart from being quite frustrated by living life one billable hour to the next, I also wanted to use my skills as a lawyer to help businesses that were just starting out and perhaps not able to afford the legal services they needed. I also became aware of how tough the legal system can be to navigate without a formal education in the law, notwithstanding that the law affects everyone. This all culminated in leaving my job and starting my own legal consultancy in 2017. After a couple of very exciting but lonely years on my own, I came across an Instagram account that was speaking about the legal aspects of death in a very honest, brazen, and somehow entertaining way and found Claire on the other side of that.
I sent a message to Claire and we met for a half priced breakfast the next morning a few hours before I flew back to Joburg (Claire is in Cape Town). We chatted for hours over multiple cups of coffee and realised quite quickly that we were both trying to solve the same problem - making the law more accessible to everyday South Africans. We decided to combine Claire's design skills with my legal knowledge and started pop.law together on the first day of lockdown.
In the age of the social network, you guys actually only met recently on the Gram, how amazing! What makes your team operate successfully if you started the business before you even really knew each other?
We love our story, and take some creative liberties when we tell it, but in reality we had a lot of common ground before we met. Claire and I have a very close mutual friend who had shared Claire's Instagram post on her stories, which is how I came across her page, so there was at least some mitigation of stranger danger.
After that first breakfast together, it became quite clear that our unique combination of skills could really make the law easier for people to navigate. We worked together as client and lawyer for a few weeks (I think this was Claire's very clever way to interview her future business partner) and then took a leap of faith to go into business together. I guess in some ways not really knowing each other when we started was part of why we worked so well. We were both motivated to solve a big problem and focussed on that exclusively. There was no space for egos and we were able to communicate well and make decisions fast. Being in different cities also meant that we had to try extra hard to motivate each other. Also - starting a business long-distance with sketchy Internet really reveals one's true personality so we got to see the best and worst versions of each other very quickly.

What have you learnt through the process of building pop.law? (From the perspective of how lay people view the law and also how easy/hard it is to build something from the ground up)
The start of lockdown was a difficult time for everyone (and still is today). I particularly had quite a struggle when we first started - both because I realised even more acutely what a privilege it is to have a legal background and also because we were starting to grow a wonderful business while many of our clients, friends and family were closing theirs. When we first started, we had thousands of people download our Covered-19 pack of free legal documents to help people navigate the hard parts that come with illness and death. This reinforced the understanding that everyone was anxious about this virus. The feedback we received was overwhelming from the point of view that so many people didn't understand just how important having a will in place was until we shared our guides with them. We then started putting out more free documents and articles and every time one of these gets downloaded, or we speak to a new client, we are reminded just how important it is to have access to friendly, approachable legal help.
Claire and I both had experience in starting businesses before pop.law so many of the start-up lessons were already learnt by the time we got together. One of the lessons that came up again though was that it's a really hard game to play no matter how much experience you have before.
With only two people in our business, we had to rely on each other, back ourselves, and trust that work done with the right intention would inevitably be successful. We have always been open to learning from others in the start-up space and have met a wonderful group of other entrepreneurs who have generously shared their golden nuggets of advice with us.
We are also constantly pivoting our business based on the feedback we get and looking for new ways to close the access to justice gap. This is partly why we want to try to do bigger things to help more people and why we are now in the middle of building tools that combine legal, design and technology to make the law even easier to navigate. Watch this space!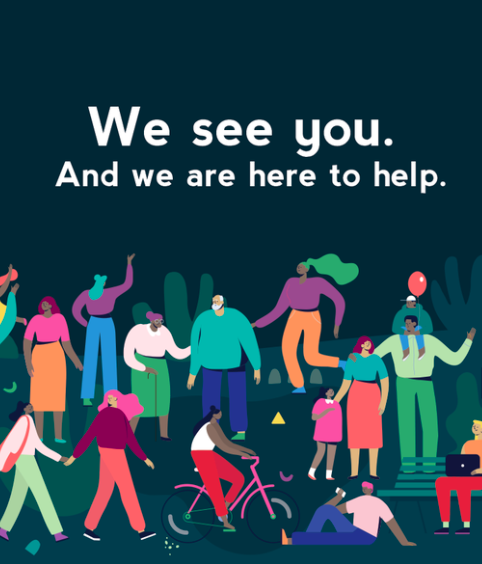 In the coffee industry, there are a lot of start ups and entrepreneurs, as well as influencers. I was once one of those people starting a cafe and I wish I had had access to some reasonably priced legal advice at that point, there are a lot of simple but intimidating steps we could have taken to make our business more secure at the get go. Tell us about what you can offer small business owners or passionate people with a dream?
We love helping other small businesses! Legal help shouldn't feel out of reach or unaffordable so we have structured the help we can offer in a few options. In addition to our free guides and legal documents, we offer a Whatsapp voice note micro consultation, a 30 minute virtual chat, and document review and drafting. Probably one of our most common requests from small businesses is to help them with contracts with their suppliers and clients. Many businesses took a massive hit this past year, and a lot of this had to do with not having a clear understanding of who was responsible for what. We also help start-ups with protecting their brands and making sure they are acting as responsible employers and employees.
With the CCMA being largely out of commission/backlogged with COVID related dismissals, is labour law advice for baristas something you can offer? Which method would be best for baristas to get in touch with you?
Definitely! We are all about empowering people to understand their jobs and what is legally fair and acceptable. The easiest way to get some help is to book a chat with us through our website at www.poplaw.co.za.
So, do you guys even drink coffee?! Tell us everything. Your favourites. Your pet peeves. Your level of addiction.
In the shortest modern love story, the answer is simply "yes". Claire is more a quality over quantity coffee drinker, opting for a very classy black filter coffee or well poured flat white (must be the Cape Town influence). I am partial to any well made cuppa. At home, it's a filter coffee for two (I drink both in back to back succession), and in the outside world it's a short cappuccino or flat white. While in Cape Town I do like to sometimes say they're the same thing just to see how many concerned people turn around. Neither of us put sugar in our coffees, but I wouldn't go as far as saying it's a pet peeve or that I judge those who do (after all we're not Truth). I can however say without reservation that some of the best I have ever had is pour over coffee in Vietnam where it's served standard with condensed milk. It's honestly what dreams are made of.
Got something to say? Then leave a comment!
---
Do you want to do the SCA Roasters course? Online learning info is here!
Wednesday, 17 March, 2021
The SCA Roasting (Foundation and Intermediate Combo) Course has become a fast favourite and it has been decided that this is the best way to handle the theory for the course, at the same time respecting social distancing and minimising travel and accommodation expenditure for the students.
Donovan McLagan from Cabal Coffee Roasters in Port Elizabeth is an AST accredited with the SCA and has a huge passion and interest in roasting coffee.
This course is on offer to anyone that should be interested. It is best to have a roaster on which to practice before embarking on this course.
To find out more you can visit the SCA website.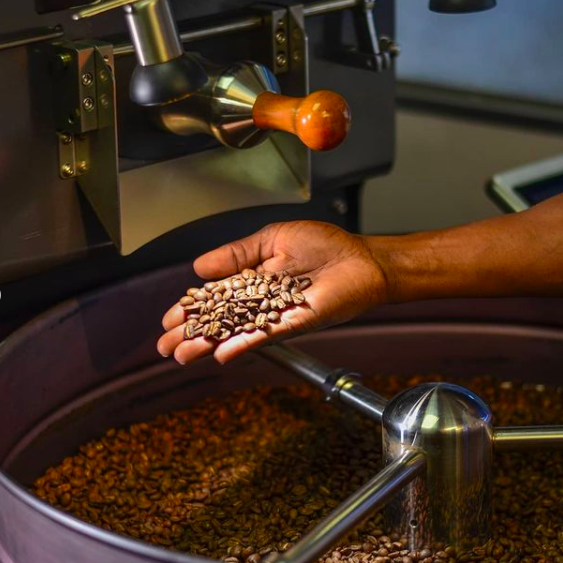 Donovan will host future theory training via Microsoft Teams (a web based or downloadable application). If there is load shedding in your area or you cannot connect to the live theory session/s, Donovan will provide a recording, you are then welcomed to send your questions if they have not been addressed during the recording.
The theory is covered over four days followed by one mandatory practical day practical to be hosted at Sevenoaks Trading in Johannesburg, Cabal Coffee Roasters in Port Elizabeth or at an affiliate in Kynsna and is limited to 4 students at a time.
Next SCA Online Theory Training
16h00 to 18h00 Monday, 12th April 2021
16h00 to 18h00 Wednesday, 14th April 2021
16h00 to 18h00 Monday, 19th April 2021
16h00 to 18h00 Wednesday, 21st April 2021
Practical dates will be discussed and agreed to during the training.
The cost is R8,500.00 (incl VAT) and entails an online exam within 21 days of registering online and upon passing your receive the international certification, which is a great plus for contract roasters.
To register, contact Paulien on paulien@sevenoakstrading.co.za
Students can take advantage of learning through three stages of knowledge and skills in each module.
Learn about the roasting process, including roast cycle, roast levels, identifying defects, the physical changes that beans undergo during the roasting process, as well as workspace management and lean production.

The Foundation level provides a first taste of a specific coffee discipline and is a great way to get insight into a module to help you decide if you want to go on to learn more. The Foundation level requires no previous experience.
The Intermediate level is suitable if you are already part of the industry, working in the field covered by the module, and have a firm knowledge of the basic skills and access to a roaster. Experience working in the field is recommended for this level.
In order to undertake the Professional Level (on a separate occasions) there needs to be a minimum timeframe of 3 months between completing intermediate before undertaking Professional to ensure that enough time has passed to gain the proficiency needed in the areas you've been trained in.
Got something to say? Then leave a comment!
---
Interview: Beethoven Coffee Co
Thursday, 11 March, 2021
We chat to Trevor Fitz, co-founder and coffee geek behind Beethoven Coffee Co to find out how their journey took them from home barista to runner up at the SCASA National Barista Champs to a fully-fledged coffee business.
---
We first met you at The Home Barista Jam we hosted at Coffee & Chocolate Expo way back when, can you tell us how you first got interested in coffee?
My interest in coffee came through my older brother, he really drew me into the world of coffee in a way that captured my attention. Before his influence, coffee was just a necessity to me, I drank it cause my doctor said I needed to and that was it. I didn't even enjoy it!
My brother would take me to BeanThere almost every Saturday morning, allowing me to try the different coffees and brew methods and encouraging me to try to identify the flavour differences. I was terrible at it initially, but eventually I started being able to identify the differences. I could tell which origin of coffee he had ordered by the flavours, and it was then that coffee suddenly became interesting to me. I needed to know why each coffee was different and what factors affected the final experience I was having, and through research and tasting I got hooked!
If I look back now, really none of that has changed - it's still about experimenting with flavours and extractions and trying absolutely EVERY coffee I can get my hands on!
You obviously have a competitive streak, you transitioned to the SCASA Regional Barista Championship not long after that. Why do you enjoy the coffee competitions and what was your goal in entering even though you were not involved in the industry when you first took part?
Honestly speaking, my competitive streak is biggest within myself. I'm obsessed with doing everything better than I did it before, and when it came to coffee it was no different. I had theories and skills and wanted to test them out to see if they were any good, so I entered that first Gauteng Barista Champs!
I entered competition that first year for three reasons, to test my abilities, to really experiment with coffee and to learn as much as I could - and that is the basis of my entire journey.
The success we enjoyed at the Barista champs that year is what made me want to enter the industry and turn my hobby into something more.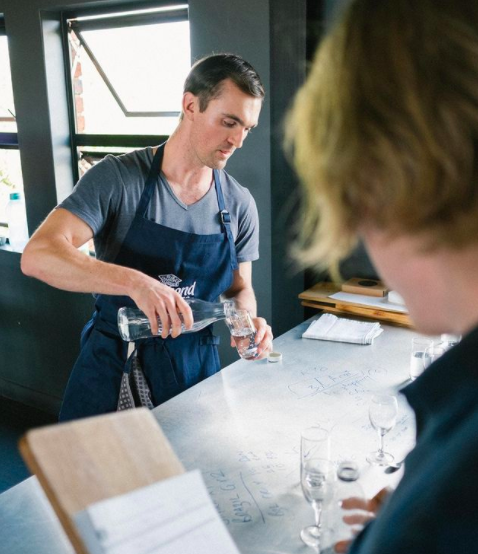 Who were your major influences in this journey?
Without a doubt, the biggest influence along this journey has been Nkulu (Khulekani). He was the one who trained me initially, and he convinced, even hounded, me to enter that first barista competition! He helped me prepare my set and drilled me on my technical skills, as you can imagine - he is always the best tech at comp! He still tells me I'm doing it wrong when he sees me make coffee for him.
Another big influencer was Jono, from Bean There. He helped me put together my business plan and even sponsored my coffee for the first competition. I used his Burundi that first year! He has helped out so much with guidance and support whenever it was needed, I only hope I can return the favour one day!
It's the duo of the Jono's I'm thanking, as Jono from Rosetta has been a major sounding board in my roasting journey and someone I've aspired to follow in the footsteps of. He's always willing to chat if I need some input, or to sample some of our beans and give us feedback.
There have been many, many influences and contributors to the journey thus far, I think of Johnson and Sandro just to name a few more, but if I had to list them all - we'd turn this article into a book.
Since you began roasting, Beethoven has evolved from side-hustle to full-time coffee Roastery and Cafe, what has that process been like?
The process has been tough at times to be honest, but also very exciting! We started out roasting just a few kgs a month, and sold most of it to friends and to our families. Then as we gained confidence and our website took off and the news spread through good word of mouth, we've turned the side-hustle into a fully-fledged roastery.
We definitely made some mistakes along the way, but we learned and improved, and I think that's what it's all about - the constant desire to improve on ourselves, our product and the experience that we want to deliver. It's something that we regard as one of our greatest strengths and what drives us to keep growing. We've had to try and try again many times but the knowledge and confidence we've gained along the way is invaluable! It's also been exceptionally awesome to see the response that people have given to this dream that we've birthed and to see our coffee being drunk all across South Africa, and occasionally the world. It's those moments when someone says, "wow this is the best coffee I've had!", that keeps you going when it gets a little tough.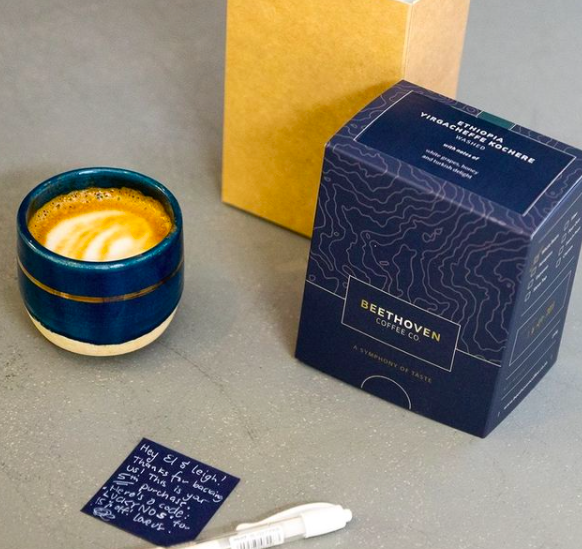 The cafe, our Beethoven Coffee Bar, in Mall of Africa was a whole new ball game! We launched this store, the first of many to come, in partnership with the rebrand of CNA, and it's been an insane learning curve but also so much fun! It opened its doors last November just before Uncle Cyril sent us back into that intense lockdown, but it's slowly developed its own personality and vibe and is drawing a little crowd of fans. The bar is a takeaway space serving up a blend we made solely for it and some of our favourite single origins on batch or as espresso. We took our comp experiences over the years and developed some signature drinks using all our own ingredients and recipes - an ode to the competition space!
Who makes up the Beethoven Team?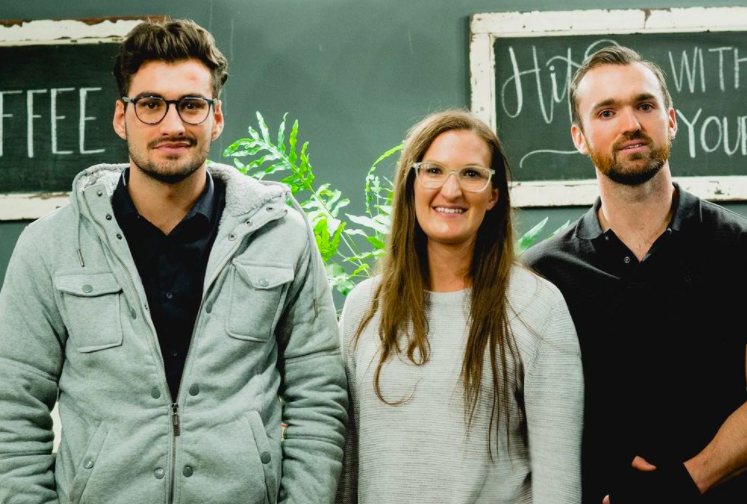 The core of Team Beethoven are the familiar faces you know from comp - Claire, Branden-Roy and myself. We've gained a few new partners in the form of Andrew and Dave, who are in our admin and finance team and we always have an army of volunteers!
The team at the Beethoven Coffee Bar in Mall of Africa are two of the BEST, Thandi and Linda, both originally trained by Nkulu, so anyone popping in for a coffee is in great hands. Thandi, some of you may know from the last Gauteng Barista Champs, when she competed with a coffee we roasted for her and placed in the top 6 at her first ever competition! We're hoping to have at least two in-house competitors for the next one.. watch this space!
How would you describe the ethos of Beethoven Coffee?
Our ethos is really summed up in three things - sustainability, quality and education.
We're in the specialty game for those exact reasons. We want to ensure that farmers are getting a good price for their coffee, we want to ensure that our baristas are being paid a wage that reflects the skill they possess. We want to ensure consistently good quality coffee is being produced because it's worth the farmers while, and that consistently good cups of coffee are being brewed with our coffee because the baristas have a desire to honour the product. And in turn we apply those filters to everything we do, from roasting to packaging to training. It's about sustainable quality and educating the consumer, the community and ourselves.
We can always add more value, and we strive to learn the most and share the most with those who cross our paths.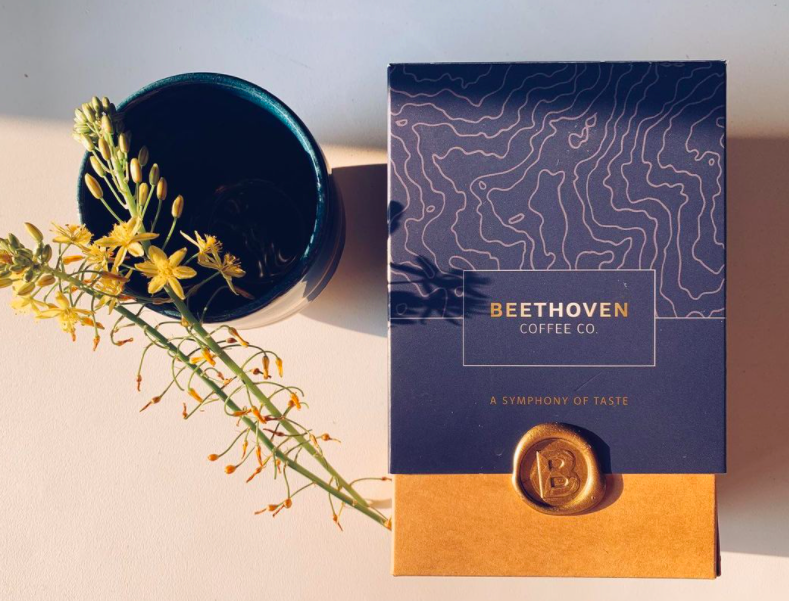 What have you learnt along the way? Would you do anything differently if given the chance?
We have spent so much time learning, again I could write a book?!
We've developed our own hot chocolate, chai concentrates and syrups alongside striving to consistently source and roast the best coffees we can. At our core, we love flavour and it's been a world of fun to explore that through comp and now in the roastery as we sample new coffees and test out new products!
It has been an exciting journey to develop, test and create our own brand and to develop an ethos and way of working that resonates with who we are and what we want to achieve for and in the SA coffee industry! You learn the nitty gritty things, the admin and the day to day operations, whilst being able to sample, taste and explore all these different and exciting coffees. We've met insanely creative, talented and dedicated people who have taught us so much about our industry and ourselves! We continue to learn every day.
If given the opportunity, the only thing I would do differently is to spend more time considering our initial packaging. It's beautiful and iconic, we know, but it has also given us many sleepless nights and headaches!
Got something to say? Then leave a comment!
---
Roaster Focus: Customising Your Roaster
Wednesday, 10 March, 2021
The next installment of roaster knowledge from Neil Maree, co-founder and chief engineer behind Genio Roasters.
---
Deciding on the bells and whistles for your coffee roaster
Now that you have decided on which roaster you need, you're excited to go ahead and want your roaster delivered yesterday. But the manufacturer just sent you a list of add-ons that you can choose from to customise your soon-to-be new roaster. What do you add? What do you leave? Let's take a closer look.
The specifications of a roaster will vary between manufacturers. The available options can range from must-have features, such as roast profiling software, to custom colours and wood trimmings. More than likely your roaster manufacturer will push you in one direction, while you only really need the bare minimum. Here is my list of suggestions:
Chaff filtration
If there is the option to take an external chaff cyclone, you should take it. An external cyclone adds an independent roasting fan which greatly increases your machine's ability to catch the chaff husks as they are separated from the beans during roasting. Many models still have internal systems built into the machine.
In my opinion, crawling around on your knees with a vacuum is not the right way to run a roastery, so always opt for the external system. There are exceptions to this. For example, our Genio 3 roaster comes complete with a built-in chaff cyclone. The word "cyclone" is important here as it speaks to the filtration method; don't settle for a simple filter or separator.
Gas control
Gas control is like the accelerator pedal on your car; it determines how fast you are going. Having a gas gauge is like looking at the speedometer.
Take the gas gauge if it is an option or ask your manufacturer to install one as an extra. We use our included gas gauges as a major metric when speaking to our customers about their machines' performance, and I cannot imagine roasting without one.
Profiling systems
This is the big one. Do not tell me you are an "artisan" and you don't need temperature logging. The best artisans in the industry insist on having some form of digital temperature logging, if not full profile control. A professional profiling system can determine whether you will move from a small lifestyle roastery to a scalable business that can grow and thrive. Many people choose to go with third-party systems, the biggest of which is Cropster or Artisan Scope. Cropster is a professional solution. Over many years it can become pricey, but it is well worth the money. You can even submit the reports to the government if a tax on roasted/green coffee is applicable in your country, as Cropster has an inventory tracking module.
Artisan Scope is immensely finicky, but it's free! It is packed with features and can make a big difference in your quality control, but you will need to spend some time on user forums to get the most out of it. It also has an inventory tracking feature although this is a paid option.
At Genio, we have designed our own ProRoast system. We still offer easy integration with third-party systems, but try our ProRoast system before you do anything else. You might just be pleasantly surprised that it has everything you need, already included in the system!
If computers and screens are an optional extra, I suggest just buying your own laptop. It will probably be far cheaper, and you can get local support for it. With that said, our Genio's have an included Samsung tablet that connects to the machine via Bluetooth.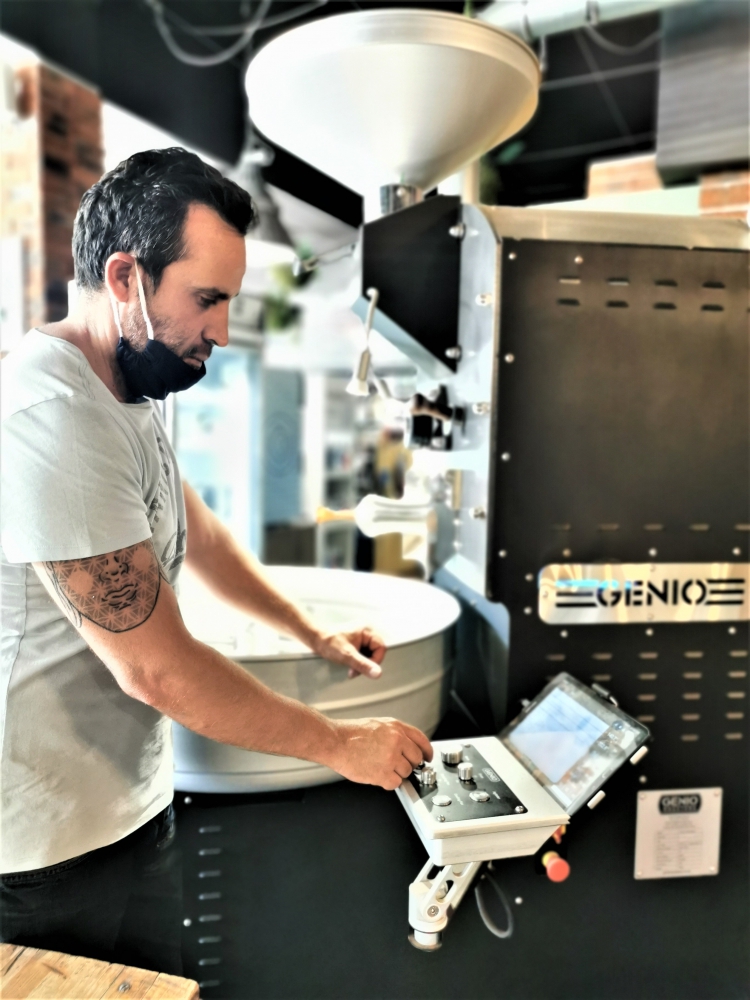 Customisation
For many roasters, their machines are an extension of their brand. Having a beautiful, custom coloured roaster can be a key feature in your coffee shop or roastery. But be aware that pink and baby blue roasters are more difficult to sell when you eventually need to upgrade to a bigger size. My advice is to stick to classic, timeless colours and features that can be easily upgraded as your brand evolves and your company grows over time.
Genio just launched a state-of-the-art customisation service. Our customisation team will schedule several sessions with you to assist with every aspect of your machine, from basic colours to wood and leather finishings.
We have recently sat down with Dario Scilipoti from Bluebird Coffee Roastery, one of our first customers who went on this customisation journey with the team. Read more about his customer experience here.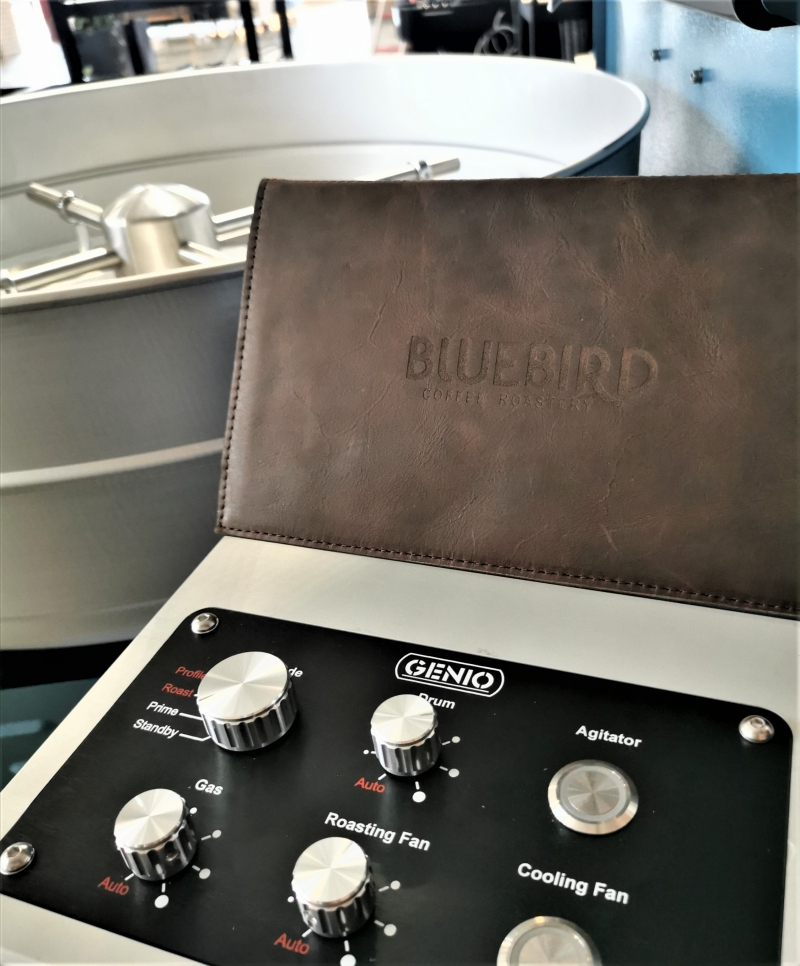 Shipping
Be sure to watch for hidden costs, like the shipping crate, import duties, and local certification requirements. Shipping via sea freight is completely normal and is the de facto transportation method for roaster manufacturers. Air freight is also possible, but the cost is generally 3 times that of sea freight. The advantage of air freight is that the goods are normally handled better and the transit time is usually 1-2 weeks instead of 4-6 weeks for sea freight.
We often have customers who want to save costs and ship the machines themselves. I would warn you against this, as international shipping can be very tricky and immensely time-consuming. Manufacturers deal with this every day and know the ins and outs of getting their equipment around.
Remember to include insurance when shipping your roaster. All of Genio's shipments, whether local or abroad, are insured. We use specialised marine freight insurance companies, so the risk lies with us. If you prefer to handle the shipping of the roaster yourself, the risk passes to you as soon as the machine is loaded onto a truck at our factory. Individuals are often not geared for this type of insurance. There is a real risk of a roaster falling or being damaged somewhere in a port or warehouse during transit.
Training
Even if you are an experienced roaster, make sure that your manufacturer offers you training of some sort. You will inevitably need some sort of guidance, and your manufacturer should make it clear what type of training they can offer.
Genio has recently taken a big step towards offering comprehensive training programmes for our customers. All of the training is included for free, as we believe that empowering our customers significantly enhances the quality of their roasting experience.
Technical Support
This is probably the most important aspect of all. Anyone can make a roaster and anyone can sell it to you. But looking after you as a customer, after the sale has been done, is a mammoth task (and one that only a few companies consider as important).
Many manufacturers nowadays do not offer free support. They require you to provide them with your credit card information, before they will even speak to you. Or worse, they do not speak your language, are not available after office hours in their country of residence, or they employ inexperienced people to assist with highly technical issues.
After-sale support needs to be your top priority when considering add-ons for your roaster. Because it should not be an add-on. There is an easy way of choosing a manufacturer: their commitment to resolving your problems: put them to the test!
Warranty
Last but not least is the warranty and technical support. This is the one place where budget and professional manufacturers are differentiated. Most manufacturers offer only a 1-year warranty. Some only offer a few months on electrical equipment, and most warranty clauses require you to fly the manufacturer's technician out (sometimes at business class rates) to commission or service the roaster, for the warranty to be honoured. These are red flags that should be considered. Be careful of distributors that cannot offer the same technical support as what the warranty specifies.
At Genio Roasters, we also only offer a 1-year warranty. BUT, this can be extended up to 3 years in total and includes electrical and mechanical components and workmanship. By simply requesting warranty extensions from us and completing a few basic checks on your roaster, you can have peace of mind when purchasing a Genio in any country around the world. In other words, we will honour our quality commitment to you and replace any parts covered under our warranty agreement at no cost to you, provided that you look after your roaster. We guide you every step of the way with interactive online guides, videos and telephone support.
Got something to say? Then leave a comment!
---
The Next Generation: Peru's Young Coffee Farmers
Thursday, 4 March, 2021
Contributions from Jorge Jacobi Montalvan and Lisanne Oonk
---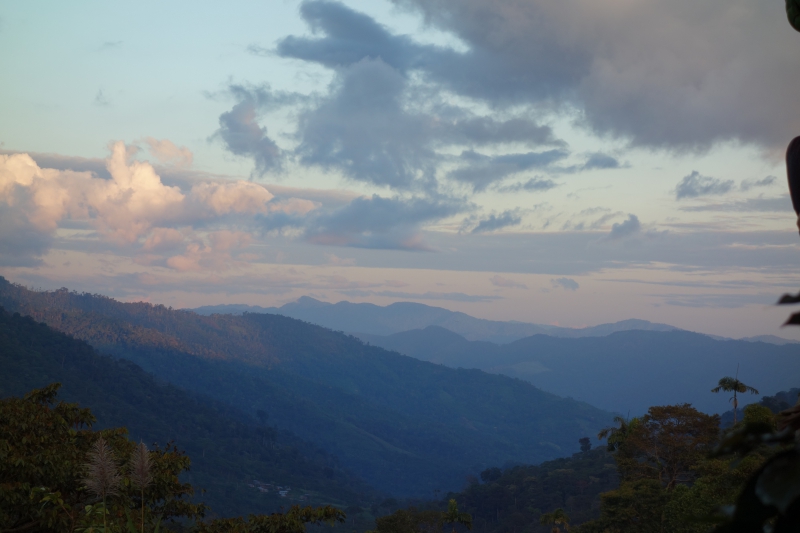 Intro by Mel Winter
When I dream of visiting Peru, my first thoughts are of exploring the Inca culture and traveling through jungle to get to the high reaches of Machu Picchu. But as I have recently discovered, while the history of this beautiful country is fascinating, the future of its people, particularly those involved in coffee, is even more exciting.
According to a study by the SCA, the average age of coffee farmers has for many years been rising, sitting around the 60 year old mark, with little to financially attract the next generation to this profession. It's a global issue. And certainly if they continue using the same methods and therefore being paid the ridiculously low C-Price, the sustainability of remaining in this field hardly seems viable. How can a crop supposedly so necessary to much of humanity be decreasing in value according to the stock exchange prices? Well, as you will have read in many issues of this magazine, the system is broken and it is up to us as coffee lovers to support the people bringing into a new era. Through a coffee showcased by Rosetta Roastery recently sourced by Cultivar Coffee Peru, we were able to get in touch with the head of a farming co-operative in the Pangoa region of Peru, just east of the Andean mountain range in Central America. Jorge Jacobi Montalvan gives us some insight into how things are changing at farm level.
How did you get into coffee farming? Or perhaps a more accurate question, what has made you stay in coffee farming when it is so difficult to get out from under the crushing C-price structure?
"We founded our small association 'Selva Virgen de Peru' in Pangoa in 2016. The organisation consists of 32 persons. From those, 15 members are women and 17 members are men. We founded the association because after the big Roya (leaf rust disease) breakout in 2013-2014, many of us realised we had to do things differently in order to thrive as coffee farmers. We heard more about the focus on quality in the cup from potential buyers, and so we started to focus on producing high quality coffee. We planted varieties that we knew would do well in flavour. And year after year we encouraged the most motivated members of our organisation. In 2018 we even participated in the Cup of Excellence, and we won the 31st place, being part of the national winners. That coffee was actually mine."
"And why we stay working in coffee? Well, the answer is, we are from the country side. And the best thing we know is how to cultivate the land. And therefore, I for example as a son of farmer, I see that my parents always have sold conventional coffees. But me, my generation we are seeing new opportunities to overcome the challenges in coffee. So it is actually us, the children, who are motivating the older generation to keep farming coffee. Thanks to coffee we live here. I was born among the coffee plants, I grew up on the farm. Even though there were so many problems, thinking of the terrorism we had to endure, I would not like my parents to sell the land. It is the land where we were born, it is our tradition. We believe it can be profitable, but we have to keep adjusting to new tendencies. We have to improve our quality. But we also have to improve the productivity, because with higher volumes of production it will be more profitable."
Can you share more on the specific steps you took, or practices that you implement to enhance coffee quality as an association?
"I personally got a scholarship to do the Q training back in 2009. So I belong to the first generation in Peru to graduate as a Q grader in that year. I never renewed the license, but I have experience as a cupper. And when it comes to quality, we have done so many trials in the past years. We harvested coffee when it was full moon, we did selective harvesting, and did trials with fermentation, fermentation in GrainPro bags. In the altitudes, where it tends to be quite cold, we did trials with fermentation in GrainPro bags and we would add bottles with warm water to accelerate the fermentation. It always gives a feeling of satisfaction when it turns out to taste very good.
Also via a local company in Pangoa I got the opportunity to travel for an educational visit to Panama early 2018. We visited the farm of Francisco Serracin. We brought some Geisha seeds from his farm, so next year we will be harvesting our first Geisha micro lot. But we also have Typica and yellow Caturra. So I am sharing what I am learning with the members of the association. That is the whole idea, right? That we grow together.
The first years were not easy, it was hard in the very beginning, because one needs to know a lot to improve coffee quality, right. But every year we improve and we try to fulfil the needs of the specialty market. And one important thing: in our association there is no gender discrimination. We support the 15 women in our group just as we do for the 17 men. Both men and women can be farmers. In the end we all live from our farms, we all share the land where we grow our plants. We all try to be autonomous and economically independent. As an association we want to facilitate direct relationships between our members and the buyers. If a roaster wants to meet a specific farmer, no problem, actually perfect!"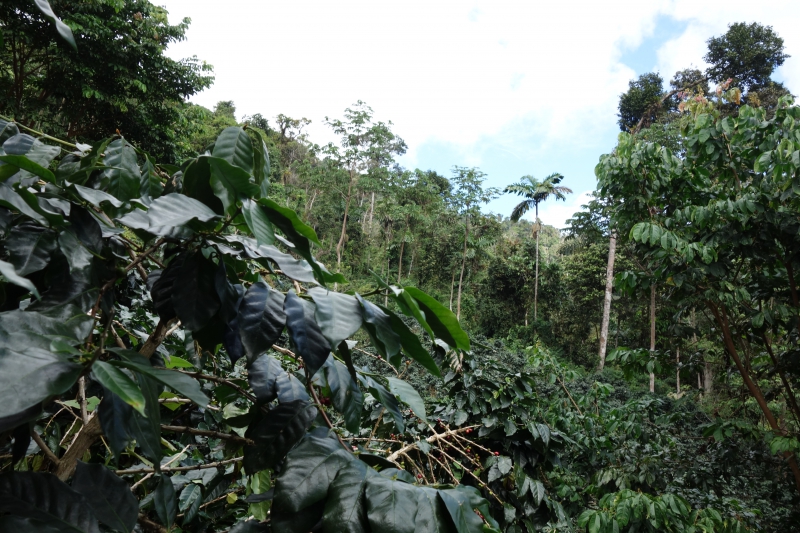 ---
Producing great coffees is one part of the puzzle, but these coffees need to find roasters to coax the incredible flavours from them, that is where green bean importing companies come in. We chatted to Lisanne Oonk, who together with her business partner Theadros Mellink established Cultivar Coffees in Peru with the specific objective to work with small-scale growers.
How did Cultivar come to be?
"Theadros and I met each other working for the same coffee importer, Trabocca in 2012. Theadros has an educational background in value chain development, with a specific focus on working with smallholder farmers. He just came back from the United States where he worked with a coffee roasting company after he won a scholarship (related to entrepreneurship and business ideas). And I just finished my masters in Cultural Anthropology and Non-Western Sociology the year before. I did field research and lived with the Ngäbe-Buglé coffee pickers/workers on a coffee estate in Panama (and studying the migration between the estate and their homelands, the indigenous Comarca Ngäbe-Buglé).
We shared the fascination for the Specialty coffee sector, but what we really loved was to endlessly talk over different coffee origins, smallholder farmers, the decisions they make, and why they make certain decisions. We had plenty of ideas of what we would do when working with farmers, and what we would like to try and learn. Some years passed, I worked elsewhere as an advisor on sustainable economic development, and Theadros gained a lot of experience in sourcing coffees from Ethiopia for Trabocca. But at some point in 2017, I quit my job and decided that the only way to learn how to do things differently is by actually trying and doing, and learning along the way. Enough talking! Theadros advised me a lot while I started, and decided to join the project/business in 2019. Early 2020 he moved to Peru with his wife and children."
You obviously see huge potential with the Peru coffee growers, tell us what attracted you to this region.
"The families that we work with share the potential to produce top qualities and are located in an ideal environment (think of altitude, microclimate, and soil type), but a lot of quality is lost due to lack of knowledge, network, resources and infrastructure, and financial impulses from the market. It is the dysfunctional global coffee market that motivates us to find out how we can do things differently. We don't pretend to have all the answers, nor do we want to make any big claims of impact. With our company we want to learn how to transform coffee supply chains and prove that small-scale farmers can have long-term profitable businesses and become thought leaders and innovators in the sector. Together with our partner farmers we focus on improving coffee quality and innovation (think for example fermentation experiments) but simultaneously we want to find ways so that farmers can scale their quality production and diversify their potential markets (so we do not just focus on micro lots and top notch coffees)."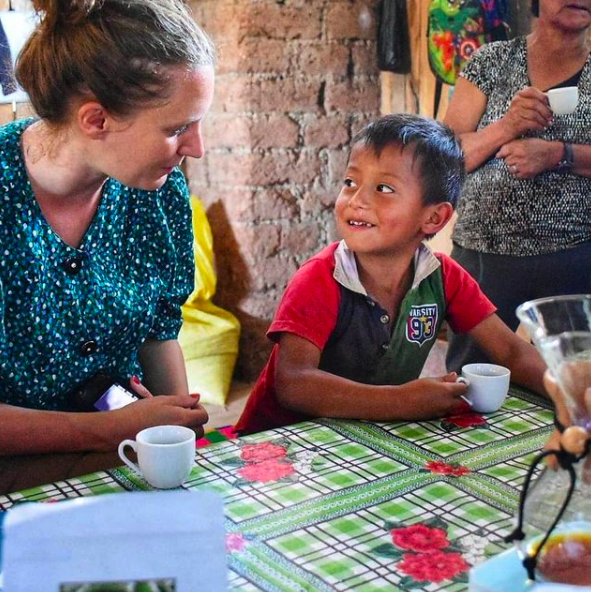 What is the process when engaging with farmers?
"When we start working with a group of farmers, we spend some days on their farms to jointly analyse all the steps in production, processing, storage and transport to get an idea where there is room for improvement. We might know what the (specialty) market demands, but the farmers know best what changes are desirable and realistic from their perspective, so it is important to take time for the dialogue en listen carefully to each other. Seemingly simple steps such as changing coffee picking practices often require a bit of a change in infrastructure on a farm. The same goes for prolonged fermentation and slow drying (all impacting quality in a positive way).
Oftentimes, one thinks of very technical things when it comes to quality improvement, but I think this is just half of the story. Because social relations are so crucial in understanding why people do the things they do. For example, if you want to do a workshop on coffee drying, it is important who in the household is actually involved in this practice (oftentimes it is assumed that the man, as the registered member in an organisation is the one who should attend a training). But it could well be that the women in the household manage the drying. Besides knowing who is doing what, it is important to know what drives each person to do things differently."
How do you see the future of specialty coffee in Peru progressing?
"Well, we are a small company and the number of farmers we are working with is growing fast. So we are working hard to establish a solid team in Peru the coming years, with people who have the same vision and coffee philosophy. Trabocca has helped us tremendously importing the coffees of these groups last year and connecting all of us to like-minded roasters. It is an exciting time and hopefully we can make meaningful change."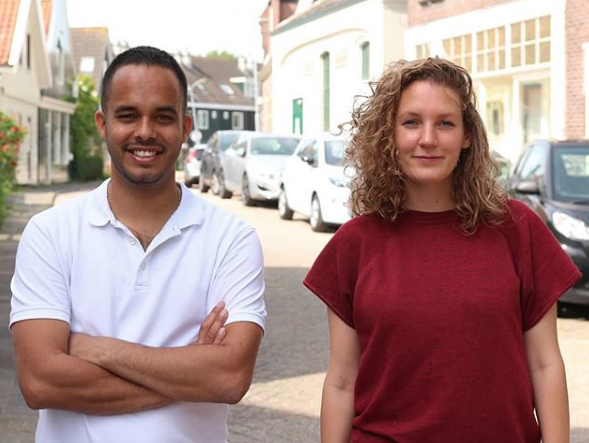 Theadros and Lisanne of Cultivar Coffee, Peru
Got something to say? Then leave a comment!