The Story of a Tanzanian Coffee Farm
Friday, 25 March, 2022
Photographs by Bianca Thielke
Interview with Bente Luther-Medoch
---
While it may in some ways be seen as problematic or form part of a 'white saviour' mentality, we have over the years engaged with a number of expats who are bettering the profile of African coffees and successfully bettering the communities by living at origin, The Carlson family's work with Long Miles Coffee Project in Burundi comes to mind as a great success story.
The challenge with all foreign investment, of which there is much in coffee in Africa, is to follow ethical business models that benefit the local communities rather than pillage the land for next to nothing. The specialty coffee community is at the forefront of that fight; to demand better prices for coffee and make sure that the knowledge of where and from whom your coffee comes is not just words on a label.
Bente Luther-Medoch is one such human who has for the last 20 years dedicated her life to the study of coffee and the of people who make it possible. The foothills of Kilimanjaro provide incredible soil for growing coffee, and as Bente soon discovered, tea. We had the opportunity to pick her brain about the struggles and triumphs of ethically farming coffee in Africa.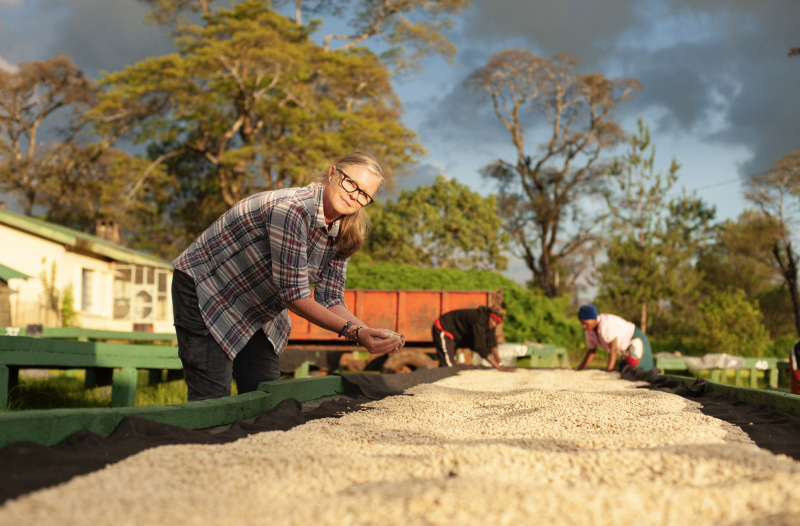 First of all, how did you find yourself on a coffee farm in Tanzania?
"I was originally a pre-school teacher, until I took the leap and opened my own dance and fitness studio in Germany when I was 25. During this time, I met my husband, Ralph. He has always been a coffee trader. As a buyer he had the opportunity to visit the origins and I was lucky enough to travel with him occasionally. What can I say, I got hooked on Africa. I arrived in Tanzania in 1992 and have been here ever since. In 1998 the farms in Kilimanjaro were released by the government for investors. The Machare Coffee Farm is leased land owned by the Government of Tanzania. The annual lease rent is paid directly into the account of the Coop society of the neighbouring villages. I became in charge in 2001. I learnt everything from scratch from a very good friend, a Kenyan, Peter Gethi. After three years we were the first farm UTZ certified in Tanzania and four years later we became the first farm to be Rainforest Alliance certified in 2007 in Africa. Team years later we began to focus on becoming Organic and we are now fully certified. My original job was to check on the accounts, but along the way I became a farmer. You can't look after the money if you don't understand what it's all about. I am the self-training type. I read and can try, then continue to learn by experimenting until I get it right. And we implement that in how the team works, we try until we get it right."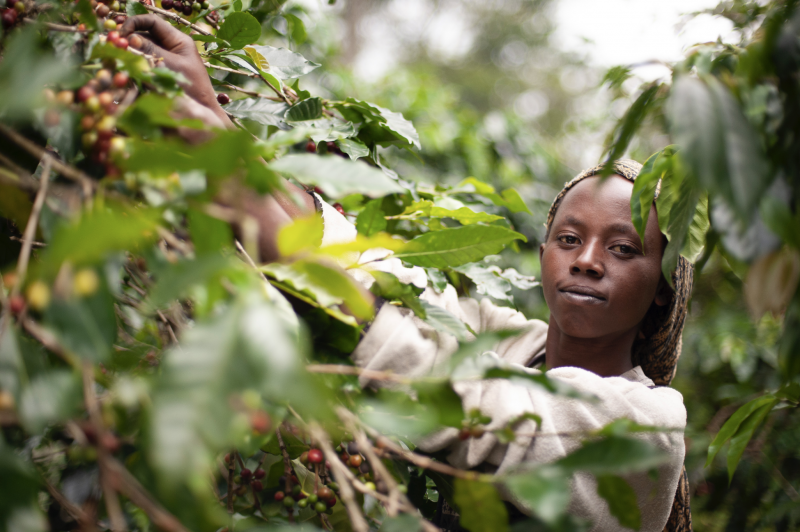 What does sustainability and organic farming actually mean?
"We have been focused on sustainability since 2004 when we made the change to become organic. We were the first certified farm in Tanzania. We live on the farm, most of the expats who own or lease farms don't live on the farms and we saw first hand what impact pesticides and chemicals hand on the land and more importantly, the people. It's poison! In the beginning it was an extremely difficult process to get everything in place to become certified, now the steps and hard work we put in at the start mean being sustainably organic is a natural part of our days here. We have reduced water usage by over 90%, we use biofuel for machinery, preserve the habitat through shade-grown coffee, minimises the use of chemicals and have created a tree project to maintain eco-balance on the famous mountain."
Community engagement and involvement has to be at the top of the agenda, how do you engage with and invest in the Kilimanjaro community?
"I took three years when I first arrived here just to listen and to learn about what was actually needed. Not do what I thought was best as a foreigner and that would be seen as a short term fix. What I learned was that we could help with infrastructure for basics. We have worked on water projects to ensure the communities have access to clean water from a tap. We focused on steps to help halt deforestation through a firewood project. Fire is necessary to cook so we planted stalks for this purpose. We are also in the process of converting to bio-gas units, where the dung of one cow is enough to fuel a households needs.
Everybody around us are also small-holder farmers, they have the knowledge and they are really excellent farmers, but they didn't have access to the market, so we helped them to just get access to suitable buyers so that they form direct trade relationships with roasters from around the world. The farm employs many of the cooperative members throughout the year, and many, many more during the harvest."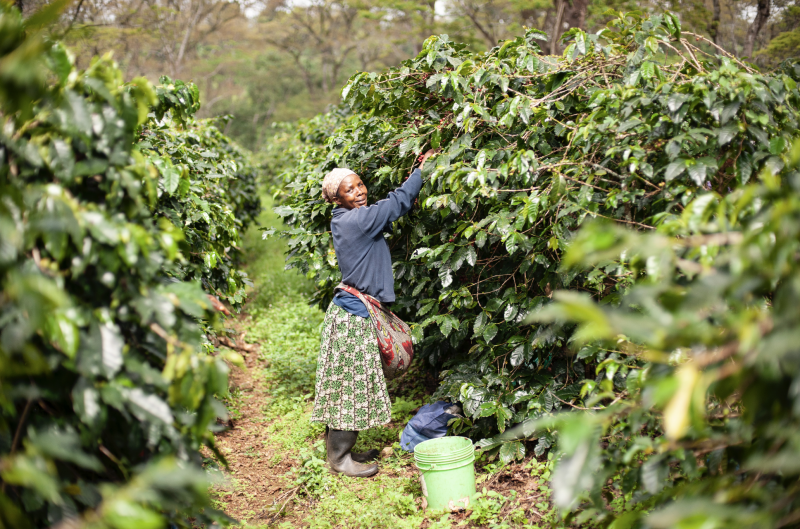 How has international perception of African coffees changed over the last 10 years?
"I believe African coffees have benefited from the trend to move away from blends to the search for unique single origin coffees. The soil and natural resources here mean that we are able to produce some truly unique coffees and they are allowed to shine in this new market that appreciates quality over quantity."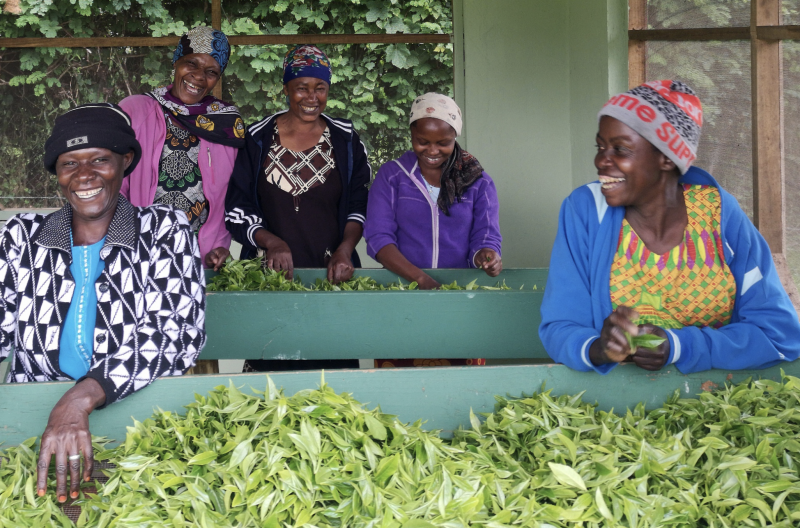 You have recently diversified into tea farming and production, tell us about that journey?
"The tea business is very dear to me and this is how it started. I always wondered why there was no tea grown on Kilimanjaro when it is widely grown all over Tanzania. I was told it does not grow, but I could not accept that and planted a small trial field having no clue how to process tea, which is the most integral part of tea production. Three years later the first leaf was ready to be plucked in 2015. This encouraged me to start studying more on tea processing on the internet. I continued to do trials in my kitchen. My goal was to make real handmade tea that is traditionally processed but leaving the leaf whole, a speciality tea. After three months a friend took samples to Germany. I had made Green tea, Oolong tea, Black tea and Silver Needles and the feedback was very positive which encouraged me to continue. After another year there was more demand and as I was not able to expand my Tea garden on Kilimanjaro quick enough, I began buying leaf from Smallholder Farmers in Usambara Mountain region of Tanzania. Today I have been encouraged to plant more tea on Kilimanjaro by the Regional Commissioner of Kilimanjaro which became a significant milestone. I always feel the need to innovate in new ways, so I am now also making tea from the leaf of coffee trees and from the coffee Flower, as well as from the coffee cherry, which is known as cascara. Tea is interesting to me because we are creating a complete product, unlike coffee where we deliver a raw product to roasters, with tea you need to decide as you are picking which kind of tea you will be making and once processing is complete it is ready to be drunk! Black Tea, Green Tea, Oolong Tea and Silver Needles, all come from the same Bush. It just depends on the processing what the final product will be. Green tea is steamed as it is still very crisp and thereafter immediately rolled and dried, so it does not change its colour. We want it to be still green, when hot water is poured onto it. All other teas will first thing after plucking be allowed to wither (dried out) for 24 hours approx. Thereafter it is being rolled and then fermented. It now depends on the fermentation time what kind of tea you want. Black must be fully fermented until its red like rust (it is also called oxidization). Only the Silver Needles will not be rolled at all. They are the finest tea. The buds are by hand removed from the leaves and after withering it will be immediately dried. Of course, there are many variations of this.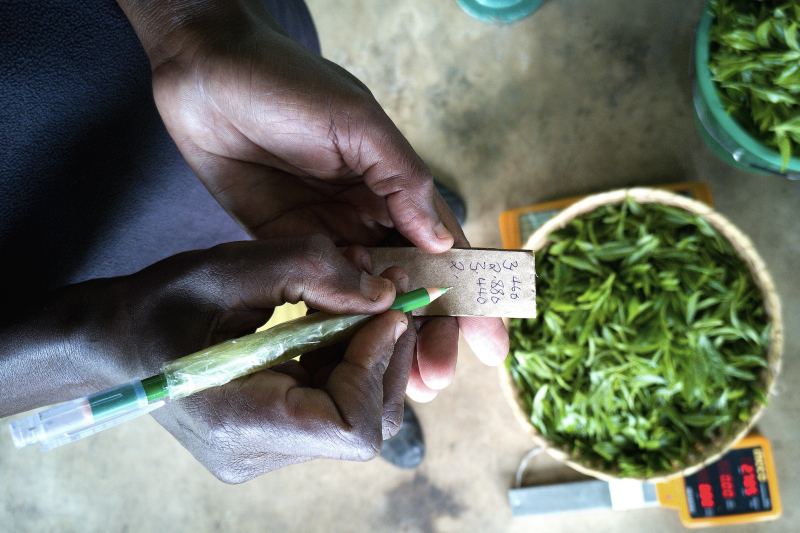 ---
A note from the Photographer, Bianca Thielke
"I was running a Thai Restaurant in Moshi town and this white couple visited the restaurant regularly in the evening. It was an open restaurant with a Makuti roof, when one night we had a lot of wind and guests were rather running away, but they both seemed so undisturbed that I was curious to find out where they were from. Funnily enough, it was the same region I was from, in northern Germany, Schleswig Holstein, where wind and storm is not rare. I found out, Bente was a coffee and tea farmer, and her husband, Ralph was buying coffee for a big German coffee trader/company. They had been in East Africa over 20 years but had just been quietly farming and off the radar for all the other expats around in Moshi, it seemed. Since then we became very good friends. It my privilege to be able to share their story."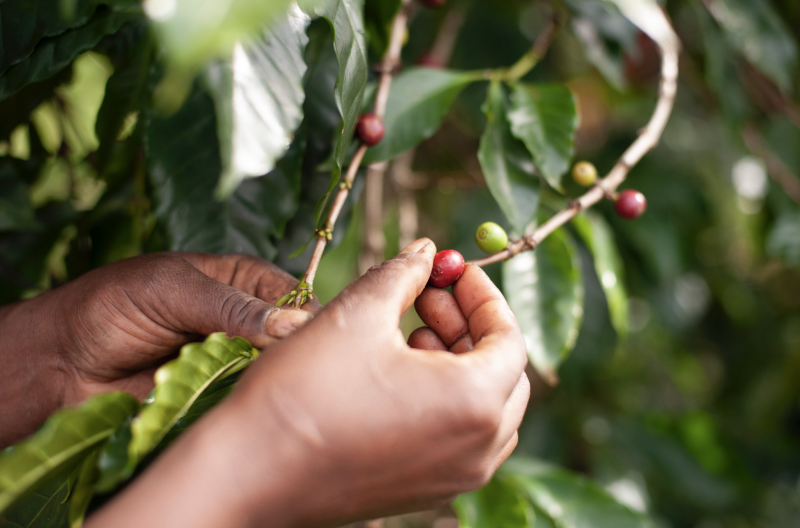 Got something to say? Then leave a comment!
---
Interview + Recipe: Brandon Smith on his 3rd place in World AeroPress Champs 2021
Friday, 25 March, 2022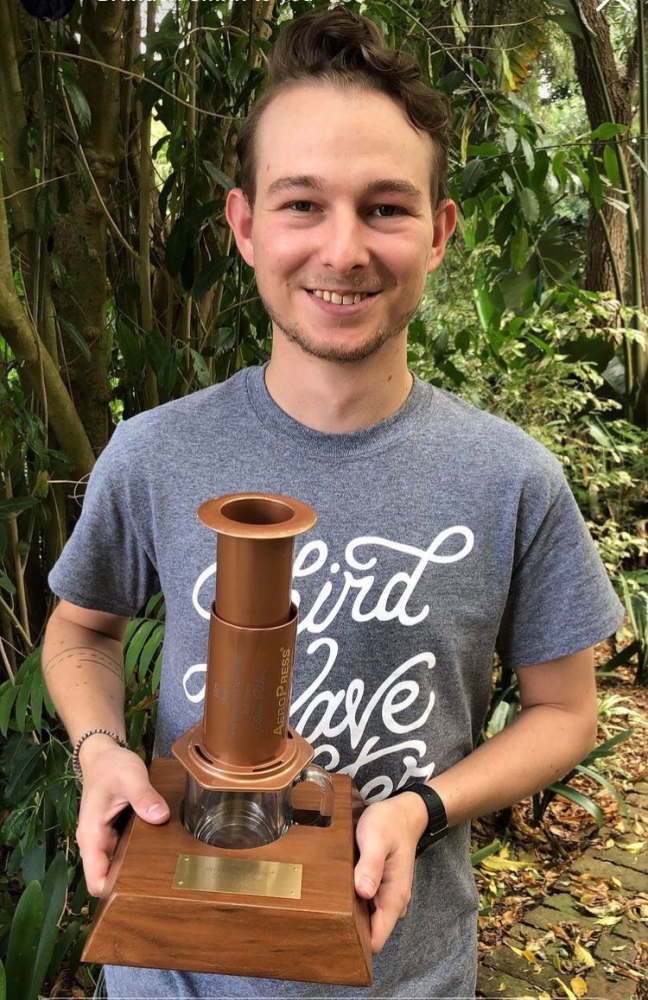 We chatted to Brandon Smith who placed 3rd in the World AeroPress Champs earlier this month! Bringing the bronze back to South Africa!
Congratulations Brandon! He went up against 44 other recipes from around the world and made it all the way to the Final Round! Brandon has only officially been in coffee for about two years, but the bug has bitten hard and competition is definitely on the priority list for Brandon moving forward. You can find him at Millwick's Cafe on the Garden Route and we'll keep you posted as he plans to do a little roadshow with the competition coffee and his recipe!
Thanks to the team from World AeroPress Championships for putting on a great event as always with the help of all their partners! We look forward to the next in-person party! You can view his recipe below if you'd like to try it out and the only two recipes in the world that beat him can be found on the WAC website.
And thank you to the South African Community that made SA AeroPress Champs possible: MoreFlavour, Ultimate Water, Bluebird Coffee Roastery, Red Espresso
Cover 📸 by @_robinne_20
How did it all go down?
The 2021 World AeroPress Championship looked a little bit different than usual. In the first virtual W.A.C., National Champions submitted their recipes and the team of surrogate baristas executed them in Melbourne, Australia at Bureaux Coffee and W.A.C. HQ.

The competition began when the official coffee was roasted and shipped to the AeroPress HQ in Palo Alto California. From there it was packed up alongside our world final kits and shipped off to 45 national champions in three wildcard competition winners in 45 countries. The champions had less than two weeks to come up with the winning recipe using 14 different water formulations, a grind size chart to dial in on the official grinder, two bags of coffee and their trusty plastic brewers.
As the competition day began on March 5th, surrogate brewers began brewing the recipes they had been studying over the last 24 hours. Viewers from all corners of the world tuned in to our Instagram for fast-paced coverage of the preliminary rounds and the beginning of the Quarters marked the kickoff of our official livestream. Over the course of the next 3.5 hours, competitors had their recipes duke it out in head to head battle while they anxiously watched through their screens. Over 6,000 audience members on every continent were present to cheer on their national champions, adding to the intensity of the afternoon.
By 5:30 pm, the 2021 champion had been crowned and the golden AeroPress raised aloft by their surrogate brewer. Tuomas Merikanto, a first time competitor, took the title of 2021 World AeroPress Champion, while Maru Mallee of the Netherlands placed second, followed by Brandon Smith of South Africa taking the third place position.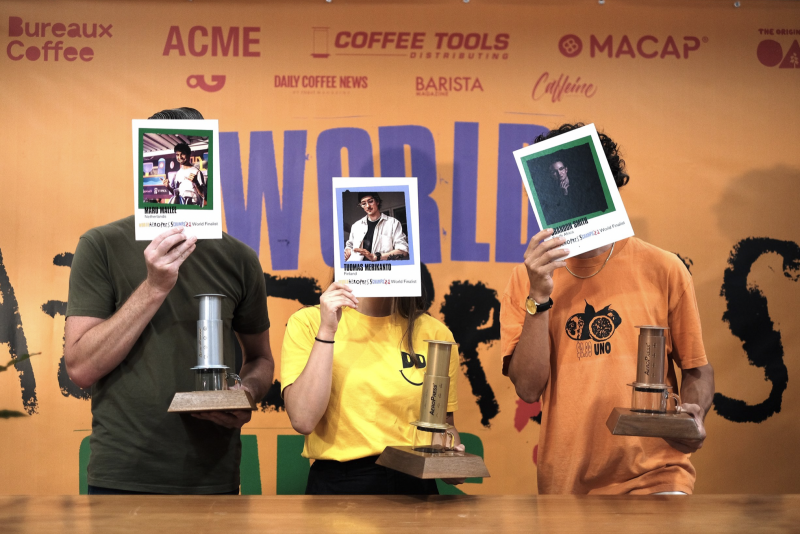 Brandon's Bronze AeroPress Recipe!
Coffee:
Roaster: Bureaux Coffee
Importer: Cafe Imports
Origin: Aldea Poj, Sipacapa, San Marcos, Huehuetenango, Guatemala
Producer: Pablo Bamaca
Variety: Bourbon, Caturra
Process: Washed
Altitude: 2,261 m.a.s.l.â
Set Up:
Brewer Set Up: Inverted
# of Filters: One
Rinsed? Yes, rinse it
Dose: 18.0
Third Wave Water Formula: Formula 4: 50% Classic, 50% Espresso
Grind Setting: 3.3 on the Macap Labo 70D
Water Temp: 88

Method:
1 Add coffee: Add 18g coffee to inverted aeropress
2 Pour water: Start timer and pour 140g water within 10 seconds
3 Stir: Stir back to front gently 5 times
4 Allow to brew: Remove lid from kettle and leave kettle off the base
5 Attach filter cap: Attach Filter cap and press out air
6 Flip brewer: At 1:25 flip brewer and give one gentle swirl
7 Press: Press from 1:30 to 2:00, through the hiss
8 Dilute: Dilute with 80g water from open kettle
9 Swirl to cool: Swirl and let stand for 1 minute (till 3:30)
10 Serve: Serve to judges
Got something to say? Then leave a comment!
---
3 things you can do today on Global Recycling Day - 18th March 2022
Friday, 18 March, 2022
Today, 18th March 2022 is Global Recycling day.
Here are 3 things you can do today, and every day, to be a more conscious coffee consumer:
1. Invest in a couple of travel mugs and flasks for you, your family and your staff at work. The best form of recycling is to reduce and reuse before having to recycle. If coffee is at the heart of your lifestyle - like us - use a flask from some of these amazing brands Miir, Lizzard or Hydroflask. We carry 2 each - one for cold water and one for coffee. The coffee stays hot for hours, doesn't spill, and saves another takeaway cup going into the landfill.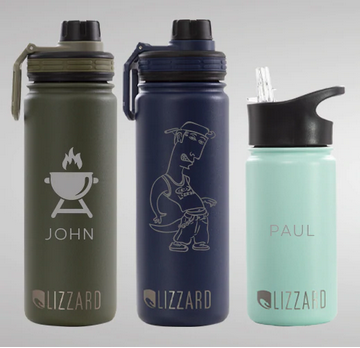 Great idea! Get a customized flask from Lizzard - pick a flask here, choose "Personalize my flask", choose a font, type your name, choose an image - and you're done!


2. If you absolutely have to use a takeaway cup… Educate yourself about the differences in takeaway coffee cups. Did you know that there are many materials that are used in the construction of takeaway coffee cups, lids and cup carriers? Check out this useful link: https://www.dartpac.co.za/sustainability.html
Ask your barista or local café owner about the takeaway cups used in your local café or roastery. Encourage them to switch to fully recyclable, fully, compostable, PLA lined …like cornstarch (not plastic lined) cups, fibre moulded (not plastic) lids and fully recycled cup carriers.
In the near future, we will be able to collect and fully recycle these products - so look out for collection points coming to your neighbourhood soon!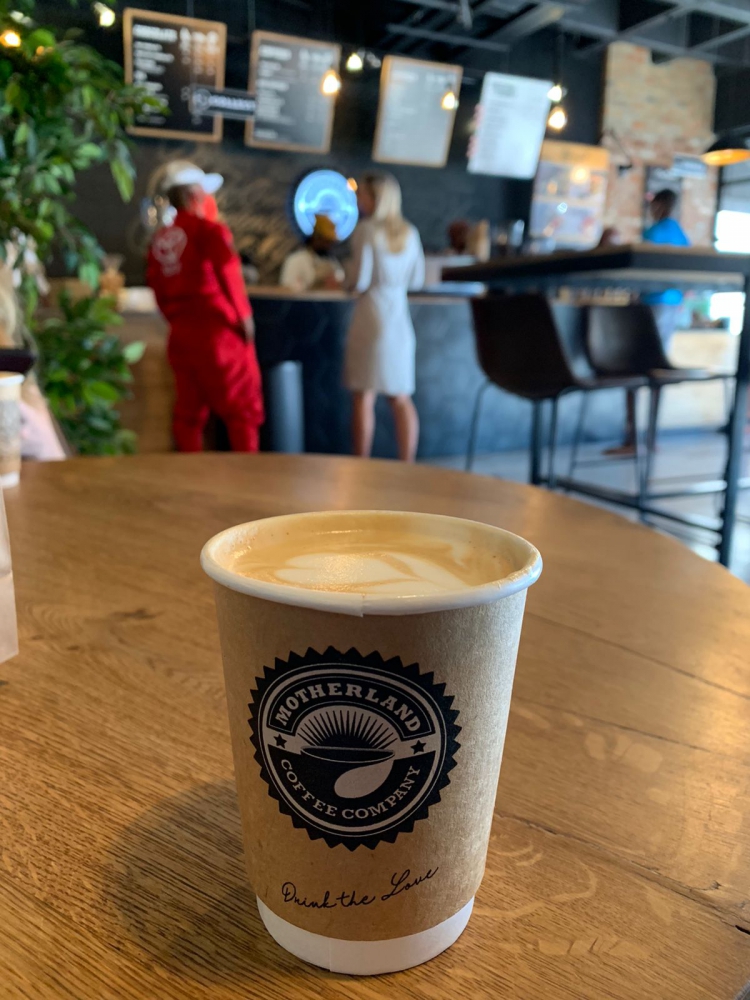 If you have to, then fully recyclable and fully compostable, PLA lined (not plastic) coffee cups like this one, are the way forward!

3. If you happen to use a Nespresso machine for your coffee, follow these steps:
With every Nespresso order you will receive a recycling bag for your used Nespresso capsules.
Empty your used aluminium capsules into a Nespresso recycling bag.
Once the bag is full, hand over your used capsules to a Nespresso courier partner, or drop off your used capsules at your local Nespresso boutique.
The used capsules are sent to Oricol, Nespresso's local recycling partner in South Africa.
At the Oricol recycling facility in Johannesburg, the residual coffee grounds and infinitely recyclable aluminium are separated using a customized packaging separation machine developed by Nespresso in line with its global Ecolaboration standards.
The used coffee grounds are composted into natural fertiliser to provide a solution that uses food waste to serve as nutrient-rich soil food.
The separated aluminium undergoes a further recycling process at a steel smelter. It is then reused to make new aluminium products, like art, through collaborations with local artists, bespoke products like the Nespresso and Vélosophy bicycle, the Nespresso recycled Caran d'Ache Pen and of course the aluminium is used to create more Nespresso capsules
Got something to say? Then leave a comment!
---
Dive Deep: An ocean and coffee adventure
Friday, 18 March, 2022
Words by Melanie Winter
---
"Go now! Go now!"
It's panic stations and a fear of missing out as I pull my flippers on to wet feet and struggle with my pony tail to get my mask and snorkel in position. The others are already off the side of the boat, bailing backwards into the blue. Eventually I find myself submerged and within seconds a dolphin swims underneath me. Close enough to see the flecks of a life well lived on his skin. Of fights won and lost. Of nets escaped. Of playtime with the pack.
I giggle through my snorkel as a few more join him. Digger, our salty sea dog of a skipper, calls out, "You can see they're in a good mood, they want to stick around, watch the front of the boat." He makes circles around us and the dolphins are ready to play, breaching the surface and then diving down. "Dive down with them!" So I take as big a breath as my out-of-shape lungs can muster and I dive. Under the water the dolphins are talking, probably laughing at these weird floating creatures, and they twirl and show their white bellies, which is apparently a good sign! After ten minutes which feel like hours, it's us that have to call an end to the encounter, bodies exhausted, shimmying awkwardly back on to the boat. Ecstatic doesn't even begin to describe it.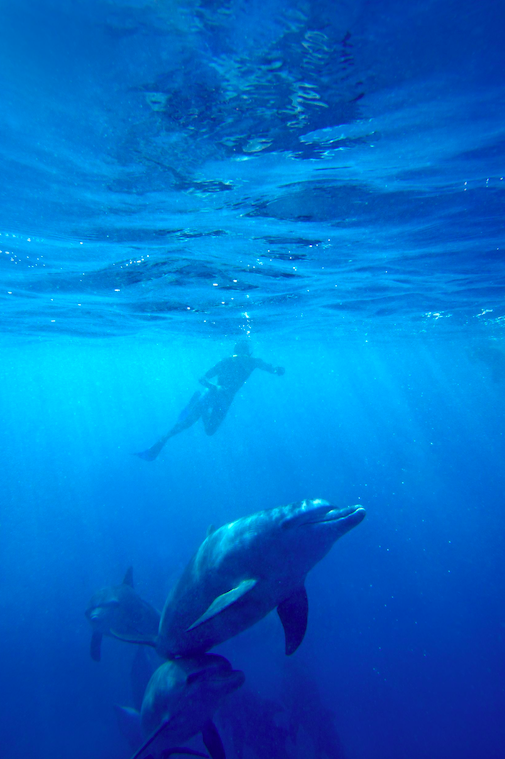 As Digger set the course to a new destination, the crystal clear water splattered up against my cheeks, now sore from smiling. At that point I would've been happy to turn around and go back to shore, dolphins would be swimming around my brain for weeks to come. But the ocean had more, much more. After travelling alongside kilometres of pristine coastline and tall forested sand dunes, we came to a stop over a section of reef called Breaking Waters. How Digger knew we were in the right place, I'll never know. I'm sure he has a system and was keeping track of how far we had travelled, but he makes it look so easy it just seems as though the ocean is speaking to him. Stop here, there's glorious wildlife below, adventurers, come join us!
From the boat you can see that it is clear and visibility is good and that there is a shelf which is what the waves are breaking over, but it's all shades of blue. Then you dive in and the world just explodes into colour. I still cannot believe the colours of those fish and coral reef. Just, insane. Little orange sea goldies with electric purple patches over their eyes. Moorish idols in comic pairs. Enormous neon wrasses cruising through. Fish everywhere, as far as one can see.
On the way back we happened upon a pair of mating loggerhead turtles and casually swam with thousands of snapper, a shoal of glittering fins.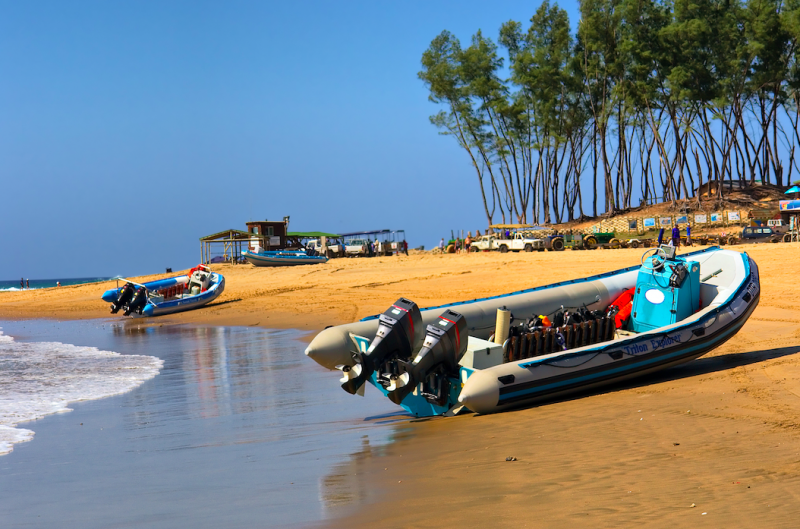 Ironically in-between what must've been the 10 000th time he had explained the secrets of this patch of sea to newbies like me, he was super interested to know everything we could tell him about coffee culture and how to make great coffee. For you see, Digger has a plan.
Sodwana Bay is, for the uninitiated like myself, a pretty strange place. It doesn't seem like much when you arrive. You can't see the ocean from any part of the 'town', due to the aforementioned dunes. You have to enter the Isimangaliso Park to even access the beach. But make no mistake, people travel to this spot from all the over the world for what this stretch of reef has to offer. Pretty much all year round you can find some part of this ocean at the edge of the KwaZulu Natal border and into Mozambique that will provide a worthwhile adventure. The town comprises solely of places that cater for scuba divers and fisherman and accommodation to house them. But you can't get a good cup of coffee from any of these outlets. A cold beer? For sure. Maybe even something stronger. Especially if there's a fishing competition in town! But I was grateful for our travelling coffee kit of handgrinder and Wacaco Nanopresso.
Seeing a pro in action in his element made me appreciate again how important expertise are and how lucky we are to have a growing number of experts in the coffee community. Also that making coffee really is a skill that is hard to do well, especially under pressure. You're only as good as your last cup! And if you don't know what you're doing, you can make really bad coffee.
That evening, back at Digger's forest abode, there sat a second hand two group espresso machine and a grinder. Both a little worse for wear, but fully operational none the less. The diving crew, masters of their art at sea, were entering the swirling waters of coffee - based purely on one of the key tenants of any successful cafe; location, location, location! They've built a kiosk situated on the main road to the beach, one of the last points before you hit the boom to the Park. "We're gonna open at 4am, and sell a coffee to every single fishing crew that drives past," Digger grins as he unveils the plan. It's a good plan. Especially if you add a few drops of whiskey or Amarula! Nudge, nudge, wink, wink. But just as we were wide eyed and trusting of Diggers ocean knowledge, so he looked to us to guide him, and his partner Michelle, through the challenges that block the way to running a successful coffee business.
After a few hours of dialling in the grinder, teaching the basics of dosing, grinding and tamping, the espressos ran thick and beautiful. "How can you tell from just looking at it, that it's a good shot?" Digger asks. "The same way you know exactly where to put the boat on Breaking Waters," I quip back. It's experience and a soft touch that comes with years of practise.
Opening a coffee business often seems romantic, and many people don't see the hard lessons, the blood, sweat and tears shed along the way. I'm sure there's many people who visit Sodwana and think "wow, I'd love to stay here forever!" and don't realise how hard the locals work just to survive in paradise. With passion and energy, Digger and Michelle are set on opening Sodwana's best coffee offering - and probably the earliest opening coffee shop in the land.
Tight lines and straight tamping!
Ed's Note: If you'd like to plan your own ocean adventure visit Amoray Diving (www.amoraydiving.com) or plan a free diving adventure with Ocean Child (www.oceanchild.co.za). We guarantee there will be good coffee when you get there!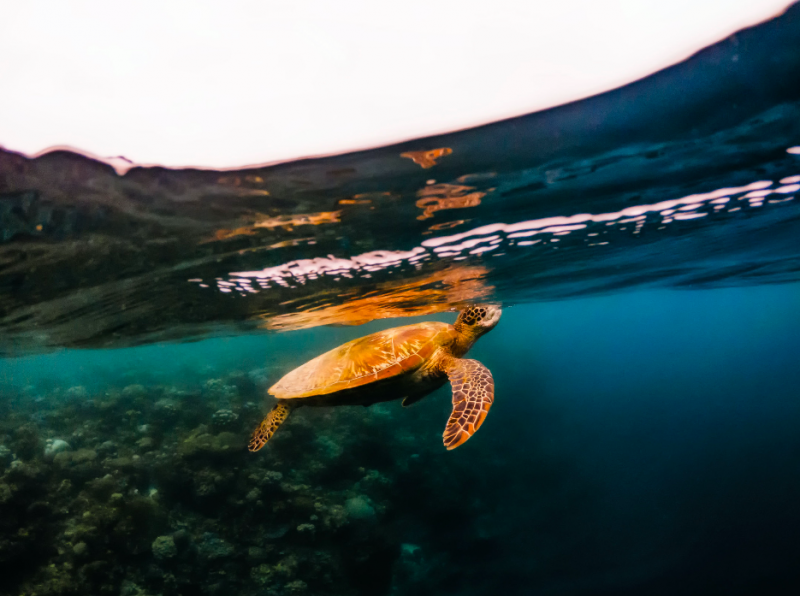 Got something to say? Then leave a comment!
---
Roaster Focus: Introducing Frisky Goat Coffee Roasters
Friday, 18 March, 2022
Everyone who starts in the coffee industry has an interesting backstory, something that nudged them into starting a coffee business. Sometimes it's a lifelong dream, for others a passion project or a side hustle...and sometimes it is just pure necessity!
"Frisky Goat was born during COVID mid 2021, due to our Event Hiring Company, Top Table being unable to operate due to "Gatherings being illegal" for a large majority of the last 2 years" says Sarah Brocklehurst of Frisky Goat. "Being in events and hospitality has helped us so much in opening this coffee venture"
"We decided to venture into something we can't live without, coffee! An industry that could never be banned. We purchased a proudly SA Genio 6kg Roaster (affectionately named Frisky #1!) which is based in Thornton, Cape Town where we also have a café serving wet coffee to the industrial area and neighbouring residents" she tells us.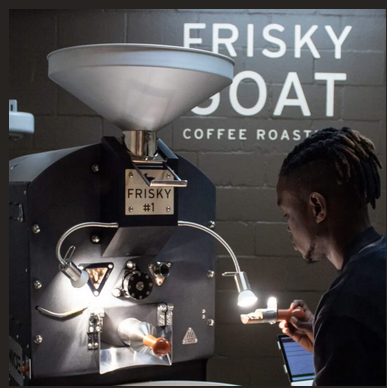 Charlie looks over Frisky #1 during roasting.
Frisky Goat comes from the legend of Khaldi, the goat herder - who's goats digested coffee cherries and enjoyed the caffeine kick! But it also is a cheeky nod to G.O.A.T - the sporting moniker for Greatest Of All Time - "We have aspirations!" says Sarah
Sarah and her team dived right into the coffee scene, and this year they plan to enter SA's premier coffee roasting competition, A Shot in the Dark. "We have no expectations for the competition - we just thought it would be fun and we want to see where it takes us!" says Sarah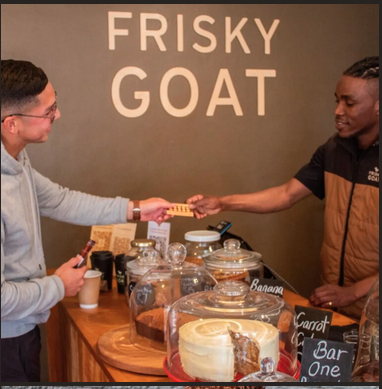 Serving the Thornton community great coffee and café fare!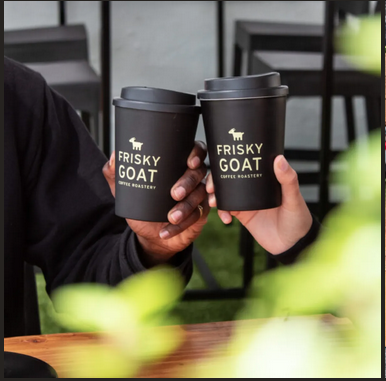 Cheers! To new beginnings and building communities in coffee.
Frisky Goat Medium Roast Blend is being served in several coffee outlets and stocked in a few delis, so look out for it if you're in and around the Thornton area and you can check them out here
Got something to say? Then leave a comment!
---
Toro Coffee Community Day
Friday, 18 March, 2022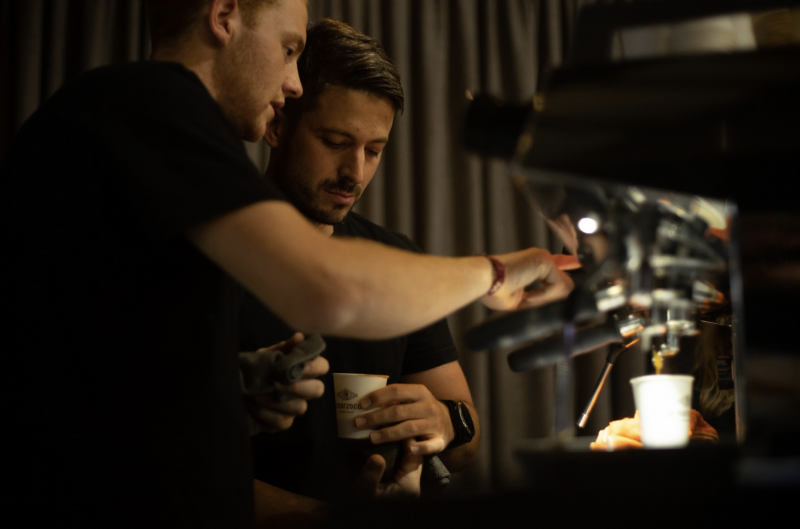 On the 26th of February, Toro hosted the Coffee Community Day in Potchefstroom as part of their coffee week dedicated to coffee training and certification. The air was filled with the smell of high quality coffee and the room was filled with slightly over-caffeinated coffee lovers that came to experience coffee, community and some competition!
The Cup Tasters competition put the competitors' palettes to the test. Contestants sniffed and sipped their way through the coffee, trying to identify the odd one out each time. The Latte Art Throwdown presented by Morrico Imports, gave the baristas a chance to express themselves artistically and pour the judges some of the prettiest latte art Potch has ever seen. The Brewing competition set out to find the best manual brewer in town, using a Hario V60. The Beat the Heat competition (hosted by La Marzocco) pitted barista teams against each other and ended the day of coffee competitions on a proper high.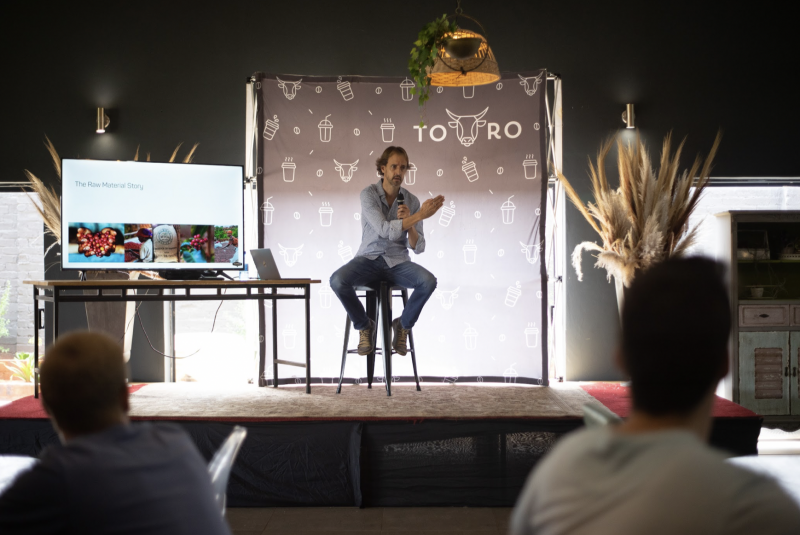 Throughout the day there were talks by experts in the coffee industry. David Walstra talked about sustainability and transparency in green coffee while Stevo Kühn and Chad Goddard provided some insights into building your own coffee brand. Couple all this with live entertainment, delicious food stalls and the tightly-knit coffee community in Potchefstroom and it is easy to see that this was a day that could surely satisfy any coffee-lover's thirst!
Well done Ettienne, Janus and the rest of the Toro team for pulling together a great event!
Got something to say? Then leave a comment!
---
Roaster Focus: Archers Coffee
Friday, 11 March, 2022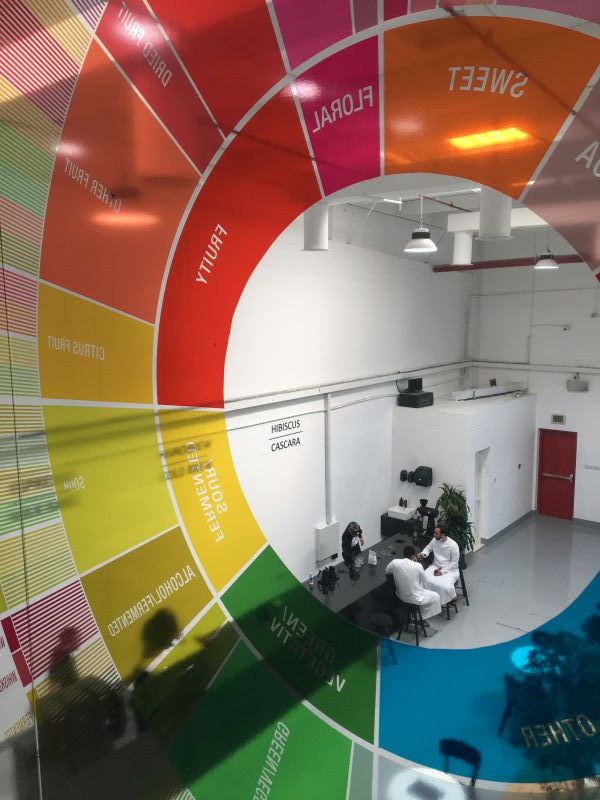 Archers Coffee is a specialty coffee roastery and green beans supplier based in the United Arab Emirates. We were lucky enough to visit Archers on a recent trip to the UAE to launch A Shot in the Dark, and we were so impressed by the Archers that we wanted to share their story, show you their facilities and most of all tap into their passion for amazing specialty coffee, for you to enjoy!
We always say that coffee is about people, and the connection that coffee gives us to people is one of the special attributes of this mysterious beverage - connecting people all over the globe.
On arrival in the UAE we immediately connected with Wilden Pretorius - a coffee professional from Pretoria, that we knew and who has been working in the UAE for a while. Wilden picked us up in Dubai with one of the Co-Founders of Archers, Fred Bejo, and we drove across Emirate state lines to the Emirate of Sharjah about 30 mins drive away.
The Archers facilities are breathtaking. If you are a coffee nerd - Archers is heaven. They specialise is sourcing some of the finest green coffee in the world and Fred has built some very good capacity as Green Coffee buyer for Archers over the years. What started out as a facility for supplying specialty green coffee in the UAE, has grown into a fully fledged Roastery, Training Facility, Brew bar, Retail Centre and a place to just hang out and enjoy some of the best coffee in the world.
Wilden had previously spent time in Rwanda, working with Emmanuel from Baho coffee and so we were thrilled to be able to taste some of the coffee that Emmanuel (Supplied coffee to our A Shot in the Dark competition last year), Wilden and Fred , all had a hand in!
Look out for these guys if you visit AUE and you can also buy their coffee online - they ship worldwide!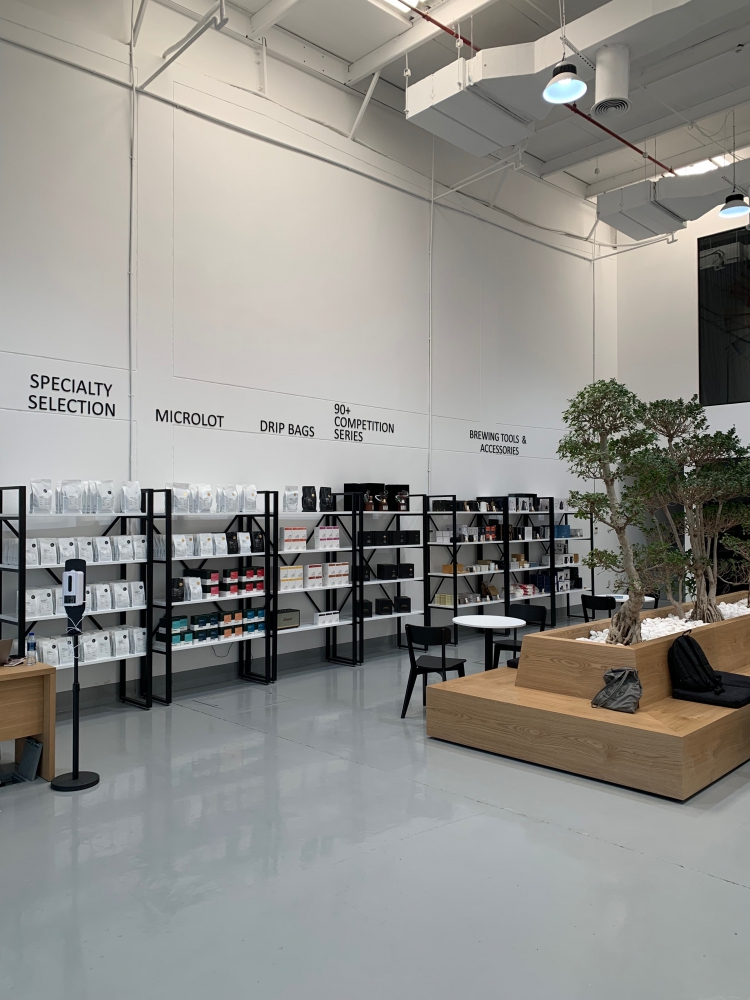 The beautiful space that is Archers Coffee HQ, Sharjah, UAE.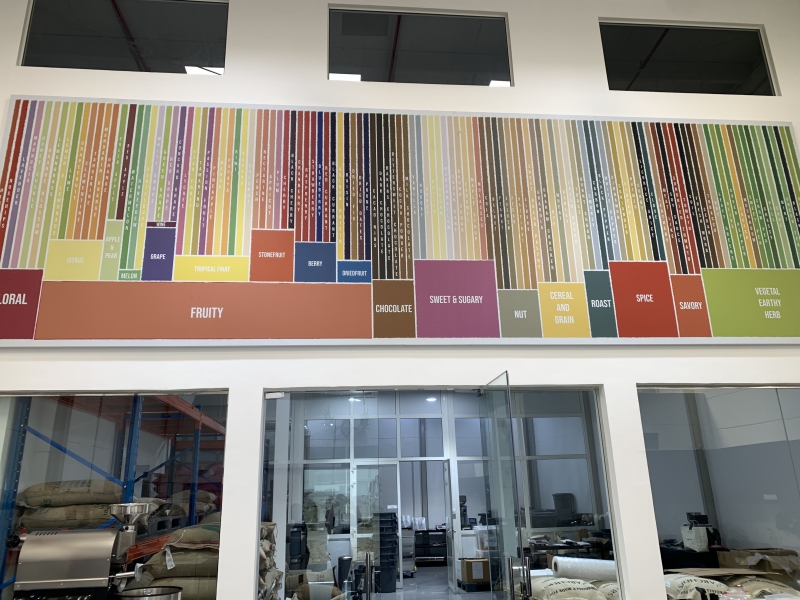 How cool is this interpretation of the Flavour wheel?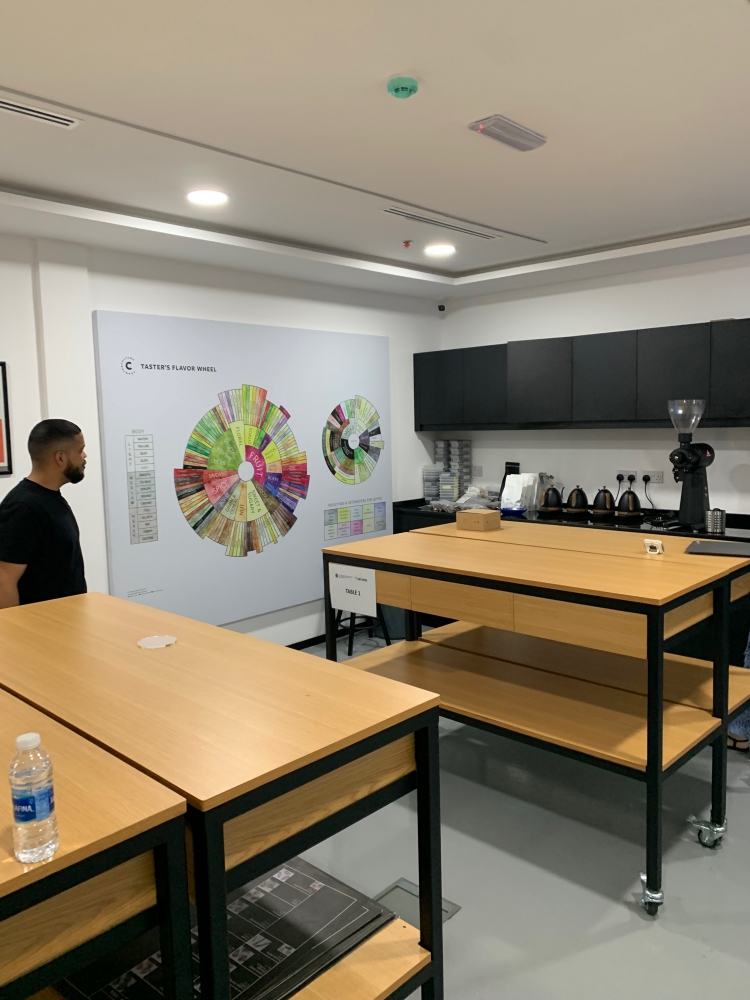 The SCA spec training room!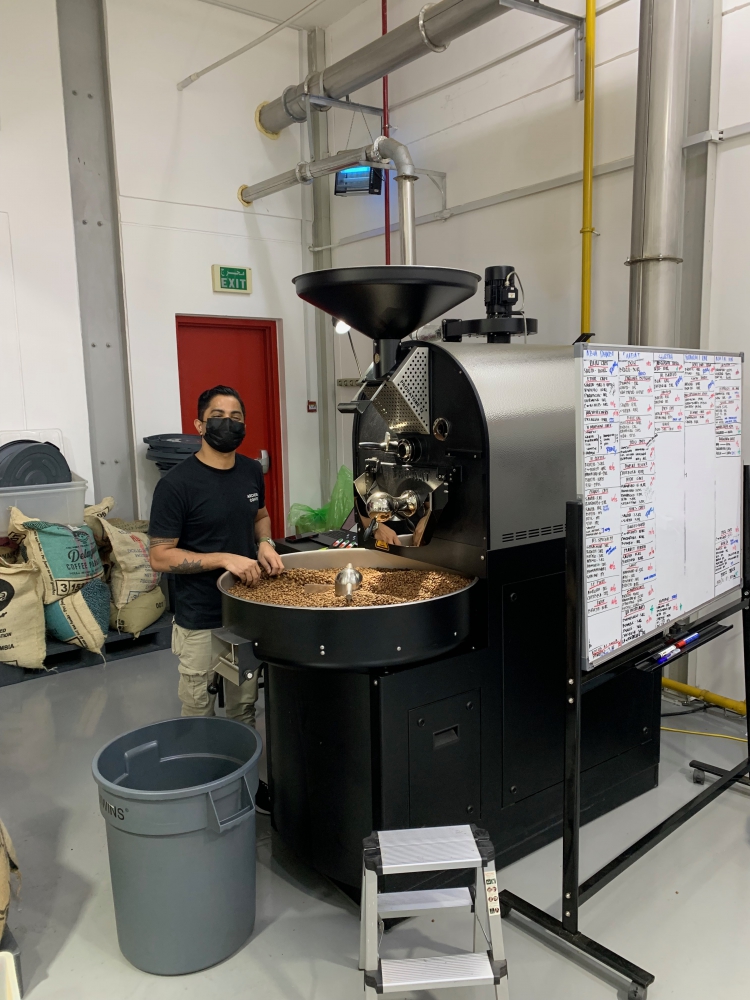 Roasting for days!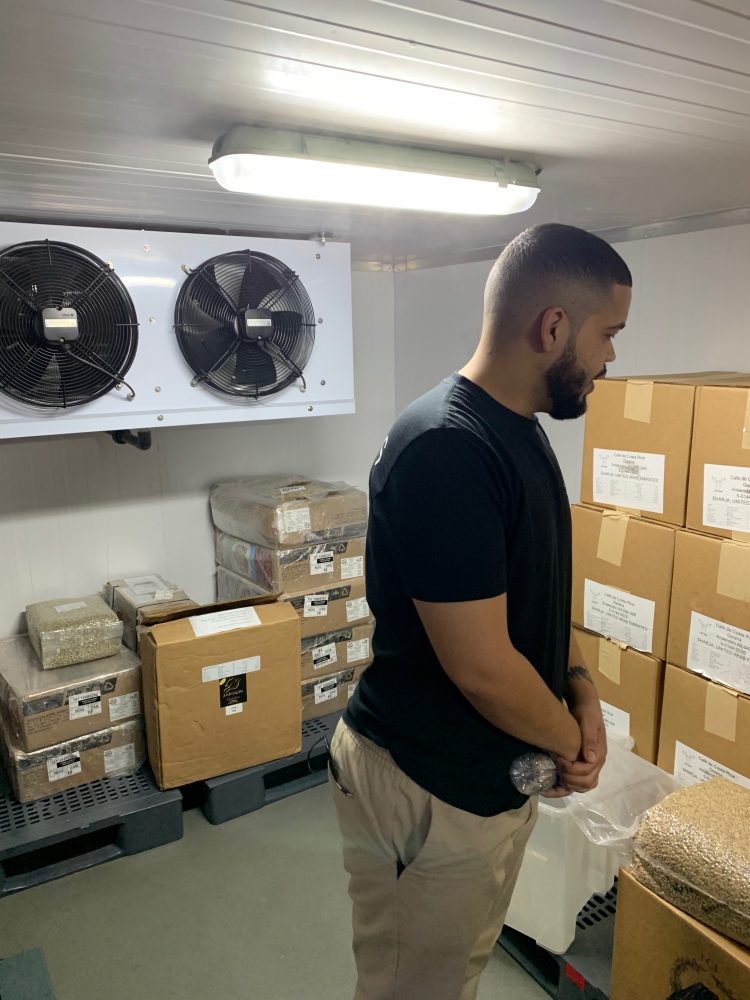 Inside the freezer, the green coffee is stored fresh.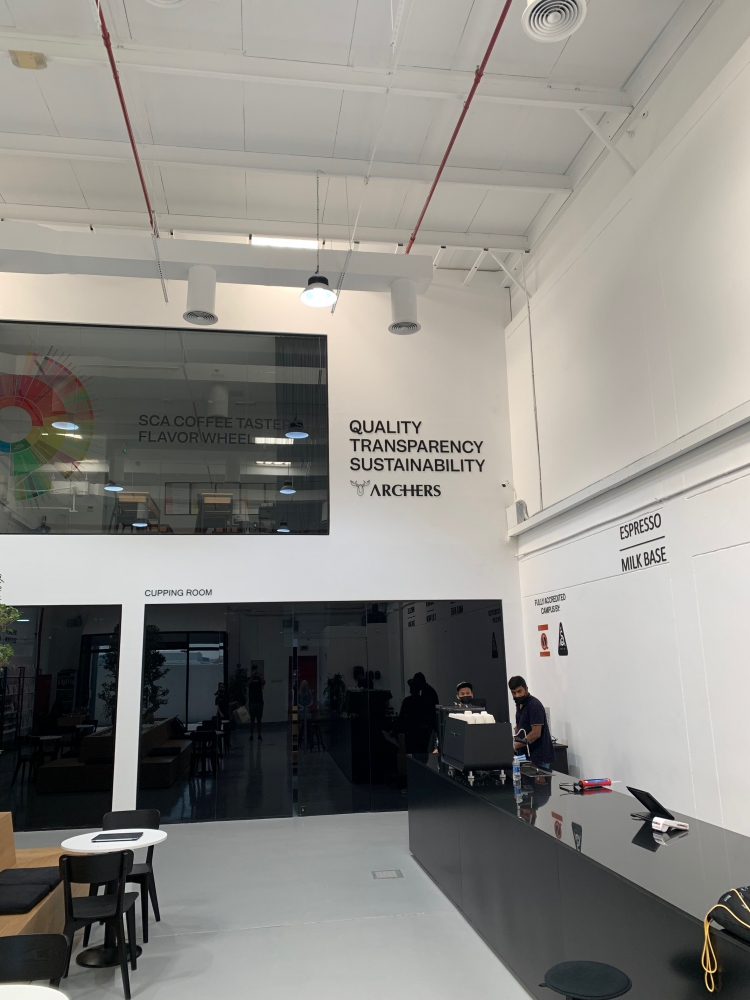 The Archers brew bar. Espresso and milk based on one side...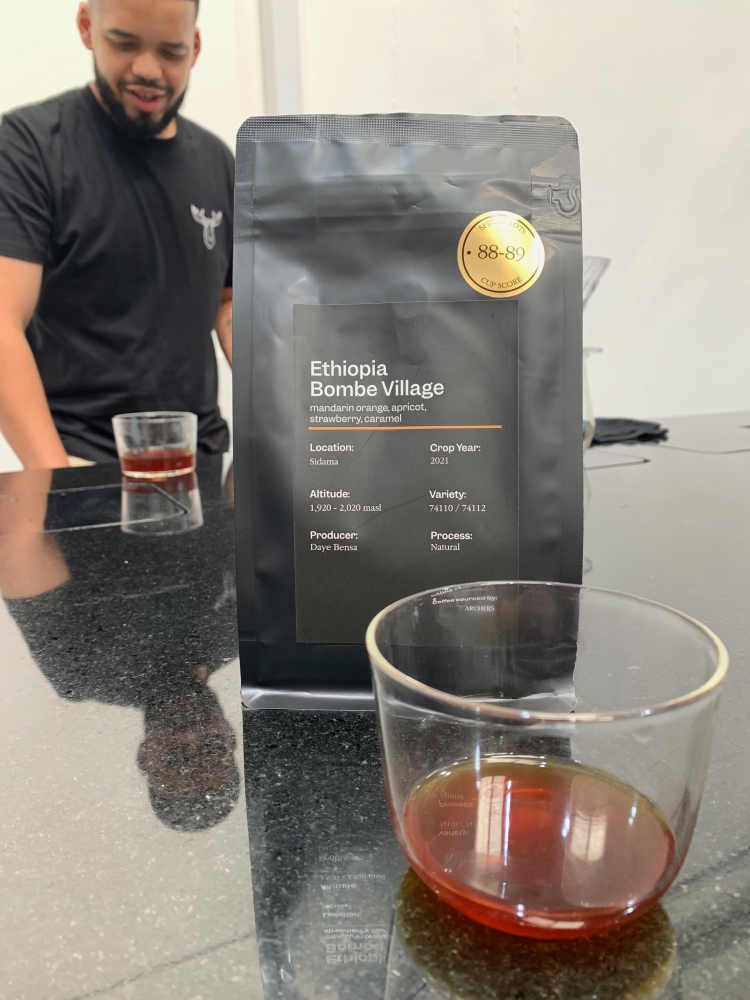 ...pourover on the other.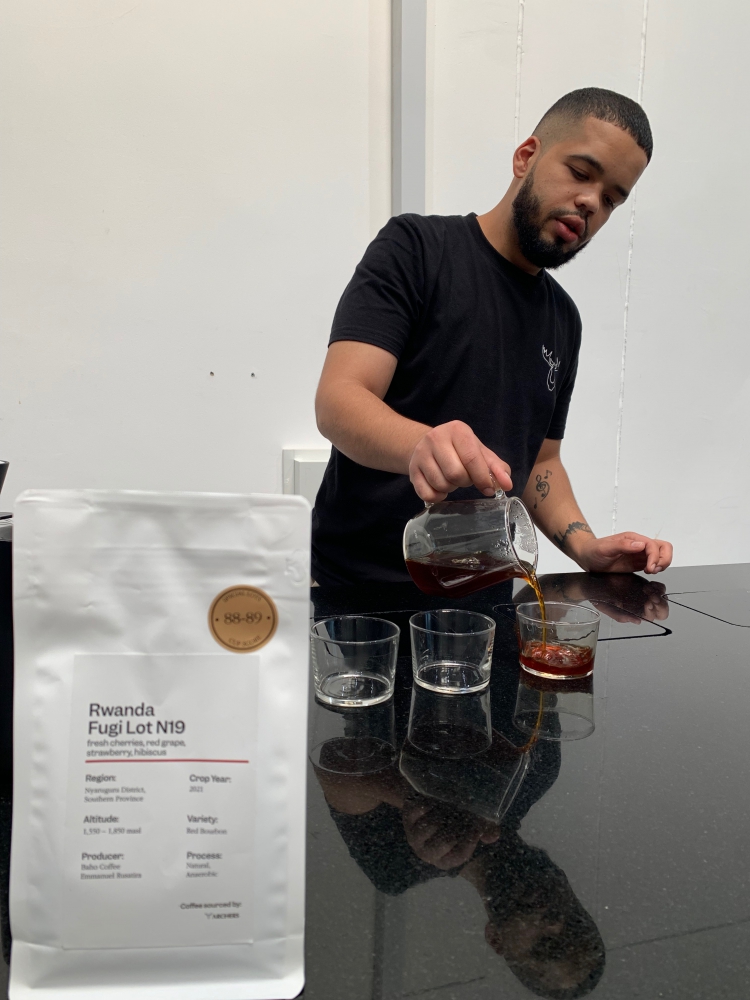 This is Wilden, pouring out some special Rwanda Fugi Lot N19. Delicious!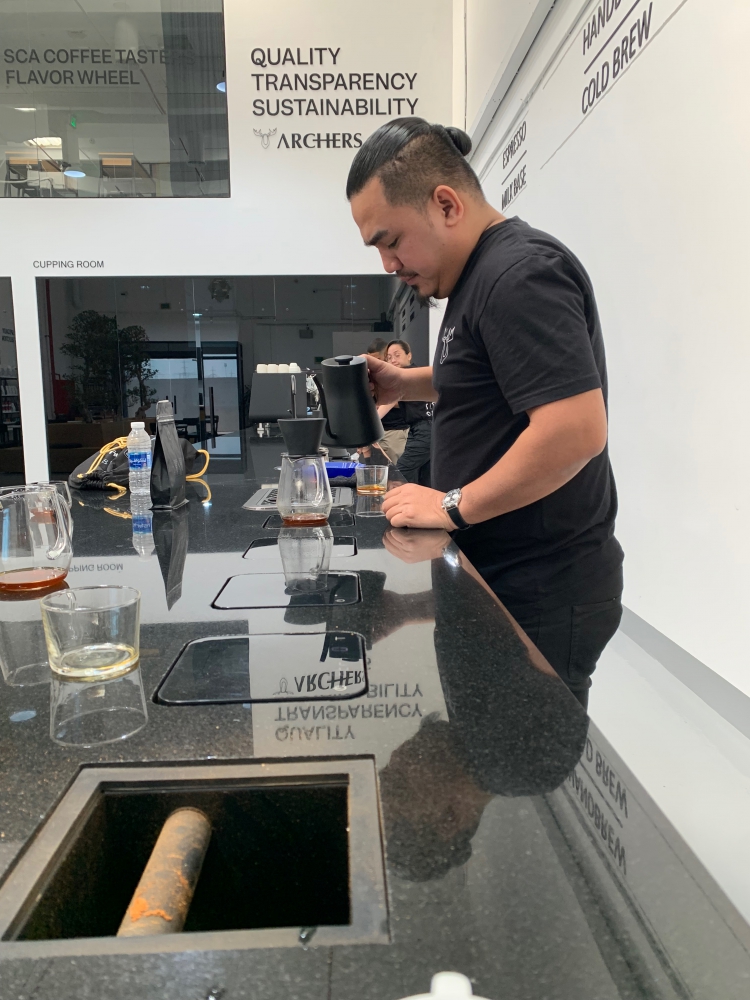 This is Fred. We love your work Fred!!
Got something to say? Then leave a comment!
---
South African coffee growing continues to grow
Friday, 11 March, 2022
On a trip down the South Coast this week on a top secret coffee mission, we were delighted to chat to Dylan Cumming of Beaver Creek Coffee Farm about the changing wisdom around coffee grown in South Africa and the exciting things that are happening in this landscape.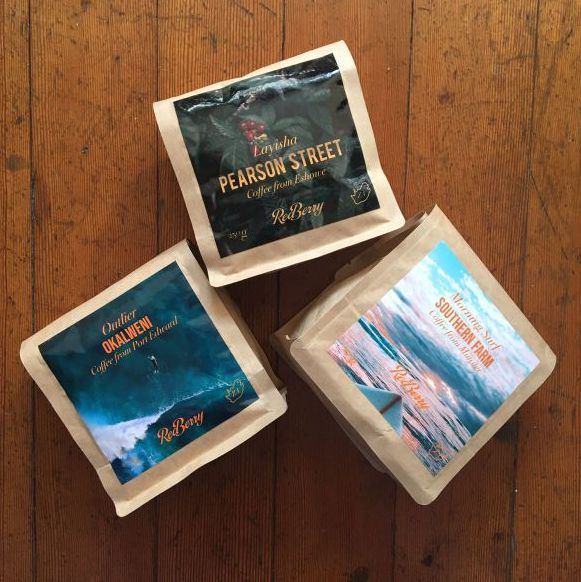 Did you know that farmers are growing coffee in Eshowe? Hillcrest? Munster? In fact there are hundreds of thousands of hectares of land in KwaZulu Natal and the Eastern Cape that are prime locations for growing coffee. In a climate where importing is becoming increasingly expensive and supply is volatile, it seems like a good idea to motivate more farmers in South Africa to start to grow coffee and that's exactly what Dylan and the team have been and are aiming to support over the next decade. We will be keeping you up to date on this story as it unfolds, but if the opportunity to grow coffee has piqued your interest, we know Dylan is ready and waiting to help you facilitate that! They want to collaborate with people to make South African grown coffee a booming industry as it has the potential to be!
We tried Stone Creek, coffee grown in Hillcrest, made expertly by current SA Latte Art Champion, Jeff Stopforth and took home three other South African origins to try! Roasted under their Red Berry label, these microlots are tasting great!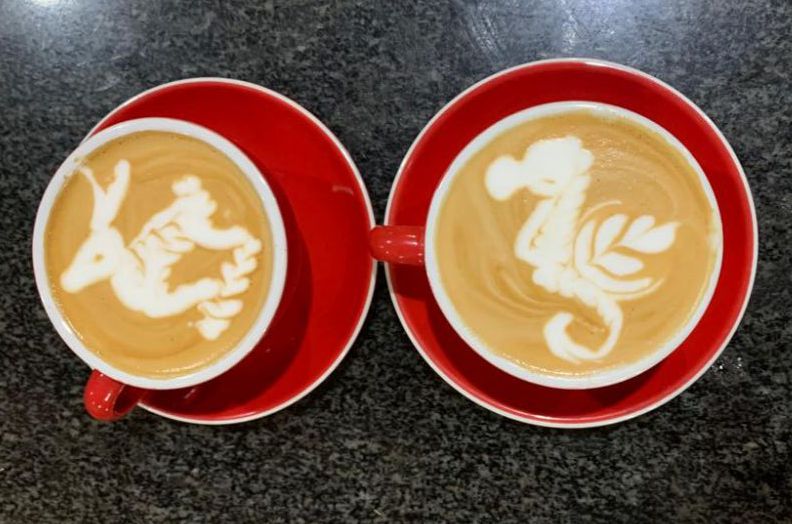 They also have some extremely exciting experiments on the go with international coffee giants and Charles Denison, local coffee expert, with regards to the Racemosa varietal of coffee. Playing around with processing methods and fermentation times, we smelled a racemosa experiment that Dylan accurately described as, "it smells like the colour purple!" Classic!!!
In fact Charles, and hopefully Dylan, will be heading to Boston in April to represent South Africa and this varietal at a global coffee conference, Re:Co Symposium. Very exciting times indeed!!!
Got something to say? Then leave a comment!