The Lowdown on the Starbucks Blonde Roast
Wednesday, 20 March, 2019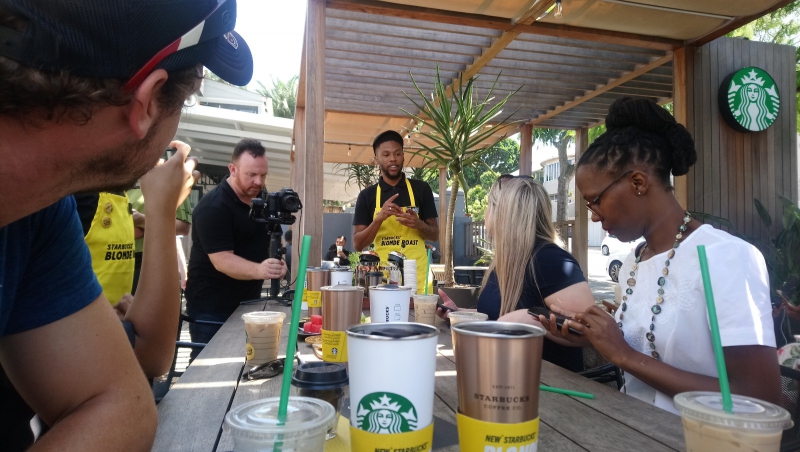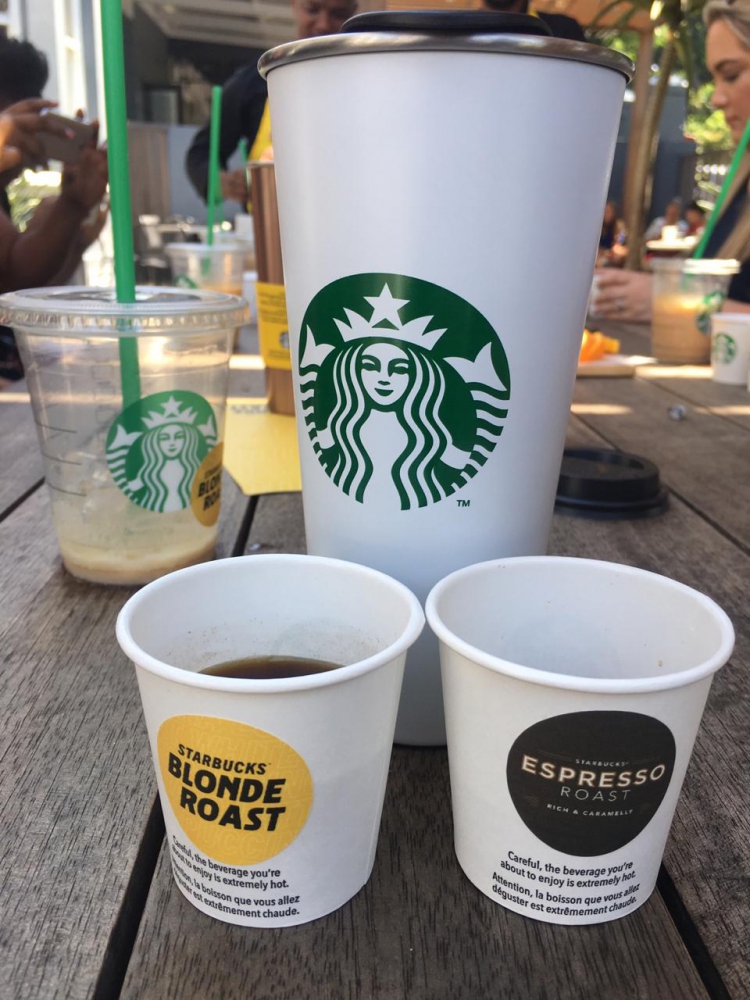 We were invited to a tasting at the Florida Road Starbucks for their recently launched (in SA) Blonde Roast.
It was a typically hot and sweaty Durban day so the iced Latte using the Blonde Roast, simple syrup and milk over ice was a very welcome drink and went down a treat.
Our hosts were Store Manager, Siyanda and Lead Barista, Teddy (pictured below). And what wonderful hosts they were. One thing I've always appreciated at Starbucks around the world is the customer service. And Siyanda and Teddy certainly do that legacy proud.
The reason for the media gathering was to see the difference between their Signature Espresso Roast and the Blonde. I have to say, when I saw the Espresso Roast grinds and beans I was a little taken aback. They are not dark roasted, they are dark roasted. Almost charcoal black. As Teddy explained, a traditional South African dark roast doesn't go quite that far and that's why he thinks the Blonde is going to be such a hit with SA drinkers.
The team brewed the coffees with plungers and we were able to taste the two side by side. The plunger is the wrong brew method for the Espresso Roast. As the name suggests it was designed for Starbucks signature beverages like their frappés and to pair with their range of syrups. The Blonde roast was pleasant in the plunger and would be a good alternative to try if you're looking for standard coffee drinks without any trimmings ie a good ol cappuccino.
The best part of the experience was seeing the other journalists experience a coffee tasting for maybe the first time and for them to learn new things about how to brew coffee. It was great to see everyone having fun with flavours!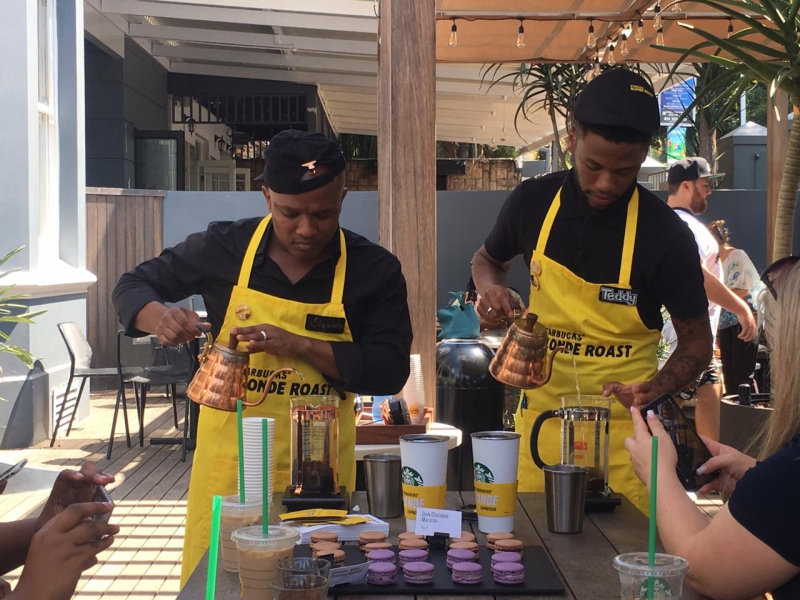 PRESS RELEASE:
STARBUCKS SENSATIONAL NEW BLONDE ESPRESSO ROAST –
AN INTERNATIONAL HIT – MAKES ITS DEBUT IN SOUTH AFRICA
Starbucks has announced that it will be serving the new international taste sensation Blonde Espresso Roast at all its South African stores from today, bringing customers an entirely new way to experience their coffee.
Blonde Espresso Roast has been added to the permanent menu, alongside enduring favourite, the Signature dark Espresso Roast. This is the first time the company has introduced a new core espresso option in more than 40 years.
Created by Starbucks master blenders and roasters – with more than 45 years of roasting experience – the new Blonde Espresso Roast has a smooth body that's balanced with citrusy notes. Clive Liversage – Managing Executive for Starbucks South Africa says the new coffee "is smooth and subtly sweet - perfect for those looking for something a little smoother, with no compromise on flavour".
The unique new Blonde blend brings together beans from Latin America (giving a round, smooth body), and East Africa, (bringing out flavours of lemon, orange and caramel); all roasted to the peak of their flavour.
Launched in 8,000 locations in the United States early last year, Starbucks Blonde blend has been an instant hit, and where the option of choosing between Blonde and Dark espresso roasts (as the basis for further hand-crafted choices - Starbucks Caffe Latte, Cappuccino, Flat White, Macchiato and Americano beverages) has become wildly popular.
Now you can experience it too. Just remember - from now on your first choice at Starbucks is "Dark" or "Blonde".
Footnote.
Starbucks is proud to have reached the milestone of 99% certified ethically sourced coffee through its Coffee and Farmer Equity (C.A.F.E) Practices, developed with Conservation International. C.A.F.E. Practices is a set of sustainability standards, which are designed to help farmers grow coffee in a way that's better for both people and the planet. Over one million coffee farmers on four continents have benefitted from the programme. Starbucks is also a founding member of the Sustainable Coffee Challenge with Conservation International, with an ambition to make coffee the first sustainable agricultural commodity in the world.
Got something to say? Then leave a comment!
---
Loadshedding got you down? Here are some cafes that have got you covered when the power is down.
Wednesday, 20 March, 2019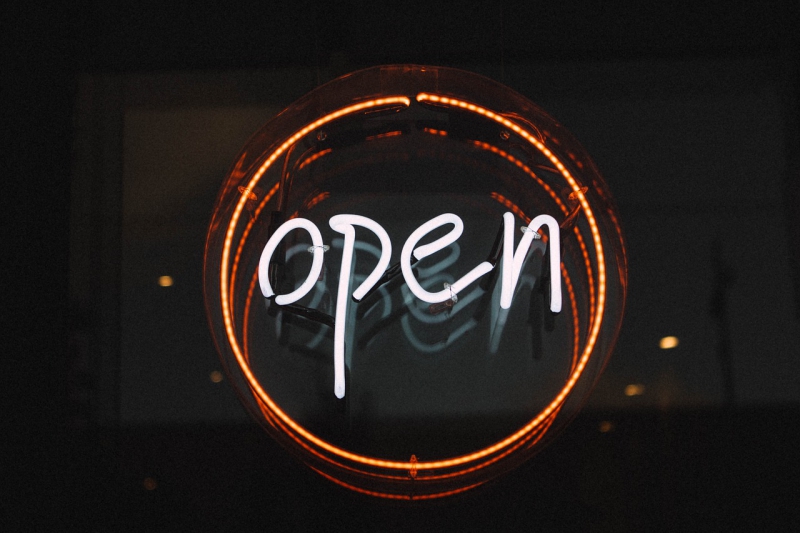 If your home isn't hooked up with a gas stove and a stovetop kettle, the recent uptick in load shedding blackouts is sure to be interfering with your daily caffeine fix. Never fear, we've got a list of coffee shops and cafés that are standing by when the lights go out. The country may be running low on energy, but you sure won't be…
EASTERN CAPE
Café au Lait Coffee Shop
Visit: Shop G24, 6th Avenue Shopping Centre, corner of 6th Avenue + Heugh Road, Walmer, Port Elizabeth
Call: 041 581 0360
"We are open during load shedding everyday. Pop in anytime for a lovely cup of coffee and something delicious to eat "
Heritage Cafe
Visit: 25 Constitution Hill, Port Elizabeth
Call: 078 683 5274
"Stage 3? Stage 4? No matter. WE ARE OPEN! Pop in for some coffee and lunch!"
GAUTENG
C'est La Vie Coffee Shop
Visit: 211 End Avenue, Clubview, Centurion
Call: 012 654 0220
"Loadshedding can't knock our lights out! While the traffic lights may be down, and dinner may consist of a lot more takeaways, you'll still be able to enjoy C'est La Vie as always. Our trusty generator keeps our lights on, so we'll be open, even when everything else isn't."
CupoCafé Coffee Bar
Visit: C/o Zambesi & Enkeldoorn Avenue, Kolonnade Retail Park, Pretoria
Call: 081 416 3196
"We have these special inventions to keep us caffeinated during the current change of our ever so comfortable lives to loadshedding hour. We are open and brewing without power & limited menu options. Please be patient as this takes longer that the incredible espresso machine."
Strictly Come Coffee
Visit: Riversquare Mall, Nile Drive, Three Rivers
Call: 079 255 5418
"Reminder!!! We are open during loadshedding!! No power no problem!!"
Thirdspace
Visit: 2 Valley View Shopping, Campbell Road, Fourways
Call: 083 696 3003
"We've just got set up with a generator so we're operational during all stages of loadshedding"
Craft Coffee
Visit: Craft Coffee is in Parktown North on 15 on 7th Street
Call: 011 492 0501
"Great coffee and amazing cafe style food available all day!!!"
KWAZULU-NATAL
Savior Cafe
Visit: 203 Bulwer Road, Glenwood
Call: 063 225 5711
"Stage 3 Implemented... Jenny our genny is working hard to keep your Cappuccinos & Flat White's flowing..."
The Treatery at Yard 41
Visit: Yard 41, 2 Shafton Road, Howick
Call: 033 330 2594
"Did you know... we are open 7 days a week.... even during loadshedding. We will keep you caffeined up with our special loadshedding filter coffee, delicious cakes… breakfasts and lunch options."
The Waterberry Coffee Shoppe
Visit: C/o Dolphin Crescent & Leonora Drive, Ballitoville
Call: 032 946 2797
"Load shedding.... No problem at Waterberry! See you all there"
African Roots Coffee
Visit: A25 Pearl Walk, Lagoon Drive, Umhlanga
Contact: 087 941 4591
"African Roots Coffee Shop is on uninterrupted backup generator during load shedding!"
WESTERN CAPE
Bootlegger Coffee Company
Visit: 2nd Floor, Point Mall, 76 Regent Road, Sea Point | Shop G05, 325 Main Road, Kenilworth | Unit 001, The Harrington, 50 Harrington Street, Cape Town
Call: 021 433 2599
"Bootlegger Point Mall, Bootlegger Kenilworth and Bootlegger Harrington are all fully operational"
Brewtiful Espresso Bar and Café
Visit: Waterway Street, Gordons Bay
Call: 072 301 6191
"We have no load shedding. Come join us."
Coco Safar Café
Visit: Artem Centre, 277 Main Road, Sea Point
Call: 021 433 1336
"Load Shedding does not mean you have to be left in the dark, hungry or without coffee… At Coco Safar, we remain open and continue serving Batch Filter and Coffee and Rooibos Siphons, croissants and avocado toast too!"
Weskus Coffee
Visit: 6 St Croix Close, Langebaan
Call: 0716834971
"Also up when you down. Serving up some great African single origin coffees."

The Daily Coffee Café
Visit: Stellenbosch Square, 5 Webersvallei Road, Stellenbosch
Call: 021 880 0097
"We are operational during electricity outages and offer all our usual coffee and related beverages! Our special Loadshedding Menu highlights available meals but preparation may take slightly longer than usual due to backup power limitations. Please be assured that our dedicated kitchen staff are doing their best in challenging circumstances. Thank you for your patience and understanding!"
Rosetta Roastery
Visit: 66 Albert Road, Woodstock, Cape Town
Call: 021 447 4099
We are happy to let you know that we are open and fully operational during load shedding at both our roastery in @woodstockexchange and at our bar in the @theyardcapetown .
The Green Shed Coffee Roastery
Visit: Leila's Lane, Wilderness
Call: 044 333 0207
"African Coffee made with love .Open and ready to serve you Coffee in loadshedding time…"
Free State
Bloemfontein Coffee Roasting Co.
Visit: Shop 7-9 The Towers, Langenhovenpark.
Call: 0514460959
"Always ready to serve coffee!"
Nationwide
Seattle Coffee Company has a list of loadshedding-friendly cafes here.
- - - - -
Are there more coffee shops and cafés to add to this list? Please let us know!
Got something to say? Then leave a comment!
---
Call for Musicians for Cape Town Coffee Festival
Wednesday, 20 March, 2019
Cape Town Coffee Festival news:
The
Live Music Stage
registrations are now open! If you are a solo singer or music group who writes and performs your own songs, you could get a gig at the Festival! The
Live Music Stage
is run in partnership with the
Coffee Music Project.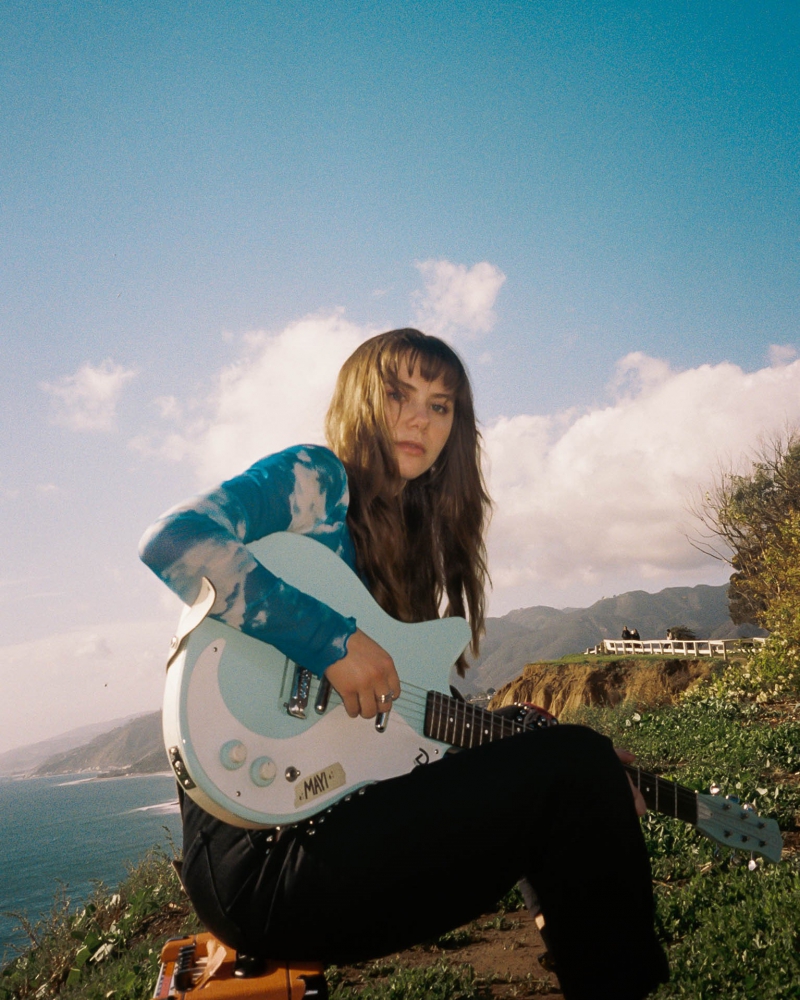 Madeline May: Coffee Music Project Los Angeles 2018.
CTCF are looking for talented and creative local artists, bands and solo singers from across all music genres to perform on the Live Music Stage at the Cape Town Coffee Festival. The songs need to be radio and family friendly (no explicit language please!). Cover bands will not be accepted. Original, self-made artists who write their own songs and deliver performances that set the stage on fire are what the Organisers are after.
All you need to do is apply online by submitting a YouTube video performance.
The deadline for applying is 31 March 2019 but the sooner you apply the better, as CTCF will be selecting artists on a rolling basis.
CTCF wants to showcase the best of local artists, bands and solo singers from across all music genres.
Why should performers take part? The festival will give musicians a chance to share their music with a vast audience, and engage in a deep spirit of community among those who share a passion for great music and coffee culture.
Previous artists featured at the Coffee Music Project:
Daisy Chute : Coffee Music Project London 2018.
Madeline May: Coffee Music Project Los Angeles 2018.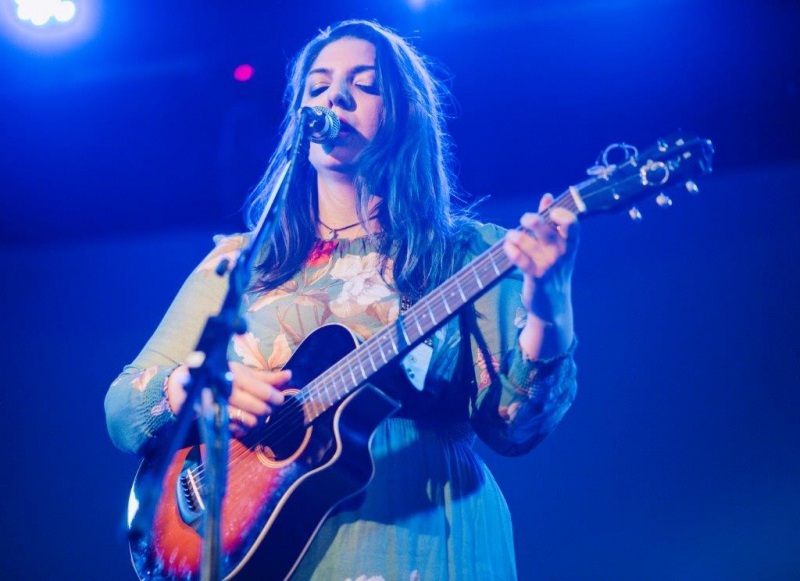 Daisy Chute - London 2018
Got something to say? Then leave a comment!
---
WATCH: Trailer for Baristas Movie
Wednesday, 20 March, 2019
If you've ever wondered what the 'World Stage' we always reference look like, this gives you a good taste. The World Barista Championship 2019 is a little over 2 weeks away in Boston and our own Harry Mole is headed to compete! We know he must be feeling all kinds of nerves, but we also know that he's got this!
This is the second film from this director revolving around coffee competitions. The first was focused on the US National Competition and the build up to becoming US Champ. This takes it one step further and follows four National Champions on their journey to that big World Stage. The trailer is pretty cool! Check it out below:
Four passionate National Barista Champions from different parts of the globe struggle to prove themselves as they represent their country and their craft, competing to win the World Barista Championship in Seoul, South Korea.
Got something to say? Then leave a comment!
---
A Shot in the Dark: The Coffee!
Wednesday, 20 March, 2019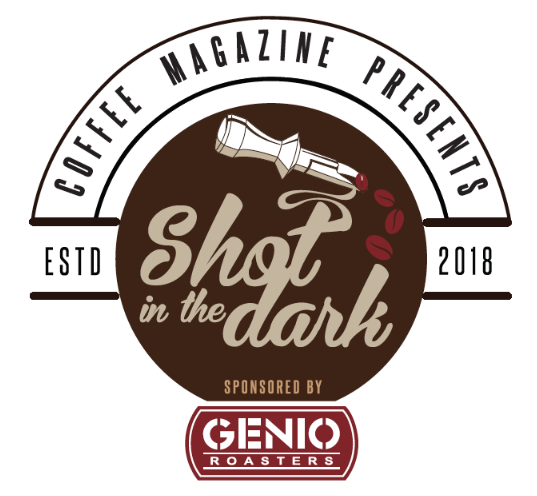 All competing A Shot in the Dark Roasters have received their coffee and are ready to play! The definition of 'specialty' coffee is if it scores 80+ points based on Q grading score sheets (though it is a term often under debate). It was non-negotiable to us that the coffee for this competition should be specialty. The Tanzania Coffee selected from our partners Sevenoaks Trading scores 83,5. We are so excited to see what our Roasters can do with this coffee! Just read the flavour descriptor below and you can see why are mouths are already watering.
---

The Mondul Coffee Estate is situated on the slopes of Mount Monduli. This unique location provides the perfect conditions for the cultivation of the highest quality Arabica beans. The estates altitude is between 1,600-1,800 meters above sea level and the volcanic soils and good availability of water make this location ideal for coffee production. The estate takes quality very seriously and the farm has some of the most modern coffee processing machines in Tanzania. The estate has its own cupping lab and Q grader where samples are cupped daily throughout the harvest period to ensure that the coffee produced is of the finest quality.
Mondul estate has a company policy of embracing the traditional methods whilst adopting modern practices. Mondul Coffee Estates are one of the few coffee farms where every permanent member of staff lives on site. Nearly all of the estates workers are from the Masaai tribe who have been living amongst the foothills of Mount Monduli for centuries. During the harvesting period of July-November there are over 250 employees picking and processing the ripe cherries. Once the parchment has dried to the sufficient moisture the coffee is taken to the local dry mill in Moshi for curing and grading. After this process, the coffee is then transported by truck to Dar Es Salaam port ready to be exported.
Estate
Mondul
Size
511 hectares
Production
200+ metric tons
Nearest Town
Arusha
Region
Northern
Altitude range
1,600 to 1,800 above sea level
Varietals
Blue Mountain, Bourbon, N39, KP423
Processing
Fully Washed
Harvest months
July - November
Cup Profile
S52582– Crop Year 2018 – Sweet full chocolaty aroma. Medium citric (orange) acidity with with medium to bold body. Complex flavours of chocolate, berries, cherries, citrus and tea leaving a lingering creamy after-taste.
Got something to say? Then leave a comment!
---
A Shot in the Dark: The Preliminary Round begins!
Wednesday, 13 March, 2019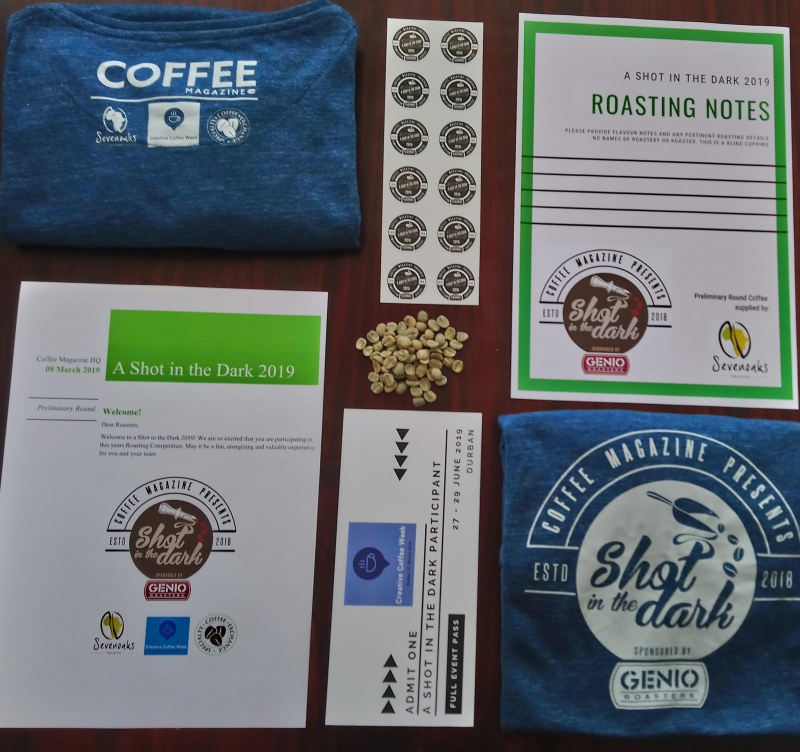 Entries for the 2019 version of A Shot in the Dark sponsored by Genio Roasters closed on 1 March and we were just blown away by the response from roasters around the country.
In total we have 44 Roasteries competing! 44!
Wow, we're so stoked and so happy to kick off this competition. The Preliminary Round coffee supplied by Sevenoaks Trading has been sent and is currently in transit on the way to the roasters across the country.
Each participating Roaster receives a ticket to Creative Coffee Week 2019 where the Final Round of A Shot in the Dark will take place with the incredible Trish Rothgeb in attendance. Who will make it into the Top 10, it's one of the roasteries listed below. Good luck!!!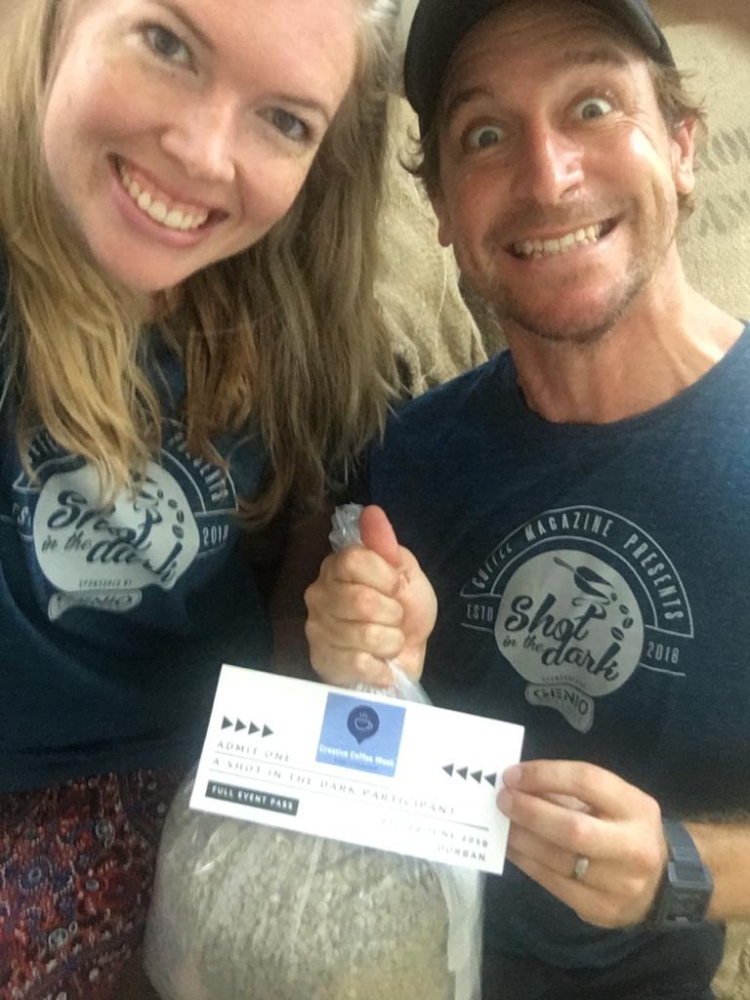 Infood Coffee Roastery
Beethoven Coffee Co
Tribe Coffee Roasting
Villamar
Home Roaster! (Our only home roaster, Ivan! Well done for entering)
SA Coffee Roastery Co
Humble Roasting Co
Truth Coffee Roasting - Defending Champion!
BlueBird Coffee Roastery
Jayess Roasters
Wings Coffee Roasters
Diggers Gold Coffee
Lineage Coffee
Red Truck Coffee Roastery
Carl's Coffee
Thirdwave Coffee
Science of Coffee
Colombo Coffee
Boontjie Coffee
Earthen
Bean Green Coffee Roastery
The Black Sheep Coffee Company
Bottomless Blessings Coffee Roastery
Cabin Coffee (Pty) Ltd
Arbor Coffee Roasting co
He Brews Coffee Roastery
Terbodore Coffee Roasters
Caloroso Roaster & Eatery
Bruder Coffee Roastery
Brothers Coffee
Manna Roastery
Stereo Café
Rich Coffee
Primo Coffee Roasters Zimbabwe
Highland Coffee Roastery
Mikro Coffee Co
Routed Roasters
Quaffee
AfricaBlack Coffee Roastery
Rosetta Roastery
Tall Pete Coffee Co
Pause Coffee Roastery
Genio Roasters (Neil is entering to test his skills, but he's not eligible to compete)
Got something to say? Then leave a comment!
---
INDUSTRY: Meet the new SCASA Chairperson
Tuesday, 12 March, 2019
Meet Bernard Muneri, SCASA's new chairperson. A person with an absolute passion for coffee and the industry; an always forward thinking individual who would like to see South Africa's specialty scene grow and reach new dimensions.


Bernard Muneri (SCASA's new chairman) with Harry Mole, SA's 2019 Barista Champion

How did you end up working in the coffee industry?
It was a prerequisite for all TriBeCa Regional Managers over a decade ago. Before you become a Regional Manager for Woolworths Cafes, TriBeCa required one to be a Certified Barista. Ironically, l was certified by Ishan Natalie back in the days. The rest is history and so much learnt and still learning more about Speciality Coffee at the highest level.

What excites you about the coffee industry?
The industry is always evolving. Back in the day when we competed for example, it was more about performance focus than actual coffee flavours and sourcing the right beans. Nowadays, the focus is getting the best beans and doing justice to them on stage including achieving the best via better roasting techniques.

Has South Africa's coffee industry grown? Are we on par with the rest of the world?
Very much so. Through SCASA Barista competitions every year, we have seen baristas taking part and thereafter opening their own café/roastery. Nothing makes me more happier than seeing baristas develop into entrepreneurs in their own way. There is room for improvement compared to the rest of the world, but through yearly participation of our National Champions, WCE Judges Training headed by Teija Lublinkhof and also learning from the rest of the world's trends, we will get there. Work in progress.
SCASA Board of Directors from Right to Left: Bernard Muneri, Alessandro Morrico, George Bertolis, Lani Snyman (outgoing chairperson), George Karatzas, Neil Maree and Chris Rootman.

As a SCASA Board of Directors (BoD) member, what you like to see more of in the future (in the industry)?
Would be pleased to see more competitors entering to upskill their knowledge, more sponsors supporting our non-profit organisation and even government assistance where possible in getting teams to go to "Worlds" and learn more. Those who did not win this time should keep grinding. If l'm not mistaken Harry Mole our current SA champion competed for plus minus five years until he won, so never give up.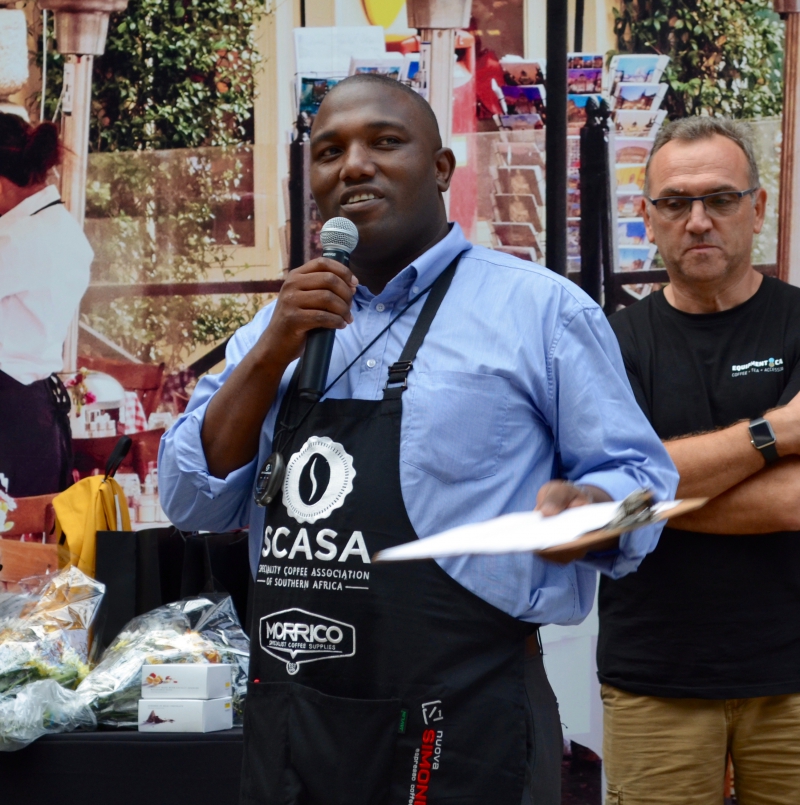 What skills in your opinion should a barista or coffee professional have to be considered good?
To me "Your attitude determines your altitude" in this coffee game.

What can coffee shops do to create more awareness for specialty coffee
Getting more affiliated with SCASA facilitated events and training programs. In this way, the sky is the limit as it's the right platform to understand speciality coffee in my opinion and learn from one another.

Any memorable SCASA coffee event moments you would like to share with us?
I think the 2010 Nationals in Gauteng. l coached the then South African Barista Champion Travis Scott and he won on his second attempt. We then went on to represent SA in Colombia at the World Barista Championship. Life changing experience. The rest of the events ever since then have always been memorable in their own way as the standard still rises with every competition.

What is currently your favourite coffee, how are you brewing it, and why?
Favourite coffee brewing in my house currently is Burundi Long Miles, mind blowing explosion of flavours. Roasted just to first crack. It's like a "money-in-the-bank" espresso. Enjoy it as a Cortado even better as the ratios are on point.

What's your advice or motivation to current and/or aspiring coffee professionals out there?
I was once a Barista Trainer, moved to competitions and grew and now l'm part of SCASA BoD, being chairman is a cherry on top. So everyone who works hard and put in unconditional passion for the coffee industry will be recognised and rewarded accordingly. If you love what you do, then you will never work a day in your life. The passion drives you.
Got something to say? Then leave a comment!
---
Coffee 'n Clothes
Monday, 11 March, 2019
How about a little fun for your Friday?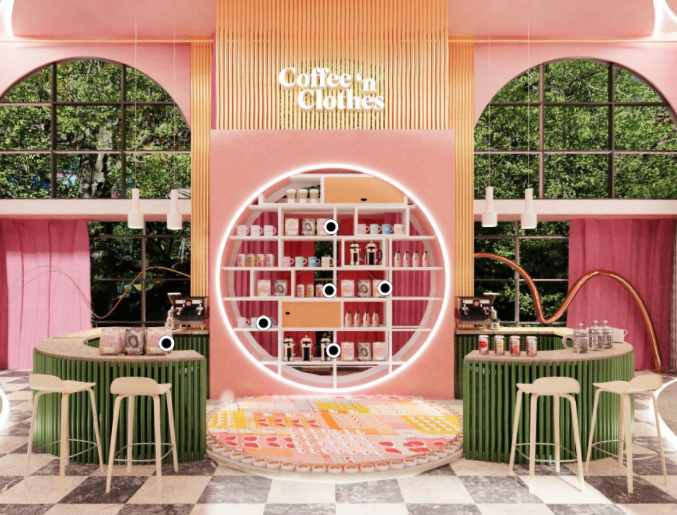 Coffee 'n Clothes launched in 2014 as an Instagram account and side-hustle, with a simple picture of founder, Ryan Glick's, coffee and clothes. The hashtag #coffeenclothes took off, and today the Instagram account has more than 307,000 followers, united by their great taste in coffee and clothes. What started as a combination of fashion and coffee has grown into a global community of content creators curating daily inspiration from fashionable coffee drinkers around the world.
From an Instagram account to a rapidly growing digital media, coffee brand and commerce company, Coffee 'n Clothes is all about making coffee sharable and stylish. Working with fashion and lifestyle brands, the company "creates unique content and authentic experiences for an audience of fashionable coffee drinkers".
Designer lattes
They've worked with some big names, like Marc Jacobs, Supreme, Nike, Vans and more, doing everything from event production, running social media campaigns, hosting in-store pop-up events, and now, designer lattes. This latest offering is proving popular at pop-up store events, with Coffee 'n Clothes serving up designer lattes featuring fashion brand logos in as the latte foam art. According to Glick, Coffee 'n Clothes' mission is to "make coffee this fashionable accessory in an innovative and creative way".
Coffee 'n Clothes recently launched its website, which has both editorial content and an online store which provides a panoramic virtual tour of the shop and its products. Some of the merchandise on offer are Upruit Sparkling cold brews, Coffee 'n Clothes' own branded beans (how amazing does Chocolate Hazelnut Pear sound), coffee mugs, Bodum's Chambord French Press, and much more.
If coffee is your favourite accessory, be sure to check out the Instagram account for all things coffee and obviously, clothes.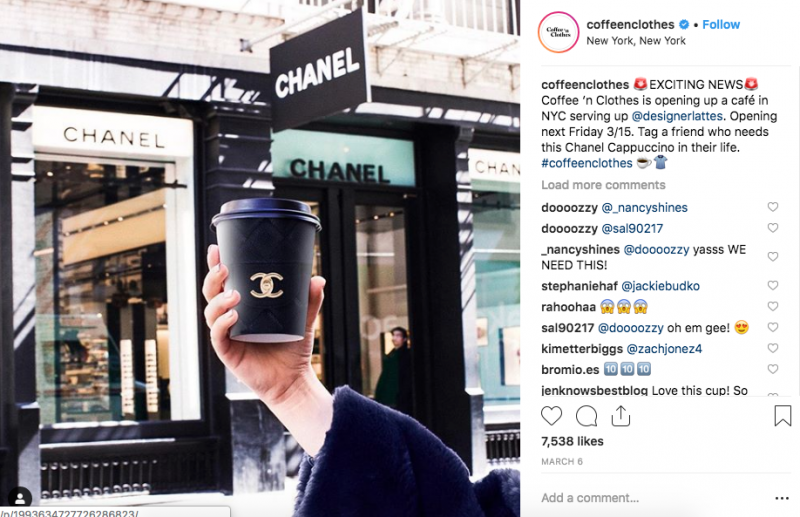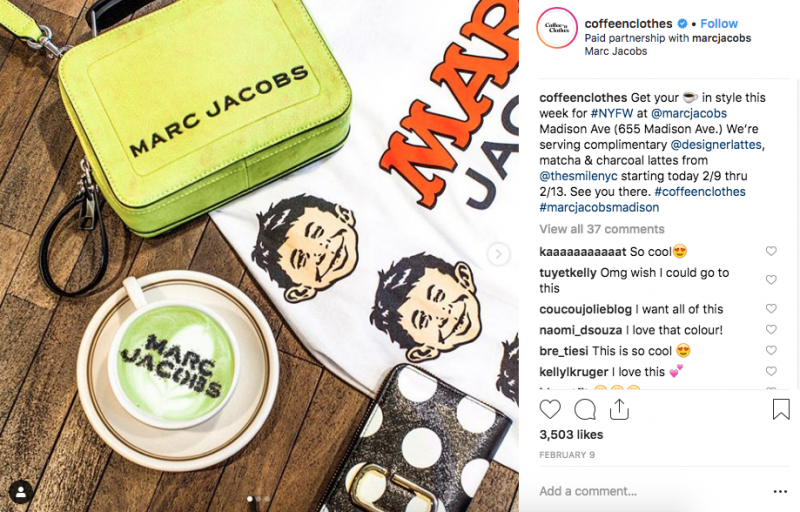 Got something to say? Then leave a comment!