The Coffee Sensorium: Influencing Flavour Perception
Thursday, 5 September, 2019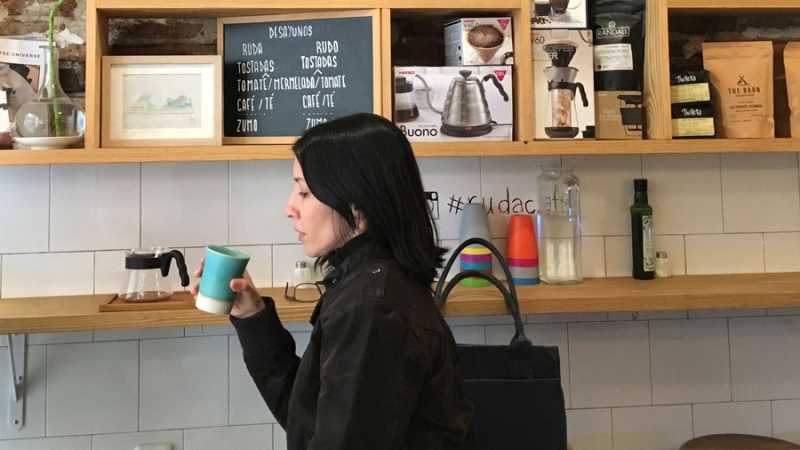 Fabiana Carvalho is a Brazilian neuroscientist and post-doctorate researcher investigating the impact of the senses on flavour perception of specialty coffee. Her project, The Coffee Sensorium, is a fascinating look at how coffee flavour is affected by not only the senses, but also the shape, colour and weight of the cup you drink from. We chatted to Fabiana Carvalho to get an intro into her work…
What is The Coffee Sensorium project?
"The Coffee Sensorium project is an attempt to bring knowledge on multisensory perception of flavour to the world of specialty coffee. A lot of multisensory research has been done on flavour perception of other drinks, such as wine and beer. And it's already known that certain attributes of the vessel, such as shape, colour, and weight, have a significant effect on flavour perception of chemically complex beverages.
The Coffee Sensorium project aims at investigating how these well-known effects would apply to specialty coffee, and to consider the introduction of glassware that, ideally, conveys perceptual benefit to specialty coffees with different sensory profiles. In sum, we expect to be able to match a certain cup to the correct flavour profile of coffee being served in it – just as we already have different types of glasses that match the different types of wine or beer."
Can you explain multi-sensory perception?
"Our perception of objects in our environment – including foods and drinks – is built up by combining all sensory information that simultaneously reaches our brains. In this way, flavour perception is a multisensory experience since it's a result of the integration of a complex variety of senses and processes, which includes touch, taste, smell, vision, and audition."
How do the senses impact on flavour?
"Flavour is a combination made by the brain of the gustatory sense of taste, the oral tactile sensation, and the retronasal sense of smell. The oral senses are affected by vision, audition, and orthonasal smell which will set our expectations towards the food/drink. In this way, our expectations concerning the taste/flavour and quality of the coffee are also determined, both consciously and unconsciously, by a host of sensory cues. These cues include everything from the colour or shape of the cup through to the environment in which we happen to be drinking."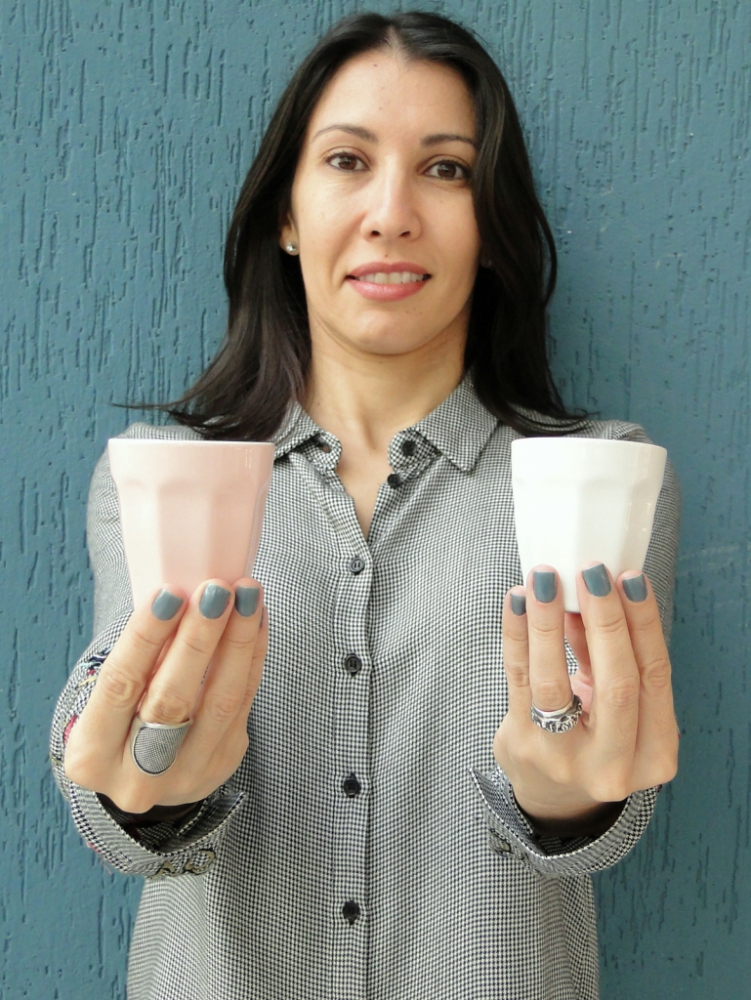 What made you decide to focus your research on coffee?
"Despite the global popularity and consumption figures for coffee, there's been remarkably little research on the drinking vessel. It's surprising to find how little published research there has been given the range of coffee drinks, the widespread emergence of speciality coffee culture around the world, and the fact that coffee, or at least specialty coffee, is chemically complex containing something like 1,200 volatiles (in contrast to 600-800 in wine). Such a complex beverage as specialty coffee deserves a more elaborated service, which certainly includes the serving vessel, i.e. the coffee cup."
How is your research progressing?
"We've gathered evidence on the impact of the colour, shape, texture, and weight of the cup on the perception of coffee. The colour of the cup, for instance, can prime notions of sweetness (e.g. a pink cup) or acidity (e.g. a yellow or green cup) that may carry over to influence the tasting experience. Meanwhile, the shape, weight, and surface feel of the cup can exert a profound influence over the perceived aroma, basic tastes, and mouthfeel. In addition to researching the effect of the cup on the coffee flavour experience, we're also investigating other product-extrinsic factors such as packaging and ambience music."
What have been your top coffee experiences from all of your travels?
"Koffee Mameya in Tokyo (Japan) and Acervo Café in Brasilia (Brazil) are my favourite coffee shops. It's obvious to me that both have a very clear proposal on the type of service they want to provide to their clients. Knowing your goal makes it easier to communicate the concept and to deliver/create the perfect experience. It cannot go wrong. The client is simply taken and amazed by the fluency of the experience. They set the clients' mind towards a concept and they deliver it."
How do you prepare your own coffee when you're at home?
"I only drink coffee in the morning, and brewing my coffee is the first thing I do as I wake up. I like to use paper filter methods, and I usually brew my coffee using Chemex or Melitta. I never add milk to my coffee."
Did you ever expect your research project to take you all over the world?
"Honestly I didn't. But thinking about how innovative the aims of the project are, as well as how our findings are accessible and applicable in the industry, makes it easier to understand why the research has caught so much interest worldwide. It has been truly amazing to be able to speak about our aims and findings to all types of audience, and to learn about particularities of coffee consumption in different cultures."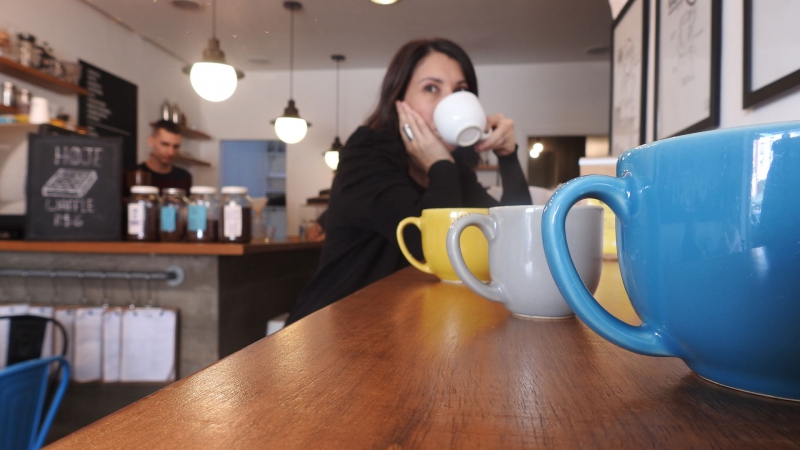 You can follow The Coffee Sensorium on Instagram to keep up with the latest news from the research project.
Got something to say? Then leave a comment!
---
Must Visit Cafe: Brik Cafe
Tuesday, 3 September, 2019
16 Baker St, Rosebank, Johannesburg, 2196
---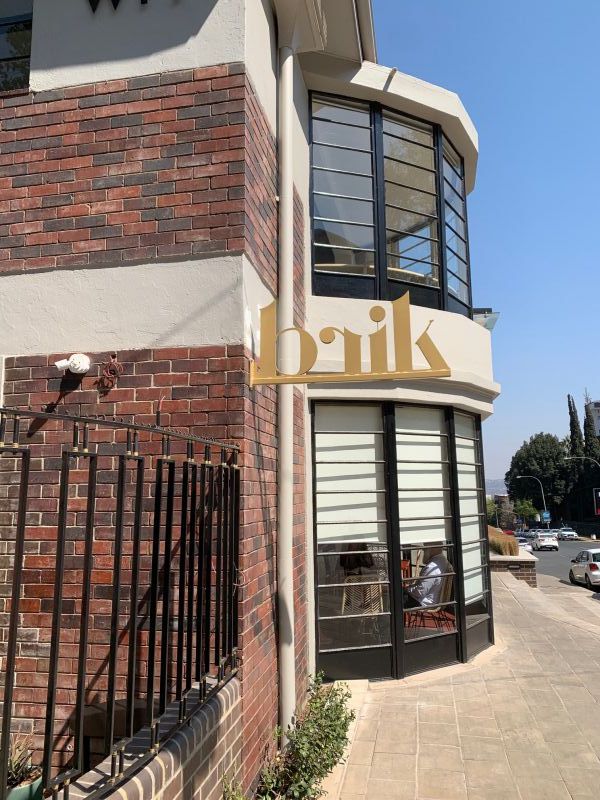 Brik Cafe was nominated in the Best New Cafe category of The Coffee Magazine Awards 2019 and for good reason!
This warm and inviting streetside cafe is a beautiful addition to the Rosebank cafe scene. Sasha Simpson has created a haven of innovative food options and delicious coffee, roasted by Seam and perfectly extracted by the talented barista, Ernest. We also had the privilege to met Blessing one of the other baristas when he competed at the SCASA coffee competitions in July.
It feels as though you have walked inside a terracotta kiln of inspiration. A menu full of attention to details and interesting flourishes. The poached egg was presented with flair and as I am a sucker for a grilled cheese sandwich, when the menu said The Ultimate Grilled Cheese, I was powerless to resist. Everything was lovely.
The building itself is an old firestation and is now home to a Workshop17 space. Brik also services the members with another location inside the building and Sasha keeps herself even busier by catering for events. They're doing an incredible job all round.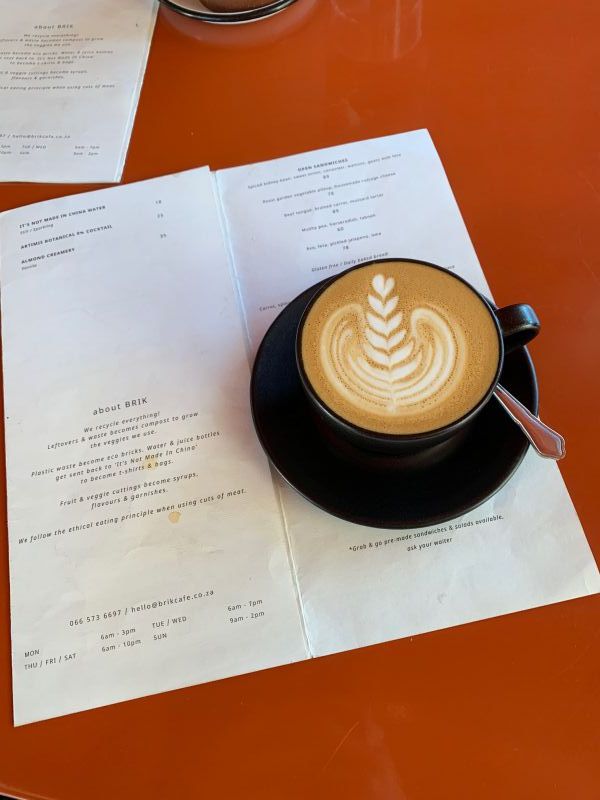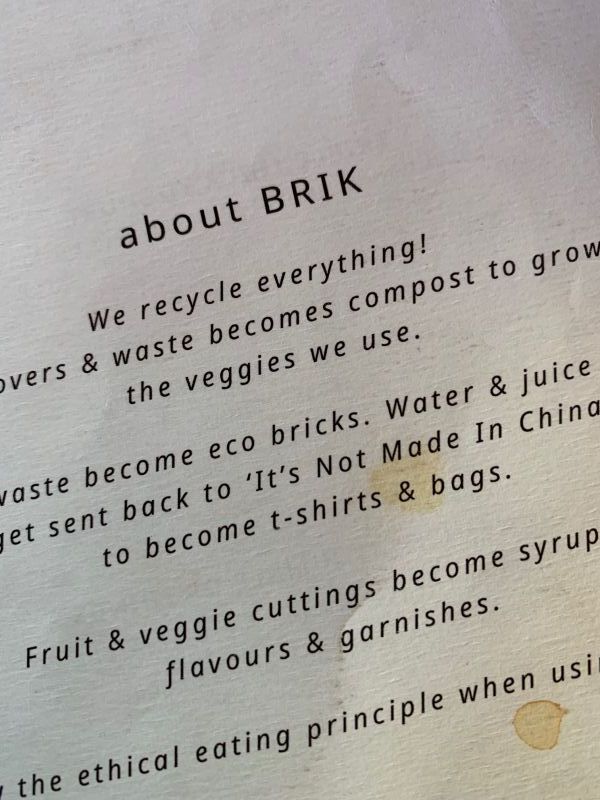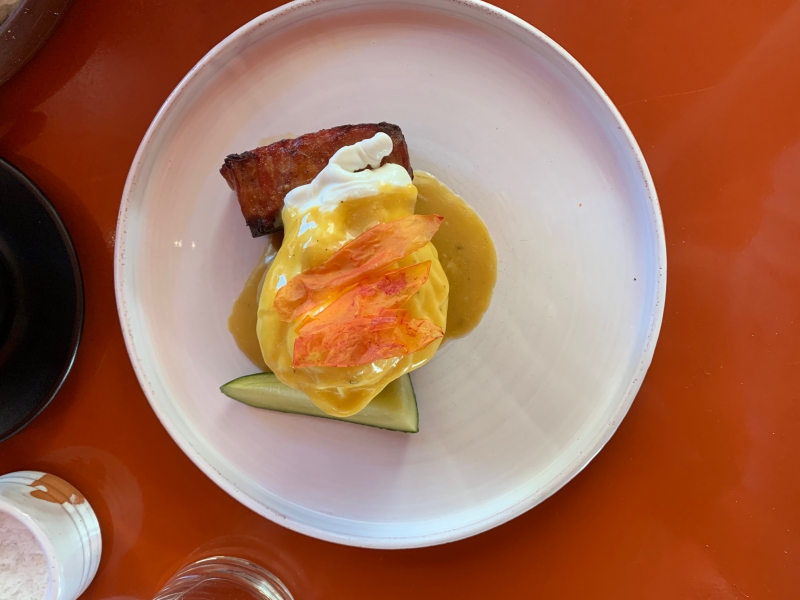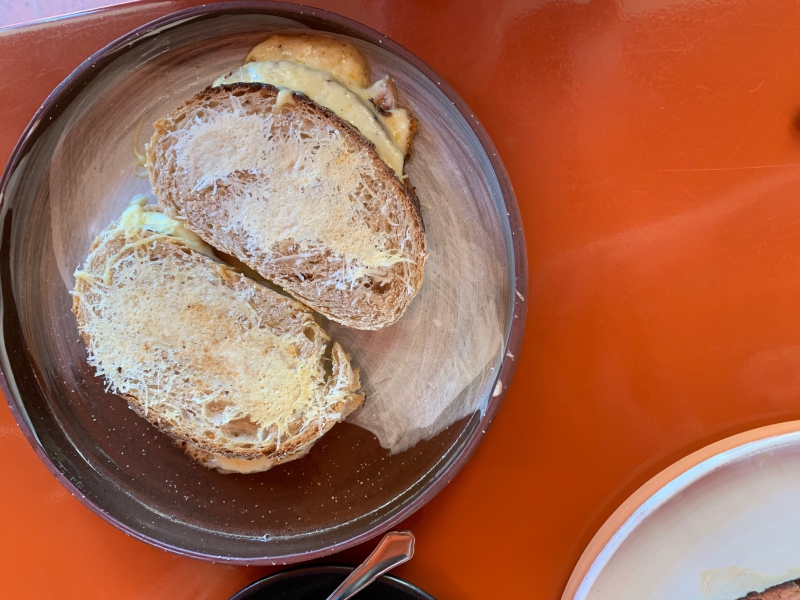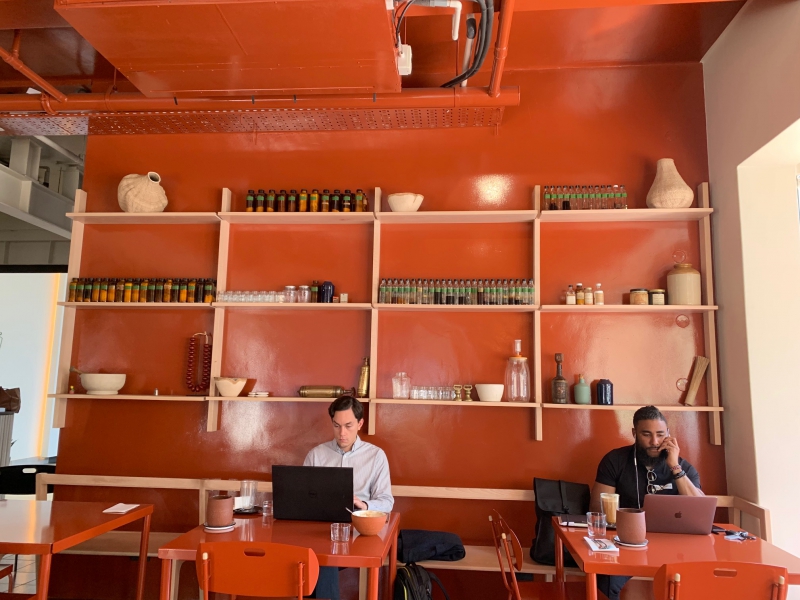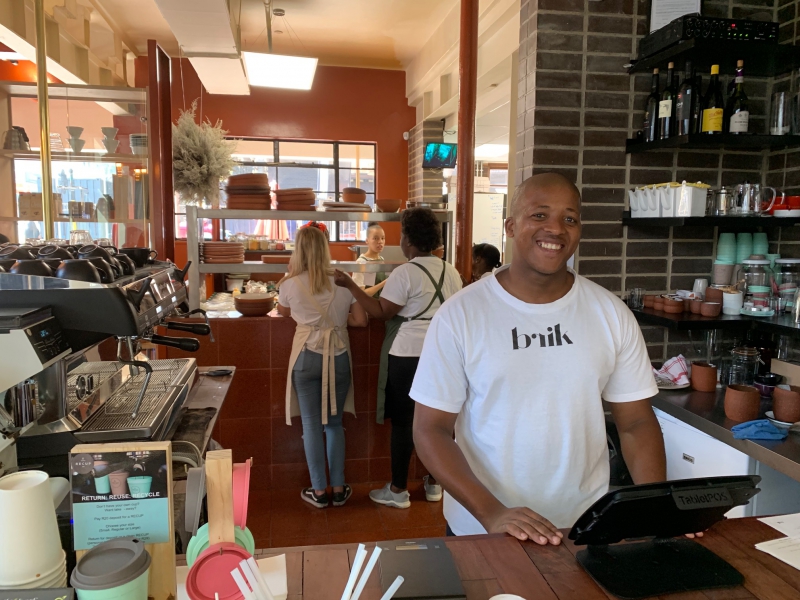 Got something to say? Then leave a comment!
---
Foundation Coffee: A Mr Price initiative
Thursday, 29 August, 2019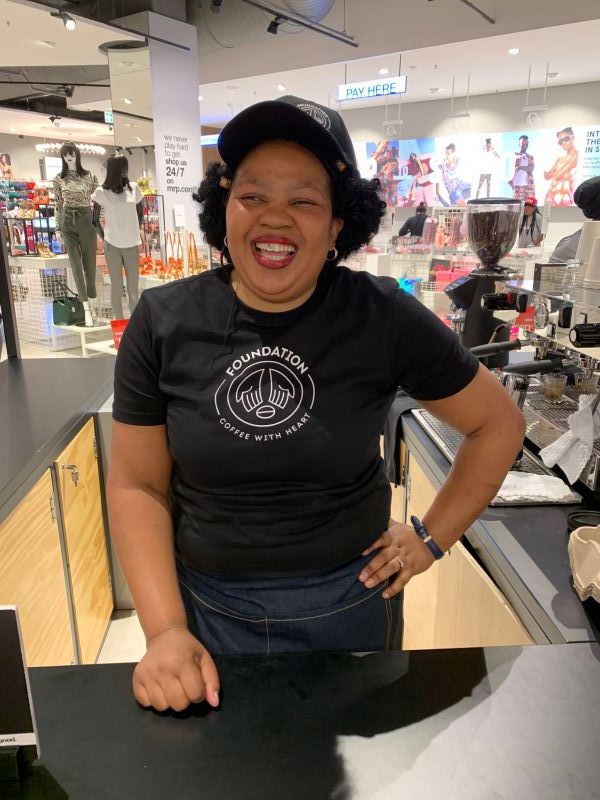 The effervescent Fikile Khuzwayo aka "Fiks" who will "Fix you with a coffee"
We couldn't resist the opportunity to visit one of the bubbliest and most passionate baristas from Durban while she was helping to set up a new initiative in Johannesburg! Fikile Khuzwayo calls the Mr Price Head Offices home and we're sure they are missing her dearly this week, but she is off on an adventure setting up the first Foundation Coffee espresso bar in the Mr Price apparel in the newly renovated Fourways Mall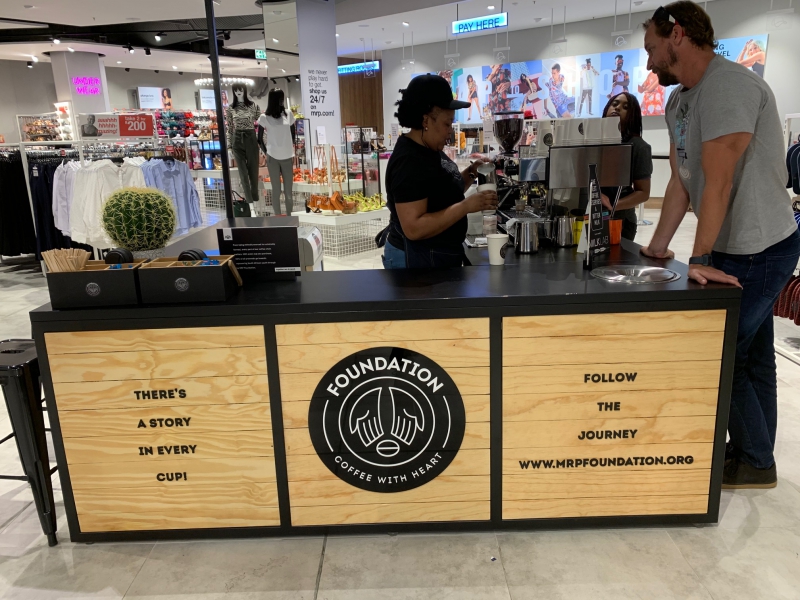 The new Mr. Price foundation coffee station in Fourways, inside the MRP apparel store.
Karen Wells, Head of MRP Foundation, shared her excitement on the opening day at the Fourways Mall. "Today is testament to the partnership between the MRP Foundation and MRP. Customers can experience drinking responsibly sourced coffee while learning more about the Foundation's work, and the impact that it is making in the lives of hundreds of thousands of youth throughout South Africa. This is a true reflection of how we work together to build a better future for this country… together we do good."
Craig Charity, has been an integral part of the Foundation Coffee journey: sourcing beans, roasting and training the Foundation's resident barista, Fikile (Fiks) Khuzwayo.
"I am excited to see Foundation Coffee in a concept store model and see how it's embraced by customers," said Craig. "My vision is to keep this true to its roots with sustainable and delicious coffee."
Fiks was thrilled to share her talents with new faces in-store saying, "I am excited to meet new people and passionate about serving coffee with heart and purpose."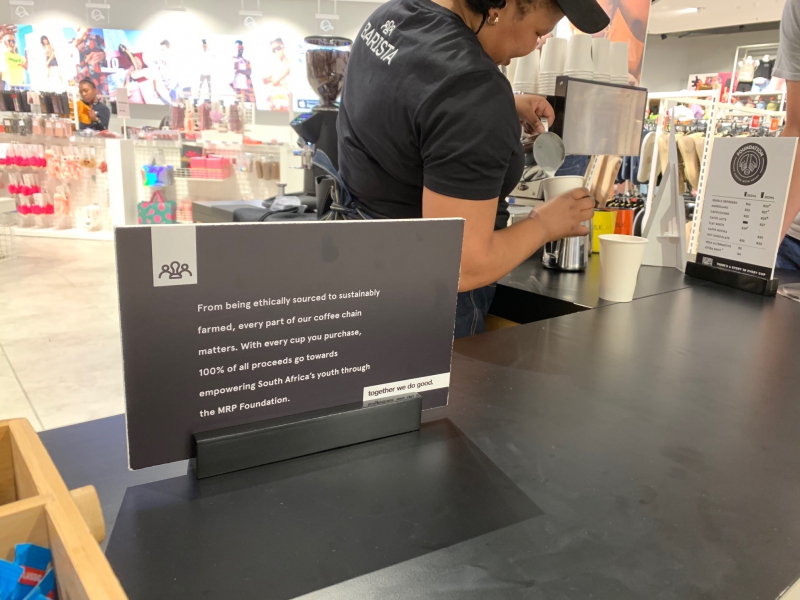 100% of the profits of each cup sold go to the MRP Foundation.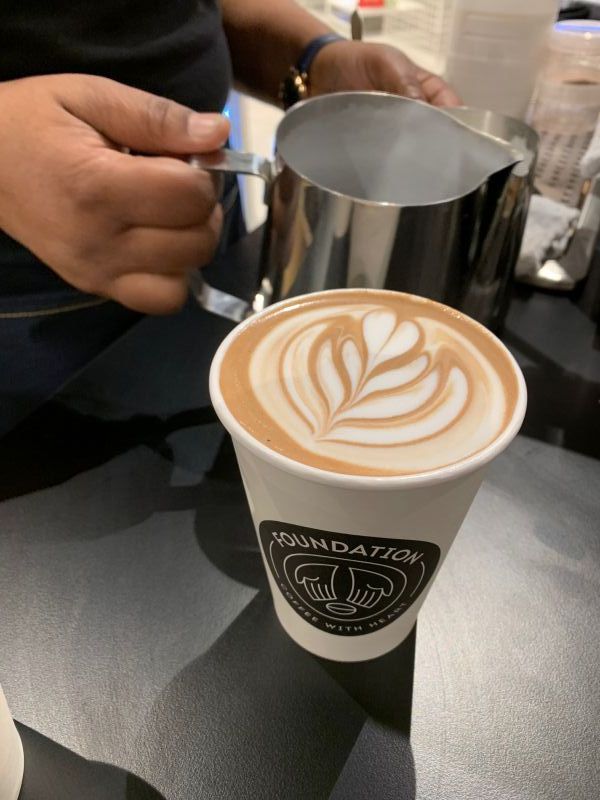 Beautifully prepared beverages under Fiks's tutelage.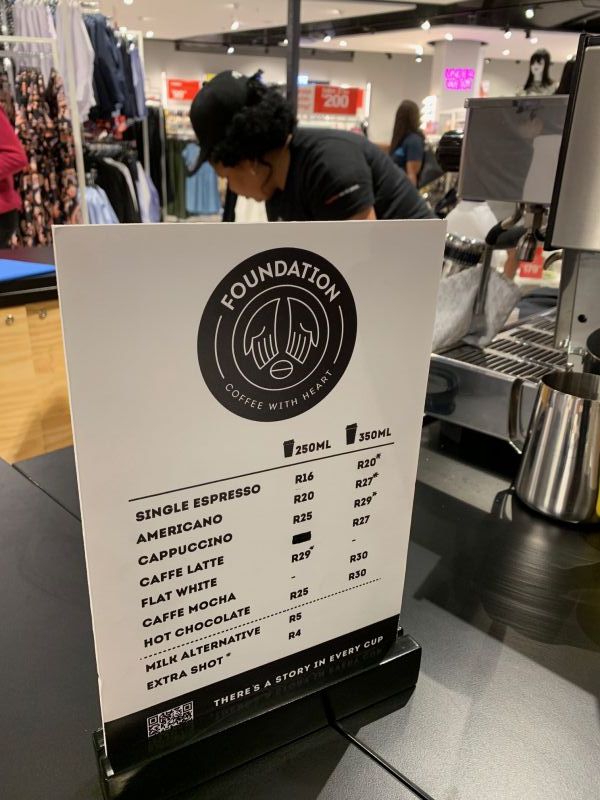 Customers can pay for their coffee with the clothes purchases.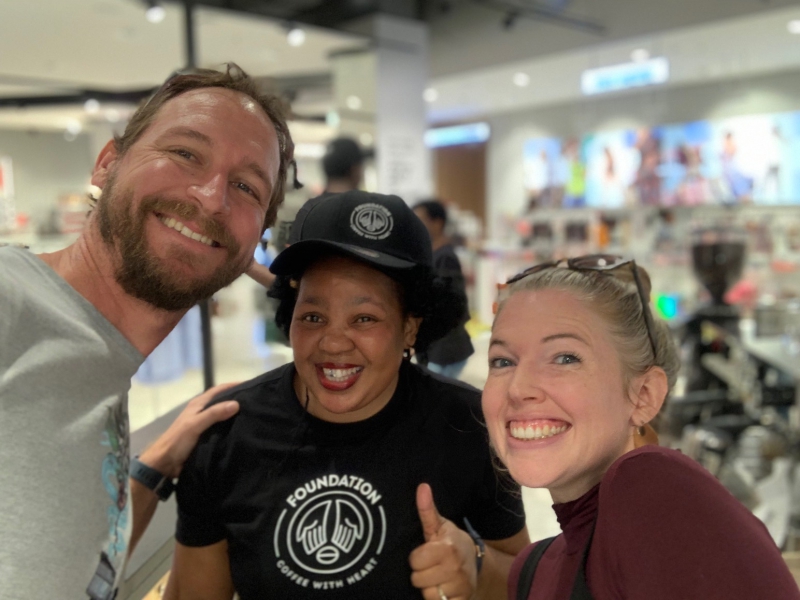 Coffee people supporting coffee people, supporting everyone else!
Got something to say? Then leave a comment!
---
New Kid on the Block: Vintage Drive Through Coffee!
Thursday, 29 August, 2019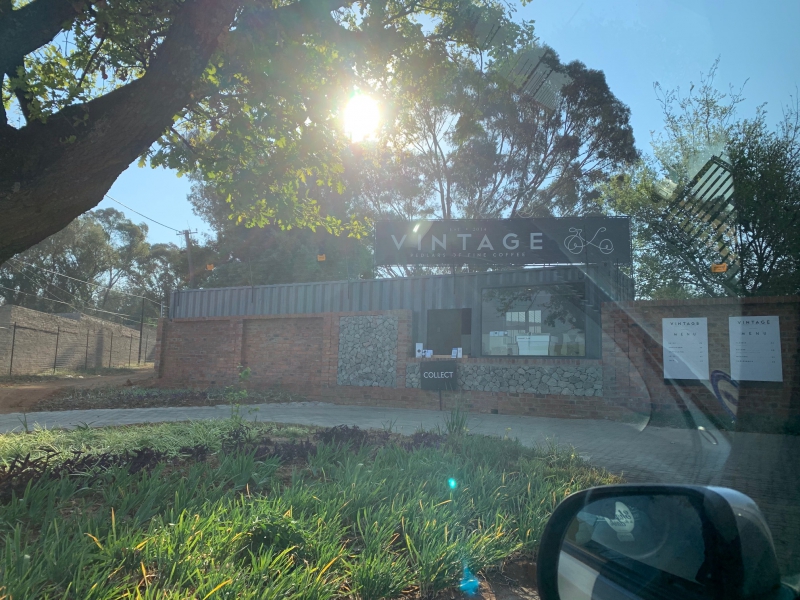 Ok, so we're Durbanites through and through, we like to take our time with most things, but we understand that things are different in the bustling metropolis that this is the Johannesburg/Pretoria quadrant and we always love the energy and the industry.
Case in point, the new coffee drive through by the team at Vintage on the busy thoroughfare between these two cities, Main Road. Located on the City Life Church premises, we arrived just in the nick of time at 3.55pm (5 min before they closed!), as rush hour was kicking off and a coffee was necessary. And man, the coffee was delicious!!!
Ashley and the team have done an amazing job of making the little space welcoming and easy to use.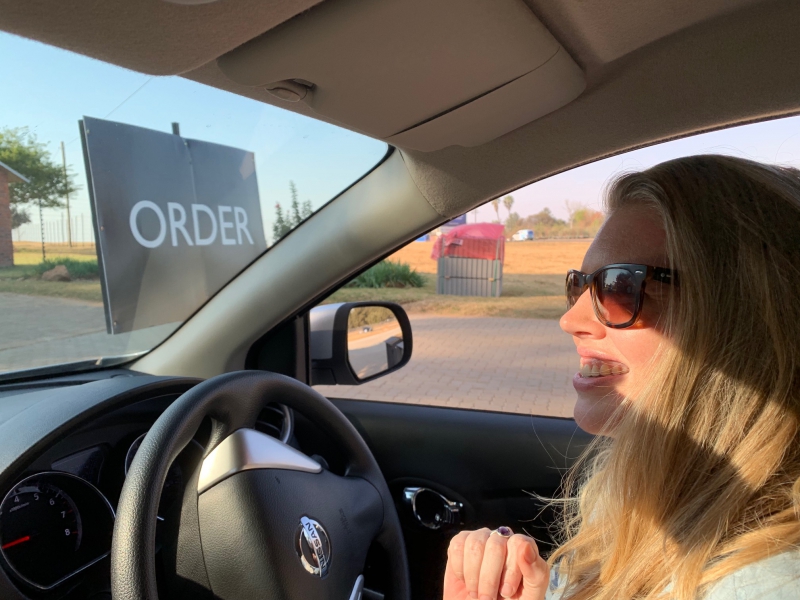 The Editor running low on coffee. Solution: Drive through!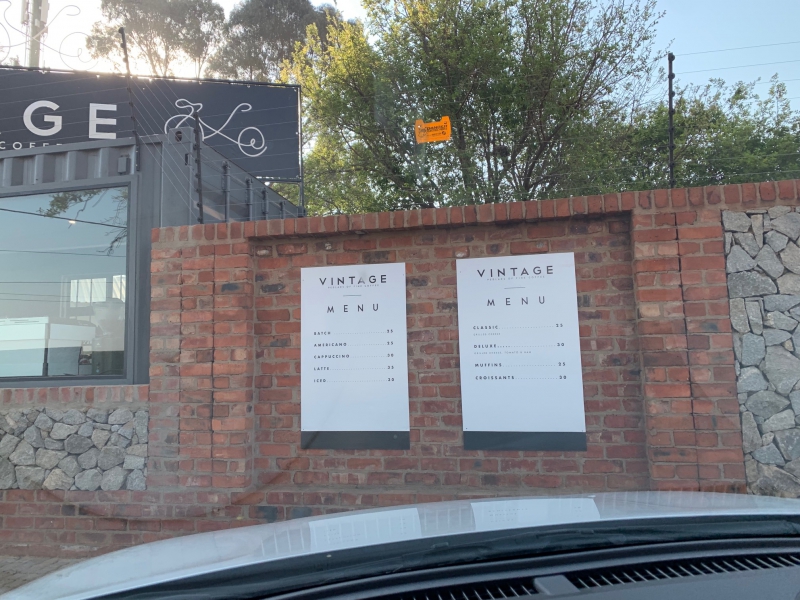 The big menu boards make it easy to order - simple!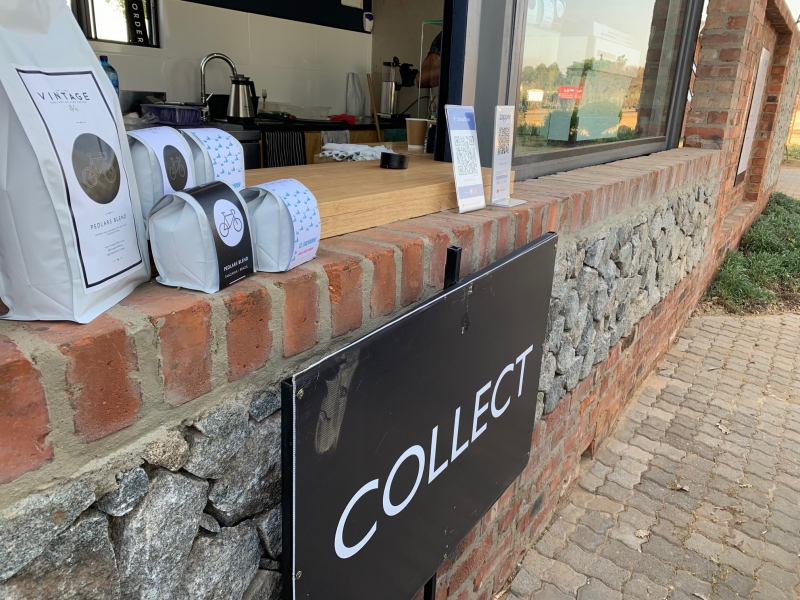 Quick payment solutions are the key to a good flow, and there's a nice beans offering in case you running low at home!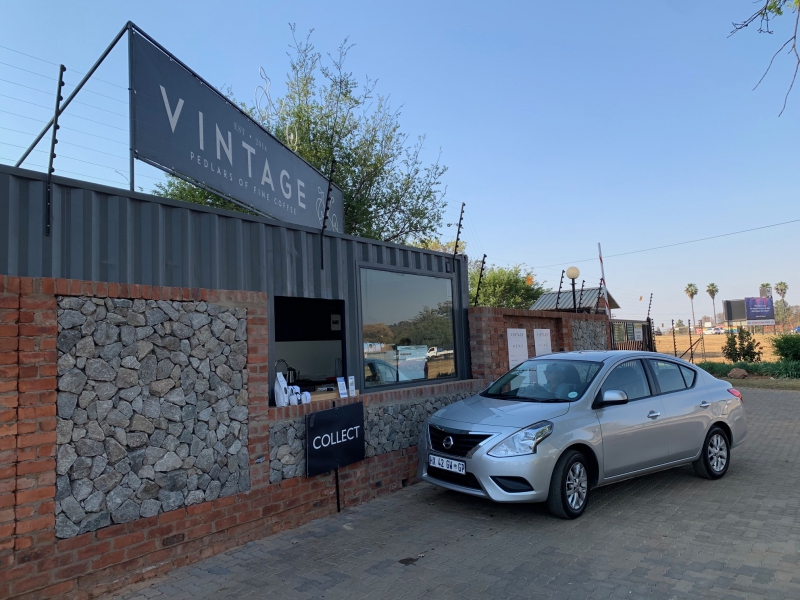 This was one of the easiest, fuss-free coffee experiences ever!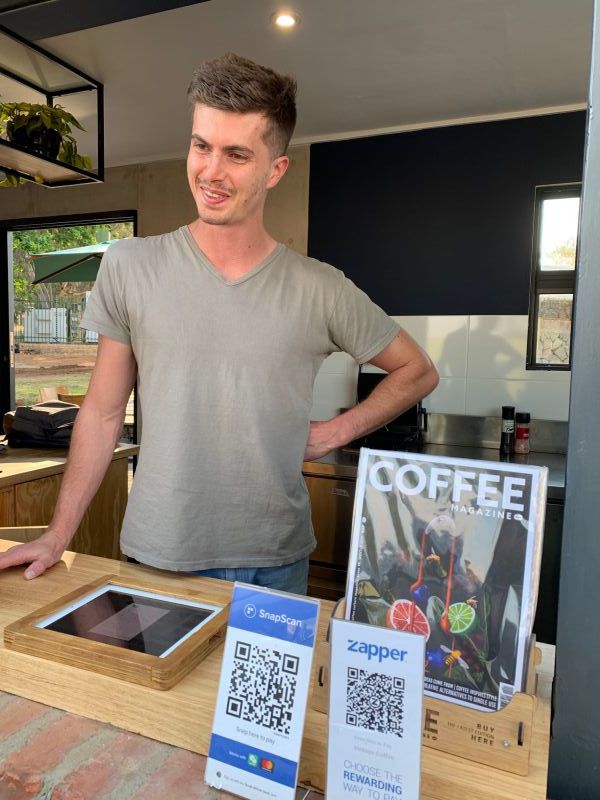 Ashley and the team working the drive-through were super efficient and friendly. "We're still taking the wrapping off this place, but we already have a few regulars", says Ashley.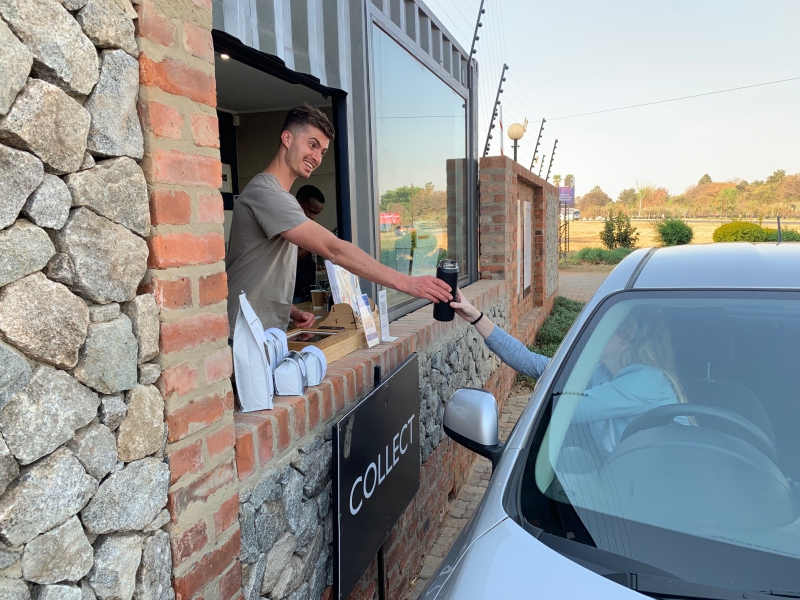 This coffee was a life-saver! Definitely one of our best coffees of the week.
If you liked this article, then you may also like these:
Got something to say? Then leave a comment!
---
Inside South Africa's biggest vintage espresso machine collector's showroom
Thursday, 29 August, 2019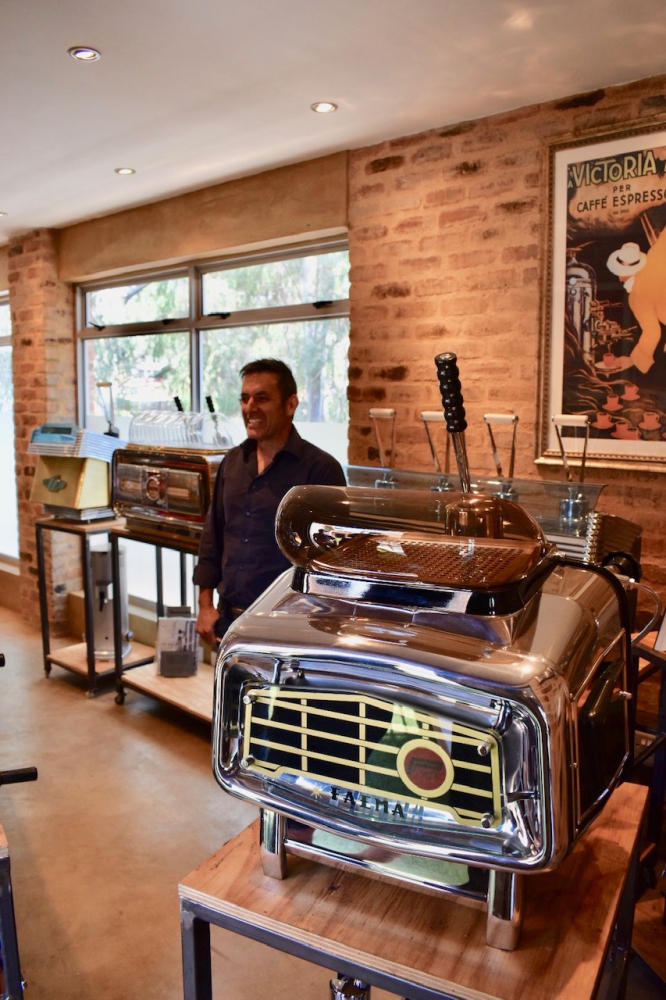 Alessandro Morrico with his collction, the Faema President in the foreground
"People ask me why I drive a bakkie around, well the answer is that I spend all that money on these beauties!!!" Alessandro Morrico has spent many years collecting vintage espresso machines from around the world and refurbishing them to the incredible state they are in now. I'm not really one for machinery, but the history contained in these pieces of coffee equipment is a sight to behold. They are truly magnificent.
Coffee has such a rich history and the history of the espresso machine is no different. The espresso machine has always been a point of pride in the cafe space and you can see from the constant jostling to out do each other currently going on with the top manufacturers when it comes to design, that this still holds true today. The game was a bit different at the beginning and the people at the forefront of espresso machine created works of art with steel and copper influenced by the style of post war Europe.
These 12 beauties below were our favourites, and they range from the mid 1940's all the way through to some classic early 80's models. If you are interested and want to visit, they are on display at the Morrico showrooms in 6th Street, Parkhurst.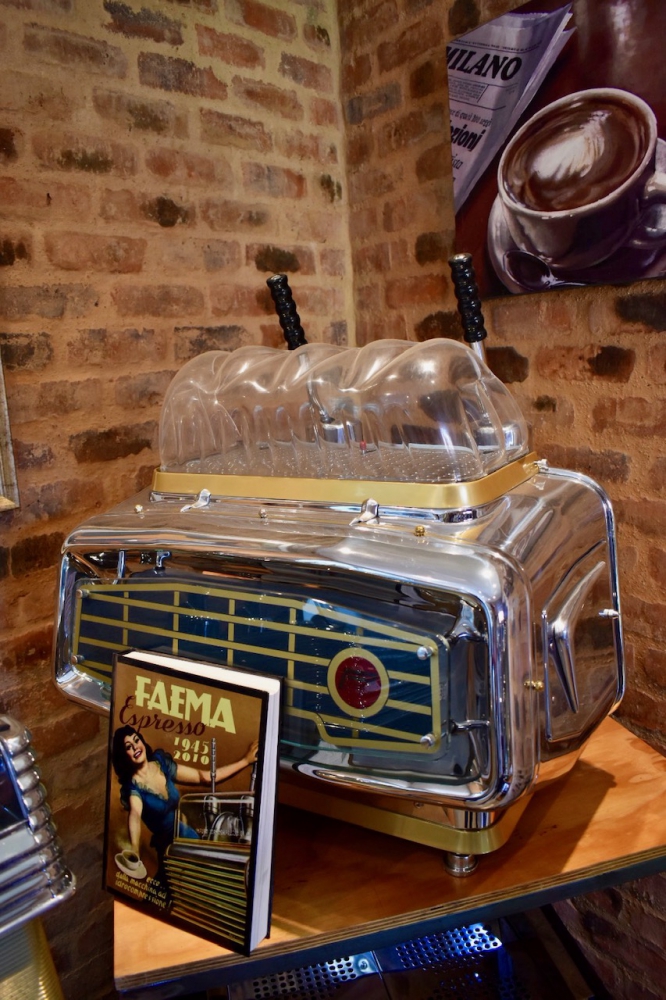 This beautiful Faema Tartaruga 2 group lever machine is from 1945 and has that classic retro design that set the tone for diners around the world post WWII.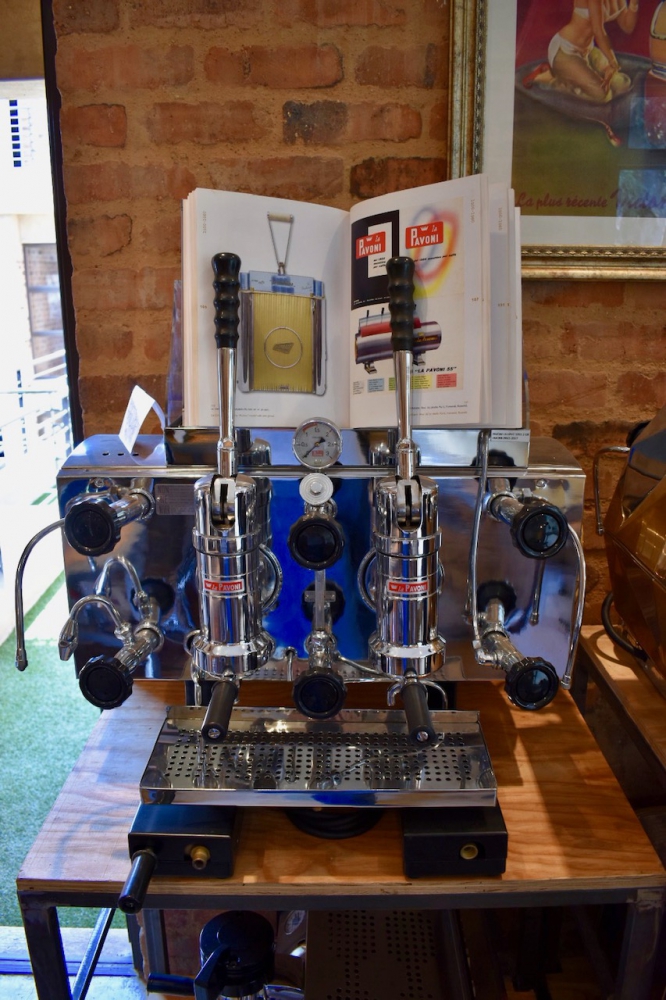 A classic La Pavoni Lilliput 2 group lever machine with all the classic dials, gauges and knobs - considered a "modern" espresso machine during it's heyday!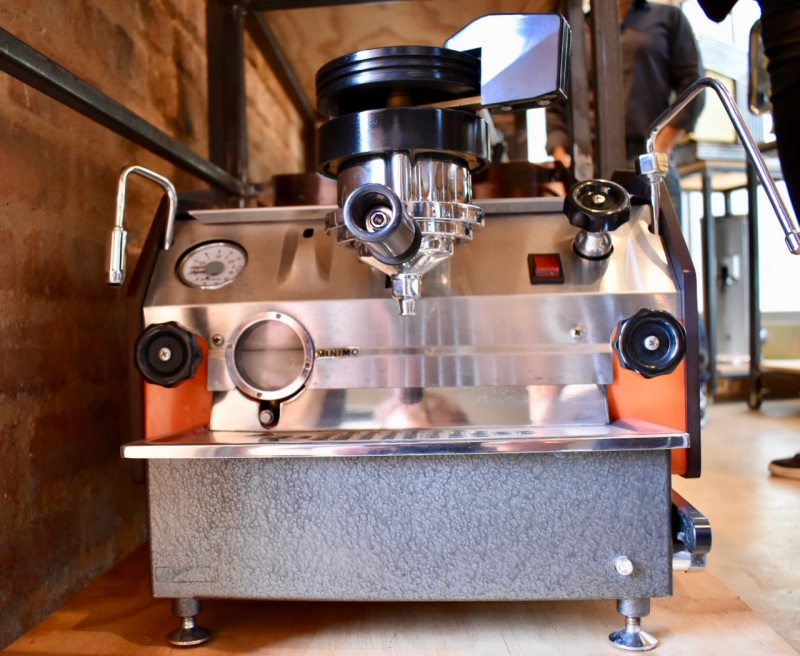 This single group LaMarzocco GS2 was the Rolls-Royce of home espresso machines and the predecessor to the now-famous GS3.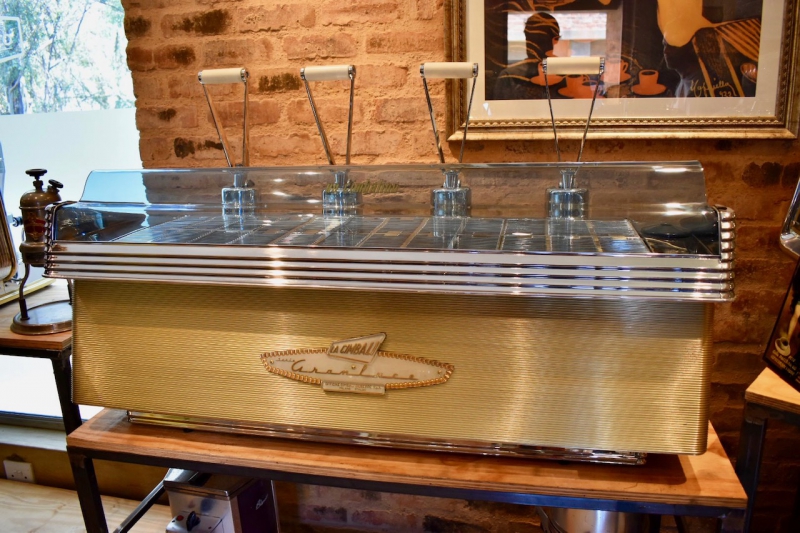 Look at the detailing of the lines on this 4 group La Cimbali Granluce lever machine! It recalls design elements of pop culture in the 60's - The juke-box and the original Cadillac lines.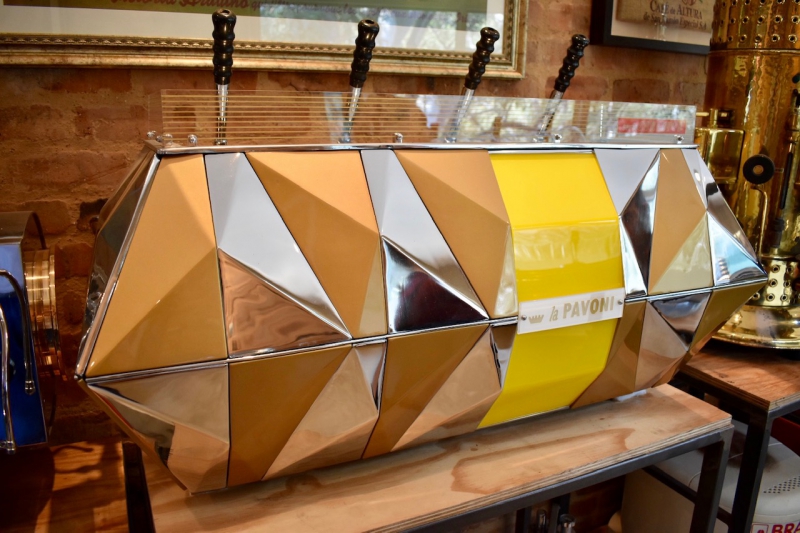 This La Pavoni Concorso (Diamante)paneling is surely a one-of-a-kind. Also an unusual 4 group lever configuration, sure to catch the eye of passing customers by it's sheer geometric magnificence!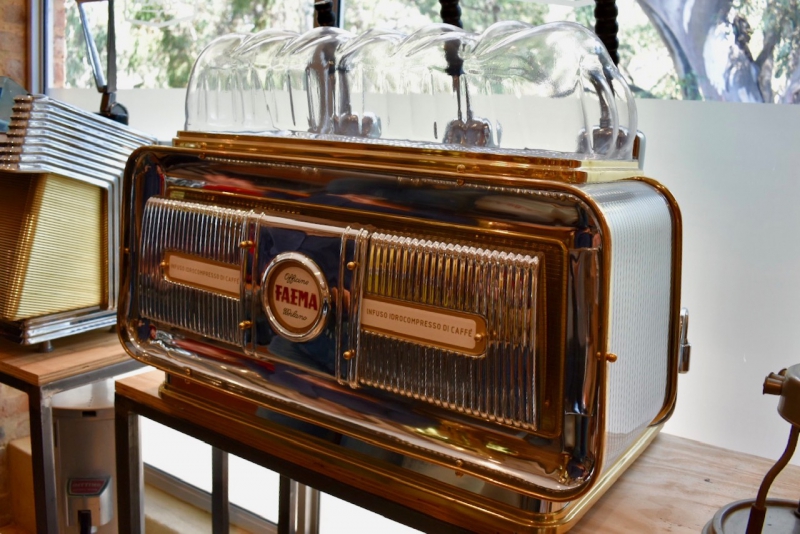 Another example of a classic Faema Marte lever machine, the design also speaks to the era of pop-culture in the 60's - when television, the space-race and line-form design were at the forefront.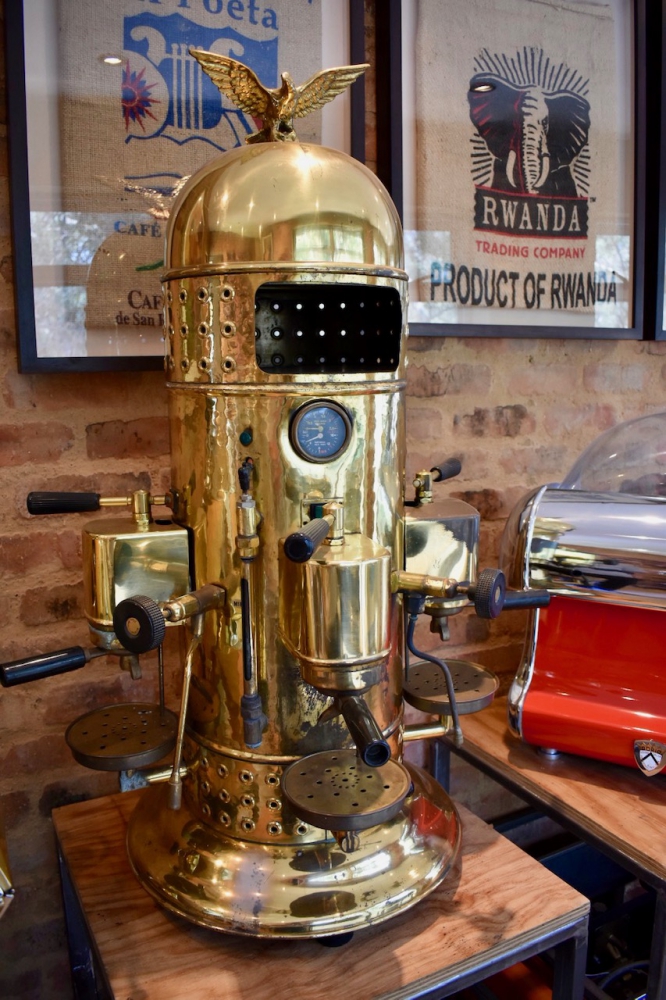 This Victoria Ardunio VENUS, before the horizontal boiler design that we all know today, this was how espresso machines were built!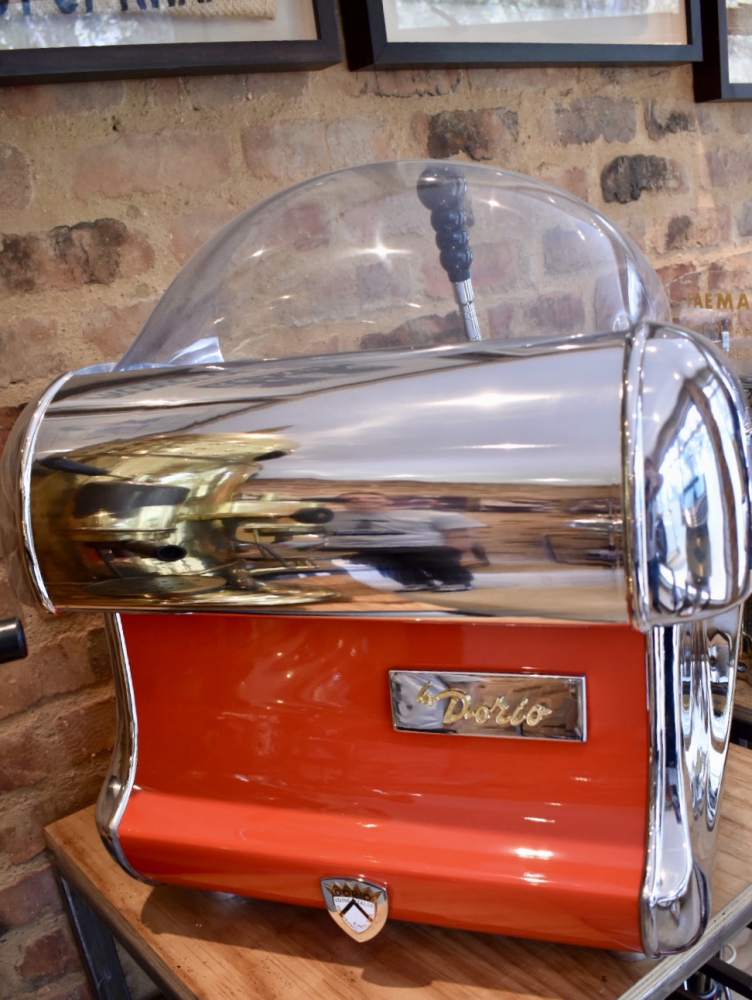 La Dorio espresso machines are sought after by collectors all over the world. This classic burnt-ornage single group lever is restored to it's glorious original state! A valuable piece indeed!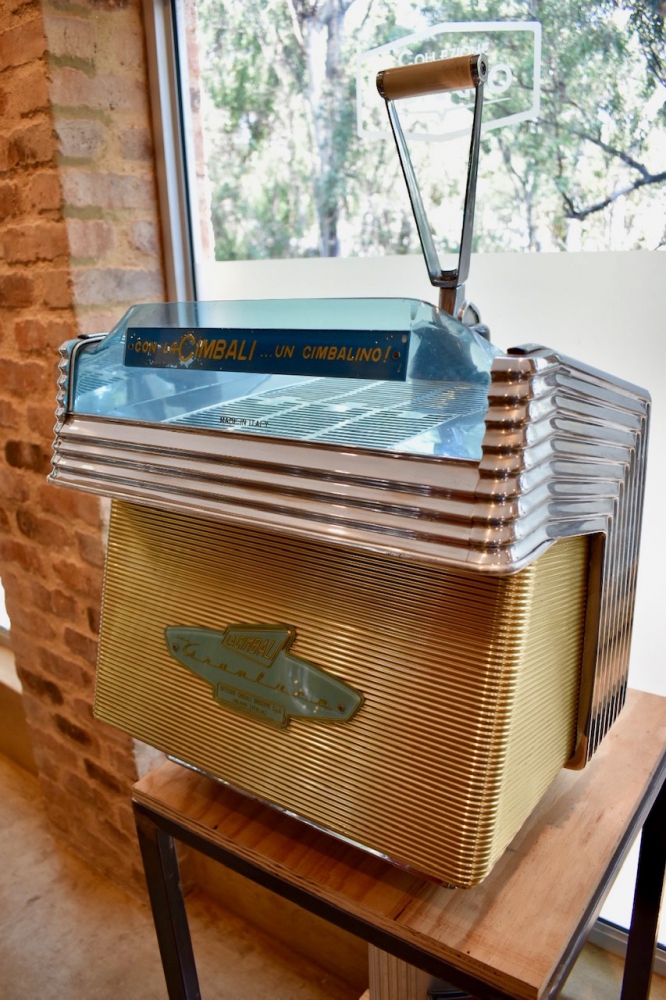 This single group lever La Cimbali Rubino follows the similar design principles of the 4 group featured earlier. The classic lines and exquisite detailing of the era are something not found in modern espresso machines.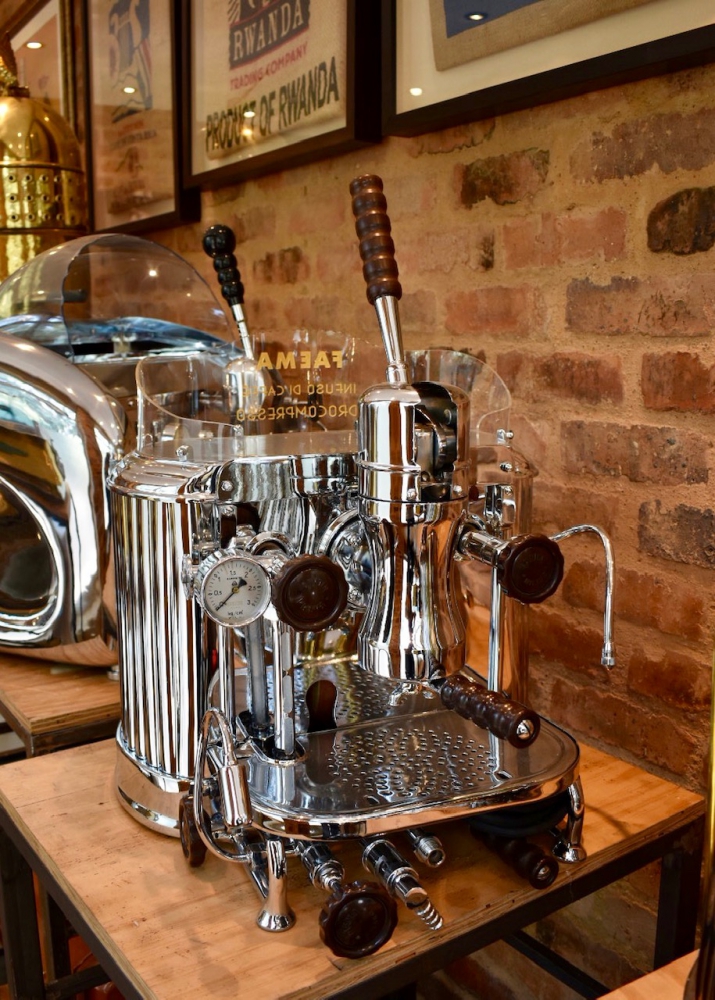 This little Faema has a unique hourglass shaped group head and a short lever, which has been modified, along with the portafilter handle to create a modern classic.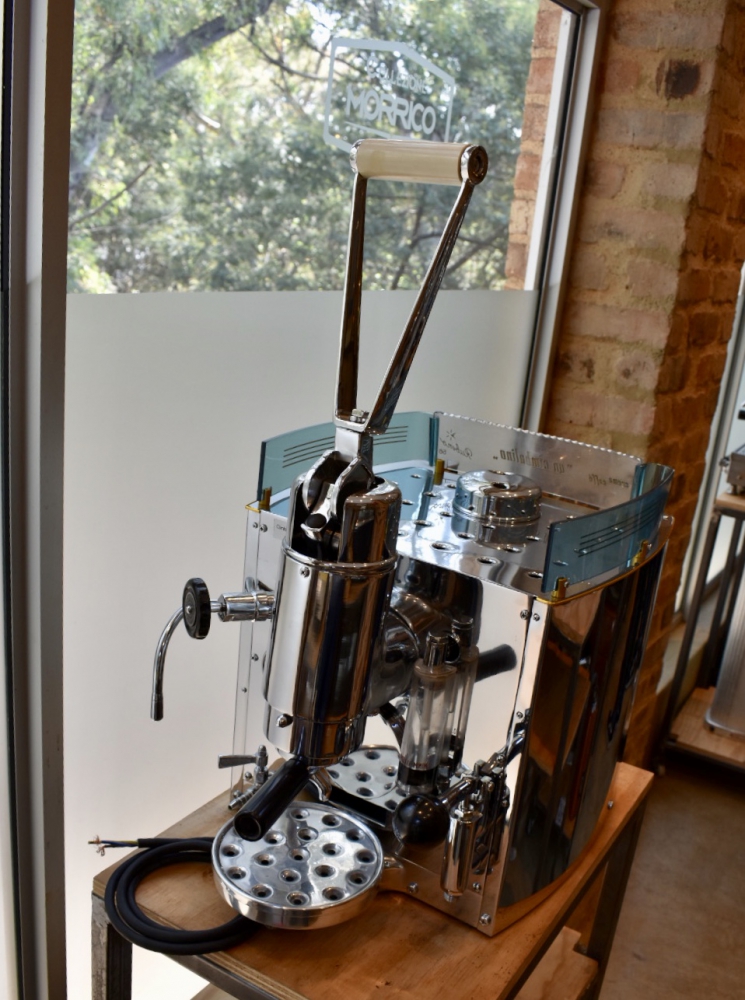 Another example of the triangular handled levers, which has seen a re-birth in modern machines like the LaMarzocca LEVA released in 2018, with some necessary safety modifications, of course!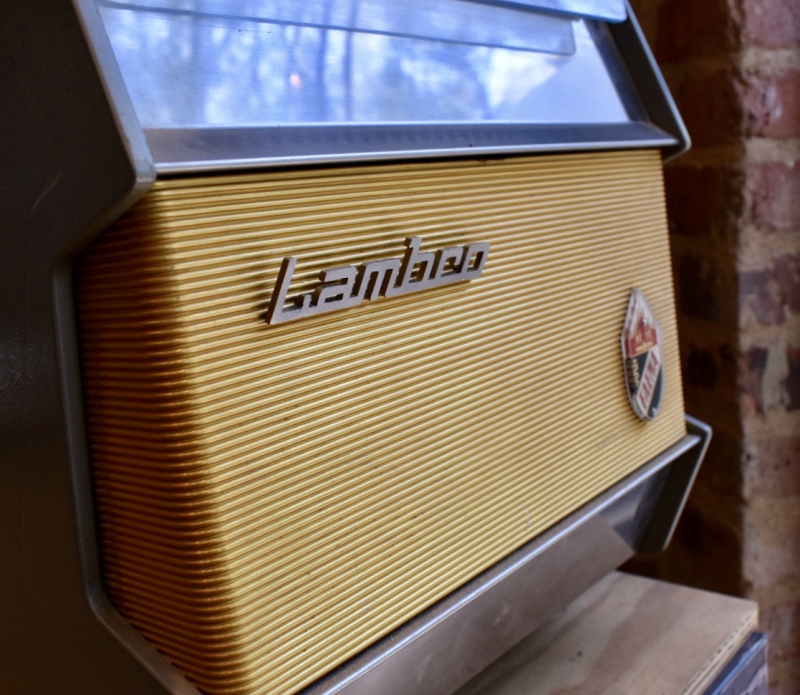 A fitting way to end the tour! A one-of-a-kind Lambro, harking back to a time when form was prioritised alongside function, and a fitting tribute to the design elements of the era.
Got something to say? Then leave a comment!
---
Must visit Cafe: Afro-boer
Wednesday, 28 August, 2019
Meerlust Rd, Equestria, Pretoria, Corner of Lynwood & Meerlust Road, 0050
---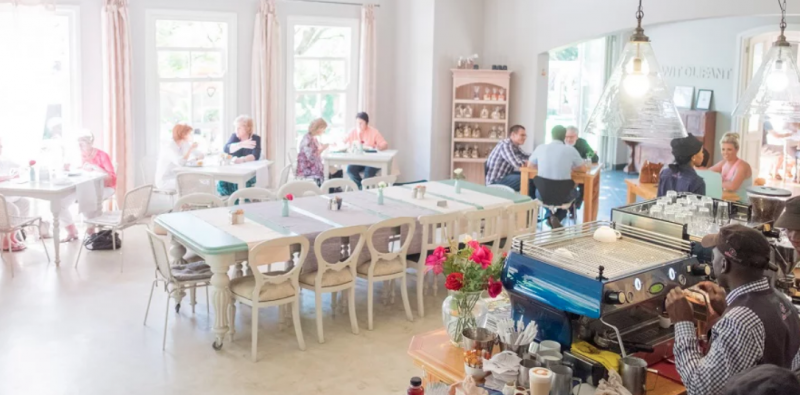 We had long heard of the legend of Afro-boer in Pretoria and they have long being loyal distributors of the magazine, so we were thrilled to find ourselves in the neighbourhood and finally able to visit this oasis of beauty and deliciousness. After navigating the busy traffic of Lynwood Road, we found ourselves in a perfectly manicured garden with chickens clucking in the background and the dappled sun falling through the trees, so peaceful!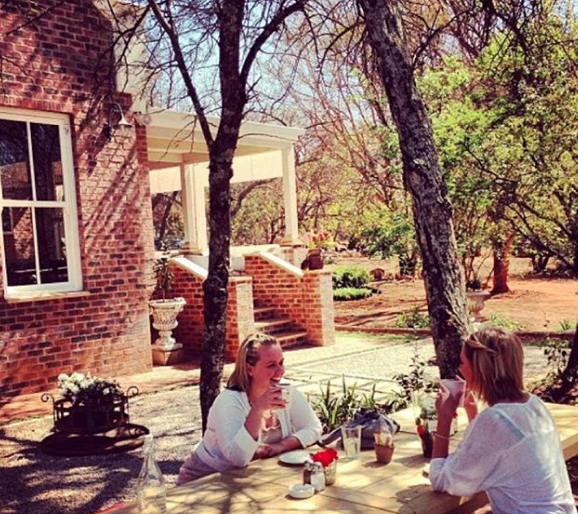 They have a stunning coffee bar set up, not one but two beautiful La Marzocco's side by side. Using Asmara Coffee, TriBeca's new bespoke brand, you can tell why they need two espresso machines. It is a large space with indoor and outdoor garden seating and even on a random Wednesday afternoon at 3pm, it was pretty busy! We can only imagine what it gets like over the weekends, it is the PERFECT brunch spot!
Freshly baked breads and a menu to die for of some very interesting and innovative dishes, it's no wonder this place has such an incredible reputation.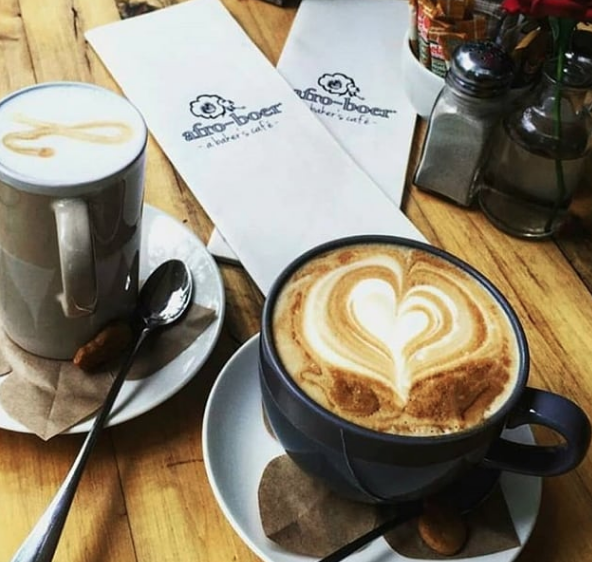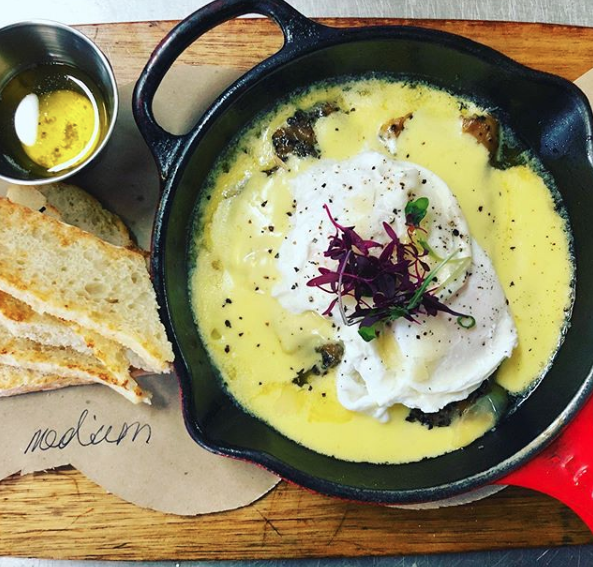 Images from the Afro-boer Instagram, give them a follow!
Got something to say? Then leave a comment!
---
Recycled Bicycles: A Creative Solution for single use capsules!
Tuesday, 20 August, 2019
Nespresso has partnered with Swedish cycling start-up Vélosophy to create 1,000 limited-edition bicycles made from recycled Nespresso coffee pods. It takes 300 coffee pods to create the stylish urban bicycle known as the RE:CYCLE, which will retail for €1,290 (around R22,000).
Nespresso coffee machines have become ubiquitous in the last decade, but drawn a lot of criticism over the environmental impact of the single-use capsules, which take about 150 years to decompose. Nespresso, owned by Nestlé, has committed to sustainability and aims to foster a circular economy by encouraging the recycling of Nespresso pods at any of the company's 122,000 collection points around the world.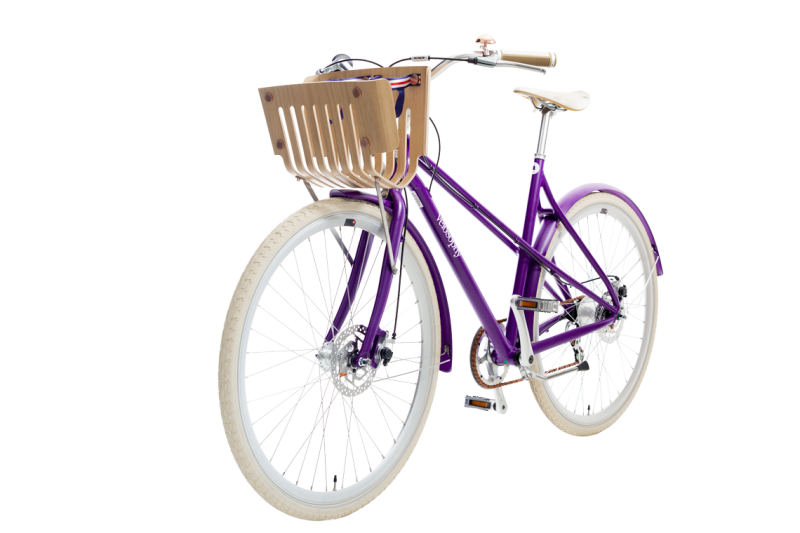 Giving single-use a second life
Billions of single-use coffee pods are discarded in landfills every year, so the RE:CYCLE bike highlights the innovative possibilities for giving the recycled aluminium of coffee pods new life. The great thing about aluminium is that it can be melted down and reused infinitely – making it quite a valuable resource.
"Through our collaboration with Vélosophy, we're illustrating to coffee lovers the potential of recycling their aluminum Nespresso capsules. By using recycled capsules to make beautiful bicycles, Vélosophy brings sustainability and style together to create a truly meaningful experience, bringing to life the importance of recycling. We have been inspired by working with Vélosophy, and I hope the RE:CYCLE bicycle inspires people to recycle," says Jean-Marc Duvoisin, CEO of Nespresso.
The RE:CYCLE Bicycle
The limited-edition bicycle is designed with a nod to the Nespresso capsule – the bike only comes in the same purple shade as the popular 'Arpeggio' coffee pod, and the bell is shaped like a Nespresso capsule. The bike's front basket features two cup holders, with straps for securing your coffee cup while you're on the move.
A one-for-one promise
Vélosophy has taken the feel-good factor one step further in promising that for every bike they sell, they will donate another bike to a schoolgirl in Ghana through World Bicycle Relief to help her get to school. This one-for-one promise is about bringing hope of a brighter future – having a bike increases girls' school attendance by 28%, as well as their chances of graduating by 59%. With the RE:CYCLE bike, Vélosophy isn't just investing in the future of the planet, but also in the lives and communities of young women in Ghana.

About this initiative, Jimmy Östholm, CEO and Founder of Vélosophy, says: "We created Vélosophy with a clear purpose: to have a positive impact on the world. This purpose drives everything we do, from our promise to give a bike to a schoolgirl for every Vélosophy we sell, to producing our stylish city bikes from recycled aluminium. I see in Nespresso a strong commitment to sustainability, which is why this has been the dream partnership. We are proud to have co-created a bike that takes on the future. It is beautifully designed, responsibly sourced and sustainably produced."
Vélosophy has no retail stores and conducts all of their sales online at https://velosophy.cc.
Got something to say? Then leave a comment!
---
Buzzword: Sustainability - New courses added to SCA Coffee Education Program
Friday, 23 August, 2019
The SCA Coffee Education Programs cover the fields of Brewing, Roasting, Barista Skills, Green Coffee and now they plan to add modules on Sustainability.
"Sustainability must be embraced by all actors in the value chain if the specialty coffee industry is to survive. The Coffee Sustainability Program is designed to explore what "sustainability" means and the challenges of acting sustainably across the coffee value chain through three stages of learning (Foundation, Intermediate, and Professional). Through the program, students can expect to build skills that include: the ability to articulate broad sustainability challenges across the value chain, lead others in discussion and practice of these issues and ultimately identify, develop, and carry out and assess a sustainability effort that fits within their own organization."
The Coffee Sustainability Program is designed for people at all points along the coffee supply chain, founded on the principle that sustainability must be embraced by all actors in the coffee supply chain if the specialty coffee industry is to survive and thrive. As expectations for greater transparency and corporate responsibility grow in the industry, companies are rapidly increasing the size of their sustainability teams and seeking knowledgeable, experienced leaders to forge their path forward.
"The SCA Coffee Sustainability Program will help learners become more competitive in their existing lines of work as more and more companies, employers, and organizations crave greater integration of sustainability within their existing modes of doing business." -Nora Burkey, Founder and Executive Director, The Chain Collective, Coffee Sustainability Program Content Creator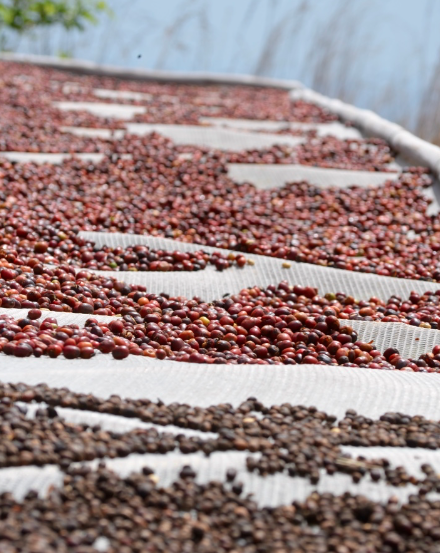 Three Levels
The Foundation-level course is now ready, with Intermediate and Professional in progress and coming soon.
Foundation – The program's first course covers the major sustainability issues facing the coffee industry today and offers baseline knowledge of what the term "sustainability" means, how it is connected to power dynamics, current and historical events and practices, as well as a variety of coffee projects.
Intermediate – The Intermediate course introduces learners to global sustainability challenges and prepare learners to begin thinking analytically about the impact they'd like to make in the sector.
Professional – The Professional course offers an intensive, practical experience in which learners design, carry out, and assess their own sustainability project in accordance with their individual, organisational, or business goals and capabilities
You can read more on the content of the courses here.
This is not a new topic of conversation, but it has finally reached a point of necessity. Other industry educational platforms like Barista Hustle are also getting involved with creating courses on this issue. So it seems, the industry and the consumers are paying attention and aiming to be part of solutions for the future. As an exmaple, we saw amazing examples of this with the coffee farmers of Gorongosa, Mozambique, planting other crops in the coffee fields to both feed the soil and feed the community.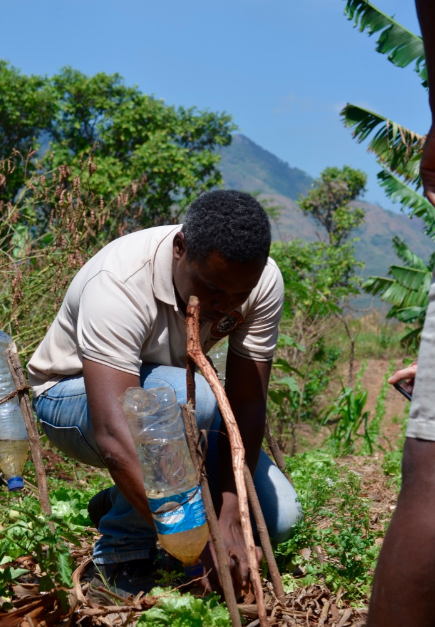 If you're looking for some high-level insight into what the benefits of sustainable practises can be check out this Re:CO lecture:
Got something to say? Then leave a comment!