Going gourmet with savoury coffee
Thursday, 17 January, 2019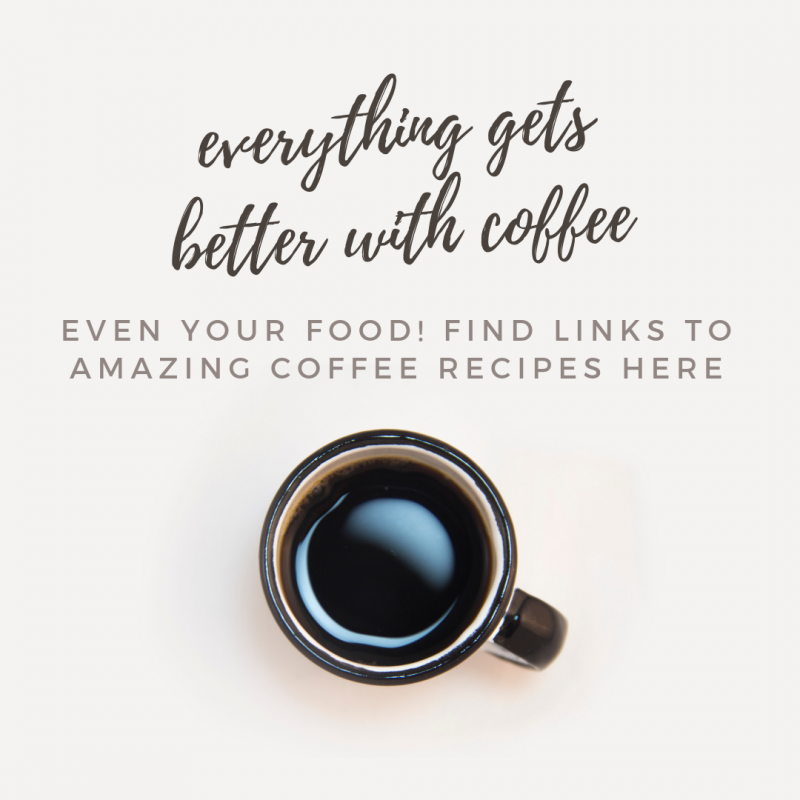 Coffee is a familiar addition to sweet treats and desserts, but what about cooking a main meal with your favourite single origin? More and more gourmet dishes are relying on coffee's rich flavour to add depth to the meal. Here are our favourites!
Beef fillet with café au lait sauce
This coffee-mushroom sauce (inspired by the famous sauce at The Pot Luck Club in Cape Town) over a tender beef fillet steak will have you licking your plate clean! Get the recipe here. The coffee-infused cream will take a few hours, but it's worth the wait. Bon appétit!
Coffee-Braised Short Ribs
Did you know that coffee can be used as a meat tenderiser? You won't even need a steak knife to enjoy these falling-off-the-bone short ribs. Slow-cooked to perfection, you'll be salivating near dinnertime. Get the recipe here. Delish!
Coffee-Spiced Steak
Coffee has over 800 aromatic compounds that bring out the best in savoury dishes and meats, and really enhance the rich flavours. In this braai recipe for beef steak, the ground coffee beans in the spice mix really brings the taste to life. Get the recipe here. And enjoy!
Coffee Tagliatelle
Fire up the espresso and get ready for an unexpected taste sensation – coffee tagliatelle! There's so much to love about this recipe, not least of which is homemade pasta for a light lunch or dinner. Get the recipe here.
Coffee-rubbed rib-eye with shoestring sweet potato fries, mushroom sauce and radish salad
Four thick-cut rib-eye steaks with a coffee rub that adds an irresistible earthy flavour to the meat…that's pretty hard to beat. We all know how amazing coffee is, but freshly ground coffee in the rub takes it to another level. Get the recipe here.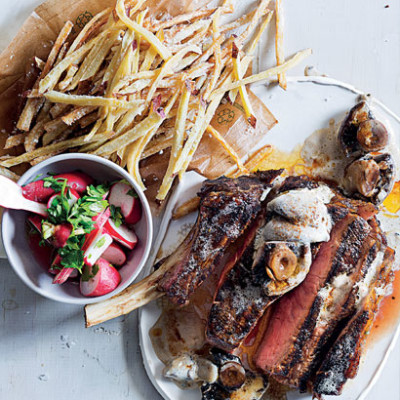 Moroccan coffee, cardamom and turmeric leg of lamb
Coffee proves its versatility in enhancing the effect of this exquisite combination of flavours. Pair with a Bordeaux-style red blend wine for a gourmet experience not soon forgotten. Get the recipe here.
Coffee is the culinary ingredient you didn't know your main meals were lacking! Let us know if you have other ways of cooking with coffee?
Got something to say? Then leave a comment!
---
Bluebird Coffee Roastery goes to Europe
Wednesday, 16 January, 2019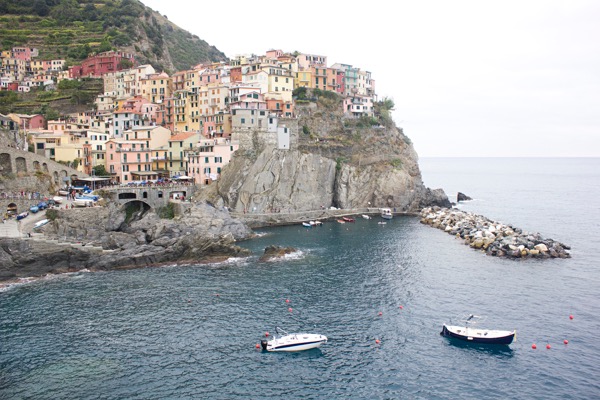 BlueBird Coffee Roastery goes to Europe
You might remember 'meeting' Dario and Alexis Scilipoti of BlueBird Coffee Roastery in our Roaster Feature a few months back. They recently completed a European trip where they visited some amazing cafés and met some incredible roasters. They shared the first part of their journey through Istanbul, and have more to share from their travels through Barcelona…
- - - - - - - - - -
On our final day in Istanbul, we met with Cagatay Gulabioglu of Probador Colectiva.
We spoke about specialty coffee and left with a deep desire to drop our commercial coffees and focus on being a quality obsessed specialty roastery, partnering with cafés who care about their coffee. We then jumped on a ferry across the Bosphorus River to explore the Asian side of Istanbul. We met up with Mert Toksoy, the owner of Montag Coffee Roasters – another specialty café with an off-site roastery.
Mert was awesome. We shared some tasty coffees and spoke in detail about his approach to roasting coffee. He works closely with Patrick Rolf of April Coffee in Copenhagen and together they are pushing the boundaries of roasting. Their current approach breaks pretty much all the 'rules'. The evidence is in the cup and the cup tells me that they are on to something! We left with a 100g box of his competition Geisha from Colombia. And profile testing has started at BlueBird.
Next stop, Barcelona!
Ah Barcelona…what a city! Architecturally, the Gothic Quarter is one of my favourite places on earth. It also happens to have a pumping nightlife and a happening food scene. We were in town for the annual Mercat de Mercats (market of markets), which is a food and drink trade fair right outside the Barcelona Cathedral. It was fantastic – local beers and wine and endless food options!
We enjoyed the city at a slow pace. Soaking in the sights and sounds. Gaudi, Las Ramblas, beautiful beaches and of course, great coffee. The two coffee highlights were Satan's Coffee and Nomad Coffee. With a questionable name choice and also for the fact that we visited on a Sunday morning, Satan's will be a long-remembered experience! Serving coffee from Spanish roasting champion, Right Side Roasters, and with seriously quirky artwork, this small café in the centre of the Gothic Quarter feels different for the sake of being different.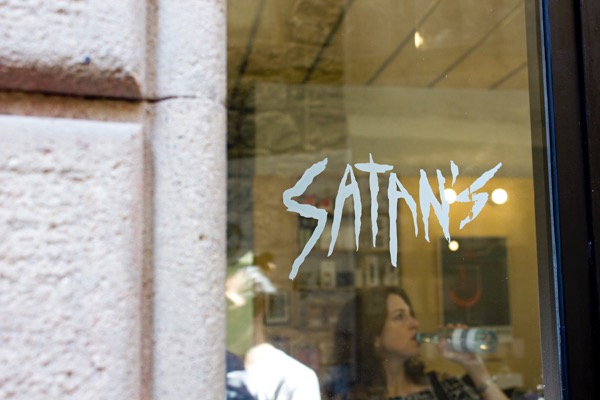 After a pretty long bus ride and meeting a surfer headed for a wave (rare in this part of the world but extremely FOMO-inducing), we arrived at Nomad's Roasters home location. As advertised, it's the home of their Probat and roastery team. The small coffee bar features a La Marzocco GS3 and various manual brew options. I enjoyed a washed Kenyan batch brew served in a cupping bowl and a light-hearted conversation with their head roaster as he roasted a few batches. Cool people, good vibes, tasty coffee… great experience. We grabbed a bag of their Kenyan filter and proceeded to walk 100m down the road and straight into a bowl of the best paella we've ever had at a brand new little restaurant. It was a good day!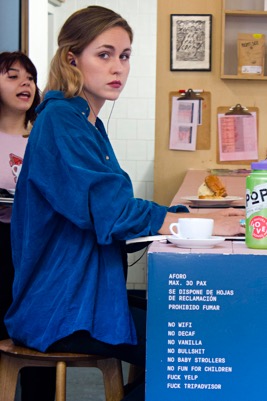 Coffee at sea
After a few days in Barcelona, we joined some friends aboard the world's largest cruise ship, the Symphony of the Seas. Poor Lex, morning sickness at sea – she handled like a trooper! We enjoyed a stop in Marseille, explored the Cinque Terre with friends who live in La Spezia, and ran around Rome with a rad crew. It was the best time!
From a coffee point of view, a lot of BlueBird coffee was consumed onboard courtesy of my Porlex Mini hand grinder and AeroPress, and a dream was fulfilled… A dream to taste Rubens Gardelli's coffee! As the current roasting world champ and with an uncompromisingly progressive approach to coffee, I look up to Gardelli and couldn't pass up the chance to enjoy his coffee in his home country.
This led us to Pergamino Caffe, about 200m from the Vatican – and a hard decision to make. With two hours before we were heading back to the ship, do we enter the Vatican or drink coffee? Well, barista Gianmarco Frosoni served us Gardelli's Ethiopian Nensebo competition series through the V60. I swore that I would taste the Nensebo in the café and then buy a bag of Gardelli's cheaper coffee to take home. Ya, that didn't happen! Nensebo is a dream Ethiopian that I am still enjoying at home, slowly.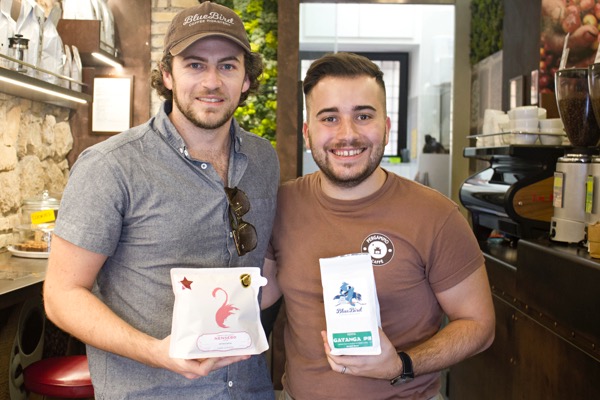 We then had a Brazil from A+ Coffee in Australia as espresso. Full on chocolate – so good. Gianmarco then brewed our BlueBird Gatanga PB from Kenya and gave some good feedback. It's pretty intimidating having your coffee tasted alongside a competition coffee from the world roasting champ!
Heading home
After almost three weeks of fun, it was time to head home. We brought back memories, an immense amount of information, improved perspective, a strong dream for BlueBird and nine bags of coffee which we have enjoyed sharing with customers and friends.
Coffee is an incredible thing. It's amazing to think that a simple seed within a cherry on a shrub in Africa can fuel people's imaginations, enhance relationships, and literally drive economies. As coffee lovers in South Africa, let's strap in and enjoy the rise of the specialty coffee scene… it's just getting started!
If you liked this article, then you may also like these:
Got something to say? Then leave a comment!
---
Let the Music Move You: Part 3
Tuesday, 15 January, 2019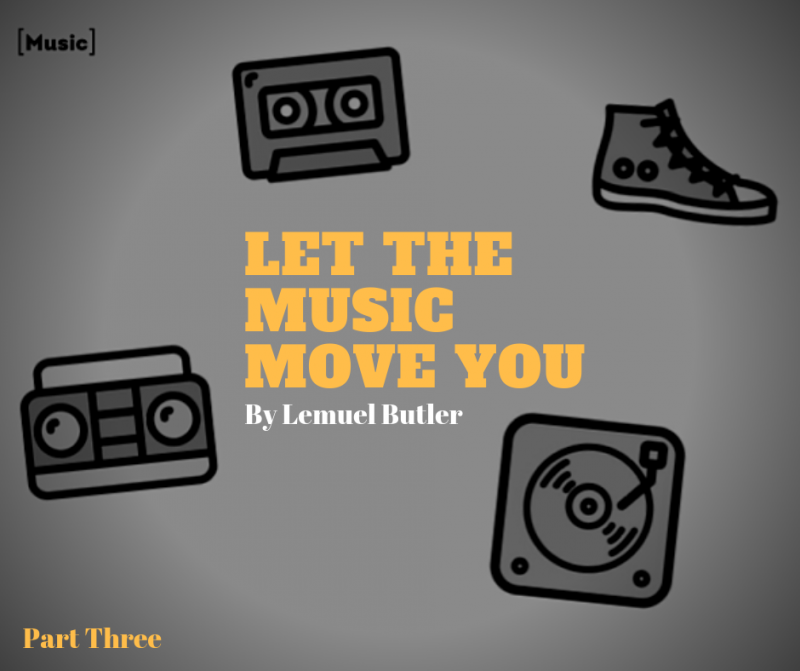 In Part 3 of our 4-part series with the inimitable Lem Butler, we challenged him to tell us about the Record and coffee that never fail to move him no matter how much he listens to it or drinks it. This is our favourite in the series so far. An education in music and coffee!
Words by Lem Butler
---
I can't live without music and coffee! Actually I could, but life would be very drab and colourless without the two. Music and coffee are both centred around emotions; we attach certain emotions based on experience to both coffee and music where these attached emotions connect people with themselves and others. Music has always been a focal point in my life. When I was younger, I submersed myself in music because I was surrounded by it growing up. I dived ears first into the disciplines of both woodwind and brass instruments; studying both clarinet and euphonium which eventually led to hip-hop production and dj-ing later in life. I was a late bloomer when it came to coffee, but even though it wasn't until my thirties, coffee still managed to take centre stage along side music mainly because of how the two brought people together.
When I think of music and coffee that, through the years, still move me; there are two coffees and five albums that accomplish this consistently. Five albums I could listen to from start to finish as if it were the first time are Prince's "Sign of the Times"; De La Soul's "Buhloon Mind State"; Tears For Fears "Songs From the Big Chair"; John Coltrane's "Giant Steps" and A Tribe Called Quest's "People's Instinctive Travels and the Paths of Rhythm". Coffee is very similar in that I would never tire from drinking Gesha Village from Ethiopia and Finca Nuguo from Panama. As we have limited space, I will focus this article on A Tribe Called Quest and Finca Nuguo and how they are related in experience and emotion.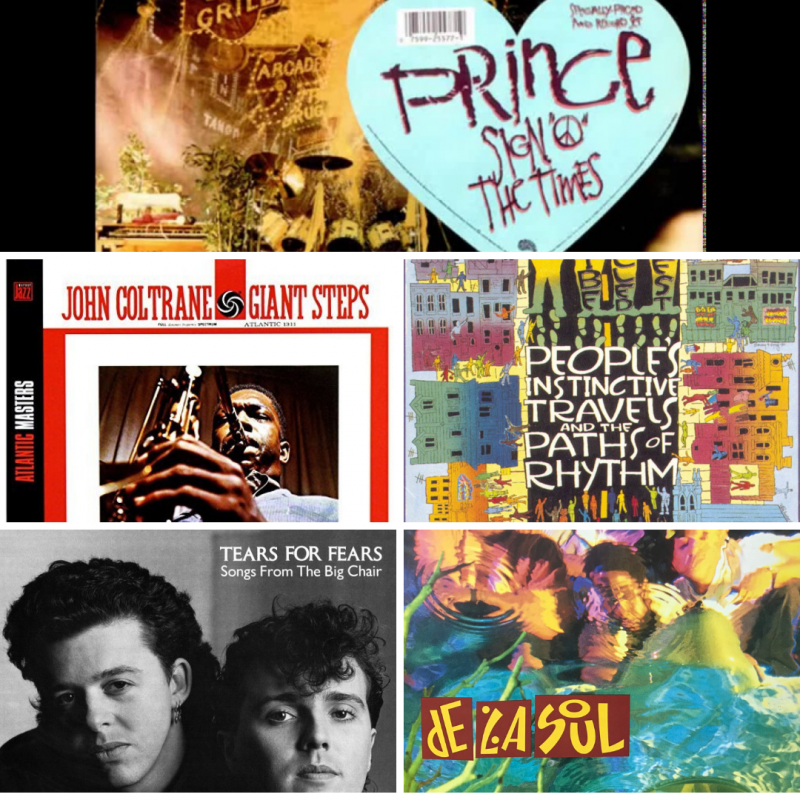 The sun was the hottest it had ever been in its history and the windshield of my friend's 1983 Honda Civic magnified that heat to a point where I could barely keep my eyes open without squinting, but I was headed to the beach with friends and no amount of heat was going to keep me from my weekend of waves and sand. With temperatures reaching 95-100F and my eyes practically shut from the bright sun, I was in and out of sleep so I never knew who brought the cassette tape that was placed in the barely functional cassette deck. It was not important once I heard what flowed from the speakers next to my resting head in the backseat. A completely unorthodox start to the album but it began with a fade in of a child crying. Then the beat dropped. And so did my jaw. By now a cool breeze is flowing through the Honda. Soft keys, low end bass, an infectious guitar riff and then:
Q-Tip is my title, I don't think that it's vital
For me to be your idol, but dig this recital
If you can't envision a brother who ain't dissing
Slinging this and that, cause this and that was missing
Instead, it's been injected, the Tribe has been perfected
Oh yes, it's been selected, the art makes it protected
Afrocentric living, Africans be givin'
A lot to the cause cause the cause has been risen
Up until this moment in my life I had never heard anything like this in hiphop or in music. Push it Along is an incredible track that was perfect for that moment and moments to follow. It was the sound that resonated with me. It was a sound that was indescribable. Years later, I can still sit with that album from beginning to end without skipping a track or any of the call and response skits in between tracks. People's Instinctive Travels and the Paths of Rhythm by the hiphop trio, A Tribe Called Quest, is one of my all time favorite albums.
QTip's distinct monotone rap style stands out in the industry and when I heard his rhapsodic delivery I was mesmerized by the eveness Q-Tip creates over the 808 drum machine beat loops and samples in which he produced. Q-Tip is the texture that holds the entire sound together.
Phife Dog comes in on the second verse adding contrast to Q-Tip's almost textured lyrics. Phife brings lyrical brightness to the track. The perfect complimentary pairing of two talented emcees. As we continued along our costal journey, the tape continues into more outlandish quirky awesomeness. "I Left my Wallet in El Sugundo", to "Bonita Applebum" to "I Don't eat no Ham and Eggs..." I was transfixed in a synchronized head nod with everyone in the car and I could only do one thing; turn up the volume. When I listen to this album, a small part of me reconnects with that moment in time (I can actual imagine the heat from the sun that day) where I experienced the true essence of the album for the first time and still to this day my head nods as I reach for the volume.
Coffee can have a similar effect on me when all the variables in a perfect sensory experience are aligned. There is one coffee in particular that can move me every time I drink it; mainly because it transports me back to a time in my life when there was an intense level of excitement, adventure and the unknown. Continual competing in the United States Barista Competition after only reaching the semiFinals seven times, elevated the experience more when I finally won. That sparkle from winning increased during the month leading up to the World Barista Competition in Dublin, Ireland. In between our national competition and the world competitionI had to visit Finca Nuguo in Panama to taste through 30 different coffee lots form Jose Gallardo. I met Jose in 2015 after he had won the Best of Panama competition with his coffee. He was visiting Counter Culture Coffee where I worked. He walked into the training center where I was preparing espresso form 5 different coffees and Jose asked if I could prepare his coffee as espresso. He had never had his coffee as espresso and wanted to know how it tasted in a different brewing method. So I did. We were both impressed from how more floral the espresso machine made the coffee. One year later that same coffee, even a year past harvest, would win the 2016 United States Barista Competition.
After winining the US Championship, I realized that there was not enough of this incredible coffee left for the World Competition, but Jose Facebooked me to let me know he had 30 lots of new crop and wanted me to come down to Panama to sort through these lots to find what I wanted to compete with. I wanted to find the Jasmine florals, cane sugar sweetness and lime acidity I experienced in 2015 which won the US Comp in 2016.
With my sparkle and my palate, I boarded a plane and started my journey into understanding coffee flavors. When I arrived on Jose's Finca Nuguo, I immediately understood. 5 hectare situated in the volcanic mountains bordering Costa Rica and one of the largest Nature Reserves in Central America L'Amistad National Park, I learned about the cultivation of the impressive Gesha Variety where the lime acidity is only indigenous to this specific farm because of the bacteria produced from over 600 species of bird that migrate through Finca Nuguo on their way through L'Amistad. I learned how different elevations on his farm will produce more or less of the elegant jasmine fragrance present in the coffee. Every time I drink a cup of Finca Nuguo, I am reminded of the 1900 meters above sea level where the farm sits slightly above clouds which gather over the valley of Jurutungo appropriately named after the reverberating sound the howler monkeys make in the surrounding rain forest.
Drinking a cup of Finca Nuguo is like sitting on the farm watching a cloud bank from the Pacific Ocean roll into the valley just as the floral jasmine notes glide across my palate becoming the perfect segue for the lime acidity to move in balancing body and sweetness in the cup.
Very much like the track "Push It Along" by Tribe Called Quest, Finca Nuguo as espresso will move my palate like a strong bass heavy track will move my soul; Q-tip and Phife Dawg's lyrical exchange is like magic. The silence of DJ Ali Shahid Muhammed resembles the silence of Finca Nuguo's bitterness with an occasional unexplainable appearance of hibiscus like the random appearance of Jarobi ( an original member of A Tribe Called Quest) on some of the tracks.
People's Instinctive Travels and the Paths of Rhythm is a record that will always move me as if it was the first time I heard it just like a Cup of Finca Nuguo would always be a welcomed daily extraction.
Got something to say? Then leave a comment!
---
Win with the Summer of Coffee Lovin'
Friday, 11 January, 2019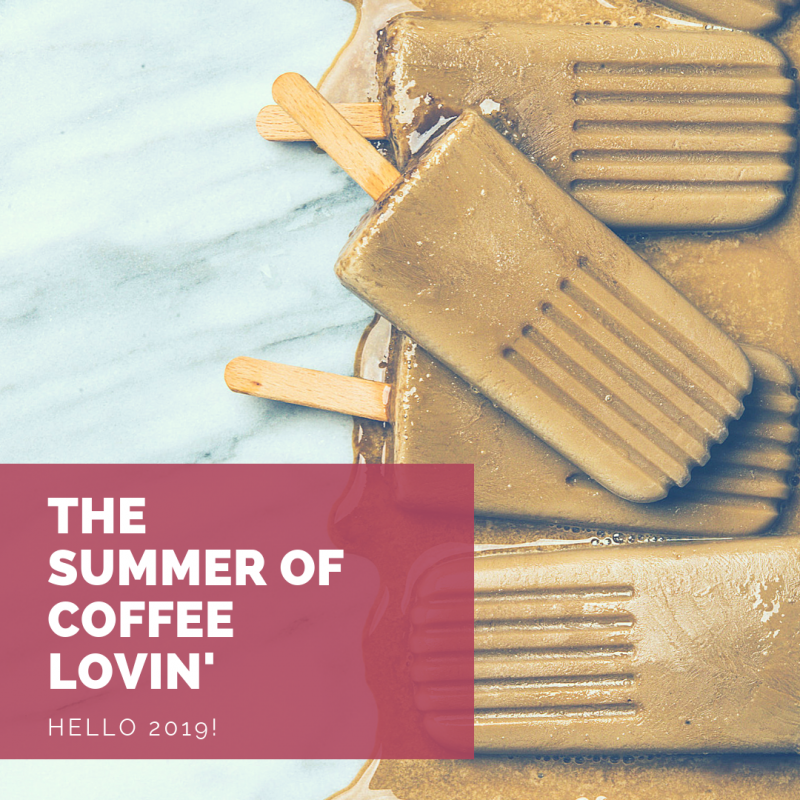 The latest edition of our magazine celebrates ways to beat the heat and still enjoy your coffee. We made the coffee ice cream lollies over the holidays and suffice to say they were a HIT!
To celebrate the start of 2019 and these long summer days we are giving away an awesome hamper worth R1000!
You get a Discover Great Coffee Summer Box (order here if you want one!), some Sea Dog Cold Brew, a Lizzard Creative Coffee Week flask, the summer edition of the magazine (Find your nearest Distributor here) and a Coffee Magazine tee. Whoop whoop!
Hello 2019! Coffee Hamper worth R1000
Got something to say? Then leave a comment!
---
SA's oldest Roastery celebrates 94 years with launch of new home
Friday, 11 January, 2019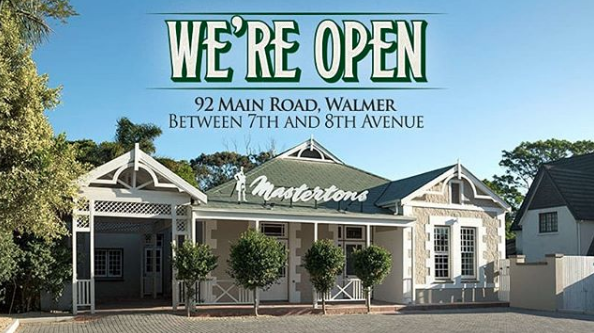 In a round about way, Mastertons Coffee & Tea Specialists is at the very beginning of The Coffee Magazine story. We might never have existed were it not for our editor's dad being inspired to start his own roastery space after visiting James Masterton at his Port Elizabeth Russell Road store.
So began the road to starting The Coffee Magazine and falling in love with the coffee industry. Thanks Mastertons!
Now as South Africa's oldest coffee roastery celebrates their 94th year in business (!!!), they have relocated to stunning new premises (92 Main Road, Walmer). The charm of the old location will never be forgotten and will certainly hold a special place in our hearts, but the new location expands their passion for coffee in such a beautiful way. They've got dedicated areas for training, cupping, equipment, beans and to grab a cup of their famous brew.
Ryler Masterton and his team are pushing the brand forward into the ever expanding world of coffee and they are excited for the future. They have really created a gorgeous contemporary space, without sacrificing the traditional look and feel. Just take a look below...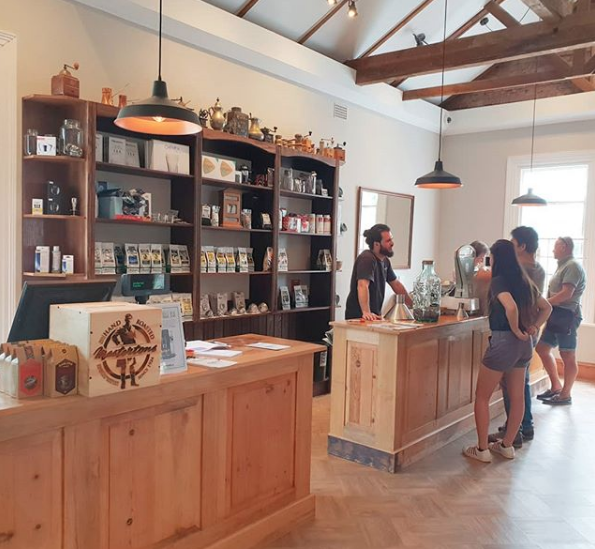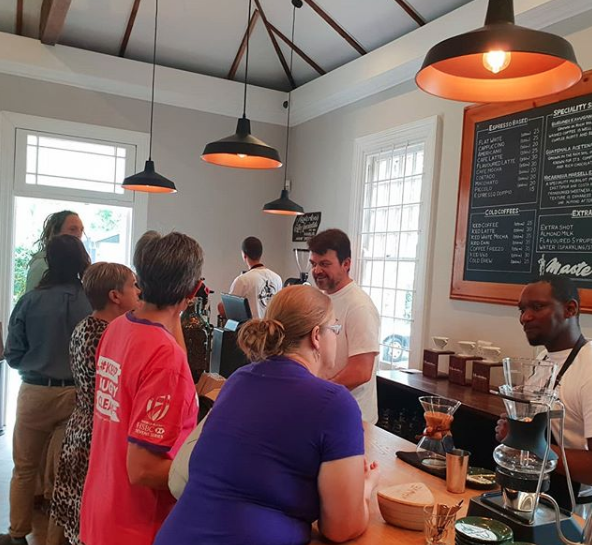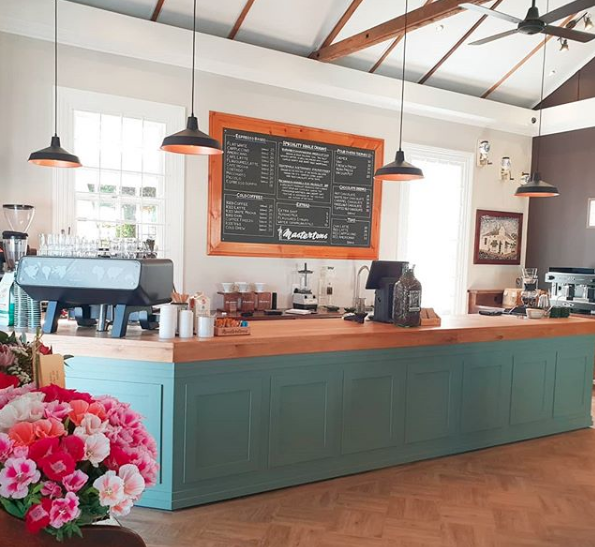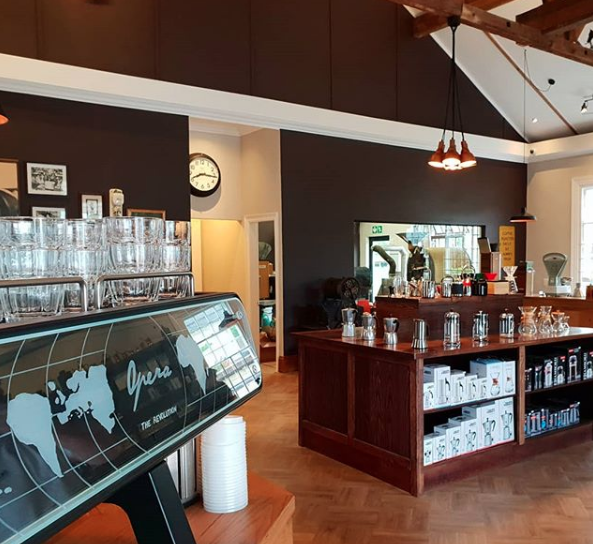 Got something to say? Then leave a comment!
---
New Kid on the Block: Holiday Coffee
Tuesday, 8 January, 2019
Port Elizabeth has a brand spanking new coffee company and they are looking fresh. Welcome to the world Holiday Coffee Company, we are loving your vibe!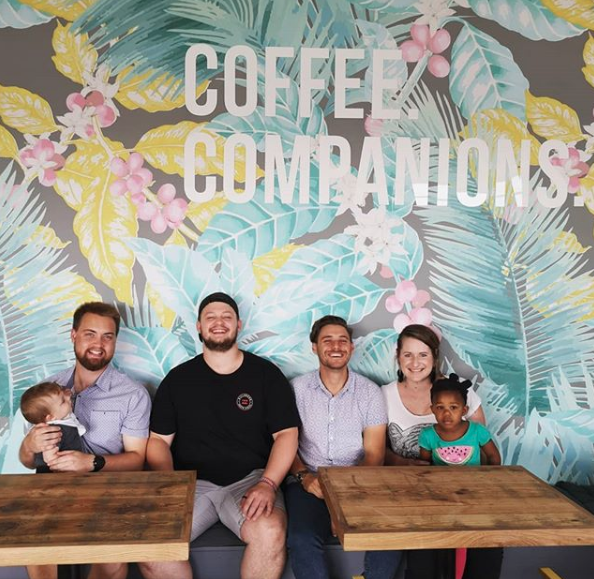 All pics from the delightful Holiday Coffee Company instagram, give them a follow!
Who are the people behind Holiday Coffee Company?
Husband and wife team. We (Chris and Carmen Faragher) have just started this epic journey and dream of a Local Cafe and Coffee Brand within in the Eastern Cape.
Married for 8 years and have our two Children Charis and Levi.
Chris had been working for the past 7 years on the corporate side within the coffee industry as an SCA trainer and coffee educator, always with a deep desire to start his own Coffee Company and lifestyle Brand.
We have a team of top notch baristas working alongside us in the bar every day. These guys are amazing!
How did you decide on the name and look and feel?
Look and Feel? Fresh!, open and clean with a natural feel. We want to evoke adventure and energy through a lifestyle coffee brand. Encouraging good coffee drinking rituals that an individual or group of people can enjoy together with us. We wanted each person interacting with us to feel the joy of a holiday, daily! We wanted to create a coffee environment and look that was unique and that we hadn't seen before. Good vibes all round! Carmen, my wife, was the brains behind the look and decor. We think she nailed it.
The name Holiday? We had been tossing around some ideas for some time and we as a young family came to quite a high pressure season with the demands of work and two small children. We wanted to create a change in our lifestyle and a holiday was much needed! The name Holiday then lent itself exactly to the look and feel we wanted to create. We then worked closely alongside a designer to create this brand we love.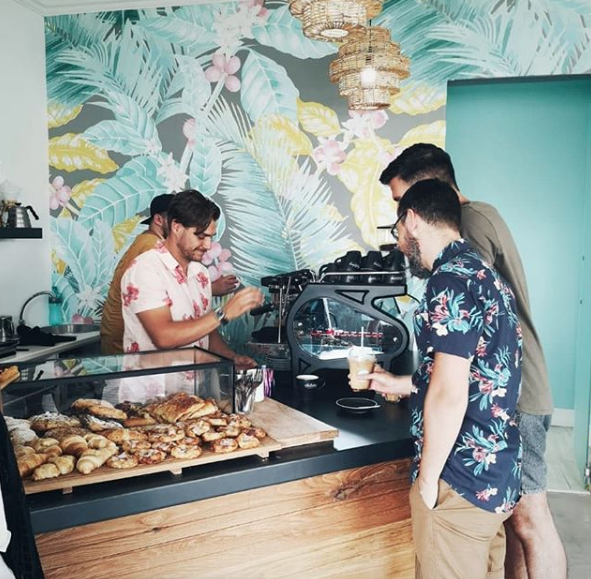 What are your goals for Year One?
We absolutely have long term dreams to grow our business in so many ways. But we are so passionate about creating something excellent so we have devoted this first year to honing down our systems, service delivery and relationship with our customers face to face. All while serving them premium coffee brewed to great quality standards with our team.
What is the unique experience you feel you can give potential customers?
We really want to push and demonstrate a high level of beverage preparation while educating our customers along the way. That being said, at our core, aside from the Coffee, we want each customer to feel that they receive ultimate value and that each moment they share with us is an absolute treat.
Tell us one funny/frustrating/inspiring story from the build up to opening or from your first month of trading?
You don't know what you don't know. To take a concept that you've been developing for years, then launching it in four weeks is a hard task. Everything opened up for us quickly, and we mean quickly!, so we rolled with the punches and here we are. Happy as ever and fully stoked!
Anything else you would like to share with our readers?
If you have the opportunity, do what you love. The hard work and drive while you don't do those things will motivate and grow you Incredibly! When it's all pulled off, take in the moment, have gratitude in your heart, and enjoy the ride! Our roaster and good friend Ben (BROTHERS Coffee) has often told me, "don't let me hear you complaining about having to work hard!" And so I'll never take that for granted. You won't hear any complaints for us! We are so thankful!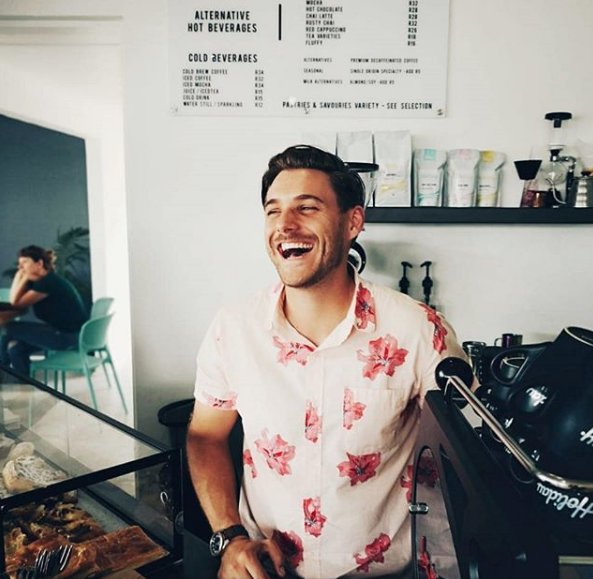 If you liked this article, then you may also like these:
Got something to say? Then leave a comment!
---
Bluebird Coffee Roastery goes to Istanbul
Friday, 11 January, 2019
You might remember 'meeting' Dario and Alexis Scilipoti of BlueBird Coffee Roastery in our Roaster Feature a few months back. They recently completed a European trip where they visited some amazing cafés and met some incredible roasters. This is their story…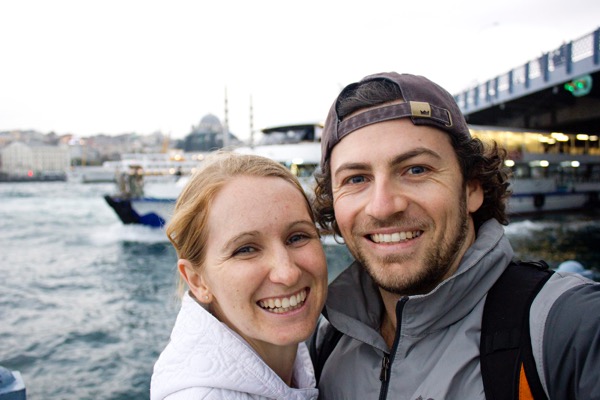 - - - - - - - - - -
Cats, Mahlkonig EK43 coffee grinders and Ethiopian naturals coffee everywhere! That is my first and lasting impression of Istanbul, stop one of the unofficial "BlueBird visits as many European coffee shops and roasters as possible" tour…
After an uneventful flight and taxi ride to our home for the next week, we had a few hours to kill before checking in. Lex was ready to chill and I was ready for some coffee. Brew Lab, here we come! I should clarify a few things before we start drinking coffee. Firstly, Lex wasn't "ready to chill". She was exhausted. It turns out that growing a human is extremely tiring and we had just found out that she's pregnant. Flipping stoked!
Secondly, my high school sweetheart and the love of my life hates coffee. This is her right. I have forgiven her (mostly). You would think that this would be a challenge given the nature of our unofficial tour, but her constant state of exhaustion meant that extended conversations with café and roastery owners suited her perfectly. Thirdly, our guide for this tour came in the form of a series of videos and a map from the guys at European Coffee Trip. Thanks boys!
Exploring Istanbul's coffee scene
With our bags securely stored, we located Brew Lab on Google Maps, just 4.3km away. 20 minutes and many one-ways later, our very bling limo-style Uber got us there. Lesson one learned: switch Google Maps to Walk mode – the café was actually a gentle 10-minute walk from our apartment! Brew Lab is a delightful little café serving coffee roasted by Petra.
I immediately noticed the abundance of high-end brewing equipment; this however turned out to be the norm. I enjoyed a delicious Kenyan pour over while trying to communicate with the barista – his English and my Turkish left us pointing and smiling politely. Little learned, but a great experience nonetheless. We're Instagram friends now.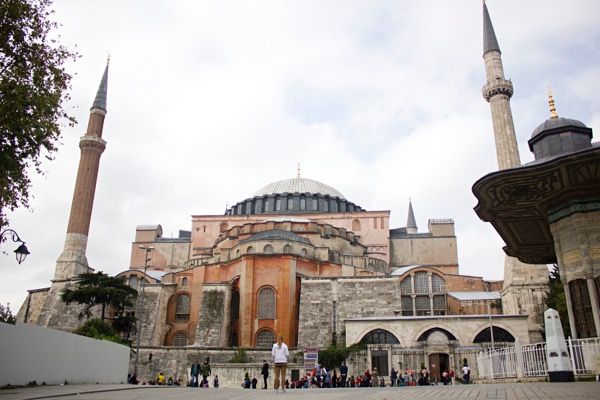 After a day of exploration, which included a few must-see sights like the Hagia Sophia, Topkapi Palace Garden and the Blue Mosque (Sultan Ahmed Mosque), we were ready for a quiet place to process the day's activities. This brings us to Kronotrop. This trendy little café and roastery is a great example of a third wave coffee business. First class equipment and the two baristas on bar were passionate and eager to share information about their coffee options and favourite brew methods.
I enjoyed multiple coffees, including a delicious naturally processed Ethiopian pour over and a chocolatey Guatemala as espresso. Kronotrop also has a small shop in the airport which rescued me from the HSBC lounge coffee, which had distinct notes of tar, smoke, and demons.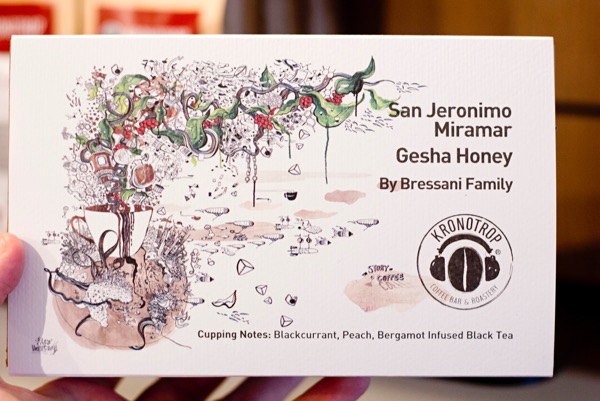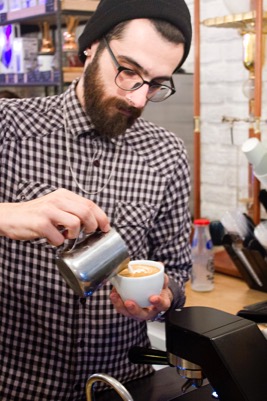 A tour of specialty coffee shops
Istanbul is an assault on your senses. People everywhere, most of whom seem to smoke. Diverse food options, most of which we sampled. Sweet teas, Turkish delight, baklava, artisanal chocolate, shawarma, roasted chestnuts…the list goes on. But nowhere is more 'full-on' than the Grand Bazaar. Thousands of stalls selling knock-off big name brands, beautiful carpets, local delicacies, and jewellery.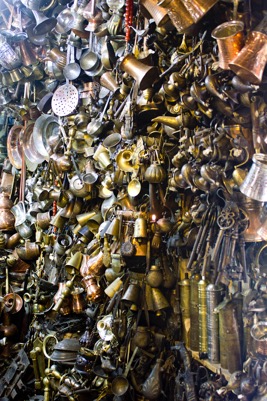 We had a specific item in mind though: an antique Turkish coffee pot. After locating the shop we were after within the antique section of this massive undercover market, we struck gold. Well, it's actually copper and brass, but you know what I mean. Stoked!
Then it was off to Petra Roasting Co. We had seen the signs in bookstores, cafés, hairdressers and offices - "Petra Coffee served here". We had to go to the source! Petra is a large restaurant and coffee roastery. Big, bustling, and beautiful. Modern yet comfortable. Friendly staff, a huge selection of pastries, and a top-notch coffee offering. The roastery featured a new Probat, automated packaging, and a lot of coffee!
I got to meet the owner, Kaan Bergsen, who was super cool. We swopped bags of coffee and spoke roasting styles. He shared some of his frustration around buying green coffee on price as the average income in Turkey is pretty low. I feel his pain. Asking the average South African coffee consumer to pay R400 for a 250g bag of coffee would be 'interesting'.
Talking coffee
As we were leaving, he excitedly ordered their award-winning Kenyan Kainamui AA as an espresso for us to taste. Fruit forward, bright acidity, creamy body and the intense aroma accentuated by the handmade Tim Wendelboe designed cup – a wide base to cool the espresso and a narrow mouth to channel the smell.
Our final day in Istanbul was one of the best coffee days I have had! We started with a meeting with Cagatay Gulabioglu from Probador Colectiva. Widely regarded as one of the best roasters in Europe, Cagatay overflows with knowledge. From optimum brewing water, to green buying, to roasting styles…he was incredibly generous with his time and expertise.
While enjoying a 90+ Ethiopian coffee, we spoke about the ethical responsibility of the coffee professional. He feels that roasters and café owners marketing commercial coffee as specialty is a global problem, one we often see in South Africa. The issue is that the consumer is left wondering why they paid more for the underwhelming coffee experience. We spoke about farmer pay, increasing global demand for specialty coffee, and the challenges of running a roastery without a café.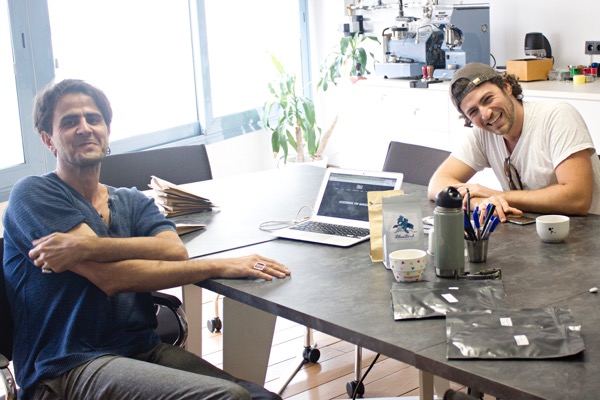 With no interest in opening a café, I was taking notes! He is where we are going as a company – quality obsessed specialty roastery and QC lab, big home barista customer base and partner cafés who care about their coffee. Heck yeah! We left with a selection of his coffees, a branded cupping bowl, and a deep desire to drop our commercial coffees. A decision we have since taken. Thanks Cagatay!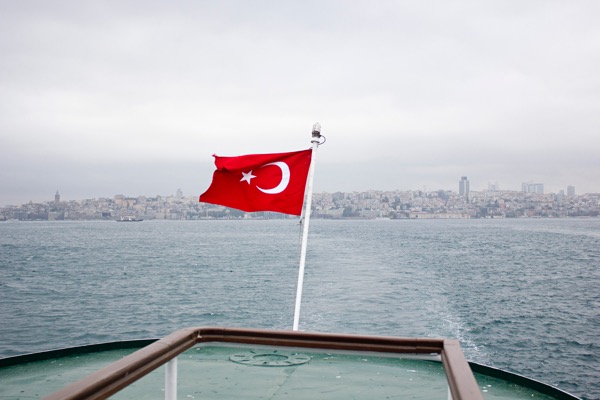 If you liked this article, then you may also like these:
Got something to say? Then leave a comment!
---
The Ultimate Coffee Gift Guide!
Thursday, 13 December, 2018
We've curated the Ultimate Coffee Gift Guide for this festive season!
Looking for a gift for a Traditionalist, a Purist, an Outdoorsy type, an Aspiring Barista or a Domestic Godess? We've got it all and more!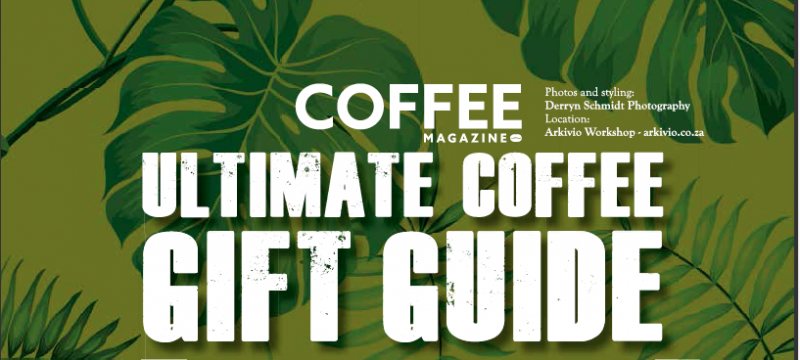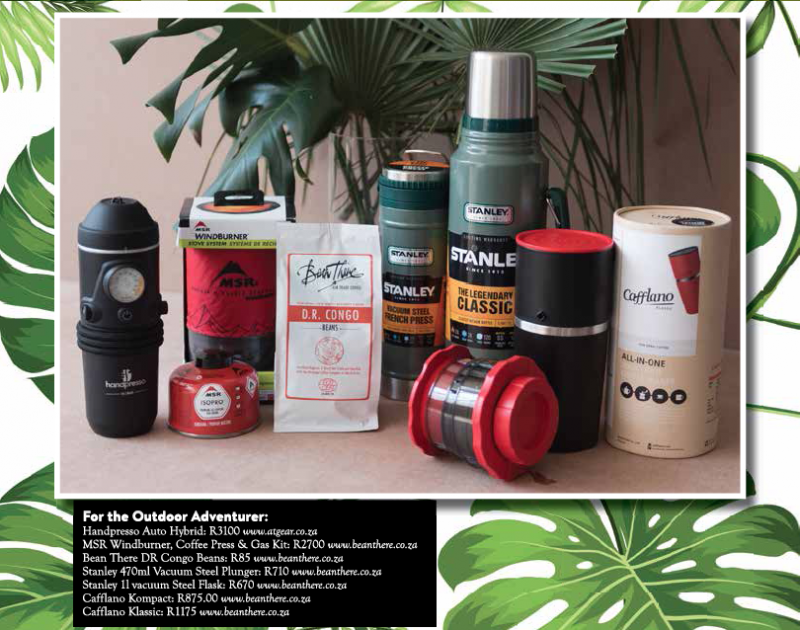 For the Outdoor Adventurer
Handpresso Auto Hybrid R3,100.00 www.atgear.co.za
MSR Windburner, Coffee Press & Gas Kit: R 2700 www.beanthere.co.za
Bean There DR Congo Beans R85 www.beanthere.co.za
Stanley 470ml Vacuum Steel Plunger: R710 www.beanthere.co.za
Stanley 1l vacuum Steel Flask: R670 www.beanthere.co.za
Cafflano Kompact R875.00 www.brucoffeeroasters.co.za
Cafflano Klassic R1 175.00 www.brucoffeeroasters.co.za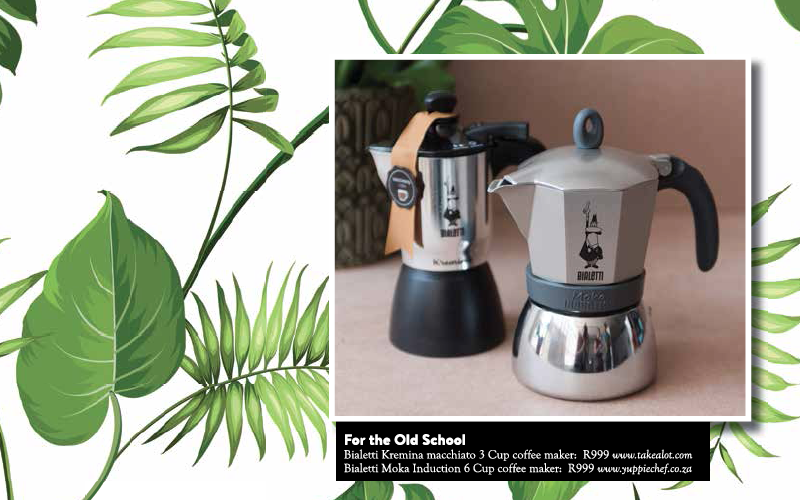 For the Old School
Bialetti Dama Stovetop Espresso Maker / Moka Pot R 629.00 www.capecoffeebeans.co.za
Bialetti Mukka Express Cappuccino Maker R 1,479.00 www.capecoffeebeans.co.za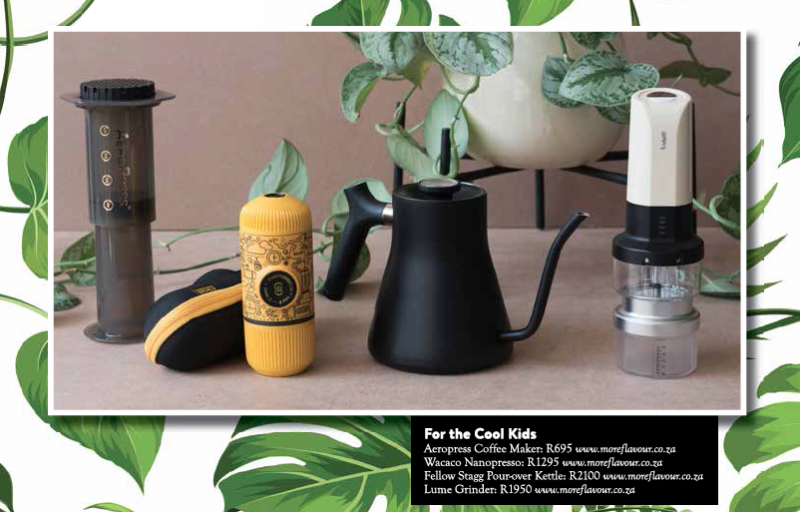 For the Cool Kids
Aeropress Coffee Maker R695 www.moreflavour.co.za
Wacaco Nanopresso R1 295 www.moreflavour.co.za
Fellow Stagg Pour-over Kettle R2 100 www.moreflavour.co.za
Lume grinder R1 950 www.moreflavour.co.za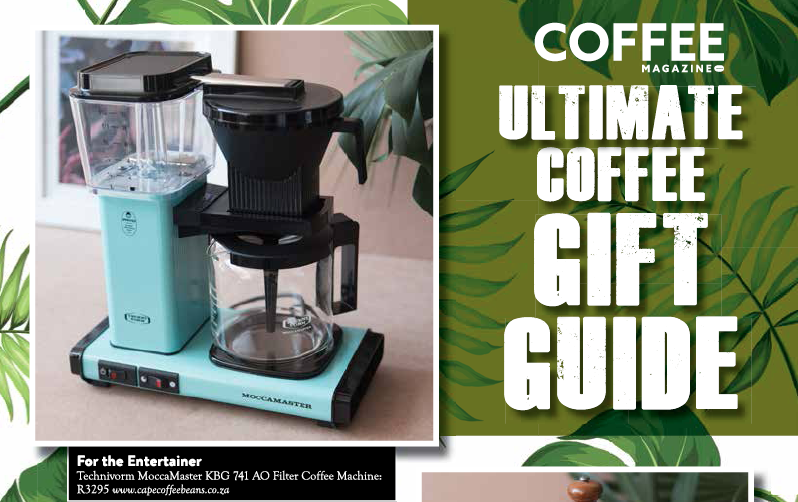 For the Entertainer
Technivorm MoccaMaster KBG 741 AO Filter Coffee Machine R 3,295.00 www.capecoffeebeans.co.za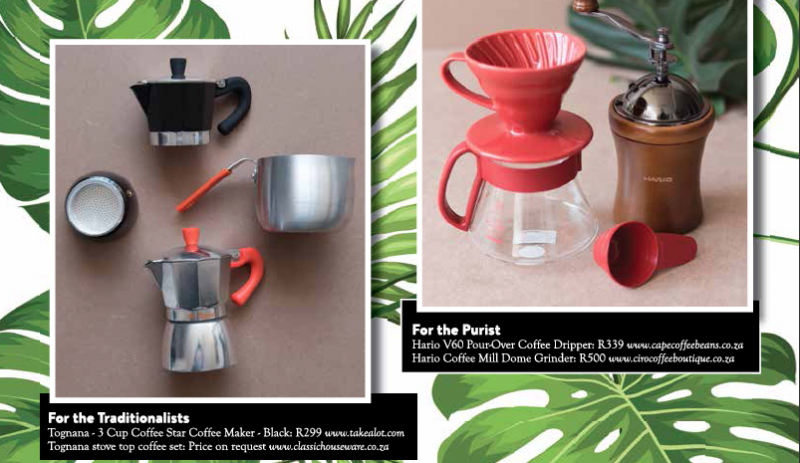 For the Traditionalists & the Purist
Tognana - 3 Cup Coffee Star Coffee Maker - Black R299 www.takealot.com
Tognana stove top coffee set price on request www.classichouseware.co.za
Hario V60 Pour-Over Coffee Dripper R 339.00 www.capecoffeebeans.co.za
Hario Coffee Mill Dome Grinder R500 www.cirocoffeeboutique.co.za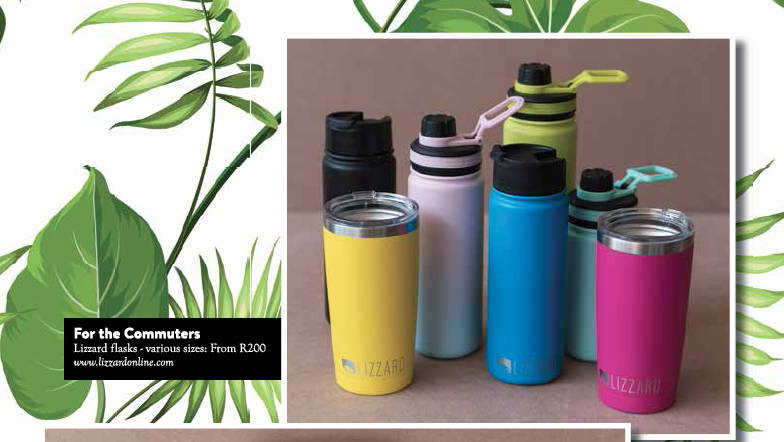 For the Commuters
Lizzard flasks - various sizes from R200 www.lizzardonline.com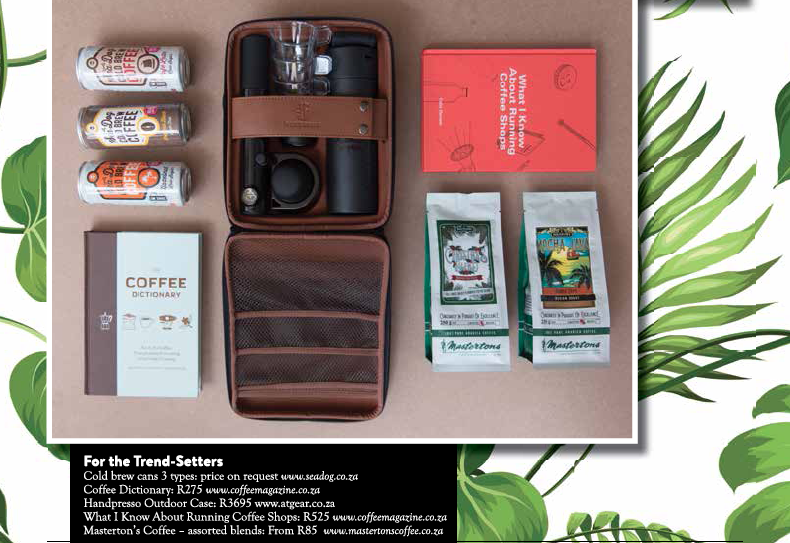 For the Trend-Setters
Cold brew cans 3 types R20-R24 at leading retailers www.seadog.co.za
Coffee Dictionary R275 email info@coffeemagazine.co.za
Handpresso Outdoor Case R3,695.00 www.atgear.co.za
What I Know About Running Coffee Shops R525 email info@coffeemagazine.co.za
Masterton's Coffee – assorted blends From R85 www.mastertonscoffee.co.za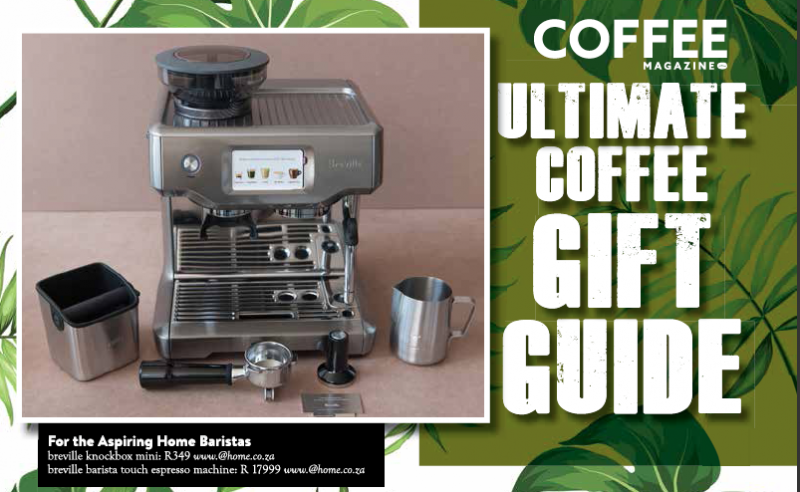 For the Aspiring Home Baristas
Breville knockbox mini R349 www.@home.co.za
Breville Barista Touch espresso machine R 17,999.00 www.@home.co.za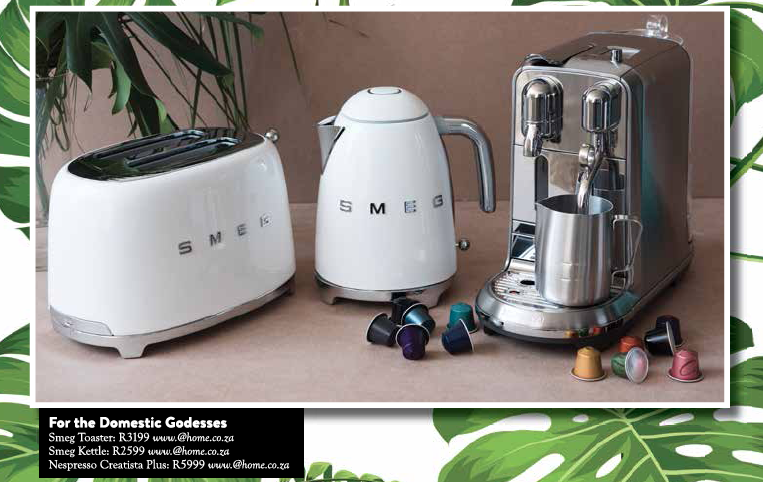 For the Domestic Godesses
Smeg Toaster R 3,199.00 www.@home.co.za
Smeg Kettle R 2,599.00 www.@home.co.za
Nespresso Creatista Plus R5999 www.@home.co.za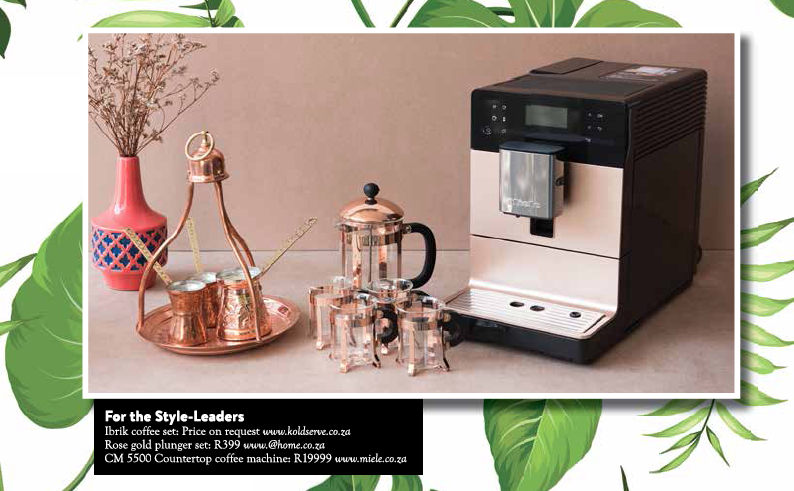 For the Style-Leaders
Ibrik coffee set price on request www.koldserve.co.za
Rose gold plunger set R 399.00 www.@home.co.za
CM 5500 Countertop coffee machine R19999 www.miele.co.za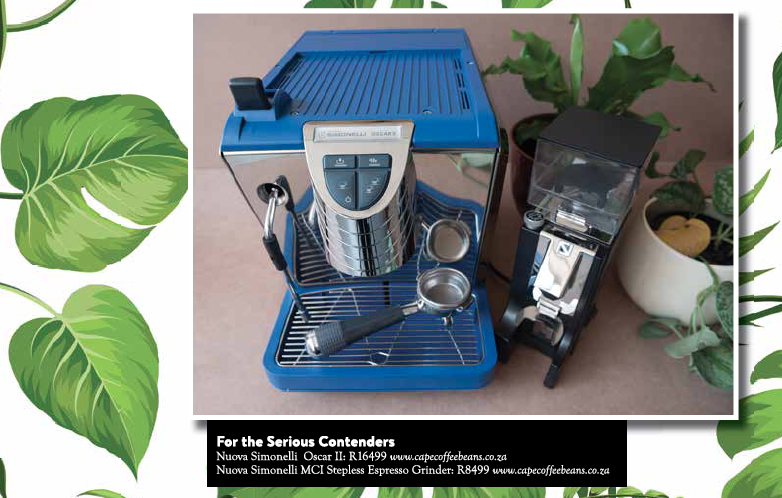 For the Serious Contenders
Nuova Simonelli Oscar II R 16,499.00 www.capecoffeebeans.co.za
Nuova Simonelli MCI Stepless Espresso Grinder R 8,499.00 www.capecoffeebeans.co.za
Got something to say? Then leave a comment!