Meet the team from Foakes Coffee & Bakery!
Friday, 12 November, 2021
We met Happy many years ago at the Oakes Brew House in Modderfontein, so when they got in touch to tell us about the new (well, since 2019 already!) location of their roastery and bakery, Foakes, we were excited to catch up with them!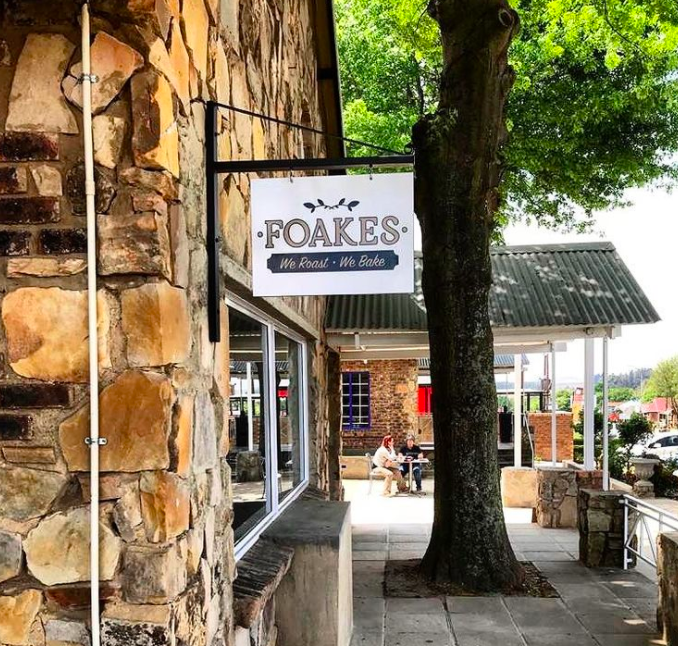 Tell us a bit about how Foakes Coffee and Bakery began?
Foakes started at Victoria Yards, a passion for coffee and a need to bring coffee roasting in small batch to the community, create interest and enable job creation. We had a long standing coffee relationship and magic blends so Foakes was born
Foakes originally comes from Oakes. 6 years ago we started brewing craft beer brewery was called Oakes Brew House. In the process of making beer we then developed an interest in coffee roasting. We tried to push the 2 together in the same building, but it was impossible because the beer got bigger and the coffee also grew, so eventually we had to separate the two. That's when Foakes was born in 2019.
Who are the team members and what are their roles?
We very strong on community development and empowerment.
Happy is our part owner/manager. Blessed is our roaster and Barista. Prince is our Baker. Kirstin is our social media person and Rachel is our deli specialist.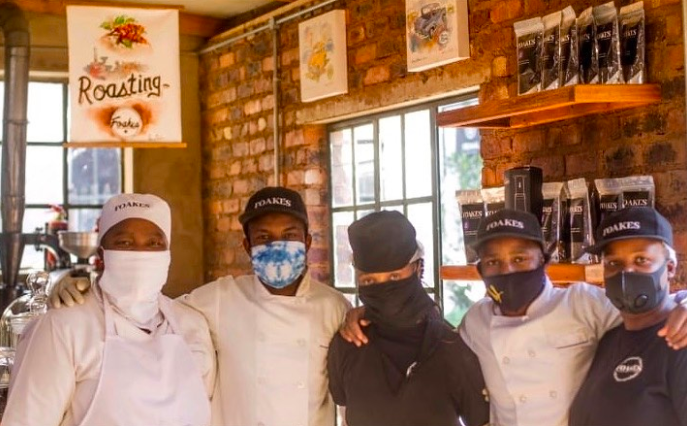 You say you roast in small batches, what roaster do you roast on and what is your favourite coffee at the moment?
We have 3 small machines roasting only 2kg at a time! We have many different single origins Arabica beans from all over the world and we make our own blends. And my favourite would be our house blend, Red Velvet blend which is the most popular and bestselling blend.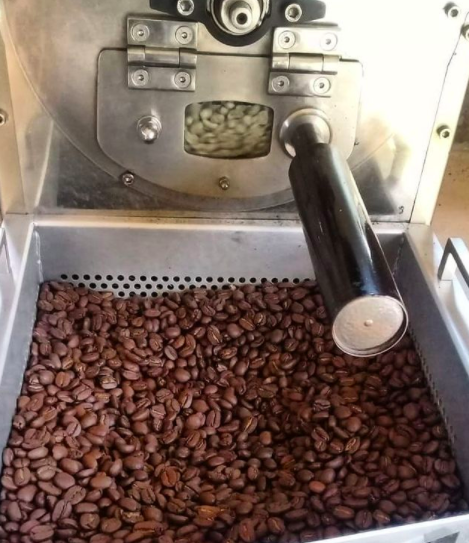 Your breads look AMAZING. Why do you think roasting coffee and baking bread go so well together? Is is because they both smell so good?! :)
Yeah I guess so :) But the main reason was when we were opening the roastery, we wanted to find a Bakery that can supply real bread using old fashioned skills and long developed yeasts. When approaching this really amazing bakery in Maboneng, it turned out the bakery was closing in a month or so and the lady was selling her equipment and had this amazing Baker who would soon be out of job! We saw the opportunity to add on to our roastery and it turns out, they both work very well together.
The bread is the closest to what you would get on the streets of Paris and paired with a coffee? There is nothing better!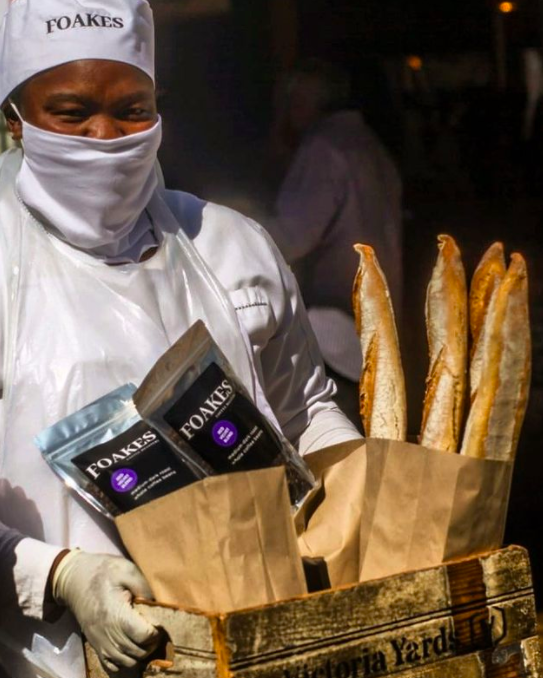 What can people expect when visiting the Victoria Yards?
It's a multi-use event and retail space. If you want to see it at its busiest, preferably come first Sunday of every month which is our market day you will get to experience fresh greens from our garden, food and coffee, drinks and beer, arts, design, fashion and retail.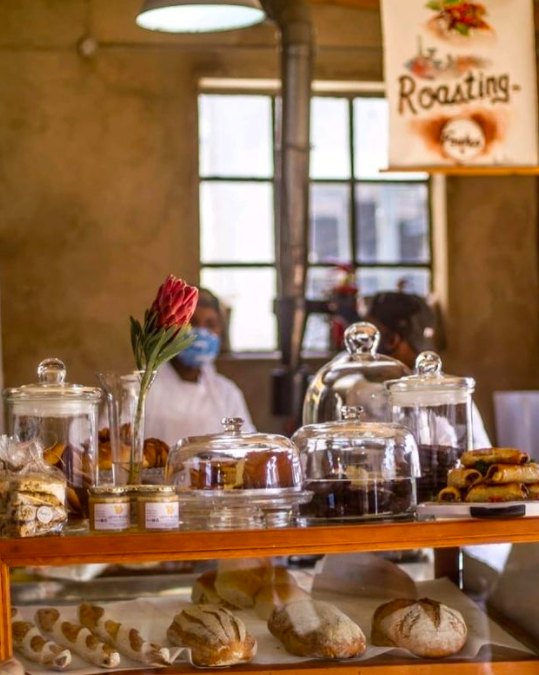 Got something to say? Then leave a comment!
---
Thinking of opening a Coffee Shop?
Thursday, 11 November, 2021
It's obvious that you love coffee. Enough to possibly funnel a great deal of money into building your own coffee business? The first question you must ask yourself is if you are in the correct place in your life to start a coffee shop. Now, this doesn't mean you must be a retiree with a large pension to start, but you do need some capital, time and patience.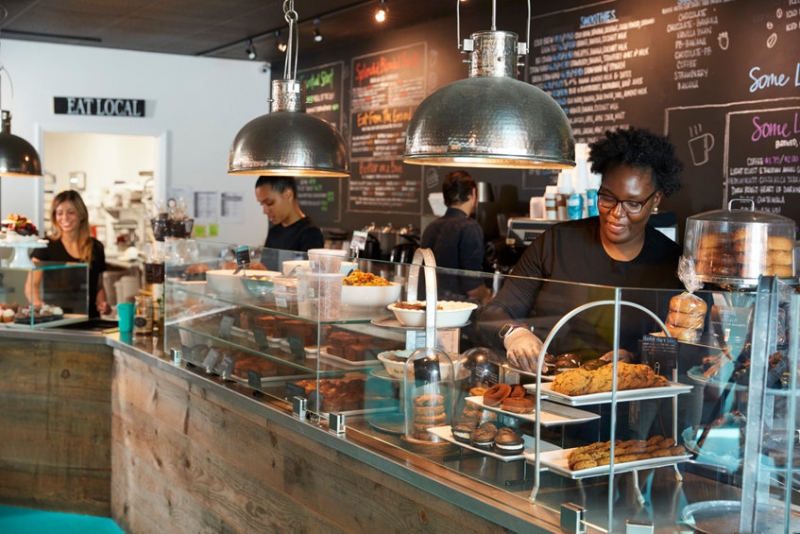 DO YOUR RESEARCH
If you're reading this, you're on the right track. Reading multiple articles on the coffee industry will help you better understand what you're getting yourself into. Coffee consumers are becoming more and more discerning. By doing your homework and gaining some experience, you can become a coffee expert yourself and fulfil the demand for knowledge. Research your local cafe scene to see where you fit in. Ask yourself: "How will I stand out? Who am I making coffee for what is the best way to approach my customers?"
The first step in starting a new business is to define what it is that you will be doing. I always laugh at restaurants who call themselves "The Grill Shop – fine sushi and artisan bread" or "Jake's Bakery – Pub & grill". These entities are confused and do not convey a clear message of what it is they are offering.
Will you be focused on serving food, or are you hell-bent on becoming an in-store roastery? If so, you should visit our Products page to see which roaster best suits you. The best thing is to go out and chat with your potential clients, other shop owners whom you look up to.
Get off Google and onto the streets and speak to experts like us to see what the right tools and approaches are to build your dream around. If roasting coffee is your thing, you should contact Genio so we can help determine your coffee roasting needs. But not all coffee shops need to roast coffee. In fact, only a very dedicated and committed few should think about roasting their own beans. For the rest of the coffee world, focusing on your strengths (like making or presenting good food, marketing, coffee brewing or even just interacting with your customers) is a much better way of achieving success than spreading yourself too thin in trying to be everything at once.
WHAT MAKES YOU DIFFERENT?
The café industry is growing in South Africa, people are turning away from mass-produced franchises and are looking more towards unique cafes with great coffee and an inviting atmosphere. First of all, you need to provide a high-quality product.
Making your own products (like bread, pastries, coffee or even cheese) allows you to build a close relationship with your product, your insight will help you sell your product to discerning customers.
FINANCING YOUR DREAMS
Having a business plan is not only a good idea when you're seeking funding, but it can put planning into perspective for you.
Professional equipment suppliers will often have some idea of what makes a business successful when it comes to planning and should be able to give their customers some guidance when it comes to financing their dreams. At Genio, we will gladly sit down with you to determine your needs. But we also have example business plans that you can take straight to the banks to help you get the right financing for your needs.
There are many ways of financing a new business. You can use your personal funds if you have them, or tap into your connections, friends and family in exchange for shares to help make your dream become a reality. Do not be scared to share your success with others whom you trust. Just make sure that everyone knows their roles in the business and definitely have it on paper. In my mind, the notion of 50/50 is silly. There is seldom a situation where all partners do equal amounts of work. One partner will always get stuck doing the heavy lifting and will feel under-appreciated or worse, underpaid, in a 50/50 situation. Rather stipulate exactly what you and your partners' roles are and divide this commensurately in terms of ownership.
The other way of financing a business (apart from the rich daddy approach) is to go to the banks and get financing or a loan. In our experience, most of our existing business clients can very easily get financing for their roasters even if they are in other countries. Go see your bank to see what they can do for you, and be sure to build up that relationship well before you need them. A good track record makes a big difference when it comes to the banks.
Here are some bullet points you can use to guide you in creating a business plan:
Executive Summary
Business Description – The Concept
Development To Date Details
Ownership & Management
Structure Details
Your Objectives
Your Products and Services (Your Menu)
Your Vision and Mission Statement
Your Unique Sales Proposition
Marketing Details
Location and Pricing
Market Research
Competitors
Equipment Details
Financials
Sales Projections
Net Income Projection
Balance Sheet
Permits and Regulatory Issues
Your Timeline
Risks
Exit Strategy
Ongoing Market Analysis
LOCATION
Location is highly important when finding a premise for your coffee shop. Ensure you have enough people flowing through the area. A popular area does not necessarily mean it's the best area for you. Busy places such as a mall will have high rent costs which can prove to be a financial burden. Being close to people who require coffee regularly may benefit you, such as being close to an office park or university. Location is a personal choice and may rely heavily on the atmosphere you wish to create.
ATMOSPHERE
A question you should ask yourself is why do people visit cafes? Why do people leave the comfort of their home or work to get a cup of coffee? Most people are looking for a change of scenery so your scenery must be enticing. Coffee shops can be a great place to work, study or catch up with friends. Your premise should be inviting and unique to you.
Draw up a floor plan to help you design your interior and exterior. If you are roasting in the shop, your machine should be showcased to your clientele without them being able to interfere with the process. Your shop may become very busy and you don't want a noisy roaster to interfere with important meetings and Skype calls. You can of course have your roaster in a backroom to ensure undisturbed roasting but in my mind having a front and center roastery can provide an interesting focal point for your guests. As we've already mentioned coffee consumers are becoming more informed about their favourite beverage and many may be interested in seeing behind the scenes of coffee production.
Many people enjoy a snack with their cup of coffee. Additional food items can be a great selling point. Again, avoid mass-produced items. Consumers appreciate different or even homemade snacks. Provide healthy or vegan alternatives to tap into a growing health-conscious population.
MARKETING
Spread the word of your new business venture long before it opens. You'll want to drum up excitement about your cafe so that opening day is a rousing success. Marketing doesn't have to be an expensive expenditure, but it is vital.
One way to promote your business for free is through social media. Many social media platforms including Facebook and Instagram are free to start, they can include paid or sponsored posts down the line.
Another inexpensive form of marketing is networking. Rubbing shoulders with other coffee professionals in your area can not only help increase your coffee knowledge but can also increase the number of people that are aware of your cafe. Insert yourself into local cafe culture and watch people flock to your coffee shop. Join your local Specialty Coffee Organization (like SCASA) and attend the barista championships, even if it is just as a spectator.
CUSTOMER SERVICE
You're producing fantastic coffee and customers are enjoying the environment that you have created, what about the service you provide? Customer Service can make or break a company. It doesn't matter how delicious your coffee is or how beautiful your place is, if your customers are not happy with how they are being treated they won't return. As we've stated before, you do not want to mimic a big franchise, one way to prevent this is to be on the front line as the owner of the café. Greet your guests, get behind the espresso machine and make yourself available. Not only is it nice for the customers to see your friendly face, but it helps you keep your finger on the pulse of your business. See what's working, what isn't and change accordingly.
Make sure you have a trained barista, this can either be yourself who has undergone a barista training course or hire a professional. Baristas elevate the experience of the customer, who doesn't love receiving a heart or rosette on their morning cappuccino.
Hire staff that believe in your vision and fire those who do not live up to the expectations. Poor customer service is a hard thing to correct, so try and get it right from the beginning. This may result in you being a bit more demanding in the early days for you to achieve the level of service you wish to provide.
We hope you found this article. If you are interested in taking steps towards opening your own coffee business, Contact Us for information on our roasters and whether purchasing a roaster will be profitable for you.
Neil
#Genioforlife
*This post was originally posted by Neil on Jan 17, 2019
Got something to say? Then leave a comment!
---
Cafe Focus: Doubleshot Coffee&Tea - Rosebank
Thursday, 4 November, 2021
Doubleshot is an institution in downtown Joburg, and we have had many great coffee experiences at the Braamfontein shop over the past 9 years! So we were excited to hear that there was a watershed of sorts and a new location was opening in Rosebank.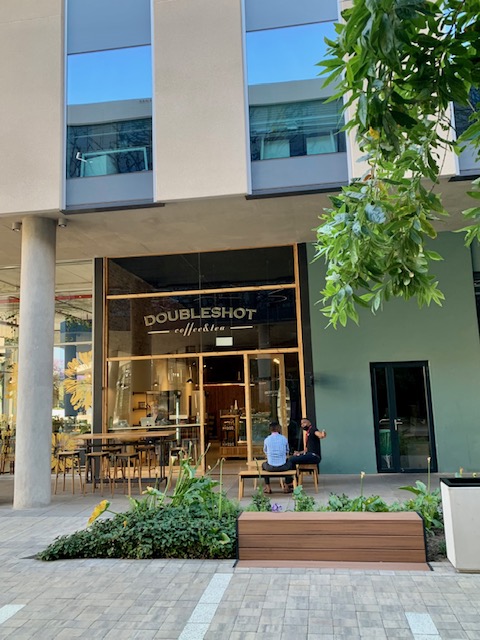 The new Doubleshot store in Rosebank, Oxford Parks.
The Oxford Parks development is a work in progress, but conceptually is very cool, with ratial space below and offices above. It reminded us of downtown Sydney - no cars, pedestrians only, lots of greenery and cool spaces to sit outside and enjoy the view.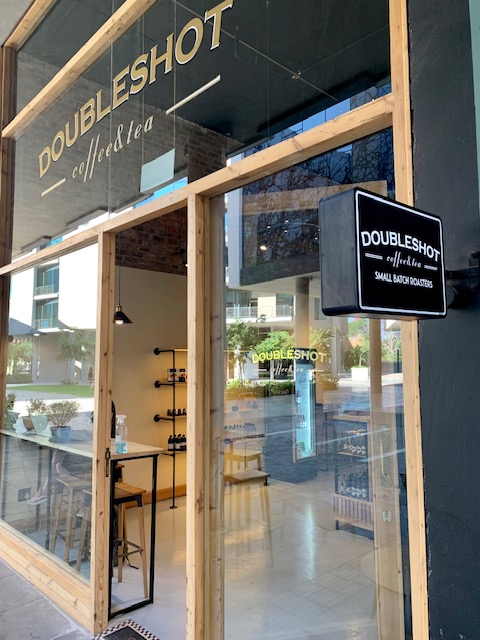 We love the raw wood, and the finishes!
Barista Hloni (also known as Nolo and Lucky) and kitchen staff Nonkuwieko and Zanele run a tight ship at the new Doubleshot, along with owners Alain and Ori. We enjoyed delicious, very well made coffee and treats from the kitchen, bagels boiled on site!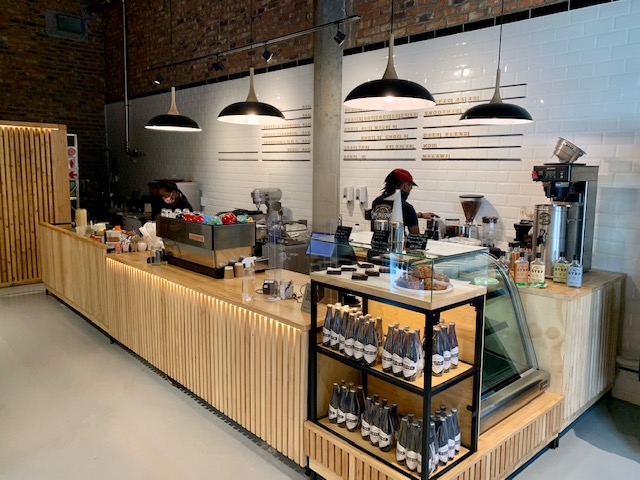 Hloni and Nonkuwieko in their natural habitat!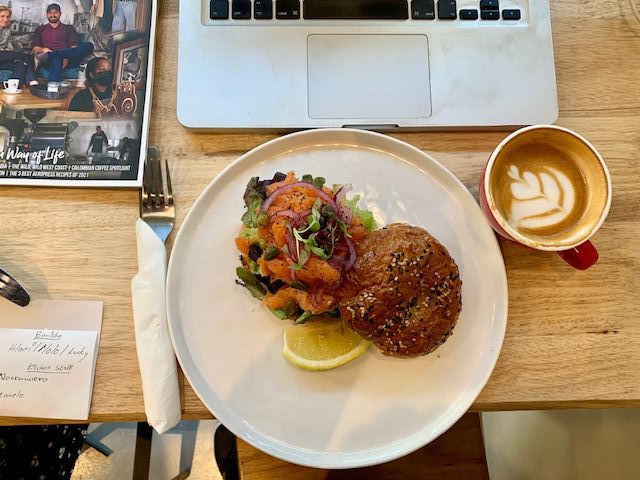 The best salmon bagel ever!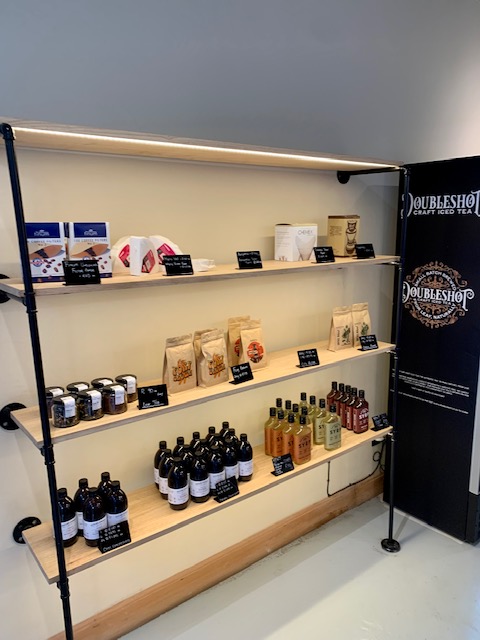 Doubleshot have a range of great products to go on their retail shelf that they make themselves..cold brew, iced tea's, syrups, coffee and more!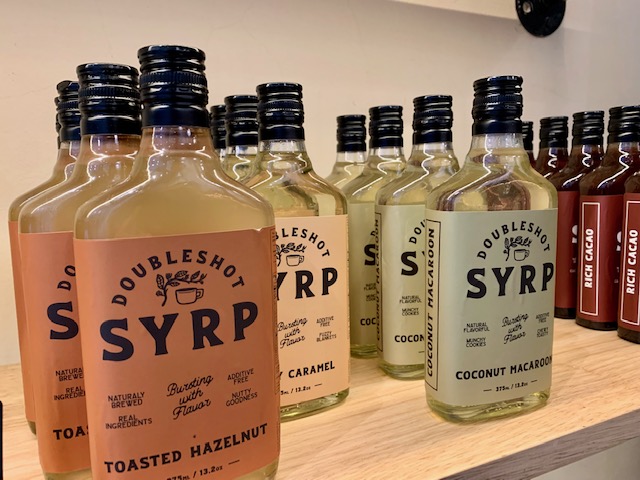 Normally, we are pretty sceptical about adding syrups to coffee, but these don;t just make the coffee sweeter, they add flavour.
The Doubleshot team are very proud of their syrups, and they do not disappoint, due to the fact that they are made up of the actual, natural ingredients. We had a cappuccino with vanilla syrup that tasted exactly like toasted marshmallows - yum!
We highly recommend a visit.
Got something to say? Then leave a comment!
---
An interview with Glen Biderman-Pam
Tuesday, 2 November, 2021
Get to know the man behind a lot of the funny advertising content you've seen recently (Think Checkers, Kreepy Krauly), his Instagram alter-ego Xander, and Rael on Tali's Diaries Glen Biderman-Pam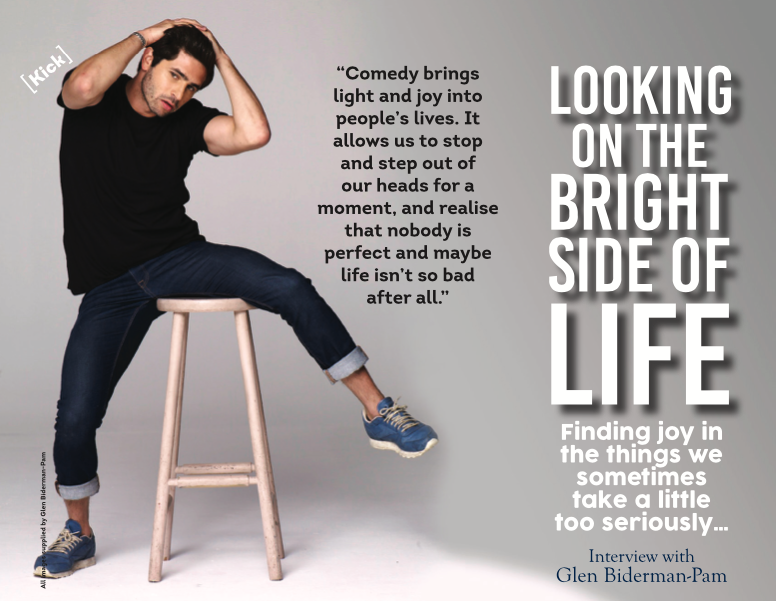 We're big fans of your work! First off, please tell us a bit about yourself and what it is you do.
I'm a director, actor, comedian and content creator, but most importantly, I'm a dog dad.
Most folks would have seen your parody with Kreepy Krauly (for which Panther Punch recently won a couple Loeries!). You encapsulated exactly what we were thinking after watching the original. We thank you. So our question is, what came first: the idea or the advertising partnership?
Firstly thank you for your wonderful compliment. As an entertainer, we are in constant need of affirmation. If I don't get some form of affirmation in 24 hours I start to malfunction. To answer your question, the spoof came first and then I had a bit of a Eureka moment in the shower (not the bath) when I realised there is an obvious paid partnership here. The rest is history.
You have created Xander and he drinks/skates with coffee. Be real with us, we're a magazine for coffee lovers, is that the way you view most coffee enthusiasts? We can take it, promise!
I think if you take anything too seriously- including yourself- you are in the market to be ripped off a little. That's our job as comedians- to observe the world with a comedic kaleidoscope, so to speak. Hopefully when we put our art out there, people will be able to get a glimpse of what we see and laugh at themselves a little.
If Xander worked as a barista, which Cafe would he work in and what would his favourite beverage be to make?
Probably Deluxe. Those guys take their coffee way too seriously.
Do you, like most Capetonians, think Cape Town has better coffee than the rest of South Africa?
I think Capetonians think Cape Town has better coffee than the rest of SA, but let me tell you something- Father Coffee in Rosebank, Johannesburg is where it's at.
What has the reaction been like to your Bootleggers sketch… mostly love or mostly decaf? (We love it!) And were they (Bootlegger) in on it?!
It's been all love, including from the Bootleggers themselves. Much like the Octopus Teacher video, the Bootlegger spoof wasn't intended to be mean to anybody. It is merely poking fun at their success. They weren't in on it, but we knew they wouldn't be offended because there really wasn't any spite or malice in the writing. I think they even retweeted it!
Serious question, do you have a Bootleggers in your bedroom or only in your kitchen, garage and in your garden?
Ha! I would not be surprised if I arrived home from work and found one there.
Why do you think that comedy is such a powerful medium? And do you think, specifically as South Africans, we have a generally good sense of humour about ourselves?
South Africans have a fantastic sense of humour. Between the load shedding, the recent water crisis and the current pandemic, I think we don't have a choice! Comedy brings light and joy into people's lives. It allows us to stop and step out of our heads for a moment, and realise that nobody is perfect and maybe life isn't so bad after all.
Where do you see your business, Panther Punch evolving to in the next 5 years?
We would love to write and produce a sketch comedy show for one of the big networks. We want to continue to make sketches, digital content and TVC's so that we can keep on developing our skills so our end goal becomes easier to achieve.
But really seriously, we sell advertising on our platforms to make ends meet, so here's a shop question: As a director, Is product placement and sponsored content the only funder of original creative productions? I mean unless you get a network deal, is that how the world of video production works now?
NO! We all have phones. We all have basic editing apps, and we all have social platforms. Don't wait around for a brand to come and offer you money so you can make your cinematic masterpiece. Go and make stuff. There are no excuses.
Got something to say? Then leave a comment!
---
World Coffee Championships 2021
Tuesday, 26 October, 2021
After a sad year without a World Coffee Competition cycle, two months ago the SCA decided the World Barista Championships, World Cup Tasters and World Brewers Cup would go ahead at HOST in Italy 22-26 October 2021. And it was EMOTIONAL. Below is one of our favourite moments of the week, the Barista Championship finalists gathered around winner Diego Campos (Colombia), as he falls to the floor after the announcement!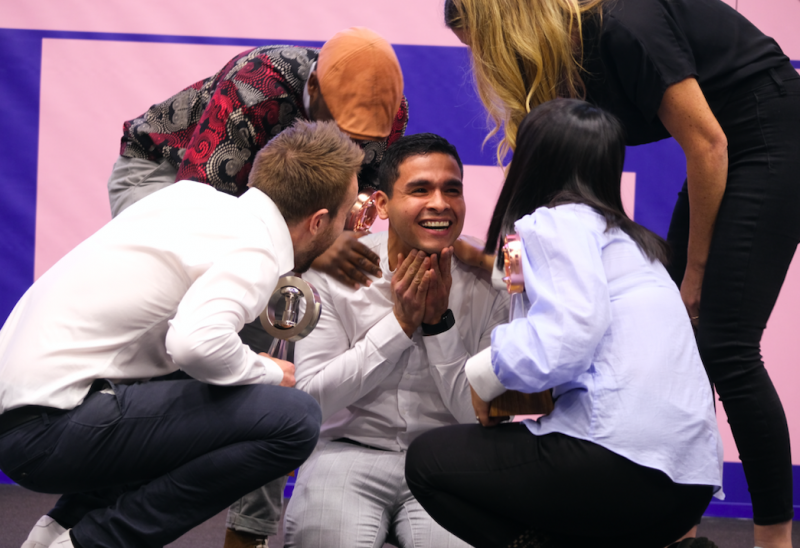 Specialty Coffee Association / Luca Rinaldi & Michele Illuzzi (Specialty Pal)
The online broadcast was awesome and we had a great time watching the National Champions, including the Competitor representative from South Africa, Mr Stevo Kuhn.
Baristas presented theses on coffee production and scientific ways to get the best out of the final product. The barista from England built a tool to calculate what fat content of milk you should be working towards for specific coffees.
Three out of the Top 6 used a coffee varietal called Eugenioides. What the heck is the Eugenoides varietal you ask? Find out more here.
---
The 2021 World Barista Champion, World Brewers Cup Champion, and World Cup Tasters Champion Have Been Announced
OCTOBER 27, 2021 — After four days of intense competition, three new World Coffee Champions have been announced in Milan, Italy: Diego Campos representing Colombia is the 2021 World Barista Champion; Matt Winton representing Switzerland is the 2021 World Brewers Cup Champion; and Kyoungha (Charlie) Chu representing Australia is the 2021 World Cup Tasters Champion.
The Milan World Coffee Championships have taken place over the last four days as part of the HostMilano trade show in Italy. Competition has been fierce, with over 90 competitors representing their Competition Bodies across four World Coffee Championships. It's been fantastic to see our community of judges, coaches, volunteers, coffee professionals, fans and sponsors gather again after being apart for so long.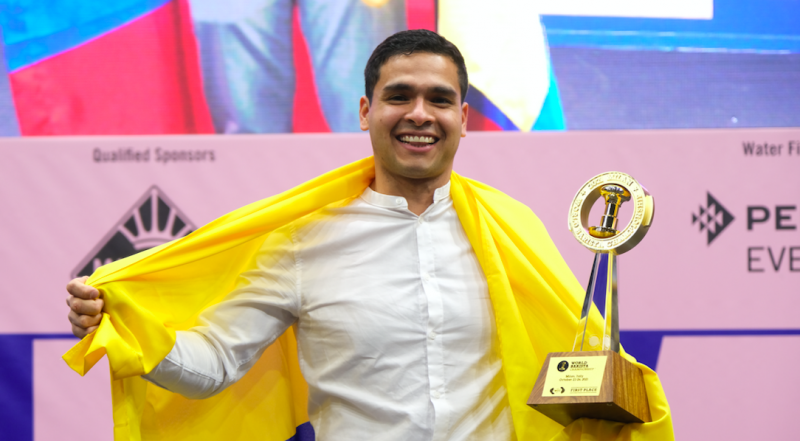 Specialty Coffee Association / Luca Rinaldi & Michele Illuzzi (Specialty Pal)
2021 World Barista Championship Final Ranking
Diego Campos, Colombia

Andrea Allen, United States

Hugh Kelly, Australia

Emi Fukahori, Switzerland

Martin Shabaya, Kenya

Wojciech Tysler, Ireland
The World Barista Championship focuses on promoting excellence in coffee, advancing the barista profession, and engaging a worldwide audience with an annual championship event that serves as the culmination of local and regional events around the globe. Each year, competitors from around the globe each prepare 4 espressos, 4 milk drinks, and 4 original signature drinks to exacting standards in a 15-minute performance set to music. WCE Certified Judges from around the world evaluate each performance on the taste of beverages served, cleanliness, creativity, technical skill, and overall presentation. The ever- popular signature beverage allows baristas to stretch their imagination and the judges' palates to incorporate a wealth of coffee knowledge into an expression of their individual tastes and experiences. The top 15 highest-scoring competitors from the first round, plus wild-card winner from the Team Competition, advance to a semi-final round. The top 6 competitors in the semi-final round advance to the finals round, from which one winner is named World Barista Champion!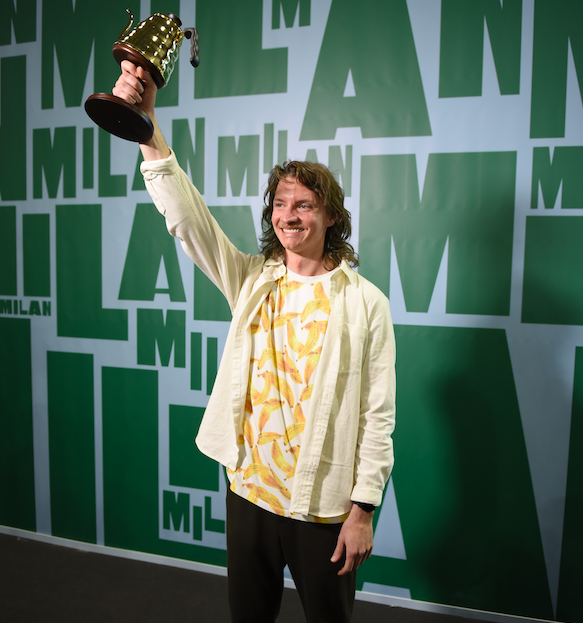 2021 World Brewers Cup Final Ranking
Matt Winton, Switzerland

Daiki Hatakeyama, Japan

Elika Liftee, United States

Carlos Escobar, Australia

Ply Pasarj, Canada

Tomas Taussig, Czech Republic
The World Brewers Cup competition highlights the craft of filter coffee brewing by hand, promoting manual coffee brewing and service excellence. In this Championship, competitors
prepare and serve three individual beverages for a panel of judges. During the first round competitors complete two coffee services – a compulsory service and an open service. For the compulsory service, competitors prepare three beverages utilizing whole bean coffee provided to them by the competition. For the open service, competitors may utilize any whole bean coffee of their choosing and must also accompany their beverage preparation with a presentation. The six competitors with the highest score from the first round will go on to compete in the finals round consisting exclusively of an open service. One competitor from the final round will be named the World Brewers Cup Champion.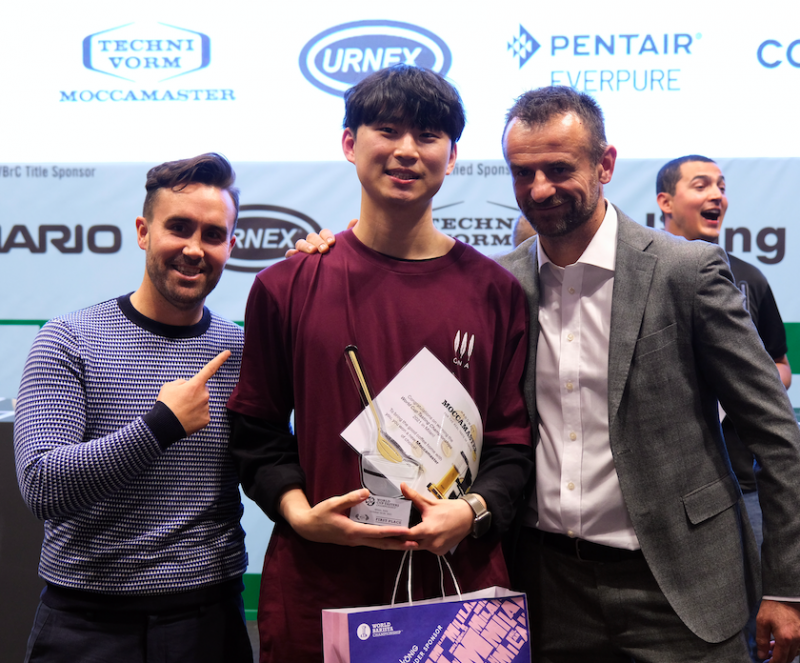 Specialty Coffee Association / Luca Rinaldi & Michele Illuzzi (Specialty Pal)
2021 World Cup Tasters Championship Final Rankings
Kyoungha (Charlie) Chu – Australia

Dénes Rajmond – Germany

Sang Min Ju - South Korea

José María Gómez Mora - Costa Rica
Coffees of the world have many distinct taste characteristics and in this competition format, the objective is for the cupper to discriminate between the different coffees. Three cups are placed in a triangle, with 2 cups being identical coffees and one cup being a different coffee. Using skills of smell, taste, attention, and experience, the cupper will identify the odd cup in the triangle as quickly as they can. A total of 8 triangles are placed in each round. The top 8 competitors with the most correct answers and the fastest time proceed to the next Semi- Finals round. Then the top 4 will compete again in the Finals round to determine the next World Cup Tasters Champion.
Full competition routines are being uploaded to the World Coffee Championship YouTube channel, with full rankings available soon. Download a selection of official stage photography at the link in the notes section.
The World Coffee Championships are supported by Qualified Espresso Machine sponsor, Victoria Arduino; Qualified Cleaning Product sponsor, Urnex; Qualified Espresso Grinder sponsor, Mahlkönig; World Brewers Cup Title sponsor, Hario; Qualified Coffee Brewing sponsor; Technivorm Moccamaster; and Qualified Coffee Grinder sponsor, Ditting.
Got something to say? Then leave a comment!
---
A first for Africa on the World Coffee stage: Congratulations Martin Shabaya!
Thursday, 28 October, 2021
Our other favourite moments of the World Coffee Competitions 2021 was watching Martin Shabaya of Kenya do Africa proud and become the first African Champion to place in the Finals of the World Barista Championships. An historic moment, especially because he did it using Kenyan coffees.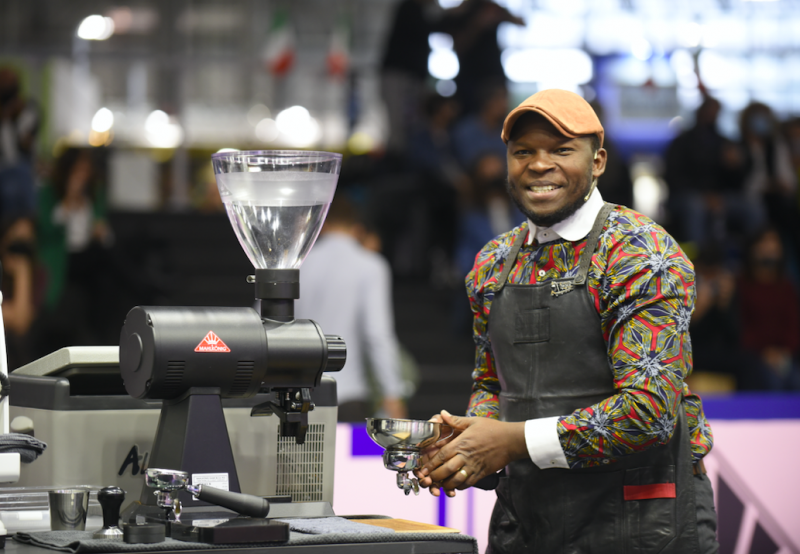 Martin during his Finals Round set. Image: Specialty Coffee Association / Luca Rinaldi & Michele Illuzzi (Specialty Pal)
With so many countries that produce revered coffee enjoyed the world over, it is difficult to believe that Martin is the first African to make the Finals at a WBC, but believe it, because it is true! Well done Martin! We're so proud!
We were lucky enough to meet Martin at the 2017 competition in Seoul, South Korea when we were there in support of Winston Thomas. Winston his fellow Barista Champion had this to say about his experiences with Martin through the competitions over the years:
"Martin is very soft spoken and unassuming with such a kind smile! Besides our casual encounters at various barista competitions I was fortunate enough to assist with shining his glasses backstage at WBC 2018 before his semi finals set, where he was the first wild card and therefore first African barista in a semi-final. He doesn't let on when he's feeling stressed or anxious, he just continues smiling. But below the surface of the of that calm and somewhat innocent nature is a wealth of coffee knowledge and ample experience on bar."
This year, Martin had the support of 2015 World Barista Champion Sasa Sestic and his teams at Project Origin and ONA Coffee, and when you combine the passion of Martin, with the passion of those crazy Aussies (said with love!) then you get some kind of magic! Throw in some gadgets, we're talking temperature gauges over espresso shots and NCT and scales galore, and you get a finalist!!!
See his set below:
If you liked this article, then you may also like these:
Got something to say? Then leave a comment!
---
Issue 37: Spring Edition 2021
Thursday, 21 October, 2021
Issue 37 is a triumphant return to a way of life we've been dreaming about and what better way to do so than a bit of travel wanderlust.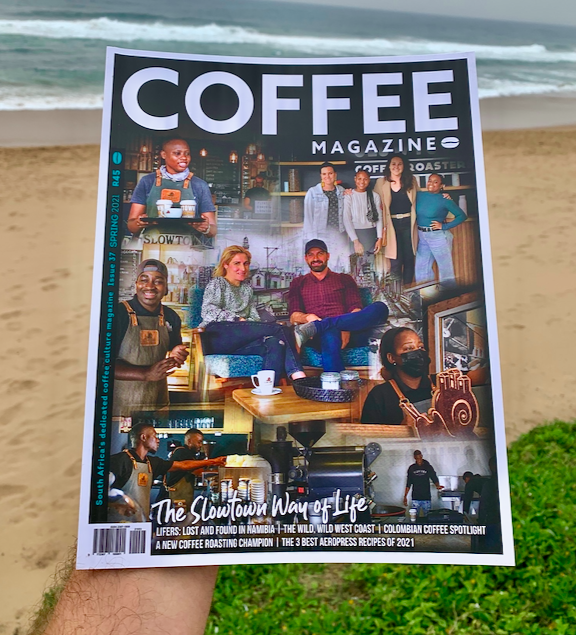 The De Wet dynamic duo, Rechia and Dennis, have built Slowtown Coffee Roasters into a coffee business and formidable team that has become as synonymous with Namibia as the rolling, desert dunes. Read their story in our in-depth feature on them in Issue 37.
---
Where can you find it?
At any of our incredible Cafe Distributors, selected Spars and Exclusive Books countrywide and online here.
Have you seen our VIP Subscription option? For only R600 a year, you get 4 issue of the mag delivered with an amazing gift from us to you!
---
What's in this edition?
Cover Story: The Slowtown Way of Life
Slowtown Coffee Roasters, born and bred in Namibia, celebrates 10 years of community and great coffee this year. We discover, once again, that behind every successful coffee business, there's a story you need to hear and wonderful people you need to meet.
Discover: Lifers - Lost and Found in Namibia
A lifer, for any nature enthusiast or birder, is the first time you see a species and tick it off your list. Hold on to your hats folks, because Namibia has enough endemic wildlife to keep you ticking all day! Thank you to Strand Hotel, Fat Bike Tours, Living Desert Adventures, Taleni Village, Midgard Country Estate and Slowtown Coffee Roasters for all the incredible adventures.
Roast: The Rate of Rise
The Best Roaster in South Africa was crowned during the culmination of this year's A Shot in the Dark competition presented by Genio Roasters. Meet Frederik Dreyer of Gegrond and get to know the man behind the trophy!
Brew: The Best AeroPress recipes in the Land
The AeroPress must be one of the simplest brewing methods around, but you can also get really creative with it, as evidenced by the Top 3 recipes in the country. The Champion was recently crowned at Creative Coffee Week 2021 at the South African AeroPress Champs run in association with MoreFlavour, Ultimate Water, Bluebird Coffee Roasters and Red Espresso.
Origin: Addicted to Quality
Discovering some of the hard-working Colombian coffee producers in this beautiful and infamous land. We had the privilege of learning some history and some in-depth processing methods from some incredible producers in Colombia and we share the specialty scene with you in this edition. Thanks to Pergamino Coffee and Sabores de Colombia.
Travel: The Wild, Wild West
Way up high on the Cape's West Coast – along a stretch of wild country where arid scrubland collides with an icy ocean – you will discover Namaqualand in all its glory. Jacques Marais has all the hot tips for some coffees on the edge of the world.
Kick: Coming out Swinging!
There's more to The Boxer than knock-out coffee! Meet the man at the heart of this Cape Town start-up.
If you liked this article, then you may also like these:
Got something to say? Then leave a comment!
---
Cafe Focus: The Coffee Guy - Noordhoek
Thursday, 21 October, 2021
Once you get to Noordhoek, after taking the world famous and spectacular drive that is Chapman's Peak, you may seek a coffee - and we found one! The Noordhoek Garden Emporium sits on the Cnr of Main and, Katzenellenbogen St, in Noordhoek and is an eclectic mix of local businesses for the community. One of these is the little road-facing coffee kiosk that houses three very friendly faces belonging to Blessing, Pasca and Munye, the barista team at The Coffee Guy Roasters.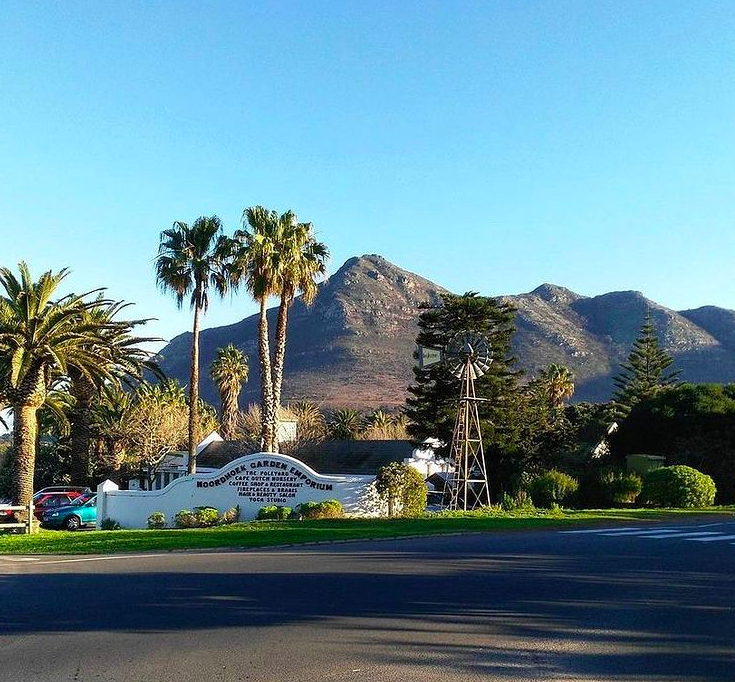 A welcoming site and the home of The Coffee Guy's second location. Image from The Coffee Guy instagram.
"It's busy today" I say, as I finally get to the bar to order after waiting behind three other couples, obviously locals, all greeting each other and the team. "This is Nothing!" Says Pasca. "You should see us on the weekend"
The cortado and flat white we ordered we quickly and skilfully made - we added a Cheesy Breakfast Roll onto that order after seeing one go out ahead of us, and it did not disappoint!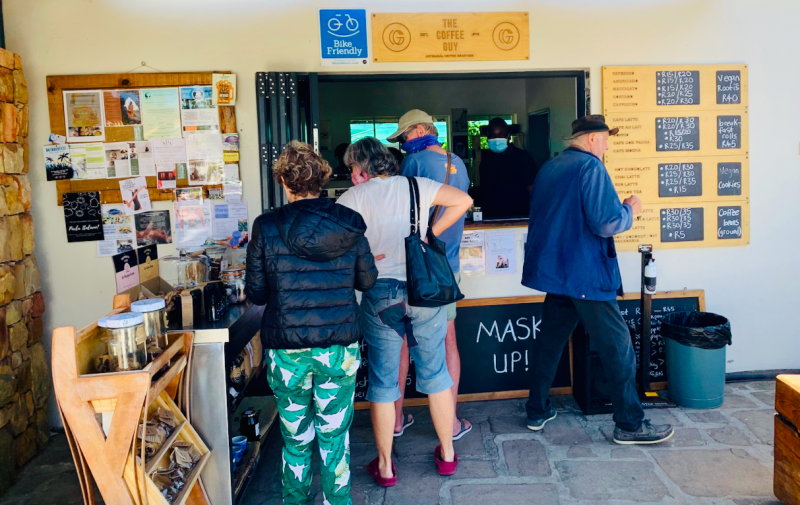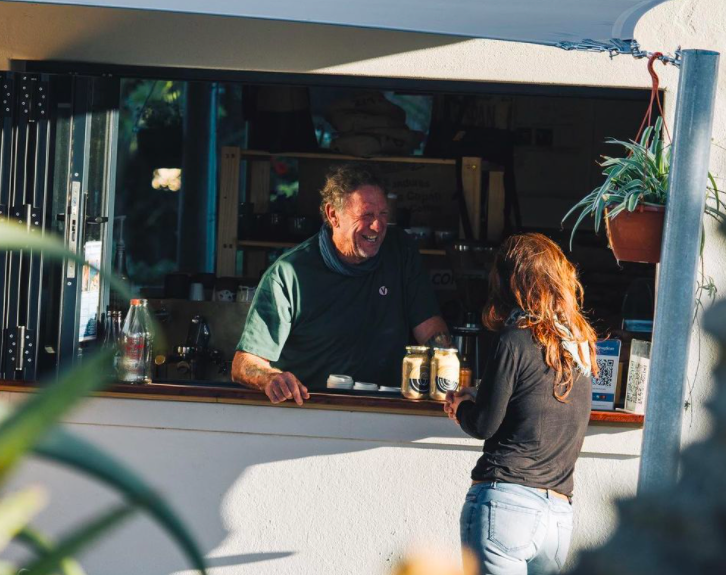 The Guy himself! Guy Chaston has built up a vibrant coffee community in Noordhoek.
Guy Chaston has been in the coffee business for many years, starting out with a mobile set-up and now with two permanent locations, plus roasting his own beans. The team of baristas now pump out hundreds of coffees a day! Their energy is infectious and if you don't arrive there a regular, chances are you leave there feeling like a new one.
Good vibes and good coffee in this sweet seaside town. Highly recommended.
Got something to say? Then leave a comment!