Gangstar Cafe
Wednesday, 30 October, 2019
A couple of months back we featured a cafe in Rotterdam that helps former prisoners rehabilitate through coffee! Little did we know that in South Africa we have a remarkable organisation fostering second chances for at risk youth. Say hello to Gangstar Cafe! We chatted to Mark Slessenger, part of the Message Trust team that power this concept.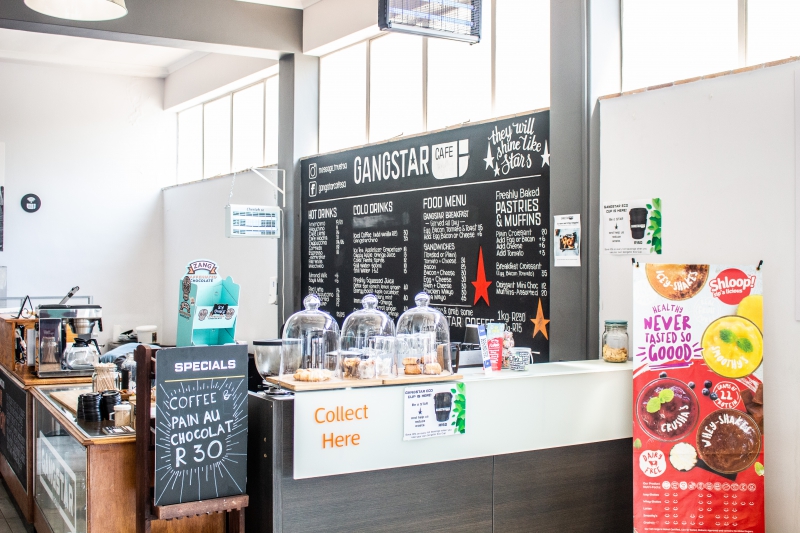 Please tell us the story of how Gangstar Cafe came about?
Gangstar Café is a social enterprise of The Message Trust South Africa. The Message Trust works with youth at risk across Cape Town in prisons, schools and tough neighbourhoods. Gangstar Café was initiated to create training and employment opportunities for youth out of prison. With youth unemployment being as high at 35% and coupled with a criminal record, it is virtually impossible for someone leaving prison to find employment. We launched our first Café in Mowbray on Main Road in April 2017, and our second in Durbanville Town Shopping Centre in April 2019.
How has the community embraced the philosophy behind your cafe?
The response from the community has been amazing. South Africans are sick of crime and gangsterism in our country, so once the public understands the concept of Gangstar and hear the stories they embrace the vision. We have had businesses, government employees, students, churches and all aspects of society visit our cafes. For us, it is not only about serving great coffee and food, but also to share stories of hope and transformation that can inspire every customer who visits our cafés to make a difference in their sphere of influence.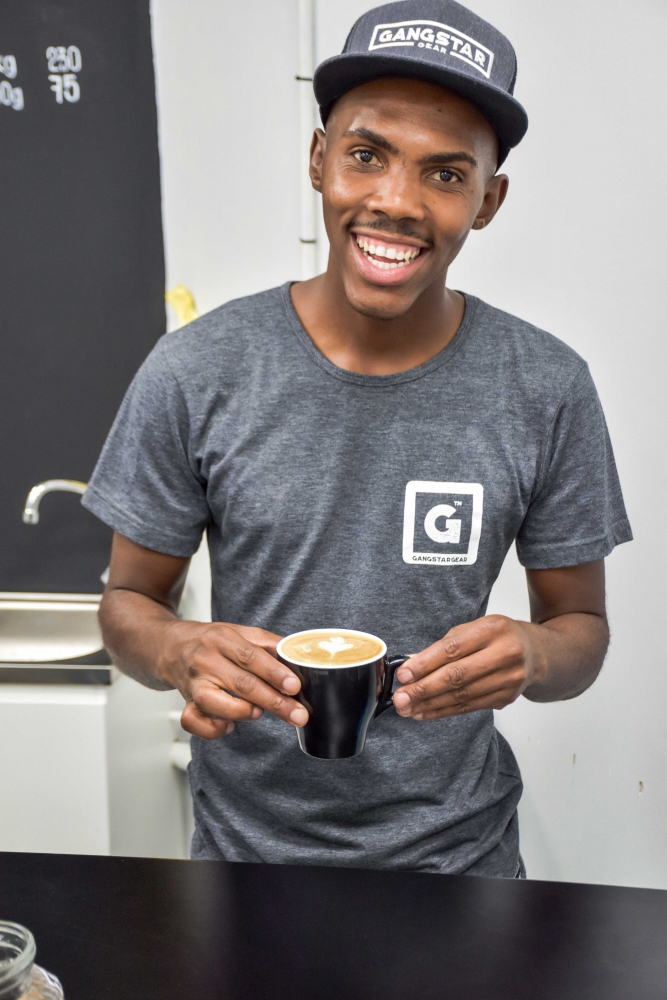 How do you identify potential stars to join your team?
The Message Trust runs an intensive prison programme in Drakenstien Juvenile Facility, where we prepare juvenile offenders for release. Part of our recruitment is to train and equip those who want to change and leave a life of crime and gangsterism. Once released from prison, we will then place them in our Reintegration Programme that will help them reintegrate successfully back into society. Gangstar comes from a scripture in the Bible where it says "they will shine like stars in the sky in a depraved and crooked generation" and this is what we want for every Gangstar, that they will shine like stars in their families, amongst their peers and in the work place.
What training process do the team undergo in preparation for this new career?
In prison we train our students in leadership, public speaking, business entrepreneurship and job readiness. We also offer pastoral care support to all the young people we work with. Once released, we help the individual reintegrate back into society and once we see a certain level of commitment we will place them into barista training through one of our partners. We then offer on the job training in our cafes in customer service, stock management, processes, food preparation and other aspects of working in the hospitality industry.
What coffee do you use?
Our Gangstar Cafe coffee is a single origin medium roast. We use arabica coffee beans that come from Santos, Brazil and are roasted locally for our cafés. We also recently launched our special Gangstar Blend with our beans made up of both catuai and mundo novo varietals.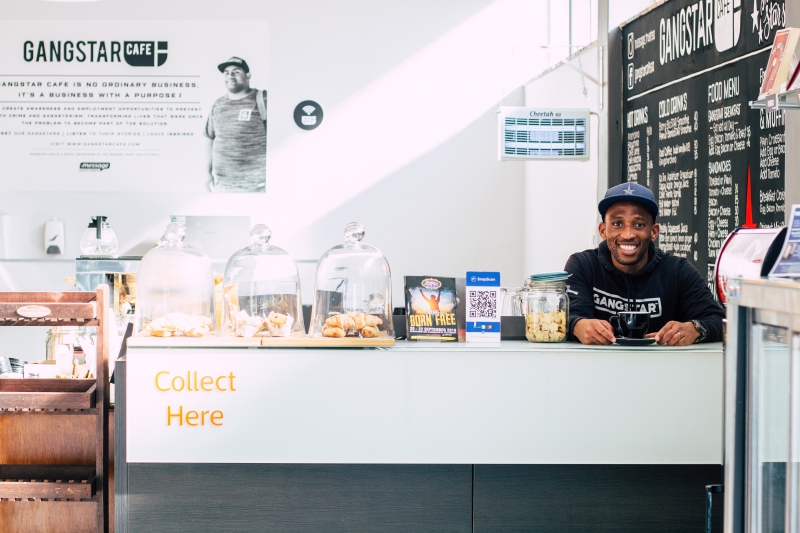 What is your vision for the future?
Next year we will be starting barista training as part of our programme within prison. We are excited about this as it provides each person we work with a practical skill that can create an income for them once released from prison. Gangstar would also like to open more cafes in Cape Town to provide more employment and training opportunities. Currently, we have the two cafés but we would like to open at least one new café each year. Every Gangstar employed by us and not reoffending saves the government an average of R140,000 a year and we feel this is a huge added value to society; one we are passionate about pursuing.
Got something to say? Then leave a comment!
---
Event: KZN Regionals
Thursday, 31 October, 2019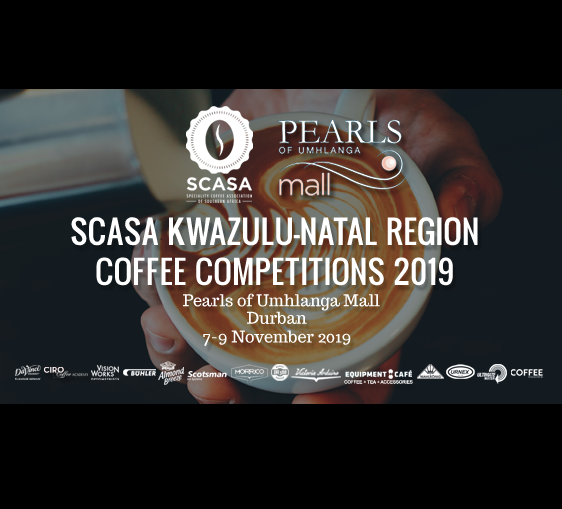 The last of the SCASA Regional competitions kicks off on 7 November at The Pearls Mall in Umhlanga!
There is already an amazing crew of National Finalists from across the country, who will be joining them from KZN?
Central Region
Cup Tasters Competition
Maryke Schoonwinkel - Brüder Coffee Roastery
Latte Art Competition
Tshepo Calvin Modiakgotla - Royal Roastery
Tulo Ernest Lephuthing - Royal Roastery
Barista Competition
1st Stevo Kühn - Urban Brew Coffee
2nd Thabo Kheleroa - JARU Coffee
3rd Mapaseka Mapela - Wiesenhof Franchise
Gauteng
Cup Tasters
Karel Viviers - Coocoocachoo Coffee
Thabang Maluleka - Ciro Full Service Beverage Co
Latte Art
Elizabeth Gumbo - Seattle Coffee Co.
Sibusiso Ndzuzo - TriBeCa Coffee
Barista Competition
1st Trevor Fitz - Beethoven Coffee Company
2nd John Gareth Evans - TriBeCa Coffee
3rd Fanie Botes - thirdspace
4th Jesse Dodkins - Father Coffee
5th Samantha Naidoo - TriBeCa Coffee
6th Thandiwe Shonhiwa from Wiesenhof ABSA Towers Wiesenhof Franchise
Western Cape
Cup Tasters
1st Tess Schmidt - Sevenoaks Trading
2nd Leigh Wentzel - Rosetta Roastery
Latte Art
1st Christopher Abrahams - Ciro Full Service Beverage Co.
2nd Bakhe Mapasa - Ciro Full Service Beverage Co.
Barista Competition
1st Winston Thomas - Winston Douglas Coffee
2nd Neil Gouws - Origin Coffee Roasters
3rd Justin Groep - Rosetta Roastery
4th Simplicity Mkhize - Rosetta Roastery
5th Ndumiso Qolintaba - Vineyard Hotel
Got something to say? Then leave a comment!
---
Industry: Reg Barber
Thursday, 31 October, 2019
Heard some sad news this week, the legendary Reg Barber Tampers is closing shop.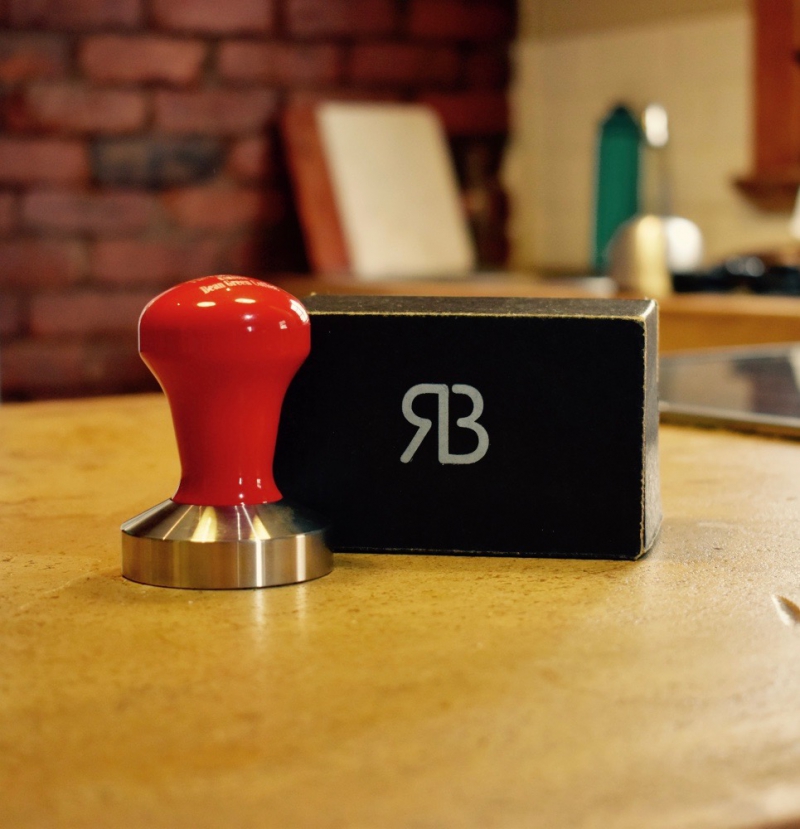 Eight years ago when I (Mel Winter, the Editor) was a newbie in the global coffee community, Reg was one of the first coffee 'celebrities' to extend such a warm welcome with his huge smile and willingness to engage and make me feel like The Coffee Magazine had a place in this industry. He gifted me the tamper in the photo and I will always treasure it - such amazing memories of Rimini and my very first World Barista Championship! Way before coffee was 'cool', Reg was building the reputation of the coffee industry being one of the friendliest to work in.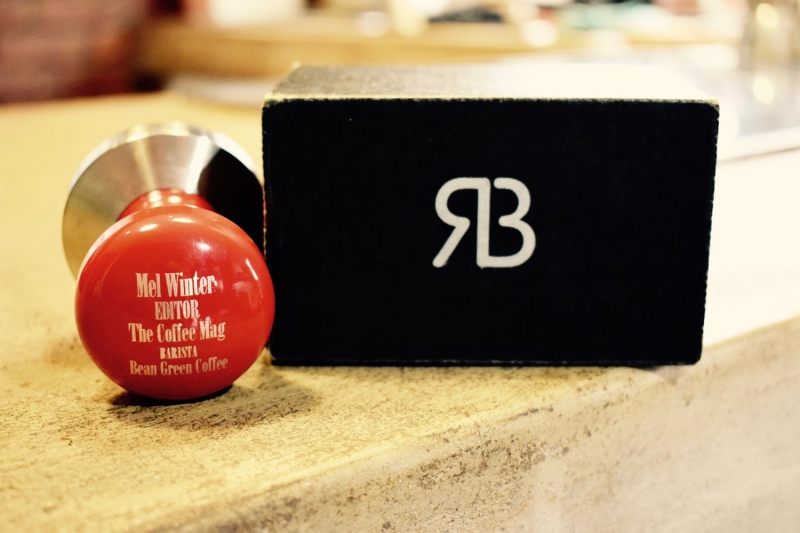 Thank you so much Reg. We, as a coffee community, are so grateful for all you've given us over the years.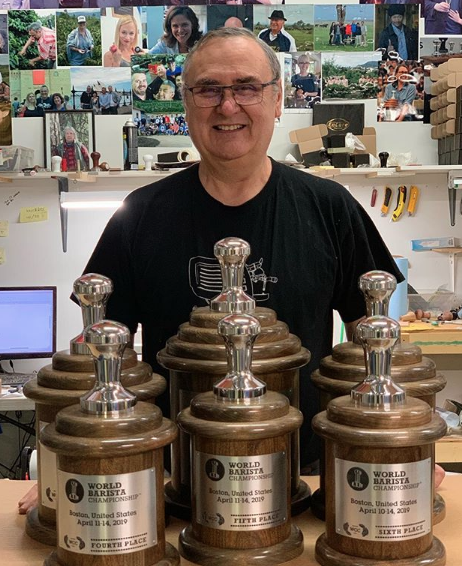 His daughter has started a Go Fund Me campaign to help Reg transition to a life beyond the amazing handcrafted tampers he has created for the last 30 years. It's been great to see the global coffee community come together to support him.
Got something to say? Then leave a comment!
---
5 Myths About CBD oil BUSTED!
Tuesday, 22 October, 2019
In the latest on shelf edition of The Coffee Magazine, Jazz Kushcke investigates the growing CBD Oil and Coffee industry, you can get your hands on a copy from any of these fine establishments. In this follow up, he asks the experts to clarify some common misconceptions about CBD.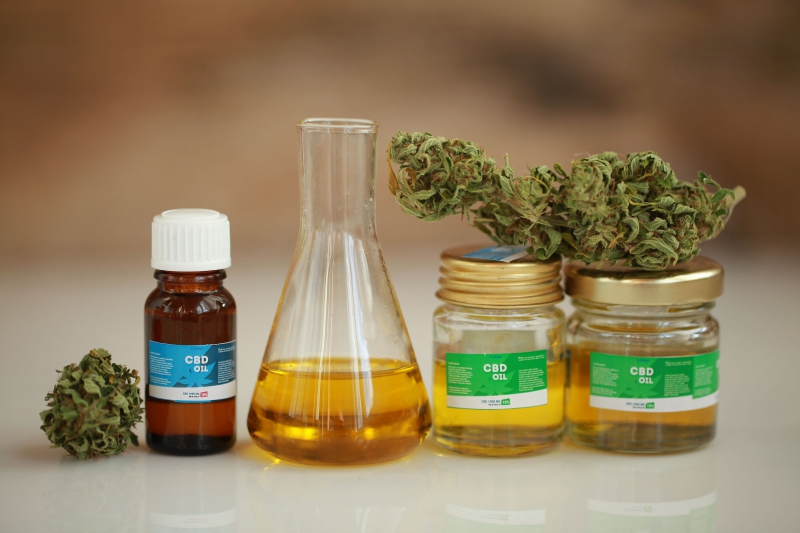 As cannabis is ever faster being adopted for its medicinal value in South Africa, and, its derivatives making their way into products such as coffee, we thought it crucial to de-stigmatise the plant by debunking a few commonly-held mistruths.
1. CBD will make you high

CBD (or cannabidiol) is a cannabinoid derived from the cannabis plant. "Unlike THC (tetrahydrocannabinol) however, it has no psycho-stimulant properties." CBD can be extracted from either of the cannabis sativa species - hemp or marijuana (there are countless cultivars of each). Both come from the cannabis family but hemp plants typically contain less than 0.3 percent THC, while marijuana plants contain higher (and varying, depending on variant) concentrations of THC. CBD is the cannabinoid most commonly used in food and wellness products. Read more about CBD-infused coffee in our Spring 2019 issue, on shelf now.
2. You can become addicted
While it is possible to become psychologically dependant on THC-containing cannabis products, the likelihood of developing an addiction (even for the psychoactive elements of cannabis) is far less than to that of other socially acceptable substances such as alcohol and tobacco. That is THC, CBD (and other non-psychoactive elements of cannabis) may be habit forming are not known to addictive. "In fact," says Tony Budden, who heads up Government relations and Development at Canopy Growth and was co-founder of Hemporium, "the WHO recently declared that there is no risk of abuse of CBD."
3. It's just another trendy medicinal gimmick

The history of cannabis is a long and very interesting one. We won't bore you with too many details, but know this: Examples of the use of cannabis products for medicinal purposes have been found dating back as far as 4000 BC. Archeological studies show the plant may have been used as something of an anaesthetic in what is now the Czech Republic; for nutrition by certain tribes in Siberia and seeds were even found in the volcanic ashes of Pompeii. And, according to Budden, also exists in one of the earliest Chinese Pharmacopoeia.
Those are but a few examples. Of course, the wellness industry is still an 'industry' and profits are what most companies are after. CBD and other cannabis products may be caught up in this wave but at the bottom line it is not a gimmick. What is important, is to know what you are buying. Which brings us to the next point
4. All CBD is created equal
Like many other health and wellness products, it is very easy for a company to simply label a product as containing CBD. However, you as consumers should be armed with knowledge of quality and dosages before purchasing any CBD products. The CBD-infused coffees featured in our Spring issue article all have certificates of analysis which go out to all suppliers and coffee shops, showing exactly what and how much of it, is in each serving. "A regulated industry is very important to ensure the quality of products and safety of consumers," Budden says.
5. It's illegal
In September 2018, the Constitutional Court ruled that it is not a criminal offence for an adult citizen to use, possess or grow cannabis in private for personal consumption in South Africa.
In addition cannabis products considered to be 'health supplements' (with no medical claims), have recently been exempted from the medicines and related substances act. This, as long as they contain a daily dose less then than 20mg cannabidiol (CBD), as well as those containing less than 0.001% of THC.
These products, as with CBD-infused coffee may be bought and sold relatively freely as a result of the exemption published in the Government Gazette on 23 May 2019. The 'exemption' has perhaps created a semi false impression among South Africans that the cannabis market is suddenly opening up to 'all' products. "There is progress however," says Budden. "There is engagement between civil society, the regulators, parliament and the industry to further open up the cannabis industry for the benefit of all South Africans."
This exemption carries limitations however. It applies only for 12 months and is intended to create an opportunity for the fledgling cannabis industry to engage on a legal framework going forward. The 'change' in the law comes with two conditions. One, suppliers can't sell products that contain more than 20mg of CBD and two, these products can't claim to cure or treat any specific condition. There is progress however and we hope you enjoy your next brew.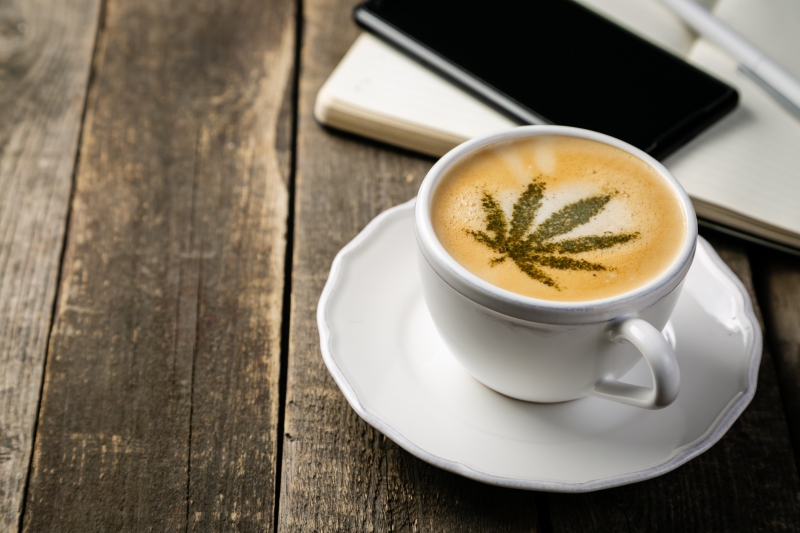 Got something to say? Then leave a comment!
---
The Chemistry of Coffee, with Christopher H. Hendon
Tuesday, 22 October, 2019
Christopher H. Hendon is the Assistant Professor in the Department of Chemistry and Biochemistry at the University of Oregon, but he's maybe better known as "Dr. Coffee" after taking home the title of 'Best Signature Beverage' at a World Barista Championship. We chatted to Dr. Hendon to find out more about his work and passion for coffee…
---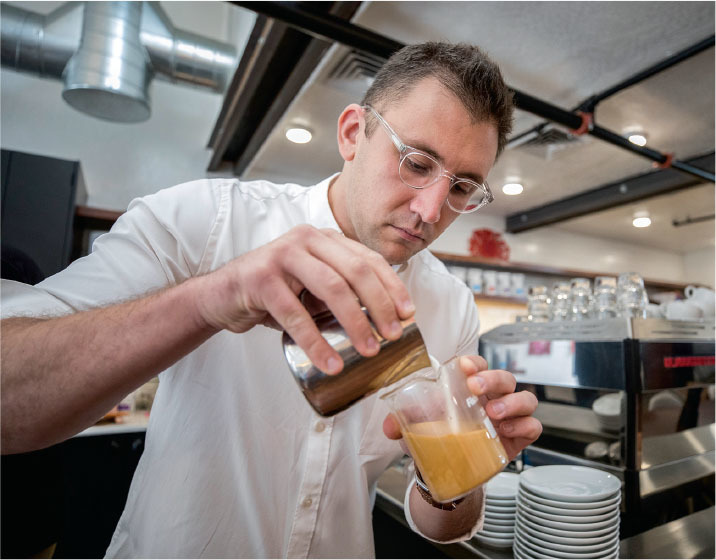 The University of Oregon refers to you as Dr. Coffee - how did that come about?
"The stars seem to have aligned. My birthday happened to fall on International Coffee Day in 2017 (the year I started at UO), and they thought it might be nice for them to do a press release to celebrate this. I am also founding a coffee lab, so they are on board with this, too. Think something like the Davis Lab, but more like a café setting – applied research."

You wrote a book with Maxwell Colonna-Dashwood – what is "Water for Coffee" about?
"The chemistry of water and its impact on perceived flavour of coffee extracted with this water. The purpose of the book, at its time of writing, was to teach people about the differences in water and how two coffee experiences could be tremendously different by varying only the water chemistry."
How did you get interested in coffee?
"During my PhD, I entered Colonna and Smalls and became friends with Maxwell and his wife, Lesley. They taught me everything. I found it compelling, and the idea of sharing knowledge complimented my mission as a scientist – to improve science literacy in the general public."

You've said that coffee is an excellent vehicle to teach fundamental science – how so?
"Everyone on earth knows at least one chemical in coffee – caffeine. But to access it, you can teach fundamental thermodynamics and kinetics (i.e. temperature and time). You can teach chemical properties, such as the solubility. You can illustrate many of the operative principles in chemistry through the lens of coffee. Also, people simply like coffee!"
Tell me about "the God Shot" – what is that exactly?
"The God Shot is a concept that I did not coin. It was supposed to represent the rare event when all the variables (grind setting, coffee dose, mass of water, flow rate, etc. etc.) come together and the coffee is remarkable. By virtue, it has fabled irreproducibility. I aim to minimise these difficulties to achieve consistently tasty coffee."
What is your coffee of choice?
"A so-called one-and-one. A split shot, where half is served as espresso and the other half as a small milk drink. This way I get to taste a pretty good cross-section of what customers are tasting, and also see how the coffee is standing up as both espresso and in milk."
I'm really interested in the signature beverage you created for the World Barista Championship – I love a good Pinot Noir! What inspired that pairing?
"The coffee! Sometimes you taste a coffee and its flavour profile reminds you precisely of a flavour gamut. In this case ,we knew what flavours we needed, and we knew a product that contained it – pinot! After doing a lot of literature searching, we put it together and got the chemistry of non-wine stuff to taste like wine."
The signature beverage is an inspired creation combining espresso and any other non-coffee ingredients except for alcohol. Together with his partner, the 2015 UK barista champion, Maxwell Colonna-Dashwood, Dr. Hendon wanted to pair a washed Ethiopian espresso featuring tannic, fruity, and tea-like flavours with a rotary evaporated bottle of 2014 Château du Santenay Pinot Noir (a wine with similar flavours to the espresso). The alcohol prohibition presented them with a unique challenge: leveraging their backgrounds in chemistry to recreate the flavour of the Pinot Noir…

You approximated the wine using water extraction – how does this work, and how long did it take you?
"It was very fast. Once you know what you are going after, the chemistry becomes quite straightforward. A particular tannin has the same chemical structure, independent of whether it came from wine or walnut. We only iterated twice, I believe."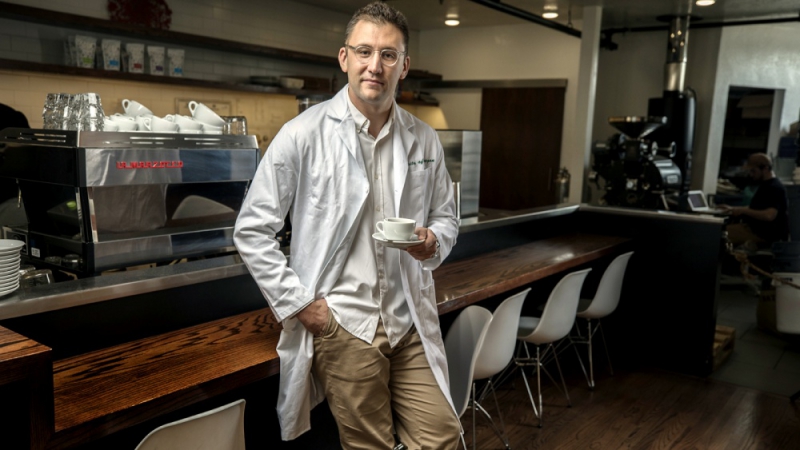 Hendon and Colonna-Dashwood recreated the flavour of the Pinot Noir with only four ingredients: a water extraction of the skins of black grapes (for color and grape flavours), cranberries (for mild tannins, fruity acids and tartness), pomegranate (for fruity flavours and natural sugars), and the key ingredient, the second wash of the white, flaky skin of walnut, a source of extremely high levels of tannins.
The pairing of coffee and chemistry definitely paid off in this instance, and we look forward to seeing the research that comes out of Dr. Hendon's coffee lab in the future!
If you liked this article, then you may also like these:
Got something to say? Then leave a comment!
---
Indigenous Transgender Women find safe haven in Colombia's Coffee Farms
Tuesday, 22 October, 2019
PHOTOGRAPHS © BY LENA MUCHA
Colombia is one of the top three coffee producers in the world, and the coffee-growing region, Eje cafetero, has even been named a world heritage site. Colombia is also one of the most dangerous countries in the world for transgender people, who are often forced from their homes and communities or punished for the crime of being a boy who wants to be a girl. Forced to leave their villages, these women feel free to live their true identities in the town of Santuario, a rural area of western Colombia where some of the world's best coffee is grown.
Here, in the mountains of Eje Cafetero, transgender women from the indigenous Emberá community have found refuge on Colombia's coffee farms. Berlin-based photographer, Lena Mucha, set out to tell these women's stories, capturing their images in a candid and moving collection. With a background in social anthropology, Mucha's work focuses on stories related to human rights, gender, and social changes within societies and ethnic groups. She was approached by a local Colombian newspaper with the idea for the story, but struggled to find information about indigenous trans women in Colombia.
"I was told that the indigenous leaders are convinced that being transgender is a disease the white man has passed [on to] them," Mucha said. "In their communities, the transgender women who decided to live openly transgender are punished by their own people. This is why they leave their families. Working on these coffee farms means they have a free space where they can express their gender identity openly."
The trans experience in Colombia
In the predominantly Catholic country of Colombia, a strong macho culture dominates, and transgender people have found it difficult to gain societal acceptance, especially in rural villages where cultural shifts are slower to take root. Many find themselves forced out of their homes and communities for not fitting into their traditional gender role, and have to find other ways to survive. Transgender women are often discriminated against and are the victims of extreme violence, and many end up working in the sex industry when they're refused formal employment because of their gender identity. The prevailing fear and prejudice has resulted in an average life expectancy between the ages of 30 to 45 for trans women – mainly due to violence, poverty and the risk of sexually transmitted diseases.
Transgender women from the indigenous Emberá community leave their homes when they are rejected or harassed for trying to live their lives as women, and escape to the Colombian town of Santuario where they find work on plantations as coffee pickers during harvest seasons. The coffee farms give the women a place to openly express their gender identities, and they work hard in return, and have become an important part of Colombia's coffee picking workforce. Here, they feel recognised for who they are.
One of the women, Angélica, told Mucha: "I felt that I was different when I was 12. I liked to wear dresses and play with girls […] I won´t go back to my community. Here I can finally be who I am and live my identity."
Sanctuary in Santuario
Lena Mucha told National Geographic that the coffee farmers like hiring the women because they don't complain, and are strong, hardworking and inexpensive to hire. Most of them make between US $20-30 per week, and the farms provide on-site dormitories and food. In the evenings, when they return from the fields, they are free to put on their colourful traditional dresses and make-up, and head into town, transformed, without fear of punishment, although they do still face discrimination. They are called "los primos" or 'the cousins' because they are no longer "hermanos" or 'brothers'.
The coffee farms are a sanctuary for these transgender women. They are free to live their lives there. "They were strong women," says Mucha. "I think they were really enjoying their lives there. For them, it's like freedom and they can express themselves. Nobody is bothering them."
The full collection of Lena Mucha's photos can be found on her website.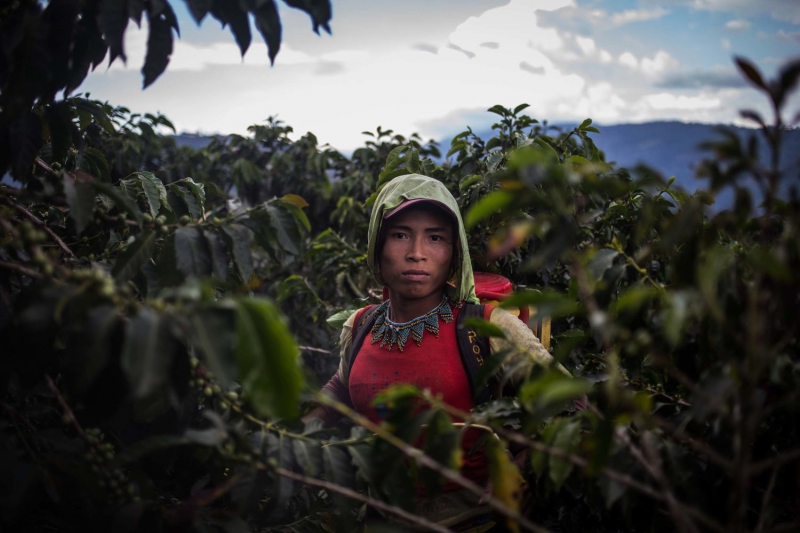 Francy came to work at the coffee farms five years ago. (© Lena Mucha)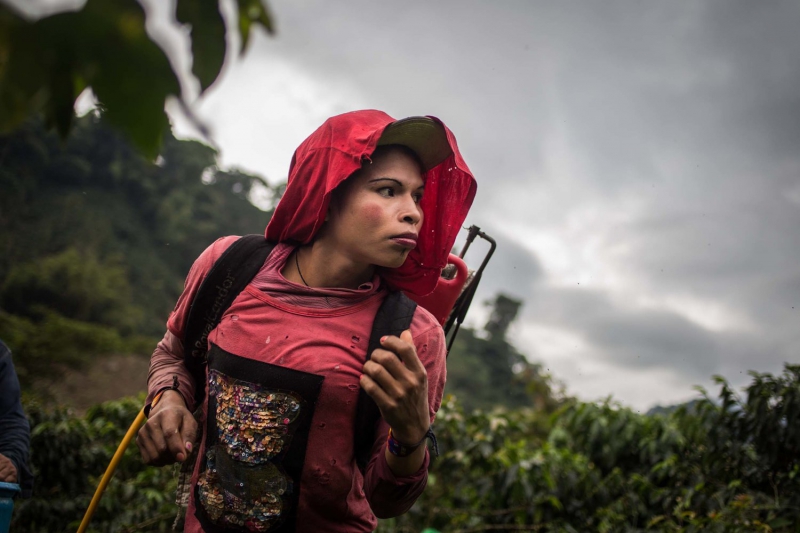 Heading back to the farm after work. (© Lena Mucha)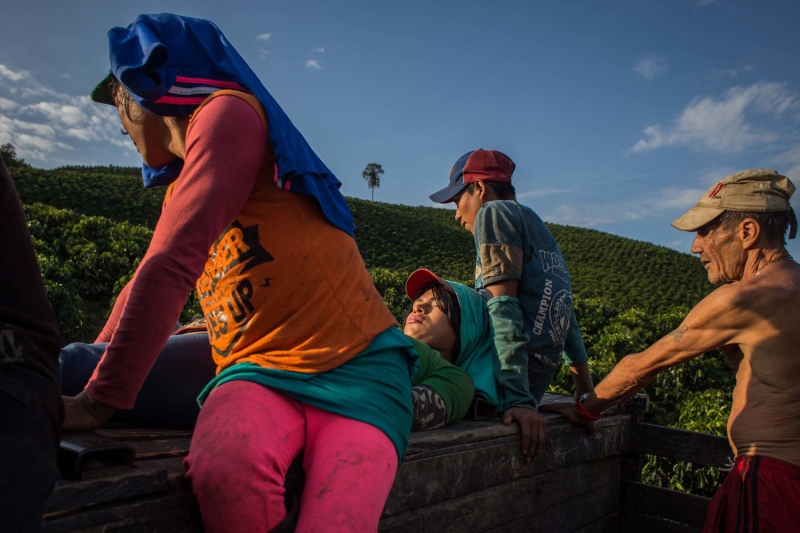 Francy and her colleagues unload the truck at the farm after a 10-hour workday. They earn $35 a week. (© Lena Mucha)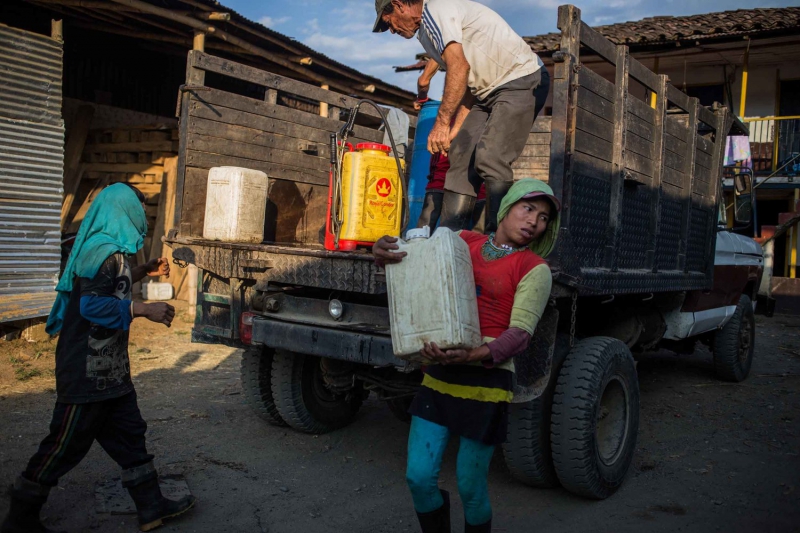 Francy, 19, after being dressed for the evening. (© Lena Mucha)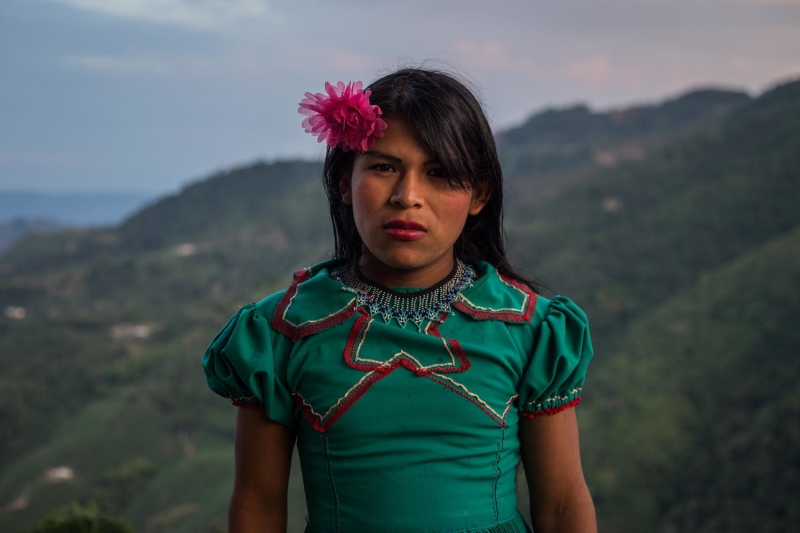 Francy, Angelica and Mariana decompress in the evening with their colleagues. (© Lena Mucha)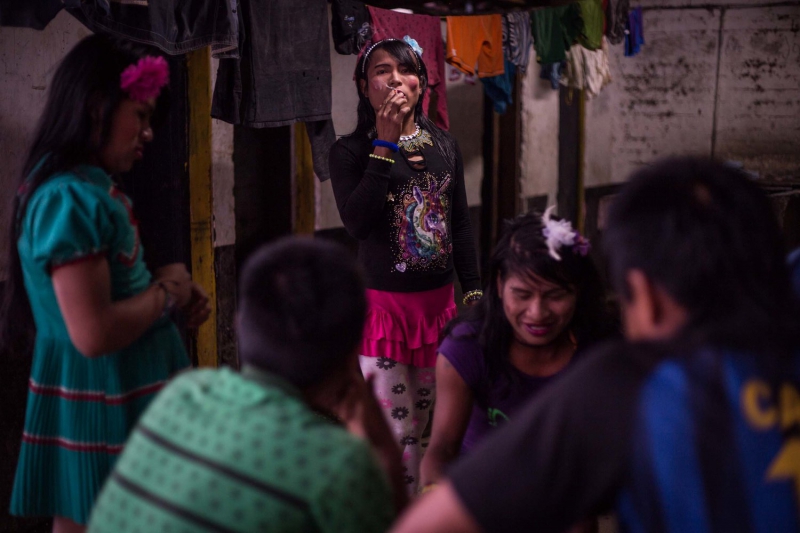 Francy and Dario relaxing in their free time. They both belong to the ethnic group of Emberá Katio. Back in his home village, Dario has four children with his wife. (© Lena Mucha)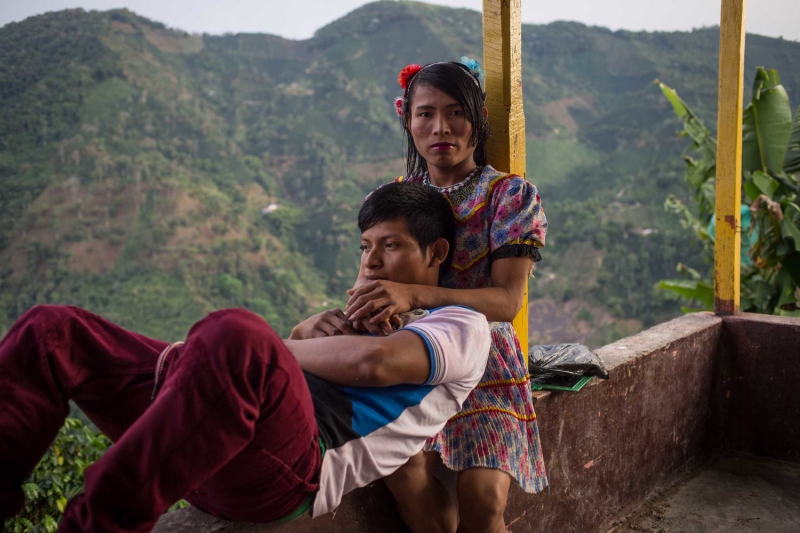 On the way to the town of Santuario on a Saturday morning. Every week the women go to the village to buy new materials to make their traditional dresses and jewelry. (© Lena Mucha)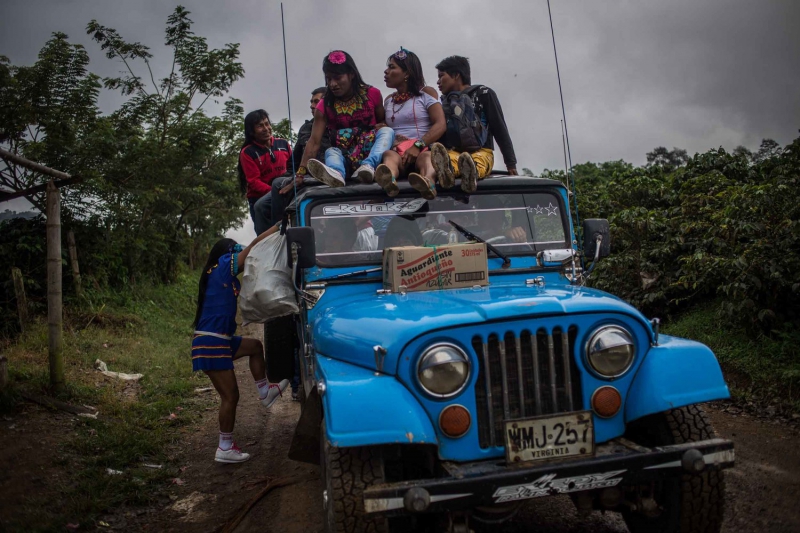 After arriving in Santuario, the women get out to go shopping. (© Lena Mucha)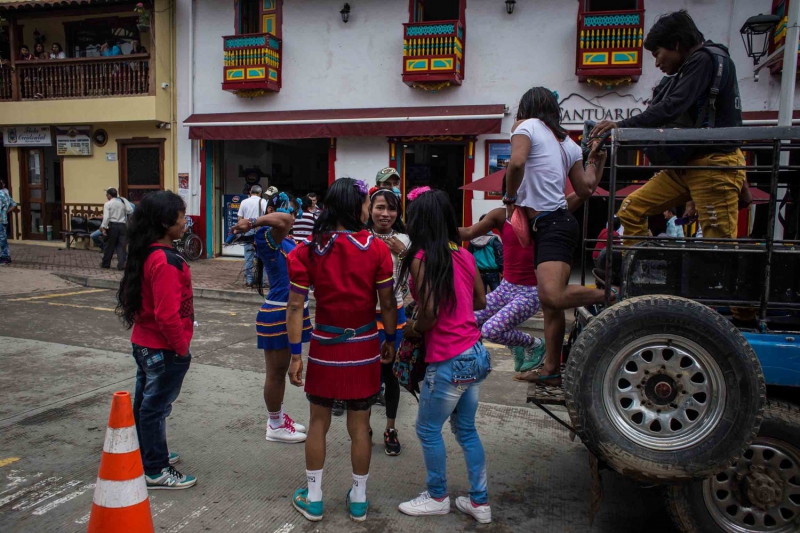 Francy buys earrings in a shop in Santuario. (© Lena Mucha)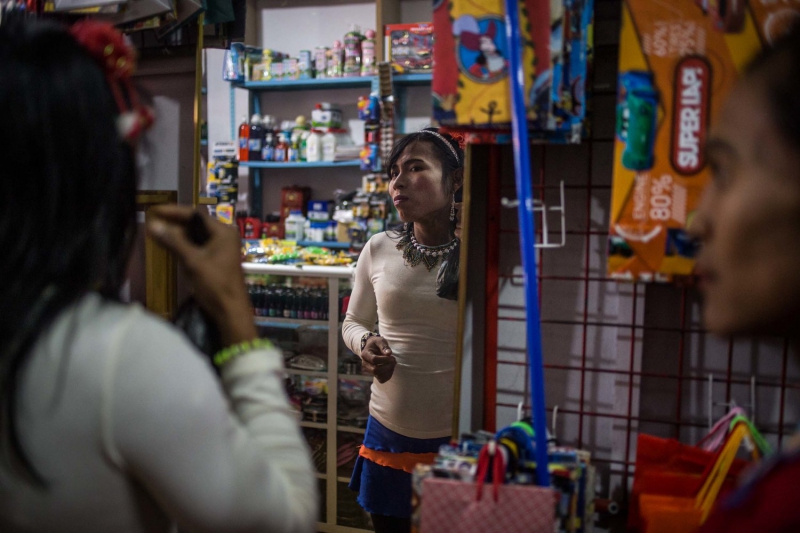 Angélica, 17, she left her home village and decided to work on the coffee plantations when she was 15. (© Lena Mucha)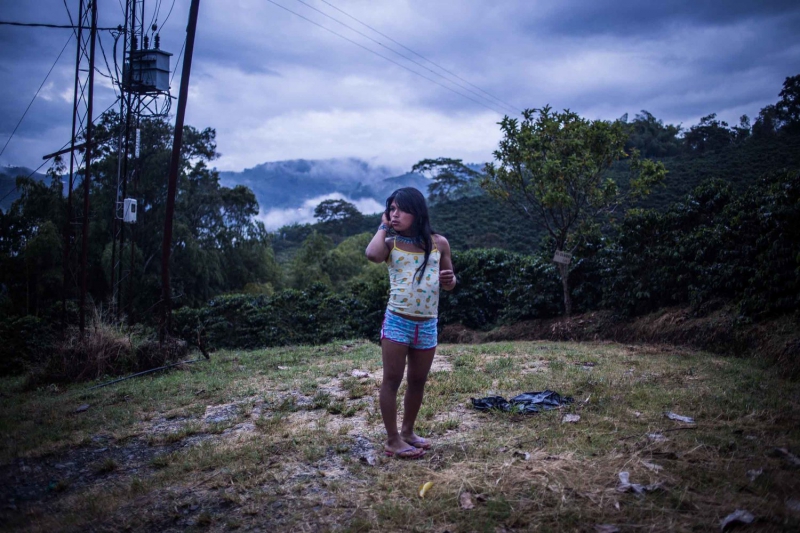 Angélica plans on staying on the coffee farms: "I won´t go back to my community. Here I can finally be who I am." (© Lena Mucha)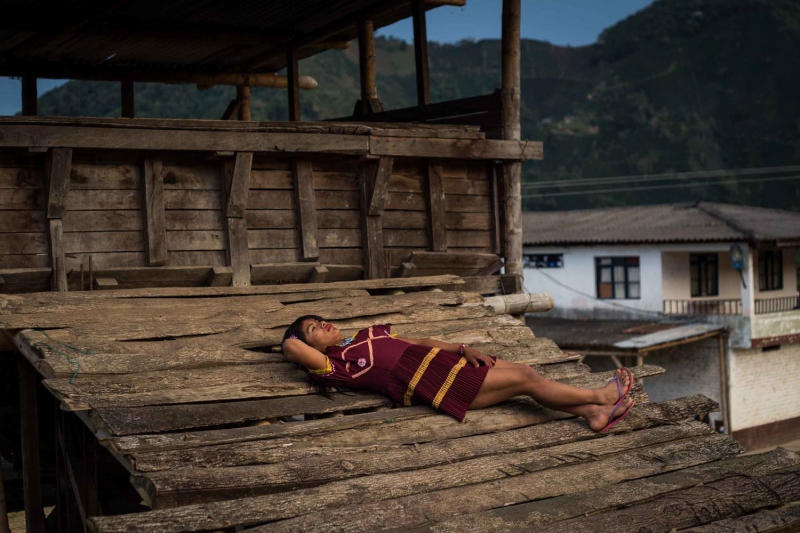 Got something to say? Then leave a comment!
---
Lifestyle: Coffee and Tattoos
Monday, 21 October, 2019
From Bean to Ink
The subculture of coffee
Words by JP Blignaut, The Neighbourhood Barista. Published in Issue 28 of The Coffee Magazine
PS. If you're fan of both these things, Equipment Cafe is hosting an awesome event on 3rd November that you might be interested in!
---
The history of body marking dates back to our ancestral period, when various tribes and cultures used needles and specialised equipment to permanently mark their bodies. Jump forward a couple of thousand years, and we see how the field of "tattoo artistry" has become recognised as a full-time profession. Our human capability to wave traditional and conservative norms has opened a chapter in our own history which allows us more freedom of thought and expression. The modern age has made it easier for us to find a socially acceptable balance to perceive and understand various race, gender, sex, cultures, and subcultures. Today we stand in front of our history, marked with needle and ink, as a testament of human possibilities. For years, many have thought of tattoos as "worthless", "unacceptable", "blasphemous", or "tacky" - but generalisation of these thoughts shifted out the door, and tattoos have crawled onto our skin.
In a recent conversation with an old friend, I felt dumbstruck with an answer after being asked, "why did you get an AeroPress tattoo?". Without an answer and thinking of all those people with a "Live. Laugh. Love" quote or blue butterfly tattoo on their ankle - I'm fine with constantly explaining to people that it's not a lighthouse, or syringe or even a lightsaber from Star Wars! Although getting a coffee tattoo was never on my bucket list, (not that I have one taped against my bedroom wall), my coffee tattoo has become a symbolic piece of art which I carry with me each day. After long shifts and making coffee the whole day, and sometimes forgetting I have an AeroPress permanently stamped on my arm, I enjoy the natural conversation starter this piece of ink has become during those awkward encounters.
"You must really love coffee if you got a tattoo of it?" - the question so many of us, myself included have encountered on a regular basis. With the many social media accounts and internet pages dedicated to millions of different coffee tattoo ideas, your selection is endless. From minimalistic coffee equipment, simple little coffee cups, coffee brewers, coffee plants and flowers to the outrageous designs of coffee being extracted into a cup, and flowing over to form a coffee farm somewhere in South America with an amazing coffee quote to finish it off. The coffee industry and its niche following, has opened the doors to a whole new subculture of expression, art, and creativity. Although the decision to get a coffee tattoo or any type of tattoo isn't really easy (it never comes off, I'm just saying), the support and enthusiasm this industry has received from the community and coffee drinkers is a testament of modern evolution.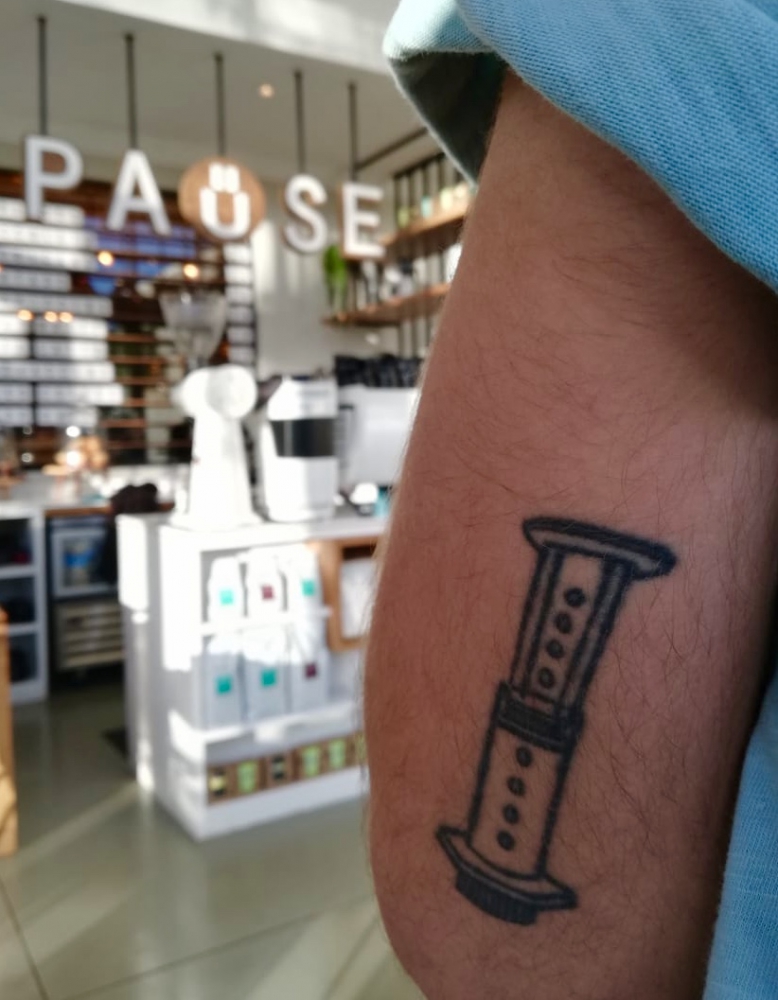 Why should you get it? For me this was quite easy, I got a permanent reminder of the one thing that inspired me to make a career out of! Today I have this image on the back of my arm, or rather a piece of my own history which I carry with me every day I serve hundreds of different customers. Come young and old, the tannies and ooms love it! It's strange because after tasting hundreds of different coffees, my AeroPress tattoo has kept me humble and grounded. Keeping me routed from where I started and inspiring me on my journey forward.
When should you get it? Well, why haven't you gotten it already? Life is short and if you love something, get it permanently stamped onto your body. This is a lifelong commitment, not like your previous relationship, and if you're only getting a coffee tattoo because of some lame influencer on Instagram or Pinterest, then don't get it! Rather stick to taking pictures of your latt art! If you're working in the coffee industry, then you would understand when I say how our freedom of self-expression as baristas, roasters, café owners, etc. have become part of our daily profession. If customers see that rad V60 pourover tattoo black and shiny on your forearm, and your coffee tastes good, why would it change their perception of you in any way? Coffee tattoos are awesome, and fun to design. It's a great way for tattoo artists to design something new and so interesting, then the regular "dreamcatcher" every 25-year old has these days!
In the end, if you're pro coffee tattoos or against it, the regular coffee drinker, sitting at their desk in the corporate world, won't ever get something so different or outrageous. The avid coffee junkies, the pierced barista or bearded roaster would probably feel different. "Social construct" around strange looking coffee tattoos won't always be easy to explain to our friends, family, and customers. It's our crazy obsession with something exclaimed as "simple" or "ridiculously overpriced" that brought us to the forefront of always finding new ways to innovate, adapt, change and invent! Today, more than ever, the art and freedom of self-expression through tattoos, written word, language or whatever has become more important and fundamental than 50 years ago! Coffee tattoos won't always be what we thought it would be, but in some way, it's a mark left by an ever-changing industry, an industry that never fails to deliver - from bean to ink!
Got something to say? Then leave a comment!
---
SA Aeropress Champion 2019 announced!
Wednesday, 23 October, 2019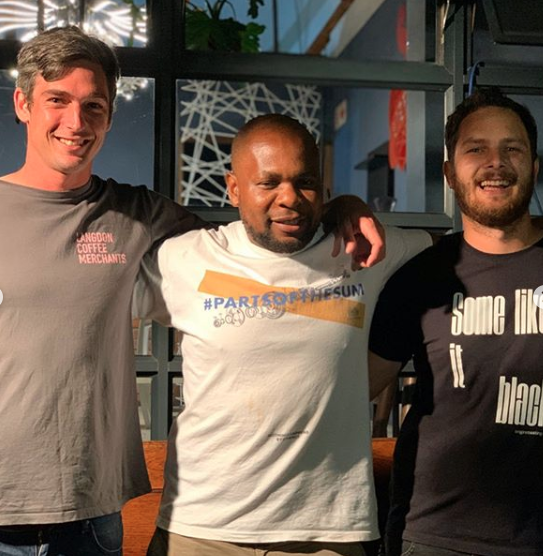 1st Place: Kenneth Machenge, Tribe Coffee Barista Trainer
2nd Place: Charles Pass, Langdon Coffee SA
3rd Place: Neil Gouws, Origin Coffee Barista Trainer
After rip-roaring through multiple rounds of competitors, the esteemed judges were brought two final cups of coffee. Which cup would get the most pointing fingers? In the end it was Mr Ken Machenge who beat out Charles Pass for a round trip ticket to London, England where the World Aeropress Championship will take place on November 24th 2019.
So let's back up a bit, how does this competition work again? All competitors brew the same coffee and they can use absolutely any Aeropress recipe they like. The three judges are not allowed to see the brewing process and the cups are placed in front of them in complete anonymity. The MC, in this case Mr Jake Easton, counts them down once they're slurped on all three and they simply have to point at the one that they liked best. Cup with the most fingers pointed at it WINS!
Well done to everyone who competed and well done to the Tribe Team and all the sponsors for pulling the event together! Good luck in London, Ken!!!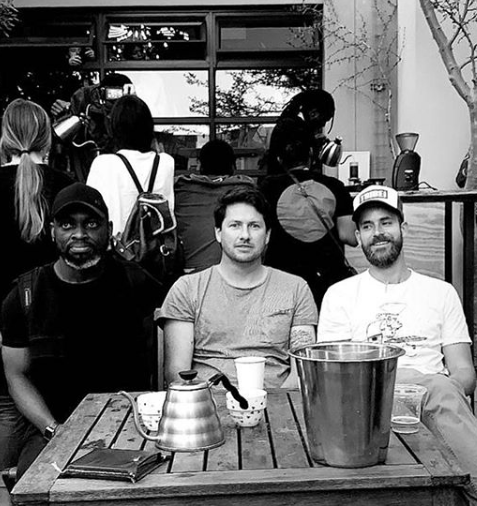 Will Mayala - Rosetta Roastery, Zane David Mattison - More Flavour/Aeropress SA, Christopher van Der Gaag Tribe Coffee Roaster QC. Not pictured Michael McDonald Q-grader Sevenoaks Trading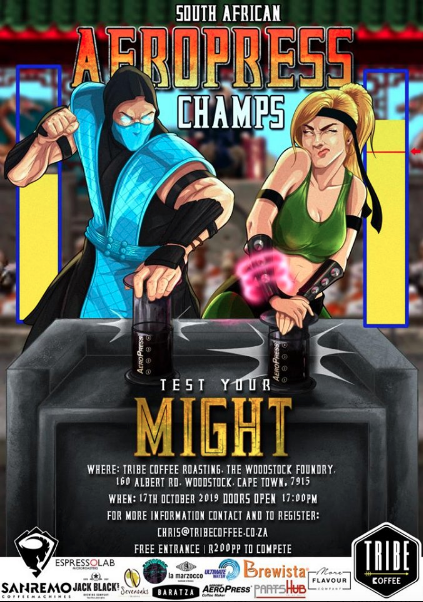 Got something to say? Then leave a comment!