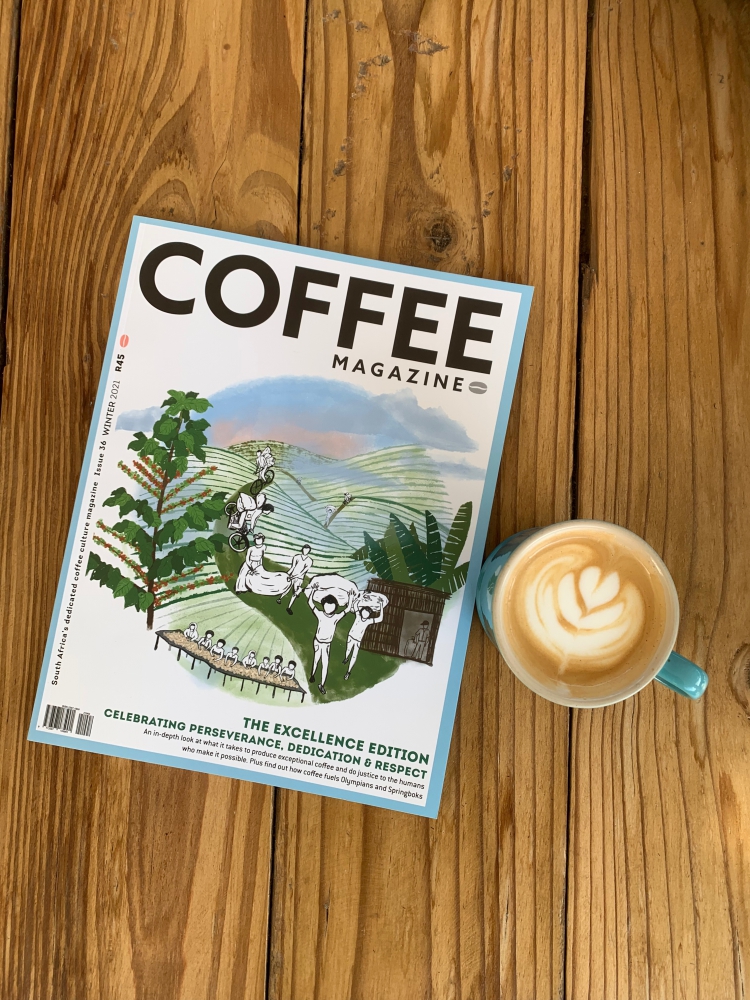 Out now! Issue #36, Winter 2021 - "The Excellence Edition"
This issue is an emotional one. Celebrating perseverance, dedication & respect, we take an in-depth look at what it takes to produce exceptional coffee and do justice to the humans who make it possible.
Mel's editorial is a deeply emotional one as she reflects on putting this issue together and everything that has gone into making it. One thing is for sure, despite the trying times we find ourselves in as a coffee community around the world, the pandemic, the lockdowns, the unrest and the economic instability surrounding us, there are amazing people, doing amazing things right here in our neighbourhood coffee roasteries, to right across the Continent and the Globe.
We also have some very unique coffee and sport content in this issue, as we interview 4 first-time Olympians in Tokyo and we catch up with the Creative Directors behind the Supersport Documentary on the Springboks winning the RWC 2019 - "Chasing the Sun".
You can get your copy from any of these fine coffee establishments around SA.
Or you can subscribe, and get a copy couriered to your door -
We have two exciting subscription offers for you! - Click here to subscribe!
Regular magazine subscription, couriered to your door 4 times a year (R330 incl vat)
VIP magazine subscription, couriered to your door 4 times a year with a mystery goodie per issue (R600 incl vat)
What's in this Edition?
Cover: A Village to Remember
Follow the trip of a lifetime with Winston Thomas, three-time SA Barista Champion, as he travels to the famed Gesha Village coffee farm, where the now globally acclaimed Gesha/Geisha coffee varietal originated.
Roast: Mastering the Art of Life
A look at the now 16 year old Bean There Coffee Company, a business rooted in making coffee farmers' lives better, one cup of coffee at a time.
Origin: Before & Now
Cultivating a connection with coffee farmers through cameras with the Long Miles Coffee Project team in Burundi. Seeing the world through coffee farmer's eyes.
Brew: Big Battle of the Small Coffees
A lean towards espresso based beverages with less milk than your traditional cappuccinos and lattes has been creeping on to cafe menus for years. But what is the difference between the options?
Culture: Citius, Altius, Fortius
For many sports people, The Olympics is the highest honour. It will take place in July and August 2021, a year later than anticipated. We caught up with some South Africans who about to head off to Tokyo.
Discover: Getting Coffee from Origin to You
The importing and transportation of this valuable commodity is a complicated process so we asked expert Carol Corlett of Sevenoaks Trading to shed some light on how green beans get to your local roastery.
Kick: Keeping the main thing, the main thing
Behind the scenes of "Chasing the Sun", the award-winning documentary about the Springboks Rugby World Cup victory as told to Coffee Magazine by one of the Directors, Greg Lomas.
This is an incredibly insightful piece on how to successfully grow your business, relevant not just to the coffee world, but for the life of the entrepreneur in general! Thank you Neil for your time in putting this together!
---
Making the right choices in stepping up your coffee business
The growth of your coffee business is close to my heart because I am an entrepreneur and business owner, and I can talk to you from personal experience. Genio Roasters has, in the past 12 months, grown in leaps and bounds. We have been faced with big decisions on all levels of our business, and believe me, at times this was very scary.
From the moment you decide to set up a business, you commit to the business lifecycle, and if you want to see the journey through, you will have to make some tough decisions. Along our 10-year journey, we had to figure out what the business needed, and how we were going to gear ourselves to take the next big step.
Questions you may grapple with in your roastery or coffee shop may range from buying a bigger roaster, or rather adding a destoner, or perhaps a green bean loader, and what the financial and logistical implications would be for your business.
Knowing where you are in the business lifecycle
We are going to talk about stepping up and expanding your business but let us see where you are in the business lifecycle:
Business idea and ready to go
The business lifecycle starts here. You want to start a coffee business and you need to determine how viable it will be. You do as much research as possible, engaging with specialists in the coffee industry, potential suppliers, business partners, mentors, family, and friends.
You look at what your competitors do, and you assess whether you have what it takes to make a success, whether there is space in the market for you, and whether you have enough financial backing to launch your business.
Start-up your business
Your business idea is viable, whether it is a roastery or a coffee shop, and you are ready to open your doors. You need to listen to the feedback you get from your customers, as you may have to adjust your product. Gross mistakes during the start-up can cost you down the line. The key is to stay focussed as this is an important stage to get through.
Grow and establish your business
At this stage, your business should be generating a consistent income with a regular stream of repeat and new customers. Your cash flow is starting to improve as your income is taking care of your monthly expenses. Your business is showing a profit.
A big challenge for business owners during this stage is how to manage their time. The demands of the business are changing. Suddenly, you have more customers to attend to, and you need to roast more coffee to meet the demand. But take note, you may be making a lot of money, but because you are not in front of your customers anymore, they are disappearing one by one. You can no longer do everything yourself and you need to appoint the right people to join the ranks; you need to set up systems to support the business; you need to keep an eye on the competition. You need to put the necessary support in place otherwise you will keep falling back.
As the founder of the business, appointing skilled people has now become a priority if you want to make the most of the growth phase. You will come to accept that your highly qualified team will be taking over responsibilities that were previously controlled by yourself. This can be challenging, ask me! I soon realised I could not do everything on my own, and I had to learn to let certain things go. Because if I did not, you would have succumbed to the entrepreneur's/founder's trap!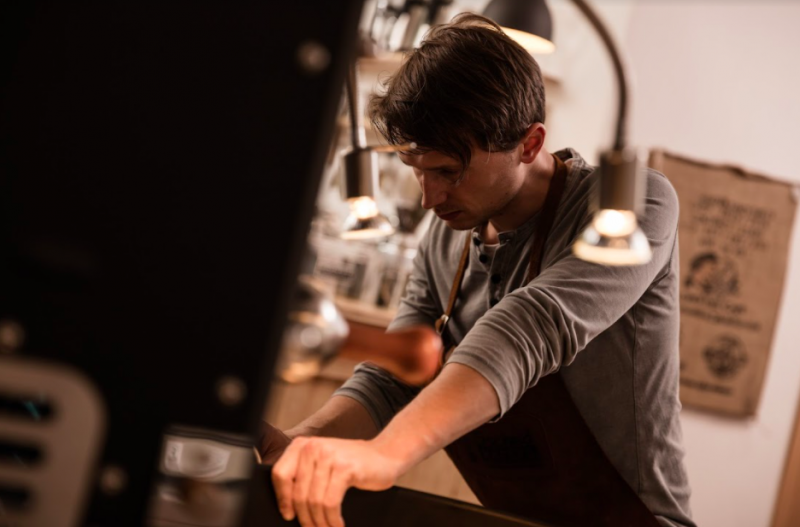 Expand your business
You may feel that your business is running smoothly. You have a skilled team on board to handle the work that you do not have time for (and should also not be doing anymore!). Your business has developed its presence in the industry. You may be in a position where you can rely on a stable business, and at the same time look at opportunities to actively expand your offering and seek new markets. It is time to step up!
The blueprint for your business has been established and your net profit (total earnings after subtracting all expenses) indicates that you have a measure of financial safety that will allow you to commit capital to growth and expansion.
In business there are only three ways to go - you either move forward and step up your business, or you move sideways without little or no growth, or you stagnate by remaining in one place and then you gradually fall behind.
You almost need that nervous energy and desire to grow and expand, to keep the momentum going, and fight complacency. Complacency can often hinder expansion.
There will always be a word of caution as risk is implied whenever business owners expand without following a clear business plan. Always secure your business and do not bite off more than you can chew.
Your business reaches maturity
Your business is stable, and you are reaping the benefits from the expansion stage. Some businesses may even continue to expand further, going through similar planning done for previous expansion.
Recognising when the time has come to expand your business
Opportunity knocks
During its lifecycle, your business will go through normal growth, but at some point, you will need to take a big step forward, which will pose a challenge. There may be an opportunity for you to do contract roasting. But to do so, you will need to upgrade to a larger coffee roaster, move to your premises, or purchase a delivery truck to service your clients. In most cases, this step will require large capital expenditure.
However daunting, you are faced with a massive opportunity for your business. It requires you to push the boundaries, and cross the line you are afraid to cross, but the problem is that you keep walking into the same wall by not taking that step - you cannot make your business grow, you feel stuck, and nothing is moving forward during this time.
Choose to step up and not sideways
As a business owner, you need to be prepared for this step if you want your business to remain healthy. It will include having the systems in place and appointing the right people. But more so, you will have to calculate whether this step will enable your business to grow. In other words, will it be a step up or will it merely be a sideways step?
Buying a foot sealer in favour of a conveyance sealer to save a few bucks (not speeding up any process or increasing productivity), or buying a 15kg roaster to boost your output (not having yet optimised your packaging requirements), are both examples of taking a step to the side. So, beware of being drawn into a sideways step because you are too scared to make a significant commitment, or you are just not using your common sense.
Here are several scenarios explaining the difference between a step up and a sideways step and the reasons why:
| | | |
| --- | --- | --- |
| Stepping Up | Stepping Sideways | The reason it is a sidestep and not a step up |
| Purchase your own coffee roaster. | Force your wholesale coffee supplier to cut his prices even if that means he gives you lower grade coffee. | A "coffee" shop's main source of income is right there in the name: coffee. If you cut on your quality because your costs are increasing, then you are only delaying the problem. Costs always increase; it is called inflation. Roast your own and cut the middleman. |
| Appoint a permanent operator for your roaster or shop manager that gives you more time to spend in front of your customers. | Get a second roaster machine because you do not have enough time to roast on one alone. You are fine, you can roast on 2 machines simultaneously. | You cannot do everything yourself. If you need to, it means your business is growing. Work ON your business, not IN your business. You, the owner, is the most expensive labour the shop will ever have. Will you pay someone what you pay yourself to roast coffee? Plus, your business is growing now. Accept it. Do you know why you never see photos or videos of people running multiple roasters themselves? Because it is a stupid idea. That is why. |
| Buy a 15kg roaster because your 3kg is too small. | Employ an operator to work on your 3kg roaster full time. | The 3kg roaster is too small for your business. You know that. Employing someone to push it to its limits is looking for trouble. Rather use that salary money and finance the correct size roaster for your business model. And what if your small machine breaks? Then you are without an income. If you have 2 roasters, one is always the backup for the other. NEVER sell a roaster. Use the smaller one as backup, or for specialty coffees. |
| Get a sales rep to get in more sales. | See customers in the day and roast at night because you do not have enough time during the day. | I know you can work hard. No one is doubting your ability to work hard. But you should also work smart. YES, the sales rep will take some of your bottom line. But how much value would you put in 1 hour with your family? Build a sustainable business, not one that will inevitably run out of hours in the day. |
| Purchase an afterburner because your neighbours are complaining about smoke. | Relocate your roastery. | This is a tricky one. But ultimately the problem will follow you around wherever you go. Do not give up a fantastic location for a shop where your customers know and love you just to move the problem elsewhere. Installing a small roaster in your beautiful shop that you are invested thousands of bucks and hours into and moving your bulk roasting off-site; now that is a plan! |
| Offer contract roasting to other businesses. | Update your coffee packaging design. | Your brand can only realistically achieve so much. Rather leverage other brands to build your own business. Especially if you have an operator who can work your roaster machine 8 hours a day. Sell your skills and your time. Do not hang on to it out of fear that others may see how you roast. Your profiles are not your business's most valuable IP. You are!! |
| Take your roasters and baristas to coffee championships and get them formal training on sensory skills and cupping. | Leave your staff to work and you get training on cupping because you are the only one who cups your coffee. | Investing in your staff, their happiness, experience, and skill will pay you back in dividends. If your roaster can do his own cupping, imagine how much more attentive he will be about his roast profiles? Show them, grow with them, and make them part of your journey. If your business cannot handle a day without its staff because you took them to see the barista champs play out, then how will it handle the next "Covid"? |
| Buy a delivery truck with a dedicated driver. | Buy a van for yourself with more loading capacity so that you can deliver more coffee in one trip. | You are likely the most expensive driver that money can buy. And who runs your business while you are out and about playing driver? No-one. It stands still because you refuse to invest in your own business. In my own business, I refused to get a driver. I had my best technician do the deliveries. It took me longer than I would be willing to admit figuring out that production lagged because our main technician was on the road all day. Then I employed a driver at half his cost and voila: production increased significantly. I never want to go a day without a driver again. If he is off sick or if the vehicle is in for repairs, I immediately get a temp or a rental vehicle. Logistics is a main driver of our business. |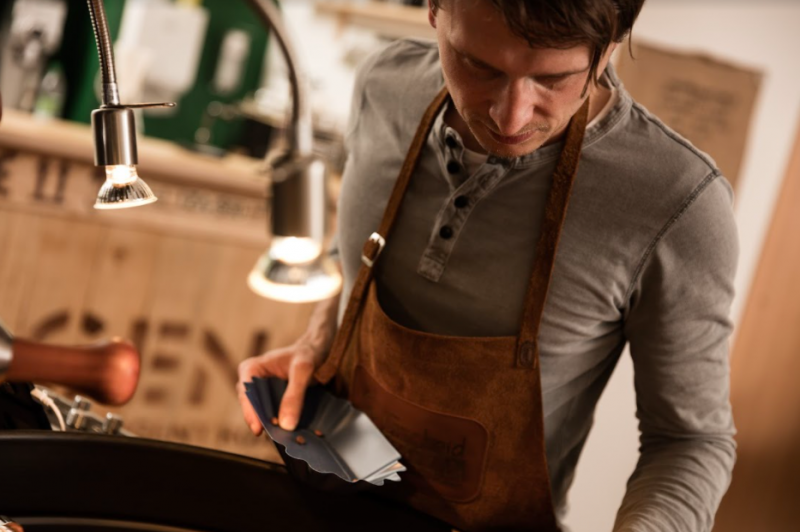 Calculating your step up
Your decision to step up your business requires a balanced approach as there are many variables to consider. Knowing how much coffee you intend to sell per month is crucial. It will determine your projected profit margin, and more importantly, what size coffee roaster you will need.
Investing in a roaster that is too big can be as counterproductive as investing in a roaster that is too small. Roasting coffee takes time. If your roaster is too small, you will spend too much time roasting coffee, and it will be impossible to grow and expand your business, as there will be no time left in the day to look after your customers, pack your coffee and take care of deliveries.
A step-up will not only have a financial implication and return on investment (ROI) is not only determined by how much money you put behind expanding your business.
Since the industrial revolution, businesses have been using the 5 Ms in decision-making and management to evaluate efficiency and profitability:
Man: right man in the right job – recruit or upskill.
Materials: good quality of materials – responsible sourcing.
Machines: increased production and consistency – trustworthy suppliers in it for the long run.
Method/Minutes: efficient use of time by man and machine – time management and limited down-time.
Money: investment - maximise all operations.
Your step up should make optimal use of each of these elements, for you to reap the full benefit of your business growth decision.
Genio has developed a Return on Investment (ROI) Calculator that will allow you to play around with different variables to achieve your business goals.
Let us know whether you have found the ROI Calculator helpful. We would love the opportunity to continue the conversation (and do the math together!).
Good honest advice from experience
With enough preparation and support from the right people (never be afraid to ask for help!), and sticking to your business plan, you are bound to make game-changing decisions. It may well happen that after a big step forward, you need some adjustment, so allow for that. You will soon regain your balance as you build up reserves, knowing that you had the confidence and the guts to make the right choices in stepping up your business.
Our advice to you is honest and transparent. We want you to take that next step – not only for us but also for yourself. It happens that our customers do not always follow our advice, but even then, because we believe in the strength of the community, we will look for ways to help. We are part of your story.
#GenioForLife
Neil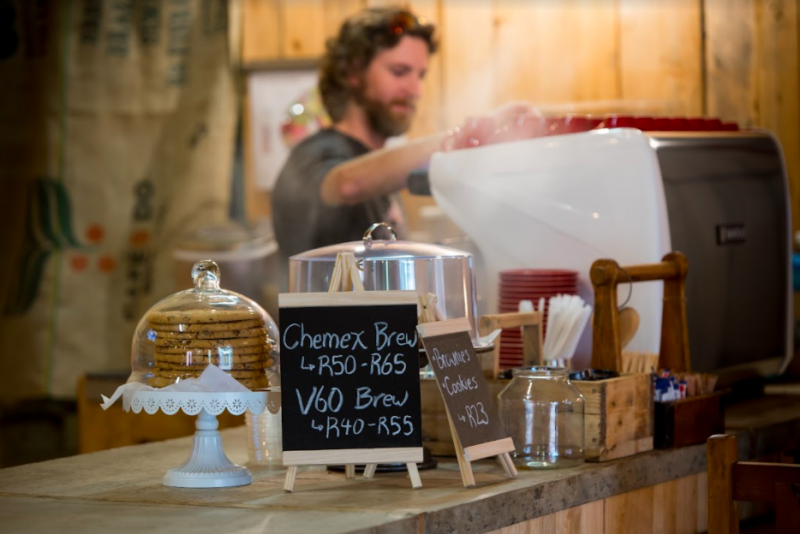 "Do one thing every day that scares you." — Eleanor Roosevelt (1884-1962). Former First Lady of the United States.
Moving on Up
These mobile coffee gurus are bringing the coffee to you, wherever you are.
Words By Winston Thomas
Even as the weather makes us want to bundle up inside, the outdoors are calling and thanks to the ingenuity of coffee professionals, you can get your coffee fix wherever you are, whether it's the beach, the mountains or outdoor markets. Even at your own private event. As a barista trainer and entrepreneur, the current South African Barista Champion Winston Thomas, has the opportunity to discover new gems all the time. We asked him to highlight a few of his favourites from around the country.
---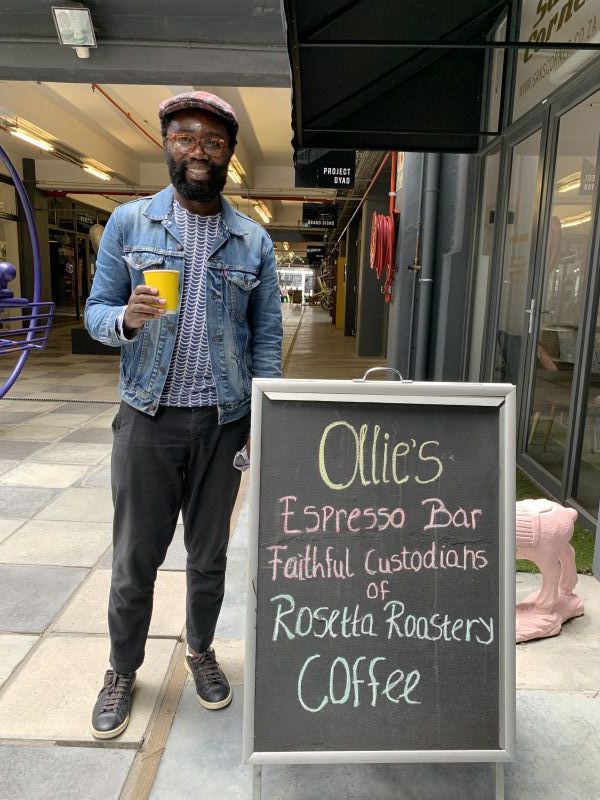 Ollies
Woodstock Exchange, Mobile / Events Cape Town
Slicker than your average. That's the best way to describe Ollie. He is one of the original Rosetta Roastery baristas and arguably the best dressed man in coffee in South Africa. Yes I said it! Ollie has a gentleness about him that is not often found with baristas and because he is a man of few words, when he speaks you need to make sure you're listening. After leaving Rosetta he started this mobile company called Ollies (using a rotation of Rosetta single origin coffees) and finds himself doing events all over Cape Town. He used to have a stand at the Neighbourgoods market at the Old Biscuit Mill between events but has more recently settled at the Redrum Culture Club in the Woodstock Exchange as a pop up.
---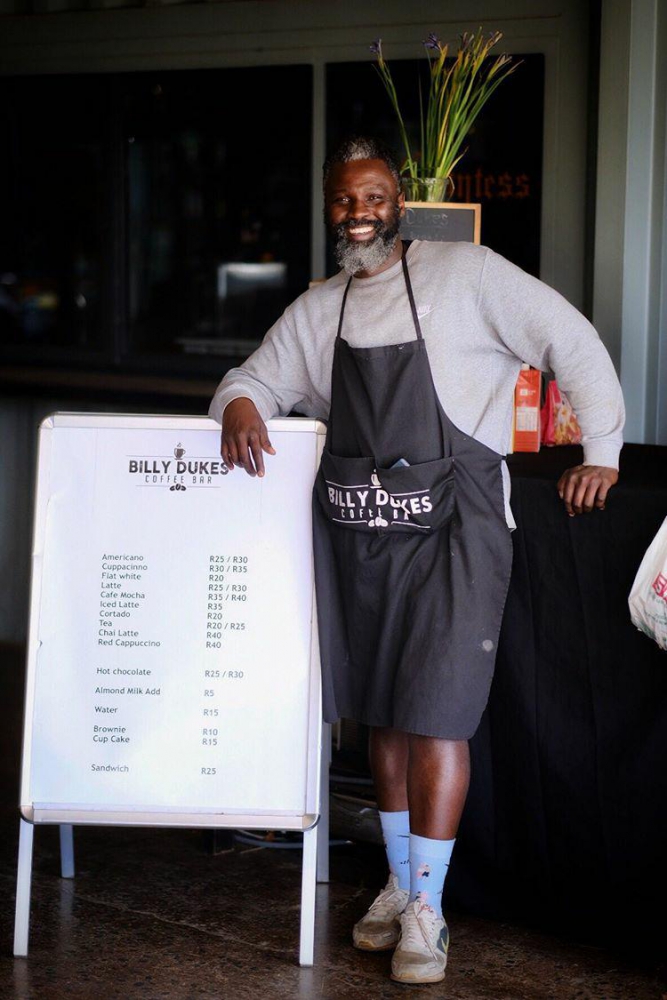 74 4th Avenue, Melville, JHB
@billy_dukes_pop_up
The Idris Alba of coffee :) I have not had the pleasure of tasting his coffee (YET) but the call I had with him is enough to tell me that he is a pretty smooth talker and definitely a peoples person. Siya popped up on my radar during lockdown and I have since been following his escapades with a keen interest. He has a background in hospitality and has set his sights on multiple locations but for now, you can find his Tuk Tuk parked out in Melville or at events throughout Joburg.
---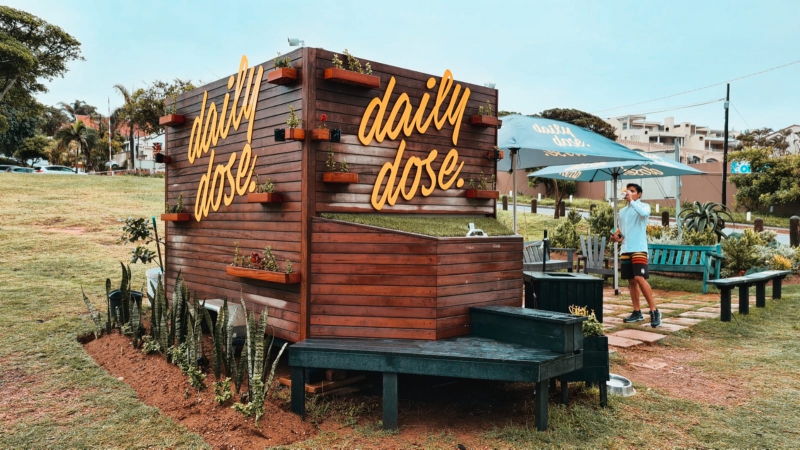 Daily Dose
Durban View Rd, Umhlanga Rocks, Umhlanga, 4319
I've been told that Dean is one of the friendliest people you'll ever meet. And after chatting to him he expressed that the second element that is of utmost importance to his business other than the coffee itself, is the PEOPLE. The baristas, the customers, the suppliers - the people full circle. With their light, bright and fresh branding the Daily Dose are every runner, beach goer and surfers dream conveniently based on the beachfront in Umhlanga. Slinging shots of a Bluebird Coffee Roastery blend they can be also be found in and around Durban doing different events. Dean's recommendation is an Oat Milk Cortado!
---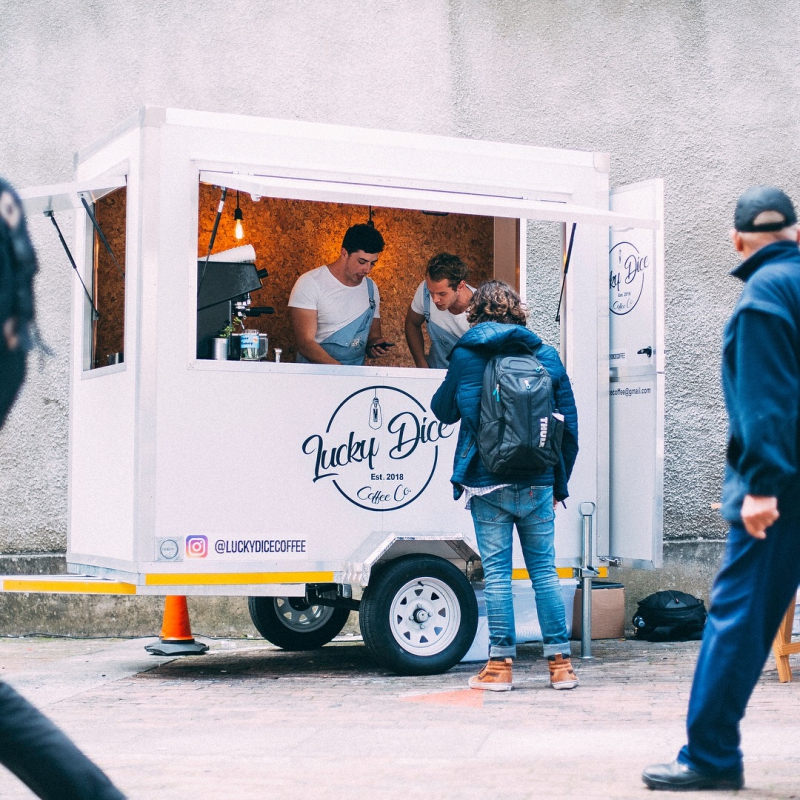 Lucky Dice Coffee
Mobile / Events CPT
Cool, light and Capetonian. Thats what comes to mind when taking a first glance at Lucky Dice Coffee. I met Chris at the Cape Town Coffee festival in 2019 and he kept me busy with plenty of questions. What started off as a mobile cart has continued as a mobile cart BUT they now own a roaster and will soon be roasting their own coffee. From sidewalks, to safe houses, to glamping sites and the more "common" mobile events the Lucky Dice trailer has a way of making its way around Cape Town and spreading smiles one cup at a time. Now all we need is a second trailer to have double the luck!
Photo Credits ©David Clifford-Holmes
---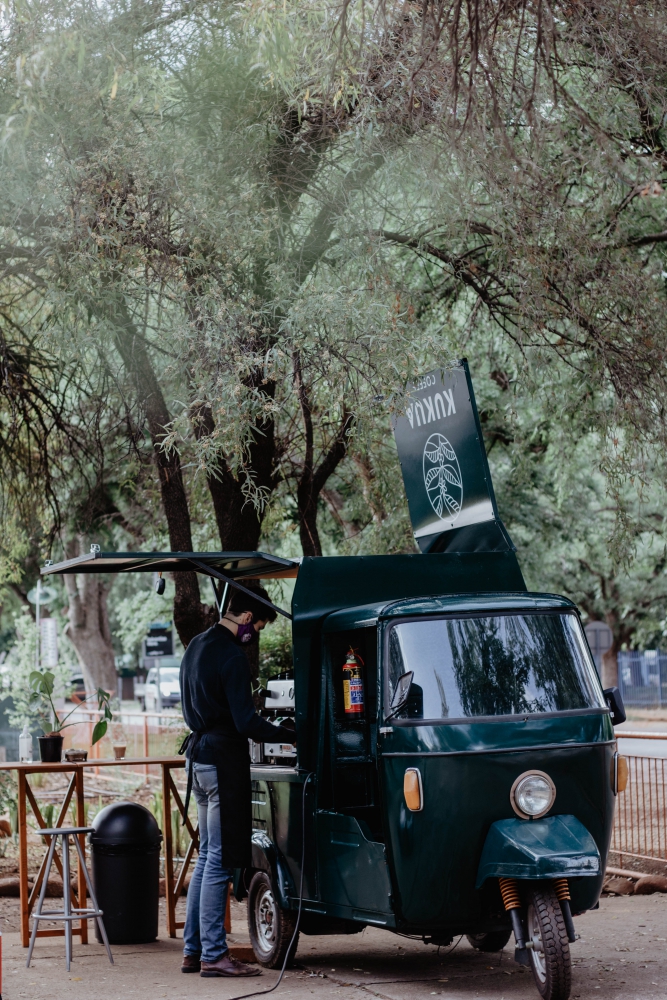 Kukua Coffee
9 Gerrit Dekker Street, Potchefstroom
At first look you would think Killian is a rugby player or the lead singer of a band however, once you get him talking it's pretty clear that there's a much bigger passion keeping him busy, coffee! His cool Tuk Tuk is nestled a stones throw away from the Pukke Campus which is the perfect spot to start a coffee conversation with naturally inquisitive and sleep deprived students. Not to mention the fact that Potchefstroom is currently a breeding ground for specialty coffee geeks. Kukua takes mobile coffee a step further by hosting coffee appreciation evenings and have recently just opened a small stand alone store, which maintains the consistent greenery and moody hues of the cart and contributes to their coffee service to the good people of the North West (roasted by Potch locals Faith Brew Coffee).
---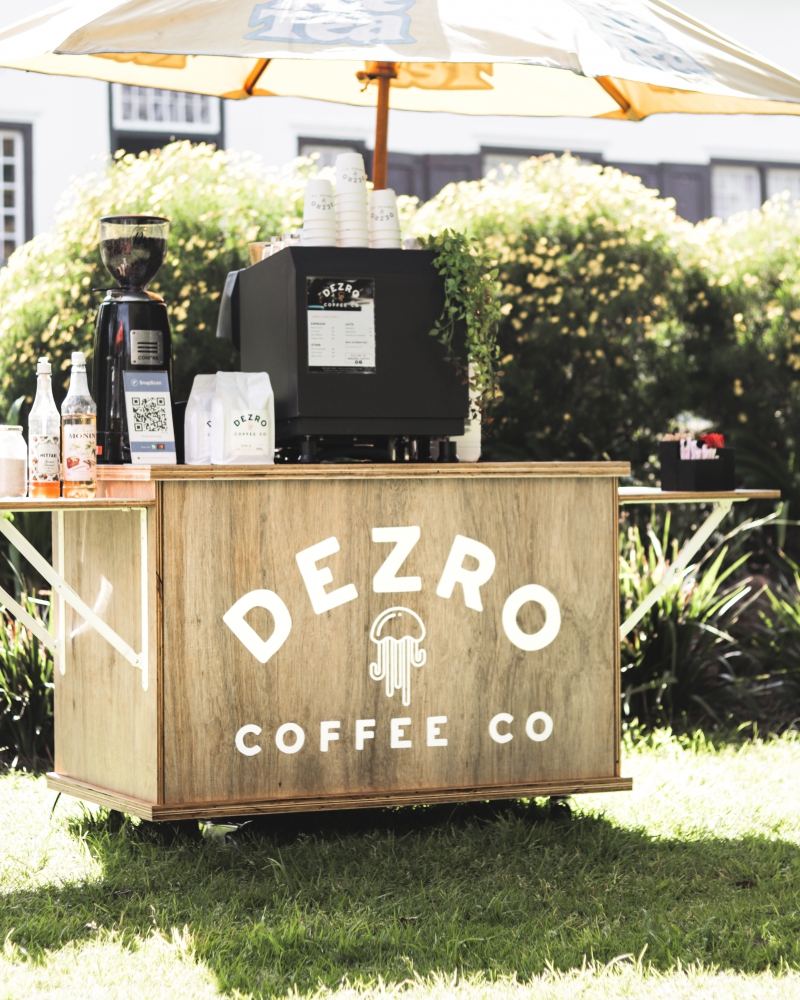 Dezro Coffee
Somerset West, Cape Town
The dynamic duo and one of my inspirations during lockdown. I really admire the tenacity of this small business operated by Dezi and Romero (thus DEZRO) and their drive to continue serving coffee in Somerset West despite the challenges that lockdown threw at them. Romero is a jack of all trades and, after lockdown shut down their cart operation within a local school, decided to make a plan and design a coffee bar that could fit into the back of their car! With their own blend roasted by Gourmet Coffee they soldiered through the elements and now continue to serve at the local school out of the back of their car, then move to a Somerset West bakery serving from their mobile stand AND do mobile events in-between. I'm really excited to see what the future has in store for Dezro and, if you happen to fund yourself in Somerset West, track them down give them a high 5 and order a Flat White.
---