How do you Brew your Coffee?
Friday, 16 November, 2018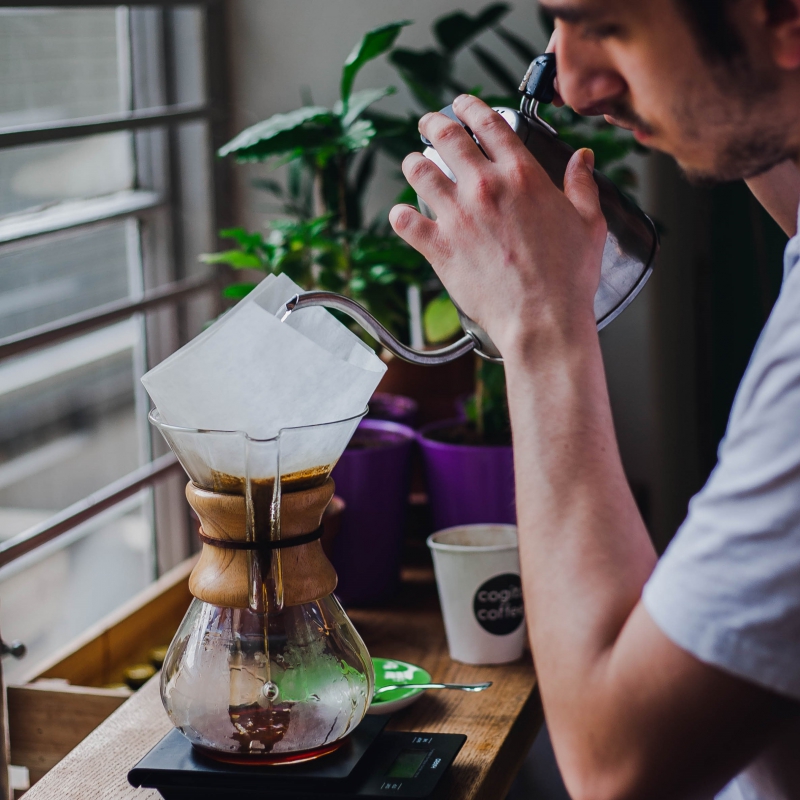 We want to hear from you! We're putting together our #12daysofcoffeechristmas campaign and we want to hear what's on your Christmas list?
Fill in the short questionnaire below and you stand a chance to win a Discover Great Coffee Specialty Box worth R630!!!
How do you Brew?
Got something to say? Then leave a comment!
---
Cafe Crawl: Toast Food Co.
Wednesday, 14 November, 2018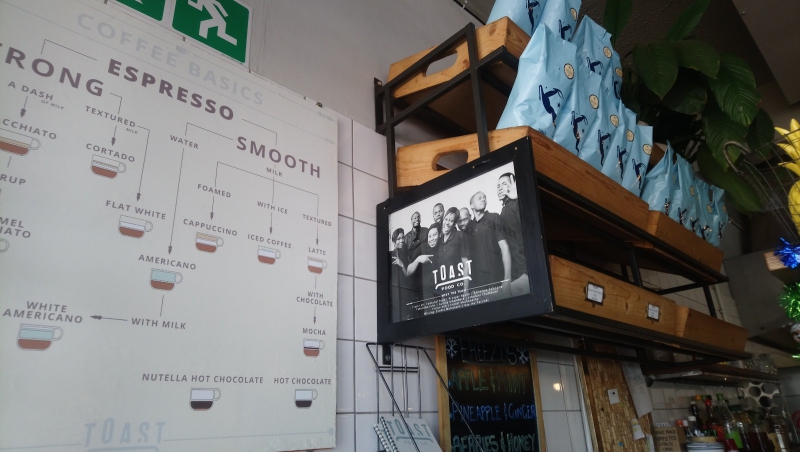 Toast Food Co is a must for anyone visiting Pretoria. If you need a decent coffee, a dose of positive vibes and very yummy breakfast then this is the spot for you! Situated on the corner of Jan Shoba & Lynnwood, Toast is one a few small businesses in this bustling little street-side centre. There's plenty of parking and you can sit at the outside tables or inside.
Jabu, the barista, is most likely the first person you'll encounter as you walk in. His radiant smile and positive energy is much like the espressos he serves - bound to give you a lift - and yet it is his latte art and presentation of the milk based coffees where Jabu has made a name for himself. Jabu recently won the South African version of the Almond Breeze Latte Art Video Challenge, so we were keen to meet the man behind the milk pitcher. It was an extremely hot day on our visit, so we sat in the cool, dark interior with the other locals and soon enough our Flat whites arrived - one was "Pegasus" and the other a beautiful multi-tiered tulip.
Anthony Wingfield, the Owner came out to have a chat with the regulars and introduced himself to us and gave us a bit of a back-story to Toast and the Team who work there. There is definitely a strong sense of pride in the Cafe and the ethos of customer service that Jabu and Ant have instilled there and you can see why the locals love it.
Toast use TriBeCa coffee and serves a great Flat white, cappuccino and latte. Their menu is good, hearty cafe fare and the portions are generous. I loved the honey glazed bacon that they serve with their brekkies and the grilled cheese even defeated Mel (and that's saying something).
We would highly recommend a visit and we look forward to seeing the brimming potential of some of the other Toast staff come to the fore on the barista competition stages soon. Watch this space!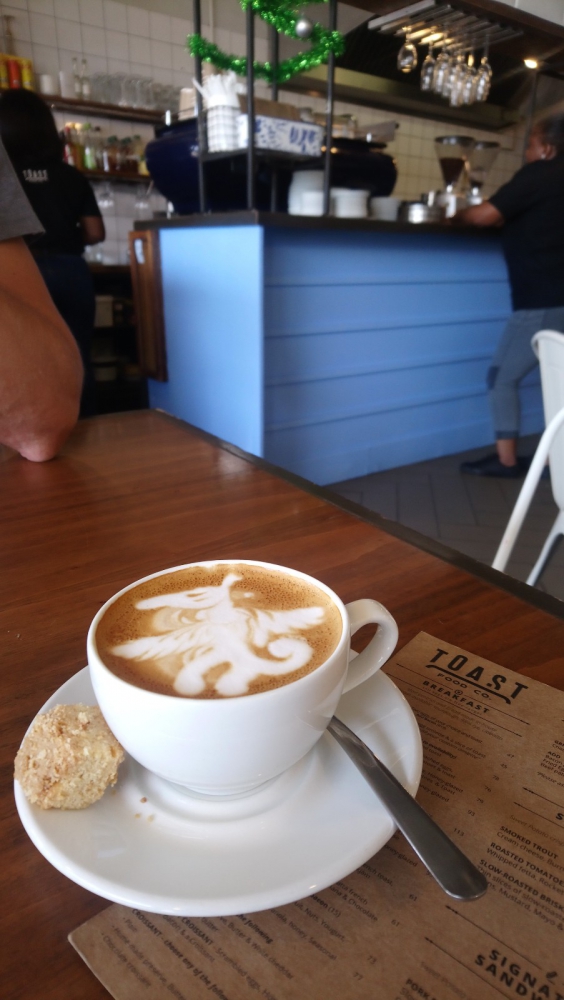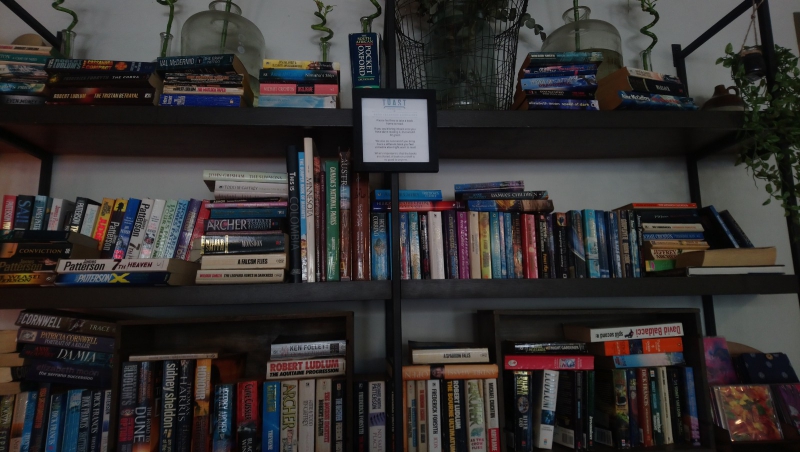 Got something to say? Then leave a comment!
---
Roast: Is Sweetness the New Acidity?
Thursday, 15 November, 2018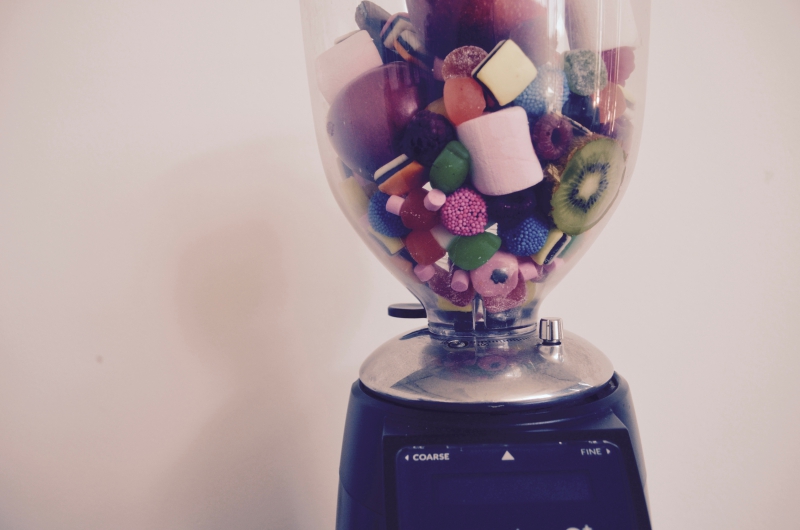 Is Sweetness the Acidity as a trend in coffee? And what does that even mean for you the coffee drinker?
We explore the concept of sweetness in coffee and chat to Anne Lunell of Koppi Roasters in Sweden about extracting the most sweetness from your coffee and her thoughts on one of the sweetest and most expensive coffees the world over, the Geisha variety.
Interview with Anne Lunell of Koppi Roasters
---
It may be difficult to believe, but there are trends in coffee roasting and the way roasters buy their green beans. For a long time all people wanted from coffee was a smooth and chocolatey experience and most are, understandably, still delighted by this flavour profile. Through the growth of the speciality coffee sector growing and as consumer palates have become more sophisticated, coffee producers have begun using processing methods as a creative tool. Whether accentuating fruit notes, highlighting or softening acidity, and fattening or lifting the body, this creates product differentiation. With these new processing methods at farm level and new extraction techniques at cafe level, for a number of years the fruitiness of coffee was celebrated and accentuated through lighter roasts to highlight juicy acidity. So where are we at the moment? On a quest for sweetness.
At a farm level you can see this through the rising popularity of 'honey processing'. This technique borrows a little from both the natural and washed methods of processing. The cherry pulp has been removed, similar to the washed process, but then instead of fermenting them in tanks to remove residual mucilage, the beans are dried while varying amounts of sticky mucilage still clings to them, like the natural process. There is less fermentation during honey processing, as it is confined to the relatively short time when the mucilage dries, resulting in a sweet cup with lower acidity. It's a relatively recent practice, just over a decade old, that started in Costa Rica and spread throughout Central America. With variations in the amount of mucilage left on the seed, and hence, sweetness, additional categories of honey processed coffee have been developed, and yellow, red, and black are used to describe these variations.
According to a survey by the team over at industry-focused website, Perfect Daily Grind, during the World of Coffee competition in Budapest in 2017, various parties from all realms of the coffee supply chain confirm that sweetness is winning out as the most desired flavour profile currently. Mark Pearce of Toddy LLC's speculated that cold brew consumption is led by a sweet tooth among younger generations – among other factors. Natural coffees are particularly popular for their sweet notes too. Mariana Proença, Content Director of Brazil International Coffee Week had this to say, "Year by year, the most important flavour is changing. It used to be acidity, but now it's sweetness. We're seeing this in the demand for naturals here in Brazil."
World Championship coffees are often at the cutting edge of newest trends. Chad Wang described his World Brewer's Cup winning coffee, a natural process Geisha, as having pineapple acidity and honey sweetness. Five out of six of the baristas at the 2017 World Barista Championship used the Geisha varietal of coffee known for it's delicate floral aroma and gentle, sweet nature. In 2016, Berg Wu won with just such a coffee.
We chatted to Anne Lunell to get her insights into these trends, from a roastery that has been in the business for over 10 years.
When you started Koppi Roasters over 10 years ago, did you ever think the journey would get you to where you are today? How has the coffee landscape changed around you?
Lots has changed over the past 10 years. When I started working with specialty coffee there was barely a scene in Sweden. Less than a handful of good roasters had started their businesses in Europe. It was difficult to know what to expect from such a young industry.
We always believed in what we were doing and what we tried to be creative even if it was hard at times. Over this past decade the culinary scene has grown and the general public are more open-minded when it comes trying new things and paying for quality products.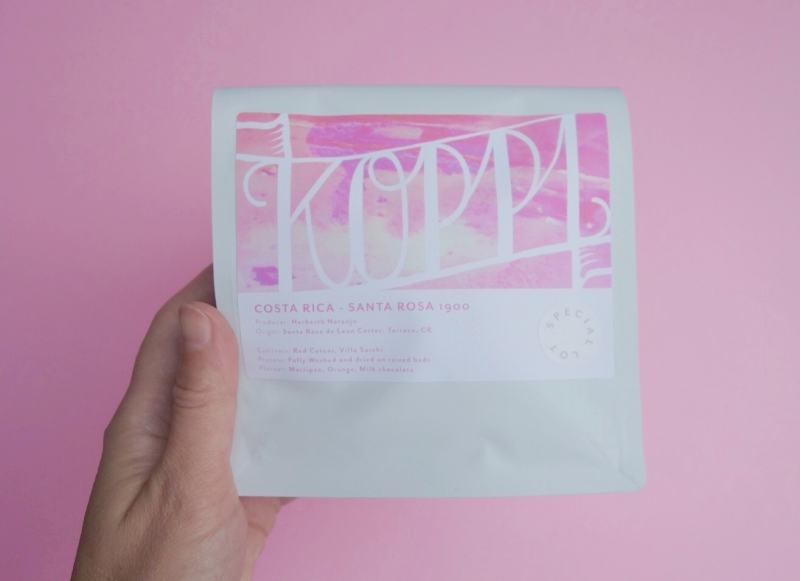 Have you adjusted to life without a cafe yet?
It has only been two months since we closed our café after running it for over 10 years. We enjoyed having our coffee shop and we wouldn't be where we are today without it, but having said that I am the first to acknowledge that it was time consuming and required too much of our energy. It was a great experience but it is a relief to be able to focus completely on our roastery and develop that further.
In your team, you do the sourcing and Charles does the roasting. This must mean that your idea of what you're looking for in a green coffee is very well aligned, what are your criteria for delicious coffee?
Our approach when sourcing coffee has changed slightly over the past ten years. In the beginning we were on the hunt for exceptional coffees. As soon as we established our first relationship to the people we work with in Costa Rica our approach started changing. Seeing how much love and attention they are putting in to producing their coffee is humbling. It both makes us want to showcase their amazing coffees the best way we can and also we deeply value the long relationship we have built and would never abandon them. Producing coffee is incredibly hard and risky. The effect of climate change is showing in many regions. For us, it would be irresponsible to abandon a producer for a year just because the cup quality can fluctuate a little.
Is coffee naturally sweet? What effects sweetness at a processing level? Do particular varietals have more natural sweetness?
Coffee grown at higher altitudes allows a slower ripening of the cherries which often results in more sweetness, acidity and complexity in the cup. Picking the cherries when they are perfectly ripe also maximise the sweetness.
As with grapes different coffee varieties possess different qualities and flavours. The taste you find in coffee comes down to soil, micro-climate, variety, picking, sorting, processing, drying and last but not least the roasting and brewing.
Would you say that for a while specialty roasters have for the past couple of years generally been chasing acidity in their final product? And what do you think has started to shift in this thinking?
Acidity in coffee will always be a desirable flavour to me. However, the intensity of the acidity can vary as long as it is balanced. I also think that roasters now want to roast in a way that make their coffees easier to brew which means a lot of roasters are probably aiming to get the coffees a bit more soluble and avoid the underdeveloped profiles that can come across as more acidic possibly.
How do you highlight sweetness during the roast process?
When we roast we try to bring out the true characters of the coffee. What we are looking for in the cup is lots of sweetness backed up by balanced acidity and minimal bitterness. This of course comes both from the coffee itself but also from the roast process. Whenever we get a new coffee we do a few different roast profiles to find the one that makes that coffee shine. We keep experimenting over time since the greens changes and we have to adapt the roasting.
What is your opinion on the fascination with the Geisha/Gesha variety of coffee? Is the hype justified?
This is a complex question that requires a long and thorough answer, perhaps too long for this interview, but I will give it my best. First of all I just want to point out that I am not an agronomist and am perhaps not qualified to answer this question. From my understanding there are many strains of Geisha – some of them are more strong and pure compared to others. Depending on the DNA of the Geisha the taste but also the physical qualities can vary vastly. In some cases you have the delicate, floral and complex characters that made the Geisha famous from the start. But in other instances the plant itself, in combination with terroir, weather, processing and so on offers a very different palette. The problem is that many times both the farmer and also the clients, that are on the hunt for the classic Geisha, get let down by what is delivered in the cup. This is a sad reality for many farmers that are perhaps putting their hope in making an extra profit on selling more exclusive varieties. But if the coffee doesn't reach the buyers expectations they are not willing to pay extra for it even though the actual cup is not too bad.
My hope is that our industry matures and that we recognise the obvious problems that we are facing. Climate change, the aging generation of producers and fast spreading diseases are all things that will affect us. By paying more for "lower" scoring coffees, supporting growers that work sustainably, both environmentally and ethically, and avoid paying "too much" for unicorn coffees will be a good start. The producer doesn't survive by selling a bag of Geisha or SL28 at a high premium, but will hopefully get an incentive to continue producing coffee if they get paid more for the rest of the coffee they produce. More or less the same amount of work goes into the production of both lower scoring and higher scoring coffees. The difference between the two might be the quality of the soil, altitude, varietal etc.
Many other varietals offer similarly rewarding and complex profiles, so perhaps in the interests of sustainability and ethics; it is also good to promote and support well processed and well grown coffees regardless of how revered the variety may be.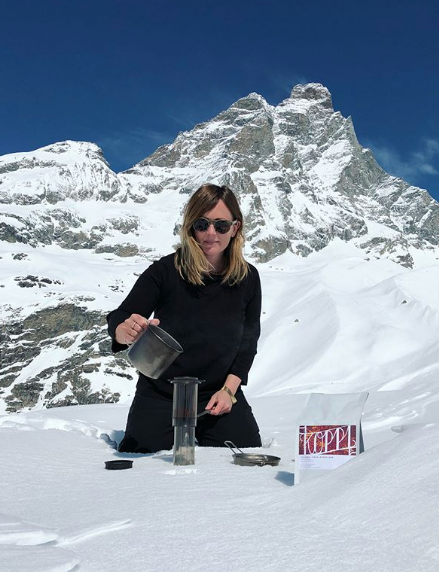 Here's Anne being super cool and brewing an AeroPress in the snowy mountains :)
Got something to say? Then leave a comment!
---
Buy a Genio Roaster in November and receive a trip to Cape Town!
Wednesday, 7 November, 2018
If you're in the market for a Roaster, then November is the month to upgrade your old one or buy a brand new one!
Genio, the manufacturer of the only South African made coffee roaster, has an awesome special deal to celebrate their 8th birthday.
When you pay your deposit of 50% on any Genio Roaster before the 30th of November, Genio Roasters will include a 5 day trip to Cape Town South Africa for two to be enjoyed in February/March 2019.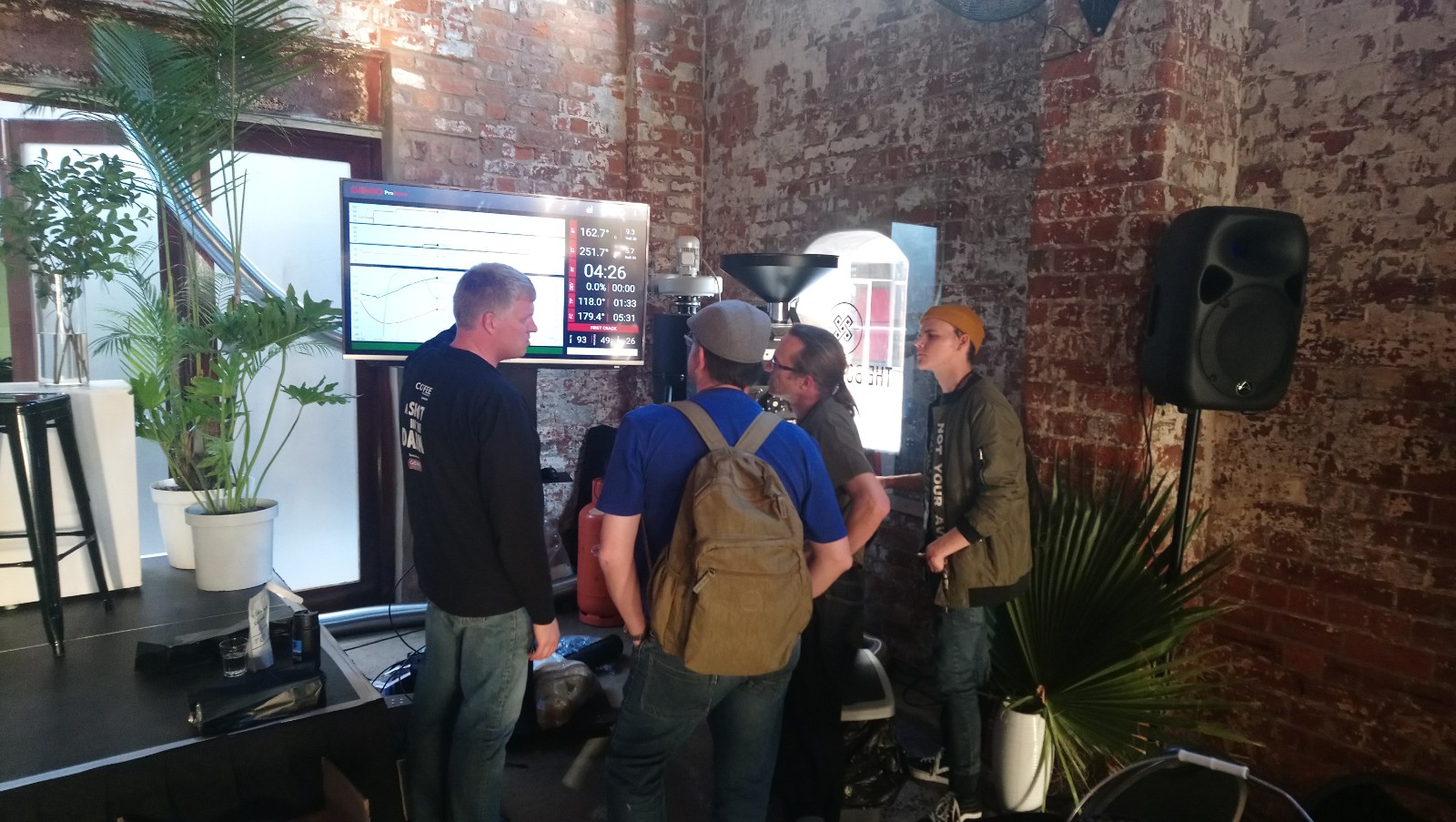 Coffee Professionals gathering around the Genio roaster and chatting with Genio Owner, Neil Maree, at Creative Coffee Week 2018, in Durban. Genio is the Official Sponsor of "A Shot in the Dark" coffee roasting competition for the next 5 years!
A 2-day trip to Johannesburg to see your roaster and meet the Genio team.
Return flights from Johannesburg South Africa to Cape Town South Africa for two
5 days luxury accommodation (incl. breakfast) in Cape Town for two
Wine tasting experience and Cape Town Roastery Tour for two.
What are you waiting for? Click this link to get all the details!
Got something to say? Then leave a comment!
---
Youth Skills Development with Winston Thomas
Friday, 9 November, 2018
We love to see coffee having an impact on people's lives. Winston Thomas and a crew of coffee sponsors ran a 3 day training course with the Neo Youth Foundation to show young men the possibilities of a career in coffee.
Got something to say? Then leave a comment!
---
The People Behind Your Coffee: Ori Cohen
Wednesday, 7 November, 2018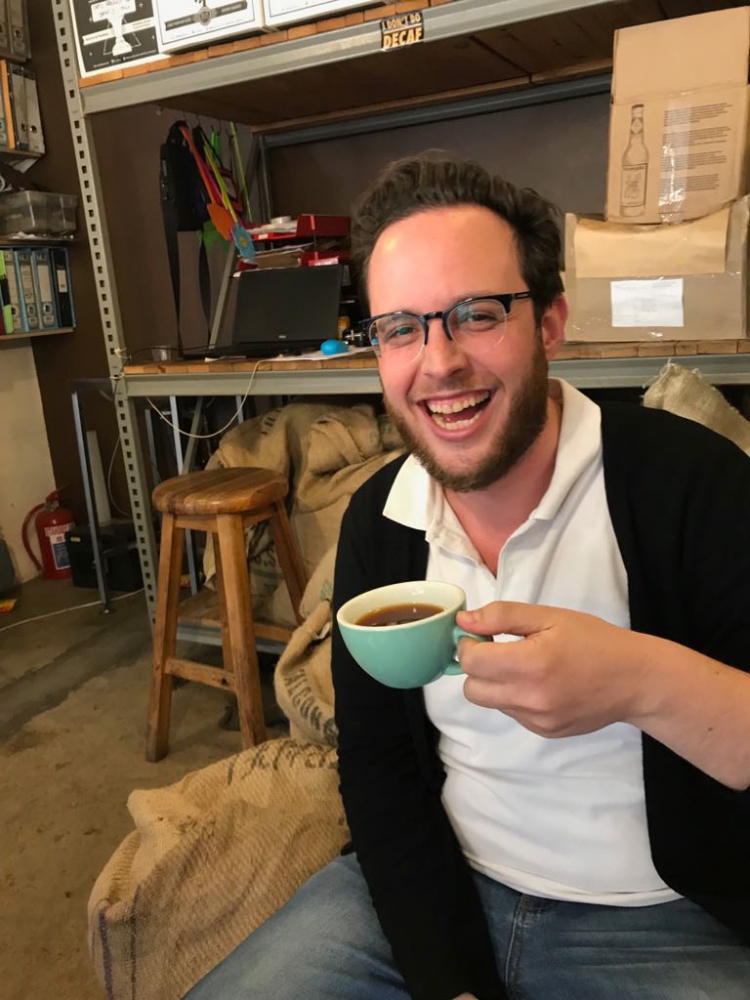 We last caught up with Ori Cohen in 2012 in Interview with a Barista. A lot has changed since then… Ori is now responsible for Business & Brand Strategy at Doubleshot Coffee & Tea (small batch coffee roasters and artisanal tea blenders). We chatted to Ori recently to find out how life has changed since 2012…
"In 2012 I was just a year into my degree at varsity, and had only just started tumbling down the coffee rabbit hole. I was somehow in between my first regional and national barista championships. Since then, I finished up my degree, got married, joined Doubleshot full-time, and became a partner in the business."
You studied Brand Building and Management at Vega – what made you decide to enter the coffee industry?
"Having grown a massive love for coffee, I had decided long before my studies were up, that ultimately, I wanted to enter the coffee industry. My degree taught me a great deal about business and it's a diverse field that keeps me just as excited as coffee does, so I get to do really cool stuff every day, surrounded by delicious coffee. How could I not be happy?"
You've been with Doubleshot Coffee & Tea for four years now? What's that journey been like?
"The journey has been a quite a crazy one. I've gotten to meet really interesting people, taste outstanding coffees from around the world (and taste our own best coffees against them), and develop other exciting products like our craft iced teas and artisanal concentrates range. These are obviously littered with more difficult and mundane experiences, but overall, getting to be surrounded by character-filled coffee and great people makes it all worthwhile."
What does your average day look like?
"No two days are the same. It will always start with an exceptional coffee, and have cuppings of coffees and teas interspersed between product development, meetings with customers and, very possibly, a trip to our iced tea and chai factory."
What is your coffee of choice these days?
"I'm loving our current Aeropress Project selection – a natural process Ethiopian (Kayon Mountain). It's a gorgeous coffee. Full of sweet berries and a bit of litchi."
You also brew your own beer? How does the art of craft beer compare to speciality coffee?
"There are many parallels whenever you compare anything that involves tasting, whether it's food or beverages. We build recipes that bring out contrasts and complements of tastes and flavours. In coffee, it's your roast profiles, brew ratios, grind sizes etc; and the same process goes into building a beer recipe. Some beers are made to be balanced and accessible, while others are brewed to be unbalanced and appeal to a smaller market. Your understanding of the ingredients you have available, and your brewing equipment, will determine how you can control the outcome – and the same is true when it comes to roasting and brewing coffee.
As a side note, there are some interesting parallels in how some ingredients react. Hops tend to respond in a somewhat similar way to coffee. On a simplistic linear coffee extraction, coffee first extracts more acidic compounds, then sweeter ones, then eventually extracts bitterness when tending towards over-extraction. Likewise, when brewers add hops to their boil, the longer the hops are in for, the more they will turn bitter, whereas if they keep their hops in for a short period, they'll get a lot more fruits and aromatics… A disclaimer: this is very oversimplified – I'd be happy to explain further over a coffee or beer!"
How do you see the coffee scene growing/changing in South Africa?
"I see people constantly wanting better coffee. They want to see more of the process. They want to ask questions and get involved; and they want to taste and try better coffee in new ways. The current strain on the economy is concerning, as this is ultimately a luxury; but that definitely won't stop us from pushing on with our mission to bring exciting coffees to South Africa!"
Got something to say? Then leave a comment!
---
Let the Music Move You: Part Two
Tuesday, 6 November, 2018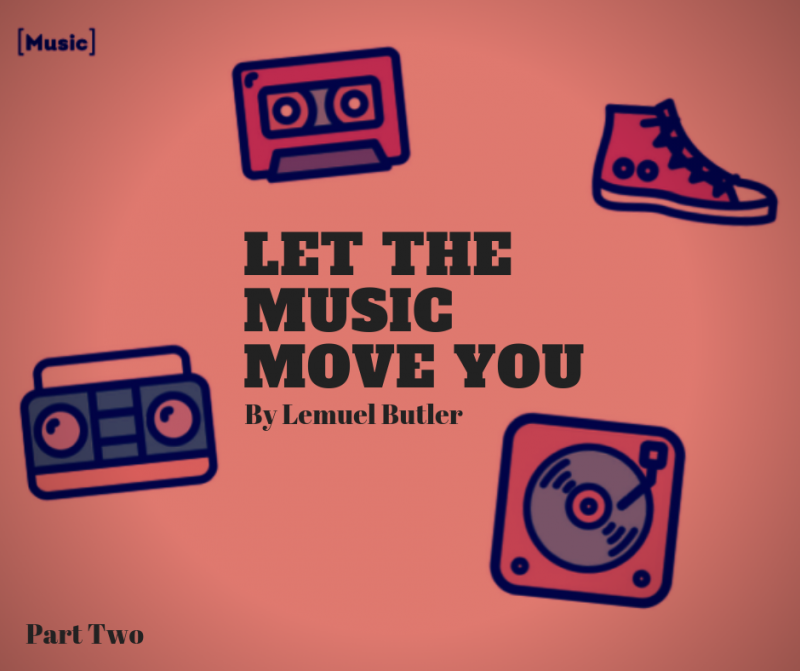 Words by Lem Butler
I was never the best student when it came to school. My younger years were focused on getting to University with no true goals once I got there. Once I arrived at the University of North Carolina at Chapel Hill, I discovered an interest in political theory which lead me to Central American politics. I was fascinated with the Nicaraguan civil war mainly because I remembered watching the Iran-Contra Affair of the 80's unfold on television as a kid. American TV only shows a glimpse of truth, the rest you have to research, which I did in a university library years later. Finding the missing pieces to the big picture in books answered a lot of questions I had as a kid watching Oliver North's congressional testimony on American TV. It was serendipitous that my first trip to a coffee producing country would be Nicaragua. It seemed the true story of a country I sought as a 12 year old in front of a television and later as an 18 year old at a university was not finished with me just yet.
I wasn't supposed to be in coffee long. My pursuit was music. Coffee was just a layover between recording studios and nightclubs. After discovering barista competitions, I decided to compete which kept me in my so called coffee layover a little longer than I anticipated. It took me 18 months to prepare for a Regional Barista competition victory in 2005. The regional sponsor, Counter Culture Coffee (CCC), covered all travel expenses for the regional winner to enter the National Competition. That year the 2005 United States Barista Competition was in my home state of North Carolina and lucky for me CCC felt that it wouldn't be too exciting for me to travel 3 hours away to a city I've probably been to so they decided to take me somewhere a little more exciting: Nicaragua!
The group I traveled with was made up of Cafe owners and two staff members from Counter Culture Coffee. It was a pretty impressive and knowledgeable group, so right from the beginning I felt a little intimidated with my brief history in coffee. We landed in Managua and after hotel check in we went to the local market for supplies. The first Nicaraguan I met was a man who did not speak any English but was very insistent on having a conversation with me. He talked for 45 minutes and I just listened and nodded my head 'yes' every few sentences. I didn't see any of the local market but enjoyed the cadence of this man's 45 minute one-sided conversation. When it was time to go, he gave me a necklace. I offered to trade my necklace, but he happily declined. The necklace he gave me was a medal ring with a two sided rotating disc which had a picture of Che Guvera on both sides. One side was Che with a background of Red for the Sandinistas and the other Che had a blue background for the Contras. The one thing I did understand and would be a continuing theme throughout the week: The civil war was over and Nicaraguans who fought on both sides were now unified.
After our first night in Managua, we began our journey to Finca Esperanza Verde where we would stay for a week. This was a beautiful Organic farm nestled in the mountains of San Ramon. Here's where it got a little bizarre. This farm was started by the Harkrader family from Durham, North Carolina where they were helping the community with jobs, education and infrastructure. The family has a daughter who I met during my years as a DJ. She had asked me for training in turntablism and we spent a month working on her skills. She is now an amazing DJ in Brooklyn, New York. As soon as our bus stopped at the farm, the first thing I saw getting off the bus was a beautiful mural painted on one of the walls of the main house. My DJ friend's signature was one of many who helped paint the wall.
We toured the farm and I helped pulp coffee with one of the farm workers. I had never experienced elevation before and the 1900m was beginning to take a toll on my energy, but the adrenaline of seeing coffee cherries, Nicaragua and being outside of the US for only the third time in my life negated my fatigue. Each day was a farm visit of farms that belonged to a Co-op with whom Counter Culture Coffee had an established relationship. I tasted the sweet fruit of coffee cherries, picked coffee and learned the importance of preserving their land for each generation through organic farming and crop diversification. We even visited the dry mill to cup coffee and see how coffee was dried on concrete patios.
The biggest thing that I noticed and what resonated with me due to my studies in Central American politics, was how each farm that we visited had a small flag at their gates. Some were red and black and some were blue and white. All the farmers were awesome and some had some incredible innovations on their farms from water filtration to fermentation experimentation. The biggest question I had was about the flags. Most of the farmers who flew the Blue and White flags were former members of the US backed Contra rebellion. They were former cattle ranchers whose land was redistributed by the Sandinista government's social land reform. They took arms to defend their land and fight the government. After the war they became coffee farmers and although they fought against Sandinistas, they were putting the war behind them to work together with former Sandinistas turned coffee farmers all for the benefit of their coffee farm cooperative. My eyes became full of water to hear how this cattle rancher had to sneak his entire family off their land for fear of being killed in the night; leaving everything behind, horses, personal belongings, family photos and he was still able to smile because his family was safe. "Nada es mas importante que la familia". Coffee is about the people. With every coffee I drink I try to remember that there are incredible stories that go into each cup, families behind each coffee cherry. I didn't learn any of this from the television nor in the books at University, get out there and let the world show you its music.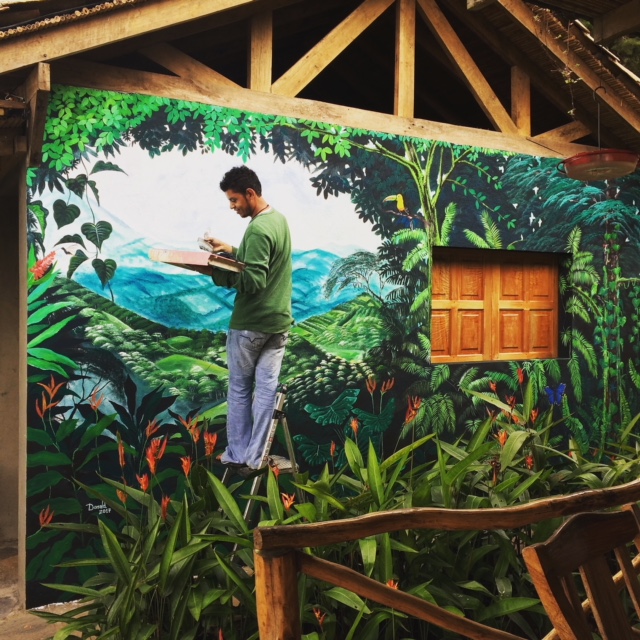 Got something to say? Then leave a comment!
---
New Kid on the Block: The Good Batch
Tuesday, 6 November, 2018
Bringing some Mediterranean culture to Cape Town, we investigate new concept store, The Good Batch and chat to owner, Alexi about the team's approach to coffee.
How does coffee fit into the philosophy of The Good Batch?
Coffee is one of the signature categories of our store. We make coffees in-store as well as selling the actual beans and ground coffee. We also have a number of coffee offerings such as nitro coffee and a selection of Greek inspired hot and cold coffee. We also have a selection of coffee infused treats - our espresso fudge being one of our biggest sellers.
Can you tell us which roastery you've partnered with and why?
Our coffee partner is Mikhael from Mischu Coffee. He has the same ethos about business, service and quality as we do. As with The Good Batch team he understands the necessity for the consistency of product. And he's just an all-round nice guy!
What is your favourite way to drink coffee and which treat from your beautiful store would you pair it with?
Although it's an acquired taste I grew up on Greek coffee so would have to say that would be my preferred choice. I like to pair it with a gooey, nutty, chocolate chip cookie - fresh out of The Good Batch oven.
---
Imagine a Mediterranean or Middle Eastern food market… the bright colours, the beautifully displayed wares, the friendly greetings, the sound of a scoop plunging into a pile of nuts, the tempting scent of freshly baked treats and newly ground coffee … If only we had something similar in South Africa.
Nuts, from pistachios and pecans to walnuts and macadamias, raw or roasted in-store. Truffles, pralines and chocolate salami. Turkish delight, authentic halva, old-fashioned bonbons, nougat and fudge. Delicious dried berries, fruits, seeds and biltong. Handmade, just-baked biscuits and cookies. And some of the world's finest coffee beans, freshly roasted on the spot.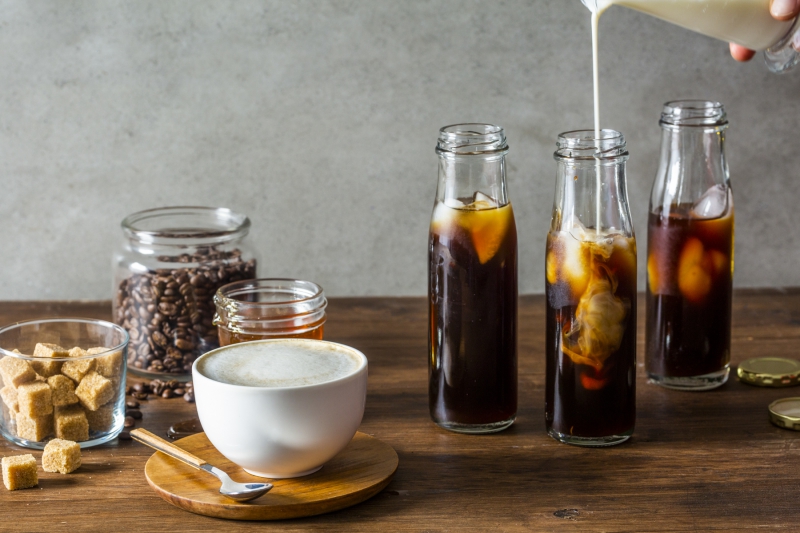 The Good Batch is a family-run taste emporium that gathers together best-in-class delicacies from the world over and from small local artisans. It is the brainchild of Alexi Hadjidakis, who began his retail journey at the knee of his father George, who started 7-Eleven in South Africa in 1967.
Inspired by the quality and displays at a food show he visited in Dubai, Hadjidakis was determined to bring that market-style experience home. "We drew inspiration from far and wide, locally and internationally, to bring the very best into one place for South Africans who enjoy gourmet snacks," says Hadjidakis. "And it's all under one roof so it's easy to choose any quantity you like."
The first store opened in Canal Walk, Cape Town, on 18 October. It is now open, 9am to 9pm daily, and there are plans to open 6 to 8 outlets in the next two years. The next store is scheduled to open at Cavendish Square in March 2019 but there may be some surprise pop-ups and openings before then.
If you love really great coffee, need a small, bespoke treat for a host or hostess or a large gift for a special client or loved one, the perfect solution will be waiting at The Good Batch. Enjoy the age-old thrill of selecting your own items, or ask one of the experienced staff members to make up a box of delicacies – sweet, savoury or both! Take some treats home, or pause for a coffee or enjoy them on the spot.
Each item is carefully chosen to complement the others, Hadjidakis explains. The experience is sensory and tactile with products served open and sold by weight. "Our nuts, coffee and chocolate are going to blow people away!" he enthuses. "This is a new sensory shopping experience for the South African customer – it's unlike any they've had before."
For more on The Good Batch – visit the website here.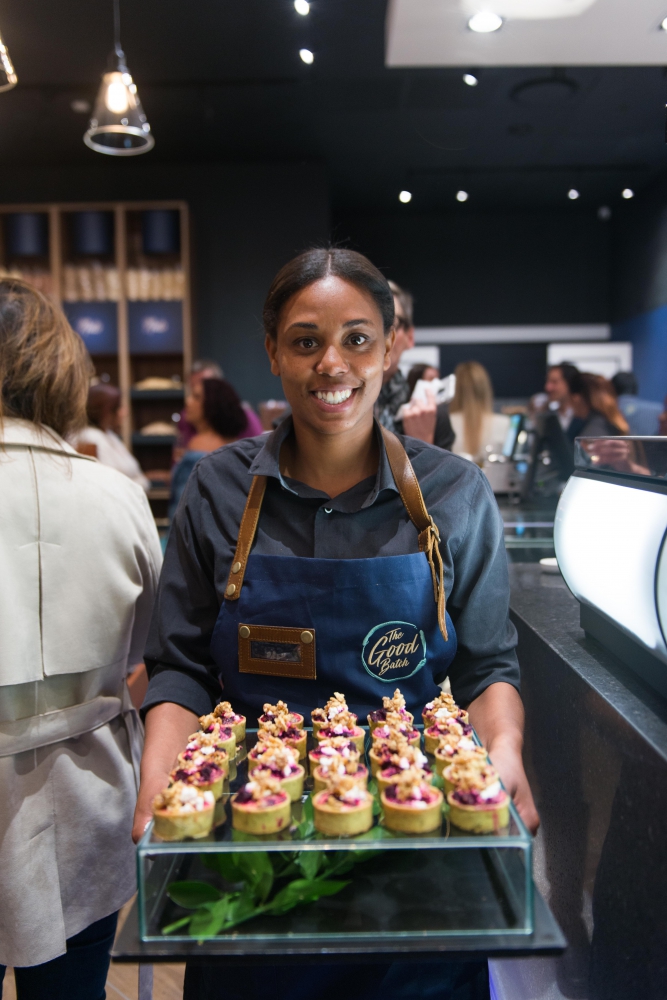 Got something to say? Then leave a comment!