Interview: South African flying coffee flag high in Turkey
Thursday, 18 October, 2018
Warrick Masfen became hooked on coffee competitions when he was helping to organise the SCASA Barista Champs here in SA, so it was only natural when his interests turned to roasting that competing in the Roasting Championships was on the agenda! And then in his first competition, he went and won the whole thing! Amazing! Well done Warrick, doing SA proud in Turkey! We caught up with him to see how it all went down!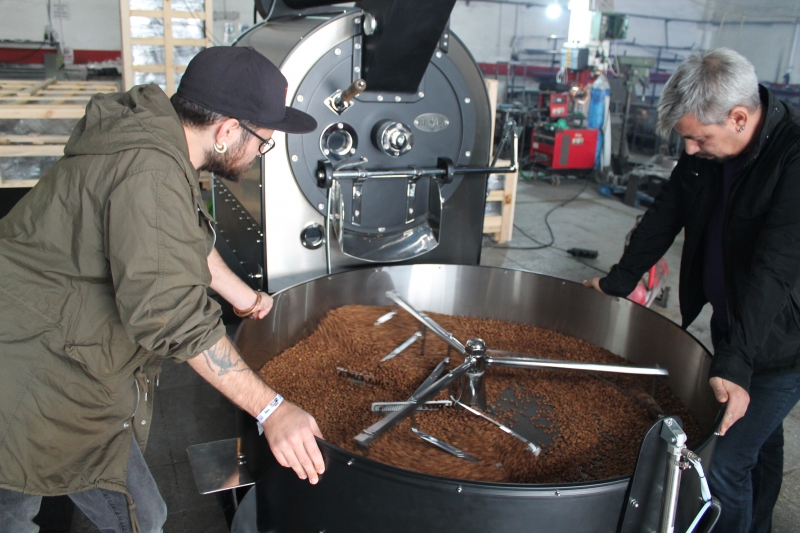 How did you become a coffee roaster?
It started when I meet Carol Crause Corlett "my Coffee Mom", she introduced me to the wonderful world of coffee and its culture, I then landed my first job in the industry which was meant to be in sales, it just so happened that on my first day their roaster decided to leave, my then boss approached me and asked what do I know about coffee roasting my answer at the time was not much, nevertheless he showed me the machine "An old 5 kg Has garanti" and said go for it.
What led you to the competitive side of coffee? And in Turkey?!
I have always felt that the best way to grow is to challenge yourself and well what better way then to compete, but I must say at first I wasn't going to until the people I hold dear in my life convinced me otherwise. The reason for competing in Turkey is that I currently living here, yes it is allowed as long as your have been living in that country from more than 2 years and don't compete outside of that country that same year and hold a valid residential permit.
What do you hope to achieve by competing against some of the world's best coffee roasters?
I hope to both share and gain Knowledge, but most of all to be challenged in what I understand.
What is your favourite part of the coffee roasting process?
The moment you drop the green beans into the charged machine, the rest of the world around you goes silent and it's just you, the coffee and your machine, an orchestra and you are conducting life in the moment, a symphony of the science of energy transfer and the biochemistry of molecular changes all capsulated in a single bean.
Who is your inspiration in the coffee world?
Everyone, as I have found that coffee from farm to cup is a personally experience with a unique story to tell.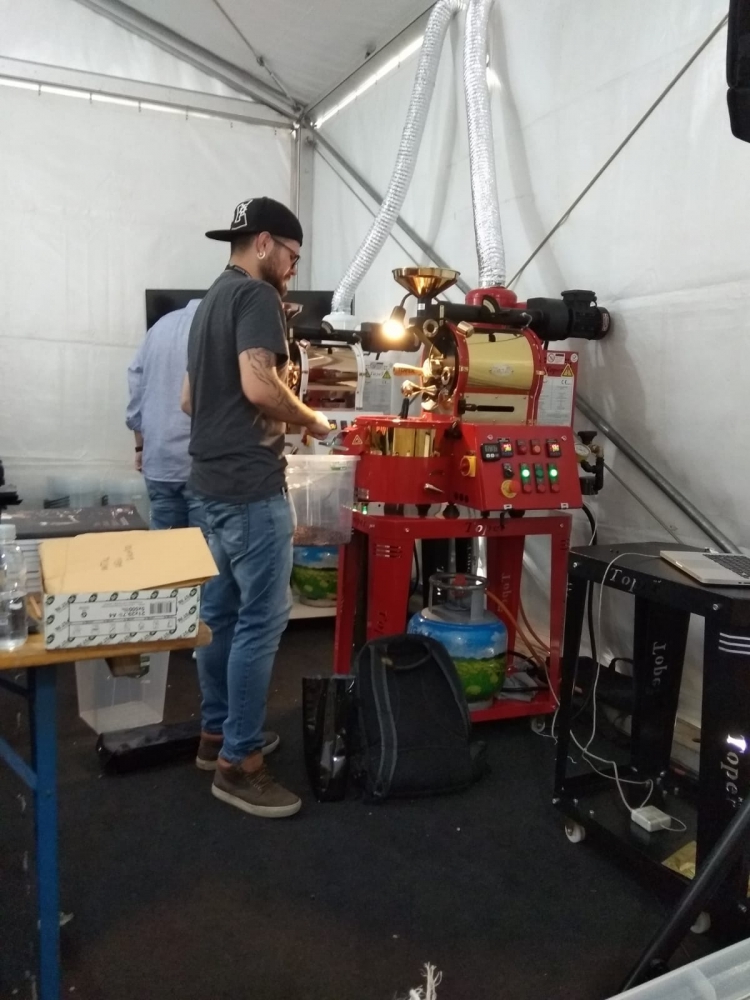 What is the best coffee you've ever roasted?
This would have to be the roast I did for a friend of mine Mehmet Miran who competed in the SCA Turkey Barista competition, the coffee was a black honey processed from the Las Lajas micro mill in Costa Rica known as the black diamond. The reason for this was that it completely challenged my understanding of roast development ratios.
When you're not roasting coffee, what keeps you inspired?
Cupping and Evaluating coffees that other Roastermasters have roasted, to try better understand their interpretation of that coffee, Research/ Coding Machine learning systems as I feel that they will soon play an important role in the roasting process, building my brand KungPowCoffee and working on the collective Kahvebarmeni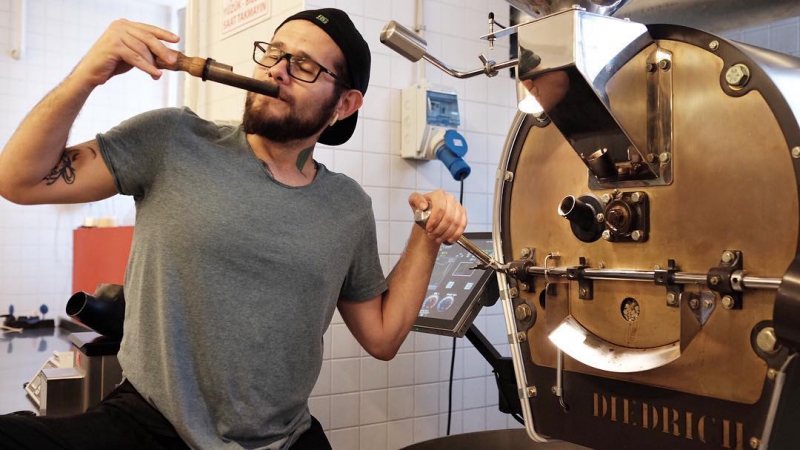 Got something to say? Then leave a comment!
---
Pokito: The Foldable Re-useable Cup
Thursday, 16 August, 2018
At Coffee Magazine, we pride ourselves in bringing you the latest coffee news, gadgets on the market and trends in coffee you need to know about!
This year, one of the main things on everyone's agenda has been single-use products - the plastic straw has come under public scrutiny, as have plastic shopping bags and take-away coffee cups.
New in SA is the Pokito foldable, re-usable cup, from the same folks who brought us the Kruve Sifter in 2017, Espresso Concetti.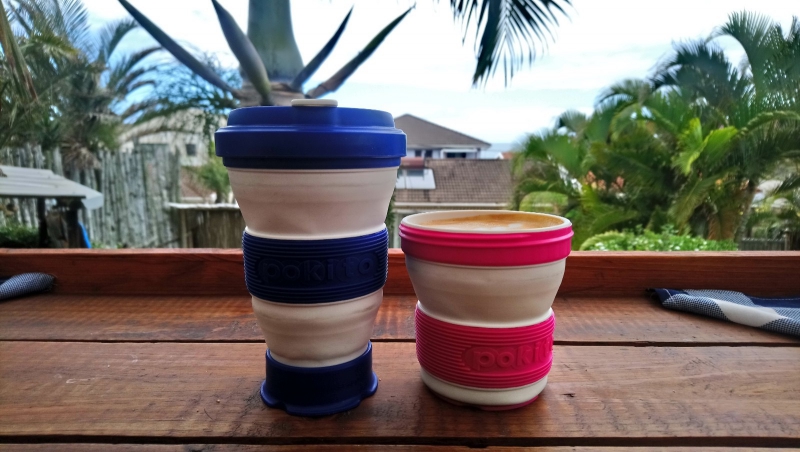 We have tested the Pokito and we really love it! Some of the benefits include how light it is, how little space it takes up and that you can change the size of the cup according to which beverage you want.
There are 6 funky colours to choose from currently in SA, and they are fully dish-washer safe and BPA free.
---
WIN one of 3 Pokito Cups!
If you want to win a Pokito cup, just fill in the form below - and name one of the six colours that the Pokito Cups are available in, in SA currently. (Click this link for the answer)
Win a Pokito Cup!
Got something to say? Then leave a comment!
---
Percolating the best: 8 Tips for choosing the perfect automatic coffee machine for your home.
Friday, 12 October, 2018
So you want to enjoy a barista-worthy cup of coffee made in your kitchen? Well, buying a quality bean-to-cup coffee machine might just be the solution for you! We caught up with Mercia de Jager from leading kitchen appliance manufacturer, Miele, who offers some insights for those in the market for a new dream-caffeine-machine.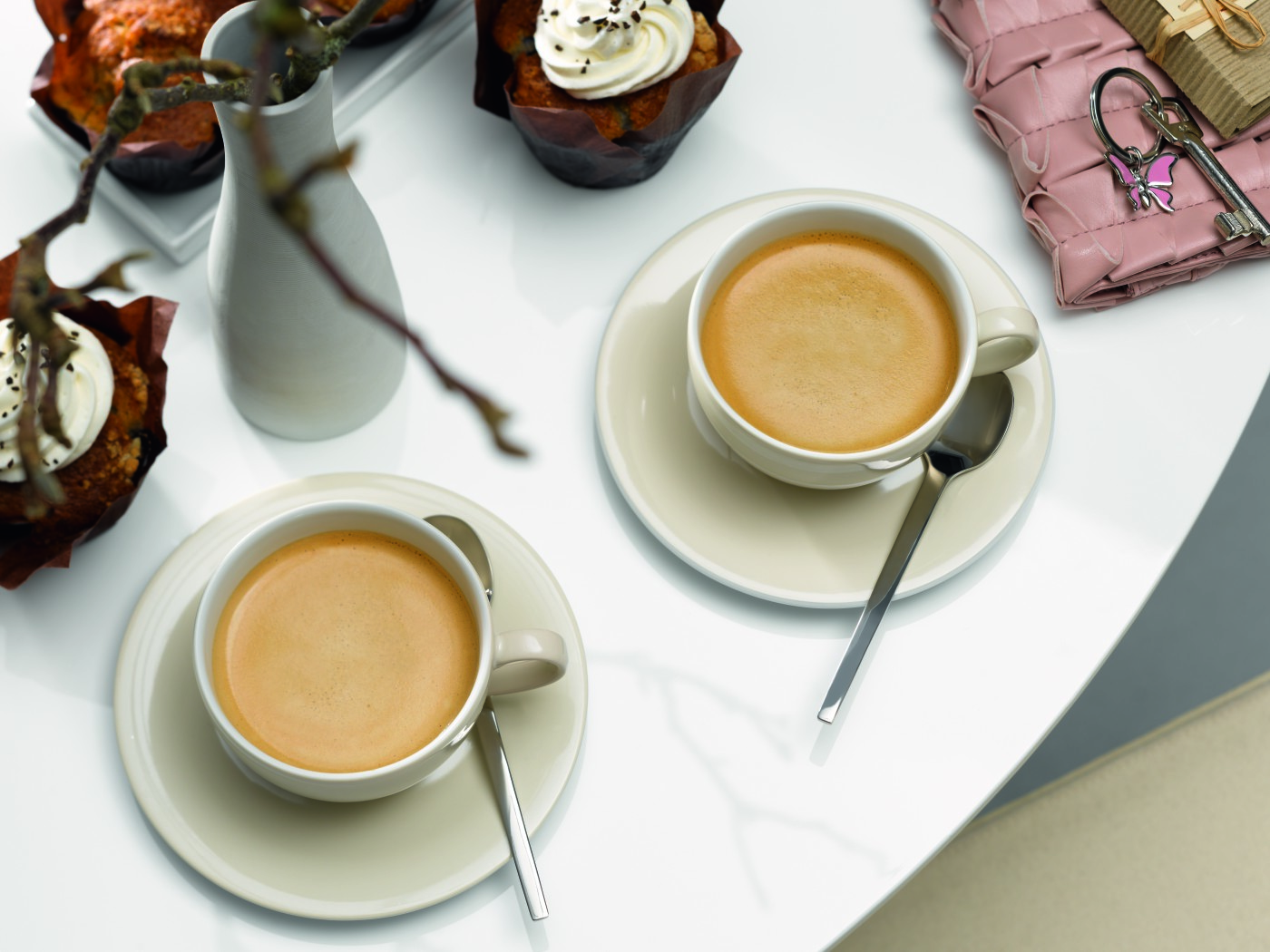 Barista quality coffee at home.
There is a huge variation of bean-to-cup coffee machines out there – ranging in prices, with the top end models generally showcasing the most automated features and being able to produce a cuppa that a barista would be proud of. "Bean-to-cup coffee machines provide a premium coffee experience, creating a range of espresso-based drinks at a touch of a button. These all-in-one machines use whole beans and are the ideal choice for those who love variety and quality, but also want speed and convenience. Once you have filled the coffee machine with beans, water and milk, each coffee variety will be available at a touch of a single button. Any machine worth its salt, will also allow you the freedom to customise the coffee strength, temperature and lots more – for a truly personalised experience, " says Mercia.
Mercia provides a 8-point checklist of things that you should consider when choosing your bean-to-cup coffee machine:
1. Variety and customisation:
A bean-to-cup coffee machine should allow the user to adjust the settings to suit their unique taste preferences, says Mercia: "The Miele machines, for example, can make the following delicious coffee varieties: espresso, coffee, long coffee, cappuccino, caffe latte, and latte macchiato. They also allow you to create up to four unique profiles where you can customise the preferences for a unique coffee blend – you can adjust the pre-infusion time, temperature or volume. You can also adjust the strength of your coffee and the grind setting. In addition to the bean container, Miele's machines also have a chute for ground coffee – which allows you to make a second type of coffee, such as decaffinated brews, for example."
2. Quality of the brew:
The quality of the coffee that is produced by a machine is dependent on many different variables. However, Mercia notes that there are a few features that you can look for to help ensure a great result: "Be sure to look at the grinding mill, as this dictates the quality of the coffee aroma, as well as the even and precise grinding of the coffee beans. Miele, for example, fits a conical grinding unit made from high-quality, non-abrasive steel into all its coffee machines, which grinds the coffee beans in a special flavour-preserving way. The brewing component is also important – it is the 'heart' of automatic coffee preparation, and you should be able to remove it easily to clean it. This will ensure a hygienic brew unit, as well as consistently high coffee quality and the longevity of the machine. Also, be sure to take a look at the aromatic system – the brewing chamber of Miele coffee machines for example, expands when water flows in to allow for a more intensive aroma. The ground coffee is mixed very thoroughly with the water and the coffee aroma is efficiently dispersed."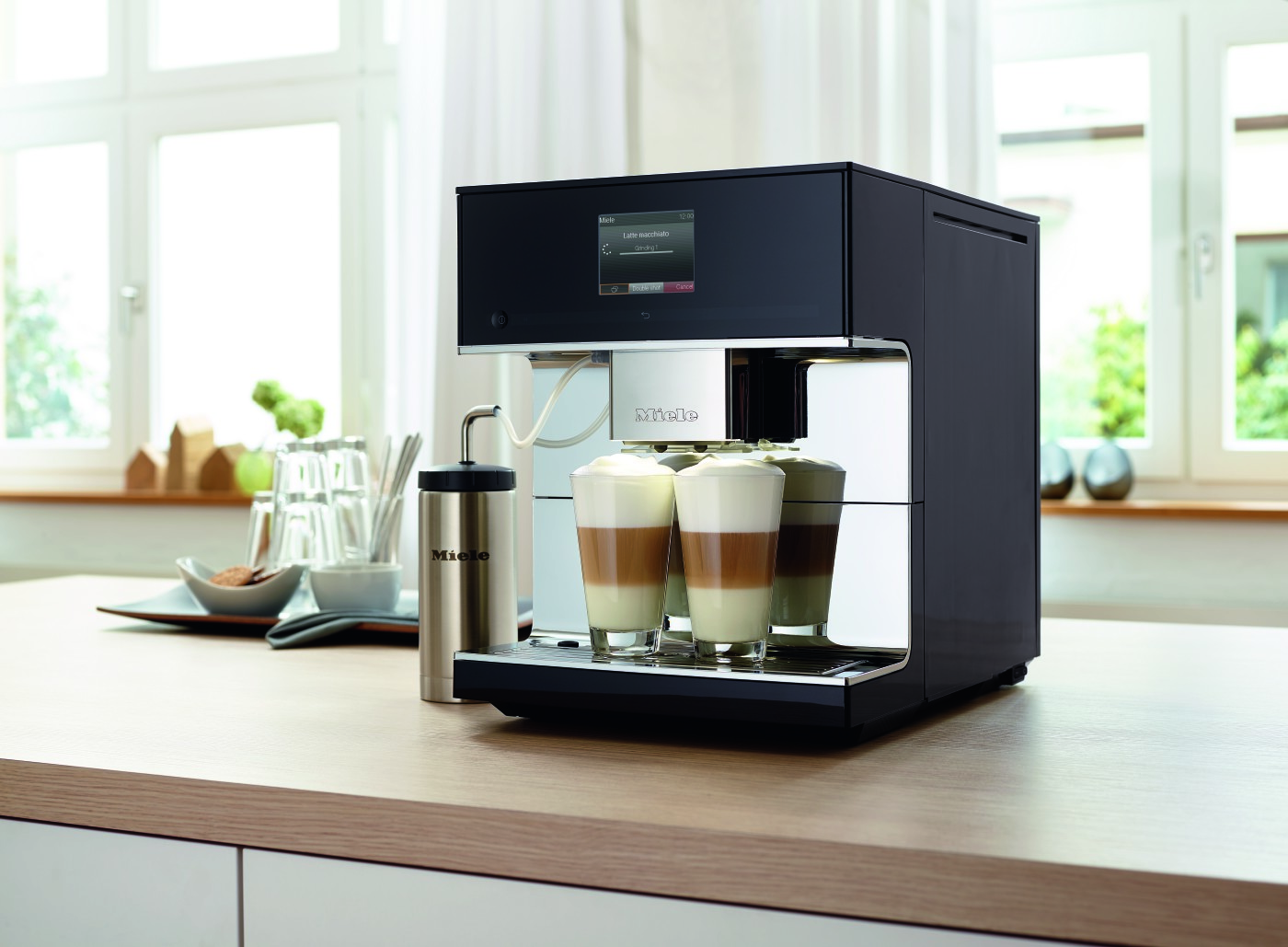 The of the brew should be a large factor in making your decision. These Lattes are from the Miele CM7 free-standing coffee machine.
3. Speed and variety:
A good bean-to-cup machine should offer a variety of different hot drinks at a touch of a button, Mercia notes: "Miele has taken this convenience one step further, and not only offers the OneTouch function for a single serving, but it also offers the OneTouch for two function, which automatically makes two delicious coffee specialities at the same time by pressing just a single button. When you are entertaining many guests, the Miele coffee machines can dispense up to 8 cups of coffee one after the other into a coffee pot placed under the spout – saving you a lot of time and effort."
4. Convenience:
Be sure that the machine you choose is able to switch-on and switch-off according to your individual needs and routines, says Mercia: "For example, your first cup of coffee can be programmed to be automatically dispensed at 7am when you wake up, and then again at 6pm, when you get home from work. To conserve energy, the machine should be able to switch off automatically when it is not being used." She says that another lovely feature to look out for is a built-in cup warmer: "A machine with a built-in cup warmer allows you the absolute luxury of being able to enjoy the perfect cup of coffee from pre-warmed cups – it really takes the experience to another level…"
5. Hygiene matters:
Since you will no doubt be using your coffee machine several times a day, it is imperative that you choose one that is easy to clean, explains Mercia: "In order to ensure perfect results for handling and hygiene, a good quality bean-to-cup machine must have easy to use cleaning programmes, together with an automatic rinsing function, which automatically rinses any components that carry milk. This will prevent limescale and soiling before they can build up, which contributes to better quality coffee, and a longer lifespan of the machine itself." She says that another thing to look for are systems that let you clean them in the dishwasher: "Miele's ComfortClean system ensures that a number of machine parts, such as the water container and waste container, can be removed and cleaned in the dishwasher."
6. Technological innovations:
Look to see what unique special features various machines offer, advises Mercia: "It's the small things, the special features, that can really give a machine that 'Wow!' factor. Miele has a number of unique innovations that take the coffee-making experience into a class of its own. For example, the CupSensor recognises the height of a cup and positions the central spout accordingly. The ideal distance not only avoids splattering, but also ensures the perfect coffee temperature and the best possible crema. Also, after the addition of milk, the central spout is moved upward by 1cm to prevent soiling. Miele's BrilliantLight is another unique feature comprising soft LED lighting that showcases every cup and provides an ambient mood in your kitchen."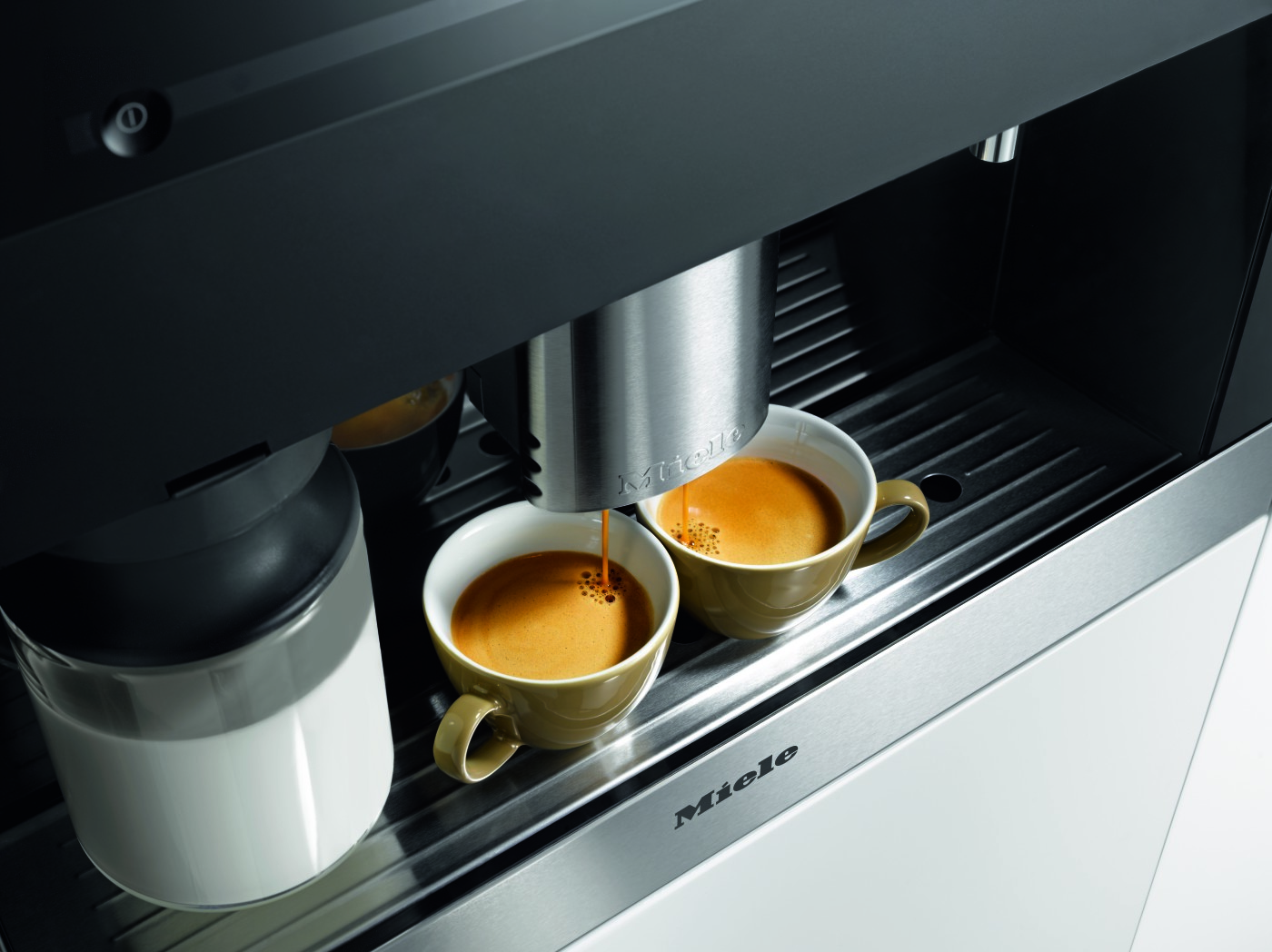 Free-standing or integrated? Smart technology now allows us greater choices than ever to suit our needs.
7. Green credentials:
In this day and age, it is your civil and moral duty to consider the green credentials of any product you buy – including appliances. First, look at how energy efficient a machine is – Miele's coffee machines for example, boast an Eco mode that conserves energy by not heating up until just before the first beverage serving. Also, Mercia notes that you shouldn't just look at the energy efficiency of an appliance, but you should look at its overall impact on the environment: "Miele's appliances are all designed, manufactured and tested to last for a minimum of 20 years, which dramatically reduces their overall carbon footprint when compared to the majority of other appliances that only boast an average 7-year lifespan."
8. Brand affiliations:
It must be remembered that the preparation of a perfect cup of coffee not only requires a high-quality coffee machine, but also an exquisite coffee. To this end, Miele has partnered with Nespresso and with illy coffee to bring its clients only the best coffee available. If you prefer the Nespresso capsule system and the convenient selection from 16 different varieties which are always portion fresh – Miele has the answer with its Nespresso coffee machine with a carousel that can hold up to 20 capsules. Alternatively, you can purchase world-famous illy coffee beans and ground coffee from Miele to ensure an absolutely perfect cuppa!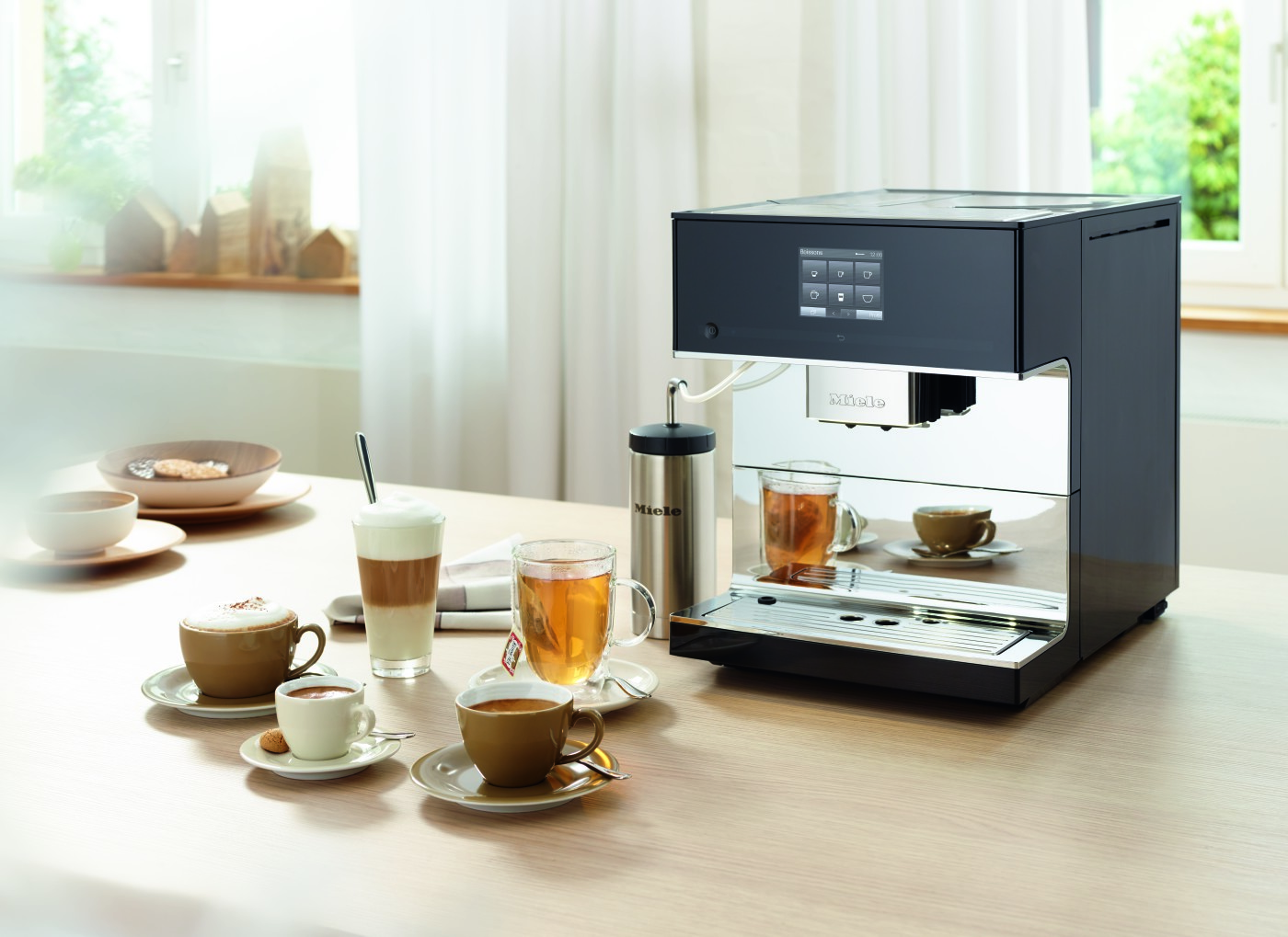 The Miele CM7 can brew a variety of beverages - even your favourite tea!
Got something to say? Then leave a comment!
---
Interview: SA Latte Art Champion Christopher Abrahams
Wednesday, 10 October, 2018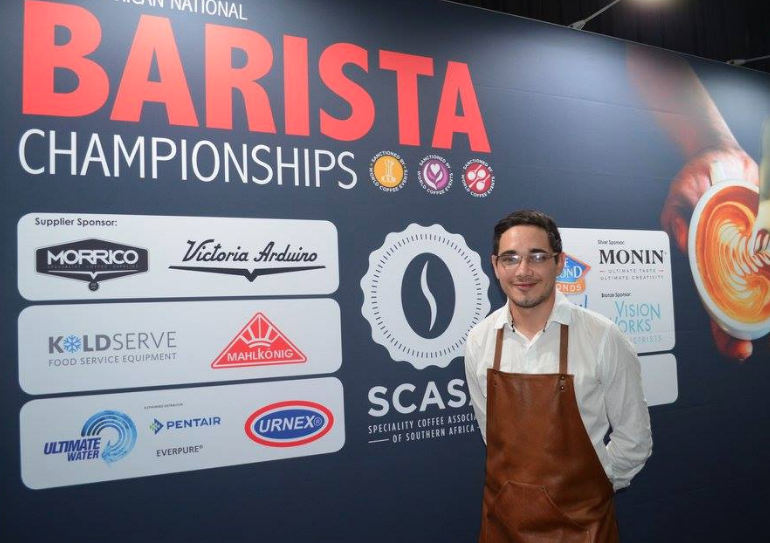 How are you feeling in the build up to the World Latte Art competition?
I am truly excited and slightly overwhelmed that I've got the opportunity to participate in the World Latte Art Championship this year. It has always been a dream of mine to reach this point, as part of my journey in the coffee industry. I've been experiencing a world of excitement, along with a level of stress, as I'd like to do everything I can to do well.
What is your training schedule like?
My training schedule at the moment has not been as strict as I would've liked it to be, but have been pouring daily. I have been fortunate enough to have the opportunity to spend most of the week and weekends training, within the Ciro Coffee Academy's training facility.
Have you decided on your patterns yet?
Over this period I have been experiencing a creative block. Knowing that I'll be competing on such a high level, has added an immense amount of pressure, as I have realised that it may even be a once in a lifetime opportunity. I have s a number of hours drawing in my sketch book, hoping that there would be an outburst of creativity. Unfortunately, this approach hasn't been as simple or successful as I thought it would be. I have come to the conclusion that creating things on paper wasn't easy to replicate in the cup. It has certainly tested my ability to explore a wide range of pouring techniques. I have recently been lucky enough to create most of my designs and look forward to presenting them on them to the world.
What do you think your biggest challenge will be at Worlds?
I think my biggest challenge at Worlds would be the milk. I have heard that this may have a huge impact on one's overall performance on stage. My personal challenge, would be to stop shaking while pouring latte art on stage. I have been working on quite a few techniques, in hope that I would finally be able to overcome this.
Are you excited to go to Brazil?
I am truly excited to go to Brazil, knowing that it is the largest Arabica supplier in the world. This would also be an amazing opportunity to visit one or two coffee farms. The trip will also be significantly special to me, as It would be the first time I'd be travelling abroad with my wife and will be treated as our honeymoon.
What do you hope to learn from this experience?
I am sure that I'll learn quite a bit from this experience, and I hope to learn more about the lifestyles of competitive baristas. I believe that this will assist me in future and allow me to be even more prepared when competing.
What advice do you have for other Latte Art competitors?
I feel that it is important to remind ourselves as baristas, that it is all about the passion for coffee. This is the key driving force that will allow any barista to succeed within the industry. Each individual has goals, and it makes things easier if they're aligned with what you're passionate about, as this will allow you to work even harder at achieving it!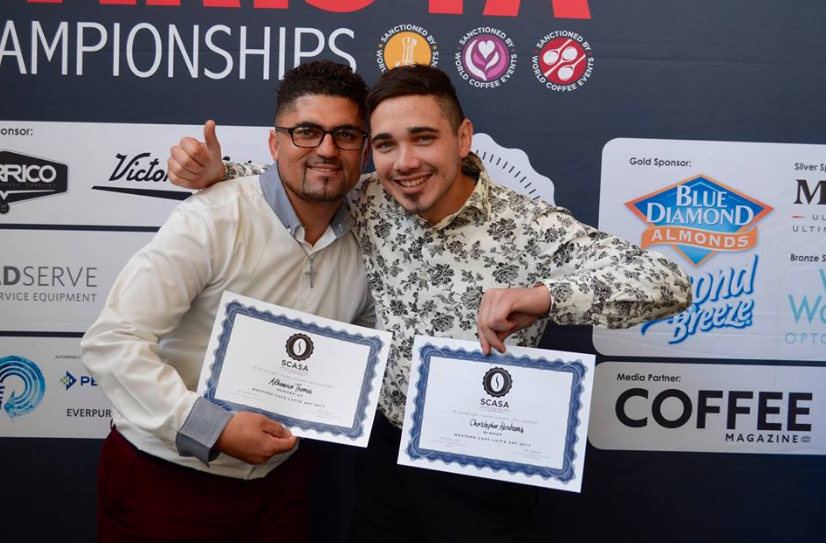 Got something to say? Then leave a comment!
---
How is coffee de-caffeinated?
Tuesday, 9 October, 2018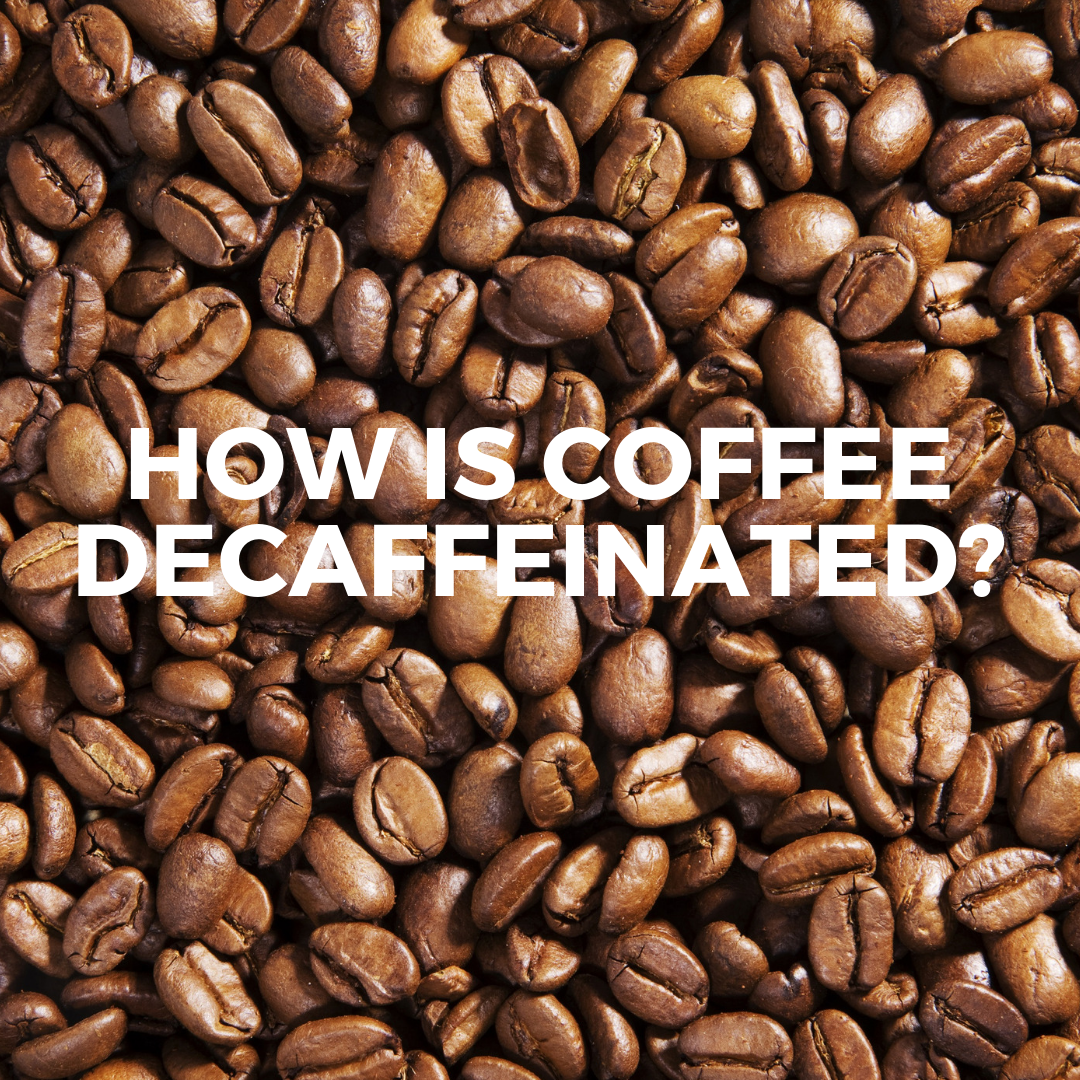 Sometimes, as much as you love that java buzz, you have to think about things like sleep, and possibly order the decaf. And some poor souls have quite unpleasant reactions to caffeine, but don't want to miss out on the exciting world of coffee. So what's in a decaf (besides no caffeine)? And how does it get to be that way? Decaffeinating a coffee bean turns out to be a complicated process…
First off, it's important to know that there's no such thing as a completely decaffeinated coffee. Even decaf will still contain around two to five milligrams of caffeine. To put this into perspective though, a small cup of coffee usually contains 50 to 75 milligrams of caffeine – so your caffeine intake is drastically reduced with decaf. It's unlikely you'll suffer from any kind of stimulatory effect with less than 10mg in your system. Of course, this depends of the type of coffee and method of preparation. Robusta coffee actually contains nearly double the amount of caffeine as Arabica coffee.
Ludwig Roselius was the first person to discover decaffeination was possible – in 1903. Over the years, as decaf has become more popular (thanks to the rise of instant coffee), the quality has improved substantially. There are three processes that are largely responsible for the decaf you drink today, and they all have a few things in common…
All three methods work with the green coffee bean (pre-roasting), soaking it in a liquid to extract the caffeine, but keep the flavour intact. Coffee consists of around 1,000 chemicals, so it's important to be as precise as possible in only removing the caffeine.
Known as the Swiss Water Method, the first approach is the most natural because it doesn't use any chemicals, using heated, filtered water as a solvent to draw out the caffeine from the beans. The beans are soaked in water, relying on osmosis to extract the caffeine, and then strained through a carbon filter to separate the caffeine compounds. Once the caffeine has been removed, the beans are immersed in the caffeine-free solution to reabsorb all the natural flavours.
The solvent-based method relies on methylene chloride or ethyl acetate to dissolve the caffeine and extract it. Both are completely safe, unlike the carcinogenic benzene, which was the first solvent to be used in the early days of decaffeination. Ethyl acetate occurs naturally in ripening fruits, so it's considered more natural than other solvents.
This process is quite precise, and can extract up to 97% of the caffeine. It works by soaking the beans in water, which is then transferred to another tank where the solvent is applied to selectively absorb the caffeine. The caffeine-infused solvent is then removed, and the water is transferred back to the beans for them to reabsorb the rest of the chemical elements critical to coffee's flavour and aroma. This process is said to be the best in maintaining the original flavour.
The newest approach applies carbon dioxide at high pressure to remove the caffeine from the green beans, extracting up to 98% of the caffeine. The carbon dioxide liquid binds with the caffeine molecules, drawing them out of the unroasted bean. The only problem with this method is that it's expensive, so it's generally only used for large batches of commercial-grade coffee.
The result is a cup of coffee that won't keep you up at night, or give you the jitters. The decaf process does impact the overall aroma and taste of the coffee, resulting in a milder taste and smell, but if you're looking for flavour without the buzz, decaf is a perfectly healthy option for coffee aficionados as the decaf process is ever-improving as demand grows.
Got something to say? Then leave a comment!
---
Titbit: Would you try Cannabis-infused Coffee?
Monday, 8 October, 2018
The South African ConCourt recently ruled that adults are now allowed to use, cultivate, or possess cannabis in private for one's own personal consumption. With private use now legalised in South Africa, maybe it's time to talk about cannabis-infused coffee?
Few of us can function before we've had our first coffee in the morning, and the latest trend is to enhance that buzz, but the boost comes from an unexpected source … Cannabis-infused coffee is on the rise in the USA – maybe it will soon make its way to South African shores? Cannabis coffee typically contains cannabidiol, or CBD, which doesn't have psychoactive effects like THC, the active chemical compound in cannabis that gets you 'high'.
There are numerous iterations of CBD-infused coffee in the US, see image below: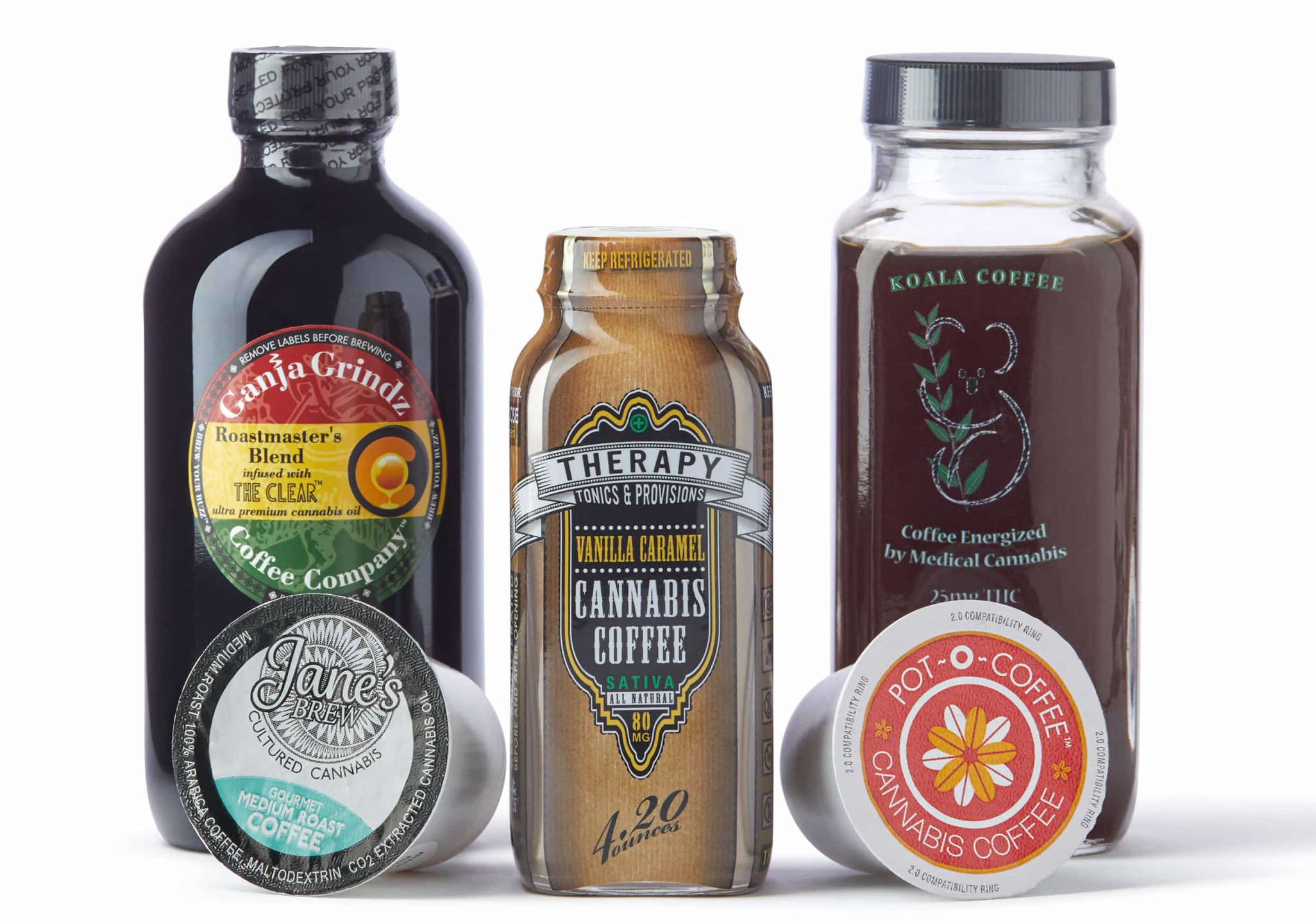 A kind of focused energy
While you might expect coffee and cannabis to be an odd pairing, what with one considered a stimulant, and the other a depressant, according to reports, the combination creates a kind of focused energy. They work together to create a feeling of calmness, and reduce the 'jitters' or anxiety that some people feel after a cup (or too many cups) of particularly strong coffee.
CBD is actually touted as having a lot of health benefits, including anti-inflammatory, anti-nausea, and anti-anxiety properties, and very few (if any) side effects. So, if you've ever been reluctant to try weed, maybe a low dose of cannabis coffee is in order? CBD-infused coffee is said to elevate your energy, and even improve your focus, and won't make you fail a drug test.
A calming and relaxing beverage that still leaves you feeling energised? It definitely sounds worth investigating. Would you give cannabis coffee a try?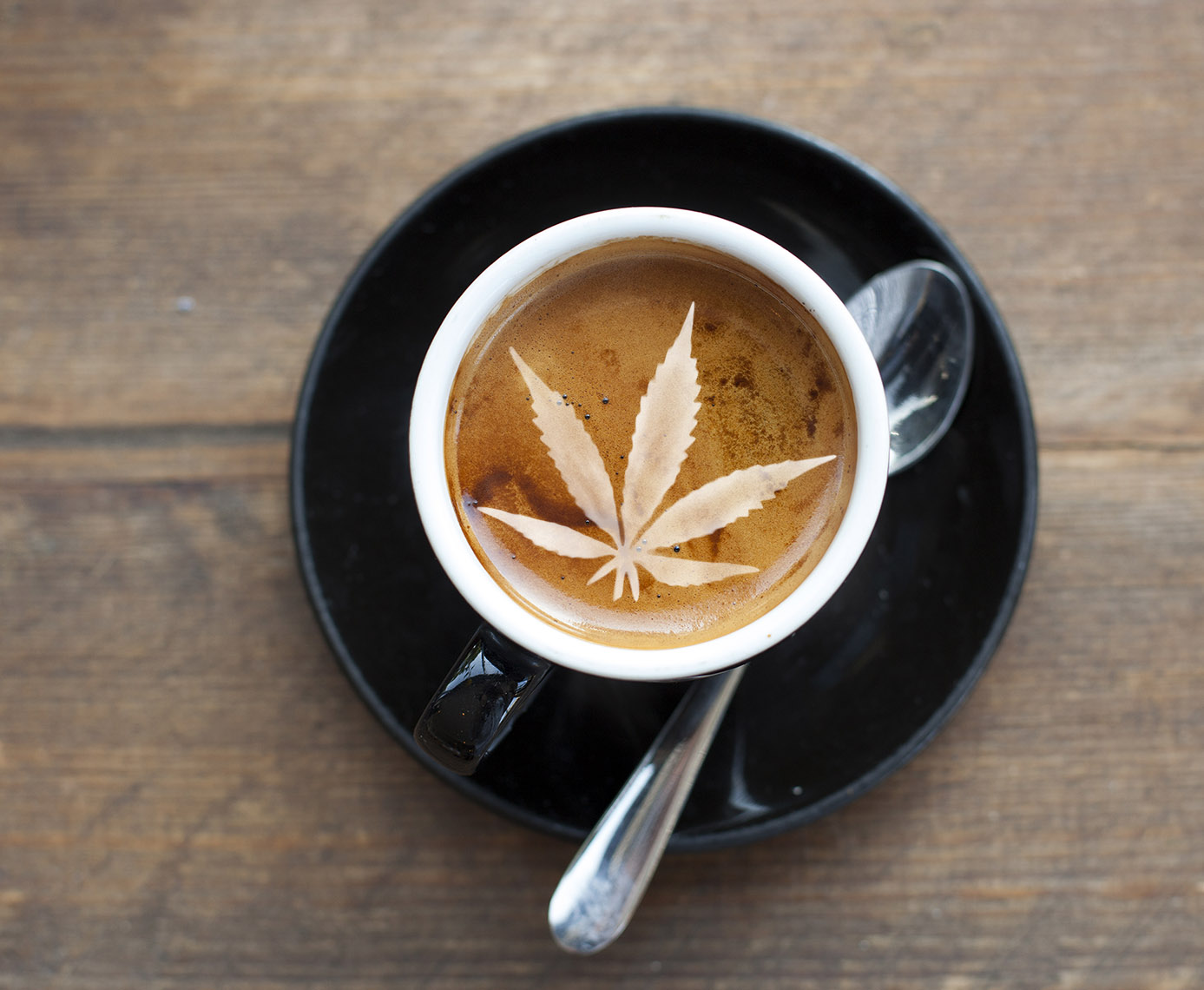 Got something to say? Then leave a comment!
---
Spring Edition! Available at all leading cafes now.
Friday, 5 October, 2018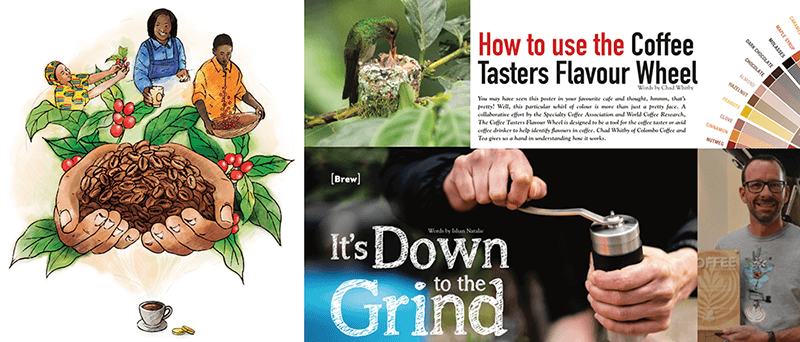 Cover: The Extraordinarily High Cost of Cheap Coffee Pg 10
If we hope to uplift the people behind our cup of coffee we need to take a good, hard look at what we're paying. David Donde from Truth Coffee, asks some tough questions of us, as consumers of coffee beverages. Strap in and hold on!
Origin: Dreams vs Reality Pg 16
A South African man's journey into specialty coffee in Ecuador and out the other side as the reality of the specialty coffee industry set in.
Industry: Coffee Magazine Awards 2018 Pg 24
Presented by Selati Sugar. We had an incredible opportunity to celebrate the South African Coffee Industry and all the wonderful people in it. Find out who won top honours at the inaugural ceremony!
Brew: It's all in the Grind! Pg 34
Hand grinders may seem like a lot of hard work, but Ishan Natalie, 3 time SA Barista Champion, can assure you that this labour of love is totally worth it.
Roast: A Shot in the Dark pg 40
South Africa's First Coffee Roasting Competition and why it's important to coffee drinkers everywhere.
Culture: Let the Music Move You Pg 48
Part 3 of 4. We challenged Lem Butler to tell us about the Record and coffee that never fail to move him. This is our favourite in the series so far. An education in music and coffee!
Travel: Appreciating the Balance Pg 52
Japan is initially overwhelming, but its
Interview: Reviving an Ancient Coffee Route Pg 60
Mokhtar Alkhanshali cultivates Yemeni coffee through civil war and unbelievable conditions and the results are sensational
Taste: How to use the Coffee Tasters Flavour Wheel and The Role of Q Graders Pg 66
With Chad Whitby and Mbula Musua
Discover Great Coffee: Movers and Shakers pg 72
Brands that are forging their own path and making their mark on the SA coffee market.
Kick: Diving into Coffee pg 80
Interview with the most successful Paralympian in SA history, Natalie du Toit and her connection to coffee.
Got something to say? Then leave a comment!
---
National Coffee Day giveaway: 3 x Coffee Magazine Hampers worth R500
Friday, 28 September, 2018
Well done to our winning entries!
Full Name

Tarine Keet

Tell us how much you love coffee and why you should win this hamper!

Coffee is probably the only reason my children are alive and I still have my friends... Coffee is the peanut to my butter, the fluff to my marshmallow, the DJ to my dance floor, the vanilla to my latte... I've recently been retrenched. Looking for a job is soul destroying and coffee is one of the only things getting me through with most of my sanity in tact.
Full Name

Moses Masiu

Tell us how much you love coffee and why you should win this hamper!

Growing up in an environment where coffee was not a popular commodity back in KwaMhlanga Mpumalanga, moving to Joburg changed my narrative for the greater good! Was introduced to coffee in grade 10 by a friend since then i''ve been hooked to the precious cup of cappuccino, latte and espresso on those lazy days. Currently doing my second year at Wits University, a day never goes by without having that awesome cup. why should i win this hamper? because i love coffee and am passionate about it,hope to one day open my South African authentic Coffee Shop as one inspired by some of the leading Coffee Stores and Roasters mentioned in the magazine.
Full Name

Kobus Delport

Tell us how much you love coffee and why you should win this hamper! :

Coffee is something that gathers people together. Friendships, relationships, family gatherings, important conversations, work meetings. But man, how much better are those gatherings when the coffee your having is well roasted speciality grade beans, made with care and attention to detail. There is something special about a finely crafted cup of coffee. It gets me every time. This hamper would be such a rad gift, and I feel that it should be given to a person who truly loves and appreciates quality coffee.
---
We know you love coffee, otherwise you wouldn't be on a website completely dedicated to all things coffee, so we just know you're going to love this hamper.
All you need to do if fill in the form below telling us why you should win this prize!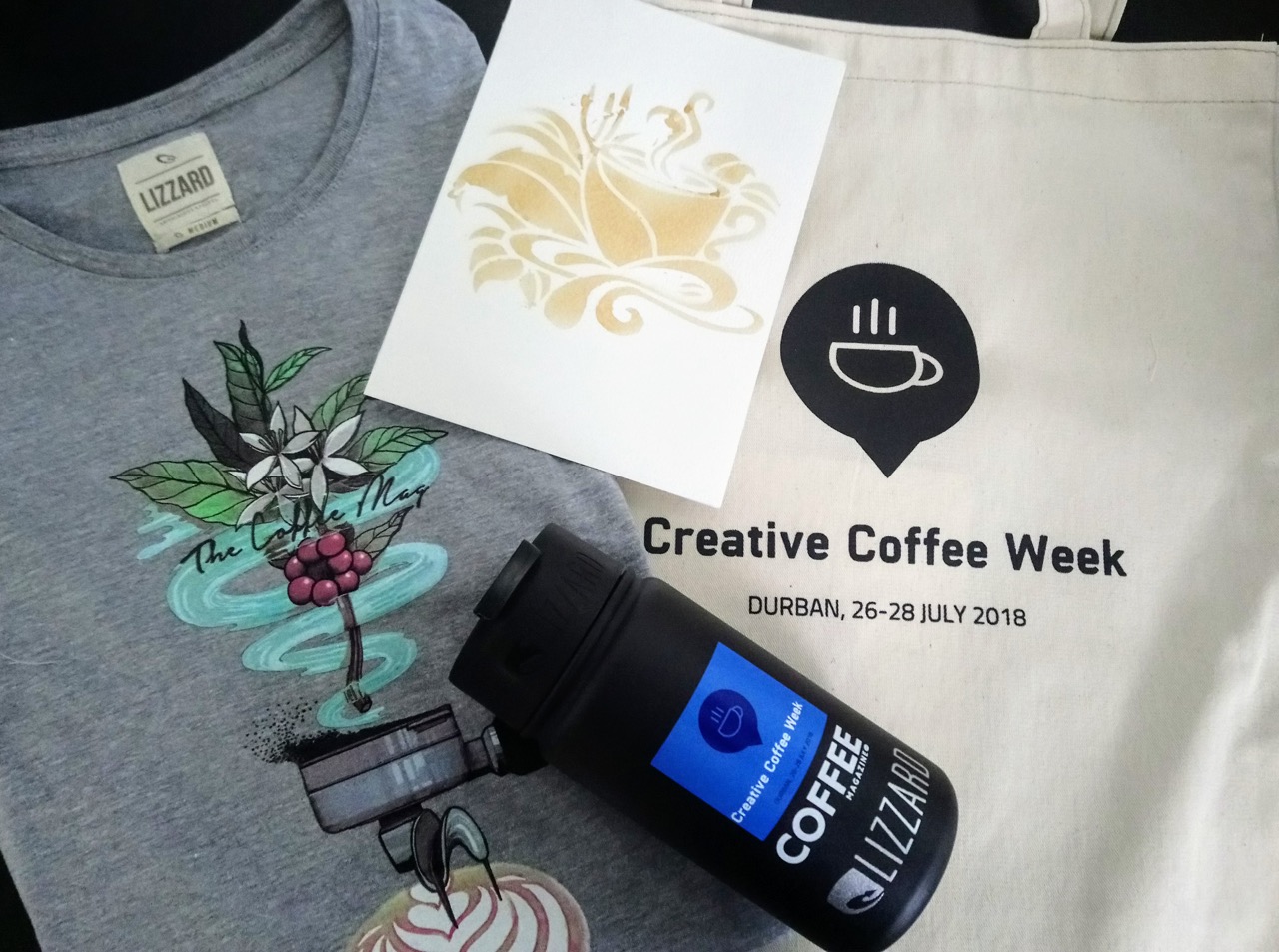 We're also going to throw in the latest Spring Edition of The Coffee Magazine, which is hitting stores this week! And she's another beauty.
The limited edition t-shirt has been a huge hit and we have just a few left at R200, if you would like to order one please email Kim.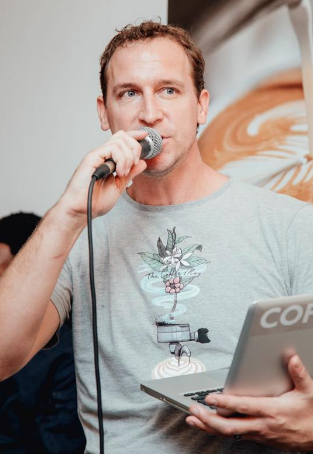 We also have a couple of our Creative Coffee Week flasks available at R200 each, Kim can also help you out if you would like to order.
National Coffee Day Giveaway
Got something to say? Then leave a comment!