World of Coffee: Berlin - Watch our SA Champs
Tuesday, 4 June, 2019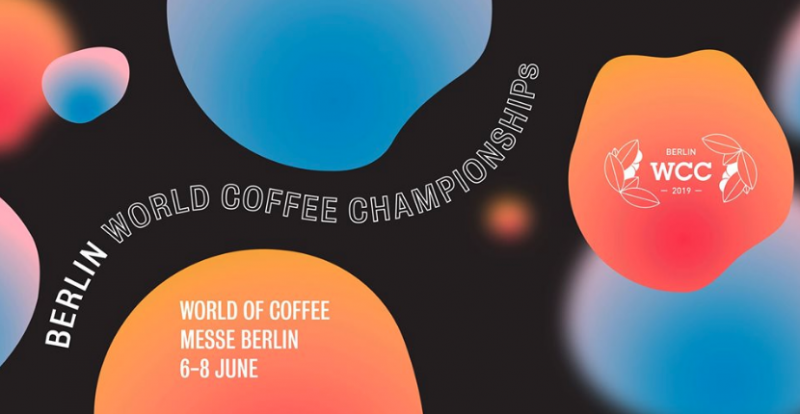 South Africans will be keeping a special eye on the coffee happenings in Berlin as our SA Cup Tasters and Latte Art Champions are set to compete on the World stage. The first Round is on June 6th.
Christopher Abrahams is on the Latte Art Bar at 1.17pm and on the Main Stage at 3.15pm
Thabang Maluleka is on the Cup Tasters Stage at 11.50am
You will be able to find the link to watch the events live when everything gets going here: https://www.worldcoffeeevents.org/berlin-2019-world-coffee-championships/
---
Every year in June, World of Coffee brings together the specialty coffee community in a different European city. After stops in Amsterdam, Dublin, Rimini and Maastricht, this year's event will be held in Berlin. World of Coffee brings together coffee roasters, baristas, producers, and other professionals from around the world along with the latest products and innovations.
Over 300 exhibitors will be taking part in World of Coffee 2019 – paired perfectly with an exciting line-up of talks, cuppings, interactive platforms such as the Design Lab, and the Best New Product Awards, all included in the price of admission.
Moreover, this year, World of Coffee will be hosting the renowned World Coffee Championships in the categories "World Latte Art, "World Coffee in Good Spirits", "World Cup Tasters" and "Cezve/Ibrik".
Organised by the Specialty Coffee Association (SCA), the umbrella organization for specialty coffee, World of Coffee serves as an open forum for an inclusive discussion with and within the specialty coffee community. The SCA's goal is to continually raise coffee standards worldwide, to promote specialty coffee, and to establish a fair, sustainable industry for everyone along the entire coffee supply chain.
Got something to say? Then leave a comment!
---
SCASA: Central Regional Coffee Competition Results
Monday, 3 June, 2019
This is only the second year the Central Region (Free State) has been run and you can certainly sense the growing passion. When we visited the region 3 years ago we were so encouraged by how much excitement there is about coffee. In fact they now have 2 dedicated coffee events and the SCASA Regional Champs was held at the Bloemfontein Coffee Extravaganza.
Well done to all involved for making these competitions possible, it is certainly a labour of love.
And of course, congratulations to the competitors and those that have qualified to take part in Nationals next year. We're so proud of you all!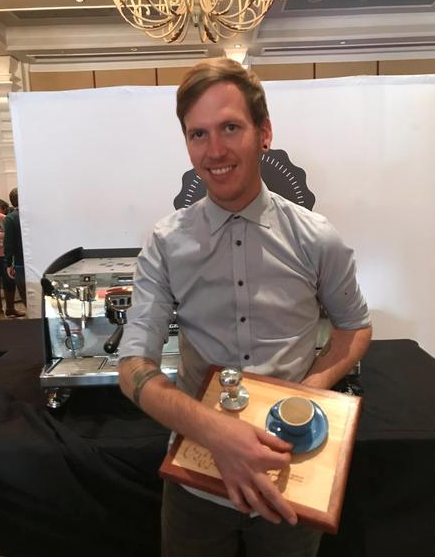 Barista Competition
1st Stevo Kuhn - Urban Brew
2nd Thabo Kheleroa - JARU Coffee
3rd Mapaseka Mapela - Wiesenhof Franchise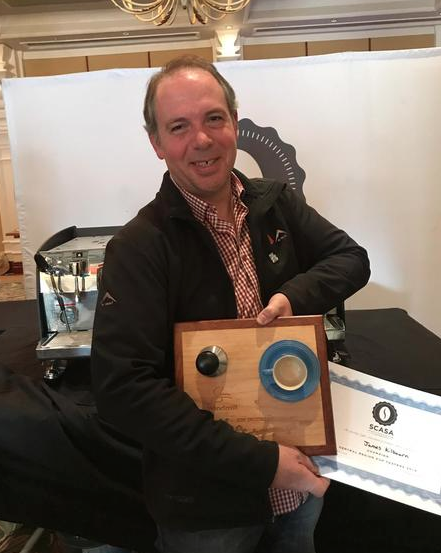 Cup Tasters Competition
1st James Kilbourn - Stereo Cafe
Maryke Schoonwinkel - Brüder Coffee Roastery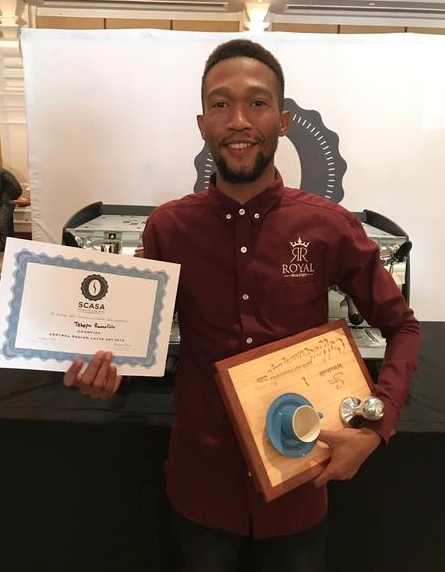 Latte Art Winner Competition
Tshepo Calvin Modiakgotla - Royal Roastery
Tulo Ernest Lephuthing - Royal Roastery
Got something to say? Then leave a comment!
---
FNB Coffee Magazine Award Nominees 2019
Thursday, 30 May, 2019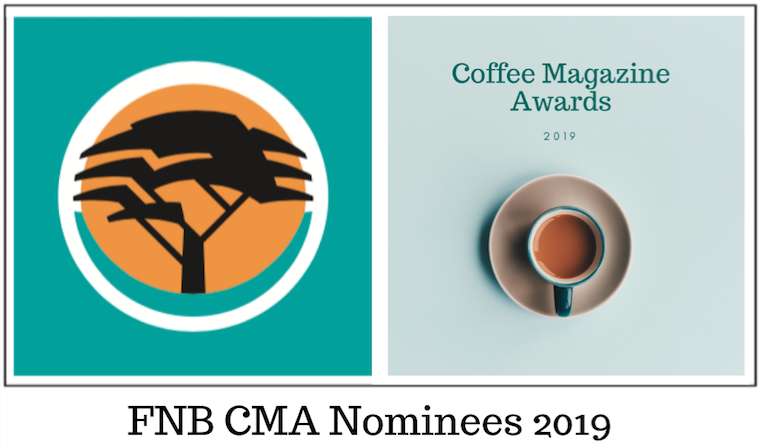 The 2019 FNB Coffee Magazine Awards nominations are out! The FNB CMAs will be handed out at the FNB Creative Coffee Week's Gala Dinner on Saturday 29th June at the Waterfront Hotel in Durban, at the conclusion of the FNB Creative Coffee Week.
The FNB Coffee Magazine Awards was initiated in 2018 to bring South African Coffee Professionals together to recognize and celebrate excellence within the industry. We have grown the categories, increased the prestige of the awards and collaborated with a broad judging panel, made up of last year's winner, to ensure the categories continue to be relevant and the results, accurate.
Besides the prestige and the naturally competitive nature of the Industry, it our intention to also reward those in the Industry who have made contributions to bettering the Industry – be it through philanthropy, mindfulness of the environment, influencing trends, innovation, growing the market or simply making decisions that shape our Industry into a more desirable place to want to have a career and spend one's time. These awards, will now and in the future, celebrate diversity, champion transformation and reward those who create opportunities for others to flourish.
Dedication to Education Award
This award is handed out to the person or company who has dedicated their time to coffee education. The nominees are:

Belinda Flynn
Imile De Villiers
Dave Bassett
Alyssa Blom
Lizaan Alberts
Best Cafe Design
The spaces created for coffee add equally to the experience of enjoying that coffee. These are the nominees for the best designed Cafe spaces in South Africa:
Naked
Pauline's
Father Coffee
The Whippet
Coco Safar
Excellence in Coffee Award.
This Coffee Professional strives for and achieves excellence in their chosen area of the Coffee Production Chain. They are innovative, are recognized as a leadership figure in their field and are constantly inspiring others around them. The nominees are:
Mike MacDonald
Jono Le Feuvre
David Walstra
Cuth Bland
Nicodemus Nabakwe
Dylan & Robby Cumming
Donovan McLagan
Best New Cafe
Café's are meeting places, they are spaces of community, business meetings, collaborations and first dates. We see new Café's opening every month and the standard is increasing year on year – from better equipment, higher quality beverages, better service, to choice of design and outfitting, to creative seating, flow and ambience. Great toilets and bathrooms, and a fitting menu. Most off all though the criteria for this was based on the Café that opened in the last 24 months that has created something special where before it there was nothing. The nominees are:
Pauline's
Brik Cafe
Holiday Coffee
Swan Cafe
Skyline Cafe

Best New Roastery
This category seeks to recognize Roasteries that have opened in the last 3 years and are gaining reputations as up and coming in the South African scene. The nominees are:
Bluebird Coffee Roastery
Beethoven Coffee Roastery
Manaka Roastery
Arbor Coffee Roastery
Asmara Coffee

Best Alternative Brewing Experience
Aeropress, Chemex, Siphon or V60 pour-over to name a few! These are the nominees for the best alternative brewing experience in South Africa for 2018:
Colombo Coffee & Tea
Origin Coffee Roasting
Bean There
Rosetta Roastery
Espresso Lab
Father Coffee
Barista Trainer of the Year
These nominees are the very best Barista Trainers in the land. They teach and inspire, they train and they serve. They impart wisdom learned from thousands of hours behind the espresso machine and their subject matter is technique, science, aesthetic and service. The nominees are:

Bilbo Steyn
Stevo Kuhn
Percy Chikwira
Shaun Aupiais
Philisile Mdabe Ciro
Belinda Flynn
Coffee Personality of the Year
These coffee professionals approach whatever they do with optimism, effervescence and inspiration. They fly the flag of the coffee community high and get involved in all areas, remaining wonderful throughout. The nominees are:
Khulekani Mpala
Winston Thomas
Matt Carter
Bilbo Steyn
Chris Faragher
George Karatzas
Jonathan Robinson
Coffee Team of the Year
The Coffee Team of the Year award recognizes that it is people that make a coffee company great – From the Owners who create a happy, respectful and creative ethos, to the staff who live the brand daily. The successful team is one in which all the people in the space from the lowest to the highest uphold the same values and consistently serve with excellence and are rewarded well for doing so. The nominees are:
Sevenoaks Trading
Cape Coffee Beans
Infood Coffee Society
Craft Coffee
Mastertons Coffee
Bean There Coffee Company
Cafe of the Year
This award goes to the establishment that has consistently created an amazing cafe experience for its patrons, serves great coffee and food, with excellent service, has great ambience, design and most importantly, a loyal community of patrons. The nominees are:
Rosetta Silo District
Thirdspace
Father Coffee
Truth Coffee
Big Dog Cafe
Naked Melrose Arch

Roastery of the Year
The nominees in this category are the Roasteries in South Africa that have forged the path for speciality coffee in SA. They continue to push the boundaries of coffee roasting by sourcing the best coffees, investing in the latest technology, by collaborating, sharing and engaging with the global roasting community, by educating, informing and inspiring their customers – wholesale and retail and finally, by putting the highest quality coffee into the market that can make South Africa stand amongst the best coffee roasters in the world.
The nominees are:
Brothers Roastery
Quaffee
Rosetta Roastery
Father Coffee
Origin Coffee Roastery
Pause Coffee Roastery
Red Truck Coffee Roastery
Barista of the Year
Barista of the year is not limited to competitive coffee competitions but is the barista all-rounder. He/she is the barista who epitomizes what it means to understand, to respect and to serve amazing coffee experiences. They are masters of extraction, technique and technical understanding, but most of all they cherish that it's not just about the coffee served, but in the serving. The nominees are:

Harry Mole - TriBeCa Coffee
Winston Thomas - Winston Douglas Consulting
Innocent Chakanyuka - Truth Coffee
Simnikiwe Mkhize - Roasetta Roastery
Chris Abrahams - Ciro Beverage Solutions
Rodney Swartz - Champs Musical
Jabu Thumbuni - Toast Food Co
Got something to say? Then leave a comment!
---
What's so great about Pauline's? Well, everything really!
Thursday, 30 May, 2019
We'd heard so many good things about Pauline's in Seapoint, Cape Town, and we finally got the chance to experience it while breezing into the Mother City for the Cape Town Coffee Festival this weekend. So did it live up to all the hype? Heck yeah, it did!
Narsh and Natasha, the team behind the bar, were so wonderful - their hands busy with regulars, walk-ins and curious journalists like us. The cortado and flat white that we had were perfectly made - one an single origin from Java, the other an Ethiopian Guji. Simply remarkable!
The decor is eye-catching in its simplicity and unusual for South Africa.
We felt instantly at home.
So in a nutshell,
The coffee was delicious and interesting. The hospitality was superb. The decor is fabulous. But those weren't the things that really left a lasting impression on me. Rather it was the conversation I had with Natasha. A woman who needed to be given a chance to start her journey in coffee. And the SA coffee community did not disappoint.
Ground Up
Bean There
Rosetta
Paulines
They all gave Natasha a chance and I'm so proud. What a great experience!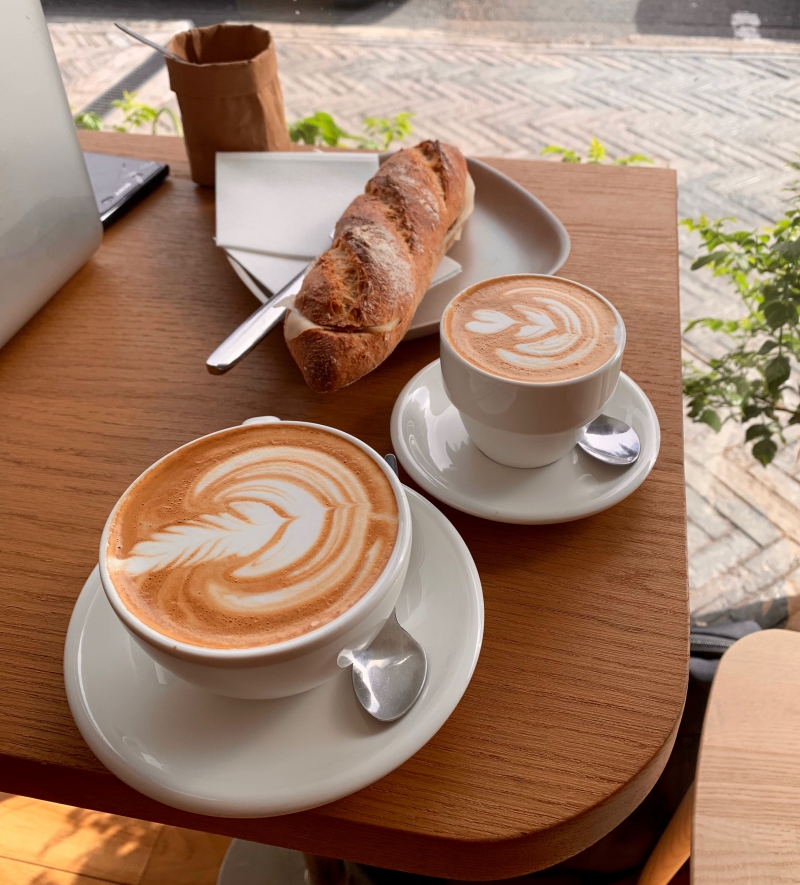 Beautiful pours from Natasha!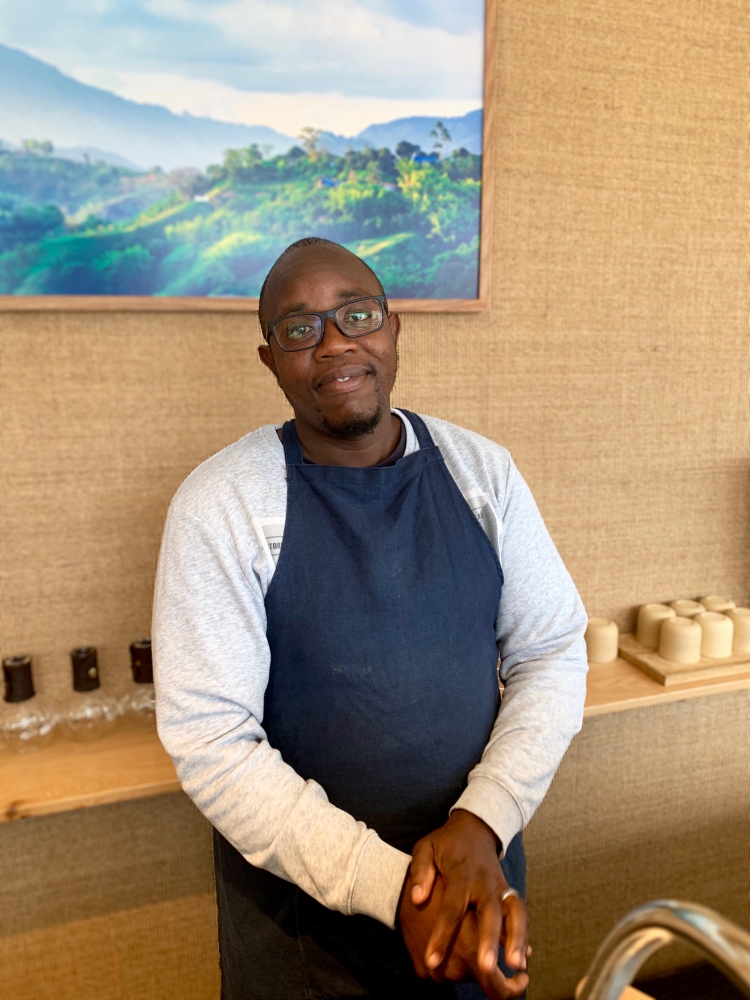 Narsh! What a legend.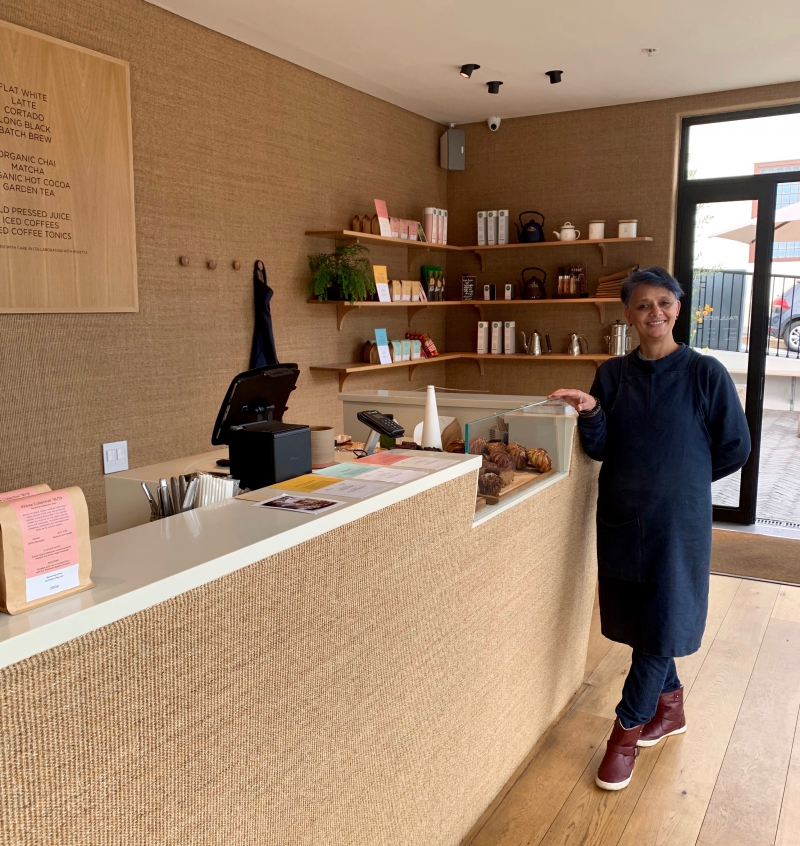 Natasha had a welcoming smile as soon as we entered and knew all the customers by name!
Got something to say? Then leave a comment!
---
South African Latte Art Champion 2019: Introducing Christopher Abrahams!
Wednesday, 29 May, 2019
Christopher Abrahams will be representing South Africa at the 2019 World Latte Art Championship in Berlin at the beginning of June 2019. We got a chance to chat with him about his recent win and preparations for the upcoming competition...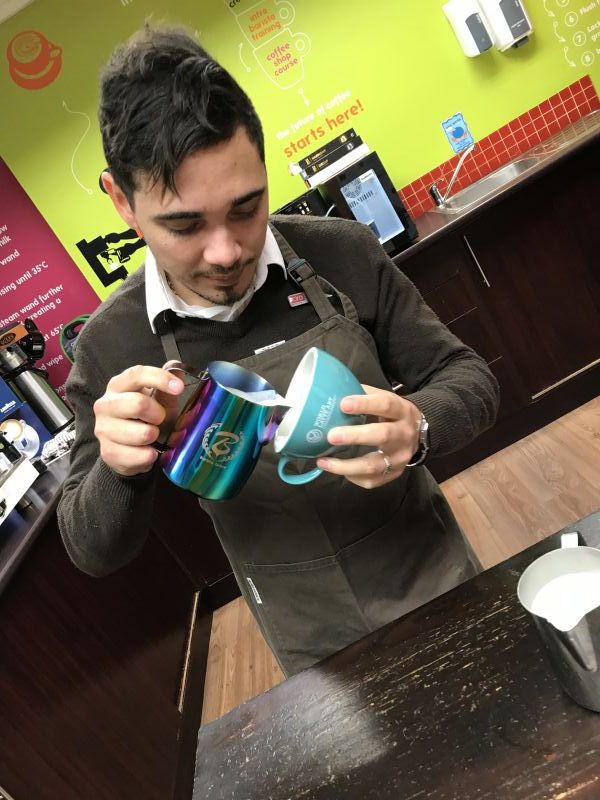 Congratulations on winning the 2019 Latte Art Championship! How did it feel to win?
"It was a great feeling! I worked quite hard in hopes of doing well. It's not always easy to find time to practice, so I sacrificed a few late evenings where possible."
What is the competition format for latte art?
"The rules change annually, or sometimes every second year. At this point in time, it's focussed on creativity and realistic patterns. There are three rounds. The first round is a set of free pour designs and a set of designer pours, which has to be finished in eight minutes. The semi-final round consists of two sets of free pour designs and a separate set of free pour macchiato designs, which has to be done in nine minutes. The final round consists of two sets of free pour designs followed by a separate set of designer pours, which has to be finished in ten minutes.
The latte artist has to present the panel of judges with photographs of the exact designs that they will be pouring, as a reference point for the judges to use when comparing the similarity of the actual pours to the photo provided. The latte artist has to finish their set in the required time; if not, a point will be deducted for every second that they've gone over time. After a two-minute period, the latte artist will be disqualified."
One of your winning pours in the finals was 'The Tribal Angel' – tell us about it?
"It took me a while to come up with the design. The designer pour is usually quite difficult to come up with, as it needs to be as creative as possible and gives you the opportunity to use an etching tool, to assist you in making it realistic. So I tried to focus on my strengths, by applying a combination of techniques that I felt comfortable using and then thought of how I could turn it into something I like – that being angels. The moment I first poured it, I knew it would be the design I'd be using for the competition."
You'll be competing at the 2019 Berlin World Coffee Championships – how do you
prepare for a competition like this?
"It's definitely an opportunity which not every barista gets to experience, so it's worth putting as much effort into your preparation as possible, to make a success. It therefore takes months of practice and in some cases, possibly even a year to prepare for it."
How do you decide what concept to go with on the day?
"I believe that every latte artist is different. There are some who decide on their designs months or weeks before the competition and some who decide the night before. I usually try to decide which designs I'll be doing at least two weeks to two months before the competition. I find that the week before the competition is the trickiest, as I usually start doubting my designs and begin to make minor 'last minute changes. This isn't always a good thing to do, but has had a positive impact on my performances thus far."
How do you come up with your designs?
"The process as a whole, involves quite a bit of drawing, as well as practicing different techniques to achieve in the cup what is created on paper. The main focus is to be unique, surprising, creative and realistically impressive."
How do you remain calm and concentrate in front of a crowd?
"I must be honest, I'm not the calmest in front of crowds. It's different when there's an expectation to pour a specific design. Pouring for the sake of pouring latte art is usually so much easier, even if surrounded by a large crowd. I tend to shake a lot and to this day, I still have no idea how to handle it on stage. There are a few small techniques though which help a bit."
What does your day-to-day work at Ciro involve?
"I currently work as a senior trainer at Ciro in the Western Cape region. Most of my day is spent behind the laptop doing administration. I don't get much time during working hours to make coffee or pour coffee; it's usually just before working hours or after. I'm quite fortunate to have a colleague ( Bakhe Mapasa), the junior trainer, who does quite a bit of the day courses and one day courses. There are also periods where I have the opportunity to spend a few days away at specific sites, where I get to train large groups.
I also assist the sales team when doing tastings with customers, as well as assist with events where possible. I'm also responsible for running the Barista Upliftment Programme)within the Western Cape. Every three months I have the opportunity to interview suitable candidates from various organisations, and have been doing so through DeafSA this year. This is an amazing opportunity to teach deaf trainees about the art of coffee and also to improve my sign language."
How did you get started in the coffee industry?
"I had my first experience with a freshly grounded cup of coffee just less than seven years ago at Ciro. I truly had no idea that the coffee industry was as broad as it was. It was soon after, when I saw the first bit of latte art, which excited me most. I worked on it for about two years and then stopped for about a year. Thereafter, I decided to get back into the 'swing of things' and start pouring and exploring the latte art aspect of the coffee industry."
What are your aspirations for your coffee career?
"My main focus is to continue working hard at latte art, in the hope that I can reach the semi-finals at the world stage one day. I'd like to become an ambassador for latte art in South Africa and uplift upcoming latte artists in the future. I'd also like to become a world judge one day and judge the world latte art completions in the future. It would also be great to represent South Africa in another category of the competition, which I hope to achieve in a few years' time."
Good luck for the World Latte Art Championship in Berlin, Christopher – we wish you all the best!
Got something to say? Then leave a comment!
---
What do you expect from your Barista?
Monday, 27 May, 2019
Originally published in Issue 4 of The Coffee Magazine, this article still holds a lot of relevance for our ever-growing coffee community!
---
Photos by Ant Fox
The hipster barista of Funny or Die skits has become a symbol of coffee snobbery. You know the kind of barista we're talking about. Dressed just so and a wealth of knowledge on coffee and how it should be drunk. With each new barista you encounter, hipster or not, comes a new coffee experience. In this article we explore how important the barista is to your cup of coffee. As Gwilym Davies says, the thirty seconds shared between the barista and the customer mean the difference between a cup of coffee and a life changing experience. At least that's what a good barista aims to do; take pride in a product that has been through a massive production process to get to your cup and convert you to their religion.
Imagine it: The first thing that hits you as you walk through the door, is the aroma. The interior is beautiful. The furniture has been carefully selected; there is just the right mix of vintage and modern. There are rock roses or proteas in Consol glass jars on the tables. You walk up to the counter. The person behind it is confident with the portafilter and equally as comfortable in skinny jeans. The list of coffees is overwhelming.
"What can I get for you today? We've got a delicious blend in the hopper, I would recommend a cappuccino."
You don't like too much milk so you ask for a normal filter coffee.
"Well I can do you an Americano, or we can make you a plunger or a pour over? The single origin Costa Rica is amazing as a pour over."
From here, the rest of your café experience could go either way. Maybe you play it safe and stick to an Americano because you have no idea what a pour over is. Maybe you try something new and you never look at coffee the same way again.
The above hypothetical experience could be read as a positive learning occurrence or as a negative irritation prolonging your wait for caffeine. It's all about expectation. Is the barista taking the blame for a growing industry trying to inspire more people to drink quality coffee? Should they stop their apparent crusade against bad coffee and just let us order what we want? With the rise of the barista trade, expectations from both sides, in front of and behind the counter, are changing.
South Africa's baristas are beginning to compete on the world stage. Lovejoy Chirambasukwa has just returned from the World Barista Championships 2013 in Melbourne and the search has already begun for the next person to hold his SA crown. Change and improvement come with growing pains. It cannot be denied that the standard of coffee has skyrocketed in South Africa in the last few years, a fact that an international World Barista Champion was quick to point out on a recent visit to our shores.
Gwilym Davies, World Barista Champ 2009, is defending the job of the barista and coming from the UK coffee culture that has had a lot more time to mature, perhaps he is one of the best people to give us a little more insight into just what the role of the barista is. He shared his thought with us in Joburg, 2013.
"Coffee is a huge industry; right the way from the coffee fields to the consumer's cup and the biggest part of it, the biggest part that can influence the whole chain, is the relationship between the barista and the final consumer. How they relate to the consumer affects the whole chain. I really enjoyed the warmth of the baristas South Africa, how they welcome you when you walk in the door. Training is my passion and what I love to do. The two most critical areas for any barista in my opinion are hospitality and making sure your machine is clean.
Originally the competitive side of coffee held no interest for me, but Stephen Morrissey, the 2008 Champion told me, do it to meet your community to meet your fellow baristas and the second was to get better, the better you are at making coffee, the easier it is for the customer to believe your stories. I wanted to bring the passion that I served each customer with to the world stage. I trained hard for three months under two previous World Champion baristas and I ended up winning it. I didn't intend to win it, in fact it was a huge surprise, but I certainly learnt the value of it for baristas everywhere.
Being a World Champion Barista really comes with a big responsibility, because if you say something then it is taken as fact, if you do something then others will copy, so whether you like it or not you become a role model for people in the profession to follow. You have to lead by example and behave in a way that you would like the barista profession to head. It gives me the chance to direct an industry and it has given me a wonderful chance to learn a lot and share ideas. As I'm learning I need to share it with my community, with other baristas that don't have the opportunity to travel.
The South African market, while aspiring to levels of cleanliness and quality of green beans set by the Speciality Coffee Association of America (SCAA) and Specialty Coffee Association of Europe (SCAE), should also try to distinguish themselves as a unique coffee producer. Certain cultures prefer tight, short espresso like Australia. The Scandanavians enjoy the sharp citrusy flavours of a lightly roasted coffee. It's good to come in with your own personality and South Africa is still discovering theirs. The quality seems to have jumped dramatically from what I anticipated. The quality of the greens is good and the cafes are using seasonal, fresh, African coffees that haven't been too darkly roasted. The one thing I'd really like to see more of is alternative brewing methods, because they're a great way to explore the coffees and you can transfer what you've learned to espresso. What you learn from when you're hand brewing which is a much less dramatic way of making coffee, there's more time, two seconds doesn't make such a huge difference, so you can calmly see how the coffee reacts, before you put it under the pressure of an espresso machine.
I've often found as an independent café owner that standing alone doesn't help you, but when you work with others then you raise the standard together, like a tide bringing up a boat. I started as a barista at a coffee cart in a London market. Now I'm co-owner of Prufrock. People started inquiring about training when we started out, so we looked at finding premises where we could set up a training centre, which now goes by the name the London BRAT (Barista Resources and Training). We took over an old sex shop and put the training facility in the basement, it's good fun. When baristas run their course with us, they move on to other specialty cafes. The more good quality coffee there is, the better.
Like any other specialty coffee business, it's difficult. We know how to make good coffee and how to get people coming back and we've gotten to a point where we're consistently busy. The thing is, we need to put our prices up but we can't do that if we're promising something amazing and then being inconsistent. In the UK we've taken to weighing our coffee grounds and weighing the espresso shot to ensure consistency for the consumer.
You also can't charge what the coffee is actually worth if the experience is a fast food one, it's like serving a £15 burger out of a McDonalds; people feel that they are being ripped off. But if you give them the quality of the experience, make them understand that the coffee has travelled many miles to get to this point, involve them in the romance of it, it's like visiting a Michelin Star restaurant and savouring every minute. People have gotten used to the Starbucks, on-the-go fast food mentality of being served, that is not what specialty coffee is about. This doesn't necessarily mean educating them, but rather it means making them feel good about themselves.
All that being said, if your customer doesn't want to hear the story, then as a person in the service industry you still need to respect that. Service is a huge part of this industry, the farmers are relying on baristas half a world away to make the best possible cup."
Gwilym is not alone in his thoughts on service, another World Barista Champion James Hoffman, can't emphasise the importance of good service enough. A really good barista will know if the customer is interested in hearing the story.
As he says "If you make a delicious cup of coffee but I don't like being in your business, then I'm not going to buy coffee from you." A barista who thinks they know everything can appear unfriendly and as Hoffman puts it "lecture-y". You can't try to educate someone who's not interested. Baristas need to learn to read their customer, some people will be interested in the origin of the coffee, and some people just need a delicious caffeine fix to start their day.
Baristas are expected to make consistently good coffee under pressure and cater to the whims of the paying customer. They too have their gripes with caffeine-deprived customers. It's like any profession; baristas are trained with certain rules. Don't burn the milk. Keep your equipment clean. Sugar ruins the taste of the coffee. The consumer's lack of appreciation for a seriously quality cup of coffee can be taken as disrespectful to the baristas craft.
The expectations are high on both sides of the counter, but perhaps with a bit of mutual respect we can all learn to get along and drink amazing coffee. And a smile, we can all agree that a smile goes a long way.
Got something to say? Then leave a comment!
---
What's brewing in Mossel Bay? Coffee Hopping along the Garden Route
Thursday, 23 May, 2019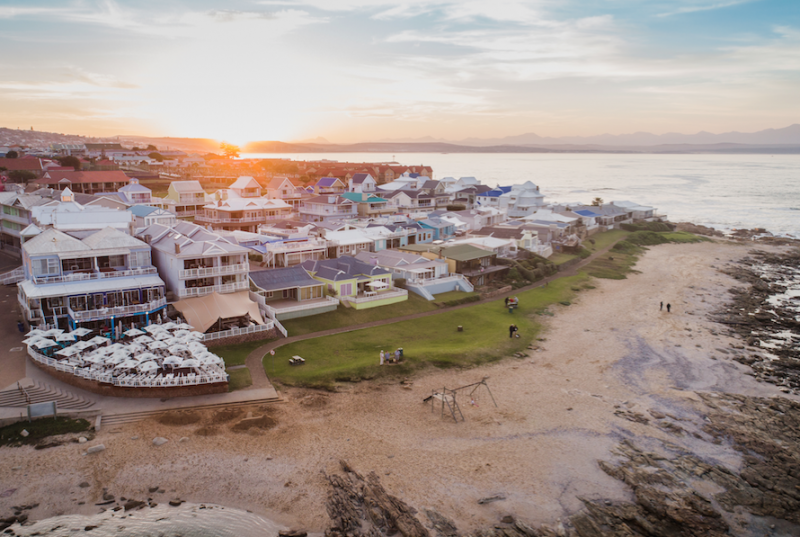 There is something unexpected nestled in the small harbour town of Mossel Bay: a sophisticated and well-established coffee scene. Visitors to this Garden Route town are spoilt for choice when it comes to sourcing their caffeine fix…Each café offers something unique which means there is something for every coffee-lover in Mossel Bay.
Words by Hannah Coogans, Africa Media
---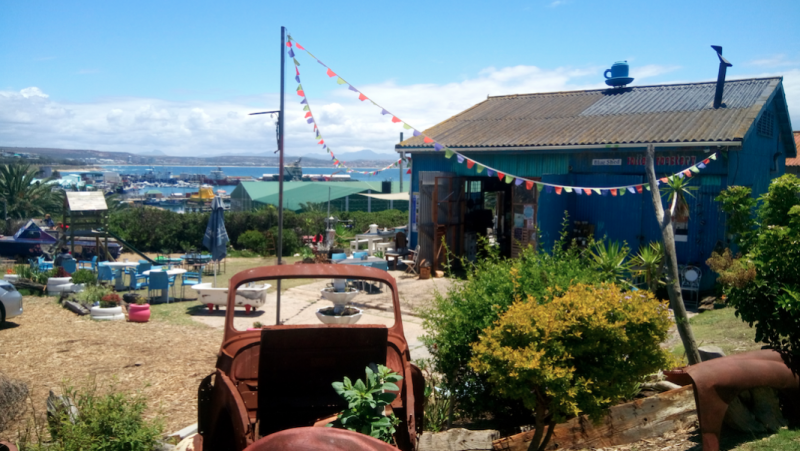 THE BLUE SHED COFFEE ROASTERY
The Blue Shed Coffee Roastery is conveniently perched on the hill of Bland Street. As the name suggests, this quirky coffee shop is housed in a blue shed surrounded by run-down vintage cars. The old car yard motif is matched by eclectic décor inside, including big cosy sofas, retro posters, old books, a vintage jukebox and mismatched chairs.
THE COFFEE:
The Blue Shed serves an array of coffees, offering the basics such as americanos, lattes and cappuccinos. You can also choose to buy your beans here, with 13 varieties from all over the world to choose from. The café roasts its own beans and sources mainly Indian, Indonesian and Tanzanian beans.
CROWD FAVOURITES:
The owner, Sandeep Virdee, recommends a slice of chocolate mousse cake to accompany the popular Tanzanian beans.
WHAT MAKES THIS CAFÉ A MUST-VISIT:
The Blue Shed is a great spot for uncomplicated but high-quality coffee in a unique, rustic setting with a view of the beautiful Mossel Bay harbour.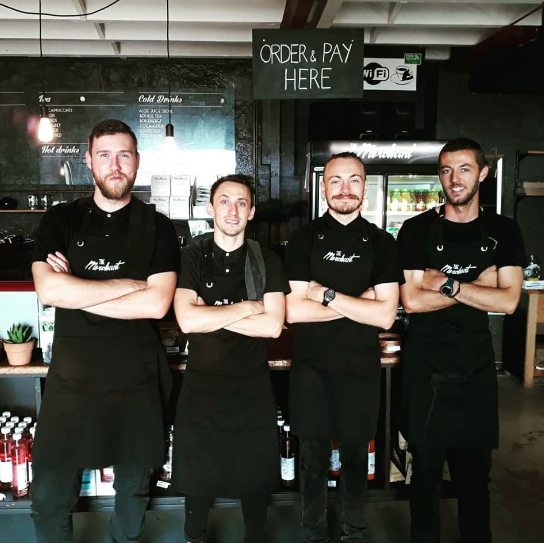 Photo from The Merchant
THE MERCHANT
Another trendy spot in Mossel Bay is 'The Merchant'. Formerly a mechanic shop, this café has a minimalist interior with artwork by local graphic artist and co-owner Sammy Sheppard, as well as seriously good coffee. Her art, as well as beautiful prints by other artists, is also available to buy in the corner of the shop's ground floor. The top floor lounge is ideal for those seeking a quieter nook to sip their coffee.
THE COFFEE:
The house blend comes from Brothers Coffee, a local roastery in the Groot Brakrivier area. This brand actually scored highest in South Africa in the 'A Shot in the Dark' competition earlier this year. The Merchant is the only café using their Ankole blend, a medium to dark roast with chocolate and maple syrup notes as well as fruity citrus flavours.
CROWD FAVOURITES:
Flat whites are the go-to order. However, coffee connoisseurs can also enjoy 'The Merchant Special' which is a tall cortado. The LCHF breakfast option is a popular menu choice consisting of perfectly poached eggs, bacon, tomatoes and a rich hollandaise sauce. If you're looking for a sweet treat, the chocolate croissants are also a crowd pleaser.
WHAT MAKES THIS CAFÉ A MUST-VISIT:
The café has organic roots: the owners, Donovan and Sammy Sheppard, had no prior knowledge of coffee before starting the café. The Merchant has since grown and evolved to suit their clientele's wants and needs. They now offer options for customers following a banting diet, almond milk for vegans and locally brewed kombucha. The Merchant also try to educate their customers about good coffee because they want everyone to appreciate coffee as they do. The baristas here are friendly and knowledgeable, and they are more than happy to recommend a coffee or item from their menu.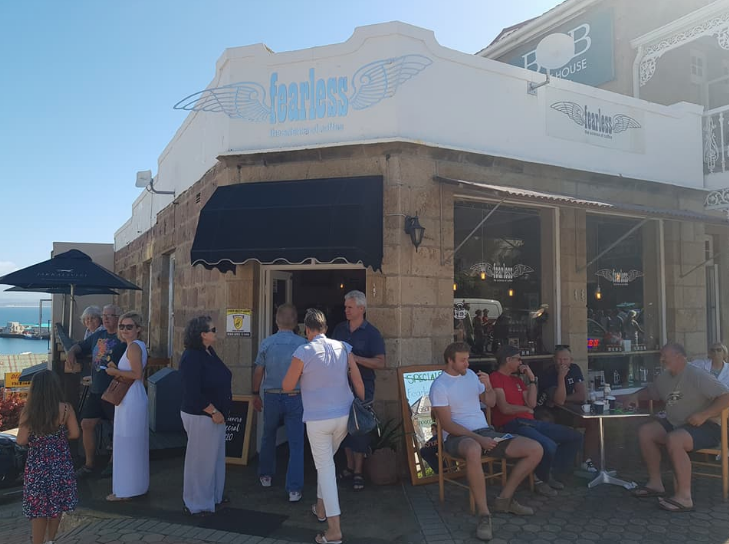 FEARLESS
Fearless is the next stop for a quality coffee. Recognisable by its distinct angel wing logo, this café is owned by the innovative business-woman Loretta de Moor. Fearless can be found near the centre of town on the corner of Marsh Street and Mitchell Street (opposite the old town post office). Their witty slogan attests to their local appeal; 'Our coffee brand is world famous…. Locally'.
THE COFFEE:
There are many blends available here, including dark, rich Malawian blends, a smooth Brazilian and a special 'Heritage' blend inspired by the building's history and status as a Blue Shield Heritage Site. Each blend offers something slightly different, however the overall notes of the coffees are nutty and earthy.
CROWD FAVOURITES:
The most popular coffee is the latte, but the café is unique in offering coffee brewed in different ways. As far as food is concerned, the Fearless Favourite sandwich with caramelised onion, bacon, feta and avocado comes recommended.
WHAT MAKES THIS CAFÉ A MUST-VISIT:
Fearless prides itself on offering more and prioritising the 'science of coffee'. You can order coffee brewed using different techniques, from French press and Chemex to Aeropress. The owner, Loretta, also believes that 'love conquers all fear' and makes sure that everything in the the caféis made and served with love..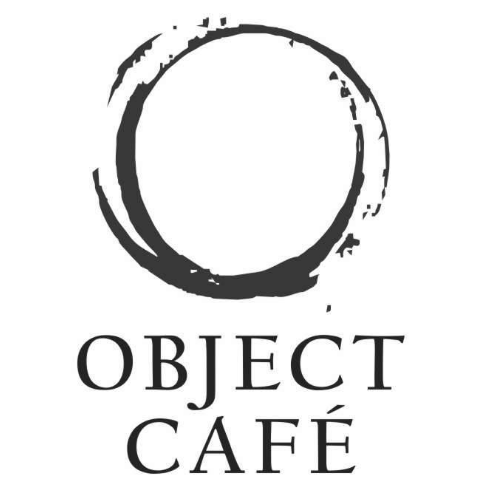 OBJECT CAFÉ
Object café is fairly new to the coffee scene in Mossel Bay. It opened in November 2018, but its client base has grown considerably since then. It is also located on the main road, Marsh Street, and near the centre of town. The relaxed interior is spacious, making it ideal for larger groups. The places at each table are laid with food magazines instead of place-mats, so reading material is provided to accompany the good coffee. Their kitchen, across from the coffee counter, is open to the public and they even invite customers to go and greet the chefs at work. If you fancy a light bite, there are cakes, salads and an all-day breakfast menu to choose from.
THE COFFEE:
The house blend is sourced from 'Beans for Africa', which is a strong, earthy coffee that can be enjoyed black. Each cup comes with a sweet treat: a coconut date ball that compliments the coffee.
CROWD FAVOURITES:
The cappuccino is the most popular brew, while chai tea is also a crowd favourite. The quiches come highly recommended, as they are made fresh daily and the café offers new variations every day.
WHAT MAKES THIS CAFÉ A MUST-VISIT:
Everything at Object Café is handmade on site daily, in a kitchen that customers can wander through and take a look as their meals are being prepared.
THE COFFEE CLUB
Though also in the main street, the Coffee Club is a little further away from the hustle and bustle of Mossel Bay's centre - perfect for enjoying a cup of joe in a quieter peaceful garden setting. This place is known for their homemade cakes that tempt customers from the fridge to their right as soon as they walk in.
THE COFFEE:
Like many cafes on the Garden Route, the Coffee Club sources their blend from local coffee roaster Aharon Baruch, creator and owner of Baruch's Coffee. This high-quality coffee is made from 100% Arabica beans and comes in a light roast espresso blend. The beans offer a rich, citrus-flavoured coffee that compliments any of the café's cakes.
CROWD FAVOURITES:
Cappuccinos are the coffee of choice here. The café also serves more substantial meals, and the seafood basket has the staff's seal of approval. This includes mussels (Mossel Bay's namesake), calamari, fish nuggets and fries.
WHAT MAKES THIS CAFÉ A MUST-VISIT:
Undetectable from the entrance, this café is more spacious than it appears. It has many seating areas to choose from: a secluded garden, a more private back area - ideal for small functions - and a comfortable alcove inside. So many different locations to enjoy your coffee.
These are just five of Mossel Bay's cafés , though they are by no means the only choices. Each spot is unique, but one thing that is common amongst them all is great service. Wherever you choose your brew, the friendly local staff are always a highlight. The baristas are always eager to chat and give suggestions on what to do in the area. Mossel Bay is an up and coming coffee lover's paradise.
Got something to say? Then leave a comment!
---
Congo Coffee's Comeback
Wednesday, 22 May, 2019
Few people know the story behind a cup of coffee from Kivu, the eastern region of the Democratic Republic of Congo (DRC). It is one of violent conflict, treacherous trips across borders and the struggle to revive a local economy. The region has rich volcanic soil, perfect elevation and a good supply of water to produce quality coffee, but years of conflict have cut farmers off from markets. Now, DR Congo coffee is re-emerging as a viable export and a vital source of income for the people who grow it.
"For decades, coffee growers risked their lives to sell their produce - facing militias and road blocks on washed out tracks, or dangerous canoe trips across Lake Kivu to the Rwandan border. In the last few years, things have started to look up for the region," says Jonathan Robinson, founder of Bean There Coffee Company and the first roasters of DR Congo coffee in South Africa.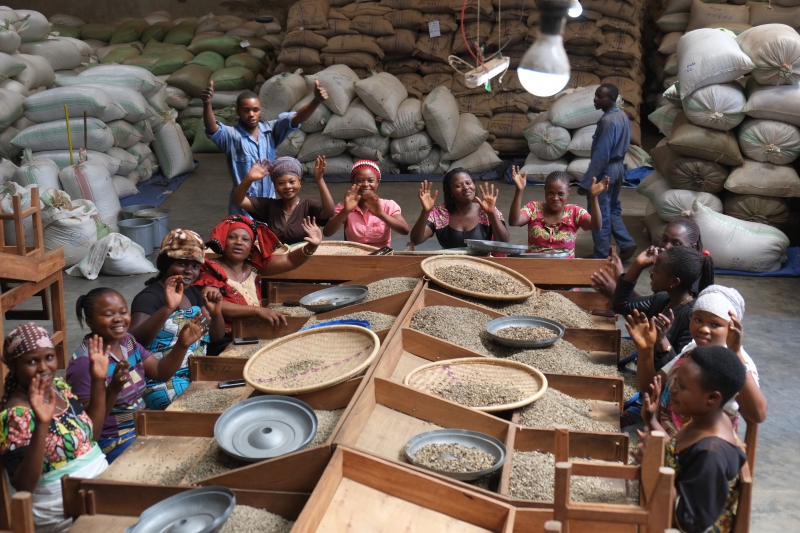 Kivu was the site to which more than one million Rwandan refugees fled to during the genocide in 1994, shortly before the nation's own civil wars from 1996 to 2002 all but destroyed the local economy. The region was producing 130 000 metric tons of coffee in the 1980s. Thirty years later it is producing just 11 000 metric tons, making it a rare origin coffee. During the war years, many DRC farmers sold their beans to neighbouring countries, where it was blended with Rwandan and Ugandan coffees and sold as those origins.
In 2011 a company called Virunga Coffee committed to helping DRC coffee growers to regain access to international markets under their own brand. It started purchasing directly from farmers at prices significantly higher than standard in the region and bringing it to markets around the world. Virunga brought DRC coffee to a trade show, where it placed second in the extremely competitive Taste of Harvest competition beating the Ethiopians and Kenyans in the process.
Bean There bought in, introducing a DRC range to their selection of single-origin African fair trade coffees. Beyond their DRC branded beans, the company's current micro-lot limited edition roast, which they call Olga's Reserve, is a sundried premium coffee from Kivu. R40 a kilogram goes straight back to the community, which to date with the other Direct Fair Trade premiums paid, has been used by farmers to invest in farming tools, install solar panels and transform a local school.
Both companies saw the great potential that coffee from the region held, but they also recognised the great need to invest in farmers in order to help them realise it. "We pay good prices with a premium that can be re-invested in the community. As our trade partner, Virunga has done an exceptional job in building washing stations and employing agronomists, who help farmers get organic certification, improve yields and combat diseases," says Robinson. The region's increasing sophistication to process coffee is helping it to produce some of the best coffees in the world, now purchased by leading international brands.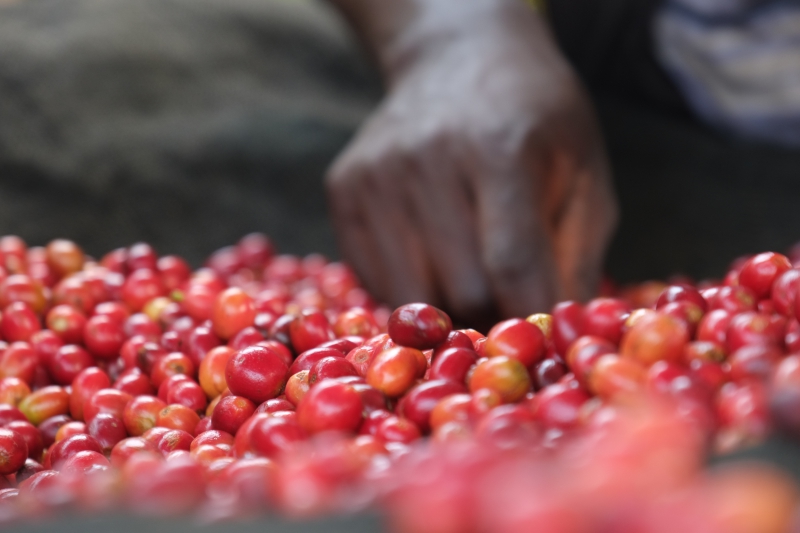 Bean There customers are also able to tip the farmers who produce their coffee directly, through an initiative called "Tip the Farmer", launched in collaboration with Motherland, ELAN RDC and Olam Coffee. Tips will help to increase 185 farmers' revenue by 16% - funding better education, agronomy and household improvements.
"Long-term fair trade is the best way to grow economies, especially those devasted by war. As appreciators of African coffees, it's in our interest to grow the people who grow our coffee, ensuring that quality continues to soar in the region." says Robinson.
Got something to say? Then leave a comment!