SA Coffee Brands to Watch: Beans about Coffee
Thursday, 4 April, 2019
After returning from Europe, Thomas Jamneck really struggled to find a good cup of coffee in South Africa. The search began, and while there were a few options to choose from, he realised that the answer he was looking for would be to start roasting his own coffee beans. Thomas and his wife, Yvette, opened their first Beans about Coffee store in Dullstroom in 2009, and started roasting beans and doing tastings. The business went from strength to strength, and today, you can find Beans about Coffee shops in Mpumalanga, Klein Karoo, and the Western Cape.
---
Interview with Thomas Jamneck.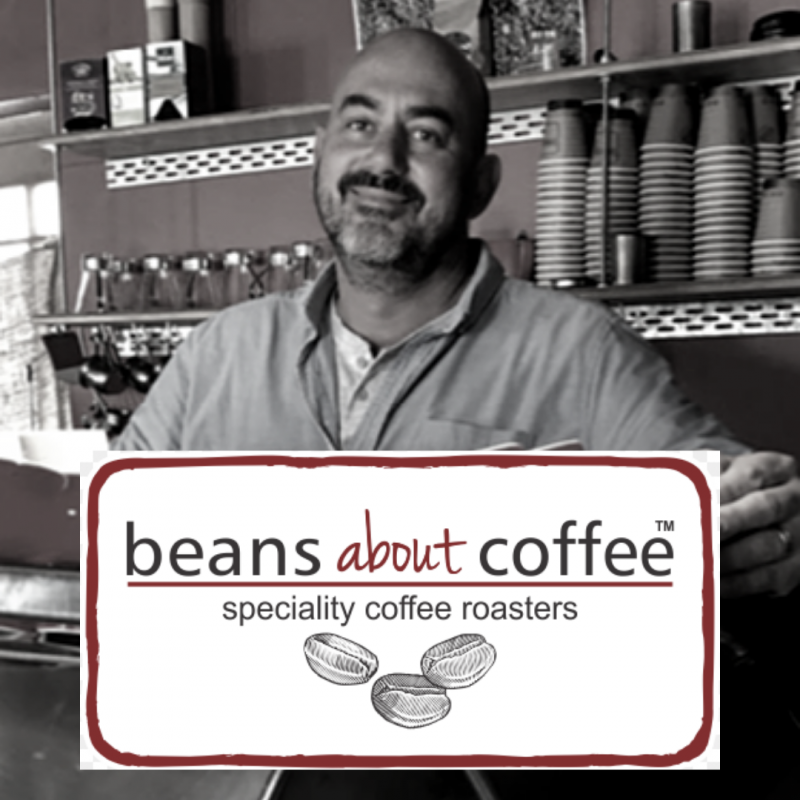 Why Beans about Coffee? How did you come up with the name?
"My wife, Yvette, came up with the name – it's a tongue-in-cheek expression of how crazy we are about coffee!"
As a business, what's important to you?
"It's important for us to focus on the quality of our product. And I believe great coffee should be freshly roasted, perfectly brewed, and served with a smile. Coffee is not just a treat, it should be a part of our daily lives."
What is your vision for Beans about Coffee?
"Our vision is to promote an independent coffee culture where locally roasted coffee is favoured and readily available. Each town in South Africa should have a local coffee shop that roasts and serves the freshest coffee."
What sets you apart from other coffee shops and cafés?
"All the Beans about Coffee shops are owner-operated by people who are passionate about coffee. We roast our coffee in some of our cafés so the customers get to smell, see, and taste the product. They can also purchase a variety of beans to enjoy at home."
What has been the highlight of your business journey?
"The highlight for me is the success of each of our shop owners who work hard to build the brand. All our shop owners are expanding and opening more outlets in their surrounding areas."
What's the most exciting part of the job?
"The most exciting part of my job is that I am privileged to do what I love."
There are always growing pains for an entrepreneur starting up a new business – what have your experiences been?
"For me, the challenge is always finding the right people to work with. We open shops with people who we can trust and would like to build a future with. When you have accomplished that, everything else just falls in place. Every café is a team, and the team needs to work together – from owners, to baristas, managers, waiters, and kitchen staff – we are all working for the same goal: great coffee and great success."
Give us the lowdown on your coffee and menu?
"Our menus are the same at all of our cafés; we make anything and everything that you need on the coffee side. Our 'Sidewalk Blend' is our secret to success – everyone keeps coming back for it. Our food offerings are different in most shops because we design and create each one to suit the specific area and customer needs. We believe in fresh products and only use high quality ingredients."
Any final thoughts?
"We are proud to be a part of the local South African coffee culture!"
Got something to say? Then leave a comment!
---
Investing in potential
Thursday, 4 April, 2019
A Coffee Magazine initiative, proudly supported by Huletts
---
Johnson Sehoro is no stranger to the coffee community. A multiple Gauteng Cup Tasting and Barista Championship finalist, his rise from a domestic gardener to one of the most admired Barista Trainers in the Coffee Industry was a steep one, that has spanned more than 15 years. Johnson worked for Ciro Beverage Solutions for more than a decade before finally plucking up the courage to go on his own and pursue his dream of owning his own Coffee Company and Training Academy. "I've always loved the people that I've worked with. Coffee brings people together and working with coffee has allowed me to meet so many people from all walks of life." In 2018, Johnson formed Ladha Coffee Company and through his effervescent personality and vision for potential, Johnson found a home for his own Training Academy at Lillieslief Farm in Rivonia. The significance of this iconic place in South Africa's struggle history is not lost on Johnson. In fact, he insists that his students and visitors take the tour and watch the short film on the Rivonia Trialists that met secretly at Lilliesleaf farm in the 60's in order to give a sense of perspective to his purpose. "Everyone has potential, even when they find themselves in the worst circumstances and everything is against them." Johnson even named his signature blend 1963 as a reference to this historic period. With the support of Coffee Magazine, Huletts Sugar and a number of equipment suppliers in the coffee industry, the Ladha Coffee Academy took it's first intake of deaf students in 2019, and aims to put them through the UNISA barista skills module and the SCA level 1 course in 2019. Johnson is learning sign language and has an interpreter who assist him with the training of his students. "My sister's child is deaf, and I've been training deaf students for a few years. It is incredible to see them come out of their shells and be so proud of their coffee skills, that they can be out in front serving coffee to people and enjoying their role and identity as a barista" says Johnson.
Over the course of 2019 Coffee Magazine and Huletts will be investing further funds and resources into two more training academies. Look out for the June 2019 issue of Coffee magazine for the next exciting instalment.
Johnson Sehoro of Ladha Coffee Training Academy, with deaf students Shandre Napier, Tevin Gordon, Linda Khulu, Khomotso Mofokeng, Thokozani Tsabalala and George Ika.
Got something to say? Then leave a comment!
---
What can you expect at Cape Town Coffee Festival?
Thursday, 4 April, 2019
It is safe to say that when we walked into the Truman Brewery to attend our first ever London Coffee Festival, we were a tad overwhelmed. A highly-caffeinated hive of activity assaulted our senses as throngs of coffee drinkers darted from stand to stand eagerly lapping up all manner of coffee-related products. It was wild!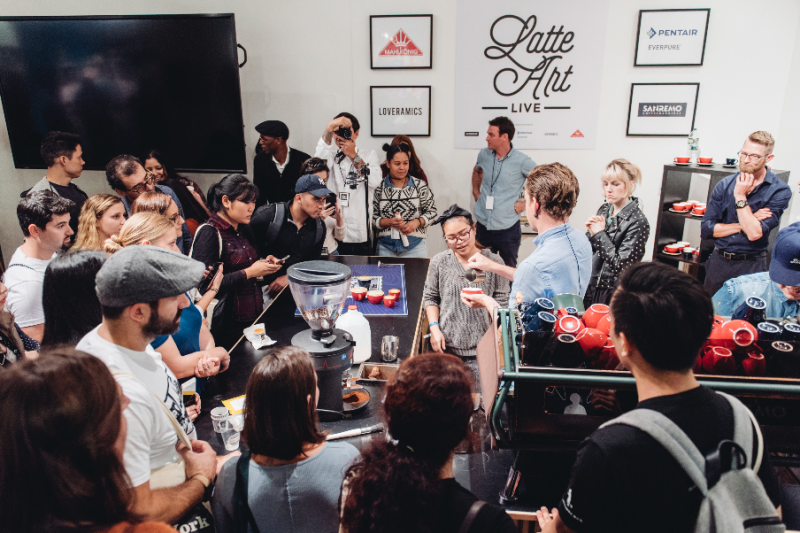 The Truman Brewery is a maze of staircases and mezzanine levels which just added to the coffee frenzy; you could never really be sure where you would end up and you were certain to discover something new just around the next corner. A literal rabbit hole of coffee. We watched Aga Rojewska be crowned the Coffee Masters winner as well as had the opportunity to judge her on the Latte Art Live stage, a competition which she also won! We drank coffee-infused beer and espresso martini's while listening to muso's keep the energy up with original sounds reverberating through the halls, discovered cups made from coffee waste and I bought my much-prized Commandante grinder. And then we wondered into a new section, where the walls were adorned with spectacular submissions from artists on the subject we were all gathered together to celebrate, coffee. Did I mention that it was wild?!
The Coffee Festival format was launched in London in 2011 and has since then expanded to include Festivals in Amsterdam, Milan, New York, Los Angeles and, from this year, Cape Town. That's right, our most coffee-soaked city will play host to this international affair: The Cape Town Festival.
Event Organiser, Jeffrey Young, shares, "We are delighted to be bringing the Coffee Festival to the African continent for the first time. Cape Town is a city of culture and creativity, and coffee and food play a huge part in the fabric of the city life. The event is a celebration of the vibrant African coffee culture, of the deep spirit of community that coffee fosters and of the career opportunities that it generates."
Taking place June 1st and 2nd at The Castle of Good Hope, the weekend-long event will feature coffee, local food, cocktails and live music and the organisers expect to include over 65 innovative exhibitors. It's an exciting event for coffee lovers of all levels as well as those working in the coffee industry. We're very excited by their choice of venue, a tourist destination that locals would not regularly frequent, steeped in history and adding a little intrigue to the event.
If the other Global Coffee Festivals are anything to go by, you can expect to taste your way through the Cape Town coffee scene with lots of exciting coffees to sample, boost your coffee knowledge in workshops, be a part of interactive demos and meet the top African coffee companies, artisans and baristas one-to-one.
We were very pleased to hear that The Coffee Art Project will also be coming to Cape Town, specifically showcasing photography this year and the creativity and talents of emerging and established local artists who have been inspired by African coffee. 100% of profits from this are donated to Project Waterfall, partnering with South African charities supporting local life-changing projects, such as Woza Coffee. The Woza Coffee School is a charitable trust that not only trains the youth in South African townships to become baristas, but connects them to their first job. Since 2011, Project Waterfall has raised over $1.5 million, bringing clean water to more than 37,000 people across seven countries.
We can't wait to see what the team brings to South African shores.
Got something to say? Then leave a comment!
---
An Instant Cappuccino without the instant coffee
Tuesday, 2 April, 2019
An adventurer at heart, the inventor of the Ella cappuccino mélange leads an adrenaline-filled life. Neil Hellmann's adventures have taken him across the world, from flying missions into the African Savanna, to climbing mountains, rafting rivers, and HALO (High Altitude, Low Open parachute) jumping out of airplanes at 30,000 feet. His adventures often take him far away from the conveniences of modern life, and one night, while lying under the stars, Neil was determined to invent a cappuccino of premium quality that could be enjoyed wherever his travels and adventures took him.
If you've ever found yourself wishing for barista-quality cappuccino when you're nowhere near a coffee shop, Ella is here to grant you your wish. A convenience capsule made from real espresso and low fat milk, Ella provides a cappuccino anywhere, as long as you have hot water on hand. We chatted to Neil Hellmann, the brains behind this innovative coffee solution, to find out more…
What is Ella Cappuccino's 'origin story'?
"I wanted to create a cappuccino of barista quality, instantly, without having to use a Nespresso machine, while also cutting out the consuming process of frothing or simply having to leave the house. It also had to be preservative free with no artificial additives and most importantly, significantly more environmentally friendly than the coffee pods which we're accustomed to."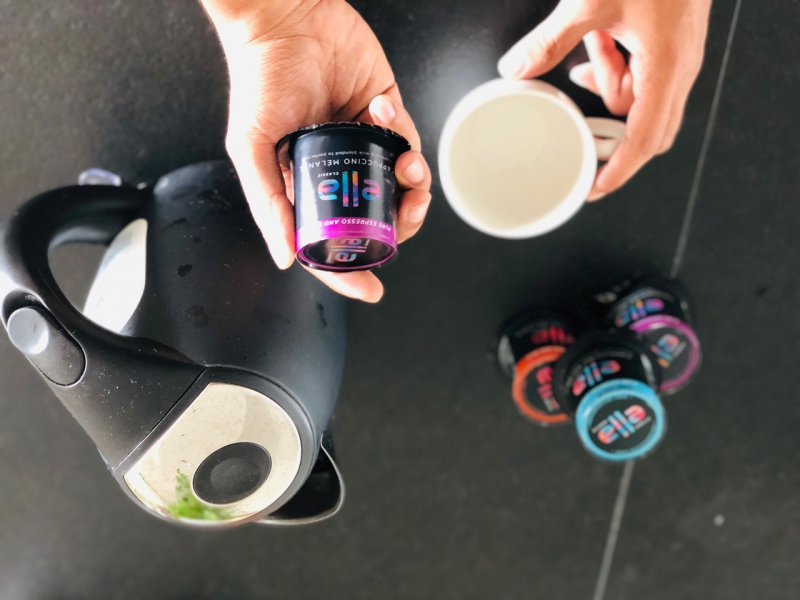 How does the Ella cappuccino work?
"A mélange is often compared to a latte and cappuccino, but some characterise it as the blend of the two. We use only the best dark roasted beans to create this instant Ella Cappuccino Mélange – made with REAL liquid espresso and low fat milk. You can enjoy an Ella with the following simple steps:
Shake the capsule for 20 seconds
Remove the seal and pour into a cup or mug
Fill the empty Ella capsule with boiling hot water
Then pour the hot water from the Ella capsule into your cup … voila!
It's as good as you make it! So, get creative and be your own barista."
How did you come up with the idea for a convenience cappuccino?
"Most of us start each day and wrap up every evening with a delicious cappuccino. So, the question was, how could I have a cappuccino of the finest quality, instantly, on the go or while away from the conveniences of modern life. The idea came to me one evening under the stars, while on another adventure away from home. I was determined to invent a cappuccino of premium quality that could be enjoyed wherever I travel."
How long did it take you to make the idea a reality?
"It took me four years alongside my trusted team to come up with our current formula. We are always open to evolving Ella, whether it's the packaging design, fragrant aroma, or taste. There's truly nothing like this product and we've only just started knocking on the future possibilities as we evolve as a brand."
Why the name "Ella"?
"During my time working in the business world, I rubbed shoulders with a lot of ad agencies and branding companies. Drawing from this experience, I knew that the best ideas are simple and with a brand like Ella, it needed to come from the heart, so there was no more eloquent route to take other than to name it after my wife, Ellie."
Why is it important to you that Ella coffee is preservative free, with no artificial colourants or flavourants, and as environmentally friendly as possible?
"With the current and much needed focus on a holistic health-based lifestyle, it's important that we pay attention to what we put into our bodies and the environment. We're living in time where the environment needs us more than ever. Most traditional capsules can't be recycled easily because they're often made of a mixture of plastic and aluminium. This, combined with the dregs of organic waste from unused ground coffee sitting in the bottom of the pod makes them difficult to process in standard municipal recycling plants. We wanted to make sure that we ticked all the right boxes. Ella's convenience and recyclable packaging has truly been designed as a cappuccino for the future!"
What has been the highlight of your whole journey launching Ella?
"Each step in this journey has been absolutely thrilling! However, even in this short time of perfecting our premium cappuccino, Ella already has two awards in the bag! We won GOLD at the Propak Gold Awards for best packaging design in the non-alcoholic beverage section. We also won silver for overall in best rigid plastics. We are so ecstatic about this achievement considering all the big guys with we ran against: Nestlé, Coke, Pepsi, Ciro coffee, Parmalat etc. This is only just the beginning!"
Where can people find Ella cappuccino?
"We are available at select Checkers in the Western Cape, as well as Spar outlets, and we're in the process of listing with Pick 'n Pay. You can also shop directly from our website."
Got something to say? Then leave a comment!
---
Autumn Edition on shelves now!
Wednesday, 27 March, 2019
Going boldly into Autumn with Issue 27! We are in love! Not just a pretty face, there is much to discover beyond the cover of this beauty.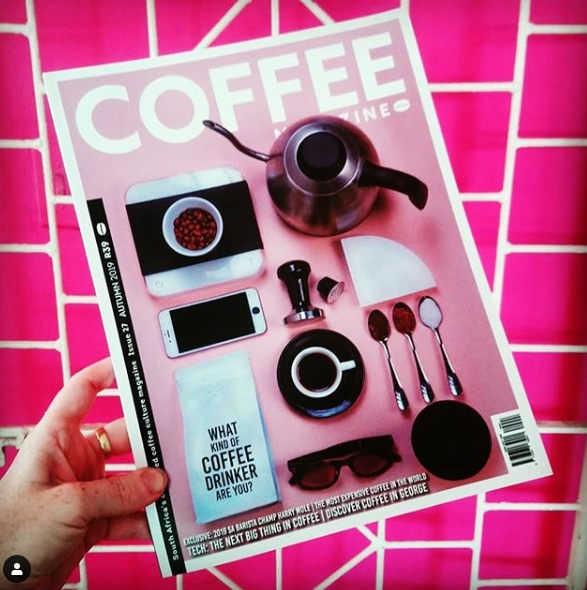 Inside: In-depth interview with new SA Barista Champion, Harry Mole; what it's like for a small holder farmer producing high quality Panamanian Gesha with James Harper of Filter Stories; The Next Big Things with Jake Easton of Tribe Coffee; Discover Great Coffee in George, South Africa; Ever heard of coffee grown in China? Now you have! ; The rise of the Gooseneck Kettle and our cover story, What Kind of Coffee Drinker are you?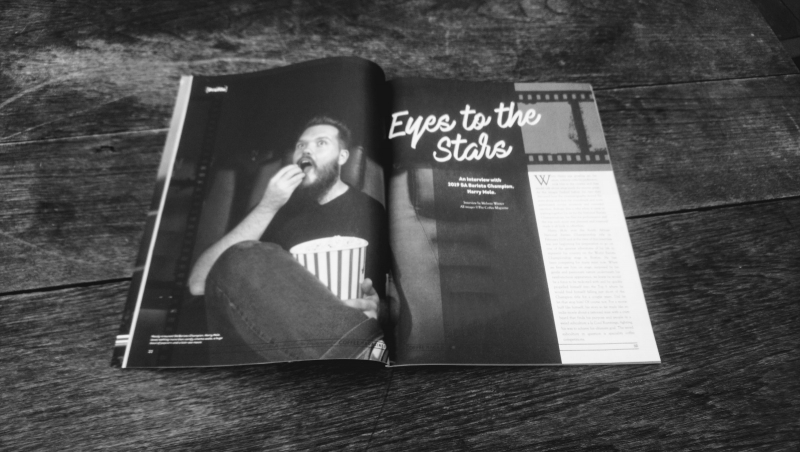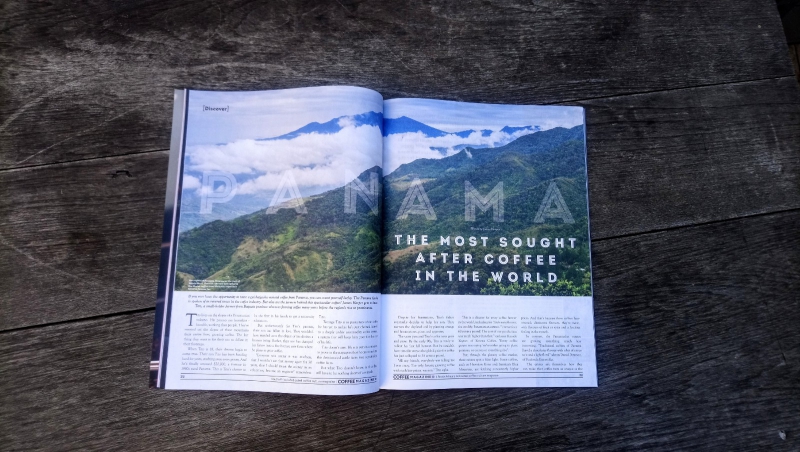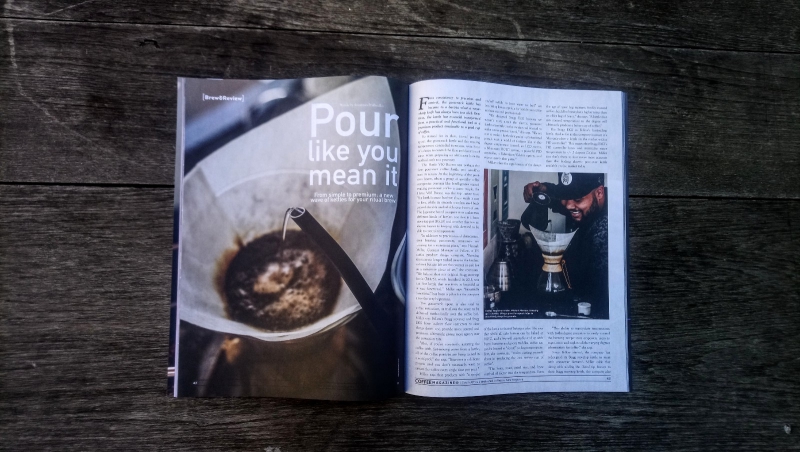 Got something to say? Then leave a comment!
---
The People Behind Your Coffee: Stephan Britz
Wednesday, 27 March, 2019
We last caught up with Stephan Brits in 2012 in Interview with a Barista. Now with The Magnificent Barista Boys, who serve up memorable coffee experiences at events, we chatted to Stephan to find out how life has changed since 2012…
"Wow, 2013 is when we just started, with a focus on coffee for events. Since then we've added a couple more services to our range including our In-Office service which caters for workspaces, Coffee Equipment sales, as well as Bean Sales and our Monthly Coffee Club."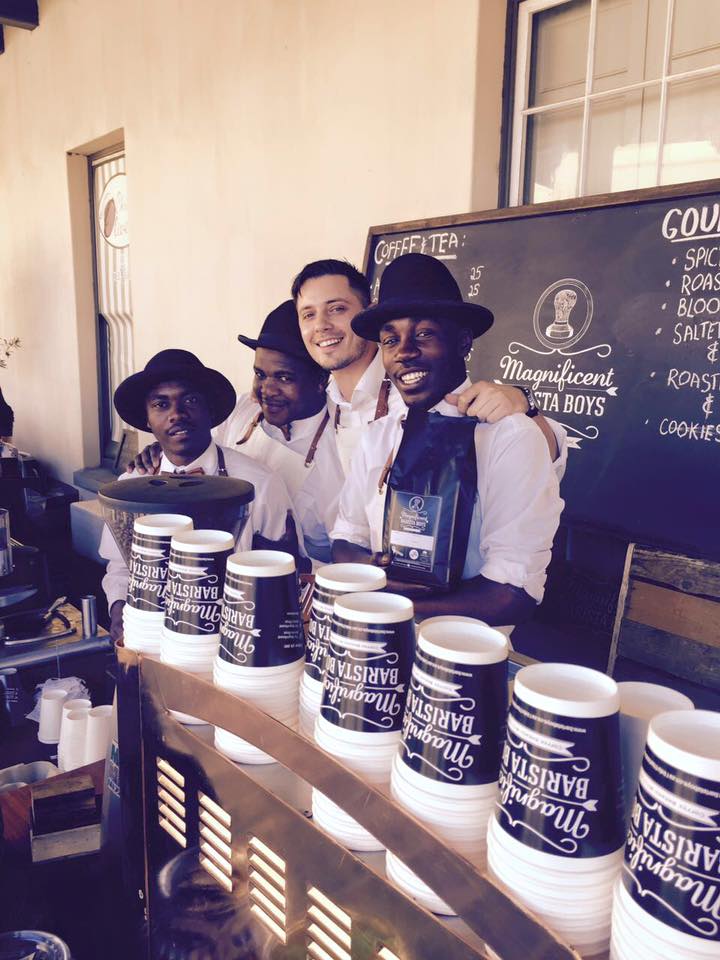 What made you decide to go into business?
"Before starting Magnificent Barista Boys, I was a regional manager for the Woolies Cafés; my focus was mainly in the coffee side of the business, which was amazing to do. Over time I had quite a few requests from people wanting a great specialty coffee solution for their event, which is something Woolies of course does not do. I saw an opportunity to do something a little unique in the event and mobile coffee scene and just went with it!"
What made you want to get into roasting and selling coffee?
"Coffee is such a beautifully complex and versatile product – when you work on a new blend, it's quite personal, the flavour notes really appeals to you alone at first and it's a beautiful thing to see people truly enjoy your coffee."
You've been with Magnificent Barista Boys for nearly 6 years now? What's that journey been like? Any highlights?
"It's been absolutely amazing to create a brand and steer it; I love the creative side of that. And this will sound geeky, but I don't get a lot of time behind the espresso machine anymore (except at home of course thanks to my wife!), but I still love making a customer an exceptionally beautiful coffee, seeing their face light up as they appreciate it and then talking about that experience and coffee with them."
Tell us a bit about your beans and blends?
"Our Bohemian Blend, with origins from Burundi, Guatemala, Ethiopian Yirgacheffe is a medium roast and my daily go-to coffee – super versatile, great as an espresso, flat white, pour over and pretty much every brew method I've tried.
The Nomad Blend is darker and from Tanzanian, Brazilian and Ugandan origins. Perfect for when you feel like intense and bolder flavors.
The Himalayan Single Estate is from Mon, India; a fairly new coffee region and this amazing coffee has remarkable almond, chocolate and pineapple tones worth exploring.
The above blends and more are available from our site. If you join our Monthly Coffee Club, your preferred coffee gets delivered to you automatically every month. We've also recently prepared two exclusive blends for the @Home stores countrywide – look out for the Original and the Dark Horse, launching this April."
What is your coffee of choice these days?
"I'm a flat white in the morning and an Americano in the afternoon type of guy. And I do sneak in an espresso or two some days."
What does your average day look like?
"I don't think I have such a thing as an average day at the moment. My days can vary drastically, but usually I am either overseeing an event, checking on one of our 'In-Office' sites, working on a blend and label design, and can easily spend all day behind my laptop working at my to-do list."
What are you most looking forward to over the next few months and years?
"There is a lot going on behind the scenes and I'm super excited to see where The Magnificent Barista Boys will go over the next 5 years. At some point, I'd also like to open a coffee shop, definitely as a passion project."
How do you see the coffee scene growing/changing in South Africa?
"I got into the coffee scene in 2006 and since then I've seen the industry grow and refine exponentially, and I think that process will simply continue as more and more people are exposed to really good coffee. We've had the privilege of witnessing a revolution in coffee quality – what a time to be alive!"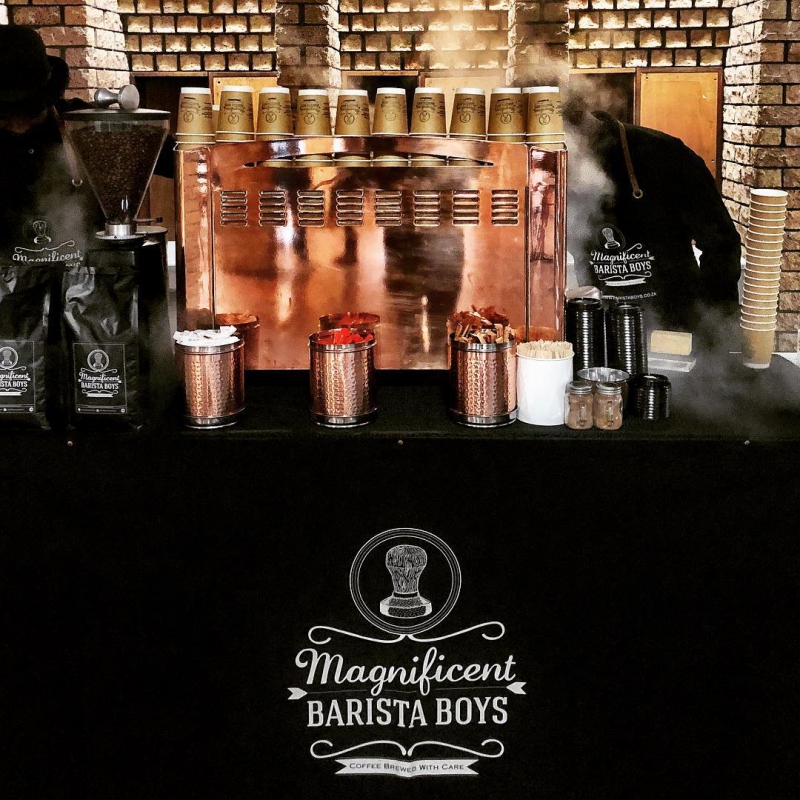 Got something to say? Then leave a comment!
---
Profile: Khanyiso Dumisana of Journey Coffee
Tuesday, 26 March, 2019
Khanyiso Dumisana was always a friendly face when we visited the Wale Street, Bean There Coffee in Cape Town. We were so excited to hear about his success in his own venture in coffee. The team at Bean There led by Jono Robinson always encourage the growth and improvement of their staff, something we have always admired about their operation.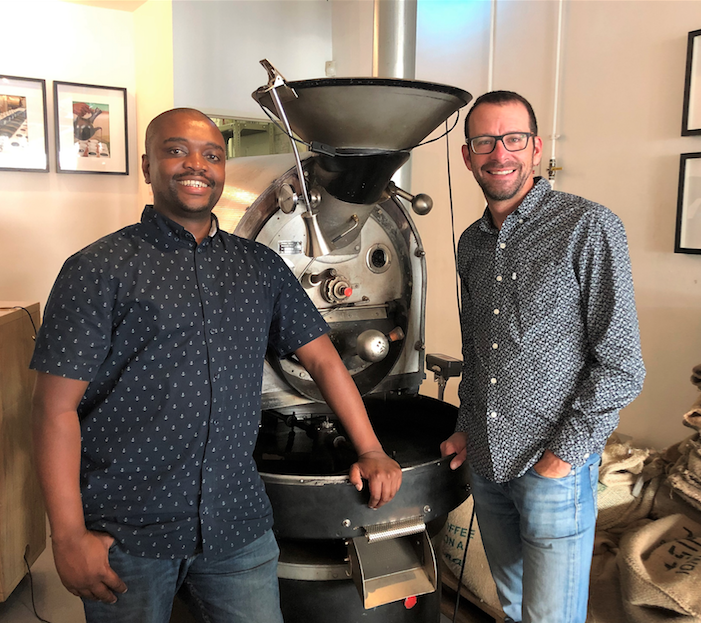 The South African market is a cutthroat place to set up shop and many entrepreneurs struggle to find their footing. For local success story Khanyiso Dumisana of Journey Coffee, his experience working for a fair trade coffee start-up provided the inspiration and support necessary to get his venture off the ground. His drive and ability to spot an opportunity has seen his business grow to be one of the top five purchasers of his former employers' beans.
"I've wanted to own a business since I was 13 – but I didn't know what it would be. I worked as a barista for a couple of years, landing a job at Bean There in Cape Town. I became a coffee roaster, and I learned the art of selecting, roasting and processing beans, as well as coffee cupping," says Dumisana.
During his time with Bean There, Dumisana carefully observed the behind-the-scenes of the business – how to run a coffee roastery and cafe, ensure the consistency of quality coffee and the importance of sourcing beans ethically whilst paying fair prices to farmers. After seven years with the company, he let his employers know that he wanted to take on his own market.
By that point, he knew he wanted to sell fair trade coffee; "It is aligned with my beliefs, it suits my brand – and I love that the beans have a story. I know exactly where they come from and how they've been sourced. I know that my suppliers have real relationships with the people who grow the beans."
Dumisana named Journey Coffee's unique blend after his wife Fundi, who he says has been vital to the company's success. The pair built the business to the point that it has stands at the Oranjezicht City Farmer's market, a top global accountancy firm, a number of school events, fairs and private events.
When he started out, Dumisana did not have a coffee machine – or much capital. "Bean There helped us get going, only charging us for the coffee we sold. It really helped us get a footing so that we could start to grow. We went from three staff to 10, including part-timers, and were soon able to buy our own equipment," he says.
"Fair trade stems from a belief in helping your partners in trade to grow their own businesses and improve their profits," says Jonathan Robinson, founder of Bean There. "From that standpoint, it only made sense for us to partner with and assist an entrepreneurial employee. It's paid off in a big way now that Khanyiso is one of our biggest customers."
The two still have a strong business and personal relationship; "Bean There is like my family – I pop in all the time, trying their new roasts and catching up. If they ever need an extra coffee machine, I offer mine up," says Dumisana.
Dumisana tries to train three new quality baristas a year – it's his way of giving other young people a step up. His new dream is to establish a training college, able to supply Cape Town's booming coffee scene with skilled staff and a commitment to fair trade goods. As the first Fairtrade coffee suppliers in South Africa, Bean There's approach to doing business is taking hold.
Got something to say? Then leave a comment!
---
Interview: SA Barista Champ Harry Mole prepares for World Champs
Monday, 25 March, 2019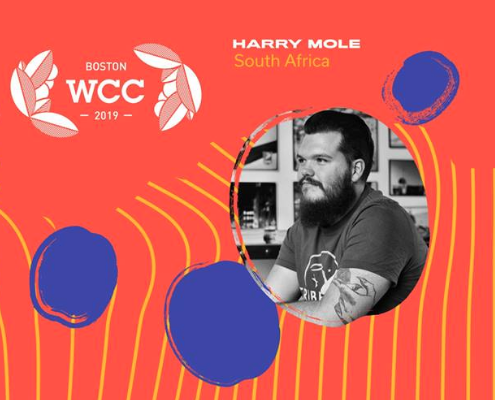 In a little under 2 weeks, our SCASA National Barista Champion, Harry Mole, will be competing at the World Barista Championships in Boston, USA (he got a Visa, yay!). We caught up with him as he goes into final preparations before he and coach, John Evans, leave next Friday. Good luck Harry, we are behind you all the way!!!
Hi Harry! How are the preparations for WBC Boston coming along?
Hey guys! Things are falling into place. I got the visa approved last week, so I'm very happy about that! So many people have helped me out, both at work , at home and from the most unexpected places. Martin Fitzgerald, got the guys to build a WBC spec set-up at work, so there's a massive open space where I can train. There's a few nerves every time I run a set but my Team keeps me steady. John Evans will be travelling with me to Boston, Matt Carter has helped with sourcing, Ishan has been in touch a lot and has been helping with the set and of course, Martin has been invaluable with logistics and pretty much all my office colleagues listening to my speech, so everyone's been great. I took a day off yesterday and did my favourite thing, watch movies! The best of the bunch was Battle Angel Alita - a weird sci-fi with a very emotional and real storyline!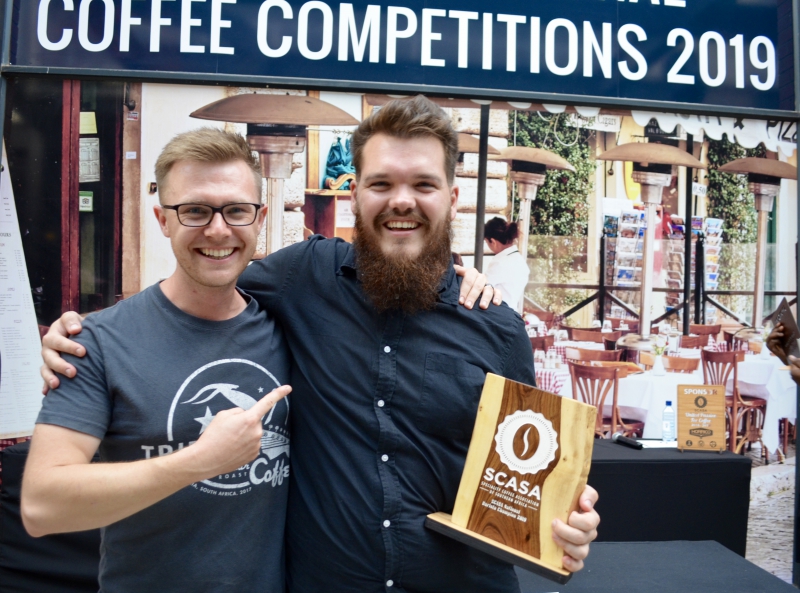 So, tell us about the coffee you've decided on?
We got in a lot of samples and it's been fun tasting them all, but there's not been a lot of time. In the end it was my Tanzania, the same coffee from Nationals that won out in a blind cupping, the coffee is still tasting great. It was an interesting decision because we even had a few Geshas and other great coffees on the table, but mine still stood out and won in the blind cupping. We're planning to have 6 roasts ready on a de-gas roster so we can see which one tastes the best on the day.
How is the set coming along? What are you focusing on?
It's coming along well. For the first time I'm trying to connect the emotional element of my Nationals set to the WBC set - but with some more humour and wit. With so many different cultures there at WBC and on the judges panel, I feel like I gotta keep that in mind too.
Which part of your set are you most excited about?
Because we know the coffee so well, now we can really push it in a few interesting directions, more than ever before which has been very exciting . For the signature beverage I'm trying a Rose hydro floral - more of a aromatics approach for the judges- so you boil rose petals and collect the condensation and atomise it. That's challenging because it takes 2-3 hours to prepare each time. It'll be great if we can pull it off.
How's the day to day going in the build up - is it admin or competition focused?
It's similar to Nationals - you still have to live your life and do your work. So I've tweaked my schedule to wake up earlier ( which is hard because I'm not a morning person!) but I'm running sets in the morning and then trying not to think about it much during the day when I'm working or taking time out.
You're part of Team Espresso with USA, Switzerland, Poland, Iceland and Azerbaijan.
I'm so excited to build friendships and mix with those baristas, I think it'll be such a great experience to work with the National Champions of such interesting coffee cultures. And I think it's a pretty strong Team!
What's been your most exciting moment in the build up so far?
The moment when we were debating which coffee to use at WBC, so we had all the coffees blind on the table, and to reveal that my Tanzanian coffee was the best was pretty phenomenal, especially as I have that connection with Trevor and the Estate. And also, people are helping me with my WBC table boards ( and I'm not a great carpenter!) so that's been amazing and I'be been getting a lot of support. ONA ( Sasa Sestic, former WBC Champion's company) contacted us from Australia and they are sponsoring Stem's and an OCD distribution tool.
What is your travel schedule looking like?
We leave for the States on 5th April, then we have 2 days in Boston looking for signature drink ingredients and milk. We're staying in a hotel so I'm gonna beg them to use their kitchen to cook up a few things! Orientation is on the 10th. Counter Culture are giving me a practise space on the Wednesday for 90 mins which is amazing. Lem Butler has been in touch and is giving us great feedback - things you'd never think about! And just general good advise, like practising your Prep time setup, leaving enough time to pull shots and taste them on stage during prep time, keeping coffee in separate travel bags on the way over in case luggage gets lost, that kind of thing. He and Kyle (Rammage) are gonna be there to taste shots too with us, which is invaluable.
What are you going to wear on stage?
I actually got sponsored a very cool pair of black Converse sneakers, which I'm going to wear with my Levi's and I have a very cool new apron being made - it's brown leather, like my Nationals one, but with more material and metal spikes on the back by my neck. I'm just going to be me and wear what I feel represents that.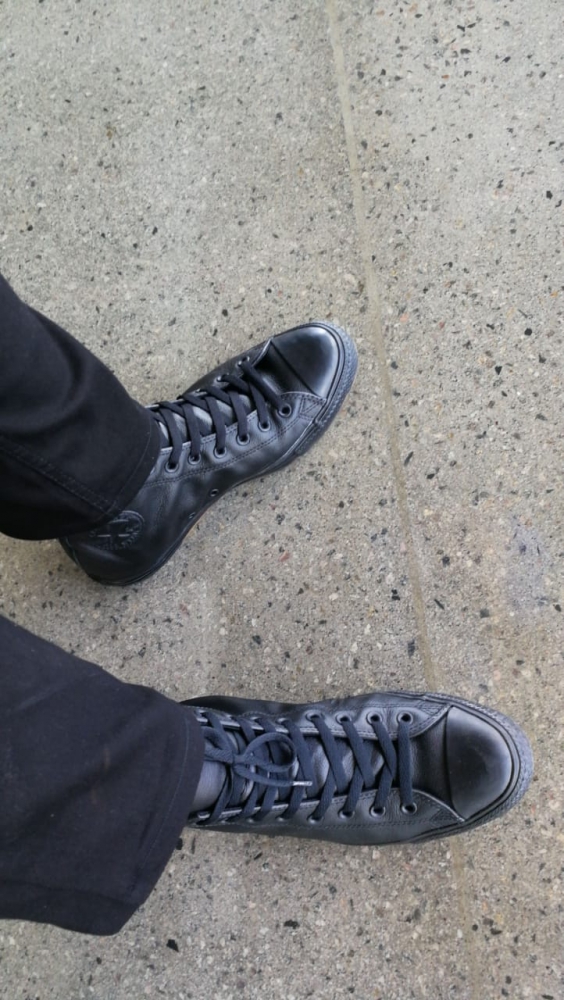 Swag courtesy of Converse SA!
Got something to say? Then leave a comment!