Ever wondered how a Green Bean Importing company works?
Wednesday, 2 October, 2019
There are many facets to the world of coffee, but one we don't often get insight into is the green bean importing industry. In honour of International Coffee Day, Sevenoaks Trading was invited to eNCA to talk about what they do. So interesting! We love Thoriso and Nicodemus!
Got something to say? Then leave a comment!
---
Planning your next trip? What about a coffee experience?
Wednesday, 2 October, 2019
Airbnb Experiences is opening up the world of specialty coffee to travellers who want to immerse themselves in all the steps of the coffee growing process – from bean to cup. If you search for coffee tasting experiences on Airbnb, there is no shortage of farmers, baristas and family businesses willing to welcome you into their coffee scene. You can see how coffee beans are picked, processed, roasted and packed, or learn about the history of coffee in various countries – from Puerto Rico to Colombia, Mexico, Bali, Vietnam, and many more.
You might visit 'secret' coffee shops that only the locals know about, or sample specialty coffee right at the source – with the farmer who harvested the coffee imparting its history. Coffee enthusiasts rave about the cupping sessions and craft workshops where they learn to identify flavour notes and create their own latte art. Here are a few we found that are definitely worth bookmarking for your coffee 'bucket list'…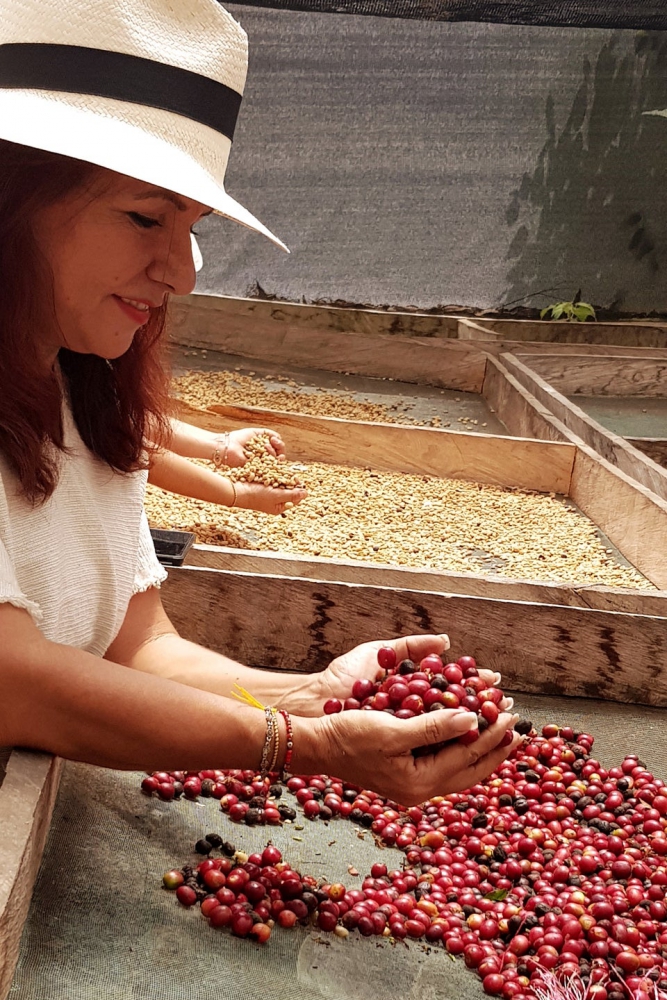 Tour coffee plantation with local farmer in Puerto Rico
Enjoy a walking tour with a local coffee farmer around the hacienda Lorenzo, learning about the history of coffee in Puerto Rico and the coffee growing process while visiting the seed and coffee tree nursery, and sampling some of their speciality coffee. As the website says, "this is a full coffee adventure!" Check it out here.
Coffee Brewing in the Cloud Forest of Costa Rica
The Santuario Ecológico de Monteverde is a family business made for travellers looking for an authentic experience with a local family who are the guardians of 48 hectares of forest. You'll walk to the plantation, learning about their specialty coffee and the different ways of processing it along the way, followed by a visit to the drying area. On the way back, you'll get to taste three different roasts and preparation methods, as well as learn how to prepare your own coffee the Costa Rican way. Check it out here.
Roast & learn everything about coffee in Kenya
Experience one of Kenya's best exports with a tour through a coffee farm offering scenic views and a comprehensive journey from the seedling bed to the fermentation tanks, drying beds, the mill, and the roasting of the coffee beans. Discover what it takes to make a cup of coffee before tasting the final product. Check it out here.
Plant, harvest & taste coffee in Colombia
Learn what makes Colombian coffee so special while you plant your own coffee tree at this plantation that's been in the family for seven generations. Sit down to a delicious homemade meal at the hacienda, and learn how to appreciate the aroma, acidity, body and other elements that make up a great coffee. You don't have to travel far to experience some of Colombia's best coffee, surrounded by nature, birds, and thousands of coffee trees, just a stone's throw from Medellin. Check it out here.
These Airbnb experiences are opening up the world of coffee to passionate travellers who want to know more about their favourite beverage and where it comes from. With so many opportunities to drink fresh farm-to-table coffee, what better excuse is there to see the world and expand your horizons?
Got something to say? Then leave a comment!
---
Coffee Park in Ethiopia, the birthplace of coffee!
Wednesday, 2 October, 2019
Ethiopia has been making great strides in promoting Ethiopian coffee to the rest of the world after recently establishing a national umbrella coffee brand to boost the country's share of coffee export in the international market. And now, the Ethiopian government has unveiled plans to build a coffee park as part of the national plan to promote Ethiopia's specialty coffee products to the international community.
The coffee park will be built on 30 hectares of land in Ethiopia's capital, Addis Ababa, in partnership with the South Korean government, and is estimated to cost US $50 million over three years. The new coffee park will have a coffee museum, as well as a coffee market centre and various other facilities. This comes at a time when the East African country is making huge strides in coffee production…
Ethiopia is Africa's top coffee producer, and is expected to export a record high of 4 million 60kg bags of coffee in 2019-2020. Coffee is Ethiopia's most important export, but some of Ethiopia's major coffee varieties still have a weak international presence. It's hoped that these initiatives will raise the profile of local coffee products like Yirgacheffe, Harrar, and Sidamo in the global market.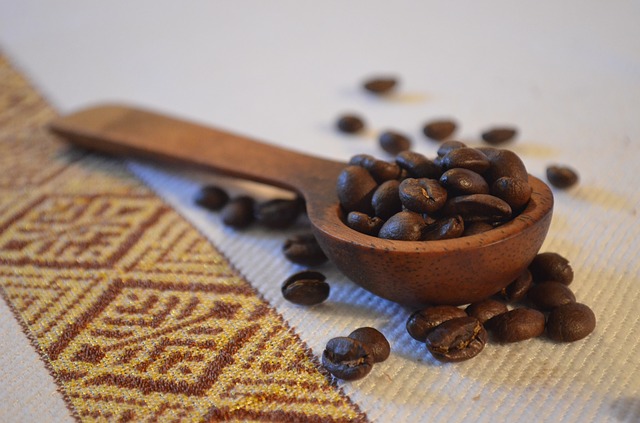 Africa's top coffee producer
Widely acknowledged as the birthplace of Arabica coffee, Ethiopian coffees are some of the world's most varied and distinctive coffees. The Sidamo region produces coffee known for its rich body, sweet and complex flavour, floral aroma, muted acidity and citrus notes that leave a soft and bright aftertaste.
Yirgacheffe is frequently rated as some of the highest quality Arabica coffee in the world. It typically has a medium body and is known for its sweet flavour with lemon notes and floral aroma. It is spicy and fragrant, with a bright acidity and vibrant aftertaste. You might even detect undertones of wine and berry notes.
Harrar, a region that has seen some difficult times due to drought, has recently started producing high quality coffees again. Coffees from this region are known for their fruity, floral notes and pungent, heady aroma that offers hints of blackberries with a lingering aftertaste of spice.
The Ethiopian government's plan to promote Ethiopia's coffee and boost its presence in the international coffee market will hopefully expose more coffee lovers to the incredible variety and unique flavours of these local specialty coffees. Once the coffee park is complete, it's sure to be a valuable tourist attraction – especially with all that gourmet coffee under one roof!
Got something to say? Then leave a comment!
---
Such Great Heights: Interviews with climbing legends Sibusiso Vilane and Nigel Vardy
Friday, 27 September, 2019
Such Great Heights
Two adventurous individuals from opposite sides of the world met on the highest mountain peak in far off New Guinea and became fast friends and regular climbing partners. Together they strive to bring awareness on conservational and social issues and inspire people through their extraordinary achievements.
Interviews by Shupi Ngkadima
SIBUSISO VILANE
Sibusiso Vilane was the first African man of colour to summit Everest and has completed a vast number of treacherous climbs and challenges throughout his career. His adventures have led to guiding expeditions and giving motivational talks, keeping a strong focus on giving back to community through his work. Sibusiso's irrepressible spirit and infectious enthusiasm for life inspires and uplifts people of all backgrounds and circumstances, and especially children. As a professional speaker, his message is simple: every person has their own "Everest" to climb. Whether you're prepared for it or not, it's there - challenging you to reach the top. And if he can do that in the most dangerous and inhospitable of conditions and against all the odds so, he suggests, can you.
Tell us a bit about yourself
I was born in Shongwe mission in Mpumalanga province, grew up in Swaziland, and I worked for 12 years in conservation before going on to climbing big Mountains including Mount Everest. In 1996 I met John Doble who became a great friend and benefactor, and who was instrumental in finding the necessary sponsorship for my Everest summit expedition. In March 2003, I set off for the Himalayas in my quest to be the first black African to summit earth's largest and most fearsome mountain, Everest, the Queen of the Himalayas. I summited successfully on 26 May 2003, after seven years of preparation.
When you're not on an expedition, how do you relax?
I prefer to sit at home and read a book. I prefer it quiet
Tell us a bit about Trek4Mandela​, what is it all about and how did you get involved?​
Trek4Mandela is a fundraising initiative which strives to assist under privileged girls with sanitary facilities. The efforts are to make sure that no girl misses precious learning hours during their periods. The vision is to help over 2 million Girls by the year 2020 and we use climbing mount Kilimanjaro as the medium to raise the funds and the awareness.
How do you prepare for summits and expeditions?
I run, that is my only preparation for big and small trips, nothing too serious. Well that is me! Simplicity works well for me.
How do you celebrate after a summit? If yes, what does that entail?
Lots of beer and whisky, you earn it to have it….. always worth the celebration.
When you are on you expeditions, how do you keep warm?
I dress as warm as possible, I don't want to get anywhere near feeling cold. So I invest in the best.
Which was your most difficult climb and why?
Mount Kenya, too technical and long, I am glad I pushed myself on the day I climbed it.
Which has been your most memorable summit and with who?
All of them have had a profound influence on me and that is why I have ventured to climbing them, otherwise it would be pointless. I cannot single out one.
Who has been a co-climber that you would like to go on an expedition with again?
Nigel Vardy, such a great man! We laugh from day one, sometimes even when we are about to drown in the Ocean's currents, we just laugh. I can go with him anywhere, at any time.
Any climb that required more coffee than usual?
The tough ones for sure, even just to reduce the stress levels. Coffee lifts the spirits.
Which projects are you currently working on and how would you like to be remembered?
I am working on three big projects currently: running Two Oceans, going to Climb Mount Everest again, and then finishing off the trio by running the Comrades Marathon, all within two months! It's insane but I am insane enough to do it this year. I would like to be known as Sibusiso Vilane, Africa's greatest adventurer of the Millennium!
What are your future plans?
More running, more mountain climbing, there is no stopping.
What is your motto and message would you share with anyone that would like to follow in your footsteps.
You have got to earn it to have it. If you work hard for it then you value it. Never limit yourself. You are limitless!
NIGEL VARDY
In May 1999, Nigel 'Mr Frostbite' Vardy almost froze to death in a severe storm, high on the slopes of Mt. McKinley in Alaska. He was lucky to escape. Temperatures of -60°C turned his fingers, toes and nose black with severe frostbite, and all were lost to surgery. What remained would have to serve him in the best way that they could, for the rest of his life. He learned to walk without toes, work with battered hands and come to terms with his facial scarring. Physically, that was hard enough, but the mental scars were much deeper cut, and he knew of only one way to heal them. He had to climb again…
So began a life of unbelievable expeditions across the globe's peaks.
Tell us about yourself (occupation and background)
I am an electrical engineer and mountaineer. I live in the UK and have always enjoyed the outdoors, adventure and travel. People assume that I'm rich or some kind of adventure playboy that has everything sponsored. I got a job as soon as I left school and have been hard at it for almost 33 years.
When you are not on an expedition, how do you relax?
I still have to work when not on an expedition, but I do enjoy time with my family, collecting old mountaineering books, and travelling in my 1977 VW Camper. The outdoors to me is everything we need. It shows the best of what we are, what we can learn and what we can achieve.
How do you prepare for summits/ expeditions?
I'm always in physical training, but mentally I need quiet time to reflect on the trip to come. I spend time with my family and then leave with peace in my heart.
How do you celebrate after a summit? If yes, what does that entail?
There must be celebrations! Usually with a dram of whisky, smiles and handshakes. I then go quiet and reflect on the achievement.
When you are on you expeditions, how do you keep warm?
Hot coffee, good equipment and preparation. It's hard to warm up when you've caught a chill, so stay warm and you'll keep warm.
How do you prepare coffee when you are on an expedition and what is your preferred brewing method?
Freeze dried ground works the best for me. I have an insulated cup with a plunger which is great for fresh coffee on the hill when the climb allows for it.
How do you keep your coffee fresh on the long trails?
Sealed into bags and kept as cold and dry as possible.
Which has been your most memorable climb and summit and with who?
Mt McKinley defined my life as I suffered severe frostbite and my life was changed in less than 24 hours. All my fingers and toes had to be amputated, and I suffered major facial scarring. At 30 I felt lost, but drew on my previous experiences to not only survive, but to thrive. Another memorable climb was Carstenz Pyramid, the highest peak in New Guinea, which was wonderful, because its where I met Mr. Sibusiso Vilane.
W​ho has been a co-climber that you would like to go on an expedition with again?
Sibusiso every time.
Which projects are you currently working on and how would you like to be remembered?
I am presently working on a return to Alaska, climbing in Nepal again and bike racing with Sibusiso. As for being remembered - just as me.
What are your future plans?
To continue travelling and to inspire others to get into the outdoors and to enjoy and conserve them.
What is your motto and what message would you share with anyone that would like to follow in your footsteps..
God helps those, who help themselves.
Got something to say? Then leave a comment!
---
Tech&Innovation: The Next Big Thing
Wednesday, 25 September, 2019
The Next Big Thing
Is magic and innovation still possible in the world of coffee? Jake Easton of Tribe Coffee Roasting, explores some 'new' ideas.
Words by Jake Easton
---
In the fairly recent past, UK company Costa Coffee assembled a group of coffee professionals and advertising types to come up with a the next big thing in coffee. They wanted a 'unique' perspective which could be linked solely to their brand. 'Unique and New' were the guiding words for the assembled group of professionals. Rather inexplicably, they came up with the 'Flat Black' as the new coffee trend to promote. And yes, you can guess what it is, it's basically a standard black coffee. I'm still scratching my head and chuckling. I understand their sentiment, because we're all striving for the next big innovation, but my question is are we giving up common sense for 'New', 'Unique' or, 'First-to-Market'?
In the 1790's 'Mocha–Java', was a coffee brand the Dutch East Indies corporation sold to the world. It was so-called because it was a blend of different coffees from Mocha, Yemen and Java, Indonesia and it obviously tasted delicious. It became so iconic it is still used as a coffee name today. You'll have seen it on coffee bags at your local supermarket. We use the brand name even though no one sources the coffee from Mocha to blend with the Javanese in order to make 'Mocha-Java'. The concept of First to Market can be extremely enduring when done right.
The Costa Coffee 'Flat Black' ridiculousness highlights the fact that in the highly competitive coffee industry striving for innovation and excellence is alive and well. This means that gadgets a plenty are released for consumption. I'm going to try to break down some cool or new things that I've had the opportunity to work with and then evaluate whether I think they will be enduring ideas through the lens of Common Sense.
Brewing
The two methods which seem to have prevailed in the long term are Filter/Batch Brewing and Espresso. There are many fun, fringe brewing methods that are beautiful and make great coffee, but haven't become everyday, household names. That's not really the point when it comes to coffee brewing devices though, is it?
I'm happy to say that I've experienced joy and delight in innovation from the Nanopresso, the AlphaDominche, Decent Espresso, the Sanremo Revolution grinder and the Duvall Espresso Machine. Let's break it down.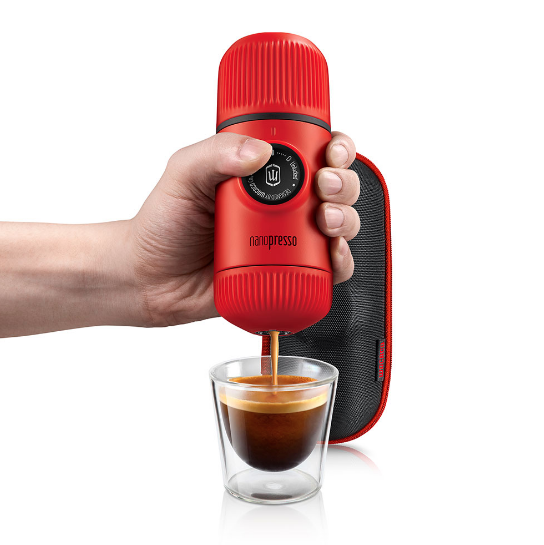 What? The Nanopresso makes "by-hand" espresso with this really cool tube like thingy which you can take anywhere in the world so long as you have fine ground coffee to make espresso. It works. It makes a sweet cup and depending on the heat of the water it's as close to cafe espresso as I have ever had from a hand-powered tool. I've even tried using it to make espresso with cold water, "Cold Pressed Espresso" (Trademark in the works, nudge nudge wink wink).
Common-Sense?
This is a competitive market, because everyone wants to try recreate an espresso on-the-go and at less expense than well, an espresso machine. The result from this device is the best I've experienced. It's compact and it comes in cool colours too.
Alpha Dominche
What? The Alpha Dominche SteamPunk filter machine was really cool. It's a really fantastic way of making a clear cup of coffee (it really helps to enhance the flavours from origin). The way the infusion works is so cool to watch and the outcome is so nice. Thousands of cafes around the world purchased a Steampunk for its stunning cylinder design, vacuum-sealed brewing process, and tablet-driven controls. Many of these cafes transformed their bar layouts, customer flows, and menus specifically to complement the Steampunk. It was supposed to usher in the future of precision coffee and tea brewing, enabling coffee shops to brew using recipes hyper-tailored to individual coffees at the click of a button. BUT, and it's a big but…The company has since ceased all operations, so while it was wildly innovative to combine different brew method theories in one one beautiful device controlled by touch screen tech, it was also wildly impractical and unaffordable.
Common Sense?
The fact that the company hasn't lasted speaks volumes. Brewing with this device took way too long to be really viable in a high paced Cafe environment and the space needed was really prohibitive. In a slower-paced roastery or if you could afford four of them maybe it could have worked. Does this mean tech for new precision brewers is dead? Apparently not. I'm keen to try the BKON Craft Brewer that has emerged like a phoenix from the ashes of the Steampunk.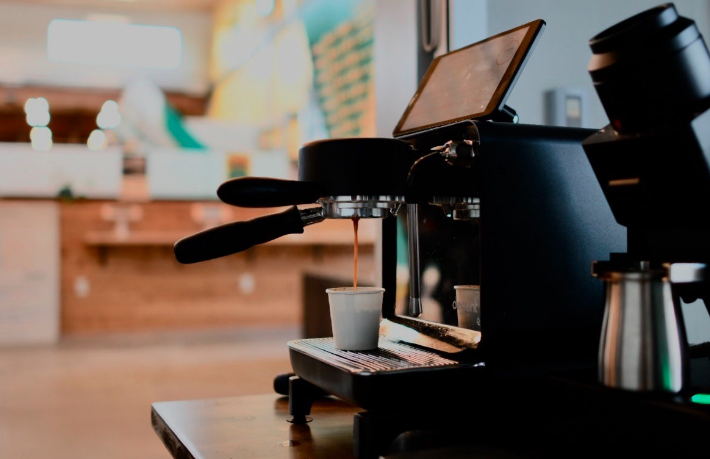 What? The Decent Espresso machine is unreal. The software enables the hardware. Espresso is complicated to get right and with this little gem you control all the parameters on a tablet allowing for endless playing and finding the perfect recipe for a particular coffee which you can then replicate at the touch of a button. This thing is a dream for roasters to play with roast profiles for espresso. Imagine getting your extraction perfect with a high TDS and flow ratio and then downloading it to a USB which you then plug into your Strada or Black Eagle or Cafe Racer or or or...and then you're dialled into the high speed cafe life with a coffee you've groomed to perfection.
Common Sense? As of today there are machines to buy on-line with a small wait. I think they're really inexpensive for the level of amazingness. If you're a coffee aficionado this will give you so much joy. I just wish it had larger scale application for cafes.
Revolution Grinder
What? The Sanremo Revolution grinder can repeat and create blends and grind sizes with different origin coffees, plus it then integrates with the high end Sanremo Opera. Pair the grinder (with grind size and grind weight) with the Opera extraction model and you're well on the way to beating any consistency issues.
Common Sense? This thing is amazing. It works in the Cafe realm and can repeat repeat repeat grinds which makes it a common sense dream. The only problem is availability. I want one bad, but it's near impossible to get your hands on.
What? The Duvall FC-1 Espresso machine allows the barista to dictate shot times, volumes and flow rates before each shot despite fluctuations in grind size, tamp, and dose amount. I'll repeat this for the kids in the back, "The Duvall FC-1 reads your grind size and adjusts the shot in real time thereby removing the risk of inconsistent shots". What?! Amazing.
Common Sense? This machine's tech is new...so new that I want to try it out in a Cafe to see how it handles 350 drinks in a day. On the surface it is certainly curiously amazing. I want it simply because it reduces the risk of grinder flaw by relegating grind size and dose weight to be of nominal importance. Read more about it here.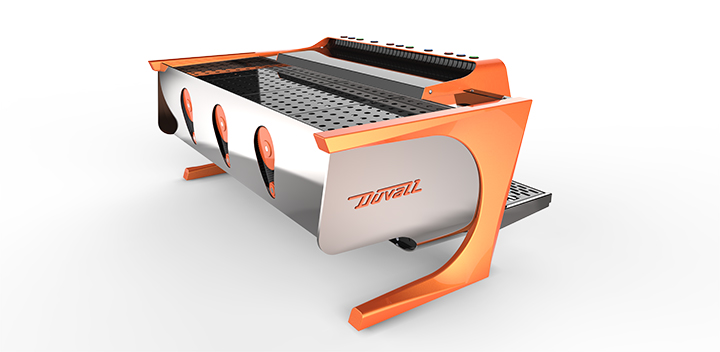 What is so unique about each element of those coffee innovations is it that they use Scientific method used to create or to improve extraction from any and all of the different formats. Yes, sure you can explain to all of us the diverse and unreal science behind each of these tools, but is that truly unique and new? Is that enough to make them unique?
Let's turn towards our own South African industry for a minute. What is happening on the ground here that is pushing the agenda of better forward?
Green Coffee Buying
As we're already in Africa and most a lot of us buy from farms on our continent, we are streaks ahead of Europe and North America in the sustainable buying landscape. To mention but a few: Bean There buys from Fairtrade farms they visit every year, Origin buys from farms their roasters visit all the time, Espresso Lab buys from friends they've made throughout the coffee belt, Tribe buys from Malawian farmers where we've had years long relationships, Deluxe travels far afield to source directly from Guatemala and the Big Guys, Ciro/Famous Brands/TriBeCa/Global all buy from farms they know and have relationships with. Therefore, let's toot the horn for the Direct trade and the Farm-to-table push so that this advancement continues.
Mostly though I'd like to see coffee roasted at the farm gate and sold to the world from there, just like in the wine industry. A boy can dream.
Our major green coffee brokers, Sevenoaks, W.M. Cahn, I&M Smith are raising the bar for inclusive buying from farms and farmers across our continent. You guys rock.
Personally I'm all for innovative farming practices like processing innovations but this is still a minuscule percentage of the market. The reality is that money talks and even if as in Brazil a new varietal of 100% naturally caffeine-free Arabica coffee is discovered, it's unlikely it will ever see real traction as there is too much money to be made by decaffeination company's supplying raw caffeine into so many different realms that they cannot afford to allow this kind of coffee to be grown, no matter that its better for the Earth.
Roasting
Everyone can now roast. What a wonderful world! I would ask, however, if all roasters are equal? The short answer is no. As a roaster I'm lucky to have been able to learn at the crucible of fire which is the professional roasters core and experiment on many different brands.
A few new roasters don't last very long because of said fire...literally. Ladies and Gentlemen when you roast you're manipulating fire (energy) to cause a molecular change in the structure of an organic material. If left unchecked the coffee will continue to absorb the energy and become volatile until it reaches flash point and bursts into flames. If you doubt this point, look no further than me...it happens. We had a fire at Tribe a few years ago and it was saved because we had a real plan on what to do in case of combustion. Roasting is not for the faint-hearted!
In today's world anyone can buy a Genio, homegrown and manufactured in South Africa and do on-line lessons or consult Cropster and get profiles sent to them for almost any single origin coffee. If they have an overflow of bucks, aspiring roasters can buy a Loring Smart Roast and have access to all of the profiles done by contributing roasters and they simply have to load the coffee into the loader and, "POW!", Tim Wendleboe's Ethiopian Harrar roast is available. In the case of the less cash flush (i.e. most people) they can go look on YouTube and watch one of the more than a thousand videos on how to roast or watch one of the top videos on roasting with over a million views and "VOILA!", they're roasters.
Loring. My best experience on any roaster has been the Loring Smart Roast. Repeatable, Good for the environment with a reduced carbon footprint and reduced gas use, fast and easy for the Roaster to clean and use. This machine is so much better than its next closest competition as to make them in a different category. This is reflected in its extremely-out-of-reach-for-South-Africans price point.
Ikawa. Ikawa has created a fantastic tool for any home roaster or any professional sample roaster to develop roast profiles and data logs which can then be used to make real time roasts by following the rate of rise curve over time. It's amazing. I really have a lot of fun reading and re-creating these data curves with each new single origin. (Pssstt. If you have no idea what I just said, that's ok there are many roasters who also have no idea.)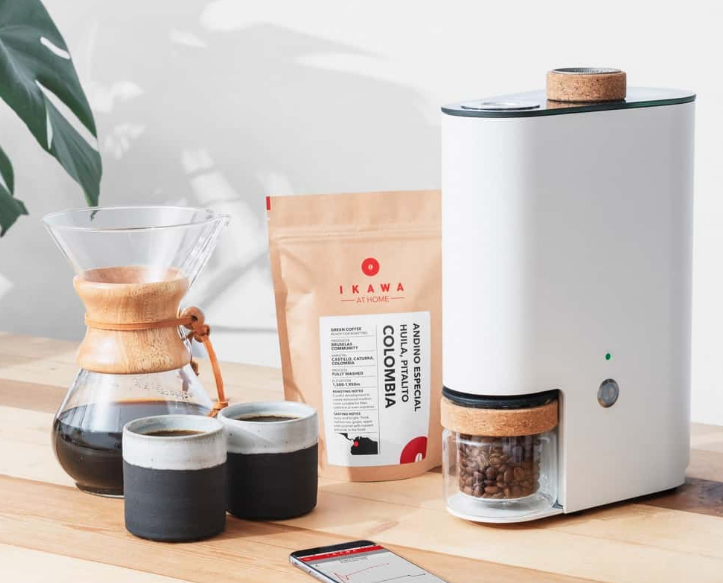 The truth of the matter is that the average coffee drinker wants their same comforting coffee everyday. It's up to the industry to give them personal and unique coffee experiences and create the magic, whether that's through the new technology at hand or a meaningful conversation.
Got something to say? Then leave a comment!
---
Feature: Harry Mole, SA Barista Champion 2019, has his eyes to the stars
Monday, 23 September, 2019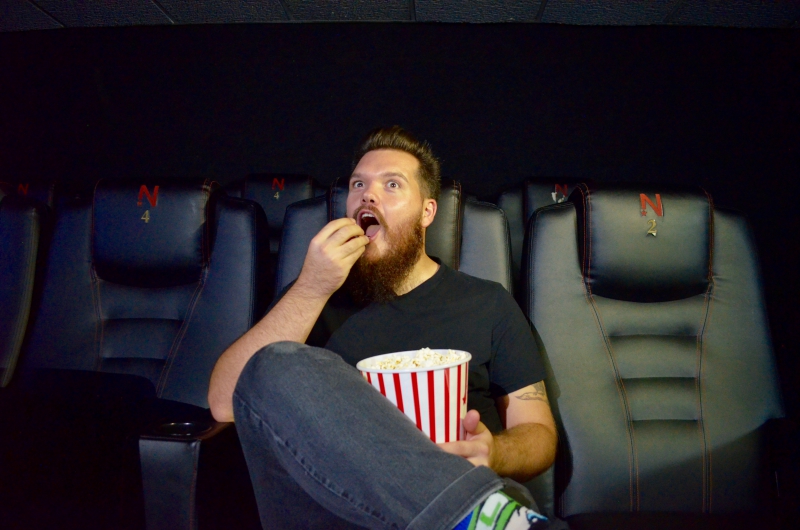 When Harry was growing up, his mom, a movie critic by profession, took him to the cinema and they would talk about what made the movies great. As the images flashed before his eyes they discussed how the cinematography moved the story along and how the soundtrack and score punctuated certain moments and conveyed emotion. Perhaps this is why when it came to putting together his set for the National Barista Championships, his flair for performance and the way each move was planned and nuanced made it all look so effortless.
Harry Mole won the South African National Barista Championship title in February 2019 and at the time of this interview was just beginning his preparation to go on one of the greatest adventures of his life to represent his country on the World Barista Championship stage in Boston. He has been competing for many years now. When we first saw him on stage, surprised by his gentle and passionate nature underneath his rambunctious appearance, we knew he would be a force to be reckoned with and he quickly propelled himself into the Top 6 where he would find himself falling just short of the Champion title for a couple years. Did he let that stop him? Of course not. For a movie buff like himself, his story so far reads like an indie movie about a tattooed man with a crazy beard that finds his purpose and people in a weird subculture a la Cool Runnings, fighting his way to achieve his ultimate goal. The weird subculture in question is speciality coffee competitions.
Coffee competitions, in particular the Barista Championships, are really weird. They require a huge investment of time, energy and money and they have very little to do with the service you receive at your local cafe. Or do they?
Harry is currently Barista Trainer and Key Accounts Manager at TriBeCa Coffee Company, best known as the team behind the W Cafes sprinkled around South Africa. The company has produced a Champion barista no fewer than five times (including three-time champ Ishan Natalie). Their barista trainers are invested in the global standard of coffee competitions so the skills that they are imparting to each new barista are top class. One of the standards of competition is the technical aspect and managing your equipment, the skill of being able to repeat the same actions consistently to produce the best possible coffee every single cup. This is surely relevant to any cafe.
Winston Thomas, the outgoing SA Champ, was pondering at the end of his two-year reign, just what it would mean to the South African coffee community to have a barista place somewhere near the top? How does it benefit our coffee industry and trickle down to us drinking coffee at our favourite cafe? It's a question we haven't been able to answer yet and maybe Harry will take us a step closer. We hope that one of the outcomes will be to help uplift the profession of being a barista. Certainly Agnieszka Rojewska's win as the first female Barista Champion sent positive ripples through the broader industry.
The Champions are representatives for our SA community abroad just like any sport and Harry was a humble, imaginative and quirky representative for us in Boston earlier this year. In the famous words of Doc Brown, "Your future hasn't been written yet. No one's has. Your future is whatever you make it. So make it a good one." Good luck, Harry!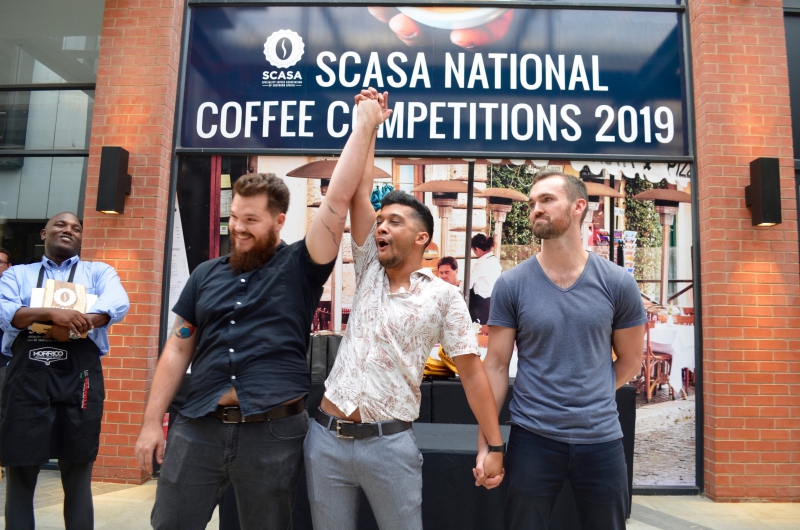 Who was Harry before the coffee industry and how did you get into it?
I was working in the corporate scene in a call centre, managing a team and calling potential customers to sign up for memberships. That's right, I was that guy phoning you, haha! I got really good at dealing with rejection. After four years in a sales career, I woke up and sat on the side of my bed, sipping at my morning brew and I realised I was no longer happy and had to make a change. I approached my brother in-law, Martin Ten Krooden, then the Roast Master at TriBeCa Coffee who was eager to teach roasting. A month later I was a roaster's apprentice and began my journey down the coffee rabbit hole.

Tell us a bit about the most influential coffee people on your journey so far.
My mentor Martin Ten Krooden, who we called 'Bob' to prevent confusion with TriBeCa's Director Martin, took me under his wing 6 years ago as a roaster. His extraordinary passion, knowledge and love for coffee inspired me to pursue coffee. He taught me the beautiful rebellion in coffee; a hands-on approach, to touch, feel and smell, to push the limits of brew ratios, break the rules in grind settings… Because of this experimental and eccentric principle, I still follow today, I have learnt more than I could have ever imagined. He introduced me to barista competitions 5 years ago to help me understand roasting principles and its influence on extraction. He is the unsung hero who watches from the back of the room, his humility and encouragement fills my heart for coffee.
I met Ishan Natalie and Matthew Carter at an impromptu cupping session many years ago in a bicycle shop. I will never forget, "Hey bro, aren't you our new roaster?"... Ishan would, over the years, make me a coffee disciple as I transitioned from roaster to barista trainer. His encouragement, teaching and friendship inspired me and instilled a pursuit of excellence in me. He is the Mr Miyagi to this Karate Kid, thank you Sensei!
Matt Carter has opened my eyes and heart to the adventurous and beautiful journey coffee has in our lives. His advice and encouragement pushed my limitations which fuels my love for origin. There are so many more stories and friendships (John Evans, Shannon Venter) which stems from my coffee journey… I could go on forever, but know that I love you all!
What is it like working for TriBeCa Coffee, one of the biggest coffee companies in the country?
I am so incredibly grateful to our Directors, Martin Fitzgerald, Dale Mazon and Ernst Penzhorn, who have built a legacy for the past 22 years. Their pursuit for excellence and genuine love for coffee makes my work my passion and pushes the coffee industry forward. We are encouraged to push boundaries, speak our minds, blast music and play on the pinball machine. The work-hard-play-hard ethic connects us to what is real and keeps us grounded. I currently head our TriBeCa Wholesale division, Barista Training and Customer Service departments; the freedom Martin gives us instills trust and growth in our lives and as coffee professionals.
Tell us about the relationship you built with the producers of your Tanzanian coffee.
We ventured to beautiful Tanzania on our second sustainability project, building another dairy for a widowed farmer. Later that week we heard of the Tudeley Estate which was recently revitalised by a legendary ex-Zimbabwean farmer. We met with Trevor Gifford and he took us around the estate, I was blown away! This 400kg tortoise called Tommy plods up to us like a puppy, I find out that he is 200 years old and has lived on the estate since its was established. The Peaberry I used at competition was the first batch Trevor produced for us; he uses sap analysis every 15 days from every coffee tree and adjusts soils or water to ensure the coffee reaches its full potential. We established a relationship and the coffee tastes so damn good we bought the whole micro-lot! Trevor's love and passion for coffee is inspiring and I'm so happy to play a small part in their beautiful story.

You climbed Mount Kilimanjaro last year, how did the experience affect you?
It was one of the most life changing experiences in my life! Part of that journey was climbing with my "Kakas", Swahili word for brothers, all amazing individuals in the coffee industry. Our bonds grew, our friendships blossomed and to share one of the toughest mental and physical climbs of my life together was magical. It was a 6-day journey headed by an amazing man, Sean Wisedale, a Durban boetjie who is the first South African to summit all 7 summits in the world. We were above the clouds for days, in the heavens, a marvel I still dream about to this day and long for…

You now hold the platform as The Best Barista in the country. What does that mean to you and what do you aim to achieve while you hold this title? And yes, this a bit like answering questions for the Miss World pageant ;)
I'm humbled and honoured to represent our coffee community at WBC! It's a surreal experience to finally achieve what I set out to do so many years ago. I am pretty stoked!
My hope would be to inspire and share knowledge with the future generations of baristas, coffee professionals, competitors and to connect with the community through real engagements and build friendships along the way. Like my mentors, they set the perfect example.

What area of coffee is most important to you at the moment?
Methodology in coffee is super interesting to me, it's a rather broad term, but specifically how we brew and prepare coffee. I'm always keen to test different perspectives as it normally forms foundations in training that result in a butterfly effect. They form core values for many baristas and if we are not open to new approaches and learning we prevent an evolving industry.
What are your Top 5 films and why?
Back to the Future Trilogy (1985):
My favourite films by far… It's about a kid who's friends with a scientist who invents a time machine out of a Delorean. Each film takes you through a different Era as they try to fix a problem they caused by altering life events. One is in the present (1985), one in the future (2015) and lastly in the past (1885). It's totally relatable and I can talk about them forever… the 2015 ideas are hilarious (flying cars) and I love the 80's.
The Secret Life of Walter Mitty (2013):
An everyday career following guy is plunged into adventure and ultimately it is about exploration and the purpose of life. It's open for interpretation, but it makes you laugh, cry and grow all at the same time. It's a masterpiece and inspiring!
The Lord of the Rings Trilogy (2001):
Wow, don't even get me started, I'll recite the Dark speech of Mordor man! What an epic journey in a fantastical realm filled with elves, orcs, wizards, dwarves and Hobbits. A beautiful story of good defeating evil and the true love of friendship. "Don't tempt me Frodo!" - Gandalf.
The Fifth Element (1997):
A futuristic action sci-fi space opera… That's right! Just a great slapstick action for a Sunday.
Mandy (2018):
A psychedelic horror piece starring Nicolas Cage. It's super brutal and not for everyone, but it's about love and the beauty of a meaningful relationship at its core and what happens when it's lost. The cinematography and score is outstanding!
Check out more reviews from Harry on Couch Potato Reviews.
If you weren't in the coffee industry what do you think you might be doing?
That's a tough one, I love what I do! I would probably have pursued industrial design. I wanted to be an inventor of sorts, like the guy who designed your favourite toothbrush or like a nerf gun. Things that are super mundane but beneficial.
Below is our video with Harry and his coach, John Evans (who he is coaching this year!), after they received feedback from the judges after Harry's performance in Boston at the World Barista Championship 2019.
Got something to say? Then leave a comment!
---
New Kid on the Block: Clay Pigeon Trading
Tuesday, 17 September, 2019
17 Strand Street, Cape Town, 8001
---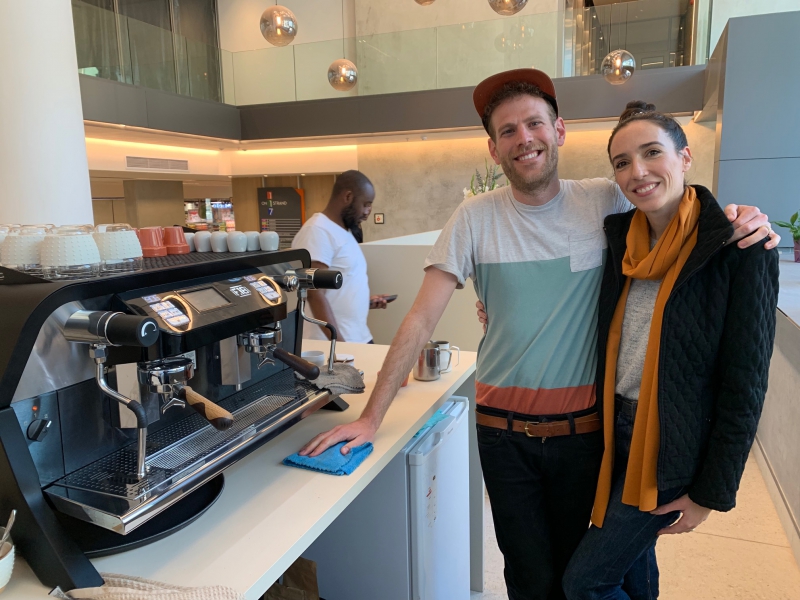 Clay Pigeon Trading has spread its wings in Strand Street in a soon-to-be completed development of beautiful apartments. Ernest and Nicette, pictured above, had gotten married a few days before this picture was taken and the day after their wedding they opened their dream store.
The thread that runs through their entire operation is being Consciously Curated. From their choice of espresso machine, the new Sanremo F18 (what a beauty!!!), to their cups, to their relationship with the Rwandan coffee farmers who supply their beans, to their carefully thought out name. I wouldn't be able to do it justice, but find Ernest or Nicette when you're there and they will be more than happy to share their story.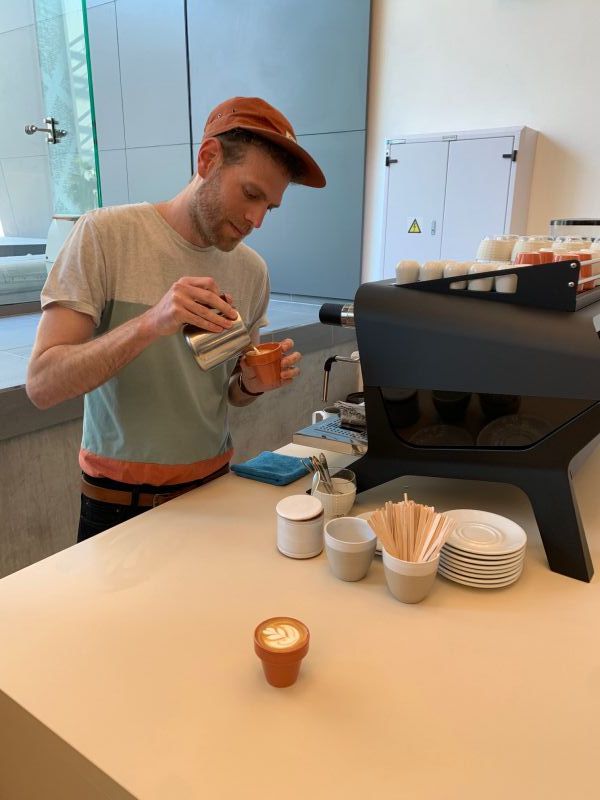 We enjoyed a delicious cortado and a flat white out of these very cool cups. Everything about Clay Pigeon is designed to bring you back to your roots, your heritage and childhood memories.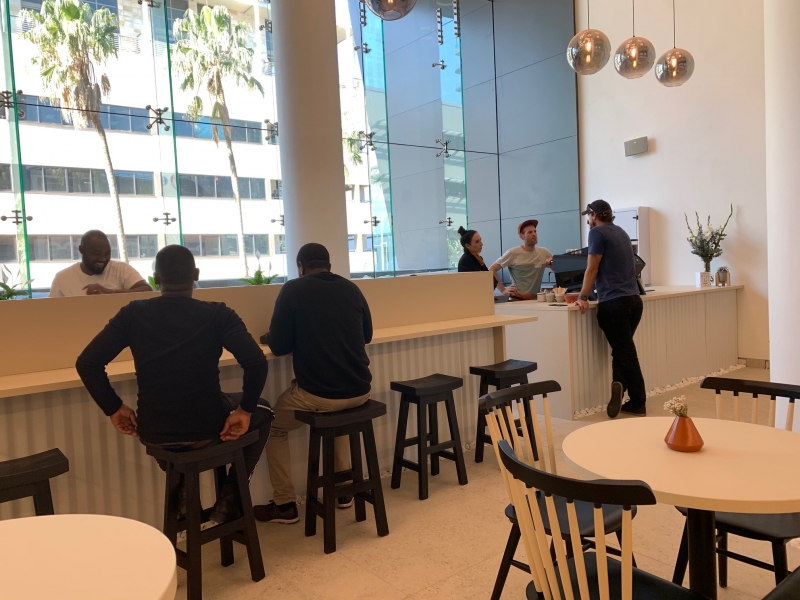 More than just the coffee, we got the full specialty treatment, in other words, we got time with the owners and baristas to really find out about the coffee, where it's farmed, how it's produced, the processing methods, and more importantly the impact that the direct trade and premiums paid by Clay Pigeon will have on those in the supply stream.
If you care about coffee and want an exceptional specialty experience, go and visit immediately.
If you liked this article, then you may also like these:
Got something to say? Then leave a comment!
---
We're living in the future!!! Introducing the Miele Generation 7000 Range
Thursday, 19 September, 2019
Did you know that you can cook a fish inside a block of ice, inside an oven, without the ice melting?
Did you know that you can get an oven that has an HD camera inside it, that sends a high res photo to your tablet or smartphone so you can see how cooked your food is?
Did you know that if you forget to take the bread out of the said oven, that the oven will open the door, blow the hot air out and close the door again?
Sounds like science fiction, but we learned last night that Miele's new technology inside it's new Generation 7000 oven can do all of these things. You can imagine how excited we were to explore their new Coffee Machines!
Yesterday Mel and I traveled up to Joburg for the Global launch of Miele's 7000 range. We learned a lot of very interesting things, like the fact that Miele is 120 years old as a brand! That it is still owned and run by the same family (the great grandson is the CEO). Also that it's taken 6 years for Miele to launch the 353 appliances in the 7000 range (the 6000 range was launched in 2013!) and in these last 6 years Miele has invested heavily in AI, in wireless tech, in smart tech and has refined the user experience to something of an artform.
So much of an artform, that they have collaborated with a Japanese artist, Makoto Azuma, to freeze flower arrangements in blocks of ice to get the messaging across – and it looks beautiful!
We had the opportunity to sit down with Christian Gerwens, the Regional Managing Director for Americas, Australia, NZ and Africa (who's portfolio of products is worth about R13billion annually!) And look, the Miele products are not cheap. The ovens, the coffee machines, the steamers, the wine coolers – the premium stuff of modern kitchens are expensive. But in talking to Christian, once you start to understand the investment that Miele puts into their products, you start to get an idea of why they are best-in-category, and also so pricey.
What kind of investment? Let's talk about that fish shall we?
Miele invested in the technology developed by a company that uses temperature control in human tissue samples and applied into the oven range. In simple terms the technology recognises what you put in the oven, in this case a whole fish frozen inside a block of ice, and it applies energy to the fish knowing exactly how much to apply to cook it perfectly and it applies zero energy to the ice. Sounds impossible, but it's true.
So what of the coffee machines – here's the highlights package:
The top of the range new Miele coffee machine has 3 hoppers, for 3 different beans.
It is practically silent when grinding (a huge plus for apartment dwellers and early risers)
It cleans the milk lines, brew unit and de-scales itself automatically. Winning!
You can programme the unit to have up to 10 profiles, so multiple people using it can get their perfect coffees at various times of day using the 3 hoppers, the milk options and beverage recipes.
You can remotely control everything from your phone or tablet. Even turning it on in the morning, and making a coffee while you're still in bed!
We were extremely impressed by the new range of Miele products, and extremely impressed by the South African launch of the 7000 range. Well done to the Miele team. Christian, Brendan, Mercia, Liam and the technical team, you guys did an amazing job and can be really proud of the products and a well executed event!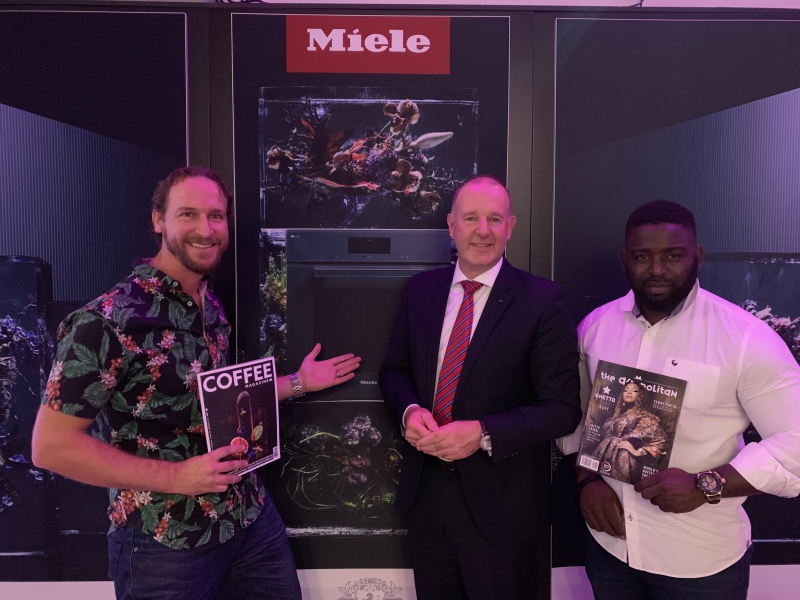 Myself, Christian (Miele) and Quincy from Afropolitan Magazine. You can see the flowers and ice imagery on the back wall.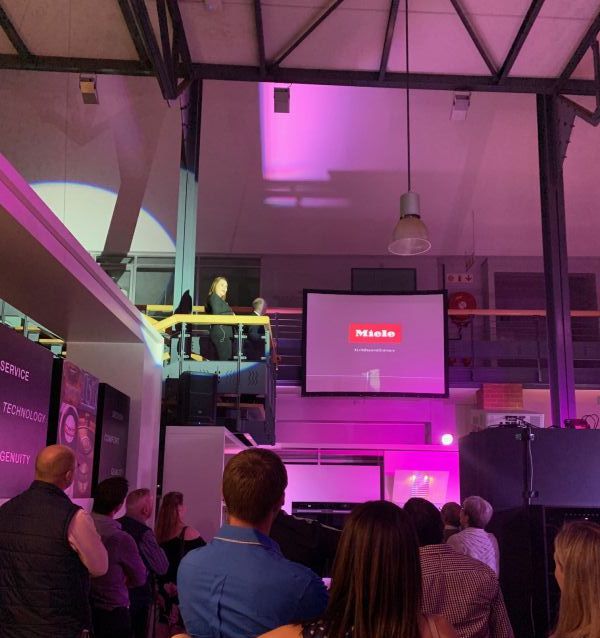 "Lights, camera, action!" Mercia de Jager from Miele SA talked us through the new technology that even senses when a human walks into the kitchen, the appliances turn on and start operating!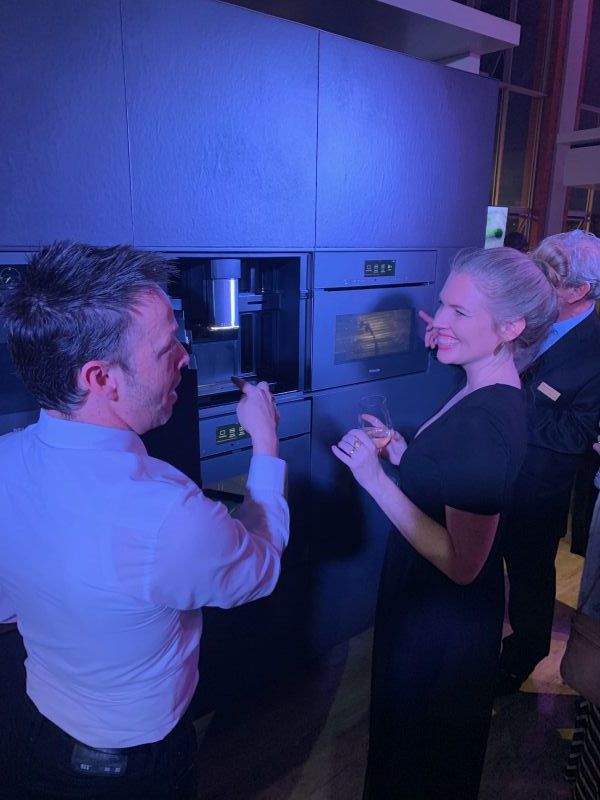 Mel gets a demo of the new Miele CVA 7845 coffee machine.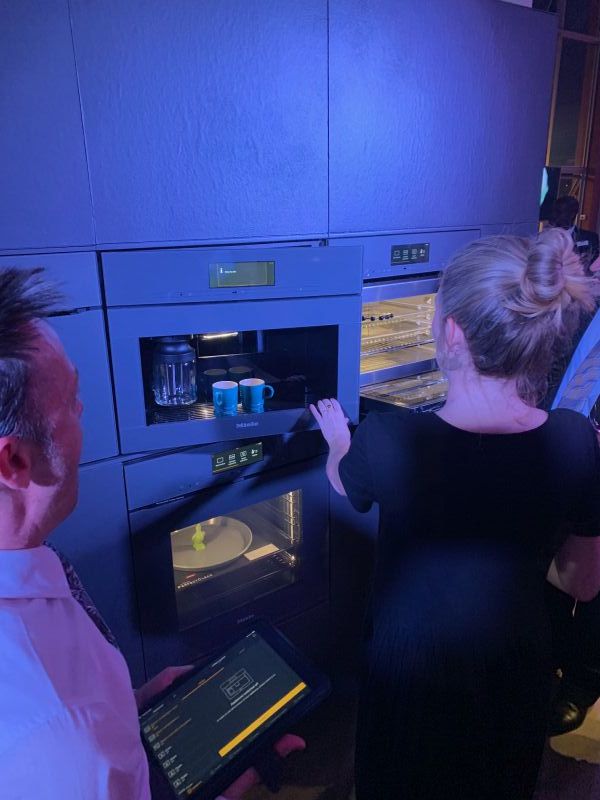 iPad control, perfect design lines and all the working bits behind the screen door.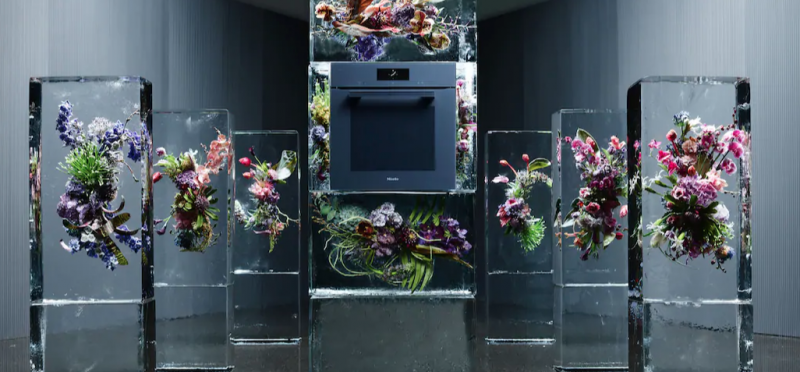 How insane is this flower in ice arrangement? And no, its not photoshop. These are real installations!
Got something to say? Then leave a comment!