The Alchemy of Coffee by Gordon Torr
Friday, 7 February, 2020
The Alchemy of Coffee: Where good ideas come from.
The idea was simple. Get an authority on creativity to write about the role coffee plays in the creative process and those tortured souls who rely on creative ideas for their living. From Mexico City to Johannesburg. From Prague to London. From creative directors to writers, filmmakers, poets and lovers. Coffee drives the chemistry that ignites the creative mind. Armed with a pot of Colombian drip coffee and a pack of cigarettes, Gordon Torr, one of the greatest minds in creativity is about to take your brain for a spin through the cosmic chasm that is the caffeine fuelled creative brain. (WARNING: You will need to read this twice – and you will need google close at hand - unless you have a PHD in literature and astrology – Enjoy! Iain and Mel.)
Words by Gordon Torr
All illustrations by Lickable Squid
---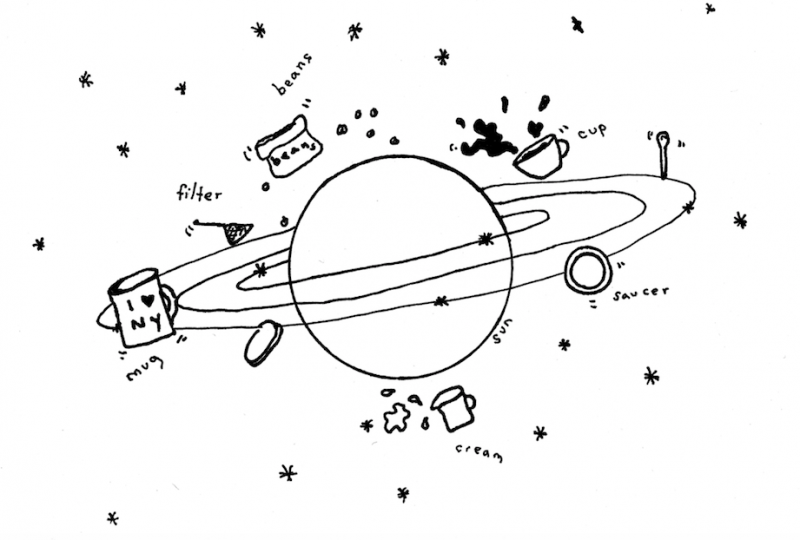 Tea is the meeting; coffee is the idea.
Put it this way: unless you think the British Empire was a work of undiluted genius, no one ever had a good idea drinking tea.
Anecdote will tell you the same thing. London's first coffee bar, the 2i's opened in Old Compton Street in Soho in 1956. Before it was closed down by health and safety fascists in 1970, the 2i's had become the epicentre of the skiffle movement that gave the world Lonnie Donegan who inspired John Lennon to buy his first guitar.
The assistant manager was one Jon Vickers-Jones who described it years later as a "…dismal and dark cellar about the size of a large bedroom, lit by a couple of weak bulbs. At one end was the small 18-inch stage made of milk crates with planks on top of them. There was just one microphone, left over from the Boer War, and some speakers up on the wall."
Whether British rock 'n roll was inspired by the UK's first espressos or whether the 2i's attracted those early skifflers because it was the only place in London that kept its lights on after midnight, anecdote doesn't say. Anecdote will tell you anything if it sounds like a good story.
So how much creativity is in a mugful? Or does coffee just happen to be there, like an innocent bystander at the scene of an accident, every time I think I've thought of something worth thinking about?
I sat down with a medium-dark roast Colombian to find out.
While it's self-evidently true that we wouldn't have let them Starbuck the world's high streets if we hadn't wanted a convenient nearby table and two chairs to meet people we'd never invite into our homes, no one goes to a coffee shop without secretly hoping the other party doesn't show up. Because tea is social, but coffee feels deeply, profoundly and intrinsically personal.
We'll do the intrinsic part first. The average caffeine level in a cup of black English-style tea is 40mg. In an average cup of "drip" coffee you'll get around 105mg. That's the difference between talking about how the kids are getting on at ballet or rugby and talking about the effect of moonbeams on the lips of your lover.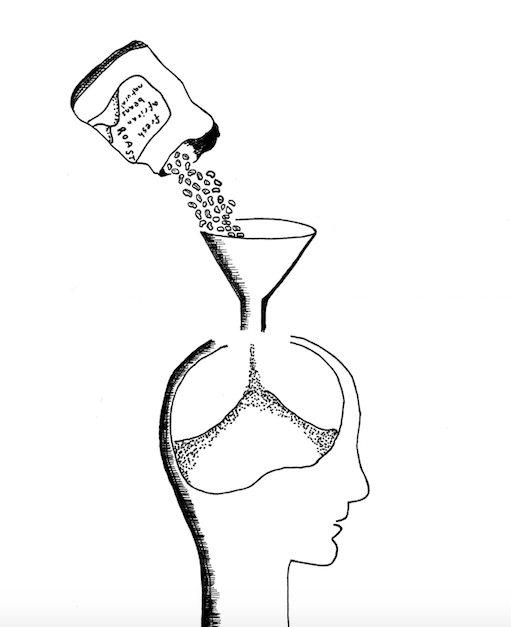 The science of caffeine is exciting because we know dangerously little about it. The only reputable study of the effect of caffeine on our states of mind was done in 1993 by the dream team of Dimpfel W, Schober F, and Spüler M if you want to look it up. They were interested, specifically, in the effect of different dosages of the drug on the gross rhythms of human mental activity, the alpha and beta states that have found their way into dinner table conversations the way the motions of the planets around the sun have found their way into our most intimate discussions about romance, destiny and the meaning of life.
But first a caveat: it wasn't that Dimpfel et al had a theory they were trying to prove or disprove. The frequency of gross brain activity is the only mental function neurologists can measure with any degree of accuracy, and we know now, of course, that what can't be measured doesn't exist.
They found what you'd expect them to find: "Administration of 200mg and 400mg caffeine in the relaxed state effected the decrease in spectral power in the theta and alpha ranges" or, less formally, (because theta is very sleepy and alpha just kind of sleepy) caffeine is a rush and a lot of it is a bigger rush.
The really interesting bit is hidden in a paradoxical footnote they seem reluctant to unpick. When the warm flood of that first cup begins to subside like an ocean wave sinking back into the arms of its Indian mother, the declining concentration of caffeine has the contradictory effect of enhancing "…theta power in frontal and occipital regions and the alpha power in [the] occipital cortex." My italics.
Let's back up for the sake of those who don't know what Neptune can do in a trine.
Our slowest mental state is a deep, dreamless sleep called delta, which ticks over at a lazy 0.5-4Hz. Any slower and you'd be dead.
Theta (4-7.5Hz) is the twilight of dreams.
Alpha is the sweet spot of the imagination, the over-hyped state sought after through the annals of human history by poets, art directors and hedge fund managers, which ranges between a delirious 7.5 and an ineffably cool 12 cycles per second. It's the edge of falling asleep; the blissful letting go of the preoccupations of the day as you plunge into the loving embrace of theta; that intimation of the numinous as you look out of the office window and notice without actually noticing that the tops of the lamp-posts look like a silver ducks swimming in a jacaranda sea towards a sunrise painted in lilacs that haven't been invented yet as if they always have been swimming and always will be just before a voice that may or may not be real says, "You can't smoke that stuff in here."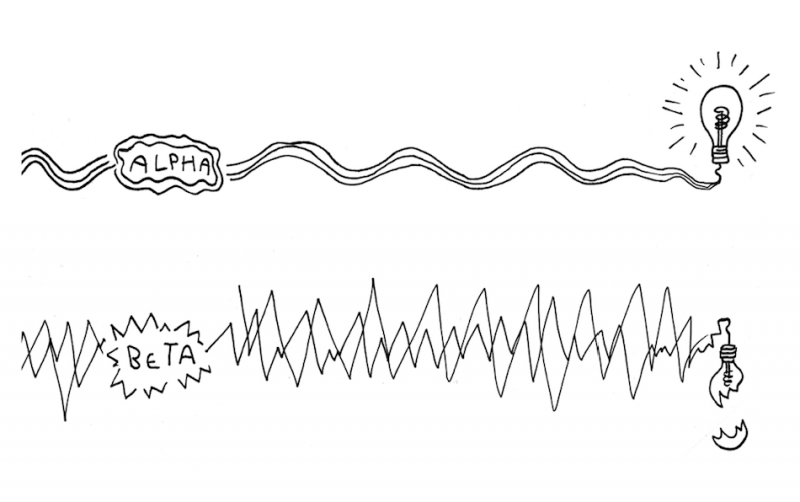 Alpha is where ideas happen if you're sober enough to stand up and tap them on the shoulder to stop them before they walk out the door.
For people who are happy to live in the real world there's always beta. It's the actual voice saying the actual words. It's the sharp knock of the door of your attention, the insistent phone ringing in the corner of your alpha state telling you to wake the fuck up. Beta remembers the name of the trainee brand manager's Chihuahua. It's twelve men in a meeting room full of women. Beta has its ducks in a row; beta knows which way's next. It thrills to the text alert, it jives on java, it decodes codes and ups its games and plays its cards and games its scores. Beta is busy; beta is good; beta writes the emails that cc the boss that pleases the clients that pay the rent.
But anything above the 30Hz upper limit of beta and you're flirting with gamma, and no one has ever come back from gamma without frost in their ears and tiny bolts of lightning jumping from knuckle to knuckle.
Coleridge was in alpha when he wrote the first verse of Kubla Khan. Then the person from Porlock knocked on his door and the rest of it got written in an airless beta in which you can hear creaking like the old timber of a boat that's been in dry dock too long and no one remembers the owner of or cares to.
If it were just about caffeine, five cups of tea would add up to two cups of coffee, and we could call it mere chemistry and move on. But everything is mere chemistry until it becomes alchemy.
Don't be deceived by Dimpfel et al's downbeat delivery. That alpha kick in the occipital cortex is an anomaly no amount of caffeine can explain away; and scientists don't speculate.
The OC is the visual processing centre of the mammalian brain. Why would it light up like a thousand incense sticks glowing in an empty cathedral while the rest of the brain was stuck in traffic adjusting its tie and touching up its lipstick in the rear-view mirror and thinking about merchandising opportunities?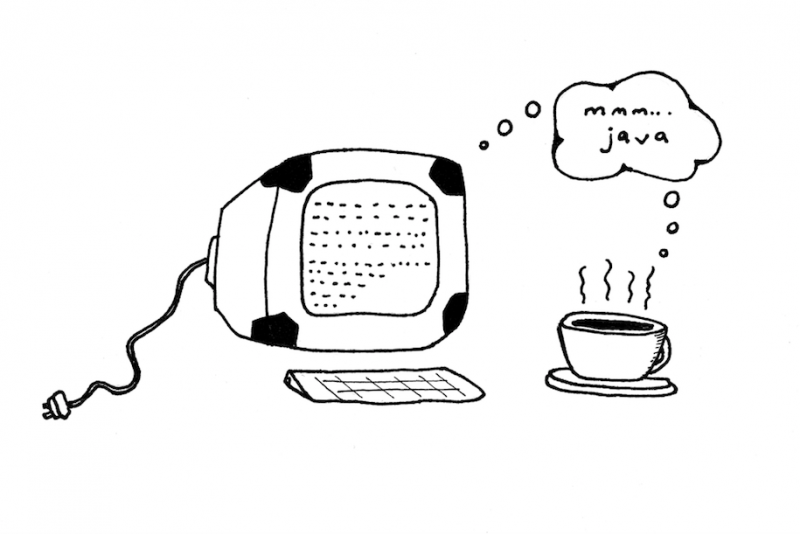 Only the coffee could have done that—yes, perhaps on caffeine-powered wings; but only the flavour of a forgotten geography could have brought you to the place you find yourself now, here on the hillside of this green plantation, the cortex pricked by the taste of its memory; here where Africa met America to make the rhythm of the curruloa that drifts in this mist of low clouds above Cartagena scented with the secret distillates of the ochre and umber earth that squeezes between the toes of your surprisingly bare feet; here, too, and somehow simultaneously in the Elephant Room staring through glass at taxis in the rain as beta nudges your arm to say, Hey, isn't that J.K. Rowling dreaming of schools for wizards and in the Café La Biela where Borges is waving away the waiting waiter, and so on through the pantheon of the minor and major saints of the imagination, none of whom have come to meet anyone they wouldn't rather conjure out of the fine, sweet grinds at the bottom their third or fourth cup.
The best coffee in the world can't guarantee a good idea, but even the worst cup tastes like the promise of one. Who would dare to interrupt that?
Got something to say? Then leave a comment!
---
Cafe Focus: Boston Coffee
Wednesday, 5 February, 2020
In this week's Cafe Focus we travel to the suburb of Boston, Bellville just outside Cape Town to a thriving local cafe and roastery that keeps getting stronger as the years go by...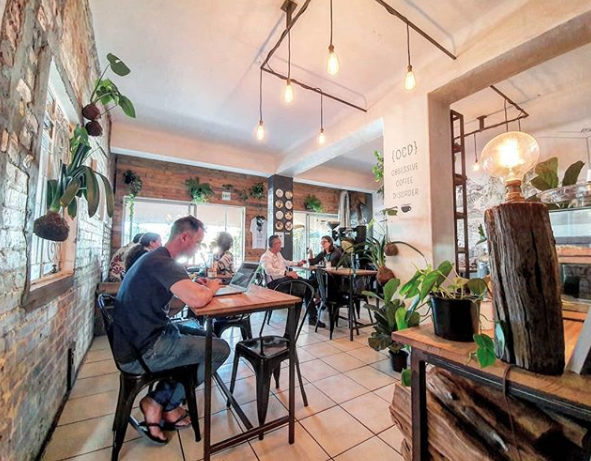 Boston Coffee
Corner Cleveland street and 12th Avenue, Boston, Bellville, 7550, Western Cape
---
---
So, for a start, who makes up the core Boston Coffee team?
My self Pieter Smit, is the Owner, Founder , Barista and Roaster , and pretty much every thing else the business requires to keep on doing what we doing .
I work every day alongside my Team of friends and Baristas who once all use to be clients first - even on there of days they just cant stay away :) We all hangout together - Surf together - Go camping etc. So it's more than just the norm of owner and staff.
Baristas we have:
Yusiry Abrahams - Yush - Barista & Roaster
Francois Roodt - Faf - Barista and also runs our Mobile side of Boston Coffee
Tiaan van Heerden - T-man, Barista and pretty much the only guy who can reach and stock our top shelves
Herdo Nagel - Herds - Barista and Our in house photographer
Micheal Mhalangu - Nev - Barista and Straight out of Zim
Clement
How did you come to open a beautiful cafe and roastery in Bellville?
Boston Coffee first open its doors in 2014. In 2014 I was still running a mobile carwash business and my wife wanted to re open a beauty salon after we closed hers down to welcome our first son into the world. We moved to Boston Bellville in that time and on a beautiful day here in Cape Town "as any other day here" we took our baby boy around the neighbourhood for a stroll and spotted guys busy renovating a double garage of flats above into a small space. We made contact with the owners and shared the idea of a Beauty Salon. Their response: "We have 36 interested parties for the space already - From a biltong shop, Tattoo Parlour, Hair salon - Dress boutique etc!" But it's just not what they were planning for the space - nor is a beauty salon. That coming weekend I had an event on at our Local Church - Hillsong Church Cape Town where I was a youth leader and also served in the Cafe as a Barista on Sundays. On the First evening of the Event called Encounter Conference - a guy came to me started talking and said - Bro , you need to open a coffee shop! About 10min later - Same thing - another guy walked up to me and said - Man , You need to open up a Coffee shop! Flip - random, right?! That evening I got home , wanting to tell my wife what happened - and before I could say - She said , "My love - a Salon one side and a Small coffee shop next door , thats what i feel we need to do?" Well , we mailed the Landlords , shared the idea, they caved and we GOT THE SPACE ! One Month later - We opened the Beauty Salon and Boston Coffee next to each other.
Getting a bit more serious, I closed the doors for a week, et up with Bilbo Steyn at Origin Coffee, did a full professional Barista Course , met Mike McDonald , connected with him and then started serving their beans as well in our shop. I worked in Boston Coffee alone for the first year, making Coffee and building relationships - we just grew and grew and grew some more. How? Good Coffee and real relationships - I employed my first Barista in 2015 - Yush , we grew some more and we needed some more space, so we took over the beauty salon.
Having the passion I had for Coffee I wanted to start roasting my own beans. My brother who is a tool maker as well as a friend Danie, we all came together and built our first little roaster. "Mr Burns" (hahaha). It was proper handcrafted coffee - and the best way to learn to roast, it also cost a lot of school fees. I had no way of seeng what was going on inside or how far the beans were in the roasting process- I learned to fully rely on my senses - smell & sound. We then started only using and selling our own beans. Three years later - it now makes us appreciate our bigger roaster that has all the goodies and so much more. But we still have Mr Burns :)
The rest of the boys all came along at the right time as the shop grew and we needed more hands.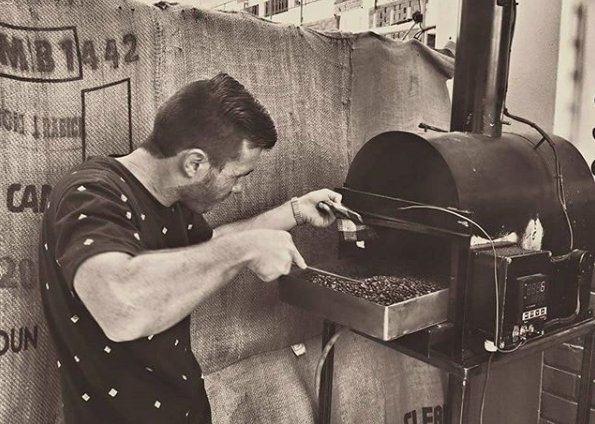 What is your favourite thing about owning a cafe?
Coffee - The most important for sure, having a beautiful cup of coffee and being able to share that with people - Making it for them how they want to receive it - asking the question, if they are having milk-based coffee - How warm do you enjoy the milk , or if it's an Americano - how much milk do you want in. We are not fussy we just want to give them the best coffee we can give and actually not wasting any efforts of the hands that touched the green beans before we received them.
Our space is a space where people come in as clients and leave as friends. When they come they have to order at the counter - thats our first connection point and opportunity to make friends. People come in to hang with us - Grab their favourite cup and a morsige Sourdough toasted Sandwich - soak up the vibe , sit back relax , chat , connect- Play board games. We don't do internet- we have High Fives , a HiFi and NO WIFI! People come here to break away from the world routines. Take a breath of some #altydvars and head out. We genuinely love what we do and who we do it for.
What is your approach/philosophy to running a successful business?
Do what you do for the ones you do it for and do it in the best way you can or as you will do it for yourself or how you would like it to be done for you. Then all the other things will come with the success of that focus
Tell us about some of your favourite regulars?
We honestly can't just name a few as we have 100' 1000's - We try our best to remember everyone , find out there names , what they do etc - it's a big family.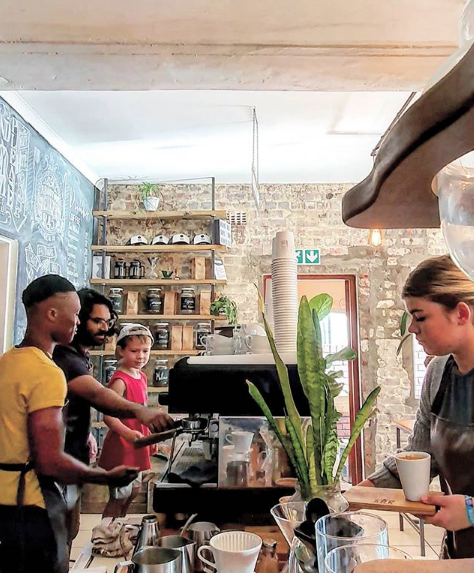 Can you tell us one of the best highlights you've experienced on this journey?
PEOPLE
"I've been all over the world & this is the Fx*-% best coffee I've ever tasted", goes on and buys a bag of every single blend and single origin we have available in the shop.
Our best highlight is everyday getting to work in shorts and plakkies and sharing what we do with the best people.
What is your favourite menu item at the cafe at the moment?
On these hot summer days - a beautiful Papua New Guinea Cold-drip on ice or a Japanese Pourover with a Chicken Mayo with Danish Feta and Jalepenos on Toasted Sourdough!
If you liked this article, then you may also like these:
Got something to say? Then leave a comment!
---
Opinion Piece: What's the real cost of a cup of coffee
Friday, 7 February, 2020
By David Walstra, Hostex 2020 ambassador, owner of SEAM Coffee Roaster and Thirdspace coworking space and coffee shop. David is ultra-passionate about the sustainability of quality coffee and the people who produce it. He tackles some coffee pricing issues in this article brought to you by Hostex 2020. The Coffee Magazine will see you there 1-3 March, Sandton Convention Centre.
---
Is the cup of coffee you sell and serve – or buy and drink, depending on which side of the counter you are on – driving a farmer into poverty? The sustainability of the coffee industry is under intense scrutiny globally to redress the unrealistic costing of coffee.
As a commodity, the coffee price has recently been below the cost of production, and the vast proportion of coffee is paid for as a commodity. A range of factors affect this price, including an over-supply in Brazil as well as a messy equation of supply, demand and speculation from commodity traders.
But this means that, most specifically, small coffee farmers in Africa are making so little money – often just cents on the kilogram of coffee they produce – that they are being forced into poverty, invariably taking their communities with them.
Some small farmers are giving up on coffee and pulling up their valuable plants, replacing them with crops such as cassava, which represents an overall loss to the coffee industry.
Changes are happening and awareness of this significant inequity is growing worldwide – but the pace needs to pick up, and many countries, South Africa included, are lagging behind in their response.
While most coffee is grown in South America and Vietnam, several East African countries produce some of the best coffee in the world, notably Burundi, Rwanda, Ethiopia, Uganda, Tanzania, Zambia, and others. In many areas conditions are ideal for growing coffee, which needs cold mornings and evenings and heat through the day, slowing the rate of cherry development and increasing the sugars. But with below production cost prices being paid, being a small-scale coffee farmer in Africa invariably means hardship for the farmer and their community. It's estimated that for close on 10 million households in Africa, coffee is their primary source of income.
The situation is different in Brazil which has 'uberised' its coffee production, and massive coffee farms use automated processes that reduce their costs and ensure profits can be made below what it costs to produce coffee elsewhere.
Gradually though, the reality of the impact of the coffee price on smaller-scale farmers is gaining purchase, and organisations and NGOs are getting involved in creating a more equitable market in Africa. Apart from paying for coffee above the price of production, a lot is being done to educate and train the farmers on practices to improve the quality and yield of their coffee, while farming sustainably. A lot more awareness and action are needed throughout the coffee value chain.
Fair Trade is making a difference; creating awareness and ensuring that the growers earn a fair price on their crops, while other organisations such as Transparent Trade Coffee are taking it further with a policy of 'pricing to quality and not the commodity market'.
The good news is that the quality of the coffee is directly proportional to the sustainability of coffee, so paying more means having better coffee.
So, as coffee consumption and the expectation of great quality and great-tasting coffee in South Africa grows exponentially, an understanding of the real cost needs to grow too. Everyone in the coffee market – roasting, making, selling and drinking – needs to understand the importance of paying for a cup of coffee at an ethical price.
South African corporates must be given much credit for the role they are playing in their coffee buying choices. Many are committed to sustainability and understand that fair pricing and transparency in the coffee value chain are crucial. Corporates are the biggest consumers of quality coffee in the country and are encouraging a preference for great coffee among their staff, who are then more discerning in their coffee choices.
Greater traction is needed to make a meaningful difference and questions need to be asked about the sourcing and pricing of the coffee. Does this coffee put someone back into poverty?
---
As a roaster and wholesaler, David Walstra and his partner Ben Jenkin subscribe to transparent practices and ensure that their coffee is sourced from businesses that pay fair prices to farmers and deliver excellent quality. The company is on a journey to become a member of Transparent Trade Coffee (www.transparenttradecoffee.org)
Join David Walstra at Hostex 2020 where he will be presenting more valuable and interesting insights on the sustainability of coffee – at IndustryLIVE! on Monday, 2 March at 15h00.
Got something to say? Then leave a comment!
---
Coffee Competitions Explained for Spectators
Thursday, 30 January, 2020
So for the next month and a bit we're going to be banging on about coffee competitions because the Nationals are around the corner. We thought that it might be wise to give you, the consumers of coffee, the slaves to caffeine, the lovers of lattes, some insight into what the heck these competitions are all about and why you should care.
To begin with, we just want to say, we know the competitions are more than a little ridiculous, but they are a real thing, with real World Championships and real benefits for those who do well in them. So let us break it down for you.
Cup Tasters
Ok so we begin with Cup Tasters. It is pretty much what it sounds like: people tasting coffee from cups.
They are very special coffees. And they have been roasted and brewed by experts. And there are a lot of them on the table. 24 cups per person to be exact.
The competitor has 8 minutes to taste all of them. But not only that, they need to make some tough choices along the way.
The coffees are grouped in sets of three. The competitors challenge is to pick the odd one out of these three coffees. Two are the same and one is different. Find it, with your senses.
The idea is to pick the odd one out and most correct guesses out of the 8 sets wins. And in the case of a tie? The person who did it fastest wins.
As someone who has competed before, that is not as easy as it sounds. In fact, it is flipping hard. But people in the biz who taste coffees for a living; roasters, coffee quality controllers, people in the green bean importing industry, their palates are fine tuned to the slightest difference in acidity, roast and flavour in every coffee. They have to be REALLY good though, because the organisers throw in real curve balls like all three cups contain the same coffee, but one was roasted differently. (???!!!)
Why is this an important skill? Well, coffee is mostly about flavour right? And because coffee is a crop, there are lots of variables. They may be subtle to an untrained palate, but the professionals weed out any things that aren't good for your final cup. So this competition celebrates the well-trained palates out there that make sure you get the good stuff in your cup.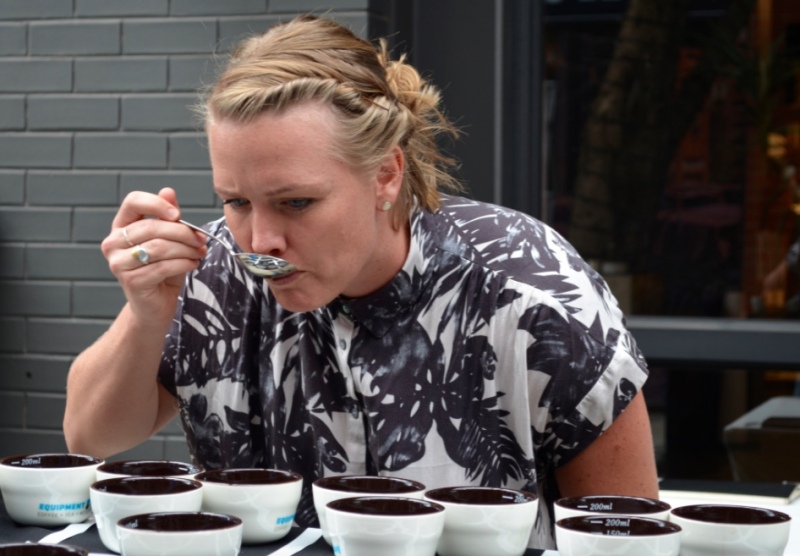 Maxine Thiart from Routed Roasters (JBay), representing the E Cape in the 2019 Cup Tasters National Finals.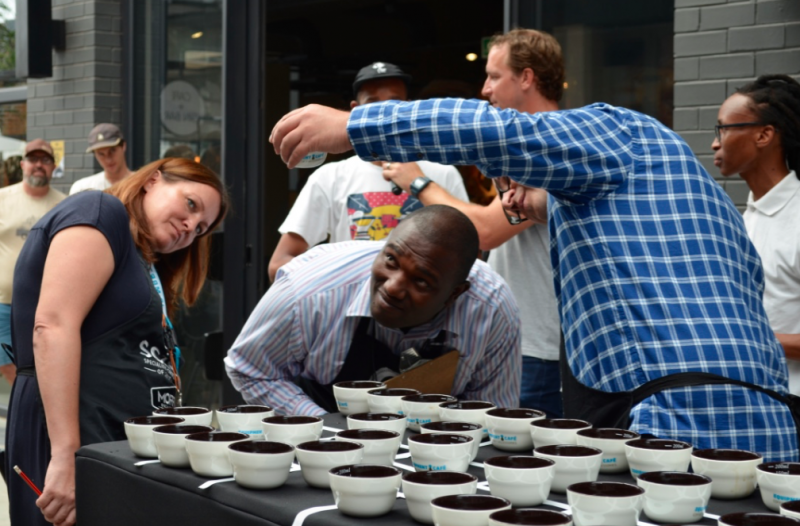 Here the judges are seeing if the Cup tasters have correctly guessed "the odd coffee out" in the set.
Latte Art
Alright, alright, alright. Latte Art is probably the easiest of the disciplines to understand because it is SO pretty. But this isn't your mom's latte art. This is WILD. I'm talking lions. turtles, elephants, zebras drinking coffee, real crazy patterns made of coffee and milk.
But the patterns can't just be pretty. They're judged on contrast, symmetry, innovation and being able to replicate the pattern.
The below latte art was poured by our current SA Champion Chris Abrahams. As you can see, the competitor has to provide the judges with the imagery of the patterns they are going to attempt during his competition time.
For one of the sets they are allowed to use an etching tool, but the others are known as 'Free Pours' which means the patterns were created using only the jug and mad skills of manipulation. You get special jugs with particular spouts that can help make your pours more detailed.
All the competitors use the same coffee, the same milk and the same latte cups, but they can bring their own fancy jugs.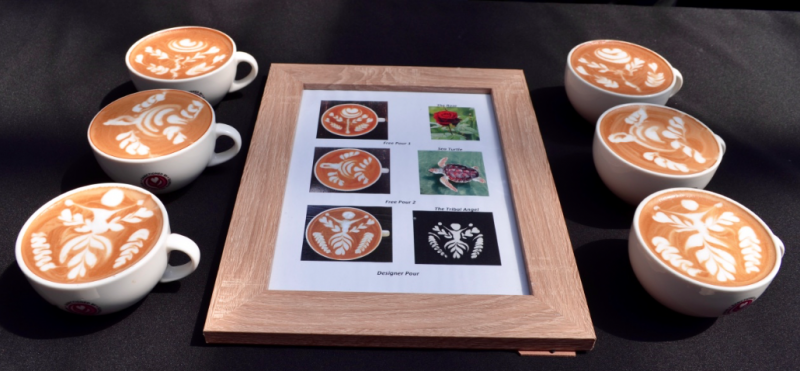 This is two-time SA Latte Art Champ, Chris Abrahams from Ciro beverage Solutions, Finals set from 2019.
Barista Championship
In the world of coffee competitions, the Barista Champs are the Premier League. There's the most glory, the most prestige, the most attention from media. I think it's a fair pedestal to put the competition on, because it really is a hugely time and money consuming endeavour to participate.
The basics are that the barista has 15 minutes to produce:
4 x espresso
4 x milk beverages
4 x signature beverages
And in a cafe setting, any barista worth their salt would be able to pull off 12 drinks in well under 15 minutes, but of course this competition has nothing to do with how fast you can do it, it's all about the performance and presenting the judges with the best tasting coffees they've ever had with a unique story backing them up.
Let's take a step back.
What is a milk beverage? Ok so this round used to be called the 'Cappuccino Round' but as the trends progressed, the global community realised that coffees don't all taste that great with 150 - 180ml of milk (a classic cappuccino as defined by the old rules) so they left it to the competitor to decide. They still have to use dairy but they can use pretty much any amount of milk up to 300ml. Majority of competitors go with cortado style drinks, just a little bit of milk so as not to take too much away from that special espresso flavour but to still give it the luxurious texture of beautifully microtextured creaminess. Think Strawberry milkshakes, apricot Tropica or dark chocolate shortbread. Yum!
What is a Signature Beverage? So this is a coffee cocktail in which (sadly!) alcohol is strictly prohibited (Don't worry, they have a whole competition dedicated to that!). The keys to doing well in this course are creativity and synergy. The end beverage has to have the espresso at its core, the flavours added to the coffee have to compliment and not overpower the main ingredient. It is a very fine line to balance. Ask any competitor, it's fairly simple to make something that tastes delicious, but it's another challenge all together to make something that still tastes like or has the attributes of what you explained about your coffee. Which brings us back to the highest scoring section on the score sheet.
The Espresso Course. Why is this the most important? It looks to the spectator that it is the easiest to pull off, right? Well, that my friends, is where you would be wrong. Think about the last time you had an espresso. For some of you, maybe that's never. Why is that? We're pretty sure it's because espressos have the reputation of being bitter, sour, unpleasant or all of the above. In fact, when extracted correctly, using amazing coffee, an espresso has the potential to be sweet, bright and full bodied. A flavour experience like no other. And that, is what the competitors are trying to pull off. Not just any espresso, the best espresso the judges have ever tasted! The Espresso Course also forms the base of the rest of your drinks (99% of the time). So the flavour notes you give the judges have to be aligned with the scoresheet below. You see that is also the tricky thing. The judges can only base their scores on what the competitors tell them. So if the judges are told they will taste crisp green apple and smell jasmine and the mouthfeel will be light and sparkly, then what the barista delivers in the cup sure as s*%t better turn out that way otherwise the judges will mark them down. Basically, it is a heck of a lot of pressure in those 4 tiny cups (that can't be more than 90ml vessels).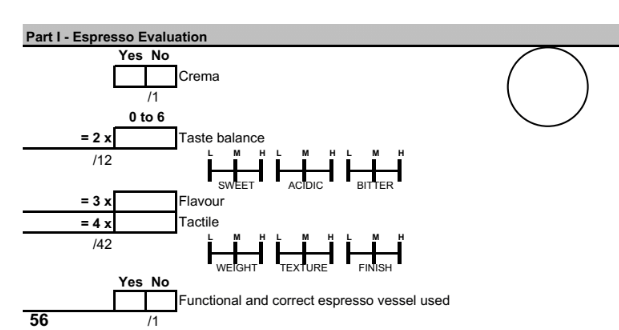 Across all the disciplines time plays an important role. Time management is difficult when you're concentrating so hard on all the details expected of you, but as a spectator please remember that this is the competitors responsibility and they could literally get disqualified if you shout a time check to them from the crowd. Each second they go over time, they are docked a point and if the barista goes a minute over time they are disqualified, a hard lesson to learn, but it's their lesson to learn.
This video by Sprudge featuring the amazing Laila Wilbur is a fun way of getting some insight into all the things that baristas are being judged on:
Got something to say? Then leave a comment!
---
Cafe Focus: In(side) Bloom
Tuesday, 28 January, 2020
Not just another café, this coffee space is part of the necessary shift in business ownership. They've got a plan. Can it work?
Words by Marijke Makomba
---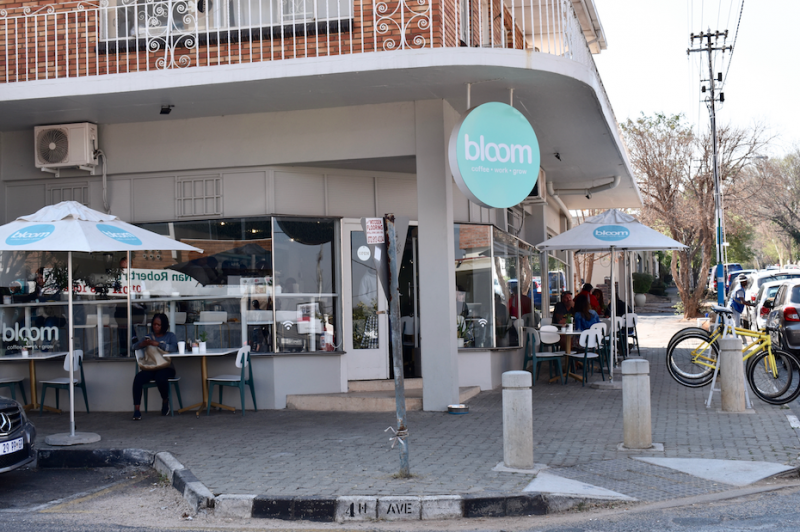 Bloom is the latest caffeinated addition to the Parkhurst 4th Avenue foodie strip in Johannesburg, South Africa. From the outside, this irresistible coffee shop looks trendy and inviting, but it aims to be much more than just an elegant eatery. Here, the main focus is to trial a meaningful transformative initiative where every employee has the opportunity to one day own a part of the business, or even open their own store. We sat down with Bloom's Manager, Prince Ndlovu, to find out more about the people steering this example of systematic generosity.
Prince has been working in the hospitality industry for most of his adult life, and over the course of his career, he has taken on many different roles - from management, to barista, bartender, server, and even worked in the kitchen. He was always looking out for ways to expand his professional experience and knowledge, and also hoped it would simultaneously demonstrate his adaptability and commitment, resulting in better leadership opportunities. However, after working in the same position at the same restaurant for 6 years, he could see that his career was going nowhere, and he began to lose hope, "I felt trapped and so undervalued at work."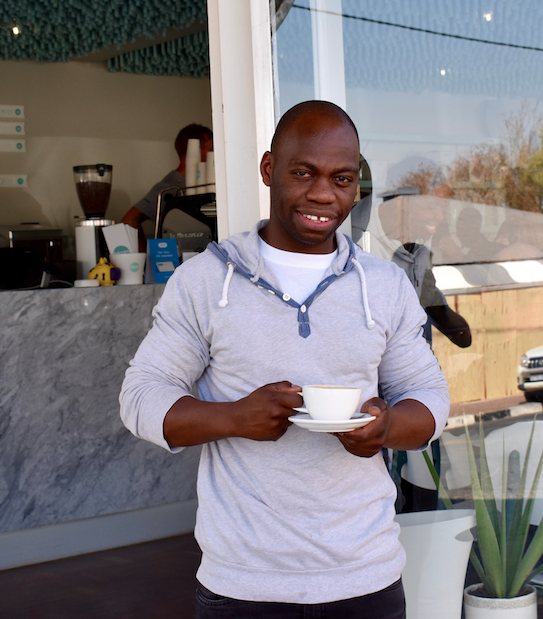 But that all changed when he met the founders of Bloom. "I always dreamed I could own my own business one day, but I never thought it could happen for me - until I met Alan and Kgabo. When they told me about Bloom and all their plans and the future opportunities, I thought they must be joking!"
This is Kgabo Nkosi and Alan Gibson's shared passion project: a response to the excruciating need for sustainable local job creation. They each walked a long road to get to this point.
Kgabo studied Internal Auditing at the University of Pretoria. He was always academically talented, but struggled to imagine becoming a corporate auditor, and was always drawn to the idea of smaller projects, start-ups and outliers. He also became enthralled with the study of philosophy: he instantly connected with the idea of quantifying values - how to apply inherently philosophical concepts in a theoretical, financial context. Kgabo explains how he uses people's motivation to build a business plan, "All our actions are driven by something - whether financial or otherwise - but if you understand what that is, I can build a model around that. We haven't been taught about the different legitimate reasons to start a business, even worse we aren't taught to determine that for ourselves before launching. Different people want different things, and that's okay - but let's build the best system to get you there in the most stable way."
"It used to be very lonely and difficult to juggle work and studying, but now I can see the value and it just motivates me to grow and do more. It was incredible to meet people who actually wanted to spend their time and money investing in me and my skill set."
Alan's entrepreneurial journey started early when he became aware of his dyslexia at school, battling in an academic environment that seemingly had no place for children who learned in unconventional ways. "Some of these kids are so amazing, but they were just not suited to flourishing under that specific curriculum, isolated and forgotten about." When he left high school, Alan started his first business. Through extreme highs and lows, from great business success to everything imploding in one bad deal, Alan continued to grow his skill set. "The learning curve was the most interesting part - nobody helped me, I didn't have any guidance on how the commercial world works. So, hard lessons were learned and I picked up my confidence as I went, moving on to the next thing." With time, he found his feet consulting, and embarked on a journey into entrepreneurial development.
In 2015, Kgabo joined Alan at the niche BEE verification and entrepreneurial development consultancy, Oko Vusa, the first step in a powerful personal and professional chain-reaction for both young men. Alan wanted to do things differently, "How do we tailor becoming an entrepreneur to the specific needs of vastly different individuals? We built a model that consists of very basic thinking, but it applies to a much wider realm of human variance." Their entrepreneurial development program includes comprehensive business education, calibrated to suit each individual. Alan says, "Entrepreneurs don't need to be an expert in every possible area of their business, but they have to understand the basics and have access to specialists at the very least - that is what we provide." Kgabo broaches key financial issues in an intuitive way, "Financial literacy and education are so important to me - one of your longest relationships in life is with money. We all just fear it and stay away from it, rather let's try to learn something about it."
They're are both passionate about the in-depth personal development coaching offered to every participant. "A lot of the people we develop either have something bad happening to them right now, or have had really difficult struggles in the past." Alan says, "We use therapy which focuses on what is happening right now that is hindering their success. Our goal is to get them over this particular set of mental barriers."
"Alan and I try to believe in people, on a personal level and in business - people need the opportunity to be able to express themselves. What we're trying to build in them is business acumen: bring out what they can do, create an environment around that, which allows them to do exactly what they love, while always being in control."
"Inside Bloom, you're welcomed like a dear friend, the energy is upbeat and enthusiastic, the service feels personal, and the space vibrates with determination and charm."
While curating investment strategies for their corporate clients' empowerment targets, they became increasingly frustrated by the limitations of popular funding options. Alan explains, "We have a bucket that's leaking, and we just keep patching the holes. Our aim is to build relationships that are not just transactional - we want value. There are millions being spent to develop people, but are they being spent in the best ways?"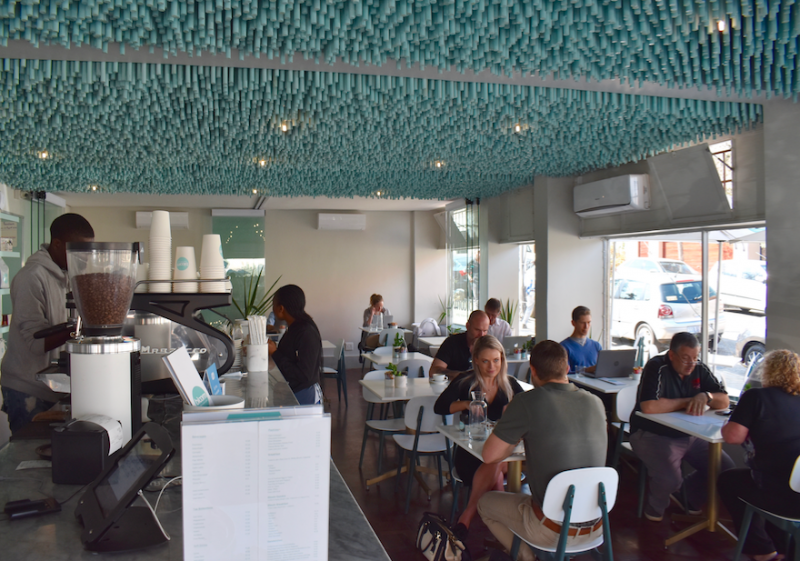 Alan and Kgabo decided to find a new, dynamic solution to spending upliftment funding, that would create greater opportunities for scale - ultimately resulting in black empowerment in the local SME community. They loved the idea of building the blueprint around a coffee shop, and after gruelling months of intensive recon work, Bloom was born.
So, Bloom put their model to the test: with Alan and Kgabo as the recipients of their own entrepreneurial framework. Alan says, "The first week was absolutely horrendous, but that is part of the entrepreneurial journey - everything won't go according to plan! What matters is how we view it, and how we handle it!" For Kgabo, it has been the perfect opportunity to hone, what is best described as his flair for financial engineering, and keep building out their model in layers - fitting into itself at every ideological and practical level. He says, "My role is anything finance and statutory related, and making sure there are systems in place that constantly collect data and track everything in detail."
Inside Bloom, you're welcomed like a dear friend, the energy is upbeat and enthusiastic, the service feels personal, and the space vibrates with determination and charm. Alan and Kgabo, are always at the store, making sure that they're part of the team, and energetically working alongside their staff to build a booming brand. They're also the mentors and educators in the accompanying entrepreneurial development program.
They proudly use beans from Father Coffee, whose blend they admire for its versatility and aromatic richness. As for the execution, it can only be described as a joyful dance, in which the craft of blooming the perfect cup has become a daily celebration for their team of baristas. The shop has lots of natural light pouring through wrap-around bay windows, complete with a handmade "floating" aqua ceiling, and pristine marble countertops. The spot pumps every day of the week, with young families spilling out onto the sidewalk, cyclists hitching up their wheels to down a quick restorative, and industrious professionals tinkering away furiously on their laptops. They serve all-day breakfast, cakes and light classics to accompany their brew.
Prince is currently completing a Bcom in Marketing and Communications through UNISA. He says, "It used to be very lonely and difficult to juggle work and studying, but now I can see the value and it just motivates me to grow and do more. It was incredible to meet people who actually wanted to spend their time and money investing in me and my skill set."
He enthuses about the personal development program, "Being a part of Bloom has been amazing: we each have one-on-one sessions with a life coach every two weeks, who finds out what we are good at, and what we want to achieve - and then they help us to actually make that happen. So it's very personalised, you're still 100% in control of your own destiny, but you have that extra support and resource. Then, we also get taught everything you can imagine about running a business - I thought I pretty much knew it all after all my years in hospitality, but Kgabo and Alan have already taught me so much."
When asked about what it's like working in a team of dynamic future entrepreneurs, he says, "It can be challenging, but it really made me think about what it means to be a leader - it pushed me to push myself in terms of my own skills in management, and made me realise how flexible your strategy needs to be when working with different types of people. There is also lots of healthy competition, which adds motivation to do better as a team and as an individual."
The team stresses the prudence of allowing the model to evolve with the people it aims to serve. "The big hope for the future of Bloom is more stores - whether coffee shops, kiosks or delivery trucks - specifically owned and run by people who worked for and were developed by Bloom." Kgabo says, "We will create an ecosystem where we build out all the structure for making a business, so they will always have that support. If you can make it in Parkhurst, you can make it anywhere." But, Alan is quick to add, "We can simplify the business model depending on the individual. We don't need each business to become this high revenue-generating monster: we need to provide a way for people to pay their children's school fees, put food on the table and live a decent life."
Prince is also excited about the future, "First, I want the Bloom brand to thrive and build momentum, so we can open more stores, include more people and create better opportunities for everyone involved. Then, when we're ready, I know I will own my own shop and help take Bloom to the next level."
The first coffee shop seems to be off to a flying start. Entrepreneurial ideas like this can help to change the landscape of the current South African economy and once again, coffee is leading the way.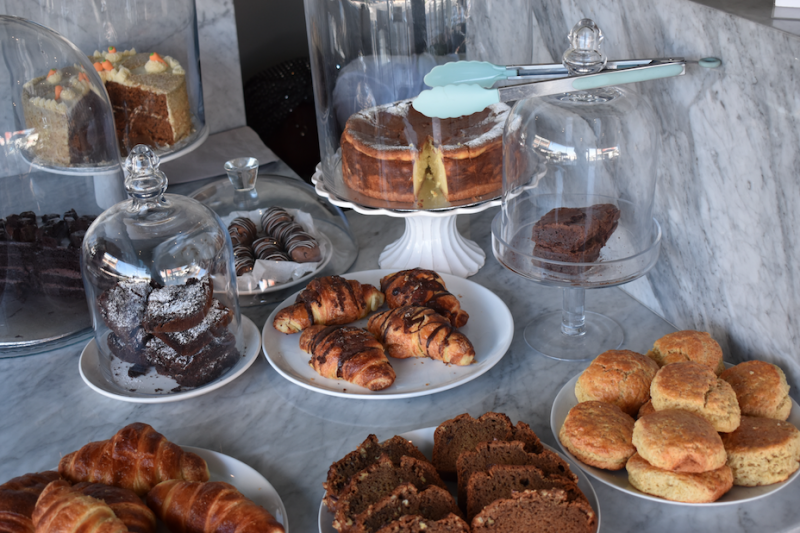 Got something to say? Then leave a comment!
---
Interview with A Shot in the Dark 2019 Winner
Monday, 27 January, 2020
André Vermeulen of Bottomless Blessings, a brand new roaster in 2019, made a splash at Creative Coffee Week in July 2019, when our panel of judges picked his coffee out of a field of 43 roasters to take the A Shot in the Dark crown! We caught up with him to see how the competition changed his coffee life.
Enter A Shot in the Dark 2020 presented by Genio Roasters now. Finals to be held at Creative Coffee Week 9-11 July 2020.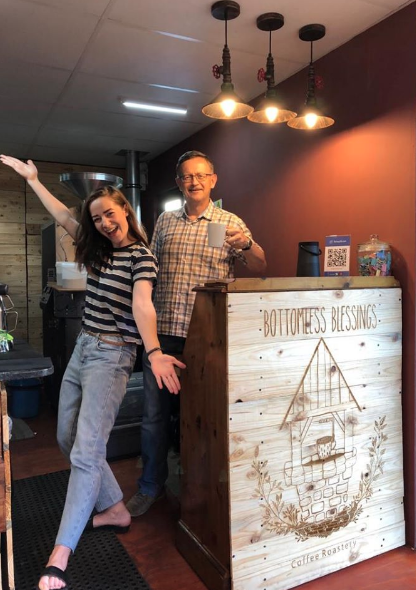 André, and his daughter, who both attended Creative Coffee Week 2019 to participate in A Shot in the Dark.
Why did you choose to participate in A Shot in the Dark?
At the stage of receiving the invitation, to participate, I just started my roasting journey and I was very hesitant to accept. My wife convinced me to participate because she encouraged me to get the exposure. So at the end my reason for participating was to learn more and to get exposure in this area of the coffee business.
What did you learn from the experience?
What an experience it turned out to be!
Every time I received those green beans it was like a birthday present. To receive beans I never roasted before and to learn more about the characteristics of every bean was just an amazing experience. To know that there was little room to experiment with the amount of beans received, just added to the adventure. And then the blend. I literally changed the blend again half an hour before I went to Postnet.
To be honest, the one thing I realized is that a lot of factors can play a role in a competition like this. The type of day you chose to roast (the climate, the time of day and nowadays the possibility of load shedding), your emotions even and then at the end it is literally seconds that can make the difference between a good and an excellent roast.
So if you ask me I learned that luck can also play a major role. At the Creative Coffee week I naturally learned that the Coffee industry is about much more than just roasting. I made good friends from which I learned lots of other coffee stuff and experienced a lot of care amongst all the coffee fanatics. I am really excited about my new family!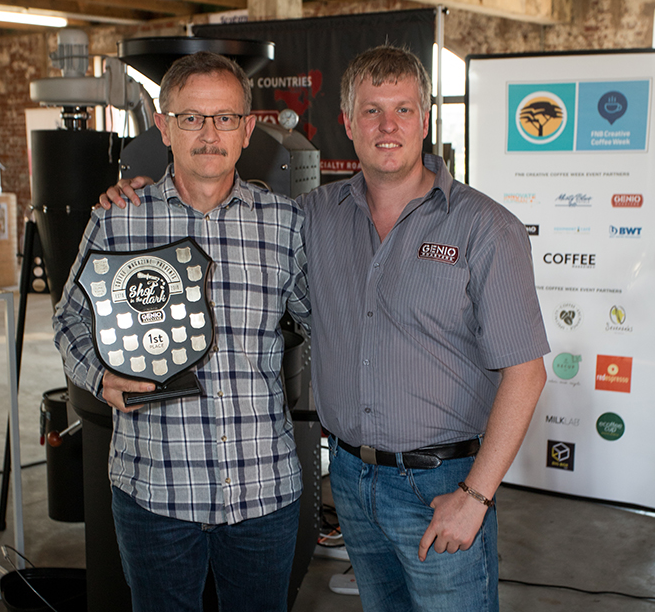 What has changed for Bottomless Blessings in the last year?
Well I know that winning the competition gave me tremendous exposure. Suddenly people in town, and even from neighbouring towns, wanted to taste the coffee at Bottomless Blessings Coffee Roastery and wanted to buy that special competition beans. Business definitely picked up in a big way and I had to hire extra space for the winter to accommodate curious customers. In this all I experienced a lot of favour from the Lord. I believe this was His way to give exposure to the Coffee Shop.
What roaster keeps the beans browning at Bottomless Blessings?
Ermelo is a small town and I have only two employees at this stage. After Esri had been my first Barista for the first year Steve is now, apart from myself, the shop's only trained Barista. Zoë is a shop assistant and hope to be a trained Barista soon. I am in full-time ministry and cannot be at the shop full-time. But I do all the roasting myself on my trusty Genio and it will probably always be my primary responsibility at the shop. Although I like being Barista also from time to time.
What are your plans for 2020?
My plans for 2020 is to roast more specialty beans and to start selling beans online. The website will be operational soon. We will also keep on making good coffee and serve our customers with excellence. We plan to include at least one new drink to the menu annually to interest those who gets bored so easily. It will always be our aim not just to serve people with coffee but also to be available to minister to anyone who just need some encouragement.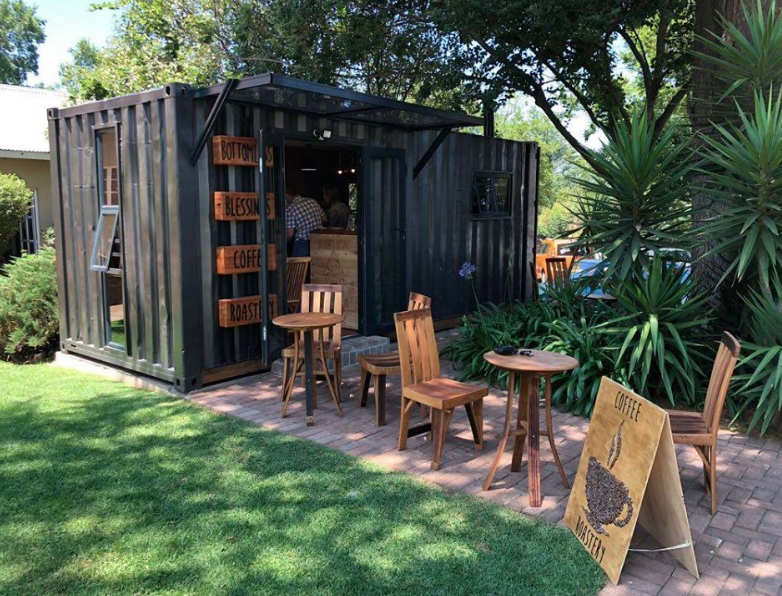 Enter A Shot in the Dark 2020 presented by Genio Roasters now. Finals to be held at Creative Coffee Week 9-11 July 2020.
Got something to say? Then leave a comment!
---
Michalis Dimitrakopoulos is coming to South Africa with Scotsman Ice SA
Thursday, 23 January, 2020
We are thrilled to announce The Scotsman SA Roadshow 2020 featuring Michalis Dimitrakopoulos in March.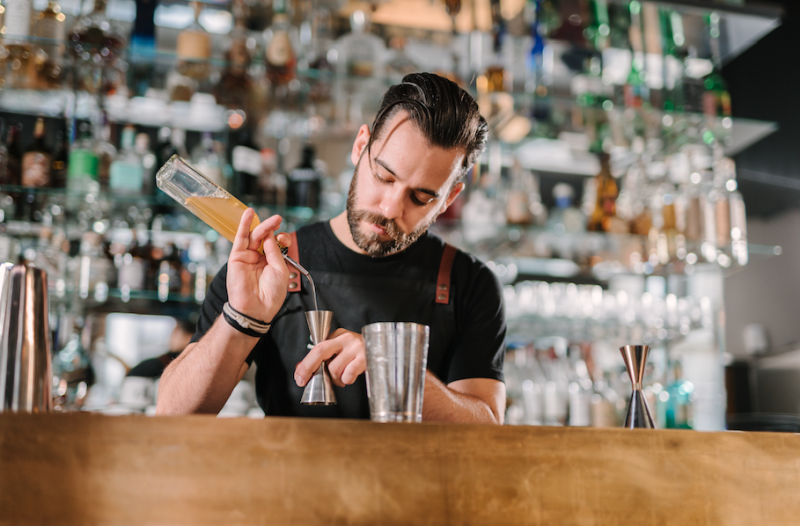 World Coffee in Good Spirits Champion 2016 & World Barista Championship runner-up in 2019, Michalis is a world-renowned coffee heavyweight! And he's coming to SA this March!!
If you don't know who the legendary Michalis is, let us give you a bit of insight. Michalis is a decorated competitive Barista and part of The Underdog in Athens, Greece, a must-visit specialty cafe and bar. He won the World Coffee in Good Spirits Championship in 2016 and in 2019, he was runner up in the World Barista Championship. So, the man has skills.
You can read more about his cafe and approach to competitions here.
Scotsman SA is bringing him to South Africa at the beginning of March for HOSTEX 2020 and then he will be visiting Durban and Cape Town.
And who are Scotsman?
Scotsman Ice Systems pioneered the development and manufacture of affordable, reliable ice-making machines in the 1950s. Half a century of research, innovation and customer service later, Scotsman Ice Systems are the largest manufacturer of ice makers in the world, a truly global company with distributors and authorised service agents in over one hundred countries. There are now over a million Scotsman ice makers at work around the world. They are based in Gauteng, with head office in Boksburg.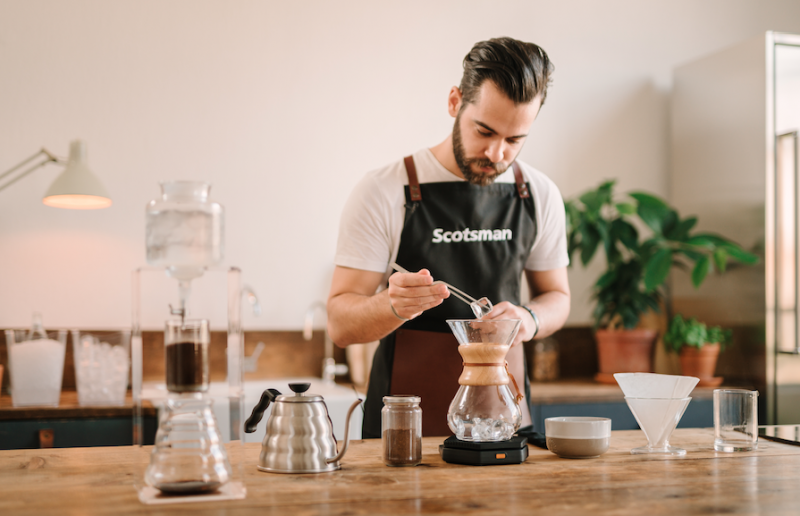 Come and meet Michalis in person in South Africa this March!
Want to meet the legenday Michalis Dimitrakopoulos?
1-3 March 2020 - HOSTEX, Sandton Convention Centre, JHB - Daily from 9.30am-5pm
4th March 2020 - DURBAN, The Lucky Shaker, Umhlanga, 7pm
5th March 2020 - CAPE TOWN, Secret Venue, 7pm
Michalis will be on the Scotsman stand at HOSTEX at certain times daily, we will keep you updated so you can see his skills in action.
Spaces for Durban and Cape Town are limited and these events are by invitation only, but if you fill in the form below, we will get back to you.
The Scotsman SA Roadshow 2020 featuring Michalis Dimitrakopoulos
Got something to say? Then leave a comment!
---
Meet Rory Rosenberg: Creator of Oslo Cold Brew
Wednesday, 22 January, 2020
Rory Rosenberg is originally from Durban (South Africa), but these days you can find him running product development for Oslo Cold Brew in Norway – a company he started in 2017. We chatted to Rory about his story…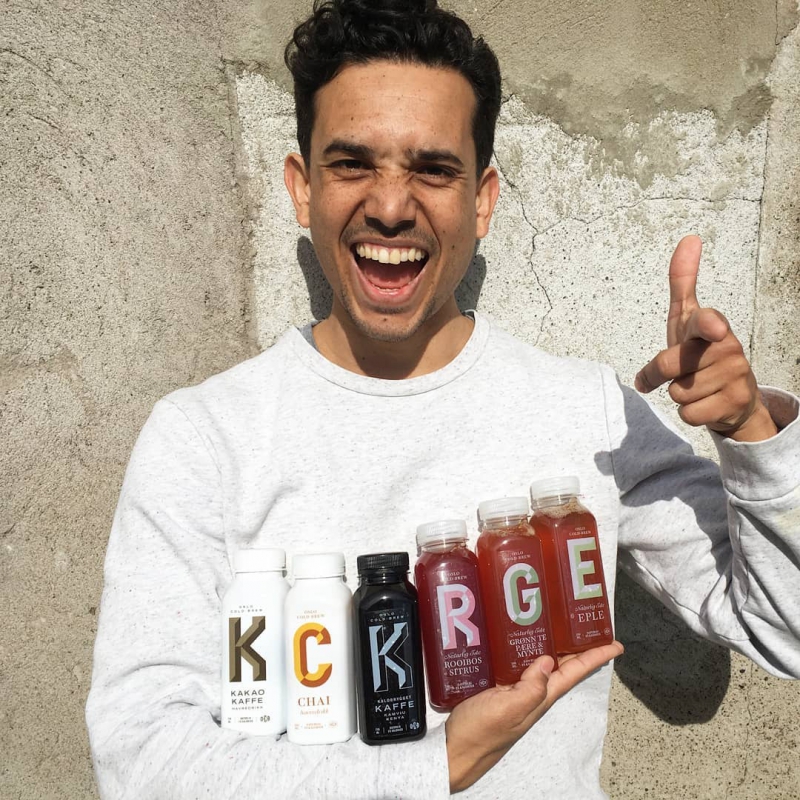 So, who is Rory Rosenberg?
"I'm a father, partner, and a foreigner in Norway, which is a really thought-provoking and humbling process. It seems that I'm an entrepreneur, but really, I'm more a student who is constantly learning and improving to ensure I leave this place a little better than when I arrived."
How did you get into the coffee industry?
"I was an exchange student in Oslo (Norway) in 2009 and needed a part-time job as Oslo is an incredibly expensive city to live in. I got a part-time job as a barista at a nationwide chain of cafés called Kaffebrenneriet. It was here where I was exposed to and fell in love with barista service and specialty coffee. Before this, I never even drank coffee!"
You're originally from Durban?
"Yup, originally from Treasure Beach and the Bluff, then later Pinetown and finally Glenwood.
I met a beautiful, interesting girl outside the library at UKZN, Howard Campus. She was an exchange student from Norway and in Durban for a year. She lived in Durban for another five years and after that, it was my turn to live in her home country. It's now my sixth year here in Oslo. We are still together and have an amazing 16-month-old daughter together."
How does the coffee scene in Norway differ from South Africa?
"The Norwegian coffee scene is fundamentally different from SA due to the buying power Norway has in terms of the green coffee we can buy (very high quality), the quality of water (it's extremely soft), and the market is pretty educated about quality coffee and understand the supply chain quite well, and therefore are much more used to paying ZAR 40-60 for a good cup of black coffee. All these factors make drinking really good coffee in Oslo very easy and normal."
How was Oslo Cold Brew born?
"This is a bit of a long story, roll with me for a bit here… I had worked in a top end chain of coffee shops in Oslo called Stockfleths for three years, and during this period I rose to become the quality controller and barista trainer for the whole company. I had also placed second twice in the Norwegian barista championships and had begun to feel stuck and limited by the resources available to me and the choices I could make within that company, so I decided to leave.
I knew I wanted to stay in coffee and that cold brew coffee was growing globally and no-one in Norway was taking the chance on it, so I committed to the idea that I will try start a cold brew coffee company in Oslo. I also knew that I had to become the Norwegian Barista Champion to gain as much attention and traction to the crazy start-up process that lay ahead of me. In 2017, I became the first non-Norwegian to win the Norwegian Barista Championship and later represented Norway on the world stage in South Korea.
After this win, followed an intensive testing process with cold brew coffees and teas (as I had zero experience with this and starting a business) and getting a founding team together and pitching to investors. We pitched to two investors and they both said yes, so we went with the best offer to make Oslo Cold Brew a reality."
Why cold brew?
"Cold brew had been growing internationally for the past decade, and my experience with Norway told me that Norway was about 3–5 years behind in adopting global consumer trends. I knew that it would take some time for it to become an established category in Norway, and if it did, it could be a success. I decided that I would like to open the market in Norway and set the bar as high as possible in terms of quality and transparency of a cold brew brand that represented everything I had been working with for the past eight years in speciality coffee.
I had little to no experience with cold brew production, so it required a lot of testing and re-learning and approaching the fundamentals of coffee extraction. I believe that we are now able to create some really great, sweet and smooth cold brew products that provide a new and healthier way to experience coffees and teas."
What made you decide to open your own business?
"It had always been something I wanted to do, and Norway is probably the best place in the world (to my knowledge) to fail at starting a business, due to the social welfare system, so the risk was decreased somewhat by this fact. Also, I had a strong desire to create, to be a part of positive change and to learn as much as possible about starting and scaling a business, so starting my own business was the only option that checked all these boxes for me."
How has Oslo Cold Brew grown and changed since launching?
"It has been slow and hard to be honest, and it's quite expensive to establish a brand in Oslo. It was financially tough for the first 18 months – very time consuming, full of learning and skills development – energising and exhausting on new levels, filled with pride and anxiety simultaneously.
We sold the company to a healthy food and drink start-up at the end of 2018 (a company called Freshco), who was primarily producing cold pressed juices. Oslo Cold Brew (OCB) is now a brand under this company. I've since moved in to head of product development and quality control within this company. This was the right choice for OCB and me, as OCB still lives and has a much larger chance of national success than it did before."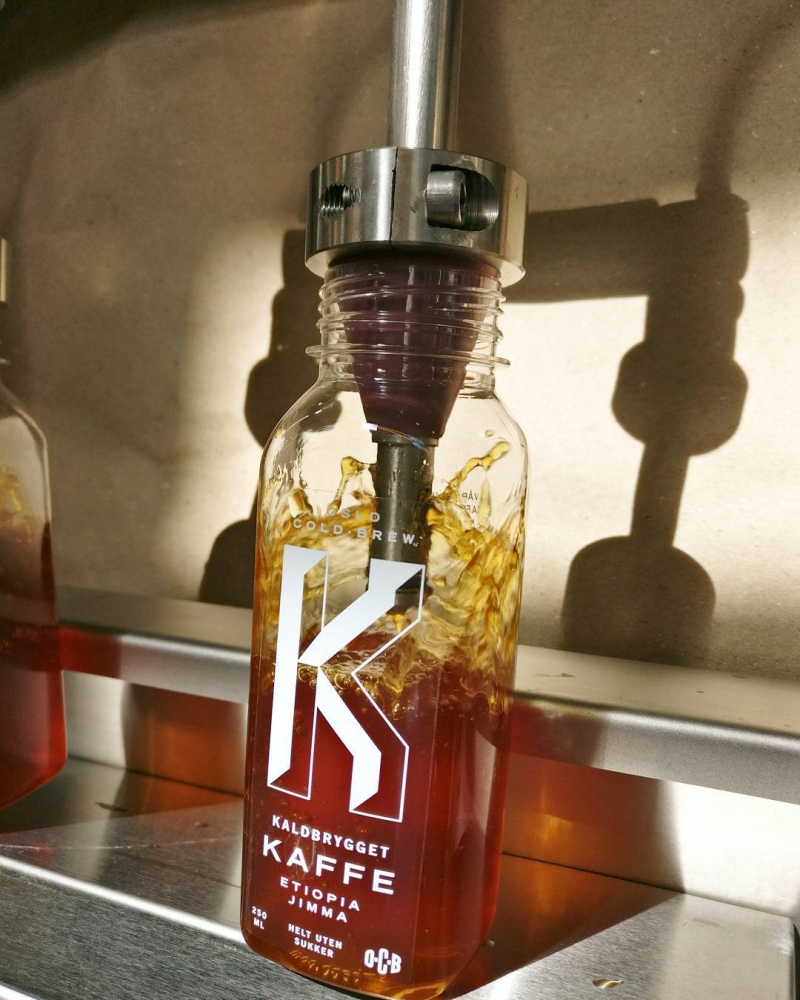 What's been the highlight of your business journey?
"Seeing customers enjoy something we've created and having a positive effect on what they think cold coffee and teas can be. I'm quite proud of how the products look, feel and taste. Selling the company was an experience I am very grateful for and I am very excited for the future of cold brew coffee in Norway. It's been a real rollercoaster ride, one that I'm still on and not ready to get off yet! It's still early days and success is not guaranteed, so the hustle journey must continue."
What does your average day look like?
"It's quite different now from what it used to be when we were independent… Emails, customer visits, and potentially strategy/branding meetings before 10h00. Production from 10h00–15h00 – I used to be the main person in production, and am still regularly in production these days too. Clean up the production space, pack orders and print out delivery slips for delivery the next day from 15h30–18h00. Set cold brews for the next day (we use 16–20-hour extraction times, depending on the product). Cycle home and try visit another customer if possible on the way home. And repeat."
What do you like best about your line of work?
"I really enjoy the process of creation, from idea to something that looks, feels and tastes great that a stranger is willing to pay for. I also enjoy exposing people to a new and different side of coffee. I'm interested in changing consumer patterns for the better."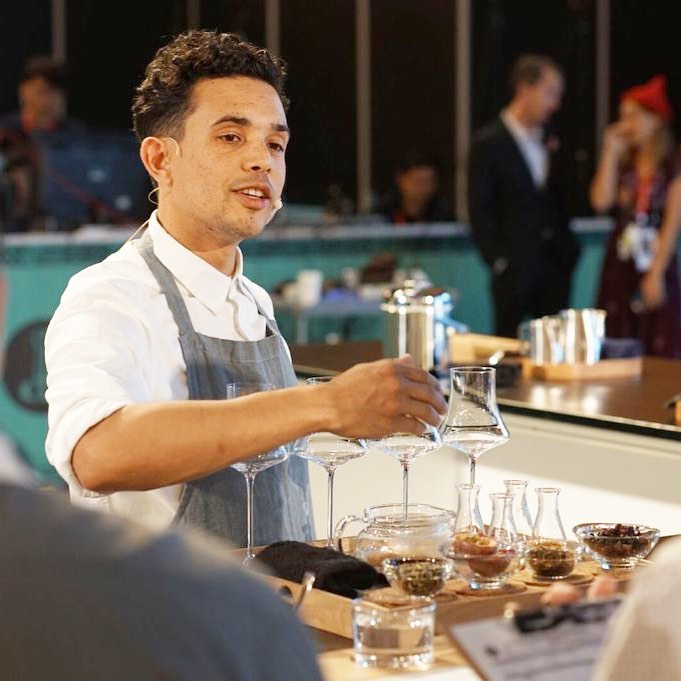 How does the pressure of running a business compare to being on stage for world champs?
"Fucking up at the world champs (like I did) is very intense, crushing, painful, and hurts your ego a lot, but it's short lived and by the next world champs it's almost a distant memory.
Fucking up in your business has much larger and far reaching negative ripple effects. You have staff, customers and investors that depend on you, and you're part of a larger and more connected system. The pressure is more real and its reactions and consequences are also much more real than in the competitive arena. Business pressure outweighs competition pressure by a long way if you ask me."
What advice do you have for entrepreneurs who are starting out on their own paths?
"Educate yourself as much as you can; read up on and Google everything you don't understand. You are your strongest asset and biggest investment, so put the work into yourself before getting people to follow you on your journey. It's going to be very hard and success is in no way guaranteed, but the struggle is. If you understand this and are ok with this, then go for it. Make calculated risks where you can. Test as often as you can, create a feedback loop with your customers, listen and change what you can to better your product/service.
It's better to fail fast based on feedback than to continue down a blind path based only on your (or your team's) opinions and ideas. Educate yourself on ways (especially creative ways) for raising money – you will need more than you think. Connect with other entrepreneurs locally, nationally and internationally to hear and share experiences that everyone (including yourself) could benefit from."
What's your coffee of choice these days?
"I still have a bit of purist approach to drinking coffee these days, so mainly black coffee and single espressos for me. Washed Colombians and varying honey processed Costa Rican coffees hit the spot for me these days. I will always have a sweet spot for Burundian coffee, and will choose them if they're available."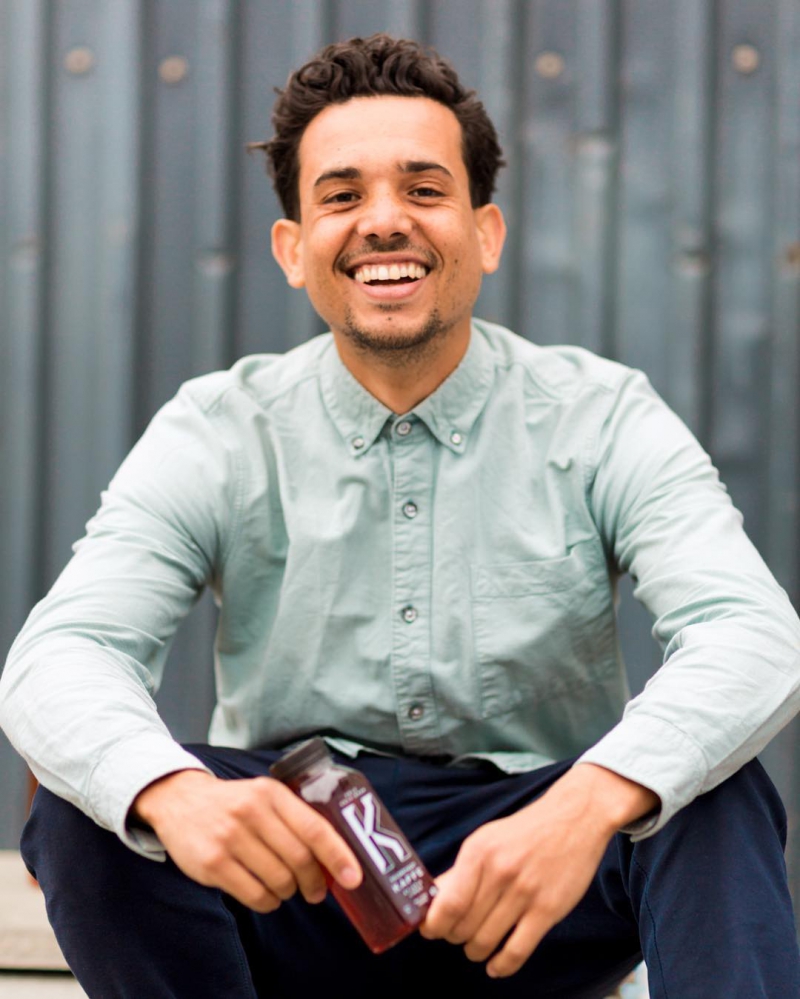 If you liked this article, then you may also like these:
Got something to say? Then leave a comment!