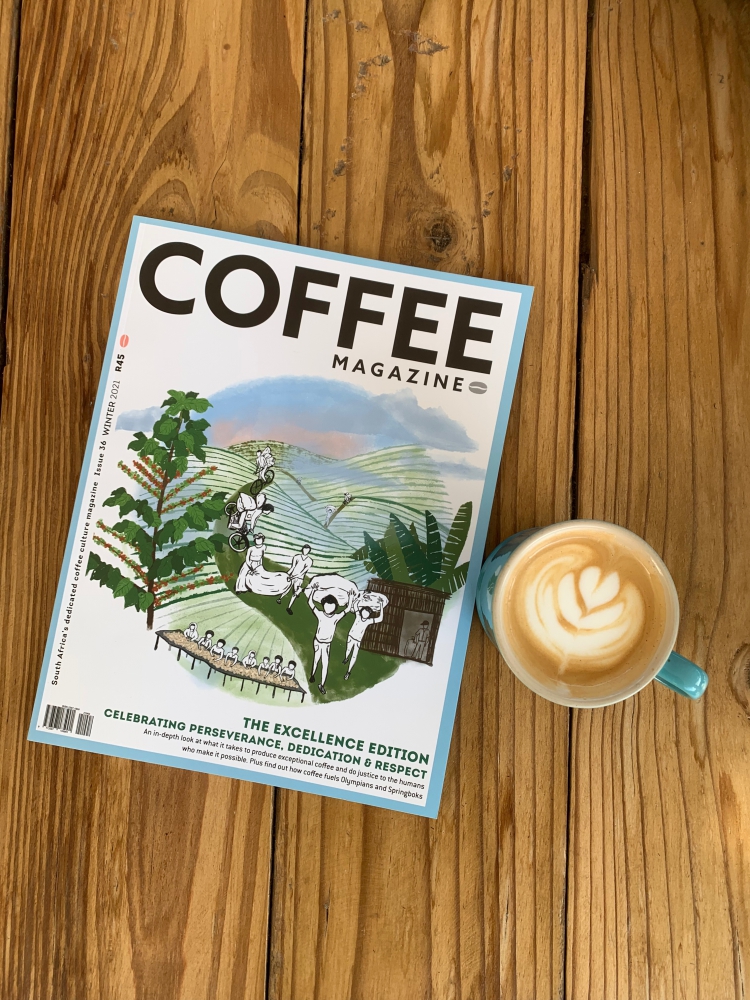 Out now! Issue #36, Winter 2021 - "The Excellence Edition"
This issue is an emotional one. Celebrating perseverance, dedication & respect, we take an in-depth look at what it takes to produce exceptional coffee and do justice to the humans who make it possible.
Mel's editorial is a deeply emotional one as she reflects on putting this issue together and everything that has gone into making it. One thing is for sure, despite the trying times we find ourselves in as a coffee community around the world, the pandemic, the lockdowns, the unrest and the economic instability surrounding us, there are amazing people, doing amazing things right here in our neighbourhood coffee roasteries, to right across the Continent and the Globe.
We also have some very unique coffee and sport content in this issue, as we interview 4 first-time Olympians in Tokyo and we catch up with the Creative Directors behind the Supersport Documentary on the Springboks winning the RWC 2019 - "Chasing the Sun".
You can get your copy from any of these fine coffee establishments around SA.
Or you can subscribe, and get a copy couriered to your door -
We have two exciting subscription offers for you! - Click here to subscribe!
Regular magazine subscription, couriered to your door 4 times a year (R330 incl vat)
VIP magazine subscription, couriered to your door 4 times a year with a mystery goodie per issue (R600 incl vat)
What's in this Edition?
Cover: A Village to Remember
Follow the trip of a lifetime with Winston Thomas, three-time SA Barista Champion, as he travels to the famed Gesha Village coffee farm, where the now globally acclaimed Gesha/Geisha coffee varietal originated.
Roast: Mastering the Art of Life
A look at the now 16 year old Bean There Coffee Company, a business rooted in making coffee farmers' lives better, one cup of coffee at a time.
Origin: Before & Now
Cultivating a connection with coffee farmers through cameras with the Long Miles Coffee Project team in Burundi. Seeing the world through coffee farmer's eyes.
Brew: Big Battle of the Small Coffees
A lean towards espresso based beverages with less milk than your traditional cappuccinos and lattes has been creeping on to cafe menus for years. But what is the difference between the options?
Culture: Citius, Altius, Fortius
For many sports people, The Olympics is the highest honour. It will take place in July and August 2021, a year later than anticipated. We caught up with some South Africans who about to head off to Tokyo.
Discover: Getting Coffee from Origin to You
The importing and transportation of this valuable commodity is a complicated process so we asked expert Carol Corlett of Sevenoaks Trading to shed some light on how green beans get to your local roastery.
Kick: Keeping the main thing, the main thing
Behind the scenes of "Chasing the Sun", the award-winning documentary about the Springboks Rugby World Cup victory as told to Coffee Magazine by one of the Directors, Greg Lomas.