Blame Canada! An audience with Cole Torode, two-time Canadian Barista Champion
Friday, 17 January, 2020
Blame Canada!
Meet Cole Torode, he's Canadian and he's awesome.
When we think of Canada we think of freezing weather, uber friendly people and top coffee professionals who always wow us in competition (and for the fans, South Park, as noted in the title!). The top coffee professionals also do happen to be uber friendly and the coffee certainly helps with the chilly climate. The last couple of years, Cole Torode of Rosso Coffee Roasters in Calgary, Alberta has represented Canada at the World Barista Championships and managed to place in the Top 6 both times. That is no mean feat! Cole had the opportunity to visit Johannesburg earlier this year and we were able to connect and pick his brain about all things coffee.
Interview by Melanie Winter
---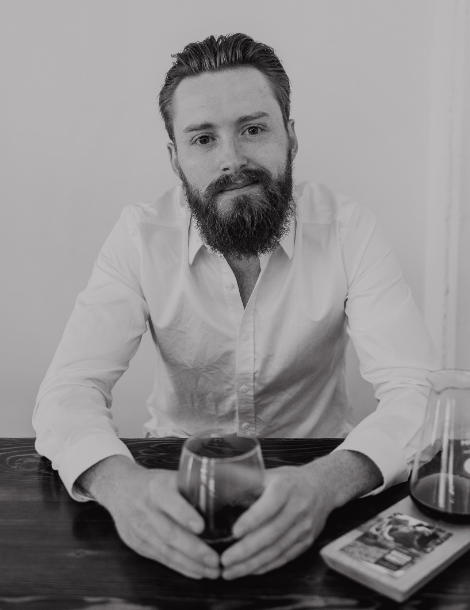 How did you fall in love with coffee? Was it love at first sight or did it grow on you over time?
For me, the love and appreciation for coffee came after working in the industry. I needed a job at the time as my life plans had fallen through and I just so happened to get a job working as a barista. Shortly after, I heard there were barista competitions and being a competitive guy, I decided to try my hand at it. Through the learning and understanding I took on, I became incredibly fascinated and ten years later, I still compete, still learn and still find it incredibly fascinating each and every day.
David Crosby, your brother, is the founder of Rosso Coffee, starting way back in 2007. What inspired him to get into the coffee industry?
Similar to my story, David was in need of a job. He graduated university and came back to Calgary at a time that was tough in the city and thus, finding a finance job was not realistic. He had previously worked at a handful of coffee shops during university and realized that Calgary was maybe lacking in its overall coffee scene. He jumped in with two feet, opened the first location in a charming neighbourhood called Ramsay and was the only employee for the first six months - barista, baker, chef, dish washer, you name it, Dave was that guy.
Rosso Coffee has organically grown from cafe to roaster to green bean sourcer to multiple cafés and supplying multiple wholesale clients, did you ever think this is where the company would be in 2019? And what did it take to scale the business so you could shift focus to the supply chain?
Scaling the business has been challenging and rewarding. We've never had a huge budget for anything and we've thankfully never taken on debt, so we've got to where we are today bootstrapping the business. Honestly, I think every year, we surprise ourselves when we look back on where we're at. We've always had a full commitment sort of attitude when it comes to new endeavours and we're always willing to put in the time to make sure we get across the finish line.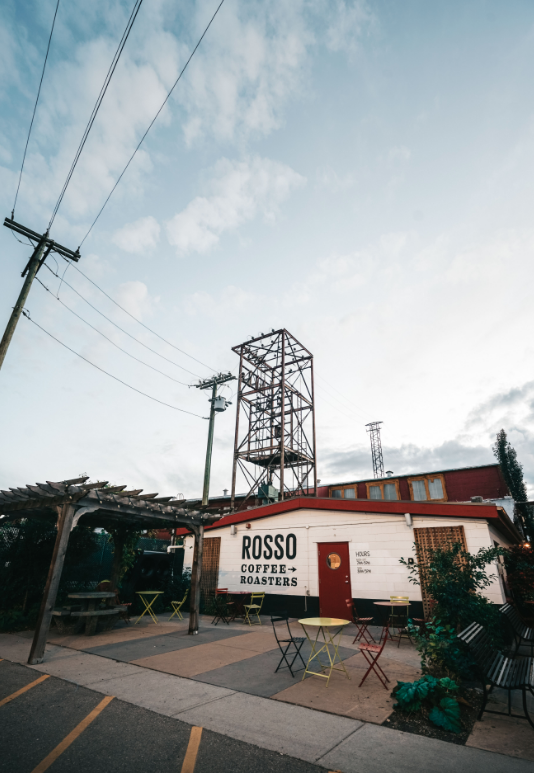 Photo by Brandon Paton
There is a strong entrepreneurial culture here in South Africa, can you tell us a bit about what it is like to partner with your brother? Do you have any advice on choosing business partners and how to manage these relationships?
So, I'm actually partnered with my brother and his girlfriend Jessie. They met in the early days at Rosso - she was a frequent latte drinker who asked Dave out because Dave was too worried to lose a client should she say no… HA. Working with the two of them is great, though it can be challenging as I know they go home and discuss things after the working day and often formulate answers to things before I get an opportunity to. On the positive side, we all fulfil different gaps in the business and now we're able to each champion our own aspect at Rosso. So Jessie is most involved in HR and the cafes, Dave is on finances and logistics, I'm taking on the coffee quality control and sourcing, as well as our online platforms.
How did travelling to origin change your perspective on coffee?
I think, far beyond coffee, it changed my perspective on the world. I'm privileged to live in a country like Canada and I didn't necessarily understand what existed beyond our borders. Visiting coffee producers in hyper-rural areas in countries like Myanmar, Burundi, Guatemala, and others, gives me desire to create change. For me, I want to use the platform of specialty coffee to make positive impacts on the lives of people in these countries and beyond.
Coffee is one of the largest industries in the world, it's present in every country, either production or consumption, and it's continually suffocated by large corporations who are smothering small producers. Buying practices need to change on many fronts, but I believe that starts with coffee buyers like myself, traveling to meet the people behind the coffee. If we put humanity to the product, perhaps we can influence the consumer to purchase coffees that are traceable to a specific producer or cooperative or washing station. Labelling a coffee as the country it's produced in just isn't enough anymore.
Imagine I went in to purchase wine and my options were South Africa White or South Africa Red. Well, that's just not enough for me and shouldn't be enough for others. I want to know it's from Stellenbosch or Paarl and if it's a Pinotage or a Chenin Blanc - that gives me context, traceability and an expectation. Whether I know what those things mean as a client or not, it gives me something to learn about should I be interested. Let's do our best to share as much info as we can about the coffees were serving to strike interest in our clients. Traceability is what will change our industry for the better. It's what will impact the humanity behind the coffees we serve the most. It's the thing that will separate specialty coffee from the commodity giants.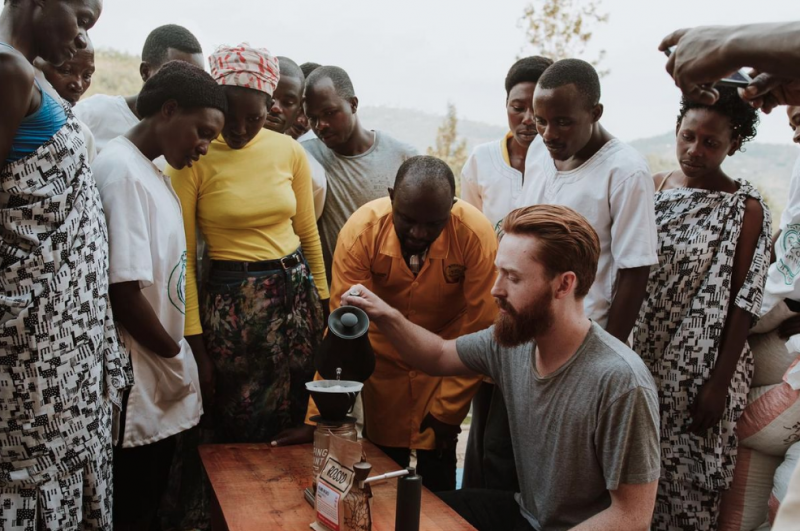 Can you tell us about your most memorable cup of coffee?
The most memorable coffee I've ever had was in the Semi-finals of the World Barista Championship in 2018. I was was playing with ratios for the blend I was serving, using Gesha and Sidra from La Palma y El Tucan. During my dial session in the morning, prior to my competition time, I hit an extraction at such a magical point that I swear the clouds in the sky opened up and the stairway to heaven came to me. It was so vibrant and vivid. It's really a shame it wasn't the same experience the next day in the finals, hehe.
What are the issues you face as an industry in Canada?
One of our challenges here is getting the general population to better understand and appreciate coffee. Our industry is dominated by big chains that sell 500ml and larger coffee drinks for dirt cheap. So our clients want quantity and often give us grief on pricing. In that interaction it's hard to say "well we're paying $4.00USD(R58,50)/lb FOB (FOB stands for Free on Board, which means this is the price of the coffee ready for export) for this coffee, we've been working with the producer for X number of years, plus we pay a living wage to our baristas and rent for this location isn't cheap and the Canadian dollar has dramatically fallen in the past few years and therefore it's actually really great value!" So that's one challenge we have, but I imagine that's Global. How do we as an industry charge prices that actually justify what a coffee should cost?
For visitors who love coffee, which city in Canada do you recommend as the coffee capital and what are your favourite coffee spaces there?
Well I'm based in Calgary and I'd argue that it's the spot to visit. I'm a huge advocate of the city and think it's wildly overlooked. If you're a fan of coffee, we have a great scene here with some globally renowned roasters and some incredibly sophisticated cafes. We're also an hour drive from the Rocky Mountains and some of the best hiking, skiing, outdoorsy sort of stuff that us coffee nerds all seem to enjoy. So I'd advocate to come to Calgary, though each of the major cities in Canada is starting to really push the coffee scene. I'm proud to live here and happy to be a part of the burgeoning specialty coffee industry.
Ed's Note: Calgary is also home to Phil&Sebastian Roasters and Monogram Coffee which have also produced award winning coffees and baristas. So, it seems Calgary is certainly an incredible coffee destination!
This will be your 10th year competing (jury's still out as to whether it will be your last!), what are the ways in which you think competition has moulded your career in coffee and how you do you think it benefits young baristas?
I honestly believe I owe everything in my coffee career to competition. If it weren't for the platform of barista competition, I'm not sure I would have ever been as motivated to learn about coffee, or to get into roasting, to do my Q Grader, to start sourcing, or experimenting. I think competition gives you a platform and template to master and understand the craft of coffee. In the early years, not only did I improve and hone in on my skills, but the baristas I was working with on the day-to-day also learned through osmosis. In these later years, I keep coming back to it because it gives me a platform to extend my creativity within coffee as far as I can. It gives me a voice and hopefully that voice inspires young and aspiring baristas.
Pretty sincere this year will be my last. I think retiring at 10 is a nice clean number. Getting the opportunity to compete in Melbourne would be amazing, as I actually wanted to travel to and live in Australia prior to getting a job in coffee. It's now the only continent I have not visited. So I'd love to go full circle and have my last year of competition take me where I wanted to go prior to knowing competition existed. After that, I'd love to coach and work with other baristas to compete and get more involved in planning competitions with SCA Canada.
As mentioned above, you've been competing for many years, what changed in your performance from one year to the next that took you to WBC in 2018? And what did you learn at your first WBC that got you back to the world stage in 2019?
The first year I competed at WBC I wasn't ready for the emotional rollercoaster that came with the three sequential days of competition. I had three weeks to build a routine from winning my National competition, running out of the coffee I used, and starting from scratch. This year, I went into my National competition with a routine that was built for Worlds. So my perspective and way to prepare changed from one year to the next. I think too, the first year I went in and felt intimidated by nearly everything around me - it was overwhelming. In Boston, I just zoned everything out and stayed in my own head space. I honestly didn't even walk through the exhibition in Boston.
What were your impressions of SA coffee culture (at least from within the confines of the Coffee&Chocolate Show, haha!)
I really enjoyed my time in South Africa getting to know a small portion of the scene. It was quick and I wish I had more time to see the rest of the country and get to know more cafes and more baristas. Overall I was impressed with Johannesburg and enjoyed getting to watch some of the regional competition at the Coffee and Chocolate Show. Just like other countries, it appears as if there's a group of people pushing the scene forward and I think that's so exciting to see. I know some people were commenting to me that South Africa is way behind with the world of specialty coffee, but I really don't think that's the case. It takes some time to change habits, create more appreciation and push people out of their comfort zone. We have a lot of the same struggles here in Canada. We just all need to keep a smile on our face, serve the best coffees we can and not allow any compromises in what we're doing.
Got something to say? Then leave a comment!
---
Calling all roasters: Enter A Shot in the Dark 2020
Friday, 17 January, 2020
Coffee Magazine is very excited to bring you the 3rd edition of South Africa's only Coffee Roasting competition A Shot in The Dark 2020 presented by Genio Roasters! With the growth of coffee in South Africa, and around the world, this competition is a fun and novel way to showcase the skills of our amazing Coffee Roasters from all parts of SA, and this year, possibly a couple from overseas too!
This competition is open to anyone who wants to enter, and last year we grew the competition from 12 competing coffee roasteries to 43! Watch our amazing video and read all about the competition format here: https://www.coffeemagazine.co.za/pages/49/a-shot-in-the-dark
Details on judging and logistics will be added as we go. The entries are already flowing in and we urge you to enter as soon as possible! (Entries close 1 March 2020)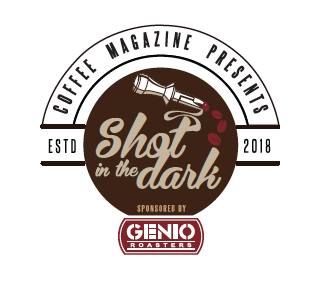 A Shot in the Dark is proudly supported by:
Genio Roasters – Title Sponsor and Partner to ASITD.
Sevenoaks Trading - Supplier of the competition's First Round green coffee, competition coffee bags and use of cupping laboratory.
Specialty Coffee Exchange - Supplier of the competition's Finals Round green coffee and bringing the Coffee Producer to Creative Coffee Week.
Equipment Café - Supplier of the competition's Finals Judging equipment at Creative Coffee Week.
Your entry fee buys you:
R3000 for 10kg of green competition coffee or
R5000 for 20kg of green competition coffee or
R10 000 for 40kgs of green competition coffee.
2 x 1kg Competition Coffee bags, Roasters Notes sheet and welcome pack.
A ticket to Creative Coffee Week 2020 valued at R2500 (9-11th July 2020 in Durban). There will be a day of workshops and practical experience especially for A Shot in the Dark entrants. Only the people who enter will get to attend this section.
Limited Edition A Shot in the Dark 2020 Tee shirt
"A Shot in the Dark" limited edition stickers for re-selling your competition coffee in your Roastery/Café.
Prizes include the ASITD Trophies to display in your roasteries PLUS:
1st place - An Origin Trip with Coffee Magazine, 1000 x Gold ASITD winner stickers.
2nd Place - Free entry into 2021 ASITD & a SCA Roasters Course, 1000 x Silver ASITD runner-up stickers.
3rd place – 60kgs of green competition coffee , 1000 x Bronze ASITD 3rd place stickers.
Got something to say? Then leave a comment!
---
Build Up to Nationals 2020: Competition advice from behind the scenes
Wednesday, 15 January, 2020
The Inside Scoop on Competing in Coffee
Some of Chris Rootman's favourite moments of his career have been at the SCASA competitions: "small things like two competitors giving each other big hugs after their sets, helping a competitor backstage, seeing how nervous they are and then absolutely smashing their set on stage." National Sales Manager of VDP Distributors and a SCASA board member, Chris gave us the inside scoop on coffee competitions in South Africa…
What do you like best about coffee competitions?
"The friendships and camaraderie. There is the most amazing spirit shared between everyone at these competitions. Whether you are competing, judging or organising. On a more serious note, there is always something to learn. The competitors have spent a lot of time and invested money preparing for the big day, and with that comes a whole new knowledge base that everyone who takes the time to listen, can learn from.
Those who are involved will understand what I mean. If you have never done so, come spend some time at your regional competition. Be a judge, volunteer to work behind the scenes, or even better, come and compete. It really is life changing!"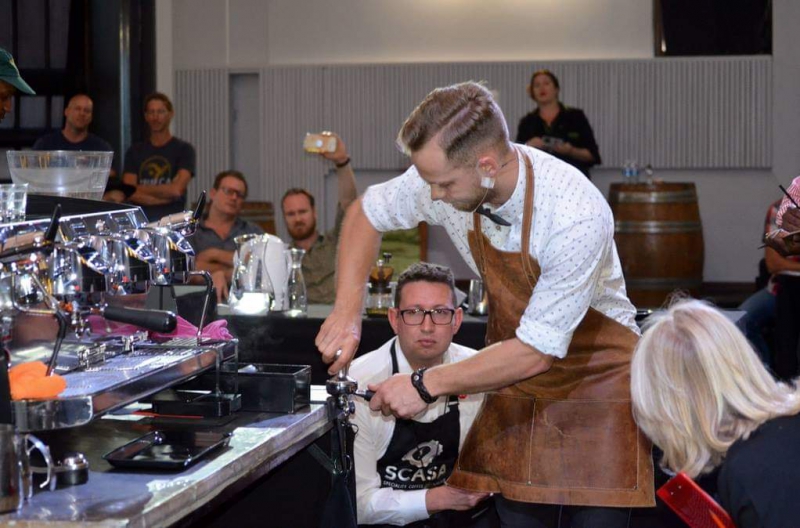 As a judge, is it difficult to stay objective when you're judging industry friends?
"Back in the days when I used to compete, I did sometimes think like that. But when I started getting more involved behind the scenes, I soon realised that the scoresheets leave no room for personal interpretation. The judges' training as well as the daily calibration is led by industry legends like Alessandro Morrico, Bernard Muneri, George Bertolis, Tim Krynauw and Shaun Aupiais, who leave little room for personalised interpretation."
What do you think it takes to succeed at the international level of competition?
"Like Gary Player says, the more I practice, the luckier I get… I think that attitude in life will get you far no matter what you do. International competitions are of course a very different beast. Having read a lot of interviews with the top six in the World Barista Championship finals for the past 10 years I think there are some constants which a national champion should consider when the planning starts. As a list person, here is mine:
1. Start at regional level. Plan, train and perform as if you are on the world stage.
2. If you make it to nationals, use the same attitude, give your preparation absolutely everything you have, and compete as if it's the most important thing you've ever done.
3. Network. There is a wealth of information and expertise within the local coffee community.
4. Team effort. You will need a group of people around you who can help you from the planning phase to competition phase. They should know what you think before you even think it and have the ability to handle the stressful situations in a way that will keep you calm and focused.
5. Live practice. Once the set for worlds start taking shape, repetition is important to build muscle memory. I personally feel that the national champion should be running sets for judges and other competitors daily to get used to the pressure and to find ways to work around problems that could happen during sets. The more sets you run, the better you get to understand the areas of a set where you get to be creative, but also to build areas within the set which are standard. These standard areas can serve as time checks, but also keep you grounded when pressure mounts.
6. Be different. Judges want to leave your set feeling excited and inspired. Give them reason to by being creative."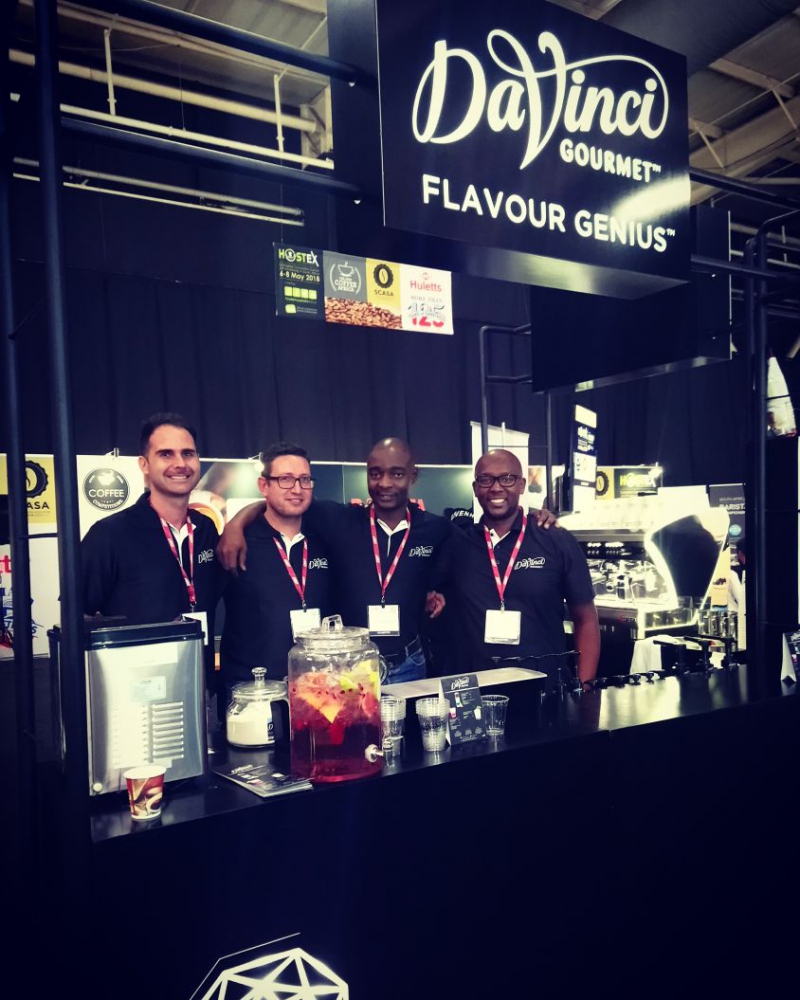 What do you think lies ahead for South Africa's coffee industry in 2020?
"2019 has been a hard year. We faced some interesting challenges in terms of our economy which has affected the entire supply chain of our industry. As South Africans, we find ways to make things better, and to change a negative into a positive, and I think 2020 will be a big year in the coffee industry. In the competition space this year I saw some talents take themselves to the next level, and have seen some incredible presentations in every single region.
I know several baristas who are already practicing for Nationals at HOSTEX (1 – 3 March at Sandton Convention Centre) and I think the competition is going to be fierce! I think this year we will see a South African break into the top 12 at the World Barista Champs, and both Latte Art and Cup Tasters will get the best rankings we've had in their competitions to date. On a more personal note, we are launching The DaVinci Gourmet Flavour Genius Academy in 2020. Everything is top secret for now and we will launch this at HOSTEX during the SCASA National Coffee Championships."
As a judge and competition 'insider', what's the best advice you can give to new competitors?
"Practice, practice, practice. Know the rules. Study the scoresheets. Remember that you are competing because you love coffee. Let this be your driver."
Got something to say? Then leave a comment!
---
The Ultimate Coffee Gift Guide 2020
Wednesday, 18 December, 2019
Got something to say? Then leave a comment!
---
Coffee Magazine nominated for a Sprudgie, international coffee accolade
Wednesday, 18 December, 2019
Last week we received some pretty cool news. We've been nominated for an award! When we started The Coffee Magazine Awards two years ago, its purpose was to shine a light on the hard work happening out there in the coffee industry, because being acknowledged motivates and inspires everyone to be even better. Thank you for all your support over the last 8 years, we're very proud to be included in this list among other coffee titles from around the world that we respect so much. It may be a cliché, but damn, it's a real honour just to be nominated.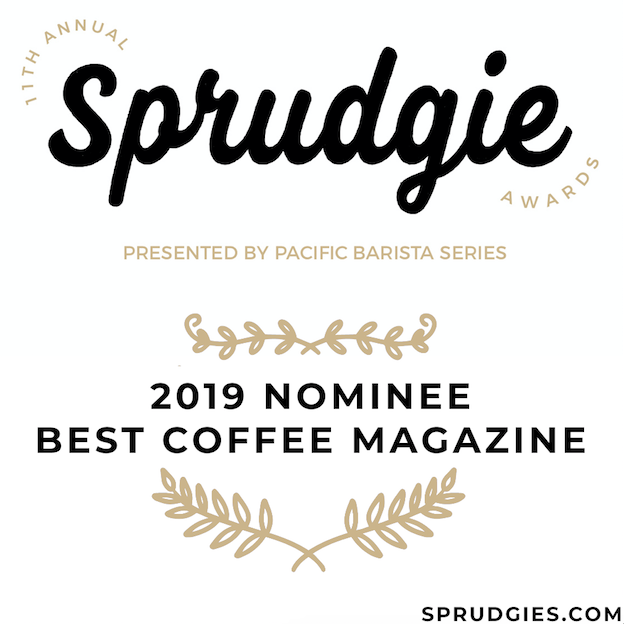 "Congratulations on this from all of us at Sprudge Media Network. Voting will open on Friday, December 13th at 10am Pacific Standard Time and close on Friday, January 3rd at midnight PST. Best of luck, and we're thrilled to have you as part of our 2019 Sprudgie Awards nominees."
So, Coffee Magazine loyal supporters, we need your help!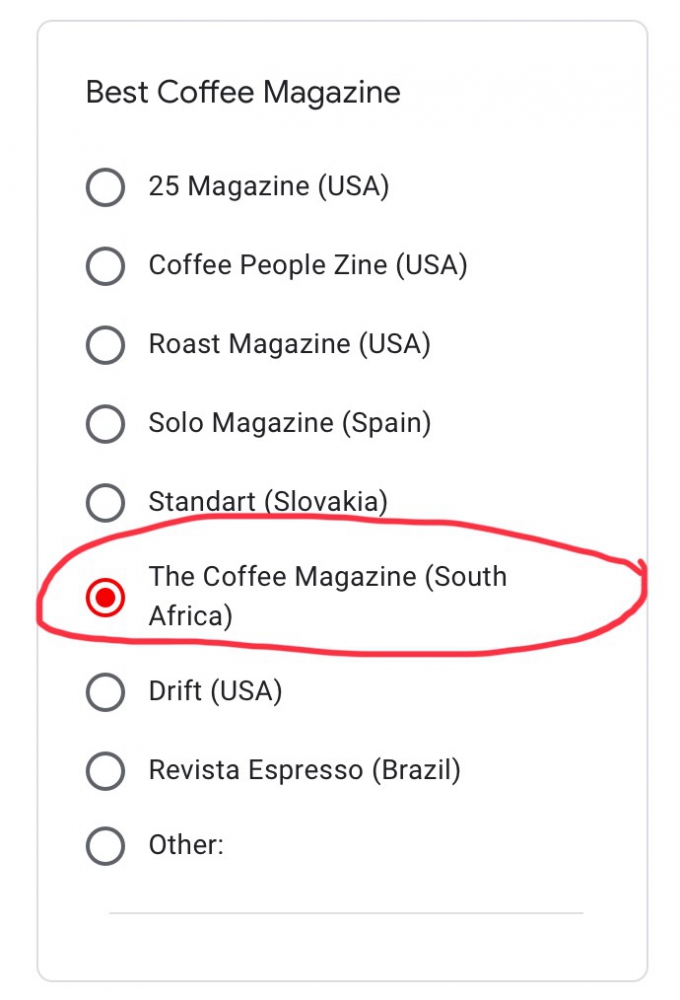 You don't have to vote in any other categories, though I'm sure the nominees would all appreciate the vote of confidence!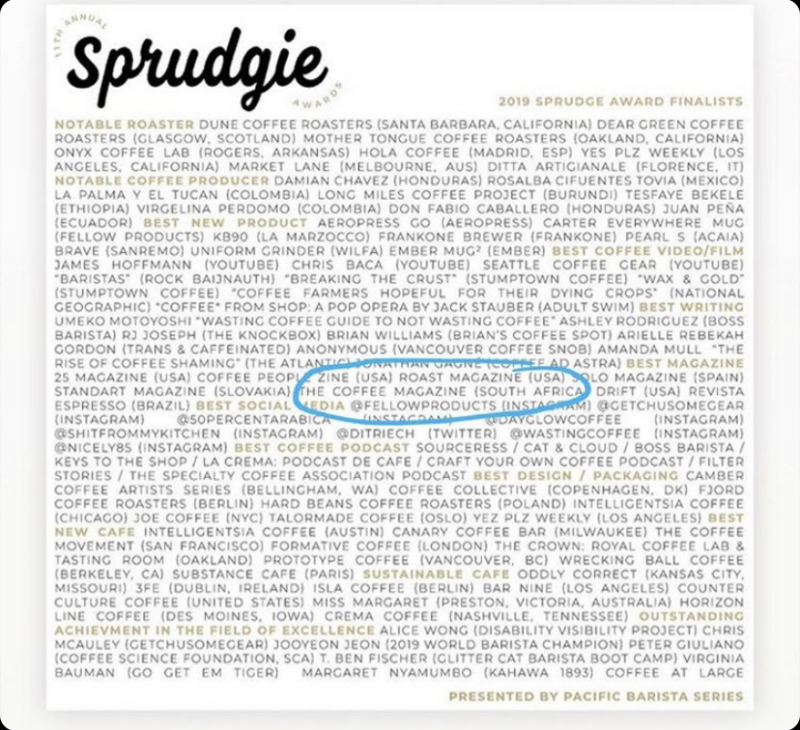 Got something to say? Then leave a comment!
---
Profile: Meet Chris Rootman, SA coffee legend
Thursday, 19 December, 2019
Chris Rootman is the National Sales Manager of VDP Distributors, and a SCASA board member as of April 2019. We chatted to Chris about his experiences in the coffee industry…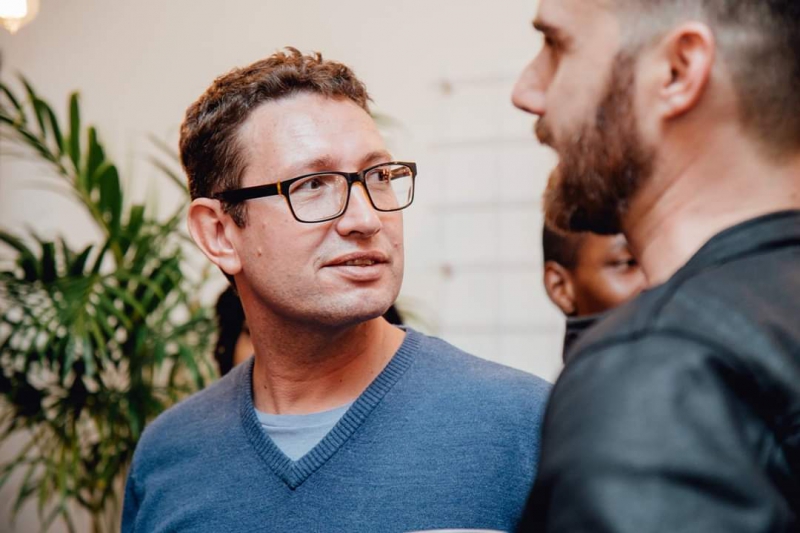 So, who is Chris Rootman?
"I think the short answer is that I'm a person who was lucky to fall in love with coffee early in my career and jumped at opportunities to learn more. As a husband and father to a beautiful family, I've been privileged to find ways to support my family while working in an industry that I absolutely love! I've also relished the opportunity to move into the management side of the industry. I'm also a bit of a cricket fanatic, love to read crime fiction, and my favourite holiday venue is the Kruger National Park!"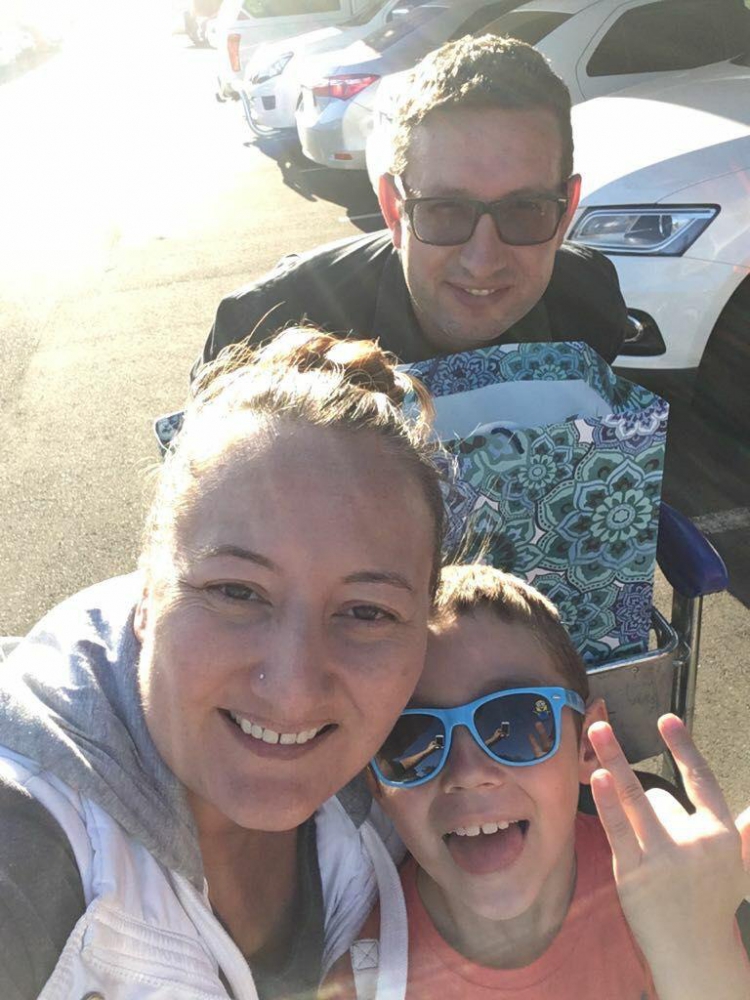 How did you get into the coffee industry?
"I was fortunate to be involved with the hospitality industry where I met some amazing people who helped shape and guide me. Bernard Muneri, Benhard Wiese and Jan van de Putte saw my talent at different stages in my career, and allowed me to explore it, while feeding me with constant information. Through this, I was lucky to start first as a barista trainer, grew into wholesale, and today I manage a wide range of responsibilities for some of the biggest brands in the industry."
As a coffee lover, what are your three favourite coffee shops?
"I don't get out as much as I like these days, but when I do its always Oscars Café in Hillcrest, Lineage, also in Hillcrest, and Skyline in Morningside."
What do you think are the unique challenges faced by South Africa's coffee industry?
"The industry has many different aspects, each facing their own challenges… As the bulk of our green coffee comes from outside of South Africa, there are many challenges surrounding the importing of beans. When you start speaking to the importers there are some amazing stories of how far some people have gone to get their beans to us. I remember a recent story about a farmer from Malawi who loaded his car with his entire crop and drove it to Johannesburg to deliver it to his buyer. Roasters have other challenges. Right now, load-shedding is at the top of the list.
There is a tendency starting to surface where price wars are driving the wholesale part of our industry. As much as I understand that dropping your margin is sometimes needed to close a deal, I feel that this is de-valuing this part of our industry. By allowing someone to buy a roasted, bagged and branded kilogram of coffee for cost plus a very small margin, we are stunting the growth of the smaller roasters and importers. The margin is needed to be able to invest into people, employ and educate more staff, buy better equipment, grow skill sets and as such, make a positive contribution towards the industry as a whole.
Café's and consumers – this is the place where we get to tell the story of our coffees, our cafés, and our baristas. The place where the consumers get to experience and learn about our magical industry. Cafés (and I use it as a broad term) have had a tough time in 2019. Location is the name of the game and the better the location, the higher the rent. High rent means that costs need to be cut elsewhere, often leading to baristas not getting paid a market-related salary, but also that they start selling their coffee for smaller margins, to compete with all the other coffee sellers around them.
All of this contributes to the shop making less money, which affects the store's entire operation. I'm seeing a worldwide trend of stores starting to sell commodity coffees as well as speciality coffees, at different price ranges. I'd like to see that happening here more often. There are however many places who already pay their baristas well above the industry standard, continually strive to up-skill their teams and sell their coffee at prices that do justice to the coffee they serve. I'd like to see more of that in 2020."
What's been the highlight of your coffee journey?
"There are literally moments every single day where I feel so privileged to be doing what I am. I'd like to highlight the relationships I've built over the last 10 years. I think this is true for everyone in our industry. We're all working in a fiercely competitive industry which gets tougher every day due to economic pressure, but also more and more new players offering similar products. Yet, when we get together, we are friends. When we need advice, we call on our industry friends.
This sense of community is not something I've experienced in other industries. This camaraderie helps me get out of bed the morning after a rough day, knowing someone else has faced similar issues and they will help me get through it."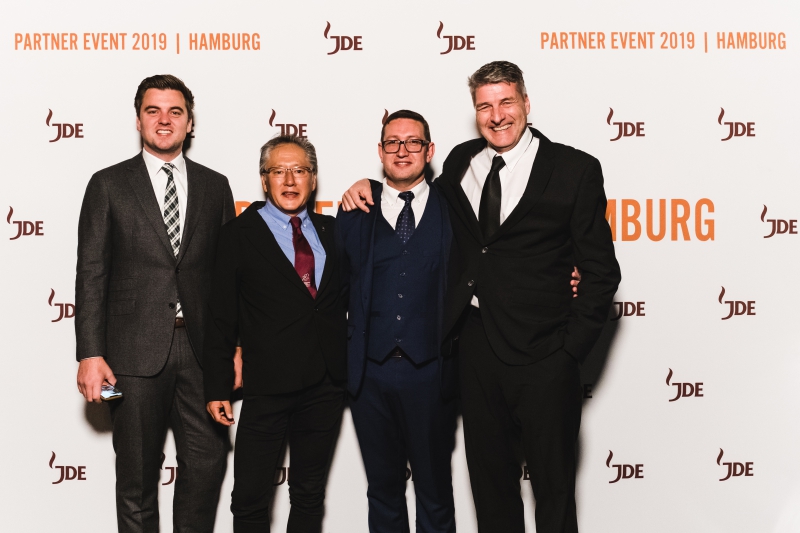 What advice do you have for entrepreneurs who are starting out on their own paths in the coffee industry?
"Network. Network. Network. There is an absolute mass of information out there that can be overwhelming and confusing. The people in the industry have learnt hard lessons and are able to offer great advice and guidance. Sometimes ideas and inspiration come from the strangest places. Work hard. Follow your passion."
Got something to say? Then leave a comment!
---
Coffee Monster! A fun new coffee app that allows you to skip the queue.
Friday, 13 December, 2019

It's always exciting to see innovation in the coffee space, and while for most of us that means new coffee equipment, products and flavours, for others it is innovation around the experience of getting your coffee. Enter Coffee Monster.

This is an exciting new app that allows you (The Caffiend) to connect with the person making your coffee (The Beastly Barista) quickly and easily to order and pay for your coffee before you arrive. The App also has a loyalty programme ( a free coffee for every 10 orders) and a cool discovery element where you can find new Monster Spots when you travel or you may not know about. It is all packaged in a very fun monster-themed interface, with bright colours, fun characters and easy navigation around the app.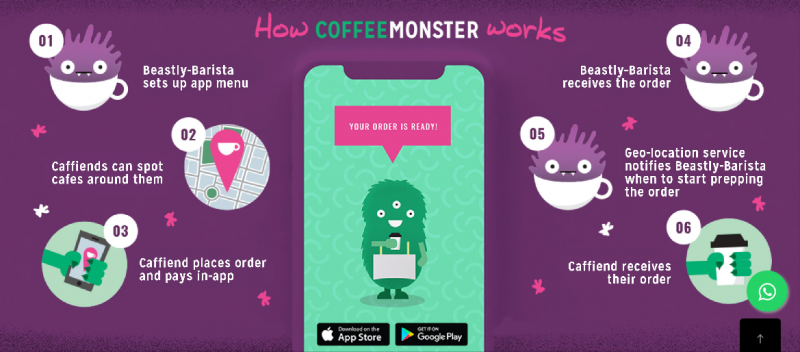 The Coffee Monster app is very new and is proudly South African, developed by Ashleigh Nestadt and Gail Cross. The two met by sheer luck with Gail having developed the technology and Ash having developed a brand identity and presence.

"I studied in Cape Town and struggled to grab a coffee on my way to campus owing to limited parking around my favourite coffee shops. When coming to Joburg, I picked up on a new trend whereby some speciality coffee shops were allowing customers to WhatsApp them an order ahead of time and bring coffee to their car. This solution sparked an idea to advance this service and make it accessible country-wide" says Ash.

Gail adds: "Wanting coffee on the road between meetings and with a love for finding innovative technical solutions, I saw an opportunity to develop an app that offers a convenient on-the-go service."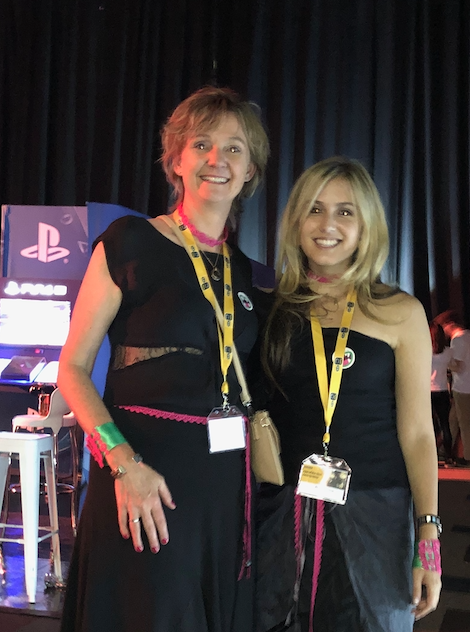 Co-founders Gail and Ashleigh.

Ashleigh having immersed herself into the worlds of psychology, research, animal activism, and app development for the past few years, graduated from the University of Cape Town with a Masters in Psychological Research but is now working full time on Coffee Monster. "Our distinct focus on the coffee community and creating a Coffee Monster brand identity make us unique."

Gail, who had worked in the banking industry for 15 years in IT development and corporate transactional banking, left the corporate world to focus more on her family (a mom of two boys) and to apply her technical and business background to bring the App idea to fruition.
"Our app is culturally relevant. We provide a convenient service to customers through leading industry trends both global 'skip the queue'; and local 'drop off at my car' and 'deliver to my office (within walking distance). We offer loyalty across our community. With every coffee purchase, customers earn a loyalty bean. Once 10 beans are earned, a customers 11th cup is FREE and can be redeemed at ANY Monster Spot."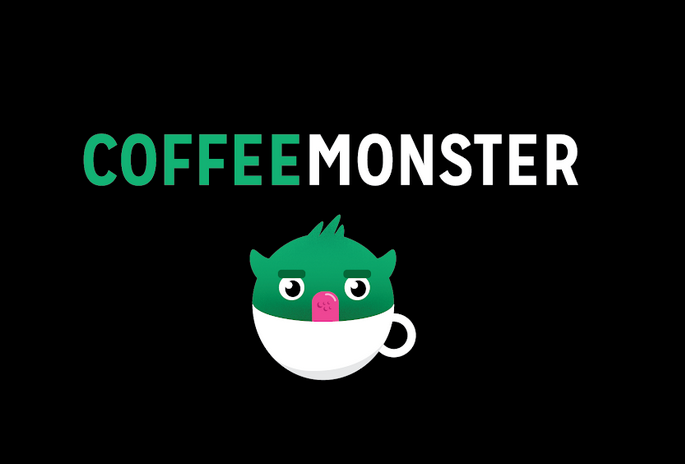 So they might love coffee, and make a cool app but do they know coffee? "Batch Brew!" says Ash. "I love black coffee and generally get an Americano. I did a short course with Stevo at The Grind. This was my first glimpse into the depth of knowledge that exists within this industry."

"My interactions with passionate roasters, store owners and baristas is an inspiring journey" says Gail. "The community works to support and encourage the best coffee experiences for customers and it's been incredible to be welcomed and exposed to their expertise and extensive knowledge. Being a cappuccino fan, my most recent favorite coffee was from Cupocafe in Pretoria. Their blend is roasted for cappuccino drinking."

So whether you're an on-the-go coffee fan, a drive by hustler, a sit-in customer or want your coffee delivered to your work, then Coffee Monster is for you!
Download the app here. https://www.coffeemonster.co.za/#download

Are you a Coffee Shop Owner? If you'd like your store listed on the Coffee Monster App, email Ash and Gail on admin@coffeemonster.co.za



Got something to say? Then leave a comment!
---
Entries Open: A Shot in the Dark 2020
Wednesday, 11 December, 2019
Got something to say? Then leave a comment!