Water FAQs Answered: In depth look at better water for your beverages!
Thursday, 26 May, 2022
Frequently Asked Questions about Water with Ultimate Water
The quality of your water has a direct impact on the taste of your beverages, as well as the longevity and efficiency of your equipment, whether it be at your home, restaurant, or other business. Ultimate Water takes a moment to answer frequently asked questions about water.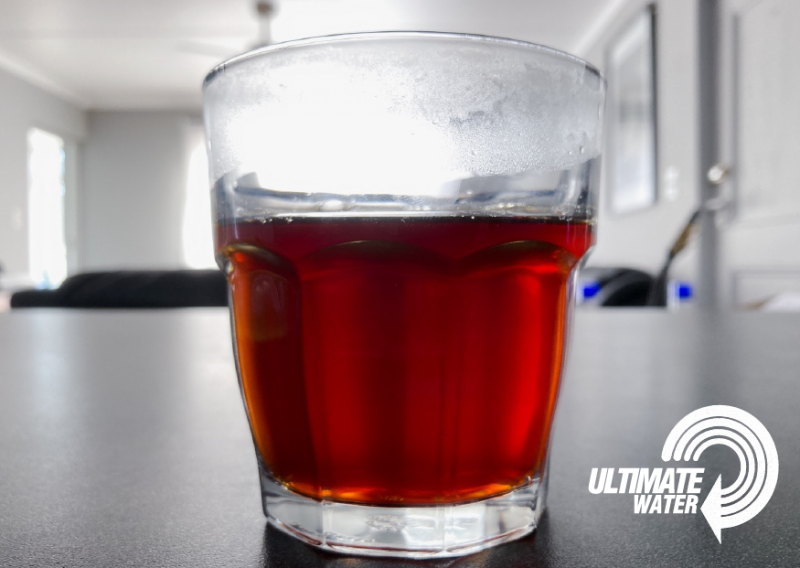 Testing water for your perfect cup of coffee
DID YOU KNOW that water throughout South Africa comes from different water sources and therefore are treated differently?
Municipalities add chemicals (such as chlorine) in the water to ensure water is safe for human consumption, but this does not mean that it's ideal for coffee and coffee equipment.
The coffee industry has evolved drastically over the last few years and roasters, coffee shop owners and coffee lovers have been made aware of the need for water filtration. Water filtration is always the last thought when considering coffee, since water has been taken for granted for such a long time.
Before you can install a filter, you need to understand what is in your water. Coffee needs certain minerals for the ideal extraction, it's important to understand what to remove and what to keep in the water.
The Ultimate Water team base their testing around the WBC (World Barista Champ) specs to ensure equal quality water across South Africa.
Here's some questions we frequently get asked:
You've been drinking and using tap water for years, why do you need a water filter?
Long story short: More people on planet earth with limited sources, water treatment facilities can't keep up, this is one of the main reasons for the deteriorating water quality.
More chemicals are being added to remove more kinds of contaminates etc. and it stays in circulation for much longer. Some municipalities have to work harder than others to remove unwanted contaminates, sometimes leading to too soft water.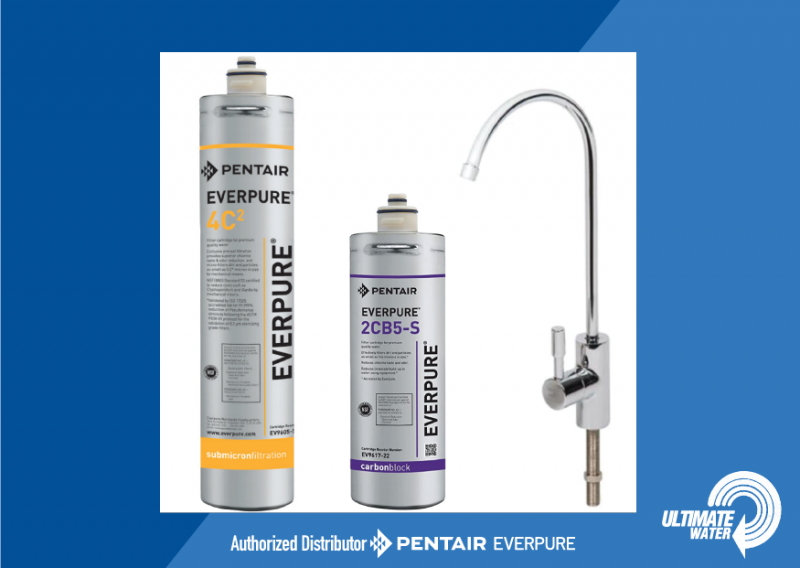 Installing a water filter for drinking water at home or in your office can have multiple benefits:
Much more cost effective! Works out to about 25cents per litre
No more plastic bottles, no more driving around with big cans of water
Thousands of litres of filtered water at your finger tips
You can use the filtered water for your coffee / tea / ice and similar type of applications
Scan the QR code for our shop section
2. What exactly is soft water, and is it better than hard water?
Soft water is often the talking point in the coffee community, a lot of coffee experts talk about soft water that's great for coffee brewing. Soft water refers to a lower mineral count in your water, especially focusing on Calcium & Magnesium. If you look at the WBC (World Barista Champ) water spec, these 2 parameters are combined to form "total hardness".
WBC spec says the ideal range for total hardness is between 17 – 85 mg/l (or ppm). Where anything higher than 120mg/l will lead to scale formation and over extraction. Hardness less than the WBC spec will lead to under extraction and acidic water.
Be very careful before installing a softener, you could end up causing more damage to your equipment, like this: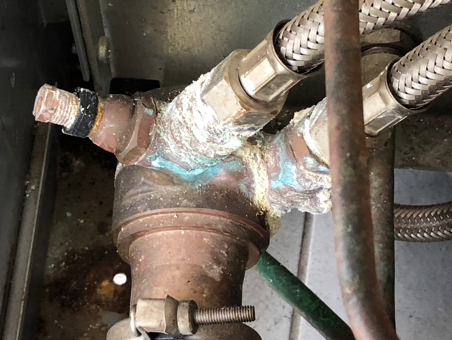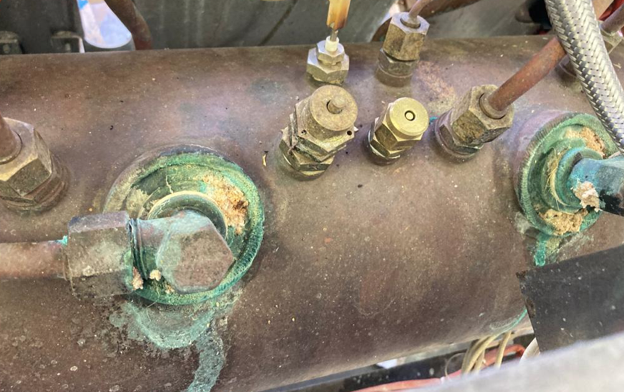 You can read more in depth on this topic on our website's blog section. (www.ultimatewater.co.za)
Online link: https://ultimatewater.co.za/soft-water-vs-hard-water/
3. What is the WBC (World Barista Champ) Water Spec?
WBC work according to 2 different "ranges": Ideal and or Acceptable
TDS (Total Dissolved Solids) Ideal spec: 70 – 200ppm (30 – 300ppm Acceptable)
PH Ideal spec: 6.8 – 7.4 (6.5 – 8.5 Acceptable)
Total Hardness Ideal spec: 50 – 150ppm (30 - 200ppm Acceptable)
Alkalinity (Temporary Hardness / Carbonate Hardness) Ideal spec: 40 - 75ppm (40 – 180ppm Acceptable)
TDS - Total dissolved solids (TDS) is a measure of the combined total organic and inorganic substances contained in a liquid
PH - It's a logarithmic scale ranging from 1 to 14, used to specify the acidity or basicity of an aqueous solution
Total Hardness - The simple definition of water's total hardness (TH) is the amount of dissolved calcium and magnesium in the water
Alkalinity - The capacity of water to resist changes in pH that would make the water more acidic. It's also called a "buffer".
4. Can you use the same filter everywhere across the country?
NO! It's like saying you can use the same grind setting for all coffee brewing methods and roast profiles. Each region / municipality delivers different quality water, therefor you need to match the correct filter with the content.
We have a water map with data collected and tested over the last few years. This way we can ensure faster turnaround time to recommend the correct filter for your new or existing shop or restaurant.
With this data on hand, we are able to provide you with solutions!
5. Ice filtration – is it really necessary?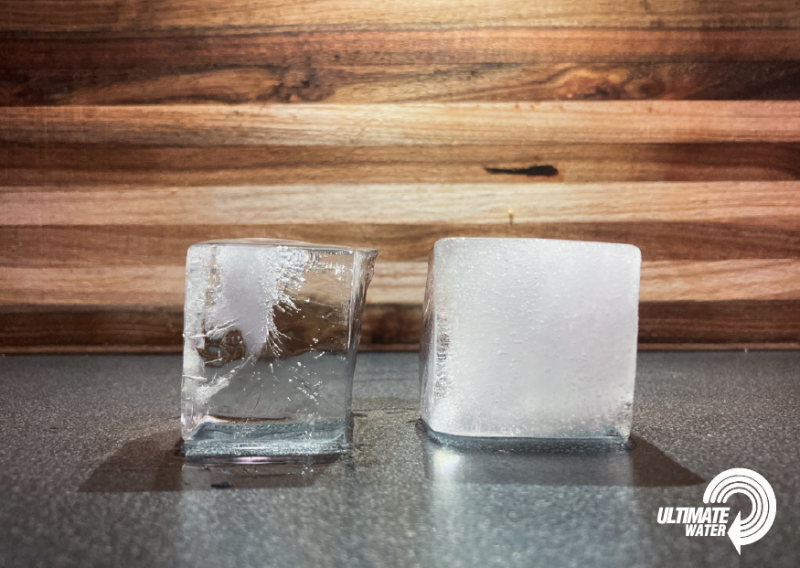 Answer is YES!
When unfiltered water freezes and forms ice, it essentially traps extra oxygen, impurities / contaminates and sediment. Oxygen (air) bubbles, are trapped, combined with all the impurities in the water releases gases as they are frozen, causing your ice to turn white and cloudy. Not only will you taste the chemicals in the ice, but the ice will melt much faster because these gases are trying to escape.
Have you ever had a cold drink or a whiskey / cocktail and after a few minutes the ice has completely melted? That's the first sign of the restaurant / bar not using filtered water for their ice.
We offer the easiest solution to make sure your ice is crystal clear and last much longer, not impacting your beverage's taste while also protecting your equipment against scale build up, corrosion and bacteria build up.
DID YOU KNOW - Ice also has a water spec?
TDS: 70 -200 ppm (mg/l)
Ph: 6.8 – 7.4
Total Hardness 17-85 ppm (mg/l)
Alkalinity: Less than 150 ppm (mg/l)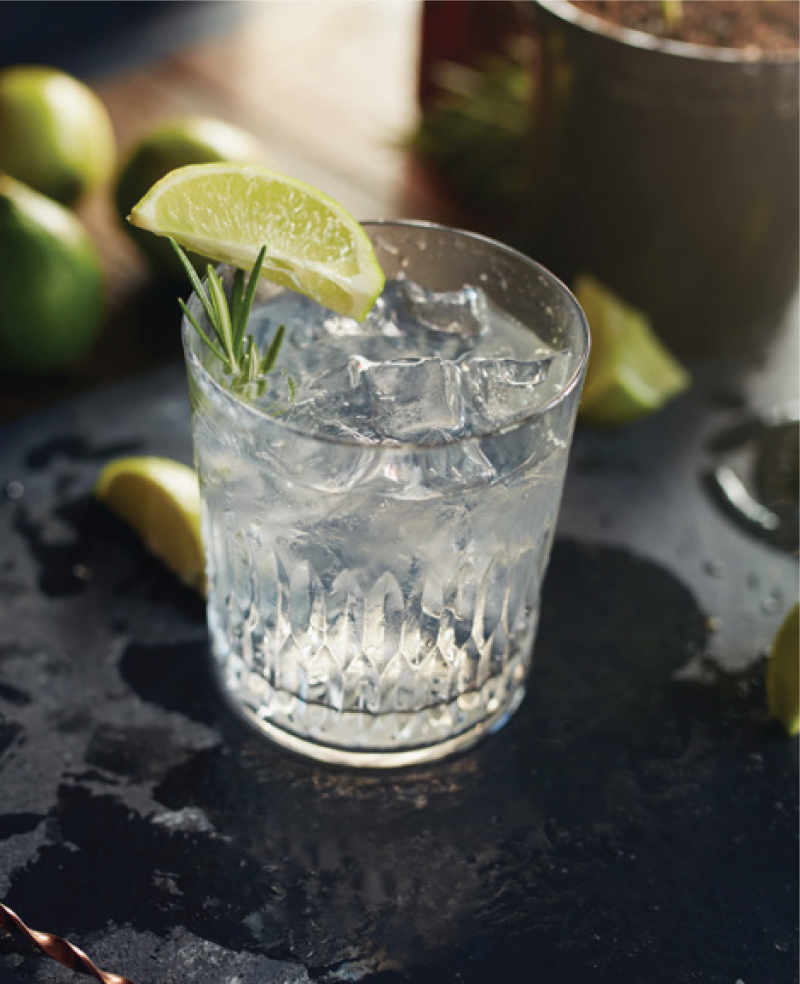 Don't let your money melt in your glass!
Ice filtration leads to:
Fewer particulates that lead to hollow, fast-melting, cloudy, and/or bad tasting ice.
An ice machine running at peak efficiency = less downtime and lower operating costs.
Great tasting ice and compliments your beverage.
A solution can help you conserve energy. Less energy means more savings.
6."Water for steam"? What's that?
Water for your oven to protect your equipment!
Oven Technologies:
Air Convection Oven = Heated air cooks food [no steam]
Steam Oven = Heated Steam cooks food [only steam]
Combi Oven = Mix air convection oven + steam oven
When pure water becomes steam, it releases all contaminants inside the boiler and cooking chamber.

This will also cause either scale build up or corrosion, depending on your water quality. With chlorine present in the water you will in anyway start to see discolouring inside the oven.
DID YOU KNOW - Steam also has a water spec?
TDS: Less than 150 ppm (mg/l)
Ph: 6.5 – 7.8
Total Less than 35 ppm (mg/l)
Alkalinity: Less than 80 ppm (mg/l)
Visit our website for more info or send us a mail with any question you might have!
mail@ultimatewater.co.za
Make sure you are using the ULTIMATE Water for your home and shop!
Find us at Hostex in Johannesburg Stand F4 and at Creative Coffee Week!
Got something to say? Then leave a comment!
---
Have Coffee, Will Travel: An Interview with Sasa Sestic
Friday, 27 May, 2022
As competitions heat up again and the SA circuit kicks off for the first time since 2020, we're getting excited about the top level of coffee in all it's forms!
This interview was originally published in Issue 34 .
We explore the age of origin travel and visiting coffee farms with industry pioneer, Sasa Sestic, owner of Project Origin, ONA Coffee and the World Barista Champion 2015.
In Issue 33 of Coffee Magazine we began a discussion on the way in which sourcing coffee has changed and continues to evolve towards more transparency in the process meaning greater compensation for farmers. One of the biggest changes in the last decade has been the increase in roasters finding ways to have direct contact with the farmers. While this means greater investment to support farmers and changes perspective on what the price of coffee means, is this a sustainable way to trade coffee? In terms of impact on both the farmers and the environment? Sasa Sestic is at the helm of a green coffee sourcing company based in Australia and he gives us some valuable insights into this process and the perhaps positive changes brought about by the pandemic of 2020. We also pick his brain about what it takes to be a World Champion.
All images by Jeff Hann for Coffee Heroes Film
---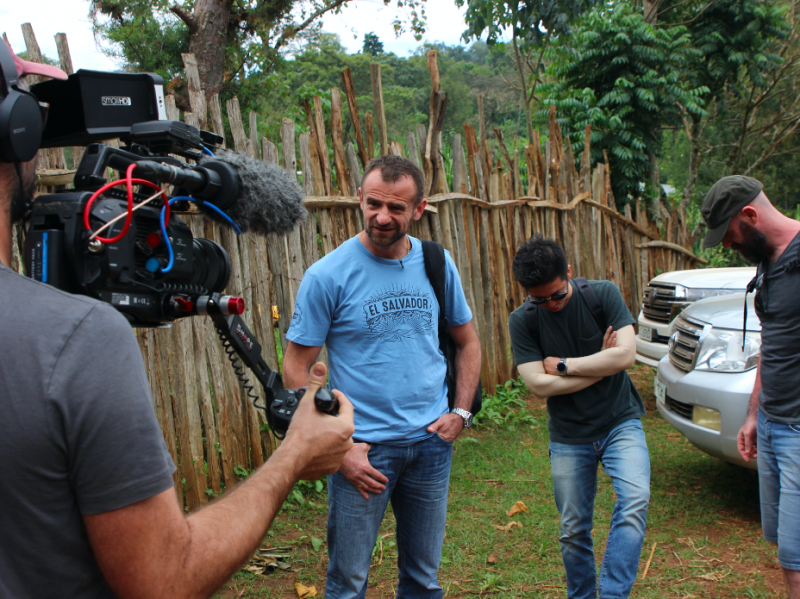 You've built ONA and Project Origin around getting to know the producers and actively engaging with them. Do you think it is sustainable to encourage more and more roasters and baristas to visit origin and form direct links to farms?
I've been very blessed to work with an incredible team of people at ONA Coffee and Project Origin, and to have had the luck of being able to travel extensively throughout the world to meet and engage with producers. The second of my companies, Project Origin was built from the desire to engage with producers more at origin and find ways to create long-lasting, meaningful and sustainable relationships ... and of course, to share great coffee across the world. We realise that not every business has the capacity or desire to send people to Central America, Africa and other continents in order to meet with producers and source coffee, so part of the mission of Project Origin is to enable and facilitate direct trade and meaningful relationships between these businesses and producers. At the end of the day, it is probably not sustainable to have visitors from all the roasting business in the world travelling to coffee origins year round - the travel would undoubtedly have a negative impact on the environment, and a lot of producers would be overwhelmed by the number of visitors.
If this year has shown us anything, it's that human beings find innovative ways to connect. Even though we haven't been able to travel to visit our friends and partners at origin all year, we have still been able to maintain a lot of contact (via video calls, messaging and email) to all of our partners. Moving forward, we are certainly looking for opportunities to connect coffee professionals and roasters with producers via these formats.
Is there a point where we need to trust that green bean importers, like yourselves, are focusing on making this part of the value chain more transparent and accessible for us as industry and consumers?
I believe that every industry requires degrees of trust and transparency, and coffee is no different. However, the coffee supply chain is very unique, in that the interpersonal relationships and production of coffee feature very highly in the end product - so part of the work of being a green bean buyer/supplier is maintaining this trust and looking for ways to create and maintain mutually beneficial relationships. We need to ensure that the producers and their communities are taken care of and have the means to improve their product and livelihood, whilst also making sure that the consumer is happy with their product and where their money is going. For this reason, we also engage in a number of community projects, to ensure that coffee producing communities are receiving the care, facilities and infrastructure that they need.
If you are a business owner, you have every right to be sceptical when entering into a new relationship with a supplier or importer. However, once you have started such relationships, allowing yourself to trust and work with such people will facilitate a more compassionate and trustworthy relationship moving forward.
Does the change in perspective on coffee that comes from visiting origin ultimately outweigh any negative environmental impact? I guess another way of asking that question, is would you continue to encourage coffee professionals to visit origin if they can and why?
Every person that visits a coffee-producing country, a coffee farm or even a mill is often blown away by the genuine care and passion that comes from the people growing, harvesting and preparing coffee. I have seen countless amounts of people blown away by visiting these places ... so, I suggest that if the genuine opportunity is ever there to visit origin, you should take it. That being said, there are certainly ways in which we can try to minimise the environmental impact of travelling to these countries - rather than visit 2-3 times a year, I try to visit multiple friends, partners and farms in one trip, in order to minimise my carbon footprint from flying. Travelling by car in such places is often uncomfortable and time consuming, but the environmental impact of a car is far less than that of a plane. At the end of the day, we will always have different ways of measuring the value of visiting origin, for both consumers and producers, against the negative environmental effects of such travel. Moving forward, there is a definite need to advance and innovate our technologies in order to maintain relationships with producers whilst minimising our carbon footprints.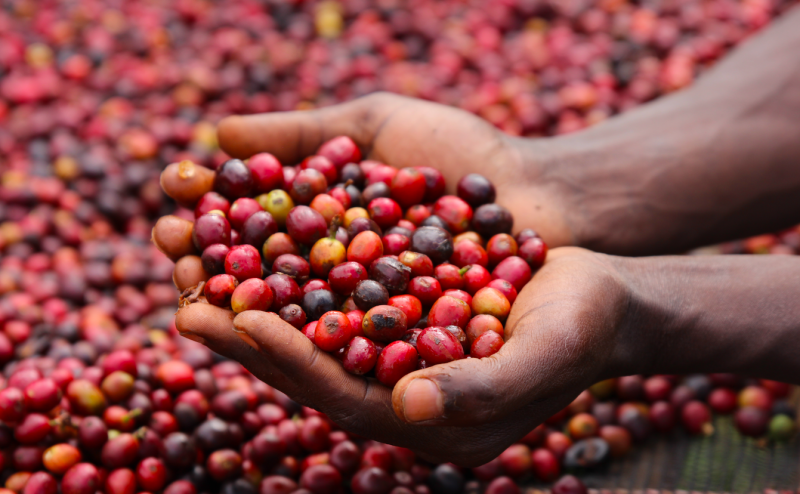 Can you share with us a highlight memory of one of your adventures at origin?
It's no exaggeration to say that there are too many to count, but there are certainly a few that stick out in my mind. The inspiration for starting my green bean-sourcing company, Project Origin came on a visit to a farm in India, called Thalanar Estate. Pathy, the nephew of the farm owner (Uncle Ravi), had approached me in Australia with a sample of coffee from the farm. Seeing the potential to improve the quality at the farm, I travelled to India to visit Ravi and the community. I had never been to India before, and was blown away by the colour, culture and energy of the country ... however, I was also shocked to see how many people struggled for basic needs, such as access to clean water, safe roads and general security. The idea of 'Project Origin' came from a desire to create an ongoing project, in which we would work on three pillars: 'Quality, Sustainability, Community', to help communities such as those at Thalanar Estate.
On my second visit to visit Ravi and the Thalanar community, I took several bags of roasted coffee with me. The roasters at ONA Coffee had roasted some of the Thalanar Estate coffee, and I thought it would be great to take it to India to show the workers there how we had roasted it. When I presented Ravi with the coffee, I was surprised at how shocked and ecstatic he was. I then learned that in the 25+ years that he had managed and operated the farm, he had never once tasted his own coffee from a roaster. Watching Ravi drink this coffee and share it with the community there was so touching, and it further inspired me to find ways in which we can build strong and mutually beneficial relationships with producers across the world.
It is a dream of ours to have an African barista reach the Finals of WBC. The film Coffee Heroes shed some light on just what it takes to get there. For our readers, can you tell us what are the deal breakers in building a winning team?
Many people remember watching Alejandro Mendez win the World Barista Championship (WBC) in 2011 - it was not only the first time someone from El Salvador had won, but also the first time someone from a major coffee producing country had won. I believe it is entirely possible for an African Barista Champion to achieve this goal in the coming years - Africa produces some of the finest coffee in the entire world, is home to so many passionate coffee professionals and as the birthplace of coffee, has a special connection to this product we all love so much.
The newly released Coffee Heroes film captures the journey of Polish Barista Champion, Agnieszka 'Aga' Rojewska as she works toward winning the 2018 WBC in Amsterdam. I was privileged enough to be her coach during this preparation process, and together we travelled with a group of professional barista to Ethiopia to source the best coffee for her and New Zealand Champion, John Gordon. This journey and her preparations for the competition are all captured in this film, and for anyone who is interested in coffee and competitions, I highly encourage you to watch it!
Watching a film like Coffee Heroes shows you that despite appearances and what you may see as 'natural' on stage, it is an extremely difficult task to prepare for these events. Over the years, people have said to me "Oh well of course he/she won, they are just naturally talented". I believe that for these competitions, talent doesn't exist. The ability to perform well at these events is built over time and is the result of many hours, days and years of effort. I was actually once told by a competition judge to stop competing, because I would never be good enough. Of course, this just drove me to work harder, learn more and practice, practice, practice. I was never naturally talented at barista competitions, nor is anyone else who does well at them - they put a lot of time, effort and passion into their craft.
There are many deal breakers and makers that go into producing a champion. First of all (and this is a lesson I had to learn myself), it cannot be done alone - you need a team of caring and passionate people around you to support you through training, tastings and preparing for competitions. You don't need people to agree with everything you say, or that will do everything you ask; you need people who will be honest and transparent with you, no matter what. Secondly, having the best does not equal being the best - just because you have expensive coffee, expensive equipment and a lot of investment in your competition does not guarantee that you will win, or do well. Aga went to the WBC with a custom table that was built by her dad in his workshop, and with the help of some very caring and supportive friends - I believe that those variables, combined with her commitment and passion, were what made all the difference. The main things to avoid are arrogance, pessimism and stubbornness.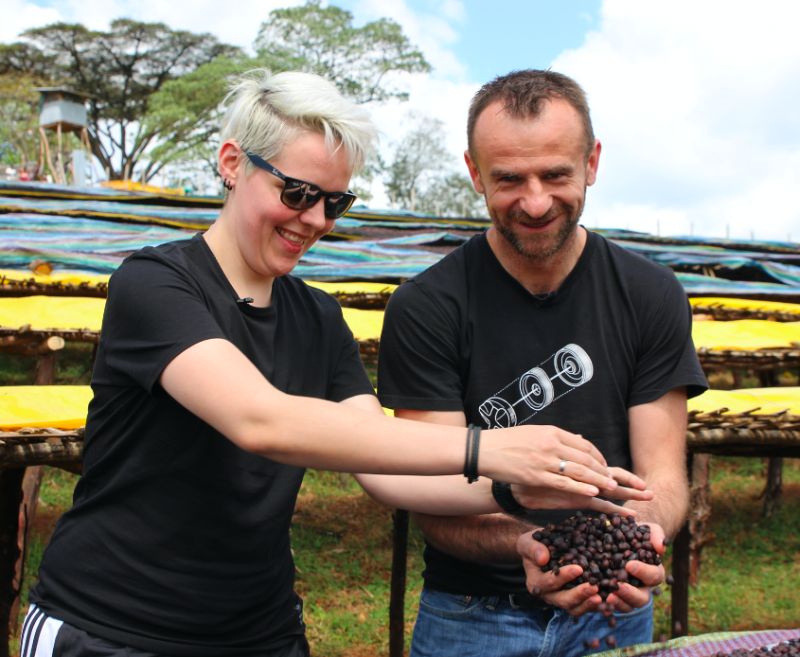 I have a business partner who also made it to the Olympics and he tends to view life as a series of competitions, what is your current competition-style focus on, while travel and coffee championships are temporarily on hold?
Anyone who knows me well will know that I am by nature, very competitive. I grew up in a household that was dominated by sports and before I began a career in coffee, represented Australia at the Olympic Games in Sydney (2000) on the European Handball team. When I was a bit younger, I tended to view life as a series of competitions - I wanted to challenge myself to reach new heights, achieve new goals and to be better than anyone else. Over the years, my focus has changed a lot more towards enabling others to achieve their goals and to improve themselves. Despite my successes and achievements over the years, being a coach, mentor and manager to my staff has been a lot more fulfilling than any trophy has ever been.
My overseas travel, coffee events and competitions on hold, my focus has been on caring for my staff and for our partners overseas. Whilst this isn't a competition, there's definitely some parallels to competition life - you have ideas, consult with others, create plans, trial these ideas, see what works (and what doesn't), and then put them into practice. Once this has happened, you consult with your friends, staff, partners and anyone who is willing to be caring and honest, to see how what you're trying to do can be improved. Life isn't a competition - however, we should all be finding ways in which we can lift each other up and give each other wins, as often as possible.
Ed's Note: Sasa and Agnieszka Rojewska feature in the film Coffee Heroes which you can stream online at www.coffeeheroes.tv
Got something to say? Then leave a comment!
---
5 things you can do for Bees on World Bee Day
Friday, 20 May, 2022
Happy World Bee Day!
You may think this is a strange proclamation, but without bees you wouldn't be sipping on that coffee in your hands right now, and in fact, none of us would be alive at all, if it weren't for these buzzy little bees.
Coffee, like many food sources, needs pollination to survive - and this job is done naturally the world over, by the many species of bees as they gather nectar from plant to plant.
Slovenia proposed that the United Nations (UN) proclaim 20 May as World Bee Day. On 20 December 2017, following three years of international efforts, the UN Member States unanimously approved Slovenia's proposal and 20 May was proclaimed World Bee Day, in honour of Anton Janša, the pioneer of bee-keeping, who was born on this day in 1734.
So today, we salute the bees!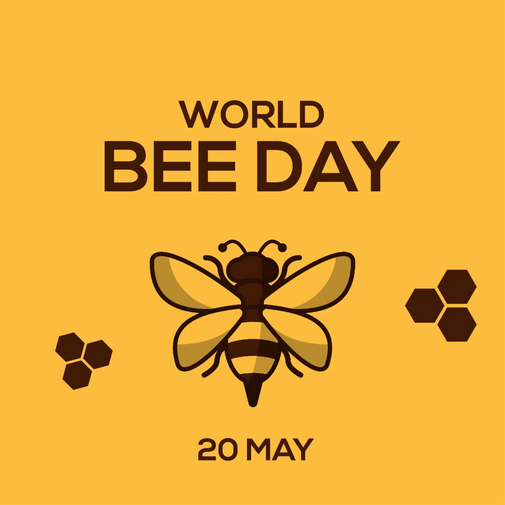 We have compiled a list of 5 things you can do to help bees today!
1. AVOID PESTICIDES AND HERBICIDES · Synthetic pesticides, fertilizers, herbicides, and neonicotinoids are harmful to bees, wreaking havoc on their sensitive systems. Avoid treating your garden and green spaces with synthetics. Instead, use organic products and natural solutions such compost to aid soil health and adding beneficial insects that keep pests away like ladybugs and praying mantises.
2. EAT LOCAL HONEY · Local beekeepers work hard to nurture their bees and the local community. The easiest way to show your appreciation is to buy locally-made honey and beeswax products. Many beekeepers use products from their hives to create soaps, lotions, and beeswax candles. Plus, local honey is not only delicious — it is made from local flora and may help with seasonal allergies! You can also give time, resources, and monetary donations to local beekeeping societies and environmental groups to help their programs grow.
3. PLANT A BEE GARDEN - One of the largest threats to bees is a lack of safe habitat where they can build homes and find a variety of nutritious food sources. By planting a bee garden, you can create a habitat corridor with plants that are rich in pollen and nectar. You don't need a ton of space to grow bee-friendly plants — gardens can be established across yards and in window boxes, flower pots, and planters. You can also get involved with local organizations and governments to find opportunities to enrich public and shared spaces.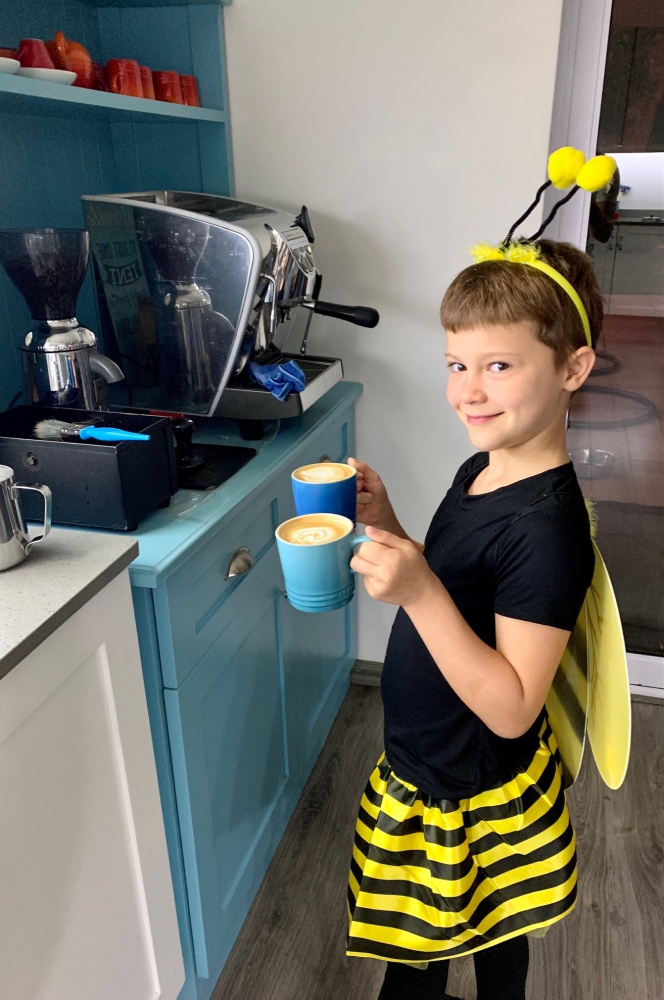 This buzzy little bee helped Dad make the coffee this morning! Our Lady of Fatima, in Durban North, allowed learners to dress up as a bee today, and take R5 which is donated to local bee keepers.
4. SPREAD THE WORD · Inspire the next generation of eco citizens with guides, lessons, and activities to get them buzzed about bees! Educators can use our collection of free resources to bring nature and ecology into the classroom — and the hearts of children everywhere.
5. CREATE A BEE BATH. Bees are Thirsty Little Creatures working up quite a thirst foraging and collecting nectar. Fill a shallow bird bath or bowl with clean water, and arrange pebbles and stones inside so that they break the water's surface. Bees will land on the stones and pebbles to take a long, refreshing drink.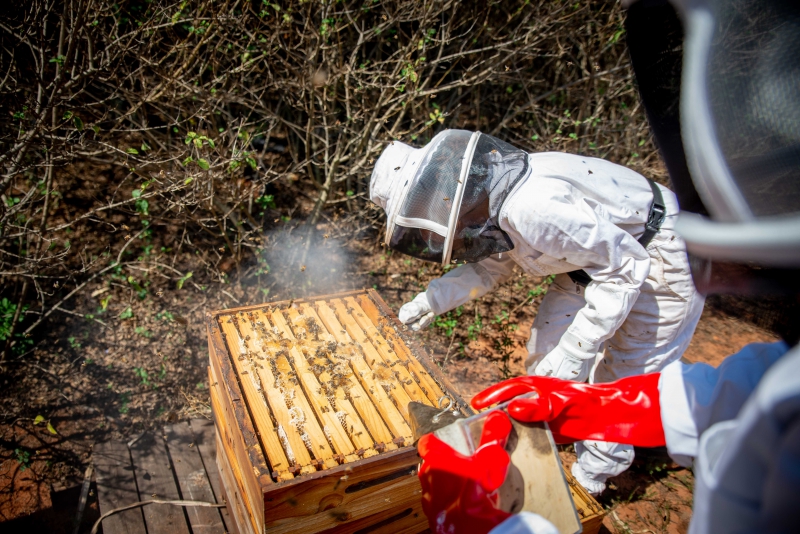 Mokgadi Mabela, of Native Nosi.
One of our favourite companies that looks after bees and produces magnificent honey, is Native Nosi. Check out their story here.
Got something to say? Then leave a comment!
---
State of Gratitude: The Wency Masawi Story
Thursday, 19 May, 2022
Words by Iain Evans
Photos By Coffee Magazine
---
Coffee Competitions are an emotional space. Over a few days and in short bursts of performance, a career can be made or an opportunity missed. With the leading baristas, coffee Industry figures, competition Judges evaluating your skills and the who's who of the coffee world scrutinizing every move, both on stage, back stage and around the fringes… it can bring out the best and the worst of people, depending how they handle the pressure. Wency Masawi is one of those infectiously positive and happy people, usually found supporting other competitors, volunteering to help out wherever help is needed or just clowning around and making people laugh during a long and often tiring day on the Expo floor. One thing is for sure, if you catch his eye, you will get a hug, a fist bump or a 1000 thousand megawatt grin. Wency has been competing in coffee competitions for 9 years, and after 8 years of trying, the young man finally won a title he had determinedly chased year in and year out. He never let the competition get the better of him, he conquered it. Finally, his perseverance paid off, and in March 2020, Wency won the SA National Cup Tasters title, and earned the right to represent SA at the World Cup Tasters Championships 2020, hopefully still to happen in Milan, Italy.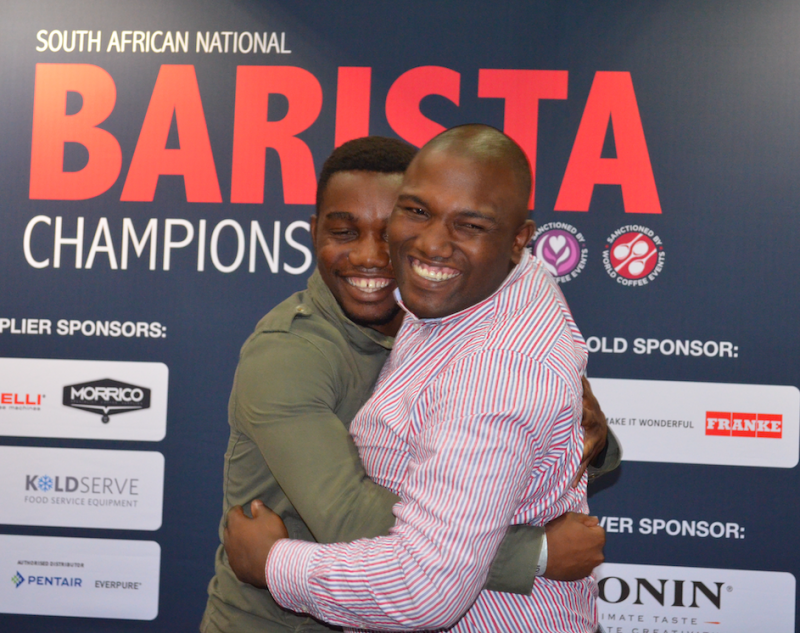 Wenceslous Masawi was raised in a family of telecommunications workers in Chitungwiza, just outside Harare in Zimbabwe. "All my aunt's and uncle's worked for Post and Telecommunications which was a government owned parastatal. I eventually saw myself joining this family trait and never in my wildest dreams did I see coffee in my future" he says.
Coffee certainly wasn't the plan, instead, music and football were foremost in the young man's mind. He enrolled in the College of Music in Harare and was playing serious football for Dynamos FC Academy. And true to his gregarious nature, found himself volunteering at Imba Childrens' Home as a music teacher.
"I wanted to be in the Arts Industry as l am a natural arts enthusiast. I wanted to manufacture ,supply and performing Zimbabwe's traditional instruments like the Marimba, Mbira and Ngoma to name a few"
Unfortunately due to the instability of the economic and social climate in Zimbabwe, and the timing of the FIFA 2010 Football World Cup being held in South Africa, Wency saw an opportunity not to be missed and headed South to be part of the action.
Like many young people in 2010 the FIFA World Cup brought many opportunities for casual work, and Wency found a gap as a waiter, while he figured out what to do next with his music and football career.
"My love for coffee was born out of mischief! Since most restaurant waiters are not allowed behind the bar, I used to sneak back there and eventually they couldn't ignore me!" he say cheekily.
It was after a year of working the floor as a waiter that he met Bernard Muneri, now Chairperson of SCASA, but at the time, a Manager in the Nino's Group, and freshly returned for the World Barista Championships in Bogota, Colombia.
"I met Wency while he was working at the Westville Nino's. He was 18 years old and working as a waiter. He showed a lot of interest in the Bar and he kept nagging me to show him the ropes in coffee. He gave up guaranteed tips as a waiter for the love of coffee knowing very well as a Barista , tips are rare. But he was passionate about learning and committed to the coffee journey which began there for him.
Wency reflects on this as a breakthrough.
"Meeting the legendary Bernard Muneri after he came back from WBC in Colombia became my turn around in the coffee industry. He saw my enthusiasm and turned it into passion and invested a lot in me financially and educationally which l am forever grateful. No words can really express my gratitude. I became part of his family where l could go by his house and play around with his coffee machines making coffees and learning directly from him. l was privileged enough to work with him for a long time. He mentored me and developed me into a force to be reckoned with in the Coffee industry as a Barista Trainer, in Operations and in Coffee Competitions."
"Having been to the Worlds Champs in Bogota 2011, l met a lot of great Baristas and learnt and I returned to SA loaded with so much more coffee knowledge. The plan was to come back to SA and produce another Champ from "raw" like we had done training and coaching Travis Scott until he won the SA Champs in 2010. On return to SA, l identified Wency as the raw talent l needed to develop. Hours of hard work and commitment from him pushed his passion to another level. Full credit to Wency for going the extra mile and always challenging himself to do better." Says Muneri
Wency and Bernard became an inseparable duo and spent the next few years aggressively driving the coffee programme within the Nino's Group and it was not uncommon for local barista competitions in Durban to be completely dominated by the enthusiastic and very vociferous Nino's baristas and their love for competing! Along with Sipho Mabaso, Ishaad Naicker, Mpume Sithole, the Nino's crew carved out a regular Top 6 spot in the KZN Barista competitions, Latte Art and Cup Tasters Competitions.
"Looking back at the time Wency and l worked for Nino's, we raised the standards to the level of being awarded the Best Franchise Café with the Café Society Awards. We worked tirelessly to improve the Barista Skills and introduced a Certification program and Barista incentives through in-house competition. This certainly worked and took the Brand to the next level. Wency spearheaded the Barista Training as well as running the state of the art Genio 30kg roaster we had set up. This was the biggest roaster for Genio specs and we certainly got the most out of it and also learnt a lot more about seed to cup."
Lani Snyman of Ciro Beverage Solutions, also with WBC judging experience, realized that Wency was talented, but needed formal training and was quick to offer guidance and support to the young barista. "I was stunned and amazed by Wency's punctuality, commitment, loyalty and attitude towards helping, supporting and pulling together to forward an industry's education. After that engagement, Ciro Coffee Academy sponsored Wency with the SCA Barista Skills Qualification."
"Lani guided me along the way and equipped me with the required qualifications in the Coffee industry. I'm now proud to say l have acquired the AST trainer level in Speciality Coffee which is a great milestone for me and allows me to train other young baristas to SCA World Standards."
So of course it made sense that with such great teachers with so heavily involved in the SCASA competitions, that Wency became hooked from the very first. "My first SCASA event was a memorable one. After an internal National Ninos and Ciro coffee competition in Joburg, in which l placed second in 2012, the next stop was only to take the passion further to SCASA KZN regional competition in 2013. As a young at only 20 years of age unknown To the industry events, l recall catching everyone's by surprise with a stunning perfomance which got me a spot to represent the region at national level all credit goes to my team led by Bernard Muneri. A lot of sleepless nights practicing my speech and tasting coffees with the help of my brother Gift Thole now at Starbucks and Sam Muchenje and also not forgetting Phume Nzama also at Starbucks. That is when l saw that in the name of coffee, hard work beats talent."
Wency spent the next 7 years competing in the Barista, Latte Art and Cup Tasters divisions at the Regional competitions, and often ended up taking himself and his Nino's baristas to Nationals. Former Gauteng Barista Champion Khulekani Mpala reflects: "I remember sharing the stage with Wency at Nationals 2017 in Joburg. He was still at Nino's and I was representing Tribeca. We motivated and helped each other like we were on the same team. I realised then that not only is he formidable competitor, but he is also a true champion. Wency is tough skinned, very strong willed and gifted with perseverance. The way he has over the years handled disappointment of almost making it, and bouncing back to claim top honours at Nationals 2020 is just amazing. We're seeing the same motivation and perseverance with his Tanaka Coffee brand."
After almost a decade at Nino's Wency decided to go on his own and started consulting under the name Tanaka Coffee. "Tanaka means State of gratitude. The idea of owning a company started in 2013 however it came to light in late 2018, Naming the company after my daughter, the mission was to break the communication barrier between the coffee chain through education. With a lot of cafes and roasteries opening I saw education as the missing element."he says.
Tanaka is a team of passionate individuals with different strengths but one goal. We want to educate and uplift women in coffee and this was the right time to showcase our talent and do justice for what we love without any restrictions from company policies in my opinion."
"l wanted to give Tanaka Coffee the attention it deserved and explore the Consulting avenue. In this path l have been privileged to work with Mark and Christine at African Roots Coffee. The synergy is amazing and here l'm allowed to share my passion with a wider base of coffee connoisseurs."
When asked about finally winning the National Cup Tasters title, Wency is typically humble and sees it as part of an ongoing journey: "The win means a lot to me, not just in coffee but in life. I had a lot of challenges along the way. I spent days not eating preparing my pallet, there were the financial hardships of competing, there was pressure from a lot of people who were supporting me and I was trying to activate my own Tanaka brand in a tough competitive industry as well."
Wency is also quick to point out that many of the people he competes against are still his role models. "Competing against tough competitors like former SA Champions like Thabang Maluleka and people like Nicodemus Nabakwe in the Finals were surreal to me. For example, l had a chance to be mentored by Nico at Sevenoaks early in my career while learning the ropes on roasting. Winning this Cup Tasters at Nationals was indeed a special moment because I have so much respect for these coffee professionals."
Muneri says: "We worked tirelessly for the Nationals as we pushed to make sure he improved his palate. Months of tasting different coffees together to prepare went by and we were rewarded with Wency clinching the title at the Nationals. We will be together at the World Champs once we get the greenlight from WCE as we still have a mission to accomplish. We work hand in hand till today and support each other in the different paths we have followed."
With COVID-19 currently affecting the Global Coffee Events schedule, Wency is remaining focused on training and waiting for his chance to compete at World of Coffee in Poland. The big question is, how will he do on a global stage? No South African has ever made the semi-finals at World, which is the top 16 after Round 1. "We are a country which is fast growing in the coffee industry and we are privileged enough to have past SA Champions comes back from World Champs and share theIr experiences. This helps us to improve year by year as a nation. I will be working with a variety of local coffee suppliers and roasteries and taste as many coffees as possible to prepare my pallet for the Worlds. The standard will always be high but l can rest assure South Africa that l will do everything to the best of my ability l really want to make not only South Africa proud, but Africa as a whole. Looking forward your support and input as we prepare for the Worlds." Says the Champ.
---
Accolades:
2020 National Cup Tasters Champion
Certified AST (speciality coffee trainer) 2019
2016 & 2019 KZN Cup Tasters champion and 2020 SA National Cuptasters champion.
2018 Barista Trainer of the year nominee (CMA)
2019 Jonson Workwear brand ambassador in hospitality,
2018 Shot in the Dark top 10 finalist.
Got something to say? Then leave a comment!
---
Beautiful things: The Coffee Journal from our friends, Aramse coffee
Friday, 13 May, 2022
In our latest edition, Issue 39, we featured a story from Aramse Coffee on their Universal Recipe Builder and were delighted to find out that they have created a product that encourages the use of the tool and inspires you to cherish your daily coffee ritual.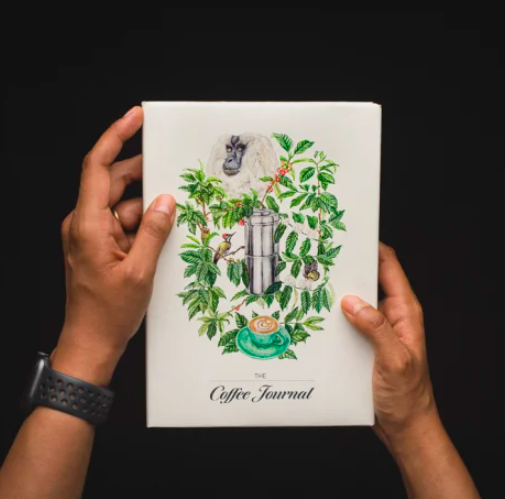 Introducing The Coffee Journal.
In their own words:
"At Aramse, we are big believers in ritualising our daily coffee brews. The Coffee Journal helps you improve your brews by logging key variables such as grind size, water temperature, brew time, and more. This journal not only helps you improve the coffee you make through tracking and consistency, but also helps you focus by developing the powerful habit of writing things down. Simple additions like the airplane mode checkbox serve as a gentle reminder to switch off distractions and be fully present during your coffee ritual. We commissioned Indian artist Manali Patil for the first edition of our journal. This piece was created exclusively for Aramse and will not be available elsewhere. The detailed artwork is the result of our creative collaboration and showcases Indian coffee landscape — a rich ecosystem where coffee plants thrive under the shade of the protective forest canopy, amidst wildlife such as the endangered lion-tailed macaque, black-rumped flameback woodpecker, elephants and butterflies to name a few. This diary is an homage to coffee, a beautiful addition to your coffee routine, and affordably priced."
You can be part of the first run of this beautifully produced journal by supporting their Indie Gogo initiative.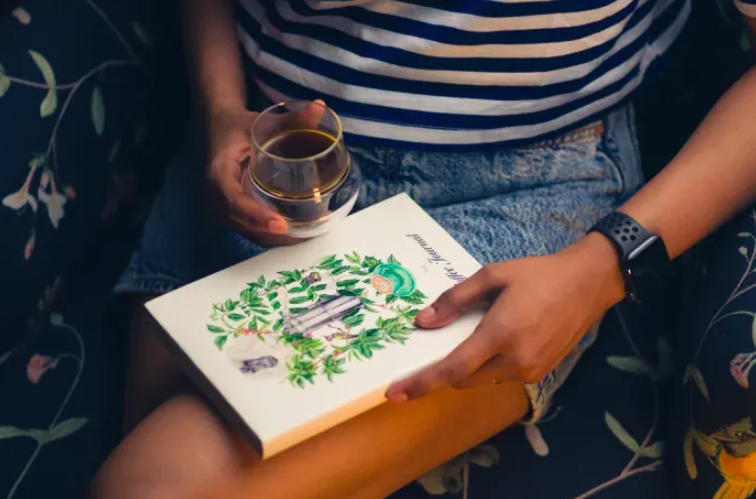 Got something to say? Then leave a comment!
---
A whole new garage forecourt world: Pantry by Marble
Friday, 6 May, 2022
Sasol Garage, Jan Smuts Drive, under iconic Marble Restaurant
---
The garage forecourt space has been hotly contested and gaining in prestige and popularity over the years, but nothing quite like this!
If you think you're lucky that your local supermarket has paired with your local petrol station, you ain't seen nothing yet, unless you live around Rosebank, where Pantry has quickly become your go-to for, well, pretty much everything you need on the way home after work, after a night out, on the way to a friend's party, a pick me up in the morning...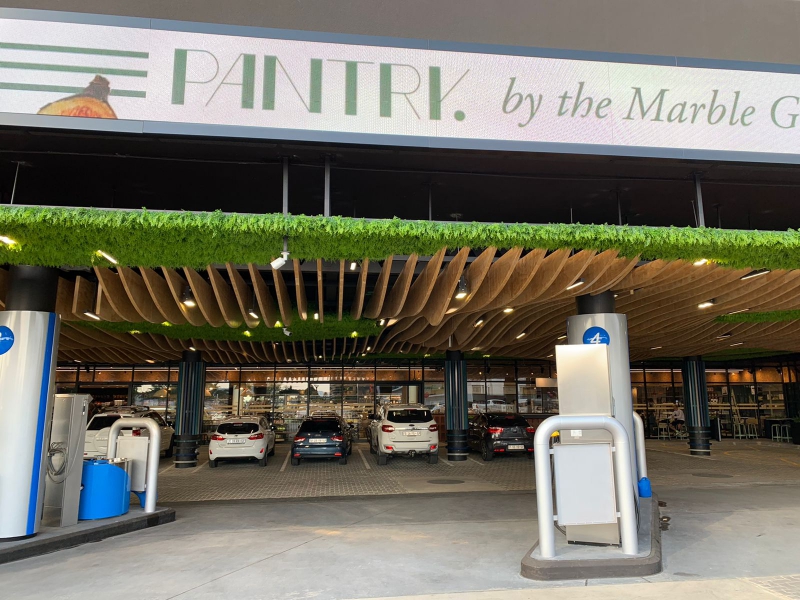 Their tagline, 'Fancy, but Easy' oozes out of every pore of the beautifully curated space and it is bustling.
We popped in on a random Thursday afternoon to find freshly baked loaves of Marble Focaccia being whisked to the shelves, the pizza oven working wood-fired magic, a queue for coffee, a patisserie counter filled with ornate looking treats, a section of gifts and crockery and decor and cookware that I immediately felt I need in my life and an entire grocery store of best of brand products. Yes. This is at a petrol station.
Ok, so we're the Coffee Magazine, so let's skip back to that part about coffee!
Shew, what a lovely set-up. Linda and Inoch were so warm and welcoming! The stunning Nuova Simonelli Aurelia Wave UX and Victoria Arduino Mythos II grinder are working hard.
"This place is SO busy! It's unbelievable!" Inoch tells me with a smile.
He made us a delicious flat white and cortado using the single origin medium dark roast Honduras in the hopper, a collaboration from Rock & Roller and Morrico. Perfect drinking temperature and delightful latte art to boot.
Conveniently, as everything is designed in this space, you can pay for your purchases at the separate stations, so if you're popping in for just coffee you can pay then and there, same goes for each section of the store, rather than heading to the tellers as in a traditional garage forecourt. It's a complete aside, but the touch screen payment/ordering portals have glitter frames, which I'm not gonna lie, I just loved!
Overall, it was a fabulous experience and are not surprised at all by what an instant hit it has become. Well done to the team involved.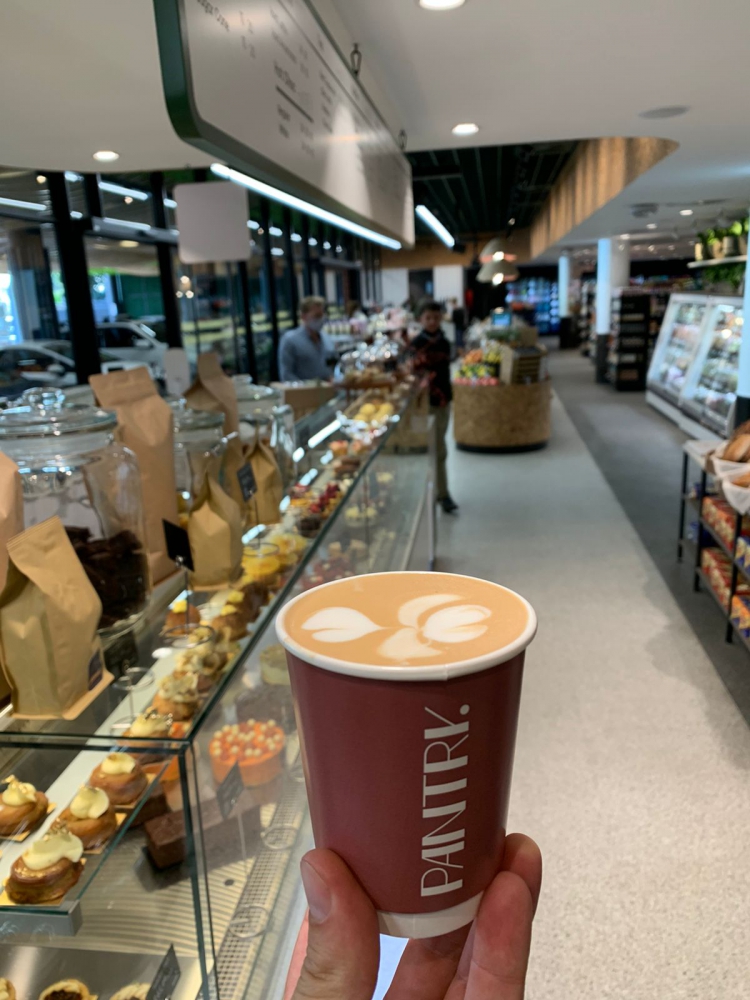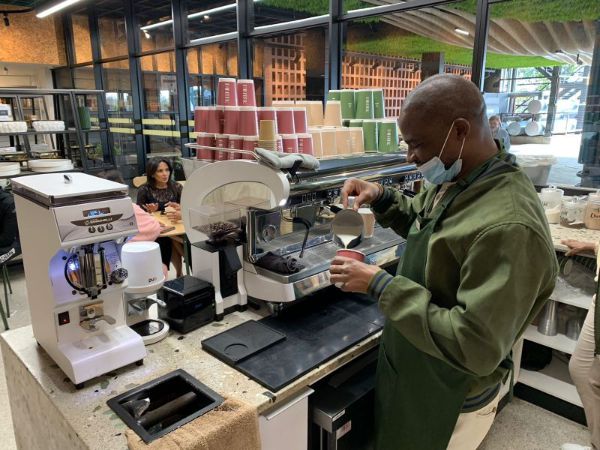 Got something to say? Then leave a comment!
---
Cafe Focus: Molweni Coffee
Friday, 29 April, 2022
Molweni Coffee Shop
1 Dorman St, Gardens, Cape Town, 8001
Monde Bulala took the struggles of the pandemic and tried to find the opportunities, resulting in Molweni Coffee. We have yet to visit in person, but even via digital conversation, it is plain to see that his enthusiasm and optimism are infectious. Go pay him a visit in Cape Town!
---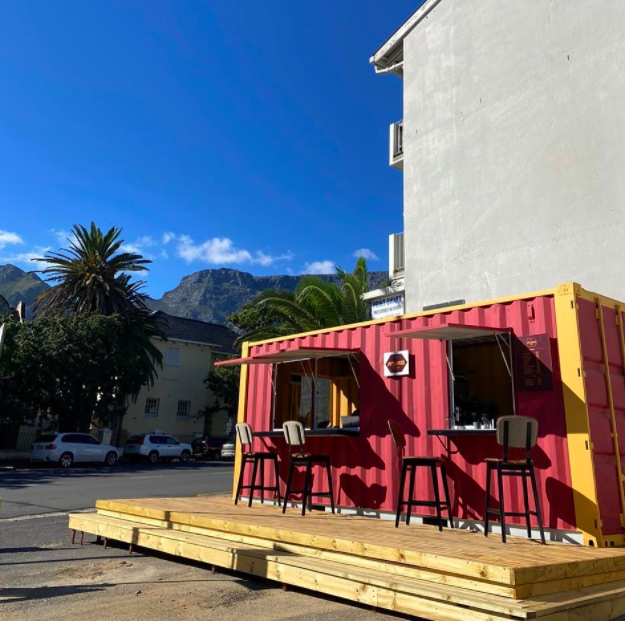 Tell us how Molweni Coffee was born?
Molweni Coffee was born in 2020, during lockdown. I always tell people that Molweni was my response to Covid and was inspired by the culture of Ubuntu from back in the days of my upbringing as a little boy growing up in the heart of the Eastern Cape.In my mother tongue, isiXhosa, "Molweni" is a greeting directed to more than one person, but has been used in place of Molo (which is generally directed to one person), It is a cordial way of greeting, because even though it is generally directed to several people, using it to greet only one person essentially means you give respects, acknowledgement, and sending regards to the ones we cannot see. Which is fundamental in the spirit of Ubuntu.Growing up in a home where we shared everything, and having a grandmother who always used to share her coffee with her grandchildren is one of my earliest memories with coffee. So from then on Coffee has been the most special thing in my life that in my adult years, I made it a tradition to kick off my day with a cup of coffee.
How did you get into coffee and where did you learn your barista skills?
This profound connection with coffee sparked an interest in learning more about coffee beans and making coffee and so to gain experience I did a barista course and started working at Origin, a little over 10 years ago.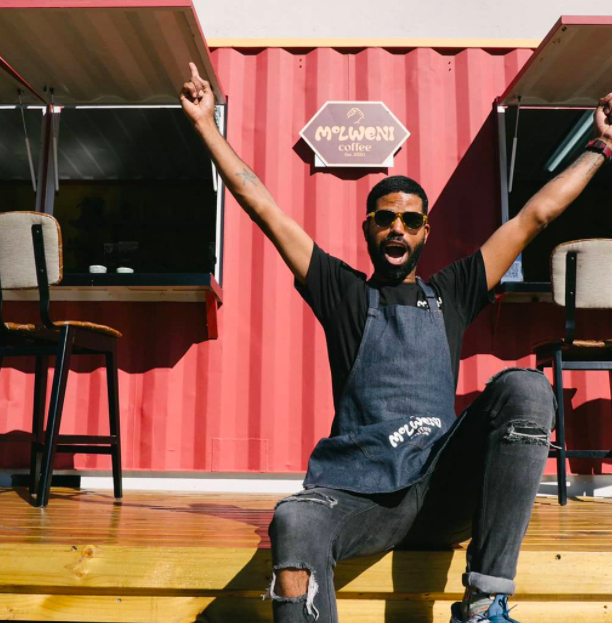 What coffee beans do you serve at your coffee spot?
We serve Damn Fine Coffee from Bobsbagels in Kalkbay. It's is a medium dark roast that consists of Brazilian, Colombian and Rwandan beans.
What are your dreams for Molweni?
I would like to see Molweni grow and expand from Cape Town to Jozi.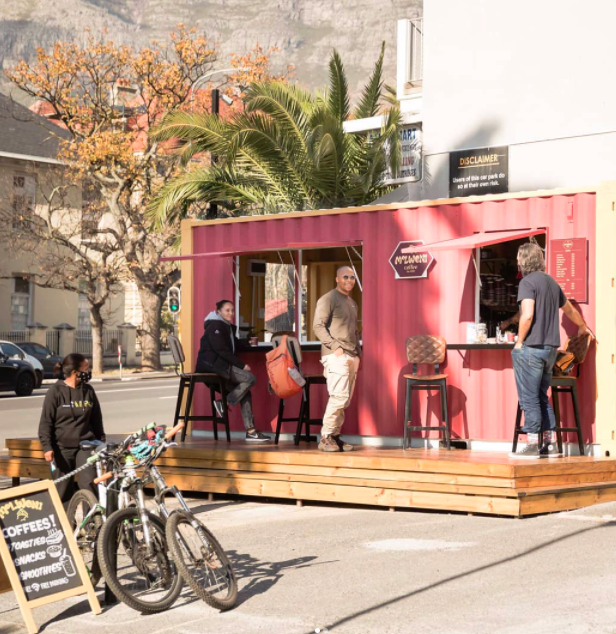 From the looks of your website, you surf?! We are also keen ocean lovers, tell us a bit about your relationship with the sea :)
Back in the day, as a young boy, I would swim in dams for fun with my friends and that's when my love for water grew, and as fate might have it, in my journey with coffee, I ended up in Muizenberg where I saw lot of surfers and was inspired to learn how to surf and until now, I love the ocean.
Check out the awesome featurette on Monde and Molweni Coffee by Little Big Global:
Got something to say? Then leave a comment!
---
The Coffee Heart of Maboneng: Home of the Bean
Friday, 6 May, 2022
Home of the Bean is situated in the vibey Maboneng district of downtown Joburg. This success story came to our attention when the Owner, a certain snappy dressing Leroy Lemogang Kgopa was nominated by the coffee community for a couple of Coffee Magazine Awards last year.
We finally managed to visit it and were suitably impressed by the overall experience.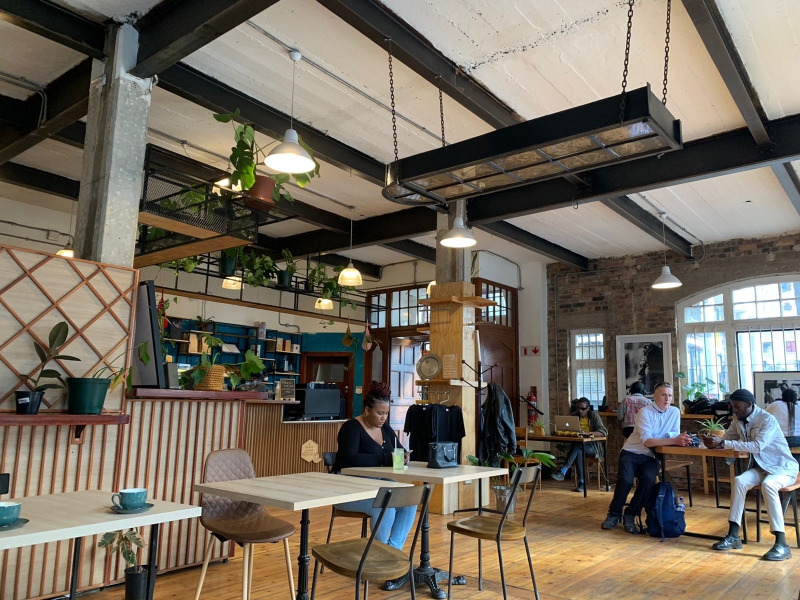 A wonderful coffee experience awaits at Home of the Bean.
The baristas on duty were Alice and Thebiso and we were served a delicious double espresso and a cortado, which were impeccably made using the Uganda/Burundi blend on bar.
The decor is stylish as are the patron's - so you better dress up to standard when visiting! Only kidding, but given the beautiful artwork on display, the creativity of the area and the thriving regulars that frequent Home of the Bean - you might want to consider it (No, really!)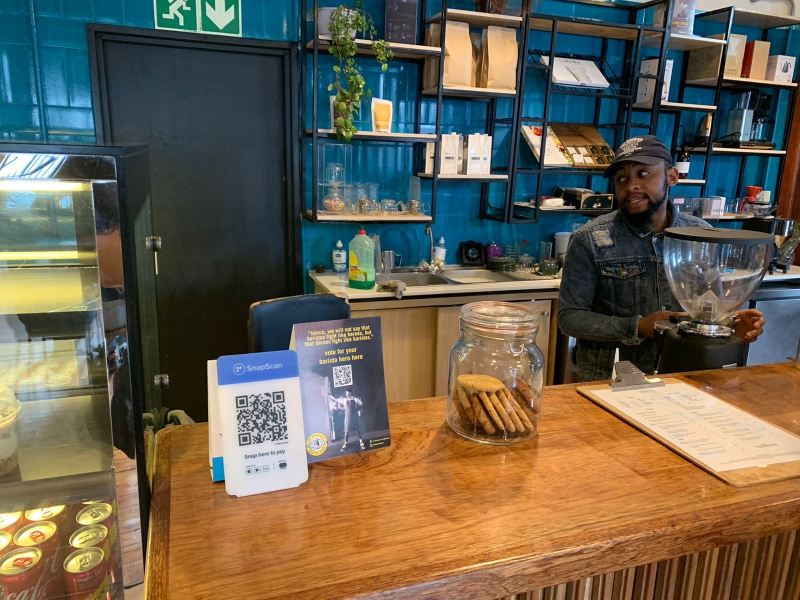 Thebiso made us 2 incredible coffees!
Home of the Bean has made such great use of the space - with great natural lighting, deliberate indoor greenery, a wonderful selection of books for patrons and probably the coolest clientèle you are likely to find in Joburg. (Maybe even cooler than anywhere in Cape Town…whaaaaat!)
Go visit.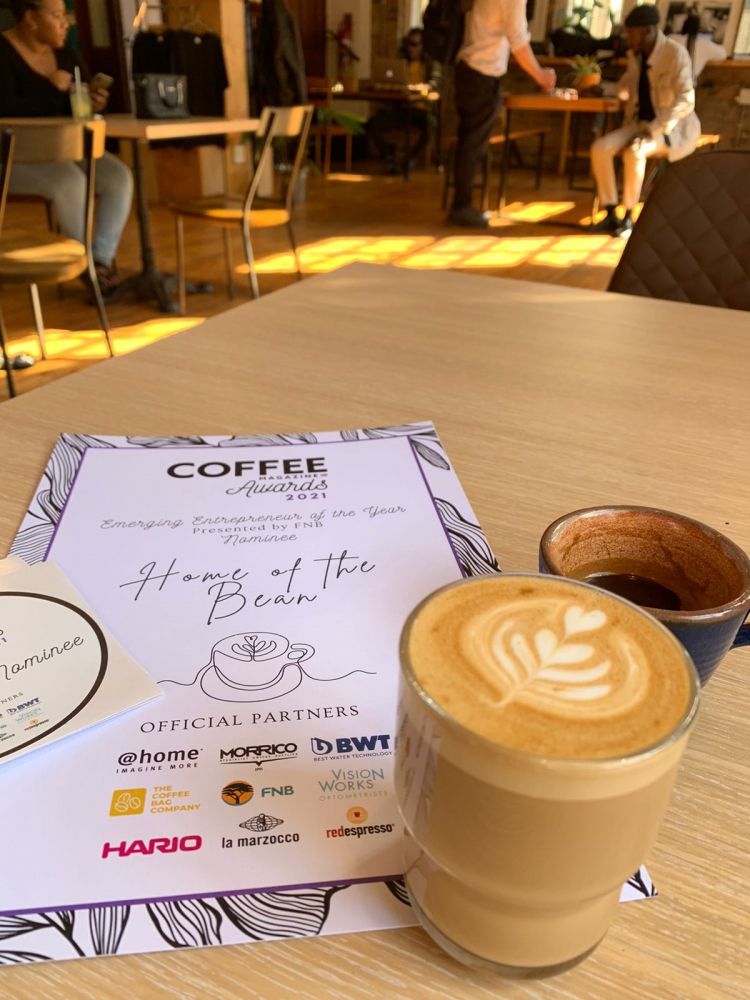 Got something to say? Then leave a comment!