Do you want to do the SCA Roasters course? Online learning info is here!
Wednesday, 17 March, 2021
The SCA Roasting (Foundation and Intermediate Combo) Course has become a fast favourite and it has been decided that this is the best way to handle the theory for the course, at the same time respecting social distancing and minimising travel and accommodation expenditure for the students.
Donovan McLagan from Cabal Coffee Roasters in Port Elizabeth is an AST accredited with the SCA and has a huge passion and interest in roasting coffee.
This course is on offer to anyone that should be interested. It is best to have a roaster on which to practice before embarking on this course.
To find out more you can visit the SCA website.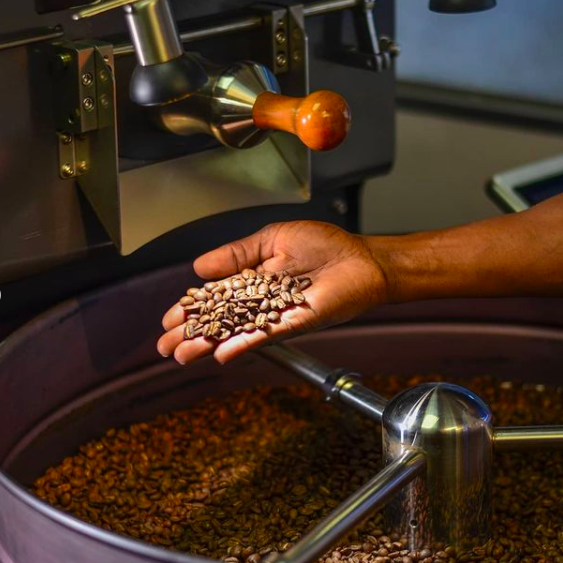 Donovan will host future theory training via Microsoft Teams (a web based or downloadable application). If there is load shedding in your area or you cannot connect to the live theory session/s, Donovan will provide a recording, you are then welcomed to send your questions if they have not been addressed during the recording.
The theory is covered over four days followed by one mandatory practical day practical to be hosted at Sevenoaks Trading in Johannesburg, Cabal Coffee Roasters in Port Elizabeth or at an affiliate in Kynsna and is limited to 4 students at a time.
Next SCA Online Theory Training
16h00 to 18h00 Monday, 12th April 2021
16h00 to 18h00 Wednesday, 14th April 2021
16h00 to 18h00 Monday, 19th April 2021
16h00 to 18h00 Wednesday, 21st April 2021
Practical dates will be discussed and agreed to during the training.
The cost is R8,500.00 (incl VAT) and entails an online exam within 21 days of registering online and upon passing your receive the international certification, which is a great plus for contract roasters.
To register, contact Paulien on paulien@sevenoakstrading.co.za
Students can take advantage of learning through three stages of knowledge and skills in each module.
Learn about the roasting process, including roast cycle, roast levels, identifying defects, the physical changes that beans undergo during the roasting process, as well as workspace management and lean production.

The Foundation level provides a first taste of a specific coffee discipline and is a great way to get insight into a module to help you decide if you want to go on to learn more. The Foundation level requires no previous experience.
The Intermediate level is suitable if you are already part of the industry, working in the field covered by the module, and have a firm knowledge of the basic skills and access to a roaster. Experience working in the field is recommended for this level.
In order to undertake the Professional Level (on a separate occasions) there needs to be a minimum timeframe of 3 months between completing intermediate before undertaking Professional to ensure that enough time has passed to gain the proficiency needed in the areas you've been trained in.
Got something to say? Then leave a comment!
---
Interview: Beethoven Coffee Co
Thursday, 11 March, 2021
We chat to Trevor Fitz, co-founder and coffee geek behind Beethoven Coffee Co to find out how their journey took them from home barista to runner up at the SCASA National Barista Champs to a fully-fledged coffee business.
---
We first met you at The Home Barista Jam we hosted at Coffee & Chocolate Expo way back when, can you tell us how you first got interested in coffee?
My interest in coffee came through my older brother, he really drew me into the world of coffee in a way that captured my attention. Before his influence, coffee was just a necessity to me, I drank it cause my doctor said I needed to and that was it. I didn't even enjoy it!
My brother would take me to BeanThere almost every Saturday morning, allowing me to try the different coffees and brew methods and encouraging me to try to identify the flavour differences. I was terrible at it initially, but eventually I started being able to identify the differences. I could tell which origin of coffee he had ordered by the flavours, and it was then that coffee suddenly became interesting to me. I needed to know why each coffee was different and what factors affected the final experience I was having, and through research and tasting I got hooked!
If I look back now, really none of that has changed - it's still about experimenting with flavours and extractions and trying absolutely EVERY coffee I can get my hands on!
You obviously have a competitive streak, you transitioned to the SCASA Regional Barista Championship not long after that. Why do you enjoy the coffee competitions and what was your goal in entering even though you were not involved in the industry when you first took part?
Honestly speaking, my competitive streak is biggest within myself. I'm obsessed with doing everything better than I did it before, and when it came to coffee it was no different. I had theories and skills and wanted to test them out to see if they were any good, so I entered that first Gauteng Barista Champs!
I entered competition that first year for three reasons, to test my abilities, to really experiment with coffee and to learn as much as I could - and that is the basis of my entire journey.
The success we enjoyed at the Barista champs that year is what made me want to enter the industry and turn my hobby into something more.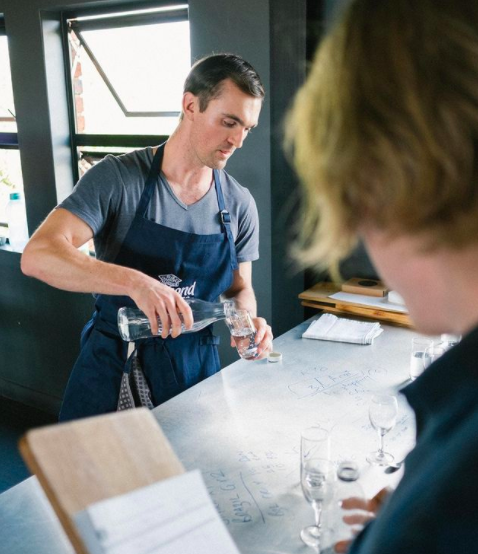 Who were your major influences in this journey?
Without a doubt, the biggest influence along this journey has been Nkulu (Khulekani). He was the one who trained me initially, and he convinced, even hounded, me to enter that first barista competition! He helped me prepare my set and drilled me on my technical skills, as you can imagine - he is always the best tech at comp! He still tells me I'm doing it wrong when he sees me make coffee for him.
Another big influencer was Jono, from Bean There. He helped me put together my business plan and even sponsored my coffee for the first competition. I used his Burundi that first year! He has helped out so much with guidance and support whenever it was needed, I only hope I can return the favour one day!
It's the duo of the Jono's I'm thanking, as Jono from Rosetta has been a major sounding board in my roasting journey and someone I've aspired to follow in the footsteps of. He's always willing to chat if I need some input, or to sample some of our beans and give us feedback.
There have been many, many influences and contributors to the journey thus far, I think of Johnson and Sandro just to name a few more, but if I had to list them all - we'd turn this article into a book.
Since you began roasting, Beethoven has evolved from side-hustle to full-time coffee Roastery and Cafe, what has that process been like?
The process has been tough at times to be honest, but also very exciting! We started out roasting just a few kgs a month, and sold most of it to friends and to our families. Then as we gained confidence and our website took off and the news spread through good word of mouth, we've turned the side-hustle into a fully-fledged roastery.
We definitely made some mistakes along the way, but we learned and improved, and I think that's what it's all about - the constant desire to improve on ourselves, our product and the experience that we want to deliver. It's something that we regard as one of our greatest strengths and what drives us to keep growing. We've had to try and try again many times but the knowledge and confidence we've gained along the way is invaluable! It's also been exceptionally awesome to see the response that people have given to this dream that we've birthed and to see our coffee being drunk all across South Africa, and occasionally the world. It's those moments when someone says, "wow this is the best coffee I've had!", that keeps you going when it gets a little tough.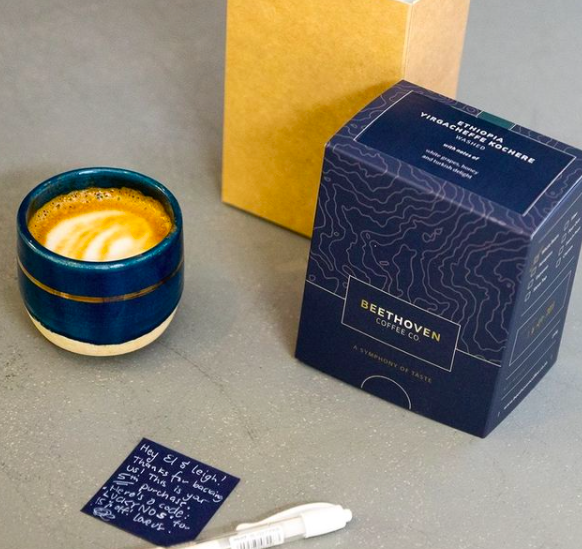 The cafe, our Beethoven Coffee Bar, in Mall of Africa was a whole new ball game! We launched this store, the first of many to come, in partnership with the rebrand of CNA, and it's been an insane learning curve but also so much fun! It opened its doors last November just before Uncle Cyril sent us back into that intense lockdown, but it's slowly developed its own personality and vibe and is drawing a little crowd of fans. The bar is a takeaway space serving up a blend we made solely for it and some of our favourite single origins on batch or as espresso. We took our comp experiences over the years and developed some signature drinks using all our own ingredients and recipes - an ode to the competition space!
Who makes up the Beethoven Team?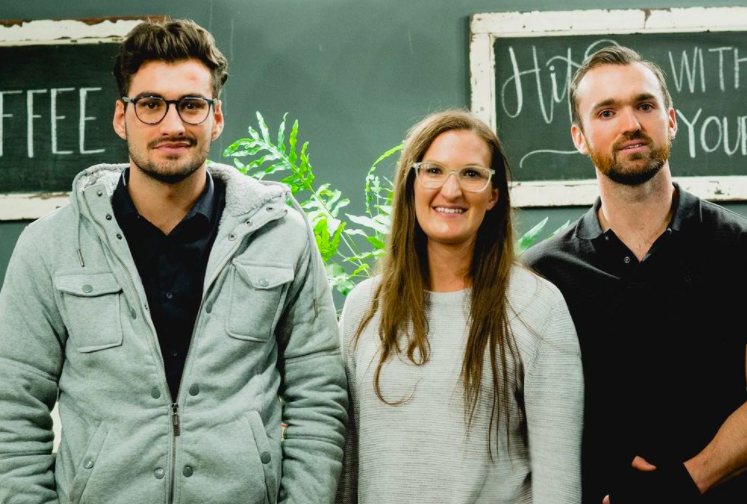 The core of Team Beethoven are the familiar faces you know from comp - Claire, Branden-Roy and myself. We've gained a few new partners in the form of Andrew and Dave, who are in our admin and finance team and we always have an army of volunteers!
The team at the Beethoven Coffee Bar in Mall of Africa are two of the BEST, Thandi and Linda, both originally trained by Nkulu, so anyone popping in for a coffee is in great hands. Thandi, some of you may know from the last Gauteng Barista Champs, when she competed with a coffee we roasted for her and placed in the top 6 at her first ever competition! We're hoping to have at least two in-house competitors for the next one.. watch this space!
How would you describe the ethos of Beethoven Coffee?
Our ethos is really summed up in three things - sustainability, quality and education.
We're in the specialty game for those exact reasons. We want to ensure that farmers are getting a good price for their coffee, we want to ensure that our baristas are being paid a wage that reflects the skill they possess. We want to ensure consistently good quality coffee is being produced because it's worth the farmers while, and that consistently good cups of coffee are being brewed with our coffee because the baristas have a desire to honour the product. And in turn we apply those filters to everything we do, from roasting to packaging to training. It's about sustainable quality and educating the consumer, the community and ourselves.
We can always add more value, and we strive to learn the most and share the most with those who cross our paths.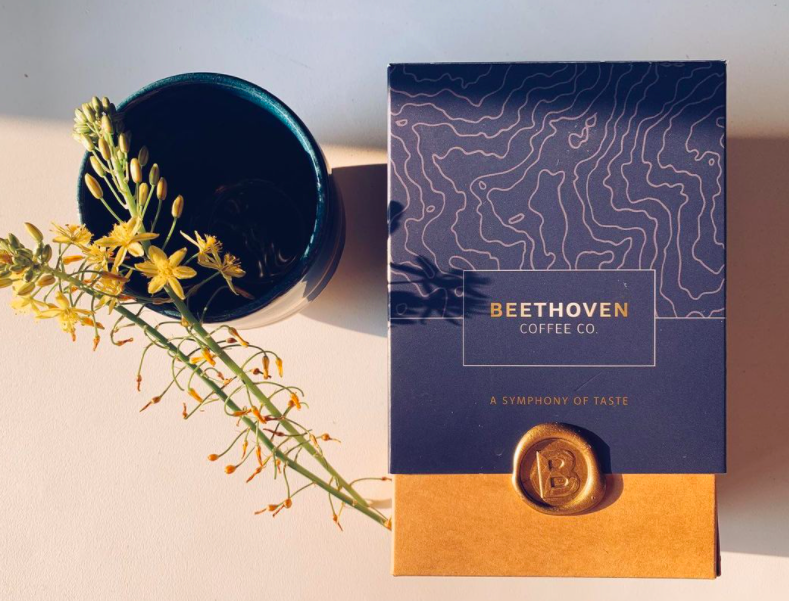 What have you learnt along the way? Would you do anything differently if given the chance?
We have spent so much time learning, again I could write a book?!
We've developed our own hot chocolate, chai concentrates and syrups alongside striving to consistently source and roast the best coffees we can. At our core, we love flavour and it's been a world of fun to explore that through comp and now in the roastery as we sample new coffees and test out new products!
It has been an exciting journey to develop, test and create our own brand and to develop an ethos and way of working that resonates with who we are and what we want to achieve for and in the SA coffee industry! You learn the nitty gritty things, the admin and the day to day operations, whilst being able to sample, taste and explore all these different and exciting coffees. We've met insanely creative, talented and dedicated people who have taught us so much about our industry and ourselves! We continue to learn every day.
If given the opportunity, the only thing I would do differently is to spend more time considering our initial packaging. It's beautiful and iconic, we know, but it has also given us many sleepless nights and headaches!
Got something to say? Then leave a comment!
---
Roaster Focus: Customising Your Roaster
Wednesday, 10 March, 2021
The next installment of roaster knowledge from Neil Maree, co-founder and chief engineer behind Genio Roasters.
---
Deciding on the bells and whistles for your coffee roaster
Now that you have decided on which roaster you need, you're excited to go ahead and want your roaster delivered yesterday. But the manufacturer just sent you a list of add-ons that you can choose from to customise your soon-to-be new roaster. What do you add? What do you leave? Let's take a closer look.
The specifications of a roaster will vary between manufacturers. The available options can range from must-have features, such as roast profiling software, to custom colours and wood trimmings. More than likely your roaster manufacturer will push you in one direction, while you only really need the bare minimum. Here is my list of suggestions:
Chaff filtration
If there is the option to take an external chaff cyclone, you should take it. An external cyclone adds an independent roasting fan which greatly increases your machine's ability to catch the chaff husks as they are separated from the beans during roasting. Many models still have internal systems built into the machine.
In my opinion, crawling around on your knees with a vacuum is not the right way to run a roastery, so always opt for the external system. There are exceptions to this. For example, our Genio 3 roaster comes complete with a built-in chaff cyclone. The word "cyclone" is important here as it speaks to the filtration method; don't settle for a simple filter or separator.
Gas control
Gas control is like the accelerator pedal on your car; it determines how fast you are going. Having a gas gauge is like looking at the speedometer.
Take the gas gauge if it is an option or ask your manufacturer to install one as an extra. We use our included gas gauges as a major metric when speaking to our customers about their machines' performance, and I cannot imagine roasting without one.
Profiling systems
This is the big one. Do not tell me you are an "artisan" and you don't need temperature logging. The best artisans in the industry insist on having some form of digital temperature logging, if not full profile control. A professional profiling system can determine whether you will move from a small lifestyle roastery to a scalable business that can grow and thrive. Many people choose to go with third-party systems, the biggest of which is Cropster or Artisan Scope. Cropster is a professional solution. Over many years it can become pricey, but it is well worth the money. You can even submit the reports to the government if a tax on roasted/green coffee is applicable in your country, as Cropster has an inventory tracking module.
Artisan Scope is immensely finicky, but it's free! It is packed with features and can make a big difference in your quality control, but you will need to spend some time on user forums to get the most out of it. It also has an inventory tracking feature although this is a paid option.
At Genio, we have designed our own ProRoast system. We still offer easy integration with third-party systems, but try our ProRoast system before you do anything else. You might just be pleasantly surprised that it has everything you need, already included in the system!
If computers and screens are an optional extra, I suggest just buying your own laptop. It will probably be far cheaper, and you can get local support for it. With that said, our Genio's have an included Samsung tablet that connects to the machine via Bluetooth.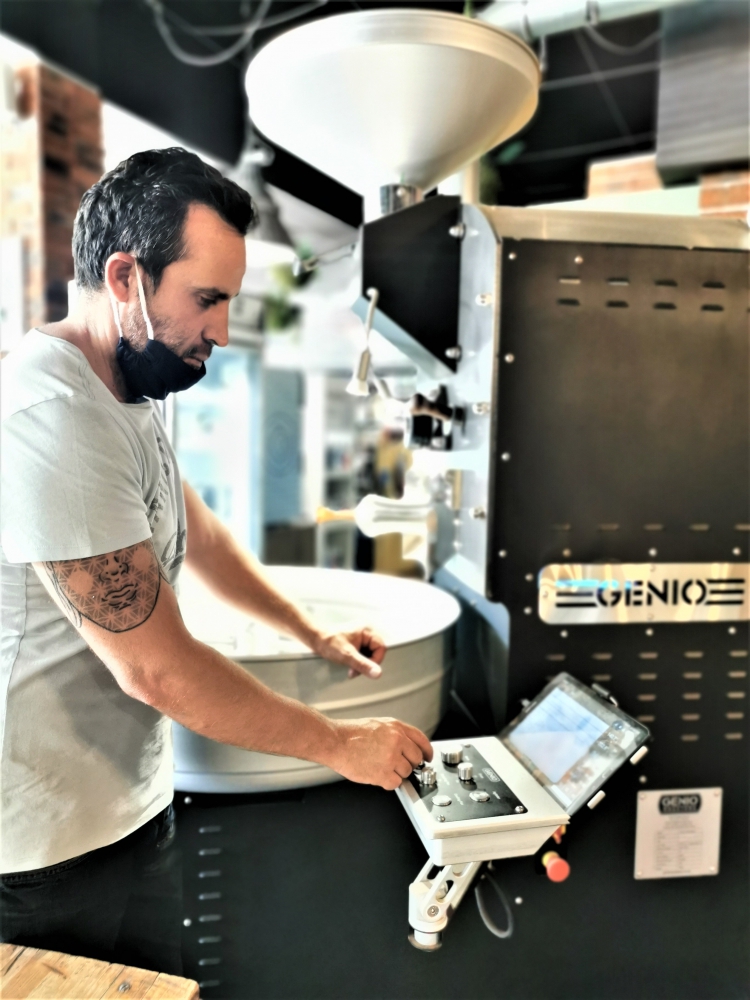 Customisation
For many roasters, their machines are an extension of their brand. Having a beautiful, custom coloured roaster can be a key feature in your coffee shop or roastery. But be aware that pink and baby blue roasters are more difficult to sell when you eventually need to upgrade to a bigger size. My advice is to stick to classic, timeless colours and features that can be easily upgraded as your brand evolves and your company grows over time.
Genio just launched a state-of-the-art customisation service. Our customisation team will schedule several sessions with you to assist with every aspect of your machine, from basic colours to wood and leather finishings.
We have recently sat down with Dario Scilipoti from Bluebird Coffee Roastery, one of our first customers who went on this customisation journey with the team. Read more about his customer experience here.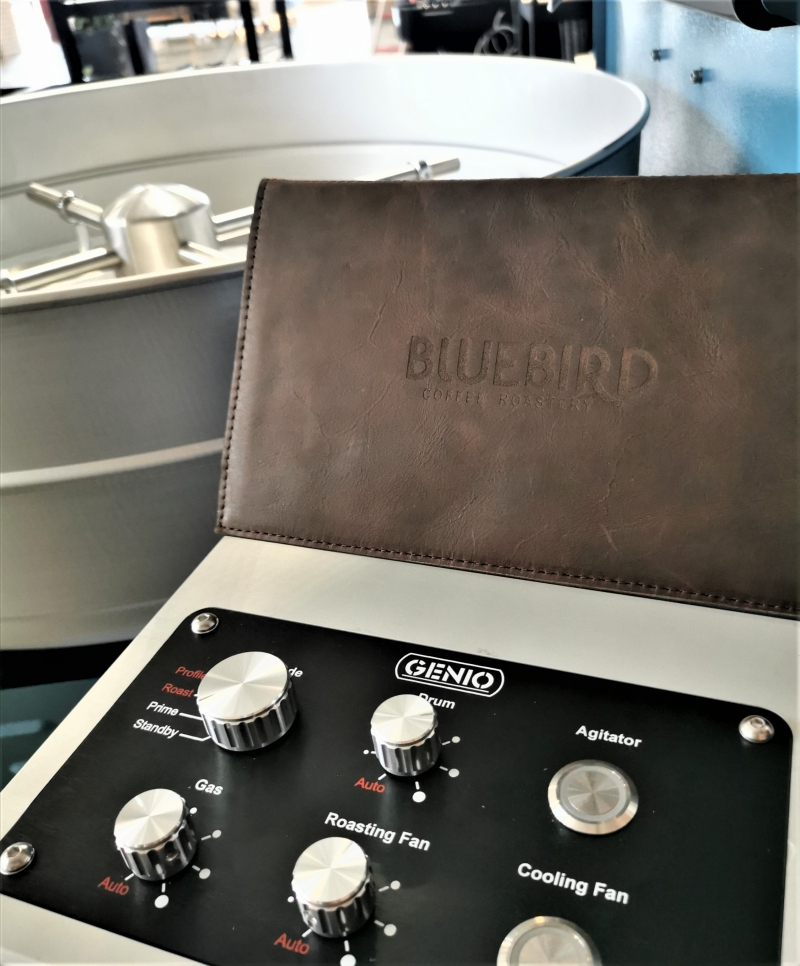 Shipping
Be sure to watch for hidden costs, like the shipping crate, import duties, and local certification requirements. Shipping via sea freight is completely normal and is the de facto transportation method for roaster manufacturers. Air freight is also possible, but the cost is generally 3 times that of sea freight. The advantage of air freight is that the goods are normally handled better and the transit time is usually 1-2 weeks instead of 4-6 weeks for sea freight.
We often have customers who want to save costs and ship the machines themselves. I would warn you against this, as international shipping can be very tricky and immensely time-consuming. Manufacturers deal with this every day and know the ins and outs of getting their equipment around.
Remember to include insurance when shipping your roaster. All of Genio's shipments, whether local or abroad, are insured. We use specialised marine freight insurance companies, so the risk lies with us. If you prefer to handle the shipping of the roaster yourself, the risk passes to you as soon as the machine is loaded onto a truck at our factory. Individuals are often not geared for this type of insurance. There is a real risk of a roaster falling or being damaged somewhere in a port or warehouse during transit.
Training
Even if you are an experienced roaster, make sure that your manufacturer offers you training of some sort. You will inevitably need some sort of guidance, and your manufacturer should make it clear what type of training they can offer.
Genio has recently taken a big step towards offering comprehensive training programmes for our customers. All of the training is included for free, as we believe that empowering our customers significantly enhances the quality of their roasting experience.
Technical Support
This is probably the most important aspect of all. Anyone can make a roaster and anyone can sell it to you. But looking after you as a customer, after the sale has been done, is a mammoth task (and one that only a few companies consider as important).
Many manufacturers nowadays do not offer free support. They require you to provide them with your credit card information, before they will even speak to you. Or worse, they do not speak your language, are not available after office hours in their country of residence, or they employ inexperienced people to assist with highly technical issues.
After-sale support needs to be your top priority when considering add-ons for your roaster. Because it should not be an add-on. There is an easy way of choosing a manufacturer: their commitment to resolving your problems: put them to the test!
Warranty
Last but not least is the warranty and technical support. This is the one place where budget and professional manufacturers are differentiated. Most manufacturers offer only a 1-year warranty. Some only offer a few months on electrical equipment, and most warranty clauses require you to fly the manufacturer's technician out (sometimes at business class rates) to commission or service the roaster, for the warranty to be honoured. These are red flags that should be considered. Be careful of distributors that cannot offer the same technical support as what the warranty specifies.
At Genio Roasters, we also only offer a 1-year warranty. BUT, this can be extended up to 3 years in total and includes electrical and mechanical components and workmanship. By simply requesting warranty extensions from us and completing a few basic checks on your roaster, you can have peace of mind when purchasing a Genio in any country around the world. In other words, we will honour our quality commitment to you and replace any parts covered under our warranty agreement at no cost to you, provided that you look after your roaster. We guide you every step of the way with interactive online guides, videos and telephone support.
Got something to say? Then leave a comment!
---
The Next Generation: Peru's Young Coffee Farmers
Thursday, 4 March, 2021
Contributions from Jorge Jacobi Montalvan and Lisanne Oonk
---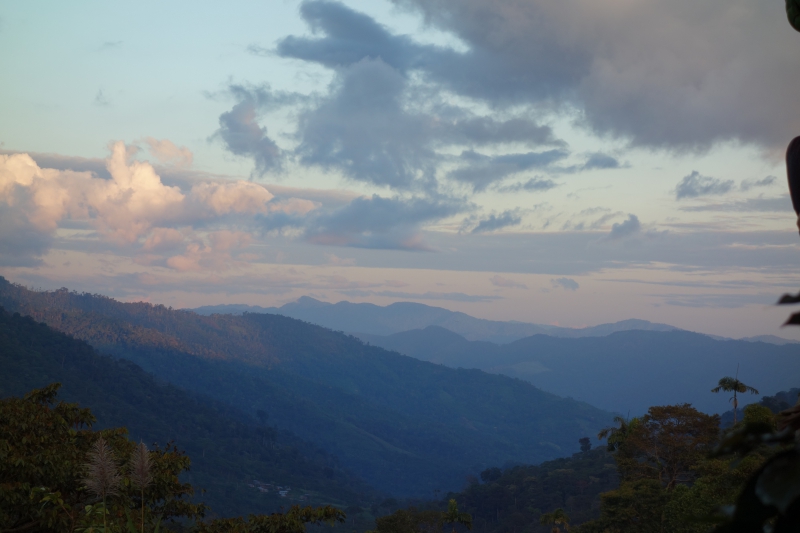 Intro by Mel Winter
When I dream of visiting Peru, my first thoughts are of exploring the Inca culture and traveling through jungle to get to the high reaches of Machu Picchu. But as I have recently discovered, while the history of this beautiful country is fascinating, the future of its people, particularly those involved in coffee, is even more exciting.
According to a study by the SCA, the average age of coffee farmers has for many years been rising, sitting around the 60 year old mark, with little to financially attract the next generation to this profession. It's a global issue. And certainly if they continue using the same methods and therefore being paid the ridiculously low C-Price, the sustainability of remaining in this field hardly seems viable. How can a crop supposedly so necessary to much of humanity be decreasing in value according to the stock exchange prices? Well, as you will have read in many issues of this magazine, the system is broken and it is up to us as coffee lovers to support the people bringing into a new era. Through a coffee showcased by Rosetta Roastery recently sourced by Cultivar Coffee Peru, we were able to get in touch with the head of a farming co-operative in the Pangoa region of Peru, just east of the Andean mountain range in Central America. Jorge Jacobi Montalvan gives us some insight into how things are changing at farm level.
How did you get into coffee farming? Or perhaps a more accurate question, what has made you stay in coffee farming when it is so difficult to get out from under the crushing C-price structure?
"We founded our small association 'Selva Virgen de Peru' in Pangoa in 2016. The organisation consists of 32 persons. From those, 15 members are women and 17 members are men. We founded the association because after the big Roya (leaf rust disease) breakout in 2013-2014, many of us realised we had to do things differently in order to thrive as coffee farmers. We heard more about the focus on quality in the cup from potential buyers, and so we started to focus on producing high quality coffee. We planted varieties that we knew would do well in flavour. And year after year we encouraged the most motivated members of our organisation. In 2018 we even participated in the Cup of Excellence, and we won the 31st place, being part of the national winners. That coffee was actually mine."
"And why we stay working in coffee? Well, the answer is, we are from the country side. And the best thing we know is how to cultivate the land. And therefore, I for example as a son of farmer, I see that my parents always have sold conventional coffees. But me, my generation we are seeing new opportunities to overcome the challenges in coffee. So it is actually us, the children, who are motivating the older generation to keep farming coffee. Thanks to coffee we live here. I was born among the coffee plants, I grew up on the farm. Even though there were so many problems, thinking of the terrorism we had to endure, I would not like my parents to sell the land. It is the land where we were born, it is our tradition. We believe it can be profitable, but we have to keep adjusting to new tendencies. We have to improve our quality. But we also have to improve the productivity, because with higher volumes of production it will be more profitable."
Can you share more on the specific steps you took, or practices that you implement to enhance coffee quality as an association?
"I personally got a scholarship to do the Q training back in 2009. So I belong to the first generation in Peru to graduate as a Q grader in that year. I never renewed the license, but I have experience as a cupper. And when it comes to quality, we have done so many trials in the past years. We harvested coffee when it was full moon, we did selective harvesting, and did trials with fermentation, fermentation in GrainPro bags. In the altitudes, where it tends to be quite cold, we did trials with fermentation in GrainPro bags and we would add bottles with warm water to accelerate the fermentation. It always gives a feeling of satisfaction when it turns out to taste very good.
Also via a local company in Pangoa I got the opportunity to travel for an educational visit to Panama early 2018. We visited the farm of Francisco Serracin. We brought some Geisha seeds from his farm, so next year we will be harvesting our first Geisha micro lot. But we also have Typica and yellow Caturra. So I am sharing what I am learning with the members of the association. That is the whole idea, right? That we grow together.
The first years were not easy, it was hard in the very beginning, because one needs to know a lot to improve coffee quality, right. But every year we improve and we try to fulfil the needs of the specialty market. And one important thing: in our association there is no gender discrimination. We support the 15 women in our group just as we do for the 17 men. Both men and women can be farmers. In the end we all live from our farms, we all share the land where we grow our plants. We all try to be autonomous and economically independent. As an association we want to facilitate direct relationships between our members and the buyers. If a roaster wants to meet a specific farmer, no problem, actually perfect!"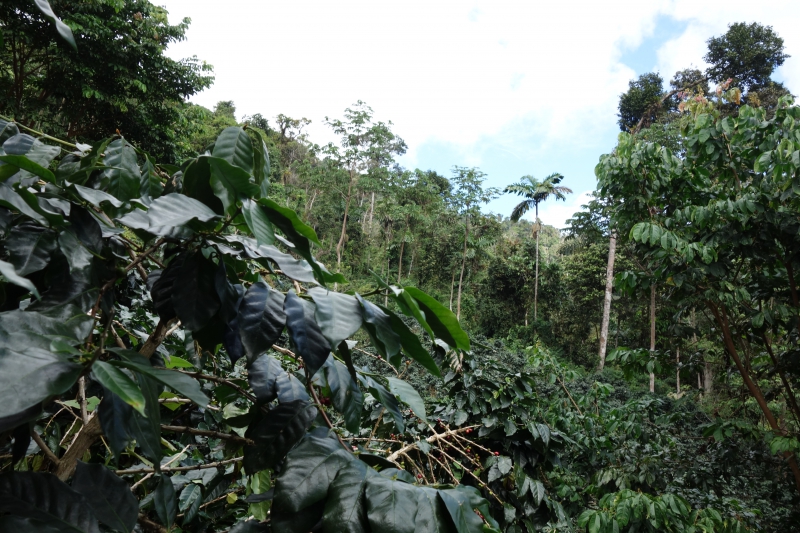 ---
Producing great coffees is one part of the puzzle, but these coffees need to find roasters to coax the incredible flavours from them, that is where green bean importing companies come in. We chatted to Lisanne Oonk, who together with her business partner Theadros Mellink established Cultivar Coffees in Peru with the specific objective to work with small-scale growers.
How did Cultivar come to be?
"Theadros and I met each other working for the same coffee importer, Trabocca in 2012. Theadros has an educational background in value chain development, with a specific focus on working with smallholder farmers. He just came back from the United States where he worked with a coffee roasting company after he won a scholarship (related to entrepreneurship and business ideas). And I just finished my masters in Cultural Anthropology and Non-Western Sociology the year before. I did field research and lived with the Ngäbe-Buglé coffee pickers/workers on a coffee estate in Panama (and studying the migration between the estate and their homelands, the indigenous Comarca Ngäbe-Buglé).
We shared the fascination for the Specialty coffee sector, but what we really loved was to endlessly talk over different coffee origins, smallholder farmers, the decisions they make, and why they make certain decisions. We had plenty of ideas of what we would do when working with farmers, and what we would like to try and learn. Some years passed, I worked elsewhere as an advisor on sustainable economic development, and Theadros gained a lot of experience in sourcing coffees from Ethiopia for Trabocca. But at some point in 2017, I quit my job and decided that the only way to learn how to do things differently is by actually trying and doing, and learning along the way. Enough talking! Theadros advised me a lot while I started, and decided to join the project/business in 2019. Early 2020 he moved to Peru with his wife and children."
You obviously see huge potential with the Peru coffee growers, tell us what attracted you to this region.
"The families that we work with share the potential to produce top qualities and are located in an ideal environment (think of altitude, microclimate, and soil type), but a lot of quality is lost due to lack of knowledge, network, resources and infrastructure, and financial impulses from the market. It is the dysfunctional global coffee market that motivates us to find out how we can do things differently. We don't pretend to have all the answers, nor do we want to make any big claims of impact. With our company we want to learn how to transform coffee supply chains and prove that small-scale farmers can have long-term profitable businesses and become thought leaders and innovators in the sector. Together with our partner farmers we focus on improving coffee quality and innovation (think for example fermentation experiments) but simultaneously we want to find ways so that farmers can scale their quality production and diversify their potential markets (so we do not just focus on micro lots and top notch coffees)."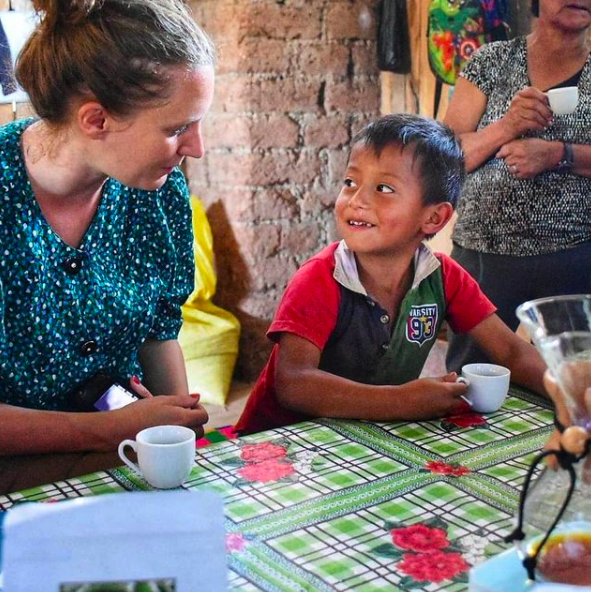 What is the process when engaging with farmers?
"When we start working with a group of farmers, we spend some days on their farms to jointly analyse all the steps in production, processing, storage and transport to get an idea where there is room for improvement. We might know what the (specialty) market demands, but the farmers know best what changes are desirable and realistic from their perspective, so it is important to take time for the dialogue en listen carefully to each other. Seemingly simple steps such as changing coffee picking practices often require a bit of a change in infrastructure on a farm. The same goes for prolonged fermentation and slow drying (all impacting quality in a positive way).
Oftentimes, one thinks of very technical things when it comes to quality improvement, but I think this is just half of the story. Because social relations are so crucial in understanding why people do the things they do. For example, if you want to do a workshop on coffee drying, it is important who in the household is actually involved in this practice (oftentimes it is assumed that the man, as the registered member in an organisation is the one who should attend a training). But it could well be that the women in the household manage the drying. Besides knowing who is doing what, it is important to know what drives each person to do things differently."
How do you see the future of specialty coffee in Peru progressing?
"Well, we are a small company and the number of farmers we are working with is growing fast. So we are working hard to establish a solid team in Peru the coming years, with people who have the same vision and coffee philosophy. Trabocca has helped us tremendously importing the coffees of these groups last year and connecting all of us to like-minded roasters. It is an exciting time and hopefully we can make meaningful change."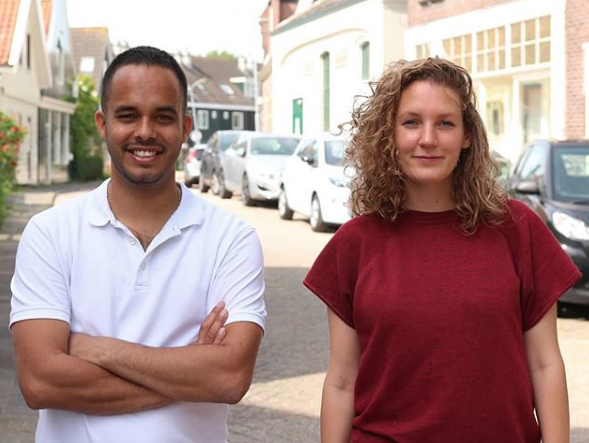 Theadros and Lisanne of Cultivar Coffee, Peru
Got something to say? Then leave a comment!
---
New Kid on the Block: Crane Flower Coffee
Thursday, 4 March, 2021
It's great to see that out of the trainwreck that was 2020, new opportunities were created and a host of new coffee spaces have popped up. We chatted to Dale Sandy about his venture of building a cafe in a garage in the suburbs and creating a memorable coffee experience in his neighbourhood!
---
Robyndale Centre, 8 Msenga Rd, Kloof, Durban, 3610
Tell us about how Crane Flower started and what inspired the name?
Starting Crane Flower Coffee was quite a spontaneous and exciting venture in 2020. With all the year threw at us, my original plans went out the window. After months of lockdown and feeling idle at home, my father and I decided to recycle a dusty storage garage into a coffee bar. I have always been into coffee and am always looking to try new coffee spots wherever I go, so I thought why not channel that passion into starting my own coffee shop. In hindsight, the project was sparked by a combination of my love for coffee and coffee shops, and the frustration of being idle at home for so long during lockdown.
Crane Flower is another name for the Strelitzia plant that most South Africans know and love. I love that this plant is native to South Africa, is striking with bright colours and a unique shape, and has very positive symbolism including freedom, joy, and paradise. Given that I wanted to incorporate these traits into a coffee experience, Crane Flower Coffee seemed like a fitting name.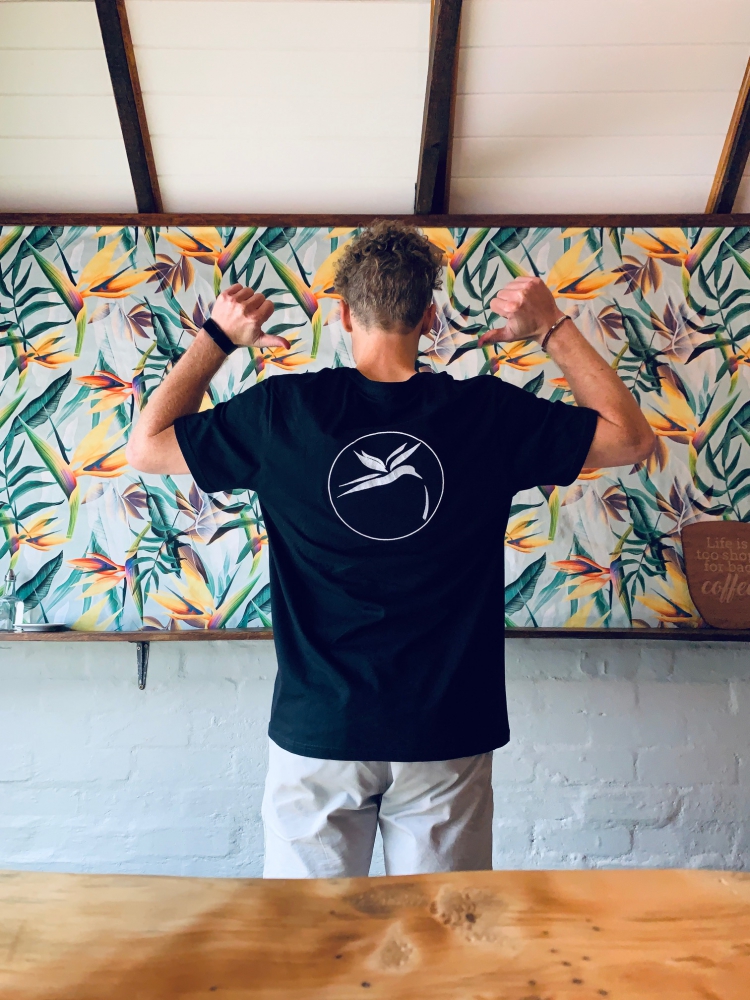 You built out the shop with your own two hands! Tell us about that experience!
Yes! Myself, my father, and one of his employees transformed this dusty old garage into the Crane Flower Coffee space you can visit now.
Using recycled materials we already had, we created the space and built structures like the sink unit, the display shelves, and the main counter. We found the idea of recycling and upcycling what we had really appealed to us, so we gave it a shot.
It was such a rewarding process to see the unused garage space unfold into what I had envisioned, all through the work of our hands. Personally, I loved putting in the effort and making the executive decisions that made the shop my own. When I walk into the shop now, there is definitely a sense of satisfaction and appreciation for what we created.
Now I appreciate it so much more whenever customers compliment anything about the space. I am very grateful for the help and support I received while building Crane Flower Coffee.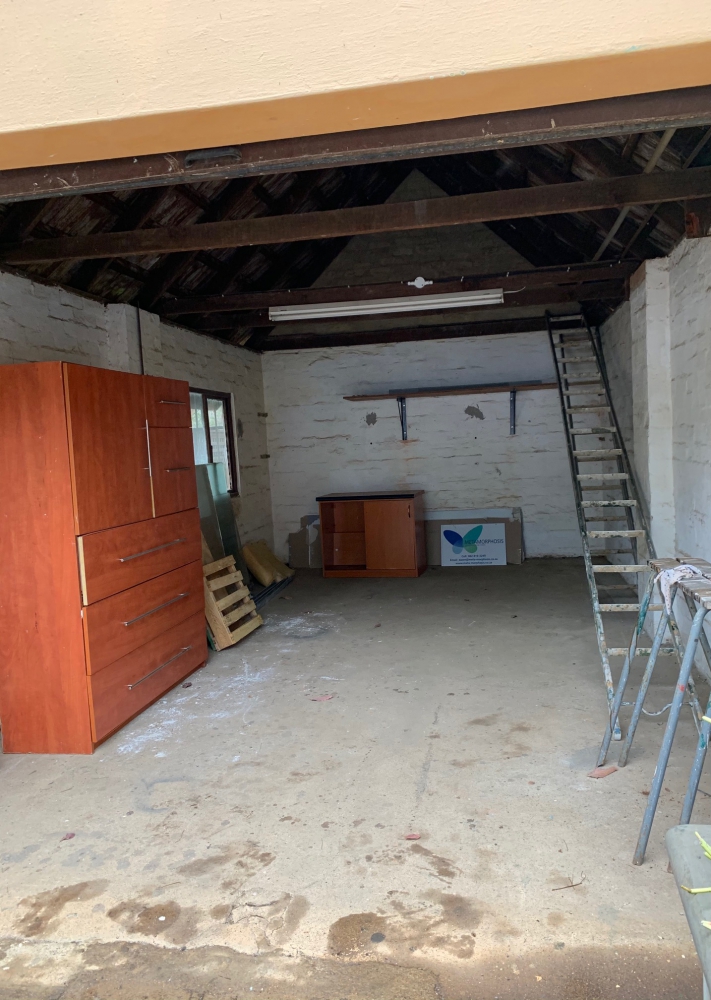 The Before Shot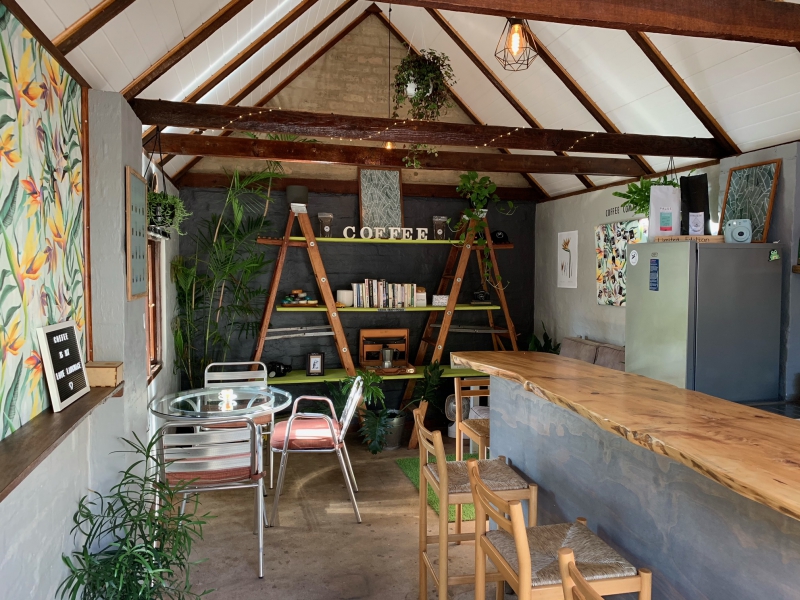 The After Shot!
Where/how did you learn to make a delicious cup of coffee?
I am probably more unorthodox than most in this category. I was always on the other side of the counter, as a coffee customer, until 2019. After returning to South Africa from university in the New York at the end of 2019, I was fortunate enough to have a newly-refurbished Wega machine at my family's home. Not long after returning home, the pandemic began and lockdown presented me with plenty of time to learn and practice my coffee knowledge and barista skills while at home. My brutally honest family of 6 were my coffee critics while I made coffees throughout lockdown. After many hours of trial and error coffee making, as well as much online research about the more technical and intricate details about coffee, my ability to produce quality coffees developed.
Some people are quite hesitant when they hear I haven't done formal barista training courses, but so far their hesitation disappears once they've tried one of my coffees.
I am continually learning and improving, but I am definitely confident in my ability to make a variety of delicious coffees.
What coffee are your using and what equipment do you work on?
Crane Flower Coffee uses a medium roast Brazilian/Ethiopian blend from Three Lads and a Toucan as the house blend. However, I always have a couple bags of limited edition beans from some of the best South African roasteries I've visited. The idea is to expose people in our area to some top quality coffee that they most likely would not come across in our area. We currently have Pause Coffee's Guatemala La Lucia single origin beans & Bottomless Blessings' Burundian house blend available.
I am currently using a Brasilia double group head machine, recently fully-serviced by the Lineage Coffee team, as well as Mazzer & Quamar grinders.
In your bio, you state that you're a 'New York style coffee shop', what about the shop is inspired by NYC?
I was personally a university student in New York who explored over 100 unique and vibrant coffee shops. Crane Flower Coffee was my brainchild, so many aspects of it (the space and the menu items) come from different coffee shops I was fortunate enough to visit in NYC. It is a mash up of bits and pieces of the New York coffee experience as well as my own creative ideas.
More generally, space in New York is so limited that many coffee shops focus on maximizing small spaces while still creating a warm and welcoming atmosphere. Similarly, we have converted a 3x5 metre single garage and 1 outdoor parking space into a quaint coffee shop that can currently seat at least 18 people (with more to come).
Lastly, many New York coffee shops are cosy spots down small alleys that are not plainly visible on main roads. If you happen to find these places, you leave saying "what a hidden gem!". Although Crane Flower Coffee is easily accessible in central Kloof, KZN, it is a small, cosy coffee shop on a side road. I'd like to think those who have visited (and those still to visit) would also classify it as a hidden gem.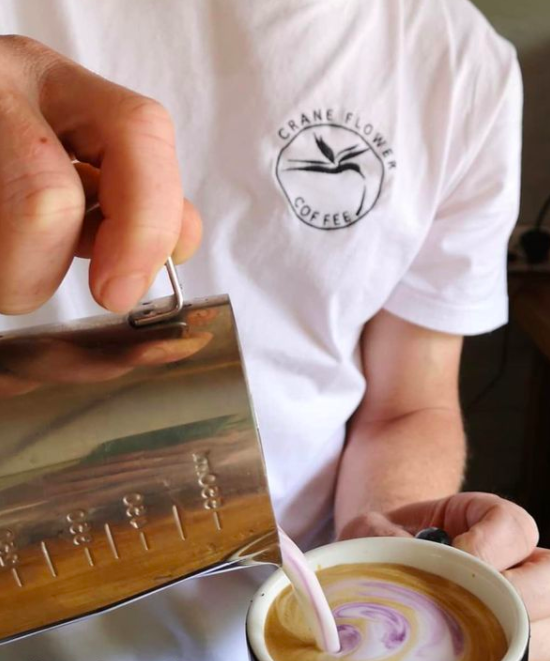 A lavender cappuccino! Very New York ;)
Got something to say? Then leave a comment!
---
Mesmerising works of coffee art by Anita Yan Wong
Friday, 5 March, 2021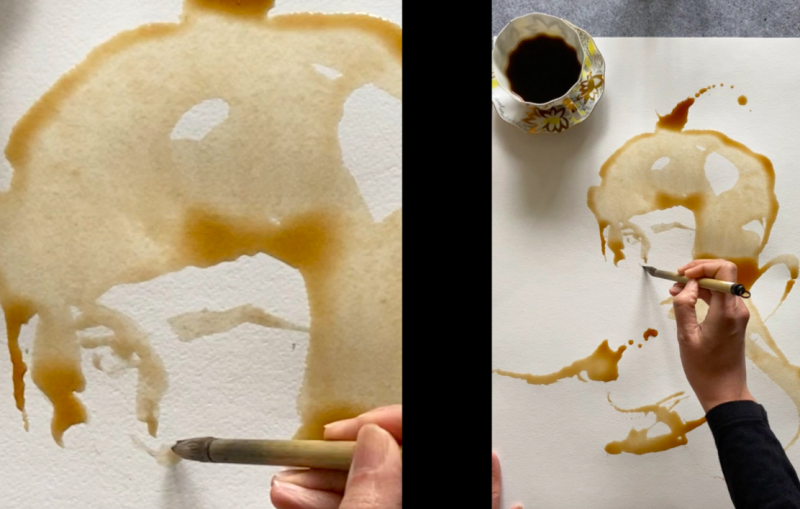 We love watching How-it's-Made content especially when it's as mesmerising as these artworks by Anita Yan Wong, who uses coffee as her base for a new line of portraits.
It really is amazing to watch how these squiggles and brush strokes come together to make the romantic portraits featured below.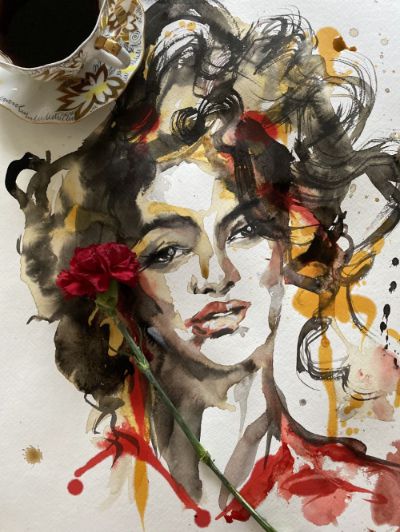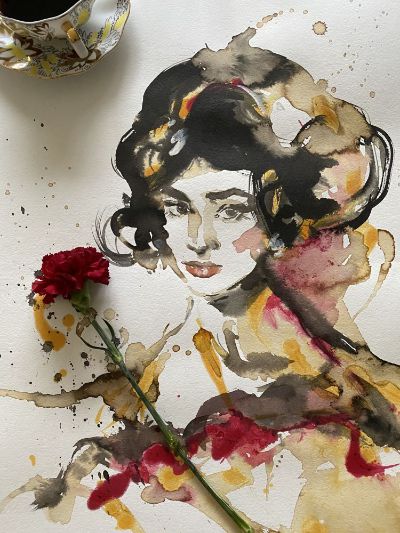 About the Artist: Anita Yan Wong, M.F.A., is an Asian American painter best known for her expressive brush strokes and unique style of "Contemporary Traditional" paintings that defies tradition and modernity. The artist, living and taught at UC Berkeley S.F. extension California in recent years, is a 4th generation Lingnan painter (which originated in southern China in the late 19th century, known for the fusion of mastering modern Chinese, Japanese and Western painting approaches.). Wong worked as an art Professor for over 14 years at MICA, SVA and Temple University before returning to a sole focus on her art in 2015.
Got something to say? Then leave a comment!
---
The Pottery: Paint your coffee cup!
Thursday, 25 February, 2021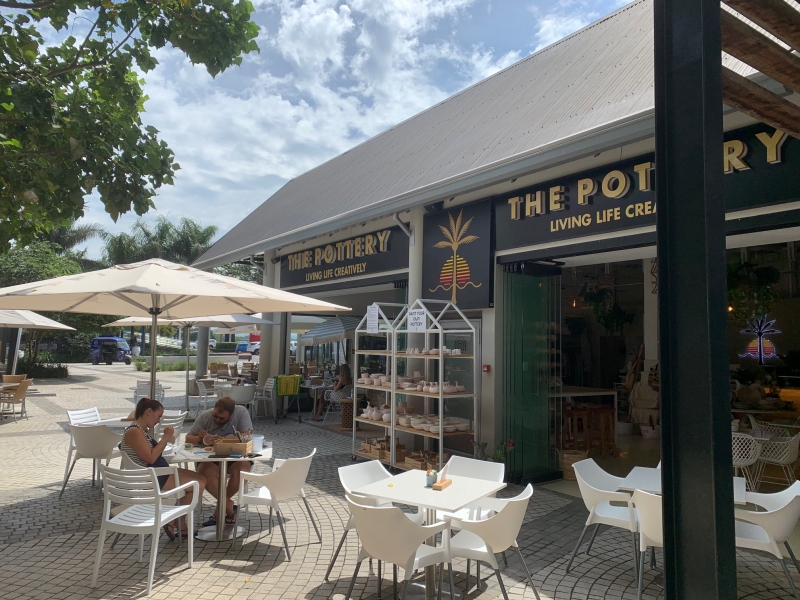 You know what I love? I love surprises. I love it when my expectations are completely blown out the water. If you have met me, you will probably have heard that I am not a fan of the whole shopping mall concept. It kind of fills me with dread, social anxiety and fear that I will spend unnecessary moola. Is that just me? I realise I am a weird one. So while I was very intrigued to make a few coffee stops at the Ballito Lifestyle Centre, I was not on the whole thrilled to be crossing the threshold into a mall scenario.
But then I stepped into The Pottery and there was Nomvelo. She was busy with a very enthusiastic and chatty customer when we approached the coffee bar, set at the back of this bright and airy pottery haven, but she caught our eye and assured us she would be with us soon and honestly my whole body just relaxed. I am a sucker for a friendly face and good customer service and Nomvelo was a breath of fresh air.
I could take in my surroundings while we waited and was blown away by the choice on offer in the store. The idea is that you can either buy the ready made, hand crafted pieces on offer, or you can grab yourself an unfired mug, cup, or any shape really and paint a masterpiece (however abstract!) that is all your own. Sweet! They fire up the in-store kiln every couple of days whenever there are enough pieces to fill the shelves (as you can imagine it takes a lot of power to create that kind of heat) and then you return to pick up your brilliant usable artworks. So fun!!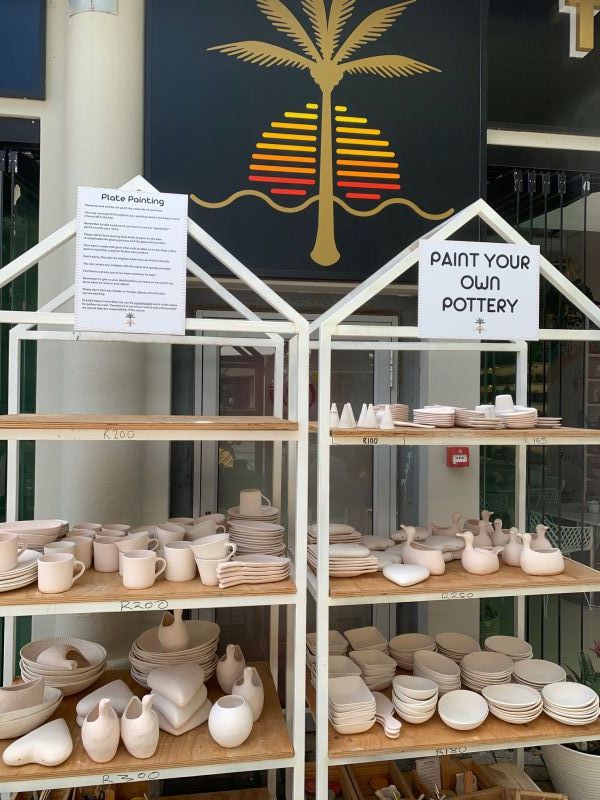 By that point, Nomvelo had thoroughly helped the chatty customer and was all ours. She is in fact the store manager and the barista, Pardon (who would also prove to be delightful) was out on an errand. She informed us of this only after she had served up a lovely looking cappuccino complete with heart latte art and everything! She has been working on her coffee skills and they're using beans supplied by the legends down at Infood Coffee Roastery, which is in fact where we heard about The Pottery and met the owners of the concept, Dillon and Joss.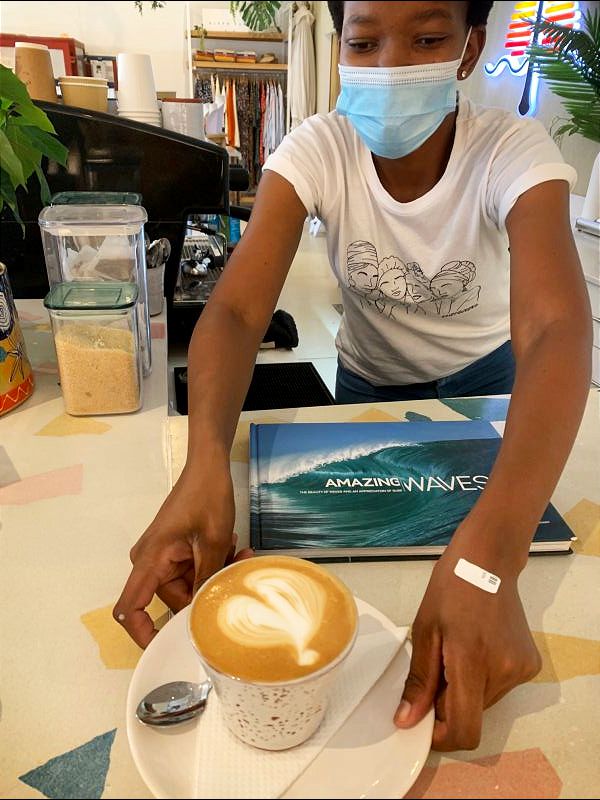 They've got another location in George, Western Cape. Fantastic! Also, thank you to Nomvelo and Pardon for making my day! I can just picture myself sitting outside in the sunshine painting a set of cups soon...
Got something to say? Then leave a comment!
---
Cafe of the Week: Selections Coffee
Thursday, 25 February, 2021
Umdloti, on the KZN North Coast, is one of those rare little villages that has both kept up with the times and remains in its own little village bubble. How they have managed to achieve this is unfathomable and how much longer it will stay that way is a question for another day, but for now, we can just enjoy the small town, good vibes that make it a wonderful place to visit. A new(ish) addition to the beachfront town retail line-up is Selections Coffee, started by a local for the regulars and you can feel that as soon as you walk in the door.
We've always said that a cafe is as strong as its regulars and here we have a pretty great example of that. It began only a few months before COVID hit, but that didn't slow them down, in fact it probably made the regulars even happier to have a place to go that speaks their language. What language is that you may ask? SURF. Well, really anything to do with the ocean.
Named after the infamous Selections Reef which exists along this special piece of coastline, we chatted to David, owner and ocean regular himself. "Look, I'm not a coffee connoisseur, but we know what we like and we serve a good cup. For us, it's mainly about the community."
He gestures up to the surf reel playing on the TV, shot by locals of the locals, even I recognise some of the faces barreling down the waves.
That doesn't mean that they don't pull a mean shot. They have a signature blend roasted by The Coffee Merchant and a team that serves up the good stuff all morning long.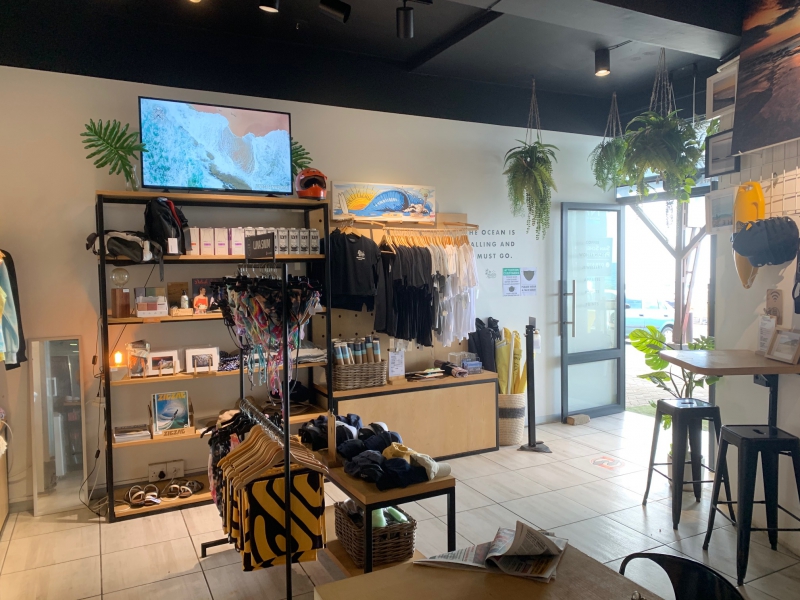 The cafe space doubles up as a surf store, art gallery and general hangout spot for the beach-loving locals.
Selections is as much a community space as it is a cafe. Dave has created a little surf store within the cafe, with bikinis and oceanwear created by locals and a wall where local surf artists can hang their work and sell a few pieces to the tourists and visitors to Umdloti.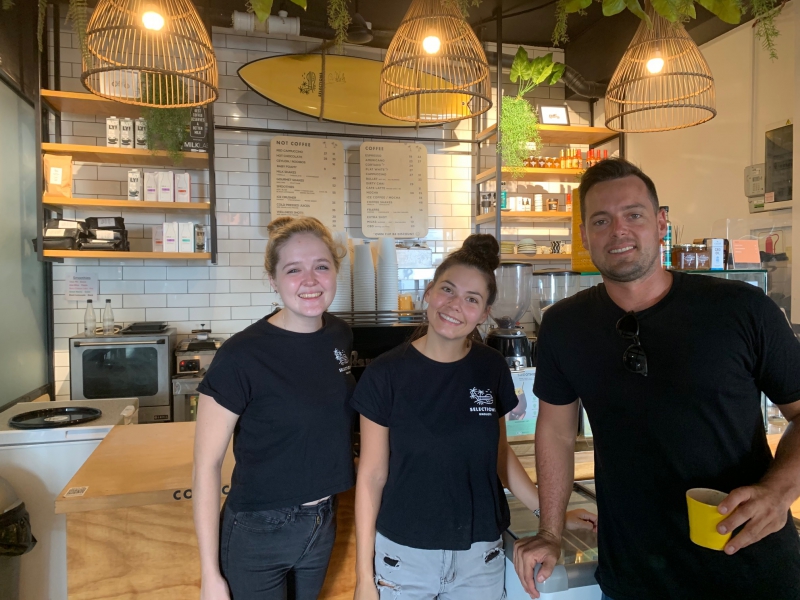 Dave and his team have set up a great community meeting point with good coffee, great eats, art, oceanwear and good vibes.
Dave also developed a cool app for the store - not just for coffee - but literally everything in the store is for sale on the app! It's a great idea, especially in a town where your customers are often more likely to be carrying a towel and cell phone than a wallet or a briefcase!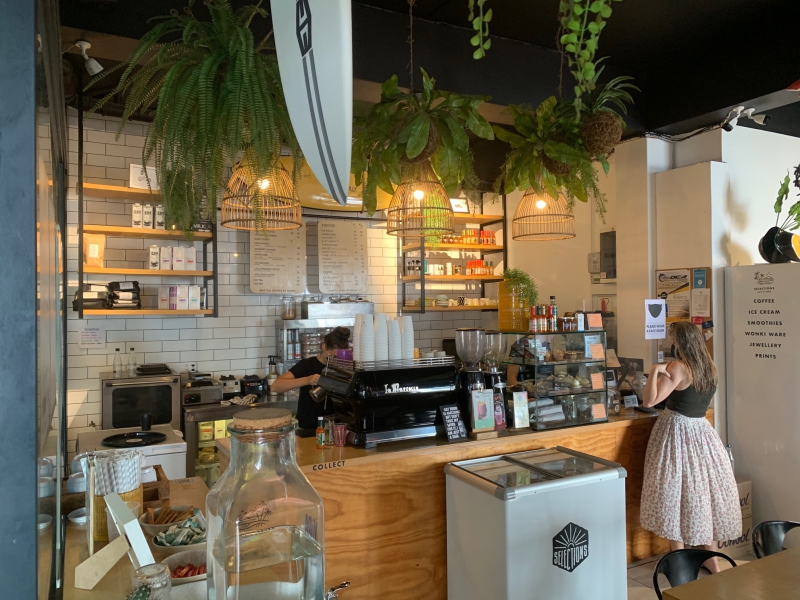 A fresh space in a fresh place. Umdloti is where it's at folk!
Dave has lots of plans for the space - from surf screenings of locals surfing the breaks around the village, to CRP and life-saving training to raising funds for a local outdoor gym. Selections epitomises the cafe spirit of community. Pull in bru.
Got something to say? Then leave a comment!