Coffee Magazine is the second best selling magazine in Leisure Magazine's in Q1 of 2019!
Thursday, 15 August, 2019
by Iain Evans, Coffee Magazine publisher.
8 years ago, when Mel and I started Coffee Magazine, we weren't sure if people, other than baristas and a few coffee business owners would even read a publication about coffee. Back then, people told us print was dying ( and it seems that protracted death-knell is on-going in the media market, yet print prevails somehow!) and that coffee was so fringe, we wouldn't have enough content, yet alone a business model to survive in this economic climate.
29 issues later, here we are. A testament to the fact that you, the readers of Coffee Magazine, love your coffee, love the community and love reading everything there is to know about coffee!
We started out giving away the magazine for free - for 3 years. As long as you subscribed. And as long as you collected from a local coffee shop. This drove feet into the stores and meant that we had a cool little distribution network across the country - 24 stores to be exact! Now, Coffee Magazine is in over 200 stores! We always kept a cover price on the magazine, to show readers that we believed in the value of the publication, and we knew (well we hoped and prayed too!) that at some point we would reach a point where people would love the publication, enough to part with real money for its beautiful content, design and wonderful stories. Mel has done a pretty phenomenal job, wouldn't you agree?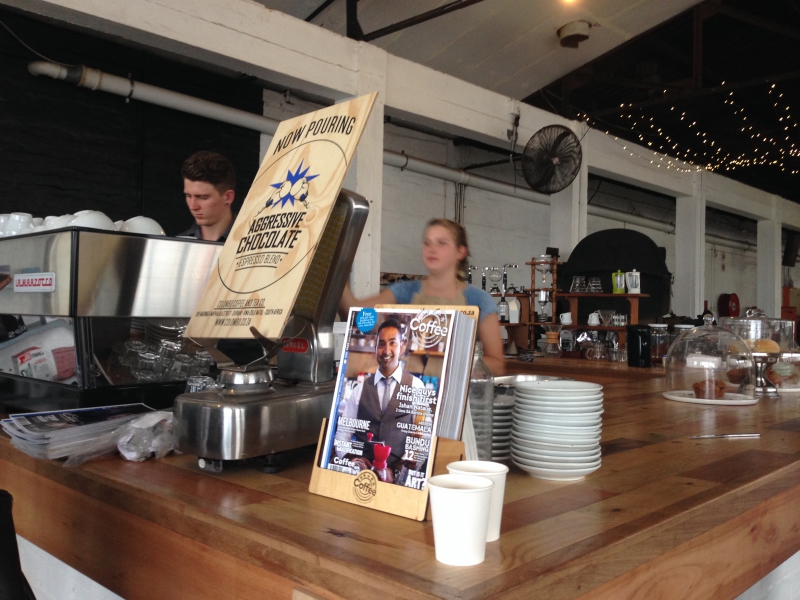 The Factory Cafe, Umbilo in 2014. One of the original 24 cafe's to stock Coffee Magazine.
We also spent this period of time, and continue to spend most of our time, building a loyal advertising base, investing in the baristas, spending time at all of the coffee competitions and events, hosting our own coffee events, giving coffee businesses a platform to profile their amazing work, and most importantly, educating and inspiring the consumers out there - those who were ( and still are) just staring their coffee journeys and are not in the coffee industry. We are basing our future business on this group, believing that there is still a MASSIVE amount of growth for coffee in our country.
Ok, back to the story! Eventually, three years after starting the magazine, we couldn't afford to give it away for free. The circulation kept climbing and we made the decision to switch to a paid-for model. Again, you, our cafe owners and our loyal readers, proved that you believed in and wanted the content enough to pay for it. The letters to the Editor kept flooding in, Coffee Shops kept asking us to send them stock, and we started to distribute the magazine into the FNB Slow Lounges and other exclusive areas. This was great for two reasons, firstly because it meant we could re-circulate back issues and reduce our wastage, and also because it brought us a new audience.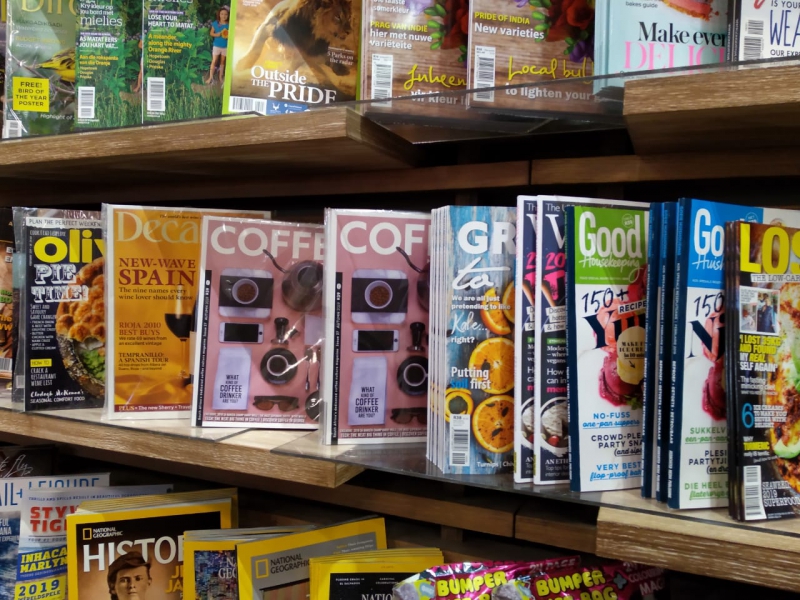 Exclusive Books, Clearwater, 2019. Our first ever issue on the newstand. Yikes!!! Look at all those magazines!
Then, in late 2018, a gentleman called Dickon, came knocking on our door and asked us to put it onto the news-stand, alongside every other publication in the country.
This was a scary proposition for us. We were always very comfortable in our little coffee shop network. What if nobody bought it? What if we had to over-print to secure the footprint (something we had refused to do with our previous surf magazine theBOMBsurf on principle) and then have thousands of extra copies that we had to re-distribute? Dickon convinced us to take the plunge, and that he would help us to achieve a good sell-through and take our little publication to the masses - after all everyone loves coffee, he said! And he was right. You can read the full story here https://isizwedistributors.co.za/isizwe-distributes-the-two-business-magazines-with-the-biggest-retail-sale-abc-quarter-2-2019-results/
but essentially the highlights are as follows ( with courtesy of Isizwe's website:
"The Audit Bureau of Circulations of South Africa (ABC) has just released the 2019 ABC figures. The ABC figures provide audited circulation data for all member publications, allowing advertisers to see exactly how many copies of a publication are being circulated, compare advertising rates and make informed decisions about where to place advertising, to ensure the maximum return on investment for their clients."
"In the 'Leisure' category, The Coffee Magazine has the second largest retail sale. The Coffee Magazine has managed to grow their ABC by an astonishing 58% year on year. They have grown their retail sales by a massive 33% which again, in the context of an economy in recession and the bleak outlook for retail in general is frankly phenomenal."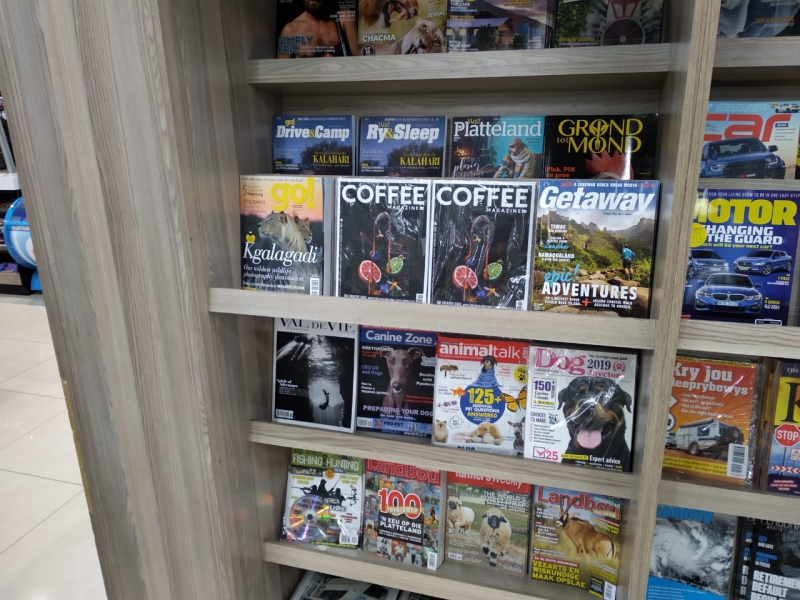 The current issue on sale at Spar, Blairgowrie.
We are extremely grateful to every person that has supported us on this roller-coaster journey. The advertisers, the baristas, the cafe owners and every person who has ever bought or read a Coffee Magazine. Thank you.
Got something to say? Then leave a comment!
---
Travel bug got you? Here are some of the wildest places Travel Designer, Ozzy, has made coffee!
Wednesday, 14 August, 2019
5 of the Wildest Places to Drink Coffee
We have always advocated for the fact that coffee really can take you places, but when we met and heard the stories of Ozan "Ozzy" Emre Yerlikaya a.k.a Travel Designer, even we were in awe of the amazing locations that he has had the opportunity to brew coffee in. We asked him to take you on a journey to explore the possibilities. Hopefully this inspires you to make your next coffee experience just a little more on the wild side.
---
The world is your oyster…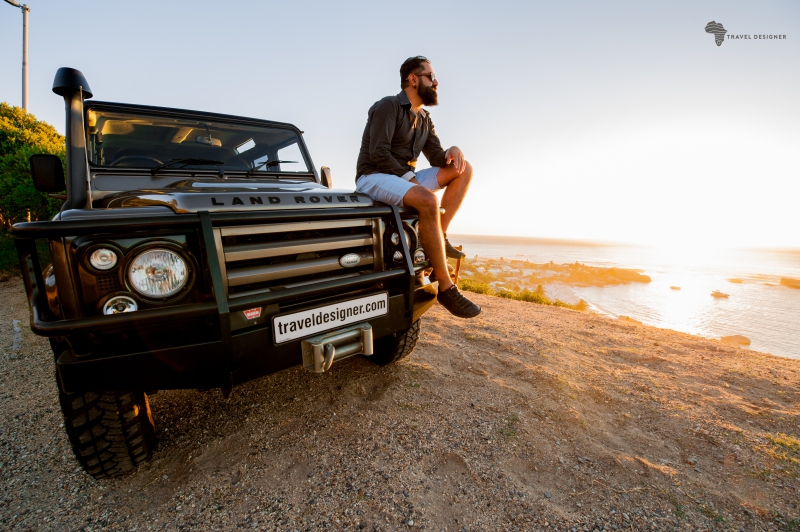 In Cape Town, the ocean and mountains are our playground and I love nothing more than finding the perfect vantage point, parking my beloved Land Rover Defender complete with its mobile brewing bar, laying down a Turkish carpet and setting up some Melvill & Moon safari furniture. My guests can relax into the scenery and I go to work making them coffee.
My setup includes an alternative Thule box that is attached to my tow bar and holds the coffee making equipment in a specially crafted wooden case. I grind the selected (always) African beans with my pre-charged electric drill attached to my hand-grinder (this always gets a good laugh) before brewing it and serving it steaming hot in specially designed glasses so that the colour and flavour can be equally appreciated. I created my mobile alternative coffee brewing kit or bar a couple of years ago and called it 'Just in Case'. The reason for the name is that I carry everything I need to make a quality coffee just in case we need one, whenever or wherever that may be. I traveled with my "Just in Case" set and end up serving quality coffee with African beans at impromptu moments all the time.
I have set up in the meeting rooms of big companies and at relaxed picnics with friends. Everything is crafted in wood. I dress up too with wooden sunglasses, a wooden bowtie, wooden designer watch, wooden ring, wooden earrings and an imprinted leather apron.
The whole idea of being able to make quality coffee whenever and wherever I want to and sharing it with friends and clients gives a great sense of freedom. Seeing the delight and appreciation in their eyes when I surprise them with this kind of coffee tasting experience on the side of the road or next to the ocean, is immensely satisfying. It's in my nature to look after people. Serving them good coffee is one of the ways I do so.
---
The Sacred Cup
One of the most amazing places I have ever made coffee was at the Deyrulzafaran monastery in Mardin. Set in southeastern Turkey, Mardin is known for the Artuqid architecture of its old city, and was a strategic trading spot on the silk route many years ago. Built in 493 AD for Syriac Orthodox Christians, the monastery is also known as Mor Hananyo or Saffron monastery and was the patriarch seat for the church until 1932. It is an incredibly spiritual place to visit.
Here the father of the monastery allowed me to show them how to make coffee with alternative brewing techniques. The opportunity was part of a 3 months travel experience in my own country a couple of years ago. I made a list of the places I had never been to in Turkey and travelled non-stop like a backpacker. I carried my alternative brewing bar concept 'Just in Case' and always set it up where I could meet the local people and make them free coffee in exchange for a chat. I must have met 100's of people this way, while collecting amazing memories.
The coffee beans I was serving were African and from Cape Town's Origin Coffee Shop, but I also tried traditional coffee beans for making Turkish coffee, using a simple AeroPress and blending my coffee with their coffee. The result was exceptional. This was another way for me to focus on experimental travel that allowed me to meet people, coffee being the bond that brought us together.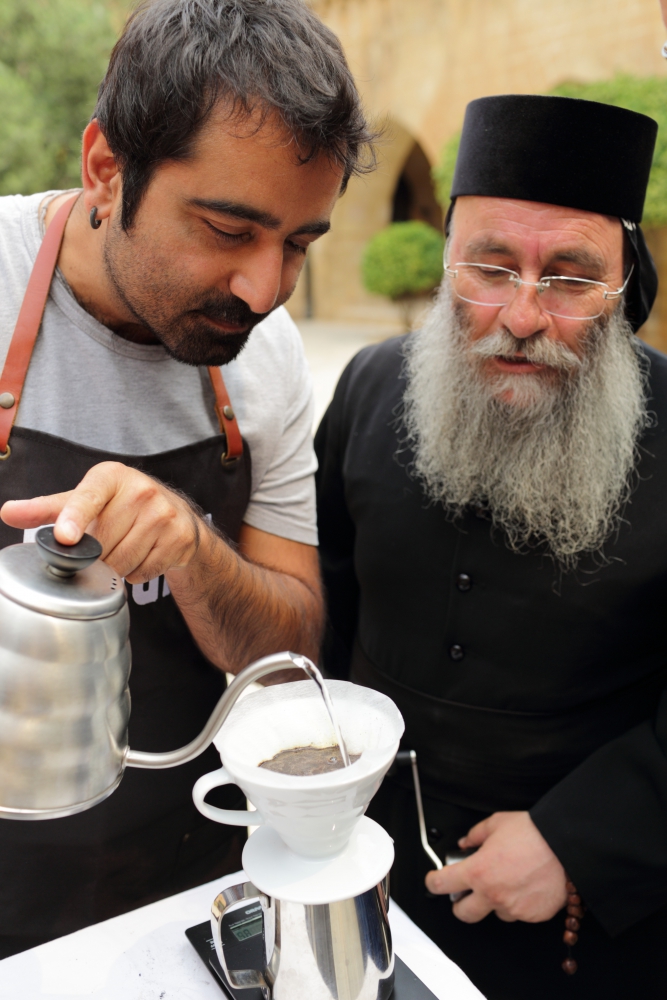 Coffee is Art
In Cape Town, being able to make coffee for renowned artist Lionel Smit in his Strand studio, surrounded by his massive sculptures, meeting him and learning about his incredible work, was a treasured moment for me.
While I set up my coffee station and went about brewing and making him coffee, my passion and chosen art form, we talked about his life, the inspiration for his work and how growing up with artist parents defined his destiny. Sensing the curiosity of a well-know artist in my coffee making brought me true happiness and I could feel us connecting on a deeper level as a friendship was formed.
Lionel Smit is considered one of South Africa's most talented artists and is best known for his contemporary portraits that he creates on canvas, as well as his evocative series of sculptures with their shades of blue and bronze, touches of red and grey, each face he works on revered for it's unique beauty and characteristics. I love visiting with him.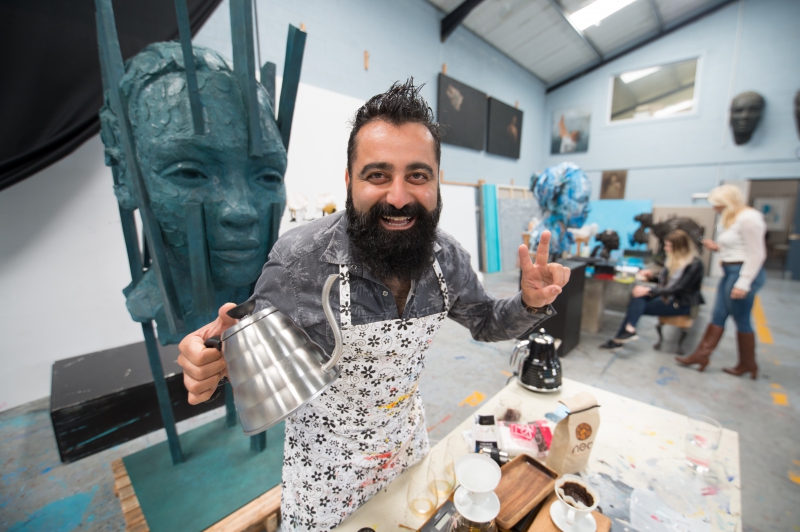 Of Mountains and Men
In the beginning of the year I was approached by local tour operator Rhino Africa to design a four-day itinerary for European travel journalists that would be visiting, and writing about, Cape Town.
On one of the days the focus was specifically about experiencing the city with locals. Picking them up from Ellerman House, they were accompanied by one of my Cape Town legends Doug and his dog Stout. We proceeded to hike to Wally's Cave on Lions Head, a rather unknown and treasured spot on the landmark mountain that visitors need to be guided to.
Here we were met by 2012 and 2016 Barista Champion of South Africa Wayne Oberholzer for a coffee tasting and in depth lesson in the history, value and appreciation of coffee. Settled in the ancient cave, with a view of the city below, it was an exceptional moment for me, and for those I was hosting.
From here we headed to the Oranjezicht organic market for breakfast before joining Master Chef SA Jade De Waal at her home for coffee with famed cartoonist Zapiro, and a casual lunch by Jade. It truly was a day to remember.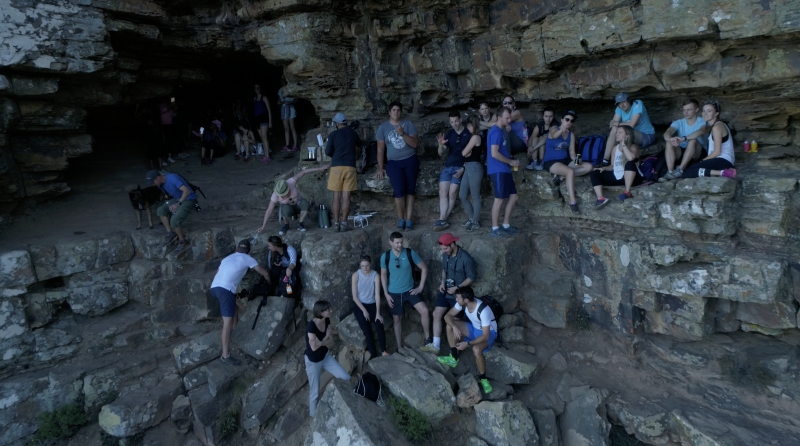 Coffee in the presence of Greatness
In all my years I never imagined that I would make coffee in the company of 15 elephants in the middle of the African bush, but that is exactly what happened when I travelled to Zimbabwe and Zambia earlier this year to visit some African Bush Camps.
I always carry my 'Just in Case' mobile alternative coffee brewing bar with me and this time the focus was on demonstrating that you may be in the middle of nowhere, but that does not mean a compromise in the quality of your coffee when you stop for a break. All it takes is a hand grinder, an Aeropress station and the will to do things right, and you have it.
My coffee date with the elephants came about when I was set up next to a watering hole at one of the camps, facing the guests and talking them through my passion for this black liquid gold. As I was serving them, the elephants approached quietly from behind for a drink of water. I never even knew they were there at first, until one of the guests whispered that I should turn around.
My heart was beating at the privilege that just two meters away from me were these majestic gentle giants. They may have been there for the water and not for my coffee, but for me it was a moment that marked my love for coffee making in the wild, and of course for all things Africa.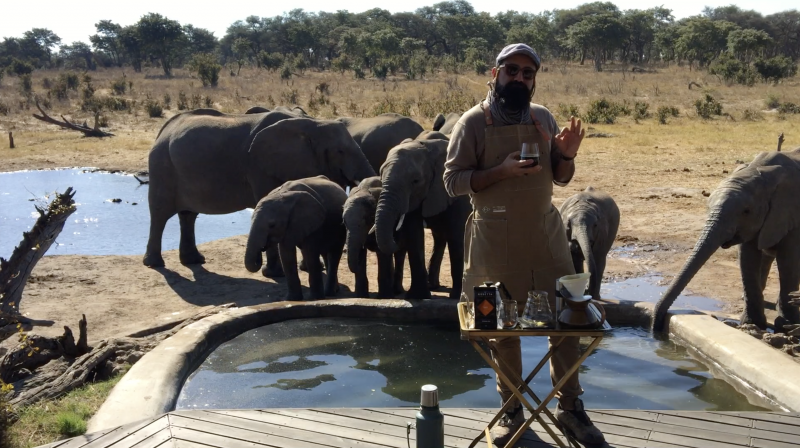 ---
Who is Ozan 'Ozzy' Emre Yerlikaya?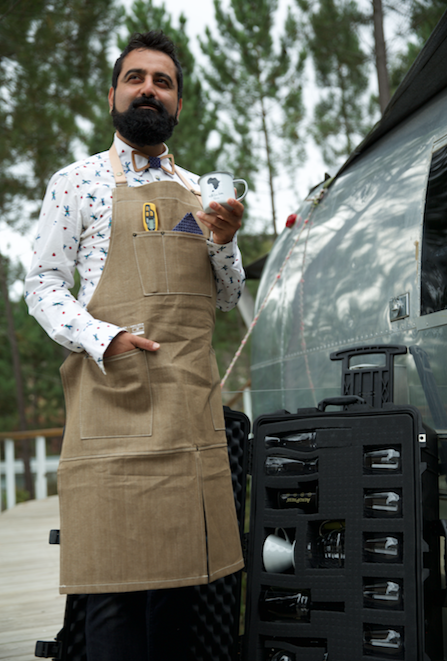 How did you end up in Cape Town, South Africa?
Born in Istanbul Turkey, I started working and traveling as a scuba diving instructor, spending time at many of the top dive sites the world over. While I was living on a beautiful tropical island in Malaysia, I was offered a job at a Johannesburg based Turkish travel agency. Giving up island life and the ocean for an office job in a large metropolis did not really appeal to me, but I wanted to use the opportunity to come to South Africa. The transition was a huge cultural and emotional shock to me and I struggled to settle.
I thanked them for the opportunity and left with every intention of returning to Malaysia, but decided to do a three-month trip from JHB to Cape Town, including Swaziland and Mozambique, before leaving. At the time I did not know that this decision would change my life. The trip led me to meet hundreds of people and fall in love with the Southern African landscape and it brought me to Cape Town.
It was the first time I'd been truly wowed by a city and it made me instantly want to live here. I cancelled my flight back to the Malaysia and resumed work in Johannesburg, knowing that in time Cape Town would become my home. In 2009 I was able to make that dream come true and settled in the Mother City. Motivated by a burning desire to offer the very best travel experiences I could, Travel Designer was formed.
Travel Designer is a pretty ambitious way of conducting tours, tell us what inspired you to start this business and what exactly people can expect?
Travel Designer is a human inspired travel concept that was born when the people living in Cape Town who have became my best friends, encouraged me to turn this lifestyle of mine into a business. I love meeting people. Its something I have to do daily. If I can't meet a new person every day I literally cannot sleep.
I realised that when I travel I prefer to sit in a coffee shop in a small town run by the person who knows everybody, having long conversations and finding out the daily routines of the residents there, rather than visiting a museum or famous tourist attraction. That is how I choose to travel, surrounding myself with new and interesting people to meet, and I wanted to offer this style of travel to others. Travel designer is a personal transformative travel concept based on the that.
I believe in the quote by Pittacus Lore: "A place is only as good as the people you know in it. It's the people that make the place". That's why I created the 'Cape Town Legends' series in the beginning of 2017, which allows you to not only experience Cape Town like a local, but also with a local, ensuring an in depth exploration of the Mother City.
We have got amazing people on our list of legends and when I'm asked to design a holiday my guests can prepare for a somewhat unusual and sometimes spontaneous itinerary.
Who are your favourite Legends to visit?
It is hard to pick a favourite as I love all of my legends, but these are the most popular:
Meeting famous cartoonist Zapiro in his studio for a political conversation while I make coffee with freshly ground African beans.
An exclusive dinner at Ree Treweek's home, a sculptor, painter, illustrator, animator and director, you will feel like you've been allowed access to a small museum as you listen to how she creates her parallel worlds, all the while young chef Johnny Hamman prepares the meal.
Spending time with female car collector Michelle Hambly-Grobler, who has an unrivalled knowledge and enthusiasm for cars. We meet her at Cape Town's Crossley Webb showroom for coffee as she talks about her impressive collection of high-end cars, specifically Porsche. Learning about the origin of her interest and ultimately taking a ride with one of Michele's cars, always blows people's minds.
Street art is clouded with mystery and the prospect of meeting a famous graffiti artist is almost unheard of. Yet we bring you Mak1one, who will walk you through the streets and point out some of his work, you will even have an opportunity to paint on the walls with him, leaving your own mark.
What do you think it is about coffee that inspires and brings people together?
We drink coffee with family, business associates and lovers. You only have to walk down the nearest high street to see the number of coffee chains to realise the extent of our love affair with this delicious caffeinated beverage. The origin of coffee beans can be sourced to Ethiopia, the story goes that a 9th century goat herd noticed the stimulating effects on his goats and began experimenting. I couldn't be more grateful that he did. I think grinding the beans and brewing the hot drink as you chat, drinking it and inhaling the aroma, tasting the full-bodied flavour breaks down barriers, relaxes and brings people together.
Which of your projects is inspiring you right now?
At the moment I am busy setting up the first alternative coffee brewing bars at a very good friend of mine Beks' from African Bush Camps lodges in Zimbabwe, Zambia and Botswana. Beks is the founder of African bush camps and they have 12 lodges that offer amazing service in the middle of nowhere in the beautiful bush. We thought, why don't we serve the best quality coffee in the African bush? I'm currently planning my second visit to set up the bars and to do more training. As you see coffee makes me travel too, yet another reason for me to love it!
---

Seeing the Wild through Bekezela Ndlovu's eyes: African Bush Camps
How did African Bush Camps begin and what is your ethos behind the business?
I started my career as a professional guide, and African Bush Camps was born out of a desire to promote the concept of privately guided safaris through remote parts of Africa. I passionately believe that your guides and hosts in Africa are the key to making your safari the most memorable African experience and I created a safari company that really celebrates and champions guiding. Our passion and our quest as professional guides is to explore the wildest and most remote parts of Africa, away from the crowds or influence of today's developing civilisations and to share these unspoilt locations with our guests. To compliment this vision, I took on a number of Safari properties and operations under the African Bush Camps brand. These facilities enable you to experience an authentic view of the old 'untouched' Africa, with minimal impact on the environment whilst enjoying the best wildlife encounters with outstanding professional guides.
Why is a good cup of coffee important to you and to your guests? And why do you think good coffee has been taken for granted for so long in the hospitality industry?
Coffee is something that has always been associated with urban culture, not bush culture. We want to give our guests all that they desire when they travel with African Bush Camps, and coffee culture has become a big highlight of discerning travellers, so we are just looking at how we can enhance our guests' experiences. It is really just taking peoples preferences and making them available in the bush. It is no different than having your favourite bottle of wine or whiskey in camp.
How did you meet Ozzy of The Travel Designer and what led you to work together?
I met Ozzy through a mutual friend and very quickly felt his creative nature and was immediately drawn to the "out-of-the-box" tours he does around Cape Town and how he enhances the Cape Town experience. I identify with him, his passion for travel and how he goes the extra mile in innovating ways in which you can make someone's travels in a particular destination a very special and memorable experience.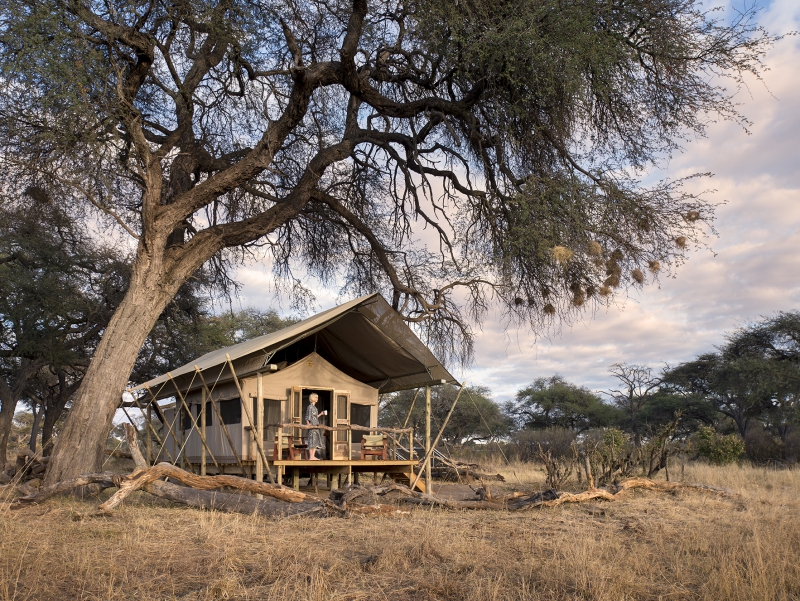 Can you tell us about some of the exciting projects happening for African Bush Camps?
We opened a new property in 2018, Bumi Hills Safari Lodge, at Lake Kariba in Zimbabwe. We are very excited to have a new product to offer our guests and add something really special to our safari circuit through Botswana, Zambia and Zimbabwe. I am also very excited to be part of a collaboration with Eleven Magazine, a design magazine based in the UK. We are working together on a 'Design A Safari Camp' competition, which has recently launched. We are asking people to design an eco-friendly safari camp using the principles of biomimicry, which is a relatively new field of study that looks at the design and production of materials, structures, and systems in our human/man-made world that are modelled on biological entities and processes in nature. We are really looking forward to seeing the ideas that people come up with.
Got something to say? Then leave a comment!
---
Lifestyle: Intermittent Fasting is a thing right now, but how does coffee fit in?
Tuesday, 13 August, 2019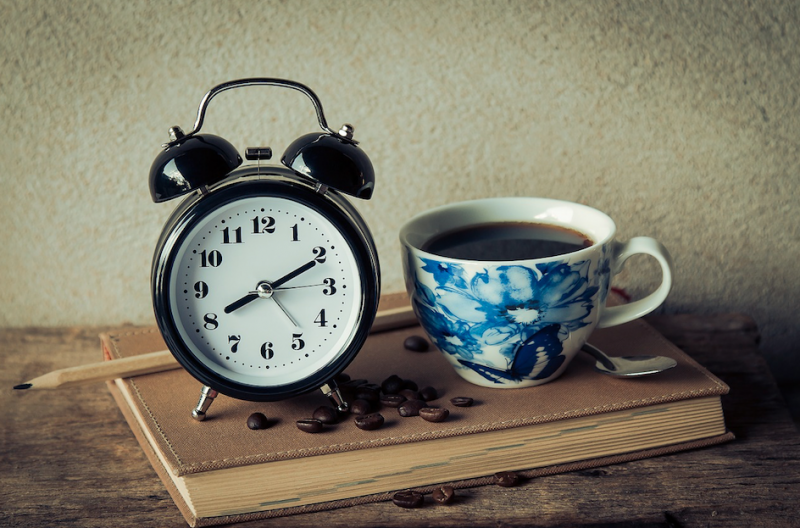 Intermittent Fasting: Can You Drink Coffee?
Intermittent fasting is having a moment right now as the latest trend in a long line of diets and eating regimes intended to promote weight loss and healthier eating, although it's actually been around for many years; it seems people are just cottoning on to the benefits now. The main difference is that it's more about when you eat than what you eat. By eating within a specific period, and fasting the rest of the time, the benefits range from weight loss to improved brain function and insulin sensitivity, reduced inflammation, prevention of chronic disease, and even a longer life.
And while people are learning that they can survive just fine without food for a day, there are a lot of questions around drinking coffee during your fast. You won't die if you don't eat for a day, but to go without caffeine? Is that even possible? So, you're probably wondering…is it ok to drink coffee during intermittent fasting? That depends.
What about milk?
Plain black coffee (no milk) is generally accepted as fine during intermittent fasting – and the same goes for plain black tea. Plain black coffee is considered to have zero calories, and is therefore acceptable while fasting. It might even be beneficial thanks to the appetite-suppressing effect for some coffee drinkers. And for those who crave their coffee 'kick' – the caffeine effect should be even more pronounced given that you have nothing else in your system – you should feel even more energised and alert than usual.
Unfortunately, plain black coffee doesn't bode well for coffee lovers who need their milk and sugar… Lattés, cappuccinos, frappuccinos, and other high-calorie or sweetened coffee drinks are unfortunately off-limits during a fasting window. If you absolutely have to add something to your coffee, a tiny dash of cream or coconut oil is acceptable because it won't increase your total calorie intake or blood sugar levels too much, but technically, you're not supposed to consume any calories while fasting.
Do you get the jitters?
One thing you do want to take into consideration is how caffeine affects you personally. If you're sensitive to caffeine and prone to anxiety, heart palpitations or high blood pressure, consuming too much caffeine could work against your health goals in doing intermittent fasting. And there are some intermittent fasting experts who advise completely giving up caffeine during fasting periods…
For many people, one of the benefits of fasting is giving your body a chance to reset itself – coffee actively works against this by activating your adrenal glands to release cortisol; known as the stress hormone. If you're under chronic stress, it might be better to give your body a rest from the cortisol production.
Ultimately, intermittent fasting is about finding a fasting period and schedule that works for you and your body. Chat to your doctor before drastically altering your diet or lifestyle, and see what works best for you. Listen to your body – if it needs coffee to stay sane, do what it says. If not, let the thought of that creamy cappuccino waiting at the end keep you motivated through your fasting hours.
Got something to say? Then leave a comment!
---
First Light Coffee & Routed Roasters
Wednesday, 7 August, 2019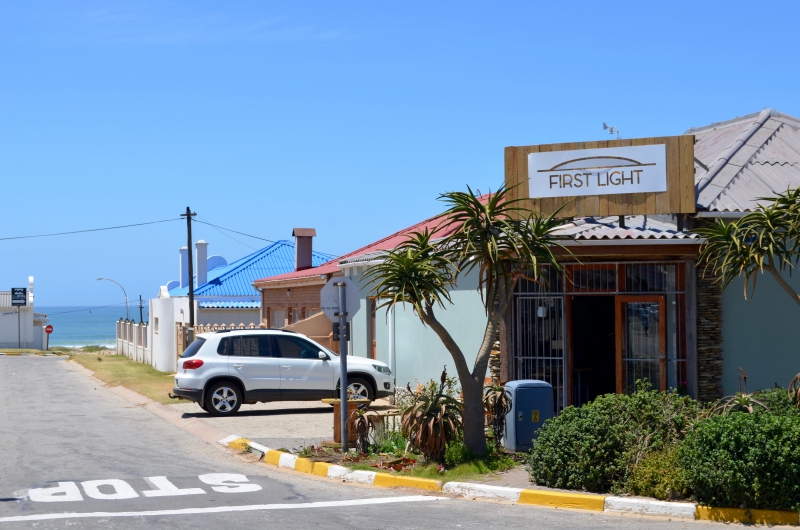 First Light Coffee Bar and Routed Roasters
8 St Croix St, Jeffreys Bay, 6330
This little spot is a gem. Tucked away just off the front line of Jbay's busy Da Gama Road, we find this passionate coffee crew.
We had the pleasure of meeting Ansophi Van De Merwe and Maxine and Heinrich Thiart at their freshly opened First Light Coffee Bar. Along with their other partners they have created an incredibly welcoming space that feels like you're walking into the living room of an old friend. The cliché 'A home away from home' rings so true as soon as you walk through their doors. The main space in front of the coffee bar has comfy couches and a low coffee table, and there are tables for those wanting to sit and work. This is a place where people gather and it is clearly evident that the First Light team are part of a very tight knight community of people, with First Light as it's HQ!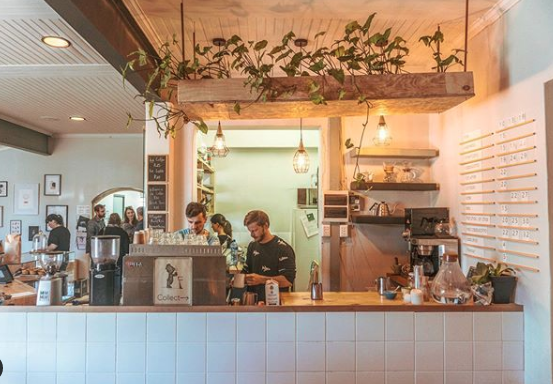 Give them a follow on Instagram to get more beautiful imagery from and of the team
Ansophi, who made the Finals of the SA Cup Tasters earlier this year has her palate on the pulse and ensures that delicious coffees are roasted and supplied to both the espresso machine out front at First Light and to a growing number of restaurants in the area under the Routed Roasters label. The roastery is always open and you can find Ansophi cupping delicious coffees most days. Routed Roasters came 3rd in this year's A Shot in the Dark competition. Of the 43 roasters that entered, only three were female, so we were more than a little happy when Ansophi's name was announced in 3rd position after the judges blind tasted the Top 10 coffees. Go Girl Roasters!
Visit these lovely people at their wonderful coffee bar when next in Jeffreys Bay!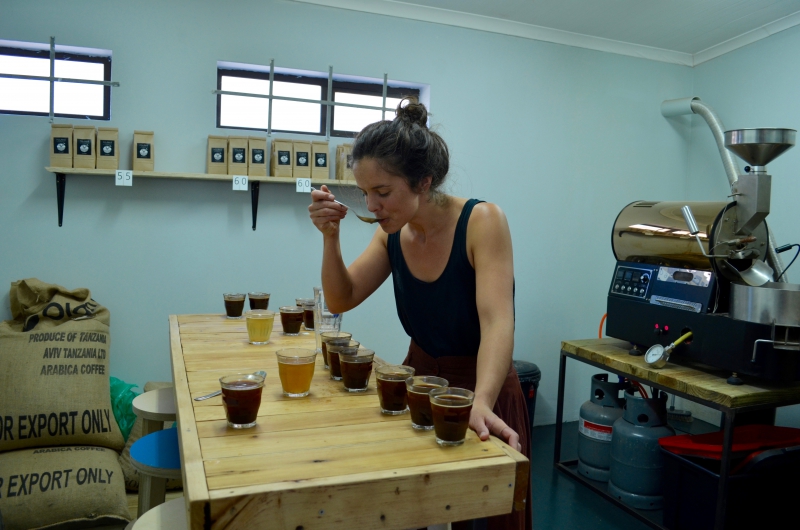 Our recommendation: An espresso of whatever's in the hopper, followed by the same espresso as a cortado. Complex, beautiful and comforting.
Got something to say? Then leave a comment!
---
Culture: Exploring Whisky with Bruichladdich
Wednesday, 7 August, 2019
We were invited to the launch of Bruichladdich's 10yr Port Charlotte whisky at Lucky Shaker. I had never heard of this distillery (very uncultured of me!) and was happy to be introduced to their wares. Also thank you to Esquire for this helpful pronunciation video.
Caitlin Hill, Brand Ambassador to a host of delicious spirits that fall under the the Remy Cointreau stable, took us through the history of the distillery which has been around since 1881 on Islay. Islay is a tiny island in Scotland that is ALL about whisky, specifically famous for its peated whiskies.
The most interesting thing for me was to hear all the terminology around the production and taste of whisky and how many similarities there are to how we talk about coffee. The big push by this particularly distillery is the focus on the origin of all their ingredients to be locally produced and having complete transparency on that.
Whisky is a premium product in the way that I wish coffee was. Paying for coffee on a tiered system of excellence, skill and raw ingredients. An exclusive whisky costs a lot more and that is completely accepted. Love these tasting notes on the 10year we had the opportunity to taste:
TASTING NOTES
NOSE: The smoke is calmed by the marine, ozone character. Time has brought a balance and harmony, in the combination of oak, smoke and spirit. While the smoke is always discernible on the nose, it's dry, earthy, peat-ash style allows the oak to come forward with waves of golden caramel, fudge, vanilla custard and hints of ginger, nutmeg and clove. There is citrus fruit, coaxed from the glass with a drop of water, gentle lemon meringue and clementine. Breathe deeply and the floral aromas of wild thyme, heather and sea pink bring you to the Atlantic coast.
PALATE: On the palate, there is a noticeable delicacy and softness in texture and style. Again, the balance of flavour is superb as the smoke wraps loosely around the sweetness that's drawn from deep within the oak. Coconut, vanilla custard and lemon honey combines with smoked oysters and sun baked salty sand.
FINISH: The finish is sublime, smoky, but also the soft sweetness of fudge and malted barley, orange, mango and banoffee pie, hinting of the depth and quality of the oak. The many layers interchange on each sip. As the smoke comes and goes, so too do the notes of the spirit-ripe apple and apricot, beautifully intertwined with malt and oak sweetness and the typical Port Charlotte style dry smoke.
CHARACTER: Aging for 10 years on the shores of Lochindaal has had a profound effect on this spirit. Like sunshine on a winter's day, this Port Charlotte 10 brings clarity and lightens the mood, welcoming and brightening the future."
Bruichladdich also has a connection to South Africa through one of the people that works there, a PE local, Graham Hayes, now their Stillman. You can read the full interview between him and Lucky Shaker owner Michael Stephenson that inspired the cocktail over here. It was DELICIOUS!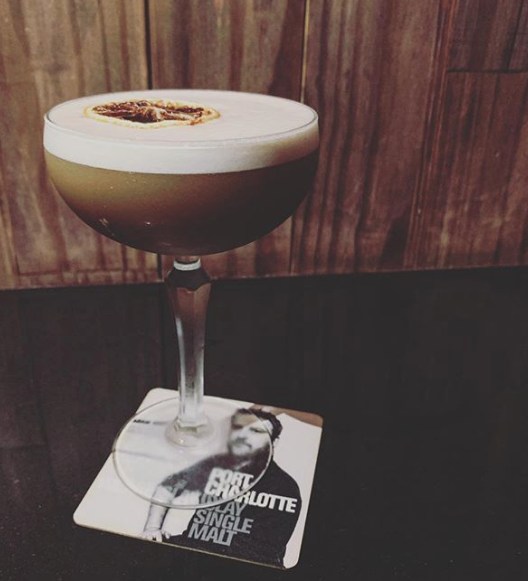 The 'Stillhouse Sour' photo by Caitlin Hill
Made by @mixwithmike from @luckyshaker with @bruichladdich#PortCharlotte 10YO whisky, tawny port, stout reduction, fresh lemon, fresh orange, citrus syrup & house made orange bitters - inspired by @graham.hayes71 - our beloved South African who works as a Stillman at the Bruichladdich Distillery .

Port Charlotte Brand - Bruichladdich from Denholm Associates on Vimeo.
Got something to say? Then leave a comment!
---
Conversations over Coffee: Stepping into Entrepreneurship
Wednesday, 7 August, 2019
In this new column we explore different topics with coffee as the catalyst. With new contributor, Lebo Matshego.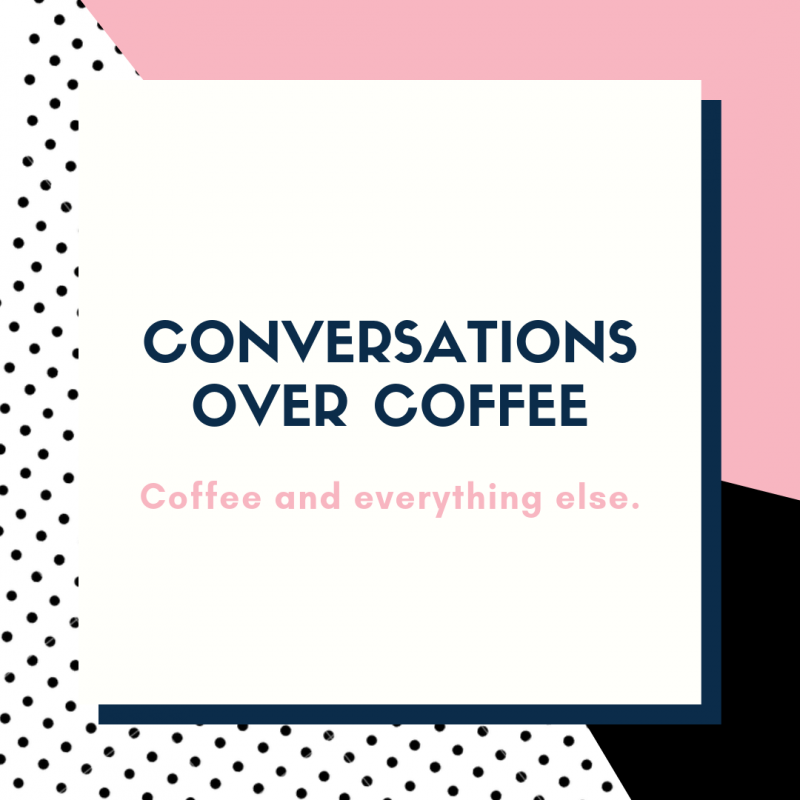 Stepping into entrepreneurship? Get your head into the game
Venturing out into entrepreneurship is a bold and courageous move. Not only are you following your passion and letting go of the safety nets of a consistent and stable income with benefits, but you're also contributing to the economy in an impactful way by starting something that will help create jobs and provide innovative business solutions.
Before you get into the nitty-gritty of running your business, you have to start with getting your mind right. Since our thoughts play an essential role in driving our perspectives and how we see ourselves, you need to be aware of the internal dialogue you have with yourself as you prepare for entrepreneurship. Self-awareness is pivotal as you embark on this journey, so consider these three points to get your head into the game.
1. Believe in yourself
This saying may sound cliche, but to venture out and survive as an entrepreneur, you have to believe that who you are is more than enough, and the product or service you have to offer is valuable and will have a positive impact.
Life tends to throw curveballs that leave us disappointed, discouraged, or with the feeling that we're not good enough and don't have the ability or intelligence to do something impactful and significant. Naysayers are all around to spew more discouragement, and if you've experienced a toxic corporate environment, you can come out of there with very little confidence in yourself and your abilities. Insecurities and negative experiences have a way of seeping into every area of life, including your entrepreneurial pursuit. You'll have to deal with them head-on (therapy is beneficial) to start believing and seeing yourself in a more positive light.
2. Know your passions, strengths and weaknesses
Being passionate about the area of business you want to go into is essential. If you're half-hearted or getting into a line of business because it's the trendiest thing at the moment, you won't get very far. It won't be authentic to you, and ultimately, you won't believe in it. Becoming more self-aware is getting to know your strengths and weaknesses; what makes you tick and what makes you run in the opposite direction. You'll be able to leverage your strengths and know when to get help when you need it. Off-course, if you genuinely love what you're doing, you'll persevere through the difficult times.
3. Move out of your comfort zone
As an entrepreneur, you'll need to get comfortable with putting yourself out there, not having a stable income for a while and long working hours. It takes courage and perseverance to find new clients, pitch your business and deal with rejections and no answers. It's hard work to be an all-rounder, focusing on sales, marketing, business development, and all other facets of the business. This new and unfamiliar territory can be daunting, and you'll need to learn to ask for help and advice when you need it. If networking freaks you out, you'll need to pluck up your courage to start conversations with business people that you know and meet new ones. Getting out of your comfort zone will push your limits, but the experience is an opportunity for growth.
Editor's Note: Speaking from the experience of starting businesses in the coffee space, while self-belief plays a big part of the journey, my biggest lesson was trying to have the humility to know that you definitely will have many failures along the way and that's ok. My biggest piece of advice would be to go boldly and ask for what you want. Ask for the meeting with the company you think is way out of your league. Ask for the interview with a coffee celebrity that you think you won't be able to get. Ask to collaborate with people you respect, even if it scares you. Get up the courage to ask! - Melanie Winter
Got something to say? Then leave a comment!
---
The Godfathers of Italian Coffee
Wednesday, 7 August, 2019
Much of the world's café history and market has been dominated by imported Italian coffee brands like Illy, Lavazza, Segafredo and Kimbo. Jazz Kuschke investigates why Italy holds such a strong place in coffee culture history and continues to retain prominence.
Words by Jazz Kuschke
---
The world has Italy to thank for the espresso shot and to some extent, cafe culture. For many who cannot start the day without an espresso based beverage at their favourite local, this a debt that can never be fully repaid. The major Italian coffee brands are still visible all over the world and they don't look to be going anywhere any time soon. Restaurants and hotels display their marketing as a badge of honour, internationally renowned names that hold real weight with customers. "We feel the consumer always knows when they see the sign, that they are getting the best quality." says Michelangelo Kellaris, local Illy Sales Manager.
The coffees served in cafes the world over are Italian inventions. "The Italian (and greater European) market is all about 'traditional' drinks being served," says Carlo Garbini, "Espresso, americanos and, to an extent, cappuccinos," he explains. "Firm, strong and intense flavours developed from decades of perfecting roasting techniques from different origins and blending these together." Carlo is the owner of Importalia which imports and services Italian espresso equipment in the hospitality industry. While South Africa has swiftly developed a strong cafe culture over the last decade, the history of coffee in Italy stems back to the late 17th century.
A (very) brief and incomplete history of coffee in Italy
Not all agree on quite how coffee was first brought to Europe. Some say it arrived with the Turks during the Siege of Vienna from where it spread as wide as London.
However most historians say coffee was first brought to Europe (or at least became popular) through Italy by Arab traders from Egypt in the sixteenth century. Documented history outlines that the traders brought it to what is modern Venice, from where local merchants sold this 'exciting new beverage' to wealthy clients.
This was largely coffee of Ethiopian origin, but it is also documented that the Arab traders took Ethiopian seeds back to their own countries and cultivated it there. Indeed there is evidence of coffee-drinking appearing in Yemen in southern Arabia in the middle of the 15th century. It was also in Arabia that coffee seeds were first roasted and brewed in a similar way to how it is now prepared.
But Italy is certainly the country that gained the mantle as the home of espresso and coffee culture.
You might be surprised to learn this almost didn't happen. Things got a bit murky in Catholic Italy and coffee was very nearly outlawed for religious reasons. Thankfully Pope Clement VIII tasted the beverage and deemed it good. We couldn't agree more.
The first café opened in Venice later that century (around the 1680s) and was named for the beverage it served. This was the birth of Italian café culture and, reads the annals, these places soon became synonymous with atmosphere and sophistication. This is the romanticised version no doubt but then that is perhaps the essence of the Italian way. One only has to look at the way the major brands are marketed today to see this love of life and elegance is still at the heart of what Italian coffee stands for.
Fast forward some 300 years and we can today thank Italy for the espresso shot. By the 19th century, the coffee and cafés business was booming across Europe, but the process of producing a cup of actual coffee was a slow one. At around the same time, various inventors started working on ways to speed up this process. Steam was the mechanism of the age, so it was to that which they went first. While there must've been countless prototypes produced, it was one Angelo Moriondo of Turin who was granted the first patent. This was 1884. Moriondo is a name lost in the history of coffee however, because for whatever reason his machines never found market prominence.
Luigi Bezzerra however, produced a machine that did. He is credited with 'inventing the the single-shot espresso (in the early 1900s), as his machine had several improvements on Moriondo's and produced the shot-to-cup. His idea was to force pressurised water through coffee powder to produce a small, concentrated shot 'expressly' fast. Welcome espresso.
As with the speed of the shot, the history sped up from there and, according to Alfredo Panzini's Italian dictionary the term 'espresso' first officially entered the Italian lexicon around 1920 with a couple other contenders in the espresso machine stakes who claim to be the first to put patents on the equipment and evolving technology.
Why the world loves Italian
"Italian coffee has a taste profile that appeals to the whole world," says Carlo, explaining that in mass-market terms, Italian blended and roasted coffees are the most popular. He is quick to point out the importance of local roasters however and how crucial they are for the local market but believes that part of the reason why Italian brands remain popular is their consistency. This is echoed by all the major brands, they all trade on the promise and delivery of consistency. "With a brand that offers a 120 year history in the coffee industry, it is easy to trust in the experience of their master roasters and blenders to ensure delivery of a consistently high quality coffee", says Nadine Jardim of Lavazza, South Africa.
"South Africans travelling more and more abroad have widened their coffee experience and taste profiles and are therefore continuously requesting more flavour and consistency from our market," Carlo says. "Single coffee origins are never the same. The batches therefore require skilled roasters to take the time to consistently monitor, tweak and change the profiles to insure the overall blend remains the same," he adds pointing out how highly regarded international roasters are, almost like distillers in famous rum and whisky houses.
Large imported coffee suppliers tend to go through more stringent quality controls due to the fact that world wide distribution is a large part of the business. "Large brands have the buying power that smaller roasteries do not and this makes it difficult for them to be consistent in their quality and taste profiles. In Segafredo's case, the company has their own plantations all over the world with their largest and most prominent in Brazil." says Roberto Reffo of Adriatic, the company that imports Segafredo. "We are also continuously investing in developing the skills of our client's baristas through constant and regular training. It is our support, customer service and other added benefits that accompany the quality and brand guarantee that allows us to be successful."
That comes at a price. The imported brands come with a higher price point per kilogram than local roasters. This often includes marketing assets like branded cups, but there is a much more practical explanation on hand when asked about this price difference.
"There is the American trend of high grammage per cup. A traditional Italian espresso uses 7g per shot. You wouldn't mess with a baking recipe and add more sugar, or add more eggs, the result wouldn't balance. But because of the style of roasting with some micro-roasters they use closer to 12g for a single, making that difference of being double the price not really true anymore." explains Michelangelo. The style of roasting and the style of espresso that the Italians are aiming for isn't asking to be compared to the current speciality scene.
With Great Power comes Great Responsibility
Working on such a large global scale, the companies have to be invested in sustainability and trading ethically. illycaffè has been named one of the world's most ethical companies by The Ethisphere Institute for the 6th consecutive year and is DNV certified providing a full sustainability chain from the farmer right through to the restauranteer selling you the cup. Lavazza has its Tierra brand and project developed in association with the Rainforest Alliance NGO launched back in 2002. This brand has the aim of improving social and environmental conditions of several international coffee-growing communities. Segafredo owns and operates its own plantations worldwide, which allows for control in the way that the coffee is produced and how the farmers are treated. They provide housing, medical facilities, and schooling for the coffee farmers as well as their families. Kimbo supports Project Waterfall which helps bring clean drinking water and sanitation to coffee growing communities around the world. With such large footprints, these Italian coffee giants need to do business as responsibly as possible especially in today's climate of informed consumers.
It appears that Italian coffee is here to stay. Restaurants and hotels with many other things to worry about on a daily basis need one thing from their coffee, that it remains consistent.
---
The Dons
Lavazza
Pronunced 'laˈvattsa' the company was founded in Turin in 1895 by Luigi Lavazza, it was initially run from a small grocery store at Via San Tommaso. The business is still in the same family and is today run by the third and fourth generations of the Lavazza family. It is said that Luigi was an entrepreneur at heart and knew that to be successful he had to find out what his customers wanted. So he worked to discover the different origins and characteristics of the coffee plant, and studied the art of blending to meet the tastes of his customers by creating the blends. The Lavazza coffee we drink today is the result of that: blending coffees from different parts of the world. As a global brand icon, Lavazza is a premium coffee offering within our market but quality is an intrinsic factor in every part of its production and delivery. These services and benefits are all made possible through the local Lavazza distributor, Ciro Full Service Beverage Co, who is well-versed within the coffee industry.
Segafredo
Italian coffee merchant, Massimo Zanetti – a descendant from a family with more than two generations in the coffee trade business – launched the first Segafredo Café in 1988 in Paris. In that vein he is seen as something of an "Ambassador of the Italian Coffee Culture" with the idea that the Italia lifestyle is reflected in Segafredo cafés. Adriatic, the local distributor of the brand, is a family business founded in 1970 by Renzo Reffo. Later on Maurizio and Roberto Reffo joined the family business and moulded the company into the finest importers and distributors of Italian foods, wines, coffee and catering equipment in South Africa.
Illy
Illycaffè (branded as illy) was founded by Francesco Illy in 1933. It was later taken over by his son Ernesto Illy and today, Andrea Illy (as Chairman) is the third generation of family at the head of this brand. Illy produces one blend in three roast variations (normal, dark roast, and decaffeinated). The company also markets single-origin arabica beans from six different countries: Ethiopia, Colombia, Brazil, Guatemala, Costa Rica, and India. In South Africa, the Illy brand is also a family affair, run by Chris Kellaris, his son Michelangelo, Doxoula Lentzakis & Mano Paxinos like one big happy Greek family.
Kimbo
In Naples, espresso bars provide the heartbeat of this incredible lively and exciting city. Here, over fifty years ago, one family developed a passionate coffee roasting business to meet the local demand. This thriving business grew and continues today. Through seeking the finest green coffees from around the world, they blend, roast and package fine espresso coffee that makes Kimbo a leader in the Italian market. Carlo Garbini is the local distributor through his business Importalia.
Got something to say? Then leave a comment!
---
Interview: A Taste of Africa with Lee Kasumba
Thursday, 25 July, 2019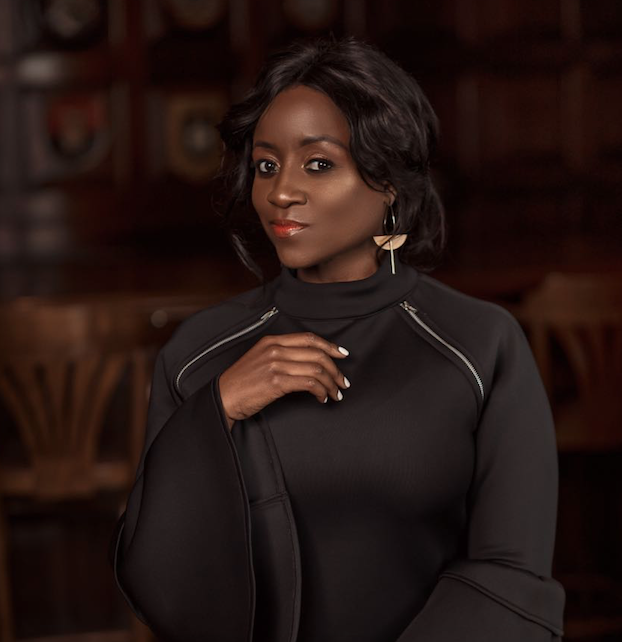 Radio and TV presenter and writer, Lee Kasumba, is a Cuban-born Ugandan that calls the whole of Africa home. From starting out on radio while studying a full-time BA Dramatics Arts degree, Lee's career path has taken her all over Africa.
Tell us a little bit about yourself?
"My path has been slightly different to say the least. While at YFM, I got the honour of being the editor of the award winning YMAG. I was the longest standing editor, the youngest, and the only female editor. Other career highlights include being the head of Channel O Africa - where my focus areas were West, East and Central African music markets. Here I ended up doing work on projects within Nollywood too and just overall was able to work within African Music, Pop Culture and the Film Industry.
Fast forward to today, I do correspondence work with the Primedia Group (702/Cape Talk). There is my podcast Africa State of Mind which is currently the pride of my life. To get to interview such incredible people that inspire me and others, and are at the forefront of leading Africa across sectors is so humbling. I also got to do Africa Connected with Standard Bank, which was something I have always wanted to do. So that was awesome - again traveling the continent and telling African stories – that is truly my heart.
I also have a production company that produces content for international companies like E! Entertainment and for Mnet West Africa too. I guess I see myself as a proponent for African Culture!"
In 2018, you travelled across Africa to explore the continent's opportunities and potential for growth?
"That was for Standard Africa Connected 2.0 with 702 and Cape Talk. It was an awesome assignment to be on. The idea was to go to different countries within the continent and see how business is done in those countries/markets. We got to see how tech and innovation was impacting young people in the continent. We came across some great green projects too, which was awesome to see.
Then of course, you can't talk Africa and doing business in Africa without understanding or getting a taste of the cultural nuances too. The purpose was to share these stories, highlight opportunities, and showcase African solutions to African challenges. And of course, to hopefully pique the interest of South Africans to go see what the rest of the continent has to offer."
What is your favourite thing about travelling through Africa?
"My favourite part about travelling the continent of Africa is that everywhere feels like home. I also am always impressed by how much changes; literally the changes within a few months to a year if you repeat countries is so impressive. As fast as the changes are – the people the culture and the spirit remains the same. The best of both worlds."
Are you a coffee drinker? What's your coffee of choice?
"I am more than an avid coffee drinker to put it mildly. My coffee of choice, which I of course don't get to drink much of, is Ethiopian Coffee with Tena Adam. Something about the fresh mix of coffee and the plant; I have never tasted anything like it honestly. It's like Ethiopia's best kept secret and it's how they used to drink it. It's not done as frequently in Ethiopia anymore, but that has got to be my favourite preferred cup of coffee. Yum!"
As part of your travels, you visited Côte d'Ivoire. What was your impression of the country?
"Cote D'Ivoire was truly a pleasant surprise, for many reasons. Firstly, I think they have one of the most efficient airports that I have been too. The airport is a foyer to a country. It's also extremely orderly, so even then traffic jams somehow feel like all is in order. It's a melting pot – I loved bumping into people from all around the world. It has a charm to it – in a way that I haven't experienced; so yes, you find a French or Parisian influence, but it's with a very heavy and gorgeous African texture. The urban landscapes, textured with some historical buildings that tell the story of Cote D'Ivoire. I feel like it's a country that everyone needs to visit – you won't be disappointed."
You've mentioned expecting to have amazing coffee everywhere you went in Côte d'Ivoire, but this wasn't the case?
"This wasn't the case because there weren't all that many coffee shops. I also didn't see a lot of Ivorian coffee for sale in the stores or even in the hotels. Unfortunately, there was a lot of instant coffee! Also, when I did finally get to taste Ivorian coffee, it had a really bitter taste to it. I also found that most of the beans were sent out the country and then brought back in once processed and packaged. So, the cost factor probably plays a huge role in this too. I feel as though it hasn't been tapped into enough yet and there is a huge gap/opportunity for the Ivorians."
If Côte d'Ivoire is known for its coffee, why don't Côte d'Ivoire people have a culture for drinking good coffee?
"No, there definitely isn't a huge coffee culture. My producer on ground who loves coffee too got her coffee from Rwanda. So that says a lot. But the people just don't seem to enjoy coffee; from my experience, coffee just didn't seem to be part of the local palette. I think I was expecting it to be like Ethiopia where people love their coffee regardless of age, class and so forth. This wasn't the case in Cote D'Ivoire."
Did you get a chance to visit one of Abidjan's specialist coffee shops?
"Yes. I visited Couleur Cafe which was open and is owned by a 25-year old young lady, Fabiienne Dervain. The ambience was great and also the clientele was very hip; almost felt like what you would get at say a Starbucks in LA or NYC – that sort of clientele. I was extremely impressed all round."
What could someone expect to pay for a good coffee in Abidjan?
"I had a cappuccino and it set me back like R52 or more if I remember correctly. And it wasn't a huge cup; it was pretty small!"
Do you think the specialist coffee culture will grow and become more popular in Côte d'Ivoire?
"Yes I think it can, I just feel we need to remember that as a nation, Cote D'Ivoire only really started to stablise in 2012 – so the way that they have grown is incredible. I think also from my conversation with Fabiienne that as more Ivorians move back home, this culture will grow too. I do think once coffee is produced in Cote D'Ivoire from start to finish and it starts to have a stronger impact on the economy, that will change too."
During your travels, did any country's coffee culture stand out as particularly unique?
"Definitely Ethiopia. I think just the art of having people prepare it in their homes is so yummy. And the various ways that it can be taken and the different types of coffees. I am probably under-selling, but Ethiopia without a doubt!"
Which country in Africa would you recommend for people to visit?
"I honestly can't answer this – I love everywhere in the continent. I would just say if the opportunity comes up, take it – you won't be sorry."
Any last thoughts about your travels through Africa?
"Just that everything, every part of Africa, is some kind of wonderful. Take the plunge!
Follow Lee Kasumba on Instagram to keep up with her travels, stories and podcast!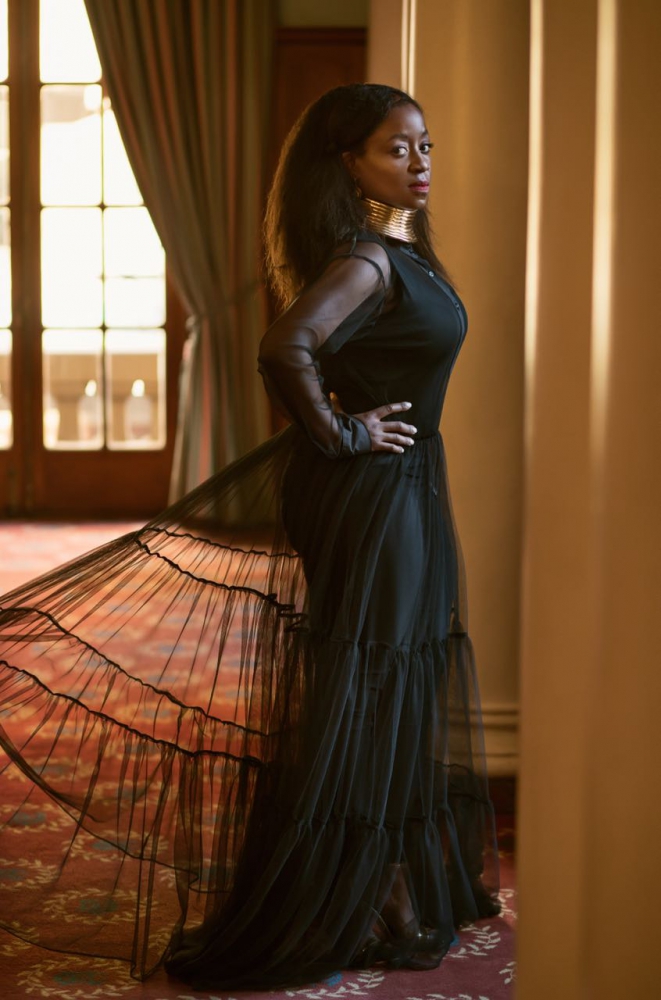 Got something to say? Then leave a comment!