Goodies from The Coffee Magazine Office - Giveaway Time!
Thursday, 14 January, 2021
We are really lucky coffee humans. We are always surrounded by a plethora of exciting coffees and coffee gadgets, more than two magazine publishers, and all the people in our office and friend groups, could ever get the most out of. So as we start the new year, we have done a spring clean of our office and found some items that deserve to find new homes where they will be used and loved!
The first of these is the nifty little manual home roaster from Coffee-Tech. It is so much fun to play around with! All you need is a heat source and some patience and voila! Fresh roasted coffee at home!
So if you're looking for an exciting new hobby, why not throw your name into the ring to start off your home roasting journey.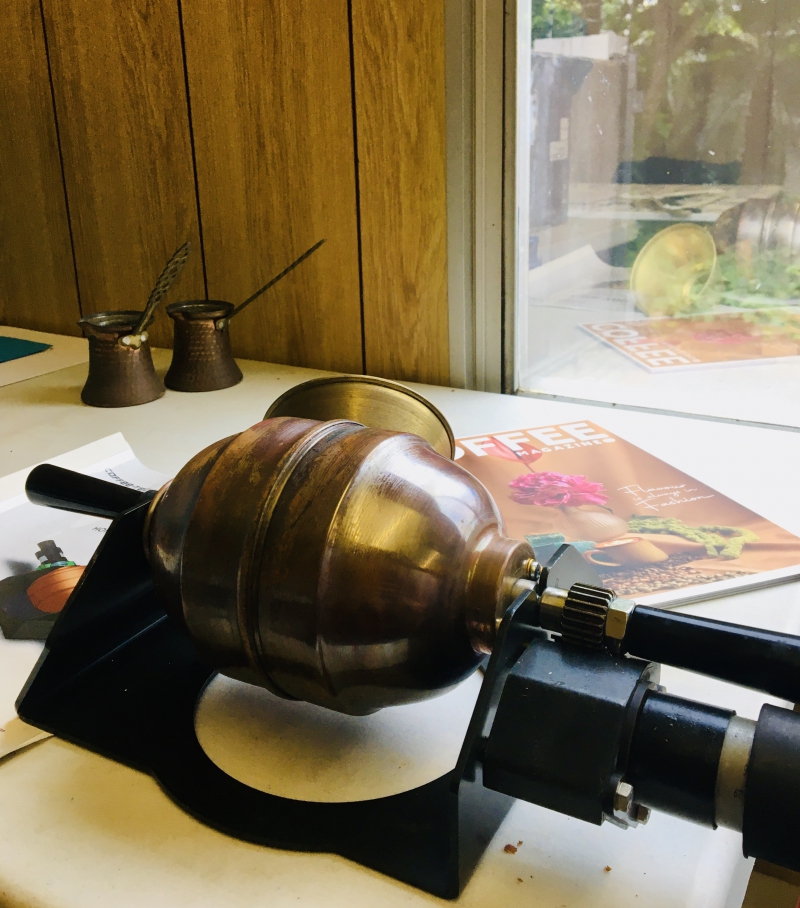 So yes, it has been used a couple of times, but that just means it is ready for action!!!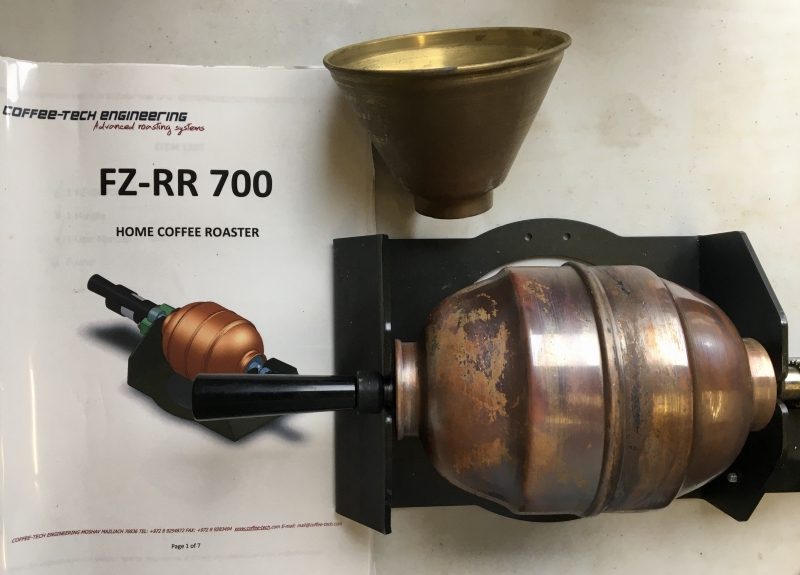 Home Roaster giveaway
If you liked this article, then you may also like these:
Got something to say? Then leave a comment!
---
Interview: Amy Gardiner of Humble Coffee
Wednesday, 13 January, 2021
We caught up with Amy Gardiner, owner of Humble Coffee based in Durban. Amy was integral in helping us pull off the beautiful cover feature for our current Summer issue. You can find Humble at 21a Churchill Road, Durban or give them a follow on Instagram to keep up to date with their news. All the beautiful pics below are courtesy of their profile.
---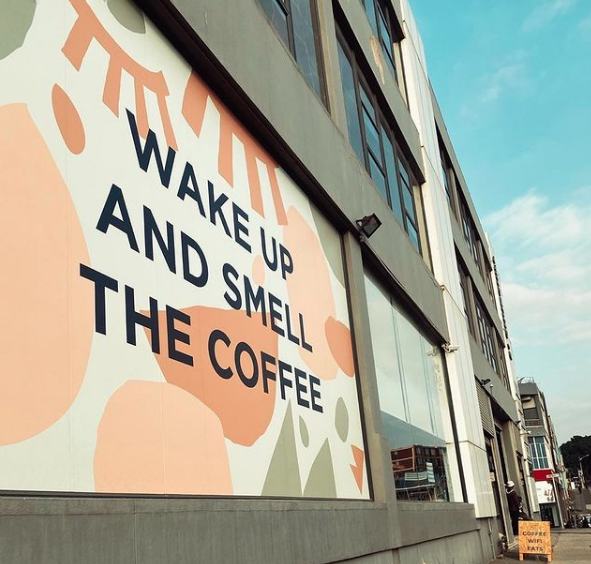 Your current HQ in Churchill Place, has been a roaring success, and has become a coffee destination worth travelling for, has this journey been anything like what you imagined?
Not at all! When I found the space on Churchill Road I was purely thinking coffee roasters, training and espresso bar with some informal snacks and bagels. I really could not prepare myself for what it has turned into! I had been roasting on my own for 2 years purely for wholesale with some small retail business. I had come to realise that although I love roasting coffee, it can be a very lonely profession especially when you don't have a staff team. To then suddenly have this space full of people, coffee, music, food it re-energised me. I came to the realisation that I need spaces like this to motivate me in my own business and I'm so happy to watch it grow and evolve.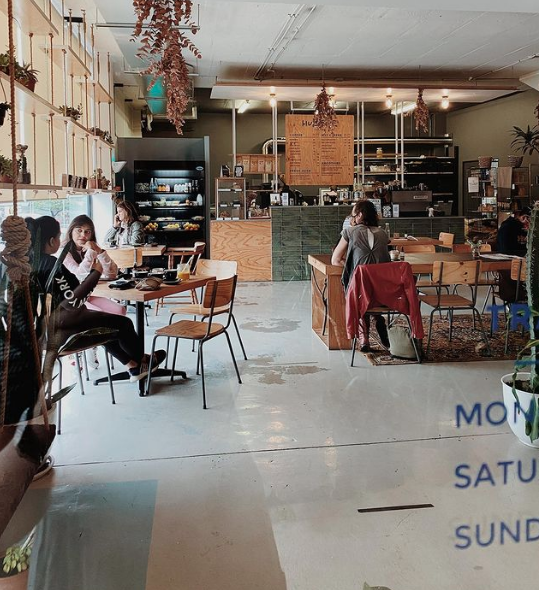 What are your future plans for the space?
At this point, it's a little daunting to think about the future as we're living in such crazy times! I do have plans to extend the space by around 25 squares, focusing more on coworking. A lot of people enjoy working from Humble and I think it's important we create spaces with this in mind, as working remotely becomes the new normal. In 2020 we hosted a couple of evening pop up events and I would love to do more of this. We're so lucky to have lots of space and there are so many amazing creative minds in Durban that can put it to good use.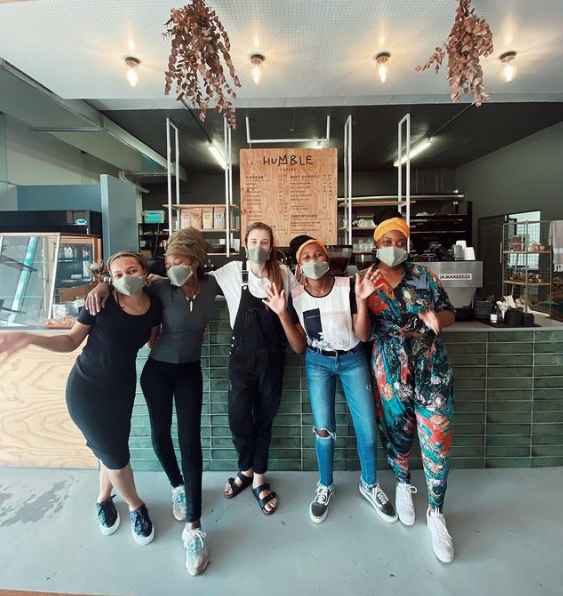 Tell us about your all women squad please!
They're amazing, my rock and I'm so thankful they put up with my crazy Scottish ways! We have a laugh which is so important, hospitality can be exhausting. Customers also feed off positive energy which really affects the space as a whole.
I love how diverse our team is at the moment, from law graduates, artists to small business owners we have it all. All individual team members, Nomfundo, Casca, Rachel, Nolwazi & Sam, have their own focus separate to Humble, which is really important.
What would your advice be to anyone with dreams of opening a coffee space?
I think, like all coffee shop owners I get asked a lot about this hot topic! I was lucky to work in the industry for a long time prior to opening my own space which I think was very helpful. You need to experience the ups and downs of this industry to see if it's for you. It is totally possible to open a coffee shop with little experience, but it's a lot easier If you've worked in a similar space before.
If you do decide to take the plunge and open a coffee space, focus on community and a good quality, sustainable offering. You're nothing without a strong community behind you and people truly appreciate a well thought out range of products encompassing traceability.
What is your favourite drink and food item on the menu right now?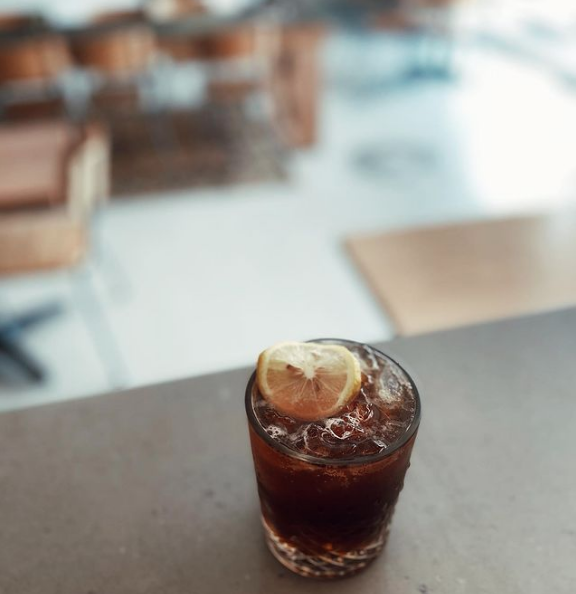 Drink: The Elderflower Coffee Fizz is an absolute gem, especially when trying to do life through 110% humidity. Elderflower syrup, batch brew (we usually have naturals on batch which bring out a lovely sweetness), sparkling water and a lemon wedge over ice.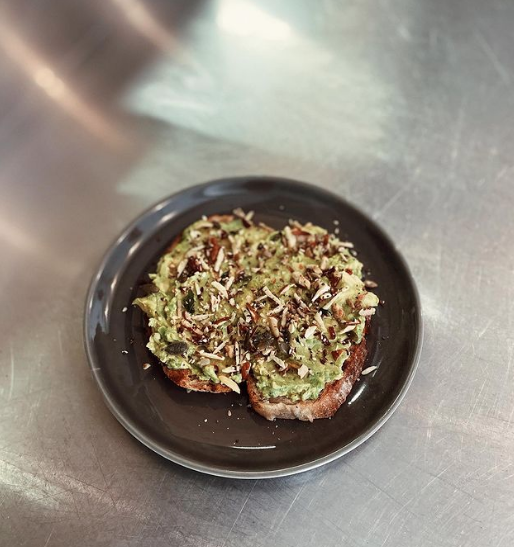 Food: The Hummus toast is a winner.
Sourdough, avo, hummus topped with locally made feta, nut sprinkle and locally grown microgreens. What's not to love?!
What is your favourite coffee at the roastery right now?
It's got to be our 2020 Festive coffee, Finca La Hermosa by Max Pérez. This Guatemalan coffee was actually one of the coffees we included in the Issue 34 feature and when I cupped It I knew I had to get more! It has such beautiful floral aromas with low acidity. We get notes of caramelised nectarine & fudge with a vanilla sweetness. There's still a few bags left at the shop.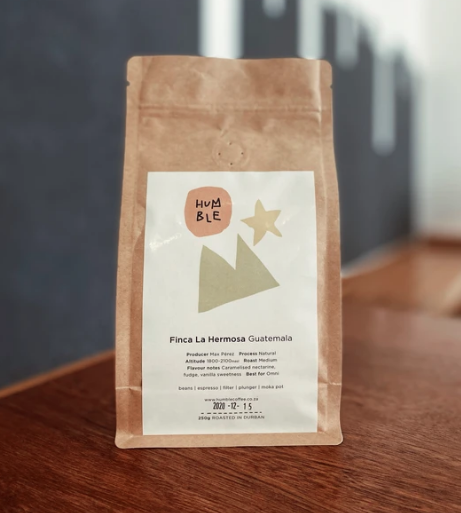 You sample roasted the coffees for the cover feature of Issue 34, can you tell us about the experience and about your highlights of the process?
I had just got my hands on a new sample roaster so was excited to put it through its paces! I did some planning of what I wanted to achieve in terms of flavour. As this was going to be a very visual article I knew I wanted to accentuate the coffees brightness while highlighting their individual flavour profiles. It's always a little nerve-racking as you only get a couple of chances to achieve this as samples are usually 200g and under. I was happy with the outcome and we had a lot of fun cupping and visualising the flavours with the various props and colours.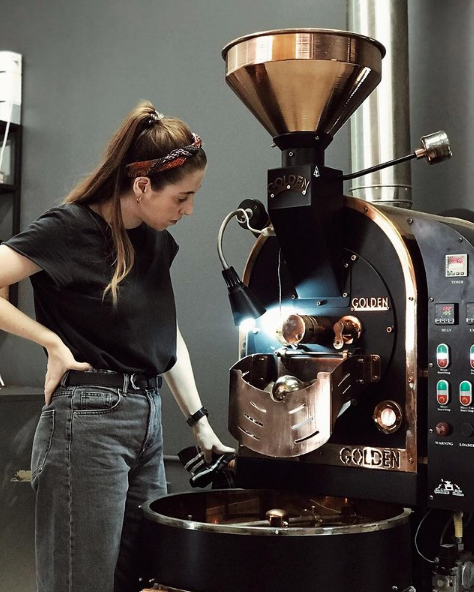 Apart from your own space that you've lovingly created, what is your favourite cafe (anywhere in the world)?
Ahh too many choices!
I'm going to have to go with Steampunk Coffee in North Berwick, Scotland.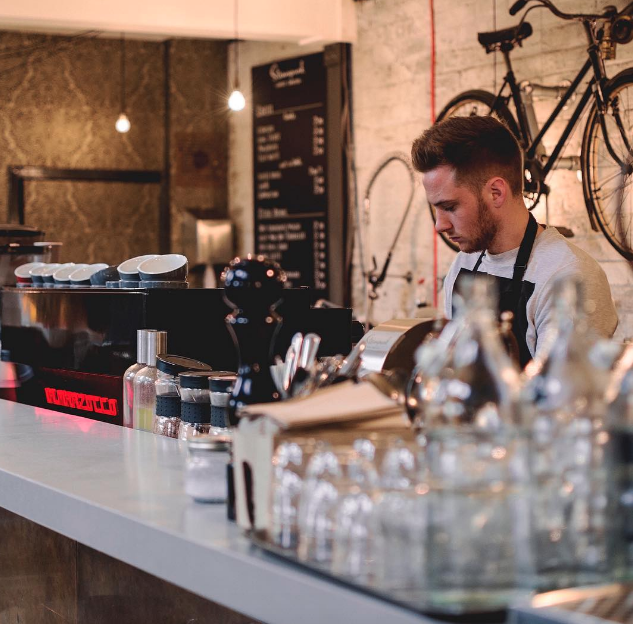 It's a 30-minute train ride from Edinburgh (My hometown). I am in love with this quaint little seaside town and nothing completes an icy walk on the beach without a trip to Steampunk for a tasty cortado and a bowl of soup to warm up. The coffee roaster is displayed among the hustle and bustle and the café is packed with comfy couches and cosy corners. There is always a cute dog to look at. They source traceable top-quality coffee and always have such an amazing selection of beans on.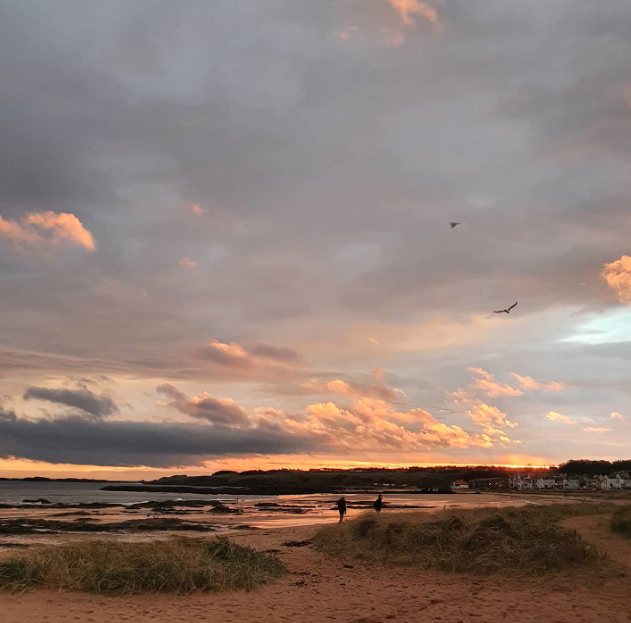 If you liked this article, then you may also like these:
Got something to say? Then leave a comment!
---
The Champ's Cortado: Freeze Distilled Milk Deliciousness
Wednesday, 9 December, 2020
So if you keep your eye on World Barista Championship (WBC) trends, you will have noticed that over the last few years, the milk used on stage is a little bit different than your average. Realistically we know that most of you are rolling your eyes at us right now, because only a tiny percentage of the people reading this keep their eye on WBC trends. But that's what we're here for! To give you all the latest coffee geekery in user friendly ways!
So, the trend in milk has been to use Freeze Distilled Milk for the milk beverage round to enhance sweetness in the coffees used. How does the milk do this? Well Freeze Distilled Milk is the process of freezing milk and then letting it slowly thaw over another container. This is because, the solids in the milk (all the sweet stuff) thaw first, leaving you with a rich milk concentrate where most of the water in the milk is removed.
Ok so that sounds like quite a lot of effort, but that's why we have coffee professionals in our lives! The good people at Thando Coffee Company are bringing a little WBC magic to everyday coffee drinking life by offering The Champs Cortado, a freeze-distilled milk cortado. You can go check it out in Randburg. It just adds a level of indulgence to your cup, making it a pretty phenomenal experience. Works well as a cortado too, because it is very rich, so a shorter cup is perfect!
Thando Coffee Company. The Club House Centre, Malibongwe Dr, Randburg, 2194
David, The Champ, made our cortados! They were delicious!
Got something to say? Then leave a comment!
---
Coffee Magazine issue #34: Summer 2021 is out now and it's beautiful!
Thursday, 10 December, 2020
The finished product shot in the place we we made the cover story happen, Humble Coffee, 21a Churchill Road, Durban.
The new Coffee Magazine is out, just in time for the holidays, and it is jammed packed with 84 pages of coffee life just for you!
Inside this issue, our cover story explores the beauty of coffee, as fashion and coffee collide in a colour palette of art, thanks to the special skills of a very talented female coffee roaster and an equally talented friend in fashion. Celebrating the beauty in each unique coffee, we teamed up with Trend Forecaster Lauren Taylor and coffee roaster Amy Gardiner to bring you a feature that looks the way good coffee should make you feel! I mean...isn't that a glorious way to appreciate flavour?
We run a long form read on Rosetta Roastery , having managed to catch up with them in Cape Town and be present on the day they opened a new store in the centre of town. We get an in depth discussion going with the Founders, Rob and Jono as they celebrate their 10 year anniversary and reflect on a decade of dedication, still learning, growing and inspiring 10 years on.
We then bring you a very heartfelt story of courage and dedication as we bring you the story of one of South Africa's best barista trainers, Khulekani Mpala as he starts his own cafe and coffee consultancy from within his wife's hair salon after being retrenched from his job.
We are also thrilled to bring you an exclusive interview with Sasa Sestic and Aga Rojewska, two World Barista Champions, in this issue as we tackle their rise to coffee fame in the chase for WBC glory and all of the hardships and challenges it takes to become a world champion!
For the tech-heads out there we, then go deep into the inner workings of one of the most important pieces of equipment in coffee: The Coffee Grinder. Flat burrs vs conical burrs, different materials and coatings...there is so much to learn from the one and only Kyle Ramage (seriously, this is an enlightening article!).
And... as if that's not enough, We even put together a bumper selection of coffee gifts in our Ultimate Coffee Gift Guide 2021.
Got something to say? Then leave a comment!
---
Breaking news! Genio launches new 3kg micro roaster.
Thursday, 10 December, 2020
Genio Roasters today announced the Genio 3 micro coffee roaster, a new 3kg coffee roaster that will redefine the micro roasting landscape. The Genio 3 is ideal for beginner or sample roasting. The roaster is extremely mobile and compact, making it easy to install and start roasting.
Genio sees their range of coffee roasters as a lifelong investment and promotes the new addition to the range to existing roasters as a back-up roaster and to occupy specialised smaller batches.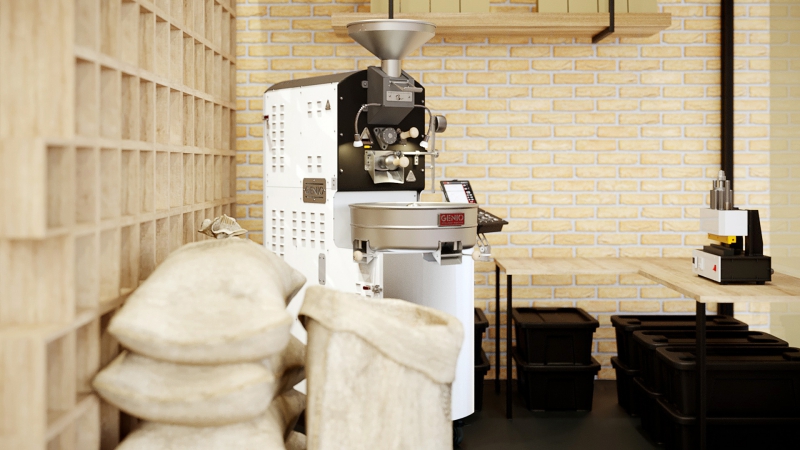 The new Genio 3.
"Times have changed and with 2020 as the back-drop, we have noticed that although people may not have the money for a large investment, they are still driven by their desire to express their individuality and differentiate their product from others" says Neil Maree, founder and owner of Genio Roasters. "Coffee enthusiasts may have their own career but at the same time they have a passion for the coffee industry and they recognise that they can supplement their income somewhat.
This is where the 3kg Genio roaster comes in. It is an affordable roaster for the small business owner and for the entrepreneur as it enables entry-to-market. The Genio 3 is the tool that can transform someone's passion into earnings with their own unique product, with their own individual, personalised touch."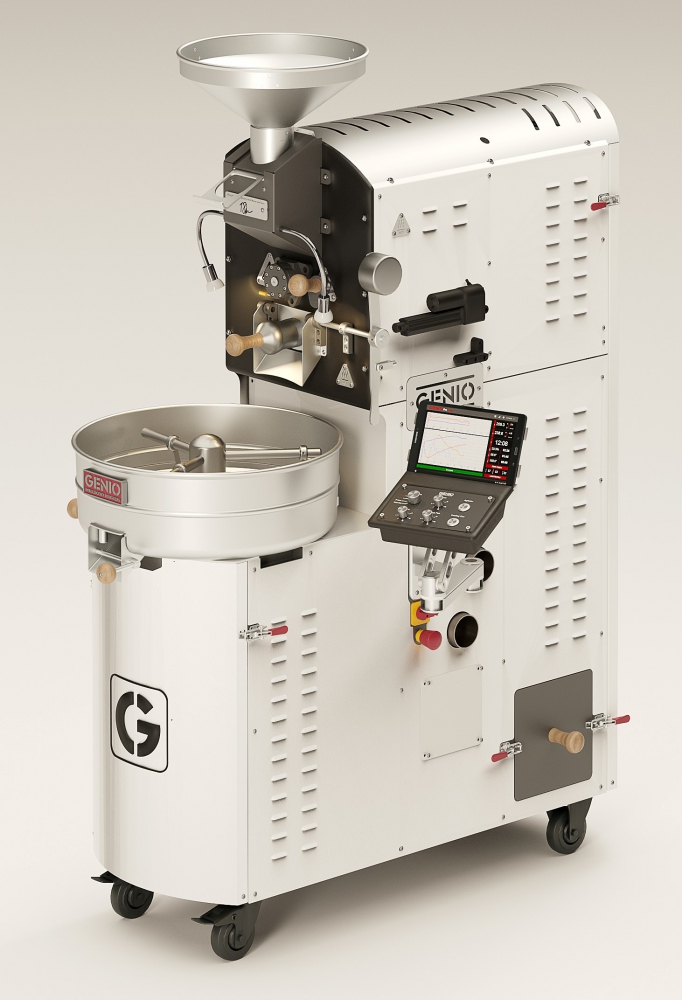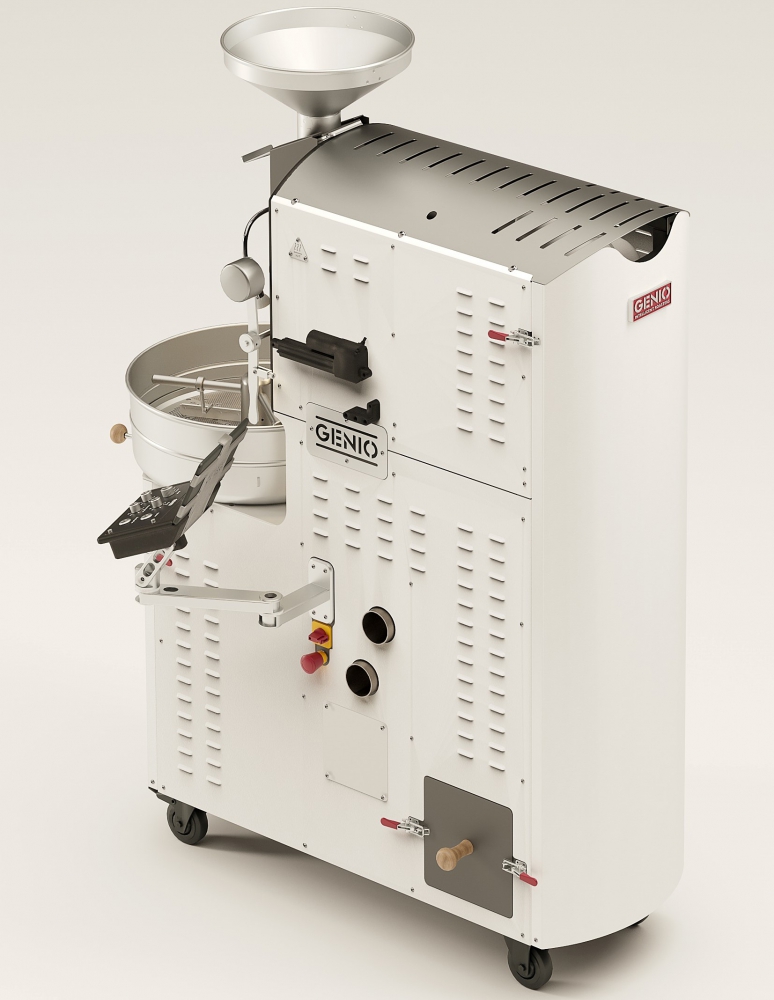 Features of the Genio 3 include:
Compact design with small footprint at just over 1m²
Coffee beans easily loaded into the hopper
Same hand-crafted perfection and precision control as rest of Genio range
Castor wheels for easy mobility
Built-in chaff cyclone
Fully compatible with Genio ProRoast application
Weighs only 350kg
Wireless tablet with full manual and automatic profiling
Dual-wall ceramic coated
Motor with four variable speeds
Roasting time of 3kg batch between 11-15 minutes
Three year warranty
Genio 3 Technical Specifications:
Capacity

1kg-3kg profile roasting
200g-1kg sample roasting

Dimensions

Heating

12.5kW gas burner (LPG/natural gas)

Air Flow

Roasting fan: 300 m³/hr @ 1000 Pa
Cooling fan: 300 m³/hr @ 1000 Pa

Electrical

220V 50Hz single phase

Control

– Wireless tablet
– Full profile logging
– Full manual/automatic profiling

Profile Plotting

7 graphs in real-time
Reference profiles from database

Drum

Dual-wall ceramic coated

Roasting Principle

Convection & conduction

Roast Time

11-15 minutes

Motors

4x variable speed
The Genio 3 is already available for ordering and customers can expect the same performance, features and support that Genio Roasters is known for in the industry. For more information on the Genio 3, visit https://genioroasters.co.za/products/genio-3-micro-roaster/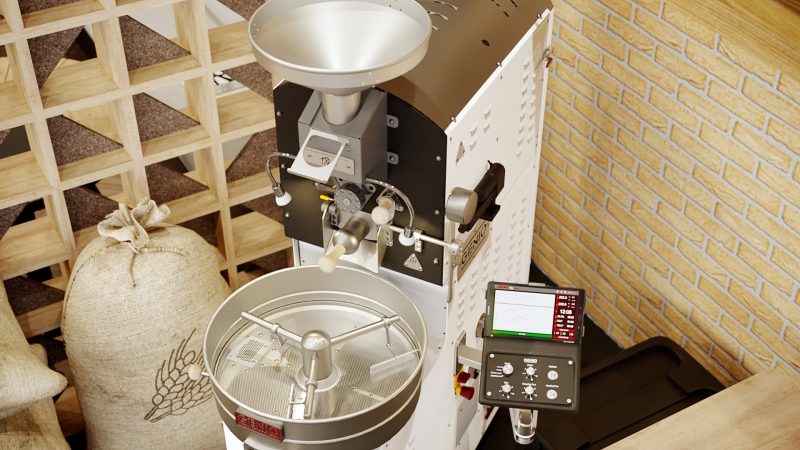 About Genio Roasters: Genio Roasters is a vibrant engineering company that specialises in the design and manufacture of coffee roasting equipment. In 2020, Genio Roasters celebrated its 10th year of excellence in the specialty coffee industry. Their full range of coffee roasters (Genio 3, 6, 15 and 30) can be individually customised and designed to enhance the operator experience and the aesthetics of the roastery. Genio is currently represented in more than 22 countries globally.
Got something to say? Then leave a comment!
---
Inside the Genio Roasters factory
Friday, 4 December, 2020
This week we finally got around to visiting the new Genio premises and we are so glad that we did!
The building is beautifully laid out with a mod-bar and cupping table right next to the reception, so customers can immediately enjoy playing with coffee as soon as they enter or be served in the little boutique, and beautifully manicured, lounge-come-reception area. There is a fully fledged Zoom and training/presentation area with a 360 camera that follows you around as you present!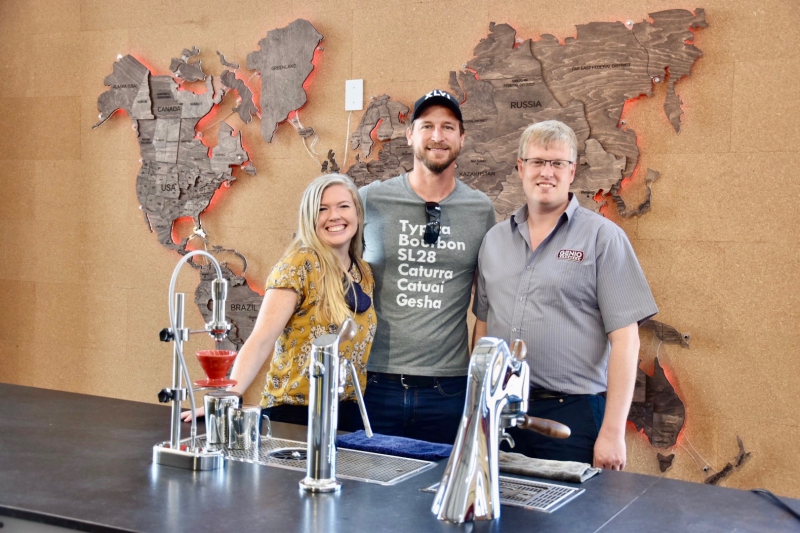 Mel, Iain and Neil at the mod-bar, with a lazer cut map of the world as a backdrop. The idea is to put a pin where every Genio Roaster is in the world! How cool?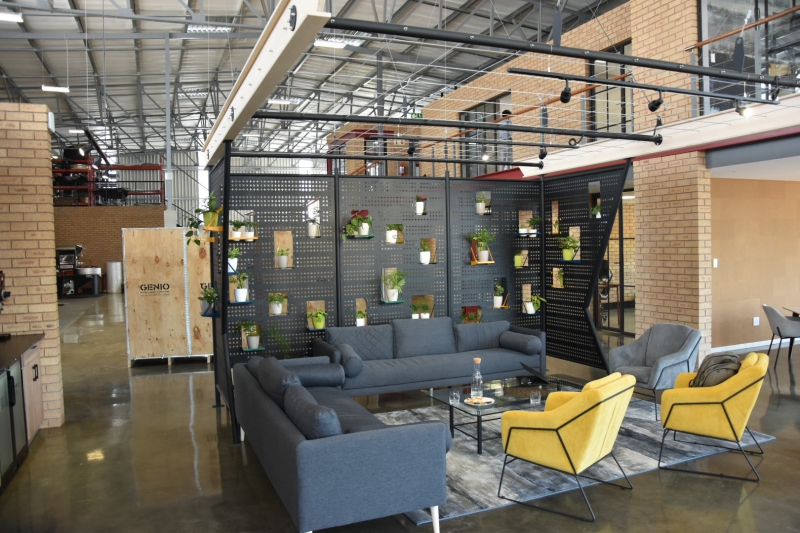 The beautiful reception area - you'd be forgiven for thinking you were in an ad agency or a tech firm rather than a coffee roaster manufacturing facility!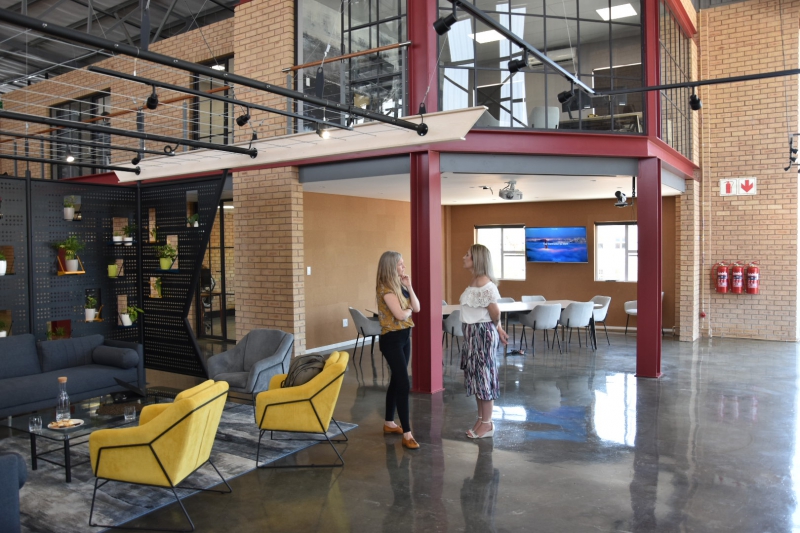 Elsie from Genio and Mel stand in front of the specially designed Zoom training room, so the Genio team can train their overseas customers via the digital platform.
Neil and his team have found a really good balance between a beautifully aesthetic space and a factory - after all, they build coffee roasters on site, they commission them off site and they follow up with training and support. As a result the team has grown significantly over the past year and a half, with Genio launching into the Middle East and to a number of overseas destinations as well as keeping their SA customers happy and bringing out a few really amazing new offerings like the Genio de-stoner and roaster customisation to boot.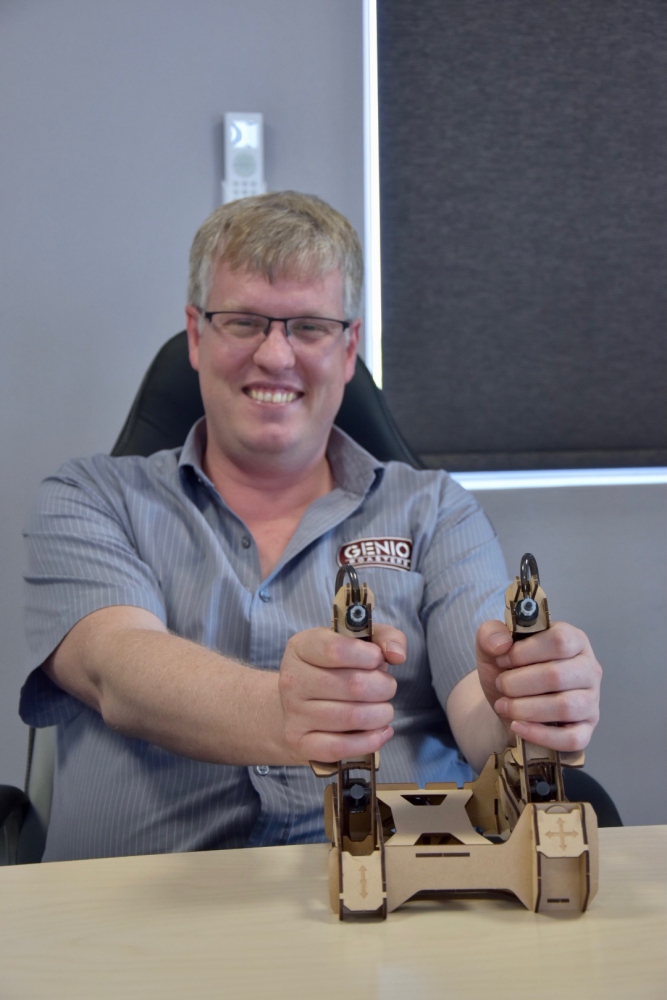 Driving the Genio business! (Neil actually made these robotic joysticks himself)
"I am an engineer after all", says Neil "The best advice I have received has been to 'work on the business, not in the business' " and hence I have handed over a lot of the core tasks to my amazing team and I'm focusing on scaling and improving our business as a business" he says.
There is a lot going on at Genio!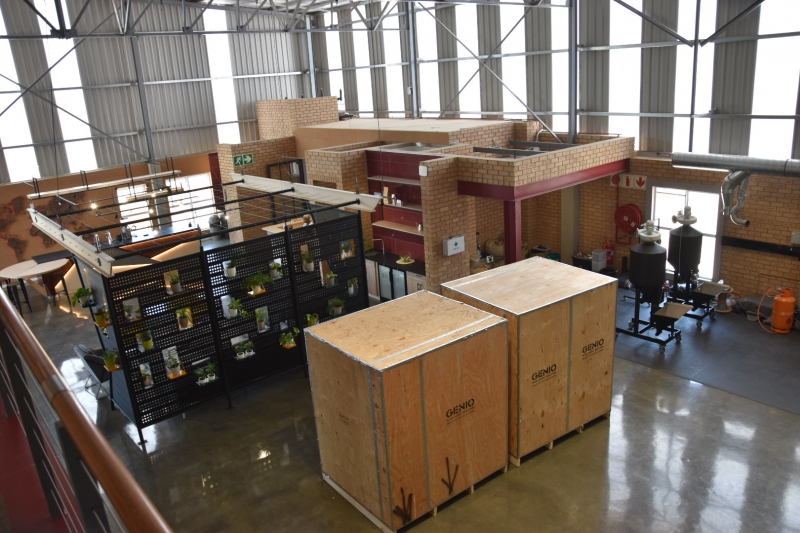 Two completed roasters stand ready to be shipped and commissioned!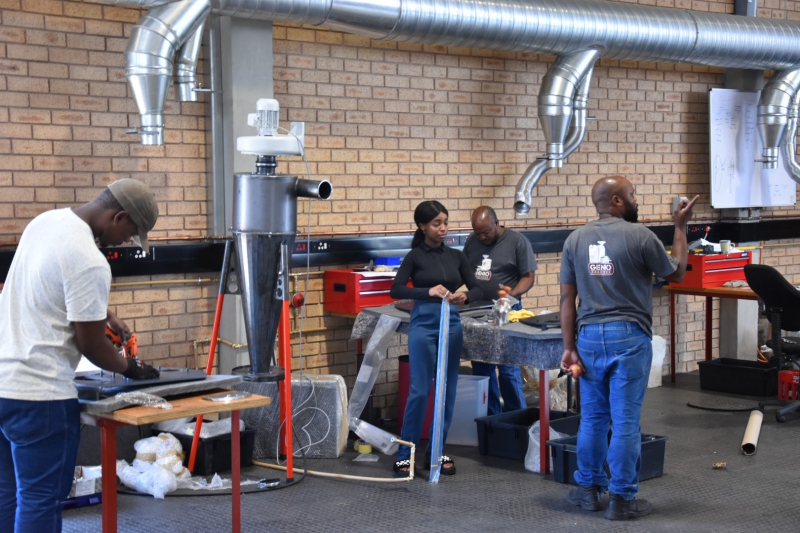 The team at Genio on the assembling line.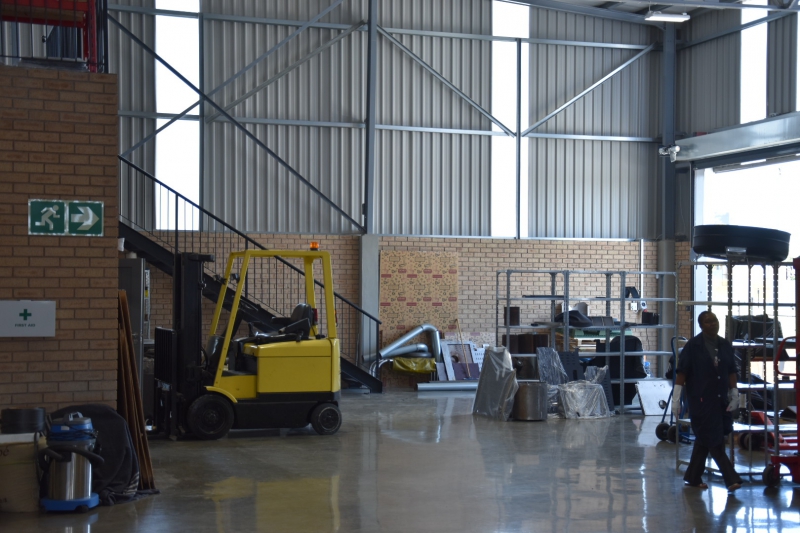 If you haven't visited the new premises, we highly recommend you make an appointment with Elsie, who will be glad to show you around and between her and George, will definitely sell you a Roaster while you're there!
Genio are the presenting Sponsor of Coffee Magazine's "A Shot in the Dark" roasting competition 2018 - 2022.
Got something to say? Then leave a comment!
---
New Kid on the Block: Toasted
Friday, 4 December, 2020
What a joy to be on the road again! Out discovering new spots that have coffee as an essential addition to their offering is one of our favourite things to do.
---
138 Jan Smuts Avenue, Parkwood, JHB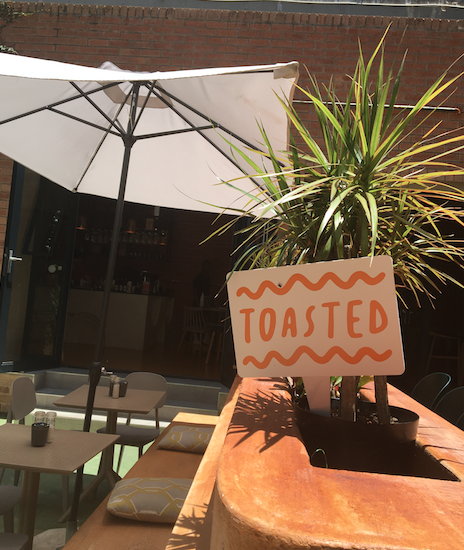 On the recommendation of their coffee supplier, Amy of Humble Coffee in Durban, we went on the hunt for Toasted. I say hunt, because it's not the easiest to find, but it is well worth the adventure. It lives inside a building on Jan Smuts Avenue and is not directly visible from the road. You just buzz 138 and they will let you inside to explore the courtyard that is home to Toasted.
Dana and the team are simply lovely, it's a women-led space and we love it! So attentive and such a calming vibe about the place. As a business that is just over a month old, they know that every new person that walks through the doors could become a future regular and from our experience, they certainly have a way of charming you. I instantly felt as though I could easily spend a whole day happily munching and sipping in the company o these fine folk. Not to mention that the toasties are kind of a big deal!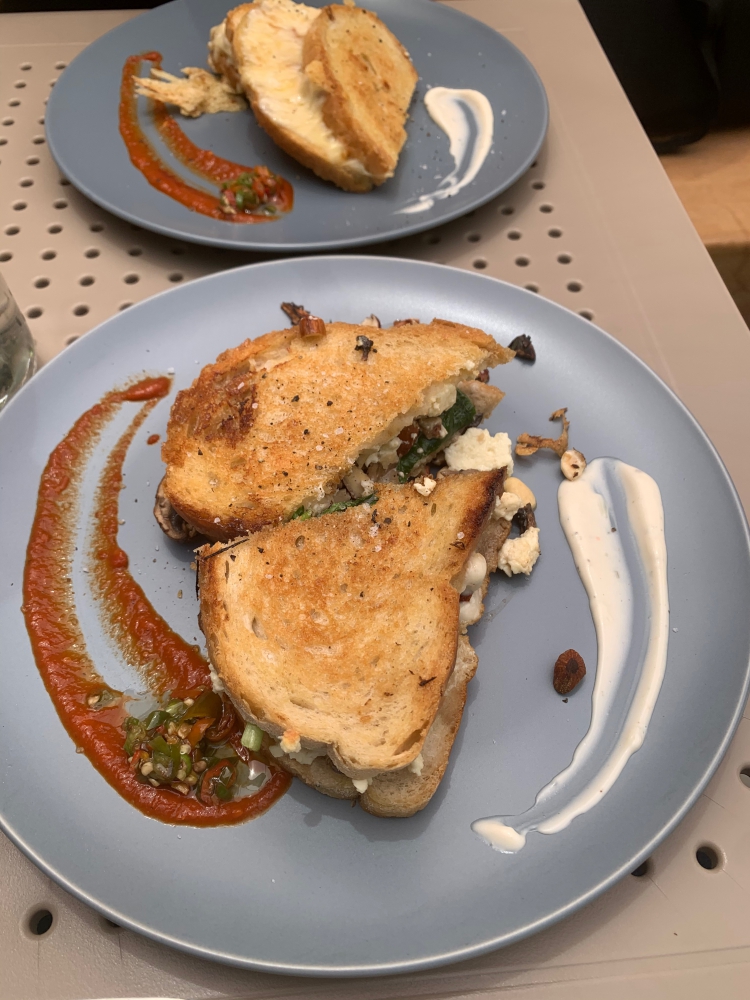 We tried the classic Cheesey and on Dana's recommendation the Nutty Mushroom & Feta. WOW! So tasty. Beautifully presented and the garnish that looks so good, pairs perfectly as a dipping sauce for your choice of toasted deliciousness. It was HOT, so we paired our toasties with a cup of batch and a refreshing mint and lime iced tea.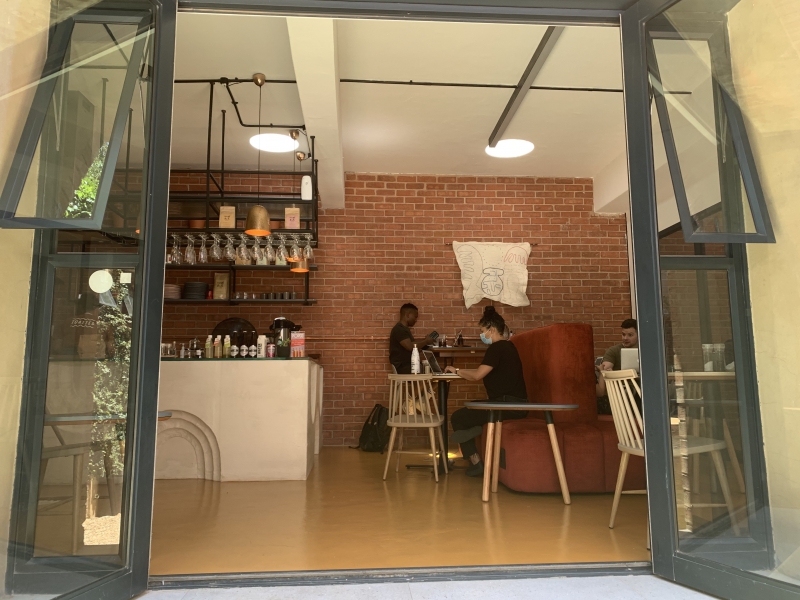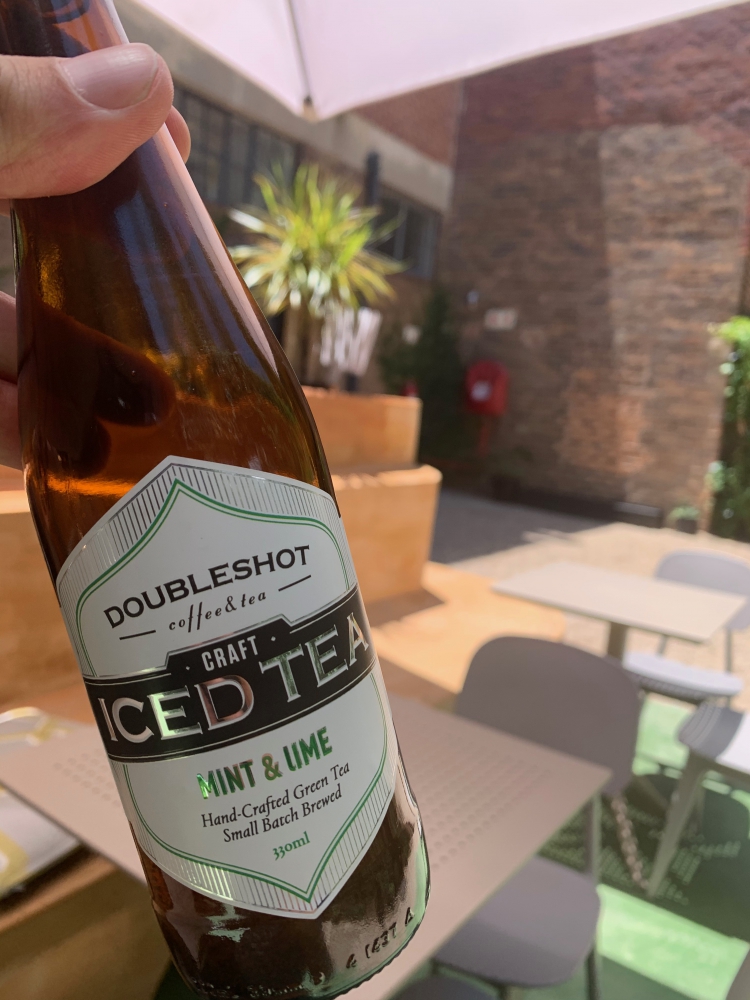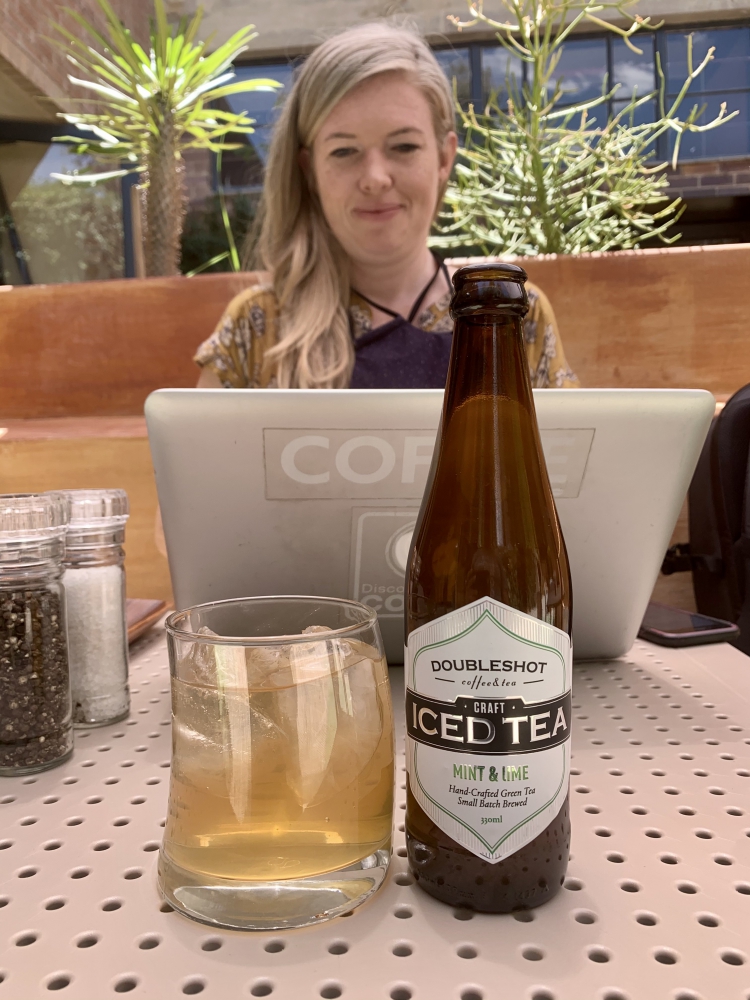 Got something to say? Then leave a comment!
---
10 ideas about coffee to live by - a Manifesto for coffee!
Thursday, 26 November, 2020
Susan Abulahwa is a writer, activist and founder of Playgrounds for Palestine. She wrote a really cool "Manifesto for Living" which you can find here: https://wepresent.wetransfer.com/story/manifesto-susan-abulhawa-playgrounds-for-palestine/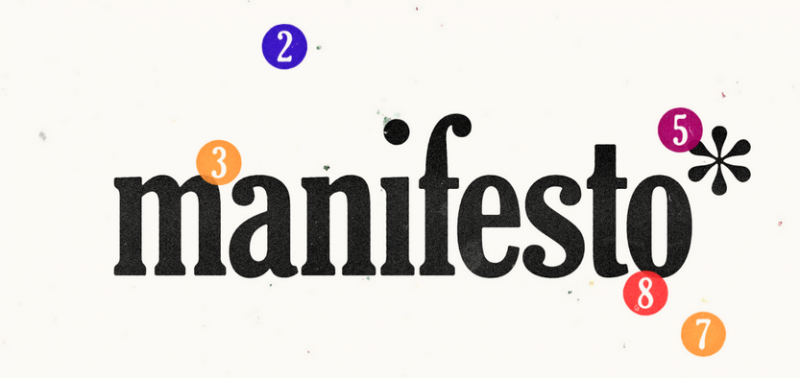 We were really inspired by this, and so we thought we should come up with our own "Manifesto for Coffee!" based more or less on Susan's original :)
1. Words - Tell the truth and speak truth to the coffee you are drinking, especially when it is inconvenient.

2. Beans or Ground - Ground coffee quickly loses flavour. Always side with beans (if you can!)

3. Farmers - Coffee Farmers are the lifeblood of our coffee. Always try to support them as directly as you can.

4. Friends - Friends don't let friends drink bad coffee!

5. Nature - Spend time in nature as often as you can and know that coffee is an organic product of the earth. Love her always.

6. Baristas - Baristas work to please you, to serve you, to make your day better through the coffee they serve you. Love them back and tip them well.

7. Work - We use coffee to help us work. Every day. Take a minute to sip, savour and celebrate where it has come and how much it helps us.

8. Purpose - A good grinder will give you purpose in your coffee life. Invest in one. Do it right now.

9. Water - Water, in coffee and in everything else, is life. Respect your water like you respect the very air you breathe, because it is that important.

10. Share - Share your passion and your knowledge for coffee with everyone you meet and help us to grow this wonderful culture.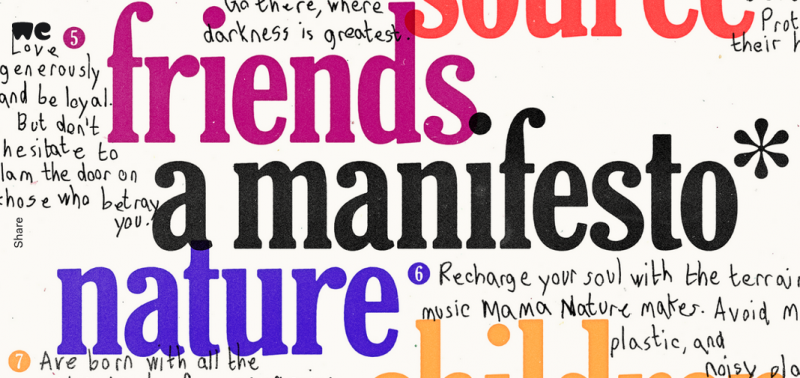 Got something to say? Then leave a comment!