Top 5: Best of Boston
Tuesday, 16 April, 2019
The SCA Expo is over and we have new World Champions for WBC and WBrC, but what else made Boston 2019 unforgettable? We give you our top 5 experiences:
Broadsheet Coffee Roasters:
Situated right next to Harvard University, this relatively new Roastery made a big impact on us. Not only was the coffee sensational, but Marty and Aaron really get involved in the specialty community. We were welcomed into the roastery and given great insights by the team, even though the cafe was busy. Aaron was roasting and Marty was seating customers between packing bags of coffee. They also had a stand at the Roasters village at Expo and they organised one of the funnest evenings - a Cup Tasters Relay evening (which Team Durban came 3rd in - thank you very much!) Broadsheet are the kind of Roastery that puts their heart and soul into their work and into their community. If you're ever in Boston - make this your first stop for coffee.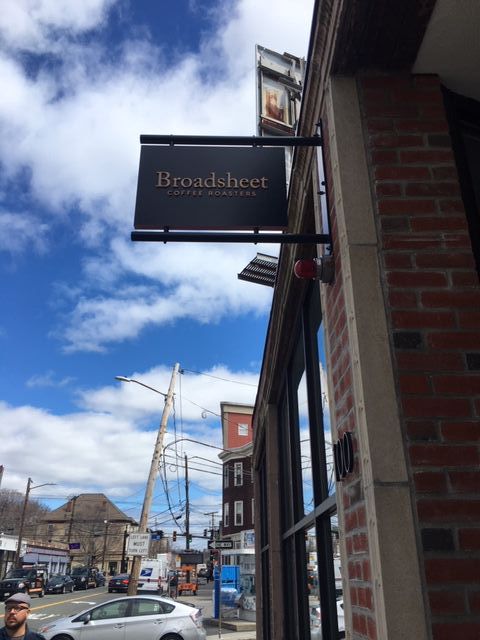 Live Music at Brighton Music Hall and Paradise Rock Club:
Berklee College of Music is the largest independent college of contemporary music in the world. It sits right alongside Harvard, Boston University, MIT and University of Massachusetts - what does this mean? There is a plethora of very bright kids who play and perform music all over the city. The city is well equipped for musical performances - and we happened to experience 2 of them: The Wilds Reeds and the Valley Queens played at Brighton Music Hall, which has housed many a famous performance - greta sound and brilliant venue (so if you are in Boston and love music - check this venue out!) and at the La Marzocco party at Paradise Rock Club - we were treated to a marching band (check out Meute playing this song for an idea - https://www.youtube.com/watch?v=fKFbnhcNnjE ) and a 10 piece cover band called East Soul who we are convinced all have PHDs in Music, they were that good! )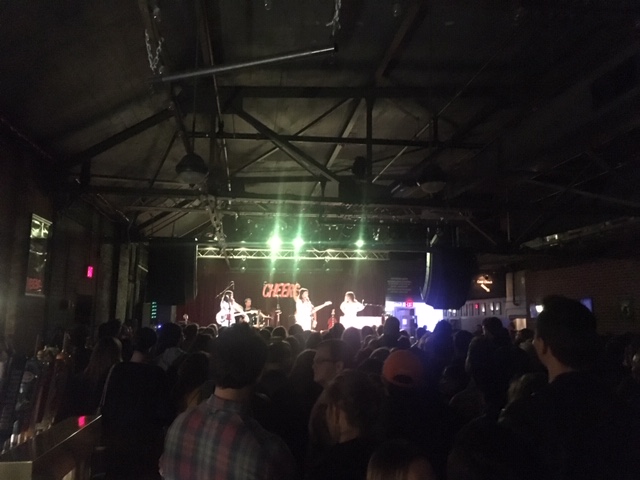 The Friendly Toast:
Brunch is a huge deal over here. The morning we were having brunch at The Friendly Toast, Chris Baca and his Cat & Cloud crew were there ( if you don't know who that is, check out their 23k Instagram following - they are basically the coolest dudes in coffee in the US) but Fan-girling aside, The Friendly Toast is your typical American Diner, with a sense of humour, great service and incredible food. We drank straight-up filter coffee with cream and sugar, ate Eggs Benedict and the Sklarmageddon omlette (It's an omelette in the event of armageddon) and fuelled up for a long day of Expo'ing.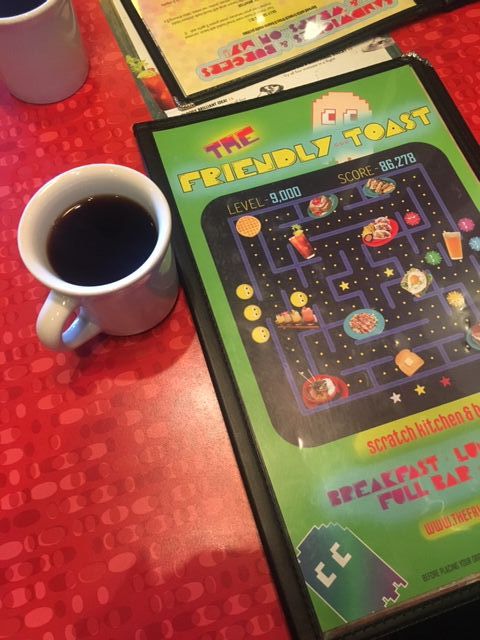 WBC:
The WBC is mental. The scale of it is crazy. The logistics behind it are military-like. Did you know that Mahlkonig provided 174 grinders for the event? But mainly, it's about the people and the coffee. It's hard not to get overawed by the many, many famous coffee people that are literally just hanging around all around you. Look, it's Sasa - hey it's Pete Licata pushing his kid in a pram. Oh, there's Aga cleaning a coffee machine. Hey, it's Lem Butler that just came and sat next to me and gave me a pin ( he loves pins) - And they are all just talking about coffee and swapping coffee and giving each other and everyone else coffee. Look at this picture - it's Momos Coffee! We tasted it on the brew bar 2 days before Jooyeon won the competition. Now this is where this post gets serious: People of Coffee in South Africa - you need to make a commitment to yourself, your coffee business and your poeple by coming to WBC and experiencing what the rest of the world is doing. The more we all do that, the more we can get SA on the right track of global trends. There is so much going on, and we need more of our community to taste these quality coffees.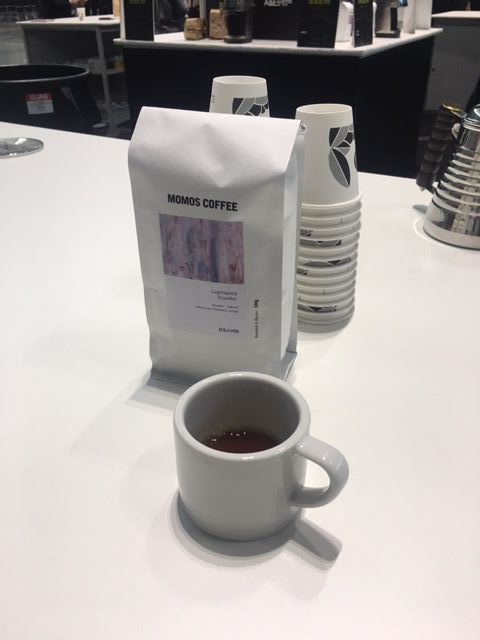 The Lobster & The Marathon:
It would be wrong of us not to mention the Boston Marathon because it is Patriot Day here and the beginning of the Civil War etc etc and the Marathon is a big deal. Ok, there. We've mentioned it. Now can we talk about the lobster? More specifically, Lobster on a roll. Mmmmmm delicious! And iconic. The lobsters here are the size of a small dog with huge meat filled pinchers that you crack open and dig out with your fingers. You even get one of those massive bibs to wear while you tear into into your lobster. Enjoy on a soft bread roll with mayo or straight up. The place to eat it is on the South Bank at the Barking Crab, washed down with a local cider or the Boston lager. Follow these Top 5 and you would have pretty much covered the highlights of Boston.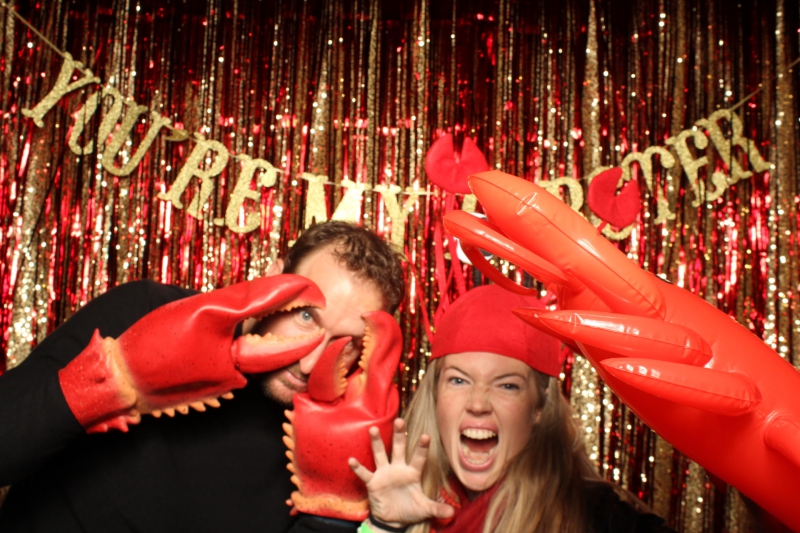 Got something to say? Then leave a comment!
---
World Coffee Competitions: 2019 Champions Crowned!
Monday, 15 April, 2019
On Finals Day, we asked many people around the arena who was their favourite to win and Jooyeon Jeon had obviously entranced the crowd as her name kept popping up in the answers. The predictions (and perhaps hopes) of all those people turned out to be the winning choice. Jooyeon Jeon from South Korea became the 2nd female World Barista Champion in a row on Sunday. In the end it was between herself and South African favourite, Michalis Dimitrakopoulos of Greece who has been to SA as part of the All Stars program. It was her second time at the WBC, having competed and placing 14th last year in Amsterdam.
Her set stood out for a number of reasons, the most significant being the creative way she presented her stage set up and made the judges sit and move around and sceondly her focus on the sugars through a study of carbohydrates in coffee. It was a highly technical set. I would be lying if I said I fully understood exactly what she was talking about (this post helped me to understand just how important carbohydrates in coffee are), but you can watch it yourself on the World Barista Championship feed to see how she impressed the judges with this incredibly well-researched performance. The coffee was from Colombia, specifically the farm La Palma Y El Tucan, and was a Sidra varietal processed by anaerobic fermentation which was a very popular trend at this year's competition. As much as the processing method of fermentation manipulates the flavour of the coffee, she went mad scientist on her signature beverage round and removed and reintroduced different sugars from her coffee. It was wild.
She was such a treat to watch, one simply couldn't stop smiling as she addressed the judges from sitting on the table and then invited them to join her. So exciting to see South Korea take the title! We were super impressed by the coffee culture there when Seoul hosted WBC 2017 and obviously having the WBC in her home country inspired Jooyeon to reach for such great heights!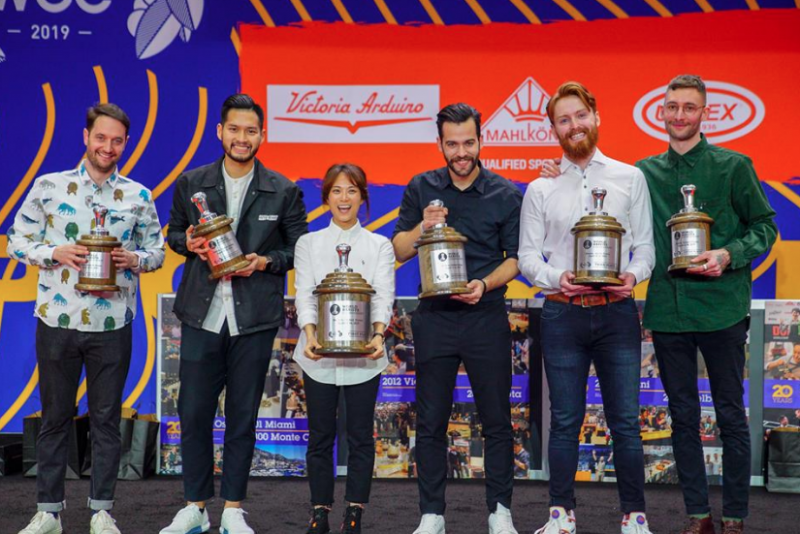 The fantastic Top 6. From left to right: Mathieu Theis – SWITZERLAND (6th), Mikael Jasin – INDONESIA (4th), Jooyeon Jeon – SOUTH KOREA (WINNER), Michalis Dimitrakopoulos – GREECE (Runner Up), Cole Torode – CANADA (3rd), Wojtek Bialczak – GERMANY (5th). Photo by Lanny Huang for World Coffee Events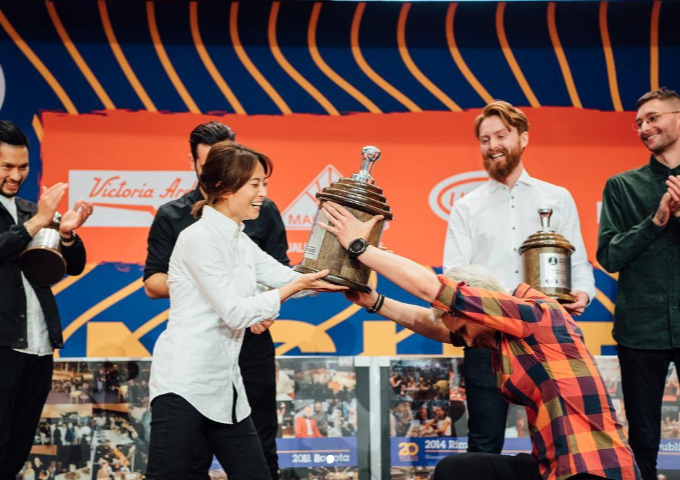 From one Champion to another. Beautiful moment caught by Lanny Huang for World Coffee Events
It is difficult to believe that the events in Boston have already concluded. We had so much to do around the SCA Expo and greater Boston, but it was difficult to tear ourselves away from the stage, especially during semis and Finals.
Got something to say? Then leave a comment!
---
World Barista Championship: Team SA Post Performance Interview
Saturday, 13 April, 2019
We caught up with SCASA SA Barista Champ, Harry Mole, and coach, John Evans, immediately after Harry's de-brief from the judges. Harry placed 48th overall out of 65 Countries. Well done to Team SA, onwards and upwards!
Got something to say? Then leave a comment!
---
World Barista Championship 2019: Harry Mole on stage
Thursday, 11 April, 2019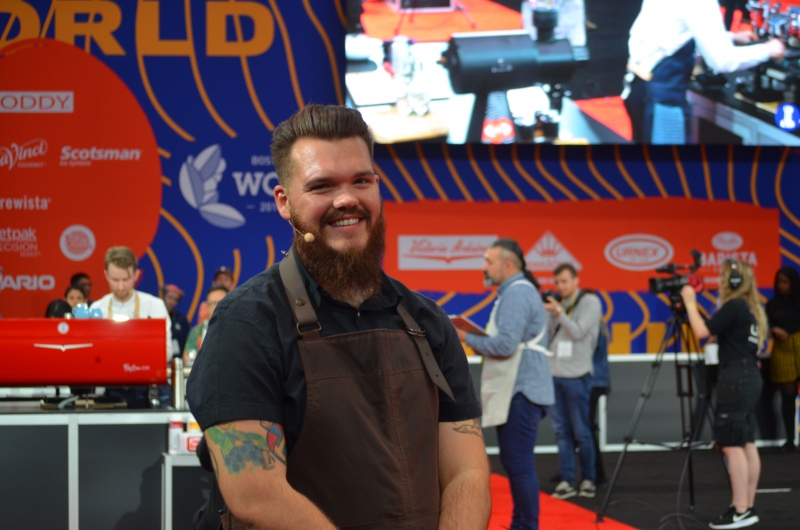 Barista Champion of South Africa, Harry Mole! (Looking very dapper and very calm considering this is moments before the biggest performance of his life)
It's chilly in Boston. Even though the sun is out, the icy breeze off the Charles River slices through the layers and chills the bones. Inside the Boston Convention Centre it's a little warmer, but the arena is so large it's cavernous and the sounds dissipate into the metal trussing many feet above.
The WBC stage is enormous. There is a small group of us South African's at the side of the stage area. In fact, we're very close to Harry's station. It's a booth set aside for the sponsors, but they are busy setting up their big stand in the Arena next door, so we sneak into it and we're literally a few metres away from the beautiful Fire-engine red Victoria Arduino Black Eagle.
Harry wheels his trolley in, he chats with the floor staff. He sets up his stage quickly and efficiently. The competitor on the adjacent stage finishes his routine and the cheers ring out and drift up and away from us. Harry is ready. He's looking calm and very smart in his custom apron with typically Harry-like metal spikes on the back collar.
Everything has come to this moment. The countless hours, the endless discussions over details. For this. Before any of us are even ready, the judges are on stage shaking Harry's hand and his set has begun. We've heard the set before, it's similar to Nationals back home with a few little tweaks. He starts with the introduction and is soon onto the Signature drink. Harry sounds clear, confident and deliberate in his practised movements. Everything is going to plan. His station setup is very impressive - the custom made boards, the rose-hydrofloral illustration and the deliberate placement of every little item. We clap, cheer and whistle loudly as he moves onto the milk-based course. The shots pull beautifully. John Evans has been Harry's coach and travelling partner for the past 6 weeks."He's right on time" John tells me. We can't see the clock because its facing Harry and the Big screen has switched to the next competitors set.
Harry pulls the espresso's and talks the judges through the drinking instructions. It's hard to tell what the poker-faced judges think. The shots look amazing. Harry looks pleased. He glances at the clock. Harry's closing remarks are heartfelt and earnest, but in reality goes a bit longer than he anticipates. "Time!" He calls suddenly. 27 seconds over time.
It's a great set. "I'm frustrated!" He tells us a few moments later, once the judges have departed and the volunteers are clearing the station. "I was running sets at 14 minutes. How did that happen?" We re-assure him that it was an excellent set, that we are proud of him. His delivery was solid and his coffee behaved excellently on stage. But as the expression goes, and that many a barista have experienced, time waits for no man. 27 points is a lot of points for a World competition. But we'll see...
The WBC has scrapped live scoring this year which we think is a good decision. It keeps the baristas involved until the end of the first round, only releasing the top 5 scores for Espresso, milk and signature as a clue to who is leading, but Harry (and the rest of us) will only know if Harry has made the top 16 tomorrow evening. There is still the Team Brewbar Wild card, and we are certainly not ruling our Harry's chances of a semi-final just yet.
It's a big stage, a big ask and Harry put in an enormous effort.
Only time will tell if he's done enough!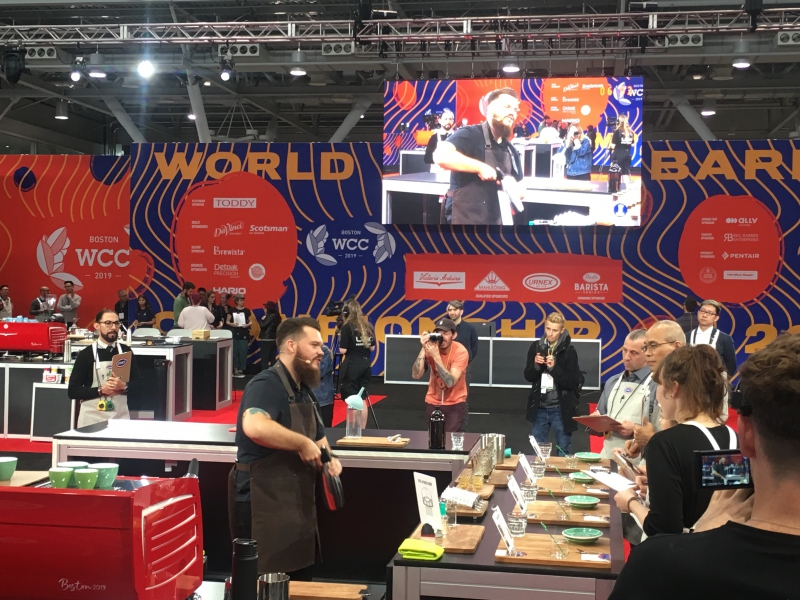 Harry prepares his signature drink for the 4 sensory judges.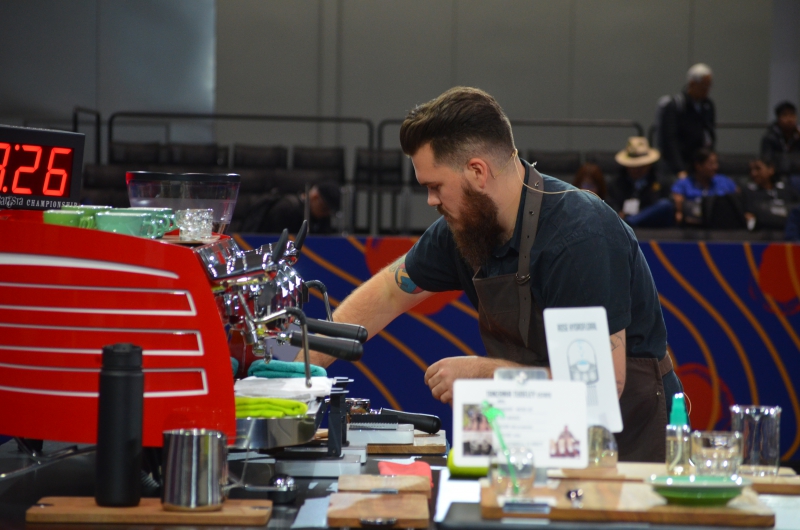 The clock ticks away the seconds as each barista executes their routine.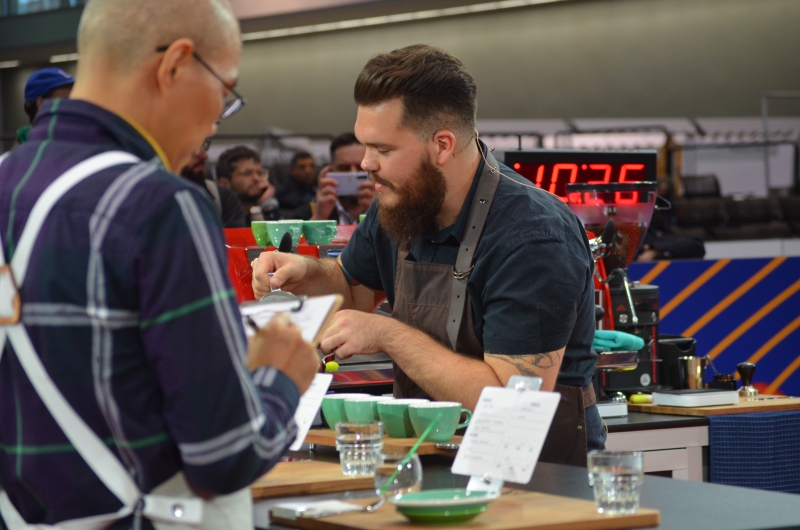 Harry pours milk from Thatcher Farm, a local Massachusetts dairy which uses Holstein cows, the same breed as in SA which Harry has been practising with.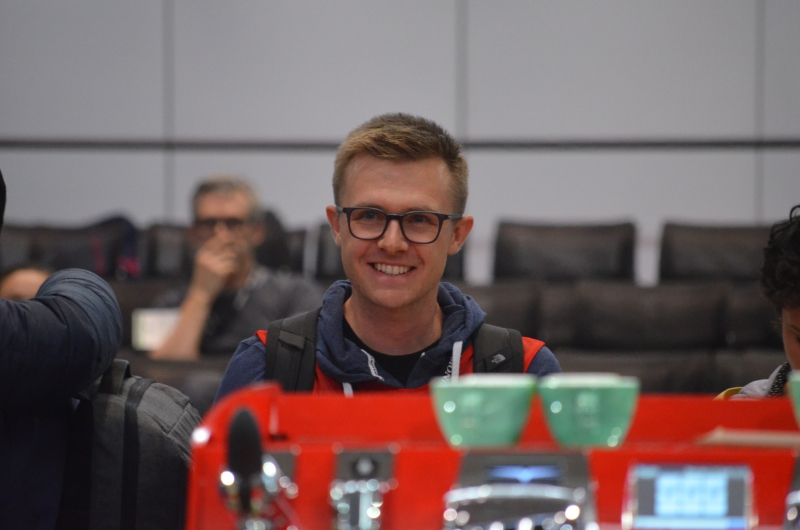 Coach, John Evans looks on.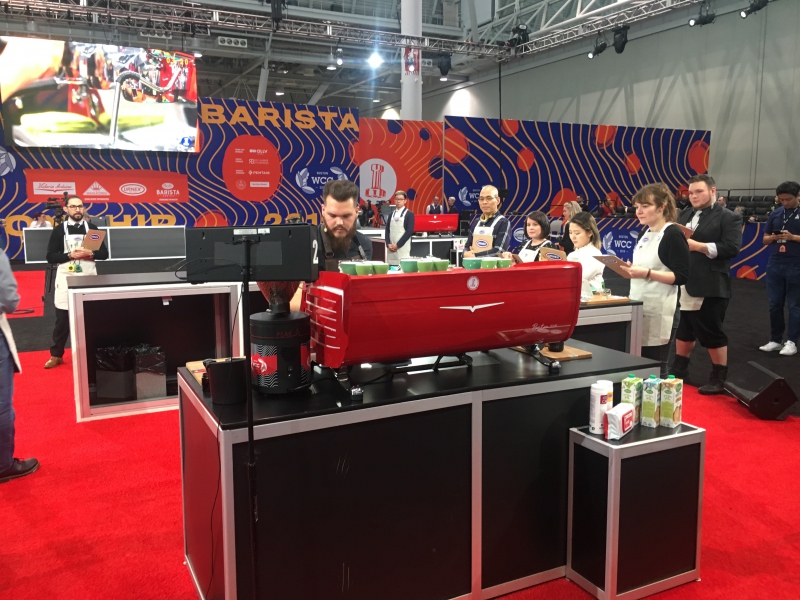 The Biggest stage of all!
Got something to say? Then leave a comment!
---
Coming to you live from Boston!
Wednesday, 10 April, 2019
The Red Sox. Cider. Harvard. Boston Irish construction workers and a sub-zero chill factor. All the things one would expect from the infamous Tea Party City. Except this week, it's all about coffee and we're here to bring you the highlights, the best coffee spots, the latest trends and innovations from the Specialty Coffee Expo 2019!
It's the first week of the baseball season, which means it's supposed to be spring. The trees that line the neat little Boston avenues are bravely attempting to push forward their first spring buds but the chill in the air and the icy cold is not making it easy. Hard Core Red Sox fans brave the bleachers while most huddle in cosy bars and watch the action on the enormous TVs.
The Specialty Coffee Expo is in Boston this year. It's the largest gathering of Coffee People in the world, and it's also the host to two of the major competitions - the World Barista Competition and the World Brewers Cup. The Expo centre is huge. The floor space alone is about 5 times bigger than the size of the Cape Town Expo Centre and it has four floors, panelled with glass which makes it look like one continuous monstrosity.
Besides the WBC and WBRC competitions, this is where the coffee world meets. The SCA has training workshops, there is Re:co ( the academic side of coffee), the Barista and Roasters Guilds are running mixers and workshops, the SCA is holding hourly panel discussions, the SCA Home Brewers are holding demos for the Public and of course there is the main trade show floor where every big brand and many medium and little brands have their wares on the show floor.
The Boston cafe scene has proved delightful! From the wonderful Broadsheet Coffee Roasters in Cambridge to the gorgeous stores of the local brand, Tatte serving Stumptown. You will certainly be hearing more about those here soon!
Got something to say? Then leave a comment!
---
Imagine a world where coffee was banned?!
Tuesday, 9 April, 2019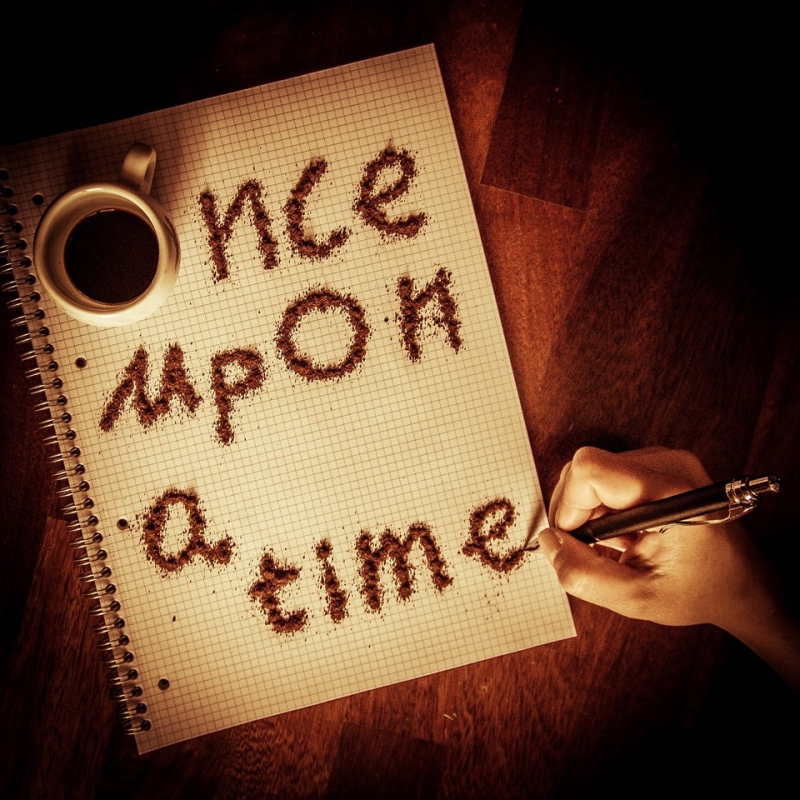 Coffee was once banned in these four places!
Throughout the ages, there have been various attempts to ban coffee and its consumption. It sounds like a horror story, but that's history for you. Many people throughout history have had to contend with these malevolent forces, and fight for their right to hold a comforting cup of coffee…
Coffee and radical thinking in Mecca
Coffee reached Mecca near the end of the 15th century. It grew quickly in popularity, leading to the first public coffee houses, known as kaveh kanes. Men would gather at the coffee houses to drink coffee, discuss news, play games like chess (sometimes for money), and sing, dance and listen to music. After stepping out of a mosque one day in 1511, the governor of Mecca, a strict man called Kair Bey, encountered a group of men who seemed drunk, but were actually buzzed from drinking coffee.
Worried that the exuberance caused by coffee-drinking would lead people into actions prohibited by law, he was determined to ban the drink. He was successful in both shutting down the coffee houses and banning the drink. But wait! A hero in the form of the Sultan of Cairo overturned the ruling, stating that what was permissible in Cairo is permissible in Mecca, and Kair Bey mustn't overstep himself again.
Sweden's fight with coffee
The Swedes have a particularly troubled past with coffee – their leaders have tried more than once to ban the beverage. Having been introduced to the country in the 17th century, it became very fashionable among the elite. Gustav III, upon ascending to the throne in 1746, issued an edict banning tea and coffee drinking, believing they were being drunk in excess and causing health issues. He even commissioned an experiment involving a pair of imprisoned twins – their death sentences were commuted in turn for one twin drinking three pots of a coffee a day, and the other three pots of tea a day, for the rest of their lives, with scientists studying the effects on each.
Ironically, the doctors assigned to supervise the experiment died before the twins and the experiment was never concluded! Though meeting with considerable resistance, attempts to ban coffee in Sweden continued into the 1820s, with various fines and punishments in place. The legacy? Today, Sweden is one of the world's highest coffee consumers per capita.
Coffee versus beer in Prussia
In 1777 Frederick III of Prussia, in response to the growing popularity of coffee, tried to replace the beverage with beer, at least among the lower classes. He issued this statement, as provided by coffee historian William Harrison Ukers in his book All About Coffee:
"It is disgusting to notice the increase in the quantity of coffee used by my subjects, and the amount of money that goes out of the country in consequence. Everybody is using coffee. If possible, this must be prevented. My people must drink beer. His Majesty was brought up on beer, and so were his ancestors, and his officers. Many battles have been fought and won by soldiers nourished on beer; and the King does not believe that coffee-drinking soldiers can be depended upon to endure hardship or to beat his enemies in case of the occurrence of another war."
It's not often that leaders feel so passionately about coffee interfering with the country's beer consumption… For a while coffee was returned to being a luxury just for the rich, but the status quo didn't last. When Frederick realised he was losing the battle, he put a royal monopoly on coffee roasting; he would grant coffee-roasting licences (only to the elite) and through this endeavour earned himself a small fortune.
The work of the devil?
Other famous examples of coffee bans include a brief attempt in the 16th century in Italy by clergymen to have the drink labelled as 'satanic', but Pope Clement III wasn't having it, and instead declared it delicious. The next century the Ottoman ruler Murad IV briefly outlawed the drink, decreeing various penalties for transgressors. The penalty for a first offence was a beating. Ouch. But some days, going without coffee might be worse?
Thank goodness no-one's trying to ban coffee these days. You'd have to pry the mug from me by force. In a 24-hour news cycle, we're often tempted to think we live in the worst of times, but as Dickens said, it's actually the best of times as well. We can make coffee in our homes, drink it publicly, and find a coffee shop around almost every corner. Definitely the best of times!
Got something to say? Then leave a comment!
---
The History of the Iced Coffee
Monday, 8 April, 2019
You're pushing your way through a hot day, feeling sweaty, tired and parched … sometimes the only caffeine hit you can take is an ice-cold coffee. We've all been there, but did you know that as far back as 1840, others were jones-ing for the same thing? Before the cold brew, there was the iced coffee…
Out of the heat of battle
The first iced coffee we know about with reasonable certainty cropped up in Algeria and was called mazagran (or masagran). It was a cold, sweetened coffee drink, reportedly invented by the French military during the Battle of Mazagran – hence the name. The French were busy battling Arab and Berber forces as part of their 17-year-long conquest of Algeria, and when they ran out of milk, they added water to their coffee, and also decided to drink it cold to combat the heat. Other soldiers near Mazagran were also served a type of coffee made from coffee syrup mixed with water.
Upon returning to Paris, the Mazagran veterans suggested to café owners that they serve the new drink to customers, and also that they serve it in tall glasses. From then on, the beverage was dubbed café mazagran. Trust the French to introduce the world to yet another delicious delight!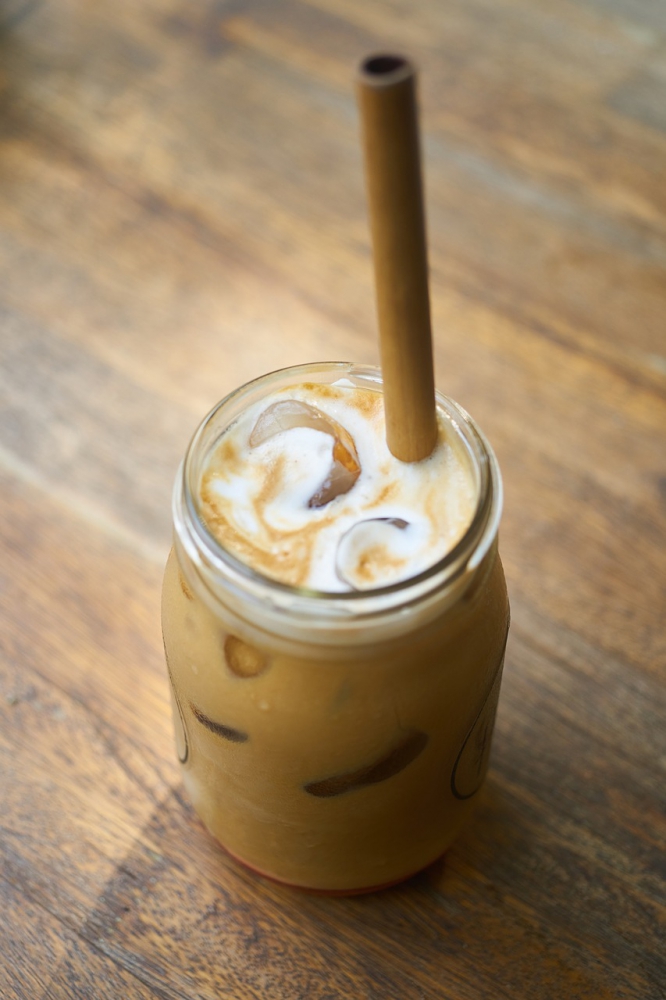 Iced coffee around the world
Over the years, the mazagran has taken on different permutations in different countries. In Austria, the mazagran includes an ice cube and a shot of rum – that'll get you going… And people usually down the drink in one gulp! In Catalonia, mazagran comes with a slice of lemon. The same goes for Portugal. Mazagran is, however, on occasion served with hot water, showing how the iced coffee we know today has diverged from its mazagran roots to become its own distinct beverage. In Vietnam, they serve it strong, with sweetened condensed milk chilled on ice. And in Germany, you can order eiskaffe – cold coffee with ice cream.
Beating the heat with a frappé
Iced coffee, like hot coffee, can today refer to an almost endless list of drinks, making its only distinguishing components caffeine and, obviously, coldness. One of the most popular versions of the iced coffee is the frappé coffee, or Greek frappé. This is a cold coffee enjoyed in Greece that's made by shaking together an instant coffee like Nescafé with water and sugar. It was accidentally invented by Nescafé man Dimitris Vakondios in 1957 during a visit to the Thessaloniki International Fair when he didn't have access to hot water and so experimented with shaking together instant coffee, cold water and ice. The word frappé is a French word, coming from the verb frapper ('to beat'), but the drink is a decidedly Greek favourite.
Modern iced coffee
These days, iced coffee tends to consist of espresso, filtered coffee, or coffee syrup mixed with milk and ice cubes. And to avoid a diluted taste, iced coffee generally incorporates a stronger brew than hot coffee. But iced coffee has always played second fiddle to its older, hotter cousin… There are a few reasons for traditional coffee's greater popularity, from the desire for warmth in cold climes to its cheaper price tag.
Iced coffee as we know it received a boost in 1995 though when Starbucks introduced its trademarked Frappuccinos (frappé + cappuccino), which are blended ice coffee drinks. The ubiquity of ice in recent decades has probably helped increase the popularity of iced coffee, as generations used to icy-cold drinks are more amenable to the idea of consuming their coffee chilled.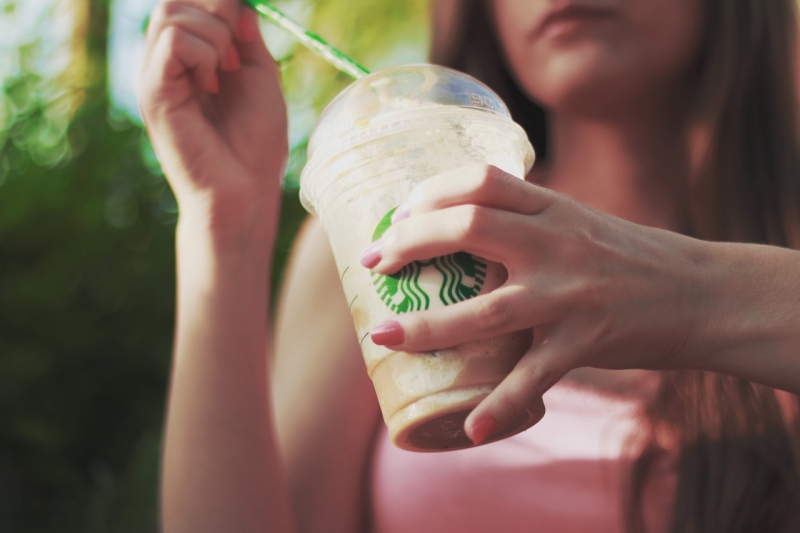 In a future history of iced coffee, the turn of the twenty-first century might well be remembered as a boom period for the drink, as coffee houses today are increasingly investing in and experimenting with new versions of coffee served cold. It'll be interesting to see what's next…
Got something to say? Then leave a comment!
---
Travel Feature: An awe-inspiring adventure in Japan
Thursday, 4 April, 2019
Appreciating the Balance
Discovering the Unexpected and Overwhelming while exploring Japan.
---
Words by Melanie Winter
I had been wearing the wrong shoes. Sandals. No other woman I laid eyes on the whole day had been wearing shoes that didn't include socks even though the weather was definitely sandal-worthy. I had wondered what it could mean; I was sure the reason would be steeped in spirituality and mystery. But now, as I feel my bare feet touch the spotless wooden floor, I also get a small glimpse into the simple practicality of this tradition. I am very aware that everyone else has socks on. We are led to a room with sliding bamboo doors and I can clearly hear the difference the sound my naked feet make as we all patter behind the hostess. The table is sunken just above ground level and we sit on the floor and slide our legs underneath. I am wearing the wrong skirt for this manoeuvre to appear graceful. Though I am blushing bright pink at being a completely hapless tourist, our hosts are nonplussed and proceed to order the first round of beers for the table.
The extensive menu has a few tantalising pictures, but far from enough to help me make any decisions. Luckily, we are in excellent hands and sometimes it's best to eat first and ask questions later, lest your brain weasel you out of a new, potentially delicious experience. I try to follow as animated discussions take place over what to order. It is impossible, but the rhythm of the conversation is wonderful.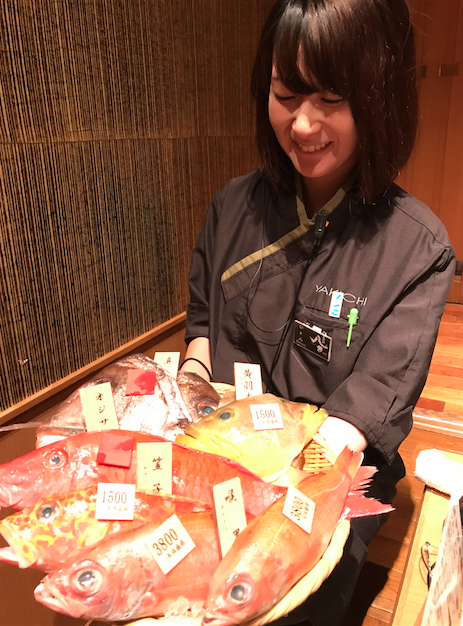 Halfway through our first beer Kesson asks, "Have you ever tried sake or umeshu?" Orders are placed for not one, but both of these traditional drinks and we cheers on tasting each, "Kanpai!"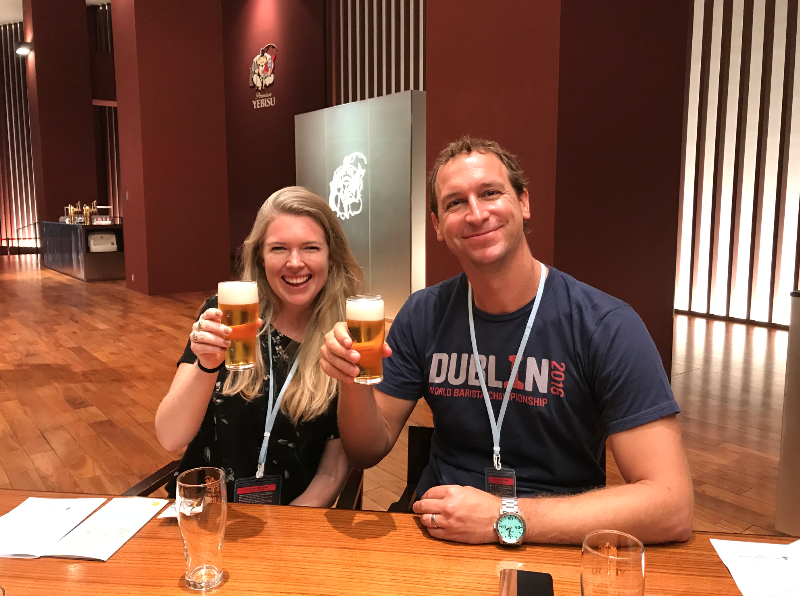 Food starts to arrive. It appears that Kesson and Takao have ordered something from every category on the menu. I'm not complaining. Freshly grilled fish (chosen from a platter brought to the table earlier during ordering), sashimi, tako meshi (octopus rice). Never have my tastebuds experienced a more delicate and satisfying tempura; vegetables, fish, prawns all in this light, crispy batter cooked to perfection.
I'm floating in a happy haze of food coma and various alcohols when we step out into the brightly adorned streets of Tokyo, ridiculous sandals firmly back on my feet.
For a culture that places emphasis on order and achievement during the day, a different side appears at night. Perhaps this is the key to their success. On the streets of Kabukicho the hostesses outside the colourful doors to bars and clubs beckon to us as we head to the hotel. They're open all night and they're busy with patrons looking for a good time in Tokyo's Red Light District.
As I close my eyes on my first night in Japan, my brain struggles to shut down from the wealth of ordered chaos that it has processed.
And that was just the beginning.
Japan can be a little overwhelming. The statistics are enough to get the blood pumping especially landing slap bang in the middle of Tokyo, the world's largest city. The train station closest to where we were staying, Shinjuku, is also the busiest in the world, it has around 100 different entrances to cope with the crush of humanity that flows through each day. It also has numerous shopping complexes including multiple excellent cafes (including US imports Blue Bottle and Verve) and the best Western Brunch in the city at Sarabeth's (seriously the most picture perfect Eggs Benedict ever seen). Across town, over a million people a day cross the famous Shibuya "Scramble Crossing" which is just one intersection in downtown Tokyo. The language and signage is assaulting at first, though thankfully for tourists English is becoming more prominent in Tokyo with the Rugby World Cup being hosted there in 2019 and the Olympic games in 2020. So yes, when you arrive, it's a lot.
That initial feeling of being overwhelmed is quickly replaced by that of fascination, awe and ultimately respect. After 24 hours the culture shock begins to subside and you quickly just do what those around you do. After 48 hours, you feel a thrill at moving in a human swarm, you notice that everything works, that people are super mindful and your Japanese phrases start to tumble out your mouth as your confidence grows.
Then there is the coffee. Oh the coffee!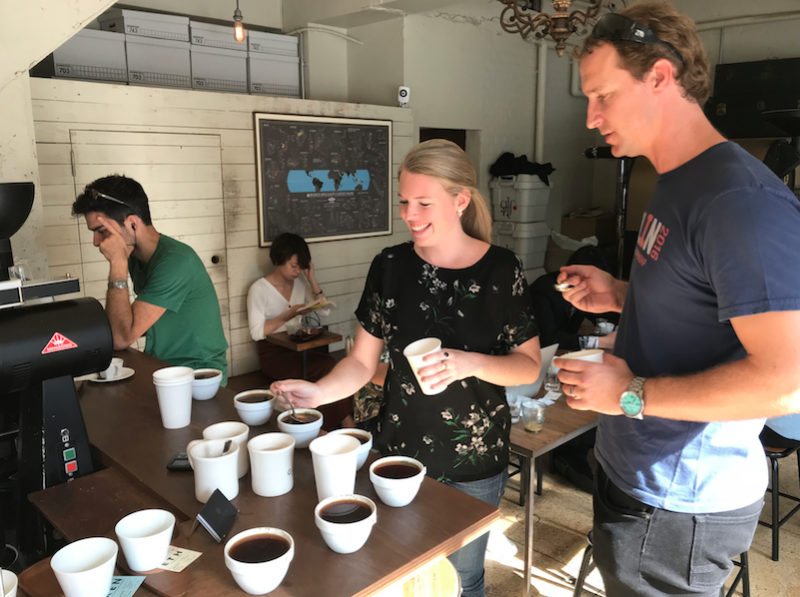 I never thought that the best coffee I'd ever tasted would be out of a french press, but Maruyama Coffee blew all my preconceived notions about this brew method out the water. The prices were such that you think to yourself, well if I'm going to blow that much on a plunger of coffee, then I'm going to have the best damn one in the entire place. And so we did. The Buyer's Selection Yemen Al-Wadi sourced by Port of Mokha. It was like a coffee from another dimension. A completely unusual flavour profile to anything we'd ever tasted. The flavour notes given were complex cacao, peach, and honeysuckle. My tastebuds were shocked and delighted as the different flavours drifted across my tongue as the coffee cooled.
I never thought I'd see a coffee shop in a train station that sells syphons as their primary brew method. At an outstandingly efficient rate. Select your bean from an array of specialty options and three minutes later your siphon is served!
I never believed that I'd see thousands of vending machines selling coffee (hot and cold) and I never thought I'd see the day where I drank a Blue Latte, that tasted like coconuts and maple syrup. That's Japan for you. Full of surprises.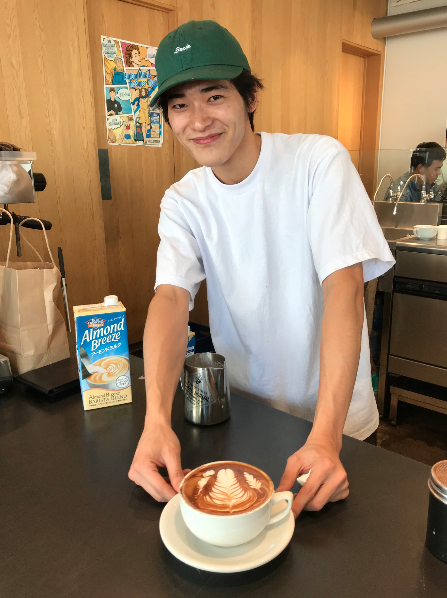 Magical coffee adventures on every corner: Deus Ex Machina (And he of the magnificent moustache!), Onibus, Fuglen, Glitch Coffee & Roasters, iki Espresso (one of my favourites tucked away secretly in a suburb!) each with their own personality and neighbourhood to explore. We needed more time!
But time was not on our side and as we wished to see more of Japan than just Tokyo, we decided to catch the bullet train, or Shinkansen, to visit Osaka - which is considered the Foodie capital of Japan. They say in Tokyo people will spend their last Yen on shoes, while in Osaka they will spend it on food! Tokoyaki, fried octopus dumplings, are available on every street corner. Fair warning if you ever get to try them: they are served fresh and they are HOT, take a minute to let them cool before you tuck in. Literally every tourist I saw eat them, myself included, burnt their tongue on the first bite. You can eat Pork wrapped asparagus, Shrimp bread, meat stuffed shitake mushrooms, kobe beef (Kobe is actually a short train ride away from Osaka), skewers of every description or ramen with udon noodles. Absolutely everything we ate was delicious and the coffee was sublime. We also stumbled upon a tiny whisky bar and had the opportunity to taste the famed Yamazaki whisky that had just become impossible to get due to demand!
After eating ourselves into a stupor in Osaka, we headed north to Kyoto, which is considered the cultural home of Japan and is laden with Buddhist temples and Shinto Shrines. It is a place of calm and an opportunity to seek some enlightenment. It is a beautiful town, nestled in the valley at the foot of a mountain range covered in indigenous forest. It is also the town where you'll most likely find Geishas and people dressed in traditional outfits. Surprisingly because this town is a hotspot for tourists, the locals all spoke English which was a nice relief for my brain after trying to get by communicating with and gestures and pointing. The coffees we had in Kyoto felt like they carried a certain spiritual quality to them, most likely a factor of the environment, but also because of the calm and serenity of the baristas making them. Vermillion Espresso, so named because of its location at the base of the Fushimi Inari-taisha Shinto shrine, was a treat. Why vermillion you ask? That's the colour of the thousands of wooden arches which run up the hills at this shrine.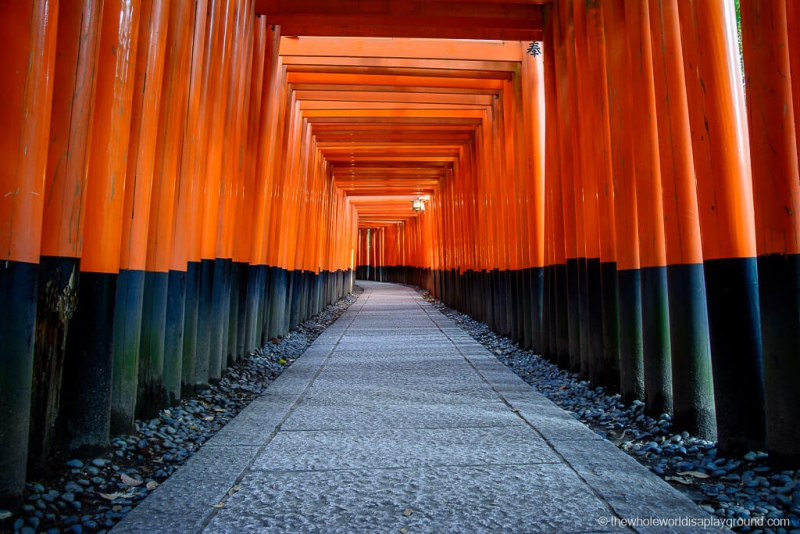 The best way I can describe how Japan made me feel is through famous sushi chef, Naomichi Yasuda's approach to sushi (as seen on Parts Unknown with Anthony Bourdain). When we think of sushi we think about how good the fish is, but Yasuda says that the most important part of sushi is the rice. "Fish is the second ingredient, the main ingredient is rice." Exploring Japan made me feel that I'd been focusing and placing importance on the wrong things and challenged my world view in such an invigorating way. Japan will stay with me forever and I cannot wait to return.
Thank you to our hosts Kesson Yamamoto and Takao Wantanabe of Blue Diamond Almonds Japan. You made our first trip to Japan a truly unforgettable experience.
Got something to say? Then leave a comment!