New Coffee Club box available now
Friday, 9 October, 2020
Got something to say? Then leave a comment!
---
Camissa Coffee: Even flow
Thursday, 8 October, 2020
Theo Snickers is one of the stalwarts of the Cape Town coffee community, so it was a real privilege to meet up with him at his Camissa store in Maitland, Cape Town, to taste some great batch brew and catch up. He has a really wonderful vibe, like no matter what comes his way, he's unflappable. Even flow...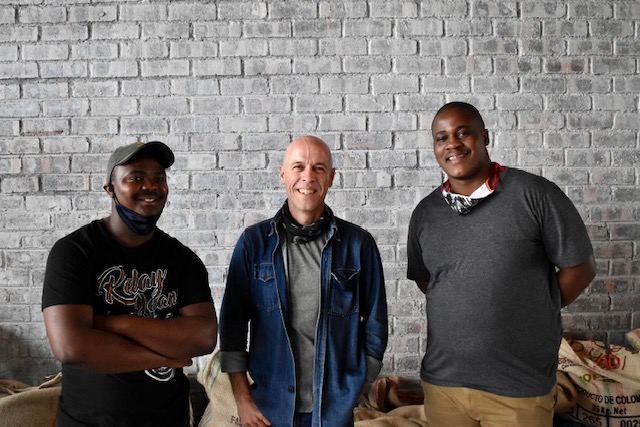 The Camissa Team: Sipho, Theo and Sikulule.
The first thing that you notice when entering the store is how big and roomy it is. There is a real sense of space and peace about the L shaped layout. A nice big retail area, the espresso bar, then the roasting on the opposite side and around the corner a really cool work space with high tables, a few low tables and a comfy looking couch with a coffee table. They have a great range of equipment for sale too.
The team of 3 on the floor are highly proficient in every part of the business, from brewing coffee, to roasting and everything in between. The star of the show is the dual setup moccamasters on the bar, which Sipho uses to brew us a rich, sweet and wonderfully smooth Rwandan from Baho coffee.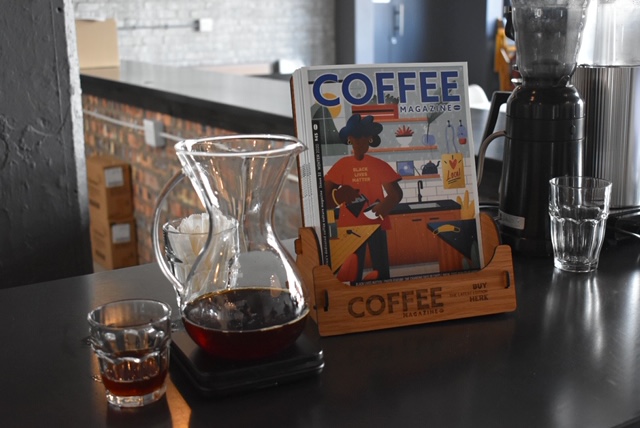 At Camissa you can enjoy a coffee and read all about it at the same time!
Theo tells us about his travels to meet Emmanuel, the producer (we covered Emma's story in the current print issue of Coffee Magazine, pictured above) and the relationship he has formed with him and other coffee farmers over the years. "The goal is to get something completely unique that no-one else has" he says. "My home customers love getting something new, but most of my customers are businesses and like to keep the consistency of the coffee they know!"
If you are in Cape Town looking for a really comfortable, quiet and chilled spot to get a bit of work done, enjoy delicious coffee and need any kind of coffee insights, from origin stories, to roasting, to brewing or anything else, Camissa is where you need to be! They also launched a Comeback Coffee campaign to support coffee businesses coming out of lockdown.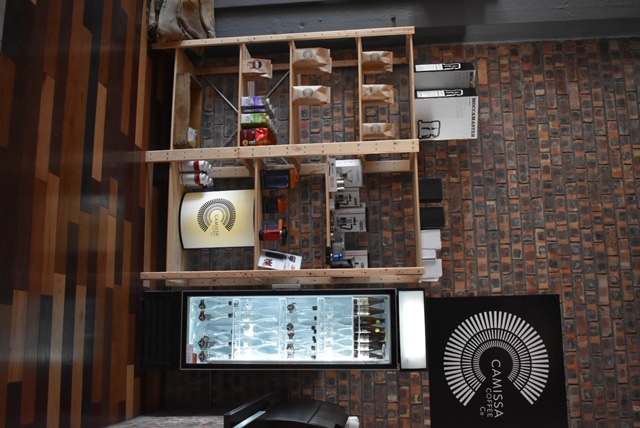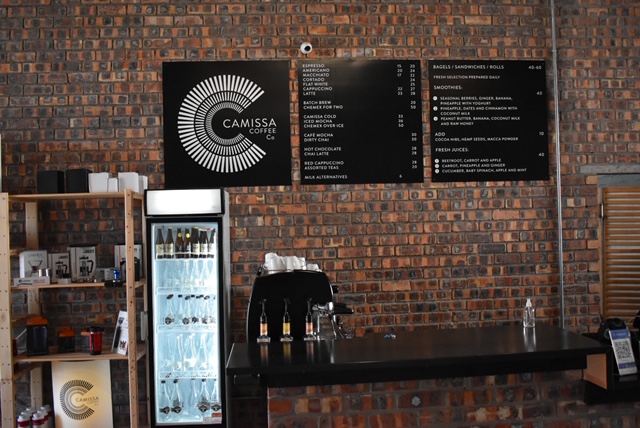 Got something to say? Then leave a comment!
---
First Look: Rosetta on Bree
Thursday, 8 October, 2020
Rosetta
Corner of Bree and Shortmarket Street, Cape Town CBD
---
This year we have been and will continue celebrating some of our best coffee roasteries reaching wonderful milestones. Among them Rosetta Roastery turns 10 and finds themselves a new home in the centre of town.
Rob Cowles, one of the owners and founders tells us, "I had been wanting to make the move for our Cafe HQ for a while, but knew I had very specific criteria, including a north east facing corner store, so that narrowed down my options quite a bit," he chuckles. "But by some hand of fate this location became available during lockdown and we were able to secure it!"
Sitting pretty on the corner of Bree and Shortmarket streets, it is safe to say that the stars aligned in their favour. A beautiful, fresh and sophisticated store has sprung up, marking a new season and a new look.
"It feels a bit like we've grown up." says Tim Porter of the space.
Making a break from their traditional black on black aesthetic, crisp white, green marble and textured wood set the scene for some phenomenal coffees. We sampled the Indonesian Frinsa as Flat White and had more than one cup of the batch brew, Ethiopian Golla. Fantastic!
"We've got five new coffees on the way," Rob tells us, "They were supposed to make it in time for the launch, but you know, like everyone, we've had to roll with the punches of this strange time. But we're very excited about them!"
Go visit them for some incredible coffees in a sophisticated and calming space. And that north eastern morning sun - perfection!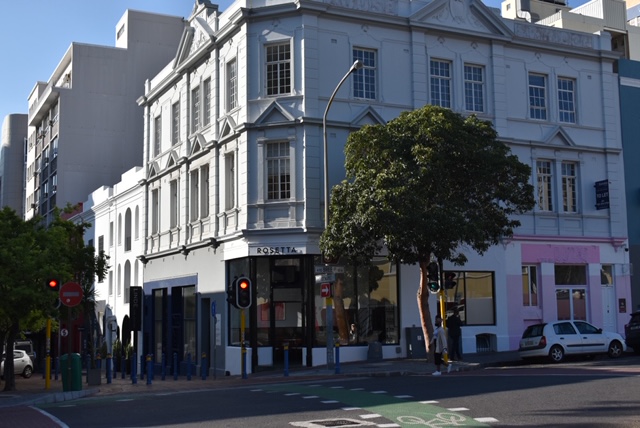 A beautiful corner indeed!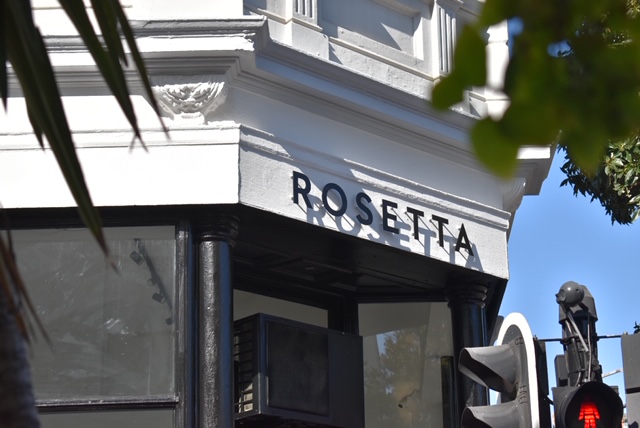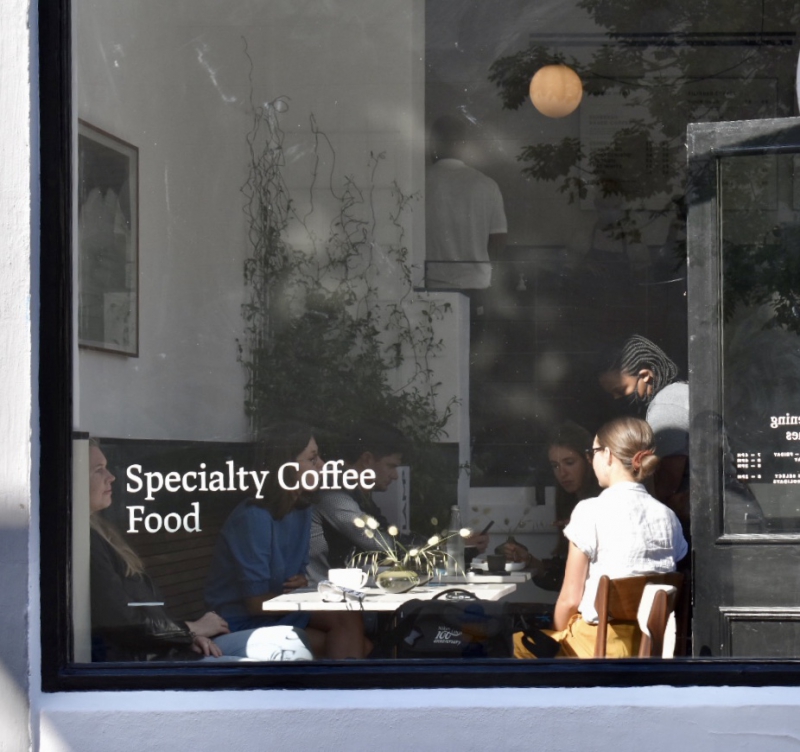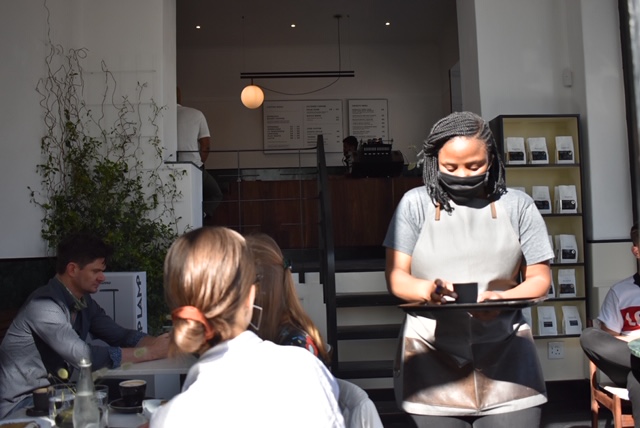 Simnikiwe making people happy with coffee and her infectious positivity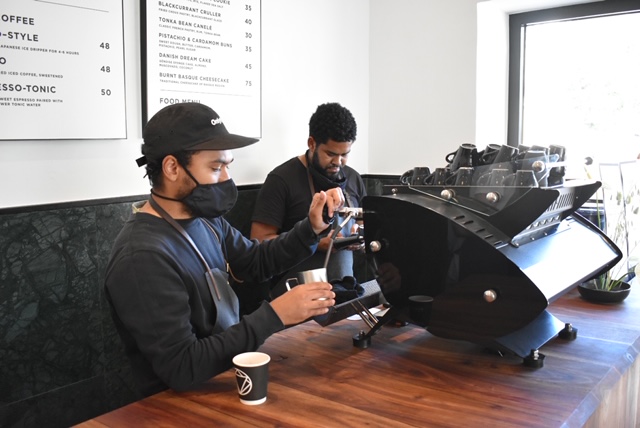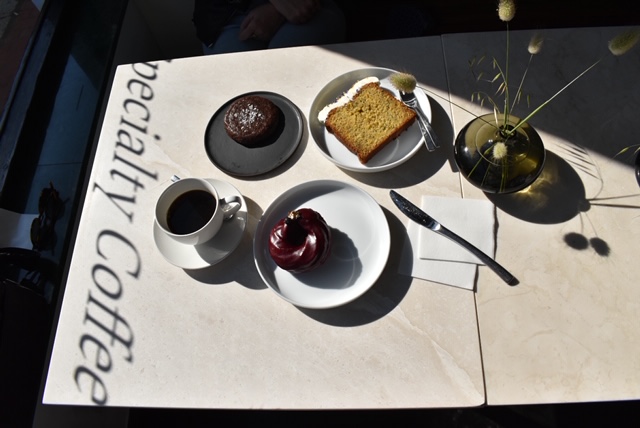 We are almost 100% certain that this shadow-on-coffee-table effect was planned. And we love it. Also, Rob treated us to this delectable array of eats, a 70% brookie (brownie/cookie), a poppyseed loaf and a blackcurrant churro-ish creation that was mindlblowing.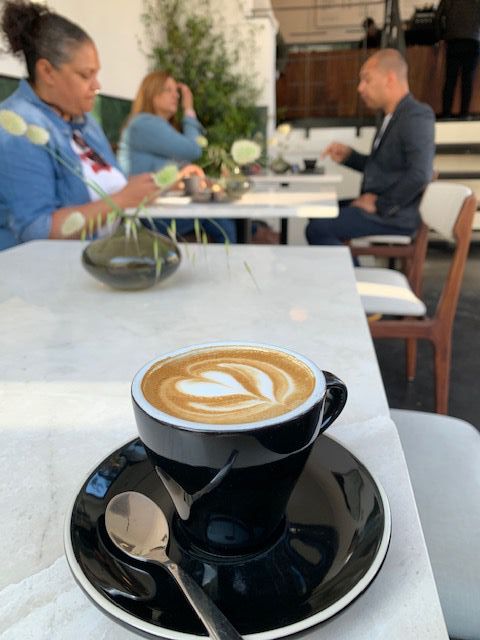 Got something to say? Then leave a comment!
---
Feel Good: 9 year old environmentalist raises awareness using coffee waste
Wednesday, 7 October, 2020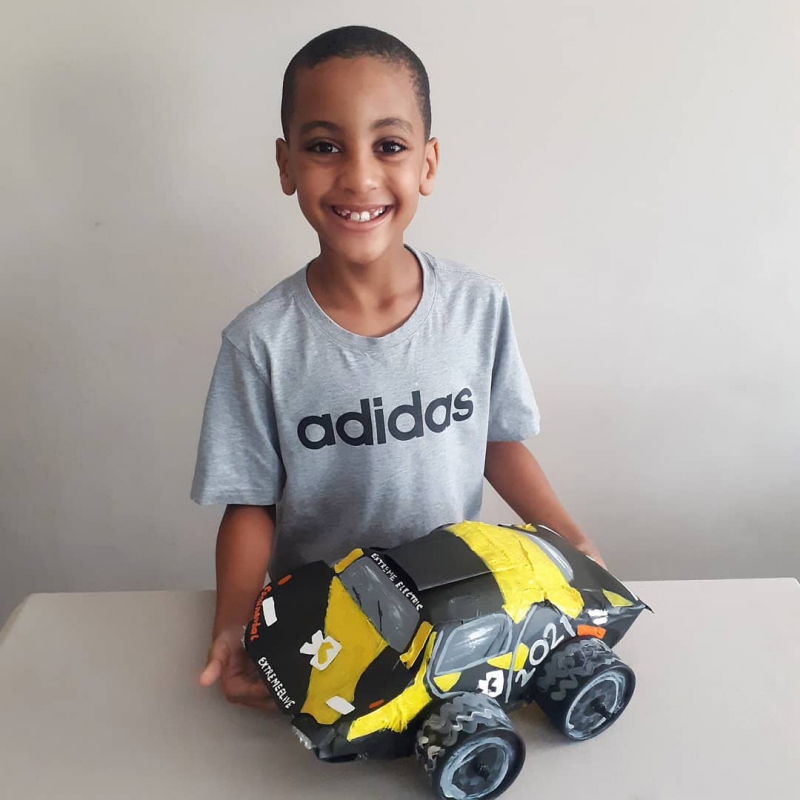 Romario Valentine, 9 years of age, resides in Umhlanga, Durban and is an active child environmentalist and dreams of becoming a Scientist. At the age of 6, he was an orca in a school play. This led him to do research on killer whales, other marine life, and seabirds. He discovered that the numbers are dwindling due to contamination of the ocean caused by pollutants. Romario embarked on a "Save Our Ocean" project which commenced on the 28th July 2017. He cleans the beach once a week with his parents. His dedication and passion inspired some of his friends to join him on his beach cleans. Prior to Covid-19, Romario regularly visited the Umgeni River Bird Park. His visits to the bird park inspired him to develop a love for birds, which resulted in him painting a Hoopoe, Golden and Reeves Pheasant, African Grey Hornbill, Bee Eater, Knysna Turaco, Galah Cockatoo, Blue Spix Macaw, "3 Cranes" Wattled, Grey Crowned and the Blue Crane, which is the South African National Bird and also present at the Bird Park.
Romario commenced mathematical art lessons from the age of 5, taught by his mother. What started out as a pastime has resulted in a passion for art.
"I don't want the birds to be extinct or go hungry." - Romario
This year he could not spend his birthday at his favourite bird sanctuary, Umgeni River Bird Park in Durban due to the lockdown.
However, upon hearing from his mother, about the impact of the lockdown on the bird park and other wildlife sanctuaries. Romario asked his mother to create a crowdfunding on BackABuddy. To allow his friends, family, and eco-warrior fans to donate to his campaign in lieu of presents for his 9th birthday on 26th July 2020.
The Umgeni River Bird Park was established in 1984. It has a variety of beautiful endangered birds like cranes, macaws, storks, hornbills and many more from Africa and the rest of the world.
On the 25th July 2020, Romario was invited to Umgeni River Bird Park by Tarryn Bristow (the Curator). He was presented with a Certificate of Excellence by the Education and Awareness Program Coordinator, Grant Aggett-Cox. Furthermore, Tarryn took him on a short-guided tour, his birthday wish came true. Romario had a chance to see a Galah Cockatoo, called George up close.
Grant informed Romario and his parents that there was a nest of the Hamerkop bird above trees close to the magnificent waterfall. These birds have returned to the bird park during the lock down after over 20 years.
Upon Romario's exit he received a fluttering ovation from the Macaws and the White Cockatoos including a "hello". This proved to him the need to continue to help the "Inspire to conserve" campaign.
As of the 15th August 2020, he has raised over R30,000 (South African Rands).
The campaign is still open, and donations can be done here.
"I feel phenomenal and thank you to everyone who supported my campaign. Let's protect our planet for our future." – Romario Valentine
On the 5th September he was invited by Grant Aggett-Cox to shop for his 900 feathered friends. The products and plants will create a safe and eco-environment for them where they are already cared for in pristine conditions closest to their natural habitats.
On the 24th August 2020, he aired on SABC 2 50/50 Environmental Programme. He featured in the National Geographic Kids - September 2020 Magazine Issue under "Inside Scoop" and he became Ocean Sole's youngest eco warrior Ambassador. They are a company in Kenya, that recycles flip flops found on the beach and transform them into marine and wildlife sculptures.
As of the 6th of October 2020, Romario has done 126 beach cleans.
He has sponsored a tree with Green Pop SA and The SA Forest Trust for Platbos Reserve. At his residence he has planted several Spekboom "Elephant Bush". A South African "wonder plant" that absorbs a lot of carbon dioxide and emits vast amount of oxygen., with a survival term of at least 200 years.
He creates his own sustainable art/Science experiments out of pollutants such as plastic etc. To date he has made a submarine, rockets, a baobab tree and recently F1 Champion - Lewis Hamilton's X44 Extreme E-SUV 2021 Car from a Nescafe box, bubble wrap, bamboo chop sticks and paper.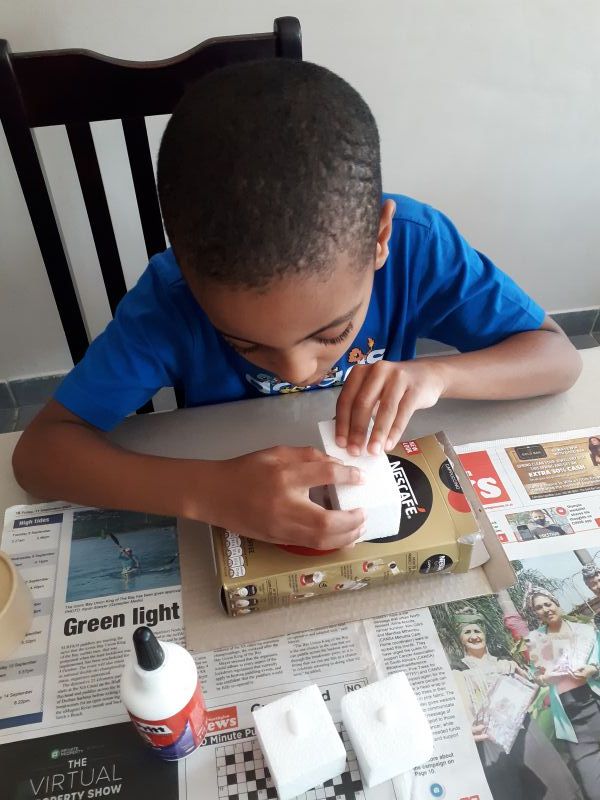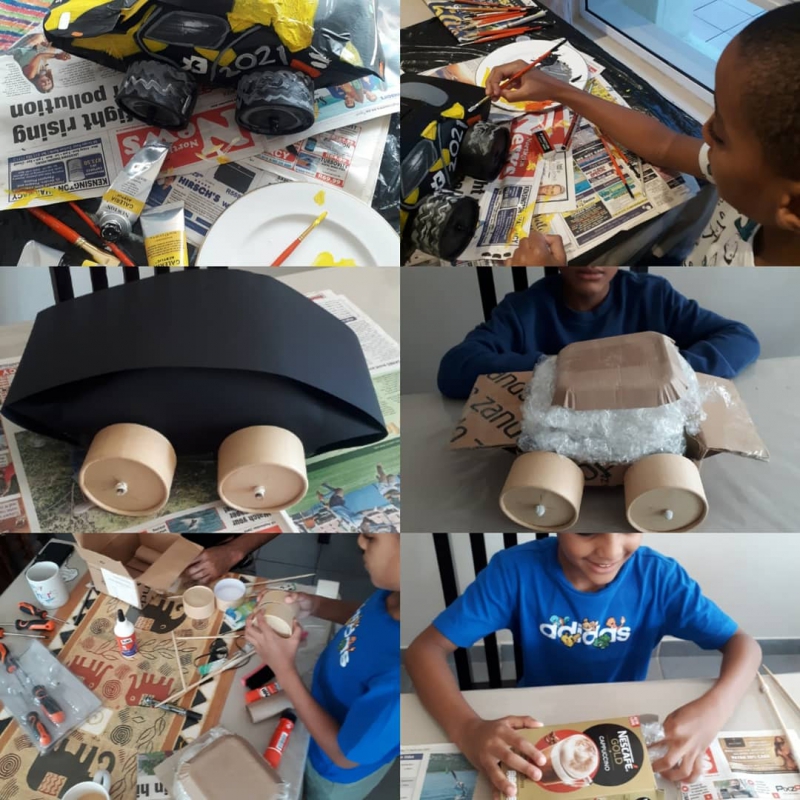 "Romario is an ambitious boy and an innovative visionary. We are proud of his achievements and everyone who has supported his campaign. We will continue to support him in all his endeavours." – Delsha Moodley
Besides his passion for nature and the environment, Romario is an energetic child who loves sport. He takes part in swimming, golf, hockey, cricket, tennis, soccer and cross-country. On the 14th of June 2020, he participated in the 5km Comrades Marathon "Race The Legends" alongside his father, Clive Valentine, who is his sports mentor and coach.
At school he has run 500km, which was achieved on the 8th September 2020. He will also be participating in the Cape Town Marathon 5km race on the 18th October 2020.
Twitter Page : @ArtistRomario
Got something to say? Then leave a comment!
---
Sonwaro Coffee : Catching up with Johnson Sehoro
Thursday, 1 October, 2020
There are some very exciting things happening in the South African coffee scene at the moment, despite the challenges of Lockdown and COVID-19 which have hugely disrupted things... some of these circumstances have forced a change in trajectory and we want to shine a light on some of the individuals who have been brave enough to strike out on their own and forge their own path.
Off the top of our heads some of the influential names that spring to mind are 3x SA Champ, Winston Thomas who left steady employment to pursue his dream a few years ago, and has been featured many times on this platform. Others are Wency Masawi, Stevo Khun, George Bertolis and most recently Khulekani Mpala (watch this space for breaking news on his new venture!) to name a few. It is a scary thing to leave the financial security of a paid job to chase your dreams...
This week, we want to talk about a certain Mr. Johnson Sehoro.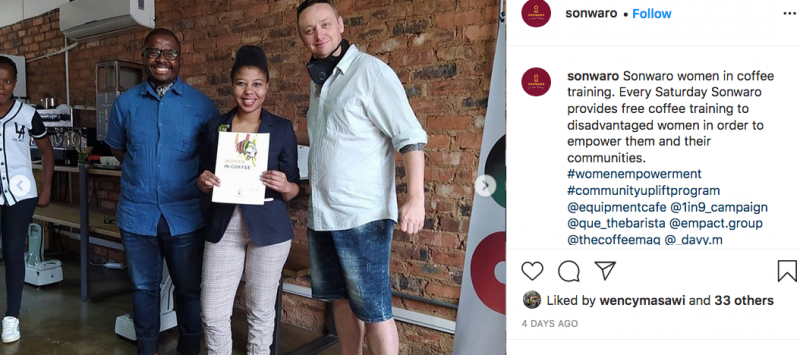 Look at that smile! Johnson has been running a series of events, most recently a weekly (every Saturday!) free Women in Coffee course for women in the community.
A few years ago Johnson was working for Ciro where he had been a barista trainer for close on a decade. Finally he decided to leave and he setup a coffee business and barista training academy at Lilliesleaf Farm (the site of the Mandela Museum in Rivonia). Now, what really makes Johnson special is his drive to train deaf baristas and to empower women. Under his new brand Sonwaro Coffee, Johnson has been pouring a lot of time and effort into, not only running his business, but also in empowering the deaf and by hosting free training workshops for women in the community where he works.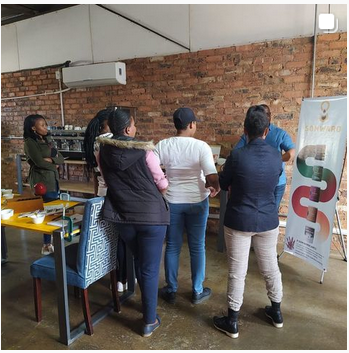 Saturday's are a free training day at Sonwaro for disadvantaged women, giving them skills in coffee preparation.
It has not been easy for Johnson - there have been many challenges facing the fledgling business, involving a few re-brands and a scrap with giant's Red Bull, to name a few, but Johnson always seems to come out smiling, positive and ready to pivot as he goes.
Johnson and Sonwaro have also been holding a few events recently to try and stimulate activity for the coffee community where Lockdown has created a vacuum of coffee events. He has been busy! Besides his daily training of the deaf baristas, there have been barista Jams and a coffee and tattoo day!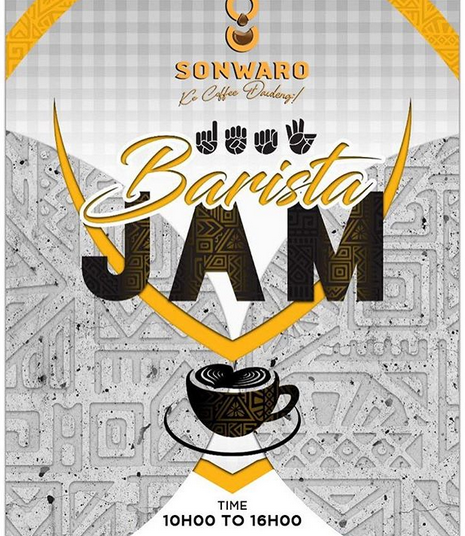 Time to Jam!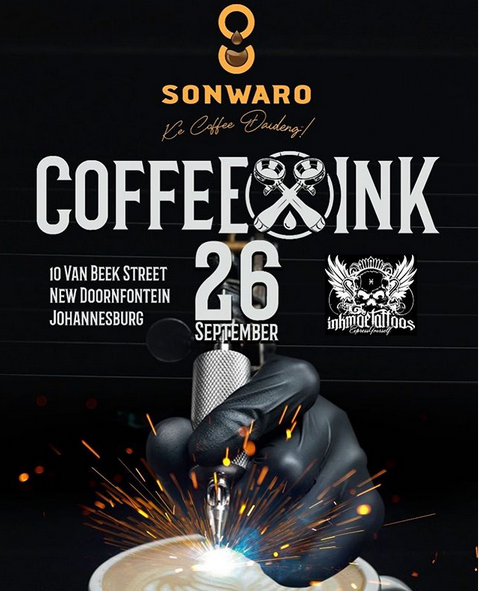 We miss coffee events!!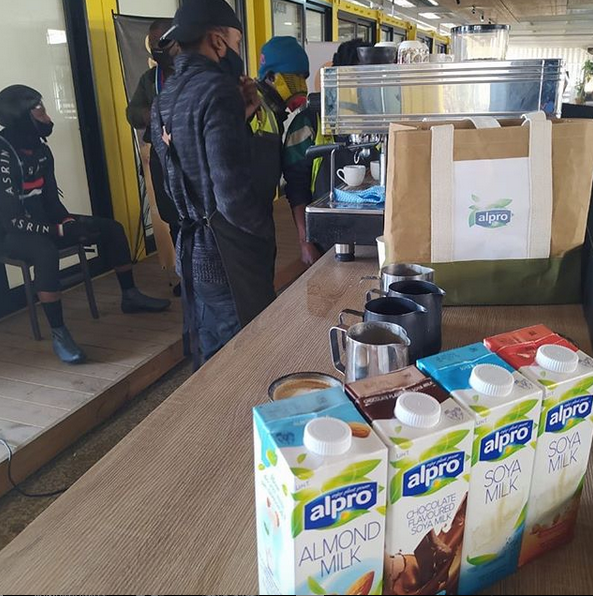 This was a "blind tasting" of the new Alpro milk series. Johnson is an Alpro brand ambassador.
Check out some of the posts from Sonwaro coffee, and give Johnson a shout for any of your coffee needs.
Got something to say? Then leave a comment!
---
Why is there an International Coffee Day?
Thursday, 1 October, 2020
So, at The Coffee Magazine, we're not a terribly huge fan of 'Days' with a capital D. There's not really any way to explain it that doesn't make it sound incredibly grinchy, but let's just say we approach each of them with a pinch of salt. But in all the furore that has grown around International Coffee Day over the last couple of years, we wanted to get to the bottom of why it all began, fairly recently in fact, in 2015. There are a few other Coffee Days floating around, but the October 1st crew seems to have come to prominence.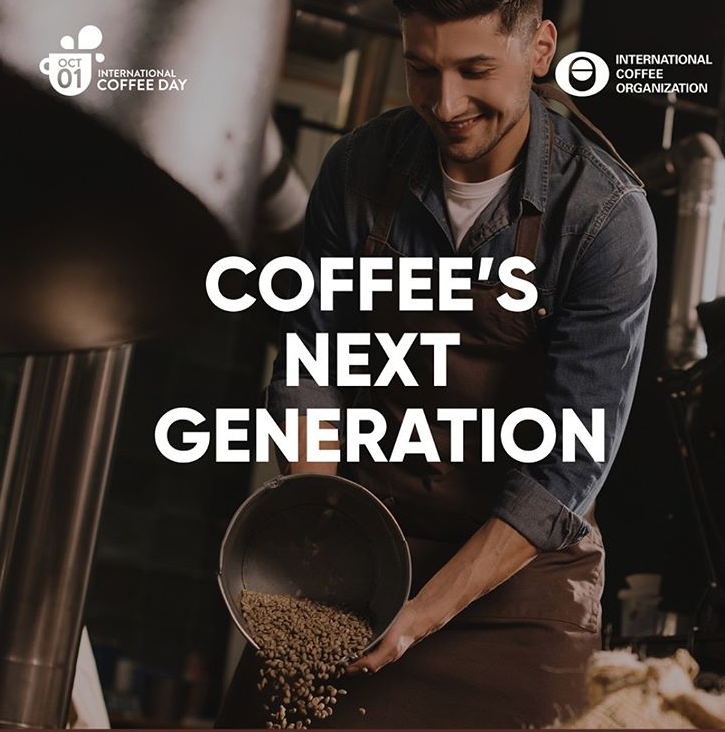 The first official date was 1 October 2015, as agreed by the members of the International Coffee Organization (ICO) and was launched in Milan.
The ICO is the main intergovernmental organization for coffee, bringing together exporting and importing Governments to tackle the challenges facing the world coffee sector through international cooperation and their mission is stated as "to strengthen the global coffee sector and promote its sustainable expansion in a market-based environment for the betterment of all participants in the coffee sector. It makes a practical contribution to the development of a sustainable world coffee sector and to reducing poverty in developing countries."
They've been around since 1963 and have been collected data from the Member countries all the way through. That's over 50 years of data collection specifically around how coffee is produced, imported and export and the trade relations involved! The produce a monthly Coffee Market Report which is extensive and available for all to see.
So why did they start a Day?
"International Coffee Day is an occasion that is used to promote and celebrate coffee as our most beloved beverage. It is also an opportunity to promote sustainable coffee practices and to raise awareness for the plight of coffee growers."
Well, that's certainly a promotion we can get behind. Even though the ICO exists and has been monitoring the situation for all these years, it seems they have little control over the extremely low price of coffee on the stock market. the Specialty Coffee Association did a cool drive this year highlighting ways that the coffee community can come together to change the way the trading of coffee works. Check it out!
Like most Day's the reality has moved quite far from the original idea, but we did love to be tagged in a plethora of posts celebrating coffee and people's love for it.
So here's us raising a cup to the humans who tend to the coffee trees that produce our most treasured beverage! We hope that through the concerted effort of industry and consumers, we can rapidly increase the quality of life of smallholder farmers and all the people that they in turn support.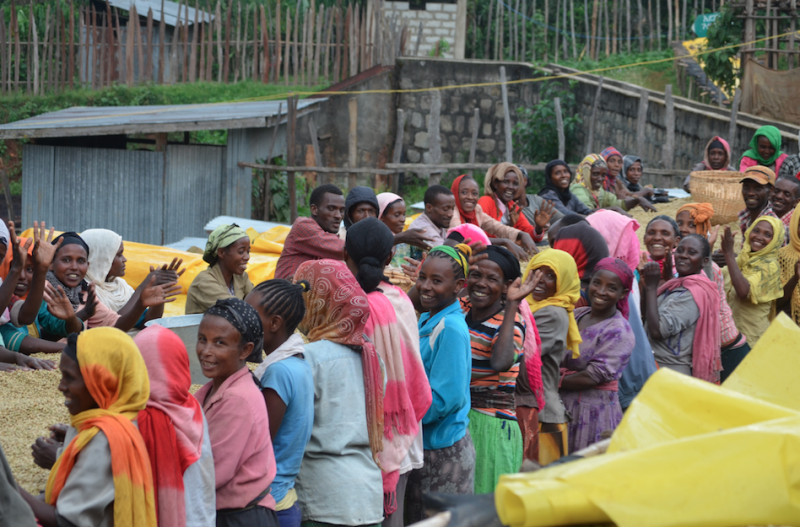 Got something to say? Then leave a comment!
---
Recipes from 3 of our favourite Foodie Cafes
Wednesday, 30 September, 2020
We are pretty sure that if you enjoy a good coffee, then you are probably a lover of good food too. We've selected three of our favourite foodie cafés to provide us with some enticing recipes to tryr. These places are dedicated to celebrating local ingredients and culture in their menus. So if you feel like treating yourself, then definitely add them to your hit list, they are all well worth the visit.
Chef: Michelle Cibulka
Location: Meerlust Rd, Equestria, Pretoria, Corner of Lynwood & Meerlust Road, 0050
Coffee: Roasted by Asmara Coffee, prepared on a La Marzocco FB80
"For me, most of life begins and ends with the celebration of food. These days I must say, adding the odd gin and tonic, or exploring an old vintage cocktail, or a precisely paired wine with the mood of the affair adds a certain depth to most of the celebrations, but nothing, nothing gets past the food…! Over the past couple of years of growth, and newer understandings of the communities of this deeply layered country - I have had the privilege of seeing a collective majority of peoples outside of their offices, and albeit: in mine…
I have watched and learned and shared with familiar strangers, stories and experiences of achievement, disappointment, joy, sorrow, forgiveness, bitterness, fear, and relief.
The feel of my café is very uniquely non-traditional but could very well include a Zulu on my stoep and boerekos in my kitchen. I am creating a place where I can wear a Madiba t-shirt whilst walking over a Nguni-cowskin to my fresh boere beskuit on some painted antique afrikana shelf, soulfully humming along to Ladysmith Black Mambazo jiving in the background… This, I want to share with the people around me. This I want people to remember as if sitting at their own kitchen tables whilst food is slowly and lovingly prepared by hand. All of this, I combine in my eatery, aiming to set a slower pace, but one with a bit of meaning… and possibly some celebration!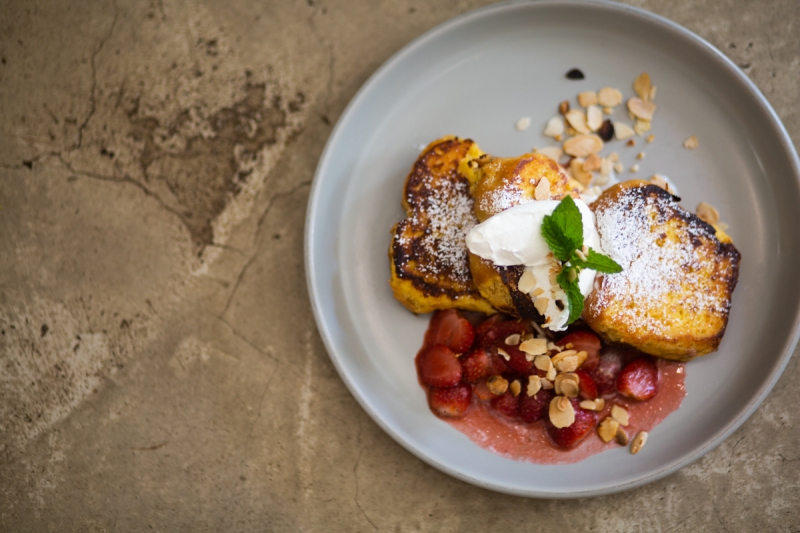 Brioche French Toast
1 brioche sliced into 3 equal slices 2 eggs
1/4 cup cream
1 Tablespoon castor sugar
• Beat eggs and cream very well, and add the castor sugar • Soak the slices of brioche overnight
• Fry until golden and cooked in the middle on both sides
Strawberries in Syrup:
1/2 cup strawberries cut in half
2 Tablespoons castor sugar
2 Tablespoons water
1 Tablespoon toasted flaked almonds
• Heat the water and sugar until boiling
• Add the strawberries and remove from the heat
• Sprinkle the toasted slices with icing sugar
• Serve the strawberries next to it
• Pour all the syrup in the plate
• Sprinkle with almonds
• Serve with 2 quenelles of whipped cream and a pretty sprig of mint
---
Chef: Jeremy Dematteis
36 Buitenkant St, Cape Town City Centre, Cape Town, 8000
Coffee: Roasted by TRUTH, prepared on a La Marzocco Leva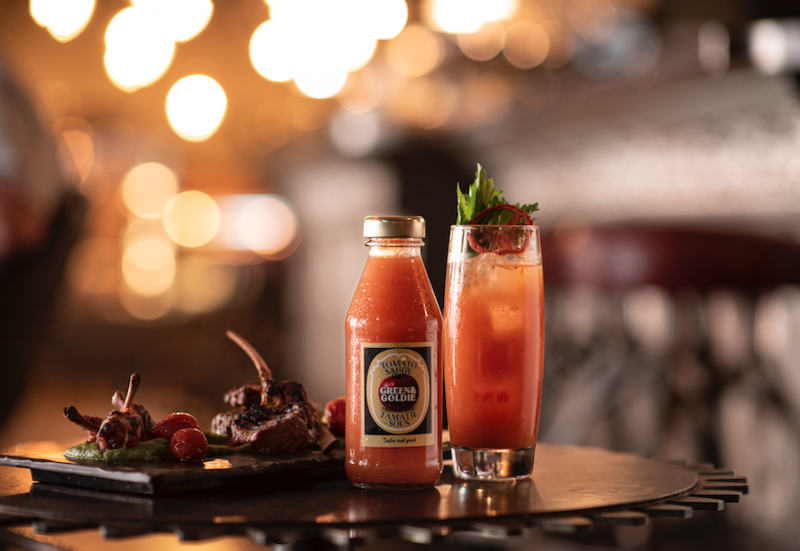 TRUTH founder David Donde and his team felt inspired to do for the local food scene what they've done for coffee by expanding their culinary offering to include dinner, and extending their opening hours to midnight. "We brainstormed some cool or rather 'kif' ideas and kept one-upping each other until we hit on a concept to serve up, re-imagined, sophisticated versions of the typical Sowf Effrekin comfort food we all grew up with" says David. "The menu celebrates our diversity and traditions, icons and clichés without taking them too seriously. Locals will appreciate the effort we've gone to to elevate and create luxury versions of everyday staples like pap and wors, samoosas and frikkedels. And for non-locals, we put together a comprehensive glossary explaining everything from babalas and bredie, to papsak, Oros and regmakers" says David.
Jeremy provides us with a delectable pairing of recipes!
Pap & Wors
Ingredients (serves 6)
For the Wors
6 skinless, boneless free range chicken breast
600g of your favourite butchers best boerewors (sorry we are not revealing our recipe)
2 T beef tallow (use butter if you can't get tallow)
For the Pap
1 head cauliflower
200ml cream
100g butter
6 cloves garlic
salt
white pepper
For the sauce
200g chakalaka
200ml beef stock
For the Wors , Flatten the chicken breast out by butterflying it with a sharp knife. Season the breast with salt, pepper and chopped thyme. Break open the wors, keeping the shape of the mince mixture into sausage size and shape - place in the middle of the chicken breast. Roll the breast around the wors, then roll the breast a few times in cling film. Tighten and tie the ends of the cling film, so that a cylindrical shape is held. Drop the the chicken into boiling water for about 2 min, or until the chicken looks just cooked, then drop it into ice water to cool. When ready to serve place the beef tallow in a heavy frying pan, and heat to a medium to high heat. Colour the chicken on all sides then remove to rest before slicing.
For the Pap, place the cream, garlic, butter and cauliflower stems in a saucepan and bring to a gentle simmer. When the garlic is tender, drop the cauliflower florets in and cover with foil. steam the cauliflower until just aldente. Remove cauliflower to a blender, add salt and white pepper and pulse in the blender until a half smooth and half grainy texture is achieved.
For the sauce, blend the chakalaka and stock into a silky smooth sauce. simmer gently before serving.
To serve, re- heat your pap and smear on your serving plate. Slice each wors into three and place on top of the pap and spoon sauce over the top. Decorate as desired, pea shoots look very nice.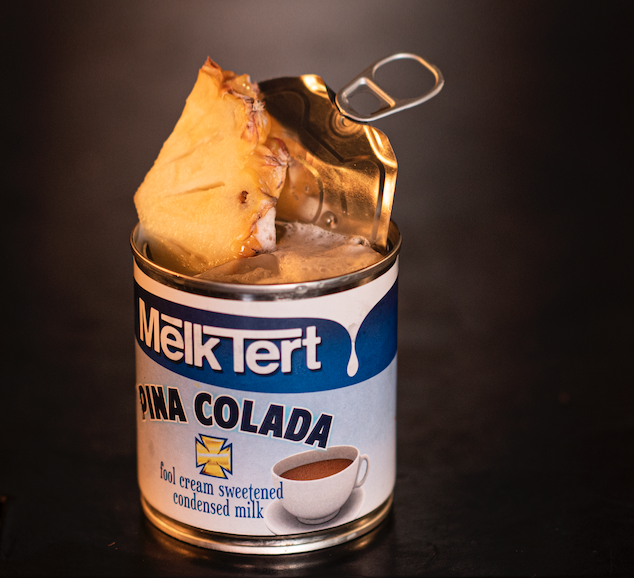 Melktert Pinacolada (1 serving)
Ingredients:
25 ml Mhoba French cask rum
30 ml Takamaka coconut rum
50 ml condensed milk
100 g fresh pineapple
20 ml cinnamon syrup
Method:
Blend all ingredients with 6 big blocks of ice till smooth.
Garnish:
Pineapple wedge with grated cinnamon.
Glass:
Condensed milk can
---
Chef: Carla Richards
Location: Garden Route Mall, 87 Knysna Rd, George, 6529
Coffee: Roasted by Brothers Coffee, prepared on a Sanremo Cafe Racer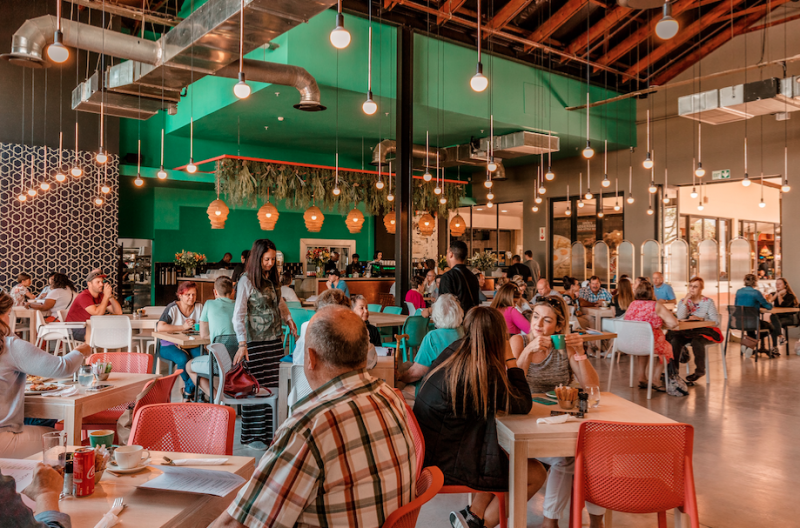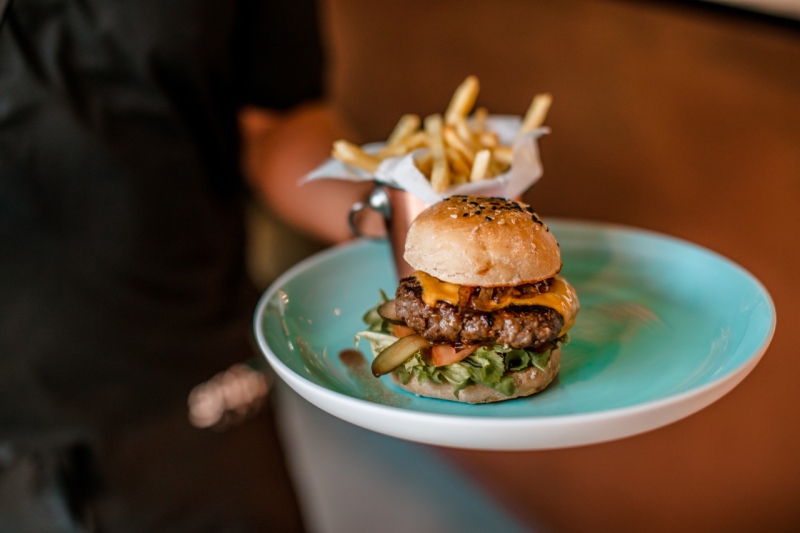 "Gapp Cafe is a fast casual Restaurant in the Garden Route Mall. We serve cafe classics with a fresh twist. Our passion is creating beautiful food with fresh ingredients and
amazing flavours. We have a breakfast, lunch and dinner menu. Every item on our menus has been created from scratch by myself, the owner Carla Richards. We believe in quality, no short cuts and consistency. We try to source locally and organically as far as possible. Coffee and food is our passion and we hope this is reflected in the end result. We've chosen to share a crowd-pleasing recipe that will be a hit at any party during the summer, simple yet effective!"
Carla's Chocolate Brownie Recipe
Ingredients:
250g unsalted butter
200g 70% Dark Chocolate
50g Macadamia Nuts (chopped)
80g Cocoa Powder (sifted)
65g plain Flour (sifted)
1 teaspoon Baking Powder
360g Castor Sugar
4 large eggs
Method:
Pre-heat oven to 180℃. Line baking pan with greaseproof paper.
Melt butter & chocolate in a large bowl over a pot of simmering water until smooth.
Add nuts.
In a separate bowl - add cocoa powder, flour, baking powder & sugar. Mix, then add melted chocolate and nut mix. Stir together.
Beat eggs and mix in to chocolate mix until silky.
Add mix to baking tray and bake for 25min.
Got something to say? Then leave a comment!
---
SA coffee professionals in Lisbon celebrate their heritage
Friday, 18 September, 2020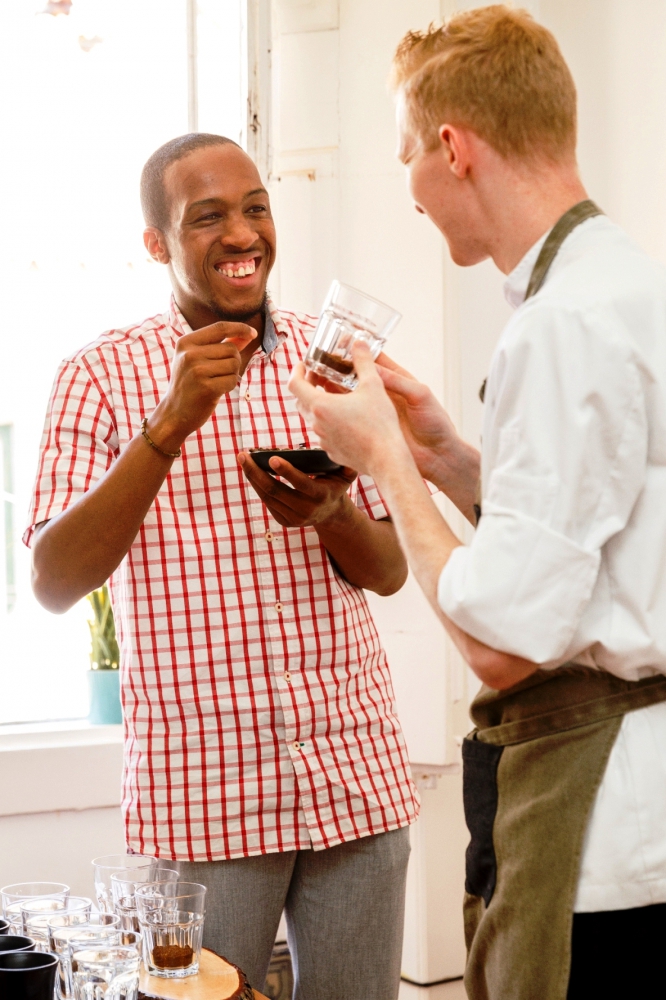 There are two South Africans making a name for themselves in Lisbon, Portugal – one is brewing some of the best coffee in town while the other is baking sought after cakes and cookies for hungry customers. And despite their very different backgrounds, the two young men not only work together but are the firmest of friends.
Nqobile Bright Mbambo, who comes from Umlazi in KwaZulu Natal, and Hendrik Pretorius who hails from Heidelberg in Gauteng are both employed at Simpli, one of the most popular coffee and pastry shops in Lisbon. Locals and visitors have awarded the venue five stars on Trip Advisor and rave about the freshly roasted coffee and the cookies, cakes and other pastries that are made on the premises several times a day.
Mbambo (28) started working in the hospitality industry in 2012, first as a waiter at Nino's Restaurant before joining TriBeCa Coffee and working as a barista in restaurants in both the Westville and Windermere Centres and later at Love Coffee in Morningside. In 2018 he got his big break and was offered a job in Istanbul, working for Espressolab, Turkey's most innovative coffee chain. A year later he moved to Lisbon to take up the position of head barista and quality control at Simpli.
Pretorius (26) is the cafe's pastry chef and studied and honed his craft at Capsicum Culinary Studio's Pretoria campus in 2017 before taking up a position in Dubai, first at a newly opened Japanese concept restaurant called Kyo Café and Lounge and then at the Renaissance Hotel's Morimoto Restaurant. Two years later he was offered the job of pastry chef at Simpli, where he has been baking pastries for satisfied customers ever since.
Put two South Africans together in a foreign country and they are bound to become close friends, which is what can be said of Mbambo and Pretorius. In addition to working side by side six days a week, the two also socialise outside of work along with locals whom they have met and expats who have made the city their home.
The duo are also planning on writing a cook book together, one which will be around pairing coffee and coffee-flavoured beverages with cakes and desserts.
So are they planning to celebrate Heritage Day and how?
"After work, we'll get together with some of our South African friends - including King, a DJ who comes from Joburg, and Musa Magwaza who is from Durban - and go somewhere for a nice simple dinner," says Pretorius. "Later, we'll head back to my place for coffee, courtesy of Mr Bright (my nickname for him), and tuck into my favourite cinnamon cookies - which I learned to make from my Mom - as well as a milk tart, both of which I will have baked earlier in the day."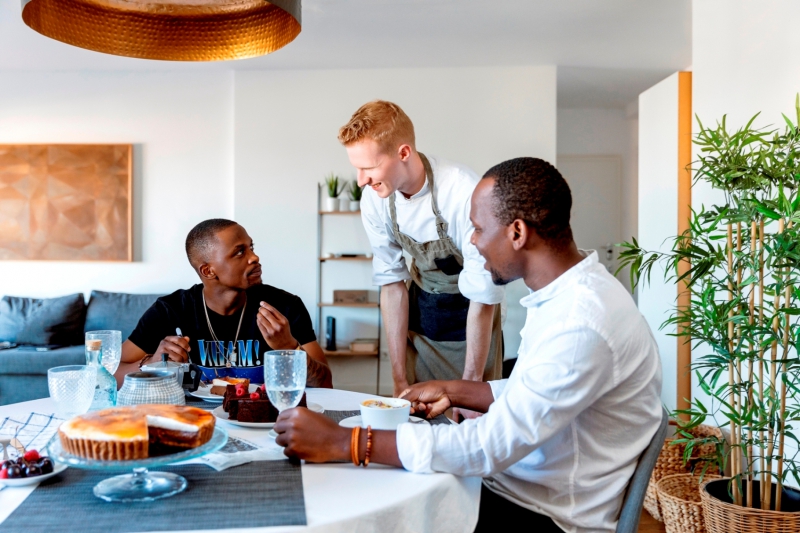 Adds Mbambo: "We'll have a good laugh, toast all our friends and family back home, reminisce about old times and then get some sleep as we both have an early morning start!"
Hendrik Pretorius' Cinnamon Cookies (makes 35) perfect for with your delicious cup of coffee.
Ingredients
250g butter
300g sugar
2 eggs.
375g flour
10ml cream of tartar
5ml bicarbonate of soda
2ml salt
40g cinnamon powder
For the cinnamon sugar
100g sugar
20g cinnamon powder
Method
Cream the butter with the sugar. Add the eggs and mix together
Sieve together the flour, cream of tartar, bicarbonate powder and 40g of the cinnamon powder
Mix the egg mixture with the flour mixture
Let the mixture rest overnight
Preheat the oven to 180°C and prepare a baking tray with baking paper
Mix the sugar and cinnamon together to make the cinnamon sugar
Divide the dough in balls of 30g each and roll them into the cinnamon and sugar mix and press them down slightly on the baking tray
Bake for 15-20 minutes until they are slightly crispy on the bottom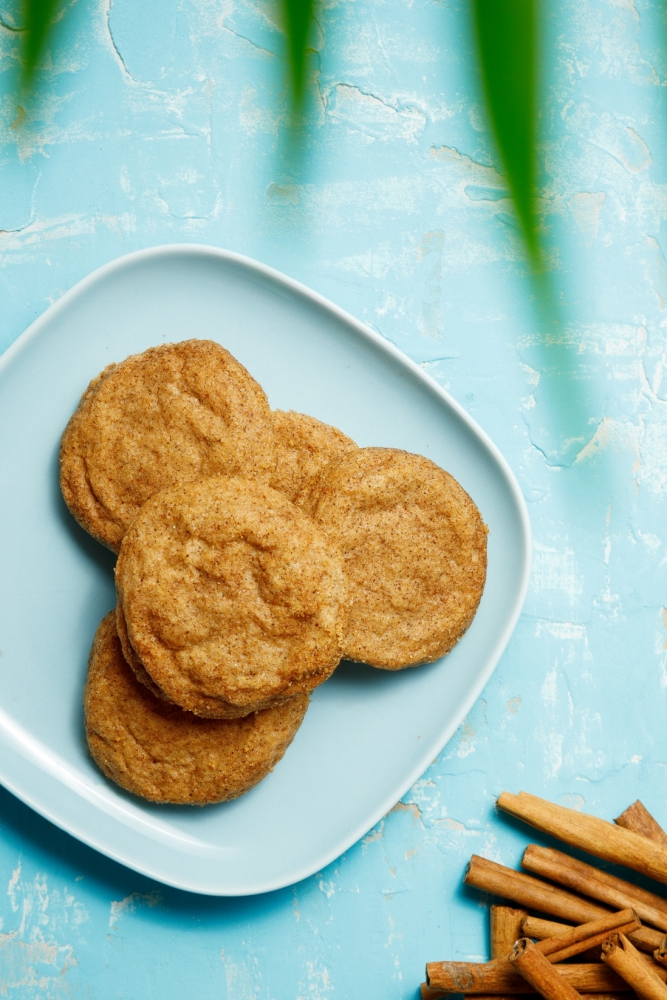 Got something to say? Then leave a comment!