Inside South Africa's biggest vintage espresso machine collector's showroom
Thursday, 29 August, 2019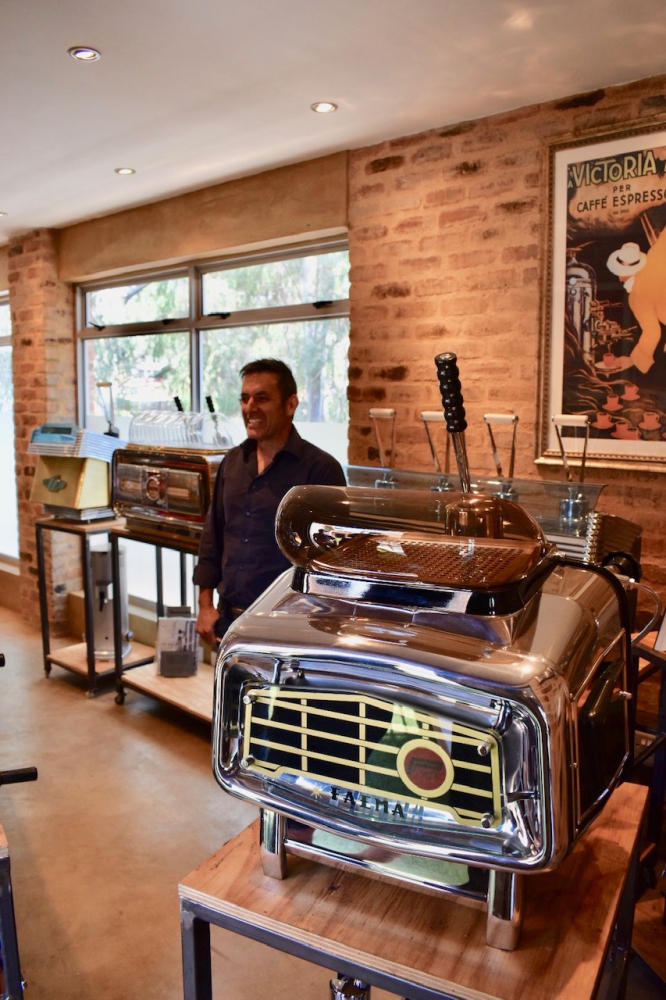 Alessandro Morrico with his collction, the Faema President in the foreground
"People ask me why I drive a bakkie around, well the answer is that I spend all that money on these beauties!!!" Alessandro Morrico has spent many years collecting vintage espresso machines from around the world and refurbishing them to the incredible state they are in now. I'm not really one for machinery, but the history contained in these pieces of coffee equipment is a sight to behold. They are truly magnificent.
Coffee has such a rich history and the history of the espresso machine is no different. The espresso machine has always been a point of pride in the cafe space and you can see from the constant jostling to out do each other currently going on with the top manufacturers when it comes to design, that this still holds true today. The game was a bit different at the beginning and the people at the forefront of espresso machine created works of art with steel and copper influenced by the style of post war Europe.
These 12 beauties below were our favourites, and they range from the mid 1940's all the way through to some classic early 80's models. If you are interested and want to visit, they are on display at the Morrico showrooms in 6th Street, Parkhurst.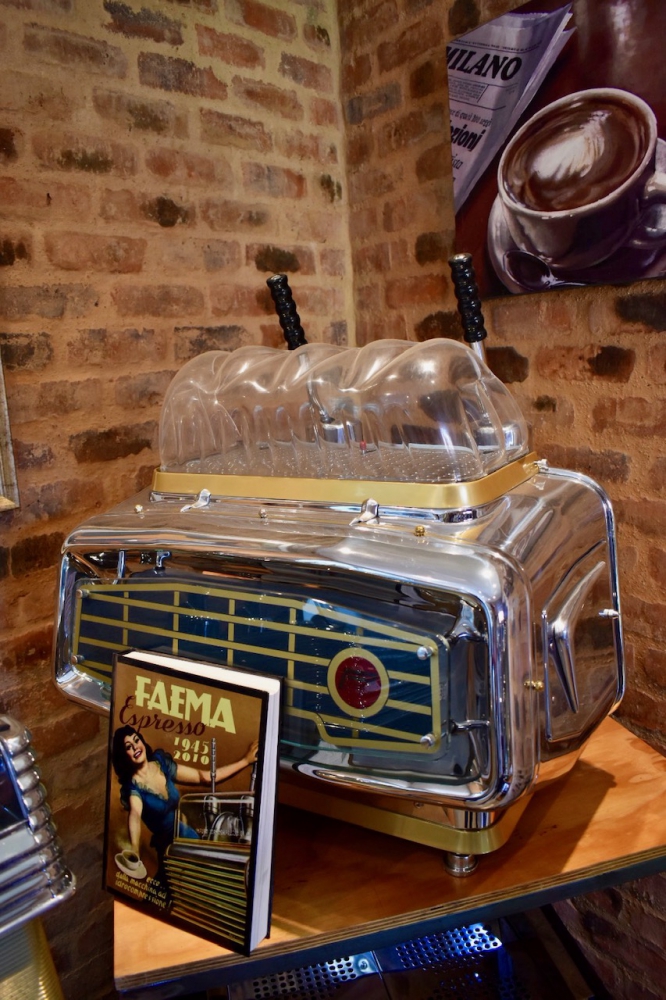 This beautiful Faema Tartaruga 2 group lever machine is from 1945 and has that classic retro design that set the tone for diners around the world post WWII.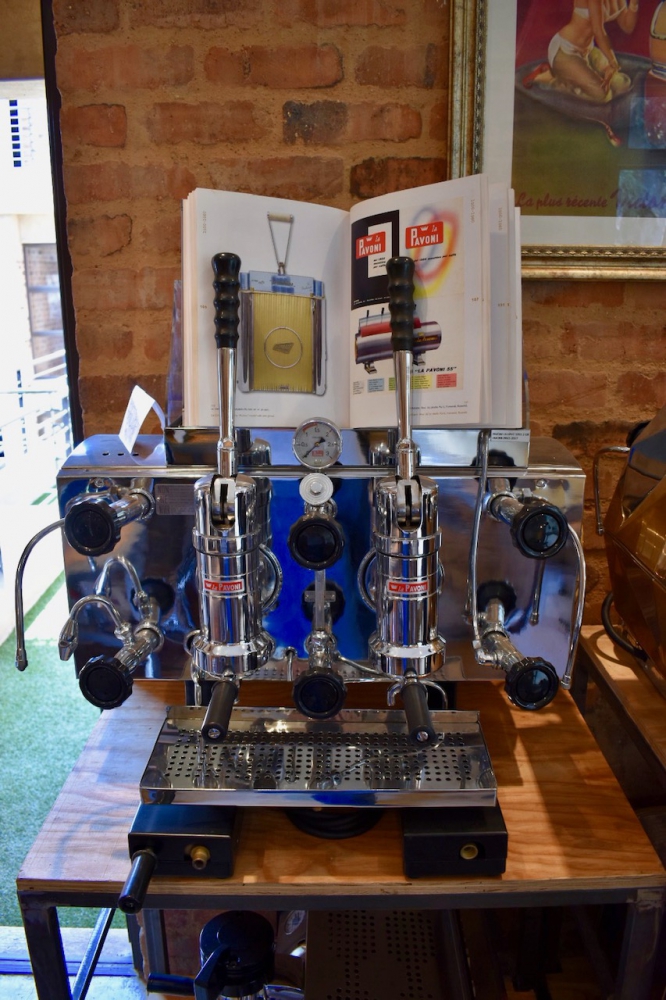 A classic La Pavoni Lilliput 2 group lever machine with all the classic dials, gauges and knobs - considered a "modern" espresso machine during it's heyday!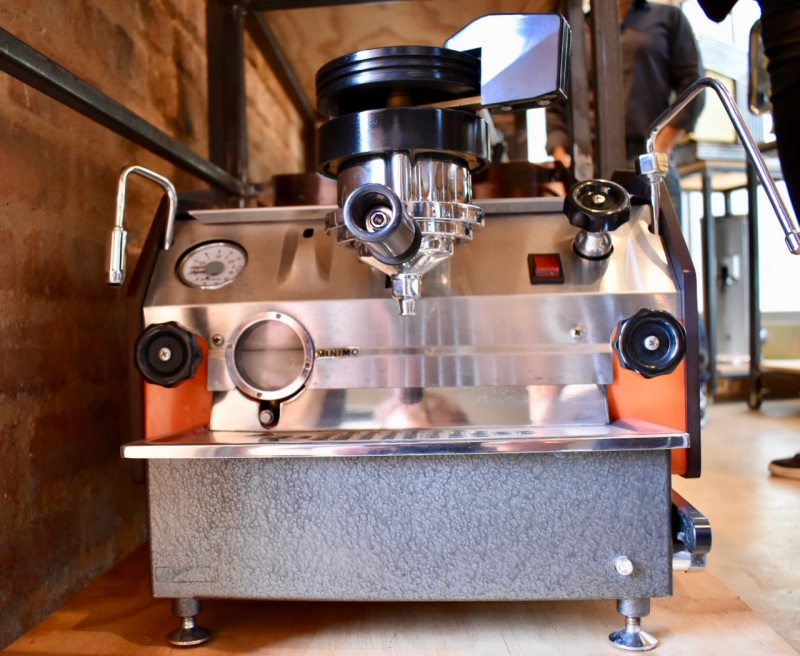 This single group LaMarzocco GS2 was the Rolls-Royce of home espresso machines and the predecessor to the now-famous GS3.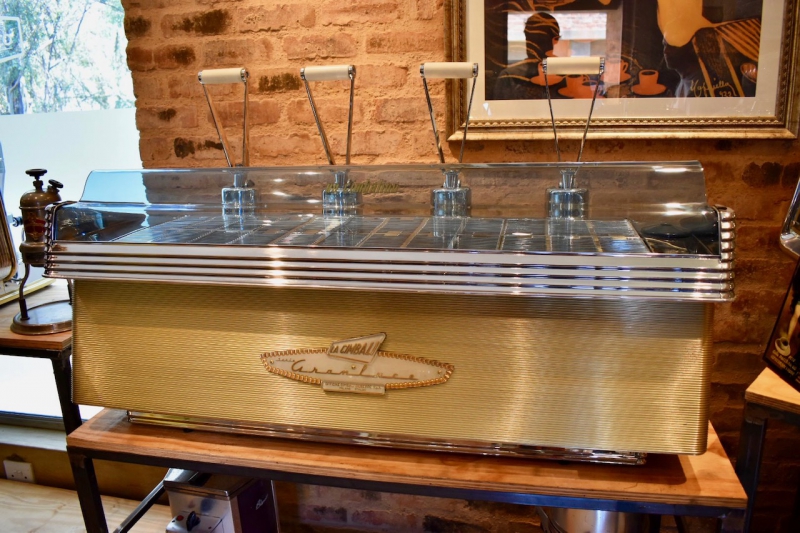 Look at the detailing of the lines on this 4 group La Cimbali Granluce lever machine! It recalls design elements of pop culture in the 60's - The juke-box and the original Cadillac lines.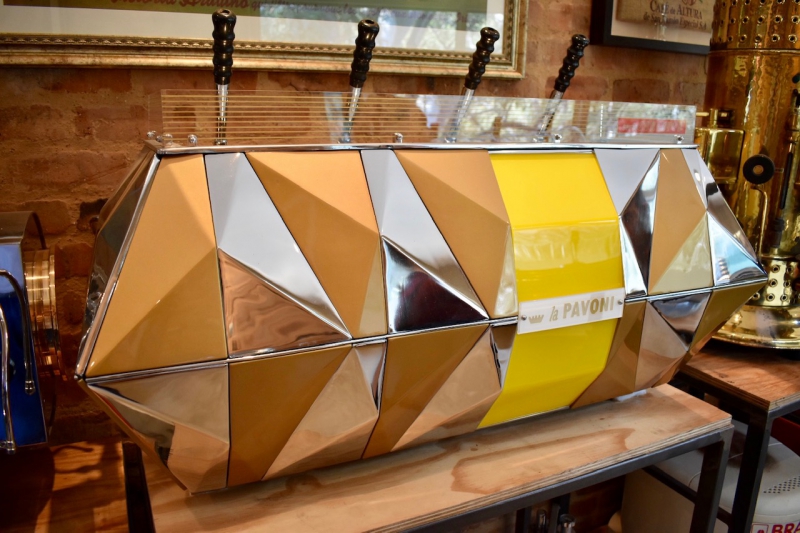 This La Pavoni Concorso (Diamante)paneling is surely a one-of-a-kind. Also an unusual 4 group lever configuration, sure to catch the eye of passing customers by it's sheer geometric magnificence!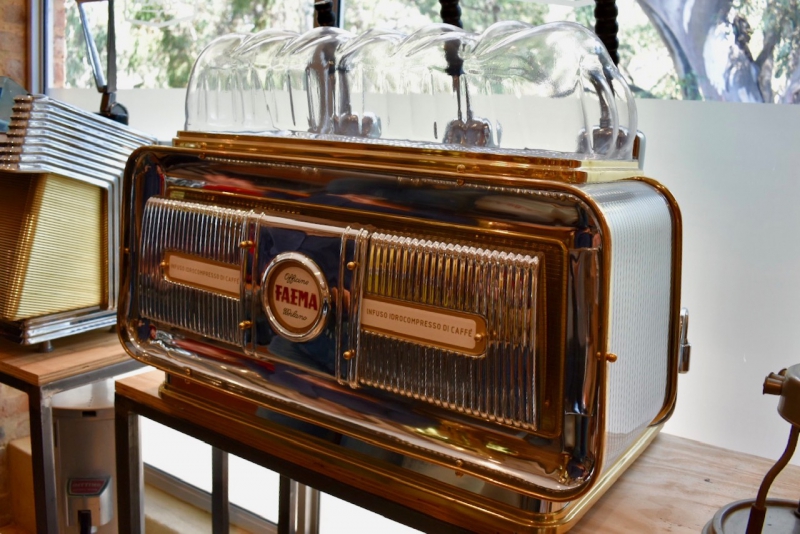 Another example of a classic Faema Marte lever machine, the design also speaks to the era of pop-culture in the 60's - when television, the space-race and line-form design were at the forefront.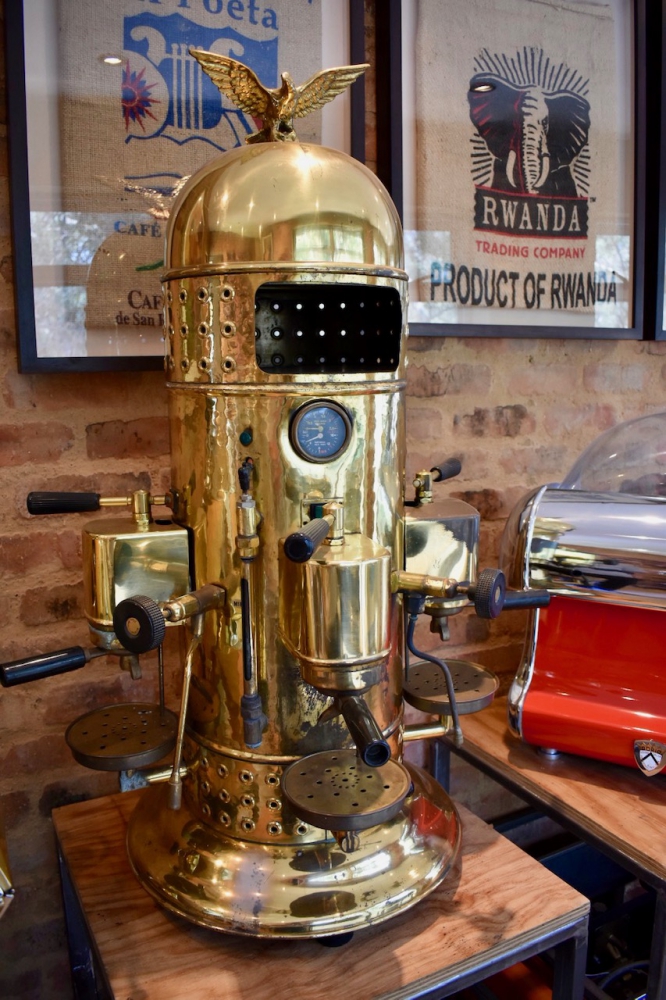 This Victoria Ardunio VENUS, before the horizontal boiler design that we all know today, this was how espresso machines were built!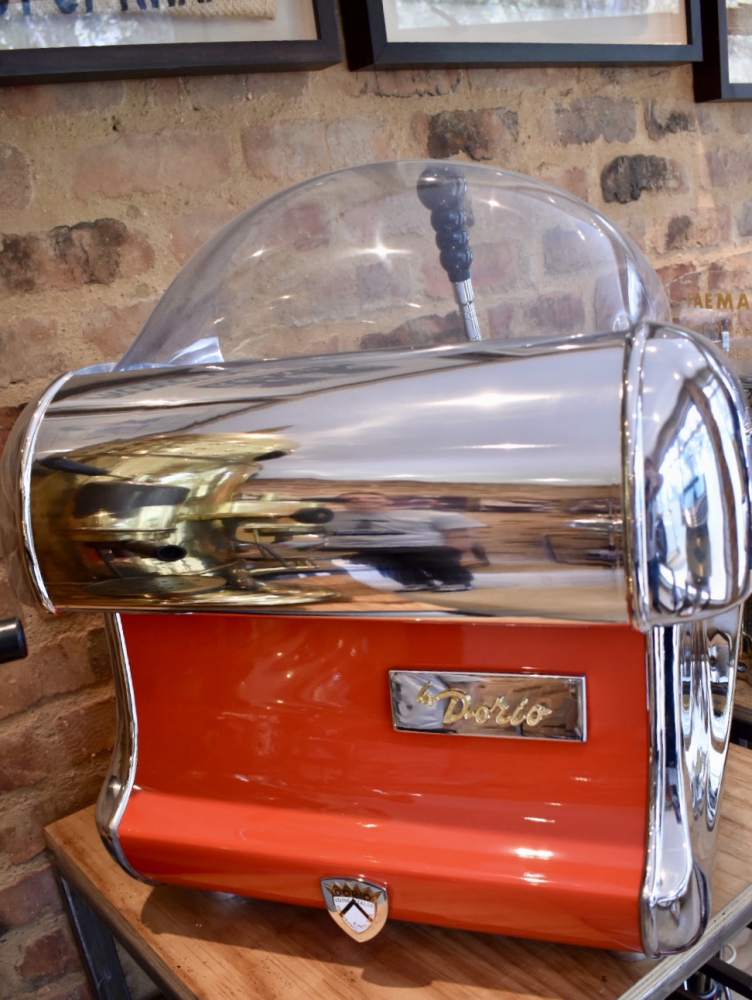 La Dorio espresso machines are sought after by collectors all over the world. This classic burnt-ornage single group lever is restored to it's glorious original state! A valuable piece indeed!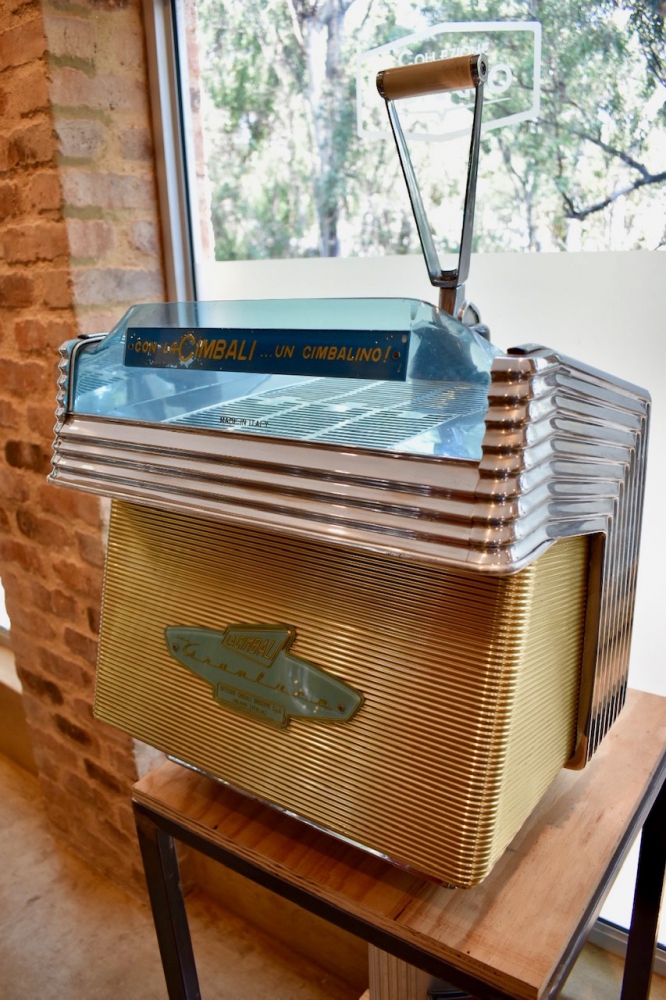 This single group lever La Cimbali Rubino follows the similar design principles of the 4 group featured earlier. The classic lines and exquisite detailing of the era are something not found in modern espresso machines.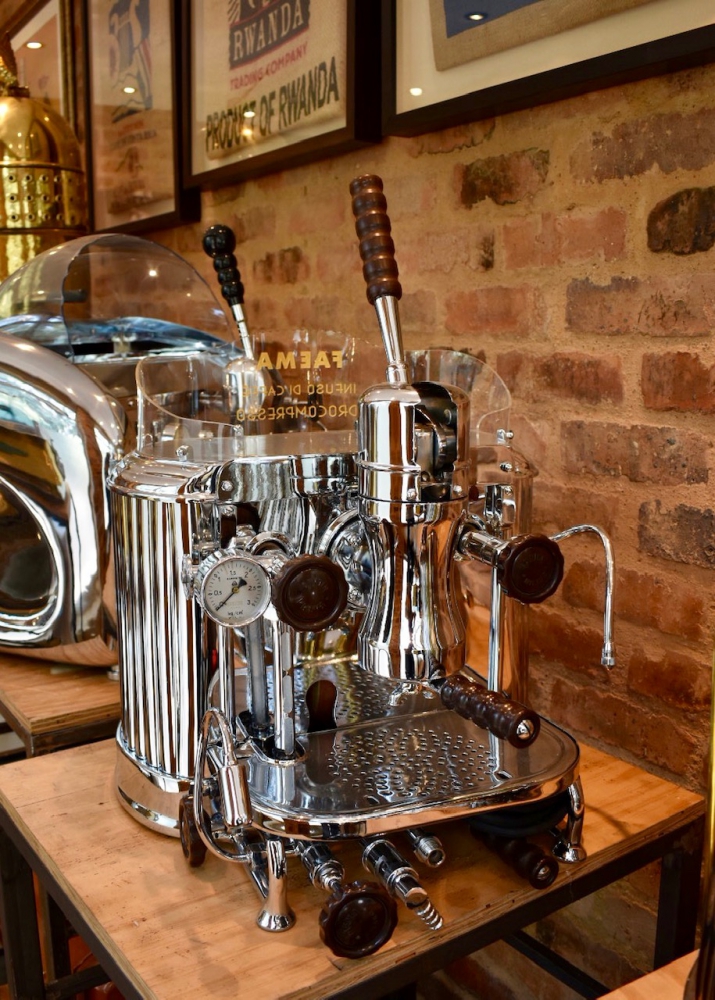 This little Faema has a unique hourglass shaped group head and a short lever, which has been modified, along with the portafilter handle to create a modern classic.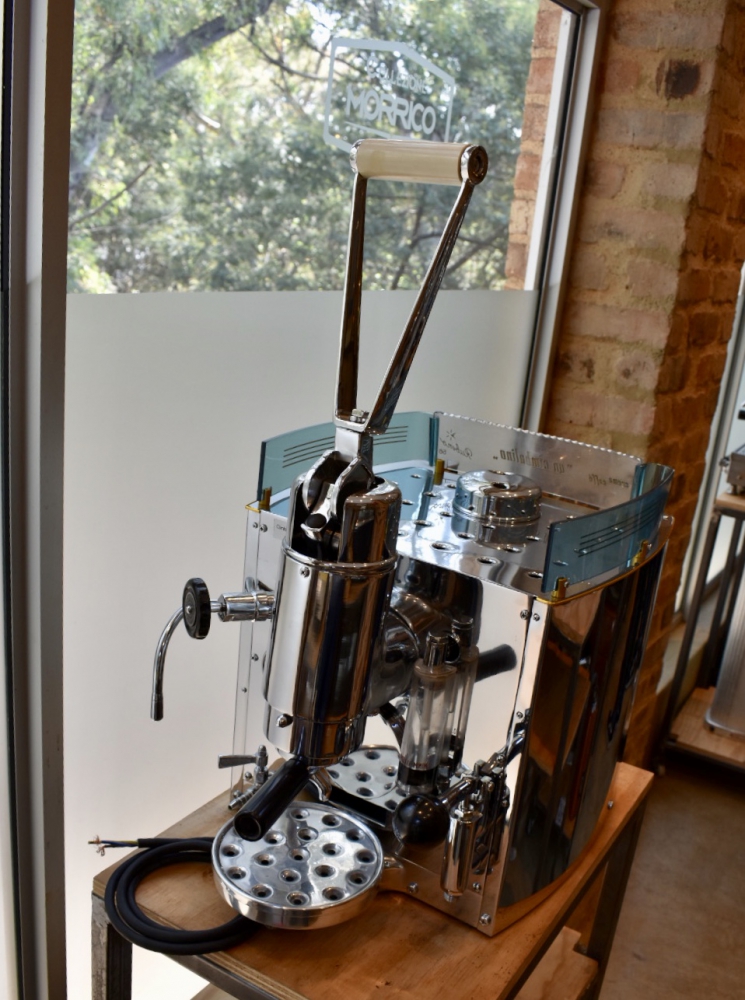 Another example of the triangular handled levers, which has seen a re-birth in modern machines like the LaMarzocca LEVA released in 2018, with some necessary safety modifications, of course!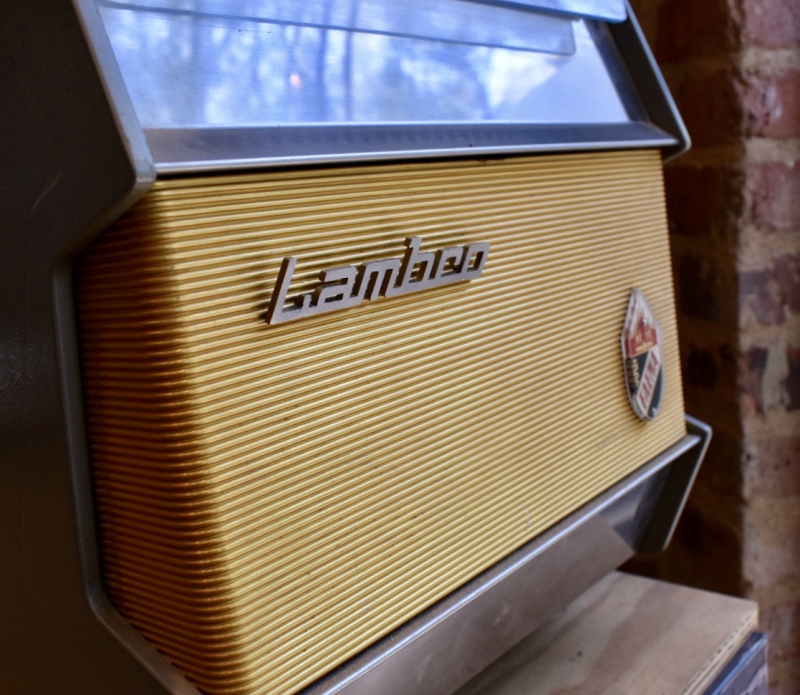 A fitting way to end the tour! A one-of-a-kind Lambro, harking back to a time when form was prioritised alongside function, and a fitting tribute to the design elements of the era.
Got something to say? Then leave a comment!
---
Must visit Cafe: Afro-boer
Wednesday, 28 August, 2019
Meerlust Rd, Equestria, Pretoria, Corner of Lynwood & Meerlust Road, 0050
---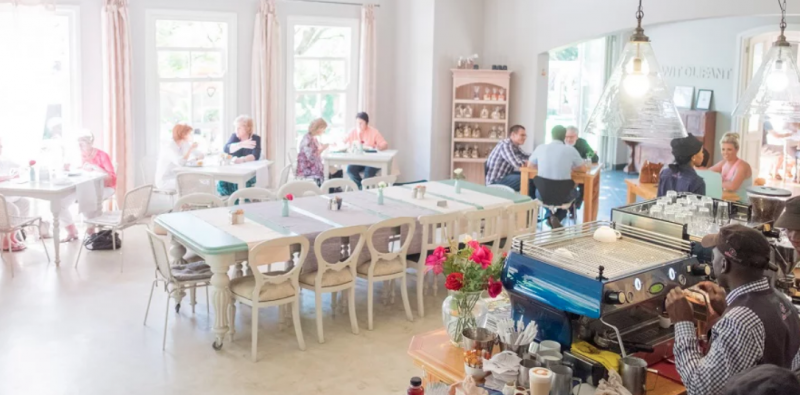 We had long heard of the legend of Afro-boer in Pretoria and they have long being loyal distributors of the magazine, so we were thrilled to find ourselves in the neighbourhood and finally able to visit this oasis of beauty and deliciousness. After navigating the busy traffic of Lynwood Road, we found ourselves in a perfectly manicured garden with chickens clucking in the background and the dappled sun falling through the trees, so peaceful!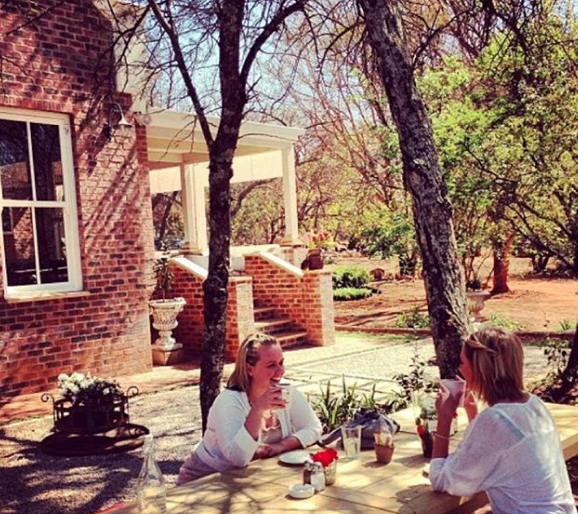 They have a stunning coffee bar set up, not one but two beautiful La Marzocco's side by side. Using Asmara Coffee, TriBeca's new bespoke brand, you can tell why they need two espresso machines. It is a large space with indoor and outdoor garden seating and even on a random Wednesday afternoon at 3pm, it was pretty busy! We can only imagine what it gets like over the weekends, it is the PERFECT brunch spot!
Freshly baked breads and a menu to die for of some very interesting and innovative dishes, it's no wonder this place has such an incredible reputation.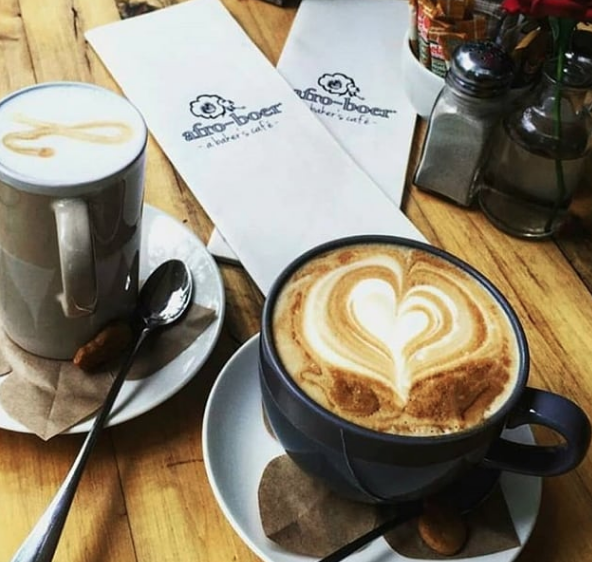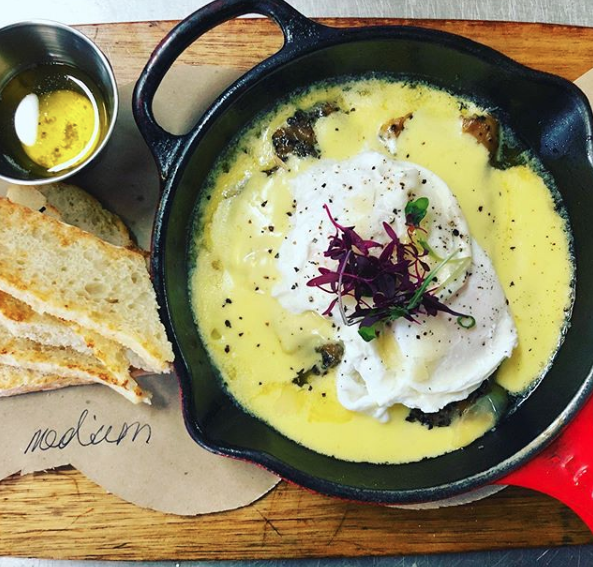 Images from the Afro-boer Instagram, give them a follow!
Got something to say? Then leave a comment!
---
Recycled Bicycles: A Creative Solution for single use capsules!
Tuesday, 20 August, 2019
Nespresso has partnered with Swedish cycling start-up Vélosophy to create 1,000 limited-edition bicycles made from recycled Nespresso coffee pods. It takes 300 coffee pods to create the stylish urban bicycle known as the RE:CYCLE, which will retail for €1,290 (around R22,000).
Nespresso coffee machines have become ubiquitous in the last decade, but drawn a lot of criticism over the environmental impact of the single-use capsules, which take about 150 years to decompose. Nespresso, owned by Nestlé, has committed to sustainability and aims to foster a circular economy by encouraging the recycling of Nespresso pods at any of the company's 122,000 collection points around the world.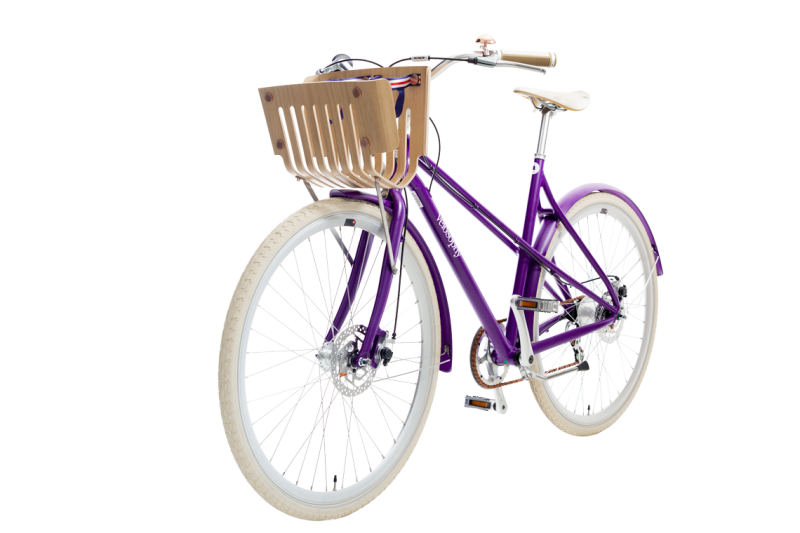 Giving single-use a second life
Billions of single-use coffee pods are discarded in landfills every year, so the RE:CYCLE bike highlights the innovative possibilities for giving the recycled aluminium of coffee pods new life. The great thing about aluminium is that it can be melted down and reused infinitely – making it quite a valuable resource.
"Through our collaboration with Vélosophy, we're illustrating to coffee lovers the potential of recycling their aluminum Nespresso capsules. By using recycled capsules to make beautiful bicycles, Vélosophy brings sustainability and style together to create a truly meaningful experience, bringing to life the importance of recycling. We have been inspired by working with Vélosophy, and I hope the RE:CYCLE bicycle inspires people to recycle," says Jean-Marc Duvoisin, CEO of Nespresso.
The RE:CYCLE Bicycle
The limited-edition bicycle is designed with a nod to the Nespresso capsule – the bike only comes in the same purple shade as the popular 'Arpeggio' coffee pod, and the bell is shaped like a Nespresso capsule. The bike's front basket features two cup holders, with straps for securing your coffee cup while you're on the move.
A one-for-one promise
Vélosophy has taken the feel-good factor one step further in promising that for every bike they sell, they will donate another bike to a schoolgirl in Ghana through World Bicycle Relief to help her get to school. This one-for-one promise is about bringing hope of a brighter future – having a bike increases girls' school attendance by 28%, as well as their chances of graduating by 59%. With the RE:CYCLE bike, Vélosophy isn't just investing in the future of the planet, but also in the lives and communities of young women in Ghana.

About this initiative, Jimmy Östholm, CEO and Founder of Vélosophy, says: "We created Vélosophy with a clear purpose: to have a positive impact on the world. This purpose drives everything we do, from our promise to give a bike to a schoolgirl for every Vélosophy we sell, to producing our stylish city bikes from recycled aluminium. I see in Nespresso a strong commitment to sustainability, which is why this has been the dream partnership. We are proud to have co-created a bike that takes on the future. It is beautifully designed, responsibly sourced and sustainably produced."
Vélosophy has no retail stores and conducts all of their sales online at https://velosophy.cc.
Got something to say? Then leave a comment!
---
Buzzword: Sustainability - New courses added to SCA Coffee Education Program
Friday, 23 August, 2019
The SCA Coffee Education Programs cover the fields of Brewing, Roasting, Barista Skills, Green Coffee and now they plan to add modules on Sustainability.
"Sustainability must be embraced by all actors in the value chain if the specialty coffee industry is to survive. The Coffee Sustainability Program is designed to explore what "sustainability" means and the challenges of acting sustainably across the coffee value chain through three stages of learning (Foundation, Intermediate, and Professional). Through the program, students can expect to build skills that include: the ability to articulate broad sustainability challenges across the value chain, lead others in discussion and practice of these issues and ultimately identify, develop, and carry out and assess a sustainability effort that fits within their own organization."
The Coffee Sustainability Program is designed for people at all points along the coffee supply chain, founded on the principle that sustainability must be embraced by all actors in the coffee supply chain if the specialty coffee industry is to survive and thrive. As expectations for greater transparency and corporate responsibility grow in the industry, companies are rapidly increasing the size of their sustainability teams and seeking knowledgeable, experienced leaders to forge their path forward.
"The SCA Coffee Sustainability Program will help learners become more competitive in their existing lines of work as more and more companies, employers, and organizations crave greater integration of sustainability within their existing modes of doing business." -Nora Burkey, Founder and Executive Director, The Chain Collective, Coffee Sustainability Program Content Creator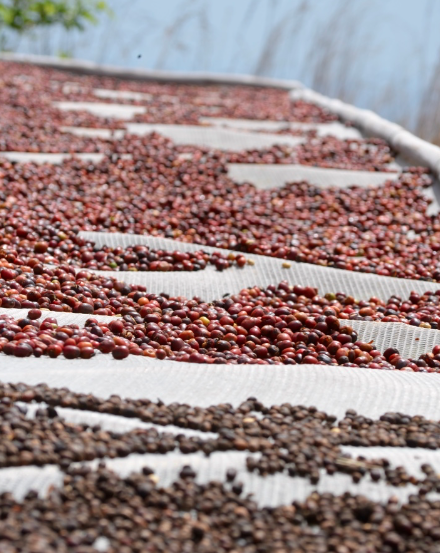 Three Levels
The Foundation-level course is now ready, with Intermediate and Professional in progress and coming soon.
Foundation – The program's first course covers the major sustainability issues facing the coffee industry today and offers baseline knowledge of what the term "sustainability" means, how it is connected to power dynamics, current and historical events and practices, as well as a variety of coffee projects.
Intermediate – The Intermediate course introduces learners to global sustainability challenges and prepare learners to begin thinking analytically about the impact they'd like to make in the sector.
Professional – The Professional course offers an intensive, practical experience in which learners design, carry out, and assess their own sustainability project in accordance with their individual, organisational, or business goals and capabilities
You can read more on the content of the courses here.
This is not a new topic of conversation, but it has finally reached a point of necessity. Other industry educational platforms like Barista Hustle are also getting involved with creating courses on this issue. So it seems, the industry and the consumers are paying attention and aiming to be part of solutions for the future. As an exmaple, we saw amazing examples of this with the coffee farmers of Gorongosa, Mozambique, planting other crops in the coffee fields to both feed the soil and feed the community.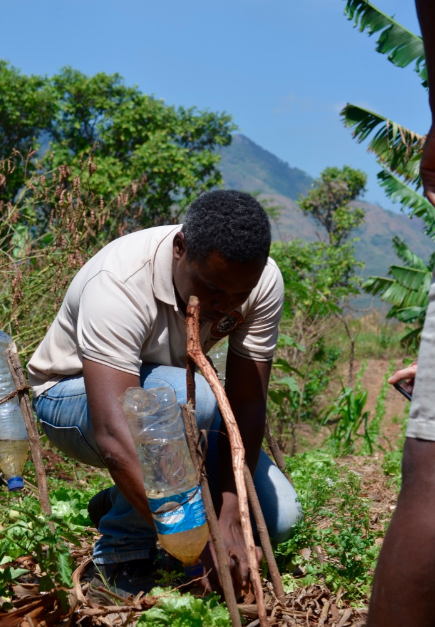 If you're looking for some high-level insight into what the benefits of sustainable practises can be check out this Re:CO lecture:
Got something to say? Then leave a comment!
---
New Kid on the Block: Shoots and Leaves
Friday, 16 August, 2019
And when we say new, we mean fresh out the box - they only opened a week ago!
Robynne and Rob Colepeper and their team have opened up in the burgeoning Umhlanga Ridge area with the lovely harvest table and coffee spot, Shoots and Leaves.
The Colepepers met at culinary school over the hot stove and long hours of training. After getting married they decided to travel for a bit using their talent as chefs. They ended up on a remote and tiny island off the Seychelles for a couple years and when it came time to 'settle down' just a little, they headed back home to SA and Shoots and Leaves was born!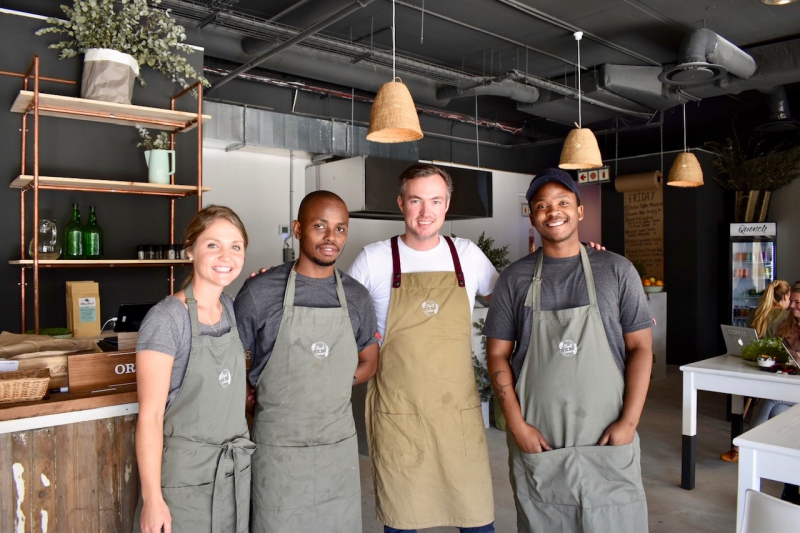 The Team! Robynne Colepeper, Sanele Bhengu, Rob Colepeper and Robert Khotso Letlola
Working on a La Marzocco Linea and supported by BlueBird Coffee Roastery Friendly Blend, Robert Khotso Letlola, the barista (different to Rob, the chef! There were a lot of Rob's on this day!) made us some wonderful coffees. The flat white was served in a beautiful pottery mug.
Their focus is on providing unique daily menus and harvest table style offerings for lunch. Everything on the menu looked scrumptious. We were there early bells so opted for the Croque Madame, which was delightful, topped with a medium fried egg, cooked to perfection and shoots and leaves grown on the premises to top it off!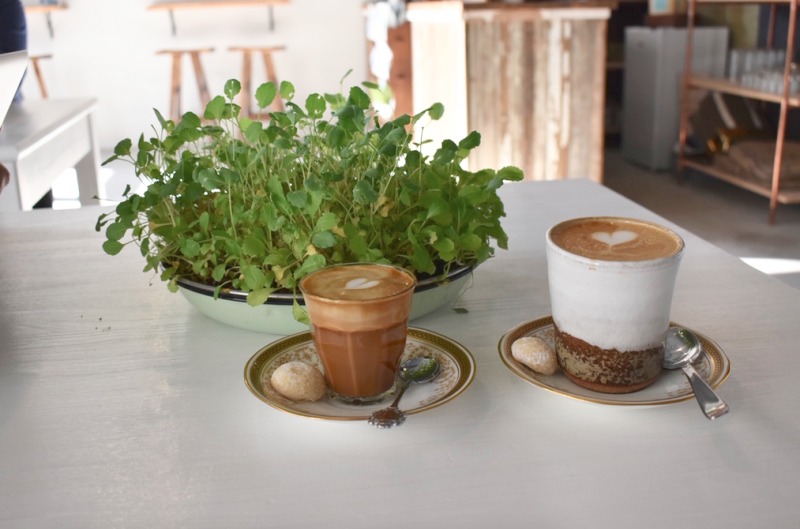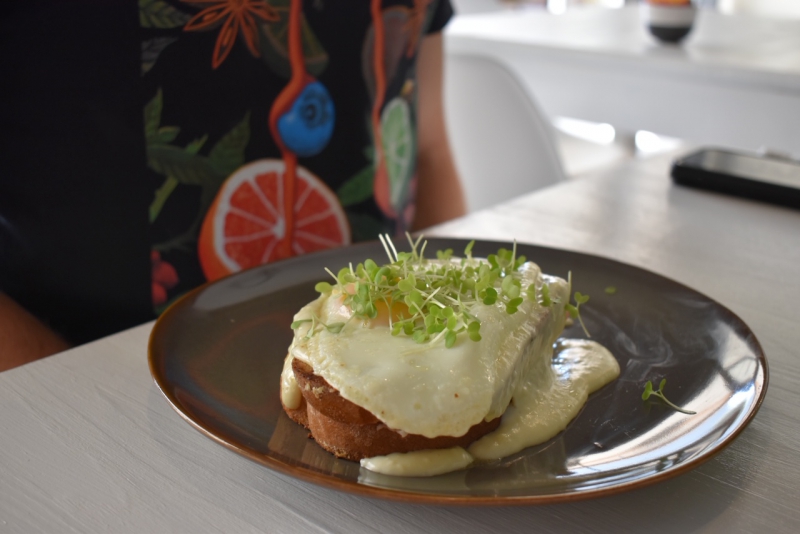 You can find them at 19 Park Lane, The Boulevard, Umhlanga Ridge, weekdays 6.30am-4.30pm (not open on weekends). Very convenient off street parking is also available.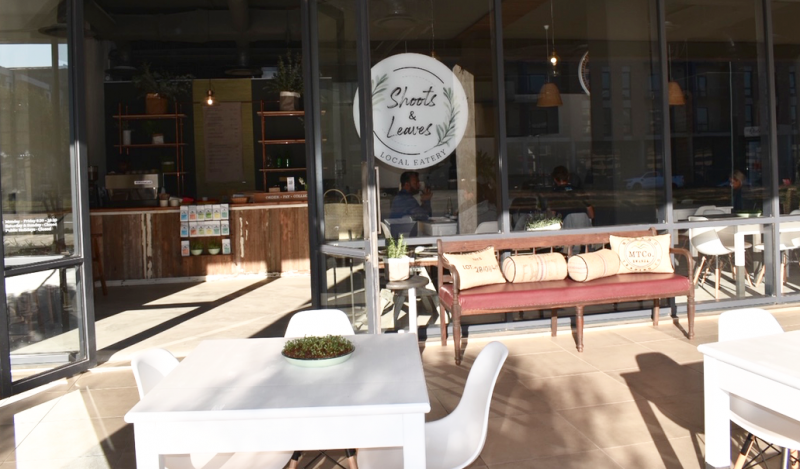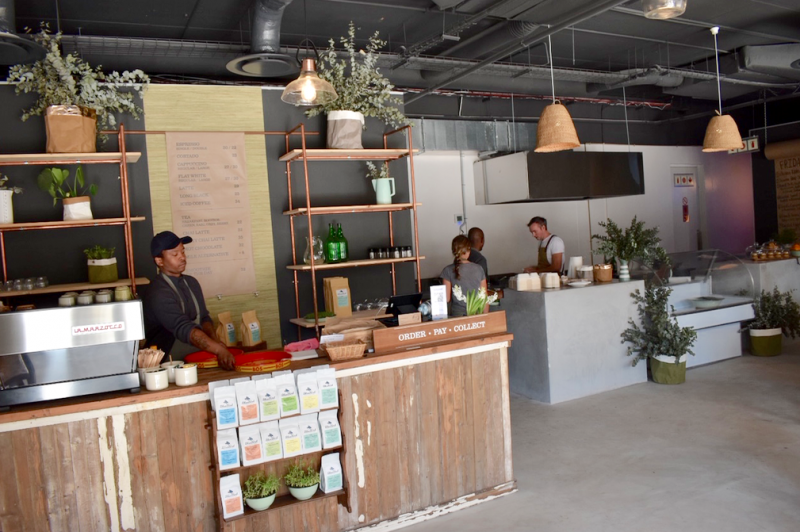 Got something to say? Then leave a comment!
---
Coffee Magazine is the second best selling magazine in Leisure Magazine's in Q1 of 2019!
Thursday, 15 August, 2019
by Iain Evans, Coffee Magazine publisher.
8 years ago, when Mel and I started Coffee Magazine, we weren't sure if people, other than baristas and a few coffee business owners would even read a publication about coffee. Back then, people told us print was dying ( and it seems that protracted death-knell is on-going in the media market, yet print prevails somehow!) and that coffee was so fringe, we wouldn't have enough content, yet alone a business model to survive in this economic climate.
29 issues later, here we are. A testament to the fact that you, the readers of Coffee Magazine, love your coffee, love the community and love reading everything there is to know about coffee!
We started out giving away the magazine for free - for 3 years. As long as you subscribed. And as long as you collected from a local coffee shop. This drove feet into the stores and meant that we had a cool little distribution network across the country - 24 stores to be exact! Now, Coffee Magazine is in over 200 stores! We always kept a cover price on the magazine, to show readers that we believed in the value of the publication, and we knew (well we hoped and prayed too!) that at some point we would reach a point where people would love the publication, enough to part with real money for its beautiful content, design and wonderful stories. Mel has done a pretty phenomenal job, wouldn't you agree?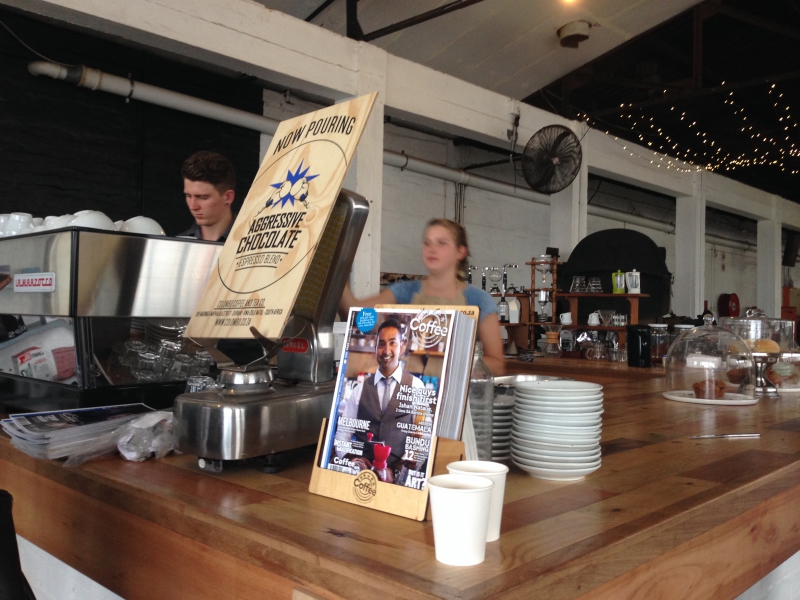 The Factory Cafe, Umbilo in 2014. One of the original 24 cafe's to stock Coffee Magazine.
We also spent this period of time, and continue to spend most of our time, building a loyal advertising base, investing in the baristas, spending time at all of the coffee competitions and events, hosting our own coffee events, giving coffee businesses a platform to profile their amazing work, and most importantly, educating and inspiring the consumers out there - those who were ( and still are) just staring their coffee journeys and are not in the coffee industry. We are basing our future business on this group, believing that there is still a MASSIVE amount of growth for coffee in our country.
Ok, back to the story! Eventually, three years after starting the magazine, we couldn't afford to give it away for free. The circulation kept climbing and we made the decision to switch to a paid-for model. Again, you, our cafe owners and our loyal readers, proved that you believed in and wanted the content enough to pay for it. The letters to the Editor kept flooding in, Coffee Shops kept asking us to send them stock, and we started to distribute the magazine into the FNB Slow Lounges and other exclusive areas. This was great for two reasons, firstly because it meant we could re-circulate back issues and reduce our wastage, and also because it brought us a new audience.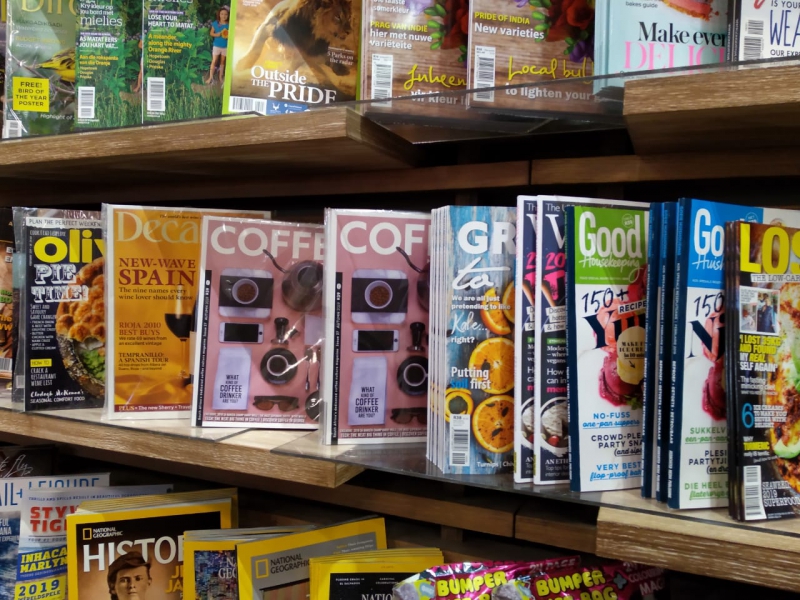 Exclusive Books, Clearwater, 2019. Our first ever issue on the newstand. Yikes!!! Look at all those magazines!
Then, in late 2018, a gentleman called Dickon, came knocking on our door and asked us to put it onto the news-stand, alongside every other publication in the country.
This was a scary proposition for us. We were always very comfortable in our little coffee shop network. What if nobody bought it? What if we had to over-print to secure the footprint (something we had refused to do with our previous surf magazine theBOMBsurf on principle) and then have thousands of extra copies that we had to re-distribute? Dickon convinced us to take the plunge, and that he would help us to achieve a good sell-through and take our little publication to the masses - after all everyone loves coffee, he said! And he was right. You can read the full story here https://isizwedistributors.co.za/isizwe-distributes-the-two-business-magazines-with-the-biggest-retail-sale-abc-quarter-2-2019-results/
but essentially the highlights are as follows ( with courtesy of Isizwe's website:
"The Audit Bureau of Circulations of South Africa (ABC) has just released the 2019 ABC figures. The ABC figures provide audited circulation data for all member publications, allowing advertisers to see exactly how many copies of a publication are being circulated, compare advertising rates and make informed decisions about where to place advertising, to ensure the maximum return on investment for their clients."
"In the 'Leisure' category, The Coffee Magazine has the second largest retail sale. The Coffee Magazine has managed to grow their ABC by an astonishing 58% year on year. They have grown their retail sales by a massive 33% which again, in the context of an economy in recession and the bleak outlook for retail in general is frankly phenomenal."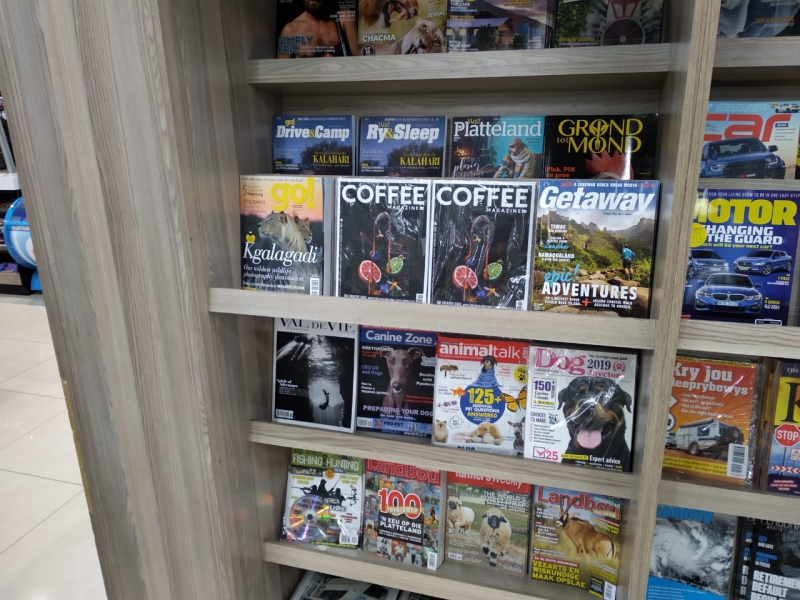 The current issue on sale at Spar, Blairgowrie.
We are extremely grateful to every person that has supported us on this roller-coaster journey. The advertisers, the baristas, the cafe owners and every person who has ever bought or read a Coffee Magazine. Thank you.
Got something to say? Then leave a comment!
---
Travel bug got you? Here are some of the wildest places Travel Designer, Ozzy, has made coffee!
Wednesday, 14 August, 2019
5 of the Wildest Places to Drink Coffee
We have always advocated for the fact that coffee really can take you places, but when we met and heard the stories of Ozan "Ozzy" Emre Yerlikaya a.k.a Travel Designer, even we were in awe of the amazing locations that he has had the opportunity to brew coffee in. We asked him to take you on a journey to explore the possibilities. Hopefully this inspires you to make your next coffee experience just a little more on the wild side.
---
The world is your oyster…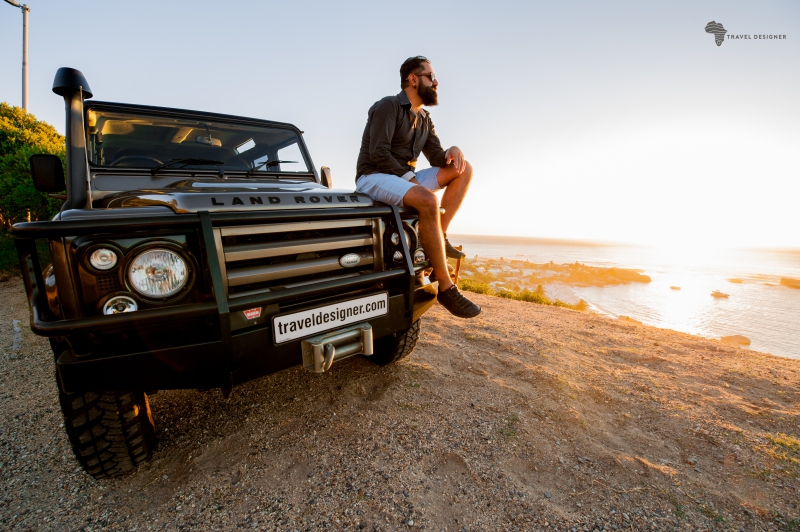 In Cape Town, the ocean and mountains are our playground and I love nothing more than finding the perfect vantage point, parking my beloved Land Rover Defender complete with its mobile brewing bar, laying down a Turkish carpet and setting up some Melvill & Moon safari furniture. My guests can relax into the scenery and I go to work making them coffee.
My setup includes an alternative Thule box that is attached to my tow bar and holds the coffee making equipment in a specially crafted wooden case. I grind the selected (always) African beans with my pre-charged electric drill attached to my hand-grinder (this always gets a good laugh) before brewing it and serving it steaming hot in specially designed glasses so that the colour and flavour can be equally appreciated. I created my mobile alternative coffee brewing kit or bar a couple of years ago and called it 'Just in Case'. The reason for the name is that I carry everything I need to make a quality coffee just in case we need one, whenever or wherever that may be. I traveled with my "Just in Case" set and end up serving quality coffee with African beans at impromptu moments all the time.
I have set up in the meeting rooms of big companies and at relaxed picnics with friends. Everything is crafted in wood. I dress up too with wooden sunglasses, a wooden bowtie, wooden designer watch, wooden ring, wooden earrings and an imprinted leather apron.
The whole idea of being able to make quality coffee whenever and wherever I want to and sharing it with friends and clients gives a great sense of freedom. Seeing the delight and appreciation in their eyes when I surprise them with this kind of coffee tasting experience on the side of the road or next to the ocean, is immensely satisfying. It's in my nature to look after people. Serving them good coffee is one of the ways I do so.
---
The Sacred Cup
One of the most amazing places I have ever made coffee was at the Deyrulzafaran monastery in Mardin. Set in southeastern Turkey, Mardin is known for the Artuqid architecture of its old city, and was a strategic trading spot on the silk route many years ago. Built in 493 AD for Syriac Orthodox Christians, the monastery is also known as Mor Hananyo or Saffron monastery and was the patriarch seat for the church until 1932. It is an incredibly spiritual place to visit.
Here the father of the monastery allowed me to show them how to make coffee with alternative brewing techniques. The opportunity was part of a 3 months travel experience in my own country a couple of years ago. I made a list of the places I had never been to in Turkey and travelled non-stop like a backpacker. I carried my alternative brewing bar concept 'Just in Case' and always set it up where I could meet the local people and make them free coffee in exchange for a chat. I must have met 100's of people this way, while collecting amazing memories.
The coffee beans I was serving were African and from Cape Town's Origin Coffee Shop, but I also tried traditional coffee beans for making Turkish coffee, using a simple AeroPress and blending my coffee with their coffee. The result was exceptional. This was another way for me to focus on experimental travel that allowed me to meet people, coffee being the bond that brought us together.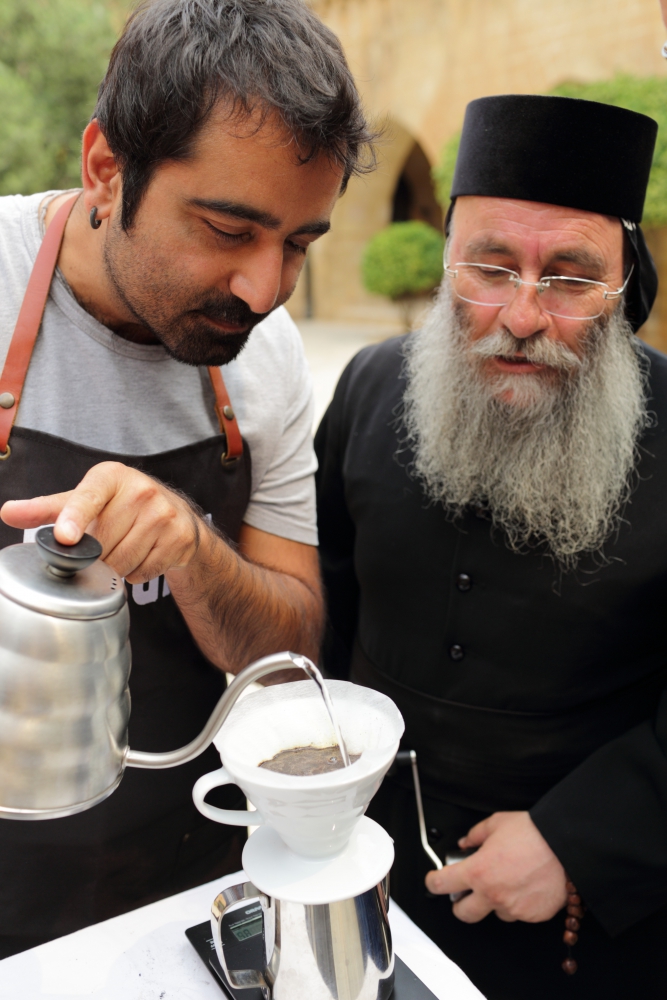 Coffee is Art
In Cape Town, being able to make coffee for renowned artist Lionel Smit in his Strand studio, surrounded by his massive sculptures, meeting him and learning about his incredible work, was a treasured moment for me.
While I set up my coffee station and went about brewing and making him coffee, my passion and chosen art form, we talked about his life, the inspiration for his work and how growing up with artist parents defined his destiny. Sensing the curiosity of a well-know artist in my coffee making brought me true happiness and I could feel us connecting on a deeper level as a friendship was formed.
Lionel Smit is considered one of South Africa's most talented artists and is best known for his contemporary portraits that he creates on canvas, as well as his evocative series of sculptures with their shades of blue and bronze, touches of red and grey, each face he works on revered for it's unique beauty and characteristics. I love visiting with him.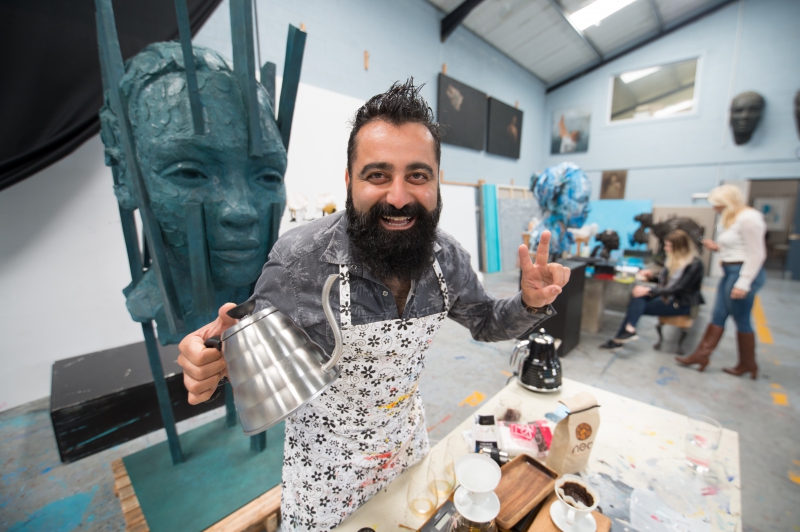 Of Mountains and Men
In the beginning of the year I was approached by local tour operator Rhino Africa to design a four-day itinerary for European travel journalists that would be visiting, and writing about, Cape Town.
On one of the days the focus was specifically about experiencing the city with locals. Picking them up from Ellerman House, they were accompanied by one of my Cape Town legends Doug and his dog Stout. We proceeded to hike to Wally's Cave on Lions Head, a rather unknown and treasured spot on the landmark mountain that visitors need to be guided to.
Here we were met by 2012 and 2016 Barista Champion of South Africa Wayne Oberholzer for a coffee tasting and in depth lesson in the history, value and appreciation of coffee. Settled in the ancient cave, with a view of the city below, it was an exceptional moment for me, and for those I was hosting.
From here we headed to the Oranjezicht organic market for breakfast before joining Master Chef SA Jade De Waal at her home for coffee with famed cartoonist Zapiro, and a casual lunch by Jade. It truly was a day to remember.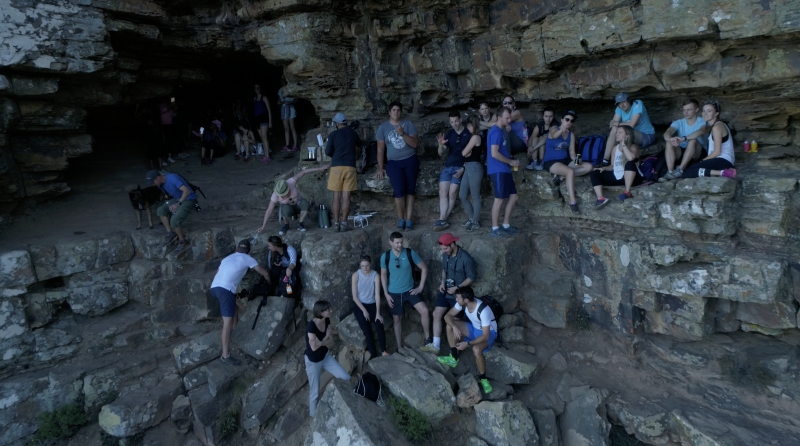 Coffee in the presence of Greatness
In all my years I never imagined that I would make coffee in the company of 15 elephants in the middle of the African bush, but that is exactly what happened when I travelled to Zimbabwe and Zambia earlier this year to visit some African Bush Camps.
I always carry my 'Just in Case' mobile alternative coffee brewing bar with me and this time the focus was on demonstrating that you may be in the middle of nowhere, but that does not mean a compromise in the quality of your coffee when you stop for a break. All it takes is a hand grinder, an Aeropress station and the will to do things right, and you have it.
My coffee date with the elephants came about when I was set up next to a watering hole at one of the camps, facing the guests and talking them through my passion for this black liquid gold. As I was serving them, the elephants approached quietly from behind for a drink of water. I never even knew they were there at first, until one of the guests whispered that I should turn around.
My heart was beating at the privilege that just two meters away from me were these majestic gentle giants. They may have been there for the water and not for my coffee, but for me it was a moment that marked my love for coffee making in the wild, and of course for all things Africa.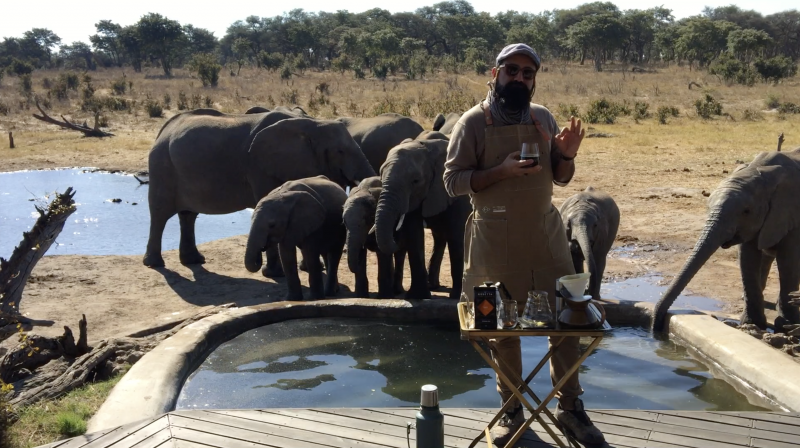 ---
Who is Ozan 'Ozzy' Emre Yerlikaya?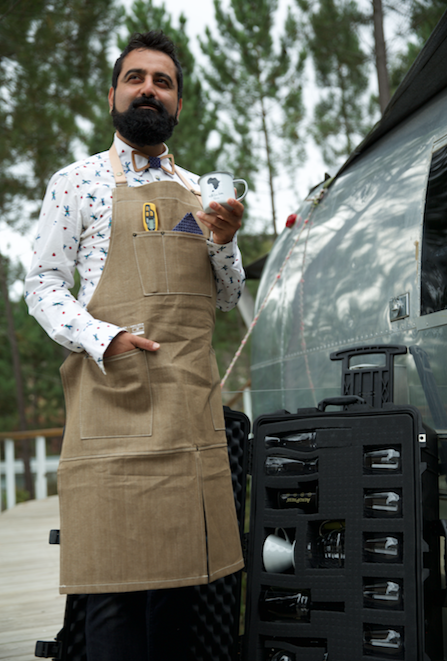 How did you end up in Cape Town, South Africa?
Born in Istanbul Turkey, I started working and traveling as a scuba diving instructor, spending time at many of the top dive sites the world over. While I was living on a beautiful tropical island in Malaysia, I was offered a job at a Johannesburg based Turkish travel agency. Giving up island life and the ocean for an office job in a large metropolis did not really appeal to me, but I wanted to use the opportunity to come to South Africa. The transition was a huge cultural and emotional shock to me and I struggled to settle.
I thanked them for the opportunity and left with every intention of returning to Malaysia, but decided to do a three-month trip from JHB to Cape Town, including Swaziland and Mozambique, before leaving. At the time I did not know that this decision would change my life. The trip led me to meet hundreds of people and fall in love with the Southern African landscape and it brought me to Cape Town.
It was the first time I'd been truly wowed by a city and it made me instantly want to live here. I cancelled my flight back to the Malaysia and resumed work in Johannesburg, knowing that in time Cape Town would become my home. In 2009 I was able to make that dream come true and settled in the Mother City. Motivated by a burning desire to offer the very best travel experiences I could, Travel Designer was formed.
Travel Designer is a pretty ambitious way of conducting tours, tell us what inspired you to start this business and what exactly people can expect?
Travel Designer is a human inspired travel concept that was born when the people living in Cape Town who have became my best friends, encouraged me to turn this lifestyle of mine into a business. I love meeting people. Its something I have to do daily. If I can't meet a new person every day I literally cannot sleep.
I realised that when I travel I prefer to sit in a coffee shop in a small town run by the person who knows everybody, having long conversations and finding out the daily routines of the residents there, rather than visiting a museum or famous tourist attraction. That is how I choose to travel, surrounding myself with new and interesting people to meet, and I wanted to offer this style of travel to others. Travel designer is a personal transformative travel concept based on the that.
I believe in the quote by Pittacus Lore: "A place is only as good as the people you know in it. It's the people that make the place". That's why I created the 'Cape Town Legends' series in the beginning of 2017, which allows you to not only experience Cape Town like a local, but also with a local, ensuring an in depth exploration of the Mother City.
We have got amazing people on our list of legends and when I'm asked to design a holiday my guests can prepare for a somewhat unusual and sometimes spontaneous itinerary.
Who are your favourite Legends to visit?
It is hard to pick a favourite as I love all of my legends, but these are the most popular:
Meeting famous cartoonist Zapiro in his studio for a political conversation while I make coffee with freshly ground African beans.
An exclusive dinner at Ree Treweek's home, a sculptor, painter, illustrator, animator and director, you will feel like you've been allowed access to a small museum as you listen to how she creates her parallel worlds, all the while young chef Johnny Hamman prepares the meal.
Spending time with female car collector Michelle Hambly-Grobler, who has an unrivalled knowledge and enthusiasm for cars. We meet her at Cape Town's Crossley Webb showroom for coffee as she talks about her impressive collection of high-end cars, specifically Porsche. Learning about the origin of her interest and ultimately taking a ride with one of Michele's cars, always blows people's minds.
Street art is clouded with mystery and the prospect of meeting a famous graffiti artist is almost unheard of. Yet we bring you Mak1one, who will walk you through the streets and point out some of his work, you will even have an opportunity to paint on the walls with him, leaving your own mark.
What do you think it is about coffee that inspires and brings people together?
We drink coffee with family, business associates and lovers. You only have to walk down the nearest high street to see the number of coffee chains to realise the extent of our love affair with this delicious caffeinated beverage. The origin of coffee beans can be sourced to Ethiopia, the story goes that a 9th century goat herd noticed the stimulating effects on his goats and began experimenting. I couldn't be more grateful that he did. I think grinding the beans and brewing the hot drink as you chat, drinking it and inhaling the aroma, tasting the full-bodied flavour breaks down barriers, relaxes and brings people together.
Which of your projects is inspiring you right now?
At the moment I am busy setting up the first alternative coffee brewing bars at a very good friend of mine Beks' from African Bush Camps lodges in Zimbabwe, Zambia and Botswana. Beks is the founder of African bush camps and they have 12 lodges that offer amazing service in the middle of nowhere in the beautiful bush. We thought, why don't we serve the best quality coffee in the African bush? I'm currently planning my second visit to set up the bars and to do more training. As you see coffee makes me travel too, yet another reason for me to love it!
---

Seeing the Wild through Bekezela Ndlovu's eyes: African Bush Camps
How did African Bush Camps begin and what is your ethos behind the business?
I started my career as a professional guide, and African Bush Camps was born out of a desire to promote the concept of privately guided safaris through remote parts of Africa. I passionately believe that your guides and hosts in Africa are the key to making your safari the most memorable African experience and I created a safari company that really celebrates and champions guiding. Our passion and our quest as professional guides is to explore the wildest and most remote parts of Africa, away from the crowds or influence of today's developing civilisations and to share these unspoilt locations with our guests. To compliment this vision, I took on a number of Safari properties and operations under the African Bush Camps brand. These facilities enable you to experience an authentic view of the old 'untouched' Africa, with minimal impact on the environment whilst enjoying the best wildlife encounters with outstanding professional guides.
Why is a good cup of coffee important to you and to your guests? And why do you think good coffee has been taken for granted for so long in the hospitality industry?
Coffee is something that has always been associated with urban culture, not bush culture. We want to give our guests all that they desire when they travel with African Bush Camps, and coffee culture has become a big highlight of discerning travellers, so we are just looking at how we can enhance our guests' experiences. It is really just taking peoples preferences and making them available in the bush. It is no different than having your favourite bottle of wine or whiskey in camp.
How did you meet Ozzy of The Travel Designer and what led you to work together?
I met Ozzy through a mutual friend and very quickly felt his creative nature and was immediately drawn to the "out-of-the-box" tours he does around Cape Town and how he enhances the Cape Town experience. I identify with him, his passion for travel and how he goes the extra mile in innovating ways in which you can make someone's travels in a particular destination a very special and memorable experience.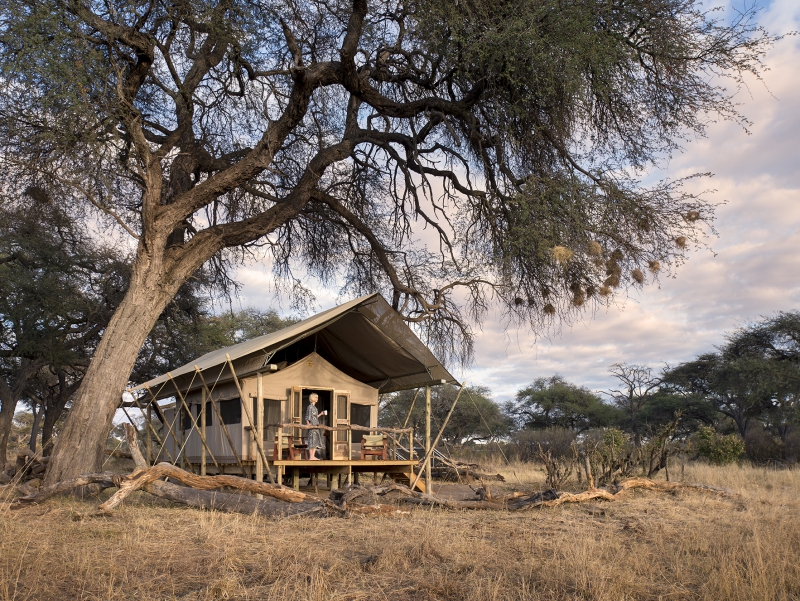 Can you tell us about some of the exciting projects happening for African Bush Camps?
We opened a new property in 2018, Bumi Hills Safari Lodge, at Lake Kariba in Zimbabwe. We are very excited to have a new product to offer our guests and add something really special to our safari circuit through Botswana, Zambia and Zimbabwe. I am also very excited to be part of a collaboration with Eleven Magazine, a design magazine based in the UK. We are working together on a 'Design A Safari Camp' competition, which has recently launched. We are asking people to design an eco-friendly safari camp using the principles of biomimicry, which is a relatively new field of study that looks at the design and production of materials, structures, and systems in our human/man-made world that are modelled on biological entities and processes in nature. We are really looking forward to seeing the ideas that people come up with.
Got something to say? Then leave a comment!
---
Lifestyle: Intermittent Fasting is a thing right now, but how does coffee fit in?
Tuesday, 13 August, 2019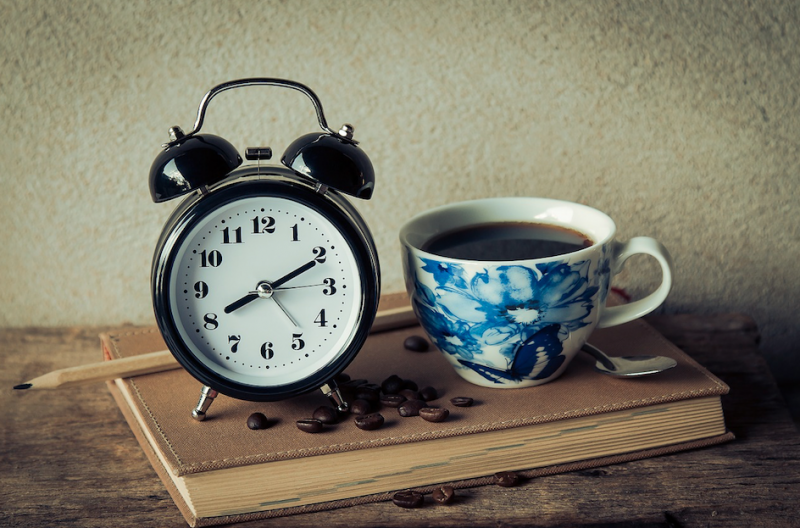 Intermittent Fasting: Can You Drink Coffee?
Intermittent fasting is having a moment right now as the latest trend in a long line of diets and eating regimes intended to promote weight loss and healthier eating, although it's actually been around for many years; it seems people are just cottoning on to the benefits now. The main difference is that it's more about when you eat than what you eat. By eating within a specific period, and fasting the rest of the time, the benefits range from weight loss to improved brain function and insulin sensitivity, reduced inflammation, prevention of chronic disease, and even a longer life.
And while people are learning that they can survive just fine without food for a day, there are a lot of questions around drinking coffee during your fast. You won't die if you don't eat for a day, but to go without caffeine? Is that even possible? So, you're probably wondering…is it ok to drink coffee during intermittent fasting? That depends.
What about milk?
Plain black coffee (no milk) is generally accepted as fine during intermittent fasting – and the same goes for plain black tea. Plain black coffee is considered to have zero calories, and is therefore acceptable while fasting. It might even be beneficial thanks to the appetite-suppressing effect for some coffee drinkers. And for those who crave their coffee 'kick' – the caffeine effect should be even more pronounced given that you have nothing else in your system – you should feel even more energised and alert than usual.
Unfortunately, plain black coffee doesn't bode well for coffee lovers who need their milk and sugar… Lattés, cappuccinos, frappuccinos, and other high-calorie or sweetened coffee drinks are unfortunately off-limits during a fasting window. If you absolutely have to add something to your coffee, a tiny dash of cream or coconut oil is acceptable because it won't increase your total calorie intake or blood sugar levels too much, but technically, you're not supposed to consume any calories while fasting.
Do you get the jitters?
One thing you do want to take into consideration is how caffeine affects you personally. If you're sensitive to caffeine and prone to anxiety, heart palpitations or high blood pressure, consuming too much caffeine could work against your health goals in doing intermittent fasting. And there are some intermittent fasting experts who advise completely giving up caffeine during fasting periods…
For many people, one of the benefits of fasting is giving your body a chance to reset itself – coffee actively works against this by activating your adrenal glands to release cortisol; known as the stress hormone. If you're under chronic stress, it might be better to give your body a rest from the cortisol production.
Ultimately, intermittent fasting is about finding a fasting period and schedule that works for you and your body. Chat to your doctor before drastically altering your diet or lifestyle, and see what works best for you. Listen to your body – if it needs coffee to stay sane, do what it says. If not, let the thought of that creamy cappuccino waiting at the end keep you motivated through your fasting hours.
Got something to say? Then leave a comment!