Kapow! Coffee and Comic Heros in Durban!
Friday, 2 November, 2018
Comic book and Coffee fans in Durban celebrated the opening of Kapow! An Independent comic book store with a superhero stance on great coffee! The brain child of Owner, Shaun Burgin - a lifelong comic book fan, Kapow aims to be a home for comic book fans in Durban and a daily meeting point for folks who love good coffee.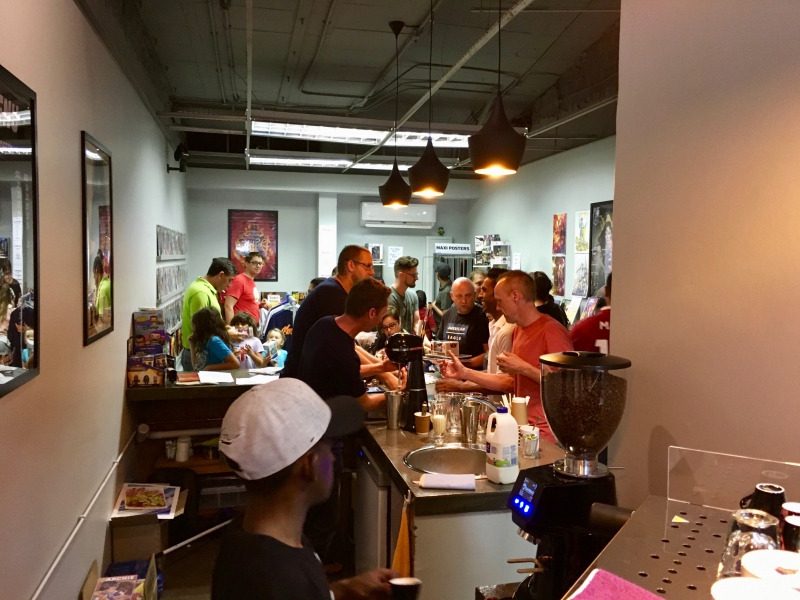 Kapow! in full flow on Opening Day!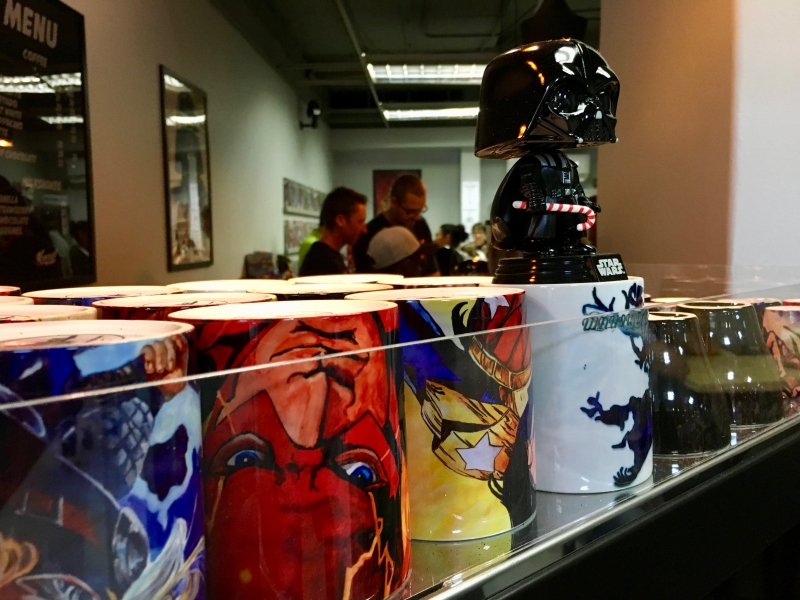 The beautiful Superhero painted cups on top of the San Remo!
Ernest Andrews is the man behind the coffee at Kapow. Besides installing a beautiful San Remo machine and grinder, Ernest has crafted 2 blends for Kapow! The WonderWoman and Batman blends - The House blend Batman is a Mt Elgon Uganda & Cerrado Brazil while the milder Wonder Woman blends is Mt Elgon Uganda & Santa Ana El Salvador.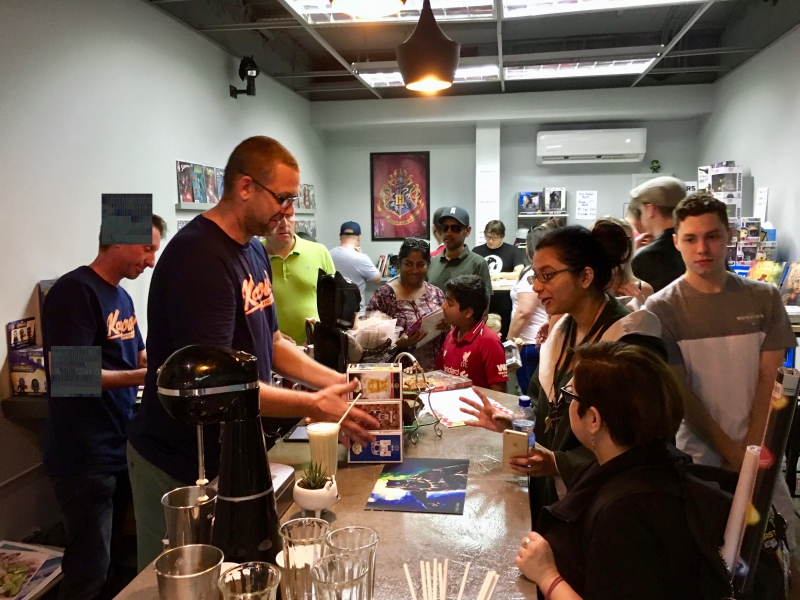 Like any good opening day - friends and family got stuck in - Go Pricey!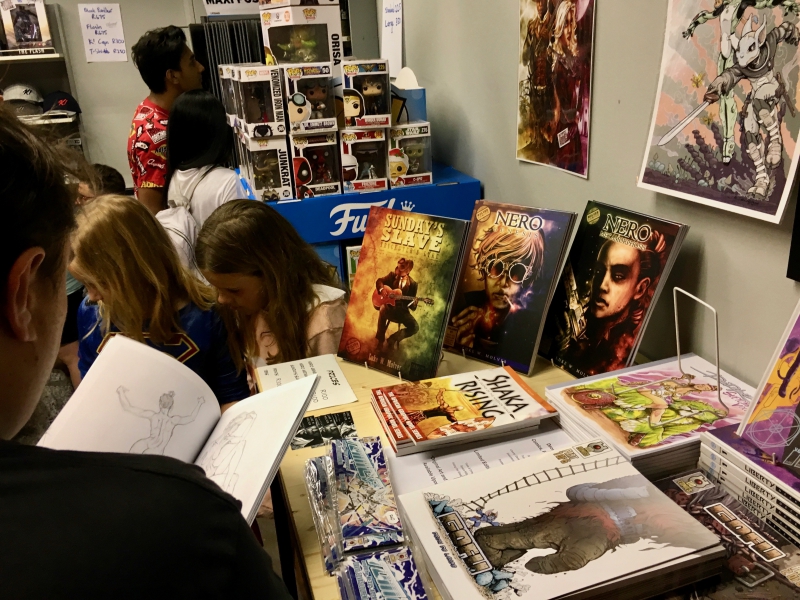 Kapow also celebrates SA comic talent - SA narratives and even an Afrikaans comic collection.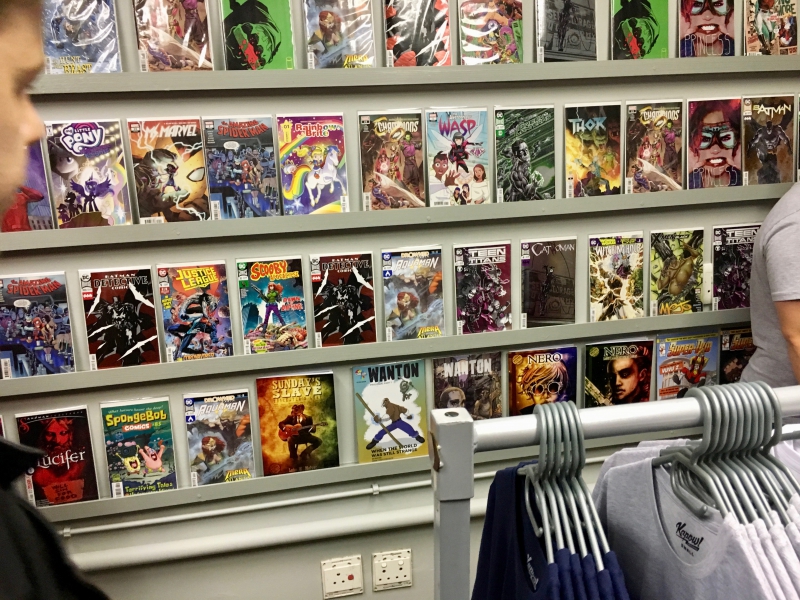 "I pictured the comic wall to be bigger, but this is all the space we ended up with" says Shaun. We think that's a pretty decent wall!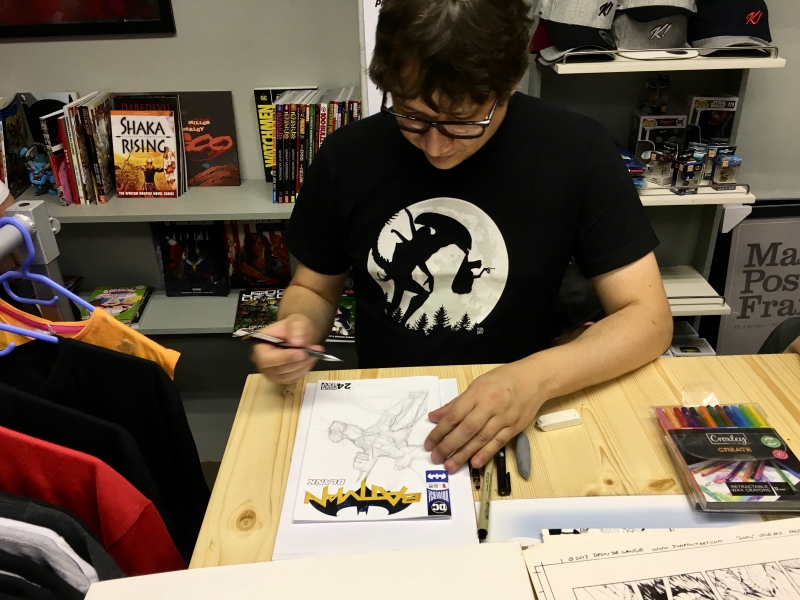 Deon de Lange - live comic drawing in-store.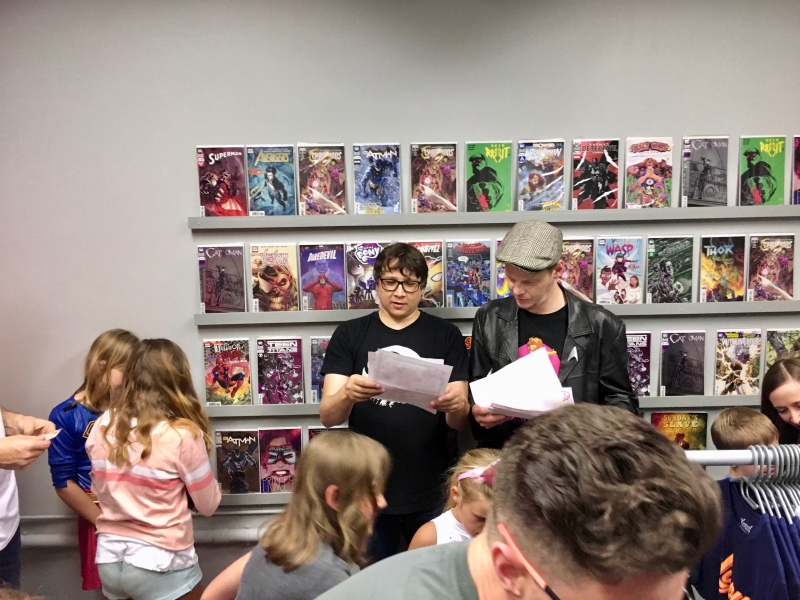 Luke Molver & Deon de Lange - local heroes and judges at the kids comic competition on opening day.
You can visit Kapow at
Shop 43 - Kensington Square,
53 Adelaide tambo dr, Durban North
Facebook https://web.facebook.com/Kapow-328394641070922/?ref=br_rs
Instagram : @kapowcomics1
Got something to say? Then leave a comment!
---
Interview: SA Cup Tasters Champion, Donovan McLagan
Wednesday, 31 October, 2018
Donovan McLagan is heading to Brazil next week to represent South Africa. We caught up with him as he's about to jet off!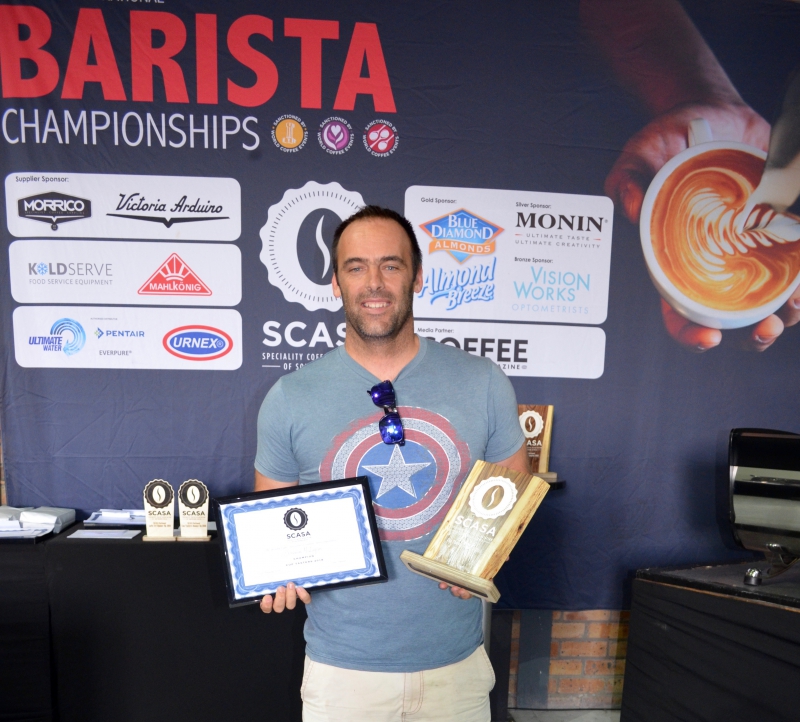 So Don, you've won the SCASA Cup Tasters competition FOUR times now. Wow, that's amazing! Do you think that beginning to roast your own coffee has helped develop your palate even more?
The short answer is yes, but I do think one still needs to cup as much as possible especially speciality grade coffee as there is so much more going on in the cup.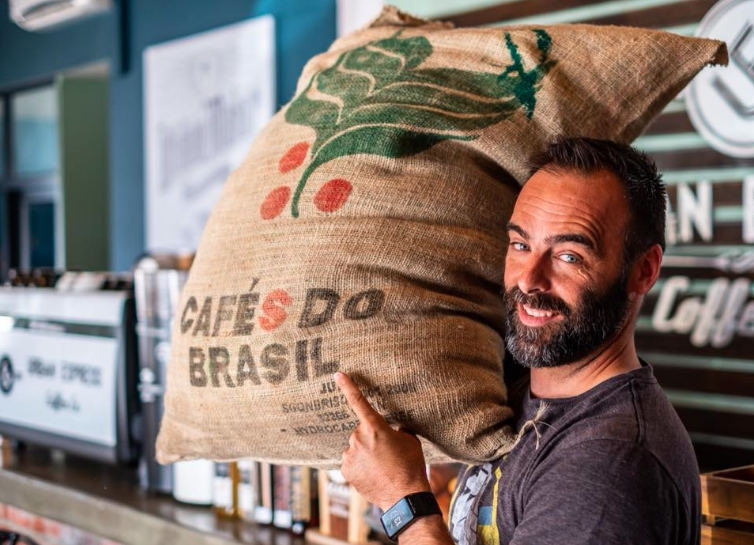 Photo by @toosocialsa for Urban Espress
How has your training program differed this time around?
I have kept to the same program now for the last 2 years and find it works really well for me. In short I run sets and get a team mate to take notes on my non verbal queues especially on the cups I get wrong.
You've also been soaking up all the knowledge you can through the SCA courses, tell us about your experiences and how they've benefited you and your business.
It's been a really validating experience and the demand has been bigger than expected. Next year is going to be a busy year.
What are your expectations for Brazil? (And are you planning to surf :)
I would really love to make finals as missing it by 11 seconds in 2012 still haunts me a bit. I will be going to Rio and I'll see if I can get a surf in.
Tell us about Urban Espress and the changes your business has gone through over the last year.
Urban Espress Cafe has been around since August 2012 and the last year has been a really tough one as we had to close one of our locations due to a landlord not renewing our lease. That been said keep an eye on social media going into next year. We have some plans.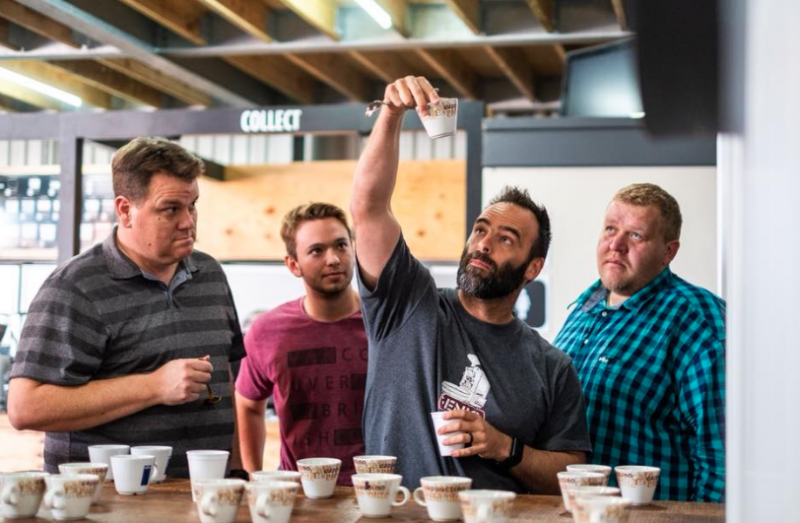 Photo by @toosocialsa for Urban Espress
Got something to say? Then leave a comment!
---
Spooky Latte Art for Halloween
Tuesday, 30 October, 2018
Interested in Latte Art that will send shivers down your spine? Well in the spirit of dressing up, these baristas decided to dress up their coffees in some spooky costumes.
This barista in Taiwan is CRAZY and he has done a whole series of freaky latte art.
Chucky. Gross. This is too accurate.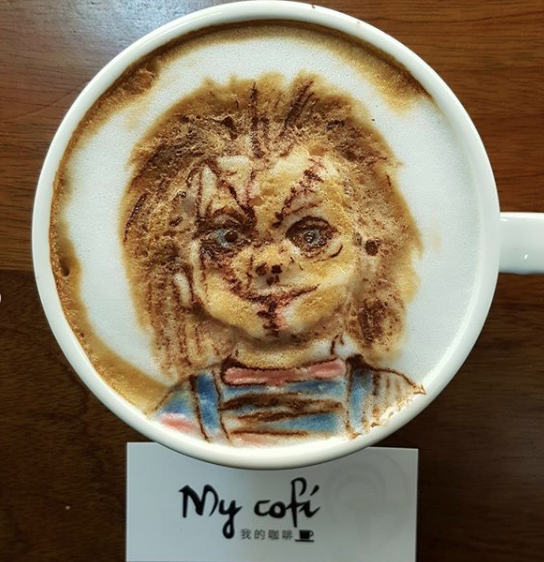 The Ring. Go watch the video to see her jiggle creepily! Haha!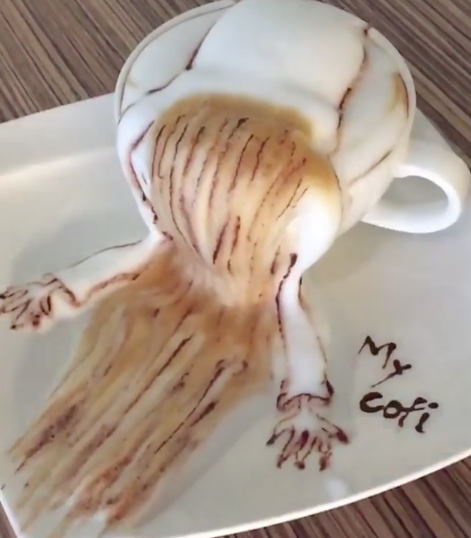 And the cockroach, I know a heck of a lot of people that would be totally freaked out by receiving this coffee.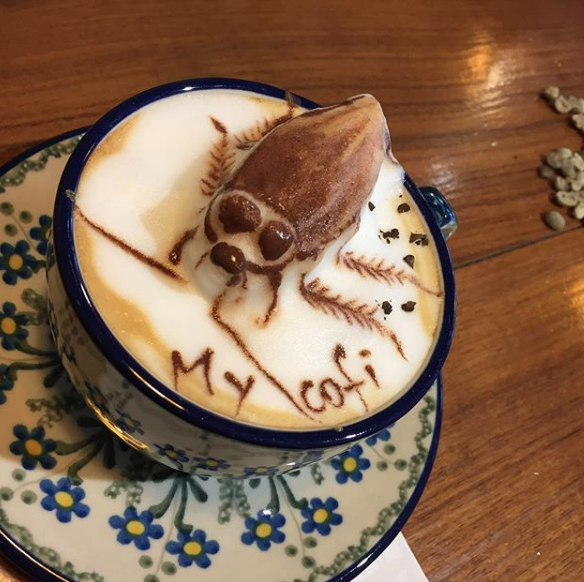 Edward Scissorhands. Sure, this coffee is definitely going to be cold. But you've got to admire this dude's skill.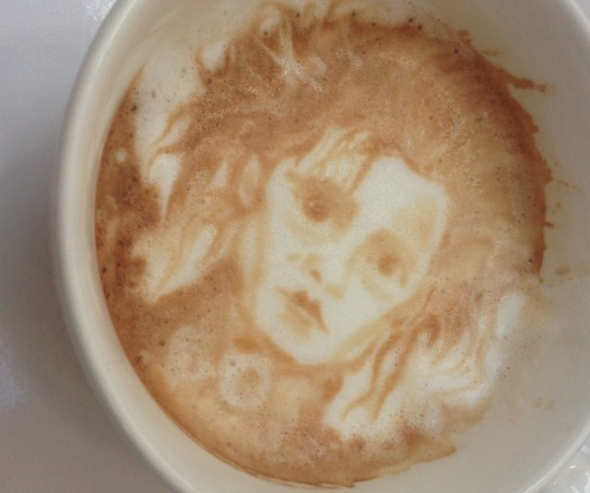 The Scream. Ah fears of anxiety and uncertainty. Modern horrors. Classic.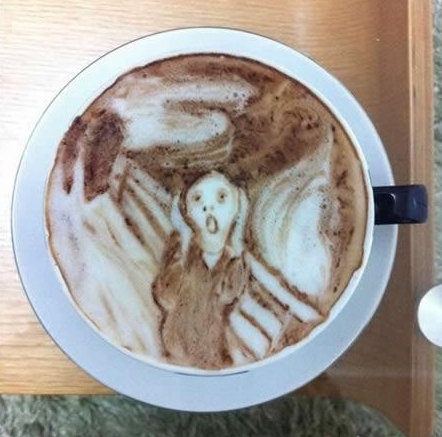 Got something to say? Then leave a comment!
---
In search of the White Wagtail: A Birding and Coffee Story
Friday, 26 October, 2018
By Janelle Verster
---
What seemed to be a perfectly normal working day in Pretoria that morning, soon turned into a big adventure. Something like Alice who fell through the rabbit hole into Wonderland or Lucy who walked through the wardrobe into Narnia.
It all started with a call from my husband, Pieter. "A White Wagtail has been spotted at Rooisand; there are cheap flights available – are we going?" My voice could not hide away my shock. "Today?" Now I am not the world's best aeroplane passenger or flight companion – to be honest, I am a very bad flyer. Sometimes I will cry softly for a large part of a flight (trying to do it unnoticeably, though) and with every slight bit of turbulence I am usually very concerned. Over and above this, we returned from the exact same part of the country only three nights ago after a nice, long December holiday at my in-laws' place in Hermanus. It was only our second day back at work. "Take half an hour to think about it and call me back."
I quickly went to get coffee at our cafeteria whilst processing the information. The White Wagtail. It might sound like the name of a ship – maybe we were shipwreck hunters. Not yet. And no, it's not a plane. Nor is it Superman. It's a bird…
In our free time, we like to do what they call "birding". Like thousands of other people in South Africa (yes, believe it or not), we try to see as many different bird species as possible in the Southern Africa region (SA and its neighbouring countries for birding purposes). We have driven many kilometres in search of birds and each trip is like a treasure hunt. But one can also say that we are "twitchers" (for other interesting birding jargon, search "Twitchers vocabulary" on Wikipedia). Twitchers are birders who jump at the opportunity to go and see a rare bird when it unexpectedly pops up somewhere. Often, o so very often, one "dips" on the bird (miss it completely despite all the effort to get to the spot it was reported from – when you arrive it is gone…), so there was a good chance that the White Wagtail would also be gone when we arrive at the spot it was seen.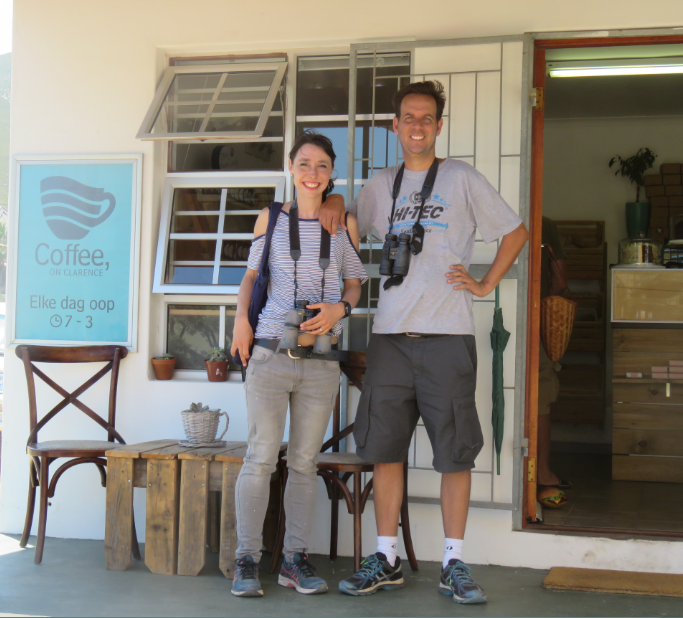 The White Wagtail is, however, not just any bird. It has never, ever been spotted in the Southern Africa region. It comes from very far – these birds are generally found in Asia and Europe and some of them do a seasonal migration to the northern parts of Africa. The records closest to Southern Africa that I know of, were in Malawi and Tanzania. So how did this vagrant bird end up close to the very south of the African continent? It seems as if some birds' "internal compasses" go haywire sometimes. Others might be young and inexperienced in their travels, and some others might be pushed off course by the weather (Melissa Mayntz wrote an interesting article about vagrant birds on www.thespruce.com). It cannot be said with any certainty how this one got here. But this one, expertly found by a gentleman by the name of Lester van Groeningen, was something very worthwhile of "twitching": in the words of Trevor Hardaker, one of the most famous names in South African birding circles and compiler of the SA Rare Bird News Report (by the way, if you are interested in news like this, you are welcome to join the sa-rarebirdnews group on Google), "Get here now!!!"
And so we did. That evening of the 9th of January 2018, Pieter and I were on our way back to the Western Cape, with our very good friend, Eduard, joining us. As with Alice and many characters from fantasy tales, our transition to the other "world" was, however, not all smooth-sailing. Bad weather in Gauteng meant our plane had to take a detour to OR Tambo first on its way back from wherever before it eventually landed at Lanseria International Airport to pick us up. At least we had the privilege of spending the few hours in the airport lounge, myself with a coffee and the latest Coffee Magazine.
After our delayed flight, we still had to tackle the around 120 kilometres to Hermanus by rental car. We eventually arrived at my parents-in-law's home at 22:35, answered a few of their curious questions, had some food and went to bed, as we knew that often only the early worm catches the bird. Many birds tend to be less active when it is hot, so we left Hermanus very early the next morning, eager and hopeful to find the bird, but also a bit nervous: what if it left already? What if we cannot find it? What if it flies off before all the members of our group sees it? All these questions arose from previous not-so-good experiences…
It could also be the case that we would have to search for the bird for several hours, so we made a quick stop for provisions at a nice filling station shop in Onrusrivier on our way to the Rooisand Nature Reserve where the bird had been spotted the previous day. Of course I wanted a coffee too… At the coffee machine, I came across other people with the same love for coffee (and for birds!). "Are you also here for the bird?", they asked me. I think the binoculars around my neck, despite it still being dark outside, gave it away.
We arrived at the Rooisand Nature Reserve some minutes later, myself still sipping on the cup of coffee. The Reserve is situated close to the famous Arabella Country Estate and golf club, near the Overberg town of Kleinmond. It is indeed a wonderland, with wild horses wandering around the wetland. As with the bird, it is also not known how the horses got there in the first place. It is possible to walk a few kilometres along the mud flats of the reserve, so we hoped that the bird (if there) would be close to where it was spotted the previous day. Not that we dislike walking (I actually love walking!), but to find a bird of around 20 centimetres in an area of a few kilometres can be quite a scramble. What makes it even more difficult to find, is the vast number of bird species of a similar size that can be found in the reserve and the fact that there are Cape Wagtails almost everywhere along the banks of the water. The Cape Wagtail is a common resident of the Southern African region and that, as it name tends to suggest, is also found in the Cape. It is quite similar to the White Wagtail to the untrained eye (including the three of us, who only recently heard that something like a White Wagtail existed…). We got excited at the sighting of any wagtail and carefully tried to study each individual bird in the bad light of the early morning. However, none of these could be confirmed to be a White Wagtail.
Together with my "team" and my coffee, I eventually moved closer to the bird hide next to which the bird was seen the previous day. There we found the same people we came across next to the coffee machine earlier that morning, now throwing their arms in the air as they saw us. They found the bird! We hurried closer, careful not to disturb the bird that we still could not see at this stage. The friendly people managed to get the bird in their spotting scope and kindly offered us a look through the scope: each of us, in turn, saw the bird and it was clearly the right one! We then watched for minutes through our binoculars how the bird was hopping around and feeding with two Cape Wagtails and later it even came so close that we could identify it with the naked eye.
We celebrated the find with a wonderful cup of coffee brewed from Kamili coffee beans at Coffee, on Clarence – a lovely place for coffee and eats that we discovered in Betty's Bay. Like us, owners Kristi and Jacques also left Pretoria for "another world" in the Overberg, but on a different adventure and on a permanent basis. I asked these friendly strangers quite a lot of questions about their nice little coffee shop in Clarence Drive (on the R44), and they were equally interested in our birding story. They opened their coffee shop in September 2017 and already open at 7:00 in the mornings, perfect for early adventurers like birders, runners, cyclists, beachgoers and surfers.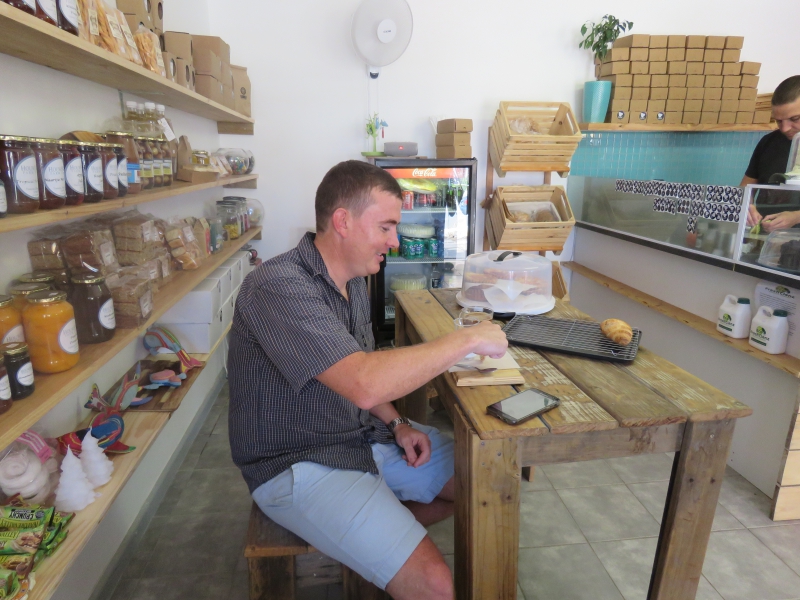 Well, we have been back at the office now for a few days after getting up at 3:38 am on the Wednesday morning to return to our normal world, telling some perplexed co-workers of our adventures. But it appears as if the bird has now followed in the footsteps of Alice in Wonderland and Lucy of Narnia, as it could not be found by anyone since Thursday…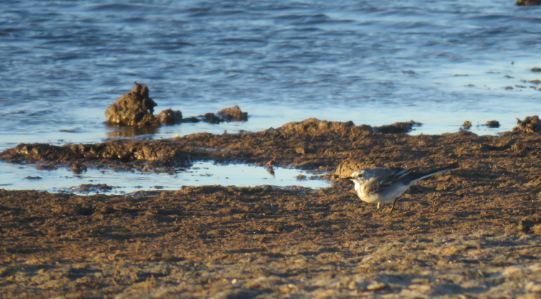 The White Wagtail at Rooisand Nature Reserve (Photo: Pieter Verster)
Got something to say? Then leave a comment!
---
RedEspresso celebrates 13 years of rooibos treats!
Friday, 19 October, 2018
The team at Red Espresso are celebrating their 13th Birthday! Their red cappuccino® is now a standard menu item on cafe menus around the country and they've grown in leaps and bounds with new products through the years to support the proudly South African rooibos product. They're also just really lovely people. We caught up with Monique.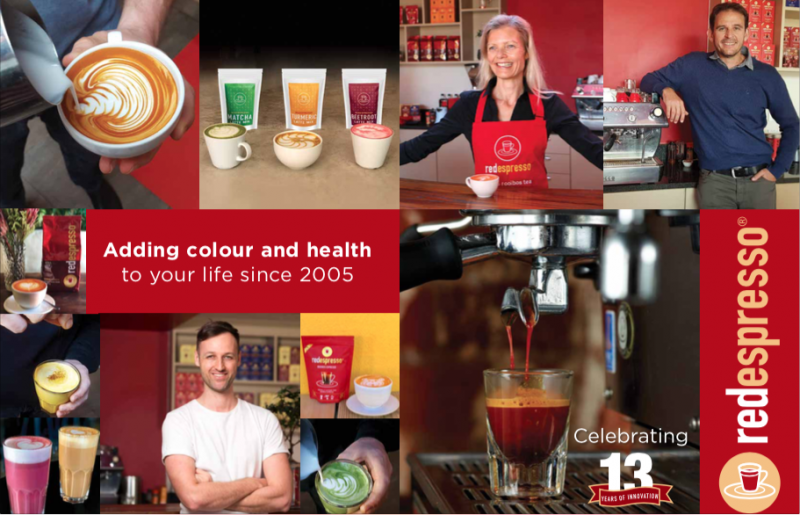 It's your 13th Anniversary! How does that make you feel?!
We feel very proud! When we first launched in 2005 we had a lot of people tell us that we wouldn't make it. We were way ahead of the global health and wellness trend, specialty tea was not as popular as it is today, and the café culture in South Africa was still establishing itself. So our range of healthy cafe style drinks made from rooibos tea (like our red cappuccino® and red latte®) were a really foreign concept for the café owners and also the customers! But thanks to how good our red cappuccino® tastes (!) as well as speciality tea gaining in popularity, largely for its health credentials, and our local café culture becoming more sophisticated and advanced, with a lot more people participating in it, we have seen demand for our red cappuccino® and red latte® grow. And today we are on most café menus around South Africa. So as we celebrate our 13th birthday with 6 international awards under our belts, we feel extremely proud. And glad that we stuck to our guns!
Red Espresso is a family affair, do you think this has contributed to your success?
Absolutely! We are very fortunate that between the four of us family members we have very complimentary skills of sales, marketing, design and product development – we make a powerful team! Also, who better than family to burn the midnight oil and roll up their sleeves and do what needs to be done to ensure success? We have worked 16 hour days when it's been required of us and had a good time together doing it too!
Are the SA rooibos farmers coping as the demand for this product grows?
We only use slow growing mountain tea for our red espresso® (rooibos tea grown at highest altitude has a stronger, bolder, richer taste, just like coffee that grows at altitude) and the farmers have been experiencing a drought for the last 3 years, so yes the supply of our rooibos tea has been a challenge. That said, we have always worked directly with our farmers so they have expanded their business as our business has grown. Also, 4 years ago we launched our subsistence farmers outreach programme which is starting to contribute to our volume requirements while helping transform family's lives at grass roots in an area of extreme poverty.
You've diversified from strictly rooibos products over the years, what has been your favourite and your most challenging new offering?
Our green tea matcha latte has been a really great addition to the red espresso® family. We love it for its amazing health benefits. The challenge was finding the right partner in Japan with the exceptional grade stone-ground matcha we wanted (our Japanese partner has been in matcha for over 100 years) and balancing the taste profile for the South African market. But judging by how well it has been received I would say we got I right!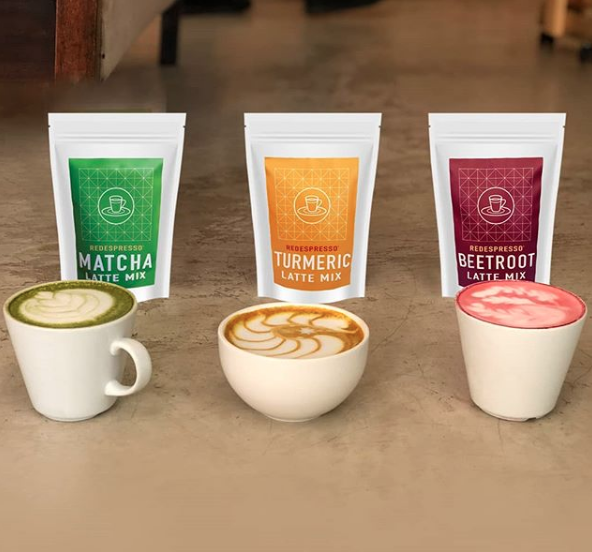 What's your favourite Red Espresso beverage right now? Recipe please!
You can't beat our red cappuccino® as my favourite all year round! But in summertime we drink our fresh red® iced tea every day.
FRESH RED ICED TEA RECIPE: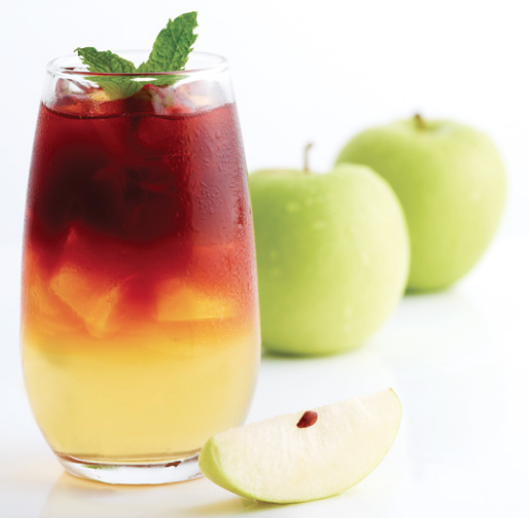 Ingredients
red espresso ground rooibos
Apple juice
Ice
Instructions
Prepare red espresso rooibos – as you would coffee – using your coffee appliance.
Fill a glass with ice
Add 2/3 glass apple juice
Pour red espresso rooibos over ice and apple juice
Garnish with fresh mint and a slice of lemon
What does the next 13 years hold for Red Espresso?
We're passionate about health and pure, natural products. And we are obsessed with innovation. So we plan on launching a lot more clean-label café style healthy drinks for cafés and customers. Watch this space!
Red Espresso Giveaway!
Got something to say? Then leave a comment!
---
The Coffee Places Entrepreneurs & Creatives Love
Monday, 22 October, 2018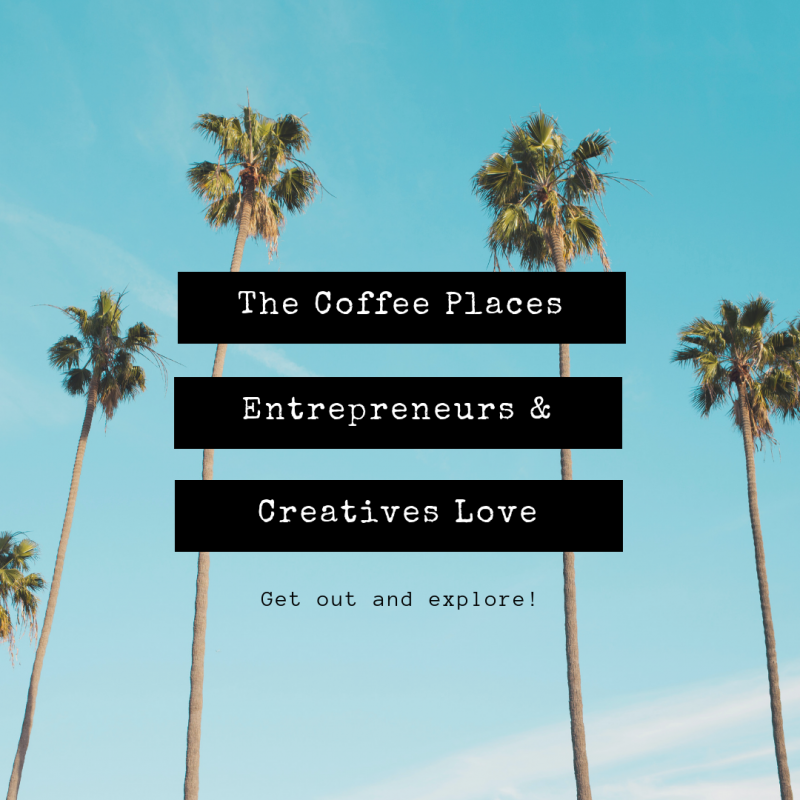 If you're a freelancer or entrepreneur looking for an office away from home, try these coffee shop gems that local creatives love.
---
Janet Botes is a Visual Artist, freelance graphic designer, workshop facilitator, and arts coordinator and curator, living in Wilderness on the Garden Route. Janet has two personal favourites when it comes to working in coffee shops…
The Green Shed Coffee Roastery
Leila's Lane, Wilderness, Western Cape
"The Green Shed sees me most often, because they are close to where I stay, centrally located in Wilderness, with lots of character and excellent service. And not only do they always have almond milk, but they also serve Wazoogles smoothies. They support local suppliers and I always end up spending more than I plan to due to all the amazing products they stock in their shop section, from veggies, crackers, tea, chocolate and veggies, to balms, shampoo, clothing, plants and books."
Old Gaol Complex, 7 Main Road, Knysna, Western Cape
"The Knysna Arts Café is my number one choice for meeting clients who reside in Knysna or Plettenberg Bay, they have INCREDIBLE food, with lots of vegan options, smoothies, great coffee. From my experience, it's a brilliant spot to do networking or meet new collaborators, clients or service providers – they're fast becoming a hub for Knysna's freelance and creative industry, with the Knysna Art Gallery just three literal steps away!"
---
Toni Van Oostenrijk is a Production Designer who runs SpaceCadet, a spatial design studio specialising in set design, event design and layout, technical build development, and bespoke furniture. Based in Somerset West in the Western Cape, Toni's favourite coffee shop is…
Mainstream Centre, Princess Street, Hout Bay, Cape Town
"My favourite coffee shop would have to be Houtbay Coffee. The atmosphere and the people are great. I think that they serve a killer coffee in a really nice setting. Chilling next to the river early in the morning is just the best way to start a day."
---
Jodene Shaer is a social media agency owner, author of the book, 'The Holistic Entrepreneur', and a happy vegan. Jodene doesn't usually drink coffee, but when she's in search of good tea, she heads to…
345 Jan Smuts Avenue, Craighall Park, Johannesburg
"I love Hodges in The Colony Shopping Centre in Craighall because there's Wi-Fi, always a spot to get lost in work, and so many great vegan options."
Kirsty Bisset is a tech entrepreneur and the Founder and CEO of STIR, a digital marketing agency. Kirsty doesn't often get a chance to work remotely, but when she does...
African Roots Coffee
The Pearls Shopping Centre, 6-8 Lagoon Drive, Umhlanga Rocks
"I thoroughly enjoy African Roots at The Pearls in Umhlanga. They have a range of exclusive coffees all sourced from around Africa. The atmosphere is beautiful, and the staff are friendly and well-informed about their blends."
---
Jane Kilian is a Durban-based personal trainer and blogger, better known as GI Jane. A self-love promoter, Jane recently launched an 8-week online self-love course called Unselfishly Me. You can find her at…
Fig Tree Coffee
Grace Family Church Riverside, 63 Anthony Road, Umgeni Park
"Fig Tree Coffee at Grace Church Riverside is a favourite because it's pretty great for Wi-Fi, great coffee, and great staff – and it's quiet during the week so you can concentrate!"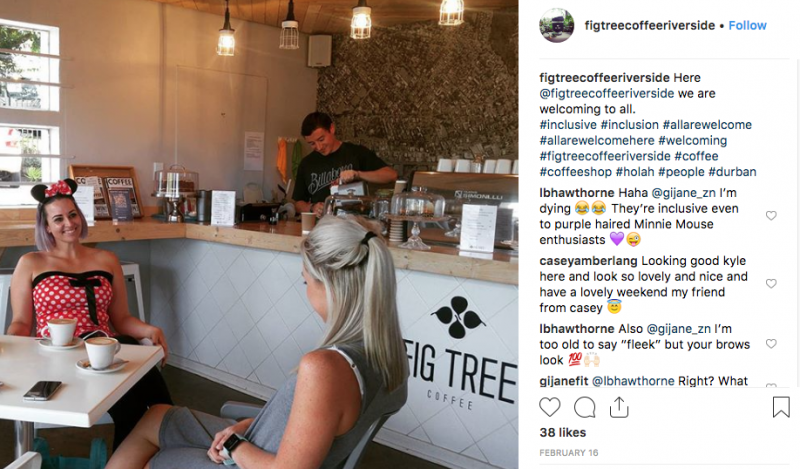 ---
Nicola Meyer is a lifestyle blogger at Run On Coffee. Her top choices are…
Shop 2, Builders Way Centre, 3&5 Builders Way Road, Hillcrest
"If I'm desperate for Wi-Fi then the only place to do work at in Hillcrest is Lineage. Fabulous coffee and food, and such a great vibe. A great people-watching spot, and Kgune and Fani are amazing baristas. The coffee shop feels like home."
155 Gordon Road, Morningside, Durban
"If I find myself in Durban and need a spot to work from, then I would head straight for Skyline. It's much smaller and people are more serious with getting their work done. Incredible coffee and you must have an Oreo and Lindt brownie!"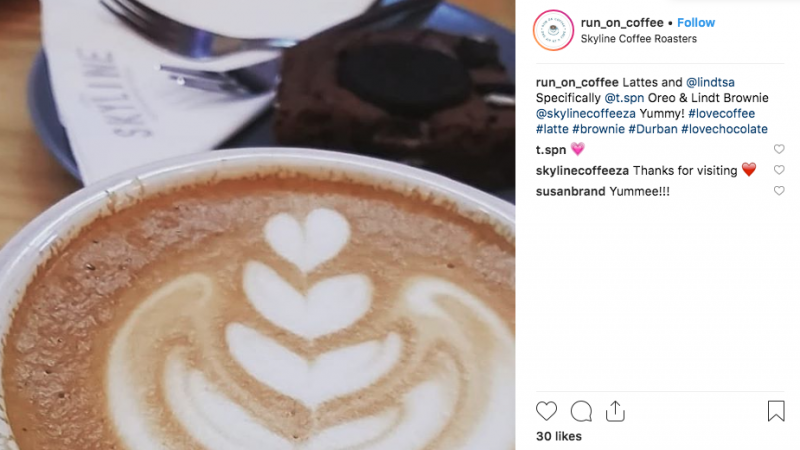 ---
Tamaryn Shepherd is a freelance copywriter based in Johannesburg. When she's not raising kids, kittens, or succulents, her top spot is…
Shop 35, Bedford Village, Corner Van Buuren & Nicol Drive, Bedfordview, Germiston
"The coffee is great, the Wi-Fi is free, and the service is phenomenal. They look after me so well while I'm working!"
Have you got a favourite coffee shop where you love to while away the hours while you work? Let us know on info@coffeemagazine.co.za!
Got something to say? Then leave a comment!
---
A house fuelled by coffee?!
Friday, 26 October, 2018
The tiny home powered by recycled Dunkin' Donuts coffee grounds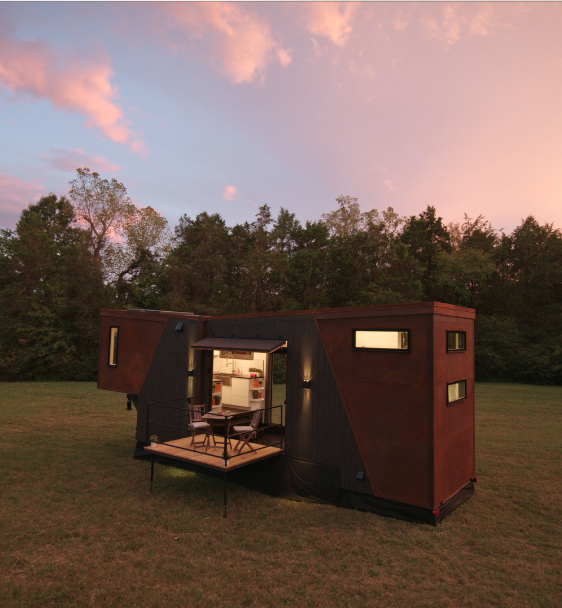 Today is the last day that Americans can rent a tiny house on AirBnB that is literally powered by Dunkin' Donuts recycled coffee grounds – a world first. Created by Dunkin' Donuts in partnership with their agency, Hill Holliday, the 275-square-foot "Home that Runs on Coffee" was designed to prove that it's not just Americans who use Dunkin' Donuts Coffee at Home to power through their day…
For two weeks only, Dunkin' Donuts rented out this tiny home in the Massachusetts town of Nahant on AirBnB – for just $10 a night. And the house is fully-functional, despite being powered by used coffee grounds.
Dunkin' partnered with Blue Marble Biomaterials, a sustainable biochemical company, to create eco-friendly biofuel from about 65,000 pounds of spent coffee grounds. For every 170 pounds of coffee grounds processed, a total of one gallon of biofuel is created. The natural excess oils in the coffee grounds were extracted and mixed with an alcohol to produce the biofuel blend that's 80% coffee oil, and powerful enough to run the Tiny Home.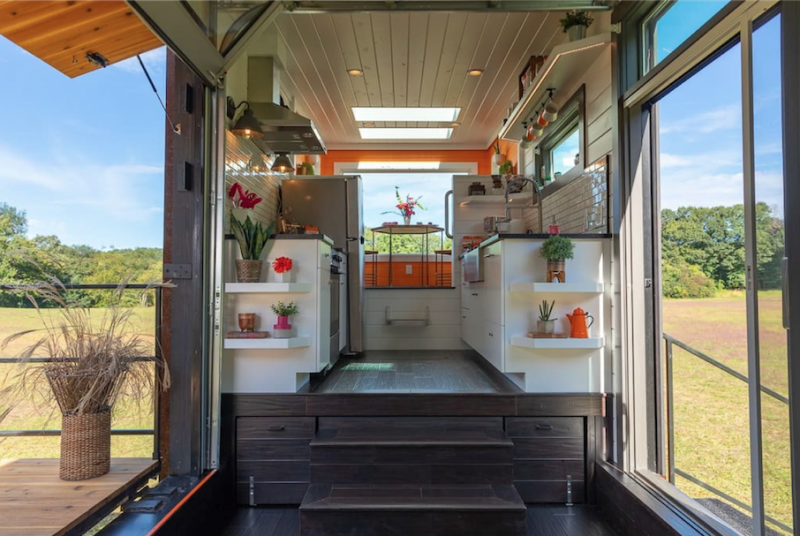 Powered by coffee
The Tiny Home offers guests unlimited coffee and a premium coffee maker, a chef's kitchen with high-end appliances and a farmhouse sink (plus snacks), a full-size designer bathroom with a spa bath and washer/dryer, a king-size loft bed with ladder access, a living room for two and a cozy coffee nook, along with air-conditioning and heat, Wi-Fi, and a full-size cedar deck. The design is a modern, chic aesthetic with custom-designed elements
Fun fact: Dunkin' partnered with actress, Olivia Wilde, for the sleek interior design and décor, and you can check out a 360-degree virtual tour here!
If you liked this article, then you may also like these:
Got something to say? Then leave a comment!
---
Coffee Community: Support Down Syndrome Awareness Month
Friday, 19 October, 2018
We love the way the coffee community is so supportive of each other and we are so inspired by the amazing way two of the families in our community are making positive waves for Down Syndrome Awareness. Jon Roberts brings the Handpresso into the country and Derryn Schmidt has done some amazing editorial photography work for us in the past. They both have family members with Down Syndrome and their stories are just wonderful. Luke is Jon and Jess' little boy and he has inspired a Down Syndrome community across the globe celebrating these beautiful humans.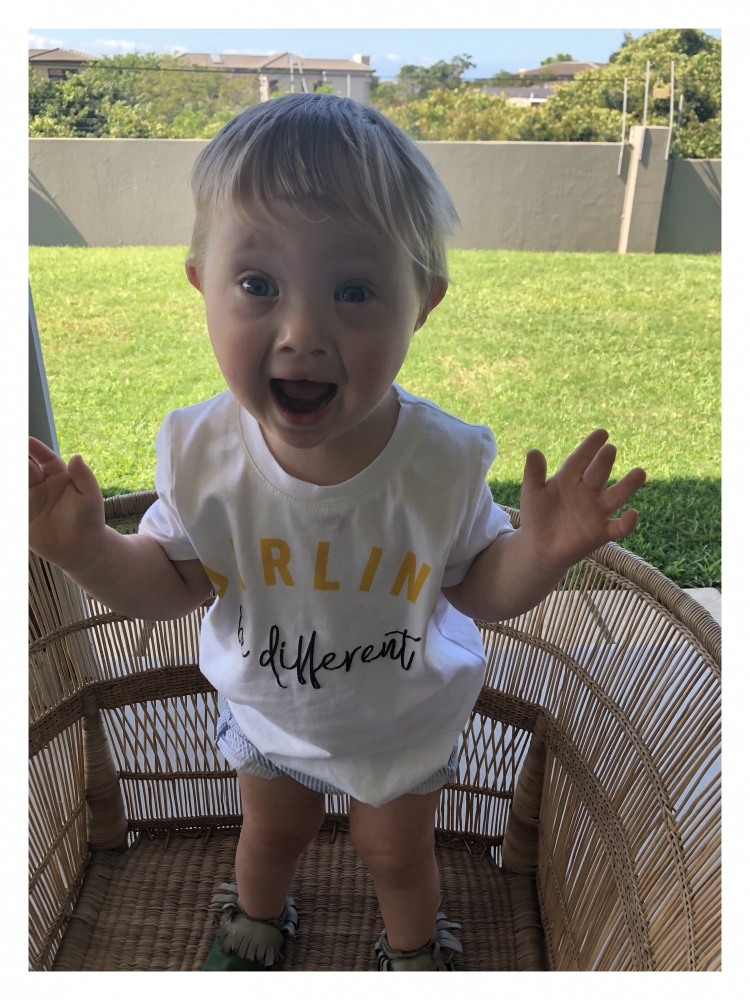 Luke! Isn't he GORGEOUS!
October is Down Syndrome Awareness Month and @handpresso_southafrica and @learningfromluke are giving away a handpresso in honor of their #JUSTLIKEUSKIDS campaign. Go check it out on their Instagram page.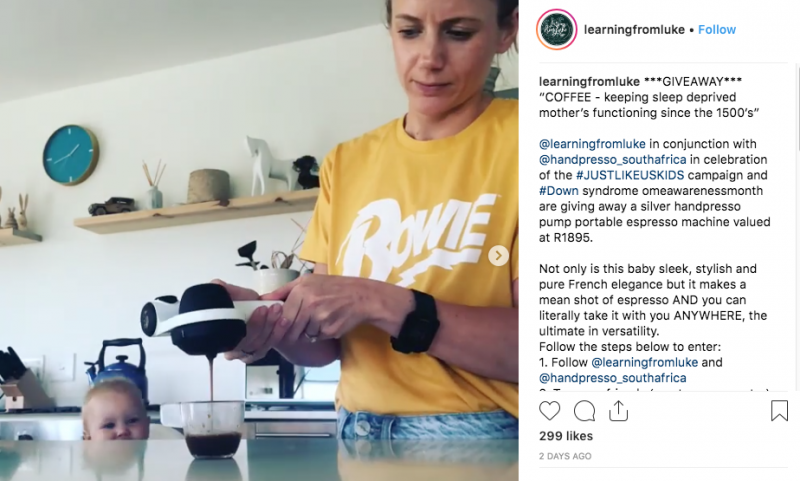 Follow @learningfromluke and @handpresso_southafrica to learn more.
---
When Jon and I found out that Luke would be born with Down Syndrome we made a pact. That pact was to never be embarrassed about our son. We promised to one another that we would CELEBRATE Luke always, that we would EMBRACE who he was and that we would shout at the top of our lungs to the world just how PROUD we are that we get to call Luke ours. It was a silly pact and looking back one in which in we never have had to revisit and remind ourselves of. It just happens. We are just THAT proud of who we have created.
I had a dream. An epiphany if you would like.
That dream involved us shouting from the rooftops about our son's worth, it involved us showcasing the beauty of our son and it involved showcasing this in a meaningful way. And as that dream grew more and more vivid, I saw more children. More parents and more siblings.
I reached out to the families who have had a direct impact on Jon and my journey. Families who have guided us, cried with us, rejoiced with us and who all feel the same amount of passion, the same amount of love and the same amount of pride in their children.
And so the concept for the #JUSTLIKEUSKIDS campaign was born – a Photo shoot of our beautiful children, dressed in beautiful local clothing brands, shot in a beautiful local setting and shot by one of our best local photographers.
The first person that I contacted was the incredible Derryn Schmidt. Her brother in law Dave was born with Down Syndrome and she has an incredible understanding of the love, joy and pride that we all feel. Dave has just launched his own online confetti business and has been a daily inspiration to us. Derryn was a no brainer to capture our kids, and she agreed immediately. The joy, the light and the love that Derryn captured came from her having experienced the pure love that we as parents of children born with Down Syndrome have.
We have been lucky enough to work with a number of incredible local brands through Learning from Luke and when I approached them with my dream, they eagerly jumped on board. There was not even one single second of hesitation to be involved and the outfits that were provided by each brand captured each child's personality perfectly. The idea behind dressing our kids in local brands was to showcase the amazing brands that we have on our doorstep, most of them mothers themselves, and all of them with passion beyond measure.
The second reason was to showcase the beauty of our own children and to show the world that they can be anything and are #JUSTLIKEUSKIDS. They can be models, they can be brand ambassadors, they can be trendsetters just like any other child. I think the pictures speak for themselves. We truly do have the most beautiful children.
Kapas, Flynn Jaxon, Schnooky Pie, Tiny Tribe , The Little Closet , and Tonian Closet thank you for your generosity, your eagerness and your willingness to be involved.
This dream would not have been made possible without the incredible families who have become very dear friends. I cannot explain how refreshing it is to hang out with people who "just get it", to watch our kids play and interact, to witness how incredibly different their little personality's are and to watch the siblings getting involved.
I was incredibly emotional during the shoot and it was all good emotions. It was an honor to witness you and your families beam with love and to beam with pride.
To those incredible families – Thank you for your support, thank you for your guidance and thank you for agreeing to be a part of this dream. It is often not easy to put ourselves out there, to reflect back on our journey's and to put pen to paper can often be emotional, daunting and overwhelming. Thank you for so generously opening your hearts, for sharing your children and for joining me in this dream. You are all incredible.
My dream with the #JUSTLIKEUSKIDS is to start a movement. A movement whereby us as a family, us as a community, us as a nation and indeed us as global citizens stand up, with a collective voice and say YES. YES to kindness, YES to inclusivity, to awareness, to love. YES to not only embracing differences but to celebrating them. YES to dreams, dreams so big that they scare the hell out of us. YES to the future and YES to our children being able to be whatever they want to be.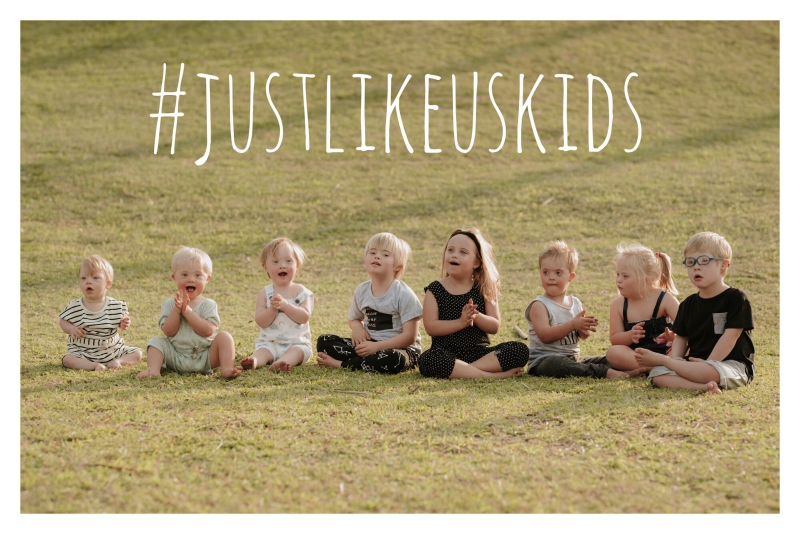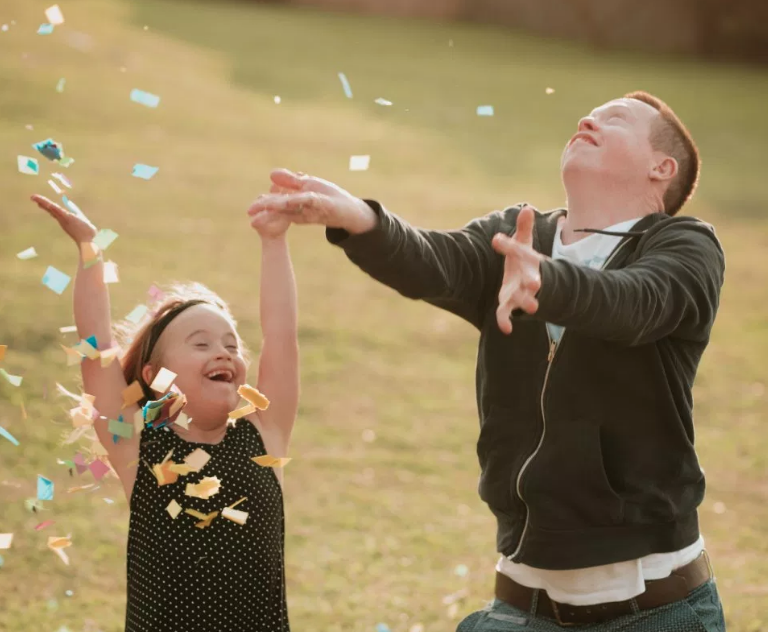 Got something to say? Then leave a comment!