The Art of the Coffee Nap
Wednesday, 16 October, 2019
The Art of the Coffee Nap, or 'Nappuccino'
In his 2018 productivity-hacking book, When: The Scientific Secrets of Perfect Timing, Daniel Pink reveals that a nap can change your life. Pink said, "after a few months of experimenting with twenty-minute afternoon naps, I've converted". I'm already a big believer in the feel-good power of naps, but for the sceptics, here's what science has to say…
The body naturally hits a low point in the afternoon, typically between 2–3pm. If you find your body fighting consciousness at this time of day, you're not alone! This is not just a post-lunch slump or afternoon exhaustion – it's built into your circadian rhythm. You tend not to notice the other slump because it generally happens at 3am when most of us are already asleep.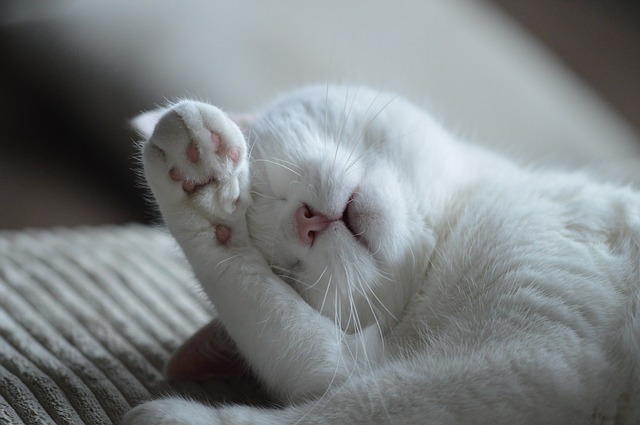 Time to hit snooze
The best way to counter this daily slump is to take a 10-20-minute nap. And before you scoff at what your boss might think if you slink away for a snooze, here's what the research says:
workplace sleepiness and drowsy employees cost the average-sized Fortune 500 company around $80 million (slightly more than R1 billion) every year
our neural pathways slow down when we're sleepy, which means it's tougher to evaluate problems and make good decisions
a lack of sleep can negatively influence metabolism and decrease insulin sensitivity
daily naps can reduce blood pressure, improve immunity, and even lower your chances of dying from heart disease
sleep improves learning, memory, and creative thinking
napping makes people more effective problem solvers.
The art of the coffee nap
So why is it called the 'nappuccino' you might be wondering? Oddly enough, the experts encourage you to drink a cup of coffee right before your afternoon nap. It typically takes 25 minutes for the caffeine effects to kick in, so you should theoretically wake up more alert, refreshed and focused than you would've without the coffee.
The caffeine-plus-nap strategy only works if you keep the nap short – 20 minutes at most. You don't want to enter the deeper stages of sleep and then wake up feeling worse than before. According to Jim Horne, a sleep researcher and professor emeritus of psychophysiology at Loughborough University in the UK, "a 20-minute nap can make up for one hour of lost sleep". After 20 minutes, you should wake up feeling revived and ready for anything.
In the words of Harvard Medical School, "the well-timed nap can make you more productive at work and at home."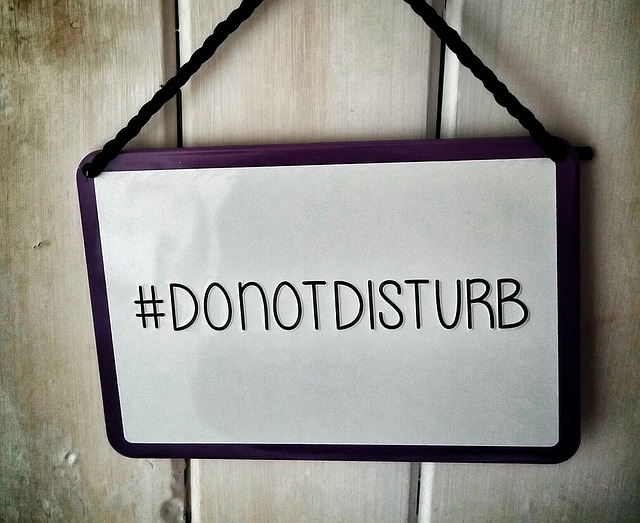 Taking the perfect nap
If you really want to make the most of those 20 minutes, make sure you create a peaceful environment. Turn off your phone notifications and embrace the silence. Make the room a little darker if you can, and focus on your breathing. Drink your coffee in the peace and quiet, set a timer for when you want to wake up, and enjoy your nappuccino!
Got something to say? Then leave a comment!
---
WeWork and I Love Coffee
Friday, 18 October, 2019
We had the opportunity to visit the flagship WeWork in Rosebank and it is mighty impressive. It's great to see that they've partnered with I Love Coffee as part of their coffee offering!
---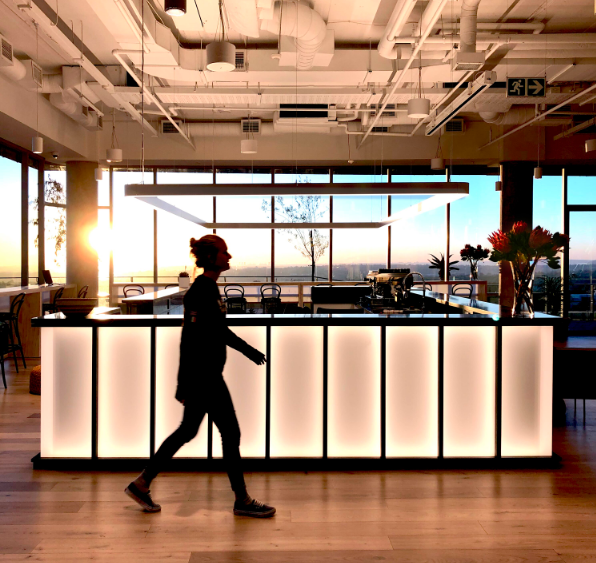 WeWork has announced its collaboration with I Love Coffee, a social enterprise that employs and trains Deaf youth to become baristas – part of a movement that helps create a more accessible and independent future for the Deaf community. This collaboration comes as part of WeWork's launch in South Africa with its first building located in Johannesburg at The Link, 173 Oxford Road, where I Love Coffee baristas are based.
I Love Coffee launched their coffee shop in Cape Town in 2016. As part of its mission to help South Africa's nearly two million Deaf adults and children who lack the services, support and opportunities, the organisation embraced the process of ordering drinks to break down the barriers of communication between those who are Deaf and those who are not. By giving top tips on how to order your drink, including strong eye contact, ways of speaking, pointing to the menu and writing on the worktop, the experience not only gives customers the opportunity to engage with the Deaf staff, but provides the means to invest in understanding and integrating the Deaf community into our society and the economy.

The collaboration between WeWork and I Love Coffee was a natural fit for both organisations who have a shared ambition to support local communities with the future in mind. I Love Coffee's trained baristas work at the coffee stations at The Link, and will be integrated in WeWork's burgeoning community in South Africa as it expands to two new locations opening later this year: 155 West Street in Johannesburg and 80 Strand Street in Cape Town.
As part of its global impact mission, WeWork is also dedicated to helping underserved and underrepresented groups receive access to employment and a community by creating jobs for people through its platform and partners, including I Love Coffee in South Africa. Around the world, WeWork has rolled out various impact initiatives to help make a positive change for communities in need of support; for example, WeWork's Refugee Initiative is not only committed to hiring refugees, it also provides them with opportunities including mentoring sessions and events based on entrepreneurship.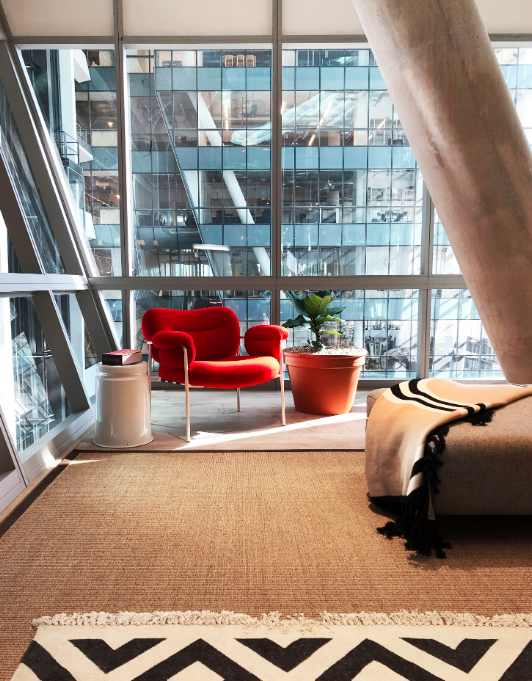 Gary Hopkins, Founder of I Love Coffee, says "We are thrilled to be collaborating with WeWork who'll support our mission to break the barriers of communication between the Deaf and the hearing. At I Love Coffee, we are always looking for ways to develop and strengthen meaningful relationships with partners that share the same objective as us - contributing to a better South Africa - and WeWork was the perfect fit. We also share an interest in sustainable solutions; WeWork is meat and plastic free, and provides reusable cups throughout its buildings for both WeWork members and our baristas to use for coffee. Similarly, our I Love Coffee cups that are provided at the shop are not only plastic free but 99.9% biodegradable. We cannot wait for this new venture with WeWork to expand across their new locations in South Africa and continue to make a positive impact for the Deaf community."
Stafford Masie, General Manager, WeWork South Africa says, "It is a real honour to have partnered with I Love Coffee in South Africa. It's been incredible to work with Gary and his team, and learn more about their journey and the progress they have been making to stimulate communication, connection and understanding within our community. At WeWork, we are constantly exploring new opportunities to support underserved or underrepresented groups as part of our global impact initiative, and to be part of I Love Coffee's journey is a real pleasure. We look forward to working with I Love Coffee across South Africa and continue to support their mission."
Got something to say? Then leave a comment!
---
Does a hot drink really cool you down on a hot day?
Wednesday, 16 October, 2019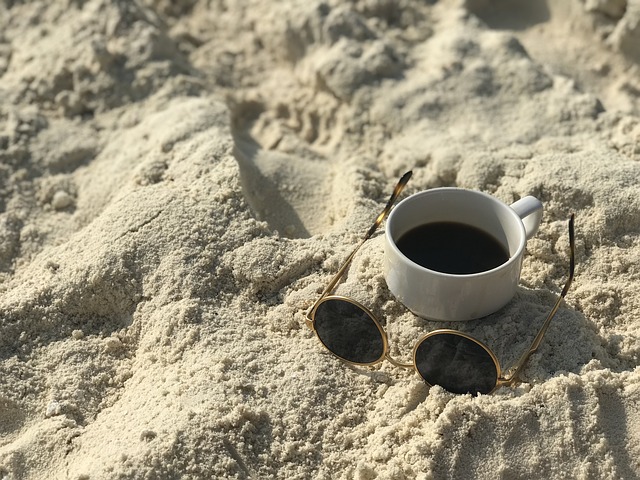 That's what people claim – that if you want to cool down, you should swap out that cold drink for a hot coffee or tea. It's counterintuitive for sure, but according to recent research, the short answer is yes, drinking a hot beverage on a hot day can help your body stay cool. The long answer (and reason behind this phenomenon) is a little less reassuring…
Here are the facts. A hot drink can help the body stay cool, but it does so in a roundabout way. A hot drink increases your core temperature, which then triggers the body's natural response: increased perspiration (aka sweat). As the sweat evaporates from your skin, it cools you down. It also cools you down more effectively than a cold drink, which only provides temporary relief and wears off quite quickly.
The best way to cool down?
The complication is that the sweat you produce has to be able to evaporate for it to have a cooling effect. So, humid conditions are a no-no for hot drinks – all that extra moisture in the air prevents the sweat on your skin from evaporating. All that extra sweat has to go somewhere, and if you're wearing a lot of clothing, or sweat so much that you start to drip (i.e. it doesn't evaporate off your skin), then that hot drink is only going to make your situation worse. Uncomfortably worse.
In this case, a cold drink really is your best bet. It's not going to make a huge difference to your core body temperature, but at least you won't be dripping from every pore on your body… So, note to self (and readers): only turn to hot drinks if it's a dry heat (desert vibes) and you're scantily clad, and you don't mind sweating a lot more than usual.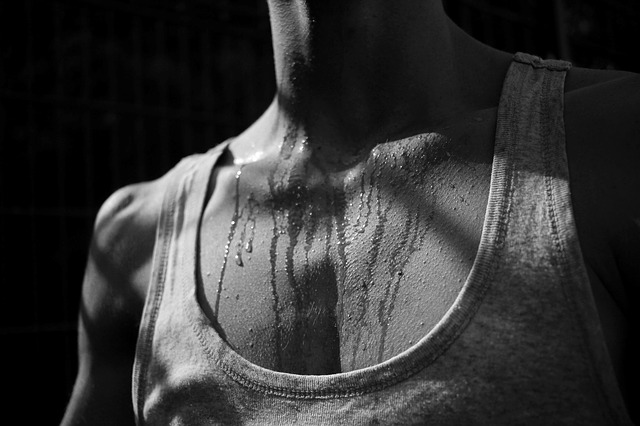 That summer sweat
At the end of the day, it is possible that a hot drink can reduce your body temperature … if you're happy to sweat disproportionately more than you're used to. It's the same reaction the body has to spicy foods and chili – setting off those sweat receptors.
With summer well on its way, we're all feeling the heat … so will you be inclined to exchange your hot coffee for a cold brew, or vice versa? I can comfortably say I'll be skipping the hot drink experiment and beating the heat with a cold brew or iced coffee. Rather momentary relief than an endless summer sweat!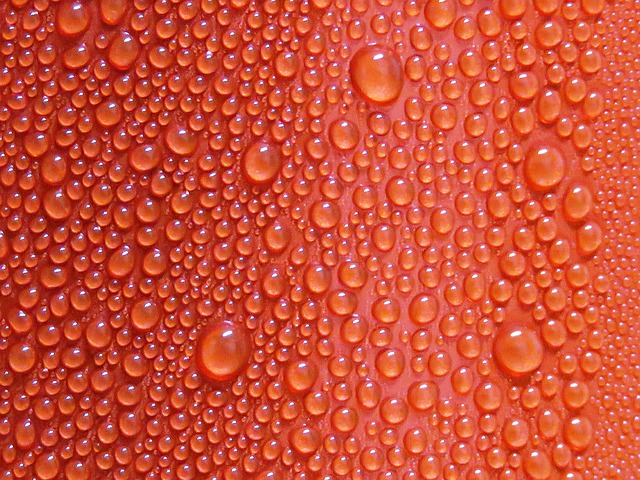 Got something to say? Then leave a comment!
---
Changing Perceptions: A visit to the Jonsson Workwear Depot
Friday, 18 October, 2019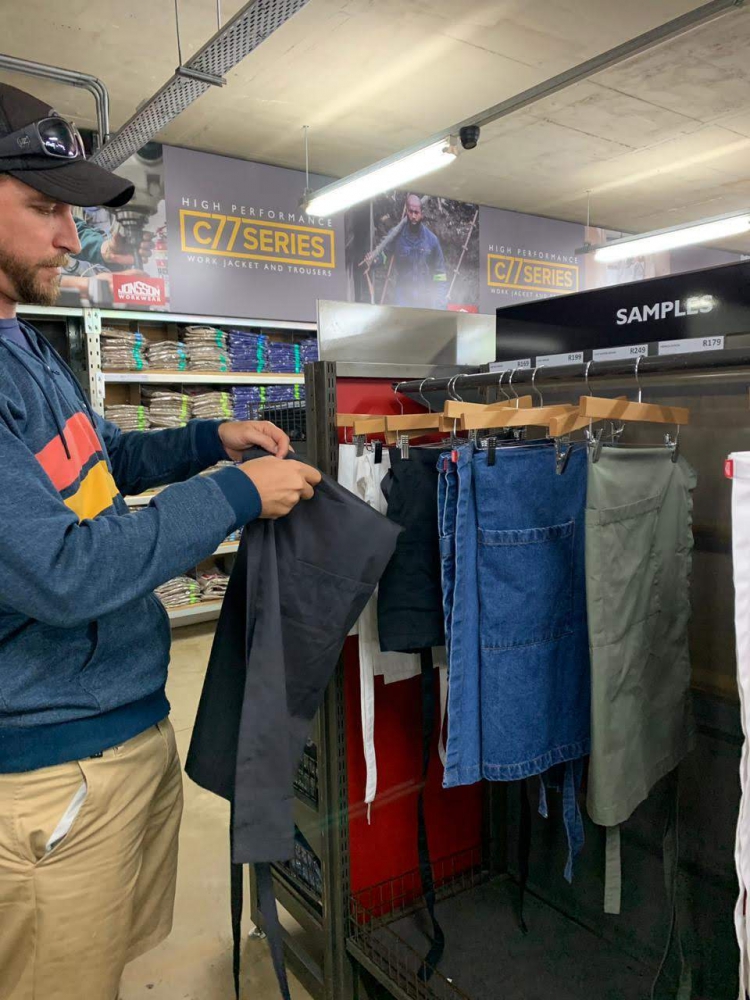 One of the things we love about partnering with brands is getting to know how they work. In the case of Jonsson Workwear, we discovered that they're so much more than heavy duty construction wear. Of course, they're experts in that department, but it turns out they're experts in all durable apparel.
We wanted to check out their range in real life, so we visited the Springfield Park Jonsson Workwear Depot and we had so much fun! We were blown away by the variety available.
In the coffee world, the barista apron is an integral part of the barista's identity. Jonsson have an incredible range of aprons suitable for work in a busy cafe, in different colours and fabrics to suit the look and feel of your cafe.
Looking for uniforms to kit out pretty much any business in the hospitality industry? Take your pick!
About to go on a camping holiday? What about a cosy, light-weight fleece or a pair of amazing leather boots (Our favourites are the Sabis!)? They've got it!
Looking for a couple of smart work shirts for that big meeting coming up? Look no further!
But the best part about visiting the Depot is the opportunity for customisation. They have an on-site embroidery room where you can make the clothes your own with names and logos. A team is ready and waiting to help make sure the process is simple and they even serve coffee and scrumptious biscuits while you set up your order.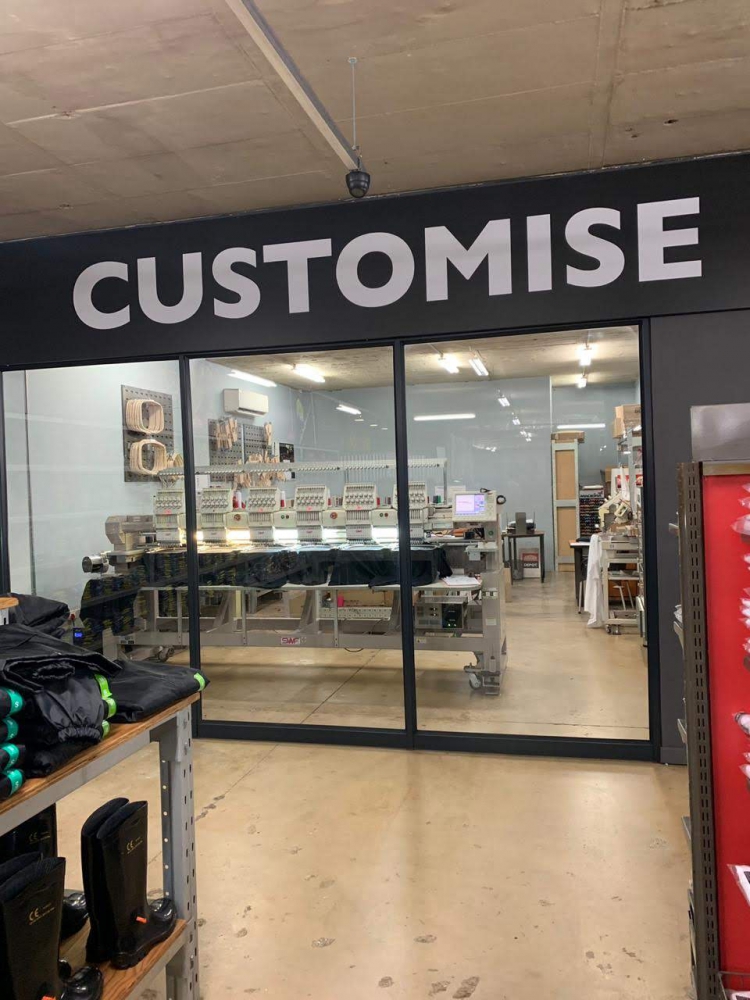 There's much more to this proudly South African brand than you might realise. We certainly learned a few things.
Got something to say? Then leave a comment!
---
Eastern Cape Regional Coffee Champions 2019 Announced
Tuesday, 8 October, 2019
We were so sad to miss out on the Speciality Coffee Association of Southern Africa Eastern Cape Regionals held in PE over the weekend, but it looks like they had an amazing time and some worthy winners were crowned! This region has so much heart and so much camaraderie, it's true when they say that Port Elizabeth is the Friendly City!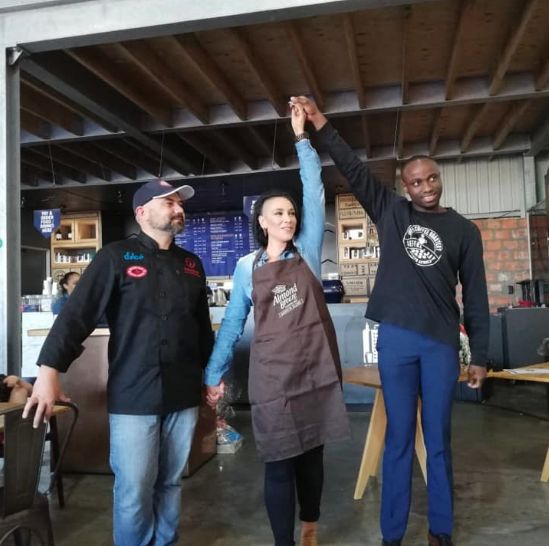 BARISTA COMPETITION
1st Hilary Gwaze - Infood Coffee Roastery
2nd Raymond Roesstorff - Wiesenhof Franchise
3rd Mpumelelo Adams - Mastertons Coffee & Tea Specialists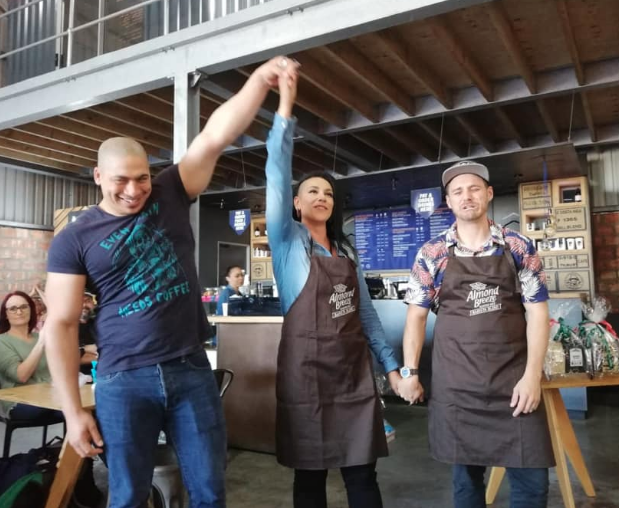 CUP TASTERS COMPETITION
1st Kyle Grebe - Coffee Boys
2nd Chris Faragher - Holiday Coffee Co.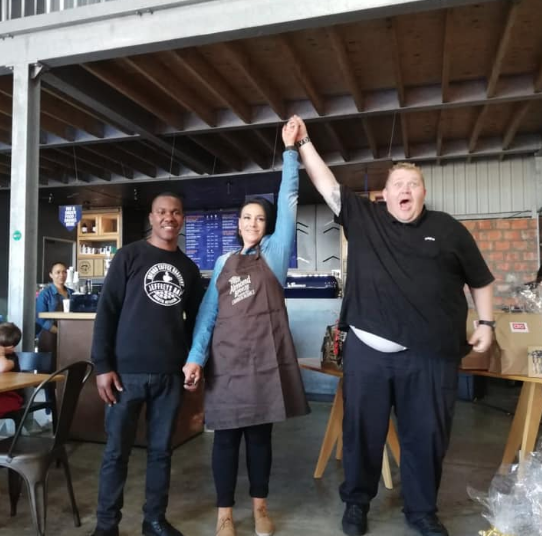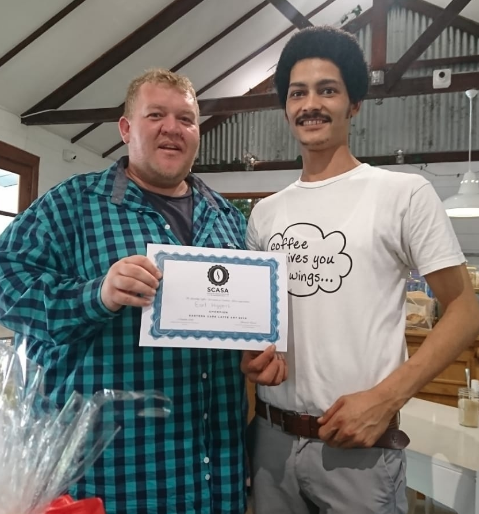 LATTE ART COMPETITION
1st Earlox Keesha - Coffee Boys
2nd Raymond Dzinemarira - Infood Coffee Society
Photos from Shaun Aupiais (who was also Chief Organiser of the event!). Well done to everyone who made it happen, see you all at Nationals at Food and Hospitality Africa in March 2020!
Check out the SCASA FB page for all sponsors and videos from the event.
Got something to say? Then leave a comment!
---
New Kid on the Block: Humble Coffee
Tuesday, 8 October, 2019
21a Churchill Road, Durban, South Africa
---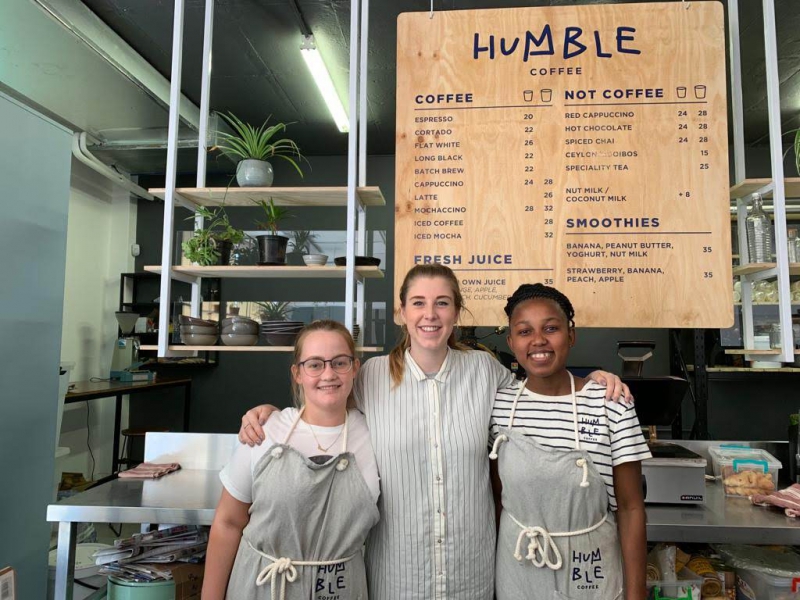 May we just start off by saying, WOMEN POWER!
We just love the feeling in this establishment. There's a lot to be said for your first impression of a place. Things you can tell before you really take in the decor or taste the coffee offering. And Humble Coffee has oodles of that feeling you can't quite put your finger on, but you know it's good.
But then, when you do look around, your eyes are met with a beautifully curated space and your tastebuds are excited to find a bright and delicious House Blend that bursts with freshness.
Amy Gardiner is the woman behind the roaster and founder of the brand. She leads Nomfundo and Caçha and they're all rocking it, whipping up delicious coffees, smoothies and tasty eats on site.
The picture taken below was snapped just before a rush, which the team handed gracefully and the space had an awesome buzz about it.
We look forward to our next visit!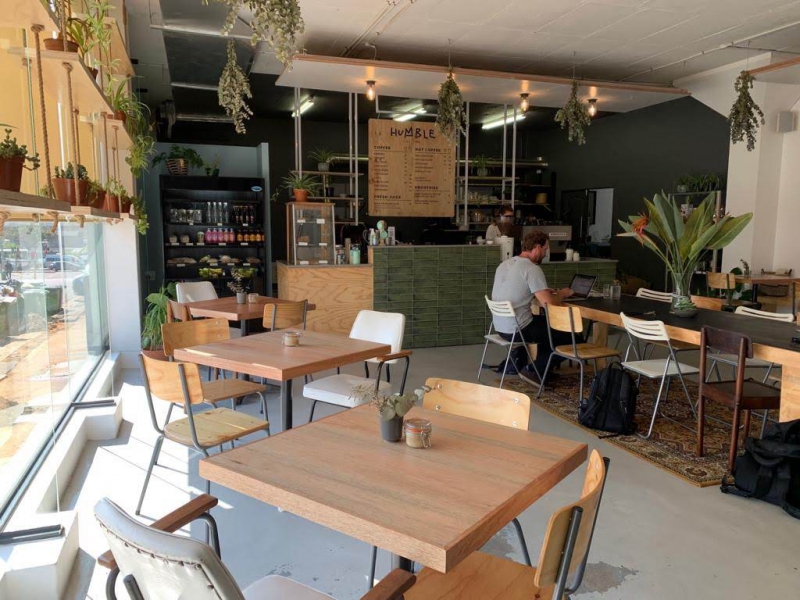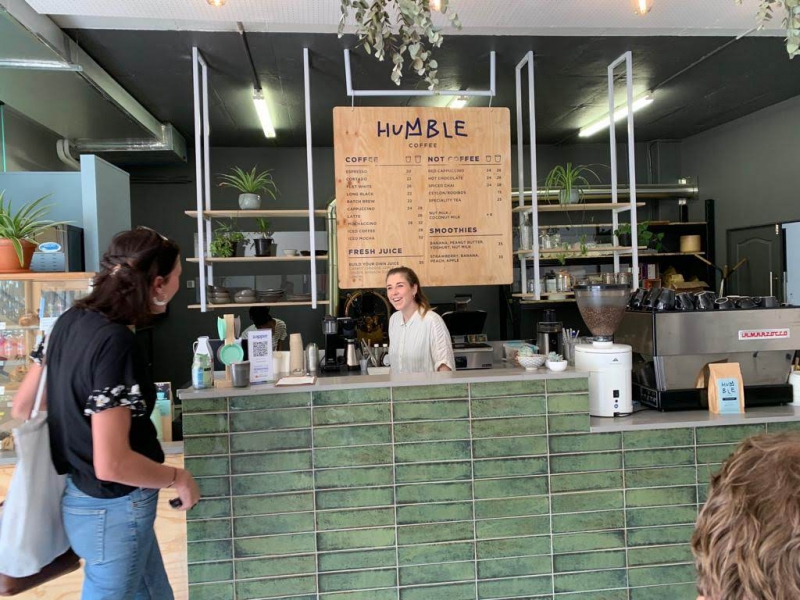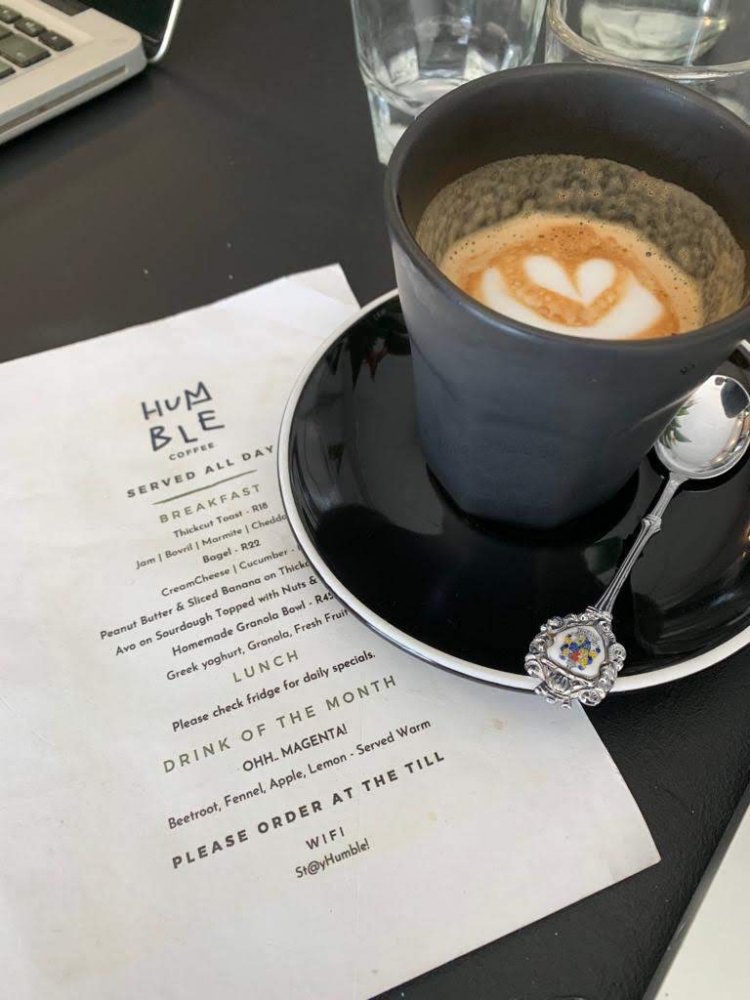 If you liked this article, then you may also like these:
Got something to say? Then leave a comment!
---
Issue 29: Spring 2019
Wednesday, 2 October, 2019
We couldn't think of a better way to celebrate coffee than by introducing you to Issue 29. It's packed full of the thing we love most about coffee: The people behind it.
.
.
.
IN THIS ISSUE: Meet our cover star and FNB Coffee Magazine Awards Barista of the Year 2019 Simnikiwe Simplicity Mkhize of (also award-winning 🔥) Rosetta Roastery | Find out all the winners from the #coffeemagazineAwards2019 | Discover Mo's Bakery And Coffee Bar in Mamelodi | Three brewing recipes from Origin Coffee Roasters | A start-up trying to be different, take a look at Bloom Coffee | We chat to the effervescent Cole Torode of Rosso Coffee Roasters | Jazz Kuschke investigates the CBD and coffee crossover | Jesse Andersen-Dodkins of Father Coffee explores the benefits of your local Roastery stocking a variety of coffees | Ever thought of freezing coffee to keep it fresh? Turns out that's not such a bad idea, let the experts convince you!
.
.
Beautiful cover shot by Justin Groep. Find your nearest stockist here.

Got something to say? Then leave a comment!
---
The first coffee drive through in KZN: Coffee Box
Wednesday, 2 October, 2019
Pietermaritzburg has a brand new coffee drive through called Coffee Box and it's awesome!
An offshoot from Maritzburg's favourite coffee house, Coffeeberry, Coffee Box is situated at the brand new Athlone Circle development (it's the one at the bottom of Town Hill - so perfect for those of you from inland visiting the KZN Coast this coming summer holidays!) and it has such a great team and a great vibe.
We pulled in at mid-morning on a Tuesday and there was a lot of activity around the place. First we popped in to say hi to Nombuso and Khaya, part of the team running the operation at Coffee Box, and then gave the drive through a test run!
And this is how it went...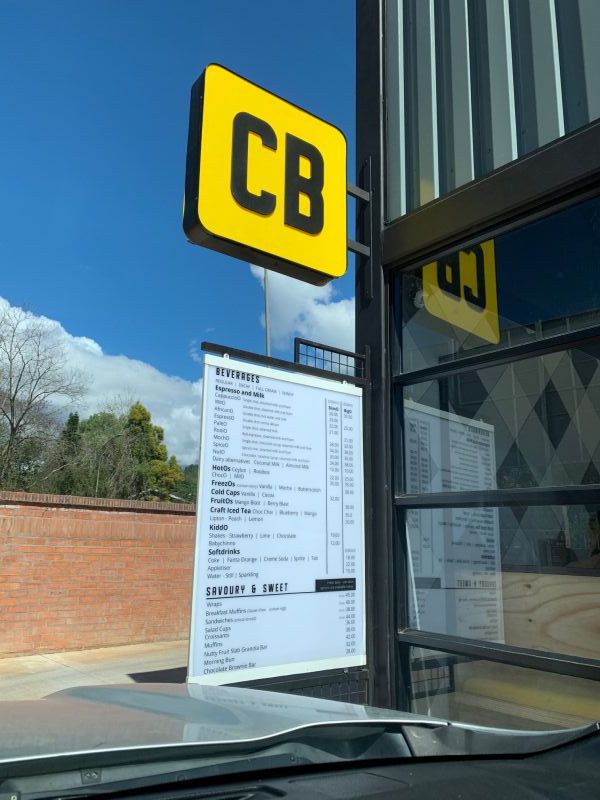 The ordering menu is nice and simple, the intercom worked great and we even got upsold on a breakfast bun. How could we say no?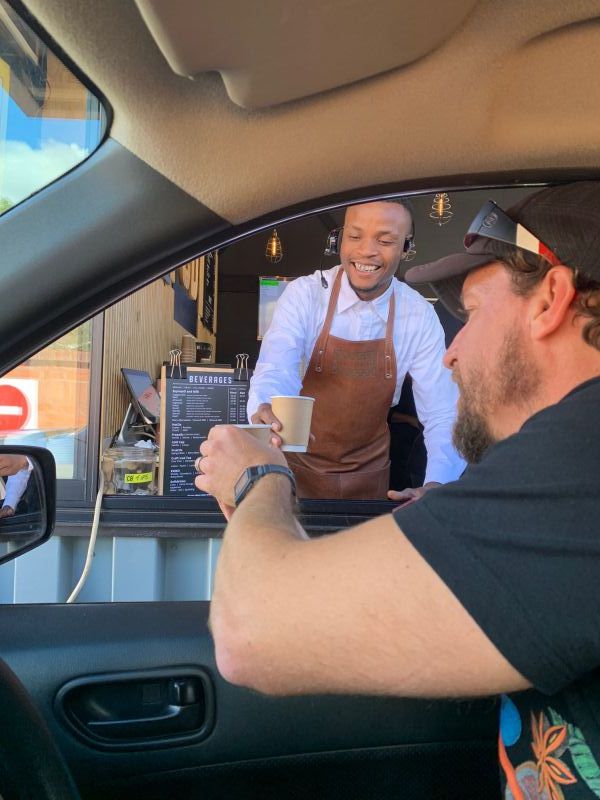 Next we started the stopwatches (just for fun!) and then drove around the corner, pullling up at the service window where we had one car in front of us and watched them get served. We waited less than 2 minutes to get our coffees. In fact the cortado and the flatwhite arrived before the breakfast bun!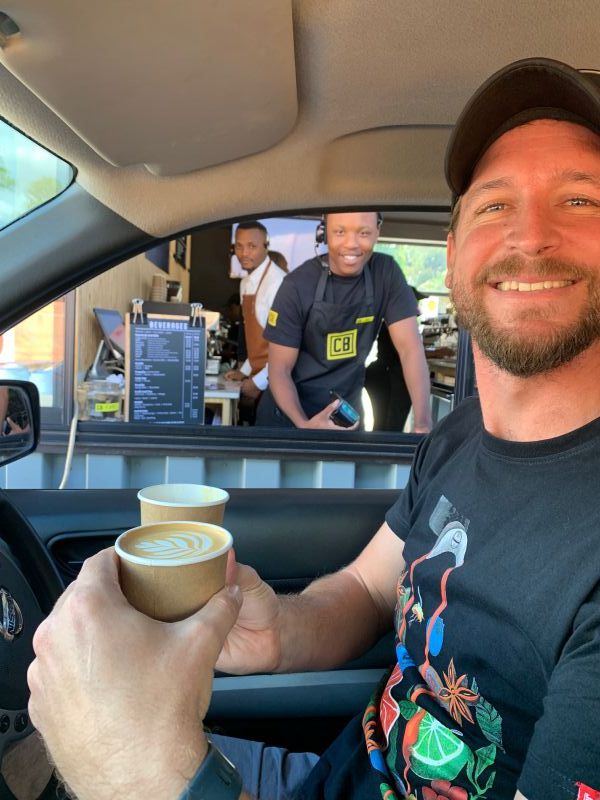 The cheesey grin says it all! Delicious coffee, very well prepared and quickly served, we even had some latte art on the flat white.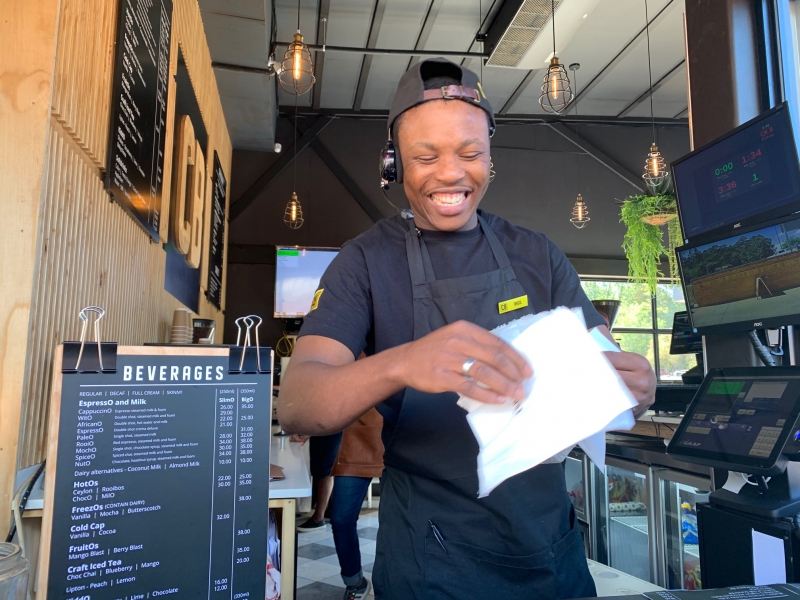 Coffee Box has a great energy and an awesome bunch of bubbly coffee professionals operating it.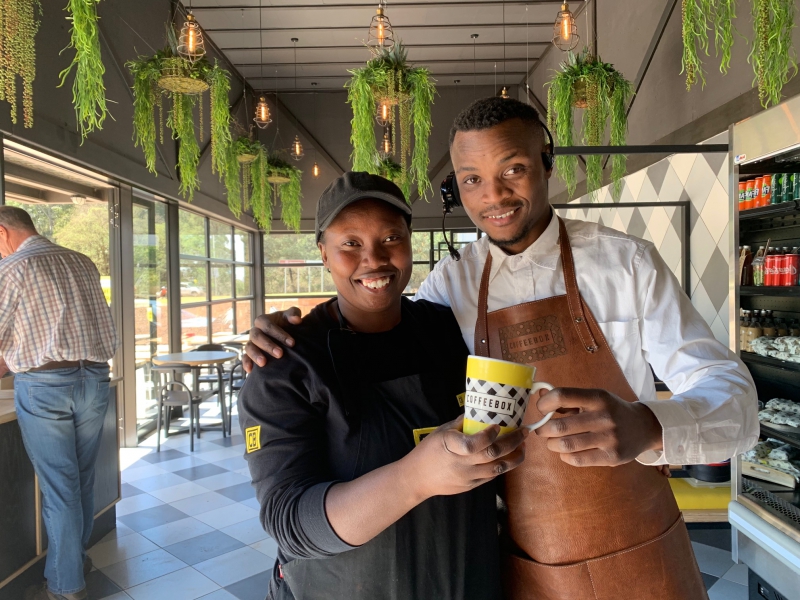 Nombuso and Khaya even let us take a photo of the inside, as long as they were in it! It's a great little space if you want to chill and have a sit down coffee too. There are some delicious food items on sale too.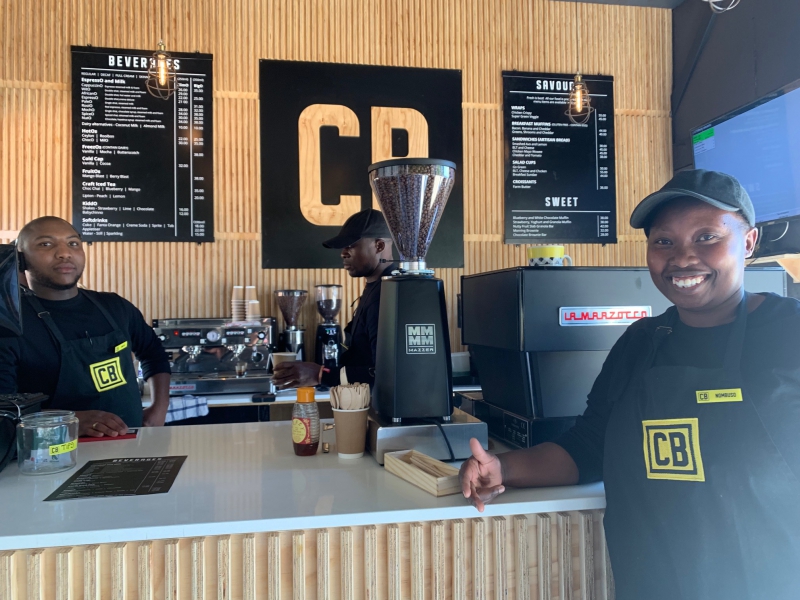 Go Team! We highly recommend a visit next time you are in PMB.
Got something to say? Then leave a comment!