Tomorrow in George! La Marzocco National Tour Latte Art Jam and Tattoos
Friday, 14 May, 2021
South Africa, get ready for the La Marzocco National Tour!

The team from La Marzocco South Africa are partnering with some of the best coffee roasters and tattoo artists from around the country to bring you the launch of the all new La Marzocco GB5 S, the Mahlkonig E65GBW and the Brewpress Automatic Tamper.

They'll be hosting a latte art competition, with competitors winning tattoo prizes from the best in the business, as well as coffee merchandise. 10 competitors- 1 submission- are you brave enough?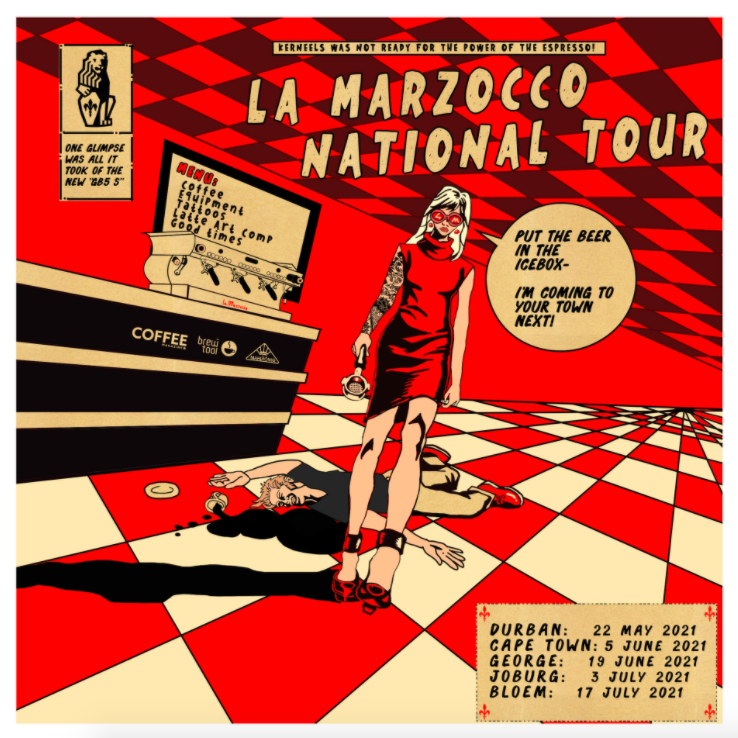 "Buddies of the Garden Route!
On 19 June we'll be in your beautiful neck of the woods and we're bringing all our newest friends: the #lamarzocco #gb5, #mahlkonig #e65sgbw and the #brewtool ProTamp will all be ready to make your acquaintance.
We want all the baristas to come compete and show us your best rosettas, palm trees and unicorns. We have some awesome prizes up for grabs!
See you next soon!

*REMEMBER!*
NO MASK NO POUR - we're adhering to strict COVID protocols."

Keep an eye on their social media as the dates to the other events get closer!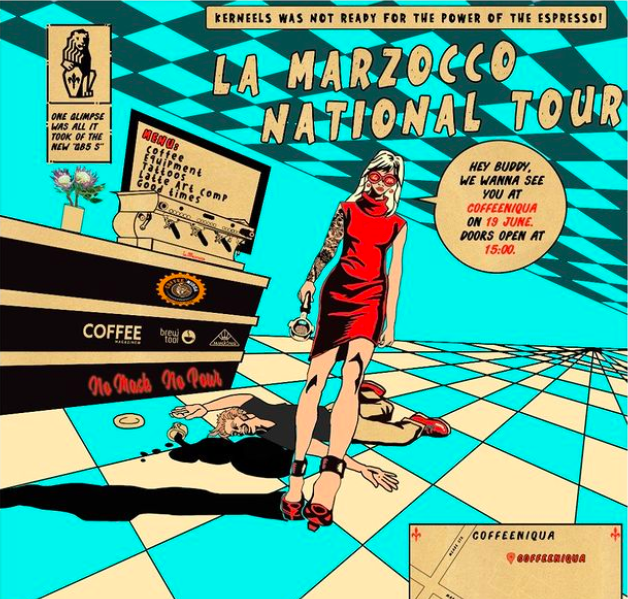 Got something to say? Then leave a comment!
---
South African AeroPress Championships Entries Now Available
Friday, 14 May, 2021
Oh it is ON!
Using the surrogate format we will be able to host a preliminary round of 50 competitors for this awesome and world renowned coffee event! In partnership with More Flavour, Ultimate Water and Creative Coffee Week. (If you would also like to partner with us on this event, please get in touch!)
Included in your Entry Fee:
- Coffee to determine your Winning brew
- 2 litres of competition water from Ultimate Water
- All the rules and regs
- The Official Poster A3 + swag
- Vouchers from our sponsors for huge savings from MoreFlavour
- The Coffee Magazine
- Delivery to your door
Who can enter?
Anyone!
What will the coffee be?
Samples from top roasteries around the country have arrived and we will be determining that ASAP, but rest assured, it's gonna be gooooooooooood.
When will I get my coffee?
Around 7 June 2021. Cross fingers!
When do I need to submit my recipe via social media by?
1 July 2021
Jon Ivins is the man behind the poster, representing the host town of Durban and a nod to the South African award-winning doccie My Octopus Teacher that has recently put SA on the map for reasons other than a C-19 strain ;)
If you're a roaster, you can submit your coffee to become the official Roasting Partner here.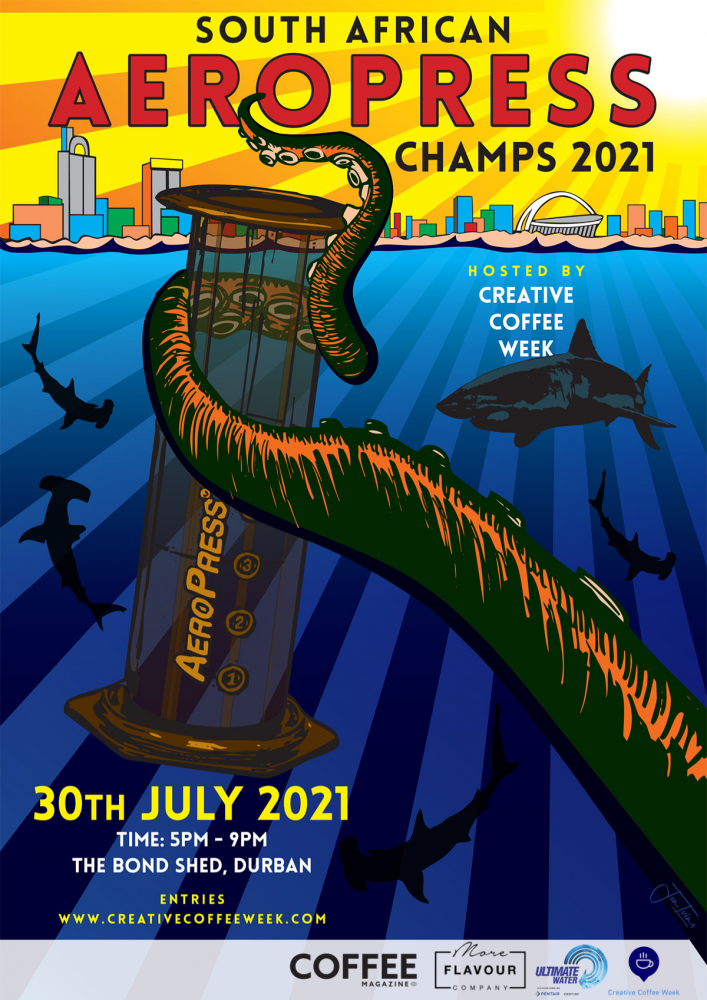 Got something to say? Then leave a comment!
---
SA AeroPress Champs: Call for Roaster Submissions!
Friday, 7 May, 2021
It's Official. Creative Coffee Week will host the South African AeroPress Championship 2021!
But that's not all, because of the time we're living through and the complete lack of competitions this past year, we want to include as many coffee people as possible! So we're having a Preliminary Round where we can have up to 50 competitors from all around the country! Tickets for that will be out next week, but before then, we need a delicious coffee for 50 coffee people to brew in their AeroPress.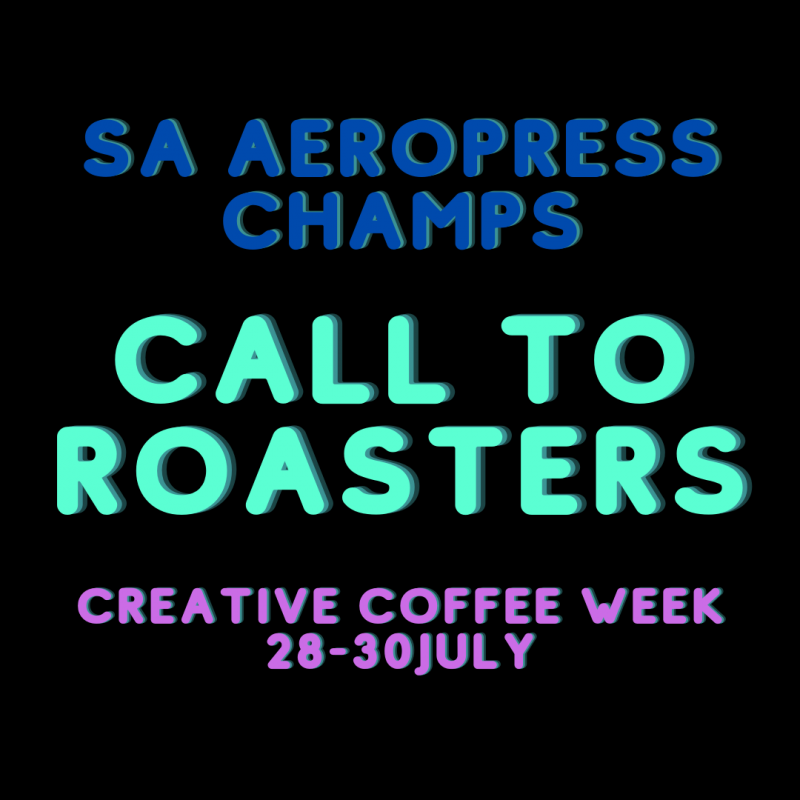 We are looking for a roasting partner! All you need to do be in contention for this sponsorship is fill in the form below, send us your favourite coffee and best roast and be willing to supply 15kg of competition coffee for the preliminary round. It has to be a coffee you have on hand, have enough of and think will knock the socks off the competitors. The winning roastery will go on the official poster, be involved in all the media in the next three months, get their logo on the Creative Coffee Week website, become part of the World AeroPress Champs network and get your coffee to 50 coffee crazy people!

You have two weeks to fill in the form below and send us your proposed AeroPress Champs Coffee!
Deadline for coffee: Friday 21st May 2021
Delivery Address:
The Coffee Magazine HQ
185 Bulwer Road, Glenwood, Durban, 4001. Contact: 073 445 4951
AeroPress Roasting Partnership
Got something to say? Then leave a comment!
---
Save the Date: Creative Coffee Week 2021
Thursday, 22 April, 2021
Got something to say? Then leave a comment!
---
World AeroPress Championship 2021 is ON!
Thursday, 15 April, 2021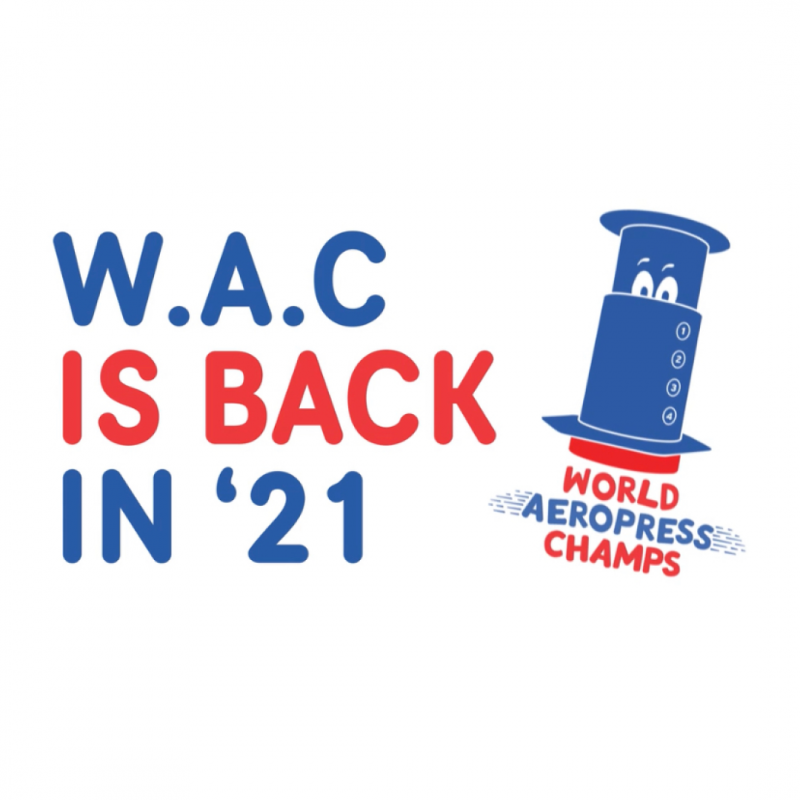 It may be in a new virtual format, but one of the most fun coffee competitions is back this year.
---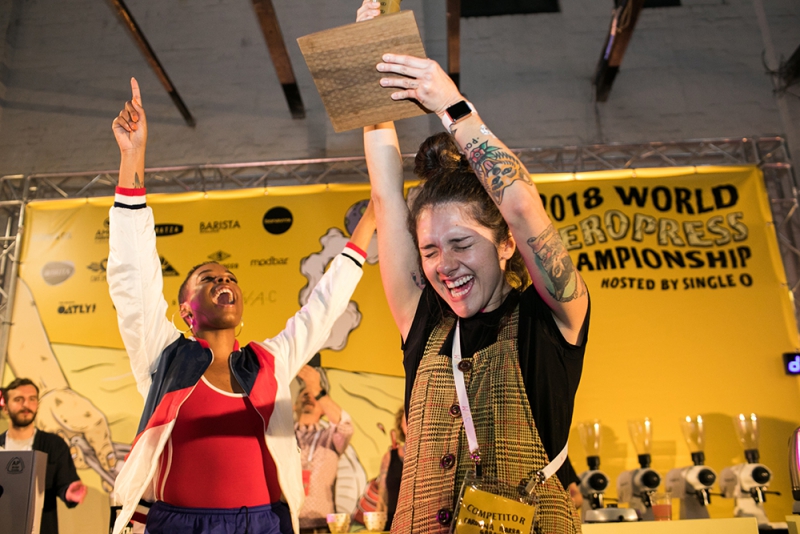 Great news for coffee lovers: after a year in hiatus, the World AeroPress Championship is back in 2021.
Lovers of the AeroPress are rejoicing this week as they learn that their beloved (and slightly curious) coffee making championship is back for its 13th season. After a year in hiatus, and with an ever-so-slightly retooled format, the battle is officially back on to find the world's best brewer of AeroPress coffee.
From May through September, hosts around the world will run local competitions to crown their national champions. Come December, the 2021 season will culminate in the world final where, in a deviation from previous years, this season's final will be competed for remotely but judged in Melbourne, Australia.
Due to the challenges posed by international travel, national champions will work on their recipes from home instead of flying to the world final to compete. On the big day, a surrogate barista will brew each champion's recipe for a local judging panel to crown the 2021 World AeroPress Champion at a judging event that'll be live-streamed around the world.
"We're hugely excited to be bringing the World AeroPress Championship back in 2021. The enthusiasm from our community of competitors, hosts, and sponsors suggests a great season ahead, but above all else, it's a privilege to be able to rekindle the spirit of the event and reconnect with our coffee-loving community in a safe and responsible way." says Tim Williams, the event organiser.
With around 30 nations already pre-confirmed to take part, the season is well and truly on track for a great level of participation, but opportunities still remain for more hosts and sponsors to get involved.
The 2021 World AeroPress Championship is proudly presented by Bureaux Coffee, Third Wave Water, Coffee Tools Supply, Café Imports, and Acme Cups.
About the World AeroPress Championship
On its surface, the World AeroPress Championship is a fan-driven, grassroots coffee-making competition, aiming to uncover the world's best cup of AeroPress coffee. But scratching that surface quickly unveils a global community of eager and obsessive coffee fanatics, brought together both online and in-person by this unlikely but enduring network of events.
Since the event's inception in 2008, the World AeroPress Championship has grown from a casual gathering of friends to a cultural phenomenon of cult-like proportions and intensity, each year attracting more than 3,500 competitors from 60+ countries.
Each season is comprised of a series of regional and national competitions, run by independent hosts across 60 countries, which culminates with the World AeroPress Championship final.
To compete, brewers face off in rounds of three in a multi-round elimination tournament using the AeroPress coffee maker to prepare and serve a single cup of coffee for a panel of judges. On the count of three, the judges simultaneously point to their favourite coffee, moving the winner on to the next round while eliminating the losers.
The World AeroPress Championship is now in its 13th year and is organised by a small team of coffee lovers in Melbourne, Australia.
Web: www.worldaeropresschampionship.com
Instagram: www.instagram.com/aero.press | @aero.press | #wacisback
Got something to say? Then leave a comment!
---
CookIn Coffee Club: Pour-Over Coffee Masterclass
Thursday, 11 March, 2021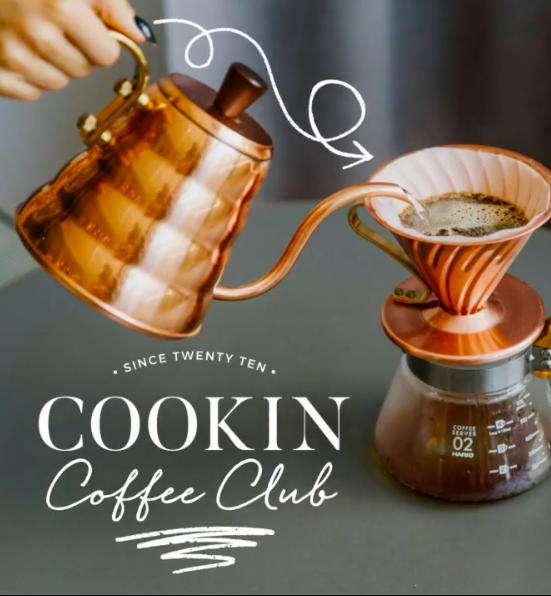 "Coffee lovers rejoice!
The Cookin Coffee Club will be kicking off its first monthly event live in the Cookinstore at the Lifestyle Centre in Ballito on Wednesday the 17th of March from 5:30pm to 7pm.
Sinjon Wicks from Equipment Café will be conducting a masterclass on the art of Pour-Over Coffee and Coffee grinding, as well as answering any and all questions about coffee.
Attendance will be limited to just 20 people and booking will be taken on a first-come-first-served basis, so get in touch with the team at Cookin Ballito to secure your spot. There are going to be some fantastic lucky-draw prizes as well as exclusive promotional discounts on coffee equipment for those in attendance.
We've had a great response so far and we've already got a growing list of confirmed bookings, so get your booking in and we hope to share a cup with you next week Wednesday"
Got something to say? Then leave a comment!
---
Cancelled: World of Coffee, Athens
Monday, 1 March, 2021
We knew this announcement had to be imminent, but we were still sad to hear about the official cancellation of the SCA's annual European Trade Show event, World of Coffee that was due to be held in Greece in June this year.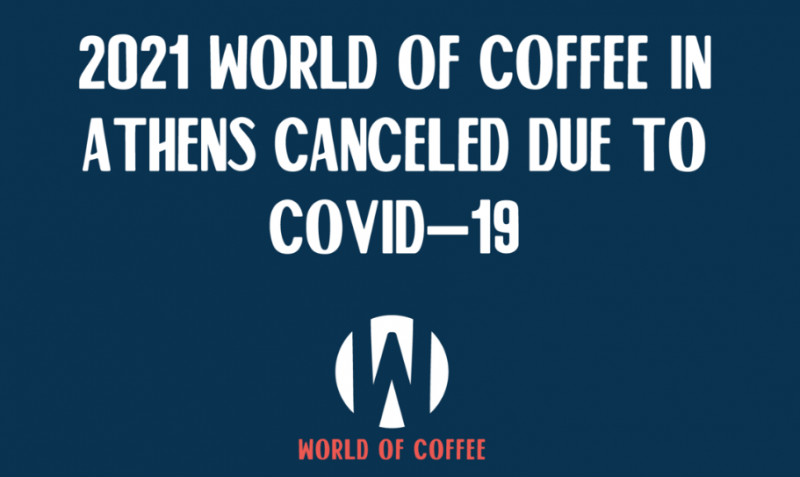 From a South African perspective, this means that SCASA's SA Barista Champion, Winston Thomas and SA Cup Tasters Champion Wency Masawi, will have to wait even longer to represent us on stage! Winston has big plans and we are excited to share them with you in the coming months. At this point SCASA will not be hosting any regional coffee competitions in 2021, and the current Champions in each discipline will go to the World Champs as and when they happen. If travel is possible, this will mean Jeff Stopforth (Latte Art) will travel to Taipei, Taiwan to compete in November this year.
---
2021 World of Coffee Trade Show Canceled Due to COVID-19
Today we are announcing the cancellation of the 2021 World of Coffee (WOC) trade show, scheduled to take place in Athens this June, due to the ongoing coronavirus pandemic. We are continuing to pursue an alternative solution for the 2021 World Coffee Championships (WCC), which were to take place at the WOC trade show, and we will have more information on that subject in the coming weeks.
We are sad to cancel WOC but remain committed to doing what is best for the health of our staff and the many thousands of professionals that come together at this event every year.
On February 4, we announced that we were in conversations with our partners regarding the viability of moving forward with the 2021 events in Athens. Over the past few weeks, we've had talks with government and health officials in Athens, exhibitors, sponsors, competitors, judges, and many community members regarding the viability of holding the event. We want to thank every one of you for your patience and support as we assessed the situation and came to the final decision.
Our updated 2021-2023 trade show and world competitions schedule is as follows:
Specialty Coffee Expo (North American trade show)
September 30 - October 3, 2021: New Orleans, LA, United States
April 7-10, 2022: Boston, MA, United States
April 20-23, 2023: Portland, OR, United States
World of Coffee (European trade show)
June 16-18, 2022: Warsaw, Poland
June 22-24, 2023: Athens, Greece
World Coffee Championships
November 19-22, 2021: World Latte Art Championship, World Coffee in Good Spirits Championship, and World Coffee Roasting Championship - Taipei City, Taiwan
We seek alternative solutions for the 2021 World Barista Championship, World Brewers Cup, World Cup Tasters Championship, and Cezve/Ibrik Championship. More information in the coming weeks.
For the full listing of upcoming events, visit our events calendar here: https://sca.coffee/events/.
Information for World of Coffee Exhibitors and Attendees
If you are a registered WOC attendee or exhibitor, please check your inbox for an email from worldofcoffee@sca.coffee. The email contains important information about an automatic credit paid towards the 2022 World of Coffee in Warsaw. If you have not received an email, please contact our events team using the WOC website's contact form: https://worldofcoffee.org/contact-us.
Information on the World Coffee Championships
With the WOC trade show's cancellation, the SCA seeks a new location and date to hold the 2021 World Coffee Championships later this year. We will have more information on that in the coming weeks. We encourage anyone with questions regarding the WCC to read the FAQ on our website and contact us here if you have any additional questions.
Got something to say? Then leave a comment!
---
Glitter Cat SNiFFiTiTiON: Register before 1 Feb for this free competition
Thursday, 28 January, 2021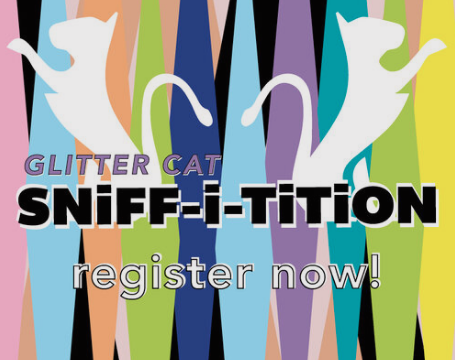 GLITTER CAT PRESENTS: THE SNiFFiTiTiON
Registration is now open for the industry's newest, quirkiest, and perhaps most fabulous competition yet!
Fresh off the success of their inaugural DiGiTiTiON, a socially distanced coffee competition which crowned six champions across different disciplines, Glitter Cat is proud to announce a new and exciting competition for early 2021: The SNiFF-i-TiTiON. This is Glitter Cat's first international competition and everyone interested will be mailed a game board no matter where they are in the world! Glitter Cat aims to make the SNiFFiTiTiON the largest scratch and sniff competition of all time.
Find out more about Glitter Cat and founder T.Ben Grimm here.
The game is simple. Competitors will receive a scratch and sniff card with 25 different scents. These scents range from fruits to herbs to flowers to spices to vegetables and everything in between. They'll scratch, sniff, and record their answers on their game card. Competitors are given a word bank of 40 possible scents to choose from. Given that this is an international competition, registered competitors can request a game board to be translated into any language. Additionally Glitter Cat recognizes that we all come from different parts of the world with different palates and scent recall. The planning team has done their best to pull from aromas from around the world.
The person who gets the most scents correct will win a swag package from Glitter Cat, including some limited release items typically reserved only for Glitter Cats that go through their signature bootcamps and training programs. If there are multiple super-sniffers that get all 25 scents correct Glitter Cat has a plan for that - a tie-breaker round! Participants will be encouraged to film themselves scratching, sniffing, and guessing and share their videos with @glittercatbarista on Instagram.
The SNiFFiTiTiON is a low-stakes, high-fun competition to keep coffee professionals and enthusiasts engaged and laughing during the endless stretch of the worldwide pandemic. Registering to compete in Glitter Cat's SNiFF-i-TiTiON is completely free thanks to Pacific Foods Barista Series, and open to all folx interested. During check out, participants will be able to add a donation to their registration. This is not expected or necessary! For 2021, Glitter Cat's goal is to pay more contributors, contract artists and project managers, and start a payroll. Every dollar raised with the SNiFF-i-TiTiON will be used to pay Glitter Cat contractors and employees.
All are encouraged to register. Registration closes February 1st and every person signed up will receive a game board! Happy sniffing!
FAQs
HOW DOES THIS WORK?
It's a scratch and sniff competition! We will mail you a competition kit that includes the scratch and sniff card with 25 different scents and a word bank of 40 possible answers.
How to submit answers and other rules will be emailed to all competitors by February 3
OUR GOAL
Our goal is to have hundreds (thousands?!) of competitors join in the world's largest scratch and sniff competition! At Glitter Cat we find a lot of joy in building community through competition and we figured what better way to push through these beginning weeks of 2021 than with a quirky, fun, and fabulous, low-stakes competition?!
IS IT REALLY FREE?
Yes! Thank you Pacific Foods Barista Series for being our generous presenting sponsor and allowing us to host the first ever international competition and keep it 100% free to all competitors.
THERE ARE MILLIONS OF SCENTS IN THE WORLD HOW WILL I GUESS?!
So many scents in the world, we know! To help guide your sniffer we created a "scent bank" which has 40 possible answers. All 25 scents to guess are in the word bank and there are no duplicates.
I'M SO EXCITED, THANK YOU! CAN I ADD A DONATION TO MY REGISTRATION?
Totally and we appreciate your generosity! As a 501(c)3 non-profit, all donations to Glitter Cat are 100% tax-deductible. During check-out you will have the option to add a one-time donation. You can also head over to our Flipcause Donor page (it's similar to Patreon but specific to non-profits) to become a donor.
WHEN WILL I GET MY GAME BOARD?
Sniffing game boards will be sent out early February. All participants will get an email notification on when boards are mailed out.
DO YOU HAVE GAME BOARDS IN DIFFERENT LANGUAGES?
Please email T.Ben at tben@glittercatbarista.com to request your game board to be translated into your language of choice.
Got something to say? Then leave a comment!