Breaking News: ALL e-commerce now allowed
Friday, 15 May, 2020
Yesterday on 14th May the government announced that the strict e-commerce restrictions that were put in place to prevent the spread of COVID-19 have been lifted. This means that all non-essential items (except for alcohol and cigarette products) can now be sold online, including coffee equipment!
This is great news for the South African e-commerce industry and for many of our coffee industry partners. This is an important step in getting our economy back on track.
Here are a few great places to shop online for all your coffee requirements:
---
@home have a great range of Coffee brewing tools including the Breville range online at:

---
Cape Coffee Beans
are a one stop shop for all your coffee needs and they stock some of SA's best specialty coffees too!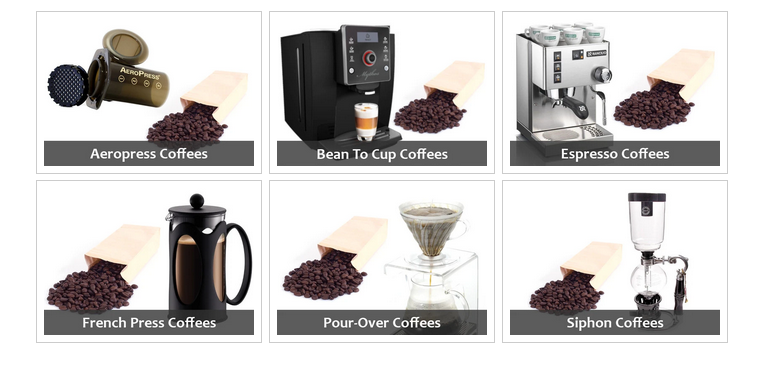 ---
MoreFlavour stocks some really great coffee gadgets and you are bound to find a new brewing device here that will bring you lots of coffee joy!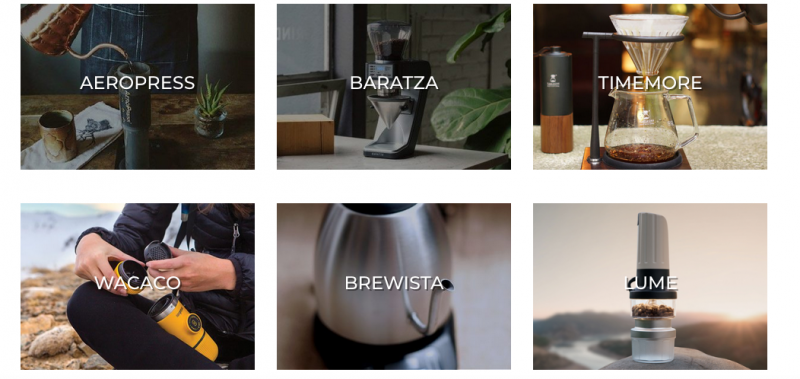 ---
Coffee and Coffee Beans online:
Got something to say? Then leave a comment!
---
Lockdown Solutions: How about leasing a bike for coffee deliveries? Find out how!
Friday, 15 May, 2020
Lockdown is proving to be a difficult trading period for the coffee community but with every new challenge comes opportunity!
Just ask Denis Vaden, well known to the Coffee Community in SA as the guy behind State 5 Coffee.
Denis' latest offering for coffee people looking to beat the lockdown is a motorbike delivery leasing offer. You can lease a bike from Denis for R2500 a month which includes branding, insurance and a whole lot more!
"It's about timing - Everyone is going to need to deliver at some point in this time. People need to deliver."
"We have a leasing business, we already lease coffee equipment to the market, so why not add a motorbike to it and allow people to deliver?" says Denis.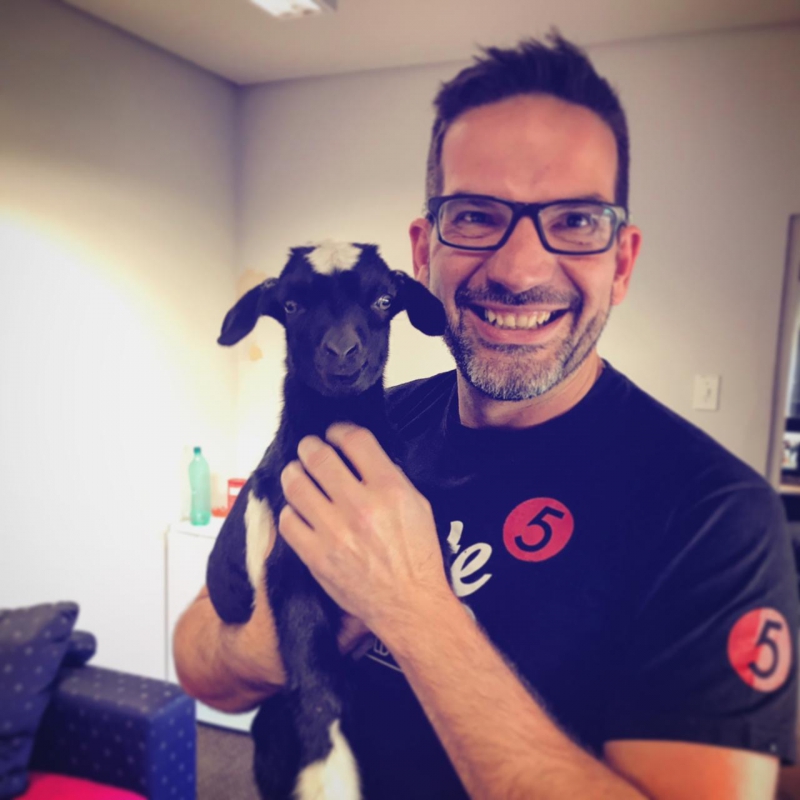 He's not kidding around! Denis is an entrepreneur who is always looking to challenge conventional thinking and ways of doing business!
"We have come up with bikes, fully maintained and insured 125 cc delivery bikes which are more powerful than a scooter, and we are leasing them to small businesses for R2500 a month"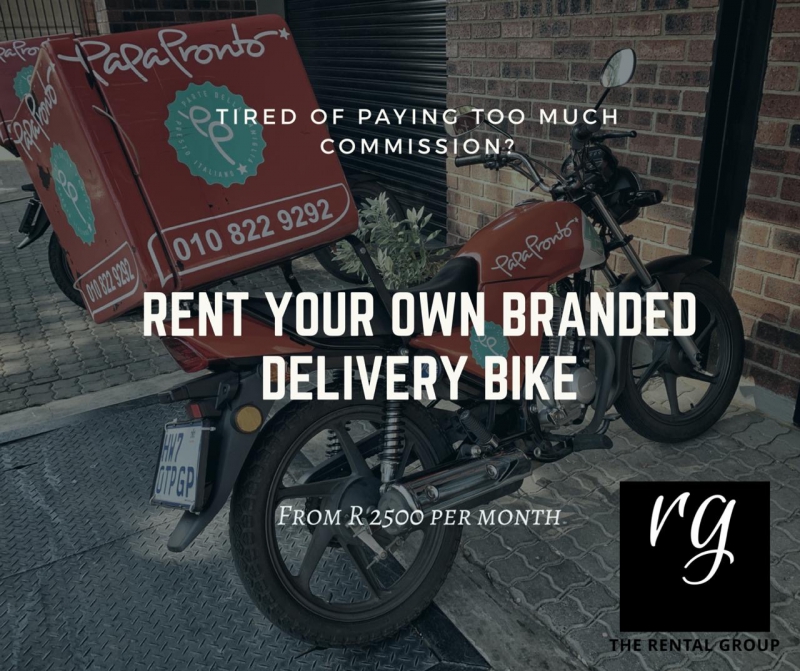 The bike leasing service is available Nationwide. "We have dealerships in each of the provinces, but it will require the guys to bring the bikes in every once in a while to keep them running perfectly"
We asked Denis about delivering hot coffee - how does he see it working? "If we are clever enough in this and we get enough guys in the coffee industry on board, we can build custom made boxes to hold coffees and even have a warmer in the back. You never really get a great cappuccino unless you are delivering really close, but it could work for Americanos and Filter coffee, no doubt"
" If I get enough takers, I'm happy to do the work behind the scene and drive this. Ten people would be a great number to start off with"
If you are interested in working with Denis on this you can contact him on denis@freshbrands.co.za or on 082 572 2605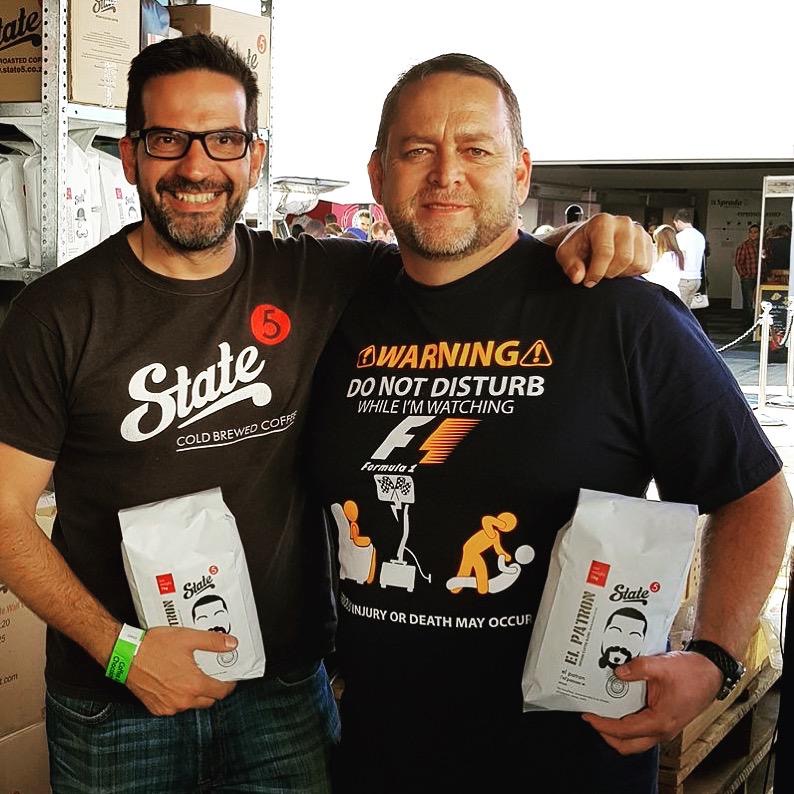 Denis aka "Mr. State 5"
Got something to say? Then leave a comment!
---
Cafe Focus: Bayhound Coffee Works
Friday, 15 May, 2020
We chatted to Susan and Pieter of Bayhound Coffee Works in Polokwane!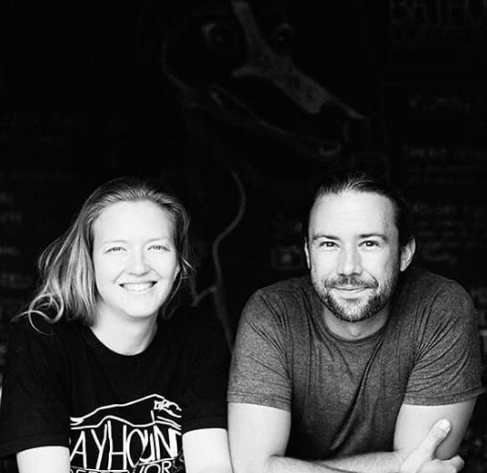 What was it like starting your business and how did you get into coffee?
Starting a coffee business was one of the most exciting things we've ever done. We had fallen in love with coffee culture and the idea of creating some kind of hub for this culture to exist in Polokwane made us giddy. What led up to it was moving here and being devastated to find that there weren't any roasteries or specialty coffee shops for 100s of kms around, so we felt that we had no choice but to take matters into our own hands. We started small, roasting from home and brewing out of a trailer, but where there is determination and conviction there is surely a way, and we grew organically over the last three years to having a small café and also a container brew bar and roastery as well as two mobile coffee wagons. And then there's the joke version we have about being forced to start dealing to support our (legal) drug habit.
What is the ethos of your business?
We believe in roasting and making good coffee well, without the pretentiousness. We like to keep it down to earth, simple and real. We like to do our bit to only buy ethical coffee and create awareness around it, and source our goods from other local small businesses. Most of all, we believe business is about relationships, hence our version of the common quip, business is not business.
Tell us what makes your cafe space special to you?
Almost everything in our spaces Pieter and I either made ourselves or with the help of friends and family, and that includes our roaster! It's original and it's us, our blood sweat and tears, our vision. Pieter spent three solid months converting our 12m container into a coffee bar and a roastery—single handedly, just a man and his angle grinder and welder. Nothing has ever come easy, maybe that's why it's so special. And then of course, the people that frequent those spaces. Almost all of the friends we made since moving to Polokwane started out as customers, and now it often feels like it's more their place than ours! Their toddlers draw pictures on our chalkboard menus, some customers want to get behind the espresso machine and make their own coffee, and we love that.
What do you love most about being in the coffee industry?
I mean, the people! And then the science. I got my degree in biochemistry before getting distracted by coffee, and so the coffee bar is my laboratory. Coffee is a field of study by itself and the knowledge to be gained is boundless, limited only by your own interest. I love formulas, and so I love creating brew recipes and geeking out over fancy new equipment. I'm currently lusting after a TDS meter to measure the percentage of actual coffee particles in the espresso. It helps find that sweet spot when exploring a new bean and also helps maintain the all important consistency we strive for.
How important are regulars to the fabric of day cafe life?
If you use the analogy of café life being fabric, then regulars are the threads. They're everything, they are the ones that give café life meaning, because you get to know them, get to share in their lives, celebrating their wins with them and mourning their sorrows with them. Some of our regulars have been through some harrowing things and it has felt good to be able to offer some sort of comfort through what we do. As Sheldon Cooper from Big Bang Theory says, when people are upset the cultural convention is to bring them a hot beverage.
Name one menu item that we would never expect or have heard of before - a uniquely Bayhound creation! (food or beverage)
We've actually just created a new one for Winter! We've created a fusion of our golden latte made from our own blend of spices, and our Nutella latte. It's amazing, the flavours of coffee, chocolate, hazelnut, turmeric, ginger and cinnamon all working together to retrieve the feeling of being in front of a fire on a cold evening with a book. We're calling it The Golden Retriever. Have you noticed we love dogs yet? We even have something for your dog on our menu, it's called the Brakkie Brew. Warm chicken stock topped with milk foam. They go crazy for it.
Can people still get coffee from you during lockdown?
Yes! They can order off our menu via Uber Eats, and our beans are available to order. They can pop us an email at hello@bayhound.co.za and we'll arrange.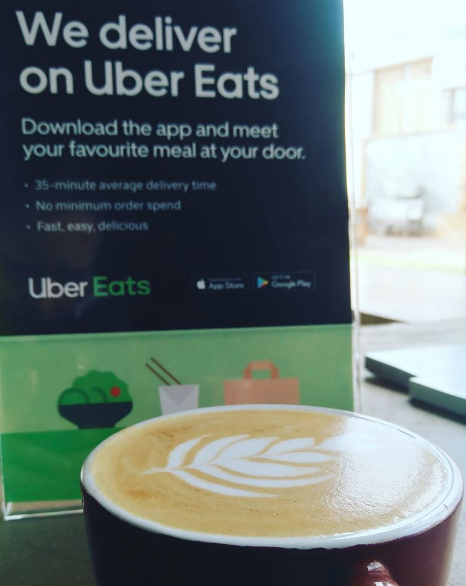 What have you learned about yourselves and others that you didn't know before this pandemic?
Well one thing is we learned that we needed a break! We would never have taken 5 weeks off in any other circumstance, as I'm sure most people wouldn't have. We have to take our blessings where we find them. We learned that we really love gardening, and started a huge veggie garden. We learned that the people we thought were good and kind, are even more good and kind in tough times than in easy times. It's beautiful to see people looking after each other the way they are right now.
What would you like to all everyone in your community at this moment?
First, thank you to everyone who has continued to get their coffee from us! Times are tough right now, but when this is all over we will still be here and we cannot wait to have everyone back, physically in the shop so we can hear your stories, have those conversations, hear how you're doing, have coffee together and go forward together as a greater community beyond shop walls.
Got something to say? Then leave a comment!
---
Community: Catching up with Eduardo!
Friday, 15 May, 2020
When Eduardo approached Marunic Trading to start the import of coffee from South and Central America, he knew he would have to get to know the community to be successful, so he jumped right in!
Hi Eduardo, tell us a little about your business and how you came to be living and working in South Africa?
MARUNIC TRADING is a commodities trading company that has been specializing, for the last 10 years, in the supply of both hard and soft commodities as well as providing logistics and transport to and from South Africa and neighboring countries.
Marunic Trading's home base is in George in the Western Cape and stands under the directorship of 3 brothers with a Team of about 45 other staff members.
I met one of the directors, Mr. Eugene Van Loggerenberg, a few years ago and after sharing my passion for coffee with him, him and his brothers completely embraced the idea and trusted in me from the very beginning of importing green beans from South and Central America into the South African market. Fast-forward 2 years, we not only seized the opportunity to grow but also to help others grow with us.
I've been visiting South Africa since 2014, which not only resulted in the establishment of a coffee business but also allowing me to get involved in social and spiritual development programs serving poor communities in Du Noon, Khayelitsha and also in Namibia, and this passion for people, for life, for those ones who is under difficult circumstances has a very special place into my Heart.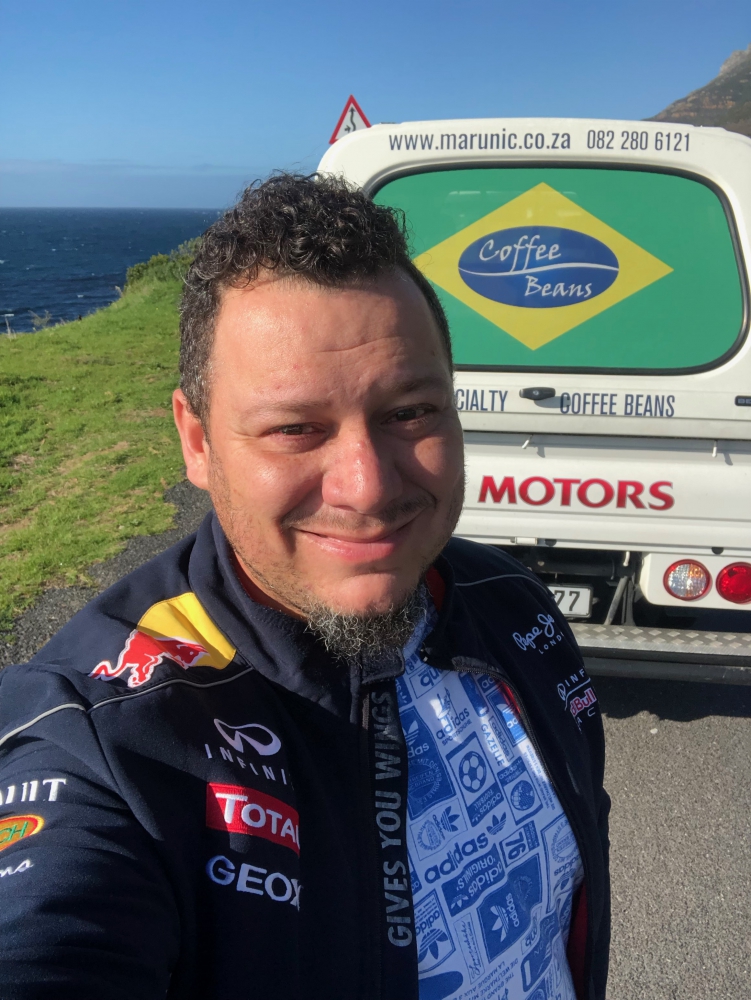 Tell us about how you got started in coffee and your background?
I am a qualified Business graduate and post graduate, also a PMI certified Project Manager for large companies in Brazil. My life was mostly spend on the Road/flights, and doing projects planning and management for large buildings such as Airports, Hospitals, Stadiums etc.
But it is actually my passion for people that sparked my journey into the wonderful world of coffee. My house has always been a place where friends, family and neighbors, they were welcomed for a good cup of coffee or just chill together.
Being the people's person that I am, I met a coffee farmers son while studying and he introduced me to their farm, the plants, the coffee and the culture of coffee. I was instantly hooked. And from that day I have been researching, training and buying coffee beans, coffee machines and everything that goes along with it.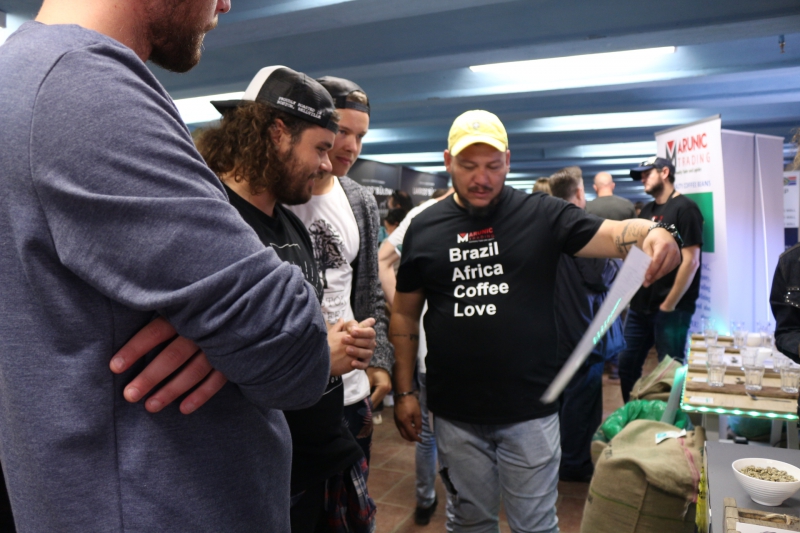 What makes Brazilian coffee so special?
I deeply love Brazil, my people, who we are and what we have to give to the world. We have a huge heart for people.
But honestly I can't say that the mass produced Brazilian Coffee is so special.
As it stands, it is very well accepted into blends for its characteristics of low acidity, Chocolate, sweetness and nuts and has a very good market price.
The big Brazilian coffee producers, are doing great in Fair Trade, in preserving the environment and fairly remunerating the workers and producers.
As a Brazilian coffee guy I work hard to change the perception of Brazilian Coffee being only a cheap coffee with very little else to offer.
There are very small producers in Brazil that are doing exceptional work in producing a delicious coffee beans (challenging the current Brazilian coffee beans status quo), who in my view will reach the highest positions around the world very soon.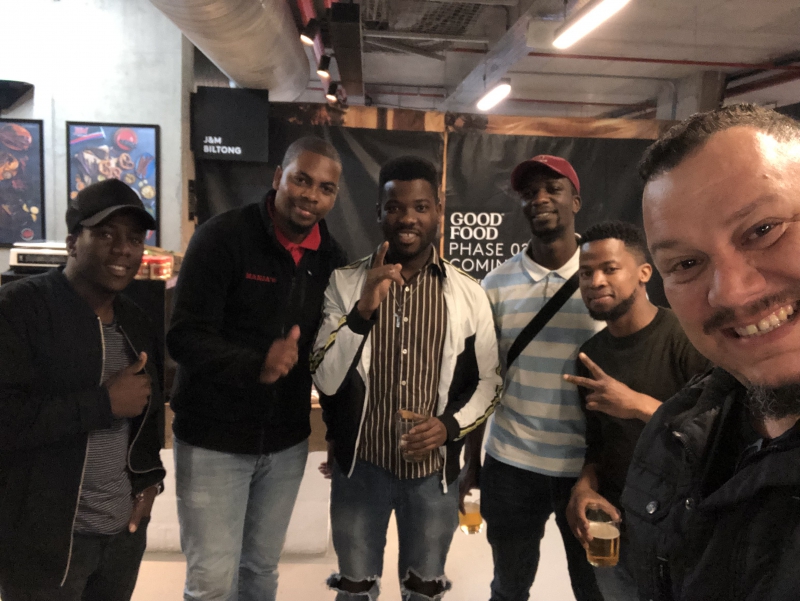 In our last magazine, you put together such a cool Coffee Adventure - that sounded exhausting! But a lot of fun too, you clearly have a love for what you do! What motivates you to work so hard for coffee?
I have three things that motivate me – PRAISE, PASSION AND PERSISTENCE.
Firstly, Praising God for every gift He placed in me and applying these gifts for His glory
Secondly, PASSION. It is my secret key for everything I do. Passion is the difference between doing things well and doing it well, effortlessly.
And finally PERSISTENCE. Some of my clients will testify that it was my persistence that sealed the deal. I do believe in what I am doing, I do believe it is good, I do believe its worthy… So I will persist!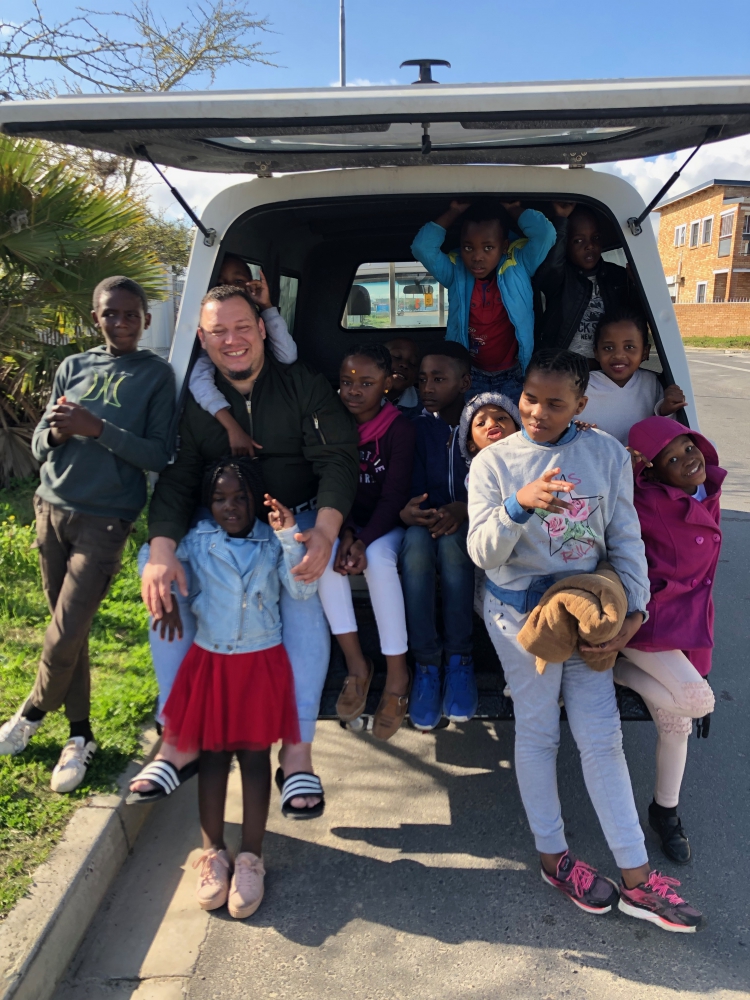 You have been very involved in the SA Coffee Community since you turned up on the scene a few years ago… you came to Creative Coffee Week, you have attended Expos and SSCASA events… which events are your favorites and why?
If I could and I would be present at every event, but unfortunately someone has to run the coffee business.
I do no have a particular favorite but I must highlight the Coffee and Chocolate event in JHB. It was simply amazing as it provided great learning opportunity and I could get involved.
To me, as long it is well organized, with Coffee and People everywhere, I am happy…. Hahahahah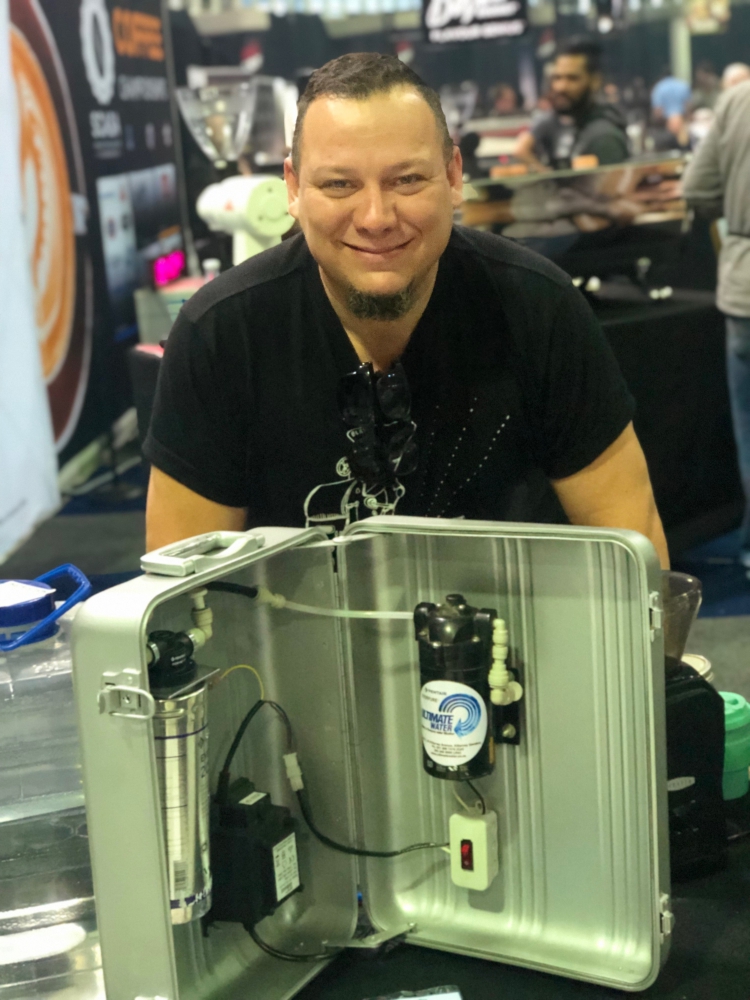 Tell us, what is your next exciting Marunic Trading adventure going to be?
We have many plans up our sleeve that we believe will positively impact the South African Coffee society, but for now we must keep it a secret. Don't worry, I hope to share it very soon with you guys and get you onboard with us into an incredible Coffee Journey.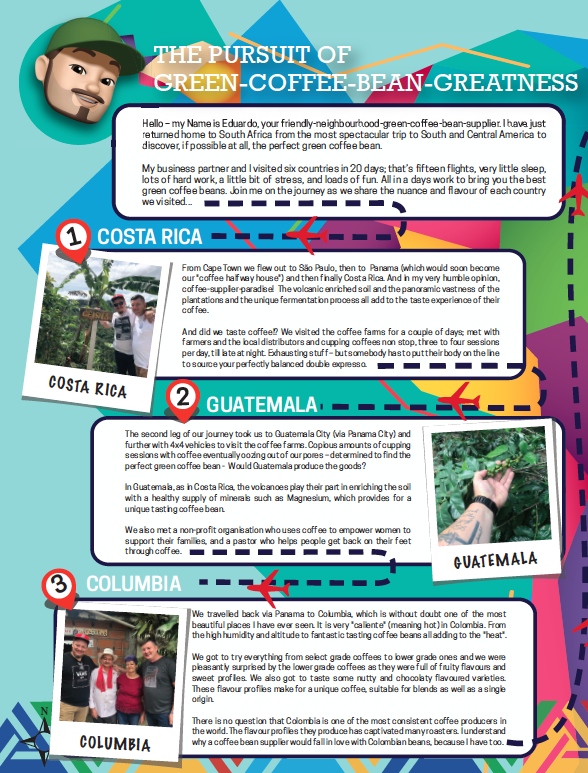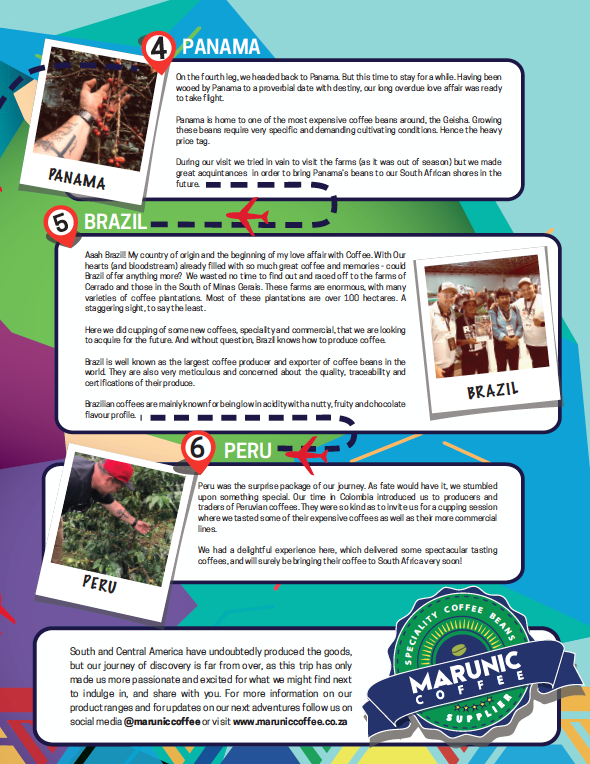 You can also view this graphic of Eduardo's epic coffee hunting journey in the latest Coffee Magazine,issue 31, on sale now, or download from Magzter: https://www.magzter.com/ZA/True-North-Media/Coffee-Magazine/Food-&-Beverage/
Got something to say? Then leave a comment!
---
The Takeaway Debate
Thursday, 14 May, 2020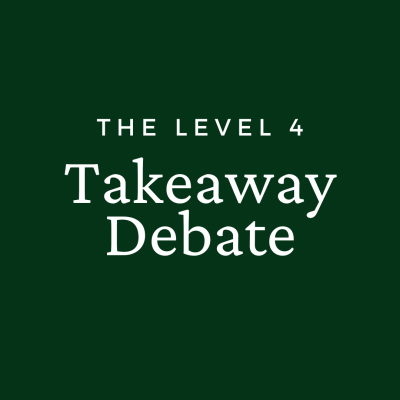 Ok, so we've had two weeks of Level 4 and in that time coffee businesses have been testing the waters of what it is possible to safely sell during this time.
The two major issues to consider here are movement of people and contact.
Here's what we know for sure:
- It is not illegal to sell takeaway coffees.
- Cafes are not allowed to open for any sit down trade, none.
- The ideal way is to offer delivery in a limited radius. This being said all coffee stations that were already open from Level 5 (grocery stores, bakeries, garage forecourts) are now serving Takeaway coffees.
- It is up to the discretion of the cafe owner whether they wish to open in a modified way.
- There is lots to consider when making this call. Public transport is still a possible hotspot area and the more people that have to move around the more this becomes a high risk transmission zone. The taxi associations are doing all they can to sanitise properly of course, but more people means inevitable crowding.
- Some baristas would otherwise be out of jobs as their employers can't sustain a salary while unable to trade.
- UIF benefits disappear when cafes start to trade again, so cafes with a lot of staff to support may not turn over enough to cover costs when opening in this limited fashion.
The best we can do in this time is keep building each other up rather than judging or tearing people down. We hope all the cafe owners and their valuable employees are doing ok out there, we can't wait to be back in your amazing spaces. What do you think about serving takeaway coffees?
Got something to say? Then leave a comment!
---
Issue 31 Print Edition available in selected Retailers
Friday, 8 May, 2020
We finally managed to get the Coffee Magazine issue 31 into stores around the country, thanks to our amazing team at iSizwe distributors!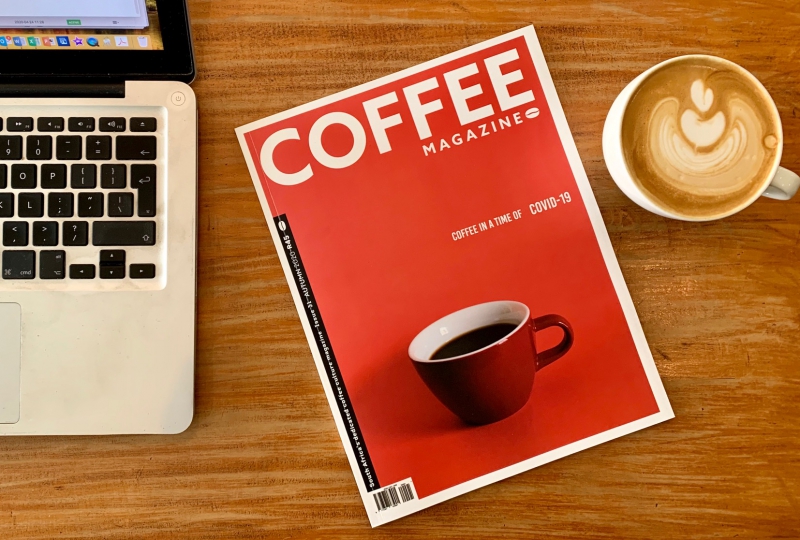 Please support these amazing businesses:
W Cape
EASTCLIFF SPAR
FISH HOEK SPAR
KWICKSPAR PINELANDS
DE TYGER KWICKSPAR
SPAR AURORA DURBANVILLE
KWIKSPAR ON KLOOF
HOUT BAY SUPER SPAR
VREDEKLOOF SPAR BRACKENFELL
GLENCAIRN KWICKSPAR
SUPERSPAR STELLENBOSCH
VERGELEGEN KWIKSPAR
HELDERVUE KWIKSPAR
OAKHURST KWIKSPAR
KZN
NORTH BEACH SPAR
SIMPLY TRADING
BLAIR ATHOLL KWIKSPAR
UMHLANGA SPAR
DURBAN NORTH SPAR
CROSSWAYS KWIKSAVE SPAR
HOLDENS SPAR
HATTONs KWIKSPAR
FOURWAYS KWIKSPAR
ESCOMBE KWIKSPAR
USHAKA SPAR
GATEWAY SUPERSPAR
ESTCOURT SPAR
GREENDALE KWIKSPAR
CHARLIES SPAR
SOUTHGATE SPAR
MILLS SUPERSPAR
HARDING SPAR
HAMMERSDALE SUPERSPAR
GAUTENG
EXCLUSIVE BOOKS BEDFORD GARDENS
EXCLUSIVE BOOKS CRESTA
EXCLUSIVE BOOKS HYDE PARK
EXCLUSIVE BOOKS ROSEBANK
EXCLUSIVE BOOKS KILLARNEY MALL
EXCLUSIVE BOOKS SANDTON CITY
EXCLUSIVE BOOKS MORNINGSIDE
EXCLUSIVE BOOKS NICOLE WAY
EXCLUSIVE BOOKS BENMORE GARDENS
EXCLUSIVE BOOKS MALL OF THE SOUT
EXLCUSIVE CLEARWATER BOOKS
EXCLUSIVE BOOKS GREENSTONE
EXCLUSIVE BOOKS BROOKLYN
EXCLUSIVE BOOKS MENLYN
EXCLUSIVE BOOKS CENTURION
EXCLUSIVE BOOKS WOODHILL
EXCLUSIVE BOOKS KOLLONADE
YEOVILLE SUPER SPAR FONTANA
YEOVILLE SUPERSAPR BEREA
YEOVILLE SUPER SPAR BERTRAMS
CBD JHB SPAR GHANDI SQUARE
NEWCLARE SPAR MELVILLE
KENSINGTON SUPER SPAR BEDFORDVIEW
SANDTON SPAR FONTANA ATHOL SQUARE
BLACKHEATH SPAR FAIRLANDS
HILLBROW SPAR PARKVIEW
NORTHCLIFF SPAR FOODLINER CRAIGHALL
NORWOOD SPAR LYNDHURST
NORWOOD CRESTHILL SUPERMARKET
NORWOOD SPAR SANDRINGHAM
NORTHCLIFF KWIKSPAR LEMONGROVE
BLACKHEATH SPAR RANDPARK RIDGE
BLACKHEATH PALM COURT SPAR
NORTHRIDING SPAR BROMHOF
SUNNINGHILL SPAR SUNNINGHILL
SUNNINGHILL KWIKSPAR BUCCLEUCH
SANDTON KWIKSPAR PARKMORE
FOURWAYS SPAR FOURWAY GARDENS
BRYANSTON SLOAN MEAT MARKET
BLACKHEATH SPAR WELTEVREDEN PARK
BRYANSTON ENGEN BOSTON
FOURWAYS ENGEN LONEHILL
NORWOOD ENGEN GLENHAZEL SER/STATION
SUNNINGHILL SASOL RIVONIA
BRYANSTON ENGEN HURLINGHAM SERVICE STATION
BRYANSTON TOTAL BRYANSTON
SUNNINGHILL ENGEN EDENBURG
RANDBURG SPAR ROBINDALE
BLACKHEATH SPAR CRESTA FONTANA
SUNNINGHILL SPAR FONTANA MORNINGSIDE
NORTHCLIFF SPAR BLAIRGOWRIE
HONEYDEW SPAR RADIOKOP
BRYANSTON SUPER SPAR HOBART

SPAR CROWTHORNE DIEPSLOOT
SPAR VORNA VALLEY MIDRAND
SPAR FERNDALE VILLAGE RANDBURG
SPAR NORTHWOLD HONEYDEW
SPAR PINESLOPES FOURWAYS
SUPER SPAR BELLAIR MALL NORTHRIDING
SUPER SPAR EASLE CANYON HONEYDEW
SPAR BLACKHEATH
KWIKSPAR MAGGIESMONDEOR
SPAR KIBLER PARK
SUPERSPAR BRACKENGATE
SPAR MACY'S
SPAR 2ND AVENUE
SUPERSPAR MEYERSDAL
KWIKSPAR FOURWAY
SPAR MEYERTON
SUPER SPAR EURO
SUPER SPAR RETAIL CROSSING
SUPER SPAR WESTWOOD
SUPER SPAR RYNFIELD
SUPER SPAR GLEN ACRES
KWIKSPAR DOWERGLEN
SPAR KARAGLEN
SPAR PRIMROSE
SPAR BARCLAY SQUARE
SPAR WEST PARK
SUPER SPAR SILVER PLACE
SPAR ZAMBEZI
SUPER SPAR SILVER OAKS
CONSTANTIA PARK BAKREY
SPAR NEWLANDS
SAVERITE SUPERAMRKET
KWIKSPAR MURRAYFIELD
SUPER SPAR MIDSTREAM
ENGEN PERFORMANCE FUEL
SUPER SPAR MENLO PARK
KWIKSPAR WATERKLOOF
SPAR LYTTLETON
SPAR CENTURION
KWIKSPAR RANDJIESPARK
SPAR VALHALLA
SPAR WIERDA PARK
SUPER SPAR MONTANA
SPAR GROENKLOOF PLAZA
SPAR MONUMENT PARK
SUPERSPAR MENLYN MAIN
SUPER SPAR GLENFAIR
KILNERPARK SUPERSPAR


VRYSTAAT
KWIKSPAR MEDITAS
SPAR UNIVERSITAS
SUPERSPAR KENWORTH
SPAR ALJO'S
SPAR LADYBRAND SPAR

Rest of the Country
SUPER SPAR TZANEEN
SPAR ST.MICHELS Klerksdorp
SPAR LIMPOPO
SUPER SPAR PLATINUM PARK
SPAR FLORAPARK
SYLVANIA SUPERSPAR
SPAR SANTINHOS
SPAR BOTHAVILLE
SUPER COFFEE'S
SPAR RIVERVIEW
SPAR SAVE IN SUPERSPAR
SPAR GOLDFIELDS
SPAR KANONKOP
SPAR MIDWATER
SPAR SECUNDA
SPAR KRIEL
SPAR WONDERPARK
SPAR HIGHLANDS BELFAST
SUPER SPAR CROSSING
SUPER SPAR RIVERSIDE
Got something to say? Then leave a comment!
---
GIVEAWAY: Tell us your favourite way to brew and WIN with Red Espresso
Friday, 8 May, 2020
So we see you've been loving the Red Espresso weekly column on the website and they were kind enough to offer up an incredible prize for you lucky readers.
All you need to do is tell us your favourite way to brew at home in the comments, tag your favourite cappuccino buddy and you could win a 1kg bag of Red Espresso and a new way to brew AeroPress.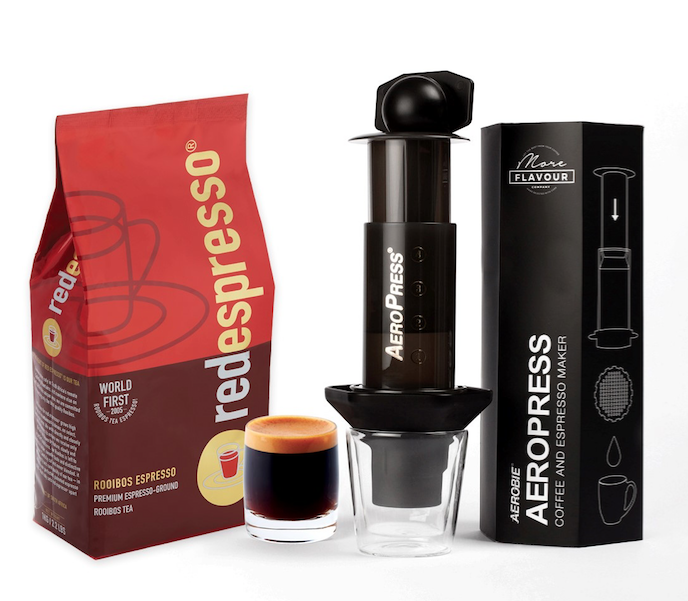 The giveaway includes:
Aeropress
1kg bag of red espresso® ground rooibos tea
Recipe card
Worth R970
You'll love making red espresso® rooibos on an AeroPress!
The AeroPress makes a smooth, rich tasting rooibos quickly and conveniently - no mess, no fuss. The AeroPress is simple, lightweight, durable and portable, making it the ideal appliance for when you are on the go, camping or backpacking. Most of all, it's easy to use and affordable.
Pre-ground rooibos and ready to use
71 servings in a 1kg bag
Take it with you wherever you go!
Easy to clean
Non electric
350 AeroPress paper filters included in the kit
Got something to say? Then leave a comment!
---
Cafe Focus: The Merchant Coffee
Friday, 8 May, 2020
This passionate crew from Mossel Bay has carved their way into the hearts of their community and we wanted to show cafes some love during this time. Thanks for all you do Team!
---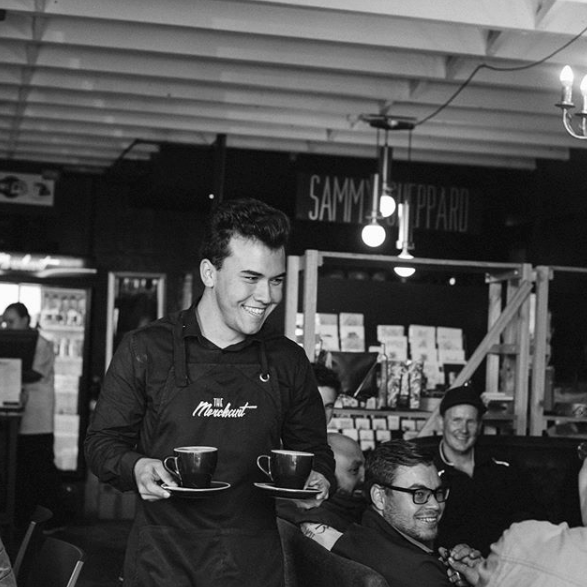 We chatted to Donovan Sheppard of The Merchant Coffee to get a feel for how they're doing and how you guys can support them during this time!
What was it like putting together your cafes and starting this business?
It was crazy. Blood, sweat and tears. But exhilarating to step out and risk all we had to start our own business! We have learned lot, and could only have done it with super faithful customers, and lots of support from family and friends.
What is the ethos of your business?
Excellent coffee, great vibes & a place to 'escape'.
Tell us what makes the spaces special to you?
It really starts with the people - the staff creates an atmosphere of connection for customers, and secondly the decor, and thirdly the product needs to impress to make it a special experience.
What do you love most about being in the coffee industry?
Again, the people - the coffee lovers and fellowship around every cup.
How important are regulars to the fabric of day cafe life?
Crucial. We love, appreciate and need our loyal regulars to run a sustainable cafe through out the year.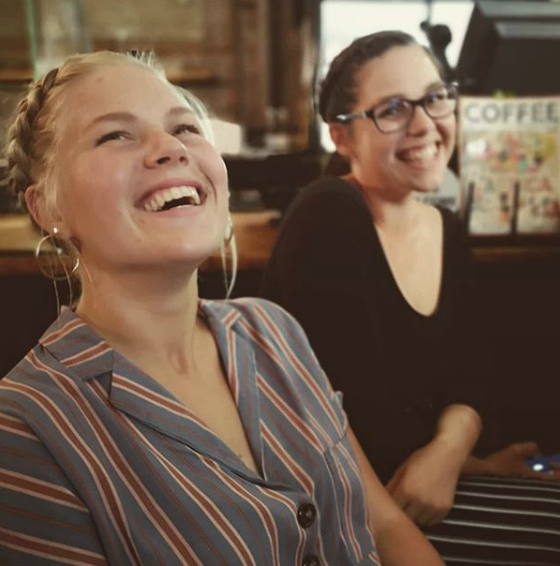 Name one menu item that we would never expect or have heard of before - a uniquely The Merchant creation! (food or beverage)
We call it The Merchant Special coffee - it is lands right in the middle of the Cappuccino and the Cortado, and has become a favourite amongst regulars.
How are you passing the time in lockdown? Give us your favourite silly thing to do!
Nexflix documentaries. Lots of cleaning. Pushups(and running around the house with my boys & dogs). Recycling. AeroPress goodness. Scratching our heads(and google) for new ideas.
Can people still get coffee from you during lockdown?
We are selling beans, so we are rolling some coffee from this week onwards.
What have you learned about yourselves and others that you didn't know before this?
I have finally learned that admin is not by strong point :) Yet, that we need it, and should prioritise it.
What would you like to all everyone in your community at this moment. How can they support your business?
Order coffee, follow us online, order more coffee, and stay strong!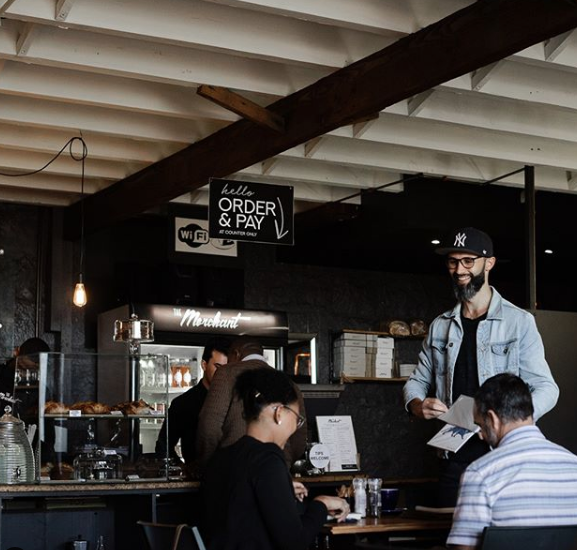 Got something to say? Then leave a comment!