Destination: MAME Coffee, Zurich
Thursday, 16 August, 2018
MAME
Josefstrasse 160, 8005 Zurich, Switzerland
---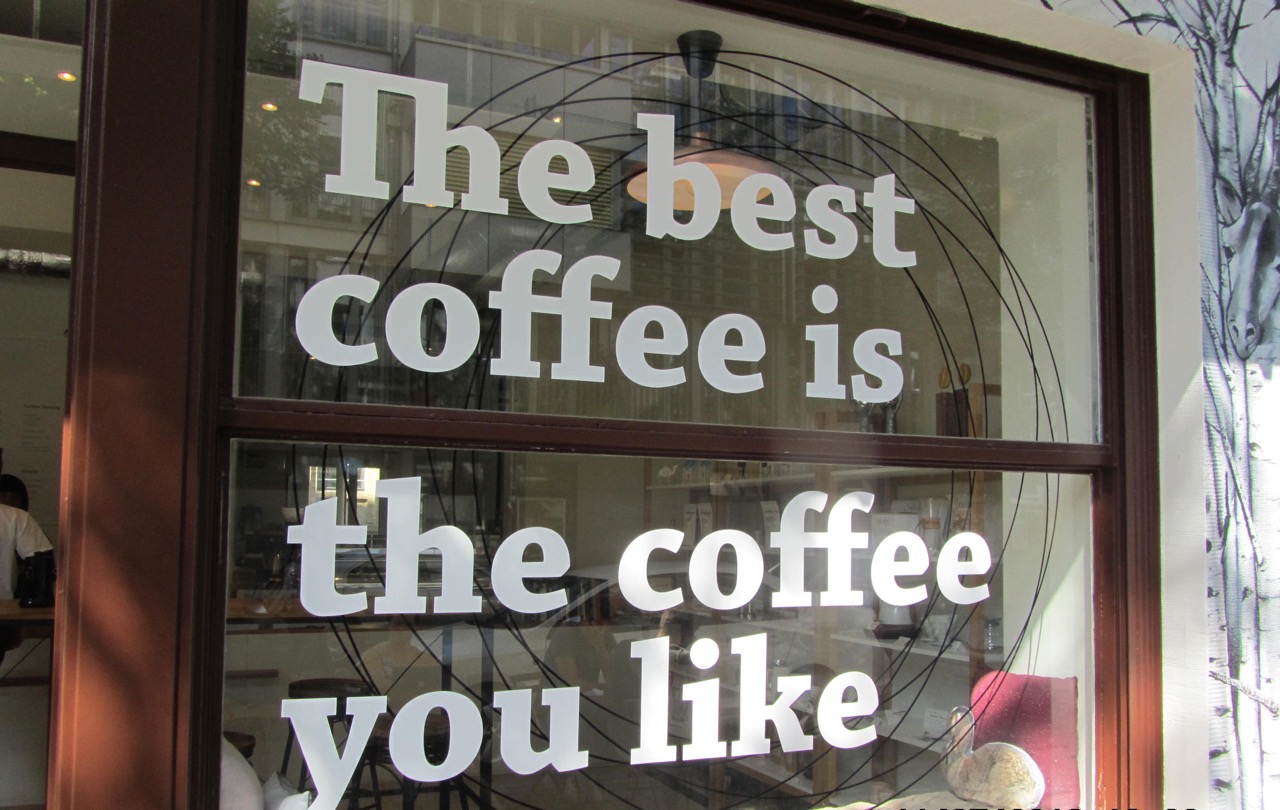 "The best coffee is the coffee you like". This motto adorns the window of MAME Coffee Shop in Zurich, where I recently found myself indulging in a caffeine high…
After a few days in Switzerland without any access to good coffee, entering MAME Coffee Shop in Zurich is like reaching sanctuary. Zurich is as cosmopolitan as it gets – a constant buzz of motion and activity – but the buzz is just a little less busy in Kreis 5 (District 5), the up-and-coming formerly-industrial quarter.
Here in Zurich-West, old industrial spaces have been transformed into a modern and trendy neighbourhood of apartments, parks, art galleries, restaurants, and an eclectic mix of businesses and stores creatively built under the arches of the railway viaduct. It's the perfect place to slow down and enjoy a cup of coffee.
We find MAME on Josefstrasse – a modern space with a long centre table and stools where you can watch the magic happen behind the counter. One whole wall of the shop is dedicated to the art and science of good coffee, with every accessory you might need to hone your barista craft.
Chocolate, fruity, or floral?
Emi Fukahori is the co-owner of MAME along with Mathieu Theis, both Swiss Barista Champions. Emi is behind the counter when we walk in, and happily explains our coffee tasting options to us. With a choice between the Flight, Filter Trio, Espresso Trio and the "Crazy" barista selection for coffee fanatics, we decide on the Flight and Espresso Trio. The next big question is chocolate, fruity or floral – what flavour profile do we prefer?
Emi talks us through the options. The beans from Brazil bring the chocolate flavour for those who like their coffee with less acidity, the Columbian beans bring the fruity flavour for the more adventurous, while the Ethiopian beans bring the complex floral notes for those who want to try something new. Fun fact: MAME means 'beans' in Japanese.
Good things come in threes
The Flight is a set of small pours from one single origin served three different ways – as a filter coffee, espresso and cappuccino. I choose chocolate, and am presented with three beautiful cups on a small bamboo board. Emi guides me to sip from the filter coffee to appreciate the taste, but then move on to the espresso and cappuccino before going back to finish the filter, to truly appreciate the subtle differences.
The Espresso trio is a tasting of all three flavour profiles – the chocolate, fruity and floral – and it's an adventurous experience if you're not a big coffee drinker. It really opens your eyes to the dynamic quality of coffee – not to mention keeping your eyes open for a good few hours after that much caffeine.
Our visit to MAME is short but sweet – we have to say goodbye, but not before taking a photo of Emi with an old copy of the Coffee Magazine, which she had just by chance on the MAME bookshelf dedicated to all things coffee. A crazy coincidence when you find yourself 13,000km from home!
If you too find yourself in Zurich, MAME is a must-do for any specialty coffee lover. I can honestly say it was the best coffee I've ever had, and I'm glad I got to tick it off my coffee bucket list.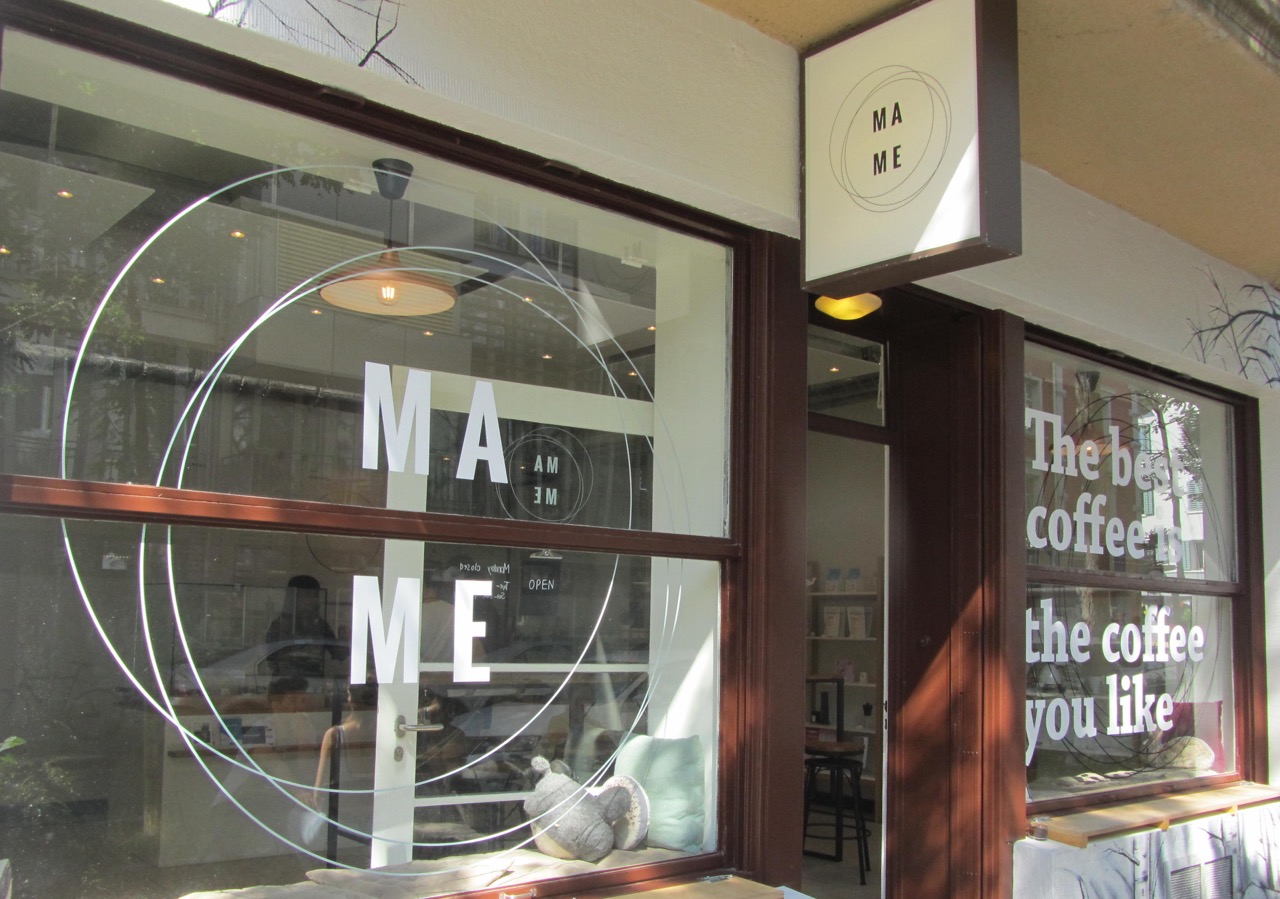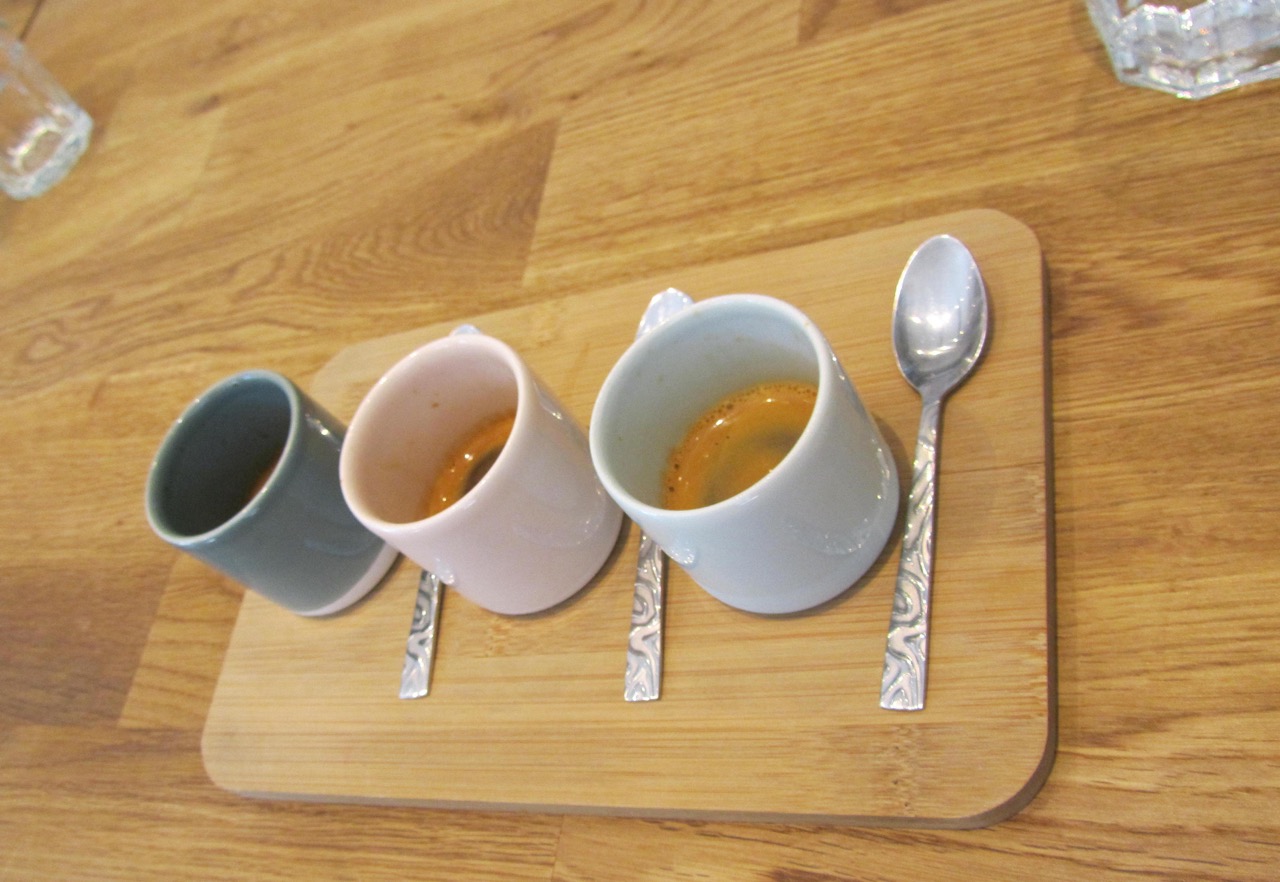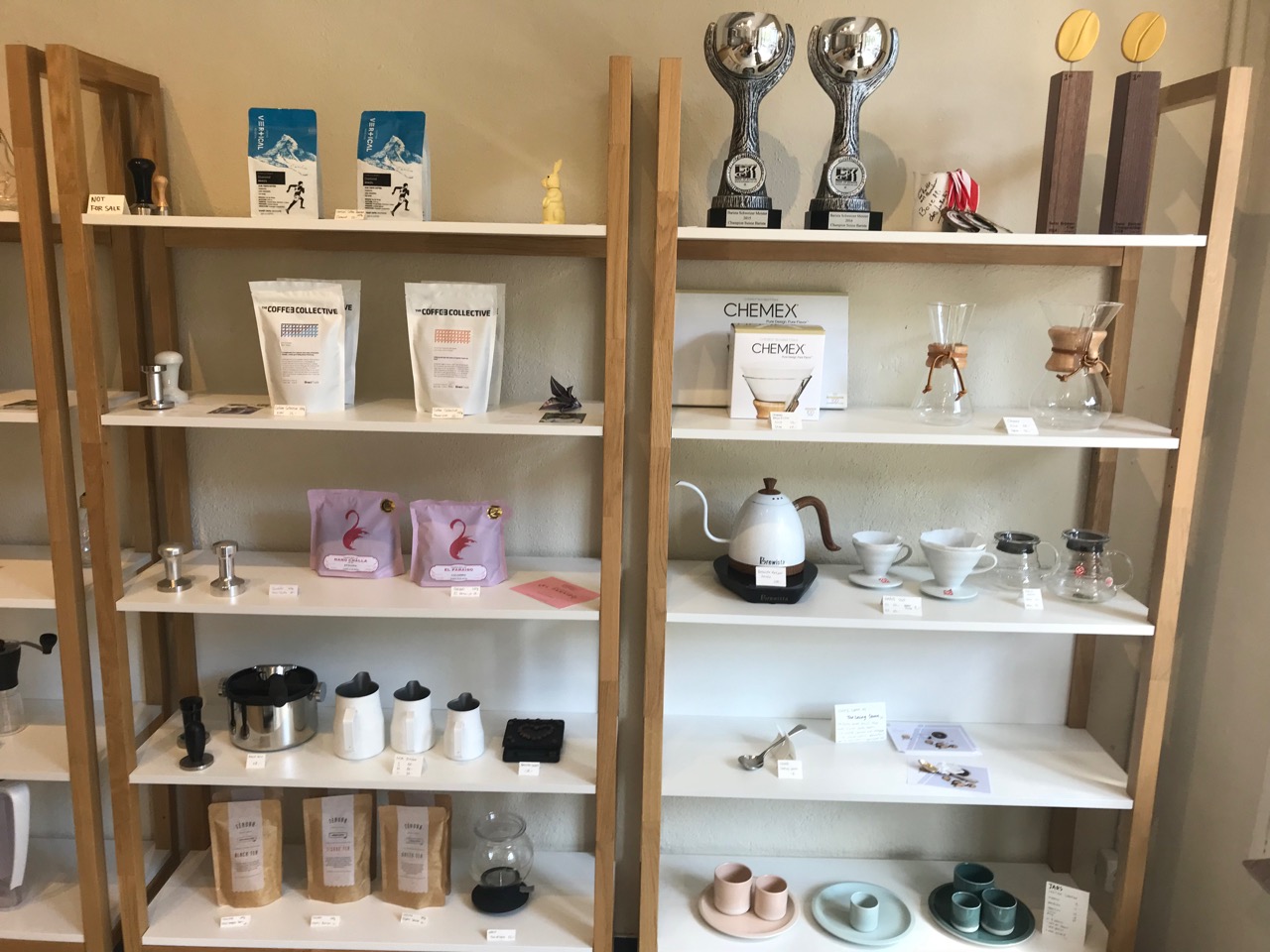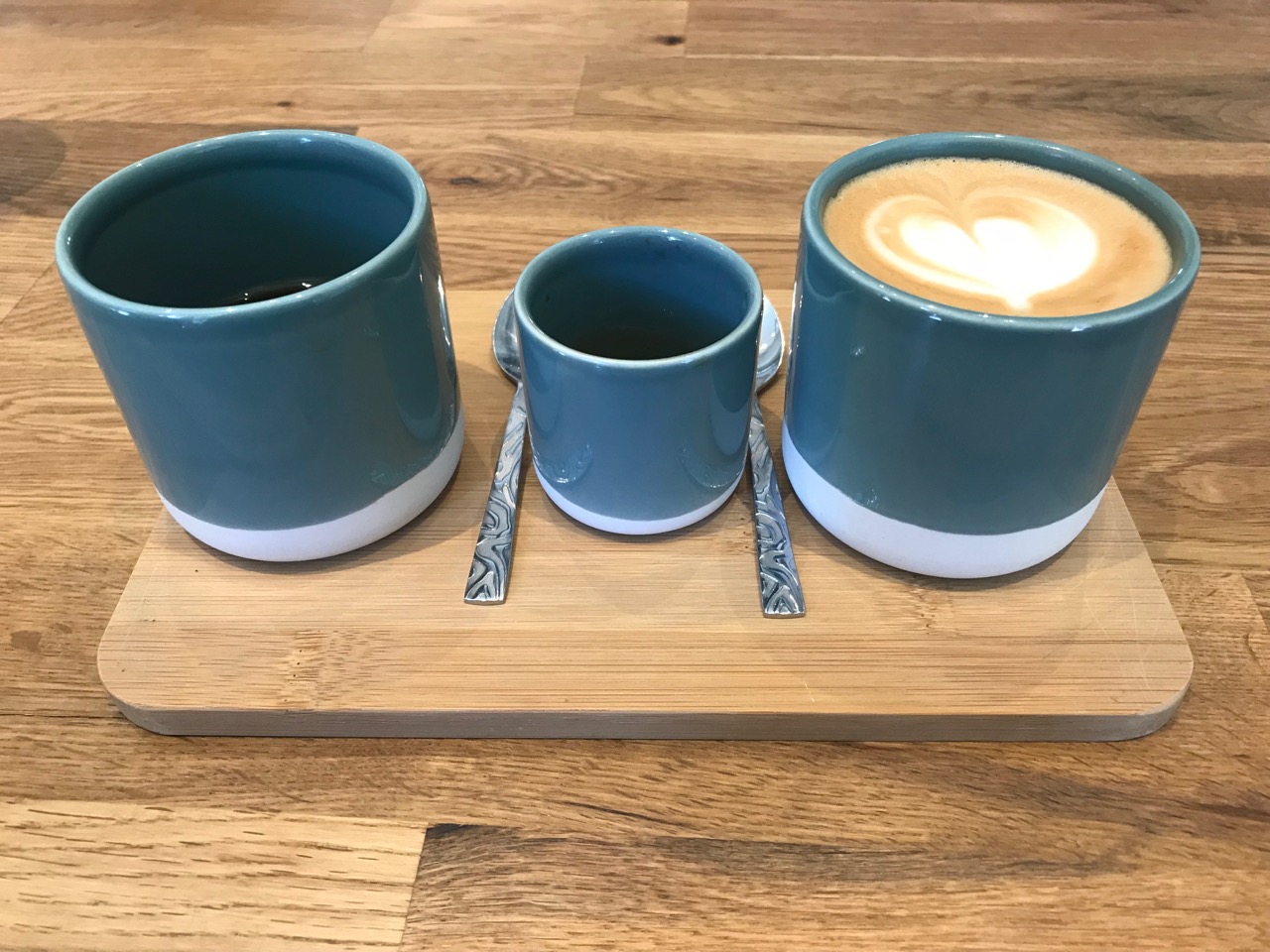 Got something to say? Then leave a comment!
---
Episode Three: Meet Sindiswa Mtolo, Deaf Barista Candidate
Thursday, 16 August, 2018
Got something to say? Then leave a comment!
---
Episode Two: Meet Awanda Madlala
Thursday, 9 August, 2018
Got something to say? Then leave a comment!
---
The Extraordinarily High Cost of Cheap Coffee
Wednesday, 8 August, 2018
Words by David Donde
As the representatives of the sharp end of coffee we have an obligation. Perhaps it is more of a duty? A duty to justify the prices we charge for coffee by delivering a cup worthy of its price. A duty to pay our baristas fairly. A duty to give those baristas a career path. A duty to enable that career path by offering them training. A duty to buy coffee that can fulfill the obligation in that cup offered to our loyal patrons. A duty to learn how to roast as well as humanly possible. A duty to buy green coffees worthy of the Herculean effort that will follow. A duty to pay fair prices to the grower. A duty to grow coffees worthy of a fair price. A duty as a business owner to learn how to do all those things.
This is is the value chain. And you, Customer, are breaking it. You are being unfair. You are compromising your duty. Every time you buy a cup of coffee and complain about the price, you force the Cafè to think about lowering its pricing. To evaluate where it can cut corners. Can we pay our baristas less? Can we eliminate training? Can we avoid growing our business for a while? Can we buy cheaper coffee? Can we avoid hiring? Can we squeeze our roaster for a lower price?
Cafe owner, every time you complain about the price of your coffee you are incentivizing your roaster to pay less to their roasting team. To cut quality control standards or practices. Discouraging their opportunities to employ. Forcing them to buy coffees on price rather than quality. To buy down. To prize efficiency over quality.
Roasters, your compromises on purchasing are forcing farmers to champion quantity over quality. To cut corners. To refuse shoes and education to their children. To hold them back from economic freedom.
Go to the average "great" cafe and see their coffee offered for ten or twenty percent more than a bottled water. How does that respect the coffee; the barista; the roaster; the grower? Is your coffee only a little better than your water? Then fair enough. Is it representative of the effort of all of those people who brought that amazing coffee from seed to cup? Then respect the difference. Respect the value. Charge fairly. Charge appropriately.
Coffee, like wine, deserves a spread of pricing. Cheap for average; pricey for the good stuff and expensive for the experiences.
This is fair, no? This builds a culture. This builds an economy. This is part of a dream of emancipation that coffee can and should help deliver.
Cafes charging fairly will be able to pay baristas fairly. A good barista should not be earning a small percentage more than minimum wage. A good barista should be able to be a meaningful contributor to his lifestyle, his family and his community. Charge more and you will need to pay more to keep your barista. And this is good. Your barista will spend more in the community; allowing the coffee price to be afforded by the community. This is building an economy. We can't shrink our way to greatness.
Smaller cafes shouldn't be intimidated by the pricing of the large franchises and charge a bit less. They should show up the larger operations with a better offer and thus justify a higher price and loyalty.
Big dogs with big footprints, start having the value in the cup improve. Let your customers understand the value of quality by your team understanding that value has two sides to its coin. Price and quality. That quality deserves to be easy to taste. Try it with special offerings. But don't cheat. Buy great coffees. Dare to really try going up the quality ladder. Dare to offer a coffee that doesn't just cost more for a premium. But tangibly tastes better. Is different. Is worth charging a lot more for. Respect your clientele. They aren't as dumb as your board's demographic presentations suggest. They aren't data points, they are individuals Those that care about quality and think about what they drink will get it. And respect you for it. Give them credit for being able to enjoy the finer things in life.
But damn you if you charge more and don't produce something better.
Damn you if you don't pay staff fairly from the increased profits.
Damn you if you do this and don't insist on buying better coffee
Damn you if you aren't prepared to pay more for better.
There are two scenarious. R22 for a double flat white. R20 for the water. Minimum wage. Buying from the lowest convenient bidder. Commodity grade coffee from farmers on the poverty line. Mass unemployment. A South Africa with low economic confidence.
Or or we can charge and enjoy paying upwards of R40, still leaving us with one of the cheapest speciality coffee offerings in the world. Paying our baristas fairly. Hiring more staff. Paying for better coffee. Allowing the better farmers to charge more, allowing them to further improve their economies and offerings. We in the coffee industry get to wear a badge of pride in what we do on our lapels. We are not hiding from shame at our known mediocrity. It is easier to defend high prices when your practices are uncompromising. The shame of misrepresenting or cheating or cost cutting are removed from the tightly shut closet doors of our guilty consciences. We step into the light of the upward spiral. Of customers slapping down a fair price with a smile in expectation of a mindfully enjoyed cup of the pinnacle of our geeky craft, basking in the full knowledge of the good being done all the way down the value chain. People paid to care are paying others to care. Each cup of coffee making a positive difference to every community. The coffee drinkers. The cafe owners. The baristas. The logistics teams. The roasteries. The coffee roasters. The trainers. The green bean buyers. The coffee farmers. And maybe even the environment. Maslow's pyramid can only have a healthy effect on that.
We we can either support a downward spiral or an upwards climb. Everything is connected. We are either choosing to be part of the solution or part of the problem.
Still want a discount on that coffee?
Deliver on your duty. Ask for better. Demand better.
Got something to say? Then leave a comment!
---
AUCTION: Coffee Canvas from Creative Coffee Week
Friday, 3 August, 2018
Got something to say? Then leave a comment!
---
Reflections on Creative Coffee Week
Monday, 30 July, 2018
We couldn't be more happy with how Creative Coffee Week turned out. It was terrifying and we were very nervous that we wouldn't be able to get the right coffee people together, but in the end it worked out alright. In fact, it worked out better than we could have have ever hoped. The sessions were stimulating, the debate was robust and the sharing was open and relaxed. It was the moments in between the Workshops where we could look around and see people interacting and learning from each other that confirmed that, for us, it was a success, as our SA Barista Champion Winston Thomas would say, it was a "self-defined success." We are extremely grateful to the coffee professionals who travelled from across the country to be in Durban, the people made it and will continue to help this platform grow.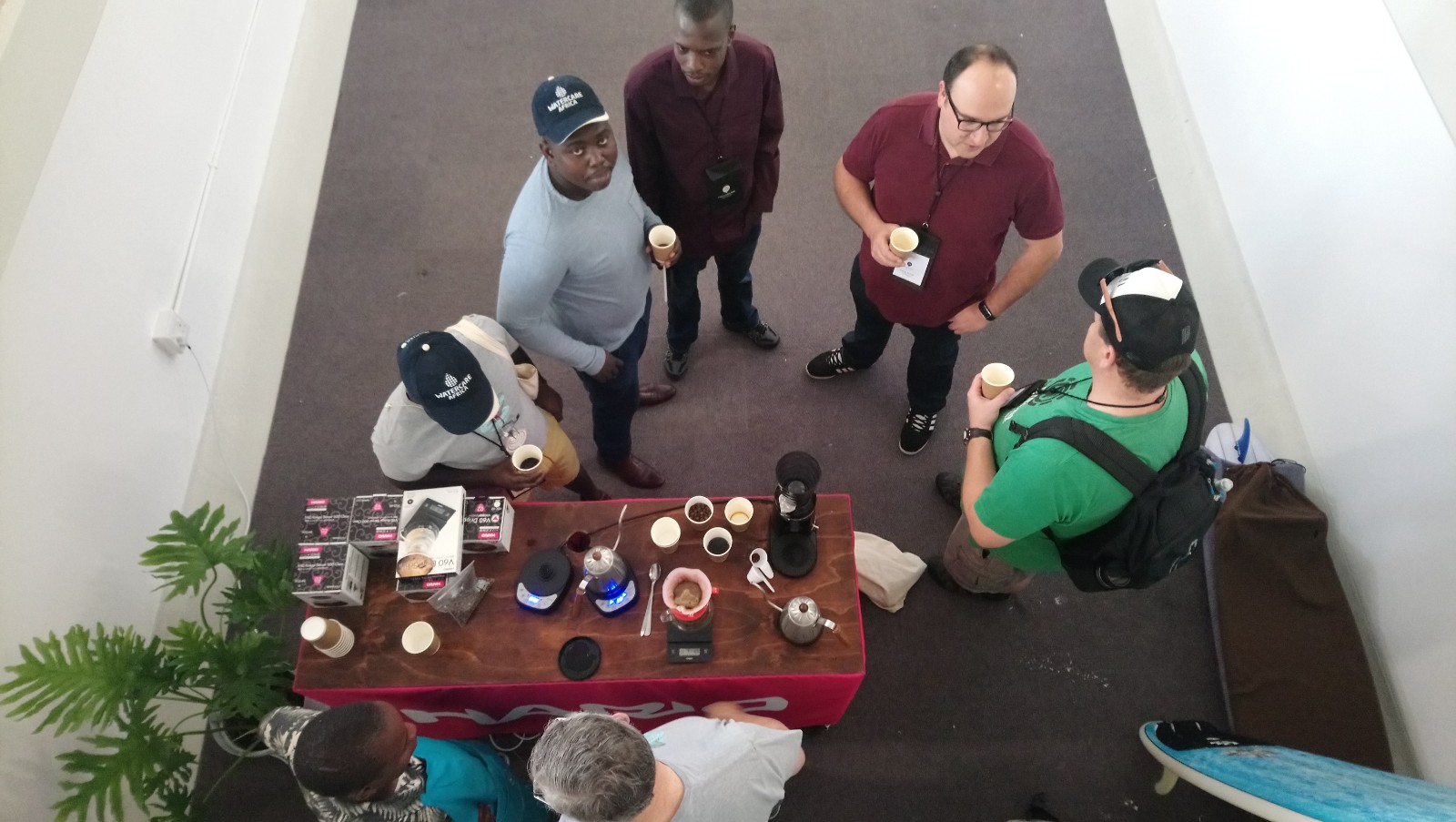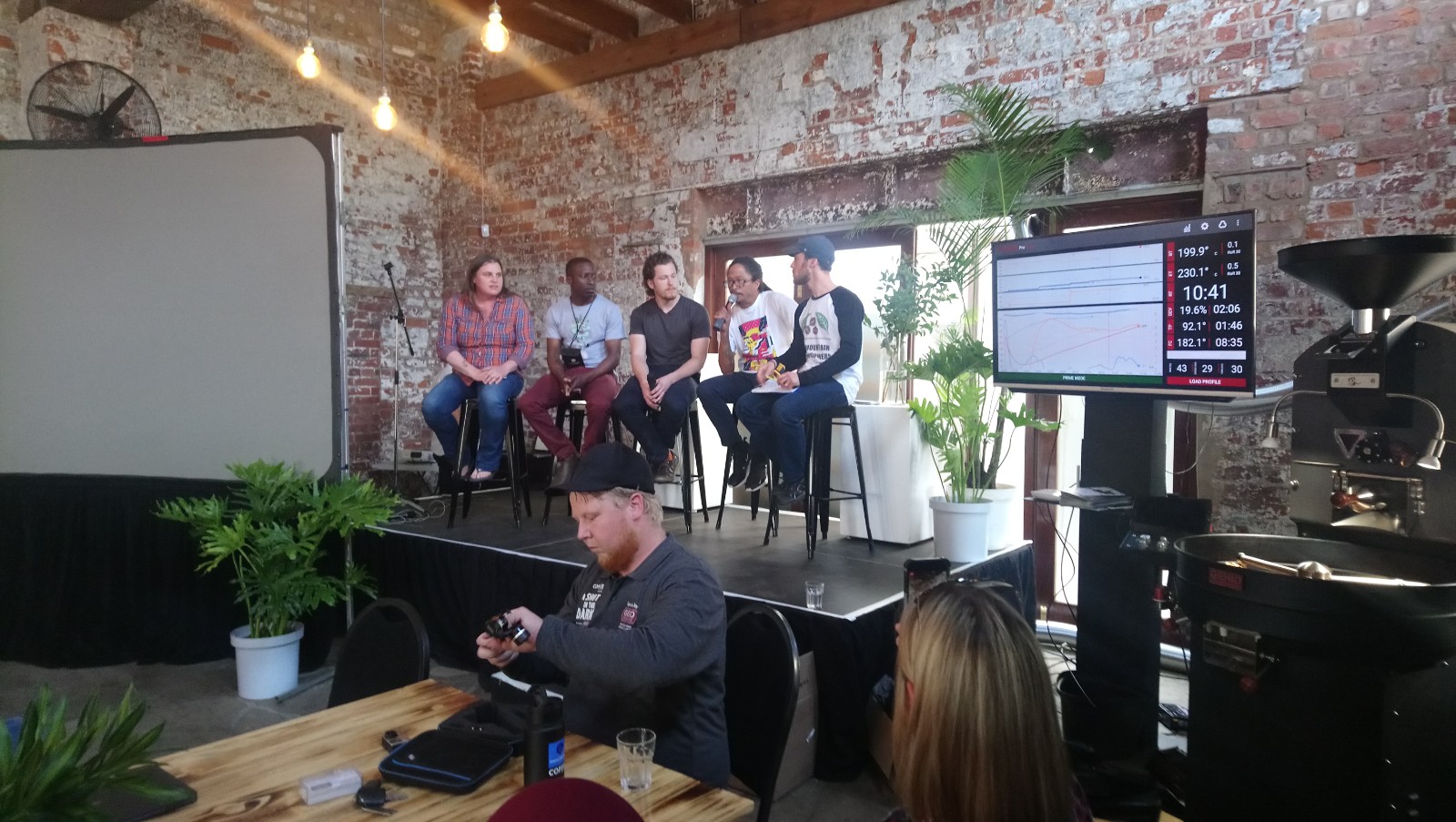 For stories and adventures from the week direct from the people who were there, look up #CreativeCoffeeWeek on social media.
We also launched SA's first roasting competition, A Shot in the Dark, with Genio Roasters and Speciality Coffee Exchange. Bringing 12 Roasters from across the country together to discuss technique and stories from behind their roasters was a truly special moment. The trailer by D4 Productions is below and we look forward to the full documentary which will drop in the next week or so!
Got something to say? Then leave a comment!
---
Episode One: Selati Barista Scholarship Initiative
Monday, 30 July, 2018
Got something to say? Then leave a comment!
---
Coffee Magazine Awards: 2018 Winners!
Monday, 30 July, 2018
The first winners of the Coffee Magazine Awards presented by Selati Sugar were announced on Saturday 28th July at a Civic Reception at uShaka Marine World Aquarium. Surrounded by beautiful creatures of the deep, we celebrated the South African Coffee Industry and all the wonderful people in it.
It was also a wonderful way to congratulate the Selati Barista Scholarship students on completing their studies.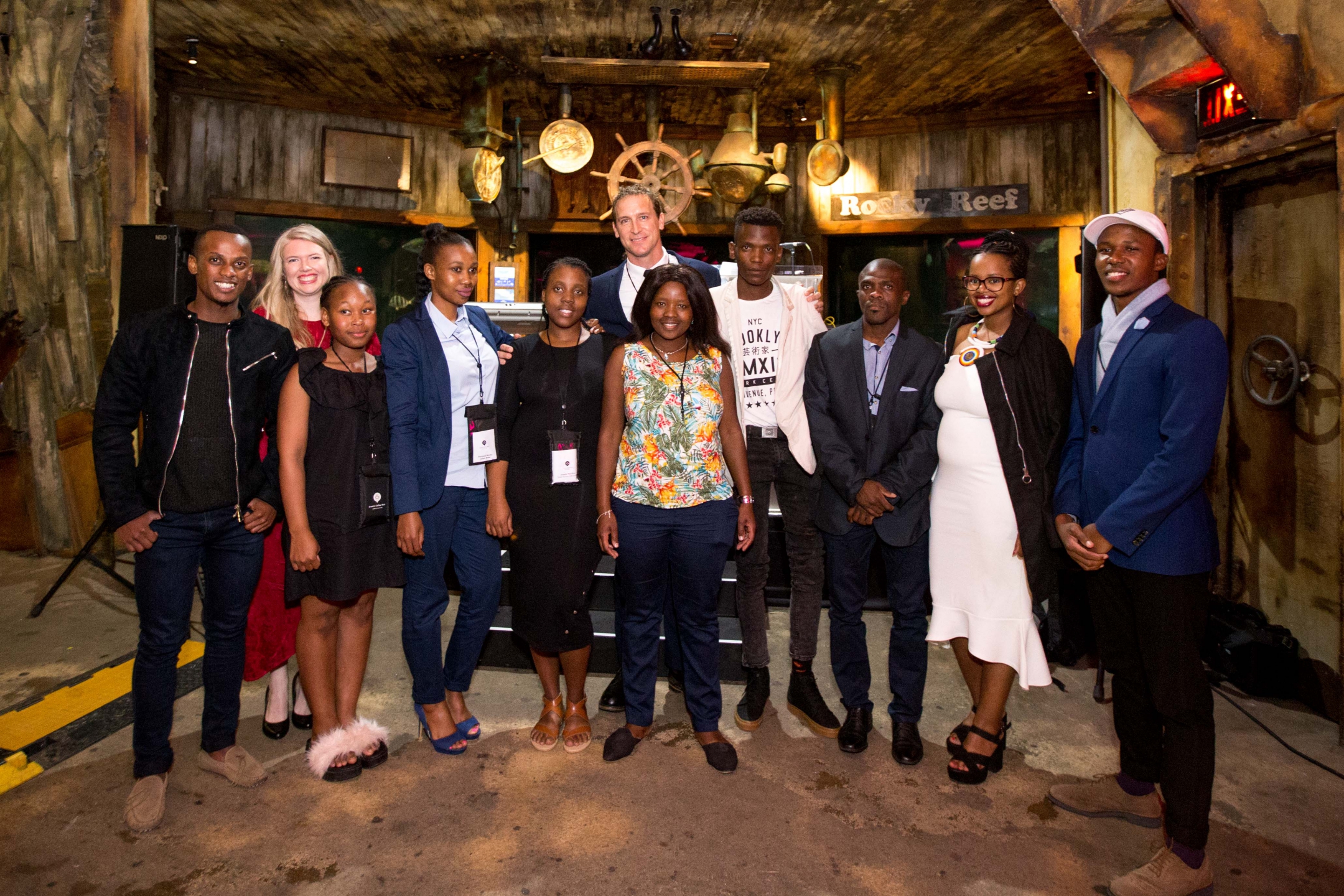 Huge thanks to Mr Eric Apelgren from the Intergovernmental Relations Department of the City for hosting the Civic Reception at uShaka and welcoming our international guests so beautifully.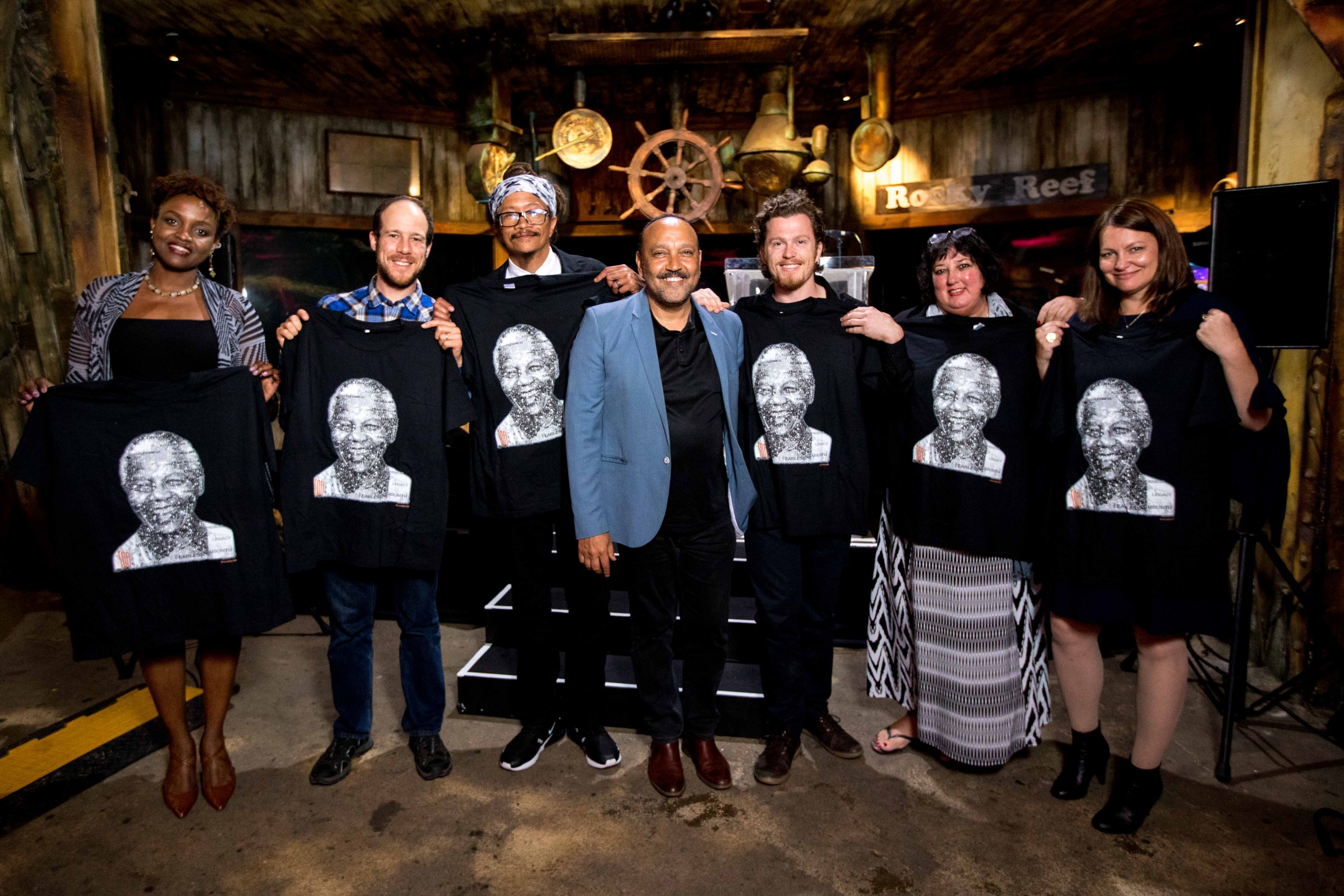 This platform was a long time coming and deciding on this first set of nominees and winners was extremely challenging. We know we are limited by our own experience, but we knew we had to start somewhere.
The first winners and nominees of the Coffee Magazine Awards are all extremely deserving and we look forward to the future of this platform as it evolves and changes and expands to include more people; perhaps a panel of judges! A Reader's Choice Award! A backdrop that isn't a shipwreck! You live and you learn!
We wish everyone could win, but that's not really how Awards work. As with any Awards there are always many opinions and we welcome them, but we started this thing to uplift the coffee industry and we're off to a good start.
A huge thank you to all the incredible sponsors of Creative Coffee Week, Selati Sugar (RCL Foods), FNB, City of Durban, Innovate Durban, Sanremo SA, Koldserve, Genio Roasters, MONIN (See full list here) as well as support from all the people in the industry who made it to Durban to attend.
Thank you to prize sponsors Watercare Africa (IX Water Filters) and Jonsson Workwear (R2000 Jonsson Depot vouchers) who sponsored particular categories!
So without further ado, please give it up for your CMA Winners 2018:
Dedication to Education Award
This award is handed out to the person or company who has dedicated their time to coffee education.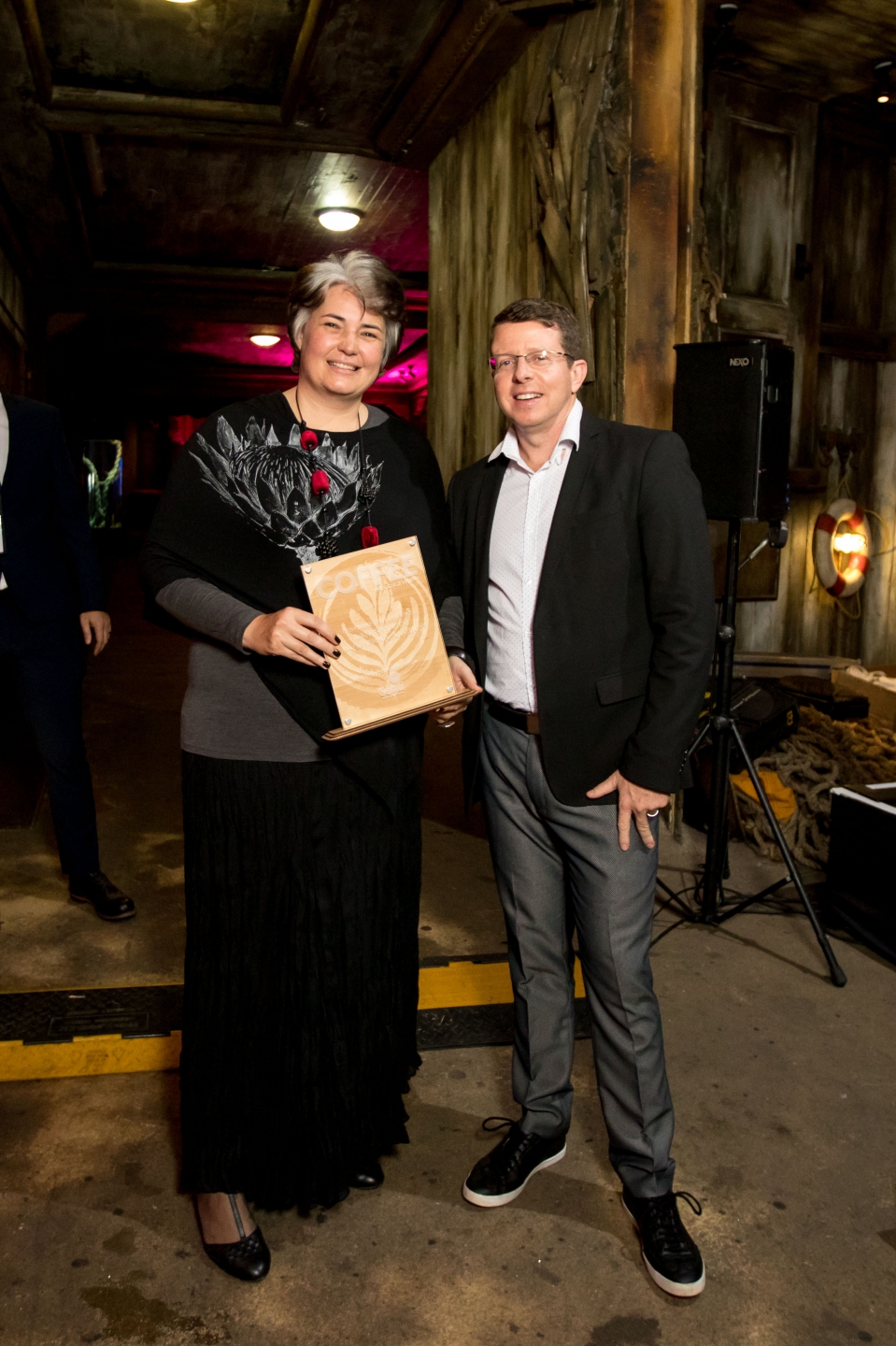 Lani Snyman pictured with Mike Honeywell (FNB)
WINNER: Lani Snyman – Ciro Beverage Solutions. UNISA Barista skills course, SCA and AST training in SA.

Carol Corlett - Sevenoaks Trading - Green Bean training and Q Graders 2018 courses.
Johnson Sehoro and Lizaan Alberts – Ciro: Deaf Barista training programme 2017/18.
Shaun Aupiais – Red Band Barista Academy and ongoing training in E Cape.
Jaco De Witt – Roast Republic: Barista Business Incubator Project
David Basset – Woza Coffee - Empowering unemployed people through coffee.
Best Cafe Design
The spaces created for coffee add equally to the experience of enjoying that coffee. These are the nominees for the best designed Cafe spaces in South Africa: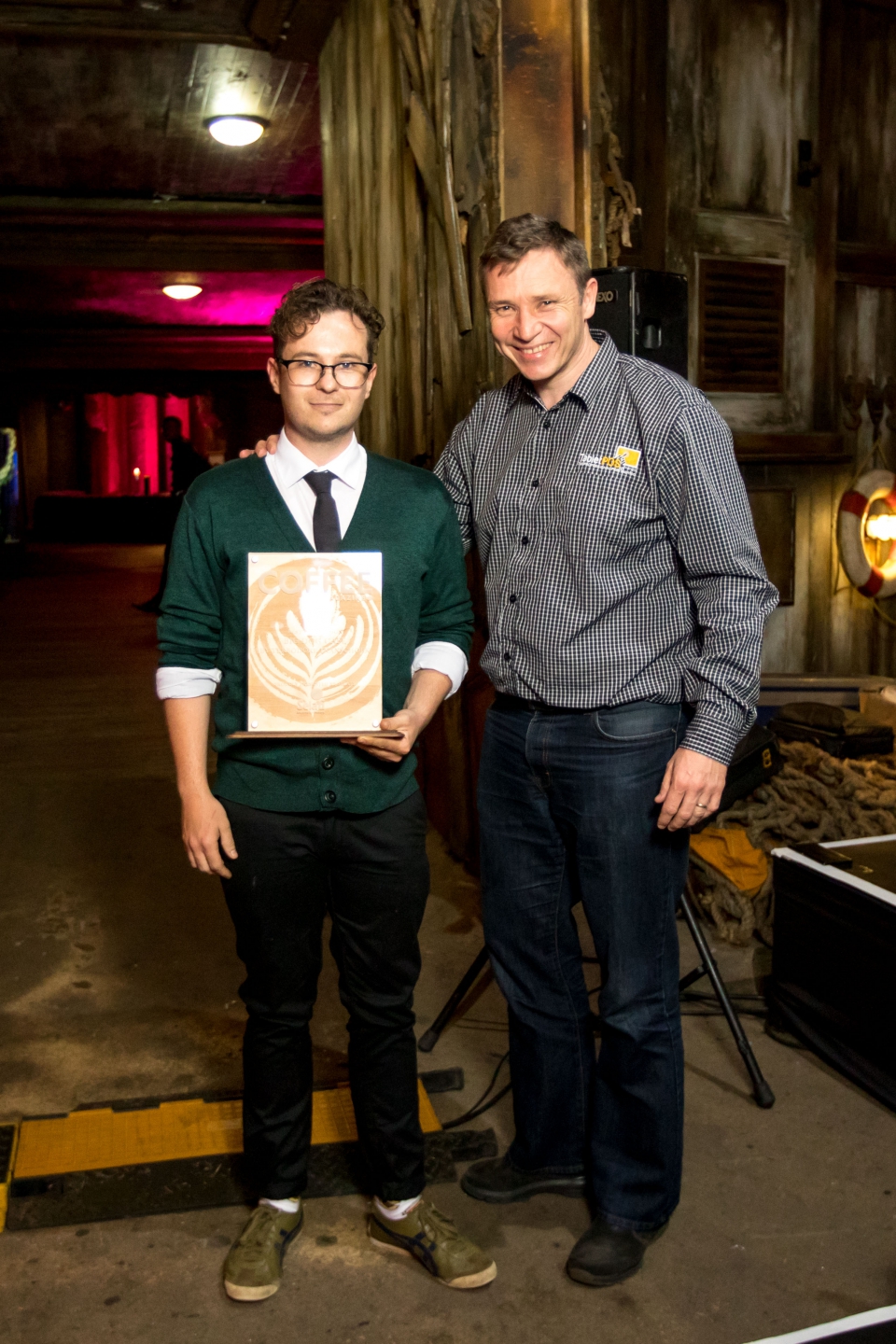 WINNER: Big Dog Café by Terbodore - Franschoek

Naked Coffee – Sandton City
Deluxe Coffeeworks Roastery - Buitenkant Street
Industrial Coffee Works - Centurion
Truth Coffee - Buitenkant st
Father Coffee - Rosebank
Excellence in Coffee Award.
This Coffee Professional strives for and achieves excellence in their chosen area of the Coffee Production Chain. They are innovative, are recognized as a leadership figure in their field and are constantly inspiring others around them.
WINNER: Jonathan Robinson – Bean There
Donovan McLagan - Urban Espress
Ishan Natalie – Starbucks
David Donde – Truth Coffee
Cuth Bland – Bean There
Charlie Denison – Cultivar Coffee
Neil Maree – Genio Roasters
Best New Cafe
Café's are meeting places, they are spaces of community, business meetings, collaborations and first dates. We see new Café's opening every month and the standard is increasing year on year – from better equipment, higher quality beverages, better service, to choice of design and outfitting, to creative seating, flow and ambience. Great toilets and bathrooms, and a fitting menu. Most off all though the criteria for this was based on the Café that opened in the last 24 months that has created something special where before it there was nothing. The nominees are: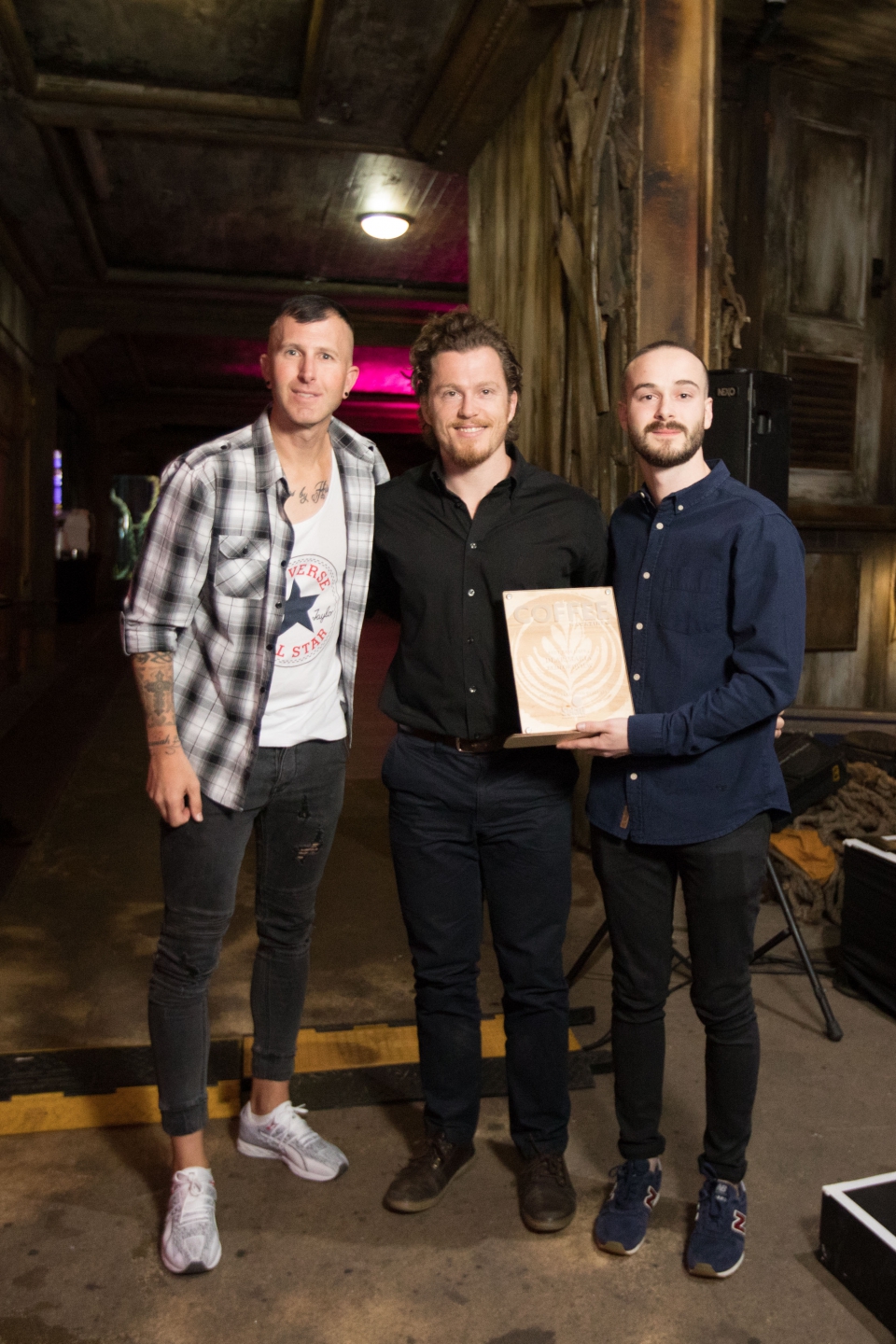 WINNER: Dear Maria – Bedfordview
Ground Coffee House – Hilton
Skyline Coffee - Durban
Flynn Coffee - Johannesburg
Pauline's – Sea Point

Best New Roastery
This category seeks to recognize Roasteries that have opened in the last 3 years and are gaining reputations as up and coming in the South African scene
WINNER: Thirdspace - Fourways
Pause Coffee - Wilderness, E Cape
Alchemy Coffee – Welgemoed, WCape
Faba Roastery – Bloemfontein, Free State
Humble Roasting Co – Durban, KZN
Citizen Coffee Roastery – Wynberg, CT
Tulip Coffee – Hermanus, W Cape

Best Alternative Brewing Experience
Aeropress, Chemex, Siphon or V60 pour-over to name a few! These are the nominees for the best alternative brewing experience in South Africa for 2018:

Winner: EspressoLab Microroastery– Cape Town
Travel Designer – Cape Town
Origin Coffee Roasting – Cape Town
Father Coffee - Rosebank
Vintage - Centurion
Barista Trainer of the Year
These nominees are the very best Barista Trainers in the land. They teach and inspire, they train and they serve. They impart wisdom learned from thousands of hours behind the espresso machine and their subject matter is technique, science, aesthetic and service.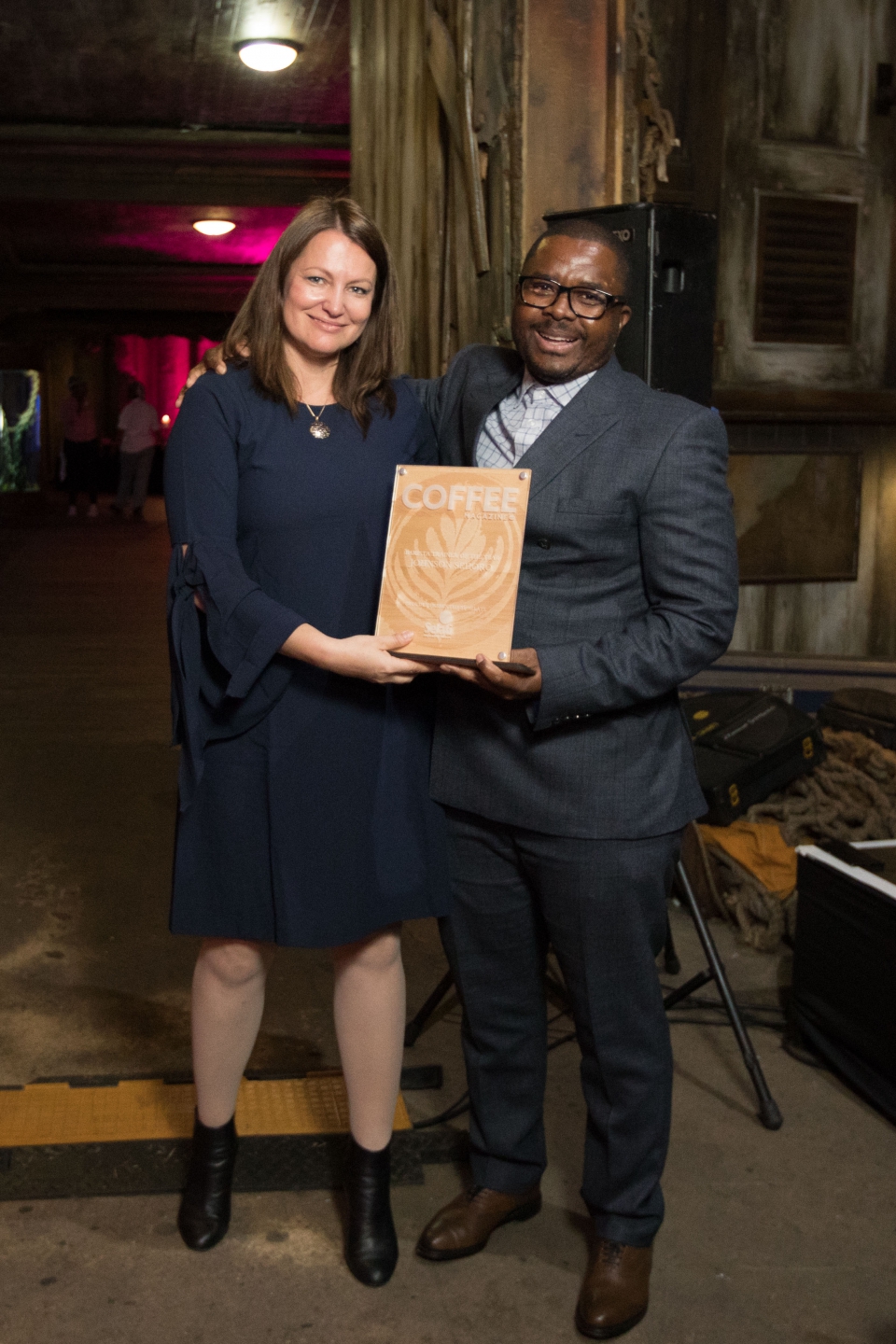 WINNER: Johnson Sehoro - for Ciro Beverage Solutions

Bilbo Steyn - Starbucks
Ishan Natalie - Starbucks
Khulekani Mpala - Wiesenhof Coffee
Shaun Aupiais - Famous Brands
Wency Masawi - Nino's

Coffee Personality of the Year
These coffee professionals approach whatever they do with optimism, effervescence and inspiration. They fly the flag of the coffee community high and get involved in all areas, remaining wonderful throughout.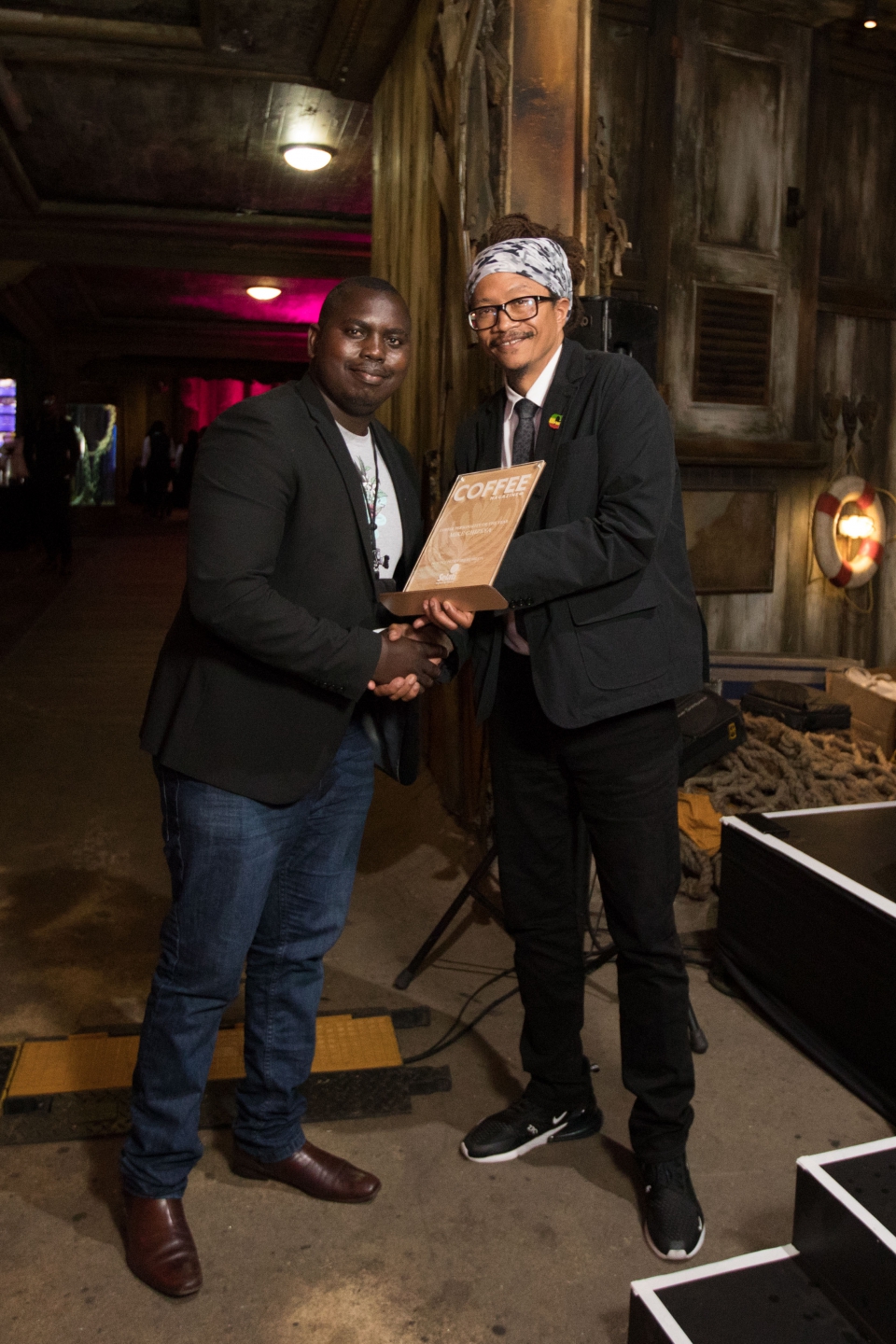 WINNER: Mike Chizeya - Micoffee
Angeline McLagan - Urban Espress
Chad Whitby - Colombo Coffee
Nicodemus Nabakwe - Sevenoaks Trading
Sihle Magubane - Sihle's Brew
Harry Mole - TriBeCa
Coffee Team of the Year
The Coffee Team of the Year award recognizes that it is people that make a coffee company great – From the Owners who create a happy, respectful and creative ethos, to the staff who live the brand daily. The successful team is one in which all the people in the space from the lowest to the highest uphold the same values and consistently serve with excellence and are rewarded well for doing so.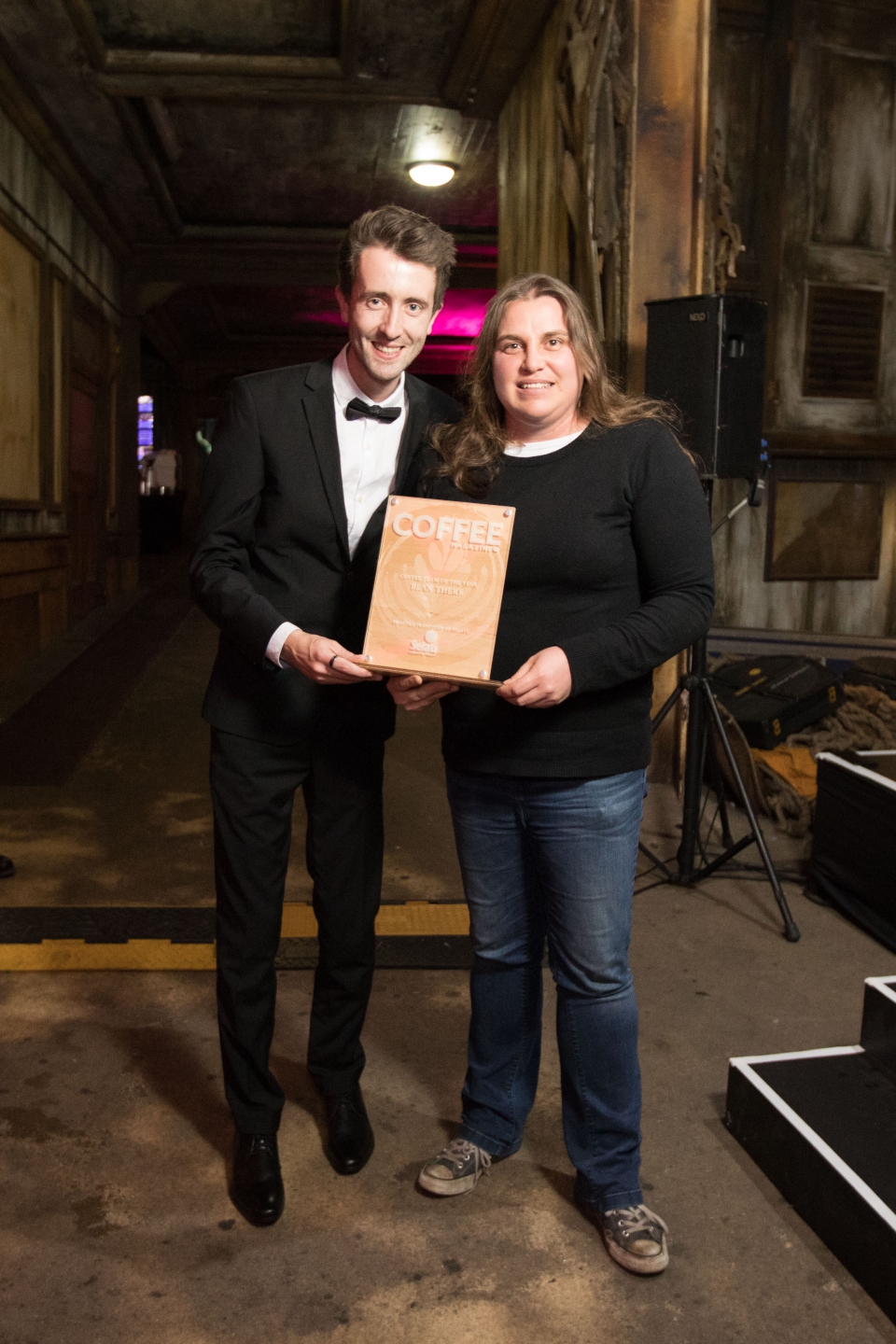 WINNER: Bean There Coffee Company
Lineage
Rosetta Roastery
Starbucks SA
Truth Coffee
Tribe Coffee
Colombo Coffee & Tea
Cafe of the Year
This award goes to the establishment that has consistently created an amazing cafe experience for its patrons, serves great coffee and food, with excellent service, has great ambience, design and most importantly, a loyal community of patrons.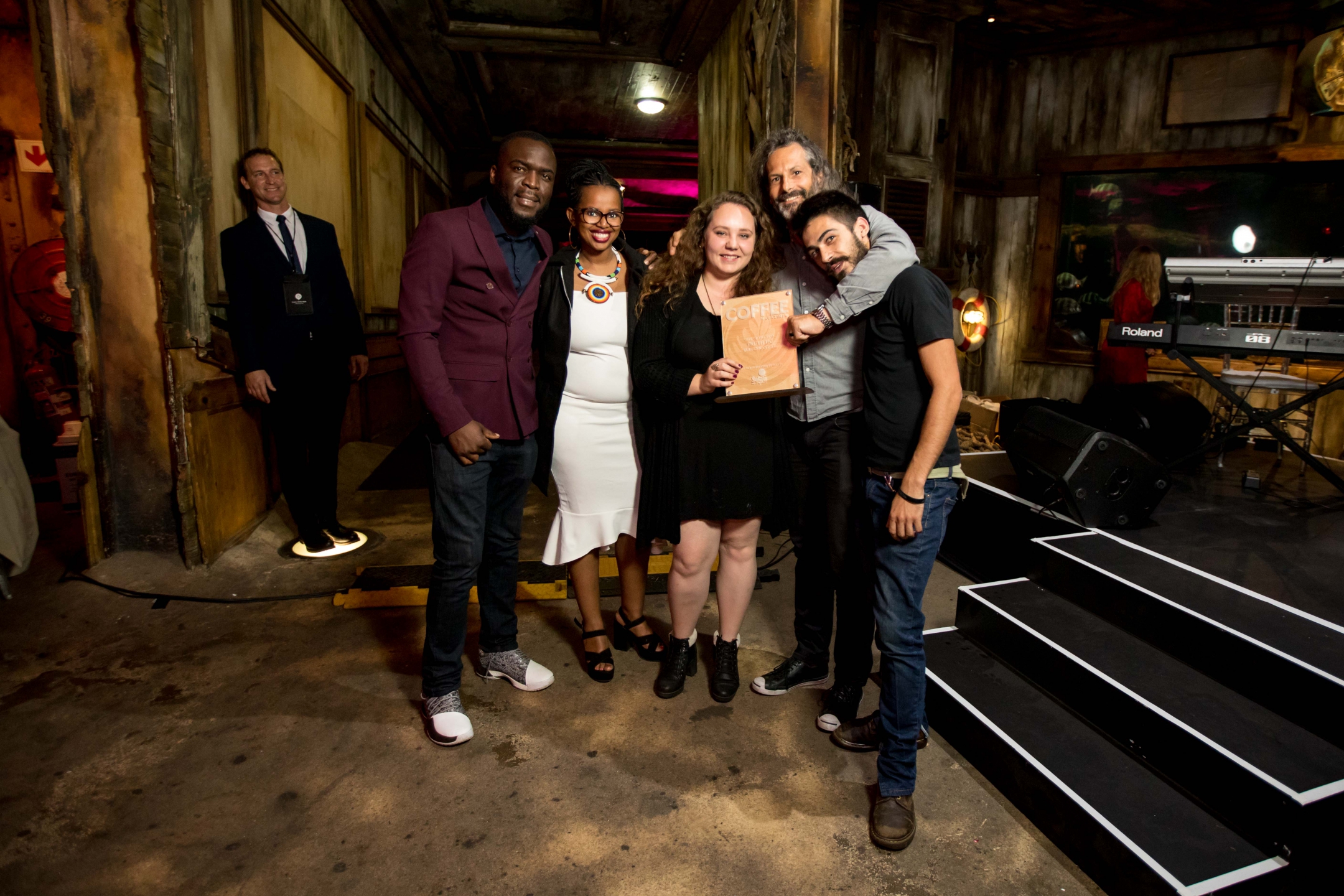 WINNER: Truth – Cape Town

Starlings - Newlands
Krust Café – George
Pablo Eggs-go-bar – Melville
Coffeeberry – PMB
Urban Espress – PE
Jason's - Greenpoint

Roastery of the Year
The nominees in this category are the Roasteries in South Africa that have forged the path for speciality coffee in SA. They continue to push the boundaries of coffee roasting by sourcing the best coffees, investing in the latest technology, by collaborating, sharing and engaging with the global roasting community, by educating, informing and inspiring their customers – wholesale and retail and finally, by putting the highest quality coffee into the market that can make South Africa stand amongst the best coffee roasters in the world.

WINNER: Rosetta Roastery
Rock & Roller
EspressoLab Microroasters
Bean There
Father Coffee
Origin Coffee Roasting
Barista of the Year
Barista of the year is not limited to competitive coffee competitions but is the barista all-rounder. He/she is the barista who epitomizes what it means to understand, to respect and to serve amazing coffee experiences. They are masters of extraction, technique and technical understanding, but most of all they cherish that it's not just about the coffee served, but in the serving.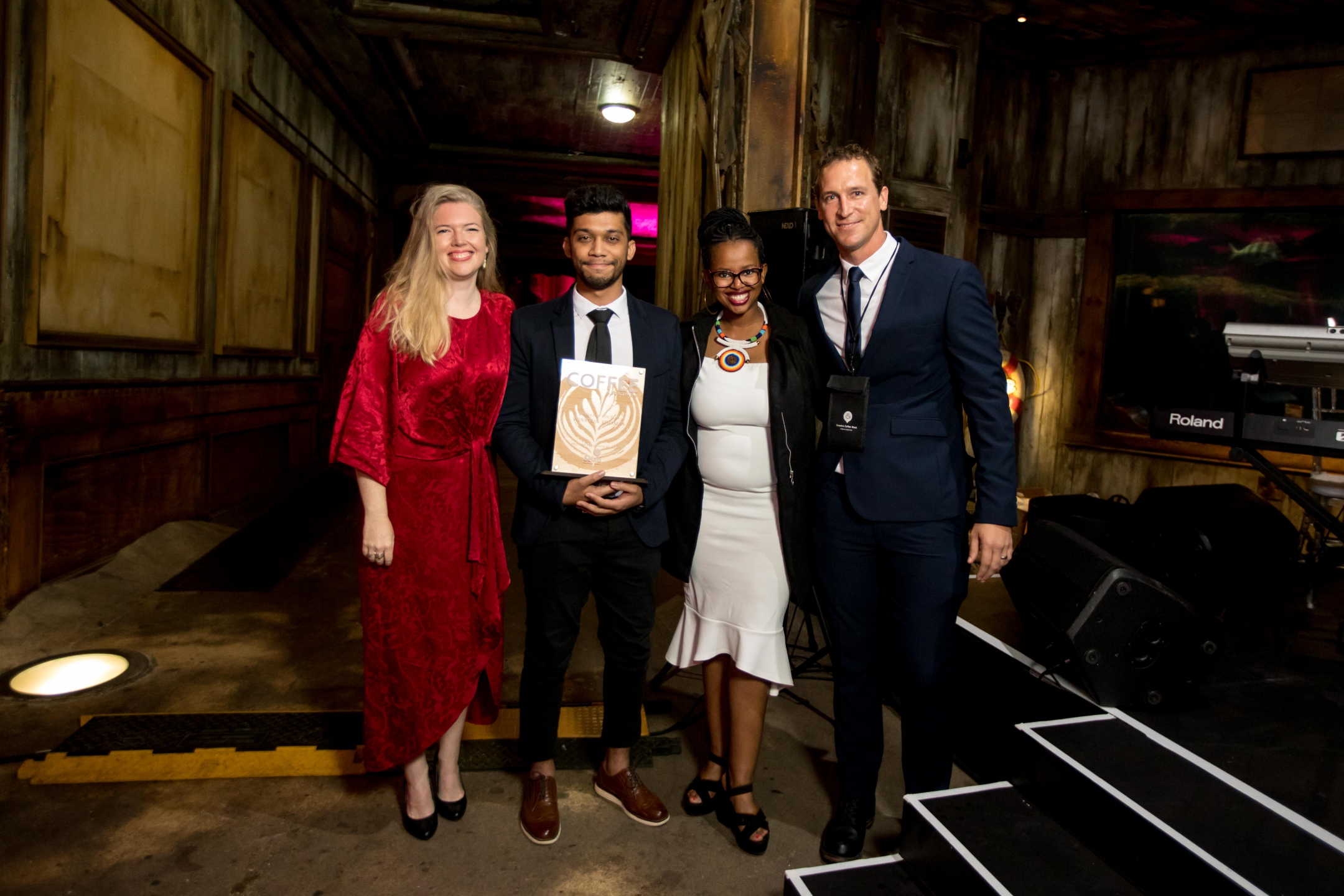 WINNER: Winston Thomas - Independent

Nigel Kamhanda – Infood Coffee Society Jbay
Simnikiwe Mhkize - Rosetta
Ken Machenge - Tribe Coffee
Innocent Chakanyuka – Truth Coffee
Lydia Oyier - EspressoLab
Got something to say? Then leave a comment!