Final Week Almond Breeze LAVC: Hugo Cafe baristas Face-Off!
Thursday, 25 May, 2017
Got something to say? Then leave a comment!
---
Exclusive with Simphiwe Adams, SA Cup Tasters Champ 2017
Tuesday, 23 May, 2017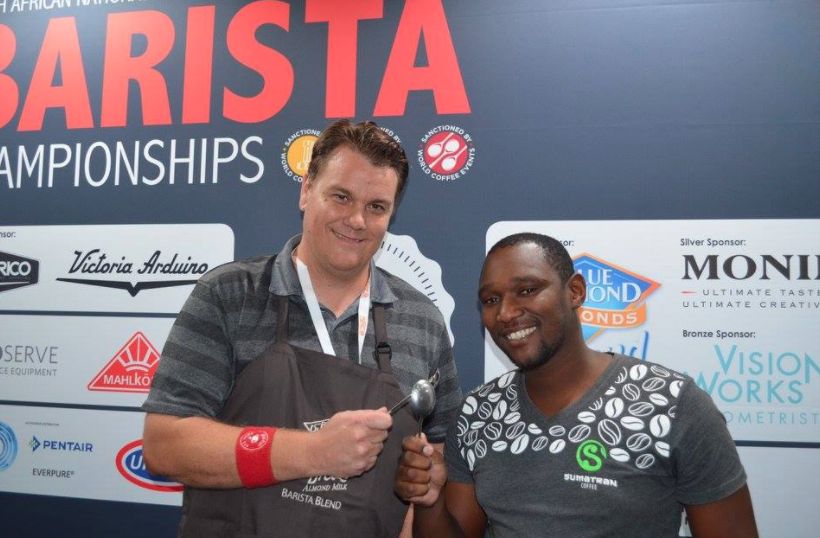 Simphiwe 'Bobby' Adams has long been a competitive barista, but over the last few years his interest has shifted into the Cup Tasting Competition, so much so that he scored 8 out of 8 at the National Champs to win a ticket to the World of Coffee in Budapest Hungary in just a few weeks!
WHAT SPARKED YOUR INTEREST IN THE CUP TASTERS COMPETITION?
When I started working in the coffee industry back in 2007, I was more focused on learning how to make a great cup of coffee. Initially I either liked or didn't like the cup of coffee but as my palate developed, I started tasting the subtle differences in each cup. I started tasting different coffees and making notes of what I liked from each one. I also started meeting with other baristas so taste and discuss these differences.
WHAT WAS YOUR TRAINING REGIME LIKE? TELL US ABOUT YOUR SUPPORT TEAM AND THE COMPANY YOU WORK FOR, SUMATRAN COFFEE.
For both Regional and National Competitions, my team at Sumatran Coffee prepared daily tasting sets for me. Either Shaun Aupiais and/or Matt Allen did the sets with me to provide a bit of competition. We mimic the layout of the actual competition format so that it is as familiar as possible on the day of competition. Each set is timed and the scores recorded. After every 3 complete sets, the combinations I got wrong are included in the following set.
Because I am roasting now, I roast the same bean at different temperatures to really test myself. We regularly do the
Le Nez Du Cafe
smell tests leading up to a competition, as well as fruity palate developments.
The Sumatran Team prepare the coffee combinations for each set. Shaun and Matt train with me and the loser of each set has to do the dishes. And yes...I have had to do my fair share of dishes.
I have been working at Sumatran Coffee for almost 2 years now. The amount I have learned about coffee is incredible. I started roasting coffee over the past year and this has helped me so much in understanding the taste profiles of coffee. I look forward to learning as much as I can about coffee.
WHAT WOULD YOU SAY IS YOUR BIGGEST STRENGTH WHEN IT COMES TO THIS COMPETITION. DO YOU HAVE AN AMAZING SENSE OF SMELL?
My strength is a combination of taste and smell abilities, but I continually work on improving them. As I mentioned before, I work of improving my smell by using the Le Nez Du Cafe as well as improving my palate development by tasting different fruits and spices on a regular basis.
WHO HAS INSPIRED YOU IN THE COFFEE INDUSTRY?
I cannot say that any one person has inspired me. I have had so many people inspire me over the years. If I had to mention a few, I would like to mention Pauline Leschinsky and Kirsten Oosthuizen - who helped train me as a Barista; Ishan Natalie - who helped motivate me in my earlier competitions; Donovan Mc Lagan - who offered help and guidance at the Nationals; Shaun Aupiais - who supported and trained with me and Mathew Allen - for his support and motivational chats when my nerves started playing up, as well as having strict pre-competition support/rules/regime.
YOU ALSO QUALIFIED TO COMPETE IN THE BARISTA CHAMP NATIONALS, WHAT MOTIVATED YOUR DECISION TO PULL OUT AND FOCUS ON CUP TASTERS?

Proper training for a competition takes many hours of hard work, so I made the decision to concentrate on just one discipline and the obvious choice was Cup Tasters, which is also where my passion lies. The decision was also driven by the premature passing of my close friend and mentee - Sivuyile Jacobs - who always believed that I would go on to become the SA Cup Tasters Champion.
My plans for Budapest are coming along slowly as there is so much paperwork involved and so little time before I am due to leave. Having said that, I am so ready for Budapest, Hungary. BRING IT ON!
We're so proud of you Bobby! All the best for Worlds!!!
Got something to say? Then leave a comment!
---
Week 10 Almond Breeze LAVC: S'bu (Republik) vs Owen (Coffeeright)
Thursday, 18 May, 2017
Got something to say? Then leave a comment!
---
Cafe of the Week: African Roots Coffee
Wednesday, 17 May, 2017
Umhlanga has become a little metropolis on the KZN North Coast with high rise buildings popping up all over the sea-side strip. One such development is The Pearls, an upmarket centre and apartment block that towers above most of its neighbours. This kind of development of course needed a boutique coffee solution. And that solution is
African Roots Coffee.
It is suitably on trend with its beautiful interior and they have an amazing 3 group Nuova Simonelli Aurelia just waiting for the holiday makers and locals to arrive as well as a crew of talented baristas led by Siphelele, who has competed at the KZN Regional coffee competitions. They use great coffees and you can be sure that you'll have a wonderful experience.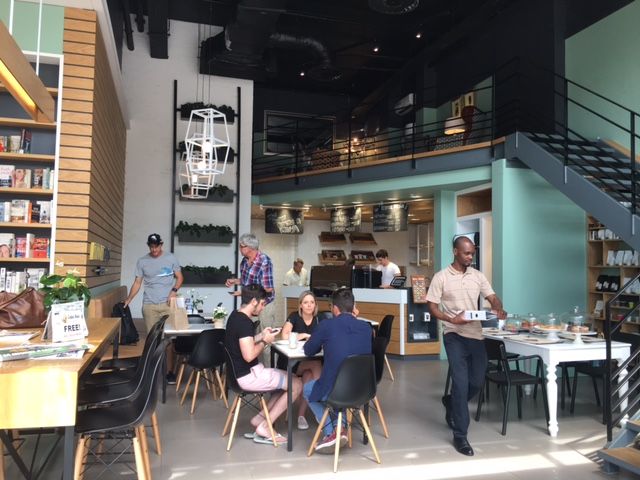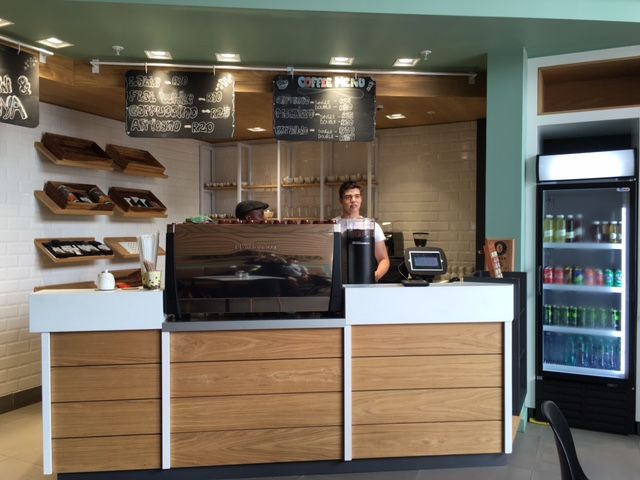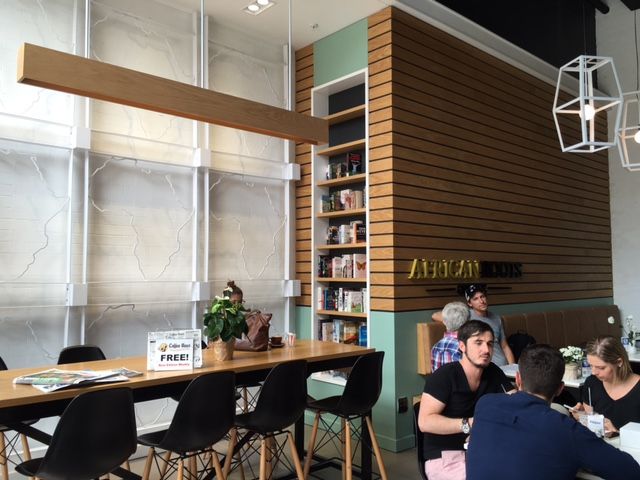 Got something to say? Then leave a comment!
---
Exclusive with Winston Thomas, SA Barista Champion 2017
Wednesday, 17 May, 2017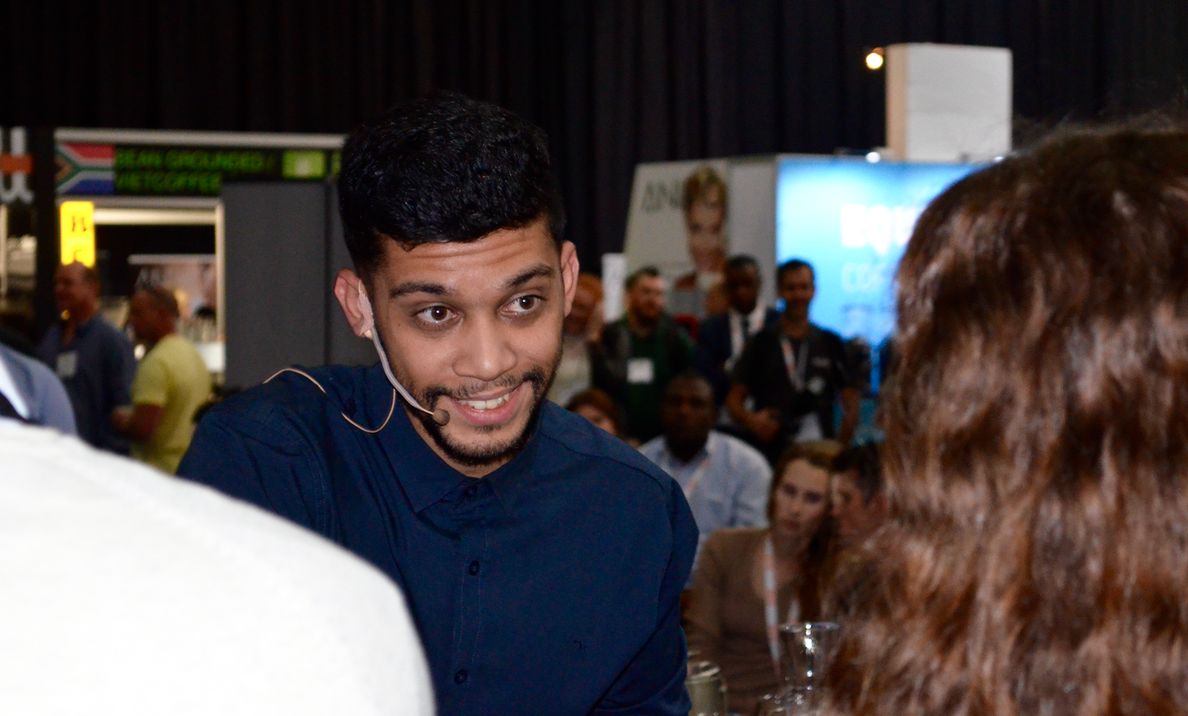 Say hello to Winston Thomas, the barista who will be representing SA at the World Barista Championships in Seoul, South Korea this November. Yes, barista competitions exist! And yes, South Africa takes part in an international gathering of the best baristas in the world! We chatted to Winston, a week after he was crowned to see if it's all sunk in yet...
What made you compete in the first place? Did you know what you were getting yourself into?
The opportunity to learn. Origin has such a great educational system, but I feel like I gained my core coffee knowledge from competition. You end up spending so much quality time with the coffee that your knowledge just improves exponentially. Also the community made we want to compete, at every level, regional, national and international, the community of coffee people.
Did I know what I was getting myself into? Up until they raised my hand on stage, yes, I think I knew, but now I've got no idea, but I'm excited about the abyss ahead!
Was there a moment in Dublin that switched on the proverbial lightbulb for you?
Ja, I think that the one think I felt was lacking at Worlds was a strong African presence, and I just thought that even if I'm not the person to make that presence felt, I want to help, I want to be a part of making that happen. And ja, you saw me, sitting making notes for days while I watched, I made a promise to myself to step it up.
You quoted Lem Butler, US Champ 2016, in your competition speech, I too watched his performance at WBC 2016 and got chills. Were there any other performances that impacted you at Worlds, technically or emotionally?
Ja that quote was actually f
rom Lem's Farewell letter at the end of his term of being National Champion
, but ja the way he presented himself on stage really appealed to me. The other one that stood out was Ben Put (Canadian Champ). I watched him from the start of his prep time, little things like using a take away cup for this test shots, an extra knock box on his trolley, he was a big inspiration from start to finish. And I think the humility of the Top 6 really stood out for me, they all had that in common.
Ah Ben Put also had one of the best soundtracks at Worlds! I think you had one of the greatest too, actually you and Harry, number One and Two in the end, coincidence? I think not!
(laughs) Ja I used to be a DJ, music is very important to me, especially on stage, I want to get the crowd into a good atmosphere and it keeps me calm when I know I have great tracks ahead.
Track List:
Papa was a Rolling Stone - The Temptations
Marvin Gaye - What's going on
James Brown - Get up off of that thing
You make my dreams come true - Hall&Oates (500 Days of Summer is one of my best, I'm a romantic movie guy!)
How did you train in the last few weeks before the competition?
We hit a few curveballs in the week before Champs, the coffee flavour notes changed when I got to Joburg, I think because of altitude, so I had to change my signature accordingly. But I think the biggest thing I focused on at the end was mental training, getting focused for that 15 minutes, because in the end it all comes down to that 15 minutes on stage.
100m sprinters say most of the hard work is not on the track, most of it is getting your head right, but its gotta all come out in the race in that 10 seconds. So ja, I just focused on getting my mind right for the sprint.
If you could pick any coach in the world, who would it be?
Ooh tough question, I think I would've said Sasa Sestic before the competition, but now on reflection, I think somebody like Gwilym Davies or Lem Butler, someone who I relate to more in circumstance or journey and demeanour, but that also knows how to go all the way. In this industry you've got to understand where you fit in or what your place is. Like Craig Charity, he's a technical guy, his passion is all things technical and I get lost while I'm trying to keep up and Wayne knows a lot about a lot of different coffee topics, I think my strength is that I'm emotionally driven and I think that's the kind of coach or person I would draw inspiration from.
Charles Babinski, who came second in 2015, also based his set around serving an average consumer in his cafe in a very non pretentious way, do you think the coffee competitions have relevance to the consumers you spoke of in your set? What have you learned through your experiences on stage that will positively impact the consumers at the end of the day?

Well definitely from a service perspective. The competition has very formal service parameters and you can't help but take this back to the espresso bar environment. When I got back behind the bar on Sunday, my movements were different. Small things that make a difference to how you make coffee, for example I'm always known for having milk on my face, from tapping the milk jug to get out the excess bubbles, but after competition I instinctively use my hand to cover the top of the jug when I'm tapping. And this goes through to dosing and tamping the coffee more consistently, just in general giving the customer a better experience.
Because coffee is ever changing, the competition will change and has gone through times where it has become too abstract for the consumer, but I think some of the trends mirror what's going on in the market. This year the NutriBullet was a big hit in many people's sets.
Best coffee you've ever;
Made:
It was a Kenya Gakuyuini AA. I was behind the bar at Origin, I pulled a shot of espresso, made one adjustment, and right there was probably the best espresso I've ever made.
vs
tasted
: Oh it was actually in Dublin, I'll never forget it. It was a short milk based beverage like piccolo/cortado, the person working the LaMarzocco bar at the World of Coffee expo made it for me. I have no idea what coffee he was using or where he was from and it was served to me in a take away cup, but it tasted exactly like a Milky Bar chocolate, and that is a personal favourite of mine!!!
Favourite piece of equipment currently?
Ah I was so lucky to have the new version of the OCD tool on stage with me. I'm having a lot of fun with it! I'm using the technique that Lex Wenneker (Dutch Champion) used at Worlds. It's a highly effective tool.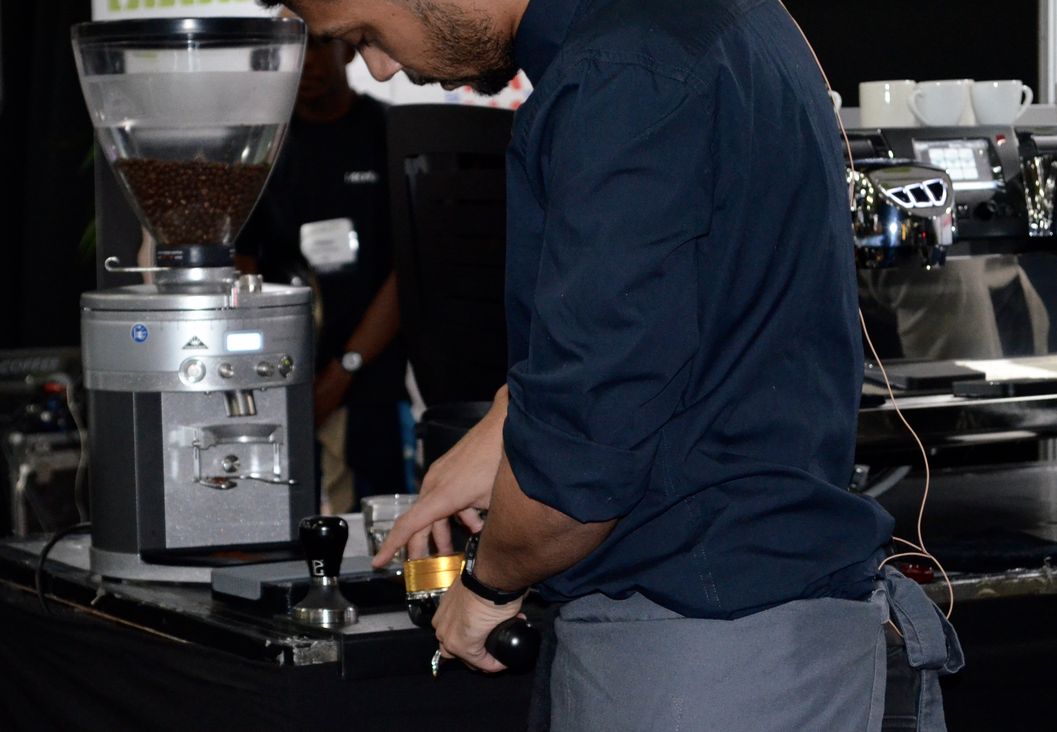 On stage with the OCD tool, ensuring even distribution of the coffee before tamping.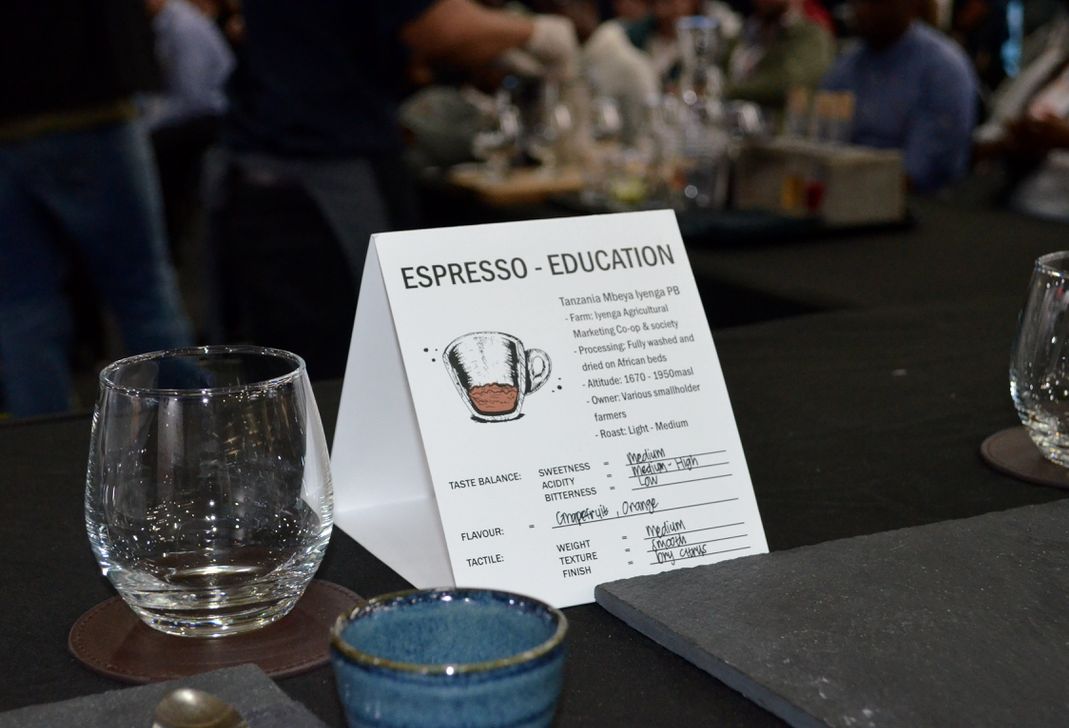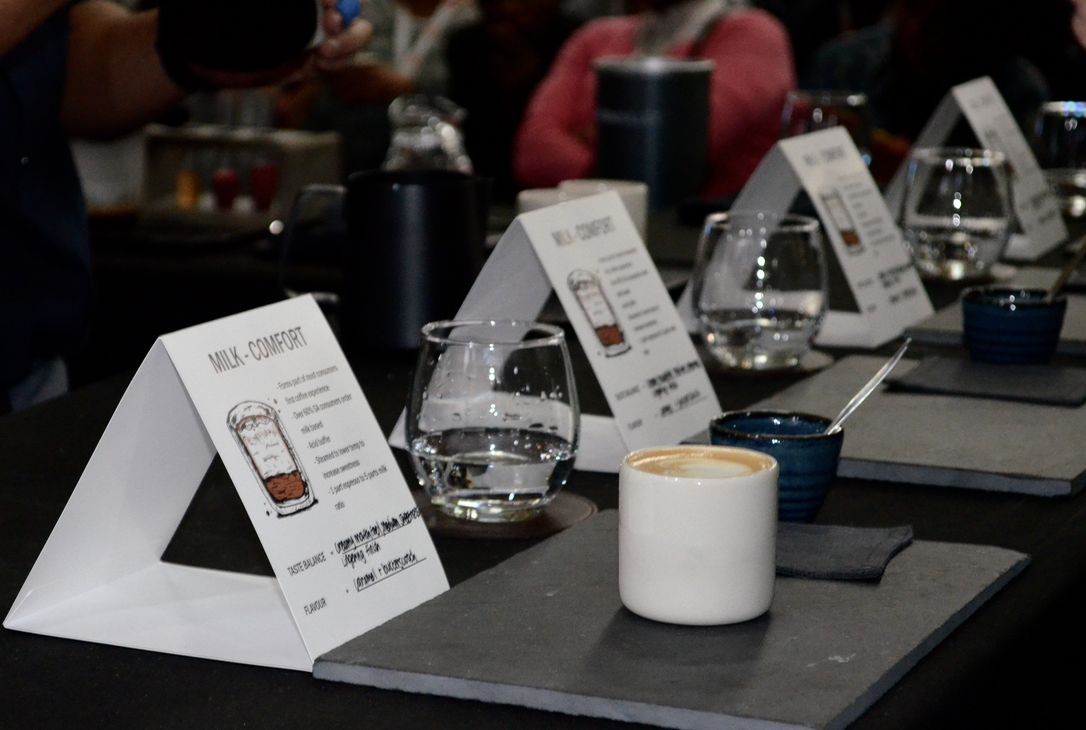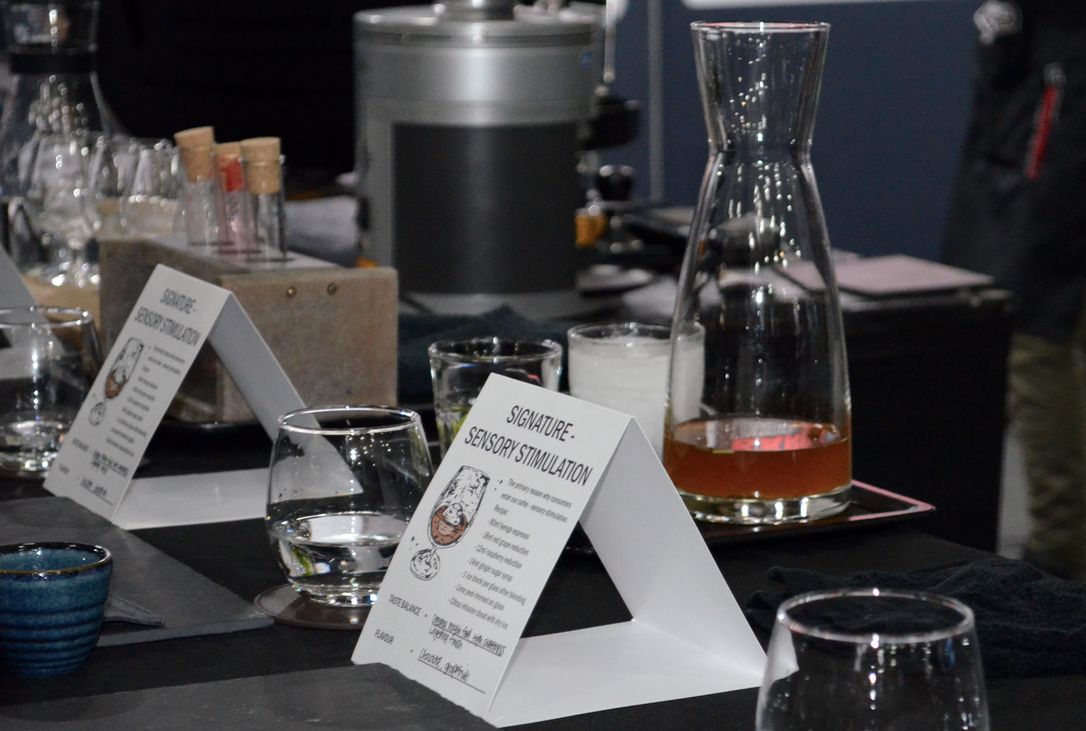 Got something to say? Then leave a comment!
---
Win Tickets for the Good Food and Wine Show Cape Town
Thursday, 18 May, 2017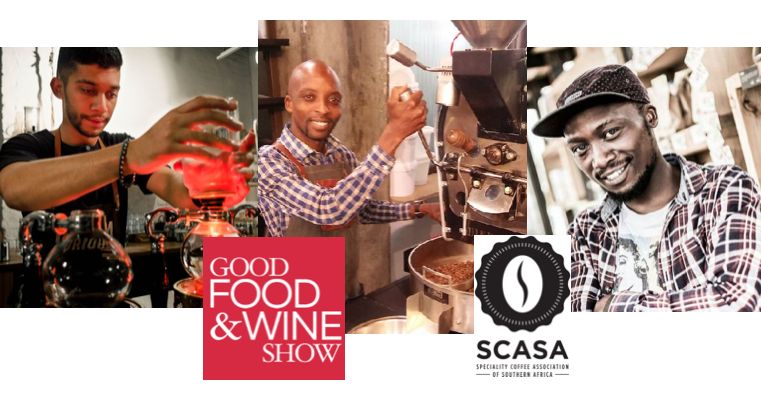 And just like that the next coffee competition cycle begins!! The SCASA Western Cape Regional Barista Championship kicks off at the Good Food and Wine Show in Cape Town from 2-4 June!
The Coffee Magazine is giving away tickets to go support your favourite baristas and to check out all the other amazing coffee related goodness that will be happing at the CTICC over the weekend. We've got 5 sets of double tickets to giveaway! All you need to do is fill in the entry form below. We hear that
current SA barista champ
is keen to compete again so he is in the running for next year's Nationals, so you are in for a treat!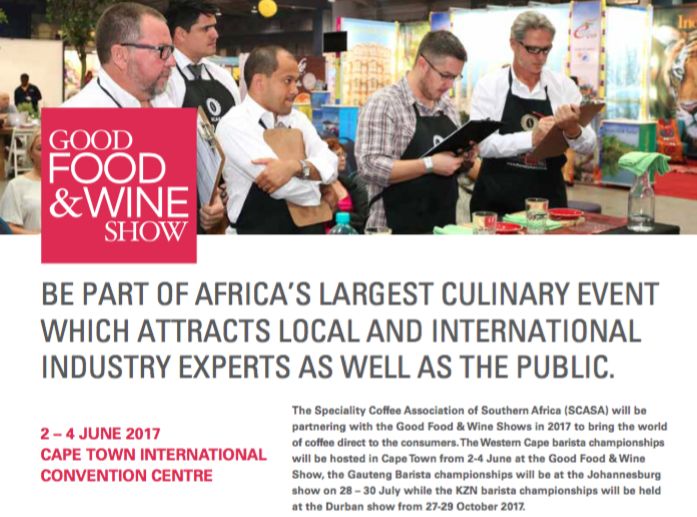 Win tickets To GF&WS Cape Town
Got something to say? Then leave a comment!
---
2017 Coffee Champions Announced!
Thursday, 11 May, 2017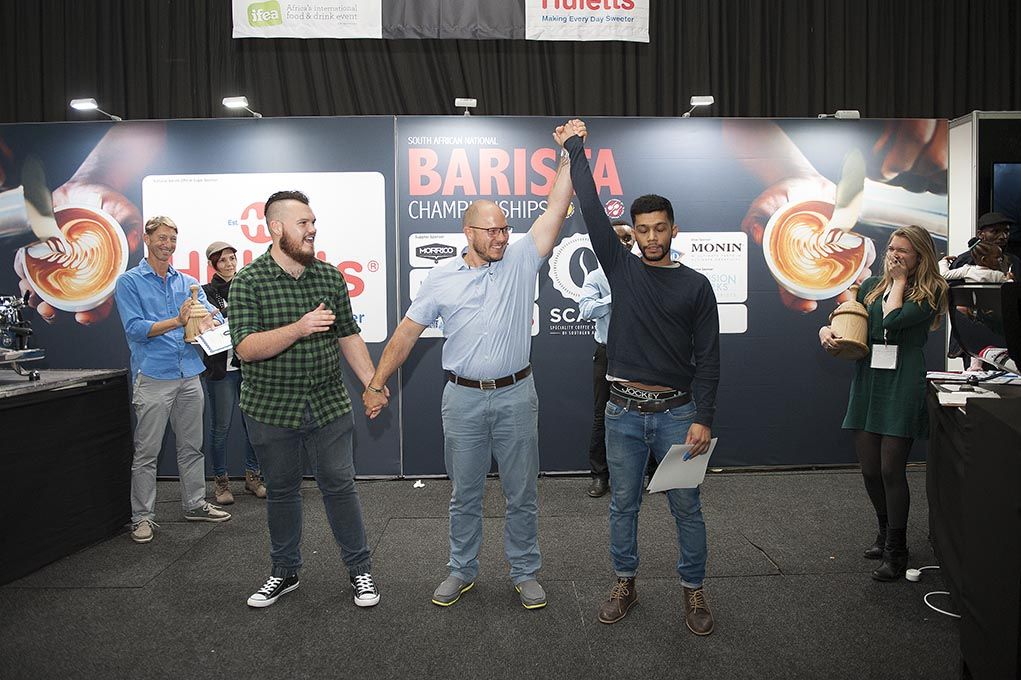 This week reminded us just how amazing the people behind your morning cup of coffee are.
We are so proud of the way the South African coffee community came together at this year's Hostex. The coffee village was definitely where all the action was!
On the
SCASA
stage, three new Champions were crowned and we are just thrilled at the results. You can
watch all the Nationals Finals here.

In the Barista Championship, Winston Thomas (Origin Coffee Roasters) won in a Top 6 that had six competitors who all could have successfully represented South Africa at Worlds. Since his trip as SA AeroPress champ to Dublin last year, this young coffee professional has properly upped his game, coming back inspired and with his sights firmly set on getting back to the World Championships. He is an extremely humble guy and we know that he will do South Africa proud. Winston won it with a beautiful Tanzanian coffee in a set that was well thought out and exceptionally well executed.
Shout out to TriBeCa Coffee who had 3 competitors in the Finals. Origin and TriBeCa hold many champions, such is the competitive culture of excellence at these two companies.
1. Winston Thomas (Origin Coffee Roasters)
2. Harry Mole (TriBeCa Coffee)
3. Khulekani Mpala (TriBeCa Coffee)
4. Bruce Manning (TriBeCa Coffee)
5. Alicia Bulter (Molecular Bars)
6. Wency Masawi (Nino's)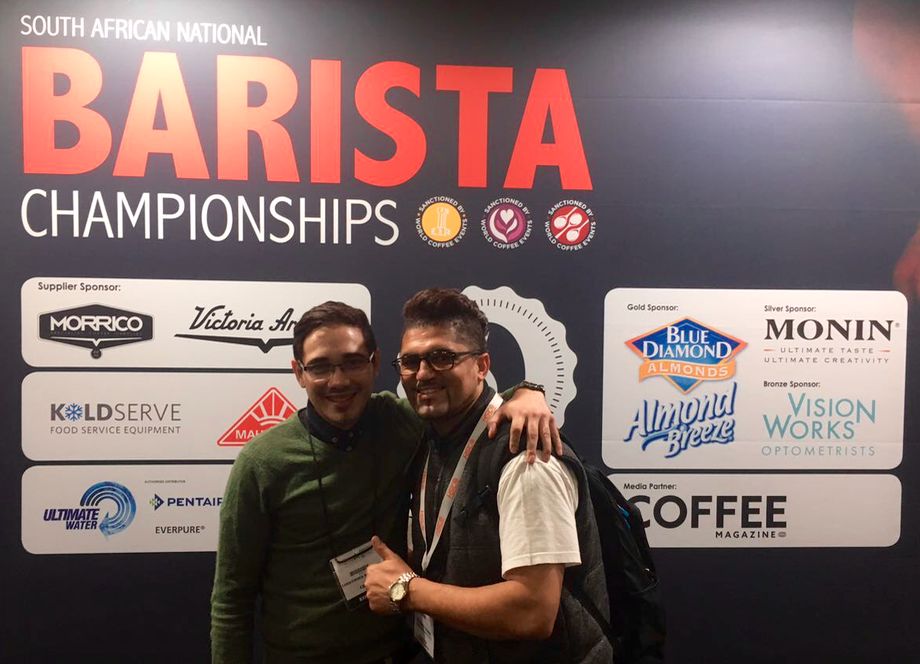 In the Latte Art Championships, Alhenrico Thomas who was runner-up last year, rightfully claimed the National Title and will travel to Budapest, Hungary next month to represent South Africa. He is a seasoned competitor and in the end, his experience and cool nerves under pressure saw him snatch the title from promising newcomer (and all around great guy) Christopher Abrams. Two Western Cape representatives in the final! Mention must be made of Zeus Gqabu from Masterton's Coffee and Jeff Stopforth of Beaver Creek Coffee who are definitely ones to watch out for in years to come!
1. Alhenrico Thomas (Famous Brands)
2. Christopher Abrams (Ciro Beverage Solutions)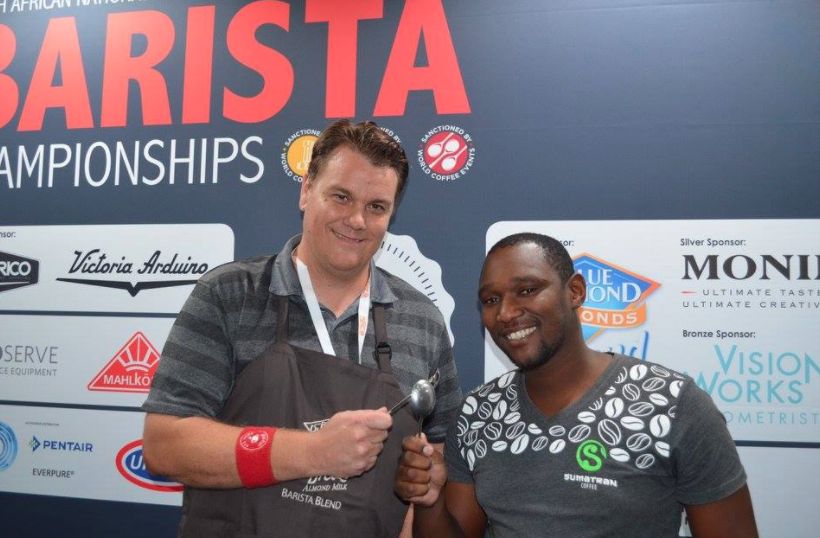 In the Cup Tasters, Simphiwe Adams of Sumatran Coffee, Eastern Cape scored an incredible 8 out of 8 in the final round to claim the title and a ticket to Budapest, Hungary. He and 3rd place competitor Shaun Aupiais had been training solidly for the last 16 weeks to make sure that his 4 year goal of becoming National Cup Taster's Champion became a reality!
1. Simphiwe Adams (Sumatran Coffee)
2. Wency Masawi (Nino's)
You can
see the full gallery here.

Got something to say? Then leave a comment!
---
Q Square Coffee Festival in Worcester, Western Cape
Thursday, 11 May, 2017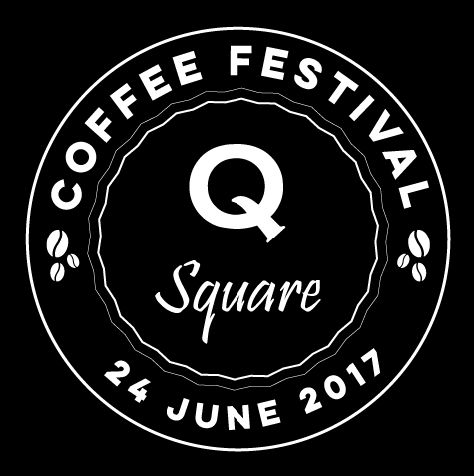 You can contact Debbie for more info: marketing@quenets.co.za
Programme of Events: 23 & 24 June 2017

Friday
18:30 for 19:00 - Food and coffee pairing dinner (attended by guests who have purchased tickets to the dinner (20 pax) R350.00 per person

Saturday
Coffee stalls
Coffee related stalls at market
Live Music
Kids entertainment
08:00
- Festival starts
Coffee vouchers handed out at Park Run
08:30
- Deon de Bruyn demonstrates live coffee roasting in Café Hugo
08:30 - 12:00
- Guests taste different coffee at the stalls and enjoy the food stalls
12:00
- Latte Art competition (barista contestants)
13:00
- Coffee tasting competition (public contestants)
14:00
- Festival closes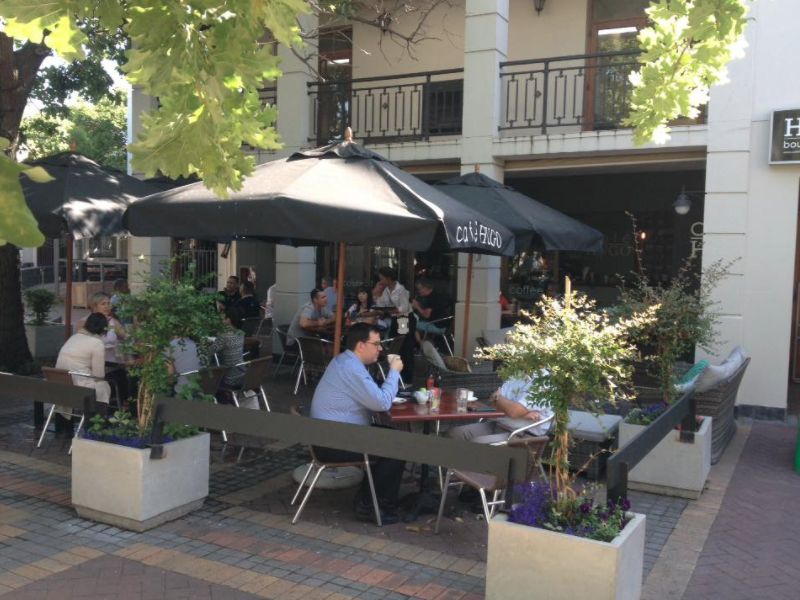 Got something to say? Then leave a comment!