Stereo Cafe: A haven of coffee and music in Bloemfontein
Thursday, 1 February, 2018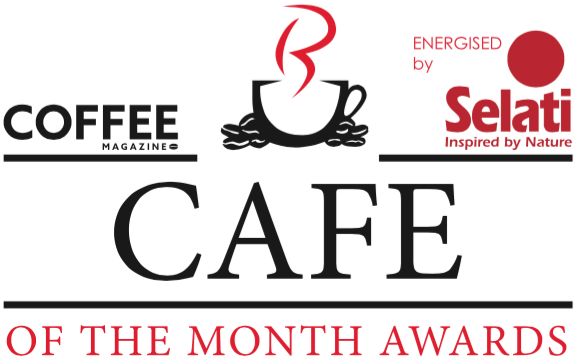 Well done to Stereo Cafe for winning the Selati Cafe of the Month for December.

---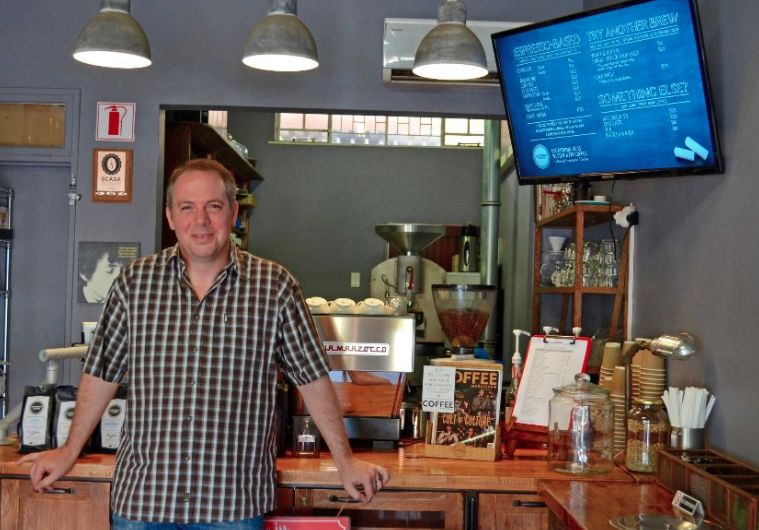 How did Stereo Cafe begin? What led you to develop such a strong passion for roasting?

Stereo Cafe opened in January 2014 after I spent my first months roasting from home in 2013. I wanted to have an outlet for customers to sample what I had roasted and never expected the cafe to have become as popular as it is today. It was, however, in 2012 that my interest in roasting started. A visit to World of Coffee in Vienna triggered the passion - this was the first time I tasted specialty coffee and was excited about how tea-like and flavourful coffee could be. There I discovered that coffee was far more than I had been led to believe - a drink equal in complexity (if not more so) to wine and whiskey. The reason for my visit was to talk to coffee roaster builders as I was having no luck with e-mails. My research led me to a short-list of companies but, as luck would have it, my paths crossed with Neil Maree from Genio Intelligent Roasters who was also visiting WOC. We met in the stands after Wayne Oberholzer completed his set at the World Barista Championships, spoke about coffee and roasters while walking through the stands. When I returned to South Africa I decided that I would support Neil and bought a Genio Mezzo 6kg roaster. Since then I haven't looked back and will be upgrading to a Genio 15 Precision Coffee Roaster in 2018.

What coffee is in your hopper at the moment and why did you choose it?

Our house espresso blend is what we use everyday in the cafe. It's a medium roast blend of Guatemala, Rwanda and Brazil that I have found satisfies the palet of our customers. People are creatures of habit and I think that keeping to a recipe that works is important for consistency. People know what they like and know what they are getting every time they visit the cafe. As a pour-over though, we are currently using a Burundi Kibira White Honey processed coffee from Long Miles Coffee Project.
What is your favourite part of running a cafe and roastery?

It's the social aspect of the cafe that makes every day fun. By nature I like my own company (that's when I roast) but when I'm in the cafe I love talking to the customers who visit. It's such a interesting group of people, each with a story to tell. My staff, in turn also have good interaction with our regulars which I believe, together with consistently good coffee, adds to our success. The sound of people talking and laughing, the noise of the grinder, the espresso machine clicking on and off with every shot being pulled, the sound of cutlery and crockery being washed and the smiles and the satisfied look on peoples faces is what makes every day worthwhile. The knowledge that all these people have chosen my cafe to spend their time in enjoying the coffee that I have roasted and my staff serve is very humbling.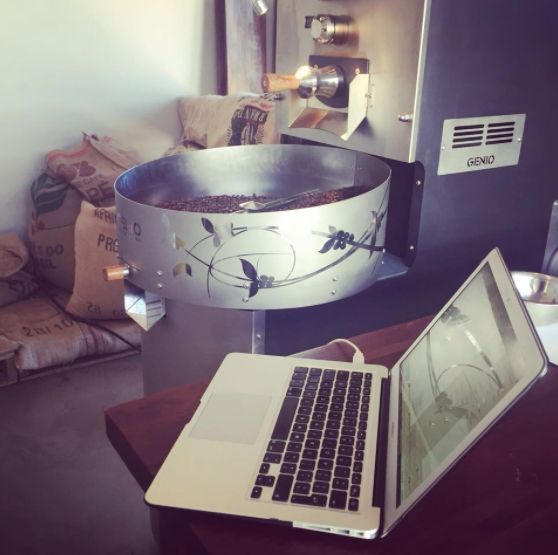 What would you say is the one item on your menu that people HAVE to try when they come visit your cafe?
Our flat white is very popular but for something out of the ordinary our pour-over Burundi Kibira is a must. On a hot summers day (or a warm winter's afternoon) our cold brew is a winner.
Tell us something interesting about yourself that has nothing to do with coffee!
Ah, tricky. I worked for radio stations since I was at university in the 90s and locally as a presenter for a commercial music radio station for for almost 15 years. My passion for radio was founded in a passion for music. i thought one day I would own my own music shop - that music shop became a coffee shop that plays good music. It all comes back to coffee.
Got something to say? Then leave a comment!
---
New Kids on the Block: Dear Maria
Wednesday, 24 January, 2018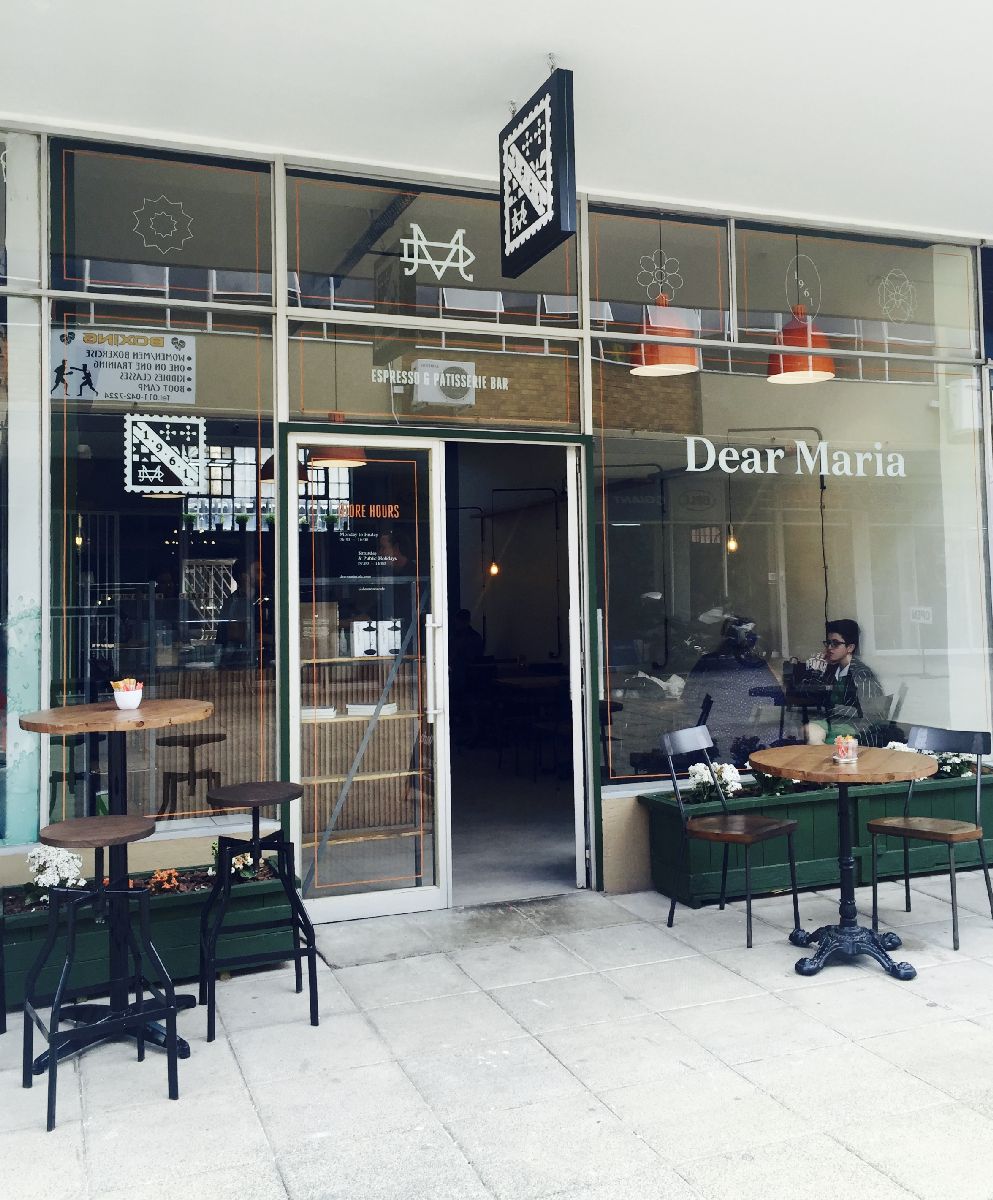 Dear Maria
59 Van Buuren Road, Bedfordview
Germiston, Gauteng, South Africa
---
And what a charming block it is! Nestled down an interesting alley in Bedfordview,
Dear Maria
, is an oasis of speciality coffee and it's certainly a coffee destination to put on your list. The quaint shop front and the beautifully designed interior with warm green and orange as the palette have been carefully curated and many of the furniture pieces were hand made by Sean and his team, one piece at a time. And then there's the beast of an espresso machine sitting pride of place on the counter.
"We thought that we would just slowly ease into it and find our feet, but then we bought a
Sanremo Cafe Racer
and people started to hear about us." says Sean, the owner.
A labour of love, the café was conceived as a multi-roaster espresso bar dedicated to Sean's mother and her Italian Moka Pot morning ritual as he was growing up. Having completed a law degree and finding himself working in the tech industry, Sean realised it wasn't the life for him. So he's thrown himself heart and soul into the coffee world. The passion glows out of every detail in this little cafe.
What does being a multi-roaster cafe mean, you may ask? Well, simply put, they always have more than one Roaster's beans on offer. This is not common practice in South Africa, where most cafes pledge allegiance to their preferred roaster, so it's an interesting point of difference for this tiny haven of damn, fine coffee. They have a house blend roasted by
Thirdspace
and they feature a new roaster each month, we tasted a Colombian Caturra from
April Coffee Roasters
based in Copenhagen and they also had an Indonesian single origin from
Rosetta Roastery.

"I don't want to be a roaster, it's not where my passion lies and I love tasting new coffees, so with the multi-roaster approach we get to experiment and take our customers on the journey with us."
Jacques made us an excellent cortado with the House Blend (Iain's comment: "Shew, that is world class!") and Sean brewed our tasty pour over.
The feeling you get from this space is one of sincerity. You have to appreciate their dedication to only serving speciality beans and educating their customers one cup at a time. They've only been open a couple of months, but we look forward to seeing them grow.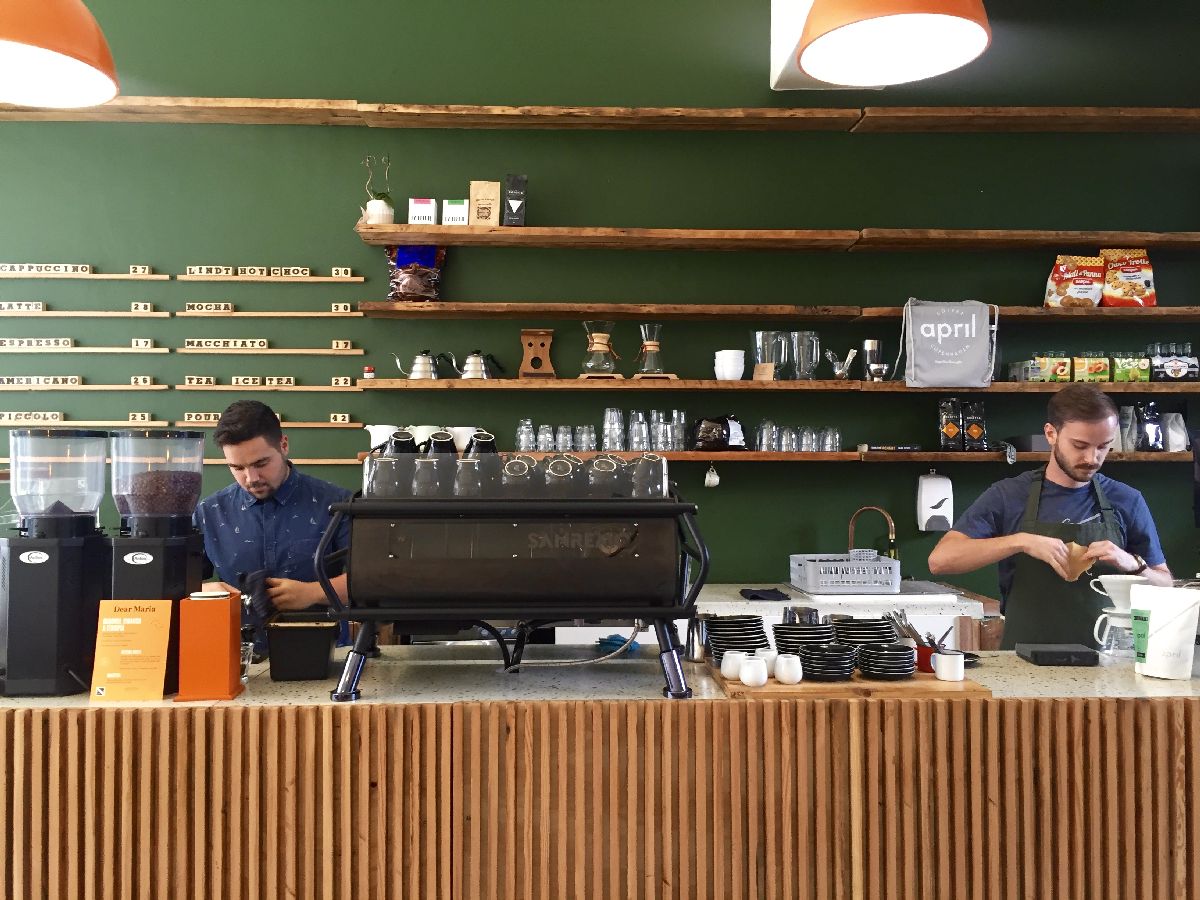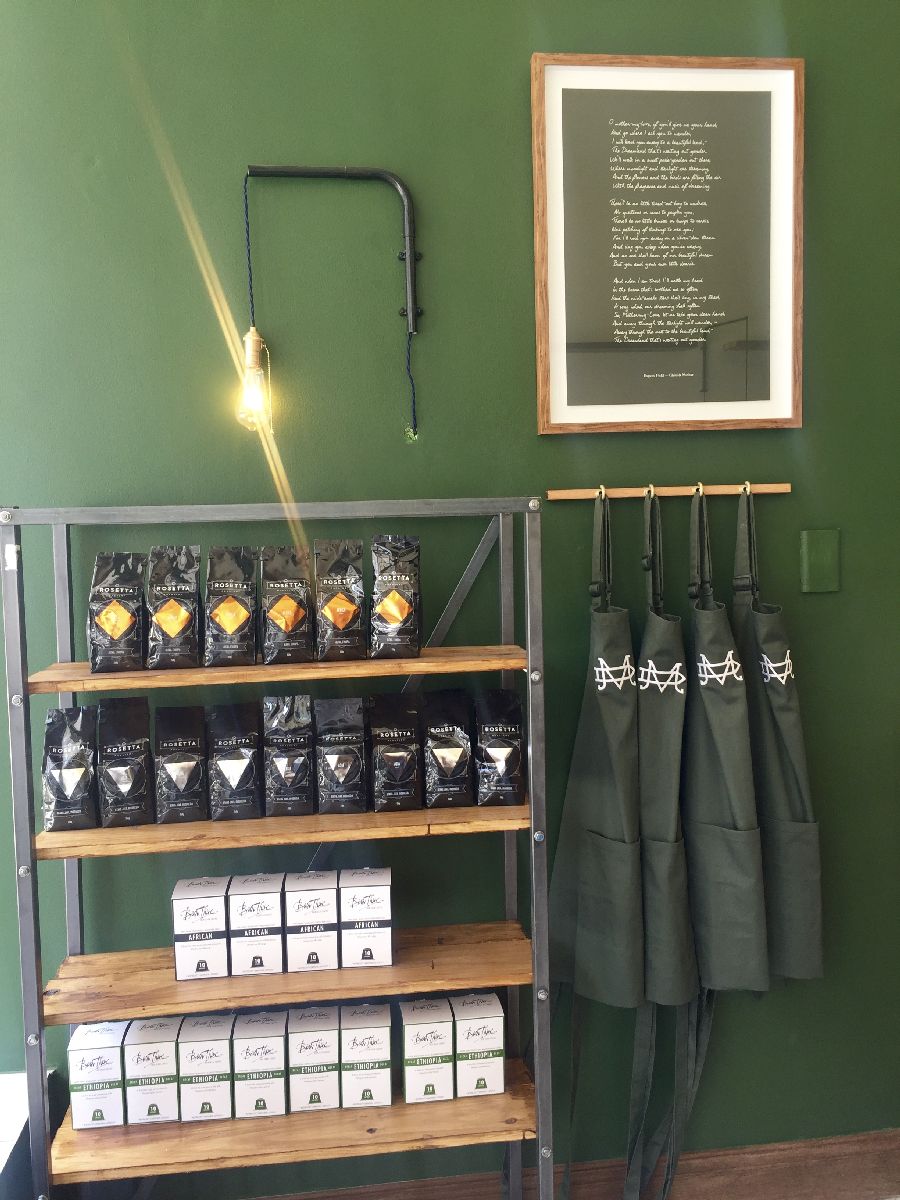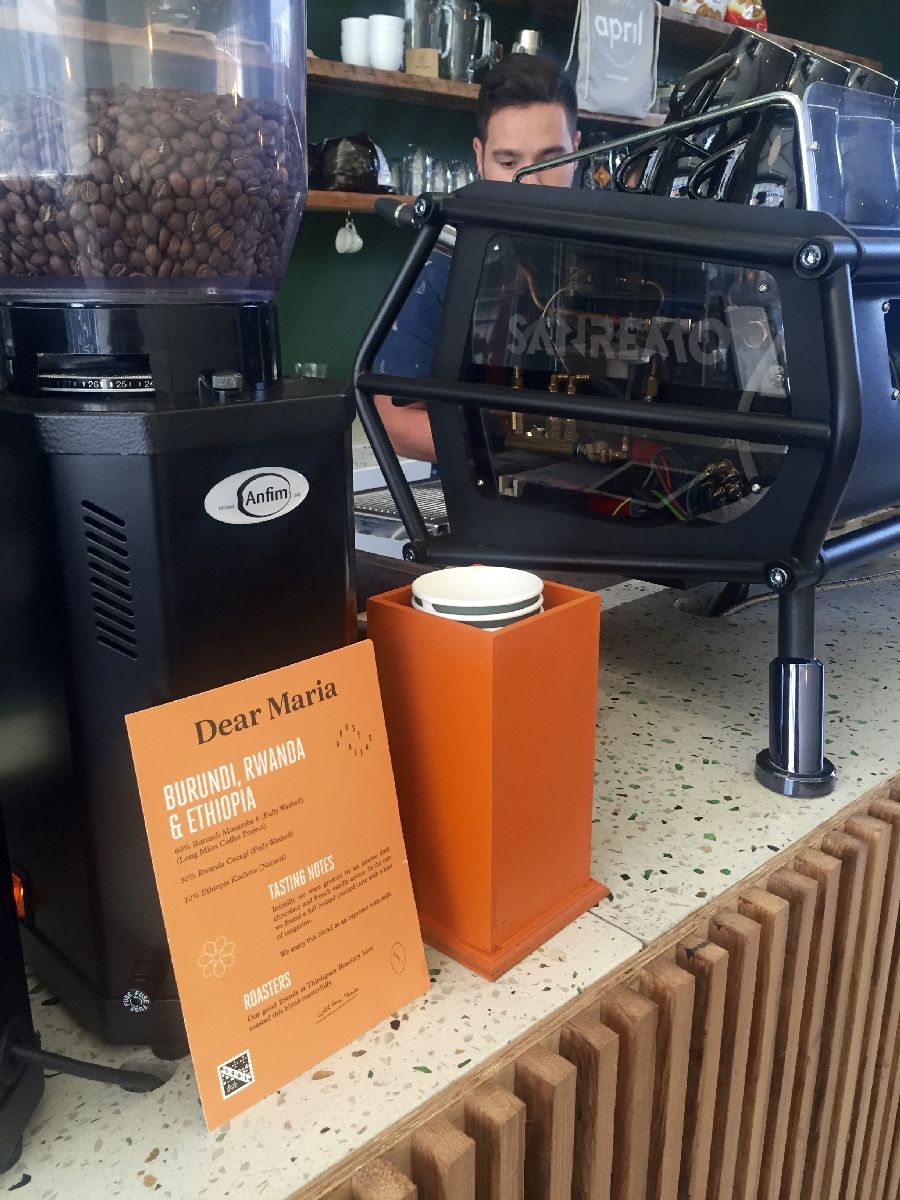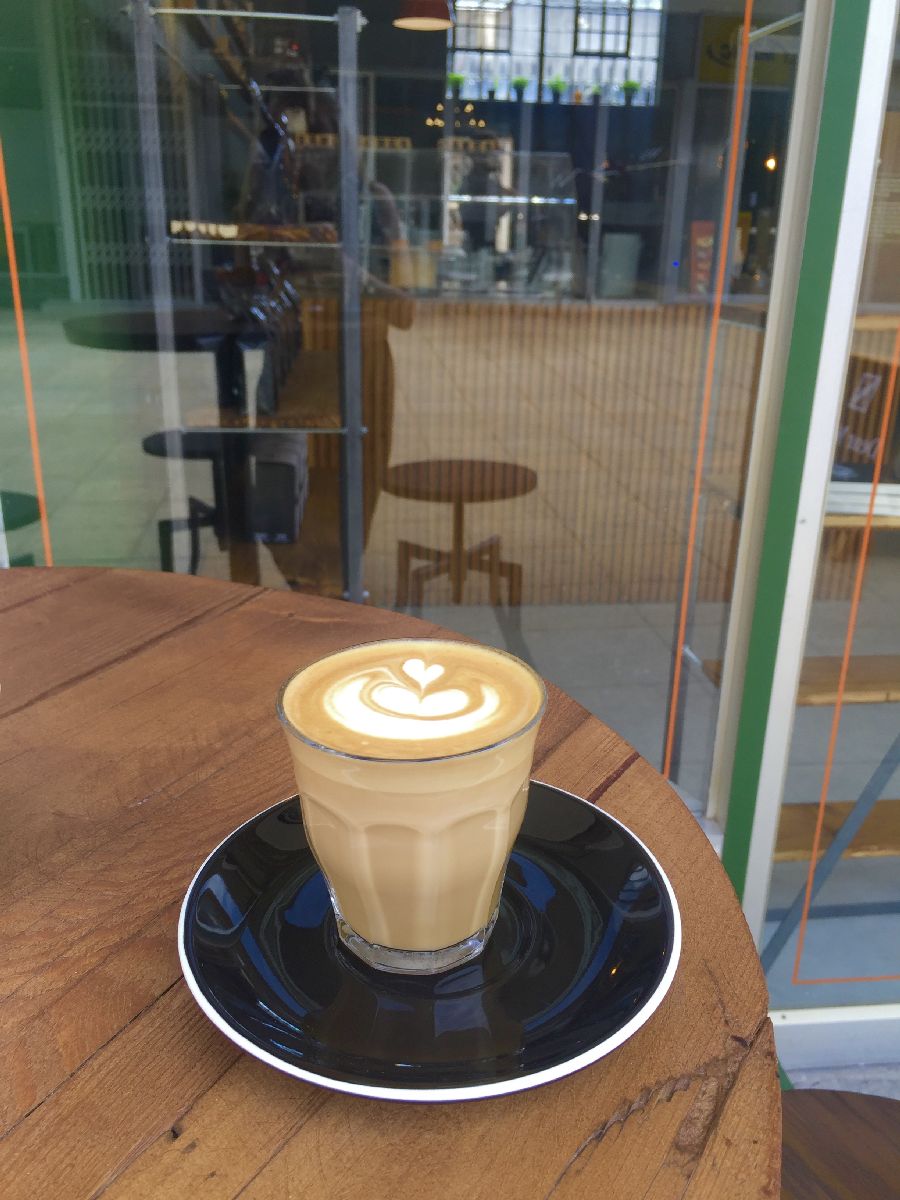 Got something to say? Then leave a comment!
---
What can you do to save water when it comes to coffee?
Friday, 26 January, 2018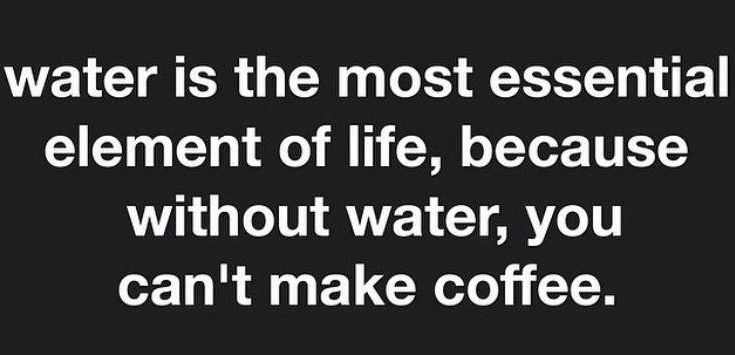 All jokes and light-heartedness aside, water really is the most essential element of life and we can all play a part in using it more responsibly. In your daily coffee rituals you can make small changes to save water.
The biggest waste of water generally comes in when washing the coffee equipment. With a plunger there are lots of grounds. Try scooping the grounds into your garden or on to your compost heap instead of rinsing coffee down the drain.
When you use hot water to pre-heat your cups, don't pour that water down the drain, pour it back into your kettle, or into your machine reservoir once it's cooled.
Drink more espresso!
Pour overs and aeropress methods use the least amount of water for washing up, since you can literally just take out the filter paper or pop out the spent puck.
If there's left over coffee in your caraffe put it in the fridge and use it for iced coffee or cold coffee for the heat of the day.
Be very conscious of the running time when flushing the group head. A very quick on and off will suffice to move old coffee through the screen.
Empty your drip tray into your hanging plants and pot plants around the kitchen, house or office. They won't mind some coffee particles in their water!
10 tips to save like a local from
www.capetown.travel

- Choose to stay in accommodation that has water-saving measures in place. Ask about this when you book.
- Re-use your towels instead of asking for a new one daily.
- Try to flush the toilet as little as possible. Each flush uses between 6 and 14 litres, depending on the kind of toilet.
- Use a cup to rinse your mouth when you brush your teeth rather than letting the taps run.
- Limit your showers to 2 minutes, and avoid bathing. Coffee Mag Tip: Place a bucket in the shower with you to collect excess water, this grey water can be used for washing laundry or for the toilet.
- Report leaking taps and toilets as soon as you notice them.
- Avoid washing clothes until you have a full load's worth of laundry.
- Take a dip in the ocean instead of swimming pools, and maybe even spare yourself a shower.
- If possible, use a dishwasher to clean dishes, but just make sure you only run it when it is full (average dishwasher uses 31 litres of water per run).
- Use this
nifty calculator
to make sure you're helping to save water.
Got something to say? Then leave a comment!
---
LISTEN - Filter Stories: Against All Odds
Thursday, 18 January, 2018
James Harper was part of the operational team keeping things running smoothly at the World Barista Champs and he carried around his voice recorder through it all, gathering snippets of the action as it unfolded. We simply adored listening to this story based around the wonderful Martin Shabaya, the Kenyan Barista Champion, who last year became the first African barista to be represented in the World Semi-Finals. And we look forward to many more episodes of James' Filter Stories.


Got something to say? Then leave a comment!
---
Barista Scholarship Candidates Announced!
Wednesday, 17 January, 2018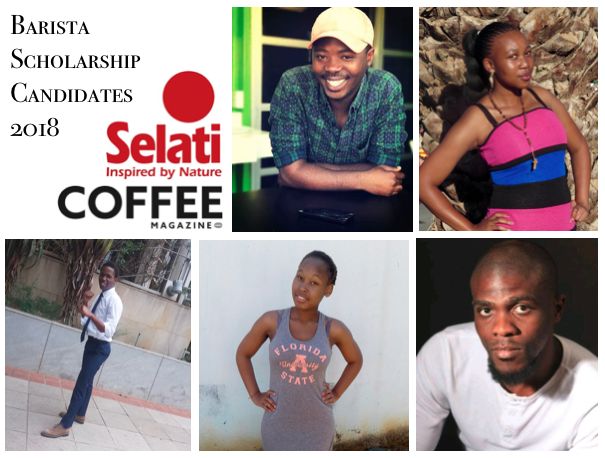 We are so thrilled to announce the names of our 9
Selati Sugar & Coffee Magazine Barista Scholarship Candidates
!
In reading through all the applications that were submitted, these individuals stood out and we look forward to going on this journey of coffee discovery with them! Coffee really does have the power to change lives. We are constantly inspired by members of the coffee community investing in skills development and training for a future generation of coffee entrepreneurs. Thank you to our Café Partners who will host the candidates for a 3 month internship at the end of their studies:
Kaffa Hoist (Langa, CT)
,
Micoffee (PE)
,
Flava Club Coffee (KwaMashu, KZN)
, Crema Café (Bloemfontein). We will also shortly be announcing the names of our three deaf barista candidates.
Free State
Mpho Precious Mocko
Tefo Moeketsane
KZN
Zikhona Mpika
Awanda Madlala
Thobeka Dludla

Western Cape
Asekho Mjojeli
Asanele Mayekiso
Port Elizabeth
Monwabisi Nohashe
Sithembile Notshulwana
Thank you so much to our sponsor
Selati Sugar
, they really are dedicated to uplifting South Africans and we are so proud to partner with them.
We were overwhelmed by the number of entries and we look forward to being able to offer opportunities to more aspiring baristas in our next year of this program! Thank you to everyone who submitted an entry form, you all have bright futures ahead of you.
Got something to say? Then leave a comment!
---
It's that time of year again! Info on SCASA Nationals
Thursday, 18 January, 2018
Coffee competitions are pretty strange and every now and then we find ourselves wondering about just how relevant they remain in the coffee landscape and then we go to one as it pops up in the calendar and we fall in love with it all over again. The camaraderie, the knowledge sharing, the complete coffee geeking out, it makes us incredibly proud to be a part of the coffee community. And we see the effects of the competition on baristas wherever we go, the pride in competing, the improvement in coffee skills, the aspiration to do better and be better like the coffee heroes gone before them.
And so, Nationals 2018 is almost upon us. The decision was taken by the Board last year to host it in Cape Town in collaboration with the inaugural Cape Town Coffee Festival. The CT Coffee Festival has since been postponed, but at this stage the competition will still be held in CT on the same weekend.
Current South African Barista Champion Winston Thomas will be back to defend his title, but there will be stiff competition in the fight to win that ticket to Amsterdam!!!
See working schedule below.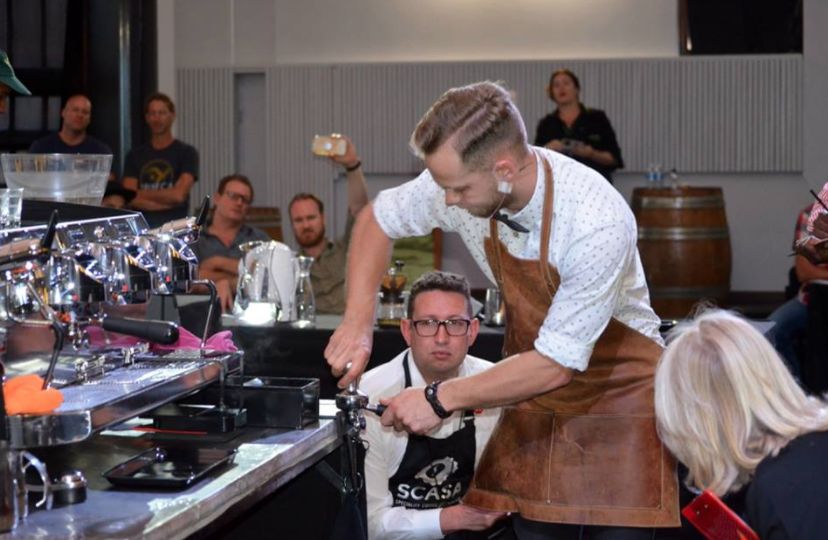 From the SCASA website:
Despite the Cape Town Coffee Festival being postponed, the SCASA National Competitions will still be taking place in Cape Town. *NB Information subject to change!

Thursday 22nd February
Event: Compulsory Barista Orientation and beginning of practice times
Venue: Koldserve (10 Barlinka Road, Saxenburg Park 1, Kuils River, Cape Town, 7580)
Time: Orientation at 2pm for Barista Championship competitors. The practice schedule will be emailed to you by Jamie and Dyl closer to the time.

Event: Semi Finals and Finals of Latte Art
Venue: Tribe Coffee Roasting, Woodstock
Time: 5.30pm-10pm (Winner will only be announced at prizegiving on Sat 24th Feb)
The team at Tribe will also be hosting a fun Latte Art Throwdown on this evening, so there will be lots of action and beer! Come join us!
-------------------------------------------------------------------------------------------

Friday 23rd February
Event: Barista Champs Semi-Finals
Venue: Koldserve
Time: Schedule to be confirmed, but 8am kick-off
Event: Cup Tasters Semi-Finals and Finals
Venue: Origin Coffee Roasters, Greenpoint
Time: 6pm-9pm
This event is also open to the public, come taste some interesting coffees with some of the best in the business!
----------------------------------------------------------------------------------------------
Saturday 24th February
Event: Barista Champs Finals
Venue: Koldserve
Time: 9am-4pm
Lunchtime: Almond Breeze Smackdown
Event: Prizegiving and Afterparty
Venue: TBC
Time: 6.30pm
If you have any questions please email info@scasa.co.za
Got something to say? Then leave a comment!
---
Winners Announced! #12daysofcoffeechristmas
Friday, 12 January, 2018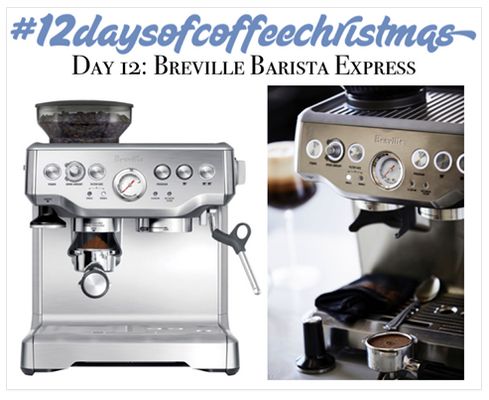 And the winner is.....

Welcome to 2018 everyone (unless you're a lucky so 'n so still lying on a beach somewhere while the rest of are back at work!) We had an overwhelming response to our
#12daysofcoffeechristmas
promotion and have been inundated with people anxious to know who the Grand Prize winner is of the Breville Barista Express... well, we chose a winner, and her name is
Lilly Whitehead
, from East London!
Well done Lilly!
The other 11 winners are listed below.
Have a great year folks and
tell us all about you great coffee experiences
, we'd love to hear them!
Iain, Mel and The Coffee Mag Team.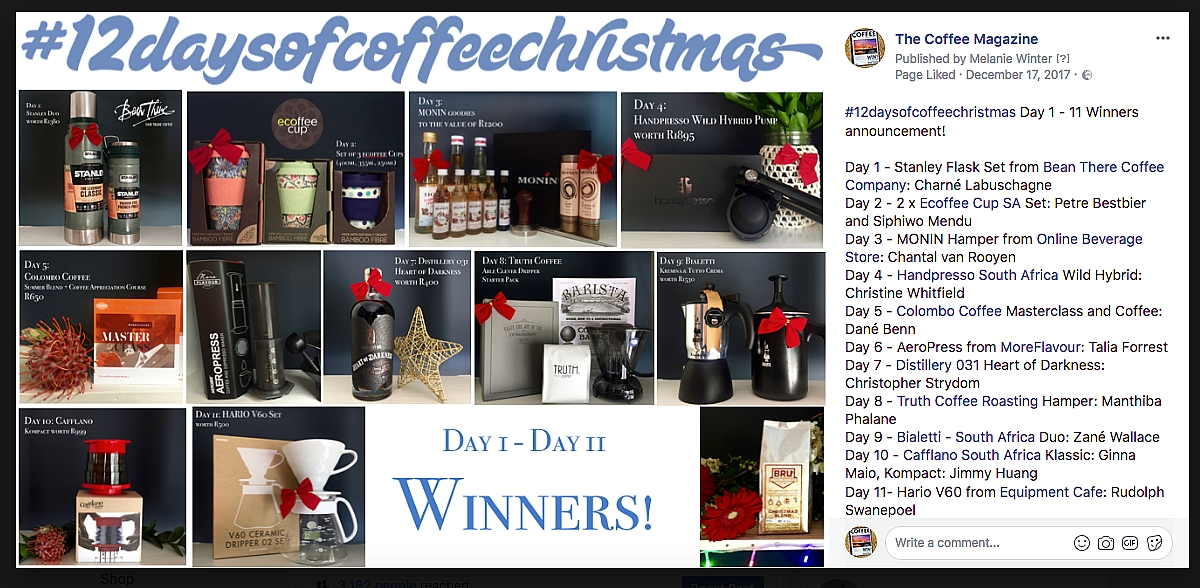 Got something to say? Then leave a comment!
---
A South African First? Roasting your Own Coffee at Science of Coffee
Thursday, 11 January, 2018
Ah, summer holidays on the KZN coast. The bustling of visitors, the smell of suncream and sea air, the sound of seagulls and waves crashing and the sight of coffee roasting in an artisanal market… Wait, no, that's not usual, is it?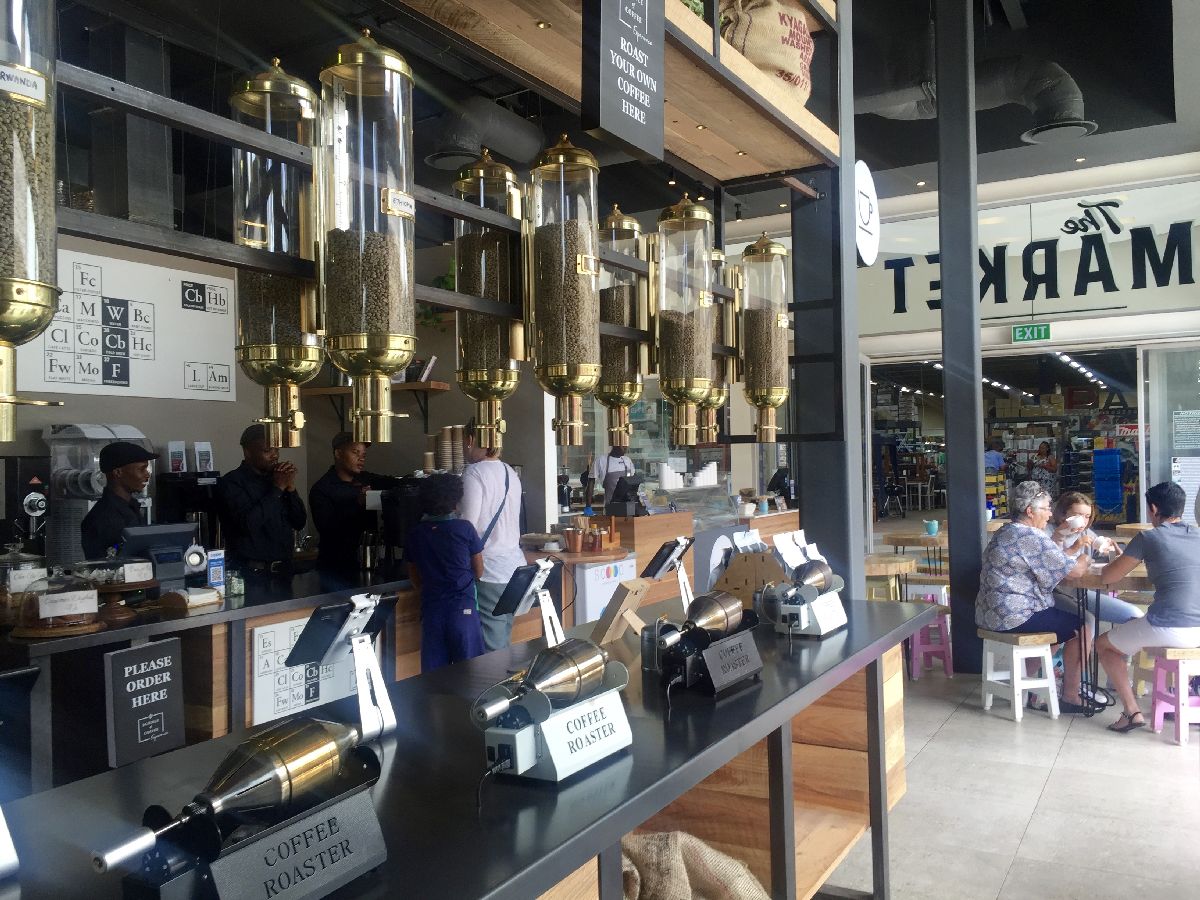 It is if you're in Ballito. This iconic beach town, a perennial favourite with inland folks in summer, is now the home to a dedicated artisan market just a kilometre from the beach at the Lifestyle Centre, at which you can roast your own coffee!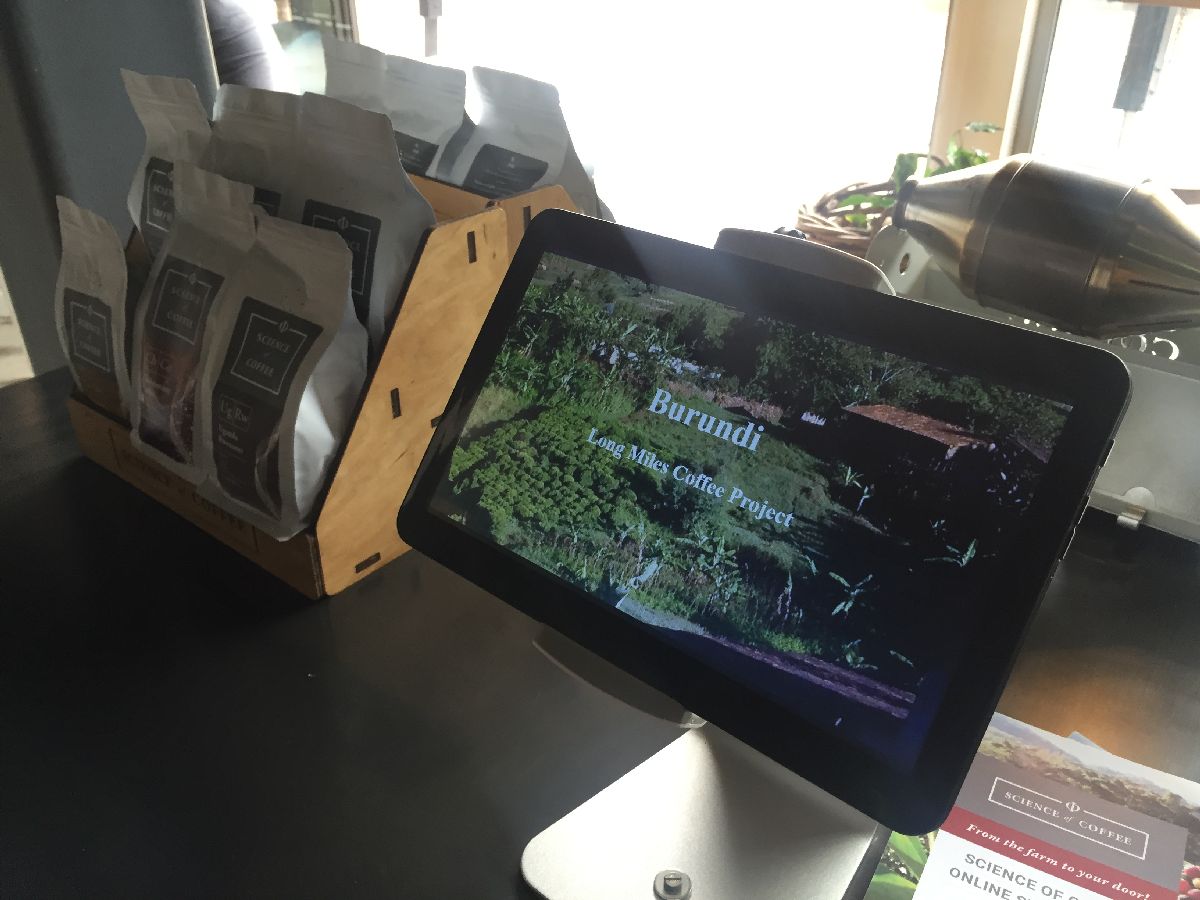 The roasting experience is the brain child of North Coast resident and coffee scientist, Alessandro Craparo, from Science of Coffee, is a gentleman who has featured in the Coffee magazine previously, due to his world-acclaimed research efforts and insights into agricultural coffee security. He has teamed up with Derrin and Nicky Cooper, who own and run an artisanal bakery called Yoli's and share a space in The Market at the Lifestyle Centre.
"It's been a roaring success", says Derrin, as he leads us backstage of the action, into the bakery where Nicky is elbow deep in dough and the staff are furiously kneading and carefully laying dough into the baking trays. "The small batch roasting on site is pretty much a world first, as far as we know. A place where people can go on a visual coffee journey via iPad, guided by a barista, choose from the 4 Origins of green coffee, and 12 minutes later, have their own coffee, bagged and personalised for them. It's really exciting".
And we had probably the best bacon quiche I've ever tasted from the bakery. What a little gem!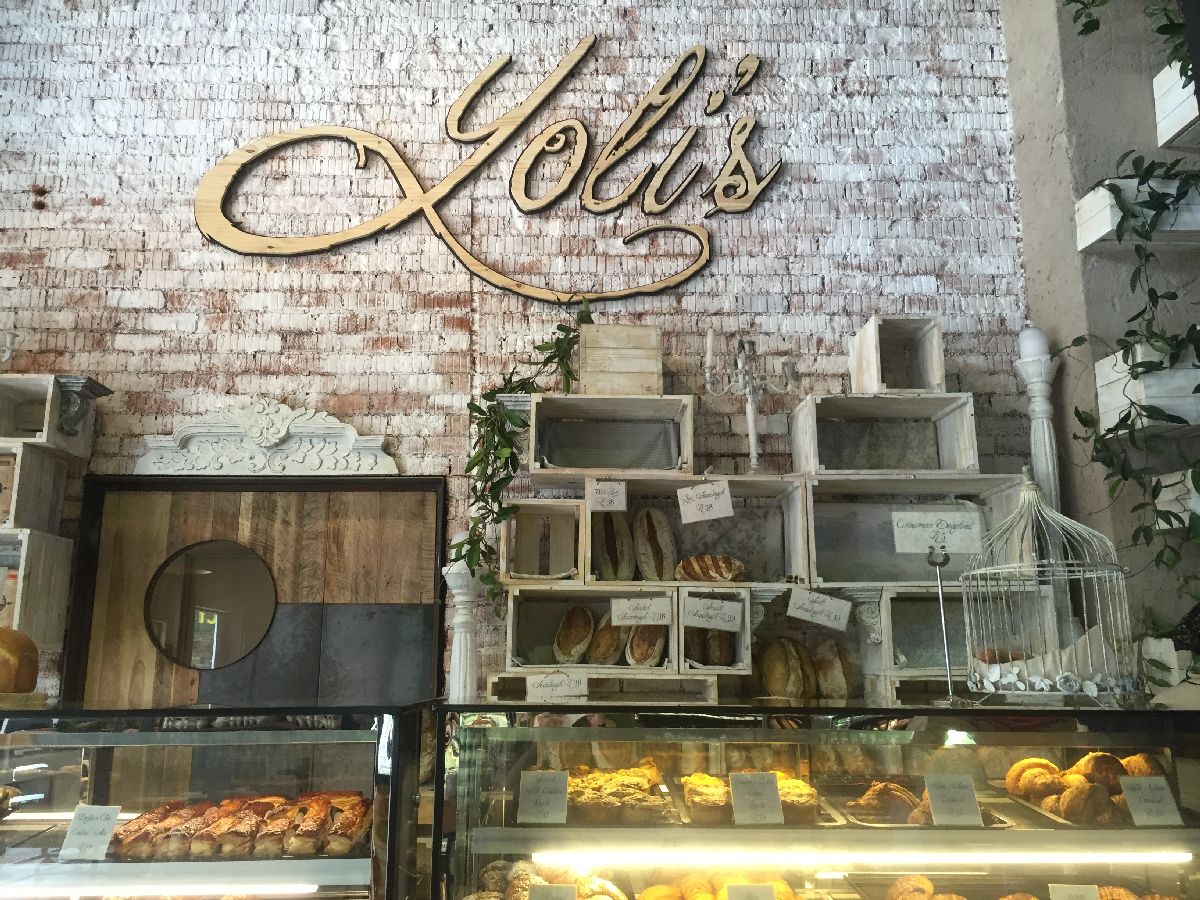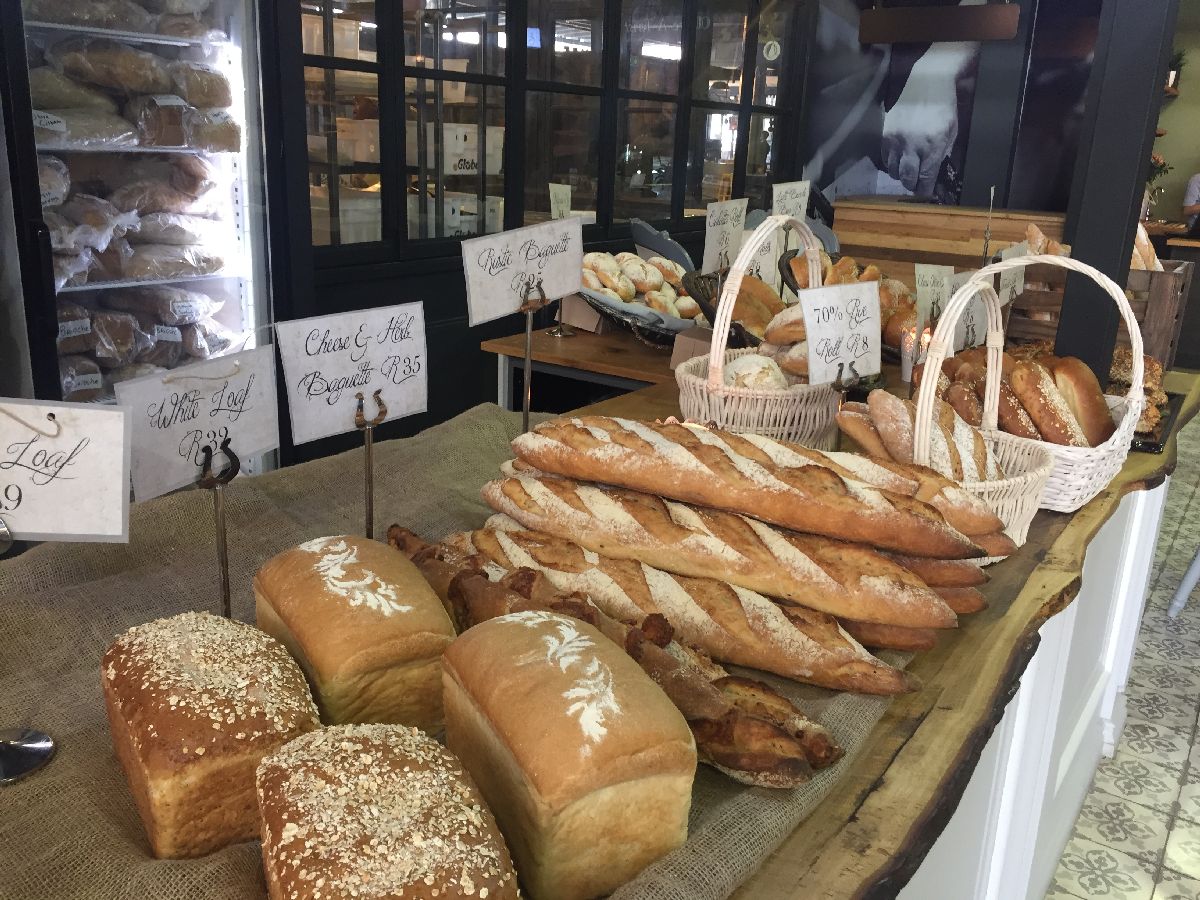 Venue: Science of Coffee @ Yoli's Artisanal Bakery, Lifestyle Centre, Ballitto, KZN North Coast.
What it is: Roast your own coffee.
Cost: R140 per session.
Contact: info@yolis.co.za
Got something to say? Then leave a comment!