The first female World Barista Champion: Meet Aga Rojewska
Monday, 25 June, 2018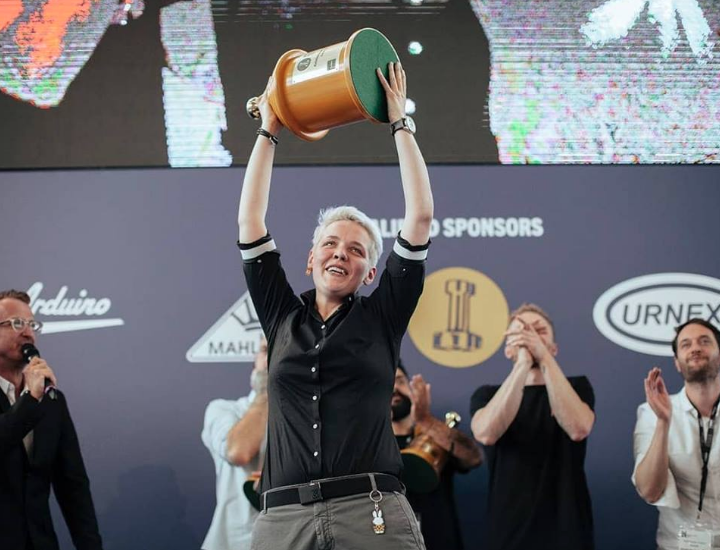 It is difficult to believe that it the first time this has happened in 19 years of competition, but there you have it, our first woman World Barista Champion, Agnieszka Rojewska. It seriously couldn't have happened to a more deserving person. This is her 3rd WBC if we're not mistaken. She has thrown herself completely into competing racking up a wealth of experience (and trophies!) over the last couple of years, but this is certainly the pinnacle.
Well done Aga! A well thought-out and clever presentation with a sublime coffee.
It was a really great Top 6, each of them were wonderful to watch. Lex Wenneker from Netherlands did his home crowd proud coming in 2nd overall. A very emotional moment for him and his team! Mathieu Theis from Switzerland is a rookie at WBC and had a sensational run to get to the Finals, placing first in both the preliminary and semi-final rounds and finally placing third overall. We are sure he will be back!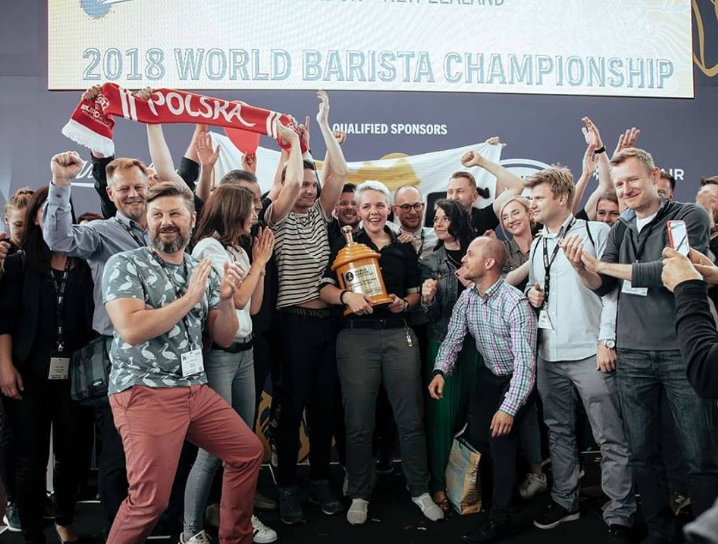 Winston Thomas also did us proud, he ended up 32nd in the World Rankings, a big leap from last year. He'll be aiming to get to Boston in 2019, but he will have some tough competition to get there (including Ishan Natalie who was part of his support team in Amsterdam!).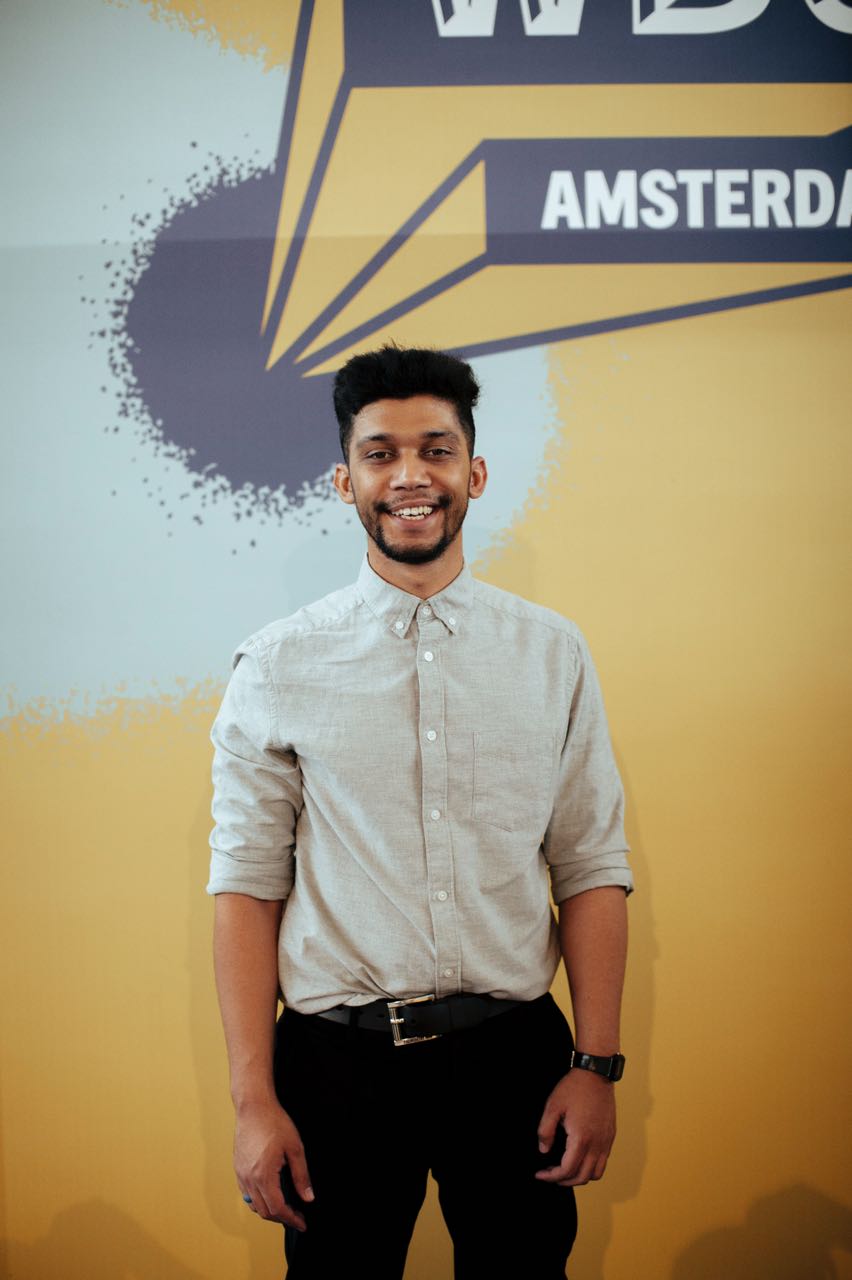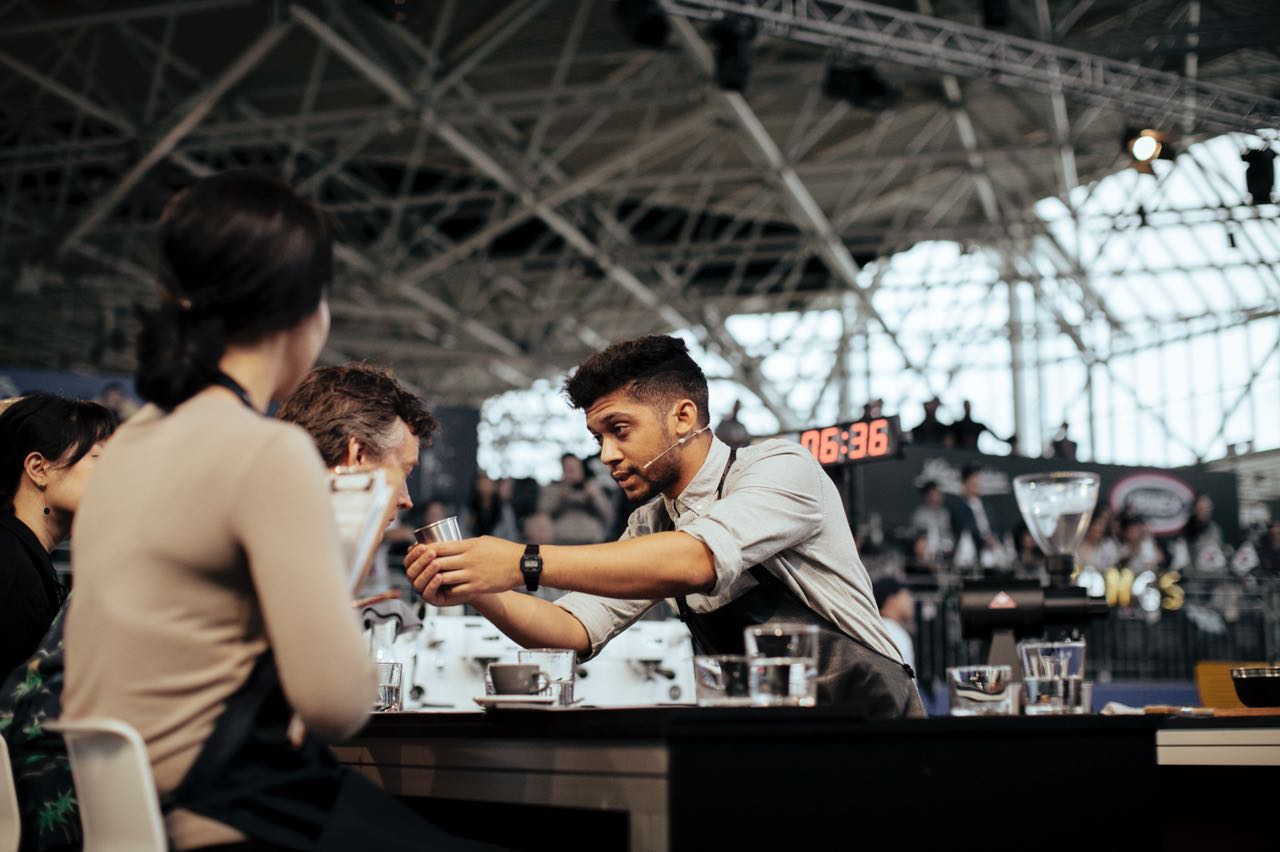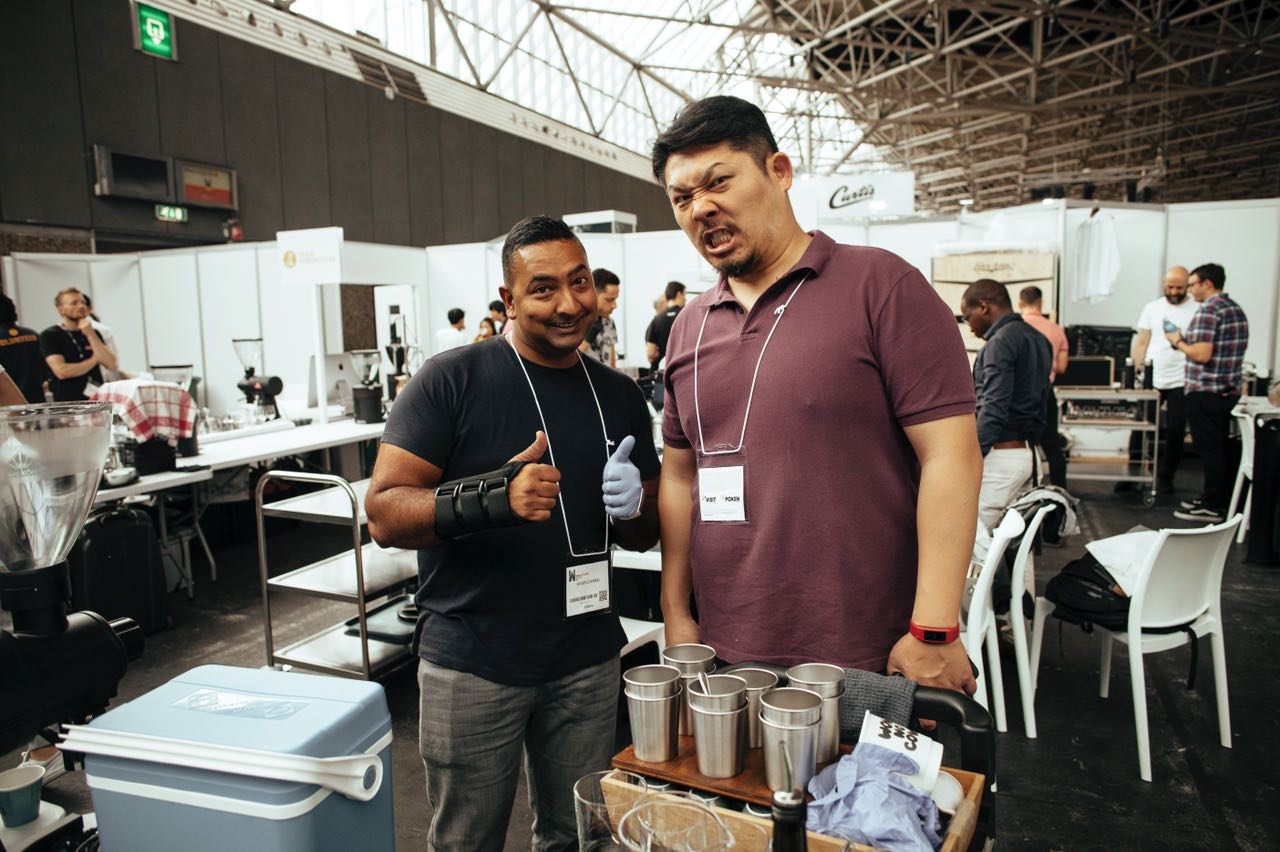 Got something to say? Then leave a comment!
---
An East London Coffee Institution: Roxy's Cafe
Saturday, 23 June, 2018
Words by Mbulelo Ntlonti (@thecoffienddiary)
---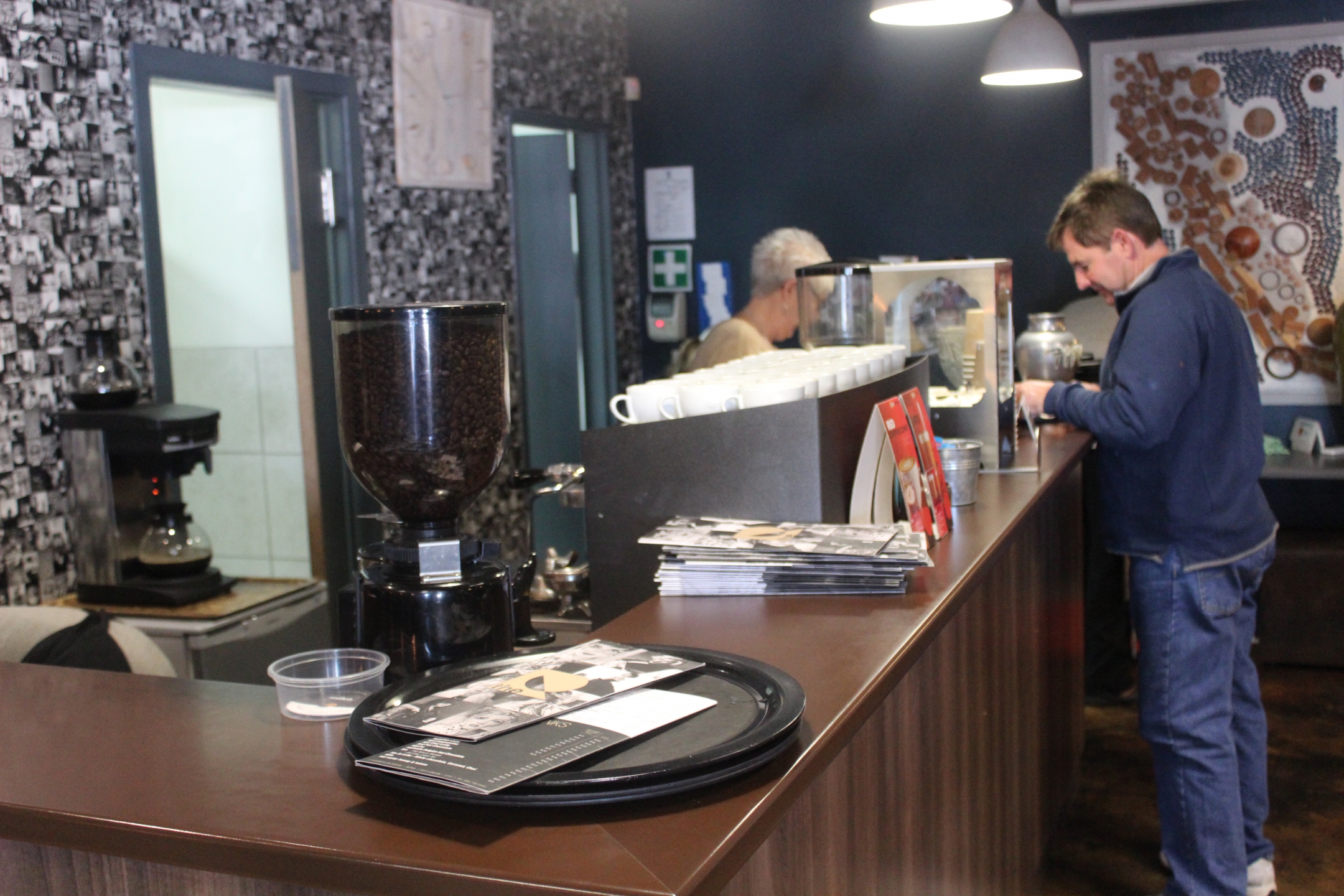 I recently visited one of the oldest coffee shops in East London, called The Roxy. This establishment has been around since 1988 under the ownership of three sisters Marcia, Margot and Cheryl. Born and bred in East London, the three sisters decided to open their own little coffee house in the city centre, which was at the time called "The Three Sisters". They later moved it to where it is currently situated and changed its name to "The Roxy".
The Roxy is a cosy coffee shop, situated at Shop no. 2, Chamberlain Square in Berea, East London. It has one of the most amazing interior decorations I've come across in the city, with exquisite art pieces by Margot, Marcia's twin sister. They are both excellent artists. "The paintings are sold when replacements are painted or when there is a need to change the theme. Many of the paintings have been bought by overseas customers" – said Cheryl.
The Roxy works hand in hand with Miko Coffee SA to produce the best cups of java for their consumers. Their cappuccino is said to be the most popular drink of choice, bursting with a sweet/chocolaty flavour that will leave you asking for more. I personally enjoyed their filter coffee because of its medium sweetness, bittersweet after taste and obviously the strong aroma. They also offer non-caffeinated beverages and many other delicacies. You can view their full menu on www.dining-out.co.za
Their menu is very decent and the prices are very reasonable; so do pay them a visit if you're from East London or when you decide to visit the city. Trust me, you won't be disappointed.
Coffee Shop: The Roxy
Address: Shop no. 2 Chamberlain Square, Berea, East London, 5241
Social media links: The Roxy Coffee Shop on Facebook and Dining Out.
Rating: ☕️ ☕️ ☕️ ☕️
Pictures by Mbulelo Ntlonti
#TheCoffiendDiary #YoursinCoffee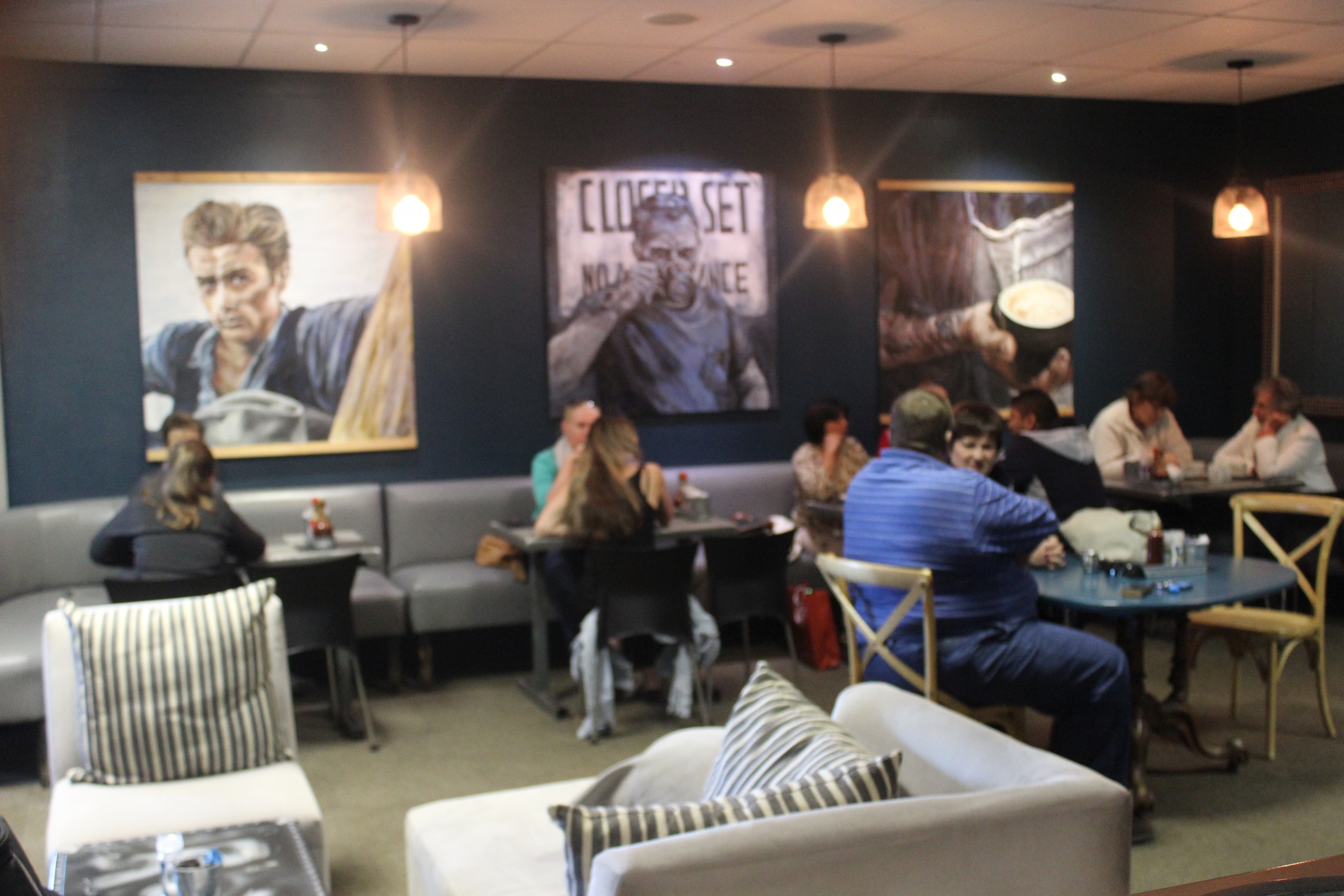 Got something to say? Then leave a comment!
---
It's Alive!! The Almond Breeze Latte Art Video Challenge gets off to a furious start. Vote for Nigel and Innocent.
Friday, 22 June, 2018
The global version of the Almond Breeze Latte Art Video Challenge kicked off this week, with Baristas from Japan, UK, Aus and South Africa going head to head against each other, racking up votes for their videos on the Global Leaderboard.
The weekly winners receive the rough equivalent of US$100 and the overall winner in each region wins the equivalent of US$1000, and an trip to Australia!
The two South African baristas featured this week are Nigel from Infood, Jeffrey's bay and Innocent from Truth in Cape Town.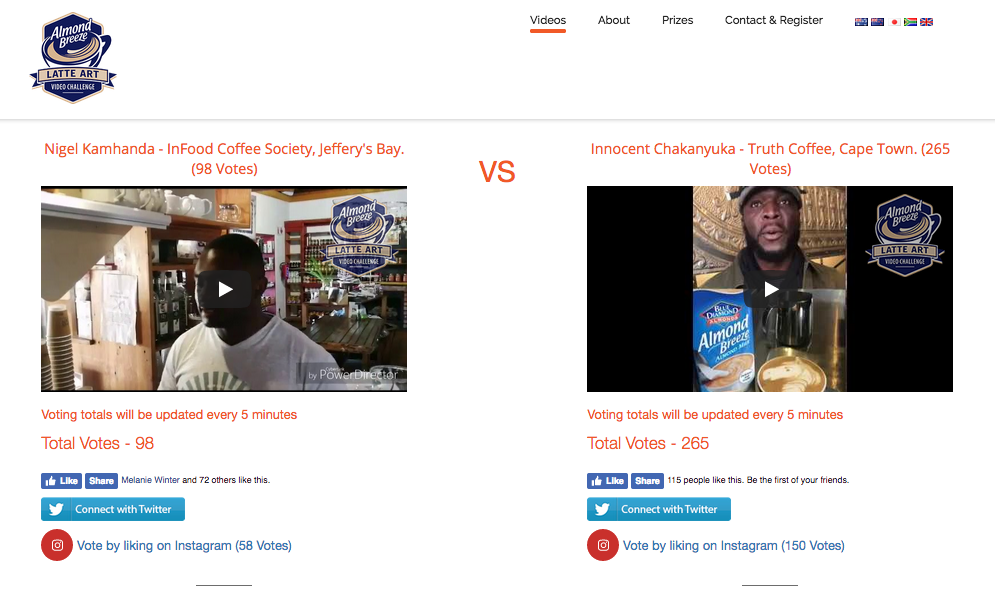 Your vote can help them win great prizemoney - so cast your vote here!
The International competition is fierce!
Check out a rainbow latte from Australia's Emily, (She has over 37 000 instagram followers!) She is up against Justin from Wolff Coffee,

You can marvel at Yokohama's Mei pouring a Blue Crush latte, who is going against Hiroki from latte Art Bar ZERO.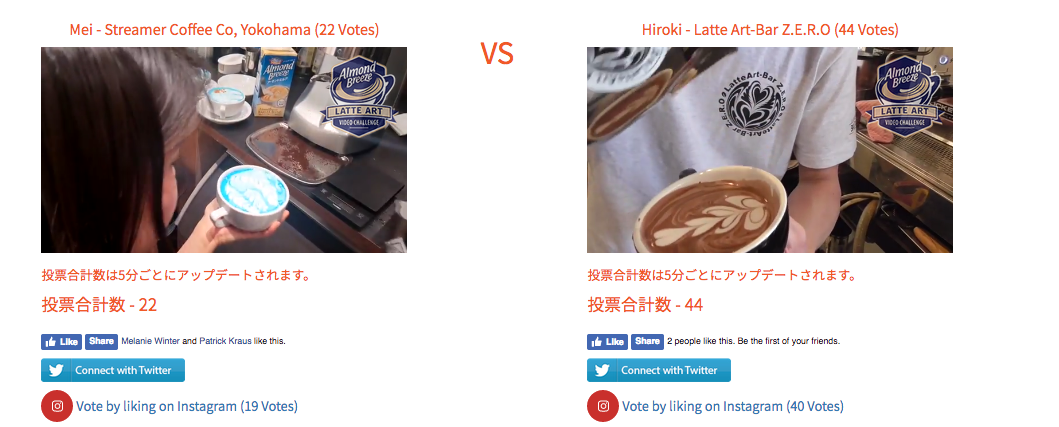 The UK are putting down some solid entries with Mike against Romain. Check their videos here.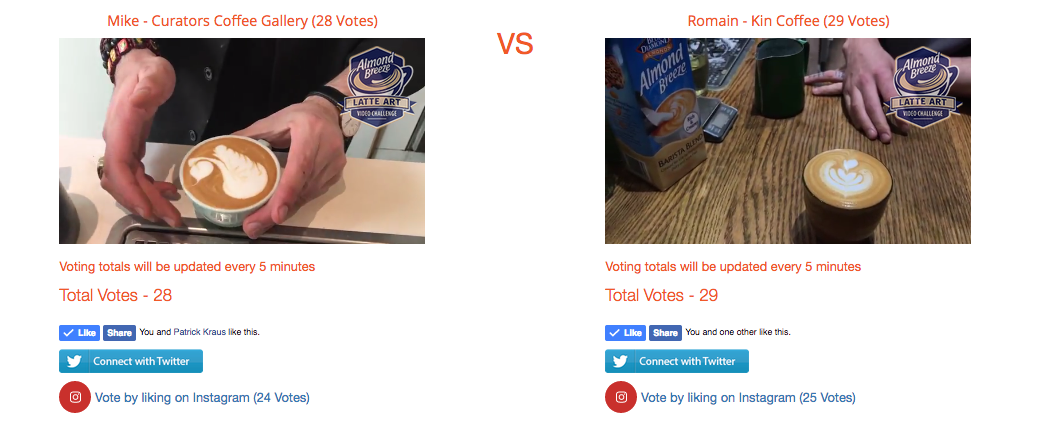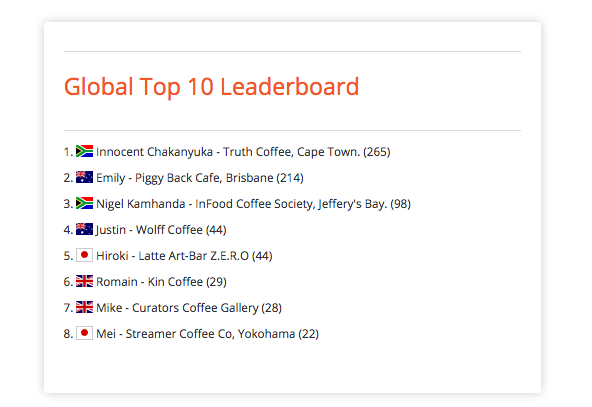 ---
If you want to enter a video into the LAVC - Click here.
Entries for upcoming weeks are now open!
Got something to say? Then leave a comment!
---
Winston at Worlds 2018
Thursday, 21 June, 2018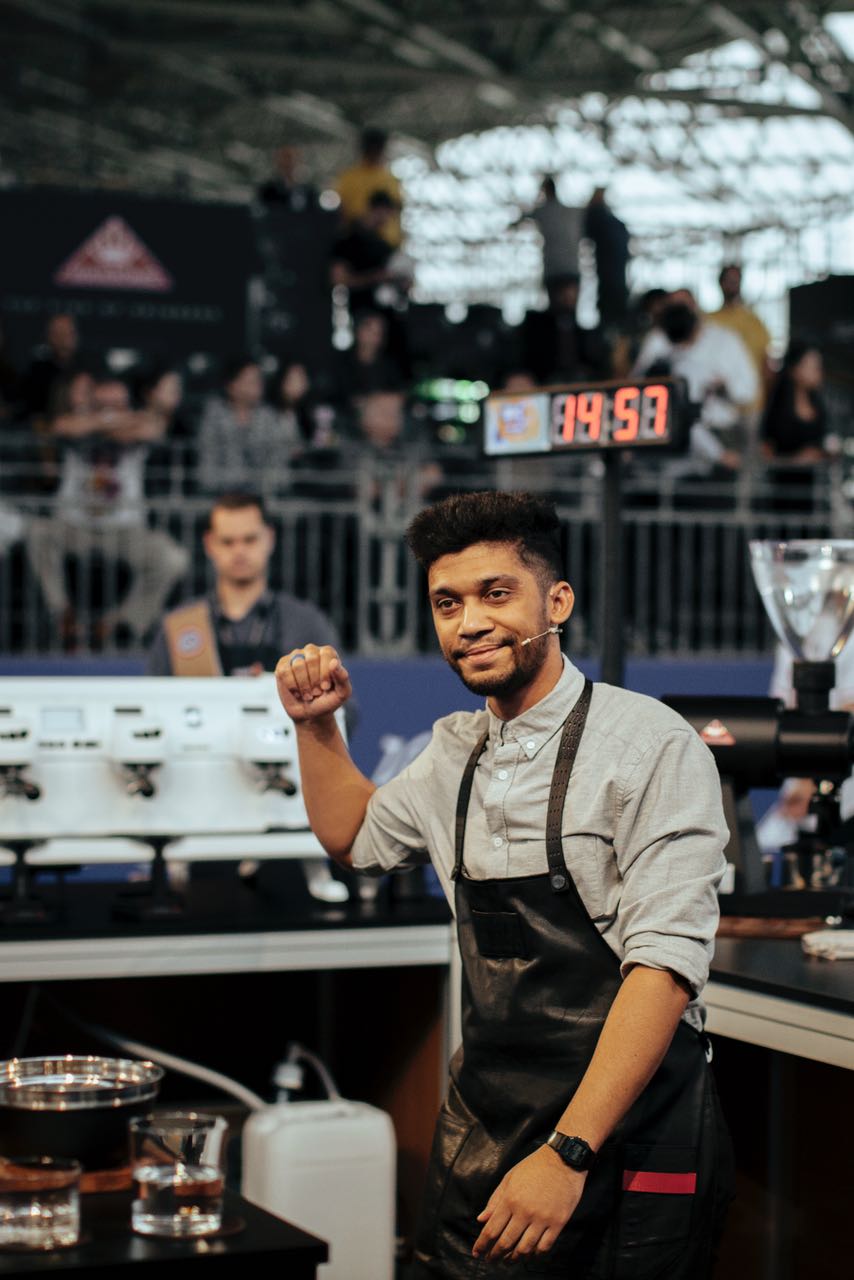 It's an emotional experience representing your country. Just ask Winston Thomas, who is in Amsterdam competing at the World Barista Champs for Team South Africa. The young Capetonian had the added pressure of being drawn to compete first out of the 55 National Champions.
Back home in South Africa, coffee fans crowded around TVs and laptops, anxiously waiting for the live feed and the technical teams to get everything sorted, before Winston could begin, but like a true professional, he was composed and focused and ran through his routine perfectly, stopping time with 3 seconds left to spare of his allotted 15 minutes. Precision!
The WBC implemented live scoring 3 years ago, and while it gives some relative instant gratification knowing the scores within hours of competing as opposed to 2 whole days of waiting, it means that baristas that go in the earlier rounds generally see their names sliding further and further down the list, and ultimately out of the Top 15 semi-final places, as competitors post higher scores. It's a drawn out and difficult thing to endure.
Winston was in 15th place after Day 1.
By the end of Day 2 the WBC was only showing the Top 25, and Winston was some way off the top 15.
We video called Winston to chat last night, and like the consummate professional he is, when we called, he was watching the last few competitors compete, taking notes and soaking up the knowledge that only a WBC arena can produce.
"I'm proud of how I managed my set. These last few months have been dedicated to preparing for this set. It's been tough, but I know this is a long term game and I'm making the most of my time here."
It takes a mature outlook to see past the disappointment of not making the semifinals, but in the context of the World Championships, Winston is still a young competitor with many future WBCs ahead of him.
South Africa is proud of you Winston!
All images by Justin Groep for The Coffee Magazine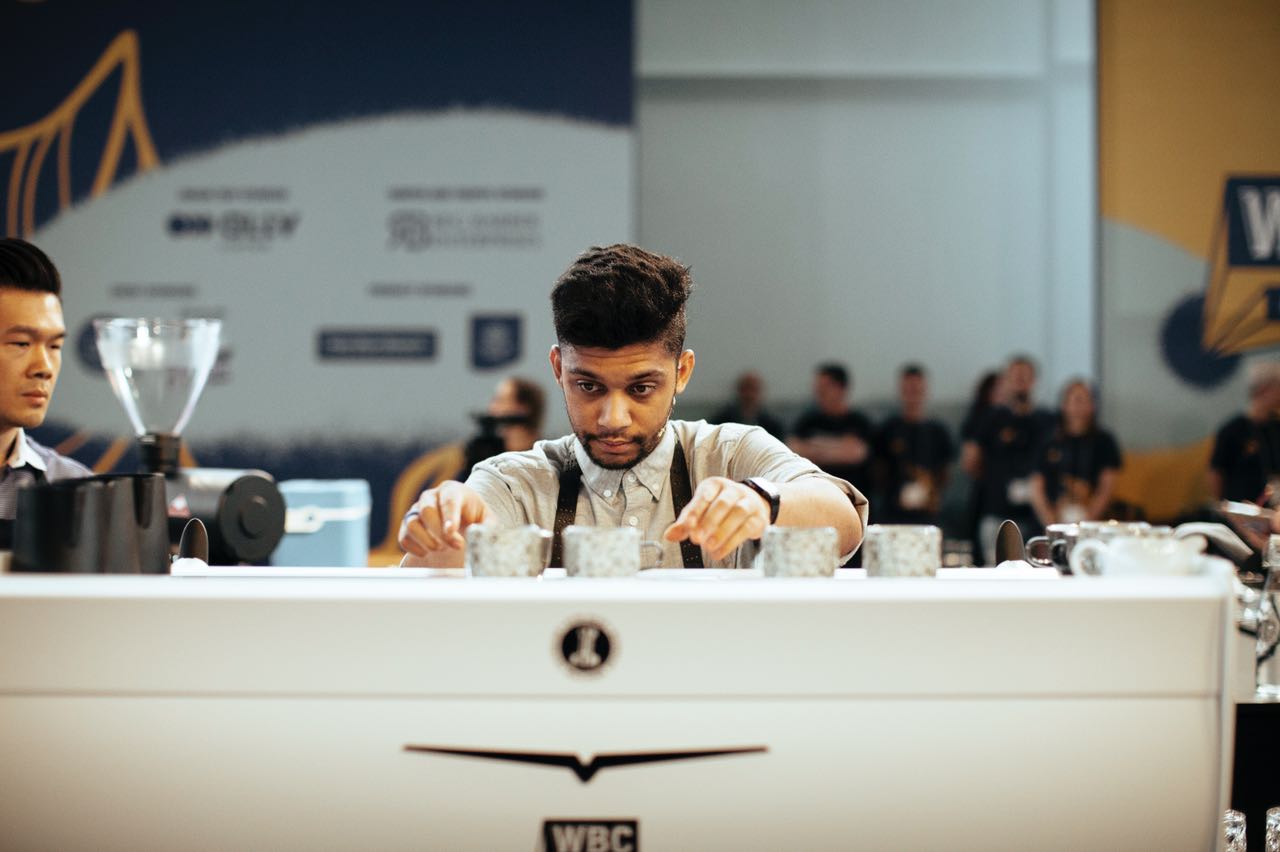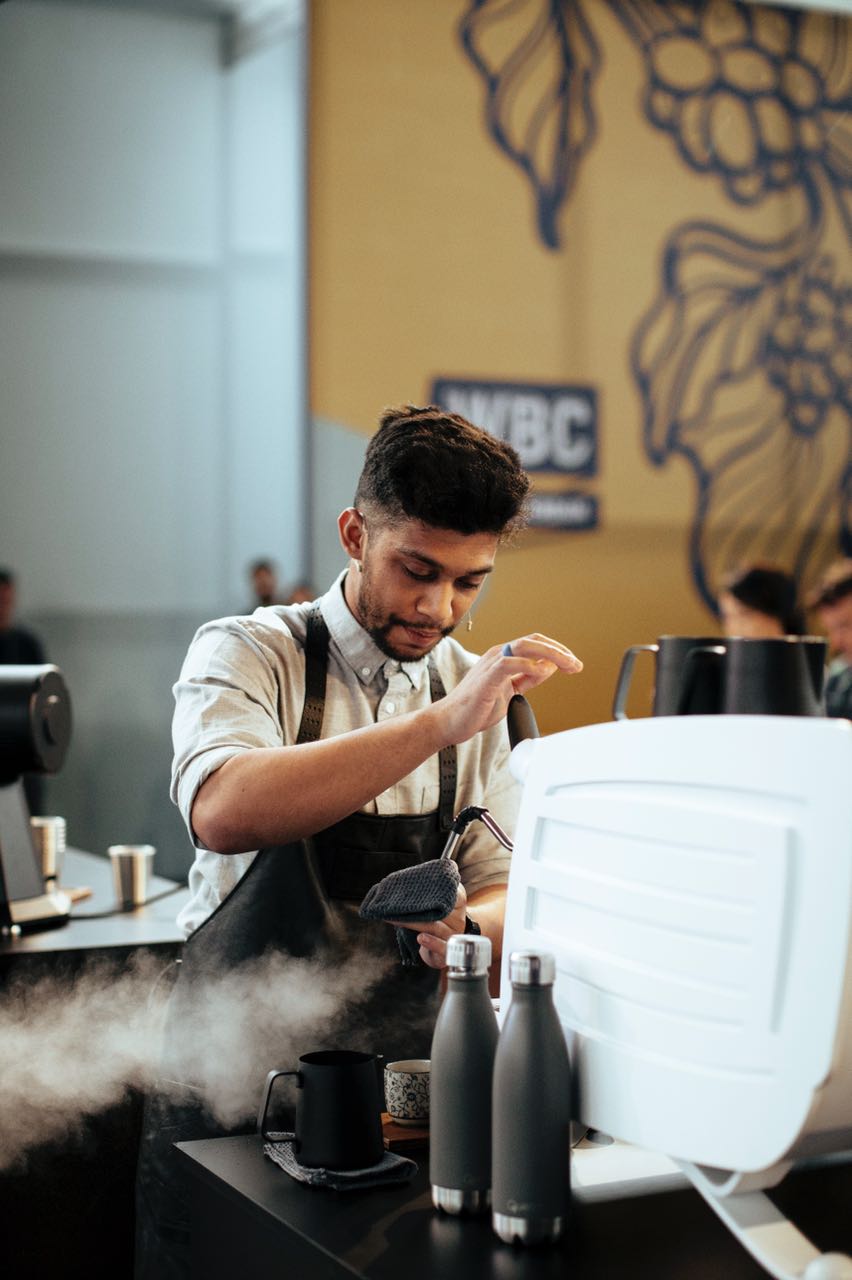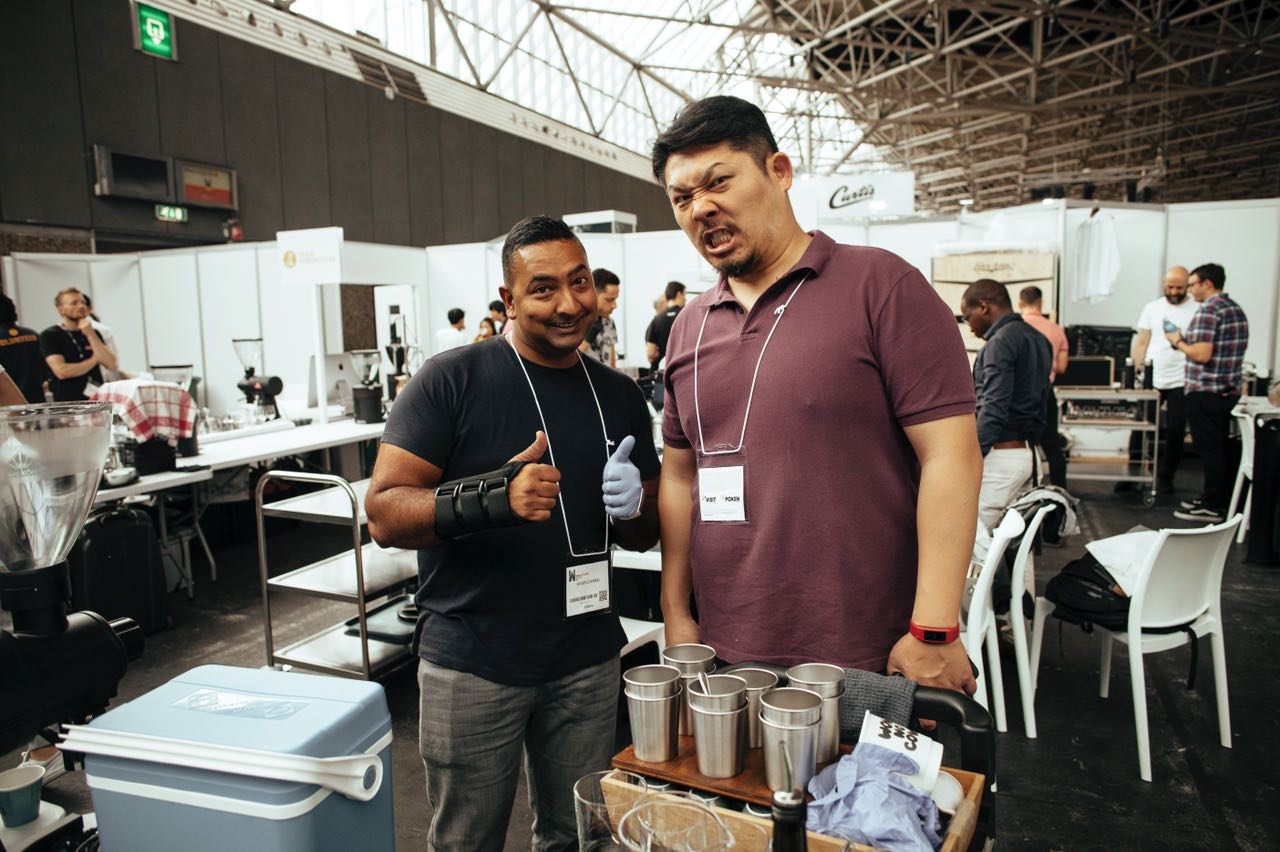 The support squad, Ishan Natalie and Khan Chang!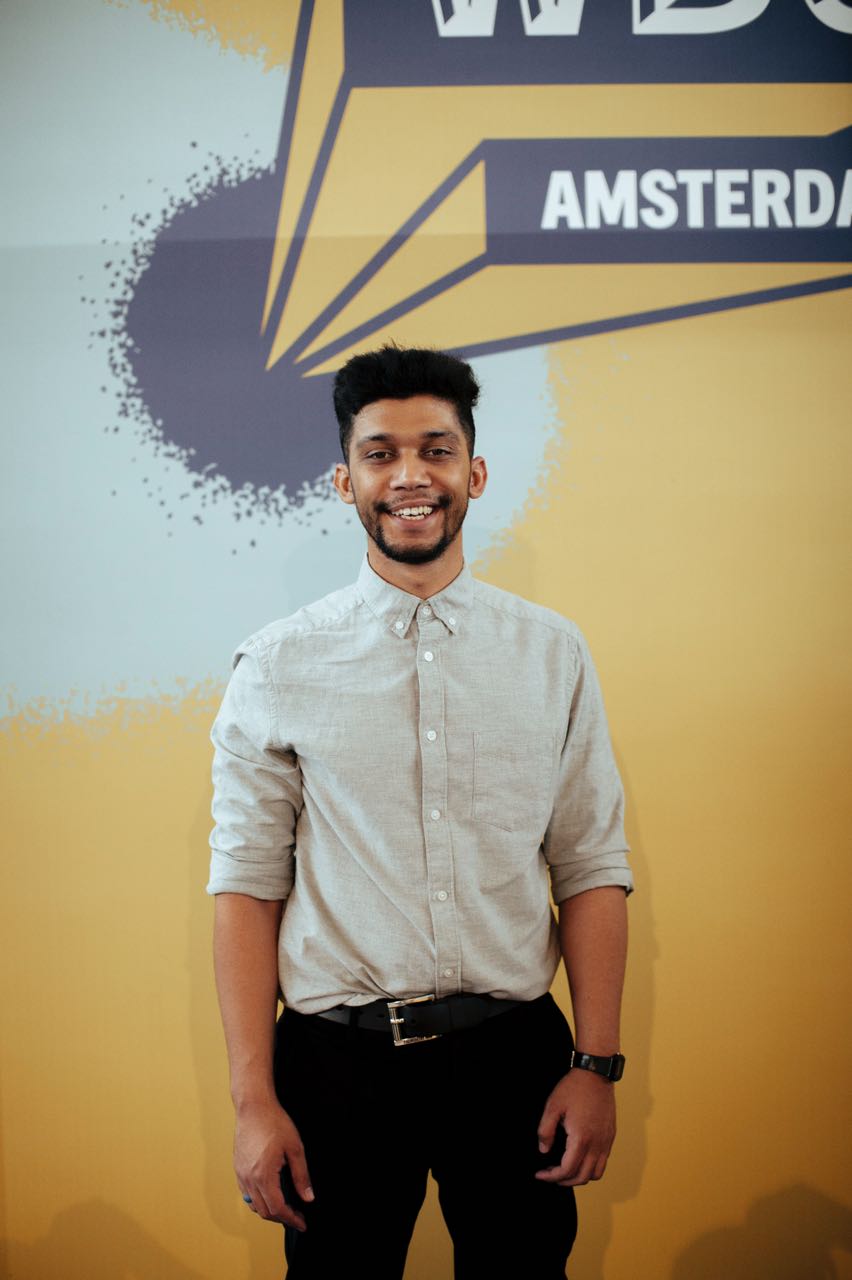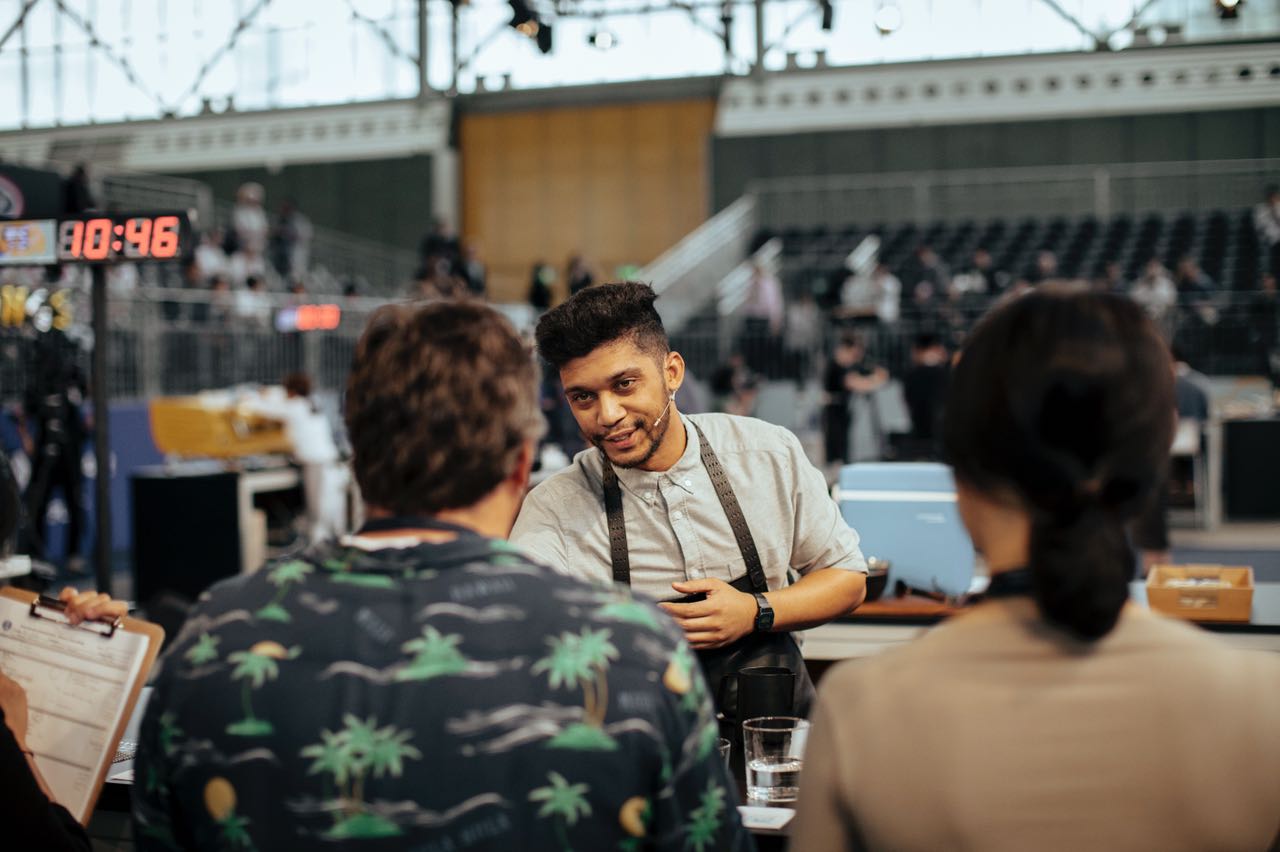 Got something to say? Then leave a comment!
---
Review: Two Acres
Wednesday, 20 June, 2018
Two Acres Tearoom
1 Country Lane, Assagay, Hillcrest, KwaZulu-Natal
031 768 1957
Tuesday to Saturday, 8am to 4pm
---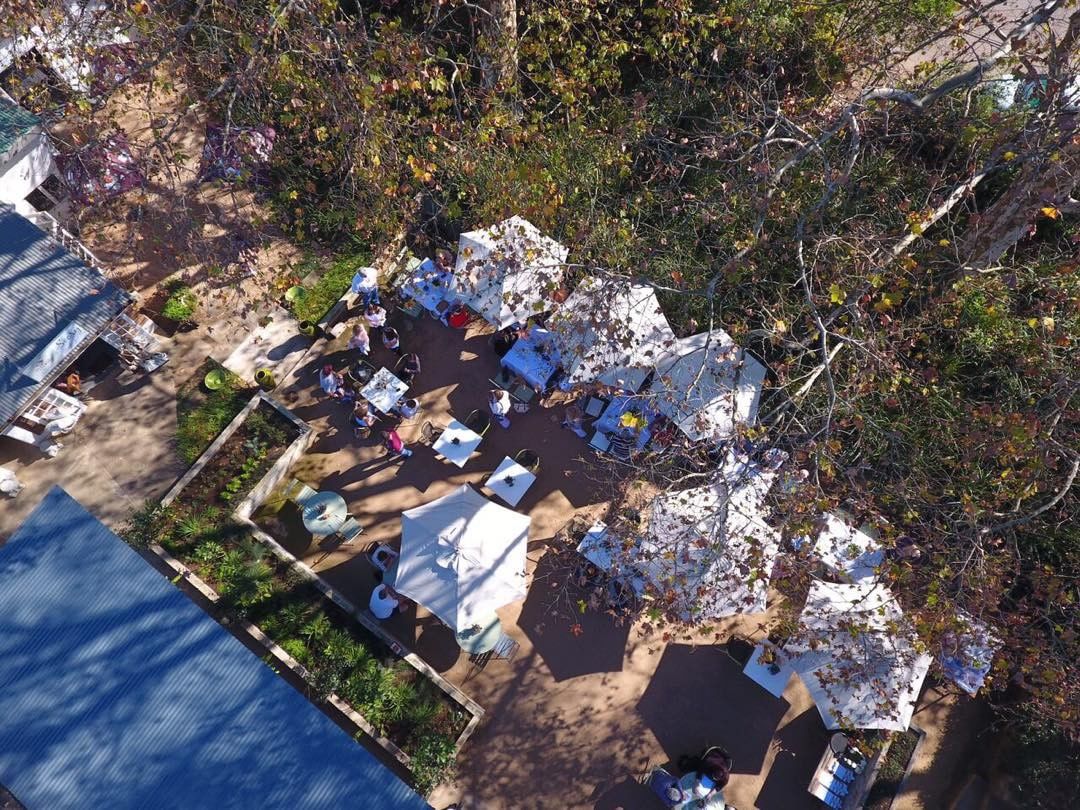 Sometimes, you just need a quiet place to relax with a cup of coffee and a piece of cake – and Two Acres Tearoom is that place. It's worth the drive to Assagay (about 25 minutes outside of Durban) to indulge in a fresh homemade meal and relaxing country setting under the shade of the trees. Whether you're with family, meeting up with friends, of hosting a party, this garden café is a feast for the senses.
The café is known for its ethical 'garden to table' philosophy and focus on seasonal, locally sourced ingredients. Most of the herbs, lettuces and some vegetables are grown on-site, and 90% of their meat and chicken is hormone and antibiotic free. The eggs are free range and the artisan bread is always freshly baked.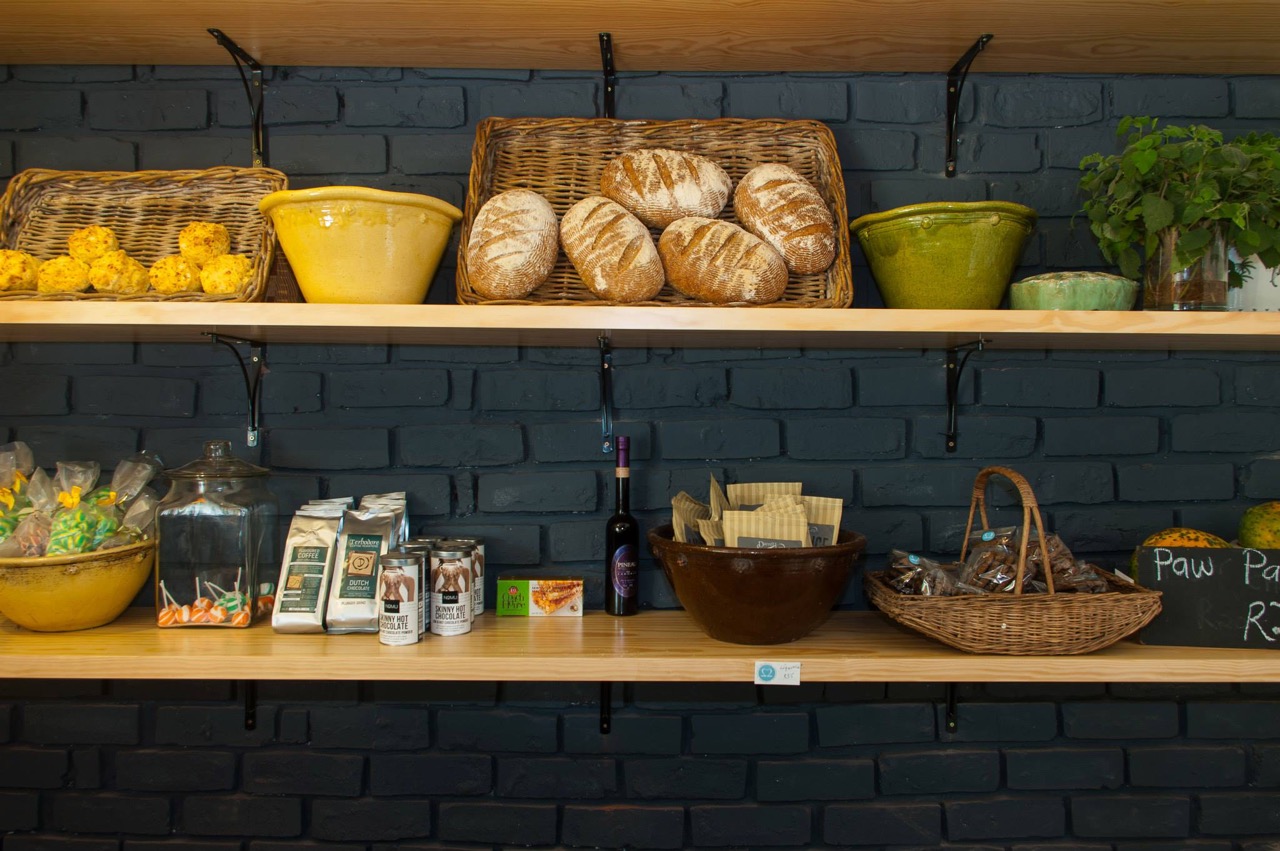 For lunch, try the Aubergine Melanzane with parmesan and garden salad, or the Roast Chicken artisan toastie with herb mayo and fresh tomato. The menu features a wide range of sweet and savoury items, as well as many vegetarian options. For afternoon tea though, you can't go wrong with the New York baked cheesecake and the gluten free Chocolate and Orange cake. Served on slate tile plates, both are delicious and pair perfectly with a Cappuccino and Americano on a cold winter's day.
The garden setting is pure tranquility, and seems far removed from the hustle and bustle of Hillcrest. Service is friendly and fast, and it's the kind of place where you want to while away the time. Also on site is The Bird House – a place to unwind and get pampered, with an open-air setup for manis and pedis. The café also has a shop where patrons can browse through furniture, jewellery, home décor, preserves and more.
If coffee and cake aren't what you need on a Saturday afternoon, the Two Acres Tearoom also has an outdoor gin bar, with the garden setting creating a beautiful backdrop to the experience. Let stress become a foreign concept and take time out to visit this garden café – it's worth it!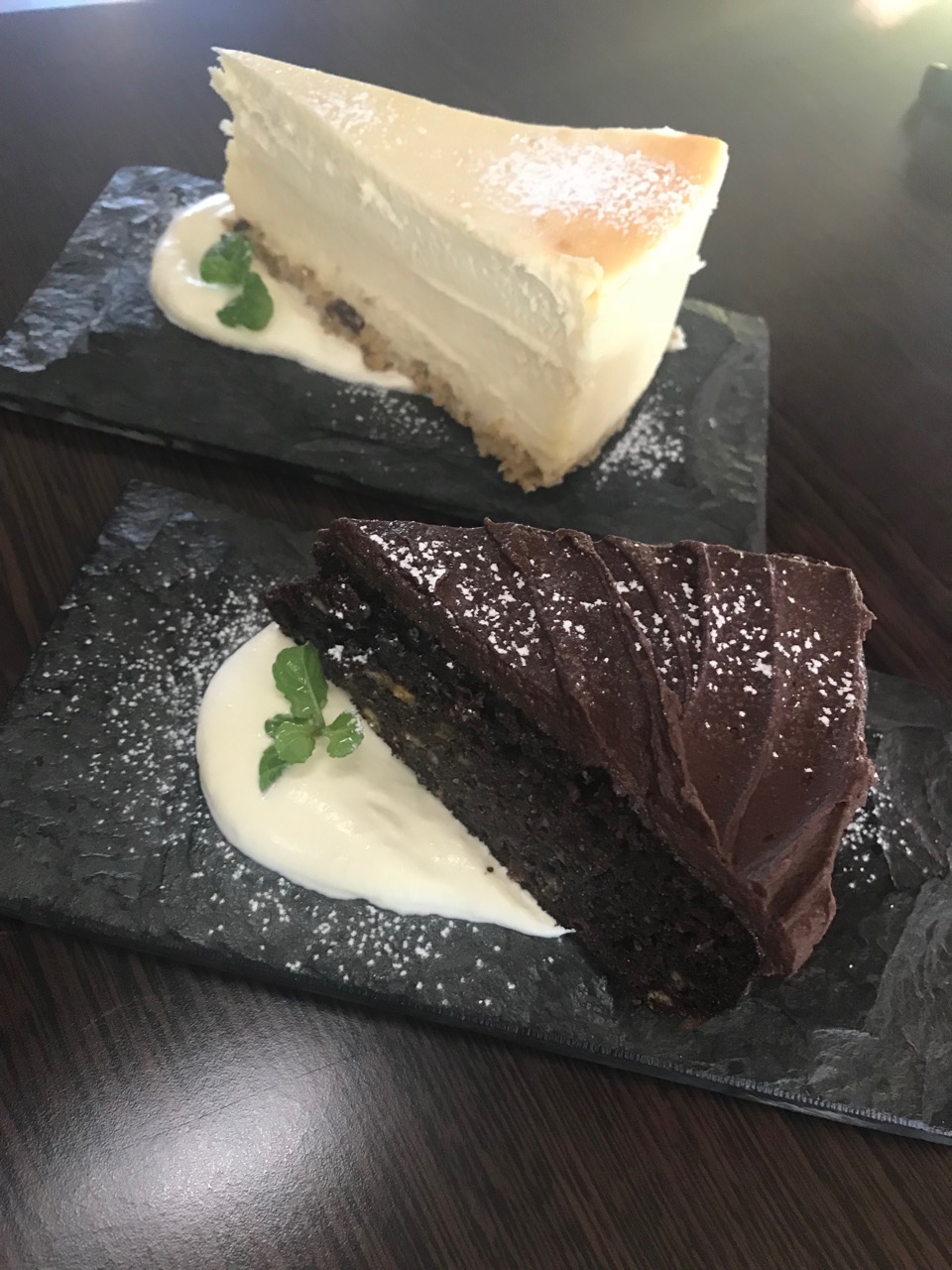 Got something to say? Then leave a comment!
---
Beat the Study Blues with your Favourite Brew
Monday, 18 June, 2018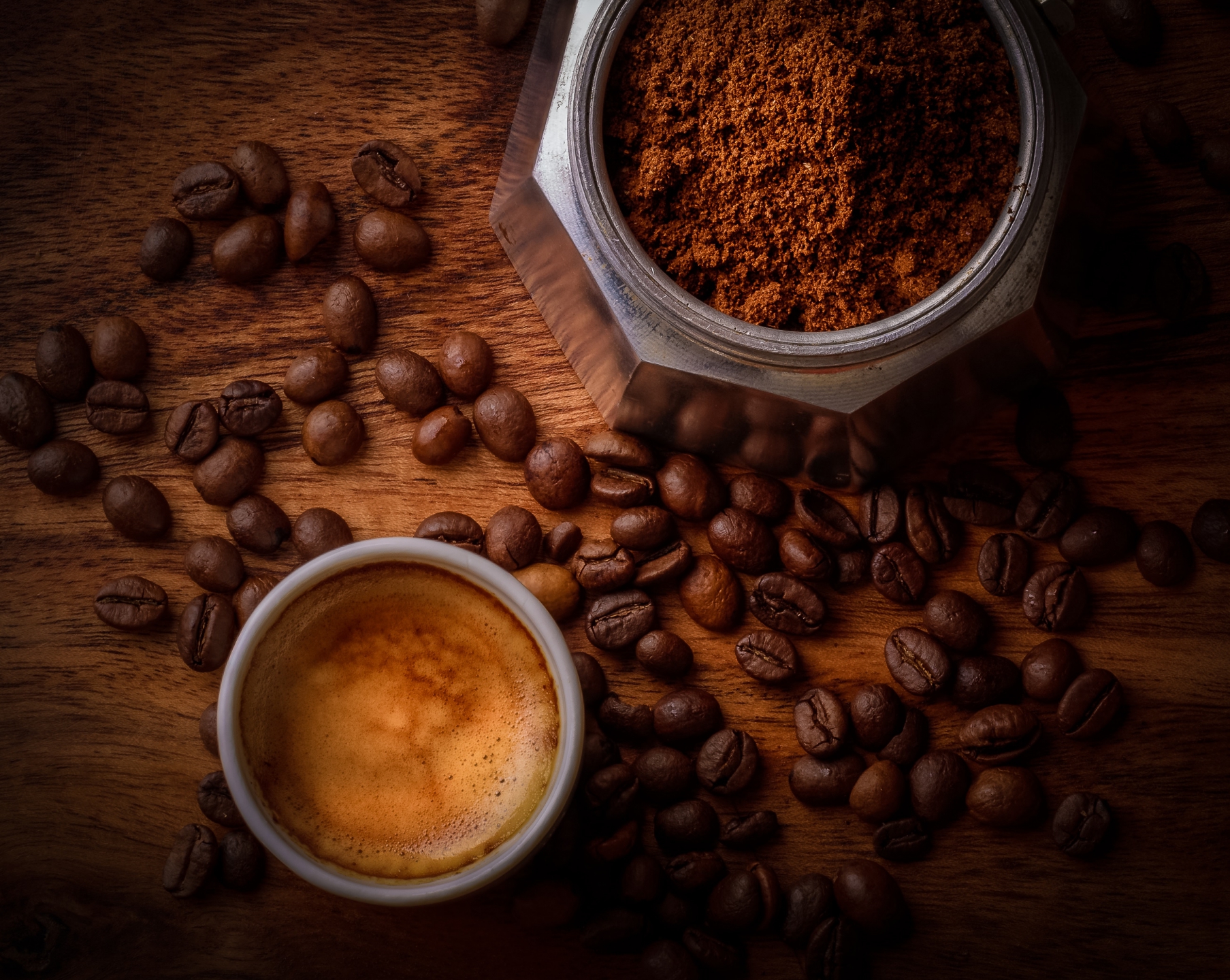 If you are a student at any of the educational institutions scattered across South Africa you are probably more than familiar with late night cramming sessions, reaching for your lukewarm bottle of Powerade while crunching on the last of your Zinger Wings. With the annual end-of-year exams a mere 4 months away, it is rapidly becoming 'that time of the year' again where stress levels shoot through the roof. According to research conducted by the University of Stellenbosch, 12% of university students experienced mild to severe symptoms of depression while 15% reported symptoms of anxiety – in both instances students claimed that their symptoms were exacerbated during exams. When exam stress hits, students desperately look for ways to boost their concentration, helping them retain and recall information better. While there are a number of trusted supplements available on the market, simply reaching for a quality cup of coffee can help your study efforts substantially. Here's why:
Coffee may increase your energy levels and make you happier
Have you ever tried to study while you were tired or in a foul mood? It is virtually impossible. When you drink coffee, the caffeine blocks an inhibitory neurotransmitter known as Adenosine. When this occurs the production of other neurotransmitters including dopamine, increases, leading to an elevated mood. That short burst of energy you receive from a cup of good coffee can mean the difference between a failed study session and a highly productive one. Just don't overdo it on the caffeine, regardless of how tempting it may be as you can find yourself becoming jittery and have some trouble sleeping due to the influx of caffeine in your system.
Coffee can boost your memory and improve your focus
When you drink a good cup of coffee while studying, you may find that your memory is boosted, especially when you are tired or find your study material particularly tedious. Caffeine has the ability to reduce your fatigue which helps your short term memory retain more information. A cup or two of coffee during your study sessions can simplify learning and improve understanding. Coffee can also help you focus on the task at hand by drawing your attention away from any distractions surrounding you. Once you become oblivious to pesky distractions, you will find studying becoming a lot easier than you have ever imagined.
Just don't drink too much
South Africa has such a large variety of exceptional coffees available that it becomes very easy to want to over-indulge. While 350 mg of caffeine per day, which amounts to approximately 4 cups, is considered to be the average amount consumed anything more than 400 mg can become dangerous and should be steered clear of. If you have a long study session approaching you have every reason in the world to indulge in a cup or two of filter coffee, cappuccino or even a latte, just don't overdo it as you can find yourself becoming jittery and have some trouble sleeping due to the influx of caffeine in your system. Caffeine has different effects on different people, and if you have a sensitivity to it, these symptoms may become aggravated.
Coffee is undoubtedly one of life's greatest pleasures and when consumed in moderation, can be of great benefit to us, especially during stressful times such as exams. With the exams still a few months away now is the ideal time to try as many local coffee variants as possible so that you know exactly what brews to arm yourself with once you need to commence studying.
Got something to say? Then leave a comment!
---
Exciting updates to The Almond Breeze Latte Art Video Challenge (LAVC)!
Friday, 15 June, 2018
The Kiwi's are coming!! (or should that be pouring?) and Barista's can now enter directly from Instagram!
The Almond Breeze Latte Art Video Challenge (LAVC), powered by the Coffee Magazine, has just welcomed it's 5th participating country, New Zealand!
The LAVC is a new kind of coffee competition where baristas take a video of their best latte art pours using Almond Breeze Barista Blend and submit it to a dedicated website where it goes up head-to-head against other baristas' videos.
The first round of the LAVC takes place this coming week, starting on Wednesday 20th June, and here's where it gets interesting... each of the 5 countries have their own dedicated webpage with their own competition happening simultaneously... so Australia, South Africa, Japan UK and now, New Zealand, will be running weekly match-ups at the same time, with a weekly winner getting the equivalent of US$100 per week.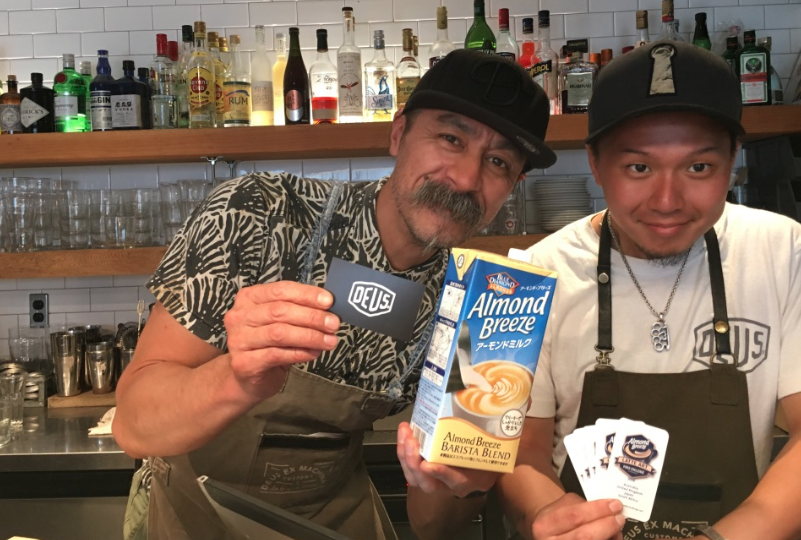 Yoshiteru Yoshida and his crew at Deus ex Machina, in Tokyo - ready to rumble!
©CoffeeMag, Tokyo, May 2018.
Who decides the winners? Well, you do! The public votes across social media are tallied up by the website's votecounter API's and tallies these votes into each country's Leaderboard. At the end of 8 weeks of competition, the Top 6 on the leaderboard in each country will go through to the Finals Round and get another chance to submit a Finals video using Almond Breeze Barista Blend, in an attempt to win the equivalent of US$1000 for each country's winner!!!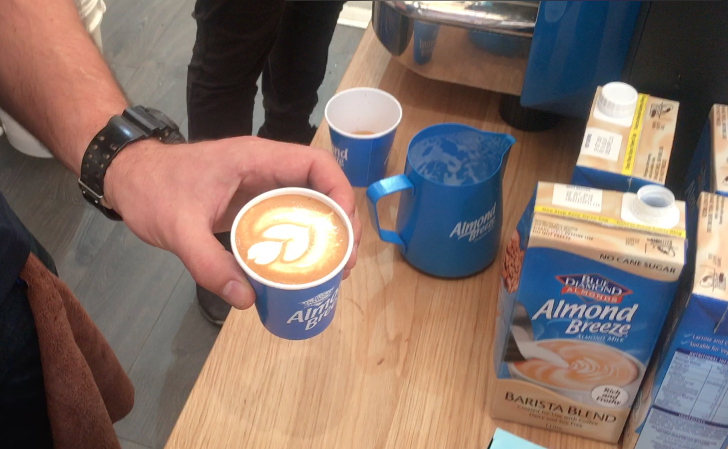 The Aussies started practicing in March already!
©CoffeeMag, Melbourne 2018
Are you interested in entering?
If you're a barista and are keen to compete - all you need to do is get your hands on some Almond Breeze Barista Blend, take a video and submit it on the official LAVC webpage or directly from Instagram, tagging @latteartvideochallenge and #almondbreezeLAVC .
All the Registration info and video info is on the LAVC webpage.
Oh, and did we mention that besides the huge cash prizes, the global winner, meaning the Barista with the most votes out of the Top 6 in each Country overall , wins a TRIP TO AUSTRALIA? Pretty cool prize, that is!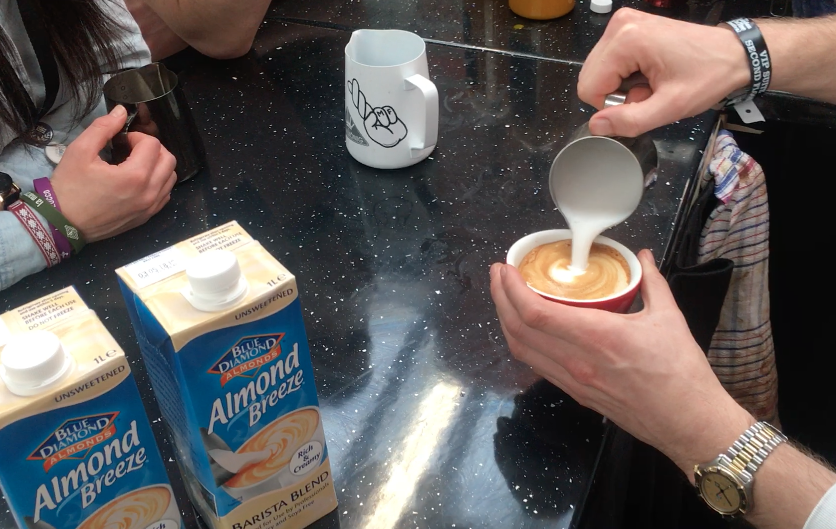 Uk Baristas getting some practise in at the recent London Coffee Festival. UK - are you ready?
©CoffeeMag, London, April 2018
Got something to say? Then leave a comment!
---
Winston Thomas at the World Barista Championships!
Thursday, 14 June, 2018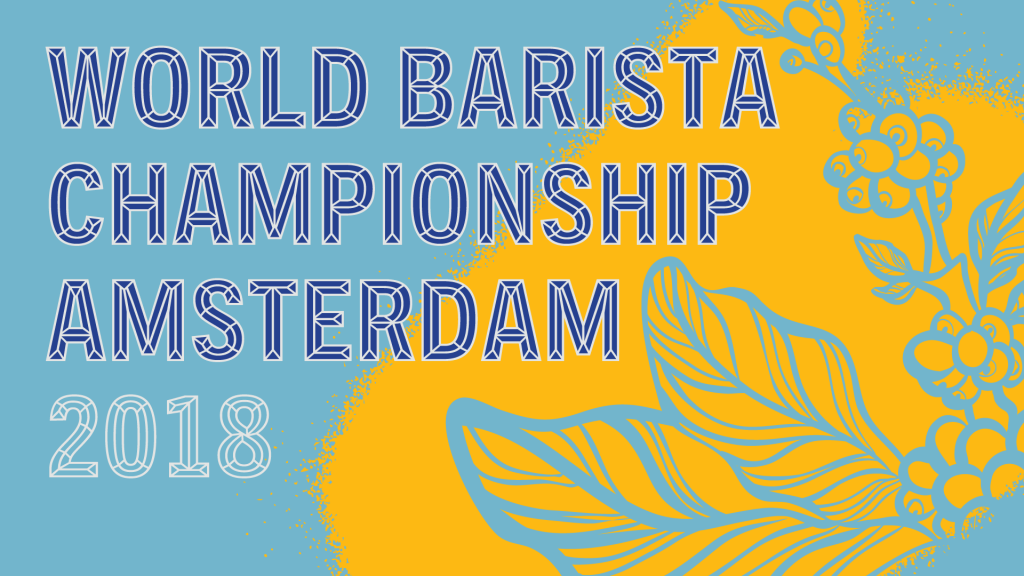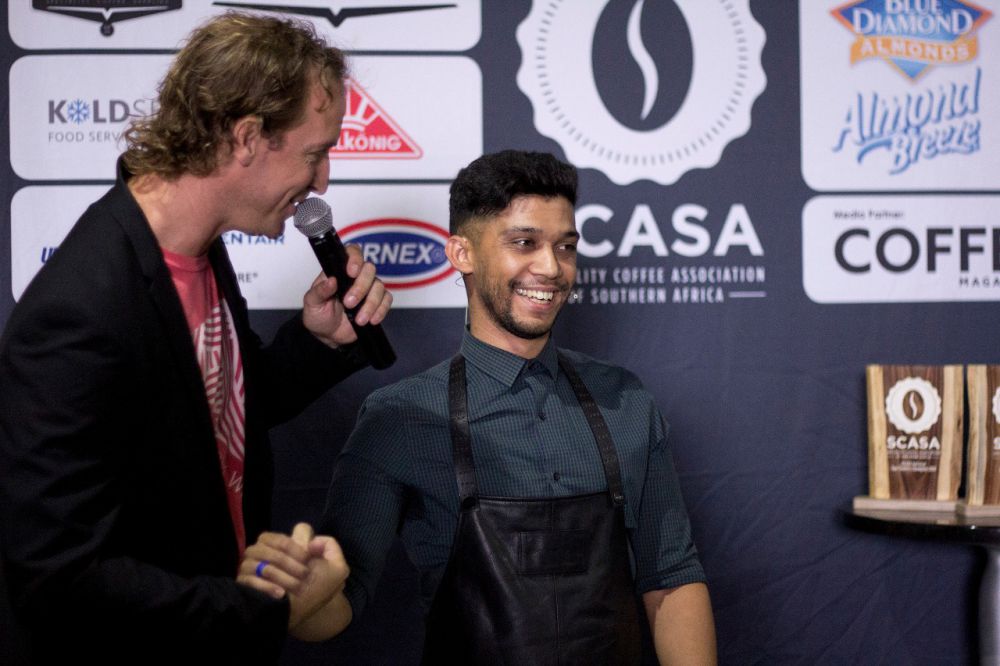 Winston Thomas is on the road! The road to Amsterdam and the World Barista Championships 2018!
It seems like only yesterday that our National Champion was on stage in Seoul at his debut WBC. And now there are only a few days left until his next global performance and guess what, he is FIRST in the entire programme! Talk about setting the bar high! Winston is sure to wow the judges who will be fresh and ready to take in all the info in his set.
You can catch it live on the World Barista Championship website. His time slot is 9.15am on Wednesday 20th, there is no time difference between here and Amsterdam, and as he is first there likely won't be any delays, so be glued to your laptops from 9am to make sure you don't miss it!
He's got an amazing coffee, he's feeling good and he is determined make South Africa proud (we're proud already Winston!).
The team section of the competition also makes it really interesting. Winston is part of Team Brew. It's a very strong team and we'll be cheering each of them on. The higher their collective scores, the more chance Winston has of being part of the All Stars program which is a huge deal! Last year Martin Shabaya of Kenya qualified for the semi-finals through this method, making him the first African barista in the semi-finals!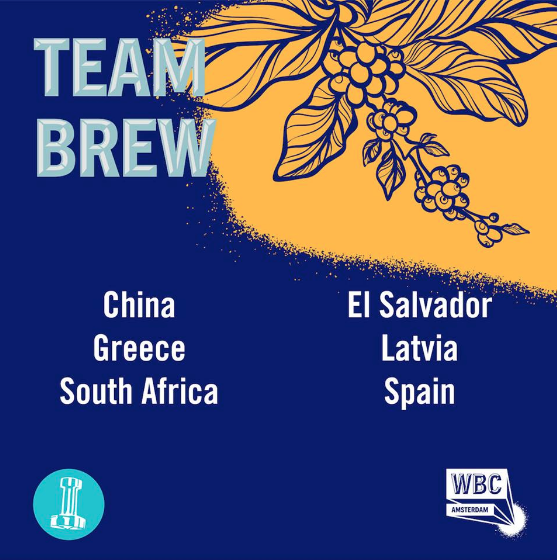 "Up for grabs for the winning team are some great prizes, and the chance to participate in upcoming WCE All-Stars features. Along with these team prizes, the highest ranking team member who has not already qualified for semi-finals will win a spot as the sixteenth WBC semi-finalist."
Got something to say? Then leave a comment!