Coffee in Paradise: An introduction to coffee in Bali (and a glimpse into coffee flour!)
Wednesday, 2 May, 2018
We recently saw a video on NowThis Food about the amazing product that is Coffee Flour which reminded our editor of her travels to Bali where she experienced this deliciousness first hand. An excellent use of the coffee cherries that are left behind after processing! Read the full Bali Story published in Issue 21 and see the video below.
Coffee in Paradise
An introduction to coffee in Bali
Words by Melanie Winter
There are seven puppies loose on the veranda. They are licking my toes (which is my worst sensation), yet I can't help but smile and shake it off, because I am overwhelmed by the generosity of this family. After a feast of local cuisine, a loaf of bread is placed on the table.
The bread is warm from the oven and a deep chocolate colour. It is slightly sweet and has hints of a flavour I can't quite put my finger on. I am not surprised when it is revealed to be bread made using coffee flour, which is ground down from dried cascara, the sweet fruit outer layer of the coffee cherry. The flour is considered to have 'super-food' qualities, high in anti-oxidants and nutrients; at this point all that matters to me is that it tastes delicious. Our host, Hendarto Setyobudi, owner of the processing station in the Kintamani mountains on the Indonesian island of Bali, explains that at Mengani Coffee they try to utilise each part of the coffee harvest.
The harvest should be in full swing here, but production is down from previous years. We are visiting in July and normally harvest runs from June all the way through to the end of September, but the yield has been so low that there are no more cherries to dry. Yield has been on a steady decline over the last couple of years. Hendarto is worried that the farmers lack proper agronomy training and they are unwilling to change their methods which is contributing to fewer cherries on the trees, so he is taking matters into his own hands and starting to buy up land to grow coffee. Unfortunately I didn't have an opportunity to talk with any of the farmers, as the season is over. It is a worrying trend. Coffee is a difficult crop to grow and not much work has been done in these hills to maintain skills training. The volcanic minerals in the soil provide some amazing raw ingredients for the trees and up in the mountains it gets just cold enough to be a suitable growing climate, although opinions about ideal climates and elevations for growing coffee trees are evolving all the time, but farmers are losing interest and investing in crops that are easier and quicker to tend.
This upsets Hendarto as he is passionate about all things coffee. The Mengani washing station is impressive. Of course, I have limited experience of washing stations, having only visited Ethiopia so far, but the set ups are vastly different. All the equipment, from pulpers to fermentation tanks to drying beds and sorting tables, is in amazing condition. He makes it his business to keep up to date with processing trends. The cherries are largely washed, with the Black Honey variation of this being his pride and joy. With the capacity to process immense amounts of cherry, it's no wonder that Hendarto has a long term plan to grow his own cherries. There are thousands of seedlings growing here. I am always in awe of how the coffee tree starts its journey. Literally from a single coffee seed. It's so beautiful; the first green stem pushes the coffee seed up through the soil, the little coffee bean reaching up to the sun. It sheds this husk as the first leaves curl open.
At the moment they are experimenting on the current property to see which varietals work well with the soil and climate. The varietal Kopiol, makes up 60% of the current trees in the region. We walk through all the different varietals, as Hendarto explains which have been the most successful and resistant to pests. They are also experimenting with growing other crops among the cherries, in this case, peppercorns! I've never thought about where the peppercorns in my pepper grinder come from, but here they are, bunches and bunches on each tree. It turns out this crop is relatively low risk to grow and yields can be very good. I wonder whether this intercrop growing condition will have an effect of the flavour as banana trees have been reported to have an effect on flavour of coffee trees growing in close proximity, perhaps the peppercorns will lend a shiraz-like spiciness to the cherries? Who knows! He's excited about the Blue Mountain seedlings, this is the first time they have been planted in Bali and he has high hopes for what the future of this particular Kenyan varietal may produce.
Before we can leave, Hendarto insists on preparing us a pour over of one of his pet projects, his pinot noir processed beans. Left in the fermentation tank for nine full days (fermentation is anywhere between 12 and 72 hours), the well developed sugars give the beans an almost port-like quality, a deep sweetness that resemble the after dinner beverage.
Indonesian coffee, specifically Balinese coffee, has taken a bit of a hit in popular culture with the controversy of the civet cat Kopi Luwak coffee that became so trendy as being the most expensive coffee in the world. The island is still littered with signs beckoning you towards Kopi Luwak tastings. However, be warned, if caged animals used for commercial gain offends your sensibilities, this is not the tourist activity for you. Thankfully, there is much more to Indonesian coffee.
Bali is no longer all surf breaks, jungle and volcanoes, the tourist trade has encouraged major development in particular areas, especially on the West Coast where things have been swiftly commercialised to cater to the droves of pleasure (and enlightenment) seekers. In the five years since I was there last, the growth has been incredible. Canggu, Ubud, Seminyak and the already tourist over-ridden Kuta have become small cities of sparkling hotels and high end shopping. The one (And in my opinion, only) excellent side-effect of this, is the cafe culture. In 2012, always interested in taking in the local traditions, I happily drank the kopi: darkly roasted coffee ground into the finest of powders, two scoops directly into a cup and topped up with hot water. You wait for a couple minutes to let the fines settle and then you consume. It's a rather textured way to drink coffee and this time around I had many more options.
On arrival I was whisked to Simply Brew in Sanur, home to a colossal, gold Probat roaster and multiple SCAE training certificates. I had a silky and bright cortado (Java/Ethiopia Sidamo blend) as the heat rose off the sidewalk. In fact my hosts have been influential in starting up a roastery in their home town of Ubud. It was with more than a little pride that I recently had the opportunity to visit Ubud Coffee Roastery in Bali, where Rupert Staveley convinced the owner of Taksu Spa that buying a coffee roaster was an excellent idea and the tiny cafe was born. It has quickly become a go to spot in bustling Ubud for amazing quality coffee. I was very excited to taste the Indonesian blend on offer. Sweet and rich, my cortado was extremely satisfying. I am certain that in large part, Rupert and Sara encouraged the birth of this cafe so that they would have a go-to coffee spot that meets with their palates. It seems the rest of the Ubud community and the many wandering travellers that pass through agree with their taste in coffee. Cak Rosyad, a former IT guy, has taken the reigns behind the roaster and has approached it with the same precision he would a delicate computer system, experimenting with roast profiles and logging all his endeavours, keen to learn as much as he can about coffee. The result is an amazing dedication to quality in the cafe. He and I sat and had a long chat about the different approaches to coffee across the globe and I was again reminded, as I am so often, about the unifying power of coffee. Experimentation is a top priority in this roastery and alternative brews are encouraged for people to take home with them when they buy a bag of beans. Canggu is a hipster world of its own. Birthplace of the now legendary Deus Ex Machina, one of the first official motorcycle cafes, the black sand beach town is littered with beautiful machinery and gorgeous cafes with every couple of steps. You are there to be seen and to Instagram about it. They're not all talk and no action though, the coffee is actually really good at most of these gorgeous locations.
While all the cafes I visited were fiercely patriotic and largely use beans from Indonesian islands, because the Balinese yield was so low they can't afford or get their hands on any of their local beans. Hopefully in the coming years they will be stocking coffee grown on their own island. I'm certainly looking forward to tasting some of Hendarto Setyobudi's coffee in the future.
Got something to say? Then leave a comment!
---
Sustainability should be high on our agenda! London Coffee Fest demonstrates how
Wednesday, 2 May, 2018
Sustainability high on the London Coffee Festival agenda
The 2018 London Coffee Festival (LCF) was more than just the world's largest celebration of coffee – it was also a celebration of sustainability initiatives and the organisations behind them. Here are all the initiatives that LCF and its partners put in place to reduce the environmental impact of the event…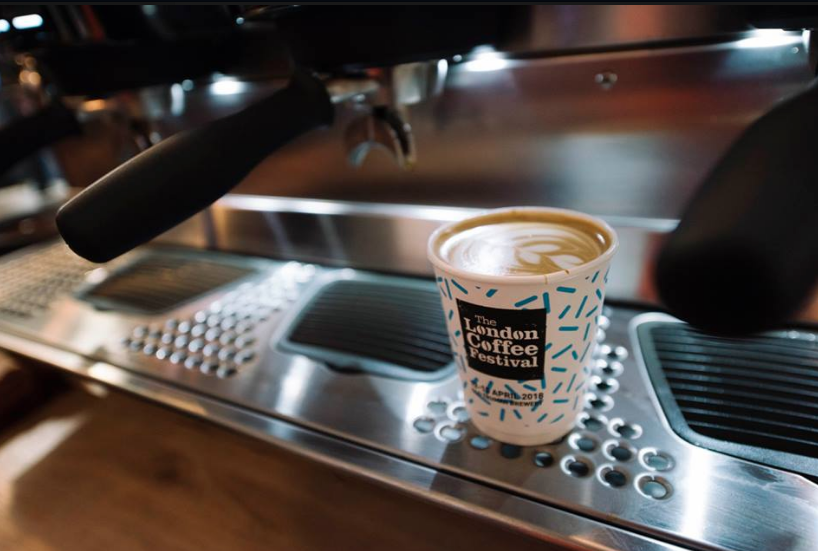 1. Recycling paper cups
Together with Seda and Simply Cups (the UK's only cup recycling scheme), the Festival committed to recycling all the used paper cups used at the festival. In a bid to protect the environment, Seda's cups are fully recyclable, as well as being sustainability sourced and responsibly produced. There were dedicated coffee cup recycling bins dotted around the festival venue, and Simply Cups agreed to recycle 100% of the disposable cups and transform them into new products.
2. Supporting the sale of reusable cups
Every person in the UK, on average, throws away 350 paper coffee cups each year, so the LCF welcomed eco-friendly exhibitors like KeepCup, Ecoffee Cup and Stojo, whose reusable cups are helping to reduce the waste that ends up in landfills. Speaking of sustainable solutions, Simply Cups partnered with Ashortwalk to launch the groundbreaking rCUP – the world's first reusable cup made from used coffee cups. The rCUP is meant to last for ± 10 years and is 100% recyclable in the UK's curbside recycling system.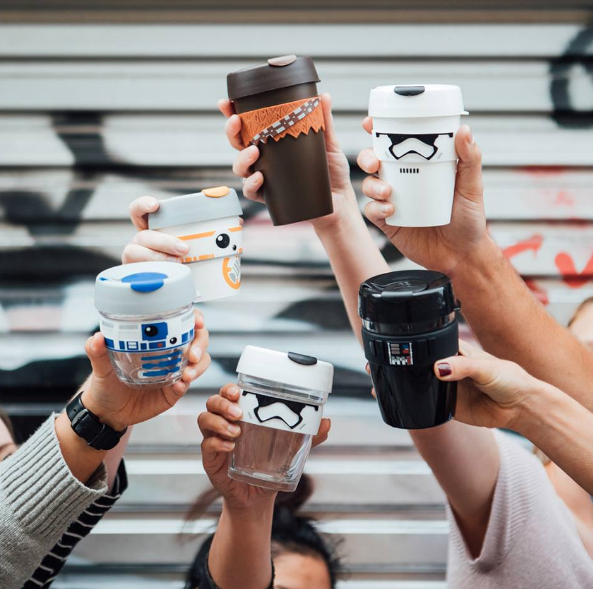 3. Recycling coffee grounds
LCF also worked with Bio-Bean, an award-winning clean technology company, to recycle 100% of the coffee grounds used at the Festival. Each stand had dedicated bags to collect their coffee ground waste and Bio-Bean recycles this waste into biofuels and biochemical, providing a sustainable alternative to conventional fossil fuels.
4. Water refill stations
BRITA was the Official Water Sponsor of LCF, and supplied filtered water to all exhibitors, but with a change from previous years. BRITA supplied each stand with a pre-filled jerry can, and provided self-service stations for exhibitors to refill their cans with filtered water during the Festival. Exhibitors were encouraged to also bring their own water containers, all in an effort to reduce plastic waste.
5. Recycling single-use plastic
As a sustainably conscious brand, BRITA also championed a bottle amnesty as part of their fight against single-use plastic. Their 'Green Team' patrolled the Festival with wheelbarrows, collecting plastic for recycling and promoting the benefits of reusable, sustainable alternatives.
6. Supporting Project Waterfall
LCF also donated 50% of ticket sales to support the global coffee community through Project Waterfall, a charity that provides clean water, sanitation and education for coffee growing communities in Tanzania, Ethiopia, Kenya, Nicaragua, and Uganda.
It's great to see ecowarriors in the coffee community taking action with innovative solutions for a more sustainable coffee culture!
Got something to say? Then leave a comment!
---
Selati Sugar Barista of the Month: May
Tuesday, 1 May, 2018
Got something to say? Then leave a comment!
---
Calling all Baristas: Enter the Almond Breeze Latte Art Video Challenge!
Thursday, 26 April, 2018
The Almond Breeze Latte Art Video Challenge is back in South Africa!

The Almond Breeze Latte Art Video Challenge™ (LAVC) is back! This competition is all about the fun side of coffee and uplifting the heroes that brew our fix everyday, the baristas! To manipulate milk into incredible latte art requires skills that can only be gained from hundreds of hours behind the espresso machine pouring lattes. It also requires top quality milk or in this case a top quality dairy alternative in Almond Breeze Barista Blend. We believe baristas need to be acknowledged for their craft, without them and their talent perfectly delicious raw ingredients never reach their full potential. The concept was dreamed up right here in South Africa in 2017 and the local Barista Blend team got behind Coffee Magazine to give baristas across the country the opportunity to show off their skills. This year, with the help of Blue Diamond Almond Breeze, LAVC™ is going global. Almond Breeze is the perfect brand to partner with on this competition, their Barista Blend Almond Milk is created for baristas by baristas and pairs beautifully with espresso.
So how does it work? Baristas submit their best latte art videos before 1 June 2018 on the Almond Breeze Latte Art Video Challenge website. Each week two video entries from each of the participating territories, Australia, Japan, the United Kingdom and South Africa, will be selected and these videos will be pitted against each other vying for votes from their peers and customers to win the weekly cash prize! Votes will be gathered across Instagram, Youtube, Twitter and Facebook. The six baristas who receive the most votes go through to the Finals and the opportunity to win the grand cash prize!
Then it gets really interesting! The barista who receives the most votes across all 4 countries will be flown to the Breezey Masters Finals in Sydney for an unforgettable experience with some of the worlds top coffee professionals.
Will the global winner be from South Africa? We can't wait to see the fantastic designs! Fikile Khuzwayo, of Durban, got over 1000 votes to win the overall grand prize last year, the gauntlet has been thrown!
So how do baristas enter?
Step 1: Get your hands on some Barista Blend. If you don't already stock it in your cafe, you can contact Bidfoods and ask for the product or you can visit your local Food overs Market.
Step 2: Video your amazing latte art skills. All guidelines are on website, but our recommendation is that you make it short and very creative - we want to see your personality! We are looking for one design and remember, the Almond Breeze Barista Blend has to feature in the video!
Step 3: Submit your video or Youtube link on the Latte Art Video Challenge website:
http://www.latteartvideochallenge.com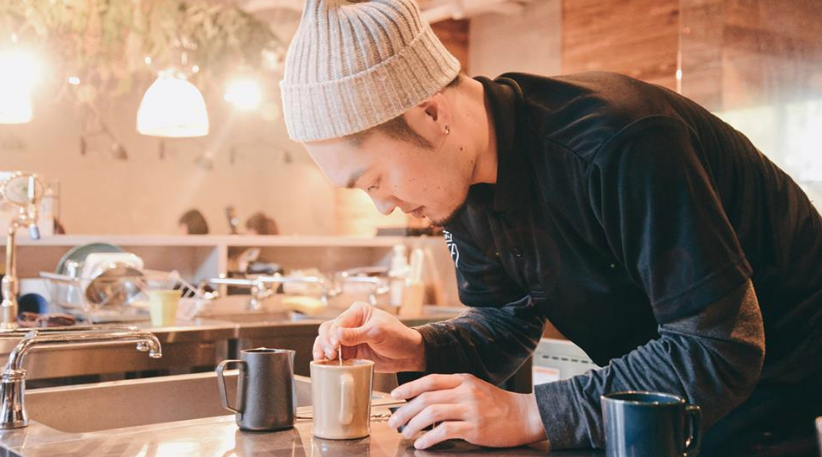 Got something to say? Then leave a comment!
---
Writers who did their best work in cafes
Wednesday, 25 April, 2018
The invigorating smell of roasted beans, the soothing buzz of people coming and going, the creative boost with every shot of liquid inspiration . . . all great reasons for writing a literary masterpiece in a coffee shop! In honour of World Book Day, we thought we'd share some of the famous authors who wrote their best works in coffee shops.
Ernest Hemingway
"The marble-topped tables, the smell of café cremes, the smell of early morning sweeping out and mopping and luck were all you needed." – A Moveable Feast
Hemingway wrote much of his Paris memoir, A Moveable Feast, at a café near his apartment in Montparnasse – La Closerie des Lilas, which is still open today. He would arrive with notebooks, pencils and a pencil sharpener, and spend his mornings working and people-watching. Paris' café culture featured prominently in the book and the people he encountered often became characters in his books.
J.K Rowling
"It's no secret that the best place to write, in my opinion, is in a café. You don't have to make your own coffee, you don't have to feel like you're in solitary confinement and if you have writer's block, you can get up and walk to the next café while giving your batteries time to recharge and brain time to think." – J.K Rowling
The Elephant House in Edinburgh prides itself on being "the birthplace of Harry Potter", since it was where Rowling started writing the Harry Potter series. She would sit in the back room, overlooking Edinburgh Castle, penning her first drafts of what would become a worldwide sensation.
Simone de Beauvoir and Jean-Paul Sartre
Simone de Beauvoir and her lover, Jean-Paul Sartre, were regulars at the Café de Flore and Les Deux Magots in Saint-Germain, Paris. A serious pair; theirs was a relationship of intellect and intense conversation. They would sit at separate tables, diligently working on their writing. Sartre produced his 1943 book, Being and Nothingness, during this time, and de Beauvoir published her first fictional novel, She Came to Stay, also in 1943. As a result, couple's existentialist philosophies and fame attracted the French intelligentsia to cafés where they were regulars.
Malcolm Gladwell
Non-fiction author of The Tipping Point and Blink, Malcolm Gladwell, is well-known for writing in coffee shops. He claims he's a public writer, whose natural habitat is the coffee shop.
If you think you have a bestseller in you, try writing at a coffee shop. If it worked for famous authors from F. Scott Fitzgerald to Gertrude Stein, it will probably work for you!
Got something to say? Then leave a comment!
---
The Elvis Brew Krust Coffee Blend
Thursday, 26 April, 2018
Elvis Blue is not only one of South Africa's most successful music artists, but now also has his own blend of coffee! The Elvis Brew Krust Coffee Blend launched at the Krust Café in Eden Meander Shopping Centre in George on the 5th of February. We chatted to Carla Richards of Krust Café to find out how the Elvis Blue and Krust Café coffee pairing came about…
What inspired the Elvis Brew Krust Coffee pairing?
Elvis was a regular customer at Krust, and loved our coffee, so he asked us to create a blend for him. We wanted a blend that would appeal to his fans, but also have the Krust stamp of approval – and so the Elvis Brew was created!
We launched Elvis Brew at Krust Café and invited all the coffee lovers and Elvis Blue fans in George. Only Elvis Brew cappuccinos were served while Elvis performed. It was a very successful night and all agreed that the coffee was superb.
How did you create this signature blend?
Elvis Blue loved his coffee and was very eager to learn more about the roasting process. We met with our roaster, Ben Ferreira, who showed Elvis his Genio roaster and explained the process, from green bean to creating the final product.
With the help and expertise from Ben we were able to create a great tasting blend. It's a medium roast of a mixture of African and South American beans – a rich, full-bodied coffee with chocolate and nutty flavours. It's a must as a cappuccino or flat white, and is a favourite of many of our customers!
Got something to say? Then leave a comment!
---
Does coffee cause cancer? Let us put your mind at ease...
Thursday, 12 April, 2018
The confusing case of cancer vs. coffee, or law vs. science
You may have already heard the rumours that coffee apparently causes cancer, but rest assured that this is most likely a storm in a teacup! In March 2018, Los Angeles Superior Court Judge Elihu Berle ruled that all coffee sold in the state of California needs to come with a cancer warning label because coffee contains acrylamide – a potential cancer-causing chemical. But while the judge's decision is in line with the law, many are claiming that it isn't in line with the science…
So, is coffee actually bad for your health? The carcinogen in question, acrylamide, is a neurotoxin that's found in almost every food that's cooked at a high temperature, like fried potatoes and your morning slice of toast. It's produced naturally during the coffee roasting process, and the experts are saying that the miniscule amount of acrylamide in your cup of coffee is harmless.
Possibly … potentially …
All the fuss stems from a single study on rodents, where extremely high doses of acrylamide seemed to cause increased cases of cancer, but again, only in rodents. The quantities that humans would have to consume would be massive (and unrealistic) – much, much more than even the most dedicated coffee fanatic could consume.
The World Health Organisation (WHO) actually removed coffee from its list of cancer-causing agents in 2016 because there was no conclusive evidence to suggest that coffee had any kind of carcinogenic effect on people. The cancer-causing claims are at odds with all the scientific studies that have shown the numerous health benefits of drinking coffee. There's even a growing body of research that coffee possibly prevents several kinds of cancer. It's all very confusing…
Who to believe?
The problem with the lawsuit is that the burden of proof was on the coffee industry to prove that the levels of acrylamide in coffee don't pose a significant health risk. Unfortunately, it's nearly impossible to prove that acrylamide doesn't cause cancer because of this requirement in the California state law, known as Proposition 65:
"For chemicals that are listed as causing cancer, the "no significant risk level" is defined as the level of exposure that would result in not more than one excess case of cancer in 100,000 individuals exposed to the chemical over a 70-year lifetime."
A study to get to that level of certainty would be impossible to conduct. The law is controversial – maybe coffee causes cancer, maybe it reduces the risk of cancer? It doesn't seem like cause for concern given that there's no definitive proof (we're not rats and we don't eat isolated acrylamide in gigantic doses), so I wouldn't be inclined to give up my daily shots of caffeine goodness anytime soon.
Dr Alessandro Craparo PhD of Science of Coffee agrees,
"Just note I am a climate scientist that works on coffee (mostly from the plant growth side), not really medical health side, but my two cents worth is that essentially there is nothing to worry about. Latest research on linking coffee to cancer is still unclear and the level of carcinogenicity is "unclassifiable". The carcinogen in question is called Acrylamide (formed during roasting), it is still classified as "probable carcinogen" and is also found in French fries, toasted bread, potato chips, crackers, biscuits, cereals and tobacco. Lots of other stuff I would cut before coffee!! On the flip side, there are conclusive health benefits to drinking coffee which have been published in reputable journals and may very well outweigh the "unclear" risks."
If you're still unsure, check out this overview of a study by Clean Label Project. They ran an experiment to better understand the acrylamide exposure risk from brewed coffee, and the results are reassuring!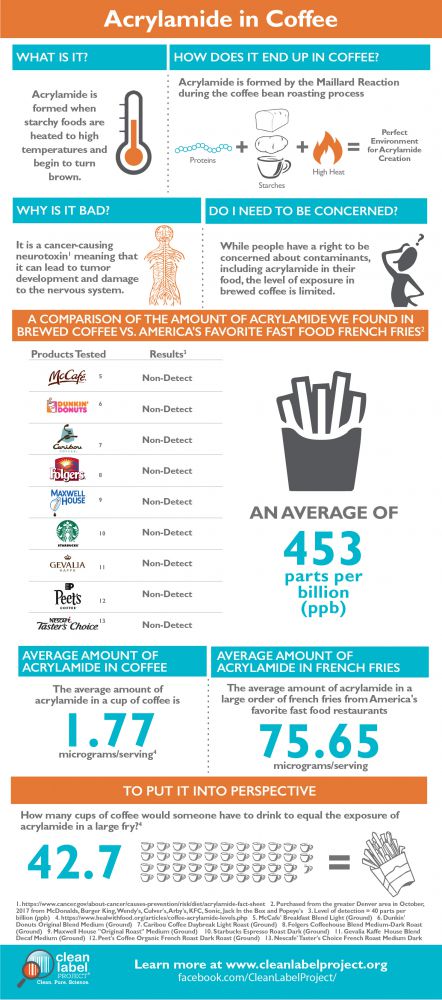 Got something to say? Then leave a comment!
---
Win an AeroPress and delicious Red Espresso products!
Wednesday, 11 April, 2018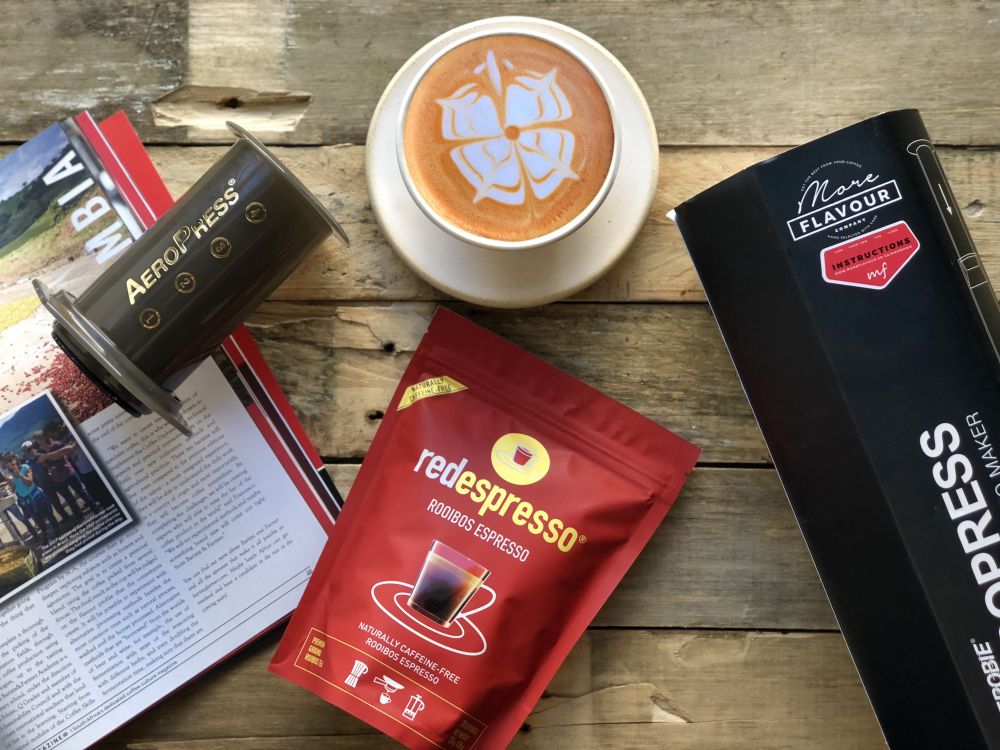 In the latest edition of the Coffee Magazine we explore the phenomenon of Superfood Lattes, this is spearheaded by the Red Espresso team in South Africa. The Red Cappuccino is famous all over the country, but did you know that you can brew Red Espresso in an AeroPress at home? Well believe it, because it's true!
The good news is to celebrate partnering up with the Coffee Magazine, Red Espresso are giving away an AeroPress and Red Espresso hamper! Amazing!
So if you want to read more about how Superfood Lattes are hitting the South African and Global scene, buy the latest Autumn Edition of the magazine from one of our amazing Distribution Partner Cafes.
To enter the competition to win, you can do one of two things:
1. Fill in the Entry Form below
2. Take to Social Media, share our Red Espresso post and tag someone in the comments who you know also loves their rooibos.
Red Espresso and Aeropress Giveaway
Got something to say? Then leave a comment!