So excited by all the great coffee things happening on the Garden Route! I personally love Wilderness, I have so many fond memories there with friends and family through the years, very happy to see they now have excellent coffee in the shape of
Pause Coffee
. Wessel Kruger has put a lot of energy and capital into making this a destination roastery. As you can see by the photos below, no expense has been spared in making this space beautiful and making sure that the coffee is sublime (just look at that gorgeous
San Remo Opera
and fantastic Genio Roaster!). We look forward to visiting ourselves soon!
Pause Coffee
Timberlake Village, the road between Wilderness and Sedgefield
Contact: Wessel Kruger
083 411 7372
www.pausecoffee.co.za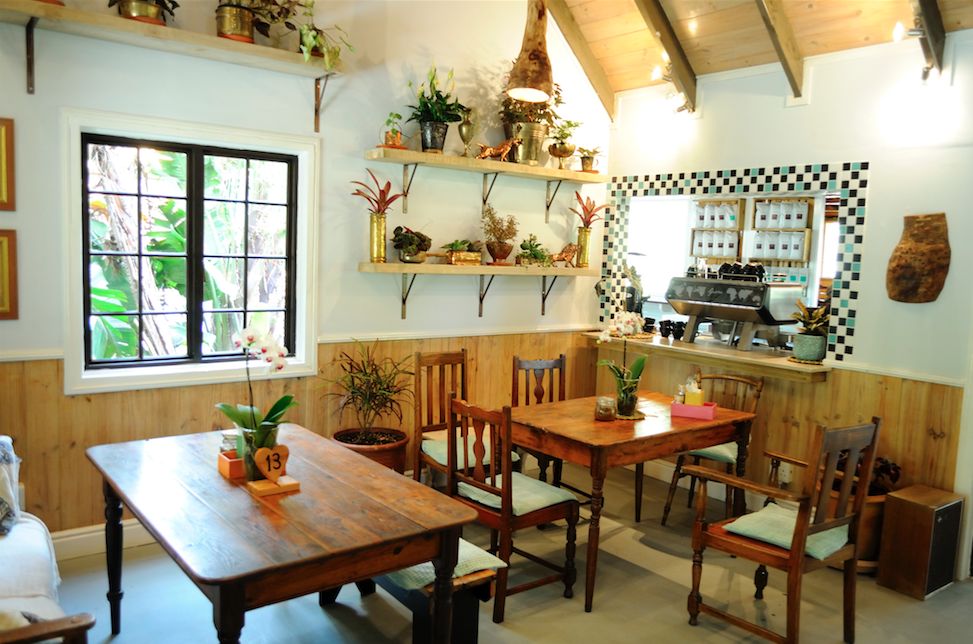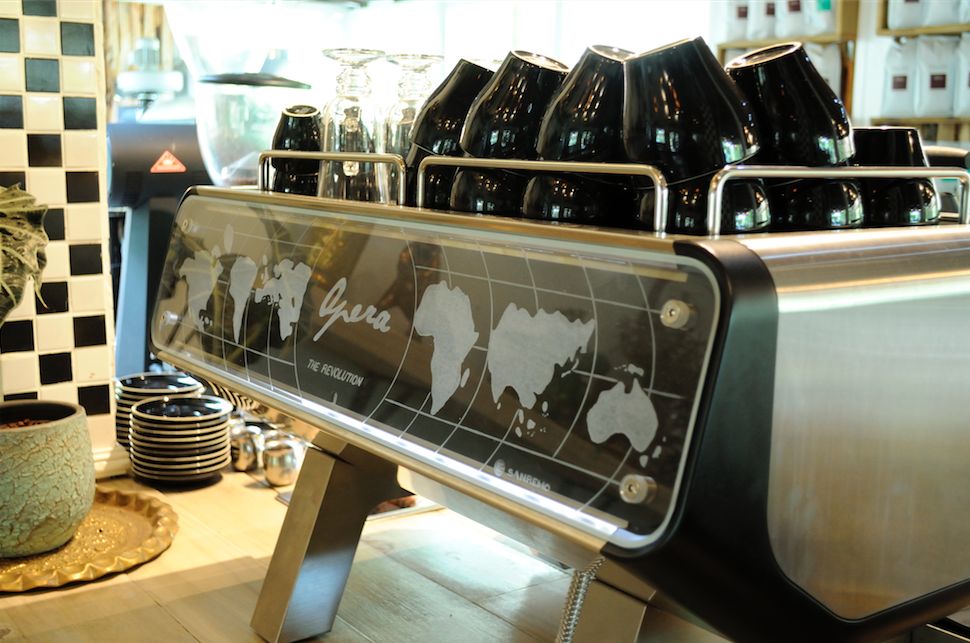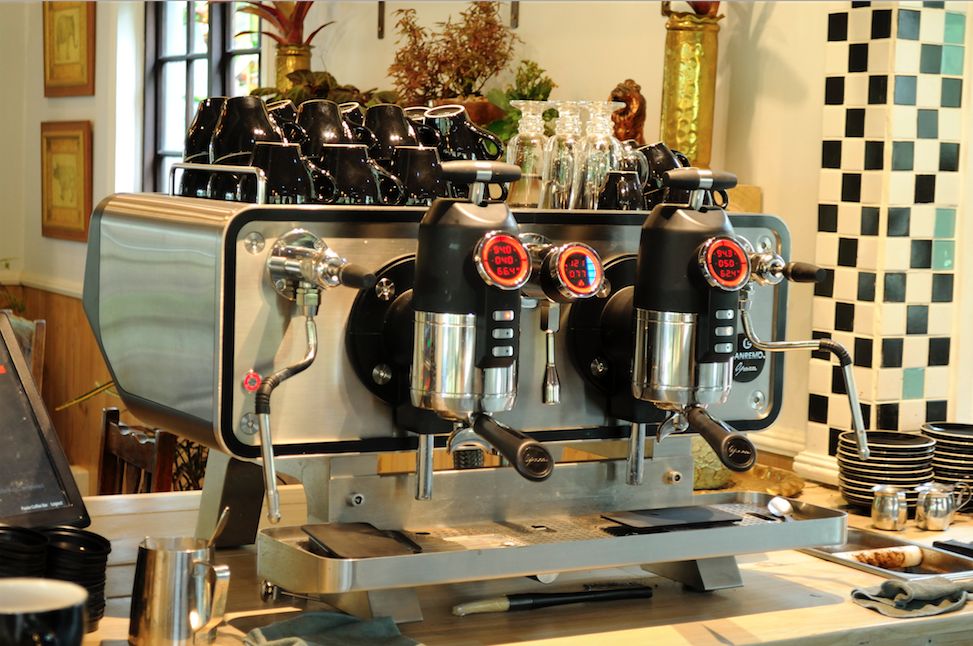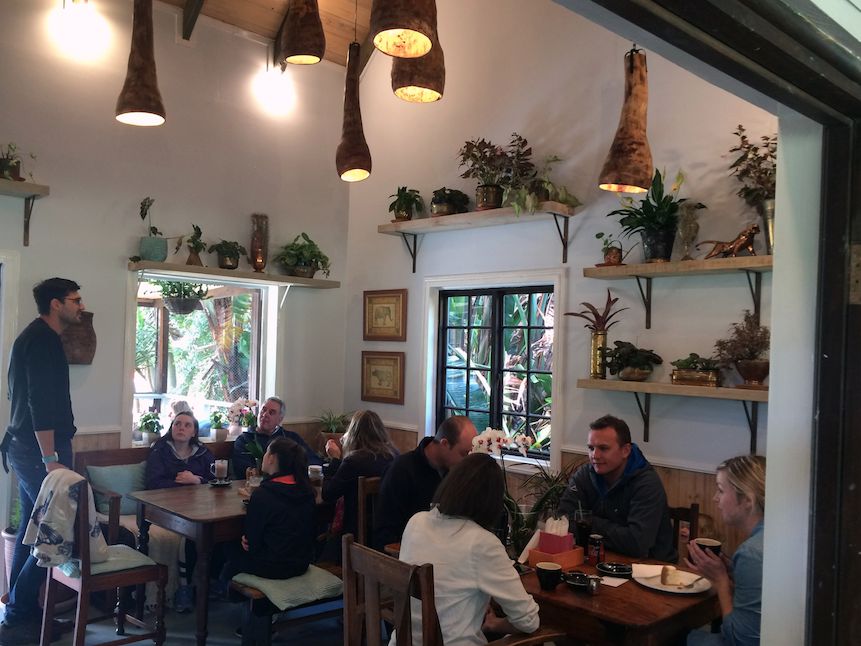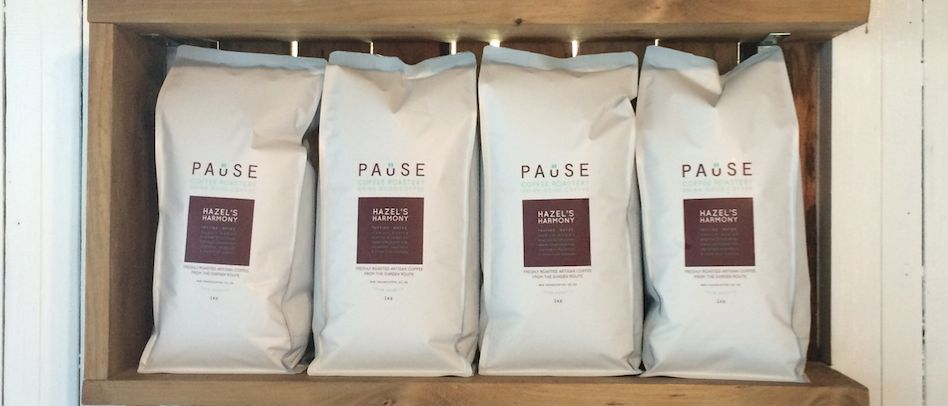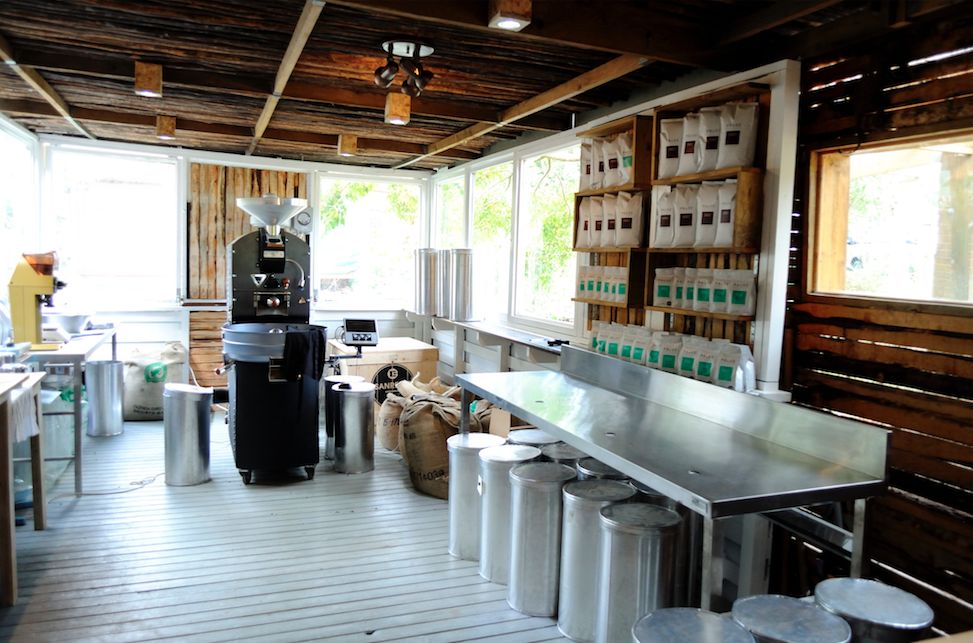 ---
Former popcorn machine coffee roaster launches most technologically advanced coffee establishment in the Western Cape. Pause Coffee Roastery and Café officially opened its doors at Timberlake Village, between Wilderness and Sedgefield, on 8 April 2017 and boasts the first Sanremo Opera espresso machine in the Western Cape.
Pause Coffee Roastery is excited to announce that the dream of serving the most perfectly crafted artisan coffee possible is becoming a reality at their new roastery in the heart of the Garden Route.Coffee lovers can come and experience public roasting demonstrations and coffee prepared on what is very likely the most advanced espresso machine ever created: Italian company Sanremo's flagship machine, the Opera. This machine was developed by a team that includes world barista champions. The Mahlkonig EK43 grinder is used for the espresso preparation, which produces unparalleled conformity of grind, resulting in smoother coffee.
Moreover, Pause Coffee Roastery has gone to such lengths that they imported, what is considered to be the best water remineraliser in the world, from BWT in Germany, the first one in South Africa. This ensures the ideal water composition for optimum aroma extraction for coffee preparation. Besides this, the roastery also offers excellent pastries, cakes, and light meals, including vegetarian and gluten free options, all prepared in house under the leadership of Stephan Henning, also owner of Zucchini restaurant.
Founded in 2016, Pause Coffee Roastery is the result of the passion of Wessel Kruger, the Roast Master and owner. Wessel, who is a mechanical engineer and coffee lover, experimented with micro-roasting at home for seven years. After moving down to the Garden Route from Johannesburg in 2014, he eventually invested in a computer controlled roaster with full roast profiling capability, quit his job, and began living out this passion full time.
The roastery is simply the logical next step in this quest to share coffee excellence with coffee lovers everywhere. Wessel says, "With some basic skills and equipment, everybody can enjoy the luxury of drinking good coffee at home." The new website and online shop includes great tips for home coffee brewing, as well as a coffee subscription service is where fresh coffee can be delivered to your door on a monthly basis. This service is a cancel-or-pause-anytime service, and offers great value for money.
Currently, when Wessel runs into a gifted and ambitious young person he says, "We have the resources to make you a world champion barista, are you keen?" However, the most eager candidate currently seems to be Benjamin, his almost two-year-old son, after which one of the Pause blends are named.
Pause Coffee Roastery is "home of speciality coffee in the Garden Route". "Speciality coffee" in this instance is used in its technical sense for coffees grown in ideal microclimates and consistently graded more than 80 points on a 100-point scale with little to no defects. Pause Coffee only makes use of ethically sourced green coffee beans. Pause Coffee is also the wholesale coffee supplier to a growing number of good coffee shops and restaurants in the Garden Route area and beyond.
One of our favourite things about the coffee industry is the collaboration factor. There are so many skills involved in getting you, the paying customer, the best possible drink, that businesses are always searching for and investing in the best possible suppliers and artisans that suit the desires of their regulars. So when an established cafe makes a change in their coffee bean supplier, they do not make that decision lightly. Nor do they put a new manager in position when it is not the best possible person for the job.

In Coffeeberry's case, this has meant keeping it local and even closer, keeping it in the family. They have collaborated with Steampunk Coffee Midlands to produce a new exciting dimension to their coffee offering at their successful cafe and Con Malherbe's son, Mark, has seen the potential and is stepping in to help his dad fine-tune the concept as the freshly overhauled Coffeeberry sets its sights high!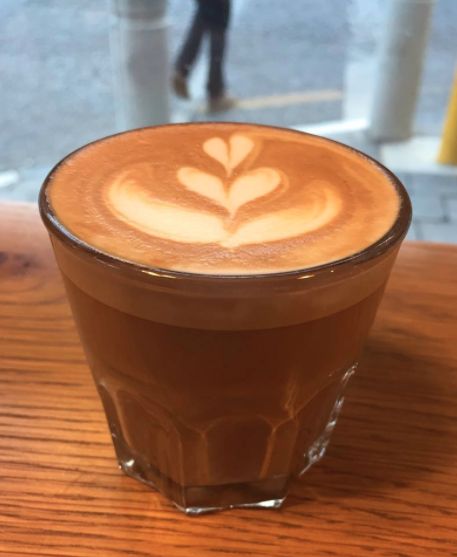 We first noticed the small sign in the door saying coffee would be brewing soon, then a paint job, then the outside counters were installed, so eventually when we saw the door to
City Roast
open we took the first chance to pop in!
We bumped in to
Wesley van Eeden(Resoborg),
the illustrator behind our Issue 16 cover, working on an 'Ode to Durban' mural on one of the walls. We ordered two cortados from Brian and settled in to watch him work. He seems to have become the unofficial coffee artist to Durban cafes with his works in Lineage and Boiler Room and we love seeing his awesome work!
As we were sipping on our the smooth Bean Green coffees, Wayne one of the owners arrived. He has a background in hospitality and certainly knows what he's doing (just look at the picture of that scrumptious toastie below!!!). He has kept the food menu simple yet effective and they are going to take their time to decide on which coffee their customers enjoy having sampled Science of Coffee to their patrons as well, welcoming feedback and making quality the priority whichever roastery they decide to use.

A welcome addition to the Durban coffee scene! Good luck gentlemen!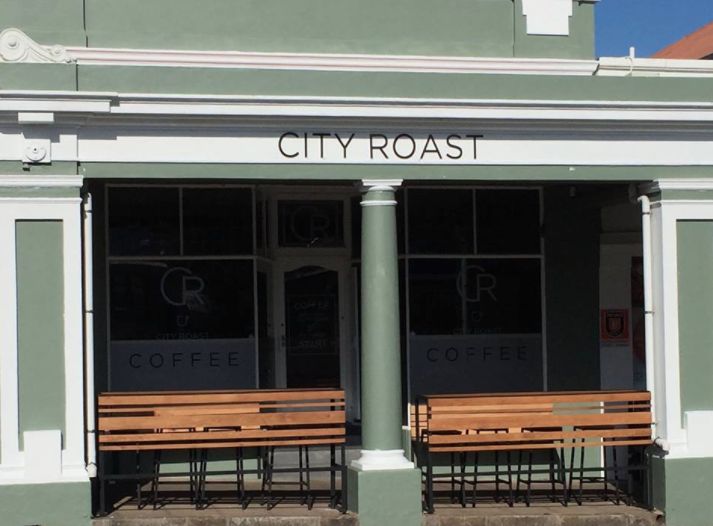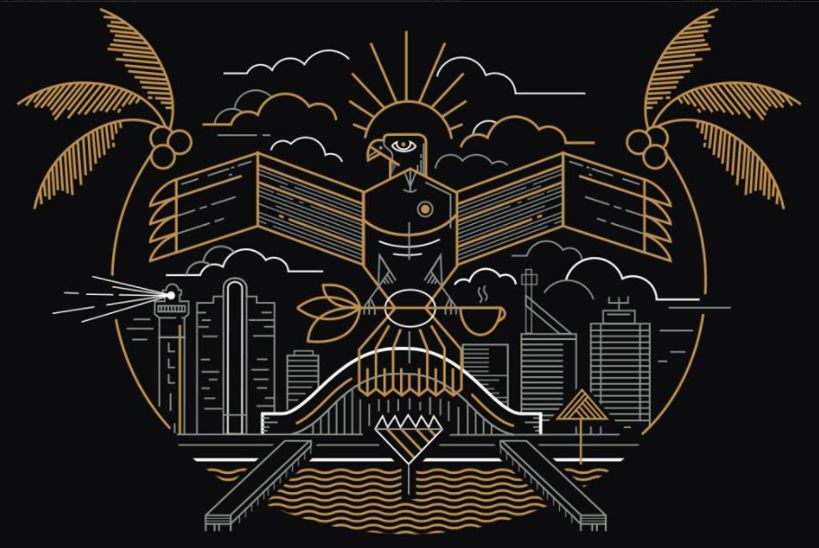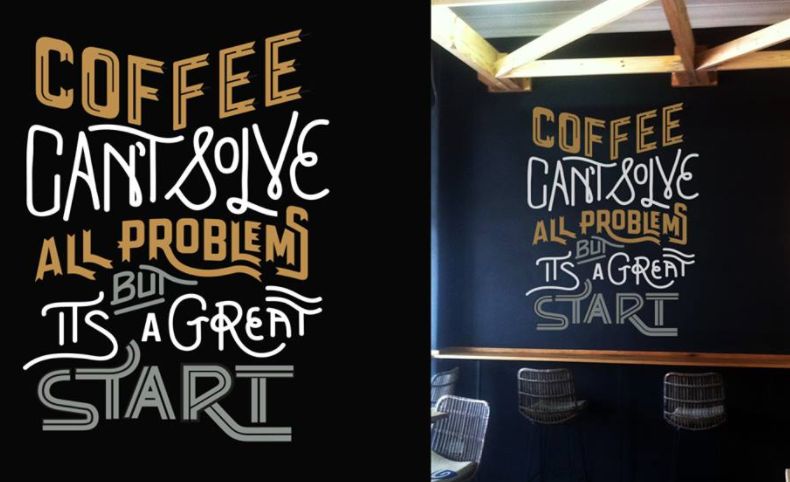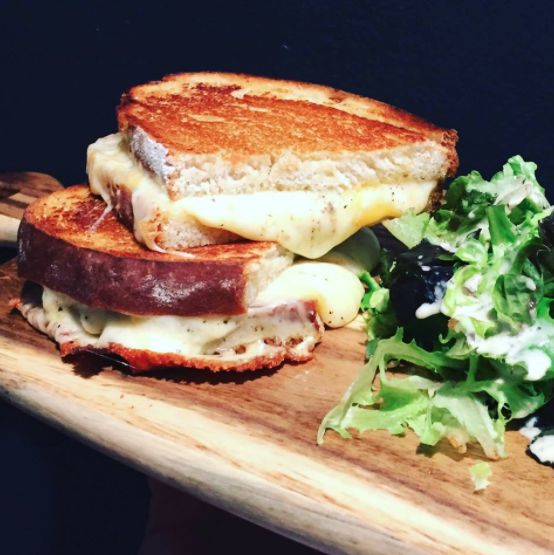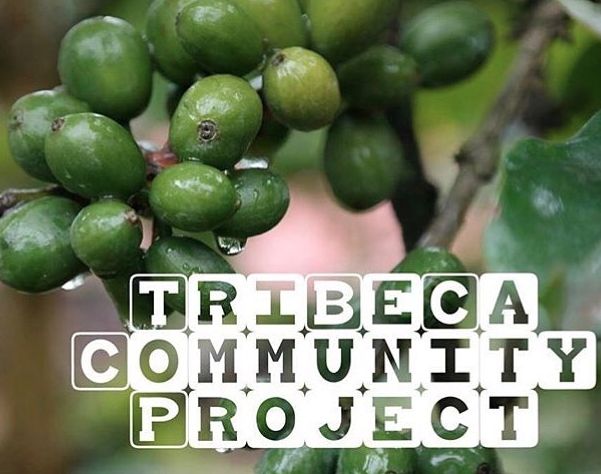 We love to see Coffee Companies making a difference to their communities and
TriBeCa Coffee
are doing just that with their Community Project which offers an entry level barista training course free of charge to willing applicants who need a leg up in the industry.
We chatted to Shannon Venter from the Coffee Quality Department of TriBeCa who is spearheading this initiative
What motivated TriBeCa to start this project?
We are approached constantly by people leaving their CV's with us and I just thought that maybe there was something we can do as in our industry there are always positions popping up! And with this small amount of training a job is so much more accessible. I approached Martin, the MD, and he gave us the go ahead to run a Free Training Course for up to 6 people once a month. We just had our 2nd event today (20 April) and it went so well! I come from a teaching background so I just love teaching people the skills of making coffee!
What do the trainees leave with at the end of the day?
We run a half day beginners training course from 9am-1pm. This includes Crop to Cup theory and question time, so they learn all about where coffee comes from.Then getting them behind the machine, pulling the perfect espresso and practicing until they are proficient in milk steaming enough so they can pour some sort of latte art! We also brief them in hygiene and service. They leave with a certificate and a t-shirt and I keep all their details on file so I can contact them should an opportunity arise.

How can people qualify for this course?
They have to be unemployed, preferably under 40 and have a good attitude. Everybody knows someone who is unemployed and we hope that the word will spread to individuals who can really benefit from this beginners training. If you know of someone who can get to the TriBeCa Factory who would make the most of this opportunity please email me at training@tribeca.co.za
How important is training to the TrIBeCa team?
We have a team of 4 professionals dedicated to coffee quality; John Evans, Matt Carter, Harry Mole and myself. Our jobs are to ensure that our coffee is consistently good wherever it is made! We aim to train people to make coffee well enough to do justice to the quality of the beans!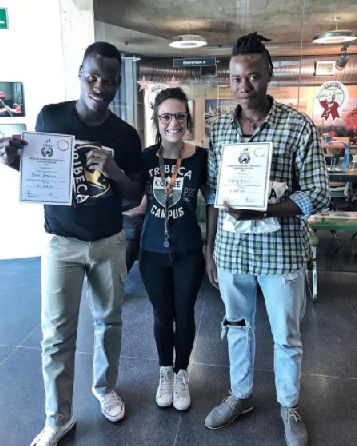 Tumi and Maxwell attended the TriBeCa Community Project training! Shannon is in the middle. Photo from TriBeCa