Interview with Trevor Fitz: Gauteng Barista Champion 2017
Tuesday, 1 August, 2017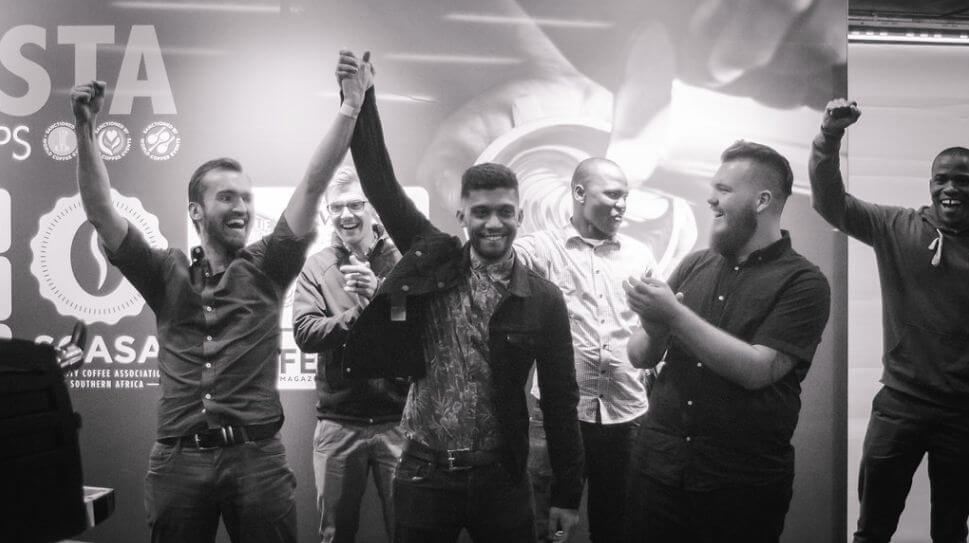 So Trevor, you don't work in coffee, what's your day job?
No, I do not work in coffee funny enough. As a Company, we deal mostly with corporate strategy, training and communication. My role in all of that is basically a project management type of role. I make sure all the different elements of a project are being done and that we are staying on top of operations and costs. However, I also manage the Video and Multimedia side of the business as well.
How did you get into making coffee?
My journey in coffee started a long time back, when I was actually told by my doctor at the age of 16 that in order to manage my chronic migraines i need to drink coffee daily. I tested this theory out, and it actually worked. So from that day on, I made every effort to learn how to make coffee properly and in the process of learning, I developed a passion for all the in and outs of coffee until eventually i found that i just couldn't learn enough. And nothing has changed since then.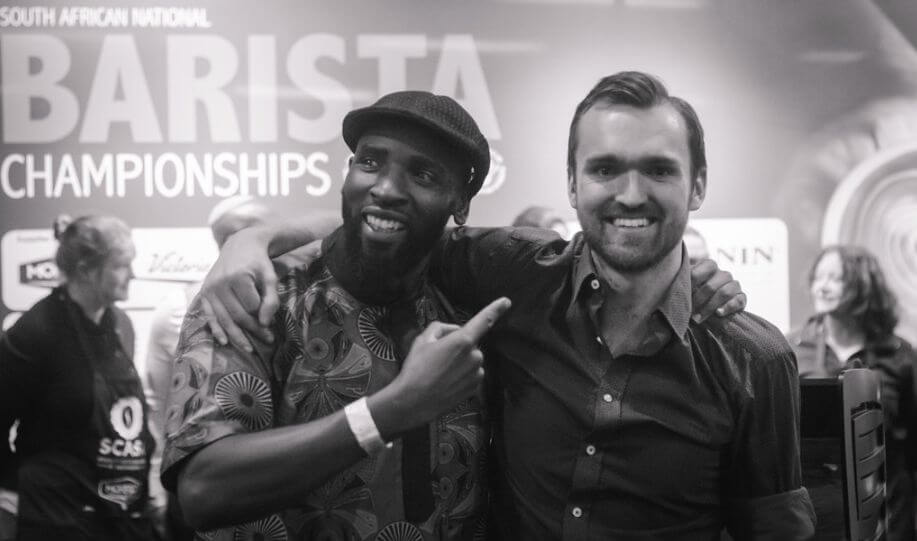 When did you decide you would like to try your hand at the SCASA competition level?
Well that was largely Nkulu's (Khulekani Mpala) influence. He joined the barista championships in 2016 where he emerged as the regional champion, shortly after competing he told me that I should join because of how much I would learn and how much better it would make me as a Barista. So I convinced myself it was a good idea and started experimenting.
Tell us about the coffee you used and the theme for your set.
The coffee that I used for my competition was a Burundi bean roasted by Bean There (who were kind enough to sponsor them for me). The theme for my set was experiencing coffee, and how adding different ingredients changes that experience.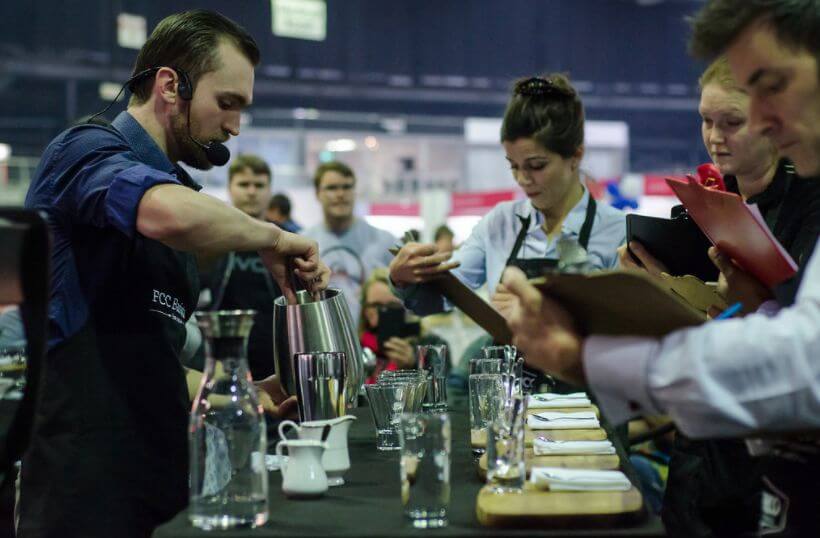 Who was your support team and who would you like to thank?
I would like to thank Nkulu for his help and support, I ran many ideas and coffees passed him. I would also like to thank Claire, who helped me on many weekends and evenings to practice, and had to hear my set 100 times. The 2 of them, as well as Kobus, Leon, Dayna and Ella also endured tasting many signature drink fails. And of course my parents and sister who helped my buy and clean all my gear. Which all helped me prepare.
What is your favourite way to make coffee at home?

Chemex… I love Chemex! It's what I make the most at home.
Got something to say? Then leave a comment!
---
LAUNCH: Selati Sugar's Barista of the Month
Friday, 28 July, 2017
Got something to say? Then leave a comment!
---
POLL: Are reusable capsules the answer to the unsustainable capsule phenomenon?
Friday, 28 July, 2017
Let's have a second of real talk here. Capsules are here to stay. They're not going to disappear any time soon. The convenience and consistency is just too attractive in modern life. It's so easy. Espresso instantly, no thinking required!
But they are pretty disastrous for the environment. So what are the alternatives. Biodegradable capsules? These have varying degrees of success in compost heaps and landfills. And then are the reusable option, like the
Coffee Duck Ethical Pods.
Said to be reusable up to 100 times. That's certainly an improvement on single use. But then there's the question of convenience. You can't just pop it in hatch groggy and bleary eyed in the morning as you stumble into your kitchen. You'll have to grind your beans and pack your capsule or at the very least scoop up some pre-ground goodness into your capsule.
We think that it's worth the effort and we've just received some Coffee Duck product so we'll soon be able to tell if the flavour holds up. The question is, will this sustainable idea catch on? What do you think?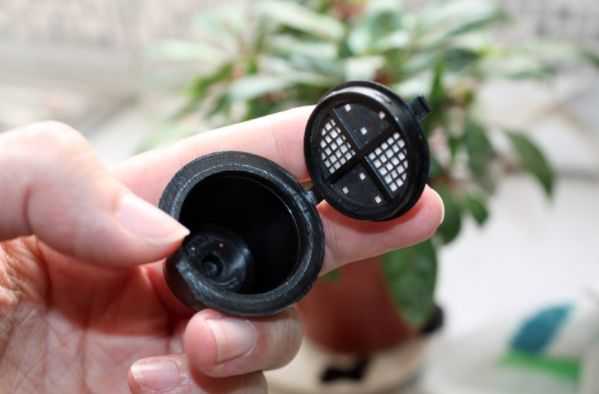 Would you use a reusable capsule?
Got something to say? Then leave a comment!
---
Interview with Big Wave legend, Twiggy Baker
Friday, 28 July, 2017
Surfing has been on our minds a lot lately, what with it being Winter and having just watched the pros get absolutely barrelled at the Corona Jbay Open. And then we remembered we had this interview with Mr Grant Twiggy Baker and we thought you might enjoy it...
---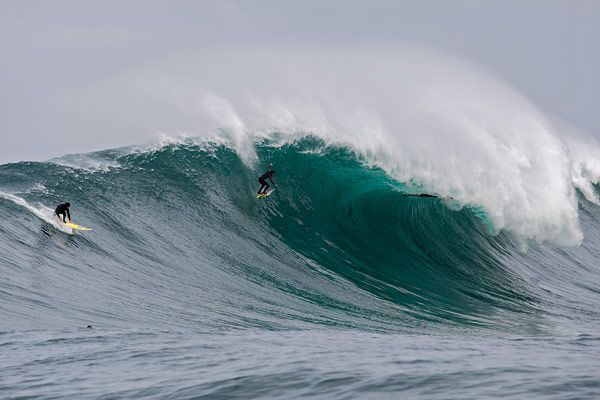 Frank Solomon (right) free-falls on a 25ft Dungeons bomb, while Twiggy (left) gets in wider on the shoulder. ©Cestari
Your surfing style has been described as energetic and aggressive, does this have anything to do with the amount of coffee you drink?
Haha, to be honest I don't drink that much coffee and am mostly a Tea totaler but if I need a lift off at 5am in the morning with a big day ahead I'll have a mug of the good stuff for sure.
You spend a lot of time in Hawaii, a place that grows some of the most sought after coffee in the world. What makes these islands special for you? And have you tasted Kona coffee?!
Hawaii is the birthplace of surfing and one of the most magical areas on earth, from Kauai in the North to Maui in the South I'm smitten by the Islands and yes, the Kona coffee as with most things indigenous is amazing.
What's your morning ritual, coffee before or after surfing? Or both ;)
If I'm drinking coffee I'll save it for one early cup a day, good old filter pot.

Twig, you and your (other!) partner in crime, Reg McDonald have paddled into the Beverage and Food Wave in a big way! First Aces n Spades, then Village Idiot and now SurferRosa. We have a few questions about this! Firstly, what made you guys trade surfboards for tables?
Reg is a master at the Restaurant / Bar business with experience in running and owning establishments around the World including famous places in Hollywood like the National and Tokyo. So when he decided to return home to South Africa and needed a financial partner it was a no brainer for me to join him.

Have your friendships and surfing helped your business?
Yes for sure, the old age saying of "its not what but who you know" is even more important in this game and if it wasn't for the support of our friends we wouldn't be successful.

Do you serve decent coffee at any of the above, even though getting shit-faced is probaly the primary beverage focus?
Haha, yes, we are well known for our excellent coffee at The Village Idiot but in the end people come to drink and have a good time.
What's the best coffee you've ever tasted?
In San Francisco there's this little place in the city that Grant Washburn takes me to that will blow your mind!

The Coffee Industry are missing having Kate around at the barista competitions! How is the new family? Will Billi chase waves, boys or tables?
My family is amazing and we are having the time of our lives right now! Its to soon to gauge what Billi will be interested in and whatever she chooses we will support here 100%.
On a surfing note, you're the BWWChamp! What did it feel like tearing down the face of the Nazare wave that clinched you the Big Wave World Title 2016/2017?
Being the Champ feels great and its a vindication of all the time, effort and money I put into the sport over the past 15 years. Its only a title and in the end doesn't mean that much in the big picture but its a good stepping stone to a strong future for my family.

What has been your greatest professional achievement so far, which win meant the most to you?
I think my involvement in my families Orphanage (
LIV-Village.com
) is something I'm proud of. What my Mom Joan and Dad Tich have done on that hill in Inanda is something truly special.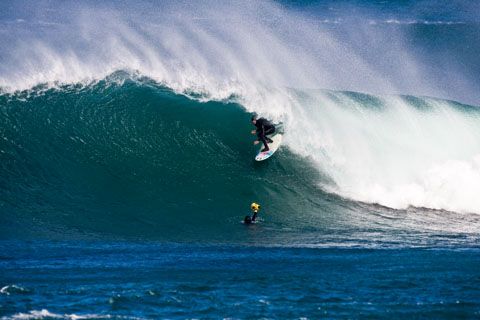 Twiggy gets his fair share of tube time! ©Craig Kolesky
Got something to say? Then leave a comment!
---
Beer&coffee - Devil's Peak X Fierce: Imperial Cafe Racer
Friday, 28 July, 2017
You know, we love it when two of our favourite indulgences find a way to collaborate. In this case, it's the new Cafe Racer Porter from Devil's Peak Brewing Company and FIERCE utilising our wonderful friends at
Legado Coffee Roasters
to add a rich body and flavour to this brew.
We are extremely lucky to receive a lot of interesting packages in the mail and we welcomed the arrival of something that was a little different to the beans and gadgets (We did also recently receive a delivery of wine-soaked coffee beans from Quaffee, there'll be more on that soon! We're sensing a pattern...).
With a not-so-subtle Patron Tequila aroma, the first sip is surprising. Gently creamy and delightfully sweet. We looked to the label to see what exactly was contributing to the complexity of this stout. And here we found,
lactose. I
n our ignorance we wondered, isn't that milk/dairy related? Why yes indeed, it is. It's the sugar derived from milk, and why would one use this in beer?

"It is a stout beer (dark beer made via the use of roasted malts or roast barley) that contains lactose, a common sugar derived from milk. Since the lactose is unfermentable, it adds sweetness, body, and calories to the finished beer, contrasting the roasted flavor."
So now you know. You don't really need to know the details though. Devil's Peak brew excellent beer. Legado roasts excellent coffee. You can't really go wrong here folks, just try it!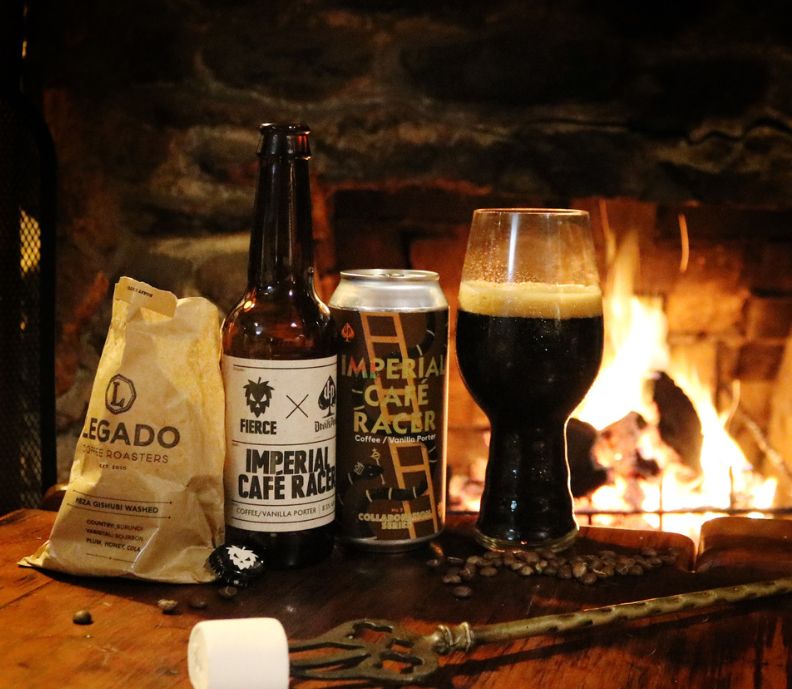 Photo from Devil's Peak Brewing Company, unfortunately, we weren't drinking it by a fireplace, so this pic took 1st place, doesn't this just look sublime?!
Got something to say? Then leave a comment!
---
The First Ever Deaf Barista Competition!
Thursday, 20 July, 2017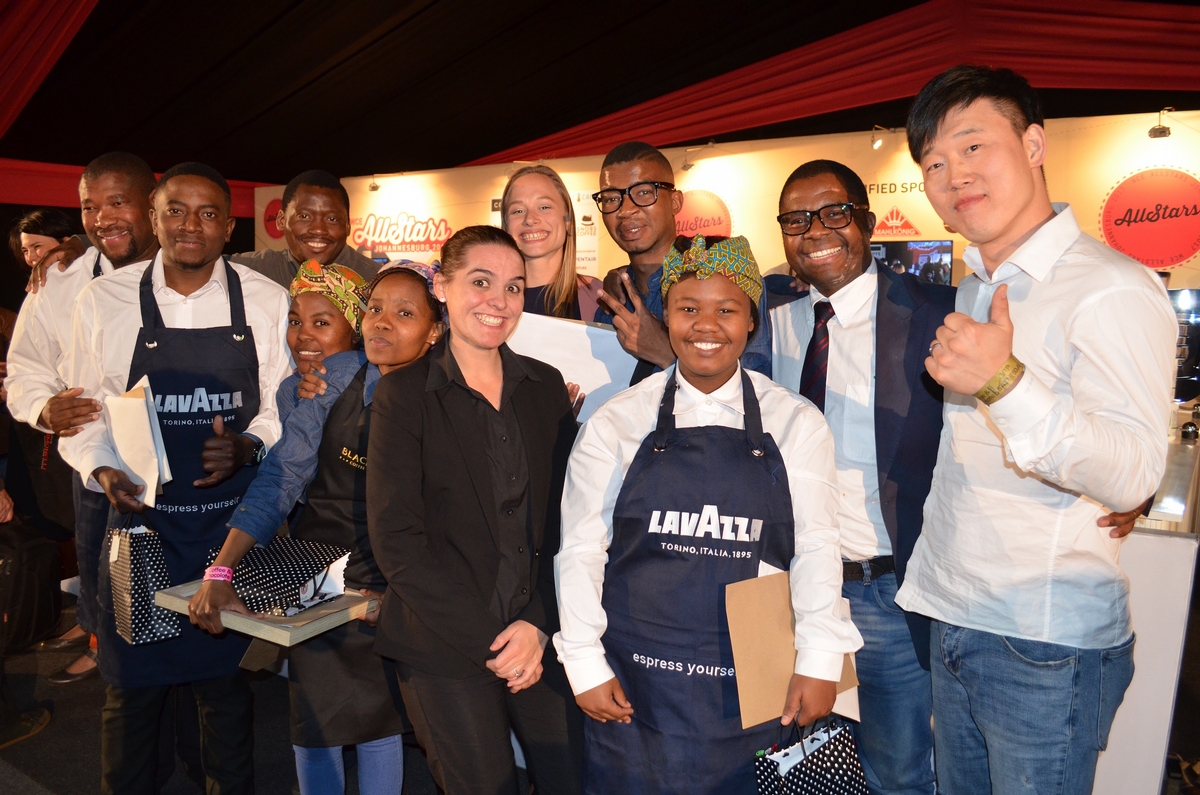 The first ever Deaf Barista Competition! Deaf Baristas from Left to Right: Thabo, Mduduzi, Rachel, Thandiwe, Kendal (translator), Esther Maasdam (WCE All Star), Harold, Samukelo, Johnson (Ciro Deaf Barista trainer), Umpaul (WCE All Star)

"I can honestly say that this is the best experience of my life. Better than winning Latte Art and Cup Tasters, better than any coffee experience I've had before."
Esther Maasdam, Dutch Latte Art and Cup Tasters Champ in different years and current WCE All Star, was overwhelmed by the passion and skill of the 6 deaf baristas who competed on stage at Coffee&Chocolate this past weekend.
She was not alone, the entire crowd and the whole team who made the competition possible were also emotional and ecstatic at the bravery of these wonderful baristas.
The winner, Mduduzi who works at the Spar Bean Tree in Melville, is leading the way educating his team in sign language with his enthusiasm and charm and it showed on stage.
"It was so hard to judge, because I just wanted all of you to win!!"
Lani Snyman of Ciro Beverage Solutions has brought together an amazing group of people and companies to make this happen and better still has secured sponsorship from UNISA for a further 40 baristas
If you or your company wants to sponsor a deaf person to do the UNISA "Introduction to Coffee" short course through eDEAF, the cost is R2700 per person, and there are 15 more Sponsiorships needed - go here to read more
https://scasa.co.za/blogs/news/scasa-members-sponsor-a-deaf-barista-and-change-a-life

or just email
info@scasa.co.za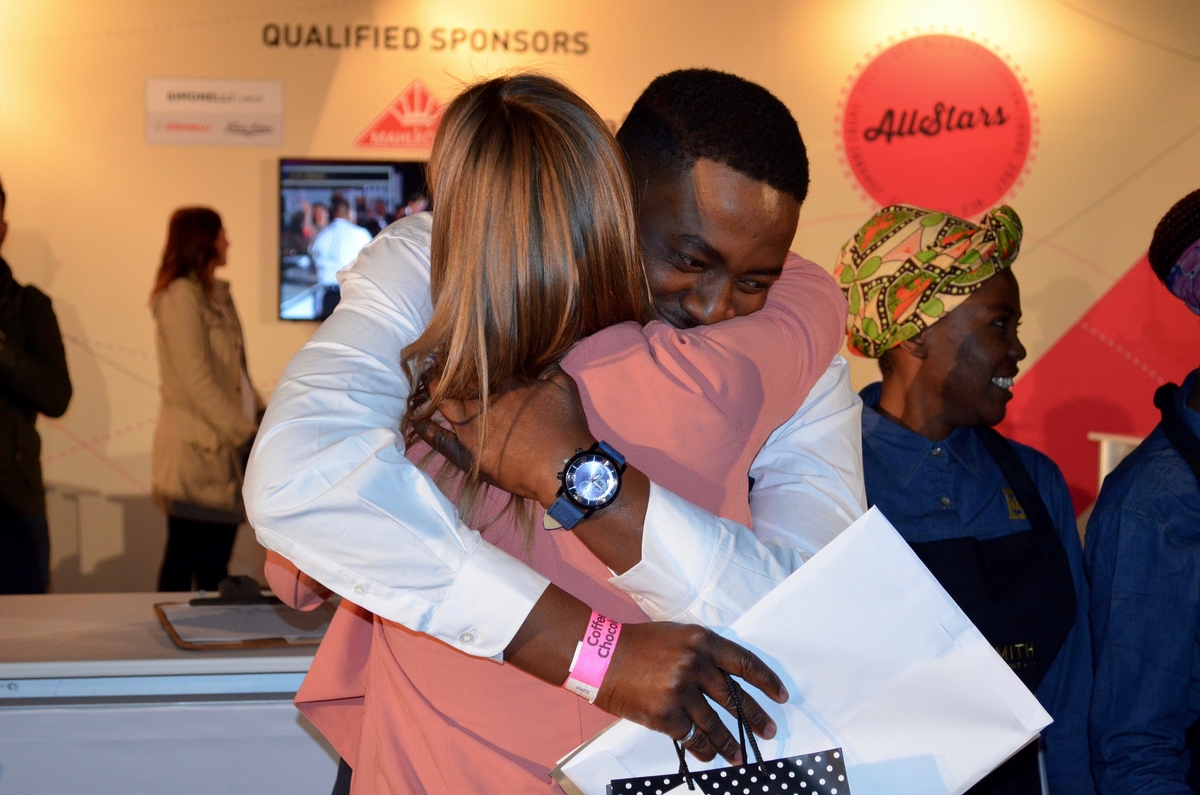 Esther hugs the winner, Mduduzi.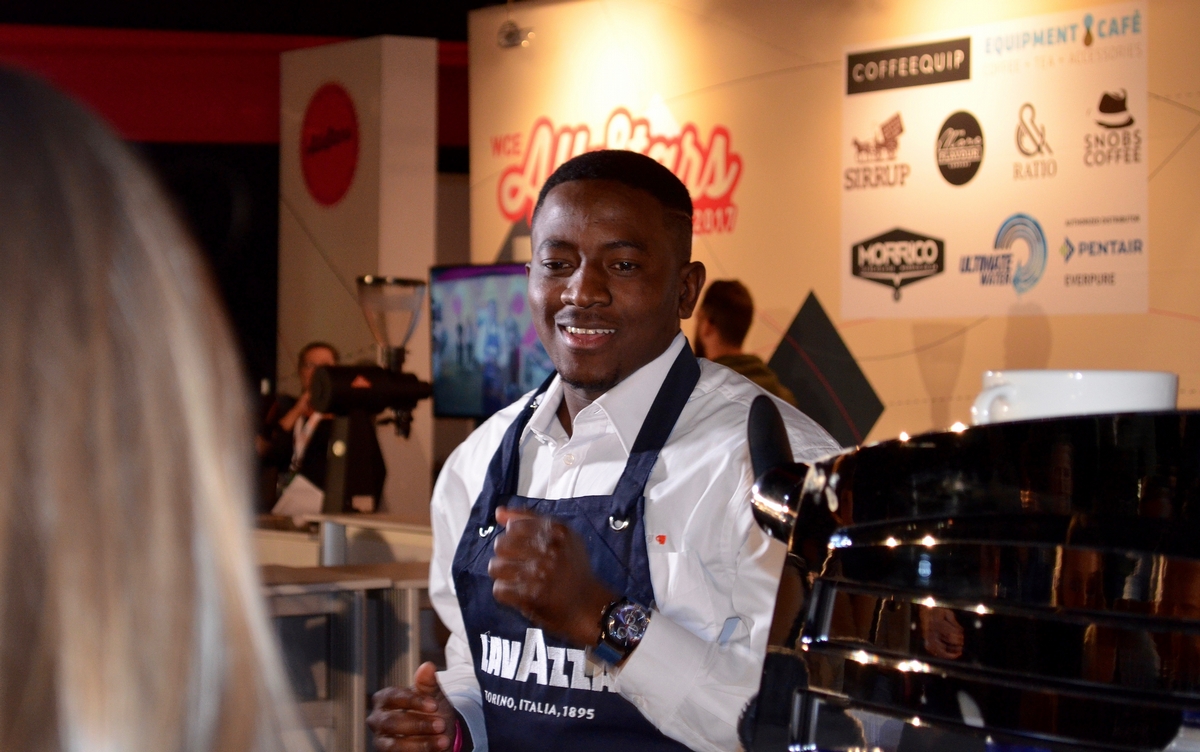 Mduduzi runs through his set with the judges.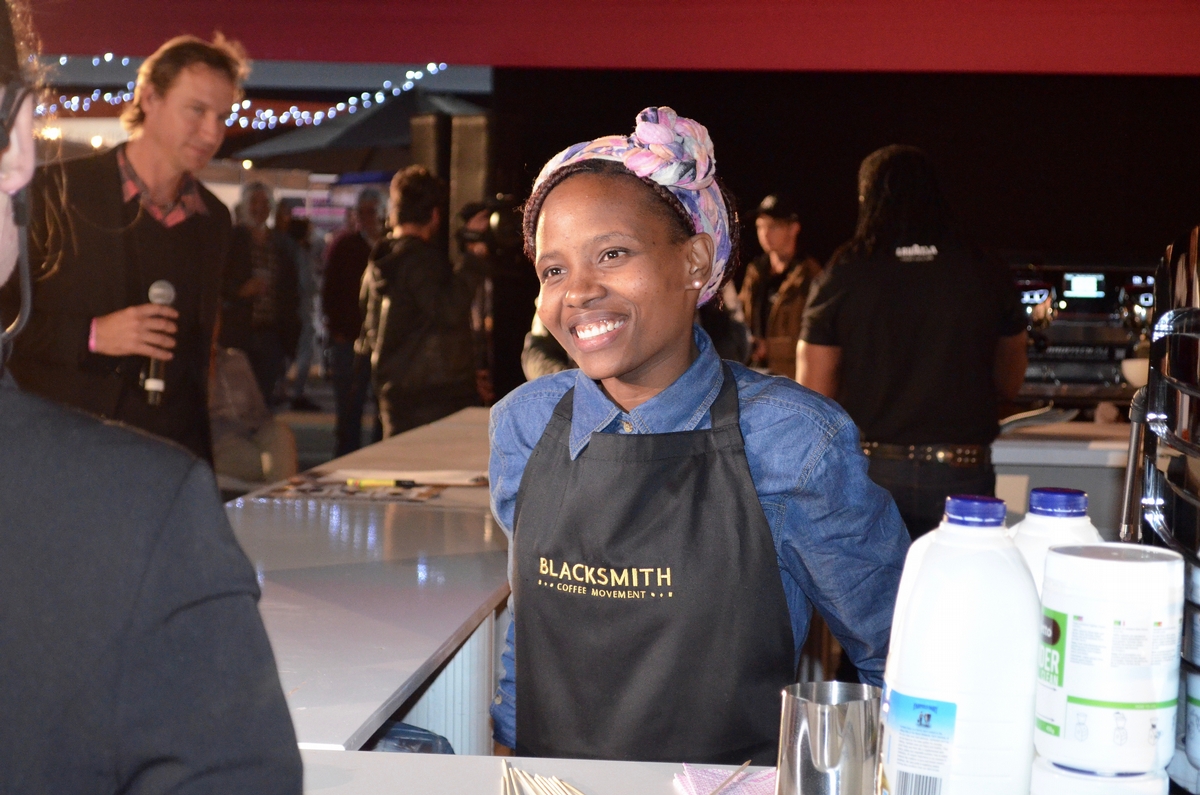 Rachel smiles for the judges...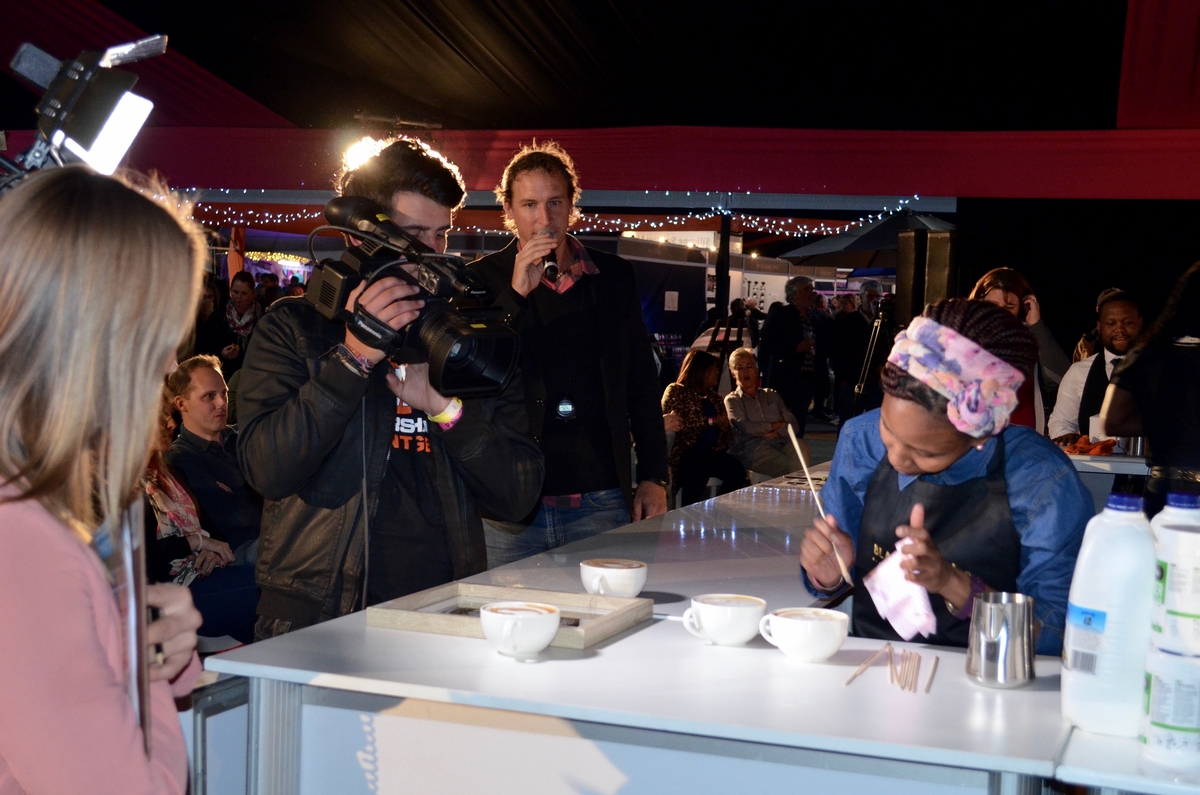 ...before putting down an excellent set!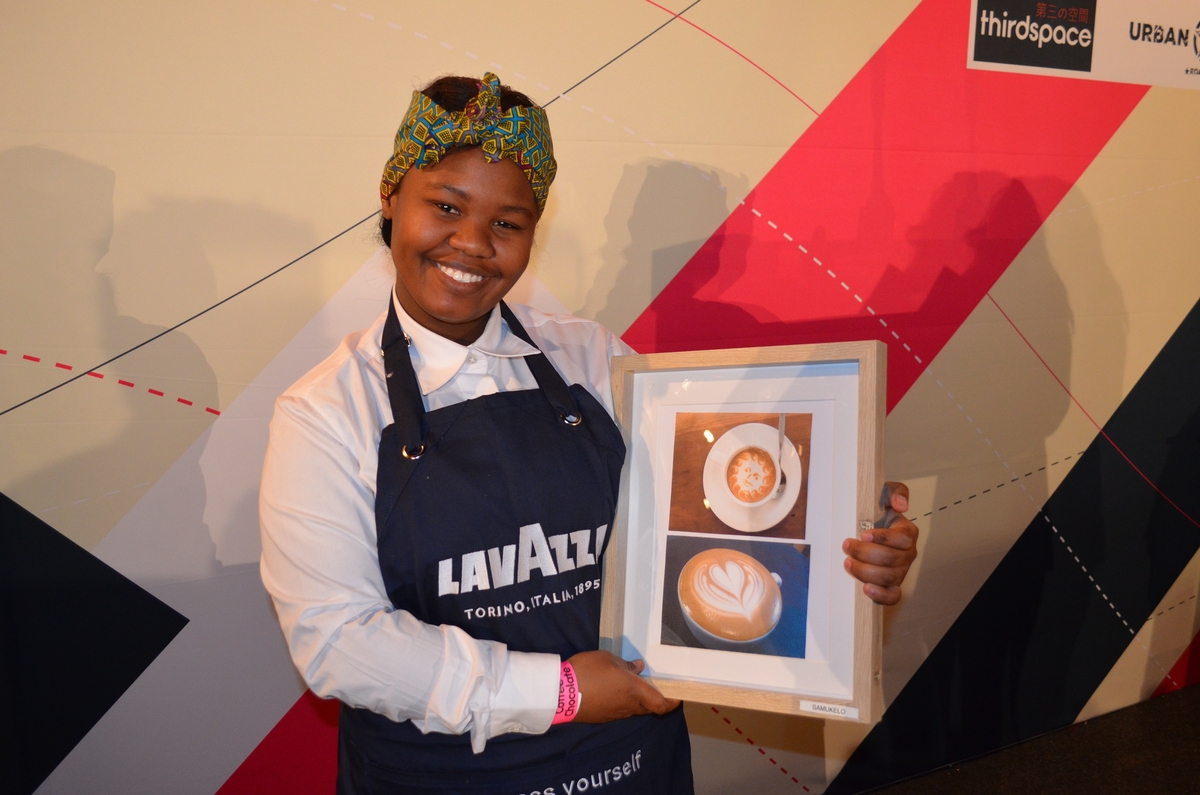 Samukelo, only 21, was incredibly nervous but did very well considering the pressure!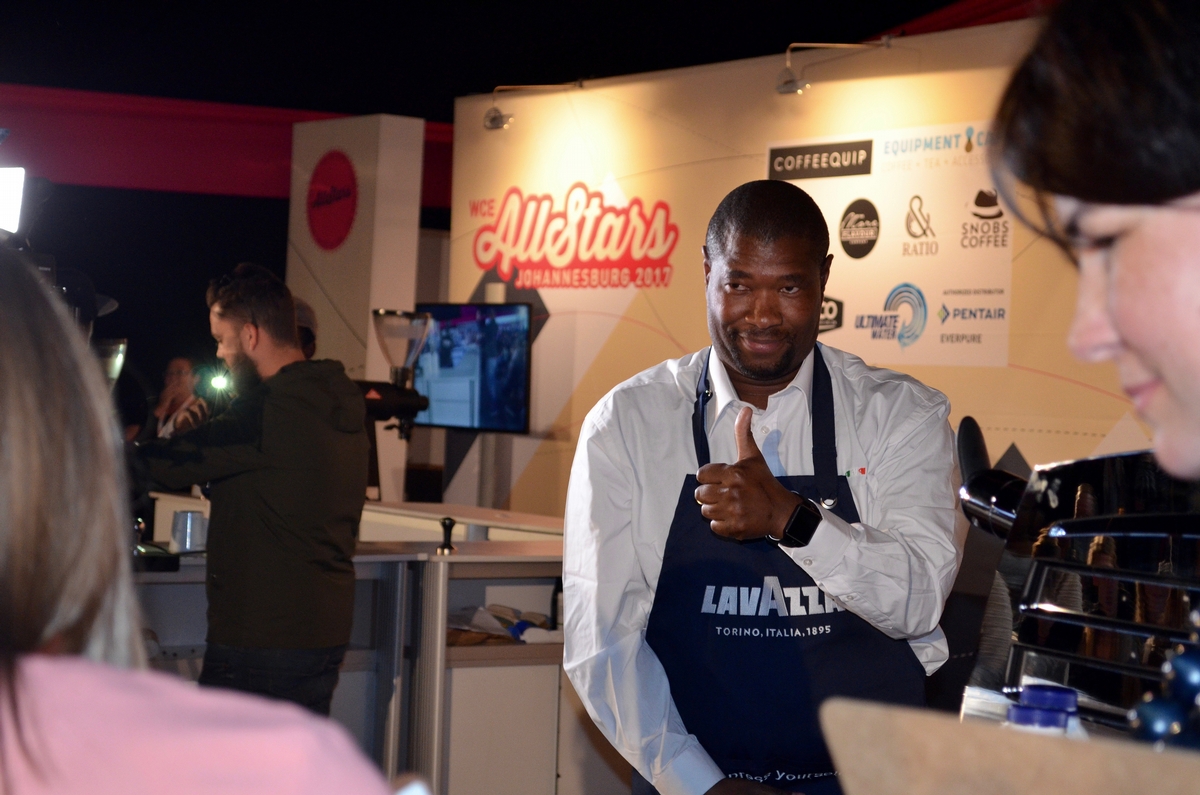 Thabo, gives the thumbs up.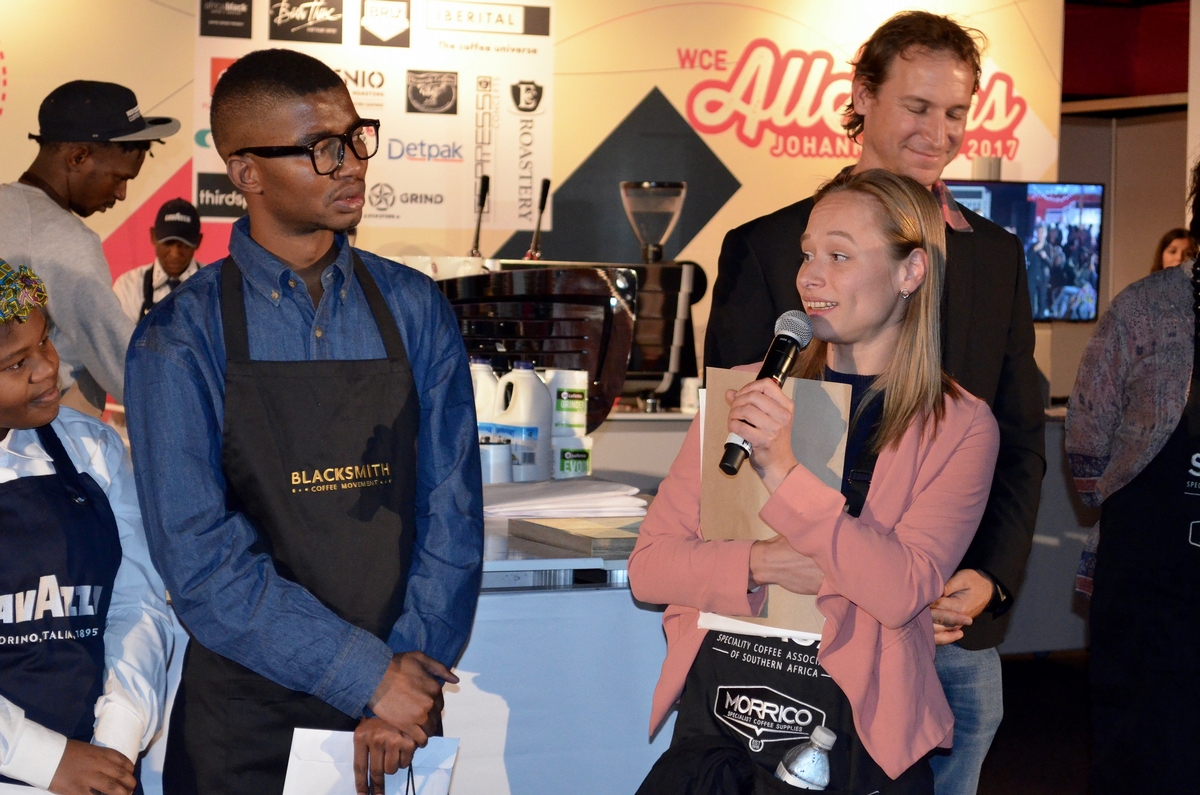 Harold watches the sign language interpretation of WCE All Star Esther, as she congratulates the baristas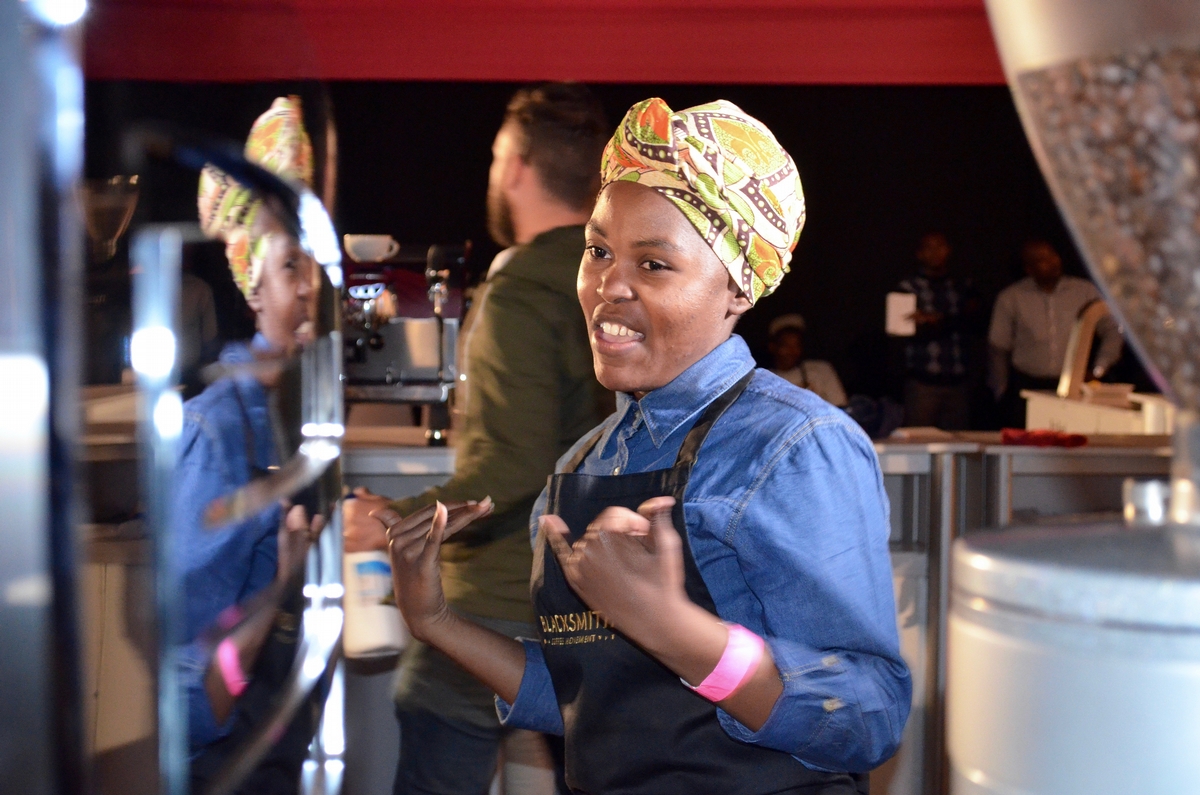 Thandiwe signs her name and introduces herself to the judges.
Got something to say? Then leave a comment!
---
Cafe of the Week: Ubud Coffee Roastery
Wednesday, 12 July, 2017
Ubud Coffee Roastery
Jl. Goutama Selatan
80571 Ubud

---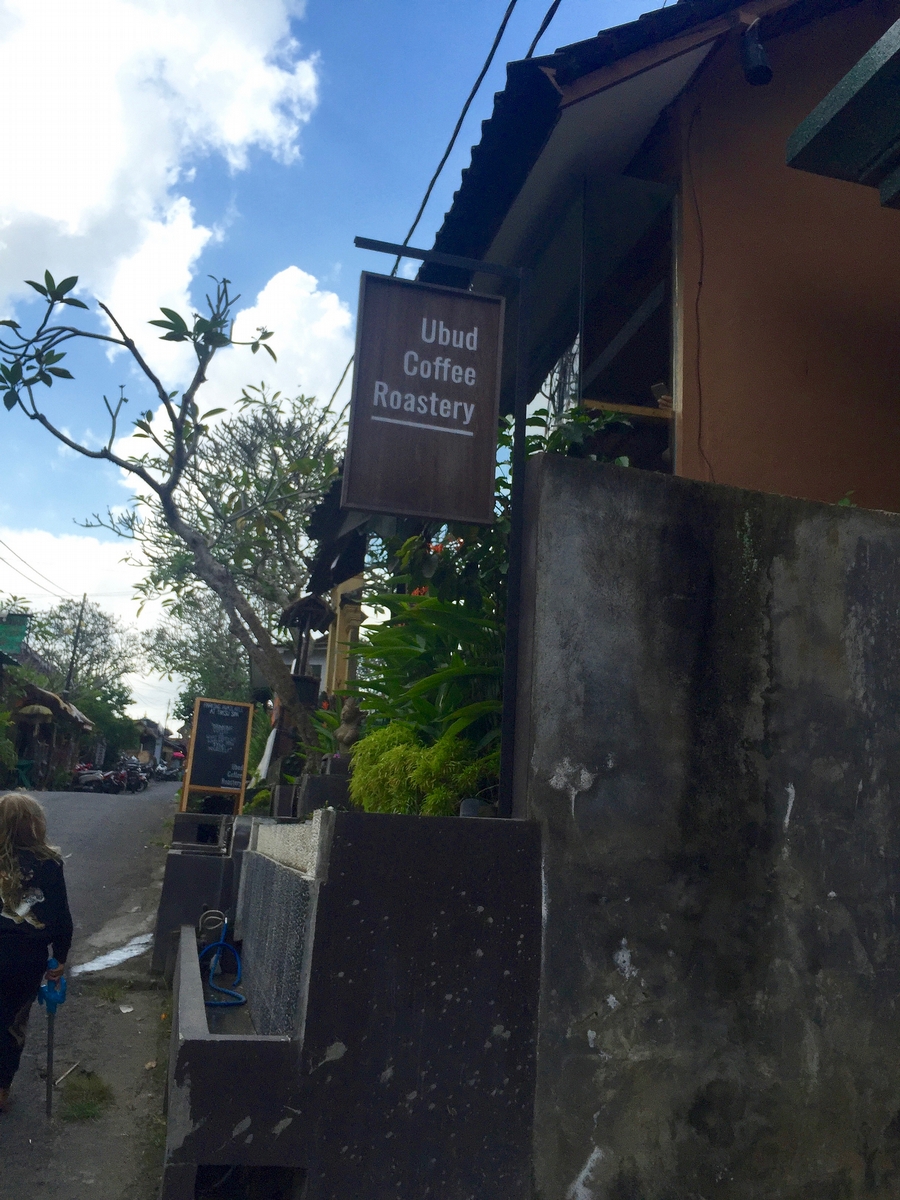 When I started my first cafe, two of our harshest (in a sweet way) critics who became two of my closest friends, were Rupert and Sara. Prolific travellers, they would come in daily and give me, the budding young barista, all sorts of unsolicited feedback which I took to heart and which definitely made me a better barista. I knew I wasn't doing too badly because they kept coming back. A couple years down the line and their son Jeremiah was born spending much of his first years at the roastery, I knew that they were the kind of friends that I would spend a lifetime getting to know.
So it was with more than a little pride that I recently had the opportunity to visit
Ubud Coffee Roastery
in Bali, where Rupert convinced the owner of
Taksu Spa
that buying a coffee roaster was an excellent idea and the tiny cafe was born. It has quickly become a go to spot in bustling Ubud for amazing quality coffee. I was very excited to taste the Indonesian blend on offer. Sweet and rich, my cortado was extremely satisfying. I am certain that in large part, Rupert and Sara encouraged the birth of this cafe so that they would have a go-to coffee spot that meets with their palates. It seems the rest of the Ubud community and the many wandering travellers that pass through agree with their taste in coffee.
Rosyad, a former IT guy, has taken the reigns behind the roaster and has approached it with the same precision he would a delicate computer system, experimenting with roast profiles and logging all his endeavours, keen to learn as much as he can about coffee. The result is an amazing dedication to quality in the cafe. He and I sat and had a long chat about the different approaches to coffee across the globe and I was again reminded, as I am so often, about the unifying power of coffee. Experimentation is a top priority in this roastery and alternative brews are encouraged for people to take home with them when they buy a bag of beans.
A tiny gem in bustling Ubud, you should definitely seek it out if you're ever in this vibrant town. And I hear the massages at Taksu Spa across the road are amazing! Win win!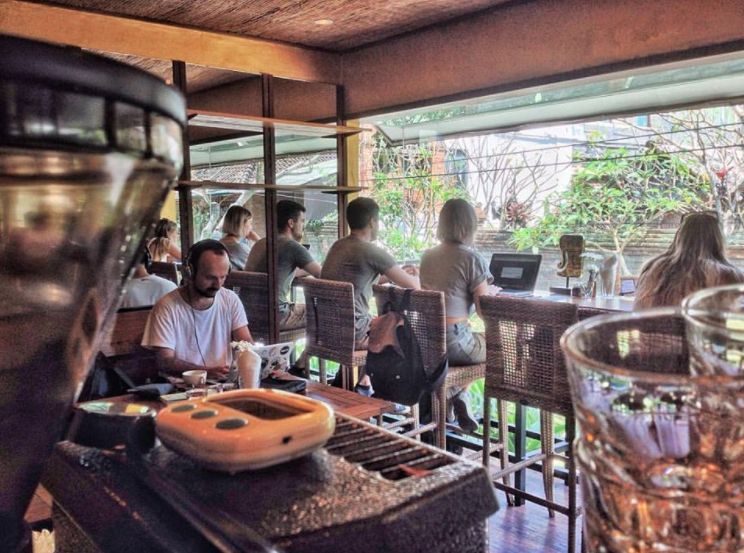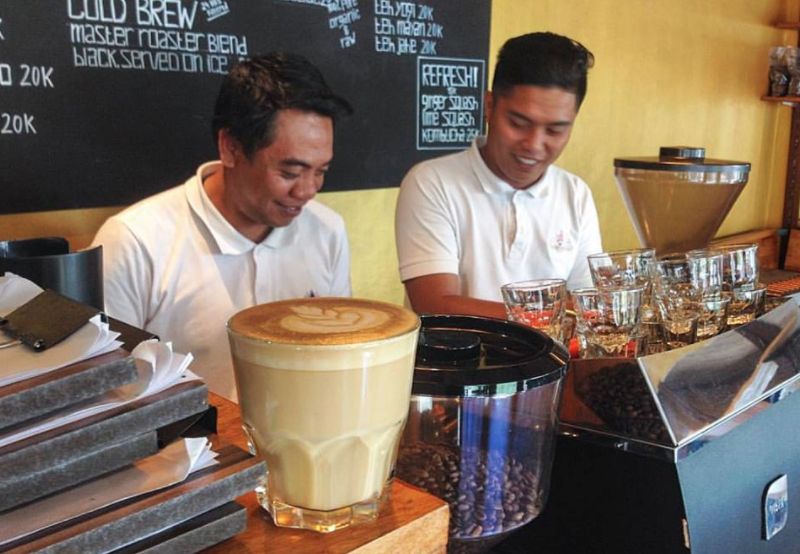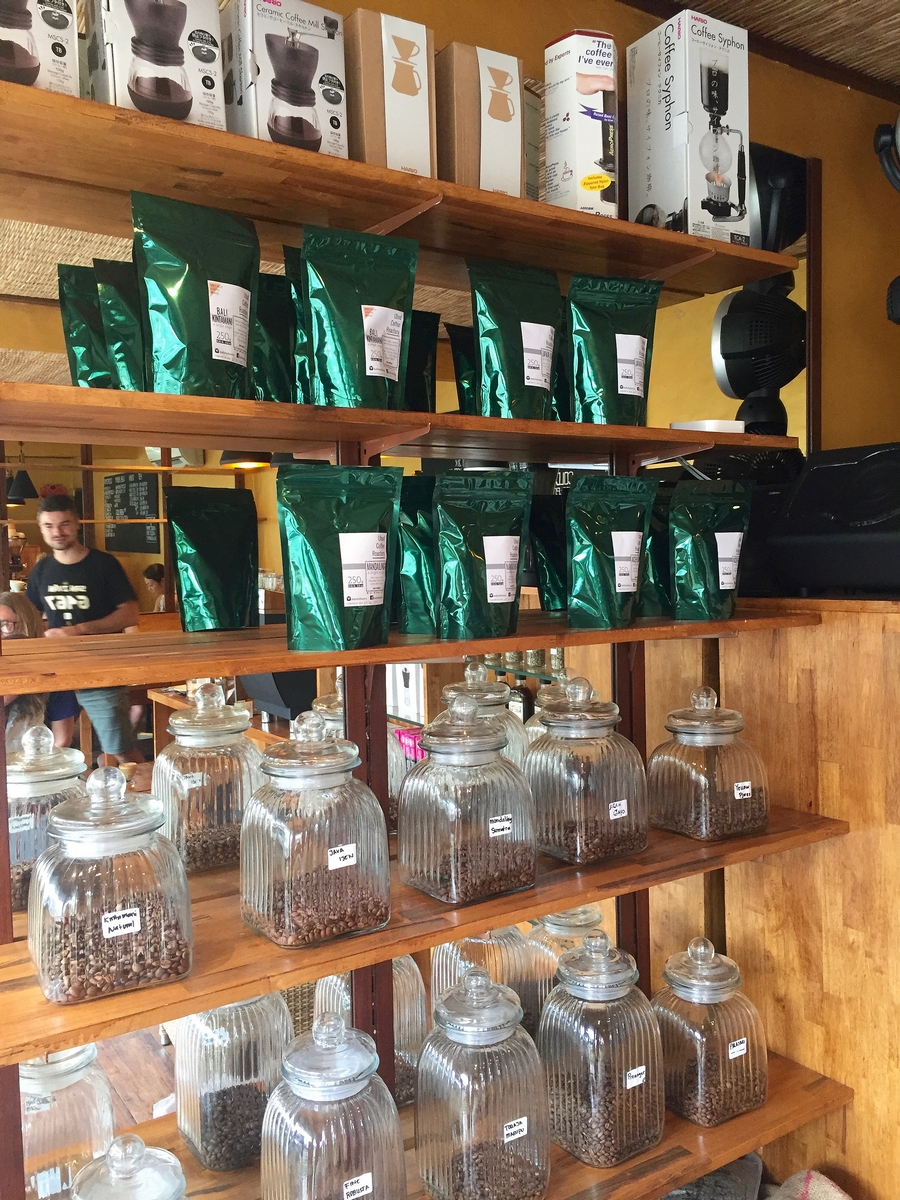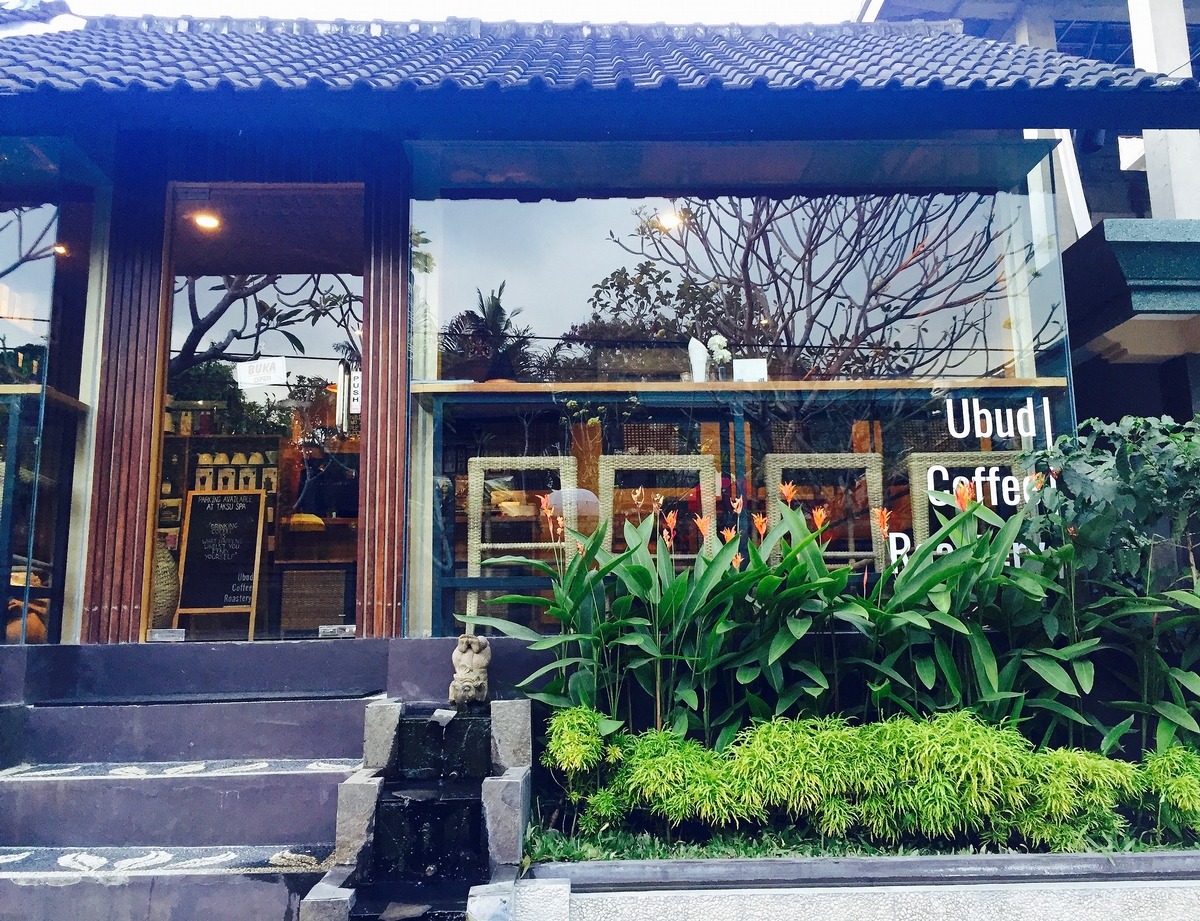 Got something to say? Then leave a comment!
---
Umpaul's Latte Art Lion
Friday, 14 July, 2017
The World Barista All Star's are in JHB this weekend, and one of these incredible baristas is South Korean Umpaul, the 2016 World Latte Art World Champion!

In celebration of being in Africa for the very first time - Umpaul, while teaching visitors to the Coffee & Chocolate expo, busted out this Lion to the rapturous applause
Got something to say? Then leave a comment!