Thirdspace: Striving for Specialty
Thursday, 28 September, 2017
Third Space
Valley View Centre, Fourways
---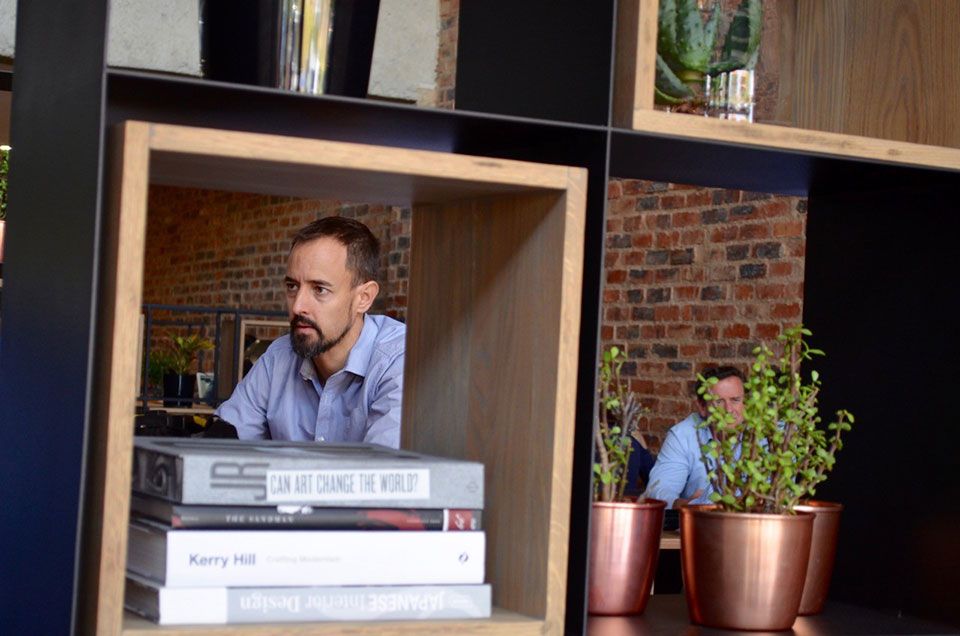 David Walstra is a man who thinks big. Then he actually follows through. What that means is when he puts his mind to something like coffee, Thirdspace is the result: the best equipment, the best people, beautiful, minimalist, Japanese-inspired design, state of the art co-working space, only serving specialty coffee.
Where is this gem of a cafe you may ask? Well, it's in Fourways, Johannesburg. That's right, through the dust of the massive Fourways Mall construction lies an oasis of calm and excellent coffee.
The industrial space is home to a Joper roaster, a Victoria Arduino Black Eagle, Mythos Grinder, Mahlkonig EK43, Trinity One, Kruve Sifter, Matt Perger tampers, Acaia scales, basically it is a wonderland for every coffee nerd out there.
It is built as a co-working space and already is has found its regulars that treat it as their home. The attention to detail, right down to the ergonomically designed, Italian chairs for extra back support for long periods, is just next level.
They've kept most things simple, including the food, which is beautifully prepared by Memory, who makes magic in her kitchen with a few carefully selected options on the menu.
A wonderful recent addition to the team is Ben Jenkins, an Englishman who has found his way into coffee. What began as a part time job to pay for his studies has now become a fully fledged career, one which he hopes to let flourish in our fine country. Having just spent time in Burundi with the Long Miles Coffee Project and having received his roasting stripes at Origin Coffee in London, he is a huge resource to the space and to the SA coffee community at large.
We highly recommended you get yourself to Fourways and experience their style of coffee.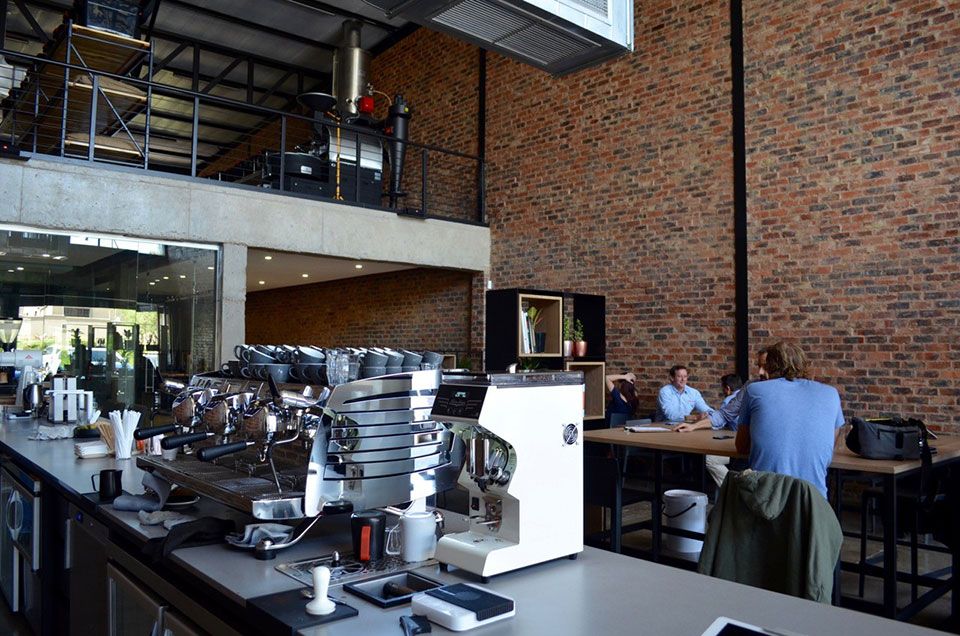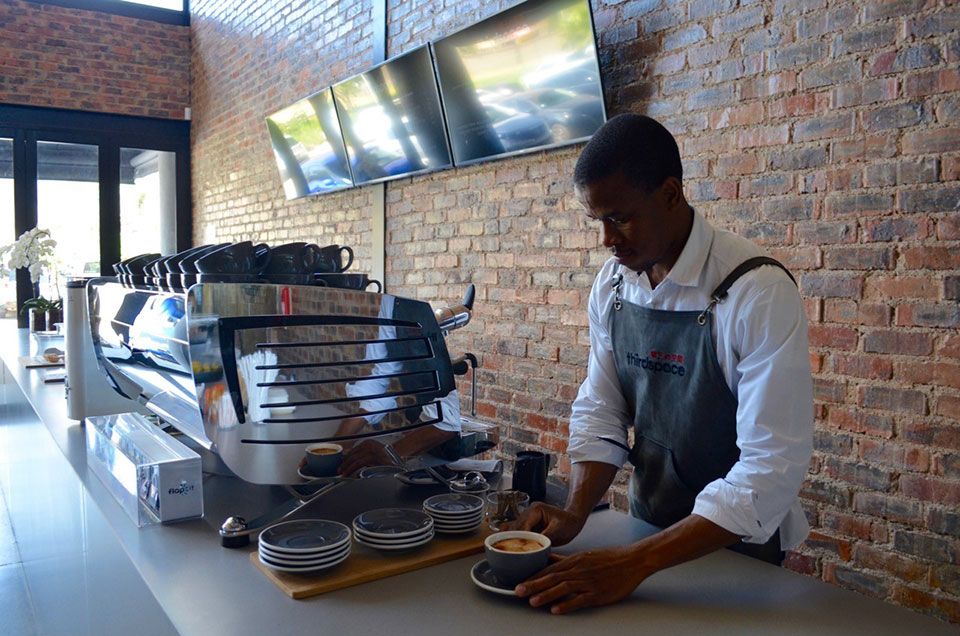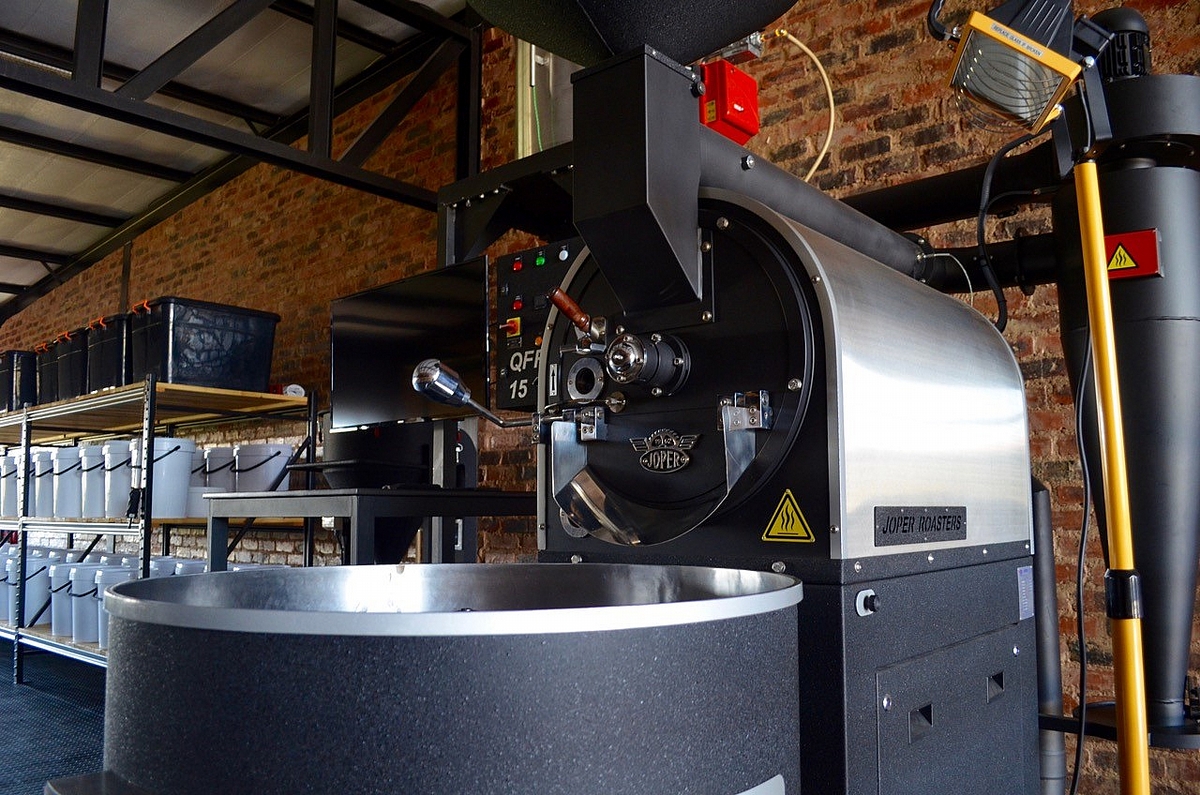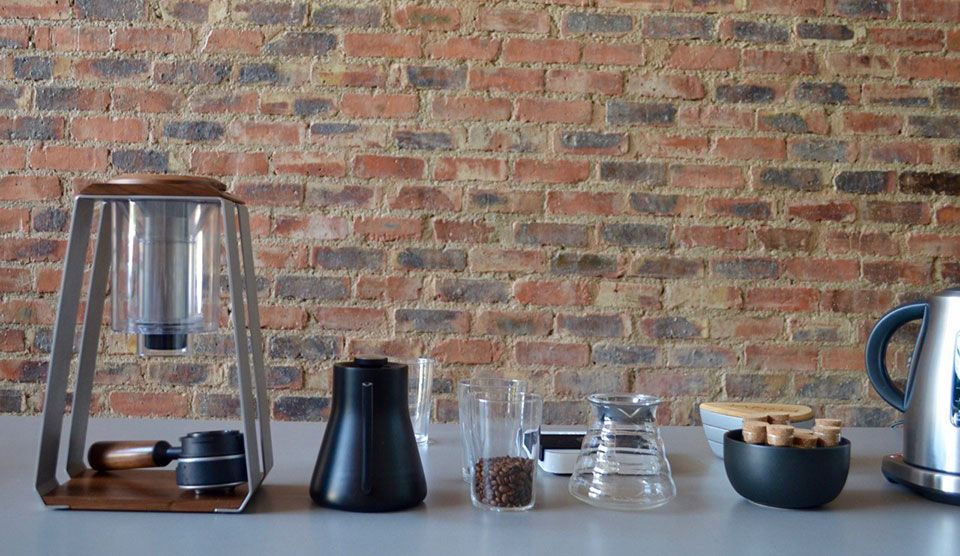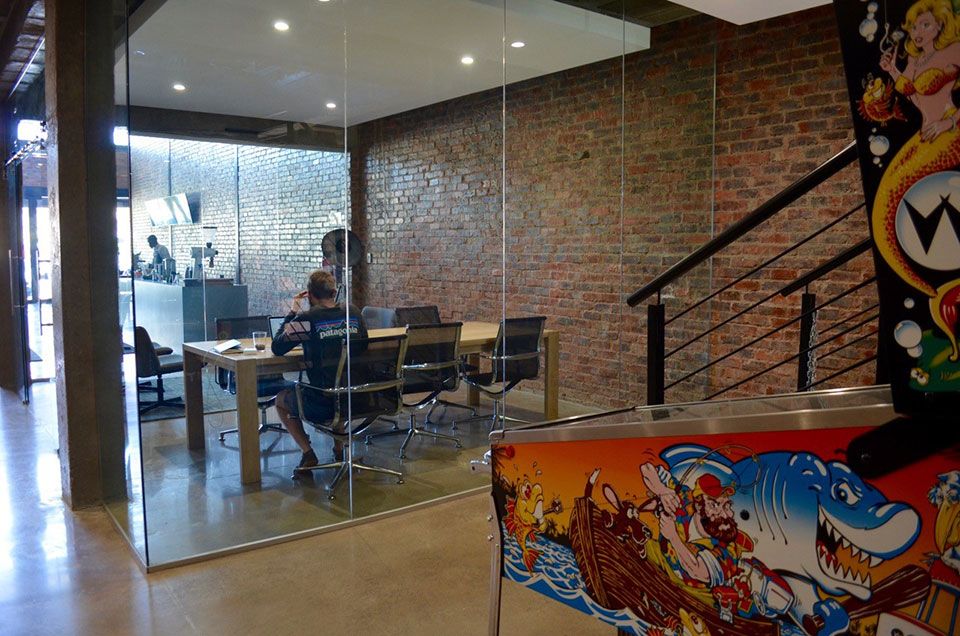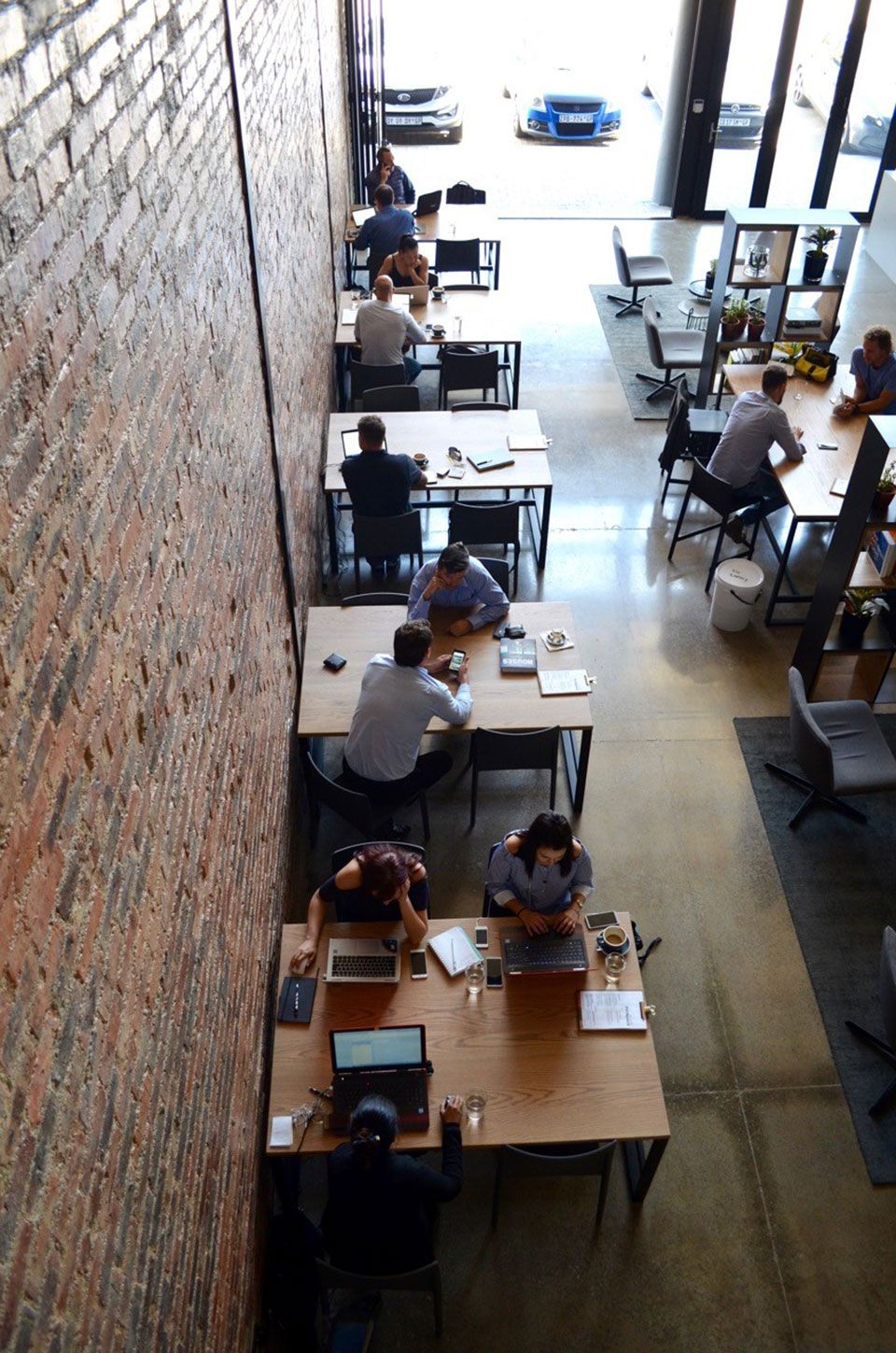 Got something to say? Then leave a comment!
---
Build Up to World Barista Champs in Seoul 2017
Thursday, 28 September, 2017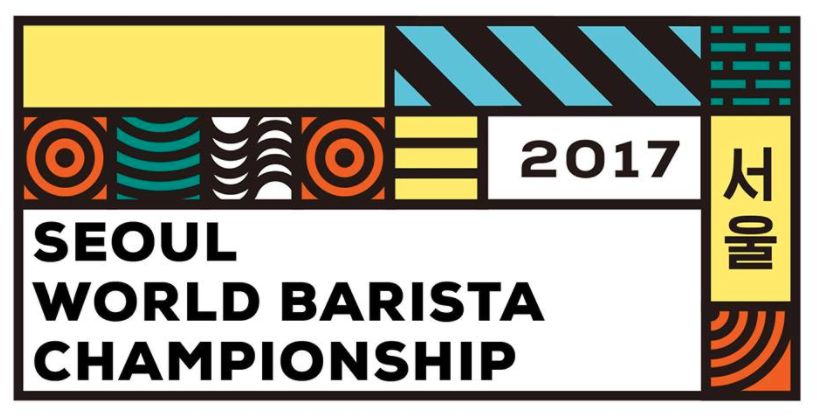 We are getting excited for our boy
Winston Thomas, current South African Barista Champion
and his journey to Seoul.
With the support of
Origin Coffee
,
Urnex
,
SCASA
, Craig Charity and his own determination, Winston has got two-time 5th Best Barista in the World, Maxwell Colonna Dashwood on his team and is feeling good about his training so far.
With the change in rules and the Team Event, it means that there are 16 semi-final places up for grabs. If our SA Champ makes it through, he will be the first ever African barista to take a semi-final spot. We are all rooting for him to make history.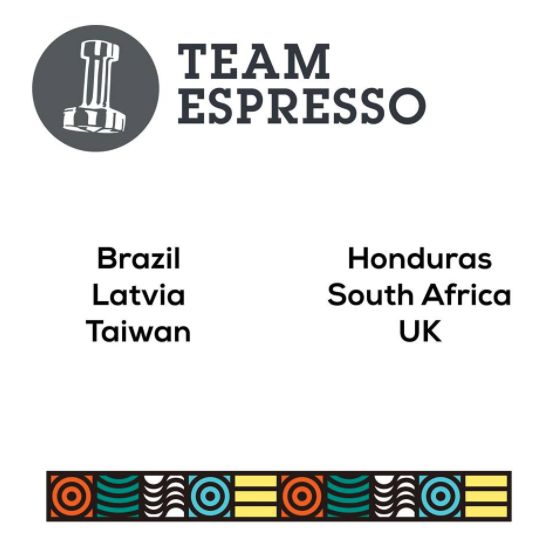 How does the the Team Event and the Top 16 work you ask?
The baristas will be competing for an additional "wildcard" semifinals qualification spot where the person from the winning team that has the most points (and if they've not already earned themselves a place in the Top 15) will qualify for the Semi-Finals! And all the members of the winning team earn themselves a WCE All-Stars international experience.
There is everything to play for!
Read more about the teams and the upcoming event here:
https://www.worldcoffeeevents.org/2017-wbc-teams/


We are also extremely excited about the location in Seoul, South Korea with
Cafe Show
as the hosts. We just keep hearing
such amazing things about this city
and can't wait to see for ourselves!
Got something to say? Then leave a comment!
---
Ritual Brewer: Proudly South African Coffee Maker
Wednesday, 20 September, 2017
The Surge team
are a group of Cape Town designers that fell head first into coffee. They designed a coffee brewer that celebrates the aesthetic, but have learned a lot about coffee in the process, tinkering their design to make sure the aesthetic is also a successful coffee maker. Crafted in South Africa, the end result is a very beautiful work of art.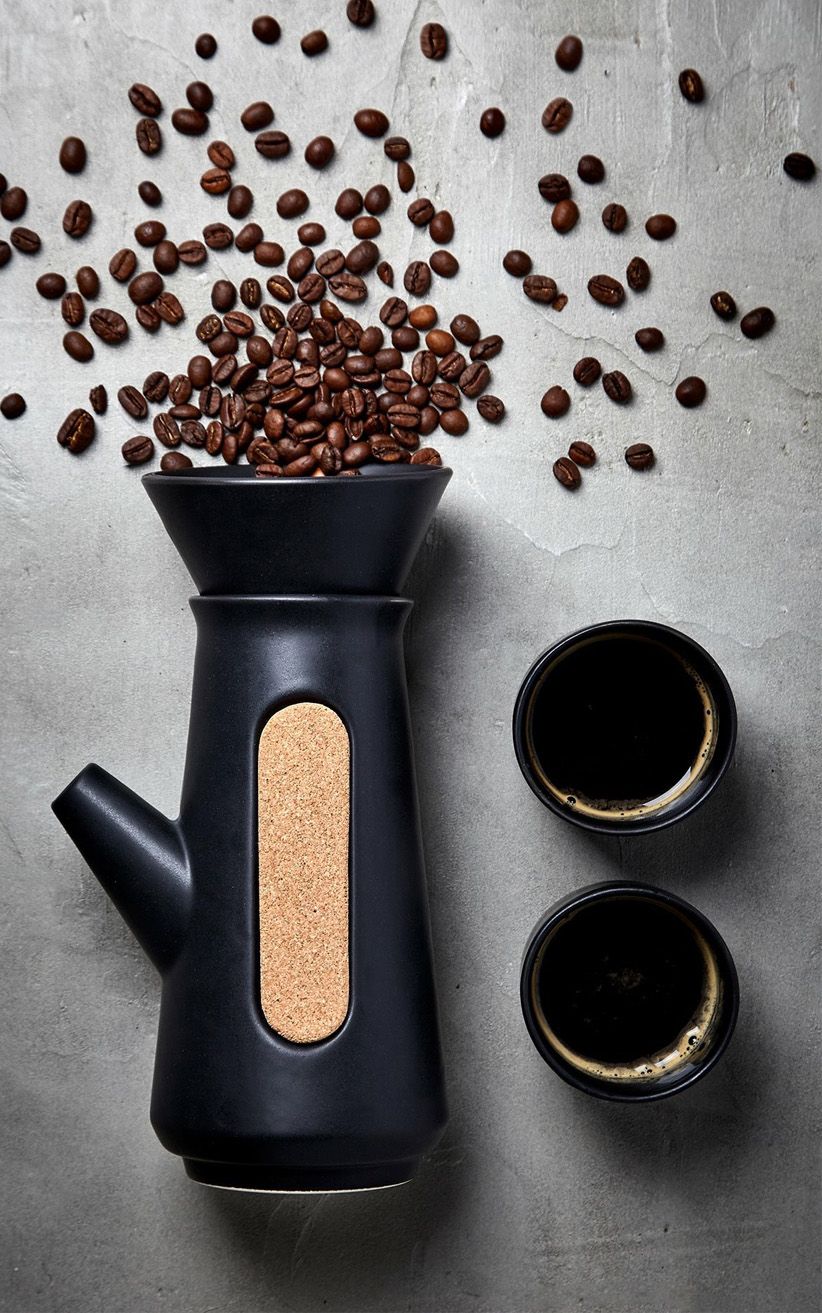 We were lucky enough to share a brew with Dylan of Noble Coffee, the proud owner of one of the first batch of Ritual Brewers. The craftsmanship is outstanding. The matte black finish on the solid pottery is a beautiful touch. The cork insert is a thoughtful and attractive addition as a handle. It definitely has an old-world feel about it, which we like, it reminds us of the
jebenas
in Ethiopia which served as inspiration for the Surge team. It does inspire you to slow down. You can use the filter paper of your choosing, the Hario 01 size fits snugly in the funnel.
As Dylan said, "The fact that there are no ridges in the filter funnel means that I had to adjust my grind quite dramatically to encourage even extraction." He used a much coarser grind than he normally would for a pour over brew as he found that any finer and the bottom of the filter would become clogged.
In terms of brewing, it's not re-inventing the wheel, but it looks absolutely gorgeous on any counter. The solid, ceramic body does a good job of insulating the coffee, keeping it at a good temperature for drinking unlike the usual glass carafe from which heat can escape quite quickly. We think it makes a worthy addition to any home brewers collection, especially because it's homegrown.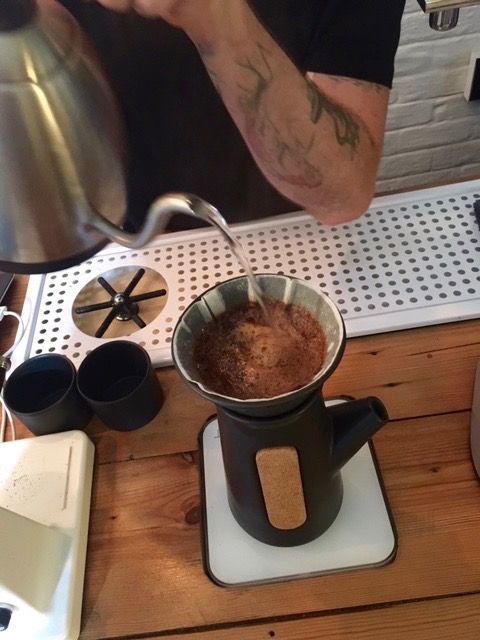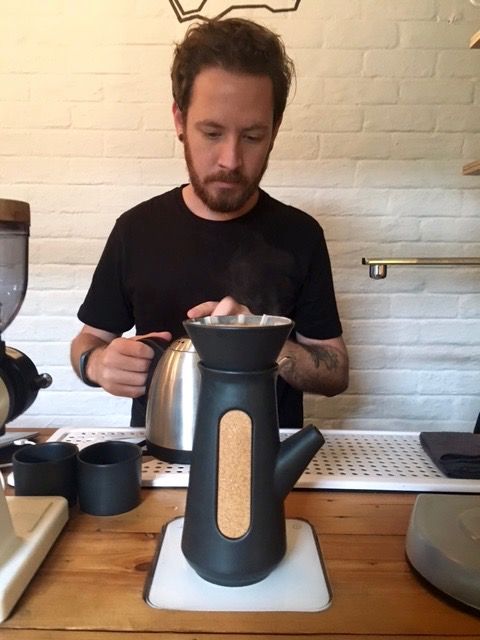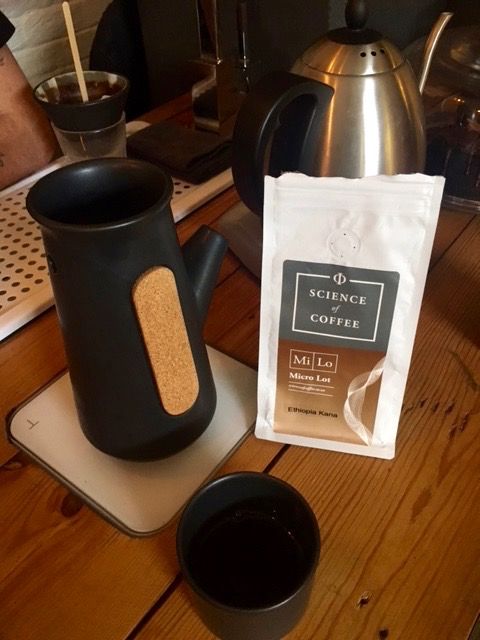 Got something to say? Then leave a comment!
---
Selati Sugar launches Barista Scholarship Initiative!
Tuesday, 19 September, 2017
Selati Sugar
, in partnership with
The Coffee Magazine
, is launching a Barista Scholarship Programme, in which 12 candidates will be selected to embark on a career in coffee.
In collaboration with
5 community-based Cafés
, the candidates will have access to successful entrepreneurs as mentors and learn about the business of coffee and hospitality from leaders in their communities.
Coffee has the power to change to lives. It changes your life every morning as you take that first sip and feel ready to take on the day. In South Africa the café culture has boomed; the potential for growth in this industry is exponential and Selati Sugar has recognized that.
The decision to support 12 candidates through the beginning of their journey in coffee was an easy one, the company is already invested in uplifting the farmers that produce the Selati sugar that you use to sprinkle on your cereal, bake in your delicious treats and liven up your morning coffee.
Cafés cannot exist with sugar. It is a fundamental product found in each and every one. But have you, as a coffee connoisseur, considered that sugar, like coffee follows a similar journey and has similar integrity markers that coffee has? Ask yourself the following questions about your sugar choice (just like you would your coffee choice!)
Is this sugar supporting small-scale farmers? Is it sustainably grown and harvested? Does it follow rigorous speciality checks along the production chain to ensure highest quality? Is it good for the people in coffee and their communities? Selati Sugar can proudly say YES!
This Barista Scholarship Programme focuses exactly on this last point.
The Barista Scholarship Programme consists of:
-
UNISA: Short Course in Barista Skills
(NQF level 4 certificate)
-
Specialty Coffee Association of Europe (SCAE)
: Introduction to Coffee Diploma
-
SCAE: Barista Skills Level 1 Diploma
- Internship of 3 months at a Partner Café's in their community.
How Candidates can Apply:
Potential candidates are encouraged to register at one of the 5 Partner café's listed on this page. Applications open September – November 2017. The successful candidates will be notified and training will begin in January 2018 with the Unisa course, followed by the SCAE courses and the 3-month internship.
The application form and instructions for required documentation
can be found here to download.
Please drop at one of our partner cafes.
T&C's Apply.
Partner Cafes:

Kofi Afrika – Soweto, Gauteng
Kaffa Hoist - Langa, Western Cape,
Crema Cafe, Bloem, Free State,
MiCoffee, Port Elizabeth, Eastern Cape,
Flava Club, KwaMashu, KZN
eDEAF
&
Ciro
– Facilitating 2 Deaf Baristas training via eDEAF.
Got something to say? Then leave a comment!
---
Win tickets for CT Coffee&Chocolate Expo
Thursday, 21 September, 2017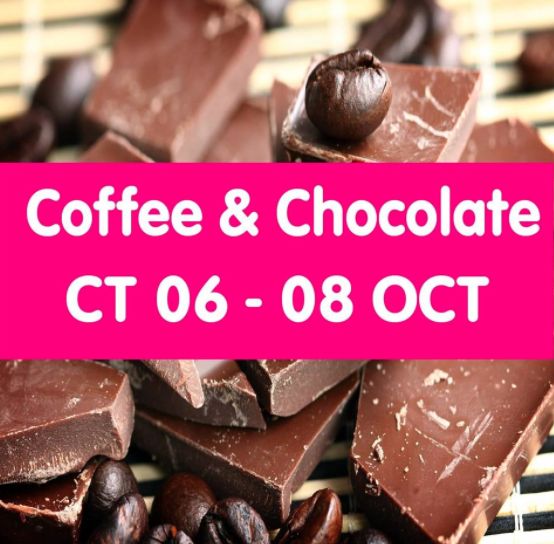 This is only the second year that the Coffee & Chocolate show will be in Cape Town and it promises to be bigger and better. The
SCASA Regional Latte Art and Cup Tasters Champs
will be happening over the weekend and there will be so many opportunities to taste different coffees and of course, chocolate.
Earlier this year, the
World Coffee Events All Stars
were at the JHB event and they put on a fantastic show. Our baristas have a lot to learn from the latte art skills they showed off. We're hoping to see a lion or two on stage at the Western Cape Latte Art Regionals. Below you can see some of the demonstration and his beautiful lion from CoffeeChoc JHB.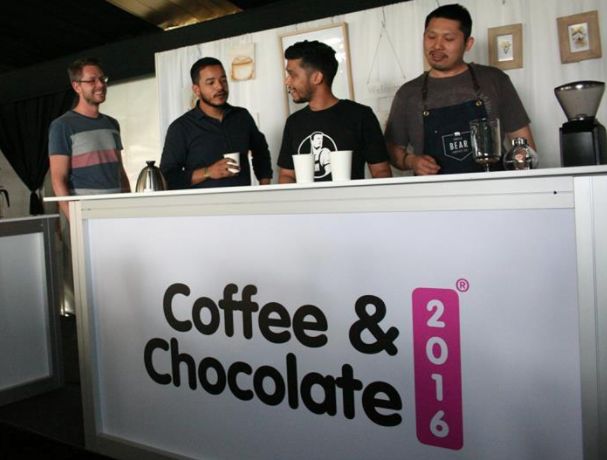 Last year the trio of Justin Groep (Rosetta Roastery), Winston Thomas (Origin Coffee Roasters) and Khan Chang (Uncle Bear) entertained visitors and delighted their tastebuds!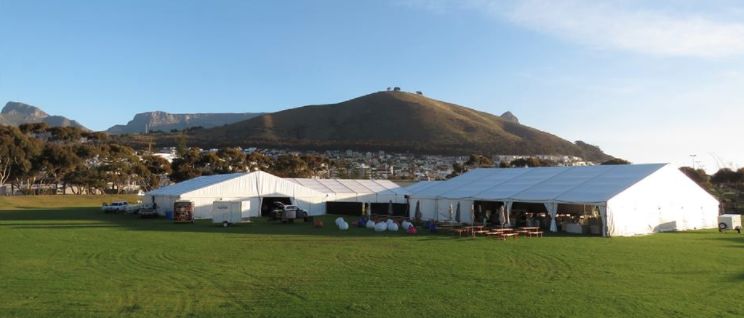 So you want to win tickets to this event? All you need to do is like this post and tag the person you would take with you in the comments below. There are 5 sets of double tickets up for grabs.


Got something to say? Then leave a comment!
---
5 insights South African coffee fans can take away from Nestle's recent 68% buyout of Blue Bottle
Friday, 15 September, 2017
5 insights South African coffee fans can take away from Nestle's recent 68% buyout of Blue Bottle

Words by Iain Evans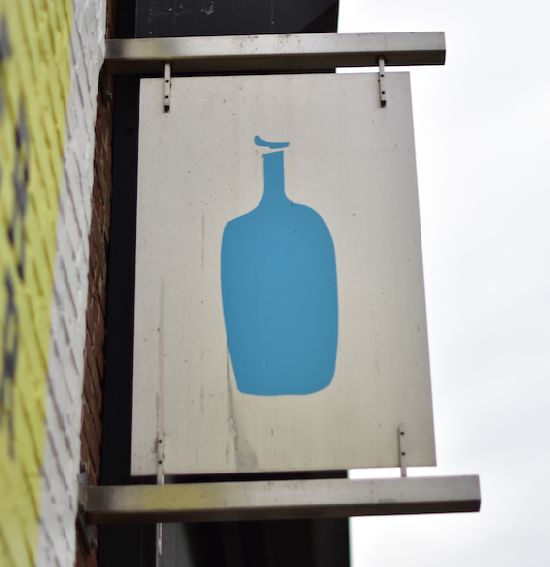 Yesterday my coffee-centric social media bubble went crazy around this merger. What is the Swiss MultiNational doing buying a controlling share in one of the most influential third-wave coffee brands in the World? And what does it mean for us as coffee consumers in SA?
---

1. What happens globally, is eventually mimicked in SA
Starbucks, Dunkin' Donuts and Krispy Kreme to name just 3… all arrived in Mzanzi in the last 3 years!
But, before you all rush out and invest your life-savings in your neighbourhood roastery hoping to get rich (but, hey not a bad idea, actually!), realize the context of this merger.
Nestle has spent the last 10 years securing and growing it's footprint around Nescafe and Nespresso. We know in SA that instant coffee and convenience coffee are still the largest market share. This move shows two things: Firstly that Nestle need to secure the exponentially growing high-end of coffee and, secondly, they need to consolidate their US footprint.
Nestle is well represented in South Africa. Will Nestle SA look to do the same? If the trend stays true a la Starbucks, DD and KK…then, yes, possibly, but it may take time. Be ready!

2. Third wave coffee is still growing, globally and in SA, and there is plenty of opportunity to start. So start!

I'm not an economist or an accountant, but if you merely look at the percentages mentioned in the NY Times article regarding this buyout, you'll see that in the last 10 years, coffee (all sectors, including instant coffee!) has grown around 6% per anum, yet third-wave (read "good" coffee, and I tentatively want to say Speciality Coffee here) has grown around 15-20%!! That's huge!
It's good for everyone in the coffee family. Following point 1 above…this leads me to believe that the equivalent trend will happen in SA and the growth and opportunities are right in front of us, right now! If I think about SA coffee companies - old school like Peacock's, Masterton's and Beaver Creek, to the last decades game changers, Truth, Deluxe, Origin, Bean There, to the newest roasteries…the best time to start is right now and there is plenty of opportunity!
I called up Judd Francis from
Deluxe Coffeeworks
to pick his brain on the merger: "From a small roasteries perspective, If you do a good job and you put in the work and the time, you deserve to get paid well if a large corporate wants to buy you out. But you gotta be ready to sell, because you've got to decide if you're going to work for someone else, and if you're prepared to see your business culture and your brand change"
Dylan Cumming of
Beaver Creek
had this to say: "If it was in line with what we wanted to achieve then, Yes. We would never do an outright sale - investment needs to be a partnership. As long as James Freeman is there and has a say, then it's fine. In SA, I'd say what is the future of SA Coffee Farming? Could these funds better that? New farmers, new methods, better processes…if it's good for SA coffee then, yes, we'd collaborate, but we'd never sell out."
3. Business these days is all about money, but increasingly ethical and moral standpoints will shape the bottom line.

Let's be honest, no multi-national giant like Nestle is going to act in any other way than what suits its bottom line. Nestle are not doing this for the good of the coffee community. It's all about business, and the reactions from the coffee community in the US have been partisan to say the least. What can we learn from this? If the SA coffee industry leaders and consumers are going to grow and prosper, we need to be conscious of the moral and ethical obligations of our industry. Surely there is a massive opportunity here people?! Surely, we can, right here at the bottom tip of Africa, create, engineer and innovate the solutions that drive these things forward? SA has great inventors and innovators… where is the next coffee version of SA's Elon Musk, Mark Shuttleworth or Madiba and what is the big idea that is going to be a game changer for us?
Ryler Masterton from
Mastertons in PE
says: "Looking at the Blue Bottle, Stumptown and Peet's aquisitions, it's clear that corporates are using these speciality businesses to penetrate markets they couldn't reach. They are able to throw money at it, and it'll have a trickle down effect eventually in the long term….but the question is always going to be around protecting and preserving the heritage and integrity of the brand. This kind of money in an SA context has the potential to grow the market and convert drinkers, because of the capital investment, but in terms of the SA coffee industry, one fears that corporates are in it for the money, and they wont re-invest into the coffee culture itself. "
4. Share the love!
The interesting thing that I noted is in the forward business structure of the Blue Bottle deal. So Nestle buys out 68%, but the remaining 32% is owned by management and employees. I need to repeat that last bit,
employees
. South African Coffee business owners… in light of the above and in light of the future growth of third-waves/high-end/(again, I tentatively want to say Speciality here) coffee…are you prepared to offer ownership of your business to your employees? Are you ready? Are they ready? What's holding us back?
5. Be Lekker.
Finally, the thing I most take out of the success of the Blue Bottle merger, is that fact that they are lekker. This is not pie in the sky speculation or opinion like the above four points. This is simple, actionable and measurable - as SA third wave coffee people, communty and consumers… let's be lekker too. Let us embrace the coffee philistines, the noobs, the sugar-heapers and the previously good-coffee-uninitiated. Let us welcome them in from the instant-coffee cold. The moment we think we know it all and we talk down to any customer, sub-set, age-group, dress-code subculture or whatever else makes us behave differently, realise that we are not growing our coffee family. As James Freeman say: "People just want delicious coffee." Let us serve it to them and change their lives!
Footnote:
I called Pieter Blom from Bootleggers and he had this to say, which I really like as a parting shot:
"Mergers don't always bring out the best in brands…it is hard to maintain integrity and quality afterwards. In this stage of life, our SA businesses are too young, and one needs to establish the culture in your brand…the essence of the brand and protecting that brand… I'm not in coffee for the end-game - I'm 100% in it for the love of coffee and to have fun while we do it. For me and the employees. I cant see myself doing anything else. "
Got something to say? Then leave a comment!
---
The Neighbourhood Barista shares his search for his God Cup
Friday, 15 September, 2017
"I recently read your editorial in the Autumn 2016 edition of the Coffee Magazine about Finding the God Cup. This small, yet very interesting editorial sparked my interest in writing a little piece on my own experience of the God Cup for my blog."
We love hearing from our readers! Thank you to JP who took the time to share this with us!
---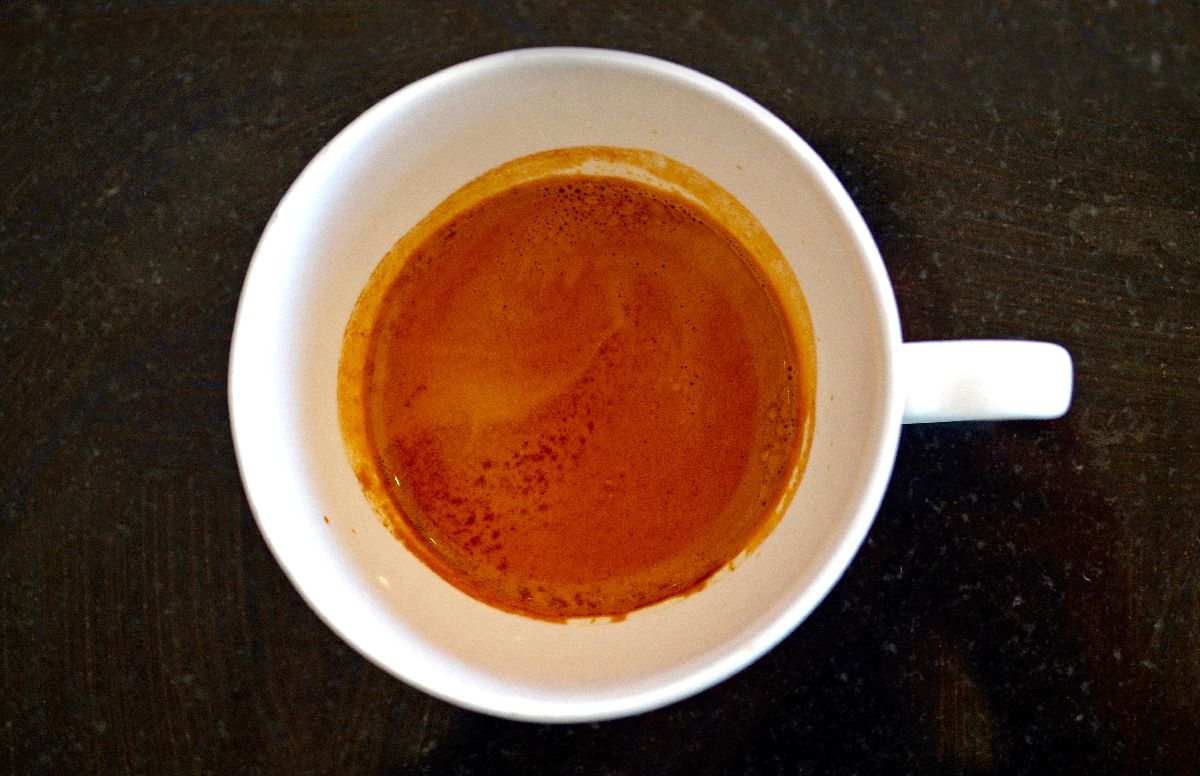 The Search For The God Cup.
Submitted by JP Blignaut, originally published on his blog The Neighbourhood Barista
The years have accumulated so quickly, I can hardly remember exactly when it happened. It was about three years ago to be precise. The busy parking area in front of the Thai food restaurant that I was working at the time was filled with people doing their daily grocery shopping. A colleague and I enjoyed the spring breeze, as winter has just been swept under the carpet. A fellow friend and employee parked her car near where we were sitting and carried a plastic bag, the content yet to me unknown. As we boil the kettle and she sets up her apparatus, I find myself for the first time in the presence of an Aeropress. The strange looking cylindrical equipment, brewing my first cup of coffee for the day truly intrigued me. As I take that first sip, with a grin and a smile, and get the fresh aroma of freshly ground coffee, dark roasted nuts and hints of honey – I indulge my senses in this extremely flavorful coffee experience. With my knowledge about coffee still being very slim, I can to this day remember how that cup of coffee truly opened my eyes to the world of specialty coffee.
Three years down the road, numerous amounts of coffees later and speciality coffee still leaves me with a tingle on my spine. After so many different coffees and origins, I find it difficult to reminisce the true excitement of absorbing speciality coffee. Don't get me wrong, coffee still leaves me speechless every time. In the process of improving your knowledge on coffee and finding that one special cup, we in a sense are looking for that God Cup. The cup that started everything. The cup that took you from drinking a normal hot beverage to looking at coffee differently in every aspect. Yet, here we are. Testing, improving and experimenting each day with new and different coffees, still in the search of that perfect God Cup. To my senses, it is very subjective from person to person, although it is almost hard to say that your God Cup may never cross your path again, there is almost that small lingering excitement inside of you which transcends you into the playing fields of specialty coffee. Over the last few months, I have learned that looking critically at each coffee removes many different variables which will or can only draw you closer to finding the God Cup.
Although it is somewhat extremely difficult to find your God Cup in a crowd of second wave drinkers, the possibility still exists. Yet it is not what other perceive of coffee, but rather what you make of it. The coffee movement and revolution in small towns and cities, like mine, has made it ever easier for me to never stop looking for my flavourful friends. The world has now become a place inside your pocket, with a view taps on your phone, you can order different varietals of coffees from anywhere at any time. The experience, priceless. What has made us become so indulged and so intrigued with coffee, that we don't mind looking at the price of the coffee before buying it? Nothing stops us from looking for that one cup of pure enjoyment. Yet, it has made it possible for us to use our God Cup experience as a sort of reference. We never stop, that is the true magic of this madness. But what many will disregard, we take the seriousness of our coffee to new frontiers. Yet coffee never fails to impress, we are in a sense just looking for that God Cup to create something new in our lives, may it be finding new brewing methods, or perhaps re-inventing already existing coffee brewing methods.
As the years have turned into so many memories, from my very first French Press to purchasing my Aeropress, to indulging in what a Cortado is, the God Cup has not yet made its way into my life again. As I draw closer to the end of an exciting time in my life, with my university studies 7 weeks away from being finished, I can truly say that this is the end of a history which will only start the trail of many new and exciting things, one of them being speciality coffee. The innocence of the God Cup, the power of the indulging flavours and the true excitement of enjoying each coffee in many different forms creates the path for you to look further than your current horizons. Today it is the flavorful notes and characteristics of pour overs and weighed espresso's which draws me into the complex and exciting world of specialty coffee. Nevertheless, the God Cup is out there, we just need to look for it. A single cup of coffee can change your life in one sip. Looking for that God Cup may take years, perhaps you and myself may never find it again, but until then the true beauty is that we must never stop looking for it.
Unfortunately this comes with a price and a label. The price of perhaps denying certain coffees or disregarding the fact that one coffee may not be so good above others. We are labeled by a society of second wave drinkers as coffee snobs or perhaps spoiled coffee lovers, but we are only looking for that one thing which has changed our lives for the better. So where will your God Cup take you? The possibilities are endless, perhaps the journey is only now starting, yet the idea or the notion that one can find that true God Cup again one day is what drives us to never stop looking, never stop drinking and for the rest of our lives, never stop tasting the world through one single sip.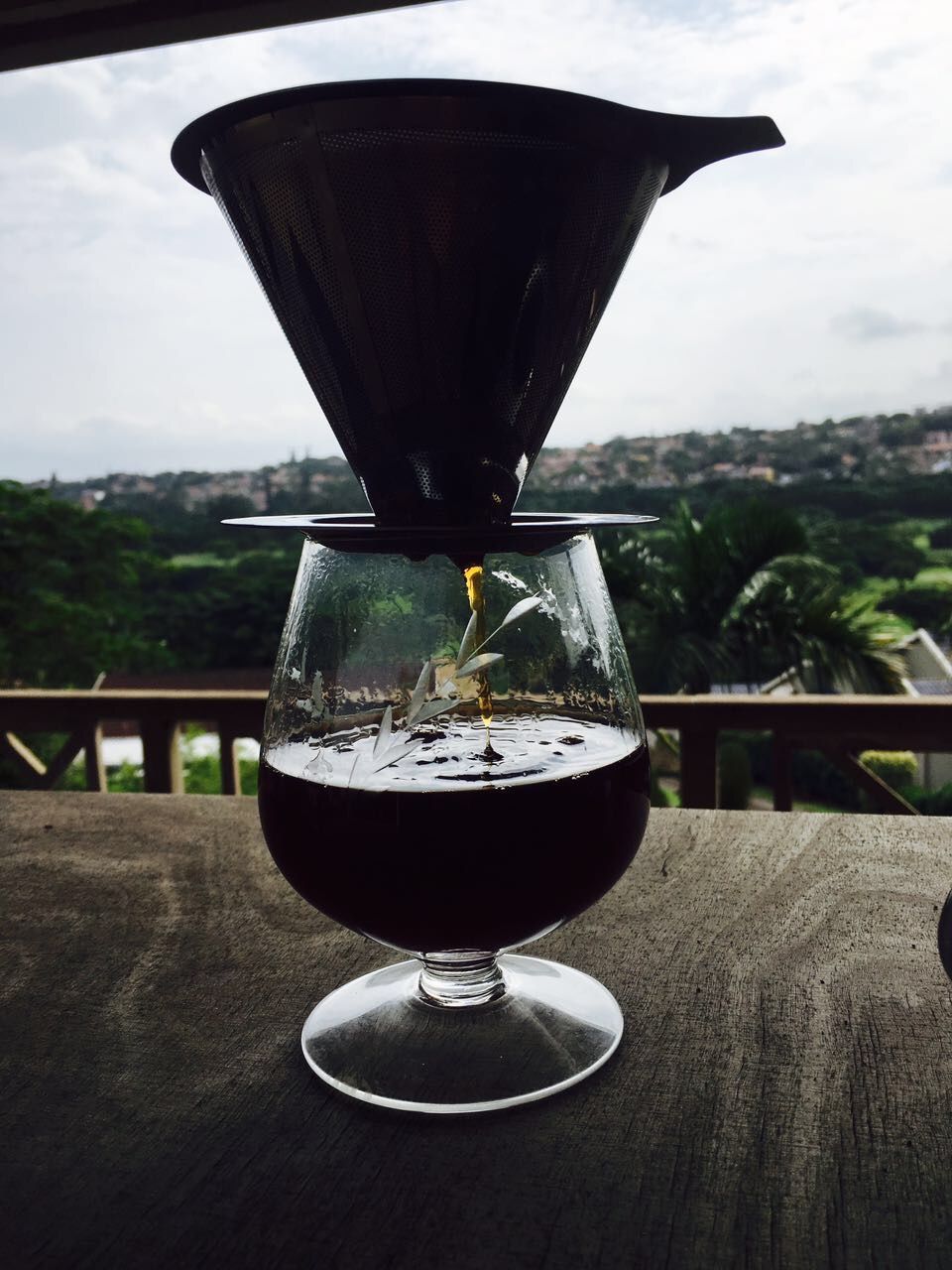 Got something to say? Then leave a comment!
---
Instant Gratification: A look into the biggest selling coffees in the world
Friday, 15 September, 2017
Instant Gratification
Words by Jake Easton
Photos by Craig Kolesky
First published in Issue 8 of The Coffee Magazine

---
The speciality coffee community is still in its infancy in this country and the vast majority of consumers (even those who have converted to fresh roasted beans), still keep a bottle of instant in their cupboards. It's ok, we're not judging you! We wanted to investigate the coffee industry's biggest and most controversial player. Who better to take on this challenge than a seasoned coffee roaster, someone on the opposite end of the coffee spectrum, a man who generally has something to say about everything, Mr Jake Easton. He dove headfirst into the freeze dried beans…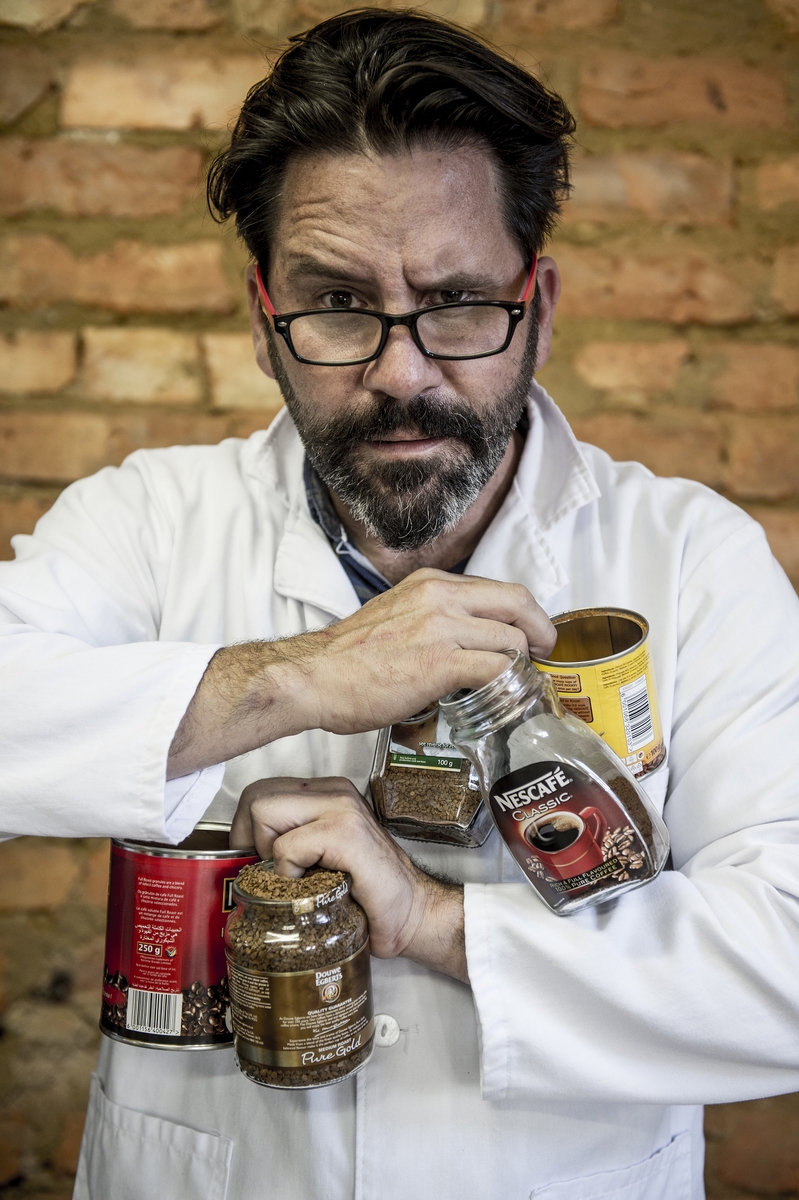 In the small world of South African Coffee there are any number of interesting characters who range from the heads of small businesses (less than 100 tons roasted a month), to café owners in Zastron (is a tiny agricultural town in the Free State), to tiny 2kg roasters in the far flung reaches of this beautiful land. As a part of this industry, I can tell you that the people in it really love the industry. It's a small, exciting, fun, free from governmental abuse, temperamental, and good industry. On the whole, we get along nicely and play in our small sandbox together, sharing like good adults (well some of us). I use the word 'small' because on the global scale of coffee production we are minuscule, per a very well informed man at the recent 2015 Gauteng Barista Championships, "We import for annual production 16 000 tons of green beans to this country". Here's the kicker, the majority of that coffee goes into the production of Ricoffy and soluble coffee, roughly 11 000 tons. That ratio is relevant because it's important to note that the instant coffee industry (better known as Water Soluble Coffee or simply Soluble Coffee) is so big that for many years it drove the coffee industry worldwide.
Nestlé (the lovely women and men who give us Nespresso and other nifty market beaters) claims that 5,500 cups of Nescafé are consumed every second. (Don't do the maths, its scary.) It works out to roughly 2 million plus kgs per day and about 780,000 tons a year.
I recently had a chat with Lionel de Roland Philip of I&M Smith, one of the oldest green bean importers into the country and he is currently the Chairperson of the Speciality Coffee Association of Southern Africa, in other words he is a seriously clever man in the World of coffee. He explained that the Freeze Dry method of making Soluble coffee loses 35% or more of its mass from roasting through processing; therefore, Nescafé produces roughly a million tons of coffee for Freeze Drying every year. Nescafé are market leaders controlling something like 30 to 35% of the Soluble market production. That means that over 4 million tons of coffee produced annually are for the sole purpose of Soluble Coffee. To quote a fantastic children's book, "Now that's a lot."
Instant coffee was first patented in New Zealand in 1890 by Mr David Strang of Invercargill (Patent No. 3518). So we can blame the Kiwi's for foisting this sometimes insipid drink upon us all! There are rumours of it having been invented in 1771, but lets just give this credit to the Kiwi's and be done with it. The spread of its popularity could be attributed to post-World War II when resources were scarce but need for caffeine remained high. Many consumers decided that the convenience in preparing a cup of instant coffee more than made up for a perceived inferior taste. Perhaps that is still the case today.
There are two main types of Soluble coffee production (apparently one makes for better flavour than the other): Freeze Drying and Spray Drying.
The Freeze Dry method takes a roasted coffee bean and grinds it down to 0.5 to 1.1 millimetre granule sizes and then dissolves them in water at temperatures between 155°C to 180°C. This period of soaking in warm/hot water concentrates it into a solution of about 15% to 30% coffee by mass. This mass is then sublimated. Yes, that's really the word. The mass of wet coffee granules are rapidly frozen, placed in a drying chamber, a vacuum is created within this drying chamber, the chamber is warmed causing the water molecules to expand to ten times their previous size and a condenser attached to the vacuum removes all the water vapour, leaving behind Nescafe, Maxwell House, Koffiehuis, Douwe Egberts, Jacobs and many others. This is considered the higher quality method.
The second method called is Spray Dry. It takes the roasted coffee as above but grinds down to round particles of 300 micrometers (0.012 millimetres). This granule size is accomplished in some cases by high speed rotating spray wheels travelling at 20,000rpm which are able to process 27 tons an hour. These spray wheels have a very wide radius in order to avoid the condensation droplets on the inside of the drying chamber. This process takes between 5 to 30 seconds and the small particle size means the grains must be either steam fused into granule towers or by belt agglomeration (shaken baby not stirred). Ricoffy (a blend of coffee beans, chicory and glucose), South Africa's most-loved uses this method.
Wow! Those are quite intense processes. While we can all agree that nothing is being added to the coffee, I think we can also agree that the beans are roughly tossed about in the name of convenience and longer storage time. Our small coffee industry outrightly scorns instant coffee and all that it represents. Let's investigate why.
Well in two words, Taste and Aroma.
Our roasted coffees have inordinately more aromatic phenols and esters (over 900) than instant coffee (+/-300) in other words you can smell and taste the difference instant-ly.
That doesn't change the fact that there's more instant coffee consumed in South Africa than roasted coffee by a factor of almost 3:1. So who am I to say that South Africa's favourite drink is anything other than loved? In the hopes of finding out how I can make a great cup of instant coffee I applied my sober mind to the idea that there must be a solution and what I found was there seem to be as many solutions as there are people. Of course, I had to try as many as possible.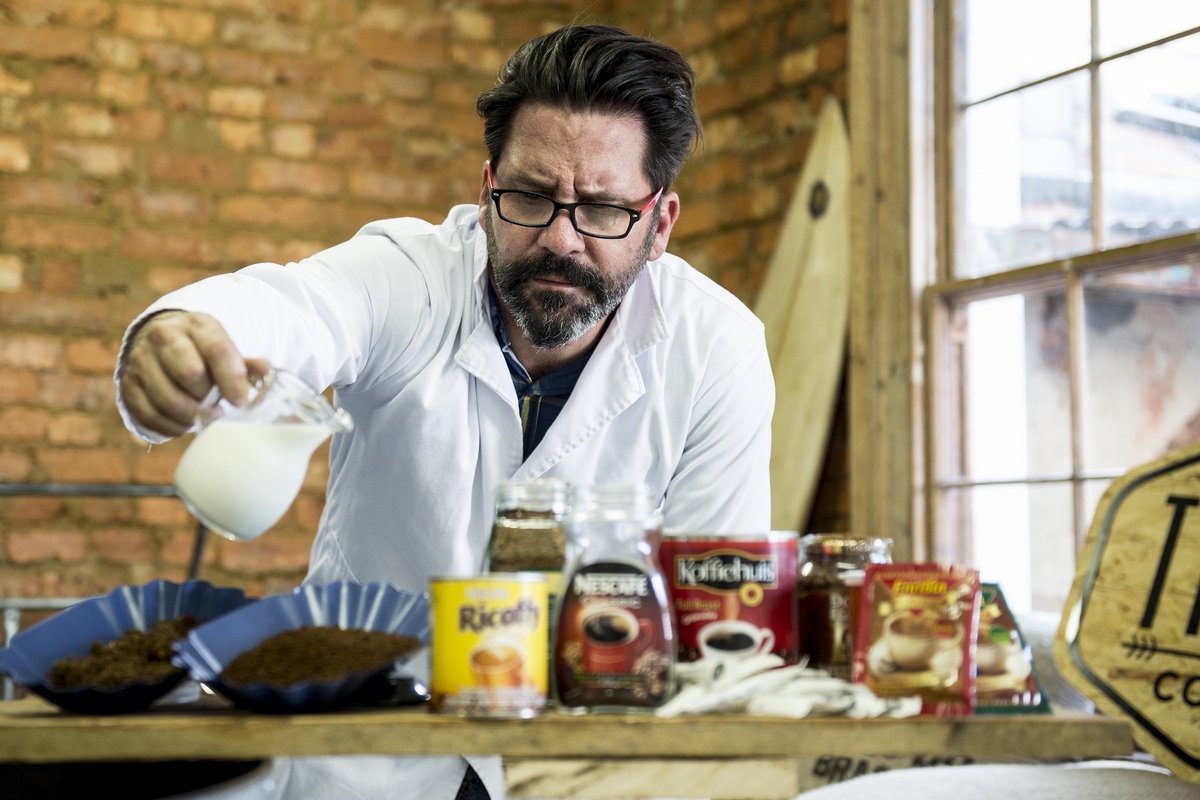 In the Overberg the farm labourers use a pinch of BB tobacco along with three spoons of sugar and warm long life milk. I tried it. It is so clearly not coffee, but something otherworldly indeed. Compared to some imported coffee brands it tastes good.
In Gauteng, I was treated to Douwe Egbert dissolved in cold milk with honey added and ice cubes inserted to cool the blend. It was remarkably palatable; in fact it didn't taste like typical instant coffee but more like a well-stored Montecristo cigar (read: lots of Robusta aromas and tastes).
In Zastron, I was treated to an undeniably wonderful Irish Coffee that uses a tablespoon of sugar, a drop of boiling water, two spoons of Ricoffy, warm milk, a healthy triple shot of Jamesons and a dash of cinnamon on top. The Jamesons certainly mixed well with the sugar and Ricoffy and was a pleasure to drink neat. The obvious alcoholic concoction wouldn't pass World Barista Championship speciality drink standards but by Dionysian standards it was perfect.
In the town of East London, whilst trying to remember the misadventures of the night before, I was given a warm brew of milk and two types of soluble coffee, Jacobs and Maxwell House, a spoon of each with no sugar but the milk had been heated perfectly and released all of its natural sugars. It was interesting as a Babalas remedy, until I went back to sleep.
In the Tribe Coffee roastery I wanted to play with the savoury side of Ricoffy, so I experimented with Ricoffy and lime juice, Ricoffy, Lime Juice and Tequila, Ricoffy, lime juice, tequila and salt. The experiment was fun but led to more Tequila and no Ricoffy. Don't try this at home kids.
The next day I added one tablespoon of Ricoffy to 40ml of 60% melted milk chocolate added a touch of micro-textured milk (70°C-82°C) whipped them together and added the remainder of milk to make a touch of Latte Art and wouldn't you know it but the drink was good. Speciality coffee industry good. In the next moment I made a double shot Tribe Espresso roasted flat white and added the same amount of chocolate. The two drinks were miles apart. Both so different, and both of them, in the application within which they live, good to the last drop.
Now, will I convert to drinking soluble coffee as a result of these findings? Nope. But do I now understand why the majority of coffee consumers drink soluble coffee their way? Absolutely.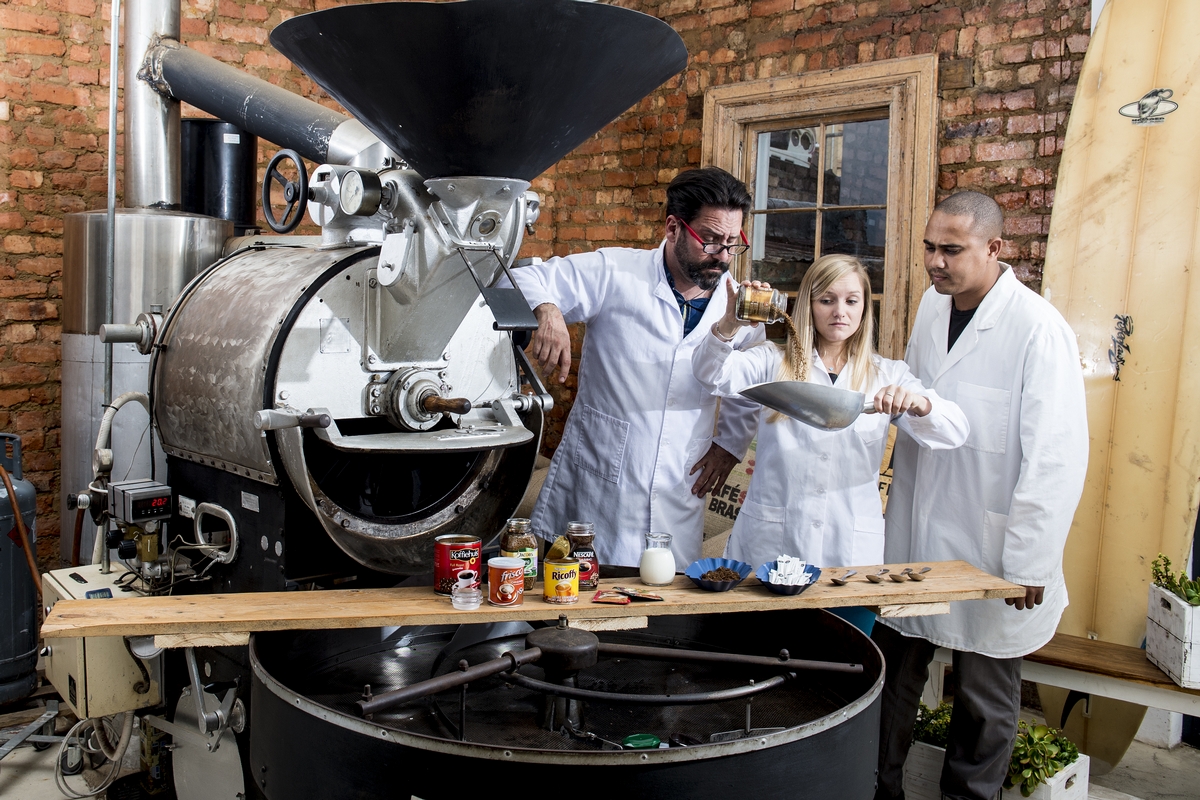 Got something to say? Then leave a comment!