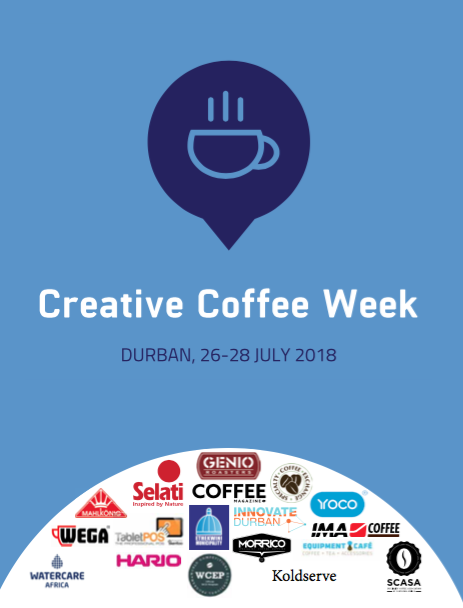 We are thrilled to be hosting Creative Coffee Week in Durban this July! This is an industry focused event where we hope to gather the best and the aspiring to the best together to share, learn and have fun with coffee!
We've got some incredible coffee experts flying in and we've got a wealth of knowledge right here in our own country!
Registration and ticket information will be available in the next couple of weeks.
We will also be holding the inaugural Coffee Magazine Awards presented by Selati Sugar as a culmination of this event to celebrate all the amazing coffee talent in our country.
If you would like to investigate becoming a sponsor at this event please contact Iain.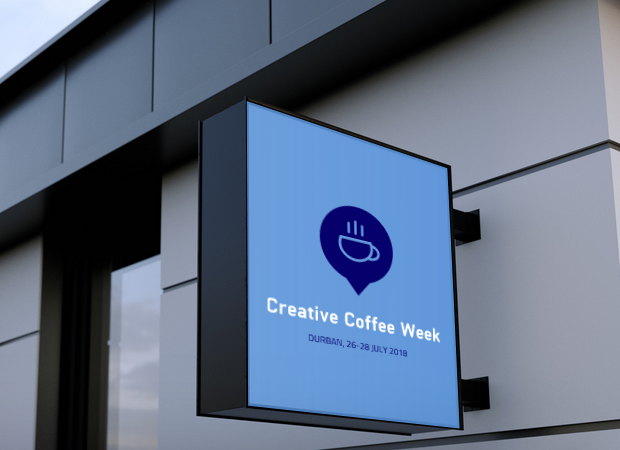 Programme of Events (Subject to Change):
Thursday 26th July:
8am - 12pm: Registration
12pm - 1pm: Lunch
1pm- 2.30pm: Workshop 1: Featuring Maxwell Colonna-Dashwood (UK)
3.30-pm - 5pm: Workshop 2: Water for coffee - going beyond. Steve Slark (UK) Chairman, UK Beverage Association.
6pm-10pm: Almond Breeze Breezey Masters (KZN) - Venue TBC
Friday 27th July:
9am - 12pm: Workshop 3: "A Shot in The Dark" + Tasting. Featuring Lemuel Butler, US Barista Champion 2016, Black and White Roasters
12pm - 1pm Lunch
1pm - 2.30pm Workshop 4: Espresso Machine technical hacks for baristas: fixing common technical problems with your machine.
2.30pm- 3.30pm: Workshop 5: Flavour Panel Discussion - Talk and Q&A
6pm-10pm: Caffeine Comedown Party
Saturday 24th July:
9am -11am: Workshop 6: Tech Talk - Michael da Silva CEO Tablet POS.
12pm - 1pm: Lunch
1pm - 2.30pm Workshop 7: Marketing and Social Media for your business
6pm - 10pm: Coffee Magazine Awards Dinner presented by Selati Sugar
OPTIONAL EXTRAS
Saturday morning: Beaver Creek Coffee Farm Visit (Port Edward) - Transport Included.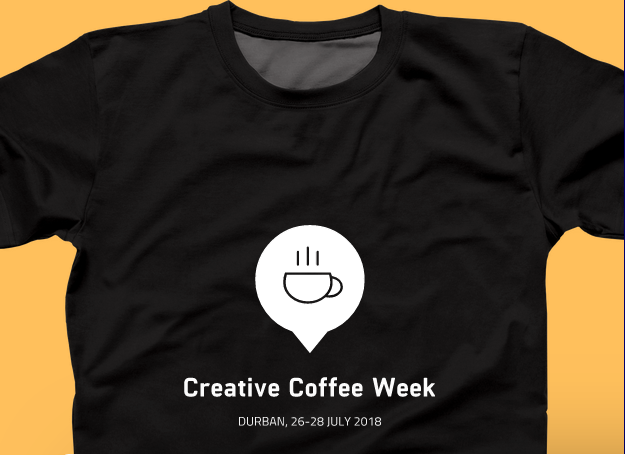 We are so excited about this competition!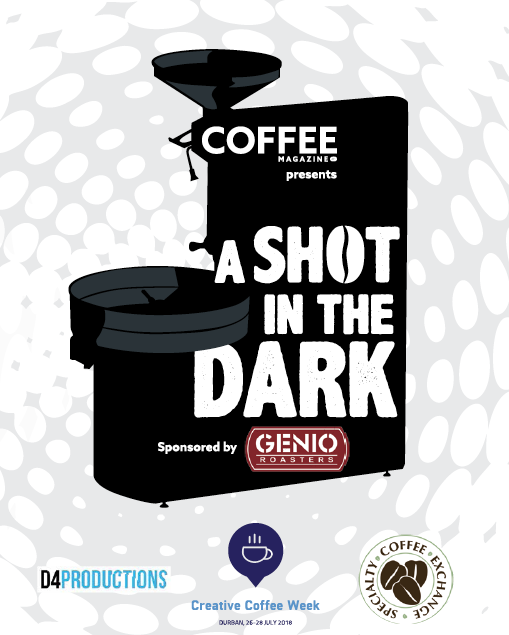 1 Micro-lot Specialty Coffee
10 South African Roasters
2 International Judges
A Shot in the Dark is a brand new multimedia coffee experience that tests the skills of 10 of South Africa's best Coffee Roasters, in an exciting competition format.

Coffee Magazine, along with Genio Roasters and Speciality Coffee Exchange, have sourced an 86+ Specialty grade, direct trade Nicaraguan coffee for this competition. Each Roaster will receive 6kgs of coffee with the brief to roast this outstanding micro-lot to its best possible potential.
The competition culminates on 27th July 2018, at Creative Coffee Week in Durban, where the 10 Roasters will bring 500g of their roasted coffee to be judged blind. The judges will not know which coffee belongs to which roaster. Who are these judges? A world-renowned coffee celebrity (who we will keep under wraps for now!) and Ben Weiner the founder of Gold Mountain Coffee Growers, the coffee producer from Nicaragua. They will assess the coffees in two ways, firstly by cupping them and secondly as espresso.
A Shot in the Dark is more than just a competition; it's an experience! There will be a Genio Roaster set up at the judging, and an additional 60KG of the competition coffee where the A Shot in the Dark audience and the roasters will be able to roast batches of the coffee on the Genio, share knowledge, techniques and roast insights, in order to experiment with the coffee and take home roasted batches of this incredible coffee.
This entire process will be filmed and edited into a documentary, which will see our country's best Roasters share their insights into roasting one of the finest coffees in the world and their pursuit of being named as the winner of A Shot in the Dark!
The 10 Roasters will be revealed soon. This is going to be fun!
---
Producer : Gold Mountain Coffee Growers : Direct trade
Origin : Nicaragua
Estate : Finca Idealista – a GMCG owned Rainforest
Crop : March 2018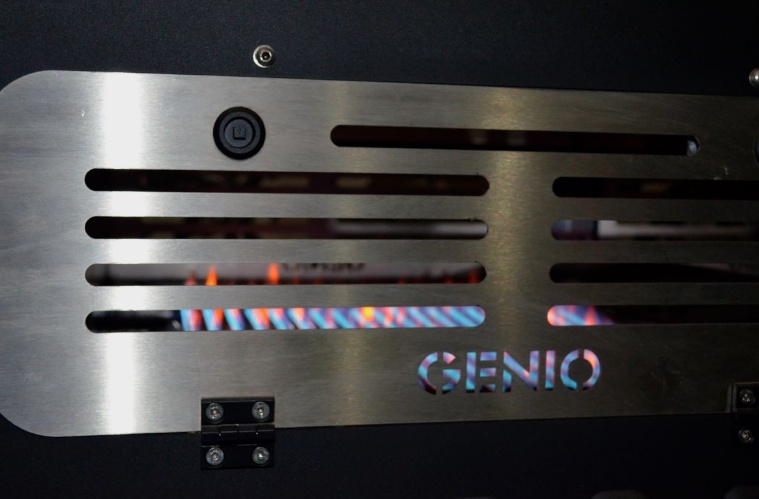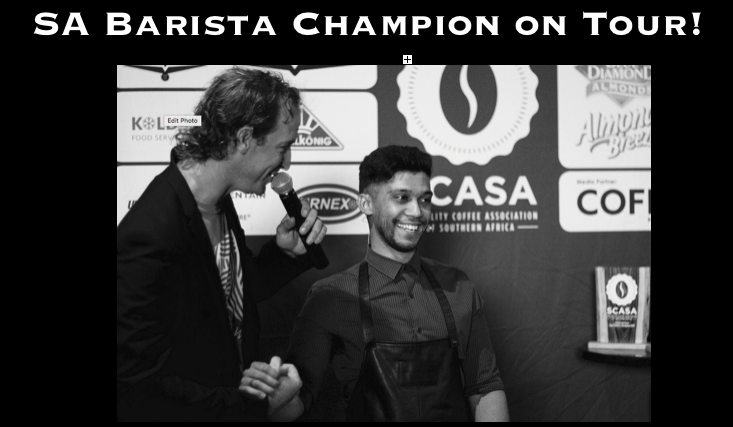 Winston Thomas is hitting the road, and coming to a town near you!
Our 2-time National Barista Champion is doing a Roadshow around SA to raise some funds for his World Barista Championship campaign in Amsterdam later this year and he wants you to taste his award winning competition coffee!
Winston's Gesha Village coffee is sublime, and if you haven't tasted it, you really ought to! If that is not reason enough to make sure you're at the Cafe's below when he visits, then just the fact that he's an inspiring and extremely insightful coffee personality, with World experience, ought to get you there.
Check him out at the following cafe's, where he will be spending the entire day, making coffees, pulling shots and sharing his experiences in coffee:
Thursday 15th March: Lineage Coffee - Hillcrest.
Friday 16th March: Colombo Coffee & Tea - Durban North.
Sat 17th March: Father Coffee - JHB
Sunday 18th - Free (Cafe Owners in JHB - click here if you would like to host Winston on this day)
Monday 19th March - Winston travels to Bloem - (Cafe Owners in Boem... click here to host Winston!)
Tuesday 20th March - Royal Roastery - Bloem
Wednesday 21st March- Winston travels to JHB.
Thursday - Heavenly Coffee - Centurion
Friday 23rd March - Thirdspace - Fourways
We will update this page as the free slots become booked, so keep an eye out, or follow Winston on social media to find out the latest news on this roadshow, and SUPPORT OUR CHAMP!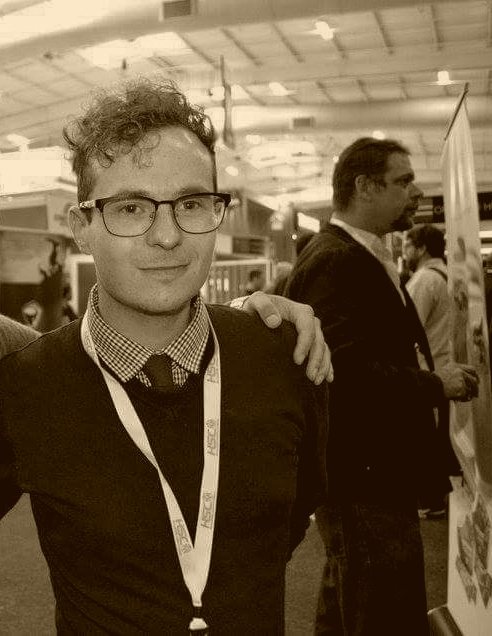 Name: Sinjon Wicks
Competition History:
2015 KZN Barista Championship - 8th Place
2015 KZN Cup Tasters - 5th
2017 KZN Cup Tasters - 2nd
Company:
Why did you enter this competition?
My first experience with competitive coffee was in 2015, not long after starting my coffee journey. I saw it as an opportunity to learn from some of the top barista's and coffee professionals from across the country, sharing ideas and growing the speciality industry as a whole. Competition also provides a unique platform for exploring trends, experimenting with new coffees, and beverage recipes as well as the opportunity to get all of us into one room and talk about what we love; coffee!
What is your favourite coffee at the moment?
At the moment I'm obsessed with an Ethiopian Kana Heirloom natural process. Cortado in the morning, and V60's all day after.
What has been the highlight of the journey so far?
All of the amazing people I've had the opportunity to meet. These passionate individuals are the one's who are driving the speciality industry and market forward, I count myself very lucky to be able to share ideas and disseminate new information and techniques with some of the most knowledgeable in the coffee industry.
Why do you think these competitions are important ?
Running cafe's or roasteries is often a seven-day-a-week operation, and unfortunately doesn't really afford us the opportunity to engage with other like-minded people . Of course, the dissemination knowledge and personal growth through competition goes without saying, but the camaraderie developed through these events is absolutely amazing.
Tell us an interesting fact about yourself (that has nothing to do with coffee)
When I'm not making coffee, I play drums and bass in a band with some of the other guys at the roastery. We're terrible.
---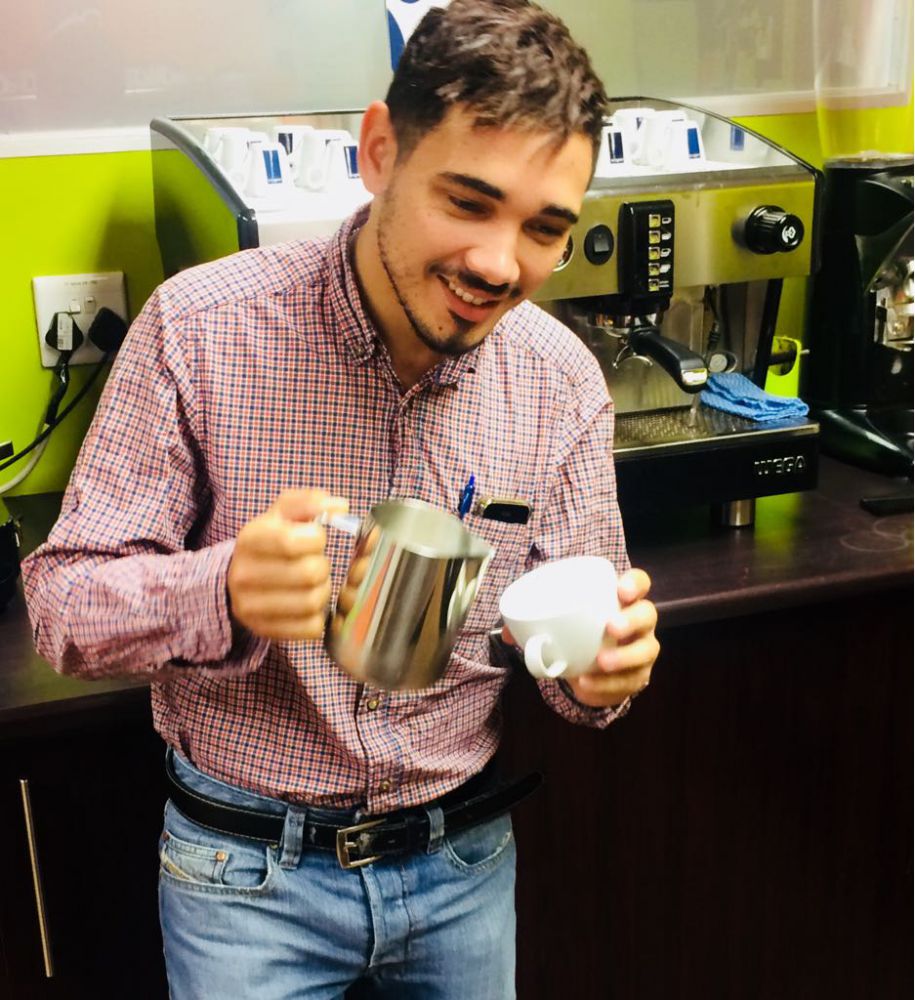 Name: Christopher Abrahams
Competition History: WC Latte Art Regional Championship 2015,2016 & 2017. WC Barista Regional Championship 2016 & 2017. Runner-up SA Latte Art National Championship 2017.
Region and position in comp: WC Latte Art Champion & 4th place Barista Regional Championship.
Company: Ciro Beverage Solutions
Why did you enter this competition?
I entered the competitions because of my love and passion for coffee! It is also a perfect opportunity to meet barista within the coffee community, where great friendships are made :)
What is your favourite coffee at the moment?
My favourite coffee at the moment an Ethiopian Yirgacheffe Kochere through a chemex. It is absolutely delicious!
What has been the highlight of this journey for you so far?
The highlight of this journey has certainly been the opportunity to compete and continue learning about how special coffee is to South Africa. It is continuously growing and it is amazing to see the growth and talent of upcoming baristas in the industry.
Why do you think the competitions are important?
I believe that the competition is important, as it allows baristas to express their passion for coffee as well as giving coffee companies opportunities to expose their brands.
Tell us an interesting fact about yourself :
I am one of a twin. As funny as this may sound, I am actually passionate about trucks. I truly enjoy working with my hands and find the world of engineering absolutely fascinating!
---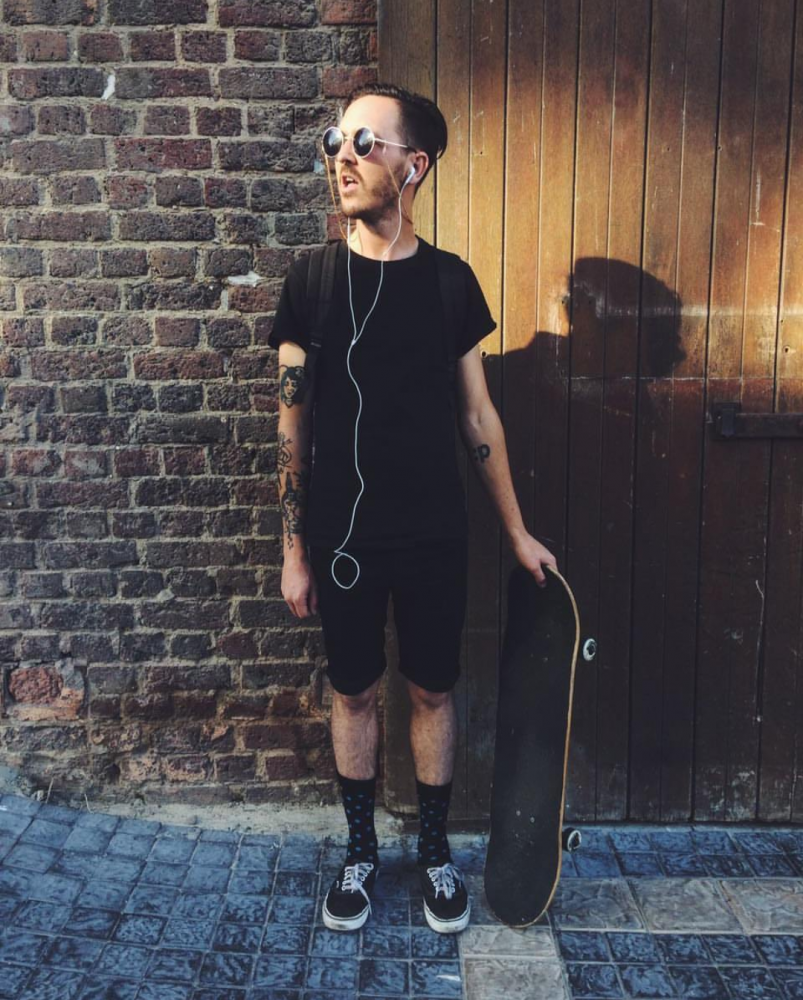 Name: Dayle Visser
Competition History:
2nd in KZN Latte Art Championship 2013
Regional barista Championships: KZN 2011,2012, WP 2017, 2018
Region and position in comp:
Barista Champs:
KZN 2011 (did not make finals), KZN 2012 (did not make finals), WP 2017 (did not make finals), WP 2018 (placed 2nd)
Latte Art champs: KZN 2013 (placed 2nd), Nationals 2013 (did not make finals)
Aeropress Nationals 2017
Company: Tribe Coffee
Why did you enter this competition:
I entered this year to better myself as a person as well as a coffee professional. I have also realised that these competitions are extremely fun and being part of the coffee community is a privilege very few get to experience. I'm doing this in hopes of proving to the world that South Africans kick ass at coffee.
Favourite coffee at the moment:
At the moment I'm really enjoying a Kenyan fully washed (its my competition coffee so won't give too much info lol)
The first thing I do in the morning is have it in an aeropress before heading off to work. Start your day off with perfect coffee right?
Highlight of the journey so far:
The highlight so far was standing next to our current national champ for the winner announcement at regionals. That feeling standing next to a champion, everyone dead silent as if no one was breathing, you could taste the excitement in the air. Winston is an incredible barista and it was honour to share a stage with him.
Why are the competitions so important:
The chance to show off your skills as a barista to a panel of judges and the public is so important for growth as a coffee professional. It's also a perfect way to introduce the general public to speciality coffee. Being a professional barista is damn cool and these competitions prove it.
Interesting facts about me:
I am currently working on massive art pieces.
I have been skateboarding for 17 years.
Just started a multi genre music project with one of my best friends.
---
NAME: Simnikiwe Mkhize
COMPETITION HISTORY: This was first competition. Ever.
REGION AND POSITION IN COMP: KZN Barista 1st place
COMPANY: Counter Culture SA
WHY DID YOU ENTER THIS COMPETITION? Honestly, I was peer pressured, by the bosses, co workers and customers. I gave in because the environment gave me an opportunity to put my skills up against other barista in KZN and also make new connections that I wouldn't have made being at the cafe.
WHAT IS YOUR FAVOURITE COFFEE AT THE MOMENT? V60 Pourovers
WHAT HAS BEEN THE HIGHLIGHT OF THIS JOURNEY FOR YOU SO FAR? Its definitely not the attention, but the amount of support and love I receive from coffee lovers who come from all over.
WHY DO YOU THINK THE COMPETITIONS ARE IMPORTANT? The bible verse that says "Iron sharpens iron" sums it up. you will never know how good you are unless you yourself against others who think the same about themselves. not says that if you don't come on top that your not but rather you learn where you need to improve.
TELL US AN INTERESTING FACT ABOUT YOURSELF. Okay, this very personal. I have a 14 years old Surf City Barbie doll and a 8 years old Fashionsta Barbie doll. I make outfits for them as often as I can and obviously comb and play with them. :)
---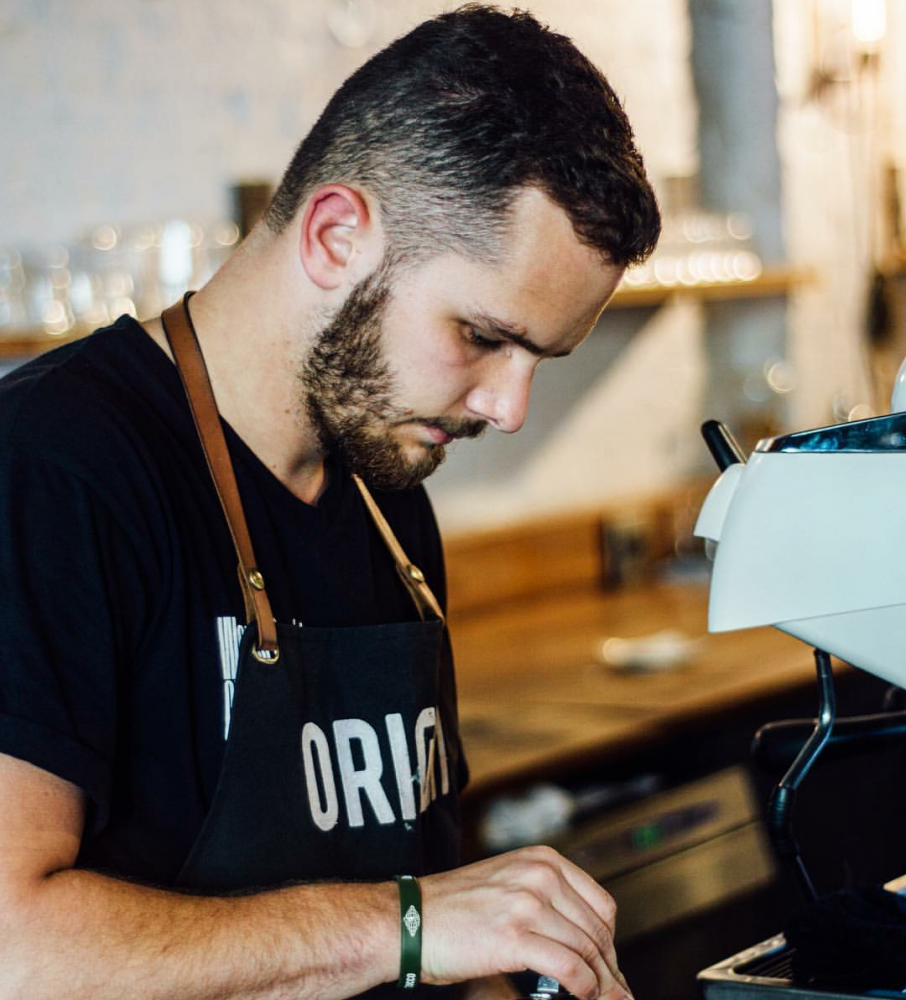 Name: Neil Gouws
Competition History: (what have you competed in before?) Cup Tasters Nationals 2017, Western Cape Barista Champs 2017
Region and position in comp: (i.e. KZN Cup Tasters 4th) Western Cape 3rd
Company: Origin Coffee Roasting
Why did you enter this competition? I love competing, not only does it push me and improve my coffee knowledge, it's a great oppurtunity to connect with all the awesome people in the South African coffee community.
What is your favourite coffee at the moment? (either the style or the coffee bean) I've recently had the chance to work with a few great Ethiopian Naturals. My favourite would have to be a Yirgacheffe Kochere Natural V60 pour-over.
What has been the highlight of this journey for you so far? Nationals 2017 was a great experience. So much knowledge and experience gathered under one roof.
Why do you think the competitions are important? Competitions are one of the ways we improve our skills and up our standards. This is incredibly valuable in a relatively new coffee industry like South Africa's. Competitions gather the greatest coffee professionals, who are always willing to share their knowledge and sow into our community.
Tell us an interesting fact about yourself (that has nothing to do with coffee:) I really enjoy being outdoors. So if I'm not behind the bar you'll probably find me on the beach or a hiking trail in the middle of nowhere.
---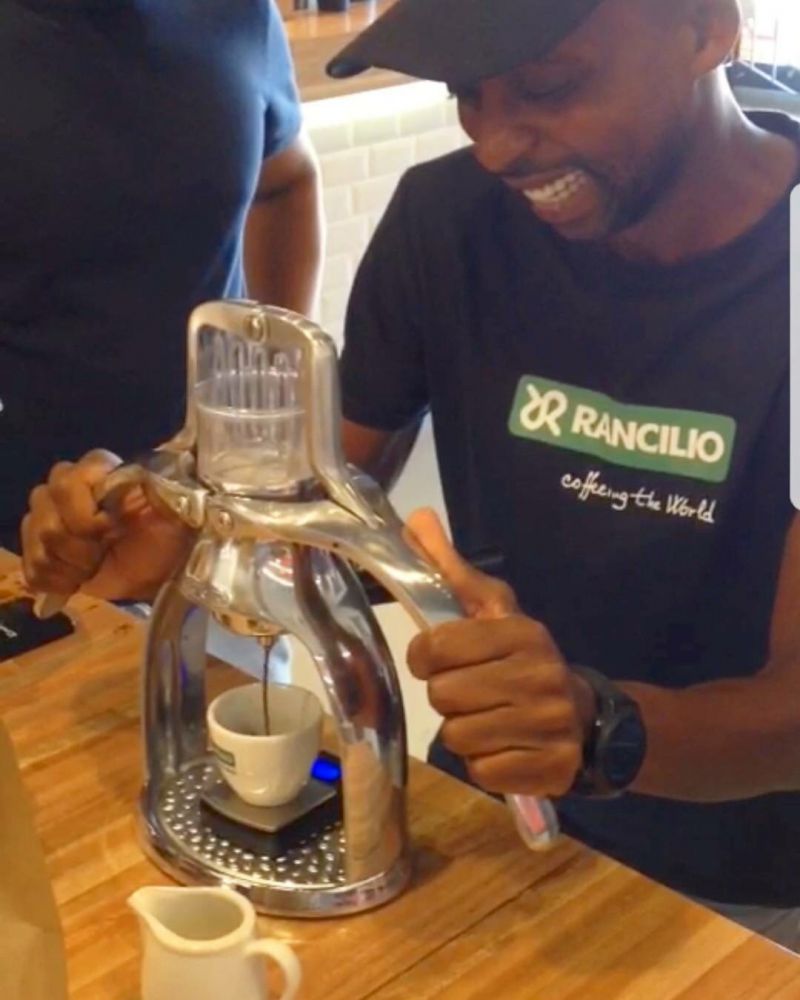 Name:Kuda Gezi
Comps History: 2nd place Western Cape Barista Championships (2016)
5th place Western Cape Barista Championships (2017)
Company: Ground Central Coffee Roastery
Coffee I like: I'm so into Flat whites, especially with El Salvador beans
My Journey: It has been a tough at the moment to find time to practice and be behind the machine as I have been mostly involved in Coffee equipment selling & Coffee machine repairs and importing in my new job with Ground Central. It has been an exciting time, but still i'm always trying to give myself more time behind the espresso bar.
Why Comps are Important: In my opinion they are important in a way that we get the time to showcase our skills,talent & passion.Also the fact that we are coffee ambassadors & we all have the same obsession.
Fact about me: Look, my life has now changed hey from socializing with friends lol! I'm now a dad so he is now my partner in crime, always with him in my spare time :)