Humble Roasting Co.
Wednesday, 7 February, 2018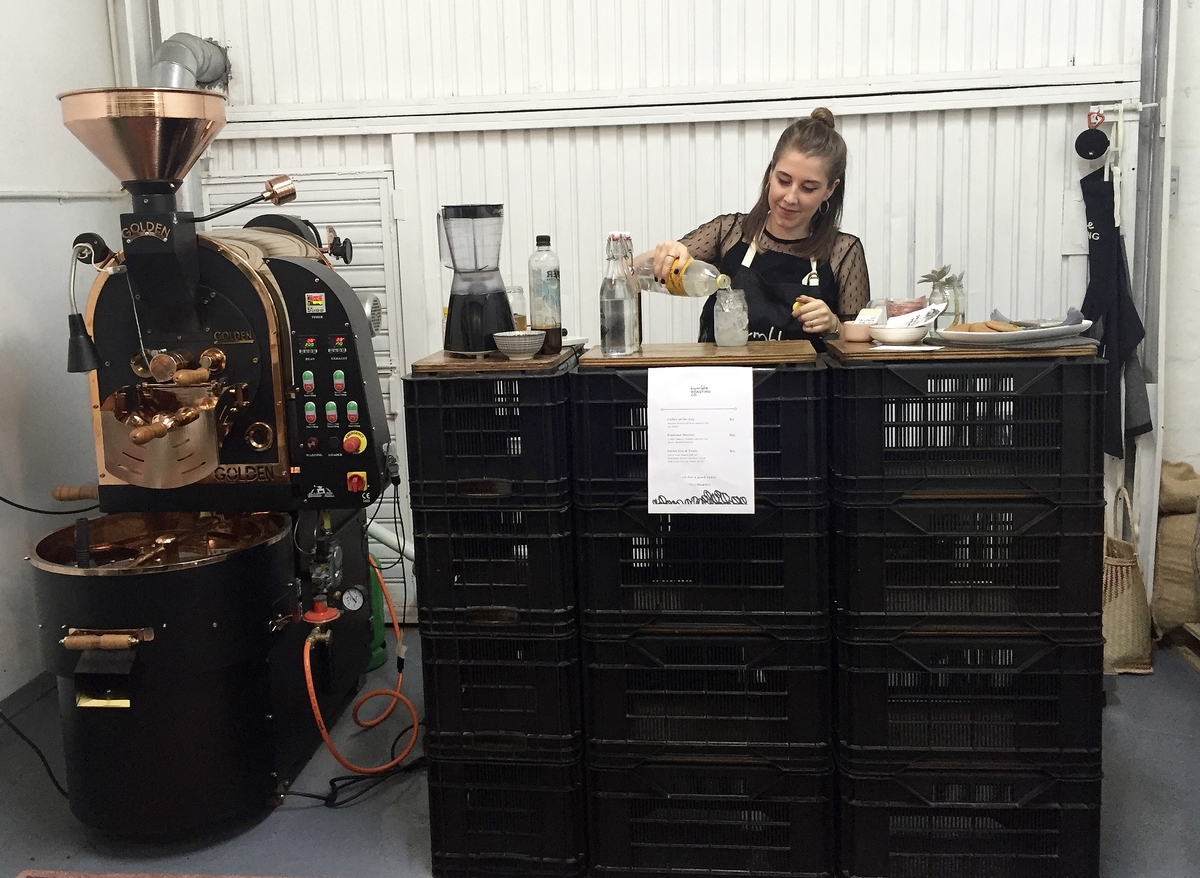 Amy Gardiner is Durban's resident Scottish barista. She's most known for making people smile at LoveCoffee with her mad barista skills, but for the last year a plan has been brewing for a new adventure. Enter
Humble Roasting Co.
Amy has set up her gorgeous, rose gold roaster in the trendy Station Drive Precinct and has been honing her skills over the last couple of months. The results are tasting wonderful.
It is so inspiring to meet people with as much passion as Amy. She's fresh and ready to tackle the art and science of roasting head on. She is also dedicated to helping others, some of her profits will always be donated to the charity of the month/week and in the future she hopes to train future roasters that wouldn't otherwise have the opportunity.
As she is just beginning, the roastery only opens it's doors for tasters on certain dates but you can find out when they'll next be open by
following them on Instagram.
We were there for First Thursdays and the cold brew (plus a few other tasty ingredients, nudge nudge wink wink, gin!) was simply delightful for the hot, summer weather and muggy Durban night! Good luck to Humble Roasting Co!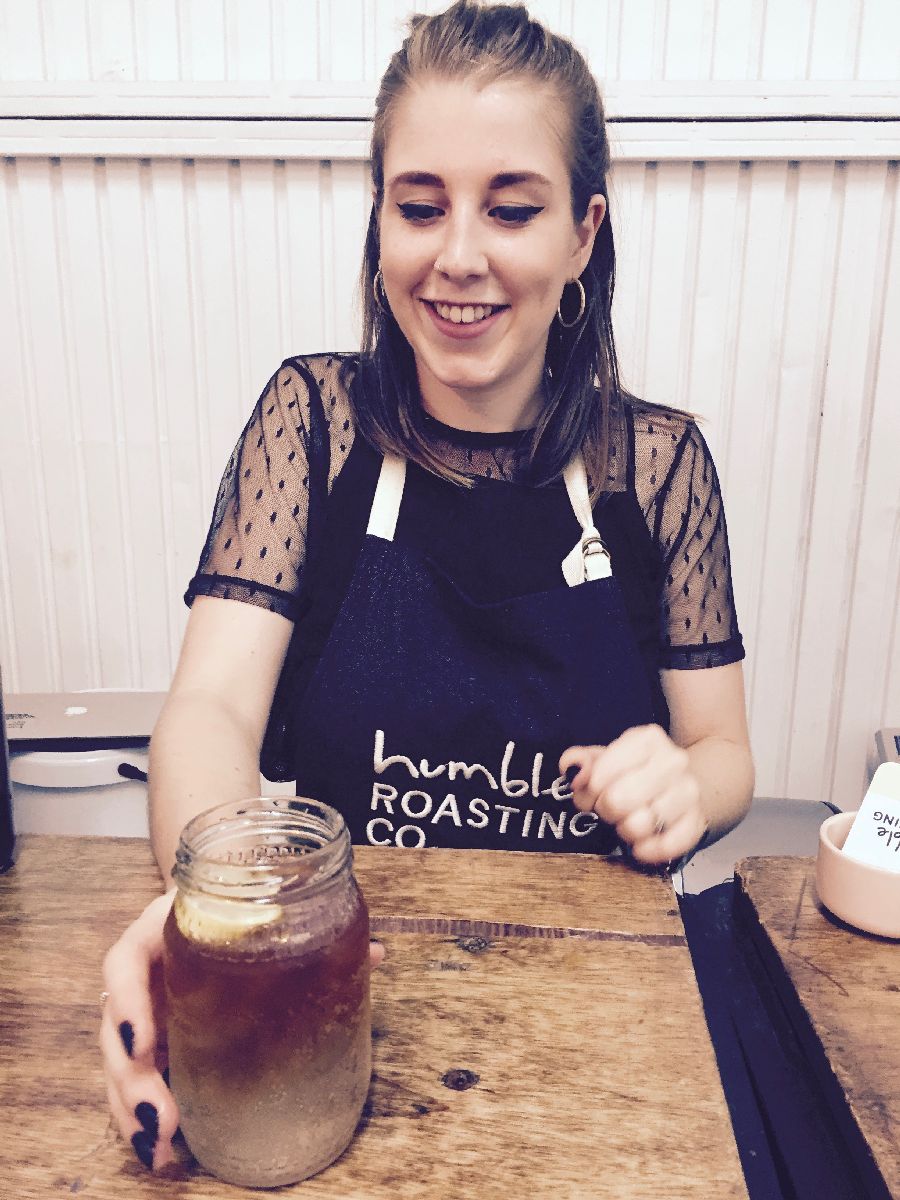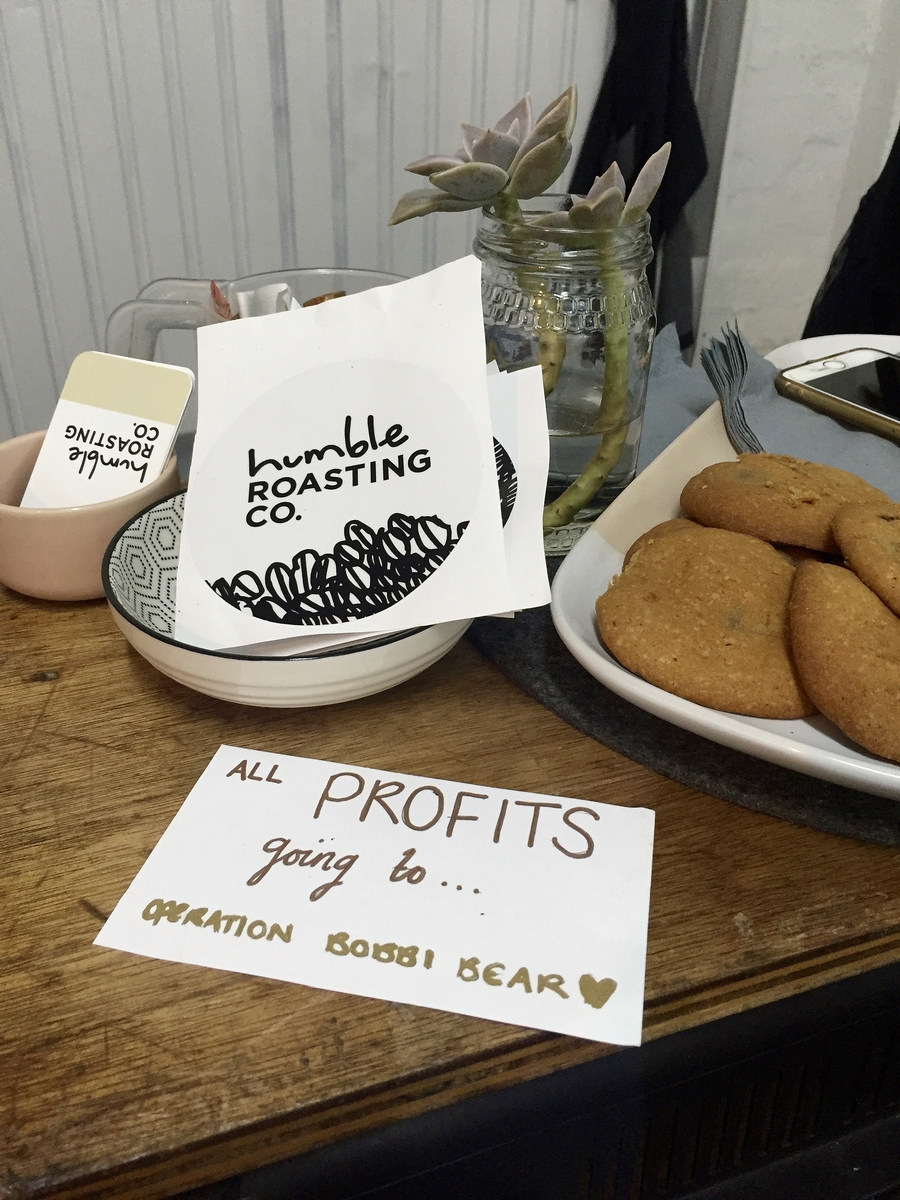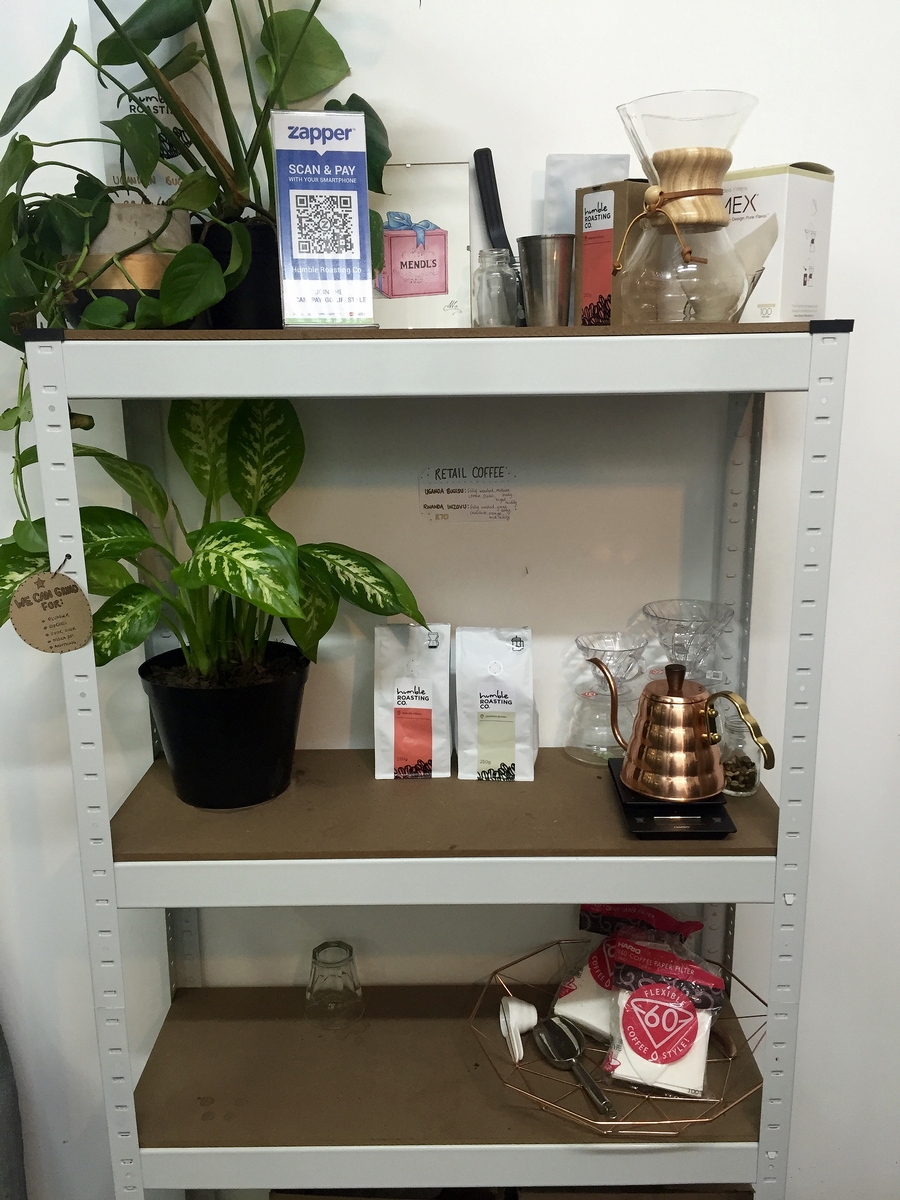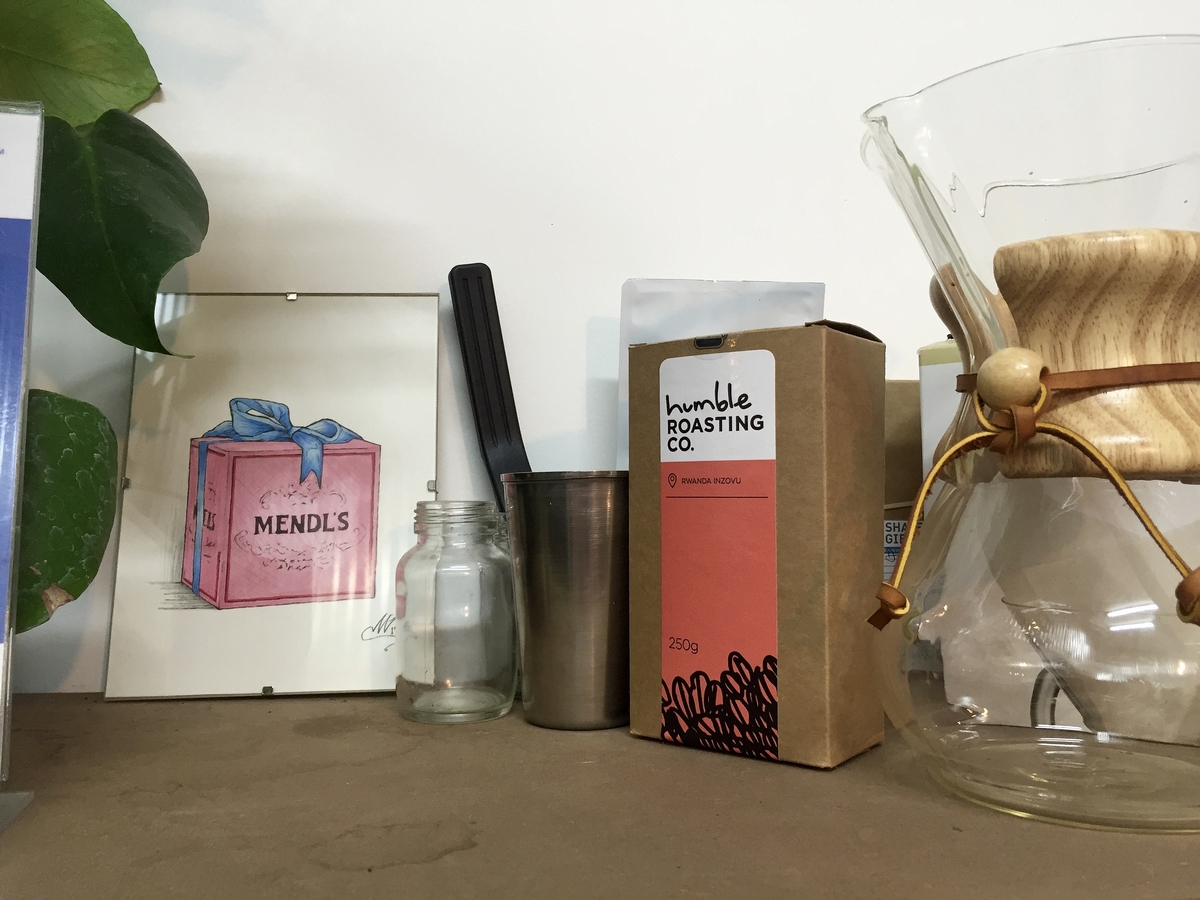 Got something to say? Then leave a comment!
---
What's in a blend? The new Black Honey from Truth Coffee Roasting explored.
Thursday, 8 February, 2018
So we all know that Truth Coffee is world-renowned for their outrageous and ambitious steampunk themed HQ, behind the scenes though, the coffee quality team has been getting a new blend ready for release. It's called Black Honey and this is it's story.

We chatted to Alyssa Blom about the new arrival.
---
First of all, what is in the blend? Or is it a trade secret? How many coffees did you taste in the process of finding the perfect beans for this combination?
Not at all. We don't do trade secrets. There are no secrets in coffee. Either you do things properly (usually the hard way) or not.
Sorting single origins all the way from about 60-70 initial samples. We roasted, cupped, made blends and repeated. After it all it came down to a fine balance of a 2 component blend of
Natural : Ethiopia, from the village of Gerbota
Red Honey Process : El Salvador, from the region of Comasagua.

What makes this blend revolutionary/stand out from the crowd?
We were always of the belief that great coffees had acidity. All of the great coffees did. It occurred to our founder that this wasn't causal. If the great coffees all had acidity, and we, the speciality industry, were all chasing acidity to get great coffee, and the coffee was so often disappointing. Perhaps our first principles were wrong. What if they just happened to have acidity. What, in a moment of epiphany if sweetness were the thing, and our quest for the Black Honey blend began.
What were you looking for?
Sweetness. We relentlessly chased processes that drove sweetness in coffee. This with coffees with interesting and sweet flavours. We had to kiss a lot of frogs to find our Princes
What did you learn through this process?
Patience is key. To produce something special and different we need to do it properly but in the same breath to never get comfortable or sit still.
I think the best part for us is when we all tasted the coffee we had the unanimous face of "oh my word - do you guys taste that!"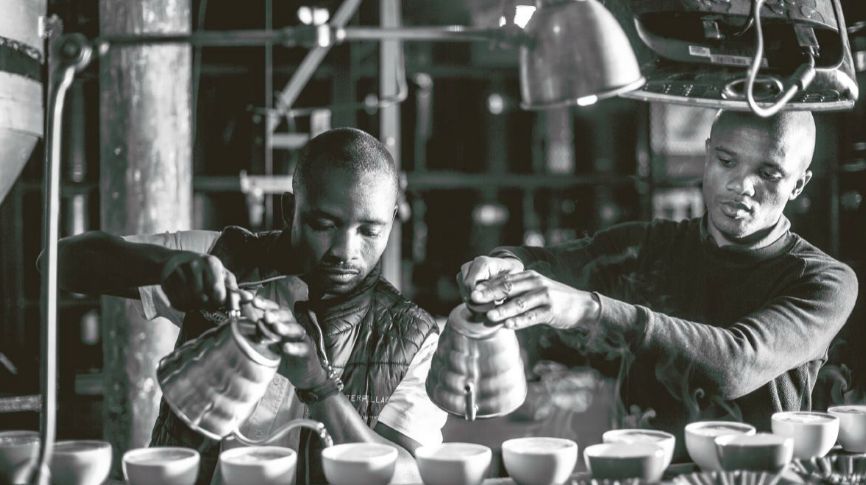 Got something to say? Then leave a comment!
---
What's the big deal about Burundi?
Wednesday, 7 February, 2018
What's the big deal about Burundi?
Photography by Kristy Carlson

We explore three different perspectives on fast growing coffee origin, Burundi, focusing on one region of farmers that have a special connection to South Africa. For you, the consumer, this journey from coffee farm to roaster may answer some questions on why you should happily pay more for certain coffees.
---

The Producers: Long Miles Coffee Project, Burundi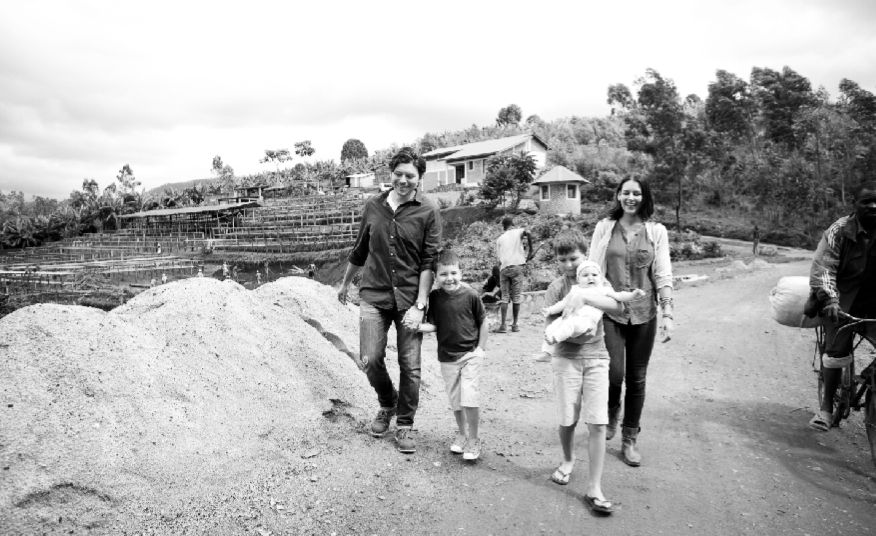 Ben and Kristy Carlson are the founders of Long Miles Coffee Project in Burundi. They may be American by birth, but they are South African at heart. In Burundi, they produce coffee in collaboration with 4,500 smallholding coffee farmers. While Ben and Kristy have received a fair amount of positive feedback around the world for their efforts in Burundi and the quality of their coffees, they don't feel like they have reached their full potential yet. Seven years ago these displaced Americans were preparing to move to Burundi from Durban, South Africa. This is a fraction of their story in their own words.

"We spent a decade living in South Africa and during that time we claimed it as home. Even though we were in our early twenties when we moved to Durban, we feel like that is where we grew up in a way. We still have our roots in South Africa and feel very connected to its cultures and its people. Our relationships in SA continue to be among the deepest ones we have in our lives. South Africa was one of our launching points into coffee and living there helped prepare us for eventually transitioning to life in Burundi. When we moved to Durban as newlyweds in 2001 there wasn't much of a coffee culture. You could get a very large milky cappuccino or an over roasted stale bean and that was about it.

As the South African specialty coffee scene began to rise, we were there and got really excited about what we were seeing. Opening a speciality coffee destination in Durban was one of our first ventures. It wasn't open long, but we learned huge lessons from owning a café that we still draw on today. Our involvement with coffee grew into consultancies that allowed us to contribute to the initiation of the South African barista championships. Working with the emerging barista profession gave us friendships that we still appreciate today.

Seeing the development of the South African coffee scene from its infancy and now working with the speciality coffee community in South Africa as a producer is really special for us.

When we began in Burundi, it didn't take us long to realise that if we weren't focused on quality, we were not going to make an impact. Working on quality brings out the nuances and the beauty in Burundi coffee. We produce better coffee that costs more, and that allows us to build valuable relationships with roasters. Without this we cannot run our business or make a significant difference in farmers lives and in the nation of Burundi.

As we experienced life alongside farmers in our first years in Burundi, we realized they were often being treated unfairly and were not receiving premiums for their coffee. We discovered that the washing station was a place that could become a catalyst for change. We built Bukeye, and then a year later we built Heza, our second washing station. We believe physical infrastructure can be a catalyst for change. You need the washing station building for six weeks to process coffee, but throughout the year, the change resides in our team, in our scouts that constantly talk to farmers about their farming practices and methodologies. They are Long Miles more than the buildings at the washing stations are.

Speciality coffee is worth the investment. It takes a lot of effort and a lot of money to produce great coffee. We understand that it takes an element of risk to buy coffee if you are a roaster. It is challenging for many South African roasters to consider their profit margins and then buy specialty coffees. Please support the ones that do, because they are up to something special.

Buying specialty coffee is the only way to develop further as a coffee culture in South Africa and it is the only way to truly support farmers. Leaning on the excuse of people not willing to pay more than R20 a cup has to be abolished. It is the R20 Cappuccino that is pushing farmers further into poverty. There is no other way than through exposure and telling the story of coffee that captivates your audience. When a coffee is tasted, and its beauty matches its story, you can become a pioneer in the South African specialty community. It's a scary leap, but we believe you'll discover it's worth it.

"You cannot discover new oceans unless you have the courage to lose sight of the shore", André Gide.

We would suggest that roasters structure their business in a way that makes room for specialty coffee. What that means is that you have to contract to buying coffee ahead of time. You have to believe enough in this coffee, in the people that produced it and in your importer to commit to coffee in advance. And you cannot back out when the coffee arrives.

We believe that South Africa roasters can lead this change. It is your continent, it is your people, and your place in the world. If anyone can lead this charge, it is South Africans."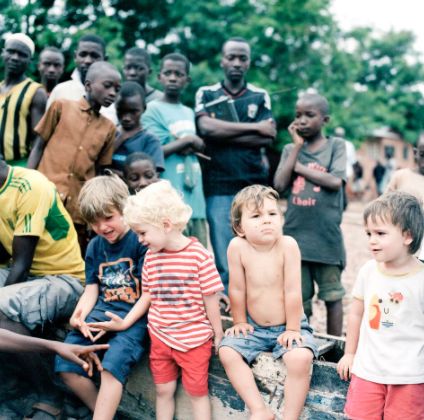 ---

An Importer: Grant Harris, Specialty Coffee Exchange, South Africa

What is the philosophy of Specialty Coffee Exchange?
As a small coffee importer, we don't offer the traditional coffees, we source unique specialty lots, continuously striving to find variety and sustainable quality through direct trade and relationships at origin. Our offering is in origin bags or 20kg boxes for micro to commercial roasters, giving roasters the option to purchase a selection of beans in small batch quantities.

How has the South African market changed in terms of demand for specialty coffee in the last few years?
We have a core of dedicated specialty roasters around the country that have influenced the industry hugely, generating a growing demand for not only specialty and microlots, but also driving the demand for origin variety and higher grade greens across the industry. I think our partner roasters enjoy roasting and selling our coffees, they are great cups with amazing origins.

What makes the relationship with LMCP successful?
THEIR COFFEE! And Ben and the Long Miles team of course! We have had incredible greens from LMCP the past two seasons: peaberry, naturals, honey process, red honey and lets not forget the Cup of Excellence. We are discussing the next season or current harvest with LMCP and year on year their coffees get better and better, an incredible success story in Burundian and African Specialty.


What is the reception you have received for the coffees coming from LMCP from roasters?
Our relationships with partner roasters is what drives the LMCP beans in SA. We are going into our third season with Long Miles (ready to freight Jan 2018) , already discussing requirements with our roasters of what they would like to sample and contract into the new year. Planning season to season with LMCP and our partner roasters is what specialty coffee is all about.

What is the price per kg when it lands in SA?
We have beans such as the Community Coffee Collective Kibira @R 79.50/kg to Long Miles Special Reserve Microlots of peaberry, naturals and red honey @R130-190/kg.
---

A Roaster: Buck Berk, Coffee Mob, New York City

What convinced you to engage with a green coffee producer like Long Miles Coffee Project?
I opened Coffee Mob in 2013. At that time I had no plans to roast our own coffee and was purchasing roasted coffee from a local roaster. After being open for a couple of years and finding my coffee legs, I decided to take a trip to a fantastic coffee farm in Colombia, La Palma y el Tucan http://lapalmayeltucan.com/site/. My experiences at origin, meeting farmers and understanding some of their plight further motivated me to learn more about coffee and what I could do to help improve their lives. It was then I decided to start sourcing and roasting. Soon after this experience, in 2015, I partook in the Specialty Coffee Association of America Expo in Seattle. I sat in on a lecture given by Ben Carlson of Long Miles Coffee. Hearing him speak passionately about the importance of improving the quality of coffee in Burundi, and what that translated to in regards to improving the lives of Burundi Farmers further struck my heart chords. Afterwards I introduced myself and our friendship has been developing nicely over these first couple of years of my roasting career.

Has the coffee from LMCP changed over the years? What have the effects of good processing and best agronomy practice meant to the flavour in the cup?
We are entering our third season with LMCP. I've definitely noticed a rise in the quality of the coffee. Mostly due to the fact that very little defects are found in the beans which was a major concern when LMCP first starting building washing stations as one way to help improve quality. I really enjoy the profile of peaberry coffee and last harvest I requested peaberry heirloom bourbon from one of the newer washing stations at Nkonge Hill. Ben and I thought it would be fun to process the "peas" utilizing three different methods, washed, honey and natural. It was amazing to roast and brew these coffees side by side and enjoy the different nuances attributed by each process. A rainbow of flavors were found ranging from cherry, lemon, blueberry, rose-petal, and brown sugar.

How has your average consumer's palate changed? Do you think they're more willing to try new things? (Then again, the education process never really ends, does it?)
Our average customer is pretty savvy if I do say so myself, especially since we started roasting our own coffee. They expect prolific coffee and love good contrasting variety. We are very transparent with our customers about new and exciting coffees that we are roasting. They are always willing to try new things because we have built a lot of trust with them over the years. For example. Recently I received a very small amount of rare coffee from a producer in Yemen called Rayyan Coffee. (rayyancoffee.com) I happened to be making my first pour-over of it when someone asked what I was making, when I said it was a coffee from Yemen, everyones ears pricked up and suddenly everyone wanted to try it!

What has been your favourite LMCP lot so far and what was the first thought that popped into your head when you tasted it? (When I tasted the Kibira from last years harvest as an espresso, all I could think was STRAWBERRIES!!! Lots of exclamation points because it was so intense!)

My favourite coffee so far from LMCP was a natural process peaberry from Nkonge Hill, when I first tasted it there was such a great mixture of sweet fruits that all I could think about was this old fashioned chewing gum called "Fruit Stripe." It's sugary sweet and you get blasts of watermelon and cherry, followed by notes of lemon.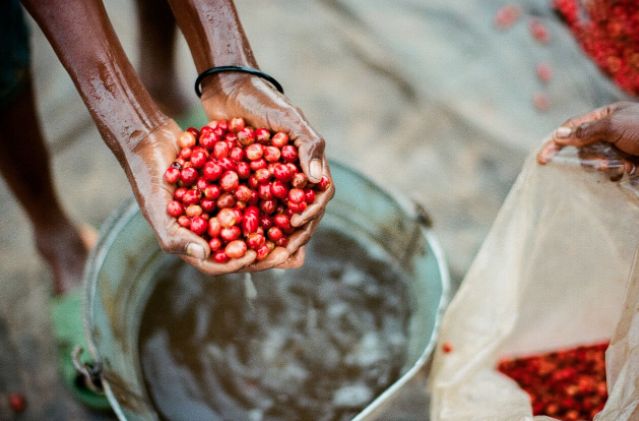 ---
Got something to say? Then leave a comment!
---
Cafe of the Month - February
Friday, 2 February, 2018
Got something to say? Then leave a comment!
---
Stereo Cafe: A haven of coffee and music in Bloemfontein
Thursday, 1 February, 2018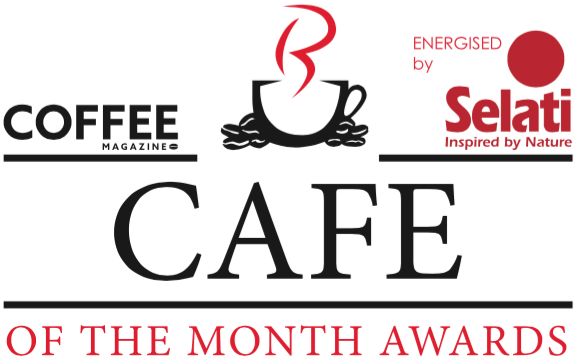 Well done to Stereo Cafe for winning the Selati Cafe of the Month for December.

---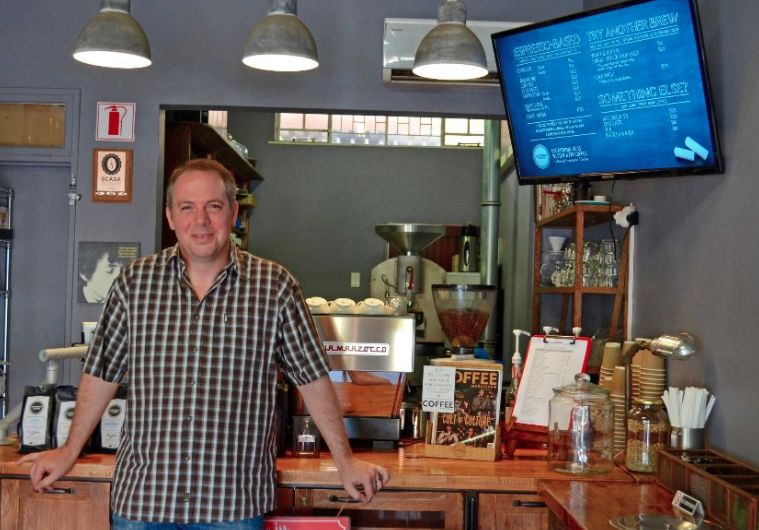 How did Stereo Cafe begin? What led you to develop such a strong passion for roasting?

Stereo Cafe opened in January 2014 after I spent my first months roasting from home in 2013. I wanted to have an outlet for customers to sample what I had roasted and never expected the cafe to have become as popular as it is today. It was, however, in 2012 that my interest in roasting started. A visit to World of Coffee in Vienna triggered the passion - this was the first time I tasted specialty coffee and was excited about how tea-like and flavourful coffee could be. There I discovered that coffee was far more than I had been led to believe - a drink equal in complexity (if not more so) to wine and whiskey. The reason for my visit was to talk to coffee roaster builders as I was having no luck with e-mails. My research led me to a short-list of companies but, as luck would have it, my paths crossed with Neil Maree from Genio Intelligent Roasters who was also visiting WOC. We met in the stands after Wayne Oberholzer completed his set at the World Barista Championships, spoke about coffee and roasters while walking through the stands. When I returned to South Africa I decided that I would support Neil and bought a Genio Mezzo 6kg roaster. Since then I haven't looked back and will be upgrading to a Genio 15 Precision Coffee Roaster in 2018.

What coffee is in your hopper at the moment and why did you choose it?

Our house espresso blend is what we use everyday in the cafe. It's a medium roast blend of Guatemala, Rwanda and Brazil that I have found satisfies the palet of our customers. People are creatures of habit and I think that keeping to a recipe that works is important for consistency. People know what they like and know what they are getting every time they visit the cafe. As a pour-over though, we are currently using a Burundi Kibira White Honey processed coffee from Long Miles Coffee Project.
What is your favourite part of running a cafe and roastery?

It's the social aspect of the cafe that makes every day fun. By nature I like my own company (that's when I roast) but when I'm in the cafe I love talking to the customers who visit. It's such a interesting group of people, each with a story to tell. My staff, in turn also have good interaction with our regulars which I believe, together with consistently good coffee, adds to our success. The sound of people talking and laughing, the noise of the grinder, the espresso machine clicking on and off with every shot being pulled, the sound of cutlery and crockery being washed and the smiles and the satisfied look on peoples faces is what makes every day worthwhile. The knowledge that all these people have chosen my cafe to spend their time in enjoying the coffee that I have roasted and my staff serve is very humbling.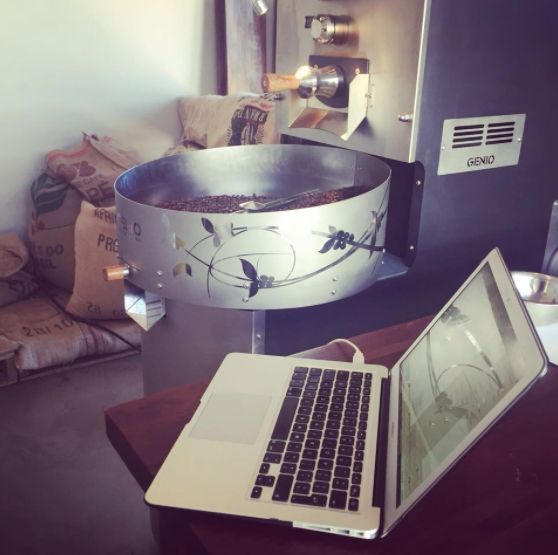 What would you say is the one item on your menu that people HAVE to try when they come visit your cafe?
Our flat white is very popular but for something out of the ordinary our pour-over Burundi Kibira is a must. On a hot summers day (or a warm winter's afternoon) our cold brew is a winner.
Tell us something interesting about yourself that has nothing to do with coffee!
Ah, tricky. I worked for radio stations since I was at university in the 90s and locally as a presenter for a commercial music radio station for for almost 15 years. My passion for radio was founded in a passion for music. i thought one day I would own my own music shop - that music shop became a coffee shop that plays good music. It all comes back to coffee.
Got something to say? Then leave a comment!
---
New Kids on the Block: Dear Maria
Wednesday, 24 January, 2018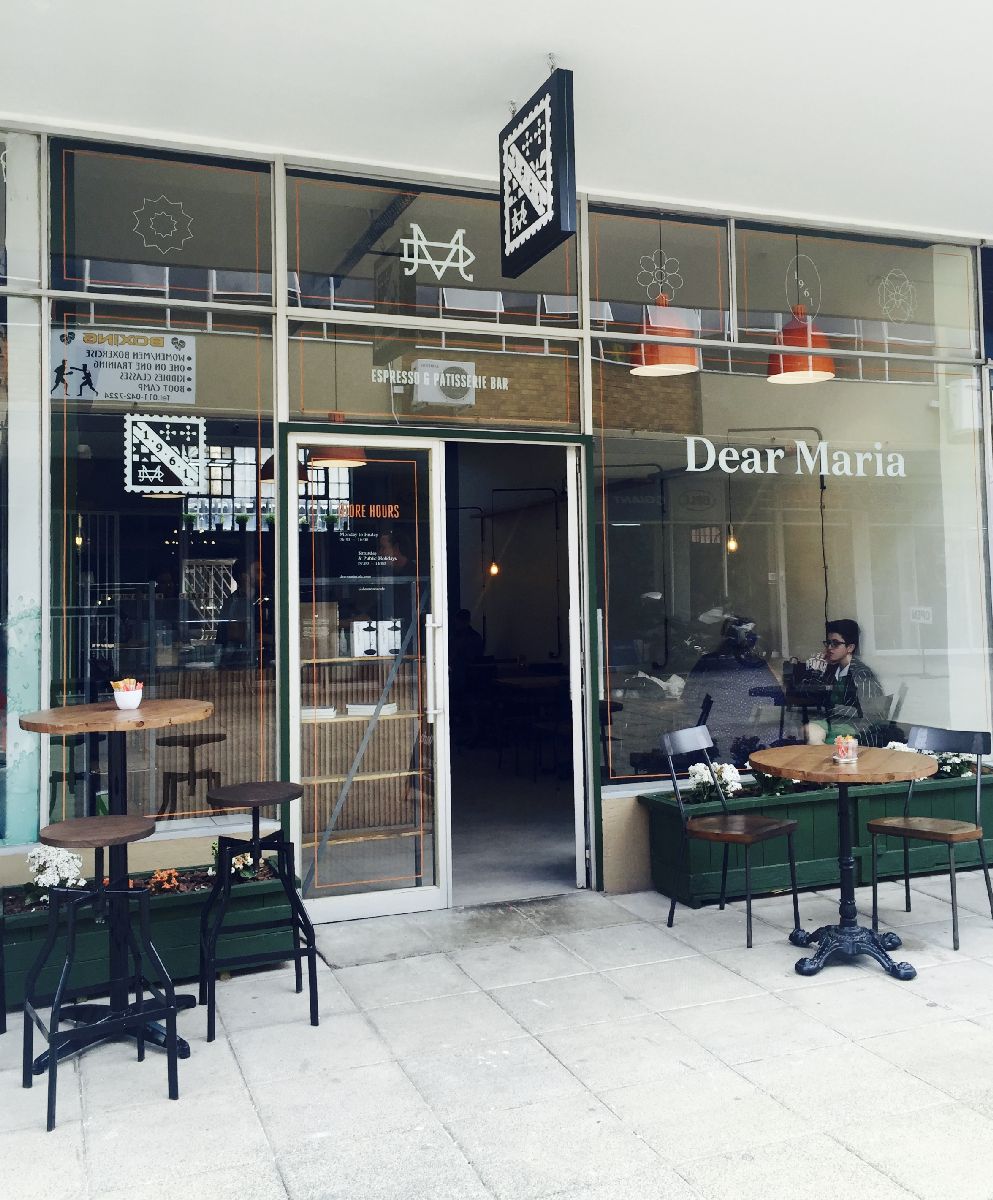 Dear Maria
59 Van Buuren Road, Bedfordview
Germiston, Gauteng, South Africa
---
And what a charming block it is! Nestled down an interesting alley in Bedfordview,
Dear Maria
, is an oasis of speciality coffee and it's certainly a coffee destination to put on your list. The quaint shop front and the beautifully designed interior with warm green and orange as the palette have been carefully curated and many of the furniture pieces were hand made by Sean and his team, one piece at a time. And then there's the beast of an espresso machine sitting pride of place on the counter.
"We thought that we would just slowly ease into it and find our feet, but then we bought a
Sanremo Cafe Racer
and people started to hear about us." says Sean, the owner.
A labour of love, the café was conceived as a multi-roaster espresso bar dedicated to Sean's mother and her Italian Moka Pot morning ritual as he was growing up. Having completed a law degree and finding himself working in the tech industry, Sean realised it wasn't the life for him. So he's thrown himself heart and soul into the coffee world. The passion glows out of every detail in this little cafe.
What does being a multi-roaster cafe mean, you may ask? Well, simply put, they always have more than one Roaster's beans on offer. This is not common practice in South Africa, where most cafes pledge allegiance to their preferred roaster, so it's an interesting point of difference for this tiny haven of damn, fine coffee. They have a house blend roasted by
Thirdspace
and they feature a new roaster each month, we tasted a Colombian Caturra from
April Coffee Roasters
based in Copenhagen and they also had an Indonesian single origin from
Rosetta Roastery.

"I don't want to be a roaster, it's not where my passion lies and I love tasting new coffees, so with the multi-roaster approach we get to experiment and take our customers on the journey with us."
Jacques made us an excellent cortado with the House Blend (Iain's comment: "Shew, that is world class!") and Sean brewed our tasty pour over.
The feeling you get from this space is one of sincerity. You have to appreciate their dedication to only serving speciality beans and educating their customers one cup at a time. They've only been open a couple of months, but we look forward to seeing them grow.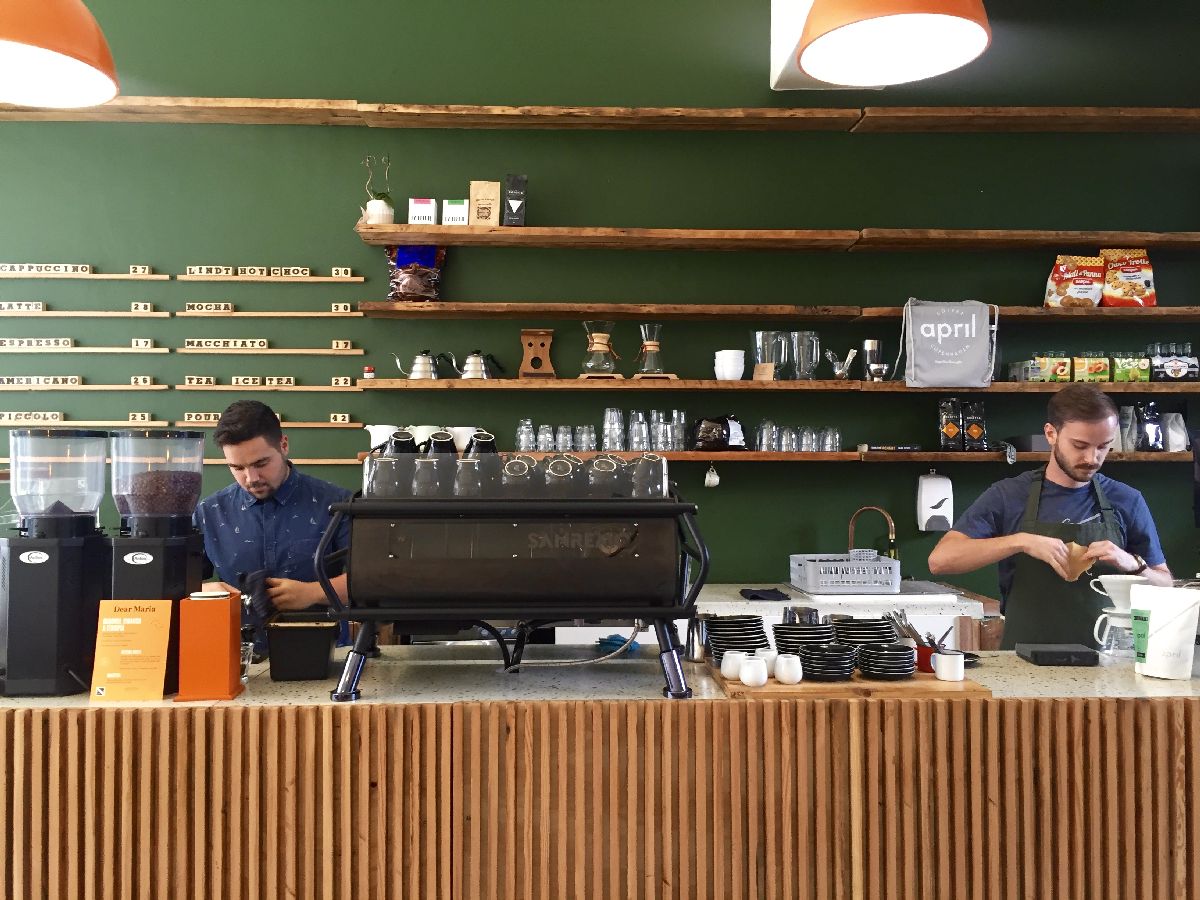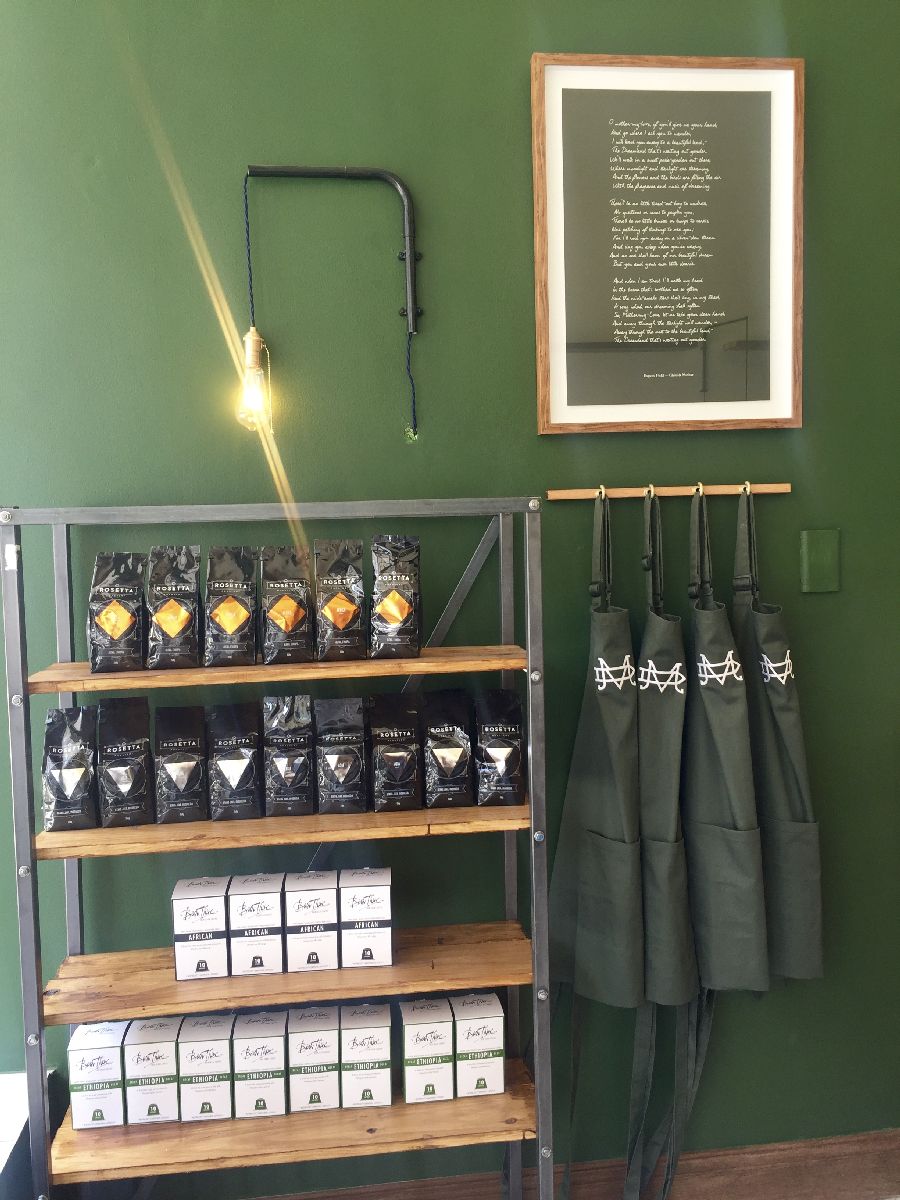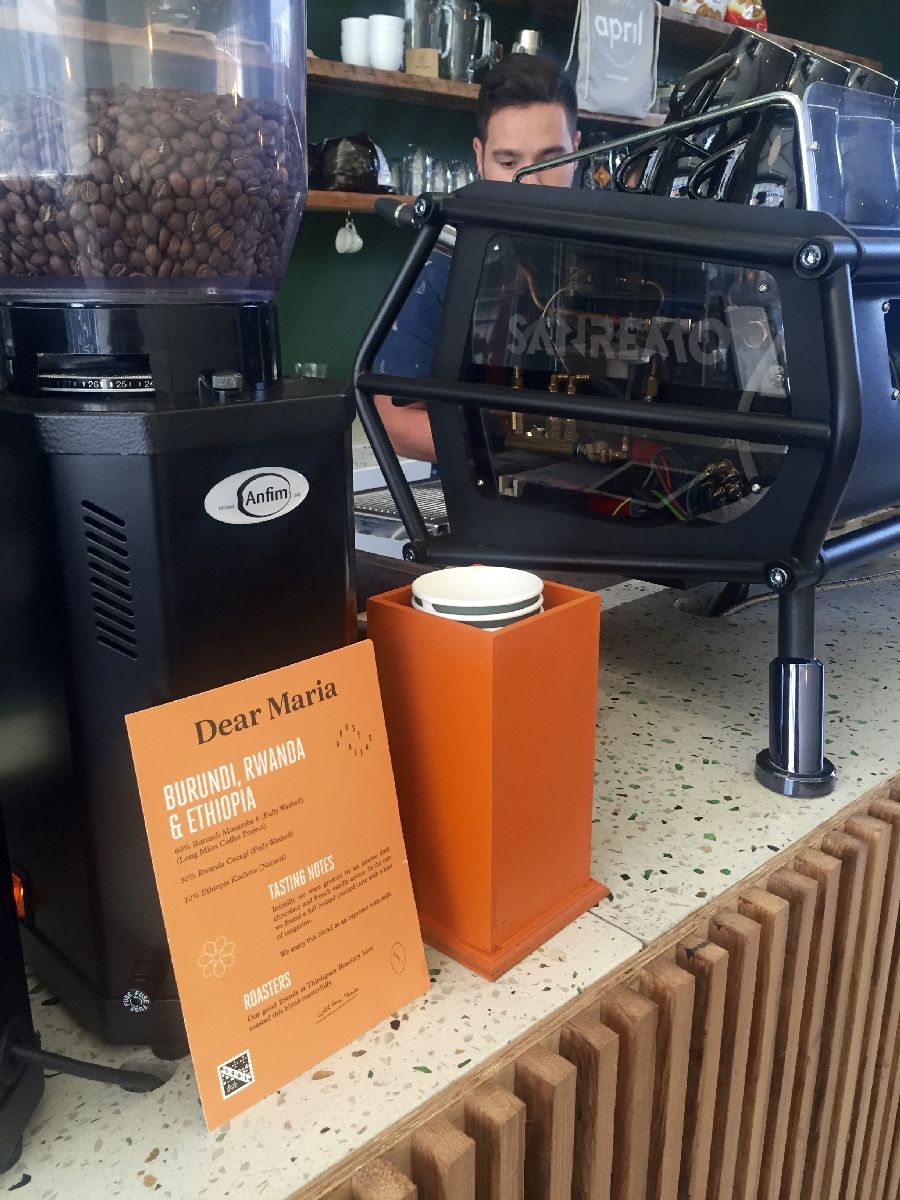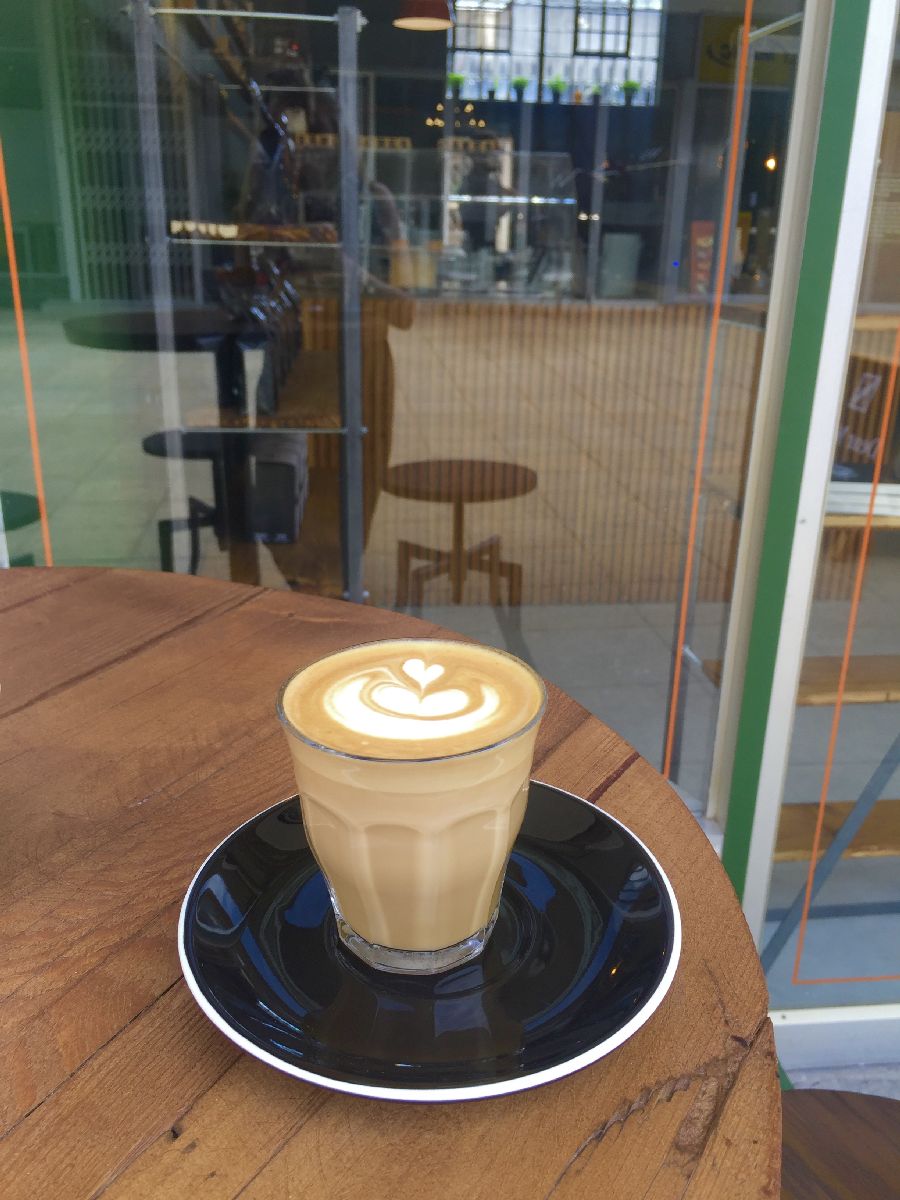 Got something to say? Then leave a comment!
---
What can you do to save water when it comes to coffee?
Friday, 26 January, 2018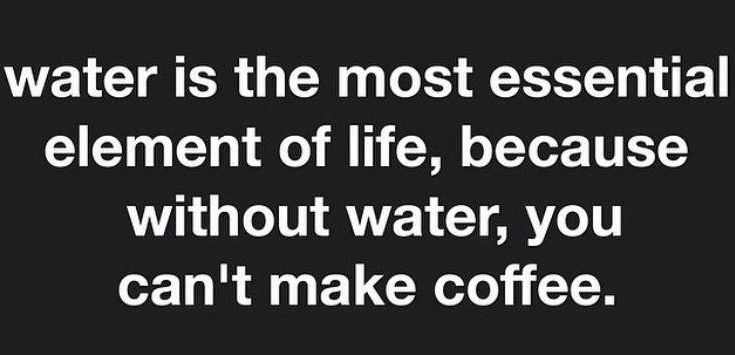 All jokes and light-heartedness aside, water really is the most essential element of life and we can all play a part in using it more responsibly. In your daily coffee rituals you can make small changes to save water.
The biggest waste of water generally comes in when washing the coffee equipment. With a plunger there are lots of grounds. Try scooping the grounds into your garden or on to your compost heap instead of rinsing coffee down the drain.
When you use hot water to pre-heat your cups, don't pour that water down the drain, pour it back into your kettle, or into your machine reservoir once it's cooled.
Drink more espresso!
Pour overs and aeropress methods use the least amount of water for washing up, since you can literally just take out the filter paper or pop out the spent puck.
If there's left over coffee in your caraffe put it in the fridge and use it for iced coffee or cold coffee for the heat of the day.
Be very conscious of the running time when flushing the group head. A very quick on and off will suffice to move old coffee through the screen.
Empty your drip tray into your hanging plants and pot plants around the kitchen, house or office. They won't mind some coffee particles in their water!
10 tips to save like a local from
www.capetown.travel

- Choose to stay in accommodation that has water-saving measures in place. Ask about this when you book.
- Re-use your towels instead of asking for a new one daily.
- Try to flush the toilet as little as possible. Each flush uses between 6 and 14 litres, depending on the kind of toilet.
- Use a cup to rinse your mouth when you brush your teeth rather than letting the taps run.
- Limit your showers to 2 minutes, and avoid bathing. Coffee Mag Tip: Place a bucket in the shower with you to collect excess water, this grey water can be used for washing laundry or for the toilet.
- Report leaking taps and toilets as soon as you notice them.
- Avoid washing clothes until you have a full load's worth of laundry.
- Take a dip in the ocean instead of swimming pools, and maybe even spare yourself a shower.
- If possible, use a dishwasher to clean dishes, but just make sure you only run it when it is full (average dishwasher uses 31 litres of water per run).
- Use this
nifty calculator
to make sure you're helping to save water.
Got something to say? Then leave a comment!
---
LISTEN - Filter Stories: Against All Odds
Thursday, 18 January, 2018
James Harper was part of the operational team keeping things running smoothly at the World Barista Champs and he carried around his voice recorder through it all, gathering snippets of the action as it unfolded. We simply adored listening to this story based around the wonderful Martin Shabaya, the Kenyan Barista Champion, who last year became the first African barista to be represented in the World Semi-Finals. And we look forward to many more episodes of James' Filter Stories.


Got something to say? Then leave a comment!