Win an Office Coffee set up from The Coffee Co!
Thursday, 9 March, 2017
There's nothing worse than bad coffee at the office and there's no better company to handle it than
The Coffee Co.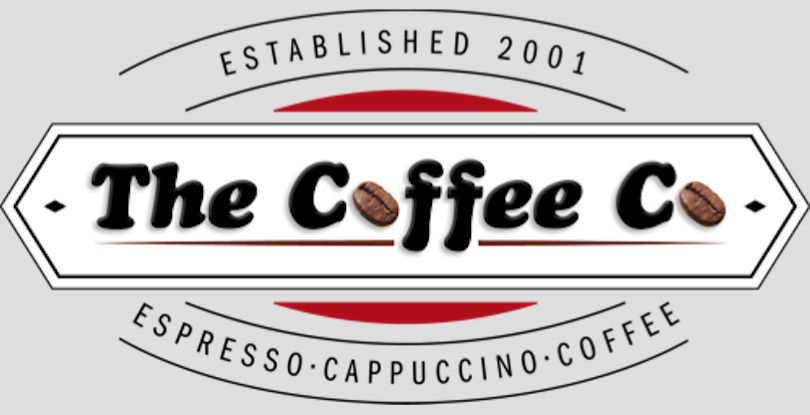 We chatted to Christo Konig the CEO to hear their story and the exciting new innovations they have in store in the office coffee space.

"It all started 15 years ago and where we are today with all the different products we developed and manufacture in SA specifically for this market. We roast our own great coffees and specifically with automatic machines in mind. We manufacture 3 different milk powders for our vending machines, a skinny cappuccino, full cream cappuccino and a creamer topping. We also make 3 different hot chocolate powders, regular, lekker maar soet..., dark choc and a "diabetic friendly" low sugar hot chocolate.

We are launching our "Single Serving" sachets in about 6 weeks with Decaff & Rooibos sachets, developed for the automatic machines in Offices and for the caffeine-free and rooibos markets. As well as Hot Chocolate sachets to open into your cup/mug and add a bit of water and top-up with milk froth from the automatic coffee machine.

Double walled paper cups, made from partly recycled material and obviously, recyclable and made in SA
Sugars in TCC packaging. We offer up to 8 different Brands of automatic machines and some are the World Leading brands like WMF, Schaerer, Jura, Queen etc. We currently have more than 35 franchises country-wide to service the clients with more than 3,000 machines!

Our latest and greatest developments for the Office Market includes:
An APP to record and share with offices, our cleaning and service records on their sites, when cleaned, when serviced and even photos if required. Full JobCard system to record each machines service records for years.
A payment system using SnapScan/Zapper technology inside big offices where employees can now get Cafe Quality coffee for anything between R5 - R20 per cup served and pay electronically for the beverages. We think this is the future of office coffee, although we are ahead of ourselves..."
Wow!
And this team is generous too! They are giving away an amazing Rooma A-9 Office Coffee Machine. This baby can handle quite a bit of volume, can be plumbed in, makes up to 40-60 cappuccinos on the trot before any cleaning or filling is required!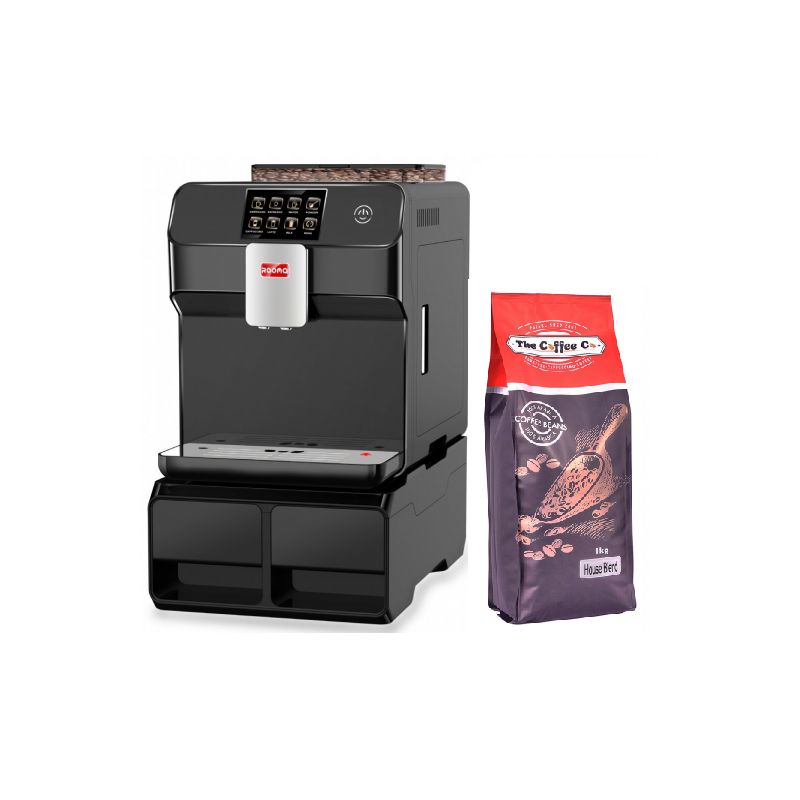 Thank you Manus and Christo from The Coffee Co!

All you need to do is fill in the entry form below. We will announce the winner on the 31st of March! Get everyone from your office to enter!!!
Win a Rooma A-9 worth R8999 for your office!
Got something to say? Then leave a comment!
---
Week 2 Almond Breeze LAVC: Vote now!
Thursday, 9 March, 2017
Got something to say? Then leave a comment!
---
WATCH - Milk Manipulation: Choosing the best milk for cappuccinos!
Thursday, 9 March, 2017
The Coffee Magazine spent a very interesting morning with the team from
Fairfield Dairy
learning more about milk! Marian and Sinjon
from Terbodore
joined us to carry out some experiments on which milk is best to use for your cappuccinos. Everyone learnt a lot and was highly caffeinated after the making of this video! Thank you so much to Kevin and Beth Lang for hosting us at the Fairfield Innovation Centre.
These were the observations based on our experiments: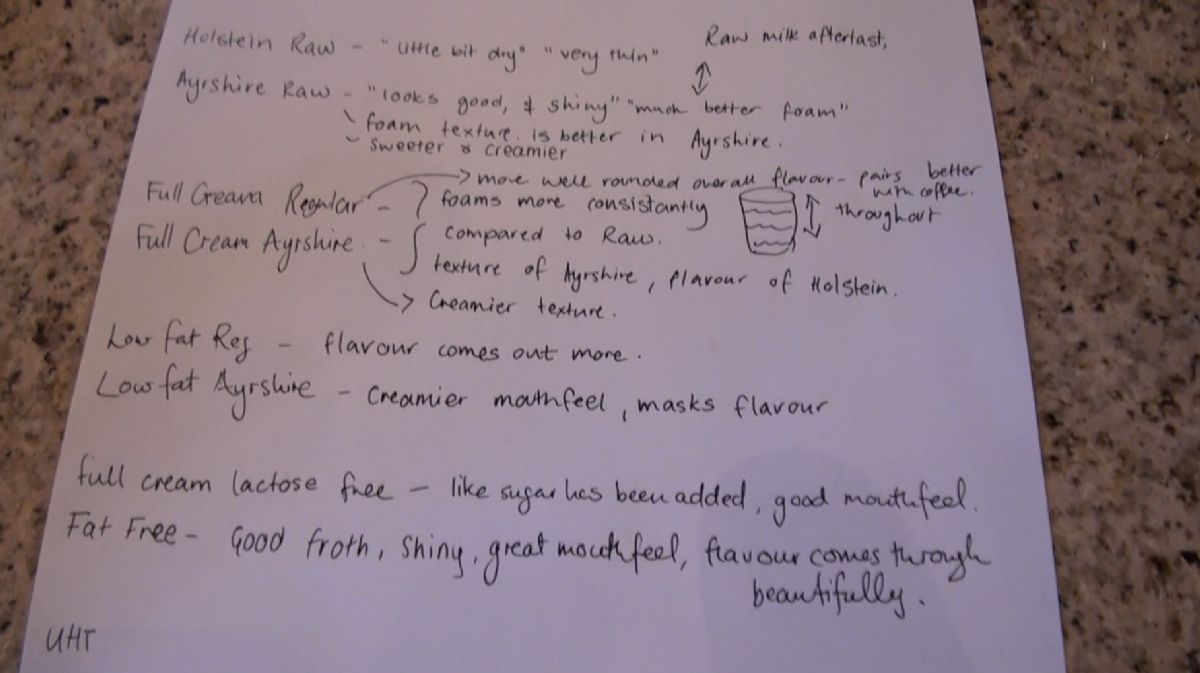 Got something to say? Then leave a comment!
---
Happy International Women's Day: Thank you to the women of Ethiopia!
Thursday, 9 March, 2017
In the Beginning
The African Origins of Coffee
Words by Jake Easton
Illustrations by Fathima's Studio
---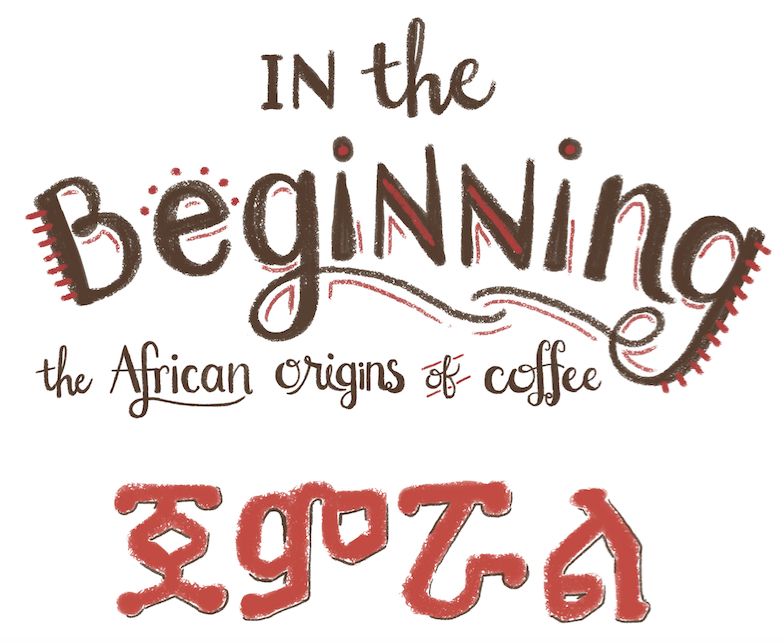 Hello.
The following represents my research into one of the possible histories as to how humanity first enjoyed coffee and its spread to the rest of the world.
Up until 1990, and the advent testing for genetic lineage, the thinking was that coffee could have come from Yemen via Abyssinia (Ethiopia).
For the 100th anniversary of Probat (arguably the first name in roasters worldwide) they released a book titled, "The Heavenly Inferno" and in this salute to coffee and Probat some fairly astute German writers researched the hell out of coffee, its origin and the legend. This book was written in 1968 but was kept as fact until very recently...and it is this version of our history that urgently needs rewriting.
In an effort to address our world of coffee the Specialty Coffee Association of America & Europe released a great video on Youtube (https://youtu.be/fBZiRPRVYZk) about the world coffee community coming together around our common cause. This video on coffee is a wonderful addition to the world sentiment towards our industry and our history; and, the best part of this video, for me, is the beginning of the video wherein the narrator says, "We don't know who first made coffee". This lone statement spells the end of the "History" of coffee and denotes the beginning of a real version of its discovery and its lineage. It may seem sacrilege to question the widely acknowledged story of how coffee was first brewed but hey, it's coffee and there are no proofs other than those we posit.
The following is my theory and one that I put forward to PechaKucha Cape Town in 2015. As a researcher I love the idea that I can be proven wrong and that my theories might be incorrect so if you have any information I would like to hear it and include its message or use it to refute my claim (info@tribecoffee.co.za).
Science combined with research into human existence; ritual traits & discoveries linked with Ethno-Anthropolgy have led me to discern the following statements regarding a possible history of coffee:
1. Coffee was discovered by a child.
2. Coffee was roasted and then made by a woman.
Further insight as a result of the above statements leads the following statements to be likely as a correlation to the above:
There was no Kaldi.
There was no sufi mystic.
There was no Coffee Man of Arabia.
There was no Imam who's nose twitched.
Here's one of the "Histories" as written by the coffee conquerors. "Coffee was discovered about 900 years ago by an Arabic, mystic goatherd".
Not likely.
For over 5000 years children have been goatherds throughout the world. Why? Well it was a test of manhood, it was a way of keeping warriors nearby and, it was a way of ensuring tribal loyalty through having sons of other tribes guard your animals. In Europe, goatherds were always young men and women...unmarried. In Africa it was the same.
1000+ years ago a young boy or girl goes out with the goats and after a day or so on the hoof realises the goats are acting strange...well stranger than usual for a goat (which is for all intents and purposes possibly really strange). At this point the child realises that the goats were eating cherries from one of the older heirloom varietal from southern Ethiopia or northern Kenya (they can say which one very soon) and probably had a mild heart attack. (Ethiopia was, at this time, both pastoralist and agriculturalist.)
This child, boy or girl, knowing that their goats might die most likely took them all back to the tribal home and told the head of the tribe what had happened, and presented this elder with the cherries and the seeds.
Here's where things get awesome.
+5000 years ago the world had wine, beer, oils from seeds, and later (from Egypt) yeasts for bread.
The Tribal leader when presented with the fruits and seeds and upon seeing that the goats/animals were not dead most likely either had a slave taste the food or tasted it himself. Upon receiving no ill effects gave the seeds to the community kitchen.
In these kitchens were all of the young men, their uncles and, the grandfathers...wait wait wait NO. Sorry, that's totally incorrect and silly; we all know it's the women that belong in the kitchen right? Well maybe not in modern times but back in the day in these kitchens were slaves, young ladies and the lower women of the tribe. And the woman in charge of this kitchen knew how to: crush seeds for oils, reduce a thing to get an extract, make wine, crush herbs, make bread, roast seeds and, make beer.
I posit that these amazing African women tried all of the above with the coffee cherry and the coffee seed when it was presented to them.
If you know how to make beer you know you roast the barley or hops, crush them and immerse them in boiling water to extract the flavours; and then, allow the ferment to occur with natural yeasts.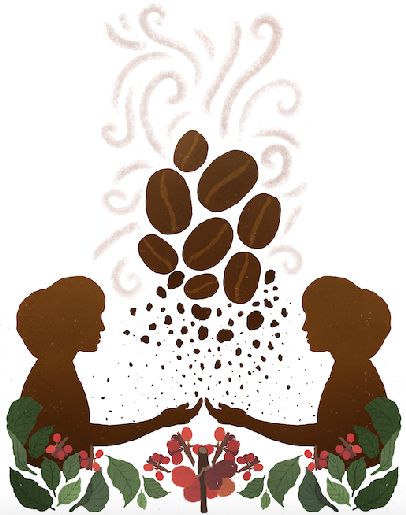 I imagine these African Women roasting the coffee seed and smelling its aroma and using it instantly in foods and in breads. Further I imagine these same women privately trying to make beer (the men's domain at the time) and making the black elixir we all love so much. Roasting the seeds, crushing those same seeds, boiling water and drinking it as a private act for the kitchen and the women. Then, probably very shortly thereafter, offering this drink it to a lover or a loving husband in a ceremony designed to seduce (it does).
In modern Ethiopia there is the coffee ceremony, run by women and dating back hundreds of years. Further to this ceremony Ethiopia men were required to be able to provide coffee for their wives as a measure of their marital obligation.
So we can deduce that an African Child (boy or girl) discovered the Coffee Cherry as being edible via their goats. As a further measure of logical deduction and ethnographic historical data we can discern that an African Woman Roasted and made the First Cup of Coffee.
We owe a huge debt of gratitude to African Women.
Let me be the first, "To every woman of African descent (that's all of you by the way), I thank you for saving my life and the lives of every person here at Tribe by inventing this amazing drink and giving it as a gift of love to those men who merit your labours."
An African child discovered the coffee cherry.
An African Woman discovered roasted coffee and the drink coffee.
Thank you. (*Drops the Mic*)

Got something to say? Then leave a comment!
---
Week 1 Almond Breeze LAVC: Charm vs Home barista creativity!
Friday, 3 March, 2017
Got something to say? Then leave a comment!
---
Specialty Coffee in Nepal: A hidden treasure in the Himalayas
Friday, 3 March, 2017
Words and images by Mikhail Sebastian
---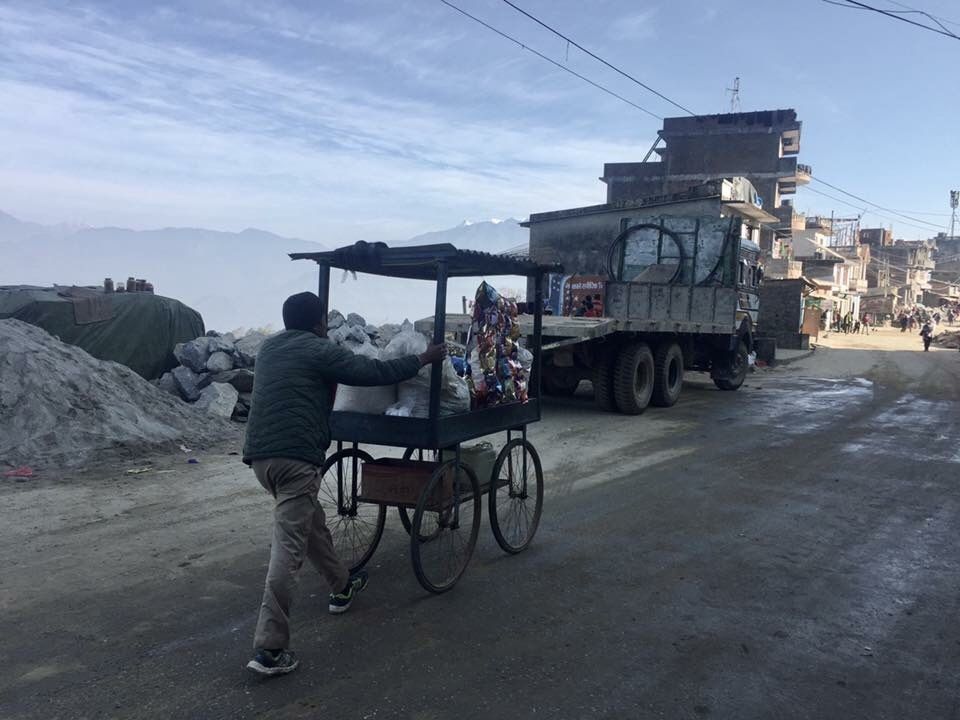 Most specialty coffee folks have probably never had coffee from Nepal. The Federal Democratic Republic of Nepal is a landlocked Himalayan country located in South Asia. Nepal borders China in the north and India in the south, east and west, and it is the largest independent state in Himalayas. Previously known as Kingdom of Nepal from 1768 until 2008, the monarchy was abolished officially in 2008. The 2001 massacre of the royal family led the Maoist communist movement to take over and oust the monarchy for good. However, there's still a lot of political instability and chaos.
Coffee farming in Nepal has a lot of promise because of the soil and the suitable climate of the Himalayas, where great Arabica thrives. Most coffee in Nepal is organically grown, and Bourbon and Typica are the most common varietals. Nepali coffee is exported to different parts of the world, mostly to Europe and Japan. Coffee is a relatively new cash crop for Nepal, and it could be an excellent Arabica-producing region with the proper investments and training.
The specialty coffee culture in Nepal is small—until 2002, most farmers didn't think coffee could be a viable source of income.
Up until the early 2000s, coffee producers in Nepal were not sure if coffee could become a main source of income due to the lack of market demand. However, in 2002, after a substantial increase in the export and also in domestic market consumption, farmers were motivated to consider coffee as a major income-generating crop and start slowly integrating into the specialty coffee market. However, Nepal's lack of financial resources makes it almost impossible to get the necessary equipment to meet the standards needed to produce high-quality beans. The Nepali specialty coffee market faces challenges both in improving quality and producing quality coffee in a sustainable way.
In early January, I got the chance to visit a coffee farm in Nepal. I was fortunate enough to meet Nima Sherpa, who is the owner of the only specialty coffee farm in Nepal. After getting a degree in Business Administration from the U.S., Nima returned to Nepal to start growing the specialty coffee market in his native country. He is an absolutely wonderful, smart, and knowledgeable person who is trying to make a difference in the specialty coffee market in Nepal.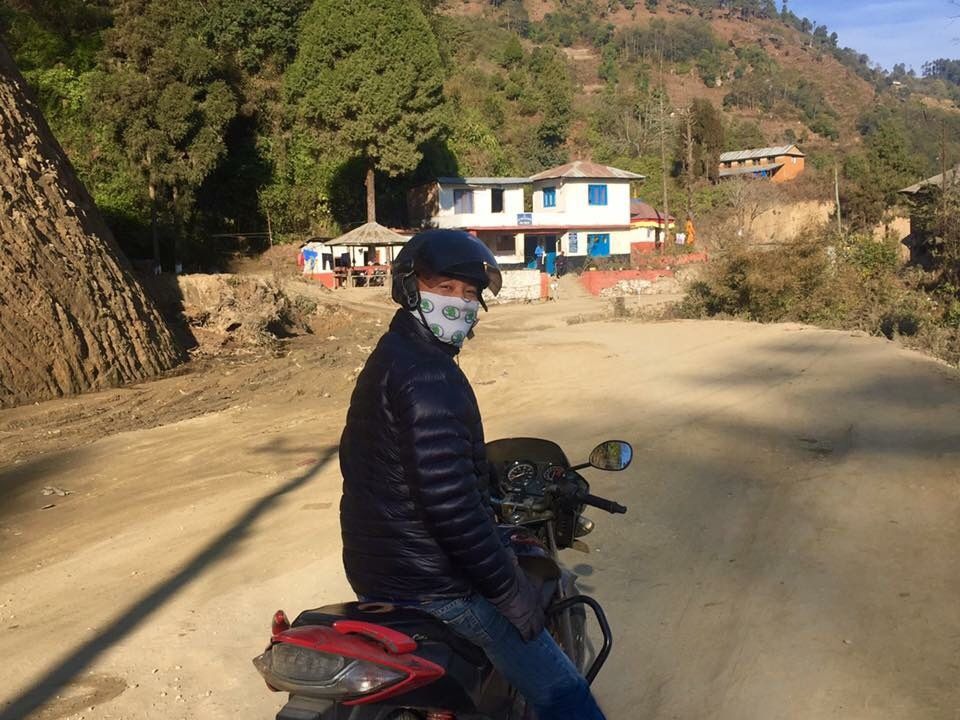 Nima Sherpa runs the only specialty coffee farm in Nepal. At about eight in the morning, Nima came on his motorbike to pick me up from the hotel and start our journey. We went to
Lekali Coffee Estate,
located about two hours from Kathmandu on the slopes of Bhirkune Village in Nuwakot district. The Lekali Estate only uses organic fertilizers—typically a natural mixture of cow manure, molasses, and tree leaves—and the farm is planted with Arabica coffee trees.
The most common varietals in Nepal are Typica and Bourbon. Nima also grows Caturra, with some Pacamara plants dispersed throughout the farm.
Due to different microclimates at the estate there is a slight variation in temperature from one side of the farm to the other, even a few meters away. There are shade-grown coffees as well as coffee grown under the sun. From Arabica species, the dominant varietals at the farm are Typica and Caturra. Walking around the farm I also spotted some Pacamara and Bourbon.
The estate's main processing method is washed. Coffee pickers are trained to pick only ripe cherries at the perfect point of maturation. After picking, the coffee is depulped and the mucilage coat is removed. After depulping the fermentation process starts. After the mucilage breaks down during fermentation, the coffee gets pre-dried to remove surface water. The moisture level of the final product during drying process is 12 percent, which is achieved slowly on raised beds
.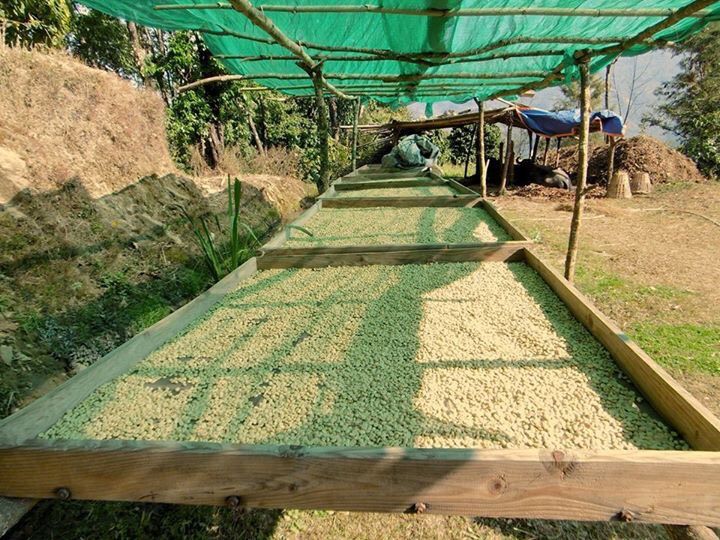 Most of the coffees in Nepal are fully washed, depulped, and dried on raised beds, building the foundation for great coffee.
The Nepal specialty coffee scene is still in the process of growing and developing. Nima is one of the only people trying to make a difference in the specialty coffee scene in Nepal. But he can't do it on his own. He needs assistance, but there is very little help from international NGOs or government programs to aid him in improving the quality of coffee.
Recently, the Coffee Quality Institute, in cooperation with USAID, has been working to improve specialty coffee in Myanmar. If Myanmar can see improvements in coffee quality through investment of resources, then the same can be true for Nepal. If USAID, along with Coffee Quality Institute, could sketch the plan in providing assistance, training farmers, and developing Q Grader examinations in Nepal, the country's specialty coffee market would benefit farmers and citizen alike.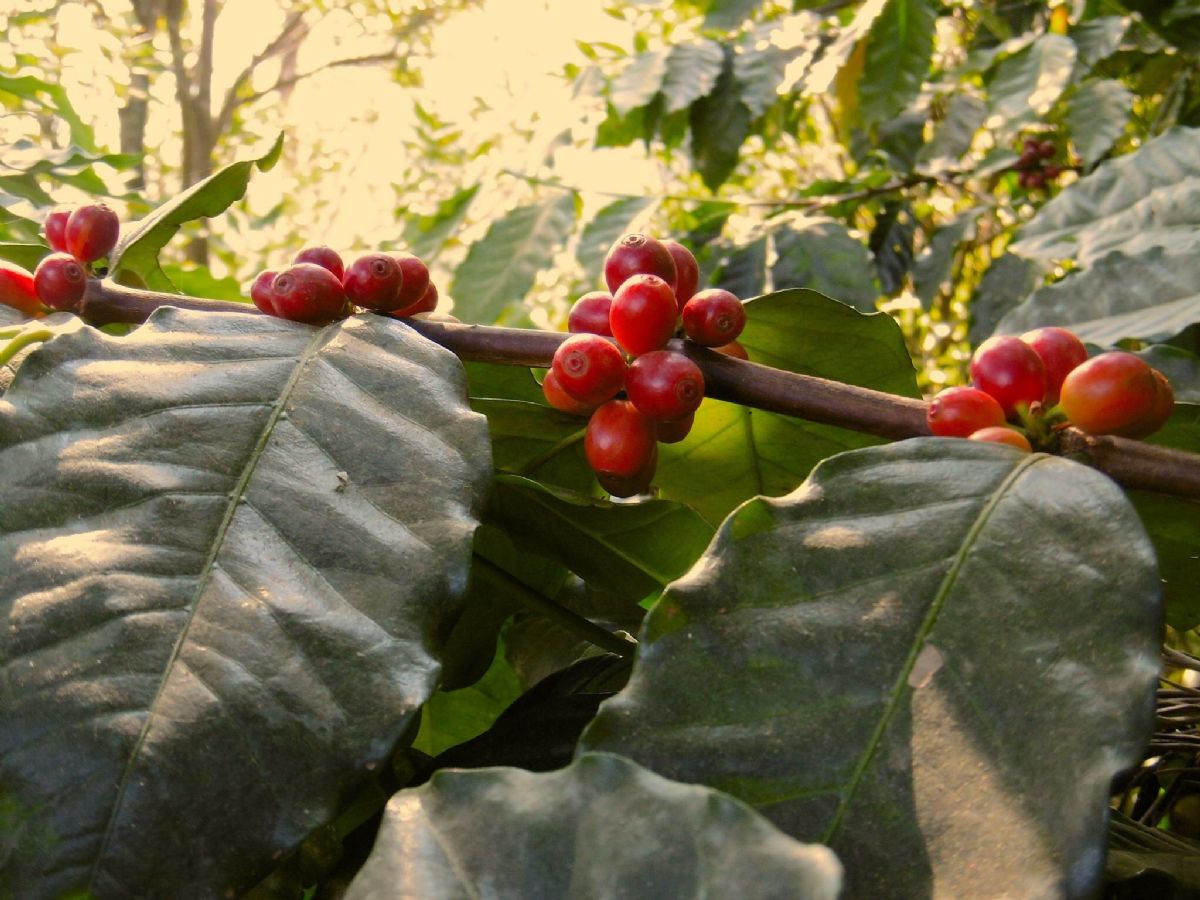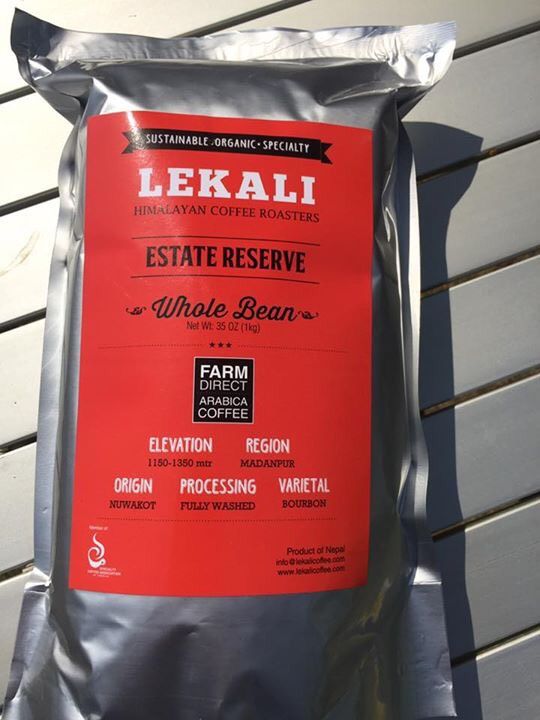 There's still a lot of work to be done in Nepal, and investment from NGOs and government organizations can help grow and sustain the coffee market.
If you want to try some coffee from Nepal, you can contact Nima directly—he would be more than happy to help guide you through the mystery of Nepali coffee. It's important to support coffee producers; without them we wouldn't have the delicious coffee we enjoy. If you are interested in helping Lekali Coffee Estate, please get in touch with Nima at info@lekalicoffee.com.
Got something to say? Then leave a comment!
---
Cafe (Tuk tuk) of the Week: Grind Coffee - Barista Brothers
Tuesday, 28 February, 2017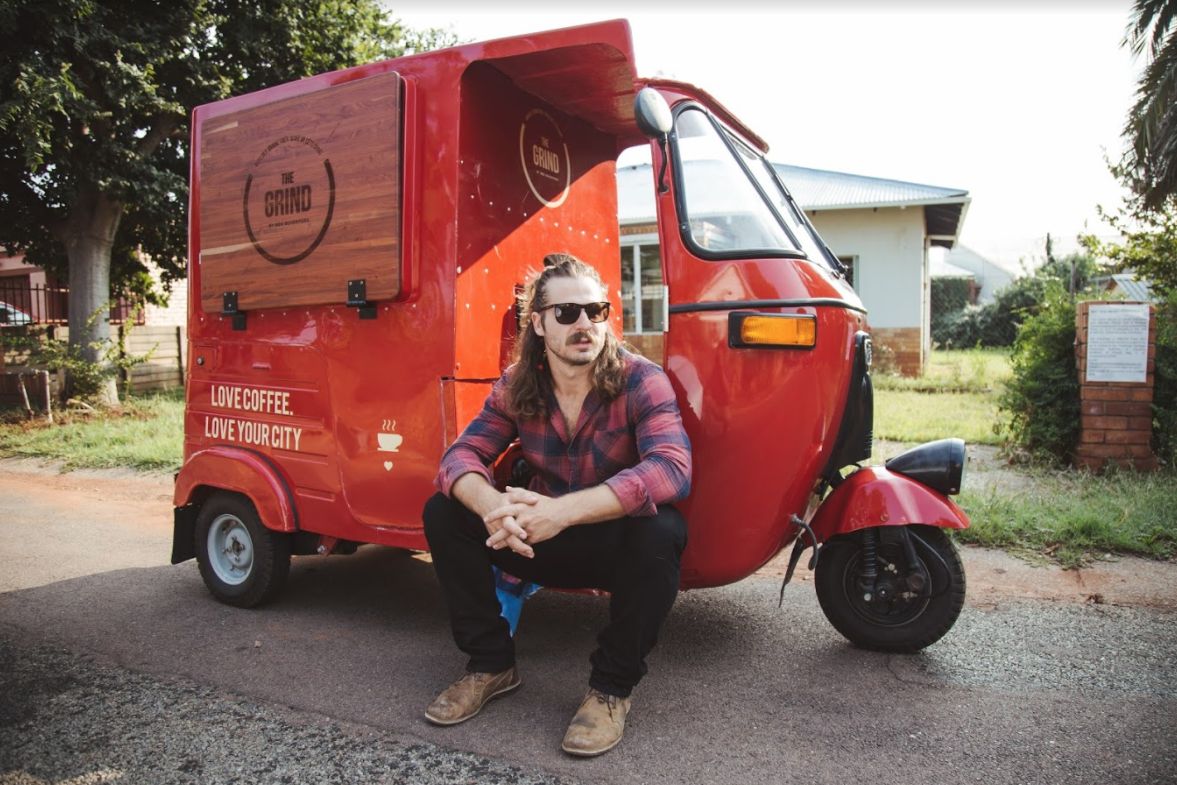 The Grind
is an umbrella brand that brings worldly journeymen together in an attempt to, as a creative individual, enjoy the finer things in live in a "kinda classy, kinda hood" setting.
Our first order of business, Artisan Coffee.
It all started when I decided to take a break from my office job as a manager of a filling station. The pressure and stress of working for a huge corporate company that can't seem to understand the struggles of the man on the ground got to me, hence, I decided to resign (with no real future plans).
Myself and my wife took a trip down to Johannesburg on our 48 Sportster, and the meditating effect of driving a rumbling motorcycle on the stillness of the open road shot an idea into my mind. Why not start artisan coffee in Polokwane? I've had a growing relationship with coffee since the day I started my first job in 2006, and with Polokwane not having a proper coffee shop I just couldn't have bad coffee anymore.
Locations to put up a coffee house would be very challenging in Polokwane, and the rent for these shops are pretty much insane.
So I remembered that about two years before that, my wife showed me a picture of a Tuk Tuk that sells bakery goods out of it (which she actually wanted to do). I remembered that one of my friends had a Tuk Tuk at his house, and the wheels in my head started turning. Upon our arrival back from Johannersburg, I scheduled a meeting with him to get this project up and running. a Mobile Artisan Coffee Tuk Tuk.
I immediately booked a professional barista course from the world famous Truth. Coffee in Cape Town, rated the best coffee shop in the world both 2015 and 2016 by The Telegraph in Britain.
Within two months our Tuk Tuk was built and ready for action, and we started our first official day of trading on the 1st of July 2016, with a massive and overwhelming reaction. The people loved it, and they wanted more. Support flocked in from all over, not only in terms of purchasing coffee from the Tuk Tuk, but people offering to make gourmet foods, help with branding and signage, companies phoning to ask if we could come and stand in front of their offices, everything. The community came together and made it their Tuk Tuk, not mine.
Located in Polokwane, we travel around our lovely city throughout the week with our Tuk Tuk's providing a relaxed break from the daily rat race, for journeymen to come enjoy a brilliantly brewed cup of coffee, some grooving tunes and real human connection, something we have realized has gotten lost in the age of smart phones and wifi.
By using social media as a platform, we send out our ever changing location via Whatsapp Broadcasts, Facebook and Instagram posts, to keep excitement as to where the Tuk will be today, as well as generate social marketing for the local business that provide us with spots to stand at.
Some days we organize homemade gourmet foods for our customers, including but not limited to sweet and sour semi spicy ciabatta's, salted caramel cupcakes and greek inspired beef kofta pitas with zingy tzatziki.
Running a Tuk Tuk as a coffee shop has its own set of challenges. Weather plays an important factor, as we have gotten sunburn as well as soaked in the rain. It also has an influence on our grinders, as the blades expand and contract due to the temperature of being exposed to the elements, meaning we have to adjust our grinders very regularly. But I wouldn't have it any other way...
We cater for any and all events where good coffee is needed over weekends, including having done numerous weddings, festivals, fun runs, high tea's, markets, fund raisers, film launches and cycle events, all over Limpopo and Gauteng. (Not saying we won't go anywhere else.) Our services in terms of the coffee Tuk Tuk's are very simple.
Our Tuk Tuk's are stocked with Eco Cups, 100% biodegradable cups in which we serve our Flat White's, Americano's , Espresso's, Latte's, Flavoured Latte's, Red Espresso's, Chai Tea's, Hot Chocolates, Iced Coffee's and Iced Teas. The coffee grounds are kept in the old bean bags, which we then give out to whomever needs compost for their gardens, our way of giving back to mother nature.
In Jan 2017 we launched the concept of Mandala Coffee's. A Mandala Coffee is a coffee paid for by a customer for a disadvantaged person. Meaning, a customer would come to the Tuk Tuk and ask for two Flat Whites and a Mandala Coffee. We then make the two Flat Whites, and ring up the Mandala Coffee's. Being on the street all the time with the Tuk Tuk's, we get passed by the homeless and poor quite regularly. Mandala Coffee's give us the opportunity to offer them a warm cup of coffee, free of charge.
If we have an excess of Mandala Coffee's, we make a payout of the cash and sponsor it to a local charity, helping the disadvantaged and needy wherever we can.
Since our start up in July 2016, we have also collaborated with local and innovative coffee roastery, Bayhound Coffee Works to build a "The Grind in partnership with Bayhound Coffee Works" Tuk Tuk, where they get the opportunity to create more awareness around their beans through our mobile design.
Their passion and creativity has inspired us and knowing that there are more like minded people in our beautiful city has drawn us to them. But that is not all from The Grind.
Look out for our website www.the-grind.co.za which will be live soon, where we look forward to unveiling a T-shirt brand, exciting developments in a collaboration of artisan coffee and craft beers, a barista school as well as permanent pop up shops.
We would like to thank Coffee Magazine for giving us the opportunity to be a part of your exiting magazine from as far as Polokwane, showing that humble beginnings and innovation in coffee truly get recognized by the masters of the trade. We truly appreciate the opportunity, and thank you from the bottom of our hearts.
Last but not least, we would like to thank our amazing support structure in terms of our customers in Polokwane, and elsewhere. We might have only started the coffee revolution in our lovely city in 2016, but without your continued support and need for quality coffee, we wouldn't have been able to continually and consistently bring you the best artisan coffee in Limpopo (at least).
#thegrindrepresent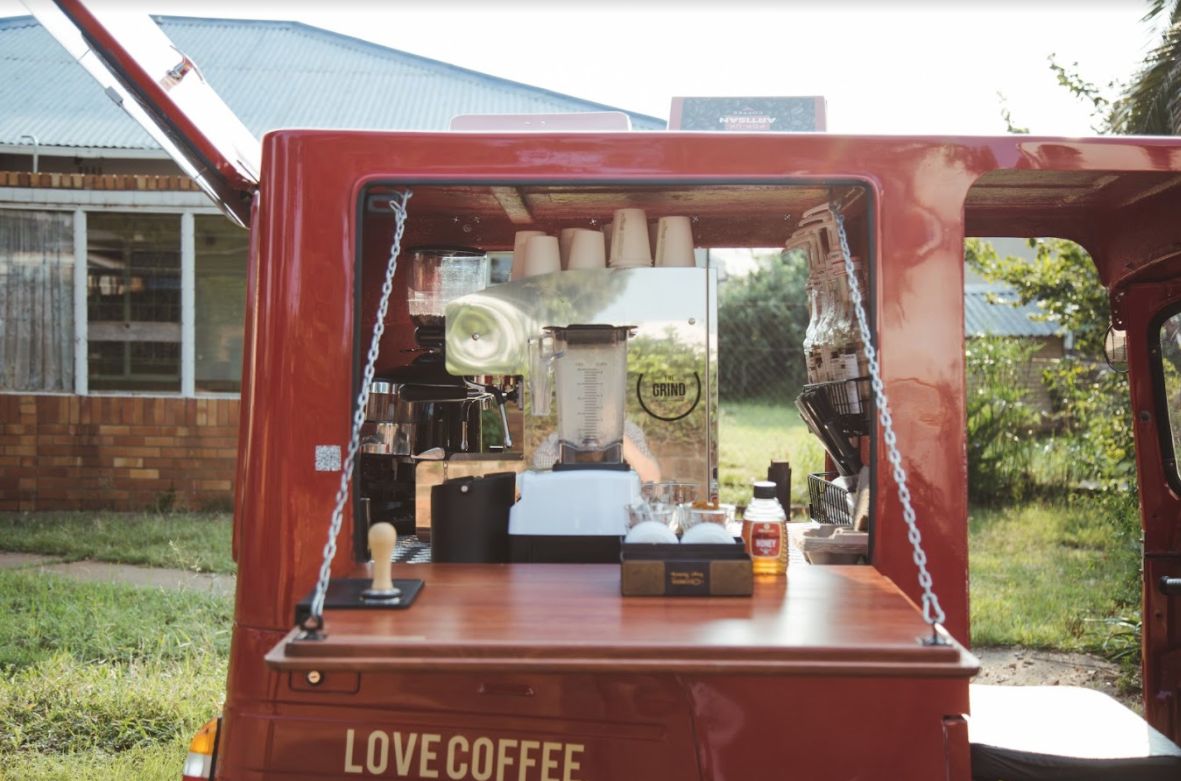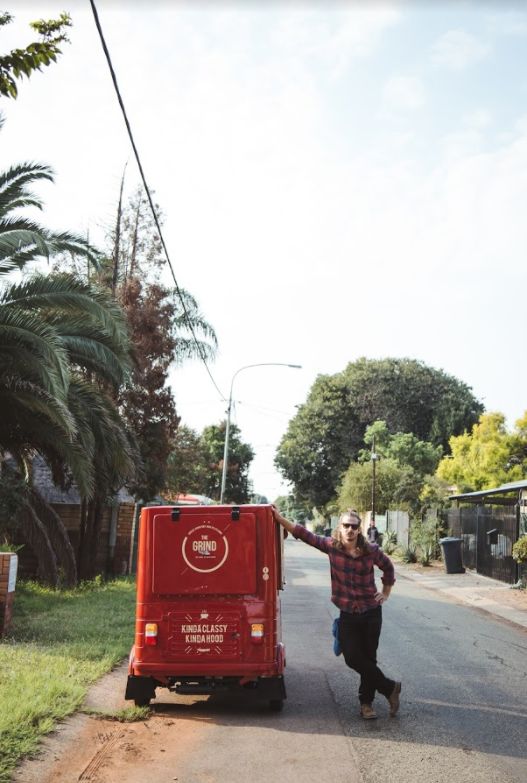 Got something to say? Then leave a comment!
---
Coffeeberry and FreeMe Wild Life Rehabilitation KZN
Tuesday, 28 February, 2017
We love that coffee has so much potential to make a positive difference in so many lives! Keep the good stories coming! Well done Coffeeberry Cafe!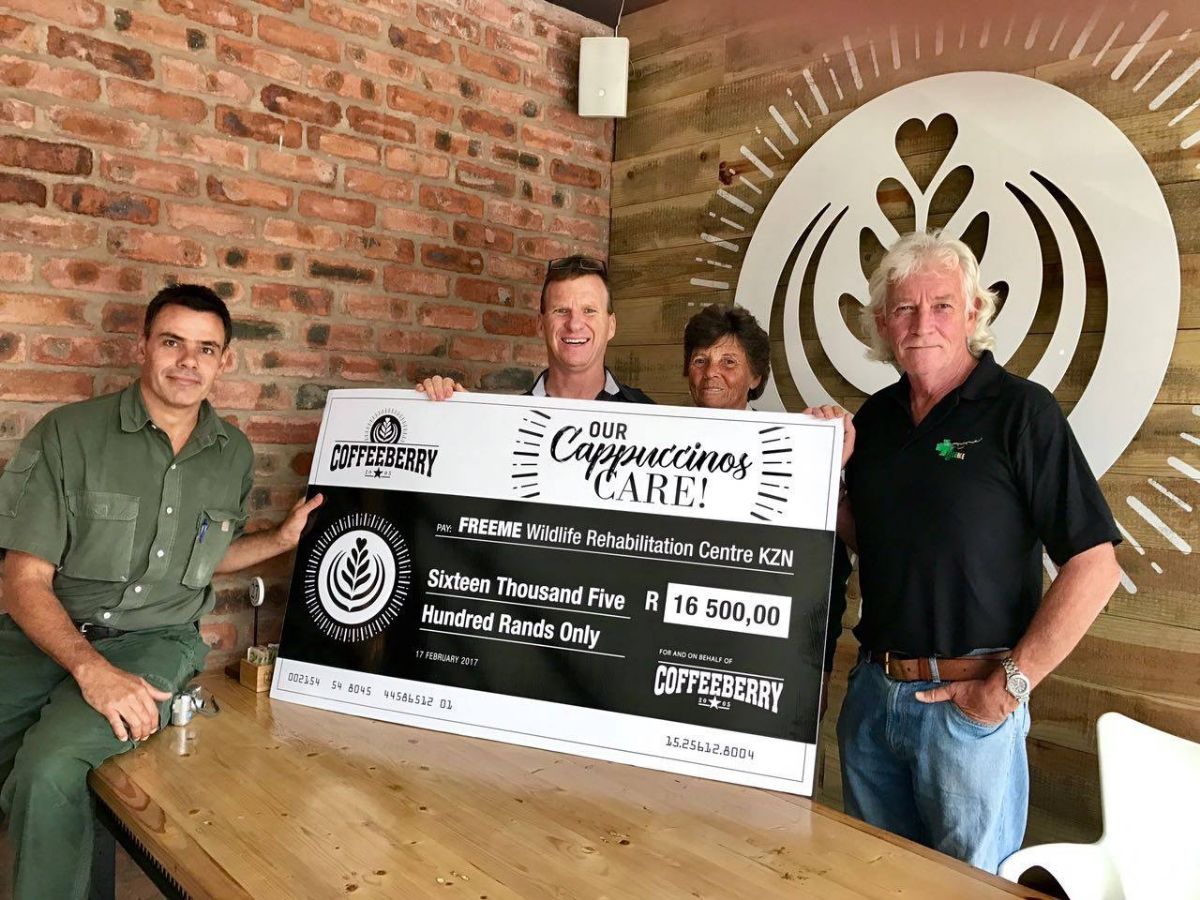 Coffeeberry Cafe
recently appointed
FreeMe Wild Life Rehabilitation KZN
as their "official charity" and the beneficiary of their social responsibility programme. FreeMe was originally founded in 1997 in Gauteng and in 2008 the KZN facility was established to care for and rehabilitate injured indigenous wildlife in the Midlands.
Con Malherbe, owner of Coffeeberry, explained that over the years since he opened the restaurant in 2005, Coffeeberry had been privileged to be involved in contributing towards many fundraising efforts. "All these opportunities to give back to our local community have helped us to build wonderful relationships and loyalty to the Coffeeberry brand. When we revamped the store late last year, we felt that the time had come to become more focussed in our giving. We were receiving many more requests for sponsorship than we were able to honour, and we felt that we were no longer making a significant difference as our giving had become very fragmented. After much deliberation, we settled on FreeMe as our official charity. They do unbelievable work on a very tight budget, and we feel that we can really make a significant contribution to this very worthy cause. We have pledged to contribute R 1 for every Classic cappuccino (the best loved and biggest selling item on our menu) that we sell to FreeMe, on an ongoing basis."
So, if you are looking for a feel-good excuse to treat yourself, you've just found it. See you at Coffeeberry!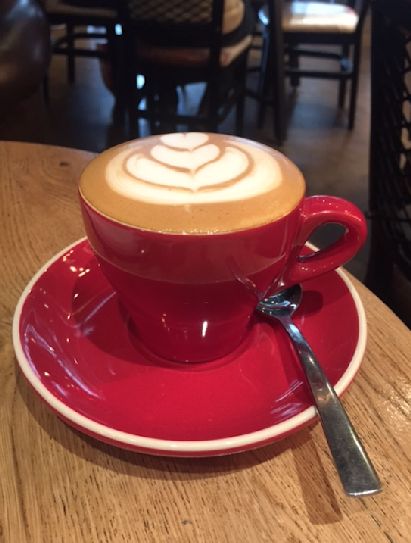 Got something to say? Then leave a comment!