The Elvis Brew Krust Coffee Blend
Thursday, 26 April, 2018
Elvis Blue is not only one of South Africa's most successful music artists, but now also has his own blend of coffee! The Elvis Brew Krust Coffee Blend launched at the Krust Café in Eden Meander Shopping Centre in George on the 5th of February. We chatted to Carla Richards of Krust Café to find out how the Elvis Blue and Krust Café coffee pairing came about…
What inspired the Elvis Brew Krust Coffee pairing?
Elvis was a regular customer at Krust, and loved our coffee, so he asked us to create a blend for him. We wanted a blend that would appeal to his fans, but also have the Krust stamp of approval – and so the Elvis Brew was created!
We launched Elvis Brew at Krust Café and invited all the coffee lovers and Elvis Blue fans in George. Only Elvis Brew cappuccinos were served while Elvis performed. It was a very successful night and all agreed that the coffee was superb.
How did you create this signature blend?
Elvis Blue loved his coffee and was very eager to learn more about the roasting process. We met with our roaster, Ben Ferreira, who showed Elvis his Genio roaster and explained the process, from green bean to creating the final product.
With the help and expertise from Ben we were able to create a great tasting blend. It's a medium roast of a mixture of African and South American beans – a rich, full-bodied coffee with chocolate and nutty flavours. It's a must as a cappuccino or flat white, and is a favourite of many of our customers!
Got something to say? Then leave a comment!
---
Does coffee cause cancer? Let us put your mind at ease...
Thursday, 12 April, 2018
The confusing case of cancer vs. coffee, or law vs. science
You may have already heard the rumours that coffee apparently causes cancer, but rest assured that this is most likely a storm in a teacup! In March 2018, Los Angeles Superior Court Judge Elihu Berle ruled that all coffee sold in the state of California needs to come with a cancer warning label because coffee contains acrylamide – a potential cancer-causing chemical. But while the judge's decision is in line with the law, many are claiming that it isn't in line with the science…
So, is coffee actually bad for your health? The carcinogen in question, acrylamide, is a neurotoxin that's found in almost every food that's cooked at a high temperature, like fried potatoes and your morning slice of toast. It's produced naturally during the coffee roasting process, and the experts are saying that the miniscule amount of acrylamide in your cup of coffee is harmless.
Possibly … potentially …
All the fuss stems from a single study on rodents, where extremely high doses of acrylamide seemed to cause increased cases of cancer, but again, only in rodents. The quantities that humans would have to consume would be massive (and unrealistic) – much, much more than even the most dedicated coffee fanatic could consume.
The World Health Organisation (WHO) actually removed coffee from its list of cancer-causing agents in 2016 because there was no conclusive evidence to suggest that coffee had any kind of carcinogenic effect on people. The cancer-causing claims are at odds with all the scientific studies that have shown the numerous health benefits of drinking coffee. There's even a growing body of research that coffee possibly prevents several kinds of cancer. It's all very confusing…
Who to believe?
The problem with the lawsuit is that the burden of proof was on the coffee industry to prove that the levels of acrylamide in coffee don't pose a significant health risk. Unfortunately, it's nearly impossible to prove that acrylamide doesn't cause cancer because of this requirement in the California state law, known as Proposition 65:
"For chemicals that are listed as causing cancer, the "no significant risk level" is defined as the level of exposure that would result in not more than one excess case of cancer in 100,000 individuals exposed to the chemical over a 70-year lifetime."
A study to get to that level of certainty would be impossible to conduct. The law is controversial – maybe coffee causes cancer, maybe it reduces the risk of cancer? It doesn't seem like cause for concern given that there's no definitive proof (we're not rats and we don't eat isolated acrylamide in gigantic doses), so I wouldn't be inclined to give up my daily shots of caffeine goodness anytime soon.
Dr Alessandro Craparo PhD of Science of Coffee agrees,
"Just note I am a climate scientist that works on coffee (mostly from the plant growth side), not really medical health side, but my two cents worth is that essentially there is nothing to worry about. Latest research on linking coffee to cancer is still unclear and the level of carcinogenicity is "unclassifiable". The carcinogen in question is called Acrylamide (formed during roasting), it is still classified as "probable carcinogen" and is also found in French fries, toasted bread, potato chips, crackers, biscuits, cereals and tobacco. Lots of other stuff I would cut before coffee!! On the flip side, there are conclusive health benefits to drinking coffee which have been published in reputable journals and may very well outweigh the "unclear" risks."
If you're still unsure, check out this overview of a study by Clean Label Project. They ran an experiment to better understand the acrylamide exposure risk from brewed coffee, and the results are reassuring!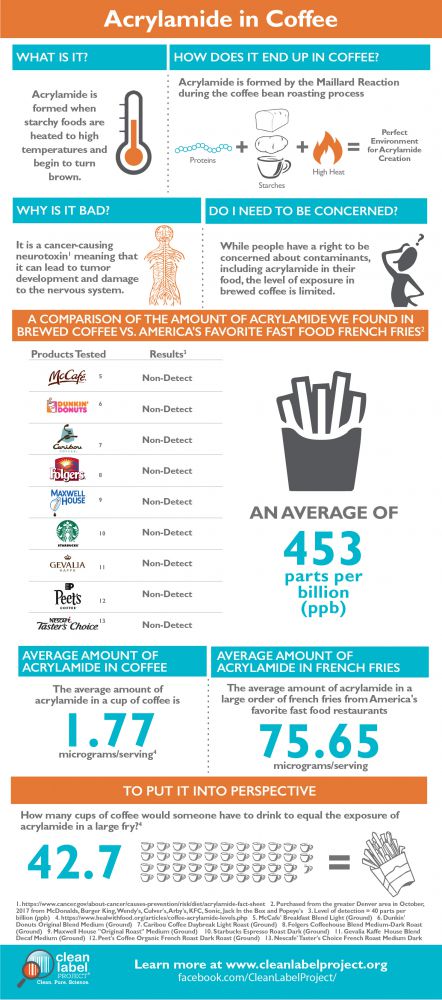 Got something to say? Then leave a comment!
---
Win an AeroPress and delicious Red Espresso products!
Wednesday, 11 April, 2018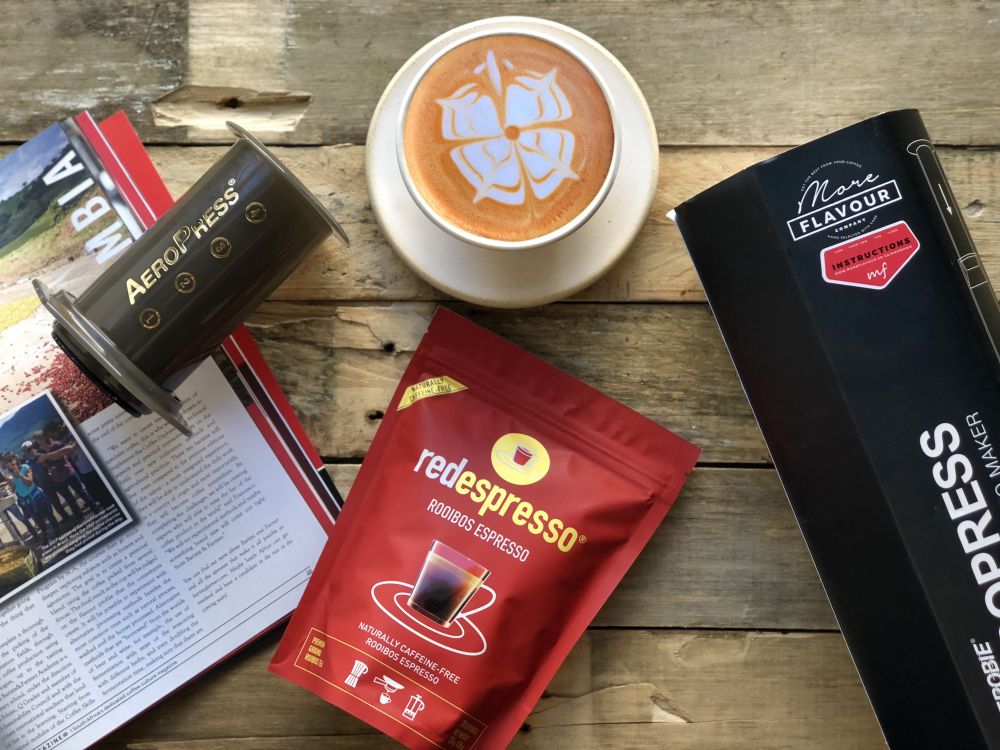 In the latest edition of the Coffee Magazine we explore the phenomenon of Superfood Lattes, this is spearheaded by the Red Espresso team in South Africa. The Red Cappuccino is famous all over the country, but did you know that you can brew Red Espresso in an AeroPress at home? Well believe it, because it's true!
The good news is to celebrate partnering up with the Coffee Magazine, Red Espresso are giving away an AeroPress and Red Espresso hamper! Amazing!
So if you want to read more about how Superfood Lattes are hitting the South African and Global scene, buy the latest Autumn Edition of the magazine from one of our amazing Distribution Partner Cafes.
To enter the competition to win, you can do one of two things:
1. Fill in the Entry Form below
2. Take to Social Media, share our Red Espresso post and tag someone in the comments who you know also loves their rooibos.
Red Espresso and Aeropress Giveaway
Got something to say? Then leave a comment!
---
A little bit of African Spirit in your daily coffee fix!
Tuesday, 10 April, 2018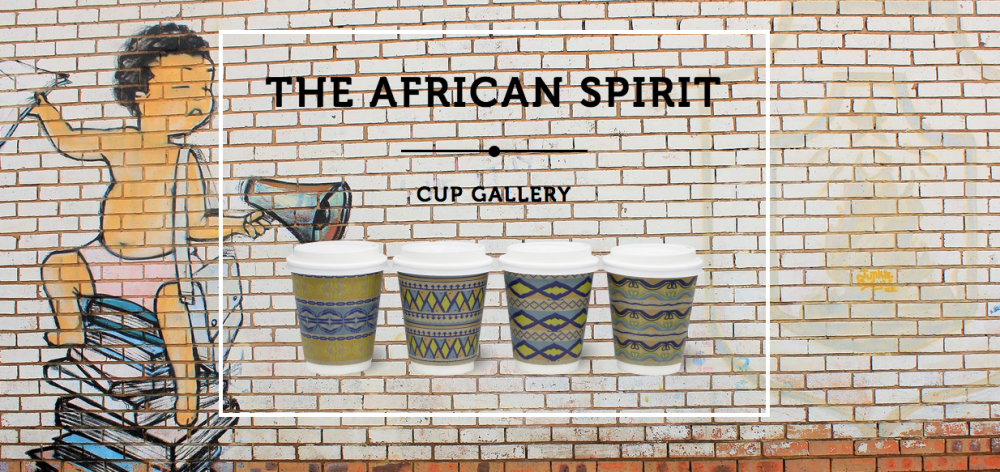 Local packaging company Detpak have launched these incredible take-away coffee cup designs, all inspired by local school children.
Each cup design was developed after visiting children at the uMbuyisa Children School of Arts and Culture, where they painted their representation of Africa day, Youth day and Mandela Day.
The designs are named after significant symbolic words.
IMVELO
"IMLVELO" A XHOSA WORD MEANING "ONE'S ROOTS"
In Grade 5, Mbali lives with her Mom, uncle, aunt, brother and sister.
Mbali was able to provide for her family, when she made her first sale of her painting to a Tourist and was able to buy food and electricity.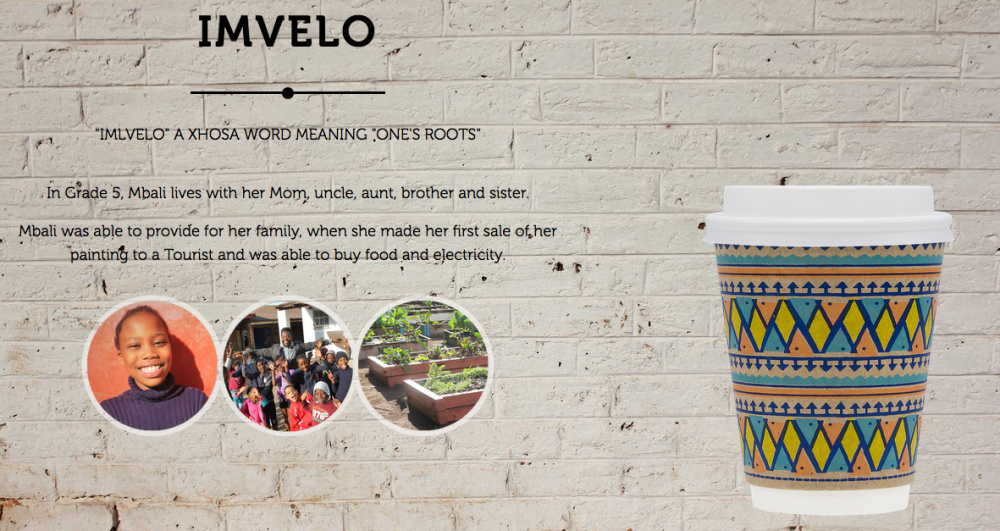 uBUNTU
"uBUNTU" A TERM MEANING HUMAITY FOR OTHERS
A nation referred to as the rainbow nation because of its cultural and racial diversity, the design is inspired by South Africans embracing the concept of uBuntu as a way of defining who we are through others.
Sisanda is 8 years old, in Grade 2, lives with her Mom, Granny and Sister and is known for her caring personality and compassion.
She shares tomatoes grown at the school with her family and neighbours and is adored in the community.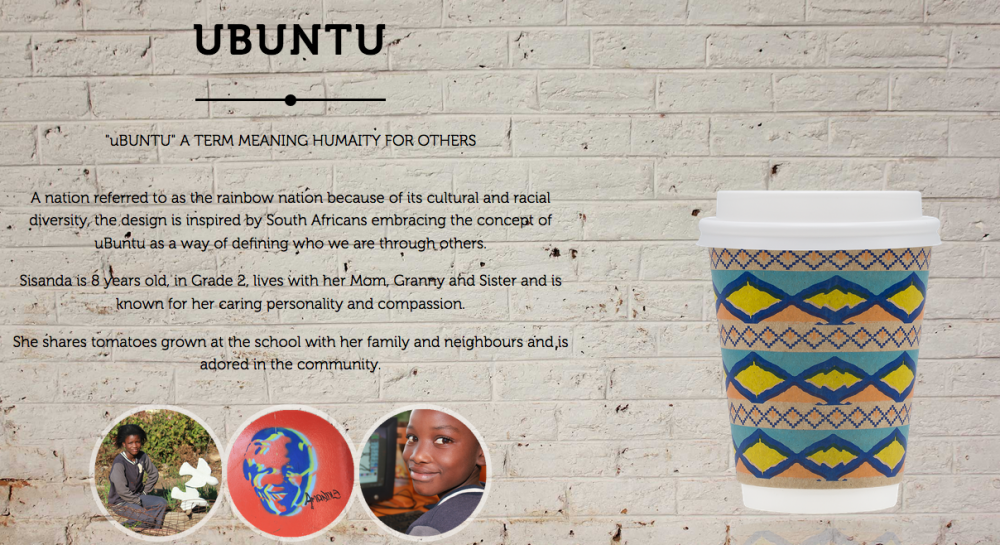 uHURU
"uHURU" A SWAHILI WORD MEANING FREEDOM
9 years old, Tumi is in Grade 4 and lives with 11 family members. The inspiration for her art comes from her freedom to express herself through her love for dancing, and playing games.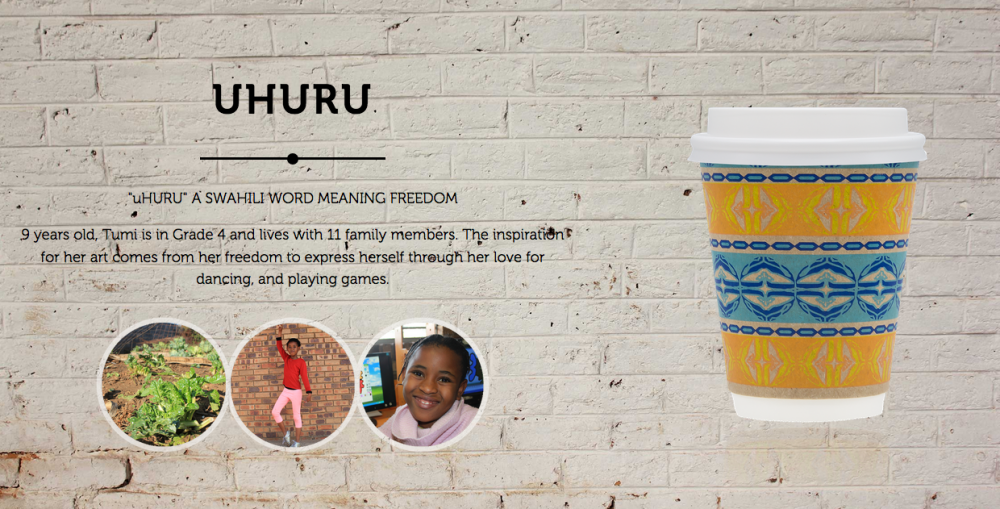 uMbuyisa is a registered non-profit organisation run by Tshepo Ramutumbu, situated in Orlando West Soweto. They provide children aged 6-18 a safe environment to do homework, learn computer skills, painting and gardening. The school was initiated in 2002, with an aim to uplift the community and currently is responsible for 60 kids. The school is sometimes visited by tourists as it is located in Vilakazi street, one the tourist attractions in Soweto.
As a previous community project Detpak donated computers with an installed art program and plans to continue doing more for the School.
Detpak is a speciality converter of paper packaging providing a full range of products focused on the food service markets. In line with global standards, it is situated in Aeroton, Johannesburg South, with most of its employees living in the Soweto area. With a total 244 employees, Detpak aims to play an active role in its community and in that of its employees.
Detpak's previous projects include donating paint, paint brushes, and crops for the school garden.
By choosing these cups, you support Detpak's initiative to donate a portion of the sales back to the school to continue making a difference.
Social Responsibility
While comprising of 95% board from renewable sources, paper cups are lined with a thin coating of polytheylene (PE) on the inside of the hot cup. This lining is required for the cup functionality however renders cups unrecyclable in standard recycling facilities and have resulted in used cups being routed to general landfill.
As a cup manufacturer, Detpak holds its social responsibility in high regard and have highlighted the plight of these cups to Mpact Ltd, our majority shareholder, who has a large footprint in the recycling sector.
Mpact has built a Liquid Packaging plant in Ekurhuleni, Gauteng in July 2017, capable of recycling up to 25 000 tons of cups and Tetrapack products. This enables cups to be rerouted from landfill to continue in the paper value chain as secondary packaging or paper cores.
Got something to say? Then leave a comment!
---
Discover Great Coffee: 6 new coffees from around South Africa, available now!
Friday, 6 April, 2018

The Discover Great Coffee Club is all about trying coffee from roasteries that you would never even have known existed and trying to help new roasteries reach coffee lovers from around the country. We are very excited to introduce the 6 roasters in the Autumn Discover Great Coffee Club box.
Aura Bean Roastery
Aura Bean was a dream that became a reality in 2017. "We are quite new in the roasting world and we want you to enjoy our Guatemala, single origin roast with a rich aroma and hints of nuts and chocolate" say Owner, Lambert Fourie. This traditional style coffee has medium grapefruit-like acidity and a medium body.
East London Coffee Co
Under the Cutman & Hawk umbrella, the East London Coffee Co. offers their popular Signature Blends, a blend of five premium quality Arabica beans which combine to form a well balanced coffee with dark chocolate, honey and marmalade undertones. The range includes their C&H Roasters Reserve blend along with a selection of single origin coffee all of which is available online.
Bean Authentic
Bean Authentic Roasters is situated in Monte Vista suburb, Cape Town. Birthed out of a passion for coffee, they are proud supporters of Fairtrade, offer 4 blends, and single origins including Brazil, Columbia, El Salvador, Guatemala, India, Nicaragua, Rwanda, Uganda and Ethiopia. Their aim is to improve the quality of coffee to the end user #NoMoreBadCoffee!
Humble Roasting Co
We're a speciality coffee roasters based in the heart of Durban. As a social enterprise we like to focus on people over profit and try to do everything with social good in mind. This Uganda Bugisu is our signature roast and features lemon acidity with after-notes of dark chocolate.
My Brew Coffee
This Coffee Roastery, run by Frederik Kruger and his team is based on the Maties Campus, keeping the young minds of SA sharp and energised with their well balanced Ethiopian, Ugandan and Kenyan blend. It is deliciously smooth, with chocolatey characteristics, low acidity and medium sweetness.
Sihle's Brew
Sihle's Brew signature blend is a Kenyan, Ethiopian, Tanzanian and Brazil blend of deliciousness. It is delicate, sweet, fruity and chocolatey with a well rounded smoothness to it. Sihle has become extremely popular in the north of Johannesburg supplying the local Spar's, Food Lovers and PnP's with this blend. Enjoy!

Got something to say? Then leave a comment!
---
Autumn Edition 2018: Winston Thomas on the Cover
Thursday, 5 April, 2018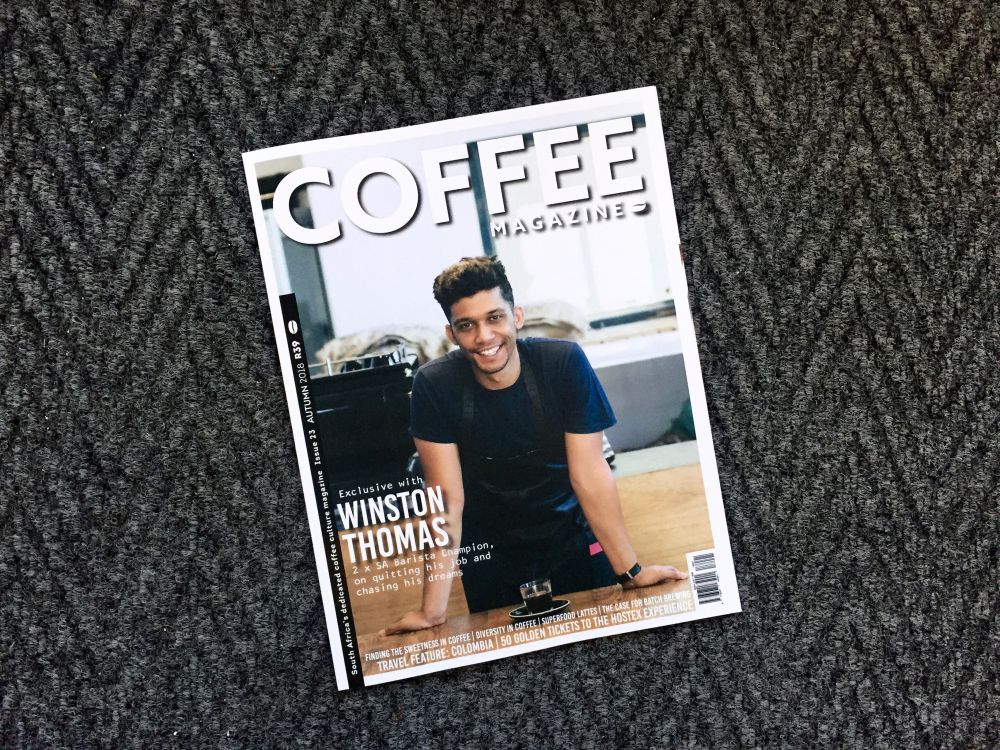 What's in this beautiful edition?
Cover: Training for Glory
An exclusive with Winston Thomas, 2x SA Barista Champion on quitting his job and chasing his dreams.
Roast: Is Sweetness the New Acidity
And what does that even mean for you the coffee drinker? We explore the concept of sweetness in coffee and chat to Anne Lunell of Koppi Roasters in Sweden.
Culture: Making a difference in equality
Be part of the solution with your morning pick-me-up by supporting coffee businesses that support diversity.
Brew: Making A Comeback - The Case for Batch Brewing
Through waves of espresso coffee culture and alternative filter methods, it appears this humble machine is making a comeback.
Lifestyle: Let the Music Move You
There is a strong connection between music and coffee and we couldn't think of a better person to explore it than the legendary Lemuel Butler.
Discover: The Godfathers of Italian Coffee
Much of the world's café history and market has been dominated by imported Italian coffee brands like Illy, Lavazza, Segafredo and Kimbo. Jazz Kuschke investigates.
Travel: Colombia: A land of mystery, beauty and coffee
Coffee has long since made Colombia world famous, for all the right reasons.
Taste: Superfly Superfood Lattes
Meet the proudly South African company who've elbowed rooibos onto the global coffee scene and created a superfood in the process.
Discover Great Coffee: Home Barista Courses
Get expert training at amazing home barista courses across the country
Kick: Such Great Heights
An audience with two incredible mountaineers, Sibusiso Vilane and Nigel Vardy, who happen to really love their coffee.
Got something to say? Then leave a comment!
---
Selati Cafe of the Month: April
Thursday, 5 April, 2018
Got something to say? Then leave a comment!
---
Coffee on the Go in Durbs by the Sea
Thursday, 29 March, 2018
Get your Coffee on the Go in Durban
Along with Durban's growing coffee culture of the last few years, we've also seen a rise in the number of vans, trucks and coffee tuk-tuks hitting the streets to make cortados and espressos even more accessible for those on the go…
Exploring Coffee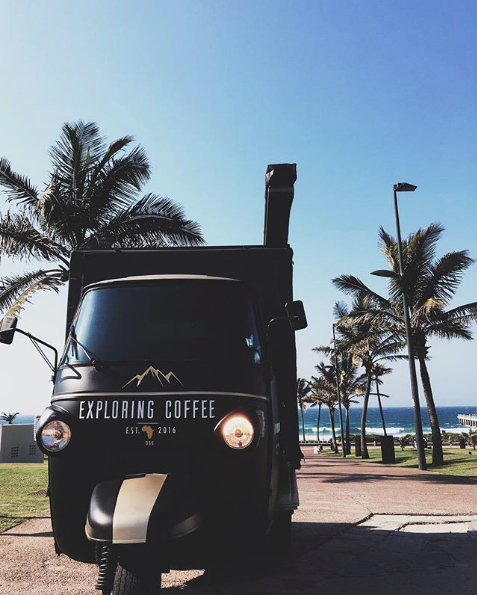 Exploring Coffee are a pop-up café, whose tuk-tuks can often be found at outdoor sporting events and supporting the KZN trail running community. They're Proudly KZN and only work with local suppliers, sourcing the best beans and baristas from the province. They're passionate supporters of healthy living and active lifestyles, so you can find them serving artisanal hot beverages in Lilian Ngoyi Road at the same premises as Durban Runner, as well as trail runs, markets and special events – wherever they're needed!
Follow them on Instagram: Exploring Coffee
Love Coffee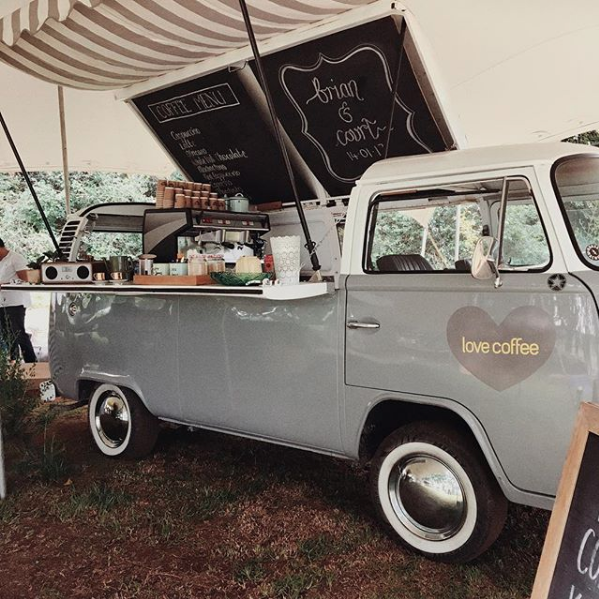 Love Coffee is a favourite for coffee lovers in Morningside, and building on the success of their Windermere café, branched out a few years ago to introduce Bessie the Love Coffee Kombi to the Durban scene. Bessie is a retro VW Kombi that travels around KZN to serve you a hand-crafted caffeine fix at weddings, markets and music festivals. Love Coffee uses beans that have been specially roasted just for them by Colombo Coffee, so you're guaranteed a great cup.
Follow them on Instagram: Love Coffee Durban

Coffee Guys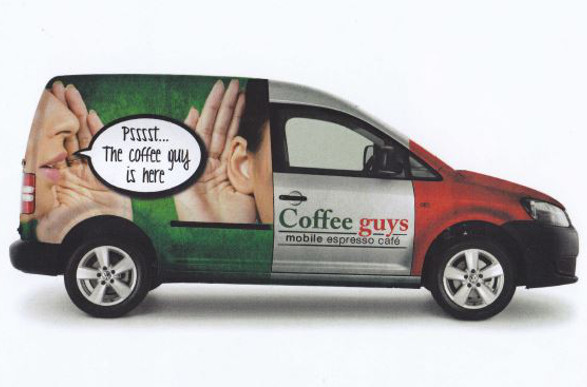 The Coffee Guys espresso café can be found at South Beach most mornings, but this "barista on wheels" will travel – to weddings, your work, and any kind of event. They serve their gourmet coffees from the back of a custom-built self-contained van, and pride themselves on their beans and brew.
Find them on Facebook: Coffee Guys
Honourable mention – Terbodore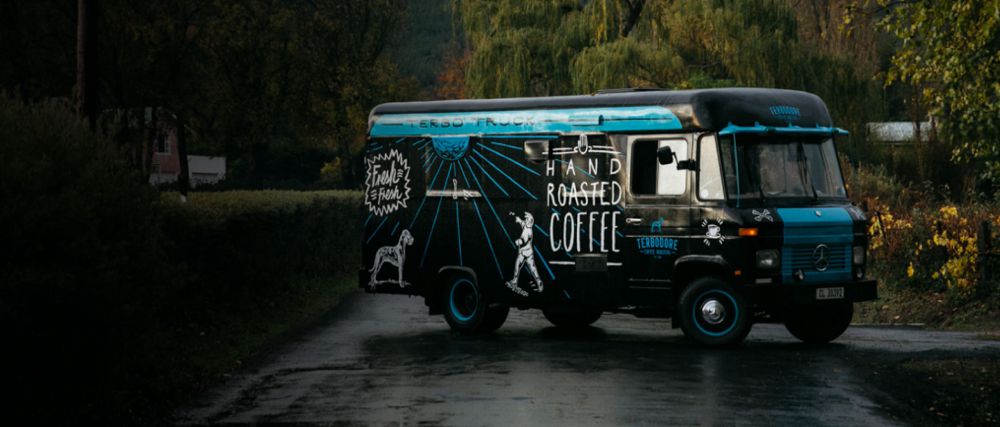 The Terbo' Truck is actually based in the Cape winelands, but Terbodore Coffee Roasters get an honourable mention since they hail from the KZN Midlands. They wanted to bring their freshly roasted beans to the people and share the coffee magic, so the custom coffee truck was born and you can find their fairtrade brews in Franschhoek. Artisan wine and coffee sounds like a good reason for a trip to the Cape winelands…
Follow them on Instagram: Terbodore Coffee
---
Do you have a favourite Mobile Coffee team that aren't mentioned here? Tell us about it!
Got something to say? Then leave a comment!