Roaster Spotlight: Bloemfontein Coffee Roasters
Wednesday, 5 September, 2018
We love hearing coffee success stories and we love to share them with you, our readers, so you can taste new coffees from unexpected places!
We'll let Inge from Bloemfontein Coffee Roasters tell you all about it!
---

It was toward the end of 2015 that we took the big leap to become a part of the growing coffee culture in SA.
Our work then saw us travelling extensively in not just our area (Free State & Northern Cape) but also throughout SA and we were fortunate enough to have travelled through Europe on a few occasions as well.
Our love and passion for a good cup of coffee had always been part of us and we would take various brew tools with on trips and make our own coffee next to the road, or in the guesthouses we stayed in. Let's just say we've never been fans of instant coffee!
It was on a holiday through Germany visiting family in September 2015, that we came to the conclusion that we definitely wanted to play a part in the coffee industry in SA.
We came back and started extensive research on the growing, cultivating, roasting and making of coffee. We found Neil from Genio, and after meeting with him we knew this was what we wanted to do.
Roasting coffee is an art, and unfortunately there are still some places out there that just want to make a quick buck but are not passionate about the coffee they put out.
In April 2016 our Genio roaster was delivered and we had extensive training with Neil for the next couple of days. We were blown away! How amazing to drink coffee that you yourself roasted with so much pride!
It started as a side-line for us at first, roasting out of a small flat on our property, inviting friends and family over to try and test out our various coffees. They in turn spoke to their friends and so on, and so on.
Pretty soon word got out and we decided to take part in local markets and festivals. We started with branded 3mx3m Gazebo set up, marketing and selling cups of coffee and product and brewtools. The response was phenomenal and we were super excited! Pretty soon we started picking up Wholesale customers (Coffee shops, Guesthouses, Boutique Hotels and Restaurants) who started buying from us on a regular basis. The wholesale side started growing nicely and we continued to do markets and festivals in and around Bloemfontein.
Our coffee business started picking up and we decided to participate in bigger events eg. BloemShow, Free State Arts Festival, etc.
We reached a point where we had to make a decision as to how much time was needed to grow our coffee business into the vision we had and the amount of time spent on our regular jobs at that stage.
After much deliberation, sum making, planning we quit our jobs at the end of 2016 and decided to focus fully on our dream.
We renovated a vintage Jurgens Caravan into a mobile Coffee Caravan and moved away from the Gazebo set up scenario. It gets tiring assembling and taking down a stand all the time, and we were concerned that somewhere an espresso machine or something would get hurt. So the Red and White caravan was launched in February 2017 and our plan for the following 2 years was to continue to do markets and festivals, but also to find a permanent area for a pop-up shop for the caravan during the week. We were still roasting from home and selling from there.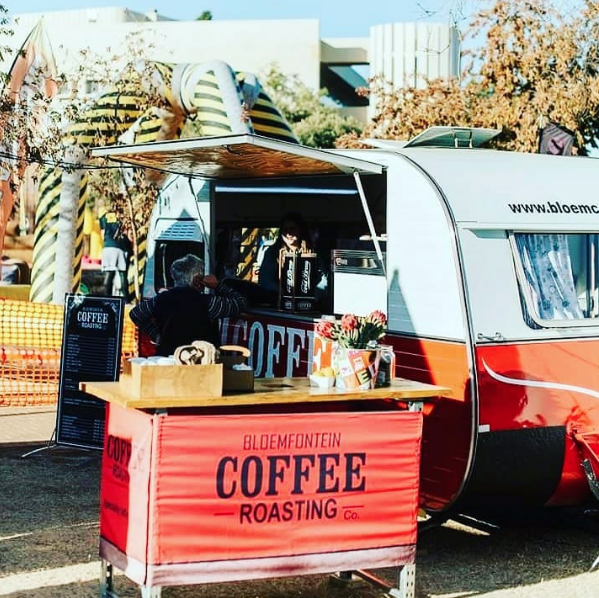 But by middle July 2017 we realized that we needed a shopfront.
As our name spread coffee lovers started looking for us more and more. They didn't just want to wait till a next market or event, but wanted to be able to come to us any time, whether it was for a quick cup of coffee, freshly roasted coffee for home or work and help with brew tool methods.
With our previous work, we were away from home almost everyday and that is why we decided that when the time would come to open up shop, we knew we wanted to be close to our home. And besides, most people who were buying from us already knew we were in Langenhovenpark, Bloemfontein. So when the opportunity came for a shop opening at the centre just down the road from us, we had to think and act quickly. The centre wanted a coffee shop in their building, and we wanted a shopfront. And so it happened that we moved into our first premises November 2017 at The Towers Centre in Langenhovenpark, Bloemfontein.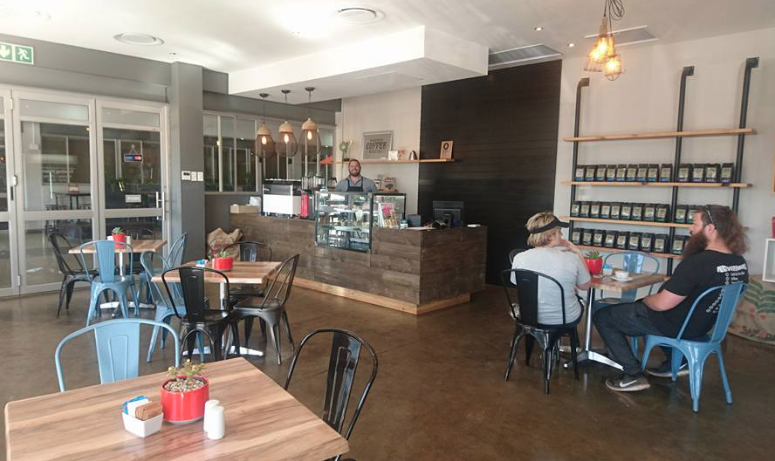 I must tell you, this was one of the most trying times of our entire lives, opening a shopfront. Because it came about sooner than we originally planned, but boy are we having some fun now!
We moved the roaster into the shop to be able to show and educate people as to how their coffee is roasted. We take great pride in every roast and cupping these coffees takes place before we are totally satisfied that it goes out to the public. Packaging and distribution also takes place on the premises.
On the retail side, we have the coffee shop , with add-ons like breakfast, light lunches and home baked cakes. We also do some off-premises catering for small events. We try to support local, bakers, farmers and businesses as much as possible when purchasing foodstuffs for the shop. We believe that if we want fellow locals to buy from us, we should be buying from them too to support each other.
It is hard to believe we have already been in our Roastery & Café for almost a year!
It isn't always easy, and we have been through some ups and downs during this time, but we have learned so much. Not just of coffee, the industry, people etc , but also about ourselves.
Our journey has just started, and we are looking forward to the road ahead. Adriaan and I are both actively involved in the Roastery & Café on a daily basis and this gives us the opportunity to become a small but significant part of our customers lives.
We have offered them a comfortable, friendly environment in which everyone is welcome and feels at home.
The shop itself has a slightly modern feel that features a timeless design with functional style and simple sophistication – in a corner are books dating from my grandparents era, books about gardening, travel destinations and story books, creating an area where you can just slip away from the world and enjoy a good cup of coffee.
Our music is a mixture of jazzy, bossa nova and occasionally even some light reggae vibes – depending on the crowd.
Currently we have 3 blends and 4 single origins in our range and a decaf option.
As we continue to grow we look forward to what the future will have in store for us and the growing coffee culture.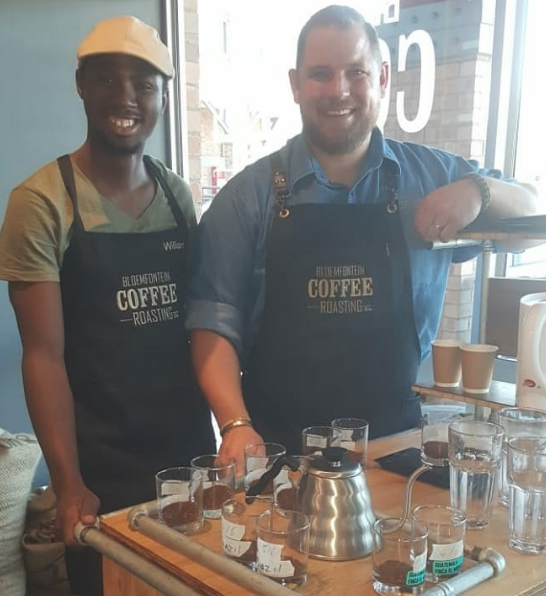 Got something to say? Then leave a comment!
---
Calling all Gamers: Coffee Talk may be the new game you need in your life
Friday, 7 September, 2018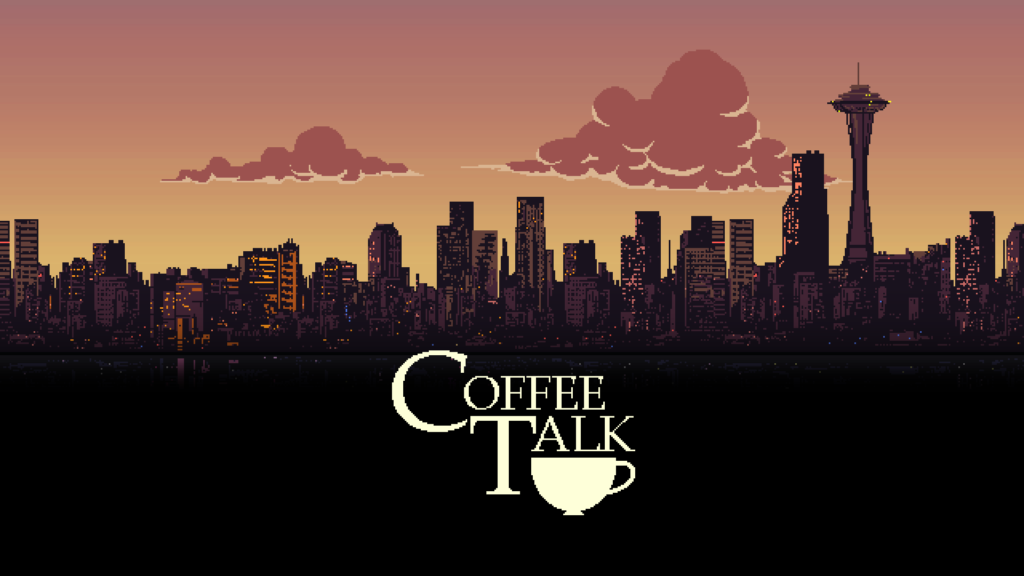 A 'chill' test of your coffee and conversation skills
It's a cold and rainy night in near-future Seattle. You run the only late-night coffee shop in the neighbourhood, opening only after sundown, but it looks to be a slow and quiet night. As the rain falls outside the café, some of your regulars wander in after a long work day. Your regulars, Baileys and Lua, are busy discussing how their families disapprove of their relationship. In between serving drinks, you eavesdrop on their conversation. The politics of interspecies romance between an elf and a succubus is complicated to say the least.
This is the setting of Coffee Talk, a demo game by Toge Productions, an indie game developer and publisher based in Indonesia. In their alternative future, you're a barista that serves orcs, elves, humans and succubi, listening to their problems as you concoct lattes and espressos with the ingredients that you have in stock. This is not your typical game though – the developers set out to create a game that simulates that calm and relaxing feeling of drinking a warm beverage on a cold winter's night.
Quiet conversations in a coffee shop
Coffee Talk is not a game about racking up fatalities while avoiding your own. This is a narrative game that focuses on quiet conversations in a cozy coffee shop setting – ranging from an alien trying to understand humans' lives, to a journalist who's struggling to get her boss to let her write a novel. The main selling points are the story, 90s anime-inspired pixel art, and a lo-fi chill-hop soundtrack that will be downloadable on Steam, iTunes, and Spotify when the full game is released in 2019.
The game was the result of a Toge Productions annual game jam – two weeks of planning, designing and prototyping experimental new games, turning ideas and concepts into reality. For now, only the demo is available – a short 15 minutes of gameplay, available from itch.io at the fair price of 'pay what you want'. Reviews have been extremely positive, with players raving about the stress relief of a relaxing gameplay experience and "chill" coffee shop vibe.
Sit back and relax
The game mechanics are not too complicated – you can craft almost any drink through trial-and-error. You simply pick a base of coffee or milk, and add ingredients. Sometimes the orders are specific, and other times you're asked to experiment. The storyline branches from the drinks that you serve to your customers and interactions are dialogue-based.
Currently in demo, Coffee Talk is downloadable for Windows and macOS. Check it out here: Coffee Talk on Steam.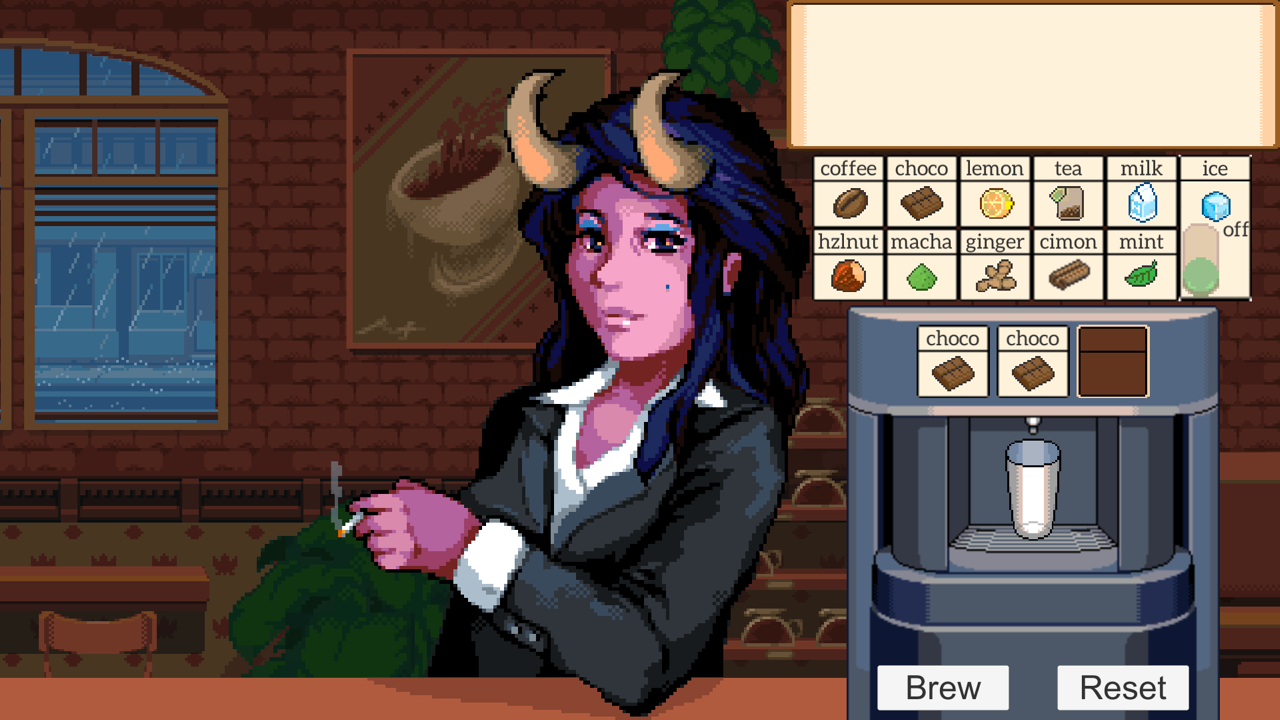 Got something to say? Then leave a comment!
---
Episode Five: Laying the Foundation for Success
Friday, 31 August, 2018
The Selati Barista Scholarship Initiative has given 12 people the opportunity to pursue a meaningful career in coffee. In this episode we take a look inside the classroom as the CT candidates complete their SCA and UNISA practical work at Ciro Beverage Solutions.
Got something to say? Then leave a comment!
---
Let the Music Move You
Friday, 31 August, 2018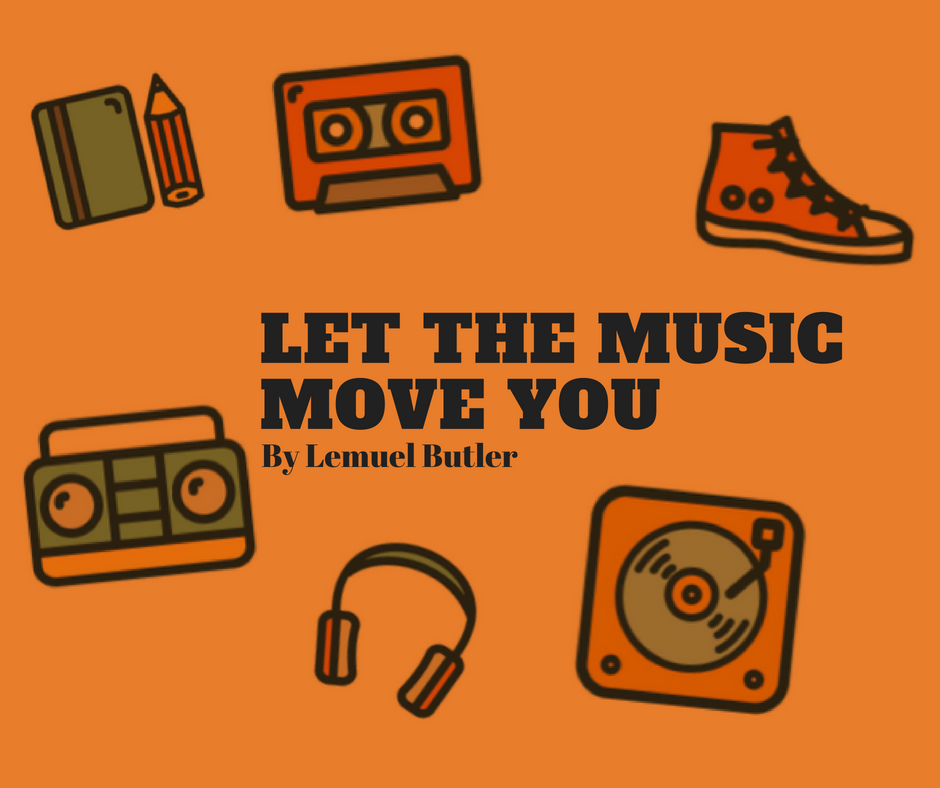 There is a strong connection between music and coffee and we couldn't think of a better person to explore it than the legendary Lemuel Butler. Part 1 of 4 deals with how Lem used music to compliment his competition set at WBC and why he chose the specific tracks!
---
The beauty of music is that it is a universal language. Some would argue against this, but let me give you an example of what I mean. Take any composition from Frederic Chopin or from the John Coltrane Quartet (one of my favourite jazz quartets) and give the sheet music to an American musician, a French musician, a South African musician and a Japanese musician who only speak their native tongue and they will be able to play the sheet music as if they were written by someone in their country. It only requires one language to read music and it doesn't require any language to embrace the emotion music creates. Music has the power to evoke feelings found at the core of the human experience. Crossing cultures, social and economic boundaries which otherwise hinder human connection, music reaches into the human evolutionary past connecting us.
Coffee, very much like music, creates a bridge between people. What drew me to the barista competition was that same human connection I found in the coffee shop. People from all walks of life; socioeconomic diversities, ethnic diversities and cultural diversities in one space enjoying each other's company and conversation over a cup of coffee. I witnessed that same connection of people from all over the world when I volunteered at the 2011 World Barista Competition in Bogota, it was electrifying. I had competed before, but never been a part of something where I could see the bigger picture of how coffee works.
Let's put music and coffee together in a competition format. What do we create? I can only speak for myself, but what I create in my presentation is an experience; a journey into my life experiences with people and coffee. Think about how music can evoke emotion, for example in a movie or documentary score. The music is integral at building suspense and adding tone to the images you're absorbing. I begin with an introduction that connects me with my guests (the judges). The introduction varies from competition to competition, but what I look for is how I felt during months of practice and what message or thesis I want to defend with a 15 minute presentation using coffee beverages; roasting information and the tireless dedication to farming all help in the music selection. Once a connection with my guests is established in the introduction, they can now trust me to take them on an incredible 15 minute taste, olfactory and auditory journey where I can share coffee, but more than "just" coffee; a sensory symphony. Music allows me to start and create an emotional ride of upbeat tempos and downtempo melodies where I tie in the farmer's emotions through her dedication to her life's work; the roaster's dedication to his craft and my guests past experiences with coffee I may not even know. The conclusion of my presentation is always my favourite way of bringing it all together and when I call time not only do I feel wonderful but my guests have enjoyed the journey where time stood still just long enough to bridge a connection between farmer, roaster, barista and guest. As a competition barista, I select a final track that is suitable for the culmination of all the orchestrated emotions in the presentation; the farmer's hard work, the message, the music, the coffee. I'll use my 2016 WBC Track List as an example.
1. Ancestros - Los Dioses Hablan
2. Jamie xx - The Rest is Noise
3. De La Soul - Pain
4. Cecile Kayirebwa - Urumbaby'ingwe
For me it has always been the first and last track on the playlist that are the most important in the presentation. The songs in the middle were always a fun bridge between the two.
The first track on my set list for the 2016 WBC was a song entitled Los Dioses Hablan from a local band in Huila, Colombia called Ancestros. I was on an origin trip with a number of barista champions sponsored by Cafe Imports in 2015. The trip was a true inspiration. After one of many a full days of farm visits we had dinner together in Huila. The 6 piece band Ancestros set up and began playing. The tunes were incredible; an added soundtrack to an unforgettable journey with incredible people who would inspire me to compete again. After dinner, I chatted with the band as best I could with my horrible Spanish and purchased their CD. I wasn't able to listen to the CD until after I returned stateside and when I did the music transported me back to the emotions from the experience in Colombia. I continued to listen to the CD during preparation for the 2016 United States Barista Competition and later after winning I listened to Ancestros during my trip to Panama to cup through 35 lots of Jose Gallardo's coffee to find what I wanted to use in the 2016 World Barista Championship. The first track, Los Dioses Hablan creates an emotional bridge to a magical place and time in Panama where I rediscovered what draws me to certain coffees; unforgettable acidity from delicate coffee varieties and sweetness from elevation. Sitting at 1900 meters above sea level on Jose Gallardo's farm Finca Nuguo watching clouds slowly drift into the valley from the Pacific is a moment I can only relive through the song Los Dioses Hablan. I used that track in my intro to help me connect with my guest judges forming a bridge of trust between us to help move us into a new experience with coffee something similar to that personal discovery I had in Panama.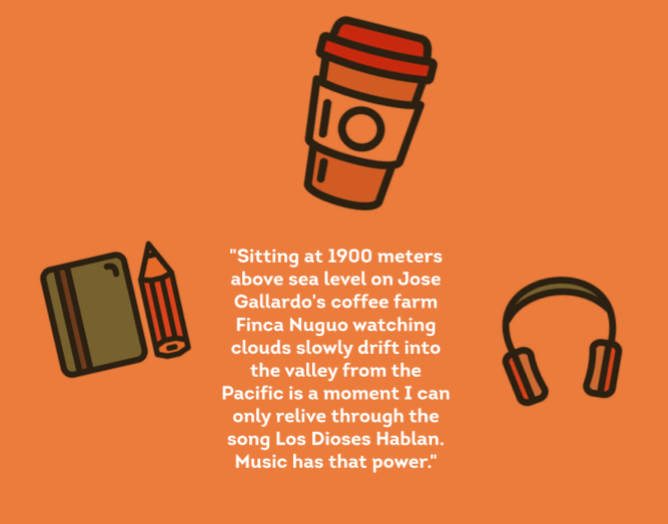 Track 2 was from Jamie XX called The Rest is Noise. I love how this track keeps me in a wonderful mood. The title was appropriate too, because the rest of our surroundings at the competition just melted away as "just noise" allowing the important part of my presentation, the coffee experience to be enjoyed to background of uplifting music. The hand clapping in the song always fills me with positive energy allowing me and my guests to drop all walls of inhibitions and enjoy the ride.
I positioned De La Soul third on the playlist because it is a party song with an upbeat tempo. The name of the song is Pain and the artists describe how pain makes it/us better. I've always had a philosophy of "that which does not kills us, motivates us". Preparing for months to be judged by some of the best palates in the world can be painfully stressful, but critically motivating. Pain by De La Soul is a reminder of that and within the presentation it adds good vibes to what could be a boring section of the presentation. I will always have a rhythm to my presentations that follow a musical pattern of up tempo, down tempo, up tempo, down tempo or some variation similar to keep the presentation moving and judges engaged.
I concluded with Cecile Kayirebwa's Urumbaby'ingwe because her voice is filled with years of emotion that created a canvas where I could paint my conclusion; the final signature beverage the journey back from the experience, back across that bridge safe and sound and filled with something new. It was my first and possibly my last time on the world stage and I wanted to leave the judges with something to remember; a reconnection to coffee through my presentation.
Stay connected my friends.
Got something to say? Then leave a comment!
---
Help a South African Barista win the Global Almond Breeze LAVC! Vote now.
Wednesday, 29 August, 2018
The Global finals of the Almond Breeze Latte Art Video Challenge (LAVC) just went live!
There are 6 very talented South African Baristas in the finals up against the best of Japan, Australia, UK and New Zealand.
The most number of overall votes in the Global competition will see the winner flown over to Australia to compete in the Almond Breeze World Breezey Masters - a trip of a lifetime!
The 6 South African Barista are:
Innocent Chakanyuka - Truth Coffee, Cape Town.
Ricardo Muller - Beans About Coffee Hartenbos
Edward Manase - Cup - O - Cafe, Pretoria
Jabulani Thumbani - Toast Food Co, Pretoria
Nigel Kamhanda - InFood Coffee Society, Jeffery's Bay.
Groove Mhlanga - Truth Coffee, Cape Town
The LAVC South African prizemoney is:
R5,000 Third place
The Almond Breeze Latte Art Video Challenge has been running in 5 Countries over the past 2 months, with some incredible Latte Art Skills being shown. Check out www.latteartvideochallenge.com for the past 8 weeks videos across all countries.
The overall Global Winner of the LAVC 2018 will win an all-expenses paid trip to compete in the Almond Breeze Breezey Masters Global Latte Art Competition! This will be the barista with the most votes across all Countries in the LAVC FINALS ROUNDS.
---
About Almond Breeze: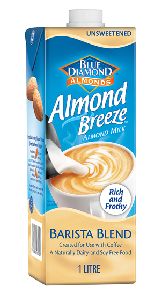 Almond Breeze Barista Blend has been created specially for coffee lovers, baristas and coffee shops. It compliments the taste of coffee and produces a rich, creamy froth to sit atop lattes, cappuccinos and flat whites. Barista Blend not only delivers a great taste but many important health benefits.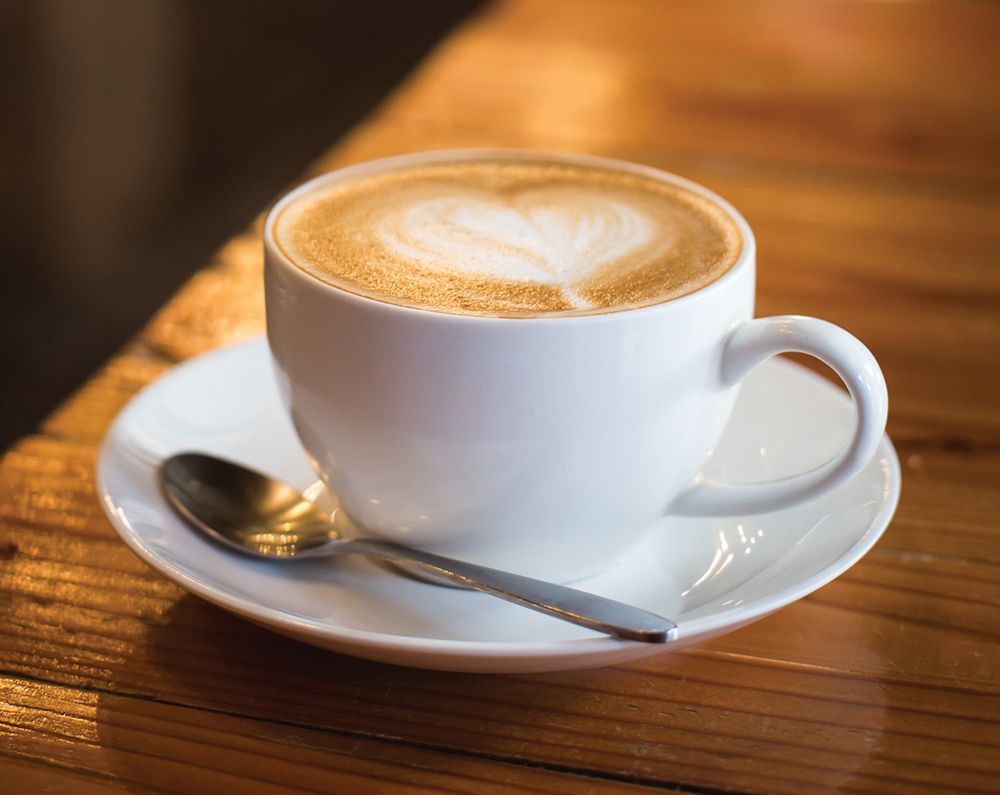 Got something to say? Then leave a comment!
---
Support Siki's Coffee!
Friday, 31 August, 2018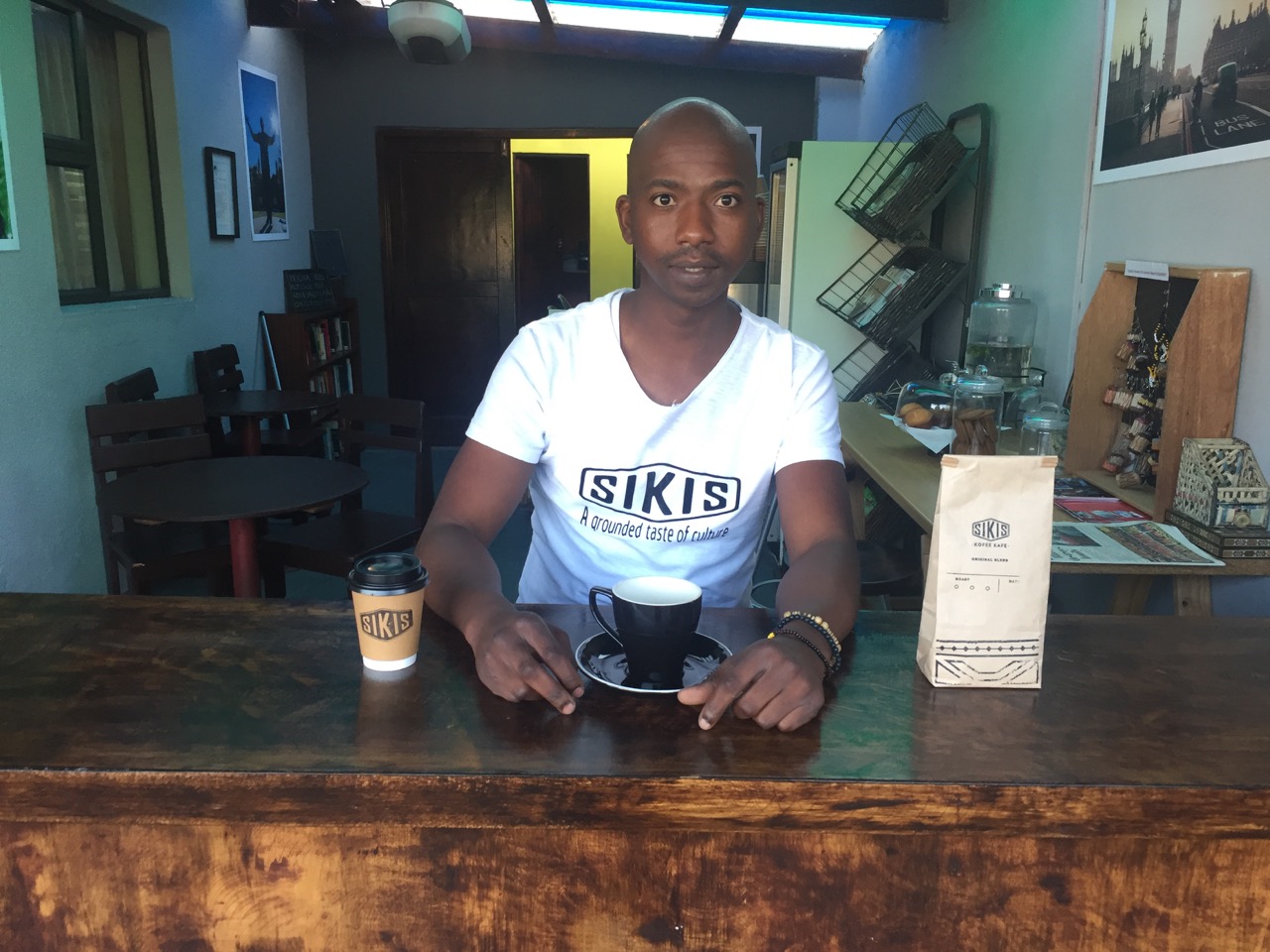 In the heart of Khayelitsha in Cape Town, Siki's Koffee Kafe has been attracting a lot of attention since its launch in 2016. After nine years working in the coffee industry, Sikelela (Siki) Dibela took a leap of faith, opening his own coffee shop in his mother's garage. Now, he's looking to take his business to the next level…
Dibela started his career as a dishwasher at Vida e Caffè and worked his way up, progressing to the position of Barista, and eventually being promoted to Store Manager. His passion, commitment, and dedication to delivering memorable customer experiences resulted in him being seconded to London to open a Vida store and train their new staff. After two years in the UK, Dibela spent some time working in coffee houses in and around Cape Town before deciding it was time to expand his horizons.
Creating a coffee culture in Khayelitsha
Inspired to bring coffee culture to his hometown of Khayelitsha, Dibela set out on his entrepreneurial journey, launching Siki's Koffee Kafe from his mother's garage. With a seating area, a courtyard and a small internet café offering Wi-Fi, Siki's Koffee Kafe has become somewhat of a hotspot for locals and tourists alike. But as with any new start-up, Siki's took a while to get going. According to Dibela, he "spent many lonely days with few people coming to the shop". Word soon spread though about the great quality coffee and service, and Siki's has become a hub for the youth of Khayelitsha and township entrepreneurs.
Putting his experience in the coffee industry to work, Dibela even developed his own special coffee blend: a mix of top quality African beans from Kenya, Ethiopia and Burundi. The beans are roasted by Mzukisi Xhati, one of the best local roasters, who was trained in the United States. Two years in, and Dibela is motivated to take his business to the next level. He recently launched a crowdfunding campaign to help him achieve his goals. We chatted to Sikelela Dibela to find out more…
What inspired you to take your cause to Thundafund?
"Well, my Dutch friends had the idea actually! I had been talking about how to grow my business, and introduce myself to a wider range of people. Siki's Koffee Kafe has been open two years, has a good consistent trade and I can pay myself a salary, so there's stability. Now I want to expand and reach more people. For any entrepreneur, for any new business, finance is critical and it's not easy to get. I had some great support initially to get myself going, but now I need an injection – a boost to the next level – and I was inspired to share my story on a crowdfunding platform. For a small business like mine, crowdfunding is the perfect opportunity to raise funding. At the same time, Thundafund is a great platform to share my story with people and get them involved."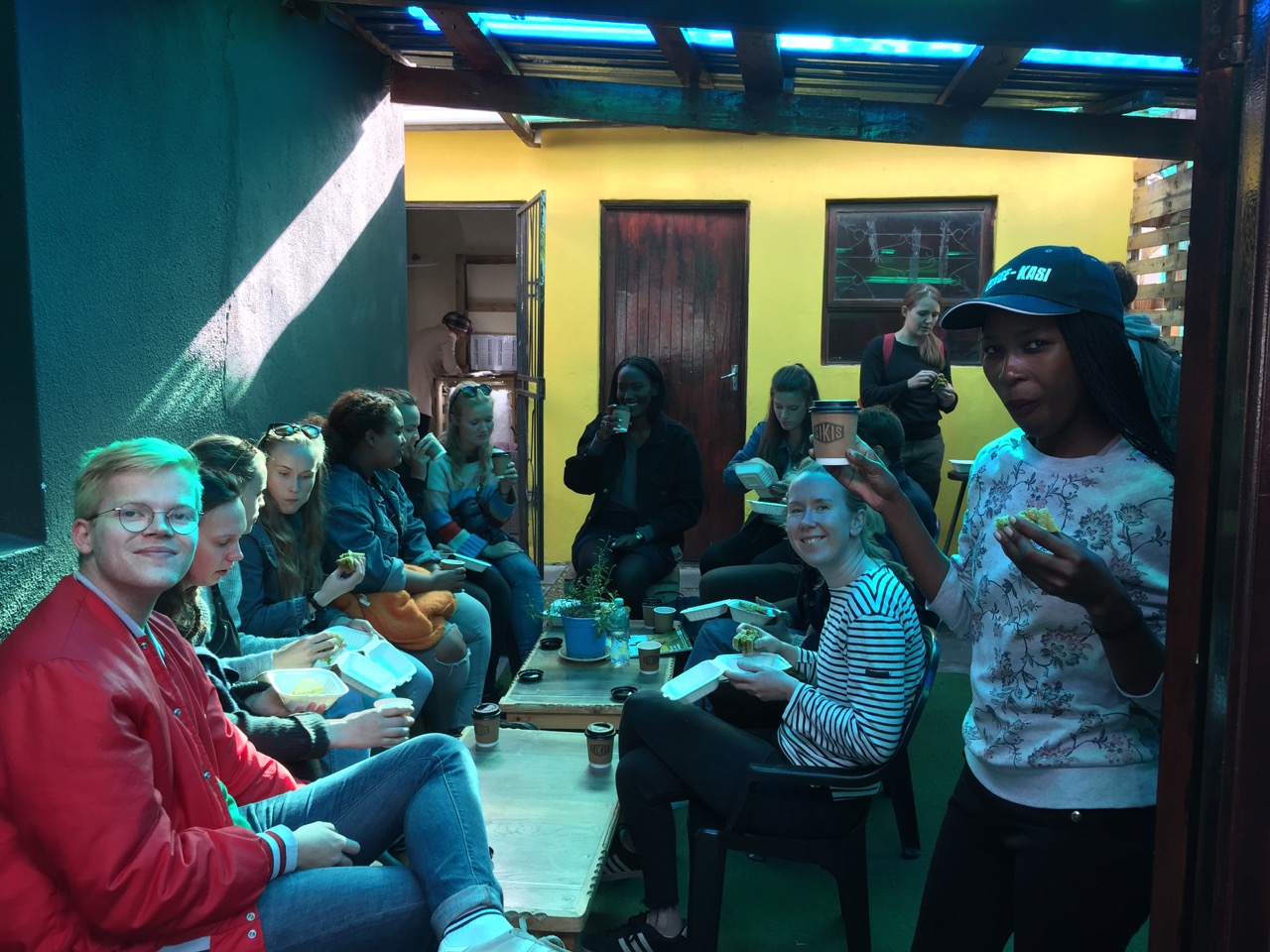 Uniting people through their love of coffee
Dibela's goal is to take his coffee to where the people are: markets and events. And to do this, he needs a portable coffee machine and a car to get him there. He's also got big plans for his coffee shop, wanting to expand the menu offering and refurbish the shop. So far, he's raised R26,860 of his R90,000 goal.
How has the response to your campaign been?
"It has been amazing. I have had people from all over the world respond, and already have more than 40 backers, and many more positive responses. Not just from friends, but also people I don't know that told me they were inspired by my story. This gives me so much energy to continue my coffee revolution. It is quite humbling to think that people you don't know, who live far away, are willing to be so generous. There have also of course been a number of Capetonians responding; people who have been to visit my spot. The fund is reaching the tipping point, but there's still further to go to hit the ultimate target."
What's first on the list of things you want to accomplish once you've reached your fundraising goal?
"The whole idea is to get me mobile. I need to get to events, markets, new areas… Khayelitsha is not on everyone's radar, so I want to take my coffee to people who may not know about me. To make this possible I need a coffee machine and a car. Siki's Koffee on the move! This means I can buy my mobile coffee machine and increase my visibility in the community. I can't wait to do my first event!"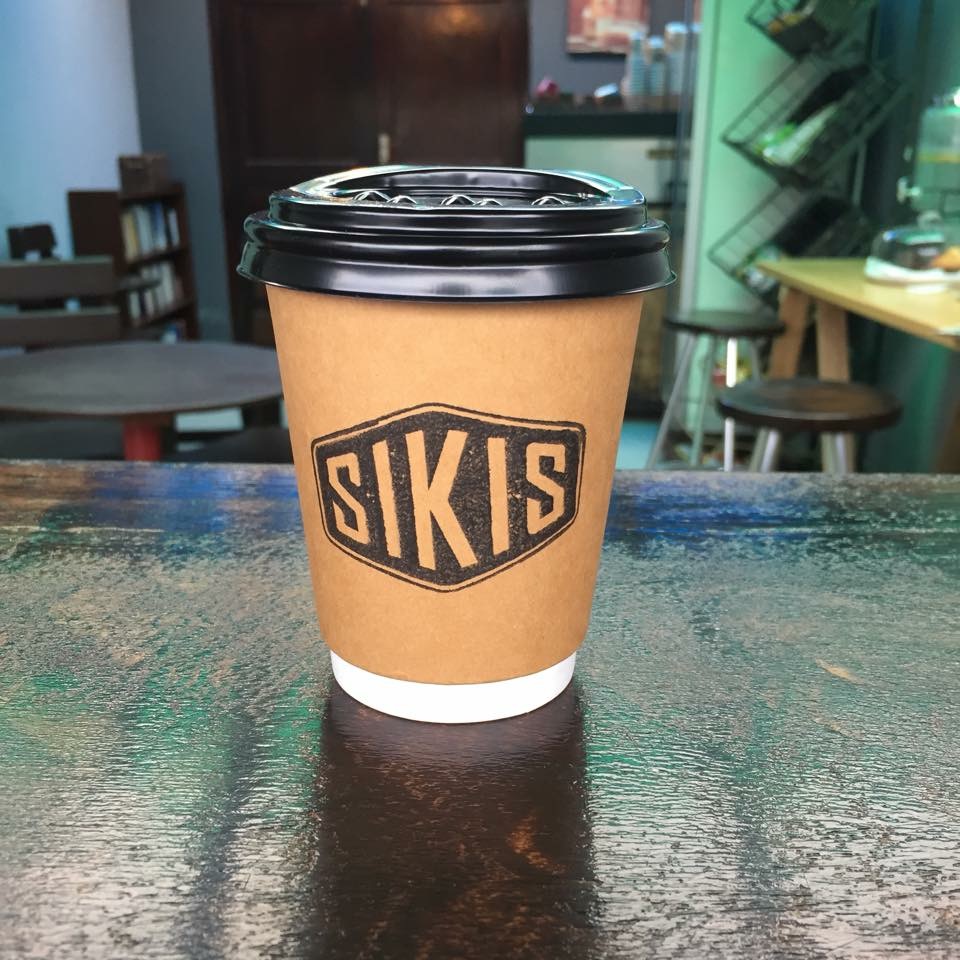 What is your biggest dream for Sikis Koffee Kafe?
"I want to impact Cape Town's coffee culture. I want people to experience quality African coffee that is roasted and blended locally, and then made by quality baristas. My mission is to integrate communities with my coffee. I would love to have franchises of Siki's in the future; to see more Siki's Koffee Kafes in other parts of Cape Town. And I would love to pass on my skills and experience to others; we need more entrepreneurs in this country. Siki's Barista Academy maybe? My dream is to start a Barista Academy to train people and give them the opportunity of a future in the coffee business."
Help Siki make his move
Dibela's dream is to expand his business and in turn, empower and contribute to skills development in his local community. And he's asking people to help him reach more people and share his passion for coffee. His journey of creating a coffee culture in Khayelitsha has only just started and he needs help to take his business forward. To donate to his dream and read more about his ambitions, be sure to check out his Thundafund campaign here: https://www.thundafund.com/project/sikiscoffeerevolution#startup.
Got something to say? Then leave a comment!
---
Watch: Climbing Kilimanjaro
Wednesday, 22 August, 2018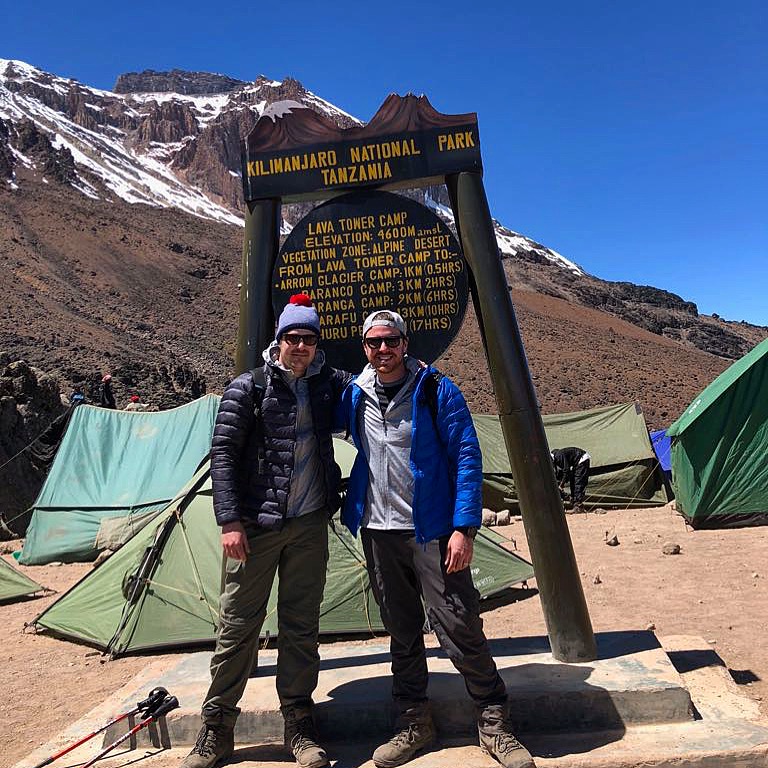 Michael Macaskill and Hugh Pines from Terbodore Coffee Roaster's Franschhoek roastery recently climbed up Mount Kilimanjaro in Tanzania, the highest mountain in Africa. Their aim was to attempt to make an espresso on the summit with a modified La Pavoni lever machine and publicise Terbodore's young-at-heart, adventurous offshoot, called Lazy Bones.
They documented their journey to the summit with an entertaining, three-part video series. See what happened in the videos below.
Check out Terbodore's Instagram https://www.instagram.com/terbodorecoffee/
Check out Lazy Bones' Instagram https://www.instagram.com/lazybonesbrand/
Some Kilimanjaro stats:
- Highest free-standing mountain in the world
- Highest mountain in Africa
- The summit Uhuru Peak is 5,895m above sea level
- The mountain is a dormant volcano which is comprised of three volcanic cones, Shira, Kibo (on which Uhuru summit stands) and Mawenzi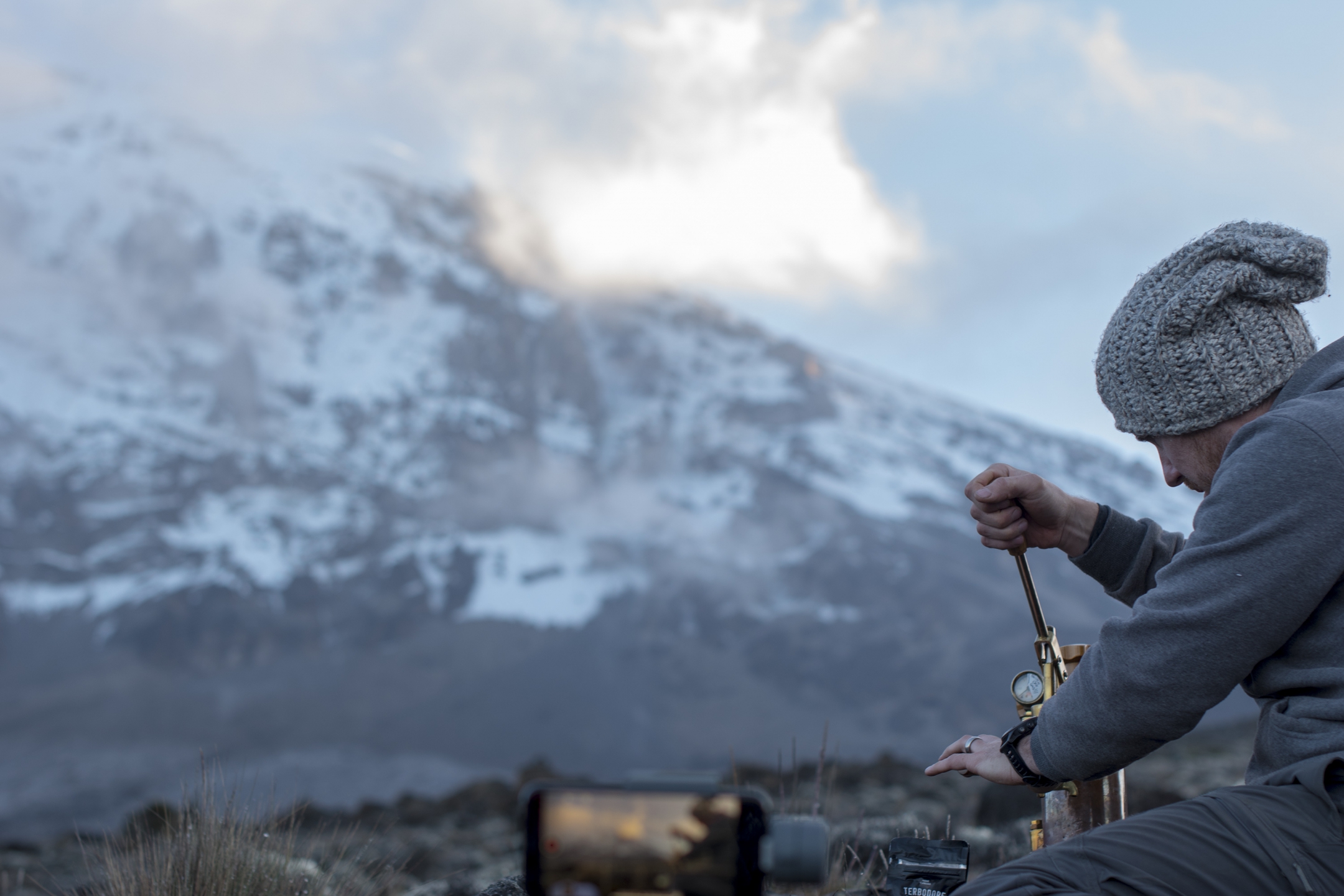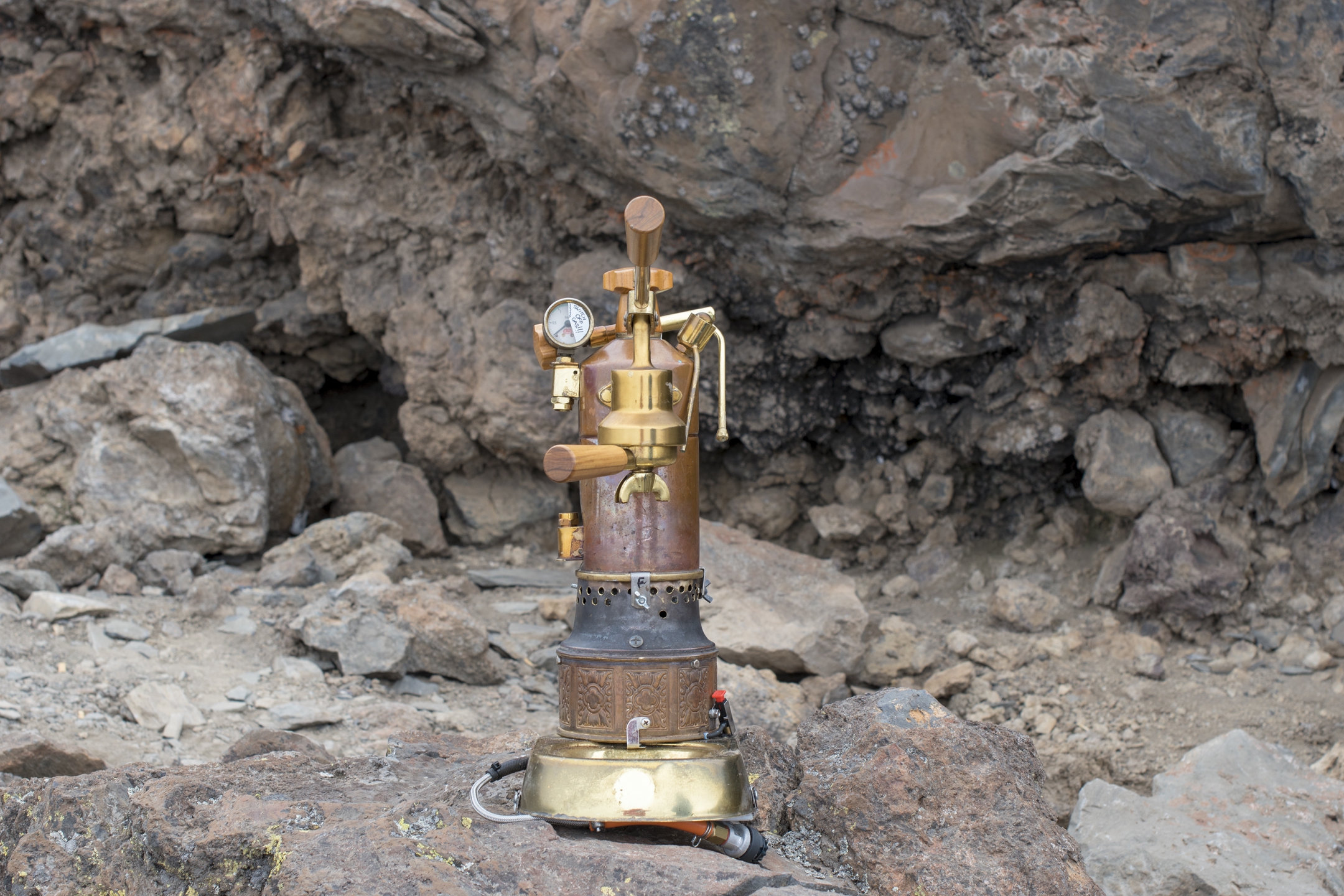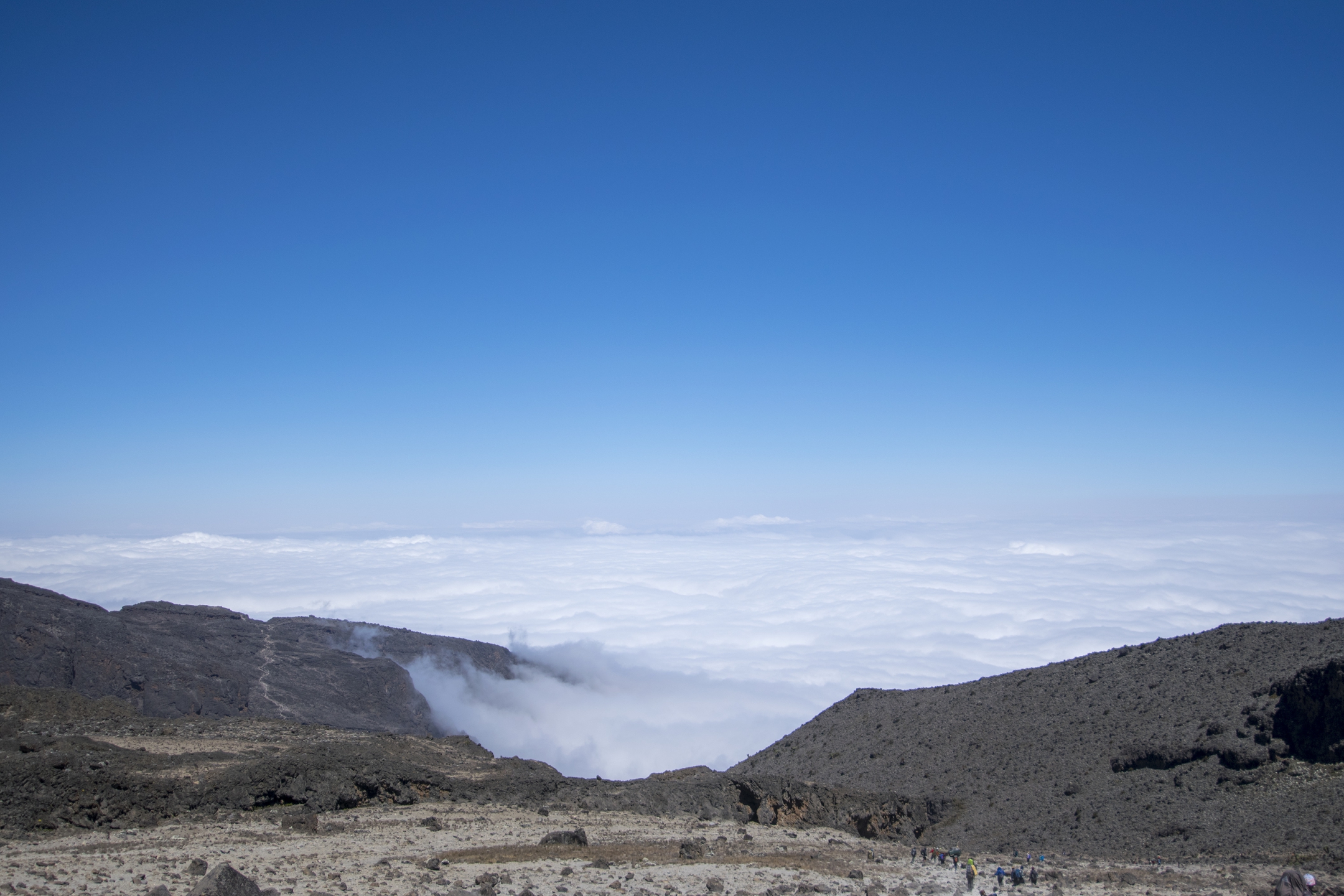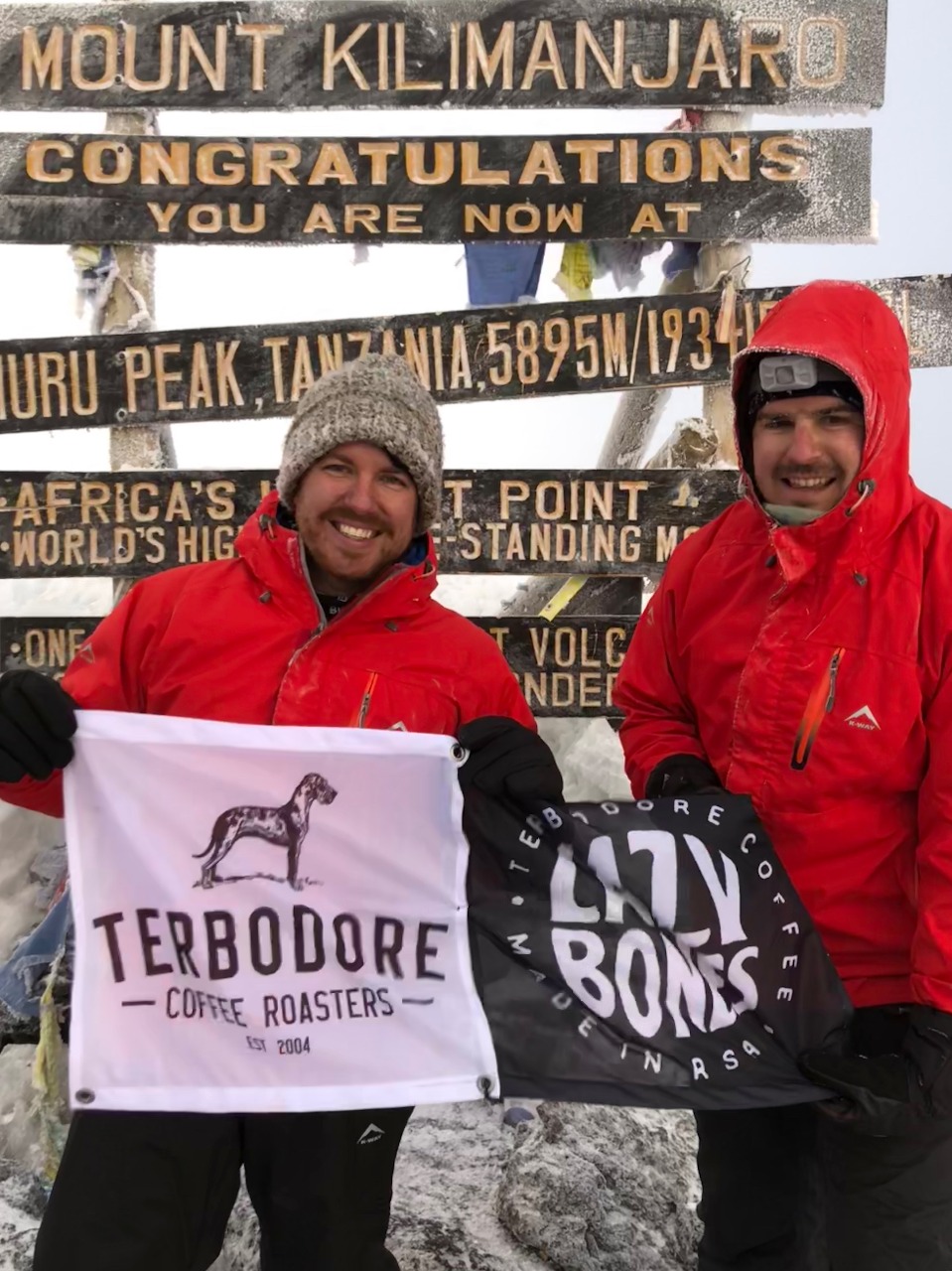 Got something to say? Then leave a comment!
---
Coffee Culture Alive and Well in the Free State!
Thursday, 23 August, 2018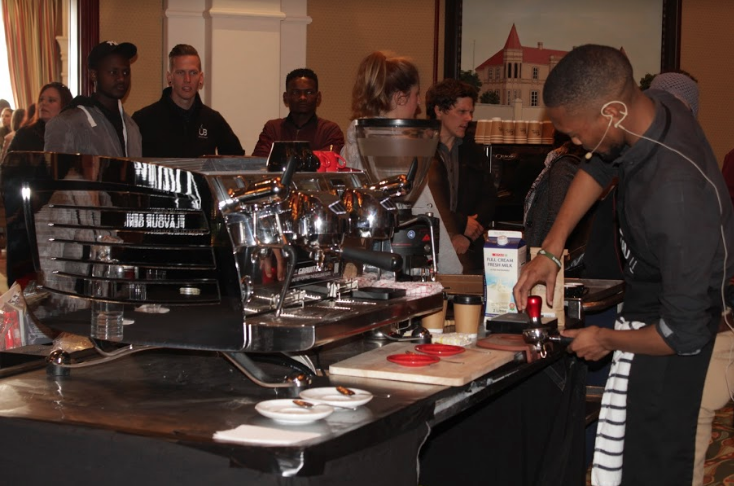 The Free State's first Barista Championship
The Free State's first Barista Championship took place this past weekend as part of the Coffee Extravaganza, and it was certainly worth the wait! A coffee culture is developing all over the country and the Free State is no exception. Contestants as well as coffee connoisseurs and enthusiasts gathered at the Windmill Casino in Bloemfontein for a coffee appreciation session with James Kilbourn from Stereo Café, tastings and demonstrations, and a shortened 10-minute competition set focusing on espresso and milk beverages.
The standard World Barista Championship (WBC) rules applied, with two sensory judges and one technical judge deciding who would go on to National Barista Champs in 2019. Congratulations to all the competitors! Here are the top three results:
1st place: Thabo Kheleroa (Jaru Coffee)
2nd place: Stevo Kühn (Urban Brew Coffee)
3rd place: Lize Taljaard (Royal Roastery)
It's great to see how the coffee scene is growing in the Free State, thanks in no small part to local coffee roasters like Urban Brew Coffee, Stereo Café, Bloemfontein Coffee Roasting Co., Faba Coffee Roasters, MH Coffee, Jaru Coffee, and Royal Roastery.
Thanks to Gerald Pietersen of Agape Coffee Shop in Uitenhage for the photos!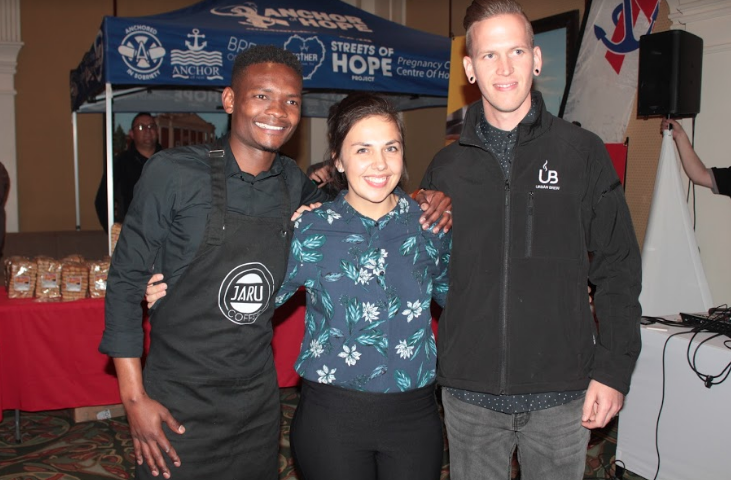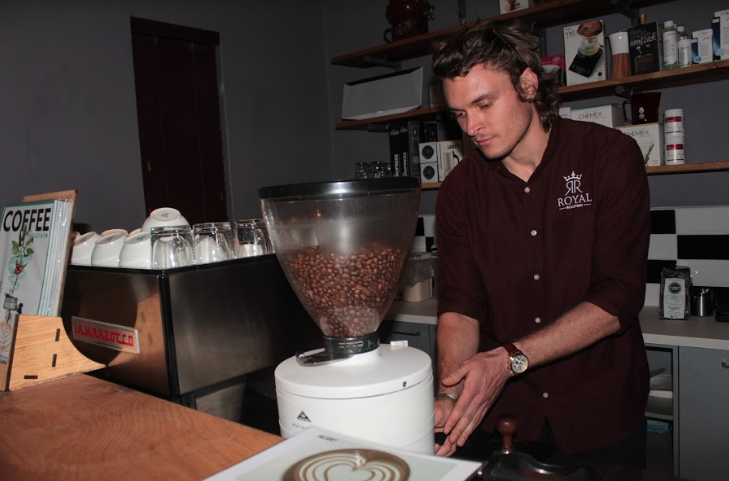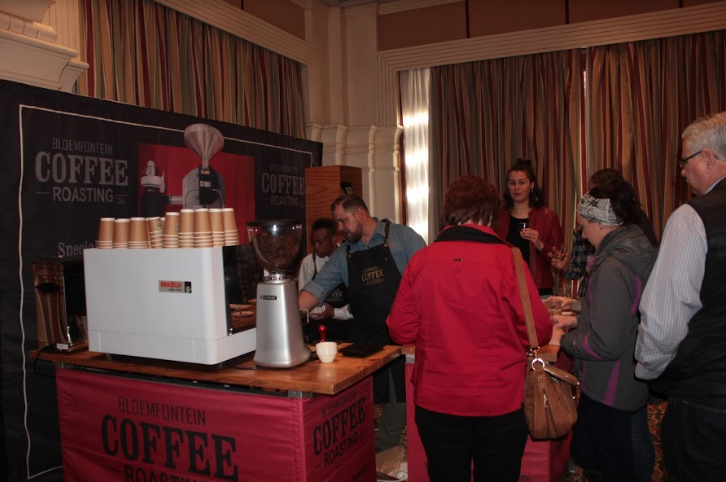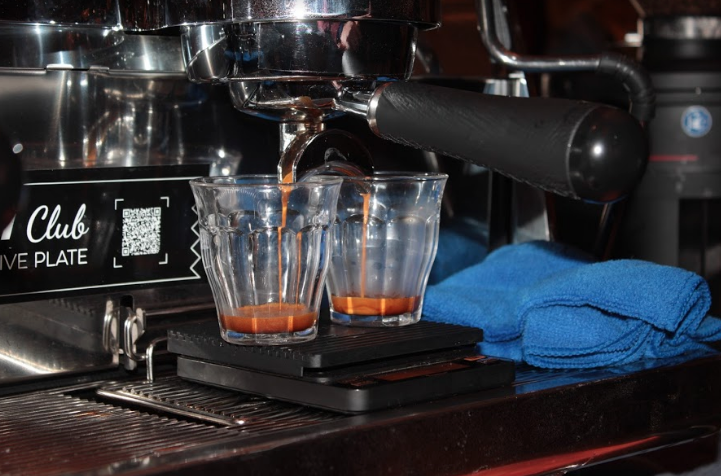 Got something to say? Then leave a comment!