The Minipresso: A coffee gadget worth keeping in your backpack
Thursday, 17 August, 2017
There's nothing quite like a good coffee after a morning surf. Depending on where you are on the coast, or how much time you have before work, sometimes you just can't get to your favourite local cafe for that fix. Well say hello to our little friend, the
Minipresso GR.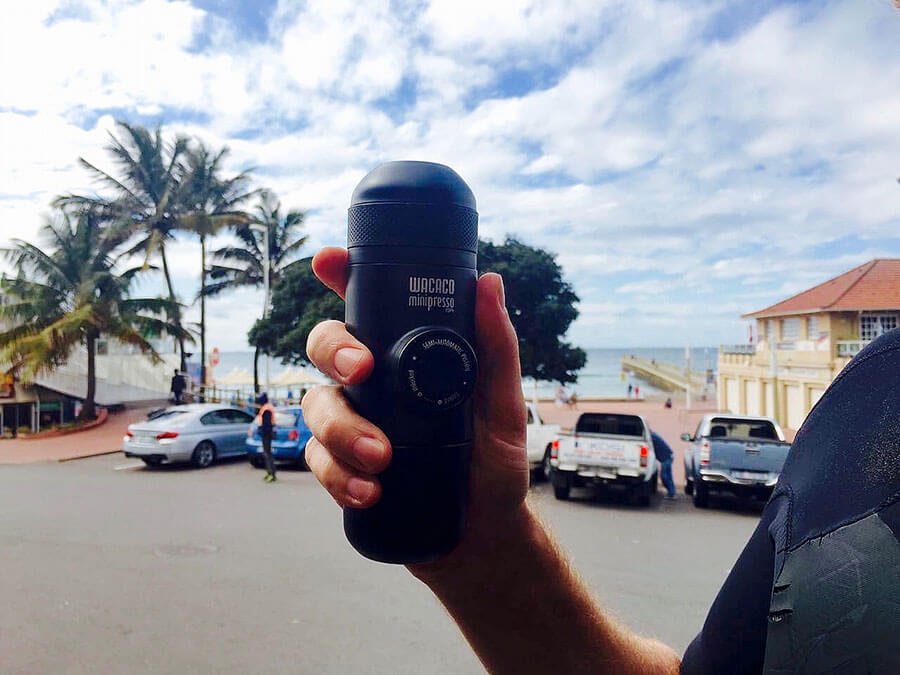 The design is really nifty and after a few test shots in the office before taking it into the wild, the functionality was easy to figure out. Like putting together an espresso puzzle, so fun! It comes with a super helpful manual (yes, you may need to read the manual on this one!), but once you've done it a couple times it feels completely natural.
We literally made it out the boot of the car. While still in wetsuits. No electricity, filter papers or even cup required (a cup is part of the design). This hand held coffee maker is really thoughtfully made. It takes about 6 or 7 pumps before the pressure has built up enough to produce liquid, so don't stress after the first few. Your pumping hand may need to build up some stamina, the two hand method works best for me, but that's about the only effort necessary.
The grind size that worked best for us is pretty fine, as you would grind for an espresso machine, but it's not necessary to compact the grinds, just a gentle tap with the back of the scoop. We used our travel hand-grinder for the freshest possible coffee and with the Costa Rican light roasted coffee we had, the Minipresso GR gave us a really impressive result, highlighting the sweetness in the coffee. It's not espresso in the traditional sense, it lacks that balance of depth and bitterness, but this is by no means a negative, it was delicious!
I am a creature of strange habits and my coffee rituals are pretty difficult to break, but I think that this little pocket rocket could make the grade for coffee on the road whether after a surf or pretty much anywhere, it's both effective and a lot of fun!
Prep: Boil your kettle and full up your flask before you leave home. Simple.

You can
order your own here for only R1250
.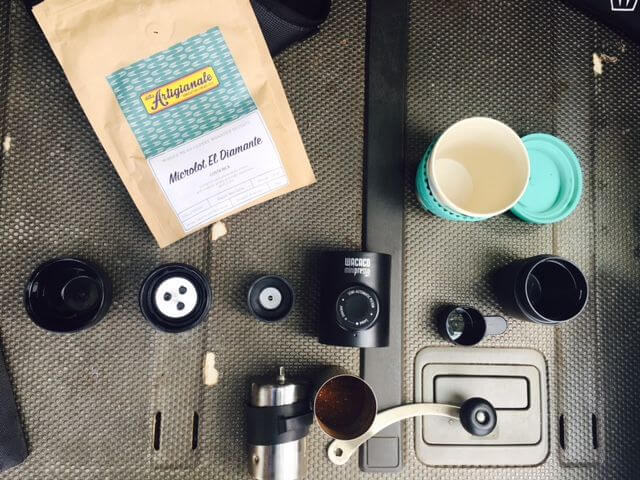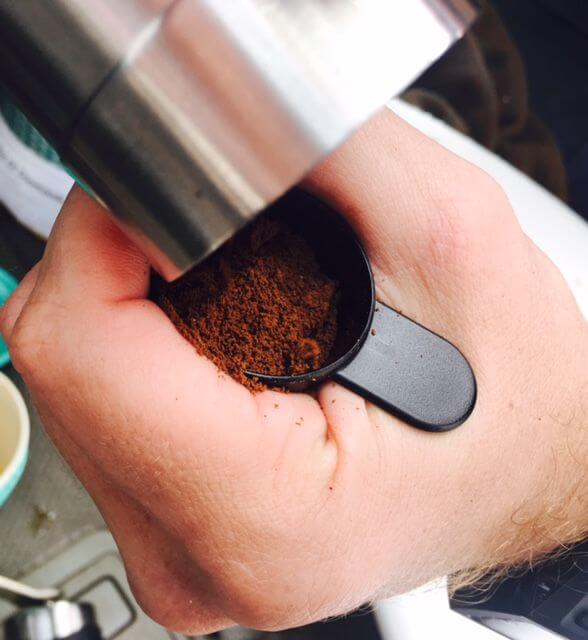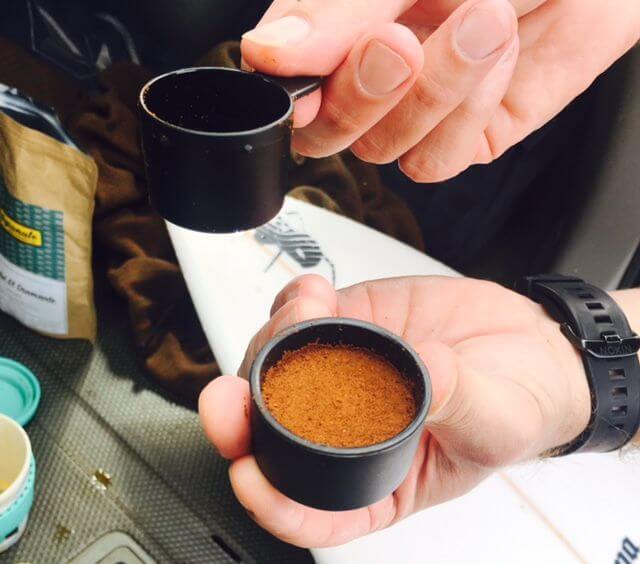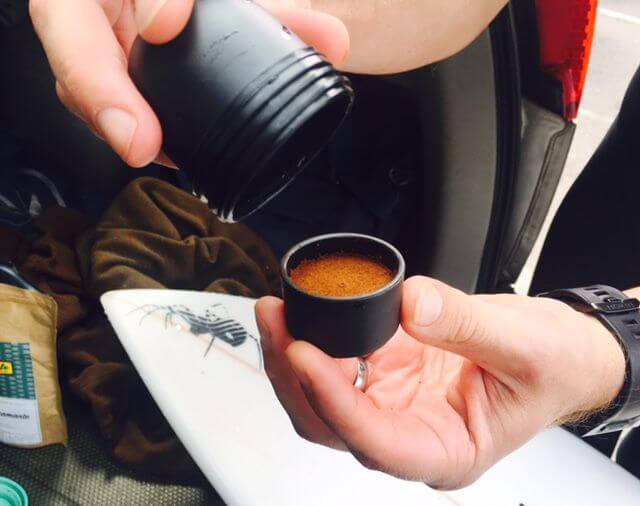 The pieces fit together like a very satisfying puzzle in which the result is great coffee!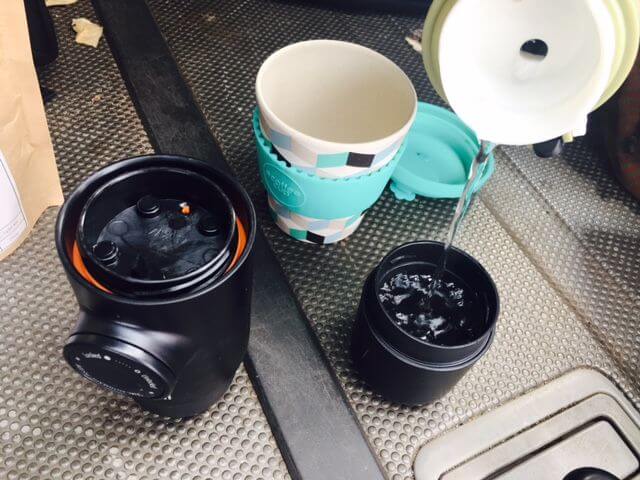 We like that it was designed to stand with stability whichever way around you place it, top or bottom. While pouring the hot water into one compartment, the Minipresso can stand, not in danger of toppling over.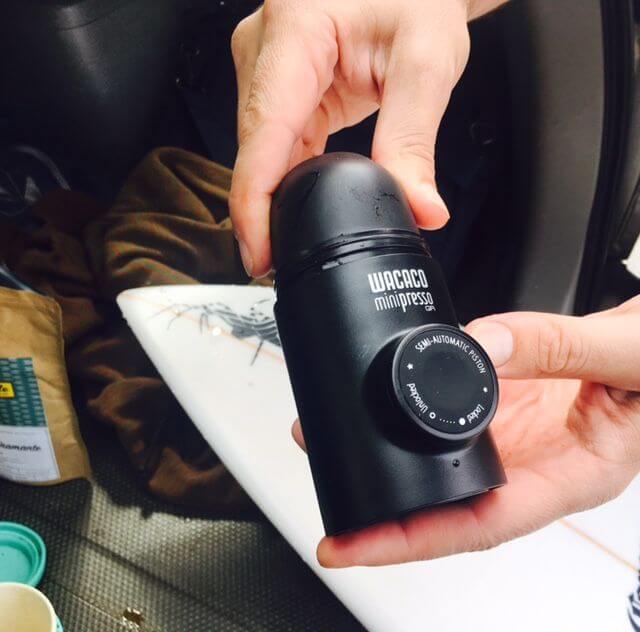 It is well made and feels sturdy and durable. There are no flimsy pieces or difficulty in screwing any of the pieces together.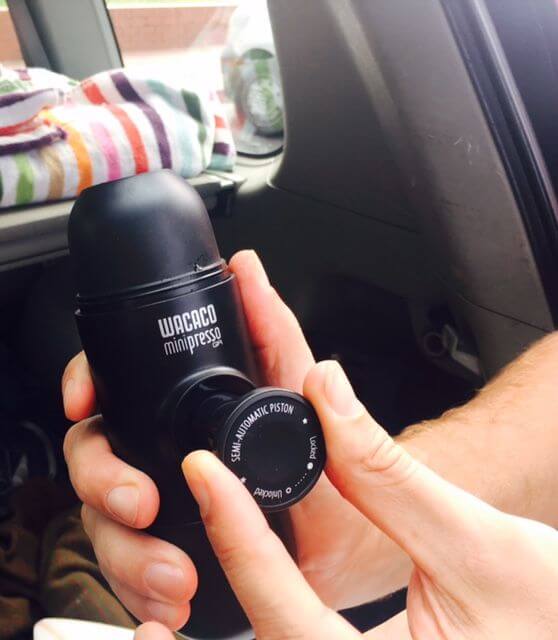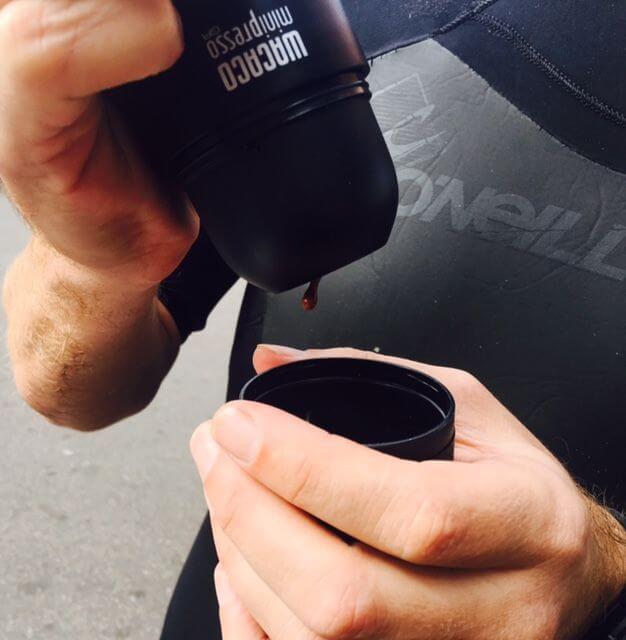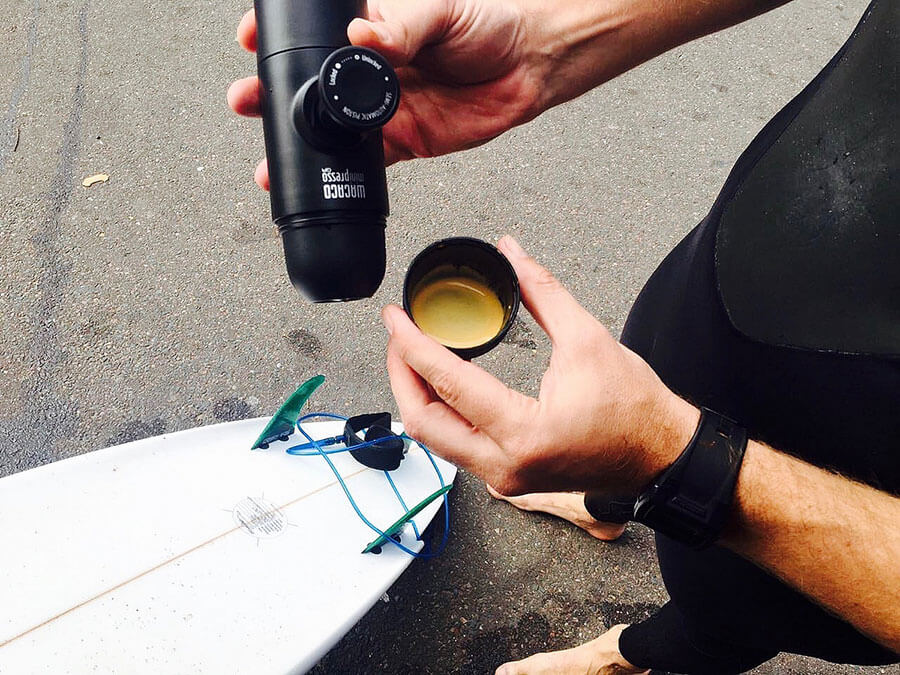 Got something to say? Then leave a comment!
---
New series - Tiny Cafes: Love Coffee
Thursday, 17 August, 2017
New series: Tiny Cafes

In the tradition of the Italian espresso bar, we've been thrilled to discover a number of cafes popping up across the country that are embracing minimalism and focusing on damn fine coffee and smart design for small spaces.
---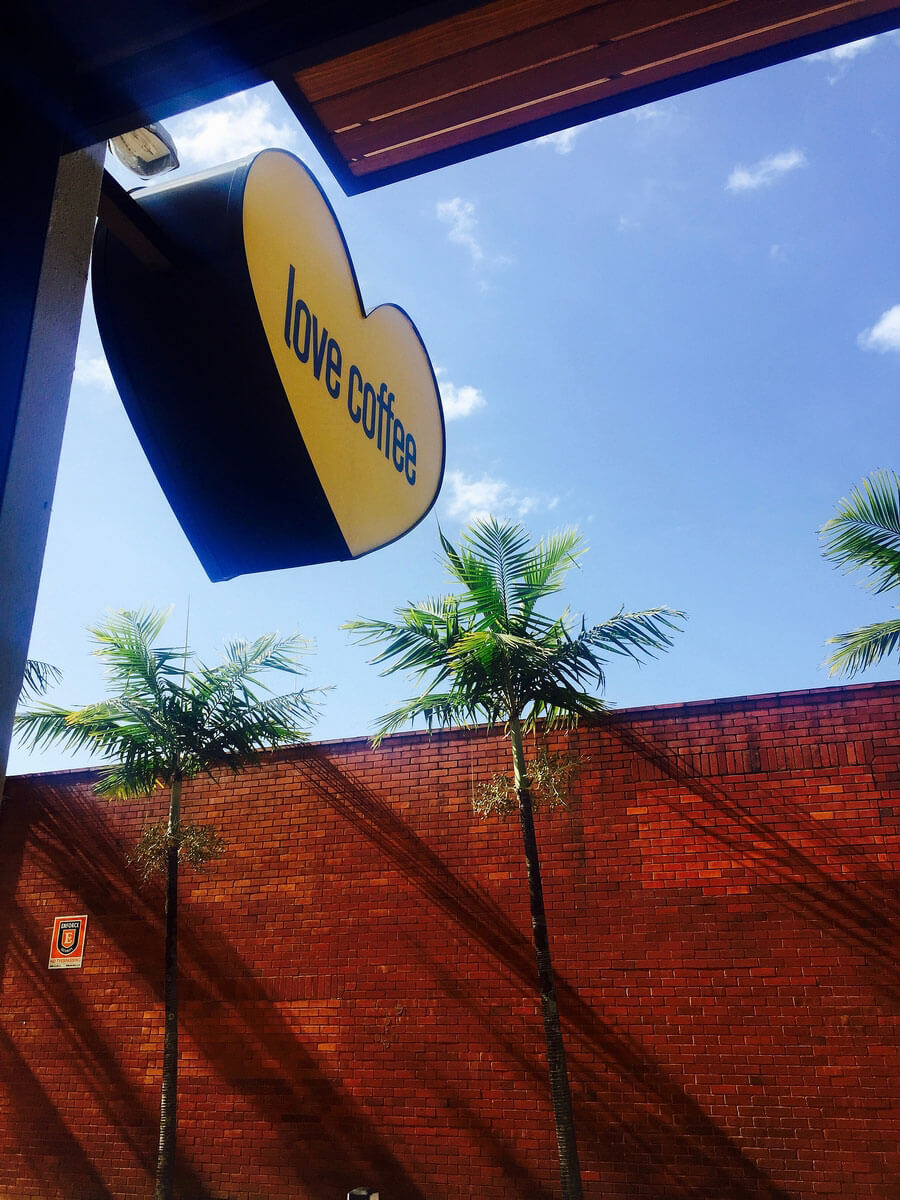 Hello Love Coffee, aren't you a gorgeous hole in the wall? Jeannie McCall has opened her second location on Florida Road in Durban.
We were lucky enough to bump into Jeannie at this lovely spot, when we popped in for a cortado. She enlightened us on the growing community on Florida Road. This tiny cafe forms part of the ever expanding
Urban Lime
developing dynasty in Durban; the cafe is a huge value-add for the offices in the Hacienda building, just one of properties getting a facelift by this company. We're excited for the future of the road, things are looking up!
The coffee currently in the hopper is a blend of Ugandan and Tanzanian beans roasted by the super passionate Mike Goddard of Steampunk Coffee. It was extracted by the equally passionate Amy on the Brasilia lever machine that really is the stylish heartbeat of this beautifully designed space. Jeannie commissioned a couple of her talented friends to make magic with the space and they played out their boots to create the perfect look and feel. We had some extremely satisfying vegetarian treats to compliment our coffee. Overall, a fantastic experience.
Jeannie has some big (but still tiny) plans. She's got an old-school caravan on the way up from Cape Town that she will transform into a tiny cafe for travelling! We love it!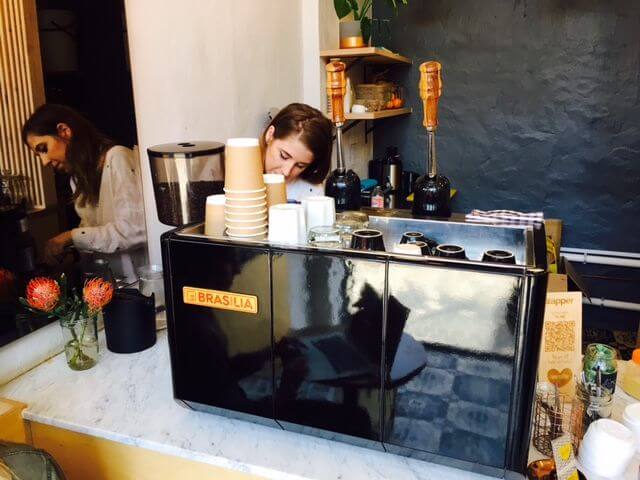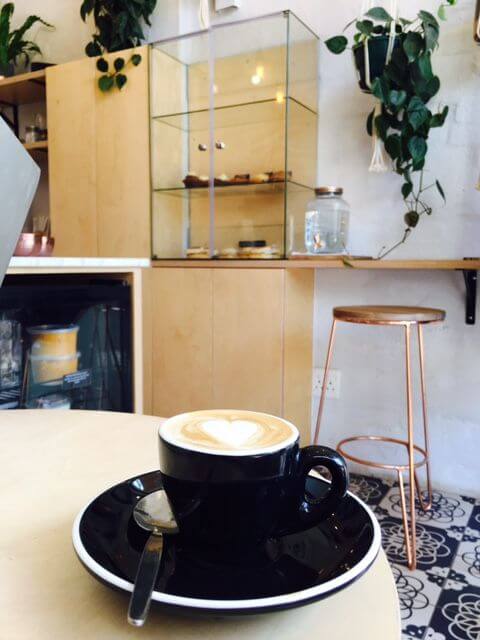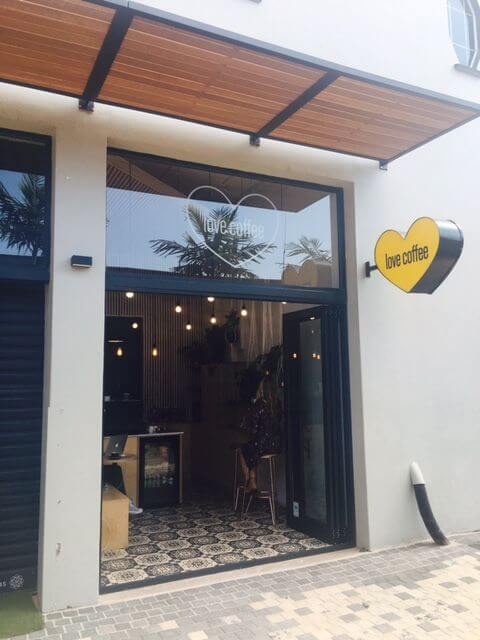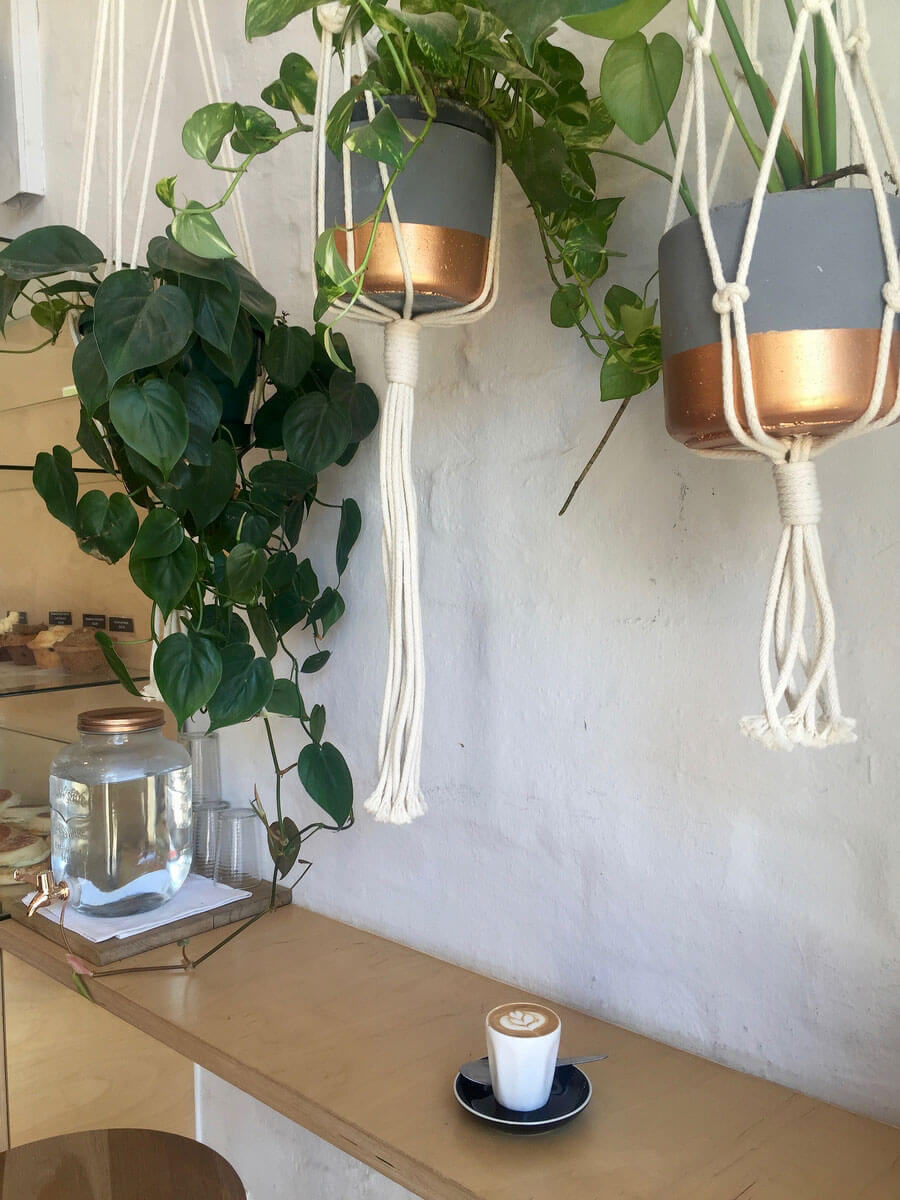 Just one more look at that espresso machine, though!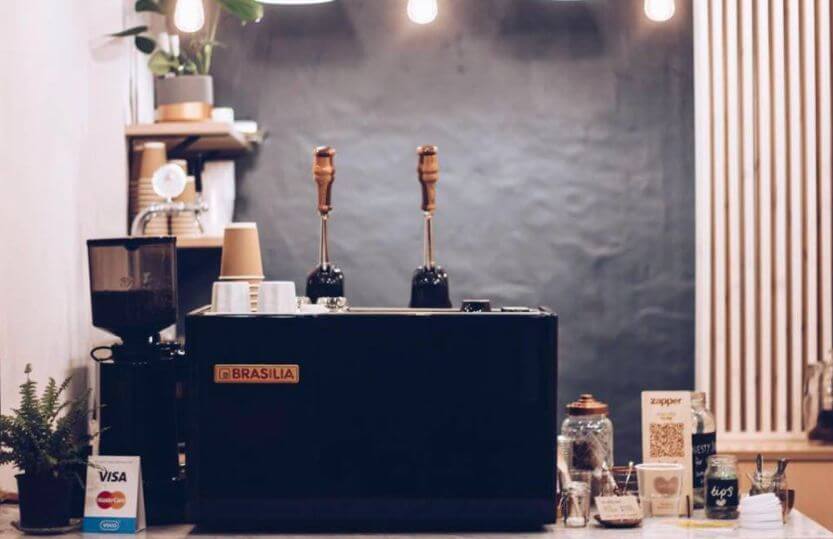 Got something to say? Then leave a comment!
---
Register now for Selati's Cafe of the Month
Thursday, 17 August, 2017
Got something to say? Then leave a comment!
---
Interview: Earthen Coffee Roastery
Friday, 11 August, 2017
We are constantly being alerted to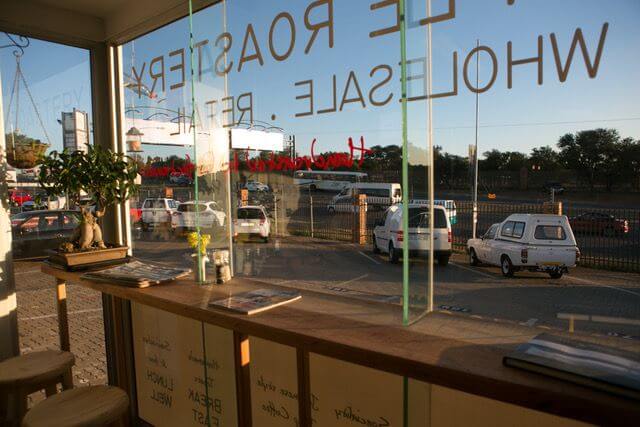 How did you get into the baking and coffee business? Tell us a little bit about your journey.
For us processing and making coffee is not a job, it is a way of living,of doing what we really love. We always had a passion for coffee.The tipping point came in 2012 around a camp fire, when hand roasted coffee was offered to us from a pan.Bitter ,strong ,a bit rough but full of freshness and flavor. This cup inspired us to learn more about coffee and become involved in the alchemy behind the bean.The desire to learn more and more has continued.
As for breakfast there is no way better than starting the day with in-house baked naturally leavened sourdough bread on a "Horizon" breakfast with 2 poached eggs.
What roaster do you have?
Has Garanti drum roaster- Our beloved " ROOSTER"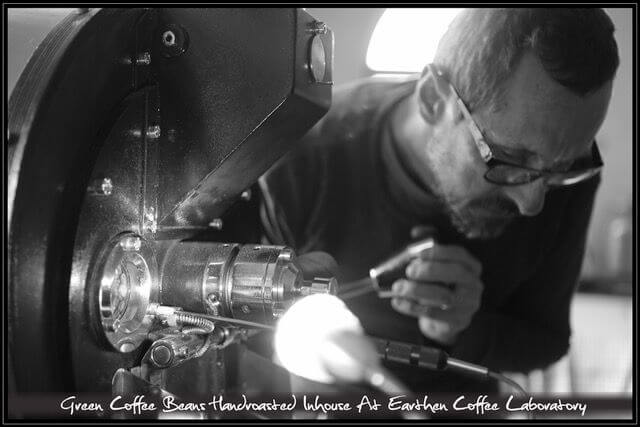 What is your favourite coffee at the moment?
There is no favourite. It is about how we feel at the moment. Each coffee is unique in its experience and extraction. The "Earthen" houseblend with its velvet mouthfeel,complex, earthy, rich with smooth chocolate expression is remarkable. We love the Sipi RFA Uganda con panna.
Each day we awakened to a new flavour - a never ending taste exploration inspired and passionate about what we do.

What have you learned about people's coffee drinking habits through running this business?
People have a desire to learn.Their natural habit without tasting is to initially use sugar.When they taste good coffee they are surprised by its natural sweetness.
What has been your biggest challenge?
To teach people how to prepare coffee correctly. Using traditional values with modern technology continually learning about each coffee beans character and do each bean the true justice that it deserves. Not to get totally consumed in the journey and maintain balance.
Give us 5 adjectives that perfectly describe Earthen.
fortheloveofit
passion
perfection
value
a lifestyle
Got something to say? Then leave a comment!
---
Review: What I Know About Running Coffee Shops
Thursday, 10 August, 2017
I have had the distinct privilege of visiting
3fe in Dublin
, Ireland and meeting the lovely Colin Harmon. You would be hard pressed to find a more humble success story than this Irish gentleman. So it follows then that the book is written in the same manner: humble, self-deprecating and caring.
What I Know About Running Coffee Shops (WIKARCS)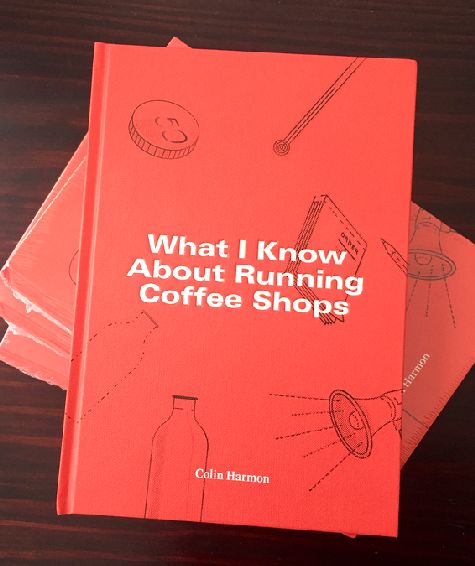 I am a very tactile person and so when the box arrived and I ripped off the plastic of our copy, I was immediately in love with the cover. As Iain said, "It feels like a book that my grandmother would have on her shelf." It is hard cover and textured and 3FE red and I just love running my fingers over it. It has that nostalgic feel of reading an old classic curled up on the couch.
But enough about the aesthetics, what of the content?
This is not a complicated book. It is a book of personal experience and it is told with no airs and graces.
I love that.
In his introduction, this line stood out to me about the pull of owning a cafe:
"Many of these people I've met have never run a business before and have no experience in cafes, but have become determined to leave their existing careers behind and open their own coffee business. It's very difficult to be successful in the hospitality industry - and doing it without any experience is next to impossible - but there's something about coffee that draws people in."
We come across people on a daily basis who think it will be easy to pull off such a task. I urge all of them to read this book first. At the end of the day, a coffee business is a hospitality business and so many people forget that. You don't have a business without keeping your customers (and staff) happy, no matter how good your coffee is. If you've ever been in the service industry you will immediately relate to some of the struggles that Colin has faced in the process of building 3FE.
The book is very thoughtfully structured offering practical tips and drawings for beginners and only very briefly touches on the coffee itself through the lens of improving service rather than how you should brew your coffee.
And really it's the little things in WIKARCS, like how the amount of sunlight you can get in your shop should be important to you when choosing a location, because sunlight effects people's mental health, and the struggle of maintaining a clean toilet, that just really can't be learned through any other means than trial and error and some hard graft.
An insightful study into how people use the cafe space that all who read it will benefit from, whether you're a customer, a cafe owner or a person with a coffee dream.
Highly,
highly
recommended.
We brought 40 copies into SA, all of which have sold. If you comment below to say you would like a copy, perhaps we can bring in another shipment.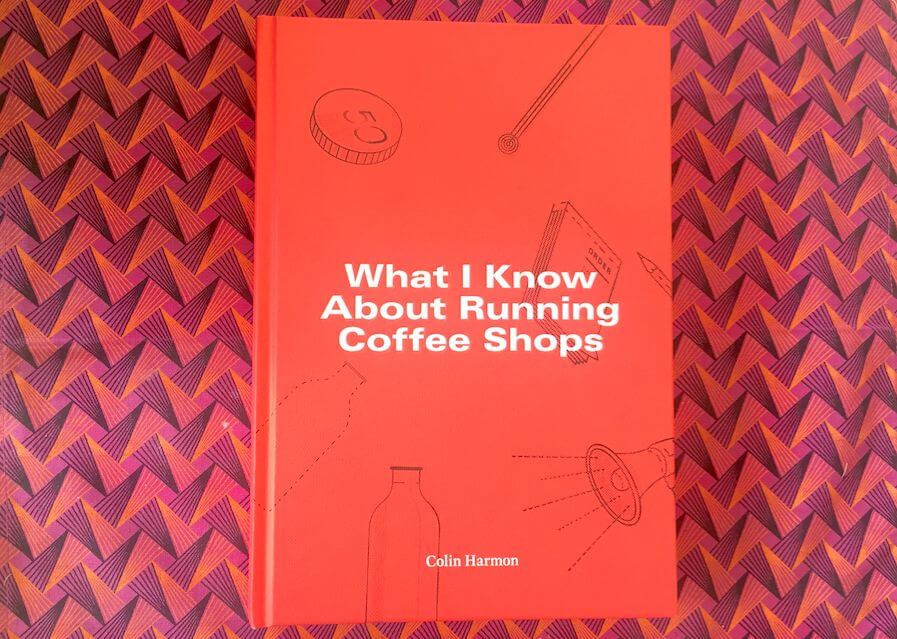 Got something to say? Then leave a comment!
---
BeSpoke brew: Coffee and mountain-biking
Friday, 11 August, 2017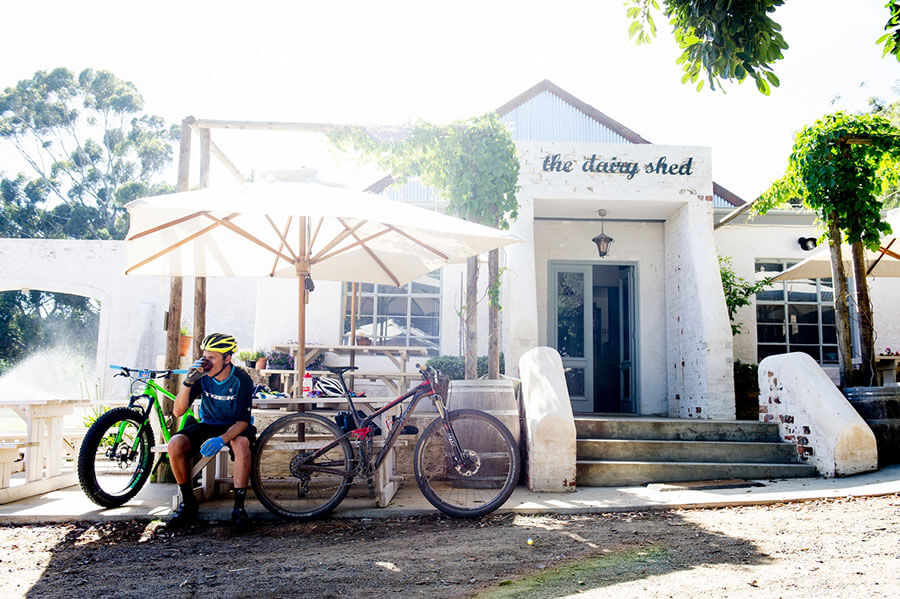 Words: Jazz Kuschke
Photos: Kolesky/Nikon/Lexar
Originally published in Issue 15 of The Coffee Magazine

---
The 'coffee ride' is more than a mountain-biking tradition. It is key part of the culture of what is a lifestyle rather than a sport, really. "The intricate relationship coffee has with cycling," explains James Reid, who wears the stripes of South African titles in both cross-country and marathon disciplines, "is deeply rooted in the ability of caffeine to improve your energy levels and mental alertness before and during a ride."
Cyclists are a technical, particular bunch. And they're as picky about their coffee as they are about their photochromic eyewear, sock length or the pressure to which their tyres are pumped. Not many a ride is started without – at the very least – a single shot of freshly brewed espresso. Few are finished without a café stop. (Standing their carbon steed at just the right angle to show its best features at the curb-side table is all important, of course). Hard to believe then that caffeine (otherwise known as: 3G6A5W338E) was on the Olympic banned substance list less than 30 years ago. A recent study suggests up to three quarters of the world's elite athletes use it for its benefits. Many go as far as to travel with their own coffee machines. However, to assume its ergogenic properties (enhances speed and stamina) is the sole reason for the love affair, would be to misunderstand the relationship.
"It becomes a destination thing," muses Reid. "When you live in a beautiful place like Stellenbosch or Cape Town, it represents the break between monotony and a 'pick-me-up' that inevitably becomes habitual," he says, highlighting how many mountain-biking destinations and trail parks now have 'home' coffee shops, places such as The Dairy Shed at Contermanskloof (pictured above).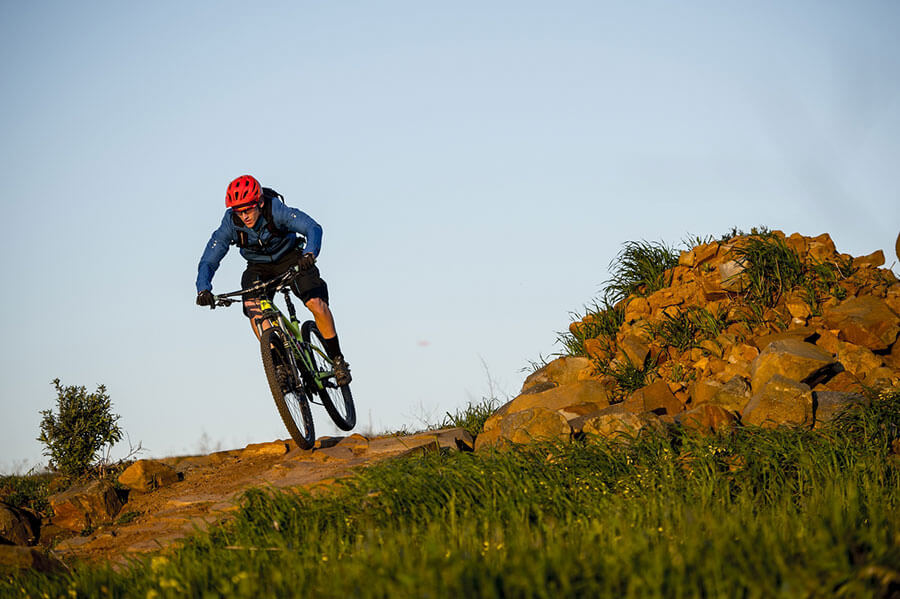 To keep the wheels rolling

"We've got some pretty good evidence that caffeine can improve endurance performance by reducing fatigue and your perception of effort," explains Adrian Penzhorn, head (registered) dietician and sport scientist at Food For Sport (www.foodforsport.co.za). "Simply put, it makes exercise feel easier to do," he says. "It may also have a small benefit on how your body uses fat as a fuel during exercise. Most studies use caffeine in pill or powder form but a recent study suggested that coffee can be just as good," he says.
According to Penzhorn, caffeine content varies significantly depending on the type of bean, the roast and the method of brewing, however. "An average espresso provides about 100mg of caffeine, most studies use 200-300mg to show a benefit. So a single shot from your local barrister is halfway there," he says.
To maximise this benefit and to give his body a chance to recover from the stimulation caffeine provides, Reid likes to stay away from coffee completely during his off-season. Tough, he admits, fortunately a pro bike rider has a very short 'off' season. "During a normal training week, I start the morning with a short black with a splash of milk," he says. "Only if I'm doing a longer day (three hours plus) then I'll have a coffee mid ride. You also don't want to have too much caffeine during the morning and not be able to sleep after lunch (a crucial part of the pro cyclist's training regime), so it's a fine balance."
For Matthys Beukes, who, with teammate Gert Heyns, dominated the 2015 Cape Pioneer Trek, a brutal six-day stage race, coffee is more of a daily must-have. Even in the off season.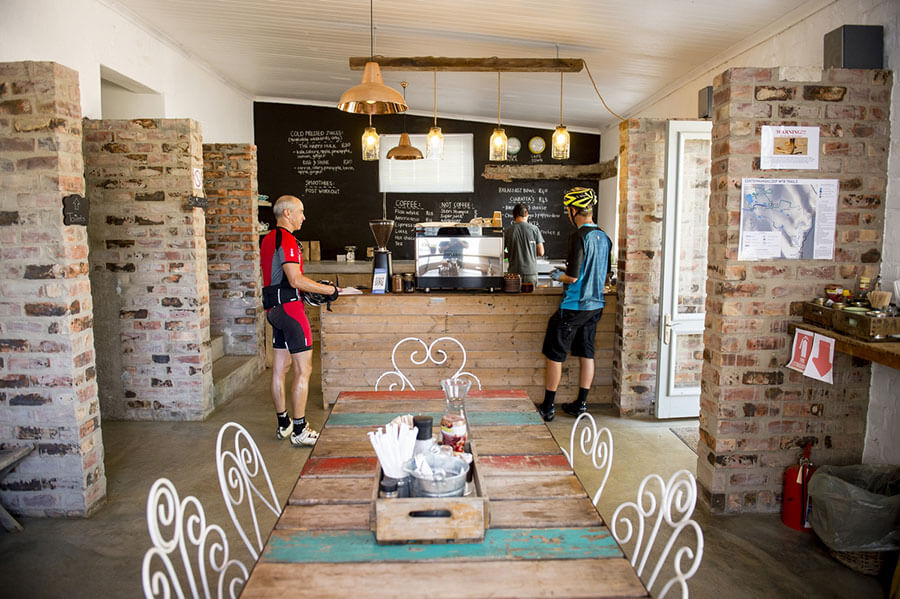 For the love
"Coffee choice depends largely on the weather for me," says the man from George. "I enjoy a nice cappuccino after training on a cold and rainy day. If it's a bit warmer I'll go Americano and, most of the time, mid-ride there's nothing that an espresso can't cure," Beukes says.
So important is coffee to his daily routine that he doesn't go to sleep at night before making sure he has enough stock for the following day. "Nothing worse than waking up and realising I've got only enough beans for a single shot!" he says.
"Upon visiting Italy earlier this year I realised that the coffee ride we all took to here has been part of their culture for almost as long as they've been riding bikes," he says, before summing up perhaps the crux of why it is so cool. "The coffee ride almost levels the playing field in a way… It is something every bike rider can do and look good doing it."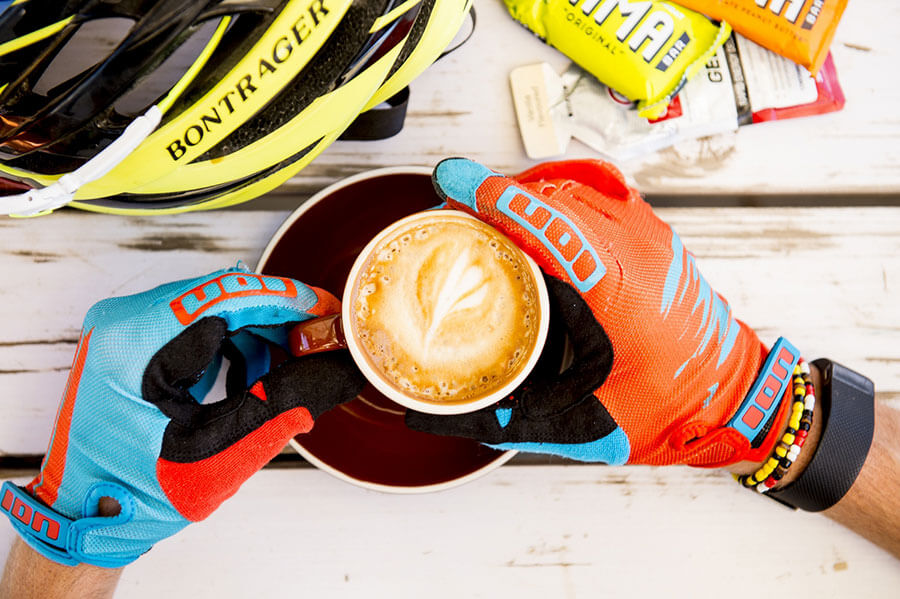 Fast Facts
Adrian Penzhorn, registered dietician and sport scientist from Food For Sport (www.foodforsport.co.za) delivers (some surprising) insights on caffeine as sports supplement:
- Caffeine can improve endurance performance by 3-4% and work rate by 7-10% at moderate doses.
- Most research uses 300-400 mg to show performance benefits.
- There are no benefits at higher doses and some people may experience unwanted side-effects.
- Caffeine does not negatively effect hydration status.
- In combination with a high carbohydrate recovery meal caffeine may assist restoring muscle glycogen (carbohydrate stores).
- Caffeine content of brewed coffee can vary from 15-240 mg per serving.
- Robusta beans have the highest caffeine content.
- The darker the roast the lower the caffeine content.
- The fresher the grind the higher the caffeine content.
- And the longer the brew the higher the caffeine content of the drink i.e. Immersion brews like a plunger (4-5min contact time) will have more caffeine than an espresso (Under 30 seconds contact time)
Got something to say? Then leave a comment!
---
Cafe of the Week: Flava Club
Tuesday, 1 August, 2017
Heading against the crush of early morning traffic to get into town we drove into KwaMashu, just north of Durban looking for a colourful landmark: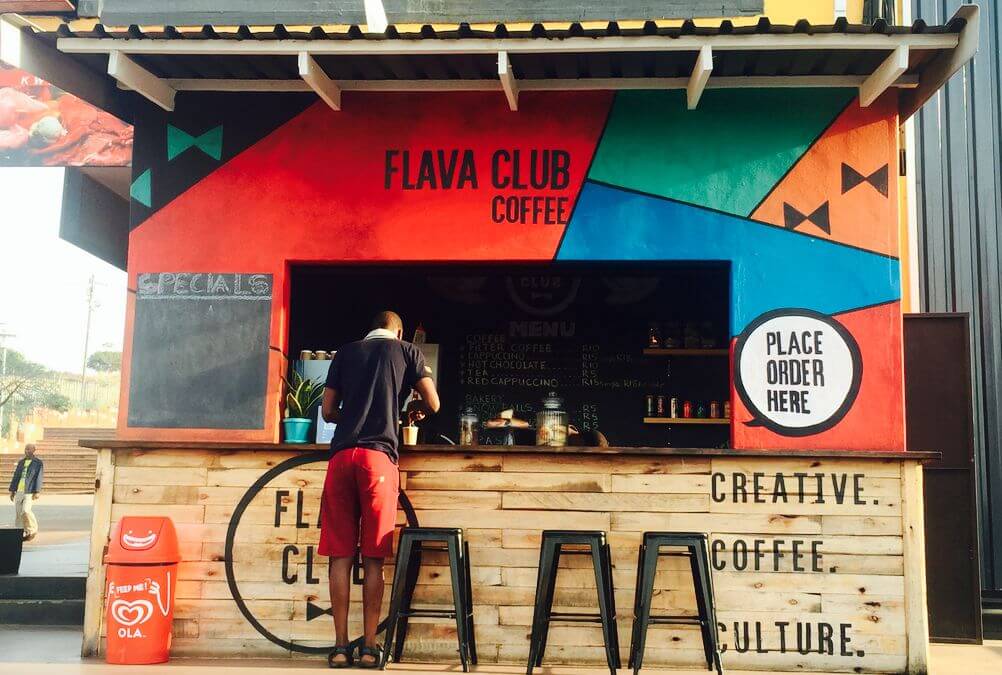 And were greeted by this face: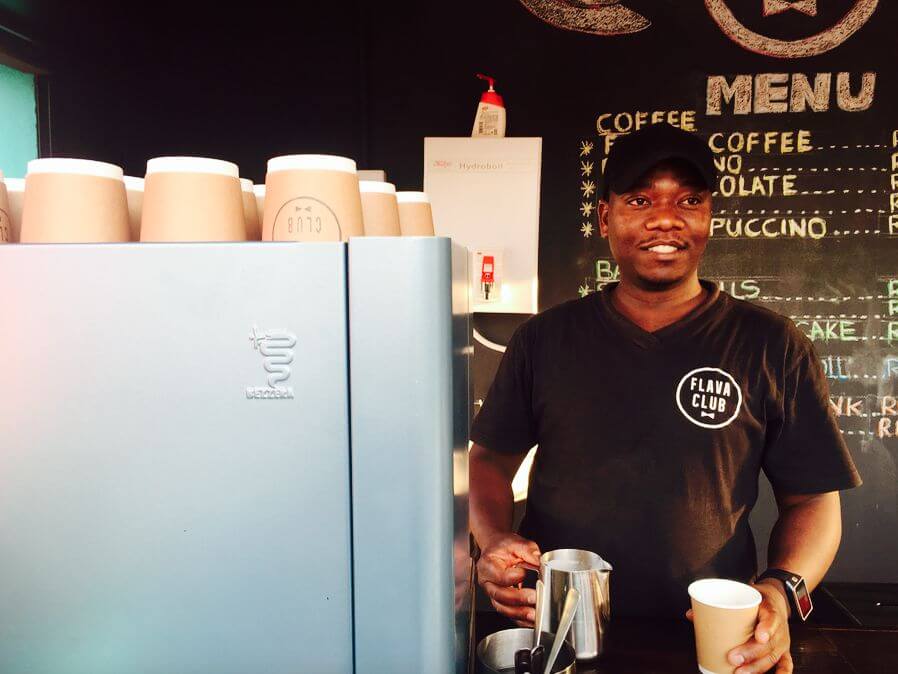 Hello Jabu! And hello
Flava Club Coffee!
We were served excellent cortados (beans roasted by Lineage Coffee) while we chatted to Jabu and Brett about their involvement in our upcoming Barista Education Scholarships. The regular customers popped past to get their daily fix. The vibe is relaxed. There is a lot of hope around this development,
Big Box Co
., very reasonable rental for local entrepreneurs to start up their dream businesses! Flava Club keeps things simple and does it really well. We wish them all the best as they continue to grow the coffee drinking community.
We can't wait to go back!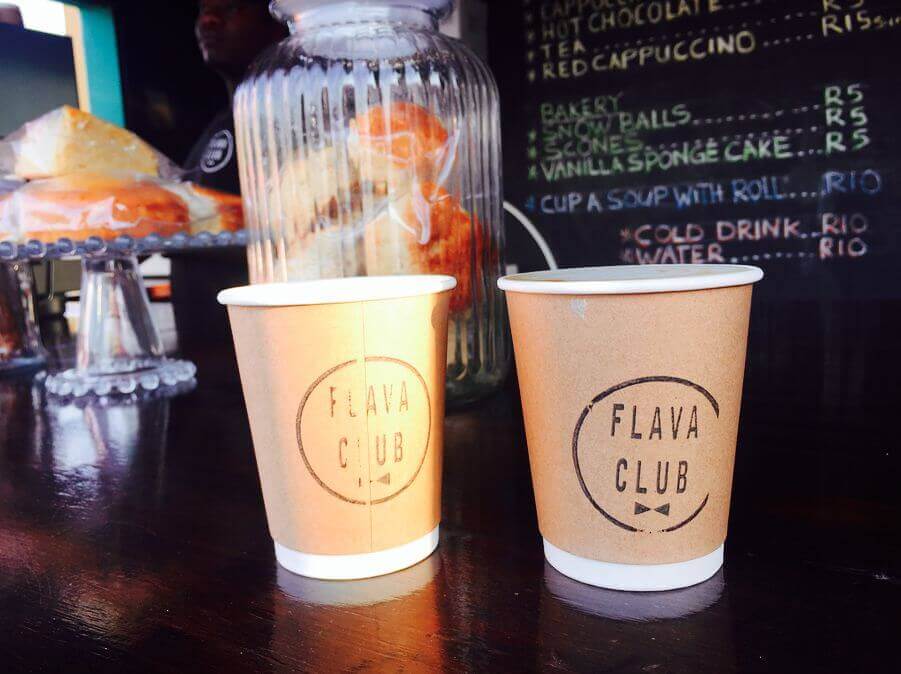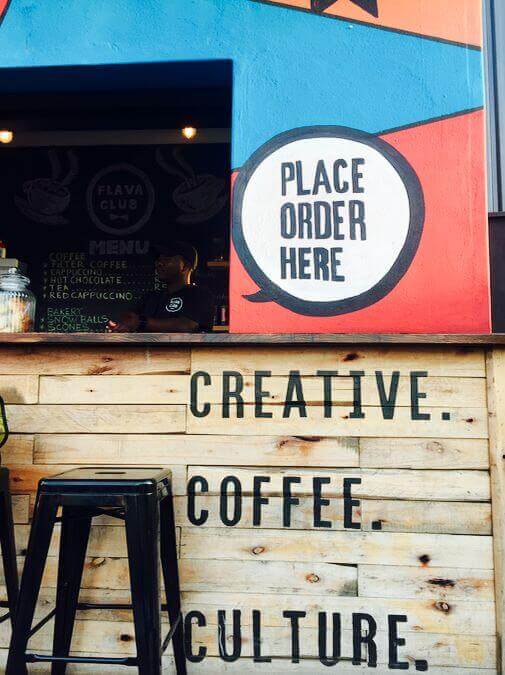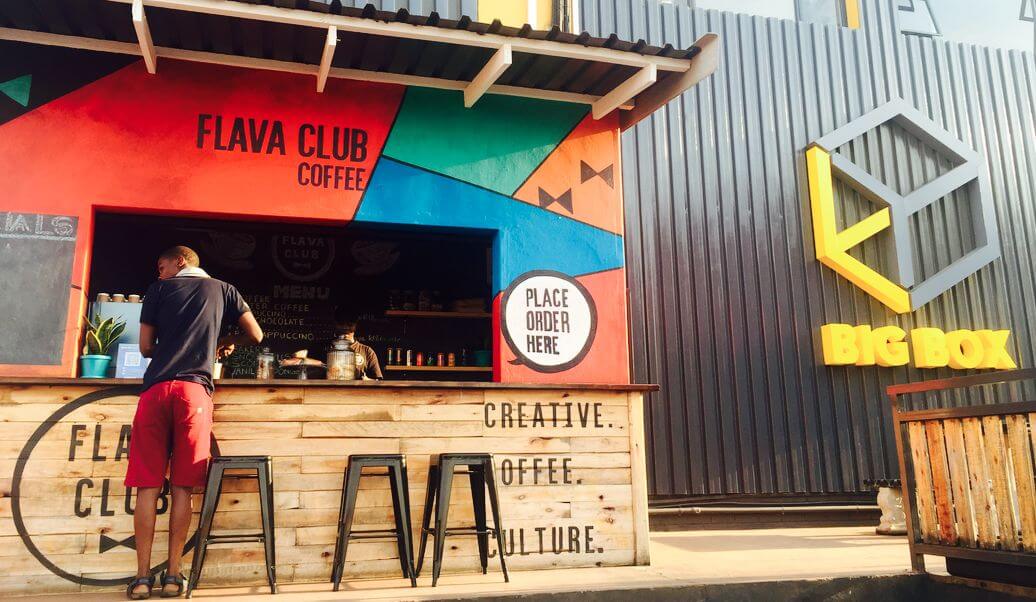 Got something to say? Then leave a comment!
---
Interview with Trevor Fitz: Gauteng Barista Champion 2017
Tuesday, 1 August, 2017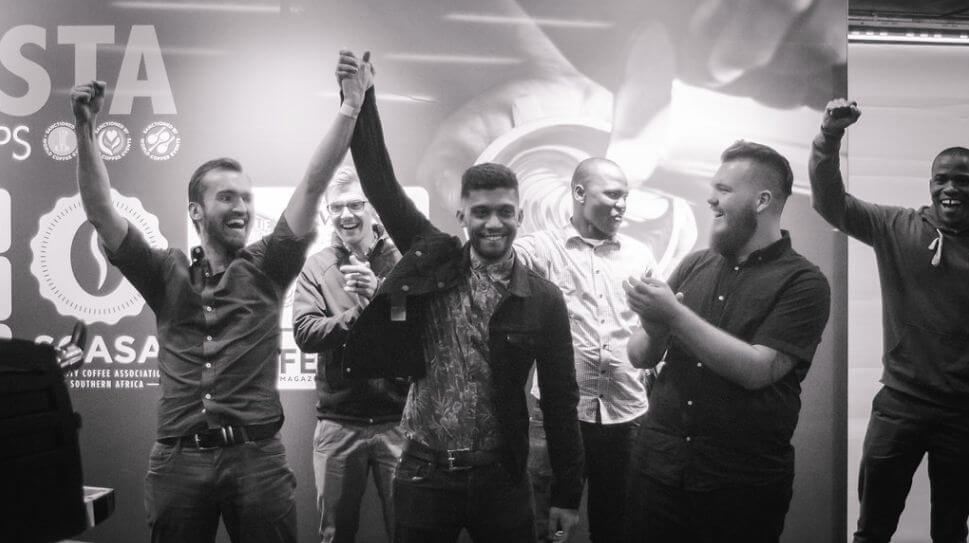 So Trevor, you don't work in coffee, what's your day job?
No, I do not work in coffee funny enough. As a Company, we deal mostly with corporate strategy, training and communication. My role in all of that is basically a project management type of role. I make sure all the different elements of a project are being done and that we are staying on top of operations and costs. However, I also manage the Video and Multimedia side of the business as well.
How did you get into making coffee?
My journey in coffee started a long time back, when I was actually told by my doctor at the age of 16 that in order to manage my chronic migraines i need to drink coffee daily. I tested this theory out, and it actually worked. So from that day on, I made every effort to learn how to make coffee properly and in the process of learning, I developed a passion for all the in and outs of coffee until eventually i found that i just couldn't learn enough. And nothing has changed since then.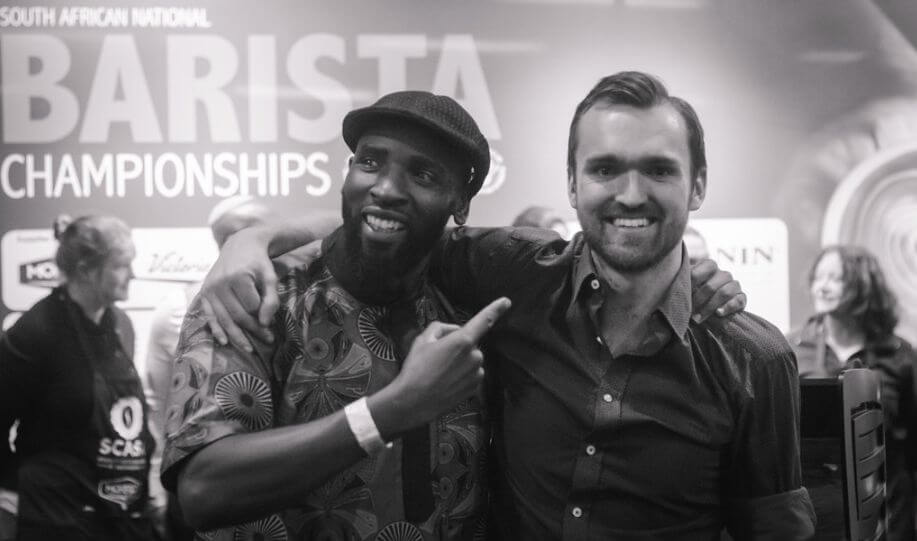 When did you decide you would like to try your hand at the SCASA competition level?
Well that was largely Nkulu's (Khulekani Mpala) influence. He joined the barista championships in 2016 where he emerged as the regional champion, shortly after competing he told me that I should join because of how much I would learn and how much better it would make me as a Barista. So I convinced myself it was a good idea and started experimenting.
Tell us about the coffee you used and the theme for your set.
The coffee that I used for my competition was a Burundi bean roasted by Bean There (who were kind enough to sponsor them for me). The theme for my set was experiencing coffee, and how adding different ingredients changes that experience.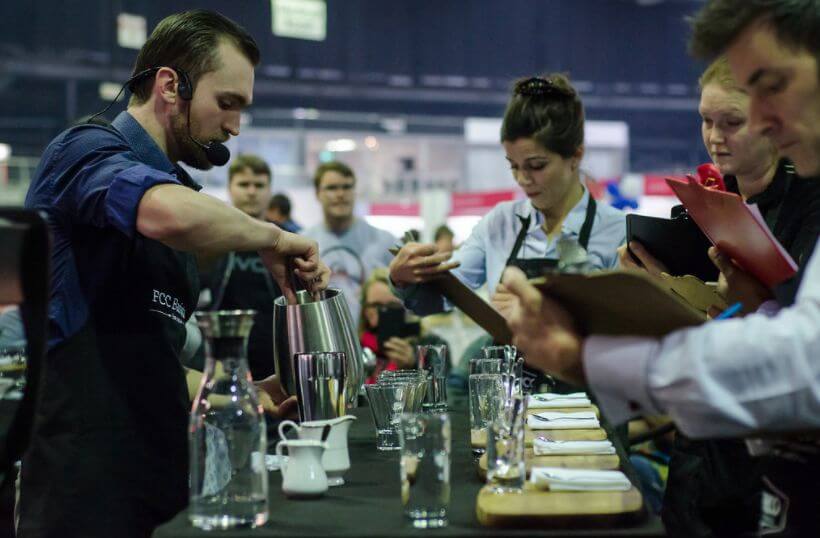 Who was your support team and who would you like to thank?
I would like to thank Nkulu for his help and support, I ran many ideas and coffees passed him. I would also like to thank Claire, who helped me on many weekends and evenings to practice, and had to hear my set 100 times. The 2 of them, as well as Kobus, Leon, Dayna and Ella also endured tasting many signature drink fails. And of course my parents and sister who helped my buy and clean all my gear. Which all helped me prepare.
What is your favourite way to make coffee at home?

Chemex… I love Chemex! It's what I make the most at home.
Got something to say? Then leave a comment!