The Sexy Ugly Beautifuls
Thursday, 22 November, 2018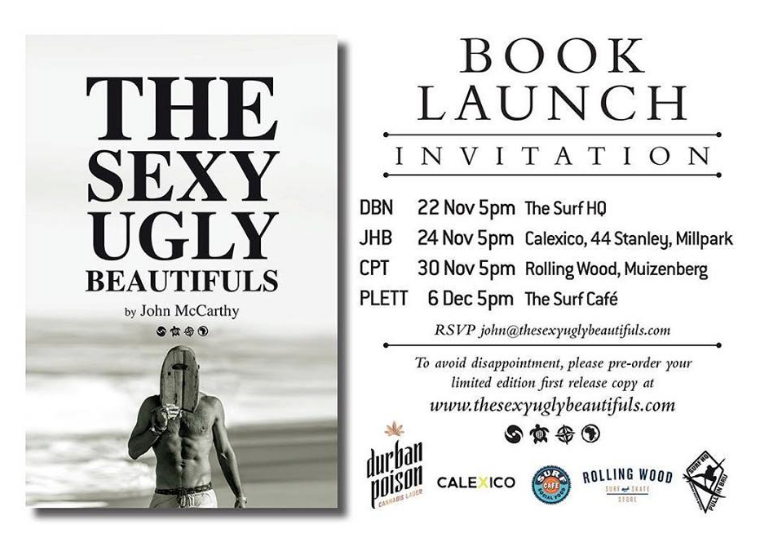 At the Coffee Magazine, the ocean and surfing are as much a part of our daily routine as coffee, believe it or not! So when friend and Ocean Child, John McCarthy invited me to be on the editing team for his book, The Sexy Ugly Beautifuls, I jumped at the opportunity. John has lived an unconventional and ocean-centred life and is an incredible story teller. Very proud of him for sticking to his guns and making this long time dream a reality. The official launch was last night in Durban and a wave of support turned out to celebrate this great read. Check the dates above if you'd like to meet the author and sample some rather delicious cannabis lager from Poison City.
An excellent read for any ocean lover (and there's a tiny part about coffee too!) and just in time for Christmas ;)
The film John produced with Like Giants recently won an International award and is a beautiful way to illustrate what you're get into when you read The Sexy Ugly Beautifuls.
Got something to say? Then leave a comment!
---
#12daysofcoffeechristmas: The Build Up Begins
Thursday, 22 November, 2018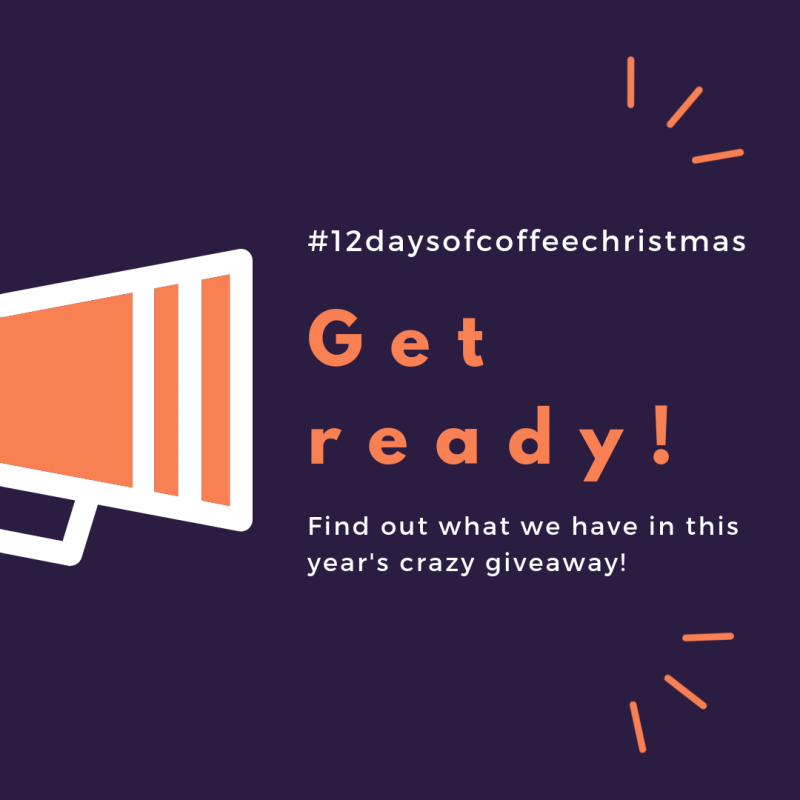 We have gathered a host of sensational prizes for the Coffee Magazine's annual #12daysofcoffeechristmas! Last year we had 15 lucky prize winners, will you be one of them this year?
It all begins on the 5th December, it happens across Facebook, Instagram and you can enter directly on our website.
How does it work you ask?
Well if you haven't participated before, each day from 5th-16th December we post a new coffee product up for grabs. The mechanism to win each day is slightly different, but you only have 24 hours to get your name in the draw!
Follow us on Instagram or Facebook if you don't already to keep up with the pace :)
*Please note the list below is subject to change and the value and exactly what is available each day will be revealed on the day!
#12daysofcoffeechristmas
Day One : Sponsored by Tognana & Classic Homeware
Day Two: Sponsored by Moreflavour
Day Three: Sponsored by Handpresso South Africa
Day Four: Sponsored by Mastertons Coffee
Day Five: Sponsored by Bialetti South Africa
Day Six: Sponsored by Bru Coffee Roastery
Day Seven: Sponsored by Sea Dog Cold Brew
Day Eight: Sponsored by Equipment Cafe & Hario
Day Nine: Sponsored by Lizzard Flasks
Day Ten: Sponsored by Bean There Coffee and Stanley
Day Eleven: Sponsored by Nespresso
Day Twelve: Sponsored by @Home
Got something to say? Then leave a comment!
---
Roaster Feature: BlueBird Roastery
Wednesday, 21 November, 2018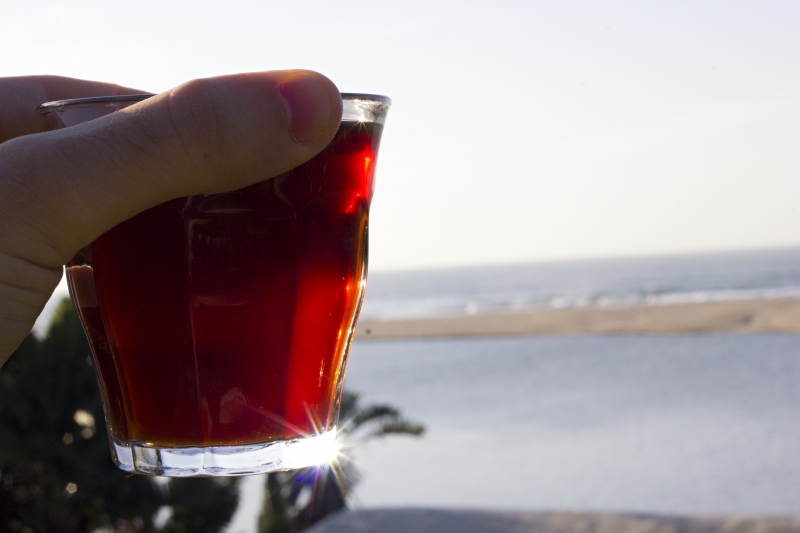 Where did your love for coffee come from?
I actually hated coffee until I was about 23. I'm not exaggerating. The only time I made coffee was to dunk a rusk. When I was done, I tossed the coffee. Then one fateful night one of my best mates forced a Turkish coffee on me. Of all the ways to introduce someone to coffee, this dark, bitter sludgy drink would not be my first choice. But I loved it! The next step was a Breville Café Roma from a friend, then an AeroPress and Porlex Mini for Christmas and into the rabbit hole I went.
What is BlueBird Coffee Roastery's origin story'? How did you come up with the name?
BlueBird is a full on passion project turned business… After tasting some delicious coffee roasted by a friend at his home, I had to try roasting for myself! What I have learned is that coffee is part nature, part science, part art. And yet it's all about people. The name BlueBird, for me, represents happiness, fun and approachability. As a consumer, I found the world of specialty coffee to be very intimidating. I so badly want BlueBird to be inclusive and inviting. Whether you only drink 88 plus coffees through your R100k setup or you just learned that ground filter coffee is not the same as instant, I hope you'll feel comfortable interacting with us!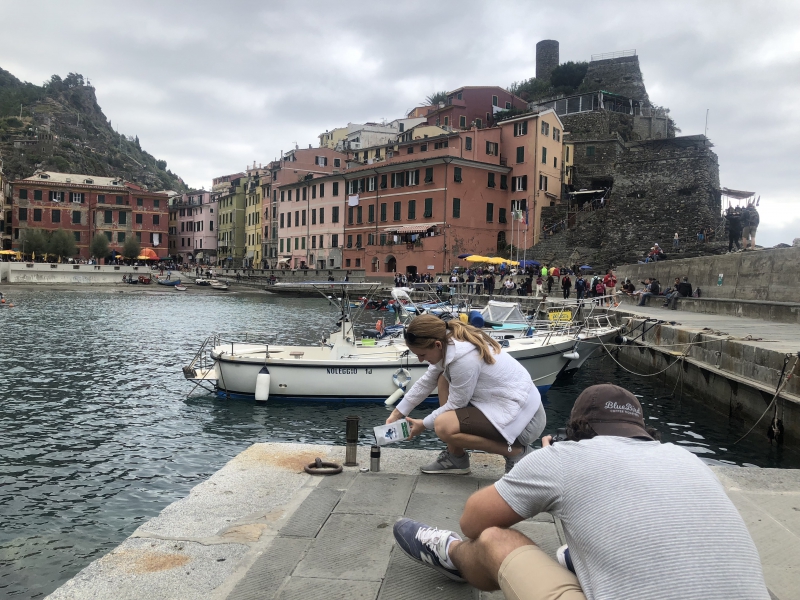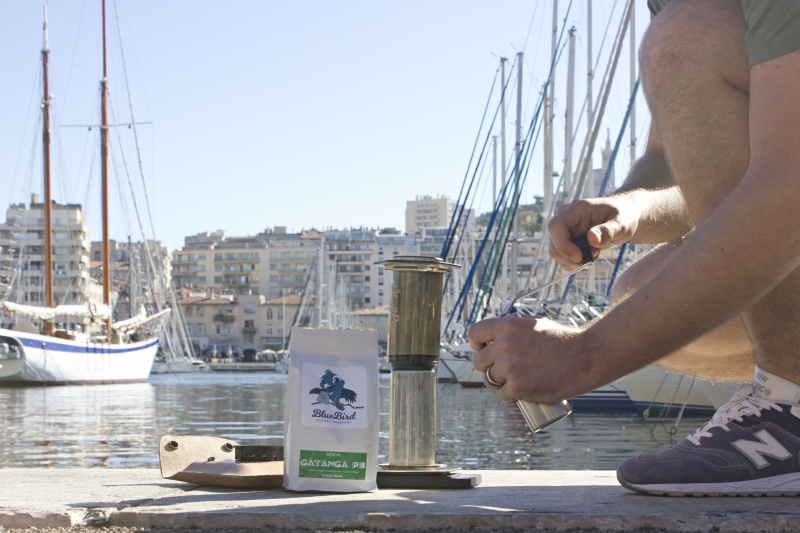 What is your vision for the company?
We have made the decision to purchase, roast and sell specialty coffee only. We have about 40kgs of commodity left and then its done. No more. Big, scary, challenging decision but I feel that it's the right thing to do. There are two simple reasons for this choice. Firstly, specialty coffee is flipping delicious and our customers deserve delicious! Secondly, with commodity coffee prices as low as they were in the 1980's, it's logical that not enough money is making it back to the people farming and producing our coffee. We are either fuelling the problem or funding the solution.
How do you source your coffee beans?
There are a handful of passionate green coffee buyers who focus on specialty coffees in South Africa. I cup samples of everything I buy. The number one criteria is taste… delicious only. We are a growing business but we look forward to buying whole micro lots from the same farmers year after year. These things keep me up at night!
What has been the highlight of your business journey, or your favourite moments?
There have been a few already. Watching our customers growing and learning in coffee is awesome. Seeing someone who only drinks coffee with milk and sugar smile after his or her first sip of one of our coffees served black. Sweet and delicious.
Meeting awesome roasters and café owners in Istanbul, Barcelona and Rome on a recent holiday was eye opening and hugely educational.
But honestly, I got a simple email from someone I respect the most in SA coffee. He liked my Kenyan PB. I was so chuffed. It's the small things…
What do you like best about your line of work?
I guess it's that moment when you cup a new coffee for the first time and it feels like gentle sunshine on your face, angels singing from above and all is right with the world. If you haven't had that moment, you're drinking the wrong coffee.
What is your coffee of choice these days?
Generally I'm a sucker for a good funky natural. And peaberries. But my favorite coffee at the moment is neither. It is a fully washed coffee from Rwanda. I love it because it is delicious, but more so because of the way it was produced and bought. Knowing that the wash station is empowering the woman in the community and that a serious premium was paid makes the marmalade sweetness even sweeter!
As far as brew methods go, I love espresso but I spend most of my time geeking out over V60 or AeroPress.
What does your average day look like?
Wake up next to the woman of my dreams, head out for a surf, do some work and drink some coffee. Lex and I run a couple of exciting businesses together, we have a baby on the way and we enjoy our sport. So life is busy in all the best ways!
What are you most looking forward to over the next few months and years?
I am fired up for our new 10kg roaster to arrive in the next few days. I am thrilled at the prospect of meeting as many like minded coffee friends as possible and growing a large community of home baristas. I'm excited to partner with café owners who care about the quality of their coffee and introducing as many people to specialty coffee as possible.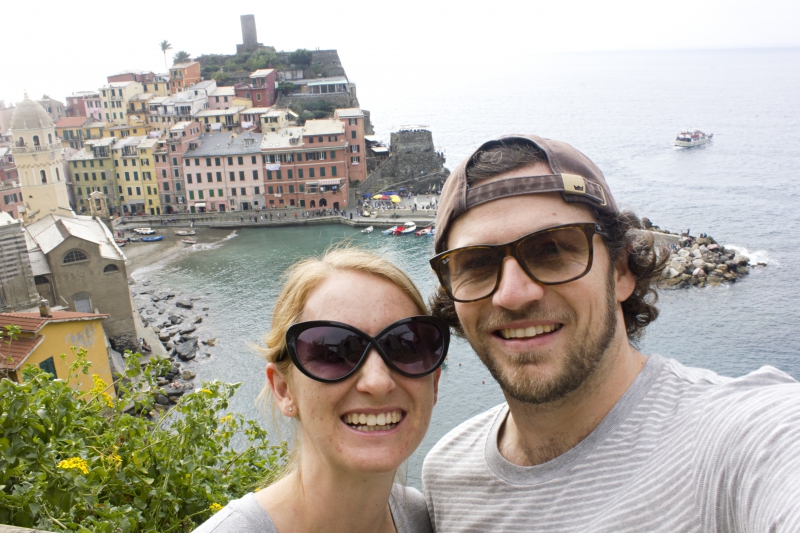 How do you see the coffee scene growing/changing in South Africa?
I'm not sure that I am qualified to answer this question. I just hope that we are moving towards quality and transparency. All I know is that to see any real change, we need to focus on the elements within our control. What I can do is buy great coffee. I can build my business in such a way that these great coffees remain affordable. I can continue to obsess over quality. I can do my best to connect with our customers and create an inclusive community of people who get it. I love people who get it. French press and blade grinder or GS3 and EK43… at the end of the day its about passion and happiness. I love coffee!
Got something to say? Then leave a comment!
---
Coffee Advent Calendar, yum!
Tuesday, 20 November, 2018
Count down to Christmas with coffee
This is the countdown to Christmas that every coffee fanatic needs in their life! Yawn Coffee Co has created a Coffee Advent Calendar – 24 sachets of specialty coffees for every day of December until Christmas Eve. Who needs a tiny piece of chocolate when you could start each day with a different craft coffee? Each sachet contains just enough ground or whole bean coffee for one magical cup (around 9 grams), suitable for French press, filter, Chemex, percolator, and even cold brew.
Yawn Coffee Co have lovingly crafted the coffee selections and deliver them in a beautifully designed box. The 24 sachets feature blends from different countries, all roasted in different ways. They wanted an exciting, unexpected, and delicious selection, and it certainly sounds like they've achieved it…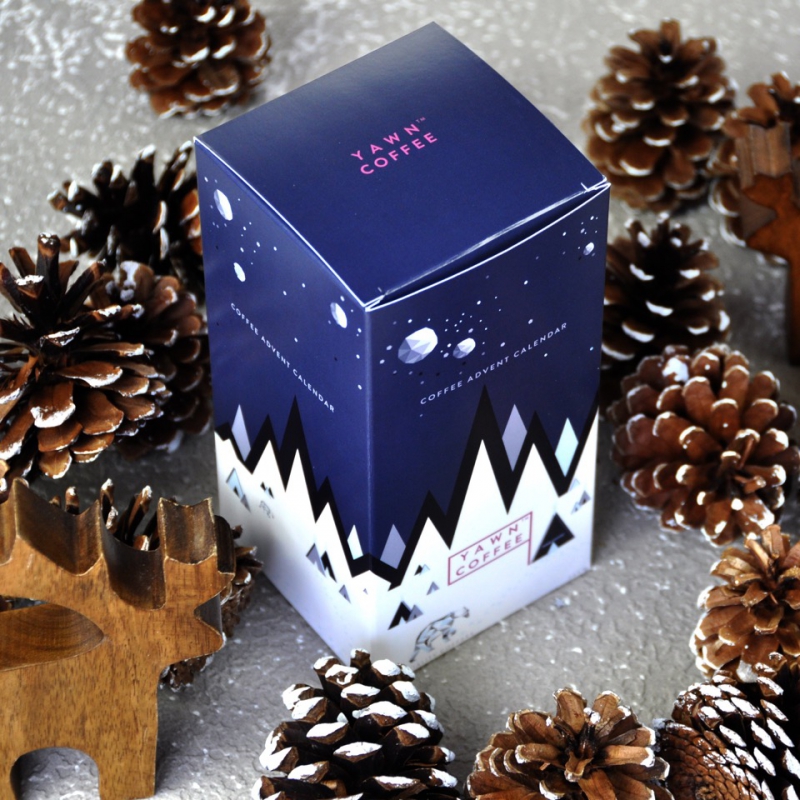 The ultimate coffee selection
Yawn has specially selected responsibly sourced beans from India, Costa Rica, Kenya, Papua New Guinea, Sumatra, Columbia, Ethiopia, Java, Mexico and Brazil. Each coffee comes individually numbered with its own unique design, and features blends and roasts like Indian Tiger, Bourbon Daterra, Kenya Blue, Ethiopian Yirgacheffe, Brazilian Santos, Mexican Maraopgye, Indian Monsooned Malabar, Costa Rica Tarrazu, Kenya AA, Papua New Guinea Sigri, Indian Mysore, Sumatra Lintong, Old Java Java and Sweet Yellow Daterra.
Yawn Coffee Co works with local experts to roast the beans, and each sachet has its own valve to let out the CO2 gas produced after roasting, and is shipped as soon as possible to maintain the freshness of the coffee.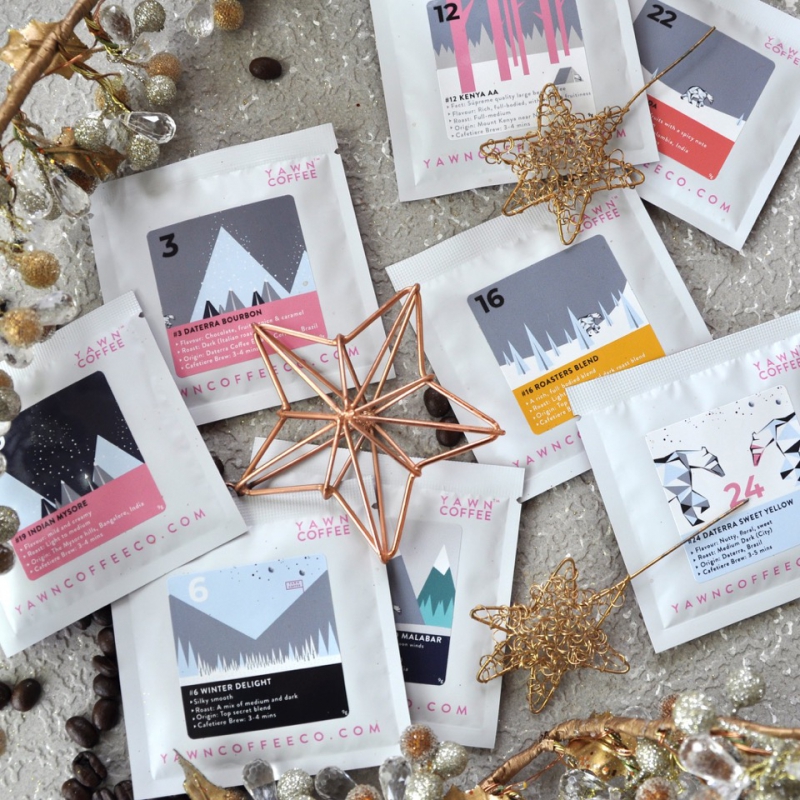 24 days of amazing coffee
The Coffee Advent Calendar actually launched as a Kickstarter campaign by Tea Revv, a UK-based tea company, in September 2018. The original goal was £4,000 – but they over-achieved to the total of £22,425 when the campaign closed at the end of October! Coffee enthusiasts leaped at the chance to get their daily Christmas countdown fix.
Now sold on Etsy, the Advent Calendar retails for US $29.07, and even ships to South Africa (for US $11.89). You'd be looking at about R570 in total, depending on the exchange rate and whether customs get involved. But that sounds pretty reasonable for a daily cup of amazing coffee. It's definitely the perfect gift for the coffee lover in your life – if not a generous gift from you to yourself. With a cup of specialty coffee every day, this will definitely be a happy holiday!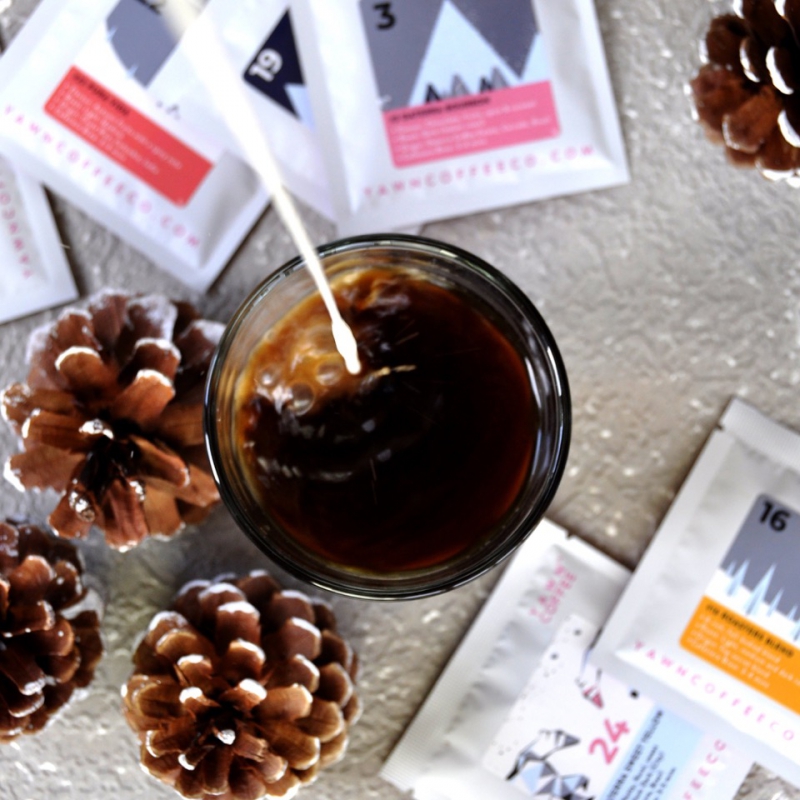 Got something to say? Then leave a comment!
---
Firelighters made from Used Coffee?
Thursday, 22 November, 2018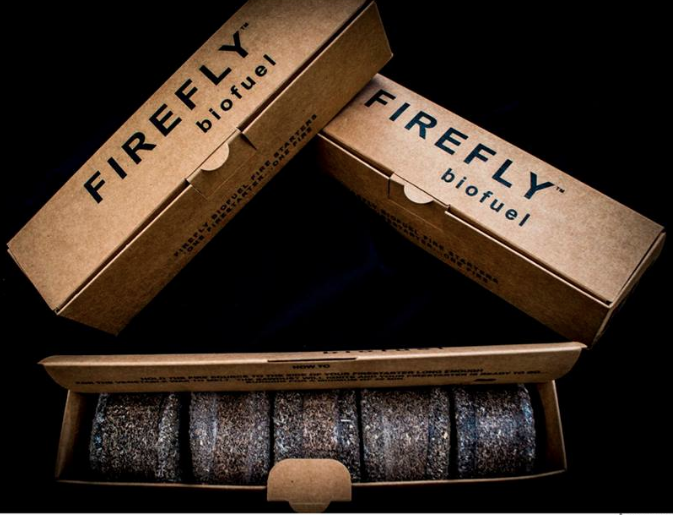 Say hello to FireFly Biofuel – the new kid on the environmentally friendly block, and the perfect Christmas gift for braai masters with an eco-friendly agenda! You might have spotted them as the official sponsors of DStv's Laat die Potte Prut (season 8), Kom ons Kamp (season 2), Kom ons Braai (season 12), and Kom ons Braai Familie & Vriende (season 6). We chatted to Mariska van der Heide of FireFly Biofuel to find out more…
How did Firefly Biofuel come to be?
"We'd love to say over a cup of coffee but alas...over a couple of drinks at a friend's house. Friends of ours have a furniture company and they were complaining about having to pay someone to remove their off-cut wood pieces and sawdust.
My husband, Kai, volunteered to design a press for them in order to utilise the sawdust and make wood logs to use in their fireplace for the house. They said that they didn't have time and asked Kai if he wanted to play with it. Since this was a labour of love, we set the standards ridiculously high – toxin-free, petroleum-free, smoke-free, odourless… From there, Kai started experimenting with different molds and ingredients.
Over the space of 18 months, and hundreds of failed formulae and designs, we felt that we had achieved our targets and started giving out the FireSparks to our family and friends. It was then that our friends and family insisted that we do something with this product and that was when FireFly was conceived!"
What was your background before FireFly?
"We both come from the oilfield. Kai has over 20 years' experience as a Liner Hanger Engineer and Operational Manager, and I have more than 10 working with Logistics and as a Supply Chain Supervisor."
Where did the idea for firelighters made from coffee waste come from?
"During the research phase, it was a natural evolution. We tried to find a resource that could replace petroleum as an accelerant and came across multiple articles relating to uses of waste coffee. The reason why coffee is so good for composting and worm farms is the high nitrogen content and calorie count (when decomposing and burnt), and from there the experiments began.
Coffee is an amazing resource that stretches from the morning cup of Java that kickstarts your day, through to fertilizsing the land where your fruits and vegetables are grown, along with mushroom farms all the way through to (now) the firelighter that starts your braai. Not to mention the fact that coffee is the world's second largest traded commodity besides oil so it was readily available, and the uses of coffee from the bean to the fire is almost limitless."
What is your vision for FireFly Biofuel?
"We are driving toward becoming a leader in utilising coffee waste in many of our products moving forward, thereby reducing the volume of methane, a major greenhouse gas, from decomposing coffee disposed in landfill. Our aim is to produce high quality recycled products that won't break the bank, create jobs, and educate the public that there's a better and more efficient way, at the same time reducing the strain on the environment and planet in general."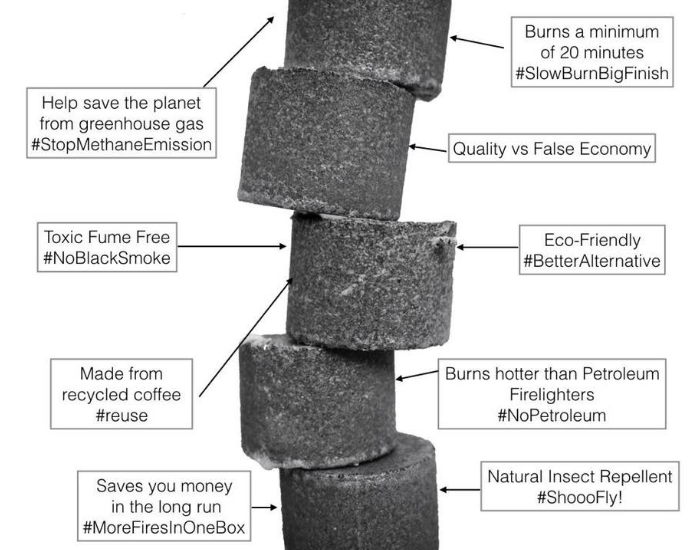 Those are some big goals! What made you want to create a product that's eco-friendly?
"I'm the resident Eco Warrior in the family and the company, and drive us all forward when it comes to recycling and saving the planet one plastic bag at a time. Although Kai may have designed the FireSpark, I set in place the standards and ridiculously high targets (sometimes much to Kai's frustration)! I've insisted that if we're going to do this, it will be done with the highest possible standards to incorporate everything that everyone has always complained about. We're all about family, the two legged and the four, so we made a product that is safe, green, recycled, and outperforms anything that is on the market to date."
Where do you get all of your coffee waste from?
"We collect our coffee from local coffee shops (independents and corporate) in an effort to assist in reducing their waste to zero and removing coffee from the methane cycle. We cover all levels of supplier from the one-person machine to large corporate entities. We supply a food grade container that is airtight and hygienic and replace them on a regular schedule as per the supplier needs."
And where can people find the Firefly FireSpark?
"We're available at 98 independent retailers that can be found on our website, including Faithful to Nature. We're also very proud to say that we're on all Pick n Pay (PnP) Hypermarket shelves and PnP franchise stores can order the product to be available at their outlets. Basically, we urge consumers to request for it by name if they don't see it on the shelves."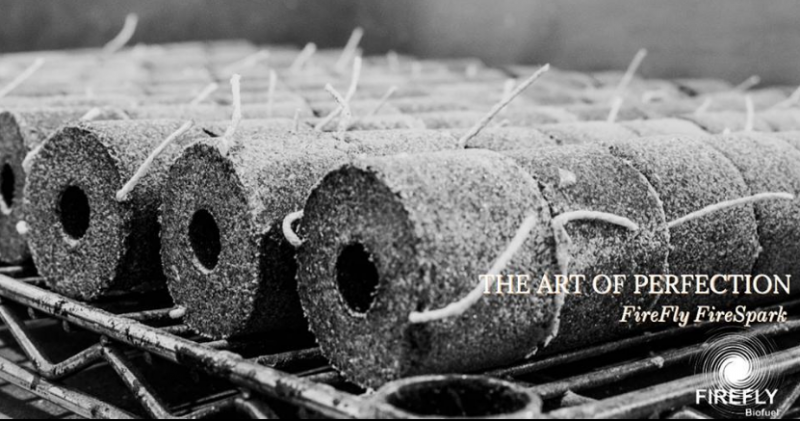 Got something to say? Then leave a comment!
---
How do you Brew your Coffee?
Friday, 16 November, 2018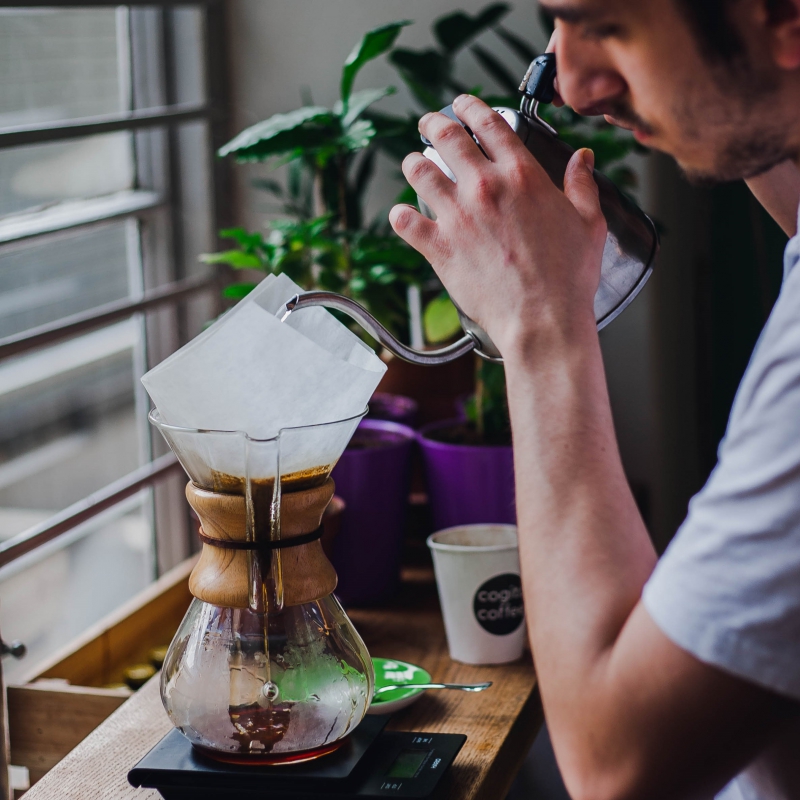 We want to hear from you! We're putting together our #12daysofcoffeechristmas campaign and we want to hear what's on your Christmas list?
Fill in the short questionnaire below and you stand a chance to win a Discover Great Coffee Specialty Box worth R630!!!
How do you Brew?
Got something to say? Then leave a comment!
---
Cafe Crawl: Toast Food Co.
Wednesday, 14 November, 2018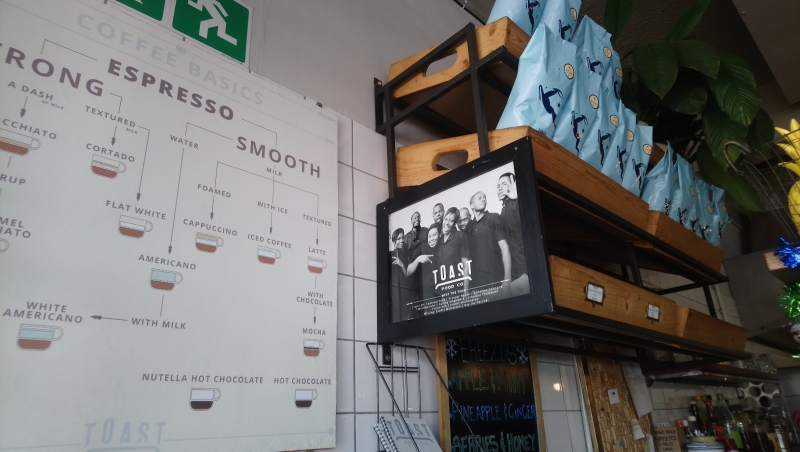 Toast Food Co is a must for anyone visiting Pretoria. If you need a decent coffee, a dose of positive vibes and very yummy breakfast then this is the spot for you! Situated on the corner of Jan Shoba & Lynnwood, Toast is one a few small businesses in this bustling little street-side centre. There's plenty of parking and you can sit at the outside tables or inside.
Jabu, the barista, is most likely the first person you'll encounter as you walk in. His radiant smile and positive energy is much like the espressos he serves - bound to give you a lift - and yet it is his latte art and presentation of the milk based coffees where Jabu has made a name for himself. Jabu recently won the South African version of the Almond Breeze Latte Art Video Challenge, so we were keen to meet the man behind the milk pitcher. It was an extremely hot day on our visit, so we sat in the cool, dark interior with the other locals and soon enough our Flat whites arrived - one was "Pegasus" and the other a beautiful multi-tiered tulip.
Anthony Wingfield, the Owner came out to have a chat with the regulars and introduced himself to us and gave us a bit of a back-story to Toast and the Team who work there. There is definitely a strong sense of pride in the Cafe and the ethos of customer service that Jabu and Ant have instilled there and you can see why the locals love it.
Toast use TriBeCa coffee and serves a great Flat white, cappuccino and latte. Their menu is good, hearty cafe fare and the portions are generous. I loved the honey glazed bacon that they serve with their brekkies and the grilled cheese even defeated Mel (and that's saying something).
We would highly recommend a visit and we look forward to seeing the brimming potential of some of the other Toast staff come to the fore on the barista competition stages soon. Watch this space!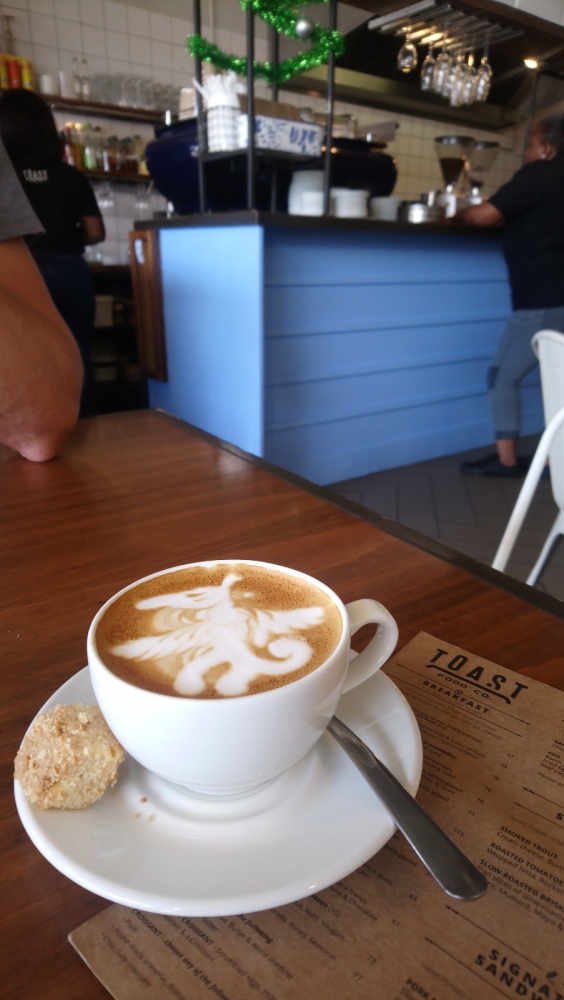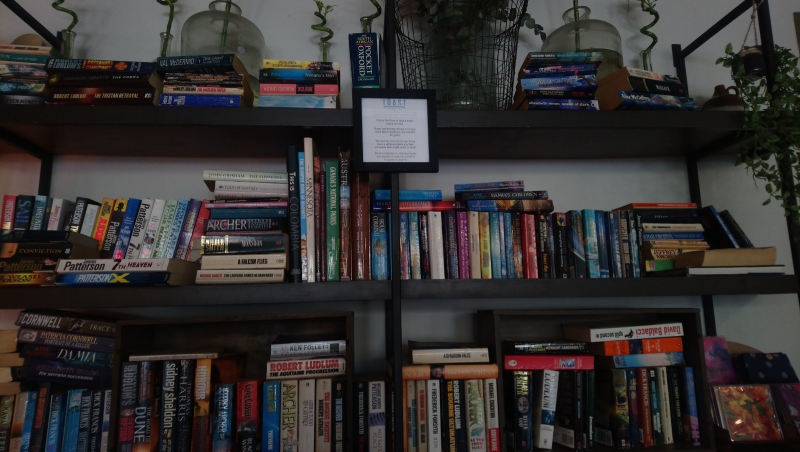 Got something to say? Then leave a comment!
---
Roast: Is Sweetness the New Acidity?
Thursday, 15 November, 2018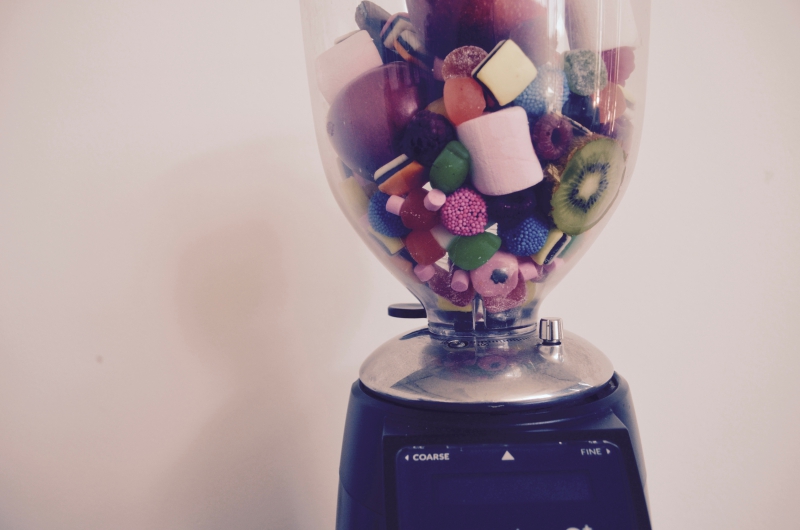 Is Sweetness the Acidity as a trend in coffee? And what does that even mean for you the coffee drinker?
We explore the concept of sweetness in coffee and chat to Anne Lunell of Koppi Roasters in Sweden about extracting the most sweetness from your coffee and her thoughts on one of the sweetest and most expensive coffees the world over, the Geisha variety.
Interview with Anne Lunell of Koppi Roasters
---
It may be difficult to believe, but there are trends in coffee roasting and the way roasters buy their green beans. For a long time all people wanted from coffee was a smooth and chocolatey experience and most are, understandably, still delighted by this flavour profile. Through the growth of the speciality coffee sector growing and as consumer palates have become more sophisticated, coffee producers have begun using processing methods as a creative tool. Whether accentuating fruit notes, highlighting or softening acidity, and fattening or lifting the body, this creates product differentiation. With these new processing methods at farm level and new extraction techniques at cafe level, for a number of years the fruitiness of coffee was celebrated and accentuated through lighter roasts to highlight juicy acidity. So where are we at the moment? On a quest for sweetness.
At a farm level you can see this through the rising popularity of 'honey processing'. This technique borrows a little from both the natural and washed methods of processing. The cherry pulp has been removed, similar to the washed process, but then instead of fermenting them in tanks to remove residual mucilage, the beans are dried while varying amounts of sticky mucilage still clings to them, like the natural process. There is less fermentation during honey processing, as it is confined to the relatively short time when the mucilage dries, resulting in a sweet cup with lower acidity. It's a relatively recent practice, just over a decade old, that started in Costa Rica and spread throughout Central America. With variations in the amount of mucilage left on the seed, and hence, sweetness, additional categories of honey processed coffee have been developed, and yellow, red, and black are used to describe these variations.
According to a survey by the team over at industry-focused website, Perfect Daily Grind, during the World of Coffee competition in Budapest in 2017, various parties from all realms of the coffee supply chain confirm that sweetness is winning out as the most desired flavour profile currently. Mark Pearce of Toddy LLC's speculated that cold brew consumption is led by a sweet tooth among younger generations – among other factors. Natural coffees are particularly popular for their sweet notes too. Mariana Proença, Content Director of Brazil International Coffee Week had this to say, "Year by year, the most important flavour is changing. It used to be acidity, but now it's sweetness. We're seeing this in the demand for naturals here in Brazil."
World Championship coffees are often at the cutting edge of newest trends. Chad Wang described his World Brewer's Cup winning coffee, a natural process Geisha, as having pineapple acidity and honey sweetness. Five out of six of the baristas at the 2017 World Barista Championship used the Geisha varietal of coffee known for it's delicate floral aroma and gentle, sweet nature. In 2016, Berg Wu won with just such a coffee.
We chatted to Anne Lunell to get her insights into these trends, from a roastery that has been in the business for over 10 years.
When you started Koppi Roasters over 10 years ago, did you ever think the journey would get you to where you are today? How has the coffee landscape changed around you?
Lots has changed over the past 10 years. When I started working with specialty coffee there was barely a scene in Sweden. Less than a handful of good roasters had started their businesses in Europe. It was difficult to know what to expect from such a young industry.
We always believed in what we were doing and what we tried to be creative even if it was hard at times. Over this past decade the culinary scene has grown and the general public are more open-minded when it comes trying new things and paying for quality products.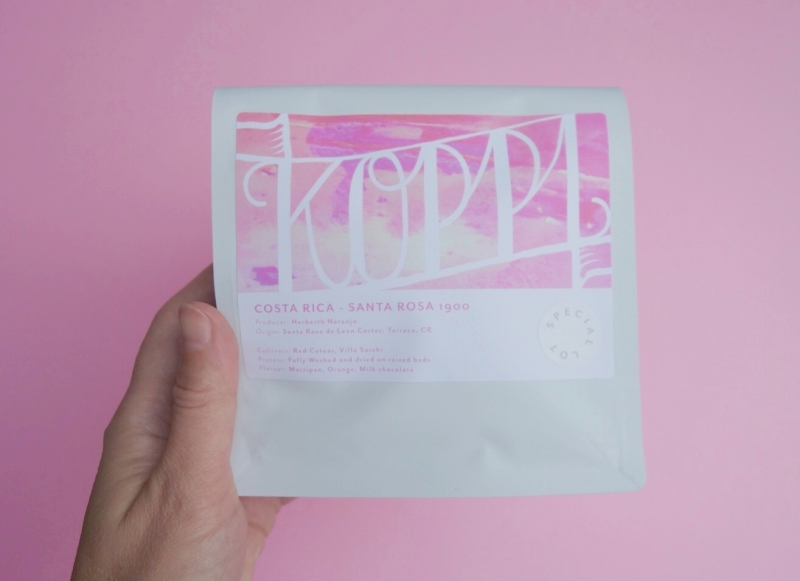 Have you adjusted to life without a cafe yet?
It has only been two months since we closed our café after running it for over 10 years. We enjoyed having our coffee shop and we wouldn't be where we are today without it, but having said that I am the first to acknowledge that it was time consuming and required too much of our energy. It was a great experience but it is a relief to be able to focus completely on our roastery and develop that further.
In your team, you do the sourcing and Charles does the roasting. This must mean that your idea of what you're looking for in a green coffee is very well aligned, what are your criteria for delicious coffee?
Our approach when sourcing coffee has changed slightly over the past ten years. In the beginning we were on the hunt for exceptional coffees. As soon as we established our first relationship to the people we work with in Costa Rica our approach started changing. Seeing how much love and attention they are putting in to producing their coffee is humbling. It both makes us want to showcase their amazing coffees the best way we can and also we deeply value the long relationship we have built and would never abandon them. Producing coffee is incredibly hard and risky. The effect of climate change is showing in many regions. For us, it would be irresponsible to abandon a producer for a year just because the cup quality can fluctuate a little.
Is coffee naturally sweet? What effects sweetness at a processing level? Do particular varietals have more natural sweetness?
Coffee grown at higher altitudes allows a slower ripening of the cherries which often results in more sweetness, acidity and complexity in the cup. Picking the cherries when they are perfectly ripe also maximise the sweetness.
As with grapes different coffee varieties possess different qualities and flavours. The taste you find in coffee comes down to soil, micro-climate, variety, picking, sorting, processing, drying and last but not least the roasting and brewing.
Would you say that for a while specialty roasters have for the past couple of years generally been chasing acidity in their final product? And what do you think has started to shift in this thinking?
Acidity in coffee will always be a desirable flavour to me. However, the intensity of the acidity can vary as long as it is balanced. I also think that roasters now want to roast in a way that make their coffees easier to brew which means a lot of roasters are probably aiming to get the coffees a bit more soluble and avoid the underdeveloped profiles that can come across as more acidic possibly.
How do you highlight sweetness during the roast process?
When we roast we try to bring out the true characters of the coffee. What we are looking for in the cup is lots of sweetness backed up by balanced acidity and minimal bitterness. This of course comes both from the coffee itself but also from the roast process. Whenever we get a new coffee we do a few different roast profiles to find the one that makes that coffee shine. We keep experimenting over time since the greens changes and we have to adapt the roasting.
What is your opinion on the fascination with the Geisha/Gesha variety of coffee? Is the hype justified?
This is a complex question that requires a long and thorough answer, perhaps too long for this interview, but I will give it my best. First of all I just want to point out that I am not an agronomist and am perhaps not qualified to answer this question. From my understanding there are many strains of Geisha – some of them are more strong and pure compared to others. Depending on the DNA of the Geisha the taste but also the physical qualities can vary vastly. In some cases you have the delicate, floral and complex characters that made the Geisha famous from the start. But in other instances the plant itself, in combination with terroir, weather, processing and so on offers a very different palette. The problem is that many times both the farmer and also the clients, that are on the hunt for the classic Geisha, get let down by what is delivered in the cup. This is a sad reality for many farmers that are perhaps putting their hope in making an extra profit on selling more exclusive varieties. But if the coffee doesn't reach the buyers expectations they are not willing to pay extra for it even though the actual cup is not too bad.
My hope is that our industry matures and that we recognise the obvious problems that we are facing. Climate change, the aging generation of producers and fast spreading diseases are all things that will affect us. By paying more for "lower" scoring coffees, supporting growers that work sustainably, both environmentally and ethically, and avoid paying "too much" for unicorn coffees will be a good start. The producer doesn't survive by selling a bag of Geisha or SL28 at a high premium, but will hopefully get an incentive to continue producing coffee if they get paid more for the rest of the coffee they produce. More or less the same amount of work goes into the production of both lower scoring and higher scoring coffees. The difference between the two might be the quality of the soil, altitude, varietal etc.
Many other varietals offer similarly rewarding and complex profiles, so perhaps in the interests of sustainability and ethics; it is also good to promote and support well processed and well grown coffees regardless of how revered the variety may be.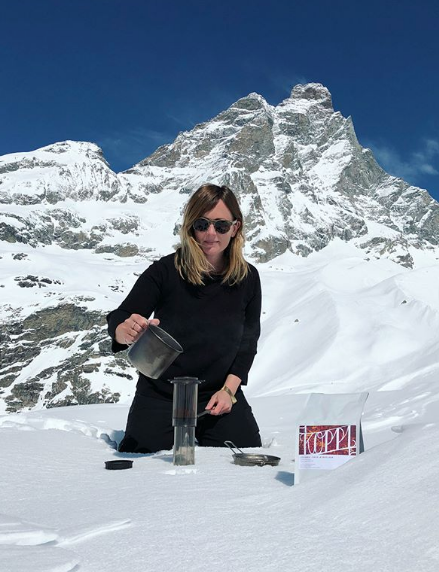 Here's Anne being super cool and brewing an AeroPress in the snowy mountains :)
Got something to say? Then leave a comment!