Naked Kitchen and Coffee Bar
Thursday, 7 September, 2017
Naked Kitchen and Coffee Bar
Shop U38, Morningside Shopping Centre, Rivonia Road, Morningside, Sandton

---

Naked Coffee
began in Melrose Arch and gained a cult following serving coffee to the passing trade from their stylish coffee hutch, now they've now spread their wings in more ways than one to a new location in Morningside. They've expanded to include an amazing menu to accompany their amazing coffee which is now being brewed on a Victoria Arduino White Eagle. The most beautiful wings in the business!
They've brought their trademark sexy style with them along with their trademark naked portafilters. Word is, this is the new place to be seen!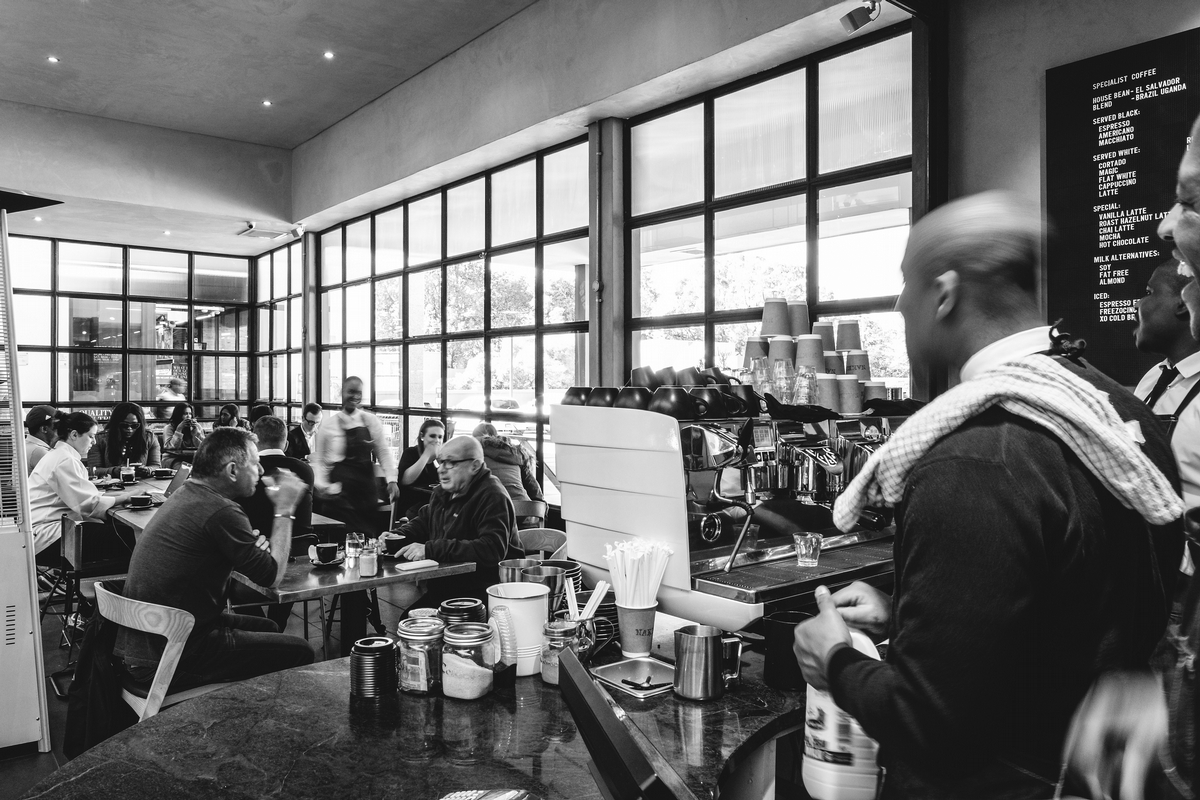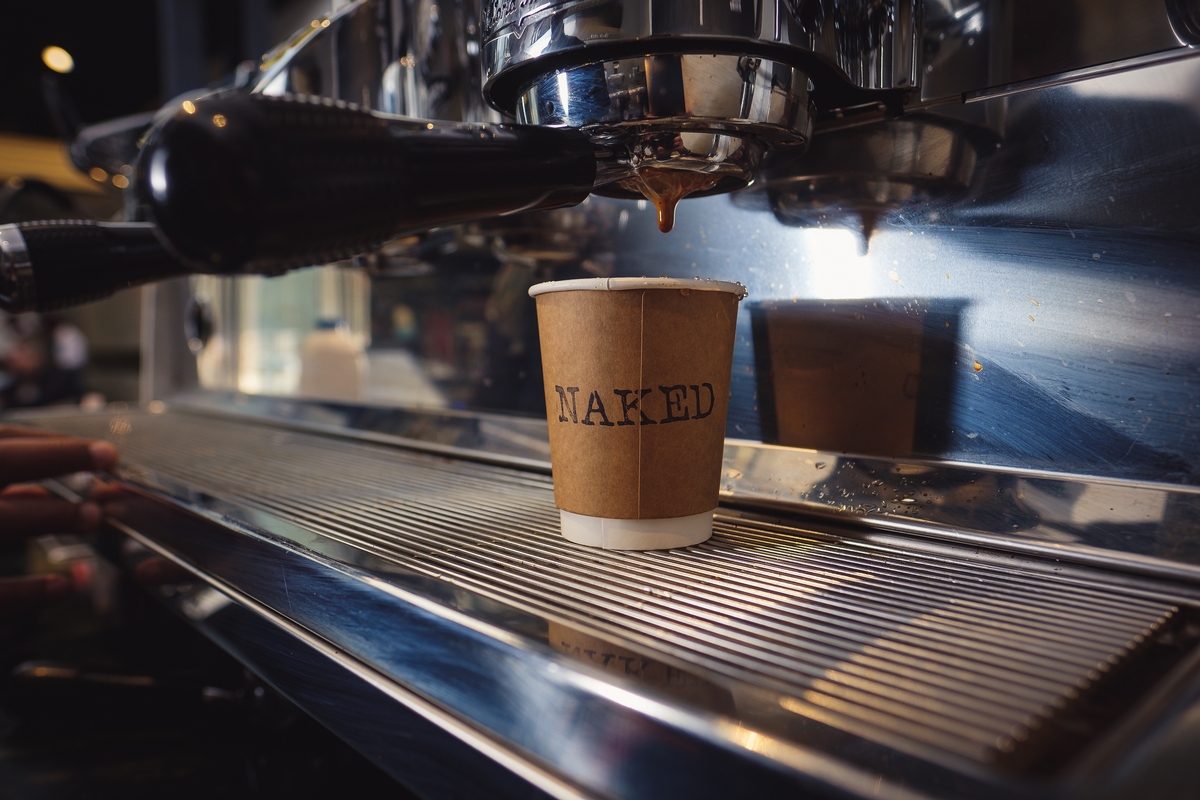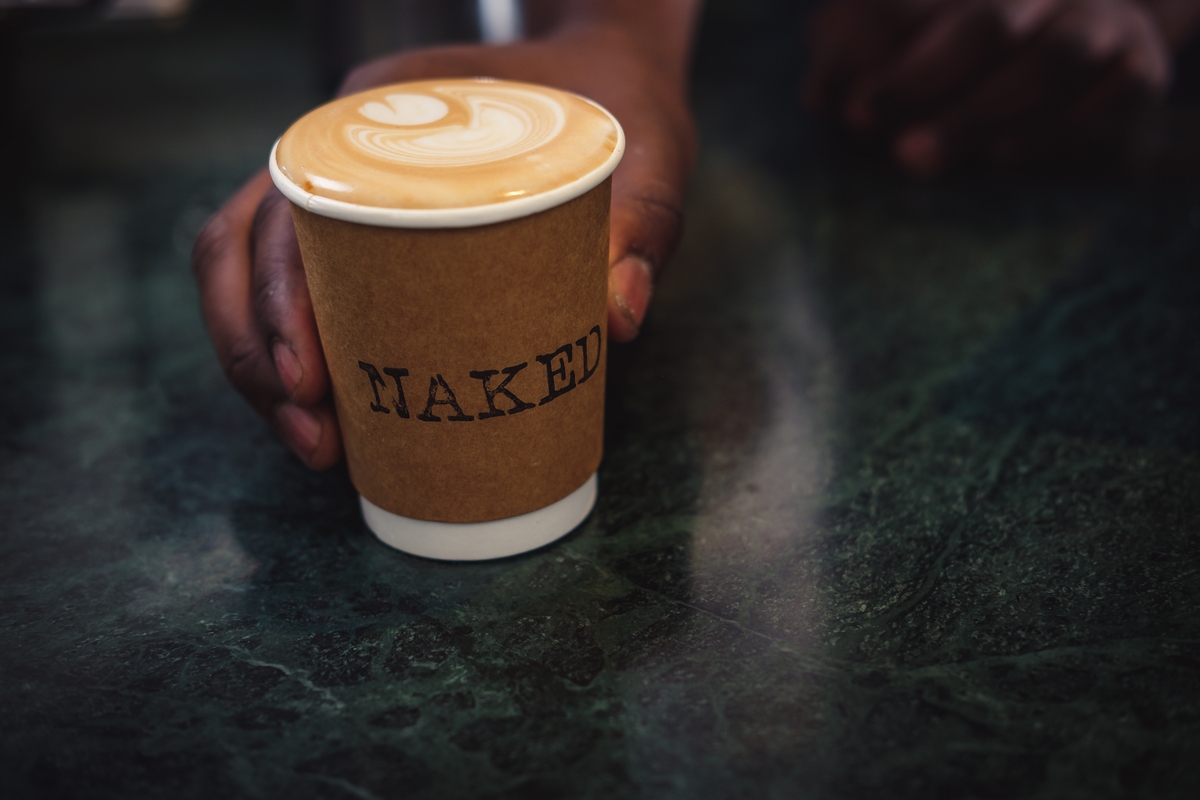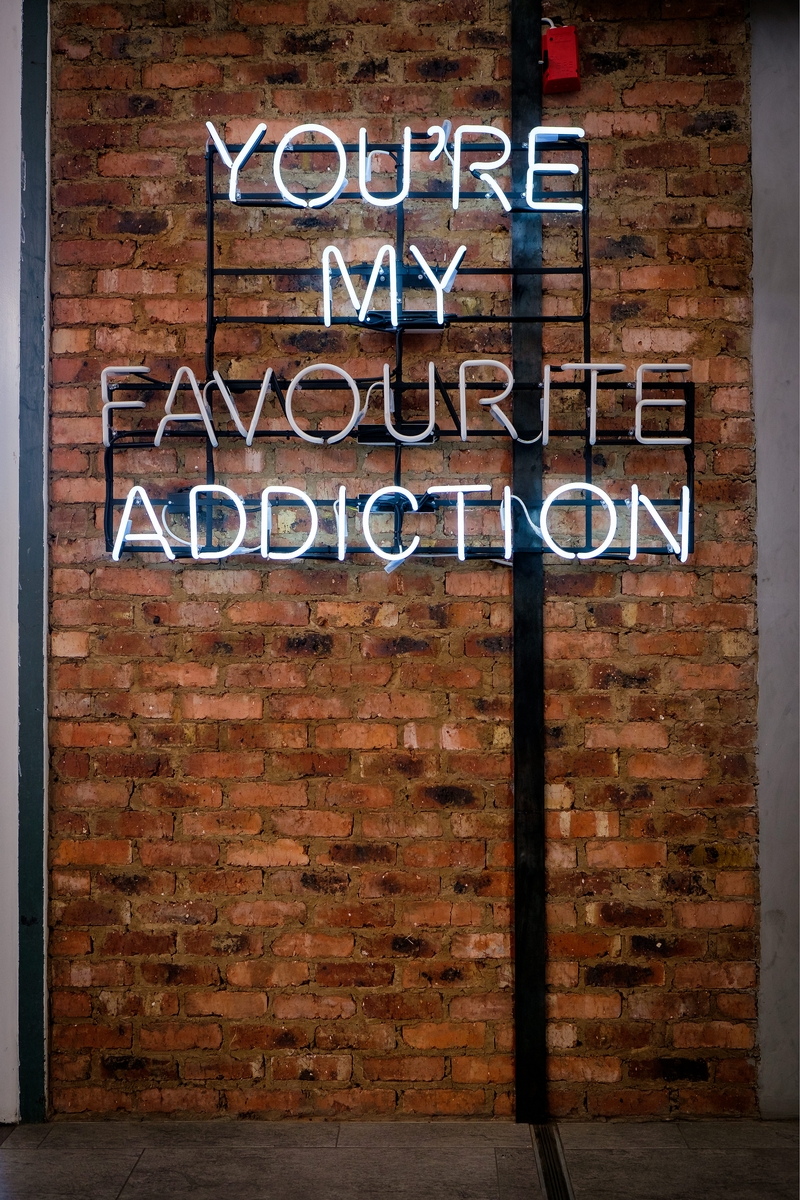 ---
Gourmet to go at the new Naked Kitchen & Coffee Bar
Fresh produce, gourmet coffee, home-style cooking – and all 'to go'. The Naked Kitchen & Coffee Bar, a new foodie and coffee concept by the duo behind Naked Coffee, brings the global gourmet deli trend to Johannesburg. The Naked Kitchen & Coffee Bar, now open in Morningside Shopping Centre, was inspired by Shaun Els and Victor Barbosa's international travels, passion for coffee and love for fresh, seasonal food.
'A love for coffee, paired with an acute attention to quality was the driving force that led us to begin this journey, which drove us to open Naked Coffee in 2015,' says Victor Barbosa. 'Naked Kitchen is a recipe consisting of the things we love - fresh produce, passion and beautiful home style cooking. The word Naked ties in perfectly as it represents the "raw" seasonal produce that is carefully considered and sourced. These Naked ingredients are passionately put together and cooked to perfection by a very talented team of young chefs.' The gourmet deli, led by head chef Sasha Simpson, specialises in breakfast, lunch and early dinner. Patrons can select a protein and sides to eat in or take away, and can fuel up with gourmet coffee made from its own blend of Naked Coffee beans. This focus on fast, yet flavourful food and coffee makes the Naked Kitchen & Coffee Bar the perfect on-the-go eatery for Joburg's growing foodie community.
The Naked Kitchen & Coffee Bar isn't only geared towards tantalising taste buds, it aims to engage all senses with its sleek, stylish décor. The modern interior was created by Tristan du Plessis, founder of boutique interior architecture firm Studio A. The space was custom created and includes interesting furniture, leather and brass light fittings and handmade forest green tiles. Various textures – wood, leather, steel, brass – come together to create a chic, contemporary space.
'Our vision is to create a brand of excellence that can stand out in any city across the globe. Johannesburg is just the beginning,' says Victor Barbosa. "We are fuelled by caffeine and dreams"
The Naked Kitchen & Coffee Bar is located in Morningside Shopping Centre, corner of Rivonia and Outspan Roads, and is open seven days a week.
For more information on Naked Kitchen & Coffee Bar, follow @nakedcoffee_ on Instagram and @nkdcoffeesa on Facebook.
Got something to say? Then leave a comment!
---
Are cafes changing the property market landscape?
Friday, 8 September, 2017
We see this happening all over the country.
Love Coffee
was invited to Urban Lime's Hacienda development to attract prospective tenants. Tribe Coffee was brought into a BMW branch to get people through the door. The more we think about it, the more we see the pattern. The example below of Seattle Coffee Company shows that it is a hotly contested space. We're not surprised, remember,
good coffee = good business!
---
IS COFFEE IMPROVING PROPERTY PRICES?
With the largest number of independent speciality coffee roasters in South Africa, Cape Town, is becoming widely recognised as the coffee capital of Africa. Cape Town coffee culture is booming and coupled with the nomadic flexi-worker trend on the rise – coffee shops are rapidly becoming the generic for 'offices'.
The Power of the Bean

In a bygone era, Cape Town was better known for its tea-houses. That has shifted dramatically according to Iain Evans, the publisher of Coffee Magazine, who said that the SA coffee scene is radically different to what it was 10 years ago. South Africa has caught up to global standards and you can now go into a high-end roastery in South Africa and have an experience on par with Melbourne or Vancouver.
In the past decade, the industry has grown from a mere 20 roasteries to well over 250 independent roasters in South Africa. Statistics South Africa has also recorded steady growth in the restaurant and coffee shop sector with year-on-year revenue growth at 4.5%.
Cape Town's 'coffee capital' status is further entrenched by the Mother City's consistent exposure on international travel blogs. A case in point is Truth Coffee being voted 'the best coffee shop in the world' by the British Telegraph.
Coffee and Property
You may ask what this explosion of coffee culture has to do with property prices? According to Janet Lightbody of the Ikon Property Group – a whole lot. (And that's besides the known side- effects of caffeine).
When you position a high-end café such as the Seattle Coffee Company in a commercial building, positive spin-offs are substantial, not only for the landlord, but for the neighbouring tenants too. "Recognised brands such as Seattle Coffee Company add immense value to a building by acting as a drawcard and increasing customer footfall for neighbouring stores." Janet maintains that tenants such as Seattle Coffee Company can afford generous fit-out budgets and often transform a blank canvass into a superior retail space, an additional advantage for landlords.
"By leveraging group buying power they are able pay competitive rentals and commit to longer tenures. This investment can often result in the landlord's building grade being re-rated and landlords enjoy strong tenancy covenants – ultimately a win-win scenario," adds Elton Holland, Director Ikon Property Group.
Benefits of Collaboration
With a preferred commercial property broker on board, the Seattle Coffee Company has the benefit of mapping out their expansion plans collaboratively with a property specialist who is not only well-connected, but also equipped with area-specific knowledge. In turn, the broker's search for ideal sites for new stores is informed by a shared strategic vision – to the benefit of their client.
The Seattle Coffee Company, which is Direct Trade (families who grow and pick the beans are paid directly at least 23% above Fair Trade) and wholly SA-owned, recently opened a store in The Palm's, a rejuvenated old bakery in Woodstock and at 4 Regent Road in Sea Point. Both sites were identified and brokered by Ikon Properties. "Working with Janet Lightbody, IKON Property Group, has been great. She has integrity, is professional and continues to represent Seattle Coffee Company in our property capacity." Barry Parker, Seattle Coffee Company.
As the coffee culture continues to brew in Cape Town and nationwide, new Seattle Coffee Company stores can be anticipated on Church Square and in Newspaper House in the CBD. With their 'no-compromise on quality coffee' attitude and sustainable ethos, we are likely to see Seattle Coffee Company becoming part of the DNA of a growing coffee society in South Africa. And as they expand their coffee footprint – they are positively influencing commercial & retail property prices along the way.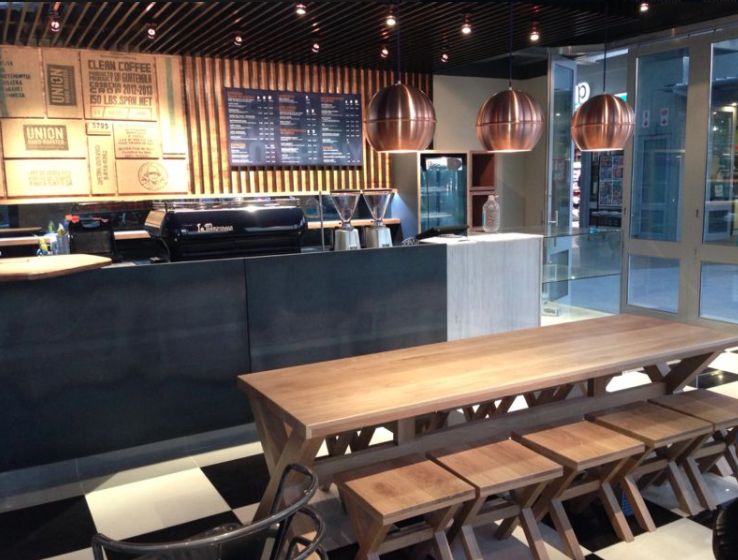 Got something to say? Then leave a comment!
---
Barista of the Month - September
Friday, 8 September, 2017
Got something to say? Then leave a comment!
---
WATCH: Brew a V60 Pour Over
Friday, 1 September, 2017
Enter our competition below!
If you've ever wondered how to make the perfect V60 pour over, then you've come to the right place!
All African Barista Champion 2017,
Craig Charity
, from
Lineage Coffee
, gives some insightful techniques on how to get the best out of the Hario V60, and also shows off the new Zip Hydrotap from Franke South Africa.
If you liked this video, be sure to check out the next video in the series..
"How to brew the perfect Plunger"
:

To enter to win your own V60 Pour over Set, simply watch the video and answer the question below!
Win a V60 Pour-over set!
Got something to say? Then leave a comment!
---
WINNER: Barista of the Month August
Friday, 1 September, 2017
Congratulations to our first monthly winners!!!
Barista
Stevo Kuhn
from
Royal Coffee Roastery
in Bloem is the first winner of the Barista of the Month award. He wins a R1000 cash prize! - Well done Stevo!
Edward, who nominated Stevo, by posting the selfie, wins an epic coffee hamper, including a brewing device, a hand grinder, an e-coffee cup, some delicious coffees and some wonderful Selati sugar products!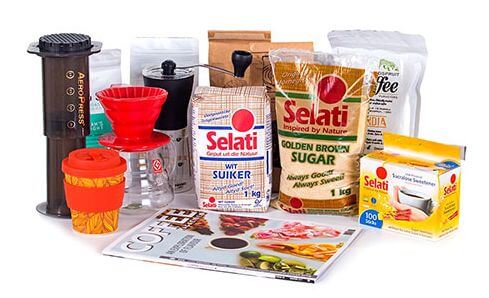 If you would like to nominate your favourite barista and stand a chance to win next month's hamper,
click this link
Got something to say? Then leave a comment!
---
Meet SA's Aeropress Champ: Khan Chang
Thursday, 31 August, 2017
You're the new SA AeroPress Champ and you're going to Seoul! How does that make you feel?
I am grateful of Caffina the Coffee goddess, who has embraced and blessed me with opportunities in coffee, and now has crowned me with the title of South African AeroPress Champion and she's sending me off to battle for the World AeroPress Championship! I am deeply humbled by the opportunity and the upcoming experience, but at the same time, worried about meeting expectations. Here's to bringing back the title to honour Caffina!
Um, Ok Chang. Thanks for that.
(Ed's Note:
check this out for more on Caffina
It may or may not be a real thing, unless you're Chang!)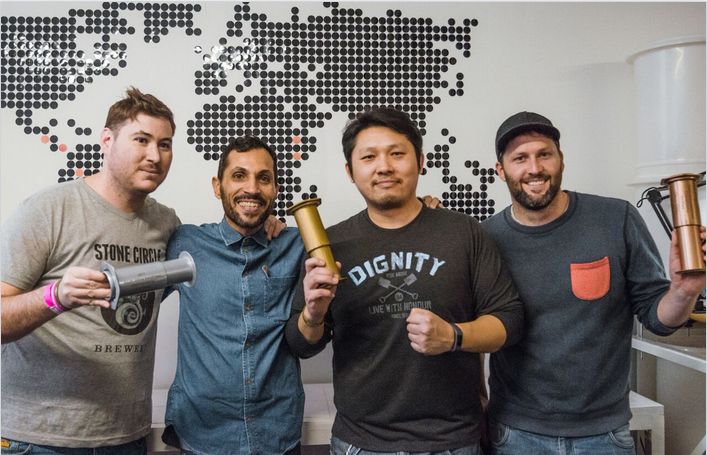 Chang, with his Golden Aeropress, (3rd from left) the trophy for numero uno AeroPress barista at The SA Champs, held at Espresso lab earlier this year.




What do you love about the AeroPress and what is your top tip for people using one for the first time?
Like every manual brewing device the opportunity of discovering great flavour is between you and your brewing equipment. AeroPress has made it simpler for any coffee lover that wishes to know more about manual brewing a great and fun way to enjoy their favorite coffee anywhere. For the first time user, first pray to Caffina for guide and wisdom! Then, go to your favorite Roastery (Uncle Bear Coffee, of course) to show you the basics and pick up some beans. You can also
watch it on YouTube
on how to, but most of all: Have Fun! (And use good water - 88 Celsius.)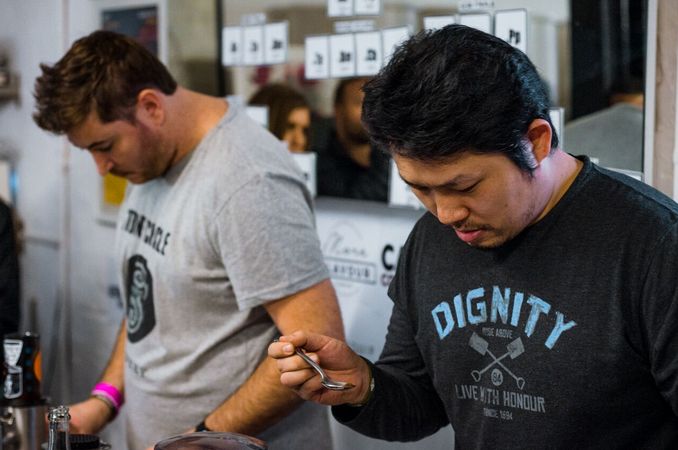 What was the moment in your coffee journey that you decided opening a cafe was in your future?
Caffina (in her ineffable graciousness) said to me, "Go! And spread my love to all! Enlighten them with my glory and show them what is COFFEE!" But I don't have enough to set up, I said to her. She said to me, "Ask, and you shall receive!" That is when I realize there is a cafe waiting for me.
Ok, so that was when Uncle Bear Coffee Company came about?
On a very ordinary day, I was communing with Caffina and Syphon coffee, I asked her for a name for the cafe because so many names have been taken already, either locally or internationally, when my niece runs towards me and ask what is it that I am doing? I explained to her and let her smell the aroma, she took a deep sniff on the nose and said, "Uncle Bear Coffee".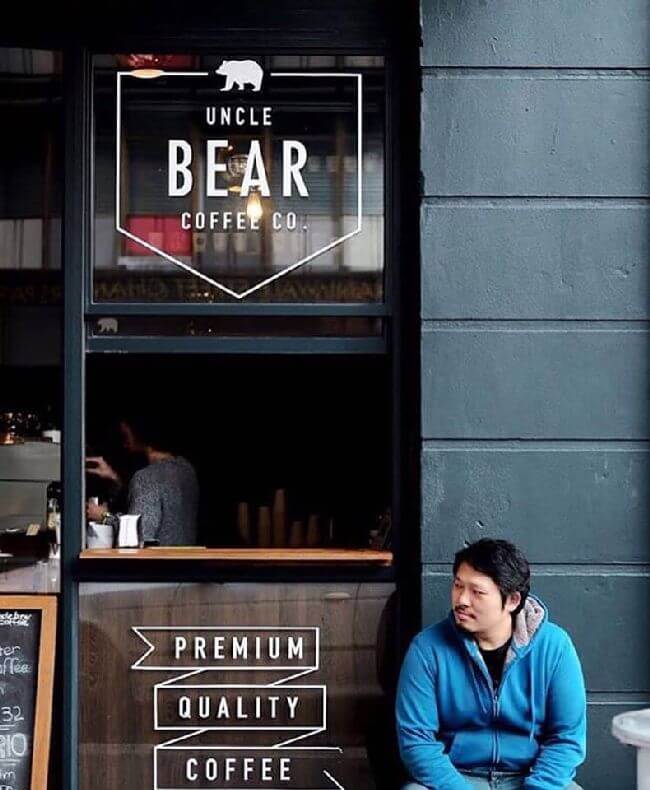 And you're roasting now? How has that experience changed your perspective on coffee?
Yes I am! The more I learn about coffee through roasting and brewing, the more I feel humbled on the this journey. The more I KNOW, the more I DON'T KNOW.
Good Luck in Seoul Champ!

You can follow all the action here: http://www.worldaeropresschampionship.com/
Got something to say? Then leave a comment!
---
Tribe Coffee at TEDGlobal
Friday, 1 September, 2017
Tribe Coffee Roasting partners with TEDGlobal 2017 in Tanzania
After 10 years, TEDGlobal is returning to its roots at the 2017 conference in Arusha, Tanzania to discuss the remarkable growth and unique challenges that continue to face the African continent. Aligning with TEDGlobal's desire to remain inquisitive and continue to learn, Tribe has offered conference participants an opportunity to explore their own curiosities surrounding coffee from the African continent and beyond.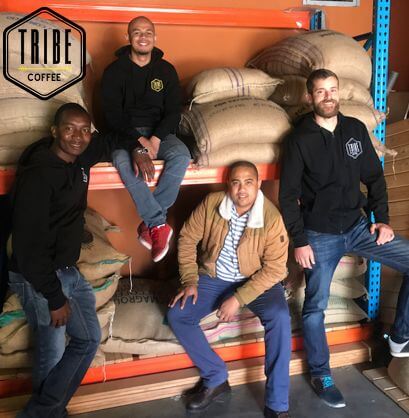 The Tribe team has spent nearly a decade mastering the science of roasting, cupping hundreds of different beans, and becoming green bean assessors. Combining science with artistry, this honest coffee brand has provided novices and pros with complimentary cups of coffee and multi-sensory experiences that has helped them get to know the story behind the coffee they are drinking.
Spreading ideas through talks and conversation, TED is a nonpartisan, nonprofit that covers a range of topics from dinosaurs to potable water, in more than 110 languages. During the 2017 event, TEDGlobal has brought together diverse participants across a variety of industries, from creatives to entrepreneurs to technologists, offering a platform that connects people who have the power to effect positive change.
Among the world's leading history makers and shakers, Tribe Coffee Roasters have shared their passion for not only coffee, but the growers, producers, sellers, and connoisseur who dedicate their lives to the art of coffee. With a passion to influence coffee drinkers from all backgrounds, the company strives to continue making quality coffee at an affordable price.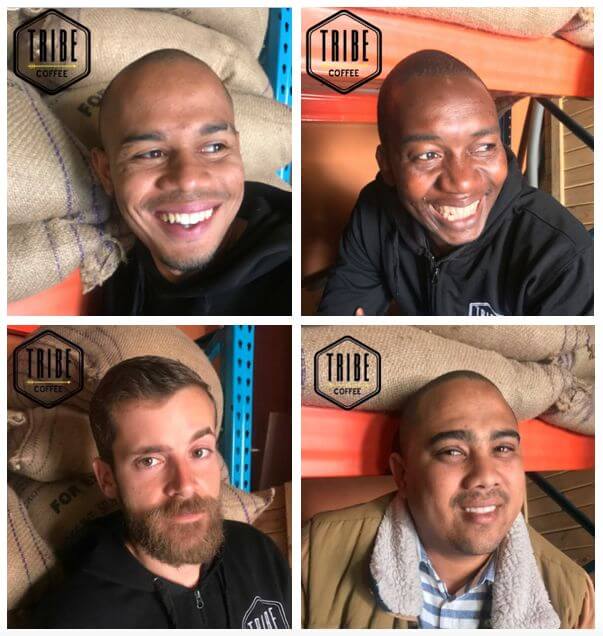 Owner and co-founder Jake Easton believes that 'coffee is not just about the moment when you are enjoying your cup, the beauty of the bean is that it's alive with a story to tell. We have enjoyed sharing our story at TEDGlobal 2017.'
Got something to say? Then leave a comment!
---
I Love Coffee: SA's Deaf Run Cafe
Thursday, 31 August, 2017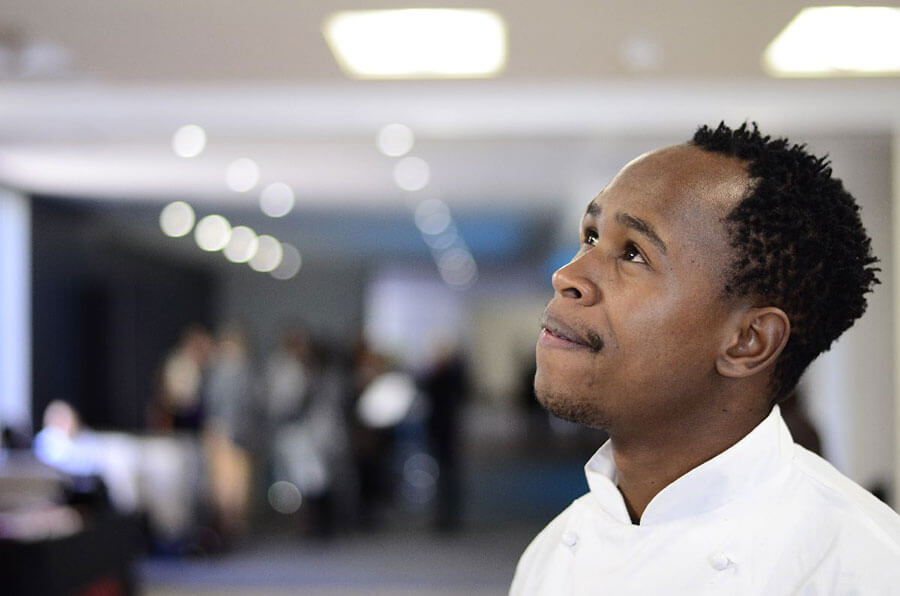 I Love Coffee

Saatchi & Saatchi Building
16 Ebenezer Road
Green Point
Cape Town
We caught up with Gary Hopkins, founder of I Love Coffee!

How did the cafe begin? And what makes coffee such a great fit as a career path for deaf people?
I opened our first cafe in June of 2016 after a visit to DeafSA where I was told about the social challenges facing the Deaf. They stem largely from the fact that South African Sign Language (SASL) is not recognised as an official language. That means due largely to ignorance, hearing people class the Deaf as disabled because we can't speak SASL. From the outset I must stress I am not a spokesperson for the Deaf, I'm only relaying what I have learned. The Deaf refer to Deaf culture, which in layman's terms refers to their language and the way they live their lives from the use of light alarms to how conversations are held. It really is no different from say Italian or Japanese culture in that being unique doesn't imply something less.
I can't speak for other coffee brands but we set out to break the communication barriers between the hearing and the Deaf and coffee seemed a logical starting point. Coffee is the great equaliser and for some of our baristas it is merely a launching pad into other careers. What makes I Love Coffee unique is that we offer all our staff the opportunity to own a cafe which I believe is pretty unique.
Are all the employees at i love coffee hearing impaired? Do you have a partner organisation that you work with to identify people who would love to work in the cafe space?

One of our aims is to created an integrated work environment. We feel it is as important for our Deaf staff to learn cafe skills as it is for our hearing staff to learn SASL. As a rule of thumb we hire 2 Deaf staff to 1 hearing staff member. We don't only hire Deaf baristas, our kitchen staff and cashiers are Deaf too. Initially we hired NID graduates but we don't have any formal partnerships and we now interview staff from CVs that are sent to us

What was the training process like? I know if I ever train someone I tell them to listen for the sounds especially when it comes to steaming milk, was an interpreter utilised?
Initially we trained with an interpreter but now our head barista trains both Deaf and hearing staff. Yes they are audio clues but we soon learnt that the visual clues are just as distinct.

What has the reception from the public been like in your first year of trading?
Overwhelmingly positive. We do a lot of pop-up events and people often don't even realise they have been served by a Deaf person. We've also seen our regular customers embracing signing and are eager to learn more than just coffee signs.
What are your goals at I Love Coffee?
Our immediate goal and need at the moment is to get our training accredited. We are looking for sponsorship right now to make that happen. It is very important that Deaf train Deaf in our organisation, that for us is real empowerment. After that you'll have to wait and see. All I can say for now is that we are not afraid to dream big.

Please forgive our ignorance, Is sign language different from country to country?
Yes every country has their own sign language. Even across South Africa we have different dialects, but in its purest form it is non-racial and as it isn't linked to any one spoken language. If we learnt SASL we would all be able to communicate with each other. The one hilarious difference between American Sign Language and SASL is that the sign from "name", as in my "name", means toilet in SASL.
Were there signs for cappuccino etc or did you create new signs?
Most of the signs did exist but some our staff have come up with. Our company name for example was one that was created.
Got something to say? Then leave a comment!