The Neighbourhood Barista shares his search for his God Cup
Friday, 15 September, 2017
"I recently read your editorial in the Autumn 2016 edition of the Coffee Magazine about Finding the God Cup. This small, yet very interesting editorial sparked my interest in writing a little piece on my own experience of the God Cup for my blog."
We love hearing from our readers! Thank you to JP who took the time to share this with us!
---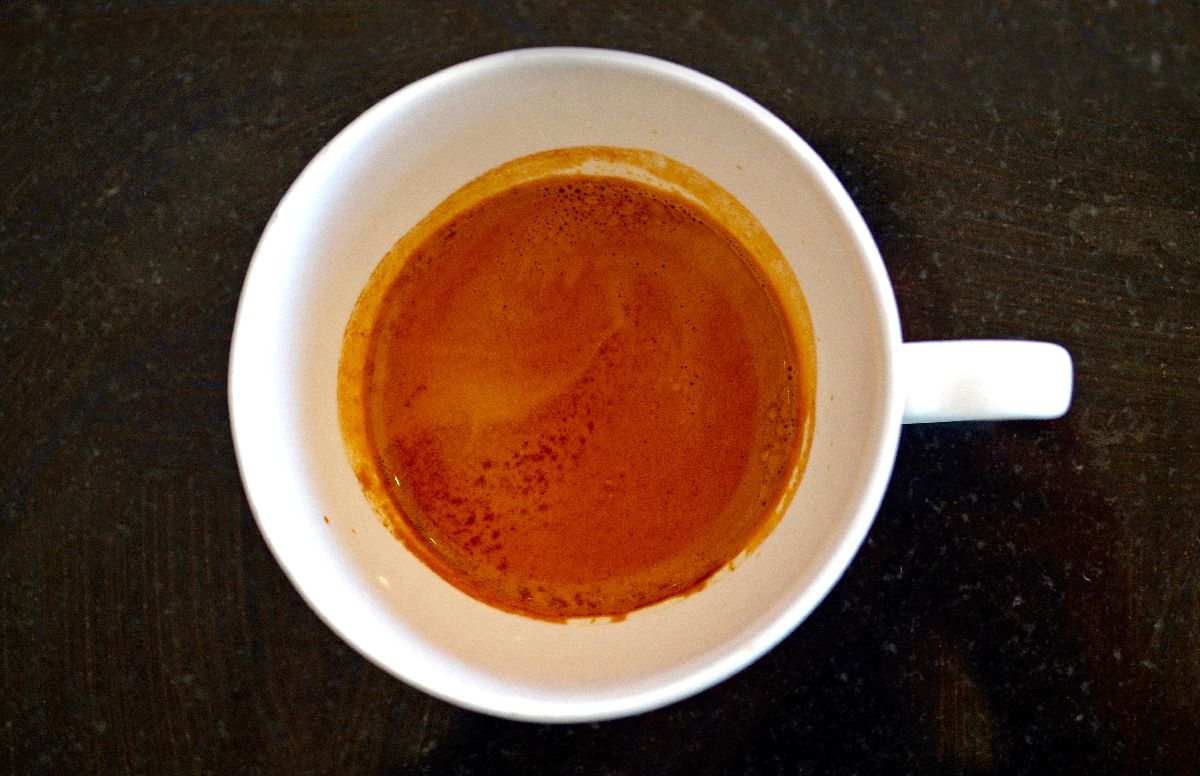 The Search For The God Cup.
Submitted by JP Blignaut, originally published on his blog The Neighbourhood Barista
The years have accumulated so quickly, I can hardly remember exactly when it happened. It was about three years ago to be precise. The busy parking area in front of the Thai food restaurant that I was working at the time was filled with people doing their daily grocery shopping. A colleague and I enjoyed the spring breeze, as winter has just been swept under the carpet. A fellow friend and employee parked her car near where we were sitting and carried a plastic bag, the content yet to me unknown. As we boil the kettle and she sets up her apparatus, I find myself for the first time in the presence of an Aeropress. The strange looking cylindrical equipment, brewing my first cup of coffee for the day truly intrigued me. As I take that first sip, with a grin and a smile, and get the fresh aroma of freshly ground coffee, dark roasted nuts and hints of honey – I indulge my senses in this extremely flavorful coffee experience. With my knowledge about coffee still being very slim, I can to this day remember how that cup of coffee truly opened my eyes to the world of specialty coffee.
Three years down the road, numerous amounts of coffees later and speciality coffee still leaves me with a tingle on my spine. After so many different coffees and origins, I find it difficult to reminisce the true excitement of absorbing speciality coffee. Don't get me wrong, coffee still leaves me speechless every time. In the process of improving your knowledge on coffee and finding that one special cup, we in a sense are looking for that God Cup. The cup that started everything. The cup that took you from drinking a normal hot beverage to looking at coffee differently in every aspect. Yet, here we are. Testing, improving and experimenting each day with new and different coffees, still in the search of that perfect God Cup. To my senses, it is very subjective from person to person, although it is almost hard to say that your God Cup may never cross your path again, there is almost that small lingering excitement inside of you which transcends you into the playing fields of specialty coffee. Over the last few months, I have learned that looking critically at each coffee removes many different variables which will or can only draw you closer to finding the God Cup.
Although it is somewhat extremely difficult to find your God Cup in a crowd of second wave drinkers, the possibility still exists. Yet it is not what other perceive of coffee, but rather what you make of it. The coffee movement and revolution in small towns and cities, like mine, has made it ever easier for me to never stop looking for my flavourful friends. The world has now become a place inside your pocket, with a view taps on your phone, you can order different varietals of coffees from anywhere at any time. The experience, priceless. What has made us become so indulged and so intrigued with coffee, that we don't mind looking at the price of the coffee before buying it? Nothing stops us from looking for that one cup of pure enjoyment. Yet, it has made it possible for us to use our God Cup experience as a sort of reference. We never stop, that is the true magic of this madness. But what many will disregard, we take the seriousness of our coffee to new frontiers. Yet coffee never fails to impress, we are in a sense just looking for that God Cup to create something new in our lives, may it be finding new brewing methods, or perhaps re-inventing already existing coffee brewing methods.
As the years have turned into so many memories, from my very first French Press to purchasing my Aeropress, to indulging in what a Cortado is, the God Cup has not yet made its way into my life again. As I draw closer to the end of an exciting time in my life, with my university studies 7 weeks away from being finished, I can truly say that this is the end of a history which will only start the trail of many new and exciting things, one of them being speciality coffee. The innocence of the God Cup, the power of the indulging flavours and the true excitement of enjoying each coffee in many different forms creates the path for you to look further than your current horizons. Today it is the flavorful notes and characteristics of pour overs and weighed espresso's which draws me into the complex and exciting world of specialty coffee. Nevertheless, the God Cup is out there, we just need to look for it. A single cup of coffee can change your life in one sip. Looking for that God Cup may take years, perhaps you and myself may never find it again, but until then the true beauty is that we must never stop looking for it.
Unfortunately this comes with a price and a label. The price of perhaps denying certain coffees or disregarding the fact that one coffee may not be so good above others. We are labeled by a society of second wave drinkers as coffee snobs or perhaps spoiled coffee lovers, but we are only looking for that one thing which has changed our lives for the better. So where will your God Cup take you? The possibilities are endless, perhaps the journey is only now starting, yet the idea or the notion that one can find that true God Cup again one day is what drives us to never stop looking, never stop drinking and for the rest of our lives, never stop tasting the world through one single sip.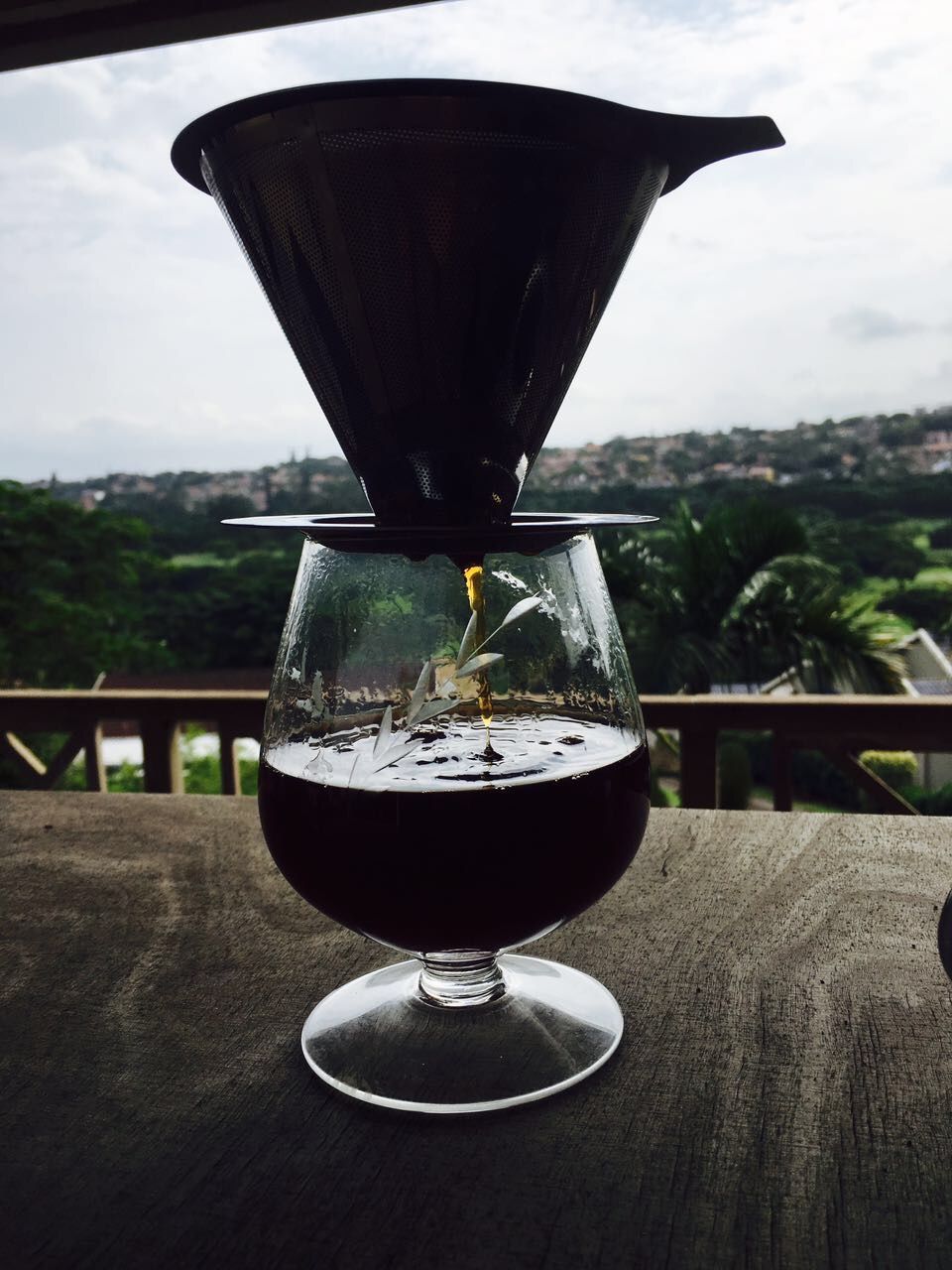 Got something to say? Then leave a comment!
---
Instant Gratification: A look into the biggest selling coffees in the world
Friday, 15 September, 2017
Instant Gratification
Words by Jake Easton
Photos by Craig Kolesky
First published in Issue 8 of The Coffee Magazine

---
The speciality coffee community is still in its infancy in this country and the vast majority of consumers (even those who have converted to fresh roasted beans), still keep a bottle of instant in their cupboards. It's ok, we're not judging you! We wanted to investigate the coffee industry's biggest and most controversial player. Who better to take on this challenge than a seasoned coffee roaster, someone on the opposite end of the coffee spectrum, a man who generally has something to say about everything, Mr Jake Easton. He dove headfirst into the freeze dried beans…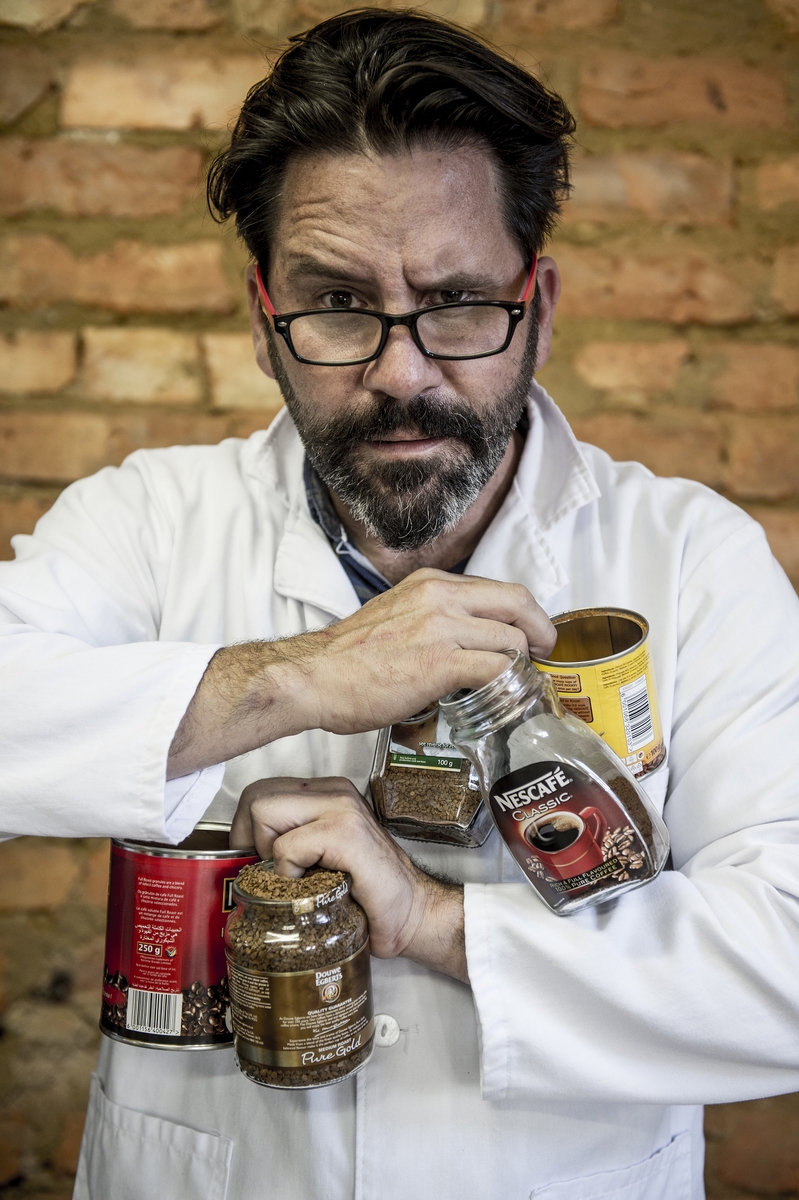 In the small world of South African Coffee there are any number of interesting characters who range from the heads of small businesses (less than 100 tons roasted a month), to café owners in Zastron (is a tiny agricultural town in the Free State), to tiny 2kg roasters in the far flung reaches of this beautiful land. As a part of this industry, I can tell you that the people in it really love the industry. It's a small, exciting, fun, free from governmental abuse, temperamental, and good industry. On the whole, we get along nicely and play in our small sandbox together, sharing like good adults (well some of us). I use the word 'small' because on the global scale of coffee production we are minuscule, per a very well informed man at the recent 2015 Gauteng Barista Championships, "We import for annual production 16 000 tons of green beans to this country". Here's the kicker, the majority of that coffee goes into the production of Ricoffy and soluble coffee, roughly 11 000 tons. That ratio is relevant because it's important to note that the instant coffee industry (better known as Water Soluble Coffee or simply Soluble Coffee) is so big that for many years it drove the coffee industry worldwide.
Nestlé (the lovely women and men who give us Nespresso and other nifty market beaters) claims that 5,500 cups of Nescafé are consumed every second. (Don't do the maths, its scary.) It works out to roughly 2 million plus kgs per day and about 780,000 tons a year.
I recently had a chat with Lionel de Roland Philip of I&M Smith, one of the oldest green bean importers into the country and he is currently the Chairperson of the Speciality Coffee Association of Southern Africa, in other words he is a seriously clever man in the World of coffee. He explained that the Freeze Dry method of making Soluble coffee loses 35% or more of its mass from roasting through processing; therefore, Nescafé produces roughly a million tons of coffee for Freeze Drying every year. Nescafé are market leaders controlling something like 30 to 35% of the Soluble market production. That means that over 4 million tons of coffee produced annually are for the sole purpose of Soluble Coffee. To quote a fantastic children's book, "Now that's a lot."
Instant coffee was first patented in New Zealand in 1890 by Mr David Strang of Invercargill (Patent No. 3518). So we can blame the Kiwi's for foisting this sometimes insipid drink upon us all! There are rumours of it having been invented in 1771, but lets just give this credit to the Kiwi's and be done with it. The spread of its popularity could be attributed to post-World War II when resources were scarce but need for caffeine remained high. Many consumers decided that the convenience in preparing a cup of instant coffee more than made up for a perceived inferior taste. Perhaps that is still the case today.
There are two main types of Soluble coffee production (apparently one makes for better flavour than the other): Freeze Drying and Spray Drying.
The Freeze Dry method takes a roasted coffee bean and grinds it down to 0.5 to 1.1 millimetre granule sizes and then dissolves them in water at temperatures between 155°C to 180°C. This period of soaking in warm/hot water concentrates it into a solution of about 15% to 30% coffee by mass. This mass is then sublimated. Yes, that's really the word. The mass of wet coffee granules are rapidly frozen, placed in a drying chamber, a vacuum is created within this drying chamber, the chamber is warmed causing the water molecules to expand to ten times their previous size and a condenser attached to the vacuum removes all the water vapour, leaving behind Nescafe, Maxwell House, Koffiehuis, Douwe Egberts, Jacobs and many others. This is considered the higher quality method.
The second method called is Spray Dry. It takes the roasted coffee as above but grinds down to round particles of 300 micrometers (0.012 millimetres). This granule size is accomplished in some cases by high speed rotating spray wheels travelling at 20,000rpm which are able to process 27 tons an hour. These spray wheels have a very wide radius in order to avoid the condensation droplets on the inside of the drying chamber. This process takes between 5 to 30 seconds and the small particle size means the grains must be either steam fused into granule towers or by belt agglomeration (shaken baby not stirred). Ricoffy (a blend of coffee beans, chicory and glucose), South Africa's most-loved uses this method.
Wow! Those are quite intense processes. While we can all agree that nothing is being added to the coffee, I think we can also agree that the beans are roughly tossed about in the name of convenience and longer storage time. Our small coffee industry outrightly scorns instant coffee and all that it represents. Let's investigate why.
Well in two words, Taste and Aroma.
Our roasted coffees have inordinately more aromatic phenols and esters (over 900) than instant coffee (+/-300) in other words you can smell and taste the difference instant-ly.
That doesn't change the fact that there's more instant coffee consumed in South Africa than roasted coffee by a factor of almost 3:1. So who am I to say that South Africa's favourite drink is anything other than loved? In the hopes of finding out how I can make a great cup of instant coffee I applied my sober mind to the idea that there must be a solution and what I found was there seem to be as many solutions as there are people. Of course, I had to try as many as possible.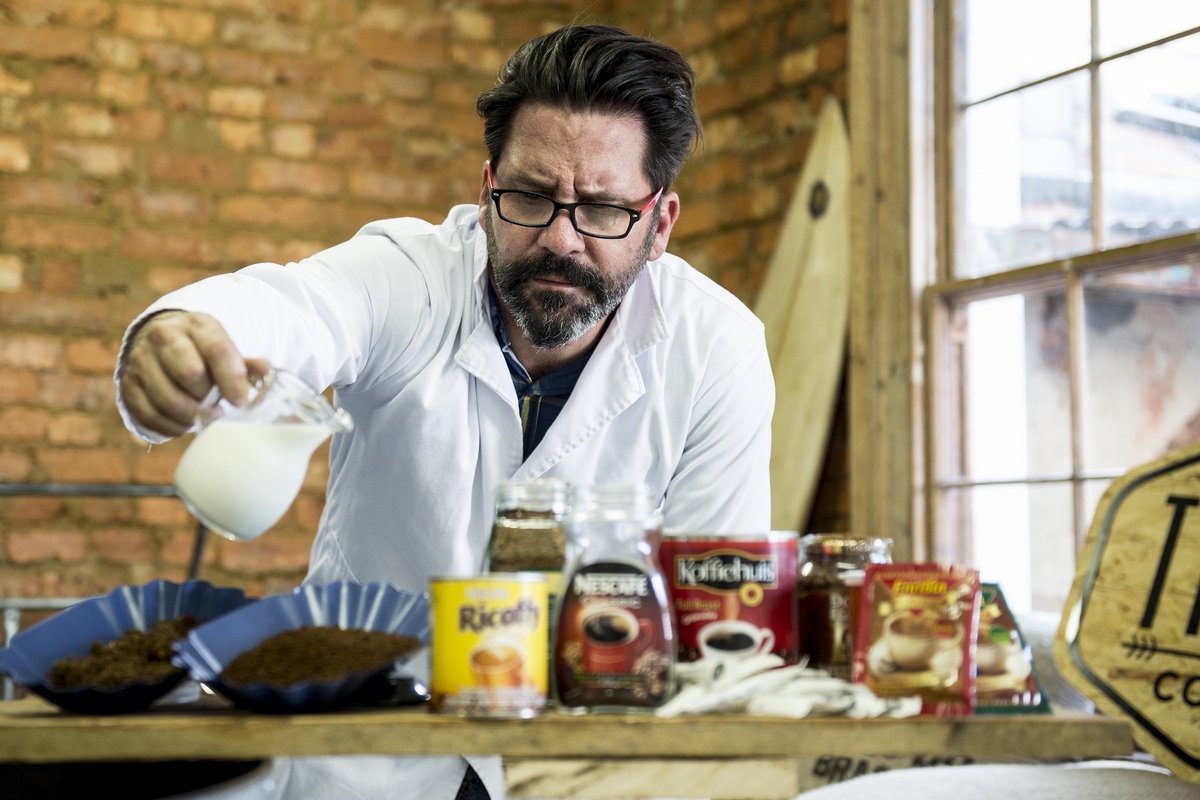 In the Overberg the farm labourers use a pinch of BB tobacco along with three spoons of sugar and warm long life milk. I tried it. It is so clearly not coffee, but something otherworldly indeed. Compared to some imported coffee brands it tastes good.
In Gauteng, I was treated to Douwe Egbert dissolved in cold milk with honey added and ice cubes inserted to cool the blend. It was remarkably palatable; in fact it didn't taste like typical instant coffee but more like a well-stored Montecristo cigar (read: lots of Robusta aromas and tastes).
In Zastron, I was treated to an undeniably wonderful Irish Coffee that uses a tablespoon of sugar, a drop of boiling water, two spoons of Ricoffy, warm milk, a healthy triple shot of Jamesons and a dash of cinnamon on top. The Jamesons certainly mixed well with the sugar and Ricoffy and was a pleasure to drink neat. The obvious alcoholic concoction wouldn't pass World Barista Championship speciality drink standards but by Dionysian standards it was perfect.
In the town of East London, whilst trying to remember the misadventures of the night before, I was given a warm brew of milk and two types of soluble coffee, Jacobs and Maxwell House, a spoon of each with no sugar but the milk had been heated perfectly and released all of its natural sugars. It was interesting as a Babalas remedy, until I went back to sleep.
In the Tribe Coffee roastery I wanted to play with the savoury side of Ricoffy, so I experimented with Ricoffy and lime juice, Ricoffy, Lime Juice and Tequila, Ricoffy, lime juice, tequila and salt. The experiment was fun but led to more Tequila and no Ricoffy. Don't try this at home kids.
The next day I added one tablespoon of Ricoffy to 40ml of 60% melted milk chocolate added a touch of micro-textured milk (70°C-82°C) whipped them together and added the remainder of milk to make a touch of Latte Art and wouldn't you know it but the drink was good. Speciality coffee industry good. In the next moment I made a double shot Tribe Espresso roasted flat white and added the same amount of chocolate. The two drinks were miles apart. Both so different, and both of them, in the application within which they live, good to the last drop.
Now, will I convert to drinking soluble coffee as a result of these findings? Nope. But do I now understand why the majority of coffee consumers drink soluble coffee their way? Absolutely.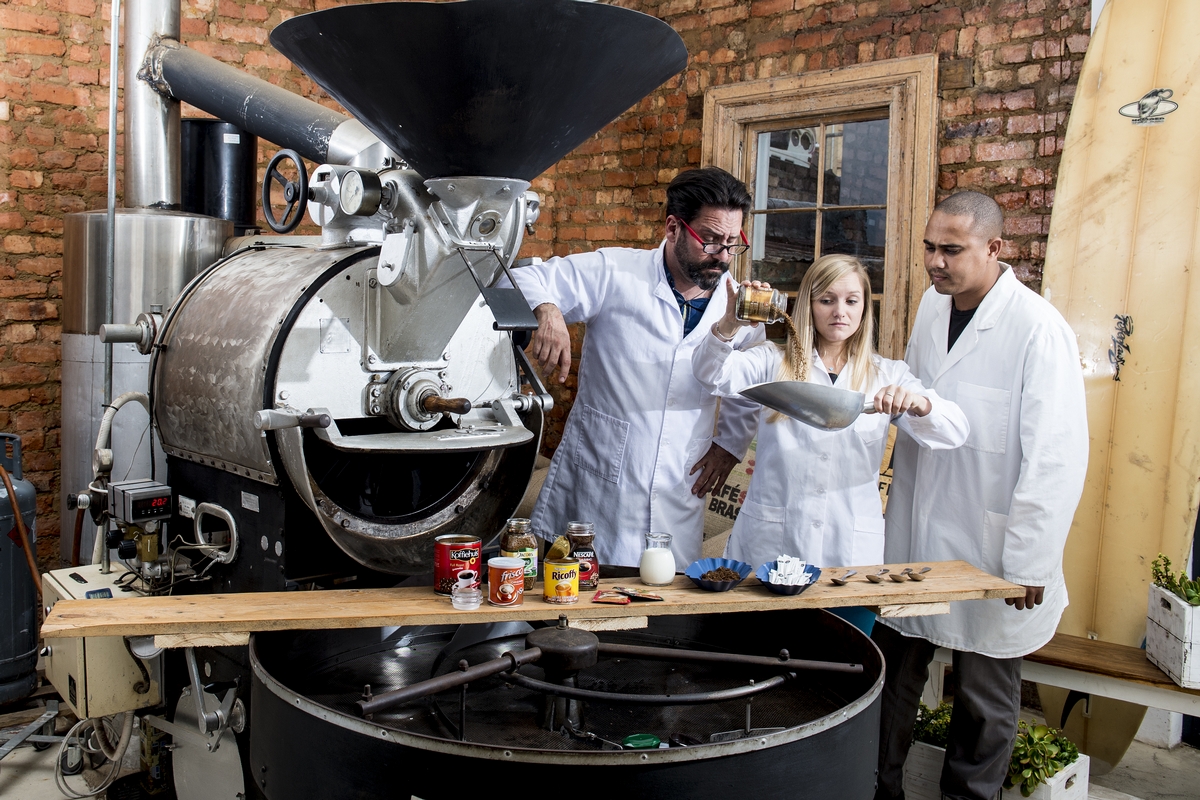 Got something to say? Then leave a comment!
---
Stand with Emil: Support our coffee industry friend in his brother's fight against cancer.
Thursday, 14 September, 2017
Dan Erasmus is a part of the South African coffee community. You may recognise his noteworthy beard from around Durban (Colombo Coffee) or more recently, Johannesburg with Firebird Coffee. He was the 2013 South African AeroPress Champion and he has a bright future in coffee, we can't wait to see what he does next. Terrible news has recently struck his family.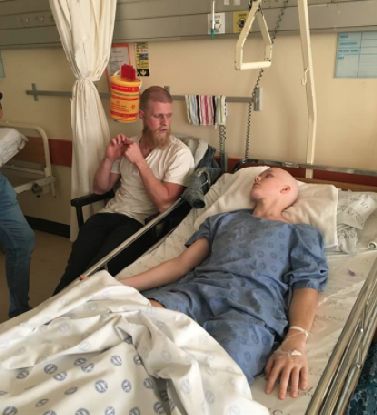 His younger brother Emil (only 16!), a talented musician (a flautist) part of the KZN Youth Orchestra, was diagnosed with bone cancer earlier this year and the family is doing everything in their power to get him healthy again.
We know there are so many families suffering with the struggle of affording proper care for this disease, but every bit helps and if you can help young Emil Erasmus, I'm sure karma will reward you with some delicious coffee somewhere along the road.
You can
donate on the Facebook page
.
Or visit the
Backabuddy donation page
.
Good luck Emil!!!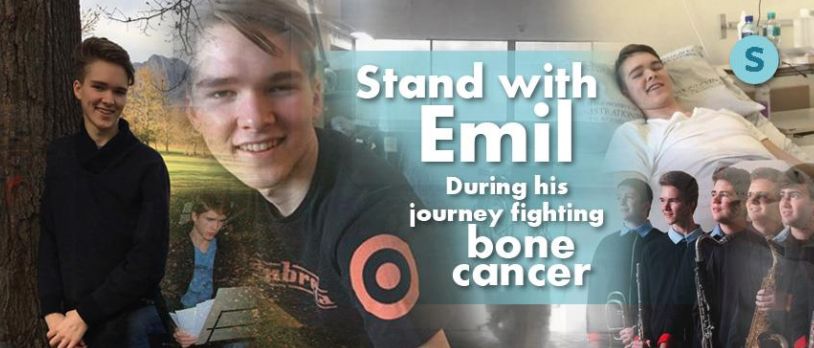 Got something to say? Then leave a comment!
---
Cafe of the Month - September
Friday, 8 September, 2017
Got something to say? Then leave a comment!
---
Naked Kitchen and Coffee Bar
Thursday, 7 September, 2017
Naked Kitchen and Coffee Bar
Shop U38, Morningside Shopping Centre, Rivonia Road, Morningside, Sandton

---

Naked Coffee
began in Melrose Arch and gained a cult following serving coffee to the passing trade from their stylish coffee hutch, now they've now spread their wings in more ways than one to a new location in Morningside. They've expanded to include an amazing menu to accompany their amazing coffee which is now being brewed on a Victoria Arduino White Eagle. The most beautiful wings in the business!
They've brought their trademark sexy style with them along with their trademark naked portafilters. Word is, this is the new place to be seen!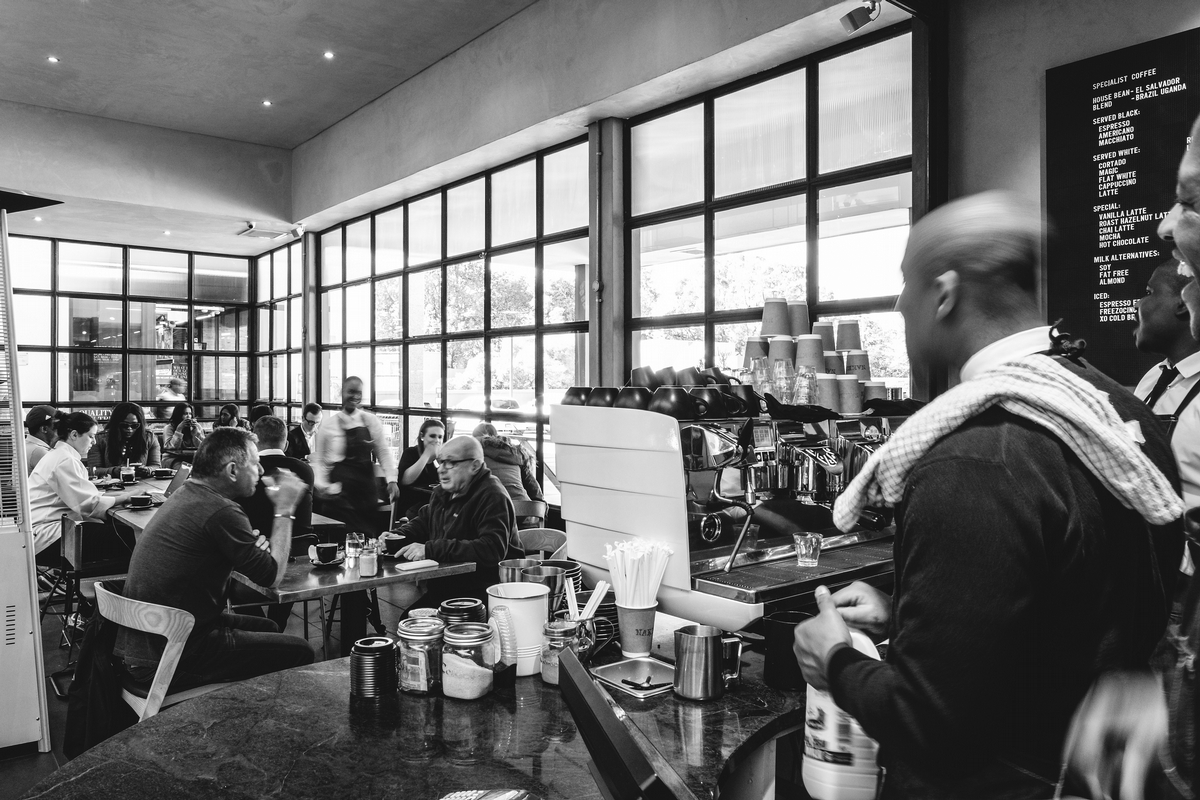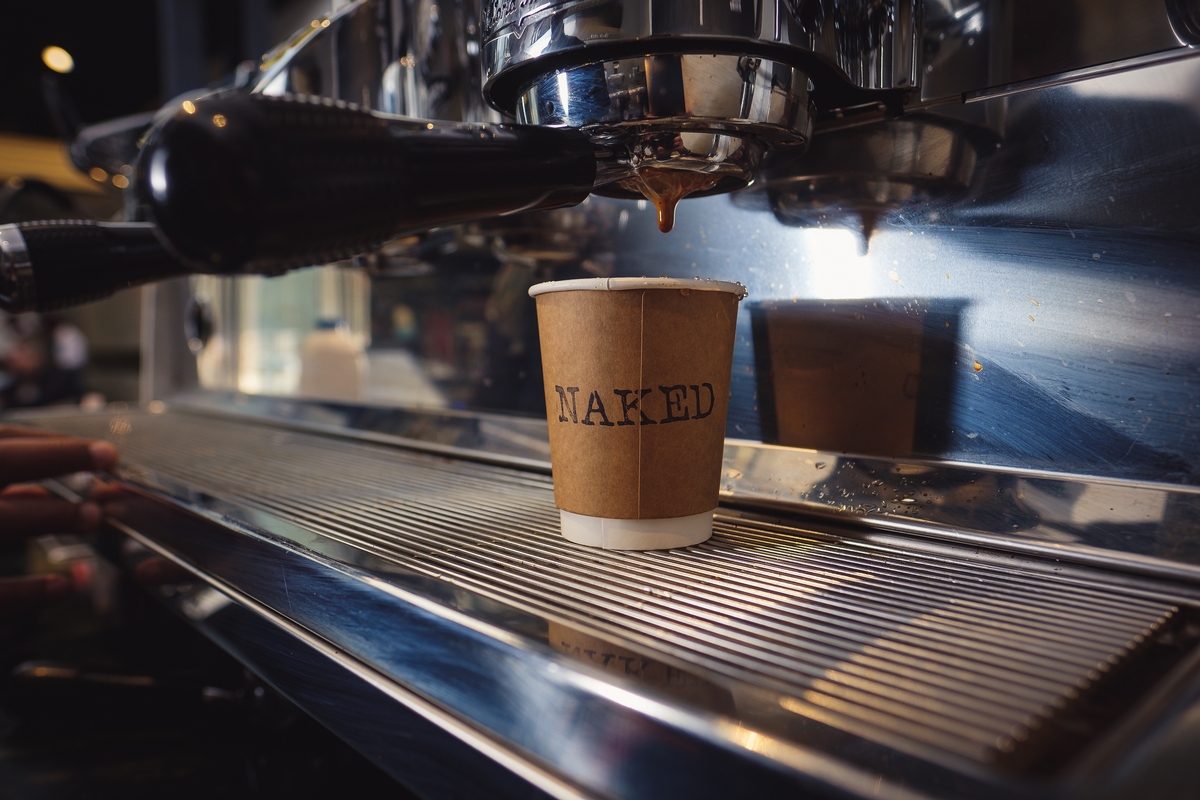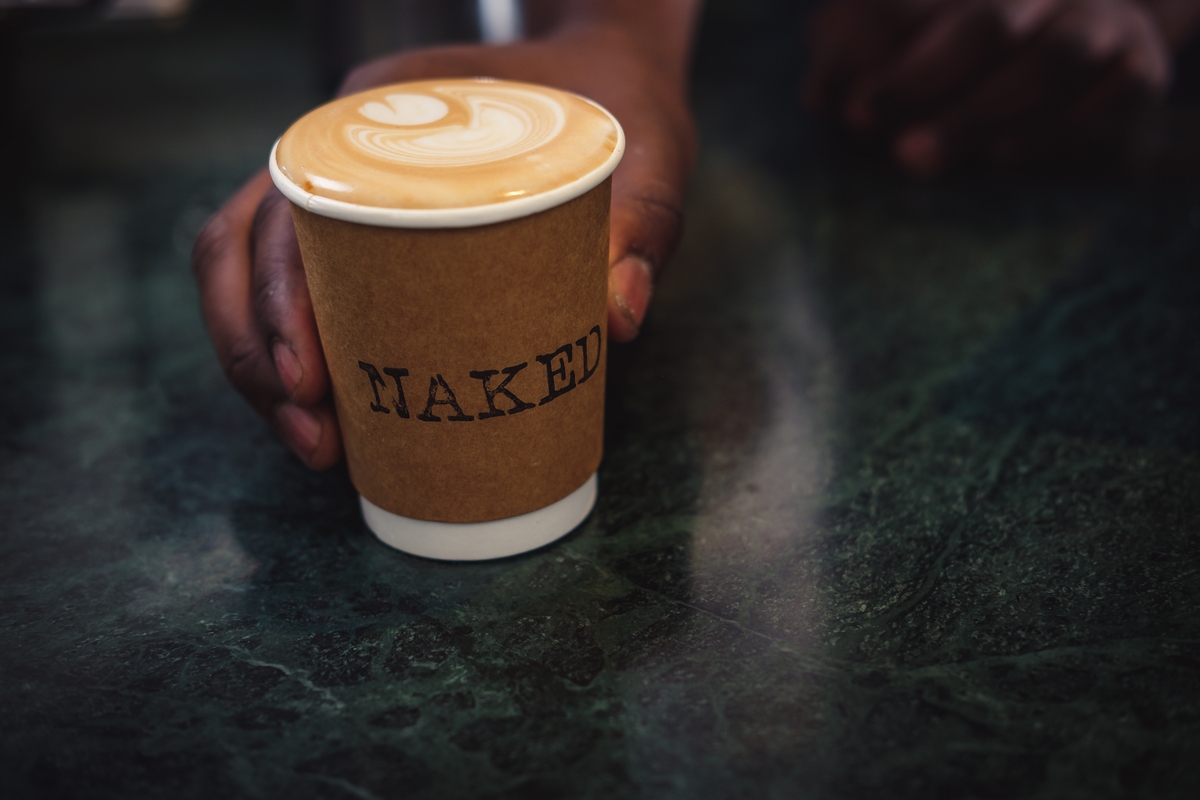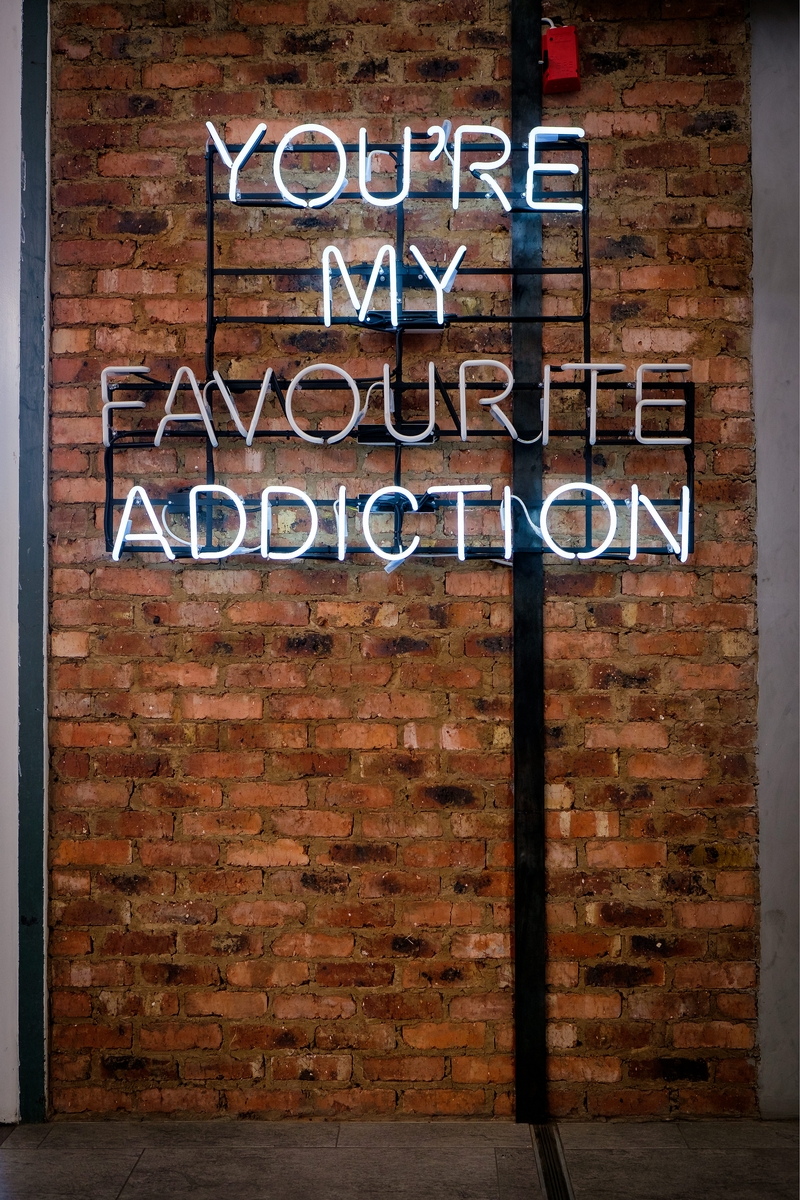 ---
Gourmet to go at the new Naked Kitchen & Coffee Bar
Fresh produce, gourmet coffee, home-style cooking – and all 'to go'. The Naked Kitchen & Coffee Bar, a new foodie and coffee concept by the duo behind Naked Coffee, brings the global gourmet deli trend to Johannesburg. The Naked Kitchen & Coffee Bar, now open in Morningside Shopping Centre, was inspired by Shaun Els and Victor Barbosa's international travels, passion for coffee and love for fresh, seasonal food.
'A love for coffee, paired with an acute attention to quality was the driving force that led us to begin this journey, which drove us to open Naked Coffee in 2015,' says Victor Barbosa. 'Naked Kitchen is a recipe consisting of the things we love - fresh produce, passion and beautiful home style cooking. The word Naked ties in perfectly as it represents the "raw" seasonal produce that is carefully considered and sourced. These Naked ingredients are passionately put together and cooked to perfection by a very talented team of young chefs.' The gourmet deli, led by head chef Sasha Simpson, specialises in breakfast, lunch and early dinner. Patrons can select a protein and sides to eat in or take away, and can fuel up with gourmet coffee made from its own blend of Naked Coffee beans. This focus on fast, yet flavourful food and coffee makes the Naked Kitchen & Coffee Bar the perfect on-the-go eatery for Joburg's growing foodie community.
The Naked Kitchen & Coffee Bar isn't only geared towards tantalising taste buds, it aims to engage all senses with its sleek, stylish décor. The modern interior was created by Tristan du Plessis, founder of boutique interior architecture firm Studio A. The space was custom created and includes interesting furniture, leather and brass light fittings and handmade forest green tiles. Various textures – wood, leather, steel, brass – come together to create a chic, contemporary space.
'Our vision is to create a brand of excellence that can stand out in any city across the globe. Johannesburg is just the beginning,' says Victor Barbosa. "We are fuelled by caffeine and dreams"
The Naked Kitchen & Coffee Bar is located in Morningside Shopping Centre, corner of Rivonia and Outspan Roads, and is open seven days a week.
For more information on Naked Kitchen & Coffee Bar, follow @nakedcoffee_ on Instagram and @nkdcoffeesa on Facebook.
Got something to say? Then leave a comment!
---
Are cafes changing the property market landscape?
Friday, 8 September, 2017
We see this happening all over the country.
Love Coffee
was invited to Urban Lime's Hacienda development to attract prospective tenants. Tribe Coffee was brought into a BMW branch to get people through the door. The more we think about it, the more we see the pattern. The example below of Seattle Coffee Company shows that it is a hotly contested space. We're not surprised, remember,
good coffee = good business!
---
IS COFFEE IMPROVING PROPERTY PRICES?
With the largest number of independent speciality coffee roasters in South Africa, Cape Town, is becoming widely recognised as the coffee capital of Africa. Cape Town coffee culture is booming and coupled with the nomadic flexi-worker trend on the rise – coffee shops are rapidly becoming the generic for 'offices'.
The Power of the Bean

In a bygone era, Cape Town was better known for its tea-houses. That has shifted dramatically according to Iain Evans, the publisher of Coffee Magazine, who said that the SA coffee scene is radically different to what it was 10 years ago. South Africa has caught up to global standards and you can now go into a high-end roastery in South Africa and have an experience on par with Melbourne or Vancouver.
In the past decade, the industry has grown from a mere 20 roasteries to well over 250 independent roasters in South Africa. Statistics South Africa has also recorded steady growth in the restaurant and coffee shop sector with year-on-year revenue growth at 4.5%.
Cape Town's 'coffee capital' status is further entrenched by the Mother City's consistent exposure on international travel blogs. A case in point is Truth Coffee being voted 'the best coffee shop in the world' by the British Telegraph.
Coffee and Property
You may ask what this explosion of coffee culture has to do with property prices? According to Janet Lightbody of the Ikon Property Group – a whole lot. (And that's besides the known side- effects of caffeine).
When you position a high-end café such as the Seattle Coffee Company in a commercial building, positive spin-offs are substantial, not only for the landlord, but for the neighbouring tenants too. "Recognised brands such as Seattle Coffee Company add immense value to a building by acting as a drawcard and increasing customer footfall for neighbouring stores." Janet maintains that tenants such as Seattle Coffee Company can afford generous fit-out budgets and often transform a blank canvass into a superior retail space, an additional advantage for landlords.
"By leveraging group buying power they are able pay competitive rentals and commit to longer tenures. This investment can often result in the landlord's building grade being re-rated and landlords enjoy strong tenancy covenants – ultimately a win-win scenario," adds Elton Holland, Director Ikon Property Group.
Benefits of Collaboration
With a preferred commercial property broker on board, the Seattle Coffee Company has the benefit of mapping out their expansion plans collaboratively with a property specialist who is not only well-connected, but also equipped with area-specific knowledge. In turn, the broker's search for ideal sites for new stores is informed by a shared strategic vision – to the benefit of their client.
The Seattle Coffee Company, which is Direct Trade (families who grow and pick the beans are paid directly at least 23% above Fair Trade) and wholly SA-owned, recently opened a store in The Palm's, a rejuvenated old bakery in Woodstock and at 4 Regent Road in Sea Point. Both sites were identified and brokered by Ikon Properties. "Working with Janet Lightbody, IKON Property Group, has been great. She has integrity, is professional and continues to represent Seattle Coffee Company in our property capacity." Barry Parker, Seattle Coffee Company.
As the coffee culture continues to brew in Cape Town and nationwide, new Seattle Coffee Company stores can be anticipated on Church Square and in Newspaper House in the CBD. With their 'no-compromise on quality coffee' attitude and sustainable ethos, we are likely to see Seattle Coffee Company becoming part of the DNA of a growing coffee society in South Africa. And as they expand their coffee footprint – they are positively influencing commercial & retail property prices along the way.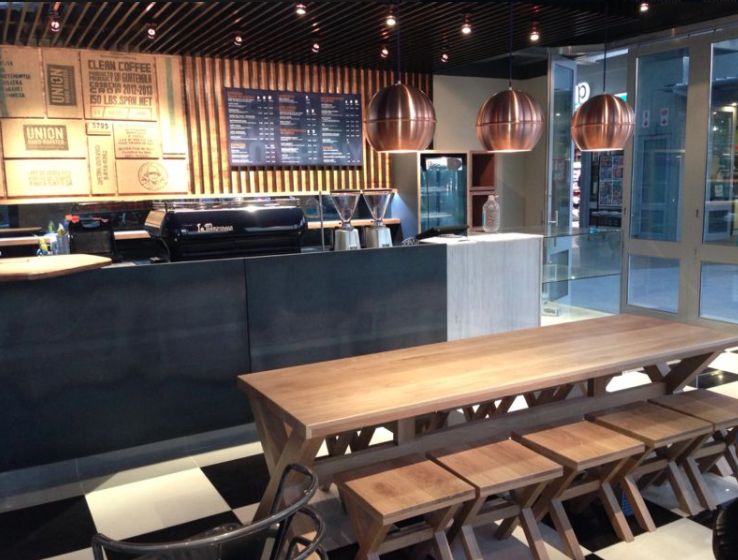 Got something to say? Then leave a comment!
---
Barista of the Month - September
Friday, 8 September, 2017
Got something to say? Then leave a comment!
---
WATCH: Brew a V60 Pour Over
Friday, 1 September, 2017
Enter our competition below!
If you've ever wondered how to make the perfect V60 pour over, then you've come to the right place!
All African Barista Champion 2017,
Craig Charity
, from
Lineage Coffee
, gives some insightful techniques on how to get the best out of the Hario V60, and also shows off the new Zip Hydrotap from Franke South Africa.
If you liked this video, be sure to check out the next video in the series..
"How to brew the perfect Plunger"
:

To enter to win your own V60 Pour over Set, simply watch the video and answer the question below!
Win a V60 Pour-over set!
Got something to say? Then leave a comment!