GIVEAWAY: Urban Warrior Coffee Beauty Products Hamper
Friday, 25 August, 2017
We think coffee is pretty much the best thing ever. And we love supporting local, organic products. It recently came to our attention, from the good people at Urban Warrior, that coffee is not only good to drink but also an excellent natural ingredient for skincare. But more on that in the next edition of the magazine...
The good news is, to celebrate the September launch of Urban Warrior, we're giving away a hamper of beautiful organic coffee infused products to the value of R500.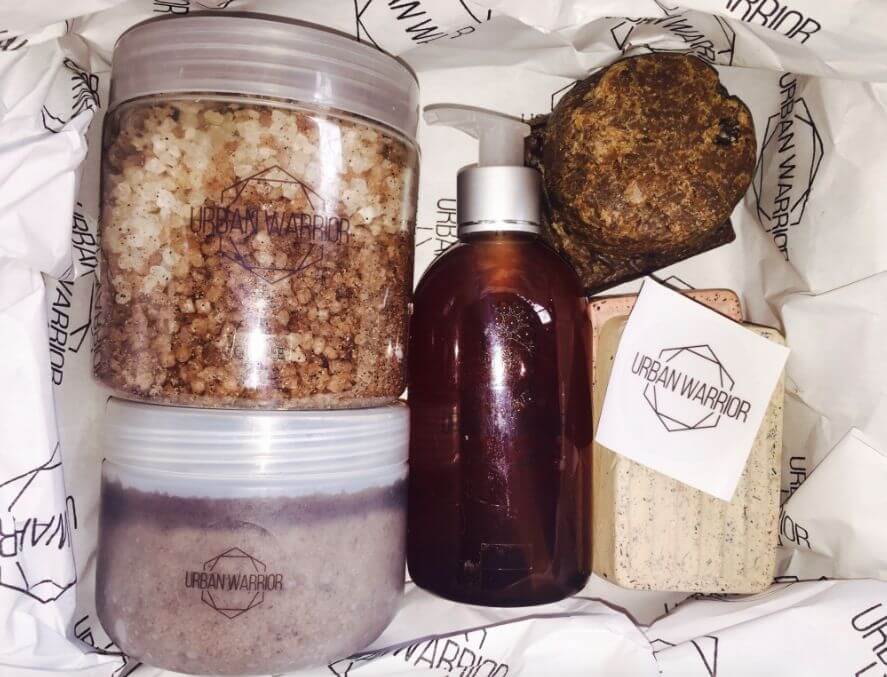 What you'll get (all coffee infused and organic):
1 x Body Scrub
1 x Bath Salts
1 x Luxurious Hand Wash
2 x Exfoliating Bars
2 x Soap Bars
We can confirm that they smell and feel spectacular. You need these goodies in your life. To score huge brownie points with your significant other. To treat yourself. Get involved!
All you need to do is tag someone in the comments who would adore this hamper and like the Urban Warrior Facebook page or Instagram and you're entered! Winner will be announced 4th September.
Got something to say? Then leave a comment!
---
Tiny Cafes: Deluxe Coffeeworks, Church Street
Friday, 25 August, 2017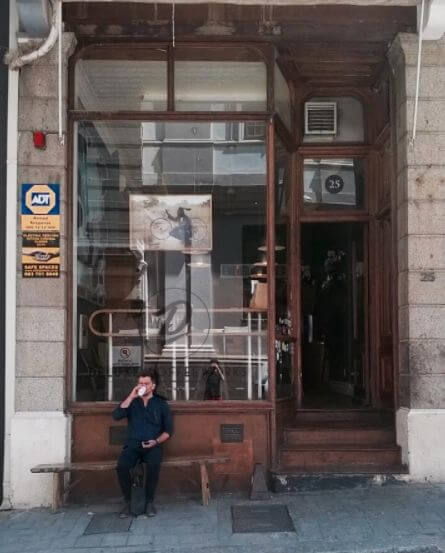 Number 25, Church Street, Cape Town. The beginning of a coffee empire. Pic from Deluxe Coffeeworks
The original
Deluxe Coffeeworks
is the stuff of legends. And a Series on Tiny Cafes would not be complete without including this gem in the Cape Town CBD.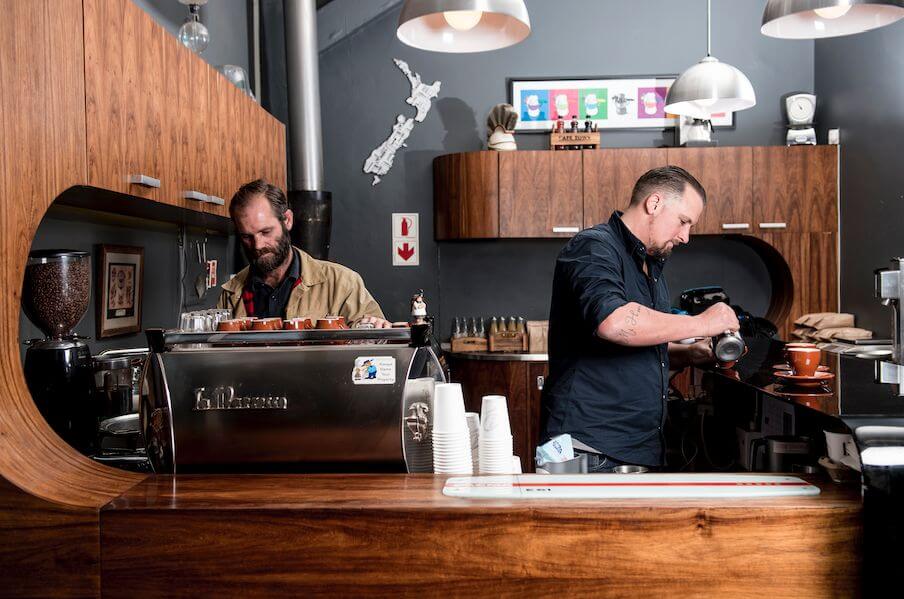 Photo by Craig Kolesky for Issue 12 of The Coffee Magazine
Having been around since 2009, they're kind of like the granddaddy of tiny, independent cafes in South Africa. Getting a coffee from this slim-line espresso bar was, and still is, an amazing experience.
I'd not seen anything like it. The team of baristas behind the counter was moving as one, getting coffees out at the speed of light, money being left on the counter, no time to pause between beverages, no time for small talk, just excellent and reasonably priced coffee pumping out by the litre. A delicious daily pitstop for the locals working in the area.
Judd Francis and Carl Wessel have always known exactly who they are and what Deluxe stands for as a brand. That has remained constant in the nine years since this cafe since they opened their doors, along with the consistency of their simple coffee offering, their signature three bean blend that they perfected from the start. Their distinctive aesthetic was well ahead of the trend of the motor head/coffee combo and though their locations have grown in number and size over the years, they still keep very true to their roots.
I always leave this small piece of South African coffee history feeling proud of this team and what they've created. Always worth a visit.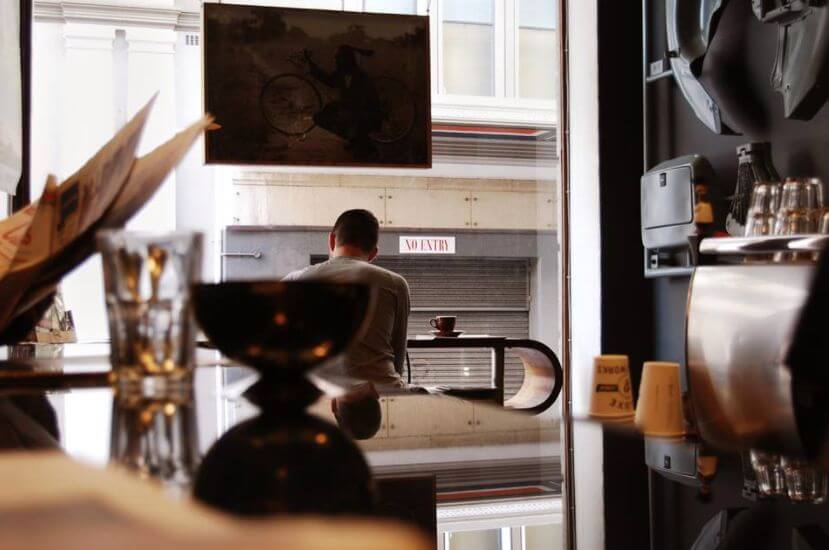 Pic from Deluxe Coffeeworks
Got something to say? Then leave a comment!
---
What does Specialty Coffee mean?
Friday, 25 August, 2017
As we work towards our 21st Edition packed with so much delicious coffee goodness, this question remains as relevant as ever. An interesting perspective here by Jono Le Feuvre from our 18th Edition.
---
Photos by Craig Kolesky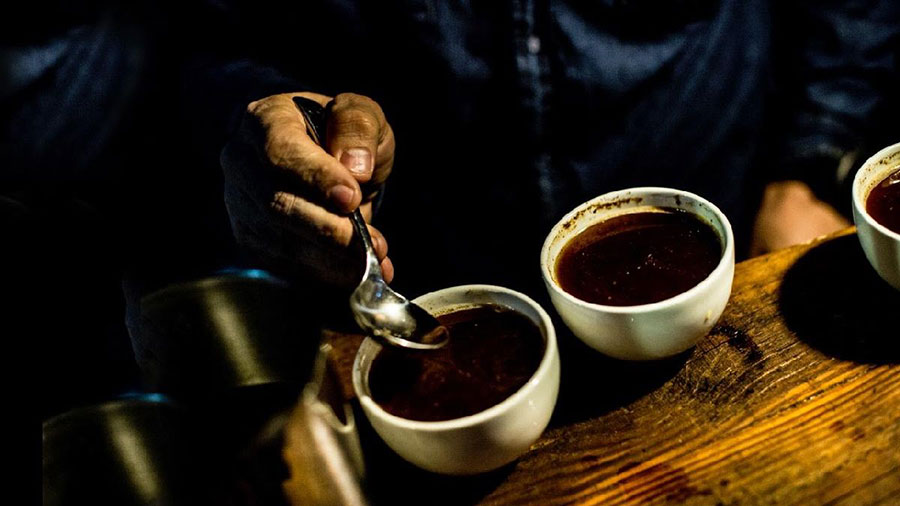 What does Speciality Coffee mean?
You've seen the term used on coffee packaging and spoken about at cafes, but what does the term actually mean and how close are we to it in SA? Or is it up to us to forge our own definition? Jono Le Feuvre of Rosetta Roastery tackles this issue head on.

"Specialty coffee" was first used in 1974 by Erna Knutsen in an issue of Tea & Coffee Trade Journal. Knutsen used this term to describe beans of the best flavour that are produced in special microclimates.
Specialty coffee should not be confused with "gourmet" or "premium" coffee. The latter are marketing terms with no defined standards. According to the Specialty Coffee Association of America (SCAA), coffee which scores 80 points or above on a 100-point scale is graded "specialty." Specialty coffees are grown in special and ideal climates, and are distinctive because of their full cup taste and little to no defects. The unique flavors and tastes are a result of the special characteristics and composition of the soils in which they are produced.
I think it is problematic to start any conversation by excluding the dictionary definition, as it is precisely from this definition that every other definition must flow. Especially this conversation, this definition, and the South African context.
So to answer your questions, I have to start with:
Because of the SCAA or Wiki definition, I believe a Specialty Coffee experience cannot begin without the coffee first scoring above 80 out of 100 by a qualified Q-grader. If the coffees you are buying do not have this attribute, then they may produce an amazing, delicious, sensory adventure (like a meticulously prepared cup of single origin Cote d'Ivoire hot cocoa), but that does not make them "specialty". To call them such would be misleading and unhelpful for the consumer (not to mention borderline unethical).
Obviously, in a South African context, where a large portion of cafes that claim links to "Specialty Coffee" are in no way involved with "Specialty Coffee" (as per the Wiki definition), but are serving a damn fine cup of commodity coffee, this is a highly unpopular view to hold.
Which is why I have such respect for those fairly prominent cafe chain owners, and independent cafes, which understand that there is an objective distinction between "specialty coffee" and "commodity coffee". These coffee professionals feel no need to lean on the term "specialty coffee" as a marketing ploy, but just get on with crafting superb cafes and vibey spaces that serve well-prepared commodity coffee. In fact, they actively distance themselves from "specialty coffee" (mostly because they think we are all poncy coffee nerds, which, I guess we are!).
But, as I say, an unpopular view. So let's turn our attention to more positive thoughts:
If an experience is to be defined as "specialty coffee" I think this involves a depth of service that is rarely enjoyed by coffee lovers the world over (let alone in a South African context). Then again, I suppose we shouldn't be surprised that a "specialty" experience is rare. That rarity is almost core to anything that has undergone a high degree of specialization. But I digress...
Specialty Coffee involves the ability to engagingly communicate the information surrounding why it is more "special" than the coffee served next door. The people involved need to possess an understanding and appreciation of what makes coffee "special", hand-in-hand with the ability to cogently explain to a customer (in a manner that is void of any sort of illusion of superiority, or patronising tone) concepts like seed type, roasting process, the fundamental chemical processes that transform green coffee into brown coffee, the basics of extraction, and the laymen versions of the organic chemistry unfolding in each cup.
Let's be quaint and use wine as an analogy:
A sommelier is not a sommelier if he has no idea the difference between French Oak, and American oak. He is not a sommelier if he cannot explain the basic chemical elements that combine to convey a sense of structure in a wine. He is not a sommelier if he cannot recommend a certain type of wine based on a diner's particular flavor preferences, and understand why that particular wine is a good match. He is also not a sommelier if he is unable to justify to a diner why one wine costs R80.00, while another costs R800.00. And if his answer is "Oh, it's all just marketing and clever branding", then not only is he not a sommelier, but he is very much the embodiment of a trojan horse undermining the industry that produces the products that he makes his living by selling. Man, that was a long sentence.
A specialty coffee barista should have a similar grasp of the processes involved in growing, harvesting, processing, roasting, and brewing a cup of specialty coffee. When one ponders just how vast the scope of the combined processes is, it's a miracle that the concept of a "coffee snob" even exists, because we should all be so darn humbled by the incredible amount of hard work that has gone into putting that cup into your hands. I think this attitude of reverence for a process that is bigger than you is central to the concept of specialty coffee.
But at Rosetta we try and make it a motto that "we care so that you don't have to". Because some folk just want a sensory experience. They don't need to understand it. (What these customers don't know is that it is the deep level of respect and understanding of these processes is exactly what enables the barista to actually deliver the sensory experience in the first place) So… at Rosetta Roastery we feel that the job of a specialty coffee barista is to know more than his customers. Not to be a know-it-all, but simply to know more. Because learning/enlightenment is part of the gift for a consumer of specialty coffee; they get not only a sensory adventure, but intellectual stimulation, too. Or at least it would be nice if that were possible every time. And for those who don't want the lecture, they can just leave it hanging in the air, while sipping blissfully on their cup of coffee. The barista's job is not to force feed a philosophy, but rather to embody a philosophy that engenders warmth, respect and awe for a product that is truly special.
Is there space for such a product in South Africa? We obviously feel that there is. And to anyone who disagrees, I would only say, "You speak too soon! There are a handful of roasters full of energy and passion, who have only just begun to show what specialty coffee can look like, and more join the ranks each day!"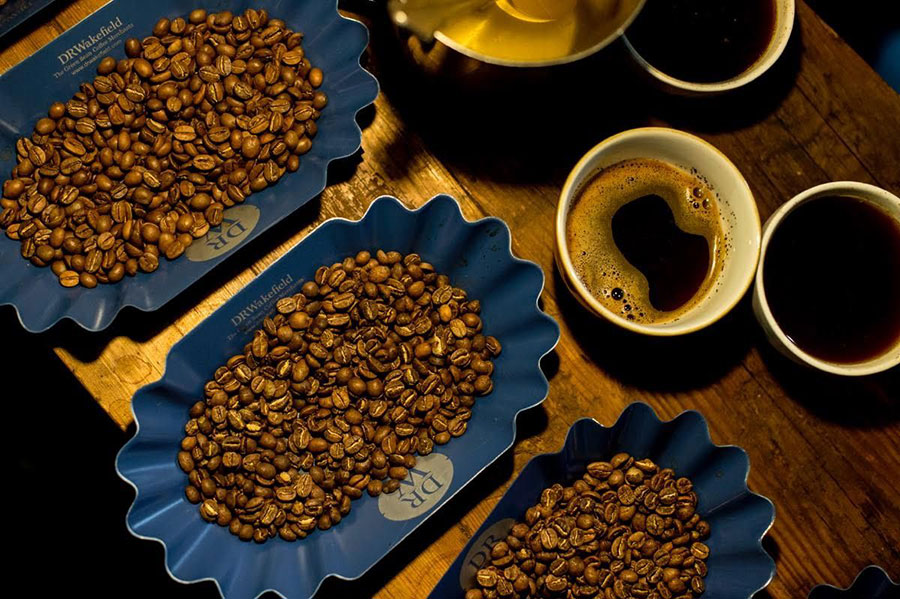 Got something to say? Then leave a comment!
---
WINNERS ANNOUNCED! Win a set of coffee trees from Amorentia Estate and Nursery
Thursday, 3 August, 2017
Competition Closed and winners announced!

Congratulations to the following 10 Winners:


Jo-Ann Fitz
Camron Andrews
Warren de Villiers
Stewart Dzvimbu
Janka Engelbrecht
Belinda Burdett
Marianne Fourie
Phillip Gibb
Lisa Ryser
Shaun Benater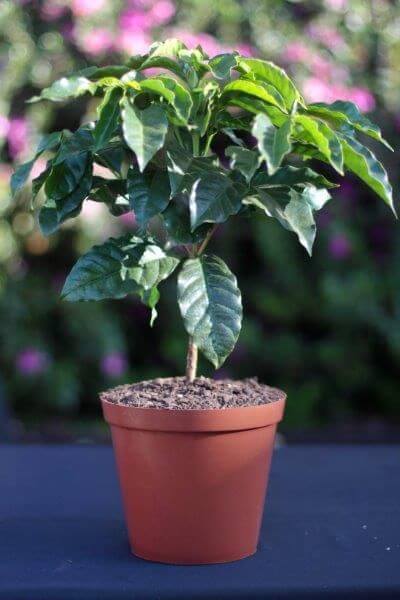 Do you have green fingers? Have you ever wondered where your coffee comes from and if you could grow coffee yourself? Well they're pretty labour intensive plants, but they give us such an important fruit that we think the effort is definitely worth it.
The team at Amorentia Nursery have been lovingly tending to beautiful coffee trees for the last six months and now it is time to find them some homes!
Lauren Strever, the nursery manager tells us a bit about these trees and how to care for them:
"They are Arabica trees. The yellow berry is a Cataui varietal and the red is a Bourbon.
They need high organic matter in the pot or plant hole. Once producing, they can suffer from overbearing dieback. Care needs to be taken to ensure sufficient nutrition and roots need to be mulched to protect moisture loss in the time of stress. General nutrition guide is to fertilize every month with a 323 or an equivalent."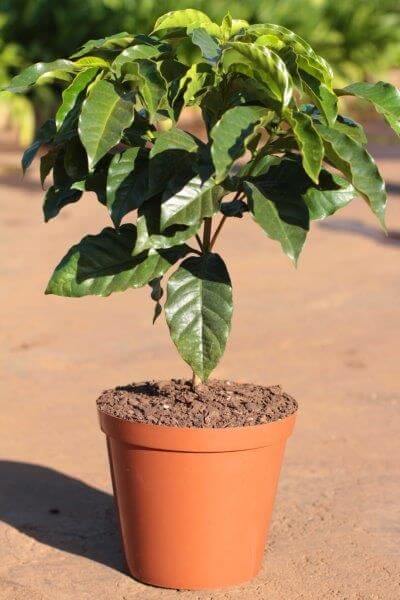 Joe Marrocco wrote us an excellent article outlining some of the different varietals in Issue 12, you can read it
online here.
If you'd like to order more trees, you
can contact Amorentia directly!

Fill in the entry form below to stand a chance to win these beautiful trees for your home!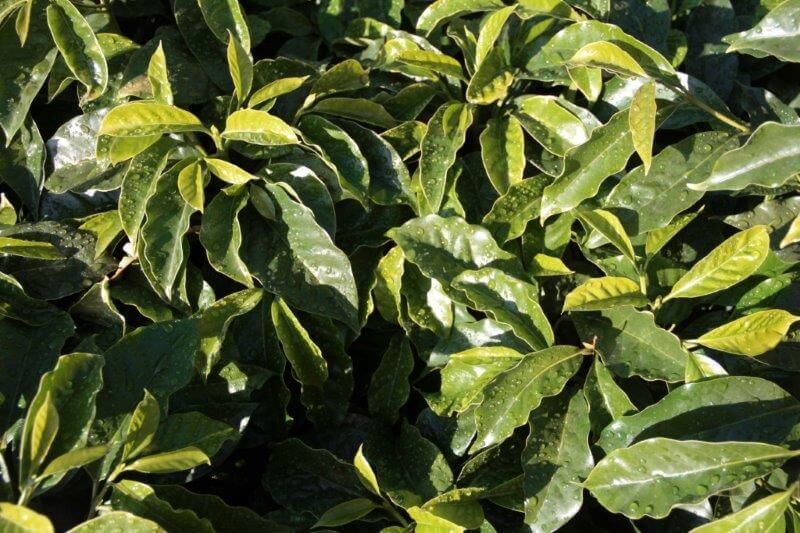 Coffee Tree Giveaway
Got something to say? Then leave a comment!
---
5 reasons why Good Coffee = Good business
Thursday, 17 August, 2017
5 reasons why Good Coffee = Good business.
(Take this article to your boss immediately!)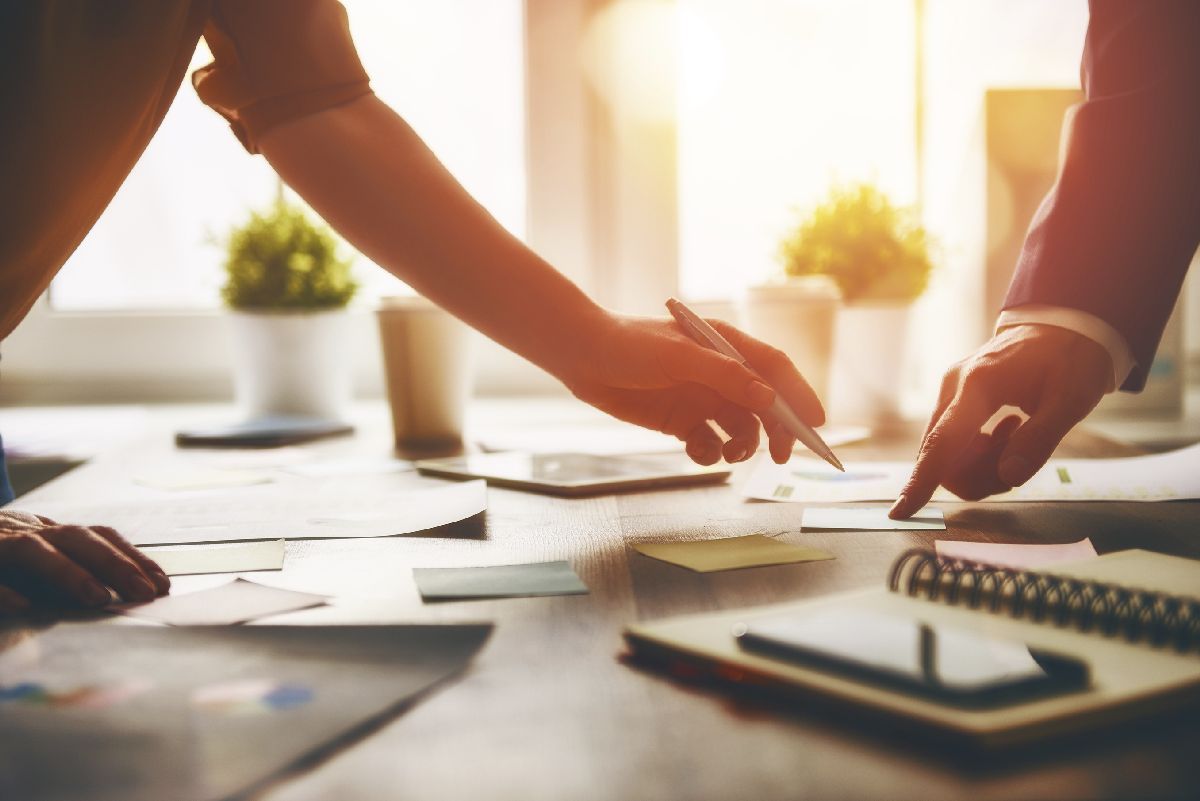 Everyone has horror stories about their first jobs. The apprentice who stands knee deep in sh*t for the first 6 weeks of his plumbing apprenticeship, the junior doctor who on their first weekend of community service ends up running an entire rural hospital's casualty ward with only one nurse or the junior attorney, graduating with a 90% summa cum laude who ends up in dock review for a year, fighting monsters in the basement of the firms bowels before seeing sunlight. What do they have in common? Well, everyone has to start somewhere, even if you're a Millennial destined for greatness by writing a blog, then you know that starting at the bottom and working hard is the only way to the top, using every coping mechanism one can to survive. Enter Coffee.
Here are 5 reasons why good coffee is essential for career survival and ultimately, good business!

1. It's social
My first job actually wasn't that bad. I started as junior advertising executive working at a cool little media firm back in 2005, where my boss absolutely loved coffee. So he personally made a pot of freshly ground filter coffee and he served it in the foyer to the first employees that arrived at work. Our official hours were from 8.30am, but he arrived at 7.30am to make and serve the coffee himself, and very soon, there was a cool little pre-work buzz from 8am-8.30 where people from all levels in the company could hang out, chat over a cup, get the day humming and by 8.30, everyone was there, the day always started with a bang after that!
2. Coffee is a great leveller and helps with problem solving.
One of the great things about coffee is not just the coffee itself. It's getting up from your desk, while figuring out how to bring back the stranded astronauts from space, and walking over to the coffee machine…sharing the problem with the guy from accounts (who is a part time astro-physicist) and the guy from R&D who has secretly been testing some thermal radiation suits – and BAM! Because of coffee – the astronauts are safe again.

3. Coffee makes you more productive.
Ah, this is the best one. In fact when you go to your boss, start with this. Coffee is like legal cocaine. It blocks the receptors in your brain that trigger you feel tired, with those receptors blocked, the brain's own stimulants, dopamine and glutamate, can do their work more freely. In the book Buzz: The Science and Lore of Alcohol and Caffeine, by Stephen R. Braun, he ultimately likens caffeine's powers to "putting a block of wood under one of the brain's primary brake pedals", which is all a fancy way of saying: YOU FEEL INVINCIBLE! And that's always good for business.

4. Investing in good coffee shows your company values you!
Just look at Google. Those guys have it down. Their work knows that a space that makes their employees happy equals happy employees. And employees with good coffee are happy employees. You don't need the reptile petting zoo, or the rock climbing wall or the Zorbing room as much as good coffee. Ok, maybe the Zorbing room. But first, good coffee.
5. The Company with the best Coffee gets the Clients.
You know what they say in business school about the 80Twenty principle…80% of your business comes from 20% of your customers. If Clients like coming to your office, because coffee, then you get more facetime than the competition, and you pick up all the inside info on the next big deal, the work in the pipeline, the jobs on the table, the Gooses next big fat egg. Give them a reason to visit, and often. Blow their socks off with hospitality that makes them drop in, even when they don't need to, just because they want a great cup of the good stuff.
You're Welcome. Now go out there and change the world.
These are the kinds of coffee solutions we recommend depending on where you work:

You work at the Playboy Mansion of businesses
– Using the above fail-proof logic, convince your Boss to invest in a beautiful coffee machine, with some skillful baristas and a supply of artisanally roasted beans from the neighbourhood roastery. Then offer to project manage the installation and contact your local roastery for the hook-up.

You work at the Hip Start Up but you're small and growing
– catch your boss on a good day, like after his skydiving or shark-cage diving day and pitch him on the fool-proof, super-duper, fully-automatic coffee solution, where one touch of a button brings, rainbows, unicorns and unlimited employee loyalty. Again, offer to take point on the project and take all the credit for being the rockstar who saved the company from bad coffee.
You work in the following: A Van, A cubicle the size of a hamster cage, or a public Office OR… your boss is a bit of a doos.
Either way. You're not gonna get any help on this from the powers that be, so you need to take matters into your own hands. Solution: If you need espresso, then a Handpresso or Minipreso and a good automatic milk frother, like the Severin one. If you're into delicious black coffee, then a handgrinder and any of the manual brewing methods. You could even one-up the company and use their own kettle as a f*ck-you, while you sit on the fire escape and enjoy speciality grade coffee while your boss sucks the dregs of his murky Ricoffy.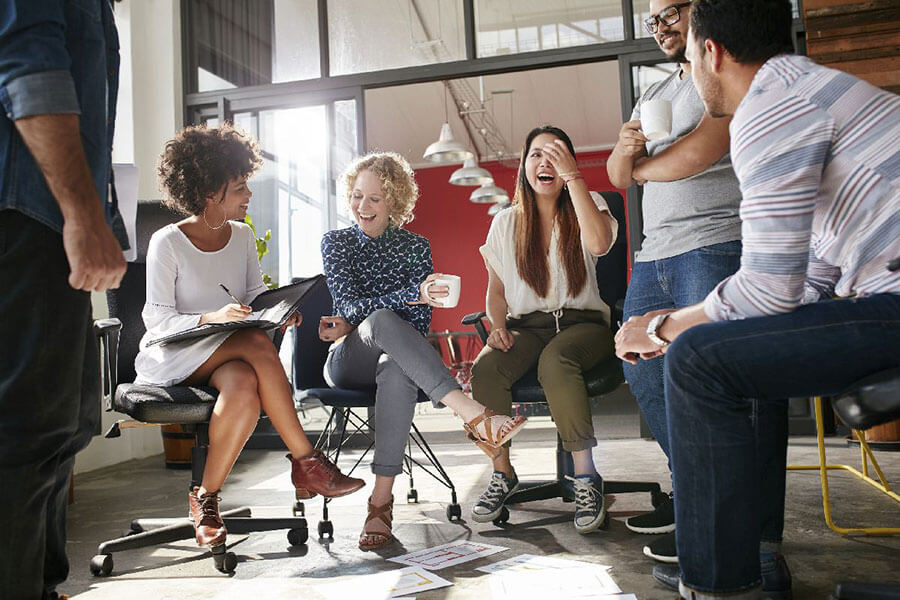 Keep everyone in your office that special stock-photography kind of happy by making the coffee amazing.
Got something to say? Then leave a comment!
---
The Minipresso: A coffee gadget worth keeping in your backpack
Thursday, 17 August, 2017
There's nothing quite like a good coffee after a morning surf. Depending on where you are on the coast, or how much time you have before work, sometimes you just can't get to your favourite local cafe for that fix. Well say hello to our little friend, the
Minipresso GR.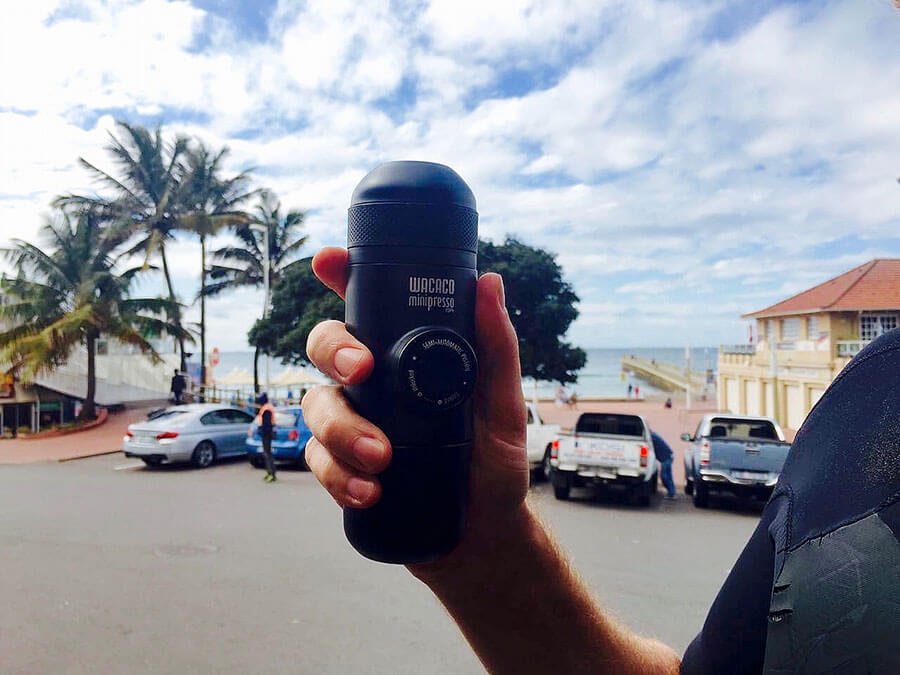 The design is really nifty and after a few test shots in the office before taking it into the wild, the functionality was easy to figure out. Like putting together an espresso puzzle, so fun! It comes with a super helpful manual (yes, you may need to read the manual on this one!), but once you've done it a couple times it feels completely natural.
We literally made it out the boot of the car. While still in wetsuits. No electricity, filter papers or even cup required (a cup is part of the design). This hand held coffee maker is really thoughtfully made. It takes about 6 or 7 pumps before the pressure has built up enough to produce liquid, so don't stress after the first few. Your pumping hand may need to build up some stamina, the two hand method works best for me, but that's about the only effort necessary.
The grind size that worked best for us is pretty fine, as you would grind for an espresso machine, but it's not necessary to compact the grinds, just a gentle tap with the back of the scoop. We used our travel hand-grinder for the freshest possible coffee and with the Costa Rican light roasted coffee we had, the Minipresso GR gave us a really impressive result, highlighting the sweetness in the coffee. It's not espresso in the traditional sense, it lacks that balance of depth and bitterness, but this is by no means a negative, it was delicious!
I am a creature of strange habits and my coffee rituals are pretty difficult to break, but I think that this little pocket rocket could make the grade for coffee on the road whether after a surf or pretty much anywhere, it's both effective and a lot of fun!
Prep: Boil your kettle and full up your flask before you leave home. Simple.

You can
order your own here for only R1250
.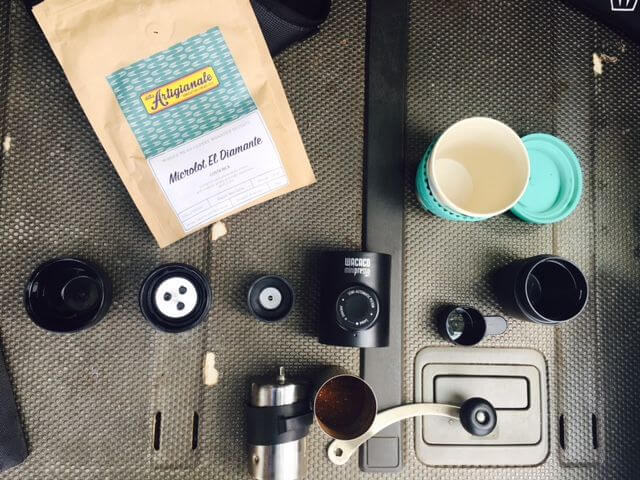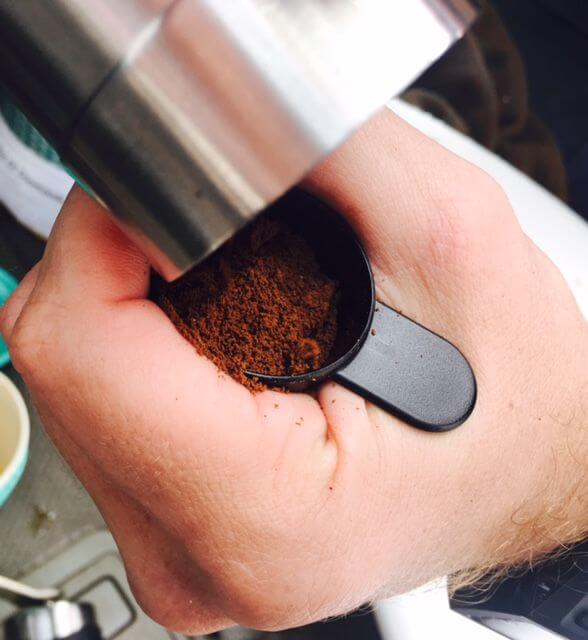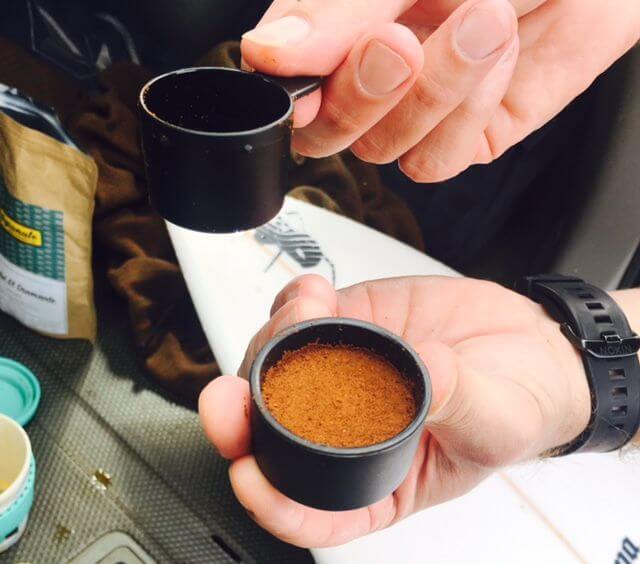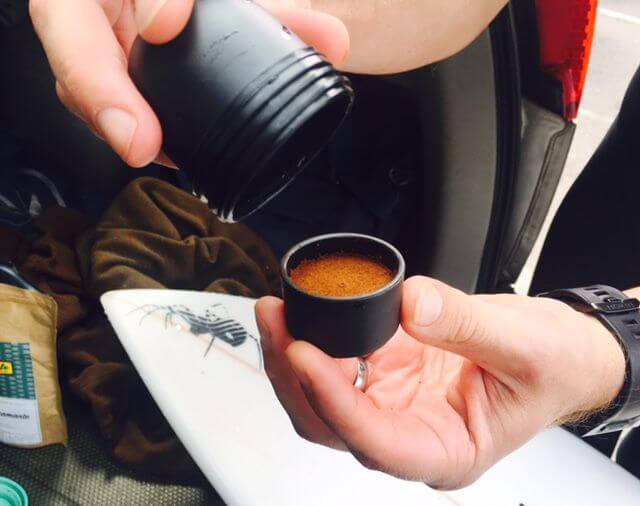 The pieces fit together like a very satisfying puzzle in which the result is great coffee!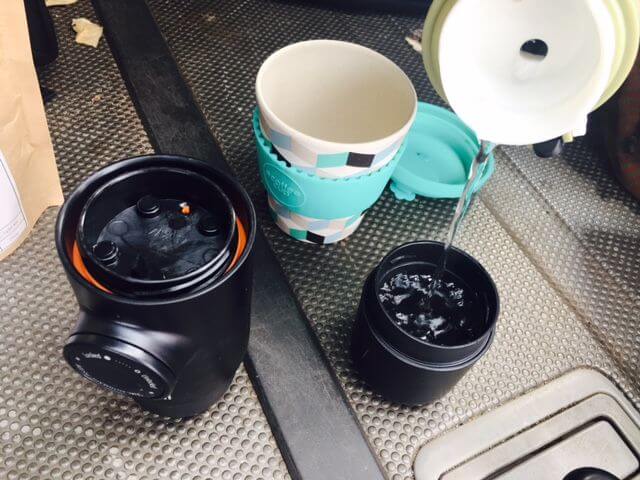 We like that it was designed to stand with stability whichever way around you place it, top or bottom. While pouring the hot water into one compartment, the Minipresso can stand, not in danger of toppling over.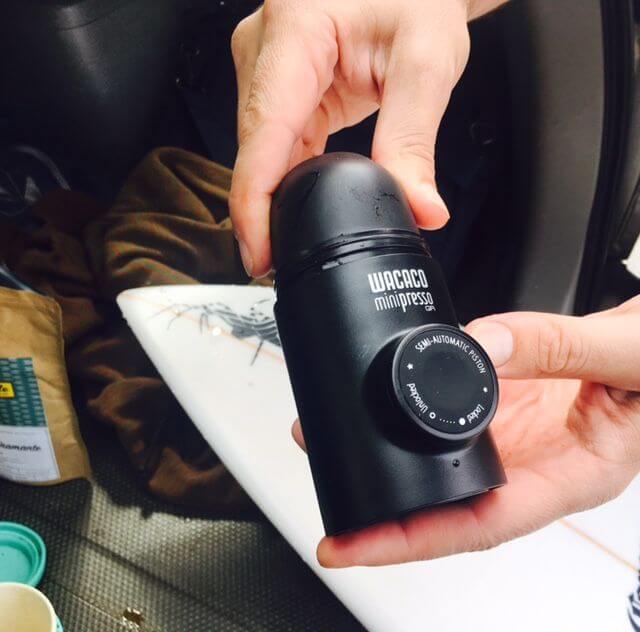 It is well made and feels sturdy and durable. There are no flimsy pieces or difficulty in screwing any of the pieces together.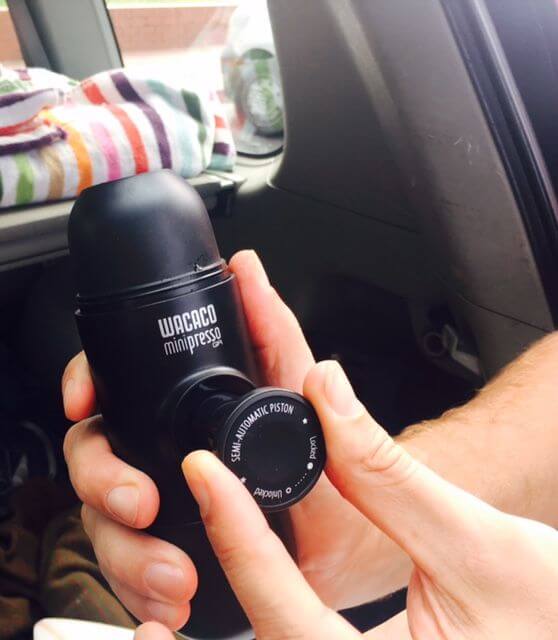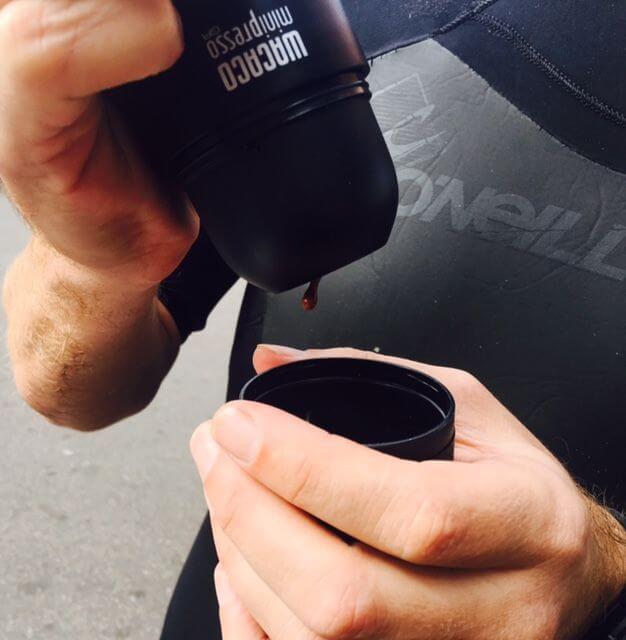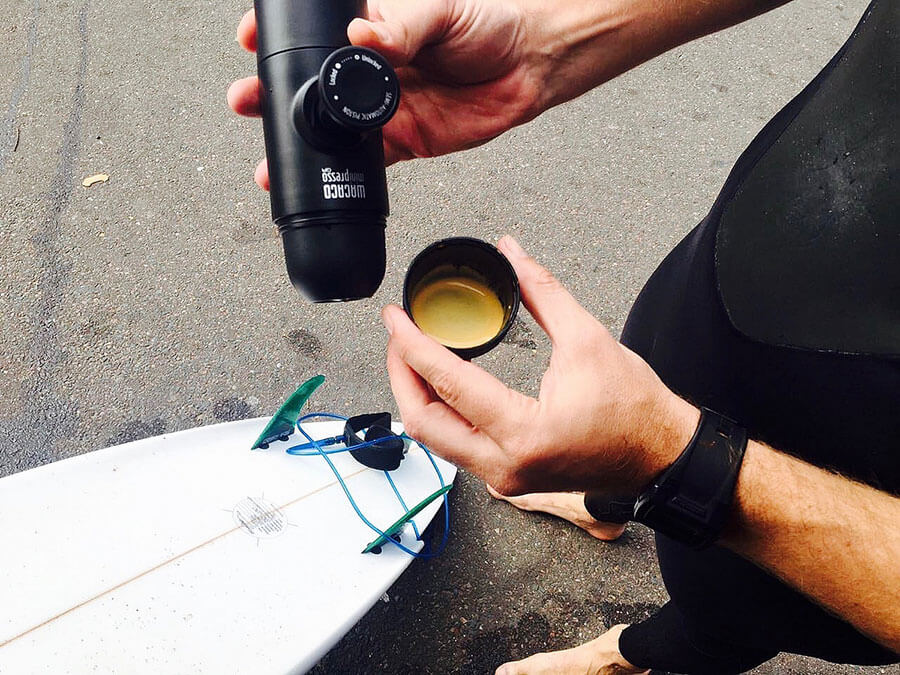 Got something to say? Then leave a comment!
---
New series - Tiny Cafes: Love Coffee
Thursday, 17 August, 2017
New series: Tiny Cafes

In the tradition of the Italian espresso bar, we've been thrilled to discover a number of cafes popping up across the country that are embracing minimalism and focusing on damn fine coffee and smart design for small spaces.
---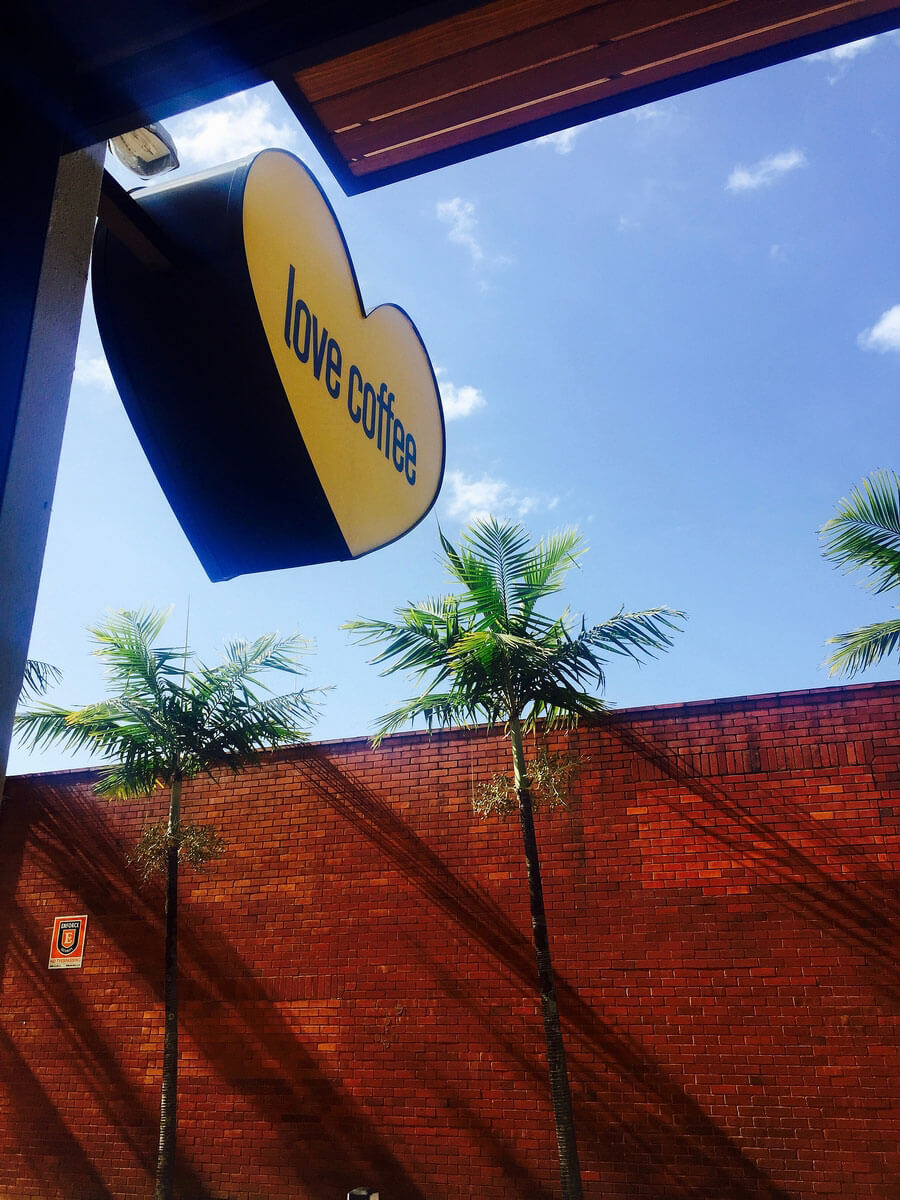 Hello Love Coffee, aren't you a gorgeous hole in the wall? Jeannie McCall has opened her second location on Florida Road in Durban.
We were lucky enough to bump into Jeannie at this lovely spot, when we popped in for a cortado. She enlightened us on the growing community on Florida Road. This tiny cafe forms part of the ever expanding
Urban Lime
developing dynasty in Durban; the cafe is a huge value-add for the offices in the Hacienda building, just one of properties getting a facelift by this company. We're excited for the future of the road, things are looking up!
The coffee currently in the hopper is a blend of Ugandan and Tanzanian beans roasted by the super passionate Mike Goddard of Steampunk Coffee. It was extracted by the equally passionate Amy on the Brasilia lever machine that really is the stylish heartbeat of this beautifully designed space. Jeannie commissioned a couple of her talented friends to make magic with the space and they played out their boots to create the perfect look and feel. We had some extremely satisfying vegetarian treats to compliment our coffee. Overall, a fantastic experience.
Jeannie has some big (but still tiny) plans. She's got an old-school caravan on the way up from Cape Town that she will transform into a tiny cafe for travelling! We love it!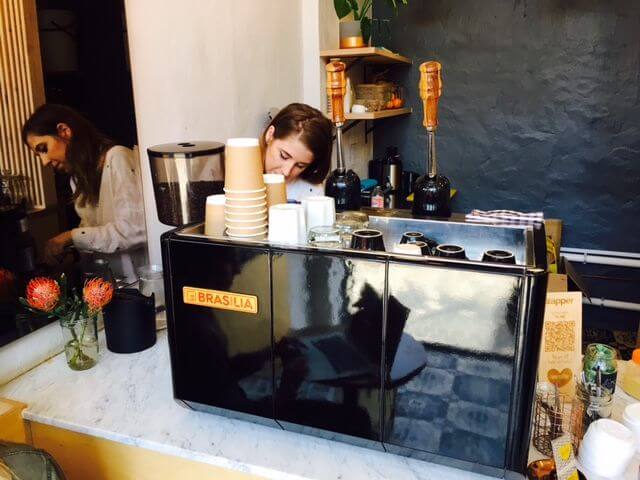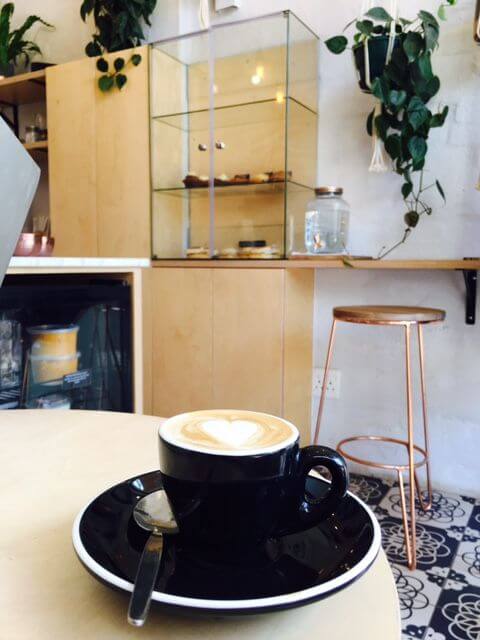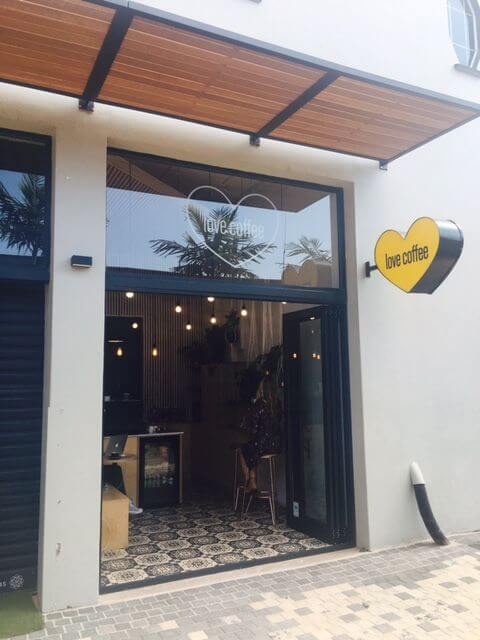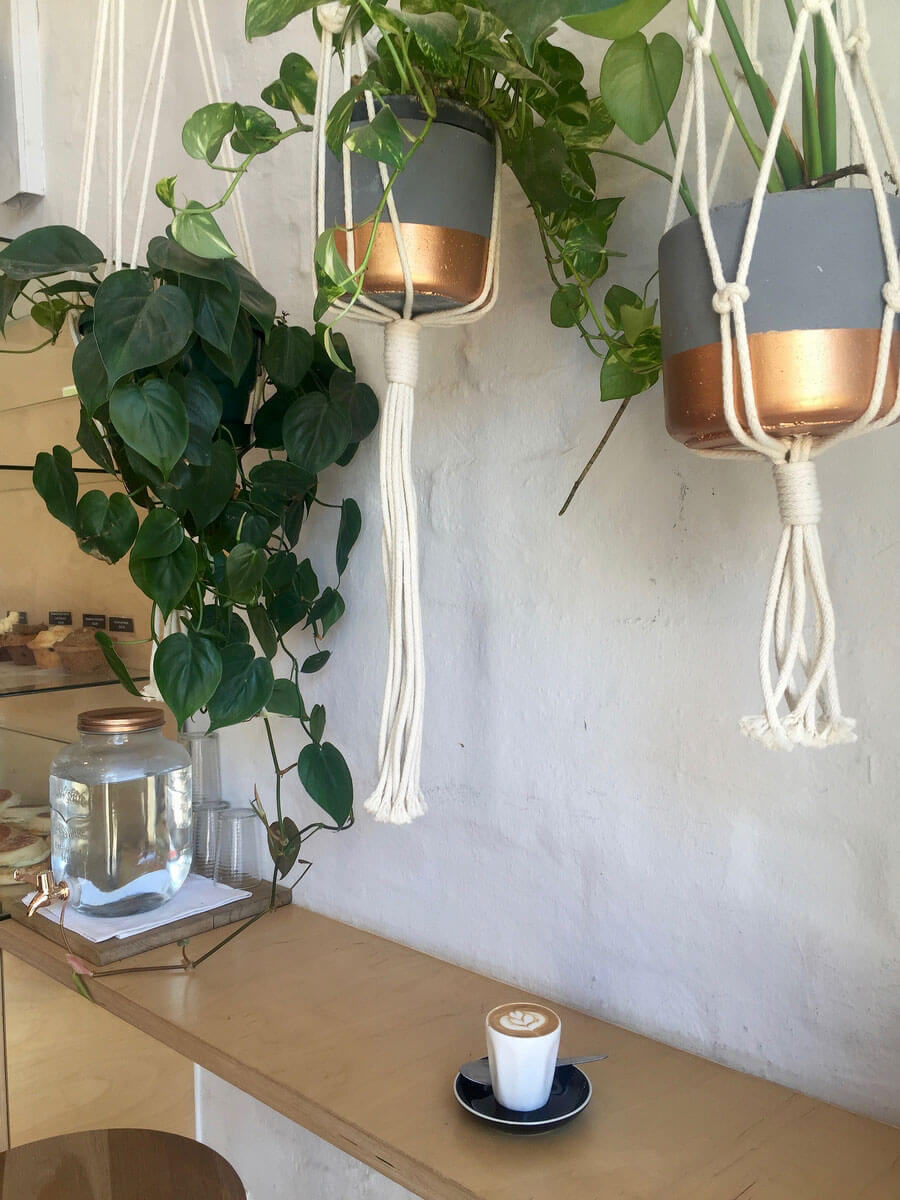 Just one more look at that espresso machine, though!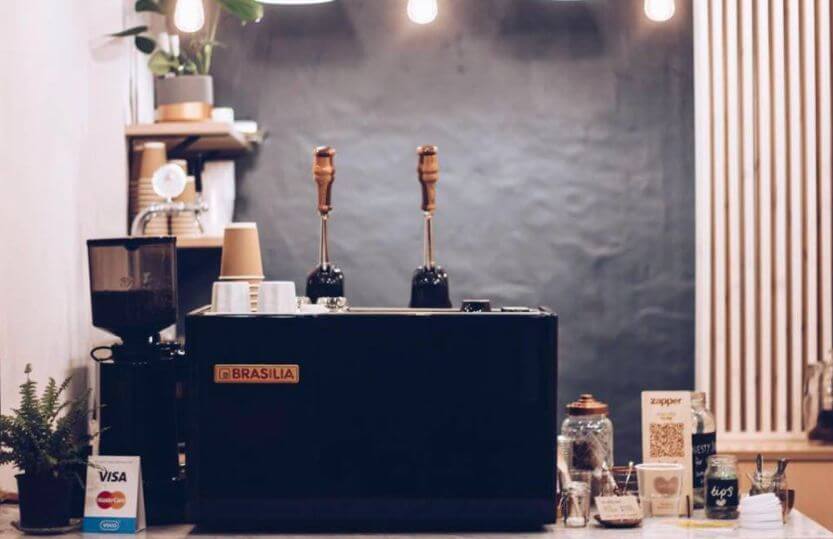 Got something to say? Then leave a comment!
---
Register now for Selati's Cafe of the Month
Thursday, 17 August, 2017
Got something to say? Then leave a comment!