The Story of Coffee at Colombo Coffee&Tea
Monday, 28 July, 2014
The details are simple, get yourself down to Colombo on Thursday night and be wowed by just how much goes into your delicious cup of coffee!
Date: 31 July 2014 (This Thursday!)
Time: 18h30
Venue: Colombo Coffee & Tea, 369 Magwaza Maphalala Road, Umbilo (Pearson the awesome car guard will be there protect vehicles)
Cost:R20 gets you in
R30 gets you in with a Long Miles Coffee

There will be live music, a chance to win some amazing coffee and some other goodies and perhaps even the opportunity to roast some coffee on the night! Wonderful!

"People have always connected over coffee, spoken over coffee and told stories over coffee. But we've begun to realize that coffee has its own story to tell. It's a story that begins in Burundi months, and even years, before your coffee reaches your cup. The characters in this story range from the unknown farmers and producers in East Africa to world-renowned South African barista champions and the owners of your favourite cafe.

On the 31st of July, Colombo is giving coffee an opportunity to tell its story. Colombo will be joined by Lori-Rae van Laren, an intern at the Long Miles Coffee Project in Burundi, Craig Charity, the current SA Barista Champion, and Charli Denison, a coffee importer, for a discussion evening about where your coffee comes from, what life at coffee origin in Burundi looks like and the potential Third Wave coffee and direct trade have for partnership, sustainability and traceability in the coffee world (big, scary coffee terms like 'Third Wave' and 'direct trade' will also be explained).

Expect an evening of beautiful imagery from East Africa, stories from the crazy world of origin, live music and really tasty Burundian coffee. It will be a chance to have some of your coffee questions answered, win some exclusive coffee and you may even be able to roast some coffee yourself to take home with you."
For more information about the Long Miles Coffee Project and to see what Craig is up to, check out
www.longmilescoffeeproject.com
and
www.lineagecoffee.com.
Got something to say? Then leave a comment!
---
Action packed EC Regionals: A few snaps
Friday, 25 July, 2014
Day 2 Schedule 10am start:
Lizo - Boardwalk Hotel.
Luyolo - Radisson Blu
Sisa Mapetu - Hand Made Coffee, Grahamstown
Luyanda - Radisson Blu
Lennox - TriBeCa Woolworths Cafe
Simamkele - Protea Marine Hotel
Xola - Mandela Bay Coffee
Alex - Como Caffe

Followed by Cup Tasters Championship.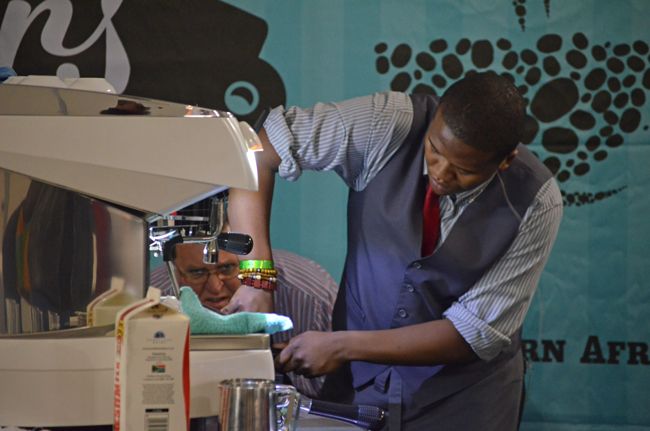 Altman, technical judge, bends to see that Sipho's tamping is level and consistently weighted. Yes, that's how technical it gets!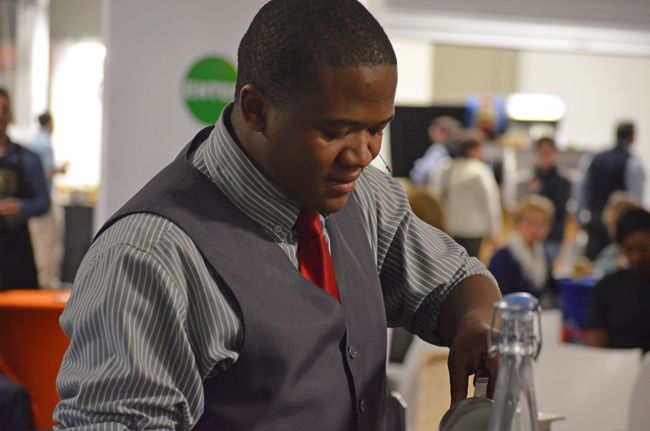 Lively and chatty off stage, the pressure of the competition rendered Sipho Sethu pensive and nervous. Despite this he did so very well, representing Radisson Blue Hotel.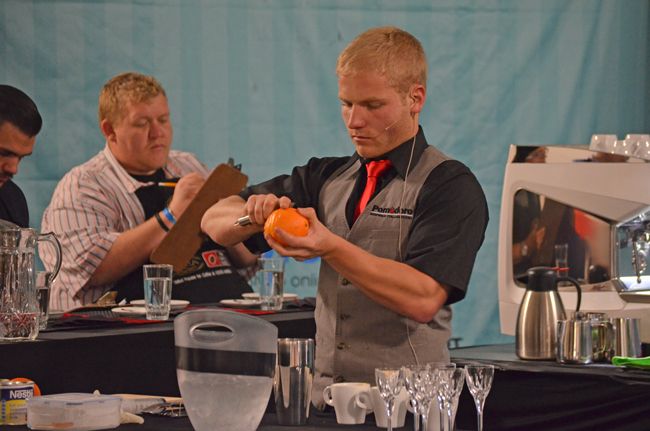 Denver was an extremely enthusiastic first timer. Here he prepares his signature drink, using orange rind and condensed milk.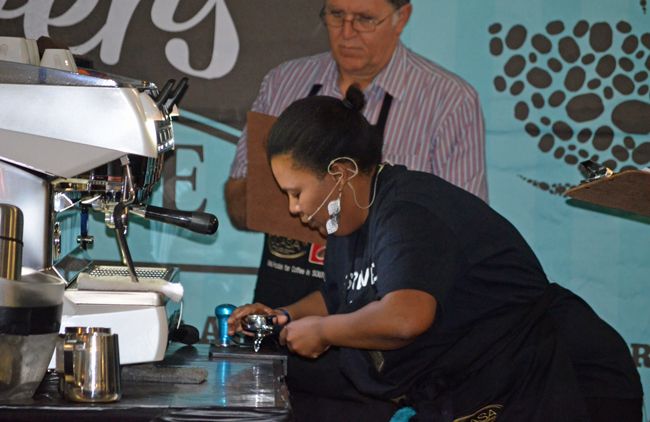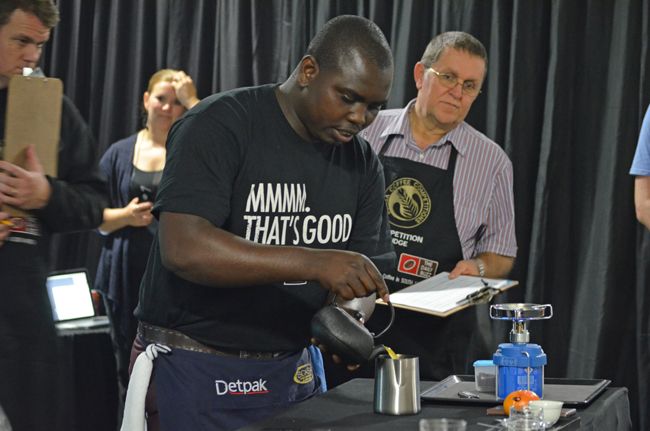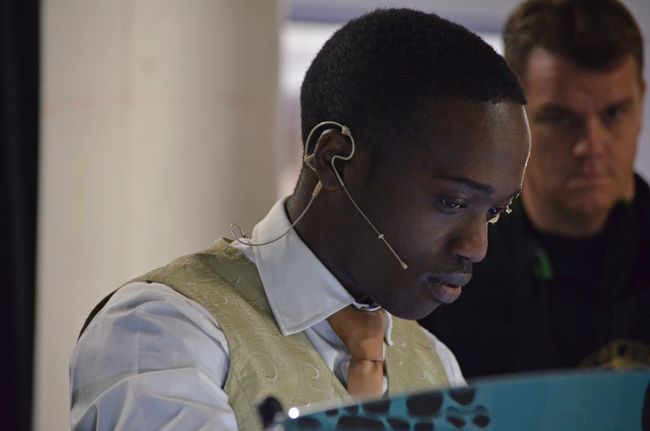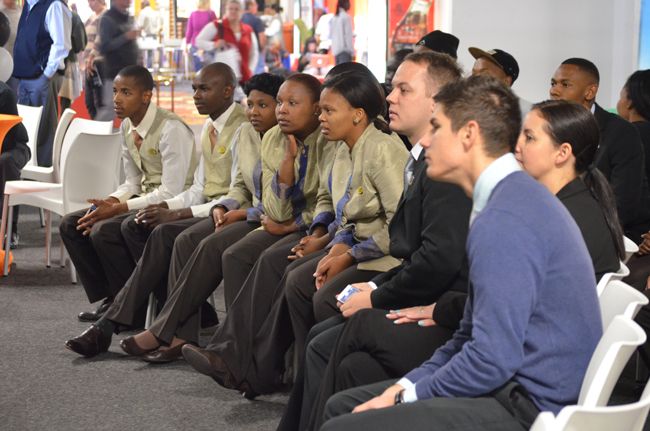 Got something to say? Then leave a comment!
---
We're in the Eastern Cape!!!
Thursday, 24 July, 2014
The Friendly City and
The Homemakers expo
have opened their arms to the
SCASA
Coffee Competitions.
Baristas performing today:

Byron Keet - Urban Espress Coffee Co.

Sipho Setu - Radisson Blue Hotel Group

Denver - Pomodoro Wilderness

Mike Chizeya - TriBeCa Woolworths

Steven - Madibaz Cafe

Xolelwa - Ciro Coffee Solutions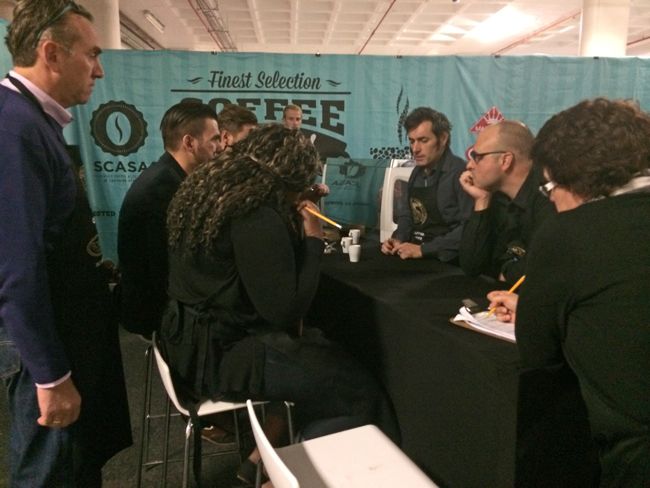 The judges calibration is one of the most important parts of the day. These volunteers have a huge responsibility on their shoulders, the Top 6 of this comp go through to a chance to compete for a place at the World Championships in Seattle next year.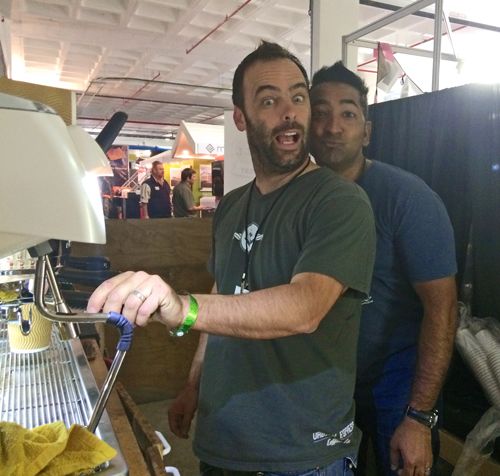 Don McLagan and Ishan Natalie providing everyone with deliciousness.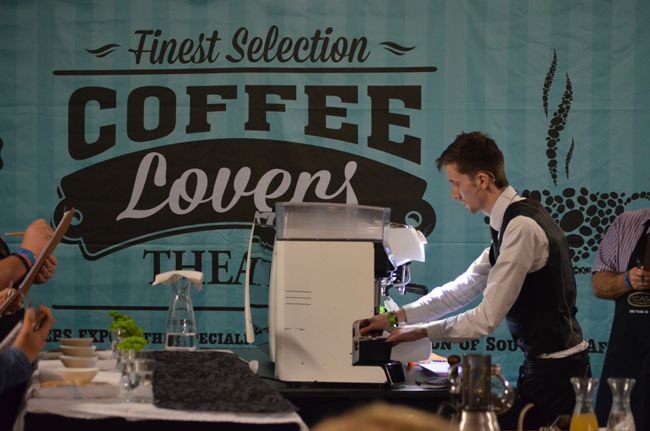 Byron Keet was runner up in last year's competition and is hot favourite to take this year's title. He was up first this morning.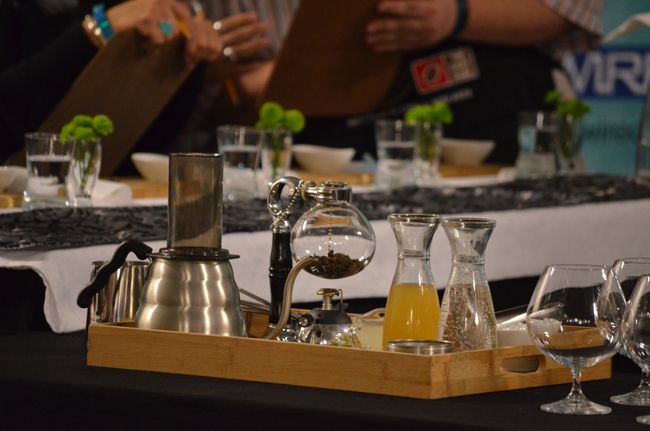 Very ambitious use of both an AeroPress and a siphon to complement his
Panama Los Lajones coffee roasted by Union Hand Roasted.
Got something to say? Then leave a comment!
---
SCASA workshops at Coffee&Choc Expo
Wednesday, 25 June, 2014
The time for indulgence is drawing near! In just two short weeks at Montecasino in Johannesburg, the sugar and caffeine levels of over 10 000 lucky people are going to go through the roof!

One of the things we're most excited about is the opportunity for the public to get some insight into the background of coffee right from the green beans to the moment it touches your tongue. It's going to be informative and entertaining and you don't want to miss it!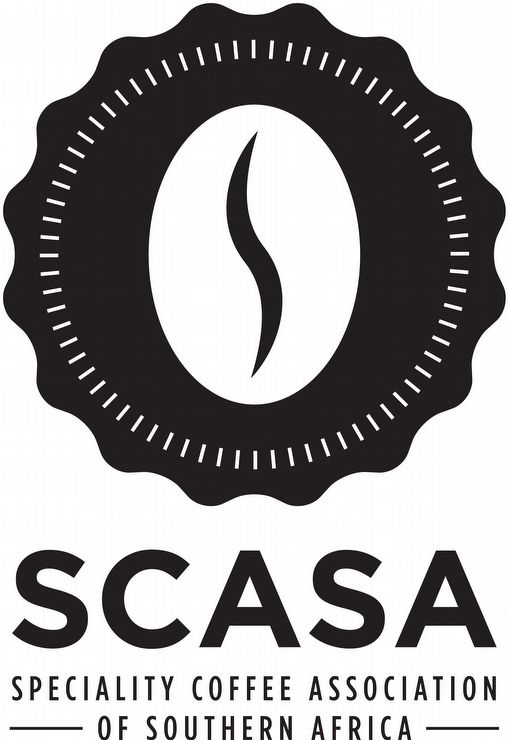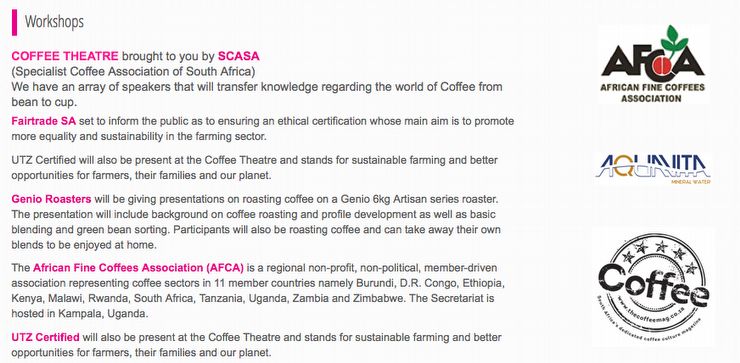 Plus there will be demonstrations by some great baristas, you'll get to taste some great coffee and it's just in time for the launch of TheCoffeeMag Winter Edition!
Don't forget you can still
win tickets by entering here!
Mmmm, all this talk of coffee and chocolate is reminding me of the delicious recipe that Leandri van der Wat made for us...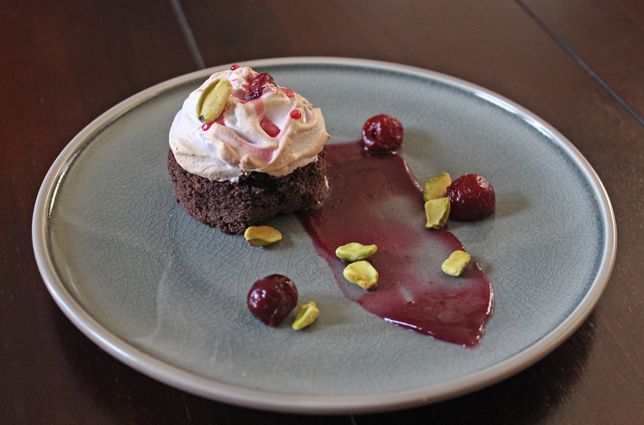 You should go check it out,
there's coffee in the recipe!
I believe the lovely
Miss van der Wat w
ill be at the Expo with her fellow team members at
Roast Re:Public.
Along with many other coffee and chocolate professionals to show you the joys you didn't even realise about your favourite vices!
Got something to say? Then leave a comment!
---
World Barista Championship Rimini 2014
Monday, 9 June, 2014
Yesterday at the Barista Orientation meeting, 54 countries came together in the name of coffee. It was quite an amazing moment. There was an eager anticipation in the air.
Today things got very real.
While everyone is still being very respectful, it is clear that there is tension in the air as months of training and energy and resources come to a final culmination.
15 minutes to make the dream come true. Everyone here is all in. And for the most part here in Rimini they're having the time of their lives!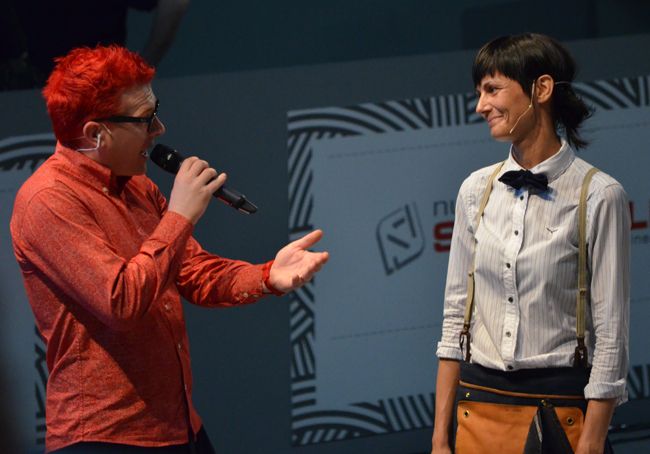 The effervescent
Stephen Leighton
chats to Sonja representing Austria!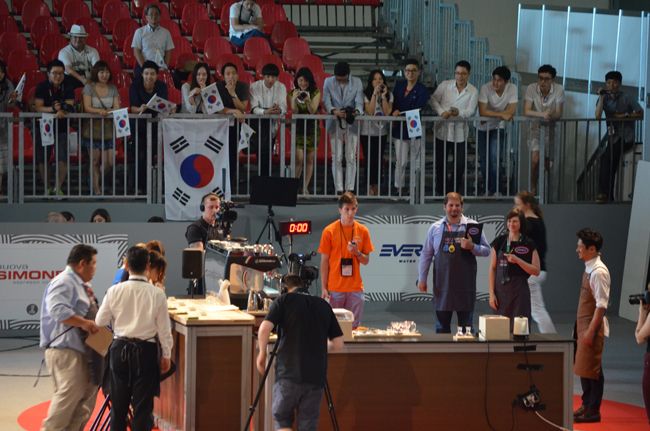 The Korean entourage. They know how to bring the fire.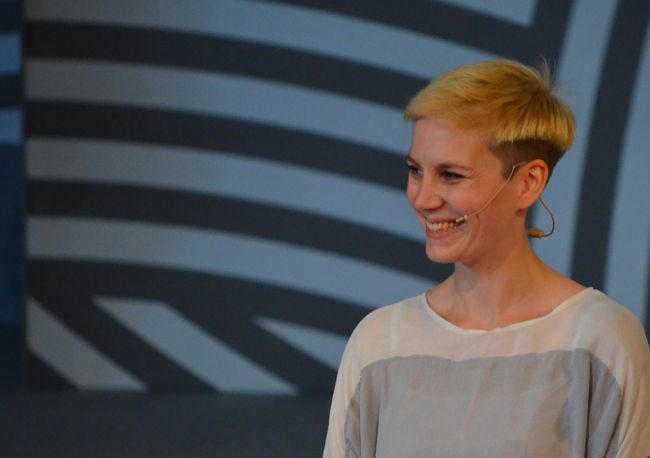 Erna from Germany was all smiles.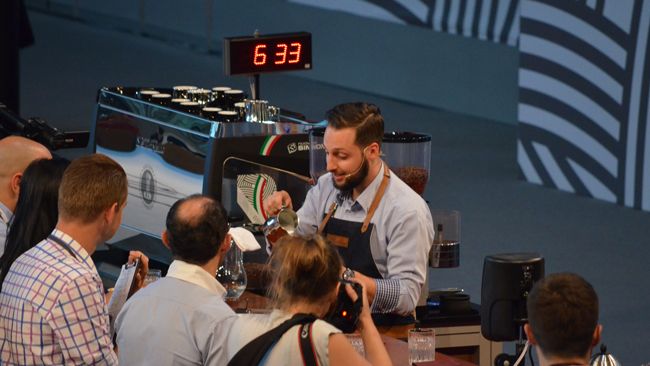 Follow all the action on LIVESTREAM. The quality is excellent.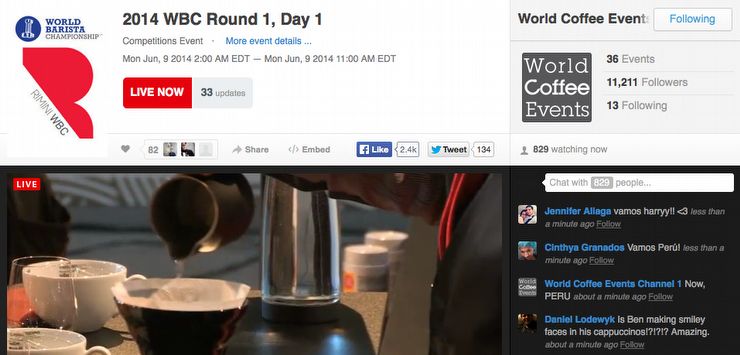 The official media partners
Barista Mag
and
Sprudge
are also great resources to check out.
Got something to say? Then leave a comment!
---
Day 1 in Cape Town: SCASA Coffee Competitions
Thursday, 22 May, 2014
Yesterday was a busy day here at
Hostex Cape Town
. The Western Cape
SCASA
Regionals got off to a flying start with the first two competitiors in the Barista Competition, Joseph Pedzi, first time competitor from The Larder and Luyolo Ndandane from
Gourmet Coffee Roasters
. They set the standard high and in the small fleet of baristas competing in this competition they made it clear that the Top 6 spots that take the baristas to Nationals will be difficult to get their hands on!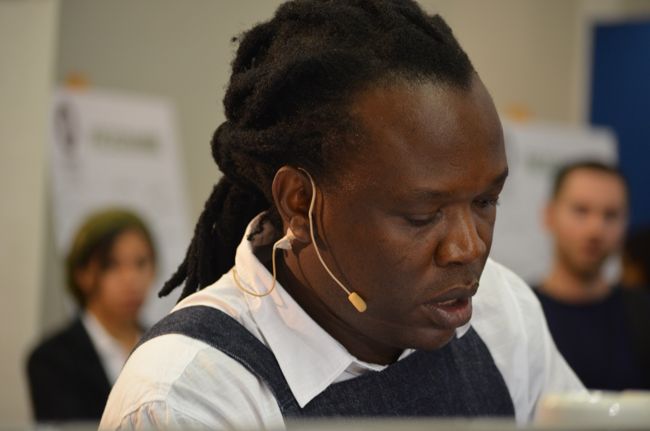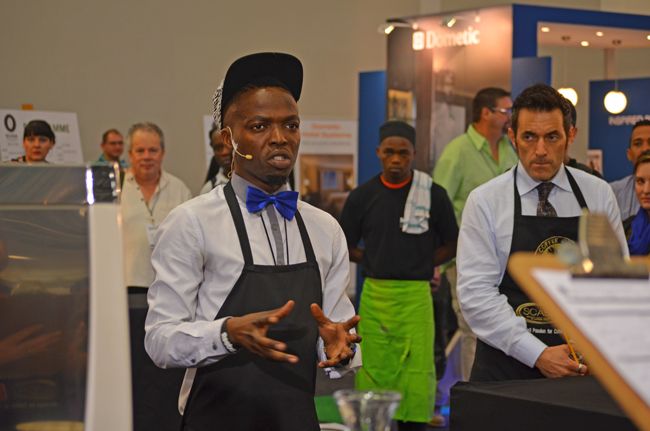 Then we went straight into the hotly contested Latte Art competition where we had some delightful patterns poured including a zebra and some too cute bears.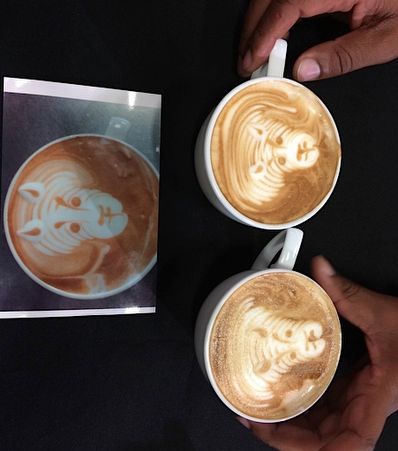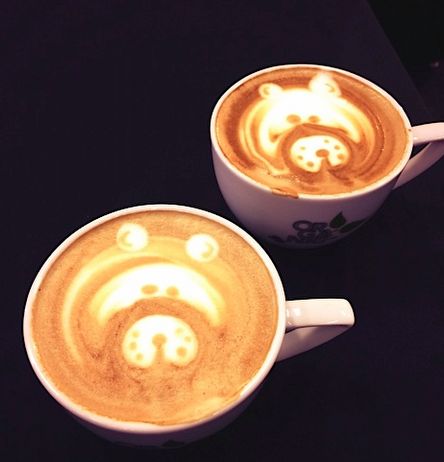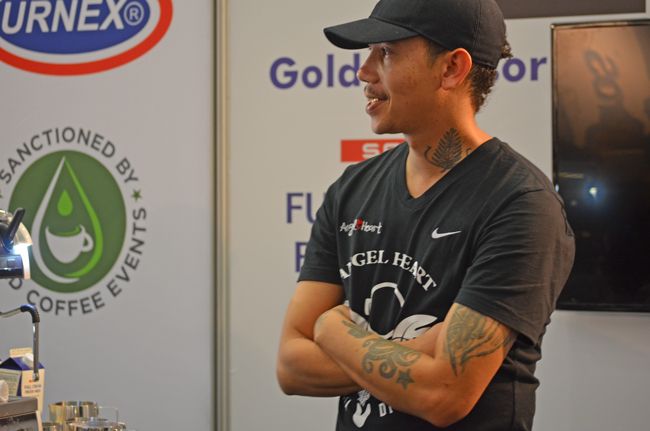 Wallace Jacobs, first time Latte Art competitor from Angel Heart in the Northern Cape, he even has a rosetta tattoo!
We had an array of CT's best cuppers present for the Cup Tasting Competition, most notably the team from Global Coffee Company, Ollie Marshall scored a whopping 8/8 to lead three of his team into spots in Friday's final. Very impressive!
Our delightful MC Bash Omar celebrated his birthday yesterday, here he is looking serious for once, but he's been lighting up the stage at the competition so far and keeping everyone informed.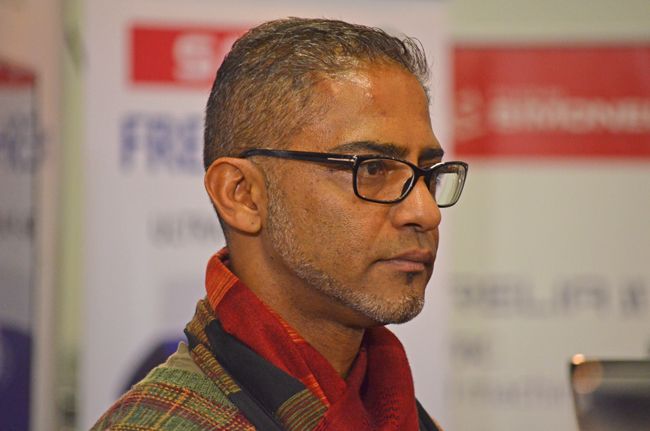 Our esteemed judges are in for one heck of a day, today Thursday, as they have 11 competitors to evaluate. Bring it on!
Watch the action live at
https://new.livestream.com/thecoffeemag/wcape2014



Got something to say? Then leave a comment!
---
Coffee & Chocolate Expo 2014
Tuesday, 4 March, 2014
We've already given away two sets of tickets, you can still win, do it now, all you have to do is fill in the form below!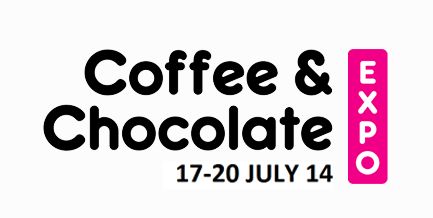 This year promises to be bigger and better than the first ever Coffee and Chocolate Expo that kicked off last year. TheCoffeeMag is now the official media partner and we have the inside scoop that this year, the team at Coffee and Chocolate Expo are pulling out all the stops to make your experience unforgettable.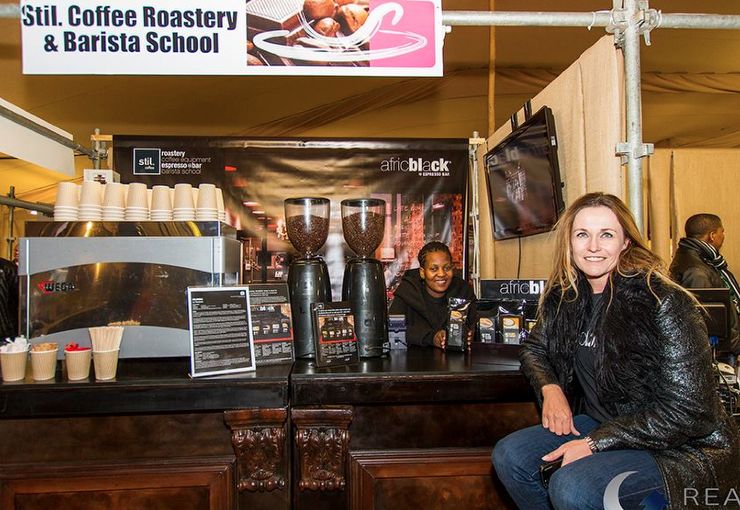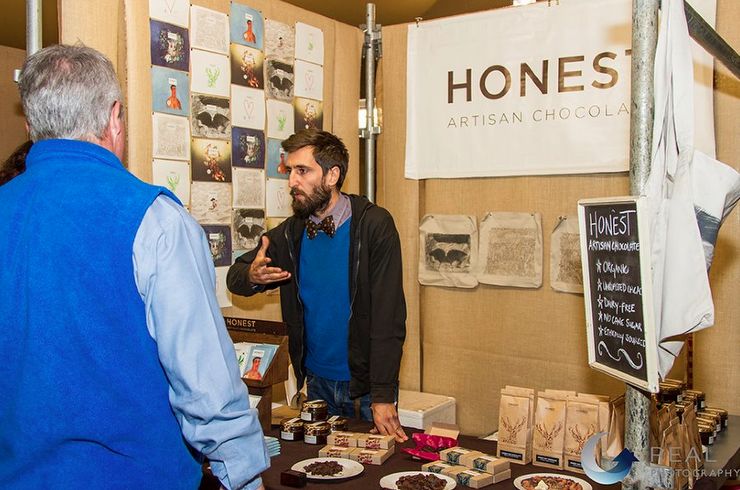 Apart from gathering together the who's who of both the coffee and chocolate industries (even getting the
Speciality Coffee Association of Southern Africa
involved) with numerous workshops being held throughout the day, they've got a dedicated Wine Pairing workshop sponsored by Ken Forrester and lots else planned.
The awesome news is, we're giving away some tickets, whoop whoop! Simply fill in the form below and you go into the draw for one of two tickets.
Win Tickets to Coffee & Choc 2014
Got something to say? Then leave a comment!
---
Your GP Regional Champ is... Phumlani Sibeko!
Monday, 3 March, 2014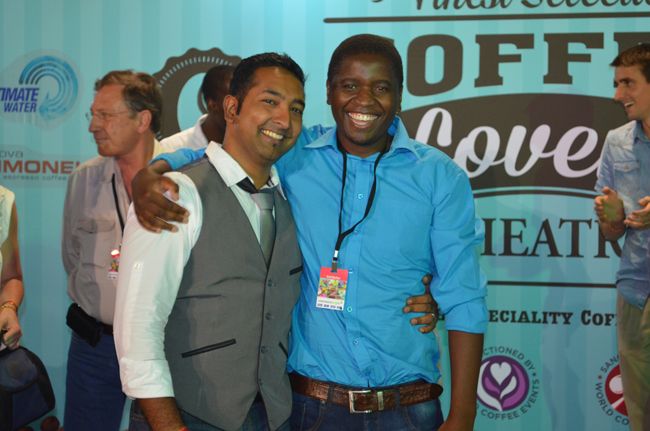 Those are two very happy baristas! Congratulations to GP Champion Phumlani Sibeko (Famous Brands) and runner up, Ishan Natalie (TriBeCa Coffee)
With Ishan Natalie, two time National Champ in the mix, there was always going to be a strong favourite. As we went into Final's day, the competitors had all relaxed slightly knowing that their place at Nationals was secure. There was still a lot to play for; the title of Best Barista in Gauteng, a R4500 watch sponsored by Tissot and of course, the glory. At the end of the tough day of competition though,
Phumlani's
coffee (a single origin Guatemalan) impressed the judges the most, beating out the defending GP title holder and his friend and inspiration, Ishan.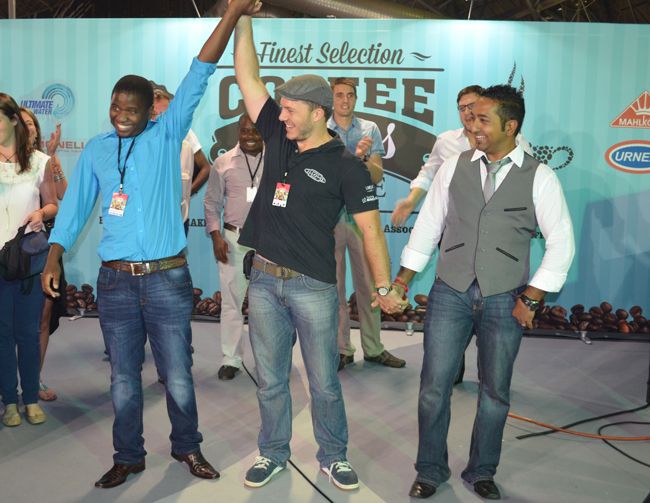 The moment of glory!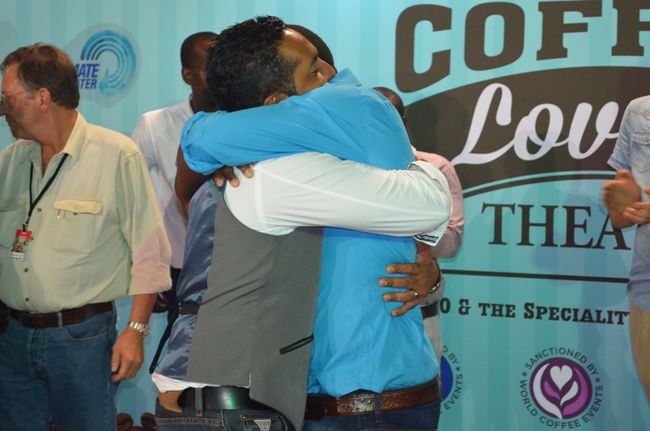 The camaraderie between the competitors is really wonderful to see.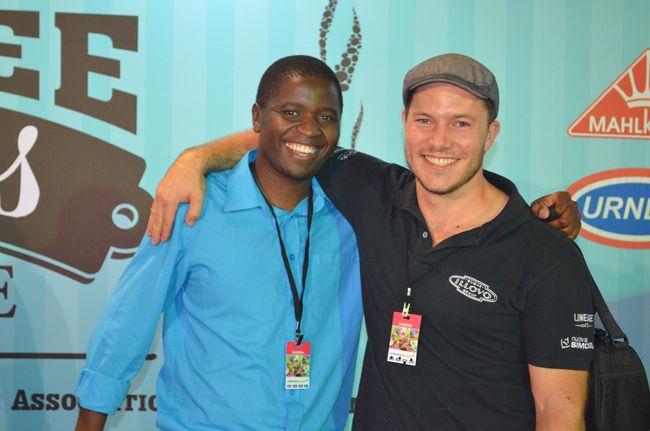 The current National Barista Champ, Craig Charity, was there to present Phumlani his title!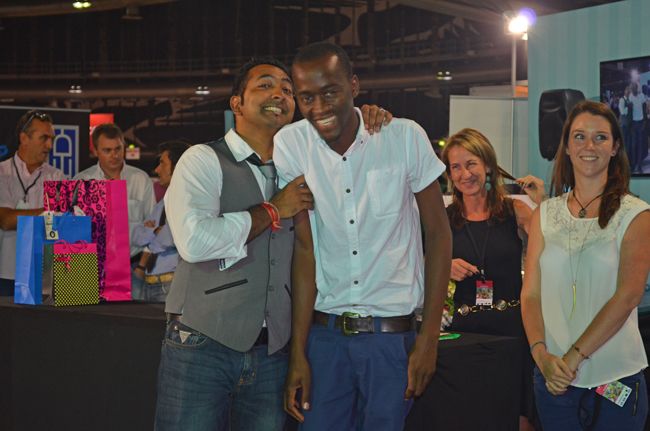 Ishan Natalie took home the Best Espresso and Best Cappuccino from the Semi Final Rounds and Best Signature Drink was shared by Sipho Mabaso and Ishan.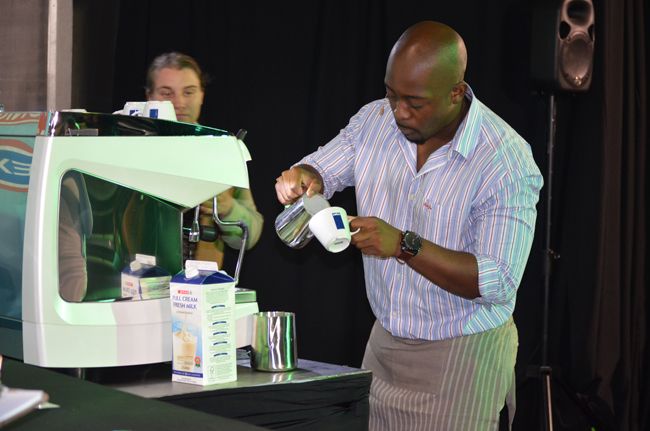 Sibusiso pouring his winning Latte Art coffees.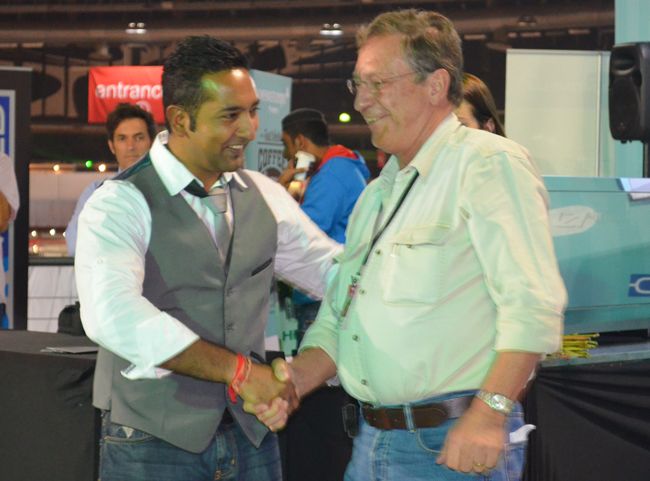 Ishan was crowned Cup Tasting Champion, pictured here with Lionel de Roland-Phillips, Chairman of the SCASA board.


Barista Championship Top 6
1. Phumlani Sibeko
2. Ishan Natalie
3. Sipho Mabaso
4. Matt Carter
5. Casper Ncube
6. Dale Fienberg

Latte Art Top 2
1. Sibusiso Ncobe
2. Martin Baloyi

Cup Taster's Top 2
1. Ishan Natalie
2. John Mokobodi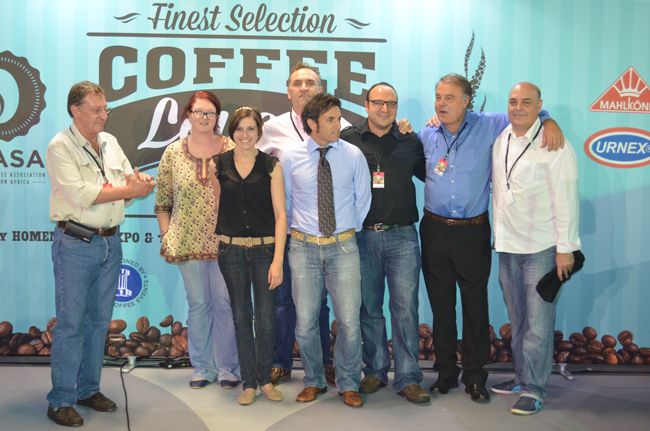 Big thank you to the Judges for the Final Round, Debbie, Lynette, George K., Alessandro, George B., Andre and Peter.
Got something to say? Then leave a comment!