4 New South African Champions crowned in The National Coffee Competitions
at the Good Food & Wine show
by Iain Evans and Melanie Winter
Four new South African Barista Champions were crowned at the National Coffee Championships in front of a packed crowd at The Good Food & Wine show in Johannesburg today.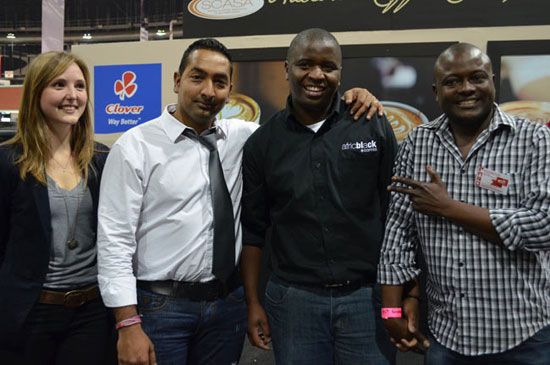 New SA National Coffee Champions: (Left to Right) Maxine Keet (Cup Tasting), Ishan Natalie (Aeropress) Phumlani Sibeko (Latte Art) and Lovejoy Chirambasukwa (Barista Champion)
The National Barista Championship title went to Lovejoy Chirambasukwa, 31, (Western Cape) from Origin Coffee Roastery.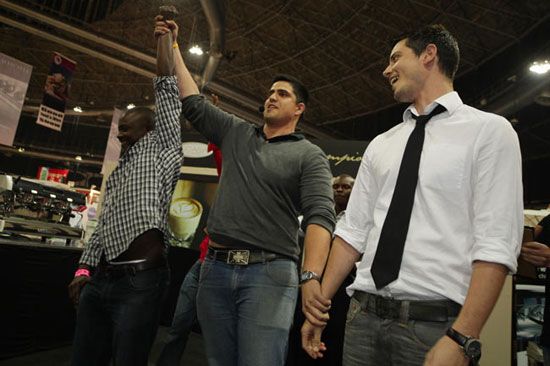 A new champ is born. Lovejoy's hand raised in the air by former SA Champ, Wayne Oberholzer with runner up, Stephan Brits, looking on.
Lovejoy, originally from Zimbabwe moved to South Africa in 2009 and started training as a barista under trainers Jake Easton and Wayne Oberholzer.
"It means 4 years of hard work come to fruition – only second time competing, I learned a great deal since first entering this competition 2 years ago. I think this is the just the beginning and there are good things to come. My coffee career is something that started in SA – and I'm grateful for this opportunity to represent SA at the World Barista Championships in Melbourne next year.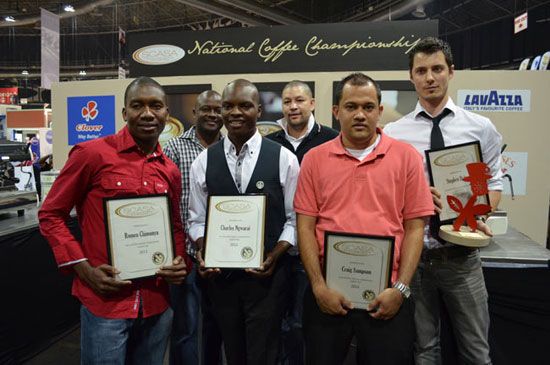 Top 6 Baristas in The SA Barista Championships : (Left to right) Romeo Chimunya, Lovejoy Chirambasukwa, Charles Ngwarai, Gerald Charles, Craig Sampson, Stephen Brits.
Phumlani Sibeko (Gauteng), from Stil.Coffee won the Latte Art division.
"I feel great. I feel blessed! Latte art is special to me- it's part of the presentation and gives the customer something to remember – The latte art is the start of the experience and tells you immediately about the care that's gone into it.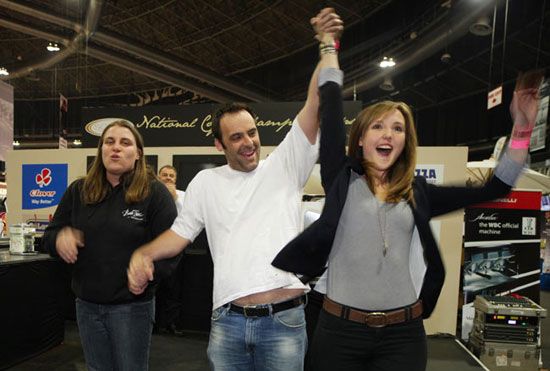 Maxine Keet (KZN) took honours in the Cup Tasters Championship and will compete in Nice, France in the World Championships in 2013.
"I feel amazing. Words can't describe how hard my heart is pumping. Cupping is my passion. Nice here I come! "
Two-time former SA Barista Champion, Ishan Natalie (Gauteng) from Tribeca Coffee won the Aeropress division, the newest division in the Championships.
"I'm ecstatic. I really wanted this, I had a whole lot of stuff that no-one else on stage. I tried some unconventional things. I'm so happy, I really want to go to the Worlds and represent SA in this division. "
Specialty awards: These awards are for the best individual performances over the Championships.
Best espresso: Donovan McLagan.
Best Cappuccino: Lovejoy Chirambasukwa
Best Signature: Jamie Braun.
Best Technical: Lovejoy Chirambasukwa
Best Overall impression: Lovejoy Chirambasukwa

Final Placings:
Lovejoy Chirambasukwa - WC
Stephen Brits - WC
Gerald Charles - WC
Romeo Chimunya - WC
Charles Ngwarai - EC
Craig Sampson – KZN

---