Calling all Joburg based coffee and wine lovers! Miele and Avondale are having an exclusive 5 course food and wine pairing evening in Bryanston on 29 Sept. Click here for details.
Friday, 16 September, 2016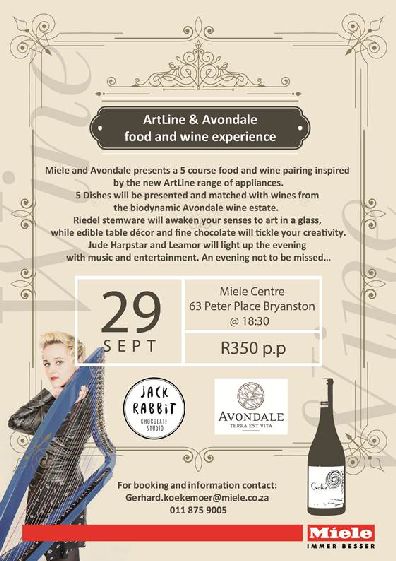 For more info, contact
Gerhard Koekemoer,
Events Manager at Miele on 011 875 9005
or pop into Miele's showroom at 63 Peter Place, Bryanston
www.miele.co.za
Got something to say? Then leave a comment!
---
Big Announcements from SCASA: Event Schedule 2017/2018 and SCAE Education
Tuesday, 13 September, 2016
Ok folks, there were some big announcements at the
SCASA
Western Cape Roadshow hosted at
Truth Coffee
on 14th September.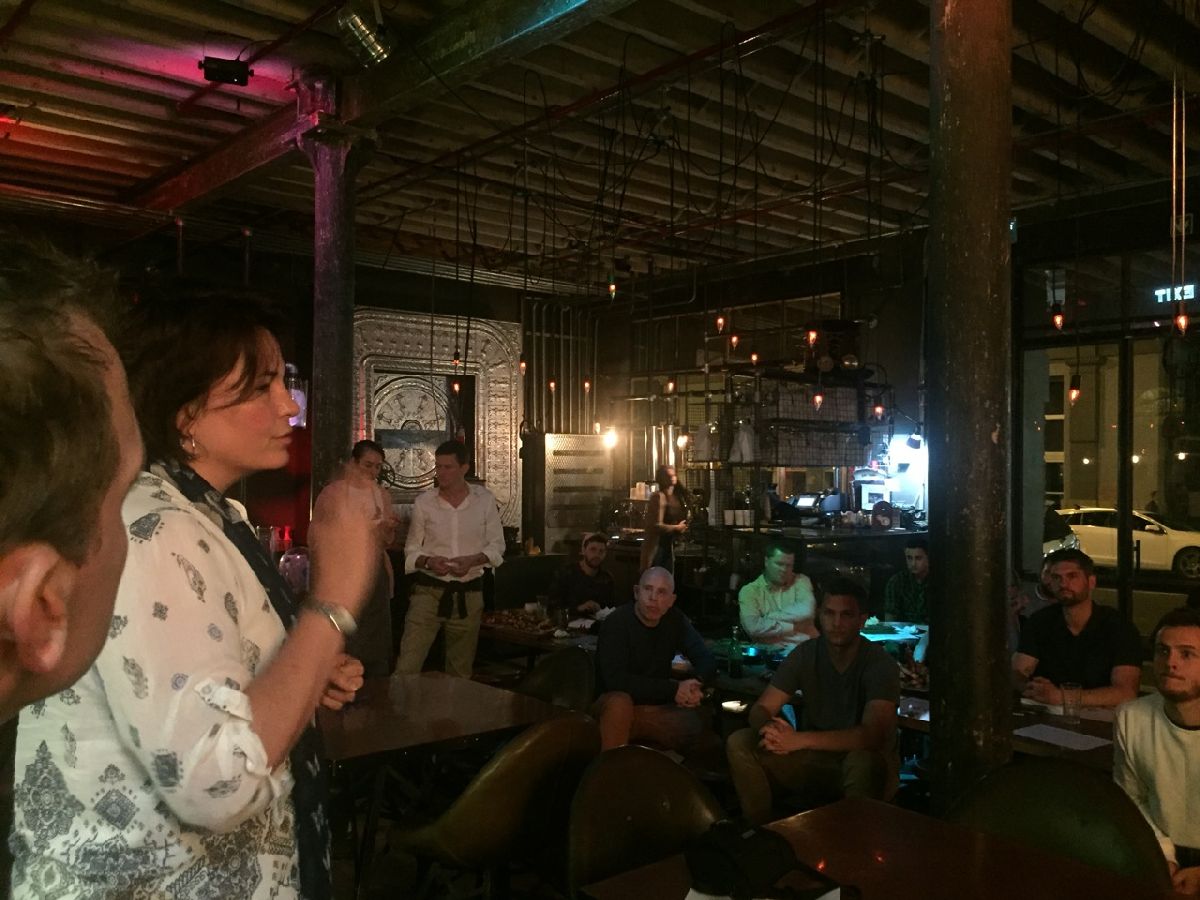 We're very excited about the unveiling of a new competition schedule which sees multiple venues commit to making the South African coffee competitions as awesome as they possibly can be. The Board of Directors has decided to unbundle the Regional Coffee Competitions which means that Latte Art and Cup Tasters will be held as a seperate event to the Barista Championships, giving them the attention they deserve. This is a tremendous step in upping the standard at these events.
Having the schedule planned out so far in advance also means that coffee professionals and baristas can plan them into their schedule which will hopefully grow the number of participants.
Cycle
Year
2018 2017 April 14-23 Gauteng Barista
Rand Show
2018 2017 April 29-1 May KZN Latte Art & Cup Tasters at
Coffee & Chocolate Expo, Durban
2017 2017 May 07-09 Jul Nationals Barista, Latte Art & Cup Tasters
Hostex
, Gauteng

2018 2017 June 02-04 June Western Cape Barista Champs
Good Food and Wine Show
2017 2017 June World Championship Cup Tasters & Latte Art, World of Coffee - Budapest, Hungary

2018 2017 July 14-16 GP Latte Art & Cup Tasters at
Coffee & Chocolate Expo, Johannesburg
2018 2017 July 28-30 GP Coffee Cocktail Competition South Africa
Good Food and Wine Show
2018 2017 July 28 EC Barista, Latte Art & Cup Tasters
Homemakers Expo Port Elizabeth


2018 2017 September 23-25 Western Cape Latte Art & Cup Tasters
Coffee & Choc, Cape Town
2018 2017 October 27-29 KZN Barista Good Food and Wine Show, Durban
2017 2017 November World Championship Barista Korea
2018 2018 March Nationals
Rand Show, Gauteng
The other very exciting piece of news is that Lani Snyman, chairperson of the Board, who has been championing coffee education in South Africa for many years, has worked together with her company to bring the
SCAE Unit Standards of Education
to the South African market, we will update you in more detail about this excellent news as soon as it is finalised!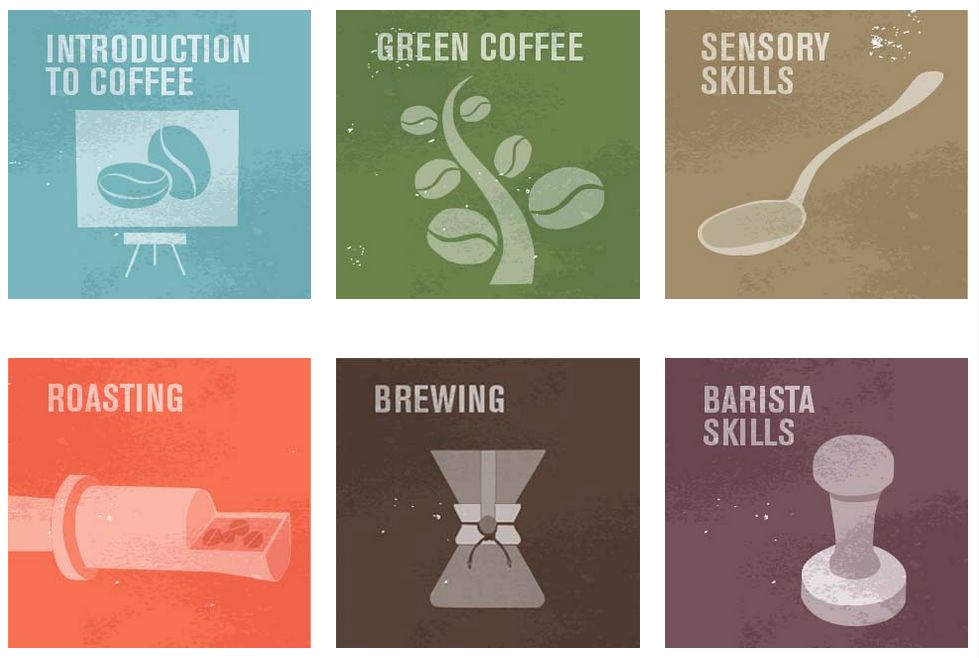 The evening was great for dialogue about how the association can improve and the 40 plus Cape Town coffee professionals were all impressed at the plans presented by the board. Hopefully with the help of members, this plan can become a reality, so that the grand plan of one day hosting the World Coffee Championships can also be realised!
Got something to say? Then leave a comment!
---
The SCASA Roadshow: Cape Town 14 September
Thursday, 8 September, 2016
Join the
SCASA
Board of Directors to hear about the exciting new schedule for their coffee competitions. All are welcome! It will be held on Wednesday 14th September at Truth HQ.
Why is this important to you, you might be asking? Well, a stronger national body hopefully means better coffee and more places. Just look at the most powerful coffee associations in the world, US, Europe, Australia, Japan. Each had produced numerous coffee champions and has cities that are globally recognised as capitals of coffee culture. Our association has been going almost ten years and has BIG plans for the future. We're proud to be a part of it.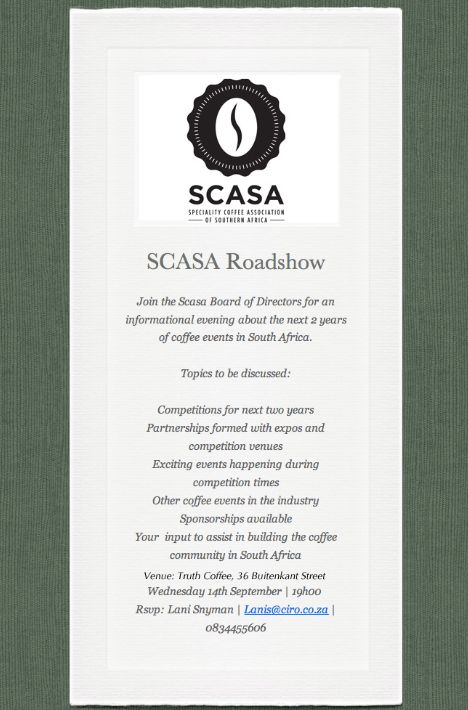 Got something to say? Then leave a comment!
---
Call for Entries: Western Cape SCASA Regionals
Friday, 2 September, 2016
This September 15-18th
SCASA
will run the Western Cape Regionals at the Homemakers Expo CT.
This is part of the 2017 Cycle, which culminates at the World Champs in Budapest, Hungary and Seoul, South Korea. The winners in each category will be sent to represent SA at these Championships.
If you're a cafe owner or you have a favourite barista that you think would shine on stage, they still have a chance to get involved! The experience is invaluable as they get to interact with other members of the coffee community and share their passion and ideas for coffee!
You can be a Champion too!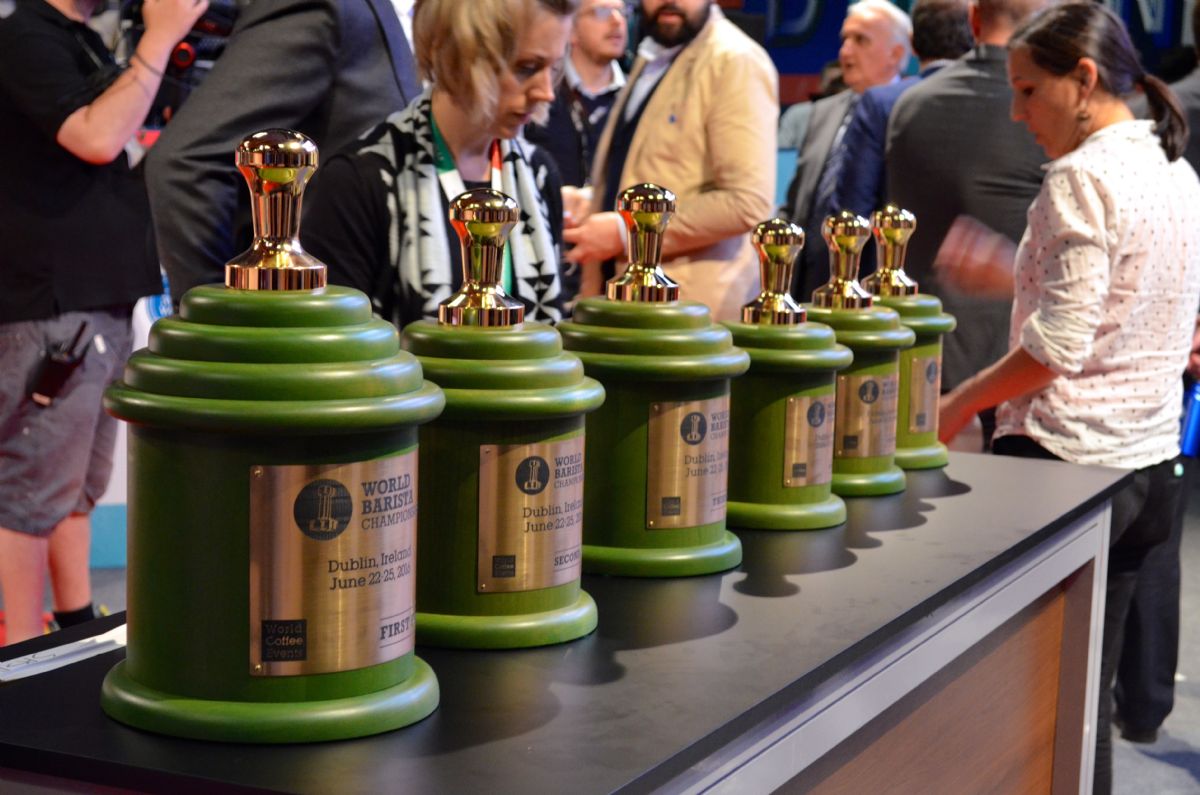 Download
an entry form here.
If you'd like to win tickets to
come watch all the action, you can enter here.
Got something to say? Then leave a comment!
---
Eastern Cape Barista competition 2016!
Thursday, 28 July, 2016
It's on! The best baristas in the Eastern Cape will be battling it out today and tomorrow for coffee supremacy at the Homemakers Expo. Get down to the Boardwalk Expo Centre and support your favorite coffee superhero!
There are 3 Competitions running - the Barista Competition, the Cup Tasters Competition and the Latte Art Competition.
These competitions are the exact same format as the World Coffee Events format, so you'll be able to witness first hand the skill and expertise of the best baristas in the region working their sets before the judges.
You'll also be able to taste some amazing coffees and meet the coffee industry leaders, get a chance to see the latest coffee equipment innovations and get insight and advice into making better coffee at home or even starting your own Cafe!
So if you're in the PE region and you want to learn about coffee - this is the place to be!
Friday 29th July

10am - 4.30pm : Barista Competition
6.45pm - 7.25pm : Cup Tasters Competition
7.30pm : Monin Minute
7.30pm : Finals Announcement
Saturday 30th July

10am : Cup Tasters Final
10.30am : Latte Art Final
12pm - 5.30pm : Barista Competition Final
6.30pm : Monin Minute
6.45pm : Award Ceremony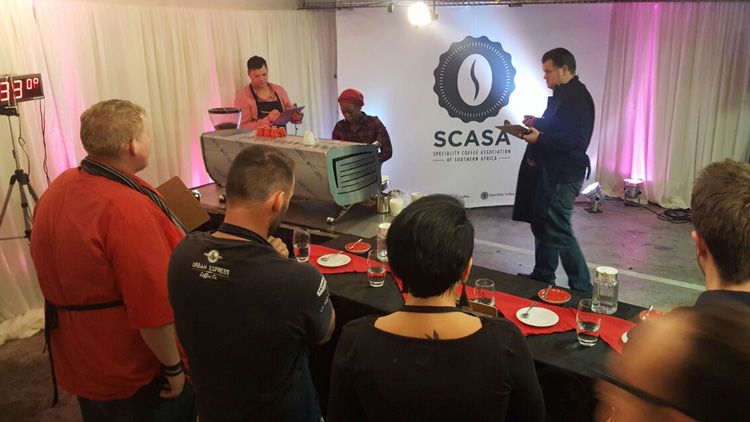 ---
They win a set of double tickets to visit the event! Congratulations! If you're one of their friends tell them to check their email for their prize!
Jenny Wilson
Stuart York
Kirsten Deysel
Pumeza Tube
Belinda Griebenauw
Alida Malan
Theunis Cloete
Sanjay Raga
Varla Fiona King
Noluthando Mavela
---
Got something to say? Then leave a comment!
---
Ticket Giveaway: Homemakers Expo Port Elizabeth
Monday, 4 July, 2016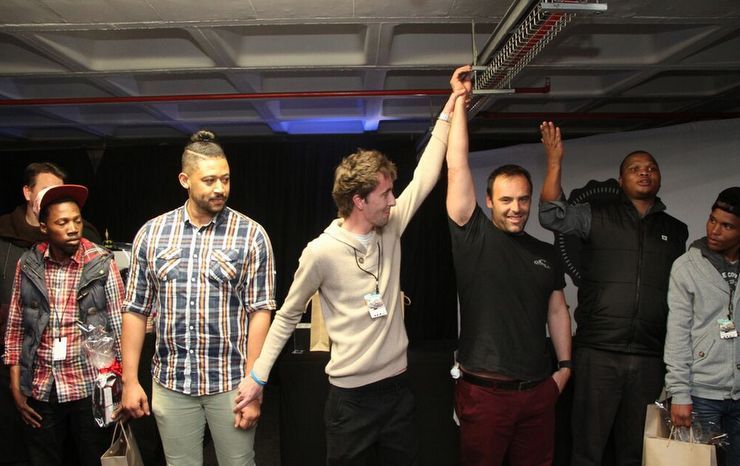 Last year's Eastern Cape Champion was Donovan McLagan! Homemakers Expo helped SCASA to put on an amazing show for the avid coffee fans! Photo: Jamie Bell



Win tickets to the wonderful Homemakers Expo Port Elizabeth to watch the annual SCASA Coffee Competitions. We are always overwhelmed by the amazing hospitality of the Friendly City and the Homemakers team and can't wait to return at the end of this month. The Coffee Magazine has 10 sets of Double Tickets to giveaway to our lucky readers! All you need to do is fill in the form below and you could be one of the winners!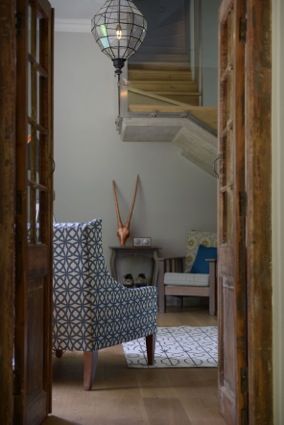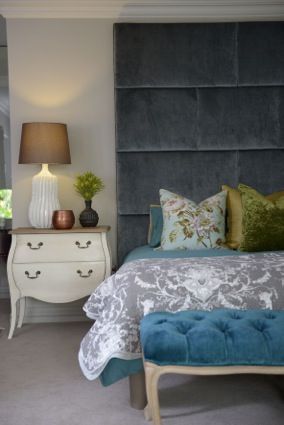 Port Elizabeth HOMEMAKERS Expo
28 – 31 July 2016 | The Boardwalk Exhibition Centre
Inspire Create Innovate

Be inspired to bring back innovation to your home at the 2016 Port Elizabeth HOMEMAKERS Expo, back in town from 28 to 31 July 2016. This is a year's worth of shopping packed under one roof for four days.
The best in home improvement will come together to inspire those in love with their homes. Whatever your home needs we've got it covered, from fresh ideas, to smart advice, do some serious research, compare products and meet suppliers face to face.
The show not only offers you the great selection of exhibitors, but brings to you the fabulous radio presenters live at our show plus some new and exciting show experiences.
Master Upholsterers' Challenge
Brought to you by H&T Furniture by Design & Bargain Warehouse
Don't miss the talented local upholsterers showing off their exceptional skills at the expo competing for the winner prize of R5 000 cash.
Quarter Finals: Thurs 28 July, 12h00 – 17h00 | Fri 29 July, 12h00 – 17h00
Semi Finals: Saturday, 30 July, 10h00 – 16h15
Finals: Sunday 31 July, 09h00 – 12h00
Barista Champs
Our talented Eastern Cape Barista's will once again showcase their remarkable coffee skills, where they will battle it out to take all 3 local titles in order to represent the Eastern Cape at our SCASA National Barista Champs in Johannesburg later this year.

Gourmet Market
Find yourself a warm spot and a couple of friends in the Gourmet Market. Discover the fine selection of gourmet foods that will have you cosy-up to the table and your cup of coffee for hours!
On-The-Go Theatre
Hosted in collaboration with AV Designers
HOMEMAKERS Expo and AV Designers present a line-up of note running at the On The Go Theatre during the four show days! With great local talents and celebrity you make your way to the Theatre every day.
Click here to see the full Entertainment Programme.

Win a Dream Kitchen
Easylife Kitchens will be sponsoring a kitchen to the value of R135 000 to one lucky winner.
Head down to the show to find out how to enter for this exciting new SMS competition. Look out for the stand displaying posters of the Dream Kitchen, as well as all the necessary details of how to enter.
Competition dates: Thursday, 28 July at 10h00 until 17h00 on Sunday, 31 July.
The winner will be notified telephonically during the Daron Mann Breakfast show on Algoa FM on Monday 1 August. Ts&Cs apply.
HOMEMAKERS collaborate with Reach for a Dream
Make sure you head down to the Reach for a Dream stand and purchase a Slipper Day sticker for R10-00. Then on Friday, 5 August you are encouraged to wear your slippers or your Slipper Day sticker to work or school to show your support for children with life threatening illnesses.
Let's bring children's dreams to life – your Slipper Day sticker will make a difference.
General Info
28 – 31 July 2016 | The Boardwalk Exhibition Centre
Thursday & Friday, 10:00 – 20:00 | Saturday, 09:00 – 20:00 | Sunday, 09:00 – 17:00
Buy your ticket at the door: Adults – R40 | Pensioners – R20 | Children under 12 – Free
Take a look at our favourite photos from the 2015 event (Facebook).
For more information visit www.homemakersonline.co.za or phone 041 373 6616 or email pe@homemakers-sa.co.za.
Twitter –
@SAHomemakers
Facebook –
www.facebook.com/HOMEMAKERSonline
Instagram – HOMEMAKERS Expo
#-Tag - #hmexpo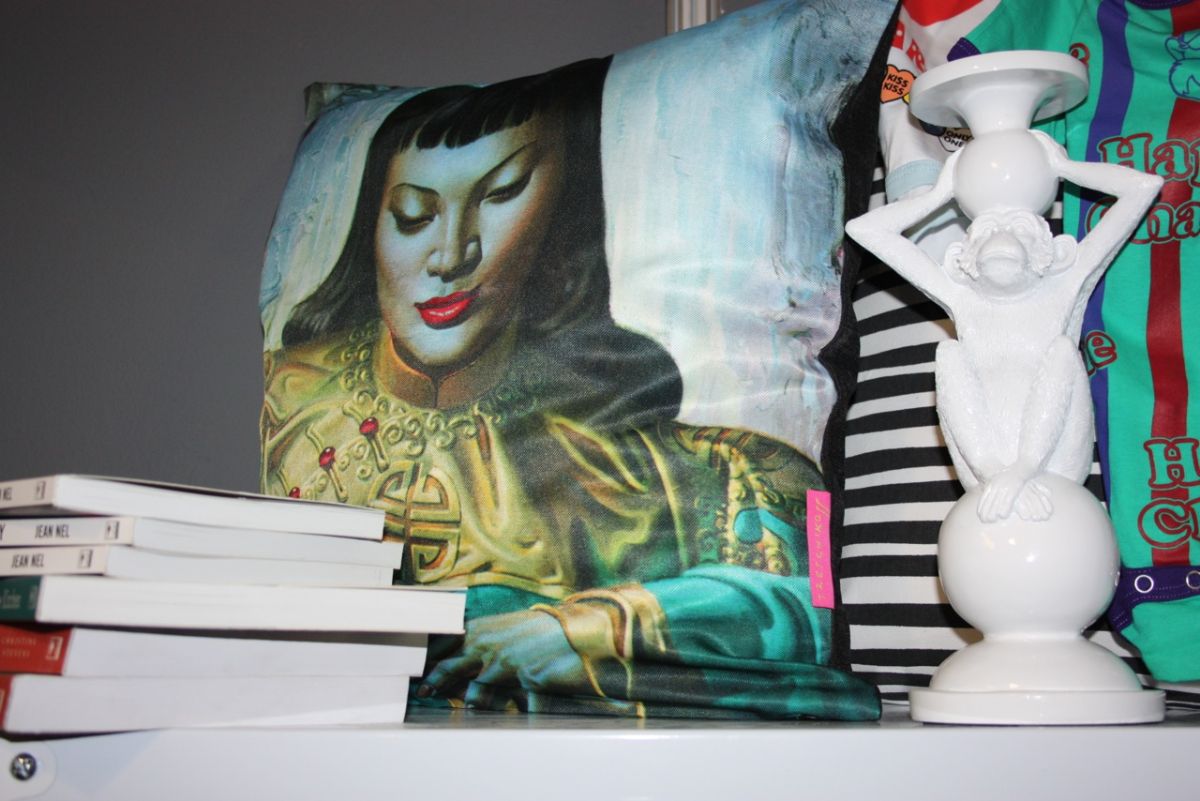 Win tickets to Homemakers Expo PE 28-31 July
Got something to say? Then leave a comment!
---
Good Food and Wine Show: Chef's Table with Wayne Oberholzer
Thursday, 26 May, 2016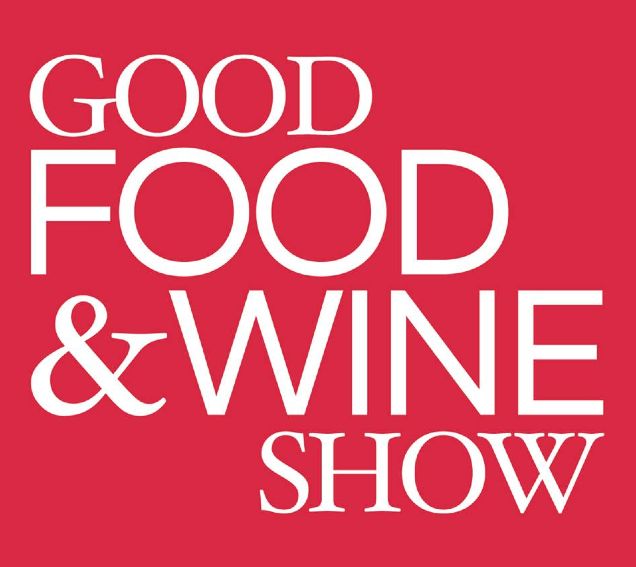 Wayne SCASA's current SA barista Champion will be hosting a Chef's table tonight at Cape Town's Good Food and Wine show. Book your tickets at Computicket!
Visit the
Good Food and Wine Show
this weekend in CT!
Got something to say? Then leave a comment!
---
BIG NEWS: The Coffee Man Film Premiere in Cape Town
Monday, 16 May, 2016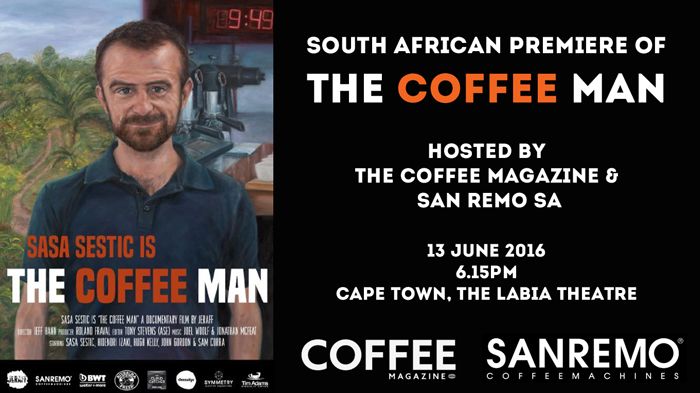 We are very excited to announce that there will be a South African Premiere screening of this documentary,
The Coffee Man
, held in Cape Town at the iconic
Labia Theatre,
13 June 2016. There are limited tickets available so get yours now! Please fill in the form below to send a request for tickets.
R75 gets you in to experience a night all about coffee and a man who has dedicated his life to it. We had the privilege of watching Sasa take the title in Seattle and to meet him. He is a humble, kind and passionate man who has accomplished and contributed so much in the coffee world. This film sheds some light on what coffee means to this World Barista Champion.


Sanremo SA
will be at the screening showing off their beautiful machines that have just arrived in the country.
The Coffee Man follows Sasa from Ethiopia, the birthplace of coffee to Seattle, Washington (USA), the home of the specialty coffee movement and host of the World Barista Championship.
From humble beginnings in war-torn Yugoslavia to his adopted home in Australia, Sasa Sestic's journey to the 2015 World Barista Championships is a long one. But his dedication and pursuit of excellence carries him through as do his family, his staff, coffee growers and roasters and the vendors who travel with him on this remarkable journey.
The Coffee Man is an intensely personal, observational documentary that will have you biting your nails, standing up and cheering; and wishing that you, too, could experience Sasa's Holy Grail: the perfect cup of coffee.
Please note, tickets are only secured when payment has been received!
Book your tickets for The Coffee Man Premiere in CT
If you liked this article, then you may also like these:
Got something to say? Then leave a comment!