Baristas Movie at Rosetta Roastery
Wednesday, 8 May, 2019
An awesome evening of coffee geekery is planned at Rosetta Roastery in Woodstock, Cape Town on the 24th of May. Seating space is limited so book early to avoid disappointment!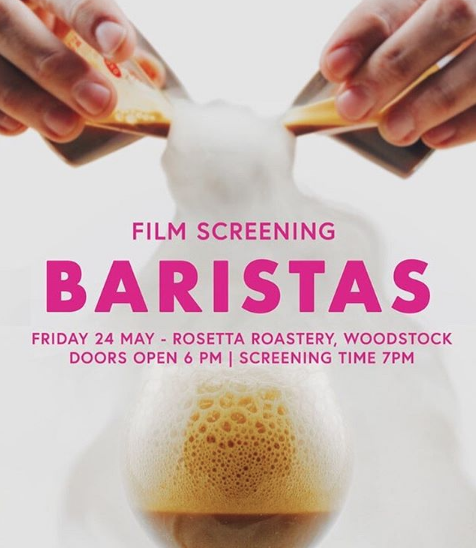 You can buy tickets here.
"We are hosting the first public South African screening of the follow up to the hit documentary "Barista" features four National Barista champions from around the globe who represent their countries and their craft in an attempt to win the World Barista Championship in Seoul, South Korea.

Join us for an evening of fine coffee, street food, great cinema, and a chance to swap notes with Cape Town's most passionate coffee lovers. With the Western Cape barista Champs and Cape Town Coffee Festival we thought it would be a great opportunity to gather some like minded coffee enthusiasts."

Got something to say? Then leave a comment!
---
National Coffee Champions 2019
Friday, 1 March, 2019
As the blazing sun set at the SCASA National Coffee Competitions 2019 held in steamy Ballito, KZN, I don't think anyone could say they weren't happy with the new SA Coffee Champions. The eventual winners after four long days of intense competition were Harry Mole of TriBeCa Coffee Company (Barista Champs), Christopher Abrahams (Latte Art) and Thabang Maluleka (Cup Tasters) both from Ciro Beverage Solutions.
They are all going to fly the SA flag high as you would be hard-pressed to find three more humble and hardworking individuals.
Congratulations to every single competitor, judge, volunteer and sponsor on pulling off another great event. We get into the details below.
You can watch our live video coverage of the event on the SCASA facebook page.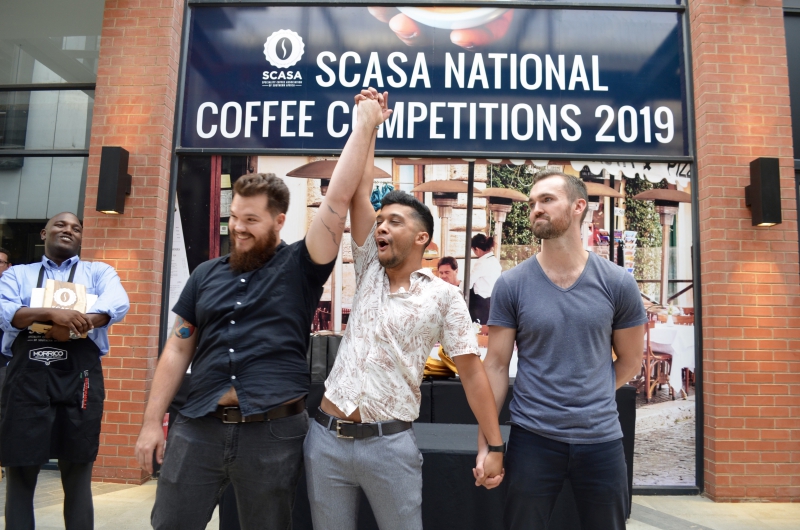 Harry Mole's hand is lifted in victory by Winston Thomas. Trevor Fitz, looks on as runner -up.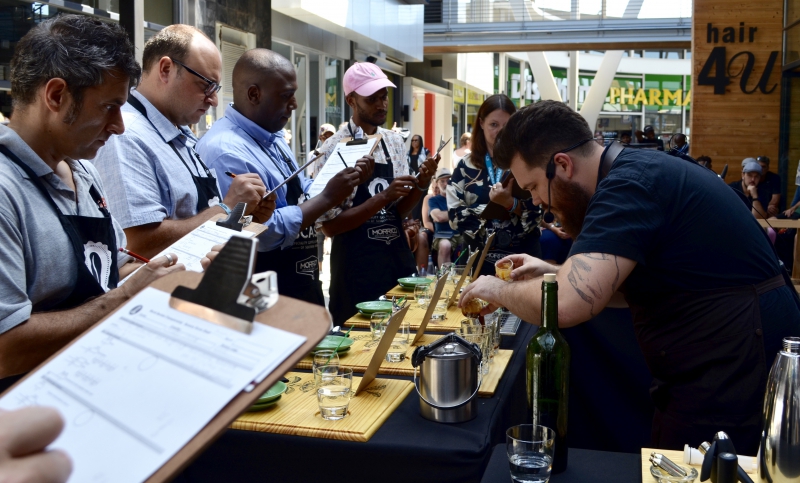 Harry prepares his signature drinks during his Finals set.
Going into Finals Day, it really was anyone's game. Word on the street was that the finalists were separated by only a few points in the semi-final round, so there was everything to play for. Ishan Natalie (Starbucks SA), three-time SA Champ, with his Ethiopian Guji carbonic maceration coffee, was obviously a hot favourite, but all six of the coffees presented were of a very high standard. In the end, Harry Mole, a long time competitor who has been in the Top 6 for the past three years, came out on top with his Tanzanian peaberry.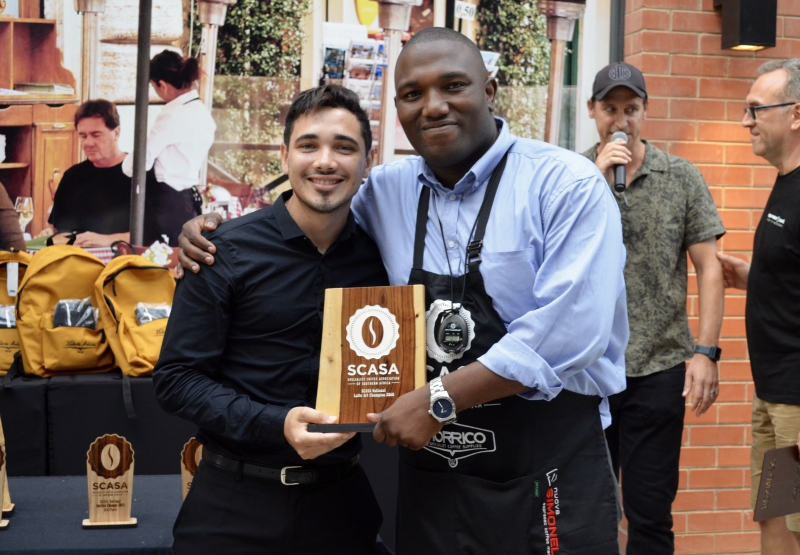 Chris, with new SCASA Chairperson, Bernard Muneri.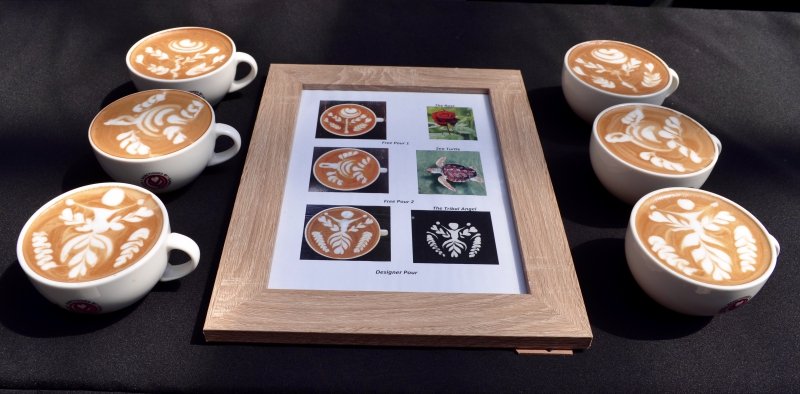 The winning Latte Art set by Chris Abrahams.
The Latte Art finals between defending SA Champ, Chris Abrahams (Ciro) and newcomer, Rodney Swartz (Champs Musical Coffee) was one of the tightest finals in years, with both competitors running excellent sets, both finishing within the 10 minute time frame and putting down four incredible free-pours and two Designer pours each. In the end it was Chris, with his Rose & Sea Turtle free-pours and Tribal Angel design pour that took the title. We are equally excited for runner-up Rodney, as he was such a great competitor and talemted latte-artists that we are certain to see him on the Finals stage again in the future!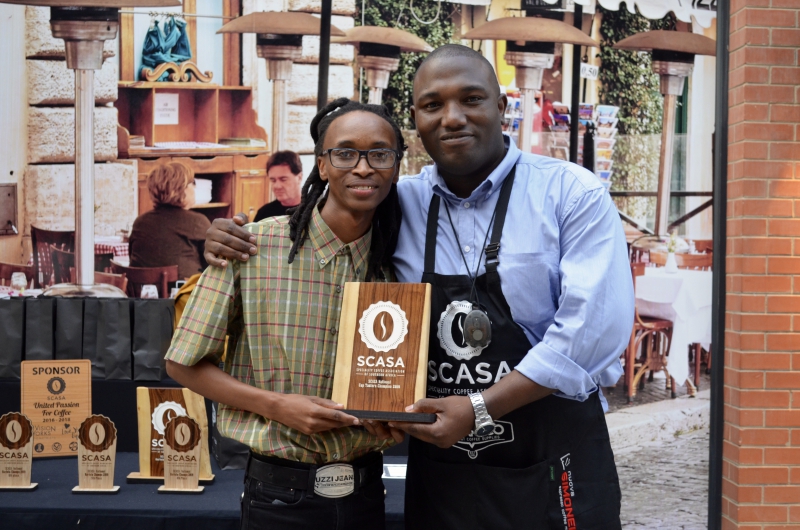 Thabang is crowned as the new SA Cup Tasters Champion.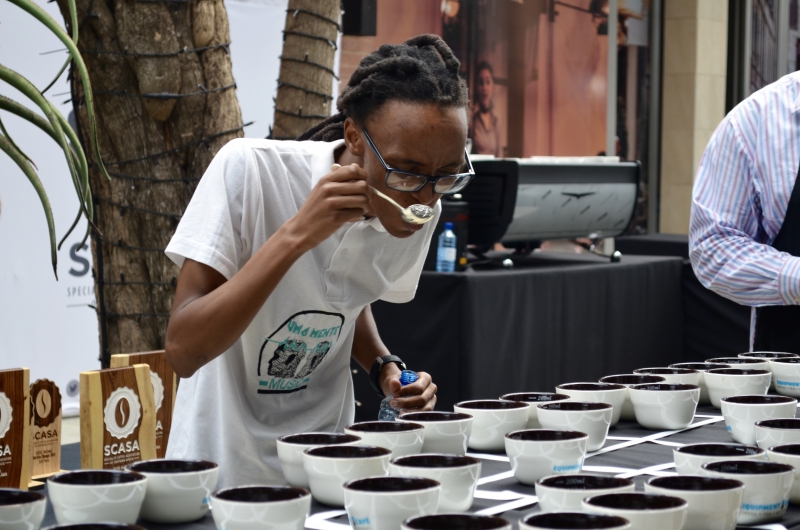 Cup Tasting like a Champion!
The Cup Tasters finals was a very tough final according to the four finalists, Maxine Thiart (Routed Roasters) Thabang Maluleka (Ciro), Chad Whitby (Colombo) and 4 times SA Champ Don McLagan (Urban Espress). The competitors moved slowly and carefully along the table and had repeat passes at the sets that they weren't sure of, which was a testament to the difficulty of the coffees on the table. In the end, with a score of 6/8 it was Thabang who eventually took the title away from Donovan.
Chris and Thabang will represent SA at World of Coffee in Berlin in June 2019, and Harry will represent at SCA Expo in Boston in April this year.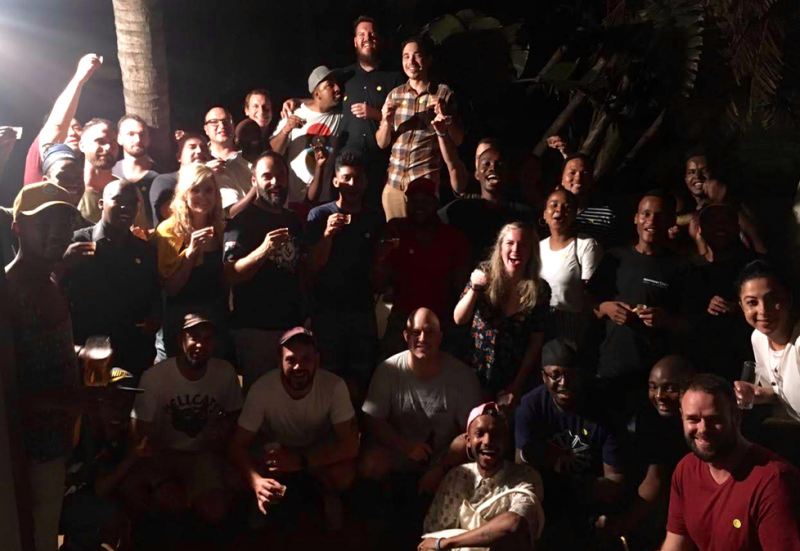 Got something to say? Then leave a comment!
---
Day One Wrap at Nationals 2019
Thursday, 21 February, 2019
The SCASA National Coffee Competitions kicked off yesterday at the Ballito Lifestyle Centre on the KZN North Coast, with the Latte Art Semi Finals, Cup Tasters Semi Finals being completed and the first two baristas in the Barista Category semi final round completing their sets.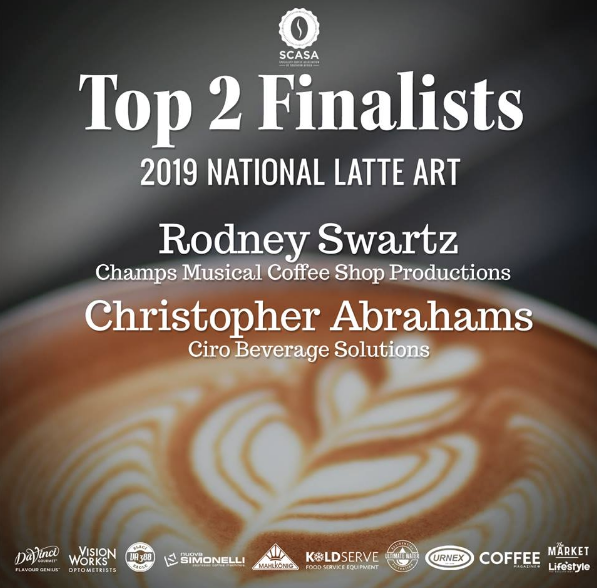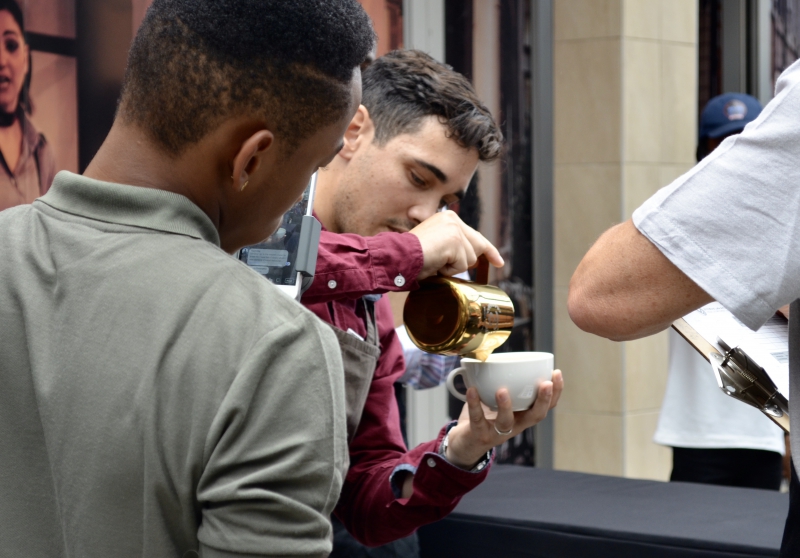 Chris Abrahams (Ciro) with his lucky gold jug!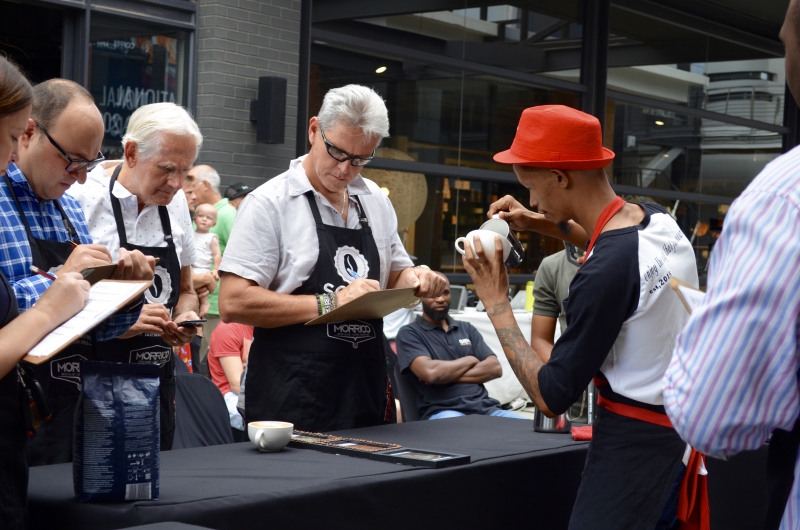 Rodney Swartz (Champs Musical Coffee) impressing the judges.
In the Latte Art category, it was two Western Cape Baristas that progressed to the Finals, with Rodney Swartz (Champs Musical Coffee) and reigning SA Champ, Chris Abrahams (Ciro) pouring some very intricate patterns - 2 Latte free pour designs and one Macchiato free pour each to progress ahead of a tough field that included last years runner up Nigel Kamhanda from Infood Coffee Society in JBay.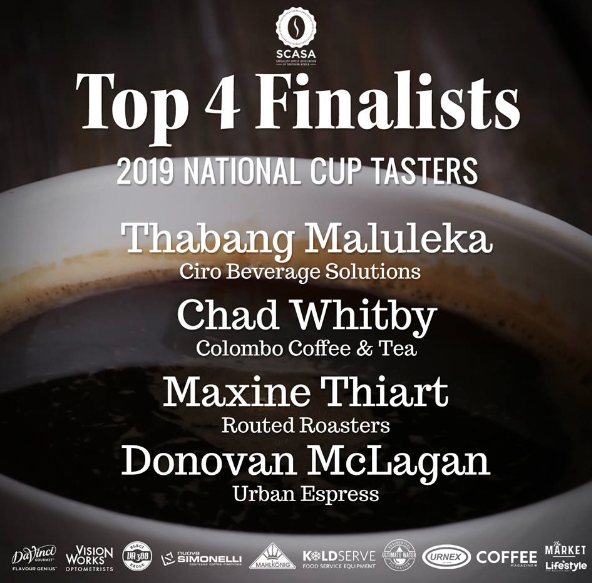 In the Cup Tasters rounds, the coffees proved very tough indeed with low scores all round, and in the end it was reigning SA Champ, Don McLagan (Urban Espress) and fellow Eastern Cape cup taster Maxine Thiart (Routed Roasters, JBay) along with Durban's Chad Whitby (Colombo Coffee & Tea) and rising star from Gauteng, Thabang Maluleka (Ciro) who progressed to Sunday's finals.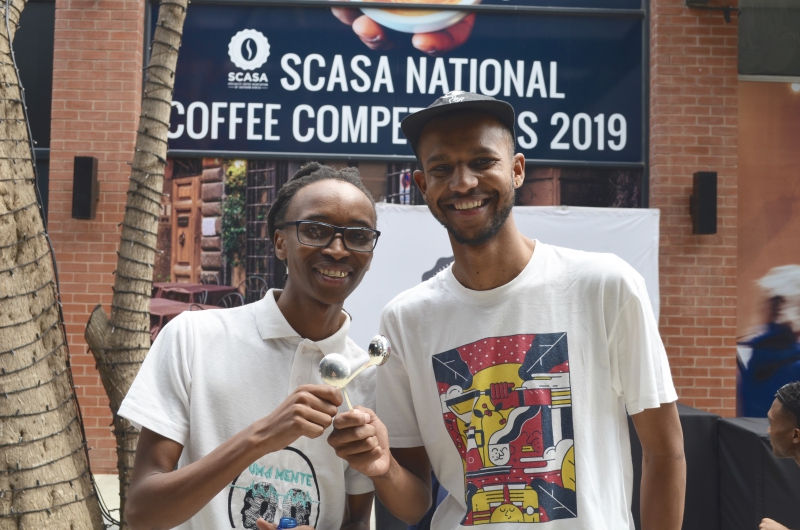 Thabang Maluleka (Ciro) and Chad Whitby (Colombo Coffee & Tea)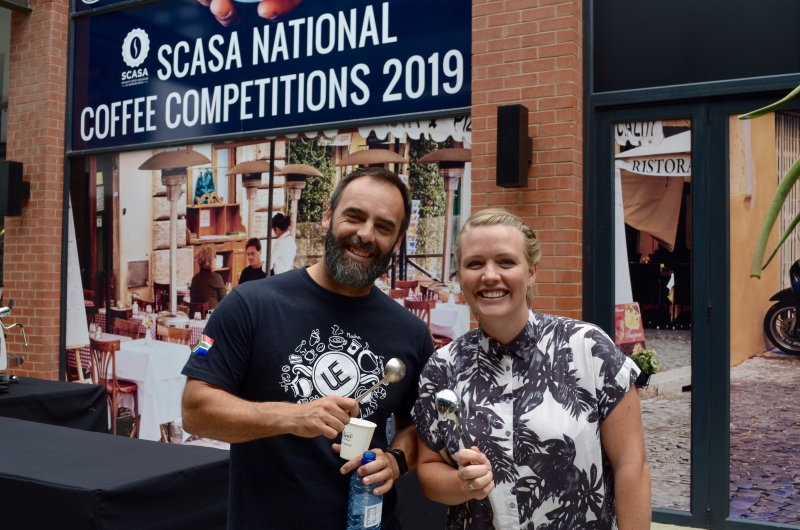 Donovan McLagan (Urban Espress) and Maxine Thiart (Routed Roasters)
There were just two baristas, Tshepo Modiakgoda (Jaru, Free State) and Hillary Gwaze (Infood, JBay) who took the stage in the Barista category before the close of play.
Today's action sees some big names of the 13 Baristas in today's semi-finals including John Evans and Harry Mole (both TriBeCa), last year's runner up Neil Gouws (Origin) and 3 time SA Champ, Ishan Natalie (Starbucks).
Saturday sees another 9 Baristas present their Semi-Finals sets, and names to watch in this group include Gauteng Champ, Trevor Fitz (Independent), 8 time Nationals finalist Bruce Manning ( TriBeCa) and three Regional champs in Simnikiwe Mkize (Rosetta - W Cape), Khulekhani Mpala (Weissenhof - Gauteng) and Dieter Liebenberg (VDP - KZN)
Follow the live-stream action on Facebook Live here.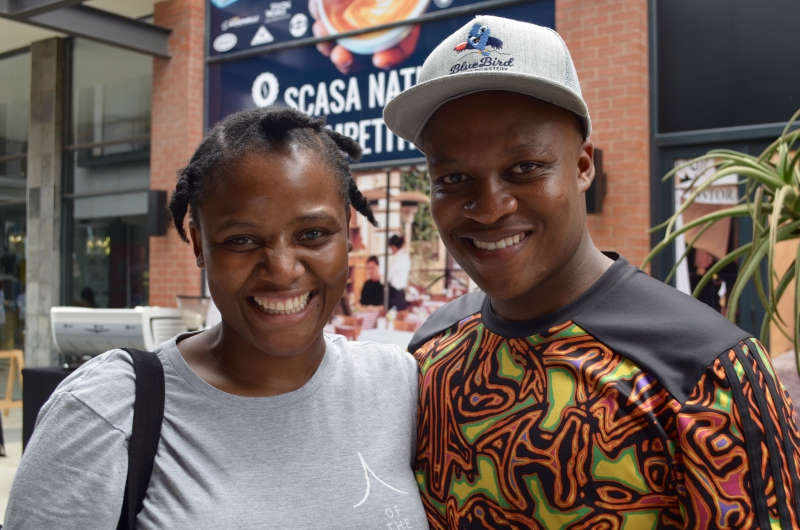 Simnikiwe Mkize ( Roasetta Roastery) and Ndumiso Ncgobo (TalkHouise cafe)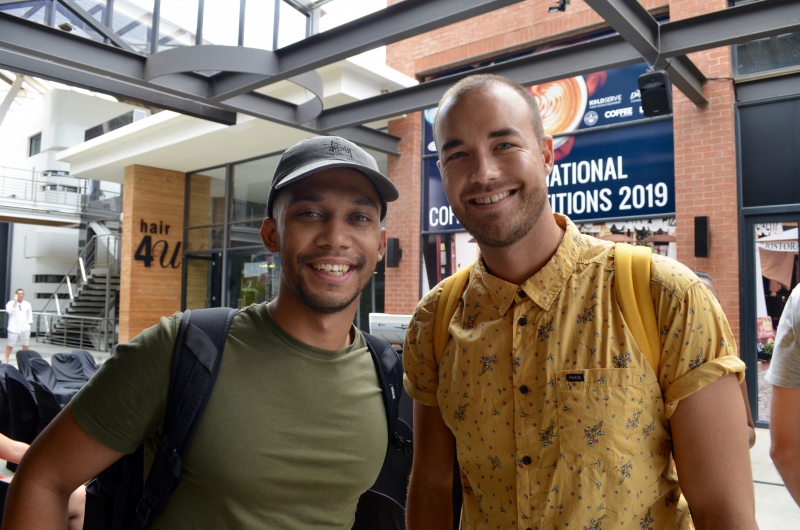 Winston Thomas and Luke Van De Merwe.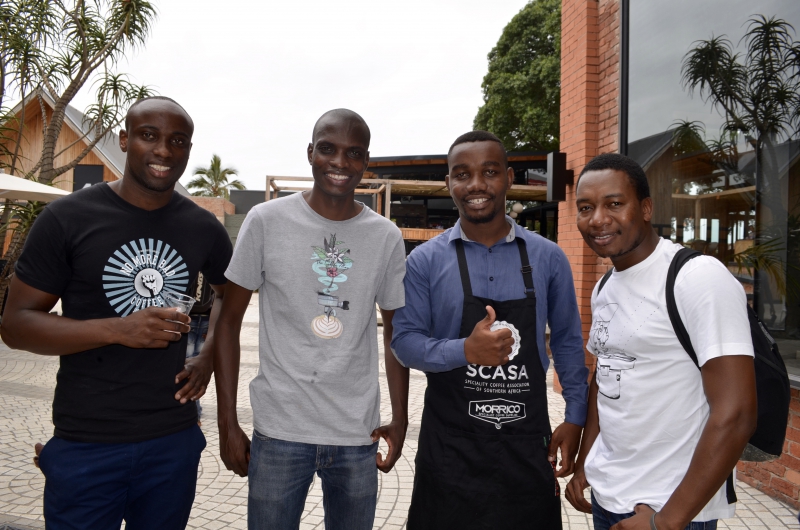 Hillary Gwaze and Percy Chikwira (Infood Coffee Society), Wency Masawi (Tanaka Coffee) and Romeo Chimunya (Tribe Coffee)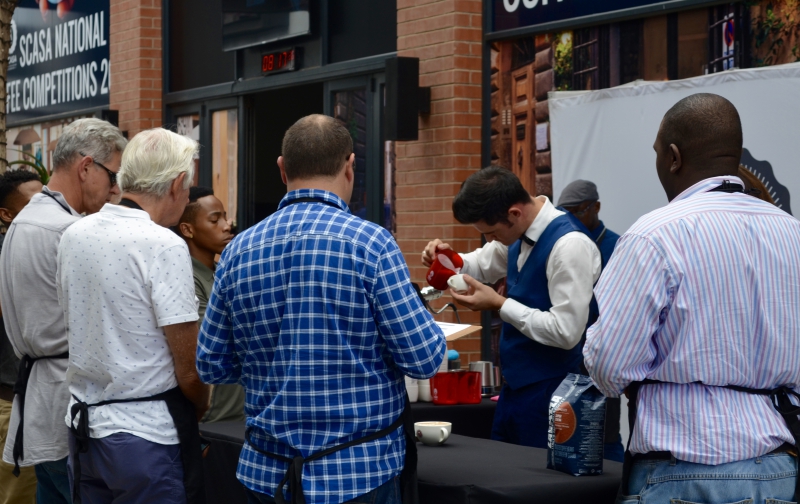 Simeon Snyman (Stereo Cafe)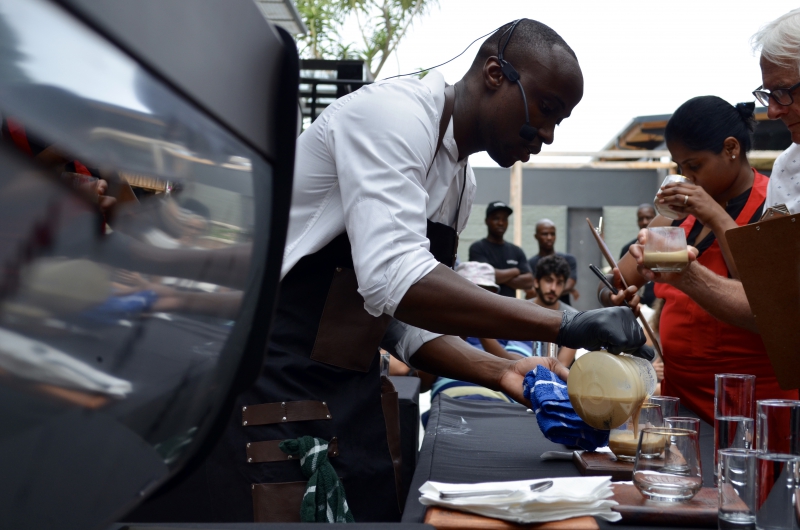 Hillary Gwaze (Infood Coffee Society)
Got something to say? Then leave a comment!
---
Inspiration in the Build Up to Nationals 2019
Monday, 28 January, 2019
One of our favourite industry gatherings of the year is the SCASA National Coffee Competitions, where competitive coffee professionals get together to showcase their skills and try to win a place to represent South Africa on the World Stage. We dug up this footage from the 2016 Barista Champs to give some inspiration to the competitors that are heading to Ballito at the end of the month. We're excited!
Good luck to all the Competitors in the Barista, Latte Art and Cup Tasting Champs!
You can find the schedule and more about this years crop of competitors here.
Got something to say? Then leave a comment!
---
Winston Thomas on Tour
Tuesday, 22 January, 2019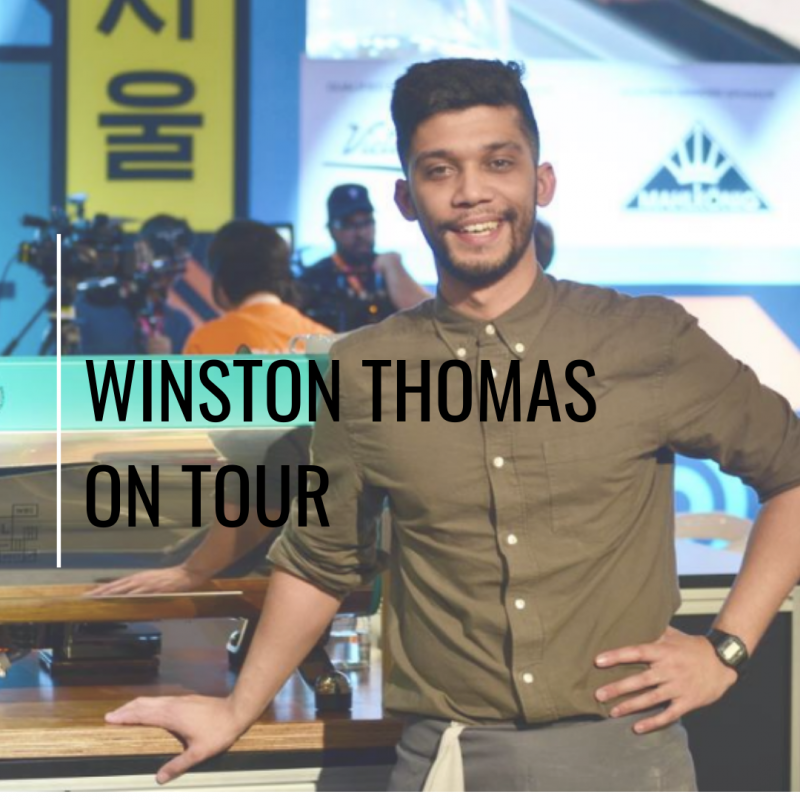 As Winston's tenure as South African Barista Champion draws to a close, as he has decided to take a break from competing this year, he is setting off on a little road trip to celebrate being the current SA Champ for a couple more weeks! Lucky for the Southern Coast of South Africa, Winston is winding his way along the Garden Route up to PE. You can catch him at the below cafes and roasteries next week:
- Brothers Coffee (Grootbrak) = 29th Jan
- Krust Cafe (George) = 30th Jan
- The Merchant Coffee (Mossel Bay) = 31 Jan
- Infood Coffee Society (Jbay) = 01 Feb
- Holiday Coffee (PE) = 02 Feb
Catch him if you can! It will be a very worthwhile coffee experience!
If you liked this article, then you may also like these:
Got something to say? Then leave a comment!
---
Coffee Education: Training Courses from Sevenoaks Trading
Monday, 21 January, 2019
Have you ever wanted to increase your knowledge about coffee?
If you're a beginner, Sevenoaks Trading is running a Beginners Green Bean Course and there is one coming up!
If you're interested in a Barista Course, check out some of our favourite places to learn here.
For the professionals, one of the biggest investments into your Roasting business is the Q Graders course. The first of these was held in South Africa last year July and we are lucky enough to Mbula Musua coming back to lead another course in March.
If you liked this article, then you may also like these:
Got something to say? Then leave a comment!
---
SCASA National Coffee Competitions 2019
Monday, 14 January, 2019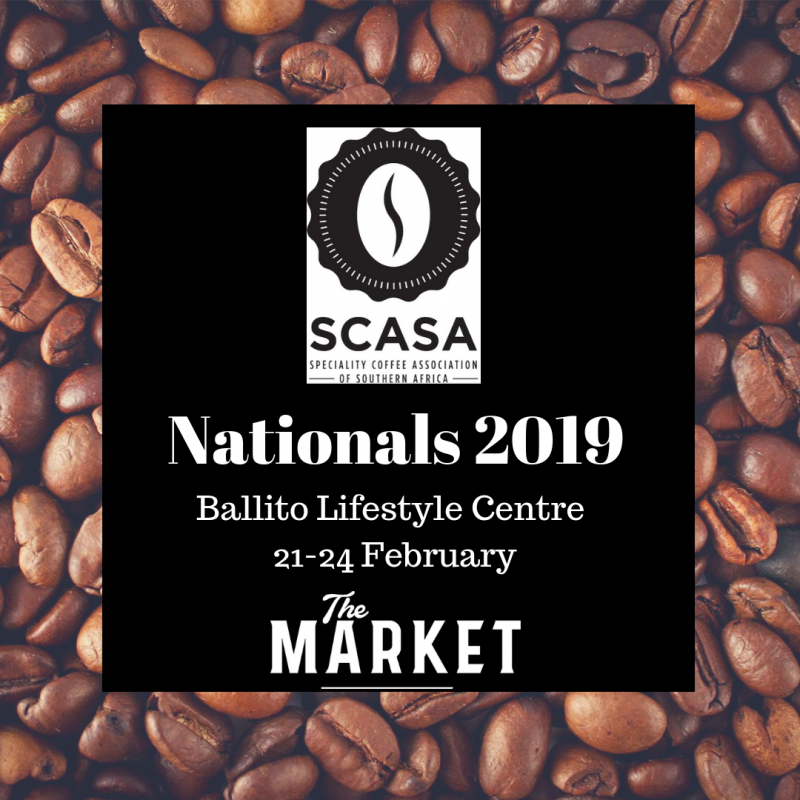 The South African National Coffee Competitions are happening in just over a month! This is the time of year that competitive coffee professionals from across the country go head to head to win the chance to represent South AFrica on the World Stage!
The Barista Champ wins a ticket to Boston, USA in April and the Latte Art and Cup Tasters Champs are heading to Berlin, Germany at the beginning of June. So there is everything to play for!
You can find the schedule here.
You can find out more about the competitors in the series of Barista Profiles here.
If you liked this article, then you may also like these:
Got something to say? Then leave a comment!
---
World AeroPress Champs!
Friday, 16 November, 2018
It's almost time for the 2018 World AeroPress Championship in Sydney! One more sleep and we will have a new champion.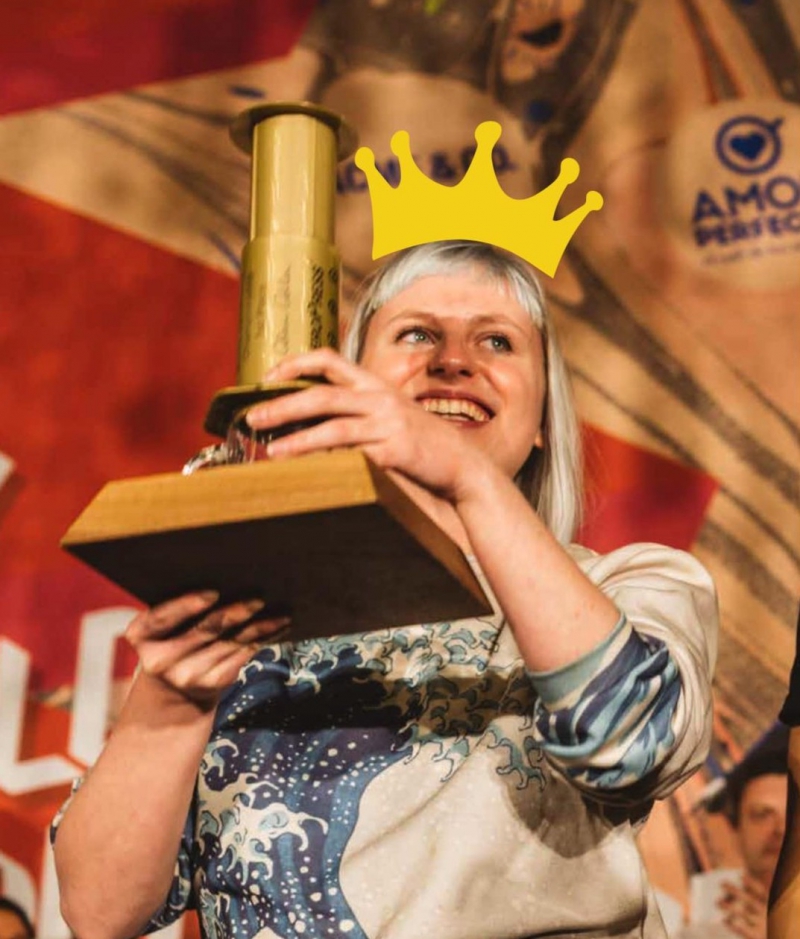 A year ago, Paulina Miczka got kicked out at a preliminary round, but got back into the competition when her name was randomly selected for a wildcard round. She then went on to win the 2017 World AeroPress Championship in Seoul!
Her advice for competitors this year - "Keep an eye for details and make sure you stay until the end of the competition - you never know, maybe you could be the wildcard winner too!" - Paulina
Will there be wildcard entries this year? Which country will take home the championship? All will be revealed soon.
In addition to the championship, in true Aussie spirit, a sausage sizzle will round out the event, and this one goes to town with 'world sausages' created by some of Sydney's best chefs. Pick from an array of global inspirations including Rising Sun Workshop's shoyu glazed hotdogs with wasabi slaw, bulldog sauce & smoked bonito, Boon Café's Nahm Jim Jaew-inspired grilled long eggplants with crisp rice & Boon Luck Farm Salad or the Pork Sausage, Smoked Maple & Spent Coffee from the Rocker crew's collaboration with LP's Quality Meats. What a spread! To finish off, Cow & Moon will be dishing up gelato pavlovas for a spin on the iconic BBQ dessert. Drooling yet?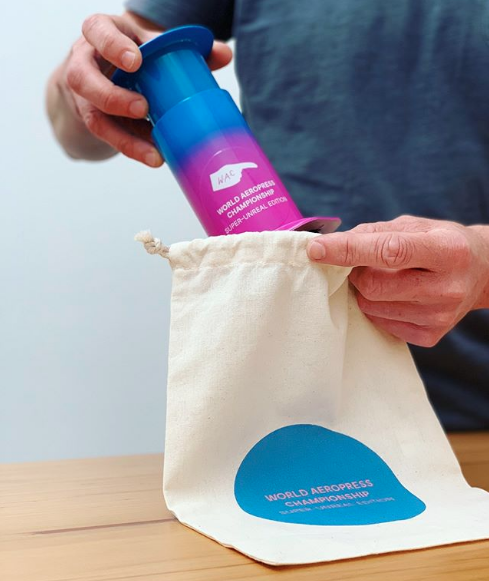 Got something to say? Then leave a comment!