The Speciality Coffee Association of Southern Africa (SCASA), the governing body of competitive coffee competitions in SA, and who are affiliated to the World Barista Champs (WBC) kick off the first of the Regional Coffee Competitions for the 2014 cycle this coming week. The Gauteng Regional Barista Championships is taking place at Hostex, at the Sandton Convention centre from 17-20th March.
There are some very exciting names returning to the competitive arena this year, with 2-times National Champion, and current Aeropress champ, Ishan Natalie from TriBeca, due to make a comeback. Other exciting names to watch out for are the lyrical Freeman Mhlanga (Bean There) current Latte art champ Phumlani Sibeko (Still.coffee), a return of the evergreen Wayne Burrows and the up and coming young Ori Cohen.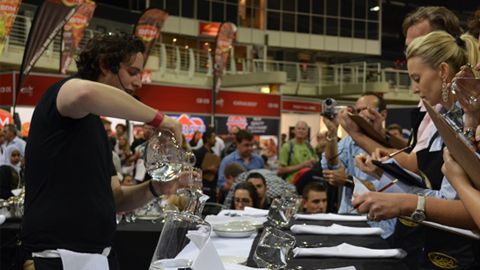 Ori Cohen in action at last year's National Finals.
There are 4 regions in SA that participate in competitive coffee competitions, namely Gauteng, Western Cape, Eastern Cape and KZN. The Gauteng regionals at Hostex is the 1st of the 2014 cycle, and from each of these regional competitions, 6 finalists qualify for the Nationals, and from that a National Champion is crowned, who will then represents SA at the WBC event in 2014.
GP: Regional Coffee Competitions
17 – 20 March 2013: 10h00 – 17h00
Hostex: Sandton Convention Centre
SCASA Barista Championship Theatre: Barista competition, Latte Art competition, Cup Tasters competition and Aero Press competition)
17th March:

18th March:

19th March

20th March

Follow all the action on this page as the competition unfolds, we will be loading results photos, videos and interviews here for the duration of the event.