The AeroPress Movie: Cape Town Premiere
Tuesday, 16 October, 2018
We had a great time at the Labia Theatre watching the newly released AeroPress Movie from European Coffee Trip!
Over 100 people turned out to watch the movie, including 3 SA Aeropress Champions, Winston Thomas (2016), Khan Chang (2017) and Romeo Chimunya (2018) as well as many coffee friends and some folks who, well, just love the Aeropress!
Watching the movie it was easy to see why this little gadget has created such a cult amongst coffee lovers all over the World, and we were so proud to be able to be the first Country in Africa to show this documentary, literally a week before World Aeropress Champs 2018.
A huge thanks must go to our Sponsors -
Moreflavour - the company that distributes Aeropress in SA. Big thanks to John De Rooy and Edwin.
Brita (the official Global Sponsor of the Movie) and Ultipure, distributors of Brita in SA. Huge thanks to SM and Brand.
Devils Peak, for the beer - Dino and Elizane (and to Andrew Boltman for organising)
West Coast Coffee - to Greg and his team for supplying coffee on the night!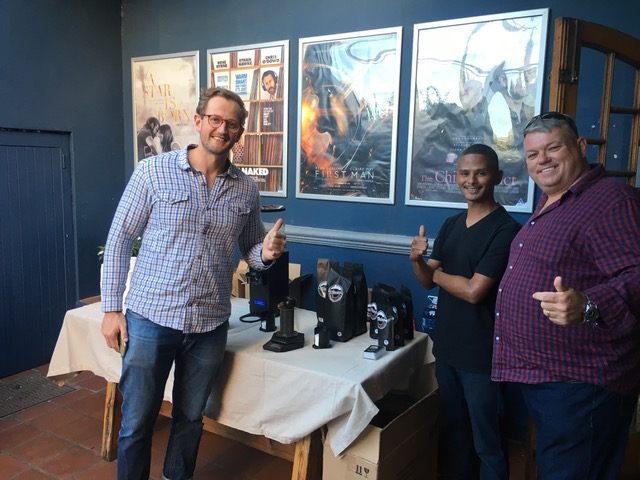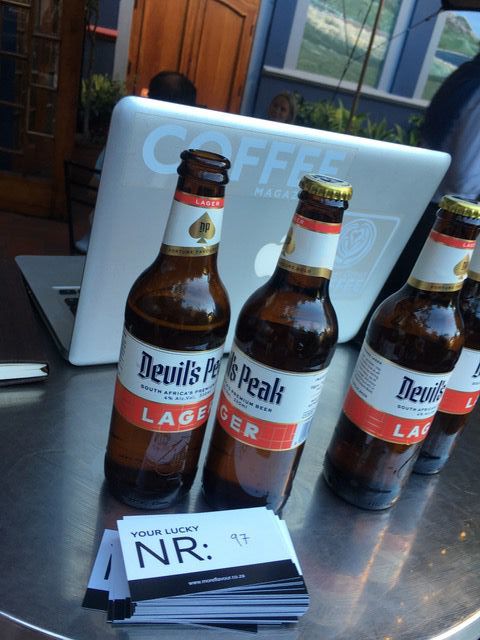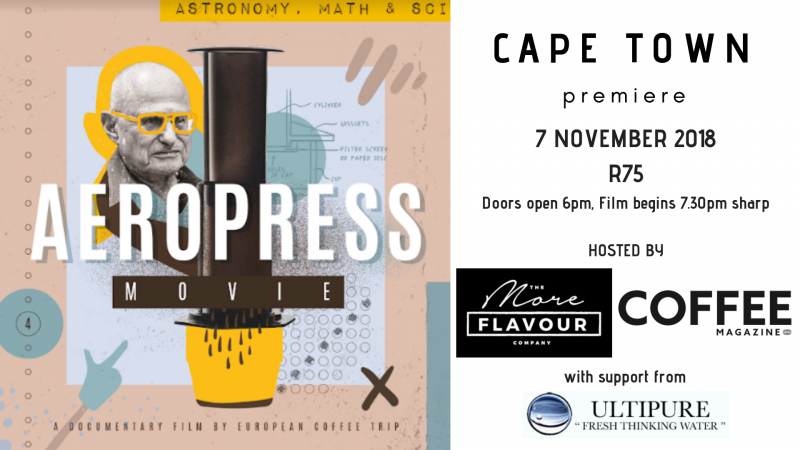 We're so looking forward to celebrating this quirky and fun method of making coffee with you all! It's been a year or so in the making and finally the film is ready!
Come join us for a fun evening of coffee, beer, popcorn and a movie about the strangest looking piece of coffee equipment in your kitchen, The AeroPress!
Venue: Labia Theatre, Cape Town
Date: 7 November 2018
Time: Doors open 6pm for AeroPress demos, tasting and beer drinking, Film starts 7.30pm
Cost: R75 (seating unassigned)
Limited tickets available. Bookings open below.

If you have any queries of would like to book tickets via EFT, please email KIm at finance@truenorthmedia.co.za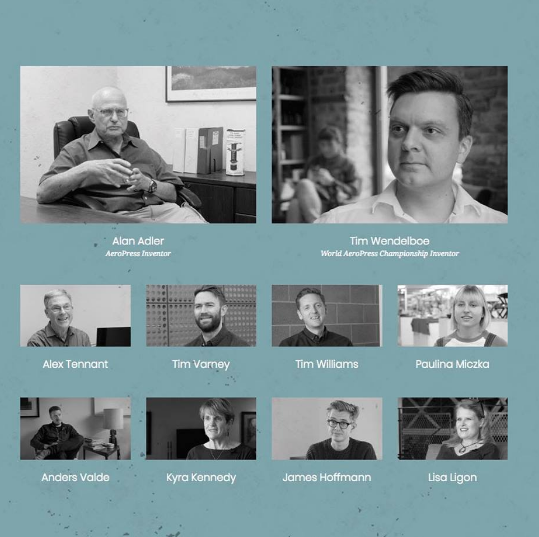 Got something to say? Then leave a comment!
---
SA AeroPress Champs 2018
Monday, 27 August, 2018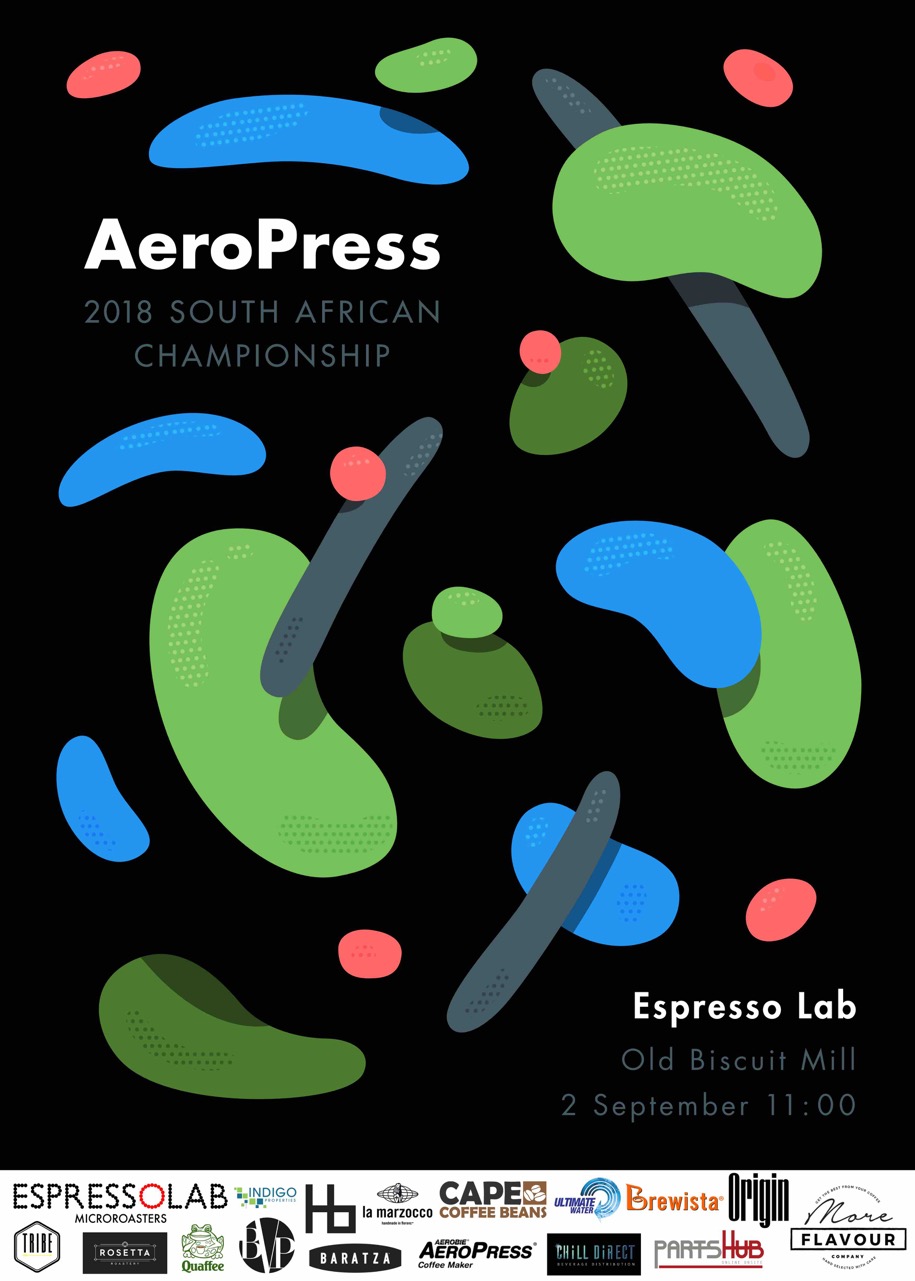 Hosted and supported by Moreflavour
Date: Sunday, September 2, 2018 @ 11am. General public attendance is free.
Location: Espresso Lab Microroasters, The Old Biscuit Mill, 375 Albert Road, Woodstock, Cape Town.
Coffee: El Mango, Rivense del Chirripo, Costa Rica. A black honey processed coffee of Catuai variety, showcasing taste notes of red berries and tropical fruit.
Competition rules: The rules are pretty straight forward. The judges will evaluate (blind) purely based on taste. The competition is as transparent, fun and freestyle as possible.
Each competitor will get a bag of coffee to practice with, and will receive another bag on the day of the competition.
Competitors are welcome to bring their own grinder, kettle, scale, water and/or other equipment, however a set competition kit of Baratza grinder, Brewista kettle, Brewista scales, and of course Aerobie AeroPress will be available for all competitors to use on the day of the competition. Competitors are welcome to bring their own non standard filters (paper or metal). No modifications to the AeroPress allowed.
There will be 18 competitors. 6 rounds of 3 competitors per round in the preliminary rounds. 1 winner from each round will go through to the semi-finals. There will be 2 semi-finals with 3 competitors in each round. The 2 winners will go head to head in the final round.
The running list of competitors will be selected at random and will be announced on the day of competition.
There will be an auction after the competition with amazing prizes/coffee products/experiences where all the proceeds will go towards sending the winner to Sydney, Australia to compete in the World AeroPress Championships. The best way for people to support the competition at this point is participating in the auction which will be held after the competition (unless someone would like to come onboard as a cash sponsor of course, then they can contact us directly). We have some amazing coffee related items at great prices, and all the proceeds will go towards the winners travel and accommodation. The biggest "deals" will be two Baraza Sette grinders (Sette 270 & Sette 270wi valued between (9000-12000) which will be auctioned at more than half the price (starting price 4500-5500)!!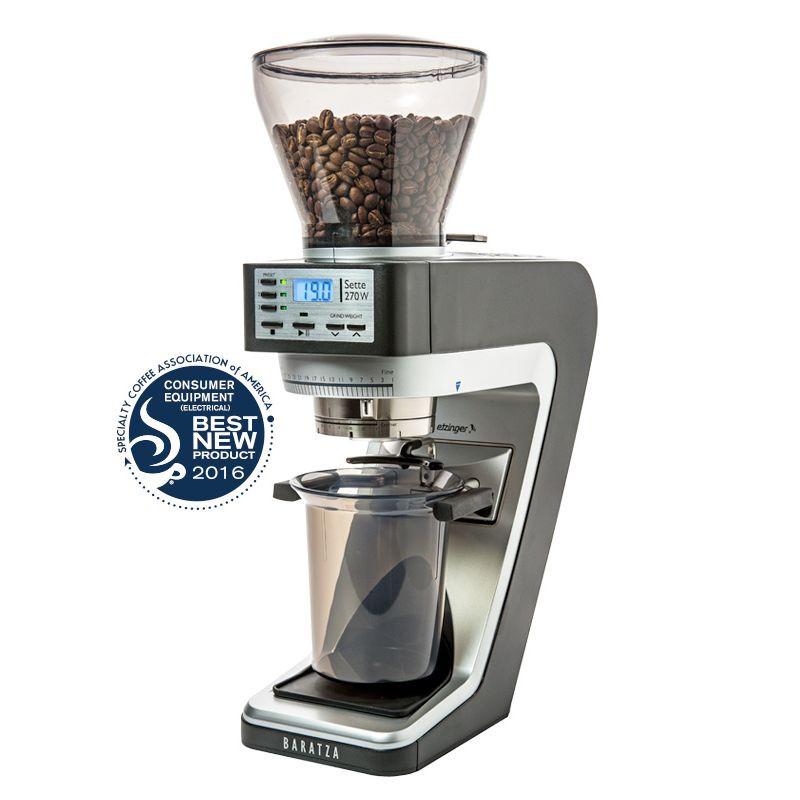 Got something to say? Then leave a comment!
---
A Shot in the Dark: The Documentary
Friday, 24 August, 2018
Got something to say? Then leave a comment!
---
Bloemfontein Coffee Extravaganza this weekend!
Thursday, 16 August, 2018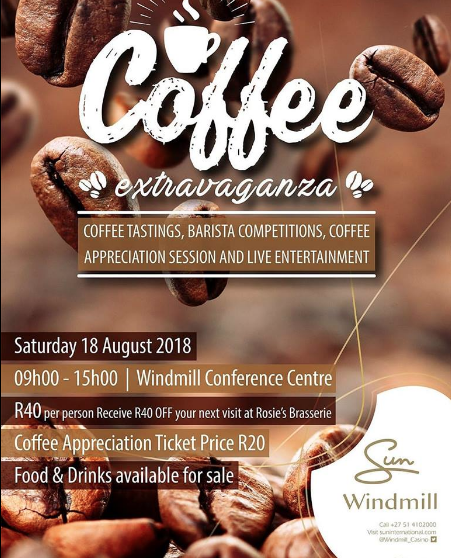 The Free State have been aiming at getting Coffee Competitions started for a while in their province, so we are super excited that this community has come together to finally having it this weekend at the Windmill Casino as part of the Coffee Extravaganza.
Here's what's going down:
• Shortened version (10 min set that focuses on the espresso and milk beverages)
• Standard WBC rules apply
• 2 Sensory judges, 1 Tech judge
SCASA has helped with experienced judges - George Bertolis, Alessandro Morrico (who is also sponsoring the official machine).
Besides these judges they will also have the following locals part of the panel:
Rhona Wessels (FS Ciro office)
Kobus le Roux - independent
Shupi Ngkadima
They are heavily supported by the following companies:
George Karatzas- Equipment Cafe
Besides these people and companies this would not have been possible without the drive and dedication from:
Marie-Louise Smith - organiser of the Coffee Extravaganza
James Kilbourn - Owner of Stereo Café
For more info on the Bloemfontein Coffee Extravaganza, please contact Marie-Louise: ml@zigzagcreations.co.za
Got something to say? Then leave a comment!
---
CoffeeChoc: Breezey Masters + All Stars + Deaf Barista Comp
Thursday, 19 July, 2018
If you are in the Johannesburg area and you love coffee - you are in for a treat over the next few days! From today, Friday 20th until Sunday 22nd July, the CoffeeChoc Expo is happening at Montecasino.
Highlights of the show from a coffee point of view will no doubt be the World Coffee Events All Stars - a selection of 4 International coffee professionals, the Almond Breeze Breezey Masters and the Deaf Barista competition.
WCE All Stars: Fri, Sat, Sun - from 10am -5pm - All Stars Stage
The All Stars for 2018 are WBC 2018 Champ Aga Rojewska (Poland), World Roasters Champ 2016, Aleandru Nicolaie (Romania), World Latte Art Finalist 2013 Esther Maasdam (Netherlands) and WBC finalist 2017 Lem Butler (USA). The All Stars will be doing interactive demos like mystery drink challenges, pop quizzes, on-demand performances and meet & greets, so you can get up close and personal and learn from the best in the world.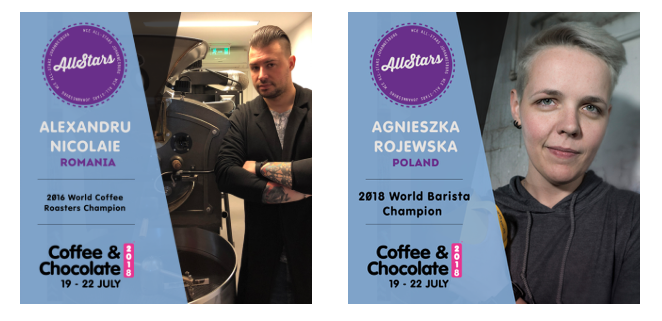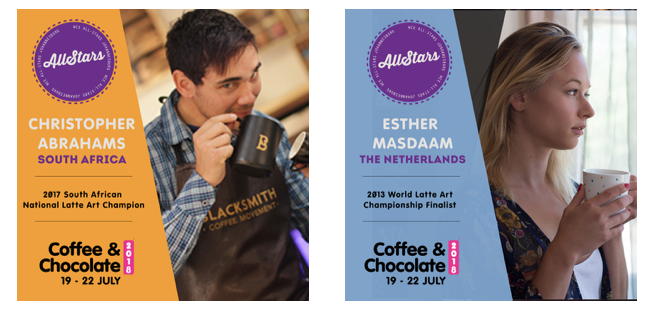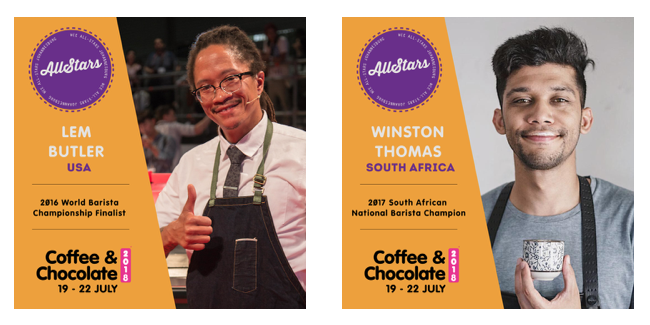 Deaf Barista Competition - Fri 20th July: 5pm-9pm - All Stars Stage
The second ever deaf barista competition - this is a really great event! These baristas are all new in the coffee industry and for many this will be their first ever competition. It is quite novel in that all communication is via sign language and visual cues - even the audience - instead of clapping, you wave! Come and learn a few coffee terms in sign language and support these brave baristas!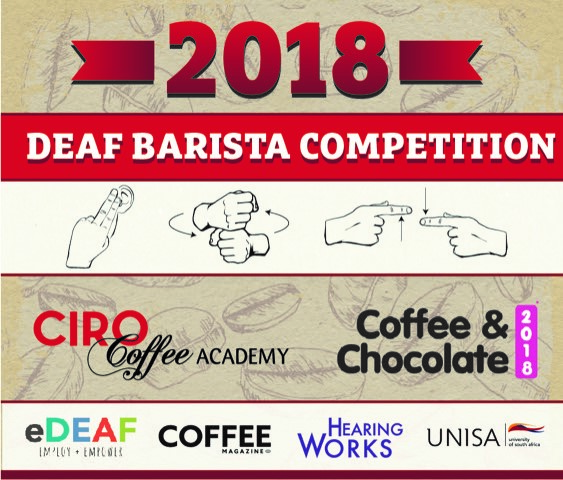 Almond Breeze Breezey Masters - Sat 21st July: 6pm-9pm - All Stars Stage
This is an international Latte Art competition, being held in SA for the first time. Baristas have 6 minutes to pour 4 designs using Almond Breeze Barista Blend. It;s high pressure, high stakes and high action! The winner gets to represent SA in Australia at the end of this year in the Breezey Masters Global Finals!
The event is by invite only, but there are a few Wildcard slots, so come along to the Almond Breeze stand if you would like to enter as a Wildcard.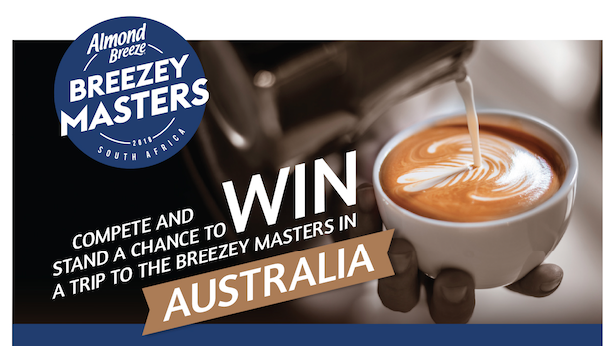 Got something to say? Then leave a comment!
---
Almond Breeze Breezey Masters comes to South Africa!
Tuesday, 17 July, 2018
We are excited to announce that the Almond Breeze Breezey Masters is coming to South Africa - in fact, the JHB leg of the competition is kicking off this weekend at the CoffeeChoc Expo.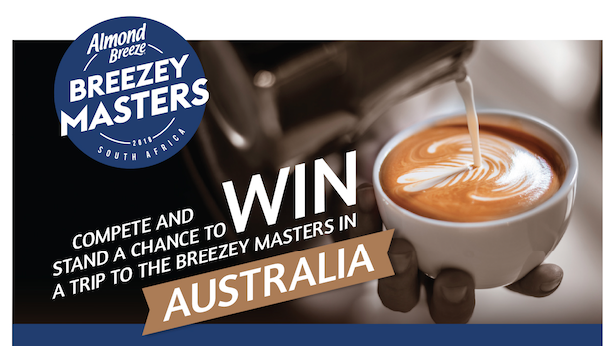 "What is the Breezey Masters?" you might ask... it's a Latte Art competition using Almond Breeze's Barista Blend, where Baristas have 6 minutes to pour a heart, tulip, rosetta and a free-pour of their own.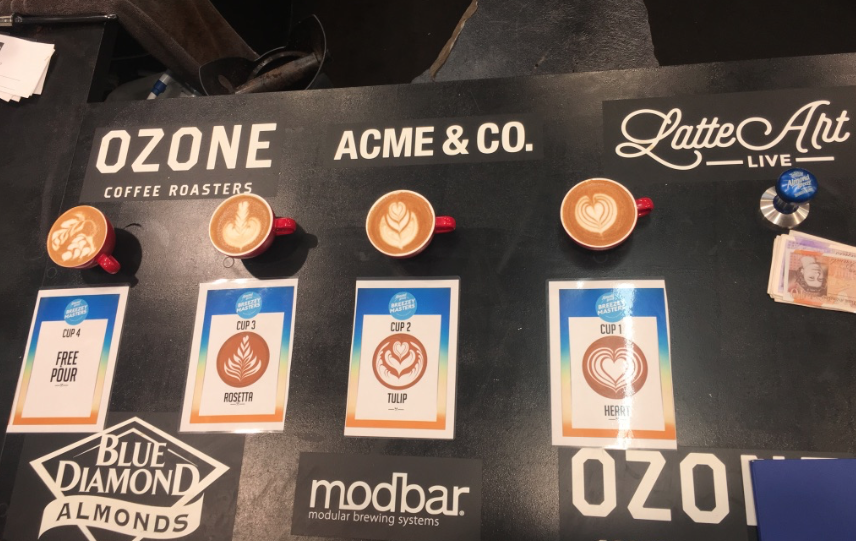 Breezey Masters at London Coffee Festival. The same format is used around the world.
The Breezey Masters is held all over the World, and the Finals is taking place in Melbourne at the end of this year - which means one South African barista will get to travel to Melbourne to represent SA!
We were lucky enough to be in England for the Breezey Masters London event, which was won by no other than 2018 World Barista Champion Aga Rojewska! The Breezey Masters competition is such a fun Latte Art format, and there is always a great vibe, fantastic skills and, of course lots of prizes and goodies.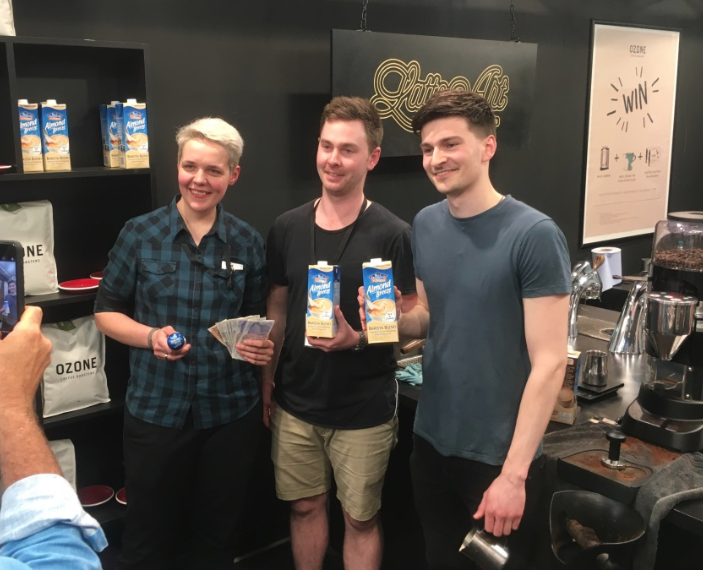 Aga receiving her custom tamp and cash prize money from Pete Sullivan of Almond Breeze UK, with the other finalist.
The SA edition of the Breezey Masters will have a JHB, Durban and CT event.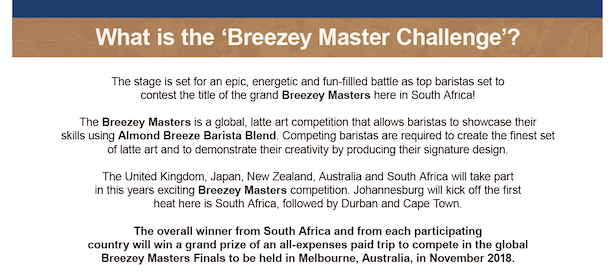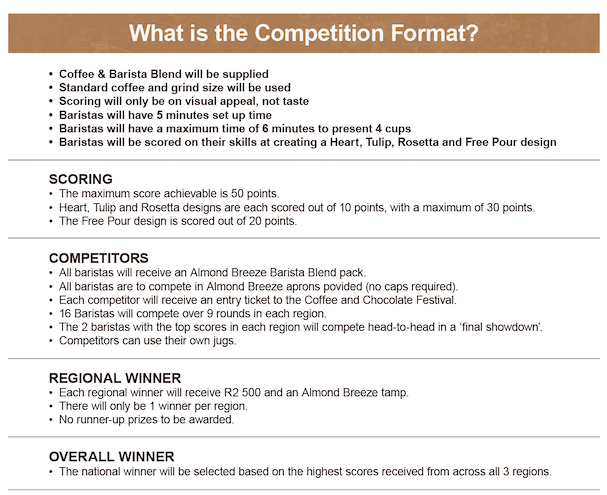 Got something to say? Then leave a comment!
---
2018 Deaf Barista Competition
Wednesday, 11 July, 2018
We are very excited to be a small part of this competition again this year. Last year was a resounding success and a very emotionally charged competition as a group of amazing deaf baristas took to the stage and melted all our hearts.
There are some familiar faces returning this year, defending Champion Mduduzi Lukhuleni included and two of our Selati Scholarship Initiative candidates will also be competing this year!
You can be a part of this wonderful event too at the Coffee & Choc Expo, July 20th, from 5pm. See the schedule of baristas below.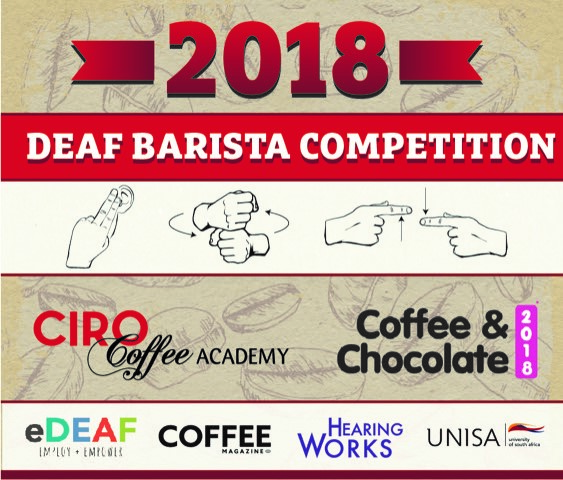 | | |
| --- | --- |
| 1. Thabiso Pheelwane | PWC Midrand |
| 2. Velly Moremi | Kauai |
| 3. Yongama Makhubalo | SPAR Beantree Northwold |
| 4. Samukelo Shabangu | SPAR Beantree Eagle Canyon |
| 5. David Modikeng | Old Mutual |
| 6. Herold Hlope | Britehouse |
| 7. Sindiswa Mtolo | Investec |
| 8. Dineo Ramasodi | Fire and Ice! Menlyn |
| 9. Lerato Moabelo | SPAR Beantree Melville |
| 10. Mpho Motlhapi | PWC |
| 11. Mduduzi Lukhuleni | Ciro |
Got something to say? Then leave a comment!
---
Creative Coffee Week Tickets Released
Thursday, 31 May, 2018
Got something to say? Then leave a comment!