WBC2015: Introducing your new World Champion!!!
Sunday, 12 April, 2015
It has been an intense day of competition. At this level, your performance has to be flawless, your shots have to pull perfectly and you have to have a bit of lady luck on your side. There is no way of the spectators knowing what the coffees tasted like on the day, but everyone certainly has their favourites.
The judges had their work cut out for them. The crowds were on the edge of their seat and screaming their hearts out. It's been an epic competition and the vibe has been phenomenal.
In the end it was Sasa Sestic (Australia) who took the WBC 2015 title over Charles Babinski (USA) by just 5 points!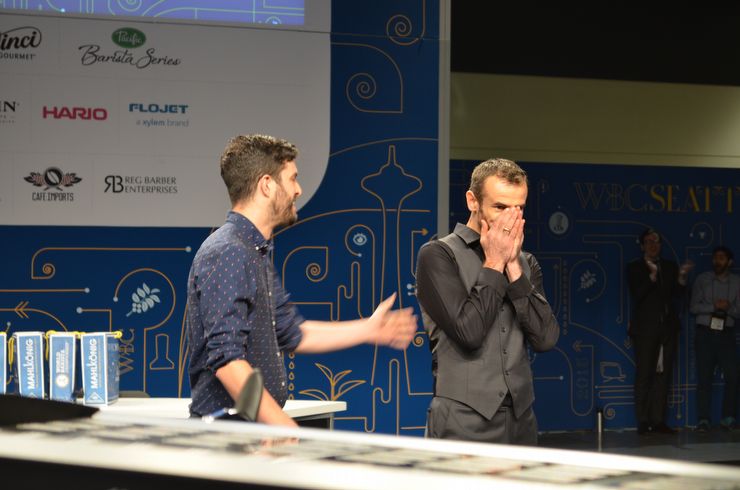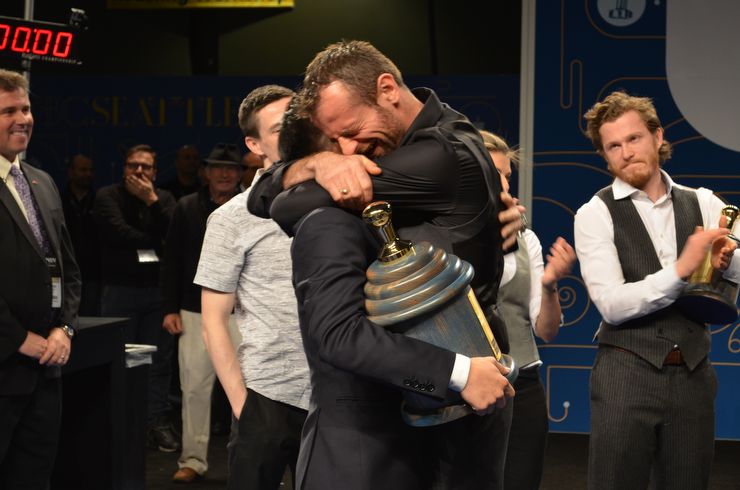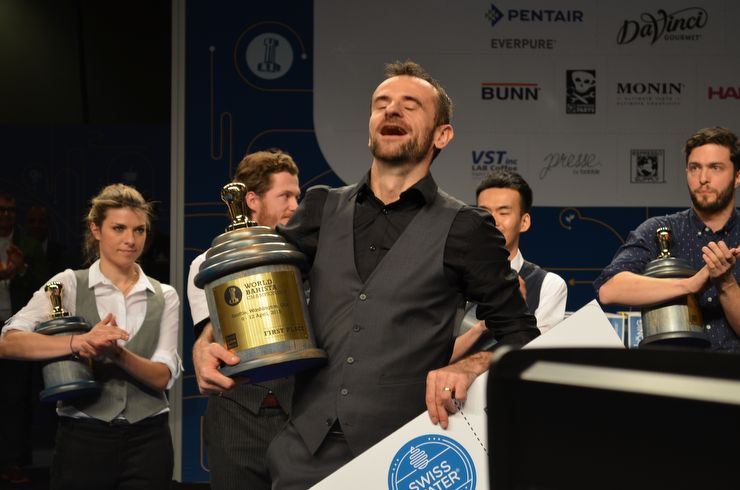 Go to 48minutes, 34 seconds for the critical moment!


This video will make the hairs on your body stand up as the pure emotion flows out of the winner. A truly life-changing moment, and a massive achievement for Australia.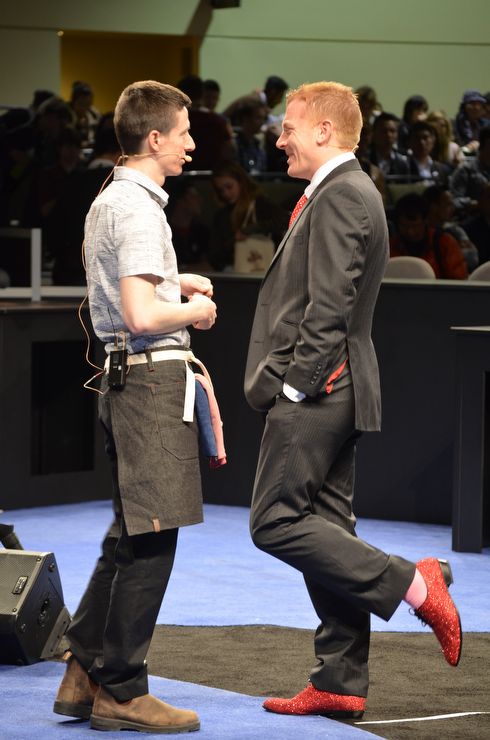 Got something to say? Then leave a comment!
---
WBC2015: Ishan on the World Stage
Sunday, 12 April, 2015
He has bettered his own personal score by 100 points and kept the South Africans on the world coffee map by placing 18th! Well done Ishan!
"I got feedback and my scoresheets from the judges, I walk away proud and so happy.
The coffee wasn't as balanced and the flavour notes were not as spot on as I said but that's the lesson to take from this, and that I need to listen more to myself and trust my gut.
This has been a career best performance and score at WBC. I am officially ranked 18th for 2015 with a score of 528. The feedback from the judges is that they were very impressed and that out of all the competitors I had an amazing technical scoresheet and one of the highest professionalism and judges total impression scores. When the judges say to you, "fantastic performance, we really enjoyed it" and "you know what we call technical scores like yours...EXTRAORDINARY!", you know you stood up, delivered and got recognised! I'm so chuffed to have hit a few 6's on my technical scoresheet!
Great friendships and impressions made, career best performance and score, recognition and standing out....what more can I ask for from this. See you again soon WBC."
There were a few difficult moments leading up to this performance and this was an extremely good result. Will he back? He promises that he will be!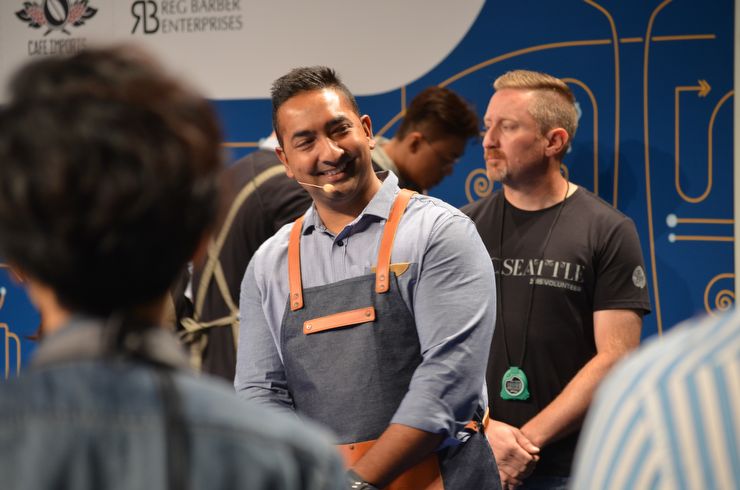 Looking relaxed and confident ahead of his performance. This cheeky look was at his support team cheering from the stands.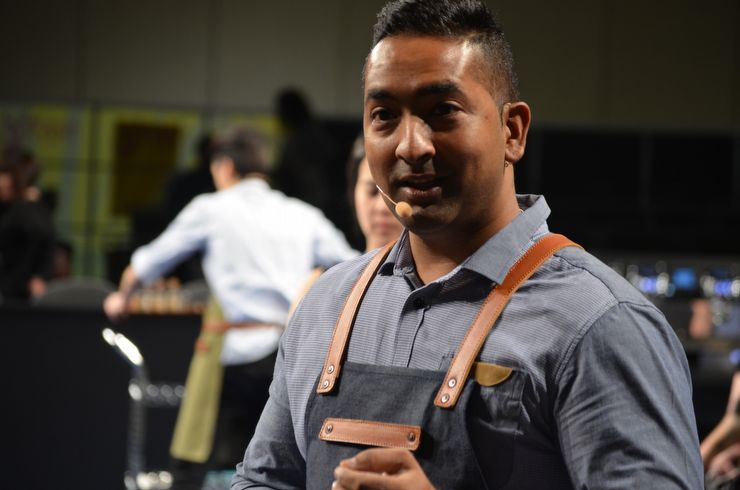 Animated and excited about his delicious Ethiopian Geisha coffee.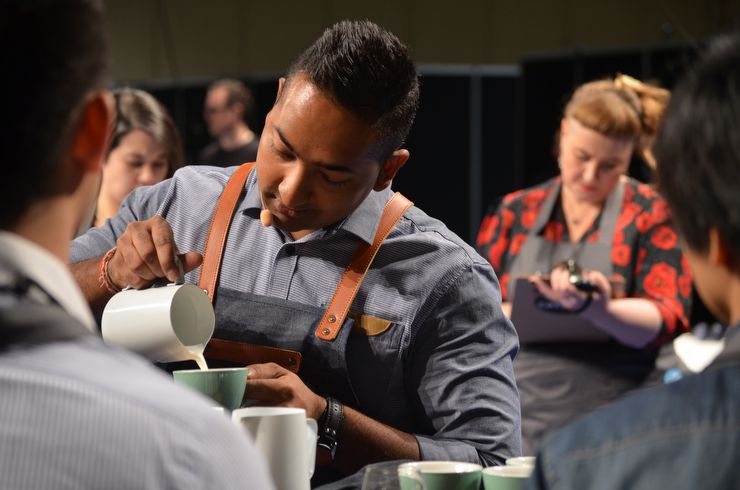 The milk proved tricksy for our Champ, but he remained calm under pressure
.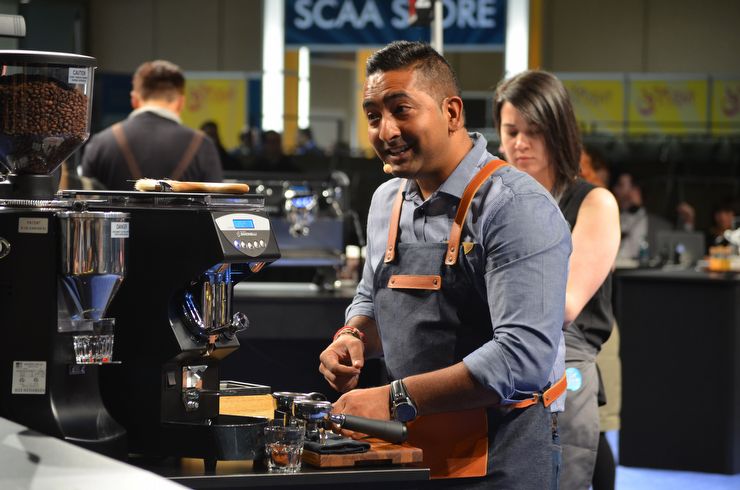 He had two grinders with him on stage the Mazzer Robur and the Nuovo Simonelli Mythos One.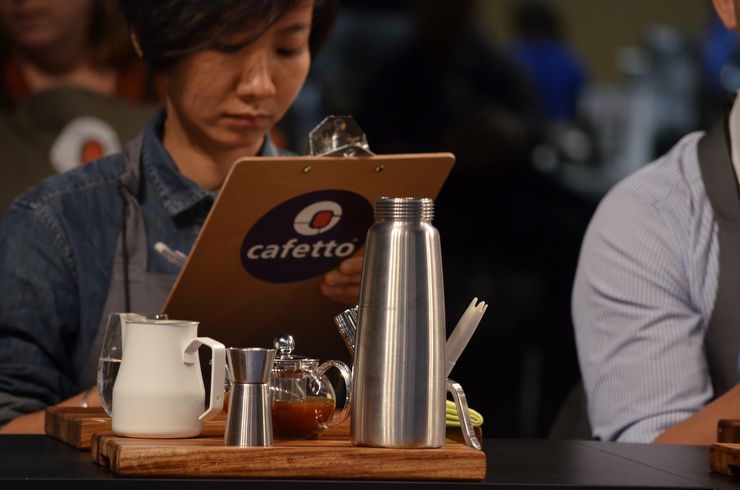 The ingredients and equipment for his signature drink
.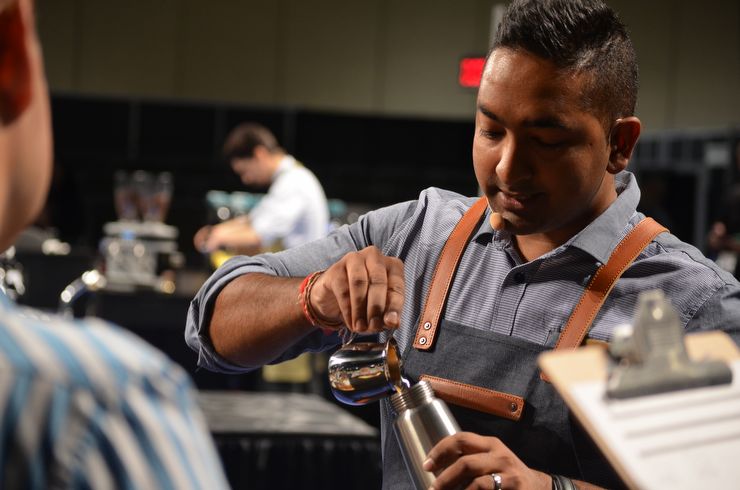 Loading the espresso into the cream gun with the other ingredients, tart cherry reduction, earl grey tea infusion and a peel of lime.
Got something to say? Then leave a comment!
---
WBC2015: Finalists announced!
Sunday, 12 April, 2015
Saturday 11th April 2015 began with 12 nervous competitors lining up to give it their best shot, but by 5pm there could only be 6.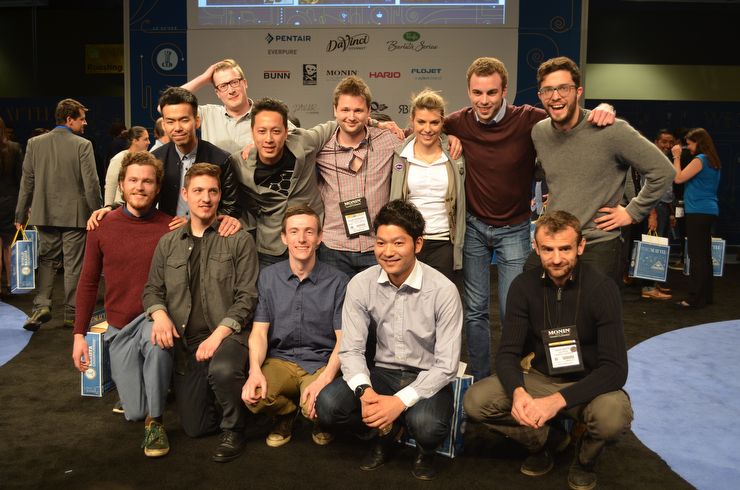 Back Row: Chan Kwan Ho (Hong Kong), Kalle Freese (Finland), John Ryan Ting (Singapore), Adam Neubauer (Czech Republic), Charlotte Malaval (France), Alexander Hansen (Norway), Charles Babinski (USA). Front row: Maxwell Colonna-Dashwood (UK), Giancomo Vanelli (Italy), Ben Put (Canada), Yoshikazu Iwase (Japan), Sasa Sestic (Australia).
The cookie crumbled and the judges tasted the very fine coffees of all the above competitors and in the end, these baristas were selected as the Top 6 in the world right now!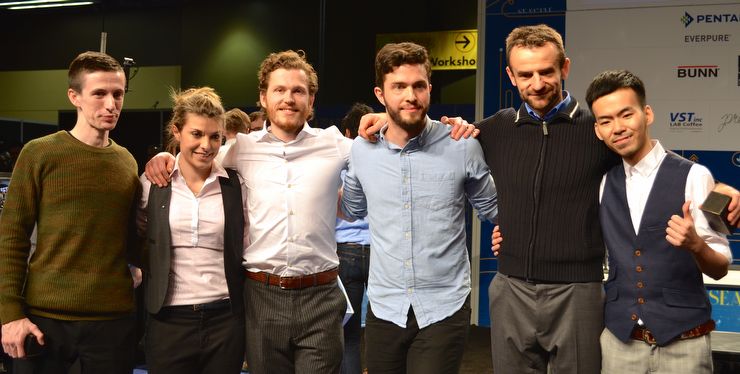 Charlotte Malaval- Independant - France
Maxwell Colonna-Dashwood -
Colonna & Small's
-United Kingdom
Charles Babinski -
Go Get Em Tiger
- United States
Sasa Sestic -
Ona Coffee
- Australia
Chan Kwun Ho - The Cupping Room - Hong Kong
Ben Put -
Monogram Coffee
- Canada
Some highlights from the Top 6: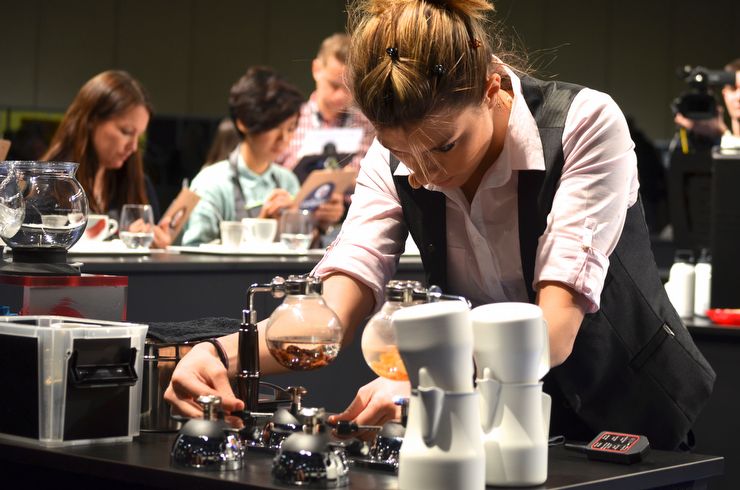 Charlotte's set played with the idea of temperature as an ingredient. She was deliberate and had wonderful flair with her presentation. Representing women baristas everywhere, she definitely has big match temperament.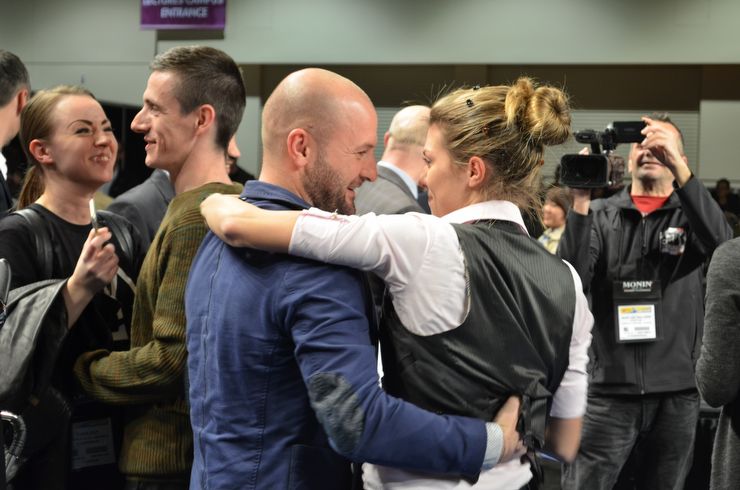 A special moment between coach and competitor, they have both poured a lot into this performance.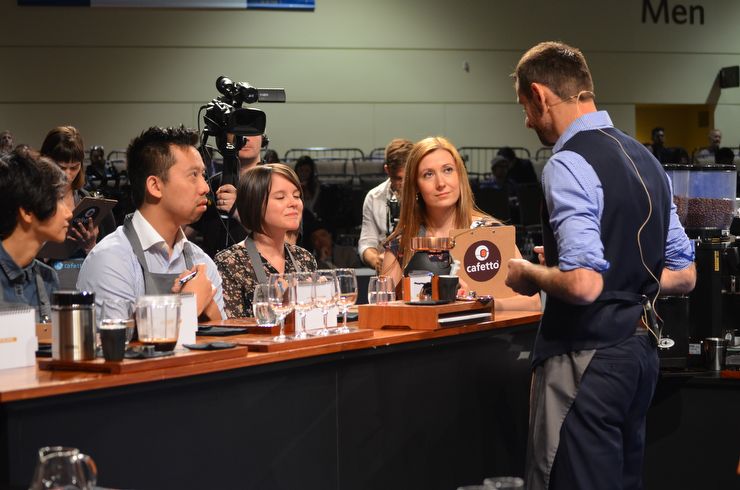 Sasa Sestic competed in the 2001 Olympics in the Hand Ball competition, the man knows what it takes to be in competition.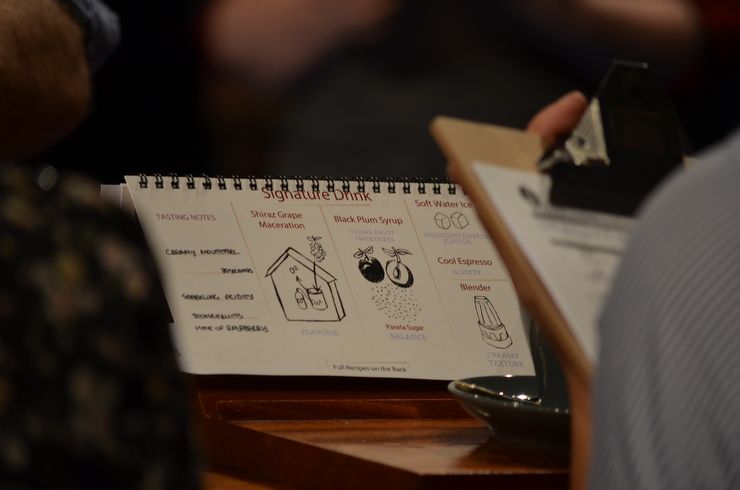 His set was intricately thought out and executed. A beautiful set up on every level. He was having a bad run of health during this performance but it didn't show one bit, a consummate professional.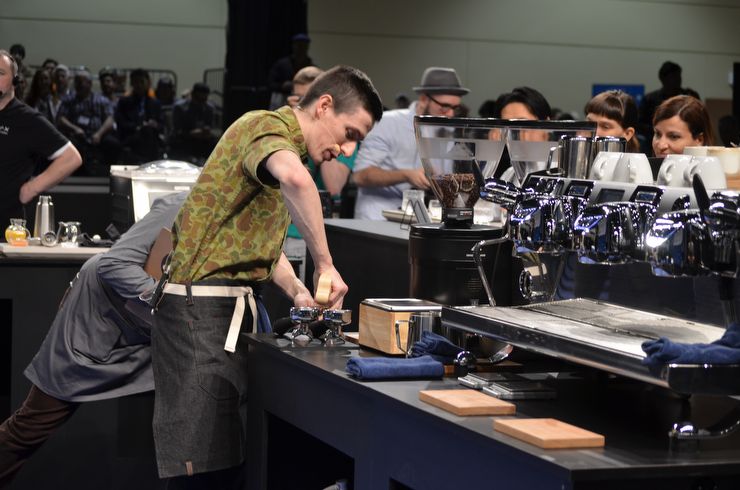 Ben experimented with a suvee machine, which is basically a vacuum sealer and removed the carbon dioxide from his espressos before serving to the judges, pretty incredible. His premise was that espressos are difficult to make, see below. Ben used the new Mahlkonig Peak grinder which is rumored to be the next WBC competition machine.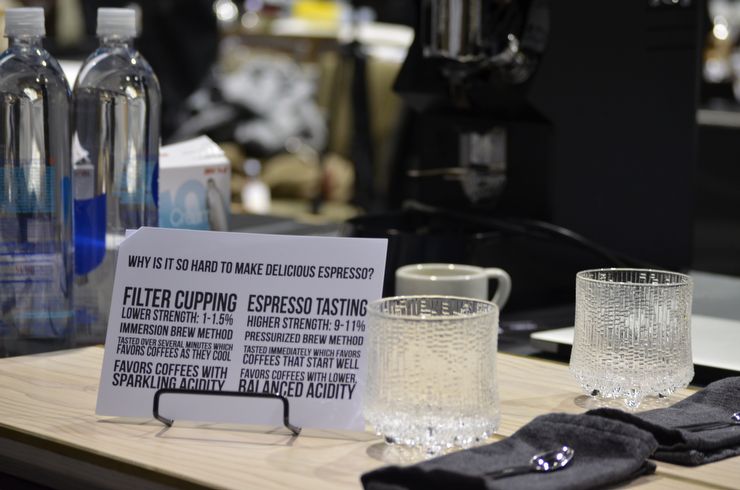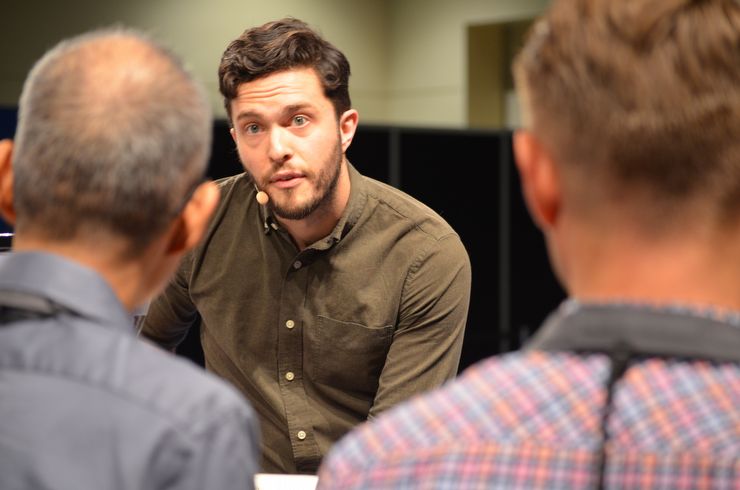 Charles Babinski gave an "impassioned plea" to the judges to appreciate coffee under cafe circumstances using the technology we have to produce excellent quality espressos consistently and in great volume.
Got something to say? Then leave a comment!
---
WBC2015: Day 1 HIghlights!
Friday, 10 April, 2015
Watch live here: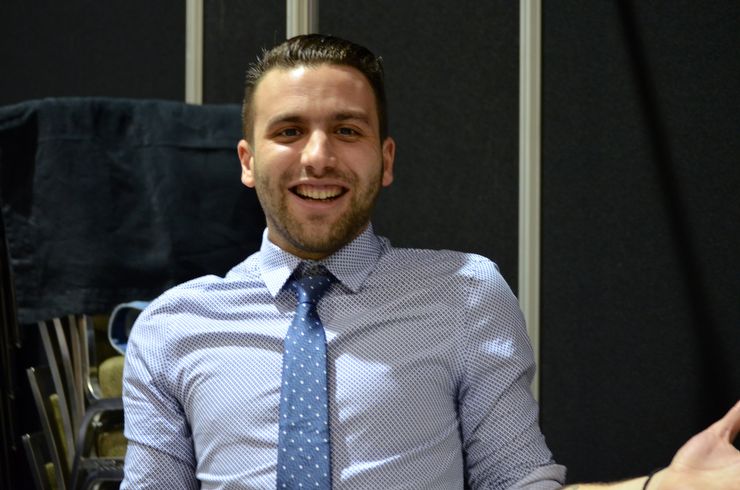 The ever-cool and charming Stefanos Paterakis from Greece was first up and set an amazingly high bar.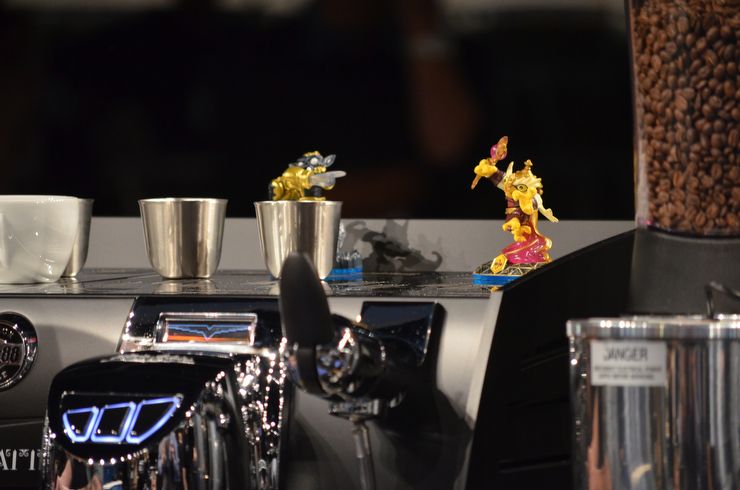 These are Soren, the Danish Champion's, good luck charms from his son, sitting atop the Victoria Arduino Black Eagle.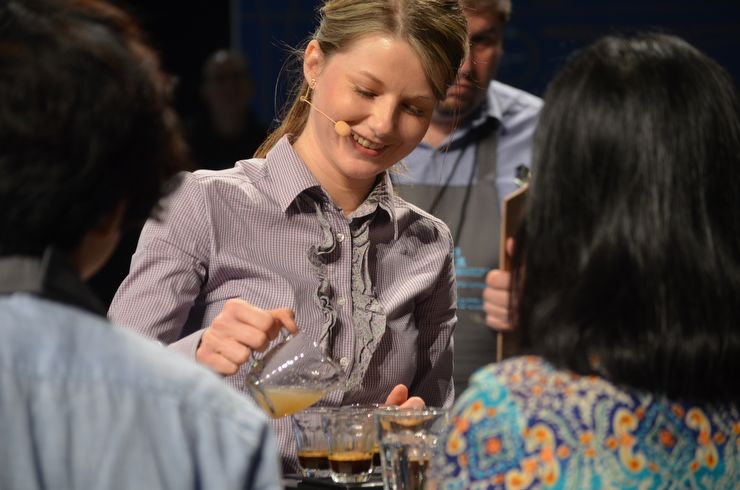 Natalia Piotrowska, from 3FE in Dublin, representing Ireland.

Last year's Top 6 WBC finalist from the UK,
Maxwell Colonna-Dashwood, talking the Judges language.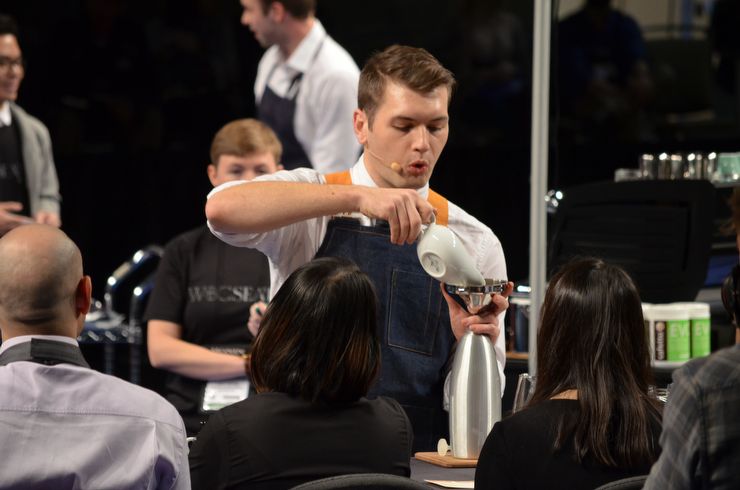 Addison Dale from Christchurch, New Zealand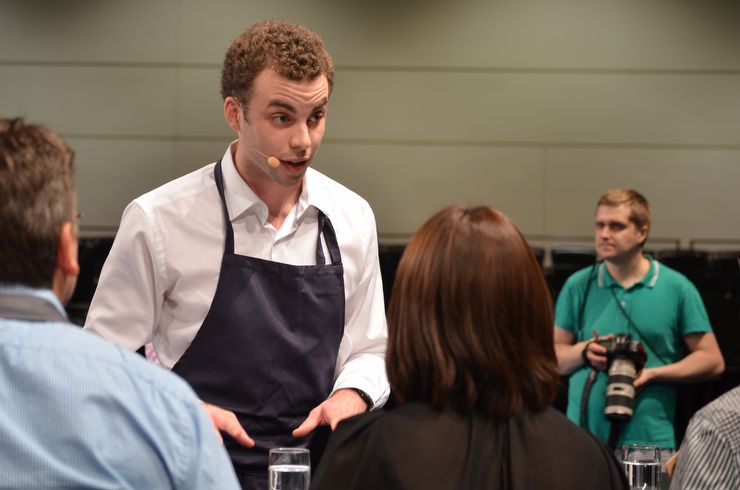 Alexander Hansen from Norway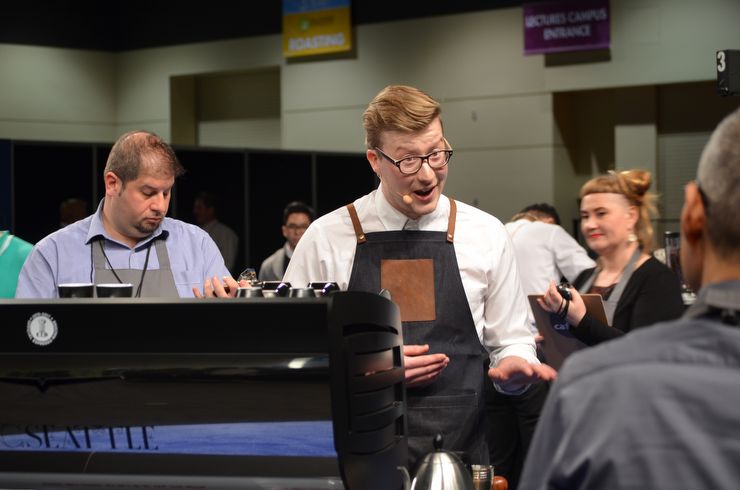 Kalle Freese from Finland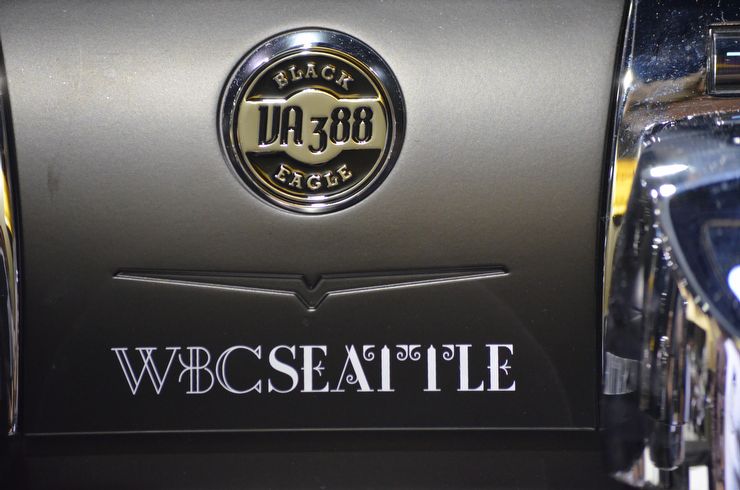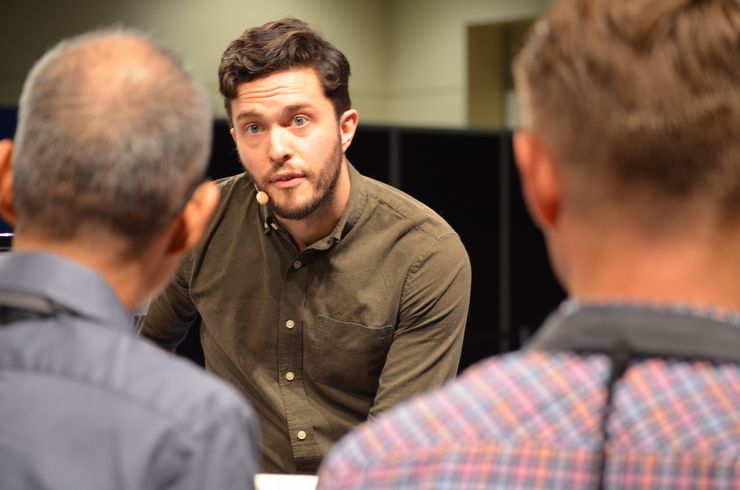 Homeground advantage for Charles Babinski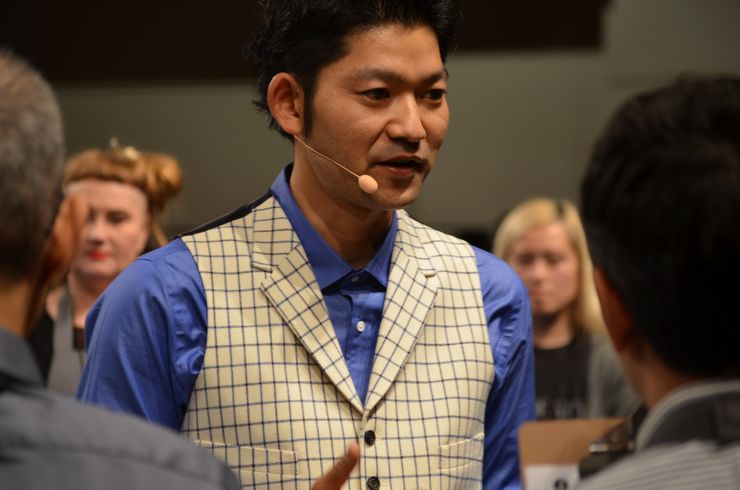 The man who took Hide Izaki's (the current WBC Champ) Japanese title, is certainly one to watch! Just look at this set up below!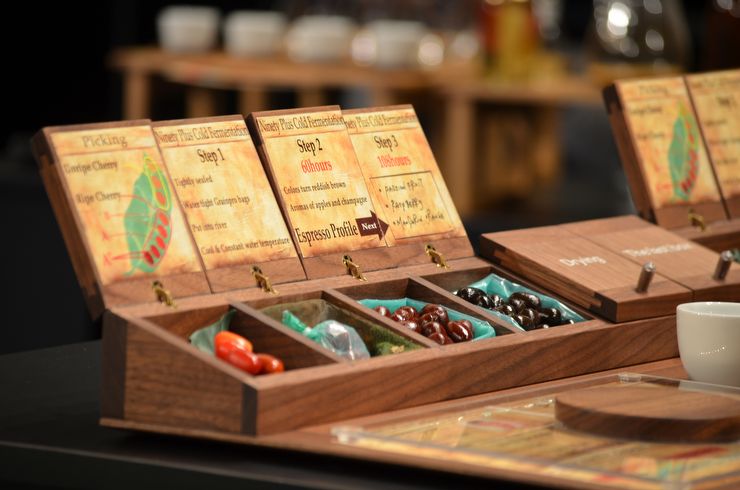 Got something to say? Then leave a comment!
---
Call for KZN Entries
Tuesday, 31 March, 2015
Watch this space for exciting events leading up to the Champs! One confirmed is a Latte Art Jam on 30 April from 5-7pm, all are welcome. Angela Jabour of Lavazza runs these competitions Nationally and will be on hand to offer tips for latte art perfection and just what the judges are looking for on stage. It is so helpful to have a standardised head judge nationally, as the baristas can only benefit from her experience!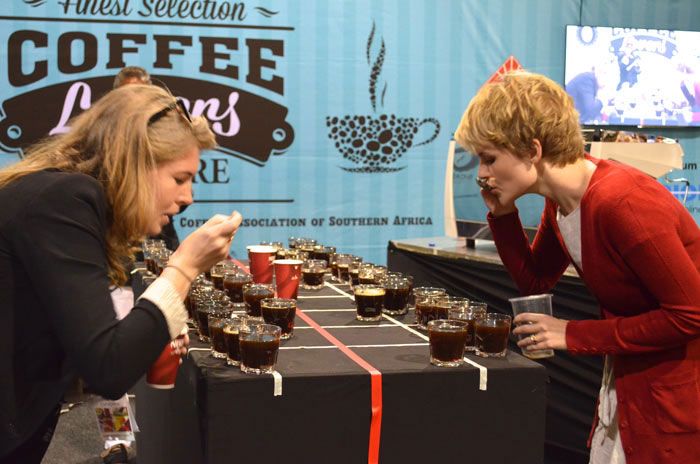 Guys, if I can do it, you can do it! It's so much fun and you get to taste some amazing coffees!
Got something to say? Then leave a comment!
---
WIN TICKETS: KZN Barista Champs at Coffee&Chocolate Expo at Suncoast!
Friday, 27 March, 2015
The KZN Barista Champs are just around the corner! If you haven't entered yet, please visit the
SCASA
website and submit your entry. If you're a spectator, the exciting news is that it is happening the
Coffee&Chocolate Expo,
yum! Enter below to win tickets!
Say hello to Musa!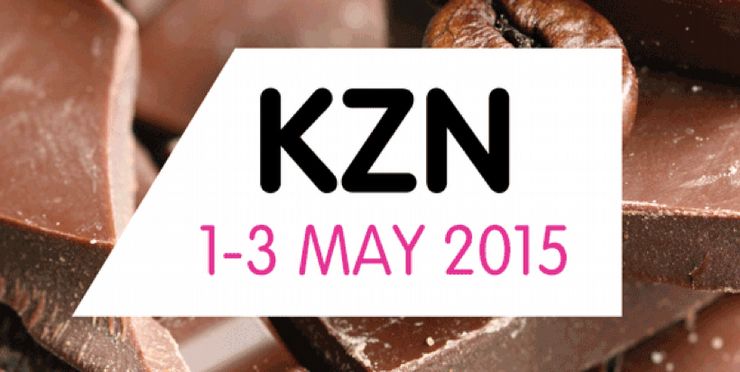 Win a set of double tickets to JHB Coffee&Choc Expo
Got something to say? Then leave a comment!
---
Day 2 at Homemakers Expo Coffee Lover's Theatre
Friday, 27 February, 2015
The vibe has been amazing at the SCASA Gauteng Regionals today. The judges have been doing a sterling job with so many competitors and we have kept to schedule. Ishan Natalie has been keeping everyone entertained.
Lots of first time competitors but also a few strong contenders for the Top 6. Defending Champion Phumlani Sibeko, of Famous Brands, looked fierce using a very special bean sourced from 3 African Sisters in Rwanda. Tanya Sacks was here from the farm to support. Shaun Aupiais was Phumlani's coach this year, one thing is for sure, he is in it to win it!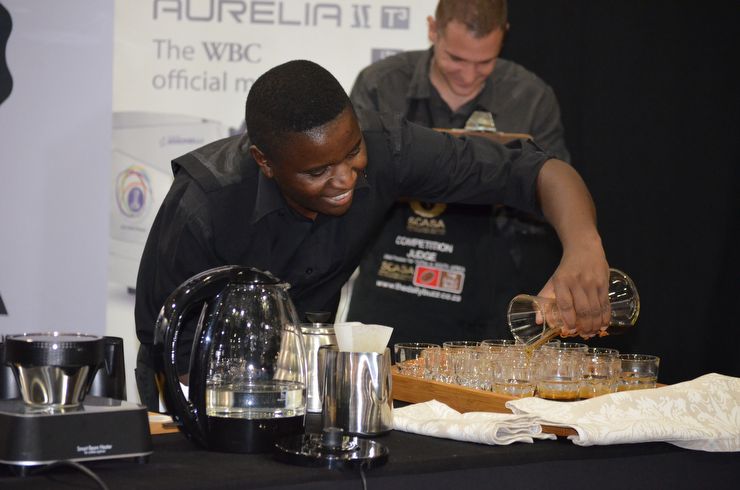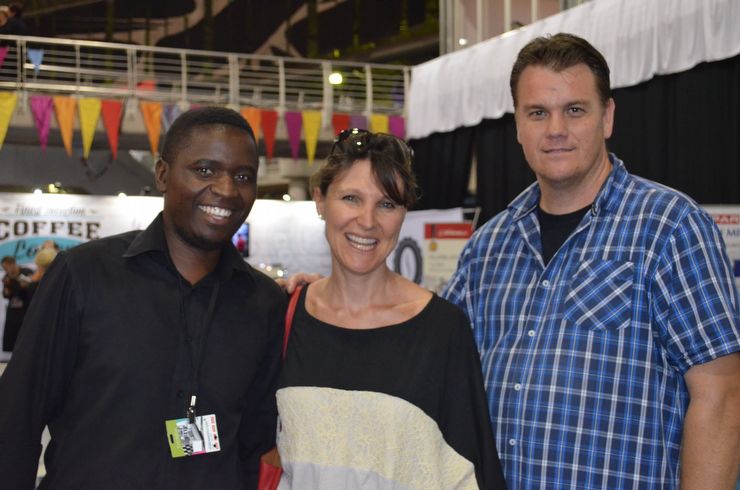 Kudos to Nicodemus Nabakwe of Avanti Coffee for training 4 competitors on today's schedule. One of the few girls too, Thokozile Jali. Their team was here in force to support the budding baristas.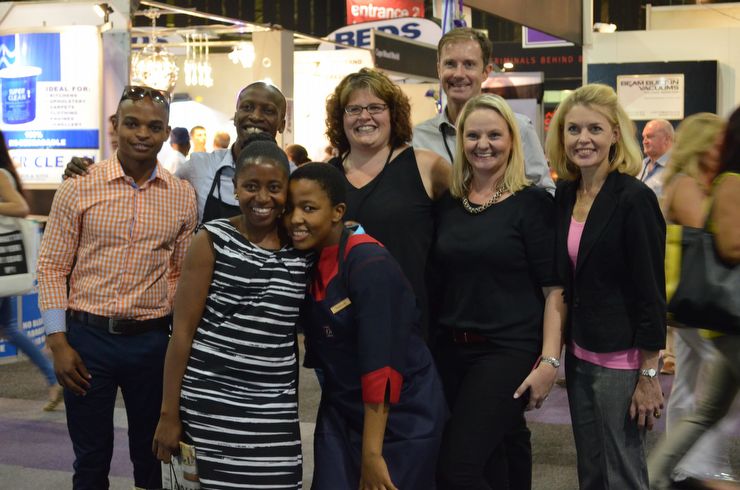 Another team that turned out in numbers was The Daily Buzz, supporting their main man, Japhet!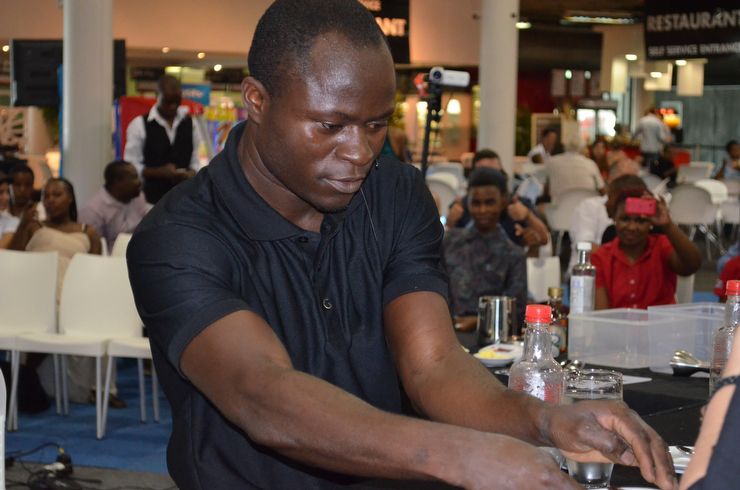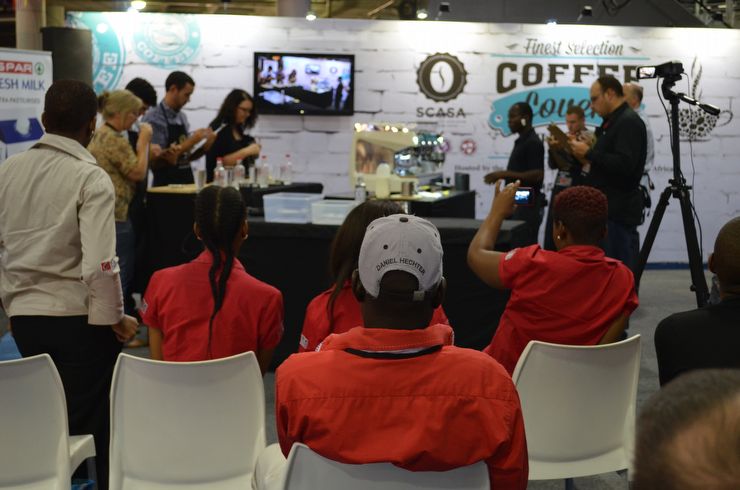 Simpiwe from Bean There Coffee Company had a very stressful day of nerves, but then absolutely found his zen and had a superb set!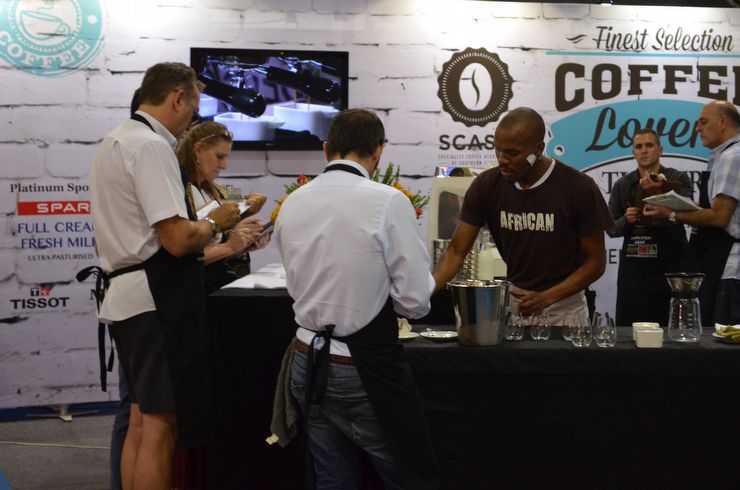 Alicia Butler ended the day by pulling off an amazing set, full of attention to detail, definitely the most beautiful of the day. We're hoping the coffees tasted as delicious as the set looked! We want a woman in the Top 6!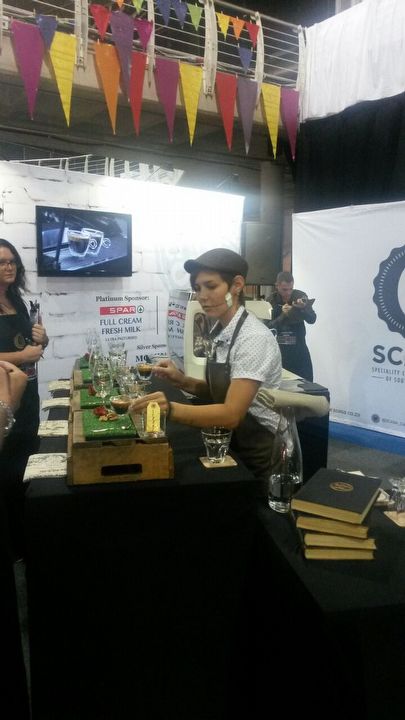 Great to see all the coffee friends pulling in to support the baristas. There are 34 baristas vying for 6 spots to get to Nationals, it is extremely tough in here!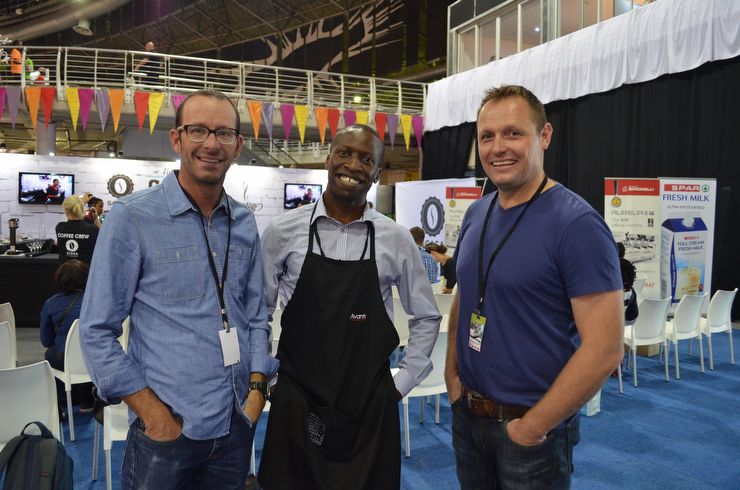 If you're in Joburg come down to the Homemaker's Expo at the CocaCola Dome tomorrow to check out the action!
Huge thanks to all the sponsors that make these competitions possible! All the equipment is sponsored, Nuova Simonelli, Mahlkonig, Ultimate Water, giving our baristas the best possible foot forward to competing at a world level. Most of the crew are volunteers. There are amazing prizes from Tissot and Coffee&Chocolate Expo. There are exciting times ahead for SA's competitive coffee scene!
Got something to say? Then leave a comment!
---
Gauteng Regionals began today! Full Schedule here.
Thursday, 26 February, 2015
Homemakers Expo Coffee Lover's Theatre
, coffee skills were tested and the victorious few emerged clutching a chance to take the Gauteng title at the finals on Sunday.
Cup Taster's Championship
Jono Robinson
Cuth Bland
Warrick Masfen
Debbie King
Famous Brands cleaned up in the Latte Art Competition, we can't wait to see what defending GP Barista Champion,
Phumlani Sibeko
has in store for us tomorrow morning!
Latte Art Championships
Sibusiso Ncube
Emmanuel Chimkoko
There are an incredible 34 competitors to get through over the next 2 days! Shew the 7 judges are in for a mammoth task! With only one set of judges it is going to be a long day with a clipboard for them, they'll need as much support as the baristas!!!
27th Feb 2015
10am: Barista Championship
Last barista at 18h15.
28th Feb 2015
10am: Barista Championship
17h30: Announcement of Top 6
FINALS DAY: 29th Feb 2015
9AM: Latte Art Finals
10am: Barista Championship Top 6
14h00: Cup Tasters Finals
Awards ceremony: 15h30
Good luck to all competitors!
Got something to say? Then leave a comment!