A Video Series for Roasting Beginners
Friday, 10 August, 2018
We are huge fans of Roaster Joe (Joe Marrocco)! He is incredibly giving of his time and knowledge in educating others (and he has submitted some lovely articles to us over the year!s) and although he has just left Cafe Imports to pursue another dream, they worked on this excellent video series together. We found it really enlightening and entertaining.
Got something to say? Then leave a comment!
---
Review: Brewista Smart Ratio Scale
Thursday, 19 July, 2018
The Brewista Smart ratio scale is exactly that - a smart scale that works on your coffee to water weight ratio and makes it super easy to calculate and time your dosages.
When it comes to pourovers - home and cafe environments - the difficulty comes in trying to either manually calculate water to grounds targets, and then pacing the amount of water to pour. The scale automatically calculates the water needed based on the amount of coffee grounds used and chosen ratio.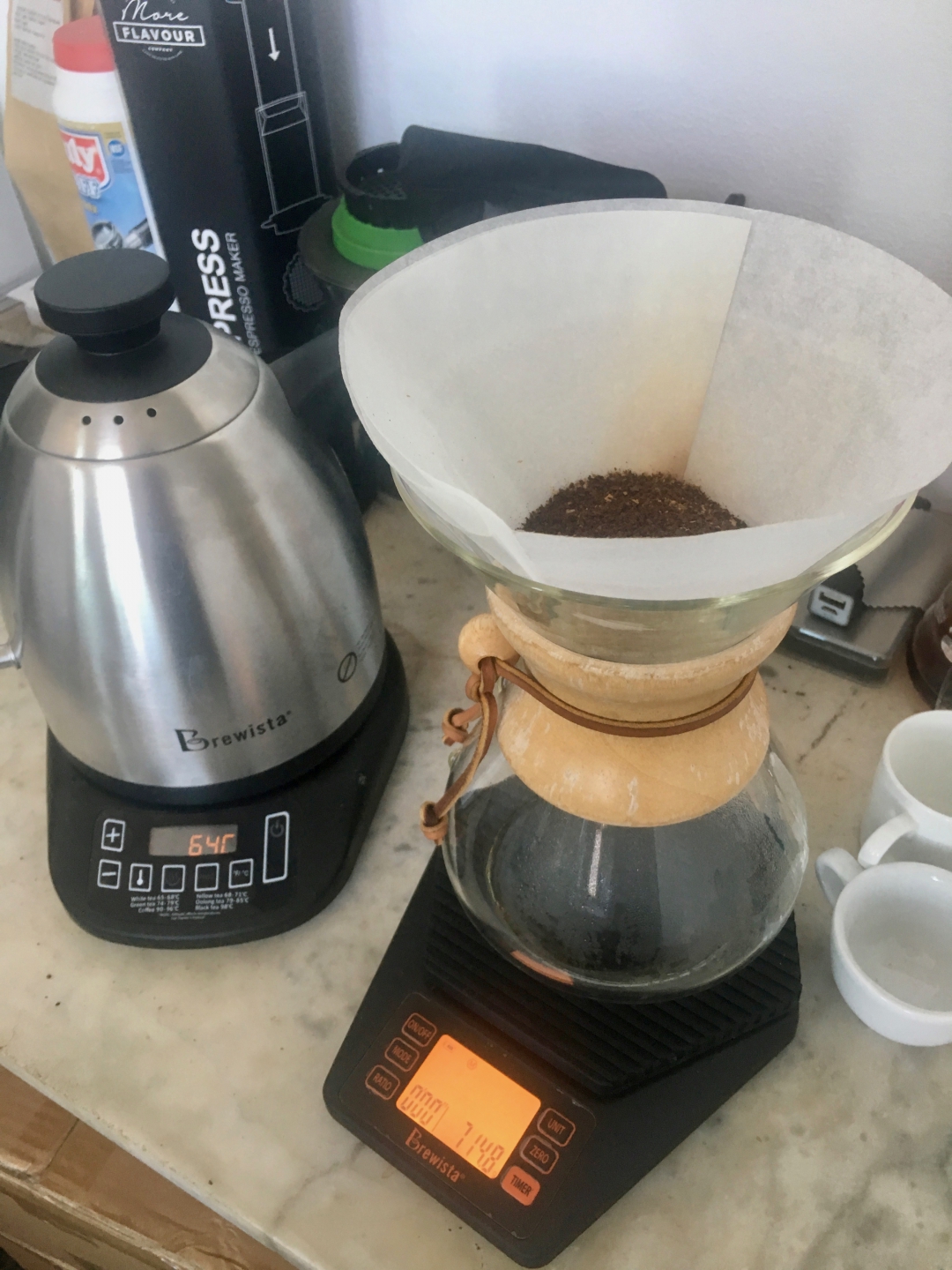 Dual timing bars display the actual and desired pour rates. Matching the timing bars achieves the recommended 2½ minute pour time.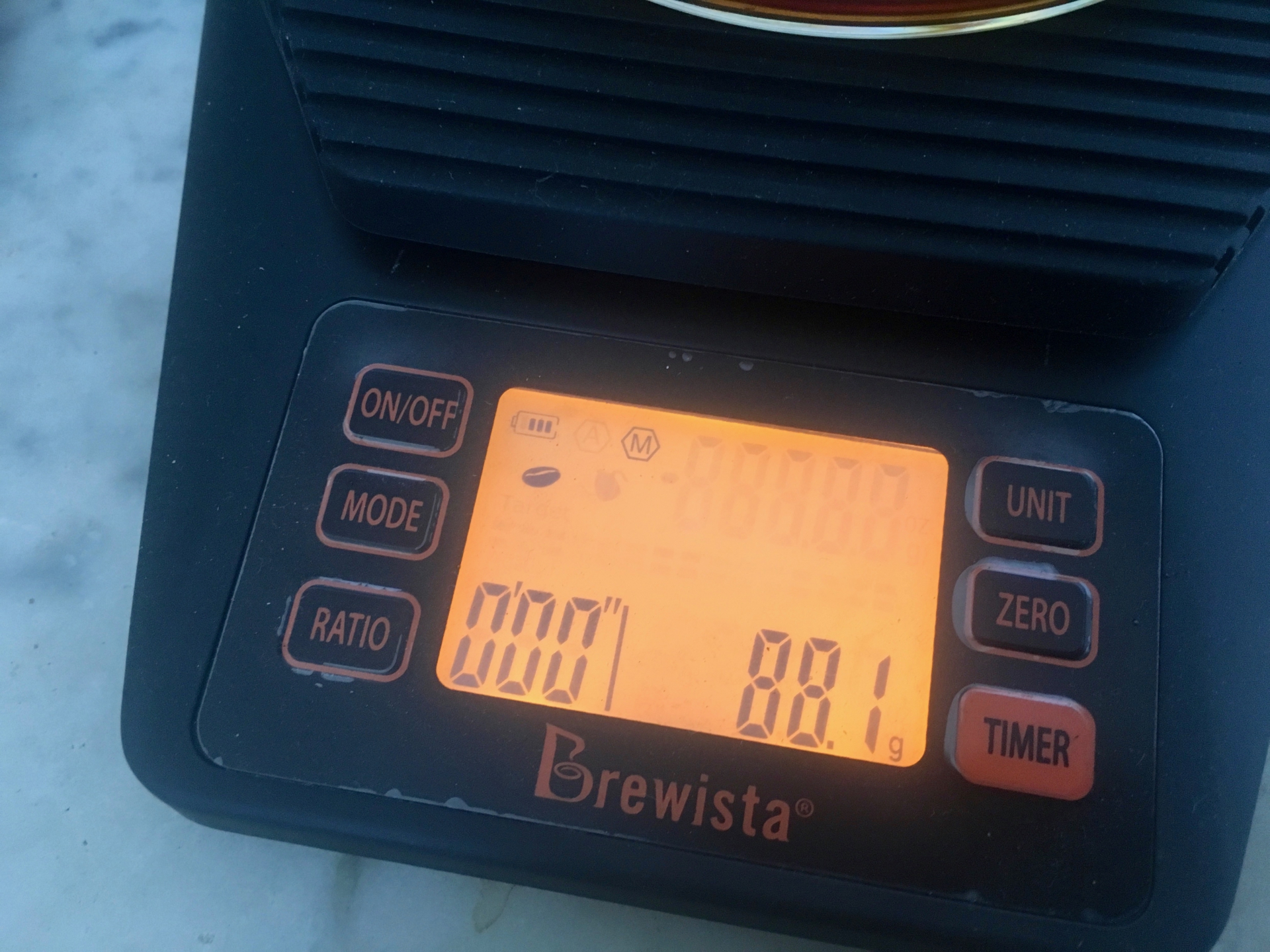 The Ratio Scale makes a perfect training tool for baristas and coffee lovers alike that want to get their pour over coffee dialed in. It features automatic and fully manual modes, and the water to grounds ratios are adjustable. The Ratio Scale takes care of the math so you can take care of the customers!
Got something to say? Then leave a comment!
---
Cold Brew vs Iced Coffee - What's the difference?
Tuesday, 10 July, 2018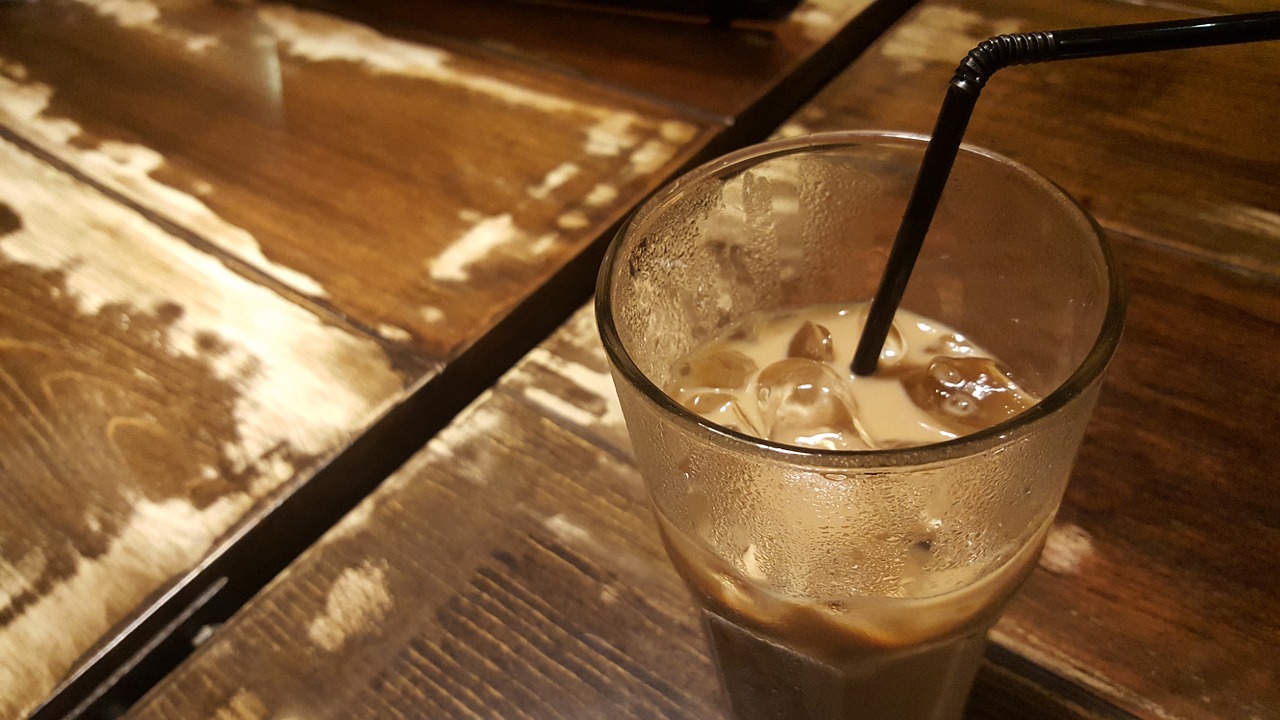 What's the difference between cold brew and iced coffee?
South Africa is settling into winter and some of us are dreaming of summer... Whether you're dreaming of warmer weather, or planning a trip in search of the sun, there are two drinks that are sure to be on the menu for any coffee lover in need of a fix: the traditional Iced Coffee and the trendy Cold Brew. So, what exactly is the difference between the two? Cold Brew is cold coffee, but – it's not Iced Coffee.
HOW IT'S BREWED
The main difference between Cold Brew and Iced Coffee is in the process (which also accounts for the differences in taste). Cold Brew coffee is steeped in cool water at room temperature for at least 12 hours (usually more), before the coarse grounds are filtered out. Without the heat, it takes a long time to extract maximum flavour. Cold Brew coffee tends to be much less bitter than regular coffee because heat is what releases the acidity of the coffee bean oils. The result is a much smoother coffee concentrate that can be mixed with milk or water.
Iced Coffee is brewed like regular coffee (usually extra strong) and then cooled by pouring over ice. Simple really! At some establishments, you might run the risk of being served this morning's stale coffee over ice, but the way it's supposed to be served is immediately over ice after brewing. It's typically sweetened and may be served with a pinch of cream or milk, and the result is a light, refreshing drink with all the natural aromas of your regular hot coffee.
THE TASTE AND FLAVOUR
Because the brewing process for both beverages is so different, the flavours are as well. The brewing temperature impacts the extraction of acids, sugars and oils from the bean, and ultimately, the final cup. Cold Brew is much smoother and milder in flavour than regular coffee – it tastes sweeter and less acidic. This is because less flavour is extracted at a lower temperature.
If mild and sweet are not what you want from your coffee, Iced Coffee preserves all the natural aromas of regular coffee, with a crisp acidity and rich flavour profile. When done right, Iced Coffee retains the intense flavours and complexity of the bean, delivering all the goodness of your regular cup of coffee – just chilled.
COLD BREW – TRY IT AT HOME
Cold Brew is easy to try at home if you have the patience! Using a French press, steep coarse coffee grounds in cold water for between 12 – 48 hours. Press down on the plunger when you're ready and voilà, you have a coffee concentrate! You can pour it over ice or dilute it with water or milk, and enjoy!
Got something to say? Then leave a comment!
---
Interview with a Barista Trainer: Bilbo Steyn
Monday, 2 July, 2018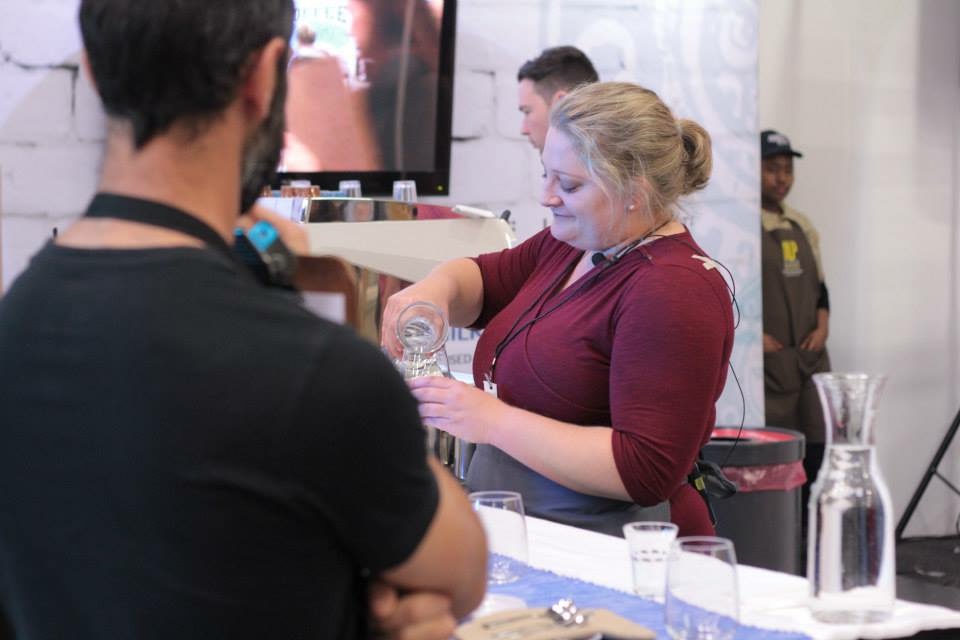 Bilbo Steyn on coffee, baristas and saving the world
We recently chatted with the brilliant barista, Bilbo Steyn, about her work as a barista trainer and all things coffee…
---
When and how did you get involved in coffee? And tell us about the road leading up to where you are now?
"My journey in coffee started when I got a job as a Sales Rep for an Italian food and wine importing company. One of my products was an Italian coffee and I quickly took on the 'duty' of making coffee for my colleagues in the morning. I also learned that I needed to offer my clients training so that their end-product was better, therefore ensuring me the return business. And so, slowly but surely, I started teaching myself and competing. It wasn't long before I was offered a position to be a barista trainer…needless to say, I never looked back. Now my days are spent in training. And I recently relocated to Gauteng to take up a new position."
What do you think it takes to be a good barista?
"Without a doubt, discipline! There is an insane amount to learn and you can only be successful at it if you practise absolute discipline. Then there's the one nobody tells you about: heart! If you don't love what you do, your coffee will always be average."
What is the most important lesson you need to learn to become a great barista?
"As a barista, we must always remember that coffee is the boss. As baristas, we have such a massive role to play in the circle of coffee. We are the last stop before the consumer – if we don't do a good job, we're letting everybody in the chain before us down, and that is a very serious matter. We must respect the coffee and always pay homage to those that came before us."
What advice do you give to aspiring baristas?
"Run for the hills! You'll never get out alive! … Just kidding! Get involved in the industry. Compete, volunteer, polish machines, clean grinders, study anything you can get your hands on! Give your time – you cannot imagine what you will learn backstage when you're just quietly observing and helping. And then approach anybody in the industry with your questions, who will be all too happy to hook another coffee lover into the industry!"
What qualities do you look for in a barista?
"Anthony Bourdain said, 'Skills can be taught. Character you either have or you don't.'"
When you watch a coffee being made, what type of things are you watching for?
"You don't need to watch; just by listening you can pick up a lot. But in general, I look for fluid and calculated movement, procedures being executed accurately and consistently, and excellent customer connection."
How important is the machinery and equipment you use in making a great cup of coffee?
"It is so incredibly important!!! Working on the best equipment is sometimes a luxury most of us cannot afford, but working on painstakingly clean equipment that's well maintained and understood, is a good starting point. And that applies to smalls, water filtration, counter surfaces, etc. Working in an ergonomically sound space is so important to the wellbeing of the barista and your business."
What has been your most memorable experience in your career as a barista trainer?
"There really is a lot that comes to mind. But I would have to say that the best moment was probably one day at a restaurant with my mom. A man approached us and proceeded to thank me for the time and energy I had invested in him when he was a young man struggling to make a living. He said that my training allowed him to grow in his role at work and allowed him to be successful. I think the moment was more profound to my mother; for me I was just humbled that I could do that for somebody who really wanted it."
How do you think coffee culture has changed over the years?
"It has changed drastically. 8 years ago, you couldn't find baristas. Now people apply for barista jobs with experience and skill! It's a skillset everybody sees value in and one that supports many families. One can also easily get frustrated by how slowly things are moving along in South Africa, but I truly think we're doing so well. The world is watching us, the more we share what we do and love, the more people we can reach."
What is your favourite way to enjoy a cup of coffee?
"Honestly, just being with my loved ones is a great start. But with friends, somewhere in the hills of the Overberg brewing and drinking chemex. With my family at home, plunger. With my sister at home…a small domestic filter machine with a Kees van der Westen sticker on!"
How many cups of coffee do you drink in a day?
"Back in my competition days we would taste anything around 30 cups? I think my body would hate me now – my sensitivity for caffeine has come with age! I would probably on average drink about 3-4 cups a day. The better the coffee, the harder it is to resist."
Besides the taste of coffee, what is it about it that fascinates you?
"I am truly fascinated by the complexity of molecular structure. I also love how we can apply all kinds of variables to manipulate the coffee. The science behind it is incredible, and yet we have so much more to learn."
What are some of the latest trends that you're seeing that we'll see more of in the future?
"I have noticed that coffee shops and consumers are becoming progressively more aware of the environmental impact our waste has. I hope we can abolish single use plastic items. Using a reusable cup for your coffee has such a massive impact on our waste footprint, but also in most cases will get you a discount! Be rewarded for your savviness and owning the problem. Save the earth! It's the only planet with coffee!"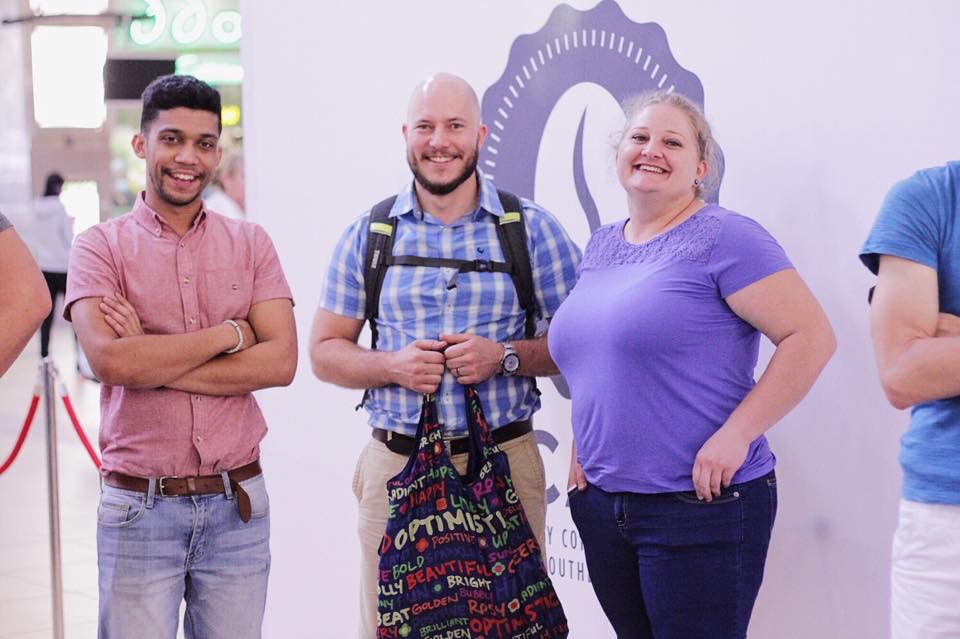 Got something to say? Then leave a comment!
---
Coffee Magazine Test Drives the Prismo for AeroPress
Wednesday, 6 June, 2018
The AeroPress is a long time favourite of our team. It's a great brewing tool for the office and on the go. We've had the same one since we got our first one back in 2012 and we love it just the way it is. But we are also coffee geeks and we love trying ALL the new gadgets so when MoreFlavour started bring in the Prismo from Fellow Products we were intrigued to try it out. Check out our test drive of this accessory below, we had a lot of fun with it. And yes, we're at the beach again. Yes, it's Winter and this is the weather here. Yes, you should come hang out with us and experience it for yourself at Creative Coffee Week.
If you liked this article, then you may also like these:
Got something to say? Then leave a comment!
---
How to buy the perfect Fully Automatic Coffee Machine
Wednesday, 30 May, 2018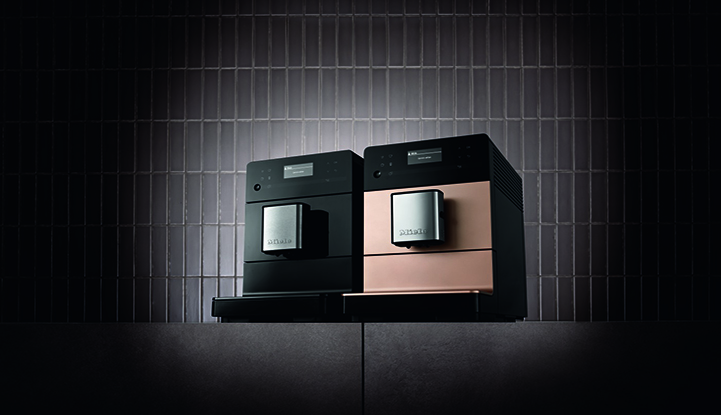 From percolators to pods to pumps – investing in a coffee machine is not as simple as it used to be. Mercia de Jager from leading kitchen appliance and coffee machine manufacturer, Miele, offers some insight into what to look out for when making your purchase decision.
In the past, making coffee involved putting the kettle on and unscrewing a jar of instant coffee. However, with the recent boom in stores selling delicious, freshly-brewed coffee, consumers have developed a taste for something a little more high-end. As a result, Mercia de Jager from leading kitchen appliance and coffee machine manufacturer, Miele, says that sales of coffee machines have experienced considerable growth: "Rather than heading to a coffee shop each day for your daily caffeine fix, more and more consumers have opted to rather invest in a coffee machine so that they can enjoy the perfect cup of coffee at home."
She says that investing in a good quality coffee machine can be a sizeable investment, and she provides a list of things that you should consider when making your selection:
Bean-to-cup or pod
For coffee lovers around the world, the bean-to-cup machine might truly be the greatest thing since sliced bread. These ultra-convenient devices can produce high-quality coffee from freshly ground beans in short order, with no barista-level skill set required. Not only that, but bean-to-cup coffee machines produce an unmistakably fresh flavour, which simply cannot be matched by capsule coffee or instant coffee grounds.
Pod coffee machines on the other hand use pre-packed coffee capsules that you put into the machine. When you press a button, the pod is pierced and hot water is sent through it into a waiting mug. These machines are typically easy to clean, and the pods are available in a variety of different coffee types and blends. A major benefit of these pods is that they are sealed, ensuring that the coffee remains fresh for a very long time. Although there are many different makes of freestanding pod-type coffee machines on the market (including models from Miele), Miele is the only manufacturer that offers fully integrated Nespresso-approved pod coffee machines.
Freestanding or integrated
If your new coffee machine will be stored in your kitchen, then you have to take the layout of this room into account. Do you have ample counter space for a freestanding coffee machine, or would an integrated model be a better choice for a neat and streamlined overall aesthetic? Says Mercia: "Of course, if you are renting, or the machine will be kept in a room other than the kitchen, such as an office or bedroom for example, then a freestanding model is probably a better bet. This way, you can move it around at will."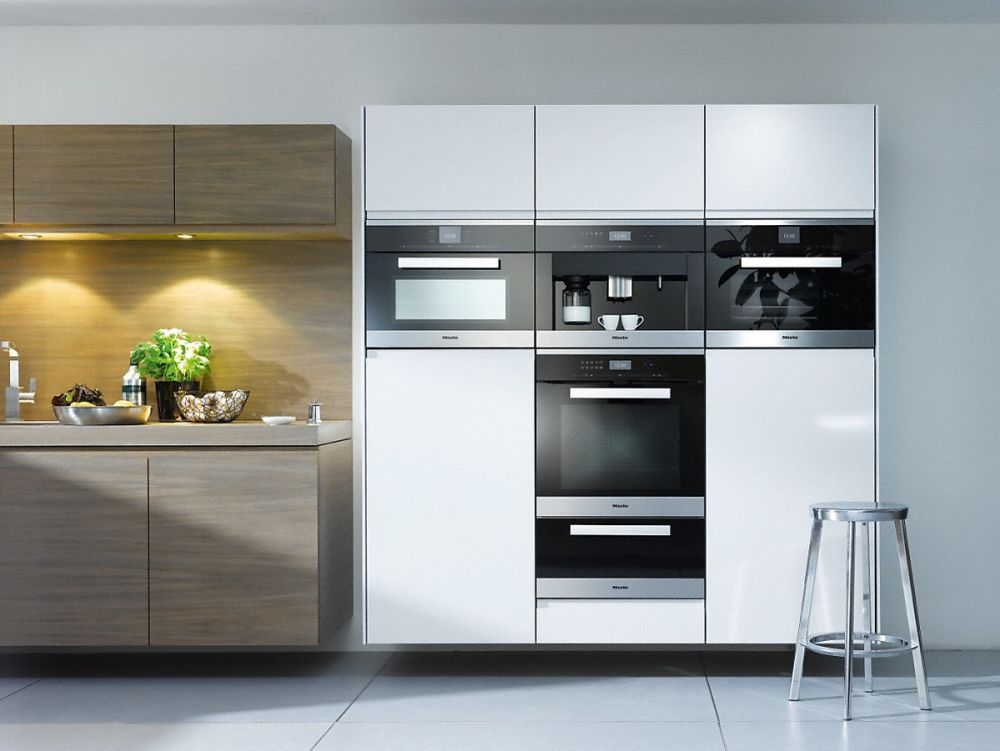 A good quality brew
Of course, the main reason for investing in a coffee machine is so that you can brew your own cup of delicious coffee whenever you want to. Features to look out for when looking for a coffee machine's ability to brew the perfect cuppa, include:
A high-end grinder: Many coffee aficionados will attest to the fact that making good quality coffee is all about getting the grind right, which makes the grinder one of the most important elements of a coffee machine. To ensure the best coffee aroma, Miele for example, only fits the best grinding systems into its coffee machines - their conical grinding unit is made from high-quality, non-abrasive steel. Its design allows it to grind the coffee beans in a special flavour-preserving way, which results in even and precise grinding of the coffee beans.
The brew chamber: Look for machines that offer brew chambers that expand when the water flows in, as this allows the ground coffee to be mixed thoroughly with the water, allowing the coffee aroma to unfold better. Miele' coffee machines for example, boast an AromaticSystem that ensure a more intensive coffee aroma.
A cappuccinatore: Any good quality coffee machine should boast a high-end cappuccinatore that will allow you to prepare hot milk or milk froth in no time at all. In a few seconds, it should be able to heat and froth the milk, directly into the cup or glass being used, and it should also allow for easy cleaning. Miele's cappuccinatore for example, ensure the perfect milk froth for all kinds of coffee specialities.
Individual settings and customisable profiles: The preparation parameters on your coffee machine should be abel to be set individually, which will allow you to customise the particular type of coffee and flavour intensity that you prefer. The grinder setting will dictate the amount of coffee used, and you should also be able to set the brewing temperature, pre-brewing method, as well as amount of water used. This will ensure that you can brew the perfect flavour for your coffee speciality from every type of coffee, every roast. Individual user profiles should also be able to be set – Miele's coffee machines for example, allow you to save your favourite drinks as one of up to 10 user profiles for customised coffee enjoyment.
Maintenance and cleaning
Like all other appliances, owning a coffee machine is as much about convenience as it is about brewing delicious cups of coffee. As such, a machine that requires a lot of cleaning and maintenance will more than likely frustrate you and most likely be push aside in lieu of that pricey latte from the coffee shop on the way to work. Easy maintenance and cleaning is therefore a major selling point that needs to be investigated, notes Mercia: "At Miele, we are well aware that time is precious, and let's be honest – who wants to spend their leisure time cleaning their coffee machine? As such, you will find a number of features on all Miele coffee machines that will save you time and effort." Some innovative features to look out for include:
Automatic rinsing: Convenient cleaning programmes, together with the automatic rinsing function will achieve perfect results for handling and hygiene. Limescale and soiling are prevented before they can build up, which contributes to added longeity of your machine.
Automatic rinsing of milk pipework: After making coffee with milk, all components that carry milk should be rinsed automatically with water from a water container.
Easy cleaning: Any high-end coffee machine should boast components that are dishwasher-proof. Miele's ComfortClean system for example, makes hygiene very easy as many of the coffee machine parts, such as the water container and the waste container for example, can be easily cleaned in the dishwasher.
Easily removable brewing unit: The brewing component is the "heart" of any automatic coffee machine. As such, it needs to be removed for easy cleaning to ensures a hygienic brew unit, as well as consistently high coffee quality and the longevity of the machine.
Added convenience
Mercia provides some innnovative extra features that will make your life easier and the coffee-making ritual so much more enjoyable:
Ease of use: Be sure to check out how quickly and easily a machine is to use. All of Miele's bean-to-cup coffee machines for example, are equipped with the OneTouch for Two function. This function allows you to make two delicious coffee specialities at the same time by simply touching a button. The programme starts automatically.
Pot function: This functionality allows you to prepare several cups one after the other. If you have visitors, a touch of a button is all it takes for your appliance to dispense up to eight cups of coffee one after the other into a coffee pot placed under the spout. Any high-end machine, such as Miele's CM7 freestanding coffee machine for example, should also allow you to dispense water for tea in a single cup or a teapot.
CupSensor: Exclusive to Miele coffee machines, the CupSensor makes using your Miele coffee machine easier – it recognises the height of the cup and positions the central spout accordingly at a height between 8cm and 16cm. The ideal distance prevents splashes and ensures the perfect coffee temperature and the best possible crema. After the addition of milk, the central spout is moved upward by 1cm to prevent soiling.
Heated cup surface: Integrated heated cup surfaces provide extra convenience: pre-heated cups available at any time. Heated cups are necessary as the perfect brew of coffee needs to be at the correct temperature for perfect coffee enjoyment – only then can the aroma unfold and a wonderful crema form.
Timer function: You should be able to individually programme when your coffee machine switches on and off according to your needs. This way, your coffee can be made as soon as you get up as the machine switches on automatically; it also switches off automatically in the evening. To conserve energy, the coffee machine can be switched off completely after it has not been used for some time.
If you liked this article, then you may also like these:
Got something to say? Then leave a comment!
---
Coffee Basics: Single Origin vs. Blends
Wednesday, 4 April, 2018
Coffee Basics: Single Origin vs. Blend
Whether buying beans, or placing an order in a cafe, you might often be presented with a choice between single origin versus blended coffee. It's not an easy choice – both have their virtues. So, what exactly is the difference, and why does it matter? These days, there's a lot of variation in flavour and roast levels, and both single origin and blends are suited to different drinks and brew methods.
What makes Single Origin special?
A single origin coffee is what it sounds like – all the beans come from one specific region, which could be an entire country, a co-operative of local farms in the same area, a single farm, or a single micro lot on a farm. For example, Ethiopian Yirgacheffe comes from the Yirgacheffe region of Ethiopia. Coffee 'purists' tend to prefer single origin beans for their distinct flavour based on the area in which they were grown and the nuances that soil, climate, altitude, shade and multiple other factors can create. Even lots on a single farm can produce dramatically different coffee!
For coffee connoisseurs who want to enjoy coffee in its purest form, single origin coffee offers incredible flavour diversity – no two bags of coffee are the same and requires different brewing methods to really get the best out of the beans. Syphon, filter, French Press, cold drip, or cold press brewing methods are all ideal for highlighting the subtle flavour nuances. Generally, single origin coffee is enjoyed black, with no sugar or milk, to truly taste its unique characteristics.
Single origin coffee tends to be more expensive because it is seasonal and only available at certain times of the year, and the taste can be overpowering for coffee lovers who prefer milk-based drinks like lattes or cappuccinos. The biggest strength of a blend, however, is its consistency. The beans are spread out to ensure a consistently good cup and buffer against seasonal changes and availability…
What's so great about a Blend?
Blended coffee is a combination of beans from different origins (one of our favourite blends has up to 9 different beans!) with a mix of flavour profiles, designed to get the best of multiple coffees in one complex cup. The aim is to produce a more well-rounded and full-bodied coffee with a smooth balance of flavour, aroma, body and acidity. The seasonal variations are less noticeable in a blend, and blends take the edge off the harsher flavours of single origin coffees, and are not as overpowering.
Blends have a mixed reputation as in some cases a sub standard coffee is used to save money and blends can hide bean defects, but in the specialty coffee industry, a talented roaster can bring together diverse flavours to create the best possible coffee. Roasters get really creative with their blending craft – there's great skill in understanding how various coffee flavours work with each other to create the perfect mix of coffee, and creating harmony from these different flavours is something of an art form.
Blended coffee is generally geared towards the mainstream consumer – the intensity and richness of flavour works well as an espresso shot which can be discerned through the milk of a latte or cappuccino. Single origin beans generally aren't suitable for espresso because of the finer taste nuances, and espresso needs a mix of sweetness, acidity, and crema, which a single source usually can't offer. A roaster typically goes through an in-depth trial and error process to find the perfect balance between one type of bean that's more bitter and the other one that's sweeter.
So, which is better?
​There may be times when you're feeling adventurous, and times when you just want a blend that you know and love… It really comes down to personal preference. If you want a well-rounded, strong flavour profile that's consistent, go with a blend. If you're interested in the unique characteristics and exotic flavours of coffees from different regions, choose single origin. So, what's your take on the great debate? Is one better than the other?
Got something to say? Then leave a comment!
---
Gadget Review: Kruve Sifter
Wednesday, 14 March, 2018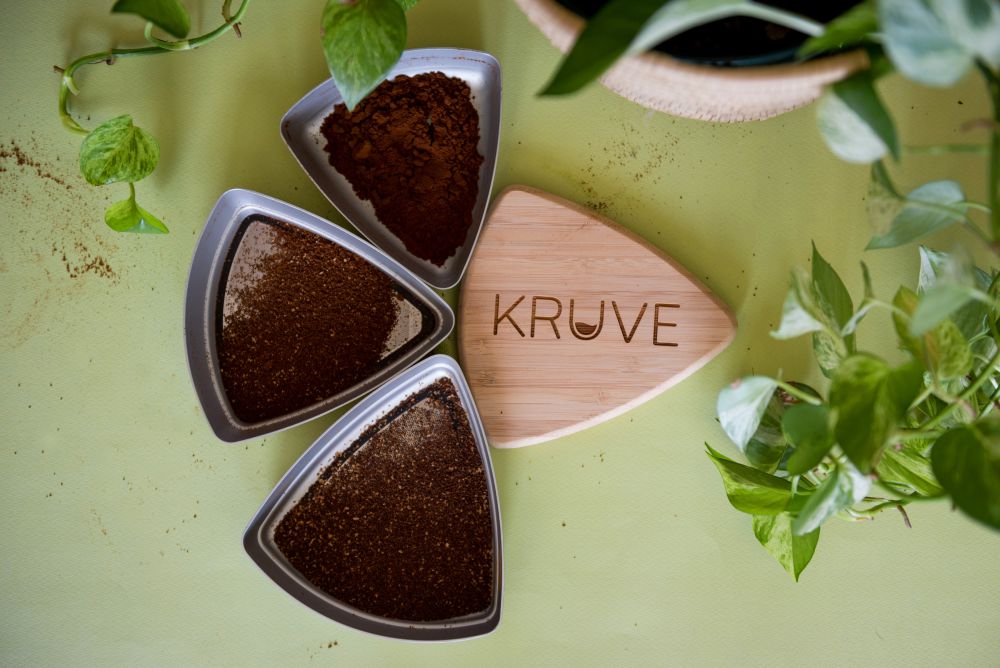 Gadget Review: Kruve Sifter
Most coffee professionals believe that even grind size is key to achieving even extraction and exceptional flavour in the cup.
But is a perfectly uniform grind, every time even possible? The Kruve Sifter claims that while many have tried to perfect the grinder, they have apparently perfected the grind…
Created to solve the problem of uneven grind size, the Kruve Sifter uses two tiers and up to 15 interchangeable sieves to allow for 105 possible grind sizes. We chatted to Wesley Van Biljon of Colombo Coffee to find out what he thought of the Kruve Sifter.
Refining the grind
"Kruve is a fantastic tool for controlling the particle size and achieving a cleaner, more tactile cup. It is going to add some time to your brewing process initially but will prove to be easier once the particle size preferences have been identified.
Using higher quality specialty grade coffees warrants the effort in sifting out fines (small particles) and boulders (large particles) when brewing, to bring out a cleaner quality in the cup.
The Kruve has great potential, which leaves the door for experimenting open to all who wish to explore coffee further. Personally, I love it."
The quest for the best
A top-quality grinder is a key piece of equipment for professionals and the conscientious consumer alike, but the Kruve Sifter is a nice addition if you're looking for a consistently even grind, every time. This theory of the even grind and sifting out the fines to reduce bitterness was tested on the World Barista Championship Stage (with rather a larger sieve for time purposes!) and it proved highly successful.
The Kruve Sifter retails for between R1,025 – R2,675 (depending on whether you want the Two, Six, or Twelve). It's available at these online outlets: Espresso Concetti, Wake Up Brew, Cape Coffee Beans, and Republic Coffee.
One of our initial concerns with this tool was the possibility for wastage of coffee, but you'll soon see that no good coffee need go to waste. The different chambers hold grind sizes that might not be perfect for your filter brew, but could be used later for a different method; espresso for the fines, a plunger for the coarse grinds. Just keep a couple airtight containers on hand.
Got something to say? Then leave a comment!