Golden Turmeric Latte: How to and Delicious Breakfast Recipes
Thursday, 4 June, 2020
Golden Turmeric Latte – The anti-inflammatory drink that boosts your immune system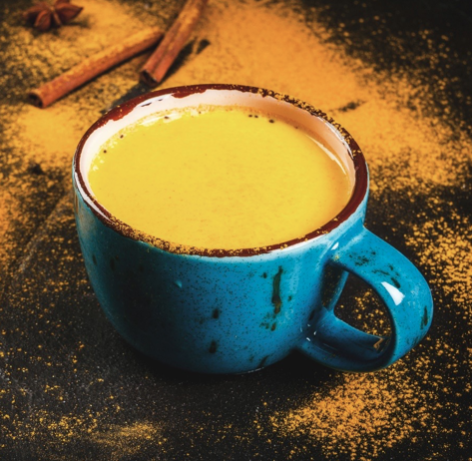 Appearing on café menus around the world as a Golden Latte, this tasty drink offers powerful functional health benefits and is fast gaining popularity as the colourful new option to try when you're looking for a caffeine-free alternative and in need of an immune boost.
Bringing together some of Mother Nature's healthiest ingredients, a Golden Turmeric Latte is made from a spicy blend of turmeric, cinnamon and ginger that's been added to steamed milk.
Curcurmin, the antioxidant that gives turmeric its golden hue, has potent anti-inflammatory and anti-bacterial, gastrointestinal health properties, which have been linked to the prevention of cancer cell growth and management of inflammatory conditions such as arthritis, asthma, eczema and inflammatory bowel disease. The high antioxidant and anti-bacterial content in turmeric also means it is great for helping to reduce the symptoms of colds and flu.
Cinnamon has been hailed for its antioxidant properties and been proven to help reduce the risk of heart disease. Ginger, commonly used to fight colds, flu, indigestion and nausea, is also another powerful anti-inflammatory.
So keep your body fighting fit this winter with a cup of golden goodness. We love the red espresso® Golden Turmeric Latte Mix for its perfectly balanced blend of turmeric, cinnamon and ginger with just a hint of organic coconut blossom sugar for sweetness. 100% pure plant-based goodness that you can use to make a golden latte or add to your smoothie or breakfast bowl. Buy it online: https://redespresso.co.za/collections/frontpage/products/golden-tumeric
How to make a Golden Turmeric Latte:
Add one heaped teaspoon of red espresso® Golden Turmeric Latte Mix to your cup
Add 30ml hot water and mix well to combine the ingredients
Heat up your milk or dairy alternative. Pour into your cup and stir well
Add a dash of raw honey if you prefer it sweeter
To greatly increase the absorption and bioavailability of the curcurmin in the turmeric, add a crack of black pepper and a dash of healthy fat such as coconut oil, flaxseed oil or olive oil to your drink.
---
Try these deliciously fun breakfast recipes:
Pineapple Turmeric Smoothie: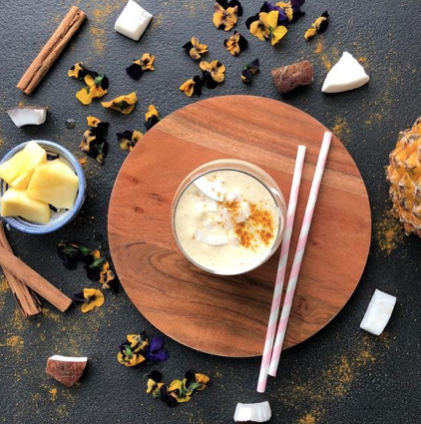 Serves: 1
In a blender add:
½ tsp red espresso® Golden Turmeric Latte Powder
1 cup plain yoghurt
3 chunks pineapple
1 tbs dessicated coconut
1 tbs oat brand
½ tsp cinnamon
1 tbs vanilla extract
1 tbs milk or dairy alternative
3 blocks of ice (just to chill)
Blend and serve (add honey to sweeten if needed)
---
Spicy Banana Warm Chia Pudding: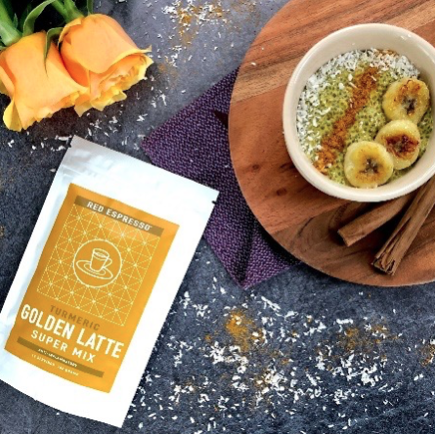 Serves: 1
Ingredients for chia pudding:
60ml chia seeds
250ml milk or dairy alternative
1 tsp vanilla extract
1 tsp red espresso® Golden Turmeric Latte Mix
1 cinnamon quill
1 tsp organic maple syrup
Instructions:
Combine all the above in a saucepan and slowly bring to the boil stirring continuously to prevent lumps
Once the pudding has thickened, remove from heat, remove the cinnamon stick and pour into a serving dish
Melt a little coconut oil (or butter) in a pan. Add a sliced banana and fry until slightly brown and caramelised
Place the fried banana on top of the hot pudding and serve immediately
---
Golden Turmeric Oatmeal: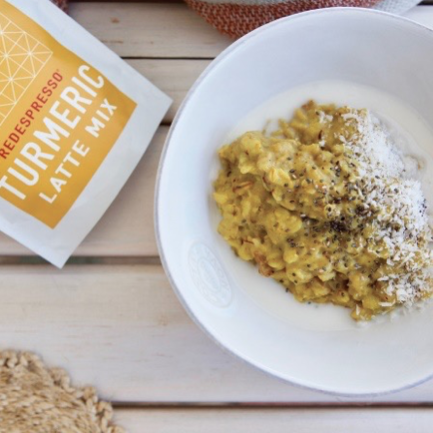 Serves: 1
Ingredients:
½ tsp red espresso® Golden Turmeric Latte Mix
½ cup rolled oats
½ cup water
½ cup almond milk (or any other plant milk)
3 dates
Instructions:
Cut the dates into smaller pieces and place all of your ingredients into a pot
Bring your pot to boil and then turn down to medium heat
Be sure to stir often to ensure a smooth and creamy consistency
To serve, keep the toppings simple by adding coconut shavings, chia seeds and a splash of almond milk.
This recipe was developed by Amber Gisele
Got something to say? Then leave a comment!
---
Matcha Latte: Delivering the Boost without the Buzz
Thursday, 28 May, 2020
WHY WE LOVE MATCHA LATTES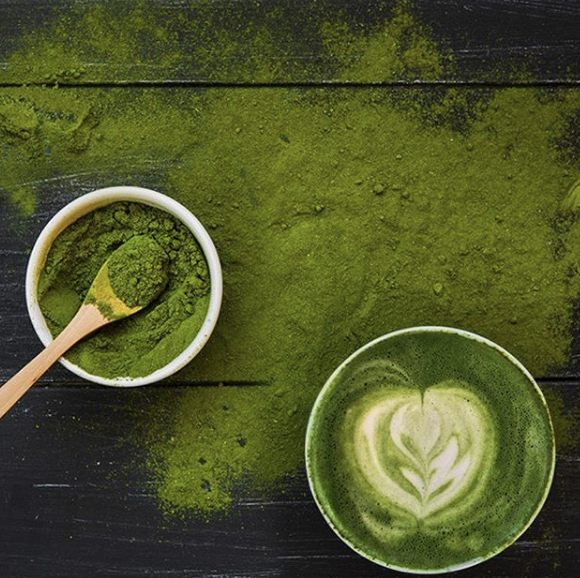 There's a reason why the Japanese have been drinking matcha for centuries.
Matcha is made from green tea leaves that have been stone-ground into a fine powder, creating a product that is higher in antioxidants and caffeine than conventional green tea.
Thanks to its caffeine and l-theanine content, Matcha gives you a calm, sustained energy release and can help to improve attention, memory and reaction time. In short, it boosts brain function. The antioxidants help fight free radicals in the body that can cause certain diseases. And if that's not enough, some studies show that green tea helps increase metabolism and fat burning, both of which may aid weight loss. That's a whole lot of reasons to drink a Matcha Latte!
How to make a matcha latte at home:
The red espresso® matcha latte mix is made from exceptional grade Japanese Matcha that has been carefully blended with just a hint of coconut sugar to give you the sweetness without the high glycaemic index of cane sugar. This creates a taste that is well-balanced and flavourful when added to milk and plant milk and has made their Matcha Latte Mix one of their most popular sellers.
It is a 100% pure plant-based drink that is free of fillers, preservatives and flavourants and quick and easy to prepare at home:
Simply mix a teaspoon of red espresso® green tea matcha latte mix into 30ml hot water
Stir well to combine the ingredients
Top with steamed milk of your choice
You can also add it to your smoothies, juices, breakfast bowls and baking.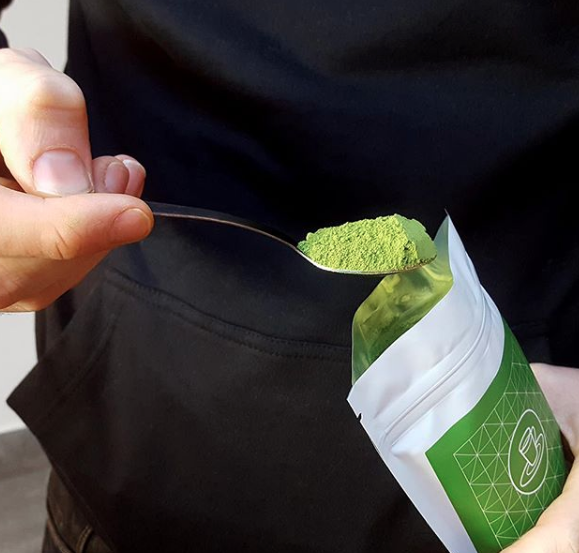 You can buy red espresso® Matcha Latte Mix online
Got something to say? Then leave a comment!
---
EXPERT: Why temperature matters when brewing espresso
Thursday, 28 May, 2020
How Water, Group, and Steam Temperature Can Improve Beverage Consistency
Consistency is critical. Without it, espresso quality will fluctuate, recipes will be hard to refine, and returning customers looking for another one of those "amazing coffees" they drank last time will end up leaving disappointed.

Even small fluctuations in water, group head, and steaming temperatures can cause varying extraction yields and flavour profiles. Here's why, and how to control them.
How Water and Group Temperature Affect Espresso Consistency and Flavour
We all know that the ideal temperature comes down to the beans' solubility and that the lighter the beans are roasted, the less soluble they will become and therefore the higher the temperature we should use. However, it's not as simple as it sounds.

The hotter the grinder, the higher the temperature of the ground coffee. This increases its solubility. Unless your grinder has temperature stability, like the Mythos 2, brewing temperatures should be decreased during peak periods to maintain consistent extraction yields.

What's more, changing the water temperature affects the flow rate. During pre-infusion, the coffee puck releases gases, mainly carbon dioxide. Some of these gases dissolve in the water, but bubbles are also created that block the water from passing through the puck, decreasing the flow rate.

Gases become less soluble at higher temperatures, which results in more bubbles, further decreasing the flow of water. The flow rate will then increase significantly during the rest of the brew time. This could be a result of channelling as the bubbles may cause small dry patches in the puck that water will bypass.

To avoid these issues, baristas need to pay careful attention not just to the brew recipe but how conditions are changing during the day. This will allow them to adjust the water temperature appropriately.
How Steam Temperature Improves Milk Consistency and Flavour
Small variations in steam temperature can have a big effect on the beverages that you're serving. Milk that's too cool will result in poor foam and latte art, while overheated milk will have a thinner, more watery consistency and a potentially disappointing mouthfeel.

The SCA recommends steaming milk to 55–65°C, but the ideal temperature will depend on the milk's protein and fat content as well as your aim for the beverage. The higher the protein and the lower the fat, the easier it is to create foam at slightly lower temperatures – but the pay-off is a less creamy body.

A dual-boiler machine will mean you can keep the steam wand at a consistent temperature and pressure, ideally slightly lower than the group head. Our T3 technology will also make it easier to set the water, group, and steam temperatures at the individual group heads.
---
From the team at Nuova Simonelli
Got something to say? Then leave a comment!
---
Make a Barista-Style Chai Latte at Home
Friday, 15 May, 2020
If you're a chai lover and desperate for a real café style chai that you can make easily at home, we've got just the thing for you…
Making a café style chai latte at home is as easy as 1,2,3…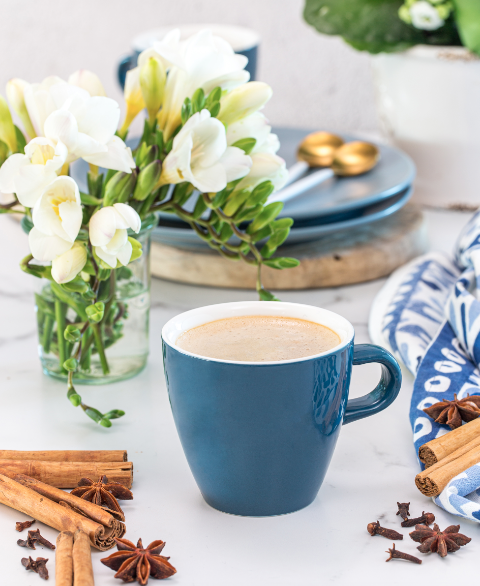 Step 1
Choose an authentic chai latte powder – one that's made with real Indian spices and black tea – to ensure that your homemade chai latte will be as flavourful as the one you love from the café.
We recommend the red espresso® premium chai latte powders that are available in two delightful flavours: spiced chai and vanilla chai latte. These latte powders follow the traditional masala chai recipe so they give you the true chai latte experience in terms of taste and aroma. They don't contain any of the nasties (the artificial ingredients) that some chai powders can have. Plus they're vegan friendly too because they don't contain any dairy ingredients (most chai powders do contain dairy)
Step 2
Add a 25g scoop of your chai latte powder to a 240ml glass and mix well with hot milk of your choice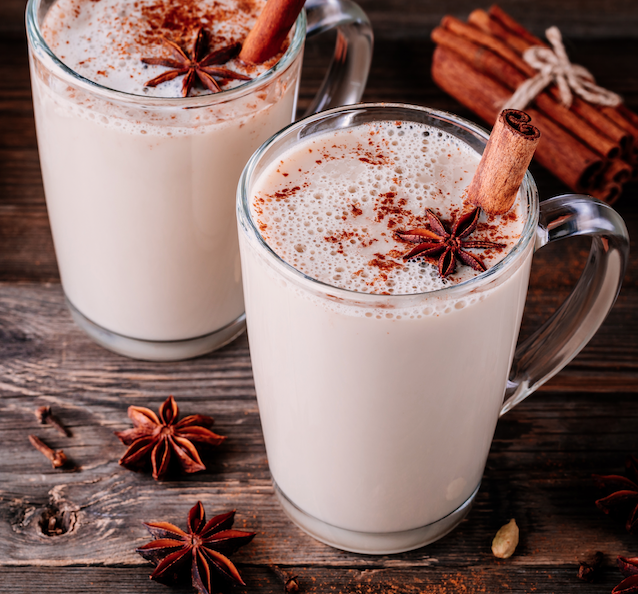 Step 3
Once thoroughly mixed, top up with steamed milk or milk alternative.
You can try making foamed milk using a French Press - Heat your milk on the stove or in the microwave and then pour it into your French Press. Plunge the lid up and down for about 30 – 60 seconds
Using a milk frother – Heat your milk and try a handheld milk frother which acts like a small electric whisk for frothing
Using your home espresso machine - Heat one cup of milk in a jug using the steam wand. When you add this steamed milk to your chai latte glass, hold some of the frothiest milk back in the jug with a spoon so you can add it to the top of the glass.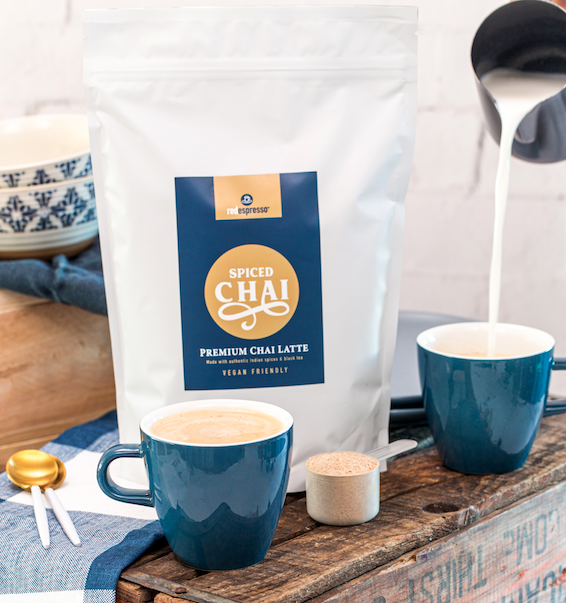 You can buy red espresso® chai latte powders online.
Got something to say? Then leave a comment!
---
How to Brew the Best Rooibos at Home
Friday, 1 May, 2020
Last week we shared the incredible immune-boosting properties of red espresso®'s rooibos tea and discovered just how good a red cappuccino® really is for you, way beyond simply helping you avoid caffeine.
And given the positive response we got, we thought you'd be keen to learn just how quick and easy it is to brew at home, using your preferred coffee appliance. Who knew rooibos could be so versatile? Flipping amazing.
Rooibos Home Brewing Guide
Rich, full-bodied rooibos strength and flavour
Keen to brew your own red cappuccino® at home but not quite sure how to do that? It's super easy with red espresso®'s signature ground rooibos tea that has been specially ground for use in most coffee appliances.
Make it on your home espresso machine
Fill the double basket with 12g (two table spoons) of red espresso® rooibos
Make a 60ml/2oz shot
Enjoy as an espresso with honey or lemon
Or add foamed milk for a red cappuccino® with a drizzle of honey and a dusting of cinnamon
Not for use in semi-automatic machines or bean-to-cup machines
Make it on your AeroPress
The AeroPress makes a smooth, rich tasting rooibos quickly and conveniently - no mess, no fuss. The AeroPress is simple, lightweight, durable and portable, making it the ideal appliance for when you are on the go, camping or backpacking.
Scoop 14g red espresso® rooibos
Fill with hot water
Stir gently
Allow to brew for 1 minute
Make it on your French Press
One of the most popular ways to brew red espresso® ground rooibos quickly and easily at home is using a French Press; just like you would coffee.
Use 12g (two table spoons) of red espresso® rooibos per cup
Top with just-boiled water
Stir gently and allow to brew for 2 – 3 minutes
To adjust the strength add more ground rooibos
Make it on your Stovetop Moka Pot
Fill the filter basket evenly leaving enough space for red espresso® rooibos to expand
Place on a medium heat and allow to percolate
Make it on your Nespresso machine
red espresso® rooibos capsules are compatible with all Nespresso machines except the VertuoLine.
Run a shot of water through your machine before use to rinse out any residual coffee flavours
Insert 1 capsule into your Nespresso machine
Express!
Run a shot of water through your machine after use to rinse out any residual flavours
red espresso's signature ground rooibos is available in a 250g and 1kg bag. Their Nespresso compatible capsules are available in 5 sugar-free flavours including chai and vanilla. Buy direct from www.redespresso.co.za
Got something to say? Then leave a comment!
---
Brewing Coffee at Home: A COVID-19 Series - The MoccaMaster
Friday, 1 May, 2020
This week we bring you a really cool brewing device called the MoccaMaster, by Technivorm. It is perfect for making filter coffee at home or the office and it will also brew delicious batch brews for your cafe. Technivorm have been making MoccaMasters and grinders solely for 50 years! These units are loved all over the world and they also carry a 5 year ( yes, five year!) warranty.
Check out Mel's method and brewing recipe here - it's really so simple: all you really need is coffee, good water and a MoccaMaster for delicious results. But if you want to get coffee geeky on us, these are the things we used in this video and where you can get them:
Got something to say? Then leave a comment!
---
How to make a caramel vanilla frappe at home in less than 2 minutes!
Friday, 24 April, 2020
Find out how you win the ingredients used in this recipe (and more!) below
While we're all stuck at home during Lockdown, we thought we would share some fun, easy to make beverage recipes that you can prepare at home. In this video, Dale Parker from Da Vinci Gourmet, shows us in less than two minutes how to make a delicious caramel vanilla frappe.
The drink is called a
Caramel Vanilla Frappe:
Da Vinci Caramel Sauce x 30ml
Da Vinci Vanilla Syrup x 10ml
Da Vinci frappe powder x 30g
Instant coffee x 2 tsp
Milk x 100ml
Ice x 1 cup
You can get all of the above ingredients from www.davincigourmet.co.za who will deliver to your home, even during lockdown! Place your orders at the link above.
WIN with DaVinci Gourmet:
Like this page and tag two people in the comments who you'd love to share these delicious products with. Don't forget to use the hashtags: #DVGHomeEdition #FlavourGeniusAcademy
2 DaVinci Gourmet prize hampers valued at R1500 each.
Got something to say? Then leave a comment!
---
Tips on boosting your immune system: Rooibos
Friday, 24 April, 2020
Red cappuccino. So good. And good for you too!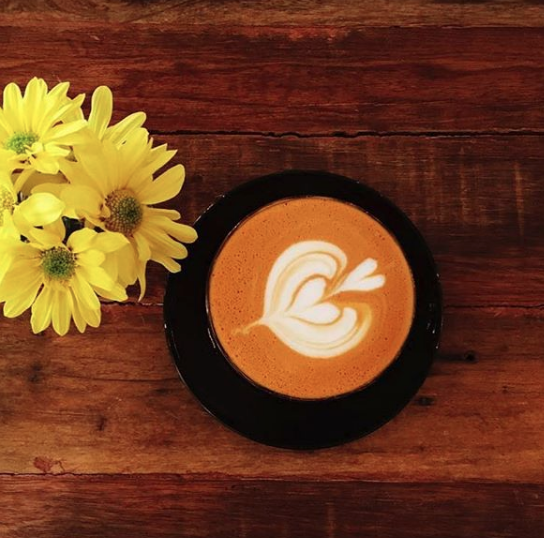 Nutrition and boosting your immune system are top of mind for everyone at the moment in an effort to stay as healthy as possible against COVID-19. And beverages can be a great way to help you do this by getting some extra antioxidants into your diet. Until further studies have been done, we don't know whether nutrition plays a role in helping people to prevent or recover from COVID-19. But we do know that good nutrition has so many benefits for your body including better immune functioning which may help to prevent you from getting colds and flu (amongst other things), and helping the body to heal from any trauma. So making the choice to focus on better nutrition at this time seems like a good idea.
We've been asked if our rooibos tea can help to boost the immune system and just how much is the right amount to drink every day. So we thought we would share our advice here with you too:
What the science says
Rooibos tea contains a unique powerful antioxidant called Aspalathin. Antioxidants fight free radicals in the body that are natural by-products of oxidation and which weaken the body's natural defences. This can lead to premature ageing, the decline of the immune system and the onset of diseases such as heart disease; all of which are exacerbated by stress, smoking, poor diet and pollution.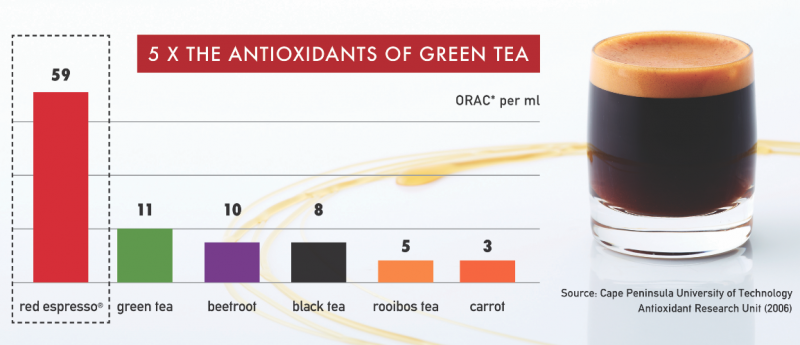 Antioxidants are measured in ORAC's (Oxygen Radical Absorbency Capacity) and their ORAC value is a single number that reflects a food's ability to reduce free radicals in the body. A 60ml double shot of red espresso® rooibos meets a significant part of the ideal ORAC requirement for your day – with 4720 protective ORACS per 60ml double shot.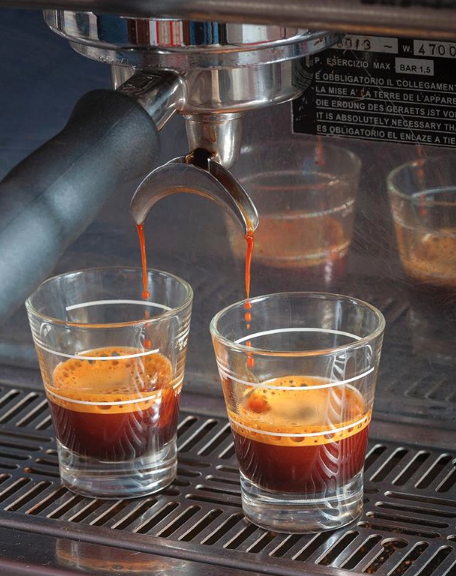 An antioxidant powerhouse
As researched by the Antioxidant Research Unit at INFRUITEC, one 60ml shot of red espresso® rooibos has the same amount of antioxidants as 5 cups of green tea, 1 cup of blueberries, 6 cups of beetroot juice or 20 cups of carrot juice. It also has 10 X more antioxidants than traditionally brewed rooibos tea (per ORAC measurements) due to its patented grind and espresso method of preparation which means the health benefits of rooibos are concentrated tenfold in a 60ml shot.
The miracle tea?
In addition to being filled to the brim with immune-boosting antioxidants, there are many more reasons to be drinking rooibos. And when added to steamed milk for a red cappuccino®, you are doing so much more for your body than simply reducing your caffeine intake.
Here's a list of 10 super health benefits we bet you didn't know you were getting when you drink a red cappuccino®:
It has a soothing effect on the central nervous system and is highly recommended for people suffering from irritability, headaches, disturbed sleep patterns, insomnia, nervous tension, mild depression or hypertension.
It boosts the immune system and may help to fight infection
It is age defying
It has anti-carcinogenic properties (red espresso® rooibos has been endorsed as a CANSA Smart Choice product since 2015)
It has anti-spasmodic properties and can be used to relieve stomach cramps. It also aids digestion and relieves heartburn, ulcers and constipation
It contains zinc and alpha hydroxy acid which helps to promote a healthy skin
It has anti-allergenic properties that reduce the effects of allergies such as hay fever and eczema.
It is believed to help the respiratory system and reduce the effects of asthma
It has a low tannin content, so is not bitter-tasting like other teas. This also means that absorption of iron and proteins into the body is less affected, making it particularly good for pregnant women and people who are anaemic
It contains no oxalic acid (a toxic acid found in certain plants) and is therefore a good choice for those prone to kidney stones
Rooibos is naturally caffeine-free and suitable for the whole family to enjoy, including children, pregnant and breastfeeding moms and the elderly. Buy online direct from red espresso®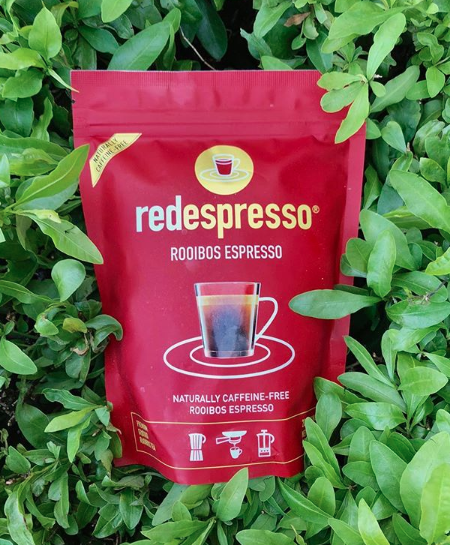 Got something to say? Then leave a comment!