Gadget Alert: This device promises best espresso without an espresso machine
Friday, 22 November, 2019
We've always got our ears to the ground for interesting new gadgets on the coffee scene. This one, COFFEEJACK, makes some bold promises! The best espresso without an espresso machine, it claims. They also say it would replace or 'save' us from going to coffee shops. But we LOVE going to coffee shops, not just for the espresso coffee, but for the ambience. Using technology based on the hydraulic car jack for changing tyres, hence the name.
Despite our skepticism, it has been fully funded on Kickstarter by a long way, so this 'dream' product is on its way to becoming a reality.
For now, our favourite option for espresso on-the-go remains the Wacaco Nanopresso, but this idea obviously appeals to a lot of people.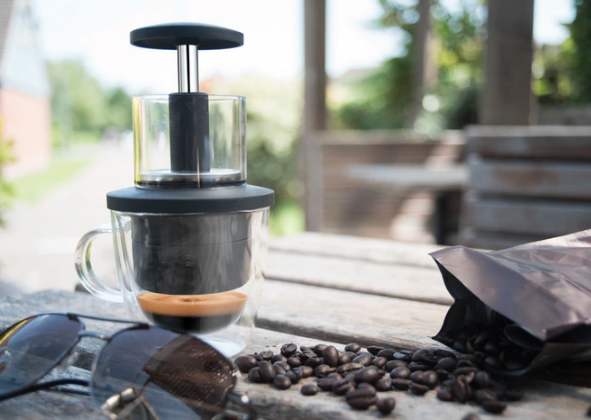 The founders have this to say of the inspiration for the CoffeeJack:
"We grew tired of investing in expensive portable coffee makers and never experiencing the same quality espresso we could only get from a coffee shop. Therefore, we would still go to expensive coffee shops every day! Second to that, we were guilty of using disposable cups, purely due to convenience (hands up!). We knew we could engineer something better, something that fulfilled our desire for great coffee and helped the environment at the same time. We cannot express the level of passion and tenacity that has been invested into this project. It is factually the smallest espresso machine on the market (only 100mm high). But most importantly it ACTUALLY produces coffee shop quality coffee. This has been no easy task to achieve and we refused to stop until it met our high standards and of those in the coffee industry.
392 prototypes, one filed patent later and we've finally done it! We are now seriously excited to make COFFEEJACK™ a reality!"
You can find out ALL the details on their Kickstarter Page
Got something to say? Then leave a comment!
---
Home Barista: Get your water right!
Wednesday, 13 November, 2019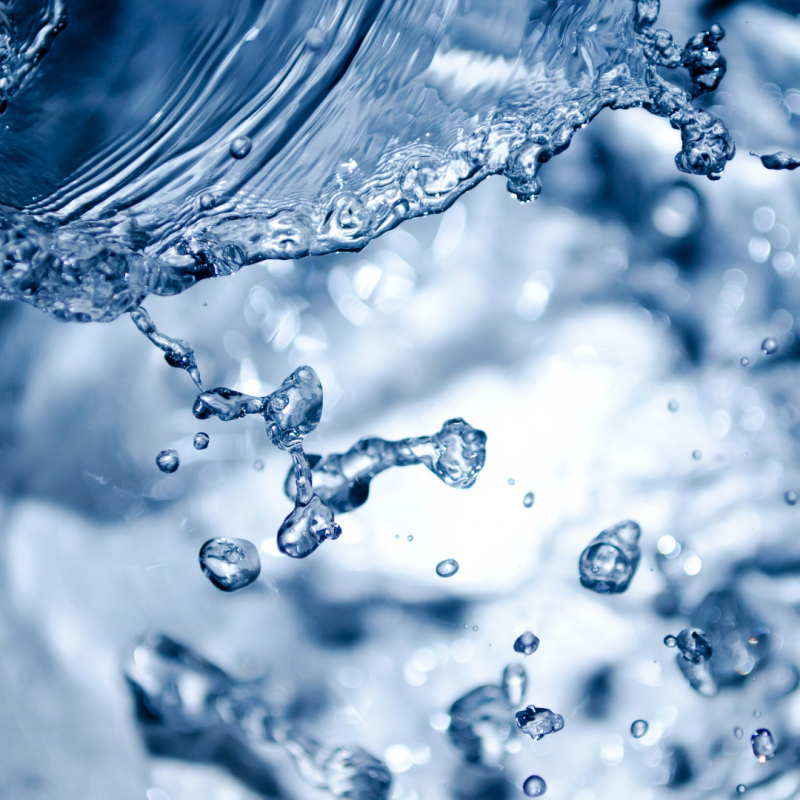 Did you know that magnesium is at the top of the list of important water-soluble minerals for brewing the best coffee?
When you get a cup of bitter coffee, we often think there's something wrong with the brewing process. Actually, it's more likely that the water has spoilt the taste. That shouldn't be surprising – a cup of coffee is 98% water after all, and water is the key extraction medium for the 800-plus aromatic components from your coffee beans.
The Paulig Barista Institute, based in Helsinki, says that "it definitely pays" to check your water quality and "even manipulate your water a bit to achieve a more balanced cup of coffee".
Sadly, our tap water contains as many as 750 different chemicals, of which only a fraction is checked during routine analytical programmes. Unfortunately, the processes and pipes that our water goes through before coming out of our taps has a marked effect on its taste and smell. But purifying your water isn't enough. Distilled water / RO Water "doesn't have any taste", says Bob Mahler, Soil Science and Water Quality professor at the University of Idaho.
This is why many of us prefer the taste of bottled water – "companies that sell bottled water will put in calcium, magnesium or maybe a little bit of salt" to improve taste, says Professor Mahler . This is because magnesium is a flavour carrier. Adding magnesium to water allows for the development of even the most subtle flavours – in your coffee and in your food!
Even the World Health Organisation (WHO) gives the top three key considerations in supplementing minerals in bottled water as "potential health benefits; taste and product stability". (WHO also estimates that 50% of South Africans are not consuming enough magnesium – and other studies have found that sports enthusiasts are particularly at risk of low levels of this mineral that is vital for over 300 cellular functions in your body).
Correct hydration is essential for good health. Ideally, we should be drinking eight glasses of purified water a day. And the easiest way to get your family to drink water is to ensure it tastes wonderful.
The good news is that the addition of magnesium balances the mineral levels in water and this is especially obvious when you make your tea or coffee with magnesium-enriched, purified water. Purifying your water and adding magnesium means you get an almost neutral pH value that makes for high-quality water with a unique flavour and delicious taste. Plus you're replacing essential minerals like magnesium that you lose through day-to-day activities. It's a win win win situation!
So, you might think this may be difficult to accomplish at home, but there are some great and easily available products on the market that can assist. Our favourite at the moment is the BWT Magnesium Mineralizer which not only produces magnesium-enriched and purified water, it reduces the limescale content of water as well as aroma- and taste-impairing substances, chlorine and heavy metals, whilst protecting your valuable coffee machine and kettle. And during the unique BWT purification process your water becomes wonderfully tasty and healthy thanks to being enriched with the precious magnesium mineral.
Got something to say? Then leave a comment!
---
The Matcha Story
Monday, 4 November, 2019
Words by Nic Reid, all images red espresso
---
I first tried matcha in Minneapolis in 2008. I was at the SCAA exhibition and a Japanese matcha company had a large stand with all the bells and whistles. It was their attempt to break matcha into the US café market and they were pretty busy considering they were promoting tea at a coffee show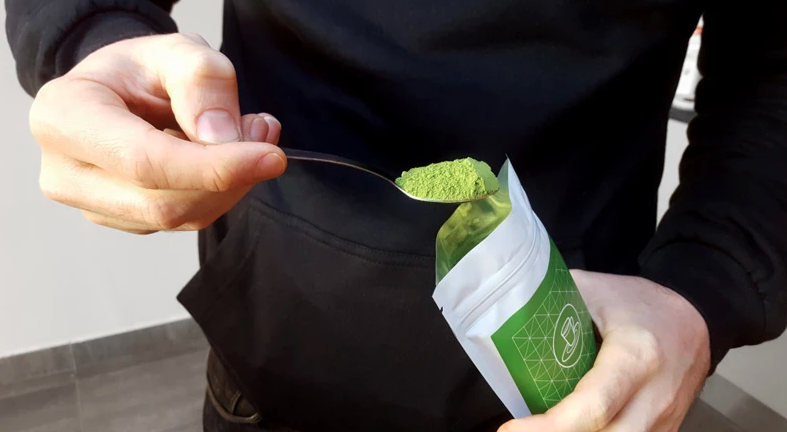 Matcha is essentially what we know as green tea but the fundamental difference is the leaves are carefully ground to a fine talc-like powder and consumed in your drink rather than brewed as loose leaf tea or in tea bags. There are other differences too, that go into the very nature of how delicate and special matcha is in Japanese culture. Matcha is almost entirely shade grown – the sun is blocked out to slow or halt photosynthesis which has adverse affects on taste. the leaves are hand-picked very young and then deveined and destemmed to remove anything that might affect the consistency of the powder. Even the way matcha is ground is special. Traditional grinding stones are cut out of granite slabs and the grooves and channels hand-carved by expert stone masons. They etch out unique tread patterns that channel and grind the green tea into very fine powder of between 5 and 10 microns. To put this in perspective, a human hair is 75 microns.
As a general guideline, high quality matcha is a vivid emerald-green colour, has an umami-sweet taste and there is very little astringency (what we know as light acidity or bitterness).
Lower grades are more yellow-green, noticeably bitter or more grainy in texture – made from the left over bits of the leaves or from less desirable leaves
Matcha has exploded over the last 10 years and can now be found on most progressive café menus. This can seem quite surprising as most people trying matcha for the first time aren't convinced by the taste, myself included. I had to try it a few times before I "got it". I liken it to my experience with sushi. I didn't get what the fuss was about when I first tried it but after a few tries I was soon a convert, an expert in chop sticks and even getting sushi cravings. Still it seems matcha is a Love it or hate it thing
Matcha is used in everything from ice cream to matcha lattes. It pairs very well with vanilla and white chocolate so its often found in desserts and other sweet things. One of Nestle's most popular KitKat flavours is Matcha. Its also a natural food colouring - if you've ever seen green burger buns or green croissants at your local bakery chances are they used matcha to colour them.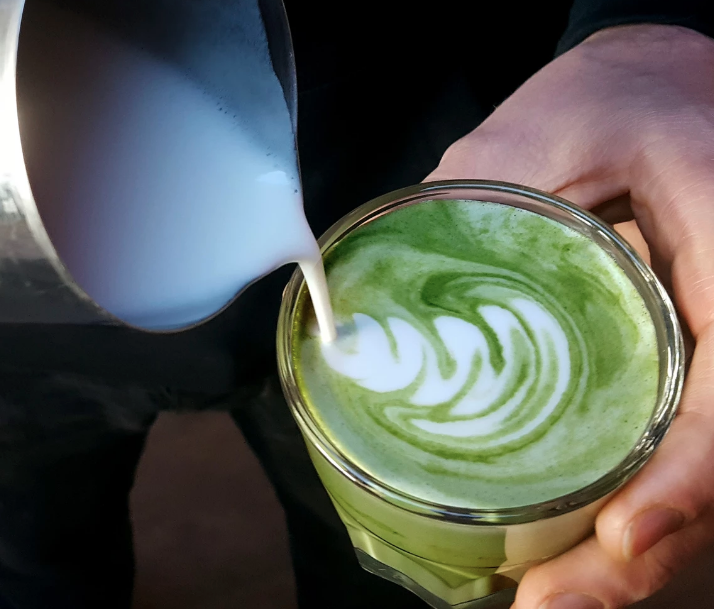 Matcha has a lot of health benefits going for it too. It has a high concentration of a particular antioxidant called EGCG (epigallocatechin gallate) which is believed to be have cancer fighting properties, prevent heart disease and even type-2 diabetes. This may all sound amazing but what has really caught the Western world's attention is its apparent link to weight loss. EGCG can be found in all sorts of diet aids and fat burners and often seen on labels as "green tea extract". Not bad at all if you already drinking matcha!
A lesser known benefit of matcha is the caffeine buzz you can get – but don't expect a coffee buzz. Often referred to as Calm Energy or Focussed Energy, matcha offers a more relaxed take on a caffeine rush. Matcha does contain caffeine but what sets it apart is that because you're consuming the whole tea leaf, you are also ingesting other beneficial things such as the fibre, nutrients and amino acids. One amino acid in particular, L-Theanine, interacts with caffeine and slows the caffeine spike and the associated caffeine crash. This offers a more sustained energy release and Buddhist monks have been known to drink matcha for centuries before focused meditations.
This may be the perfect solution for those looking for a caffeine boost but trying to cut back on coffee or energy drinks… just make sure you can appreciate the taste!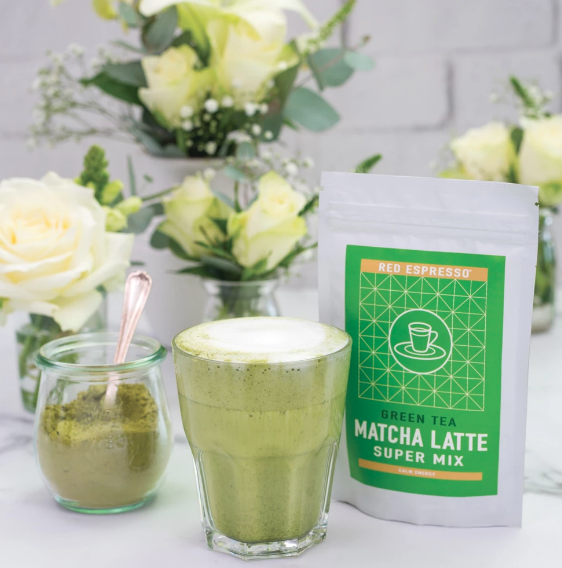 red espresso offers a 100g Matcha Latte Mix pack which is exceptional grade matcha blended with organic coconut sugar, used to make matcha lattes by cafes or for home use. They also offer pure matcha for bakers and consumers who enjoy matcha prepared the traditional way; and as one of the largest importers of Japanese matcha into South Africa offer 1kg & 5kg bulk to food manufacturers, wholesale and retailers.
Got something to say? Then leave a comment!
---
New Product: Cold Brew Kit from GOAT STORY
Friday, 27 September, 2019
GOAT STORY are a pretty crazy little company. They started out by making (and you can still get one) a mug in the shape of a goat's horn as an ode to the origin story of coffee; discovered by goats eating the cherries in the foothills of Ethiopia way back when. Now, my initial reaction to this product is that it is highly impractical, but you know what, sometimes you've just got to go full whimsical, embrace your inner viking/hipster and get a coffee mug in the shape of a horn to sling over your shoulder.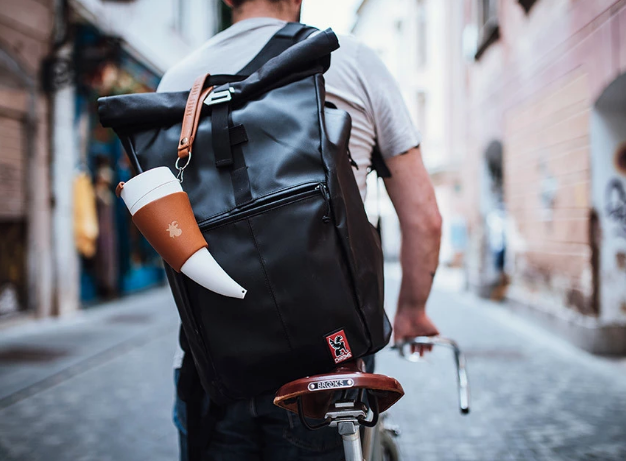 That being said, their follow-on products are both highly practical, the GINA brewer combins three different brew methods in one (which World Brewers Cup Champ, Emi Fukahori, used in her winning set) and now their new Cold Brew Kit aims to allow cold brewing to be easier for people at home. This latest idea continues our theme of Cold Brew for Summer! So they take a very simple idea (brewing tea in this case!) and make it look damn fine and taste great apparently! I mean, it's a stroke of genius really. It may not work for us here in SA with shipping etc, but for Europe, you will be able to order filter bags filled with delicious specialty coffee ready to submerge. Easy peasy.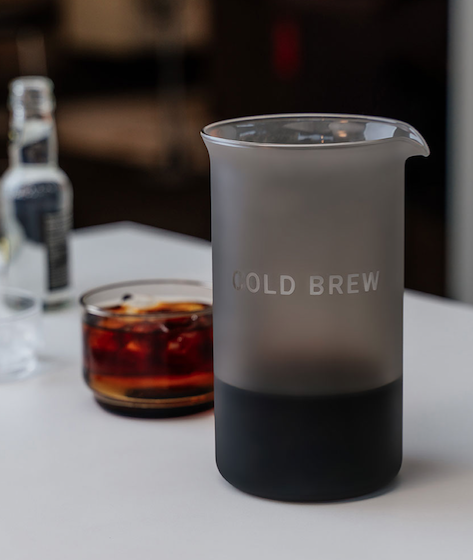 "Preparing cold brew coffee can be a challenge for home users, as it needs to be ground, steeped and filtered. And this is where Cold Brew Kit excels", explains Anze Miklavec, CEO and co-founder of GOAT STORY, "Cold Brew Kit simplifies the preparation of cold brew coffee. We sealed freshly roasted and ground specialty coffee in filter bags so the user only needs to add a bag to this beautiful pitcher, pour water over it and wait.
As GOAT STORY's brand strategist and head roaster Dušan Maticic added, it's a simple task: "Simply soak, wait and enjoy the variety of flavours that specialty coffee, which is roasted in our in-house roastery, can offer. This is definitely the simplest way of making cold brew coffee!"
The young team at GOAT STORY has ambitious plans for the future. After launching Cold Brew Kit they will offer a variety of specialty coffees that will be roasted in their in-house roastery. And in the next year you can expect several new innovations as they plan to cover the whole spectrum of coffee preparation.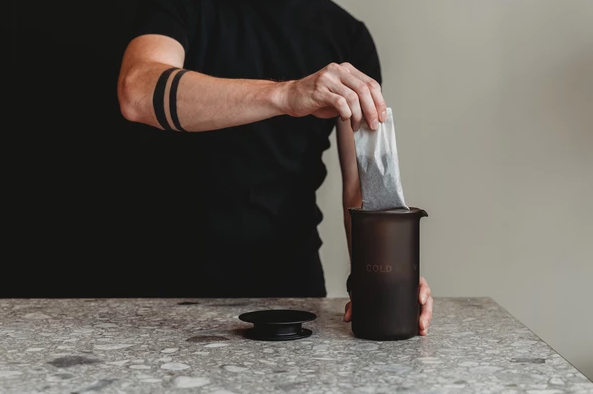 Got something to say? Then leave a comment!
---
Recipe: Cold Brew Popsicles
Friday, 23 August, 2019
Cold Brew Popsicles!
Ingredients
Condensed Milk
Cream, whipped to soft peaks
Cold Brew Coffee to taste
Cold brew coffee can last for weeks without its flavours degrading, so a little bit of time chillin' in the freezer won't make a difference, which is excellent news. Additionally, its inherent sweetness is so obvious a match for the popsicle, you just have to try it!
To get your own consignment of indulgent coffee-pops, mix together the coffee and sweetened condensed milk to your level of coffee, fold into the whipped cream and pour into the moulds. Place the sticks, and let sit in the freezer over night.
Cold brew coffee popsicles are simple, giving you that super smooth but strong caffeinated boost. What's better than waking up on a hot summer morning with a ice cold coffee ready to go in the freezer. Or for a fun dessert option when entertaining!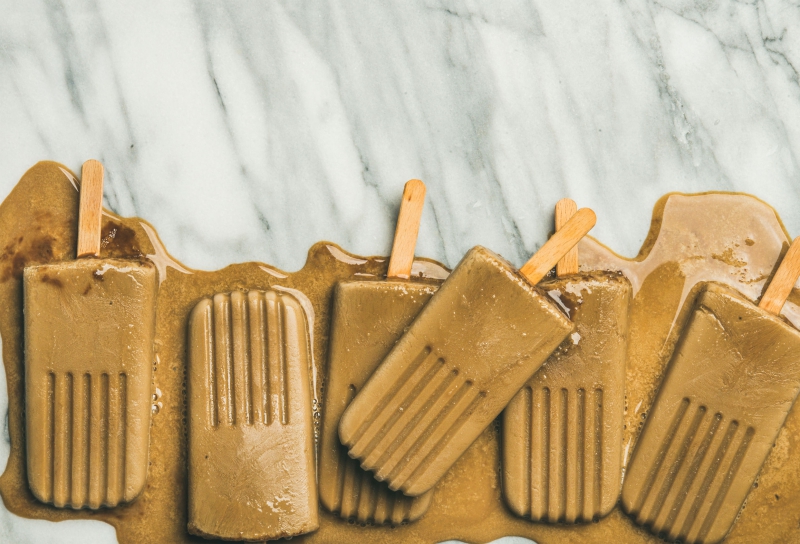 Got something to say? Then leave a comment!
---
Pour like you mean it!
Friday, 13 September, 2019
Words by Anastasia Prikhodko
Originally published in Issue 27 of The Coffee Magazine
---
From consistency to precision and control, the gooseneck kettle has become to a barista what a razor-sharp knife has always been to a chef. Over time, the kettle has essential transformed from a practical and functional tool to a premium product invaluable to a good cup of coffee.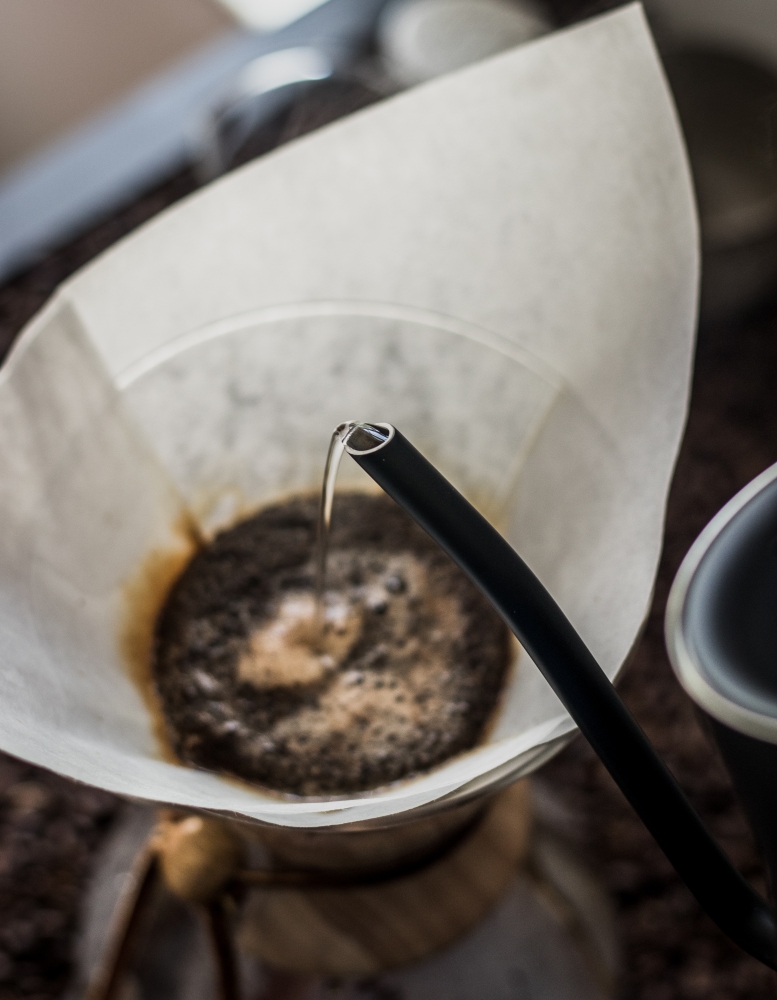 So named for its thin, curved pouring spout, the gooseneck kettle and the ensuing temperature controlled iterations, were born of a desire to control the flow and direction of water when preparing an alternative brewing method such as a pour-over.
The Hario V60 Buono was perhaps the first pour-over coffee kettle you would've seen in action. At the beginning of the pour-over boom, when a group of specialty coffee companies overseas like Intelligentsia started making pour-over coffee a menu staple, the Hario V60 Buono was the top barista tool. The kettle's sweet beehive shape made it easy to love, while its smooth stainless steel body proved durable and reliable over hours of use. The Japanese-based company now makes two different kinds of kettles, one that is a basic stove-top pot (R920) and another that has an electric heater to keep up with demand to be able to control temperature.
"In addition to precision and ultra-control over brewing parameters, consumers are looking for a statement piece," says Hannah Miller, Content Manager at Fellow, a US coffee product design company. "Brewing tools are no longer tucked away in the kitchen cabinet but are left on the counter or café bar as a miniature piece of art," she continues. "We believe that our original Stagg stovetop kettle (R1580), which launched in 2015, was the first kettle that was truly as beautiful as it was functional." Miller says "beautifully functional" has been a pillar for the company since the very beginning.
The gooseneck spout is also vital to coffee extraction, as it allows the water to be delivered methodically over the coffee bed. Miller says Fellow's Stagg stovetop and Stagg EKG have built-in flow restrictors to slow things down and provide more control and precision, ultimately, giving more agency over the extraction rate.
"Also, if you're constantly agitating the coffee with fast-moving water from a kettle, all of the coffee particles are being turned in a whirlpool," she says. "Pour-over is a delicate process and you don't necessarily want to agitate the coffee every single time you pour."
Miller says that products with "a simple on/off switch to heat water to boil" are becoming less acceptable for both home coffee enthusiasts and professionals.
"We designed Stagg EKG because we weren't crazy about the electric pour-over kettles currently on the market and wanted to make a true precision tool," she says. "We set out to make a kettle that packs a professional punch with a world of features like to-the-degree temperature control, an LCD screen, a 60-minute HOLD option, a powerful PID controller, a Fahrenheit/Celsius option, and even a secret video game."
Miller relays the significance of the design of the kettle to that of baking a cake. She says that while all cake batters can be baked at 180°C, and a few will inevitably end up with burnt bottoms and gooey middles, coffee too can be brewed at "about" boiling temperature. But, she continues, "you're cutting yourself short in producing the best tasting cup of coffee".
"The bean, roast, grind size, and brew method all factor into the temperature. Even the age of your bag matters; freshly roasted coffee should be brewed at a higher temp than an older bag of beans," she says. "A kettle that can control temperature to the degree will ultimately produce a better cup of coffee."
The Stagg EKG is Fellow's best-selling kettle. And as far as the company is aware it's "the only electric kettle on the market with a PID controller". This means that Stagg EKG's PID controller heats and maintains water temperature to +/- .3 degrees Celsius. Miller says that's three to four times more accurate than the leading electric pour-over kettle available on the market today.
"This ability to manipulate temperatures with to-the-degree precision to easily control the brewing temperature empowers users to experiment and explore all the varying degrees of extraction for coffee," she says.
Since Fellow started, the company has redesigned its Stagg stovetop kettle to meet with consumer demand. Miller adds that along with adding the fluted tip feature to their Stagg stovetop kettle, the company also expanded its colour line from just matte black and polished steel to polished copper, polished graphite, monochrome stone blue, and matte white.
"We've learned that people like to experiment with different colours for statement pieces in their kitchen and café. People also often requested natural and raw materials, so we partnered with a woodworker in South Dakota to make wooden handles and lid pulls in solid maple and walnut for our stovetop kettle," she says.
Lizé Taljaard, the administrative manager at Royal Roastery in Bloemfontein, South Africa and third place champion at the first Central South African Regional Barista Championships and the South African Aeropress Championships in Cape Town says:
"Good coffee equipment is one of the key factors to extracting great coffee."
However, she adds, "Do research before buying coffee equipment to make sure you know what you want to get out of your cup".
Her go-to drip kettles are the Hario V60 Buono Kettle and Bonavita Variable Temperature Kettle, which she mainly uses for pour-over brew method.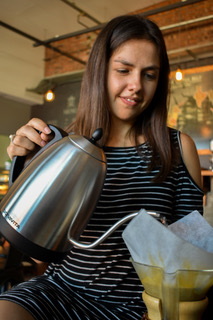 "I like using the Hario V60 Buono Kettle because of how easily it pours," she explains. "It has a comfortable grip and the curve of the gooseneck makes pouring a breeze. You have great control over the pouring and you can use your other hand on top of the lid for more control over the kettle and pour." Additionally the Bonavita is good to use due to its control over water temperature, as it holds the water temperature up to 60-minutes.
"It's also great when you want to make a Chemex for more than four people because of its 1.7 litre capacity," she says.
In terms of a successful pour-over, Taljaard says it is important to have a thin consistent water stream, without the water gushing out from the kettle. And this is precisely what a gooseneck kettle offers.
"You have complete control of your water flow rate. You don't disturb the coffee bed too much and get a more consistent and even extraction," she says.
One of the benefits to using a temperature-controlled kettle is the chance to use "different water temperature with different coffee origins" as some coffee needs to be brewed at higher temperatures than others for sweeter flavour.
"Using temperature controlled kettles helps you keep your desired water temperature till your last pour," she says. "It opens up endless possibilities of how to extract your coffee. You can be daring and try many different temperatures until you find your ultimate cup."
For Brewista, a US company which designs, manufactures and distributes products for the specialty coffee and tea industries, "time, temperature, and turbulence are the three main components to control while brewing".
"The Brewista gooseneck variable temperature kettles (R2750) allow the brewer to have better control over all three," explains Joshua Smith, who works with the company's Sales and Customer Service team.
The rate of flow of water is controlled by the size of the spout and the precision of the spout tip allows the brewer to pour the stream of water in the exact spot over the coffee grounds.
"The temperature control of the kettle allows accurate set temperatures of plus or minus 1 degree Celsius insuring consistency in every brew," he says.
The overall feel of a kettle, depending on its shape, design and weight are elements which defer from person to person. Yanina Ferreyra, the administrative assistant at Project Origin and the 2019 Australian Specialty Coffee Association Australian Brewers Cup Champion says there's not one right design that fits everybody. The spout of the kettle and it's width can considerably change the extraction rate of the coffee.
"Each person is different and that's why it is important to try a few different options to see what works for you," she says adding, "At the end of the day the best option is always what tastes the best."
"Being able to control the variables is one of the ways to achieve consistency," she says. "Creating a delicious recipe is one of the best feelings for a barista, but being able to replicate it is equally important."
Consistency and control along with great customer service and connection makes for an enhanced coffee experience for both the barista and customer. And at the end of the day, says Ferreyra, the best coffees are the ones that are shared.
If you've never tried pouring with a gooseneck kettle, don't attempt it unless you're willing to invest the money to buy one for yourself. It is such a satisfying feeling, that once you go gooseneck, you won't soon go back.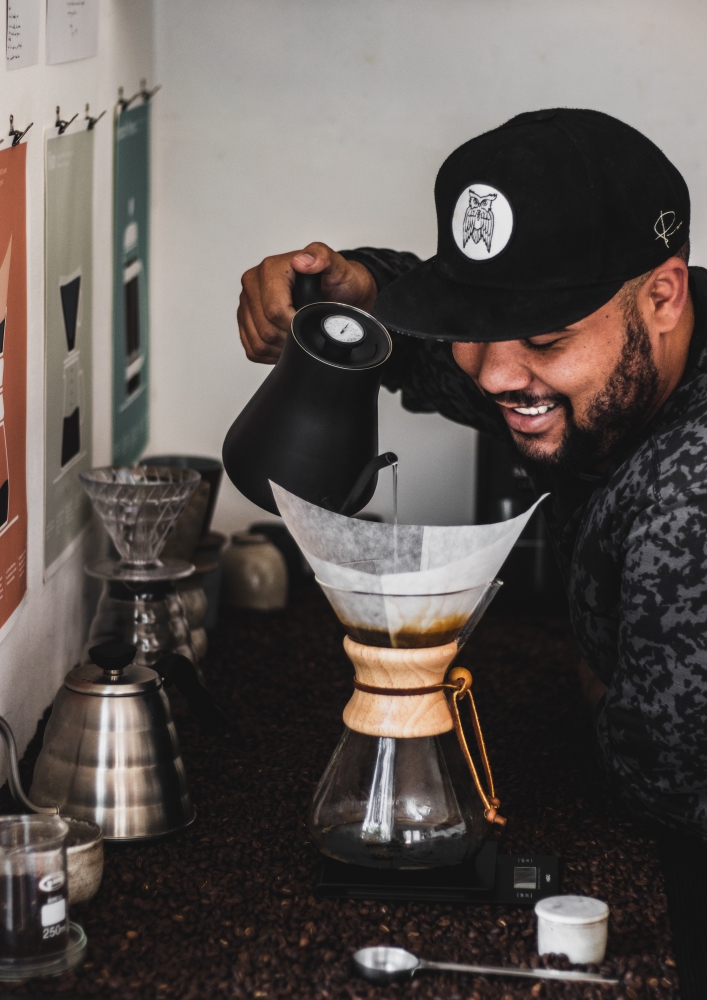 Got something to say? Then leave a comment!
---
The Chai Story (and the Dirty Chai!)
Wednesday, 4 September, 2019
Words by Nic Reid of Red Espresso
---
Chai tea can be found on every café menu, and on every corner in India, where it originates. Its made "street food style" in small road side stalls by a chaiwallah (Hindu for tea maker).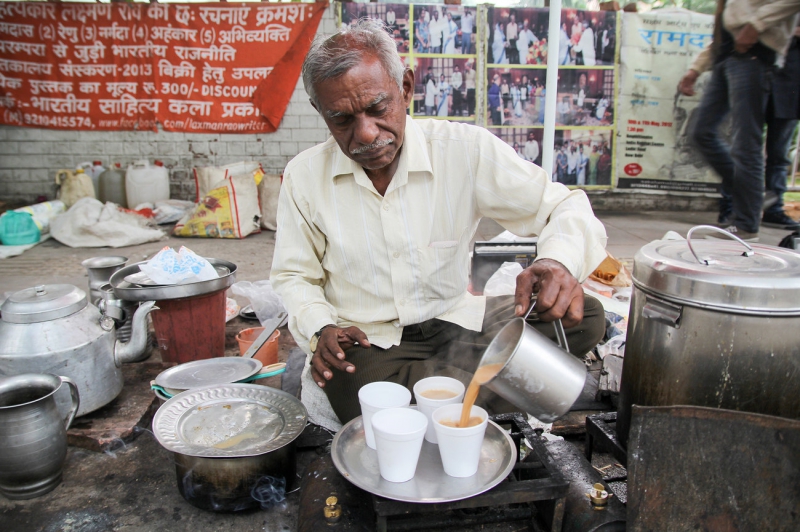 They heat milk and water with black tea and aromatic spices, and some sweetness. Every family or road store has its own recipe and secret mix of spices, but its mostly green cardamom and ginger. The chai gets prepared cup by cup, aerating and mixing the ingredients by juggling the mixture from one cup to another. There's grand pouring gestures and showmanship. It would remind you of competitive bartenders flailing bottles. Its pure theatre and as much a spectacle to watch as it is to taste it.
The chai we know and love in cafes tastes very different to what it tastes like in India. Our western chai is much sweeter and less spicy, bastardized to suit the American palate, much like TexMex and Chinese take out. Westernized chai also has a distinct biscuity undertone, reminiscent of a ginger biscuit or Speculaas. To be honest, Western-style chai is a lot tastier that the chai prepared on the streets of Mumbai, and customers agree. Its been a staple on café menus for years, right up there with hot chocolate and red cappuccinos.
Chai sales shot through the roof in the US a few years ago when Khloe Kardashian proclaimed it to be her favourite drink and that she cant live without it.
Chai's even made it further on the menu as a Dirty Chai – a relatively new drink on café menus: spiced chai mixed with a shot or two of espresso. Think: sweet, spicy, warm caffeine shot. Hard to fathom but its proving to be quite popular. Call me traditional, but I prefer my coffee, erm, clean.
There are a few iterations of chai available for cafes, starting with the ubiquitous Chai Latte Powder: the classic American chai flavour everyone loves. Available in spicy or a more mellow vanilla it's a real crowd pleaser and what we've come to expect chai tastes like. There's also a few concentrates and tea mixes (check out Prana Chai) available that are more authentic and truthful to traditional Indian Chai, but it can be hit and miss for customers as they aren't familiar with this taste profile and what its different to what they're used too.
Red espresso has recently launched their take on Spiced Chai Latte, its vegan based and designed to taste great in plant-based milks as well as dairy milk. For those looking for a more mellow chai, a vanilla chai will be released soon. They also launched a consumer-friendly instantized version of the Spiced Chai Latte. Its available in convenient sachets and made by simply adding hot water.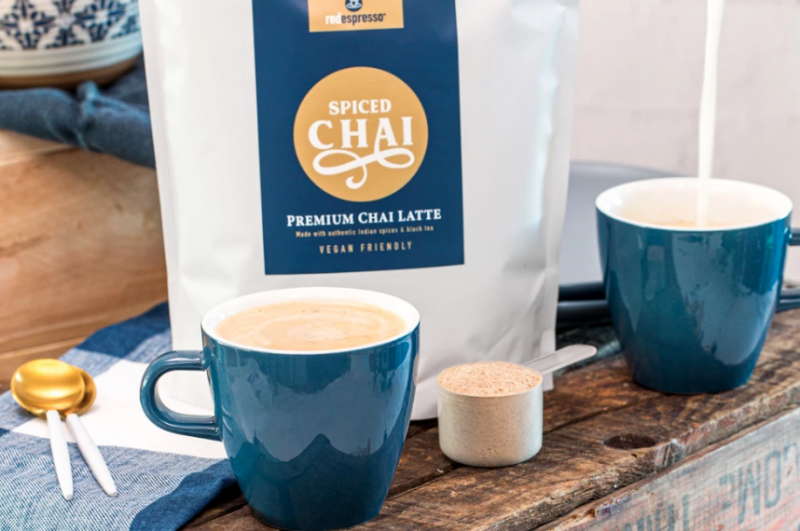 Got something to say? Then leave a comment!
---
An alternative take on Cold Brew from Terbodore Coffee
Friday, 6 September, 2019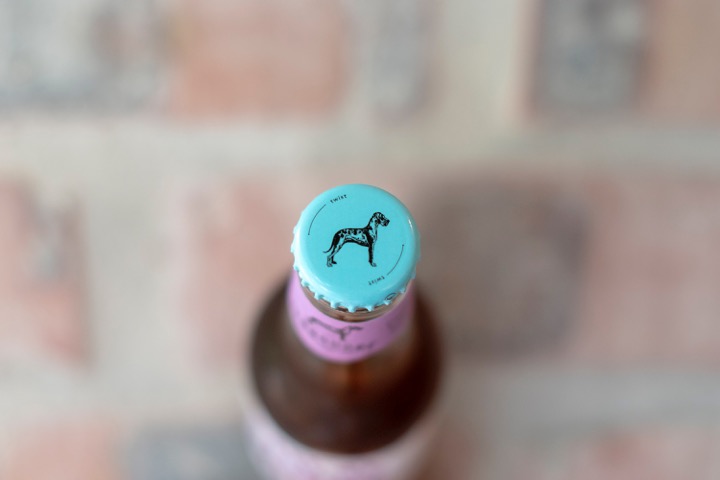 The New Alternative: Terbodore's Sparkling Cold Brew
With the launch of their new Big Dog Café in Cape Town, Terbodore's got a lot to be excited about. What's got me excited though is their new range of Sparkling Cold Brew. I recently had a chance to taste-test all three, and I can tell you that summer can't come soon enough! The three flavours are Marula, Lemonade, and Honeybush & Orange. My favourite was definitely the Lemonade – sweet and refreshing with a delicious coffee aftertaste that I couldn't get enough of. I chatted to Hugh Pines to find out more about the new range…
What inspired you to branch out into sparkling cold brew?
"Cold brew is growing very quickly in well-developed coffee markets such as the USA and Australia. But what we like to say is that we're exploring the possibilities of coffee. We call Sparkling Cold Brew, 'The New Alternative'. It's a non-alcoholic alternative to many other well established drinks. Sparkling Cold Brew is quite a new concept and only a handful of coffee roasteries around the world offer it. It really does bring out the best in cold brew, especially when you start looking at flavours. We use our Great Dane blend for the cold brew component and then add mountain spring water, quinine and natural flavours. Everything works together brilliantly."
What inspired the three flavours?
"Marula and Honeybush & Orange are well-known local flavours. Both these flavours are low calorie and really compliment the cold brew. Lemonade is zesty and features more natural sweetness. It's almost akin to a kind of soda pop drink, but obviously way more healthy."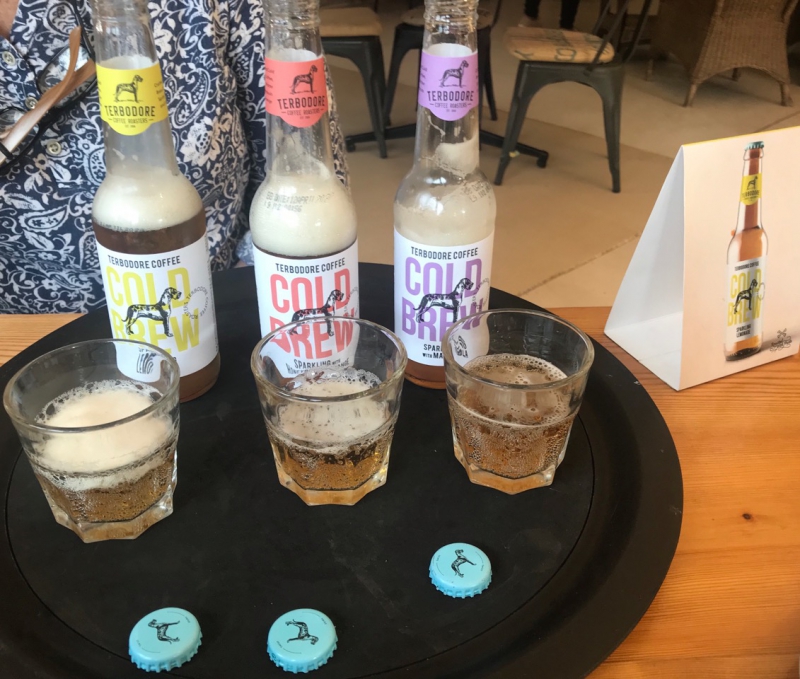 As South Africa's first Sparkling Cold Brew, what can people expect when tasting your cold brew for the first time?
"All are extremely smooth, refreshing and thirst quenching. Our Sparkling Cold Brew has a sophistication and refinement to it. The Marula and Honeybush & Orange both have a pleasant dryness to them and compliment the quinine component really well. The look on people's faces when they first try these is brilliant to see. You have no idea what to expect but they just work really well. All have a great mouthfeel."
It could be a great addition to a cocktail – have you found any cold brew cocktail recipes worth sharing?
"Alchemy Bar in Ballito stocks our Sparkling Cold Brew and recently made a cocktail called a Marula Joe: Basil, Double Shot Flowstone Marula, Cucumber and Terbodore Sparkling Cold Brew with Marula. It looks and tastes amazing!"
[I know where I'll be heading this weekend…]
Where can people find the new range?
"Our online shop is the best place to get your Sparkling Cold Brew fix. Expect to see it in more and more outlets as well in the coming months."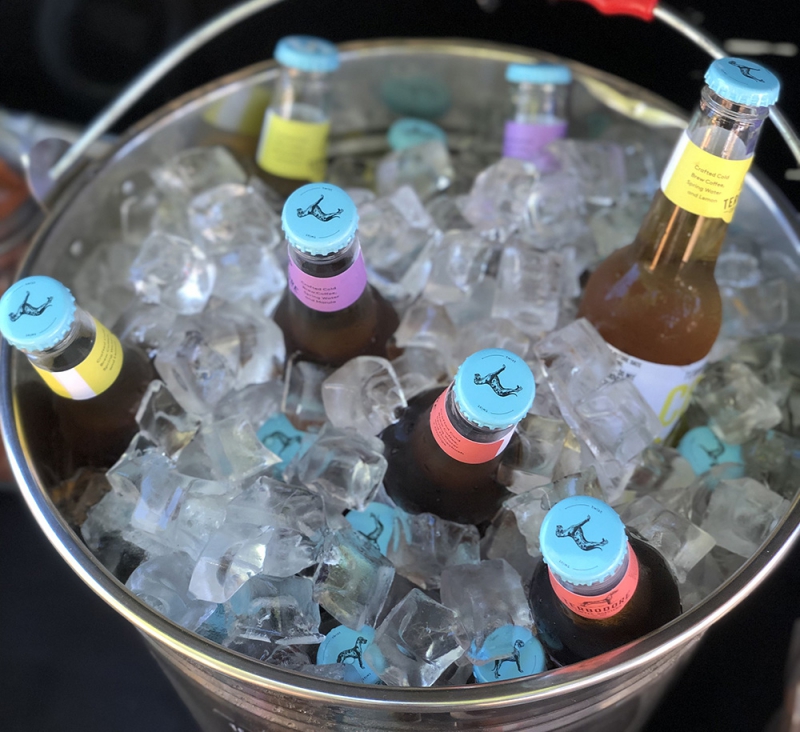 Have you tried Terbodore's new Sparkling Cold Brews yet? What did you think? Let us know in the comments!
Got something to say? Then leave a comment!