Your GP Regional Champ is... Phumlani Sibeko!
Monday, 3 March, 2014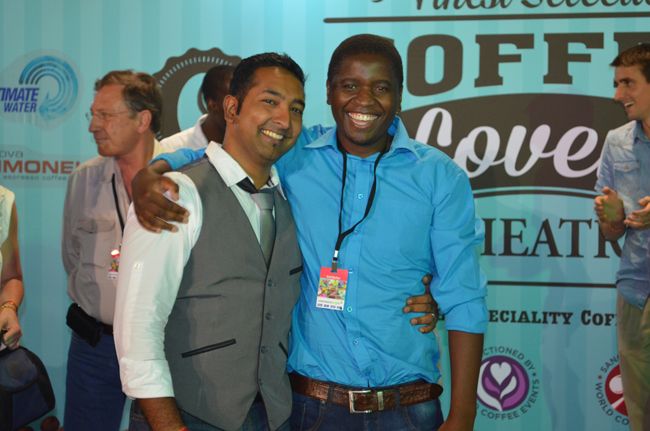 Those are two very happy baristas! Congratulations to GP Champion Phumlani Sibeko (Famous Brands) and runner up, Ishan Natalie (TriBeCa Coffee)
With Ishan Natalie, two time National Champ in the mix, there was always going to be a strong favourite. As we went into Final's day, the competitors had all relaxed slightly knowing that their place at Nationals was secure. There was still a lot to play for; the title of Best Barista in Gauteng, a R4500 watch sponsored by Tissot and of course, the glory. At the end of the tough day of competition though,
Phumlani's
coffee (a single origin Guatemalan) impressed the judges the most, beating out the defending GP title holder and his friend and inspiration, Ishan.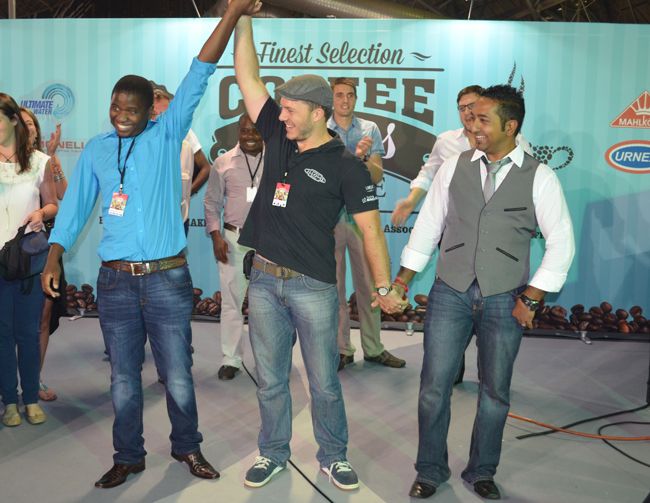 The moment of glory!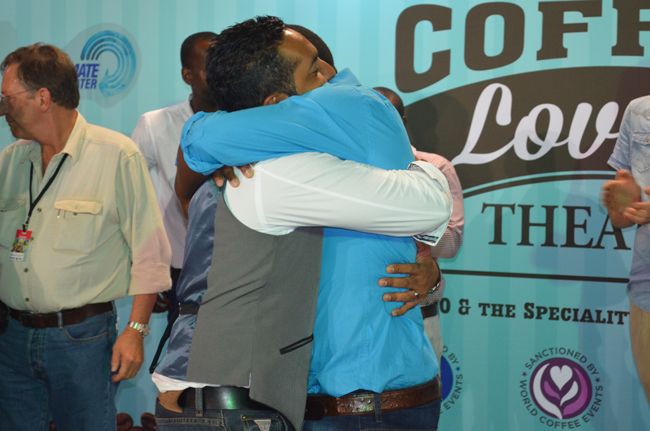 The camaraderie between the competitors is really wonderful to see.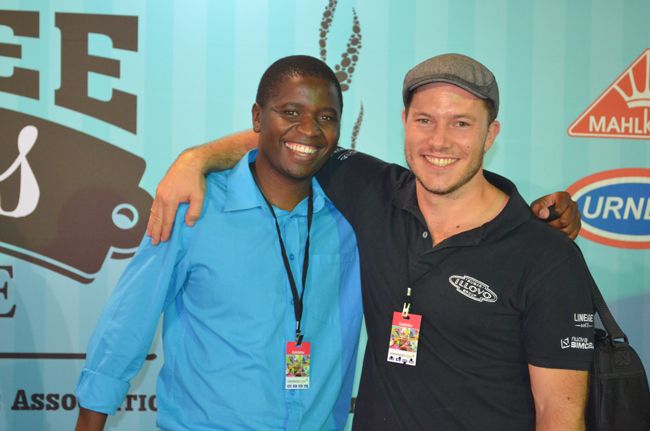 The current National Barista Champ, Craig Charity, was there to present Phumlani his title!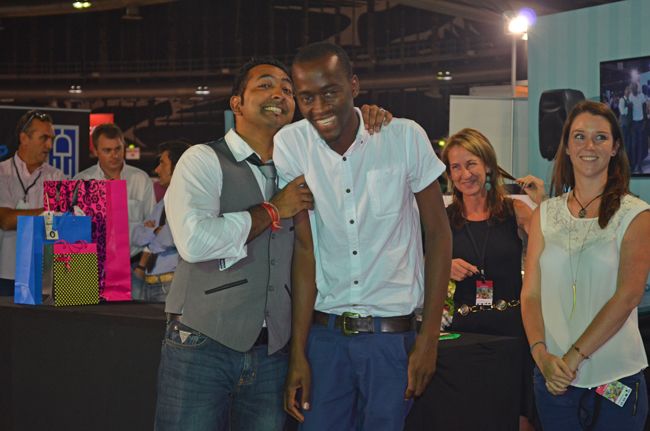 Ishan Natalie took home the Best Espresso and Best Cappuccino from the Semi Final Rounds and Best Signature Drink was shared by Sipho Mabaso and Ishan.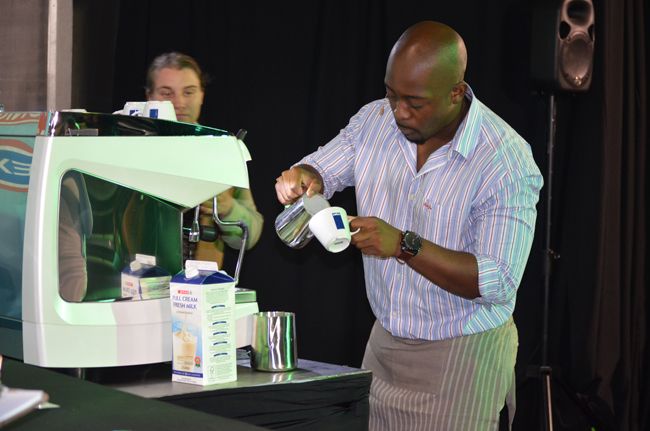 Sibusiso pouring his winning Latte Art coffees.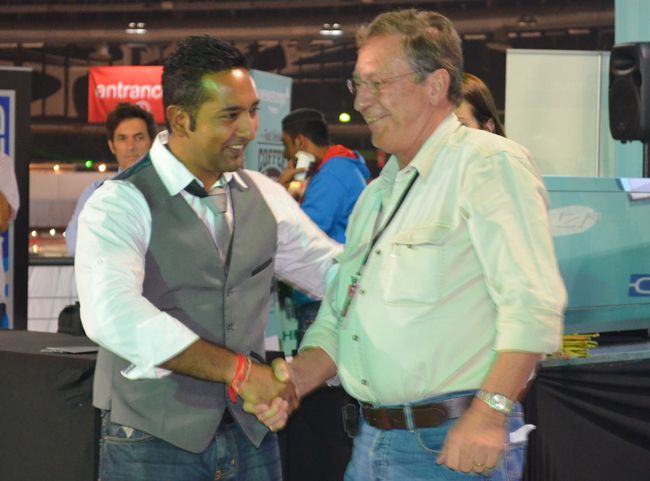 Ishan was crowned Cup Tasting Champion, pictured here with Lionel de Roland-Phillips, Chairman of the SCASA board.


Barista Championship Top 6
1. Phumlani Sibeko
2. Ishan Natalie
3. Sipho Mabaso
4. Matt Carter
5. Casper Ncube
6. Dale Fienberg

Latte Art Top 2
1. Sibusiso Ncobe
2. Martin Baloyi

Cup Taster's Top 2
1. Ishan Natalie
2. John Mokobodi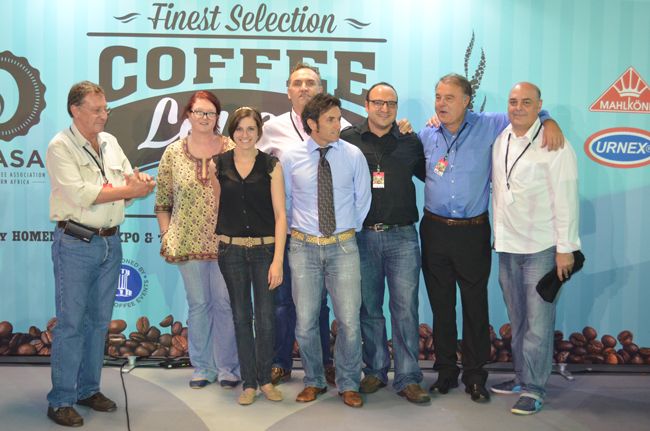 Big thank you to the Judges for the Final Round, Debbie, Lynette, George K., Alessandro, George B., Andre and Peter.
Got something to say? Then leave a comment!
---
The Gauteng Regionals are underway!
Friday, 28 February, 2014
Can you believe it's that time of year again? All the crew is assembled, the stage is set, the loyal suppliers that take this show on the road every year have come to the party again as well as new sponsors of SCASA who are making it possible for us to help the baristas achieve their full potential.

Cup Taster's Finalists:
Ishan Natalie (TriBeCa Coffee)
John Mokobodi (Sevenoaks Trading)
Martin Ten Krooden (TriBeCa Coffee)
Warrick Masfen (Snack Zone)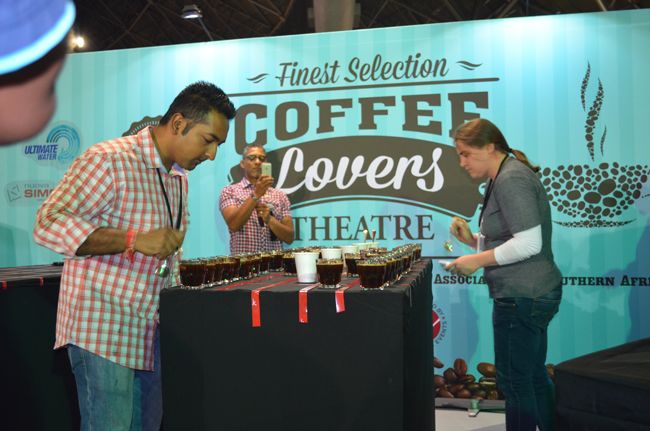 A face off between two coffee giants, Ishan Natalie (TriBeCa) and Cuth Bland (Bean There)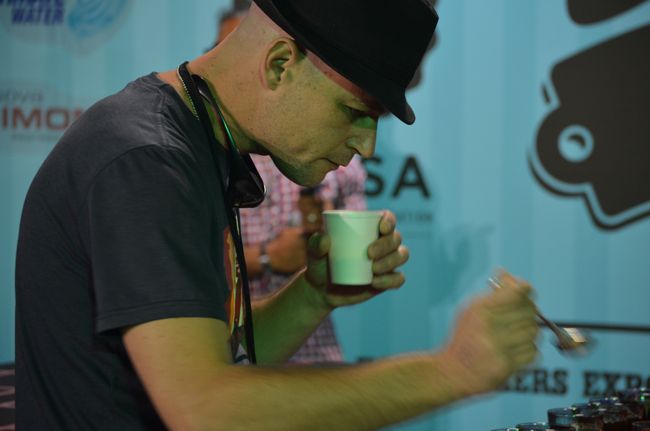 Focusing all his energy to the tastebuds, Martin Ten Krooden, up to the taste task.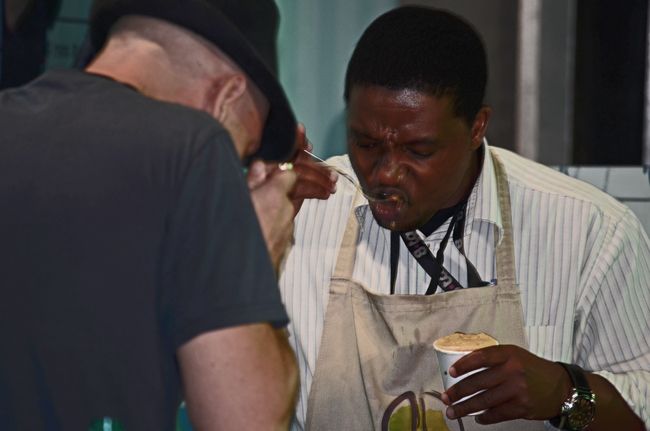 The SLURP! John (Sevenoaks) has one of the best slurps in the business, you can hear it from a mile away!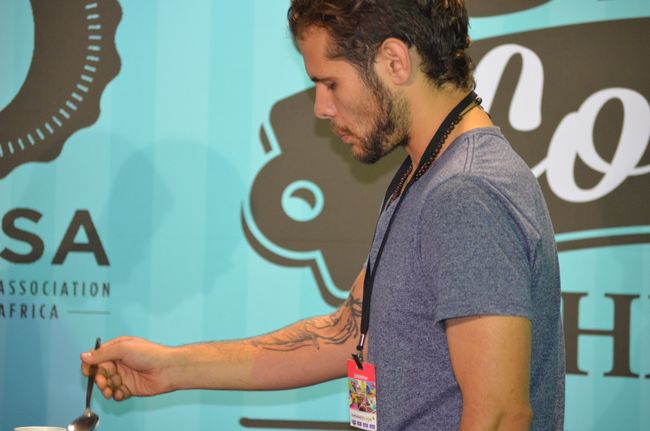 Newcomer, Warren Masfen, makes his presence felt by making the Cup Taster's Final.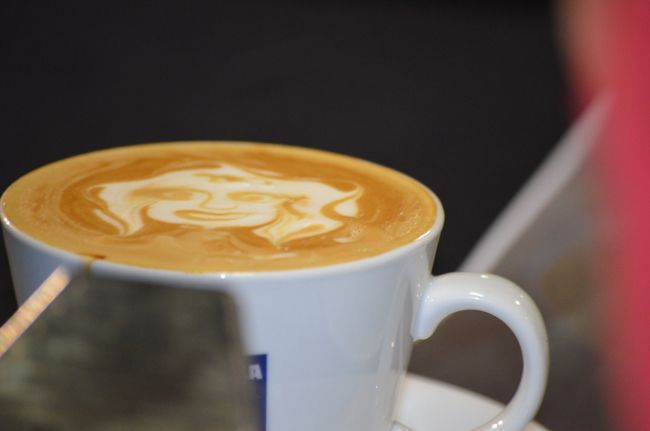 There were some epic latte art designs, this face, during the design pour section, blew the judges away.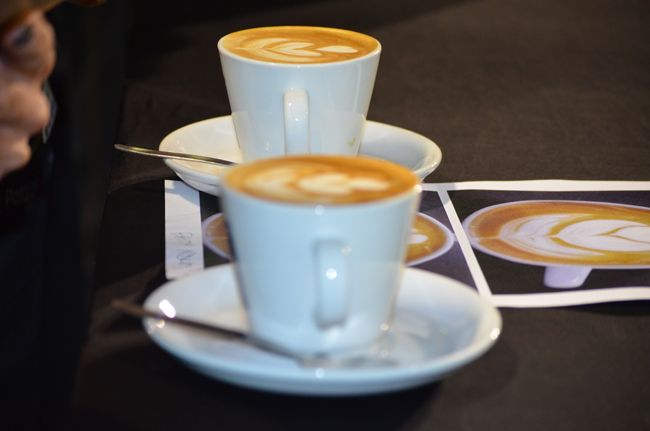 Tulips anyone?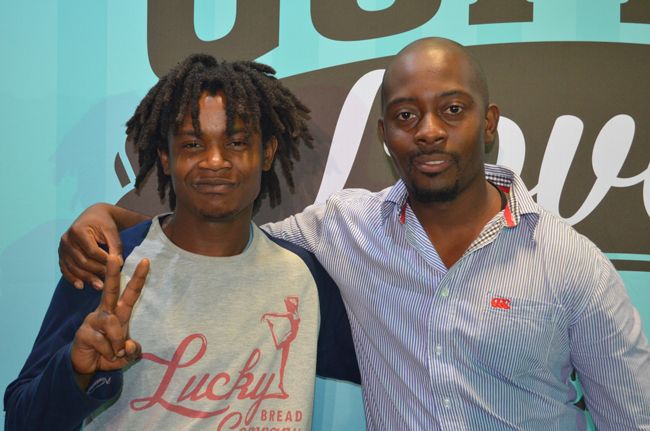 Latte Art Finalists:
On the left, Martin Baloyi (TriBeCa Coffee)
On the right, Sibusiso Ncobe (Famous Brands). Special mention to Sibusiso who was victorious on his birthday! Happy Birthday Sibusiso
!
Follow all the action on
Twitter
and
Livestream
Got something to say? Then leave a comment!
---
There is no X in Espresso Roadshow: The KZN Leg
Monday, 17 February, 2014
This man is coming at you with 7 different kinds of coffee smoke! He's learning as he goes, having just competed in the AFCA champs, which was a whole other ball game, so if you want tips on how to improve the coffee you're producing everyday, whether you're a cafe owner, aspiring barista champ or home espresso afficionado, Thursday 20th February, is your day to get involved.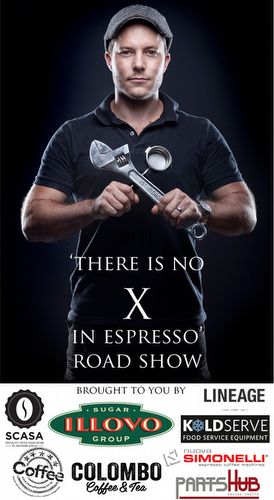 National Barista Champion Craig Charity is on a mission to use his position as Number One Barista to educate and inspire as many aspiring young baristas and fledgling coffee shop owners as possible and remind the industry leaders that growing the country's coffee culture and getting our baristas to feature on the world stage requires collaboration and community. We all love coffee, let's make it our goal to bring the World Title to South Africa!

We invite you to be part of an evening with him at Colombo Coffee&Tea on 20th February 2014 (That's this Thursday night!).

Entrance is free but the information is priceless. Coffee shop owners, send your baristas to learn all about the SCASA Competitions and to learn tips about making the best possible cup of coffee everyday with advice on everything from keeping your equipment in perfect working order to dialling in your grinder, modifications that will make enable you to produce better coffee and speak about how to get the best out of your current setup. Baristas, see what it takes to get to the top.

There will be giveaways and prizes from various suppliers.

Time: 6:30 for 7pm
Snacks and drinks will be provided. Coffee supplied by our hosts.

Please RSVP to mel@truenorthmedia.co.za. All are welcome, don't miss this opportunity!
If you liked this article, then you may also like these:
Got something to say? Then leave a comment!
---
Countdown to Gauteng Regionals!
Thursday, 6 February, 2014
Countdown to Joburg!
The first of the 4 Regional Coffee Competitions kicks off in Gauteng in just 3 weeks with the Gauteng Regionals taking place at Homemakers Expo at the "Coffee Lovers Theatre" - a specially dedicated area for all the visitors to the Expo, taling place at the Coca-Cola Dome from
27th Feb – 2nd March 2014.
Get down to the venue to support your favourite baristas, or if you'd like to volunteer to get involved and assist SCASA in running aspects the competition, let us know what your area of expertise is and we'd love your assistance. For more info email
info@scasa.co.za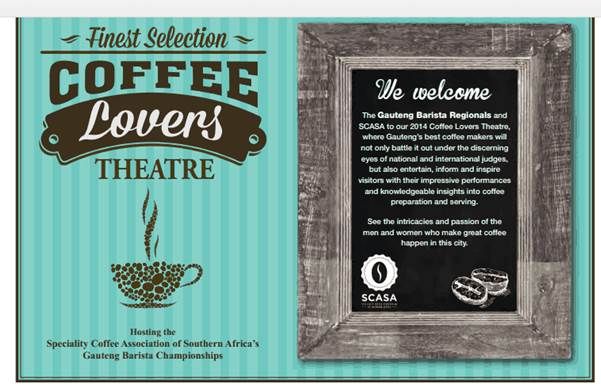 ---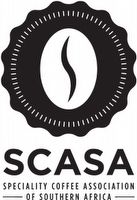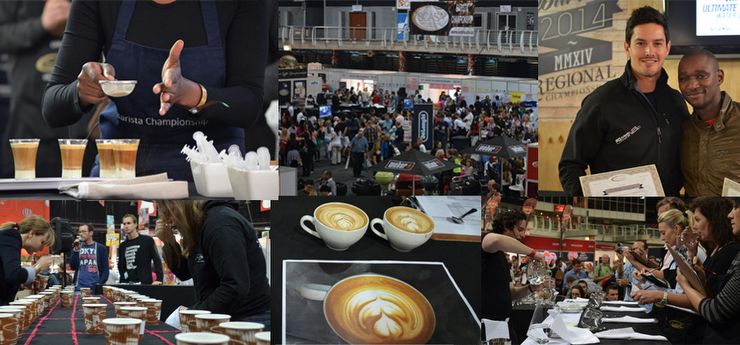 South Africa's leading coffee experts will once again showcase their talents at the
SCASA
Regional Coffee competitions in Gauteng, KZN, Western Cape and Eastern Cape in 2014. From these events, Regional Champions will be crowned and 6 finalists from each Province will qualify to compete for the SA Titles in their respective disciplines.
Gauteng
The first event of the year is the Gauteng Regionals to be held at the Homemakers Expo at the Coca-Cola Dome from
27th Feb – 2nd March 2014.
Gauteng's best coffee professionals will compete at the Homemakers Expo for the Regional title's in the Barista competition, the Latte Art competition, the Cup Tasters competition and the Aeropress competition.
The finalists in each of these competitive coffee categories will qualify for the National Finals later in the year. From these competitions a South African Champion in each category will be chosen to represent South Africa at the World Barista Championships in 2015.

Cape Town
The Competition then moves to The Mother City where the Western Cape Regionals will be held at Hostex 2014 from
21st – 23rd May.
Cape Town has a vast depth of baristas, coffee shops and roasteries and it's citizens have a vibrant café culture which always sees a high level of competition.

Eastern Cape
One of the most exciting competitions of the year comes from the Eastern Cape region which this year will be Hosted at The Homemakers Expo in PE from
24th – 27th July
and has a fast growing pool of talent and usually produces a contender for one of the National Titles, like local champion Donovan McLagan, who went on to place 5th in the World Cup Tasters in 2013.

KZN and Nationals
KZN Regionals and Nationals dates and venues will be announced by SCASA later in the year.
The Specialty Coffee Association of South Africa is affiliated to the World Coffee Events, the global body that runs the World Barista Championships. These World Coffee Events, are the pinnacle of competitive coffee around the World.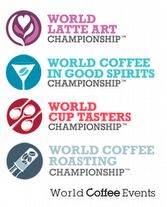 At a Regional level, this will bring together the best baristas and coffee experts at the respective Homemakers Expos who will entertain, inform and inspire the locals with their impressive performances and knowledgeable insights into coffee preparation and service.
There will also be demonstrations on new coffee equipment, various coffee brewing techniques and the chance for the public to see some alternative brewing practices for making coffee at home.
If you would like to register for the events, please
follow this link to the SCASA
website to download the registration form.
If you liked this article, then you may also like these:
Got something to say? Then leave a comment!
---
Updated National Barista Championship Schedule!
Wednesday, 11 September, 2013
Here is the updated official SCASA National Coffee Competitions Schedule. Find out exactly when your favourite barista is competing!

DOWNLOAD THE SCHEDULE HERE
NATIONAL CUP TASTERS COMPETITION
SATURDAY 21 SEPTEMBER
START TIME: 10am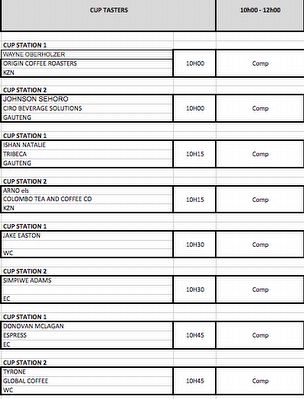 NATIONAL LATTE ART COMPETITION
21 SEPTEMBER 2013
START TIME: 12pm
NATIONAL AEROPRESS COMPETITION
21 SEPTEMBER 2013
START TIME: 3PM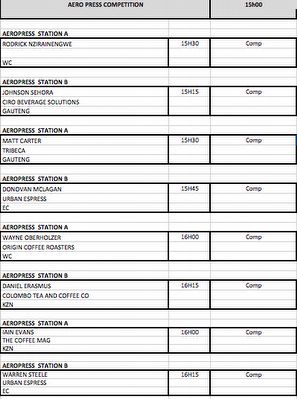 NATIONAL BARISTA CHAMPIONSHIP
22 SEPTEMBER 2013
START TIME: 10AM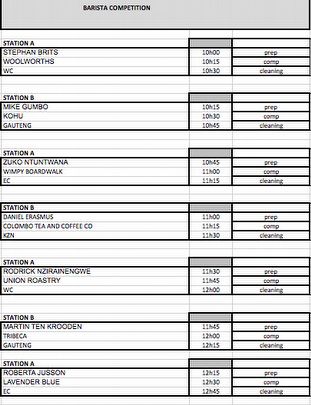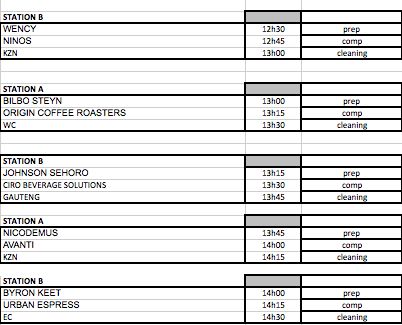 NATIONAL BARISTA CHAMPIONSHIP
23 SEPTEMBER 2013
START TIME: 10AM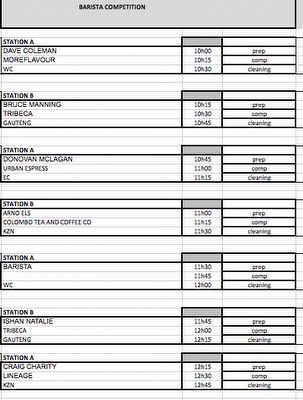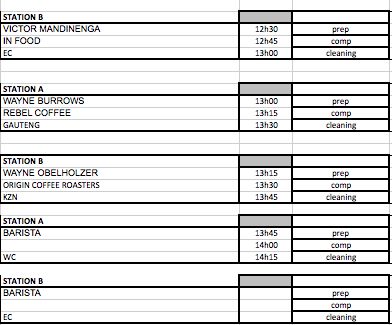 FINALS!!!
24 SEPTEMBER 2103
START TIME: 11AM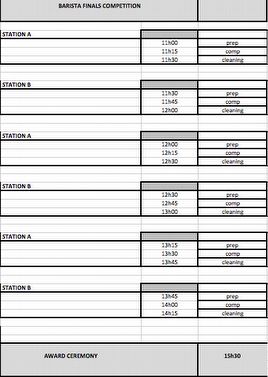 Follow all the action LIVE on our feed on
LIVESTREAM, just click Follow to receive regular updates!
---
This is the official schedule of events for this year's SCASA National Coffee Competitions which include the categories of Latte Art, Cup Tasters and the Barista Championship. The More Flavour Aeropress Competition will also take place at this event. It is being held at the Johannesburg Good Food & Wine Show. TheCoffeeMag will be there to cover the event, with a
live feed coming direct to you, follow our Livestream page here
! We will be conducting demonstrations between sets and we may even have a special MasterChef SA guest joining us along the way!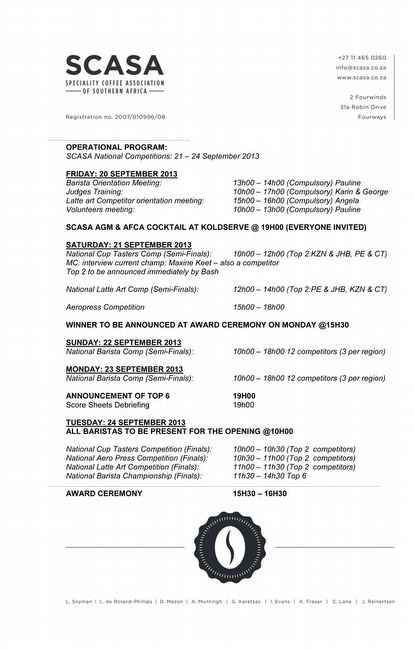 If you liked this article, then you may also like these:
Got something to say? Then leave a comment!
---
Bespoke.
Wednesday, 28 August, 2013


The quality of the green beans makes all the difference in the final cup and Bespoke want to provide the opportunity to all roasters to bring in small batches of African coffees where previously is was not financially viable.
If you liked this article, then you may also like these:
Got something to say? Then leave a comment!
---
KZN Champions!!!
Sunday, 11 August, 2013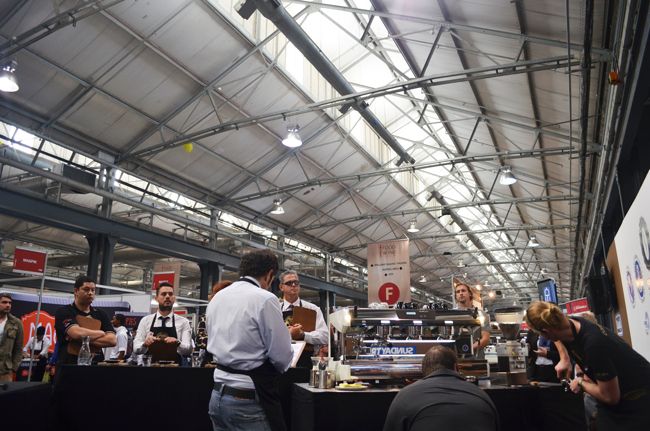 The stage at The Good Food and Wine Show.
It was quite a weekend at Durban's Good Food and Wine Show. The KZN Barista Regionals have given us cored out apples as glasses, Aeropress extractions, herb melanges, technical difficulties and single origin coffees to enthrall the senses. We had two very strong competitors who travelled from different regions to compete (now, that's passion!), but in the end it was
Craig Charity of Lineage Coffee
at Stretta Cafe who rose victorious to claim the title.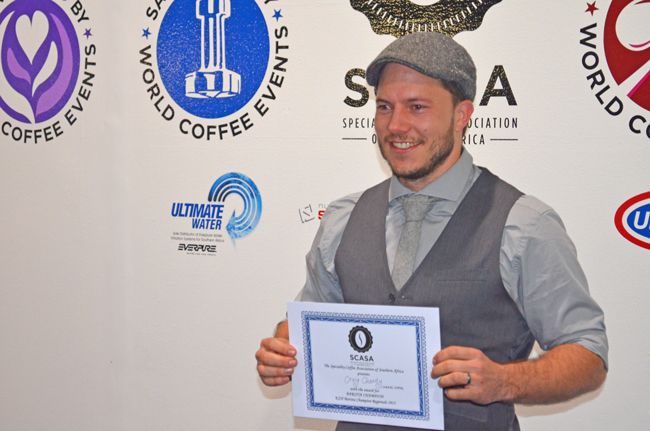 Craig Charity: KZN Barista Champion!
It was an emotional victory and Wendy (Craig's amazing, supportive wife) almost had us all in tears the way she was stressing out for Craig when he was on stage, but he came through and you could see how much it meant to him.
Here are the full results:
1. Craig Charity - Lineage Coffee
2. Nicodemus Nabakwe - Avanti Coffee
3. Wayne Oberholzer - Origin Coffee Roasting
4. Daniel Erasmus - Colombo Coffee and Tea
5. Arno Els - Colombo Coffee and Tea
6. Wency Masawi - Nino's
You can watch the announcement of all the winners here, it will give you goosebumps!
All of the Top 6 go through to the Nationals in September at the Joburg edition of The Good Food and Wine Show.
Cup Taster's Champion is Mr
Wayne Oberholzer.
He scored two perfect rounds (7/7 and 6/6), making him the undeniable champ. Those are some pretty incredible taste bud and olfactory skills.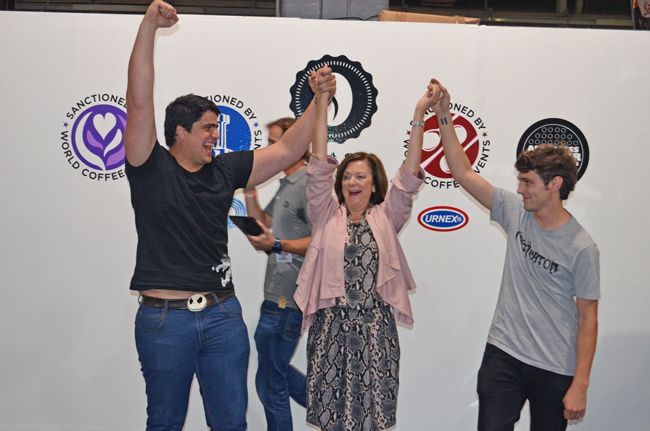 Wayne almost lifted Christine Cashmore off the ground in excitement!
Arno Els
of Colombo Coffee and Tea poured his way into pole position in the Latte Art Competition, after going head to head with his colleague,
Daniel Erasmus.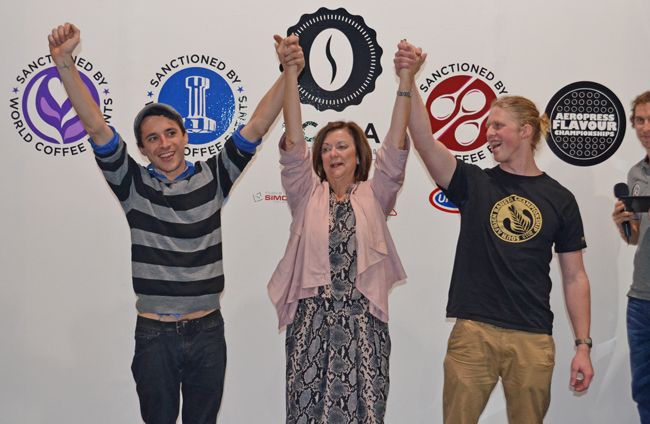 Dan, however did not go home empty handed as he plunged his way to Aeropress glory, becoming R1000 richer in the process.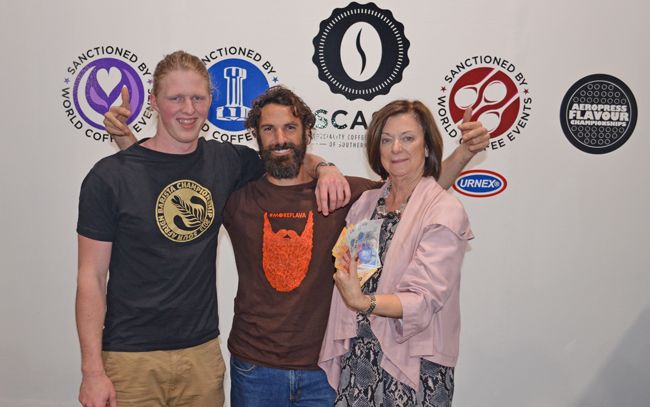 A stoked Daniel Erasmus, David Coleman of Aeropress and Christine Cashmore of The Good Food and Wine Show
Special mention must be made of Daniel Erasmus, he is definitely one to watch. He made amazing coffees in three seperate categories, getting through to the finals of Latte Art, Aeropress and Barista Champs. And this was only his first year competing!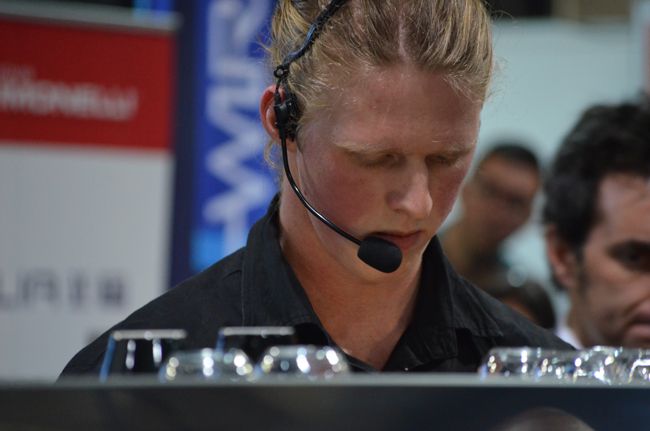 Dan gave us some wicked performances this weekend. Here he is with his game face on.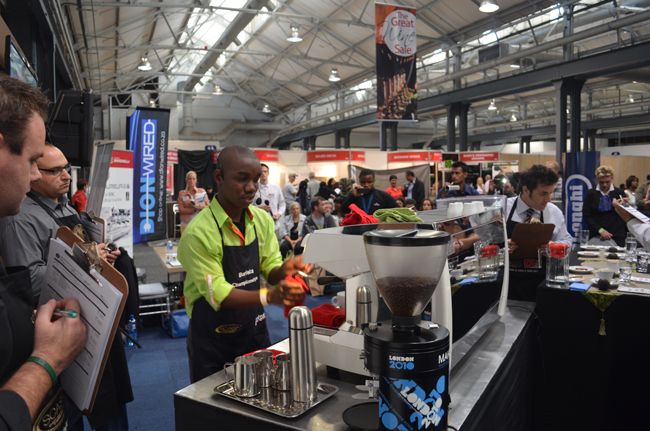 Wency Masawi of Nino's was charming and won the hearts of everyone at the competition. Only 20 years old, he is also one to watch!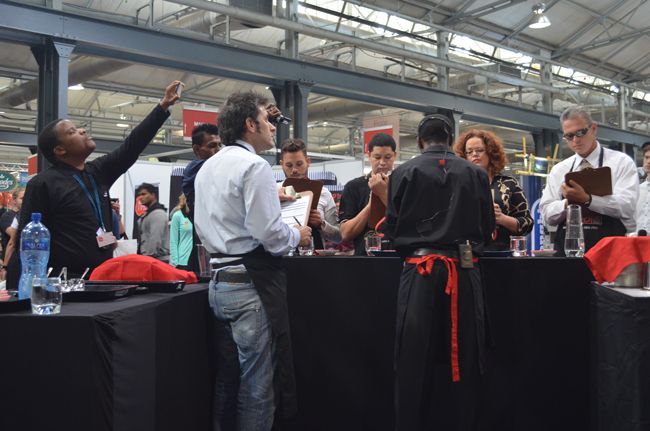 Nicodemus held the attention of the judges. He used a single origin coffee grown on the Beaver Creek Coffee Estate. Proudly South African!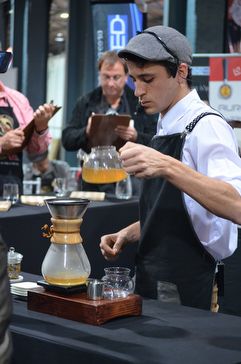 Here, Arno is filtering his herb melange. He was smooth and entertaining on stage. The man has style.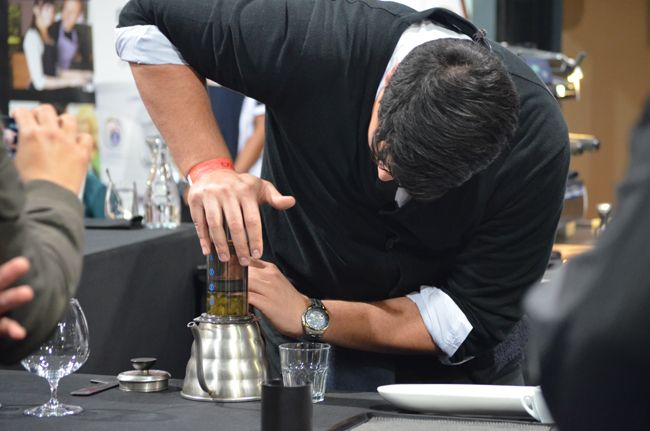 Using his Aeropress in an unconventional way, Wayne puts his back into it.

Congratulations to all those who competed and who put together this fantastic event, KZN maintained it's reputation as a region to watch, and we are so looking forward to the Nationals. We have travelled to all of the regionals and the standard of the competition this year is looking excellent.

A full gallery of pics taken over the four days will follow shortly.
Got something to say? Then leave a comment!
---
Watch the KZN Regionals LIVE!
Wednesday, 7 August, 2013
The Good Food and Wine Show
kicks off tomorrow and the KZN Regional Coffee Competitions are ready to grind their way into action bright and early. Tomorrow sees a jam packed day of competitions including Cup Tasting, Latte Art and Aeropress. These events are highly competitive and there are usually a few wild card entries to keep everyone guessing.
The good news is, TheCoffeeMag, Official Media Partner to SCASA (Specialty Coffee Association of Southern Africa) will be there to keep you informed and up to date as the action happens.
Follow us on Livestream to watch the events take place in real time!
You can also follow us on
Twitter @TheCoffeeMag.
Got something to say? Then leave a comment!