Call for Entries: Western Cape SCASA Regionals
Friday, 2 September, 2016
This September 15-18th
SCASA
will run the Western Cape Regionals at the Homemakers Expo CT.
This is part of the 2017 Cycle, which culminates at the World Champs in Budapest, Hungary and Seoul, South Korea. The winners in each category will be sent to represent SA at these Championships.
If you're a cafe owner or you have a favourite barista that you think would shine on stage, they still have a chance to get involved! The experience is invaluable as they get to interact with other members of the coffee community and share their passion and ideas for coffee!
You can be a Champion too!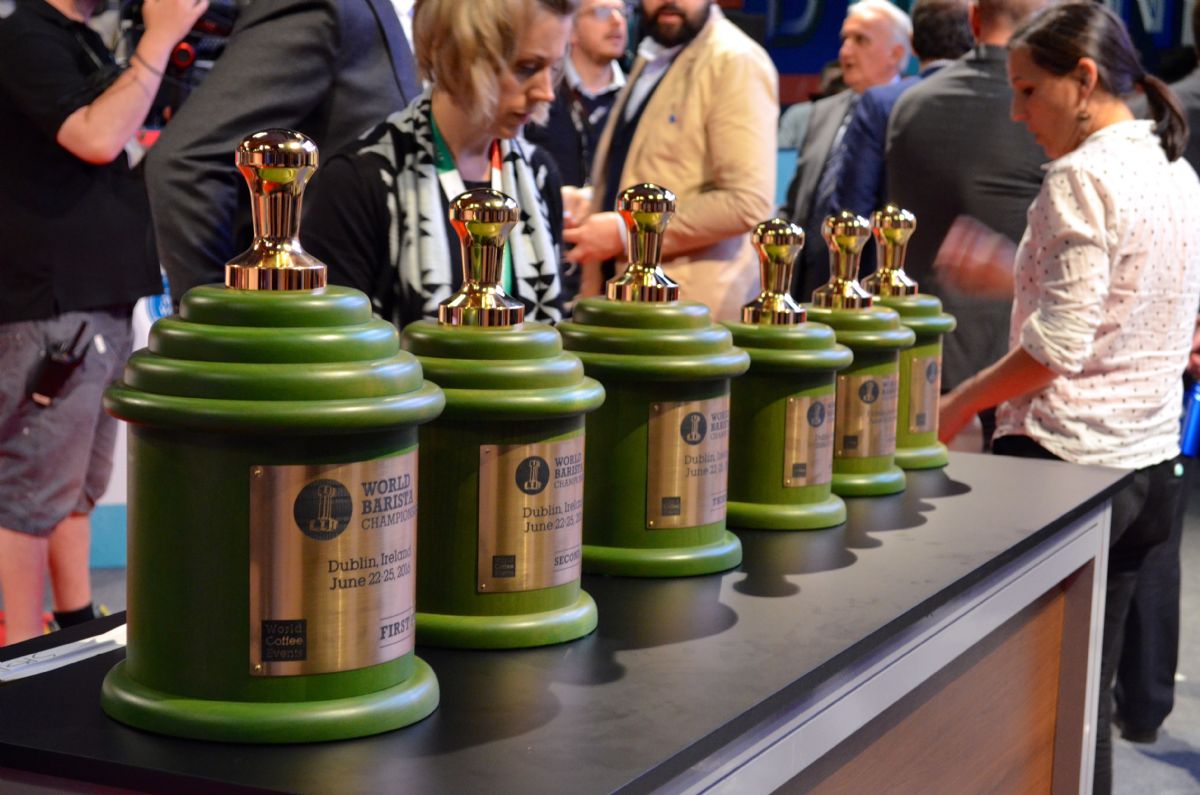 Download
an entry form here.
If you'd like to win tickets to
come watch all the action, you can enter here.
Got something to say? Then leave a comment!
---
Eastern Cape Barista competition 2016!
Thursday, 28 July, 2016
It's on! The best baristas in the Eastern Cape will be battling it out today and tomorrow for coffee supremacy at the Homemakers Expo. Get down to the Boardwalk Expo Centre and support your favorite coffee superhero!
There are 3 Competitions running - the Barista Competition, the Cup Tasters Competition and the Latte Art Competition.
These competitions are the exact same format as the World Coffee Events format, so you'll be able to witness first hand the skill and expertise of the best baristas in the region working their sets before the judges.
You'll also be able to taste some amazing coffees and meet the coffee industry leaders, get a chance to see the latest coffee equipment innovations and get insight and advice into making better coffee at home or even starting your own Cafe!
So if you're in the PE region and you want to learn about coffee - this is the place to be!
Friday 29th July

10am - 4.30pm : Barista Competition
6.45pm - 7.25pm : Cup Tasters Competition
7.30pm : Monin Minute
7.30pm : Finals Announcement
Saturday 30th July

10am : Cup Tasters Final
10.30am : Latte Art Final
12pm - 5.30pm : Barista Competition Final
6.30pm : Monin Minute
6.45pm : Award Ceremony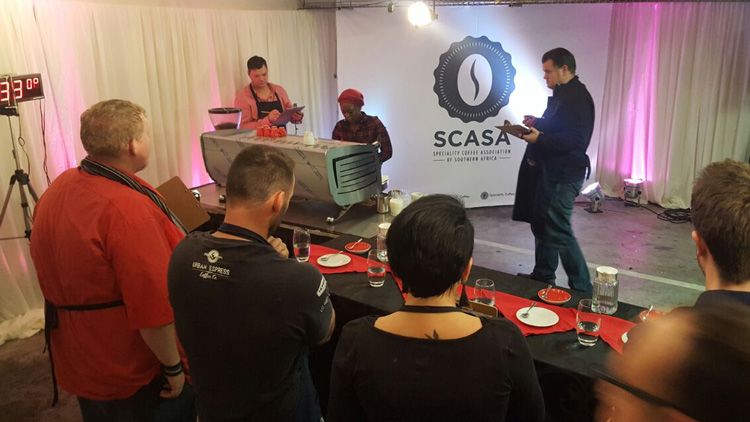 ---
They win a set of double tickets to visit the event! Congratulations! If you're one of their friends tell them to check their email for their prize!
Jenny Wilson
Stuart York
Kirsten Deysel
Pumeza Tube
Belinda Griebenauw
Alida Malan
Theunis Cloete
Sanjay Raga
Varla Fiona King
Noluthando Mavela
---
Got something to say? Then leave a comment!
---
Ticket Giveaway: Homemakers Expo Port Elizabeth
Monday, 4 July, 2016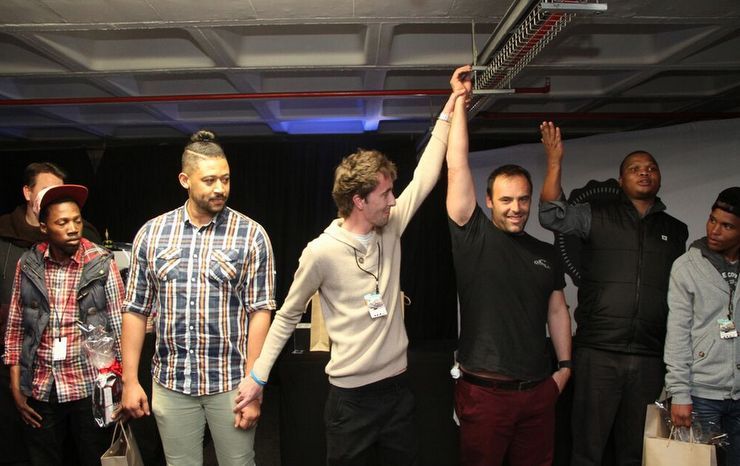 Last year's Eastern Cape Champion was Donovan McLagan! Homemakers Expo helped SCASA to put on an amazing show for the avid coffee fans! Photo: Jamie Bell



Win tickets to the wonderful Homemakers Expo Port Elizabeth to watch the annual SCASA Coffee Competitions. We are always overwhelmed by the amazing hospitality of the Friendly City and the Homemakers team and can't wait to return at the end of this month. The Coffee Magazine has 10 sets of Double Tickets to giveaway to our lucky readers! All you need to do is fill in the form below and you could be one of the winners!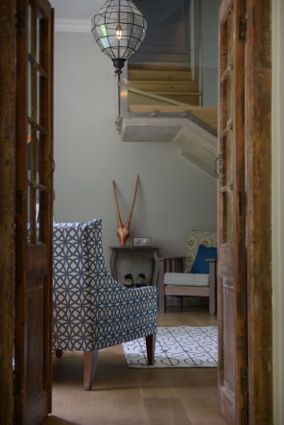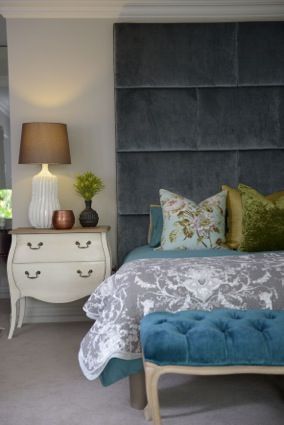 Port Elizabeth HOMEMAKERS Expo
28 – 31 July 2016 | The Boardwalk Exhibition Centre
Inspire Create Innovate

Be inspired to bring back innovation to your home at the 2016 Port Elizabeth HOMEMAKERS Expo, back in town from 28 to 31 July 2016. This is a year's worth of shopping packed under one roof for four days.
The best in home improvement will come together to inspire those in love with their homes. Whatever your home needs we've got it covered, from fresh ideas, to smart advice, do some serious research, compare products and meet suppliers face to face.
The show not only offers you the great selection of exhibitors, but brings to you the fabulous radio presenters live at our show plus some new and exciting show experiences.
Master Upholsterers' Challenge
Brought to you by H&T Furniture by Design & Bargain Warehouse
Don't miss the talented local upholsterers showing off their exceptional skills at the expo competing for the winner prize of R5 000 cash.
Quarter Finals: Thurs 28 July, 12h00 – 17h00 | Fri 29 July, 12h00 – 17h00
Semi Finals: Saturday, 30 July, 10h00 – 16h15
Finals: Sunday 31 July, 09h00 – 12h00
Barista Champs
Our talented Eastern Cape Barista's will once again showcase their remarkable coffee skills, where they will battle it out to take all 3 local titles in order to represent the Eastern Cape at our SCASA National Barista Champs in Johannesburg later this year.

Gourmet Market
Find yourself a warm spot and a couple of friends in the Gourmet Market. Discover the fine selection of gourmet foods that will have you cosy-up to the table and your cup of coffee for hours!
On-The-Go Theatre
Hosted in collaboration with AV Designers
HOMEMAKERS Expo and AV Designers present a line-up of note running at the On The Go Theatre during the four show days! With great local talents and celebrity you make your way to the Theatre every day.
Click here to see the full Entertainment Programme.

Win a Dream Kitchen
Easylife Kitchens will be sponsoring a kitchen to the value of R135 000 to one lucky winner.
Head down to the show to find out how to enter for this exciting new SMS competition. Look out for the stand displaying posters of the Dream Kitchen, as well as all the necessary details of how to enter.
Competition dates: Thursday, 28 July at 10h00 until 17h00 on Sunday, 31 July.
The winner will be notified telephonically during the Daron Mann Breakfast show on Algoa FM on Monday 1 August. Ts&Cs apply.
HOMEMAKERS collaborate with Reach for a Dream
Make sure you head down to the Reach for a Dream stand and purchase a Slipper Day sticker for R10-00. Then on Friday, 5 August you are encouraged to wear your slippers or your Slipper Day sticker to work or school to show your support for children with life threatening illnesses.
Let's bring children's dreams to life – your Slipper Day sticker will make a difference.
General Info
28 – 31 July 2016 | The Boardwalk Exhibition Centre
Thursday & Friday, 10:00 – 20:00 | Saturday, 09:00 – 20:00 | Sunday, 09:00 – 17:00
Buy your ticket at the door: Adults – R40 | Pensioners – R20 | Children under 12 – Free
Take a look at our favourite photos from the 2015 event (Facebook).
For more information visit www.homemakersonline.co.za or phone 041 373 6616 or email pe@homemakers-sa.co.za.
Twitter –
@SAHomemakers
Facebook –
www.facebook.com/HOMEMAKERSonline
Instagram – HOMEMAKERS Expo
#-Tag - #hmexpo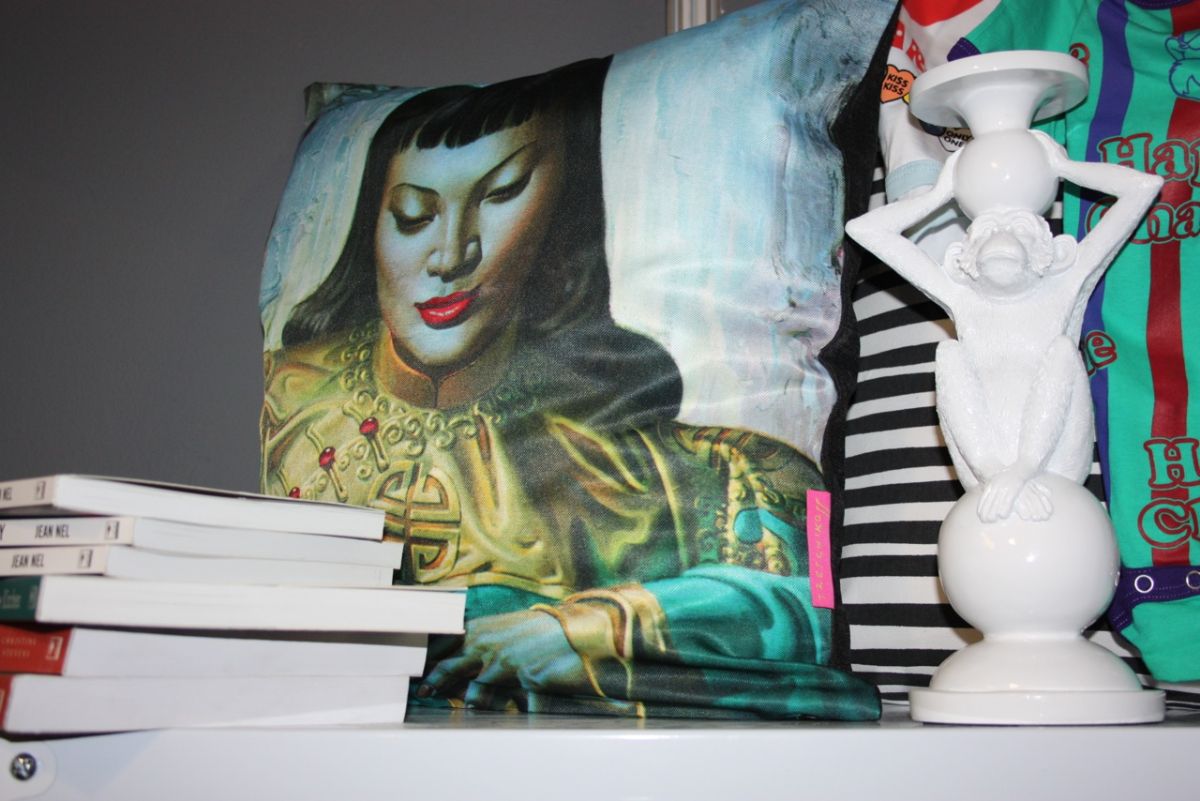 Win tickets to Homemakers Expo PE 28-31 July
Got something to say? Then leave a comment!
---
Good Food and Wine Show: Chef's Table with Wayne Oberholzer
Thursday, 26 May, 2016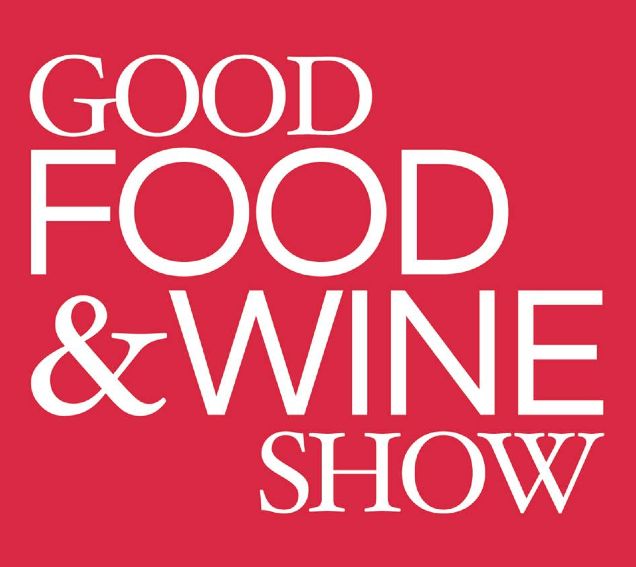 Wayne SCASA's current SA barista Champion will be hosting a Chef's table tonight at Cape Town's Good Food and Wine show. Book your tickets at Computicket!
Visit the
Good Food and Wine Show
this weekend in CT!
Got something to say? Then leave a comment!
---
BIG NEWS: The Coffee Man Film Premiere in Cape Town
Monday, 16 May, 2016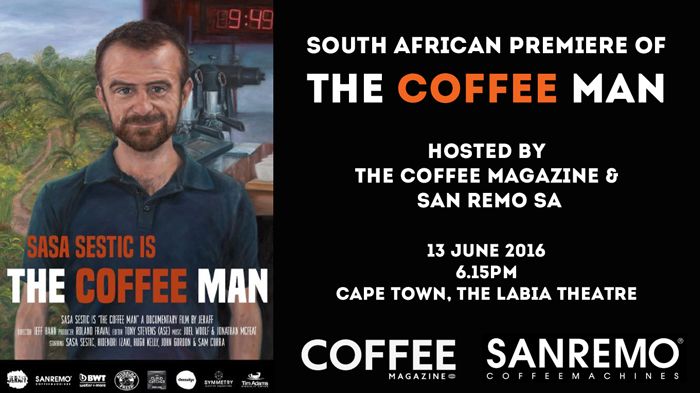 We are very excited to announce that there will be a South African Premiere screening of this documentary,
The Coffee Man
, held in Cape Town at the iconic
Labia Theatre,
13 June 2016. There are limited tickets available so get yours now! Please fill in the form below to send a request for tickets.
R75 gets you in to experience a night all about coffee and a man who has dedicated his life to it. We had the privilege of watching Sasa take the title in Seattle and to meet him. He is a humble, kind and passionate man who has accomplished and contributed so much in the coffee world. This film sheds some light on what coffee means to this World Barista Champion.


Sanremo SA
will be at the screening showing off their beautiful machines that have just arrived in the country.
The Coffee Man follows Sasa from Ethiopia, the birthplace of coffee to Seattle, Washington (USA), the home of the specialty coffee movement and host of the World Barista Championship.
From humble beginnings in war-torn Yugoslavia to his adopted home in Australia, Sasa Sestic's journey to the 2015 World Barista Championships is a long one. But his dedication and pursuit of excellence carries him through as do his family, his staff, coffee growers and roasters and the vendors who travel with him on this remarkable journey.
The Coffee Man is an intensely personal, observational documentary that will have you biting your nails, standing up and cheering; and wishing that you, too, could experience Sasa's Holy Grail: the perfect cup of coffee.
Please note, tickets are only secured when payment has been received!
Book your tickets for The Coffee Man Premiere in CT
If you liked this article, then you may also like these:
Got something to say? Then leave a comment!
---
What a week! Gauteng Winners Announced at Food and Hospitality Africa
Thursday, 5 May, 2016
It has been an awesome week here at Food and Hospitality Africa to kick off the 2016 SCASA competition season! Such an amazing experience to be surrounded by so much love for coffee and the camaraderie is really inspiring.
You can
visit our Facebook Page for more awesome images!

Khulekani Mpala emerged victorious over his TriBeCa colleague, Harry Mole to take the title of Gauteng's best barista for 2016. Having last competed in 2011, Khulekani made an emphatic comeback with a beautiful performance with an Ethiopian Geisha to win the most points on the judges scoresheets and with so much passion that he won the hearts of everyone in the crowd. His reaction was one of tears of joy, you could really feel just how much this meant to him, shew!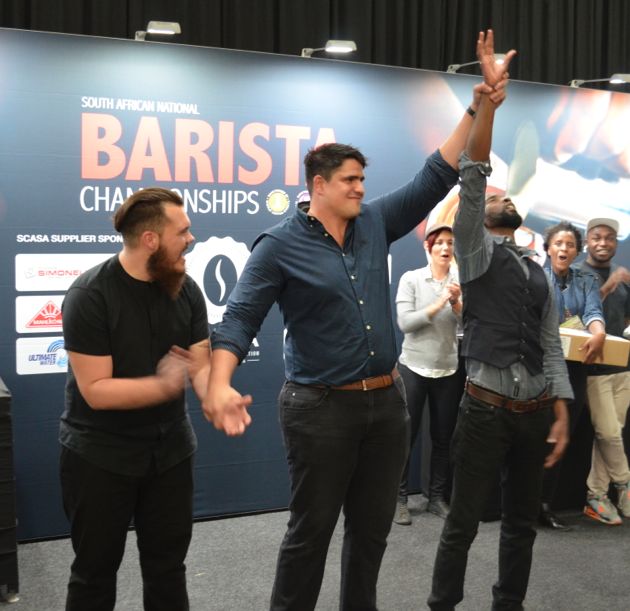 From Left to Right: Runner-up, Harry Mole (TriBeCa), Wayne Oberholzer and Winner, Khulekani Mpala (TriBeCa). Behind are Alicia Bulter (3rd), Nomthandazo Sibekho (5th) and Pardon Sibanda (6th)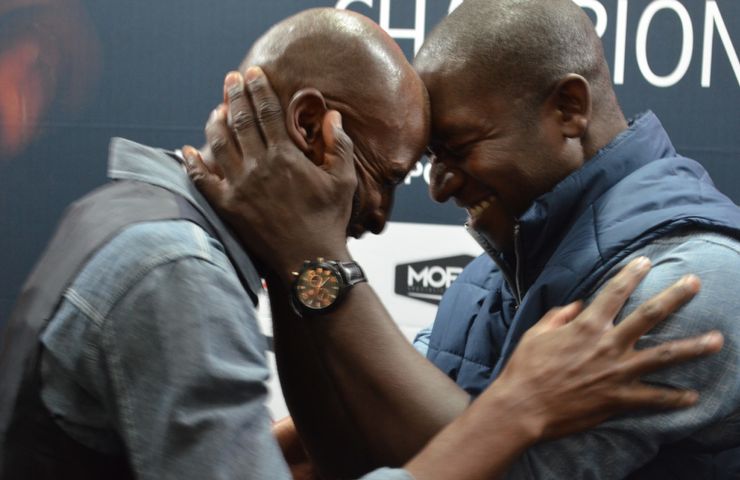 The emotion was huge! The crowds rushed on stage to congratulate the new champ.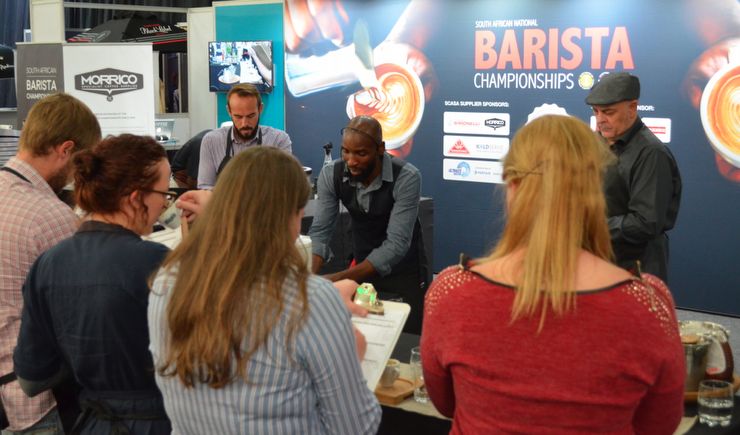 Khulekani putting the finishing touches to his Championship set.

Harry Mole is certainly one to watch, runner up in the Barista Champs and the new Cup Taster's Champion! Chatting to Erina Ngrini, one of the founding members of SCASA, 10 years ago there was no sharing of knowledge of community feel in the coffee industry and Harry is a clear example of how this has radically changed, with his open attitude and willingness to learn, he makes us excited for the future of a coffee in this country! We loved his choose-your-own-adventure style Signature drink and so did the judges as it was named Best Signature Beverage! We're definitely getting him to expand on that in another post, don't worry!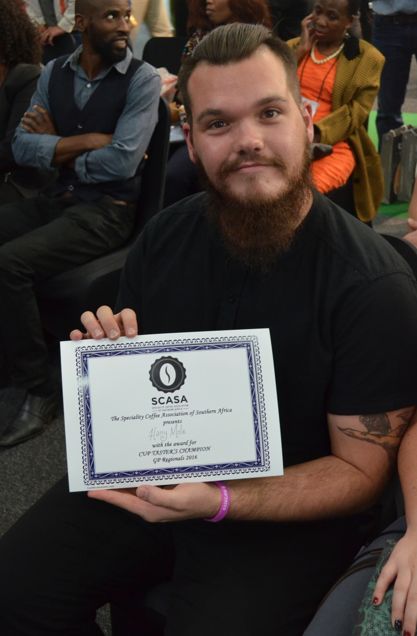 This is Harry.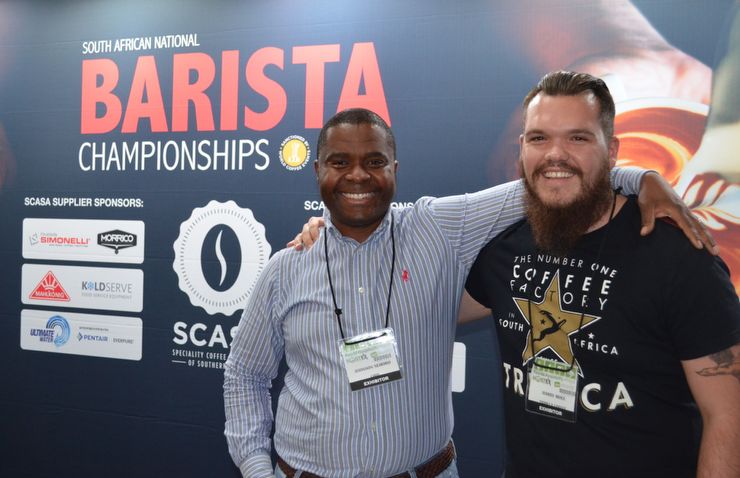 Johnson Sehoro and Harry Mole - Runner up and Champion in the Cup tasters competition.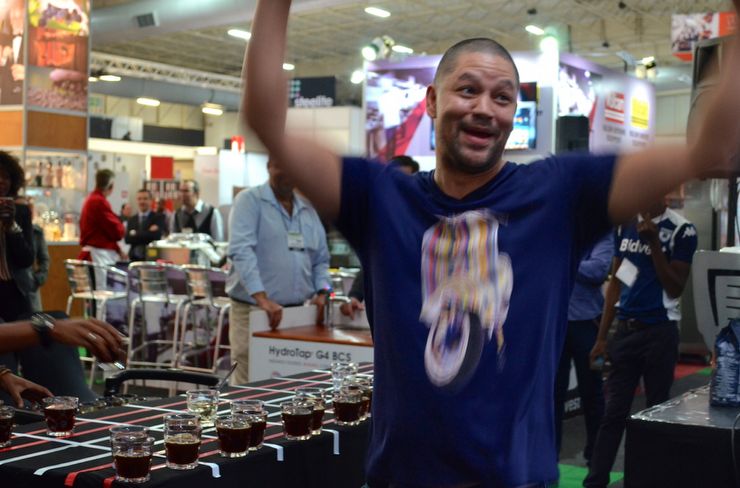 Doctor G getting excited at the correctly identified coffees in Cup tasters!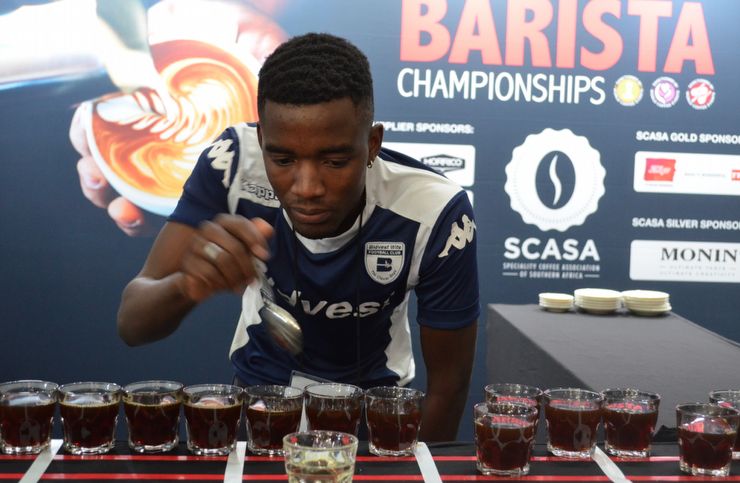 Brilliant was a standout in the Cup tasters -as a first time competitor he beat out the competition to win a finals spot. He finished 4th overall with 3/8.
Sibusiso Ncube of Famous Brands proves his mad skills again as he continues to dominate in the Gauteng Region in the Latte Art discipline.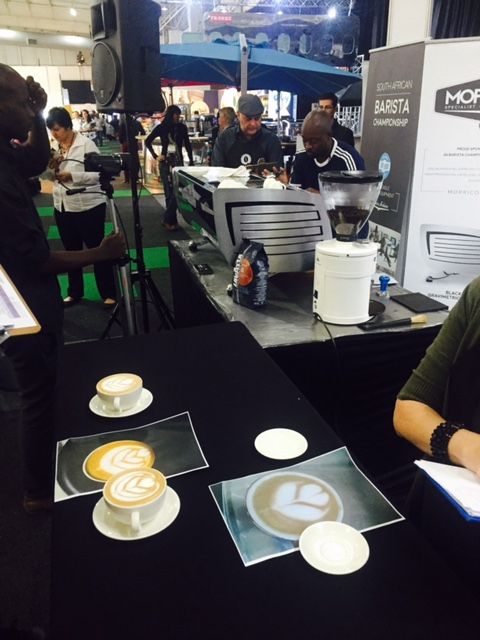 Sbu Ncube (Famous Brands) was top 2 last year and repeated his form to win Latte Art with an amazing designed pour portrait, and tulips for the Latte and macchiato free pours.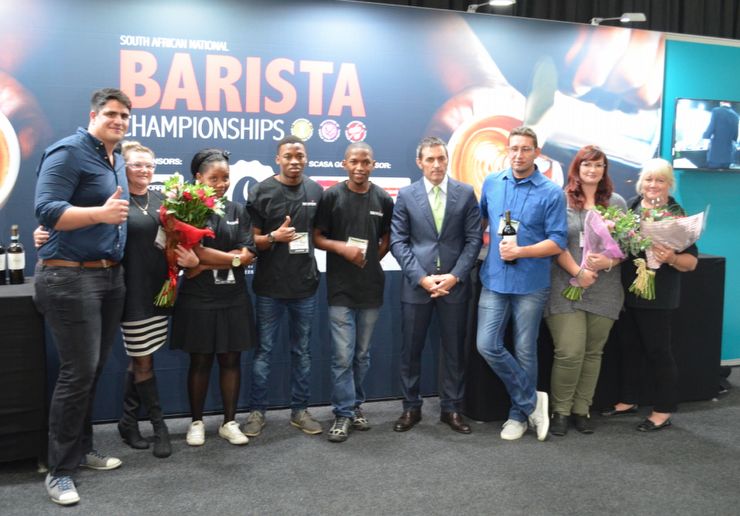 Behind the Scenes legends! Thank you to Chris, Janet and the rest of the amazing team!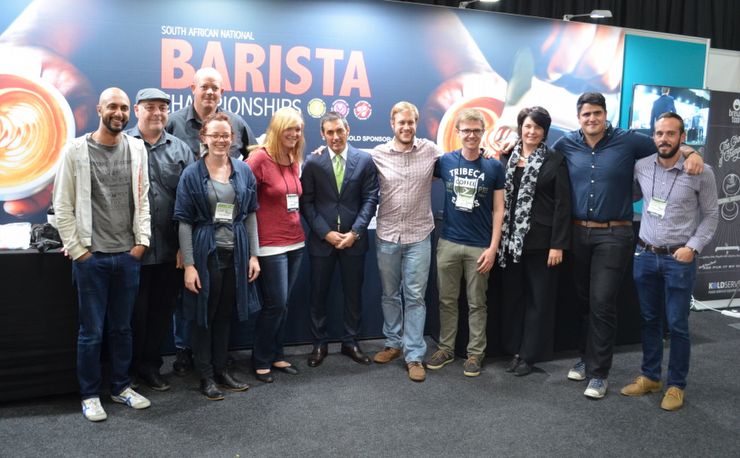 Judges, judges! What an awesome panel of judges helping the baristas achieve greatness!

Got something to say? Then leave a comment!
---
It's the Final countdown: Food and Hospitality Africa and the GP Coffee Competitions
Friday, 29 April, 2016
We are so looking forward next week at
Food and Hospitality Africa!
The Coffee Magazine will be there to have some coffee fun. We're running a fantastic competition for people who come visit our stand in the Coffee and Tea Pavilion - you can win a coffee machine to take home with you! Follow us on
Instagram
and
Facebook
to keep in the loop and updated with all the action from the
SCASA stage.
Come hang out with some of the coolest cats on the Gauteng coffee scene and watch them do their thing on stage. Wayne Oberholzer, the current SA Barista Champion will be on hand to impart his knowledge and share a bit about his journey to the World Barista Champs.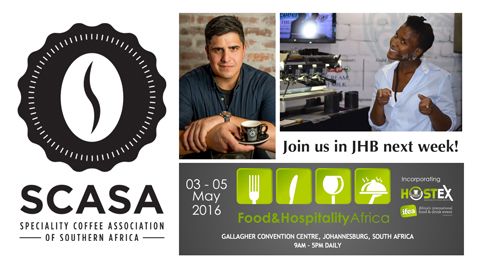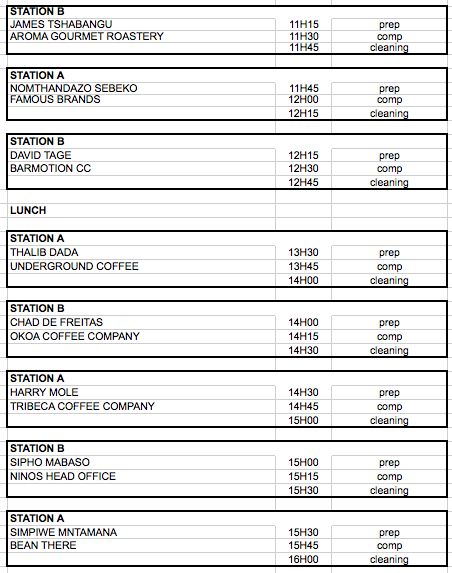 ---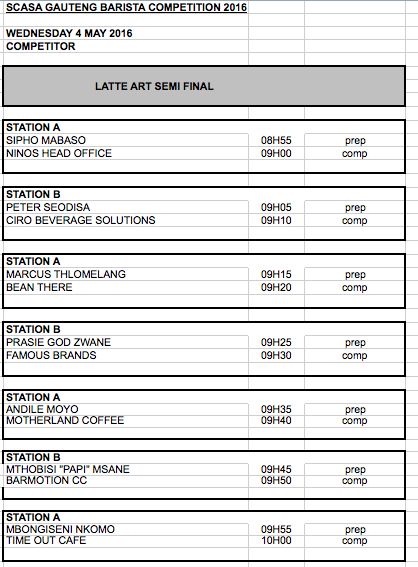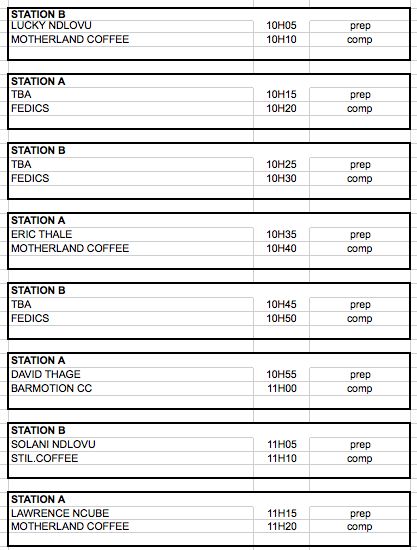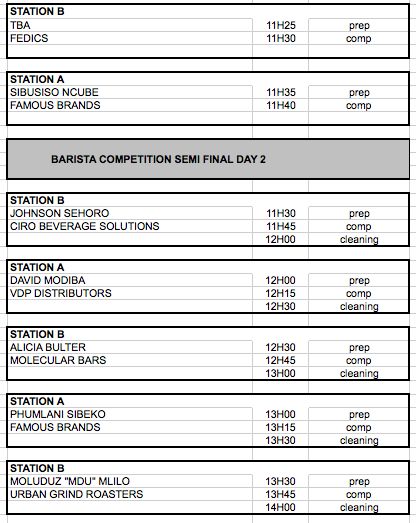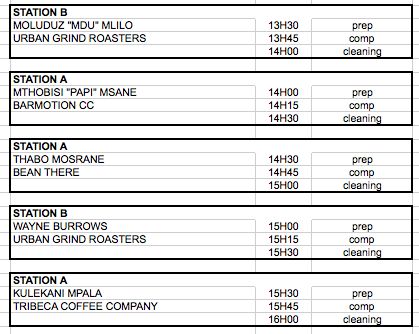 ---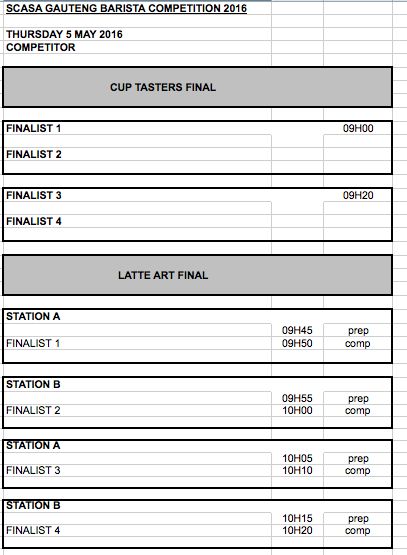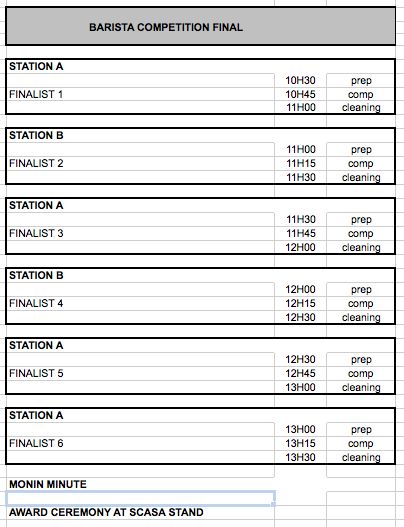 *Please note all times are subject to change.
---
OFFICIAL PRESS RELEASE
Food & Hospitality Africa – a one-stop shop for hospitality industry

It's the final countdown to Food & Hospitality Africa – the show that promises to deliver an absolute cornucopia of culinary and hospitality wonders that include a broad selection of products, equipment and services, as well as demonstrations and competitions, and a host of interesting topics in the scheduled seminars and conferences.
F&HA, which runs at Gallagher Convention Centre in Midrand from 3-5 May for the first time, is a co-location of the renowned Hostex show, which this year celebrates its 30th anniversary, and IFEA, the International food and drink Africa expo.
"F&HA is a response to industry demands for a one-stop shop, which is designed to be the most representative hospitality, food and drink, catering equipment, and food service event on the African continent," explains Nick Sarnadas, Food & Hospitality Event Director with show organiser Specialised Exhibitions Montgomery. "Under the F&HA banner, we have incorporated the hospitality and food service sectors that Hostex covered so successfully every year, while also adding food and drink, thus combining all the aspects of hospitality in one show and giving us the proud status of being the only pan-African hospitality, food and retail expo."
The show has attracted a broad spectrum of industry players, and several reputable associations representing the leading bodies in their respective industries are partnering with the expo. They include SACA – SA Chefs Association; SCASA – the Speciality Coffee Association of Southern Africa; RASA – the Restaurant Association of SA; SANHA – the South African National Halaal Association; BABASA – the Bed and Breakfast Association of SA; FEDHASA – the Federated Hospitality Association of SA; GHASA – the Guest House Association of SA; the Sustainable Tourism Partnership Programme (STTP); and NAA – the National Accommodation Association. Other partnerships include the Consumer Goods Council, the Department of Trade & Industry, media partners, Uber and SAA, which is offering discounted flights for visitors to the show from within South Africa, from Africa, and other countries.
The Minister of the Department of Trade and Industry, Dr Rob Davies, will officially open Food & Hospitality Africa, and the DTI will also have a pavilion at the expo, reinforcing the real value that it can contribute to trade and industry with Africa and further afield.
Other highlights on the show include The Skillery, a culinary hub powered by the SA Chefs Association, which will be the venue for several culinary competitions and will showcase the world-class talents and skills of many of South Africa's chefs. Also at The Skillery, Culinary Team South Africa will be displaying the cold table that they will be presenting at the IKA Culinary Olympics, the oldest and most prestigious global culinary competition, on 3 May.
Another feast for the eyes is the SA Cake Decorators Guild display, which will celebrate the Guild's 40th anniversary with a breath-taking display. Each of the 15 exhibits will depict individual members' particular talents and creativity and will include features such as animated figurines, fairies, a three-tier traditional cake with extension work and flowers, a celebration cake with flowers, an exhibit displaying paint techniques, and more.
The show will accommodate about 300 exhibitors from over 27 countries, and will be housed in halls two and three at Gallagher Convention Centre, which are linked by a spacious foyer where the New Products Display will be located, as well as the Competition Zone, with cook-offs in competitions run by City & Guilds, Lucky Star and Unilever Food Solutions, which will attract South Africa's hot young and experienced chefs to show off their talents – and leave with big cash prizes.
The Global Pizza Challenge cook-offs, with a top prize of R15 000 for the pizza champion, will also feature at the expo. "The Global Pizza Challenge finals have been a popular feature of Hostex for some years and we're delighted that the tradition is continuing at Food & Hospitality Africa," says Sarnadas.
The trends-driven free to attend Host-ED seminar will also run throughout the show, covering a wide range of topics of interest to exhibition visitors. Presentations will be delivered on the exhibition floor on a first-come, first-served basis. Opening Host-ED is the DTI's Road Map for the SA Food & Beverage industry, outlining what the DTI has in store for 2016 and how that will benefit the food, beverage and hospitality industries.
To ensure easy access to the show, a shuttle service will run throughout the three days of the show from the Midrand Gautrain Station to Gallagher Convention Centre. Uber is also making life easier with a R150 discount for new Uber users. Access for students enrolled in related fields of study is restricted to the final day of the show from 14:00 to 17:00.
Visitors to Food & Hospitality Africa are advised to pre-register online at www.foodandhospitalityafrica.co.za for quick and easy access to the expo.
"We believe Food & Hospitality Africa will make its mark as a strong asset for the industries it serves, as a leading platform for networking and idea generation, as a hub of information and innovation, as an invaluable source of products and services, and mostly, as a place where the industry wants to be," says Sarnadas.
Got something to say? Then leave a comment!
---
SCASA Gauteng Regionals 2016
Friday, 15 April, 2016
Got something to say? Then leave a comment!