Bloemfontein Coffee Expo 9&10 April
Friday, 1 April, 2016

We chatted to Wikus Botha of
Coffee Talks Cafe
in Bloemfontein, Free State to fin dout how the Bloemfontein Coffee Expo came about and what people can expect over the 2 days.
"The aim of the first Coffee Expo in Bloem is to engage the community of coffee lovers, to educate coffee lovers and to bring coffee lovers/ industry together. Ultimately, we aim to grow the coffee culture in Bloem and the Free State!
Its not necessarily a new or pioneering idea. Its an idea from a guy (Name Withheld) who is a coffee enthusiast and spent most of his adult life in JHB which has some coffee culture. He realised that he could network and get more work done in cafes. When he moved to Bloemfontein in 2013, he struggled to adjust because the Coffee Culture was almost non-existent."

THE PROGRAM
will cover 4 Key areas
Presentations
Coffee Tasting
Entertainment (live music)
Demos on Latte Art

THE PRESENTERS AND TOPICS
-
Masterton's Coffee and Tea Specialists
: Brewing Methods (Commercial & Domestic)
-
J
aru Coffee
/Royal Roastery from Bloemfontein: will present on Origins of Coffee (coffee appreciation from the different countries)
-
Urban Brew Coffee
from Bloemfontein: to present on Coffee Flavours
Urban Brew Coffee is in partnership with Truth Coffee and the brand will be launched at the expo by the local entrepreneur Stephan Kuhn.
There will also be a video on the life of a bean (from plantation to the cup)
This will be an inaugural event for Bloemfontein and the focus will on educational presentations.
VISIT THE EVENT PAGE TO FIND OUT WHERE TO GET YOUR TICKETS AND MORE!
Got something to say? Then leave a comment!
---
You're invited! Food&Hospitality Africa and the SCASA GP Regionals
Friday, 11 March, 2016
Got something to say? Then leave a comment!
---
Barista Throwdown at Vintage Coffee!
Wednesday, 9 March, 2016
Kudos to the team at Vintage Coffee in Centurion for organising this event, if you're in Gauteng and you love coffee, go check it out! And if you know a possible competitor, spread the word!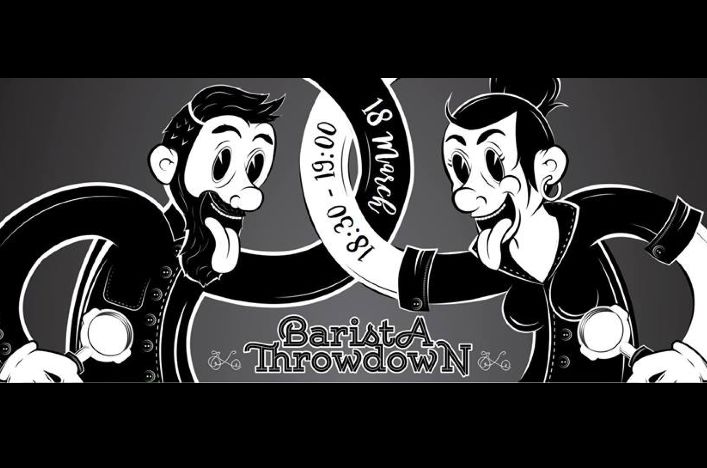 Vintage is hosting a non official Barista Competition with Local Baristas around Gauteng and we would love you too join us, support your favorite barista and have blast.

12 Baristas from different coffee spots competing with their own beans making 4 espressos + 4 cappuccinos within 8 min.

Our judges are:

- Matt Carter - TriBeca
- Dave Walstra - The Roastery
- Waseem Jadwat - EB Café

You really don't want to miss out this event!!!!

#BaristaThrowdown2016 #CoffeeWithaCause #GoodPeopleareVintage
Got something to say? Then leave a comment!
---
SCASA Gauteng Regional at Food & Hospitality Africa
Tuesday, 16 February, 2016




Gauteng Regional Coffee Competitions come to Food & Hospitality Africa 3-5 May 2016.


Johannesburg is certainly the place to be when it comes to holding great events. Coffee lovers can rejoice too, as this May The City of Gold plays host to the
SCASA
Gauteng Coffee Competitions. This includes the Barista Championships, Cup Tasters Championships and Latte Art Championships – all of which will ultimately culminate in Regional Finalists being chosen to compete at the Nationals for the opportunity to represent SA at the World Competitions. The action promises to get pulses racing and not just because of the high caffeine content!
The
World Barista Championship
is the world's most prestigious barista competition, welcoming participants from over 50 countries who have won their regional and national-level competitions to represent their domestic coffee talent on the world stage.
This competition is all about performance, skill and passion for coffee, as well as being able to pour delicious coffee under pressure, with a total of seven highly skilled judges watching the barista's every move as they produce 4 espressos, 4 cappuccinos and 4 signature drinks, all in under 15 minutes!
There are only 24 spots for baristas in the National Finals, 6 from each of the 4 competitive Regions and with so much on the line, the competition will be fierce!
The Barista Competition is not the only coffee event that will be taking place. People will be able to witness the Cup Tasters Event, which is a test of the senses. There is also the popular Latte Art Championships, where the baristas impress judges with their milk pouring skills, producing flawless tulips, rosettas and hearts to name but a few delightful patterns.
The public will have the opportunity to meet some of the Country's best coffee talent. If you've ever wondered about the world of Speciality Coffee, this is your chance to pick the brains of some of the best in the business from 3-5 May at Gallagher Estate.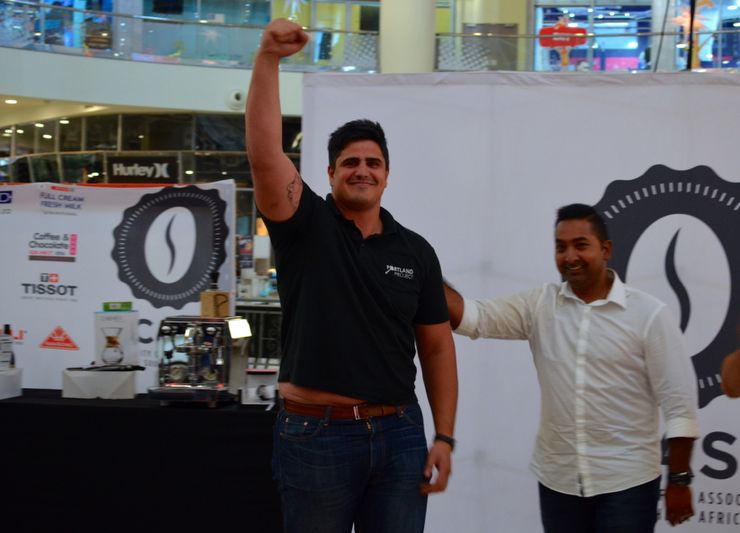 Ishan Natalie lifts the hand of Wayne Oberholzer (Portland Project, WC) as he is crowned 2015 National Barista Champion. Photo credit: The Coffee Magazine/Winter.
For further information about these competitions visit www.scasa.co.za and www.thecoffeemag.co.za
The inaugural
Food & Hospitality Africa Show 2016
is the only food, drink and hospitality trade expo for Pan-Africa. It is the ultimate melting pot for the foodservice, hospitality, catering, retail and wholesale industry and leverages the synergies, size and scale of two industry heavyweights, namely the 30-year-old Hostex and innovative IFEA expos.
Now taking place at Gallagher Convention Centre in Midrand, Johannesburg, Food & Hospitality Africa presents the two co-located shows on one level over three days in a seamless exhibition that brings together over 10 000 visitors and 180 exhibitors from the industries it serves. Take a look at last year's Hostex Expo and imagine just how much bigger it will be in its new format! If you are about to enter the coffee industry, this is the Show for you!!!
Got something to say? Then leave a comment!
---
Exclusive: SA Barista Champ Wayne Oberholzer in JHB
Friday, 29 January, 2016
SOLD OUT
Watch this space for announcements of more events near you. Like our Facebook page or Subscribe to our newsletter to hear about it first!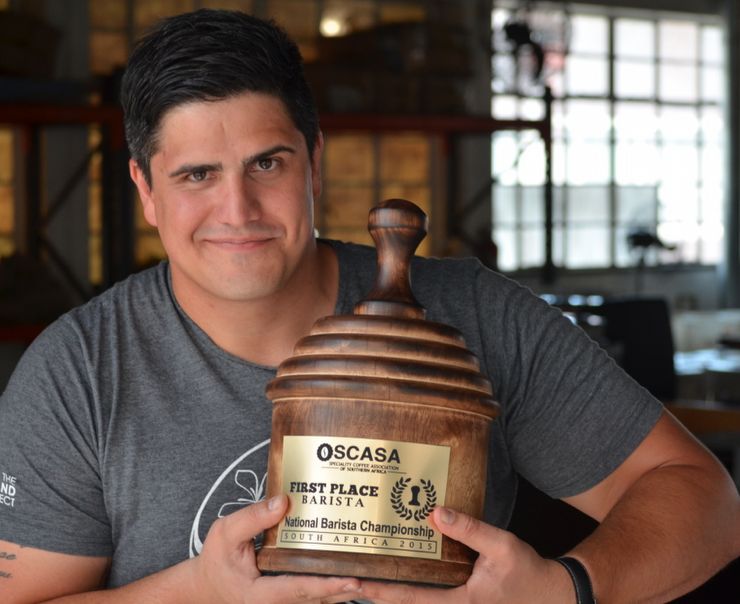 Dear Coffee Lovers
You are invited to an exclusive evening of coffee tasting and knowledge sharing with the current South African Barista Champ, Wayne Oberholzer. There are only 30 spots available and it's free, but it's a first come first served system, so if you want to be at this event, fill in the form below immediately!
Date:
8th February
Time:
5pm - 6pm
Venue:
Naked, Melrose Arch
What can you expect?
Wayne Oberholzer is our current SA Barista Champion and will be presenting his beautiful Ethiopian Geisha in an exclusive cupping, giving us a sneak peek into the set he is taking to the African Championships next week and filling us in in what it means to be a part of the international coffee community!
The wonderful
Naked Coffee
at Melrose Arch will play host to an early evening of delight, their amazing Nuova Simonelli Aurelia II will allow Wayne to pull some of the best espresso shots you are likely to ever taste.
There will be a few bags of prized coffee that a couple lucky people will walk away with.
All in all you definitely don't want to miss out!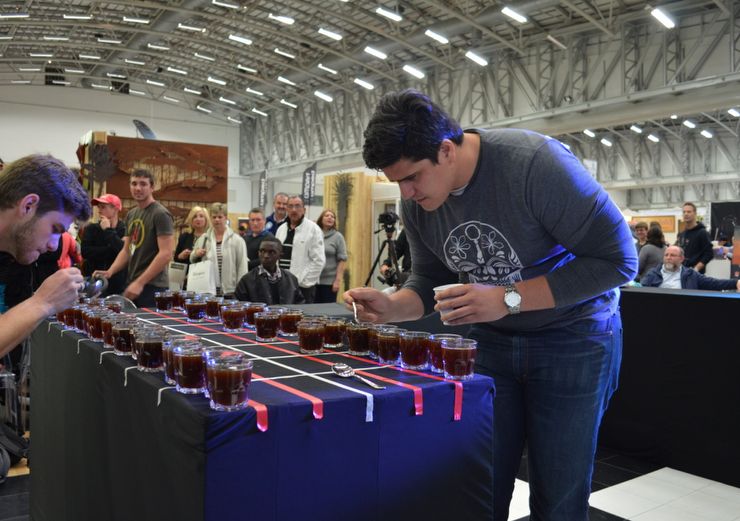 Got something to say? Then leave a comment!
---
Story Sessions: Jose Vilandy of Truth Coffee will be in Durban
Wednesday, 18 November, 2015
José Vilandy will be sharing a bit about his passion for coffee and involvement in Truth Coffee Roasting at our next session. Truth was recently voted the best coffee shop in the world by MSN Travel! World class brands right here in SA. Imagine being taken away from your family and being forced to be a child soldier? For him this was a reality he faced as a youngster living in Angola. His story of overcoming great challenges and making a life for himself needs to be told!
FMI and Appletree Culture Catalysts are super amped to be hosting our 15th STORY Session featuring José Vilandy! It's the last session of 2015 so expect an epic celebratory vibe with live music, great food and drink and one incredible story!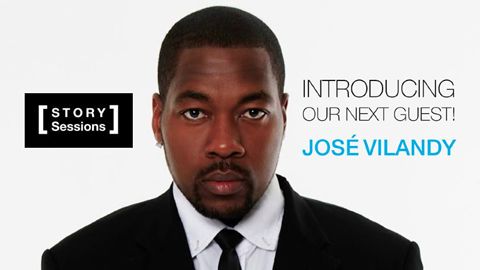 Here's some info:
The event is free but you do need to secure a ticket. Follow
the event page
to do so.
Bring cash for food and drink which will be on sale as well as for parking. Parking is on the 5th floor.

About STORY Sessions

'If what you want to do with your life won't make a story meaningful it won't make a life meaningful either.' Donald Miller
We have all been impacted by powerful stories. History books are littered with stories of great men and woman whose extraordinary lives have shaped the world we live in. Then there are stories of unsung hero's, the people in our midst who have incredible stories to tell yet may never have the opportunity to share them.
Our live events create the space for these stories to be told by bringing communities together to share in the stories of those who live right amongst us.
But the big dream goes far beyond simply sharing stories. At STORY Sessions we believe that the power of a story is the story that starts in you. We believe that those listening to the stories of others will become more intentional about living out the most authentic and unique expression of their own story.
Because it is these stories that will change our world.
STORY Sessions is sponsored by Appletree Catalyst Agency and FMI
Got something to say? Then leave a comment!
---
Almond Breeze Smackdown
Wednesday, 18 November, 2015
Come enter the Almond Breeze Barista Smackdown!!!
There are cash prizes of R1000 for the winner, R500 for the runner up and R250 for 3rd place.
Anyone can enter, all you have to do is come to the SCASA National Championships and put your name down, it's running tonight and tomorrow night! Get involved and come taste this delicious dairy alternative!
Here are yesterday's very happy winners!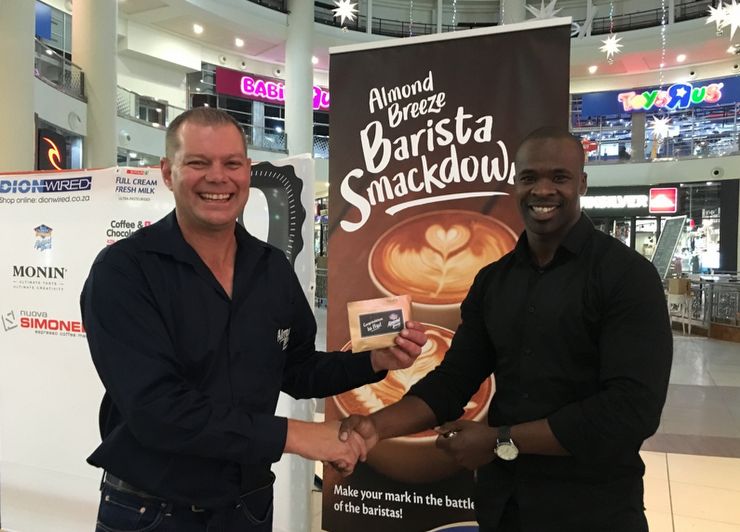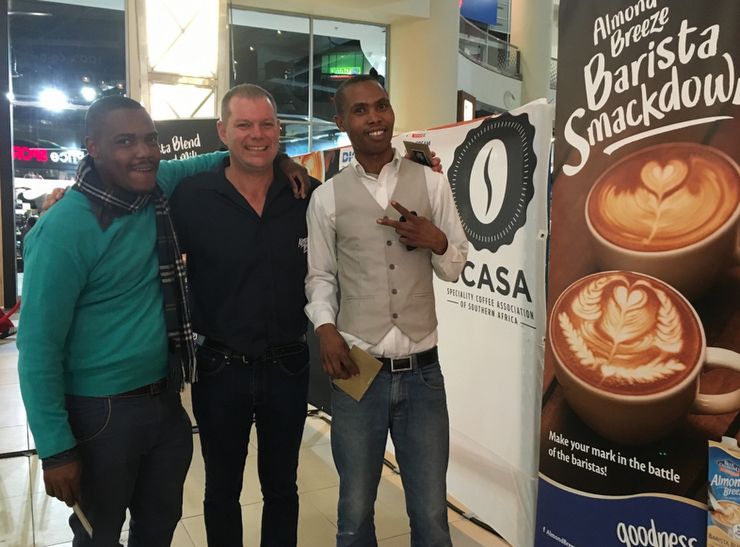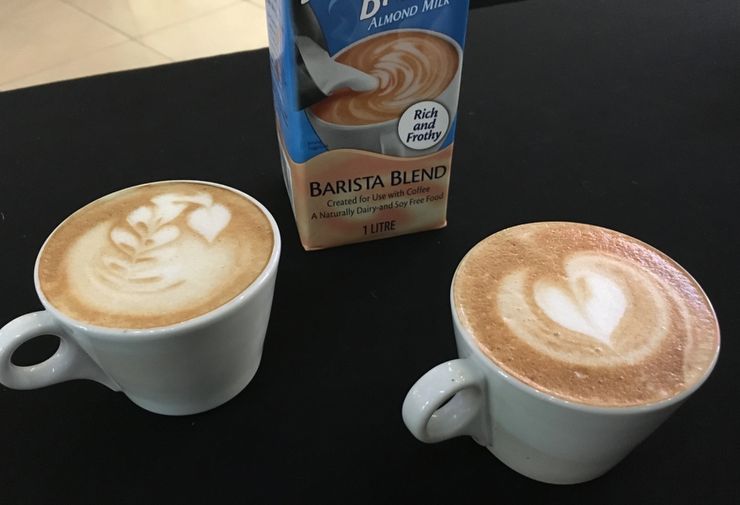 Got something to say? Then leave a comment!
---
Official Nationals Schedule 2015
Friday, 2 October, 2015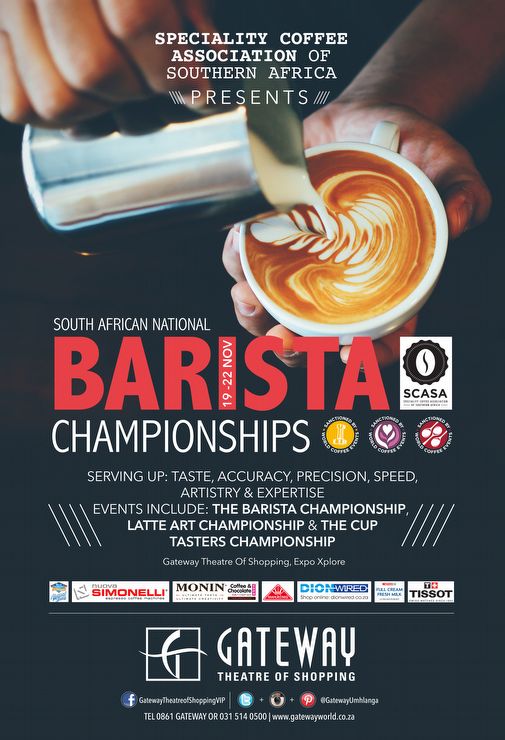 SCASA NATIONAL BARISTA COMPETITION 2015
PROGRAMME OF EVENTS
VENUE: GATEWAY THEATRE OF SHOPPING

WEDNESDAY 18th November

18:00 Open Latte Art Workshop - Venue TBA
THURSDAY 19TH NOVEMBER 2015
10:00 Cup Tasters Semi Finals (4 rounds, 8 competitors)
11:30 Latte Art Semi Finals (8 competitors)
13:30 Barista Competition (6 Competitors)
17:00 Almond Breeze Smack Down
FRIDAY 20TH NOVEMBER 2015
10:00 Barista Competition (9 Competitors)
17:00 Almond Breeze Smack Down
SATURDAY 21ST NOVEMBER 2015
10:00 Barista Competition (9 Competitors)
17:00 Almond Breeze Smack Down

SUNDAY 22ND NOVEMBER 2015

10:00 Cup Tasters Finals (2 Competitors)
10:30 Latte Art Finals (2 Competitors)
11:00 Barista Competition Finals (6 Competitors)
15:30 Monin Minute
16:00 Almond Breeze Latte Art Demo
16:30 Awards Ceremony
19:00 Barista After Party in association with MoreFlavour (at 8Morrison, Rivertown, Durban - details to be announced) -
AEROPRESS CHAMPIONSHIPS
DETAILED SCHEDULE OF COMPETITORS:

Thursday 19th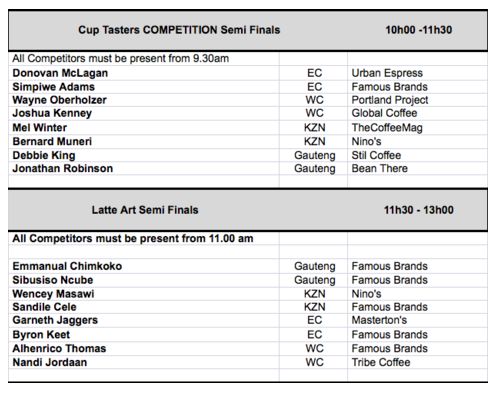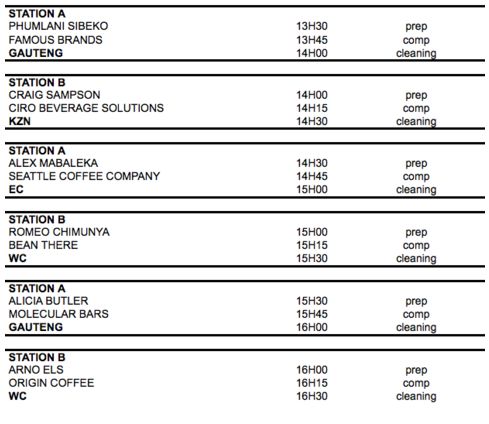 Friday 20th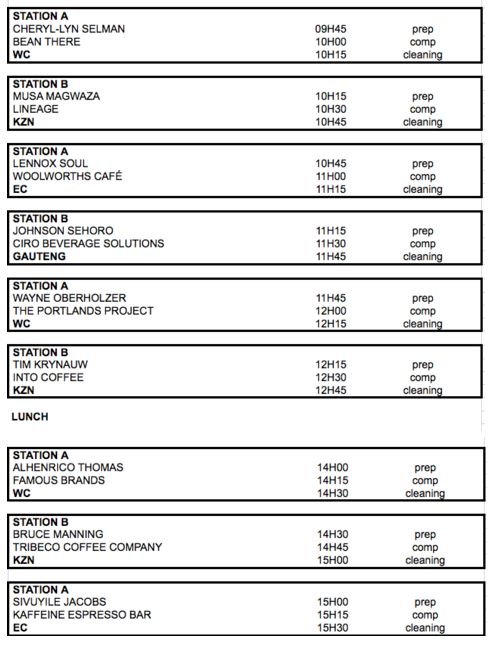 Saturday 21st (Please note competitors Tim Krynauw and Craig Charity have switched time slots.)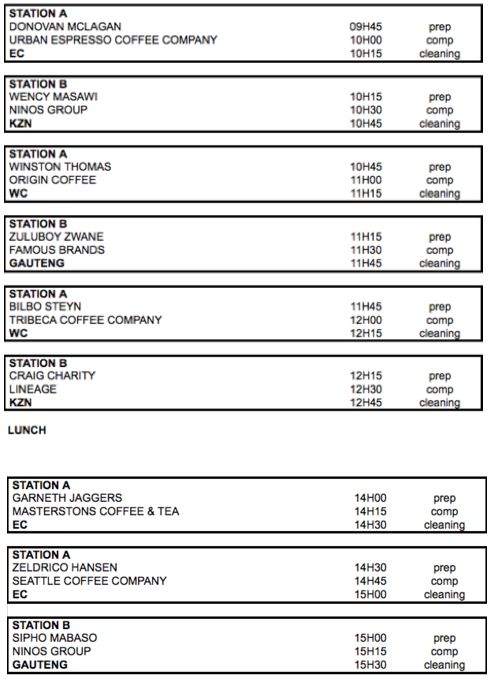 Got something to say? Then leave a comment!