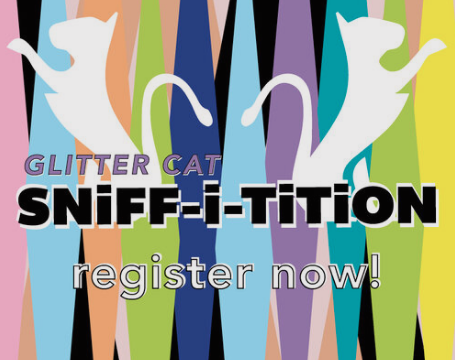 GLITTER CAT PRESENTS: THE SNiFFiTiTiON
Registration is now open for the industry's newest, quirkiest, and perhaps most fabulous competition yet!
Fresh off the success of their inaugural DiGiTiTiON, a socially distanced coffee competition which crowned six champions across different disciplines, Glitter Cat is proud to announce a new and exciting competition for early 2021: The SNiFF-i-TiTiON. This is Glitter Cat's first international competition and everyone interested will be mailed a game board no matter where they are in the world! Glitter Cat aims to make the SNiFFiTiTiON the largest scratch and sniff competition of all time.
Find out more about Glitter Cat and founder T.Ben Grimm here.
The game is simple. Competitors will receive a scratch and sniff card with 25 different scents. These scents range from fruits to herbs to flowers to spices to vegetables and everything in between. They'll scratch, sniff, and record their answers on their game card. Competitors are given a word bank of 40 possible scents to choose from. Given that this is an international competition, registered competitors can request a game board to be translated into any language. Additionally Glitter Cat recognizes that we all come from different parts of the world with different palates and scent recall. The planning team has done their best to pull from aromas from around the world.
The person who gets the most scents correct will win a swag package from Glitter Cat, including some limited release items typically reserved only for Glitter Cats that go through their signature bootcamps and training programs. If there are multiple super-sniffers that get all 25 scents correct Glitter Cat has a plan for that - a tie-breaker round! Participants will be encouraged to film themselves scratching, sniffing, and guessing and share their videos with @glittercatbarista on Instagram.
The SNiFFiTiTiON is a low-stakes, high-fun competition to keep coffee professionals and enthusiasts engaged and laughing during the endless stretch of the worldwide pandemic. Registering to compete in Glitter Cat's SNiFF-i-TiTiON is completely free thanks to Pacific Foods Barista Series, and open to all folx interested. During check out, participants will be able to add a donation to their registration. This is not expected or necessary! For 2021, Glitter Cat's goal is to pay more contributors, contract artists and project managers, and start a payroll. Every dollar raised with the SNiFF-i-TiTiON will be used to pay Glitter Cat contractors and employees.
All are encouraged to register. Registration closes February 1st and every person signed up will receive a game board! Happy sniffing!
FAQs
HOW DOES THIS WORK?
It's a scratch and sniff competition! We will mail you a competition kit that includes the scratch and sniff card with 25 different scents and a word bank of 40 possible answers.
How to submit answers and other rules will be emailed to all competitors by February 3
OUR GOAL
Our goal is to have hundreds (thousands?!) of competitors join in the world's largest scratch and sniff competition! At Glitter Cat we find a lot of joy in building community through competition and we figured what better way to push through these beginning weeks of 2021 than with a quirky, fun, and fabulous, low-stakes competition?!
IS IT REALLY FREE?
Yes! Thank you Pacific Foods Barista Series for being our generous presenting sponsor and allowing us to host the first ever international competition and keep it 100% free to all competitors.
THERE ARE MILLIONS OF SCENTS IN THE WORLD HOW WILL I GUESS?!
So many scents in the world, we know! To help guide your sniffer we created a "scent bank" which has 40 possible answers. All 25 scents to guess are in the word bank and there are no duplicates.
I'M SO EXCITED, THANK YOU! CAN I ADD A DONATION TO MY REGISTRATION?
Totally and we appreciate your generosity! As a 501(c)3 non-profit, all donations to Glitter Cat are 100% tax-deductible. During check-out you will have the option to add a one-time donation. You can also head over to our Flipcause Donor page (it's similar to Patreon but specific to non-profits) to become a donor.
WHEN WILL I GET MY GAME BOARD?
Sniffing game boards will be sent out early February. All participants will get an email notification on when boards are mailed out.
DO YOU HAVE GAME BOARDS IN DIFFERENT LANGUAGES?
Please email T.Ben at tben@glittercatbarista.com to request your game board to be translated into your language of choice.