Many years ago, in Issue 4, (we are currently working on Issue 28!!!) we ran a story on the mysterious Coffea Racemosa, a coffee tree that produces naturally decaffeinated coffee! We are thrilled to see that this species, indigenous to Southern Africa, is being championed by Cultivar Coffee. We're excited to see what happens next with this coffee!
---
WILD SOUTH AFRICAN COFFEE
Words by Sue Derwent
The first time I ever saw, or even heard of, indigenous Racemosa coffee was in a dodgy little farm stall in Hluhluwe village, KZN. The only other things on sale were a pile of over-ripe bananas, seven guavas in an otherwise empty cardboard box and a few dusty bottles of what looked like guava jam and elderly banana chutney. In contrast, the little packets of Racemosa sat proudly on their shelf, all neat and clean. I bought some because the label said "…the Elephant Coast's indigenous coffee" and until then I had no idea there was even such a thing as "indigenous" South African coffee.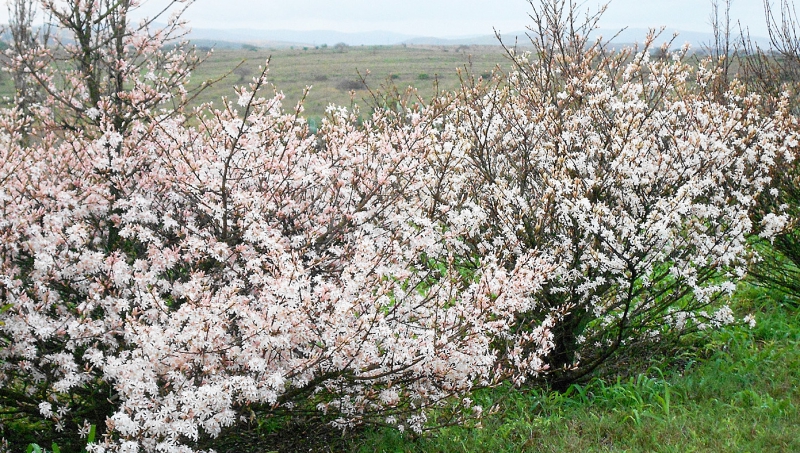 At that stage I wasn't a big "coffee person" so I kept that label for more than a year, and one day during a clear-out found it, and on a whim, phoned the number and spoke to Marlene. A week later I was sitting in Marlene's lounge overlooking her coffee plantation of about 2000 trees and the lovely, if somewhat dry Zululand landscape.
Marlene's love affair with coffee began with an Arabica tree gift from a very dear friend. She planted it in their garden, but Zululand was not really the right climate for such a tree and it subsequently died. But not before it inspired Marlene to start reading everything she could about coffee, during which time, she discovered that Southern Africa has its own indigenous coffee plant. And guess what? The only place it grows naturally, in the wild, was literally on her back doorstep.
In South Africa, the Coffea Racemosa tree is only found growing wild in the coastal forests north of Lake St Lucia and then up the eastern coastal belt of Africa into Mozambique. Unlike the better known Arabica and Robusta, Racemosa plants have not, as yet, undergone any genetic tampering in South Africa in order to make the beans larger or make the trees bear more prolifically.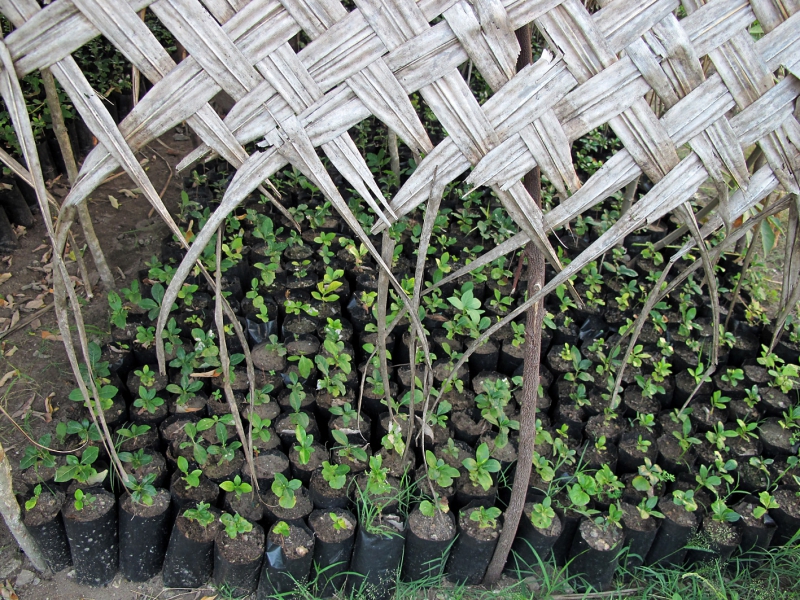 A Racemosa tree is about the third of the size of a Robusta coffee tree and it bears substantially less. This means it takes approximately six Racemosa trees to produce the same weight in beans as one Arabica or Robusta. Another difference is that Racemosa bears blossoms and ripe fruit simultaneously. This necessitates harvesting by hand, which makes the work of harvesting difficult, time consuming and expensive.
But the really big thing about Indigenous Racemosa coffee, is that it's naturally so low in caffeine you could happily call it naturally caffeine-free. There. I've said it. Let the grounds fall where they may. I'm only saying this because whenever I mention "decaf" and "coffee" in the same sentence, there are a lot of pursed lips, arms folding and patronizing head shakes. However, before that debate gets silly and people start getting all uppity about coffee not being coffee without caffeine, it may be of interest that a study carried out by Eduardo Mondlane University in Maputo, Mozambique, showed that, not only does Racemosa coffee have such a minuscule amount of caffeine that it's hardly worth mentioning (0,38%), they also discovered that the potential consumers of caffeine free coffee world-wide is about 10 million people.
This means Racemosa could be a really big hit with, not just the more health conscious, but also the caffeine intolerant, the migraine sufferers, those trying to give up smoking and those suffering from adult ADHD - many of whom otherwise, just love the taste of coffee. There are also concerns around the some of the "decaffing" processes currently in use. So my question is, if you could provide all 10 million people with a naturally decaffeinated coffee, why wouldn't you? Hopefully that made some of the coffee snobs unfurl their lips and start paying attention.
The big problem though is, that as far as can be ascertained, there are currently only two places where this clever coffee is produced on any kind of vaguely "commercial" basis – and I should rather say artisan basis - in the whole of southern Africa. One place is on Ibo Island in Mozambique in the far northern Quirimbas National Park bordering Tanzania, (and is the reason why the study was undertaken by Eduardo Modlane University in the first place), and the other is in KwaZulu-Natal.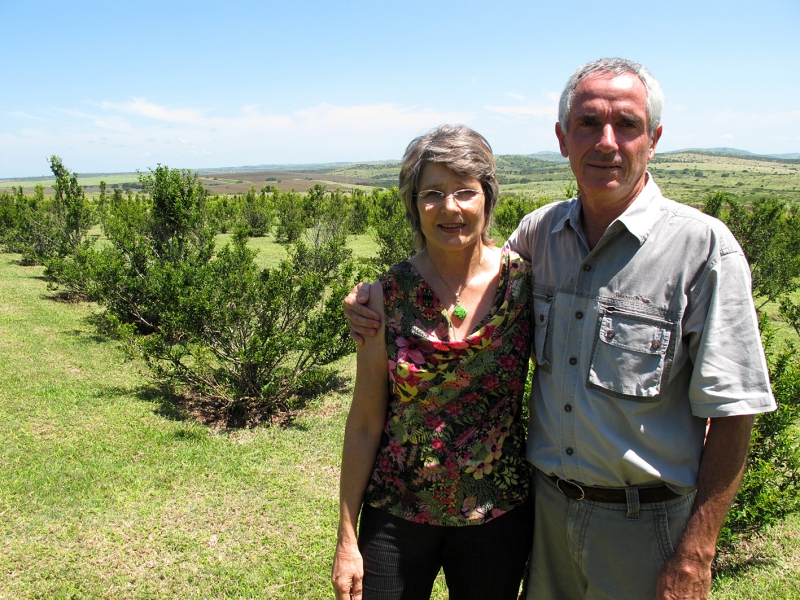 Back in KZN, Marlene, perched on the edge of her chair, laughs with delight as she describes how, more than eight years ago, she tried to track down information about the Racemosa plant. She wrote to and phoned everyone from the agricultural research stations in Nelspruit, to the Botanic Gardens and conservation authorities in Pietermaritzburg. No one could help her. At some point she discovered that apparently the Portuguese colonists in Mozambique had grown Racemosa coffee. Not only that, I heard, while I was visiting Ibo, that way back in 1914 Ibo Island coffee was so wonderful, that it won a gold award in Portugal, beating coffees the Portuguese had imported from all over the world.
Once she heard about the Mozambique coffee connection, Marlene, supported by her bemused and long suffering husband Frans, took off on various adventures into the rural villages of southern Mozambique looking for assistance and information about how to grow and harvest indigenous coffee.
After numerous unsuccessful 4x4 trips to Nyhambane where there had apparently once been coffee "plantations" and also to other random, small villages, it became obvious that the Mozambicans could not help Marlene, and Frans finally drew the line. She almost gave up, "…But", and she claps her hands with joy, "I just couldn't let go! It became my passion."
Finally her uncle, who by all accounts is as tenacious as she is, stepped in and eventually tracked down "someone" who had a tree, apparently "200 metres from the village on the right-hand-side of the track, next to the homestead on the road to who-can-remember-where" in Mozambique. Apparently this person knew something about the old coffee plantations. Thrilled, Marlene set off again, one last time. Unfortunately, even though they found the tree and the owner of it, Marlene soon realised there was no real coffee growing culture left and that she would have to learn about indigenous coffee on her own.
After many months, she eventually tracked down and bought 35 Racemosa seedlings at a nursery in Mtunzini, where they were being sold as garden plants. Racemosa is related to the Gardenia family and has a similar, beautiful white flower. The rest is history. She currently has a small coffee plantation of approximately 2000 trees, all of which she has propagated herself and she and Frans roast the small beans in an old, custom-converted tumble drier set up in a corner of their farm office, where they also grind, package and sell the delicious coffee in small quantities.
On the Mozambican end, on Ibo Island, a small group of farmers, supported by WWF, the Mozambican Department of Agriculture and the international Slow Food movement are in the process of reviving what was once a small, but thriving local Racemosa coffee industry. Ibo coffee mostly grows wild on this coral island but, according to Mr Luis Augusto from WWF, Ibo farmers have plans to eventually be harvesting some 50 000 trees.