Though it may be a little known fact, coffee does indeed grow South of the coffee belt as we know it. Dylan Cumming, a 4th generation coffee farmer, has long been interested in the rich history that coffee has in South Africa and in this special report enlightens us on what has past and the possibility of what is to come for this crop on the rise.
Words by: Dylan Cumming
Photographs by Derryn Schmidt
---
Botanical History
Years ago I was sitting on a plane to New York next to a enthusiastic historian. He was telling me entertaining stories about the history of the world. Though I don't remember any of the stories now, I do remember asking him why for every story he would quote a number of dates. He then proceeded to teach me the importance of years as "nodes", and how the year would connect all the stories that he told. At that point, my school boy view of history changed into a colourful network of intersecting stories. Though there are countless individual farmers stories, this article tries to cover the broad history of the South African coffee grower.
Growing up on a coffee farm in the 80's I always had a fascination with stories on coffee. Through my life I have always searched for information on coffee and through the years gathered old newspaper articles, books and spoken with people who have been involved in the industry. I am always searching for new and old books on coffee to read and add to my collection. I can't help myself from stopping by a second hand book shop to look for books on coffee. It was on one of these occasions that having exhausted my search of the food and drink section, I found myself looking through horticultural books searching through the indexes for 'coffee'. I stumbled upon a book called Natal - The Garden Colony by McCracken & McCracken.
It describes the efforts of the The Royal Botanic Gardens, "Kew Gardens" in the 1800's to experiment with crops which it hoped might prosper in the colony and stimulate Natal's sluggish economy.
Coffee was originally introduced to Natal in 1854 from Bourbon (Reunion) with more plants being sent later from Ceylon (Sri Lanka), by the 1870's there was widespread interest among the coastal farmers in the crop despite the heavy losses in coffee plantations through frost in 1869. It is said that there was almost 2000 hectares under coffee by 1870.
In 1874 the disease that had decimated the Indian and Ceylon coffee plantations attacked Natal. To counter this, in 1874 and again in 1875 new varieties of coffee were imported from Kew Gardens. By 1879 it was reported many of the estates had been destroyed with pests, disease, unsuitable soil, climate and no doubt careless cultivation and need of sufficient labour being the contributing factors.
The demise of the industry was said to be due to lack of knowledge, lack of insecticides and fungicides and the rapid rise of the tea and sugar industries. There were rumoured yields of 2 tons a hectare which made a difficult choice for plantation owners but finally most were forced to change to sugar cane or tea.
It would be another 100 years before coffee was reintroduced to this region.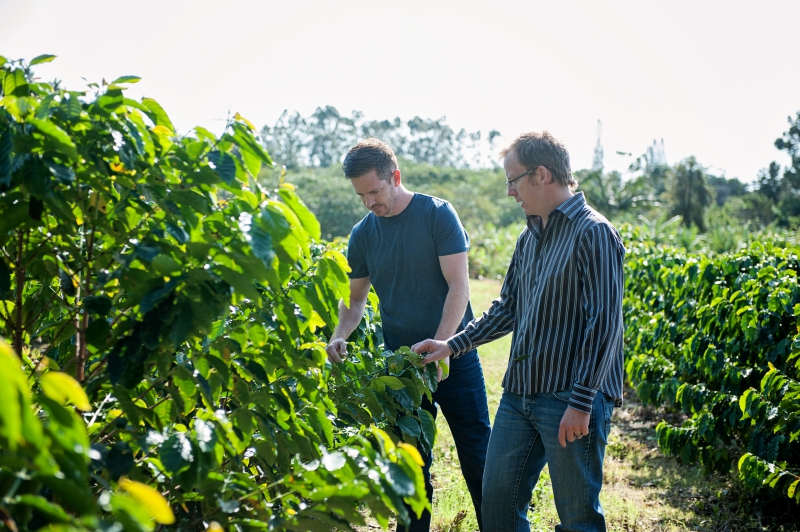 The Highveld
According to Schalk Schoeman of the Agricultural Research Centre During the 1930's experimental plantings were done at the old Government research facilities in Rustenburg. Very few commercial plantations existed but during the 1950's some plantations were known to exist north of the Magaliesberg near Silkaatsnek.
During this time the Skead family also planted the first coffee in the Magoebaskloof region and in 1963 coffee was planted on commercial basis on the Grenshoek tea estate near Tzaneen.
The Sugar Years
In the 1960's sugar cane quotas were cut by 25% and a search for alternative crops had to be made. A Mr Robinson, who was Director of the Lyamunga Coffee Research station in Tanganyika (Tanzania), was invited down to make an investigation, and his favorable report was published in the Sugar Journal of September, 1961. Following on this report, the Coffee Growers' Association was formed, and later imported for the members two of the best varieties of seed from Kenya, together with smaller quantities of other varieties for experiments. The bulk of the plantations were planted to Arabica SL28 and SL34.
At its peak South Africa was producing between 1500 and 2000 tons from figures published in 1975 from approximately 1000 hectares. In terms of South Africa's rank in world production this made SA 22nd African producer and 48th world producer. (Les Cafes Produits Dans Le Monde - Phillippe Jobin)
Little expansion of the industry occurred during the next few years, but high international prices during the 1970's, linked with political imperatives of the time, forced Government to seriously consider coffee production. By 1988, 1525 ha of arabica coffee were already planted and a further 380 ha was approved. In principle the former cabinet also approved possible further expansions of up to 5 400 ha. During 1987 South Africa produced 1800t green coffee and was projected to produce more than 6600 t by the year 2000.
Unfortunately the high cost of labour, pests and disease, especially the white coffee stemborer in Mpumulanga, as well as low international prices ensured that very few of these farms ever realized a profit. One by one the estates have closed down and by 2001 not more than 100ha were still under production.
The South African Coffee Growers association made great effort in promoting and supporting the industry with publishing a book "Coffee Growing in South Africa", monthly progress reports and field days. The association was instrumental with branches in the Transvaal and Natal. The association did great work into the 1980's.
With great knowledge and support it was not due to coffee quality or production but rather world prices and competition from cheap imports that many of the local farms closed down.
Politics, the International Coffee Organisation and robusta
Due to our political position in the 1960's, 70's and 80's South Africa was not a member of the International Coffee Organisation.
The International Coffee Agreement (ICA) is an international commodity agreement between coffee-producing countries and coffee-consuming countries.
The agreement was first drafted and signed in 1962, with its aim of keeping coffee prices high and stable in the market by maintaining exporting countries' quotas to influence the price. The ICO is the controlling body of this agreement, and represents all major producing and consuming countries.
As South Africa was not a signed member, South Africa became a dumping ground for poor quality coffee and our imports at the time reflect this. 2 750 000 bags(60kg each) imported with 15% Arabica and 85% Robusta. The legacy of this can still be seen today with South Africa have a higher than average instant coffee over pure coffee consumption.
A New Wave​
There is a specialty coffee myth or misunderstanding in the growing conditions of producing high quality coffee. As a coffee farmer the most frequently asked question from industry professionals is "What altitude do you grow your coffee?" The assumption is that you need high altitudes to grow coffee successfully and the higher the altitude, the higher the quality. Latitude is, in fact, as important as altitude, as both are the major factors that will influence temperature. Temperature is the key factor in producing high quality coffee and South Africa has ideal temperature belts for growing of high quality coffee.
Historically coffee has been grown from Port St Johns in the south to Empangeni in the north of KwaZulu Natal at altitudes between 200 and 800 m. In Mpumulanga to the north east with the southern limit at the latitude of Stanger above the 30th parallel between 600 and 1460 masl.
About five years ago, there was interest to resuscitate one of the old coffee farms in the Limpopo province (Zoeknog). A number of trees were acquired but the project ran into some difficulties shortly thereafter. The trees were subsequently planted on a commercial farm in the Sabie River Valley which sparked renewed interest in the crop. Currently there are about 10 active members of the Lowveld Coffee Study Group.
In the KwaZulu Natal there were a number of farmers from the 1980's that saw the opportunity to roast there own farm produced coffee. They were able to ride the fall of the coffee price and began importing coffee to supplement there production with there growing demand. There has been renewed interest in coffee farming due to some uncertainty of the macadamia nut future price and two entrepreneurial farmers have begun planting coffee.
With ideal climatic conditions and experienced farmers South Africa has a great foundation to produce world class coffee. Exciting times are ahead for South African coffee producers.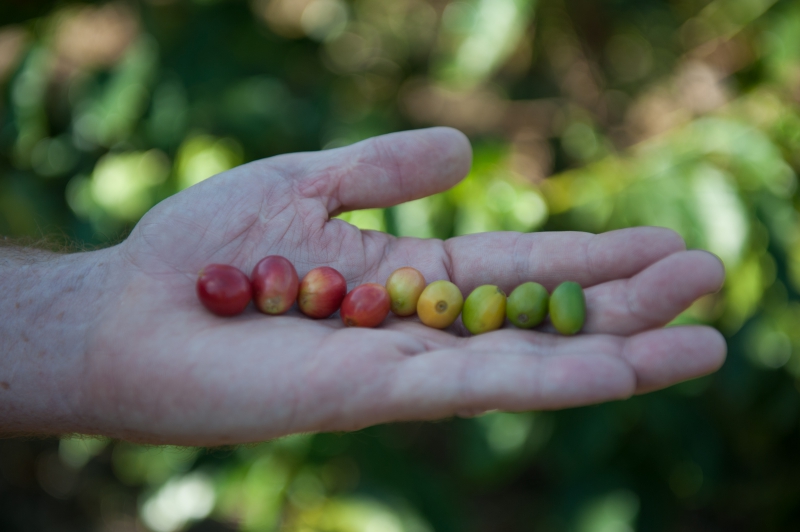 The Stats:
According to the ICO (2014 Statistics) South Africa's total consumption is 524 916 (60kg bags) with a per capita consumption of 0.6kg. Green coffee importing is 368 084 (60kg bags), 28 477 (60kg) roasted and 238 190kg of soluble coffee.
A few places you can try South African Grown Coffee: