One of our favourite coffee farmers, Tesfaye Bekele Degaga, who joined us in Durban for Creative Coffee Week 2019 has just in awarded 3rd place in the 2021 Cup of Excellence competition! This is an incredible achievement and we are so proud of the amazing work they're doing.
We thought this was a good opportunity to explore what the competition is about and what it means when you see this on a bag of coffee.
Programs like these are changing the fates of farmers all over the world and affecting the quality, and price, of the final cup that you buy in your local café. Michael MacDonald, of Sevenoaks Trading was selected to participate in Rwandan Cup of Excellence 2013 judging panel and shared his experience with us to give you some insight into this prestigious competition.
Words by Michael MacDonald
---
Cup of Excellence is one of the most revered awards given out for high quality coffees. The awards are determined by a strict competition with a panel of skilled judges that selects the very best coffee lots produced in that country for that particular year. The quest for the perfect cup, some would argue quite a subjective thing, is best described by the competition's co-creator, George H. Howell.
"The Cup of Excellence® competition cycle was conceived with the purpose of finding masterpiece lots of coffee from hundreds of entries. This requires a dedication to key details and an unrelenting repetition in the cupping search process that has become the unique signature of the Cup of Excellence experience. We all become students again and share in the rejuvenation of the true discovery of quality".
The process I am about to describe is replicated in coffee producing countries across the globe. A pre-selection process, performed by the enthusiastic and persistent national cuppers of Rwanda, reduces the number of entries to approximately 105 coffees through visual inspection and cupping analysis.
Cupping is one of the coffee tasting techniques used by coffee professionals to evaluate coffee aroma and the flavor profile of a coffee. To understand the minor differences between coffee growing regions, it is important to taste coffee from around the world side-by-side. Cupping is also used to evaluate a defective coffee or to create coffee blends.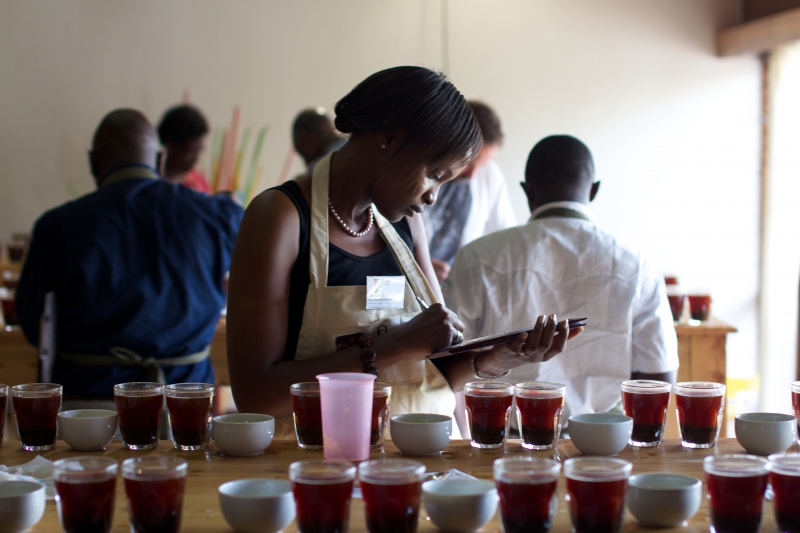 The pre-selected coffees are then cupped at least five different times during the competition process. Only coffees that continuously score high enough are allowed to move forward in the competition. The final winners are awarded the prestigious Cup of Excellence® (COE) and sold to the highest bidder during an internet auction.
I was fortunate enough to participate in the CoE in Rwanda. Our home base was at a Hotel about 50km east of Kigali (a place of cold showers, dysfunctional toilets and beds that suddenly break while you're sleeping-nonetheless it was a fantastic experience with amazing people). It was about a 20-minute bus drive to the cupping lab. There were 17 international judges, 2 national judges and 6 observers (first timers to CoE). The group consisted of coffee professionals like roasters, company owners and green bean coffee buyers from the likes of the US, UK, Germany, Czech Republic, Lithuania, Norway, Japan, South Korea, Russian Federation, and Australia. This vast array of cultures really added a layer of deeper perspective on these incredible coffees.
Opinions on the quality aspects of a coffee's profile might be slightly different dependent on the culture. This does not refer to the method, because of course there is a standard methodology behind coffee tasting but different flavour attributes will be held in higher esteem in certain cultures. Having a group of international judges analysing these top coffees creates a more suitable grounding for these coffees to be sold on an international level, with so many palates to please from Japan to Germany, the coffee that performs well across the board will be exceptional. Being a judge is about being able to discern between these differences and being able to choose which direction to lean towards with regards to the actual scoring.
To give you an idea of what this judging cupping scenario was like: of the 40 cups per table, at least 2 sips were needed of each cup; one to prime the palate and the second to taste. We then had to taste the coffees as they cooled- this ended up being at least 6 sips of each cup, which amounts to 240 sips in one round. Spitting is important, unless you want caffeine poisoning. The duration of one round is an hour. After a round we would all head for the discussion room and the head judge, Sherri Johns, would accumulate and compare scores, and we would discuss the coffees flavour profiles and quality levels.
On the first three days we had three of these tables a day, as there was an unforeseen problem: the power had tripped while the guys at the lab were roasting the competition coffees. On top of that, the generator they had as backup also failed. A normal challenge in an African city.
This 'unexpected' problem took a little while to get sorted out, and so the amount of coffees to be tasted piled up. On the 4th day, we had a couple of extra tables to squeeze in. We did 50 coffees then- the most I've ever cupped in my life in one day.
Clarity of thought became difficult at the 5th and last table of that day. Everything became mechanical. Slurp…spit…slurp again…spit...brief ponder…..separate aspects of profile…record…double check…move on. In this situation you learn just how important it is not to over-analyse. In this state of mind, coming across an exceptional coffee is like seeing an annoying 'pop-up ad' on a computer screen after staring at it for hours, except that in this situation it's not annoying, it's the complete opposite, it's enthralling; your tastebuds have found excellence.
The following day we had one round to taste the Top 10 up against each other. This was exciting for everyone involved. The only problem was discerning excellence between excellent coffees. It was fun, intense, stimulating, and slightly stressful, the fate of the farmers and the price they will fetch at the auction lies in your hands. After one long, hard hour had passed, Sherri, the head judge, announced that time was up.
We all went into the discussion room and the usual happened but with a great deal more excitement. These would be the top coffees in Rwanda for 2012 and flavour profile descriptions had to be written for the auction, which would take place near the end of September. All the judges chipped in enthusiastically with descriptors they thought stood out for them. All this was done 'blind', which meant we had no idea which farmer's coffee we were tasting.
Much like the selection of the award-winning wines we have out there, the Cup of Excellence program has created the availability of exceptional coffees for those consumers who have a discerning palate and growing appreciation for the craft of coffee. Inevitably, CoE and competitions like it will raise the bar in the coffee industry globally. The very presence of carefully crafted CoE coffee is enough to get anybody questioning their morning cup.
Where a coffee has placed in a CoE competition will determine its overall quality and therefore value to the general market. The coffees are then auctioned- the bidders are people normally heavily involved in the coffee industry and are willing to pay high prices for mind-blowing coffee. For consumers the Cup of Excellence award is a guarantee that these are great coffees that have been judged by professional cuppers to be the best coffees from a particular region for that year. The payment to the farmers for their coffee is far more than fair. There is no other program that is as exciting for the coffee lover, the roasters and especially the farmers whose monetary reward often changes the lives of their entire family and the rural communities where they live. This effect was evident the next day at the awards ceremony.
The Awards Ceremony took about 2-3 hours by bus getting to a large open field in the northern province, quite close to Musasa Cooperative, probably about 1600 metres above sea level. 'Important people', farmers, friends, judges, local TV news reporters, kids, performers, etc.: all amassed in this beautiful space to await the results of what is now Rwanda's 4th Cup of Excellence competition. Rwanda is a country steeped in coffee; even the National Currency bears the beans!
The ceremony started with a very energetic song and dance play of sorts-not sure what it was actually- I did however hear the word 'Ikawa', coffee in Kinyarwanda, a number of times sung with such fervor, that it made me realise just how serious the Rwandans are about coffee. It was a great show and was followed by lengthy acknowledgements and an introduction by Grant Rattray (managing director of Alliance for Coffee Excellence).
The awards were then announced in ascending order, and I managed to see Epiphanie, who owns BUF Cafe get awarded 7th position with a scoring of 88.22, jump up out of her seat near to the front row in a mustard-yellow dress uncontrollably waving her arms in the air shouting with joy. It was a beautiful sight.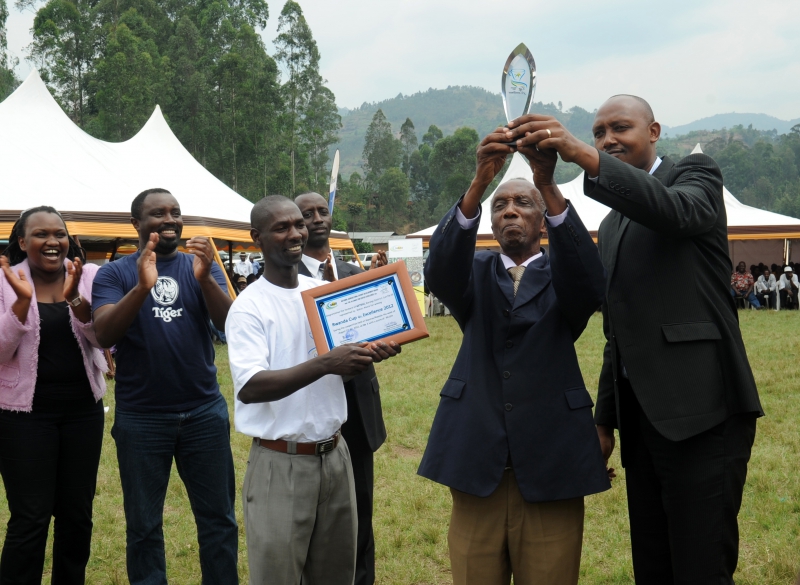 1st position was awarded to GITESI, a co-operative in the Western Province, with a scoring of 90.19.
An Elder was chosen from the small group of farmers involved and dedicated to this particular lot to represent GITESI- his name was Gahizi Alexis. He held the trophy high above his head, dancing and singing with the other farmers while cameramen, judges, government officials and everybody else who wanted to partake in this unique scenario encircled the winning farmers.
In the background another coffee song was brewing. This time, I'm sure I could understand what they were singing about.
---
Cup of Excellence is the most prestigious competition and auction for high quality coffees. The level of scrutiny that Cup of Excellence coffees undergo is unmatched anywhere in the specialty coffee industry. Each year, thousands of coffees are submitted for consideration, with winning coffees sold in global online auctions at premium prices, with the vast majority of auction proceeds going to the farmers.
The Cup of Excellence competition has pioneered integrity and transparency in the coffee industry, ensuring the value of winning coffees. Each sample entering the competition process is assigned a number known only to the auditor for each competition, and each jury member cups the coffee blind. In addition, each lot is documented through the entire process so that winning coffees are traceable to the farm and exact micro-lot.
Since 1999, the Cup of Excellence (COE) program has set the standard for the increased premiums that farmers have been able to receive for their exemplary coffees. It continues to build a much more transparent infrastructure and gives farmers the tools needed to improve the economic model of their farms. COE raises funds for coffees farmers in coffee growing countries incentivizing and motivating farmers who know there can be a recognition and financial reward for their hard work and effort.
Competition Process
The competition is rigorous, with cupping evaluations conducted over a three-stage process by industry experts: first by a National Jury of about a dozen qualified jurors from the origin country, and then by an International Jury, comprised of approximately 20-25 experienced jurors from around the world. A competition with 300 entries yields an average of 9,000 analyzed cups, with each "Top 10" coffee being cupped at least 120 times. This process ensures elite top-quality consistent coffees enter the COE auction.