Sevenoaks Trading are hosting a virtual coffee cupping session on Friday 06 Nov and you are invited to join!
Nicodemus recently won the Coffee Magazine Award 2020 for "Dedication to Education" and he is such a knowledgeable and interesting person, so you are sure to not only learn a lot, but have a great time!
Virtual Zoom Cupping with Nicodemus
Date: Friday, 6th November 2020
Time: 11h00 to 12h30
RSVP by latest: Wednesday, 21st October 2020
Cost: R270
You can find out all the info here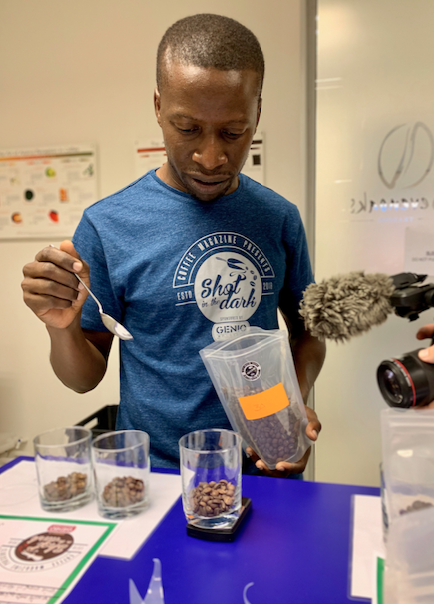 Nicodemus was Head Judge of Coffee magazine's "A Shot in the Dark" presented by Genio Roasters, and is a qualified Q Grader and all-round coffee legend!
You will need the following cupping supplies:
4 x 200ml Cupping bowls / cups or glasses
Cupping spoons – silver or stainless steel that can hold 10cubic cm of coffee
Type of Water – Clean with TDS (Total dissolved solids) of about 125-175ppm
Kettle / Pitcher for hot water
Timer – for timing coffee extraction (can also use your cell phone if you're not using it to Zoom with)
Digital Scale to measure in increments of 0.1g up to 500g
What Sevenoaks will be sending you via courier:
Labelled roasted coffee samples that you will be needing to grind and cup with
Sample of the grind size
A copy of the SCA scoring sheet
Herewith please find a link to Nico's demonstration of how to prepare your cupping table prior to the event.