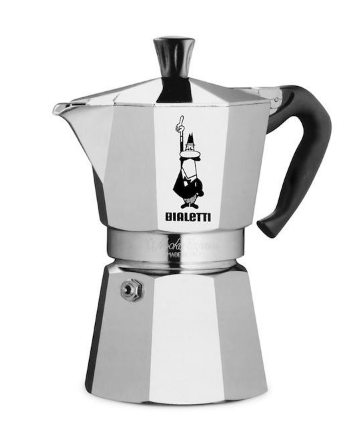 Is there any coffee maker more iconic than the Bialetti Moka Express? After more than 85 years, the classic stove-top coffee maker, invented in 1933, it was reported in a recent article may soon be out of business. Bialetti, the company behind the Italian invention, was alleged to be in serious financial trouble and at risk of bankruptcy thanks to consumers switching to the convenience of capsule machines.
We received a response to this from Bialetti Italy.
"Regarding the information reported by the press by which "moka makers have seen market share decline due to competition from coffee capsule machines" we inform you that the turnover of Moka express increase by 6,8% in the first half of 2018. Bialetti also produce and sell coffee capsules and ground coffee and arise the fourth position in the capsule segment. We have recently received investment into the company to rectify any financial stress."
Phew! Well thats a relief! The Moka Pot revolutionised coffee-making in the home, and it's estimated that over 70% of Italian households own at least one Bialetti coffee-maker. The distinctive design of the Moka Pot has even earned it a place in the Museum of Modern Art in New York City, and some say it's the most copied coffee-maker in history!
In honour of the iconic Moka Express, we thought we'd share some tips for making the perfect Moka Pot coffee.
Prepare the perfect Moka coffee
1. Preheat the water to the point just before boiling – this will help with the extraction. Then fill the water chamber of the Moka pot with your hot water, to just below the level of the pressure release valve (don't cover it).
2. Use freshly ground coffee that's not too fine and not too coarse. You might need to experiment to find the grind that works best for you.
3. Fill the basket with the ground coffee, but don't overfill it or tamp it down. If you use too much coffee, you'll end up with a bad extraction and bitter-tasting coffee.
4. Screw the pot tightly closed, making sure there's no excess coffee grounds around the edge.
5. Place the Moka pot onto the stop over a medium-low heat for a gradual extraction. If you hear sputtering, the heat is too high.
6. Watch for the brew to start trickling out, and remove from the heat when it's about 80% complete.Don't wait for all the water to pass through the pot – this retains more of the coffee's aroma and prevents your coffee from tasting bitter or burnt. Have a cool cloth at the ready to wrap around the base and stop the extraction process.
7. Moka pot coffee is generally quite concentrated and strong, so you can dilute it with hot water if need be.
8. Pour and serve immediately. And in the words of the Italians, gustare il vostro caffè! Enjoy your coffee!