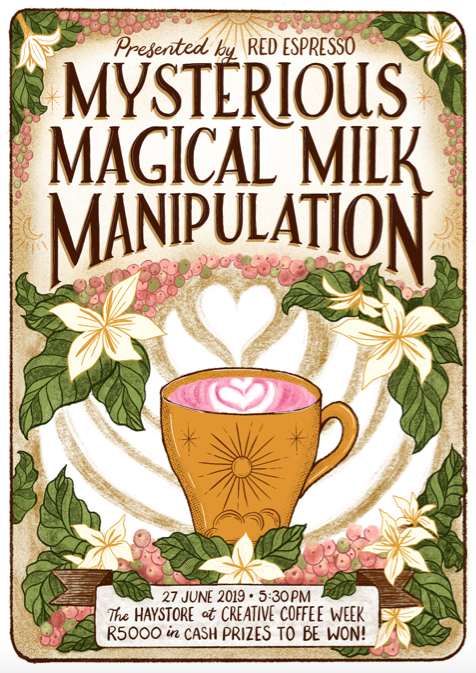 Introducing the Mysterious Magical Milk Manipulation competition. Presented by Red Espresso and Coffee Magazine with sponsors Milk Lab, Jersey Cow Company, ReCup ZA, Equipment Cafe, Importalia, Sanremo and Morrico.
We are working with illustrator Fathima's Studio to create a set of Barista Tarot Cards. Competitors will have to choose one card from each category to determine what they will pour. There are 4 categories:
- The latte base (beetroot, rooibos, turmeric, matcha, coffee)
- The milk used (dairy, almond, coconut, soy, macadamia)
- The machine/grinder used
- The latte art pattern (Swan, tulip, rosetta, phoenix, hearts, layered hearts, inverted tulips)
They will have 5 min to complete two (of the same) beverages to present to the judges! 4 competitors will go in each round and it promises to be a whirlwind of crazy fun!
There are amazing cash prizes for the winners and loads of product giveaways from our amazing sponsors. There are only 24 slots available so if you want to take part, fill in the entry form below ASAP.
Beer and snacks will be on offer for all attendees, spectators are encouraged!