Everyone who starts in the coffee industry has an interesting backstory, something that nudged them into starting a coffee business. Sometimes it's a lifelong dream, for others a passion project or a side hustle...and sometimes it is just pure necessity!
"Frisky Goat was born during COVID mid 2021, due to our Event Hiring Company, Top Table being unable to operate due to "Gatherings being illegal" for a large majority of the last 2 years" says Sarah Brocklehurst of Frisky Goat. "Being in events and hospitality has helped us so much in opening this coffee venture"
"We decided to venture into something we can't live without, coffee! An industry that could never be banned. We purchased a proudly SA Genio 6kg Roaster (affectionately named Frisky #1!) which is based in Thornton, Cape Town where we also have a café serving wet coffee to the industrial area and neighbouring residents" she tells us.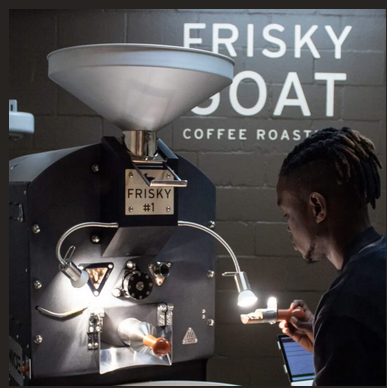 Charlie looks over Frisky #1 during roasting.
Frisky Goat comes from the legend of Khaldi, the goat herder - who's goats digested coffee cherries and enjoyed the caffeine kick! But it also is a cheeky nod to G.O.A.T - the sporting moniker for Greatest Of All Time - "We have aspirations!" says Sarah
Sarah and her team dived right into the coffee scene, and this year they plan to enter SA's premier coffee roasting competition, A Shot in the Dark. "We have no expectations for the competition - we just thought it would be fun and we want to see where it takes us!" says Sarah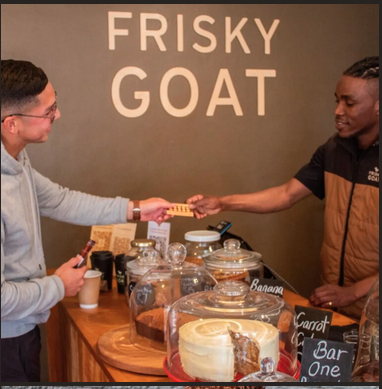 Serving the Thornton community great coffee and café fare!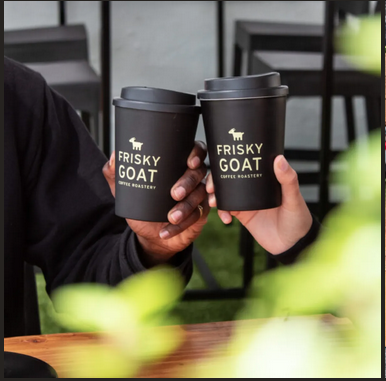 Cheers! To new beginnings and building communities in coffee.
Frisky Goat Medium Roast Blend is being served in several coffee outlets and stocked in a few delis, so look out for it if you're in and around the Thornton area and you can check them out here