Quality over Quantity: The Rise of Specialty Coffee in Rwanda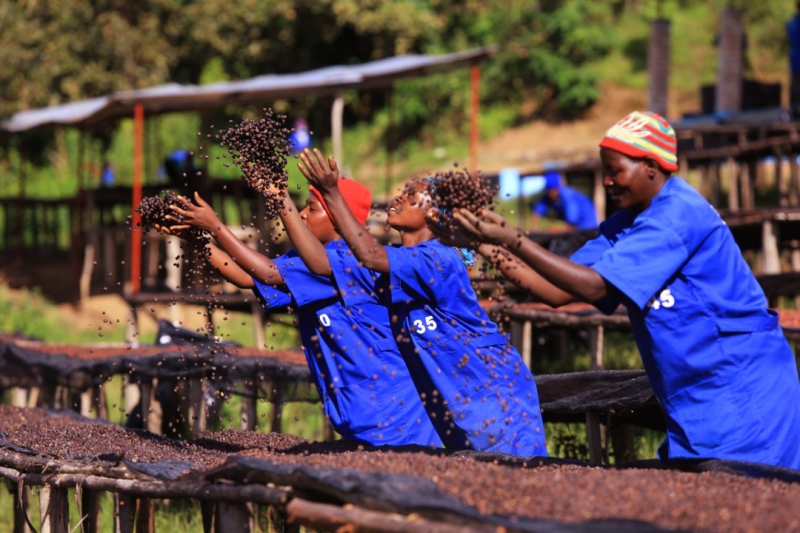 Since the tragedy of the genocide in 1994, Rwanda has slowly but surely established itself as one of the prominent players in Africa when it comes to specialty coffee. One of the local entrepreneurs who has been part of this journey from the beginning is Emmanuel Rusatira of Baho Coffee. He shared his insights into this growing power in the speciality coffee scene.
"Do you know what Baho means? Simply it means 'have life', 'be strong' 'don't give up', It's an emotional word we use to give each other strength. When you meet a man and he is hopeless, this is what you say to encourage him to carry on, "Baho my friend, baho!" It's an expression that means a lot to me in my own background. As you know in Rwanda, we have a bad, bad history about genocide. I was seriously affected by this. My parents were taken by the genocide and in a family of five children I had to provide for my younger siblings. I was still only a small boy, but I was second eldest and responsibility fell to me. So life…it was hard."
Emmanuel Rusatira, affectionately known as Emma, is an exceptional human. He has faced adversity many of us will never be able to understand. In the midst of complete devastation, he had to drop out of school to provide food for his family when they were orphaned, but fought his way back to education, determined to reach his full potential. He now holds multiple degrees and owns seven coffee washing stations.
"Listening to our coffees and sharing their conversation, is our main goal."
"But look, now we are on the phone talking on Skype! Someone from a remote area like me! Someone from a poor family like me! Someone who was usually fetching water, cleaning floors of restaurants, washing the dishes to make sure that we had food and now I am talking to coffee professionals around the world. People don't believe the life that I have had. Personally, I feel like I share this story with coffee. Why did I choose this 'Baho' name? Coffee also goes through a difficult life, to survive it has to survive so much, it has wind, it has poor soil, it has leaf rust, it has disease, it has insects, after that it goes through machines, pah pah pah, then the roasters you hit it with serious heat and then at the end of all this, the result, it's a delicious coffee. Everybody, all over the world just wakes up and says, oh I feel like a cup of coffee, but they would not believe the life that coffee had before, how difficult it was to get there. We believe coffee talks. Cleanliness, mouthfeel, aroma, sweetness, acidity, tasting notes all come to the surface in the cup. Listening to our coffees and sharing their conversation, is our main goal."
Rwanda, and its coffee industry, has come very far from the horrific genocide against the Tutsi that took place in 1994 to the thriving country it is today. This unbelievable turnaround is a huge credit to the Rwandese people and is a great example rebuilding out of tragedy. In 2005 there was a move from the Rwandan government to revive the coffee industry, pushing a change from semi washed to fully washed coffee to improve quality. One international company already invested in coffee at the time, needed someone to help set up washing stations, someone they could train and grow from within their company to adapt their processes. Emma was recommended for the job by his lecturers.
"I remember the exact day I joined. 26 April 2005. That was a day that made me feel like, wow, I was crying. You know as a teacher I was paid 3900 Francs a month. This new position started at 100 000 Francs per month. That was like the dream life for me."
Rwanda is a small country, 26,338 sq kilometres, but there was big potential. It was already the top cash crop of the country in 2005, but there was no way to improve on this because they didn't have the land to increase volume, the only option was to increase quality using the natural resources available and improving processing.
"Coffee likes a high altitude area, it loves volcanic soil, it needs good rainfall all round the year, we have all those! We started the journey to move from low grade commercial coffee to try put it on the map in international coffee. Not in volume but quality wise. The government put in place grants to help people set up washing stations to accelerate the process. They managed to change in a very short time, the culture of processing. Coupled with private investment, education was possible, we started to be able to help farmers to improve the quality of the coffee through agronomy. I'm from a coffee farming family, I have seen the change. People know that good, reasonably priced coffee comes from Rwanda now."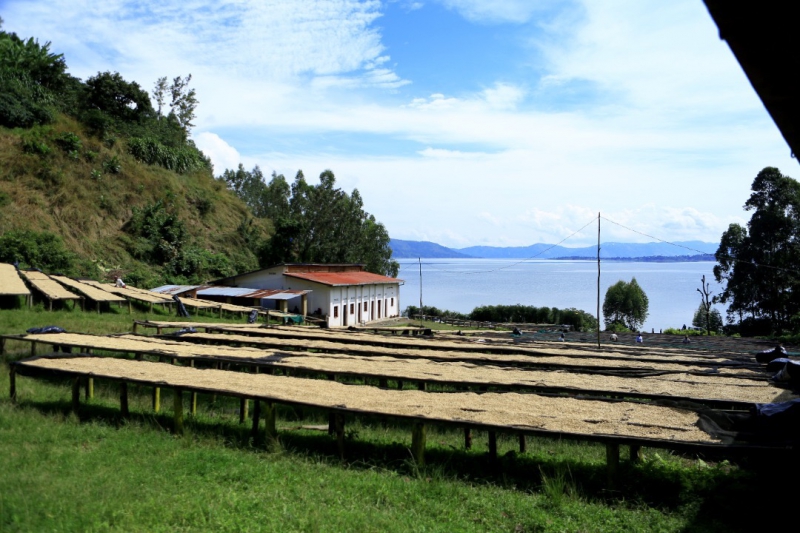 While he was learning and building these agricultural systems for big companies, he couldn't shake a feeling that more could be done.
"I'm not a guy who gets satisfied easily. While I was on this journey I started to think about implementing my dreams and start working my philosophy. Whenever you work for someone else, and I'm not blaming any of the businesses I worked at, but when you work for someone, you want to speak your mind, but you can't, because you are part of a team moving in a particular direction So being a coffee farmer, seeing the potential we could create, I started dreaming of working with coffee farmers hand in hand, advocating for them, allow them to speak their mind to promote the poor farmers who own the coffee trees, the same ones that make other people to be billionaires, but they remain poor, I dream to give back more to them. I knew this can only happen if I start my own approach. Three values, Culture, People and Coffee. Through coffee people from different culture, become one community. No matter the size of your business, no matter your origin, no matter your level of education, no matter if you're mzungu (white) or if you're black, though we are different culture we speak the same language, become the same community."
With many years of experience in the Rwandan speciality coffee industry the Rusatira family, found the opportunity to set up their own washing stations and start to make the changes they wanted to see.
"But it has been one way for so long. We have to show the farmers to be proud of what they do, not ashamed, not silent, because in fact the coffee farmers are the boss, it is they who keep people like me up. Any wealth I have, comes from the farmers. We have to become wealthy together. There must be mutual respect, fair sharing of benefits of coffee. We are still a small business, we are trying to build to a place where all our farmers are smiling instead of crying. My father was a coffee farmer. What change can I bring, so that farmers are valuable and they're able to grow too like the rest of the industry has. All year round, we work together with coffee producers to support them on the field, and financially, so as to produce the best coffee cherries of the region, and boost quality, year after year. All our attention goes to selection, depulping, fermentation, washing, drying, storage, and continuous quality control."
Emmanuel supports farmers with access to fertilisers, helps them to check the condition of their trees and shares valuable knowledge about best farmer practices. Furthermore, he supports the farmers by covering their social insurance and giving them second payments at the end of the crop.
"We work with many coffee buyers that believe in this philosophy, that believe that paying more for the coffee makes sense for the future of coffee itself and helps farmers create better lives for themselves."
The standard coffee price is set by government, but the distributors are not limited to this. The 'Father of Natural and Honey' in Rwanda, Emma helped government to set reference points and processing steps required to produce honey coffee after a training trip to Costa Rica, so that people can apply for a license. To sell naturals in Rwanda, first you need a license, and to get a license you need a guaranteed buyer. Otherwise it is illegal to produce naturals. With a commitment to buy the coffees you can go to the Rwandan National Agricultural Export Development Board (NAEB) to get approval.
"Directly after that trip to Costa Rica, together with Muraho Trading Company, because I didn't have washing stations, we set about developing the honey process for Rwanda. I can say, I am very proud of what we achieved there, because it opens a lot of doors for Rwanda in the specialty coffee world."
He started experimenting with different methods and now works with an anaerobic fermentation technique that uses traditional clay brewing pots called "Intango". The cherries are placed in the pots and mixed with water. The added water comes from the depulper and contains a high sugar content due to the mucilage of the cherries. The cherries stay in this pot for 100 hours. The fermentation process is slower and more controllable as the clay material of the pots does not absorb heat. The cup profile differs depending on the conditions. Wet processing creates a livelier cup profile, while dry processing is more intense. After the coffee is fermented for 100 hours, the beans are spread on drying beds and turned every two hours. The beans are dried slowly by being protected from direct sunlight during the first five days.
"What value am I adding by using a natural/honey processing. To create more flavour, jasmine, dates, banana, berries, but also to take our coffees to the next level, get higher points than we have ever been able to achieve."
Winston Thomas used one such coffee in the SA National Barista Championship and with it, successfully achieved his third title.
Apart from award winning coffees, Baho is also known for the opportunities afforded to women in the communities that they work with. Emma chuckles softly when asked about this. "You know mostly we come from culture, that sees men as stronger, my father was one of those men, but even though I was a small boy, I was watching and I saw that really my mother was the one who was doing most of the work, providing us food and love. I grew up believing women are most valuable and if they can't make money it is hard for them to overcome this idea of the patriarchy. I learnt from my mother, the strength and power of women. If women are given capacity, if women are given the chance, they will always take the opportunity. And you know, I know it's a generalisation, but women have this good quality of being able to listen and in the same way they listen to the coffee, remember I told you coffee talks and coffee needs caution, and women listen, they listen to the coffee."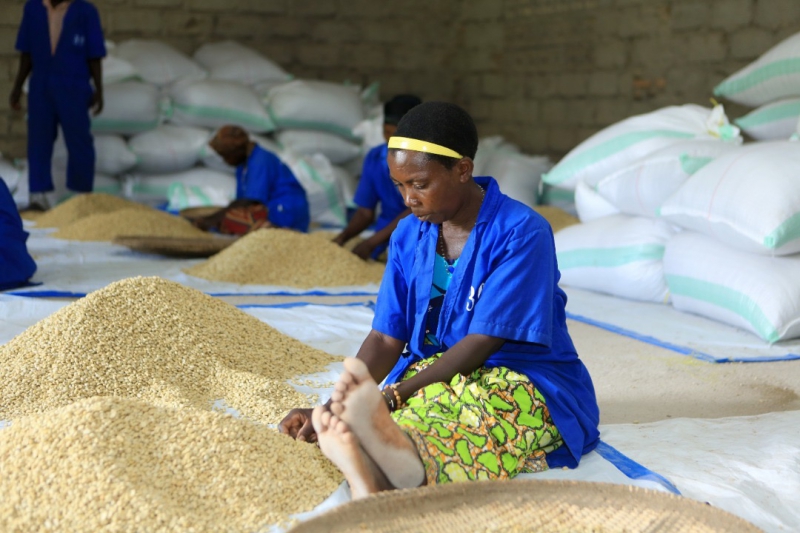 Emma is an emotional man and you can tell in a very short space of time that the passion he has for people and for coffee is rooted deep.
"Fugi Washing Station in the south was my first investment, it has a special place in my heart. Now we own seven washing stations, four of them are producing at specialty level. They are all like my children!"
Fugi is equipped with two drying shelters, which provide shade to rest and sort the coffee beans, immediately after washing. The following day, the coffee moves to the drying beds where sorting continues by hand, every day of the drying process, to ensure all defects are removed. To get the coffee to a stable 12,8% moisture content, the coffee is dried with direct sunlight. If the sun is too hot, the beans are covered with penetrable sheets, although Fugi knows a very stable temperature curve throughout the year.
"At this station, we experiment with different processing methods so as to push boundaries and improve our understanding and skills. This station is known to produce very clean, and vibrant coffees. It is like my first child!" he laughs fondly.
Although Muzo is the smallest of the seven washing stations run by Emmanuel and his family, some of the finest qualities are produced here. He leased the station for 10 years and eventually bought it in 2018. In close cooperation with the Muzo Cooperative, they are processing washed, honeys and naturals. Muzo Washing Station is located on a mountain slope in the hilly Gakenke District, where cold air is blown up at night - ideal for the coffee on the African beds. The rich volcanic soils, high rainfall and cool temperatures in the area create fruity, sweet and round cup profiles. It was badly affected by the rains of April 2020, but the potential remains.
"In my 17 year career, I've not seen anything like the damage the rainfall this year has done. Around 1,3 tonnes of coffee at just Bugoyi, but that is not the real tragedy. At Muzo my smallest station, lives were lost. Coffee trees completely washed away across the country, that will take years to rebuild those farms. And just think, the roads have been washed away, even those farmers whose trees survived, how do they get their coffee to a washing station, normally on their heads, on a bicycle, but how do they do that with no roads? The effects are catastrophic."
"Support is easy. Just pay a fair price for coffee, we will show you the change."
Bugoyi Washing Station is located in Rutsiro District. With full dedication and love for his coffee, he has been processing fully washed, naturals and honeys since 2017. The location on the shore of Lake Kivu brings a light breeze and soft sunlight, ideal for cooling and drying the beans evenly. Damascen is the station manager of Bugoyi Washing Station. He is an expert in mobilisation and makes Bugoyi attractive to many farmers. Delphine is the Quality Manager and has been working in coffee for seven years. She oversees the drying of the coffees and is an important part of Baho Coffee. In close collaboration with 1,500 local smallholder farmers who bring their cherries to the washing station on foot or by bicycle, some outstanding and full-bodied washed, honeys and naturals are produced here. 80% of the workers at Bugoyi Washing Station are women.
The Humure Washing Station is named after the highest hill in the region. What is particularly impressive about this station is that it is entirely managed by women. After washing the coffee, the water is captured and pumped back up on the hill for reusage. Along with the practice of partial washing, the women try to use as little water as possible.
The future of Rwandan coffee despite the setback of the heavy rain damage this year, looks very bright. There are coffee professionals invested whole-heartedly in its success and with strong advocates like Emmanuel keeping the coffees front of mind, it will go from strength to strength. What can coffee consumers do to help?
"You know what I say to people who want to drink our coffee and want to support us. Support is easy. Just pay a fair price for coffee, we will show you the change."